When you want to add more personality to your garden interior, you need to go beyond the standard market offers and solutions. And this is where the DIY comes in help.
There are various projects- from landscaping ideas, garden planters and containers, to furniture designs that will add the right amount of individual touch and uniqueness to your garden ambiance.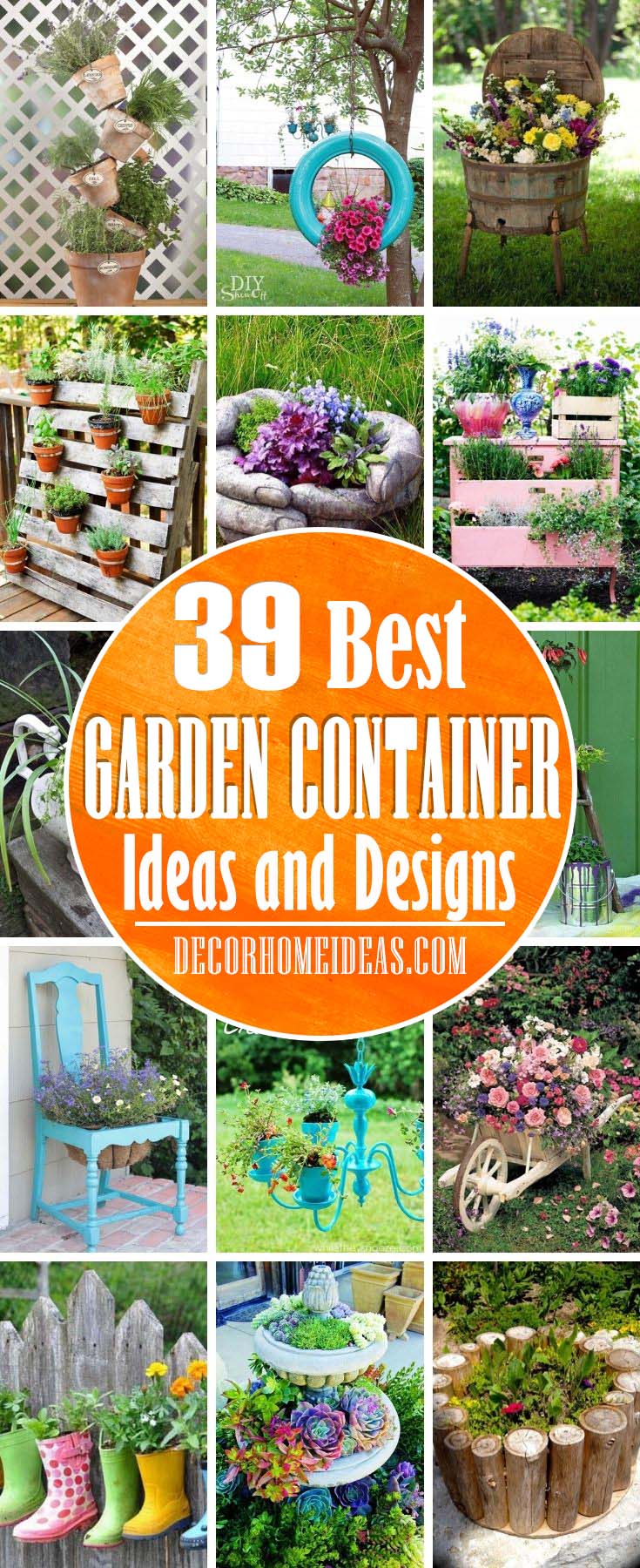 Today we are going to focus on the DIY projects for garden container ideas.
The ideas we have gathered for you are so extraordinary and beautiful that they will surely make your summer oasis more magical and relaxing.
1. Repurpose an Old Bathtub into a Flower Bed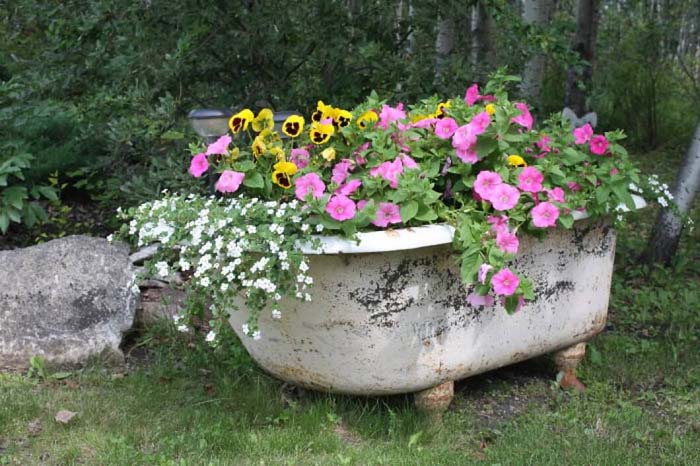 If you think creatively and you are an eco-friend, you can turn useless furniture into unique objects.
An old bathtub is one of the most successful repurposed garden containers. Its bed is large enough to accommodate many flowers. When they reach their blooming phase, the tufts will peek out of the bathtub as aromatic foam.
via The Garden Glove
2. Maximize Your Growing Space with a Compact Vertical Garden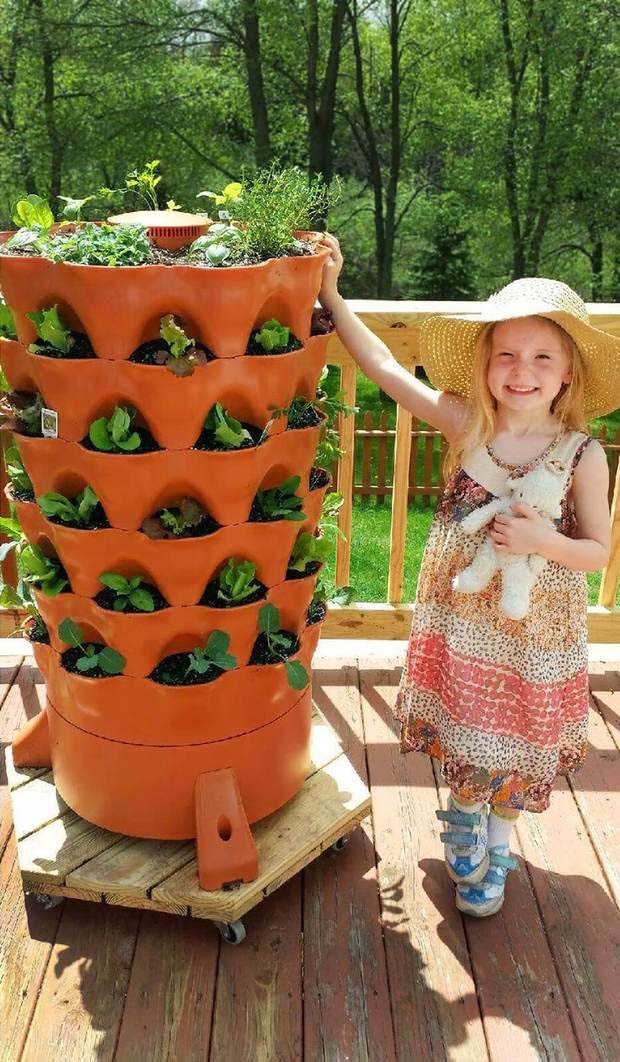 If you are short on space, but still want to grow many plants or herbs your best option is to have a compact vertical garden.
The best part is you can rotate it to easily reach every one of the plants. It also turns waste kitchen scraps into organic fertilizer to grow organic food.
3. Upcycled Galvanized Wash Tubs Filled with Colorful Coleus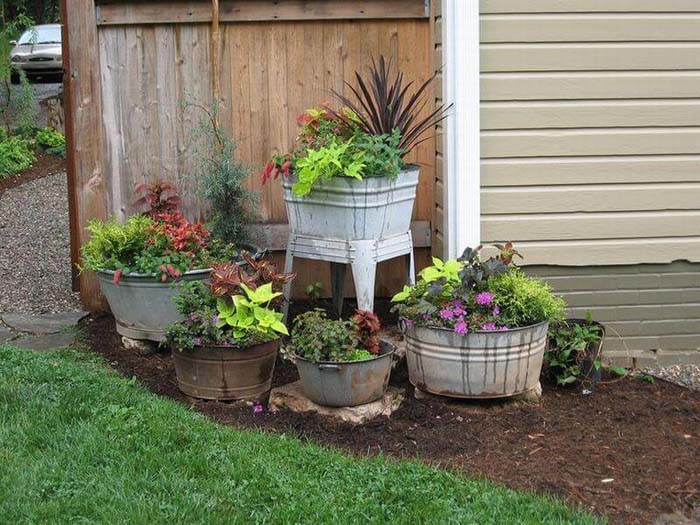 Inspired by the countryside living, a group of repurposed galvanized washtubs holds coleus species. This vintage green nook is an alternative to a rock garden.
4. Contemporary Cinder Block Plant Container for Your Patio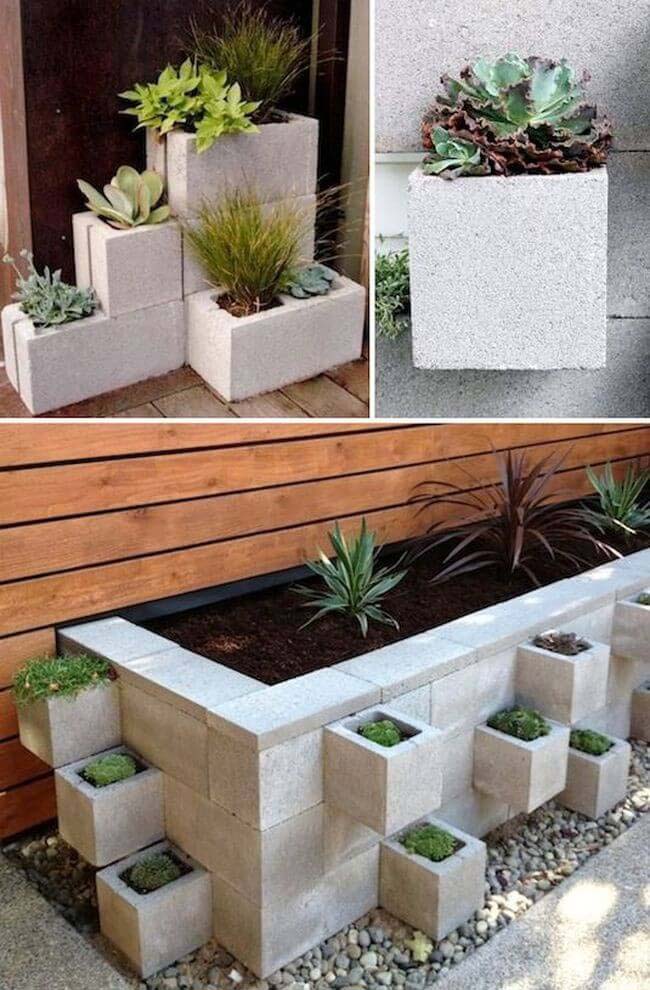 This cinder block plant container is suitable for small or big patios as you can define its size.
The fabricated openings of the blocks provide space for small plants like succulents, decorative grass and moss.
The miniature plants and the plain concrete finish make the design of this container contemporary.
5. Make Affordable Planters with Concrete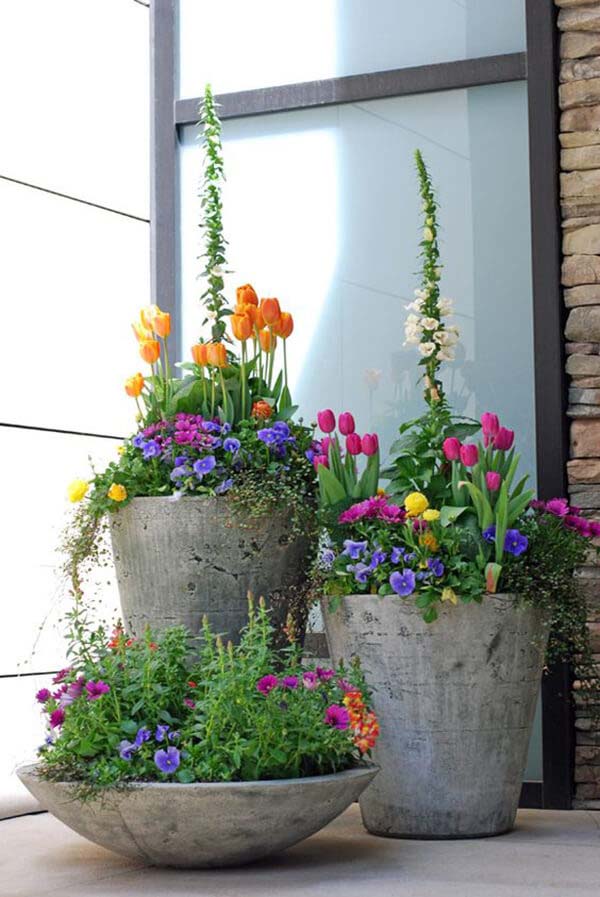 Making planters from concrete is easy and affordable.
The other advantage of crafting with concrete is the variety of finished shapes as they depend on the molds. Take a look around and use buckets, bowls, even PVC pipes for your garden container molding.
6. Crafting a Clay Zen Garden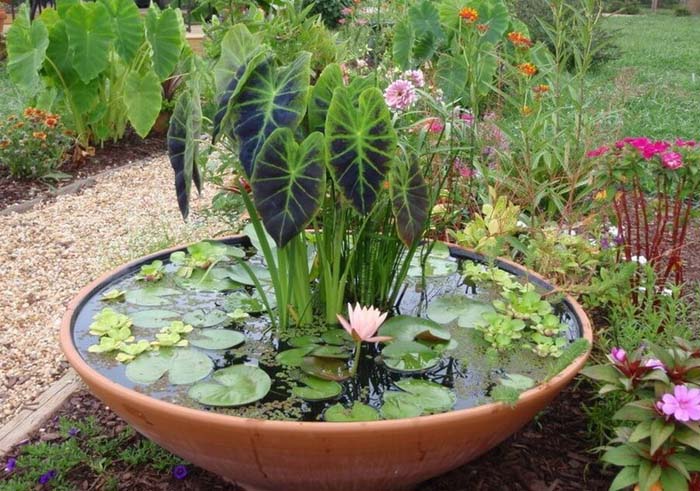 Working with clay isn't difficult, on the contrary- it is big fun as you use actively your hands and that naturally relaxes the mind.
Find a large bowl and use it as a mold for your clay workpiece. When dry, use as a zen garden pond with suitable water plants.
7. Transform Old Chandelier into a Terracotta Pot Accent Piece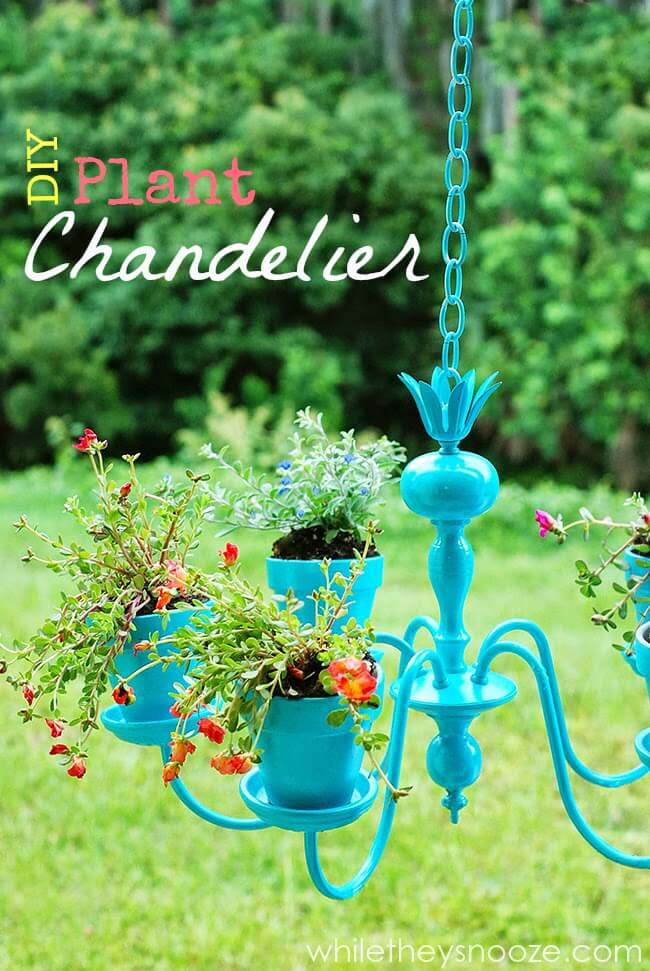 An old chandelier can become a remarkable focal point for your porch or garden.
Take off the light bulbs and replace them with small terra cotta pots. Paint in a bright color for visible summer vibes.
8. Planting Succulents in Seashells for Stylish Accents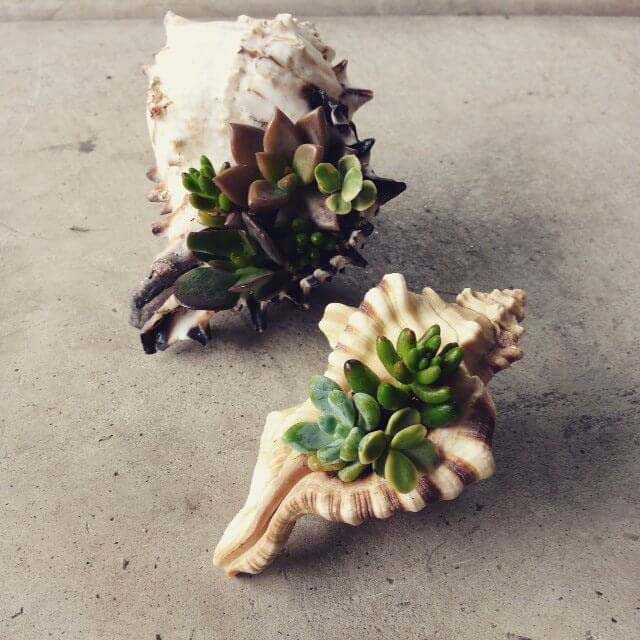 Small accents can make a great impact. Your collection of seashells is a suitable container for small succulents.
Planting them is very easy and growing them- unpretentious.
9. Create a Herb Garden with Your Old Shoe Organizer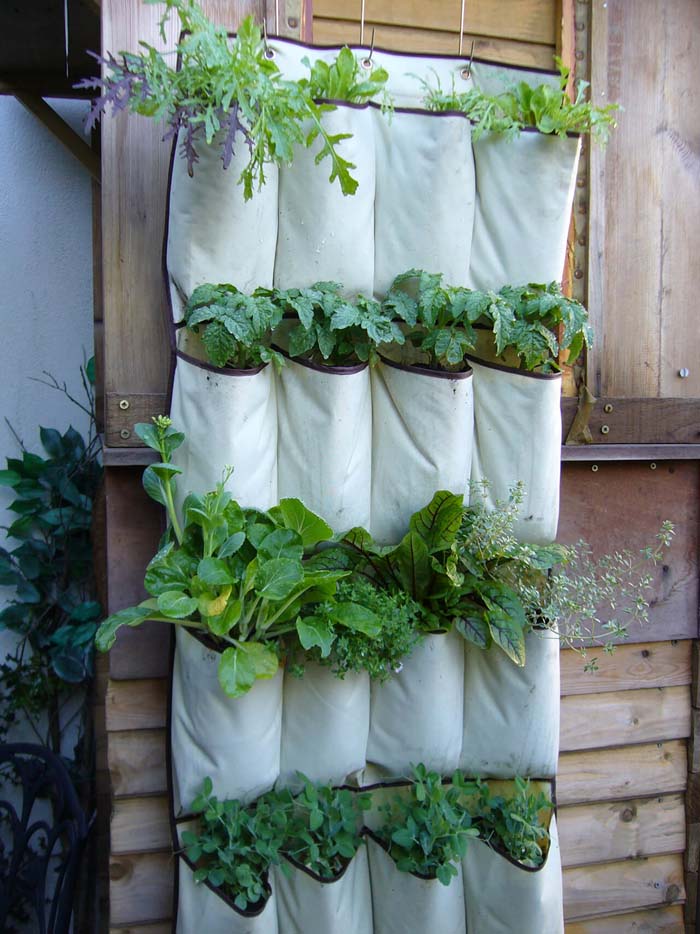 Don't get rid of the old shoe organizer as it can be used as a vertical herb garden. Put soil in the pockets and plant the seeds.
Hang on your fence or your patio wall and enjoy the taste of your meals with fresh herbs.
via Instructables
10. Build Rock Gardens With Large Stones and Plant Containers

Rock gardens take a very special place from the yard.
If you are not keen on the standard arrangement with small and average sized stones, use large stones with cavities as containers for your plants.
11. Upcycle an Old Wagon Wheel into a Garden Feature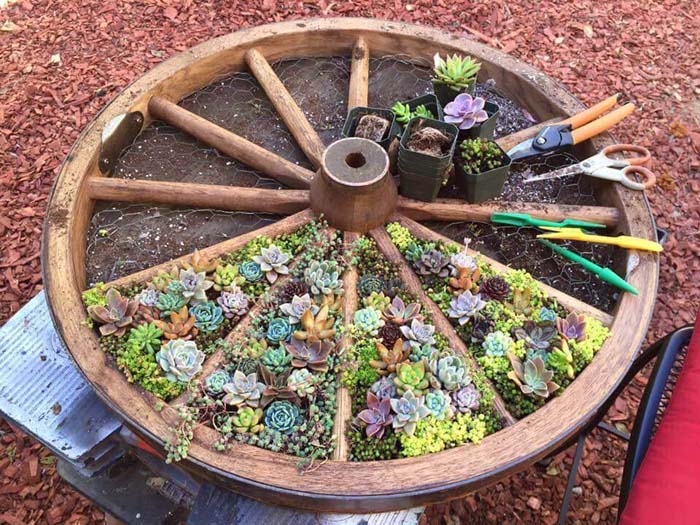 Living decorations are very impressive. Usually, they use a repurposed object as a container that has holes to accommodate and hold plants.
An old wagon wheel is interesting and suitable support for such a garden. It will become a great backyard focal point both hanging or on the ground.
via The Whoot
12. Transform Colanders into Hanging Flower Planters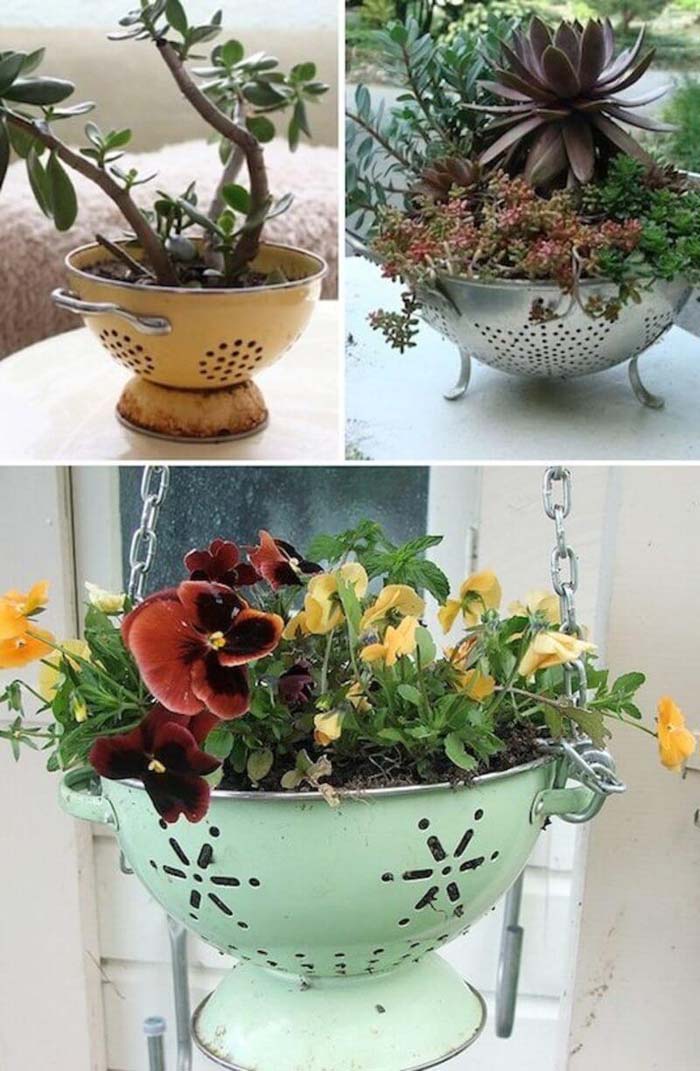 Due to the large bowl, coated surface and fabricated holes, colanders easily transform into flower containers.
If you need a hanging planter, just use their lugs to suspend to a chain or cord.
via HGTV
13. Upgrade Your Balcony with a Succulent Planter in an Old Book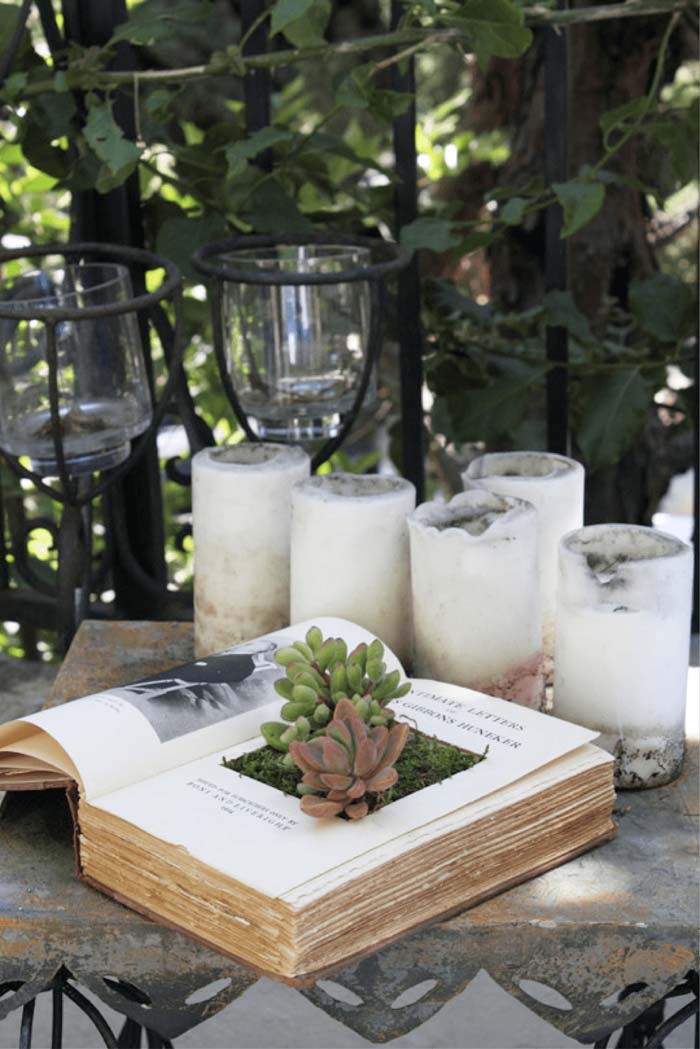 Add a little charm to your balcony with a handmade succulent container in an old book.
It will take you less than an hour but its impact will be noticeable.
14. Create a Beautiful Firewood Fence for Your Garden Decor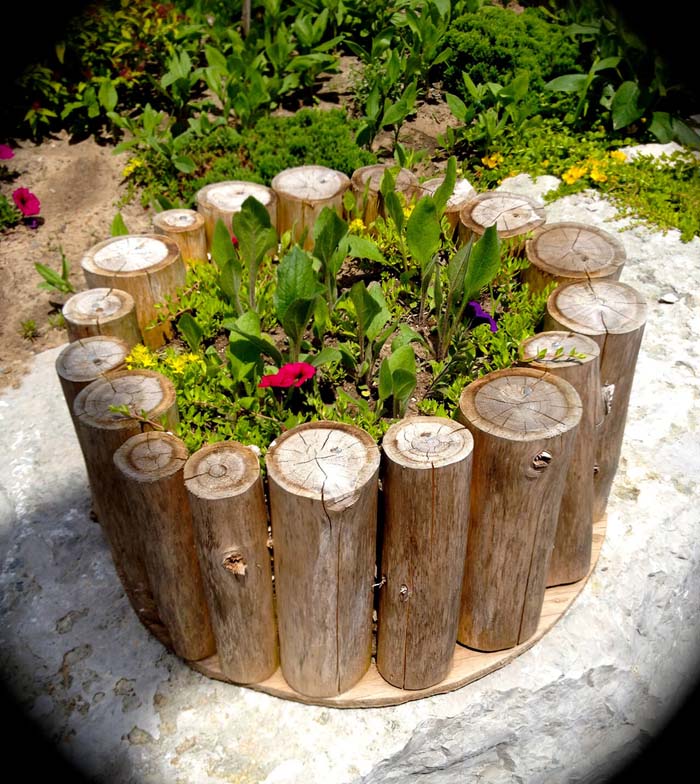 If you have leftover firewood, make a fence around a bowl or flower pot.
This cute edging is also suitable for fairy gardens.
15. Incorporate Watering Cans into a Shabby Chic Garden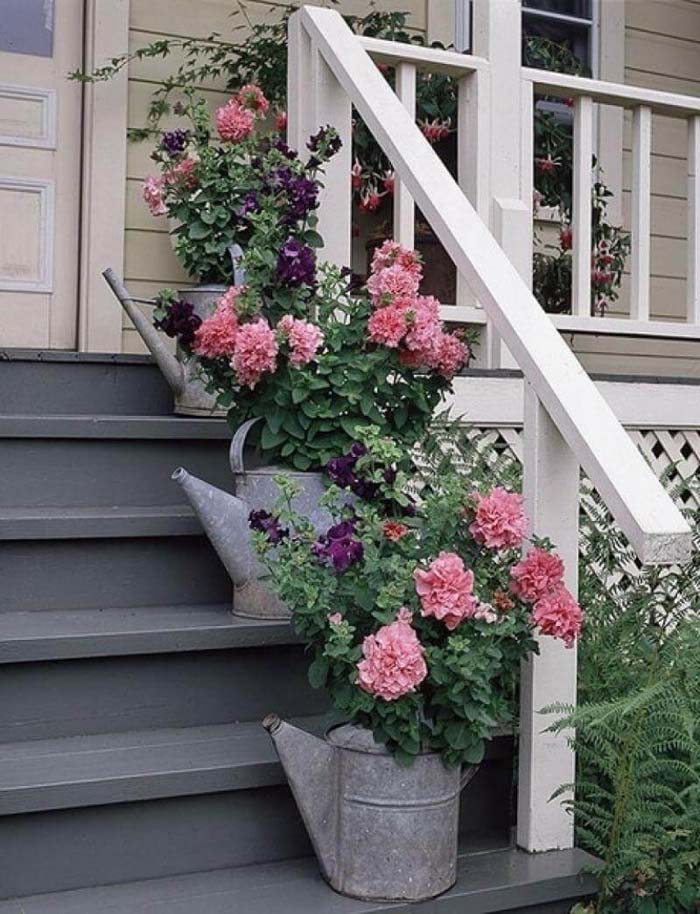 For countryside shabby chic, use old galvanized watering cans as flower containers.
You can arrange in a group on the ground or put one at each step from your porch staircase.
16. Create a Tiered Fountain with Flower Containers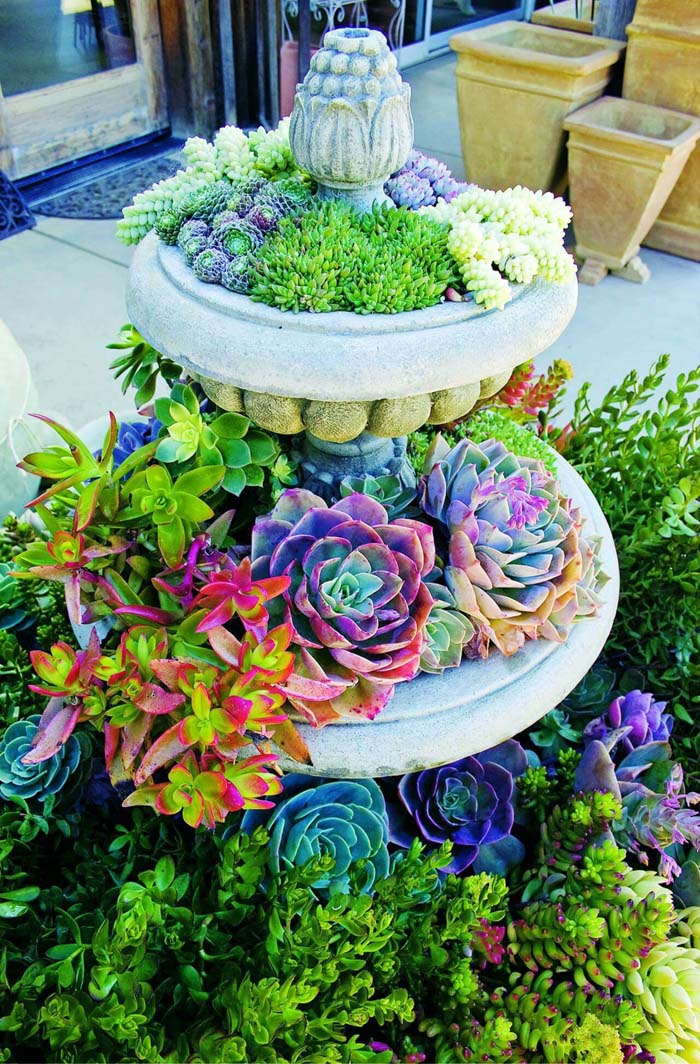 Fountains can be used as tiered flower containers.
Choose plants as you may like- from cascading on the lower level combined with succulents on the top level or succulent species in both containers.
17. Upcycle an Old Metal Toolbox into a Succulent Garden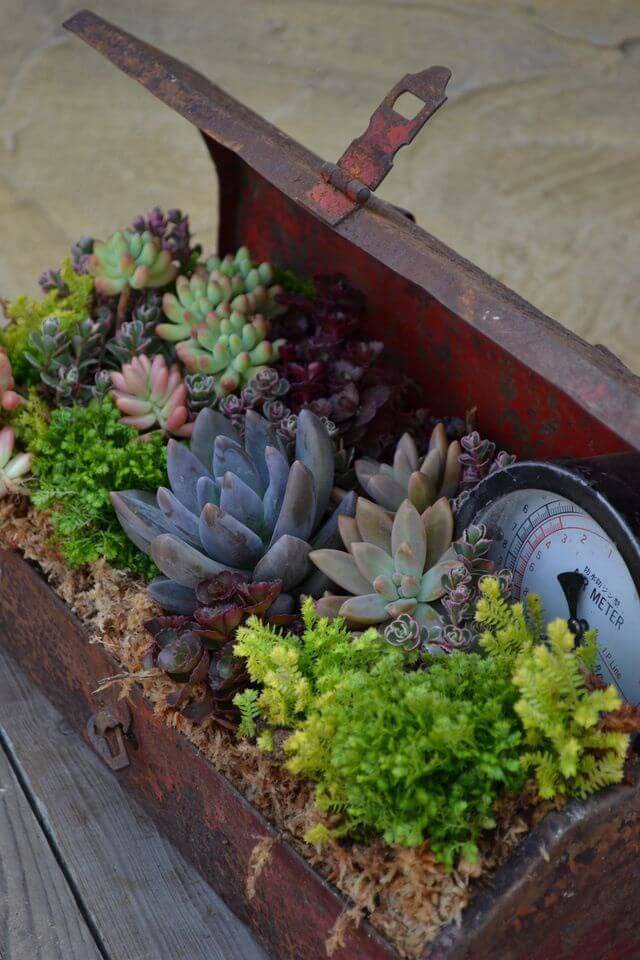 This is one of the cleverest container ideas and it is based on the recycling trend. An old metal toolbox is turned into a succulent garden.
This decoration will add vintage spirit to the garden interior.
18. Turn Paint Cans into Flower Containers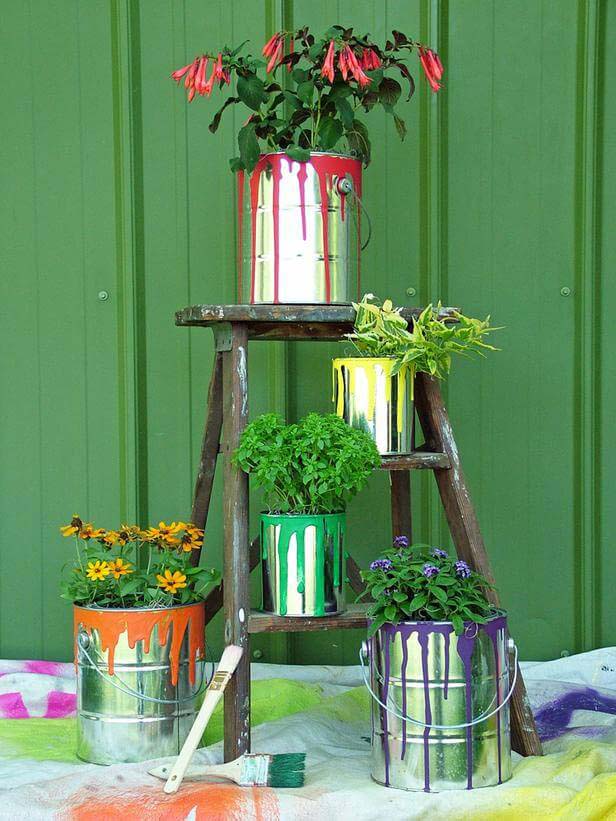 We bet you haven't ever thought that paint cans can be used as flower containers.
Well, they can and they look extraordinary- slightly pour paint onto the top edge of the cans and let it dry. The random lines can match the planted flowers' color.
19. Repurpose Used Tires to Brighten Up Your Garden Bed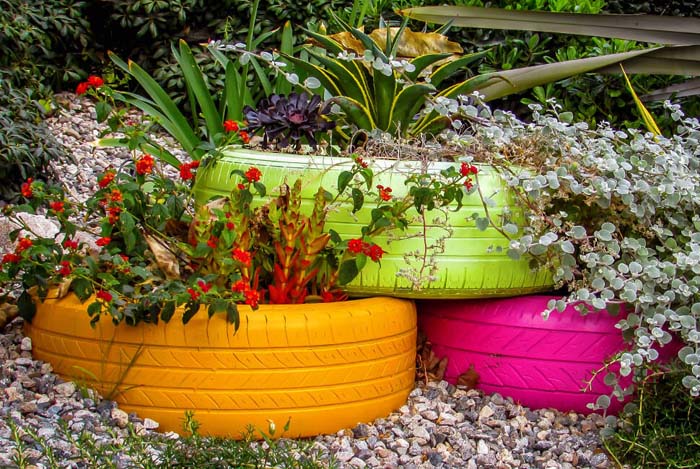 Use old tires to edge your garden beds.
They will look far better and cheerful if painted in bright colors.
20. Reimagine Old Tires into Hanging Planters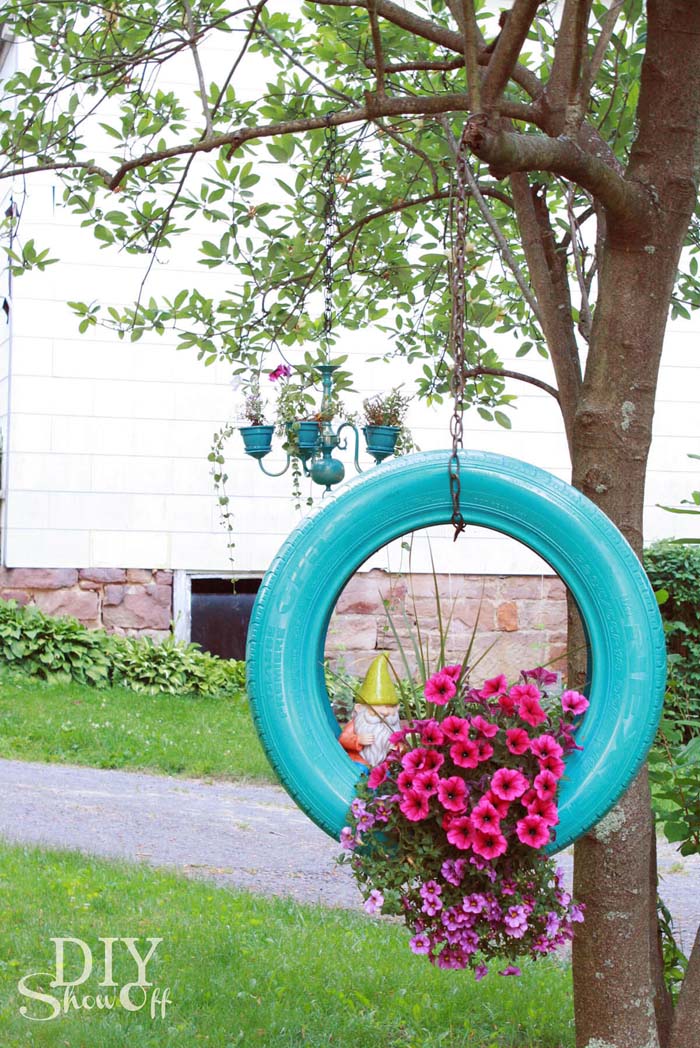 The old tires can be used as a hanging plant container. Its internal rim forms a suitable bed to put soil and plant cascading flowers.
Hang on a tree or to a fence post.
via DIY Showoff
21. Create a Pallet Pot Display for Your Vertical Garden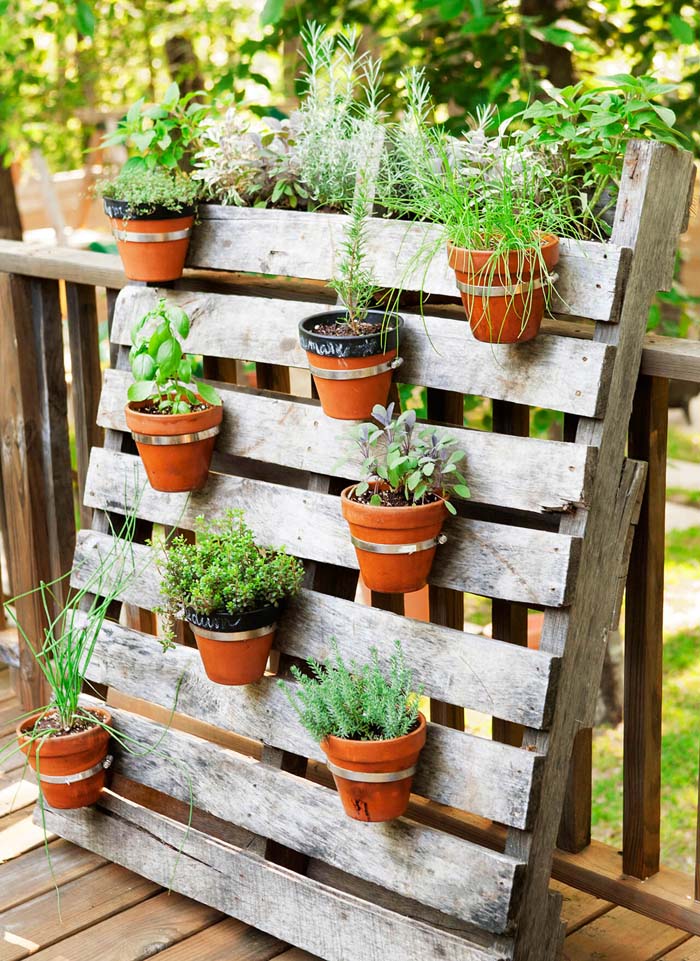 There are many ideas for vertical gardens.
If you are looking for the most budget-friendly and quick DIYs, then take a look at this pallet pot display. You can use it to contain succulents, herbs, blooming flowers.
22. Multifunctional Bench with Built-In Plant Containers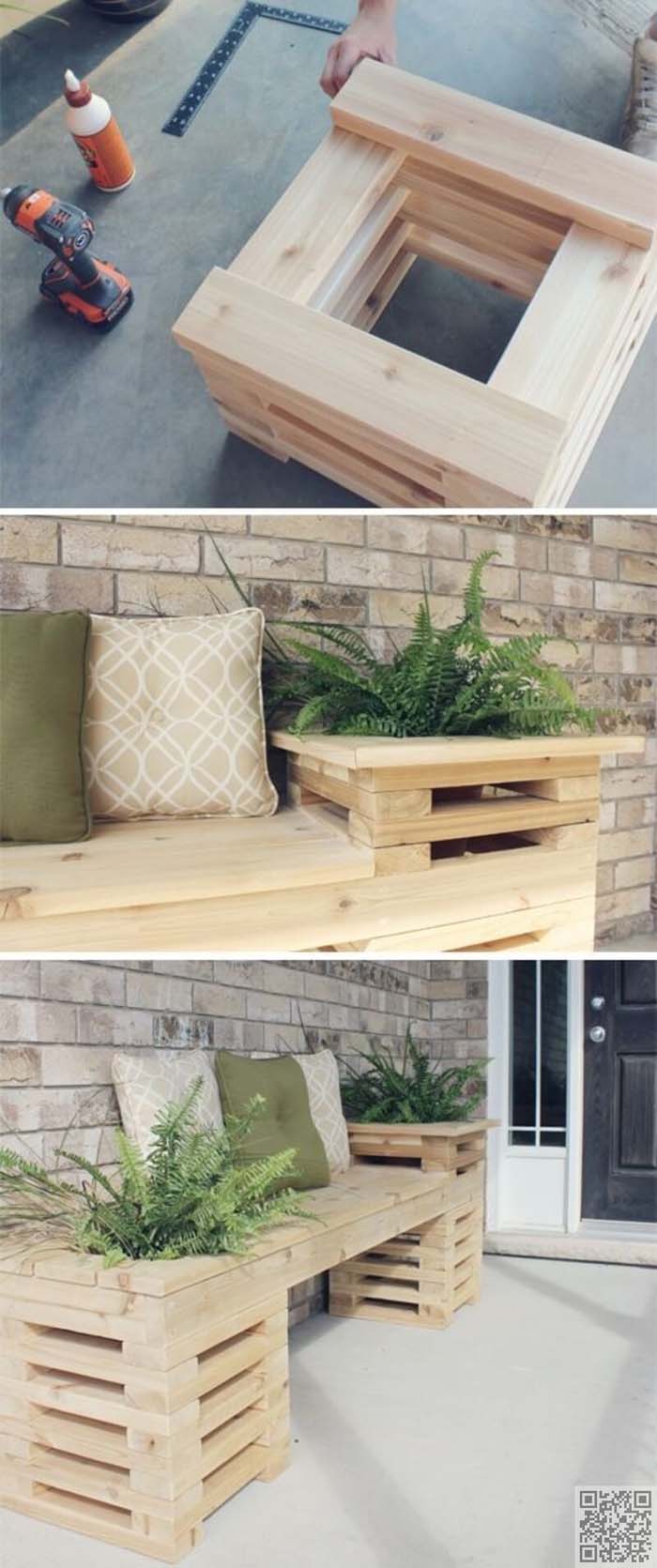 This is a multifunctional idea that will add comfort and beauty to your garden or patio.
The bench has built-in plant containers on both sides which let the furniture easily blend with the rest of the exterior.
via Brittany Stager
23. Make a Vertical, Tiered Garden with Plastic Pipes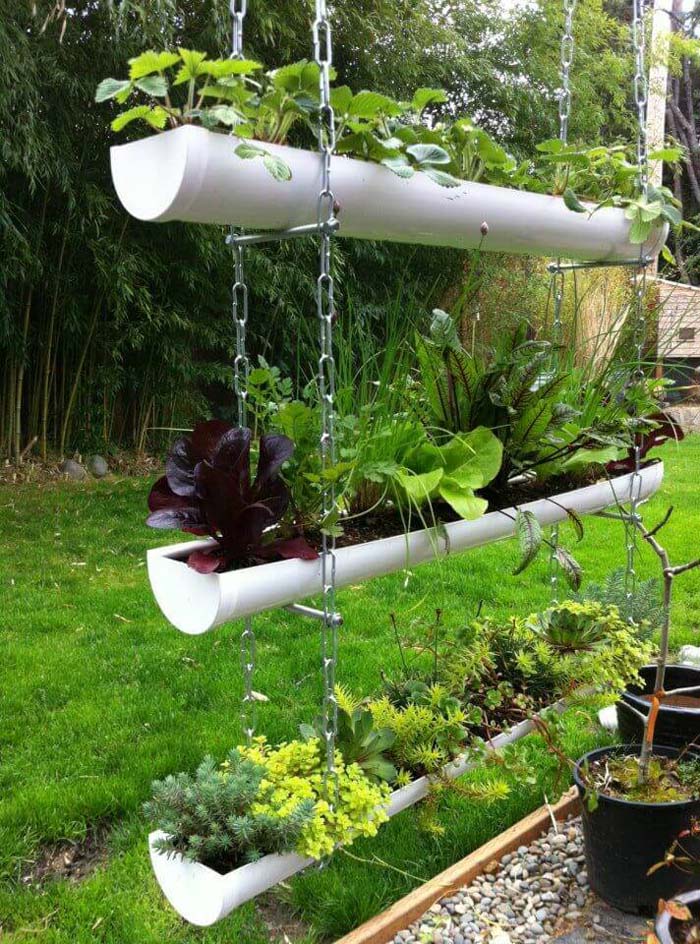 Plastic pipes are cheap and easy to be cut at home.
With the help of some hardware like chains and studs, you can use them as containers for a hanging garden.
Such vertical tiered gardens act as interesting patio edging or space dividers.
via The Whoot
24. Turn Upcycled Objects into Art with Your Creativity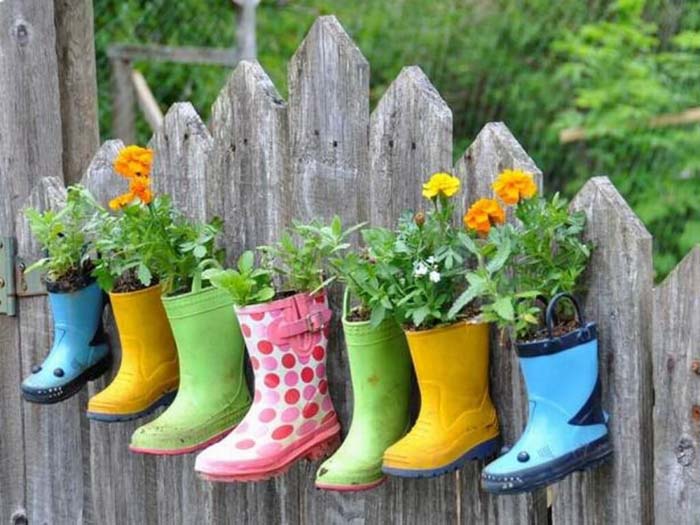 As long as you have imagination, you can do the unbelievable transformation to useless objects like these boots flower containers, for example.
25. Create a Whimsical Log Flower Bed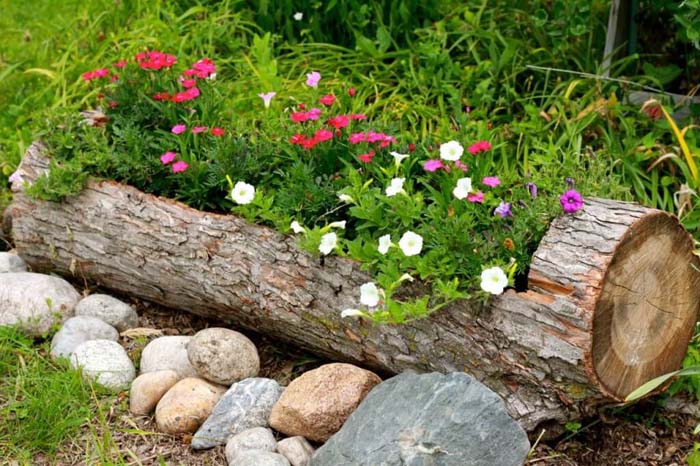 Make a flower bed out of a large log. It will save you loads of time and effort if you find a rotted log.
Take out the internal wood and practice your green thumb.
26. Add Elegance with a Classic White Garden Feature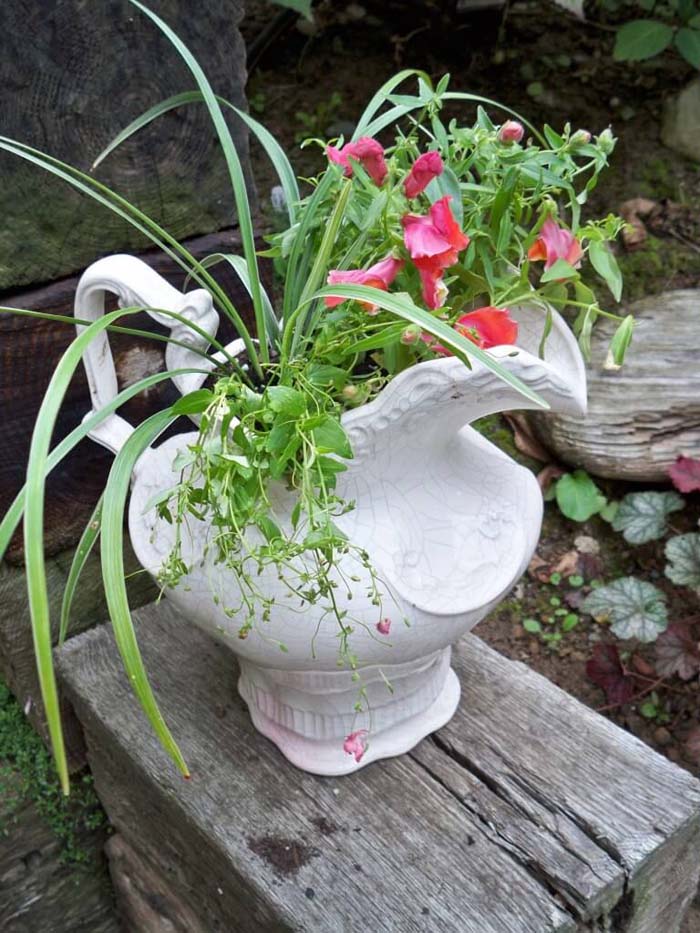 A garden feature in white is a stylish and beautiful addition to the décor. It will be particularly chic if it is an antique.
A crackled pitcher can be used as a tabletop flower planter.
27. Create an Inviting Space with Holding Hands Sculpture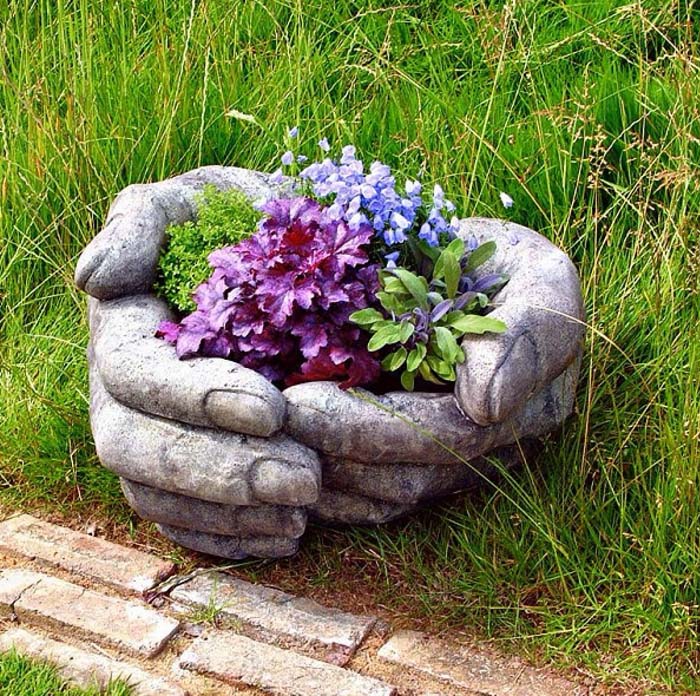 There is something incredibly inviting about these holding hands sculpture.
You can make this garden container with concrete or gypsum poured into gloves. This decoration is perfect to add flower accents to grass gardens.
28. DIY Mini Garden with Heart-Shaped Stones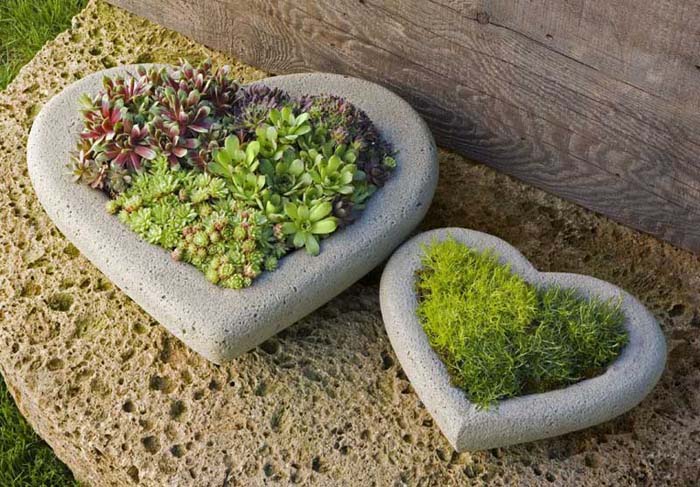 Create a mini garden with heart-shaped stones.
You can DIY the container using a mold made from cardboard, a gift box, or rubber lining.
Pour concrete or gypsum and add a smaller mold on top of it to form the future flower bed.
29. Tier Your Terra Cotta Pots Easily with Dowel Thrusts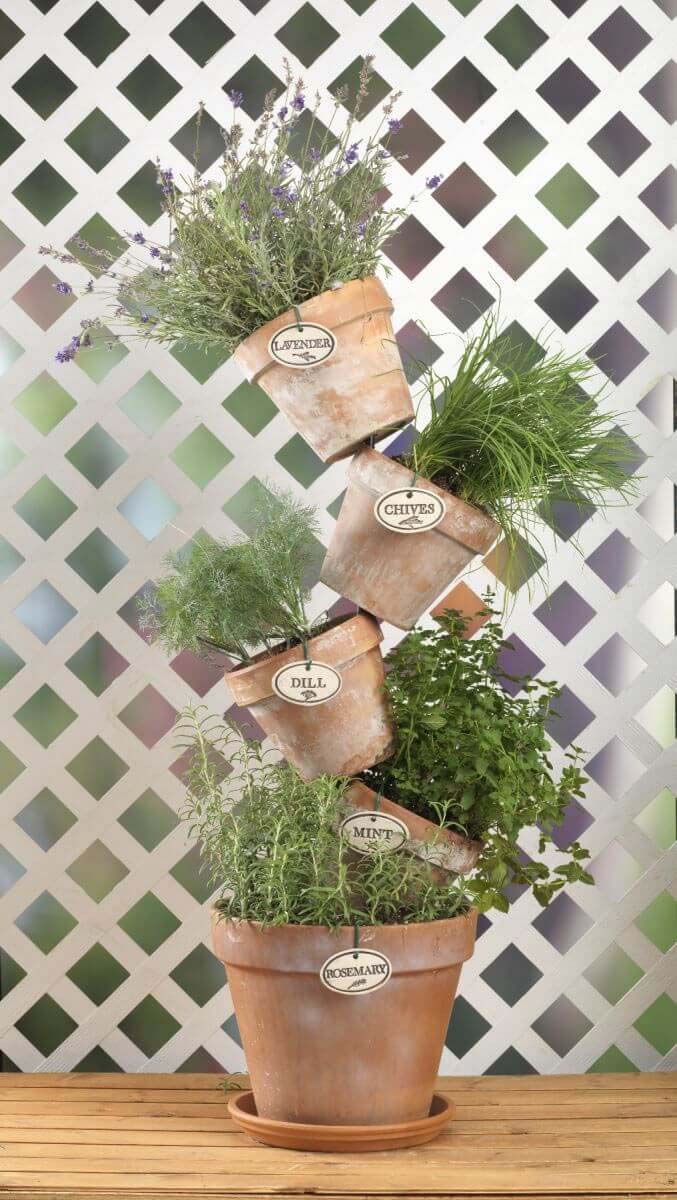 Tiering terra cotta pots is very easy.
Use the existing drainage pots to put each pot through a metal dowel thrust into the soil of the pot below.
30. A Boot-Shaped Flower Container to Add Joyful Smiles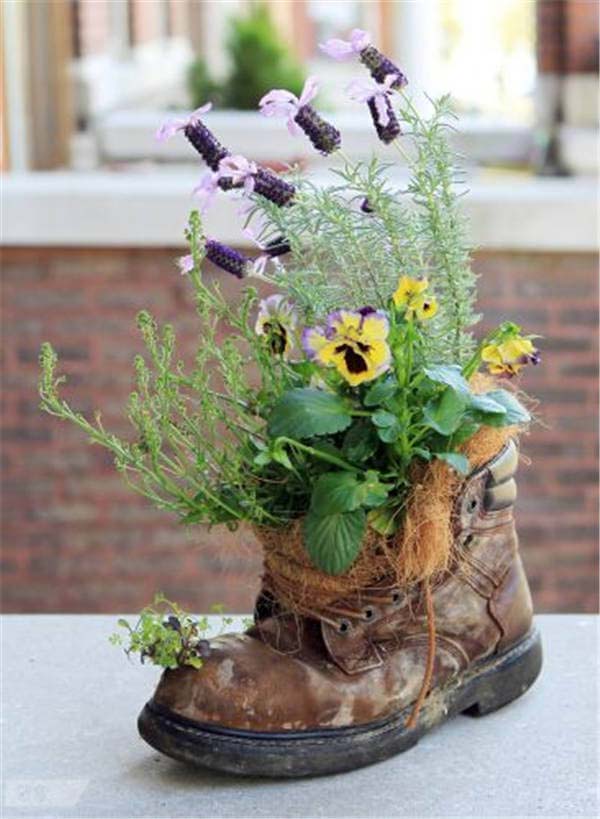 The purpose of such a flower container is to evoke smiles.
The leakier and older the boot is, the better it is for drainage.
via Start Tribune
31. Upcycle a Desk into a Unique Flower Arranger for Your Garden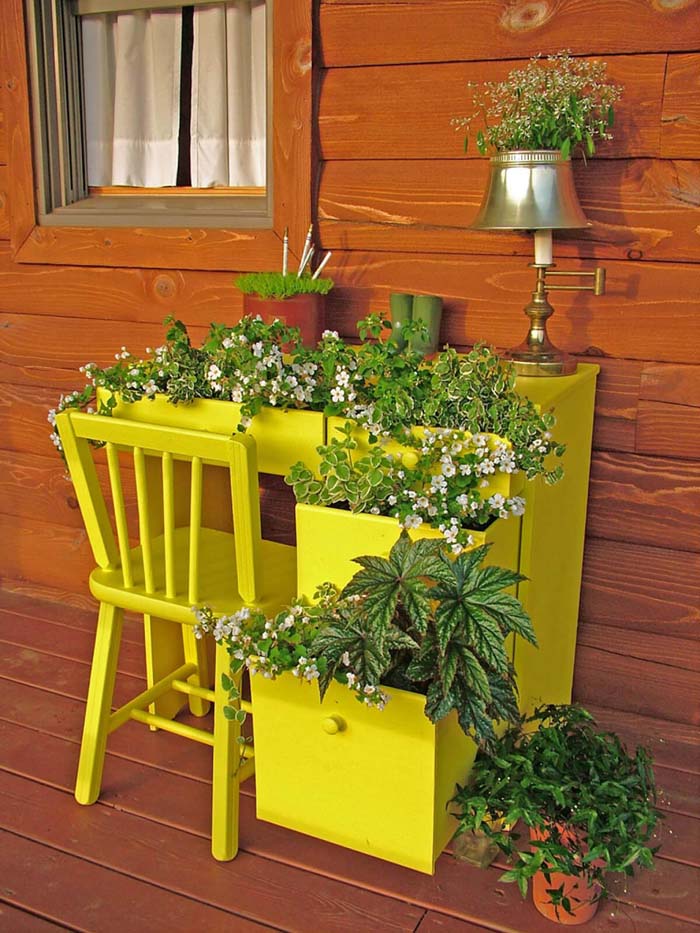 An old desk is not only a beautiful upcycled garden decoration but also a unique flower arranger.
The leveled alignment of the drawers will allow the creation of an original cascading plant arrangement.
32. Repurpose a Broken Laundry Basket into a Flower Container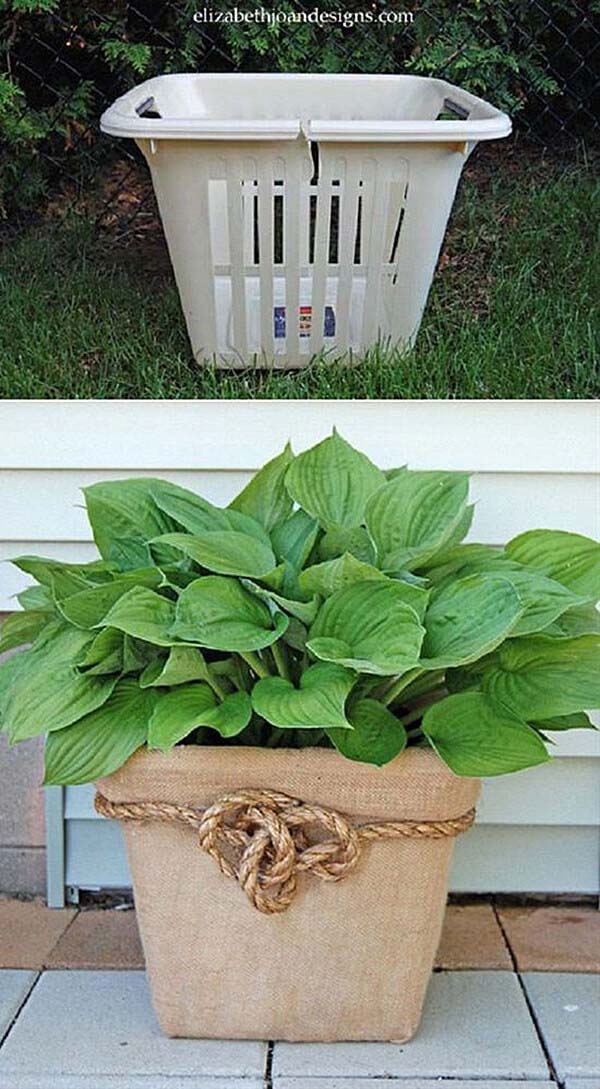 When the laundry basket breaks, you have an alternative application- a flower container.
Add burlap inside where the slots are and outside to hide the plastic. A fancy ribbon from rope will give a farmhouse finish to the repurposed container.
via Elizabeth Joan
33. Grow Succulents for Home Decor and Gardening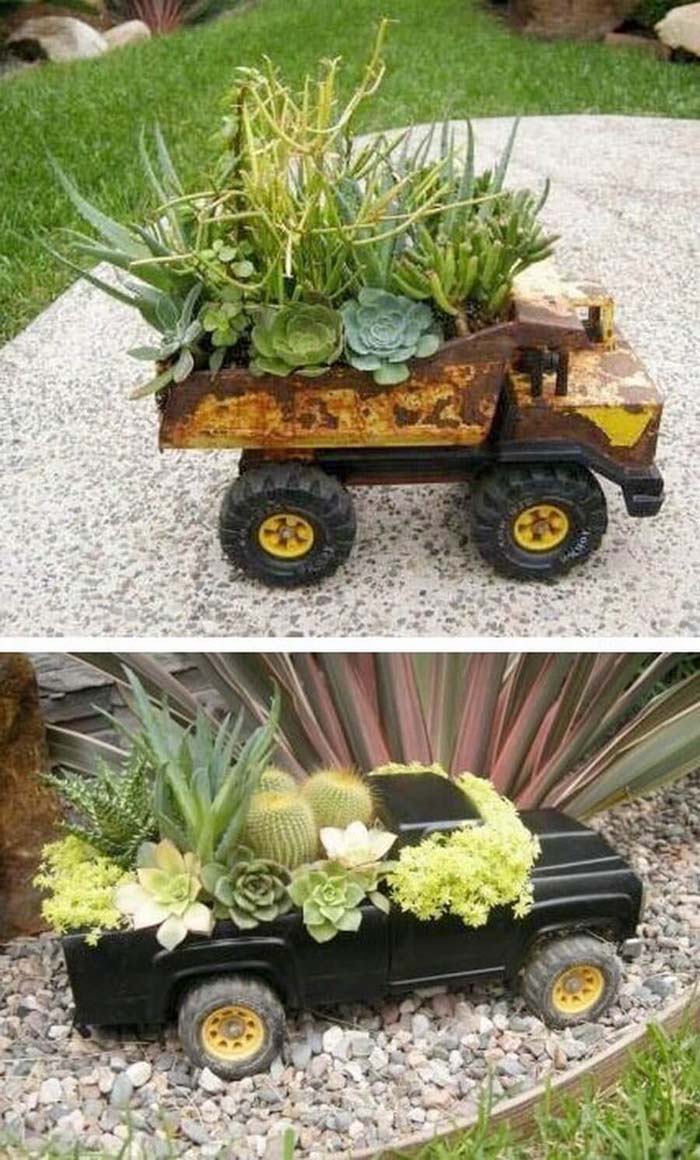 Succulents are definitely popular these days.
They are great not only for their easy-to-grow characteristics but also for their size which allows planting them in all kinds of containers.
34. Turn An Old Chair into a Vintage Flower Container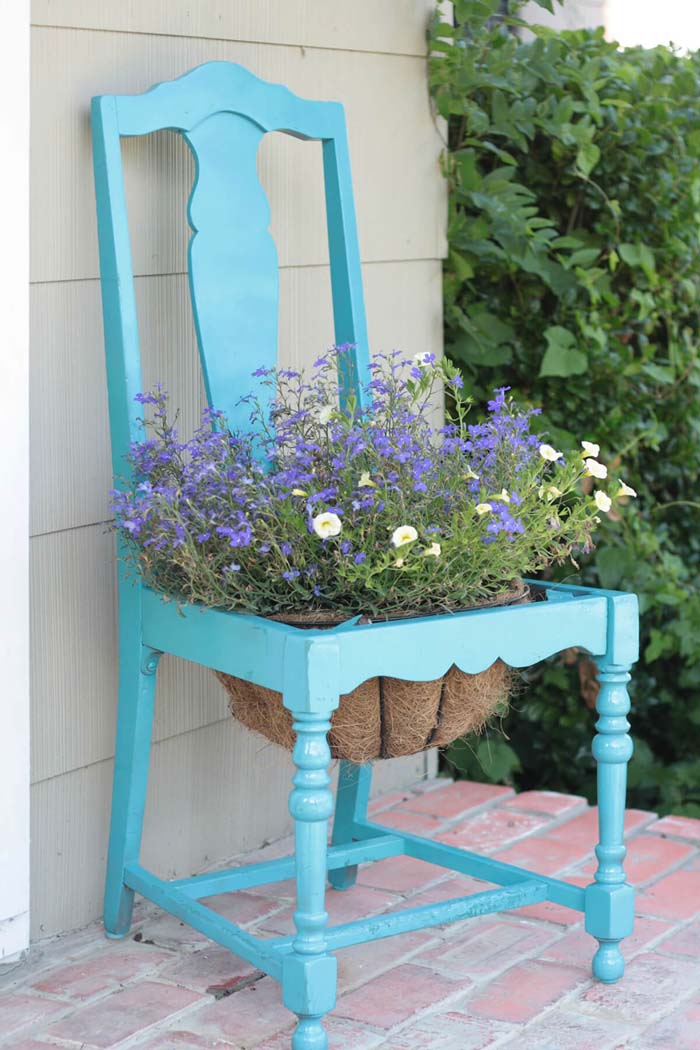 Demonstrate your creativeness by turning an old chair into a vintage flower container.
First, you need to think of a color that will make a drastic contrast with the rest of your decoration as this container deserves attention.
Then put a coco-lined pot at the place of the seating board and voila!
via Sew Caroline
35. Revitalize Your Garden with a Repurposed Dresser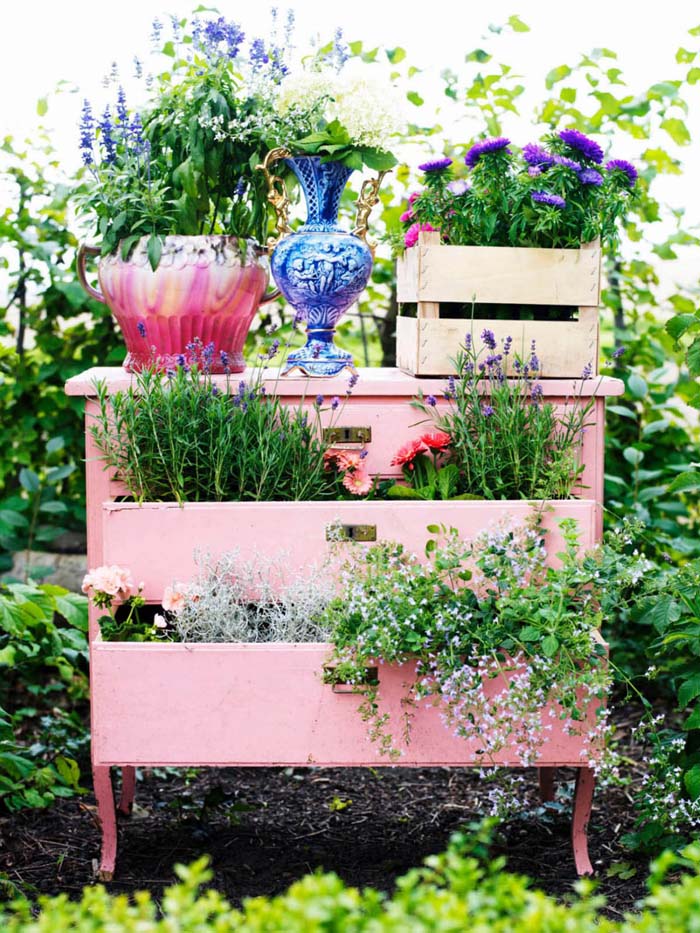 If you don't like the monotony of the strictly arranged garden, break it with a repurposed dresser.
Use the drawers as herb or flower containers and their top as a pot stand.
via HGTV
36. Upcycled Sink Used As an Eco-Friendly Flower Pot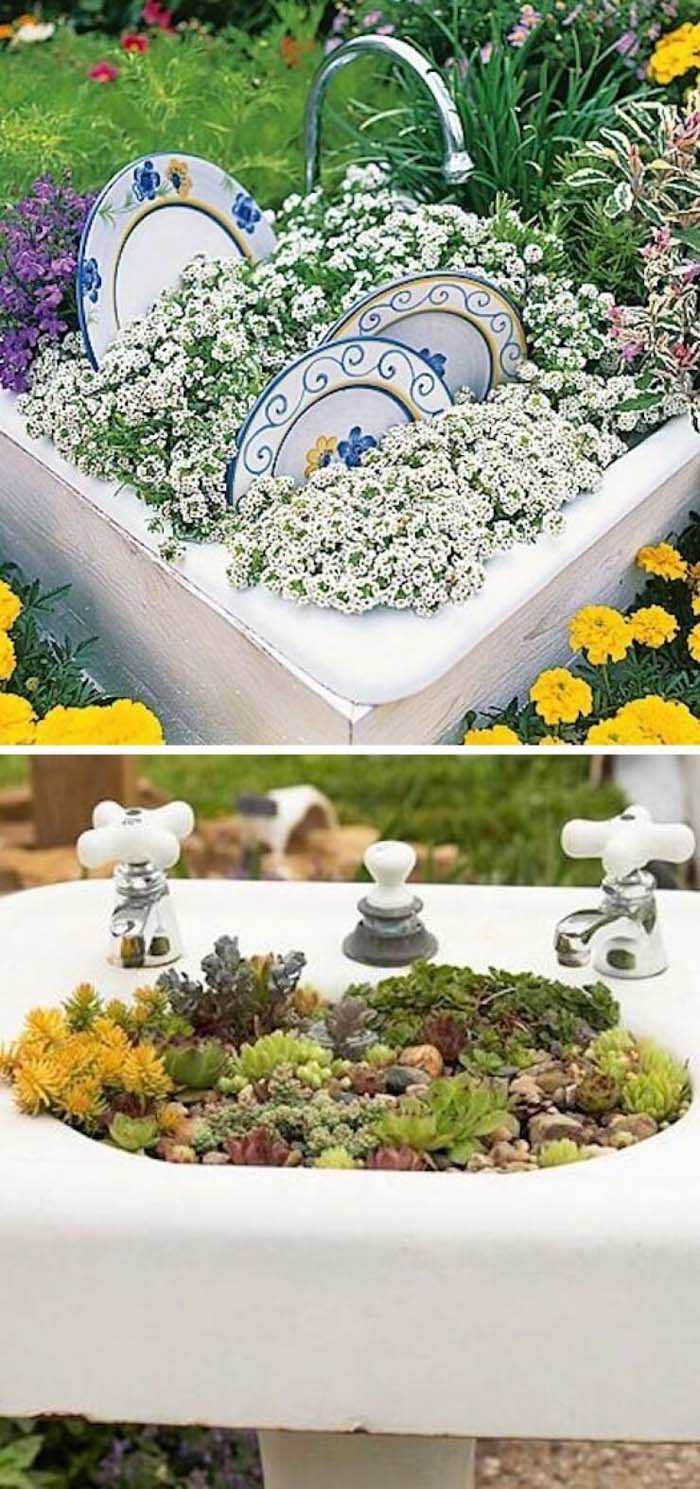 This is a strange but definitely an original idea.
Besides, it is very eco-friendly as the sink is upcycled and repurposed to accommodate flowers.
37. Brighten Your Backyard with a Wheelbarrow Flower Planter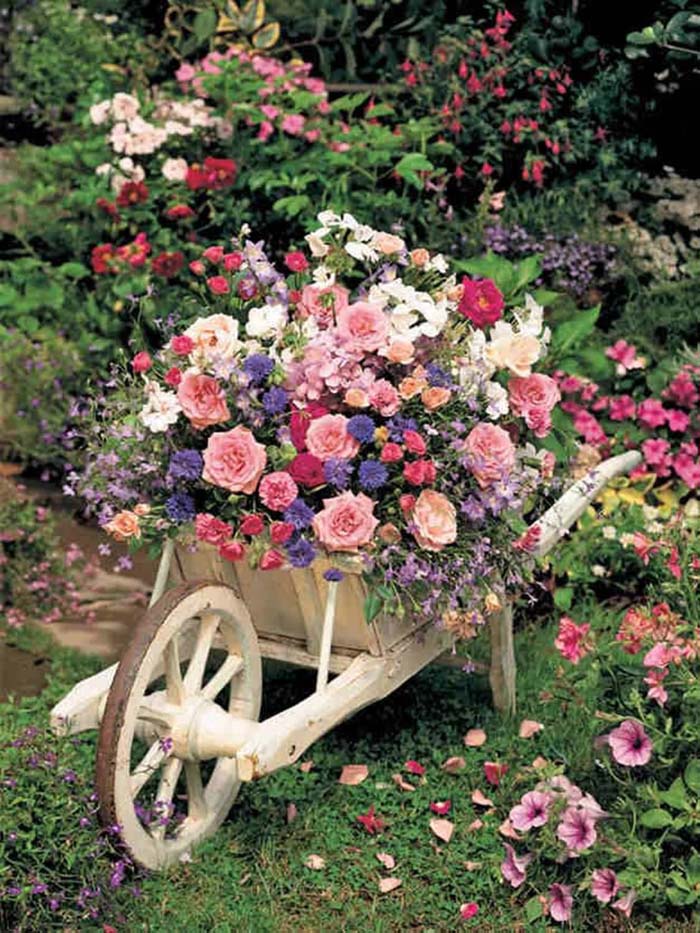 A wheelbarrow container is a charming way to add color and farmhouse mark to your backyard or patio.
The beautiful bouquet of flowers it holds can be refreshed at any time.
38. Utilize Wicker Baskets as Flower Planters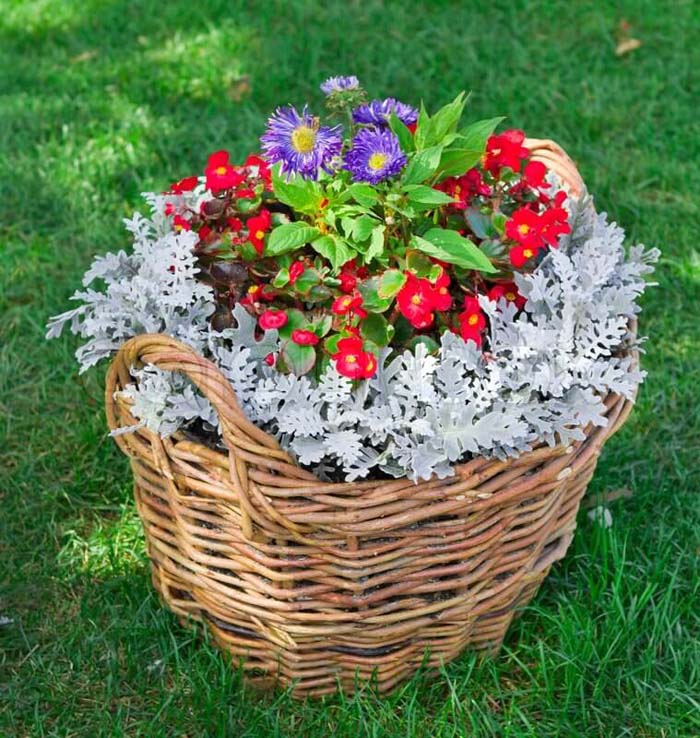 This is an inspiration for how to use wicker baskets otherwise.
When they cannot find their place inside the house, they quickly fit into the garden interior. They will look particularly well as flower containers among the rye-grass garden.
39. Transform an Old Barrel into a Beautiful Flower Container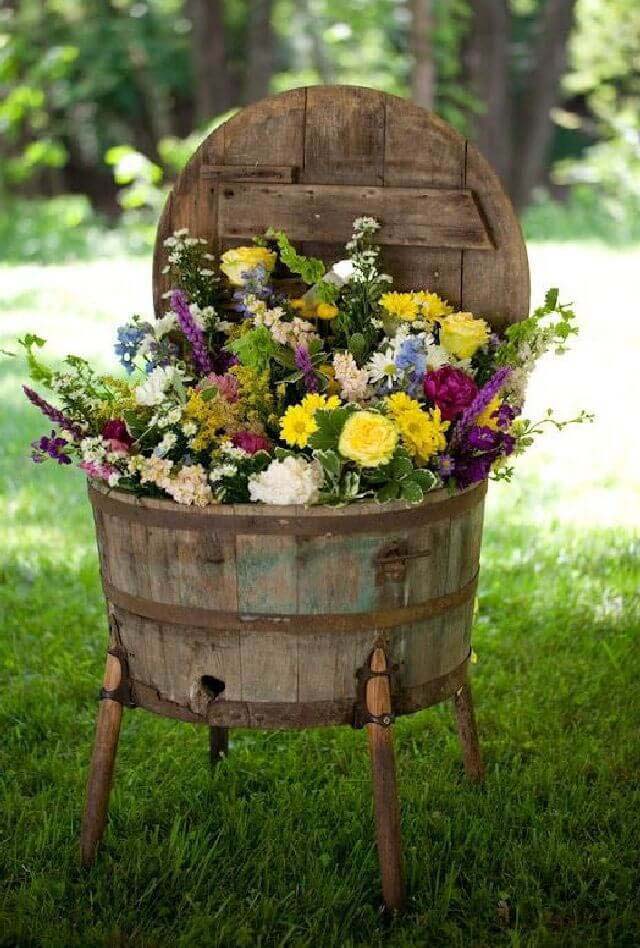 An old barrel is turned into a flower container by adding legs as support.
The stuffed flower bouquet makes the barrel stand out from the rest of the garden.