Succulents are the most loved plant varieties by beginners and professionals in gardening. This isn't surprising at all! In addition to being easy to care for, they also make the interior more contemporary and whimsy.
The decorative look of all of the succulent types has turned them into popular indoor plants. To match their look, you need to find the best indoor planters for them. Such that will make them stand out and will enhance their character.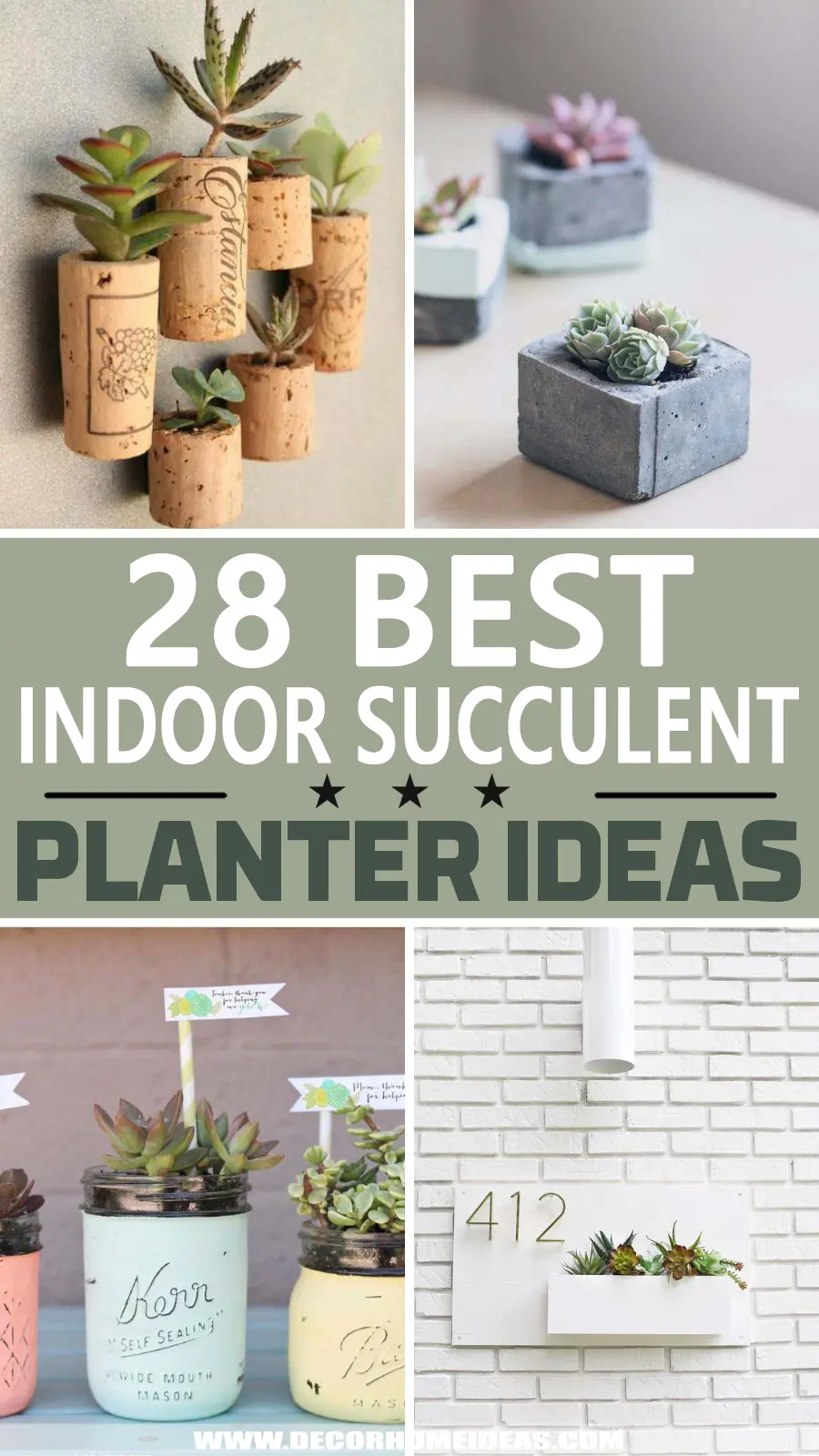 This is what we have thought about- how to include the succulents creatively in your home décor. Check out the Best Indoor Succulent Planter Ideas That Will Brighten Up Your Space!
1. Mixed Pots Succulent Garden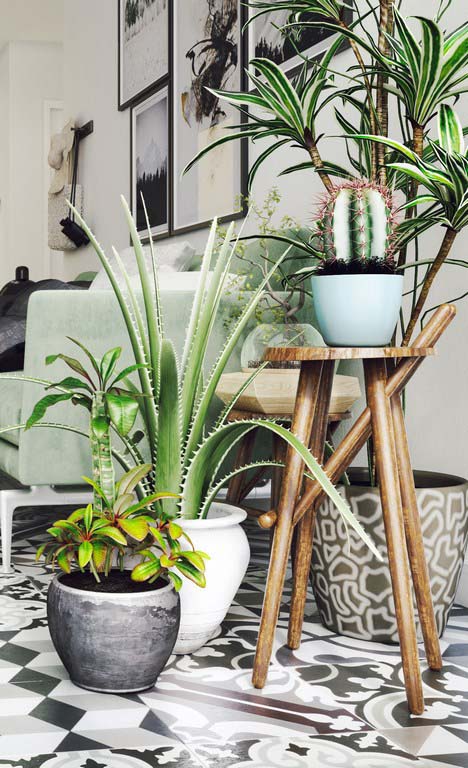 Create an appealing indoor garden with a few succulent pots grouped in an interesting arrangement. Use small stools, stacked books and other repurposed stands to give the arrangement height and interest.
via Planete Deco
2. Chalk-painted Mason Jars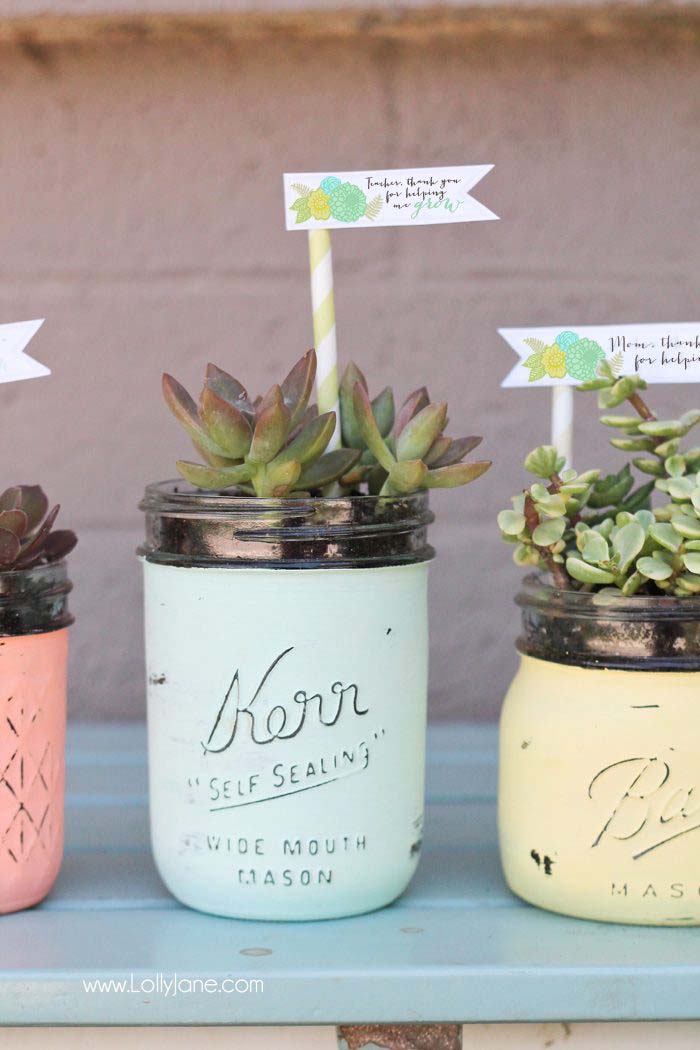 If you have a collection of Mason jars, you can turn them into succulent planters. Give the jars a bright embellishment with chalk paints and distress the protruding letters with sandpaper for a subtle vintage touch.
via Lolly Jane
3. Vintage Dish Garden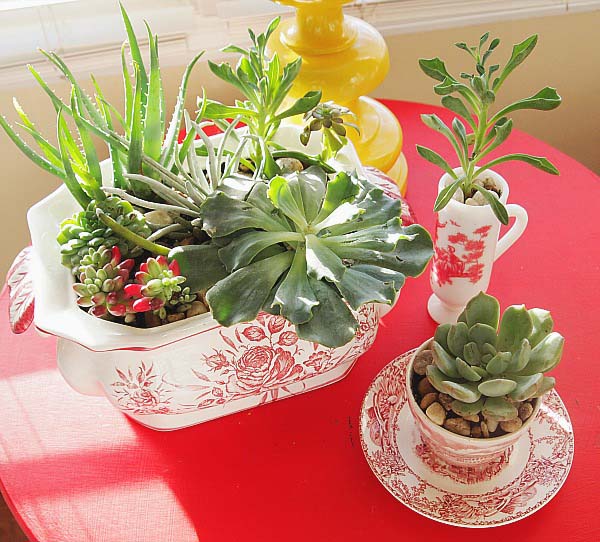 If you have an old dishware set, you can repurpose it into your new vintage dish garden with succulents. It will look great as a kitchen or dining table centerpiece.
4. Embellished Terra Cotta Pots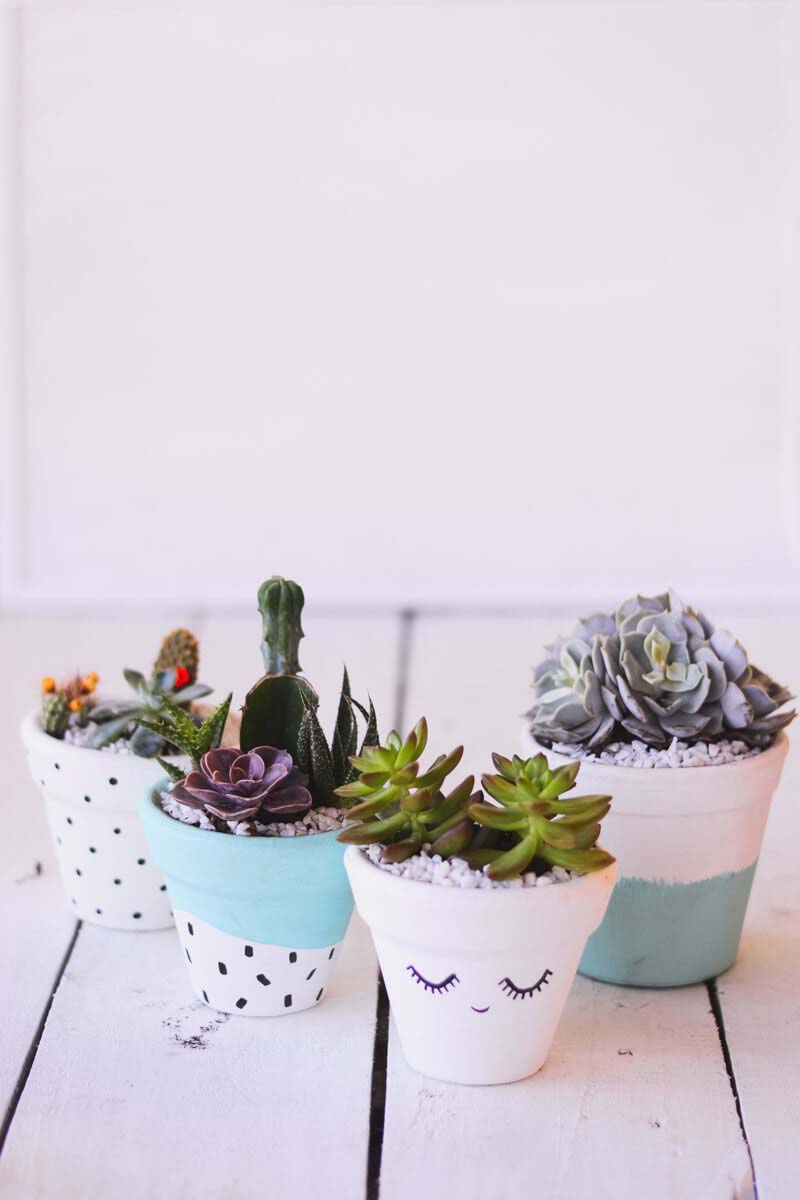 This is an easy and affordable indoor succulent planter idea. The plain terra cotta pots are canvases to imprint your own taste and match them with the interior.
5. Free-standing Succulent Planter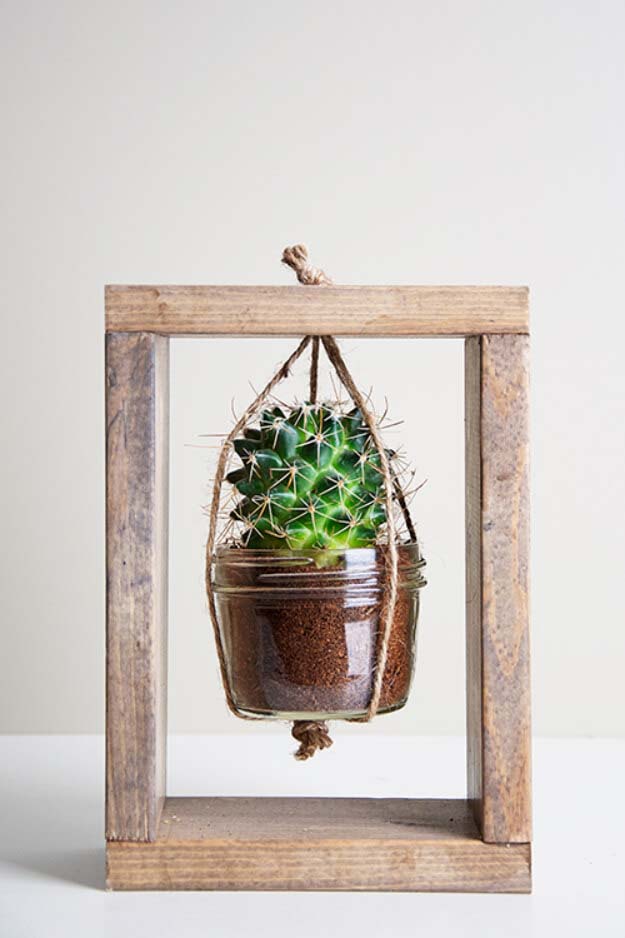 Has the candle in the jar already finished? Then you already have on hand a planter for this great free-standing décor piece.
Assemble the wooden frame with reclaimed wood slats and wrap the candle holder with twine. Leave the ends long enough to tie the planter to the frame.
6. Wine Bottle Planters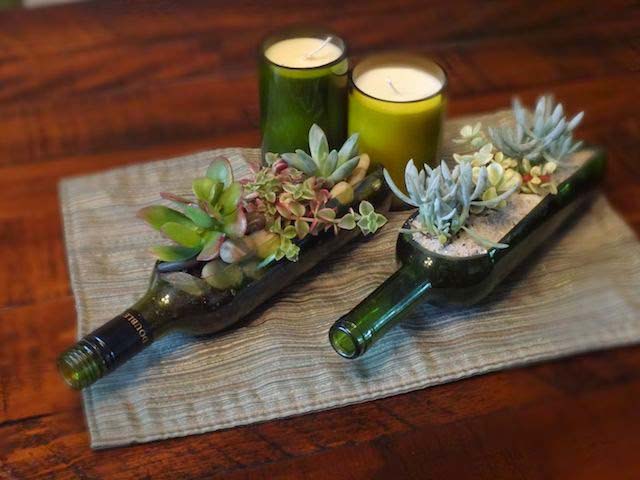 If you are a wine lover, then you can quickly save two or three wine bottles. Wonder why? To upcycle them into fantastic succulent planters.
The most difficult part of this DIY succulent planter idea is to cut the wine bottles where the plants will stay.
7. Succulent Plants In A Baking Tray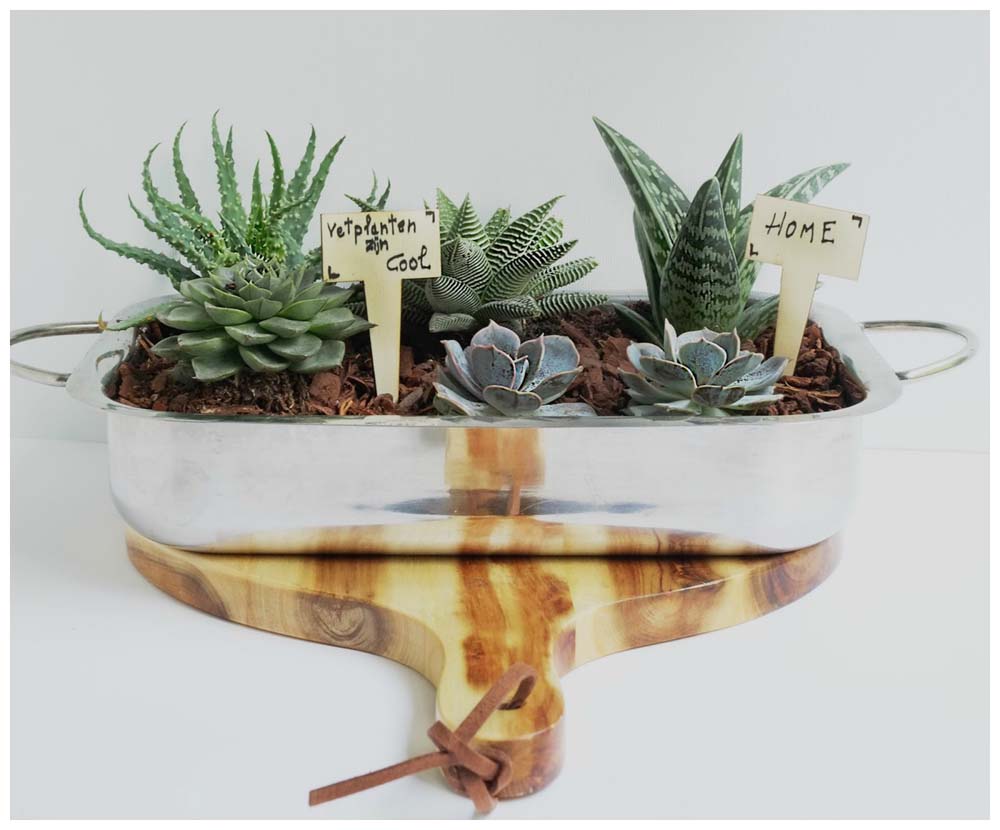 For this succulent planter idea, you need a nice-looking baking pan. Fill the bottom with soil, plant the chosen succulents and then cover the top soil with mulch.
Your cute succulent garden is ready to be displayed.
via Elsar Blog
8. Succulents In Repurposed Items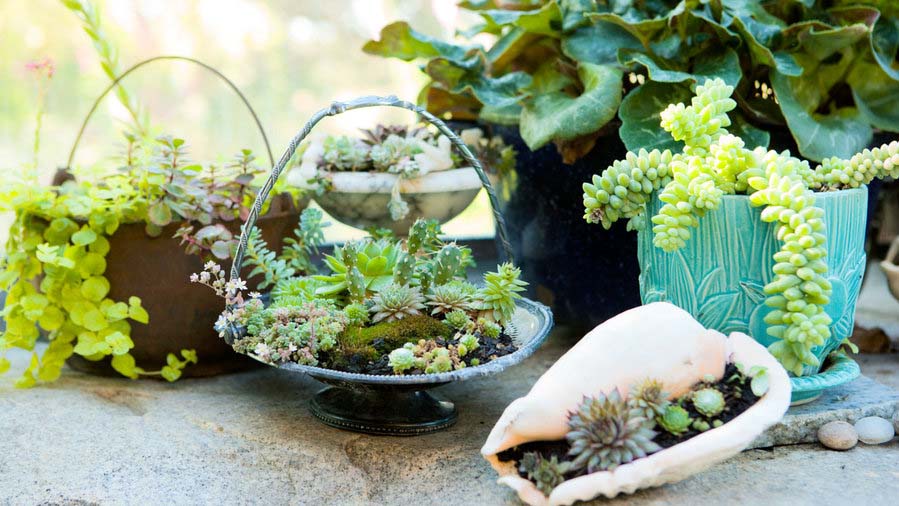 Any holder or item having a slot can be repurposed into a succulent planter.
The size of the succulents is favorable to insert them in tiny spaces and create a whimsy garden. You can use cake stands, baking trays, seashells, candle holders, etc.
9. Glasses With Succulents and Pebbles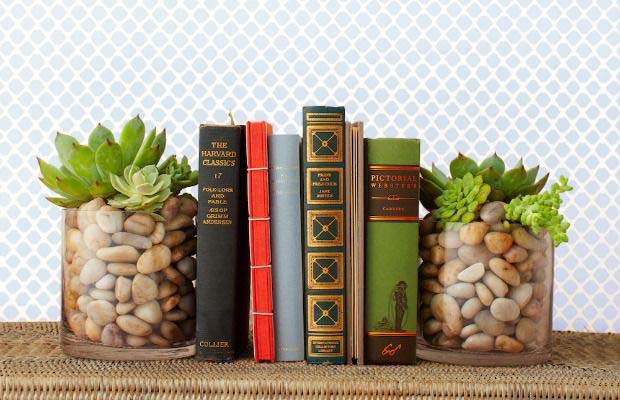 Any glass item can be repurposed into a succulent planter. Check this cute shelf arrangement where vintage books are surrounded by succulents in glasses filled with pebbles.
10. House Number With Incorporated Succulent Planter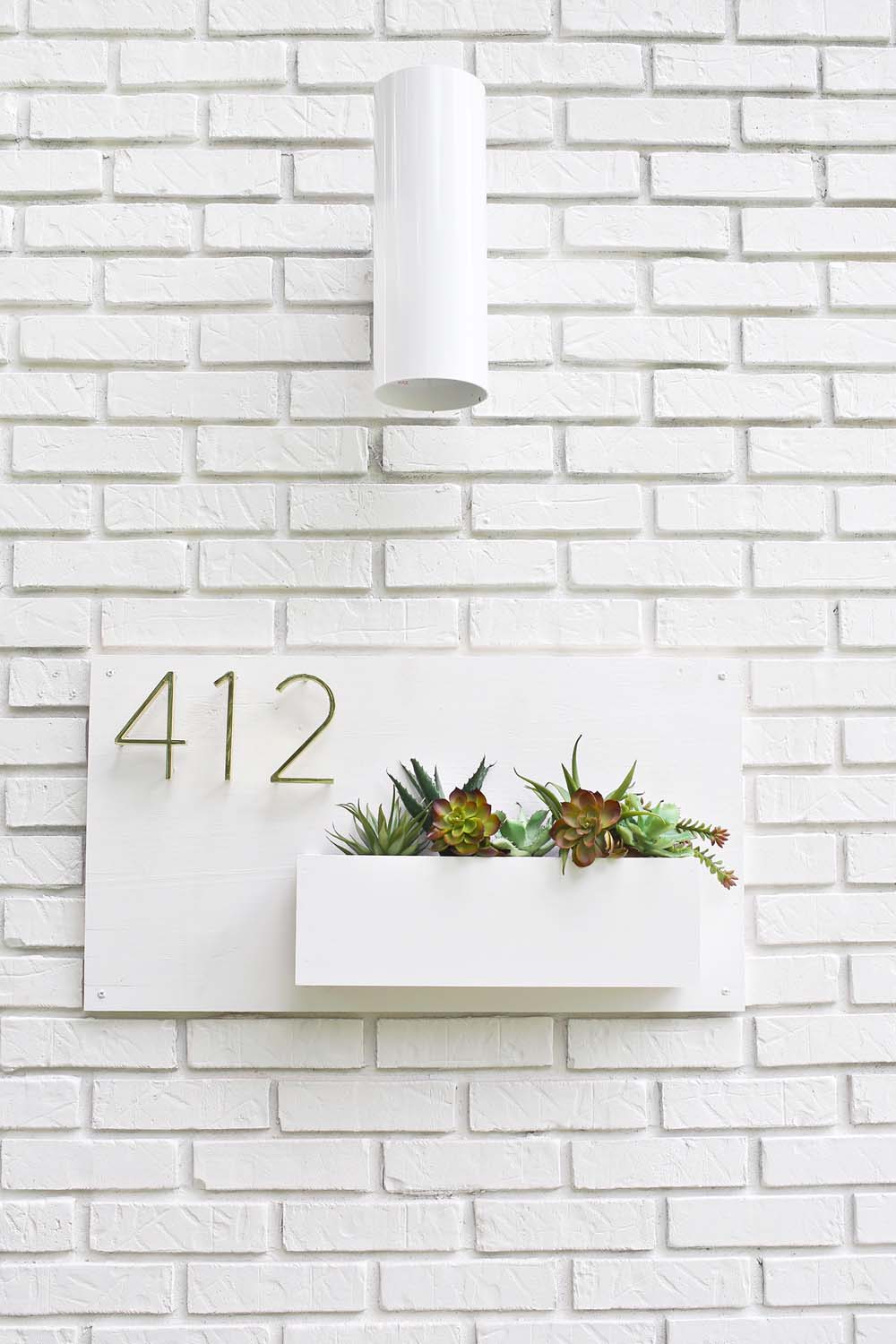 This is an inspiring idea of how to combine functionality and decoration in one. The house number plaque is equipped with a small container where you can add any flower you like. Well, succulents look quite stylish, don't they?
via A Beautiful Mess
11. Tiny Succulent Planters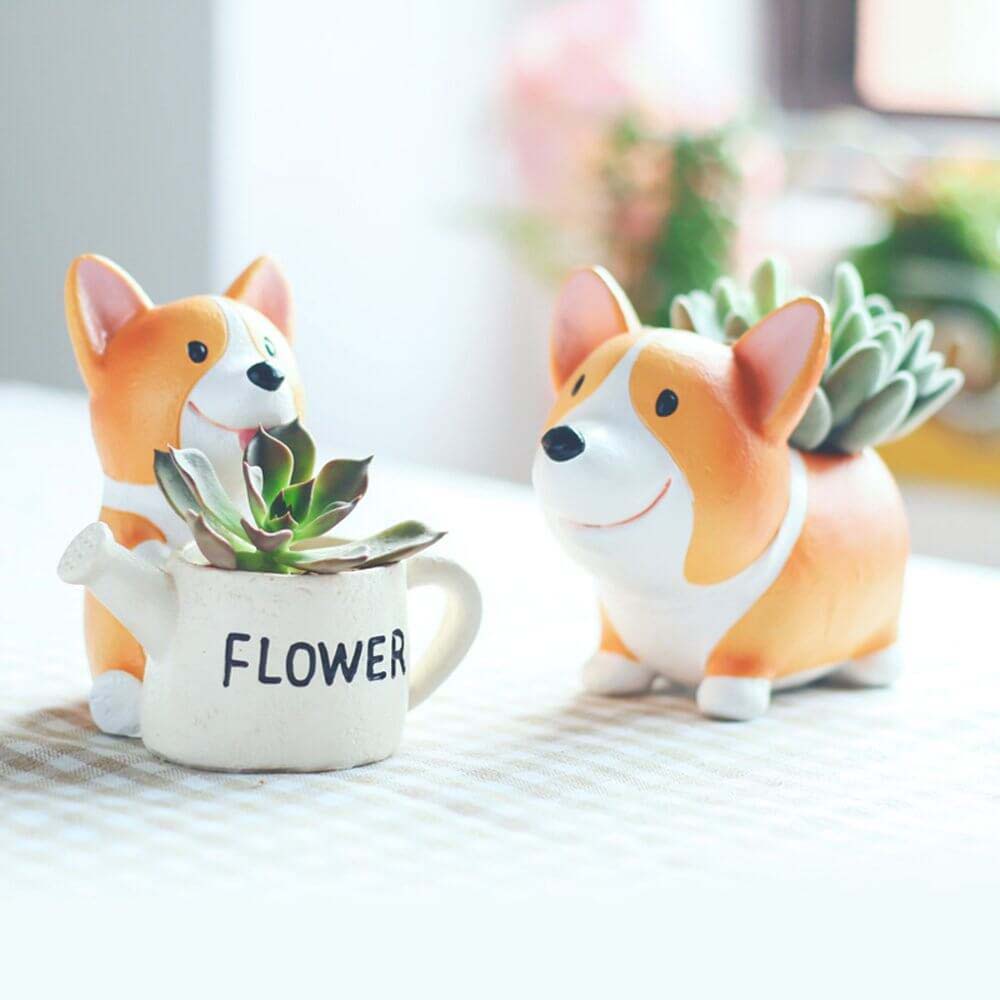 These resin dogs come in a set of two to bring joy to their owners. Despite their small size, there is a dedicated space to put a tiny succulent pot.
via Amazon
12. Vertical Succulent Planter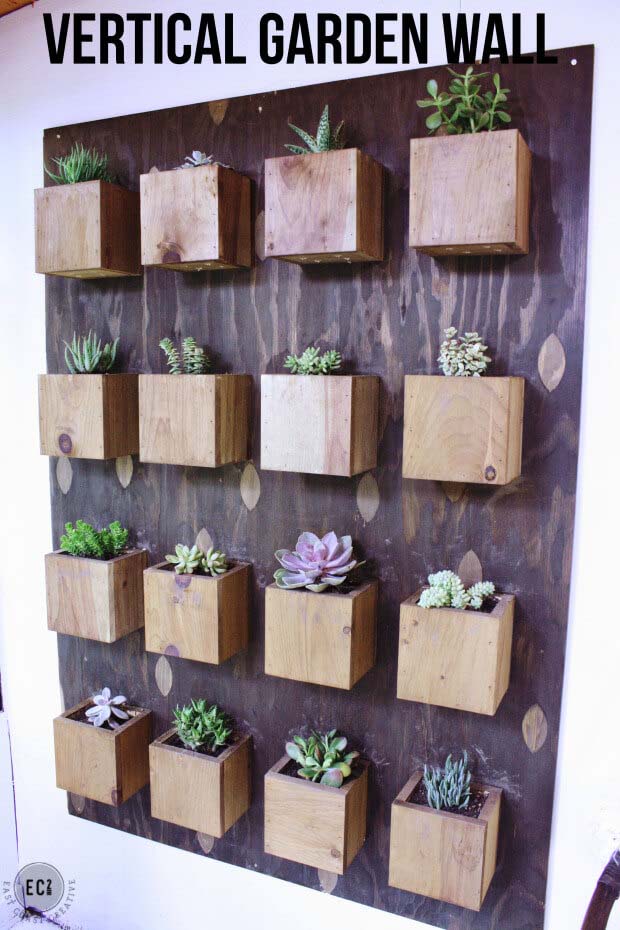 This is not just a planter, this is an entire garden of planters where you can fulfill your dream of a succulent collection.
The vertical garden is entirely DIY with a plywood sheet and pine planks for the pots.
13. Cute Pots Repurposed Into Succulent Planters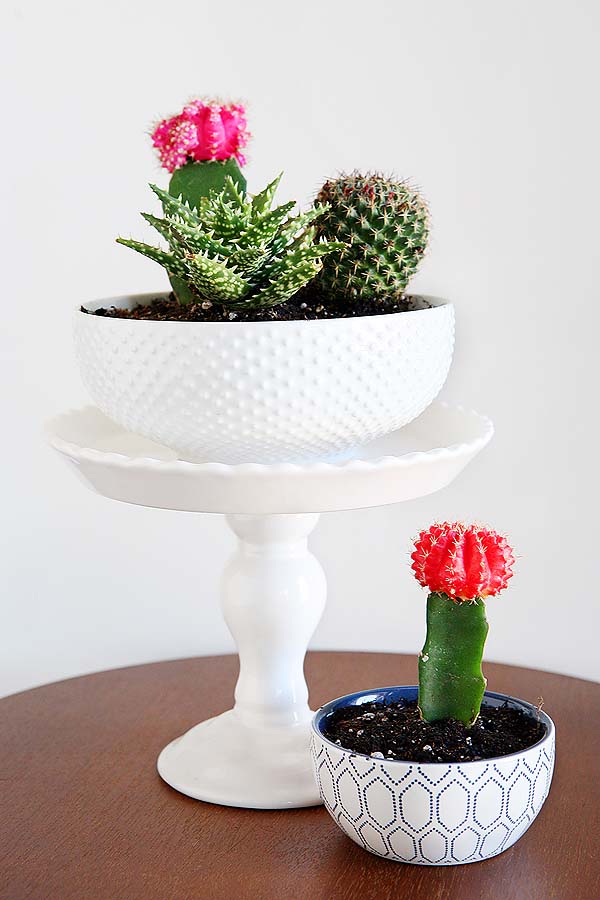 Condiment dishes and cute bowls work great as succulent planters. To prepare them for their new role, you need to cover the bottom with pebbles or pea gravel which will take care of the drainage.
via Eighteen 25
14. Wine Cork Planters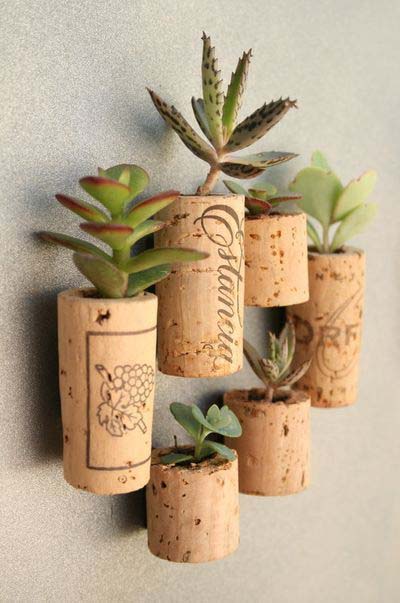 This tiny succulent planter idea will create a point of interest in your interior! Wine corks are repurposed into planters by hollowing out their center where the succulent will be planted.
To hang the wine cork planters to the vertical surface, you can use nails, glue or magnets.
15. Mason Jar Succulent Planters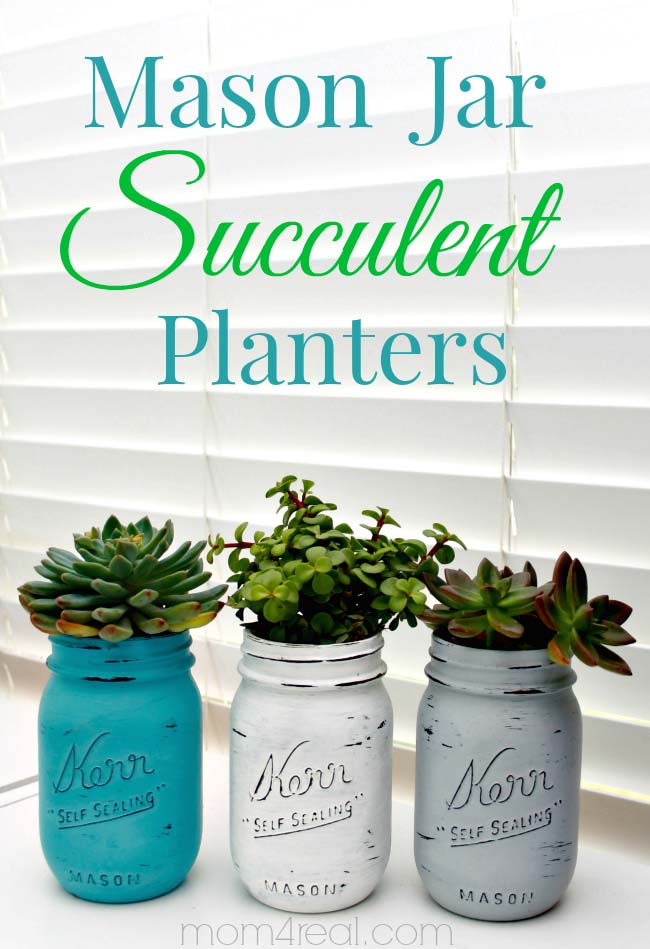 This is an excellent summer décor idea that upcycles Mason jars into succulent planters. You can leave them transparent, showing the filling of the jars or cover the outside with chalk paint in lovely summer-inspired colors.
via Mom4real
16. Candle Holders As Indoor Succulent Planters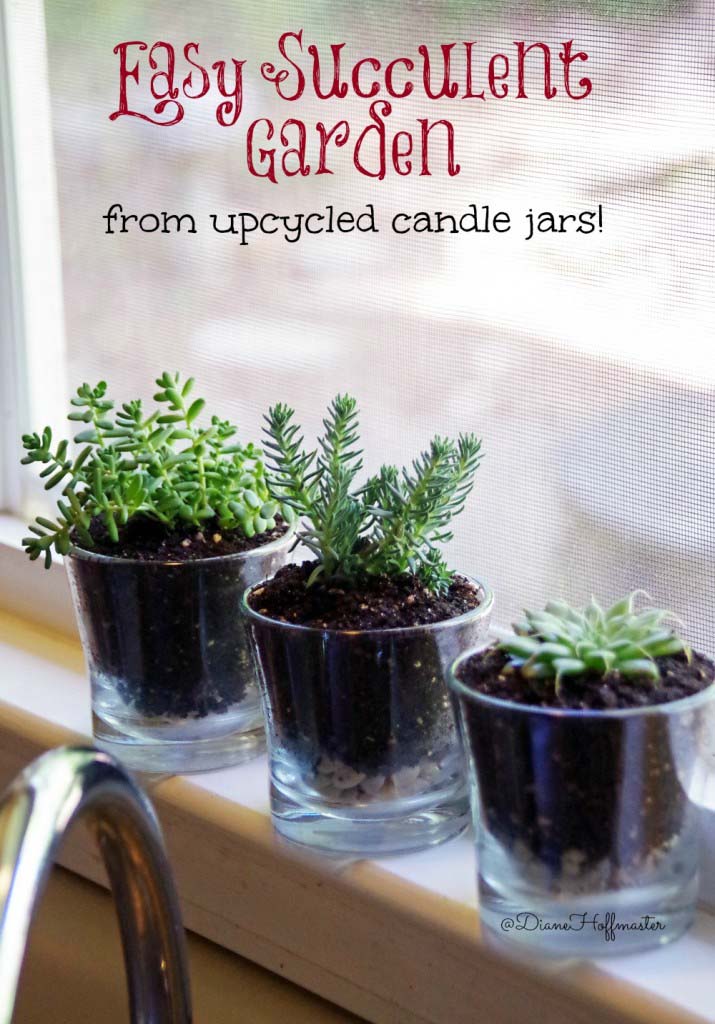 The small candle holders can find a new application once the candles are gone. Put the succulent cuttings or cacti inside the glass holder and then fill it with the potting soil.
The more of these you turn into planters, the better, as you can group them and turn them into a succulent whimsy arrangement.
17. Hanging Terrariums As Indoor Succulent Planters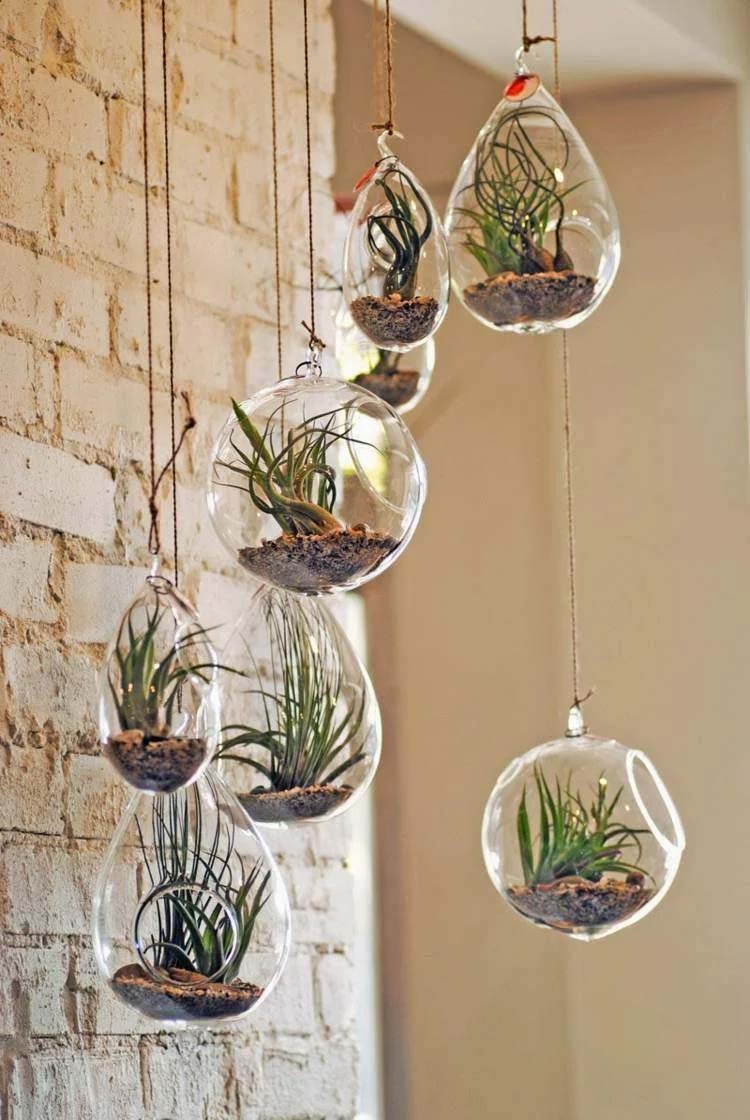 The succulent terrariums have a minimalist look and are great to hang from the ceiling, an exposed beam or any other high surface.
Keep them close to each other to create a stunning curtain from live plants.
18. Stacked Vertical Planters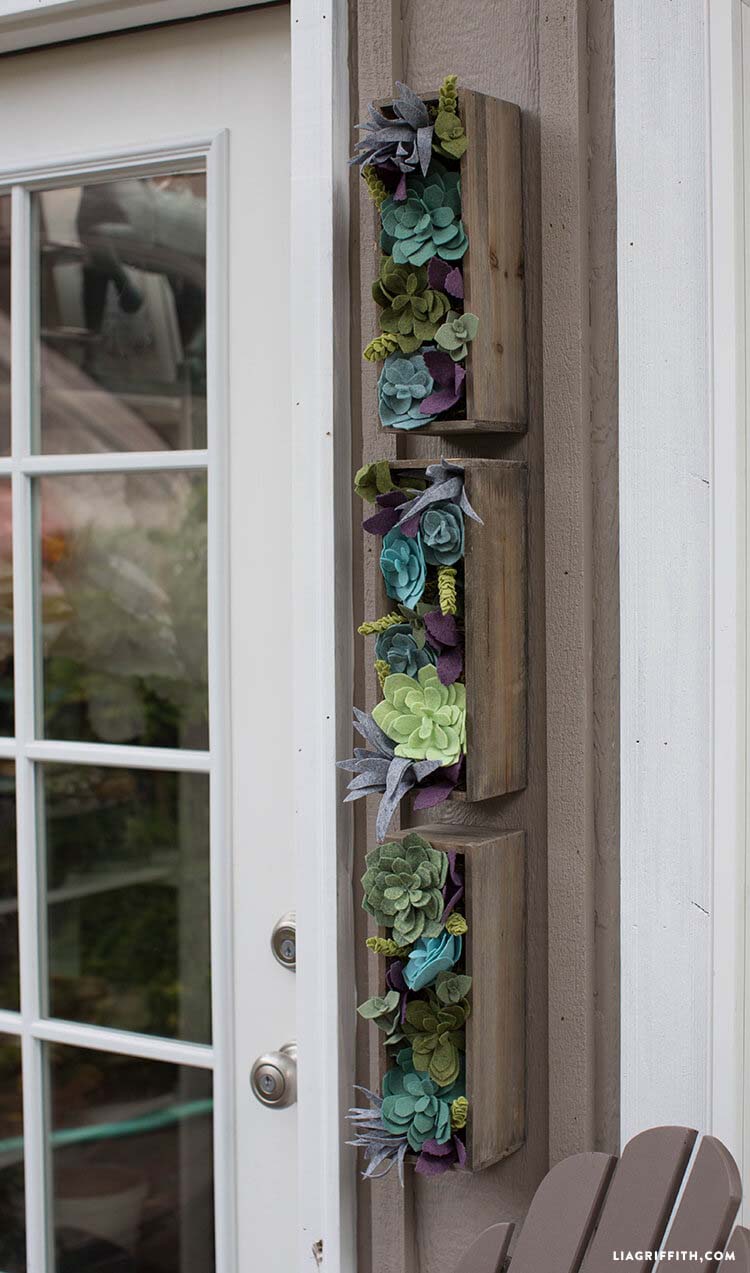 This vertical garden is made with felt succulents but has no obstacle to making it with real ones.
The key to keeping the succulents fixed to the bottom of the vertical planters is to add a chain link mesh to the bottom of the boxes.
via Lia Griffith
19. Pallet Succulent Garden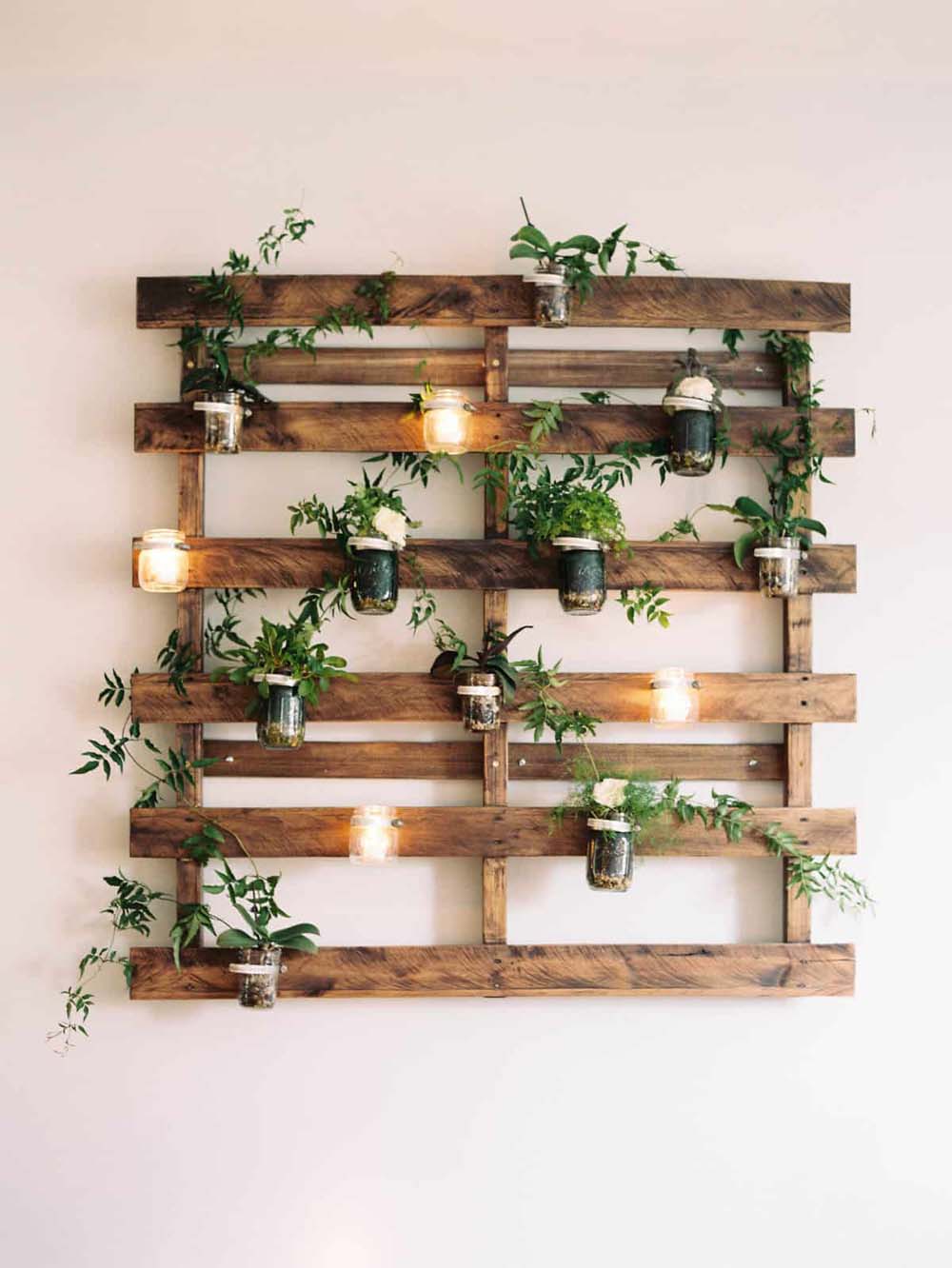 This is another great idea for an indoor succulent garden that won't take any of your floor space and is budget-friendly.
You need a pallet, jars and brackets to keep them in place vertically. Mix and match planters with candles to make the pallet garden more interesting.
via Style Me Pretty
20. Tea Set Succulent Planters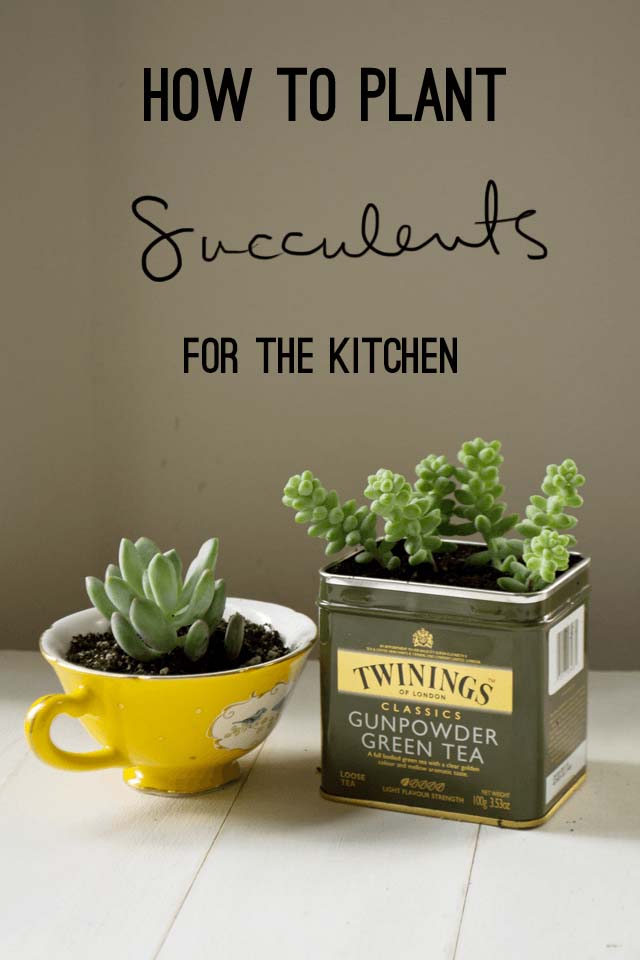 Any small containers are great for succulent planters, including tea tins.
No need to update them in any way, fill them with pebbles or pea gravel at the bottom, potting mix and succulents.
21. Indoor Succulent Planter Idea With Macrame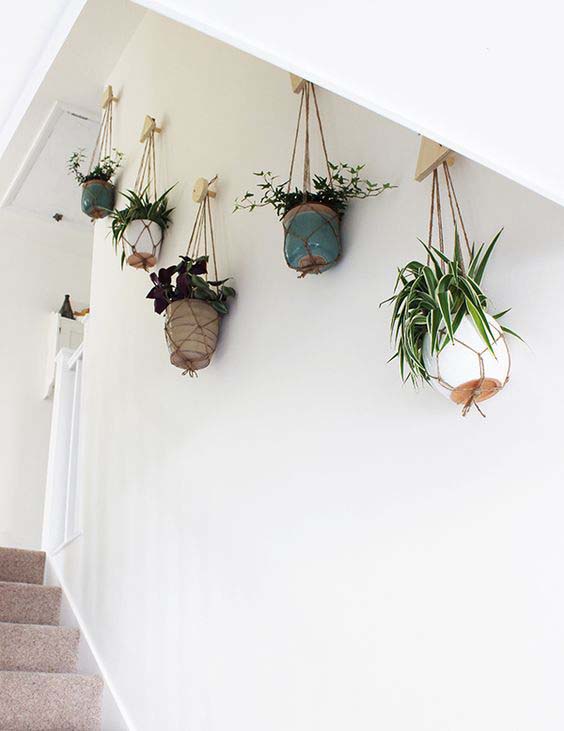 This vertical succulent planter idea is great for small spaces, staircase décor or porch décor.
The pots can be suspended from the ceiling, from an exposed beam or the wall with macrame holders. They match the natural and simple look of the succulent types perfectly.
22. Hexagonal Indoor Succulent Planter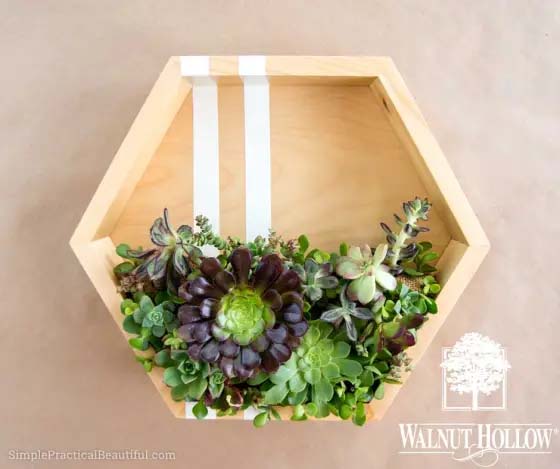 The idea for a framed succulent garden is upgraded to a more modern version. The regular square shape is replaced with a hexagonal shadow box.
You can fill the entire inside of the box with succulents or leave it half empty for an intriguing look.
via Walnut Hollow
23. Free-standing Succulent Terrarium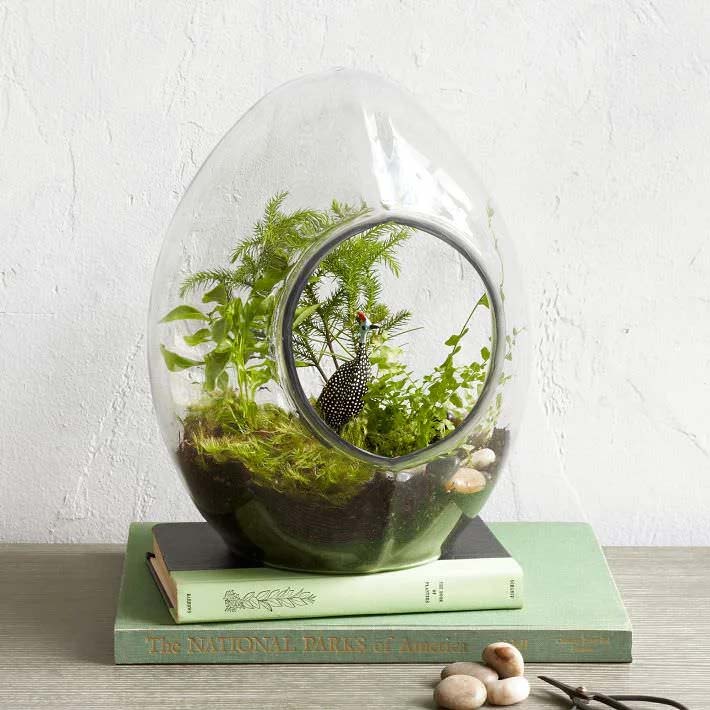 The terrariums with succulents are perfect as free-standing indoor planters as well.
You can add them to a bookshelf arrangement or place them on top of a decoration with books. The glass terrarium can also be the centerpiece of a side or coffee table.
24. Farmhouse Style Indoor Succulent Planter

The retro jar holders are the perfect finish to a Mason jar succulent planter set.
Paint the jars and the crate in the desired colors that will match your existing décor and will let the succulent varieties stand out.
25. Gumball Machine Into Indoor Succulent Planter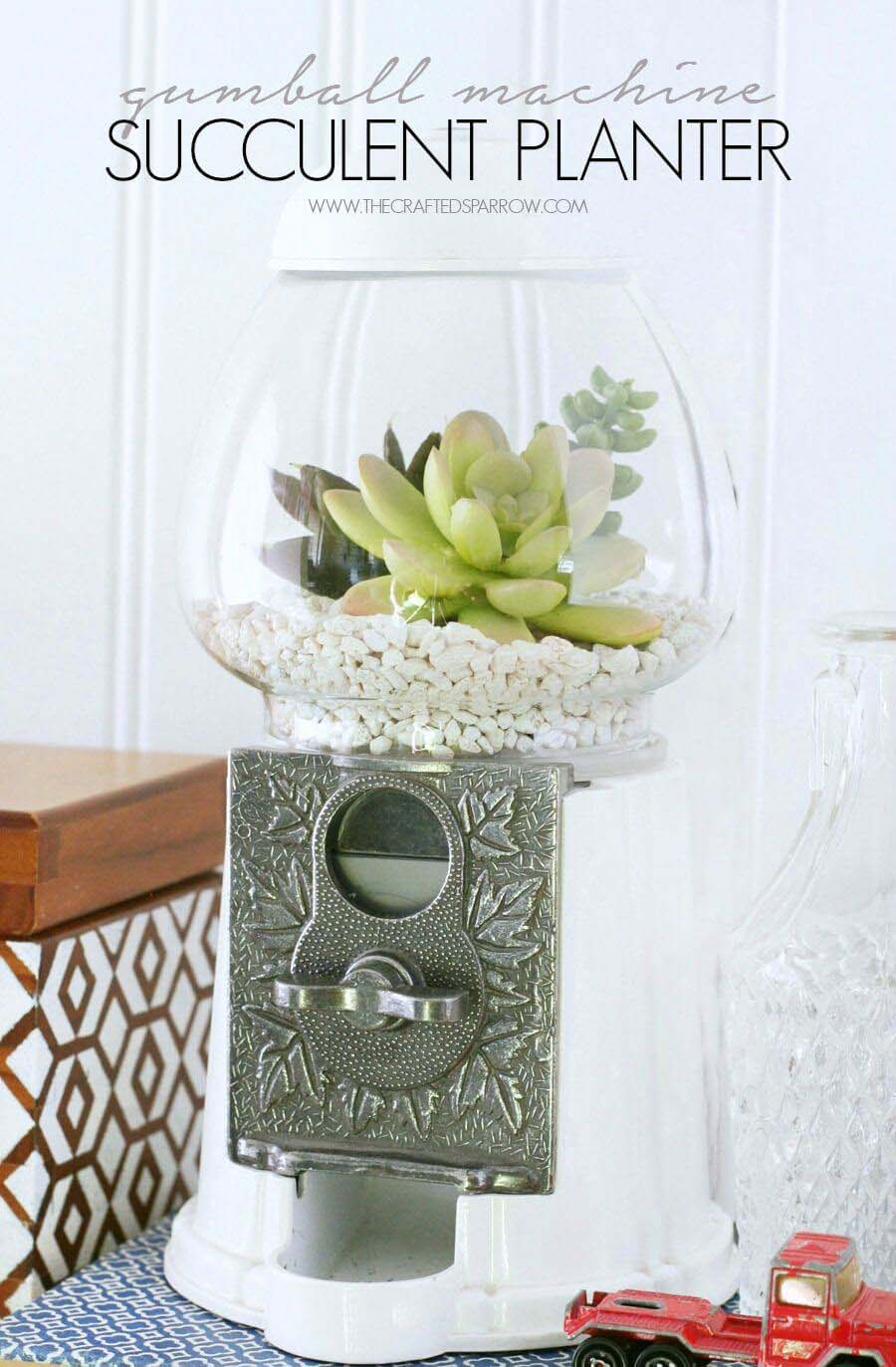 This indoor succulent planter idea is a great inspiration for upcycling items that seem to be unuseful. The DIY project uses a gumball machine which will otherwise be thrown away.
You can use real succulent varieties or faux succulents as decoration inside the bowl.
26. Small Modern Concrete Planters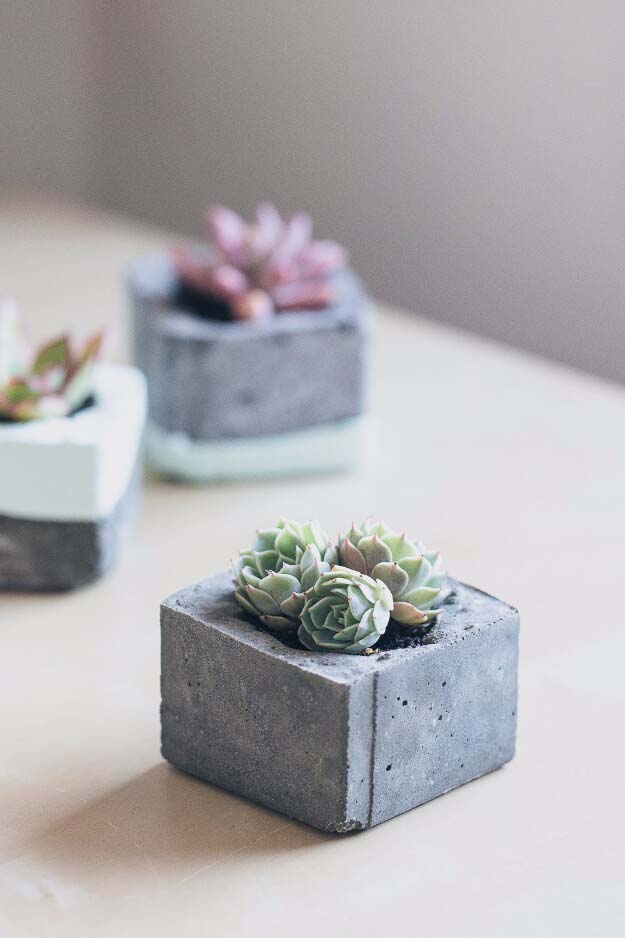 Make your own modern-looking succulent planters from concrete.
Get a mix and pour it into a mold with the desired shape. You can use any containers from your household as molds.
27. Tiered Succulent Planter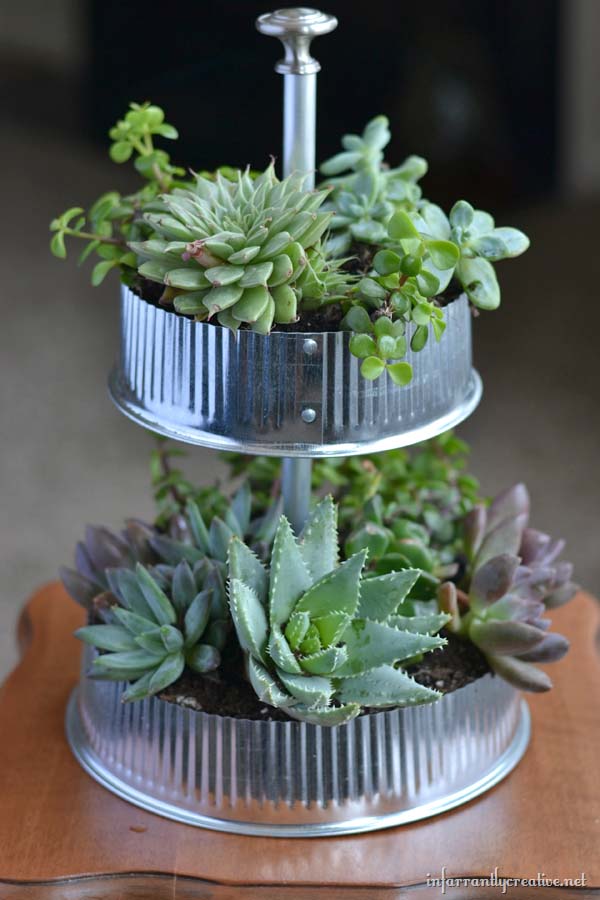 The cake and cookie stands are great for an indoor succulent garden. The tiered levels will give the living decorations interest and the possibility to arrange them in an interesting pattern.
Mix shorts with vining succulent types to use the height of the second tier.
28. Succulent Planter From Vintage Books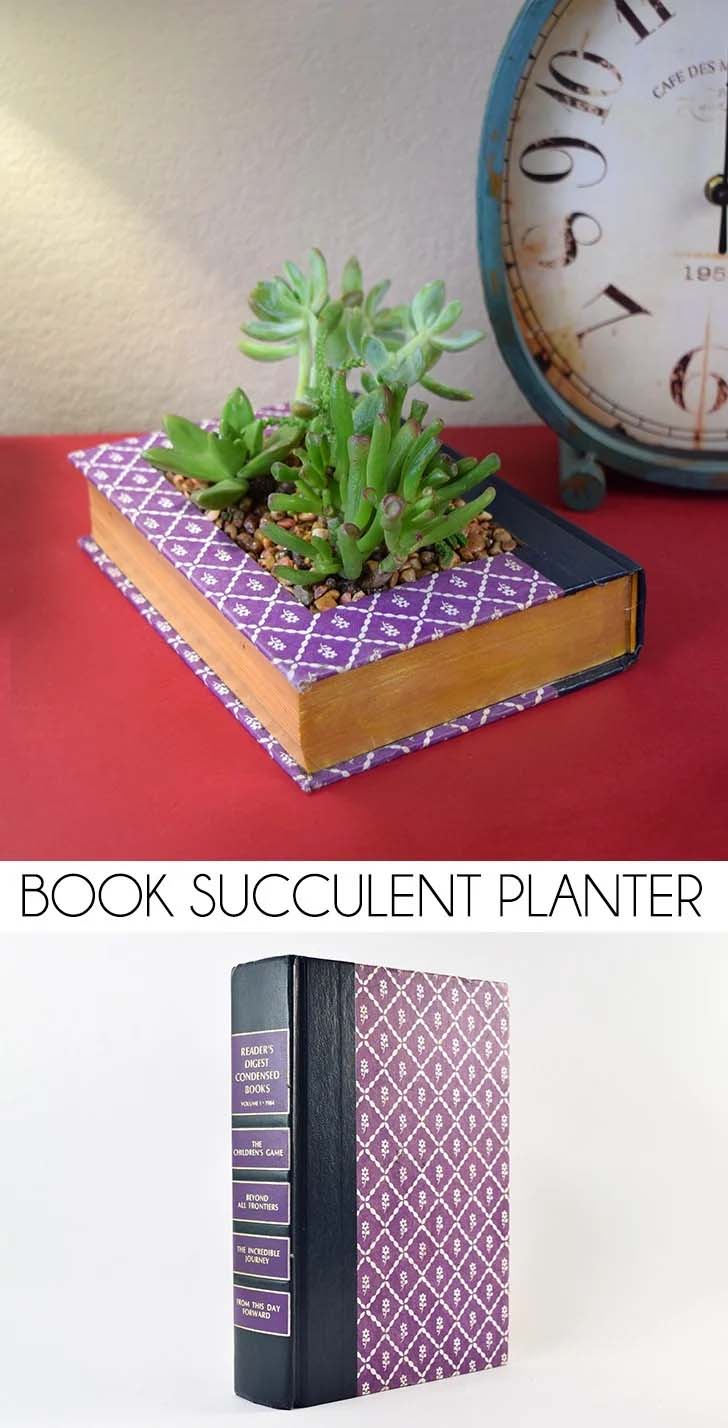 Do you have old books that are not that interesting or are somehow damaged? Turn them into artistic planters easily.
Cut a hole at the center of the book, leaving the bottom cover untouched and fill it with succulents.