The easiest way to set your home for summer is to welcome it on the table with outstanding summer table decor.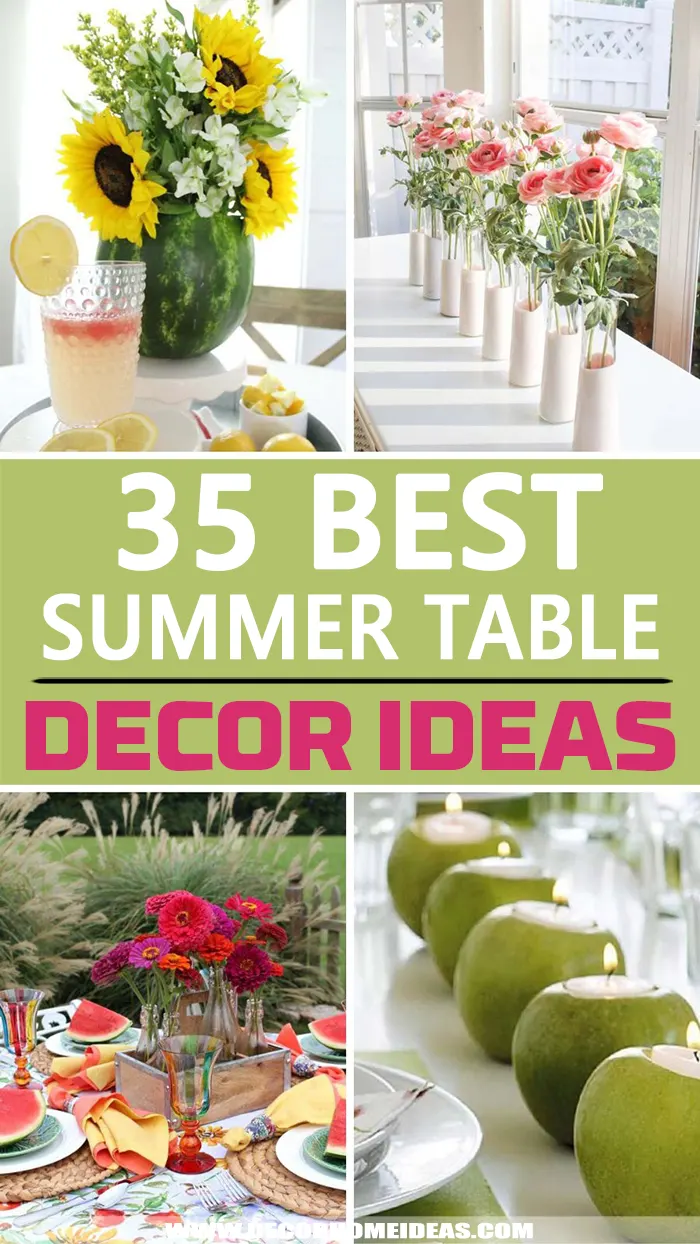 Summer is a sea of bright colors, summer is the ocean, summer is fragrant flowers and these have inspired our compilation of 35 Charming Summer Table Decor Ideas That Will Brighten Up Your Home.
1. Repurposed Watering Can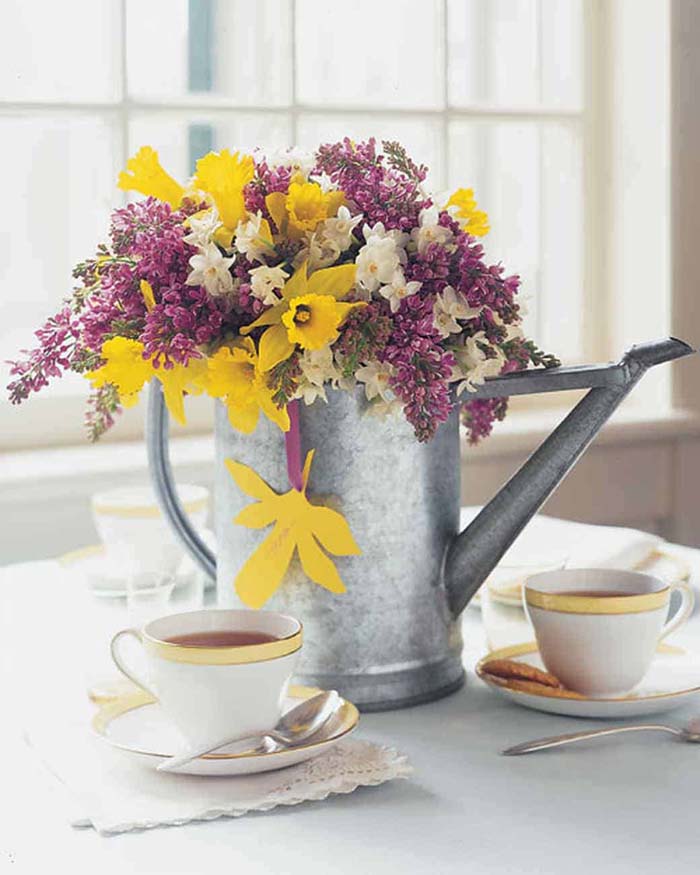 Add a fresh farmhouse vibe to the coffee table or to the dining table to welcome summer. This is a simple but gorgeous idea of repurposing a galvanized watering can into a vase.
Gather fresh seasonal blooms from the garden and arrange them in a bouquet.
via Martha Stewart
2. Repurposed Tea Cans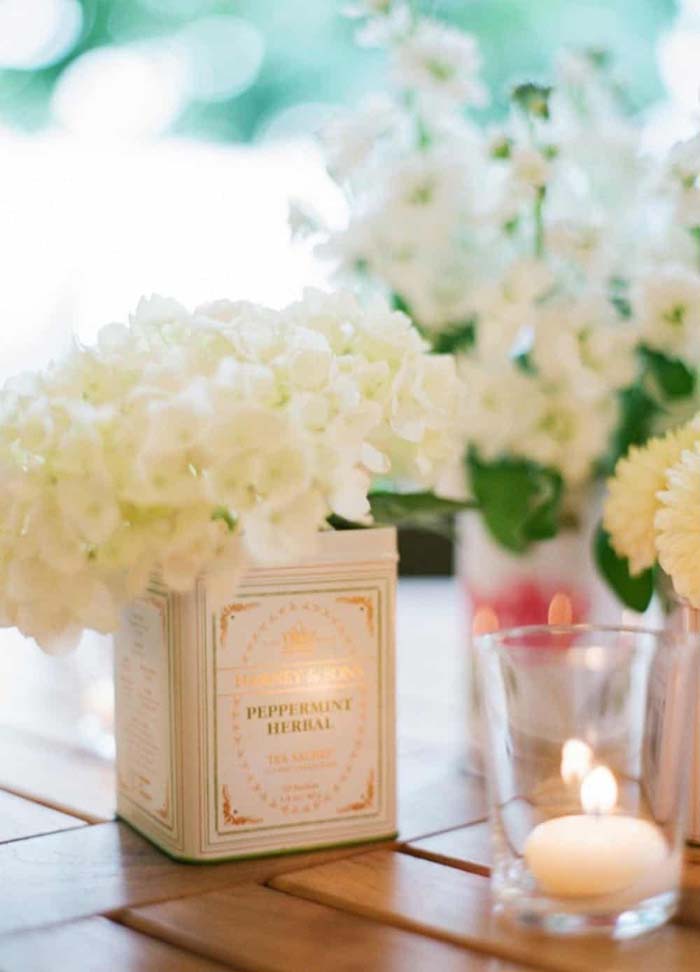 Use metal tea cans as part of your summer table decor. Fill them with faux flowers or real ones cut from the garden.
Place them in the center of the table together with pillar candles or glass tea andle holders.
via Style Me Pretty
3. Give Wine Bottles A Metallic Makeover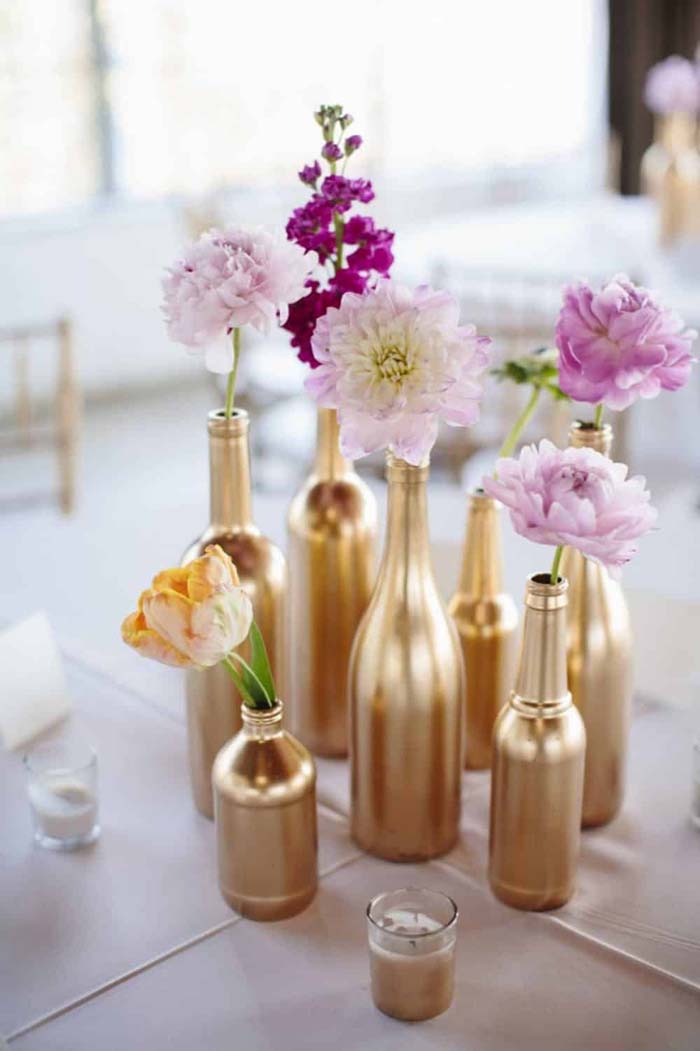 Spray paint your collection of glass bottles to give them a chic and modern look. Use metallic paint in silver, copper or gold finish to transform the glass bottles into sleek vases. Insert only one flower sprig into every bottle to keep the look simple and united.
Group the repurposed bottles in the center of the table to set a romantic summer vibe.
via Wedding Chicks
4. Rustic Casual Summer Table Centerpiece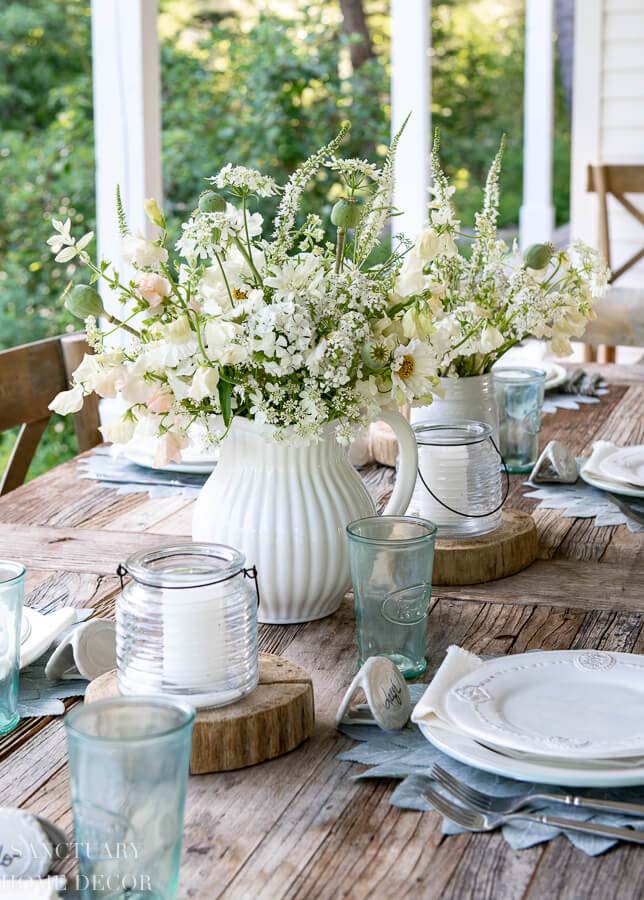 No need to lay a table runner or a tablecloth when you prepare the dining table outside. Keep the atmosphere casual and rustic with slices of wood anchoring the summer table centerpiece.
It consists of porcelain vases filled with blooming twigs alternating with glass candle holders.
5. Add A Coatsal Vibe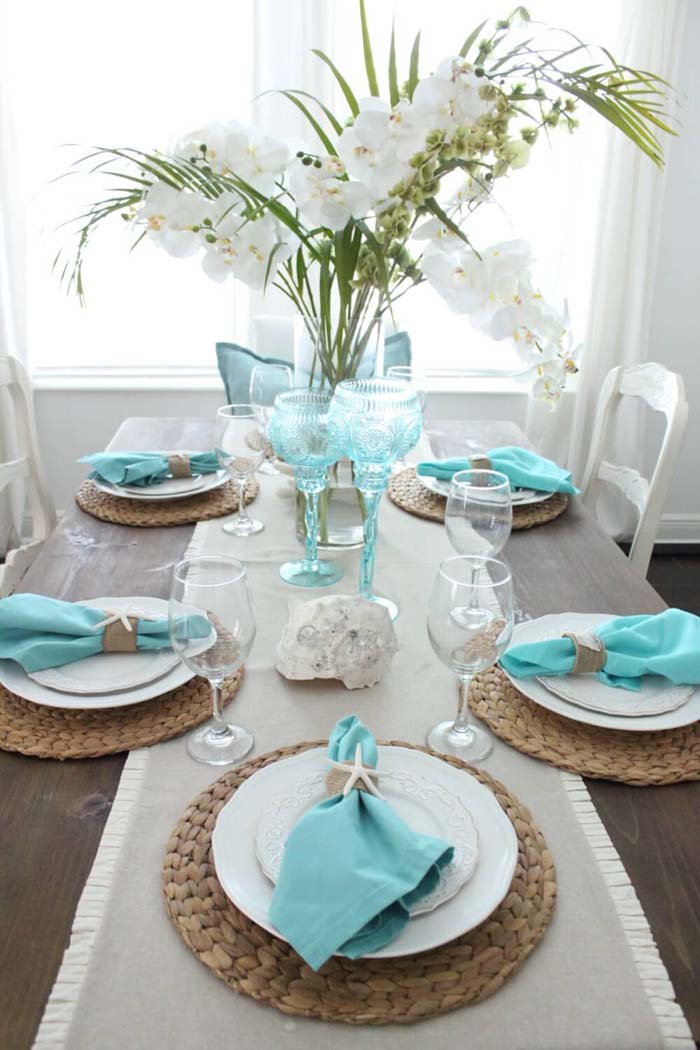 Nothing says more "summer" than the ocean elements. Bring the beach to your summer table and your home decor with a combination of themed colors.
Use rattan table mats together with white plates and blue napkins. The napkin holder continues the theme concept by featuring a burlap ring decorated with a small starfish.
The table centerpiece can be a big jar filled with sand and shells or a glass vase with a summer bouquet of flowers.
via Kristy Seibert
6. Set A Vibrant Motif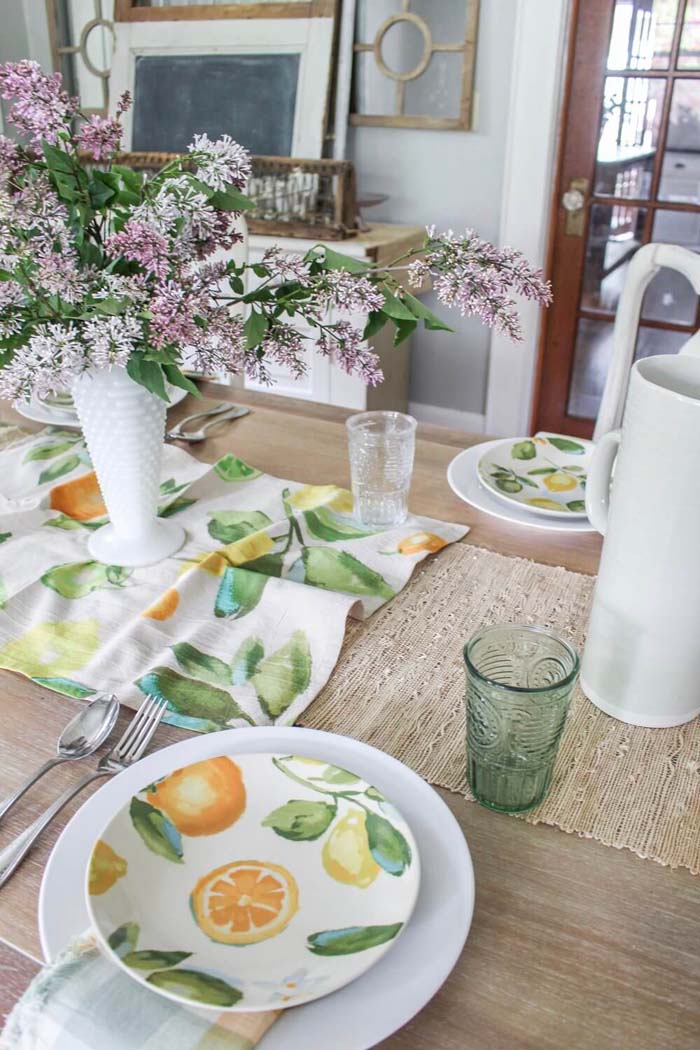 The citrus patterns are great for summer decor. They can be included in the living room through the pillowcases of the sofa. For the dining room, choose a vibrant set of plates decorated with lemon slices.
Combine the plates with a table runner with the same citrus motif. The rest of the decor should be neutral to match the cheerful tone of the lemon pattern so better go for a clear vase or porcelain container with blooming twigs.
via Aratari at Home
7. Set A Forest Atmosphere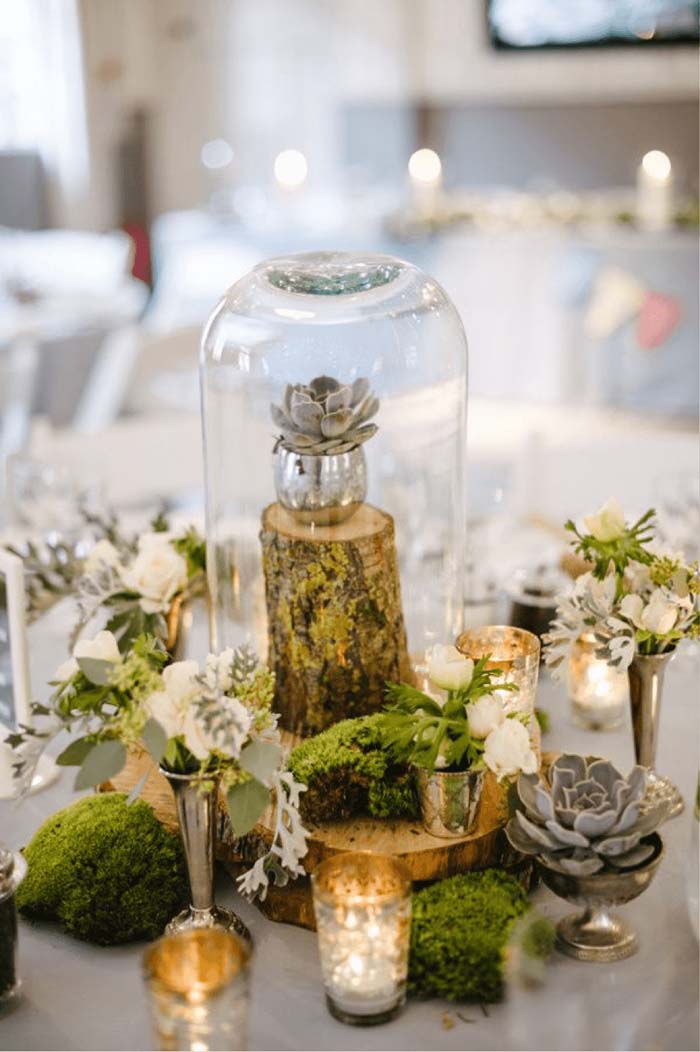 Nature is so alive in spring and summer. Use this state of nature to create your summer table decor. Use slices of wood to give height to the decor elements.
Place moss balls, short logs, succulents and other greenery from the forest directly on the table or in glass or metallic containers.
8. Fresh And Vibrant Summer Table Decor Idea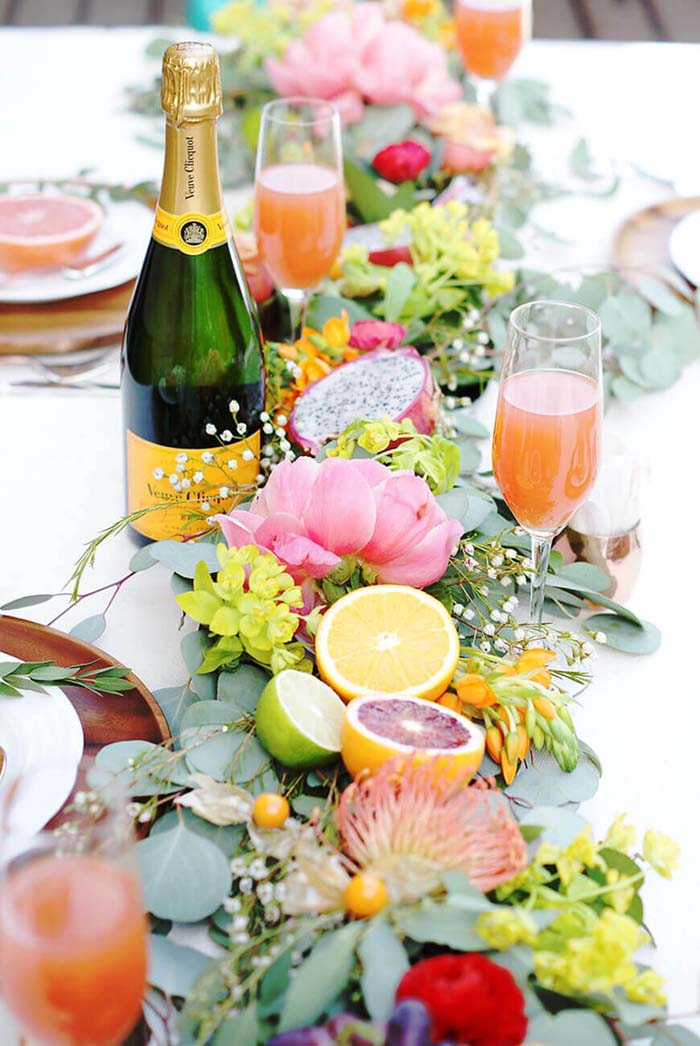 An easy and affordable summer table decor idea includes a centerpiece made from blooms, green garlands and fruits.
The color combination will be a joy for the eyes. Your guests will also feel the fragrance from the centerpiece elements. At the end of the dinner, you may offer the fruits as a dessert.
9. Summer Flowers And Beach Decorations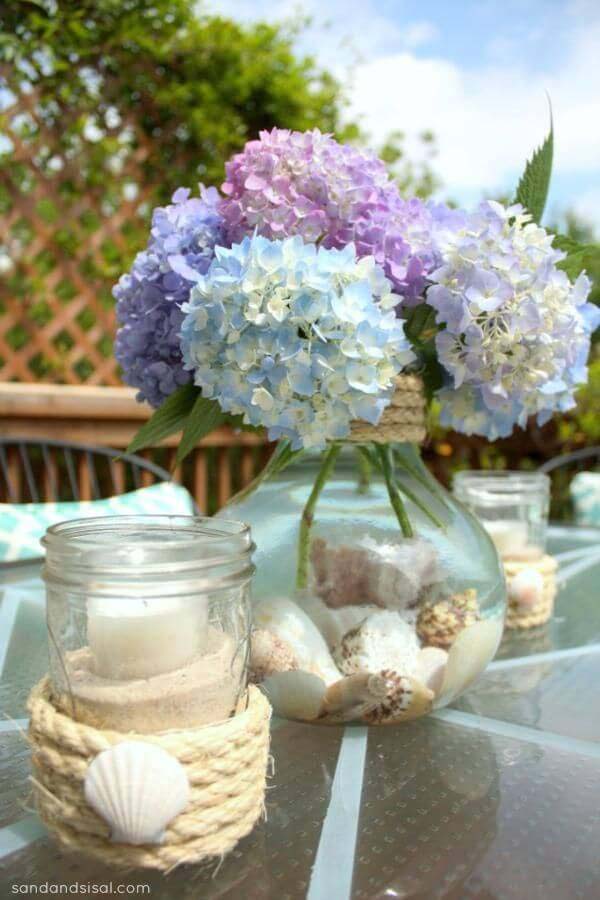 Make your own summer table decor that can stay all season long! Beach-themed decoration is perfect for this DIY summer table decor. You need two clear Mason jars that will be repurposed into candle holders and one larger jar that will become a vase.
Use rope and sea shells to decorate the outside of the Mason jars. If the neck of the large jar is wide enough, you can insert seashells into the jar. If it isn't, glue them to the bottom part of it.
via Sand and Sisal
10. Simple Nature-Inspired Table Decor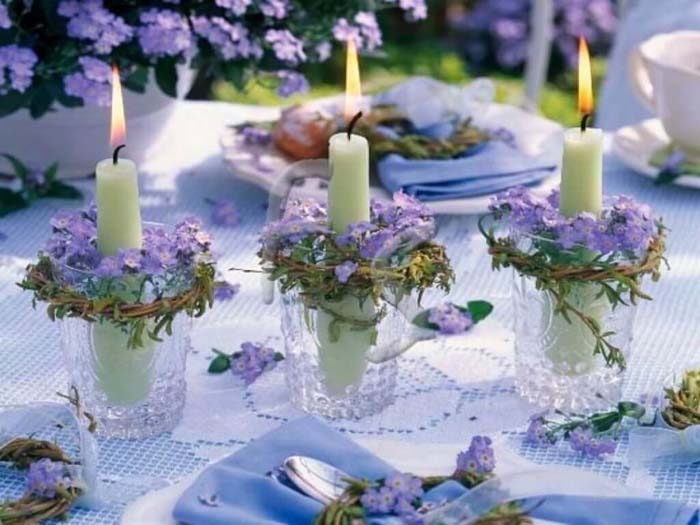 Use fresh summer flowers in a non-traditional shape to create a unique centerpiece. Rather than inserting them into a vase, you can twist them into a wreath.
You can make a large one and place it in the center of the table or make smaller ones and put them on the rim of candle glass holders.
11. An Elegant Summer Table Decoration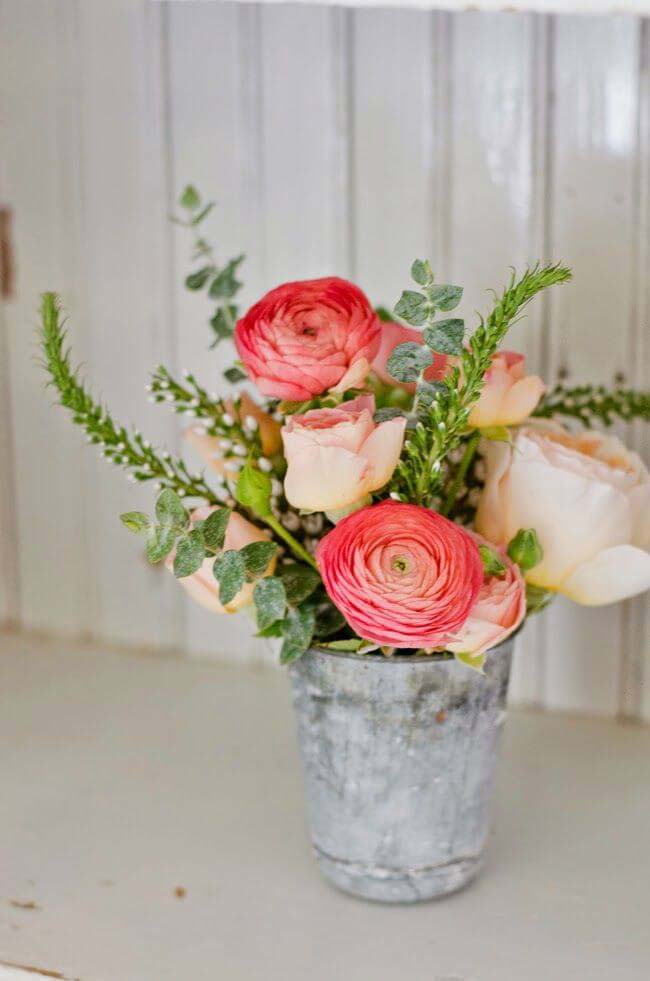 You can never go wrong with a bouquet of roses to give your home decor a summer flair. For a farmhouse chic, insert the floral arrangement into a galvanized or porcelain container.
Add green sprigs to the bouquet to let the delicate roses stand out.
12. Farmhouse Floral Table Decor For Summer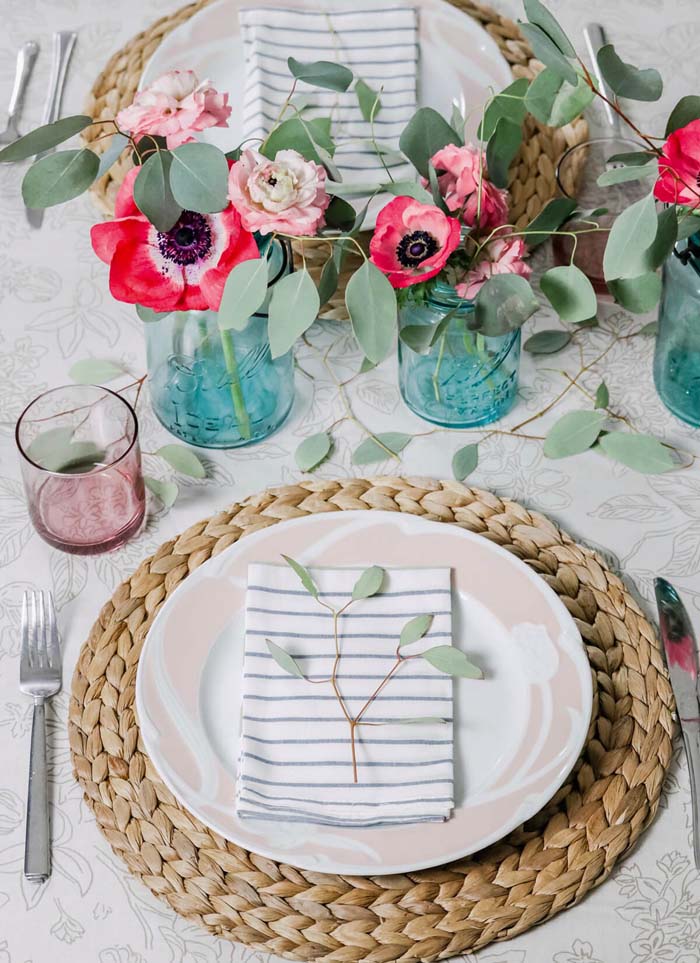 If your home is already decorated with farmhouse decorations, you can only add a few summer-themed elements to set it for the season.
Use casual containers like Mason jars or glass candle holders and fill them with faux or real flowers. Stretch a garland of leaves along the table runner to enhance the natural summer vibe.
via Serretta Style
13. Glass Vases Into A Wooden Box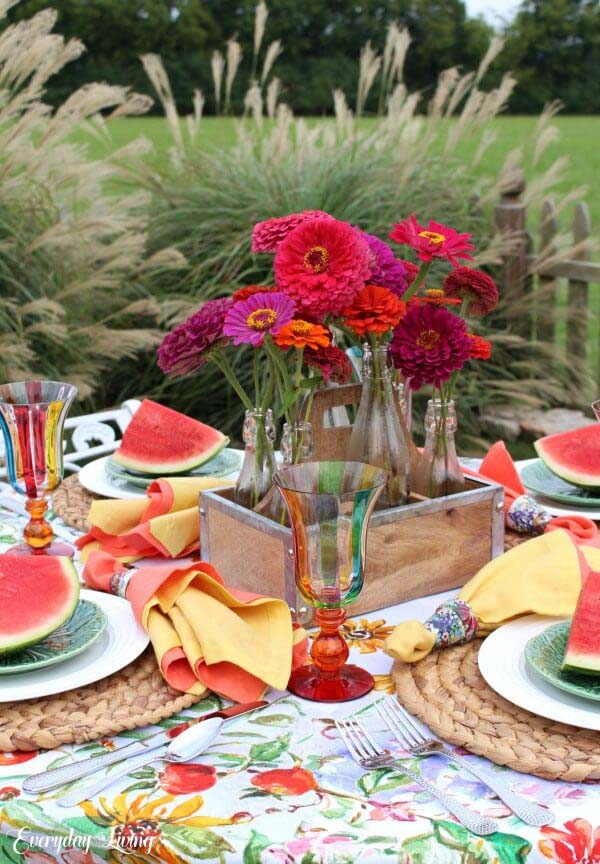 A very simple and vibrant idea for the summer table decor features glass bottles repurposed into vases. Gerbera cuts are inserted into the bottles and then all of them are grouped together in a wooden box.
The centerpiece holder is very important for this table decor because it lets the piece stand out against the colorful table setting.
via Everyday Living
14. Summer Table Decor With Butterflies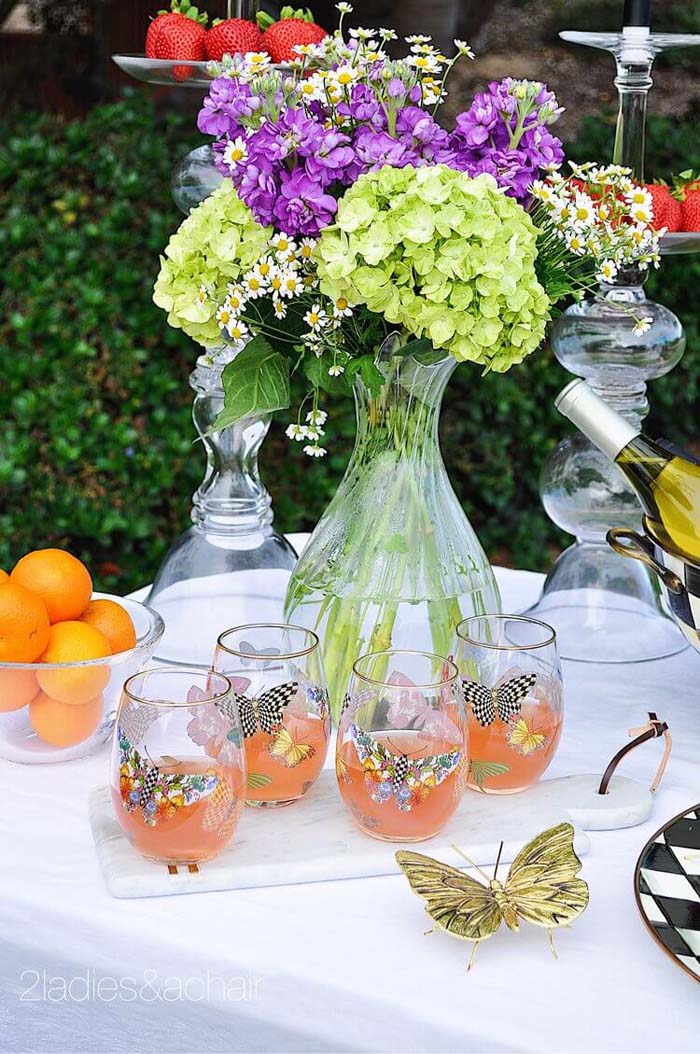 As citruses are related to summer, so are butterflies. Use the pretty image of the butterfly as a summer table decor.
You can include it as a decal on the glasses or as a free-standing decoration added to a lush bouquet of fresh flowers.
15. Watermelon Vase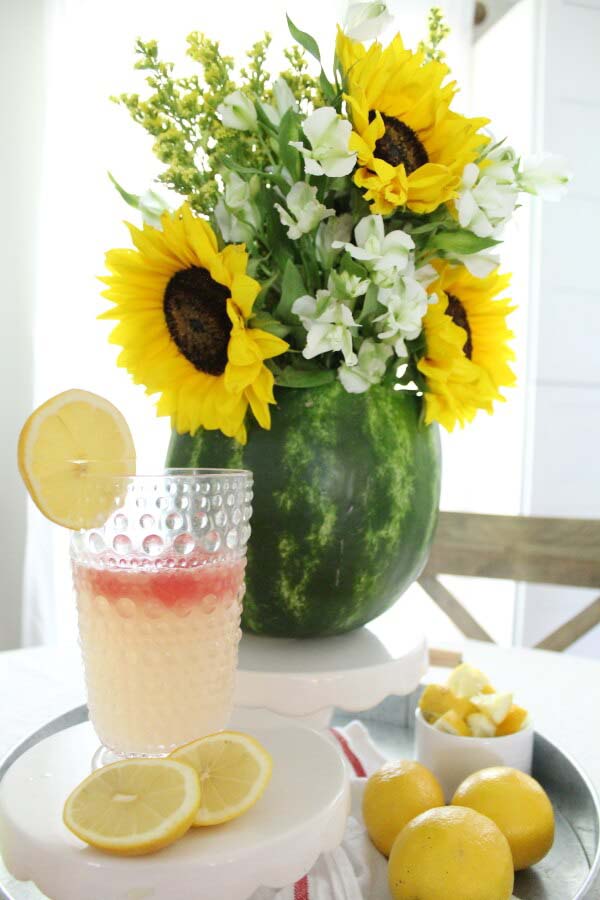 This summer table decor is great for a casual outdoor or indoor party or for a birthday in the summer. A watermelon is repurposed into a vase and it looks fantastic.
Of course, the inside of the fruit has been hollowed out and after that filled with flowers. The same idea can be applied to a pineapple or oranges.
via A Blue Nest
16. Simple Vintage Summer Table Decor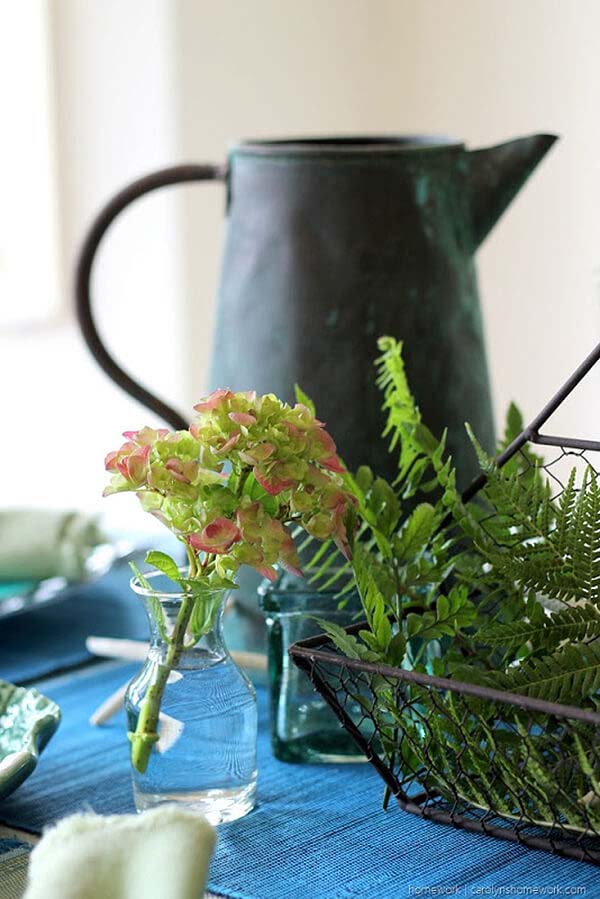 If you have already set a vintage centerpiece on your dining table, with a simple addition, it can be given a summer-themed look.
Add a pot with greenery into the wire basket and a small glass with a sprig next to it. A table runner made from linen and in a deep blue color will enhance the summer decor arrangement.
17. Mediterranean Summer Table Decor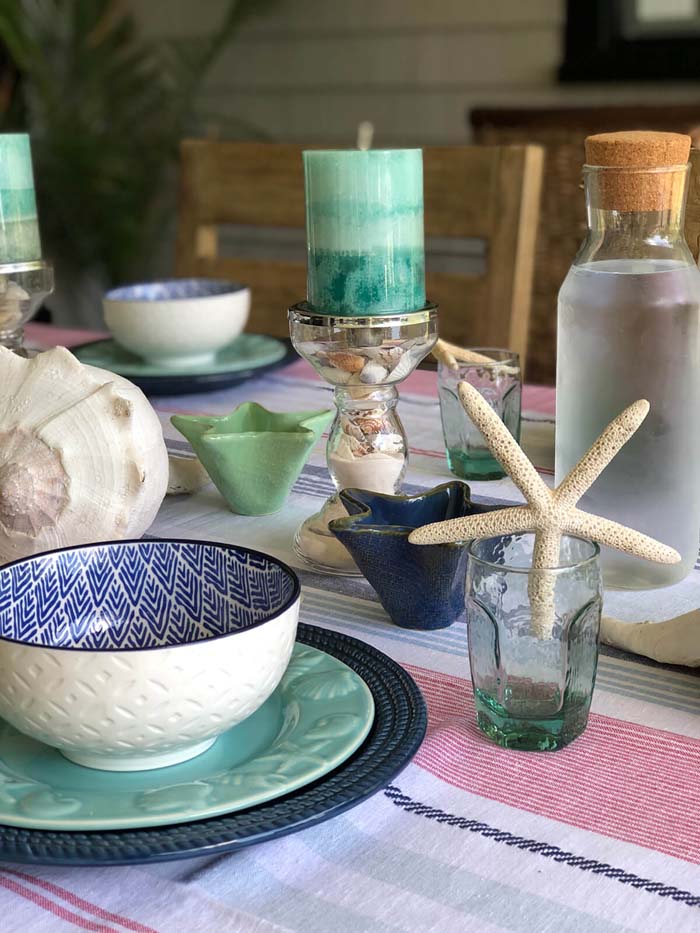 Mediterranean elements are great for summer table decor. It usually features a mix of dark and light blue and green shades.
Impose them with the tableware in the first place and then complete the table setting with simple beach-themed items to highlight the theme.
via Jor Decor
18. Lemonade Vases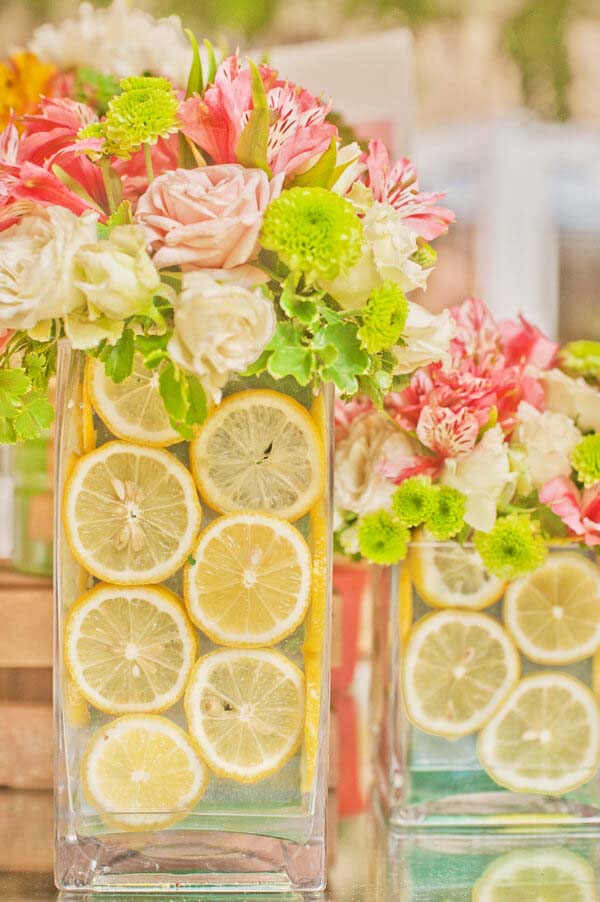 Lemonade is the best part of the summer! You can have lots of it and charge your organism with freshness and vitamins!
The lemonade has inspired this summer table decor. Adding a few slices of lemon to a transparent glass vase creates a whimsy summer accent.
You would be curious to know that the lemon is one of the key ingredients to keeping a flower bouquet fresh for a longer time.
19. Easy And All-summer-long Table Decoration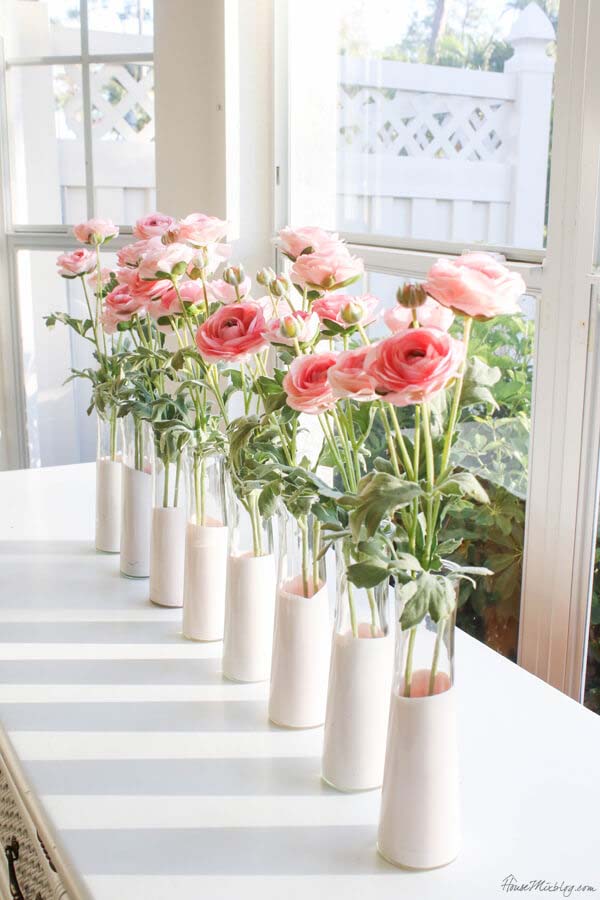 If you want to have a table decoration that can stay all summer long, go for this easy and cute DIY summer decor idea.
You need a number of identical glass vases or glass bottles, as well as faux roses. Dip the vases into paint or spray paint them limiting the glass area with masking tape.
Arrange the vases in a row along the center of the table and enjoy your evergreen summer table decor.
via House Mix Blog
20. Hydrangeas And Lemons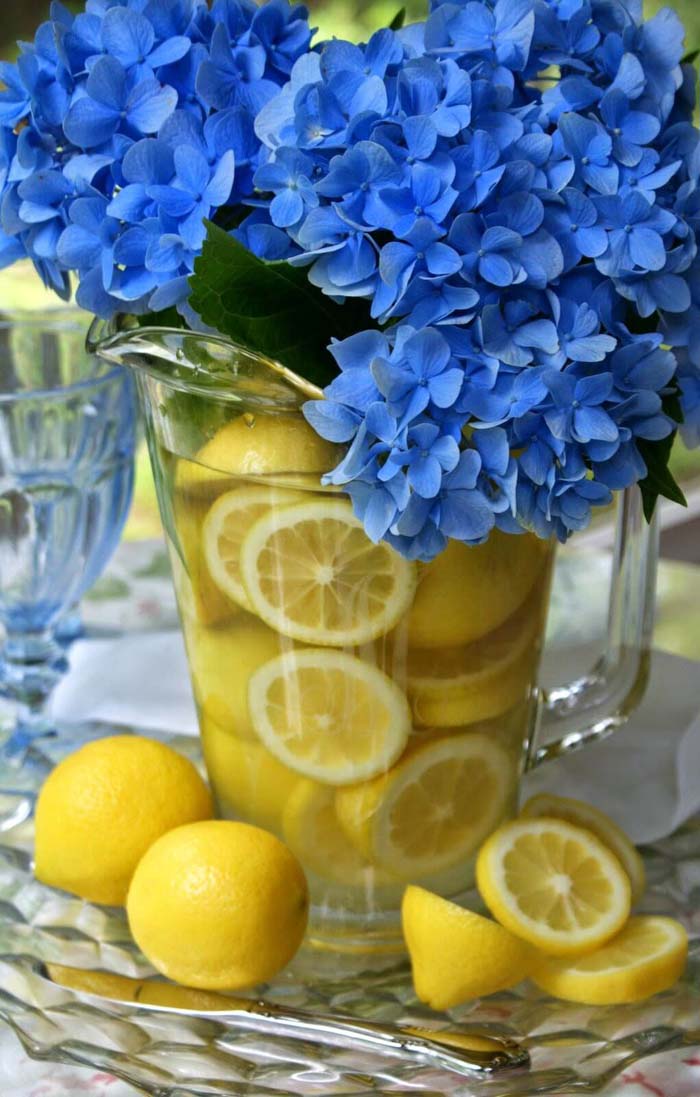 Top the can with lemonade with fresh hydrangea cuts and watch the bright and cheerful transformation from a drink into a table centerpiece.
You can even surround the lemonade can with more lemons and slices to make the yellow color more intense in this arrangement.
21. Shabby Chic Summer Table Decor Idea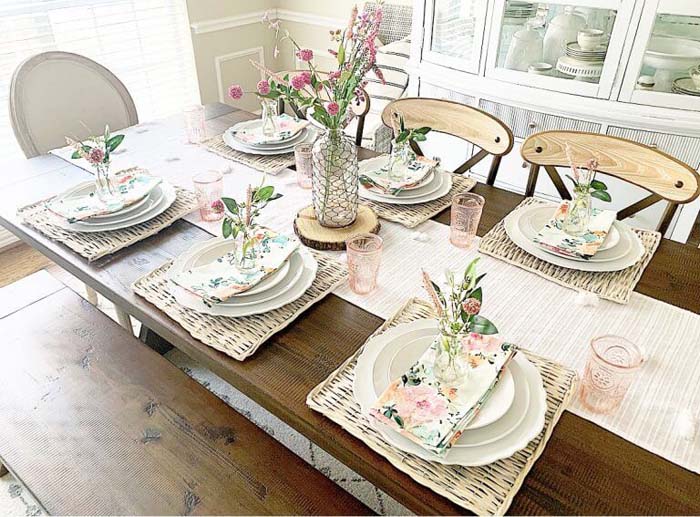 The typical floral pattern of shabby chic is perfect for summer table decor.
In this dining room atmosphere, the background is neutral and casual to prepare for the floral burst represented by gentle napkins and delicate vases with sprigs decorating each individual plate.
via Crisp Collective
22. Lilac Burst Summer Table Decor Idea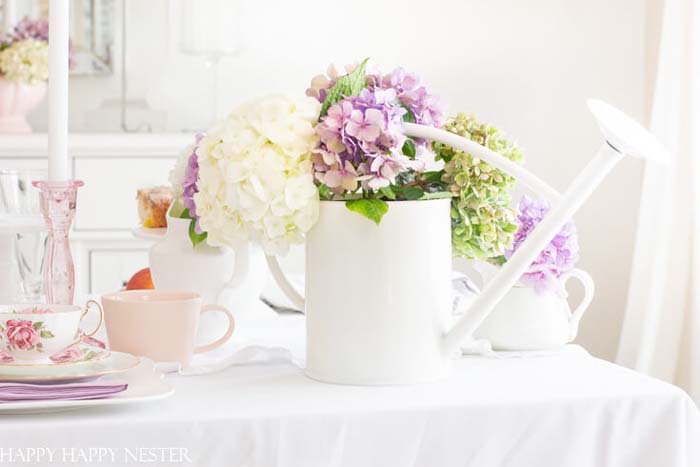 Do you have lilac hydrangeas in your garden? Then you have everything you need to give your home decor a summer transformation.
Use a vintage container like a watering can to add the bouquet of hydrangeas to. A glass vase won't be good enough for the stunning floral effect of the blooms to stand out.
23. Blue And White Summer Table Decor Idea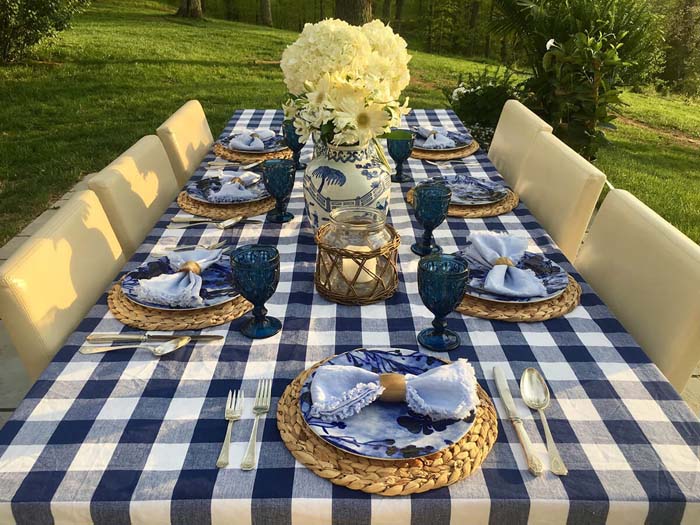 The blue and white color combination is equal to everlasting elegance. Choosing it for your summer table decor whether indoors or outdoors is never wrong.
The table presentation here shows the blue and white combo with a plaid tablecloth and a matching plate set. The focal point of the table is an antique porcelain vase in the same color combination.
The rest of the table elements are one-color to match the theme with no risk of overwhelming it.
via Table Terrain
24. Green Bottles With Real Flowers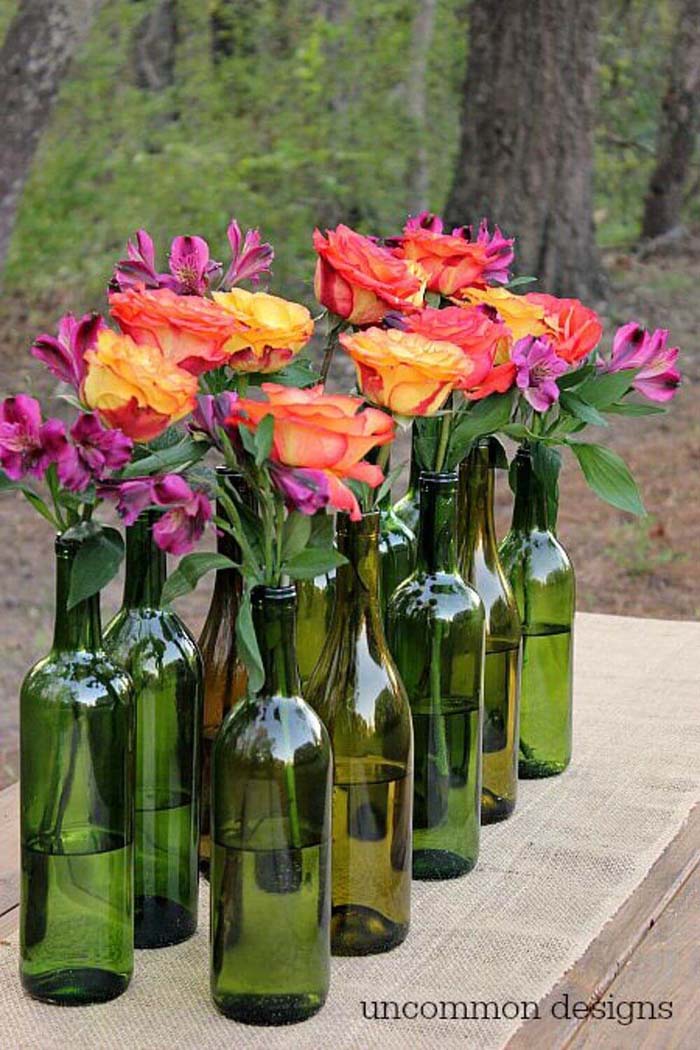 This is probably the easiest summer table decor idea but this doesn't mean that it isn't one of those that make you say "WOW"!
The author has decided to collect only green glass bottles because of the magical beauty the glass spreads in the sunlight.
This table decor combines elegance and casualty in one which makes it perfect for special occasions and for a quiet family dinner.
via Uncommon Designs
25. Weathered Wooden Box Centerpiece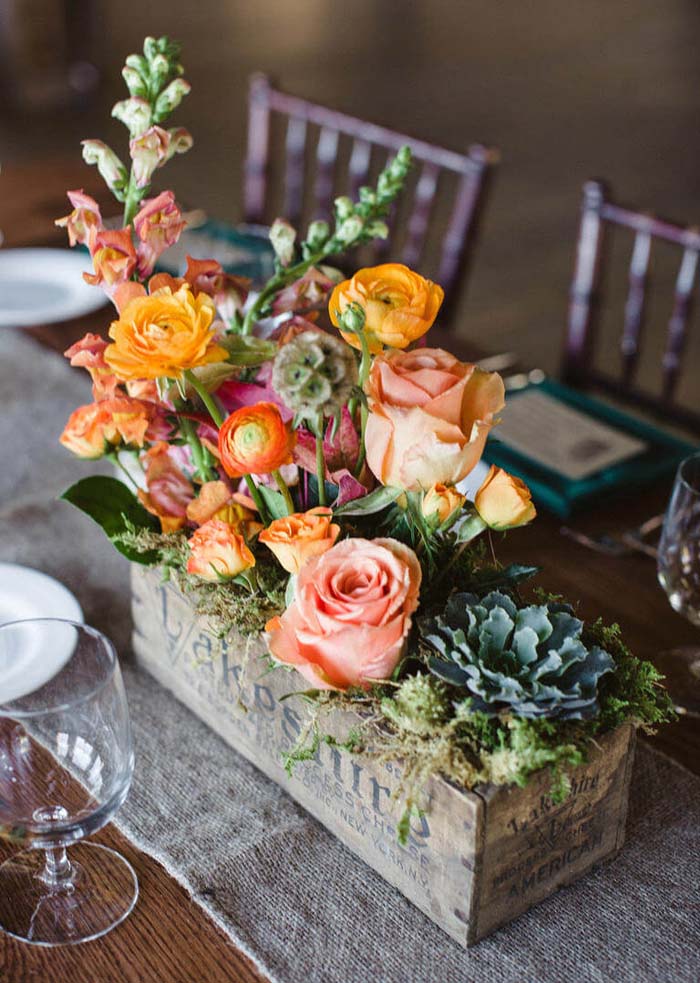 The summer vibe can be instantly added to the home decor with flowers. But it is very important to choose the best holder for these flowers which will let them stand out and will collaborate with the existing decor.
For a rustic interior, take a weathered wooden box, fill it with sand, gravel or with a flower sponge and then insert the flowers you have chosen for the floral arrangement.
via The Knot
26. Bouquet of Twigs Ad Roses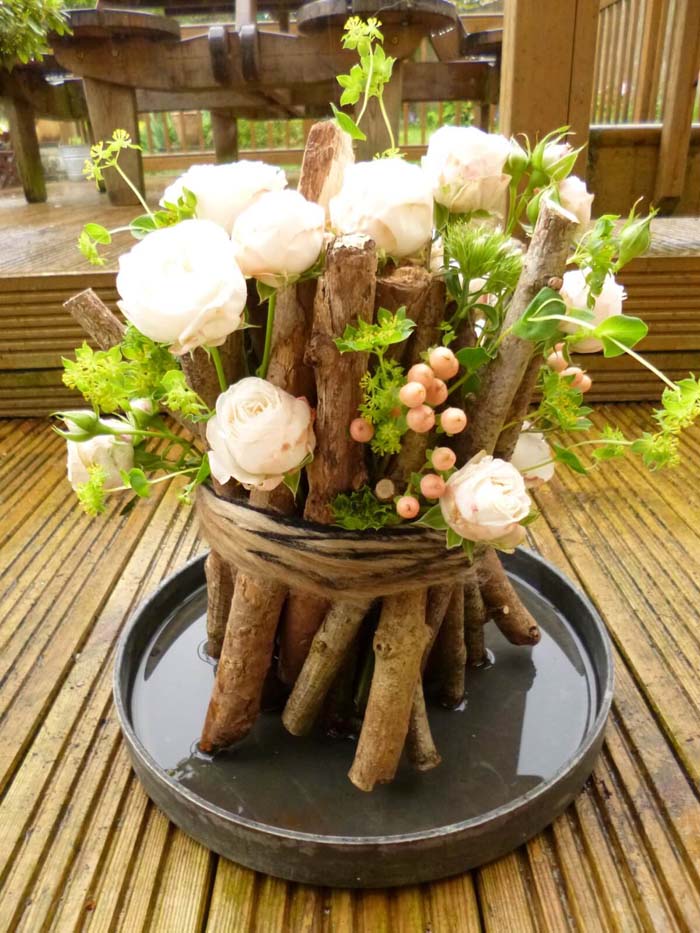 Isn't this bouquet outstanding? White roses are combined with peach-colored berries. The delicate flowers are backed up by a bunch of thin twigs which gives the bouquet also dimension and the ability to stand upright.
A rope keeps the bunch together and completes the rustic arrangement. You can also use a piece of lace ribbon to highlight the delicacy of the roses.
27. Ice Cream Cones Turned Into Vases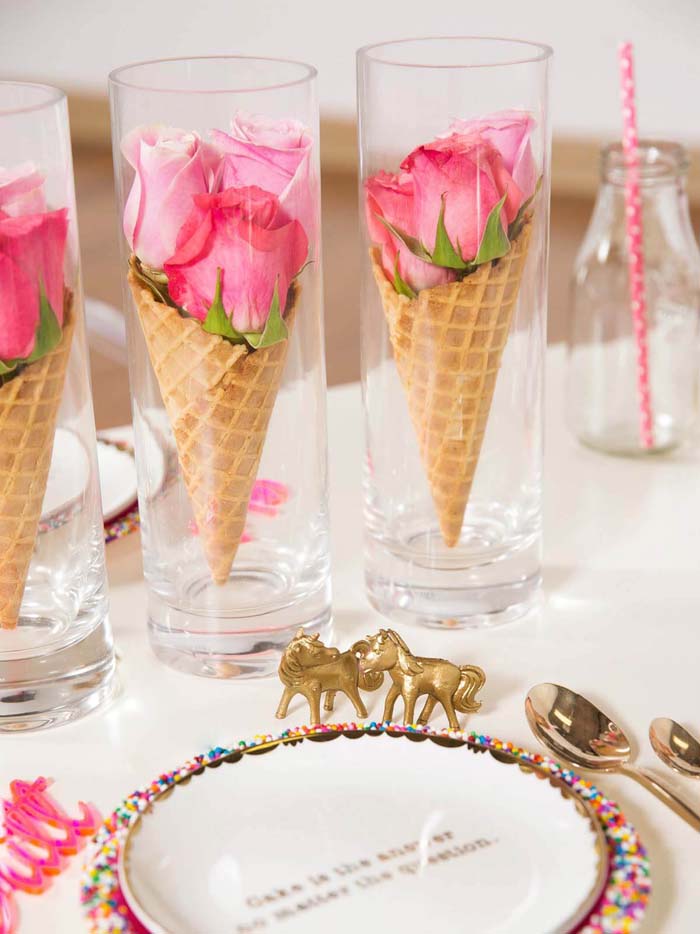 This is a cute and unique idea to add flowers to a summer kid's birthday party or another summer occasion.
The theme of the party is obviously unicorns. Ice cream cones relate to summer but also to the one-horn of the unicorn.
Roses are cut short to be inserted in the cones to mimic ice cream balls. Isn't that a creative and outstanding summer table decor idea?
via Postable
28. A Rustic Wrap Of A Bottle With A Sunflower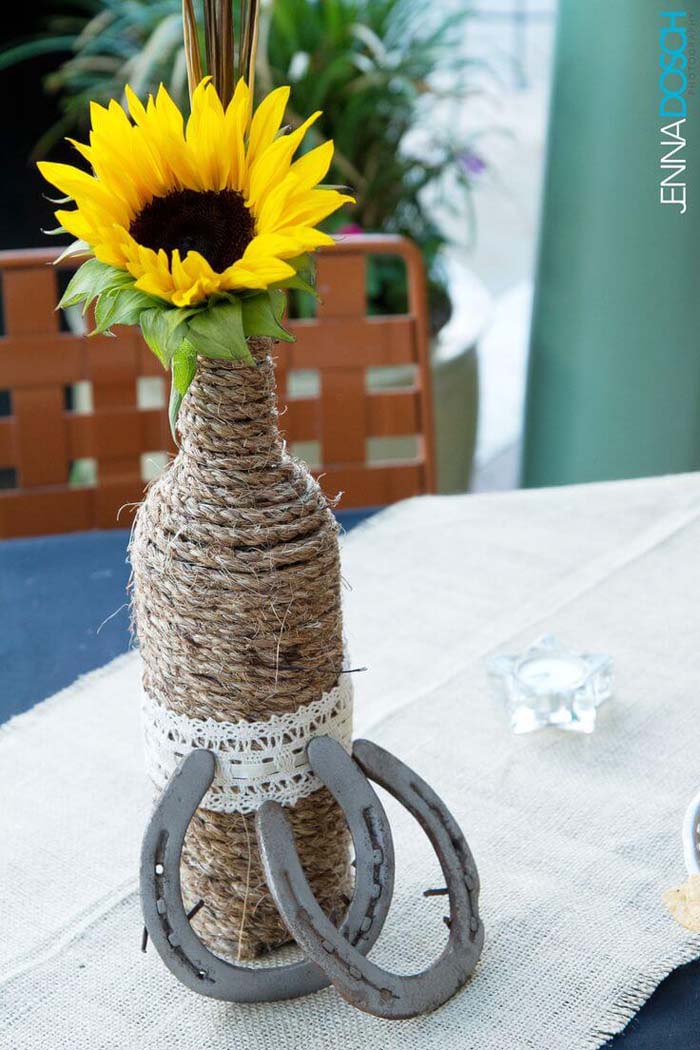 Sunflowers will make any corner of your home more cheerful and alive. The sunflowers match perfectly the summer decor and can be included in different decorations.
One of them is very simple to make and with a lovely rustic impact. A wine bottle is wrapped with a rope to set the rustic background.
A piece of lace is added to the center of the bottle as a delicate accent. Two horseshoes are casually leaned against the bottle to complete the rustic arrangement. The final touch is the sunflower sprig which fills the room with energy, warmth and happiness.
29. Field Flowers Arrangement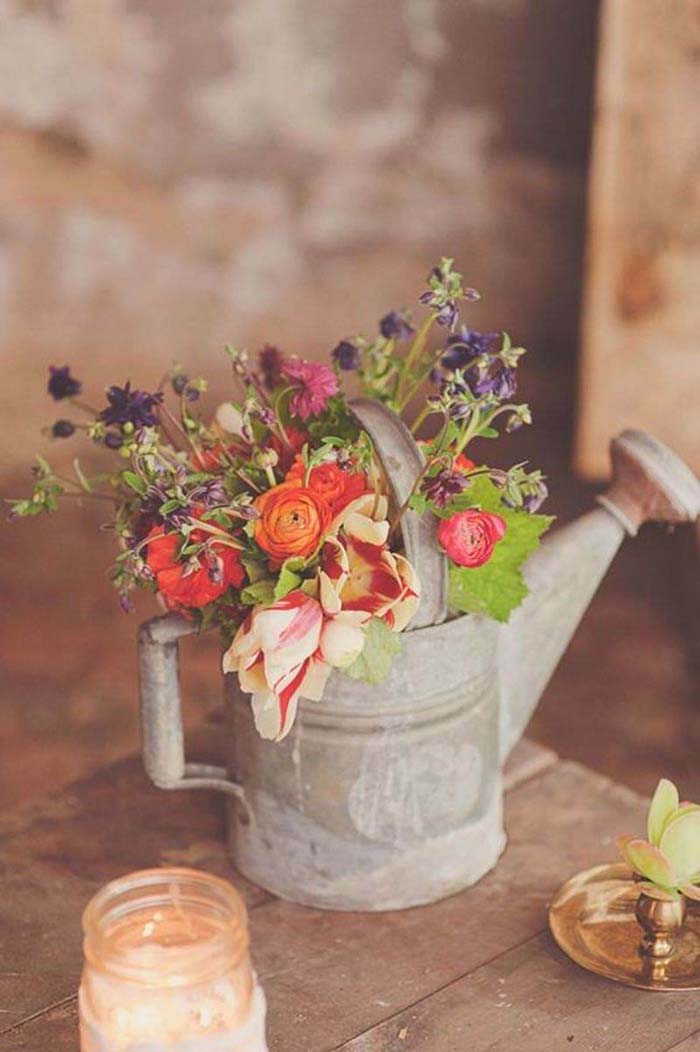 For an authentic natural summer vibe, make a floral arrangement from field flowers. Insert the bouquet in an old and useless watering can.
The beautiful scene is already set on the rustic table. You can leave the piece on its own or add a few small vintage elements around the repurposed watering can.
30. Natural Summer Tablescape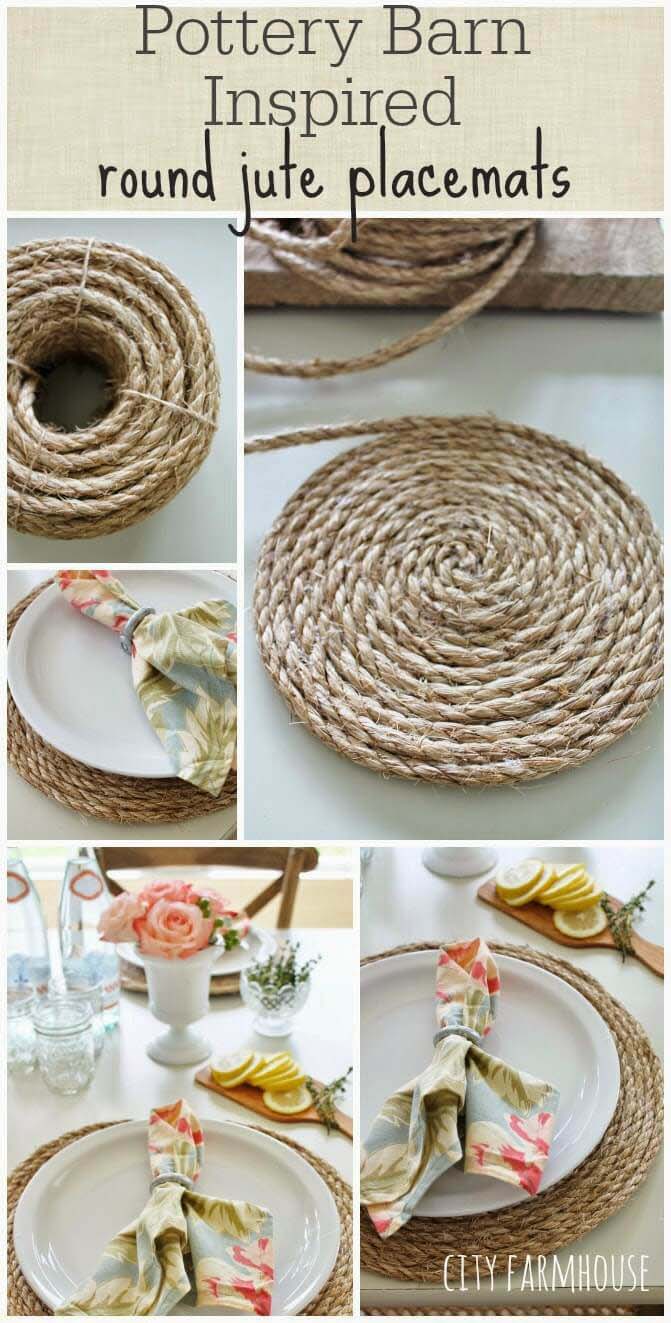 The summer table decor usually includes items made from natural materials. The jute rope table mats are a great beginning for a summer tablescape with a rustic flair.
Add a plain white plate over the mat and decorate it with a napkin with a floral motif. Add vases with flowers cut from the garden. A cutting board with lemon slices is not only a useful seasoning but also part of the summer table decor.
via City Farmhouse
31. Caged Bouquet Summer Table Decor Idea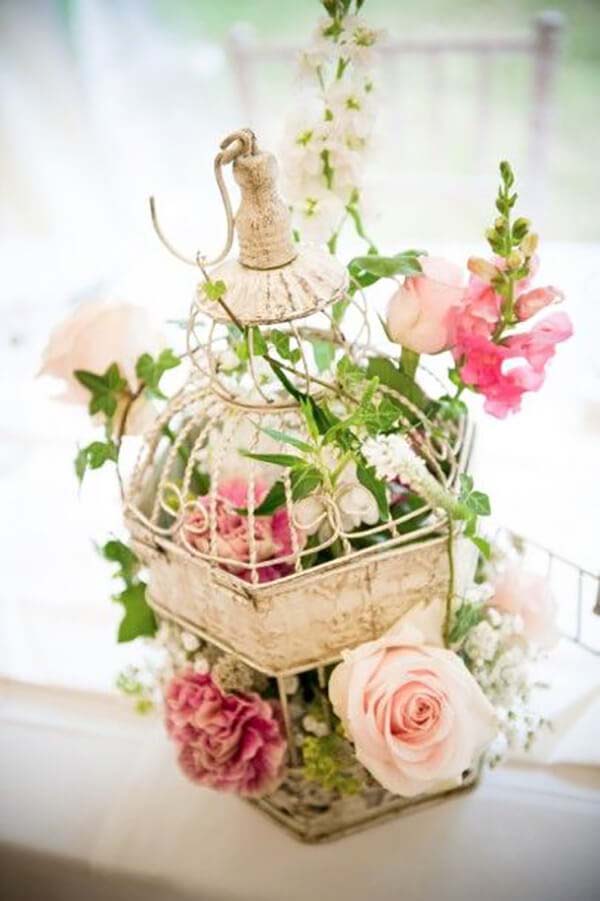 This table decor piece is great for a vintage summer wedding. The protruding flowers create an illusion of the cage barely holding them and this is so effective!
This summer table decor can be also used for an outdoor decoration for the porch or the patio table.
via Andrea Marchetti
32. Exotic Summer Table Decor Idea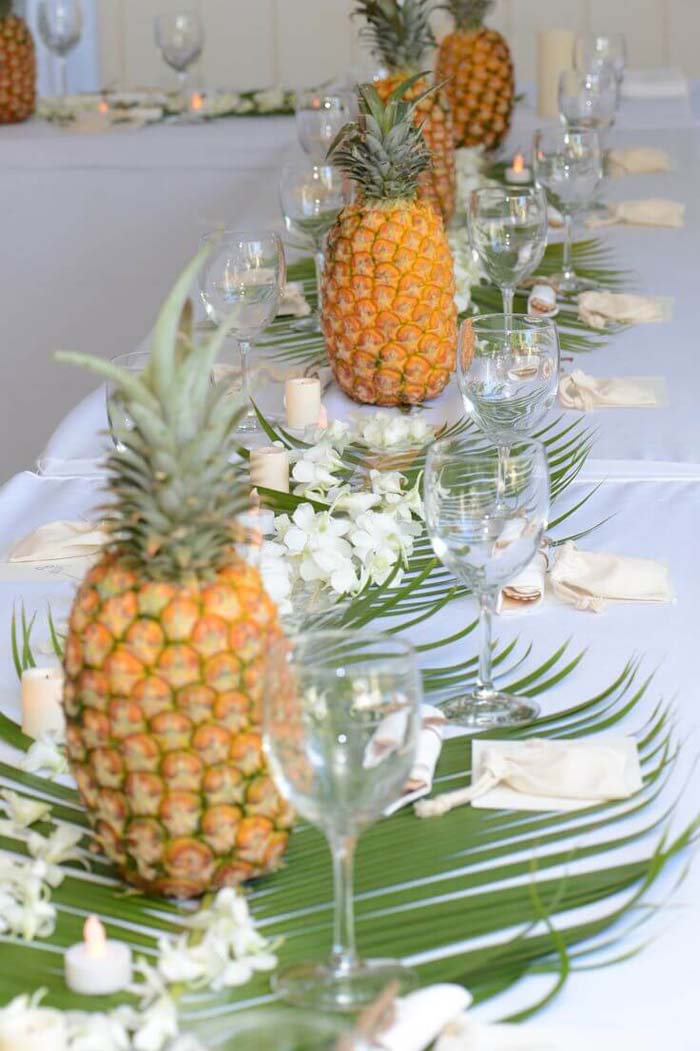 Pineapples can be repurposed into vases for a fun party decoration or included as they are in the centerpiece arrangement.
First, create a suitable exotic runner where the pineapples will stay on. Palm leaves are perfect for this- long, large and exotic.
This is a super easy and unique summer decor idea.
33.

Summer decoration can be fun and beautiful and this summer tablescape idea proves it! Lemons are used as part of the decor. This time, they are not cut into slices but filled with seasonal flowers.
You can gather many lemon vases together in a tray and put them in the center of the table or use them separately as individual plate decor.
34. Beach-themed Summer Decor With Confetti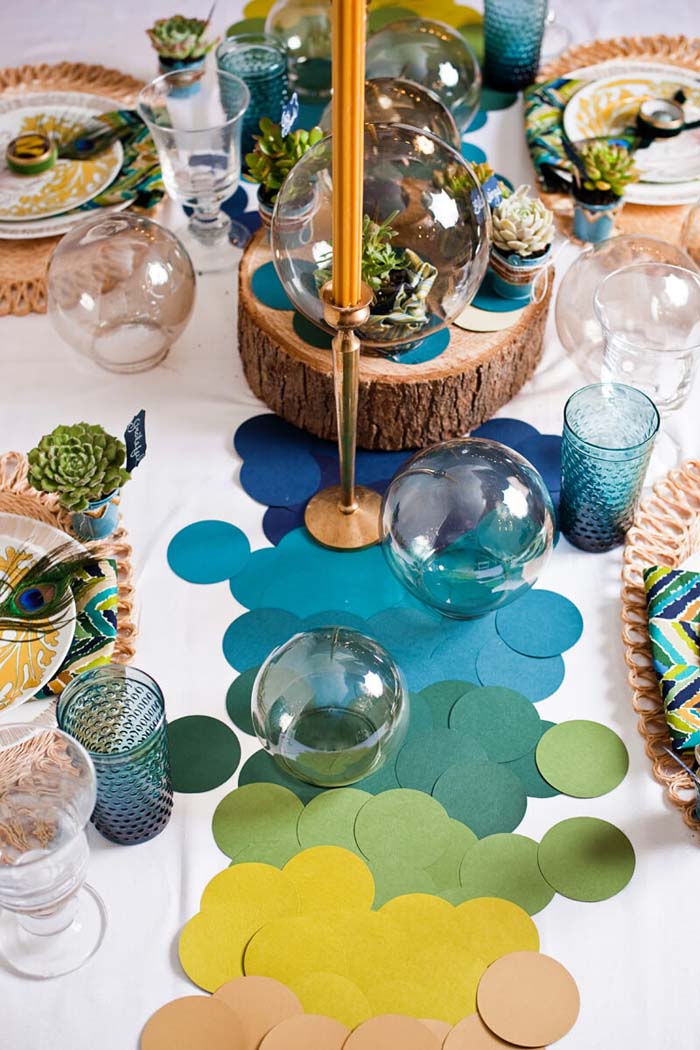 This summer table decor idea is an alternative way to bring beach vibes to your home. Instead of using beach elements like sand and seashells, you can use the colors of the beach represented by confetti.
They are large, in lovely colors and alternating in an ombre pattern. Spread them in a row along the center of the table and get ready for the summer entertaining. If you are lucky to have such glass baubles, put them directly onto the confetti. If not, you can use small glass items like candle holders.
35. Apple Candle Holders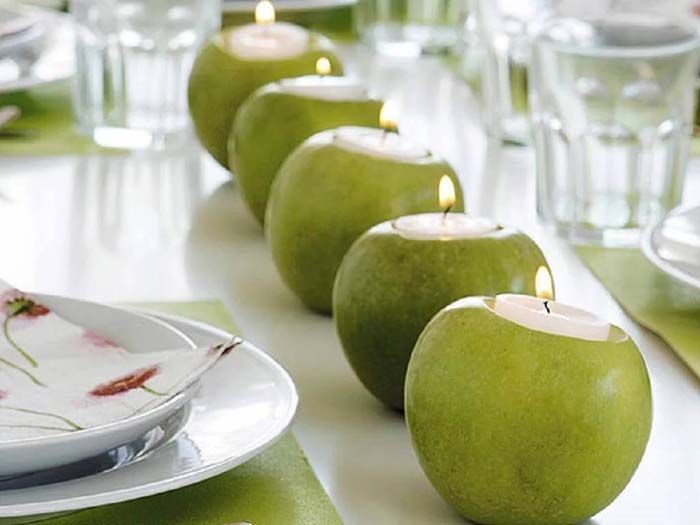 This is another great idea for using fruits as a table decoration. The top part of the apples is hollowed out to make space for a tea candle.
The apples are arranged in a row in the center of the table. The bright green color of the apples is used as an accent that can be seen also on the plate mats and on the napkins.
via Tendenzias