A garden room makes it possible to enjoy more outdoor living. It can be the best place for a home office.
Sheds used to be the only way to build a garden room, but we've found that garden rooms ideas are being developed for every type of outdoor room.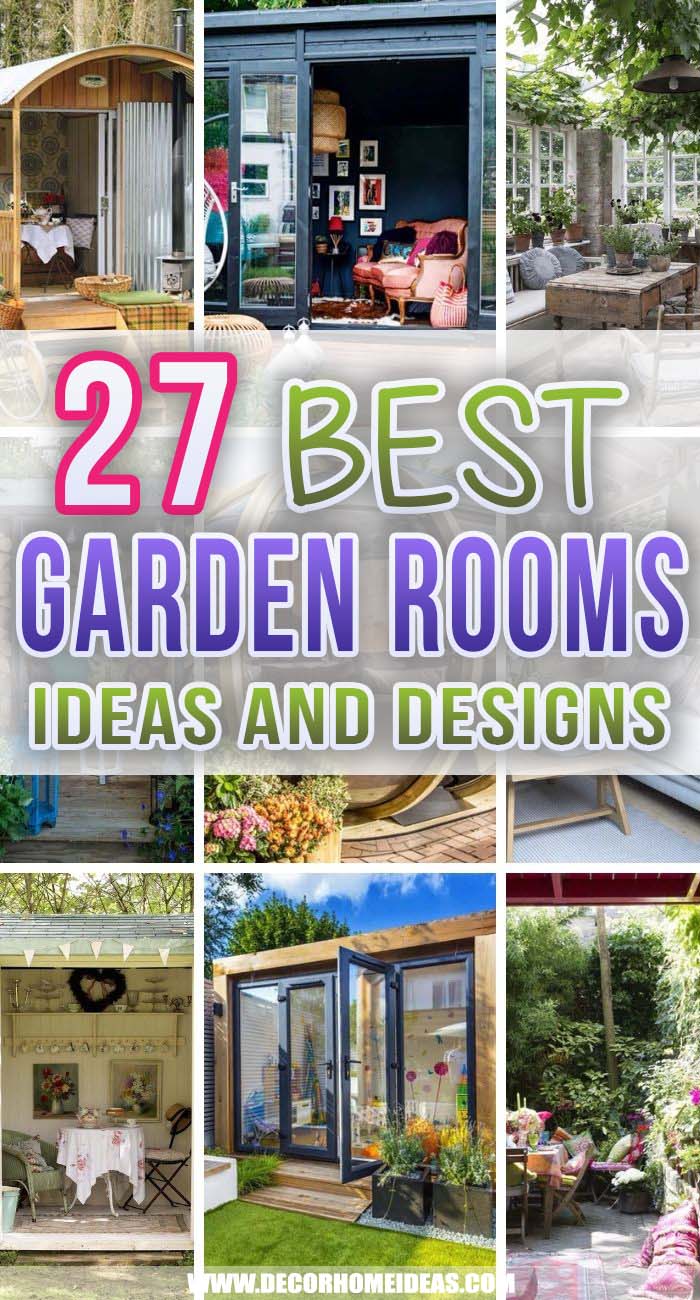 It doesn't matter if you have a large or small garden, there are garden room ideas for the smallest of garden spaces.
1. Upcycle a Greenhouse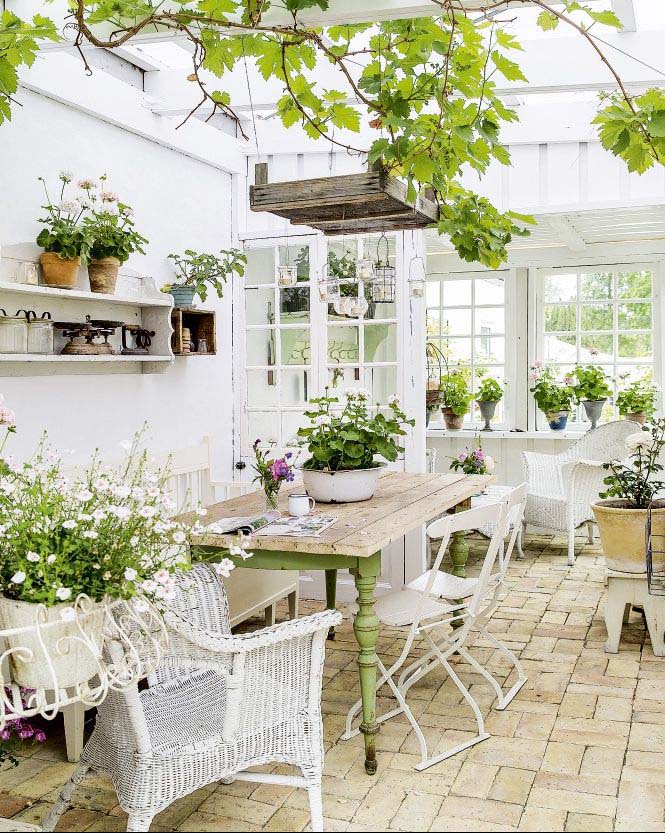 One of the easiest ways to add an indoor garden room to your home is by repurposing a greenhouse over an existing patio.
It provides natural light for your plants and gives you the opportunity to add furniture that wouldn't be possible in an outdoor area.
via Living Inside
2. Add a Prefab Retreat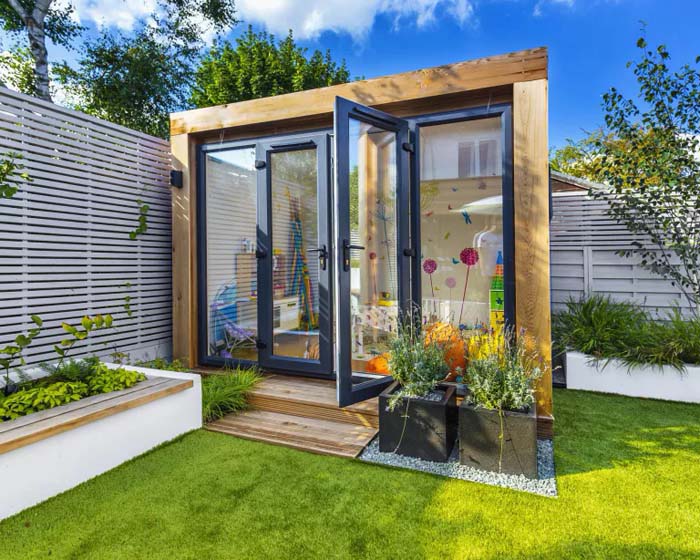 There are many companies around the world where you can purchase a glass garden room.  They can be customized to suit any interior design idea.
via Green Retreats
3. A Shed Becomes an Office Retreat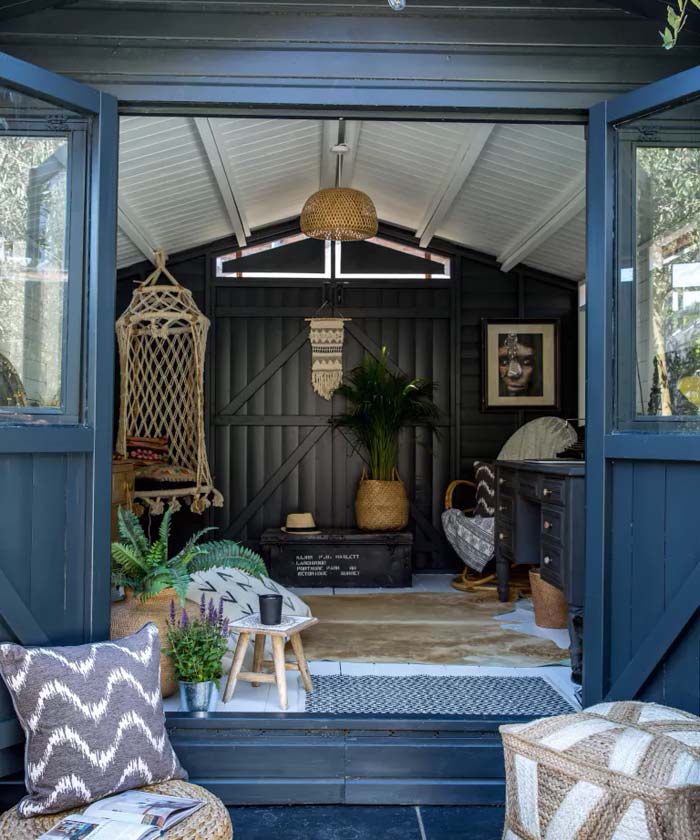 Garden rooms don't have to be all about plants. This shed was repurposed as a Boho casual garden office. The white ceiling brightens the interior.
Painting the back wall chocolate brown adds depth.
4. Vintage Green Room Gets Vintage Decor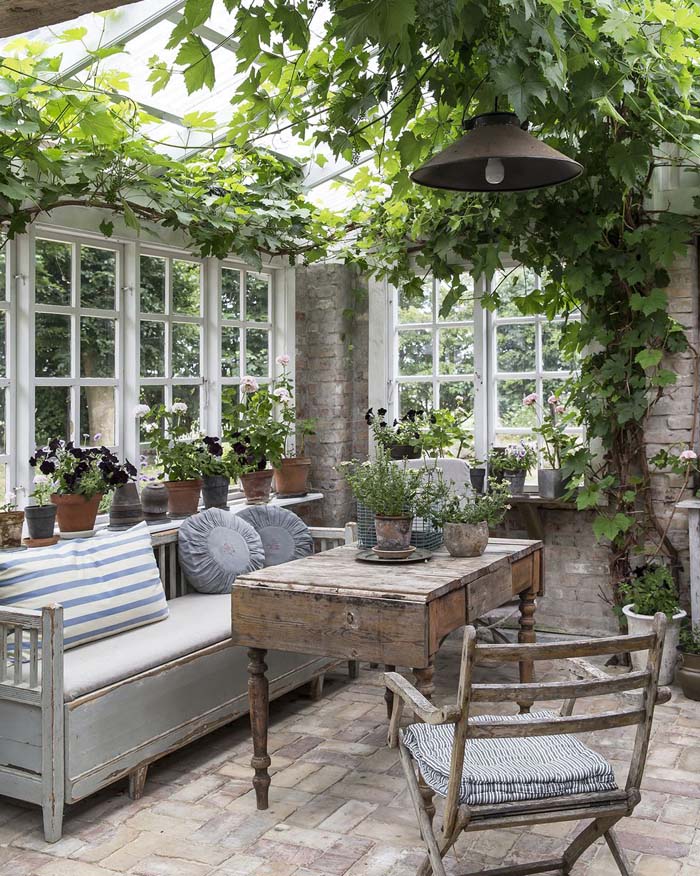 This old farm building started with a strong brick structure and floor.
Skylights bring in natural light and the climbing foliage brings the outdoors inside. Vintage finds include the drop leaf coffee table, chairs and daybed.
via Christina Kayser
5. A Cottage Style Garden Playhouse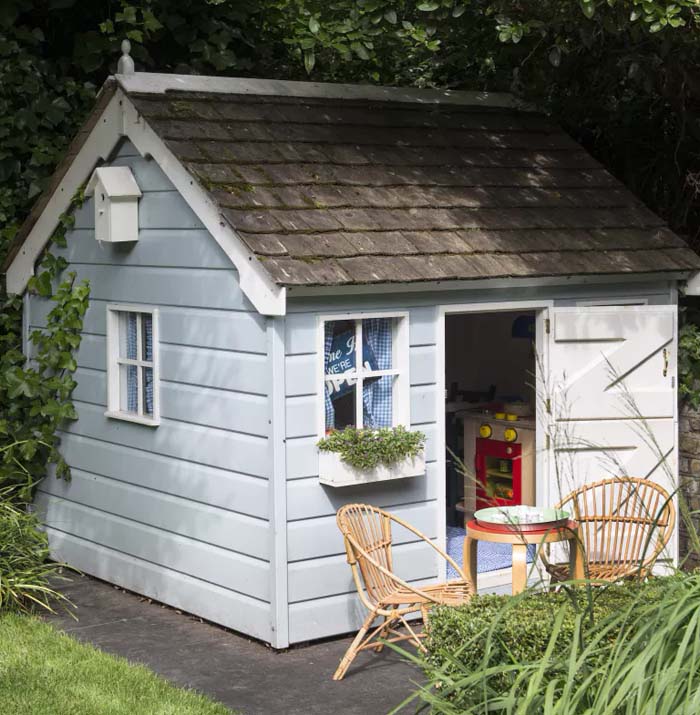 A prefabricated shed is built to look like a magical cottage-style home.
This layout provides enough extra room for a relaxing afternoon drink.
via Colin Poole
6. Garden Studio With a Deck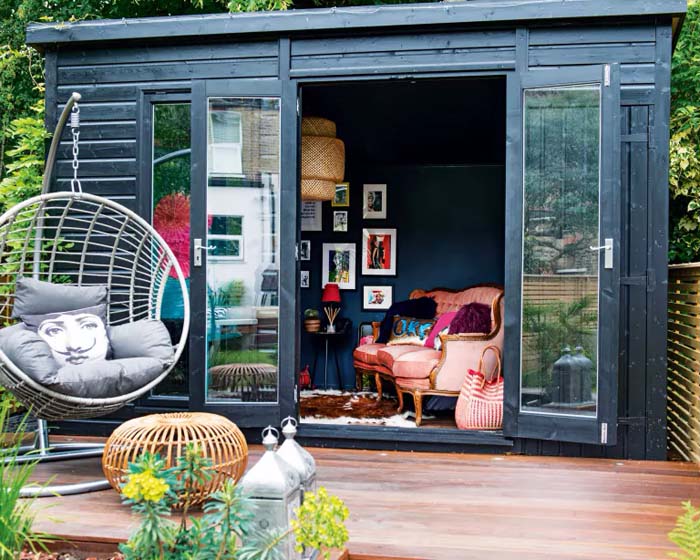 This garden room has tall double doors that allow plenty of air into the room.
Garden rooms ideas video:
The owner created a secondary seating area by adding a hanging chair on a floating deck.
7. Go Modern With a Garden Pod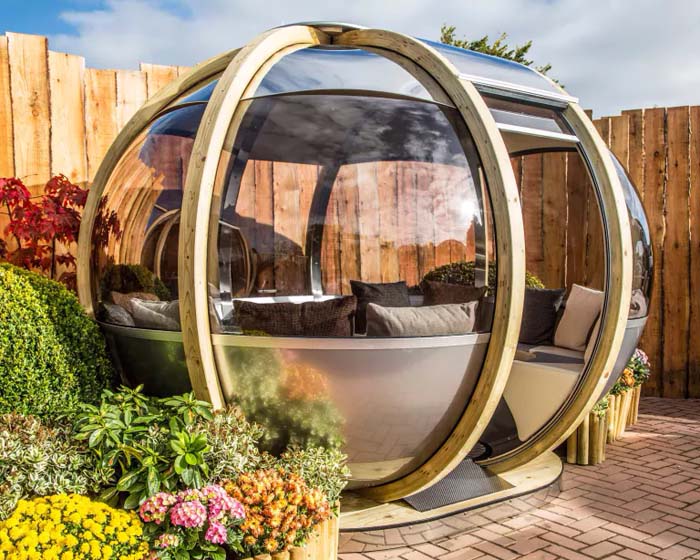 The last few years have created the need for isolated environments for restaurants and entertaining.
Individuals are seeing the benefits of these design elements with more companies selling these structures to the public. This garden room pod has a stainless steel roof, power and heat.
via Lime Lace
8. Garden Room With a Dutch Door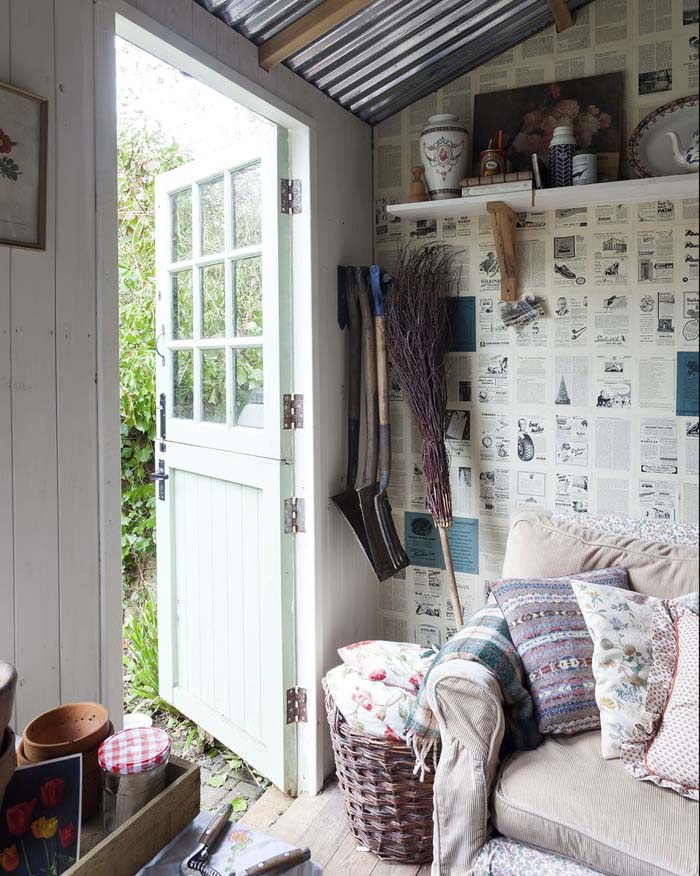 Here's a  small garden room with a corrugated metal ceiling and wallpaper made from old magazine ads. Textiles soften the interior.
There are places to hang garden tools and a Dutch door to keep out wildlife.
via Mark Bolton
9. Add a Backyard Summer House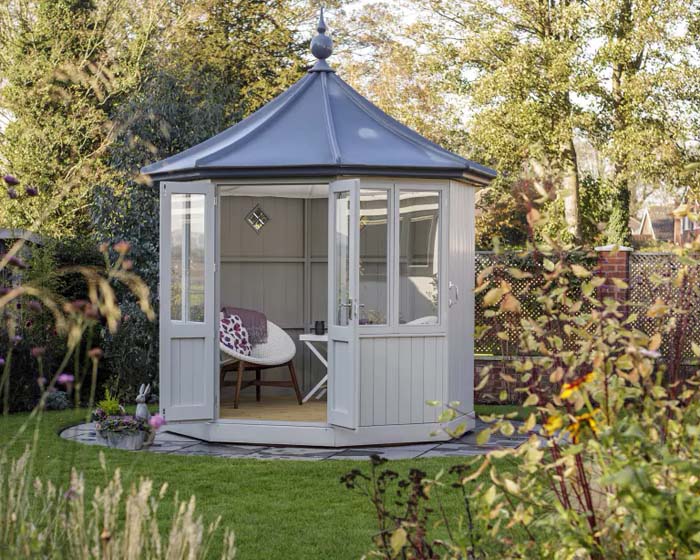 This garden room is built with an optional rotating base.
The advantage is the ability to swivel the summer house to control the amount of sunlight allowed in.
10. Classic Tea Room With French Doors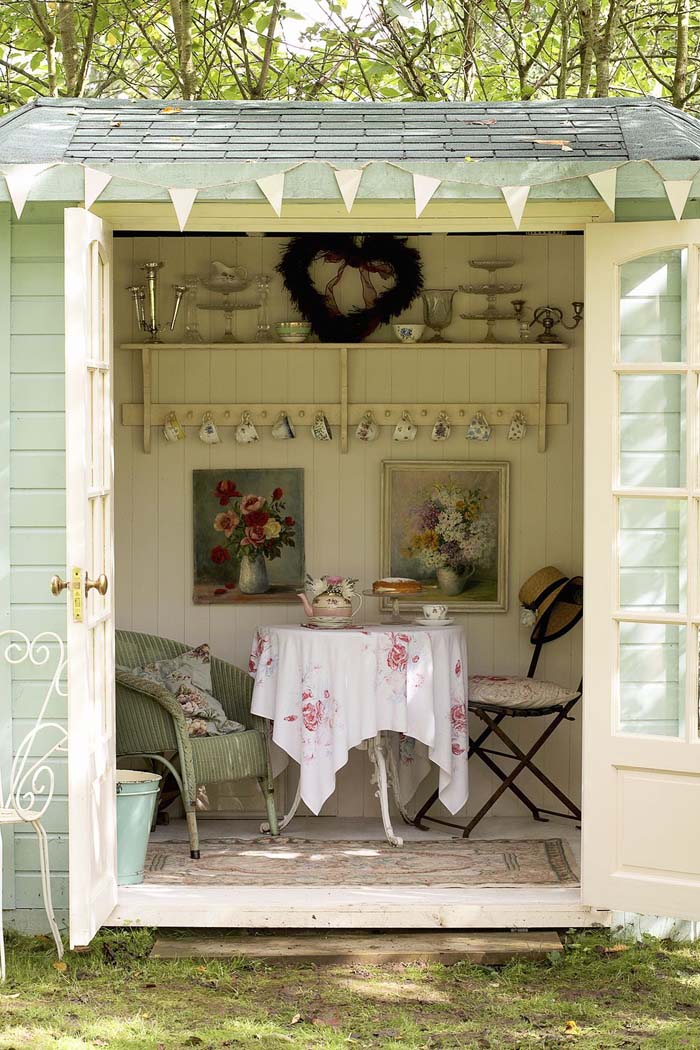 This example shows how even a small space can be converted into a lovely garden area.
This is an exquisite tea room with antique tea cups hanging on the back wall.
via Alun Callender
11. Build a Garden Room on a Terrace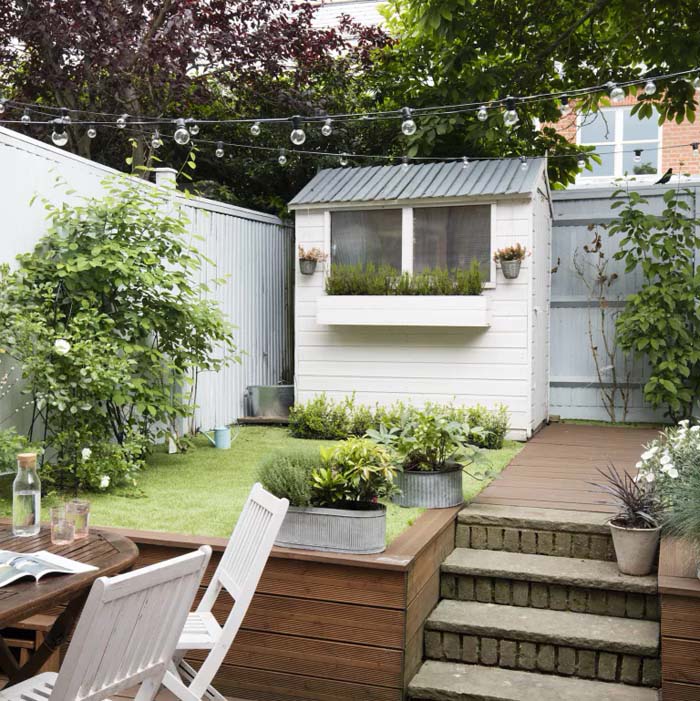 The owners built a raised deck on their small property.
It turns the small garden shed into a separate seating area.
via Future PLC
12. A Pergola Becomes a Modern Pavilion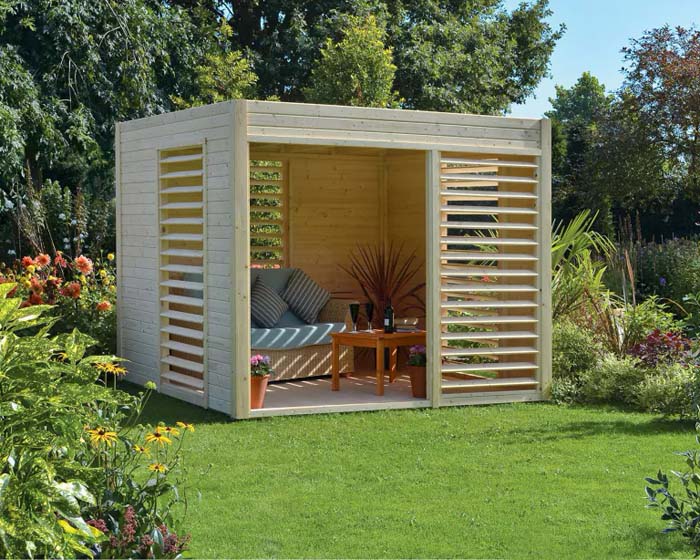 A flat roof was added to a basic pergola structure.
Louver panels were also added to control the light and wind. The result is an open-framed modern gazebo.
via Cuckooland
13. Give Your Garden Room a  Rear Window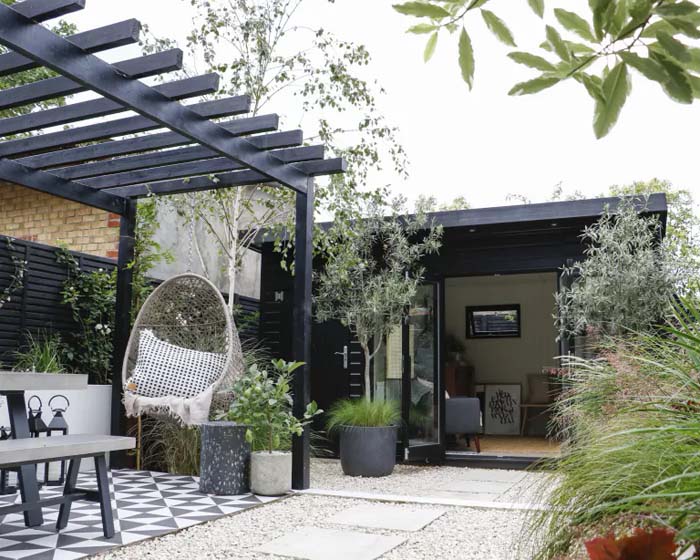 Here's a garden room idea that's often overlooked. Consider building a window on the opposite side of the structure from the doors.
You'll get a nice cross breeze and it will feel less confining. Choosing a jalousie or louvered window keeps air flowing even when the rain forces you to close the door.
14. Chic Country Cottage Outdoor Space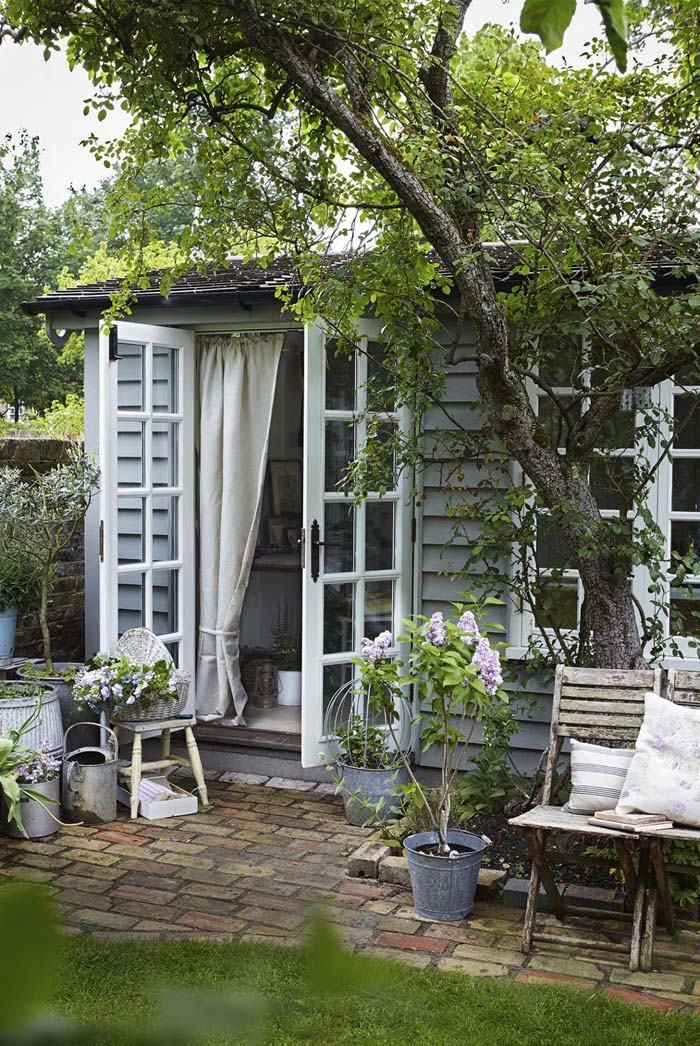 A standard shed was converted into a country-style garden room. The owner added matching French windows and French doors.
Fold-up chairs and pillows finish off this outdoor space.
15. Add a Garden Room Office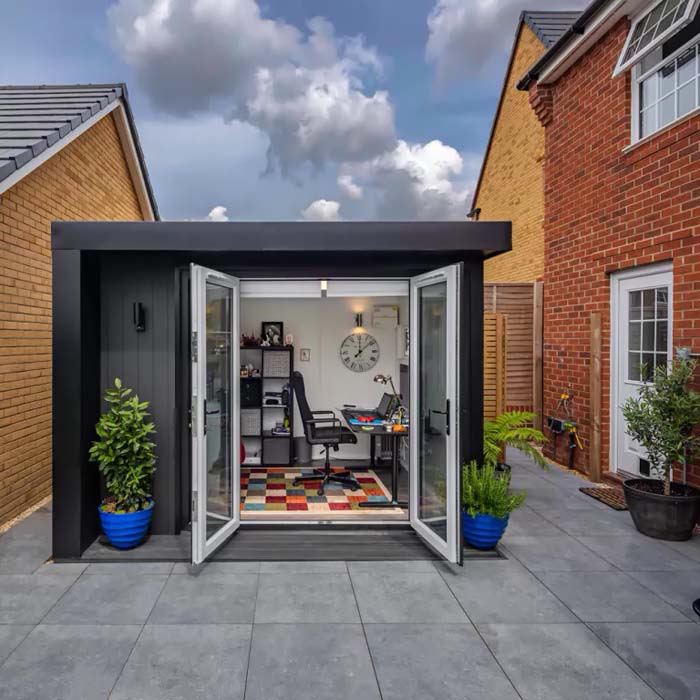 This garden room has been repurposed specifically as a home office.
This allows household activities to continue without having to tiptoe around business matters.
via Green Retreats
16. Hard Working Garden Rooms Ideas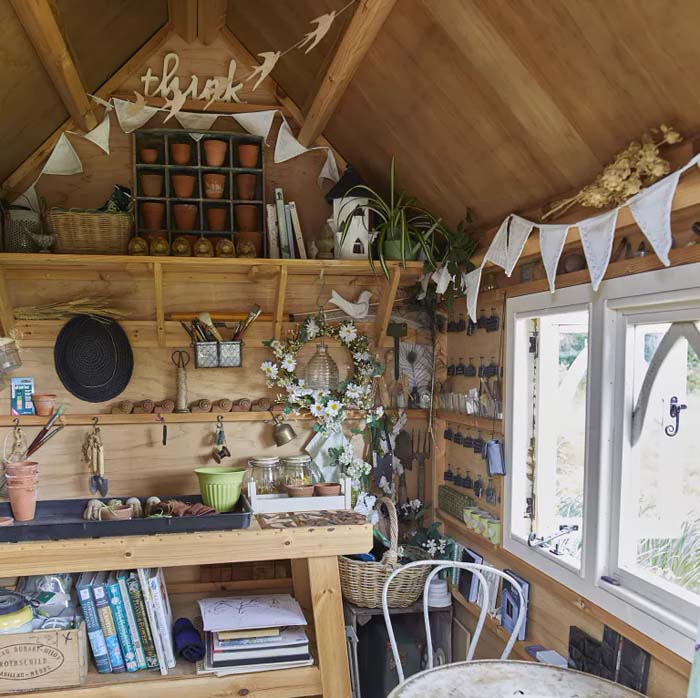 This garden room is beautifully organized for efficient gardening.
When it comes to garden rooms, ideas come quickly when you can sit at a table with a collection of your favorite design books.
via Future PLC
17. Build a Man Cave in Your Garden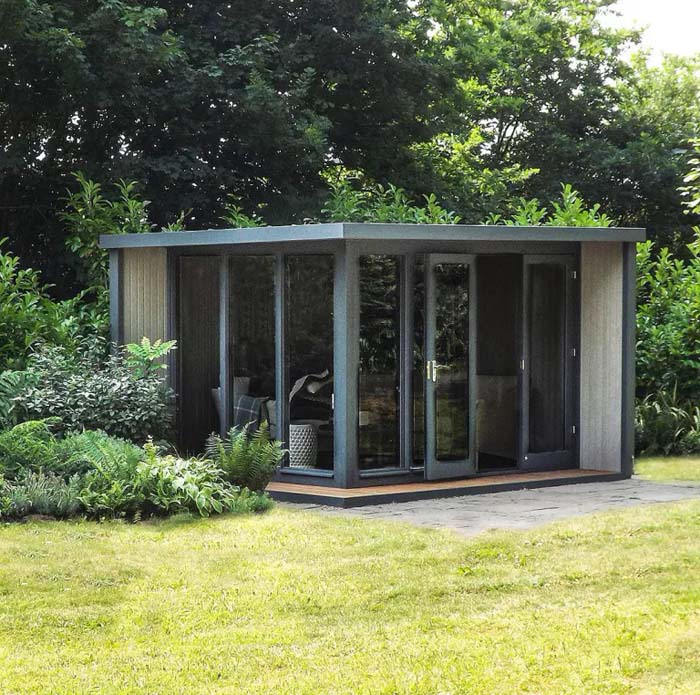 John Lewis & Partners collaborated with Crane Garden Buildings for this fully insulated contemporary garden room. The black and wood garden building, topped with a flat roof, has a distinctly modern, masculine style.
This man cave has floor-to-ceiling glass panels on two sides, providing airy inspiration for any activity, such as drinking beer and streaming sporting events.
via John Lewis
18. Garden Room Is a Modular System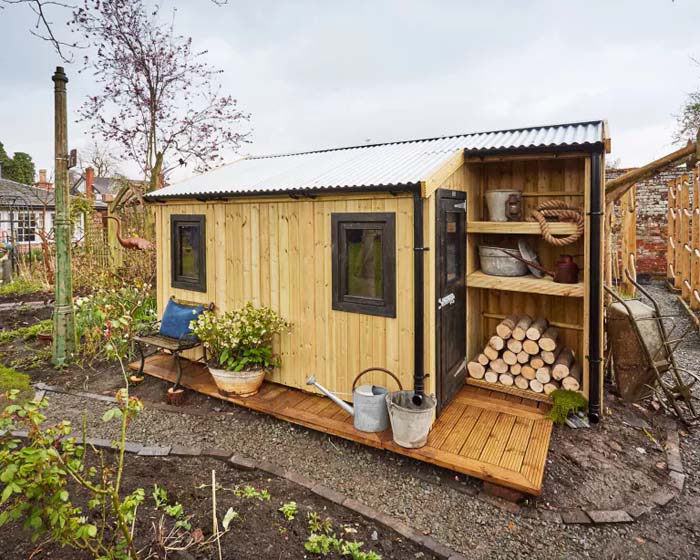 This garden room is made up of three separate components. On the right is an open system for holding firewood. Another module with a black door hides the lawn mower.
There's a third system on the other side for more work.
19. Turn a Garden Room Into a She Shed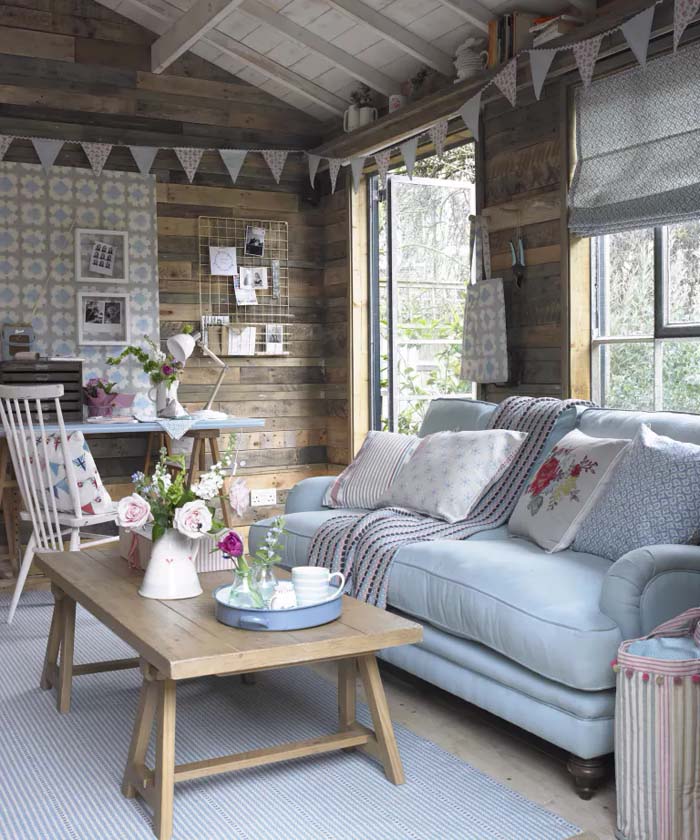 Sometimes a garden room is just a separate living room where you can decorate in a frilly manner that other family members may not appreciate.
This She shed has an overstuffed couch, floral accents, Roman shades, and a large glass door entrance.
via Future PLC
20. Get an Office With a Window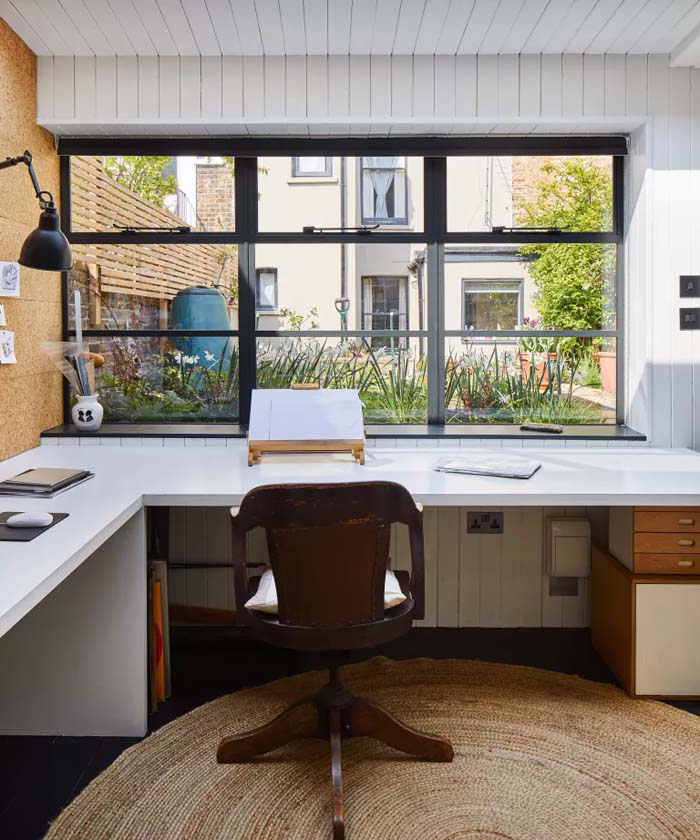 Many of us who have worked in a corporate environment have dreamed of an office with a window view. If you now find yourself working from home, turn a garden shed into the office of your dreams.
This garden space has plenty of room to spread out and a half wall of windows overlooking a garden.
via Chris Snook
21. Courtyard Becomes Outdoor Garden Room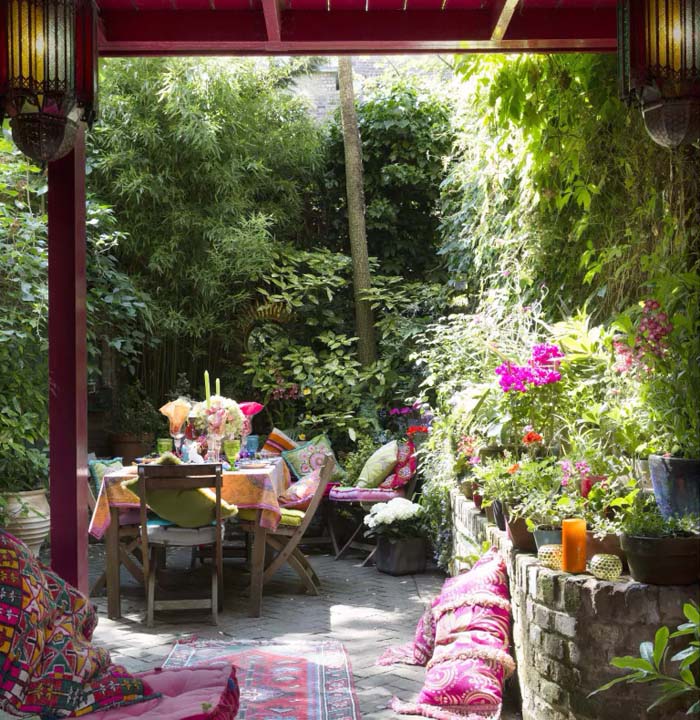 A pavilion opens to a lush outdoor garden room. It takes time for trailing plants to become this lush, but your patience will pay off.
This outdoor living space gets a boost from the colorful Bohemian-style cushions and a throw rug.
via Future PLC
22. Fine Dining in Your Backyard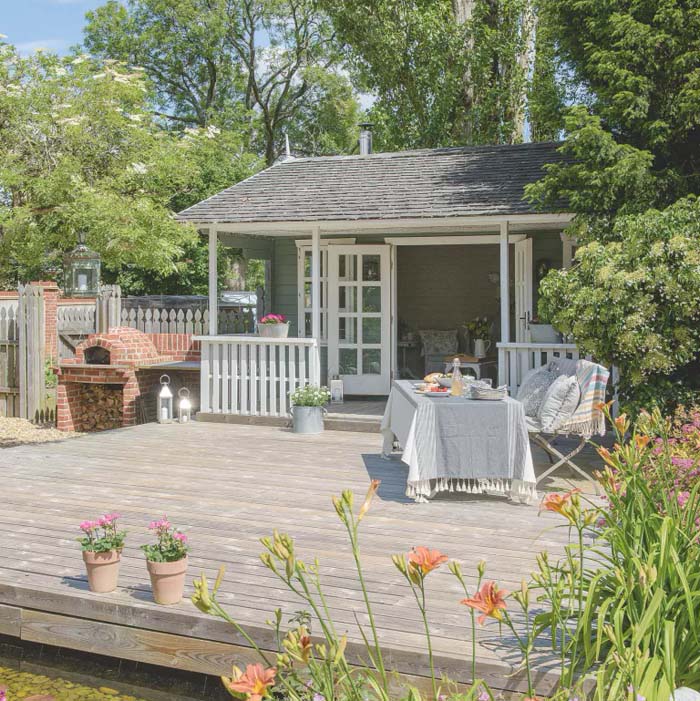 An easy way to extend the space around garden retreats is by building a floating deck.
A red brick oven was built off to the side. There's room for a dining area and coffee in the cottage.
via Future PLC
23. Garden Room Holds Firewood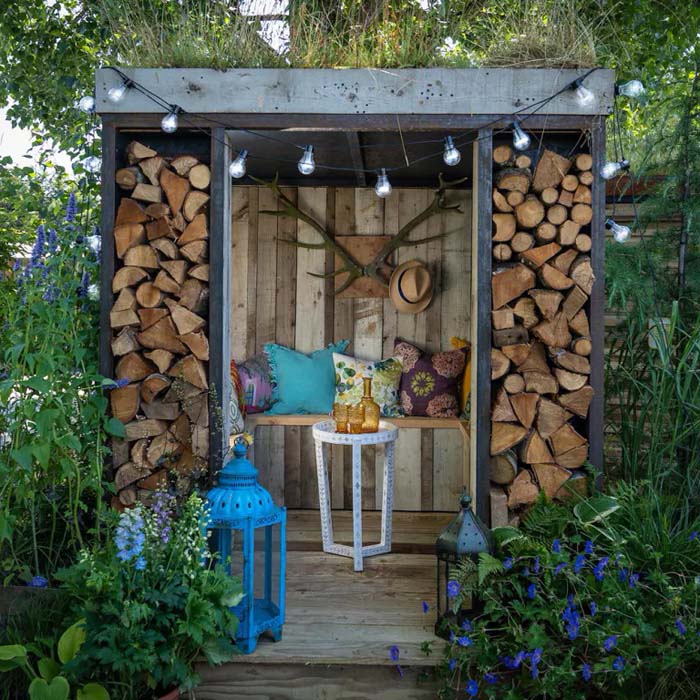 Tree branches are set up like a hat rack. It sets the mood for a quiet seating area in a shed that doubles as storage for wood piles.
A string of solar lights keeps the sipping going on into the evening.
via Future PLC
24. Create a Backyard Glamping Experience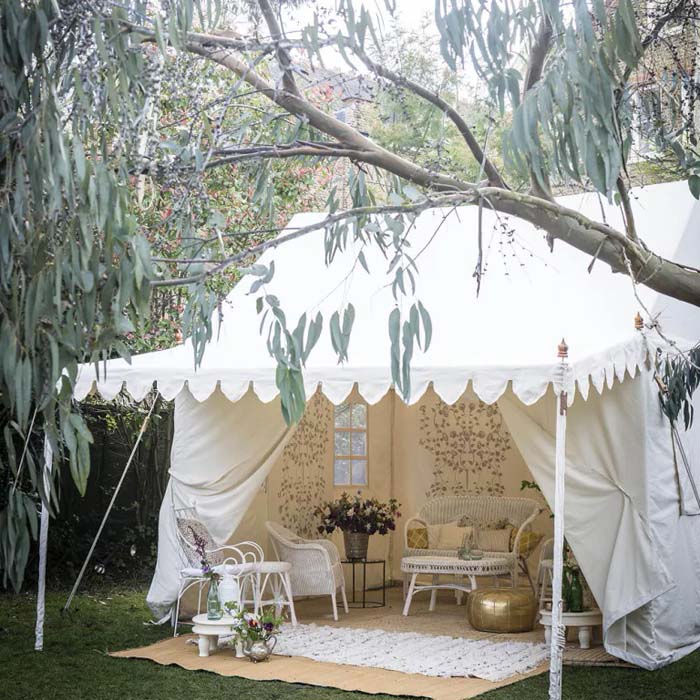 You can now have a glamping experience right on your own property. Glamping tents are now available for sale or rent.
This two-person tent looks luxurious with its garden furniture. It has an extended canopy and mesh windows with roll down blinds.
via Raj Tent Club
25. A Modern Shepherd Hut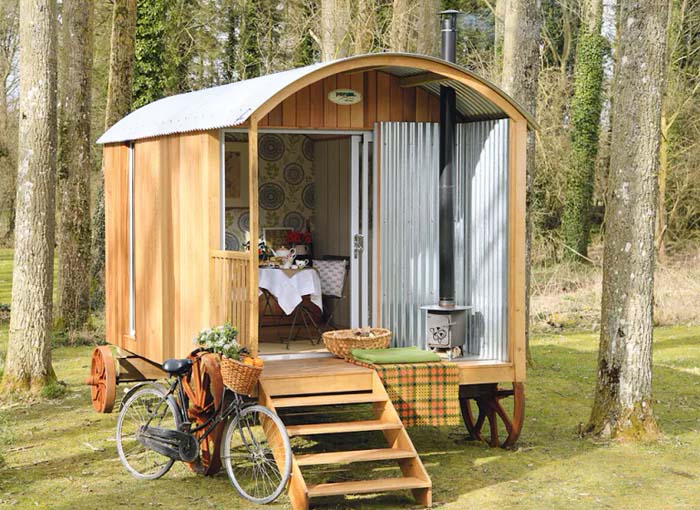 Original shepherd huts were designed to keep a shepherd warm on chilly days. The current garden room design is based on the original huts, complete with wagon wheels
These new huts are fully insulated and are the perfect year-round retreat.
via Plain Huts
26. Garden Room Office Keeps You Productive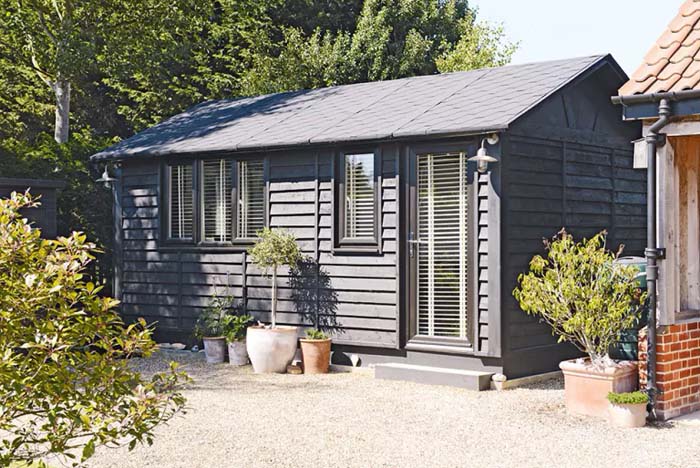 This particular model is designed to accommodate a working space for up to four people.
Double-glazed windows and full insulation means you can work in it all year.
27. Treat Yourself to a Garden Pool Room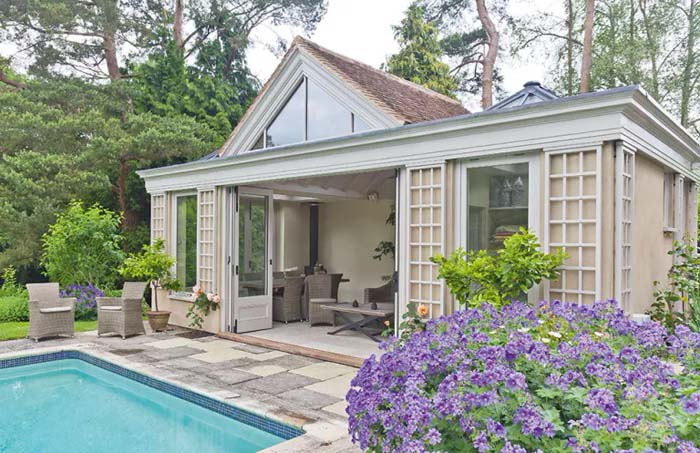 Insulating your pool house makes it a functional space for working out or just working.
It's not just a great outside space, you will certainly impress clients with this comfortable setup.
28. Build a Greenhouse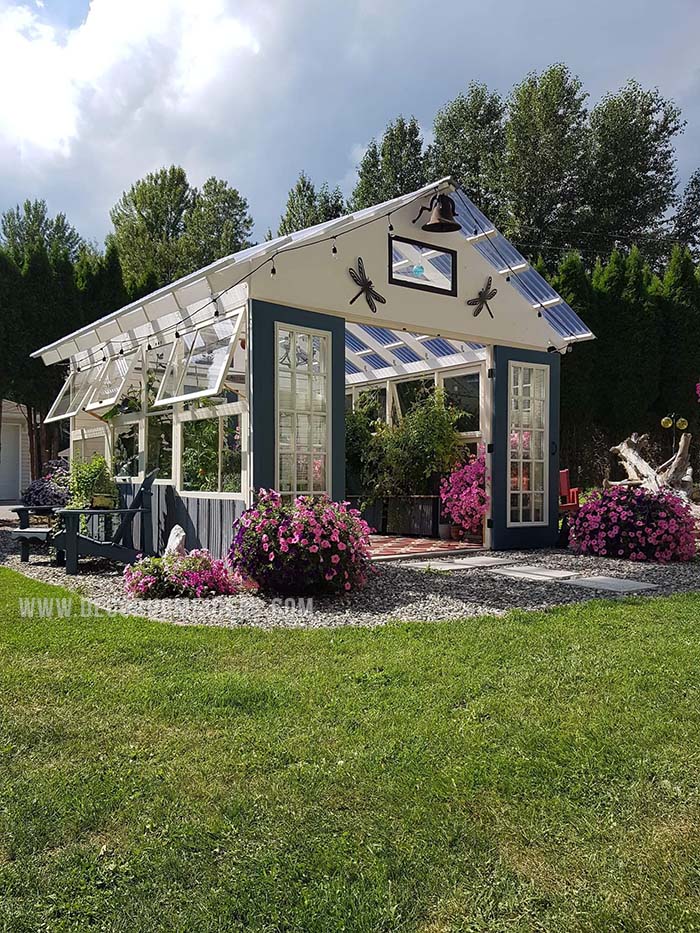 So many asked about how we built it so this is what we did. All items except for the floor and roof was made from recycled materials, it is 12×14 and it costs us approximately $3000.00 to build Canadian. We live in northern British Columbia, Canada  we don't heat it in the winter so no plants stay in there