If you are in doubt about whether to make your own DIY hat rack or buy one, don't worry we are here to help you. We have made a selection of more than 100 best DIY hat rack ideas that you could easily recreate.
The best thing about a hat rack organizer is that it will remove the mess and could add a more personalized touch to your entryway or bedroom.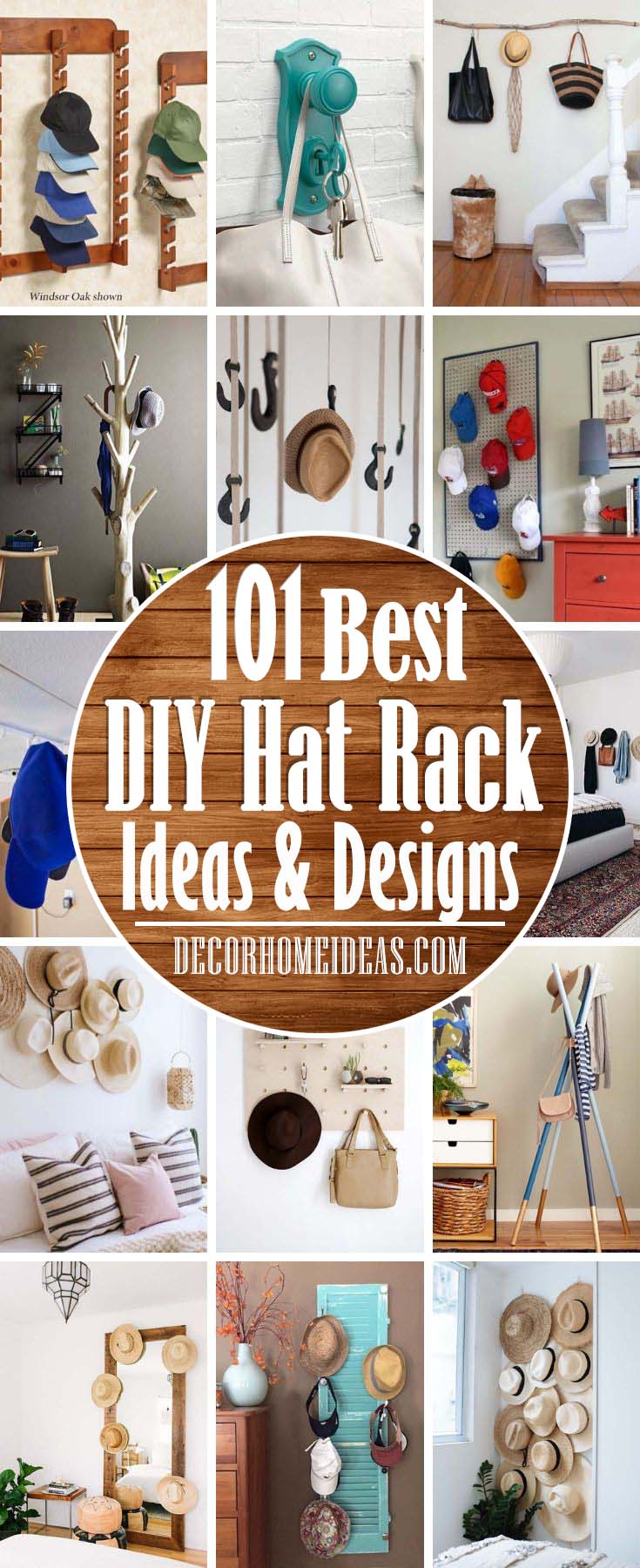 Virtually anything can be used to build a hat rack – ropes, branches, hooks…you name it.
We've also had a selection of repurposed items that were turned into beautiful hat holders.
It doesn't matter if you have just several baseball caps or hats or your collection is massive, we have covered them all.
1. Animal Wall Hooks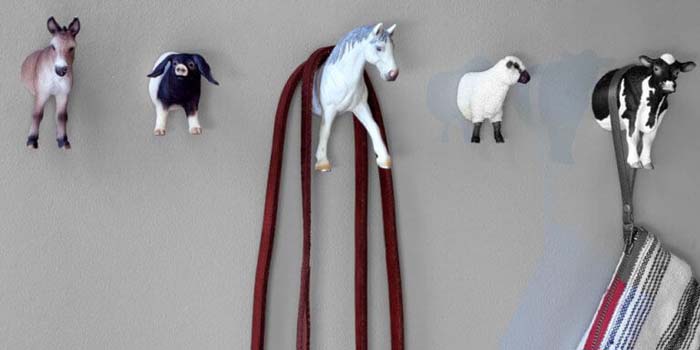 Believe it or not, the useless toys of your children may be repurposed! Use the forgotten pile of plastic animals to create a DIY hat organizer in a countryside spirit.
By cutting the animals in half and drilling a hole for a dowel screw to mount in on the wall, you would get an interesting rack of animals emerging from the wall.
via Country Living
2. Animal Bums Coat Hook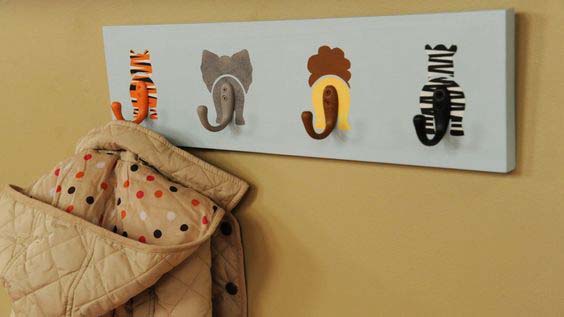 A plain wooden board in white that will match all possible interiors of a kids'room, some standard hooks and masking tape in different colors or premade cute animal stickers can do a funny hat rack.
A smile will appear on your face any time you look at these animal bums.
3. Baseball Cap Hat Rack Personalized
This is the dream hat rack organizer for all baseball lovers. The customized item sold on the Internet can hold up to 8 hats. If you are keen on doing it yourself, you need to consider some modifications.
The rack can be made of UA metal profile where you should additionally cut the slots and bend them forward to make them hook-like.
The hardest part would be the sport's image. The homemade version can be done on cardboard covered in black or inox color foil.
via Custom Cut 4 you
4. Baseball Cap Organization DIY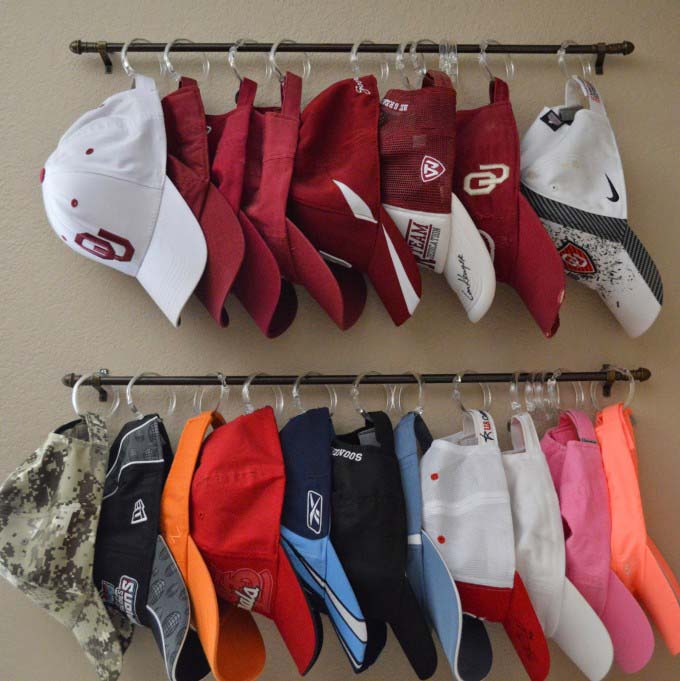 Done in less than 10 minutes, this hat organizer will let you forget about the hats placed at random places and have them arranged neatly on a curtain rod!
With the help of C-hooks that turn to hold the hats very strongly, each hat can be organized onto that interesting wall mounted hat rack.
5. Baseball Hats Hanger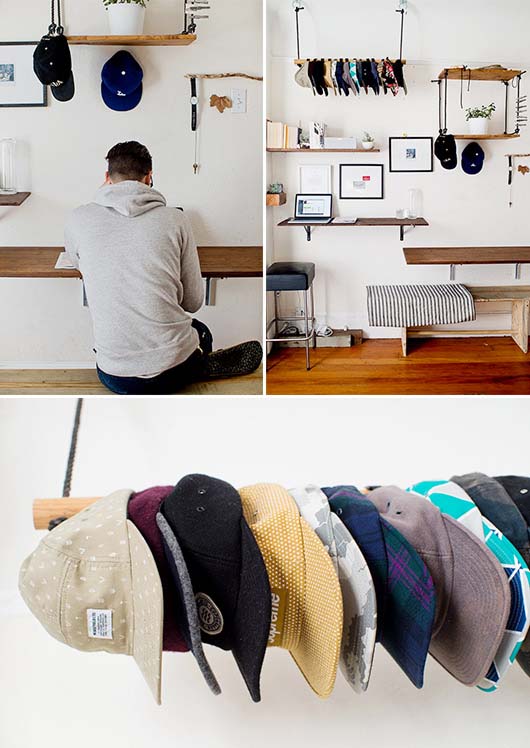 When you are limited in space, interior and organization are of the highest importance. This DIY hat organizer is a clever way to store your collection of hats in a space-friendly manner.
A wooden rod hung from the ceiling via ropes attached to hooks is the author's decision to organize his hats. Very smart, executed from natural materials and very well-arranged hat storage.
via Sf Girl by Bay
6. Hat and Clothes Rack in the Bedroom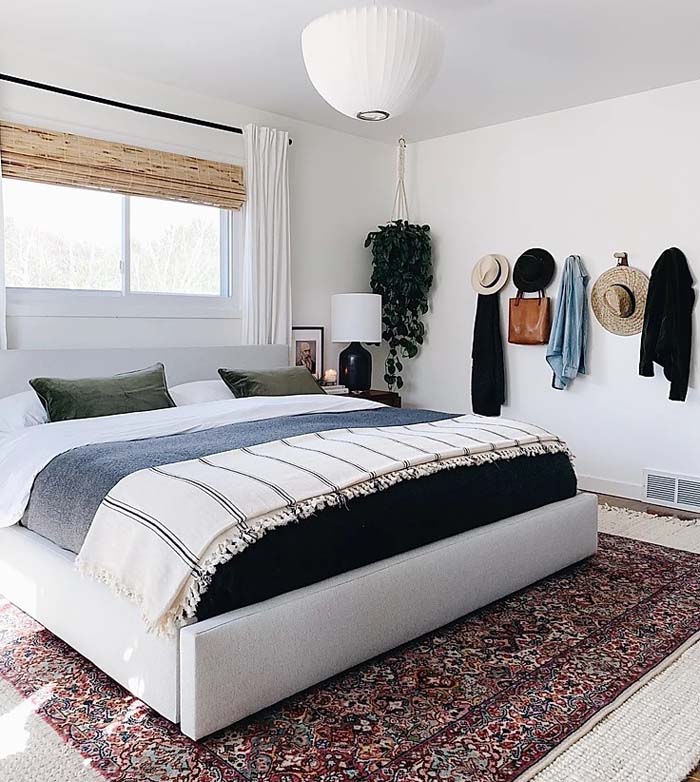 Quite stylish and minimalistic is the hat organizer in the master bedroom presented above.
The short wooden dowels protruding from the wall are used as hooks that are very practical to hang on clothes and different sizes of hats.
via Undecorated Home
7. The Clothes Pins Hat Rack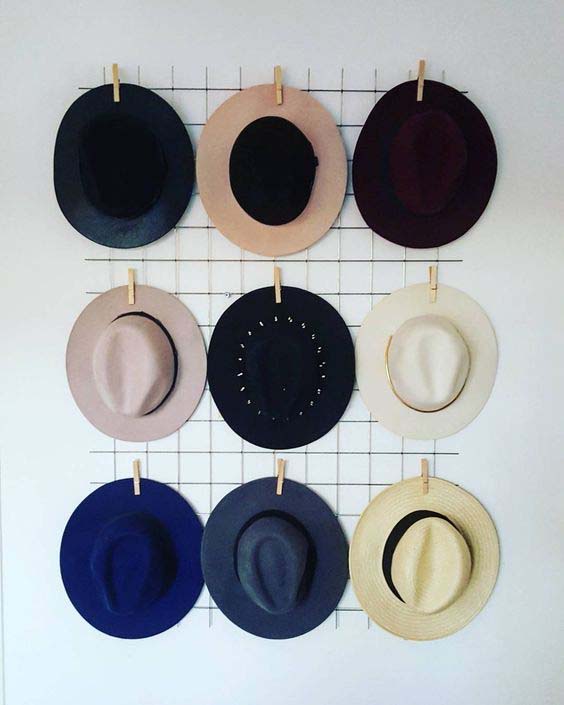 If you don't want to invest time or money on a hat rack, this is the best idea you can take advantage of.
A plain piece of wire mesh hung on the wall has been turned into a hat organizer that can accommodate many of your favorite accessories. Using clothespins you can hang all your hats.
via Linda Hallberg`s Instagram
8. Coat and Hat Rack by Upcycling a Wall Gun Rack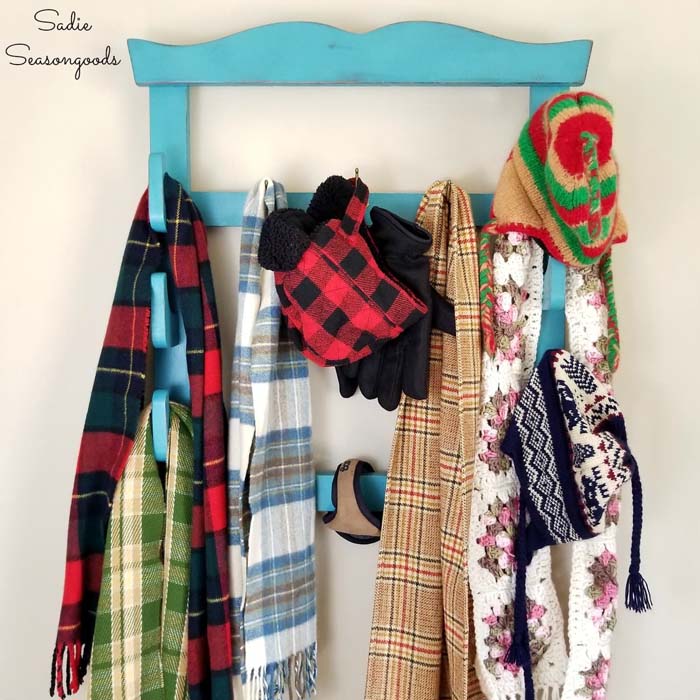 The old and dusty gun rack at your garage can do a very good job in your entryway! The vintage look of the DIY hat hanger is achieved by distressing of the painted edges.
Adding a beam with some old golden hooks increases the storage area.
9. DIY Hanging Copper Hat Rack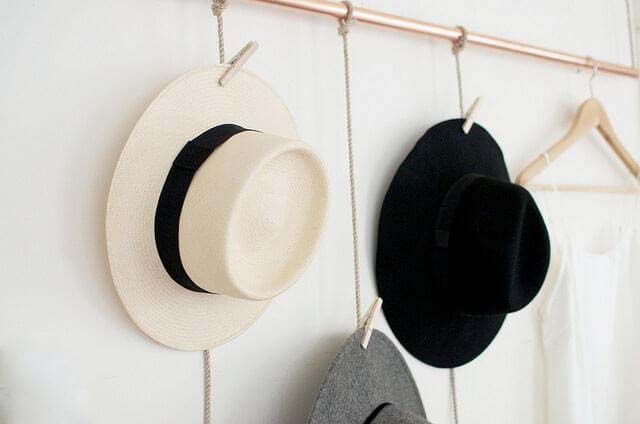 One of the best-looking ideas for hanging hats! A copper pipe is hung on the wall either by hooks on the ceiling or in the wall.
Different lengths of rope are tied onto the pipe at equal intervals. The hats are attached to the ropes via clothespins.
via Bloglovin
10. Cute DIY Hat Rack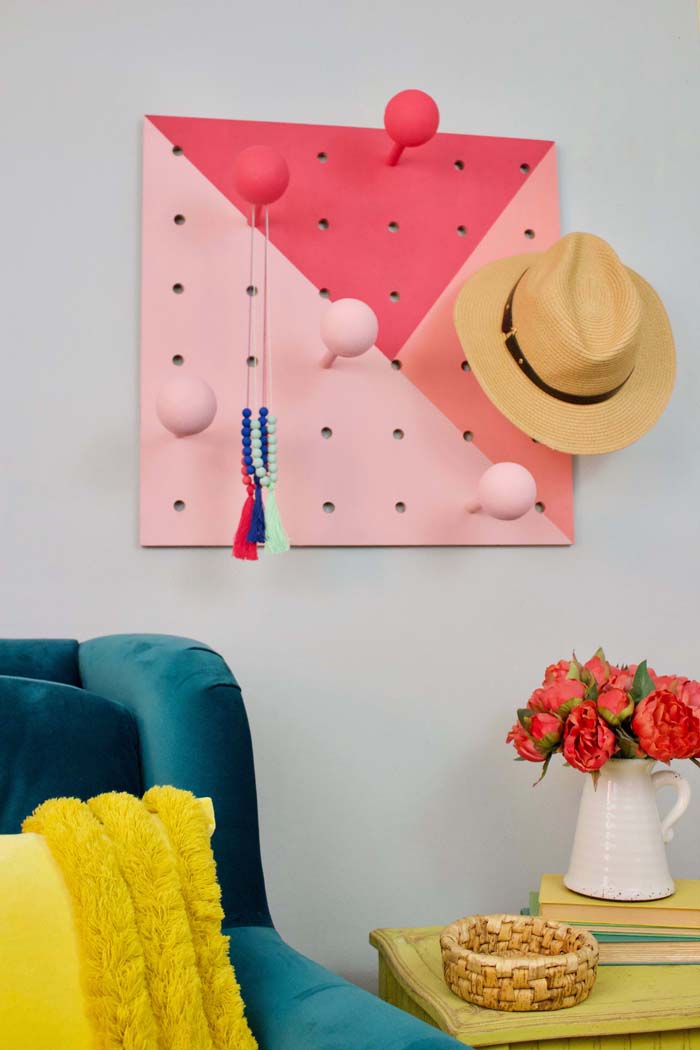 Cute, easy and modifiable! These three describe perfectly this DIY hat organizer!
The drilled wooden board allows inserting pegs at different places depending on your hat's size.  
via A Subtle Revelry
11. DIY Rope Hat Hanger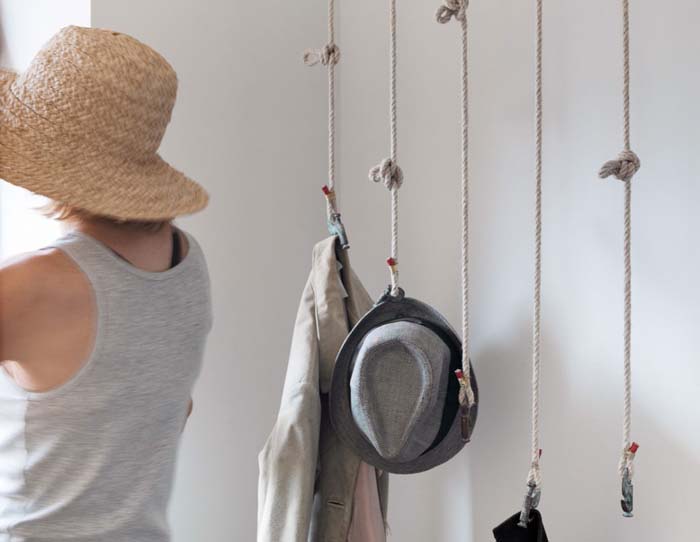 Industrial and nautical styles have been combined to create that interesting wall hat rack.
The industrial look is achieved through the bronze karabiners to which the hats are attached. The coastal spirit is brought by the usage of real sail cringles and bright-colored threads.
via Mondo Collection
12. DIY Copper Hat Rack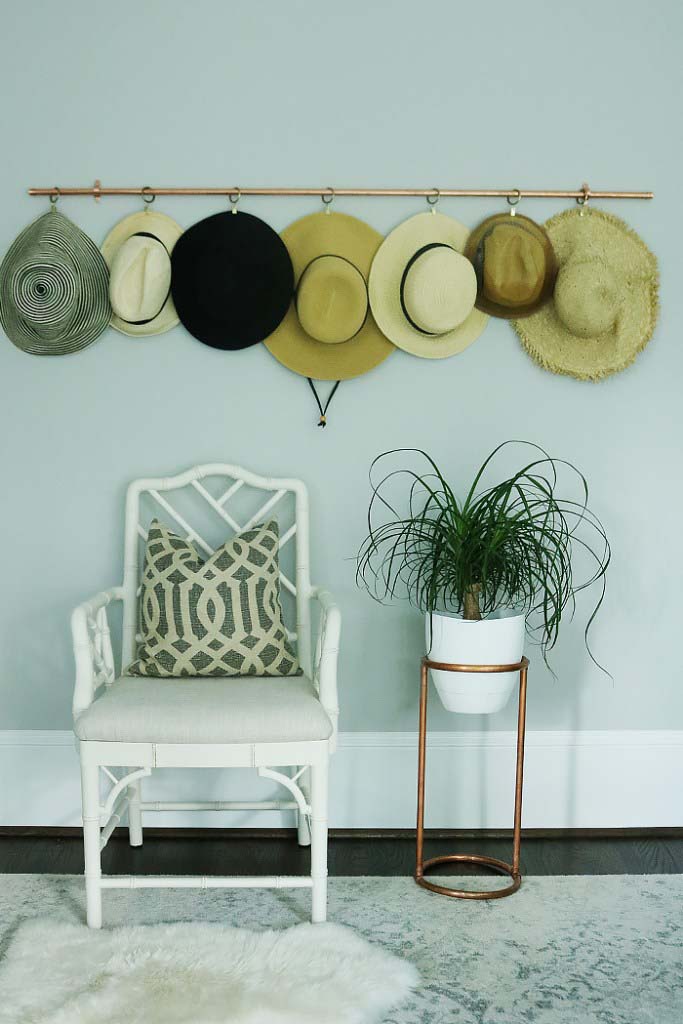 The hat racks made of dowels and hook-like hangers may be the best way to organize your hat collection as we see many variations of them.
This one uses curtain rod rings with clips that give an elegant finish to the copper rod.  
via Darleen Meier
13. DIY Dowel Wall Hat Hooks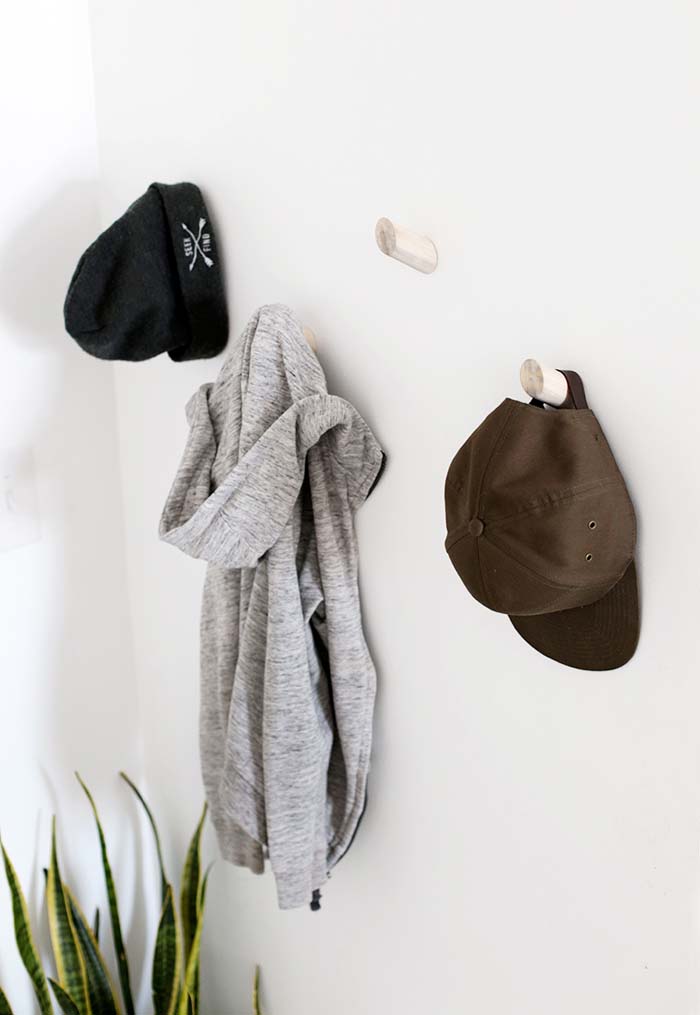 If you are into simple and functional interior solutions, this idea of how to hang hats on wall is your thing.
Firstly, the supplies are very cheap and easy to be found. Secondly, making these hooks yourself doesn't require a master's degree.
Last but not least, the author has given a piece of priceless advice about their location – the wall behind the door becomes the most strategic spot from the room.
via The Merrythought
14. DIY Hanging Entryway Organizer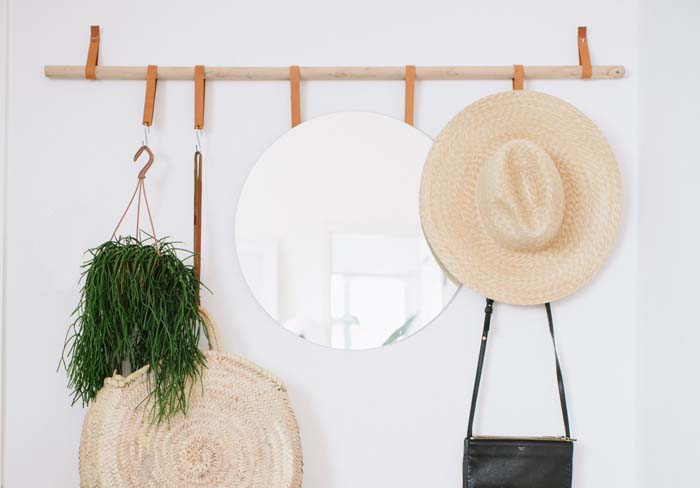 This is actually a small space entryway organizer as it can accommodate all things a standard entryway does – a mirror and hangers for coats and accessories.
Made of wooden dowel, leather loops and hooks, this DIY hat organizer will bring order to any small entryway.  
via Collective Gen
15. DIY Hat and Clothes Rack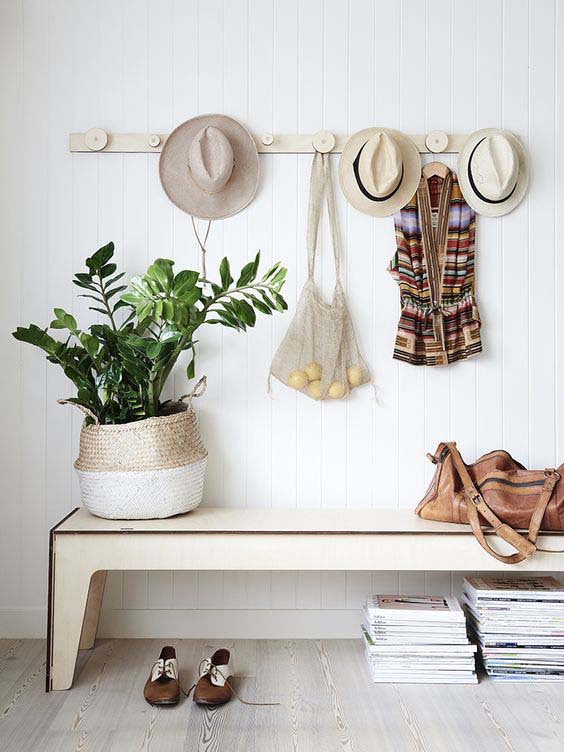 A straight wooden board in its natural color, wooden washers of different diameter and voila– a stylish hat hanger for wall which deserves a vivid spot from your home.
via Sf Girl by Bay
16. DIY Hat Rack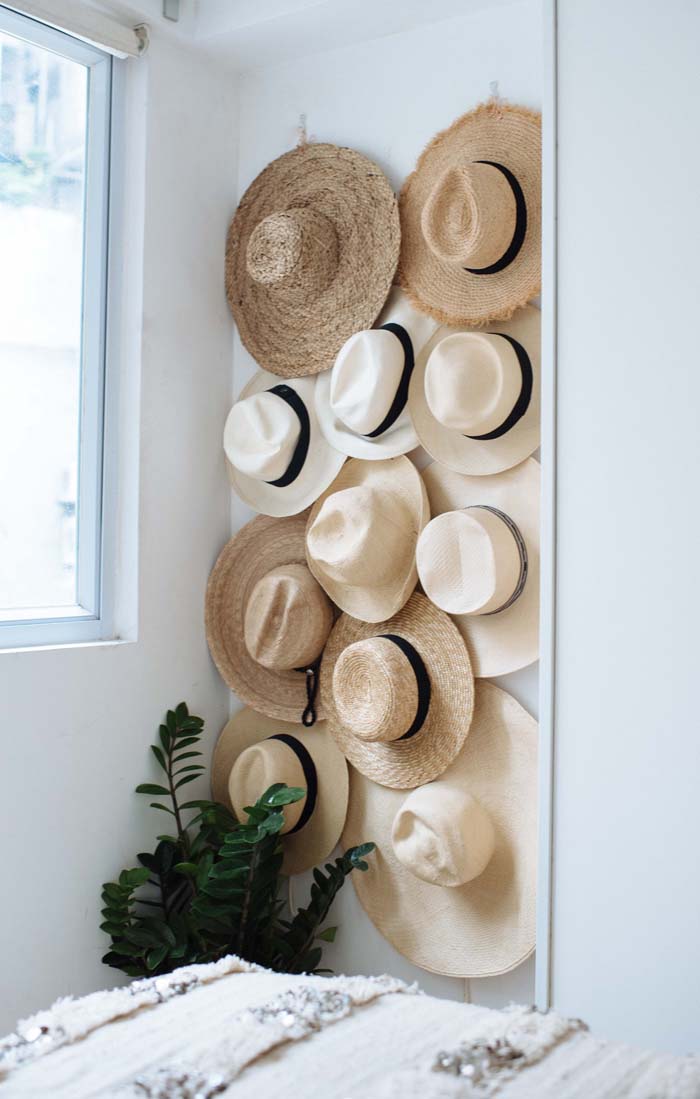 This type of hat rack turns an empty wall into a hat organizer via simple supplies. Knock some hooks on the wall and hang long lengths of rope from them.
Use clips to attach the hats on the ropes.
via Collective Gen
17. DIY Pegboard Bag and Hat Organizer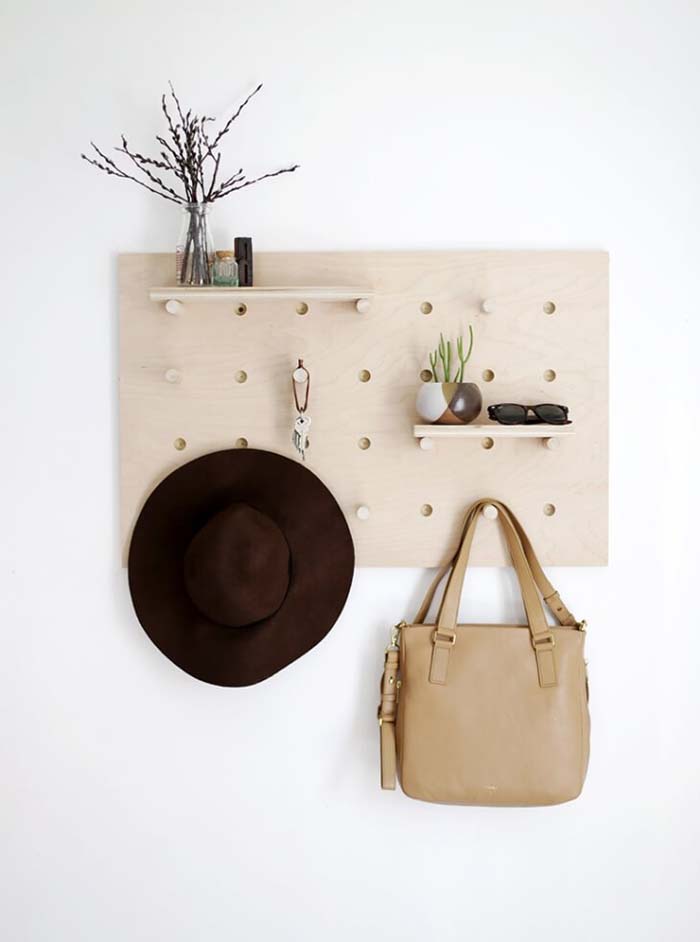 The pegboard wall organizer looks like a board game and is so functional. Move the wooden dowels across the drilled board and arrange your accessories as you may like.
This cool hat rack does not consume a lot of materials to be made and its design makes it universal for all interiors.
via The Merrythought
18. DIY Pegboard Baseball Hat Rack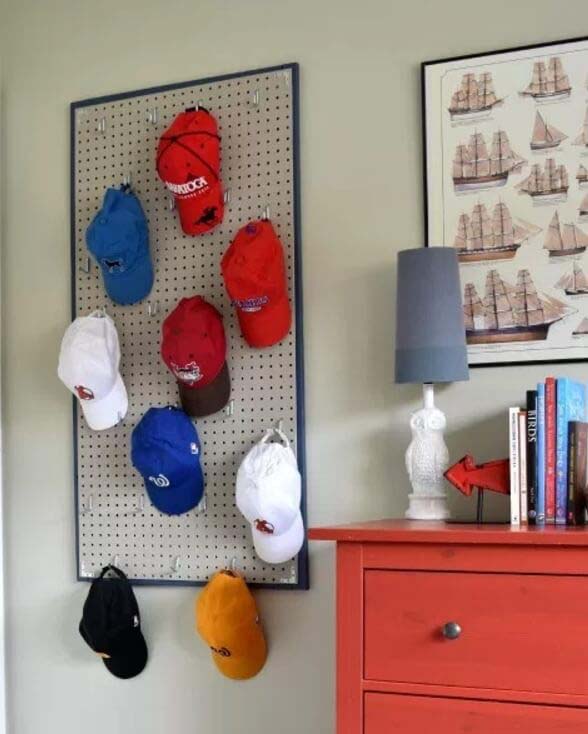 Another idea for a hat organizer is this larger pegboard. The drilled board has been purchased at the desired size.
The wooden frames are made from simple wooden beams. Instead of pegs, the author has used curved hooks to hang on baseball hats.
19. DIY Redbook Coat and Hat Rack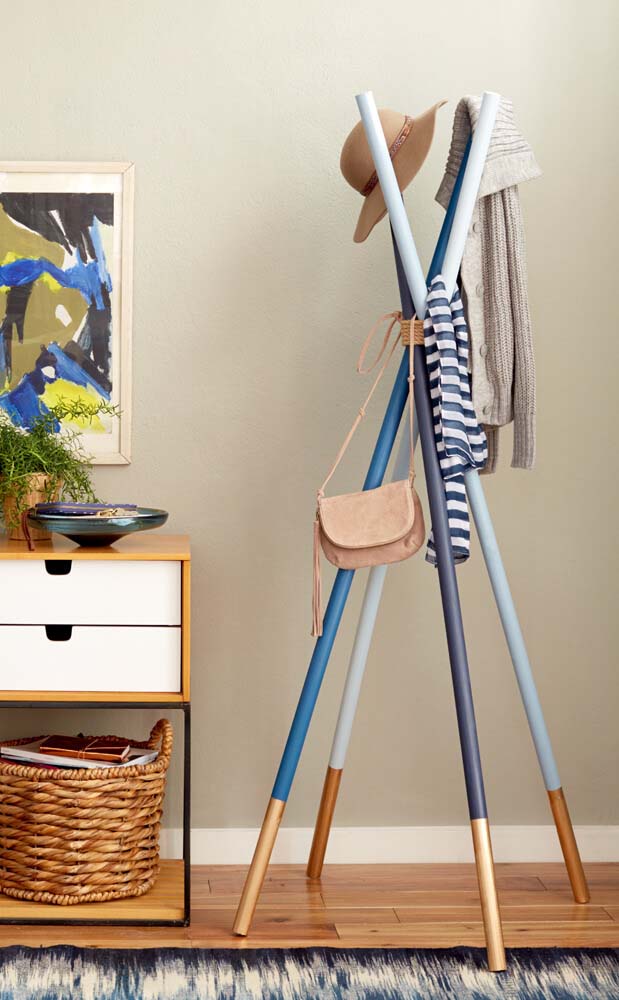 For those of you who have space enough, you can make this teepee-like hat hanger.
The structure is made of wooden dowels that are tied on the top with rope. Use different paint colors that suit your interior and this vertical hanger would make a lovely decorative and functional coat and hat rack.
20. DIY Straw Hats on Hooks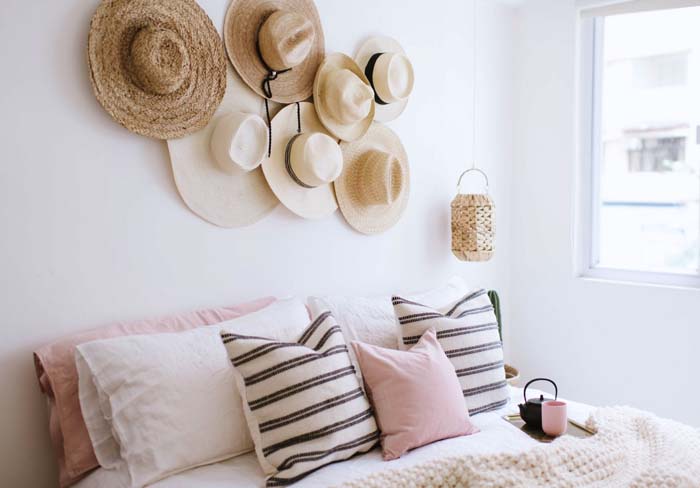 Use the headboard space to expose a collection of your straw hats.
This simple DIY hat rack needs only removable hooks nailed on the wall. It also makes a great decoration in the bedroom, doesn't it?
via Collective Gen
21. DIY Quick Wood and Leather hat Rack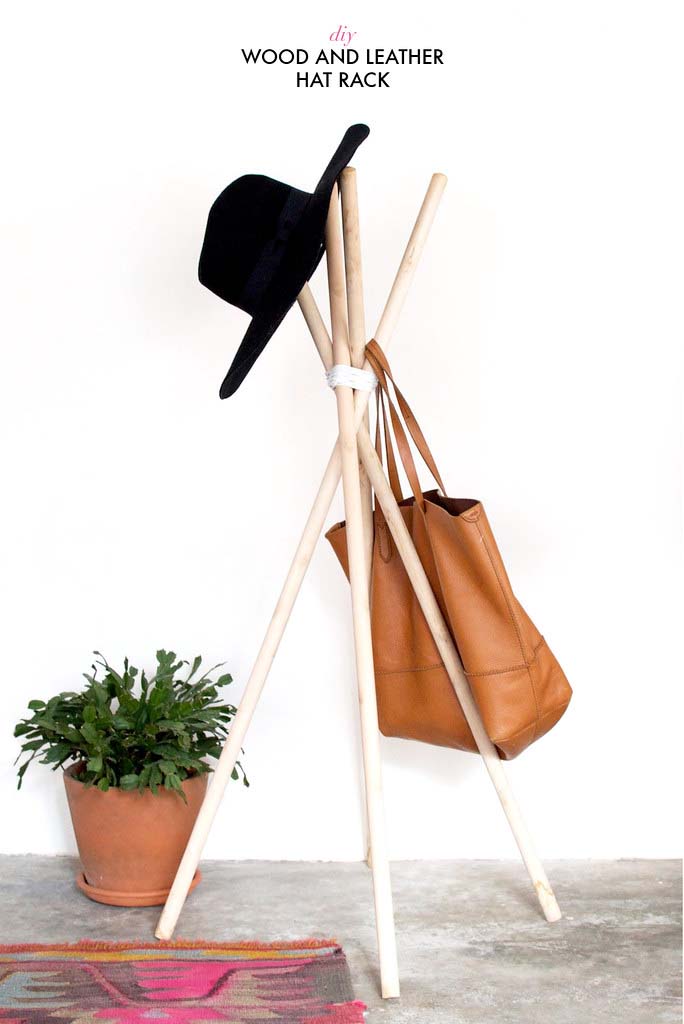 I am sure you haven't thought that plain broomstick handles can be turned into a homemade hat hanger only by tying them with leather cord.
Well, these are all you need to make this stylish teepee-like hat rack.
via Collective Gen
22. Simple DIY Coat Rack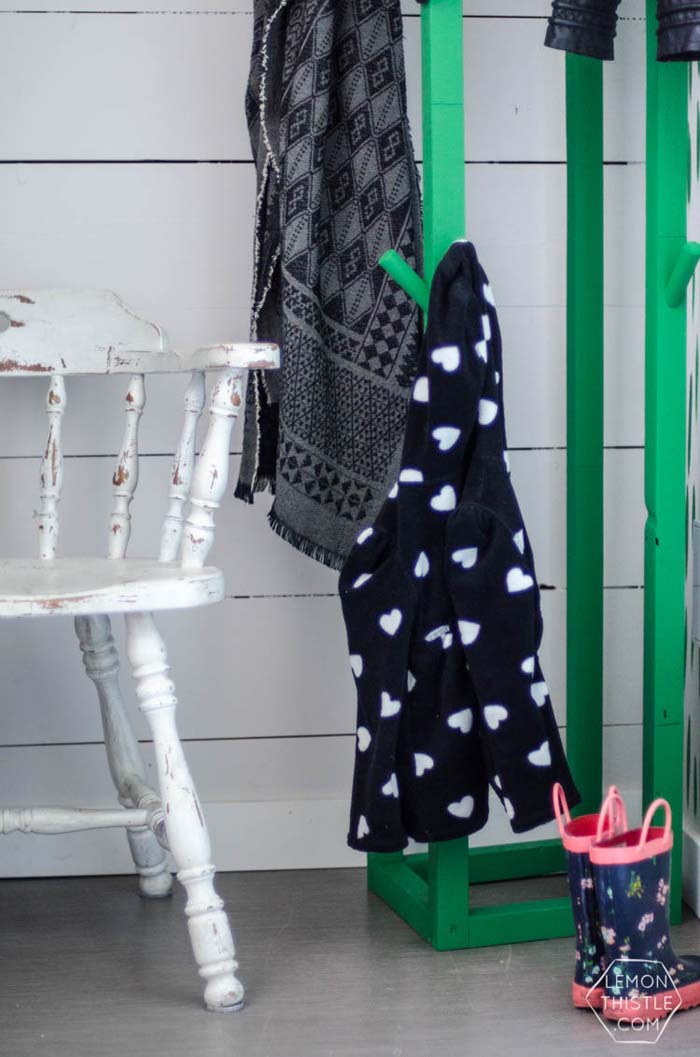 This DIY hat rack is the perfect way to utilize corner spaces.
Some wooden beams and screws form the 3D shape of the hat rack. The inserted wooden dowels will serve as hooks for your coats and hats.
via Lemonthistle
23. DIY Wooden Hat Rack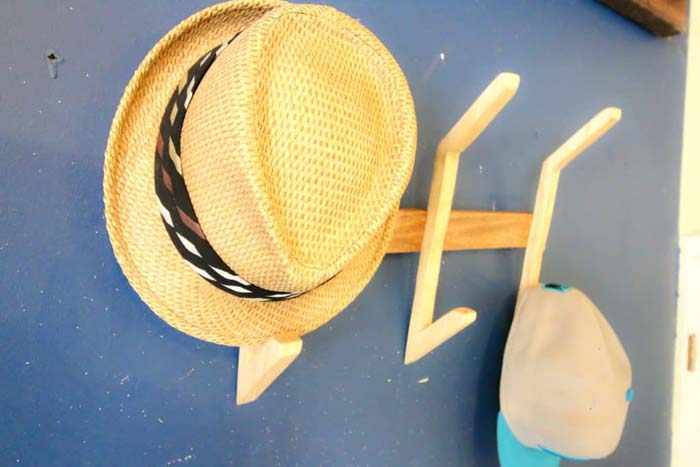 This hat rack looks more twisted and difficult to be made because of the geometric ends of each hook that are jutting out.
Luckily, there is an easy way to make these by cutting them from a piece of poplar. Free plans for the project can be found on the link below.
24. Easy DIY Hat Wall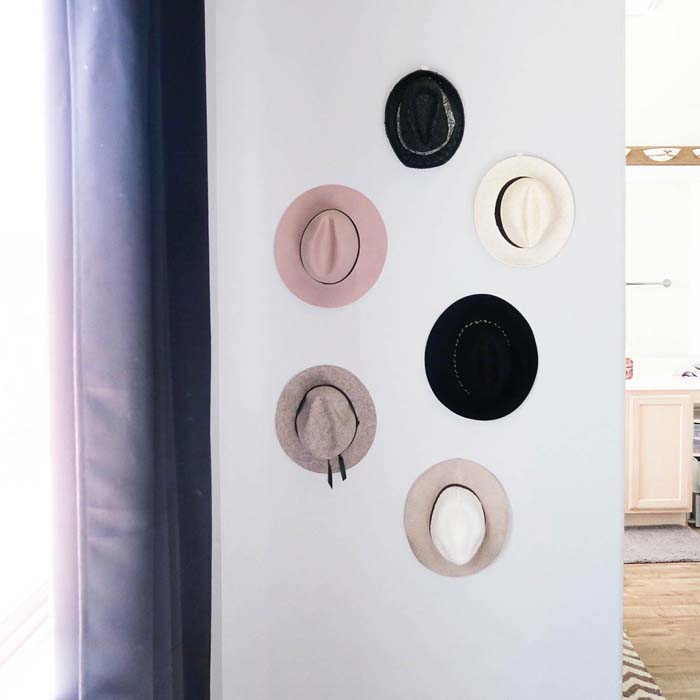 This is an idea of how to hang hats on the wall without nails. Buy a package of plain plastic hooks and stick them on the wall.
No special skills or tools are required. Arrange the hooks on the wall so that they accommodate the hats in the correct way.
25. Easy Storage Baseball Caps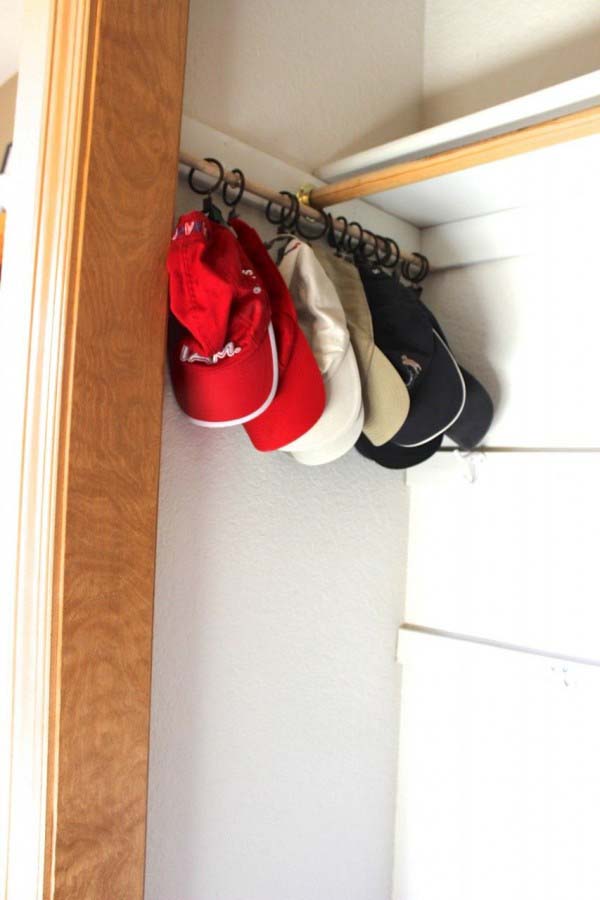 If your wardrobes and closets are full and there isn't any space left to put a special hat rack, this idea will intrigue you.
Use the sides of a closet or wardrobe to screw in a metal or wood curtain rod on which curtain clips are hung up.
You would be able to freely organize and flip through the baseball hats.
via Momcrieff
26. Reclaimed Coat Rack From Drawer Front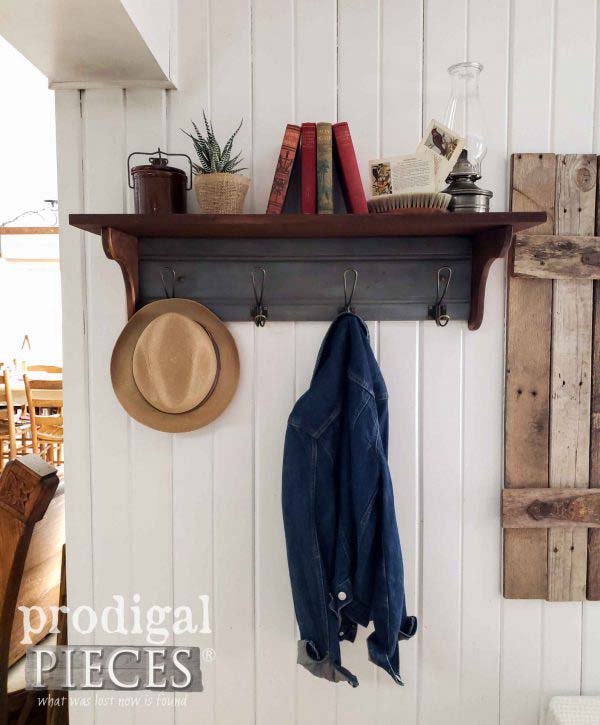 Repurposing of an old piece of furniture has done a miracle again.
The front of a drawer, two wooden boards, two corbels, some hooks and keyhole hardware have been assembled creatively to achieve a piece of furniture that can be used not only for accessories but also for plants, books, candles, etc.
via Prodigal Pieces
27. DIY Wood And Faucet Handle Coat Rack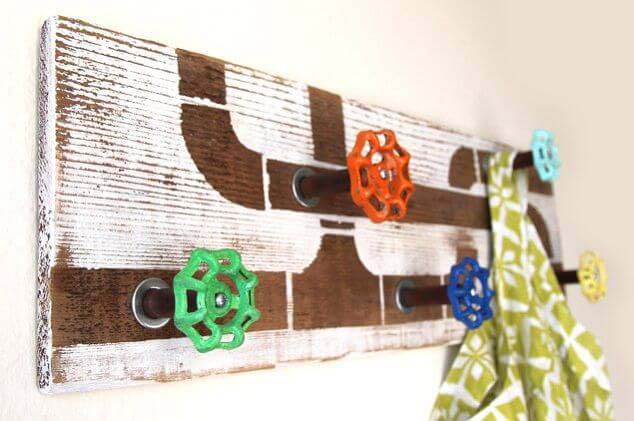 This hat hanger will be appreciated by all plumbers for sure.
Using plumbing pipes as a motif has made a great background for the faucets painted in different colors that will be used as hooks.
28. Antique Glass Insulator Coat Rack Shelf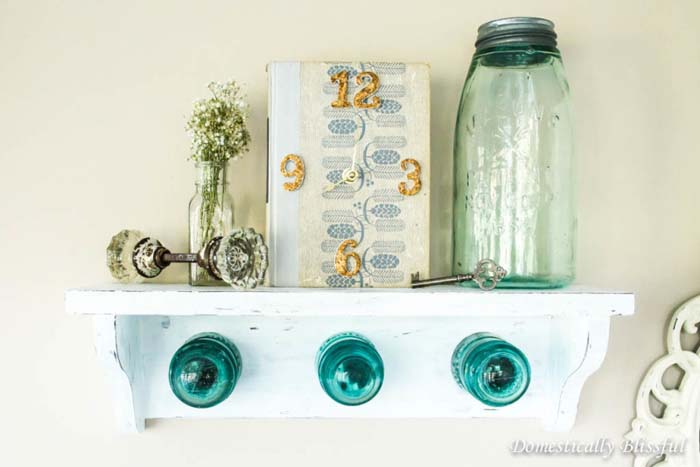 Glass insulators can't be found easily but they do look well in this DIY hat rack. Next time you see them sold, make sure to buy at least three to insert them on a board beneath a shelf.
29. Hat and Clothes Hook Hanger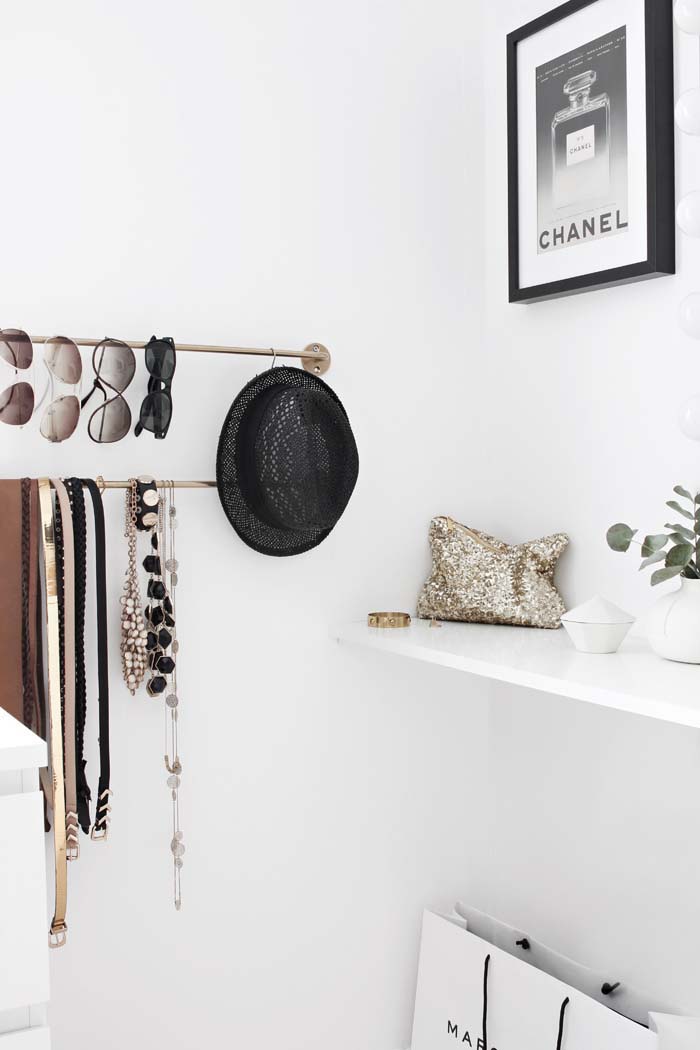 The multipurpose metal rods sold at some of the shops for furniture and accessories like IKEA can be used in many ways.
They are quite thick and could withstand the weight of clothes and many hats.
via Stylizimo
30. Hat Gallery Wall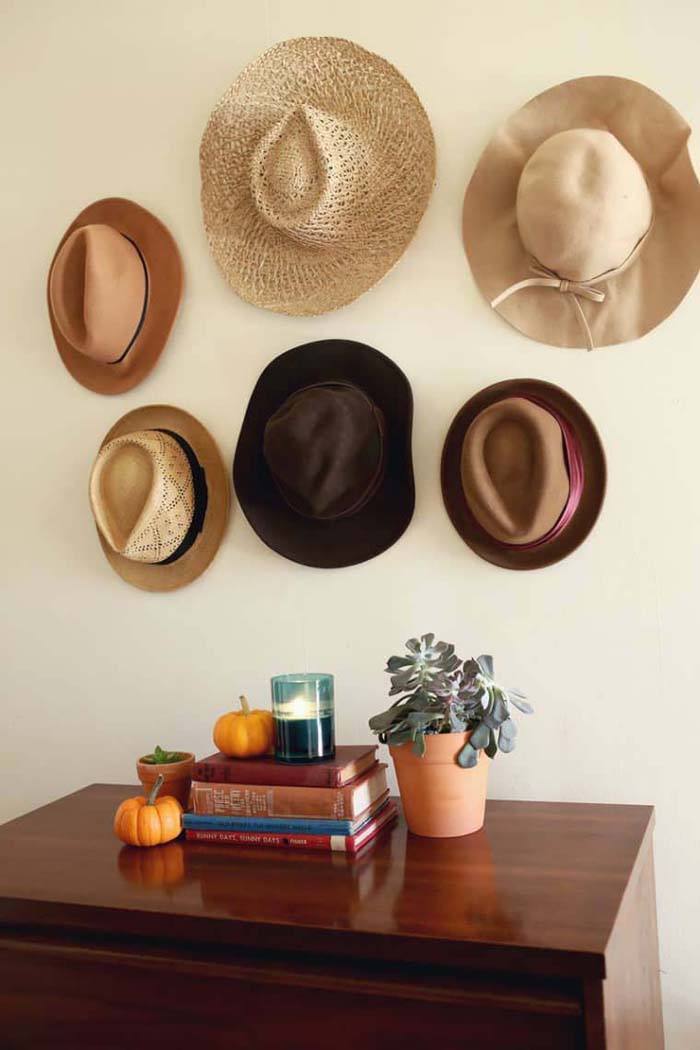 If part of your entryway looks 'empty' you may easily fix that by adding your hat collection in there.
This is a simple to make idea of how to hang hats on the wall and you get the most of it – a good storage area for your hats and decoration of an empty wall.
via A Beautiful Mess
31. Key Holder and Hook Bag Hanger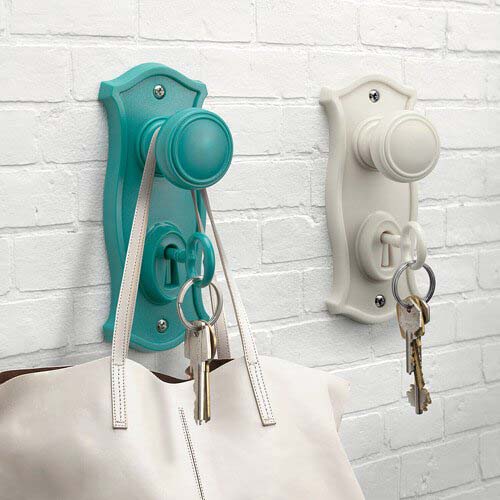 These lock hangers are suitable for keys, hats and bags.
Find identical locks, paint them in different colors, add knobs and use the supplied key in the set as a key chain hanger.
via Ebay
32. Lego Hat and Coat Rack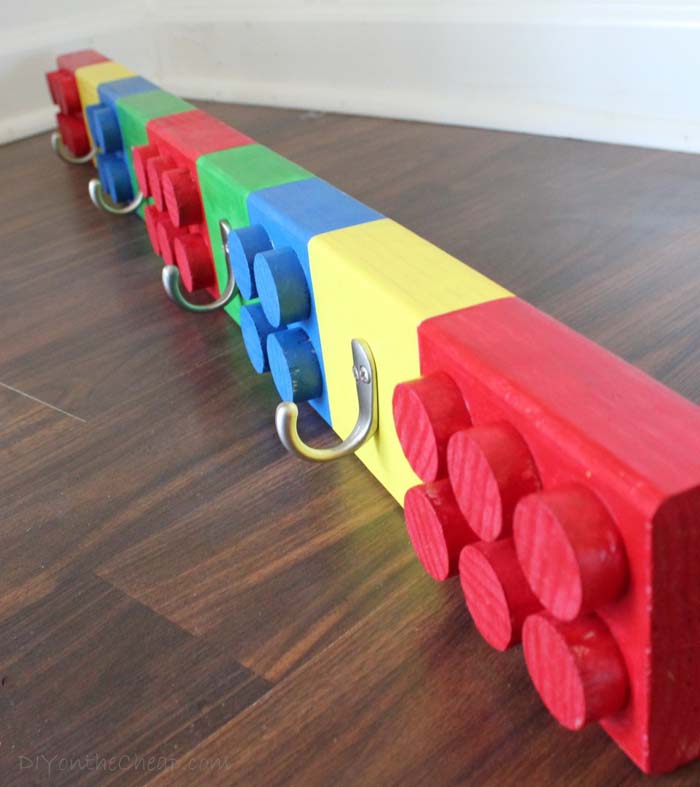 Nothing could encourage your kids to hang on their hats at the proper place more than this DIY lego hat rack.
Make an exact but larger copy of the lego parts by gluing short dowels on a flattened wooden beam, paint each section in a different color.
Screw-in plain hooks and see how the magic works!
33. LEGO City Coat Rack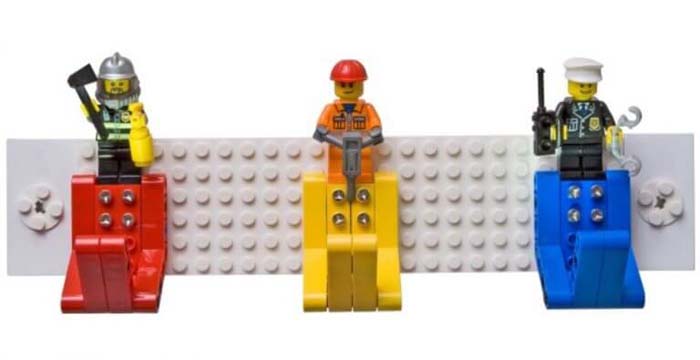 Inspired by the lego game, some manufacturers offer ready-to-buy hat hangers.
If you want to make this hat rack yourself, you need to make a wooden or plastic back plate with dowels that easily and securely piece with the lego parts you have got.
via My Bricks
34. Mirror Hat Hooks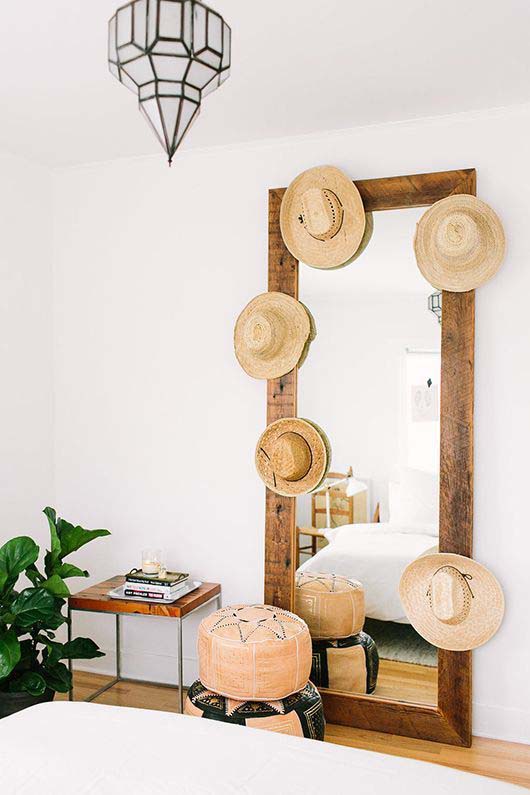 Short in space and yet eager to organize your hats in a neat way? Use your mirror as a hat hanger.
Screw on some hooks and hang on your hats.
via Sf Girl by Bay
35. DIY Muskie Hat Rack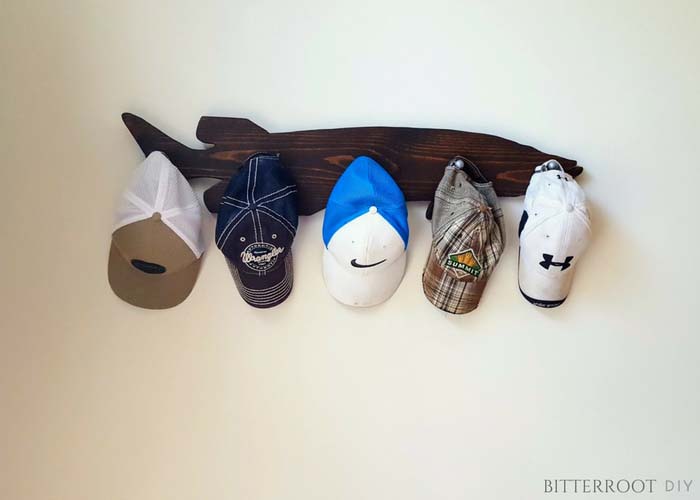 Is your hobby fishing or do you admire the ocean world? Print out a muskie and outline it on a wooden board.
Cut it, screw on drawer knobs wrapped in twine. Last but not least, make sure you find a good spot to display this trophy hat rack.
via Bitterroot DIY
36. Old Door Hat Rack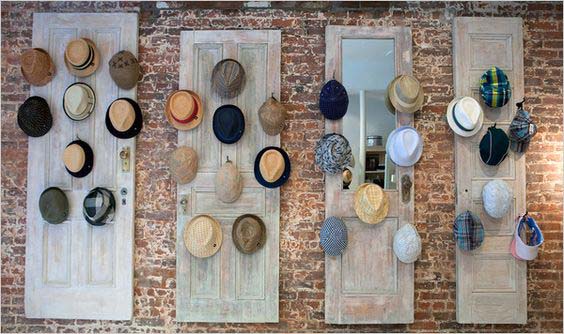 The decision to upcycle old doors and turn them into magical hat hanger entrances makes this hat organizer idea one of the best ones!
Have you got a big empty wall plus a big collection of hats? This is = "a must project"!
37. How To Make A Palette Wood Hat Rack Step By Step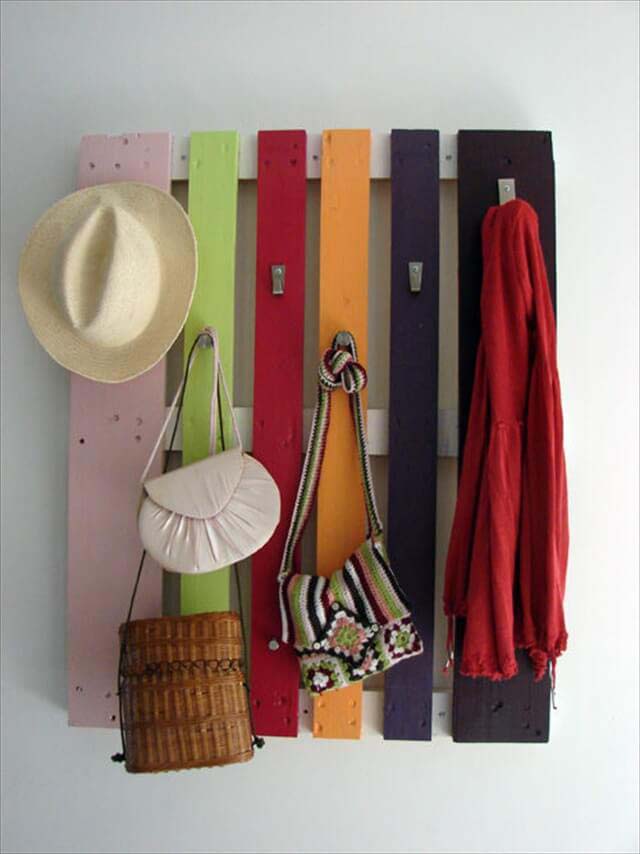 Our favorite pallets come into usage in this project for a hat rack. The thickest beams are removed to make the pallet less deep.
Each slat is painted in different colors which will bring a cheerful mood to the space. Old hooks are screwed at random spots to allow hanging of any size of hats.
via I love palets
38. ParkNGo-Hat-RackSystem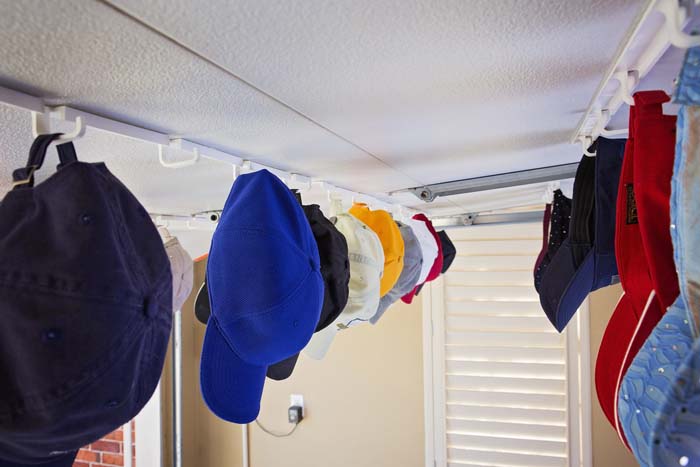 This is a ready-to-buy product on the Internet but you can use the design to create something similar to hang on caps.
A plastic curtain rail will help you build this hat rack with minimal investment. Screw it at the ceiling of your closet or to the upper side of your wardrobe to use the storage area to the maximum.
via ParkNGo
39. Pallet Hat and Coat Rack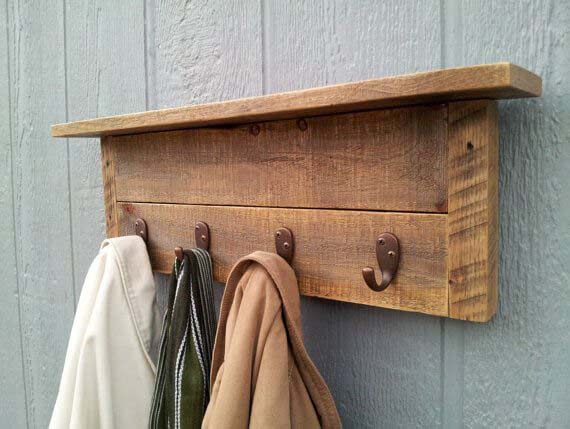 This wall-mounted hat rack is made out of pallets.
Its vintage look is achieved through the dark stain used and the antique-looking hooks.
via Mercado Libre
40. DIY Coat Rack Farmhouse Style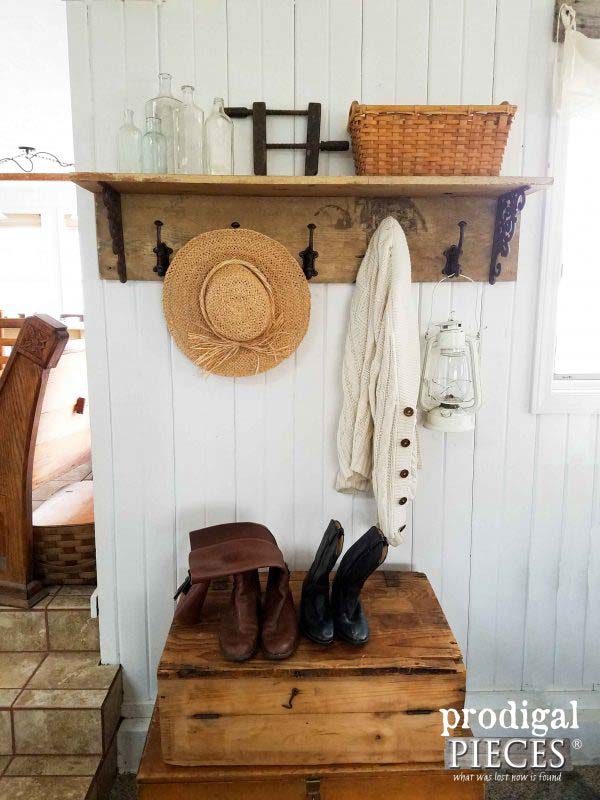 Vintage brackets are used to make the hat rack made of plain wooden beams more stable.
The wrought iron hooks go well together with the brackets and give the rack an antique finish.
via Prodigal Pieces
41. Rustic Wood Hanger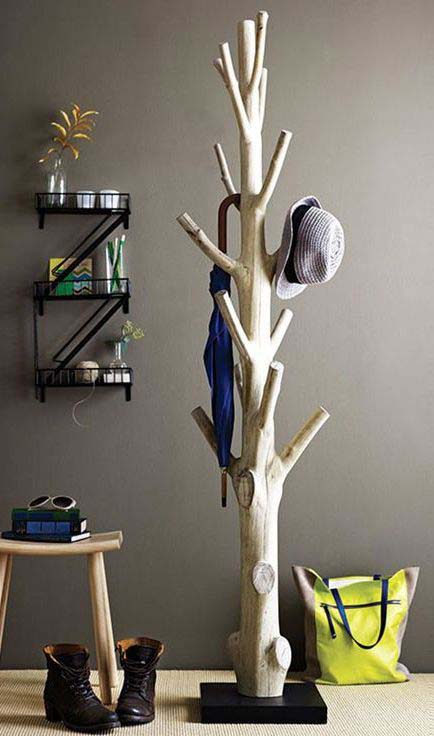 This rustic hat organizer brings nature inside. It is made entirely out of wood.
Next time you are hiking, take an interesting branch from the woods and make this tree hat organizer.
via Naturshome
42. Scoreboard Coat and Hat Rack
This is another idea for a pegboard hat organizer, made of bamboo.
The end of the dowels is painted in different colors to achieve an artistic look.
via Improvised Life
43. DIY Hat Rack From an Old Shutter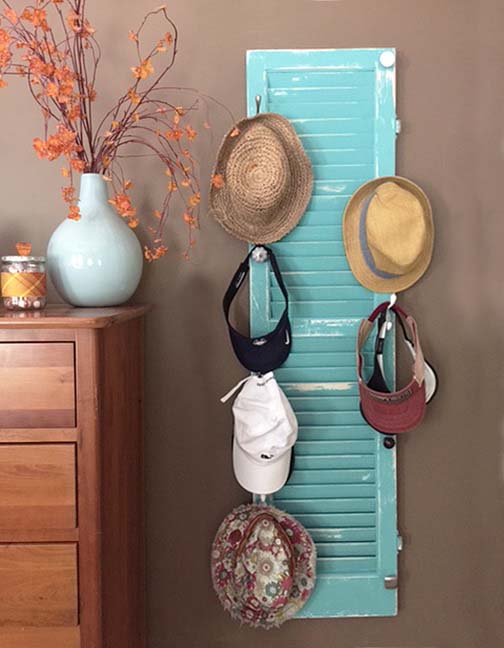 The old shutters in your garage can be upcycled to make this vintage hat rack.
Paint them in your favorite color, don't forget to distress some of the edges and then screw in a different type of hooks and knobs.
via Greco Design Co.
44. Fun Ski Hat Rack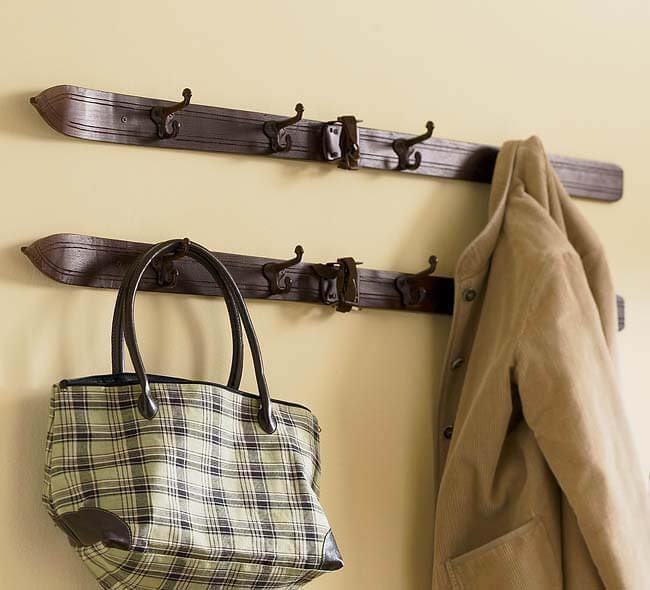 This hat rack looks pretty well although made of skis.
The pair is painted in dark color to obtain a wooden-like finish. This is definitely an extravagant way to use an old pair of skis.
via Orvis
45. Straw Hat Rack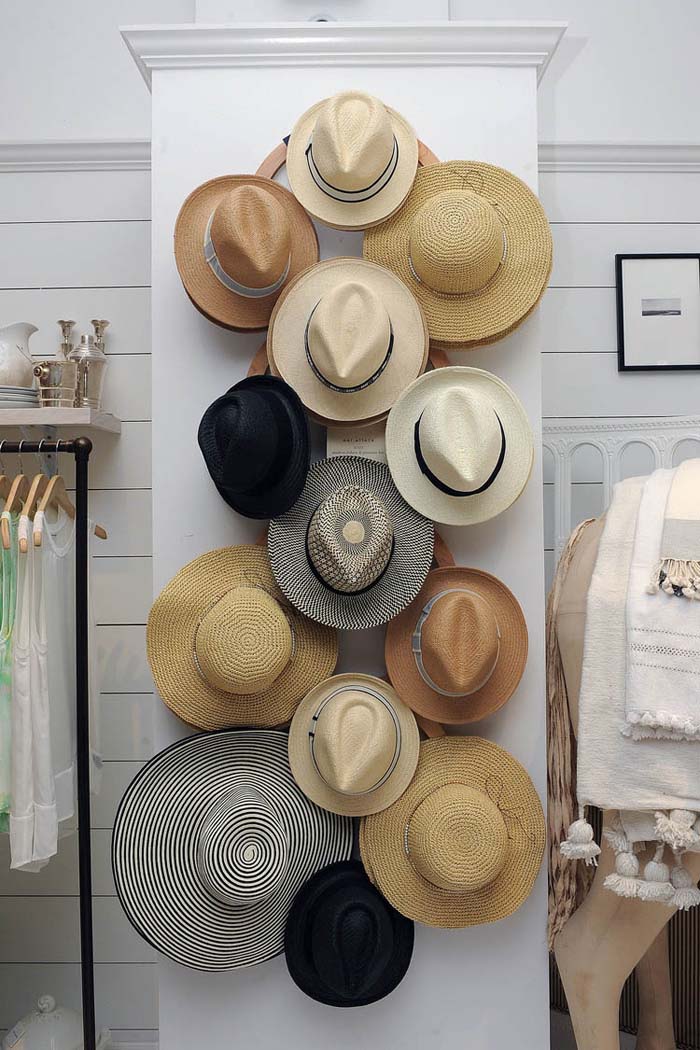 The way these hats are displayed is very thoughtful as if the rack becomes empty, it will look like a decoration on the wall.
It consists of several wooden circles of the same size. You can hang your hats on nails, hooks or knobs.
via Style Beat
46. Swivel Hanging Hat and Bag Rack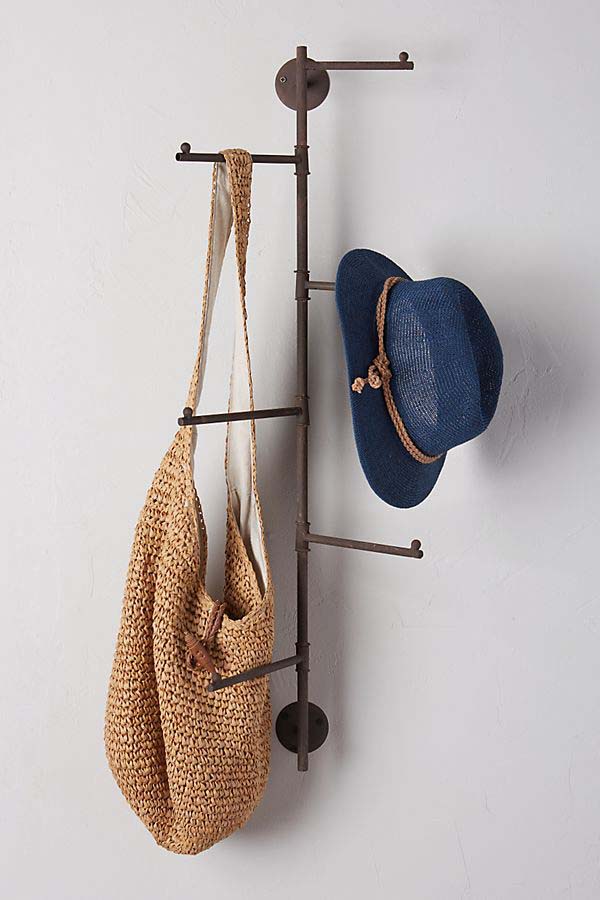 If you like this particular hat rack, you can make it yourself but certain skills and tools are required. It is made from hollow metal bars.
Each hanger is welded to a threaded fitting that connects the vertical bars of the rack.
via Antropologie
47. Tree Branches Coat and Hat Rack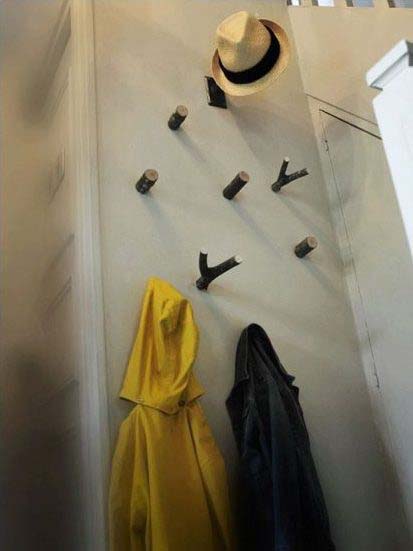 Keen on DIY projects? Then you already know that almost any material can be modified and transformed into something useful.
A pile of thicker branches is all you need to make this natural hat organizer. Cut them in size and attach them to the wall with screws.
via Poppy Talk
48. Vintage Ranch Hat Rack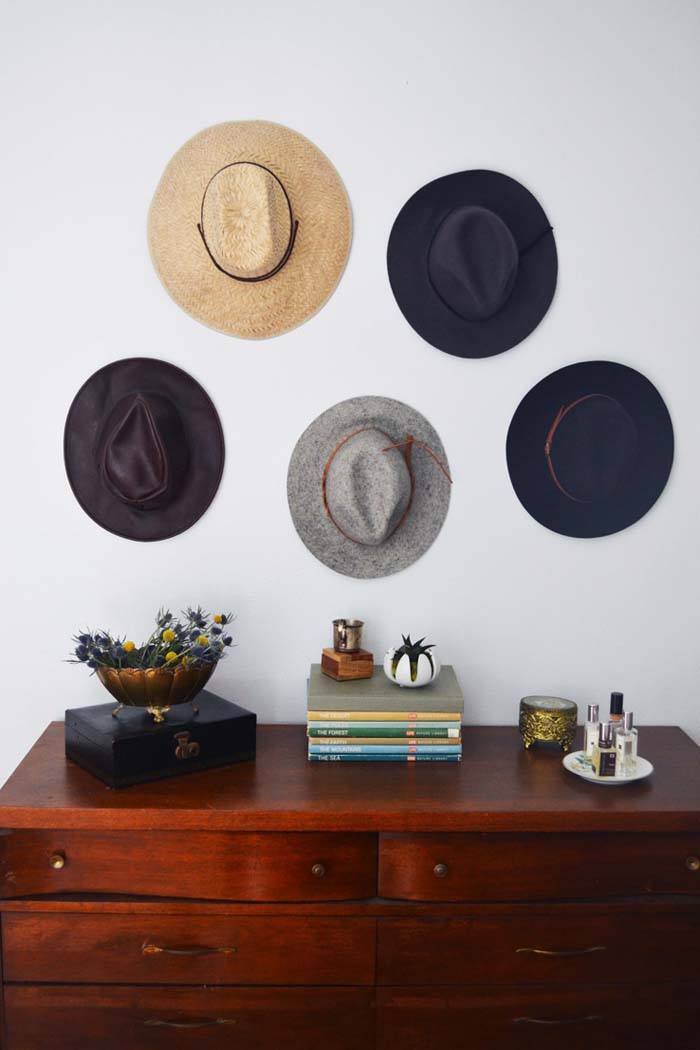 This vintage hat rack is actually the simplest way to organize your hats. Use the empty wall over your antique dresser as a hat rack by knocking on a few nails.
via Front + Main
49. Wall-Mounted Hat Rack
A huge geometric wall-mounted hat rack may be the most unconventional way to store your seasonal hats.
Making it requires simple materials like lumber, wood pegs and picture hangers. What you must consider is that the more hats you store, the bigger the impact will be.
via House & Home
50. Wood Baseball Hat Rack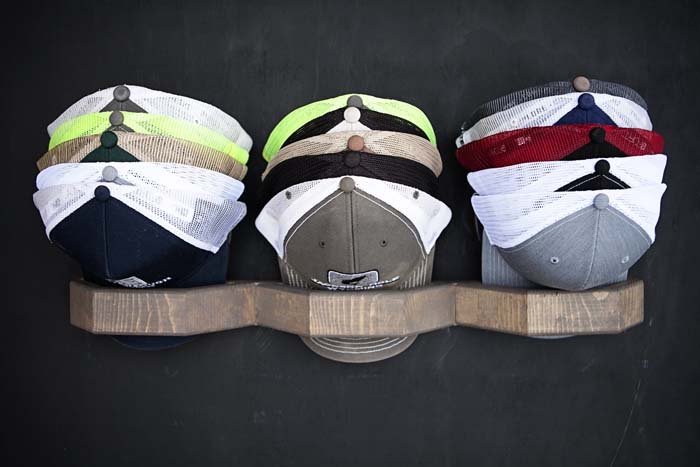 Among all the unique baseball hat storage ideas, we decided to bring to your attention a more compact way to do that.
The space between the wall and the shaped wooden beam is used to stack up against your kids' favorite caps.
via Etsy
51. Wood Branch Hat and Bag Rack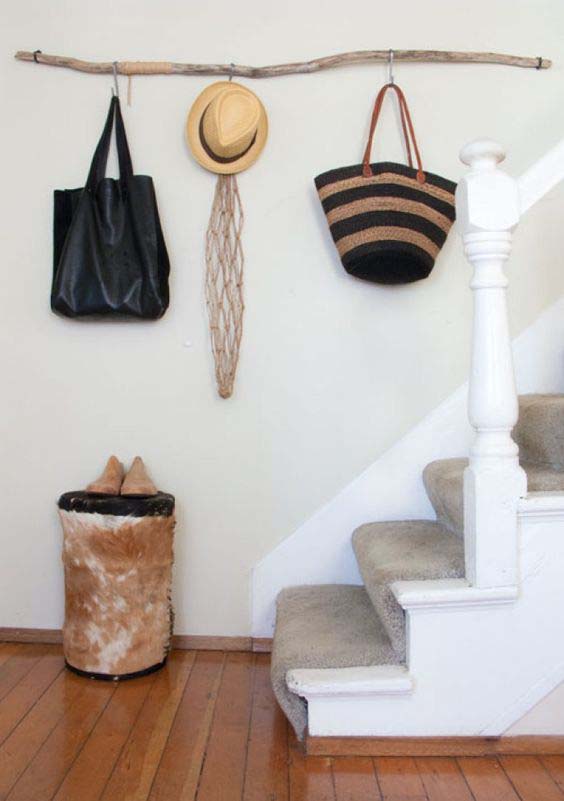 This hat rack is inspired by nature and simplicity. Be eco-friendly and hang a long beautiful branch in your entryway.
Attach big hooks on it where you can hang on the hats and clothes you use more often.
via Design Sponge
52. Wood Cap Display Wall Rack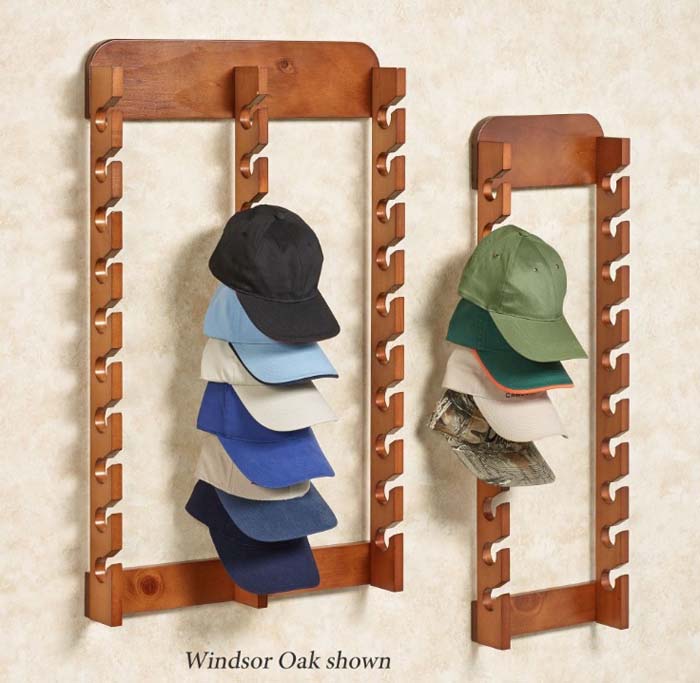 The gun rack seems to be a great hat display. As they were initially made to hold guns, their hooks are large and strong enough to safely accommodate any accessories.
via Touch of Glass
53. Rustic Coat and Hat Rack from Wooden Paddle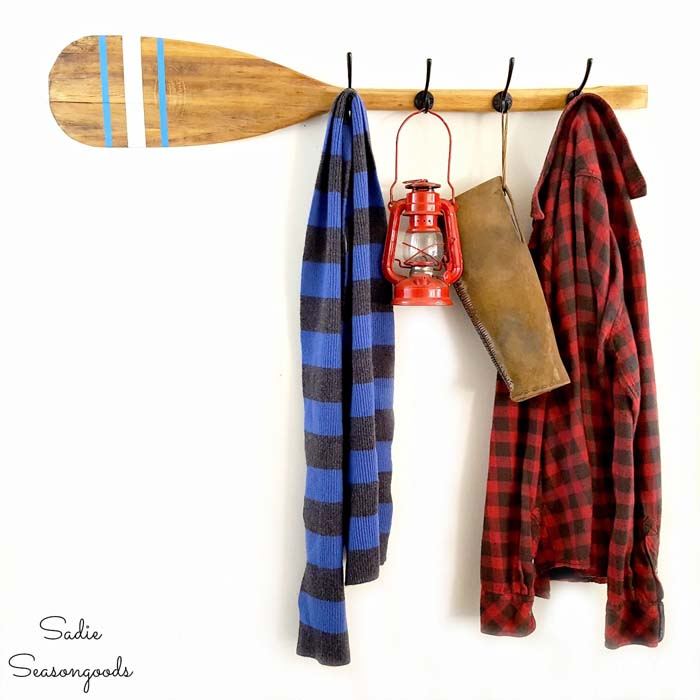 A worn sailing paddle used as a hat hanger combines nautical design and functionality.
Carefully paint stripes on the paddle and screw in hooks to accommodate the best hats you have in your collection.
54. Hat Rack Made Out Of Pallet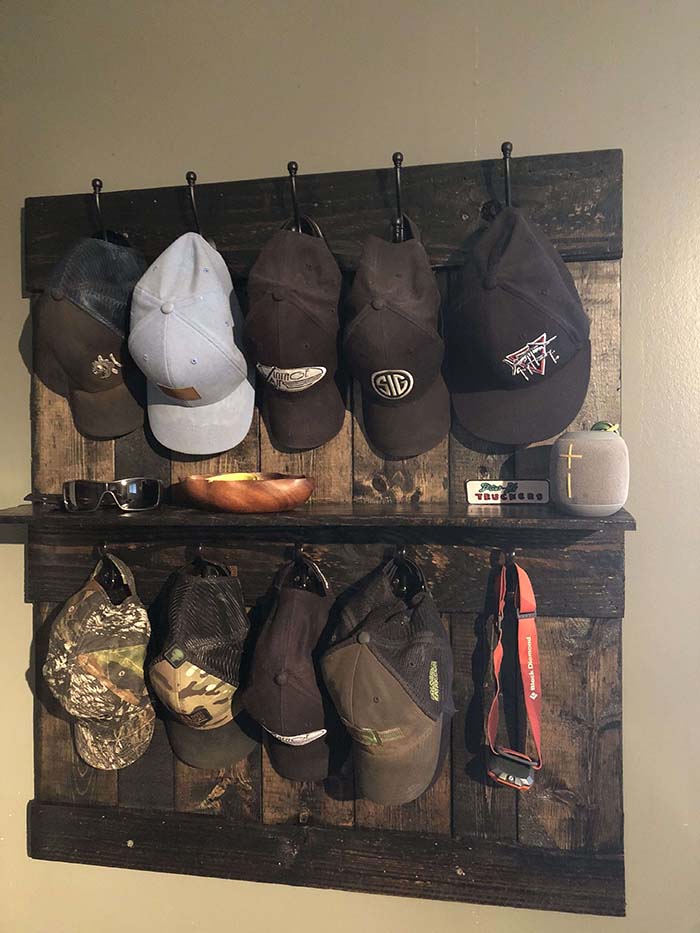 The beams of an old pallet have been rearranged and varnished to make this dark-stained large hat display.
Add hooks on the top and bottom slats and leave the middle one as a shelf for any small decoration that will cheer up the interior of the entryway.
55. Yardstick 4 Hook Coat Rack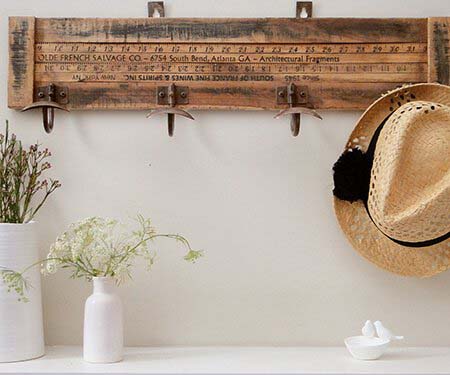 If your home interior combines vintage and industrial styles, this hat rack may fit perfectly on any of your walls.
The wooden beams are aged using the regular vintage aging method. What makes it distinguishable are the umbrella-like hooks which have an antique look.
via French Knot
56. Above The Door Hat Rack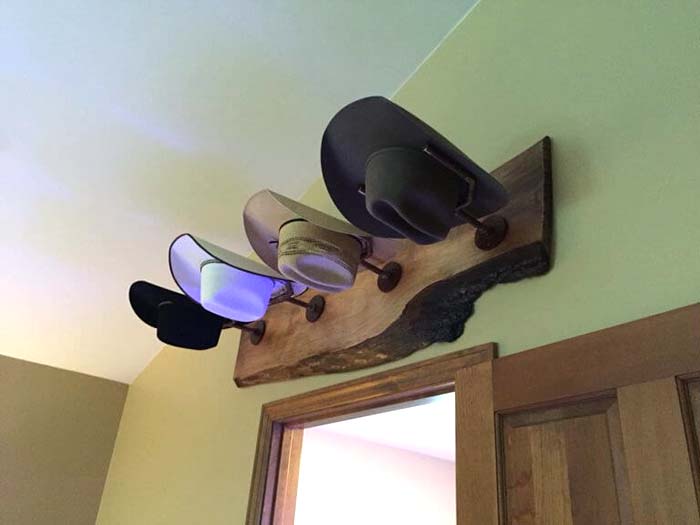 Have you ever considered the space above the doors as a storage area? Well, here is a good idea for a naturalistic hat hanger.
A flat piece of tree branch has been stained and screwed above the door to make a beautiful cowboy hat display.
57. Reclaimed Wooden Boards Hat Rack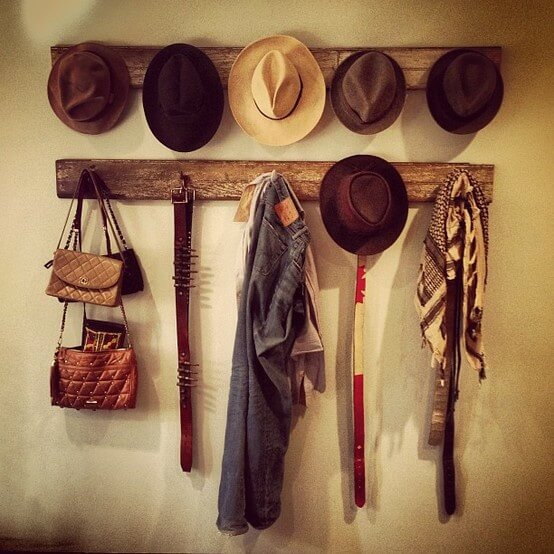 This project is very easy and could use any beams you have left in your garage. Stain two of them in a dark color, add hooks and screw them to a wall.
Their vintage look makes them suitable for a farmhouse or a cabin.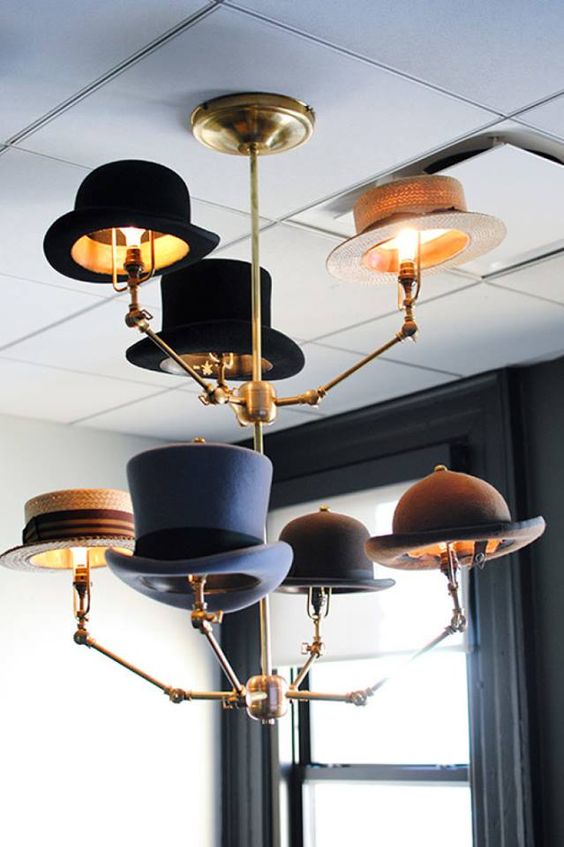 A lampshade and а hat organizer in 1? Yes, this is possible and will cost you no money.
Remove the glass parts above the bulb and substitute them with the most interesting hats you have got.
59. DIY Hat Rack Made of Letters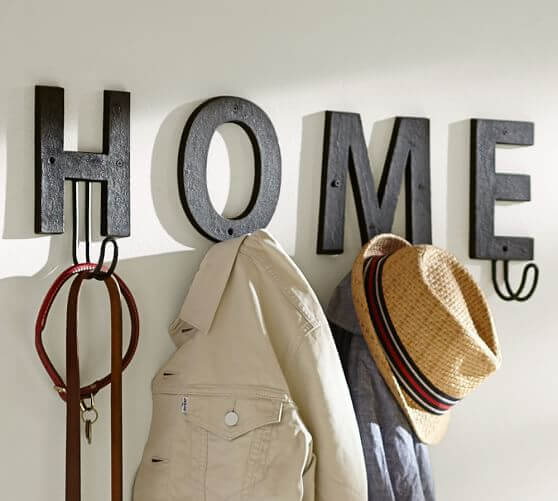 Monogrammed decorations are very popular and give individuality to the interior. Why not use them to organize your hats?
Add hooks at the bottom of each letter and you would have a hat rack that does more than just store.
via Pottery Barn
60. Unique Chevron Hooks For Hats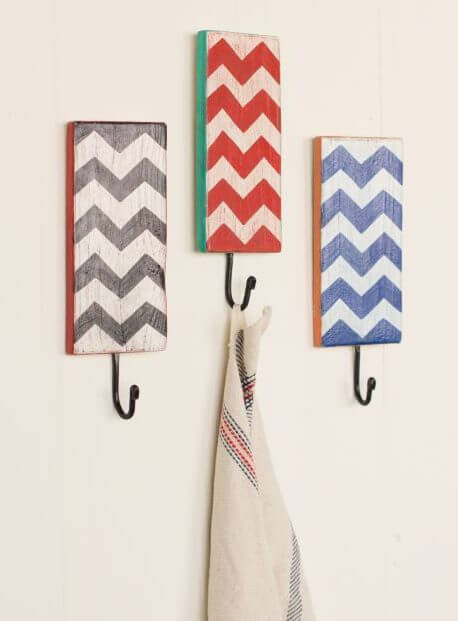 We love the color combination of these homemade hat hooks.
Each of them consists of a small piece of wood painted in zigzag lines using painter's tape and a hook at its bottom where you can hang on a hat, a coat or a towel.
61. Mounted Wooden Hooks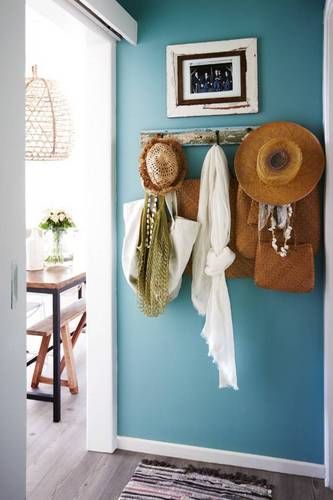 Two wooden beams can do a useful hat hanger in your entryway. Leaving them rough and unfinished will create a vintage look.
62. DIY World Map Hat Rack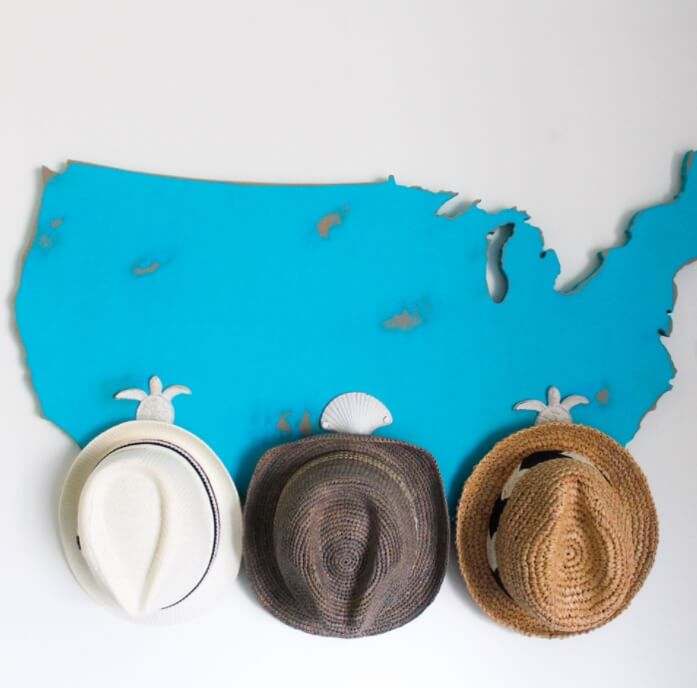 This DIY world map hat rack will look fantastic in any room. Print out a map, trace it on a beam and cut it with a jigsaw.
Paint the board in a color that will suit the room's interior and add as many knobs as the surface size allows.
63. Corner Hat Rack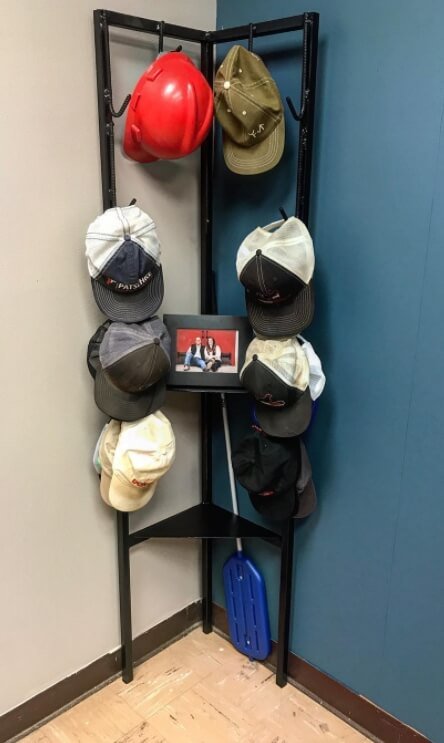 Another idea of how to utilize corner spaces in the best possible way! The corner hat rack is made of metal profiles and is tall and strong enough to take up a lot of caps.
64. Repurposed Photo Strings Hat Rack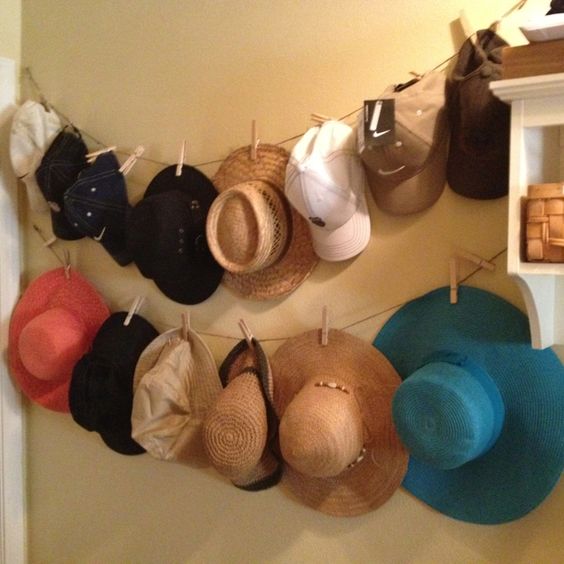 We were all crazy about these photo strings once. If you want to change the décor and yet use all available decorations, hang on hats on the strings.
65. Simple Hooks On The Wall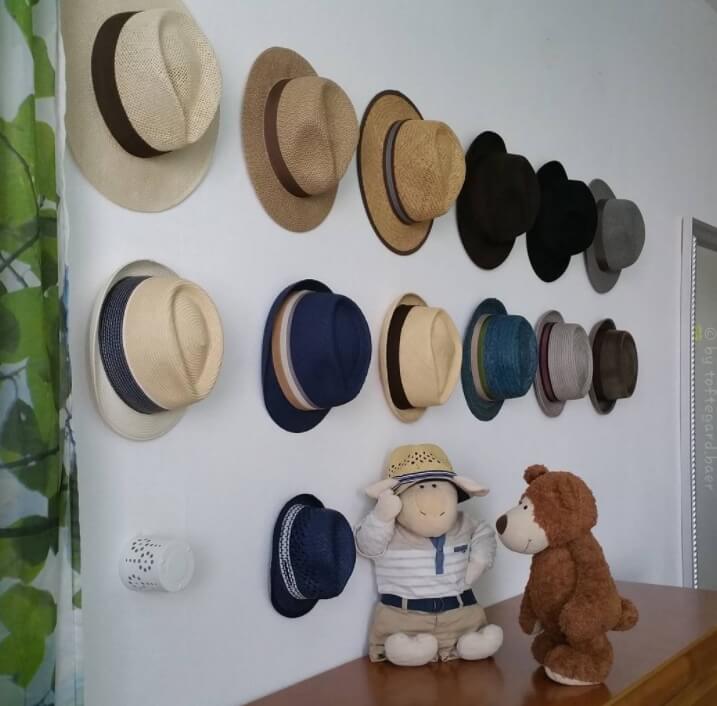 This is one of the cheapest and easy storage solutions for hats.
Screw on or stick-on hooks and arrange your seasonal hats.
66. Clothes Hanger Tails Hat Rack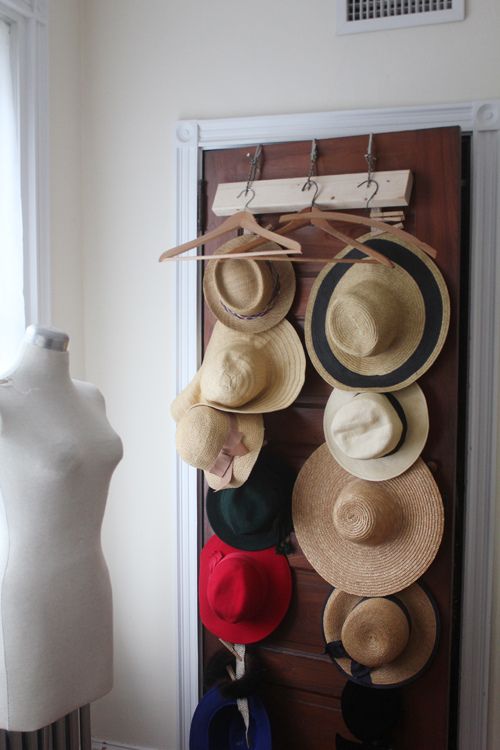 Every door can be used as additional clothes and accessories organizer.
This one is made of supplies that can be found in every home- rope, a wooden beam and a thick fabric band. Hang on your hats using clothespins.
67. Hanging Hat Rack Hooks
An artistic way to hang on your hats is this hat hanger made of industrial materials.
Hang on thick bands from the ceiling. Put through crane hooks. Add as many bands as possible and you can use the hat racks as an interesting room divider.
via Moco Loco
68. Rustic Wooden Shelf Hat Rack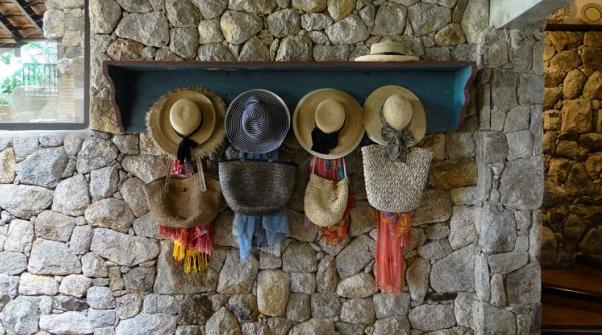 Take a look around your home and see if there is a shelf that can be modified. Add a wooden beam with hooks beneath the shelf and your new hat organizer is ready.
69. Simple Metal Wire Hat Rack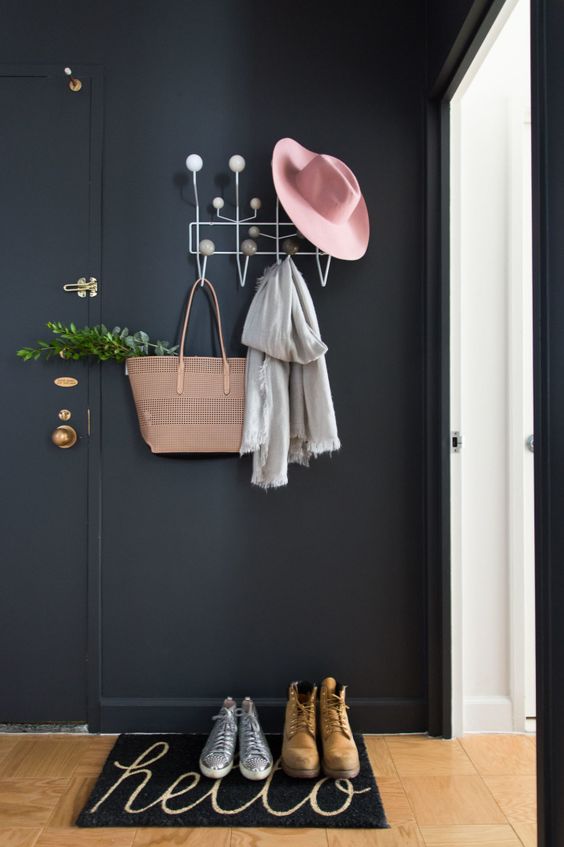 This hat rack is a more minimalistic way to display your hats.
It is made of bent wire. At the end of each hook, a styrofoam ball is added for aesthetic and safety reasons.
70. Baseball Cap Organizer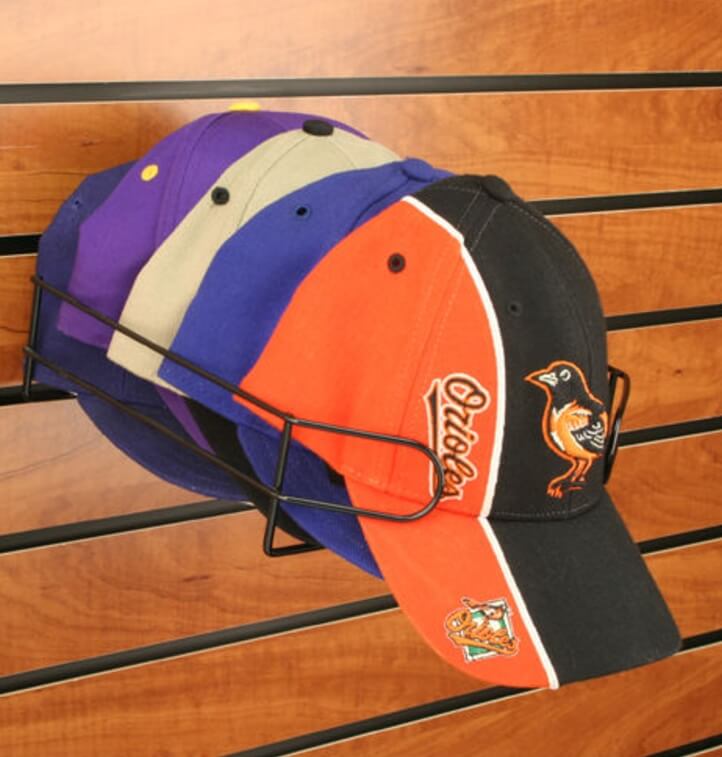 A piece of your old bathroom cosmetics holder can be repurposed to hold baseball hats. Use dowels to attach it to the wall and pile up some of your kids' favorite caps.
71. Rustic Wheel Hat Rack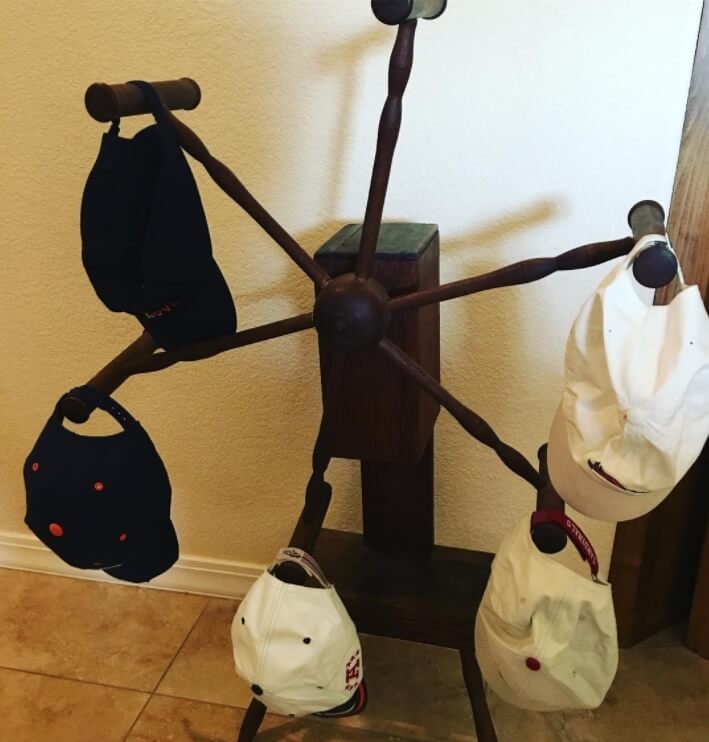 Those of you who are in love with the rustic style and have already bought all kinds of stuff that will someday be turned into something functional, we have got a fantastic idea for you.
Turn a metal wheel into a circular hat hanger by placing it on a wooden post so that the hats on their bottom do not touch the floor.
72. Vintage Iron Hooks Hat Rack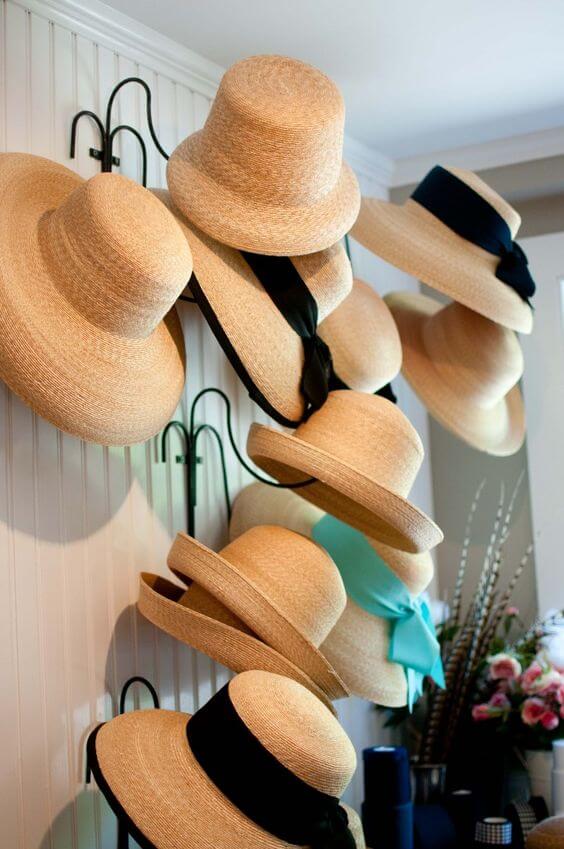 Wrought iron hooks screwed on a wall do bring the vintage spirit at home.
Place them in a row or randomly without following a straight arrangement pattern – both ways you would make an elegant rack for your hats.
73. Tupperware Boxes Hat Storage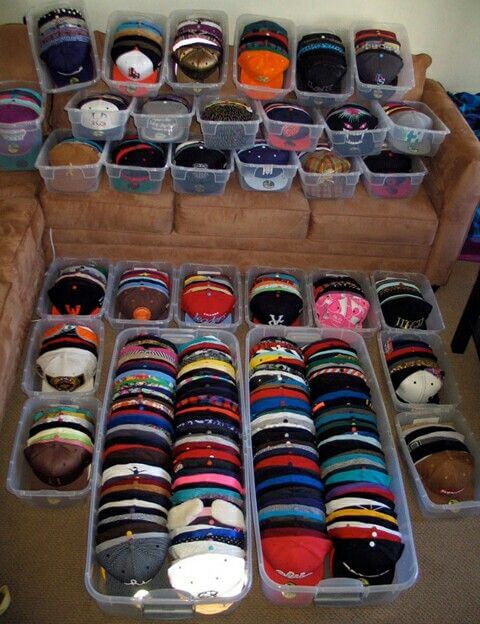 If you don't have a hat rack to organize your hats on or your collection is too big, here is an idea of how to store seasonal caps while saving their condition and shape at the same time.
Each Tupperware box can store 6 hats.
74. Neat Hat Rack Display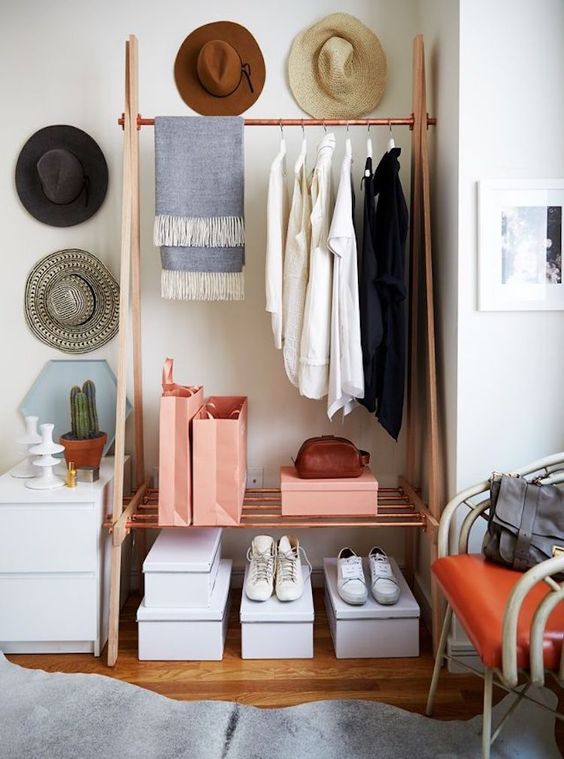 A good place to display your hats could be the area where your hanger stand stays. Surround it with hooks or knobs and hang on your straw hat collection.
75. Transparent Plastic Box Cap Storage Idea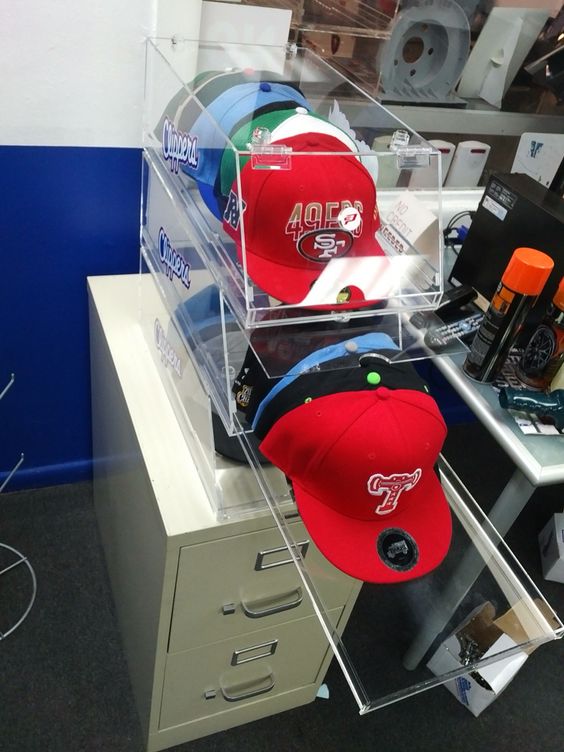 Any plastic box whether for hardware, candies or other stuff could do a great job for storing hats. Make sure you arrange them tightly and yet preserving the stiff front areas.
76. Farmhouse Elk Horn Hat Rack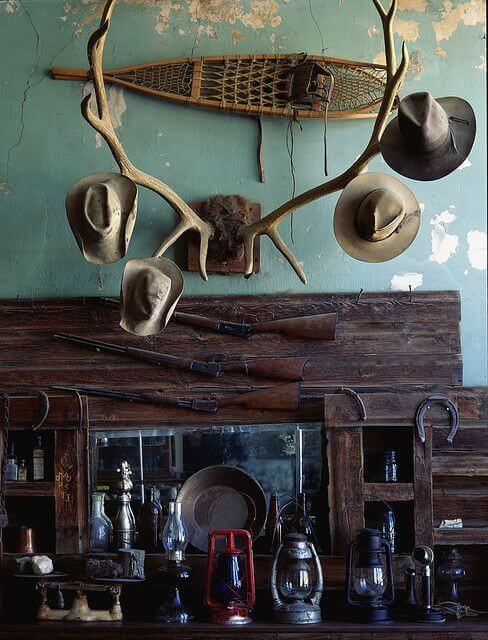 Elk horns can be functional. Use your trophy to hang on hats in a more extravagant way.
77. Wall Mounted Branch Hat Racks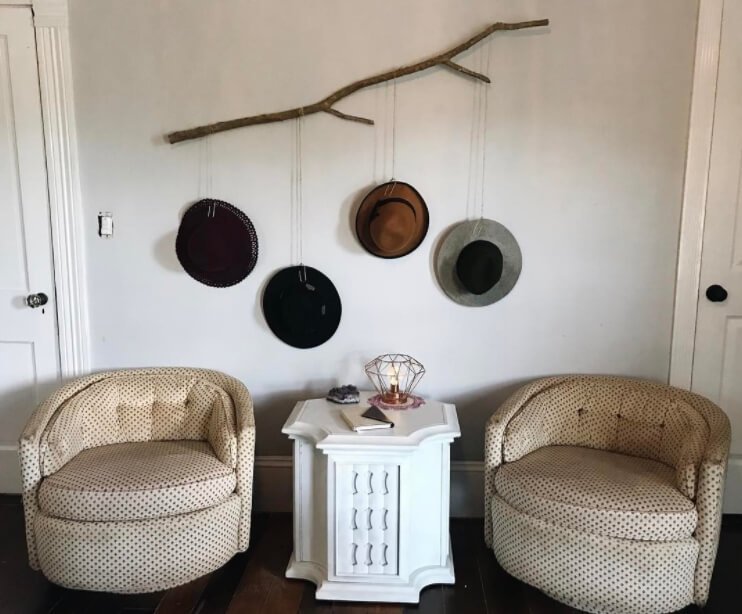 Another way is to use a branch as a hat hanger. Tie on a string or thin rope loops which end with clips.
78. Vertical Hat Rack Plans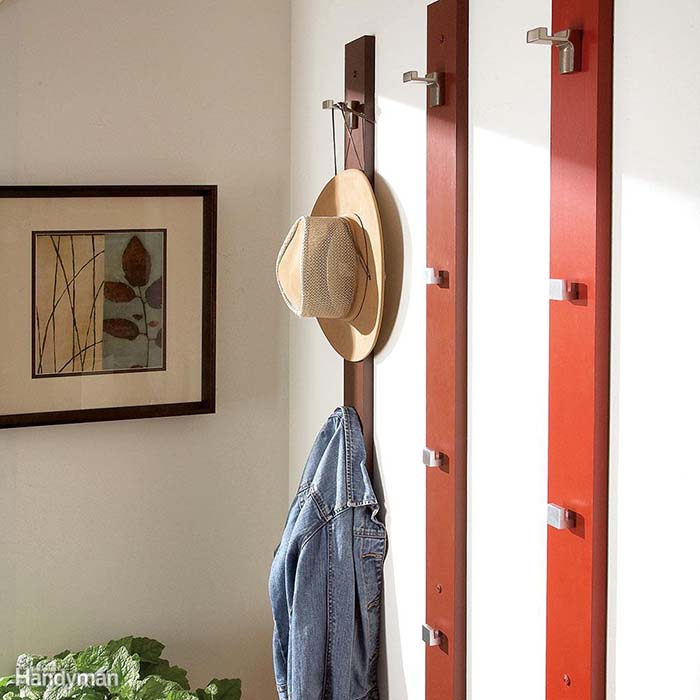 For those of you who prefer standard and functional furniture, this is a hat rack you will like.
The three straight wooden beams with hooks can be screwed on the entryway or corridor wall and accommodate everyday coats and hats.
via Handyman
79. Hat Hanger Ideas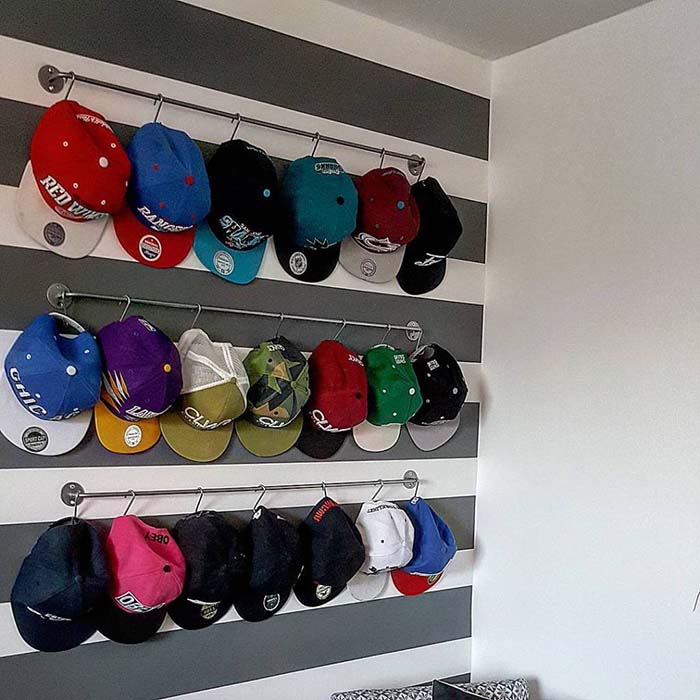 This is another idea of how to make a hat rack using IKEA's metal curtain rods.  Screw-in three rods vertically down an empty wall.
Add hooks suitable for their diameter and hang on the hats.
80. Baseball Cap Door Organizer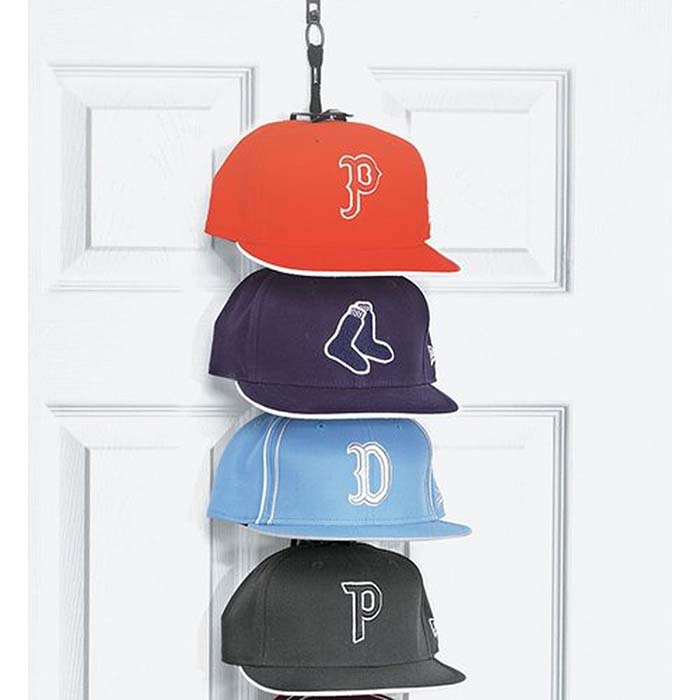 This door organizer is made of a metal profile hung on a rope loop that is attached to the door via a hook and to the profile by tying it around its top edge.
81. Under Stairs Hat Rack Idea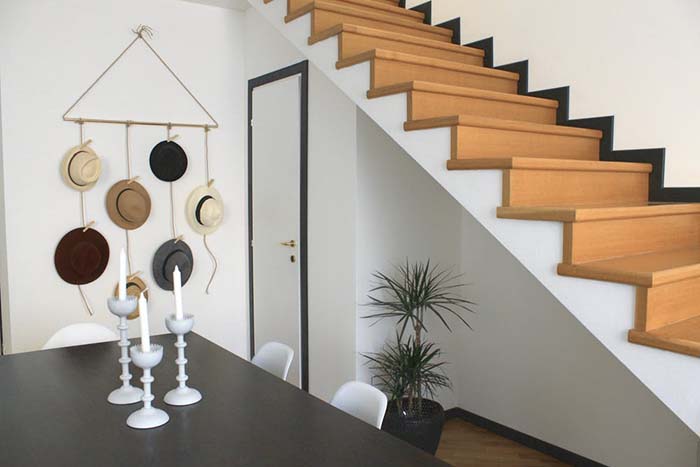 Macramé art looks very well in any house interior. Why not make it multifunctional and hang on your hats there?
82. Elevated Wooden Pegs Hat Rack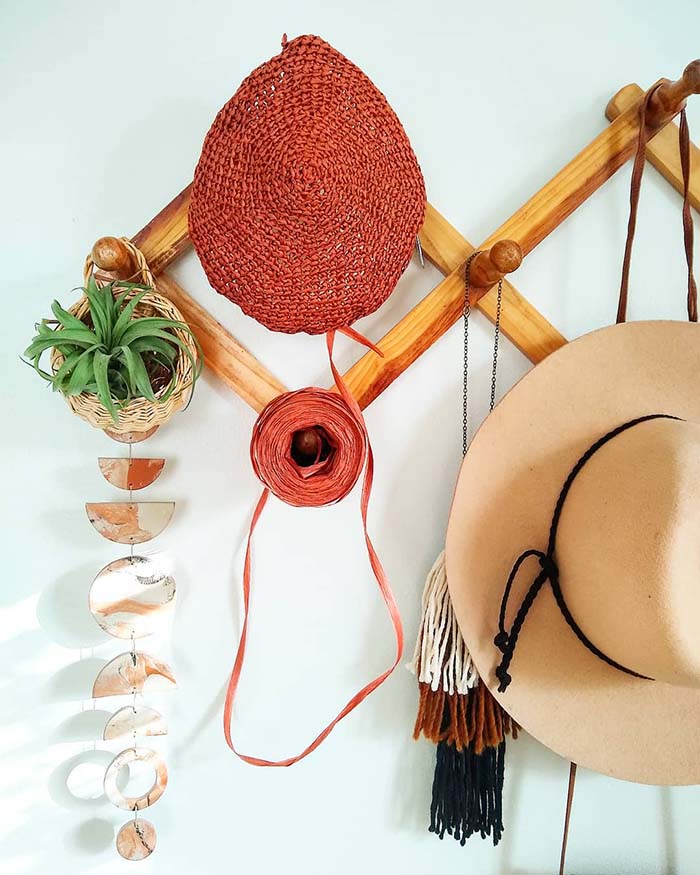 This old hanger has been brought to life making it a hat organizer.
Its elevated shape makes it look contemporary so it won't be difficult to match it with your interior.
83. Repurposed Glass Bottles Hat Rack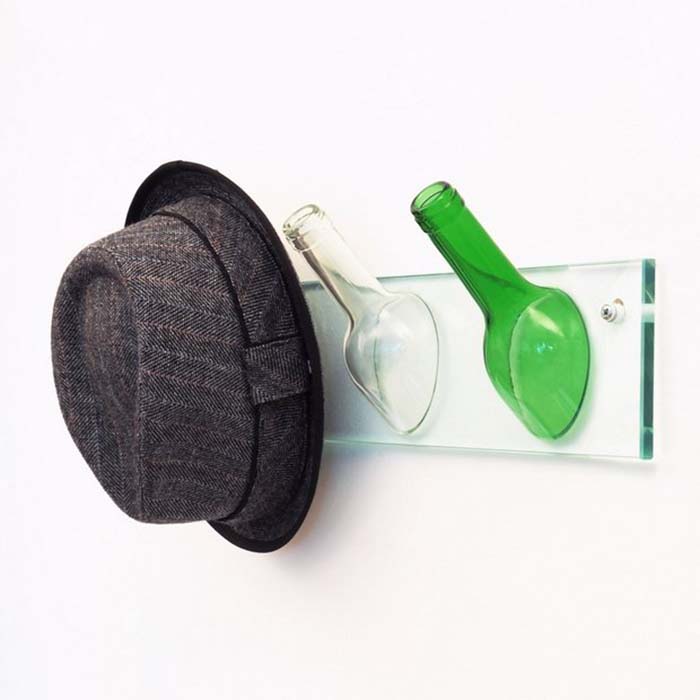 Glass bottles can be upcycled in a different way. Why not make an art hat hanger from them?
Since the bottles are aligned at an angle, each bottle neck serves as a hook.
84. Coat And Hat Rack Collapsable Piano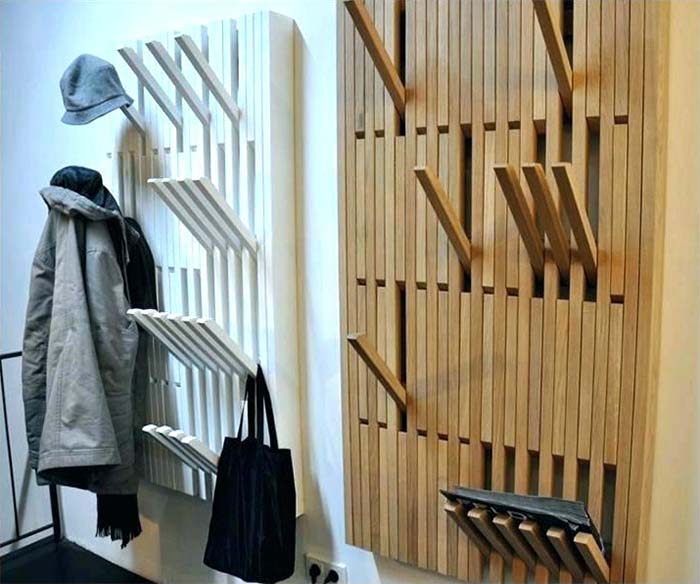 This rack is the winner in the following categories: "best looking", "most storage area", "functionality", "best appearance" and many more.
Indeed it combines all you may need – a great wall decoration, a huge hanging area, movable piano-like keys which can be easily pushed to the wall when not in use.