The swing bed seems to be the classic preference for porch furniture when it comes to ultimate relaxation. It will surely become the most wanted place not only for the kids but for the adults as well.
If you aren't yet certain of whether you need such outdoor decor, take a minute and imagine how you are reading a book under the porch shade enjoying the slight swinging moments, how you are admiring your garden achievements or just staring at the horizon.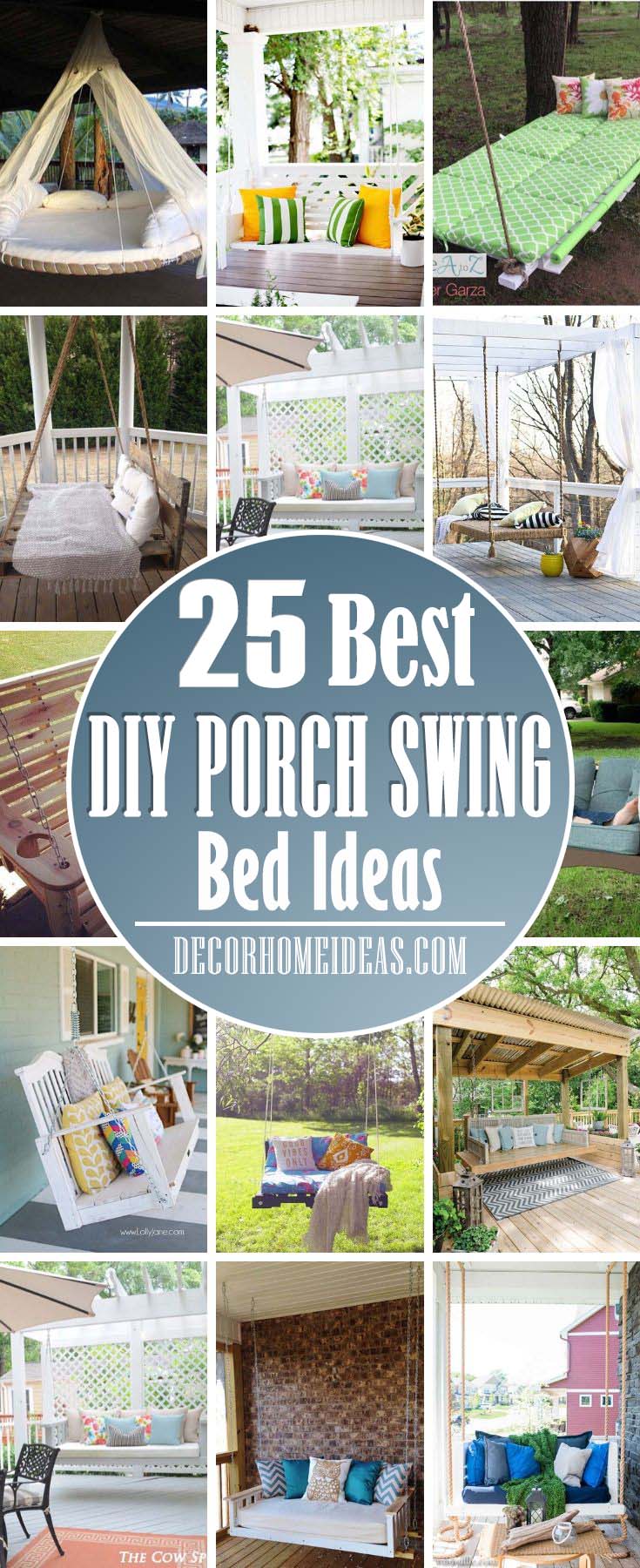 Have we already convinced you? If so, let's take a look at the best swing beds you can make and customize yourself to comply with your space allowances and design preferences.
1. Antique Table Top To Swing Bed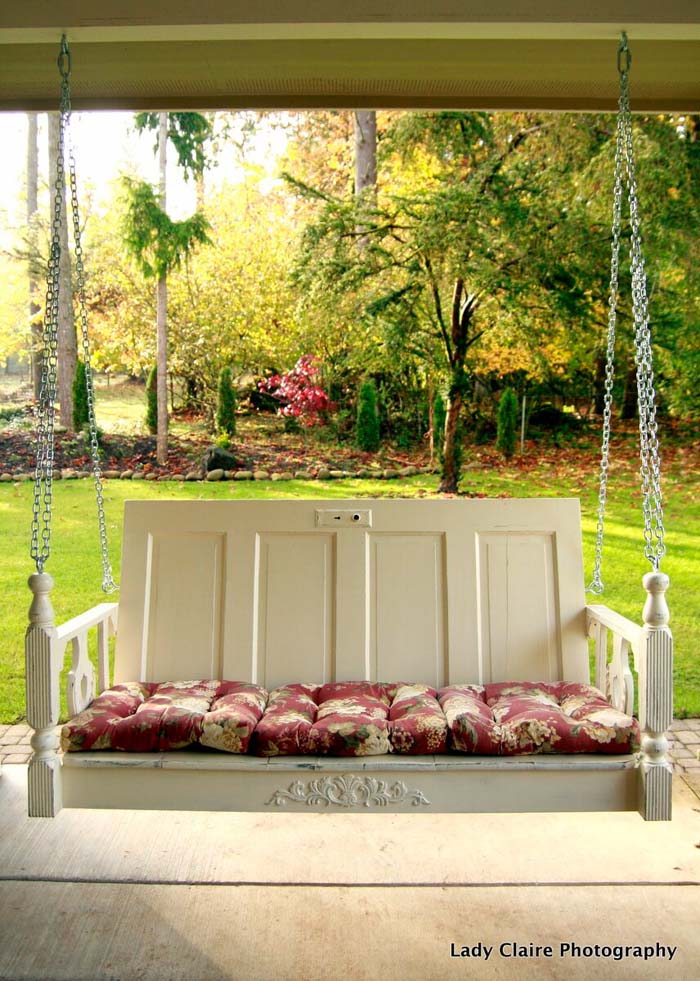 When romance, vintage and swing are mixed in one swing bed project, you end up with such an antique piece of outdoor furniture. It looks like taken from an old movie.
Luckily, it has been done in the present with the help of an old and useless table top and door.
via Huckleberry Lane
2. Baby Crib Into Porch Swing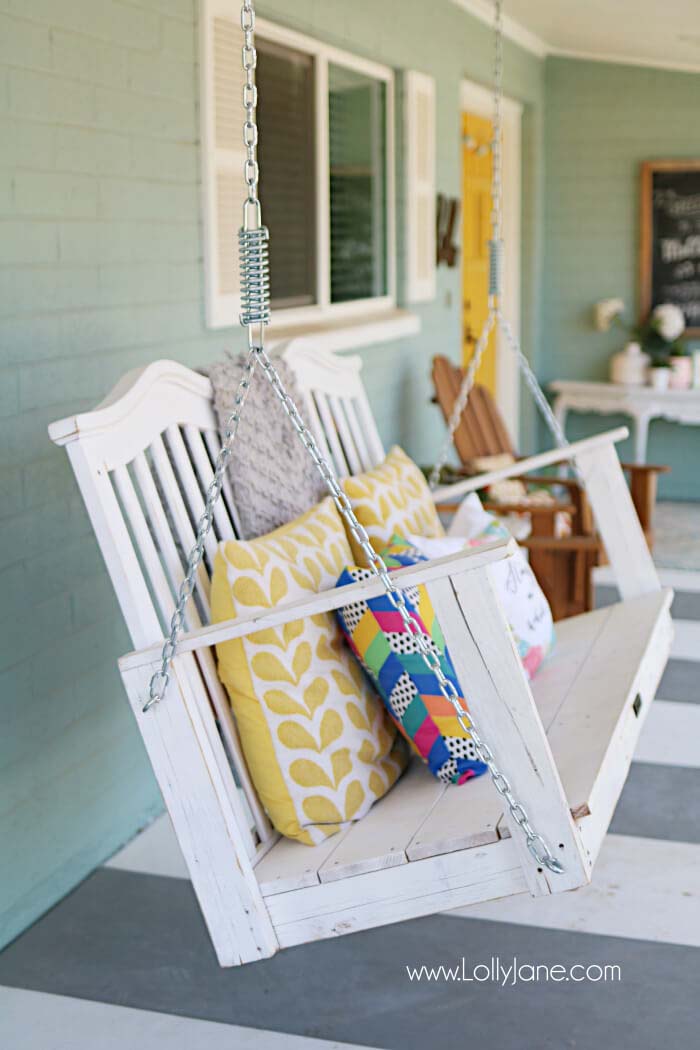 When the baby crib is no longer needed but its sentimental value doesn't allow you to give it away, you can upcycle it and turn it into a lovely and comfortable porch swing bed.
Each time you sit there, you will end up remembering nice and funny moments from the past.
via Lolly Jane
3. Back Deck Swing Bed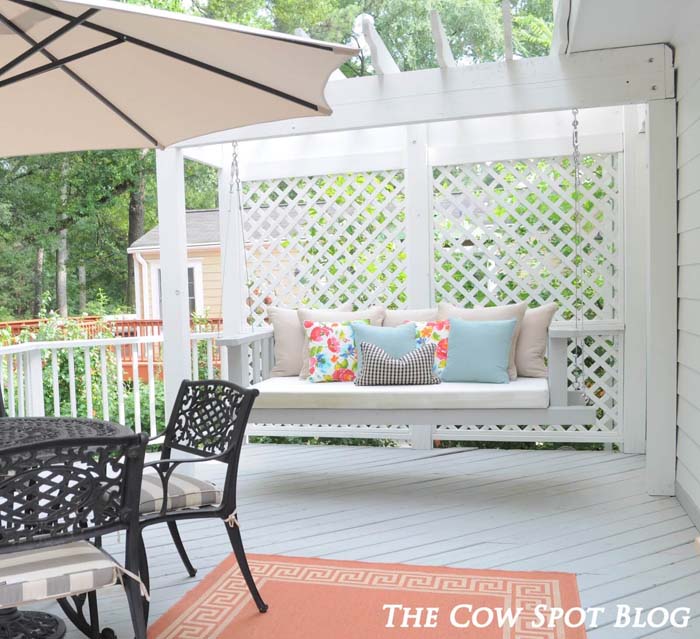 One of the main characteristics you need to look at when building your own swing bed is stability. This one is very rigid as it is made of slats which are additionally supported by cross pieces.
A further comfort this swing bed provides is the built-in cup holders.
via The Cow Spot
4. Blue Cushioned Porch Swing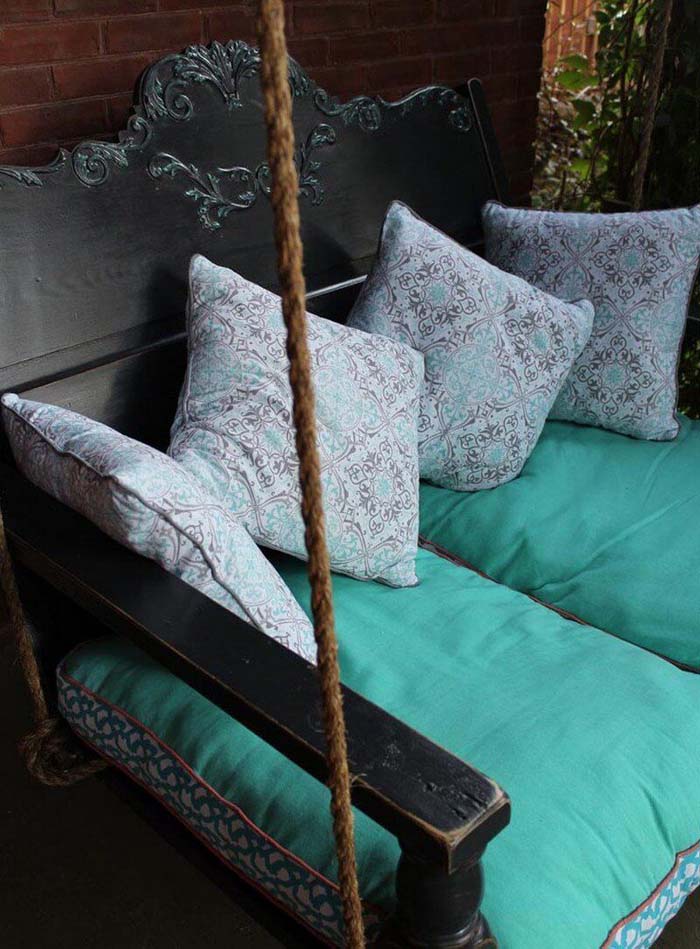 The requirement for gaining ultimate relaxation experience on the swing bed is comfortable seats.
And what is more comfortable than sofa cushions? If you have a couple or three left, place them on the wooden seating frame.
5. Build a Porch Swing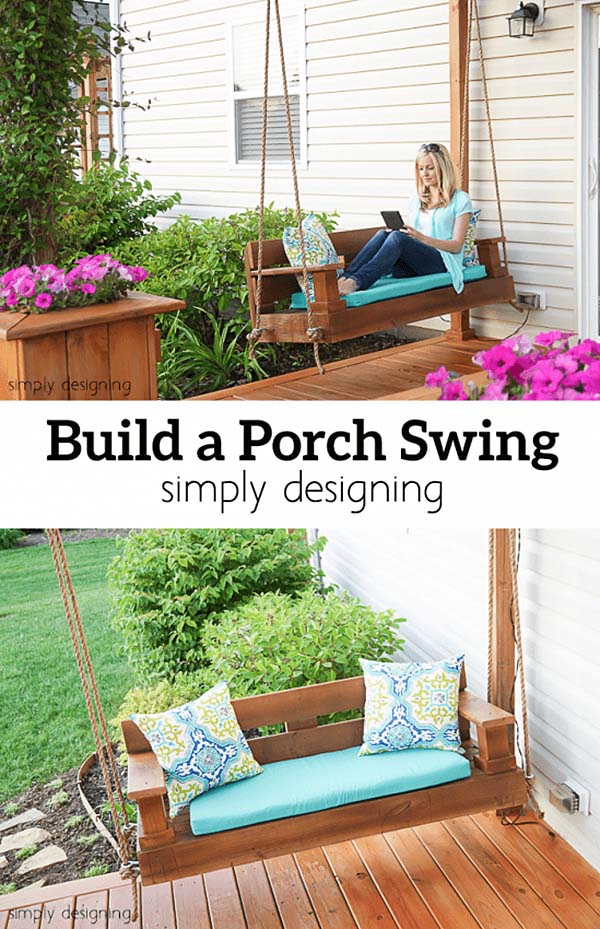 Reuse the wood of an old bench and deck slats to create an impressive swing bed that will comfort you for a quiet drink at night and will embrace you while reading a book in the day.
via Simply Designing
6. Build Your Own Porch Swing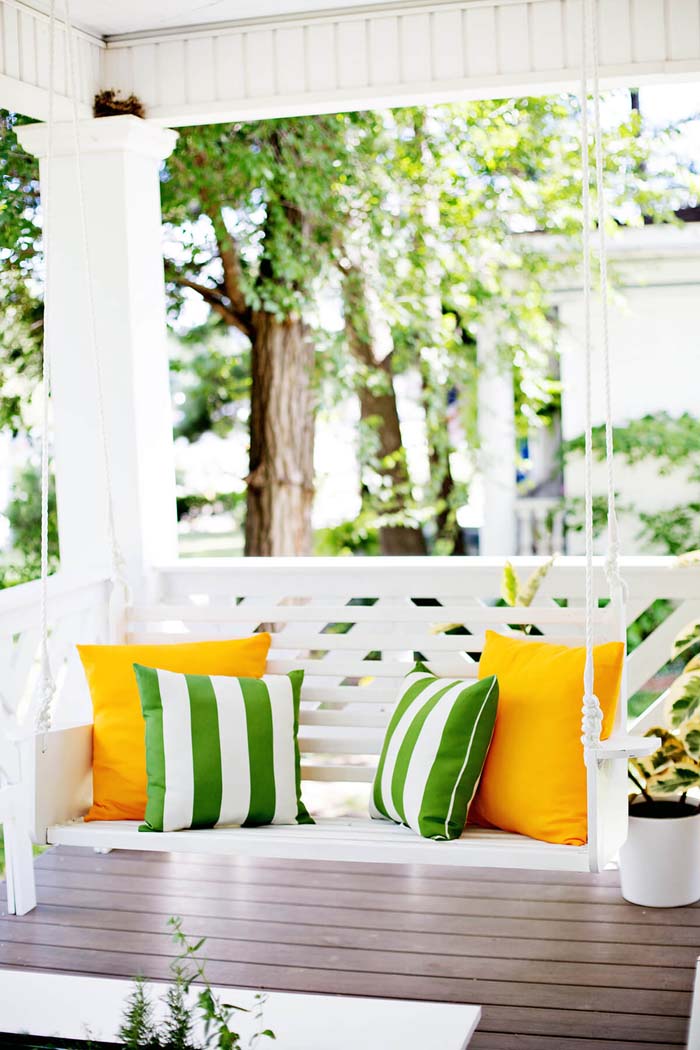 Build a swinging bench from scratch thanks to the free plans and material lists available on the link below.
The bench is suitable for a smaller porch where there is no compromise with outdoor relaxation.
via A Beautiful Mess
7. DIY Outdoor Pallet Swing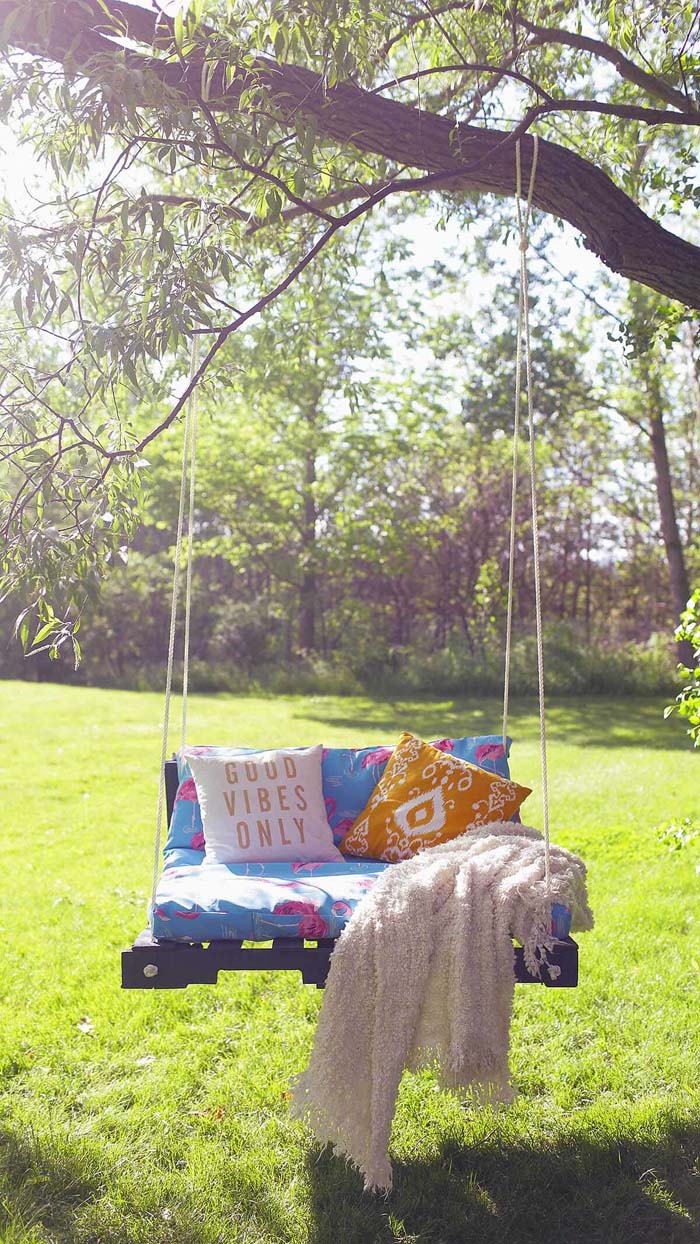 If you have a couple of pallets left in your garage, it is time to use them to make your own swing.
The pallets are used in their original size and slats arrangement so work will be focused on the suspension.
via The Sorry Girls
8. DIY Outdoor Swing Bed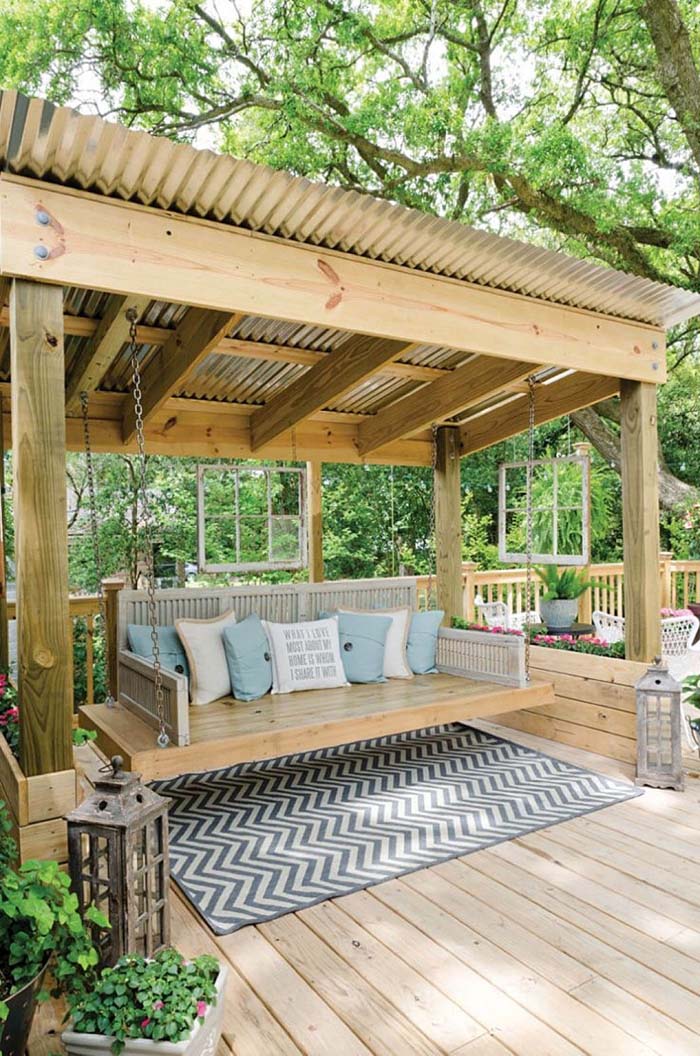 This gorgeous swing is perfect for the summer nights out at the porch.
It is supported by a pergola structure and that turns it into another hangout area. It is quite wide and can easily accommodate a family of 4 people.
via Mobile Bay
9. DIY Pallet Board Bed Swing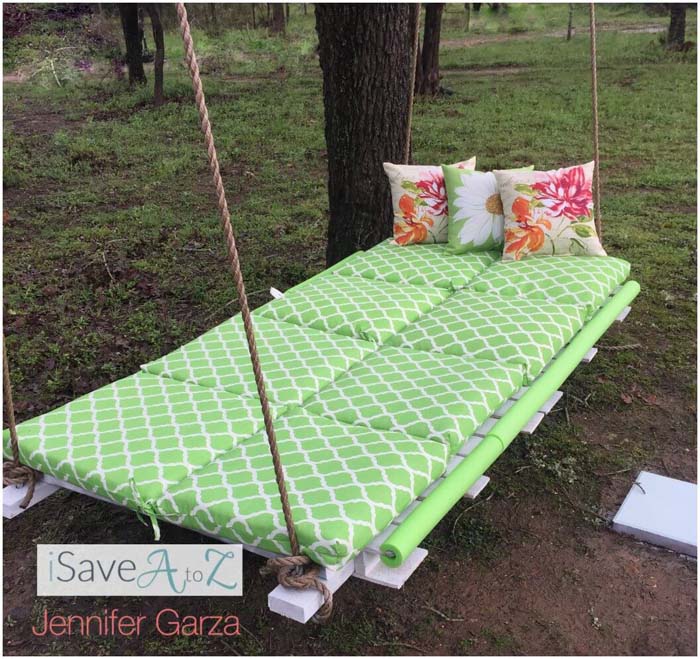 If you would like to treat yourself with an outdoor swing where you can actually lie, make yourself one using pallets.
The long edges of the bed are covered with pool noodles for two reasons- to act as a decorative element and for protection.
via I Save A to Z
10. DIY Pallet Swing Bed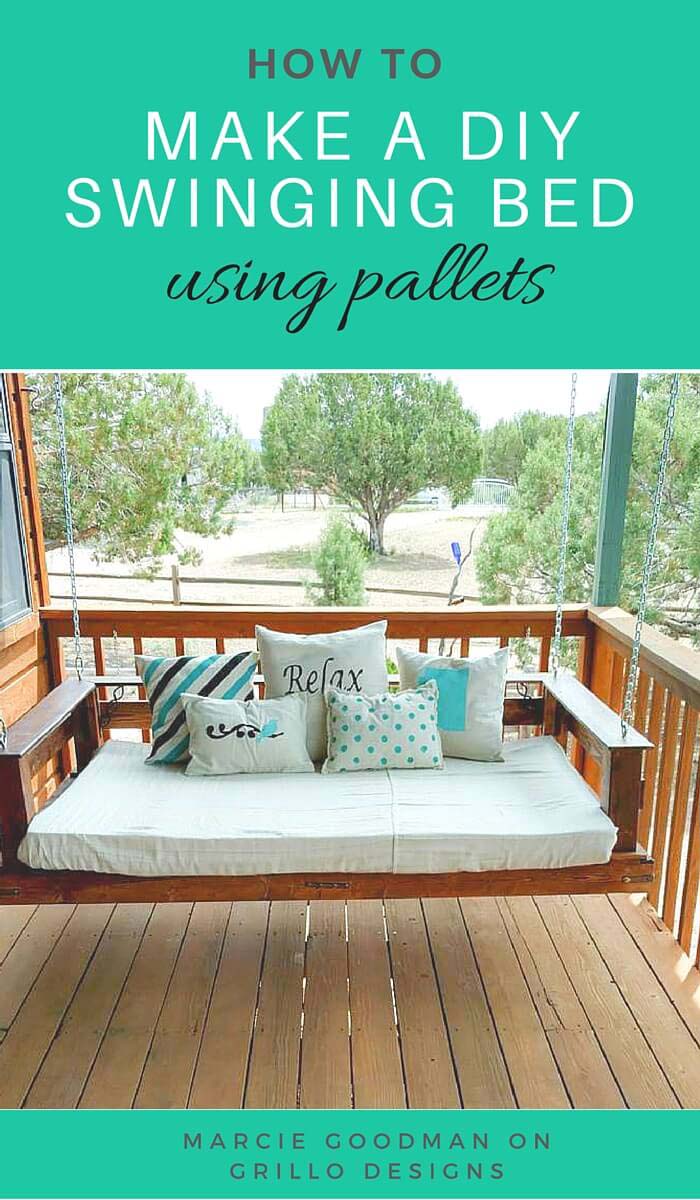 This swing bed is also made of pallets, however, they are not used in their original state. The slats have been disassembled and then rearranged to make a stronger and more comfortable seat.
Instead of separate cushions, you can add a foam pad of the swing bed size and a zipped cover.
via Grillo Designs
11. DIY Trampoline Hanging Bed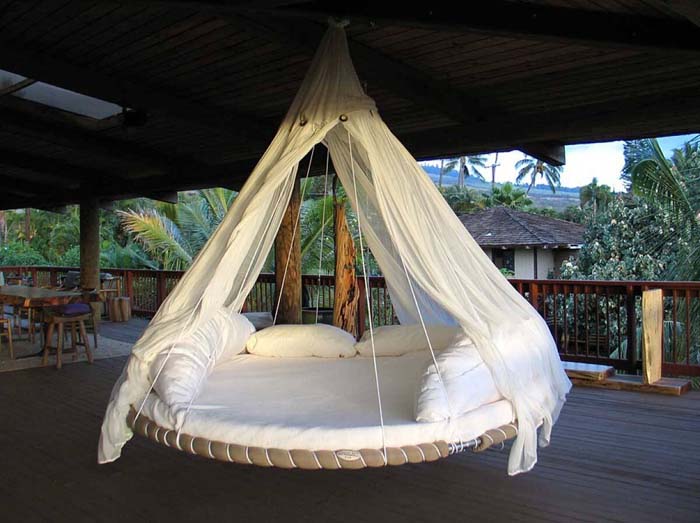 When kids grow up, you soon realize how big the bundle of play accessories has been and how useless it has become. Instead of finding space to store it, why not repurpose it?
Make a gorgeous swinging bed from the trampoline basis. Suspend it with ropes and appropriate hardware to your porch roof. For a boudoir look and privacy, add fairy curtains.
12. Front Porch Day Bed Swing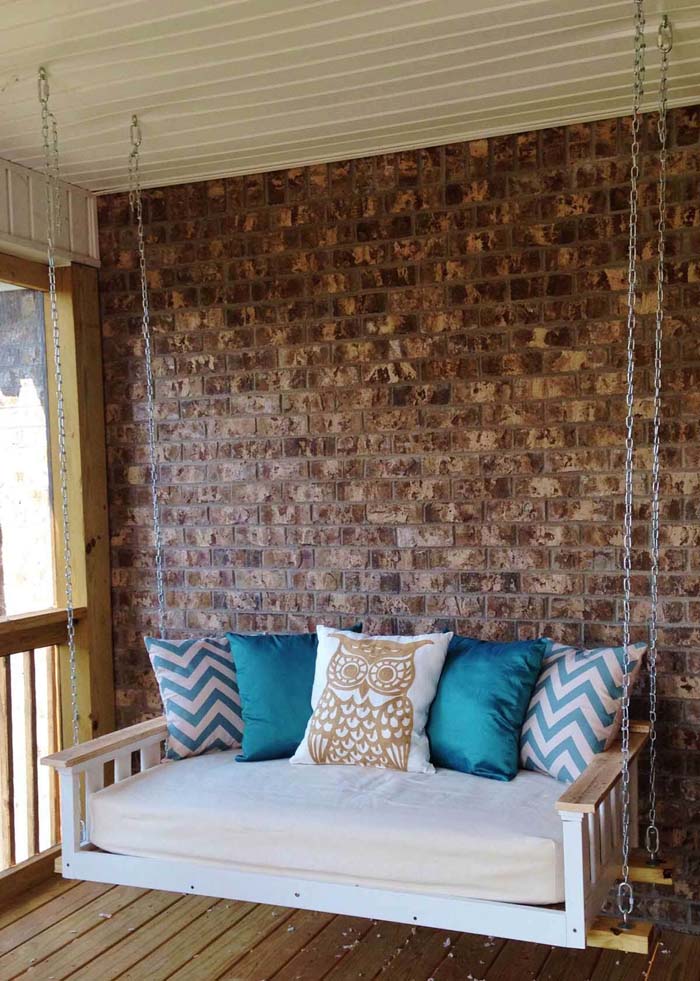 The bench-like swinging beds are among the preferred outdoor structures as they don't take up too much space from the porch.
Make a bench using posts and slats and leave the bottom horizontal supports longer. That would be the place to attach the chains for suspension.
via The Pinspired Life
13. Hanging Day Bed Swing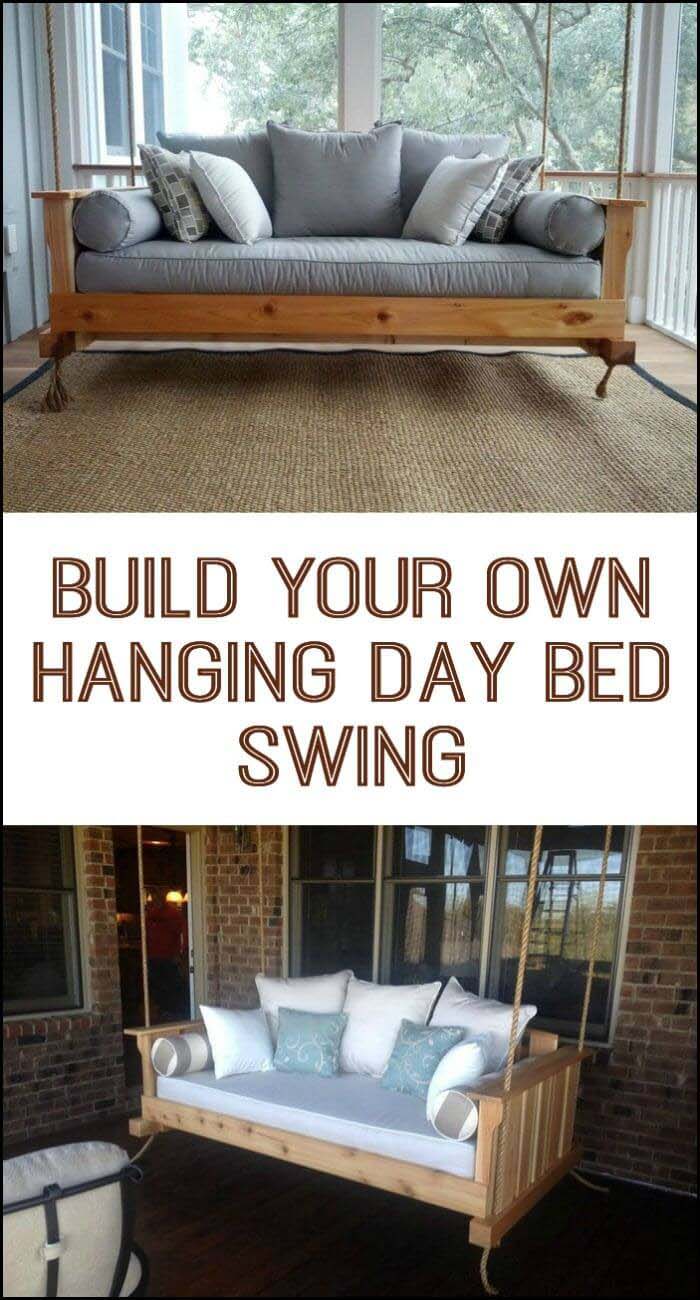 This day bed is among the easiest DIY structures as long as you have the right tool and supply list.
Fortunately, all of these are available on the link below and the author promises the structure is as stable and comfortable as if built by professionalists.
14. How to Build a Porch Swing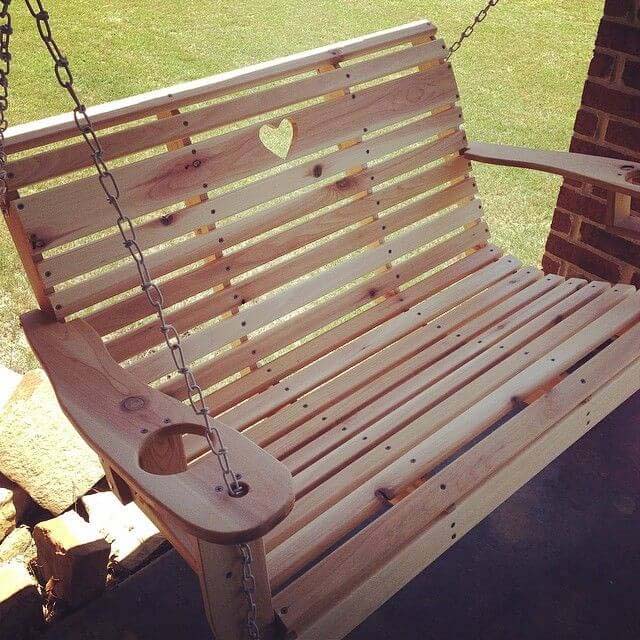 Are you looking for a small swing? This is a single-seater porch swing built from scratch.
The armrests provide a place for the favorite drink so kids should accept that they will not be the only ones enjoying it.
via Wilker Dos
15. How to Build and Hang a Porch Swing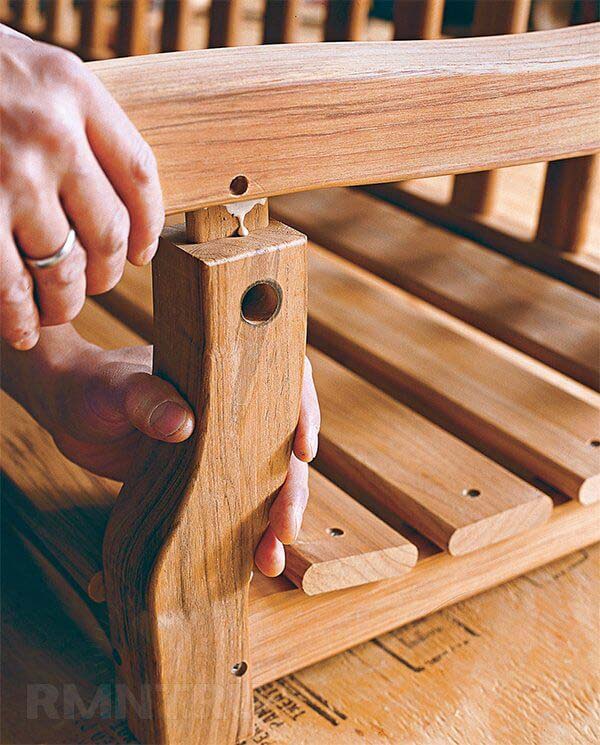 This DIY project is classified as easy and budget-friendly. The swing is built majorly relying on the mortise-and-tenon joinery which is one of the oldest and strongest methods for joining wood.
You would fall in love with the curved line of the swing's back which makes it look like expensive and professionally made outdoor furniture.
via This Old House
16. Porch Rope Swing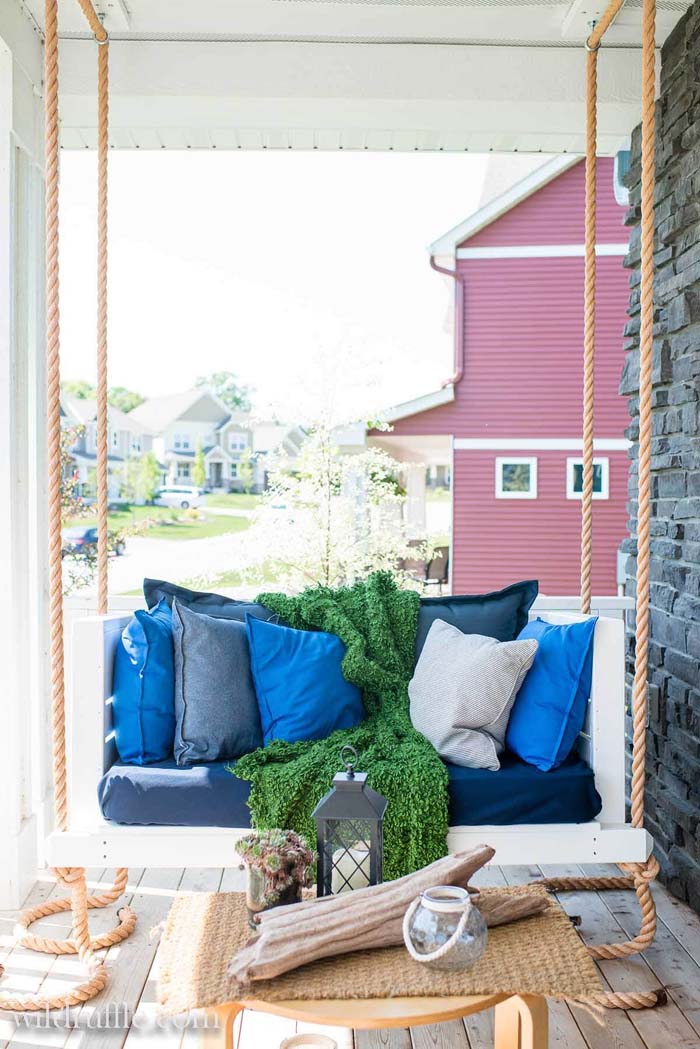 When you are looking also after the visual impact of the porch swing, this swing is for you.
The design concept of that particular swing incorporates nautical motives- white and blue color combo and very thick ropes.
via Wild Ruffle
17. Repurposed Headboard Swing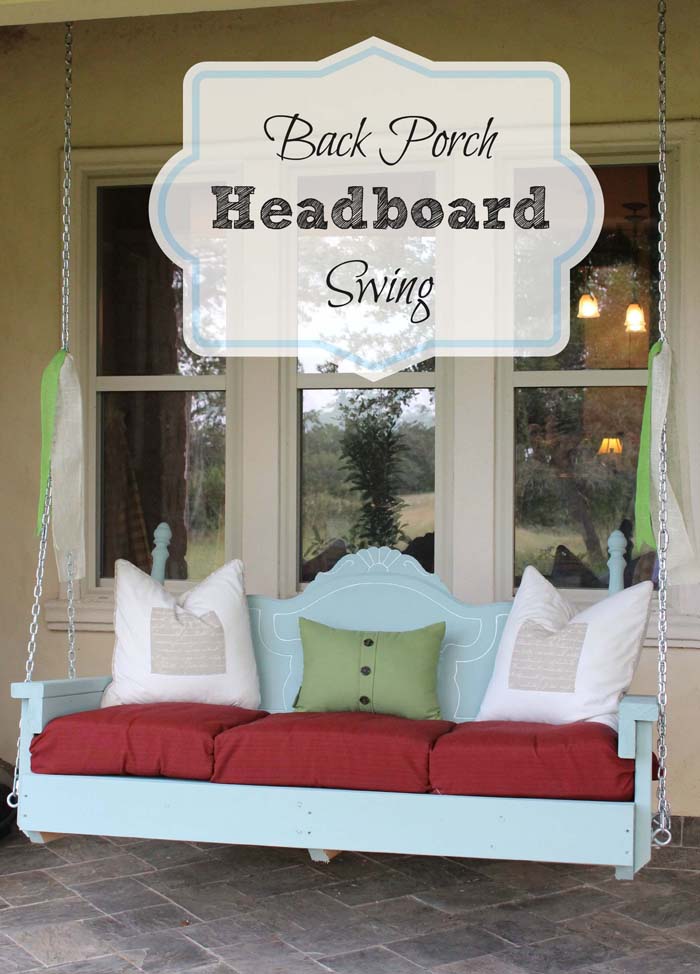 The old bed headboard could also come in use when we speak about homemade swing beds.
Cut parts from it to form the seating board, armrests and back. Paint in bright color and add cushions for more comfortable swinging.
via The Rustic Pig
18. Repurposed Wooden Crate Swing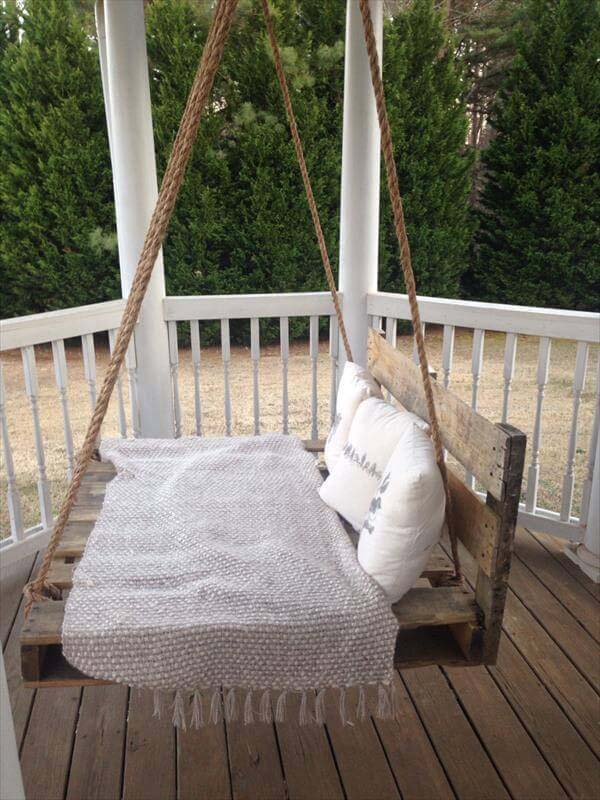 The wood material from crates and pallets has proven to be one of the most preferred and suitable for outdoor furniture.
Suspend using ropes tied to all four corners by simply tying them around the support beams. Leave the wood untreated for a rustic effect.
via Pallet List
19. Rustic Rope Hanging Swing Bed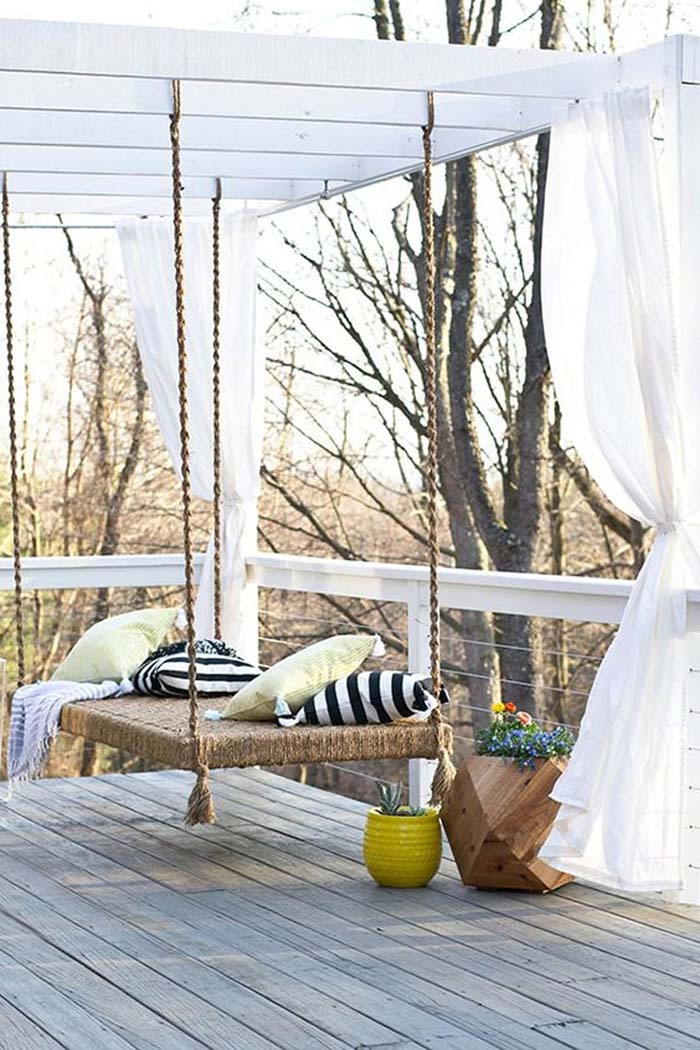 The pergola can serve as a strong swing bed support when the suspension is done with rope.
Here the author has chosen a cord to cover the seating surface and blend it with the rustic outdoor decoration.
via Home Depot
20. Stripped Paint Wooden Swing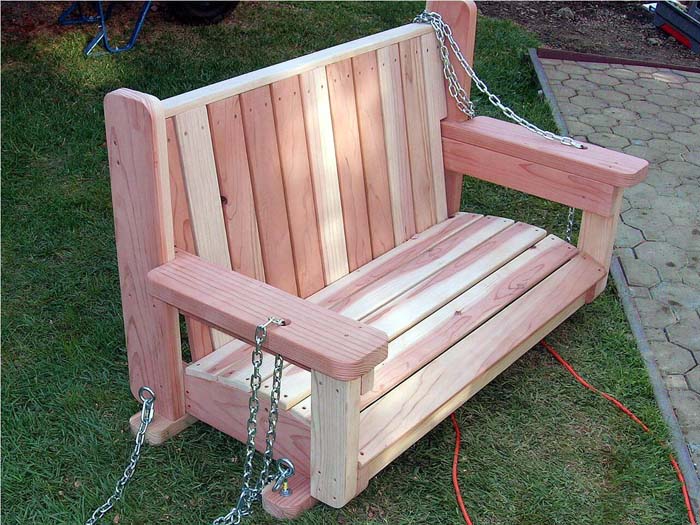 If you go for the smaller type of swings, the possibility of adding cushions or foam is limited. In that case, you should pay more attention to the surface finish as it will be visible.
The options for staining the wood are numerous. Here the author suggests stripped painting that will visually enlarge the porch swing.
via DIY Network
21. Wide-Seated Swing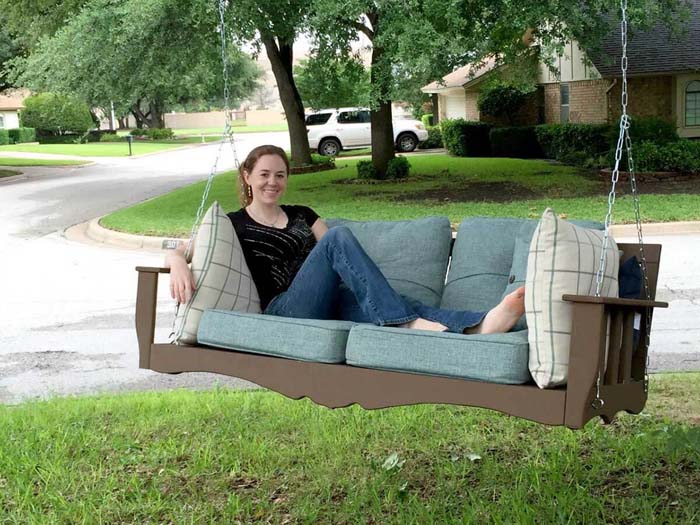 When you have no limits in regards to space, you must make a swing bed that is wide enough to accommodate a few people or give you the opportunity to lie while reading a book.
This one keeps all of these requirements and is easy to be made. Add cushions from an old sofa for greater comfort.
via April Wilkerson