If you have to describe a moment full of relaxation, joy and happiness where would it be? Most probably, that would be a memory from the beach during the summer vacation.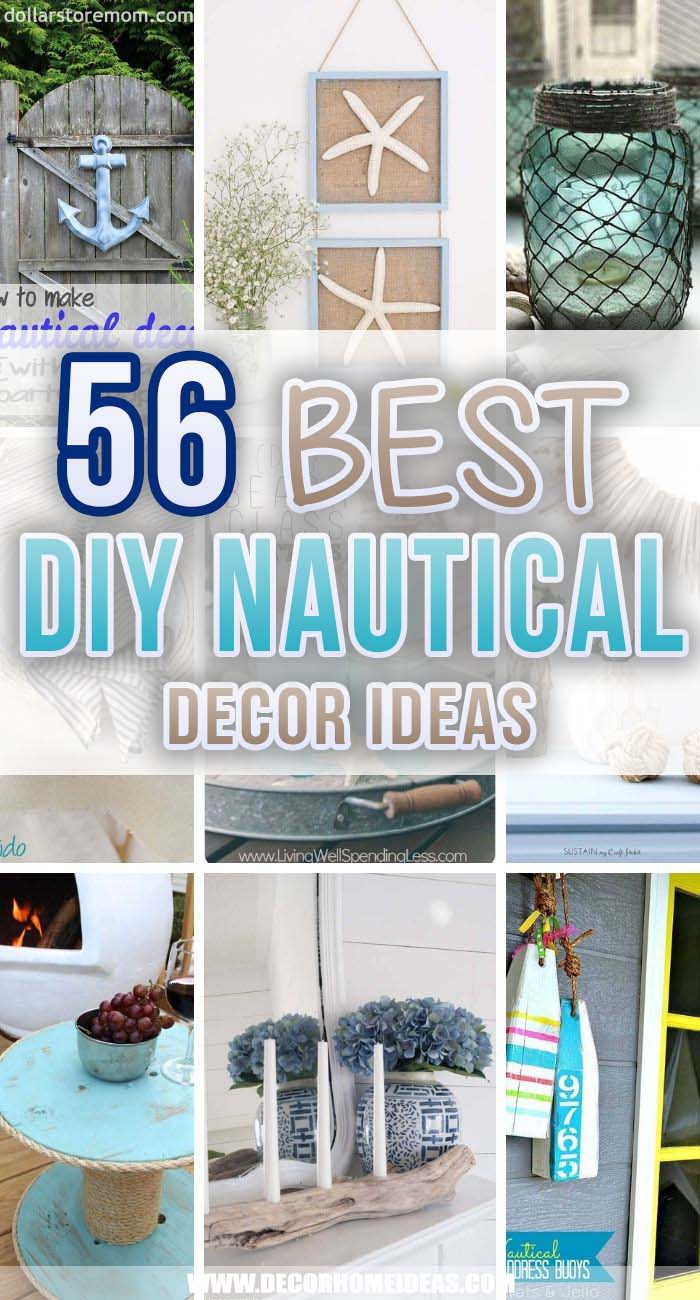 Beach cannot be compared to any other natural landscape, hence we have prepared a big collection of DIY Nautical Decor Ideas that will let you feel closer to the ocean or to your last summer vacation memories.
1. Decorate Step Stool With Stripes and Anchor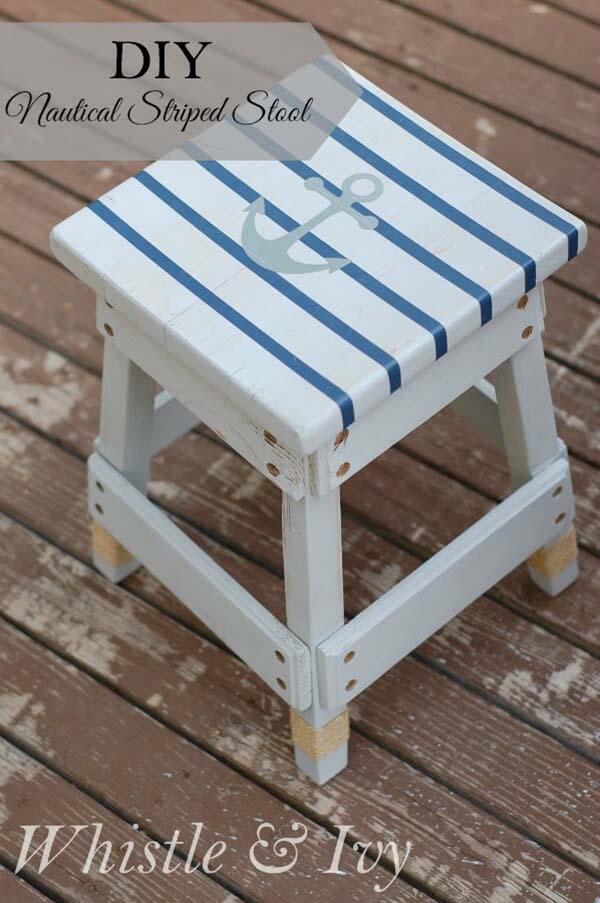 The little stools can be very practical. They are compact and very cute and can be used differently- as a side table, for sitting a toddler or simply as a decor piece enhancing the decor theme.
In a nautical-inspired interior, the small stool can be easily adapted to the existing beach decor with paints and some twine.
2. Easy Nautical Banner From Paper Napkins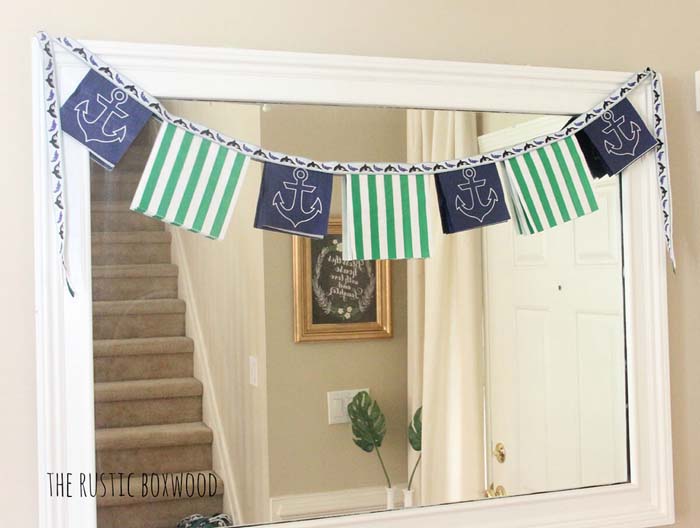 This is an easy and affordable DIY nautical decoration idea that can be added to every room where you want to feel the sea vibes.
For that idea, you need napkins in the naval theme and rope or twine to hang them on. Stretch the garland across the mantel, the door frame, a mirror to add a cheerful element to your beach decor.
3. DIY Blue Glass Bead Candle Holder

This is an easy DIY upgrade idea that will let you transform a simple glass candle holder into a naval-themed one.
Get a package of blue faux gems and glue them on the glass surface. The candle holder looks great not only at night when the candle is lit. During the day the blue ocean color adds so much interest.
via Mom Luck
4. Recreated Sailing Club Sign on Upcycled Chest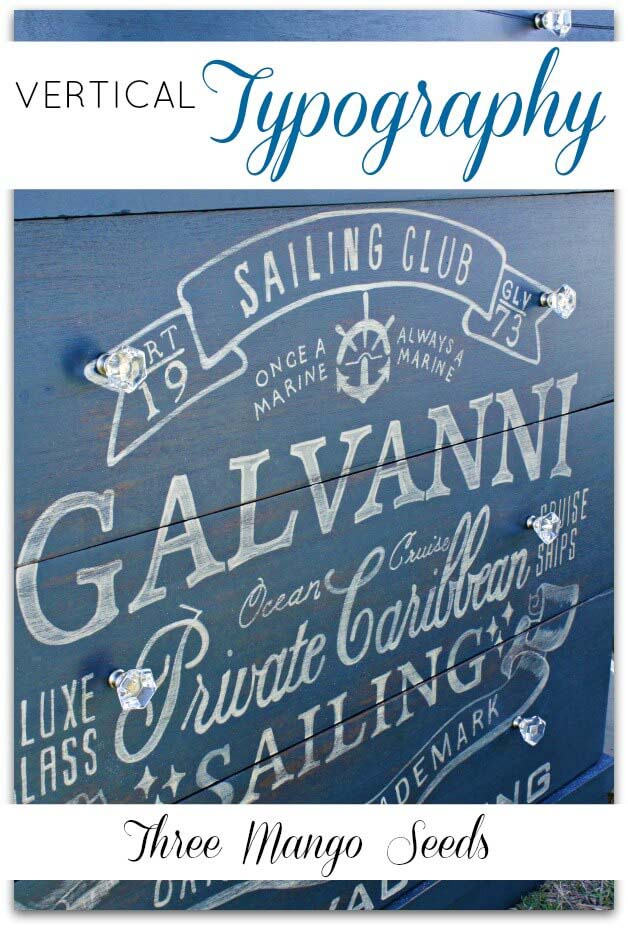 Turn a useless chest of drawers into the focal point of your nautical decoration.
You will be surprised by the inspiring transformation of the weathered piece of furniture with coats of paint and stencils for the nautical lettering.
5. Unique Cleat Hitch Towel Holder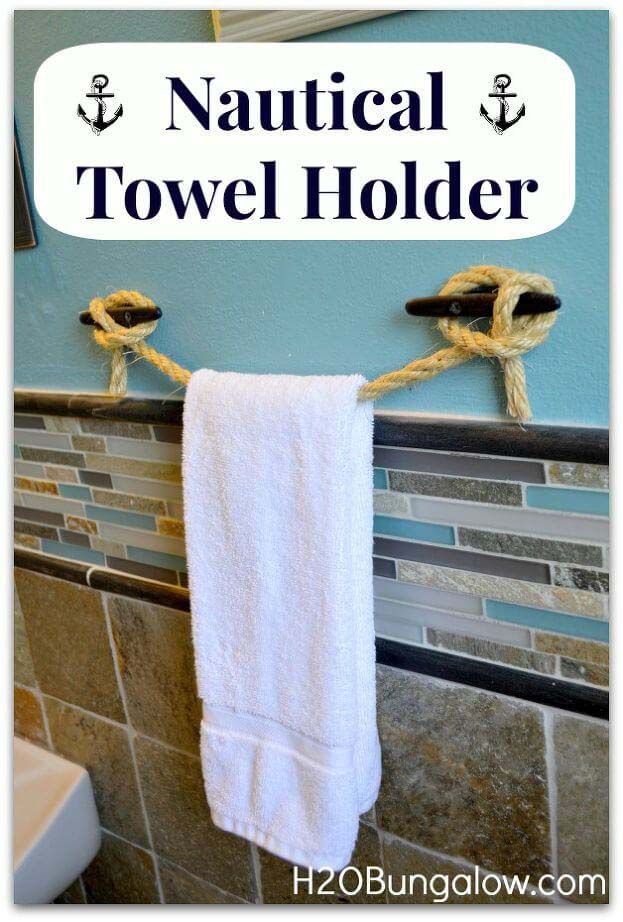 In case your kitchen or bathroom is designed in a nautical color palette, this fascinating rope towel holder will match perfectly!
56 Amazing DIY Nautical Decor Ideas For More Serenity In Your Home video:
The supports to stretch the jute rope are cleats that can be found at Home Depot. Tie a nautical knot around each cleat following the instructions below to secure the holder and enhance the ocean-themed look of the piece.
via H2O Bungalow
6. Give a Dresser Rope Drawer Pulls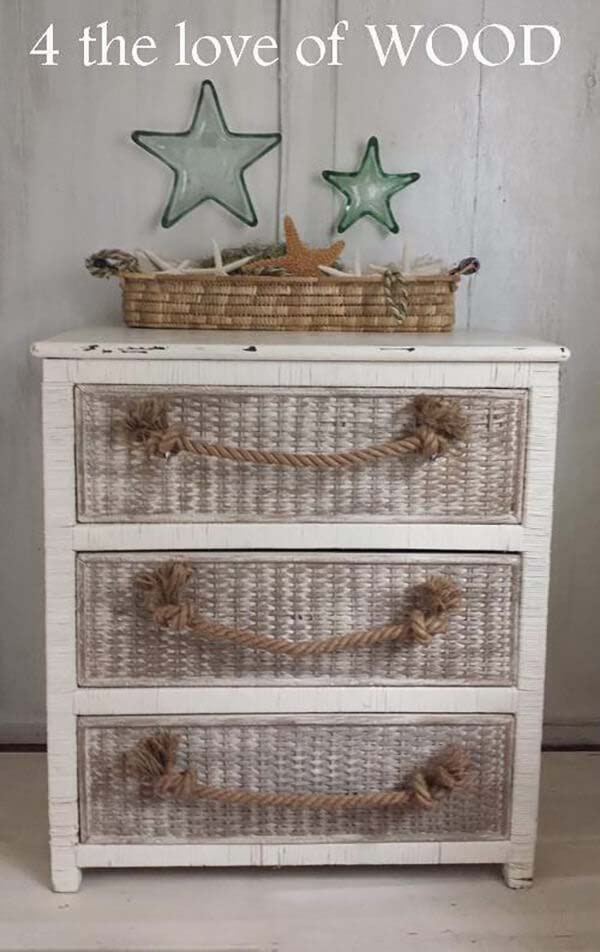 Your antique chest of drawers can be given a nautical touch by replacing the metal handles with cool rope ones.
This idea will work and look best on a chest with rattan or basket drawers that match the coastal theme.
7. Striped Napkins With Macramé Rings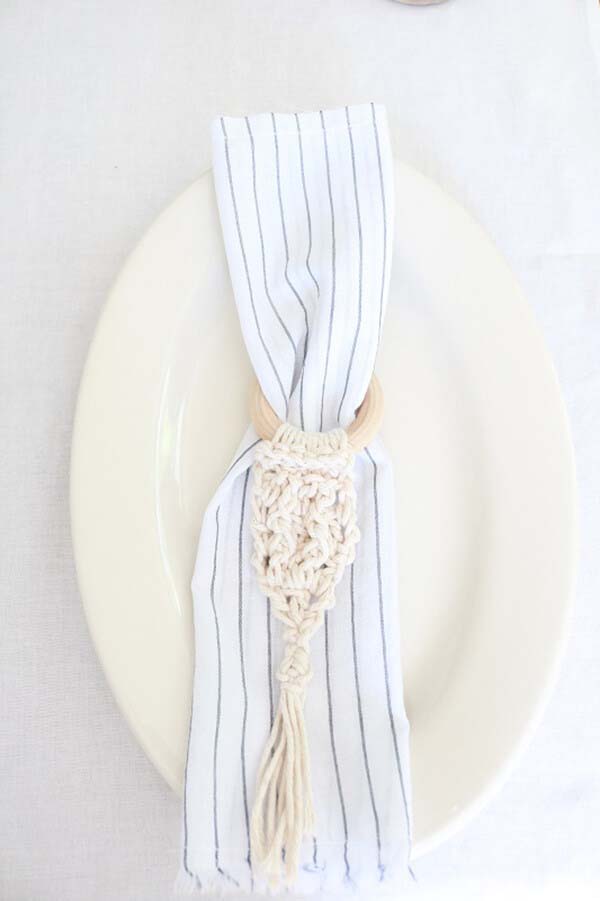 Are you having a naval-themed party?
You don't need to do a drastic makeover of your place. The theme can be implemented and sensed with small items such as coastal-inspired garlands, navy palette accents and small items with incredible impact.
This idea for napkin rings makes sure that your ocean-themed party is stylish and well-decorated to the smallest detail.
If you are good at crocheting, you can make these easily yourself. Prepare a package of wooden curtain rings and sandy-color crocheting yarn.
Put through napkins from fabric related to the ocean theme and watch your table setting become calm and welcoming.
via A Box of Twine
8. Create Coastal Themed Photo Display Board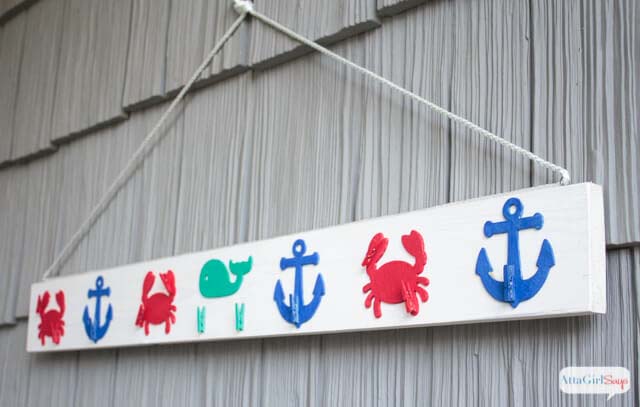 Make a dedicated picture rail for your family vacation photos! Cute wood cutouts of ocean creatures are painted in the nautical color palette to be then glued on a picket fence board in white.
The bright blue, green and red colors let the creatures stand out against the neutral background.
Added clothespins take care of the photo attachment. Supplies are easy to find and affordable so you would surely be willing to make your cute vacation photo display in a fun nautical style.
via Atta Girl Says
9. Fish Tiebacks Look Like Folk Art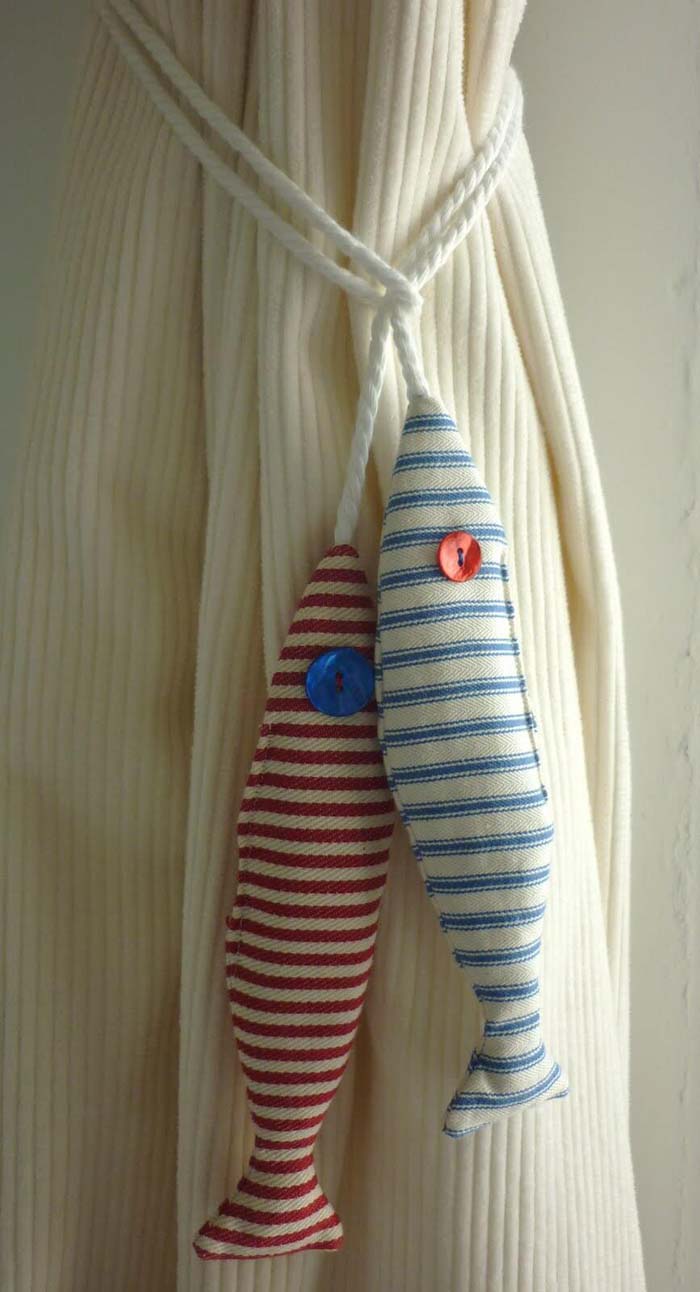 This idea considers the smallest details you can add to your interior to make it summer-friendly. Usage of rougher fabric such as burlap or linen with stripes will surely enhance the impact of the curtain tie-backs.
Sew a button on either side of the fish to give it a more realistic look. Once ready with the stuffed fabric pair of fish, add them at the ends of a cotton rope length and then tie them around the curtain.
via Sixty One A
10. DIY Rope Rug Has Nautical Look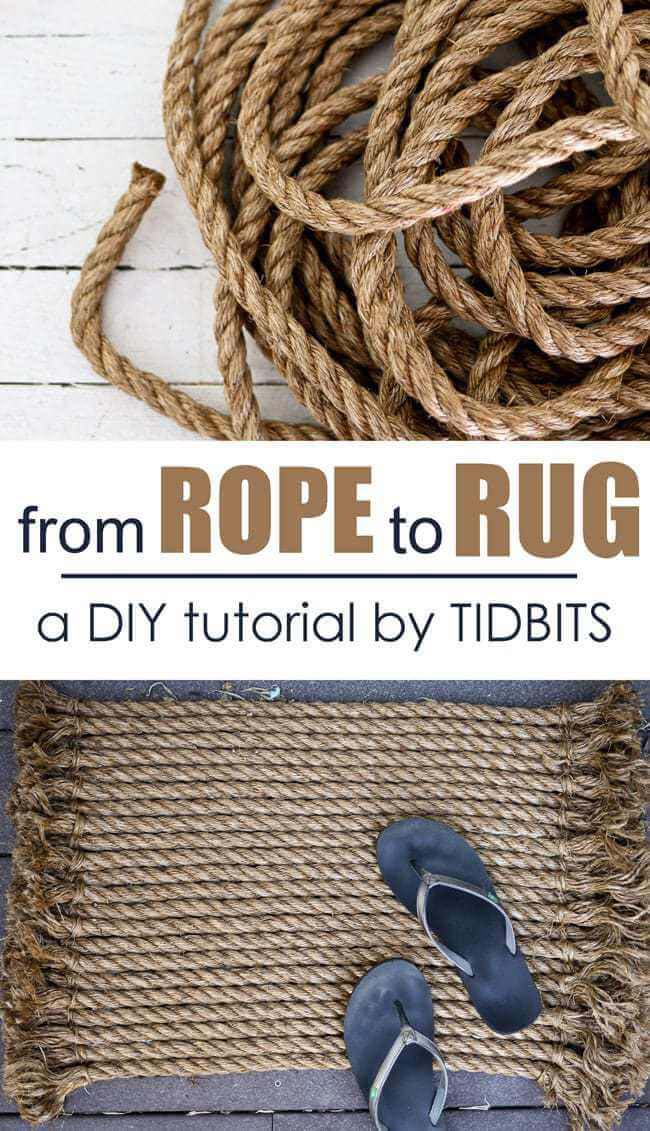 This rug design is great for outdoor applications. Luckily, no sewing is involved so practically anyone can make it.
The secret to stretching the rope lengths and forming them in a rug is actually a plain doormat used as a basis.
via Tidbits Cami
11. Create Boat Anchor Nautical Décor From Driftwood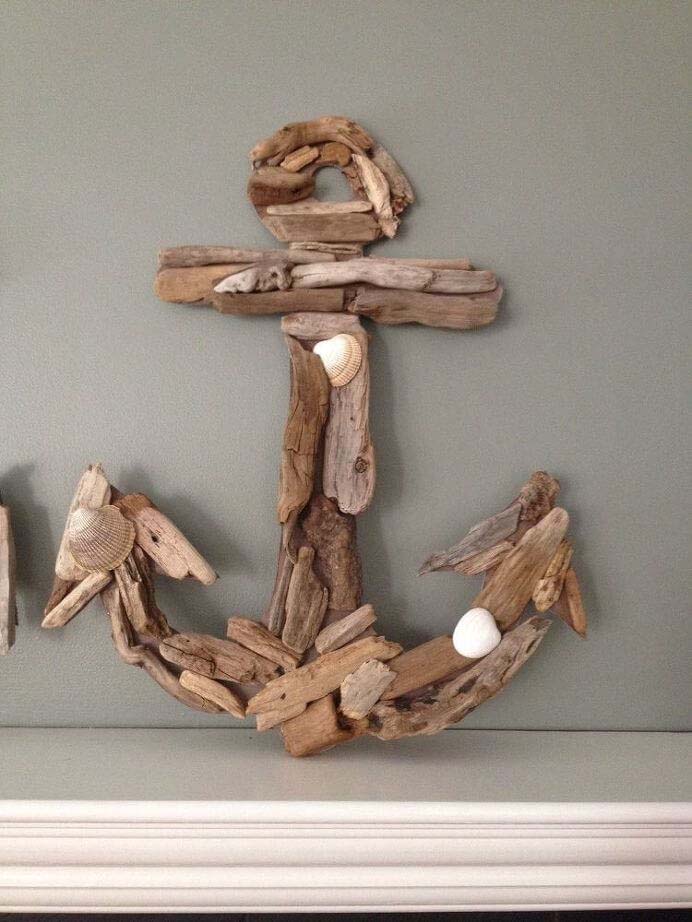 Hanging an anchor on the wall will surely add a coastal touch to your living room. But imagine how much more impacting it will be if it is made from pieces collected on the beach?
This is the idea behind this easy DIY nautical anchor art. Collected pieces of driftwood, seashells and stones are arranged in the shape of an anchor to make a unique nautical wall decor. You can use the same materials to create other shapes such as whales, lighthouses, etc.
via Hometalk
12. Driftwood Gives Photo Holder Beach Theme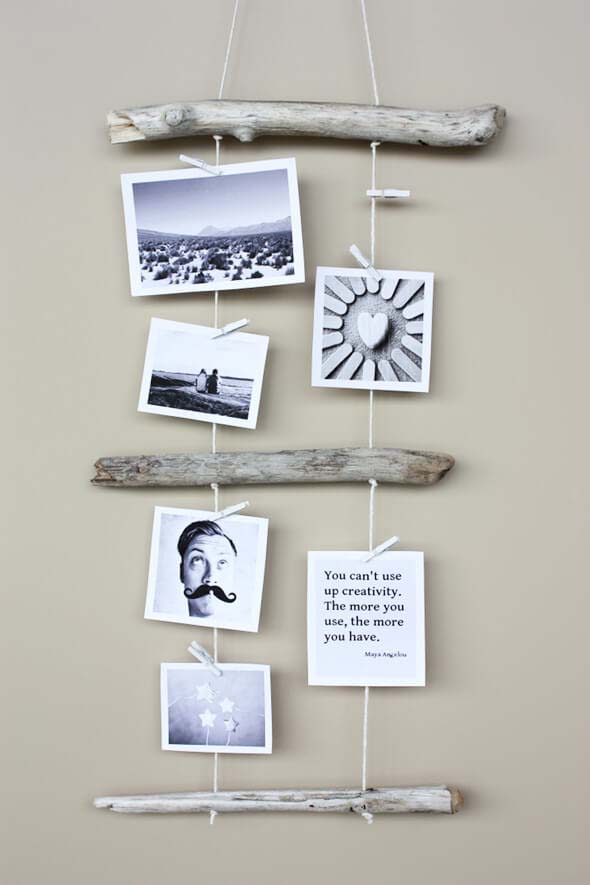 Another driftwood idea uses longer branches smoothened by the ocean water for support of a photo and memo holder.
The more pieces you use, the longer the wall art will become. The idea shows white cotton twine stretched to hold the driftwood branches in position but the thinner rope will also work well.
13. Display Vintage Fabric Strips in Ornate Frame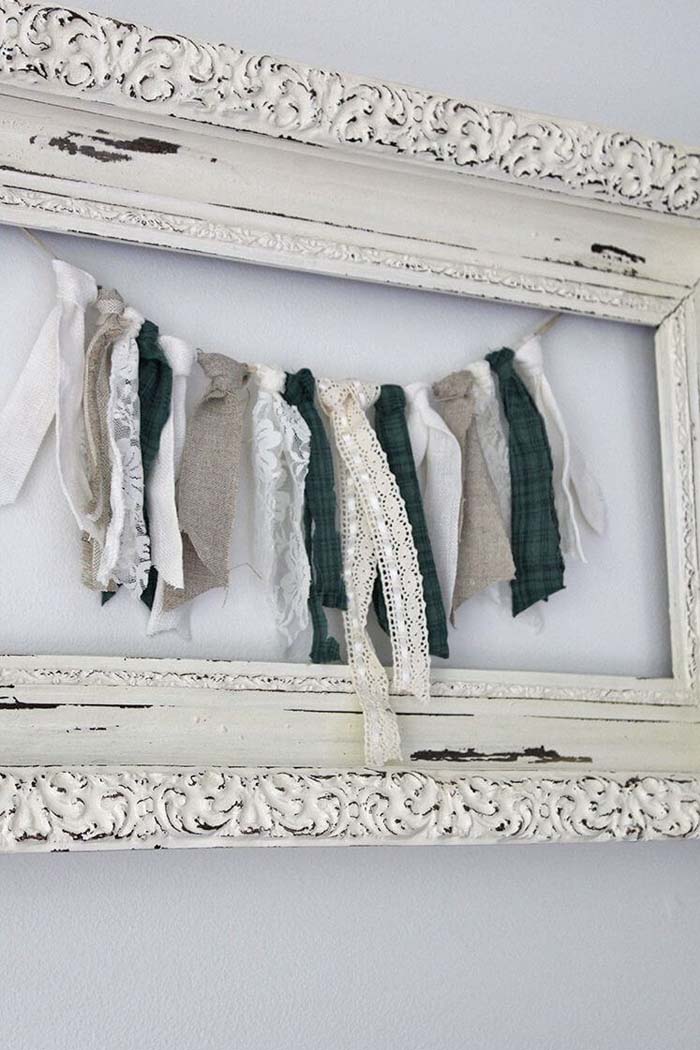 This trash-to-treasure idea is simply amazing! Leftover pieces of fabric in different patterns and colors are turned into garland components.
It is particularly interesting how the garland is presented. Instead of the usual stretch along the mantel, it is incorporated into an antique frame to serve as a nautical wall décor piece.
14. Create Cute Sign With Driftwood and Stencils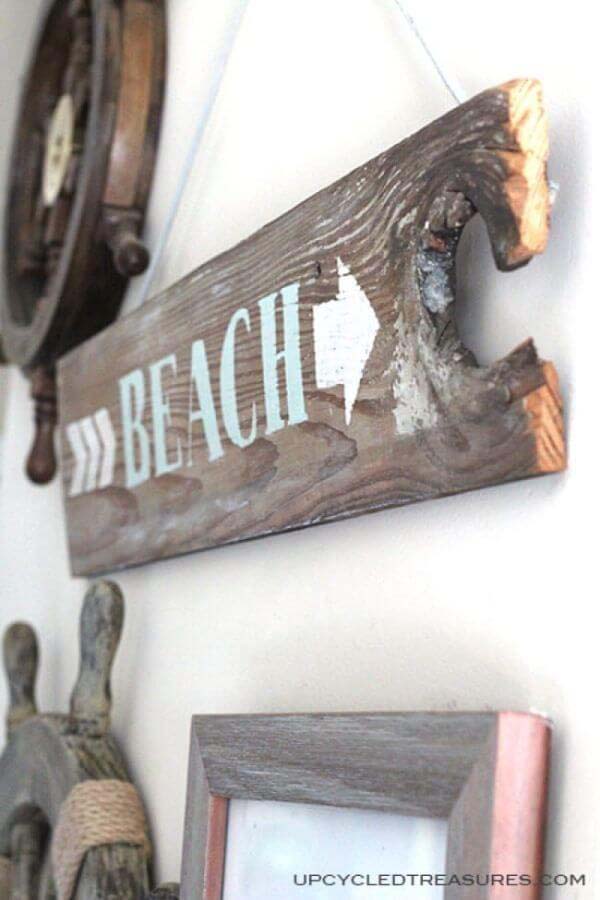 Beach signs are very trendy for the summer-welcoming decor. You can find them in different designs and colors but if you are looking for one that adds an authentic and rustic coastal effect, then try this DIY beach sign idea.
A piece of reclaimed wood is given a driftwood surface effect with the help of white paint.
The paint has stayed only in the deeper lines of the wood piece and that makes it look weathered as if nature has created the effect. For the letters, you can use white again or another color in the nautical palette.
15. Frame Sand Dollars and Starfish on Cane Canvas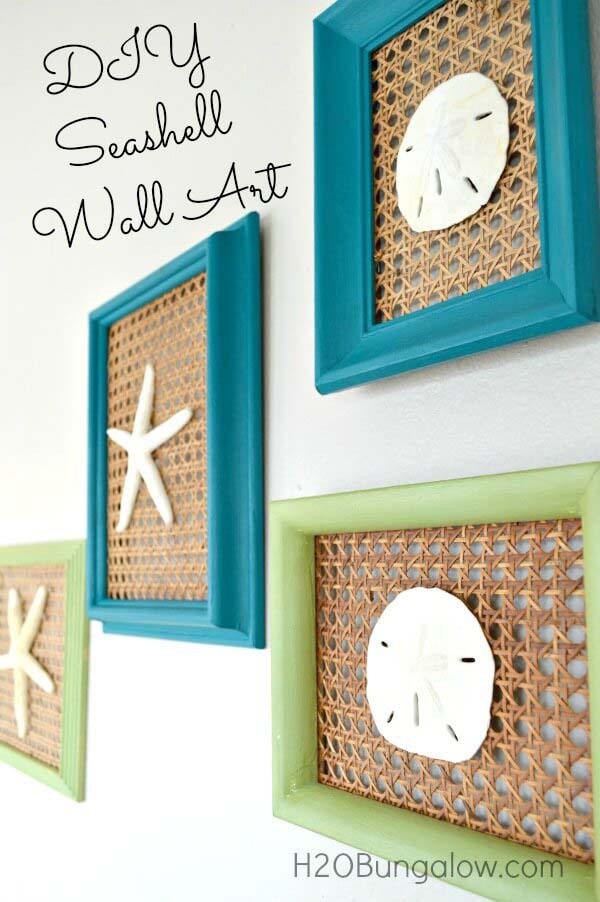 If your collection of seashells grows and you are short of ideas on how to display it, here is inspiring DIY wall art for you.
Leftover cane, wall frame, a piece of cardboard and of course a handful of shells are the supplies needed. You can use identical in size photo frames or various for improved interior effect. Choose colors for the frames that match your nautical wall decor.
via H2O Bungalow
16. Give Any Jar Look of Sea Glass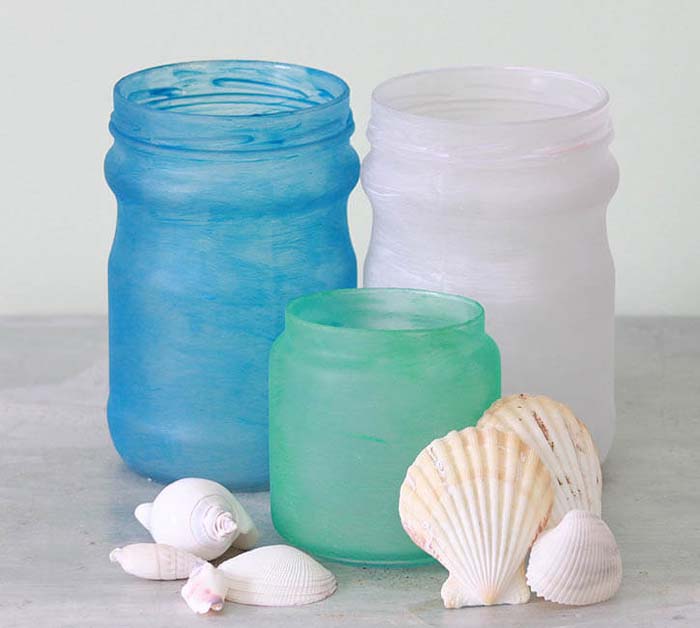 The gloss frost paint is an amazing supply that turns plain glass jars into stunning beach glass. Apply a few coats of this paint on the outer surface of the glass containers and wait for them to cure.
For a bolder effect, group the jars together. Add seashells around them. You can even fill their inside with some sand and seashells. The jars can be upgraded to candleholders by inserting a pillar candle inside or vases by simply wrapping a piece of twine around the necks.
via Gina Michele
17. Quick and Easy Coastal Theme Coasters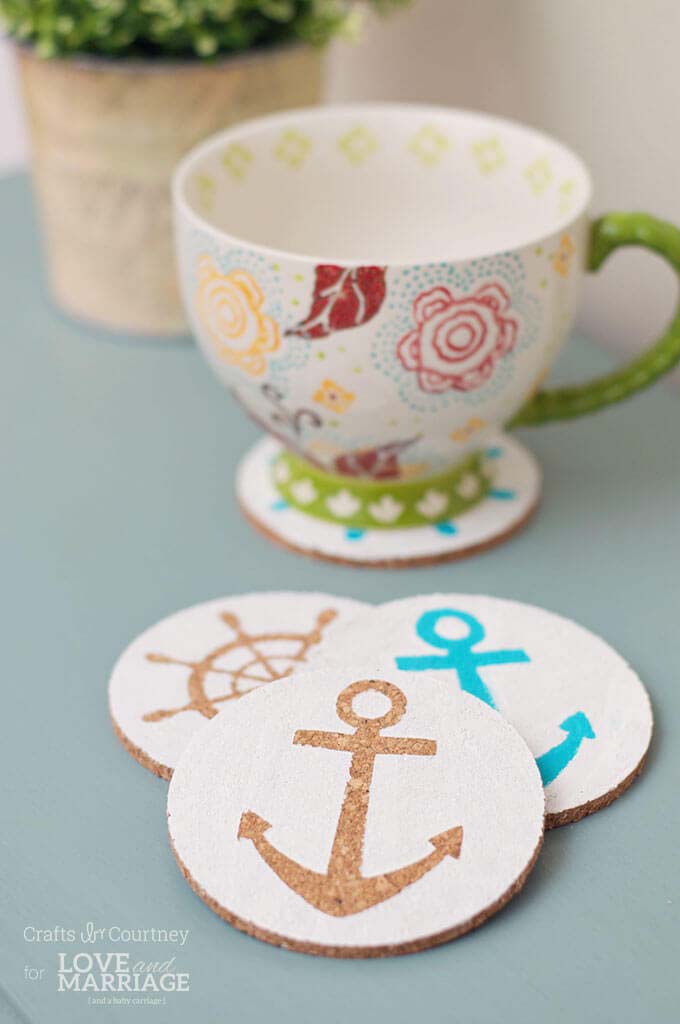 The easiest and quickest way to create a constant feeling that the holiday season is already here is with fun naval-themed coasters.
Imagine how you serve your coffee on a cork coaster with a painted sailing symbol? Don't you easily drift away to the beach memories?
18. Rope Brings Sailing Theme to Shelves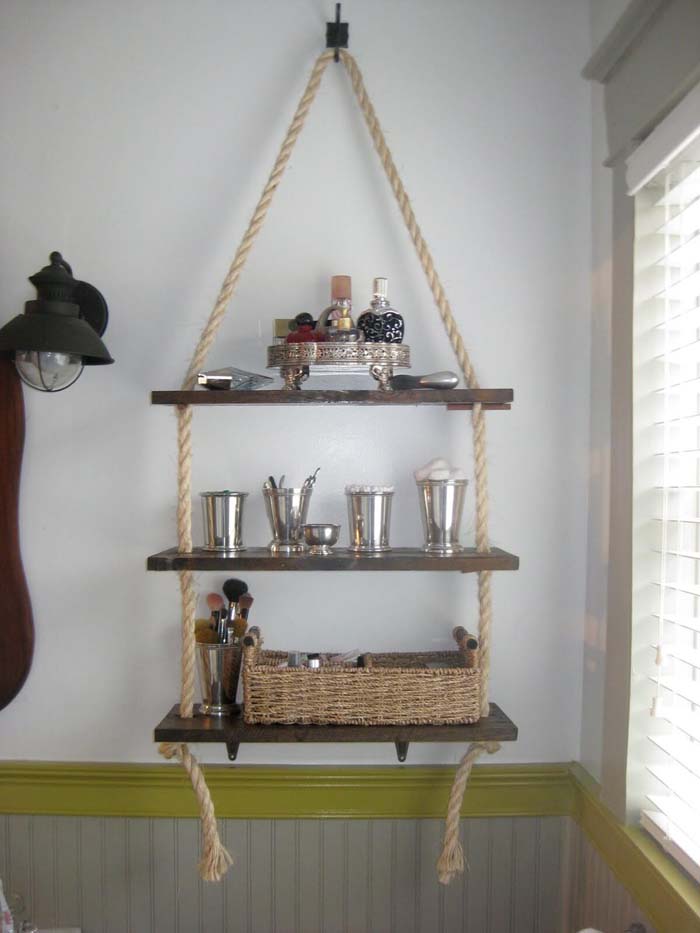 A rope is related to sailing so anywhere you use it in your DIY crafts will leave a nautical impact. This handmade hanging shelf aims to match the storage piece with the existing farmhouse interior.
This unit is great for added extra storage in small rooms. For more bathroom decor ideas in the nautical theme, check the collection below.
via A Walk Through
19. Unique Shelving With Driftwood and Boat Cleat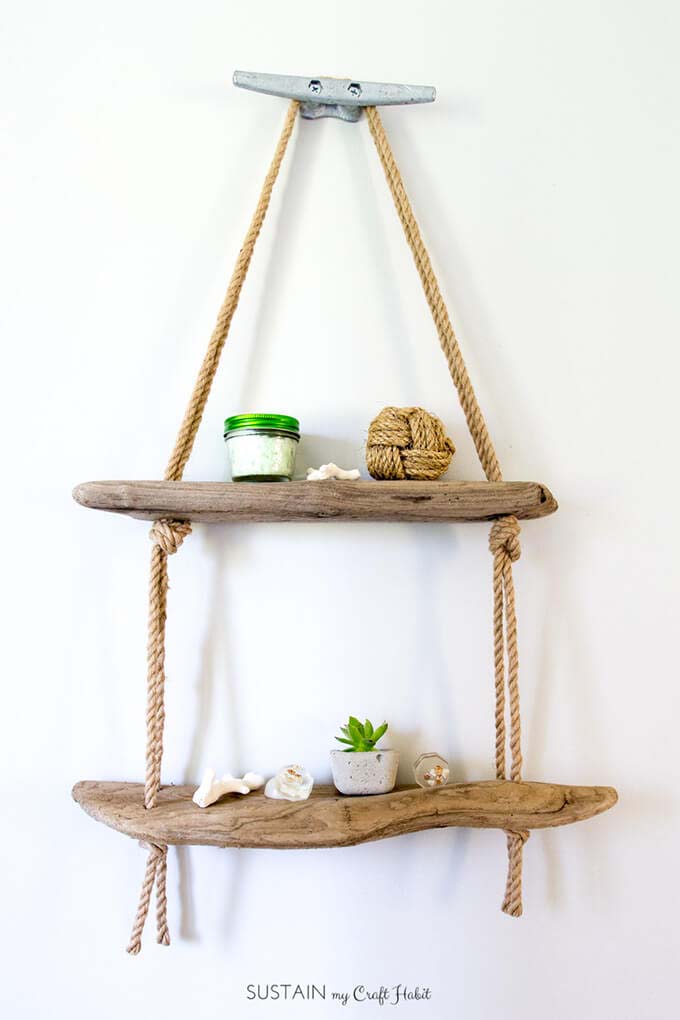 Another driftwood craft idea showcases how two pieces of driftwood are turned into a unique and impacting hanging shelf!
Assembling the wood pieces into a vertical unit happens with a thick rope and secured knots at the bottom side of each shelf level. For an enhanced coast-inspired look, hang the shelf unit on a cleat screwed on the wall.
20. Easy Wall Décor Using Shells and Driftwood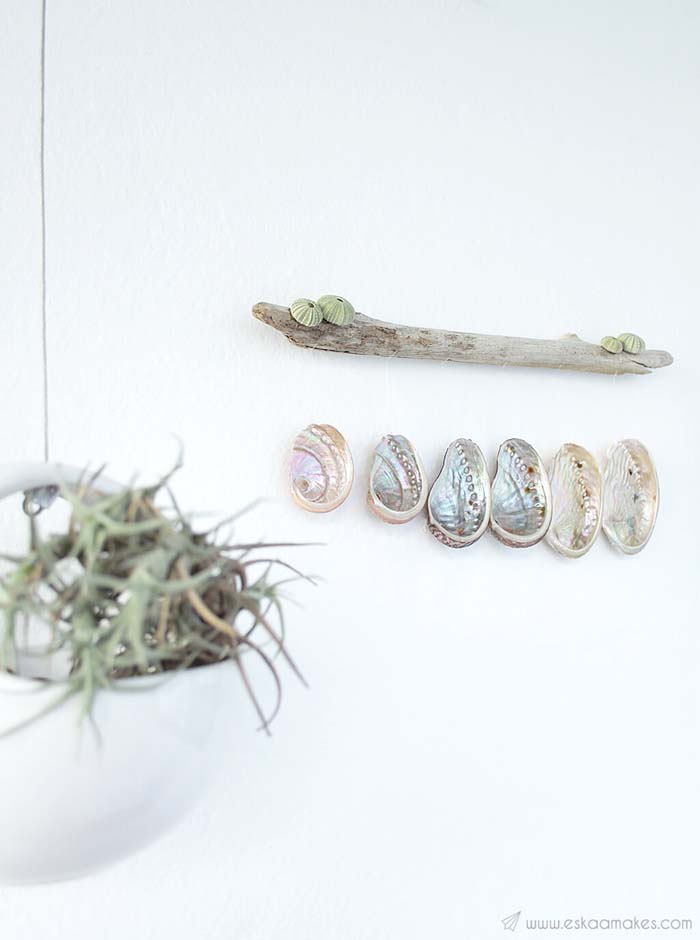 If you want to bring the beach easily and quickly to your home, do it with this simple wall art idea. Pick up those shells of your collection that are most impressive and hang them on the wall.
You can use a slat to screw or glue them on. Complete the nautical wall art with a driftwood piece, an anchor or another ocean-inspired item. Repurposing the beach treasures into interior accents grabs attention and effortlessly brings ocean nature into your home.
via Eskaa Makes
21. Easy Folk Art Sailboat Project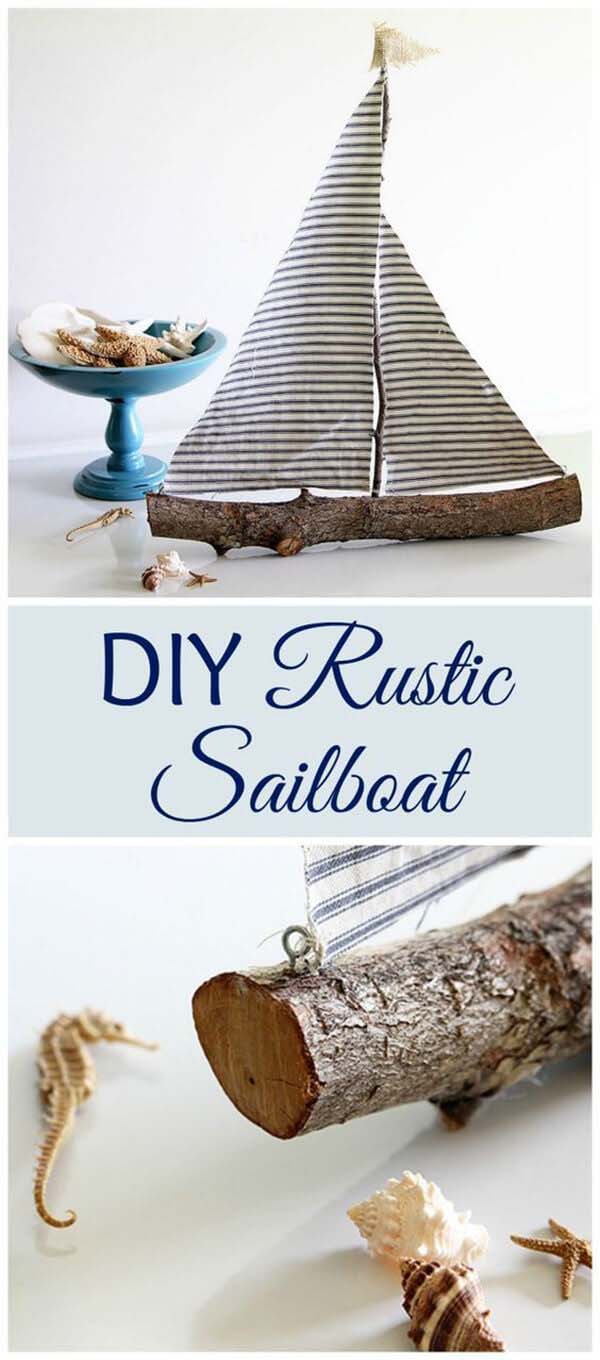 This DIY sailboat idea is gorgeous! The best of it all is that it is easy, eco-friendly and needs only an hour to make!
Take a tree branch and a piece of striped fabric to put together the rustic boat. Place it in your coastal decor corner and surround it with beautiful seashells.
22. Make Simple Salt Dough Starfish Garland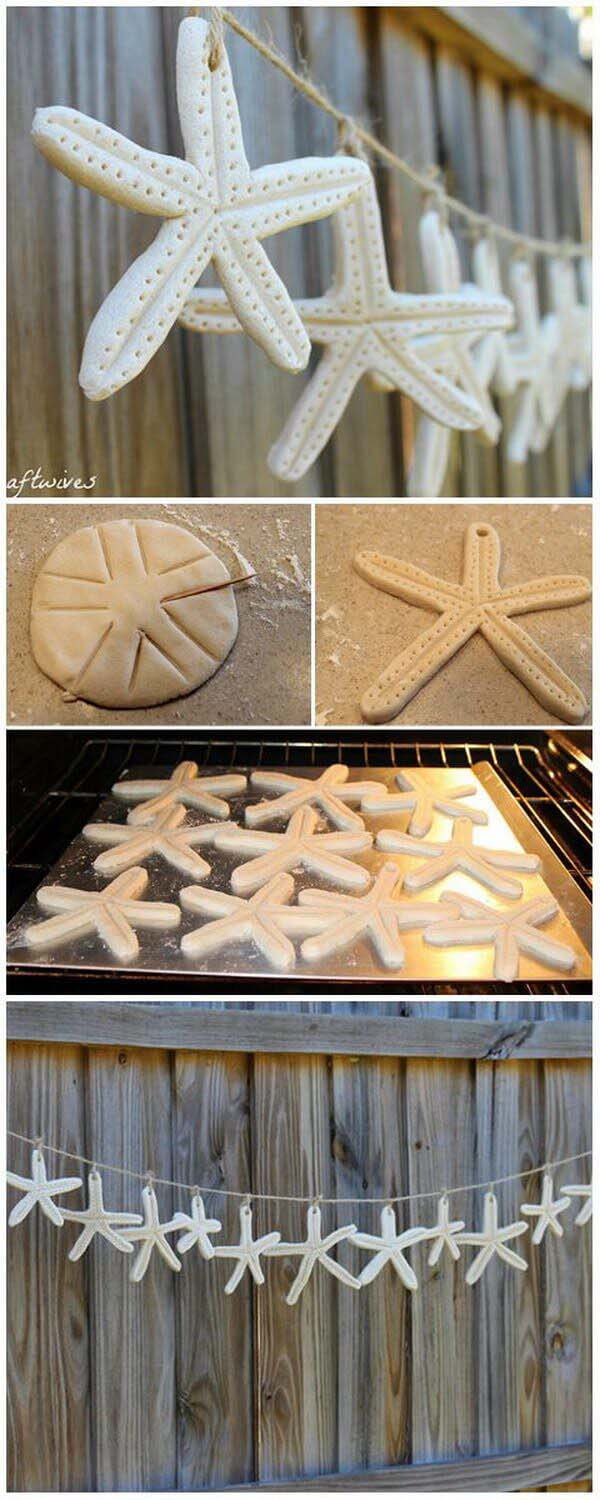 If you don't have enough starfish to make your coast-inspired decor, you can make realistic ones from salt dough! This DIY nautical decor idea is children-friendly so you can make the next weekend fun and exciting for your kids!
The starfish shape and the holes around the periphery of it are made with toothpicks. Bake the creatures in the oven and then hung them on a piece of rope or twine to make a fascinating fence garland.
23. Party Supplies Become Garden Gate Masterpiece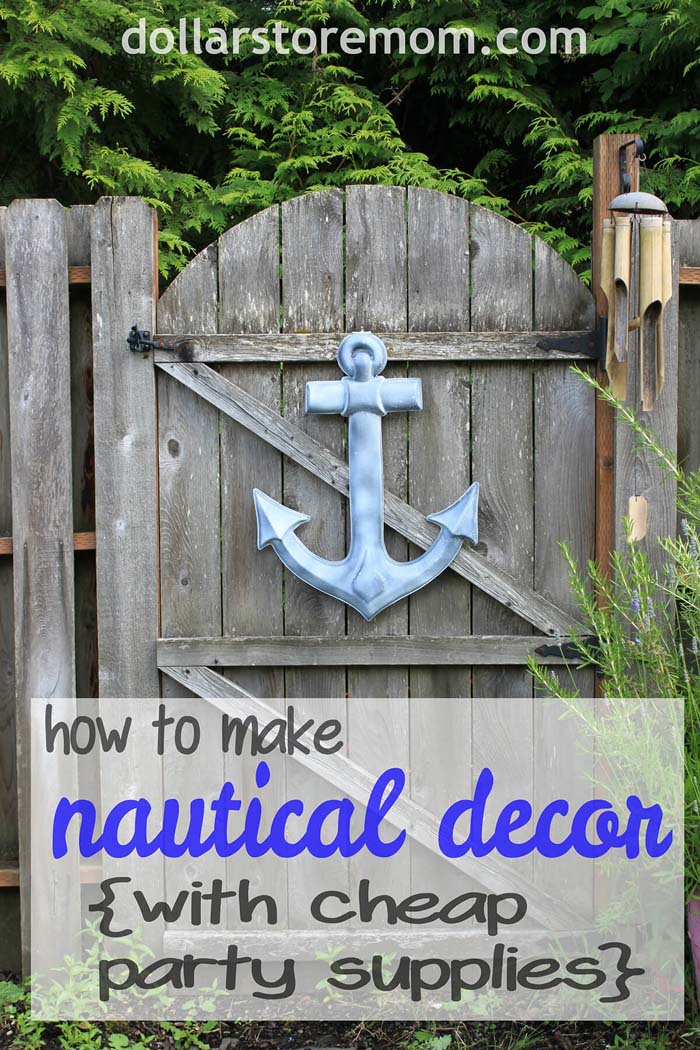 Believe it or not, this oversized anchor sign has been found at a Dollar Store. It has been part of the cheap plastic party decorations but with a little paint, the artificial plastic texture has been transformed.
The size of this nautical decor piece is perfect for larger bare surfaces such as empty walls, fences or gates.
24. Craft Delicate Wind Chimes From Seashells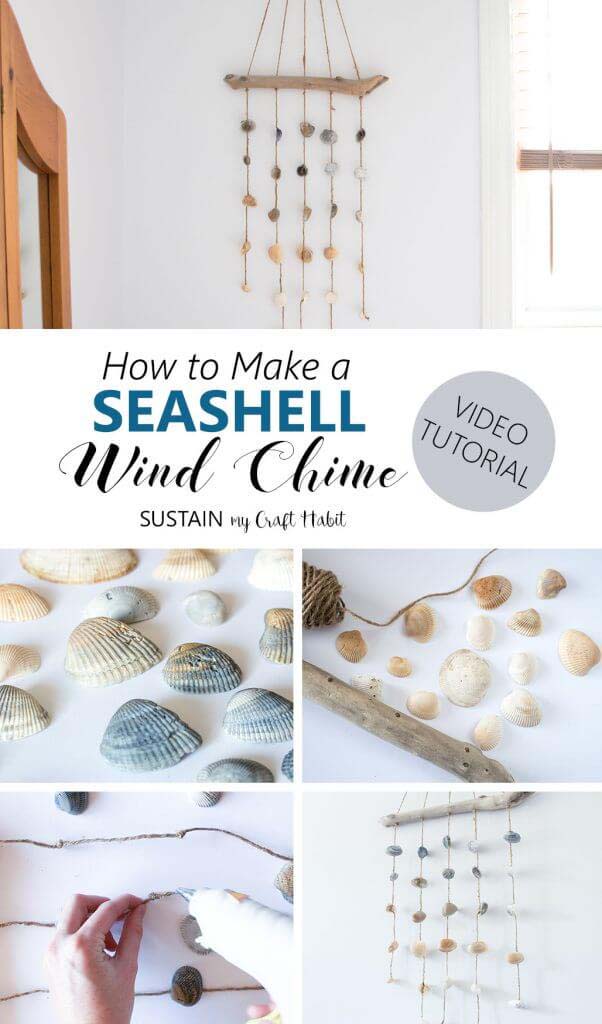 A nautical-themed wind chime? Yes, that is totally possible. Prepare rope and a handful of seashells and a hoop or driftwood.
The rope is great for outdoor projects because it is sustainable to the outer conditions for a long time. Make small holes in the seashells or glue them directly to the rope lengths.
The wind chime is ready to be displayed on the front porch where the summer mood is already on.
25. Mason Jar and Fishnet Tea Light Project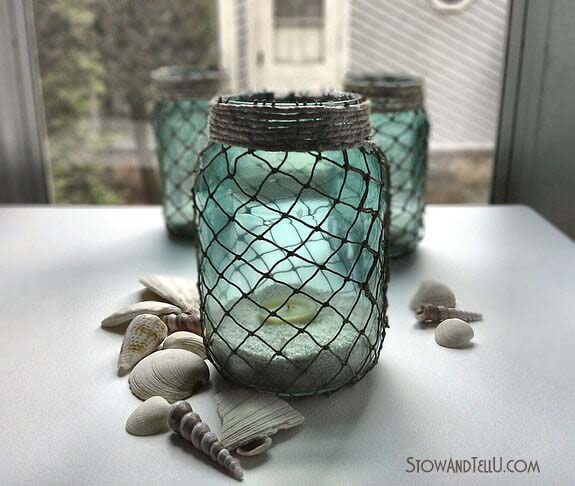 Make unique Mason jar lanterns with a nautical look to turn a windowsill or a mantel into a welcoming and cozy coast-inspired nook.
Blue-colored jars work perfectly for this idea as they mimic beach glass. Fill the bottom of the jar with sand and insert a LED candle in the middle.
You can wrap a piece of twine around the neck but for an enhanced nautical effect, wrap the jar first with a piece of twine net.
via Stow and Tell U
26. Make Miniature Lighthouse From Table Leg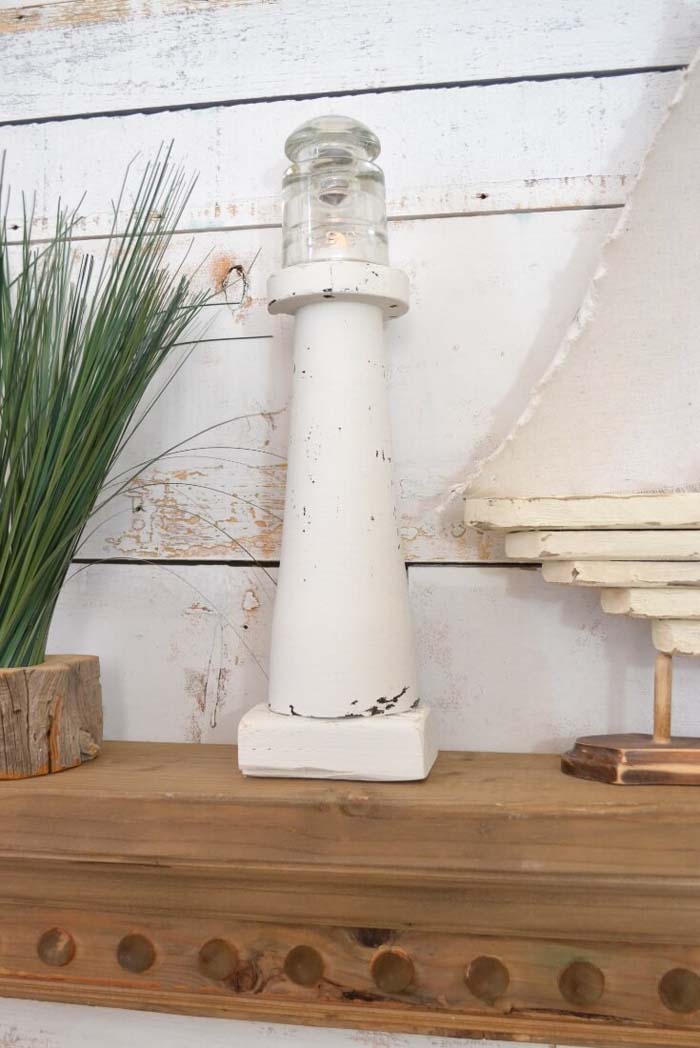 You can make your own coast-themed statues from old pieces of furniture. For this inspiring and creative idea, you need a spindle leg of a table and a battery-powered candle.
The final look of the assembled piece is an amazing lighthouse with rustic beauty. You can also make a sailing boat from other reclaimed wood pieces.
27. Use Rope for a Hand Lettered Sign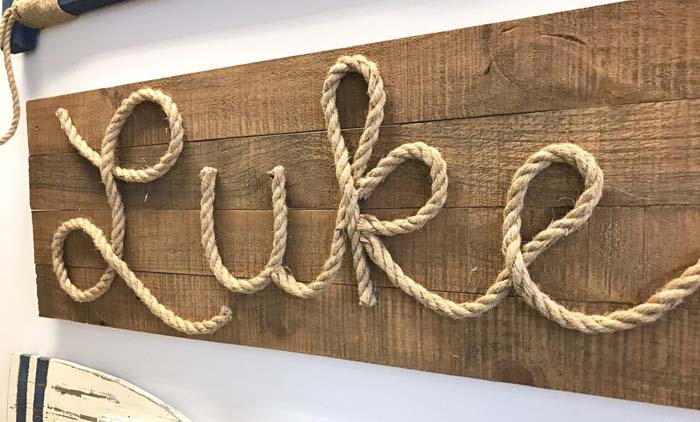 Make a customized sign with a nautical decor impact with wooden slats and rope. The size of the wooden basis depends on the length of the word you are going to inscribe.
To make sure that the letters are clear and good-looking, trace them on the wood first with a marker. Prepare the rope lengths and twist them on the wood forming the letters. Once you are happy with their curves, glue to secure.
via Caden Lane
28. Create Beach-Themed Plate Charger From Rope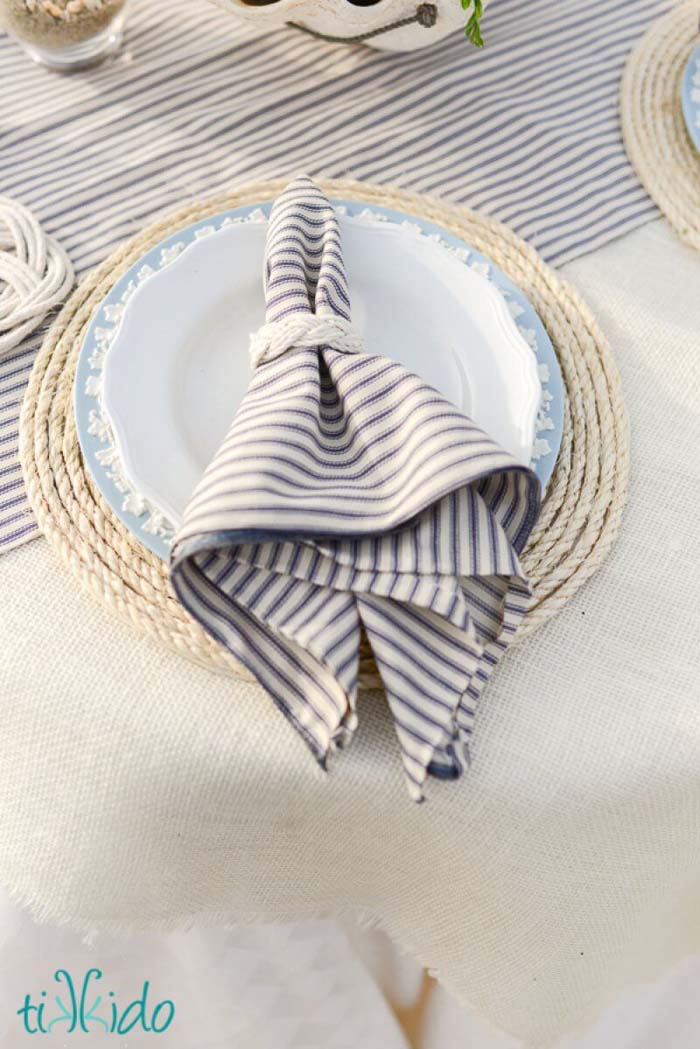 This jute rope table charger will add to your summer interior décor a piece of the coast. It can be in any shape- round or square.
Placed on a white tablecloth and complemented with napkins from sea-patterned fabric, you will create an appealing table setting that will make your guests feel welcome and special.
via Tikkido
29. Hang a Picture With Small Wood Anchor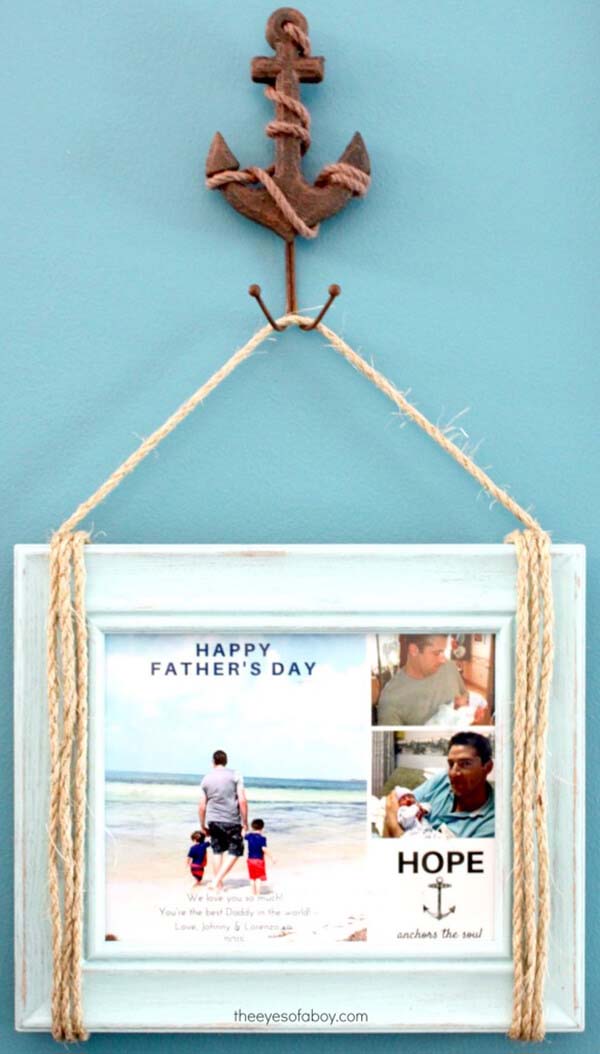 The rope is one of the secret weapons for giving a decor piece a nautical look. If you already have picture frames holding special memories from a vacation, you can upgrade them into themed by adding some rope around the wooden frame.
The wood can also be changed a bit with a lighter color tone that matches the nautical theme- white, gray, green, blue and red are all related to the navy palette.
via Wildly Charmed
30. Driftwood Frame and Fishnet Knot Lamp Shade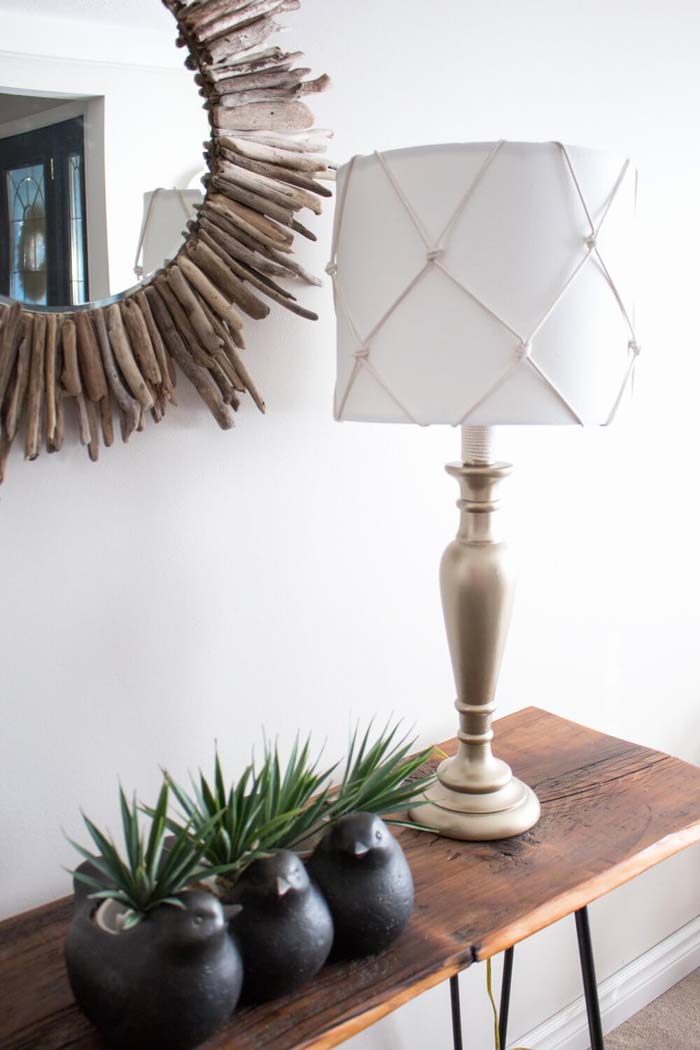 Make an existing reading lamp ocean-themed with a new shade wrapping. It is made of rope strands attached to each other with knots. The final result mimics the pattern of a fishnet.
This is an easy and very affordable nautical DIY decor idea for a makeover of a plain reading lamp.
31. Beach Glass Bottles With Sand and Shells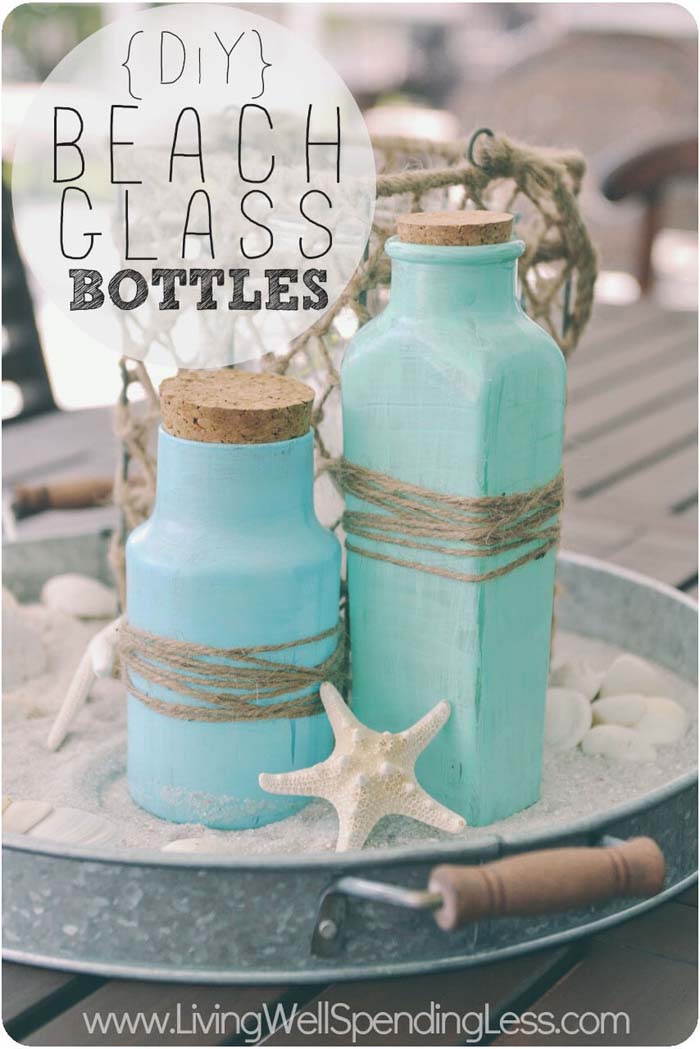 If you would like to make a centerpiece in the coastal theme, get inspired with this easy and impacting tray décor idea!
Two or more glass bottles are needed to be given a beach glass look. You can achieve this finish with frosted gloss paint or with plain acrylic blue paint.
Once happy with the outer look, it is ready for embellishment. If you prefer the simpler look, a piece of twine woven around the bottle is just enough to anchor the beach theme.
Place the bottles in a metal or wooden tray and cover the bottom of the container with some sand. Surround with seashells you found at the beach to complete your coastal centerpiece.
32. Hobby Buoys Display Cottage Number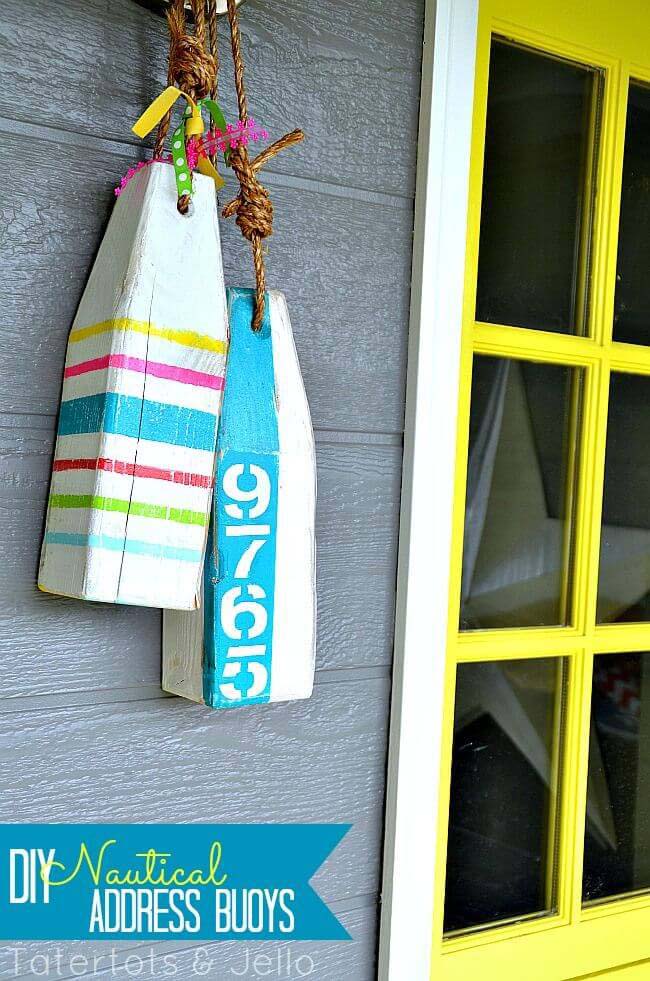 In case you are lucky to have a beach or lake house, then you have the perfect chance to add many and unique coastal decorations.
These DIY address number buoys will look perfect next to your front door. They are made from scrap wood pieces and then painted in bright colors to add a cheerful touch to the neutral wall.
33. Pallet Wood Headboard in Coastal Bedroom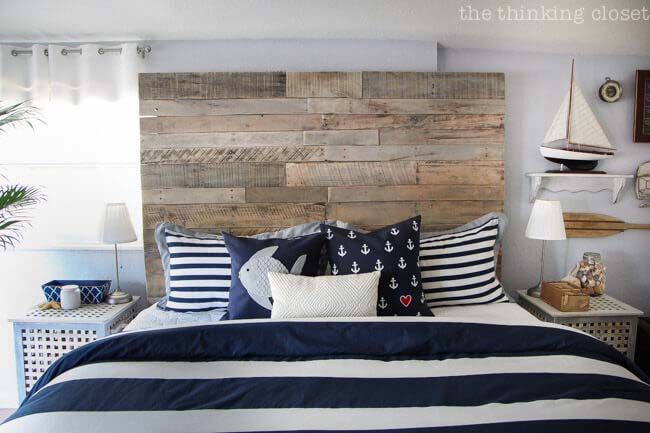 The coastal decor can be added to every room of your home, including the master bedroom or the guest bedroom. The nautical decorations will make it more calming and inviting.
If you focus on the main piece of furniture of the master bedroom, the bed, you can easily transform it into a beach-style piece with a new headboard. Use pallet wood or reclaimed slats to create a rustic piece with a natural driftwood look.
34. Rope Gives Votive Candles a Beach Theme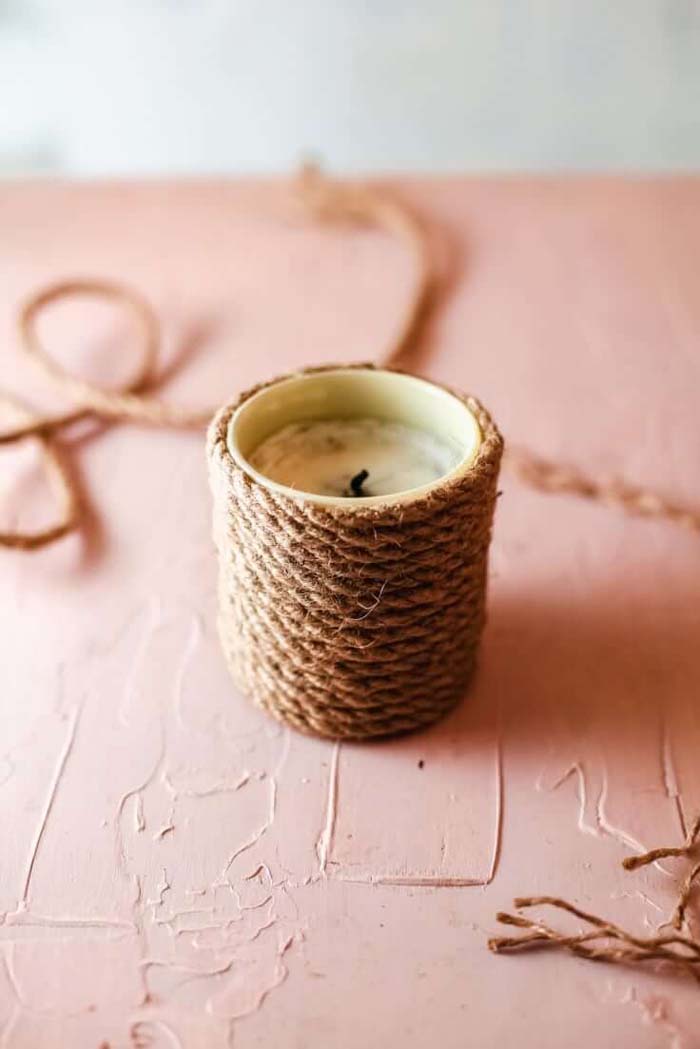 This is one of the easiest DIY nautical home décor projects. Take a glass or plastic candleholder and wrap a rope around it.
Easy, straightforward and impacting upgrade idea that brings the coast to your indoors.
35. Display Fishnet Knots and Monkey Fist Balls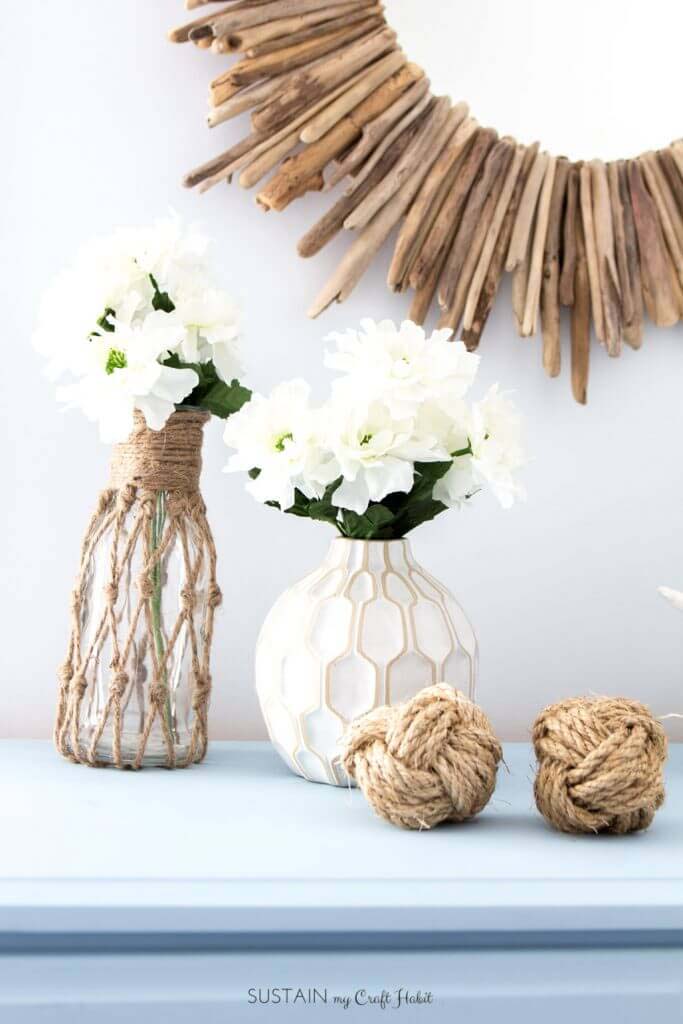 Remember the lamp makeover idea? This is practically the same idea but implemented on another piece. This time the project uses natural twine wrapped around a clear glass bottle.
Finish the net by weaving twine around the bottleneck. This bottle can be used as a vase in the coastal nook.
36. Use White Striped Curtains With Rope Tiebacks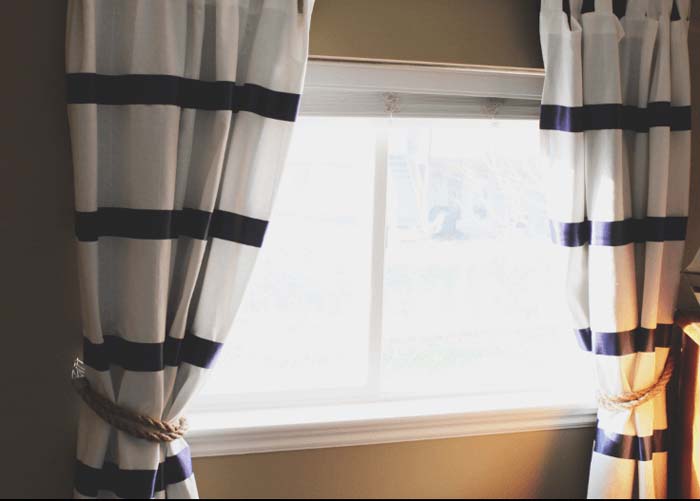 Your blue and white striped curtains will become more attractive with these rope ties. This is a no-sew idea for which you need rope, twine and hot glue.
If you visit the link below, you will be surprised to find out an easy way to give the plain white curtains a nautical touch. Are you curious?
via DIY Divas
37. Wrap Any Lamp With Rope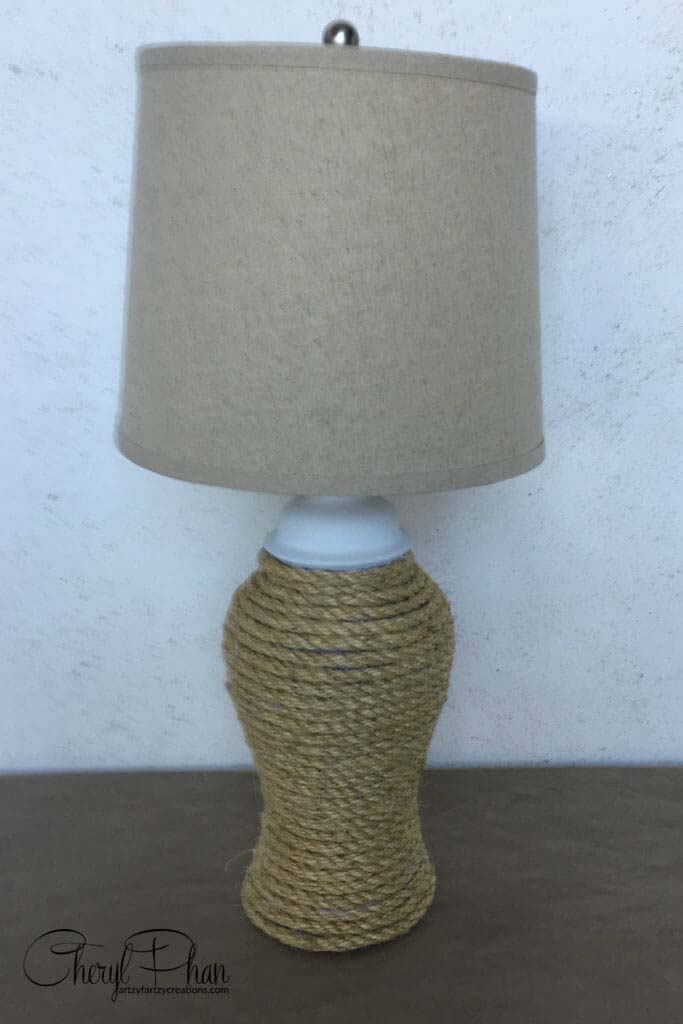 Another lamp makeover idea with rope reveals the steps of dressing the body of the lamp aiming to give it a nautical look.
No need to change the color of the body as the rope hides what's beneath perfectly.
38. Easy Beach Theme Spool Table Project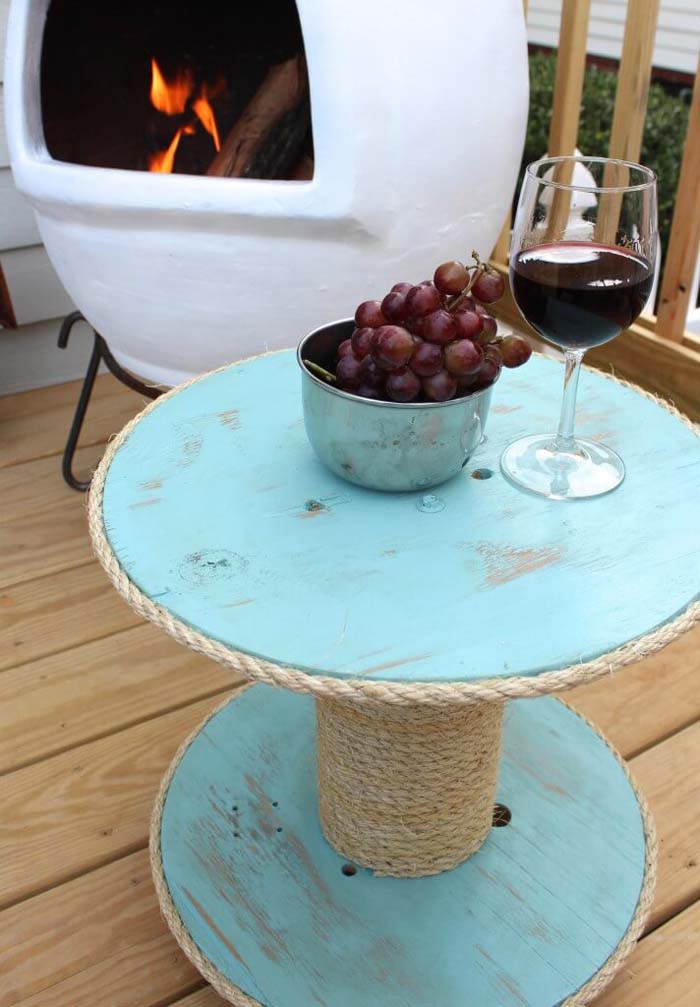 If you need a side table or you already have upcycled a spool into a patio table, here is a makeover idea that can make it suitable for your summer decor.
In case the wood surface of the spool is not treated, it is time to apply a coat of paint in the navy palette. White, blue or milky green colors are perfect for this, especially when applied with the washing technique.
For enhanced nautical effect, wrap the rope around the rims and the body of the spool.
via Simple Stylings
39. Display Candles in Driftwood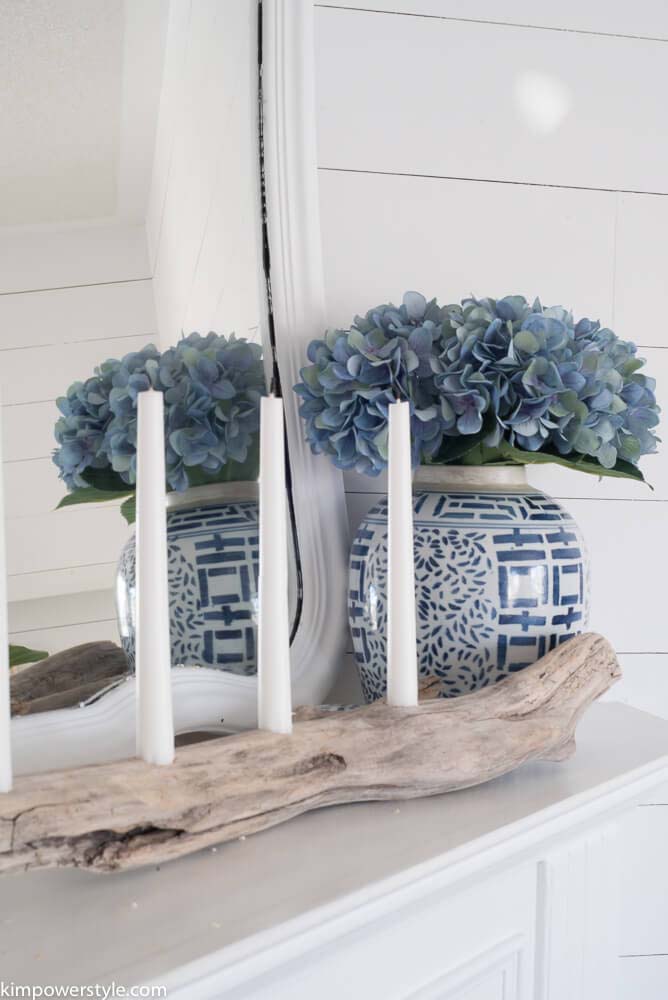 Your summer living room décor will easily embrace a candle holder made of a piece of driftwood. The shape of the wood is unique and there is no need for any modification to make it impacting and appealing.
Simply drill holes to place tea candles in or place them directly on the wood in case there is a flat surface. This DIY project is easy and fun to make and works perfectly with rustic and nautical décor.
40. Simple Nautical Decor Pillow Project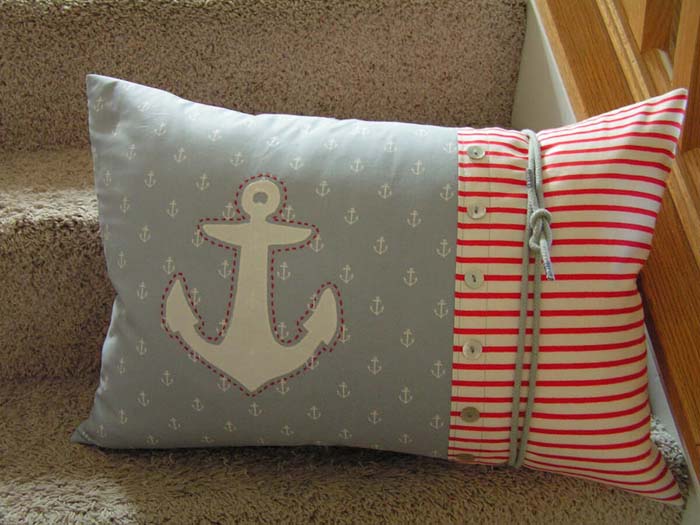 If you are looking for a nautical home decor idea that doesn't require any makeover, repainting or furniture changing, you can implement it in your rooms with new pillowcases.
You can get them ready from the stores in various designs combining the typical nautical colors- red, blue, white and green.
The stripes and the sailing motifs will improve the relationship to the coastal theme.
via Tea Rose Home
41. Serge a Fish Theme Pillow Case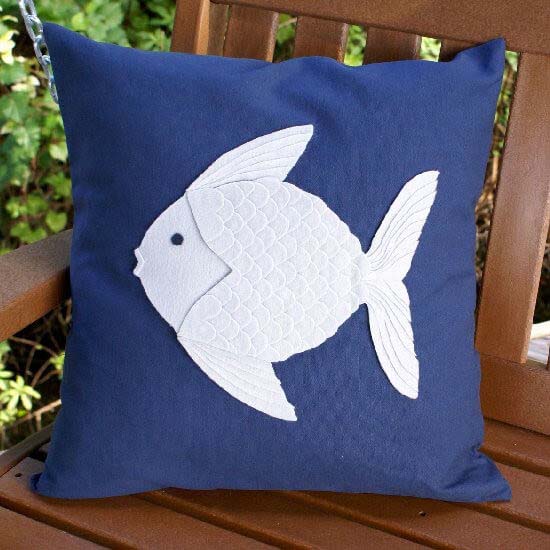 But if you are a fan of making the decor yourself, you can make your own pillowcases. You need fabric in the nautical color palette and some felt sheets to make the embellishments.
This idea will surely add character and texture to your ready-for-the-summer home.
42. Shadowbox Displays Seashell Collection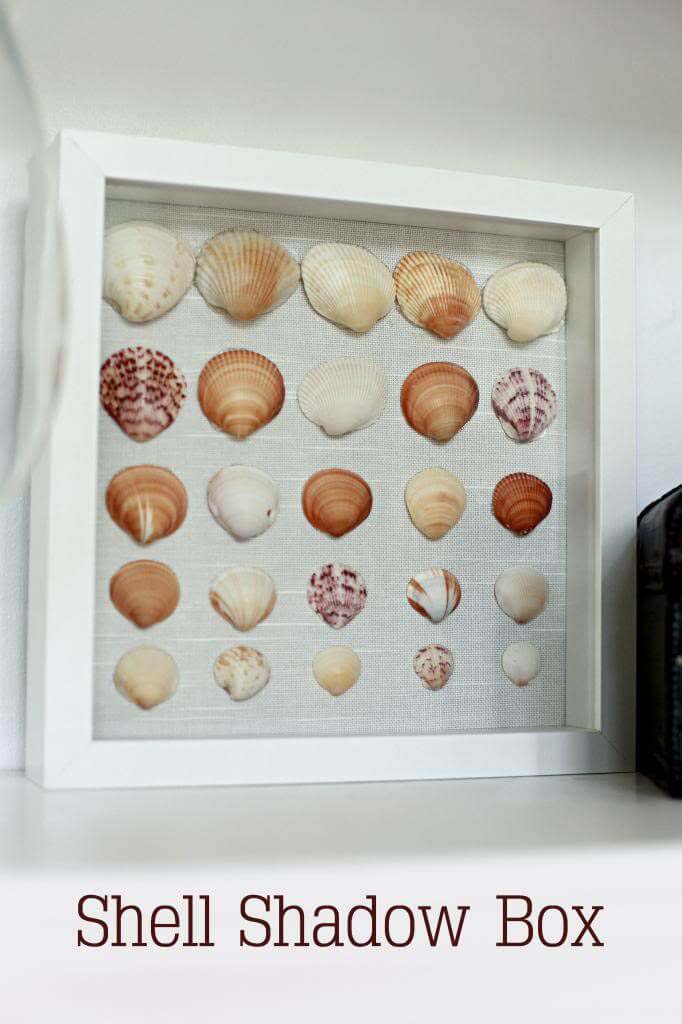 This is another interesting idea for displaying your collection of seashells. This canvas wall art lets you display a selection of sandy color seashells on white background.
In case you are about to arrange white seashells, you can change it with a typical burlap piece of fabric.
via Bower Power Blog
43. DIY Circular Rope Welcome Mat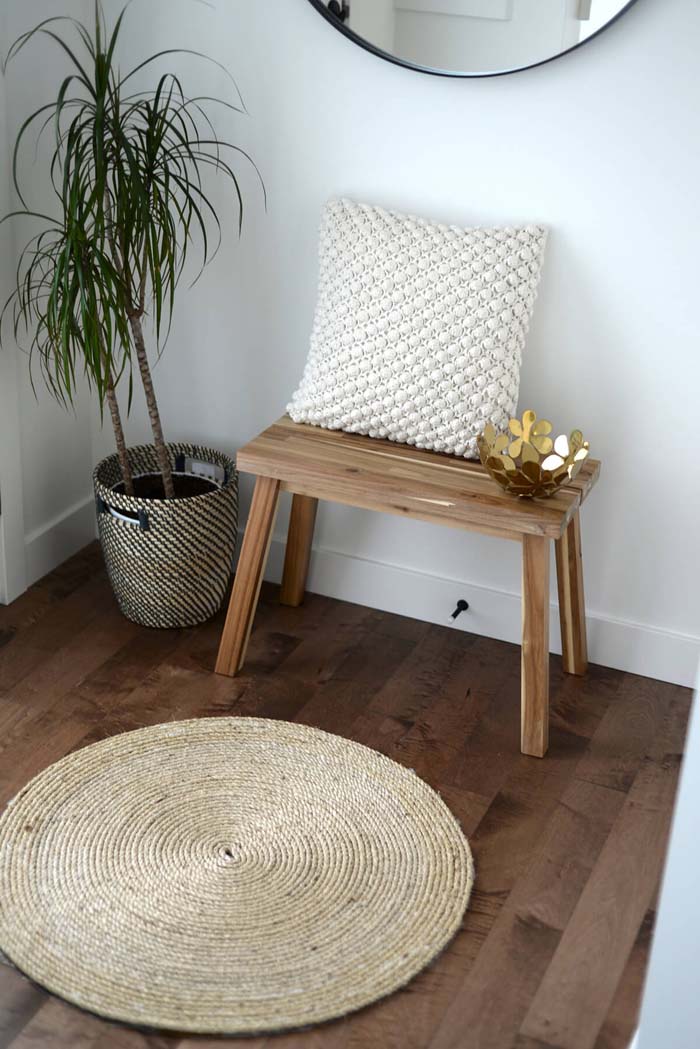 Adding a carpet to the entryway is not practical for maintenance. However, a small rug or mat will be a good décor idea since they will make the space more appealing and homely.
This DIY rug will look great on the floor of the entryway during summer. The texture is rough because it is made of a woven rope, however, it will instantly grab the attention of your guests because of the authentic look and sandy color.
via 204 Park
44. Build Shadowboxes to Display Starfish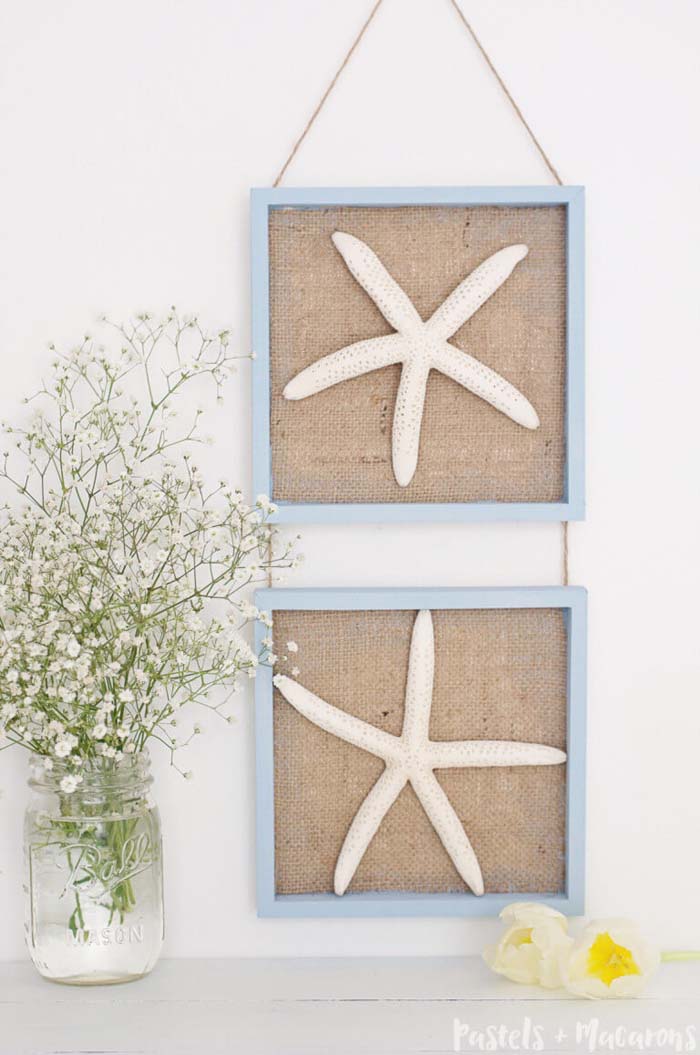 This beach decor wall decor is simple and very elegant.
Two large starfish are displayed on burlap canvases to become framed art spreading the authentic beach theme inside your home. The colors are nautical and perfect to let the starfish be the focus. Pretty, unique and simple, isn't it?
45. Stenciled Anchor Sign Made With Reclaimed Wood

The signs are a great way to enhance the impact of a particular theme. When that is taken to the nautical theme, it means a sign in the typical nautical colors, reclaimed wood, rope and/or a symbol.
This idea incorporates all these in one beautiful sign. What makes it so intriguing is the ombre effect created with blue hues. The added rope makes the sign more beautiful but also ensures a way to hang the sign.
via The Happy Housie
46. DIY Fishnet Rope Décor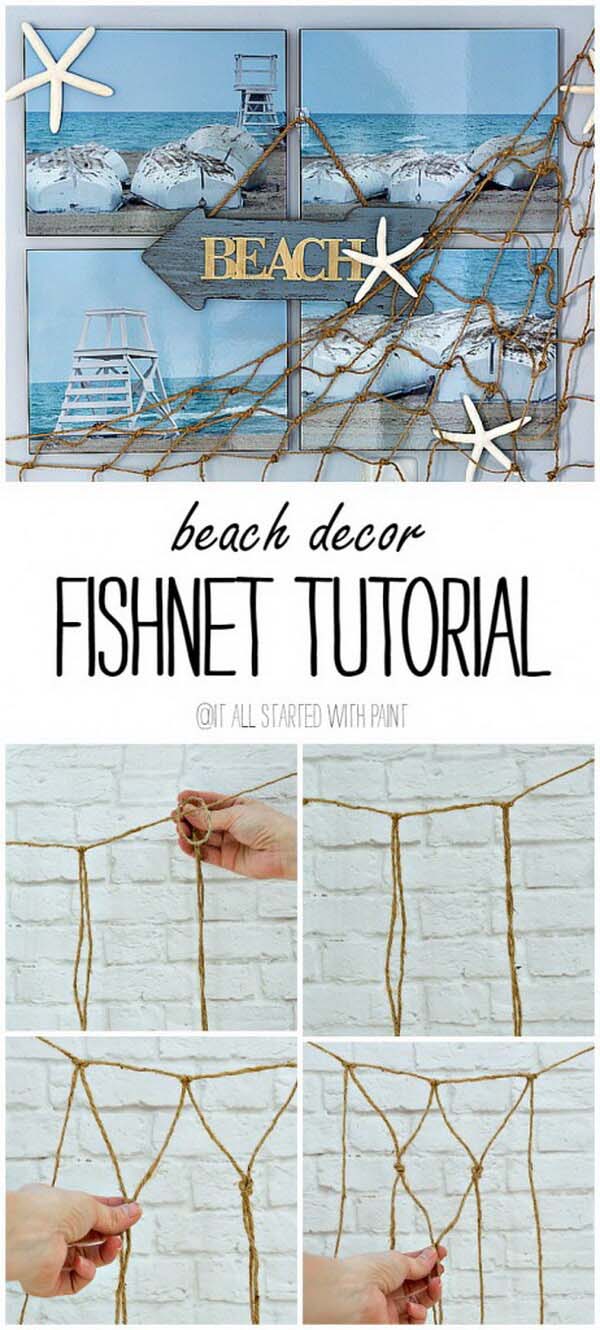 If you live far away from the ocean and you miss the last vacation, you need a piece of decoration that brings you closer to your favorite place.
Put your photos from the vacation that have captured the natural beauty of the ocean in a special frame matching the theme of the images. Add a neutral beach sign, cover half of it with a handmade twine net and embellish only on a few spots with seashells.
47. Turn Wood Clothespins Into Coastal Candle Holder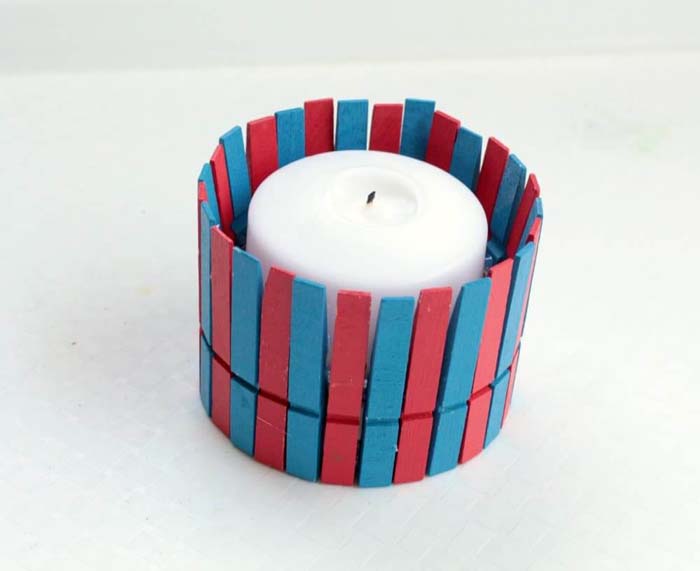 Clothespins can be very useful for simple coastal decor ideas. You can create a new wrapping for the candle holders or a clothespin wreath.
By painting them the typical navy colors, they instantly transform into coastal-inspired décor supplies.
via Life Over C's
48. Rope Hangers Bring Ocean Theme to Frame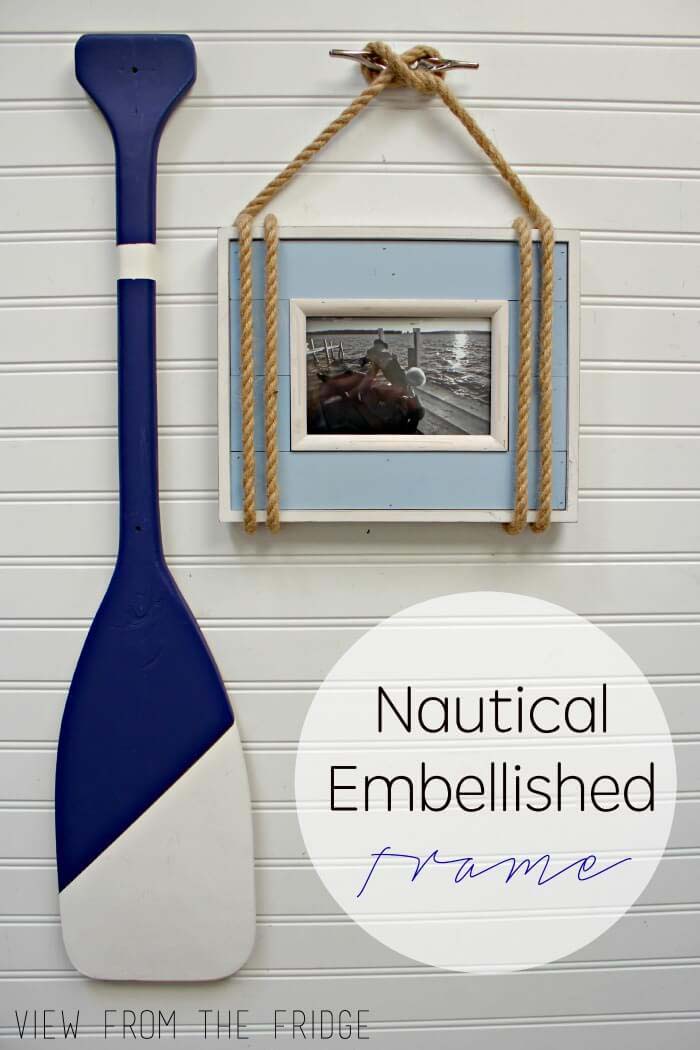 Make an existing frame coast-themed with paints and rope. Apply a thick coat of white and milky blue paint of the wooden parts. Once it has cured, you can start with the rope embellishment.
Weave it around the sides of it leaving the ends loose to form a hanger. The rustic look of the frame will suit best a black-and-white photo.
via My Crafty Spot
49. Rope Project Revives an Old Mirror

Mirrors are typical indoor decorations. You can easily adapt them to your summer decor with rope. The idea shown here is suitable for mirrors with wider frames so as to let a number of rope strings are glued on them.
50. Decorate Old Wine Bottles in Nautical Theme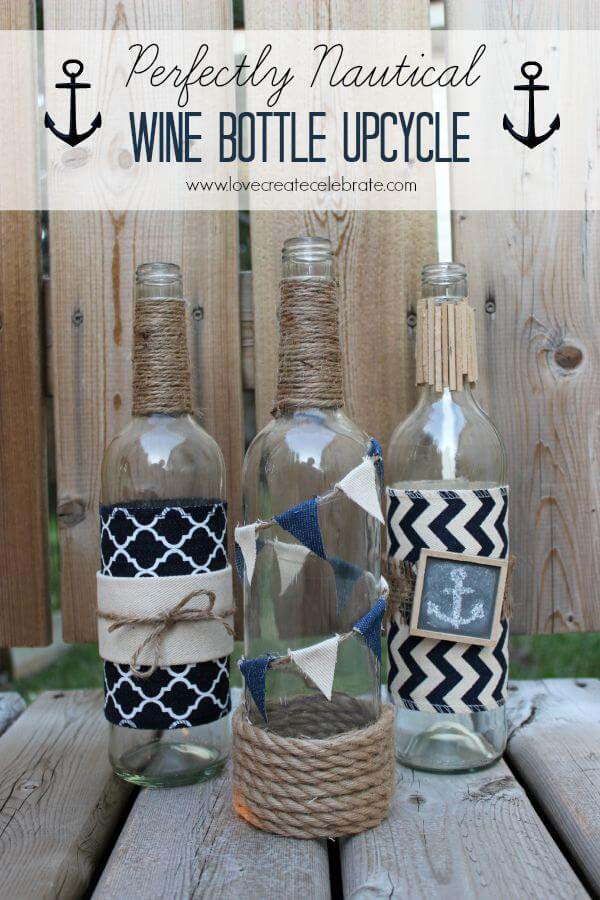 You can combine different embellishing elements to give your existing décor a nautical look.
For example, the glass containers can be updated with new coastal dresses with the help of fabric scrap pieces, rope, twine, shells, and popsicle sticks.
51. Nautical-Themed Tablecloth Converted Into Rug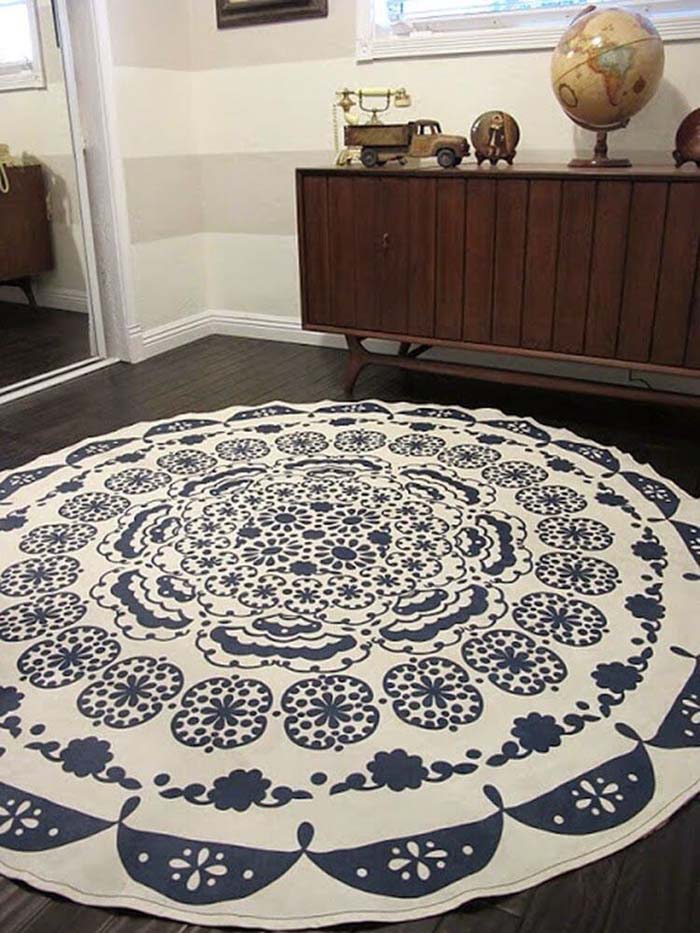 This is one of the cleverest ideas ever! A table cloth with nautical pattern elements is turned into an adorable rug.
With the suitable supplies, the slippery fabric becomes steady and fixed as a real rug. Money savings are tremendous which makes this DIY nautical decor idea worthy to be tried out!
52. Make Faux Glass Fishing Buoys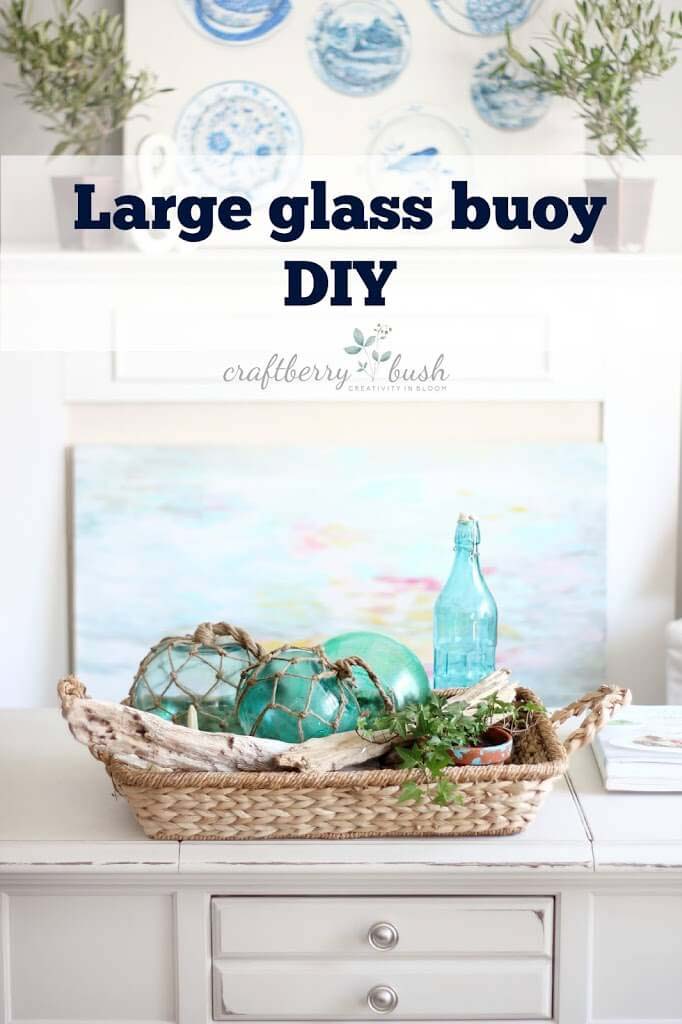 If you have searched the stores for glass buoys, then you know how expensive they are. Well, this is your savior to add them to your nautical living room decor without spending a fortune.
For this DIY idea, you need round glass bowls from the Dollar store, each costs not more than $3. There is a special dye technique to achieve the beach glass surface effect. Make sure to follow the steps from the tutorial, to achieve the final inspiring look.
via Craftberry Bush
53. Use Rope for Cursive Lettering Wall Art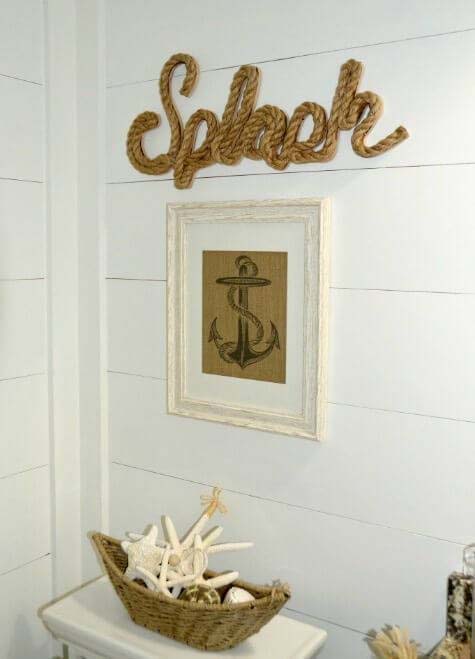 The idea of the lettering with rope can be implemented directly on the wall. This makes sign-making easier as there is no need for slat assembling and treatment.
This type of letter sign is perfect for beach or lake houses where you want to add a fun vibe to the rooms.
54. Burlap Wreath Gets Nautical Nod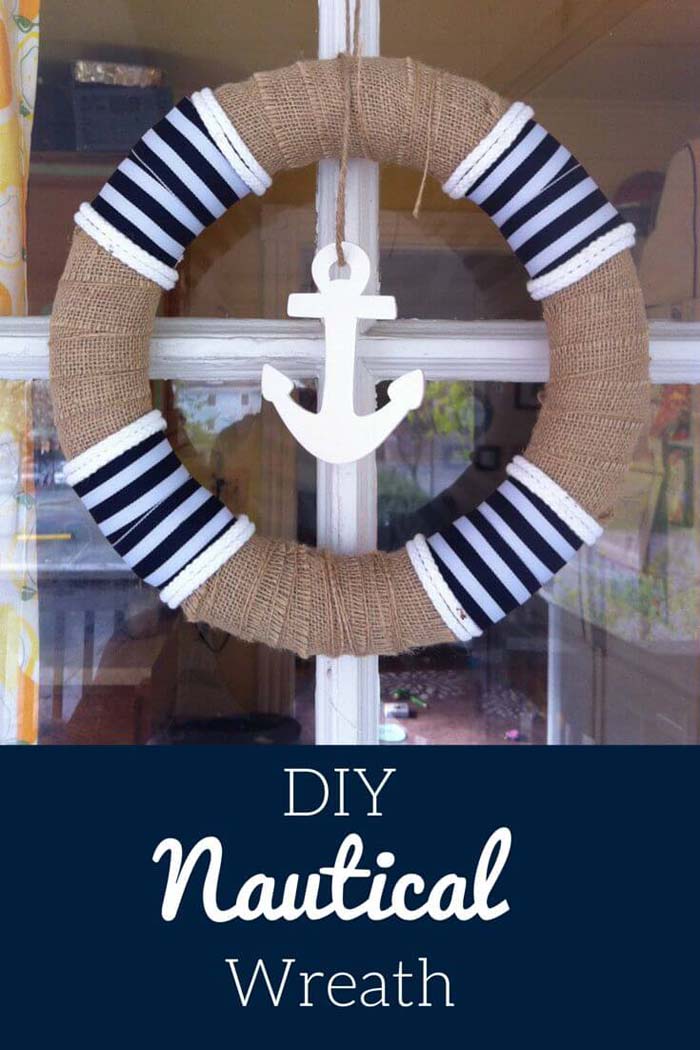 Say in a straightforward way that you are ready for summer and that your home reflects it with this nautical wreath! For that project, you have to prepare burlap fabric and other fabric in a nautical pattern. Stripes in blue and white are perfect for this purpose.
Cover a Styrofoam ring with the burlap and then start embellishing with the smaller pieces. This idea can be customized to your own taste by adding shells, starfish or changing the color of the hanging anchor sign.