Are you looking for budget-friendly patio paver ideas that could immediately boost your curb appeal? Well, that's why we created this list with easy ideas. Most of these simple DIY projects are made with inexpensive tools and materials that you can afford. Don't fall for those luxury stepping stones and overpriced pavers from the magazines – they are no different than the ones in this selection.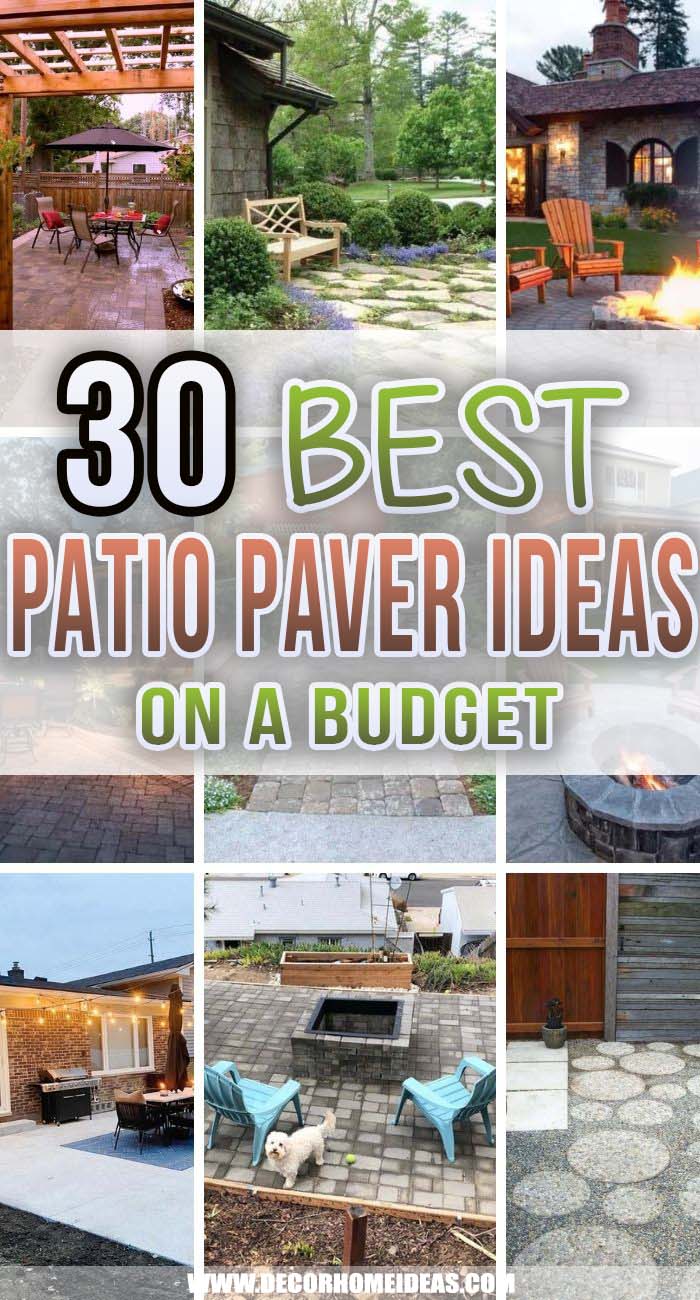 How you place, arrange and decorate them will make the difference between an ugly and dull backyard and a friendly and inviting outdoor living space.
What is the cheapest paver for a patio?
While gravel is the cheapest material that could be used, it is not a "paver" but rather a paving substance. So if you really need to use the cheapest option – that would be concrete or brick pavers.
What are the easiest pavers to lay?
Concrete pavers are units made from molds. The molds allow for precision in shape and size. This uniformity makes them relatively easy to install.
Is it cheaper to lay concrete or pavers?
As far as installation costs and concrete costs go, poured concrete is technically the most affordable per square foot, but you will face a limited decoration options – this is where pavers could really do the trick and create the perfect garden oasis.
1. Aggregate Pavers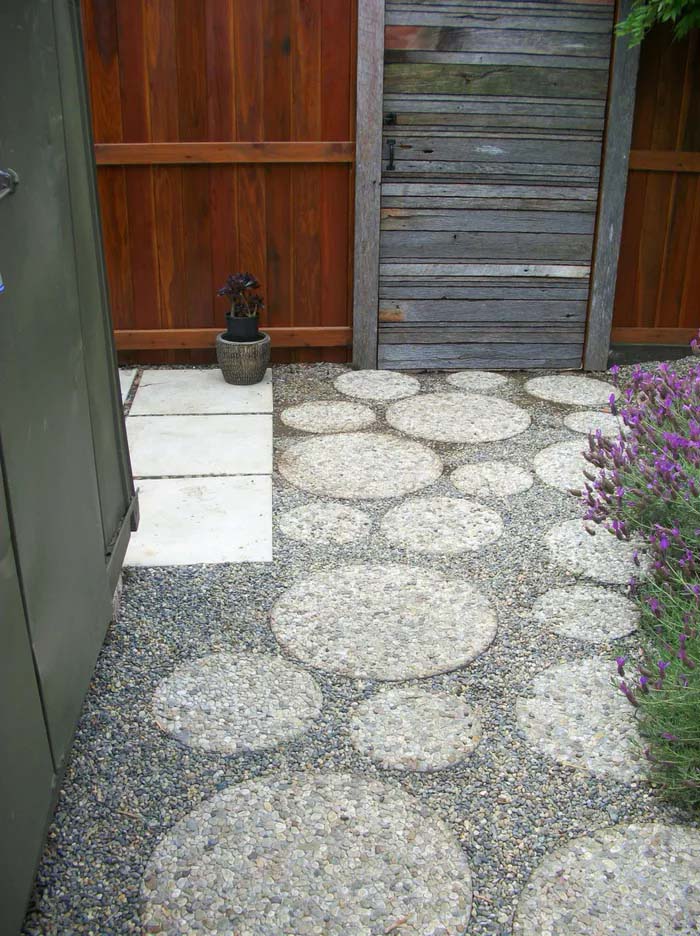 Drop round paver stones on a path and surround it with pea gravel. You can also achieve a similar patio design by mixing light gravel in with concrete in round forms.
This gives you the flexibility to choose your color.
via Lisa Hallett Taylor
2. Custom Colors Boost Patio and Oven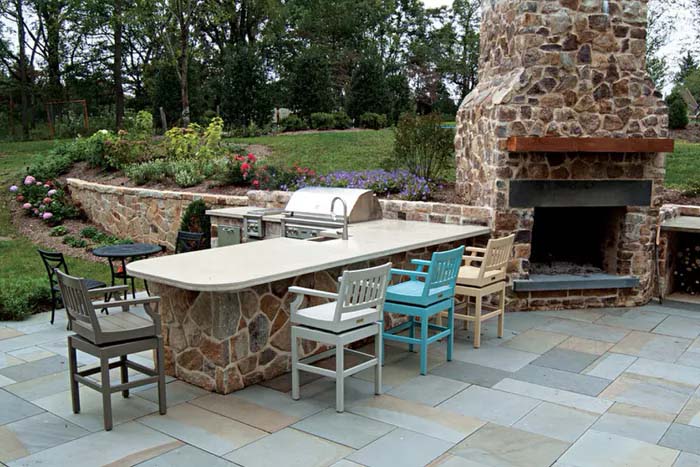 The colors of this paver patio match the colors of the fireplace, seating area, and retaining wall.
You can also pour a cement top with the same tint.
3. Bluestone Pavers Adds Subtle Colors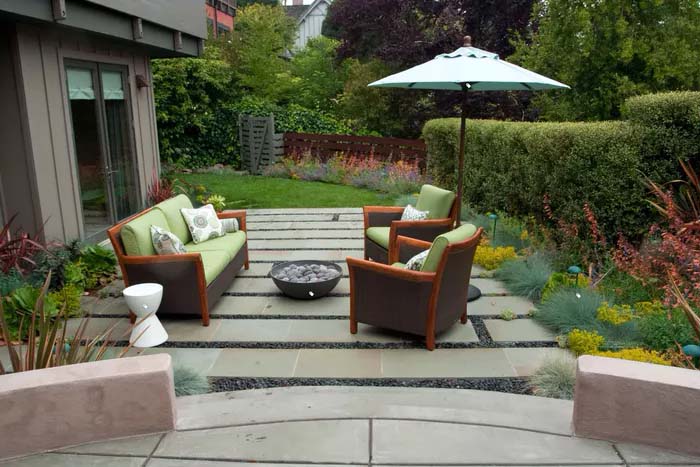 Here's an unconventional paver idea. This backyard used bluestone pavers dropped in to create long rectangles.
Black natural stone pebbles filling in the gaps are made from lava. They bring out the subtle hues in the pavers.
via Shades of Green
4. Bluestone Pavers Bring Serenity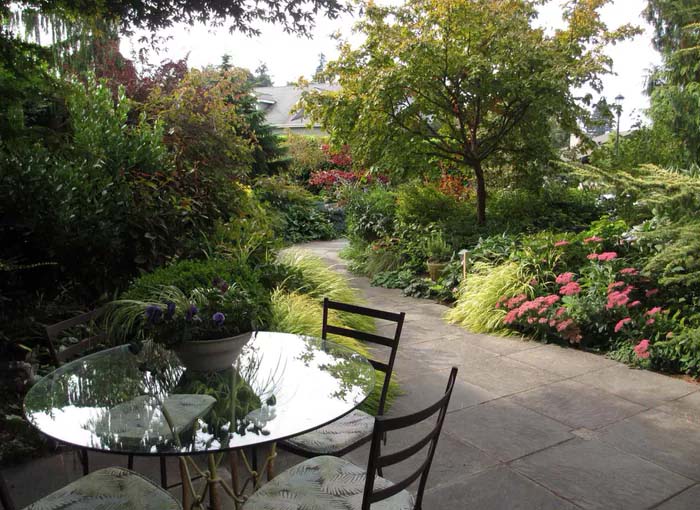 Bluestone pavers create a calming feel and look darker than cement.
Small granite squares in between the pavers add interest and work as a fix if there are any slabs with chipped corners.
5. Design Custom Shapes With Versatile Bluestone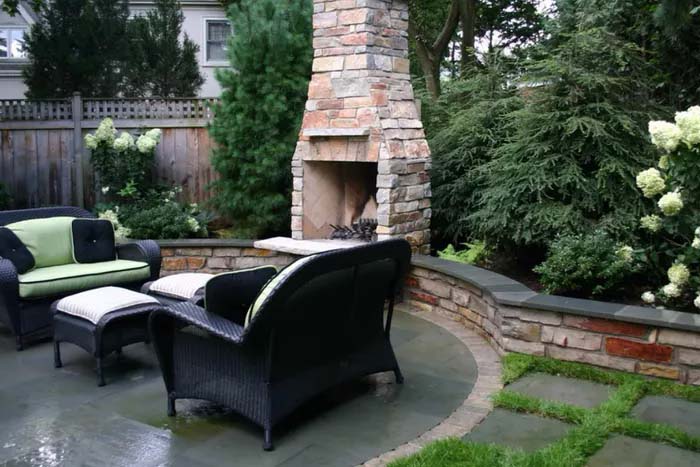 Bluestone is easy to work with, so you'll see them in a lot of paver patios. Cut them with a power cutter using a diamond blade to create any shape you need.
You'll see them here creating a circular seating area and on top of the low retaining wall.
via Carol Heffernan
6. Stamped Concrete Looks Like Patio Pavers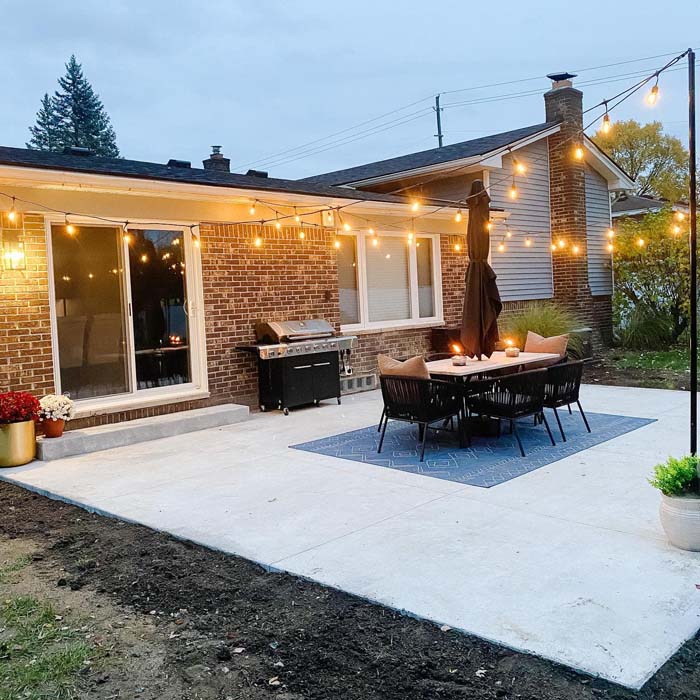 Pouring concrete for your patio doesn't mean it has to look like one large block. It can be scored with a template to make it look like tiles.
Paint and seal it for a personal touch.
via It's Honey Done
7. Fire Pit Gets Its Own Flagstone Patio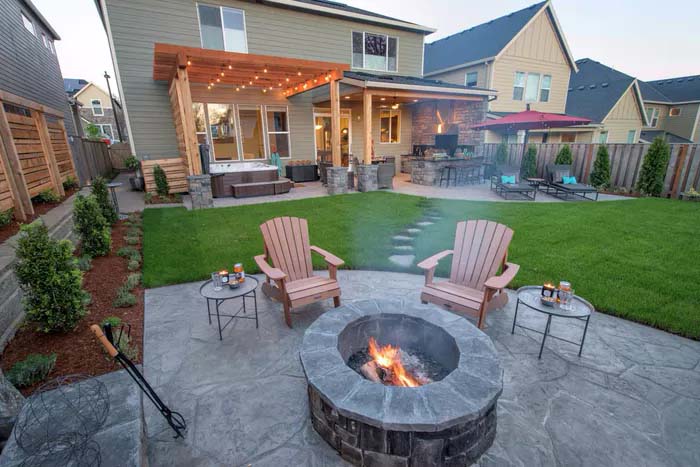 Extend your entertainment area by building a firepit in the far corner of your yard.
The fire pit here is topped with the same flagstone that was used for the patio and the path that connects the two zones.
8. Rough Pavers Add to Country Cottage Vibe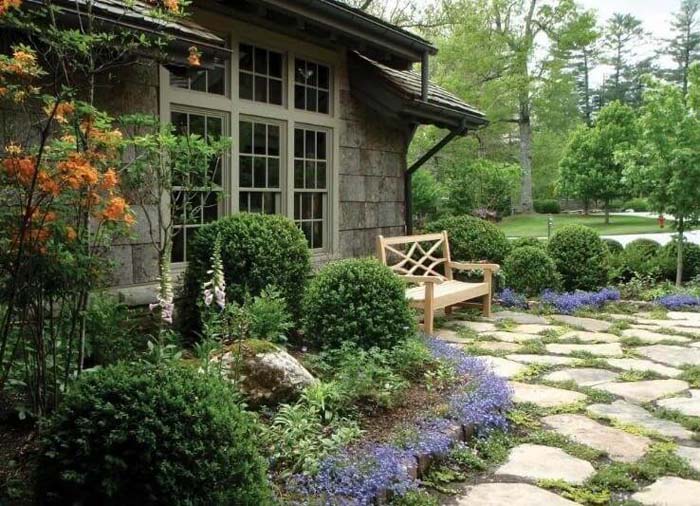 The cottage look gets a boost with irregularly shaped paving stones. You can grow herbs in-between stones that are set this far apart.
A wood bench nestled under the awning completes the look.
9. Flagstone and Poured Concrete Patio Idea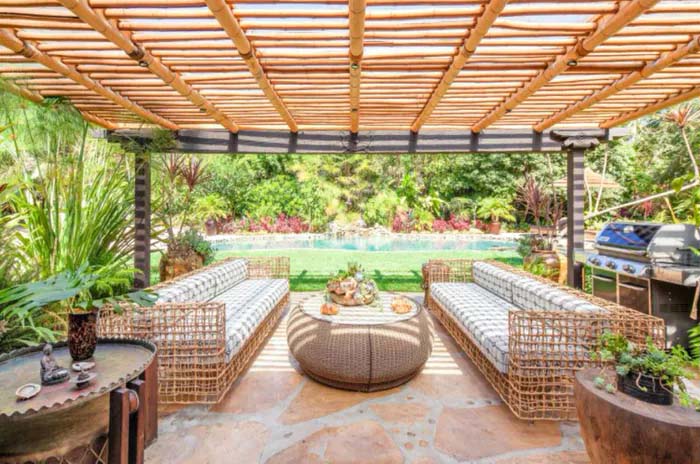 Use flagstone and concrete when you have a small budget and a large entertainment area to cover. Smaller stones can be set into the gaps.
via Jodi G Designs
10. Use Flagstone to Add Seating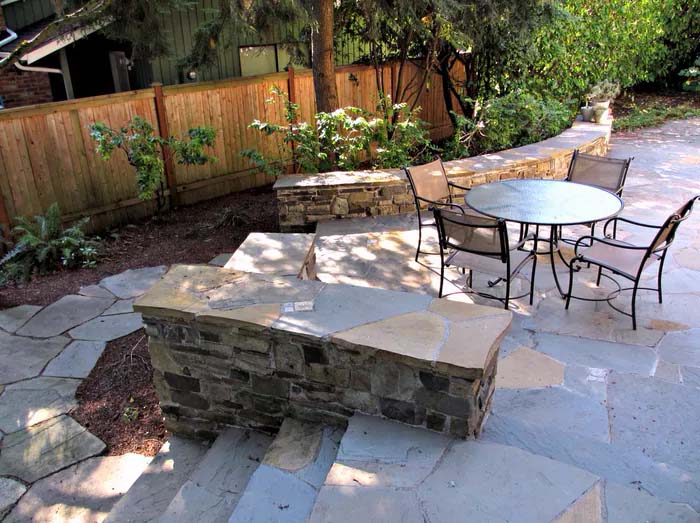 Create extra seating for your patio area by adding flagstone toppers to low retaining walls.
Using two different colors for the flagstones keeps the area from looking monotonous.
11. Patio Pavers Mimic Brick Pattern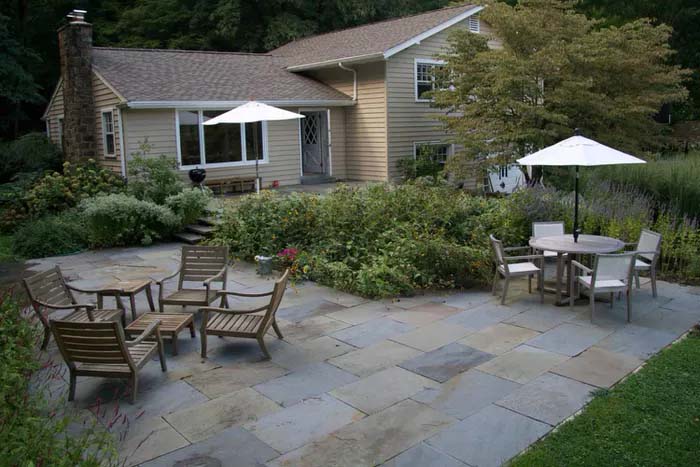 Create intimate seating areas next to perennials.
This patio was kept simple by adding rectangular flagstone pavers using a running bond pattern.
12. Pavers Create Round Patio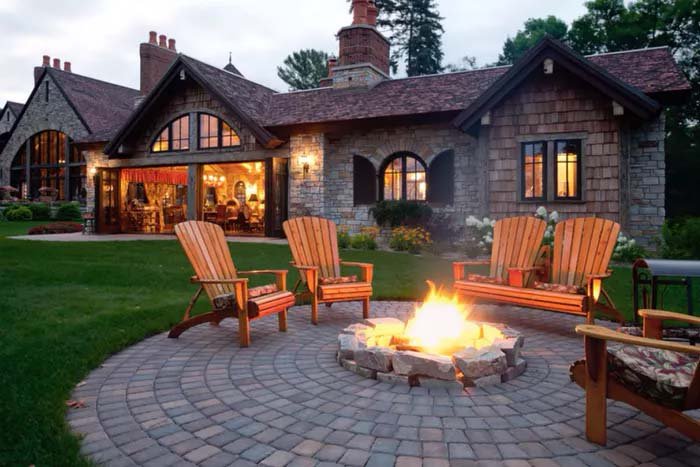 The firepit is the first perfect focal point for creating a round patio area.
These bricks have the same undertones as the home's brick facade.
via Nor Son
13. Expand Patio With Affordable Cement Bricks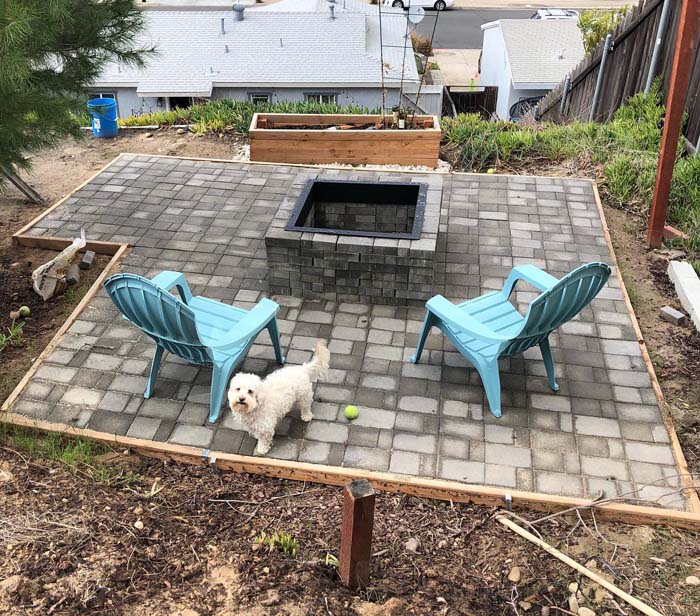 You can use something as simple as cement bricks to create an appealing pattern around the seating area of your fire pit. The pattern shown is a modified basket weave pattern.
Building a wood form around the perimeter stops the bricks from shifting and sliding out of place.
via Napolitan Farms
14. Use Fast and Versatile Interlocking Pavers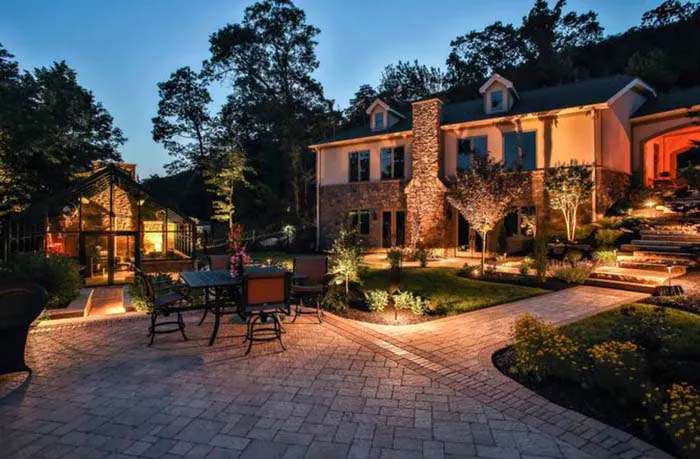 Interlocking pavers are designed with gaps in between them.
They can be filled with any joint compound. They're easier to repair or replace and can be used to create any conventional pattern.
via ICPI
15. Bluestone Lets the Scenery Shine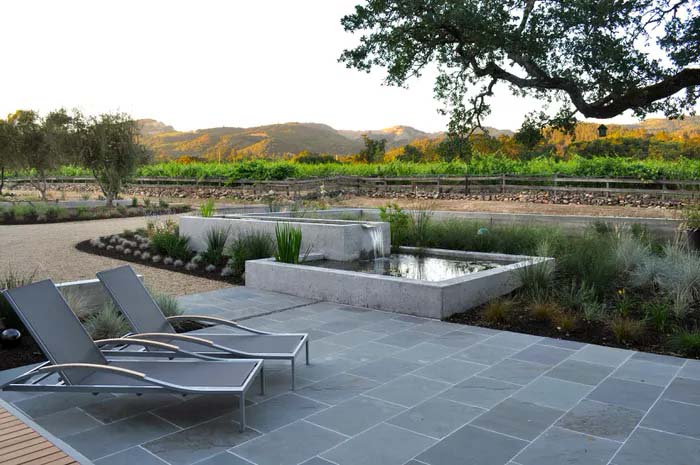 Everything about this patio was designed to allow a full, unobstructed view of the hills and wine country in the background.
Bluestone was used throughout the space, including the wall around the perimeter and low waterfall.
via Huettl Landscape Architecture
16. Pavers Create Pattern Over Crushed Rock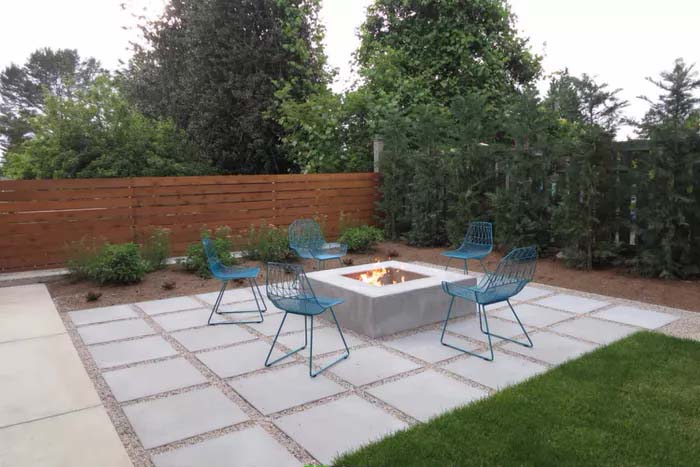 Crushed marble rests underneath a grid of concrete pavers. A concrete paver can be painted and manipulated to suit your style.
The blue farmhouse wire lounge chairs were inspired by barns found on farms in the Pennsylvania Dutch area.
via Lara Swimmer
17. Simple Concrete Pavers Bring Unity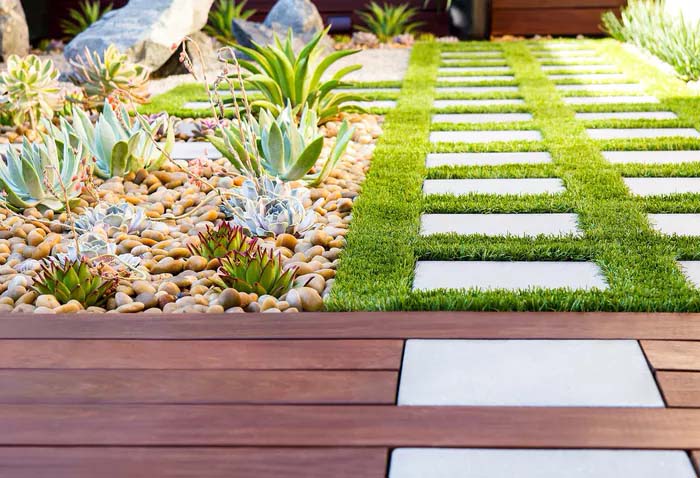 Use pavers to create transitions.
Here, concrete pavers unify the ipe deck and artificial turf.
via Studio H
18. Square Pavers Add Modern Style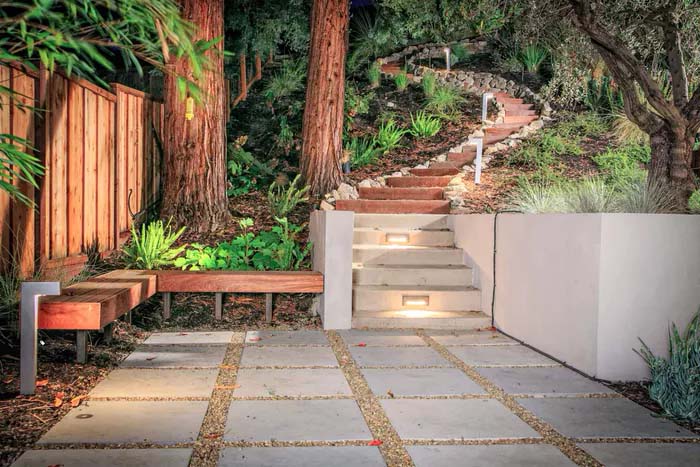 When you want to maintain a modern look, square concrete pavers are a sure way to showcase that style. They work here with the cement retaining wall and stairs.
Wood elements are introduced at the lines where the woodland area begins.
19. Subtle Contrast With Gravel and Pavers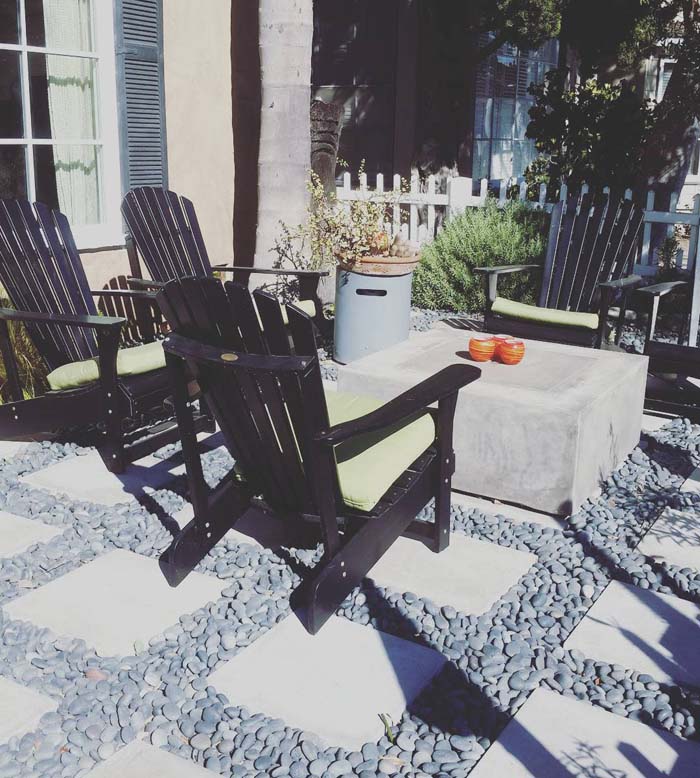 These square pavers resting on blue-gray gravel mimic the look of the concrete table.
via Cardinal Escrow
20. Add a Patio Anywhere With Pavers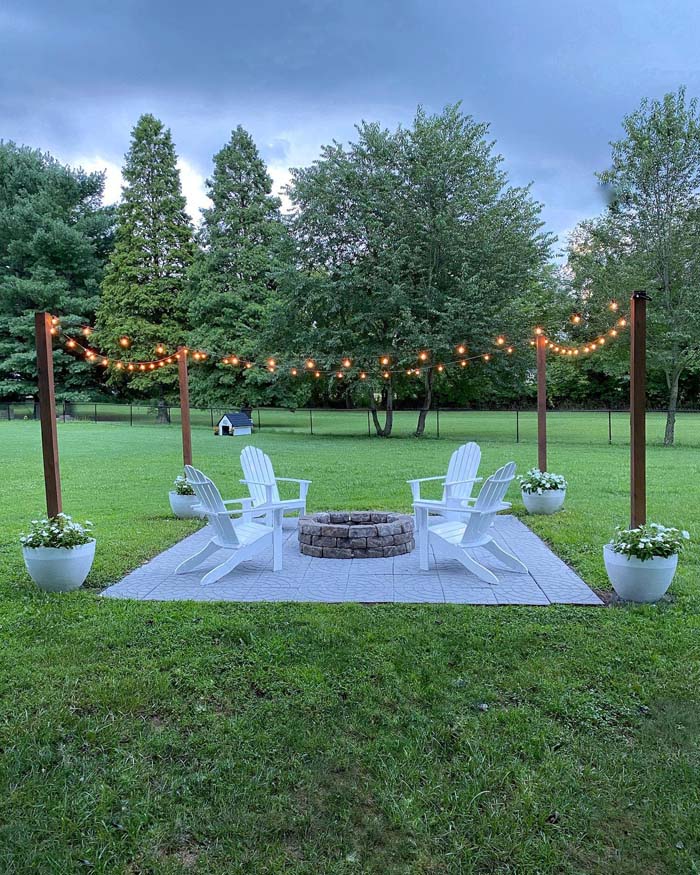 You don't have to build forms and pour cement to get a patio. Pavers were dropped on top of a section of the yard.
You just want to dig up about two inches of soil, tamper down a layer of sand, and fabric covering. This brings the pavers down so they're level with the grass.
via My Simple Home
21. Match Colors of Pavers and Gravel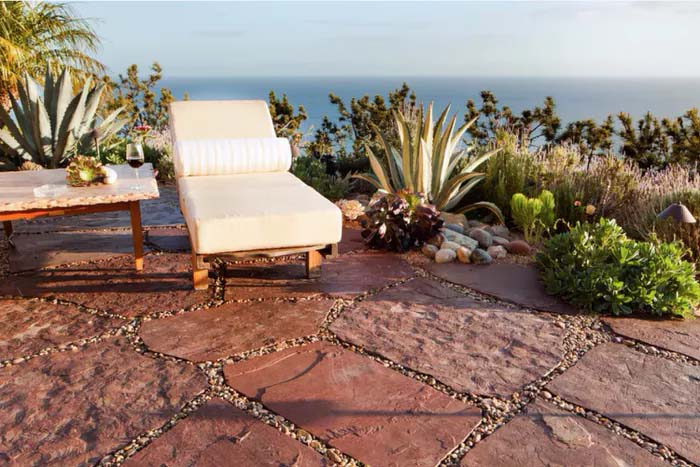 Drop flagstone pavers on top of pea gravel to create a seating area for any beautiful view.
via Gregory Davies and Associates
22. Replace Old Deck With Pavers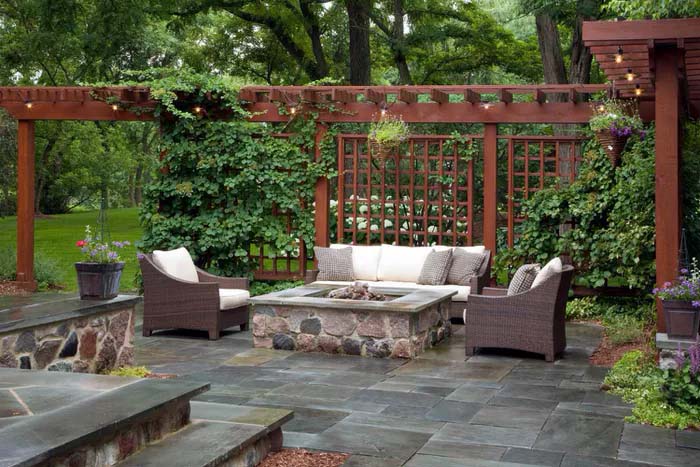 This entertainment area was revitalized by replacing decking with bluestone pavers on pea gravel and adding a string of lights, pergola, and trellis.
23. Pavers Define a Small Patio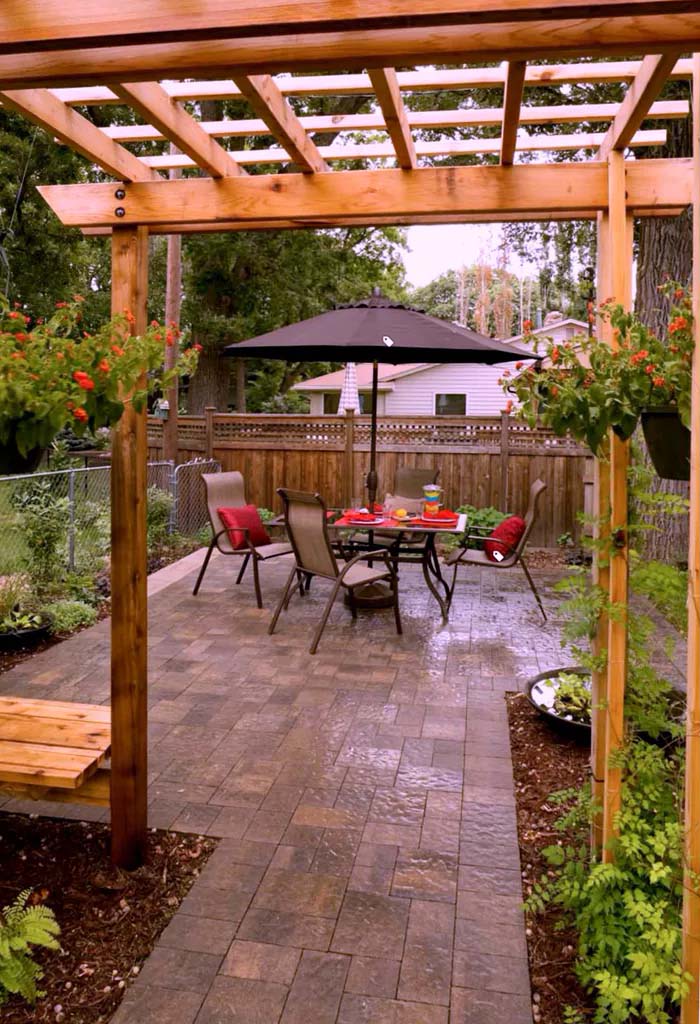 There isn't an inch of wasted space in this backyard patio.
Brown pavers created the patio seating areas and walkway. The pergola creates a grand entrance.
via Southview Design
24. Modern Style With Classic Pattern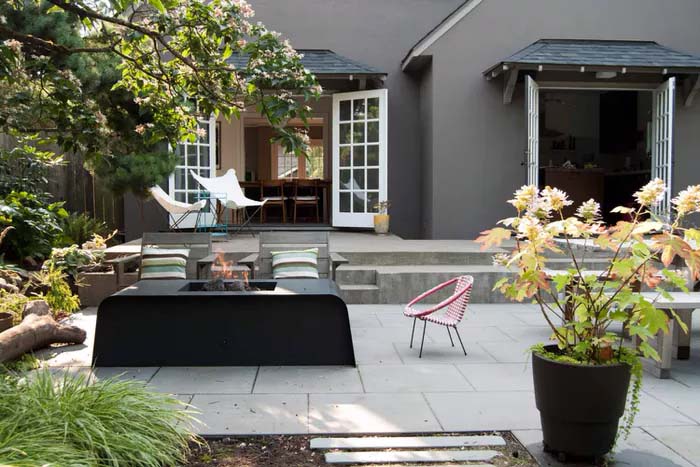 A sleek black fire pit adds to the modern style of this sleek patio.
Dark gray pavers are set in a classic board pattern. Butterfly chairs add to the modern look. Corvus Sarcelles modern wicker chairs can replace the vintage child's chair.
via Risa Boyer
25. Create a Secluded Outdoor Space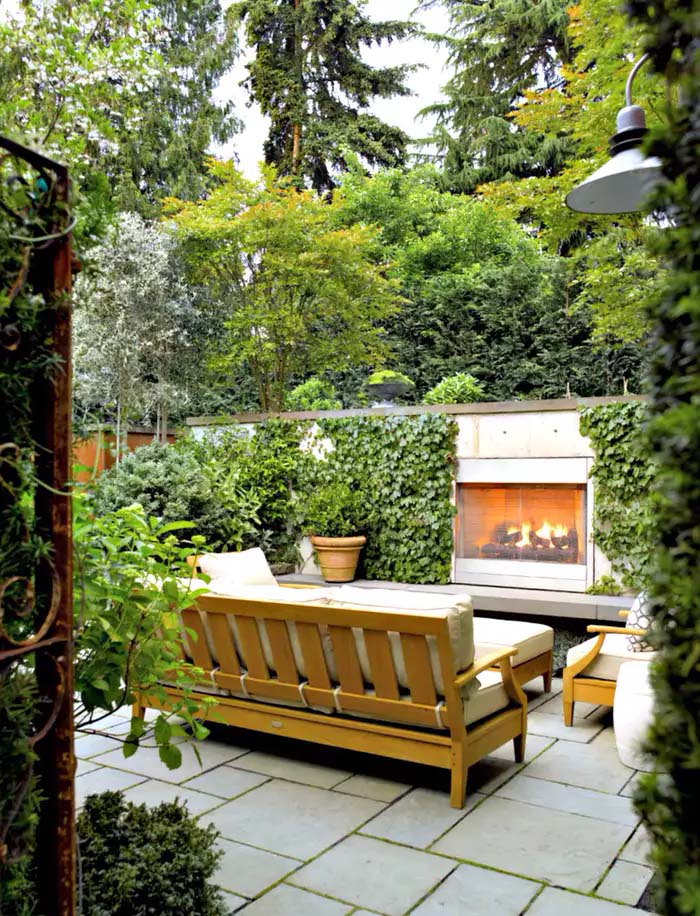 The bluestone pavers standout by using a precise ashlar paving pattern. There are several variations on this pattern that are identified by their offset placement.
A conventional fireplace is set in a wall filled with lush ivy.
via Scot Eckley
26. Classic Cobble Paver Patterns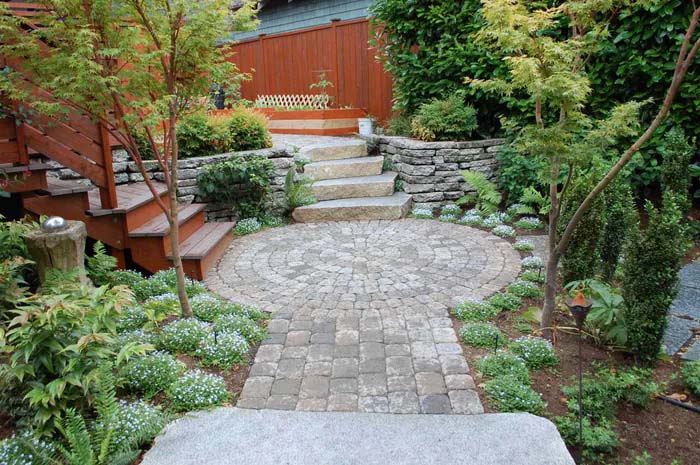 A circular pattern is created from cobblestone pavers. This keyhole pattern is the perfect connection between several levels of landscaping.
You can save yourself some money by searching the classifieds for those looking to give away old bricks from a renovation.
via Avalon NW
27. Rough Stone Adds Organic Color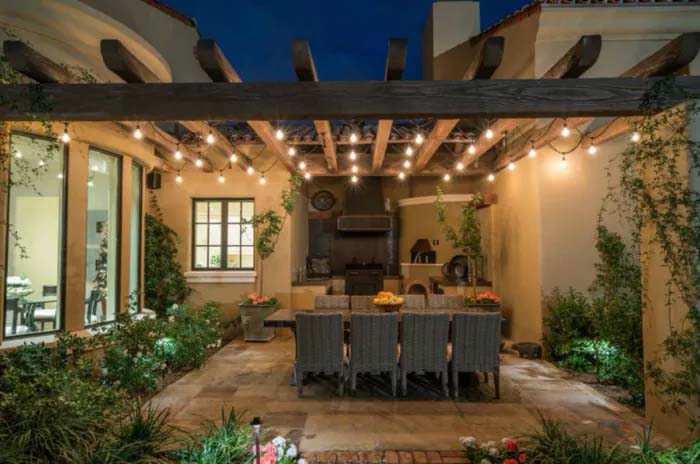 This courtyard dining area is warmed by using rough stone tiles for the patio.
Stringing lights across the pergola adds to the ambience. Adding low-growing plants to the perimeter brings in color.
via Forte Homes
28. Terrace Patio With Saltillo Tiles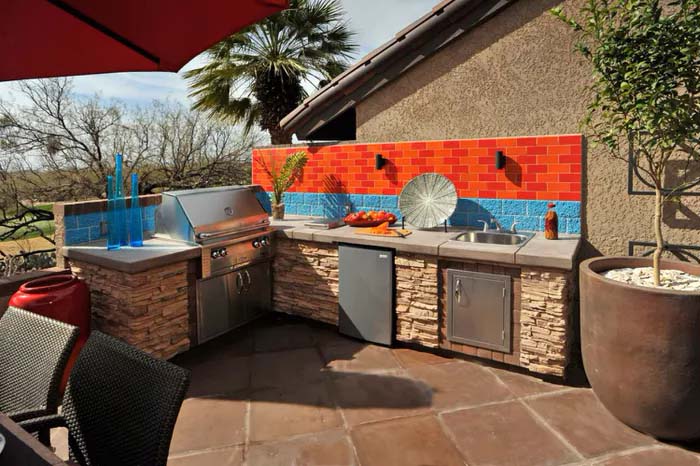 The tiles used in this patio are made from Saltillo. While they're similar in look to terracotta tiles, true Saltillo tiles originate from clay found in Saltillo, Coahuila, Mexico.
They're great for creating a non-slip surface.
via Kathryn Prideaux
29. Square Pavers Adds a Touch of Zen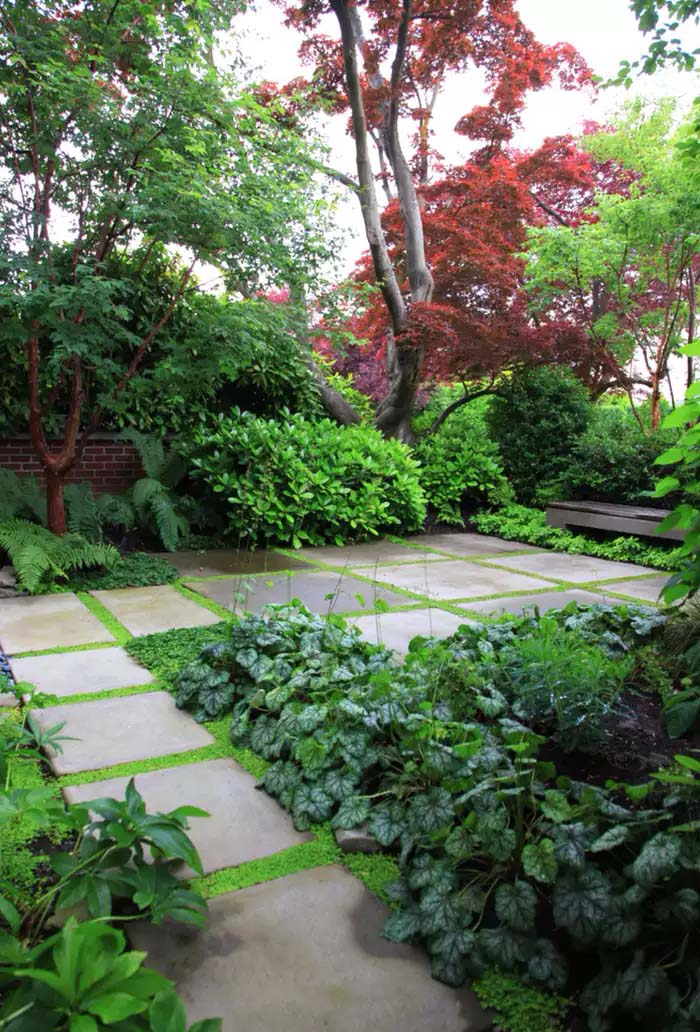 Simple square pavers create the modern walkway and patio to this lush backyard. A bench is nestled in the corner for seating.
The vegetation growing between the pavers is a combination of Rockfoil Saxifraga and Leptinella Gruveri.
via Paul Sangha
30. Classic Garden Patio With Brick Pattern Pavers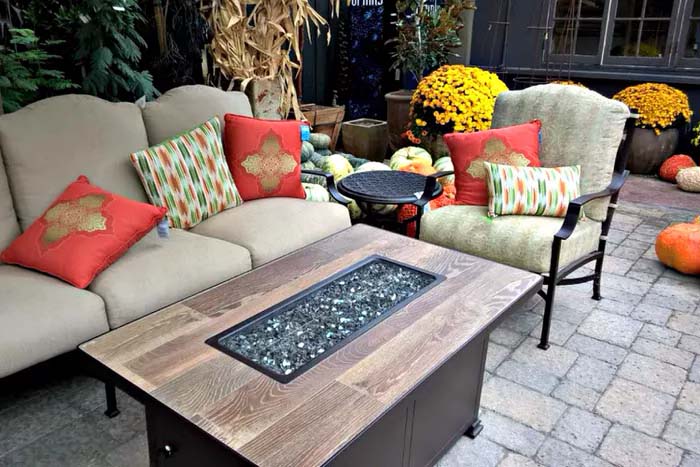 A patio with a simple brick pattern provides a humble background for this seating area and fire pit table. The throw pillows provide all the color for the changing seasons.
via Lisa Hallett Taylor