Whether you're looking for railing ideas that work with your home's curb appeal or something that suits your family's back deck, you have lots of options.
We've collected some of the best DIY deck railing ideas and designs for your home.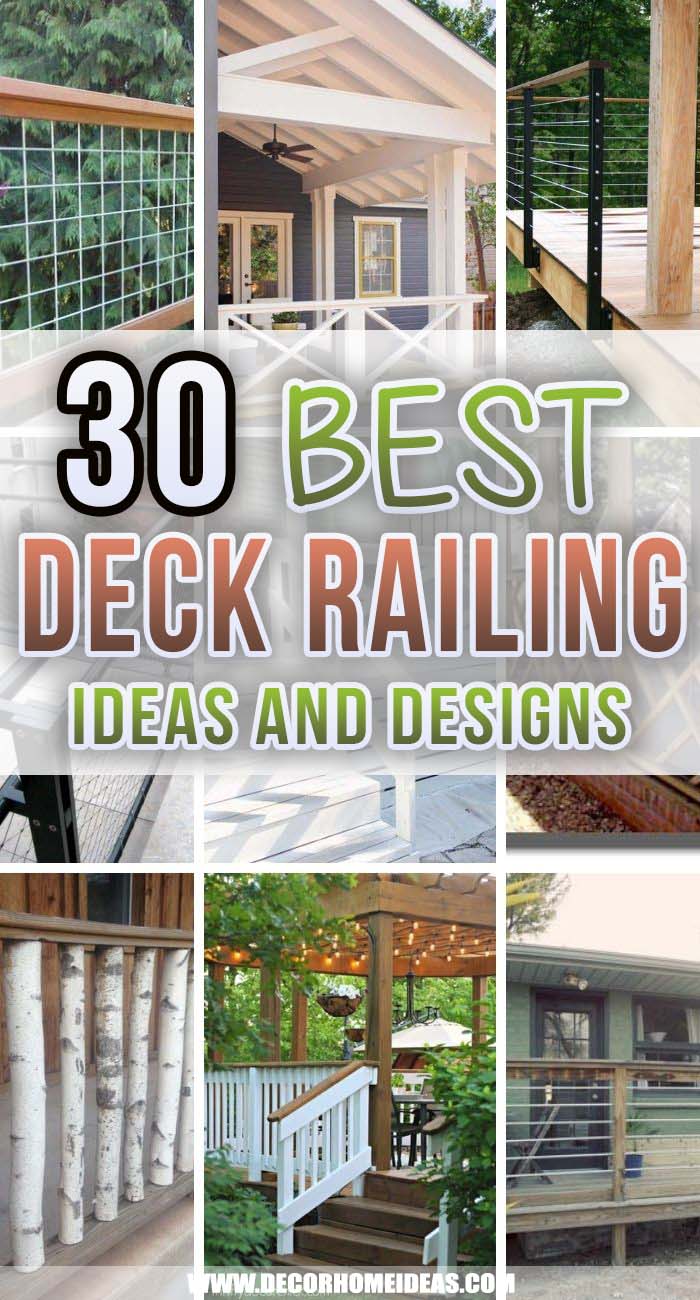 A look around your neighborhood will show you how many styles and materials are available for your railing. Wood, metal, vinyl and glass can be used to create railings that are perfect for your home while showcasing your unique style.
When planning your railing design, keep in mind there are safety measures that need to be met. Check your town's building codes before you start in case you need permits or design approval.
1. Add a Bar to Deck Railing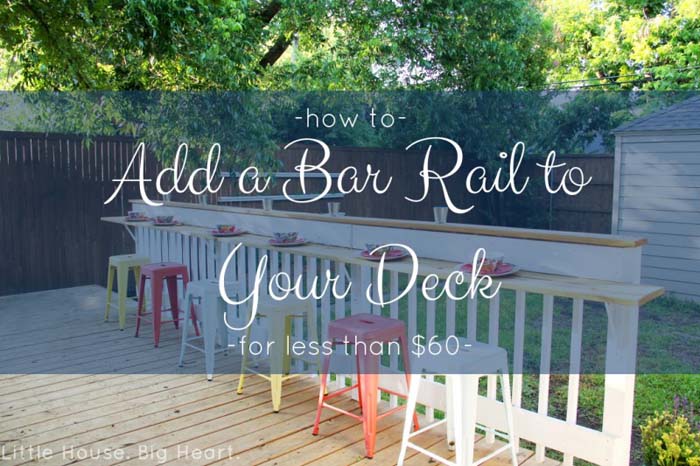 Here's an inexpensive deck railing idea. Adding a bar to your deck's railing is an easy project that provides extra seating for guests. It's also great for serving snacks.
A typical bar overhang is about 10 to 12 inches wide. Secure it to your railing posts using shelf brackets. You can add flowering planters on the bar when it's not in use.
2. Birch Wood Baluster Porch Railing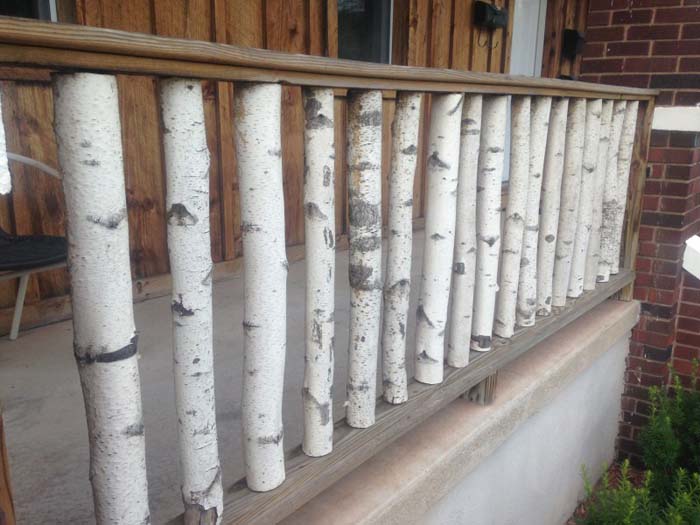 The white bark of Birch trees are recognizable balusters. They're secured between a top rail and a base rail. Try to find trees that are close to the same thickness.
The look goes well with a rustic or cottage landscape.
3. Paint a Metal Porch Railing Any Color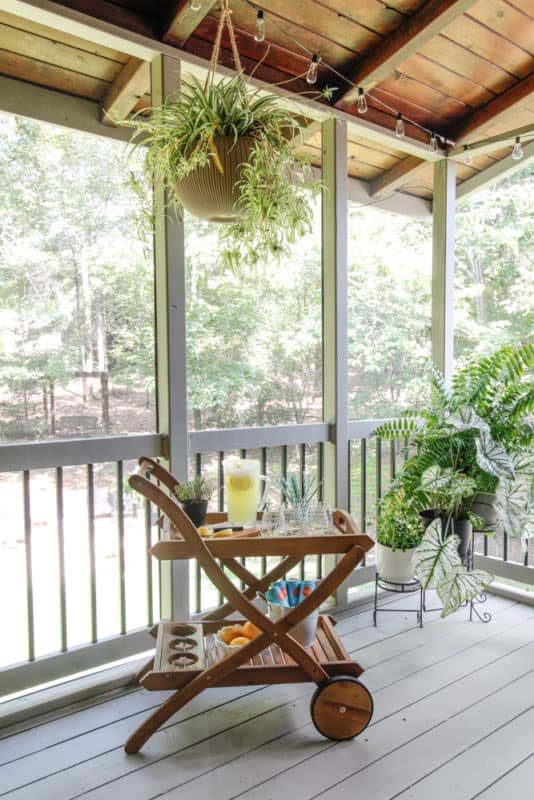 The framing serves a dual purpose as posts for the overhang and the rail infill. Metal railings are available in stainless steel and aluminum.
Make sure your metal railing is powder-coated and it will last for years.
4. Get Formal Look With Cathedral Picket Railing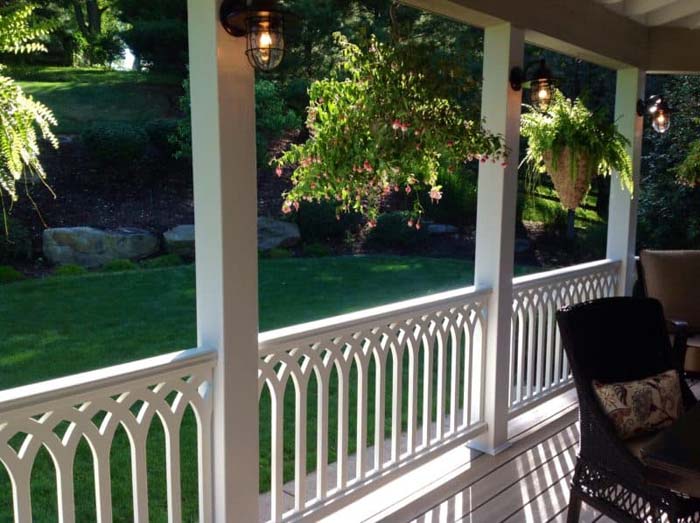 Vinyl railings often take on a classic look, but they can be cut to suit any style of home. Arches at the top of this vinyl railing mimic the shape of stained windows found in European churches.
They add a formal touch to this covered porch.
5. Chippendale Porch Railings Work With Modern Homes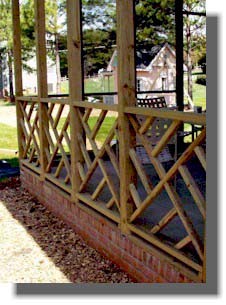 Thomas Chippendale was an English cabinetmaker who worked during the 18th century. He was influenced by the geometric complexity of Chinese architecture.
These balusters are found on railings in homes with formal architecture, but its simplicity allows it to fit into a modern setting as well.
6. Art Deco Deck Railing Kit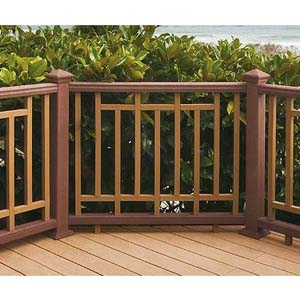 Wood decks are still a popular option for homeowners. There are many railings that are available as kits with balusters in sections, or you can buy them separately at many home improvement stores.
The in-fill of this deck railing system is stained a lighter color than the posts and rails. The design is reminiscent of the Art déco style.
via 41 Lumber
7. Stainless Steel DIY Wire Railing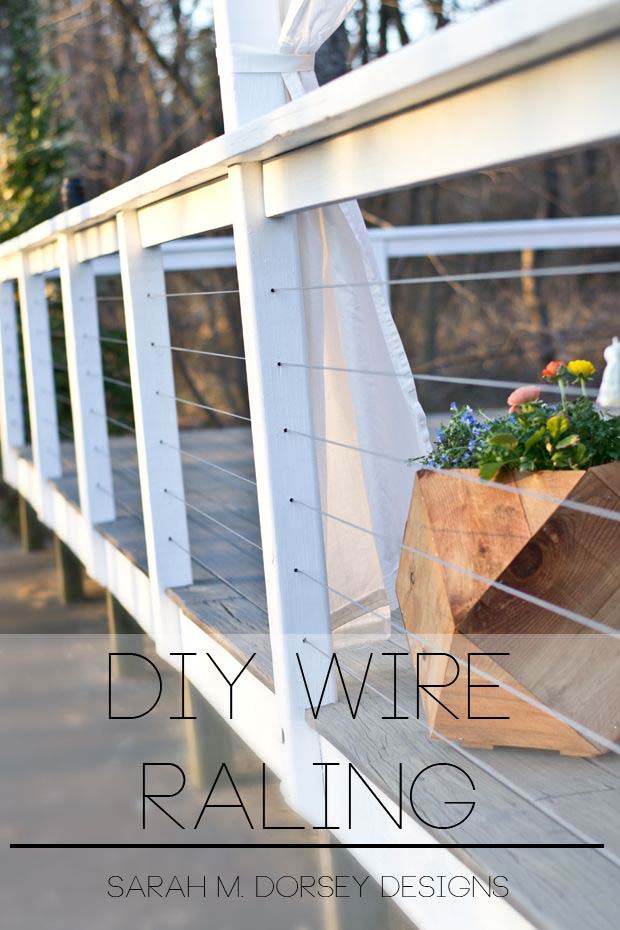 Cable railings can be built to suit your style. Cables made from 316 stainless steel work the best. This do-it-yourself project is affordable and easy to build. It adds security to your deck without sacrificing the view.
You can buy complete composite deck systems that allow the railings to be integrated into the edge of the deck. They look great with ranch and Modern home styles.
via Dorsey Designs
8. Custom Length Balusters With Electrical Conduit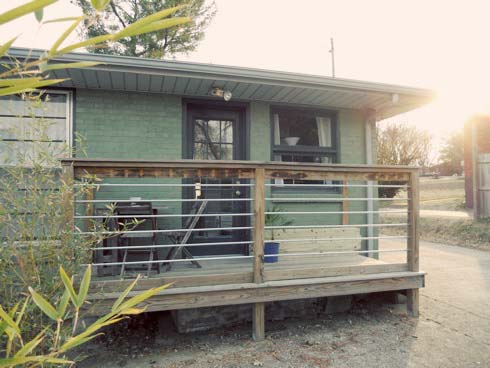 Change the look of a porch railing by adding thicker wire or by using an electric conduit instead of a cable. Top and bottom railings, along with posts, are a big part of the final style.
Electrical conduit is easy to work with since you don't have to deal with adjusting the cable tension.
via My MCM Life
9. Try Flat Slat Balusters on Your Railing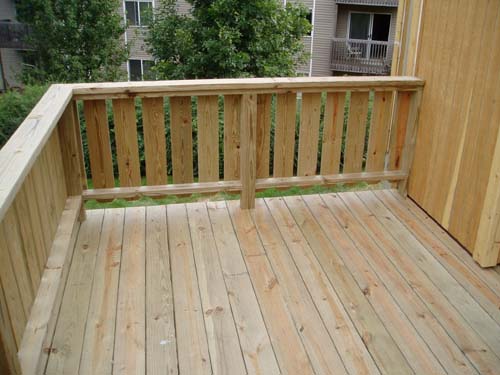 Using flat slats for the balusters of a railing adds more privacy. Depending on the lumber used, it can also be quite affordable.
10. Easy to Install Galvanized Pipe Railing Kit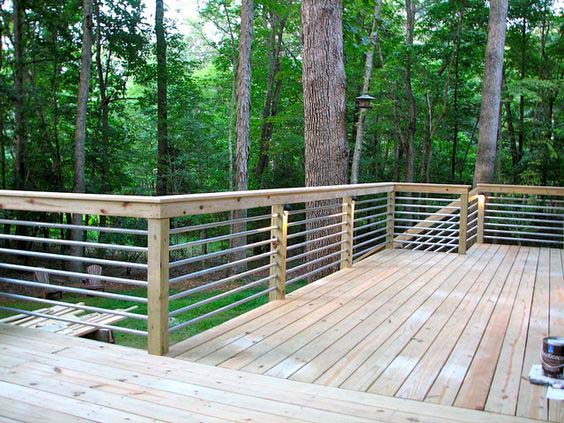 Galvanized pipe is a solid choice for building railings that need to hold up to harsh weather conditions. It works well with a modern or contemporary home.
If you're looking for an earthy feel, posts and rails made of wood will tone down the industrial vibe.
via CRM02
11. Affordable Chippendale Railing for Covered Porch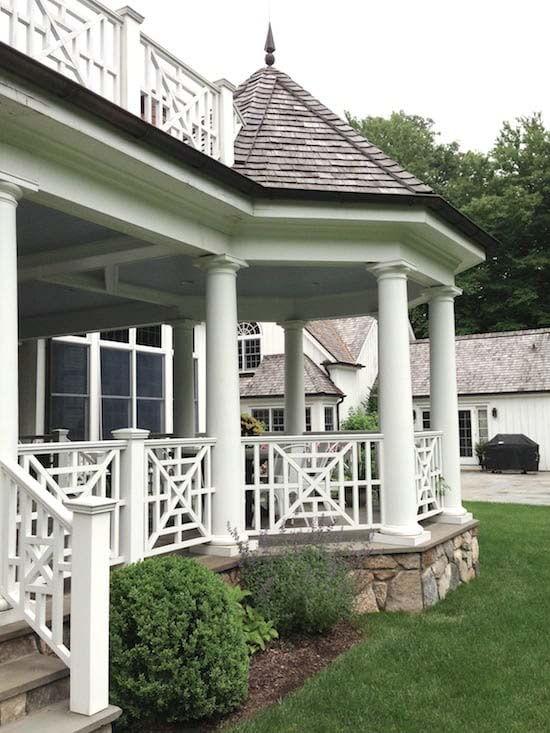 Chippendale railings don't have to be built by hand. You can have these built with a good CNC machinist. Choose either a wood or vinyl railing.
via The Zhush
12. Modern Farmhouse Has Minimalist Railing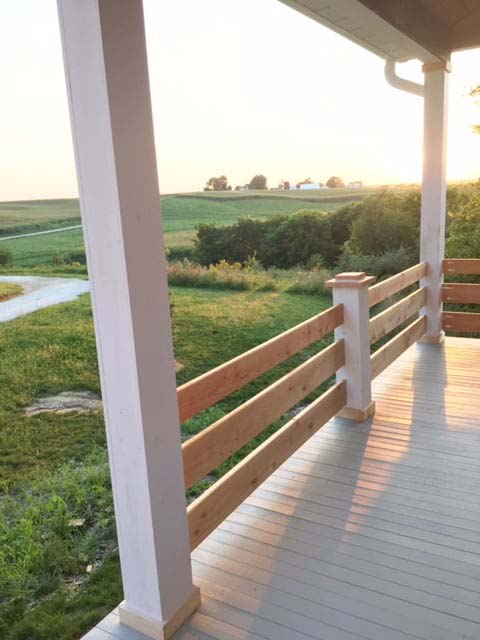 The homeowners created a design like a farm fence. Using horizontal planks instead of thicker vertical hardwood sections made this an easy project.
It also made it unnecessary to include a tip and bottom rail. Staining the base of the posts and post caps to match the planks gives the railing a finished look.
via Newly Woodwards
13. Varying Width Wood Baluster Has Unique Look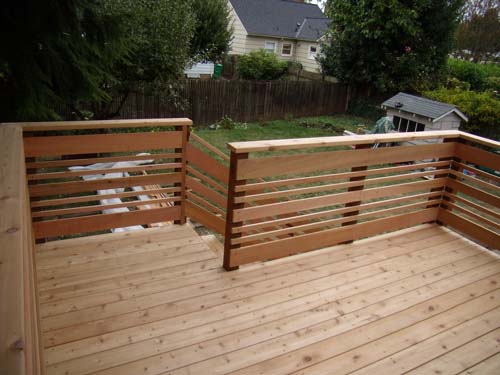 These horizontal planks are three different widths and are attached to the sides of the posts. This makes installation easy and creates a modern aesthetic.
via Douglas Shepherd
14. Keep Your Deck Clear With Plexiglass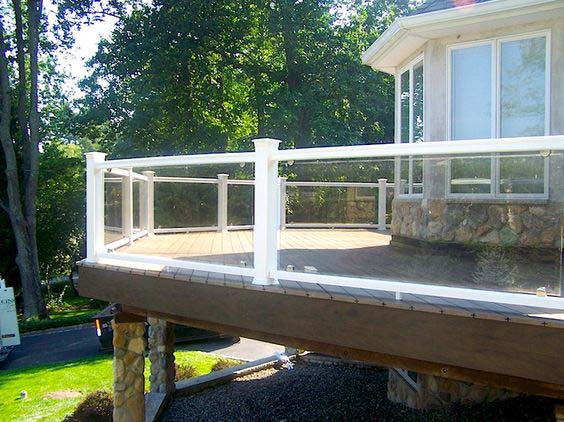 A glass deck railing is perfect for protecting pets and toddlers without obstructing the view. A wraparound deck was fitted with a plexiglass fill-in.
For a Colonial-style house, choose posts and rails with traditional style rails in vinyl and fit glass balusters in the middle.
15. Railing Built From Reclaimed Pallet Lumber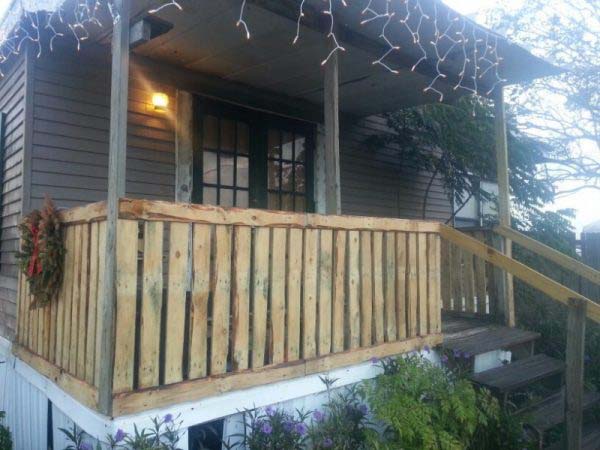 A railing made from pallet wood is a very inexpensive project. You will probably pay nothing for the wood. Use deck screws to secure it.
The only other expense is the time spent sanding and finishing.
16. Tie a Rope Baluster for Rustic Splendor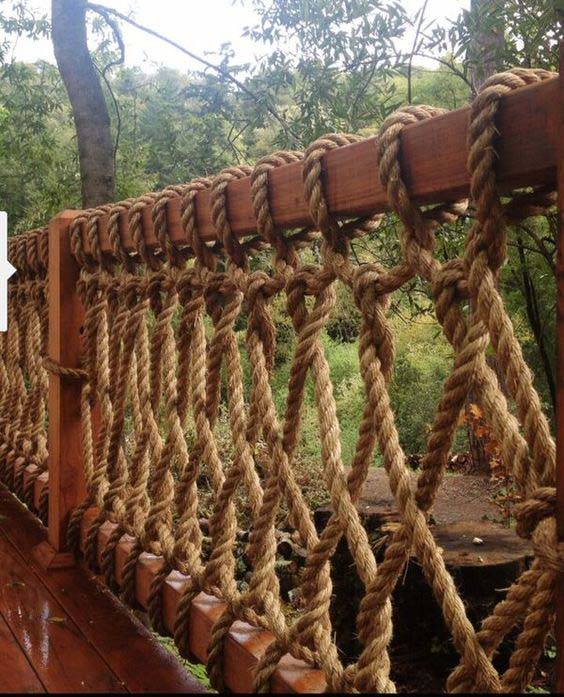 Manila hemp rope is an easy fill-in for a railing. The rope knots are decorative. Get the look by rounding off the top edges of the rails and posts.
via Ravenox
17. Add Stainless Steel Mesh Panels for Safety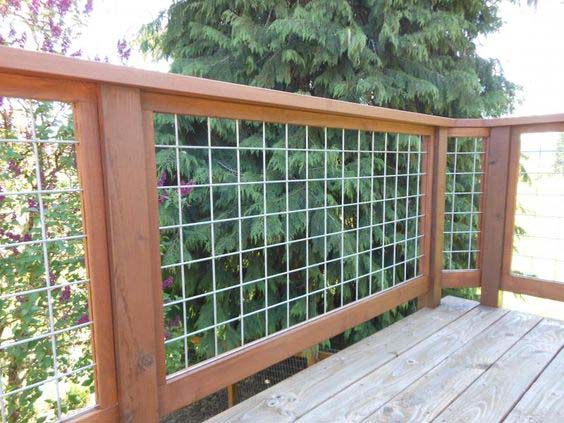 Stainless steel welded wire mesh can be cut to fit any section. Stainless steel has a more polished look than galvanized steel and holds up to harsh weather.
via Boegger
18. Wattle Fence Rustic Branch Railing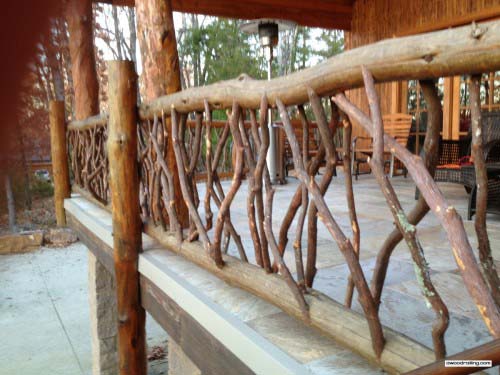 Railings made of tree branches are perfect for rustic style landscapes. This railing is inspired by wattle fencing found on farms.
19. Artist Created 'Cracked Ice' Porch Railing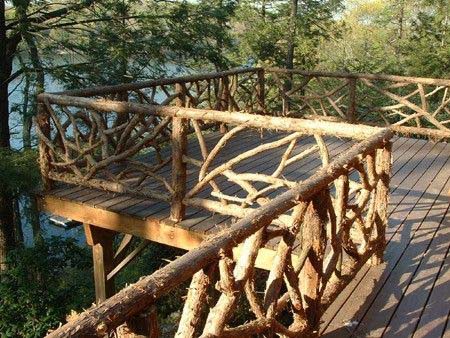 Another rustic style railing was custom built by using branches to create interesting patterns.
If it looks like the project is over your head, contact local artists or art students for estimates.
via Custom Made
20. 'X Marks the Spot' Porch Railing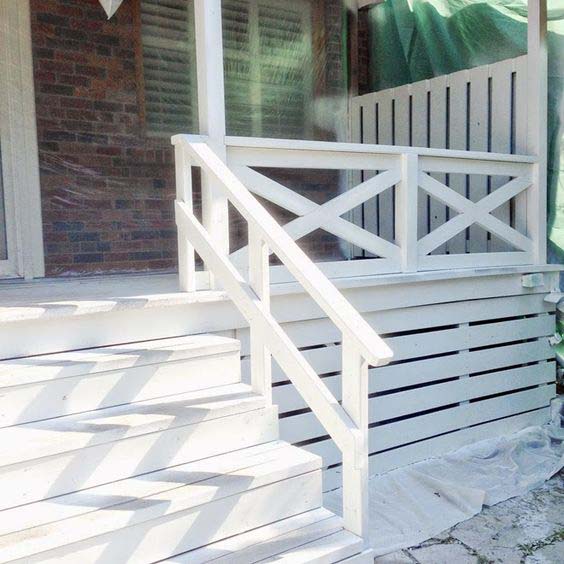 A traditional fence pattern is used for this porch railing. This style can work with any ranch style home.
21. DIY Post and Cage Wire Deck Railing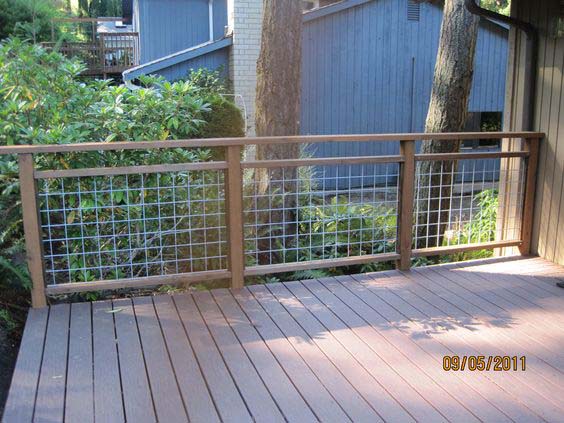 This railing was built of stainless steel wire strung between posts and trimmed with cedar.
via Hamster Dreams
22. Step up Privacy With Lattice Porch Panels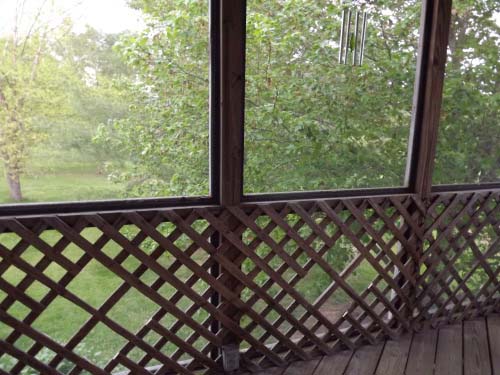 Lattice is another time-saving fill-in that can be used between the top and bottom rails.
Larger squares were cut out of each section, adding an interesting pattern.
via Forsythia Hill
23. Framed Fence Railing Had Modern Feel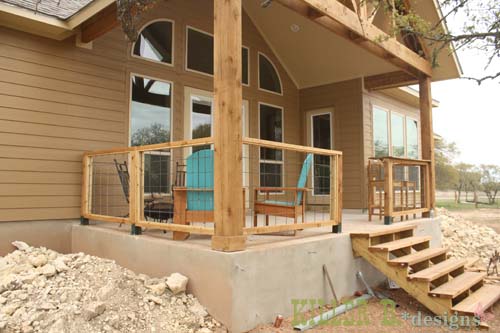 Simple sections of wires stretch between wooden frames.
Thinner rails and posts create a modern minimalist look.
24. Modern Railing Kit Maximizes View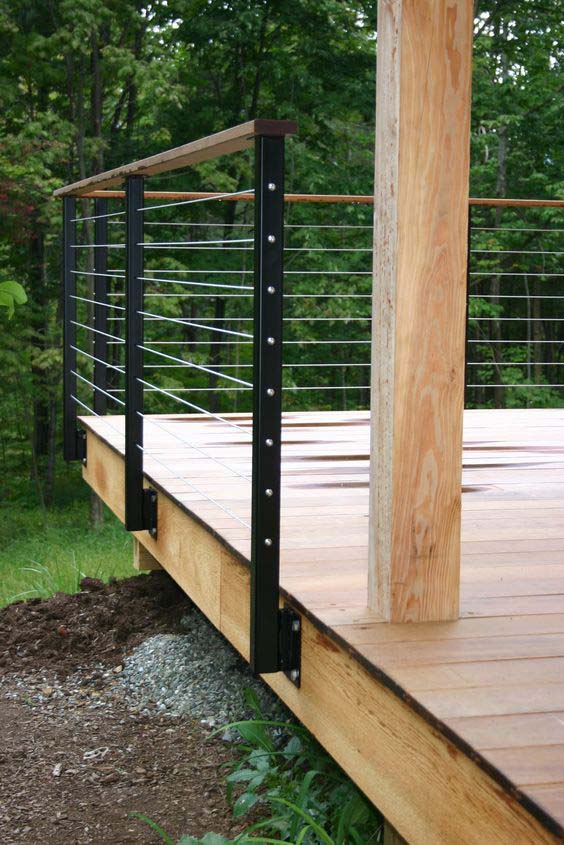 A modern look with an industrial feel was achieved by using metal pieces for the posts instead of wood. The railing gets a finished look when the wood top rail is added.
via Modern Cabin
25. Try a Sunburst Railing Woodworking Project

This is a simple lumber project with an inspiring design. It was built in sections for easy installation and repairs.
This is a good example of why you get your plan approved before the building phase. The homeowners' original plan had to be revised because of a safety issue.
via Marty's Musings
26. Urban Industrial Looks Chic on Terrace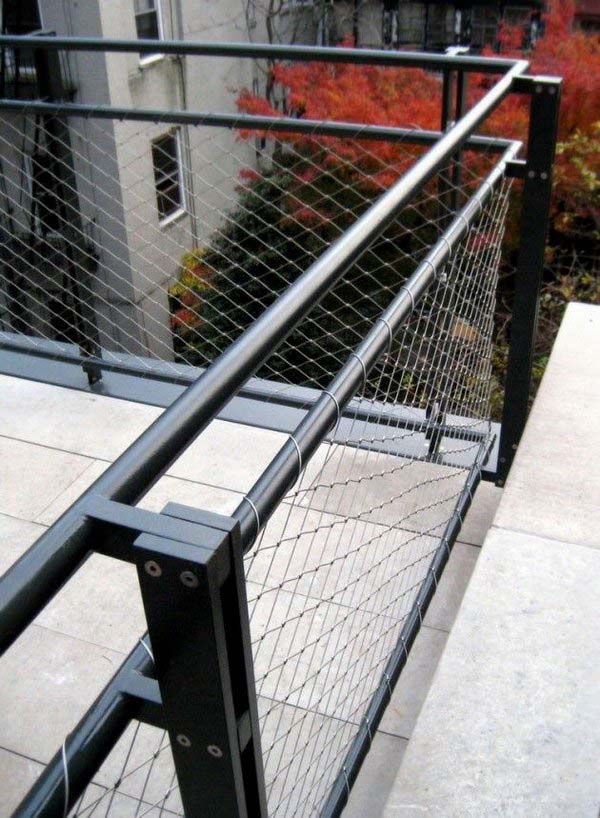 Use a metal deck railing to embrace the urban industrial look.
Positioning the top rail in front of the main section discourages toddlers from climbing over the top. It can also be used for flower boxes.
27. Wood Lattice Screen Adds to Height Railing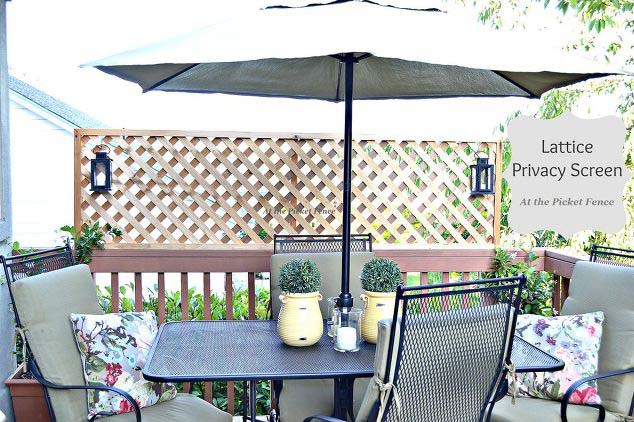 Privacy doesn't have to end at the top of the railing.
Wood framed lattice was screwed to the deck railings. More support strips were added for stability.
28. X-Shaped Baluster Railing for Modern Farmhouse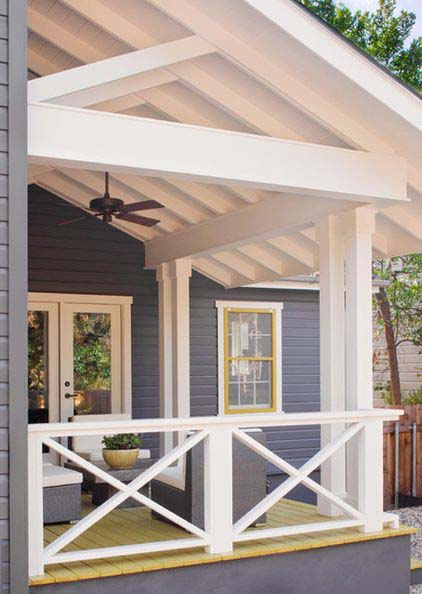 Another version of crisscross porch railings. These are thinner pieces. You can build the balustrade as four pieces or two interlocking sections.
via Houzz
29. Tinted Glass Railing Keeps the View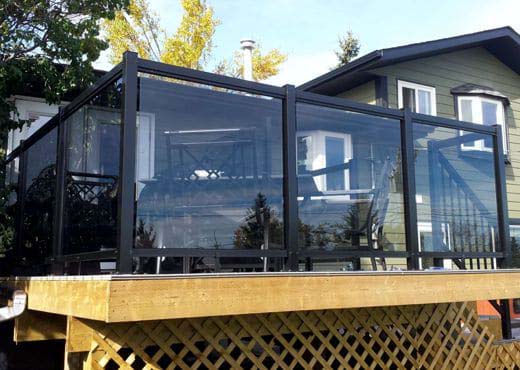 Tinted glass railings add privacy to this deck without sacrificing the view. It also keeps harsh sunlight at bay, which can contribute to keeping the adjoining room cooler all summer.
30. Add Natural Wood Top Rail to White Railing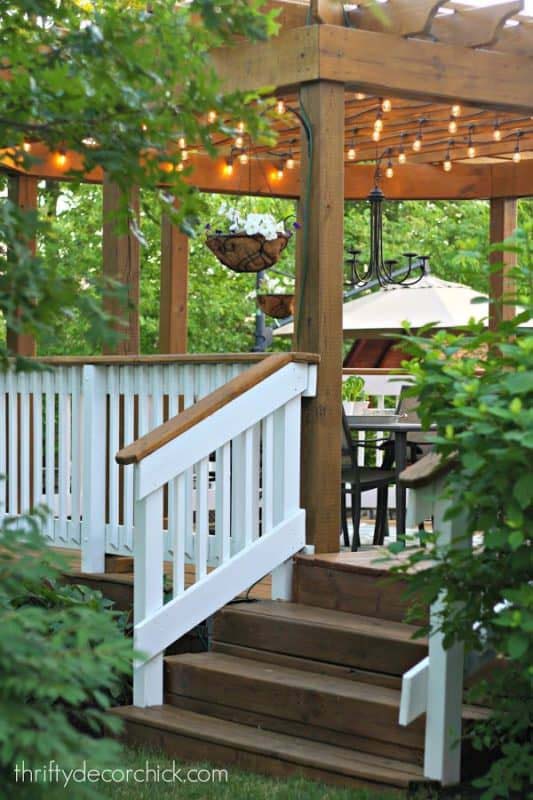 A wood railing can be used to bring a lot of style to any seating area. Adding a wood stained top rail to a simple white railing gives this outdoor dining area a chic upgrade.