No DIY offers more instant satisfaction regarding curb appeal projects than a fresh coat of paint on your front door. Your front door paint color says a lot about your style and personality, and a makeover would have a high return on investment.
One of the most popular and trendy front door paint colors is blue. Blue is a very versatile color, and there are many options on the shade you can use to invigorate your home decor.
Blue represents wood energy in feng shui. The wood element cultivates flexibility and kindness and encourages growth. This vibrant wood element uplifts your home by bringing in life energy. As such, we usually associate blue with abundant and calming things.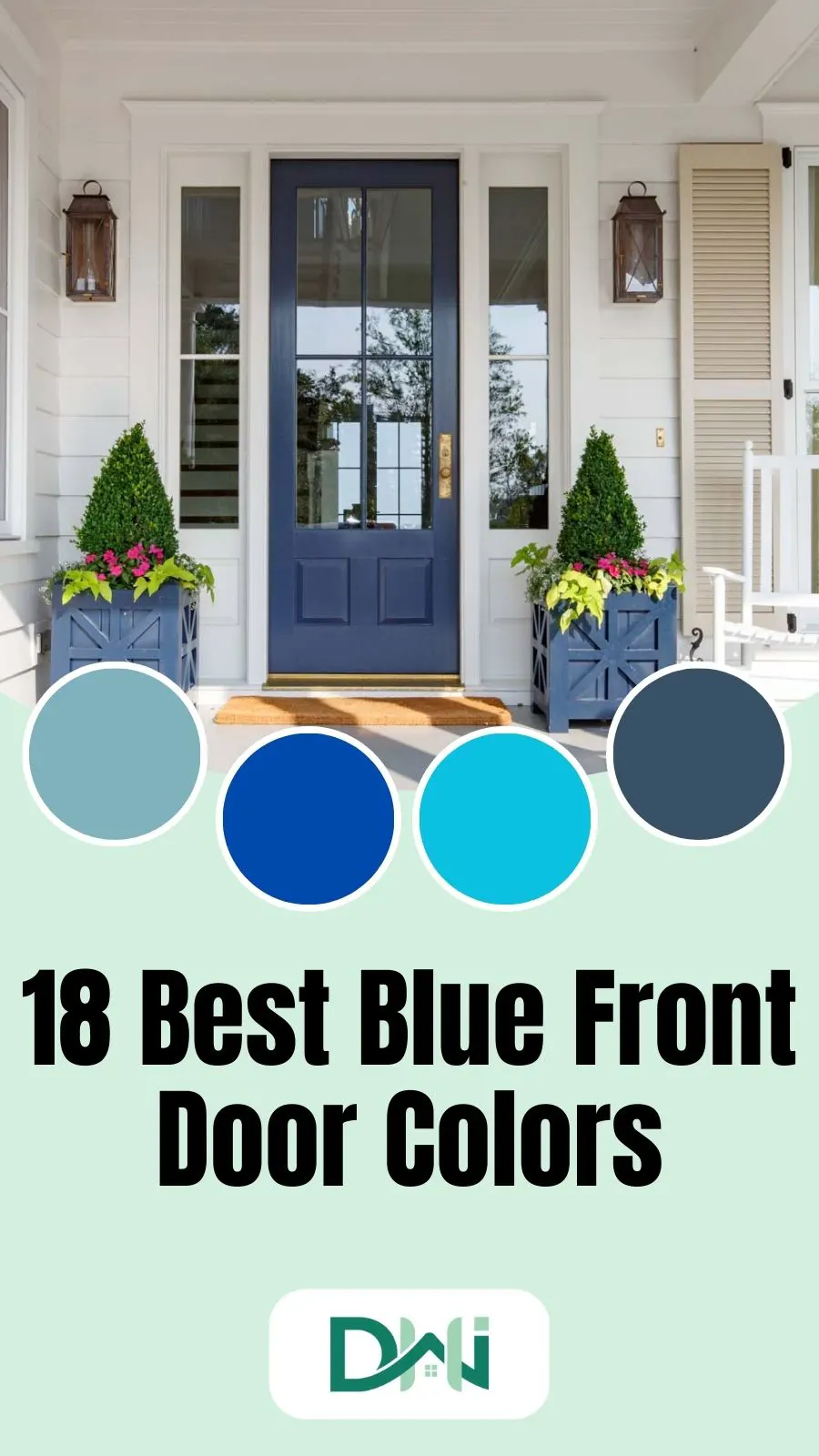 Blue is also associated with relaxation and serenity. A blue front door will have people viewing your home as a refuge, and guests will feel welcome and appeased to pay you a visit.
Blue can look mercurial, expressive, serene, calm, energetic, and bold. Therefore, you'll find a tone that works with your home style and color scheme, whether farmhouse-chic, modern, classic, or beachy.
Different Shades of Blue for Front Doors
Dark blue hues such as navy blue, mistral blue, and Newburyport blue signify responsibility and structure. Painting your front door with these hues shows people you probably have a strong sense of loyalty or quiet determination. 
Darker shades of blue are also popular since they work well with other colors, making decoration much more effortless.
On the other hand, lighter shades of blue, such as powder blue, turquoise, and sky blue, on your front door could label you as a sincere and friendly person.
There are a few things to remember if you're considering painting your front door blue. Here are some tips for selecting the right shade of blue to match your home's style and exterior colors:
Consider the style of your home and existing palette: the shutters, trim, siding, etc.
Think about the amount of sunlight your front door receives. If it gets a lot of sun, you'll want to choose a shade of blue that's not too light, as it will fade quickly.
Take some time to look at different shades of blue in person. This will help you to get a better idea of how the color will look on your home.
Once you've chosen a shade of blue, get a sample and paint it on a small area of your home to see how it looks.
Complementary Colors for Blue Front Doors
One of the most daunting tasks in interior design is finding matching colors for your home decor. Luckily, blue is an excellent option to act as a neutral when combining it with other colors on the color wheel in your home design.
Some colors will work very well when paired with blue. For example, light shades of blue go well with tan and pale greens. 
Blue also matches well with all shades of yellow, orange, purple, red, white, and even gold.
You can use dark blue doors to provide rich contrast against a light-colored red brick exterior and add visual intrigue and depth. Lighter blues work beautifully with gray or white exteriors, creating an airy and fresh look.  
Here are some tips on how you can get the best out of your porch when you have a blue door:
Use plants and flowers to add color and life to the space. Choose plants that'll thrive in your climate, and place them in pots or hanging baskets.
Add a rug or two to create a cozy and inviting feel. Choose rugs made from natural materials like wool or cotton that complement the colors of your front door.
Hang some lanterns or string lights to create a warm and inviting atmosphere. Use lanterns or lights made from metal or glass that complement your front door color.
Add a bench or chairs to create a place to sit and relax and a table to create a place to put drinks or snacks. 
Add personal touches to the space, such as family photos or artwork. This will help to make the area feel more like home.
The following are the 18 best blue front door colors you can use to make your house more appealing. Keep reading to find the perfect choice!
Blue Front Door Colors Ideas and Designs
1. Midnight Blue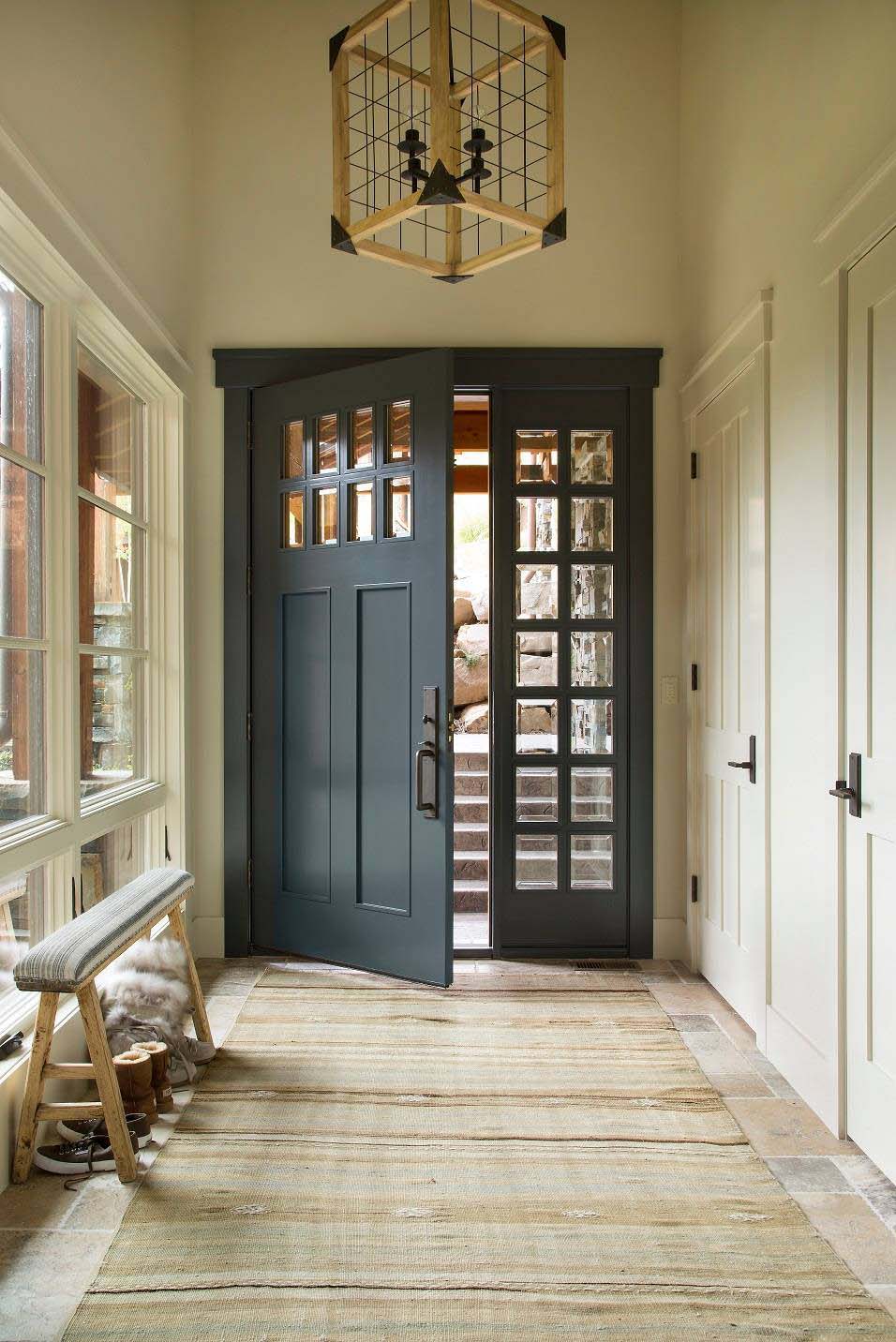 via Massucco Warner Miller Interior Design
This tinge of Benjamin Moore midnight blue paired with off-white walls, a stone floor, an antique rug, and a shoemaker bench gives this foyer a unique modern farmhouse feel.
The light fixture on the ceiling completes the look with elegance.
2. Wythe Blue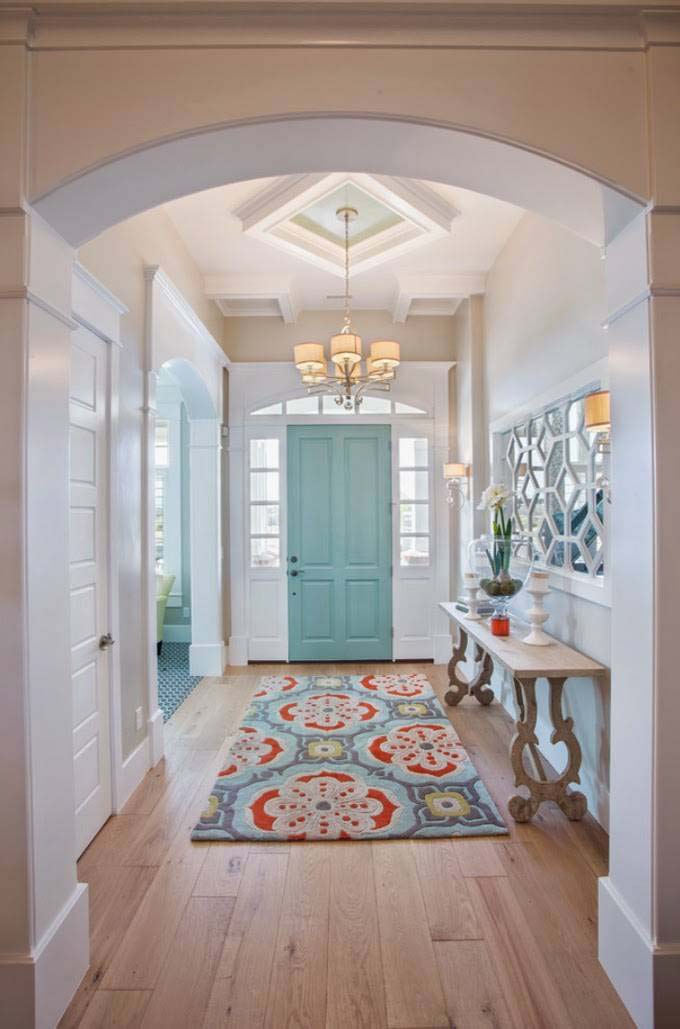 via OSMOND DESIGNS
The Benjamin Moore Wythe blue color on this front door is a wow statement for that curb appeal we all love.
The hardwood floor with a driftwood wash stain brightens up the entire space, while the trim molding and Alhambra rug add interest and personality to what would be a rather dull space.
3. Buckland Blue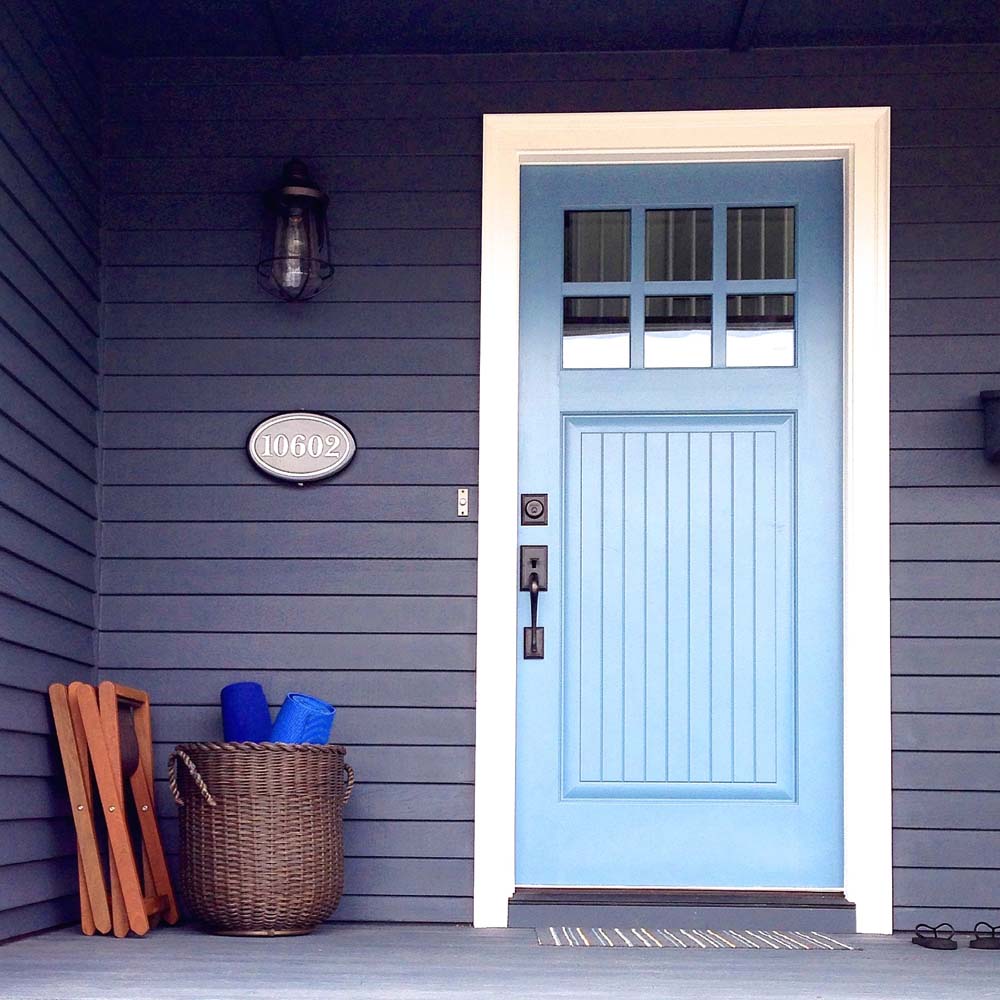 If you want to give your home a boost of serious curb appeal, try contrasting different shades of blue on your exterior walls and front door.
The spruce blue Cabot solid stain on this house's walls pairs with the Benjamin Moore Buckland blue on the front door, giving this home a glamorous, vintage look.
4. Yale Blue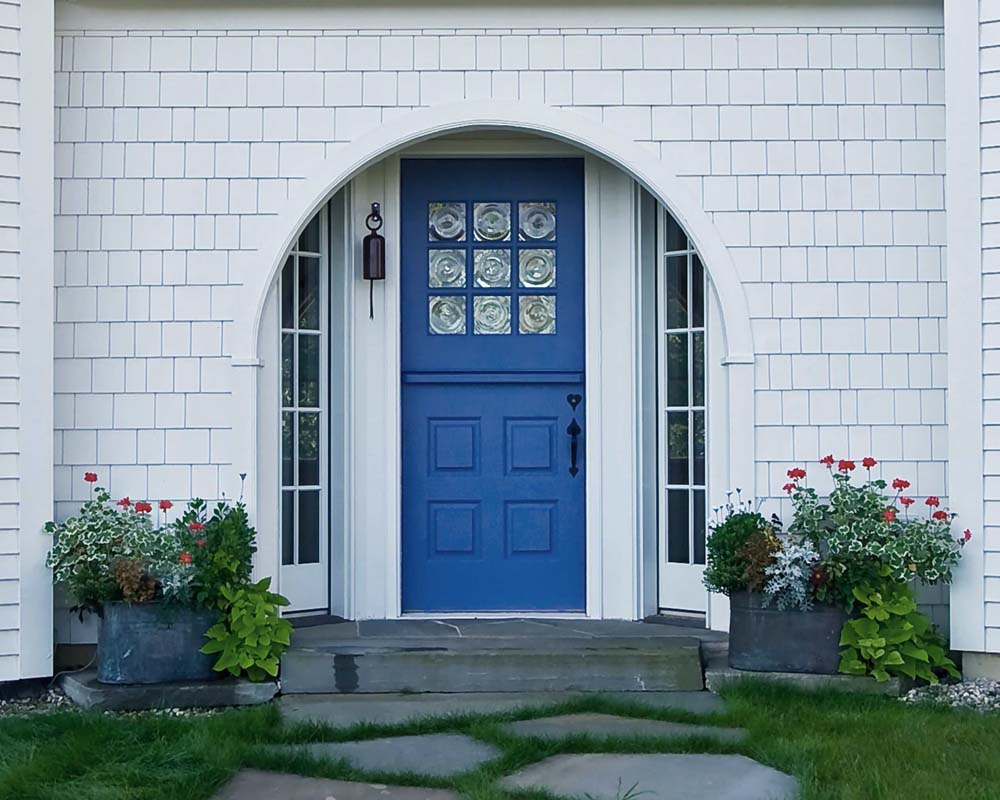 via Sullivan, Goulette & Wilson
Blue and white is a classic combination that'll never go out of style.
This tone of Yale blue gives this front door a cheery update and adds a lot of personality to the entryway of the all-white house without looking too out of touch.
5. Blue Spa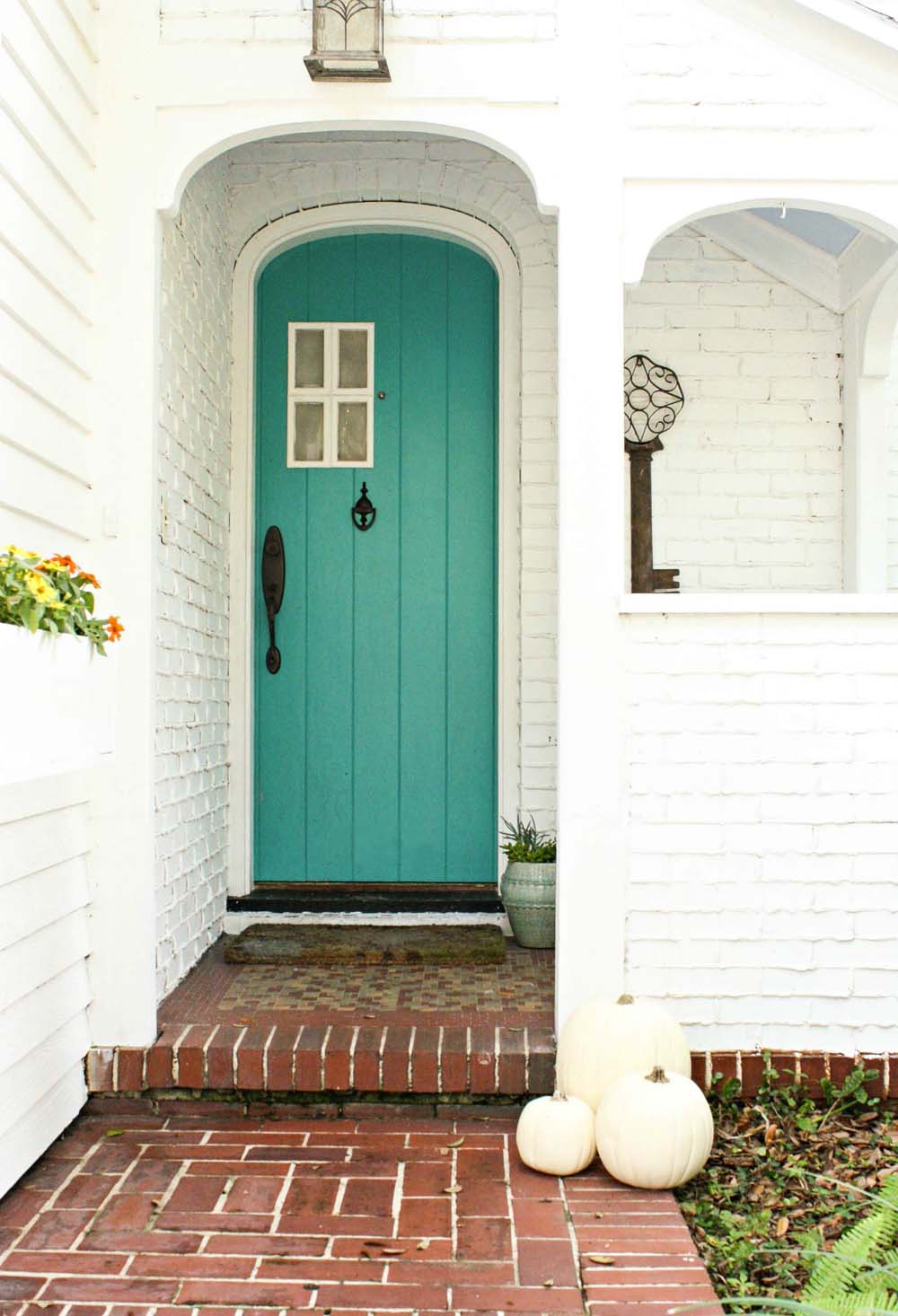 via Mina Brinkey
Add striking appeal to your home by choosing a stand-out blue front door color.
The exterior of this home has a unique traditional character with its brick facade and elaborate white trim. Nonetheless, the vibrant shade of Benjamin Moore blue spa on the front door provides contemporary contrast.
6. Navy Blue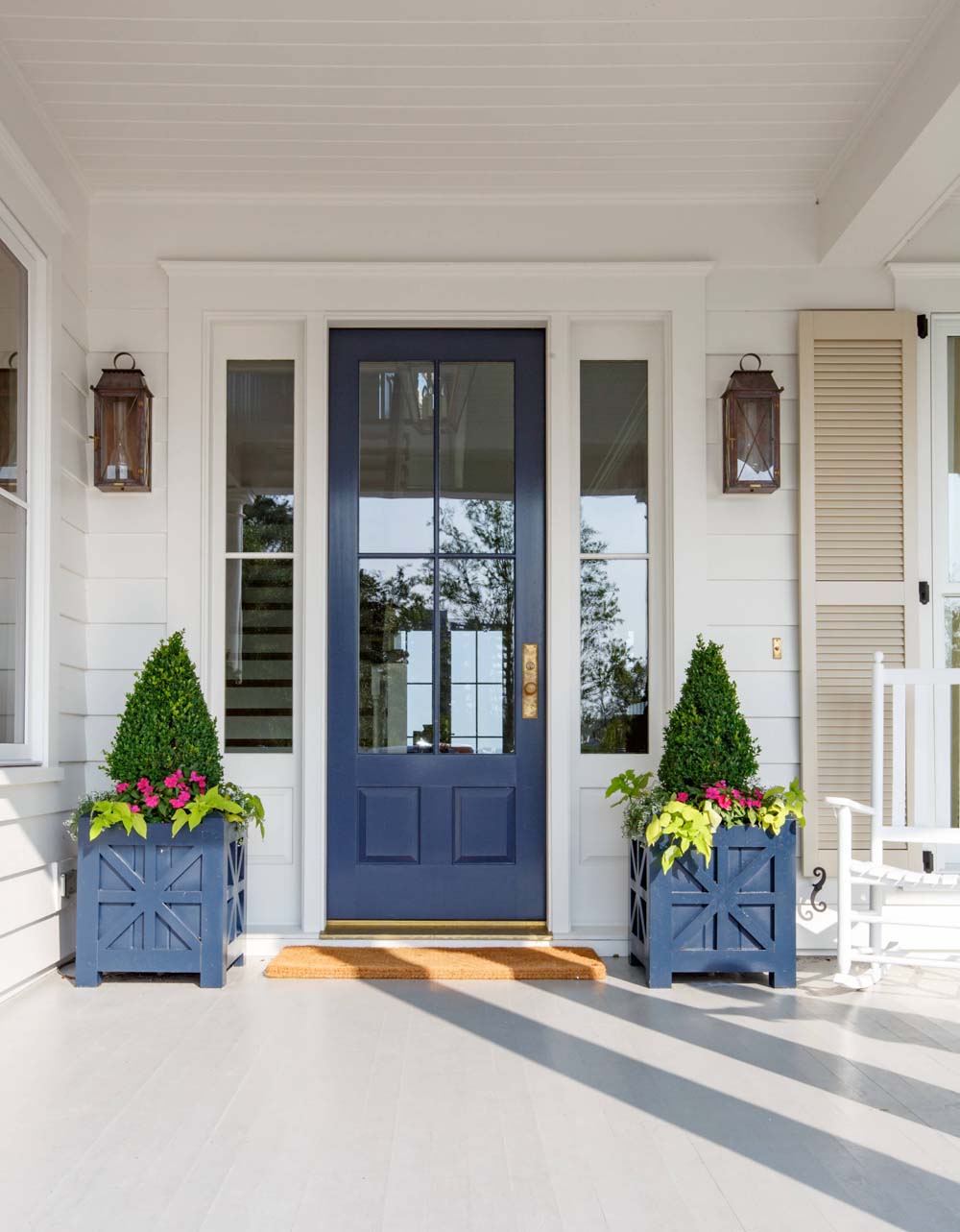 This particular navy blue paint color by Benjamin Moore is called New York State of Mind. It's a blue hue that can understate itself on front doors with a much bolder presence.
This navy blue front door matches perfectly with the box planters, and the sidelites and white exterior paint give it a luxurious feel.
7. Blue Peacock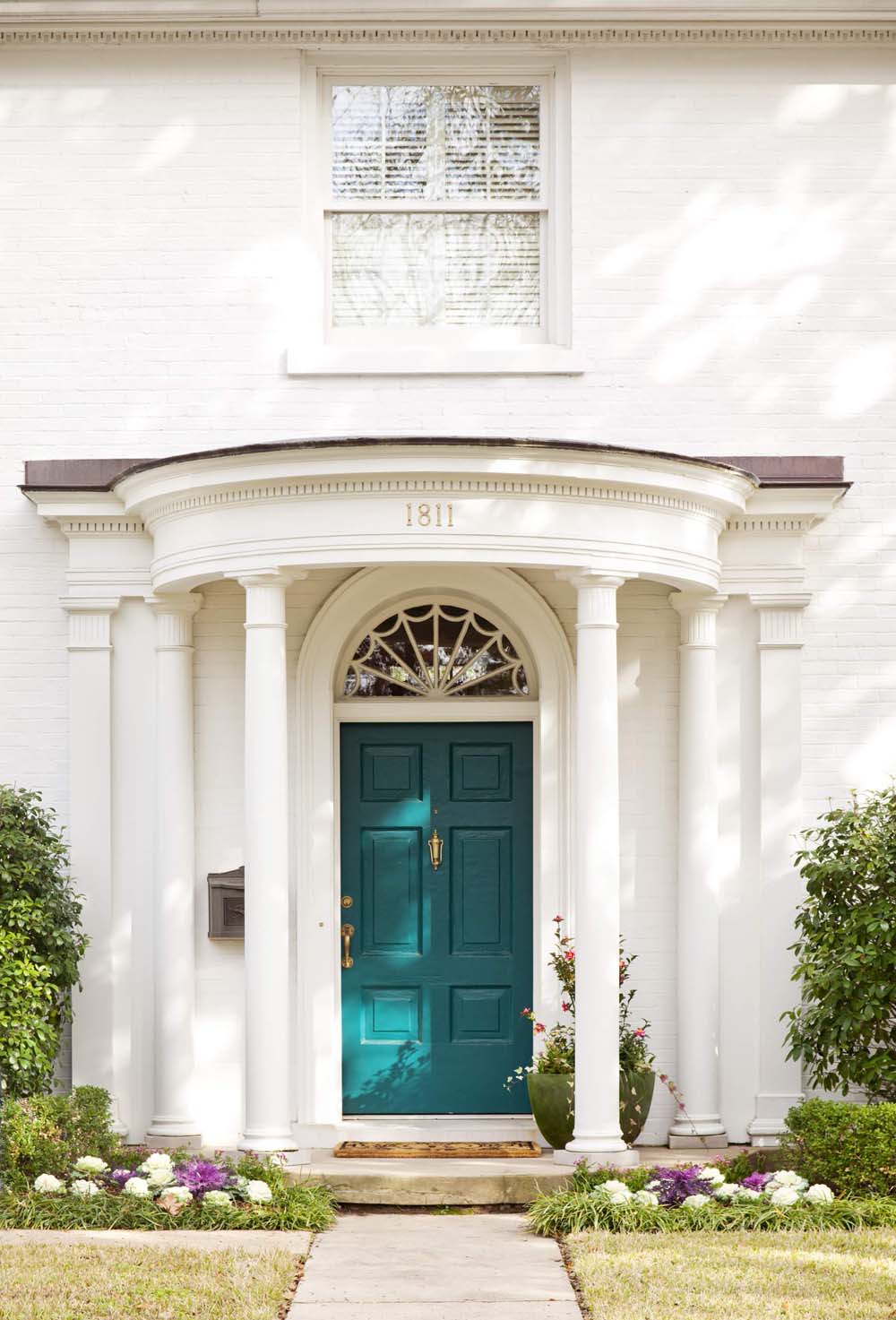 This shade of Sherwin Williams blue peacock is a bold color choice for a front door, but it's deep enough not to overwhelm your entryway.
The door paint color looks fabulous, surrounded by white and nature's colors from pinky purples to grassy greens.
8. Columbia Blue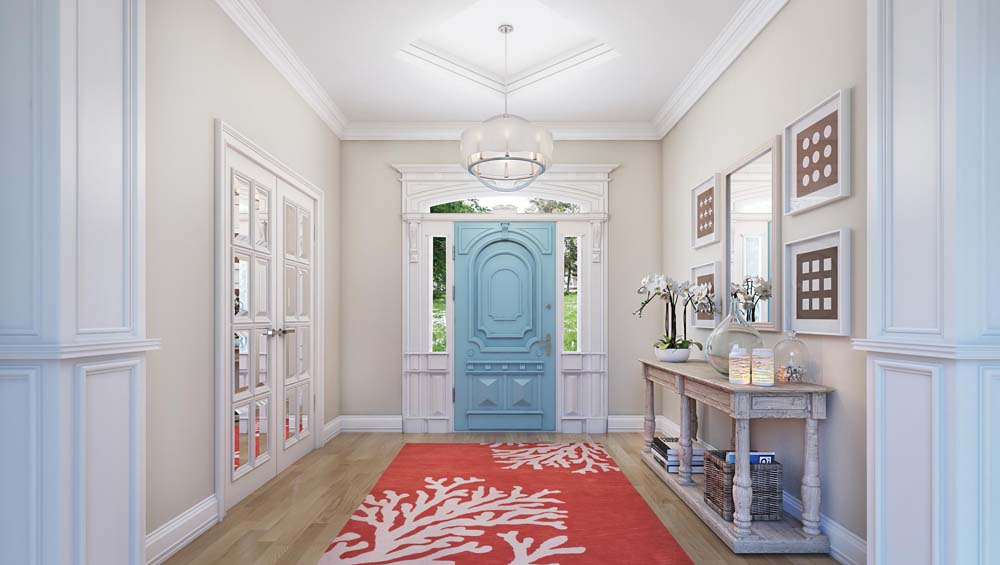 The view from the foyer of this Columbia blue door is almost as good as its view from outside. I love how it pairs perfectly with the light gray trim and the red and white rug on the hardwood floor.
9. Bainbridge Blue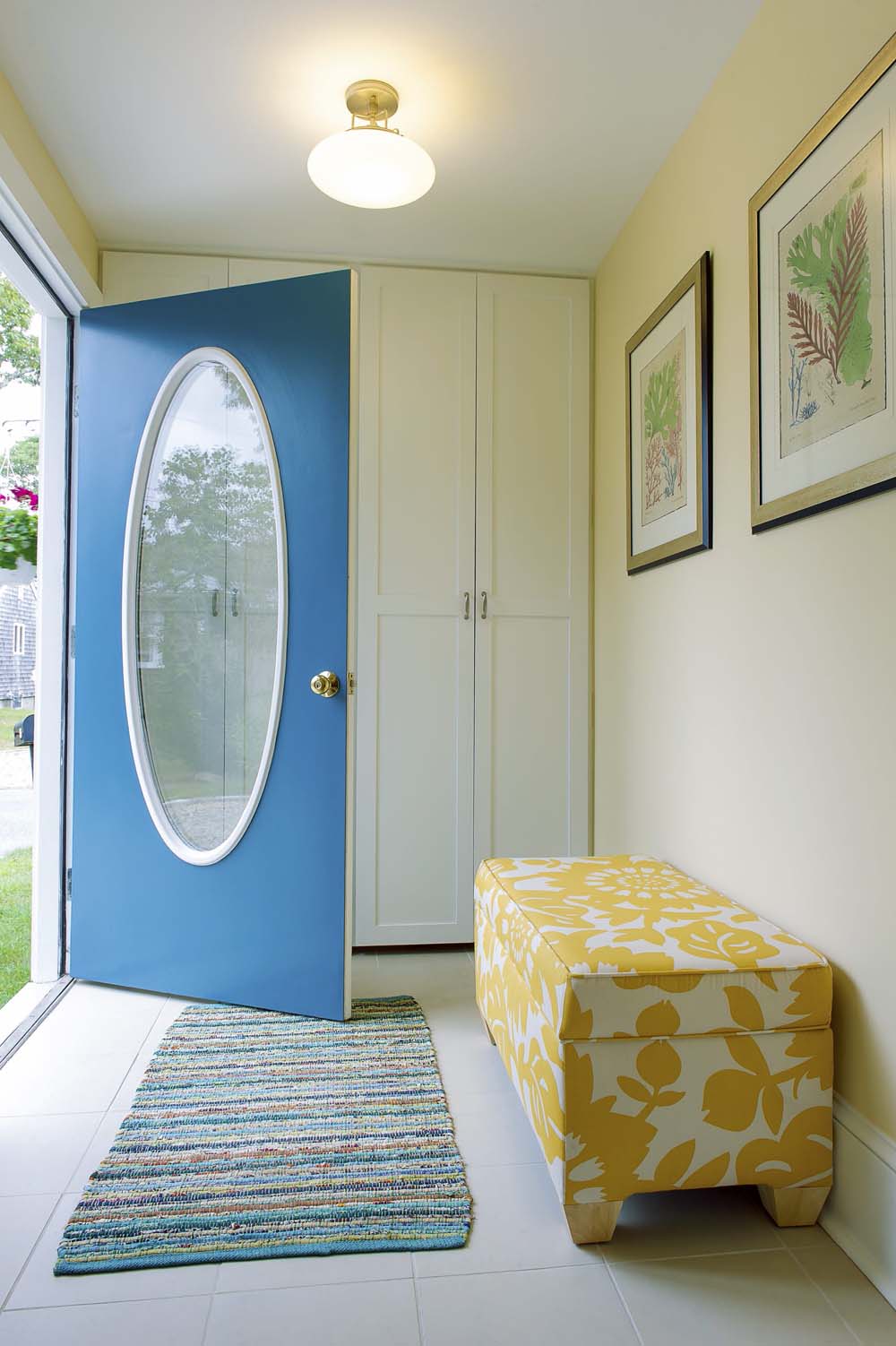 The oval glass sidelite and the vivid Benjamin Moore Bainbridge blue paint on this front door beckon arriving guests up the entryway.
The white custom-made swinging closet doors provide a pleasant backdrop, and the yellow and white bench adds color to this already glamorous space.
10. Aqua Blue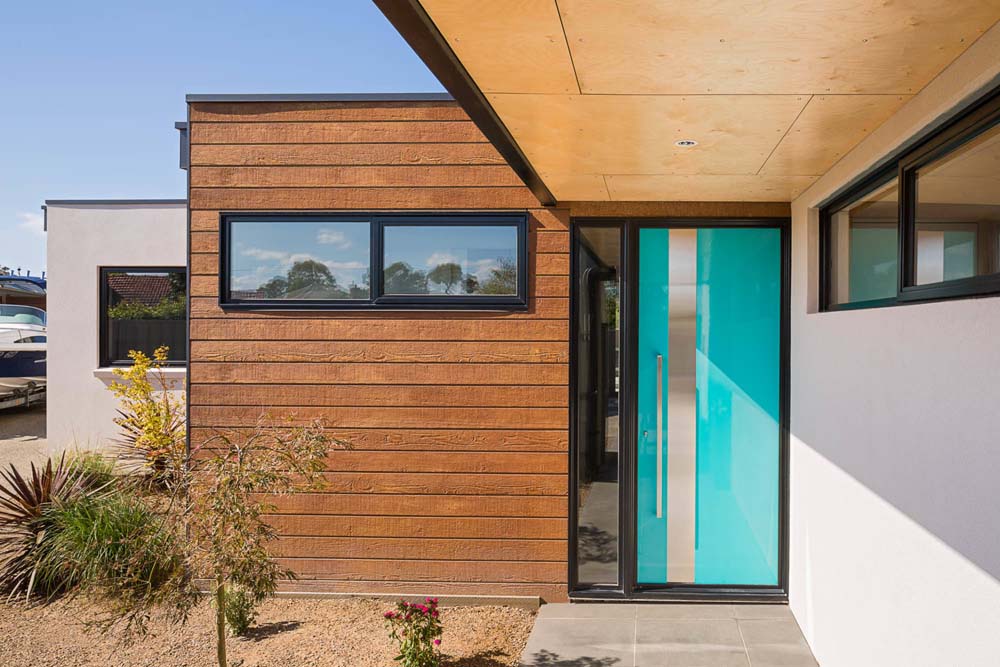 via In2 Pty
This blue front door color adds a happy tint to this contemporary home. The aqua blue door combines with the cottage-style decor and xeriscape plants to enhance the desert vibe.
11. Van Courtland Blue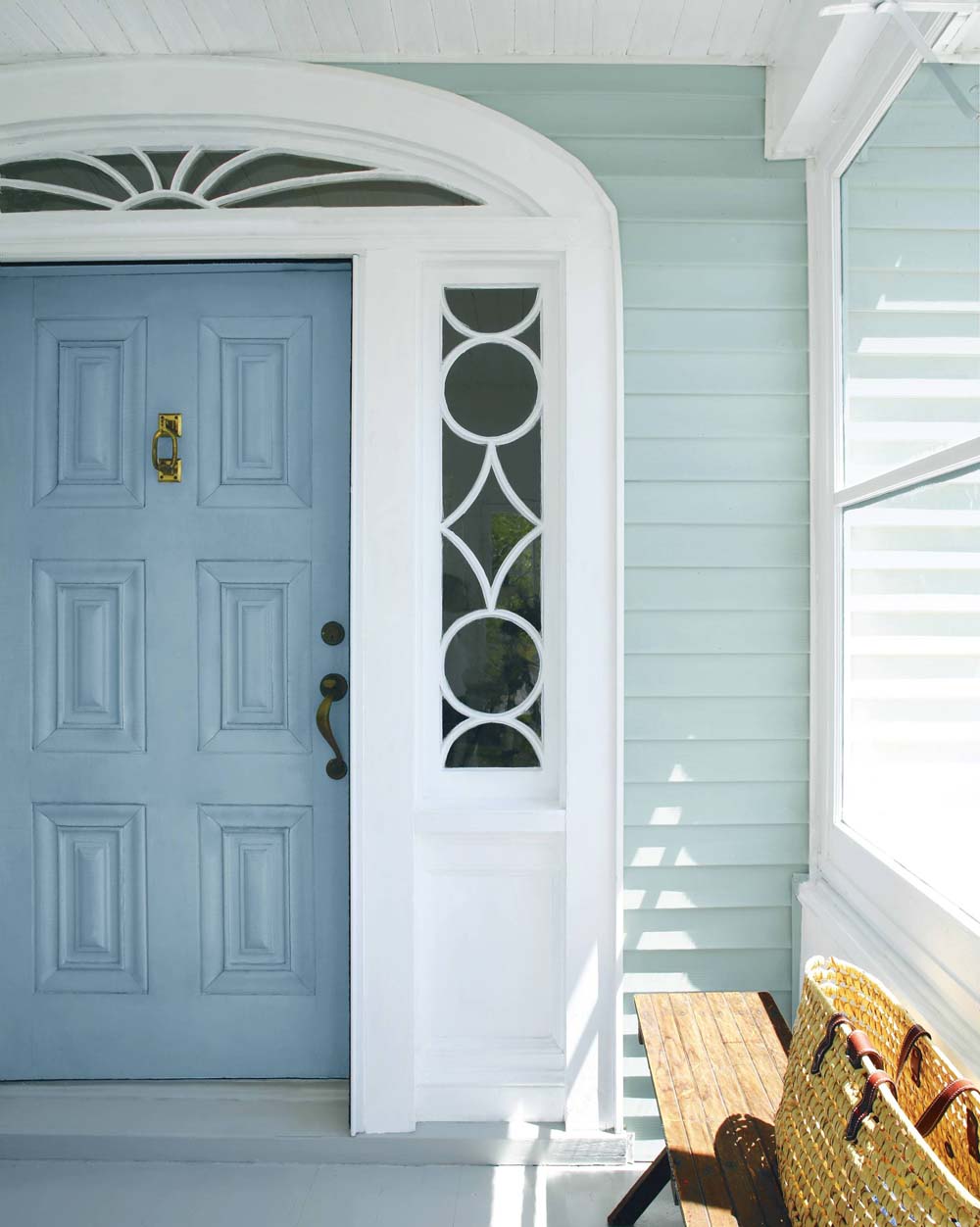 via Benjamin Moore
This traditional six-paneled door boasts a shade of Van Courtland blue that pops against the white trim window details and light blue siding.
The wooden bench and woven basket take the beauty and elegance of this farmhouse porch to the next level.
12. Pacific Blue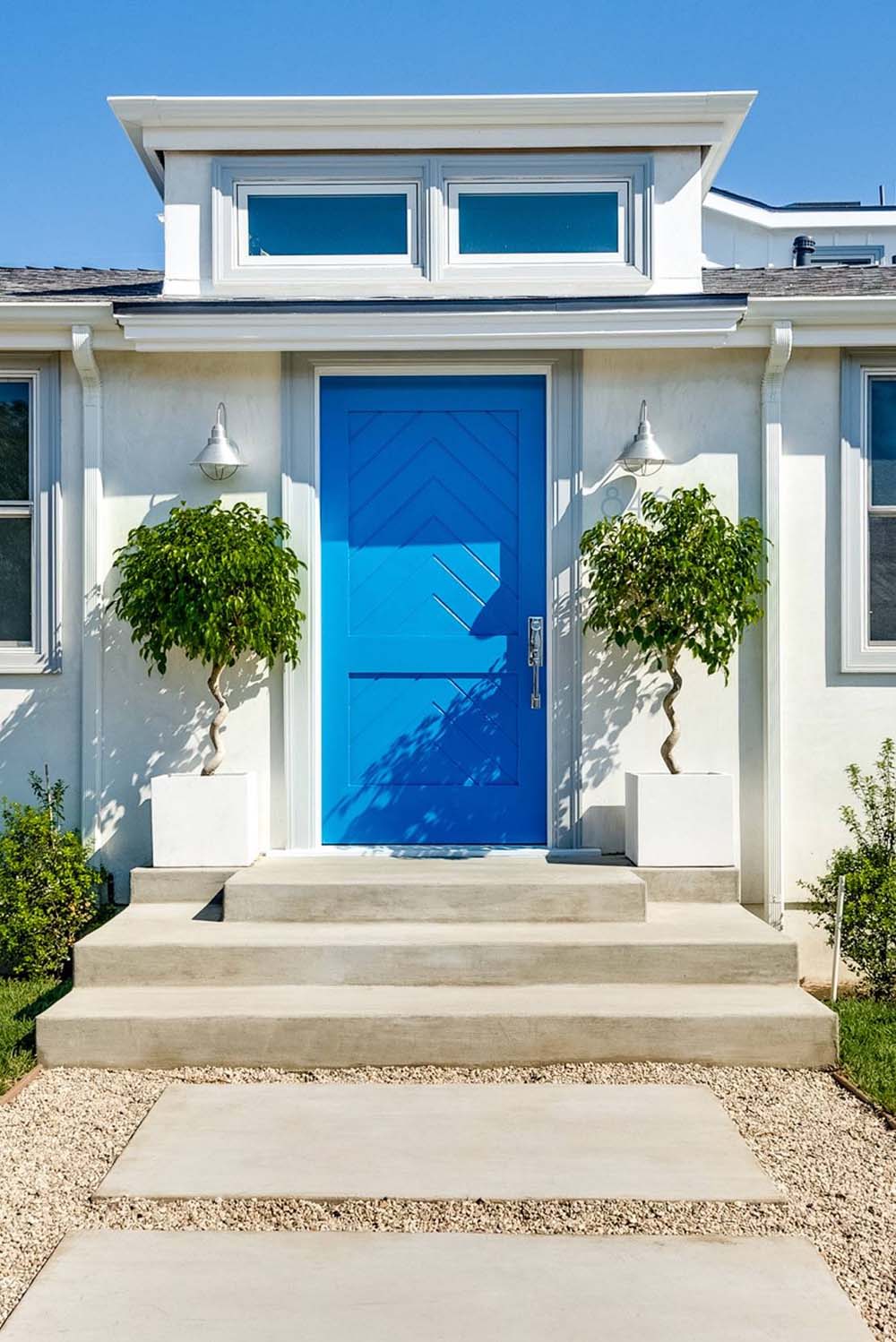 via Ting & Company
This Pacific blue door pops against the home's white trim and siding and is the perfect addition to a beach-style entryway.
Nature's green hues and concrete pavers further this door's color into the landscape.
13. Hale Navy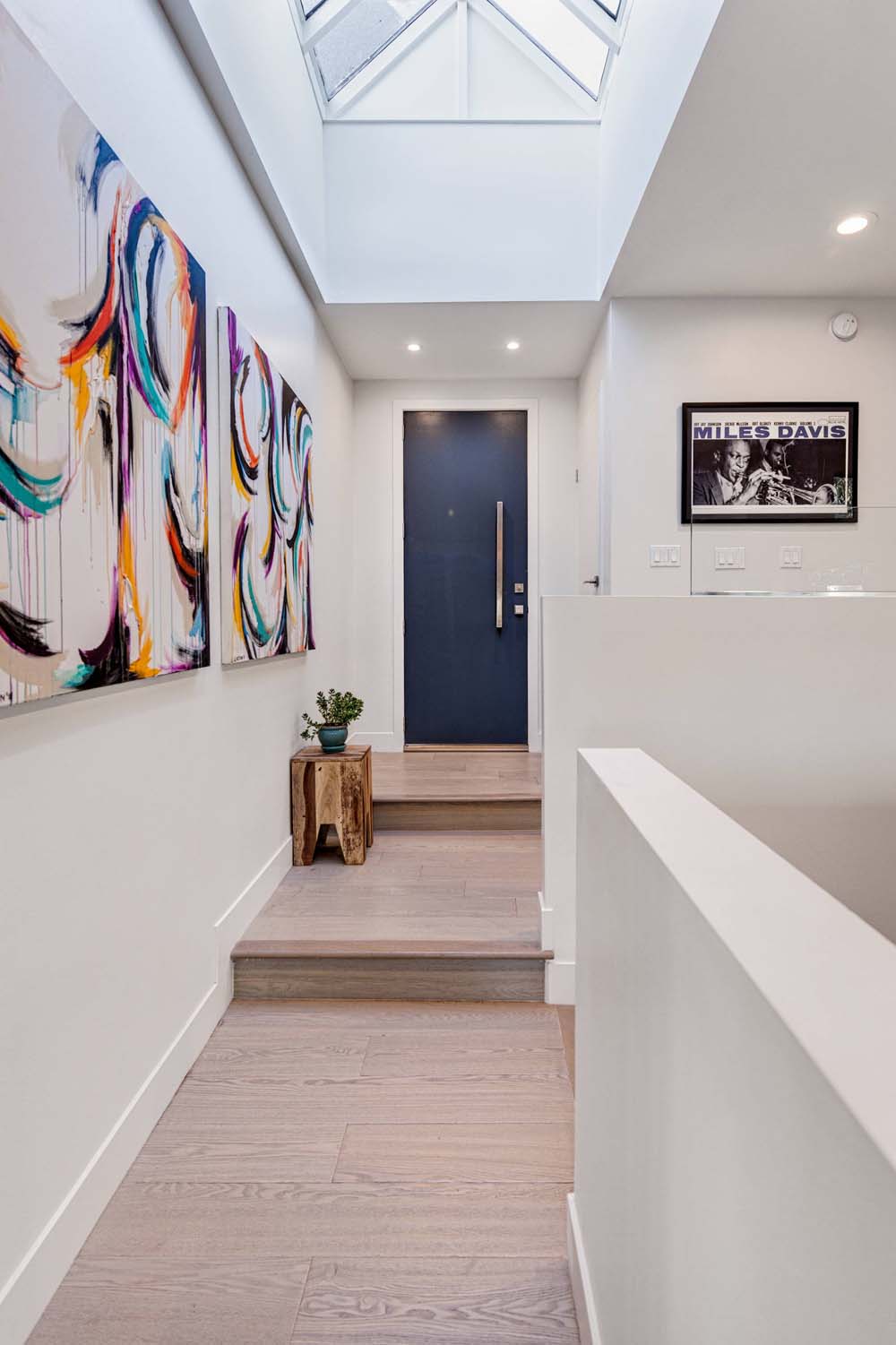 The deep blue navy on this entry door changes the look and feel of this home's entire foyer. The hardwood flooring, driftwood bench, and potted plant give it a rustic Tuscan feel.
14. Novelty Navy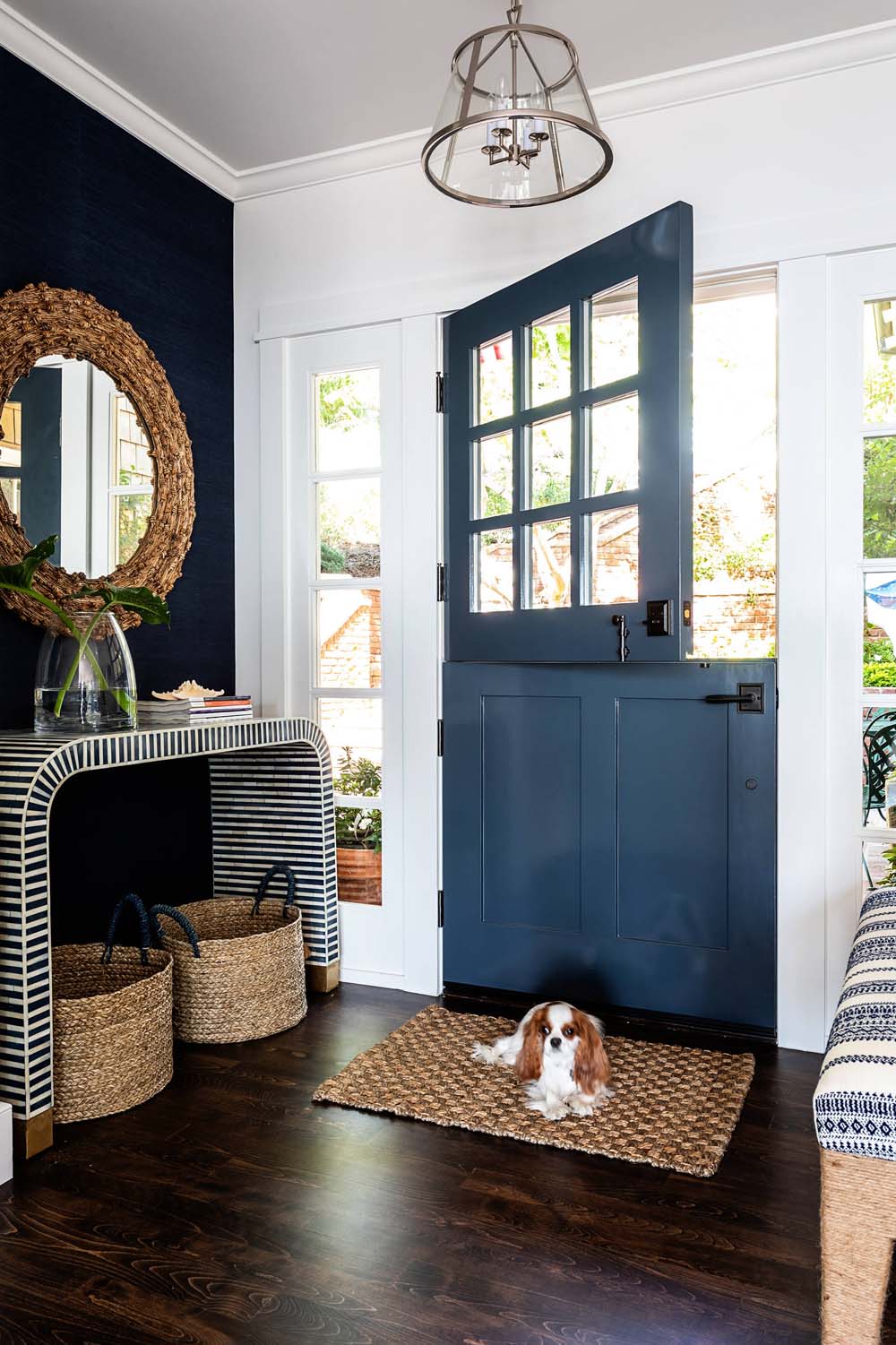 The style of door you use for your entryway is as important as the fresh coat of blue paint to create a stunning design.
This Dunn-Edwards novelty blue Dutch door pairs well with dark hardwood flooring and farmhouse accents to make a subtle yet fashion-forward statement.
15. Teal Blue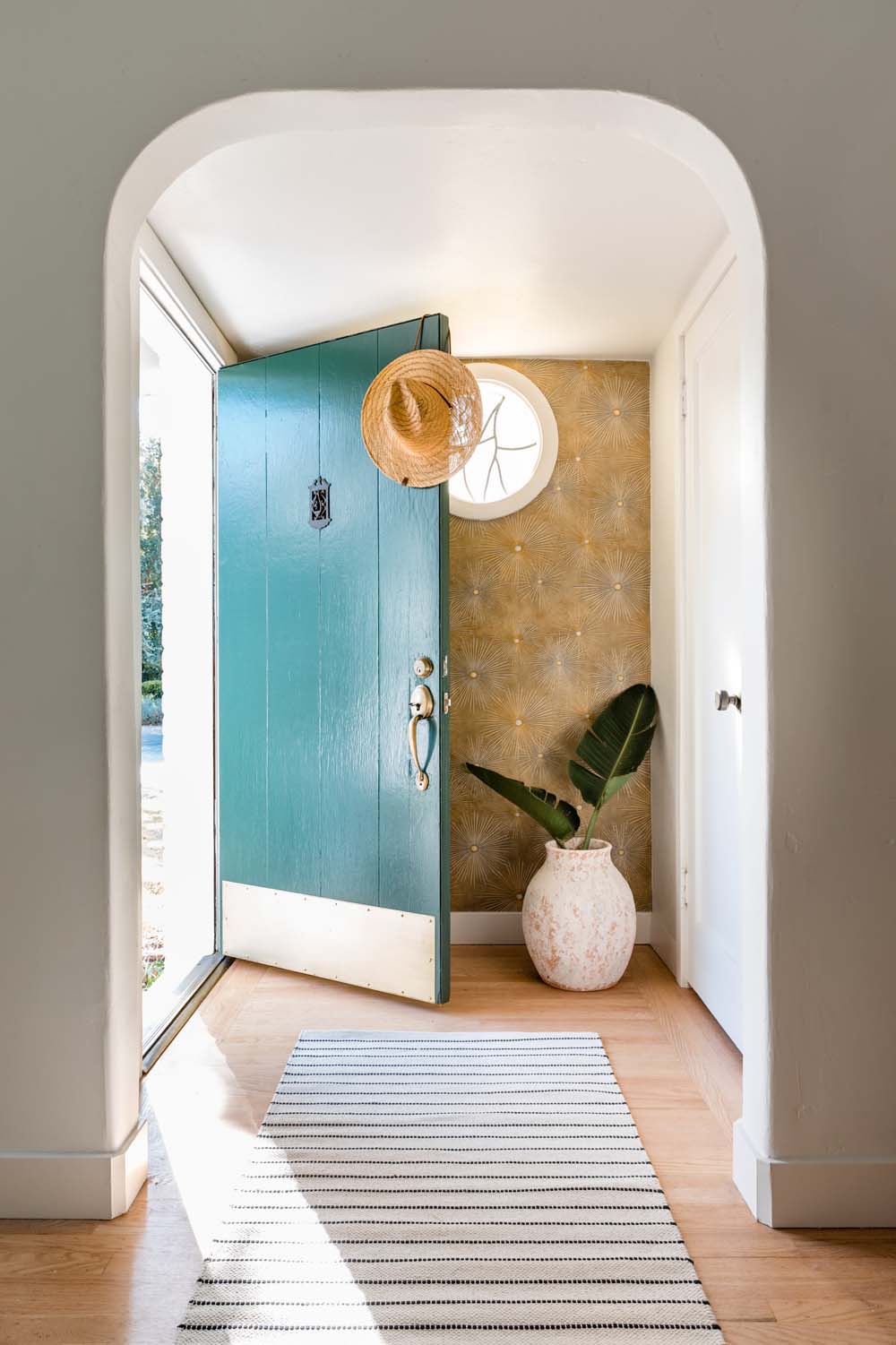 via Colossus Mfg.
The soft, muted color of the hardwood floor, along with the gold accent wall and the teal blue door, offer a contrasting color scheme that lends a cheerful look to this entryway.
16. Electric Blue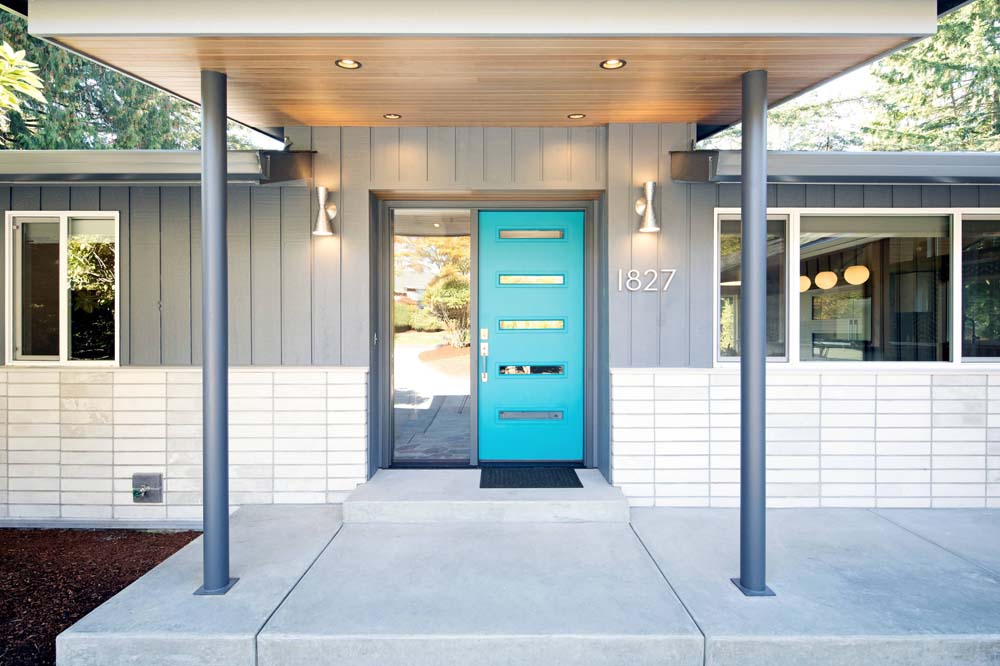 This light shade of cyan will transform the entryway of any contemporary home it's placed in.
This door's electric blue exterior paint pairs with a gray and cream palette to add color and style to this modern home.
17. Air Force Blue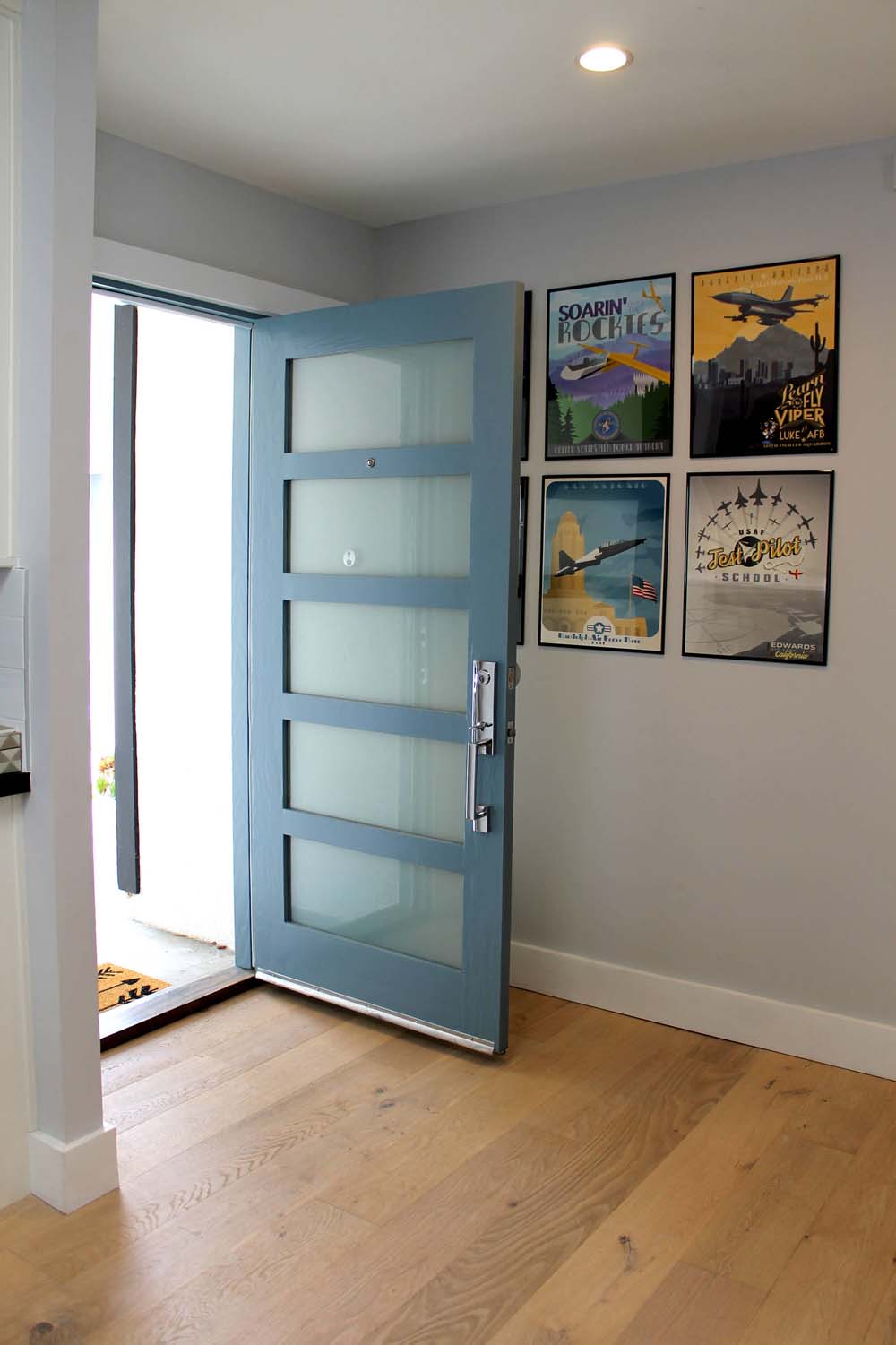 via Lunada Consulting & Design
This desaturated dark blue hue on this front door perfectly complements a hardwood floor.
The Air Force blue makes this door look updated and welcoming to family, friends, and guests alike.
18. Caribbean Cruise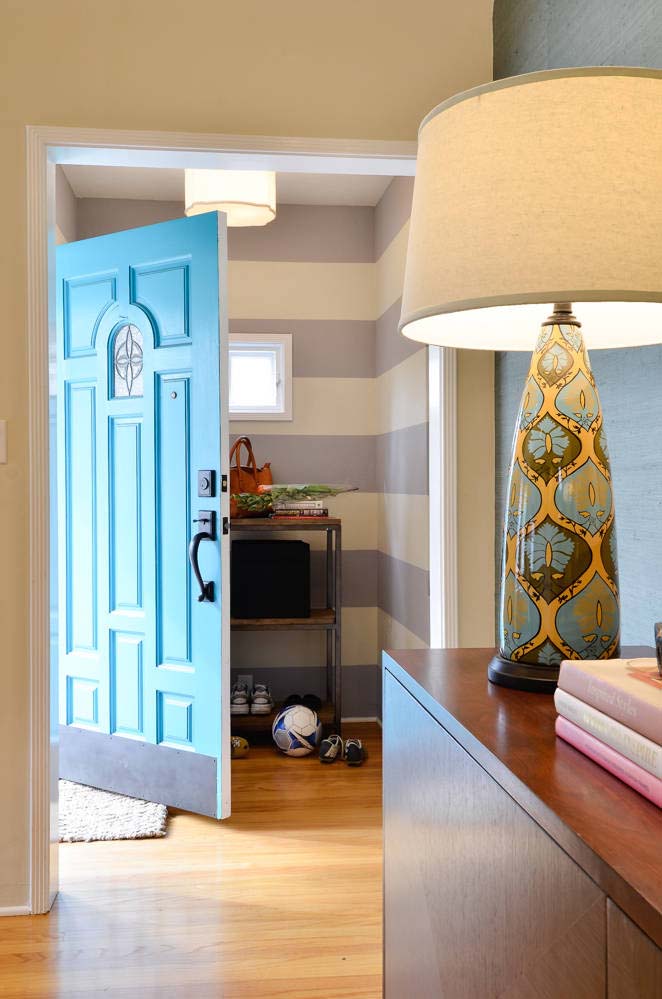 via Kendra Kay
A fresh coat of this Dunn-Edwards Caribbean cruise blue is an excellent way to modernize an original door without making the entryway look out of place.