Over the years, we accumulate quite a collection of kitchen items. Pots and pans we inherited for using at college are showing their age.
Silverware and tea sets found purchased at estate sales are turning into clutter. It's time to reuse and upcycle our collections. We have found twenty-eight DIY kitchen hacks for your garden and home.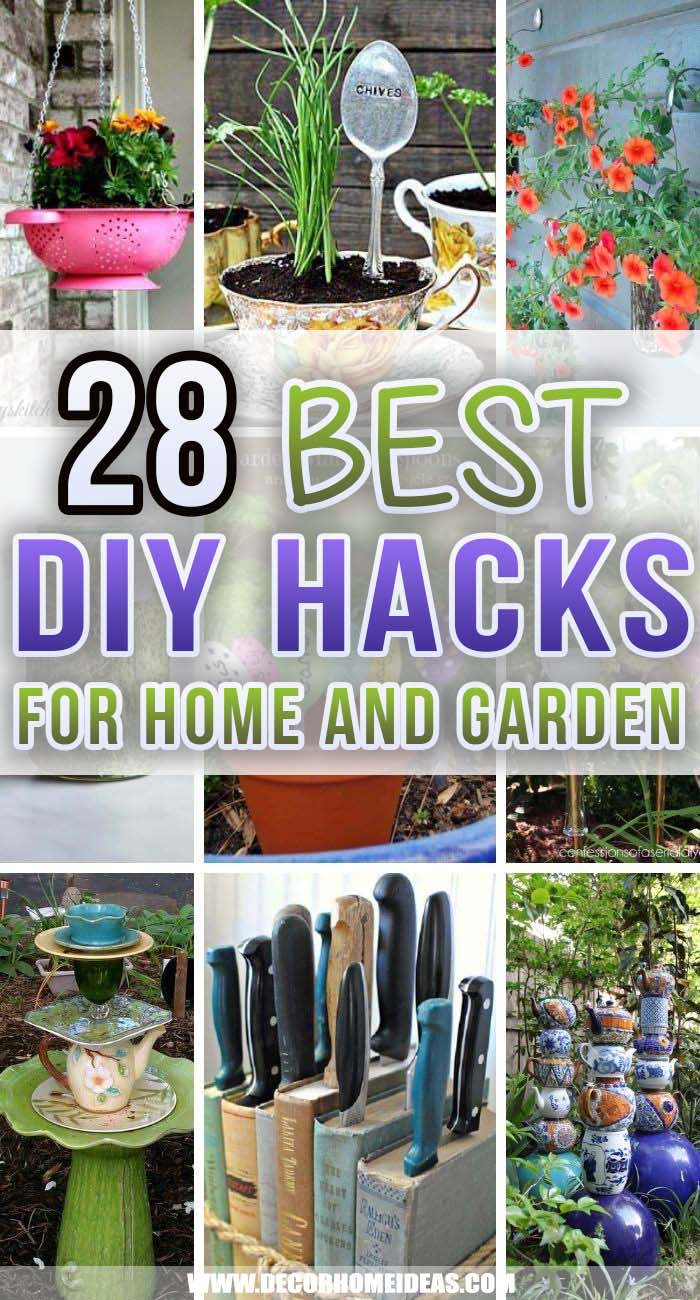 These ideas will put your flea market finds to good use. You'll put together these projects with items from hardware or dollar stores.
You'll organize your kitchen and recreate expensive garden ornaments at a fraction of the cost.
1. Add More Storage With Small Cabinet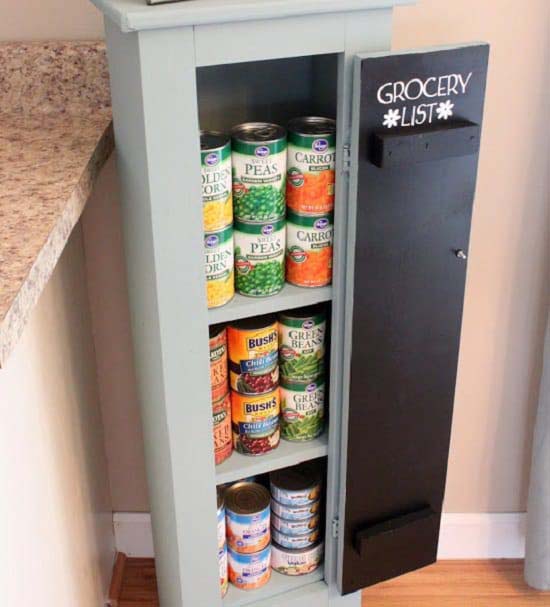 Repurpose an old small cabinet by turning it into more pantry storage for your kitchen. Pick up a little cabinet like this at thrift stores. This one was painted to match the rest of the kitchen. The inside of the door is painted with chalkboard paint and stenciled at the top.
Chalk paint markers are available at your local hobby store.
2. DIY Chalkboard Tote for Your Grocery List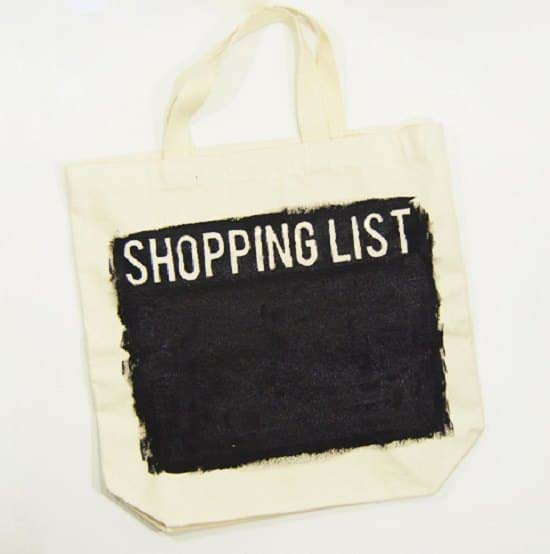 Spruce up an old tote bag by painting a chalkboard on its side and you'll always remember your grocery list. All you need to paint fabric with chalk paint is a fabric medium and sealant.
You can even use water as your medium.
3. Recycled Chimney Becomes Pot Planter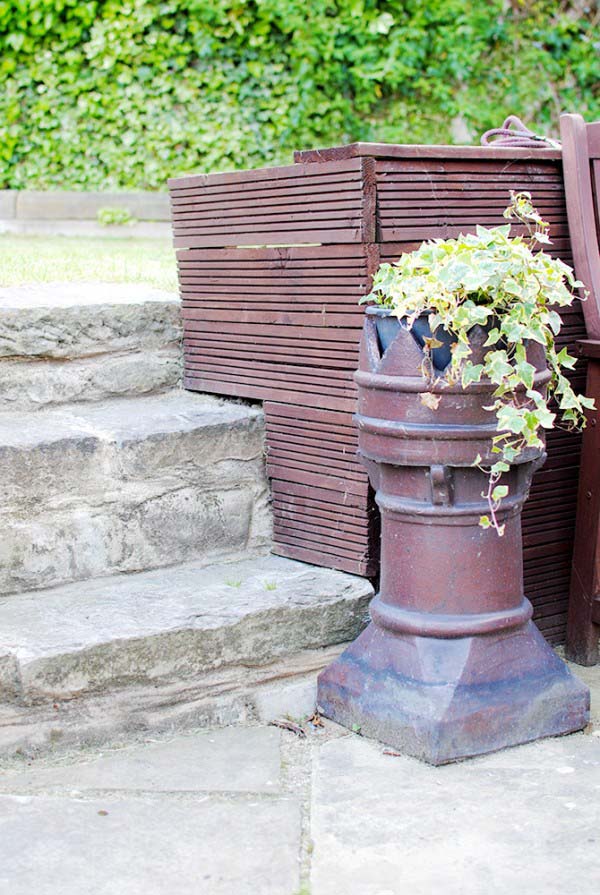 An old chimney is salvaged and repurposed as a plant stand. You can do this anywhere you'd like to add height to your garden.
Hanging plants like ivy soften the look while adding a lot of greenery. You can find chimneys on eBay or check your local Habitat for Humanity ReStore.
4. Build a Simple Cake Stand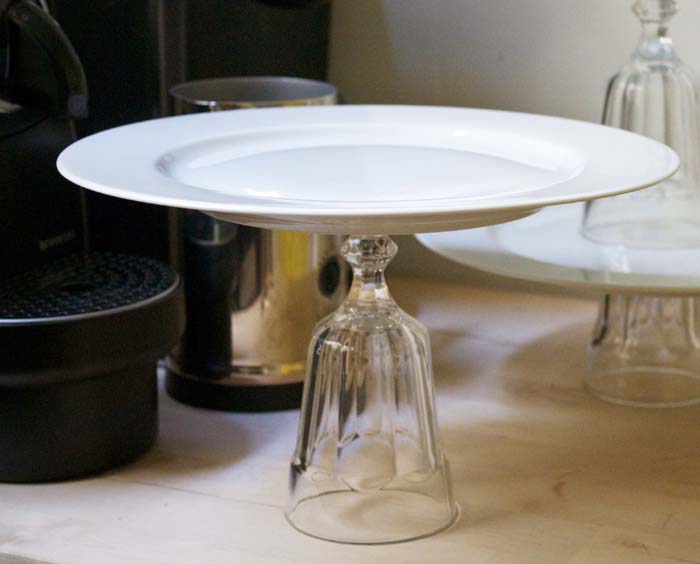 Using cake stands as part of a buffet table scape creates room for more cookies, finger food, or even utensils.
Glue the bottom of a large plate to an upside-down goblet or ice cream sundae glass to make a cake stand. Epoxy works well as a permanent bond and allows you to stack two or three together.
The base can be painted to suit your décor.
5. Use Colorful Plates for a Birdbath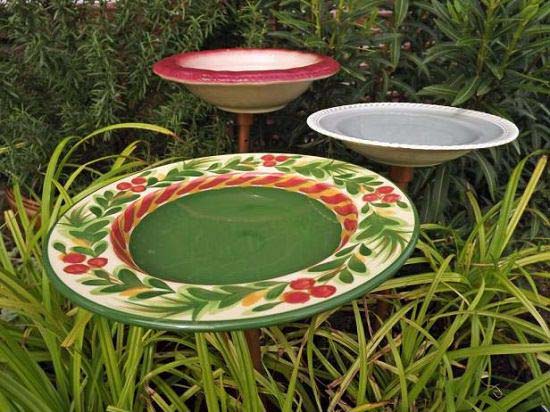 A PVC pipe and bushing painted copper provide the base for days for these DIY bird baths.
Shallow bowls and plates work best with this project.
via HGTV
6. Repurpose Books Into a Knife Holder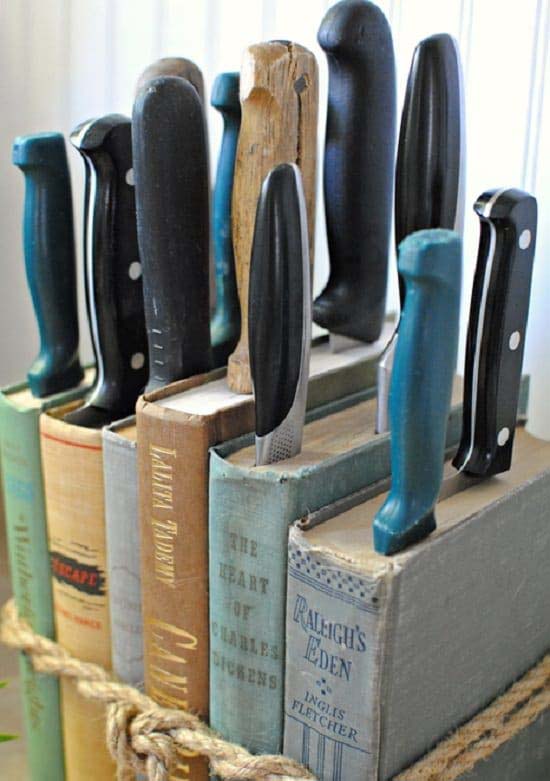 Turn old books into a knife thing holder. Simply tie the books together and keep them loose enough so that the knives can slip in easily. Use enough rope or twine to be able to wrap around the books twice.
This idea looks great in a farmhouse, rustic, or country cottage kitchen.
7. Inexpensive and Effective Knife Sharpener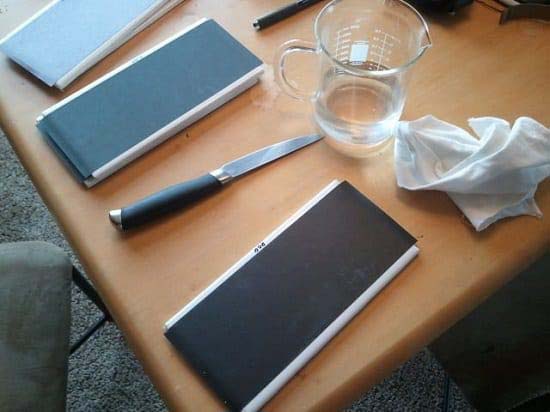 Knife sharpeners can be expensive, but it's better than buying a new set of knives. Try this DIY knife sharpening project found on Instructables.com.
The only materials you'll need to find are cheap tiles and sandpaper.
via Instructables
8. DIY Farmhouse Style Wine Glasses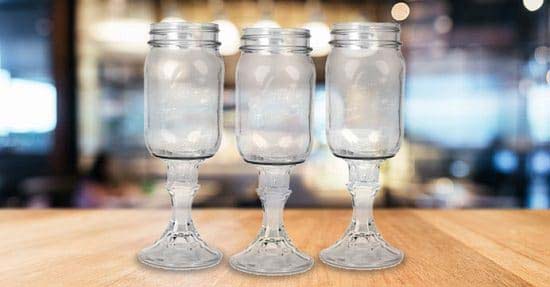 Use E9000 adhesive to make these shabby chic wine glasses.
Pick up the candlestick holders and mason jars at the Dollar Tree.
via Dollar Tree
9. Turn Old Spoons Into Plant Hangers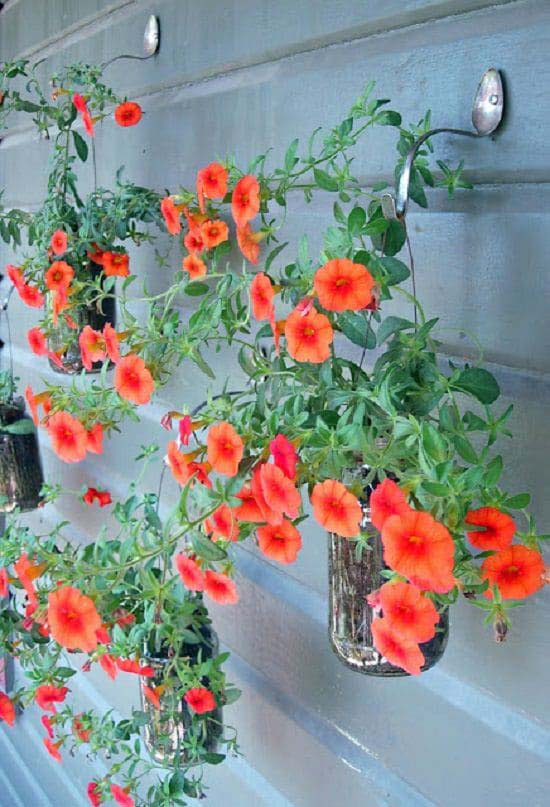 All you need is a clamp and hammer to turn a mismatched array of spoons into planter hooks.
via Hutch Studio
10. Redirect Rain With Spoon Rain Chain Project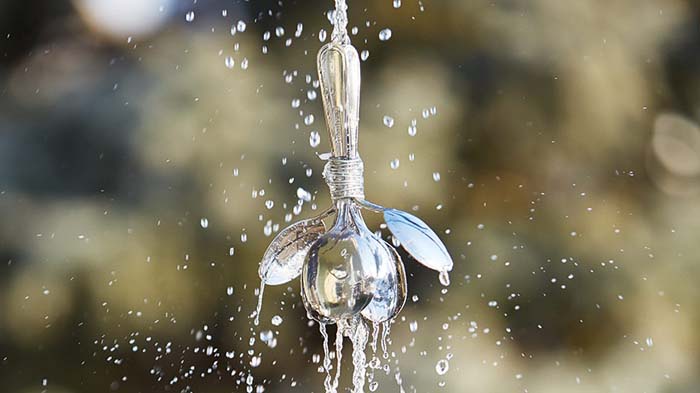 A rain chain is used in place of a downspout. It helps direct water away from your home to wherever you need it.
Garden Gate magazine has a great tutorial on using spoons and forks for this purpose.
via Garden Gate
11.Create Plant Markers Using Stamped Spoons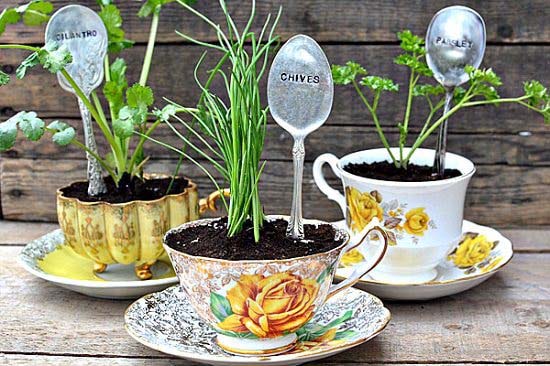 Create unique markers for planters with vintage spoons.
They were hammered flat and hand stamped. A black marker was used to enhance the lettering.
12. Magical Teapot and Teacup Fountain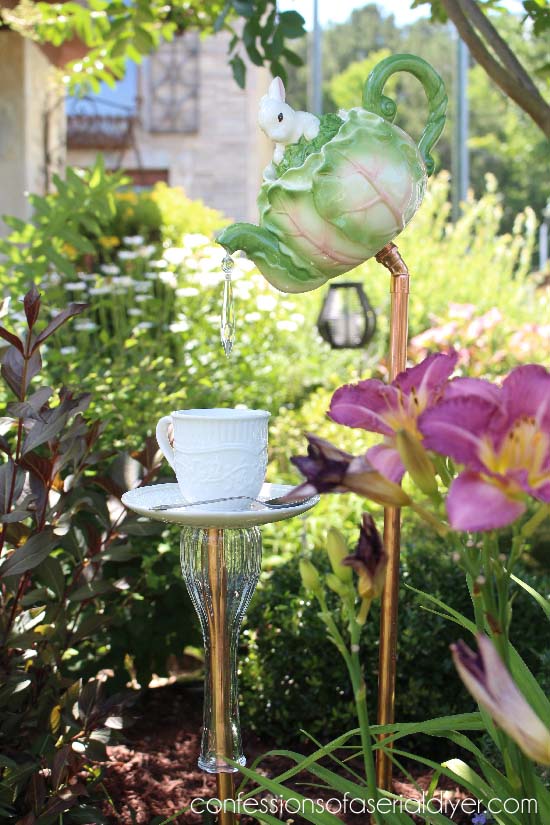 A vintage teacup set and pot connected to stakes made of copper pipes and fittings are the basis for this do-it-yourself garden decoration project.
The fountain is enhanced with a little bling created using a glass bottle and crystal prism.
via Confessions of a Serial DIYer
13. Build a Delightful Mosaic Teapot Tower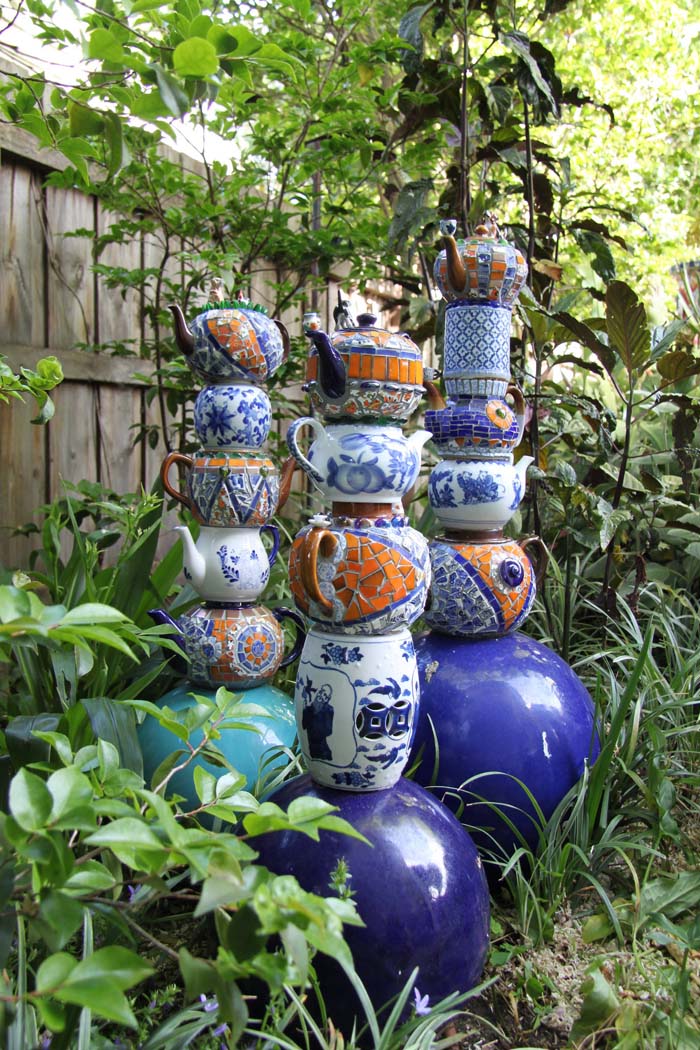 Teapot towers are also known as teapot totems. Using teapots in the same color family brings coherence to these garden towers.
She accomplished this by decorating certain teapots in mosaics from the same tile chips.
via Gillm Mosaics
14. Crystal Plates Become Beautiful Garden Flowers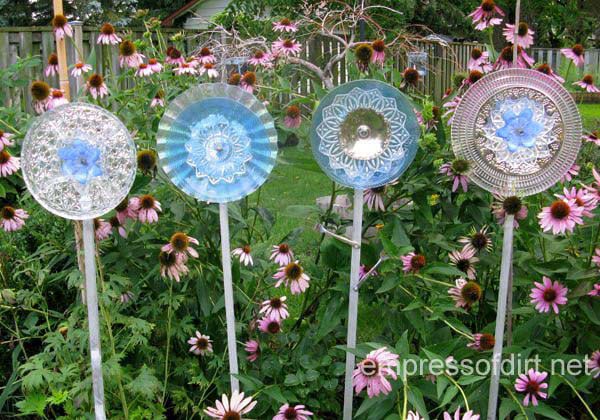 Diamond drill bits are the secret tool used to create flowers from glass and ceramic plates. Silverware and kitchen utensils are attached to the stakes and used as leaves.
These can also be made without drilling. Just be sure to use a waterproof adhesive.
via Empress of Dirt
15. Simple Garden Marker Project With Spoons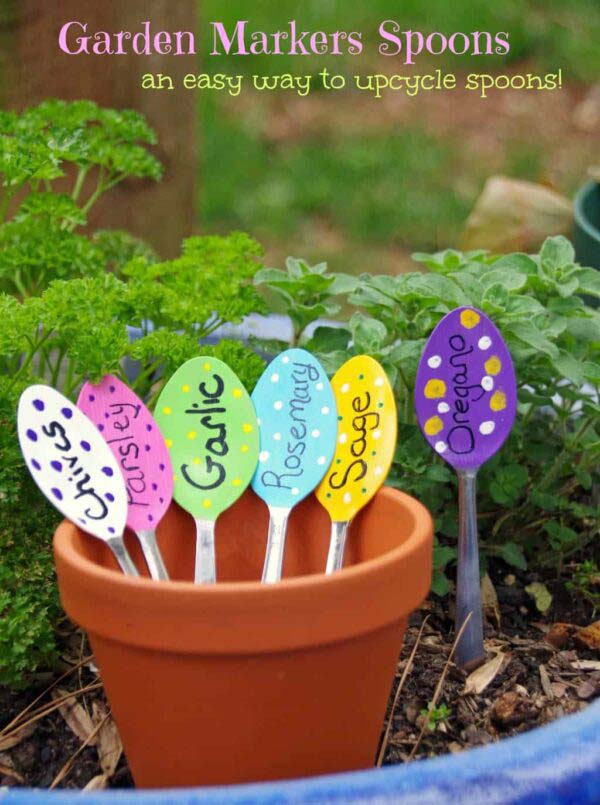 Metal spoons can be painted after they're hammered flat to give them a little more charm.
16. Create Hanging Flower Planters From Colanders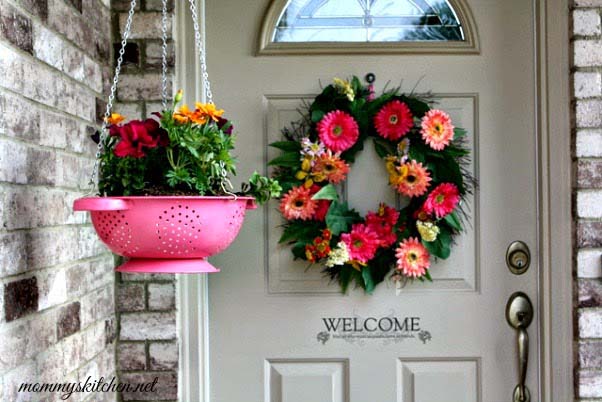 Colanders can be used as hanging baskets. Spray paint as desired. Keep the dirt from spilling out by lining the inside with coffee filters.
Flower pot hanging kits can be purchased at Walmart.
via Mommy's Kitchen
17. Use Spoons to Make Garden Flower Decorations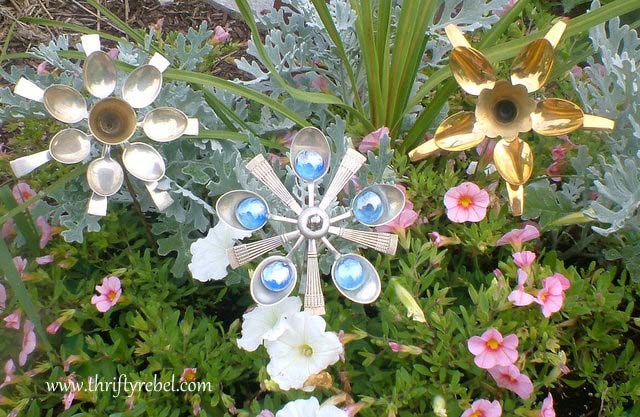 A candle snuffer is used for the centers of these spoons. Marine glue holds them together.
via Color Me Thrifty
18. Turn Old Cookware Into a Magical Garden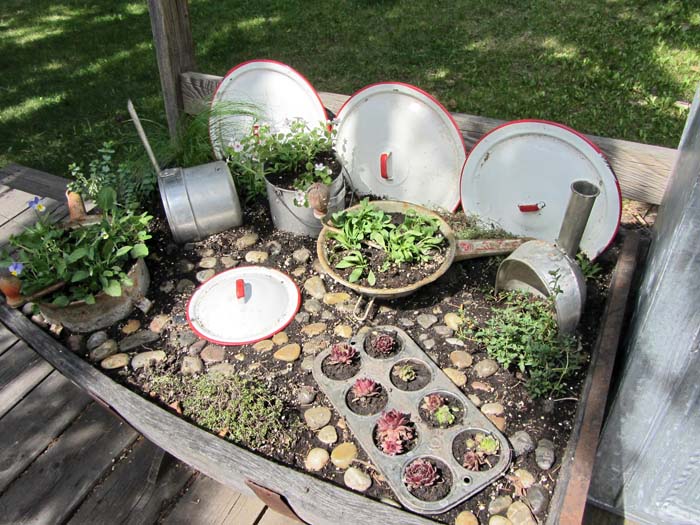 Kitchen pots, pans, and lids that have seen better days are turned into a quaint garden. Succulents snuggle in a muffin tin.
Planters hold herbs that need more room for roots. Small river rocks embedded in the soil look like stepping stones.
19. Fastest and Easy Kitchen Knife Holder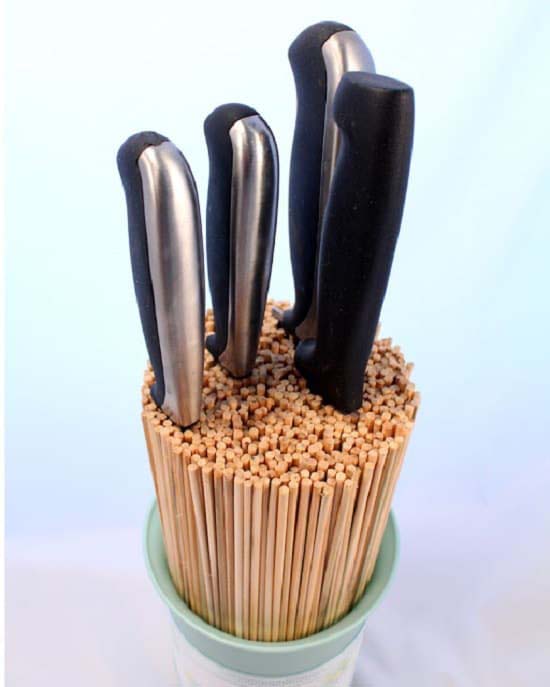 One of the easiest knife holders you can make is to take a ceramic mug or cup and fill it with skewers. The knives slip in between the reeds.
via Felicia Kramer
20. Classic Hack for Organizing Pan Lids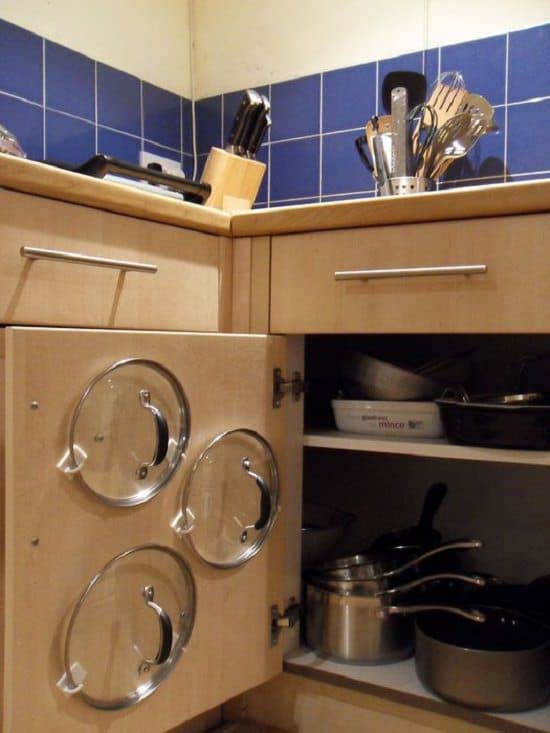 Self-adhesive plastic hooks set at angles on the back of a cabinet door create everyone's favorite hack for organizing and storing pot lids.
via Instructables
21. DIY Message Board From a Pizza Pan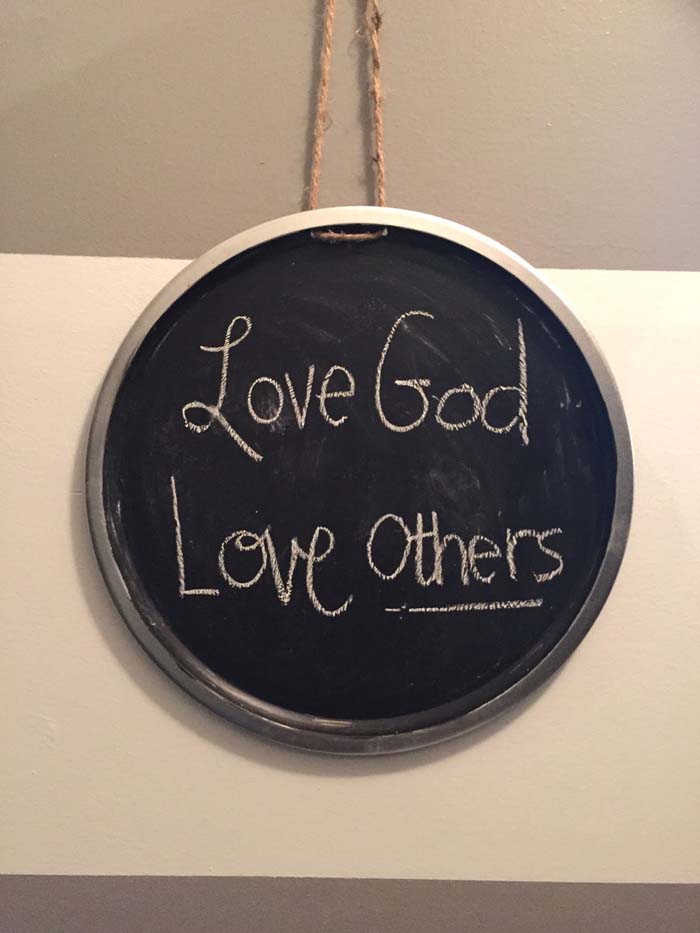 Drill two holes into the rim of an old aluminum pizza pan. Paint the inside with black chalk paint and hang it up with twine.
via Karen Ehman
22. Make a Plastic Spoon Pendant Lamp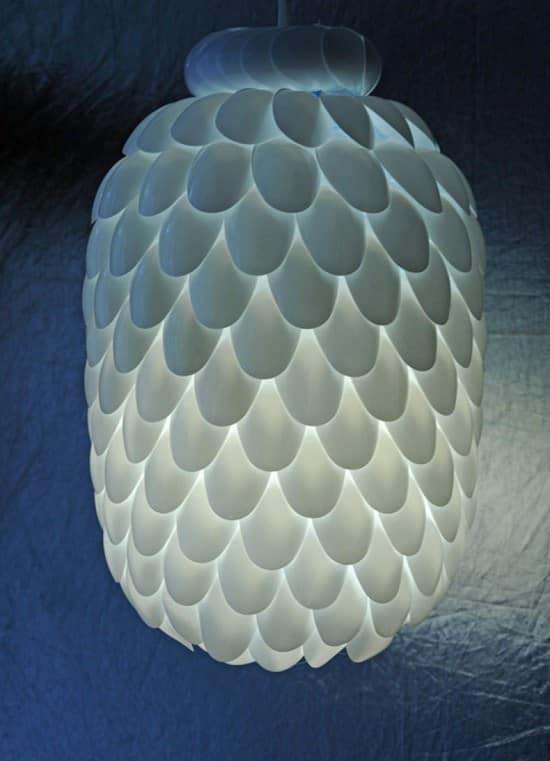 Plastic spoons are hot glued onto a large plastic water bottle fitted with a lamp kit. Use this same concept as the start of a pineapple lamp.
23. Organize Knives With Magnetic Wall Rack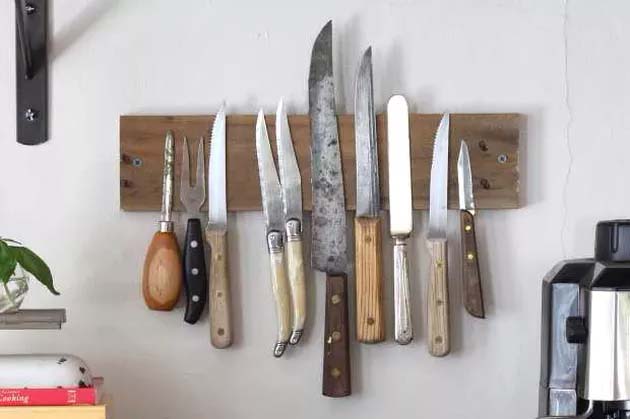 Create a knife holder with a piece of salvaged board. Using a Forstner bit, drill holes into the back to glue in rare earth magnets.
It should be deep enough that they hold the knives in place through the wood.
via eHow
24. Easy Self-Watering System for Plants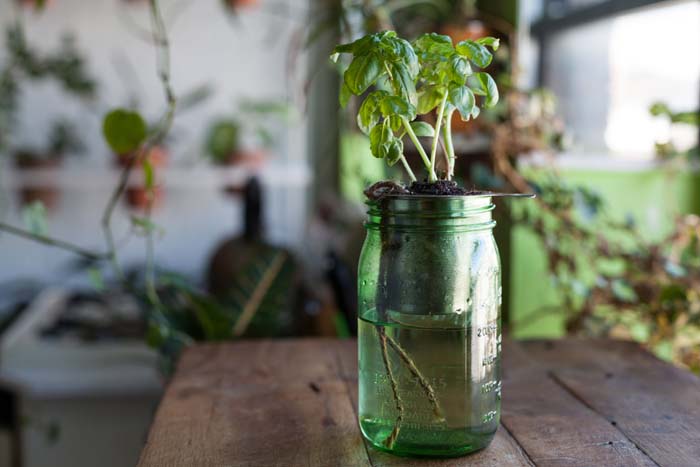 A mason jar and some twine are used here to create a simple self-watering planter.
25. Graceful Teacup, Saucer and Silverware Windchime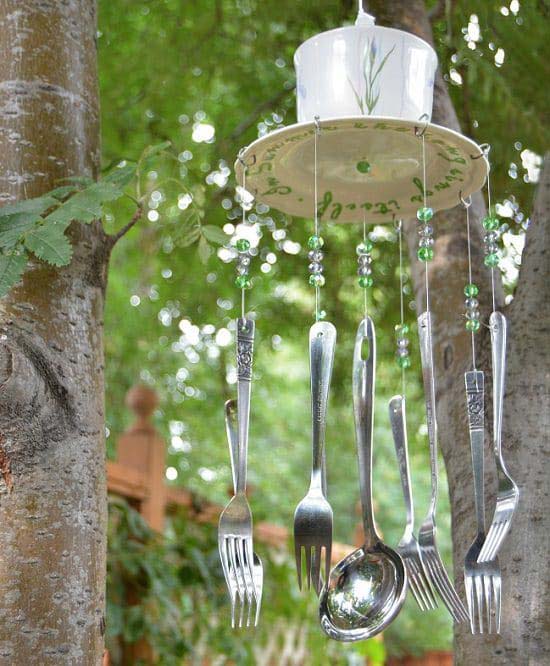 Create garden wind chimes using silverware, beads, and a tea cup set.
26. Grow Fresh Sprouts in a Jar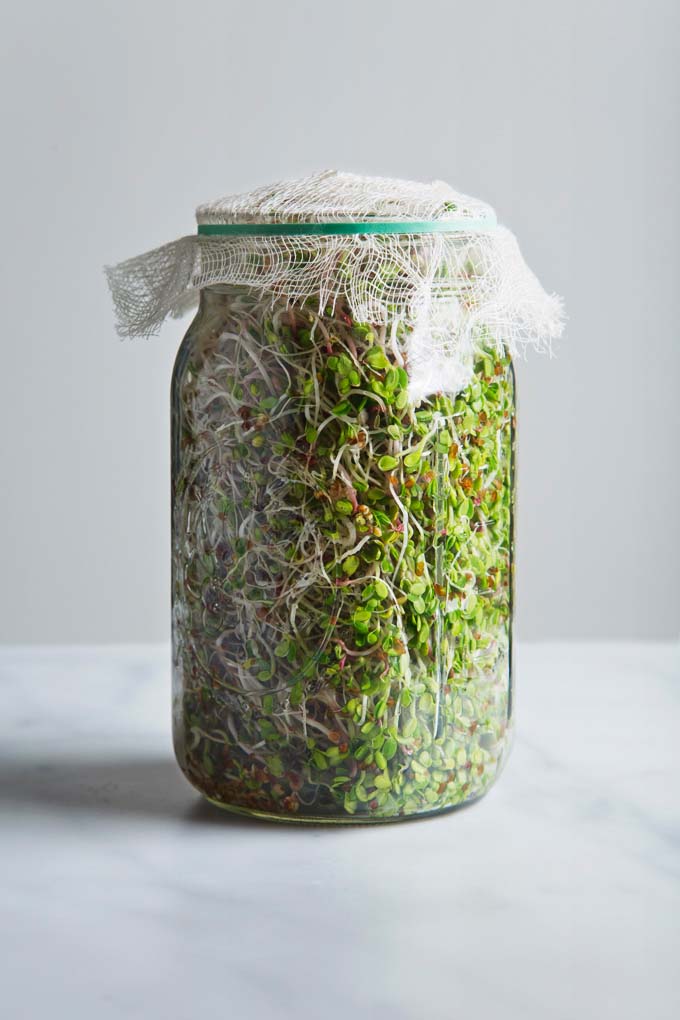 One of the easiest and most nutritious things to grow in your home are bean sprouts. All that's needed are beans, mason jars, and cheesecloth.
27. Garden Totem From Teapots and Platters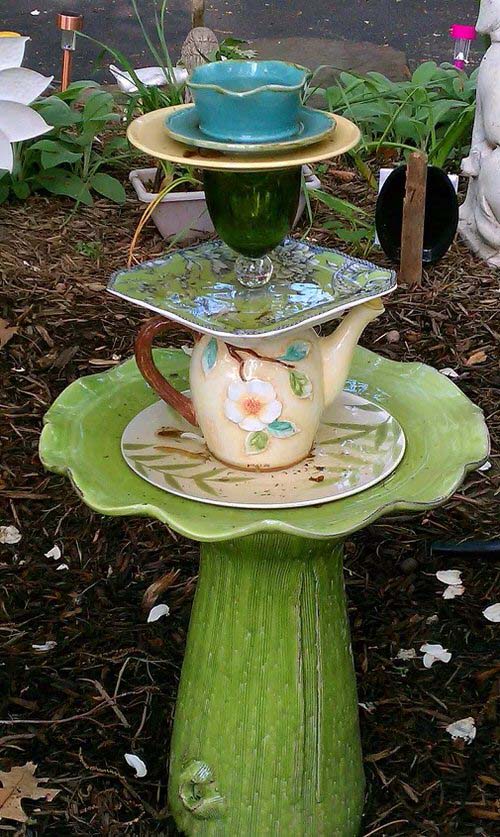 A teapot resting on a bird bath starts the fun of building a unique garden totem.
28. Tiered Cake Pan Stand Clears Clutter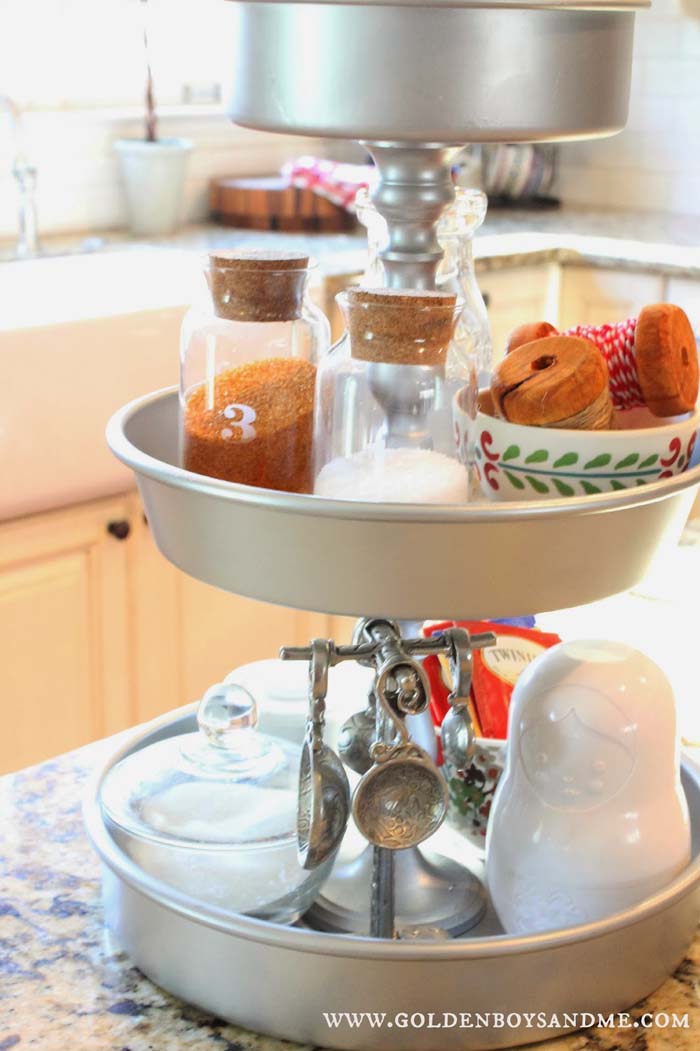 Glue up a stack of candlesticks and cake pans to clear off counter clutter. Deeper cake pans provide little cubbies for taller items.