Overflowing with rustic charm, cottage kitchens are an inviting and relaxing place to cook.
The aesthetic is instantly recognizable — the bright, airy spaces, clever storage, and soft colors create a homey feeling.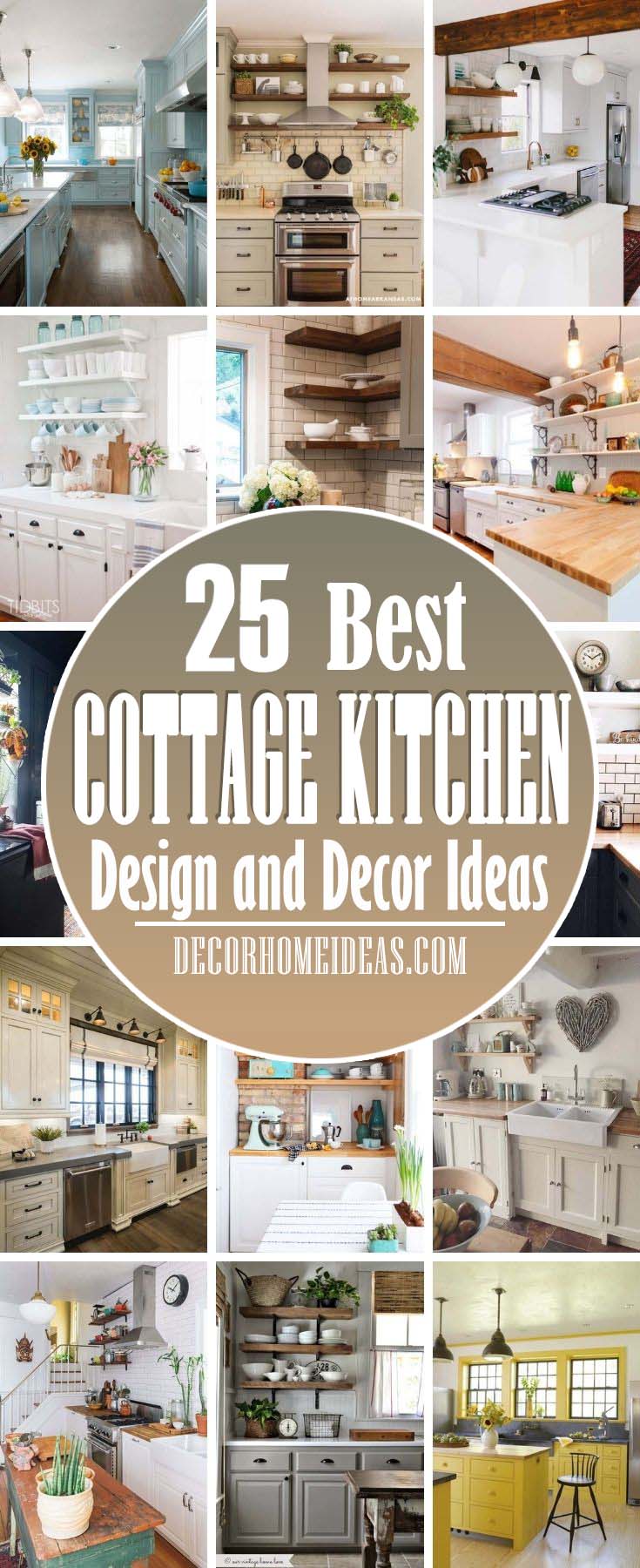 Whether you're working with a tiny space or you simply want to make a larger kitchen feel more welcoming, these cottage-inspired spaces can help you choose the perfect layout and decor.
1. Vintage Window Above Farmhouse Sink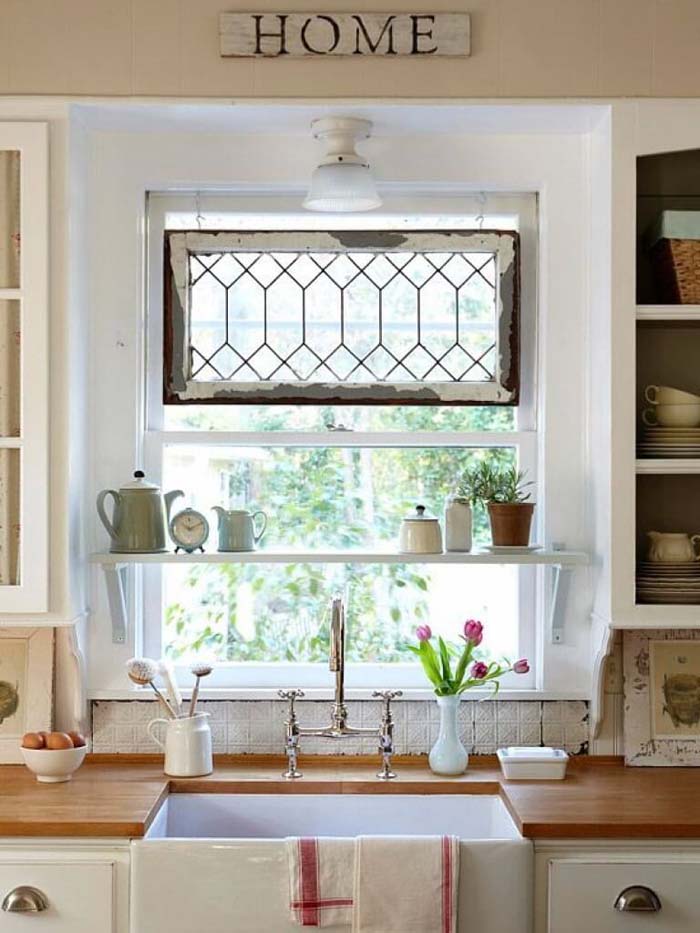 Antique windows fit beautifully in a cottage kitchen.
If your kitchen has newer windows, you can recreate the look by hanging a repurposed vintage window panel over your existing glass.
Choose an option with decorative panes and detailing, and don't worry if the paint on the frame is chipping — it adds to the effect.
2. Pops Of Color On Open Shelving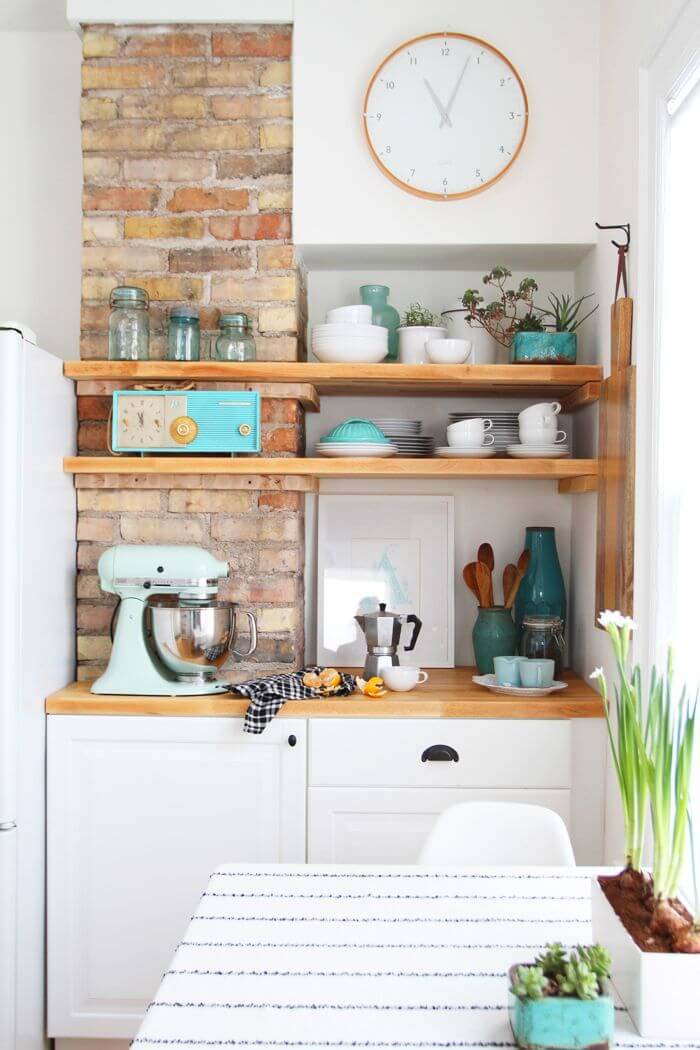 Soft pastel colors are a hallmark of cottage decor.
If you don't want to paint, bring in color with accessories.
For a unified design, choose items in a variation of the same shade.
Here, a collection of aqua pieces creates a bright, pulled-together style.
via Design Sponge
3. Deep Blue Cottage Kitchen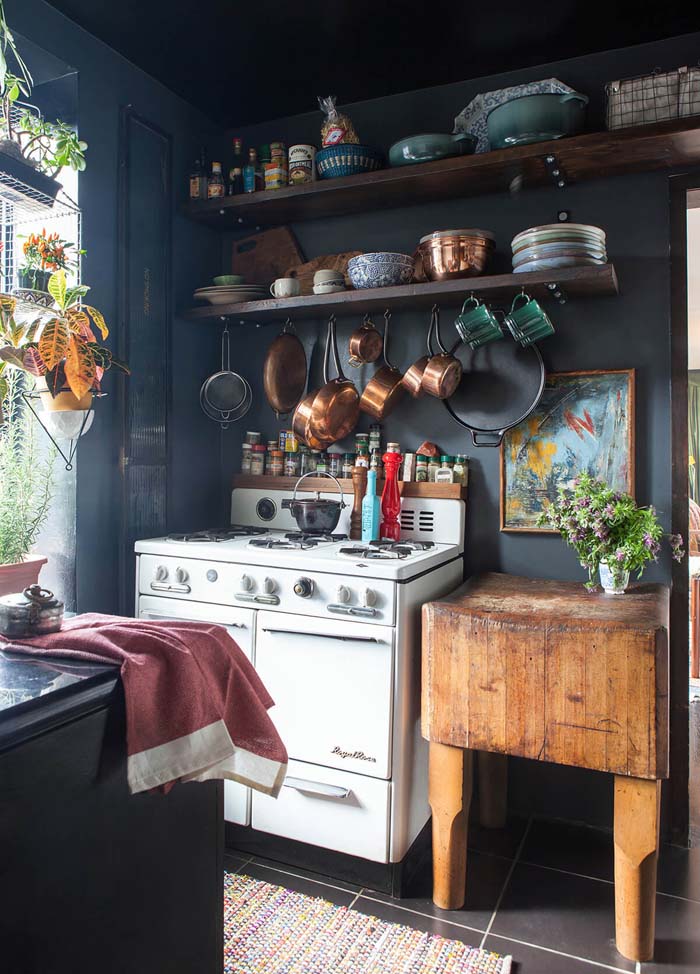 If your goal is to create a kitchen with a classic cottage charm, don't worry about bulky cupboards.
Open shelves help a tiny room feel more spacious.
They also show off your dishes, creating a sense of beautiful, organized chaos.
For an extra-cozy feeling, paint your walls a welcoming shade of deep blue.
4. Subway Tile With Wood Corner Shelves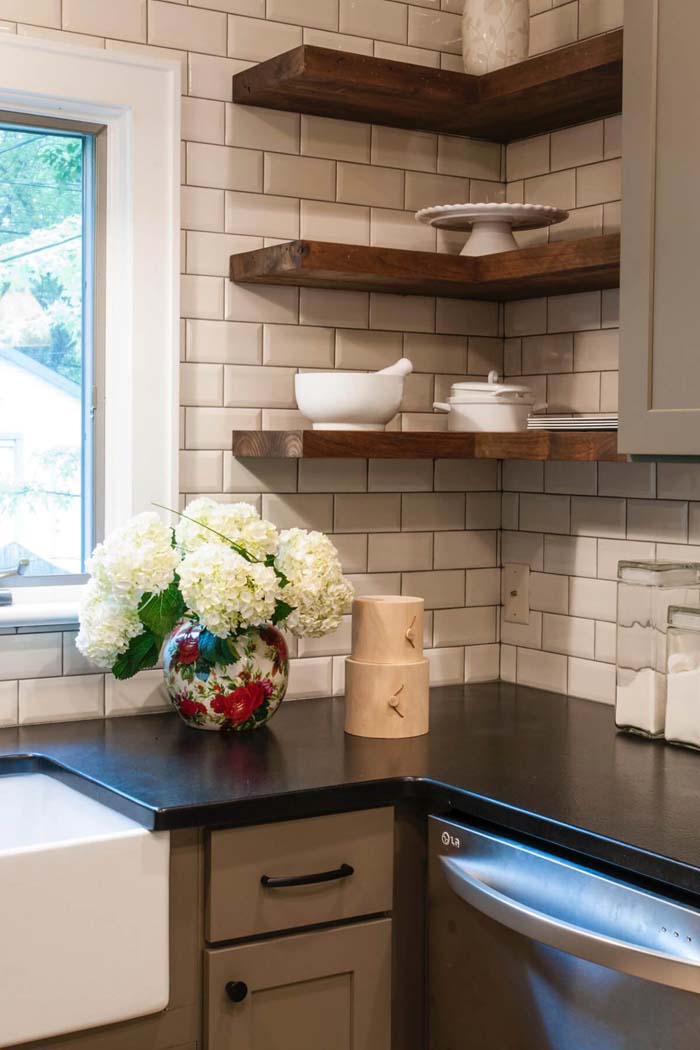 White is the perfect color for a cottage kitchen, particularly when space is limited.
Here, wooden shelves add a rustic twist, and black accents keep the room feeling fresh.
When you're choosing a high-contrast palette, simplicity is key; it keeps the focus on every design detail.
5. Add Brightness With Soft Blue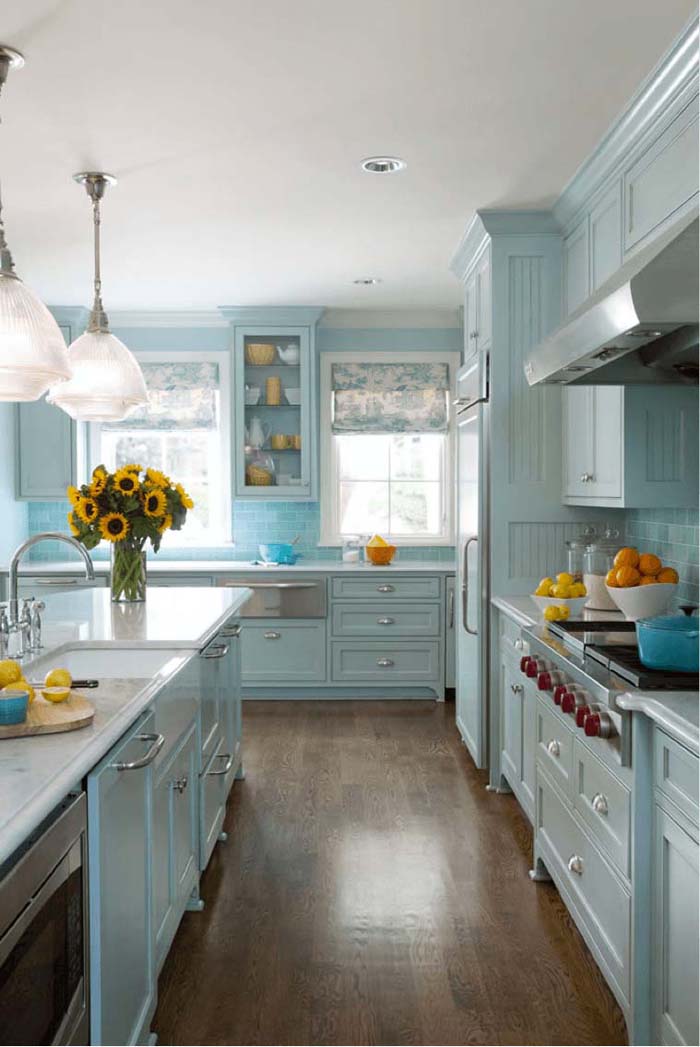 This gorgeous blue kitchen is big, but it perfectly captures the cottage style.
From the soft colors to the wood molding to the printed curtains, every detail is on point.
Pops of yellow complement the blue cabinets, infusing the space with lively energy.
via Homedit
6. Display Ceramicware In A Stylish Gray Kitchen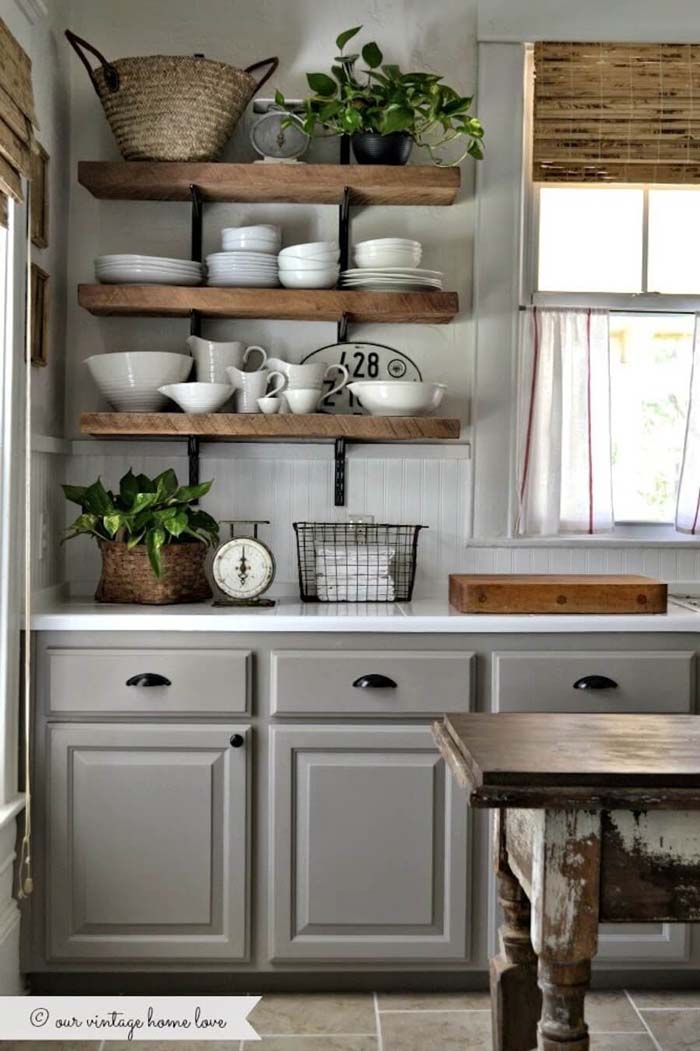 Do you like to feel relaxed and at ease when you're preparing meals?
This glam grey cottage kitchen design can help.
The soothing tones work beautifully with the rustic wooden shelves and crisp white walls; sharp black accents add a contemporary twist.
7. Shabby Chic Farmhouse Kitchen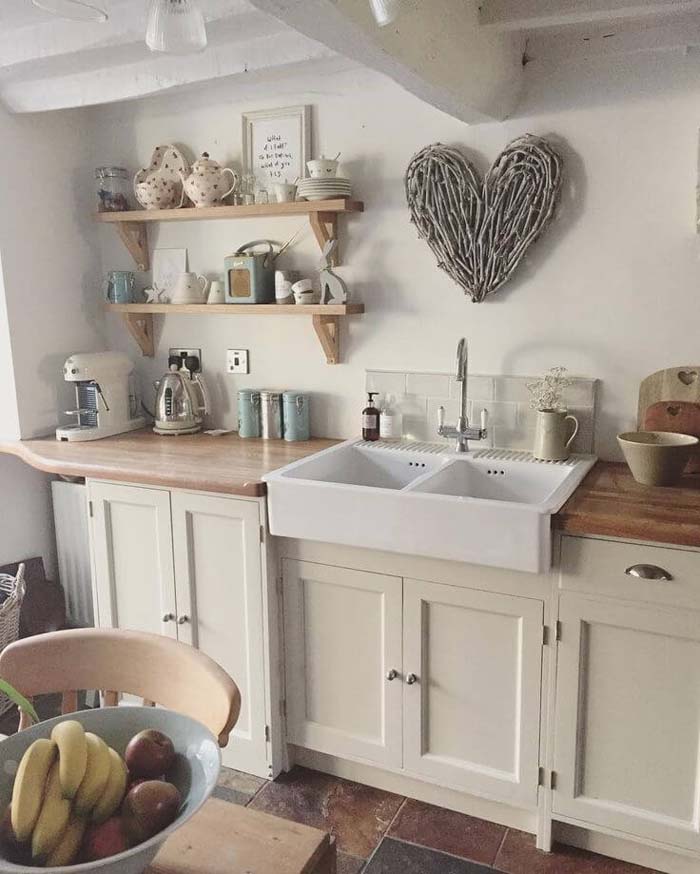 Inviting and impossibly charming, this country-themed kitchen makes you feel right at home.
To help the tiny space feel bigger, the homeowner uses varying shades of cream paired with natural wood and stainless steel.
The rustic heart-shaped wall art brings a hint of natural texture.
via Joy Interiors
8. Order And Balance In A Cottage Kitchen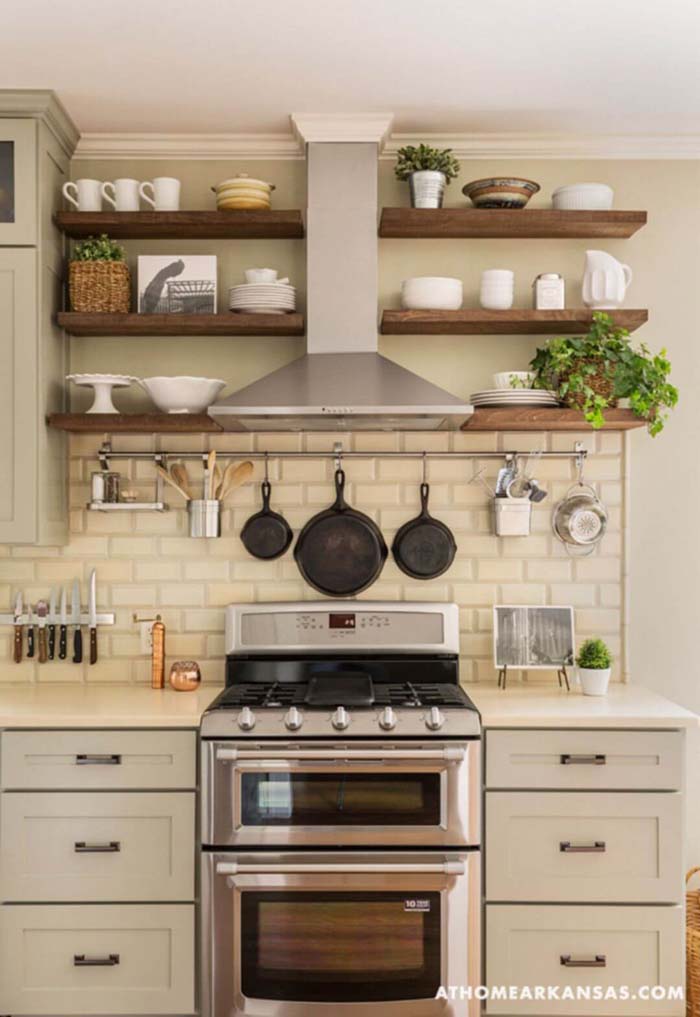 When you love order and organization, a cottage kitchen presents an exciting challenge.
This homeowner gets it right — every item is perfectly spaced and placed in orderly lines, so the room feels neat and clean.
Small plants add cheerful pops of color without overwhelming the room.
9. Rustic Repurposed Table Island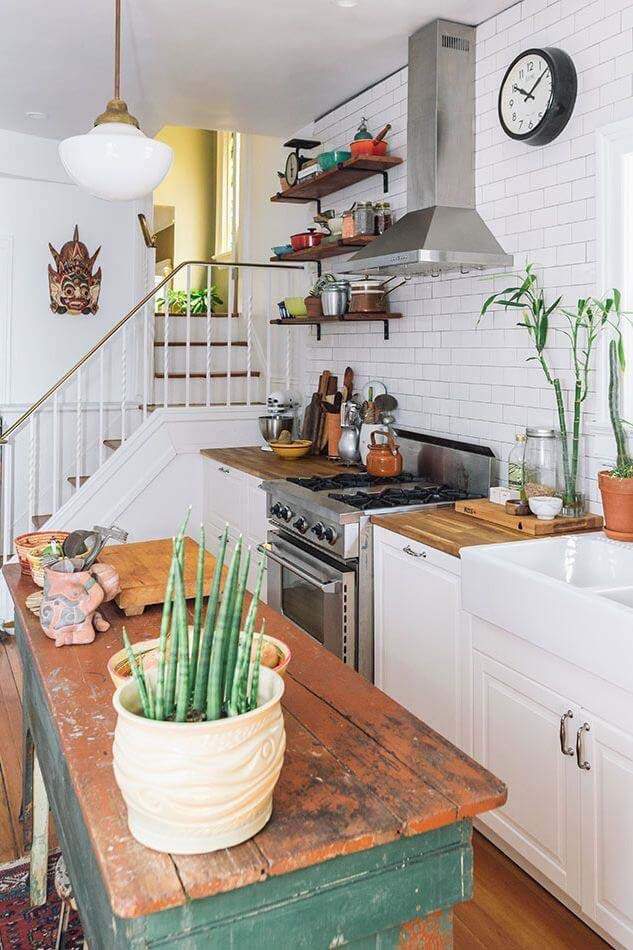 If your kitchen is newly built, it can be difficult to achieve a rustic look.
A distressed DIY kitchen island is an easy solution — it adds extra workspace and makes a striking impression.
Here, a vintage table brings a bit of Old-World charm to an updated kitchen.
via Avoqueria
10. Quirky Décor Elements In A Small Kitchen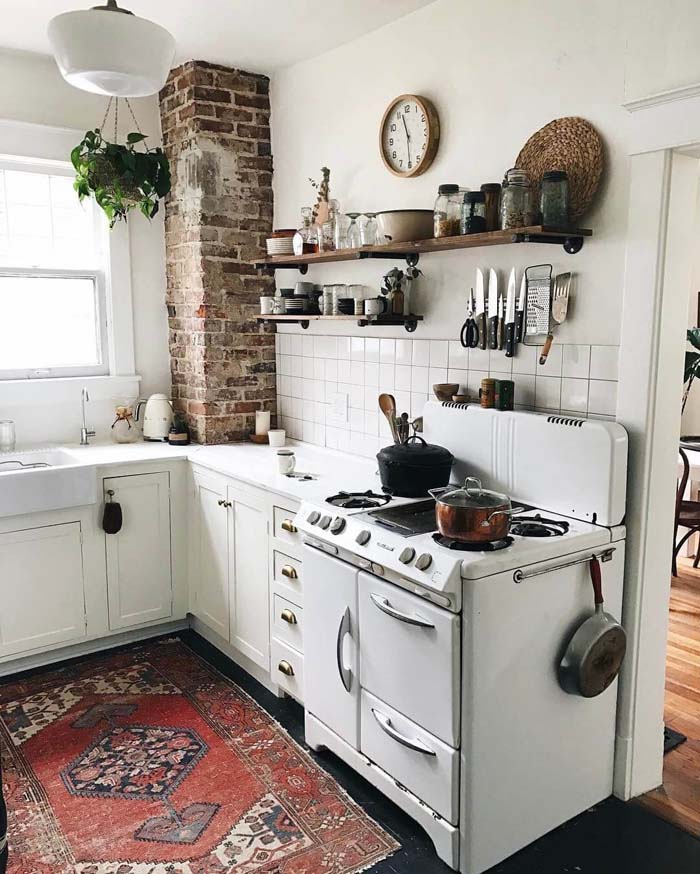 In a small kitchen, practical items instantly become part of the decor.
Open shelves show off vintage dishes, and hanging pots add texture and color.
To tie everything together, all you need is a bright rug and a hanging plant; the result is eclectic and highly personalized.
via Kaitie Moyer
11. Pretty Pastel Farmhouse Kitchen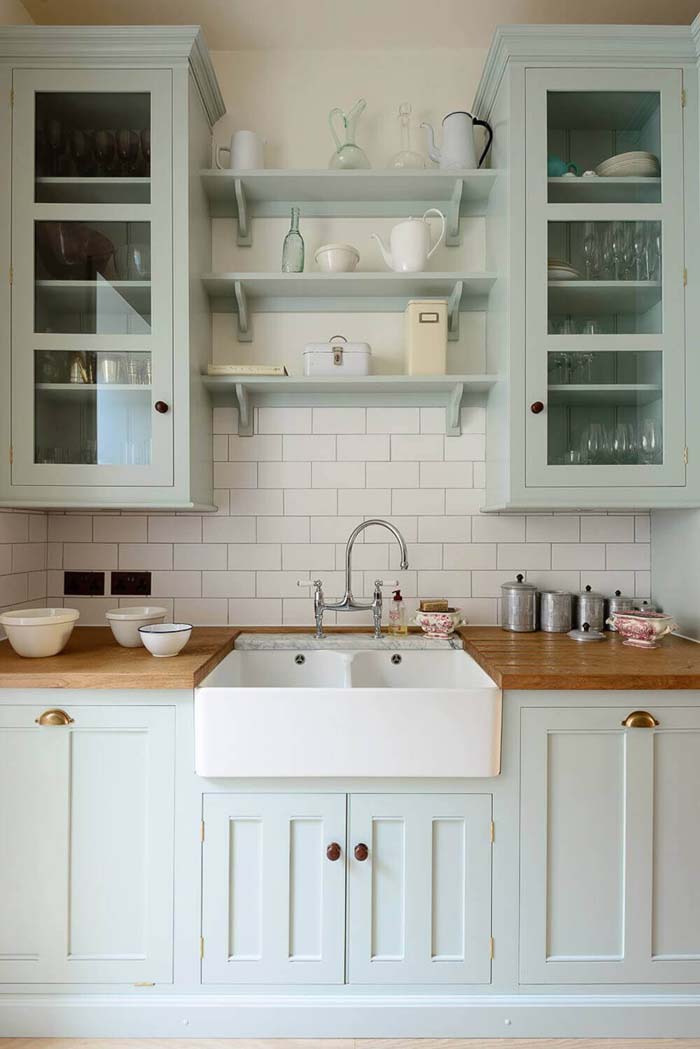 Want to add color to your cottage kitchen?
Try painting your cabinets.
A soft pastel shade changes the vibe of the space, giving it the feeling of a country cottage.
For extra impact, replace a metal sink with a classic white farmhouse model.
via Emily Henderson
12. Industrial Farmhouse In A Sunny Space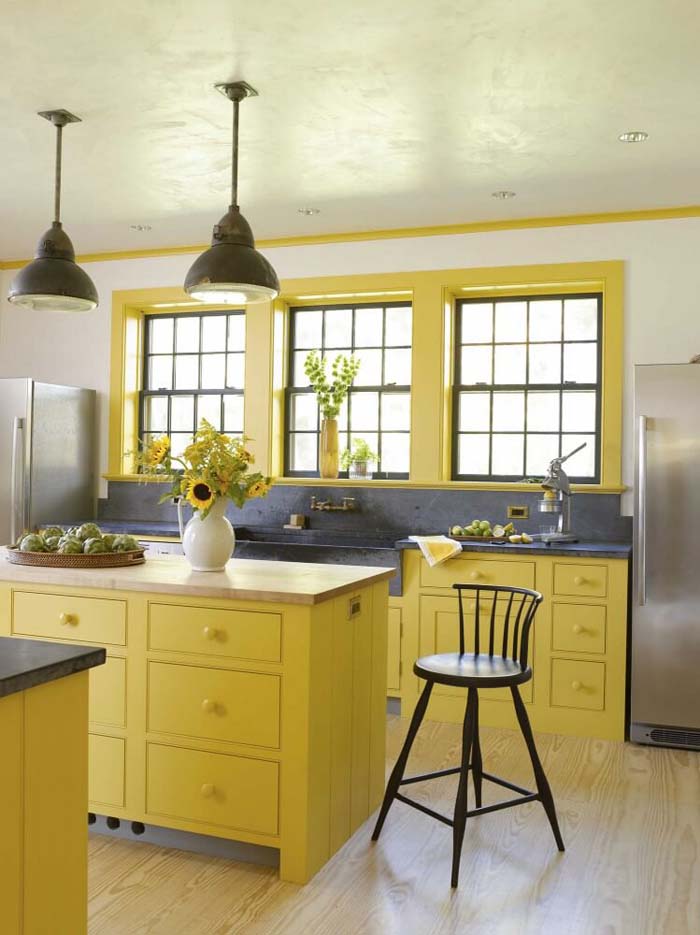 Sunny and cheerful, this lemon-yellow kitchen will make you smile every time you walk through the door.
We love how the owner has added industrial pendant lights and dark accents — they temper the bright cabinets and add a beautiful, edgy contrast.
13. Blue And White Cottage Beauty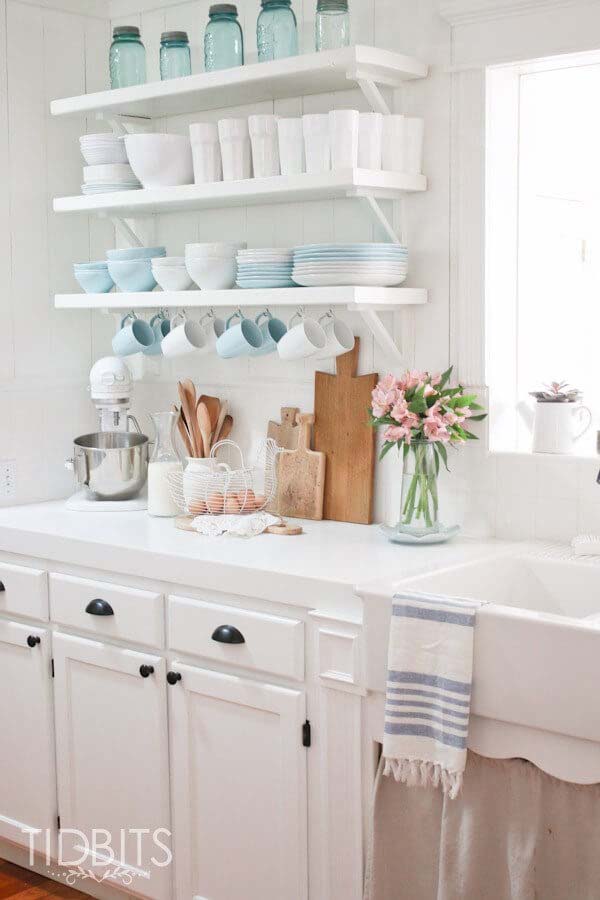 This light, bright cottage kitchen is tiny, but it feels open and airy.
The secret lies in the color palette.
The white walls, shelves, cupboards, countertops, and dishes reflect the natural light, drawing attention to a few pale-blue accents.
via Tidbits Cami
14. Architectural Focal Point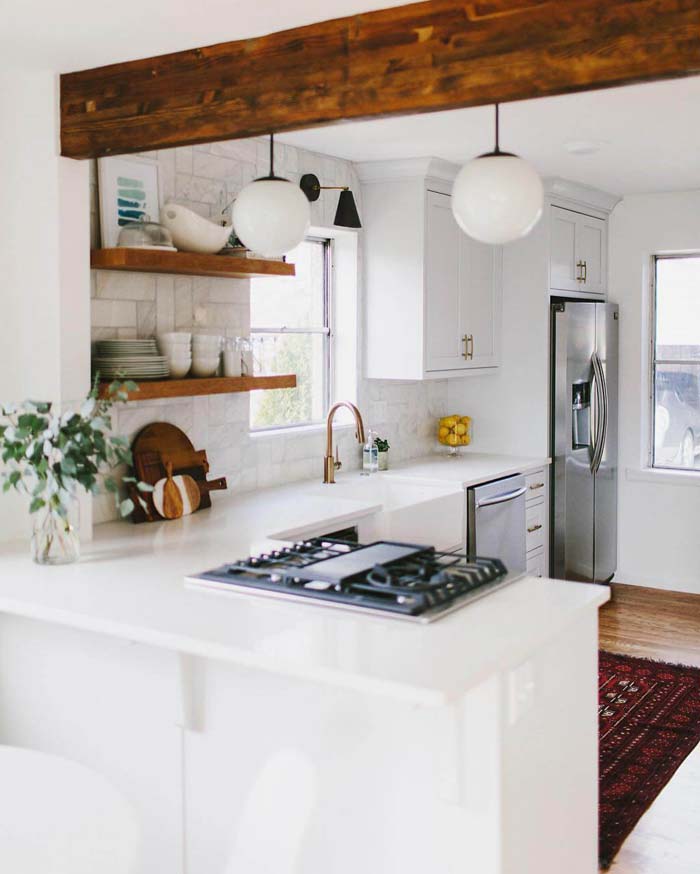 Exposed wooden beams bring a traditional feeling to a modern cottage kitchen.
If your home doesn't have large beams, you can add your own.
Decorative beams are relatively affordable and easy to install, so you can make a major transformation with minimal effort.
via Crystal Nielsen
15. Charming Vintage Style Kitchen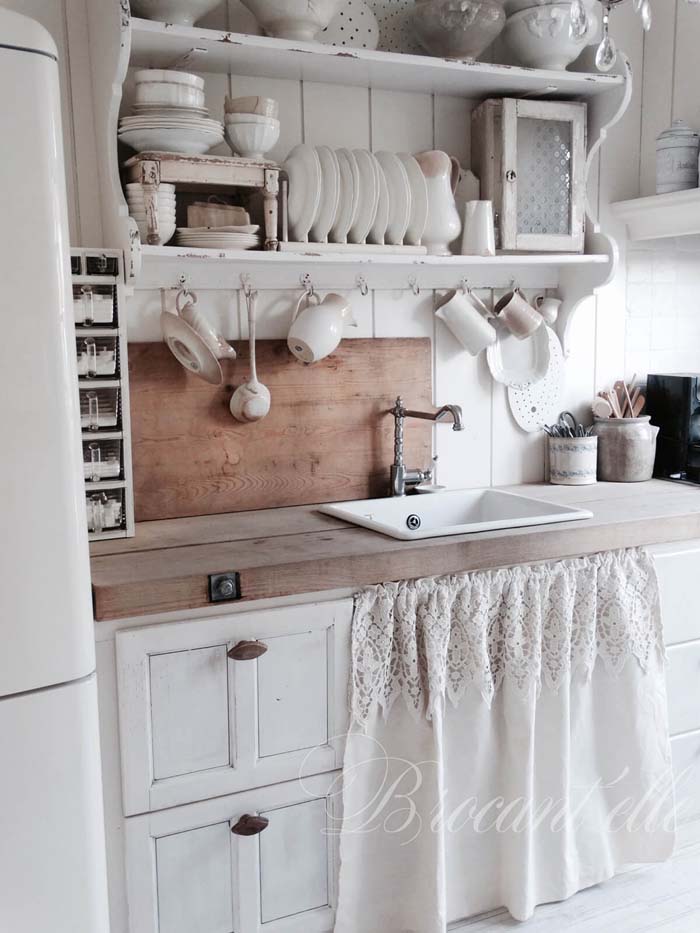 If you love Old-World style, take inspiration from this vintage cottage kitchen.
Small details, including the gently distressed shelves, butcher-block counters, vintage dishes, and gathered fabric panel, work together to create a look that's both traditional and romantic.
16. Modern Cape Cod Farmhouse Style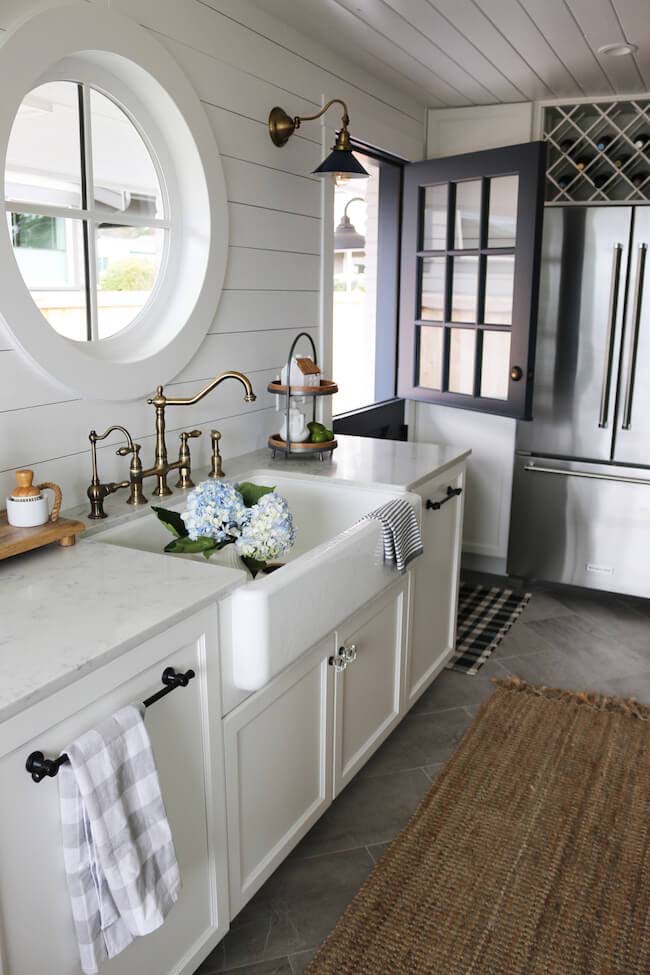 This stunning kitchen walks the line between vintage and contemporary style.
Though it's small, it packs a big design punch; check out the porthole window, Dutch door, wine storage, farmhouse sink, and decorative faucet.
17. Bold Rustic Decorative Shelves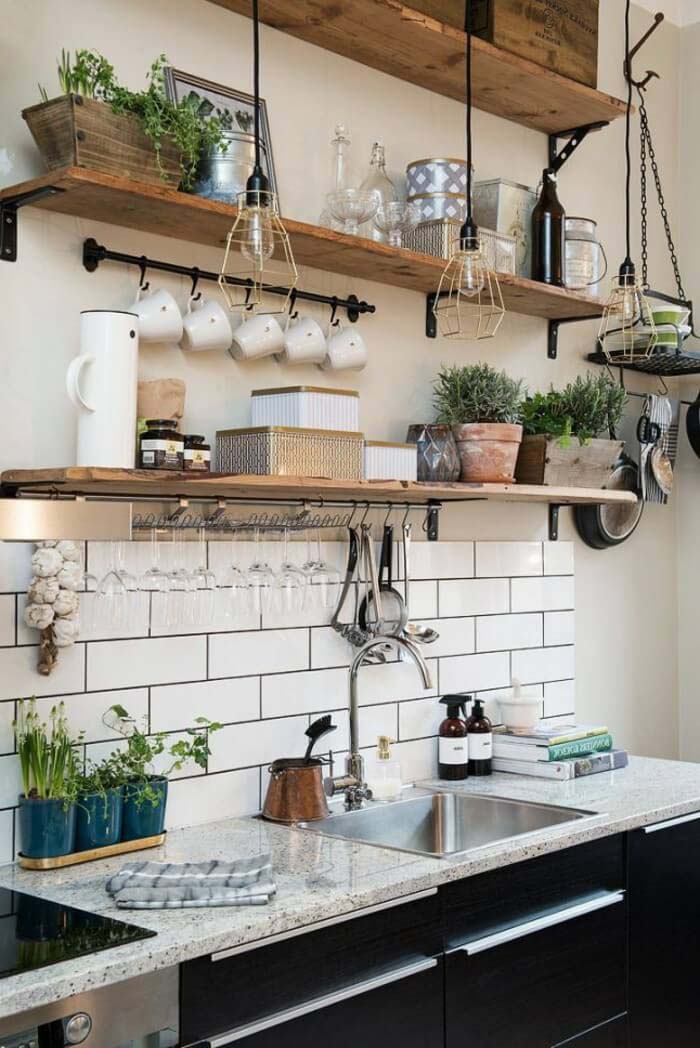 If you're lucky enough to have tall ceilings, take inspiration from this cottage kitchen and make the most of the vertical space.
Here, the storage shelves are as decorative as they are functional, thanks to a bold wood grain and dark metal brackets.
Pretty tins and potted plants keep the space from looking too practical.
18. Grand French Country Farmhouse Kitchen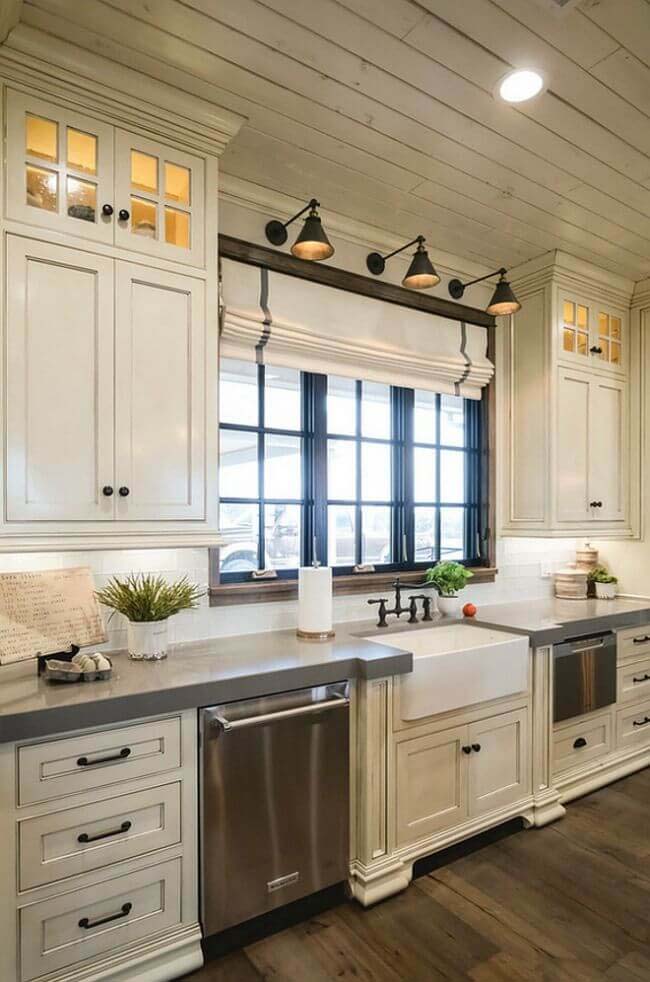 Combining sweet, classic cottage style with a crisp industrial twist, this striking kitchen offers the best of both worlds.
Since the strong contrast in styles makes such a big statement, a decorative plant or two is all you need for decoration.
via Alicia Zupan
19. Color Placement In A Small Space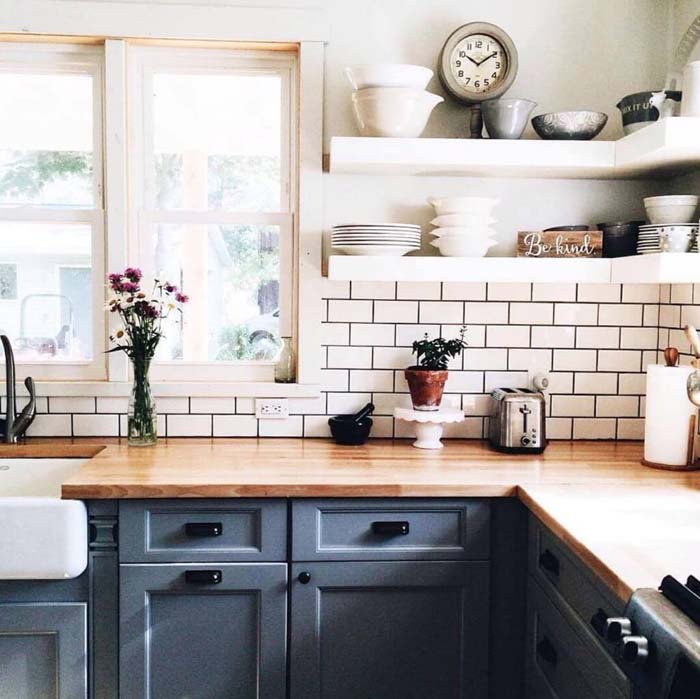 Deep colors can be overwhelming in a small kitchen, but this room proves that they don't have to be.
The key is to keep the color to the lower cabinets and stick to white on the upper half.
The white makes the room feel bright and spacious, so you can enjoy the blue cabinets.
White doesn't have to be boring; here, subway tiles and exposed shelves add plenty of style.
20. Elegant Country Dream Kitchen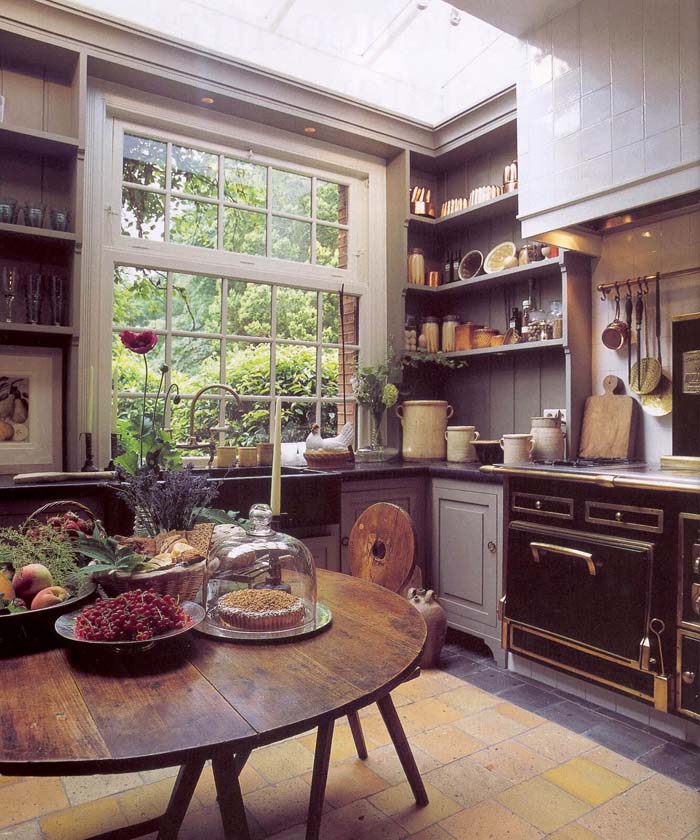 It doesn't get more beautiful than this perfect cottage kitchen.
The homeowner maximizes the tall ceilings with a big window and plenty of shelves, while a large skylight floods the space with sunlight.
The stunning vintage range and tiled hood seal the deal.
via Maison Boheme
21. Antique White Shabby Chic Cottage Kitchen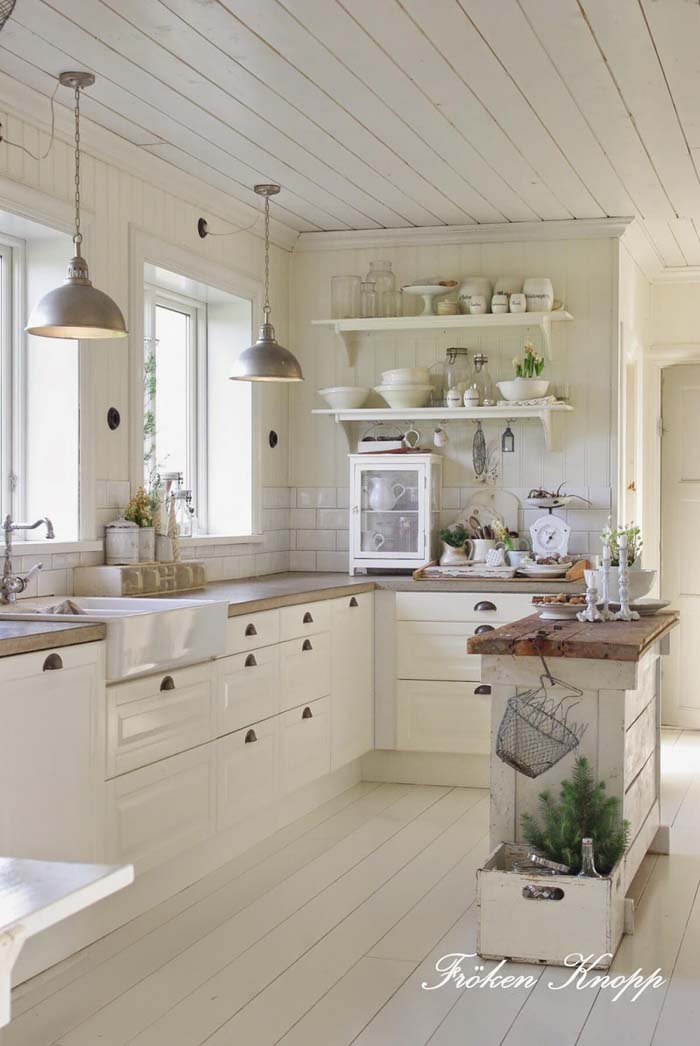 Make the most of the light from your kitchen windows with a whitewashed decor theme.
Here, the sunlight bouncing off of the white planks makes a small kitchen feel big and airy.
Elegant tiles and a distressed wooden island add subtle texture.
22. Add Texture With Natural Wood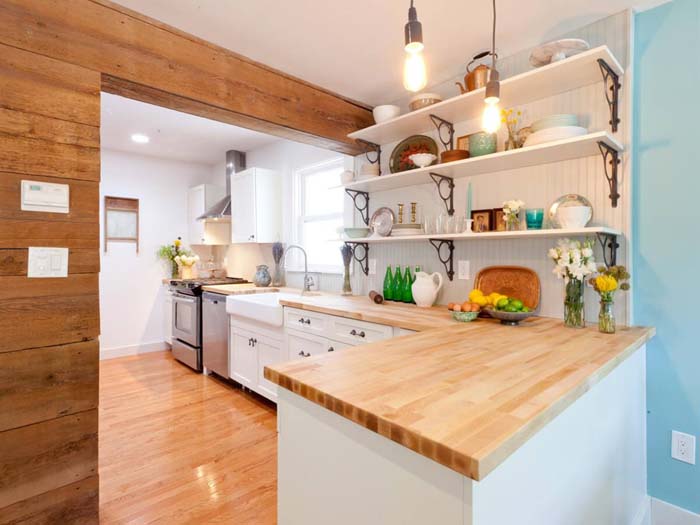 When you're going for a cottage vibe, you can't go wrong with natural wood.
Don't be afraid to mix colors and grain patterns; this strategy works best with simple cabinets, shelves, and walls.
A carefully selected collection of colorful items adds a fun, lively vibe.