In a small kitchen, space is at a premium — every inch matters.
When your appliances and supplies take up most of the kitchen, great design can make a big difference in the style and function of the room.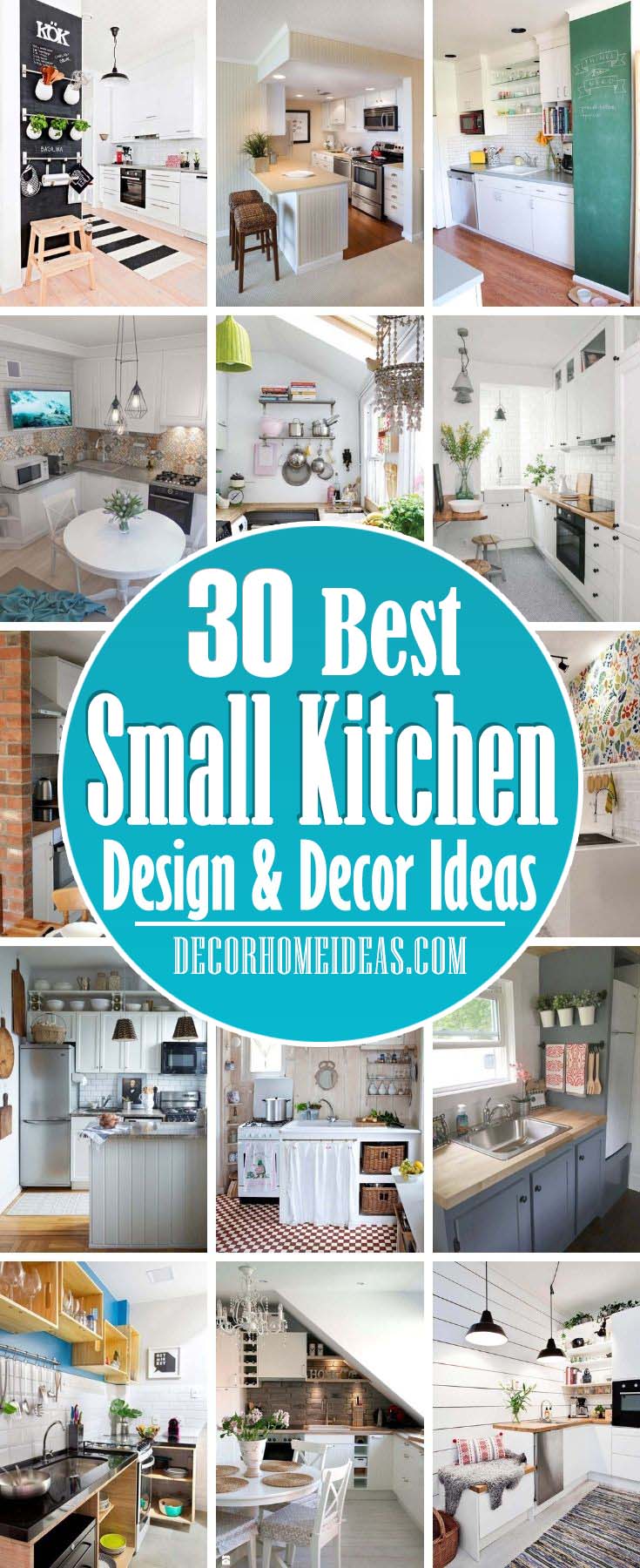 A beautiful room elevates the food-prep experience, whether you're a gourmet chef or an occasional cook. Need inspiration?
These clever kitchens show you exactly how to take tiny spaces and turn them into works of art.
1. Added Mirrors to Make the Kitchen Larger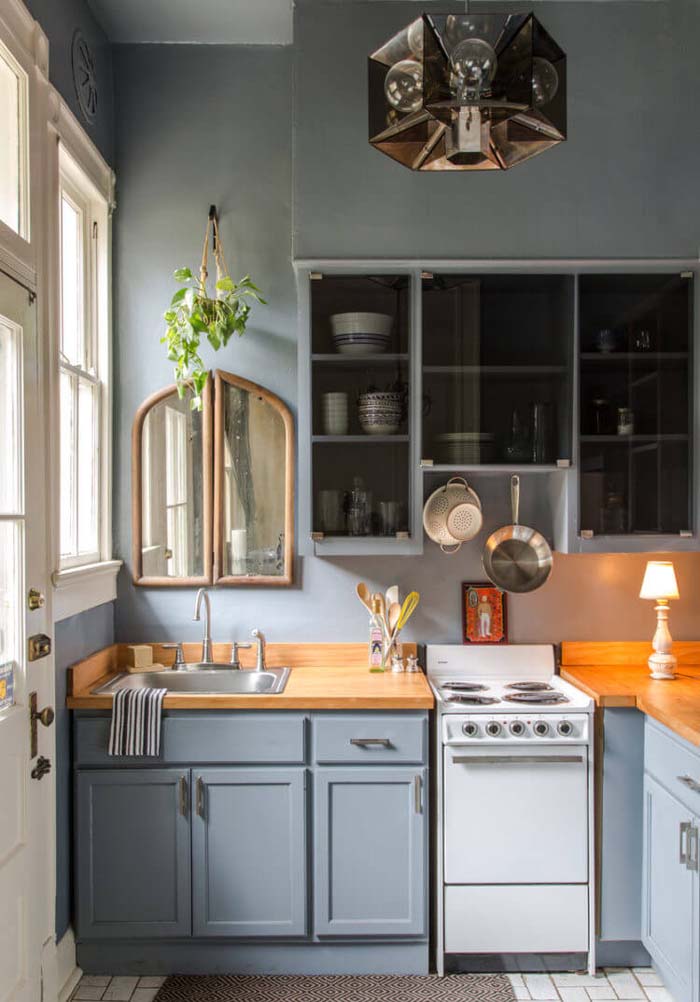 There's nothing like a mirror to make a tiny room feel more spacious.
Are you dealing with a limited amount of light?
Place the mirrors near a window — they'll reflect the sunlight into the rest of the room.
Here, the unique shape of the frames creates the impression of a second window over the sink.
2. Amazing Neutral Colors Paired Well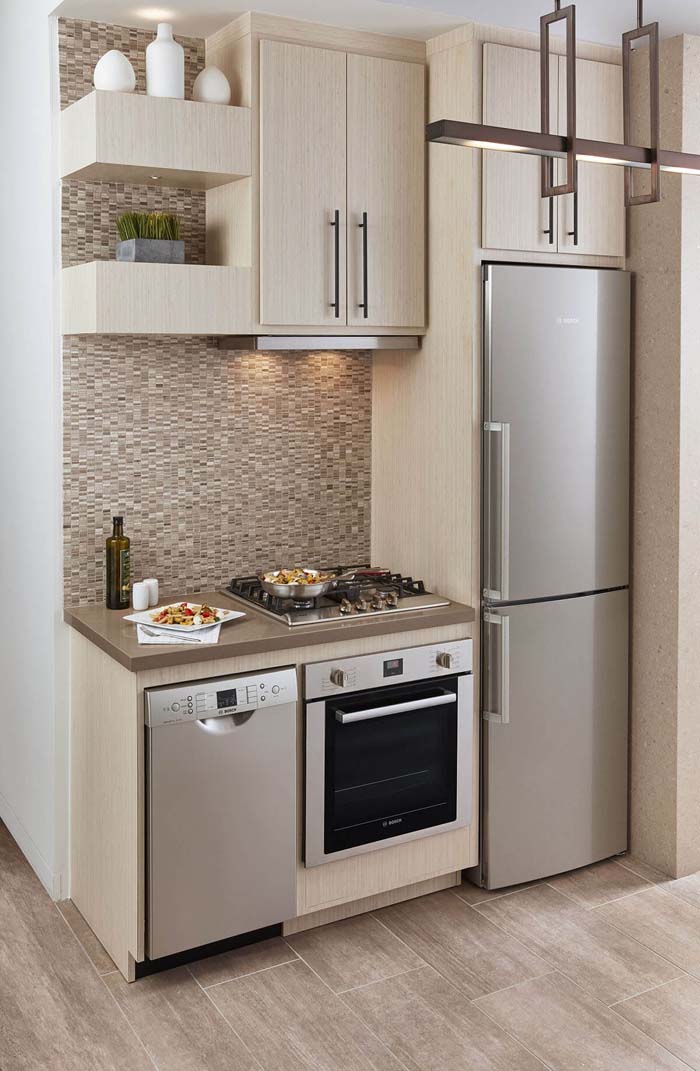 This kitchen proves that a kitchen can be bright but not glaring.
The magic is in the color palette, which features light neutral tones.
The soft pine, multi-colored beige backsplash, and stainless steel appliances work beautifully together to create a fresh and sophisticated design.
3. Bits of Retro Color and Style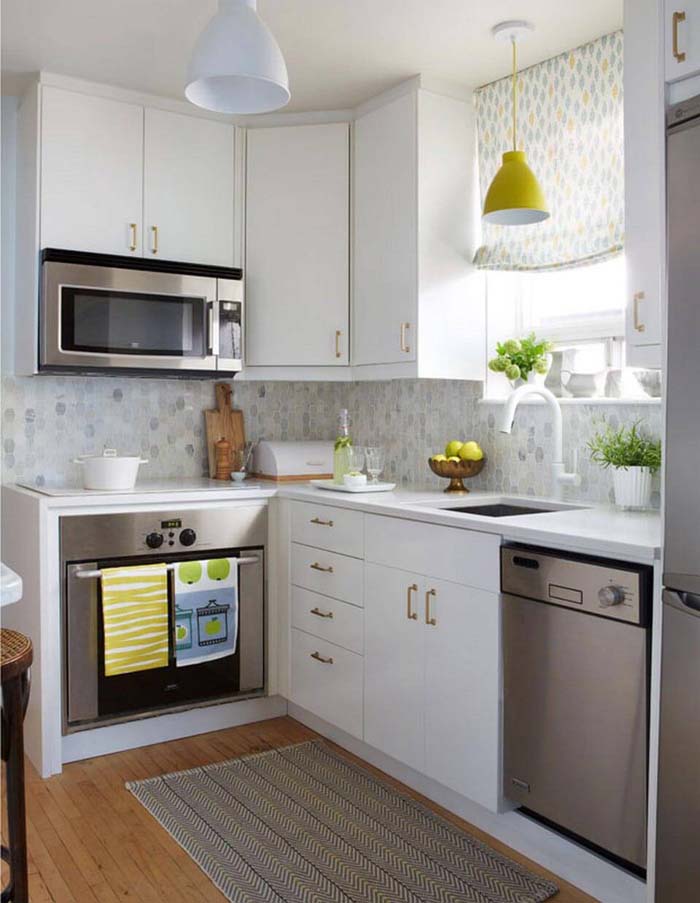 White paint instantly brightens your small kitchen.
To add a pop of personality to an all-white space, why not add pops of color?
All you need is a few items in coordinating tones to make a big impact. This project is super-affordable and requires no structural modifications, making it a great option for renters.
via House and Home
4. Bright Crisp and Clean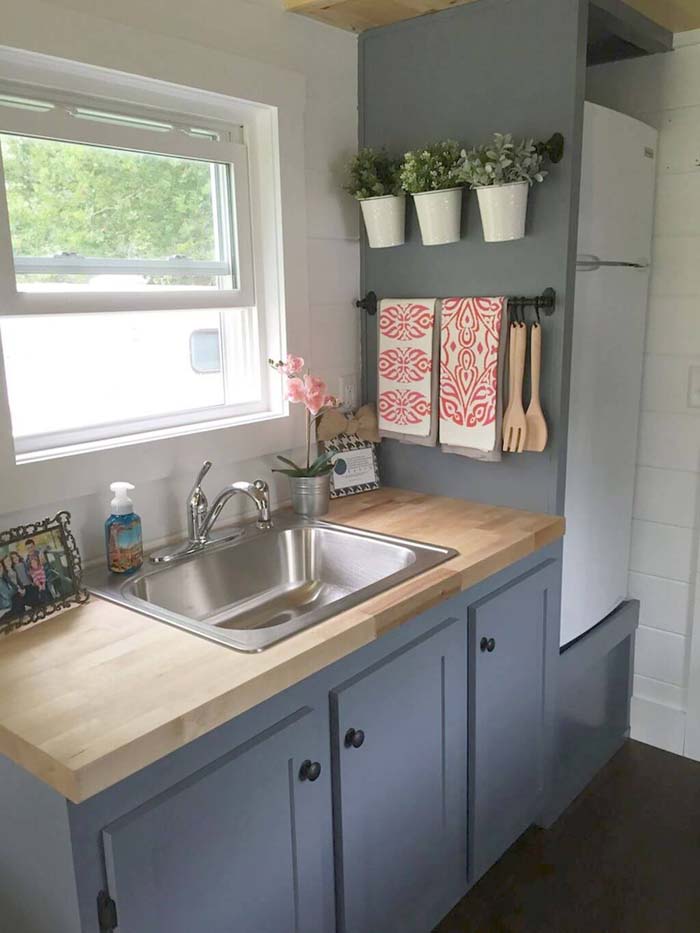 Clutter is the enemy in a small kitchen, which means that the best decor is simple.
Fresh paint, clean counters, and perfectly organized accessories create a striking look.
For maximum space efficiency, choose items that are both functional and beautiful — here, the homeowner uses bright towels and beautiful hanging utensils.
5. Bright White With Contrasting Woody Browns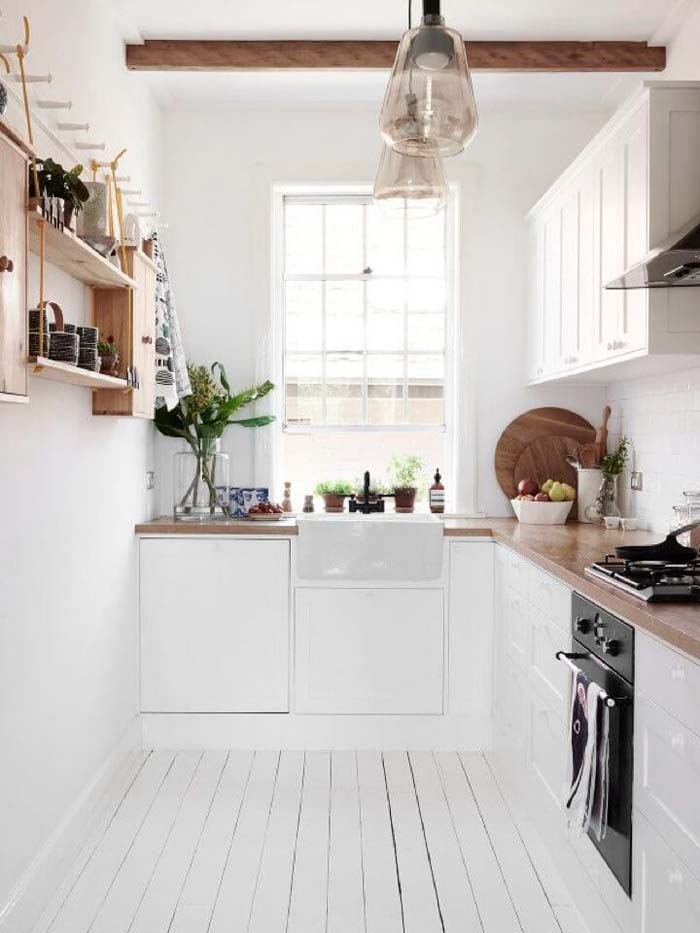 Wood elements are another way to warm up a bright white kitchen.
Replace your countertops with a wood version, install a few shelves, and you'll see a difference right away.
For extra visual interest, take your wooden cutting boards and kitchen tools out of the cupboard and put them on display.
6. Colorful Rug Adds Contrasting Color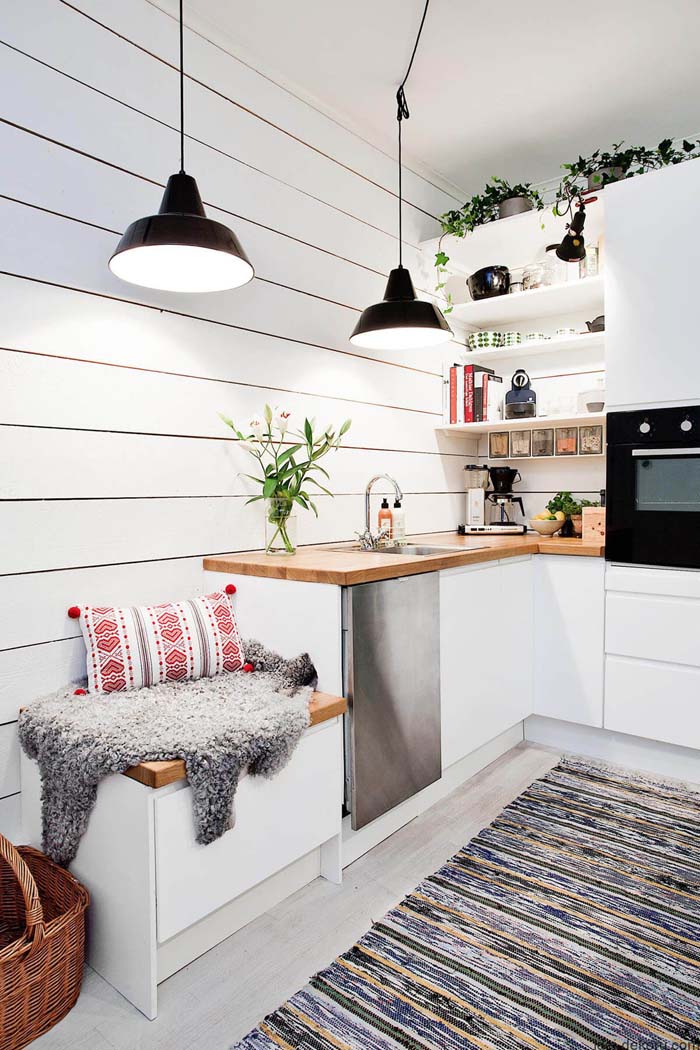 In a tiny galley or studio kitchen, wall decor can create a crowded feeling — and that's where a great rug comes in.
A fun, cheerful floor covering fills your space with color and texture, all without impeding the lines of sight.
via My Paradissi
7. Cozy Shelves in a Unique Space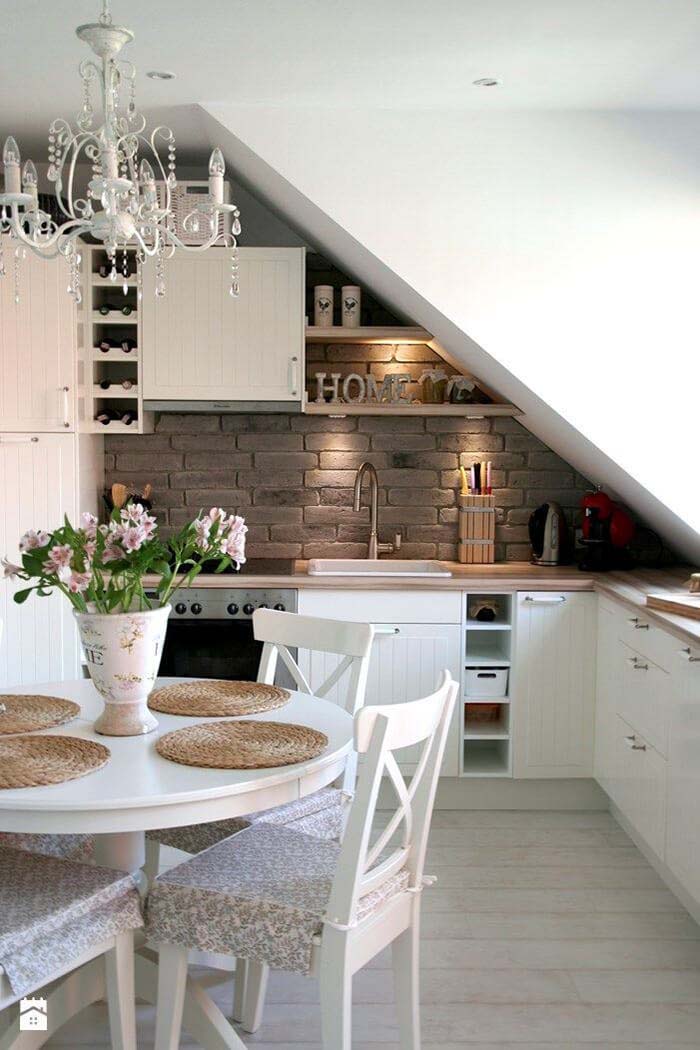 When your kitchen is tucked into an unusually shaped part of the house, storage is a challenge.
Why not make the most of the space with custom shelves?
Cut them to match your available space, and you'll have a new spot for supplies or a work of art.
via Inuk Home
8. Dark Wood Paired With Bright White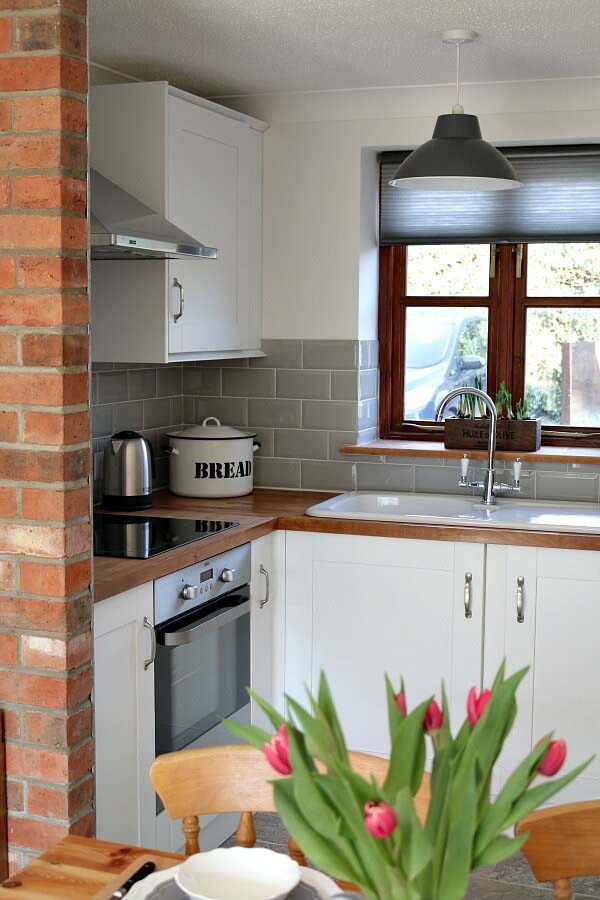 If you're going for a kitchen design that's country-inspired but still contemporary, consider pairing white with richly colored wood.
The light and dark tones look modern, particularly when paired with slick stainless steel appliances, and the wood grain maintains the natural feeling of the space.
via Dear Designer
9. DIY Open Space Look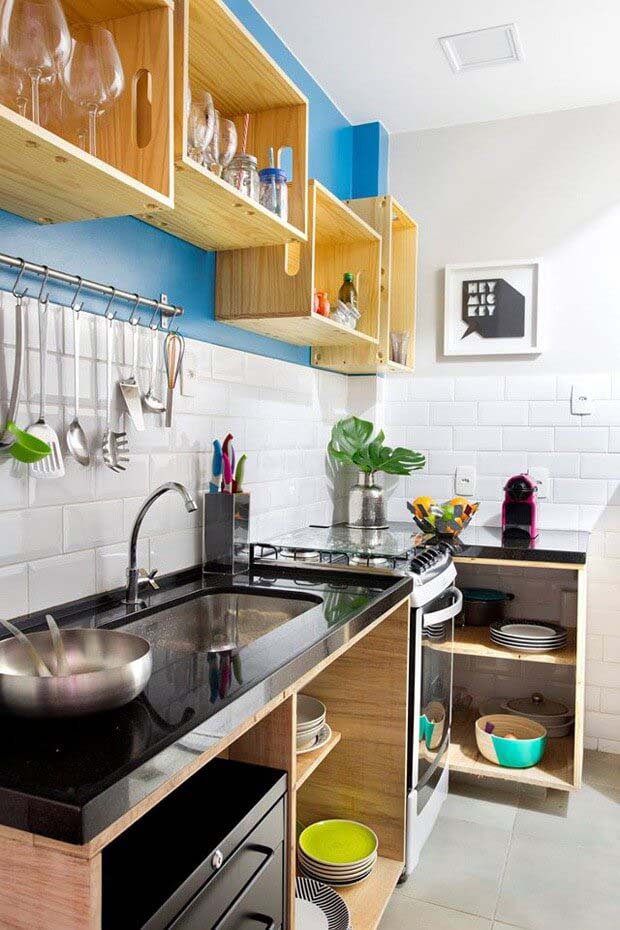 Are you in need of storage space?
If you don't have the budget for brand-new cupboards, transform an open wall with a few wooden crates.
Mount them on the wall to create instant storage and display system. Leave the wood unfinished for a Scandinavian-chic look.
10. Great Use of Space Without Cluttering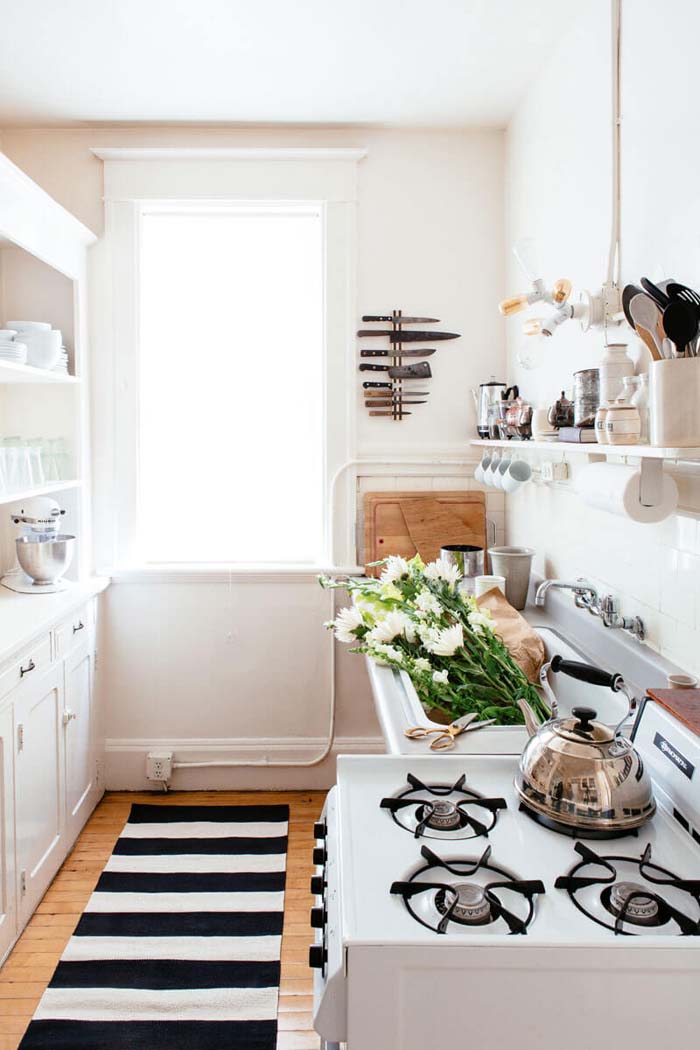 This creative kitchen utilizes wall space, all without making the small room feel cluttered. The trick?
Use dishes and supplies in light, bright shades that are close to the color of the wall. The monochromatic scheme helps the space feel large and open.
via The Every Girl
11. Keeping Rustic Alive and Well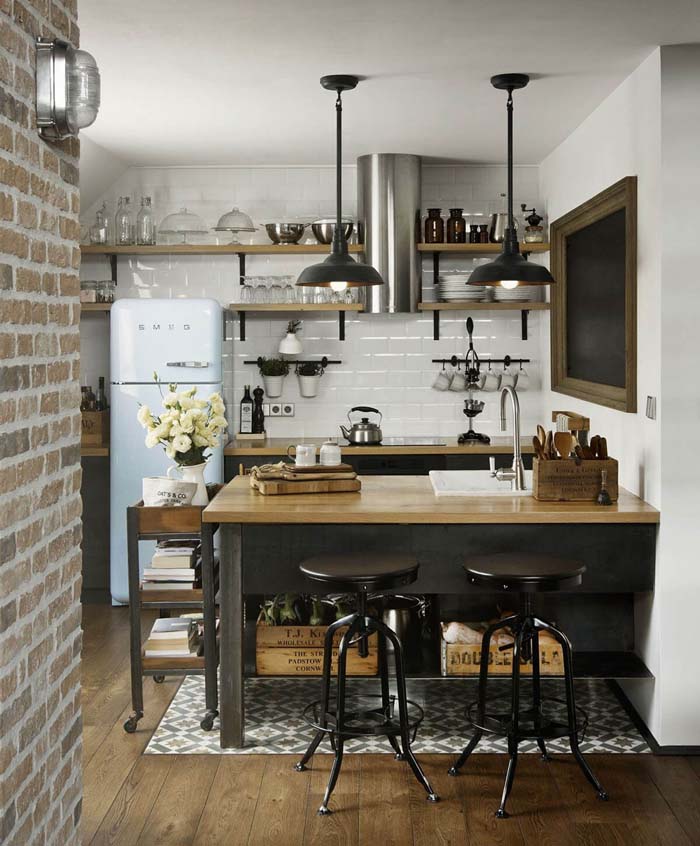 Using a gorgeous combination of natural wood, white subway tiles, and black iron accents, this kitchen is a rustic work of art.
It's all about consistency — all of the major elements use the same materials. Although it's small, this is a space you'll be delighted to enter.
12. Light Vertical Panels Lighten Up the Room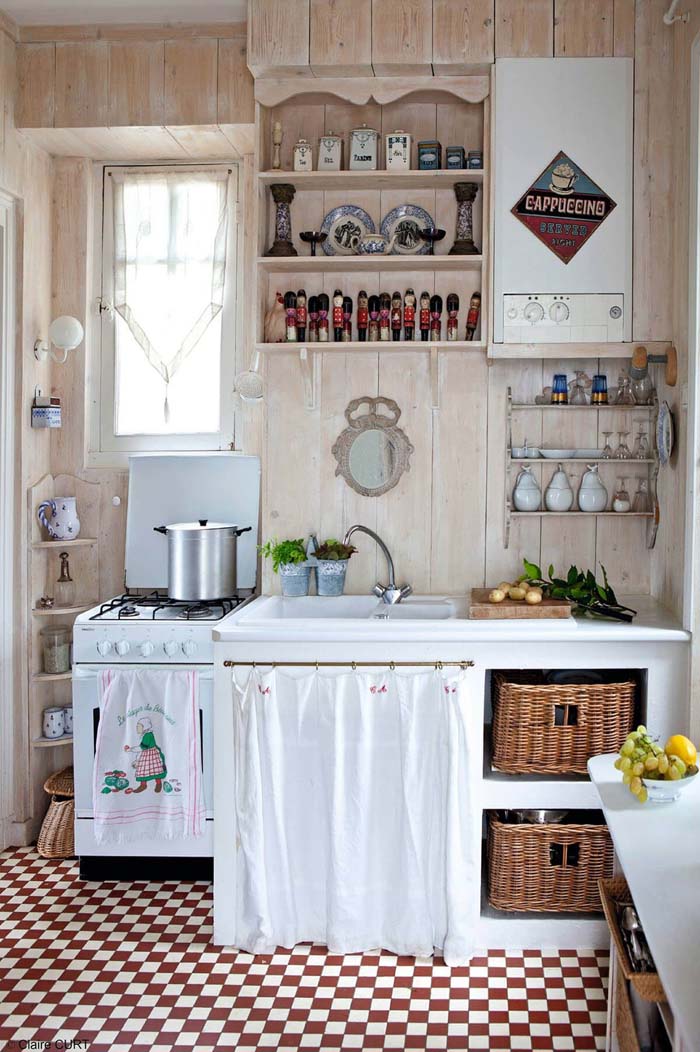 Does it get any sweeter than this tiny kitchen?
Vertical panels in a whitewashed finish anchor the design and make the space feel taller and bigger.
To match the rustic walls, the homeowner has added casual white curtains and antique pieces for an adorable vintage vibe.
13. Natural Light and White Brightens Narrow Space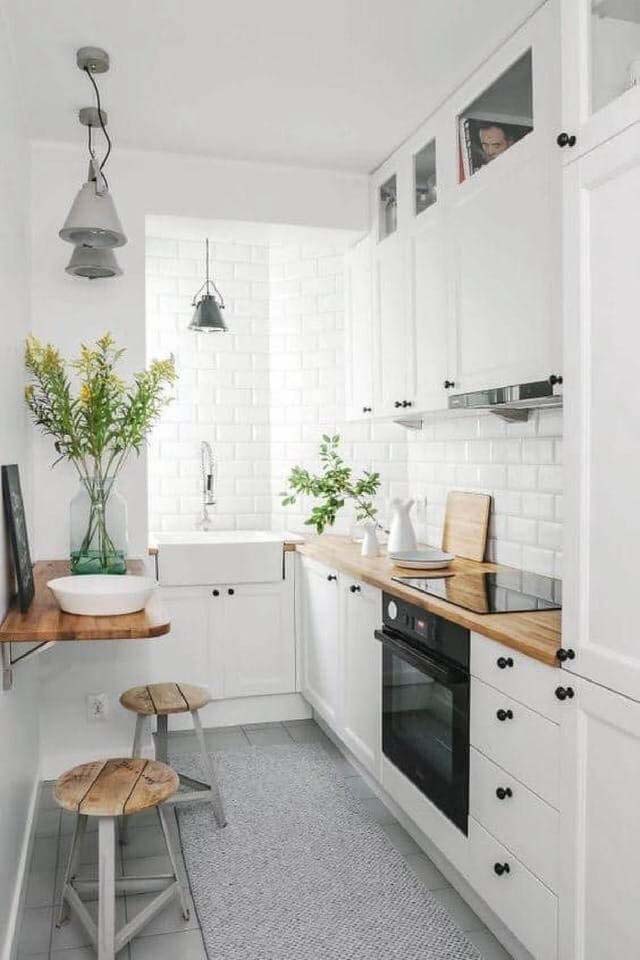 If you live in a city apartment or a historic building, narrow kitchens are a fact of life.
This kitchen makes beautiful use of a slim space by embracing white.
From the bricks to the cabinets, everything feels fresh, bright, and open. A couple of plants add just the right hint of color.
via Ladny Dom
14. No Cupboards, No Problem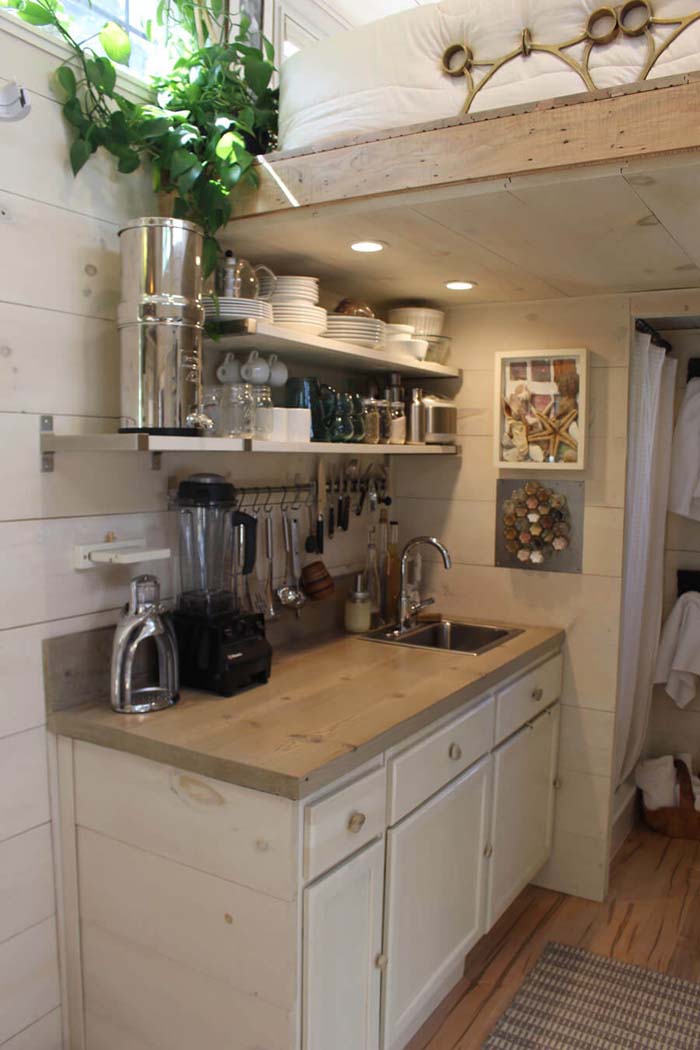 This kitchen might be tiny, but it's packed with everything you need.
The secret is the open shelving, which offers just enough room for crucial dishes and supplies.
The best part?
Since the shelves are shallower than cupboards, they free up space for a more open look.
via Tiny Hall House
15. Old Fashioned Faucet Offsets Bright White Decor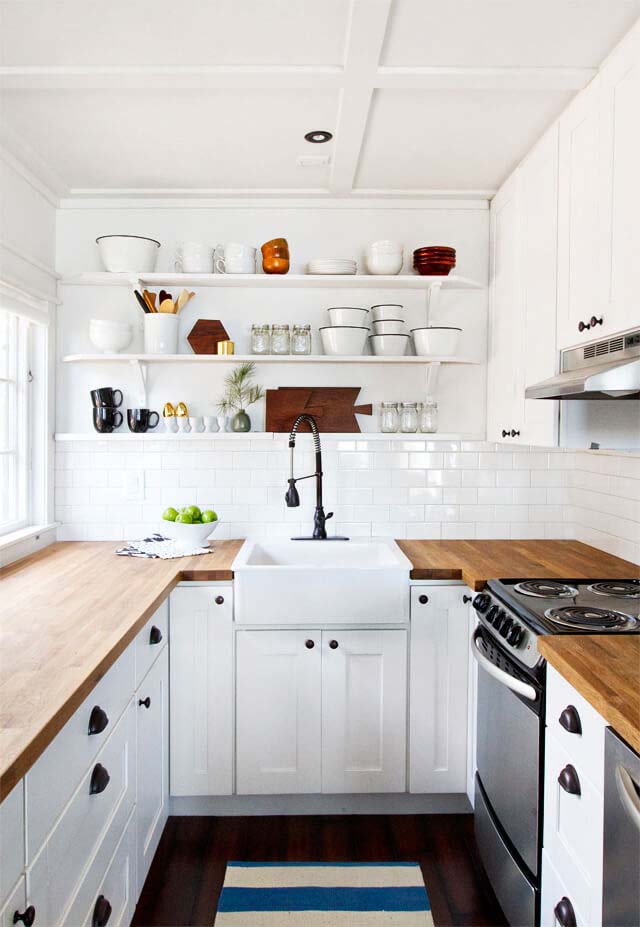 One of the benefits of a small kitchen is that even the tiniest details make a big impact.
This stunning vintage kitchen takes that principle to heart, using the bright white background to make darker elements pop.
The centerpiece is the stunning antique-inspired faucet.
via A Cup Of Jo
16. Old Fashions Meet New Styles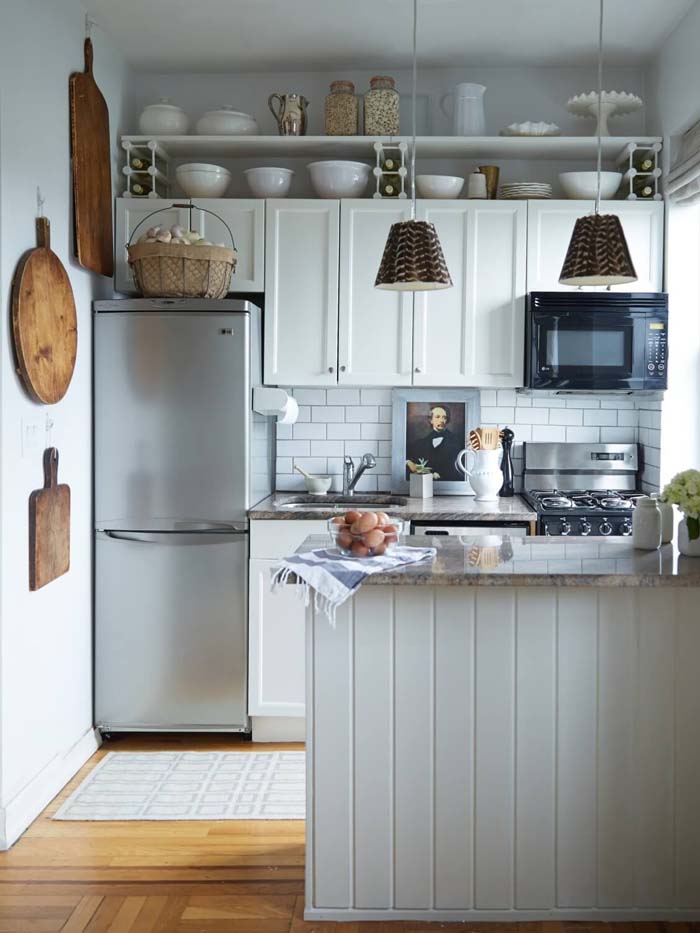 Combine your love of antique pieces and modern style by combining them into one small kitchen.
The secret to this design is a simple background; it creates a clean, contemporary feeling and enables your vintage pieces to stand out.
17. Painting With a Personal Touch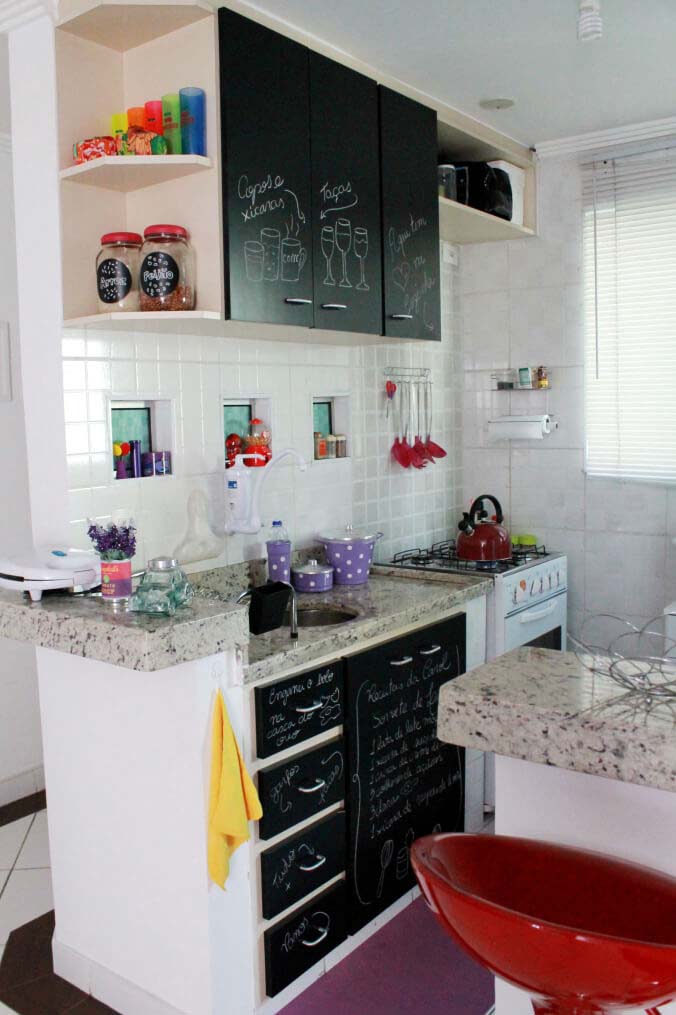 Do you have artistic talent? Put it to good use in your kitchen.
A few coats of chalkboard paint on the cupboards, and you have an instant canvas.
Write your own labels, draw pictures of the items inside, or create a custom work of art.
18. Perfect Message Board Placement for Busy Families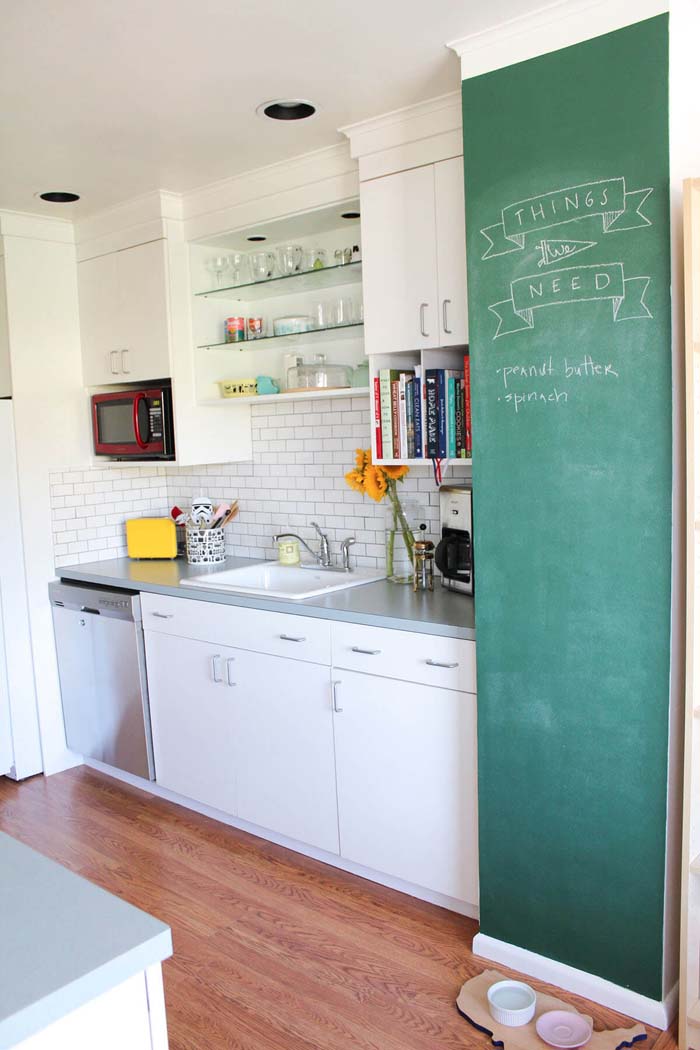 If you're in charge of a family, you know that schedules and grocery lists can be challenging to manage.
Communicate with your crew easily with a full chalkboard wall.
Your kids can add to the list as items are used up, so you always have a real-time understanding of what you need.
19. Perfect Use of Vertical Space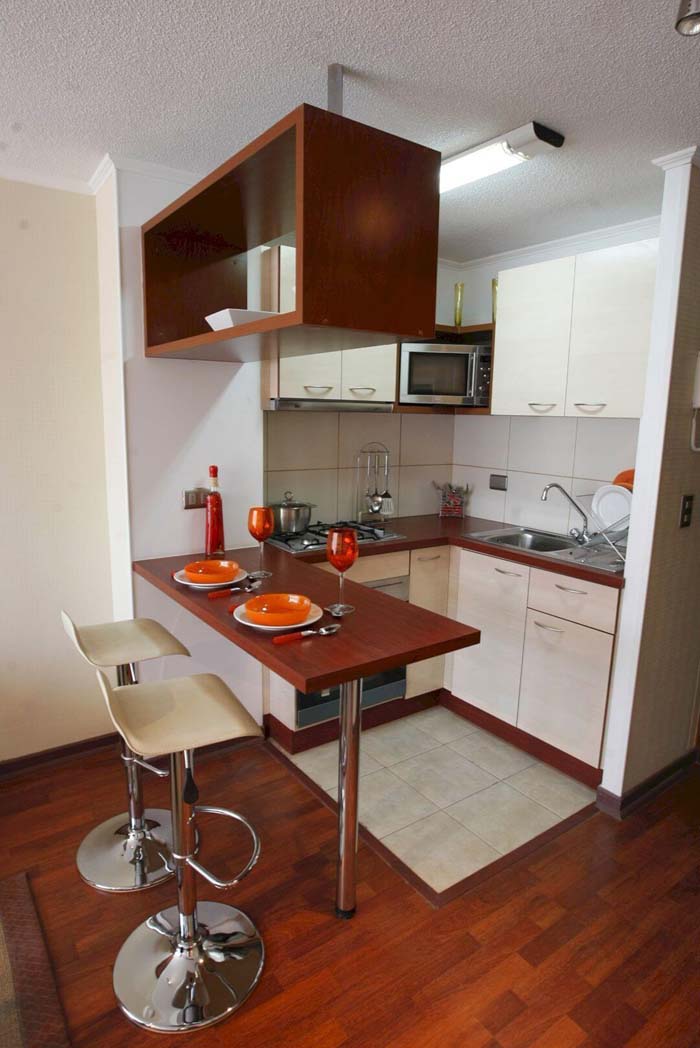 If you live in a home with tall ceilings, the vertical space in the kitchen is a big asset.
Make the most of it with a shelving unit that's mounted high above your head. It's the perfect place to store items you use infrequently.
20. Pretty With Pink to Sweeten the Room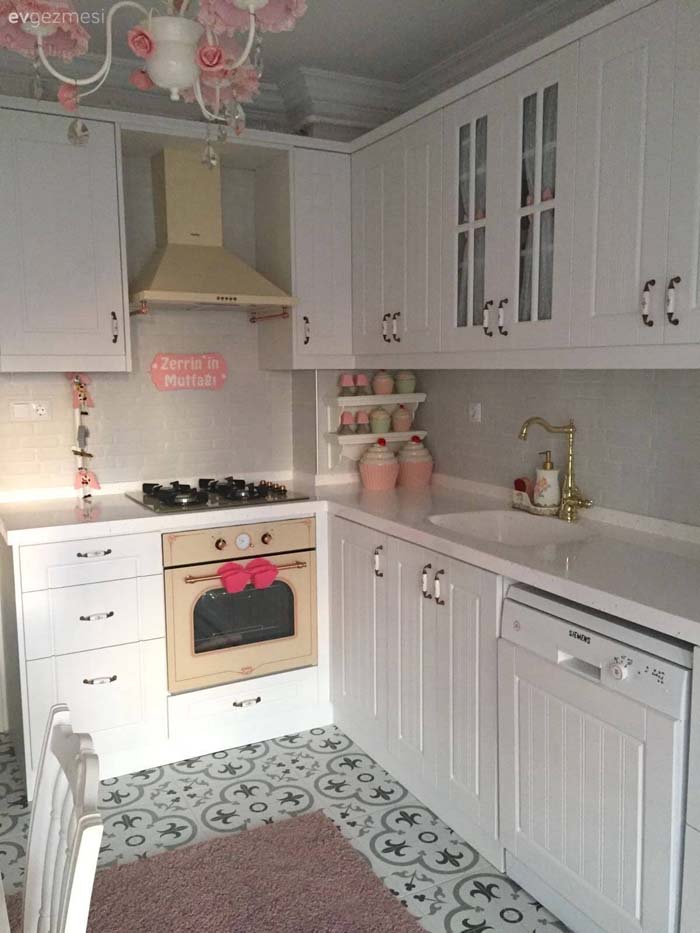 This adorable kitchen proves that in a small space, a little goes a long way.
Here, soft pink canisters coordinate with a rug and small decor elements.
Even the soap dispenser gets in on the fun with a few sweet pink flowers.
21. Small Kitchen Decor Idea with Practical Table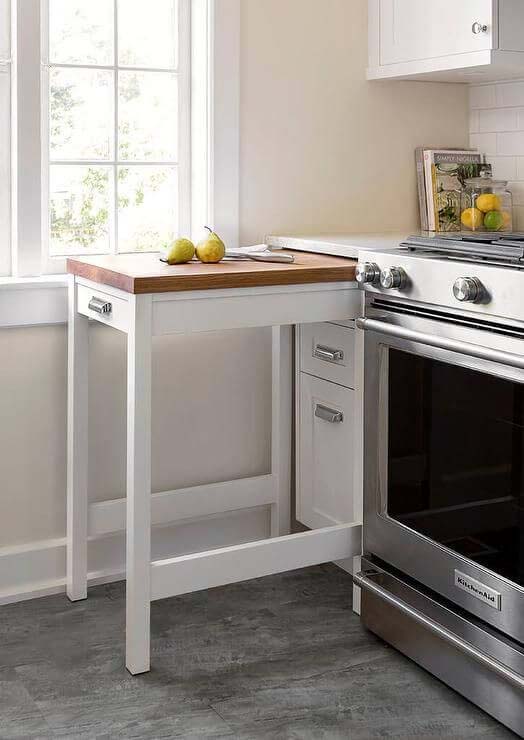 One of the biggest challenges of a small kitchen is the lack of a table or counter space.
This is a clever solution — a small table pulls out from under the countertop, giving you extra workspace when you need it most.
After you're done, just tuck it back in to free up floor space.
22. Small Kitchen Design Idea with Open Shelves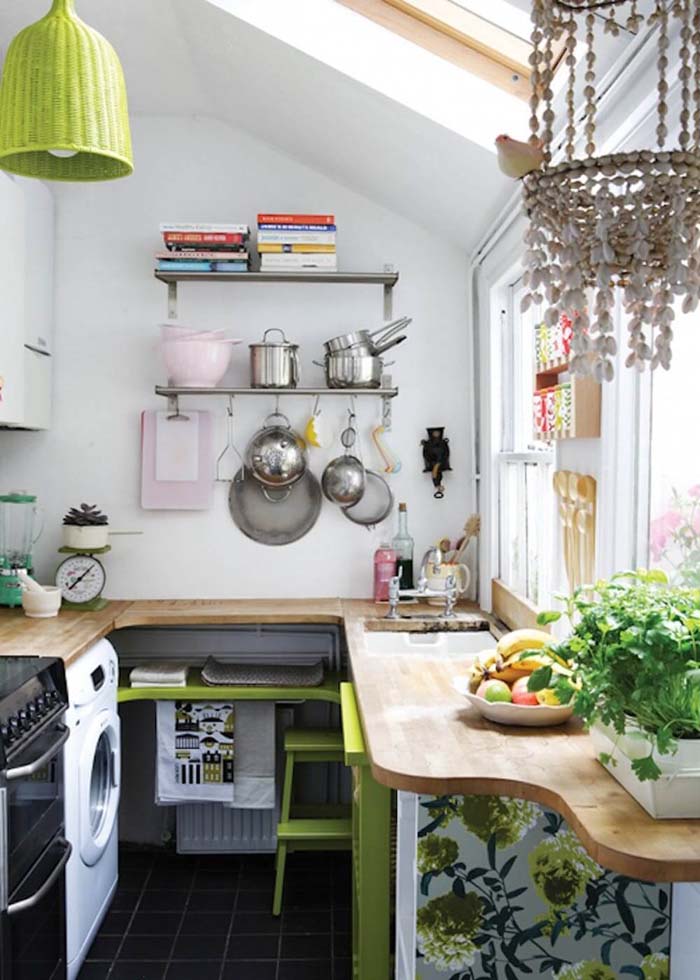 Open shelves are a great way to use your wall space without adding extra bulk.
Light colors and a minimalist design maintain an open feeling, and the perfect proportion prevents the room from feeling crowded.
We love the hanging hooks, which keep your larger items in easy reach.
via Design Sponge
23. Snazzy Colored and Designed Backsplash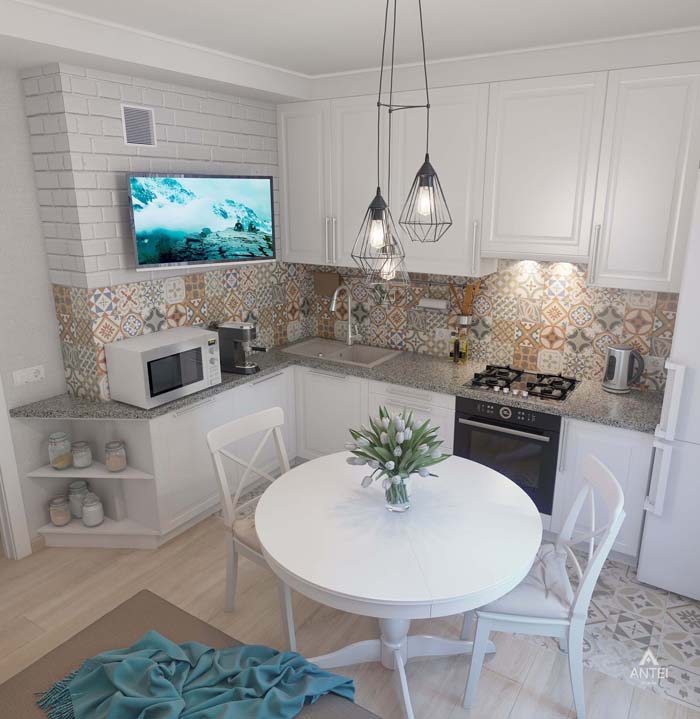 The backsplash in your kitchen is the perfect place to go a little wild.
The secret? Use light, low-contrast colors. Here, the stunning tile backsplash adds movement and texture, all without overwhelming the tiny space.
via Antei By
24. Splashes of Colorful Designs Within Tiny Space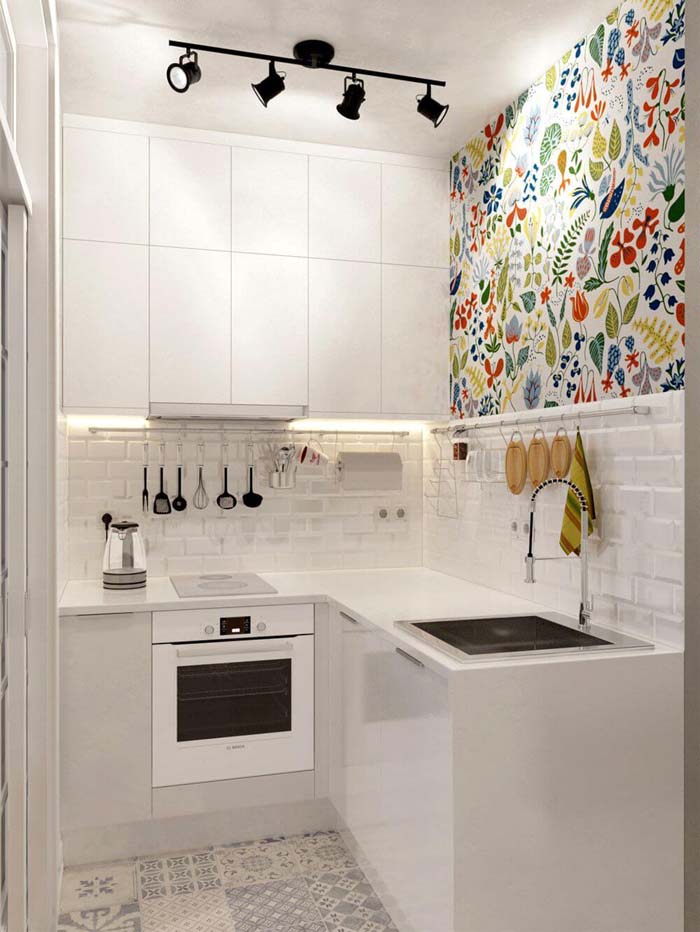 Are you longing for bright colors and vibrant prints?
You can use them in a small kitchen — just do so sparingly.
A tiny empty wall can be a work of art if you add a bold wallpaper or a brilliant coat of paint. Just keep the rest of the space simple for a balanced aesthetic.
via In My Room
25. Splashing a Bit of Wallpaper Color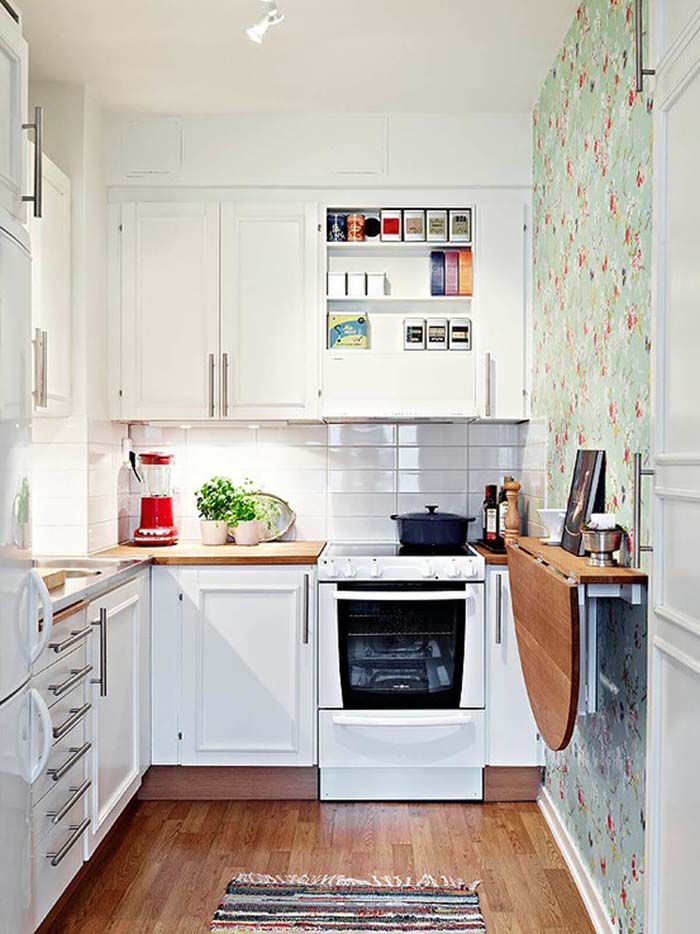 Here's another example of a gorgeous accent wall done right.
This wall is quite large, so to balance it out, the homeowner chose wallpaper in a soft, soothing color scheme.
It works beautifully with the all-white space.
via The Kitchn
26. Stainless Steel Shining Within Crisp White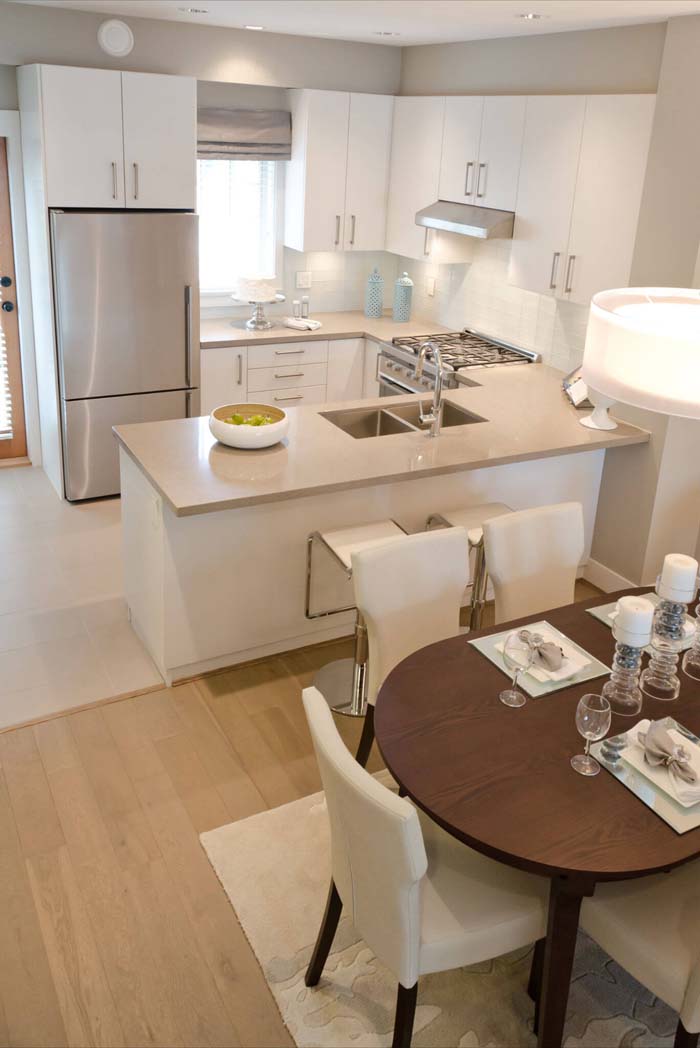 When you're going for a contemporary style in a small kitchen, a white and stainless steel palette is a perfect choice.
The light, bright floor and cabinets conceal the size, and the stainless steel adds just a hint of shine.
We love the soft paint, which ties together the countertops and appliances.
via Mab SVCS
27. Traditional Black and White With a Twist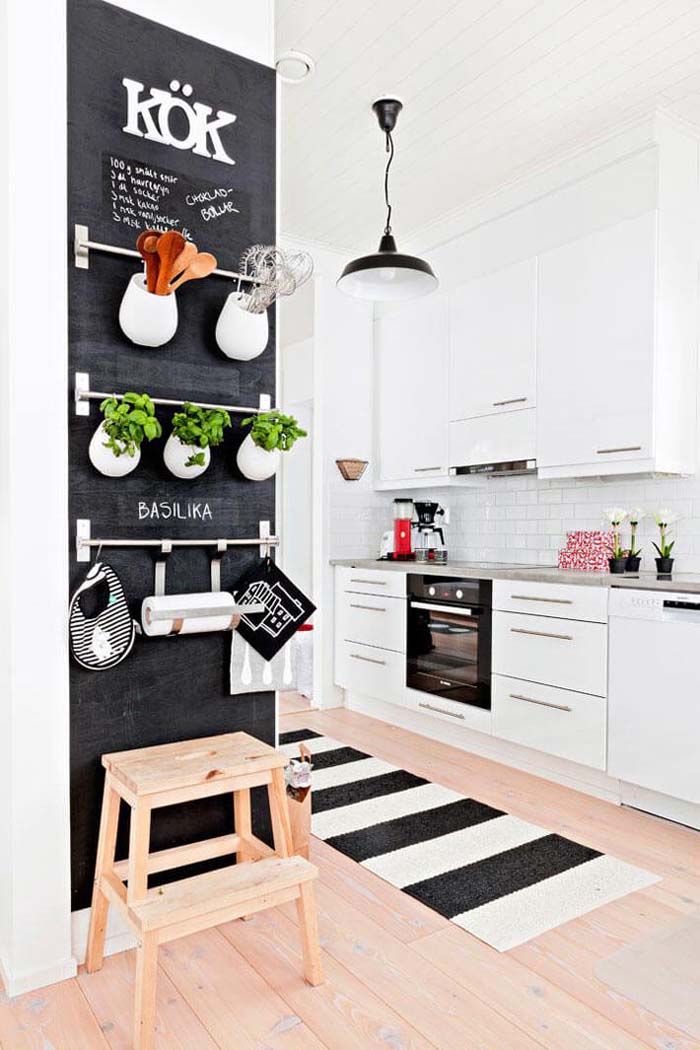 Do you love bold, eye-catching style?
In a galley kitchen, you can achieve it with a few black accents against a white background.
If you're not afraid to go big, paint one wall in black chalkboard paint. A few white containers balance the wall and prevent it from feeling dark.
via Kvartblog
28. Unique Wood With Slate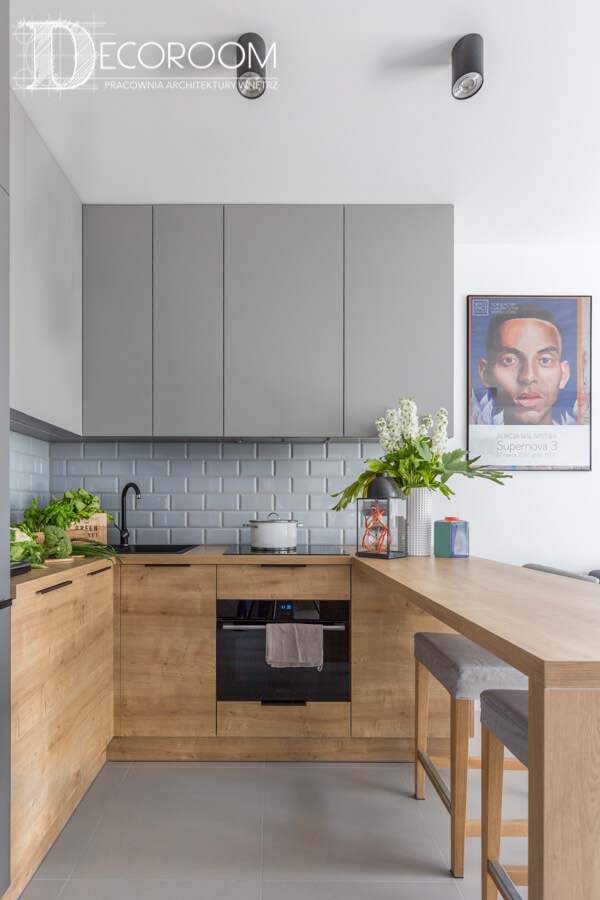 There's something impossibly chic about warm wood paired with grey walls and cabinets.
Here, the wood takes center stage, thanks to its unique grain pattern and warm color. Fresh green accents add a lively touch.
via Decoroom
29. Vertical Lines Adding Height to the Room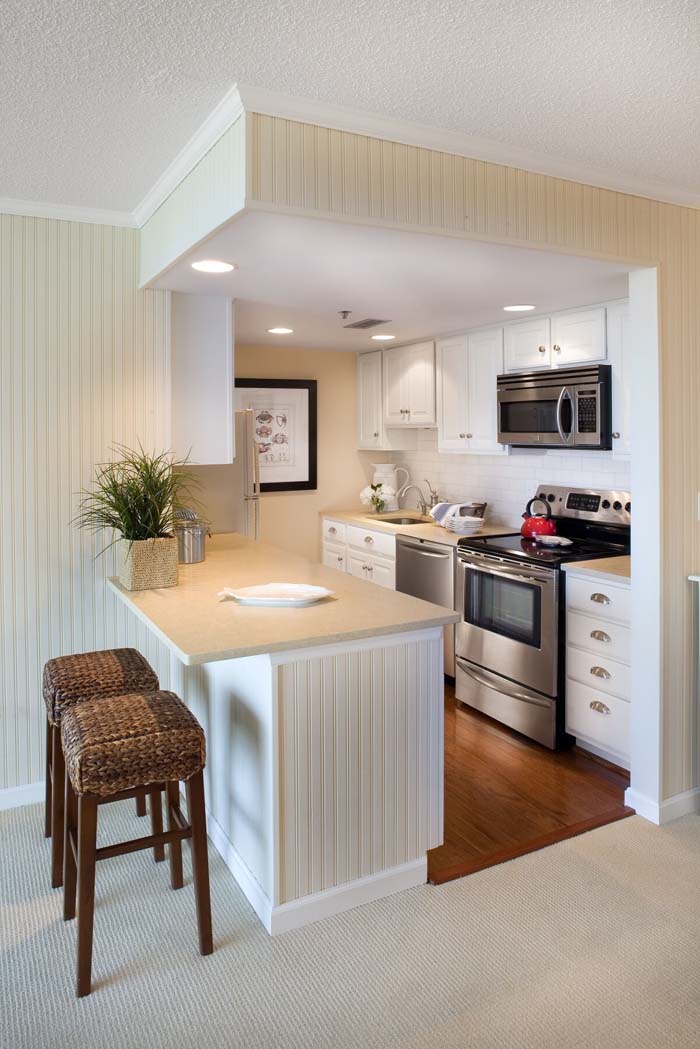 An old designer's trick is to use vertical elements to make low ceilings seem taller.
As you can see from this kitchen, it works — the simple vertical panels, paired with light colors, create the illusion of a much larger space.
30. Warm Colors With a Brick Back Panel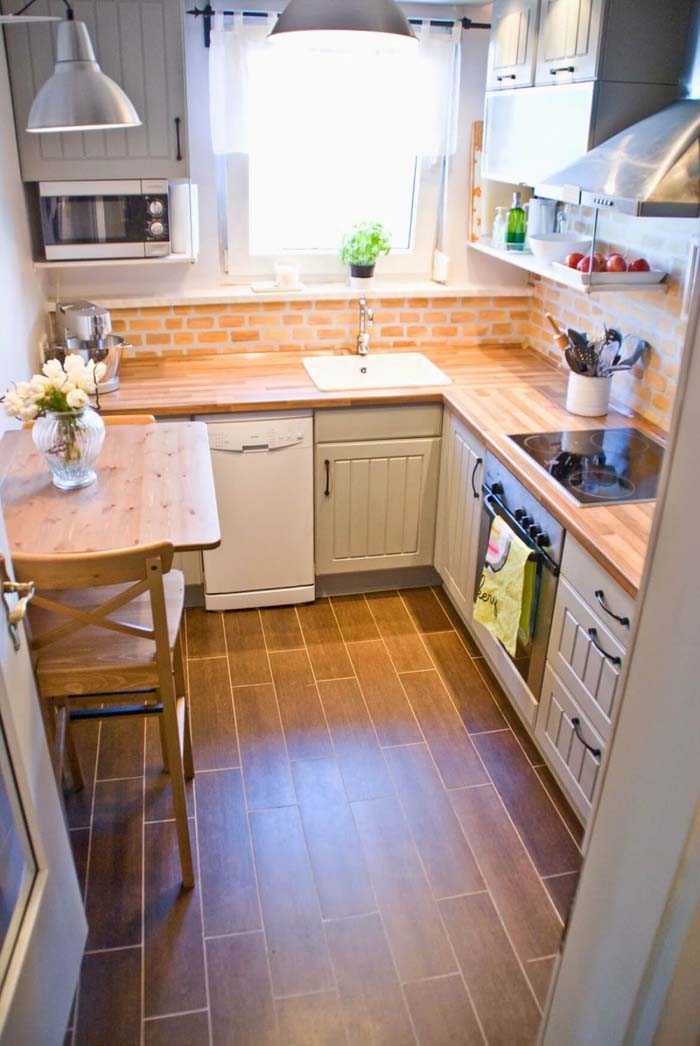 If you're lucky enough to have exposed brick in your kitchen, turn it into the star of the show.
Bring out the warm tones of the brick using soft neutrals and honey-colored wood. Grey upper cabinets balance the look beautifully.
via Remodelaholic