Are you considering getting steel or metal kitchen cabinets?
Create fantastic kitchens with metal kitchen cabinets with many styles such as minimalist, modern or industrial.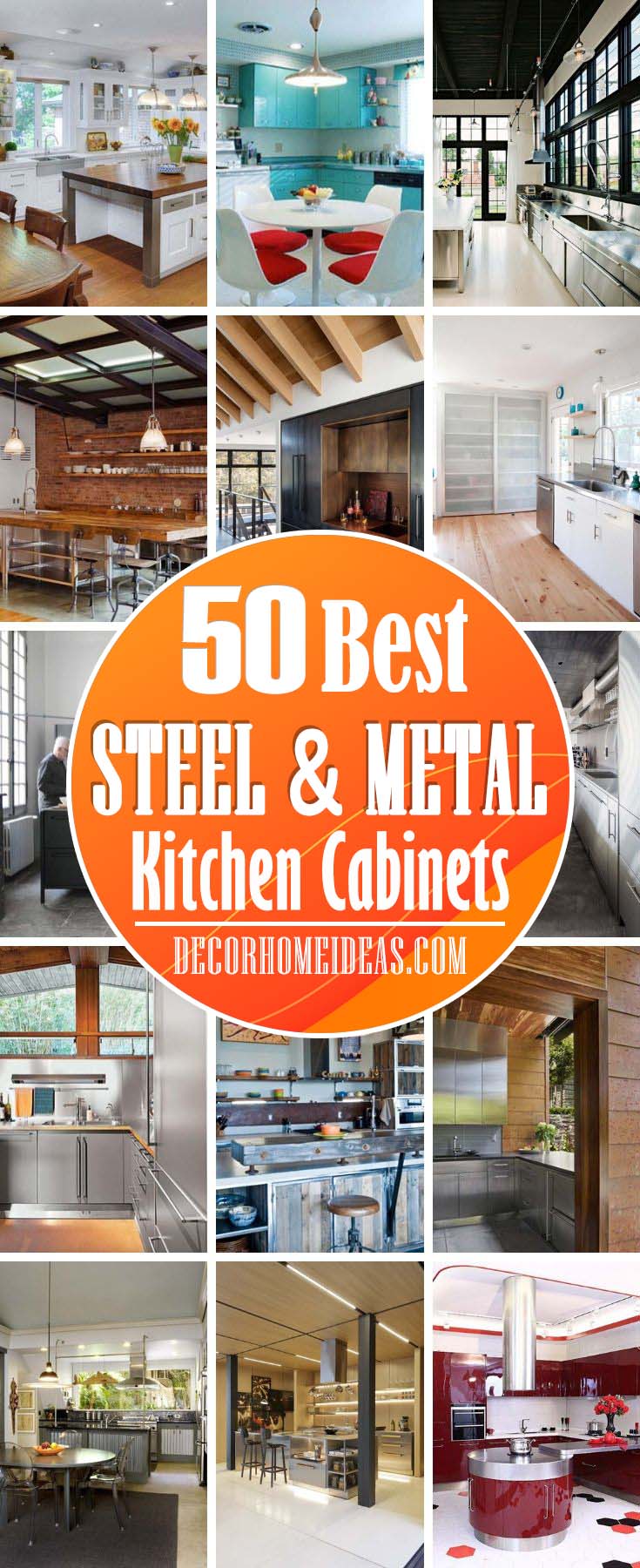 Steel metal cabinets can be designed with many types and materials that will give you freedom with their simplicity and will bring elegance and style to your kitchens with a simple touch.
1. Use Black and White for Stainless Steel Kitchen Furniture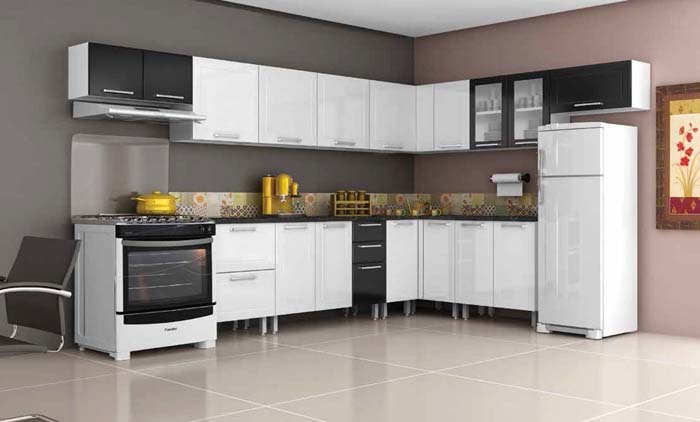 Black and white must be the most universal and preferable color combination for homes, offices and even outer spaces.
This stainless steel kitchen furniture offers an excellent combination between beautiful design, durability and strength.
2. Steel Kitchen Cabinetry with a Deep Dull Finish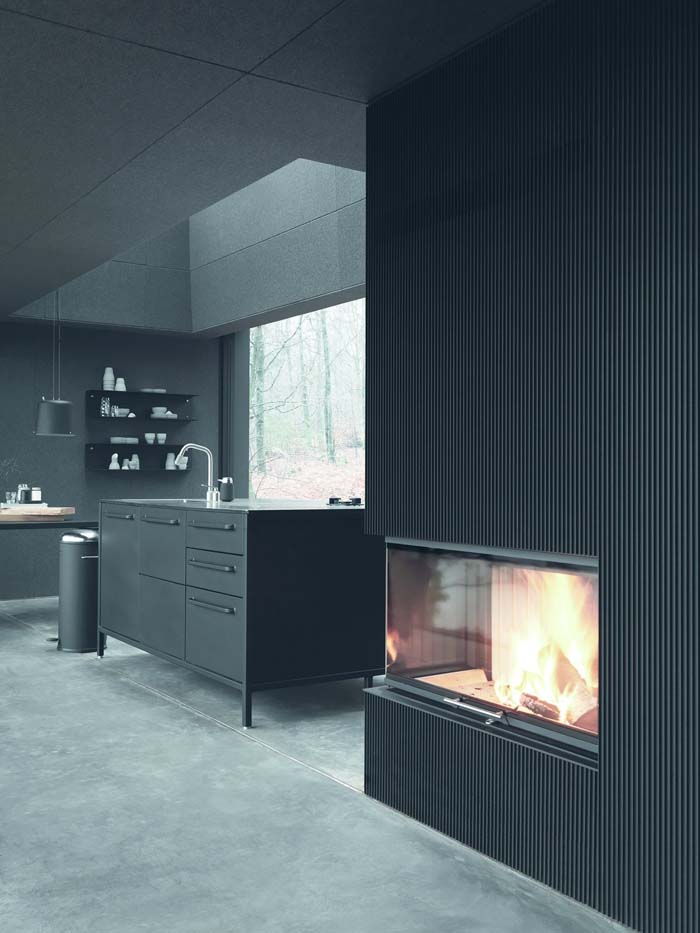 The metal kitchen cabinetry in this modernistic house is made of steel which is additionally treated to achieve a deep dull finish.
The furniture is entirely made of steel and is selected to match the interior of the house. This dull and dark finish is perfect for spaces where natural light is rich.
via Adcit
3. Executive Steel Kitchen Cabinetry for Culinary Enthusiasts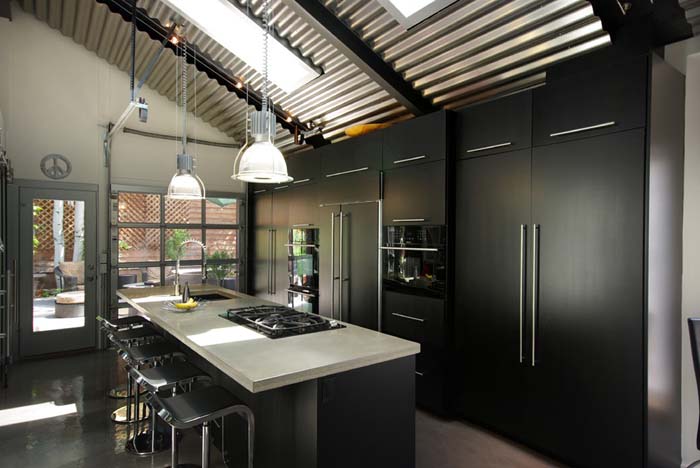 There is a steel kitchen cabinetry solution for all culinary addicts! Those built-in tall cabinets can accommodate even the largest number of appliances, utilities and other cooking stuff.
The electric appliances are installed in them and make the total look of the kitchen professional.
4. Utilize Small Kitchen Space with Steel and Wood Islands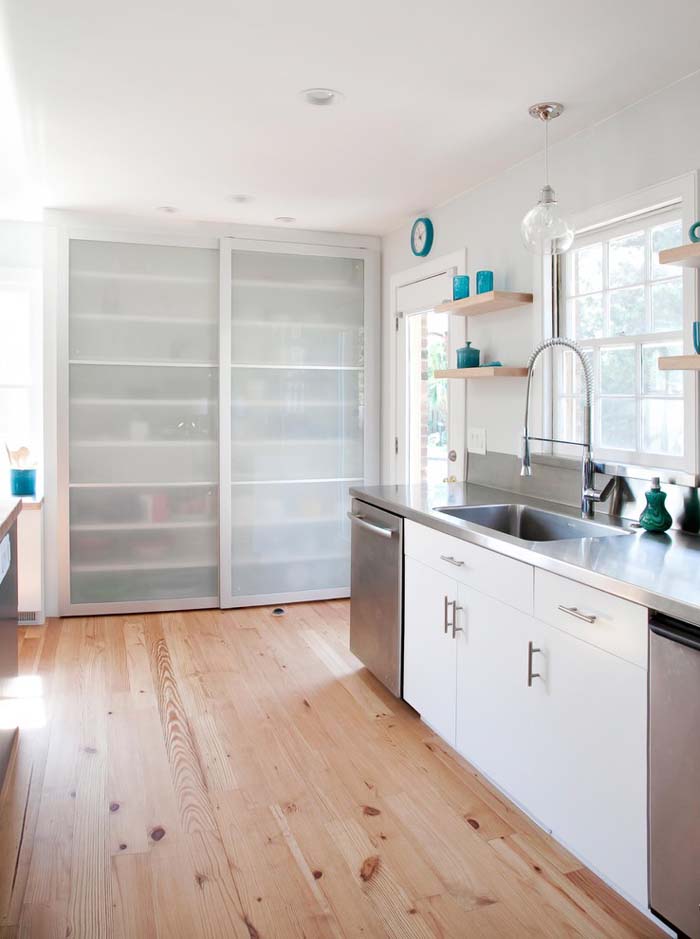 The small kitchen is not always a disadvantage. If you use the entire space cleverly and select the right materials, you can get a totally functional cooking area.
This is an example of how to utilize the small space by installing a long steel and wood island and large cabinetry to store the utilities and appliances.
The carbon finish is duller than the standard factory finish of the steel and brings a shade of modernistic introduction to the kitchen.
via Plain & Fancy Custom Cabinetry
5. Add Character to Your Home with Steel Kitchen Cabinets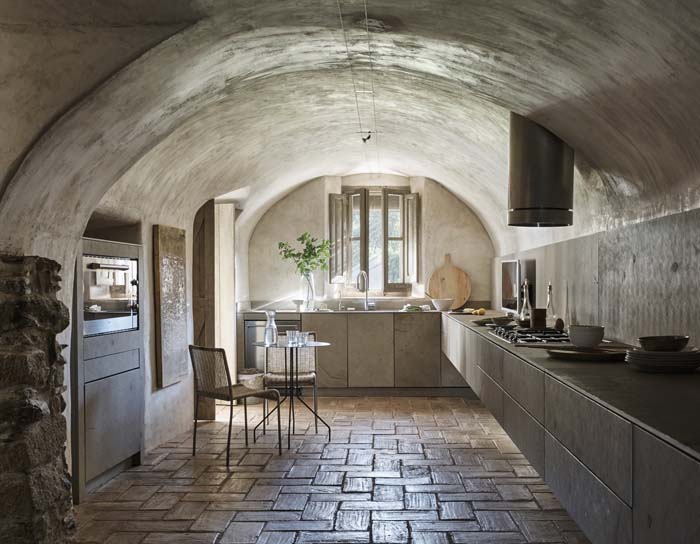 Steel kitchen cabinets have been the choice even for an architectural performance as this magnificent cave-like home.
Their finish reminds of graphite texture and color and matches the archaic and so cosy interior of the house.
6. Sophisticated Silver Hammered Steel Kitchen Cabinets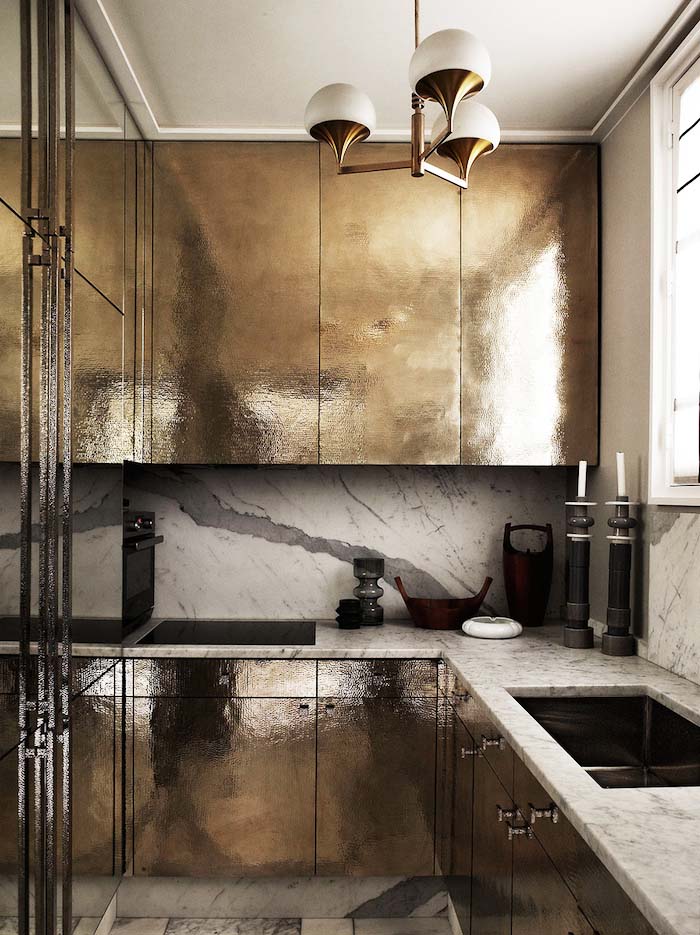 Luxury is not only high price, it is mainly uniqueness and sophisticated style as this small kitchen is.
The kitchen cabinets have been hammered with silver and that has changed the natural texture of the steel. Now it looks warmer, deeper and is definitely worth each penny.
via Xavier Bejot
7. Achieve a Neat Look with a Stainless Steel Kitchen Design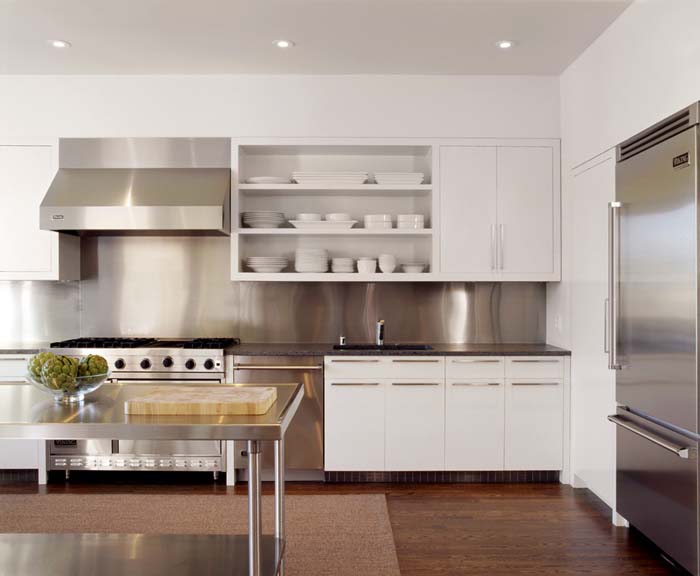 When it comes to kitchen, stainless steel is mostly preferred because it eases cleaning and because of its durability.
Whether entirely of steel or used in the combination above white kitchen cabinets with stainless steel appliances, it always looks stylish and beautiful.
8. Use a Dull Steel Finish for Your Contemporary Kitchen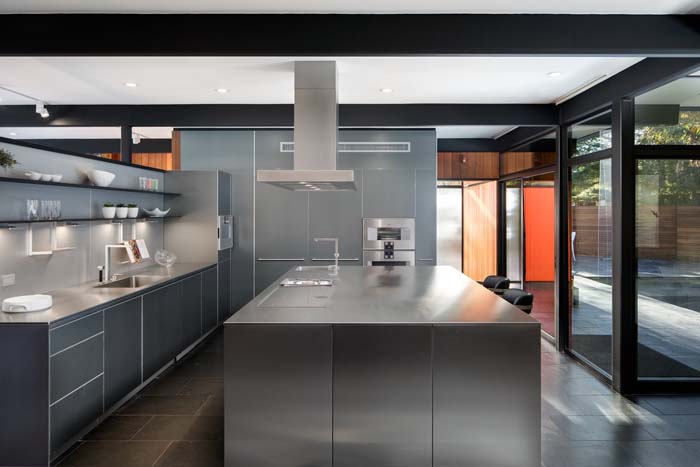 Among all possible steel finishes, one of the most commonly used ones is the dull finish.
It provides warmth and is very appealing but it is suitable for spaces where there is more natural light as the fabricated finish of the stainless is treated and thus not that shiny.
This dull effect also makes the steel more durable to scratches as they will be harder to notice than the regular finish.
9. Utilize Stainless Steel for Kitchen Cabinetry and Islands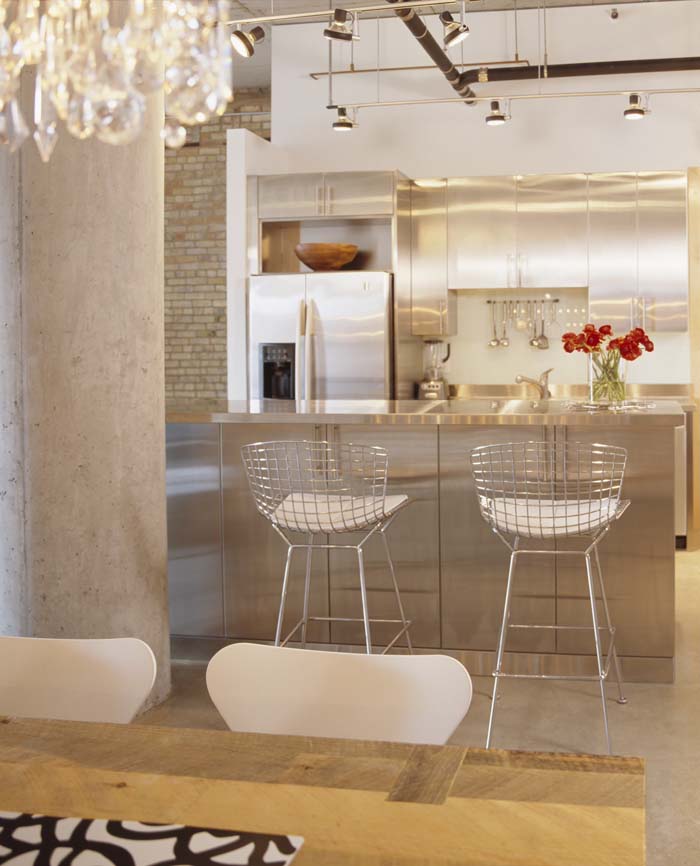 Along with its attractiveness, stainless steel is germ-enemy due to its non-porous nature.
Using stainless steel for the cabinetry and also for the kitchen islands is therefore reasonable and as a bonus it is easy to be cleaned.
10. Custom Kitchen Cabinet with Stainless Steel Accents

Stainless steel knobs and pulls may transform a standard base kitchen cabinet into a customized piece of furniture.
This kitchen cabinet is one of the most functional ones as it accommodates built-in the appliances and all needed household.   
via L'ATELIER PARIS HAUTE DESIGN, LLC
11. Stainless Steel Kitchen Cabinets for Contemporary Style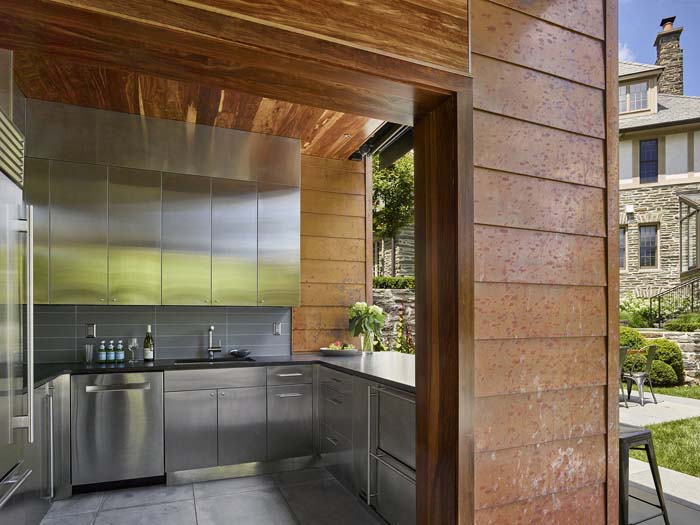 The base and the top cabinets of this kitchen are made entirely of stainless steel to match the appliances.
The chosen arrangement line, size and quantity of storage places make this contemporary kitchen modern and at the same time very comfortable. 
12. Minimalistic Industrial Stainless Steel Kitchen Cabinetry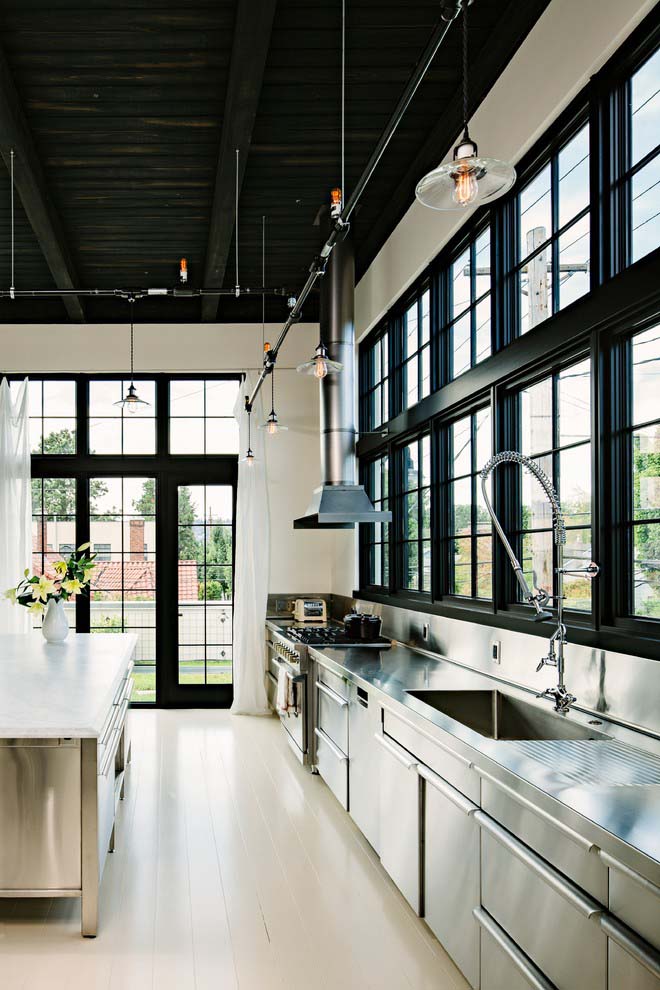 Everything in this kitchen space – from the handles of the cabinets to the appliances is in stainless steel finish. The base kitchen cabinets are elegantly arranged.
However, the chosen material and the plainness of the shapes make the kitchen more industrial. This type of steel kitchen cabinetry is perfect for airy spaces.
13. Sleek Stainless Steel Kitchen with Open Concept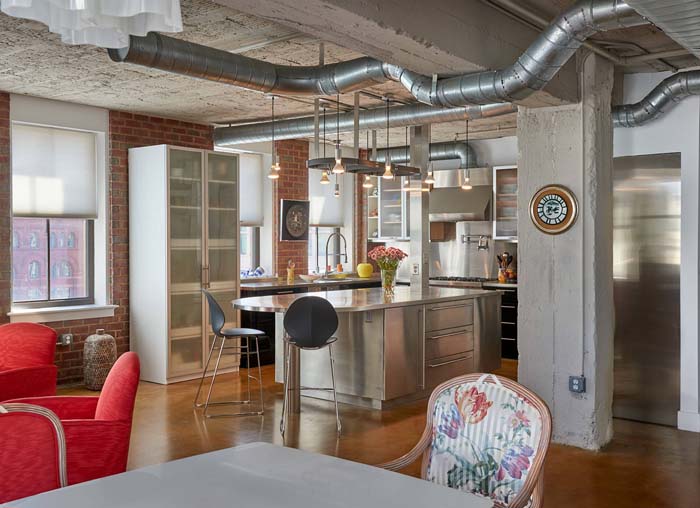 This kitchen is custom designed to follow an open concept. All the cabinetry and the island in the middle are mid-sized and made of stainless steel.
The finish is the perfect choice for flow transition from the kitchen to the living space as its neutral color matches any living room interior. 
14. Eat and Cook Elegantly with Stainless Steel Kitchen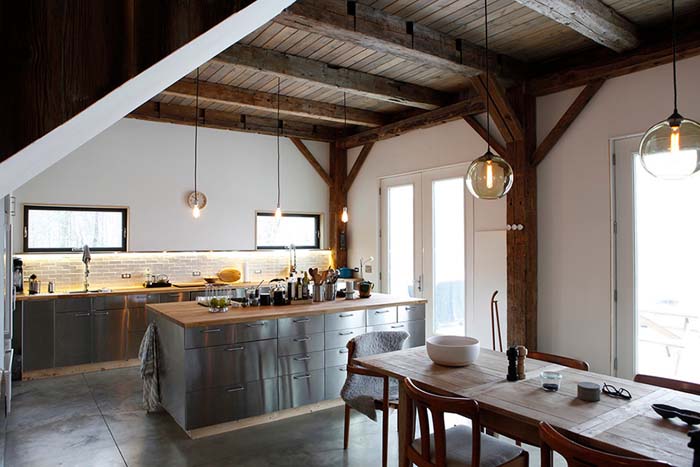 More families prefer to combine eating and cooking zone.
This stainless steel kitchen decision provides the most of this idea as it consists of many cabinets and an island with drawers that ensure comfort and functionality.
15. Elevate Kitchen Decor with Stainless Steel Appliances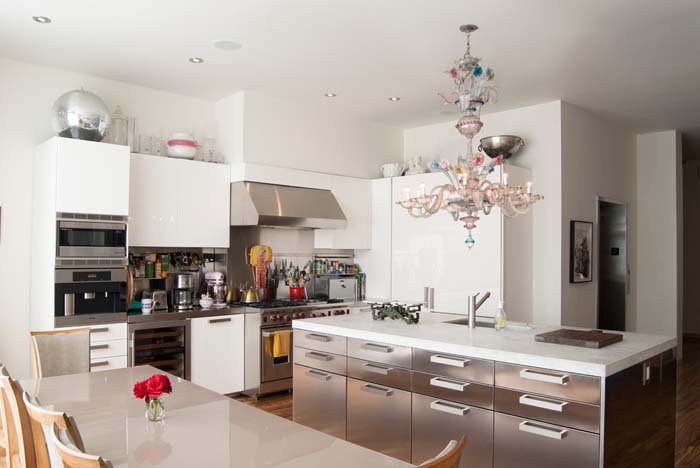 Continuing the trend for the combination between kitchen and living room in one open space, you must consider choosing the best materials that will make the surfaces look clean and shiny with fewer efforts.
Polished white kitchen cabinets with stainless steel appliances are the perfect combination as the materials are kid-friendly.
In addition to that, the storage area is optimal and this makes the space where most of the day time is spent more comfortable and clean.   
via Adrienne DeRosa
16. Gunmetal Skin Kitchen Design for Improved Ergonomics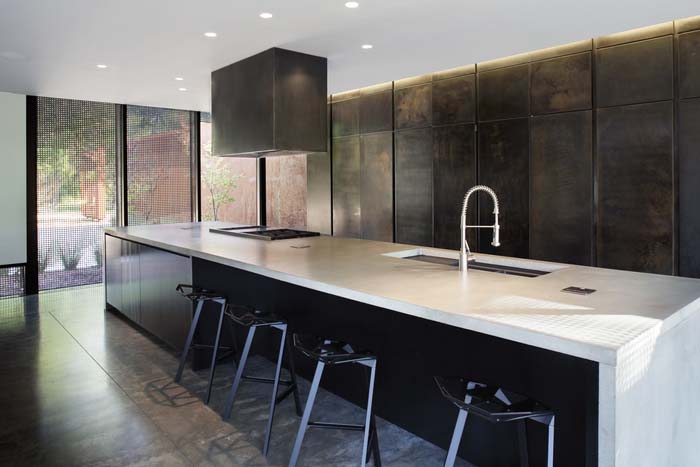 If you want to improve the ergonometric of the kitchen and make its design simpler, this kitchen idea may be your inspiration.
The designers have chosen gunmetal skin for the built-in cabinetry and faces of the island which makes the space unique and practical with regards to cleaning and comfort.
via Hufft
17. Turn Old Metal Kitchen Cabinets with a Blue Paint Job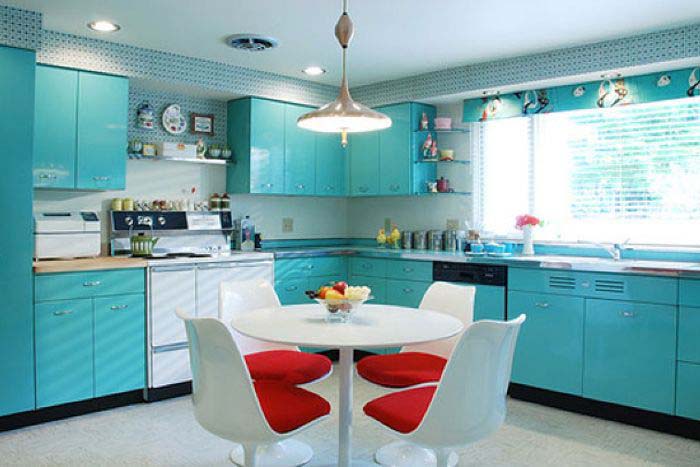 If your kitchen is furnished with metal cabinets which is very functional but already worn and outdated, don't get rid of it. Renovate them instead!
This photo is a spectacular example of how to update metal kitchen cabinets. Use suitable metal paint that matches your interior and voila! Your old kitchen will be turned into a trendy vintage metal kitchen.
via Retro renovation
18. Affordable Stainless Steel Kitchen Cabinets from IKEA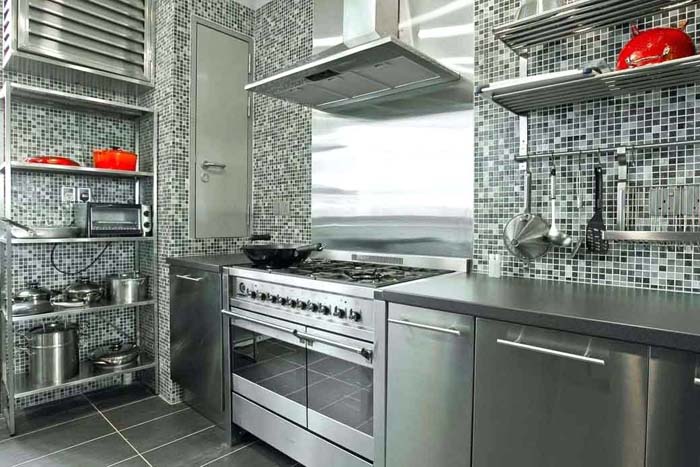 If you understand the advantages of the stainless steel kitchen but cannot afford a customized furniture, Ikea sells stainless steel kitchen cabinet which do not give way to more expensive ones.
Their modules are universal and flexible with regards to combination possibilities, area compatibility, properties, etc.
via Ikea
19. Sophisticated Black Metal and Brass Kitchen Cabinetry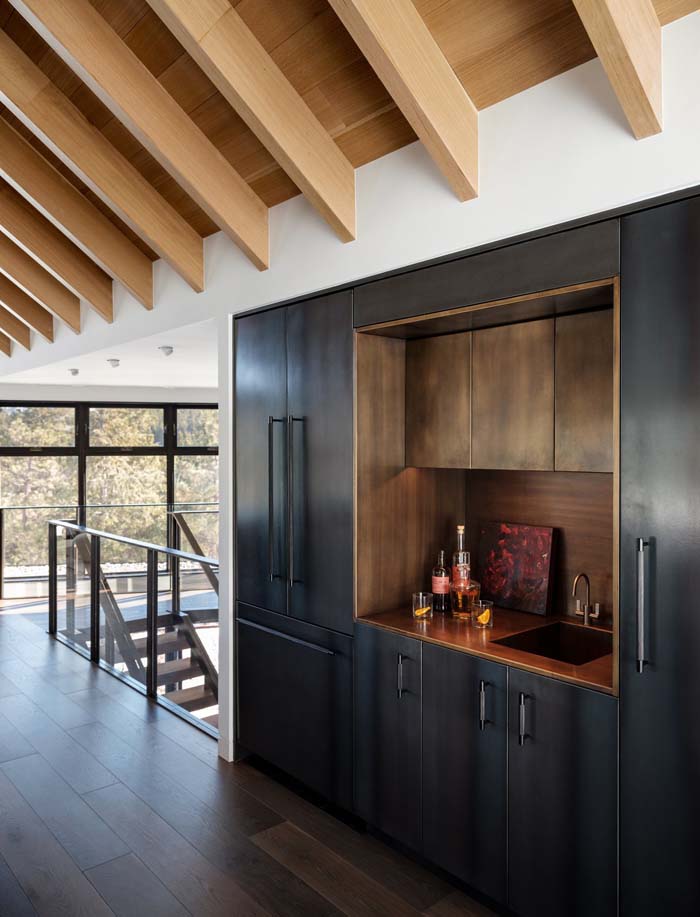 This small kitchen/bar cabinetry must have been taken from an entertainer's dream.
The cabinets are made of black metal and the nested sink, top cabinets and board- from brass. This is a sophisticated metal combination suitable for any small kitchen space. 
via HMH Architecture + Interiors
20. Industrial Chic Kitchen with Stainless Steel Accents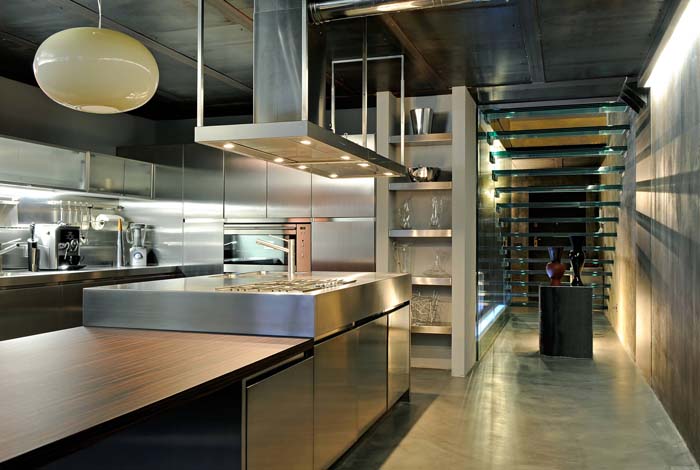 Stainless steel does make the interior more industrial but it is also very chic because of the metal splashes and smoothness.
This is an idea for a large single-wall kitchen where stainless steel is the predominant material for most of the furniture.
via Vem Works
21. Modular Kitchen Storage Unit in Black Steel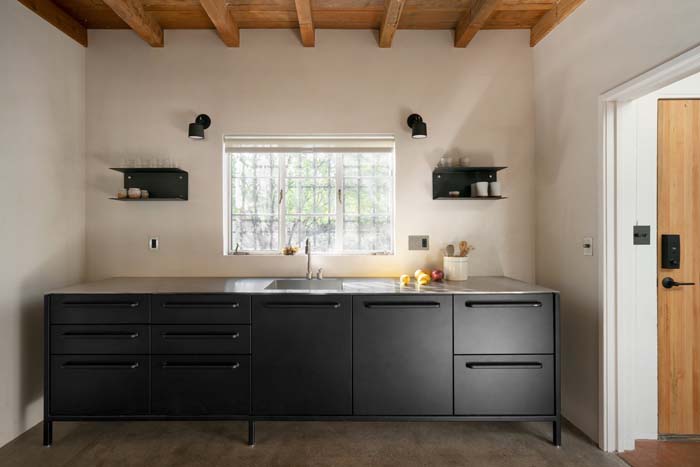 This modular unit in black powdered steel has been chosen to make an addition to the existing kitchen structure.
It is very convenient for storage as there are many drawers and cabinets of different sizes.
22. Contemporary Stainless Steel N-Shaped Kitchen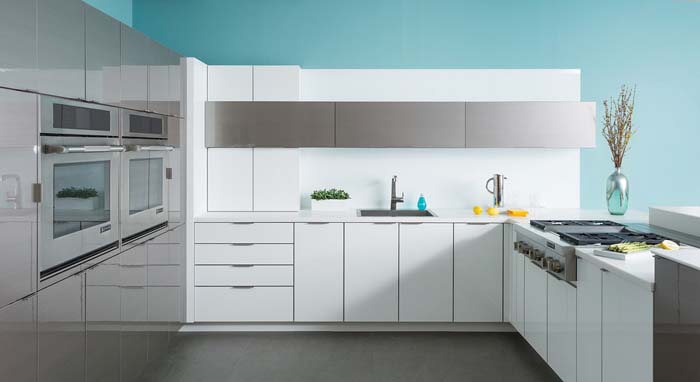 This contemporary-styled kitchen system is made entirely of stainless steel so that the interior of the drawers matches the sleek look of their exterior.
The appliances are built-in and of the same inox finish. This way the big quantity and relatively tight arrangement of cabinets do not overwhelm the space.
23. Utilize Stainless Steel Cabinets for Your Outdoor Kitchen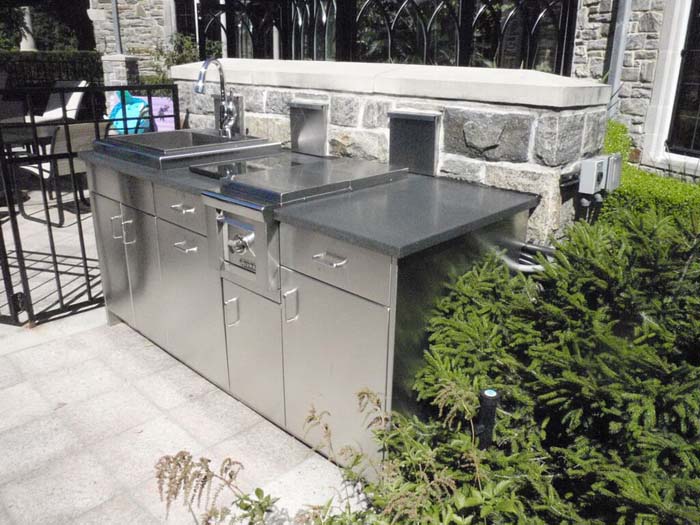 If you are looking for a low-maintenance and cost-friendly outdoor kitchen, you must investigate the advantages of outdoor stainless steel cabinets.
The material is modern, perfect for outer ambient conditions as it cannot be damaged by water or other circumstances and is easy to be cleaned.
via Brooks Custom
24. Luxurious Platinum-Finish for Geometric Steel Cabinetry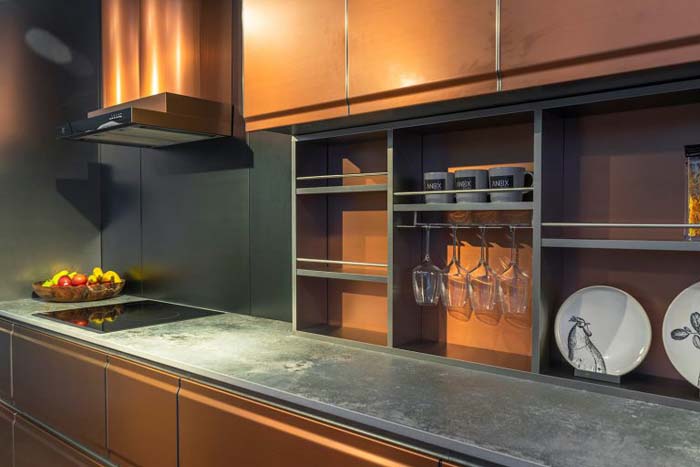 Plating can give the steel cabinetry an individual touch to the kitchen.
Platinum-finish makes the look of the geometric shapes warmer and gives a luxurious finish to the cabinets.
via ANOX Studio
25. Powder Coat Your Stainless Steel Kitchen Cabinets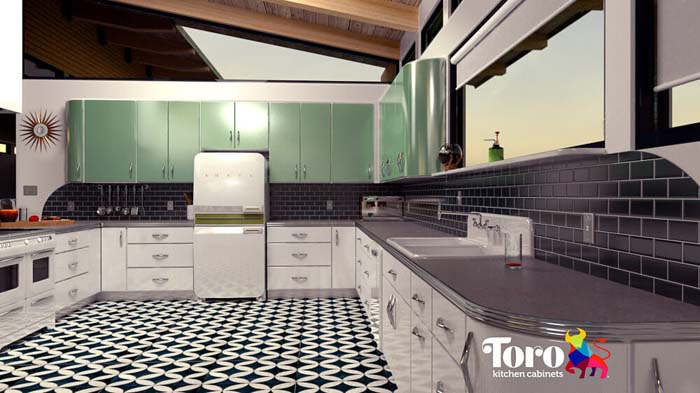 Powder coating is one of the easiest ways to change the fabric color of steel.
Some stainless steel kitchen manufacturers offer a variety of powder coating colors to let the customers take advantage of the steel cabinetry functionality and at the same time match it with the rest of the interior.
via Retro renovation
26. Sleek Loft Kitchen with Stainless Steel Furniture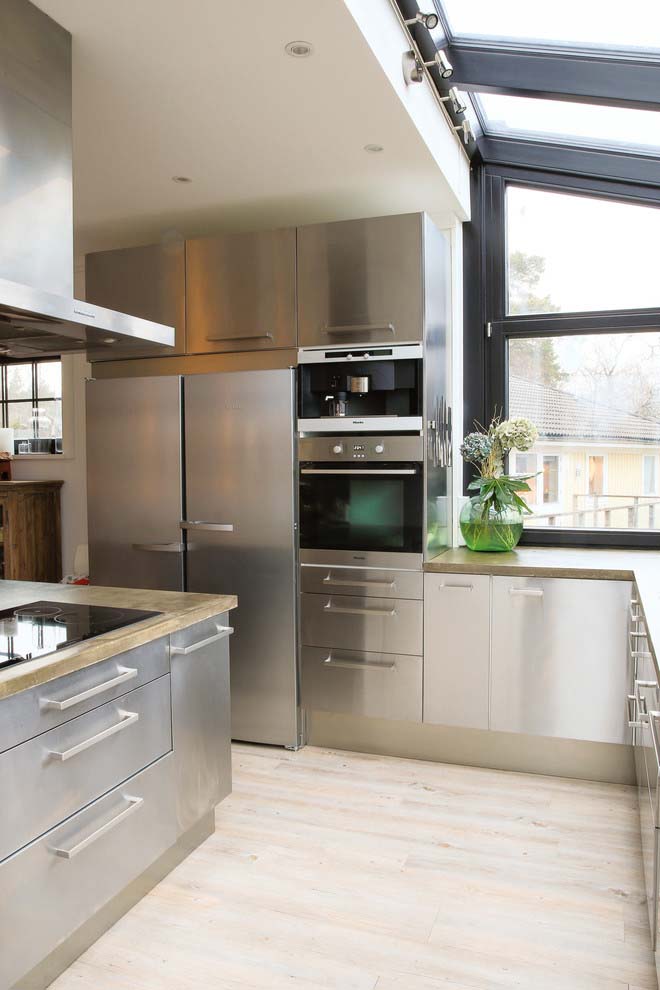 A beautiful kitchen in loft style where stainless steel is the predominant material for the kitchen furniture.
The fridge has been hidden behind stainless steel doors to match the kitchen design
via Brickspiration
27. Use Profiled Steel Sheets for Kitchen Cabinet Doors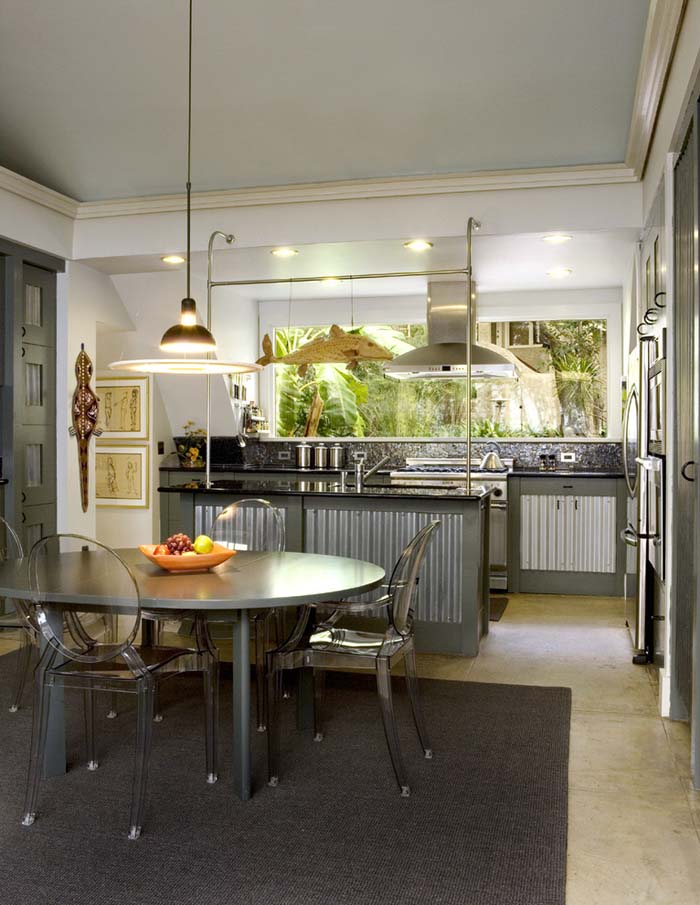 Profiled steel sheets are usually used for civil and construction works.
However, it seems that they could make great doors of cabinets in a kitchen, designed in industrial style.
28. Red Metal Kitchen for Fearless Homeowners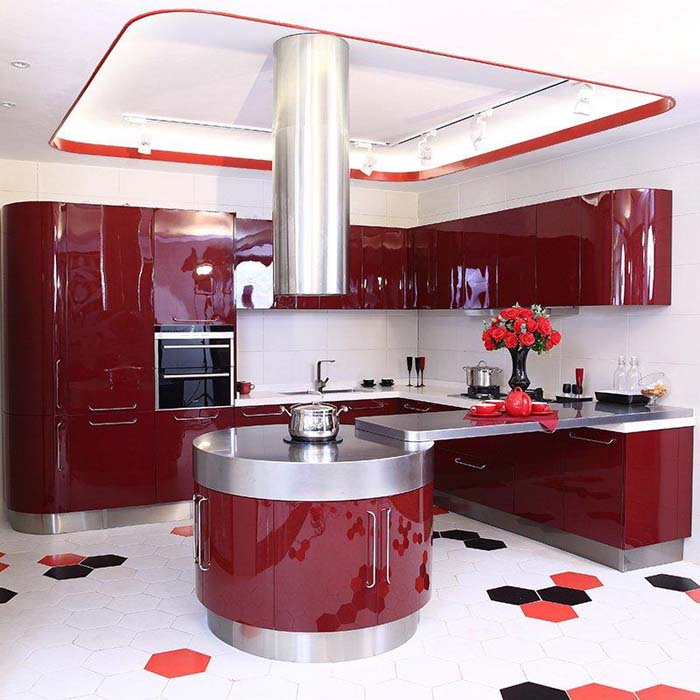 This red metal kitchen must be possessed by a brave householder who doesn't obey the mass choices.
The kitchen set provides functionality, individuality and a relatively small footprint.  
via Fadior Kitchen
29. Round Stainless Steel Kitchen Island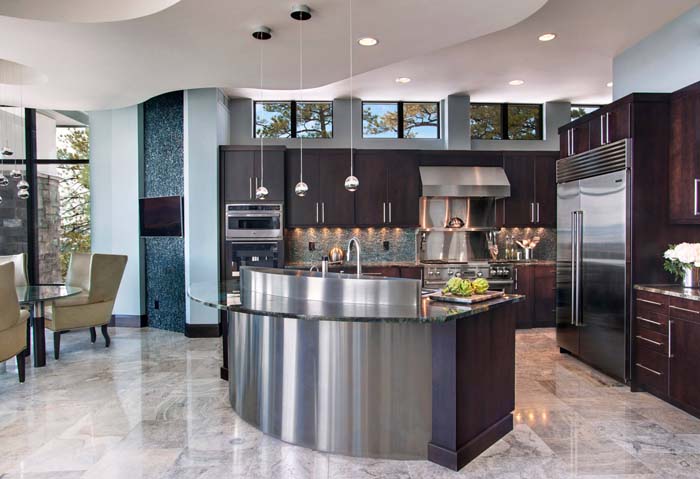 Stainless steel is a quite flexible material so it can be used even for a unconventional shapes when space and taste requires them.
This metal island is with a round shape to increase the welcome-drink space.
30. Get Timeless Look with Stainless Steel Kitchen Cabinets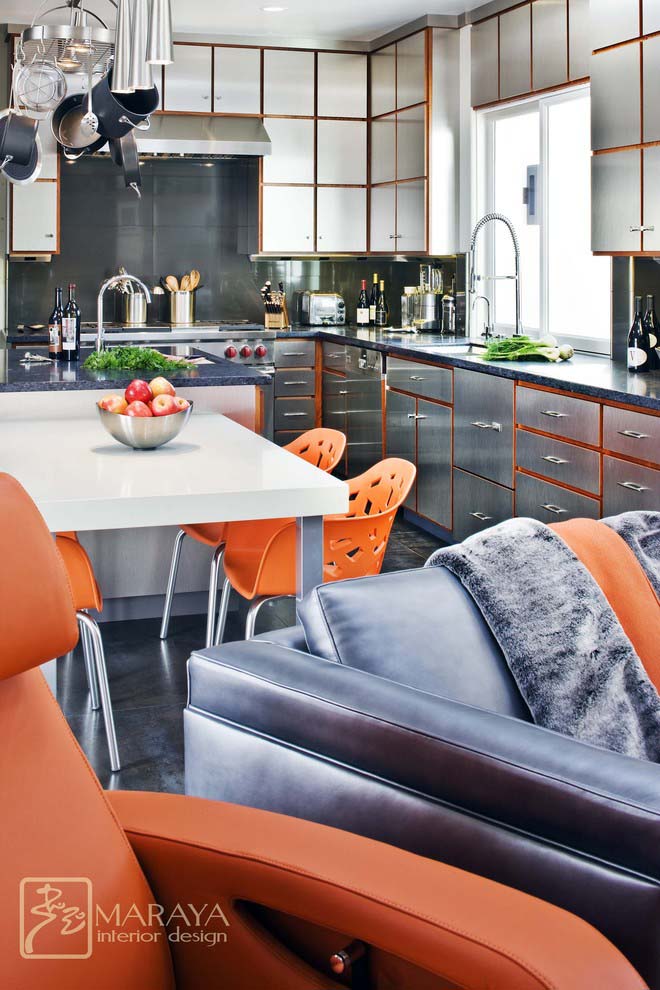 Stainless steel in satin finish makes the perfect material choice for kitchen cabinets that must be combined with more contrast colors from the rest of the interior.
The satin finish makes the surface duller and thus more interior universal.
31. Cozy Kitchen Combination of Steel and Wood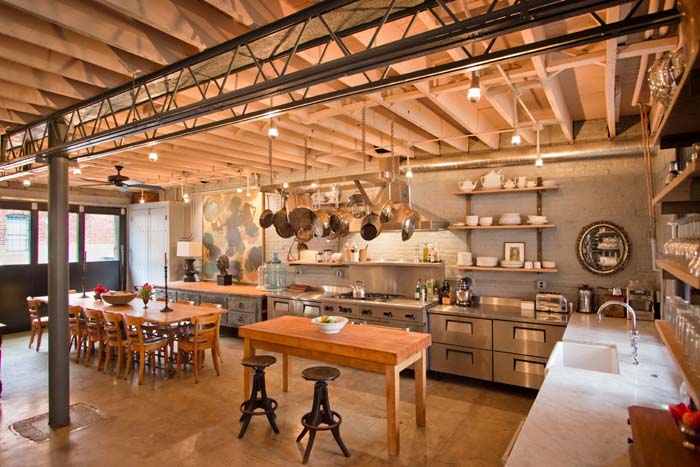 Steel and wood look very cozy in a combination for the kitchen.
If your space allows it, you can place many but base steel cabinets which will accommodate the heavier kitchen stuff and use wooden shelves to expose the household.
via BENNETT FRANK MCCARTHY Architects, Inc
32. Enhance Kitchen Efficiency with Modern Steel Modules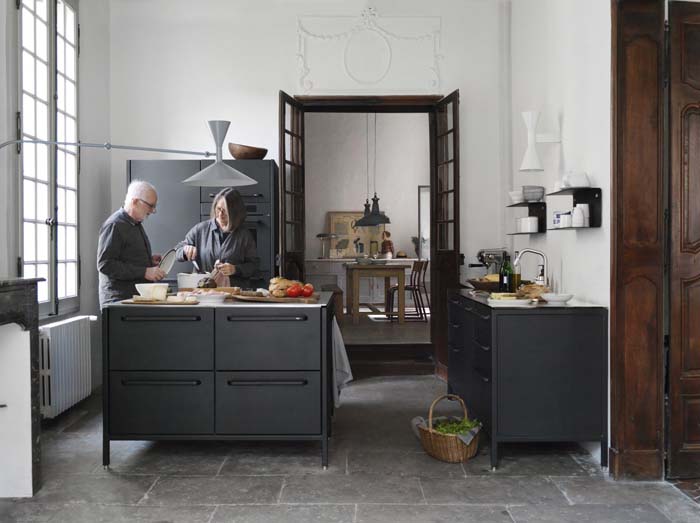 These contemporary steel modules in black fit very well in the original structure and detailing of the kitchen.
Although only a few, they provide enough comfort and space to do the daily activities in a kitchen.
33. Stylish and Space-Saving Stainless Steel Kitchen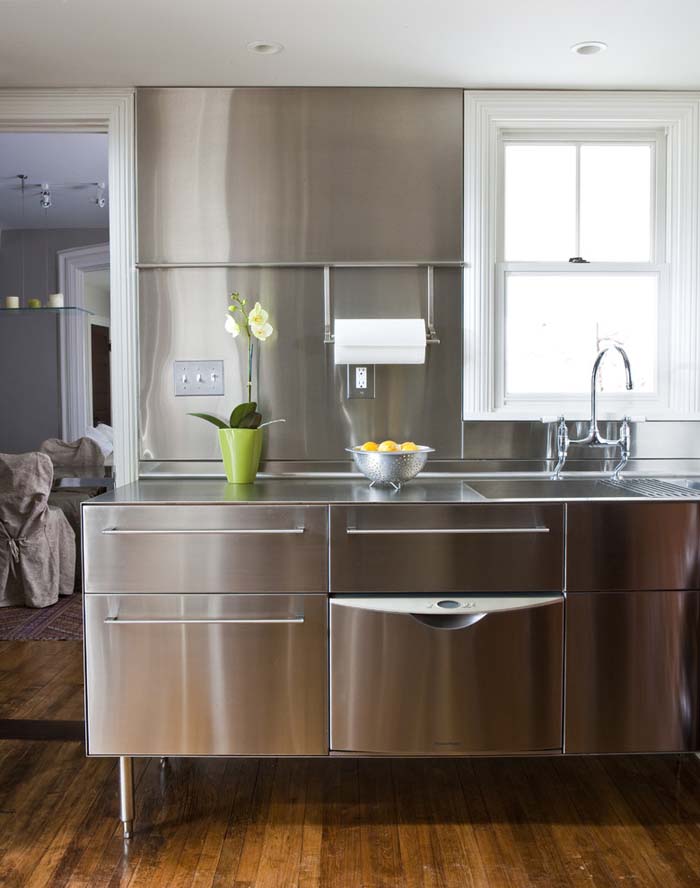 This small kitchen is made of shiny stainless steel and will fit well in any apartment or studio where space is limited.
The best of all is that it is shop-made and can be easily and quickly installed.
via Houzz
34. Steel Kitchen Cabinets for Mid-Century Aesthetic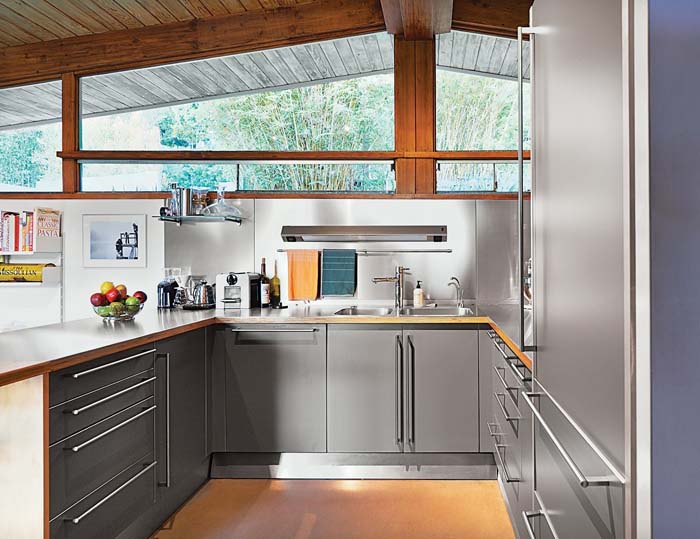 Steel is definitely one of the most practical materials for kitchen cabinets. But what if it must transfuse with the mid-century interior and exterior of a house?
The kitchen may be purchased painted in a neutral color so that its industrial character is attenuated.
via Bulthaup
35. Complement Stainless Steel Kitchen with Bright Colors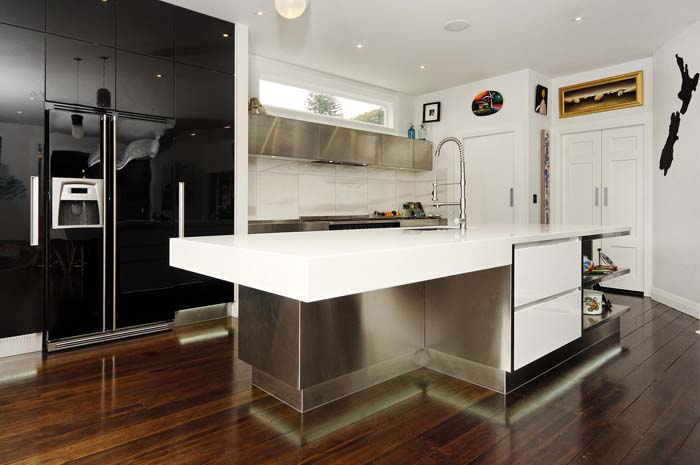 Some of the best colors for kitchen cabinets with stainless steel appliances is steel grey, white and black.
This three-combo color combination makes the kitchen look trendy. Stainless steel is used on those parts that will take up the most weight and will be used more often. 
36. Brighten a Dark Kitchen with Stainless Steel Cabinets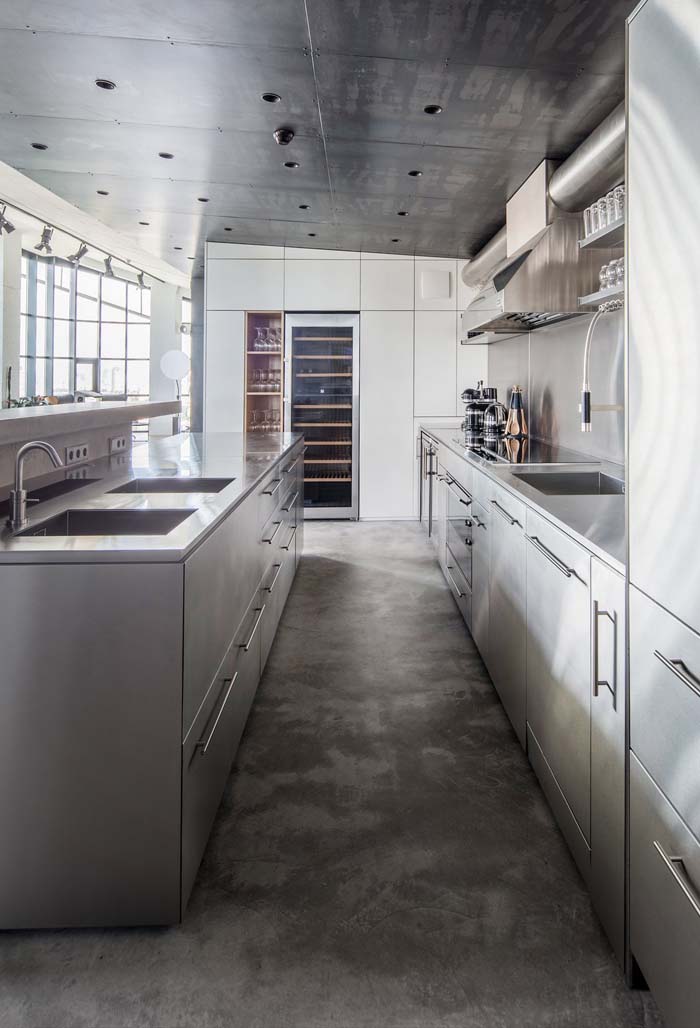 Stainless steel cabinets are best for kitchens where natural light lacks.
The fabric capability of stainless steel to reflect light will help space become more bright and will make the atmosphere airier compared with any other material.
via 2B group
37. The Perfect Blend of Industrial and Vintage Kitchens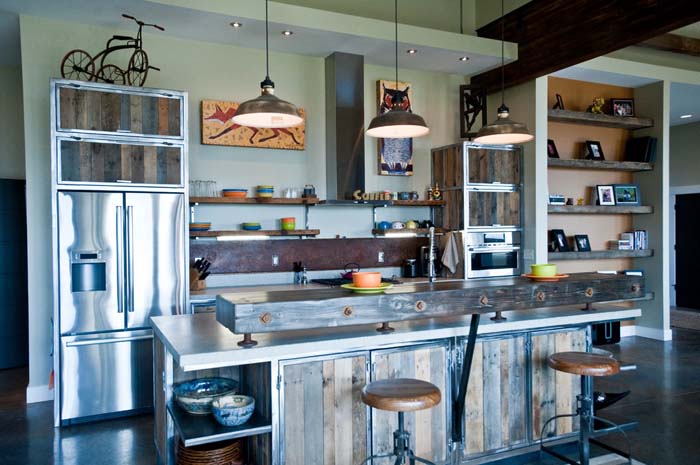 While stainless steel appliances and cabinetry make the kitchen space look more industrial, wood plating and furniture give it a more vintage feeling.
What if these come into a combination? Well, this custom-made kitchen proves that going for the golden mean will never betray you
via Penny Lane Home Builders PLC
38. Match Stainless Steel Appliances for a Seamless Look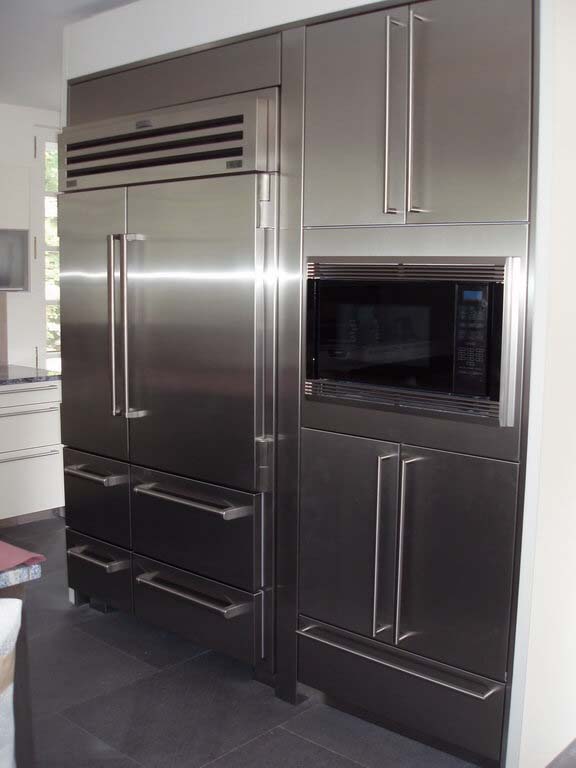 If the stainless steel appliances are built in a cabinetry, it is always smartest to make them in the same finish so that the transition between them is smooth and stylish.
via Brooks Custom
39. Shop for Affordable Metal Kitchen Cabinets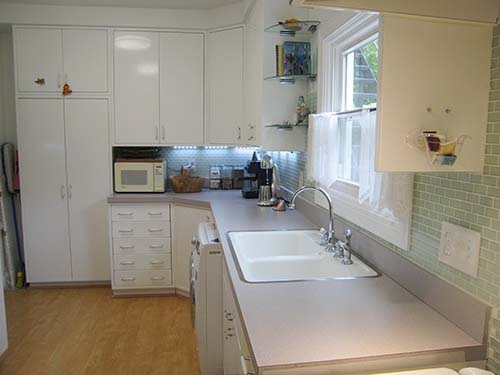 Have you thought about where to buy affordable metal kitchen cabinets from?
It appears that there aren't many manufacturers who are focused more on the residential than the commercial market, so make sure to check the link below for more information.
via Retro renovation
40. Use Ikea's Futuristic Stainless Steel Kitchen Cabinets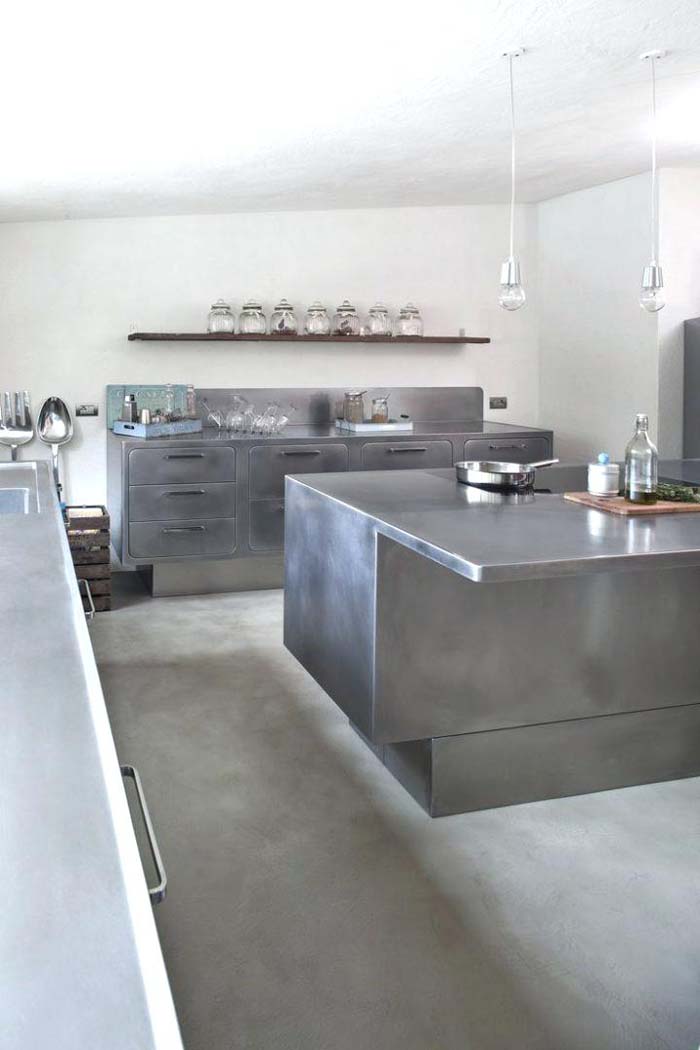 Stainless steel is the material that Ikea also prefers for kitchens that represent a more futuristic and beautiful design.
It is well-known that in addition to the cost-friendly options, Ikea's cabinets also provide variety, strength and security.
via Ikea
41. Stainless Steel Kitchen Appliances for Small Kitchens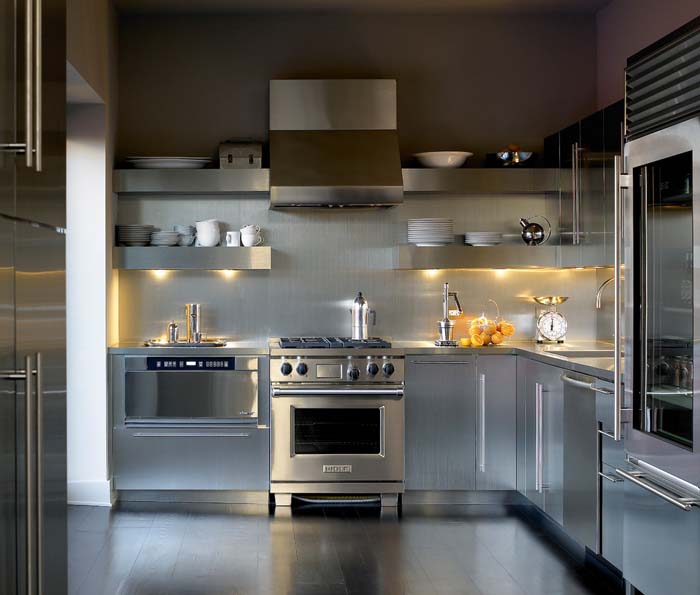 The contemporary choice for kitchen cabinetry and appliances for a family that is always in a rush is entirely made of stainless steel – easy to clean, matches any interior and is durable in time prospect.
via Houzz
42. Modern Grey Kitchen with Stainless Steel Features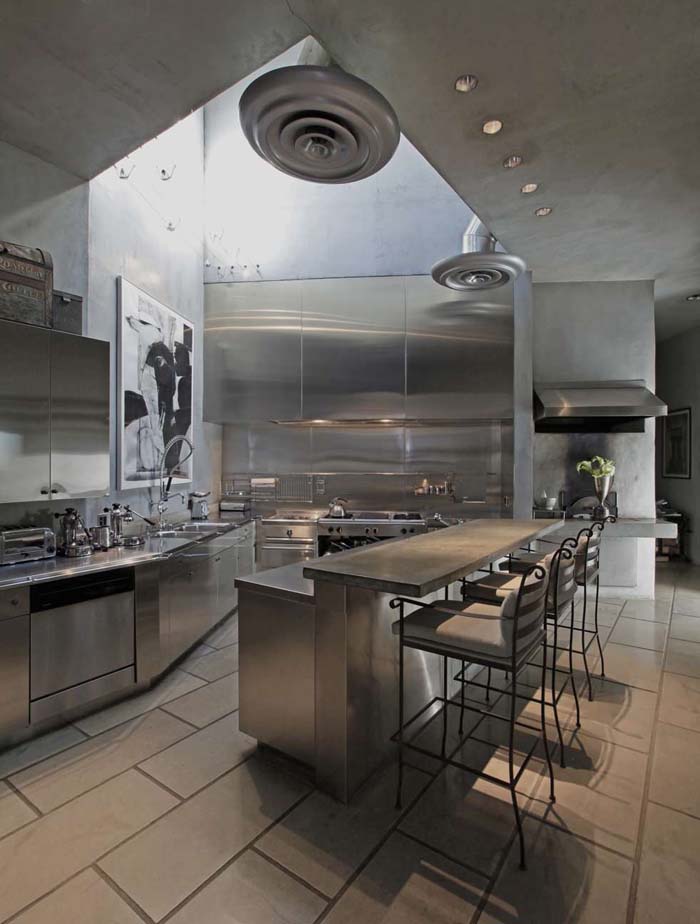 This high-tech kitchen uses grey color as interior and finish of the construction material of the cabinetry and island.
Every inch is well organized due to the stainless steel's ability to fit in any shape and space.
43. High-Tech Grey Kitchen with Stainless Steel Accents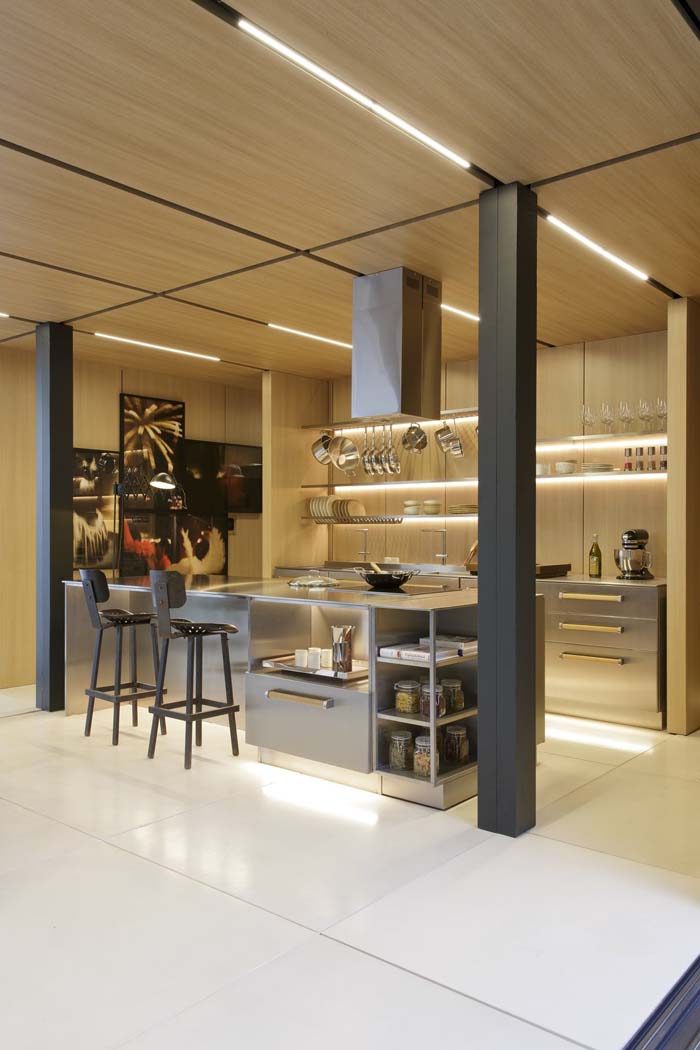 This modern urban kitchen combines unique engineering solutions, state-of-the-art technology and industrial design for the custom made kitchen modules.
The designer has chosen bright stainless steel for the cabinets and the island and wooden handles to match the wall and ceiling lining.
44. Turn 1950's Cabinets into Modern Style Kitchen Furniture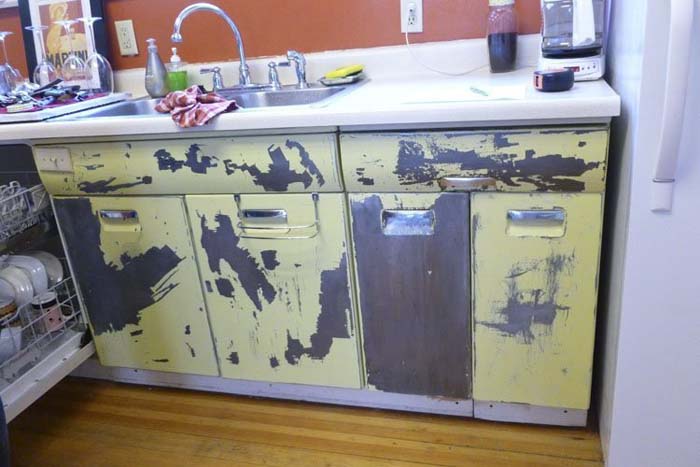 1950's metal kitchen cabinets can easily be transformed into a modern kitchen cabinetry by applying of a new paint coat.
This is a cost-effective idea for all of you who are happy with the storage possibilities of their old kitchen furniture but would like to give them a new look.
via Oinkety
45. Enhance Aesthetics with Durable Metallic Countertops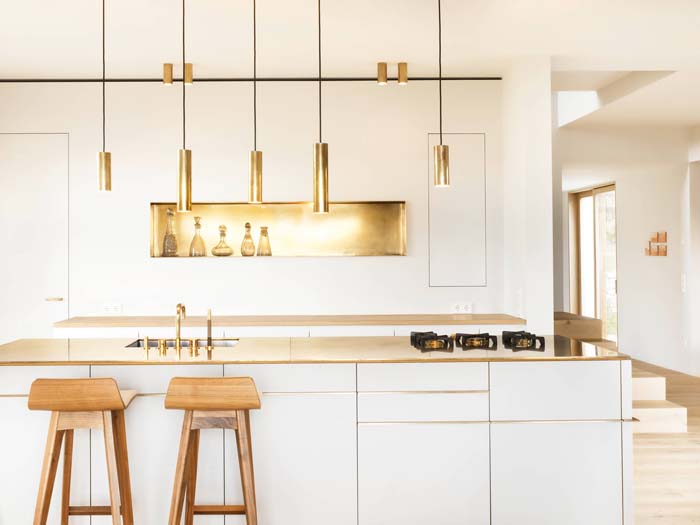 Metallic countertops that match the lights make the otherwise ordinary wooden cabinetry more stylish and individualistic.
Since countertops are one of the surfaces that wear easily, steel would resist this impact longer than any other material.
via Sebastian Wiedemann Architektur
46. Combine Different Metals for an Inspiring Finish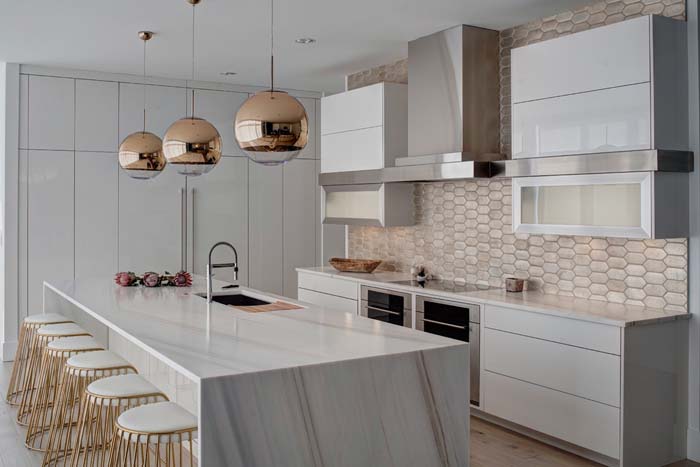 This kitchen is an inspiring example of how to mix different metal finishes in the kitchen.
It features dull stainless steel for the appliances and warm brass for the futuristic chair legs and lampshades. The tiles also have a metal-like texture as if white and brass colors have been combined.
47. Country House Kitchen with Steel and Wood Island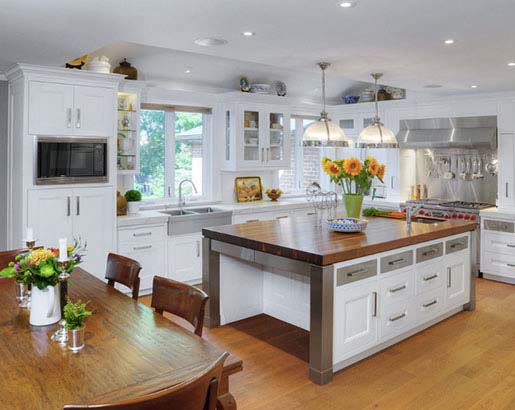 The warm and cozy atmosphere of this county house kitchen is achieved by the mixture of different textures.
Glossy white and the natural stain of the wooden parts and stainless steel edging of some of the drawers as an accent to make a flawless transition between the cabinets and the appliances
48. Rustic Industrial Kitchen with Reclaimed Oak Wood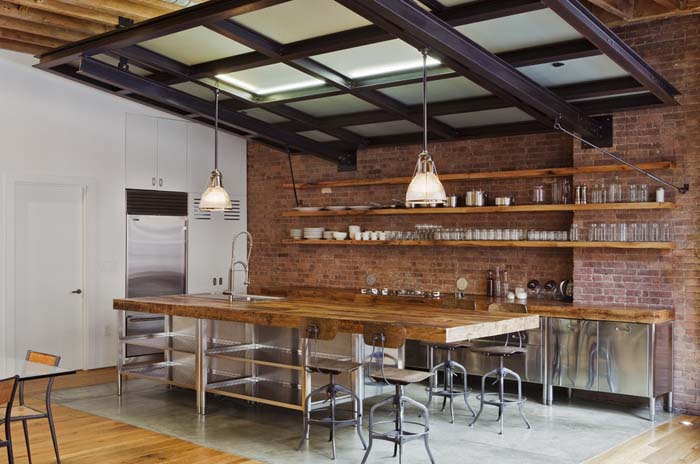 Reclaimed oak wood on the top of the metal cabinets and island gives a rustic touch to the otherwise industrial design of the kitchen.
Some of the steel cabinets are open type, other with doors. Both models look fantastic
via Jane Kim Design