If you have a family, chances are good that you picked black countertops for your kitchen because of their forgiving nature while managing to maintain a high end look.
At this point, you may get a case of analysis paralysis trying to decide what color cabinets with black granite countertops.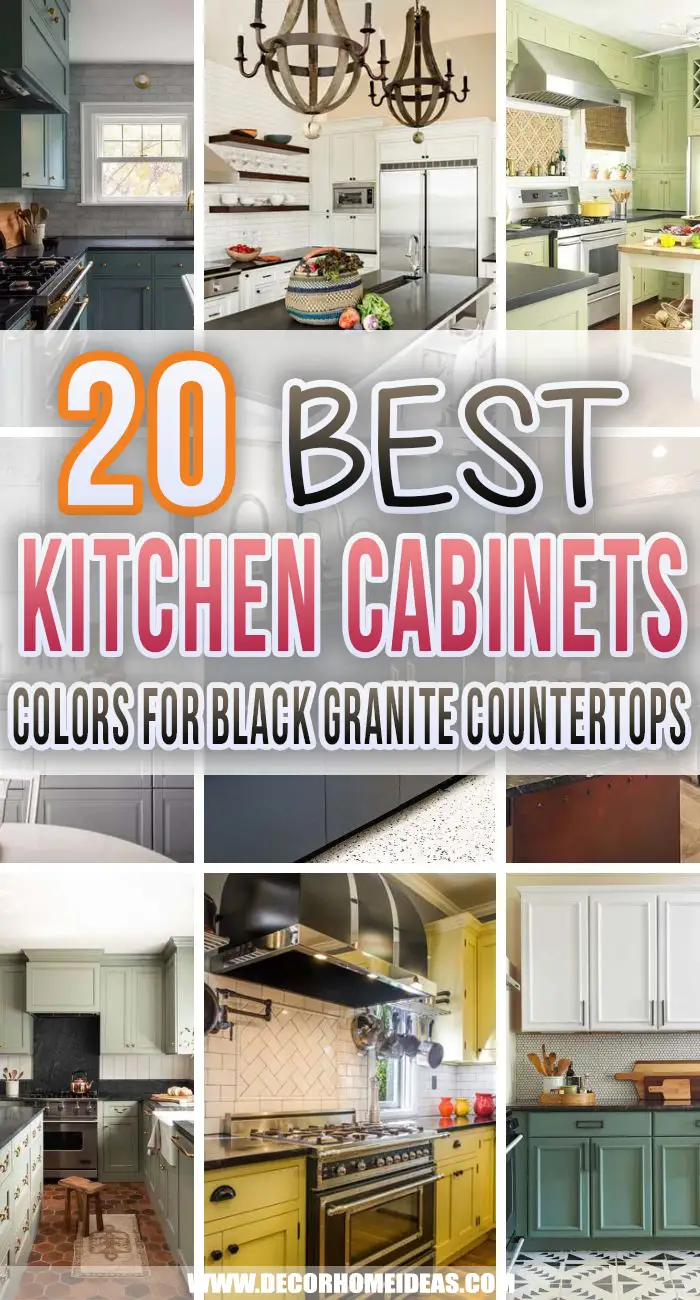 We have some answers to help you choose the color that matches your style.
What Color cabinets go with black countertop?
Just like your wardrobe, everything goes with black. The devil is in the details. The type of finish you have chosen is a big factor when it comes to choosing the right color. Do you have a granite countertop? What about a quartz countertop? Your cabinets should match or complement the subtle colors found in a glossy countertop, such as quartz or marble. The color should also complement your overall kitchen design.
What compliments black granite?
Nearly every color will work with granite. Blues, greens, yellow, red, and the neutral shades can work with granite. Even black and every shade of white can go with black granite. It depends on how you want it to work with other elements of your kitchen's design, such as the style,  lighting, hardware, and your floor.
Are black granite countertops out of style?
Black granite isn't going out of style so much as it has more competition than in the past. The availability of other affordable materials means there are more options. Black countertops will never go out of style. If you have a granite countertop, rest assured that there's no reason to get rid of it for the sake of home decor.
Take a look at the ideas found below for picking a color cabinet that goes with your black countertops while keeping your kitchen looking fresh.
1. Antique White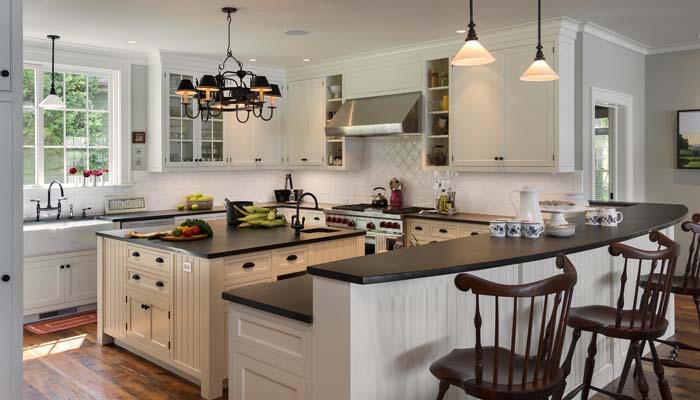 Antique white introduces the modern style to a classic farmhouse-style kitchen. Black and white is synonymous with modern style. Use antique white as opposed to a clean white to warm up the kitchen.
Choose the matte look of leather black granite countertops to continue the warm feeling.
via Crisp Architects
2. Black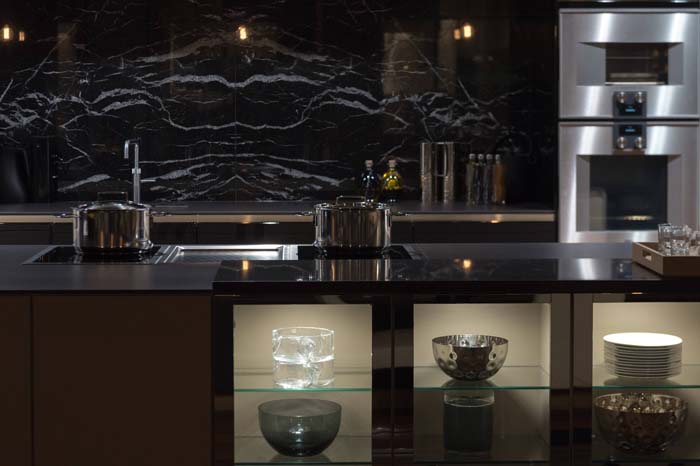 Black cabinets create a dramatic impact with black granite countertops. The secret is in the lighting. Experiment with light, matte, and reflections.
The under cabinets here glow. Pendant lamps ensure the marble wall and cabinet have a lot of light play. Chrome and steel appliances add sparkle.
via Gavin Green
3. Chalk Paint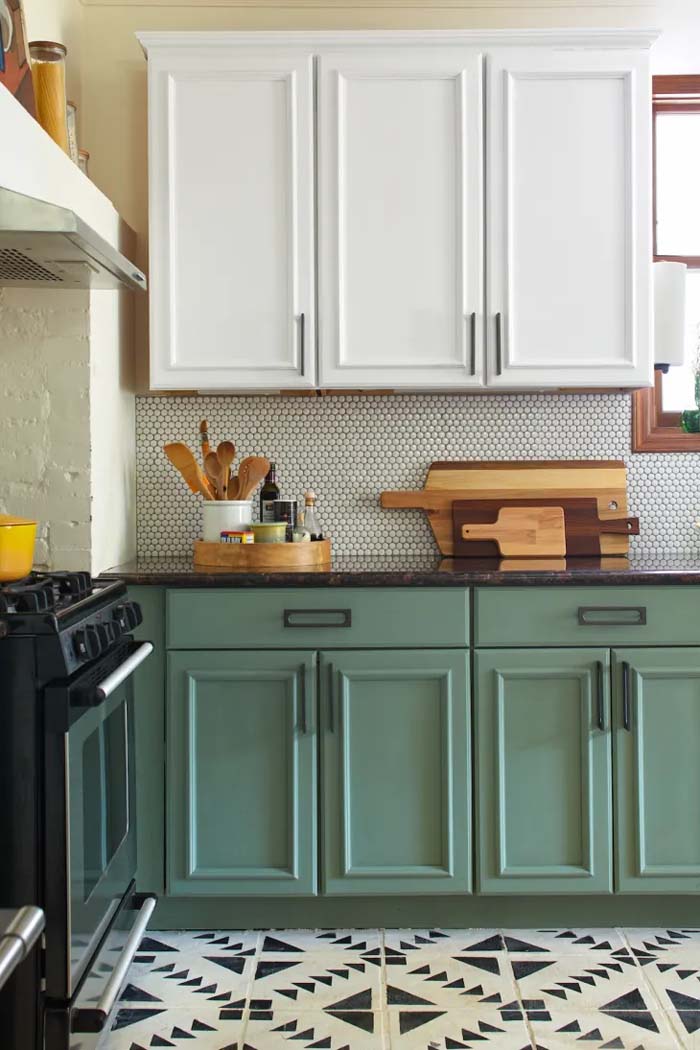 For a truly vintage-style kitchen, use muted colors. This is easily accomplished with chalk paint.
You can see in the kitchen above that choosing a white cabinet color for the top and deeper green cabinets on the bottom bring out the subtle colors in the granite countertops.
via The Kitchn
4. Espresso Brown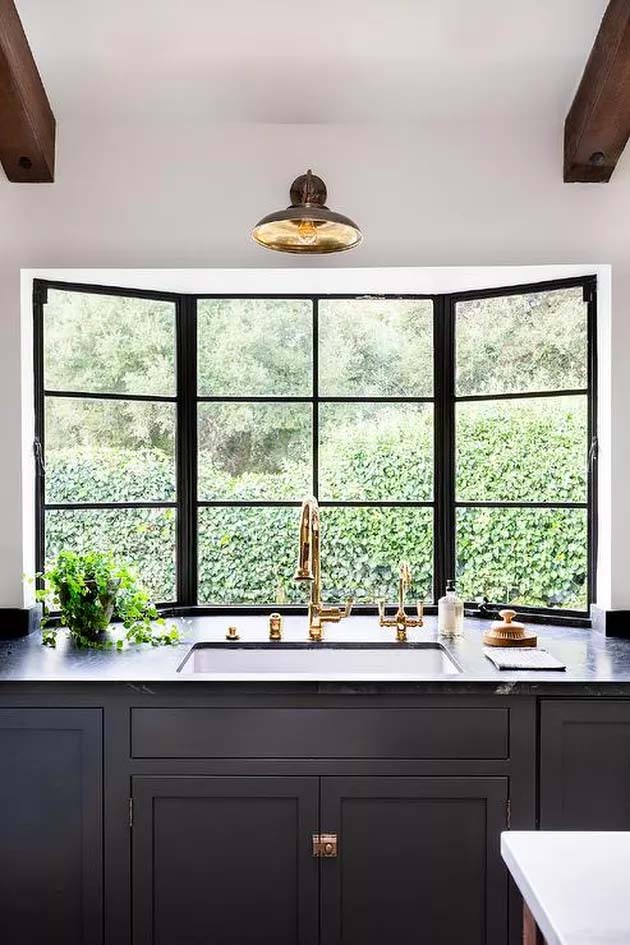 Using an almost black color like espresso brown gives your black granite countertops and cabinets a tone-on-tone feeling.
Think of using dark cabinets as a texture like damask. The rich brown color of the shaker cabinets shown here pick up on the color of the rustic beams. The brown also works with brass fixtures and hardware.
5. Greige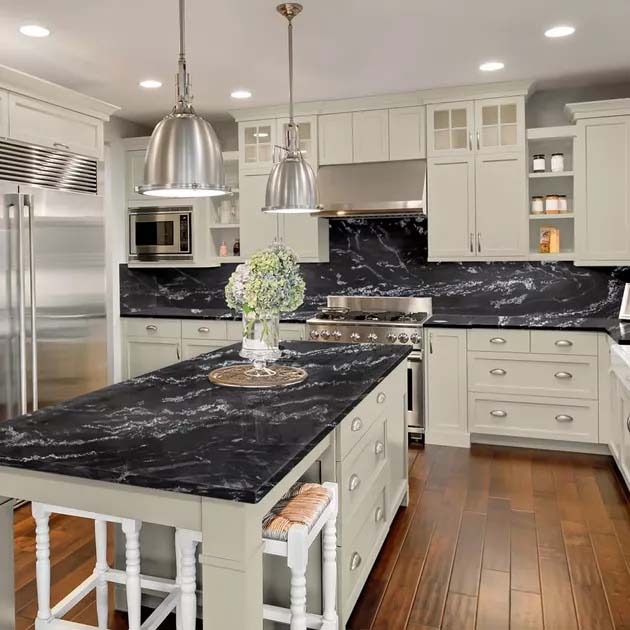 Greige is a blending of the colors gray and beige.
The advantage of using this over a simple gray or white cabinet color is that warm undertones help the marble countertops and backsplash stand out without feeling cold.
They also play well with the rest of the appliances and floor.
via Home Outlet
6. Light Gray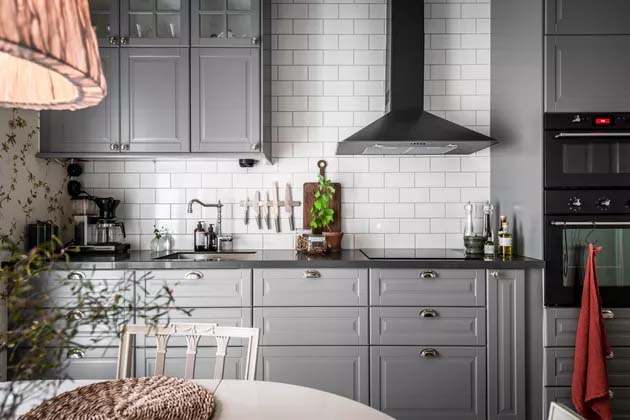 Light gray is a modern option for your cabinets. It works well here with the black countertops and the chrome hardware. It's also used in the backsplash grout.
The neutral aesthetic makes it easy to accessorize using subtle hints of color.
via Alvhem
7. Light Wood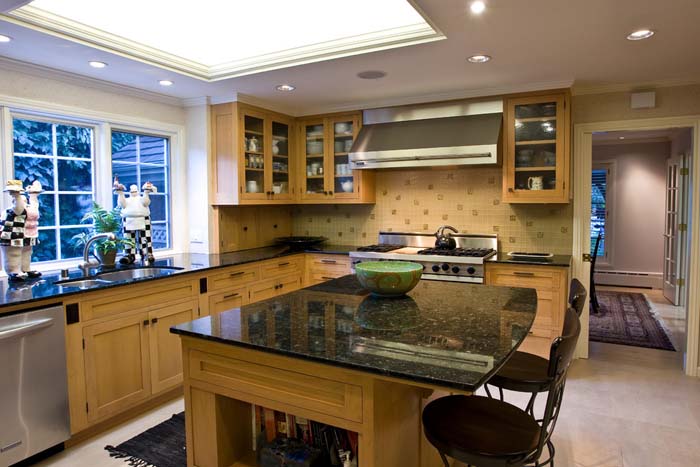 Light wood cabinets will never go out of style. They keep this contemporary kitchen looking fresh and are a solid complement to the black marble countertops.
The black hardware ties together the kitchen countertop and island with the brown tile backsplash.
via GR8Work Builders
8. Mint Green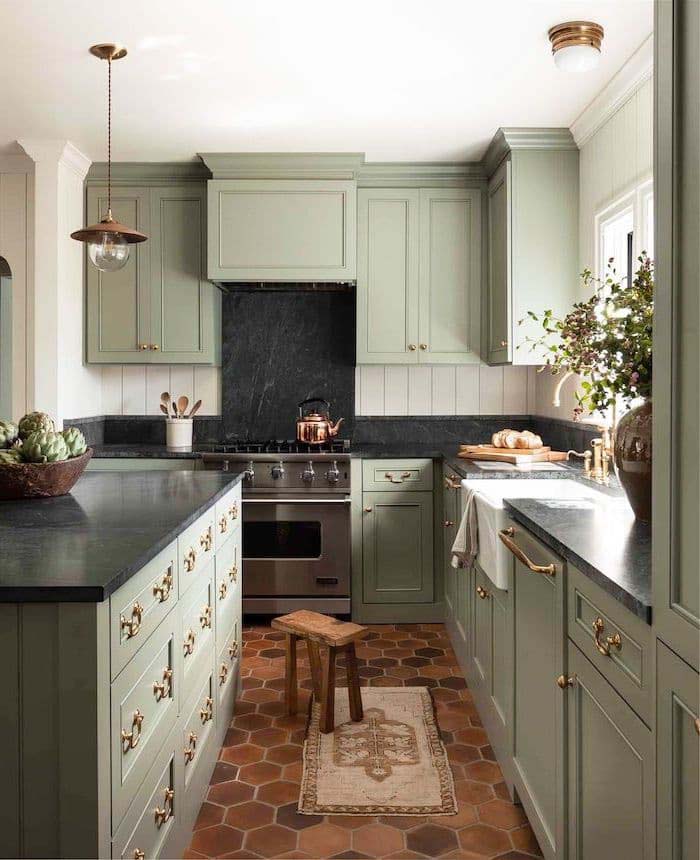 Mint green is a nice complement to the antique white walls. You can see how well it plays with the brass hardware in this vintage style kitchen. It also works well with the clay tile floor.
The black granite color of the countertops and mint green cabinets allow the red and yellow undertones of the browns to pop.
9. Navy Blue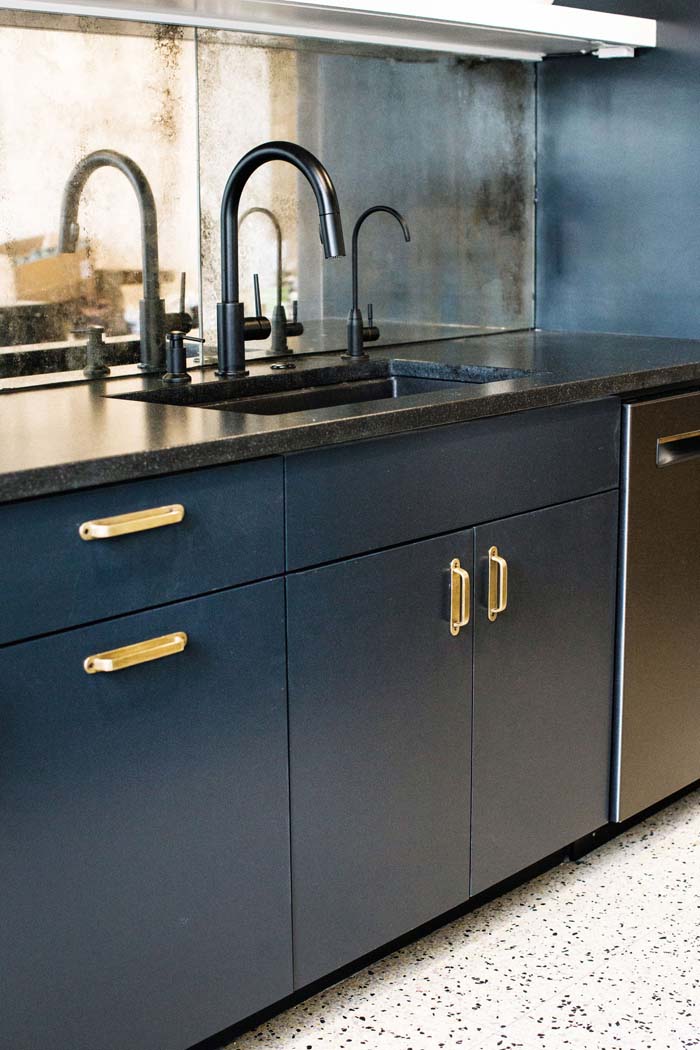 Navy blue cabinets are synonymous with an urban, industrial style. They work here with the mirror backsplash, brass hardware and black leather granite countertops.
It conveys the upscale modern townhouse style.
via Skelly Build
10. Pastel Blue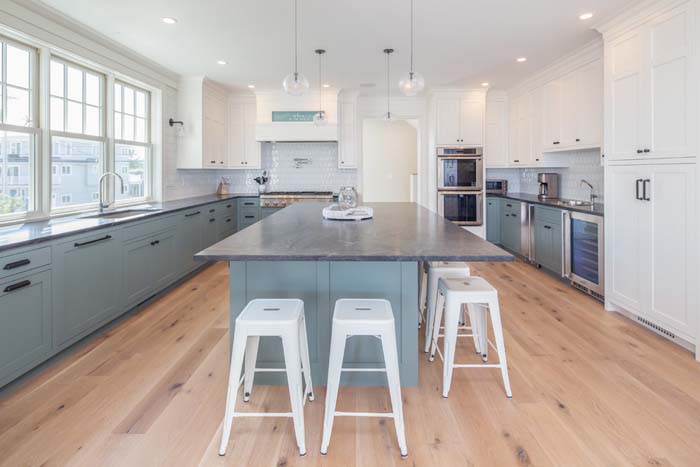 A softer pastel blue works with the black countertops to keep this coastal kitchen from looking too bright.
Too much light color will wash out the details. Using black hardware on the cabinets helps to tie in with the countertops.
11. Pastel Mint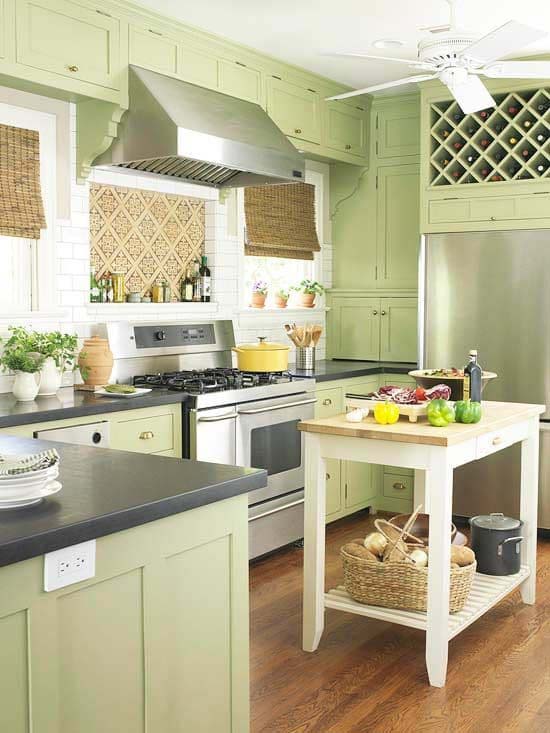 Soft leather black countertops work with the pastel mint color to create a  vintage style to this country cottage kitchen.
A few white accents, including the window trim and brown shades and backsplash, bring a rustic, outdoorsy charm to this farmhouse kitchen.
12. Purple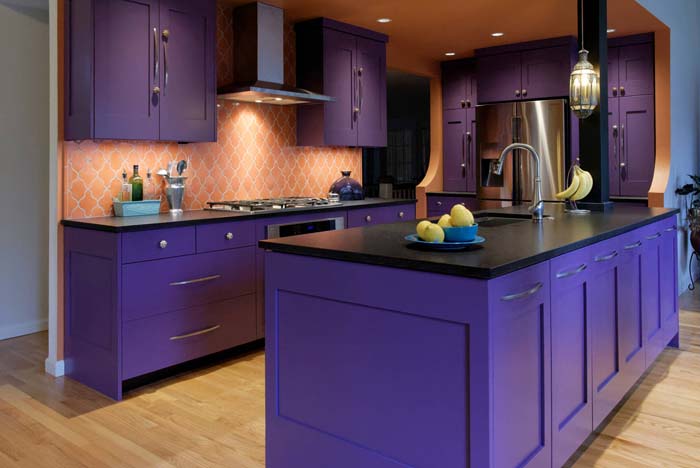 Anyone who has ever owned a black-light poster understands the connection between black and purple. While not often seen in kitchen design, this bold choice creates a strong statement with the peach tile backsplash.
By choosing a leather black granite countertop and matte finish for the cabinets, the kitchen has a warm, vibrant feel.
13. Red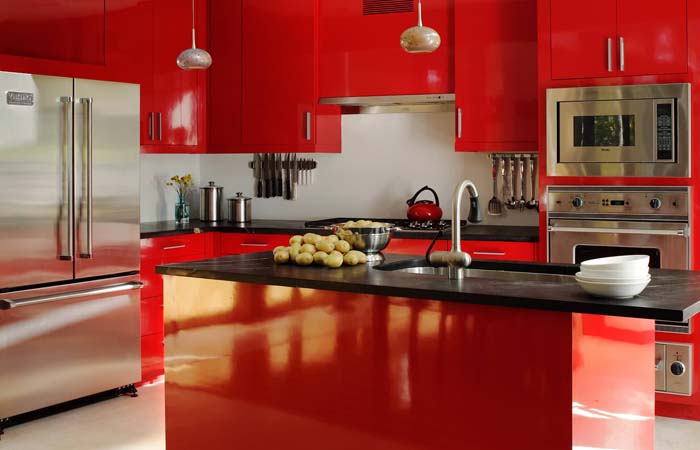 Red is another strong statement in kitchen design.
Black countertops add to the drama. If you want to paint your kitchen cabinets red, black countertops will help tie them together with chrome appliances.
via 3North
14. Slate Blue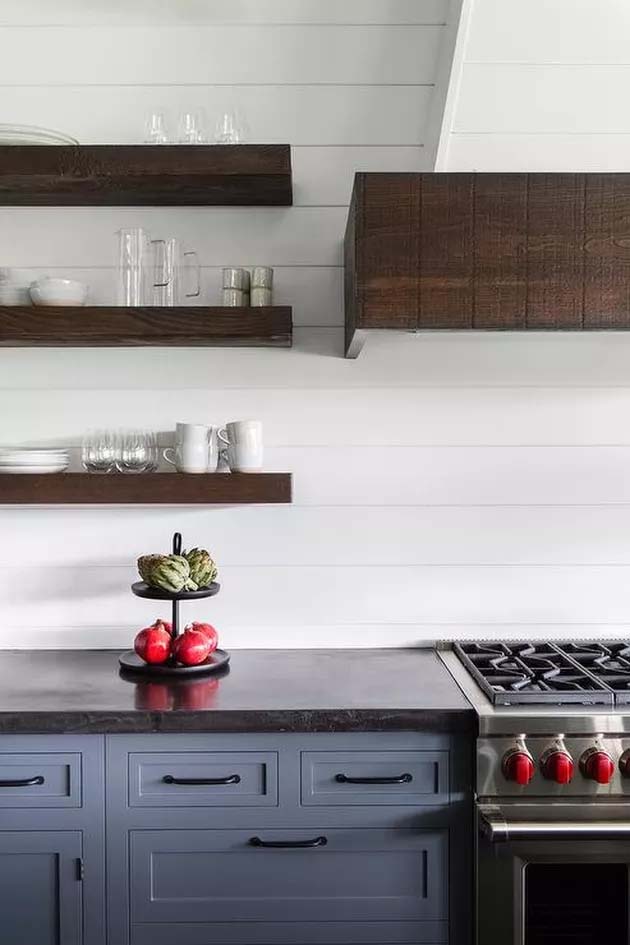 Slate blue grounds the black countertop. The hardware ties the cabinets and countertop together. It's a good choice for contrasting against these dark-stained floating shelves and shiplap.
via Chango and Co
15. Turquoise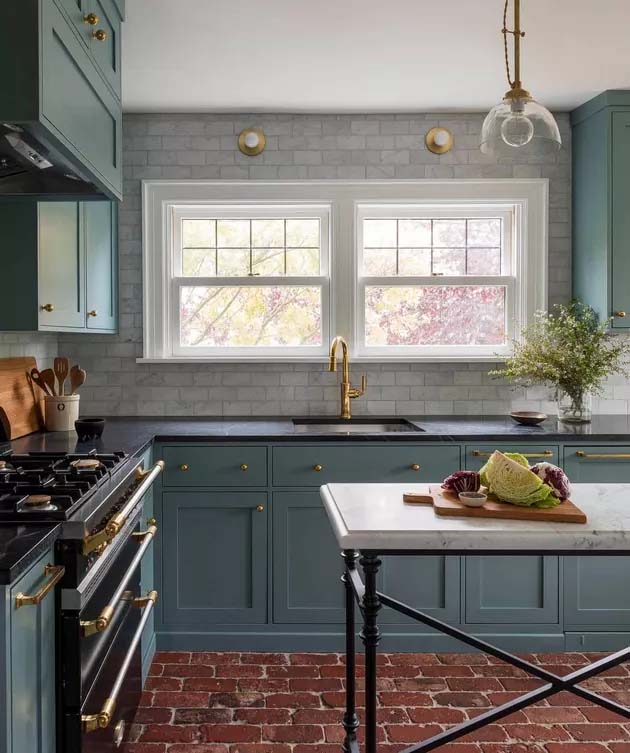 The green undertones in this shade of turquoise bring a fresh feel to this otherwise rustic kitchen. It warms up the black granite countertop, range, and tile backsplash.
It also helps the brick floor stand out.
16. Two Tone Wood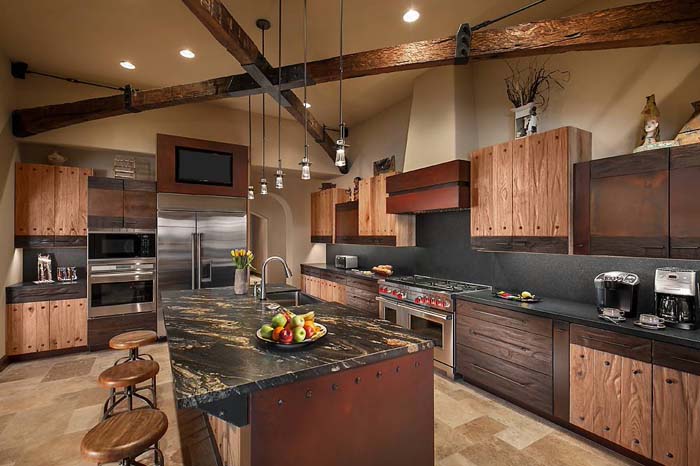 One way to keep a large kitchen from being monotonous is by mixing your wood colors. Cherry cabinets work well in two or three tones. Maple cabinets are another option.
We can see in this kitchen how the wood picks up in the marbling in the black countertop of the island. The three colors used here bring energy to the room.
via Tate Studio
17. Warm Gray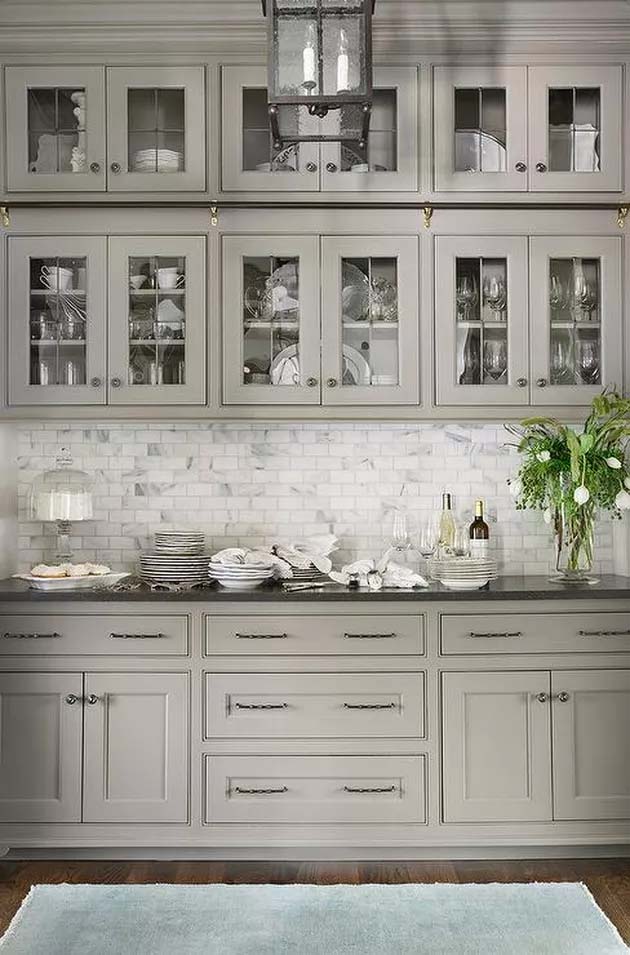 If you like the idea of using gray but aren't too thrilled that it can feel cool, choose a gray color with a warm undertone such as beige, yellow, or red.
The warm gray in these cabinets boosts the lighter colors. It's quite noticeable in the yellow hues in the marble backsplash.
via Panageries
18. White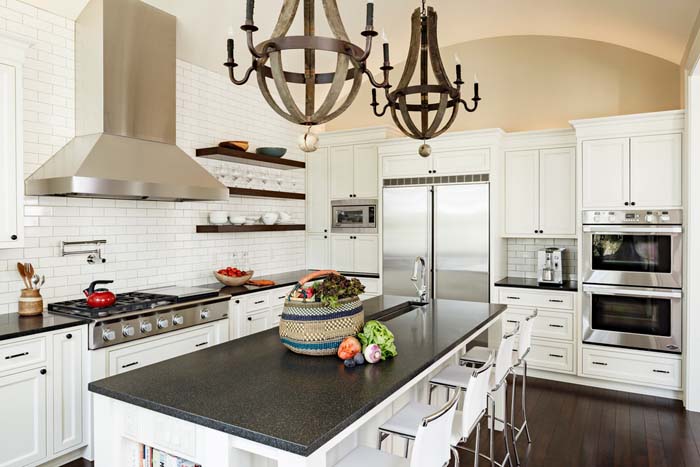 Crisp and clean white cabinets paired with black granite countertops are a classic color combination that brings a modern look to any kitchen design.
The choice of white cabinets, even shown here with a subway tile backsplash and vintage chandeliers has a modern feel.
via Jenni Leasia
19. Yellow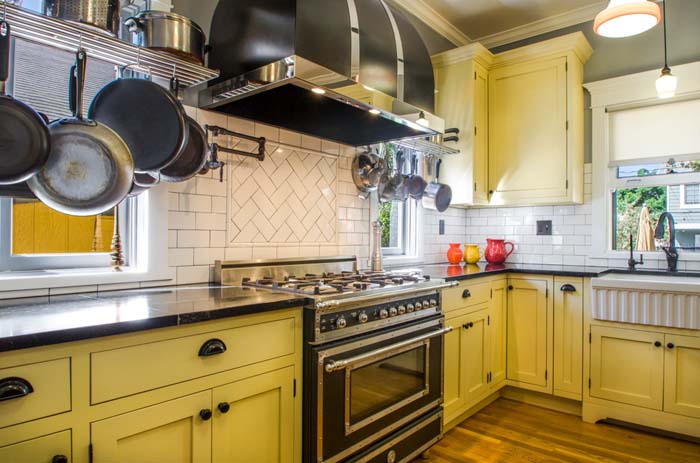 When you're pairing yellow and black, think about sunflowers. It's a bright, friendly, and gorgeous combination.
It works in this kitchen design with the subway tile backsplash and works to integrate the large range, range hood, and chrome hanging racks.
20. Hunter Green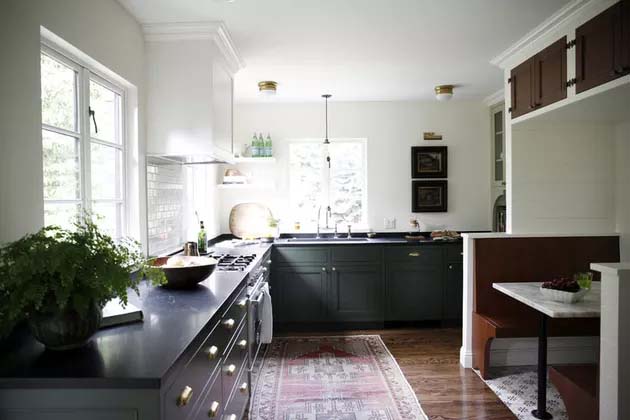 The idea behind using hunter green is to create an organic, natural feel to the space. We see it used here against the dark wood floors.
The black granite countertop reinforces the kitchen's outdoorsy forest theme.
via Katie Leclercq