Your kitchen cabinets are one of the most important elements in your kitchen's design. Complementing that is the kitchen's backsplash.
If you've decided to paint your kitchen cabinets white, you may be wondering what type of backsplash you should use.
The truth is, there are plenty of white cabinet kitchen backsplash ideas that will work in your home's decor.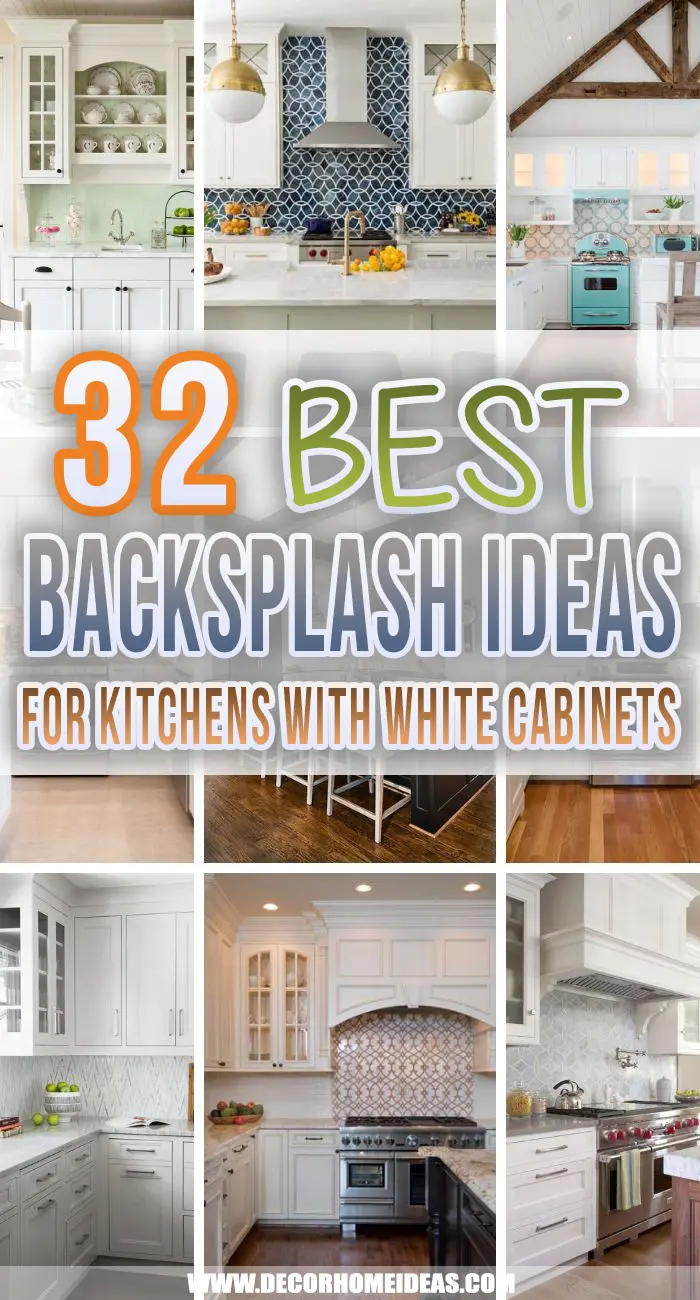 What backsplash goes best with white cabinets?
The most popular choices are glass or porcelain tiles. White tiles will give you a tone-on-tone look and can add a touch of sparkle. Pops of color or a pattern bring depth and texture.
What backsplash goes with all white kitchen?
This is a great place to add texture. This can be done with tiles or, as you'll see below, with a variety of other materials, used in an interesting pattern.
White cabinets with white subway tiles are a classic combination. The difference here can be with the type of tile you choose. Go upscale with marble tiles or go retro with ceramic tiles.
We have compiled a list of backsplash ideas for your white kitchen cabinets to show what others have done and give you a little creative boost. Whether you're looking to go all white or mix it up, there are kitchen backsplashes here that you haven't thought of yet.
1. Laser Cut Tiles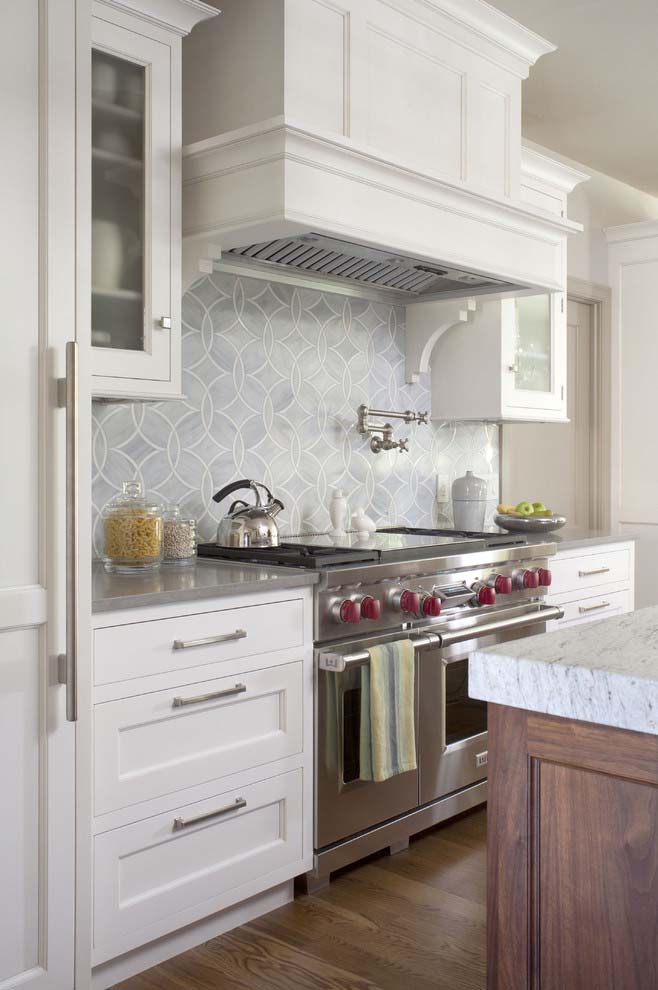 Using laser cut tiles, a transitional kitchen gets custom blue backsplash. The gray shaded blue tiles play off the large stainless steel appliance and hardware.
The quartz countertops are durable and add to the shine.
2. Iridescent Glass Tiles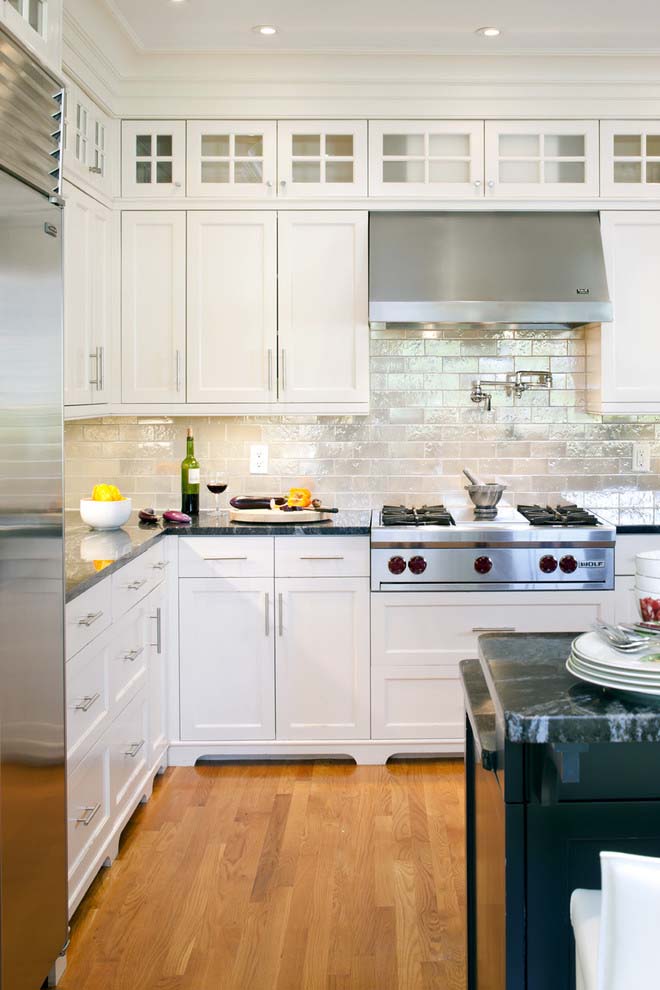 White shaker cabinets can look washed out against a plain white subway tile backsplash. An iridescent glass tile backsplash adds texture, color and shine.
These iridescent tiles are surprisingly easy to match with the granite countertops and ebony stained kitchen island.
via LDa Architecture & Interiors
3. Natural Stacked Stone Backsplash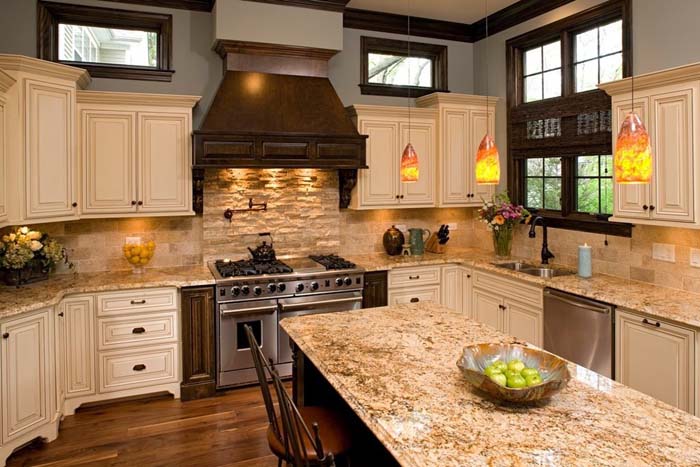 The stacked stone backsplash over the range adds old world vibes and is the perfect complement to the travertine subway tile.
While these cabinets are not classic white, they're a great example of how diverse the color can be.
Paired here with neutral browns, the yellows in the linen white cabinets and gold granite countertops add warmth and vibrance.
4. Gray Glass Tile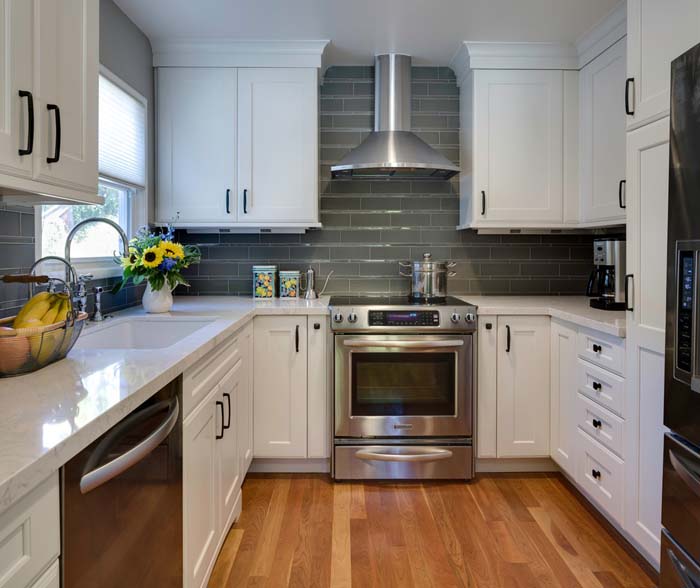 This small traditional kitchen brings in hints of modern with its stainless steel hood and gray glass tile.
The quartz countertops and black hardware add just enough accent to keep things interesting.
5. Basket Weave Backsplash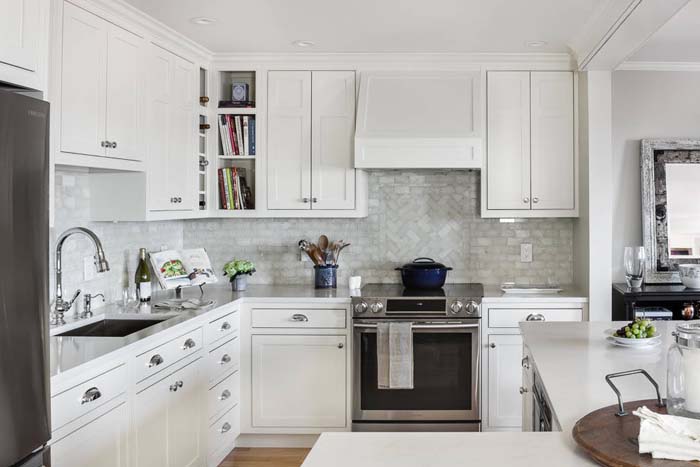 The beauty of marble lies in its imperfections. It gets attention by using a basket weave pattern over the range.
The polished chrome hardware and stainless steel appliances shine against the soft gray tones.
via Jeanne Finnerty Interior Design
6. Marble Tile Backsplash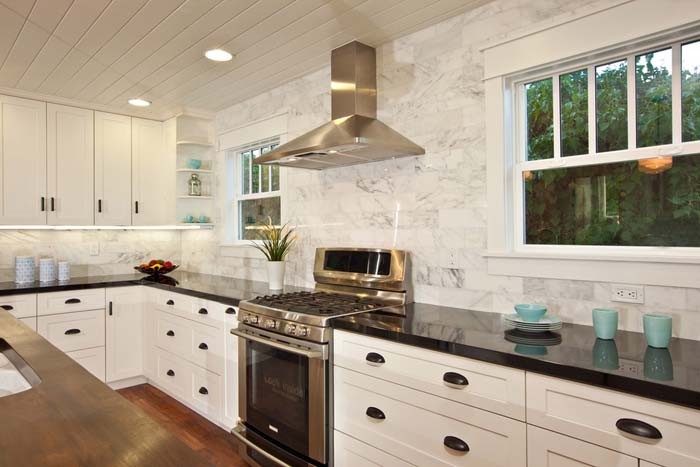 Traditional kitchen gets a beautiful facelift that includes a marble tile backsplash.
The black granite countertops are proof that a kitchen doesn't need to be made entirely with marble finishes.
7. Patterned Mosaic Tile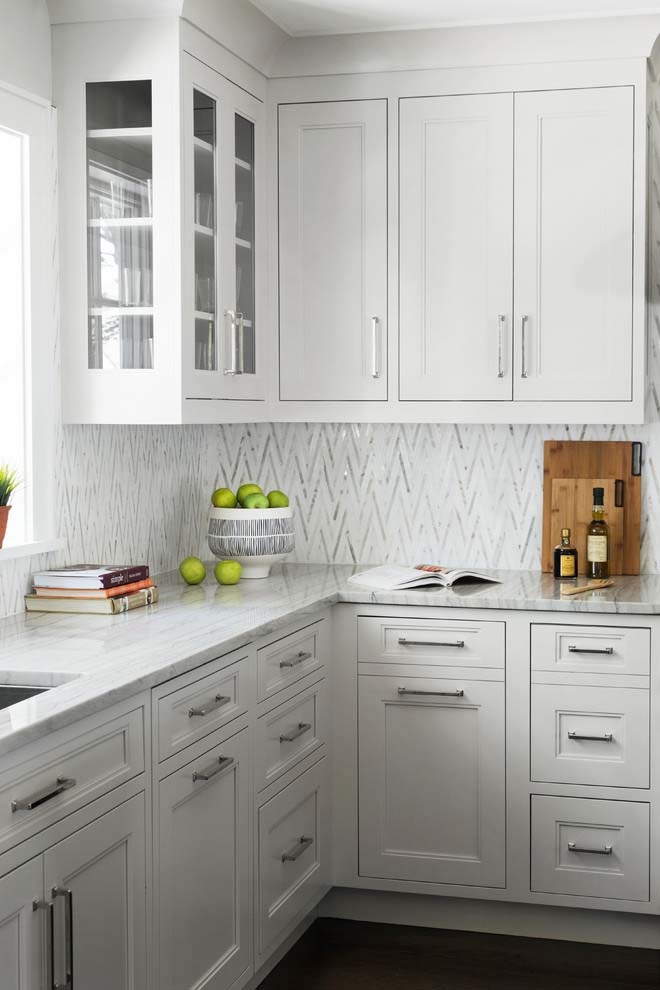 This transitional kitchen added subtle color and texture by using a mosaic countertop tile backsplash.
Quartzite countertops are another modern find that are pricier than traditional quartz.
via Studio Dearborn
8. Inlaid Tile Backsplash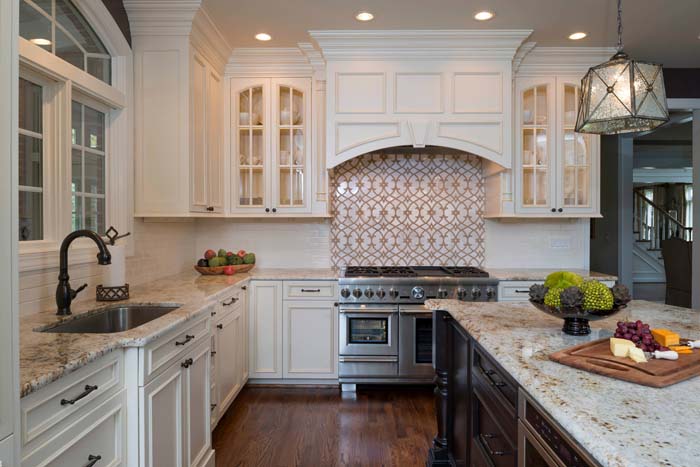 The inlaid tile backsplash is the star of this kitchen. The range hood was custom designed to accentuate the beautiful pattern.
Gold granite countertops work with the reddish tint on the tile in the backsplash. The details in the kitchen are amazing. Notice how the window panels in the upper kitchen cabinets match the window itself.
9. Limestone Tile Wall Backsplash Idea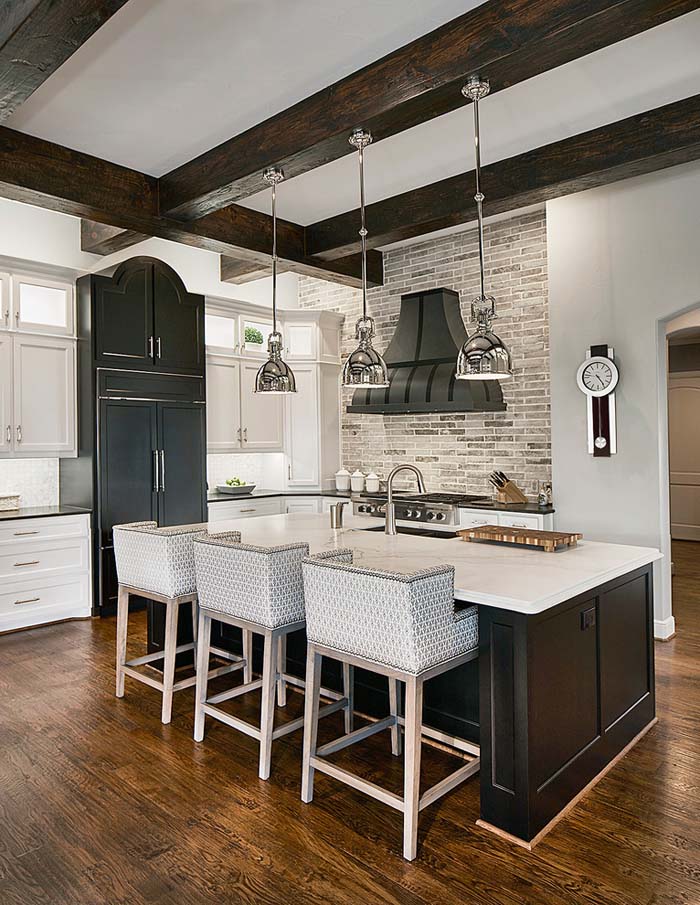 The mixing of colors in the kitchen cabinetry is unconventional. Is a bold departure from separating the upper and lower cabinets by sticking to a single color.
An entire wall is finished with tiles made of natural Lueders veneer limestone, found in a quarry in north Texas.
Polished chrome pendant lamps suspended from exposed wood beams complete the industrial look with a modern feel.
10. White or Clear Glass Tile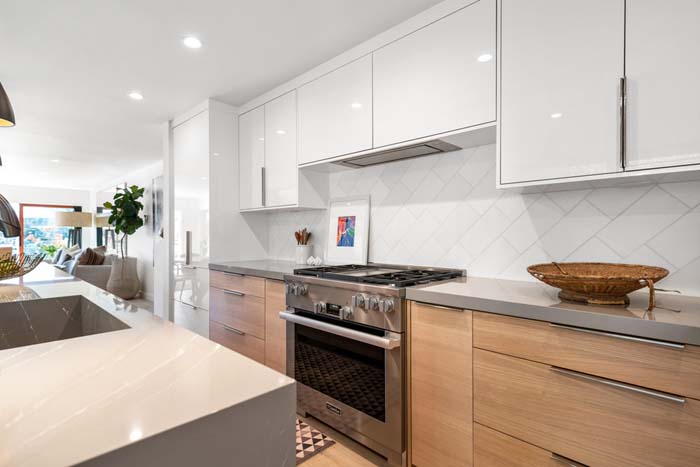 A light, contemporary kitchen calls for clean, white cabinetry. A neutral palette allowed for a sleek horizontal grain oak wood finish for the bottom cabinets.
To tie it together, a glass subway tile was chosen and installed at an angle to bring it up to date.
11. Recycled Tiles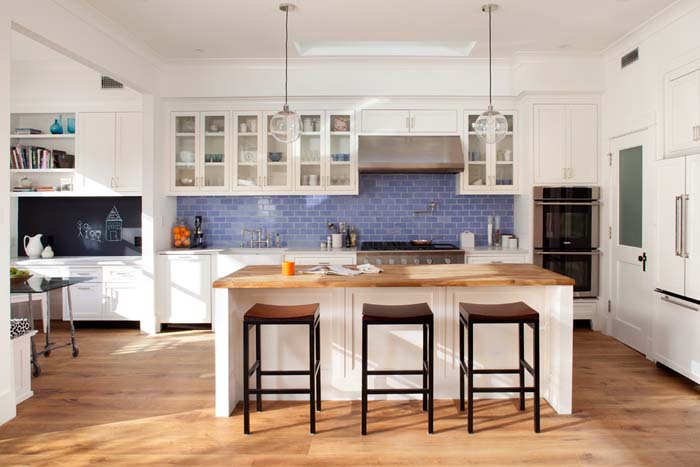 This blue subway tile backsplash is a beautiful example of how great a kitchen can look while helping the environment.
Using eco-friendly and recycled materials doesn't mean they have to look used. Companies curate handmade recycled porcelain, glass, and ceramic tiles.
12. Marble and Mother of Pearl Mosaic Tile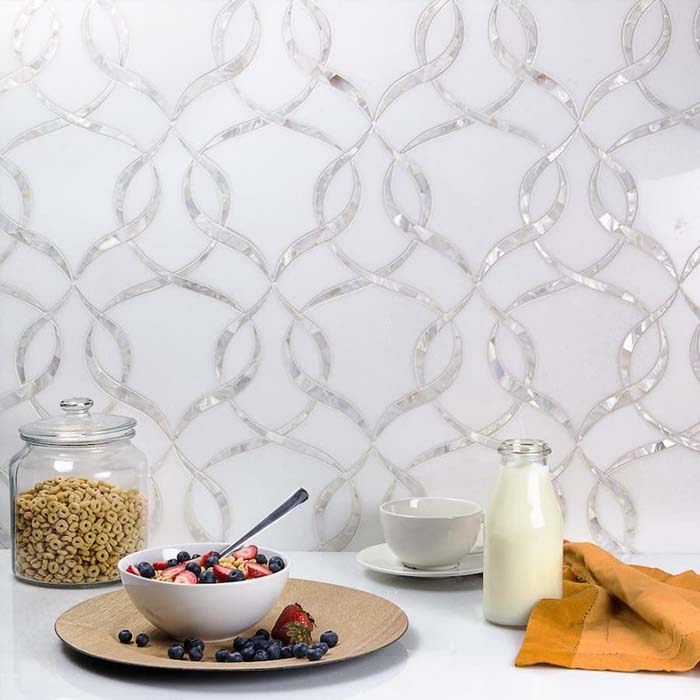 Elegant interlocking ribbons are made by using Arya marble and creating inlays of Mother of Pearl polished mosaic tiles.
The pattern is mid-century and very sophisticated, creating a timeless look.
13. Vinyl Tiles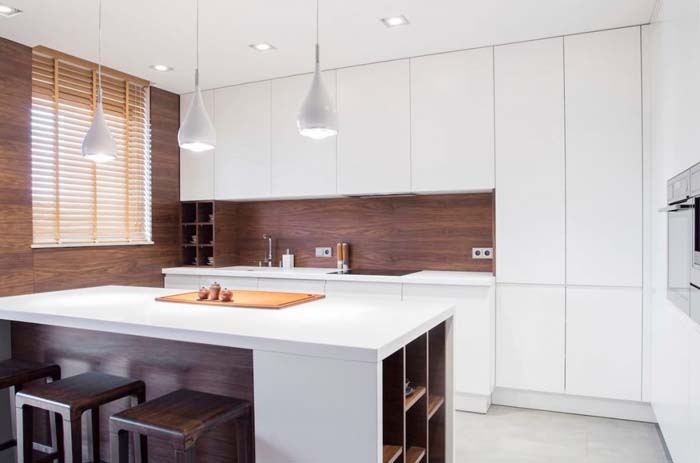 There was a time when a homeowner cringed when they had to use vinyl flooring.
The industry has made so many advances, homeowners not only don't mind using it for their floors, they will also use it for their walls.
Vinyl plank flooring is easy to install, which makes it a great weekend do it yourself project. Using vinyl flooring as a backsplash material results in a clean look against quartz countertops.
14. Beadboard Backsplash Idea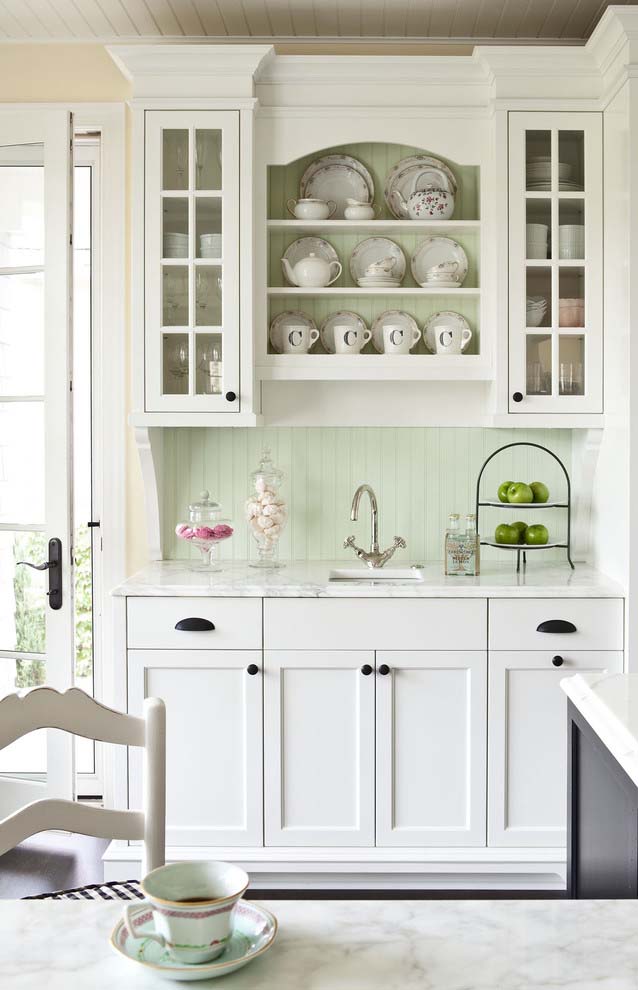 What at first glance could be mistaken for square green tiles is actually beadboard filling the kitchen wall and painted in a light mint.
Open shelves are perfect for displaying a collection of China teacups.
15. Thin Marble Subway Tile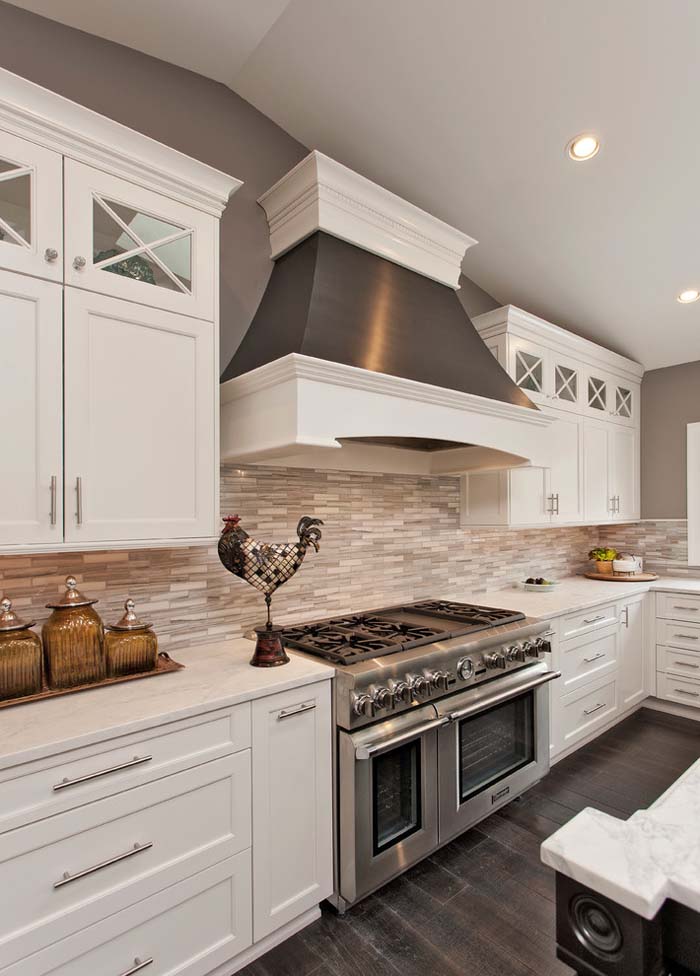 This polished marble mosaic tile backsplash can work with a number of styles. Its thin subway pattern works in modern kitchens.
The tiles will work as a backsplash or a full feature wall. The neutral colors pair up with the marble countertops and stunning range hood.
16. Greenish Gray Subway Tiles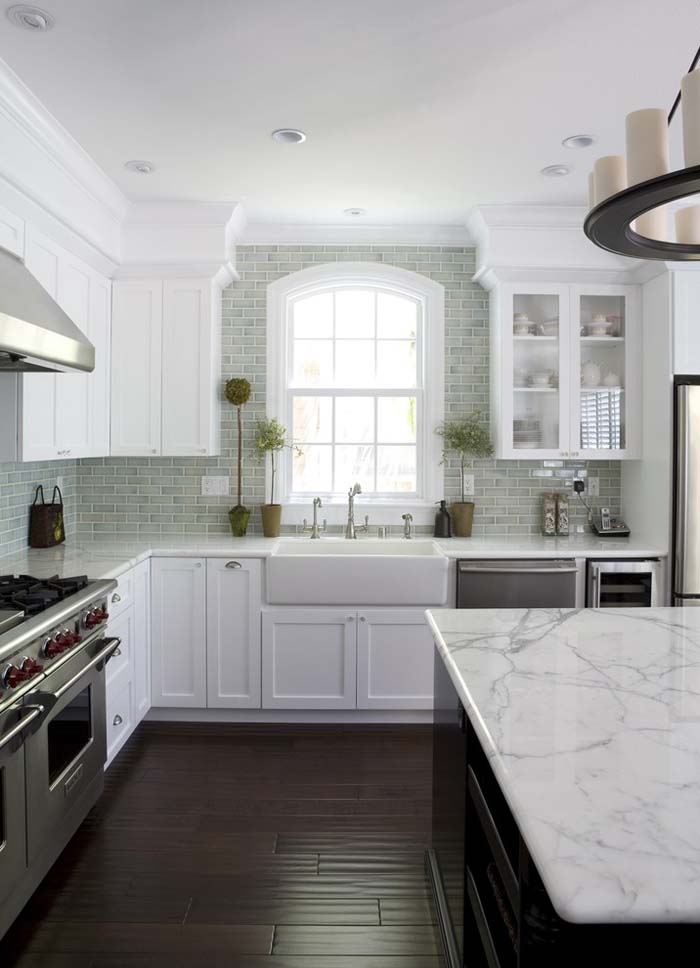 The green gray subway tiles backsplash gives the kitchen an aged look without feeling worn down. It's a subtle introduction of color.
The white grout has a high end feel. Carrera marble countertops make this farmhouse kitchen feel more like it's in a penthouse than on a plot of land.
via Fiorella Design
17. Coastal Kitchen Backsplash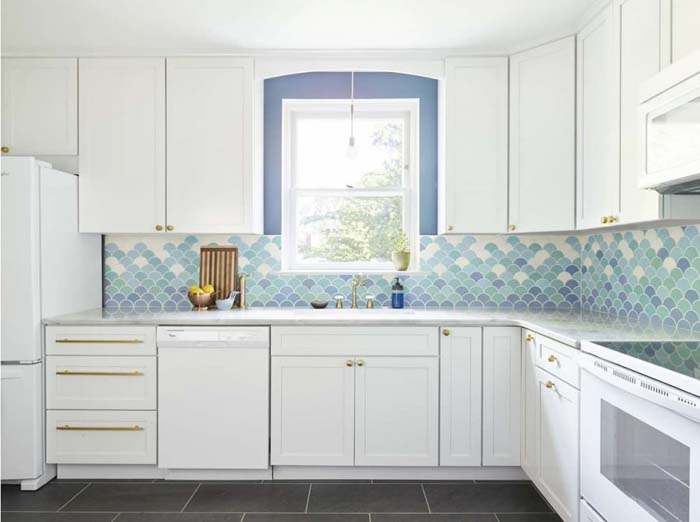 This is how you turn traditional Shaker cabinets into a coastal kitchen.
Blue shades of ceramic tiles in a trendy mosaic scallop or fish scale pattern are used for the backsplash.
via Michelle Gage
18. Brick Backsplash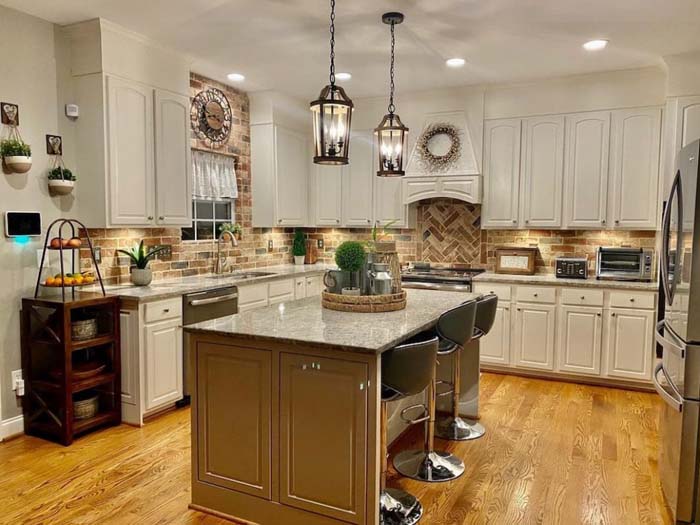 An easy way to get a rustic feeling in your kitchen full of white cabinets is by introducing natural materials.
In this case, a brick veneer is applied to the wall. To make it more interesting, the best one is created by changing the angle of the bricks.
19. Calacatta Marble Backsplash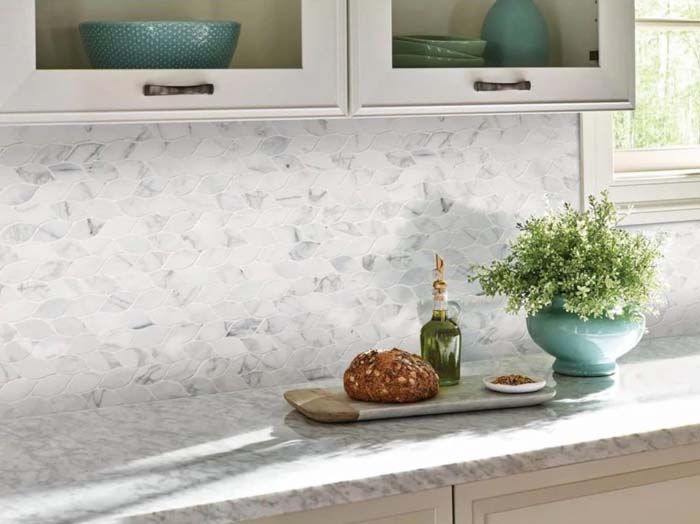 Calacatta Grade 1 marble tiles are available with a mesh backing. This natural stone has enough variations in color that it works splendidly as a backsplash with white kitchen cabinets.
It may look rough, but it is finished with a smooth polish. It may also look delicate, but this marble tile is durable enough for exterior design or in any interior home decor. It's available at the Home Depot.
20. Pebble Tile Kitchen Backsplash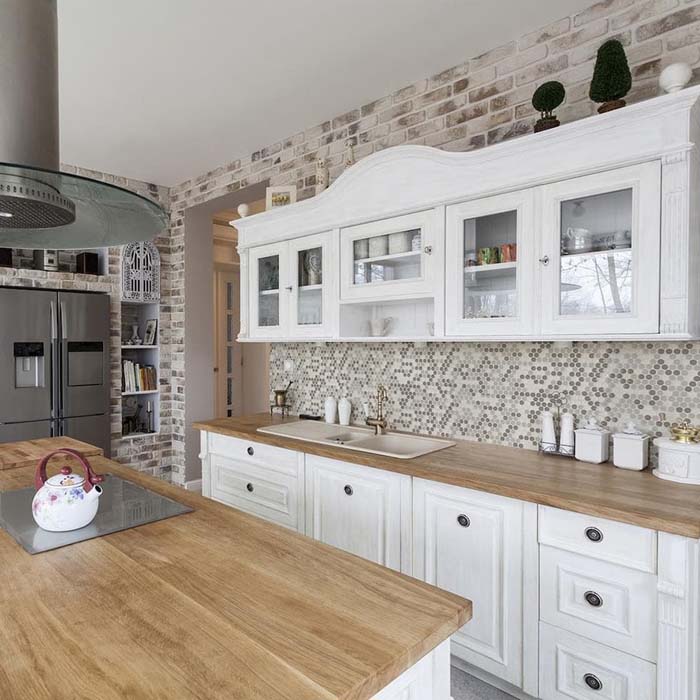 White kitchen cabinets are the best friend of a remodel. Use small porcelain glass tiles to recreate a mosaic pattern that resembles a pebble veneer.
It's a common look in rustic kitchens and works well here with the original brick of the chimney wall.
21. Curved Milk Glass Tile Backsplash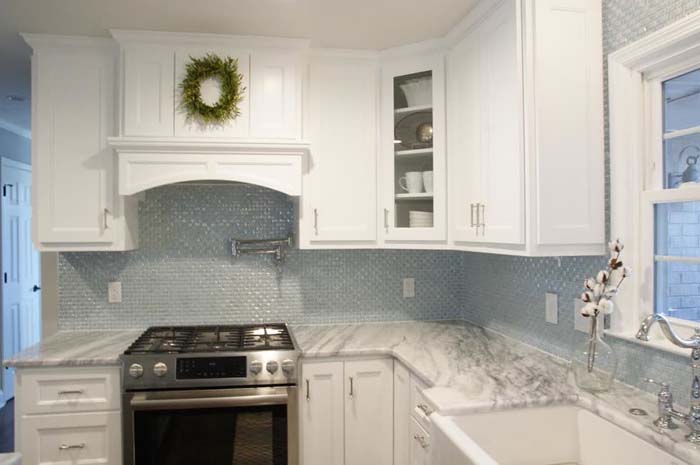 The curved white milk glass subway tile backsplash is breathtaking.
The three-quarter inch size tiles add a much needed textural change from the smooth surfaces.
via Susan Jablon
22. Retro Kitchen Tile Backsplash Idea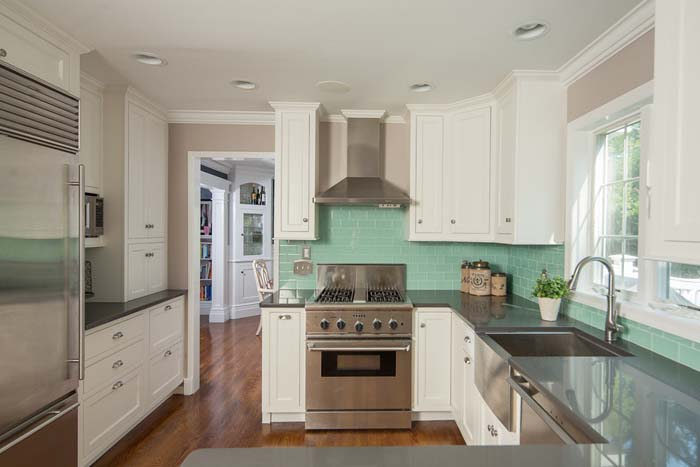 Transitional white kitchen cabinets are given a retro feel with the choice of a Seafoam green tile backsplash.
The walls are painted taupe to keep a subdued feel.
via Ackley Cabinet
23. Lime Green Subway Tile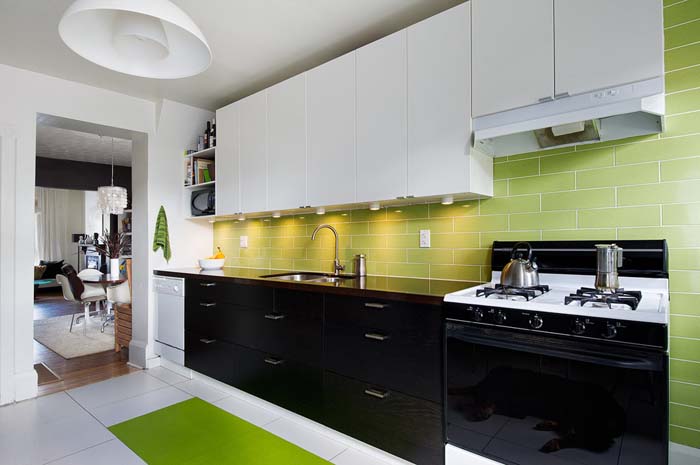 The lime green subway tiles keep this modern kitchen feeling fun and vibrant.
White upper cabinets are in stark contrast to the black countertops and lower cabinets.
via Affecting Spaces
24. Ceramic Blue Backsplash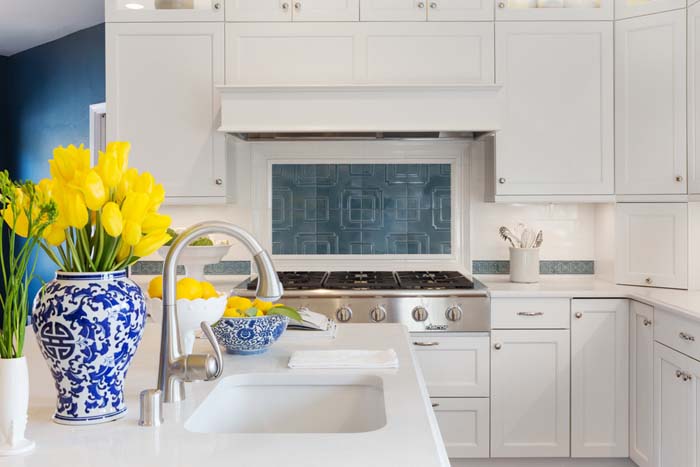 A striking blue ceramic tile backsplash is the focal point in this transitional kitchen that combines traditional elements with a contemporary vibe.
It's a dramatic contrast to the white cabinets and quartz countertops.
via Precision Cabinetry and Design
25. Mosaic Tile Wall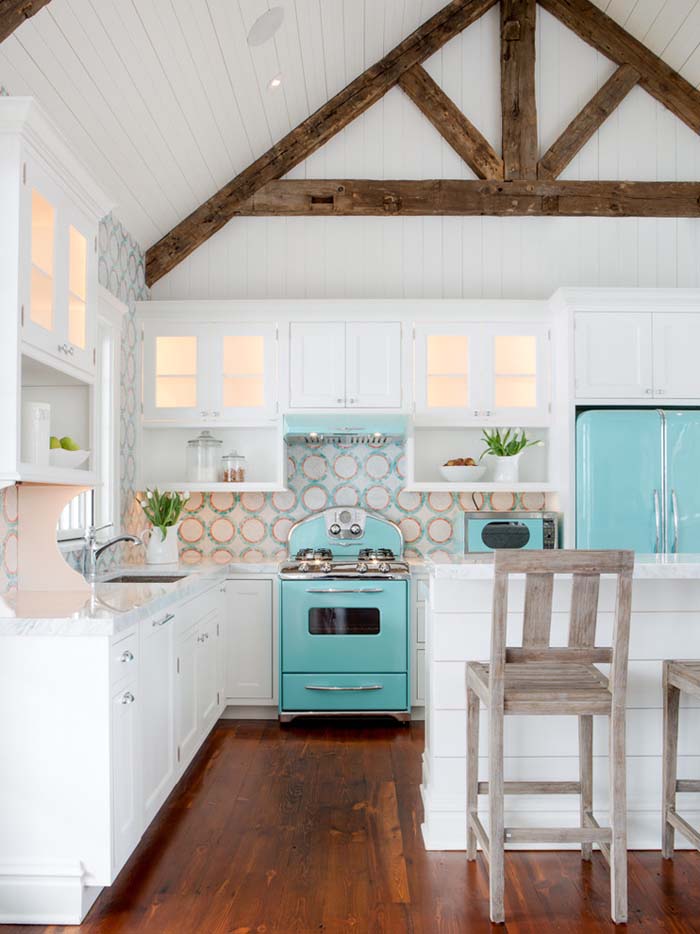 A teal accent color works its way through a cottage kitchen design. It's the primary color of the pattern in the accent wall.
The motif matches the country cottage vibe that flows through the room.
via Karr Bick Kitchen and Bath
26. Green Tile Backsplash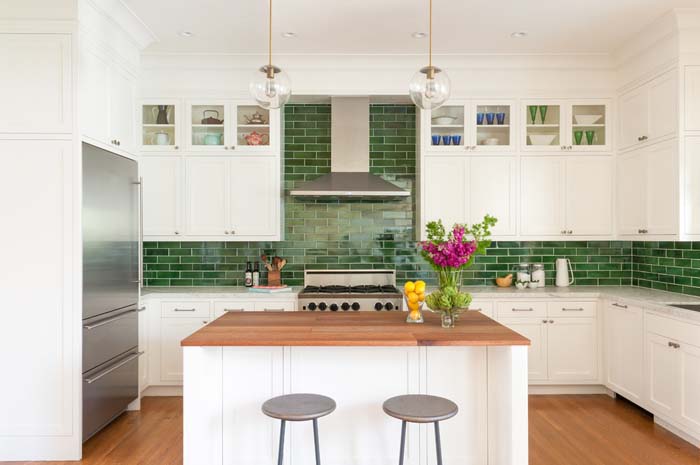 The white Shaker cabinets in this Victorian kitchen were brought into the 21st century with green glass subway tiles and an island top made from reclaimed bleacher seats.
via Nystrom Design
27. Mini Mosaic Tile Backsplash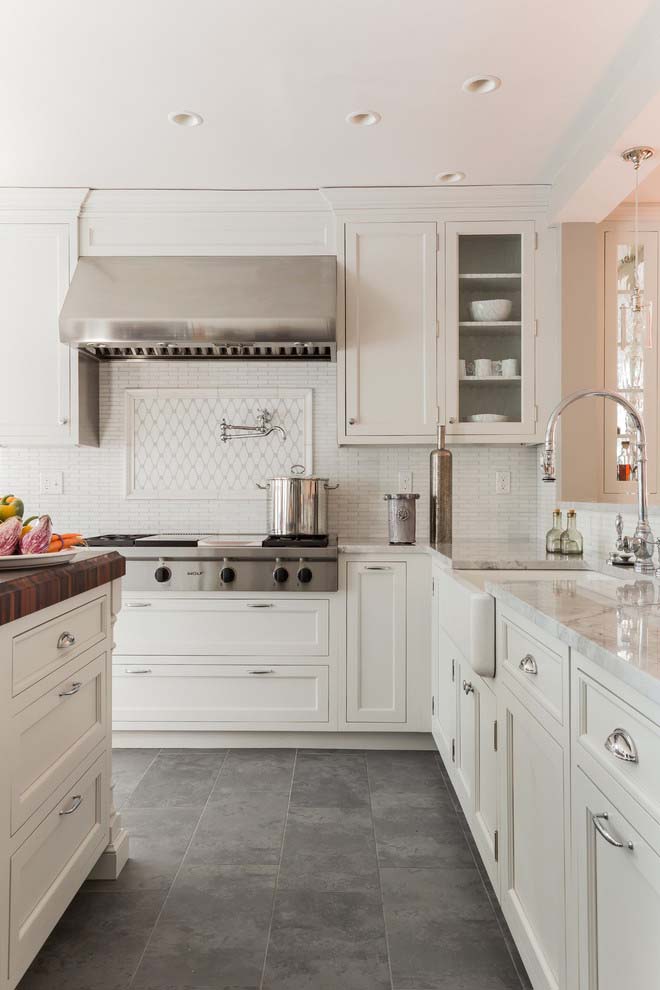 This dream kitchen uses mini mosaic tiles to create an unusual backsplash idea. The pattern and grout look like a quilt pattern above the stove.
This kitchen is about its unexpected details. Marble countertops are countered by a rosewood island countertop and gray floors. The hardware accents are polished nickel.
28. Glass Mosaic Tile Backsplash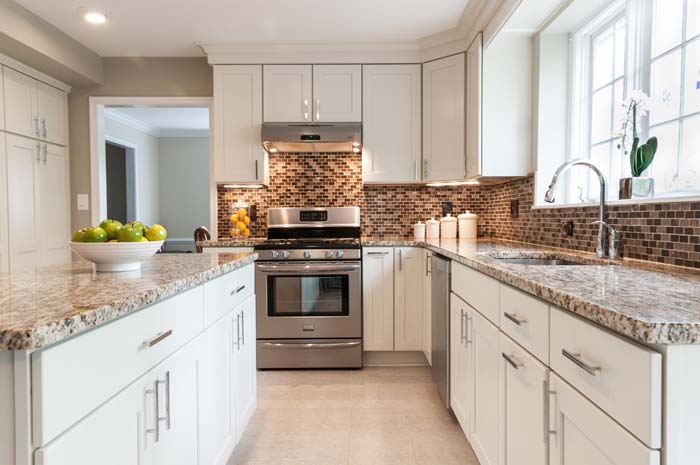 A beautiful glass mixed stone mosaic backsplash is paired with white kitchen cabinets with granite countertops.
The tiles give the impression of brick.
via Hammer Design Build Remodel
29. Custom Cut Tile Pattern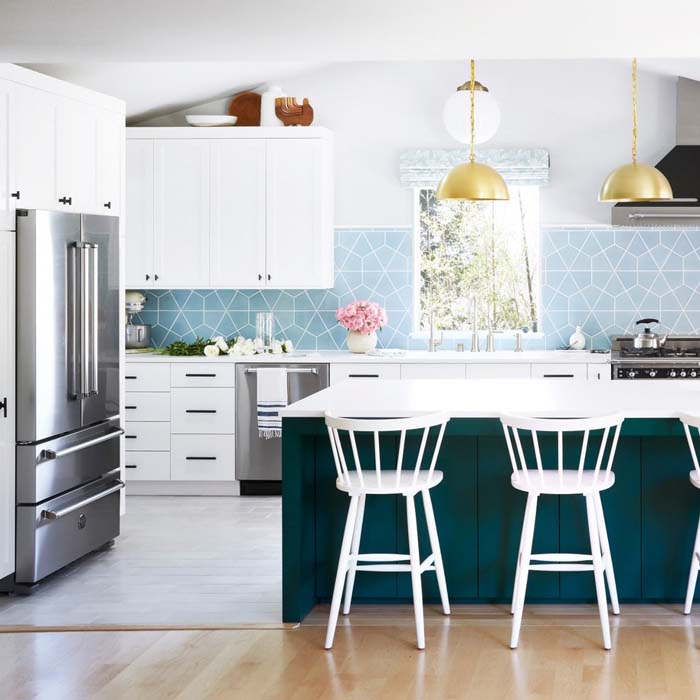 This modern kitchen blends shades of blue. The island is a deeper blue while the kitchen backsplash shows off a blue patterned tile.
White grout connects to the white quartz countertops.
via Cambria
30. Zigzag Turquoise Tiles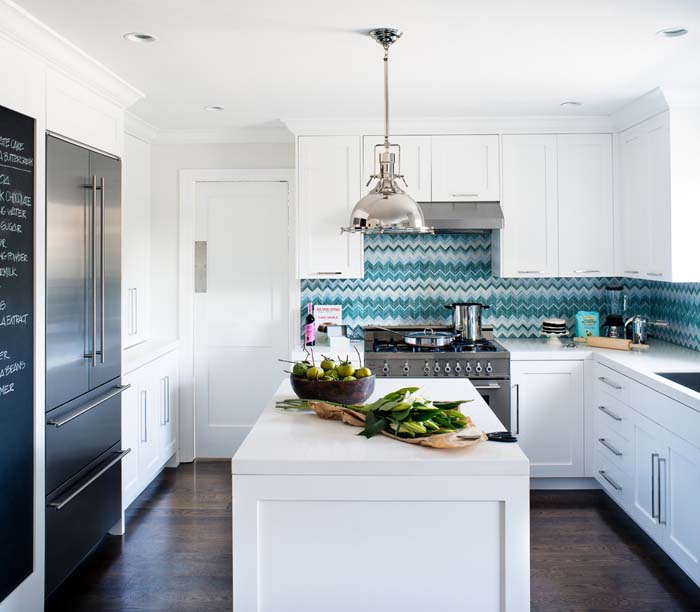 A pattern tile can set any kind of mood for your kitchen. Light turquoise blue glass tiles are laid in a chevron pattern in this kitchen backsplash idea.
It keeps the mood bright and energetic. A single pendant light in a shiny chrome finish brings lots of reflective light into the space.
31. Hexagon Tile and Gold Colored Grout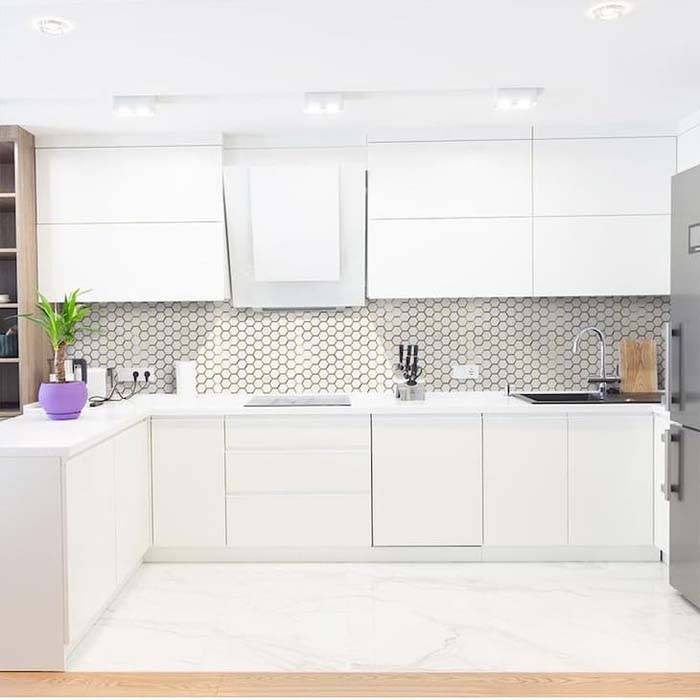 The idea of an all white kitchen may become monotonous without texture or an accent color. Both of those conditions are met here with this kitchen backsplash idea.
The color is a luxurious gold grout. The texture is in the hexagonal shape, metallic grout, and polished marble.
You can find this tile at your local Home Depot. Use any colored grout you prefer to match your home decor.
32. Navy and White Backsplash Tile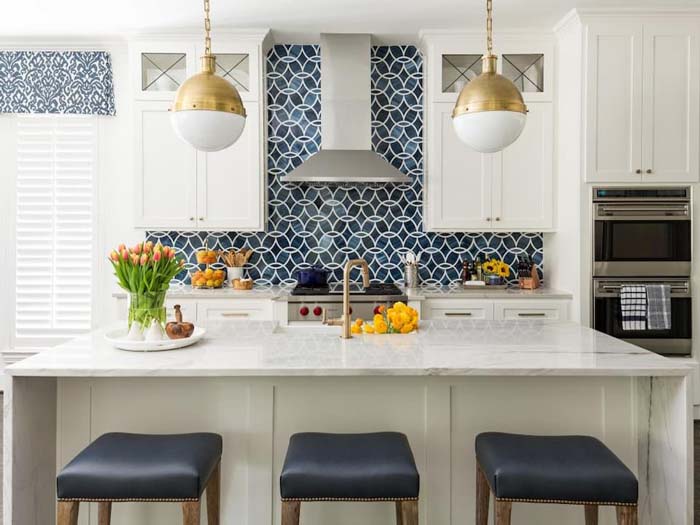 A classic Navy and white color combination and gets an uplift by the use of a geometric pattern backsplash tile.
Quartz countertops and gold accents add to the upscale feel of this kitchen.