Are you installing or refinishing your kitchen cabinets and trying to match them to your gray floor? Gray can be a tough match.
If you're searching the internet thinking, "what color cabinets with gray floors?" take a look at the list we've put together for you.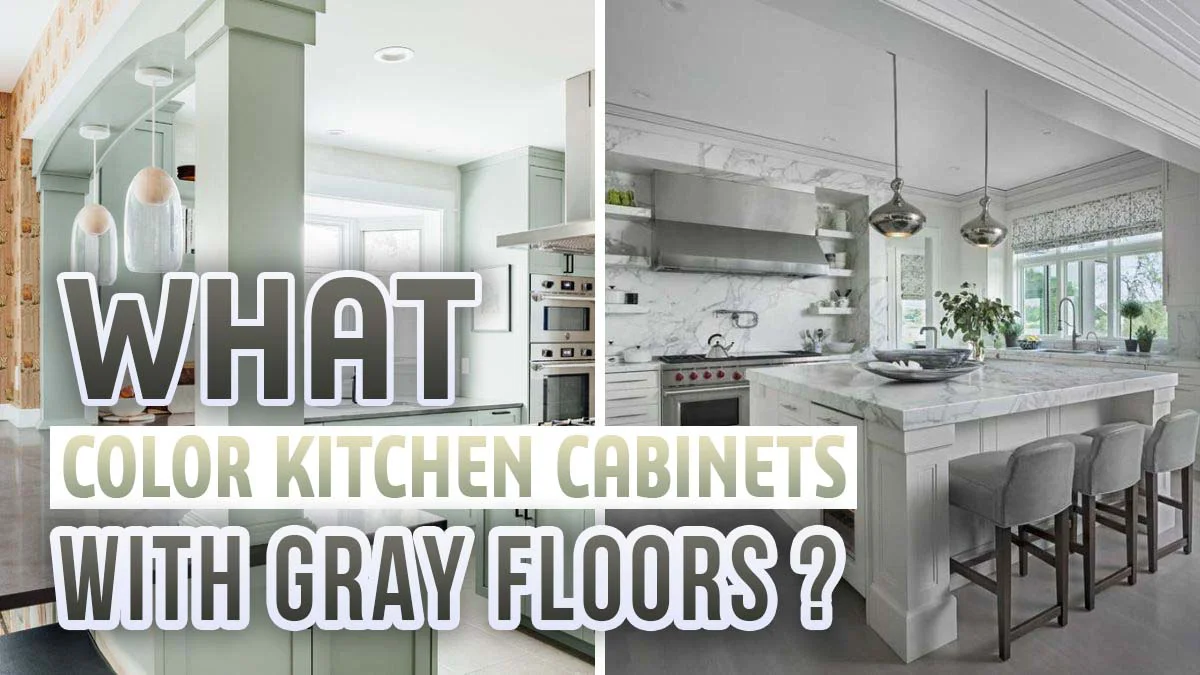 The truth is, you can choose from a wide variety of colors. What you'll need to discover is exactly what shade of gray you have and work with that answer. Shades of gray have undertones. Cool gray has undertones of blue. Warmer grays have undertones of yellow or red.
What cabinet colors go with gray floors?
Most cabinet colors will work with your gray floor. If you want wood, look no further than the traditional oak cabinet. The biggest takeaway is to match the undertones of your cabinet color to the undertones of your gray floors. If your gray floor has yellow undertones, you can go with any color that has yellow undertones such as red, orange, or taupe.
Should flooring be lighter or darker than cabinets?
There's no right or wrong answer here. It depends on how you want your kitchen to appear. If you have a dark floor and want an airy feel, go with lighter cabinets. If you want a dark color but are afraid it will be too dark, try adding the color to just the bottom cabinets.
What colors go with light grey flooring?
Cool tones like soft blues and greens tie in well with light grey flooring. If your floor has violet undertones, you can experiment with purple or antique white.
Take a look at how designers and others are putting together shades of gray.
1. Navy Blue and Light Wood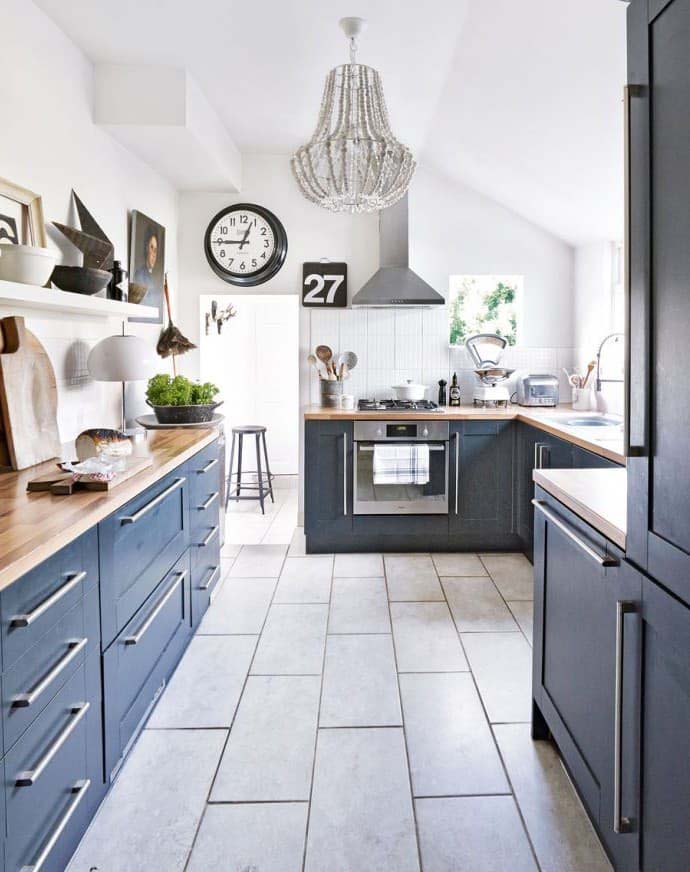 Navy is a classic and sophisticated cabinet color. Use it when you're looking for an upscale, contemporary kitchen and have gray tiles with cool undertones.
via David Wooley
2. Pale Green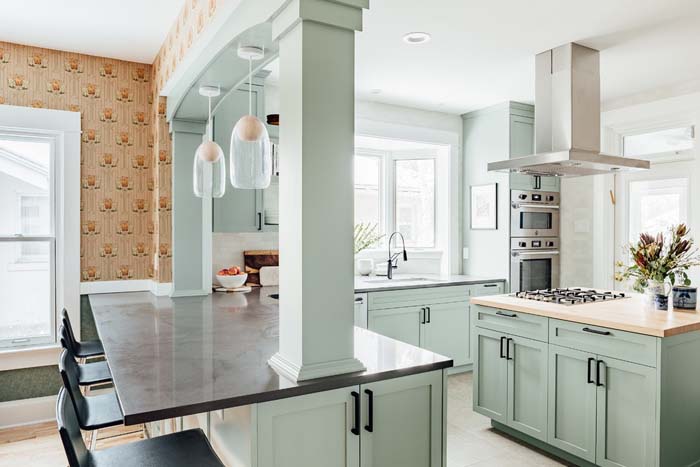 Green kitchens are still going strong. Pale green keeps the natural feel and blends with other earth tones. Used here with the gray floor, pale green keeps the space light and airy. 
3. Black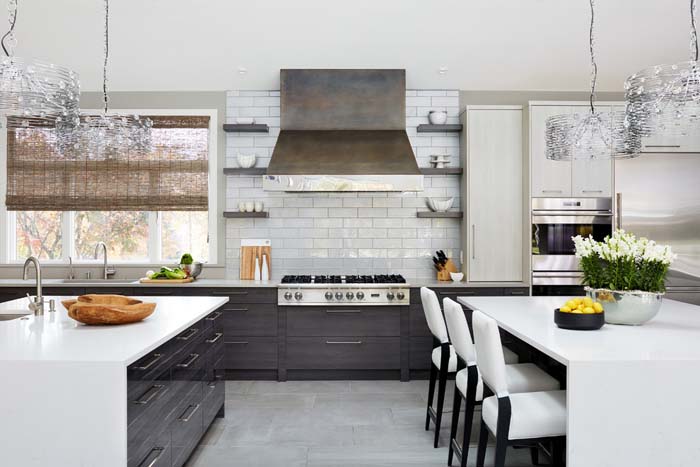 Black turns the space into a tone-on-tone setting where these neutrals enhance textures. Black lower cabinets ground the space. It also adds depth to the room by separating the floor from the gray tile backsplash and upper cabinets.
via Jack Rosen
4. Antique White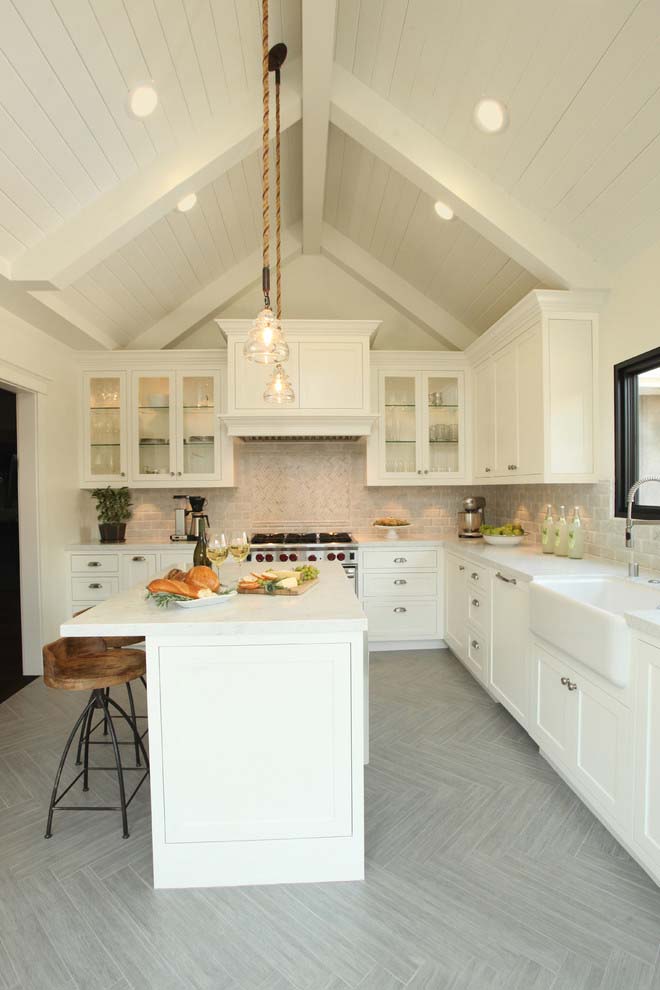 French country kitchens often used reclaimed Barnwood for their flooring. Instead of refinishing and staining the wood, the owners will often keep their natural gray color. Antique white is a classic choice for a French country kitchen cabinet color.
A simple rule of thumb is to use the same undertones in your color scheme. Use antique white when your grey floor has warm undertones such as red or yellow.
via Arch Interiors
5. Pale Blue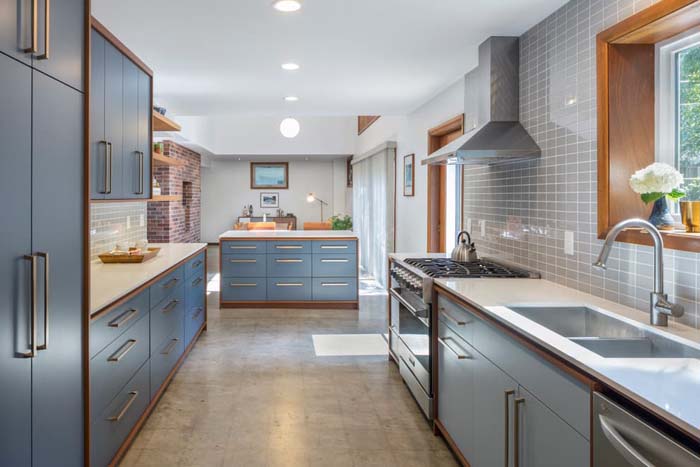 Pale blue kitchen cabinets bring a calm, welcoming feeling to a kitchen. The soft tones of a light gray floor wrap bring a laid back attitude to the modern style.
What Color Cabinets With Gray Floors video:
There's a secondary red undertone running through the accents. The wood window panes and cabinet trim tie in with the red brick wall in the back and also with the subtle glass tile backsplash.
via Studio Build
6. Burgundy Cherry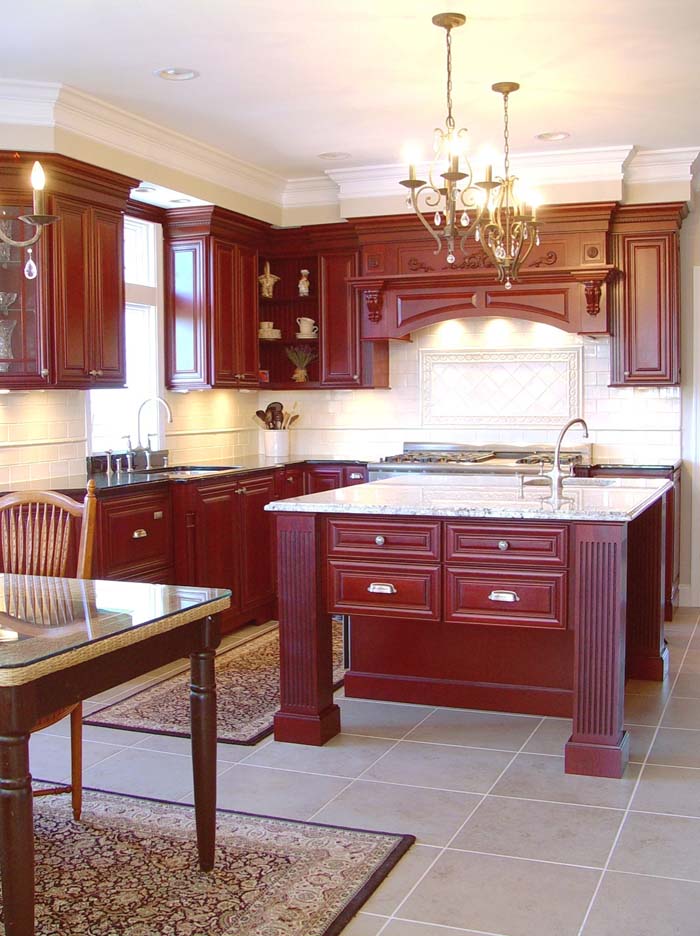 This cherry wood color is a classic design solution. The red undertones are picked up on the undertones of the gray floor. Oriental rugs woven in the same primary color add texture.
Antique white complements the darker colors, but also holds the red undertone, tying the space together.
7. Olive Green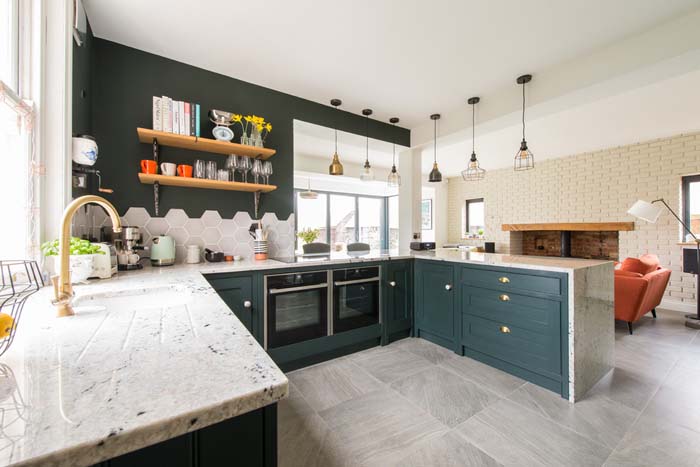 This deep olive green works with the gray floor to pick up the subtle colors found in the veins of the marble countertops.
Many marble counters will have green veins in them. Work with those colours to get the right match. Yellow undertones allow the brass fixtures and hardware to shine.
8. Gray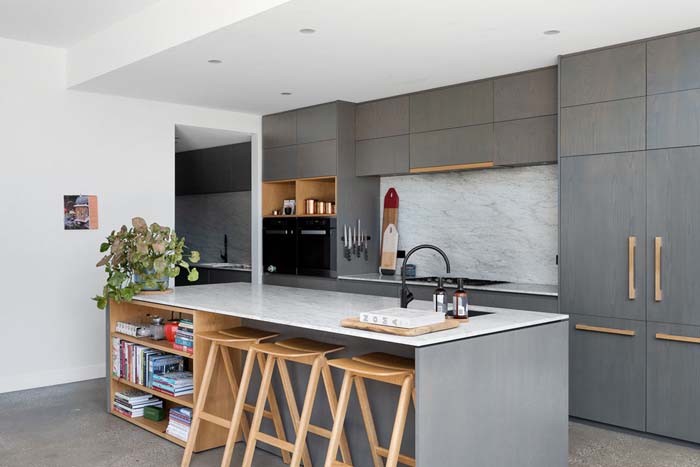 Yes, a gray floor works with gray cabinets. Choose deeper gray kitchen cabinets so they don't clash with the floor. You'll get a tone-on-tone look.
This gray kitchen works with a lighter color on the island and backsplash. The wood accents bring warmth to the space, keeping from looking cold and impersonal.
via Arden Architects
9. White Combined With Marble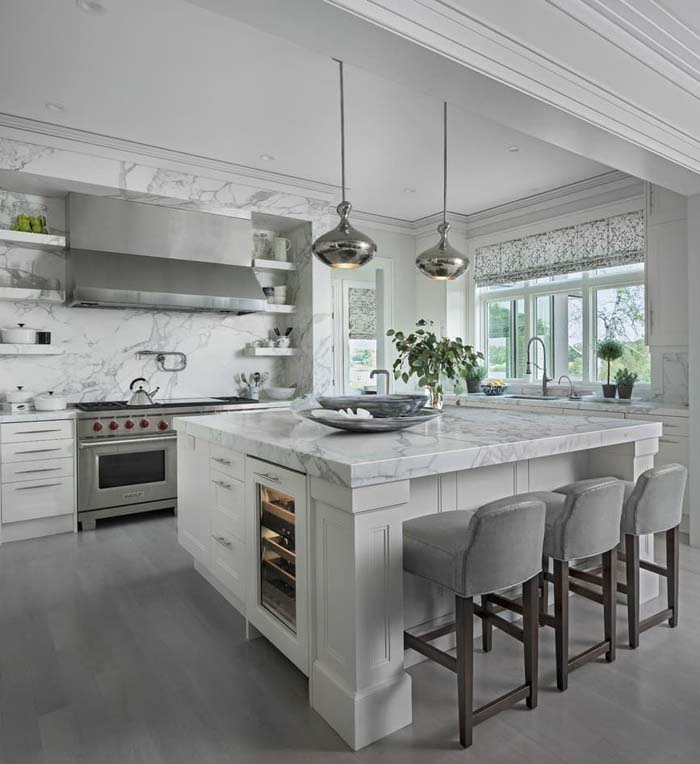 This is a nice update to the all-white kitchen. You can still combine white kitchen cabinets with the beautiful marble countertops and backsplash, but the addition of a gray floor, stove, range hood, and stools brings welcome warmth.
Gray also allows you to introduce chrome accents like the pendant lights.
via Arteva Homes
10. Dark Red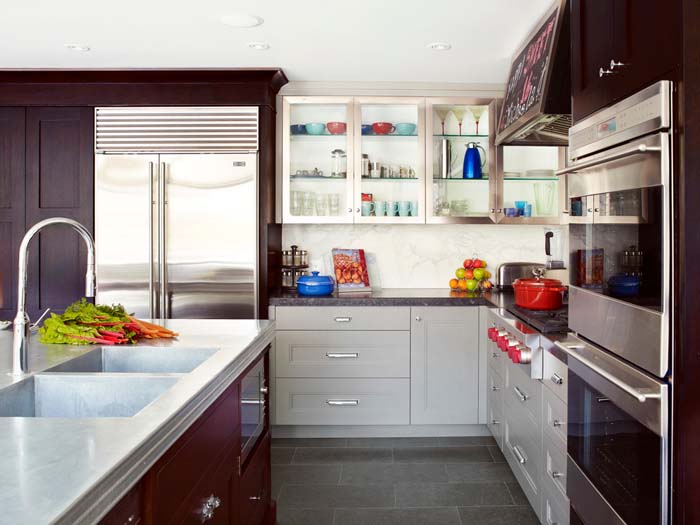 Deep red and burgundy work with a dark gray floor in the same way a cherry wood stain works.
They work together in this kitchen to showcase glass pane cabinets that store colorful drinkware.
via Anne Bancroft
11. White with Light Wood Accents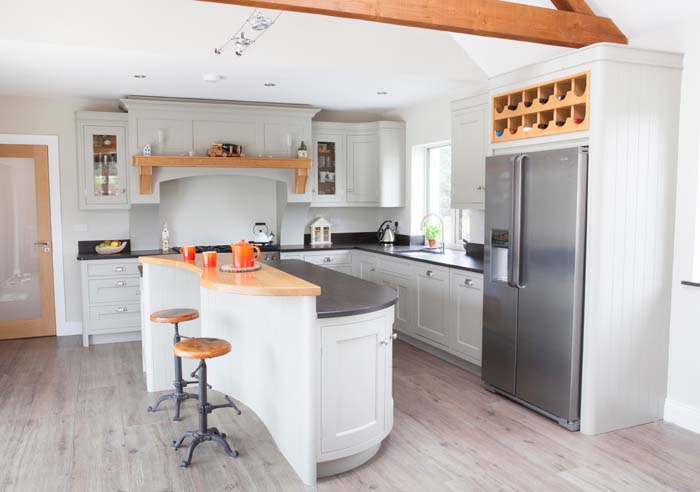 This white kitchen gets an update with gray appliances and countertops.
The wood accents on the breakfast bar, wine rack, and range hood work with the wood look on the gray floors.
12. Orange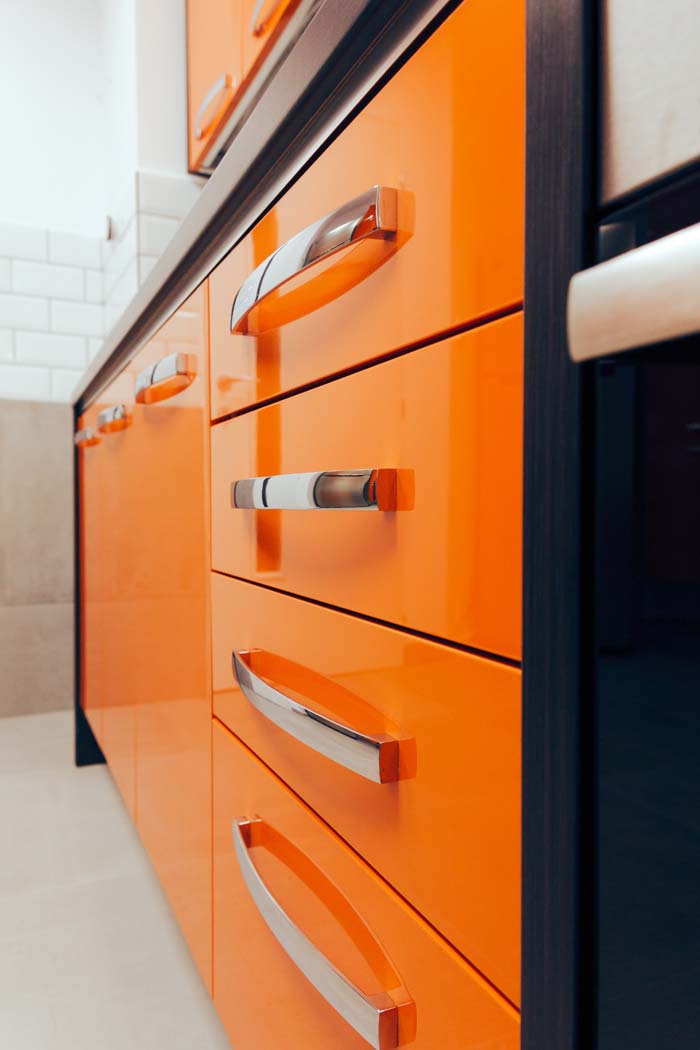 Orange cabinets here have a glossy finish and chrome hardware.
Orange can work with a gray floor, but the undertones of the gray finishes determine whether the room gives off a lively vibe or evokes uptown sophistication.
13. Pink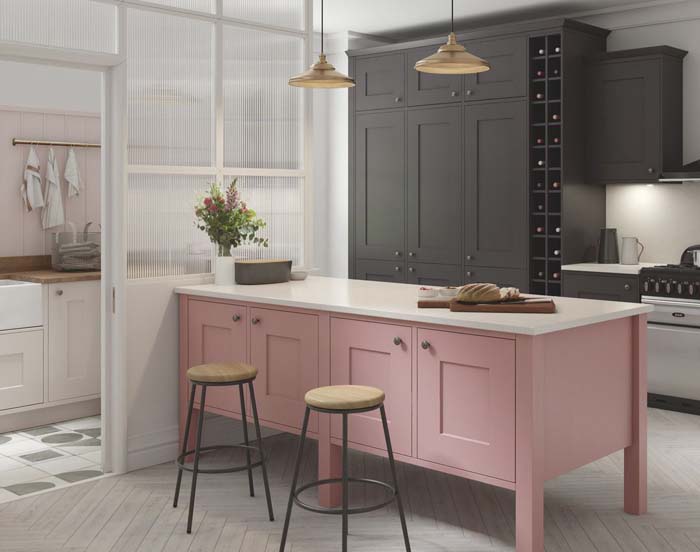 A truly feminine choice, pink does for gray what red does for a black and white room. It adds color without being jarring.
Try it in a cottage or coastal kitchen that receives lots of natural sunlight. The dark gray kitchen cabinets against the wall provide the anchor and depth to show off the rosy pink island.
14. Purple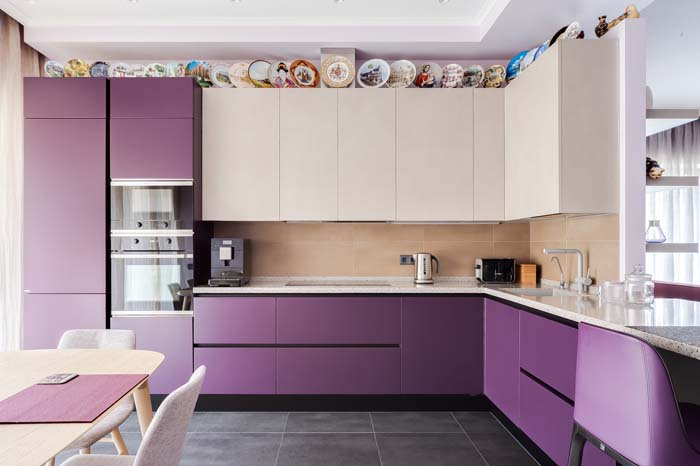 Purple is a bold choice for a thoroughly modern kitchen. If your gray floor has purple undertones, go with a medium purple to blend the tone together.
It looks great with the antique white cabinets in the corner.
via Anna Pominova
15. Beige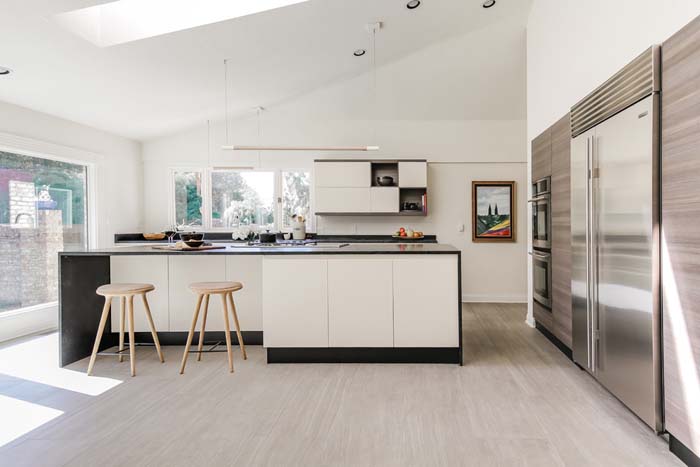 Beige works here with a gray floor that has yellow undertones in the gray floor. The room is designed to let in as much light as possible, but using white cabinets would wash out the depth.
The neutral tones are a study in modern minimalist design.
16. Brown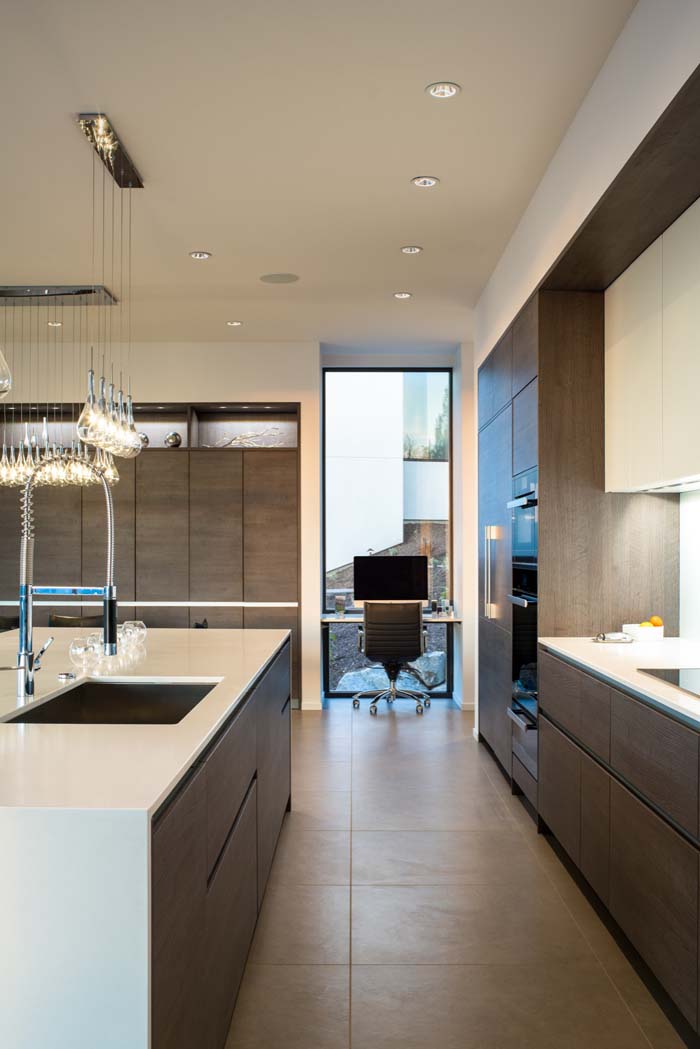 Classic brown still works in the kitchen. Choose paint or stain, depending on the overall style.
This neutral palette works well in a contemporary home and frames the full height window nook like a picture.
via Stephenson Design Collective
17. Dark Wood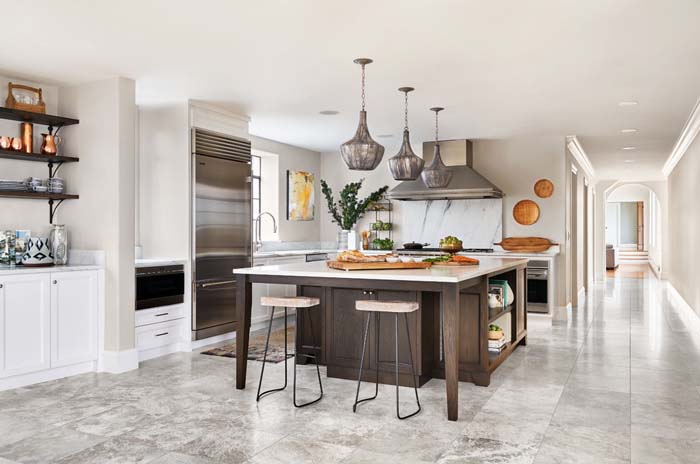 Choosing dark wood with the swirling gray tile floor grounds the room. The floor could look industrial, but the dark wood island introduces an organic element, which complements the natural look of the floor.
The way to bring a room like this together is with gray walls. If you want to go this route, choose a neutral gray wall paint like Benjamin Moore Classic Gray.
18. Off-White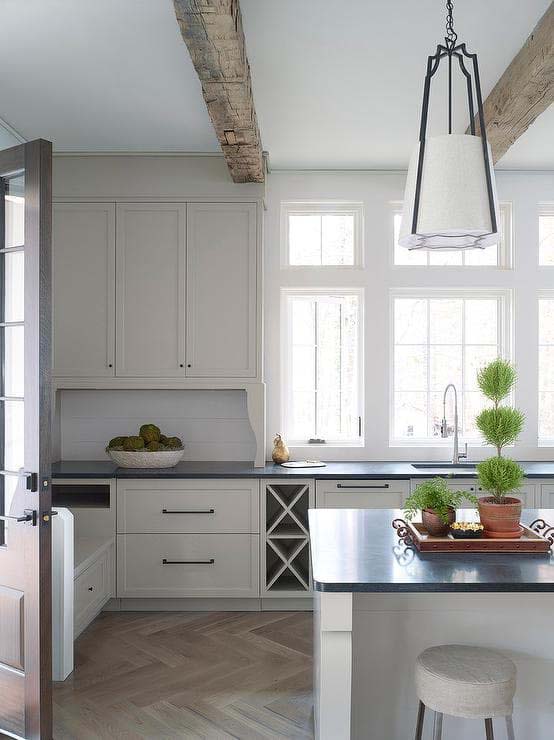 Choose off-white when you want to play with shades of gray throughout your kitchen. When the interesting pattern is on the floor, pure white would draw too much attention to the cabinets.
Instead, the gray backsplash, dark countertops, and off-white cabinets all draw their inspiration from the gray floor tiles. Together, they create a cohesive welcoming kitchen.
19. Taupe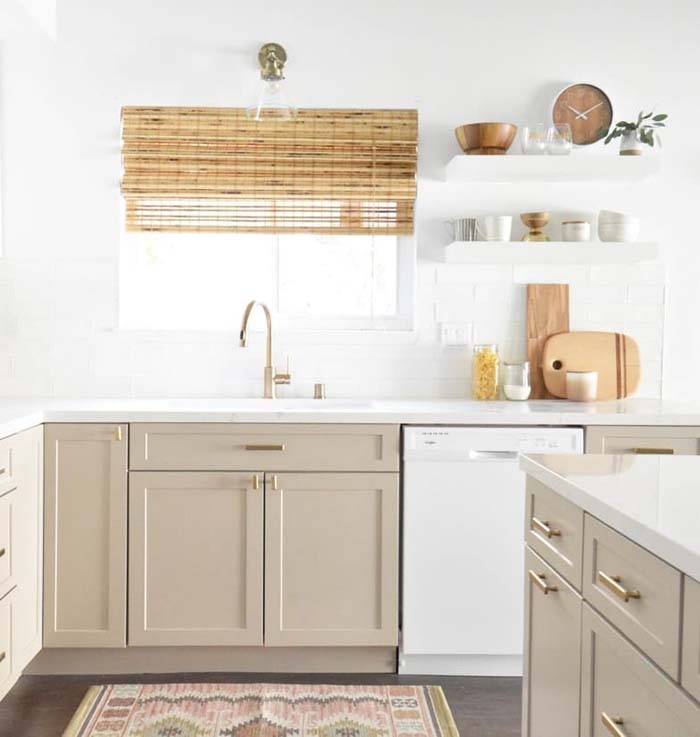 When the browns are too brown and off-whites are too white, try taupe.
The yellow-ish brown undertones work as an effective transitional color between gray floors and white tiles and countertops. Its versatility is turbo tape into the most popular color in the neutral palette.
20. Teal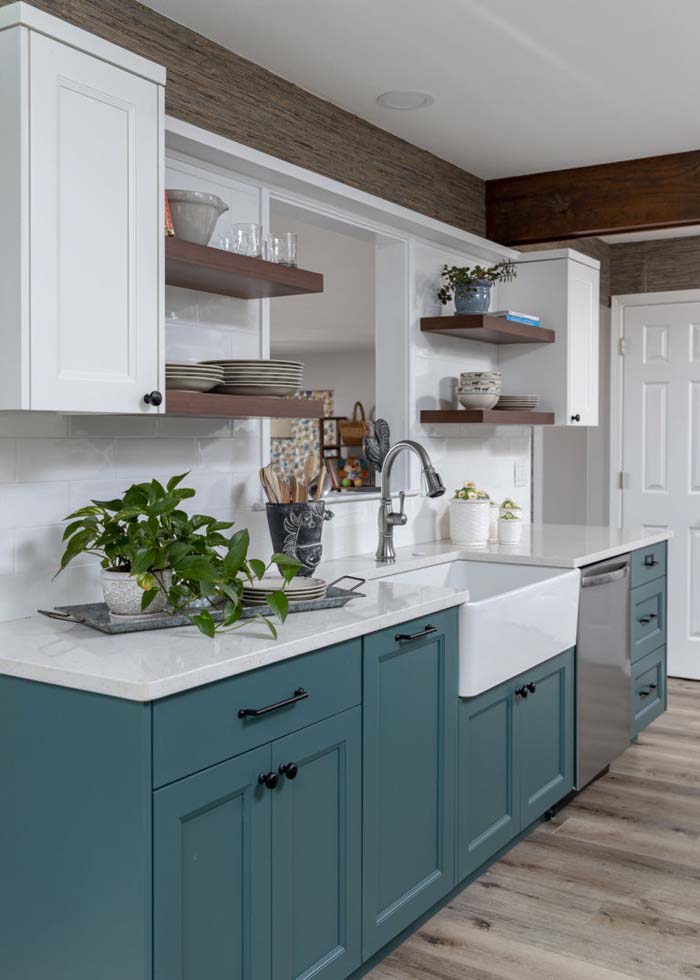 Teal is a great compromise when you can't decide between green and blue. If you're just venturing into exploring color in your home, teal is a safe choice. We like it here with black hardware that doesn't distract from the charm of the open shelving and farmhouse sink. 
Upper white cabinets help bring together the white quartz countertops and white tile backsplash.