I have always thought that the gray cabinets in the kitchen are so boring and that the gray color is dull and will affect my mood.
I looked at brightly colored kitchens and, frankly, it was only then that I began to understand how stylish and chic the gray was. Especially in combination with stainless steel or antique brass.

Here are 25 incredible gray kitchen cabinet ideas I would love to share with you!  😉
1. Achieve Chic Design with Gray Cabinets and Brass Accents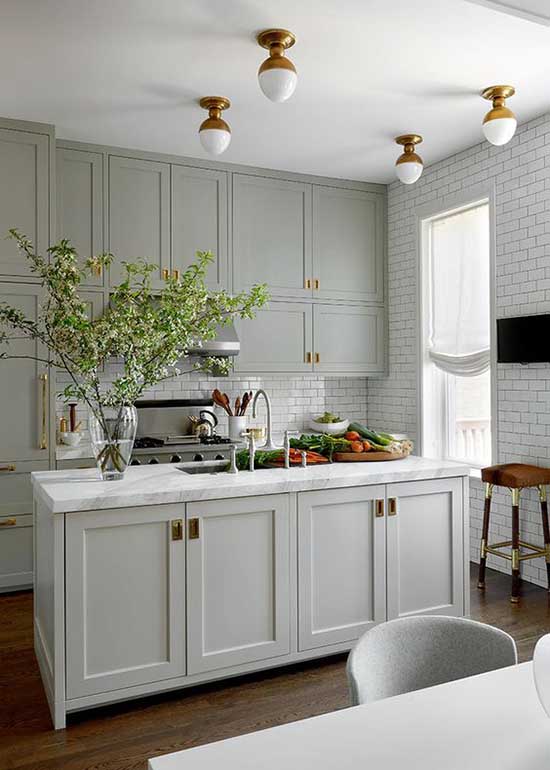 Photo:Credit
While searching for images of kitchens with grey cabinets, I found this incredibly cool idea for the brass-accented grey kitchen.
The brass flush mounts are great when you are trying to avoid recessed can lighting. Also, consider adding some other small brass accessories such as the knobs. It looks very chic in a simple clear way (agreed!)
2. Revamp Your Kitchen with the Timeless Farmhouse Style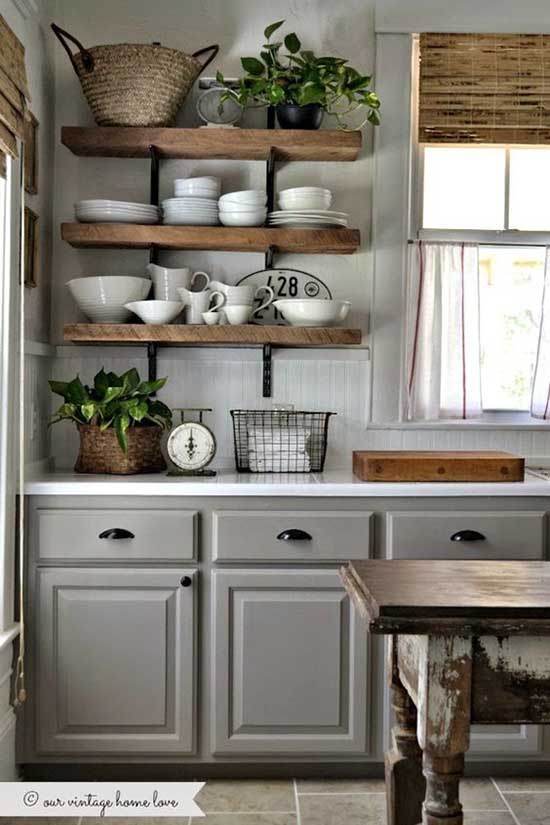 Photo:Credit
One of the best (and the cheapest) grey kitchen cabinets ideas is the one in a farmhouse style. Everything brings the fresh, clean simplicity of life on the countryside. It looks vintage and unpretentious.
Plus, the wooden material goes with almost everything!
3. Upgrade an L-Shaped Kitchen Design with Gray Cabinets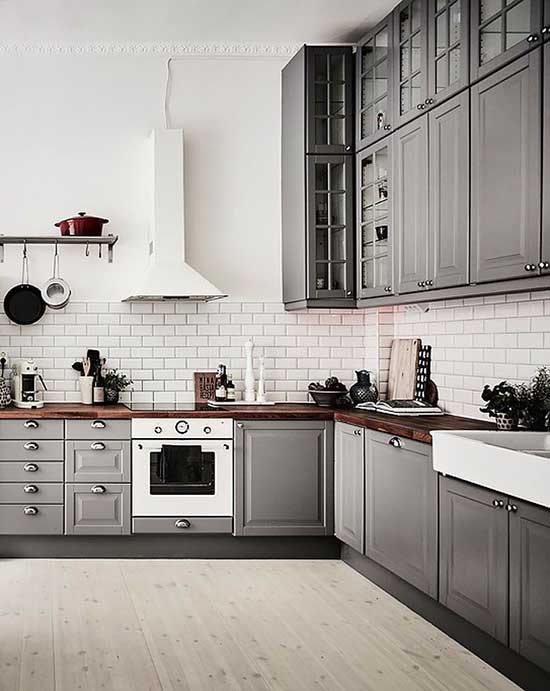 Photo:Credit
Here is something for those of you who are surfing in the Internet for grey cabinet kitchen ideas – the L-shaped kitchen is getting more and more popular thanks to its practical reasons.
The open and spacious nature of the design fits well to smaller and medium kitchen space.
4. Accentuate Gray Kitchen Cabinets with Wood Shelves
Photo:Credit
The grey kitchen cabinets with wood countertops give a very sophisticated look to the kitchen.
The prominent mix of natural wood and ash tones can't be a wrong choice, don't you think?!
5. Illuminate Light Gray Cabinets with Ambient Lighting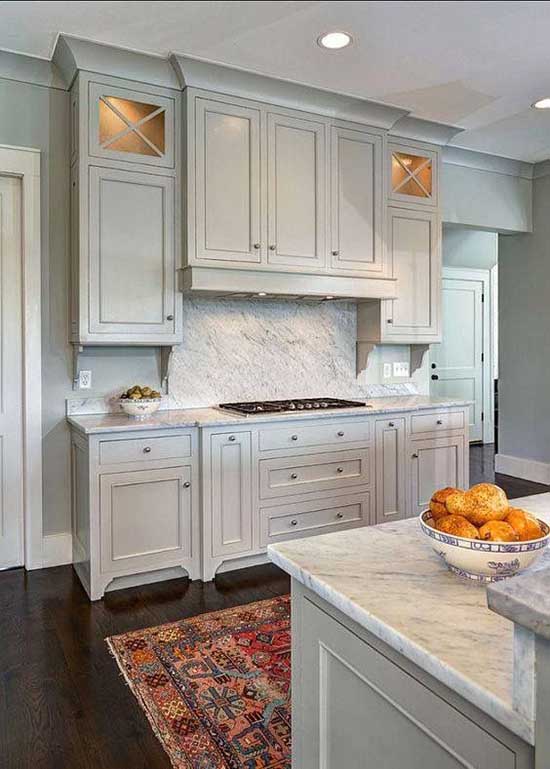 Photo:Credit
This is one of my favorite kitchen designs with grey cabinets!
The built-in lights bring some additional softness to the whole room and make it more romantic. Just keep in mind that this type of lighting fits better to small kitchen space.
6. Brighten Up Your Gray Kitchen with Brass Knobs
Photo:Credit
If you are searching for pictures of grey painted kitchen cabinets, you may notice many of the design are including brass knobs.
And trust me – you should definitely forget about stainless steel because brass puts it to shame. It is super cool and makes your kitchen space looks glamorous.
7. Elevate Your Kitchen Look with Contemporary Gray Cabinets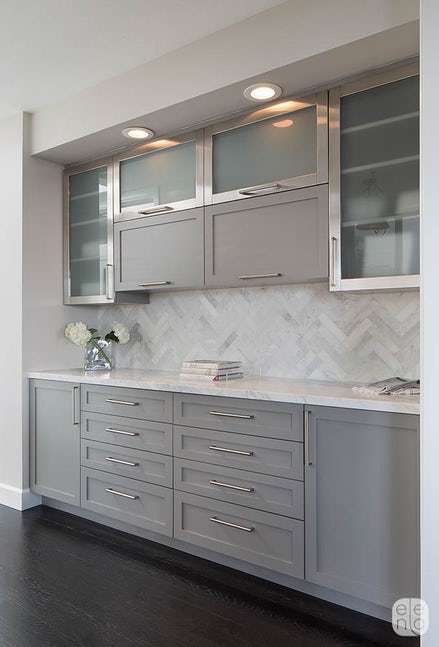 Photo:Credit
This contemporary home bets on the light grey kitchen cabinets. It is a smart mixture of grey tones with subtle patterns, textural accents, and natural materials.
8. Refresh Your Kitchen with IKEA Gray Kitchen Cabinets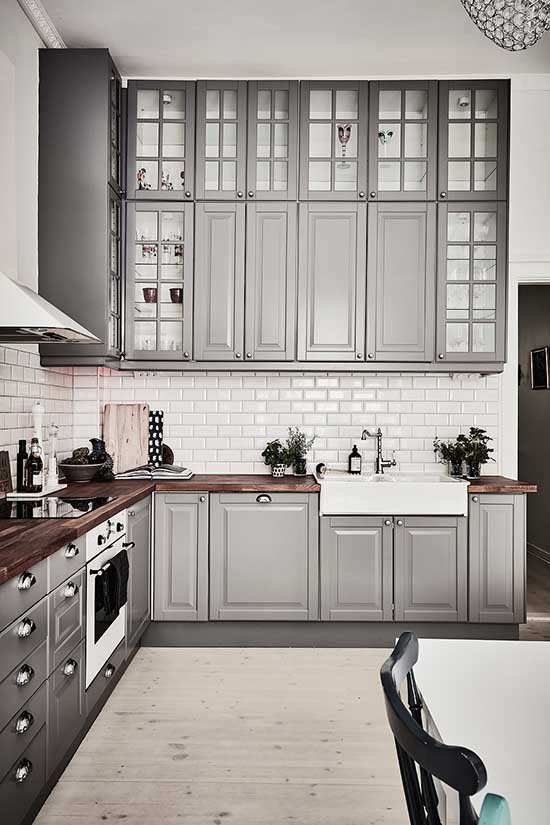 Photo:Credit
Have you ever thought of paint colors that go with grey kitchen cabinets?
This IKEA kitchen shows how great could be to make a contrast between the light kitchen wood floor, dark wood countertop, and the grey cabinets. It is rustic yet contemporary. Also, it gives you options to play with the accessories.
9. Enhance a White Kitchen with Gray Base Cabinets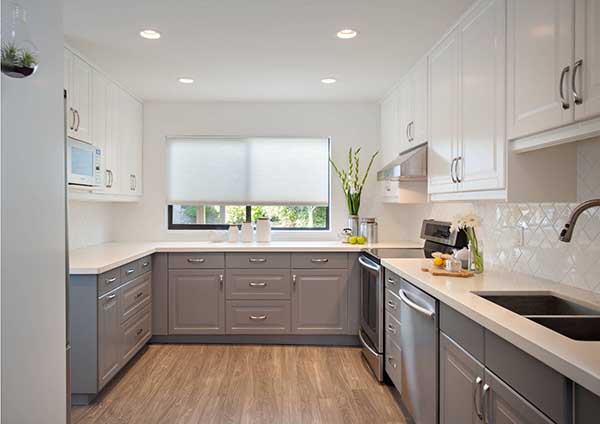 Photo:Credit
There are tons of ideas out there how to combine grey kitchen cabinets with the whole style of your kitchen.
For instance, the white countertops with grey base cabinets are perfect for smaller space. It will feel more spacious and open.
Plus, the white tones and the natural light can make the kitchen a bit brighter and welcoming.
10. Make a Bold Statement with Charcoal Gray Cabinets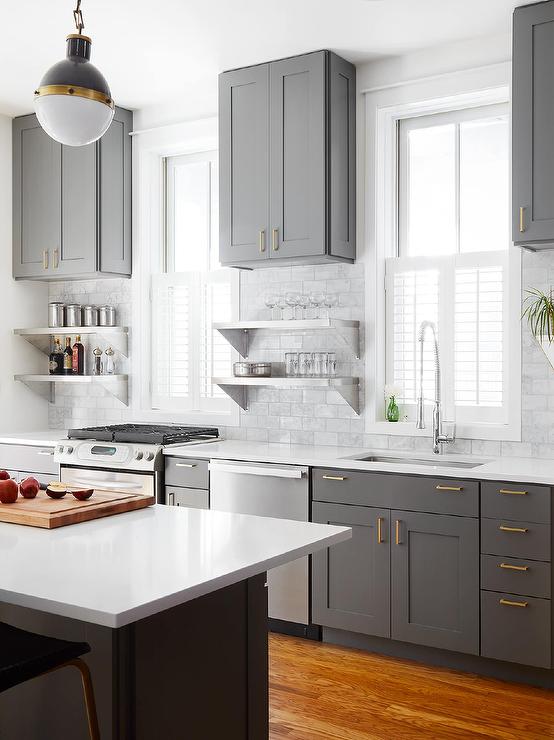 Photo:Credit
The grey kitchen cabinets with white island is a classic and stylish combination.
The outstanding charcoal grey kitchen boasting a center island with a white quartz countertop is both practical and very chic.
An interesting accent is the mixture of stainless steel electric appliances and brass knobs. That's brave!
11. Get a Polished and Trendy Look with Dark Gray Cabinets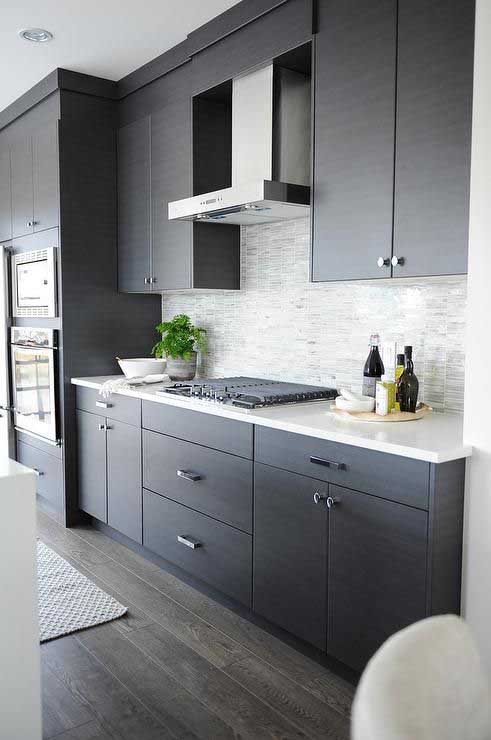 Photo:Credit
When speaking of grey kitchen cabinets ideas, the dark grey tones are the best choice for those of you who are following trends.
Very often, trendy means prosperous-looking, simplified, and clean. The dark grey kitchen cabinets make space looks cozier.
12. Get a Vintage Chic Look with Soft Gray Cabinets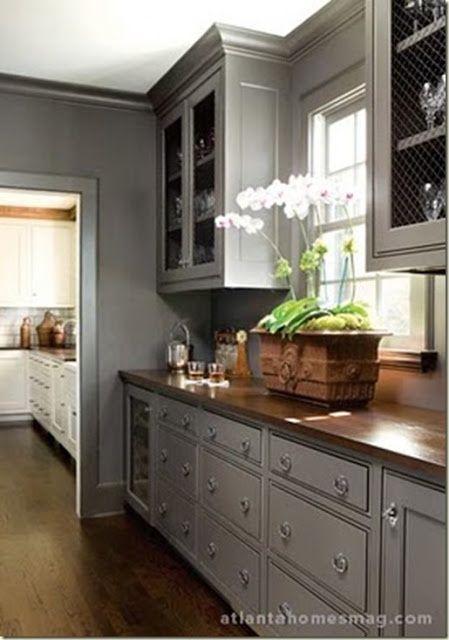 Photo:Credit
The best way to put the accent on the soft grey kitchen cabinets is to choose a darker countertop and floor. The contrast will add some volume to the whole space and make it more vintage chic.
13. Unwind in Luxury with Dark Gray Cabinets and Gold Accent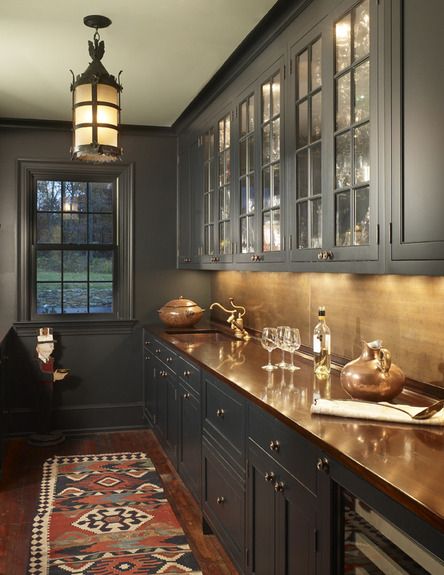 Photo:Credit
These classic dark gray kitchen cabinets perfectly go with the rustic carpet and the brass elements. This combination may fit your farmhouse as well as to your contemporary apartment.
14. Add Glam to Gray Cabinets with Stainless Steel Backsplash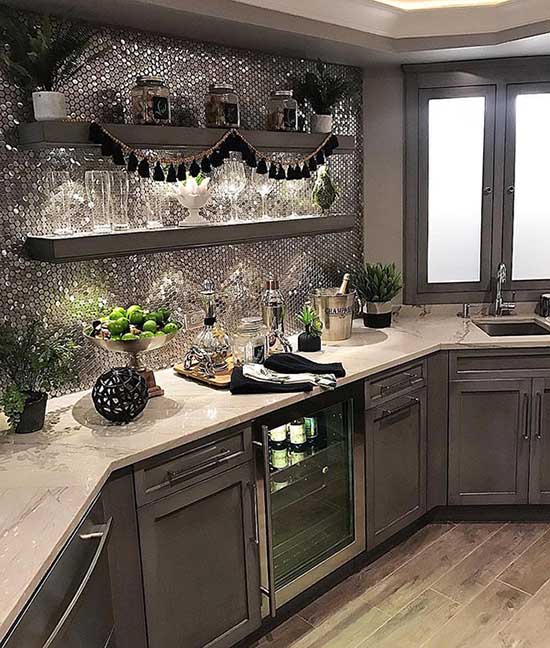 Photo:Credit
If you are looking for fresh ideas for grey kitchen cabinets with backsplash, consider choosing a stainless steel one. Why?
Because it is so stylish and sparkly in a modern way. Adding all these stainless steel touches such as wine cooler and jars, complete the whole look.
15. Take Your Decor Up a Notch with Graystone Kitchen Cabinets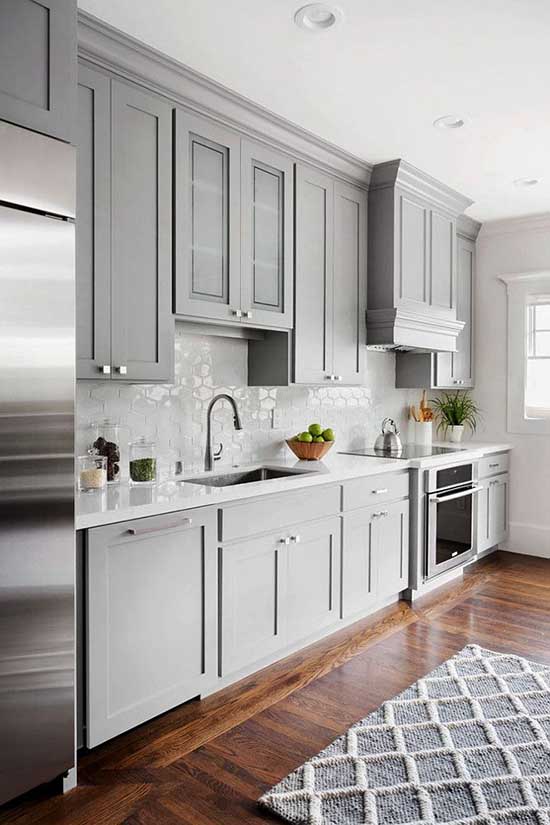 Photo:Credit
These stylish kitchen cabinets in Benjamin Moore 1475 Graystone are nicely combined with the walls painted in Benjamin Moore Dove Wing.
And let's not forget the heavy wood floor which is adding a tasteful rustic chic. Do you still have doubts for your kitchen space?
16. Indulge in the Lavish Look of Glazed Gray Cabinets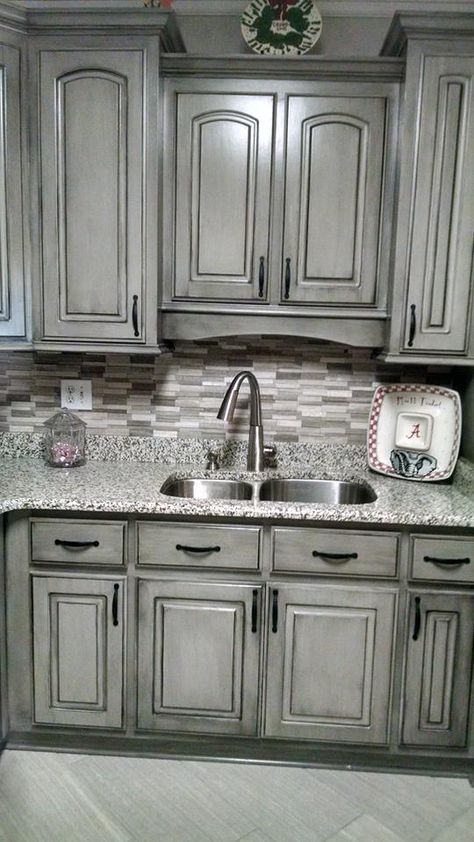 Photo:Credit
Nowadays, the glazed kitchen cabinets are considered as outdated. However, there are still many people out there who find the glazing a great way to remodel the kitchen light grey cabinets.
Just look how stunning is the space on the picture!
17. Create Lavish Look with Gray Cabinets and Marble Countertop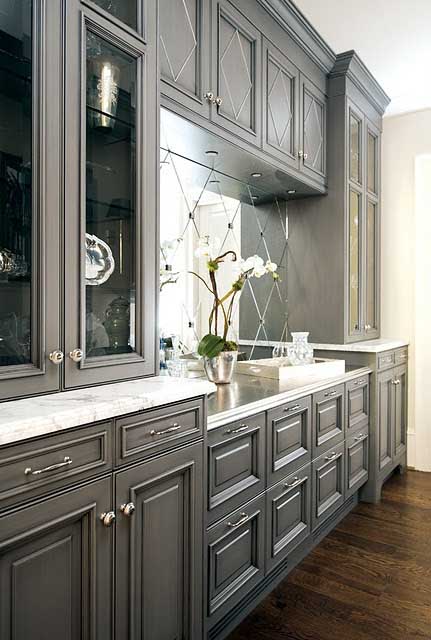 Photo:Credit
The marble countertop combined with kitchen cabinets dark grey is a top-notch idea!
It may fit well to spacious rooms with high ceiling. Just remember that this combination can be tricky.
However, it appears pleasantly cool in sunny, hot climates — a breath of fresh air in the heat and humidity.
18. Make a Lasting Impression with Subway Tiled Backsplashes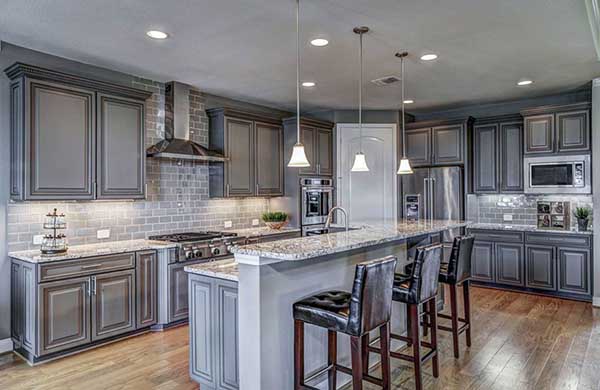 Photo:Credit
The contemporary kitchen on the picture has a marble kitchen island with seating, soft grey cabinets, and stylish black leather chairs.
However, the main accent goes to subway tile backsplash. Stunning!
19. Give Your Kitchen a Modern Vibe with White and Gray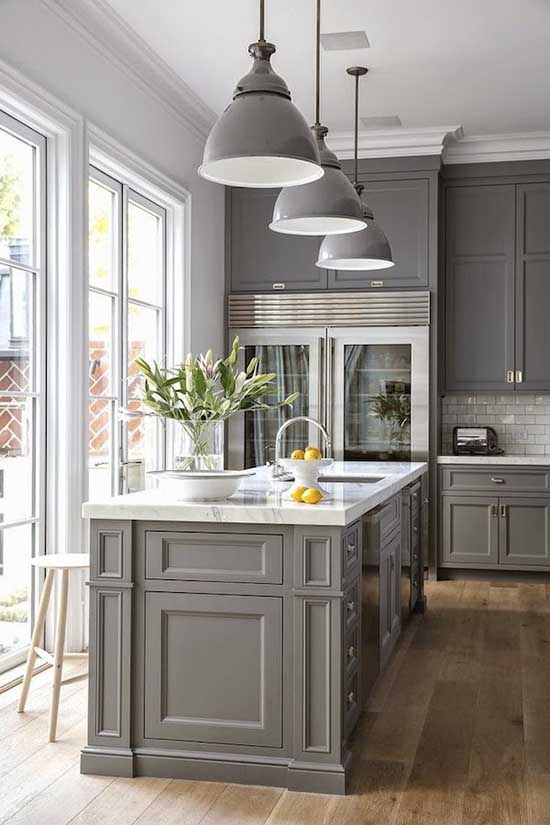 Photo:Credit
Here is a unique symphony of two tone grey and white kitchen cabinets.
Each element is in perfect harmony with the rest of the design. It is very chic and unpretentious.
20. Add Style and Texture with Gray Cabinets and Glass Accents

Photo:Credit
At first, I was very impressed when I saw this picture! It shows you that it's possible to combine stylishly tons of different materials such as wood, stainless steel, glass, and tiles.
And all this – focusing on the grey tones in the kitchen.
21. Enchant Your Cuisine with a Gray Kitchen Makeover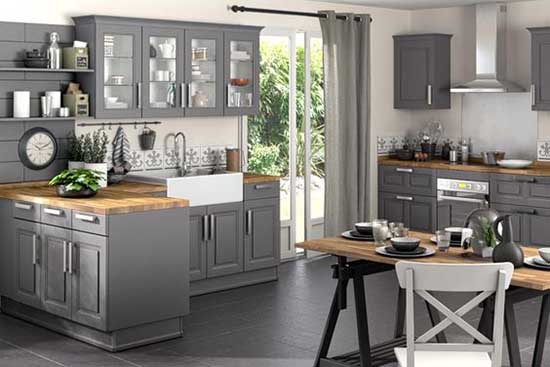 Photo:Credit
Another great idea for those of you who have the kitchen and the dining area in one!
Its charming retro spirit does nothing to its practical side. Smart storage, functional modules characterize this kitchen bistro whose doors and facades are in solid birch.
22. Modernize Your Kitchen with Pale Gray Cabinets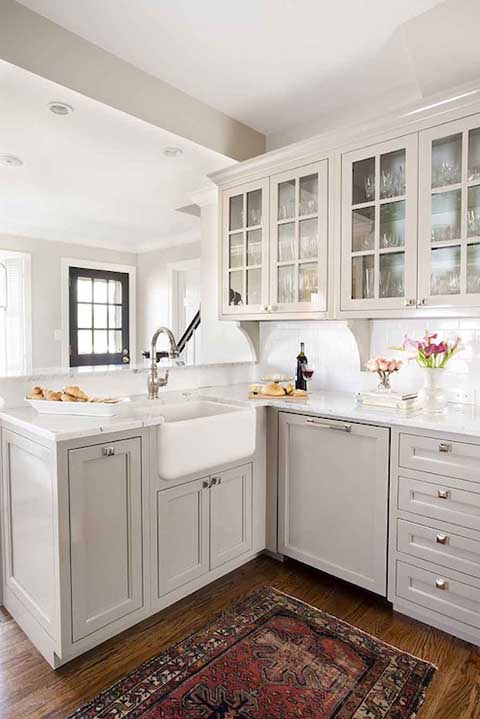 Photo:Credit
This incredible L-shaped kitchen features pale grey shaker cabinets combined with marble countertops and snowy white subway tile backsplash. This is what I call 'rustic sophistication'  🙂
23. Get Unmatched Aesthetics with Gray Kitchen Cabinets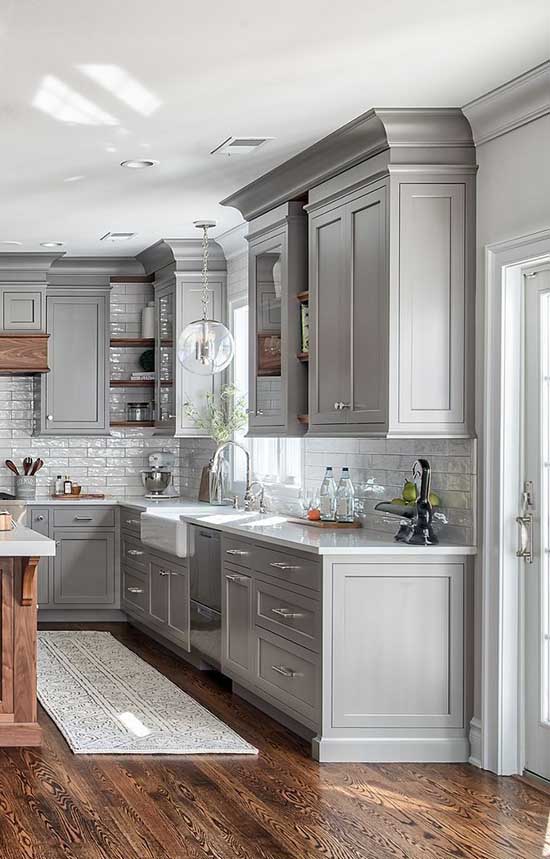 Photo:Credit
Here is one of the best kitchen designs with grey cabinets and wood base island.
It is very classic and traditional, but at the same time, there is some extra-terrestrial feeling thanks to the fruit holder, the lighting, and the knobs. Love it!
24. Brighten Gray Kitchen Cabinets with Glossy Marble floor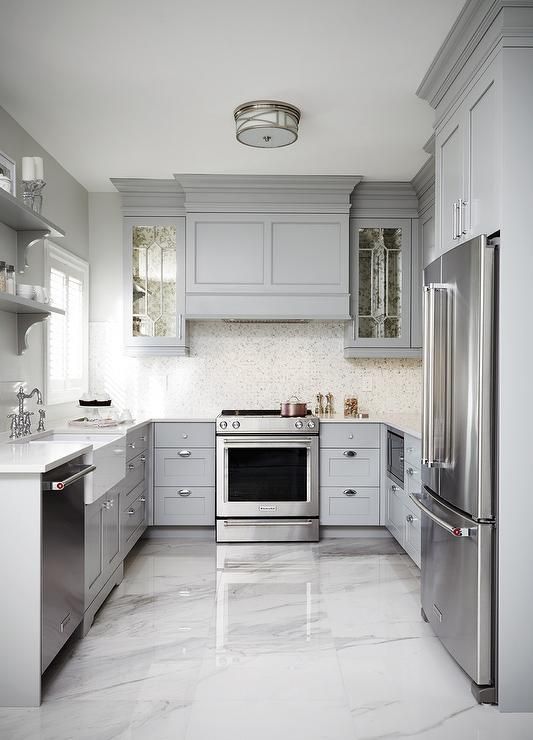 Photo:Credit
Why thinking of grey cabinet kitchen ideas, consider having a glossy marble floor in your kitchen space for a luxurious look.
The good thing is that the marble tiles come in various colors and as it's an all-natural material, is eco-friendly. However, it is a bit more expensive than the wood but it's easier to maintain.
25. Transform Your Pantry with a Dark Gray Accent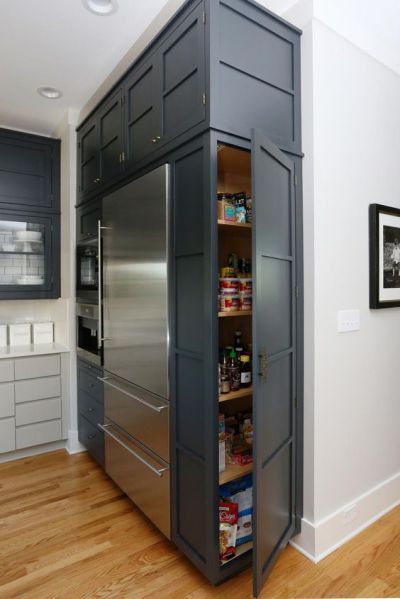 Photo:Credit
When your kitchen is not spacious enough, it is important to decide how to use lateral space available wisely. Hidden built-in kitchen storage or pantry could be your best friend.
These dark grey cabinets paired with stainless steel is a perfect example. It is practical space-saver that makes your kitchen looks very chic!