Many homeowners are moving away from the trend of an all-white kitchen.
Many are turning to change the look of their kitchen by looking at appliances of different colors.
Black stainless appliances are gaining in popularity over regular stainless steel. We've collected some ideas about what color cabinets go with black stainless steel appliances.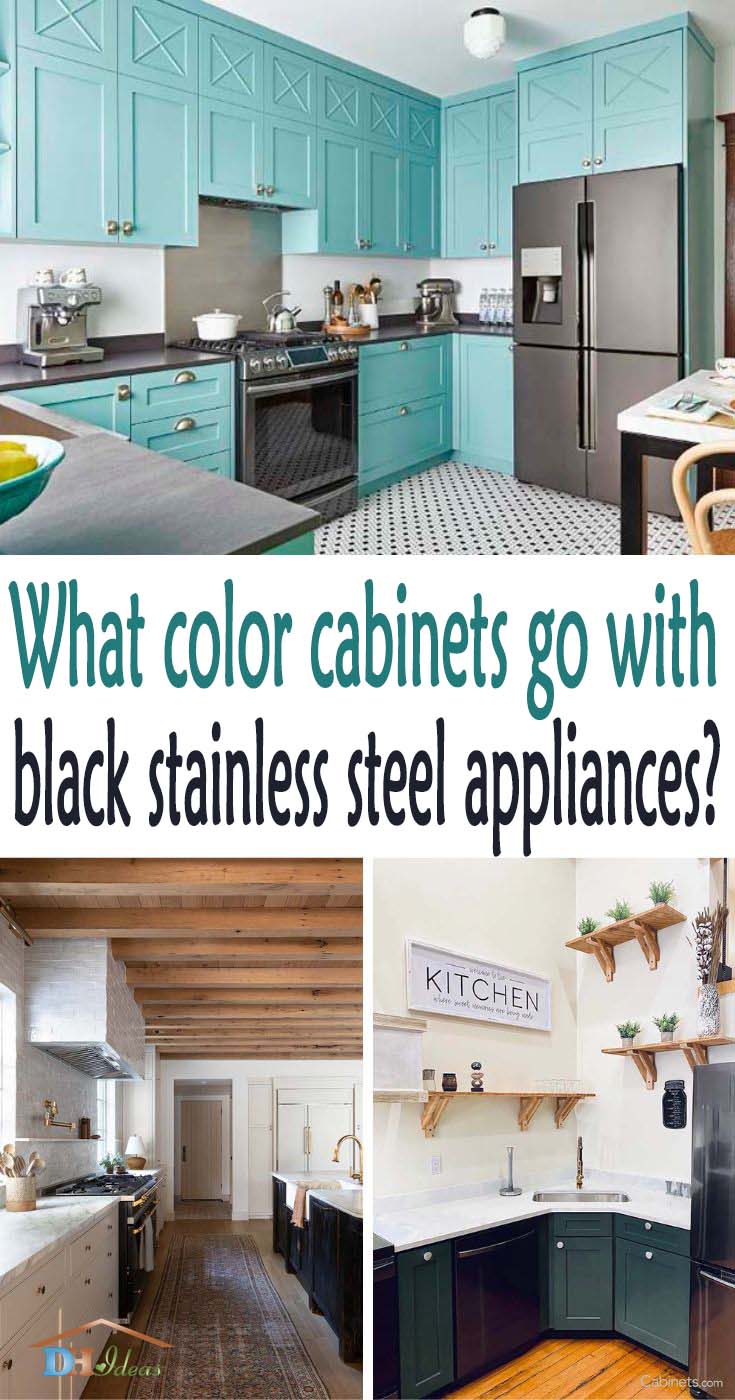 You don't have to stick with white kitchen appliances anymore. These days, traditional stainless steel is only one option of many options available today. Your kitchen can match any home decor you can dream of. 
The trend right now is to stick to one cabinet color, but there are ways to introduce more color into your kitchen. Let's answer a few questions before we get to the kitchen cabinet ideas.
What matches black stainless steel?
There are many colors and finishes that match black stainless steel. In the same way that you can wear just about anything with black, just about any kitchen design works with black.
How do you match black stainless steel appliances?
The easiest way to match black stainless steel appliances is by sticking to one brand. Look at buying a suite of color appliances like those found in the GE appliance line. You may not be able to match your refrigerator with a stove by La Cornue, but many manufacturers offer the option to create a custom appliance finish to match the rest of your cabinets.
Does black stainless go with white cabinets?
They sure do! You won't just find this in a modern kitchen either. Soften the look with black slate appliances or one of the other kitchen cabinet ideas we have listed below.
1. Gray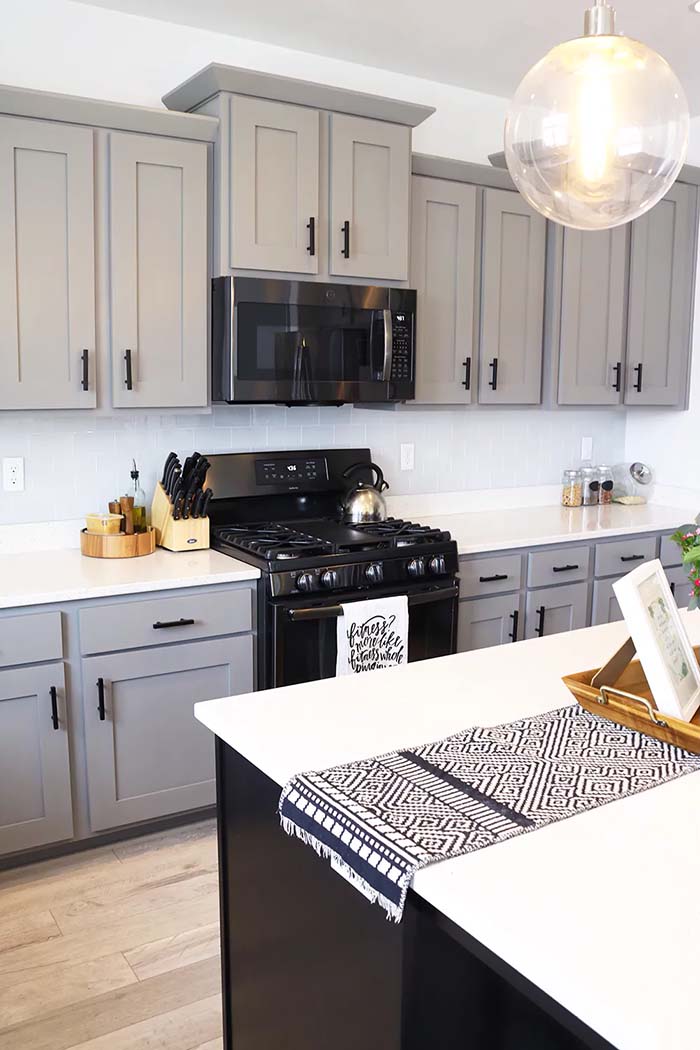 You can use deep gray or light gray, depending on your end goals. Moving away from an all white kitchen, grey cabinets add depth and ground the space.
Gray can have one of three undertones; blue, green, or violet. If you have a third color on your walls, choose a gray with an undertone that complements that color.
via Seeking Alexi
2. Light Wood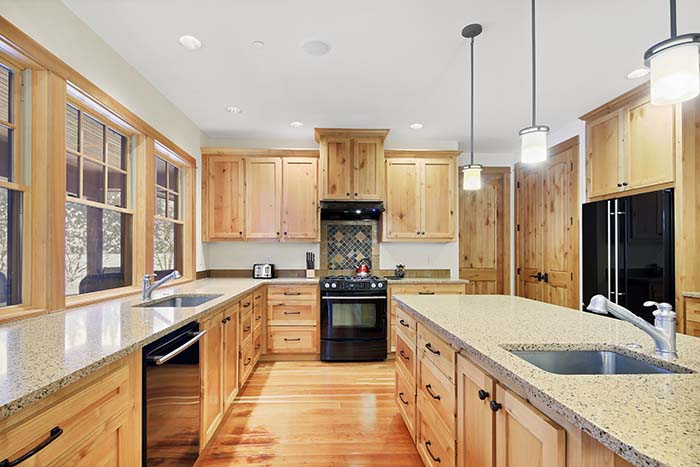 Most wood like these oak cabinets will go with black stainless steel appliances. Light woods become anchored as the black appliances tie in with the deeper colored grains in the wood.
Using black hardware on the cabinets and pendant lights also helps tie the room together.
3. Antique White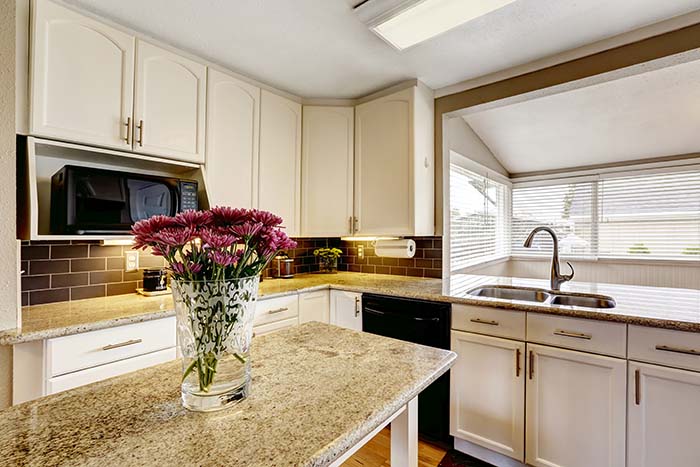 Antique white kitchen cabinets have yellow undertones that play off of any black appliance. White appliances will fight with antique white.
Here, the antique white cabinets and black appliances match up perfectly with the granite countertop and breakfast table.
4. Navy Blue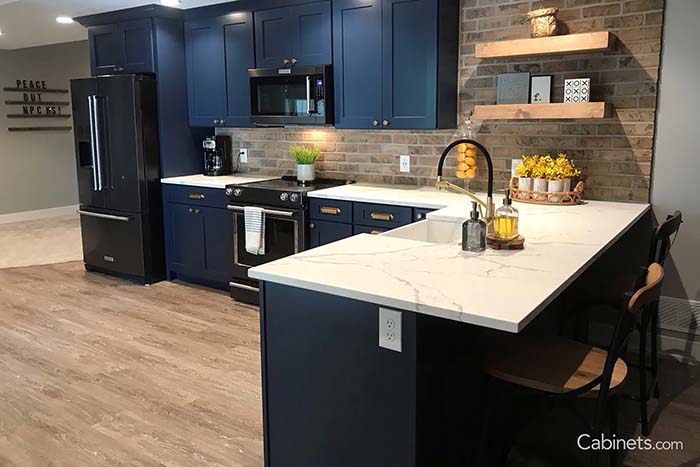 Navy blue works well with industrial kitchens and stainless steel appliances. Notice the urban vibe these dark cabinets evoke with the brick wall backsplash. Wood and earthy accents complete the look.
Make sure your kitchen is well lit before introducing any kitchen cabinet colors.
via Cabinets.com
5. Green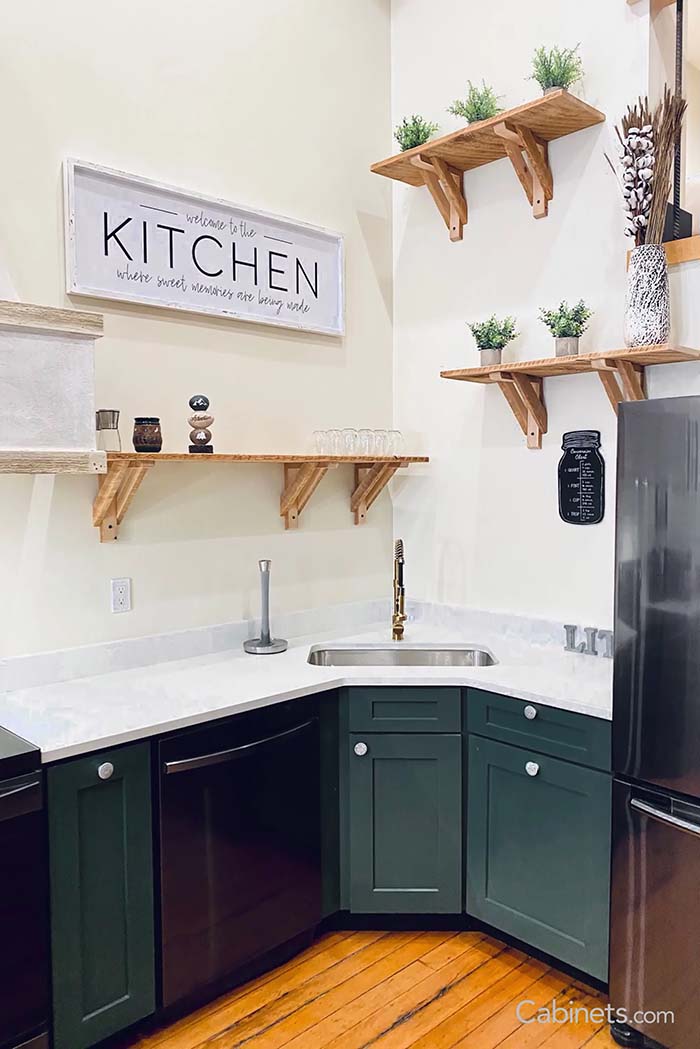 Green kitchen cabinet colors are still trending. The color scheme brings an organic feel to a room that can feel sterile. Dark greens and emerald greens work well with black appliances. The wood shelves keep the organic feel going in the upper half of the space.
What Color Cabinets Go With Black Stainless Steel Appliances video:
We find the knobs on the cabinets a fresh change of pace from traditional kitchen hardware. This is an easy way to liven up your kitchen as a variety of styles can be found at Home Depot.
via Cabinets.com
6. Pure White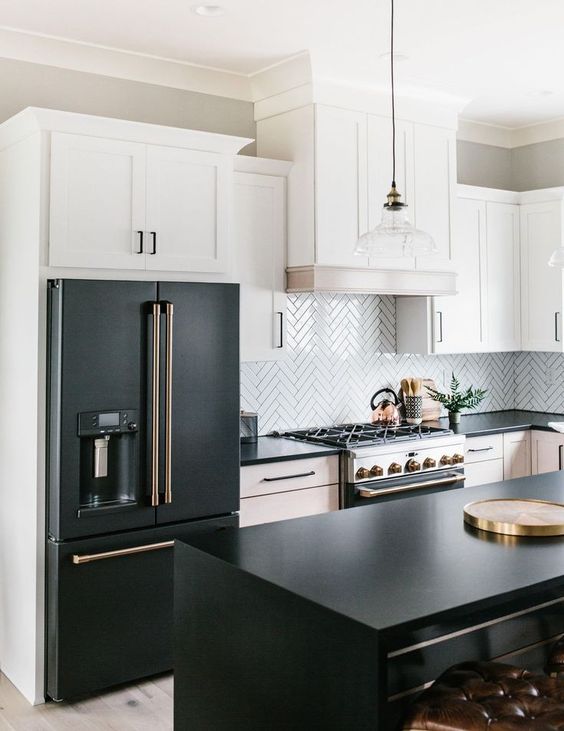 Pure white works when your stage is set correctly by introducing accents that tie the elements together. Here, we see the matte black breakfast bar and matte black appliances allow the bronze hardware to stand out.
Adding black hardware to the white cabinets ties in with both the appliances and the grout in the white herringbone tile backsplash.
The bottom cabinets and range hood trim are painted in a more subtle off-white. This helps tie in the light oak floors and brings out the rose coloring in the bronze hardware.
7. Black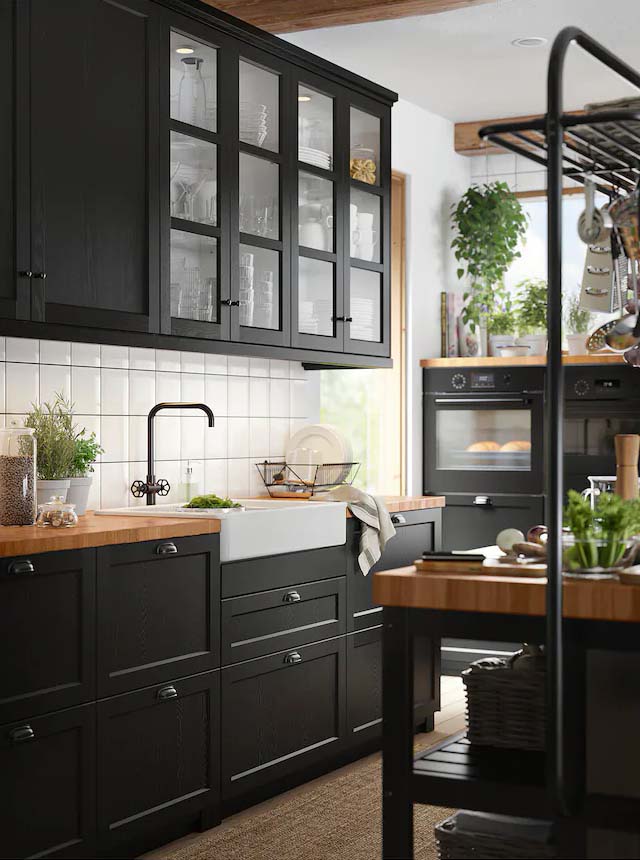 Black on black will give any kitchen an upscale look. There are several ways to go with this color. You can try matte black, glossy, or straight paint on wood to reveal its texture.
This kitchen holds onto its modern farmhouse style roots, with the farmer's sink and faucet along with the windows in the cabinet doors.
The thick wood countertops are a good choice to top off the substantial visual weight of the cabinets.
via IKEA
8. Turquoise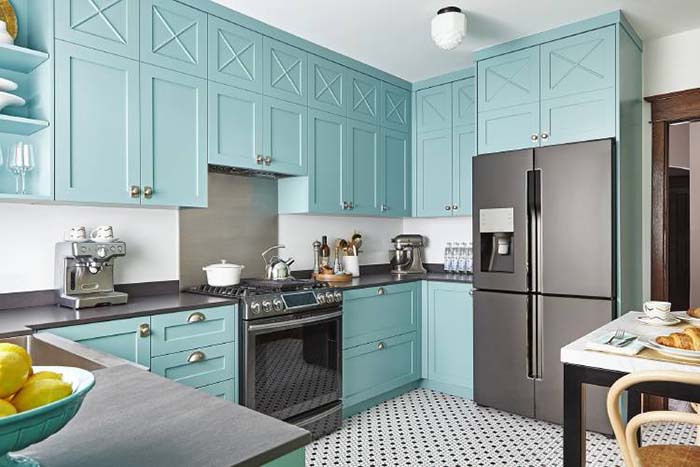 Turquoise is a light and airy choice for a kitchen that has plenty of light. It's colorful without being overbearing. Everything in this kitchen is bright while avoiding shine.
The matte black refrigerator matches the slate countertops. The brushed metal backsplash ties in with the appliances and the hardware on the cabinets.
The small checked pattern on the tiled floor adds a sense of history to the space.
Choosing stainless steel appliances to display on the counter matches the cabinet hardware. It's an especially good choice for the mixer, as any other color would detract from the decor.
via Valerie Wilcox
9. Teal and Purple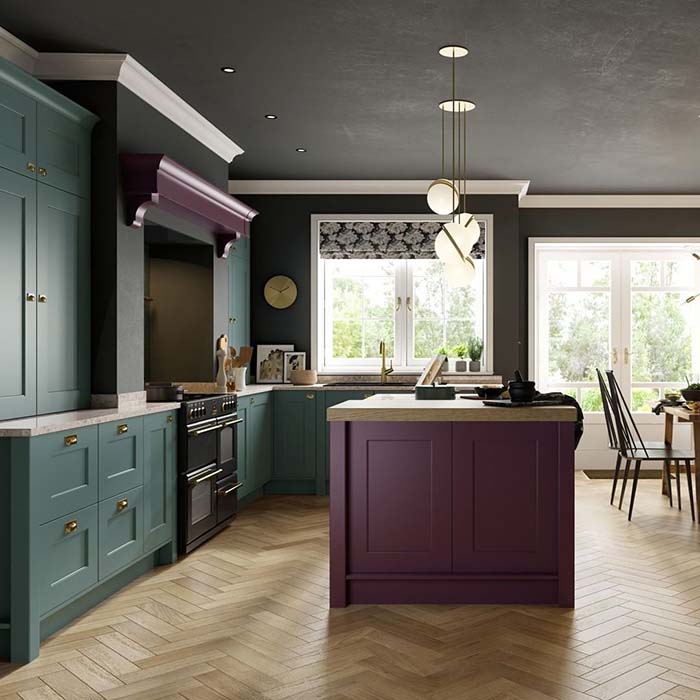 If you like color, consider this dramatic kitchen cabinet color idea. The black stove takes center stage. The island is painted purple and an accent piece over the range ties it to the heavy teal cabinets. The dark gray ceiling keeps the mood going.
It's an easy way to introduce more than one color to your kitchen cabinets. The light wood floor, with its herringbone pattern, keeps the room from feeling like a cave.
via Kitchen Stori
10. Greige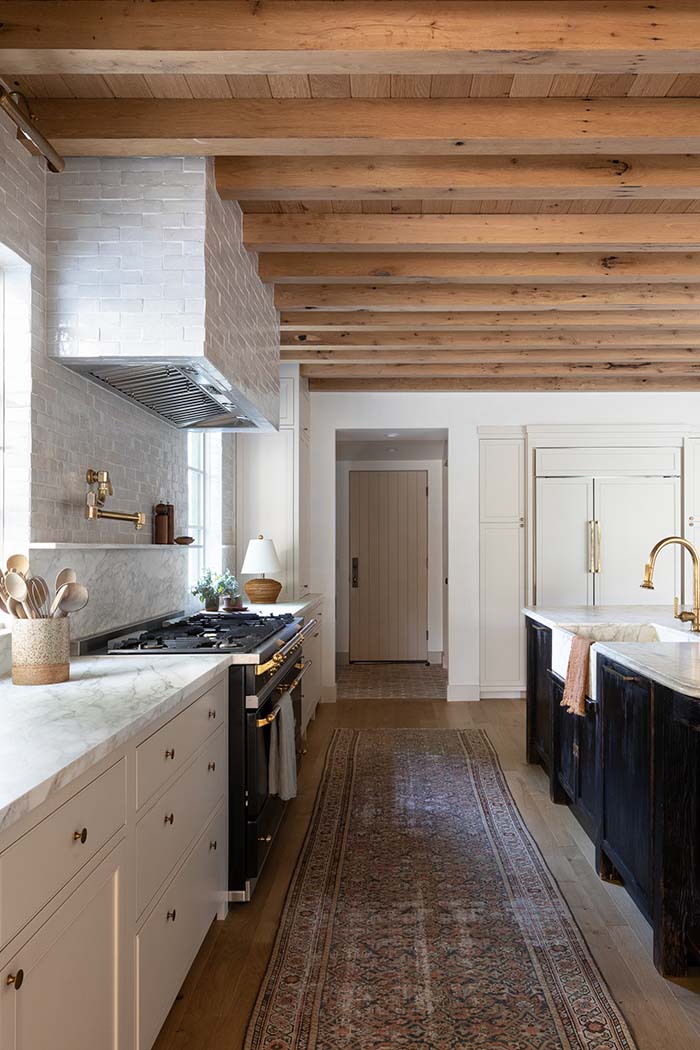 Greige is what you get when you combine the neutral tones of beige with the cool base of grey (or "gray" if you're from the United States). It's a soft hue that's embraced for its flexibility. It was not only used on the cabinets, it's also in the front of the refrigerator.
In a typical black and white kitchen, the marble countertops and black stainless steel appliances would feel urban. Greige softens the kitchen, allowing more textures to be introduced. We see that here in the beams, floor, and runner rug.
What could have been a modern contemporary kitchen becomes a stunning modern farmhouse kitchen with a textured brick backsplash and pot filler faucet.
via All Sort Of