Rustic cabinets bring instant character to your kitchen.
Features like a striking wood-grain pattern, vintage hardware, and distressed surfaces give your space a comfortable, lived-in look.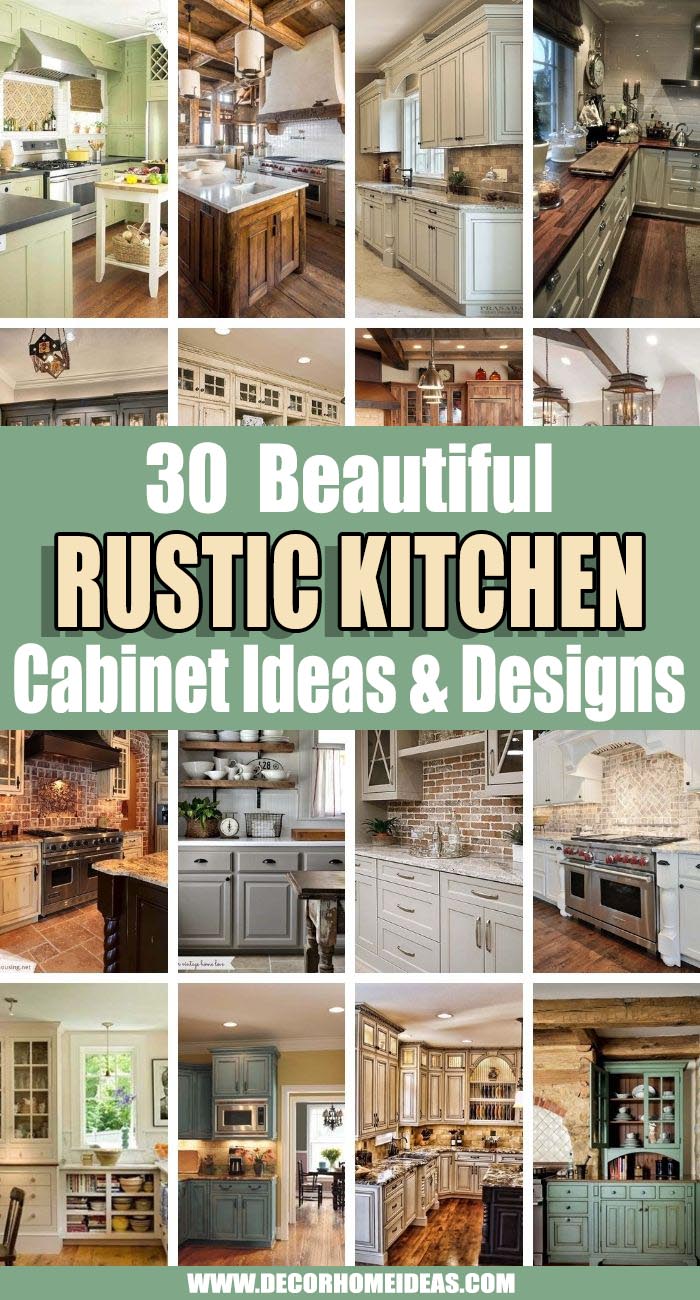 Since no two homes are quite the same, we've collected the best rustic kitchen cabinet ideas; they can help you identify the perfect details and styling for your space.
1. Raw Wood Armoire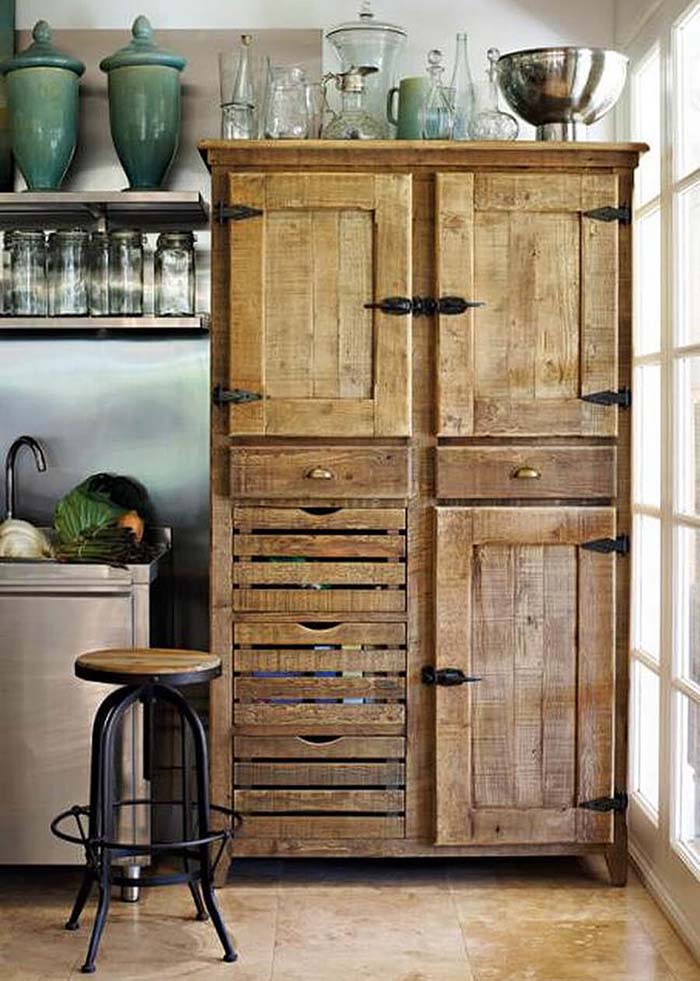 A freestanding cabinet is an easy way to add storage to your kitchen without costly construction projects.
This model features rough-cut wood in a distressed finish, creating the impression of a piece that's stood the test of time.
Gorgeous antique iron hardware adds an elegant twist.
2. Accent With Black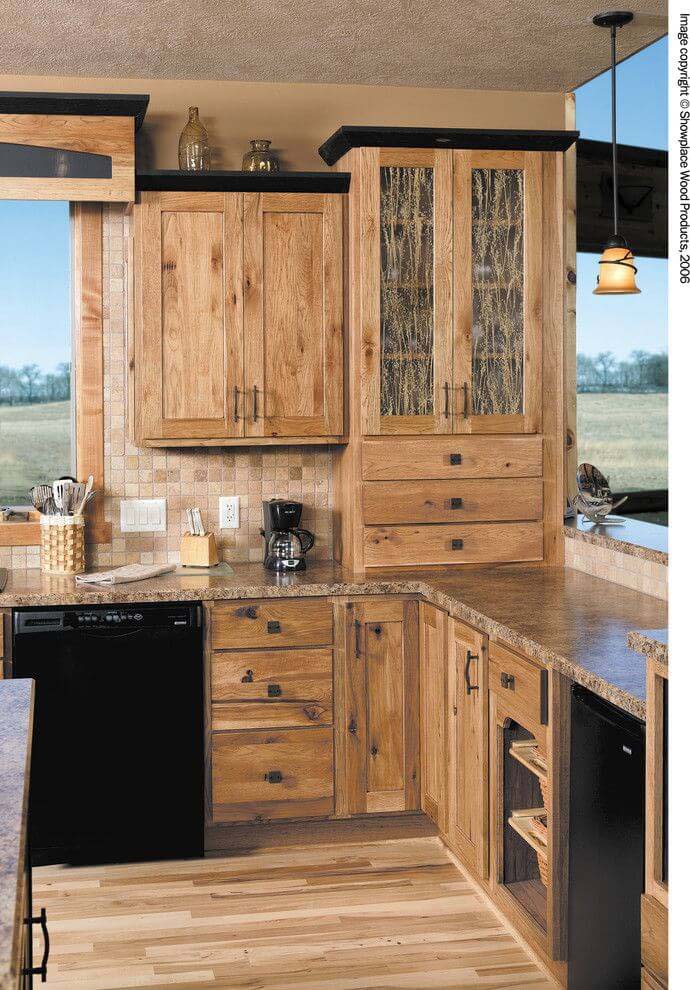 Are you going for a country-house vibe in your kitchen?
These cabinets effortlessly combine rustic and prairie style — the knotty wood evokes the feeling of a mountain cabin, while the wheat-printed glass panels mimic the plains outside your window.
Simple finishing keeps these statement cabinets looking modern.
3. Upscale Wood Farmhouse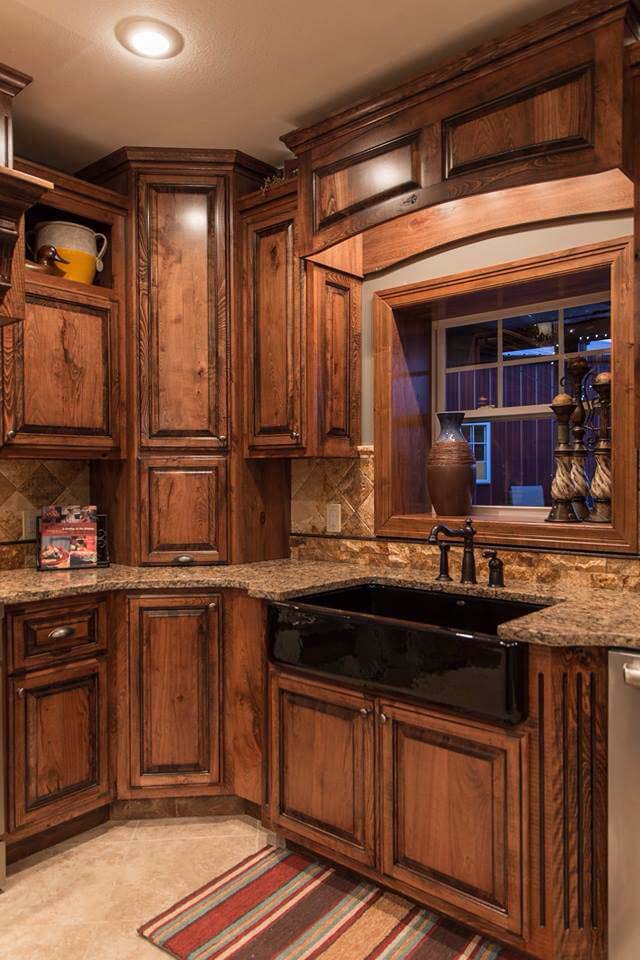 Bring your dreams of a mountain lodge to life with elegant Aspen-inspired cabinets.
The warm color, beveled doors, and crown molding work together to create a look that's both rustic and upscale.
Marble countertops and a dark-colored farmhouse sink bring out the rich colors in the wood.
4. Reclaimed Wood Kitchen Island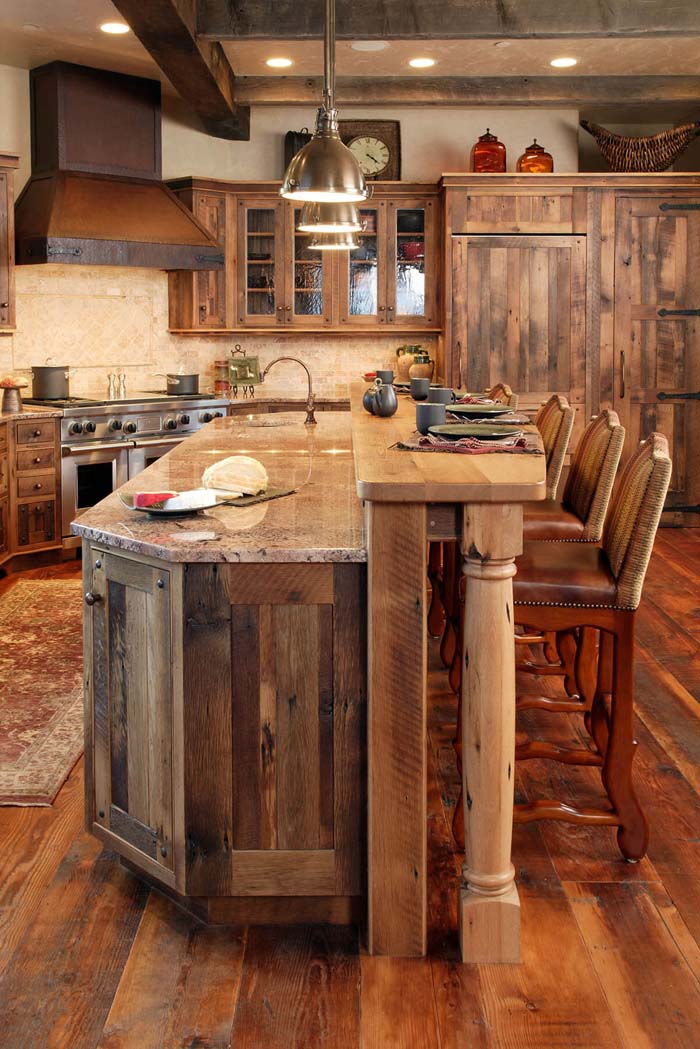 Do you love the look of reclaimed wood?
You'll love these kitchen cabinets, which are constructed entirely from rustic wood panels.
The look is reminiscent of a barn; the varying wood tones and rough-hewn textures keep this elegant kitchen feeling down to earth.
5. Rustic Elements In A Classic Kitchen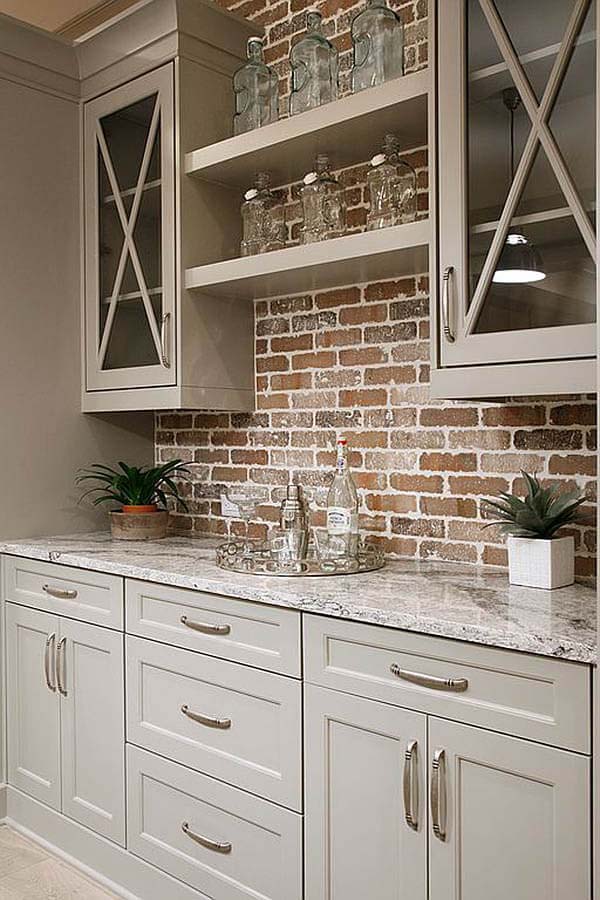 Create a sophisticated take on rustic style by recreating this Brooklyn home.
The soft grey cabinets are simple and elegant, set off perfectly by the barn-style X-shaped door details.
An exposed-brick backsplash brings together classic city and country style, adding just a hint of texture and grit.
6. Add Height With A Vertical Wood Backsplash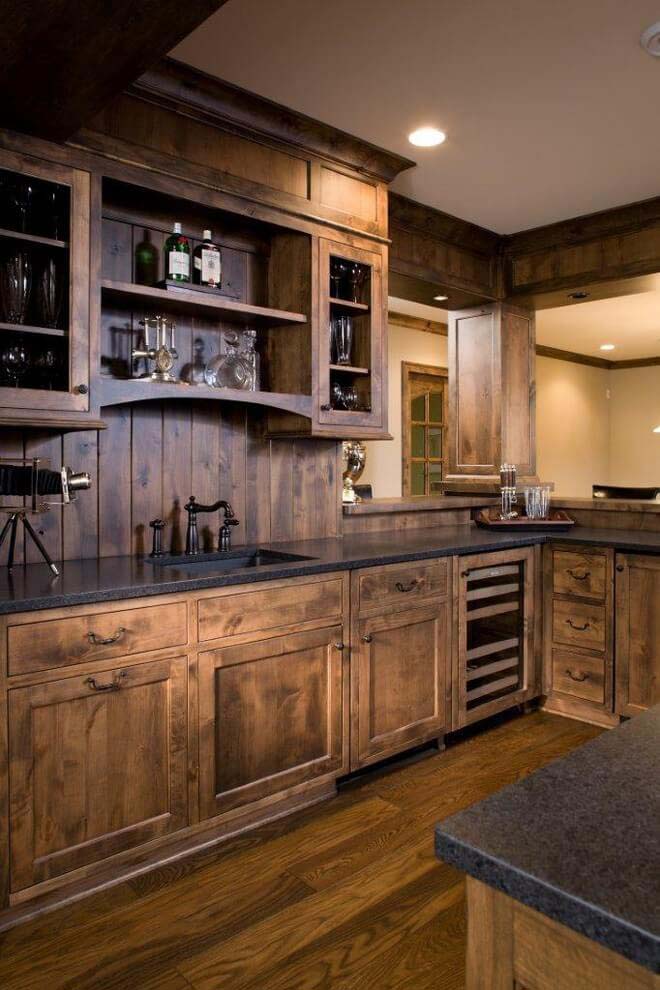 Wood panels get a bad rap, but this all-wood kitchen will make you a believer.
The knotty wood on the wall, cabinets, and floor establishes a vibe that's cozy and inviting.
Don't be surprised if your friends gravitate to the kitchen to chat during parties and family events.
via Houzz
7. Bright Cheery Farmhouse Kitchen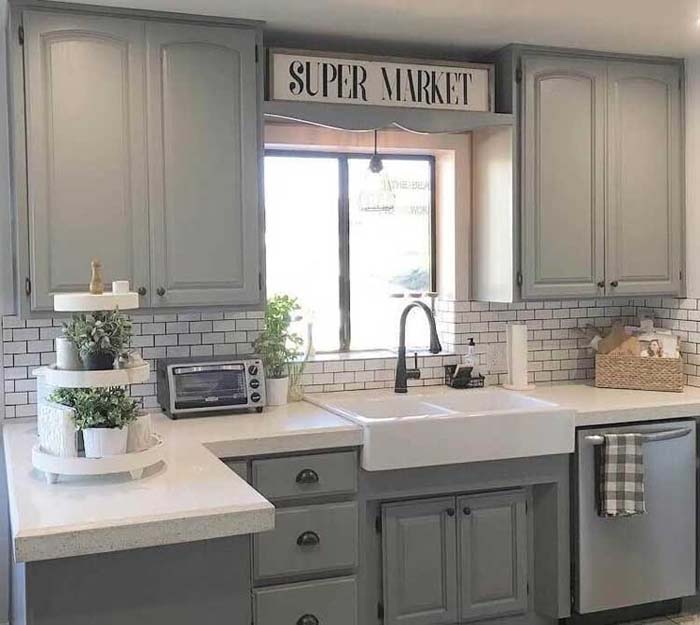 If you love the sweet, vintage look of a classic cottage, a few cans of pastel paint can do wonders in your kitchen.
Pale grey cabinets paired with a traditional white subway-tile backsplash and white counters create a light, bright feeling.
This look is particularly beautiful for a small kitchen; it makes the space feel bigger and more spacious.
8. Natural Wood Open Shelving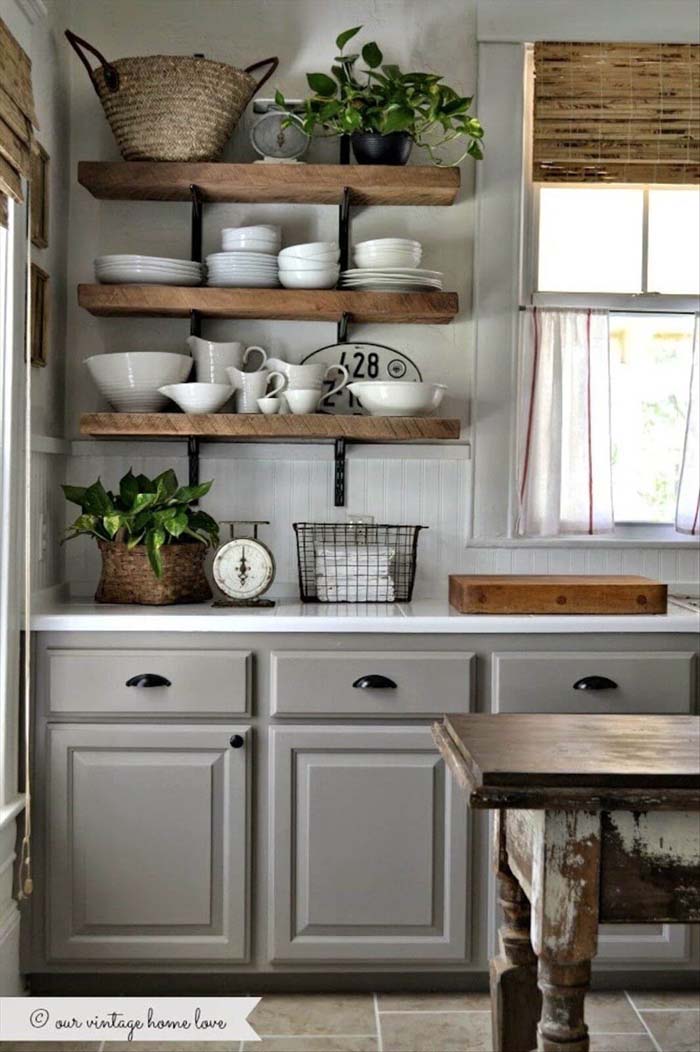 Here's another way to use grey in your kitchen — choose a shade that features warm undertones.
Combined with the rustic wood shelves and warm-colored tile floors, the cabinets look cozy and calming.
We love how the white backsplash, dishes, and the counter keeps the room feeling fresh.
9. Upcycled Antique Wood Cabinets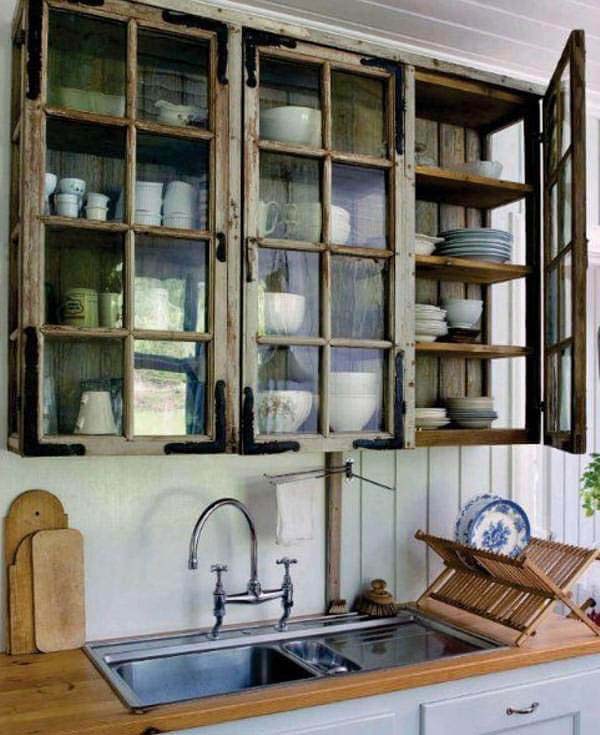 You'll feel like you've been transported to a fairytale each time you step into this kitchen.
The design is all about the upper cabinets — from the thin frames to the iron hardware and peeling paint, each detail looks straight out of a magical cottage in the forest.
Striking wood planks on the back panel push these cabinets to the next level.
10. A Seamless Blend Of Natural Textures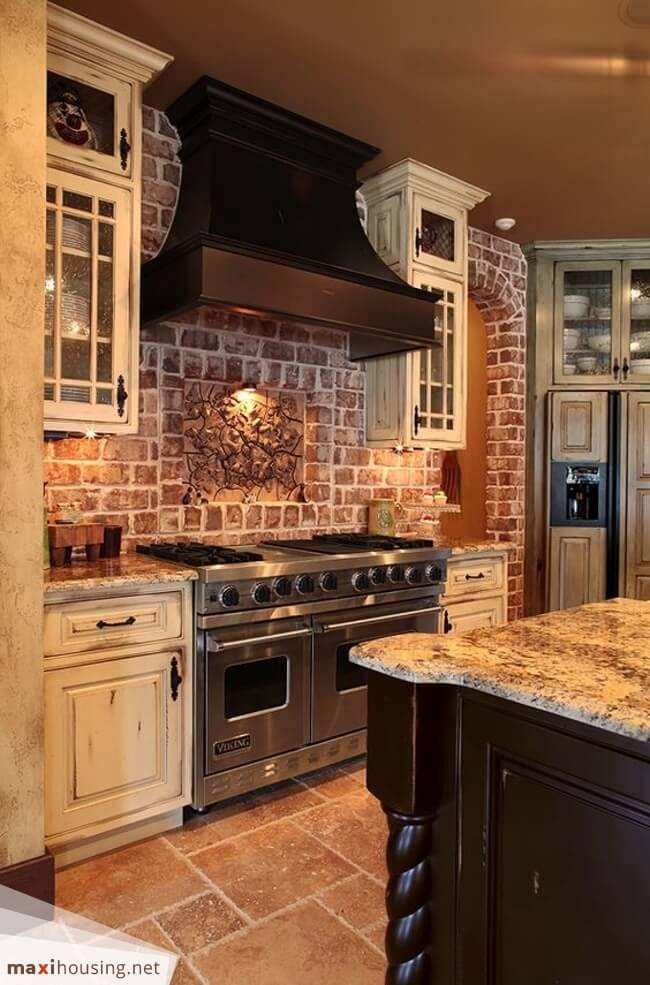 Elevated yet rustic, this earth-toned kitchen integrates multiple textures.
The cabinets artfully combine elegant trim and distressed paint, creating the perfect contrast with the bold brick backsplash.
Elsewhere in the room, dark wood, pastel paint, stone floors, and marble countertops work together to create a thrilling blend of color and pattern.
11. Display Ceramicware With Open Shelving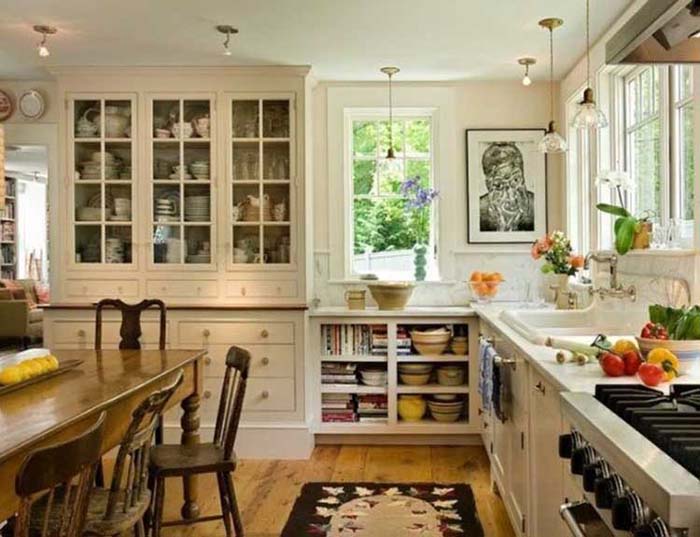 Show off a beautiful collection of china or vintage dishes with cabinets that feature glass doors.
The clear glass adds a rustic look to any kitchen because it's modeled after historic china cabinets.
Since this style exposes the contents of the cupboard, it's best used sparingly.
12. Dark Wood Elements Pop Against White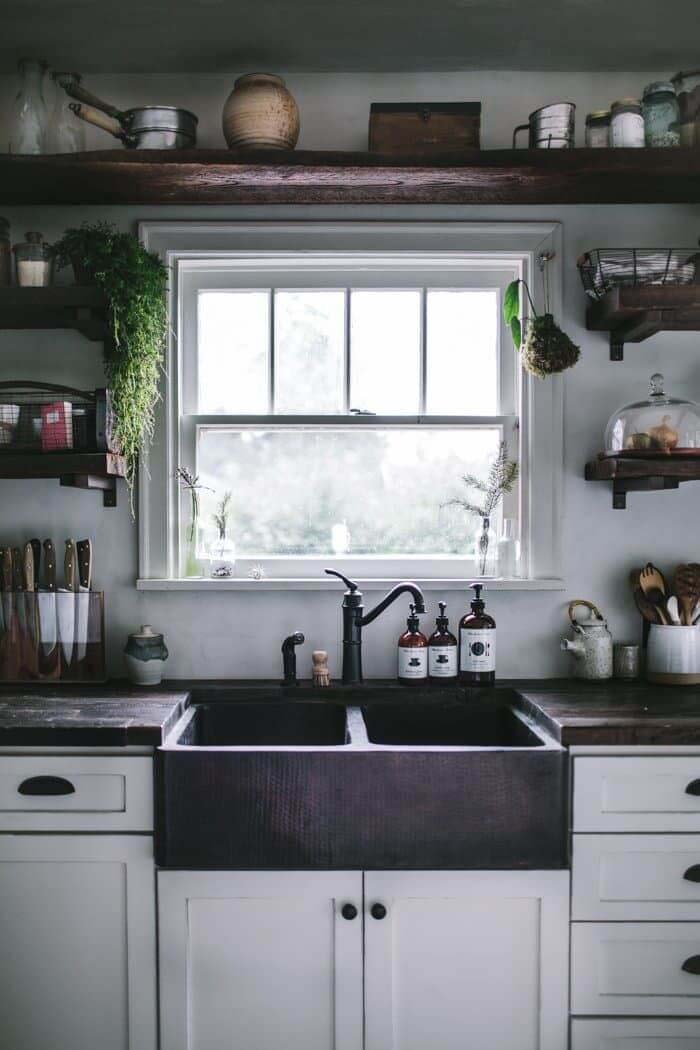 Inspired by the historic kitchens of the Hudson Valley, this cabinet style offers a nod to the past.
The beauty is in the combination of light and dark elements — white painted lower cabinets and walls create a stunning contrast with dark wood counters and shelves.
A deep-toned metal farmhouse sink integrates Old-World and contemporary styles.
via The Kitchn
13. Bold Statement French Country Cabinets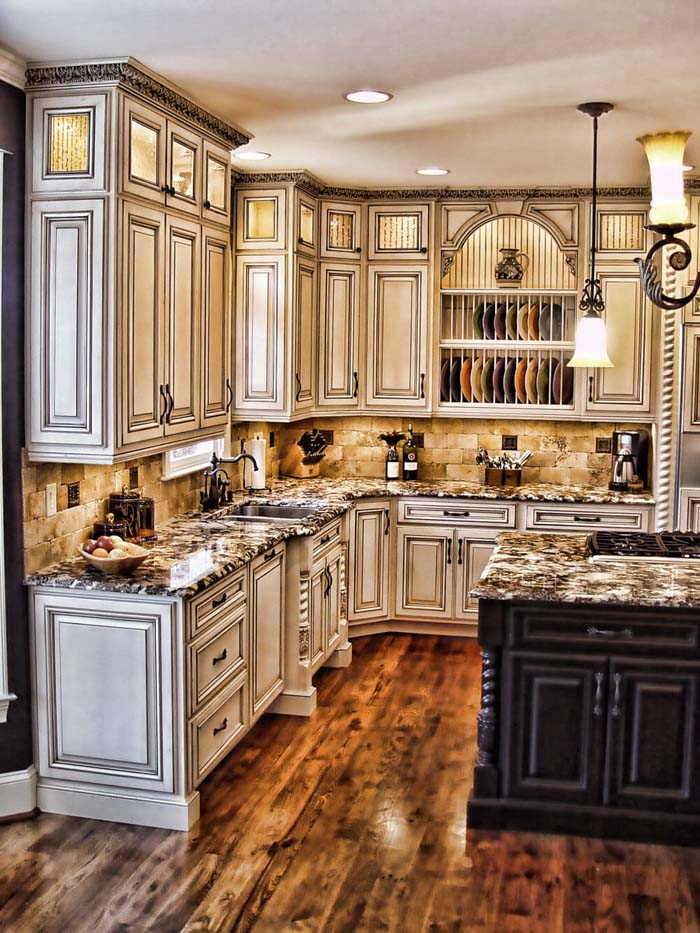 Do you love French Country homes?
These cabinets can bring your dream to life. This style features intricate detailing: decorative insets, striking bolding, and decorative carved accents.
To highlight the woodwork and set a rustic tone, the builder uses dark weathering on the edges.
via Wish I Had That
14. Add Rustic Charm to Blue With A Weathered Finish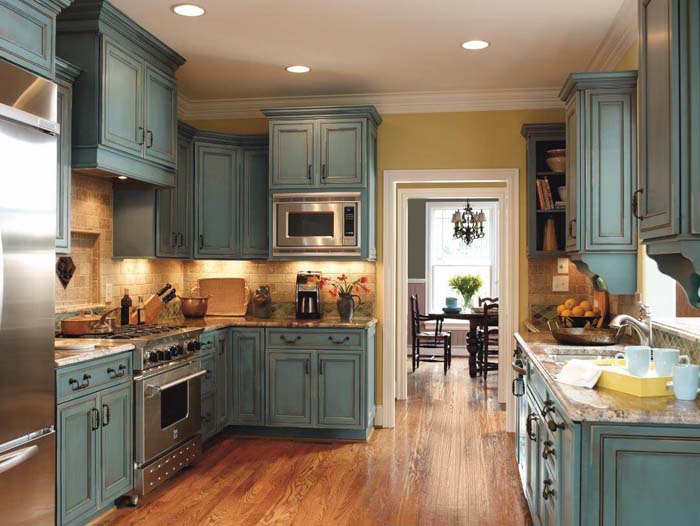 Fresh and fun, this Mediterranean blue kitchen shows you how to add color to a rustic space.
The bright blue paint showcases the trim and molding on the cabinets without overwhelming the room — the color is the true star of the show.
via JJM Homes
15. A Grand Study In Contrasts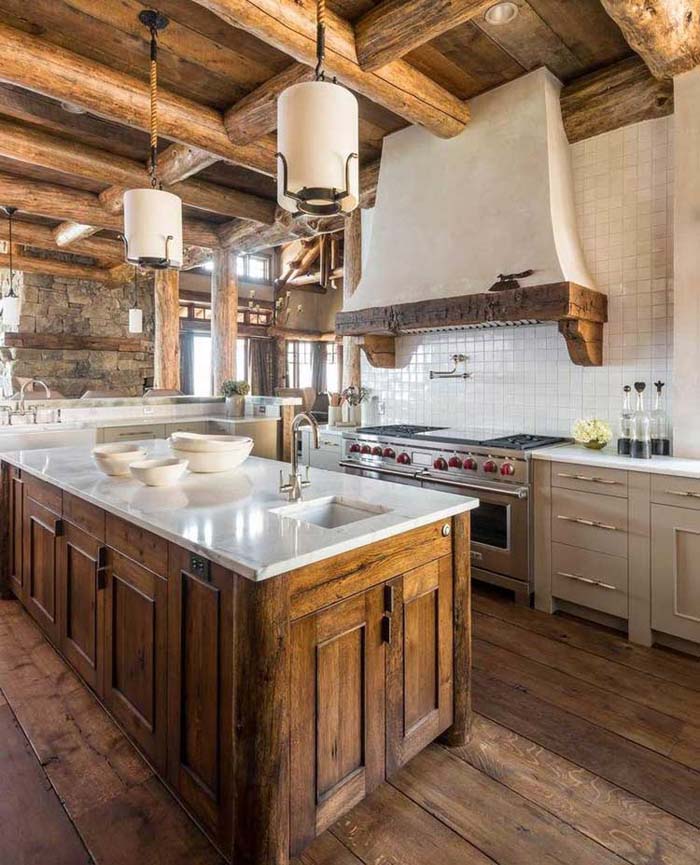 When you're designing a rustic kitchen, one of the challenges you face is finding a way to make the space feel updated.
This homeowner combines rough wood and smooth, contemporary cabinets for a look that feels balanced and beautiful.
16. Use Wood As A Feature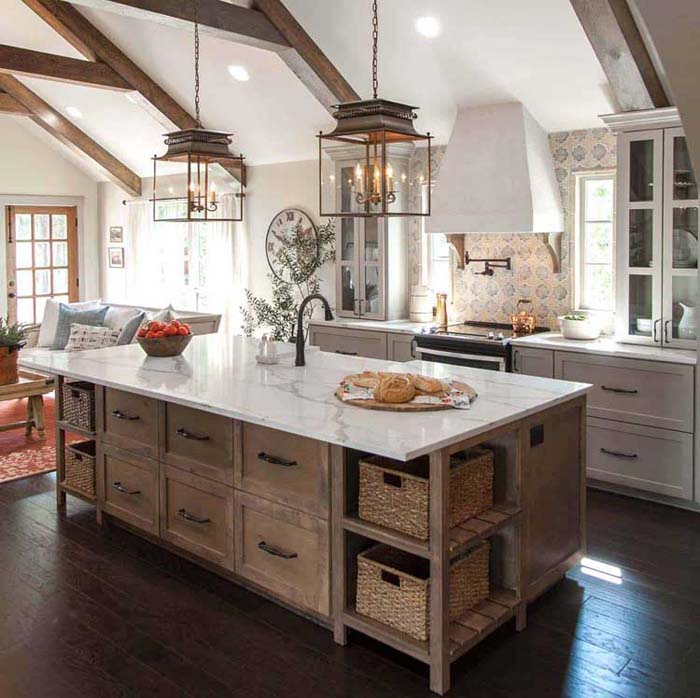 How do you incorporate rustic style when you love the clean lines of modern cabinetry?
One option is to use wood with a strong grain pattern.
The simple design highlights the grain, showing it off and complementing the smooth marble countertop.
17. Striking Rustic Grandeur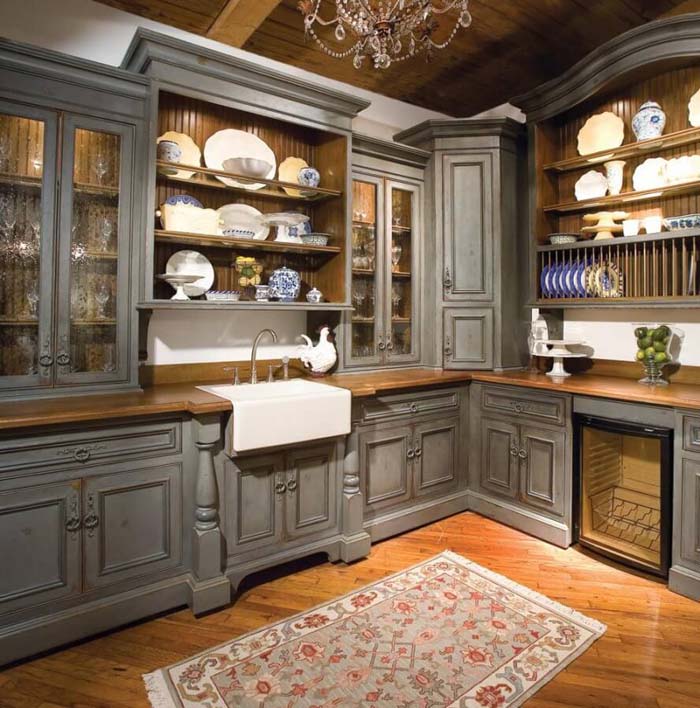 When you have a kitchen with tall ceilings, you can use color freely.
Here, shades of blue and grey draw attention to stunning rustic cabinets.
Unexpected historic details, including turned wooden sink pillars and arched molding, add an Old-World flair to your home.
via Dakota Kitchen
18. Brick Adds Interest to Crisp Traditional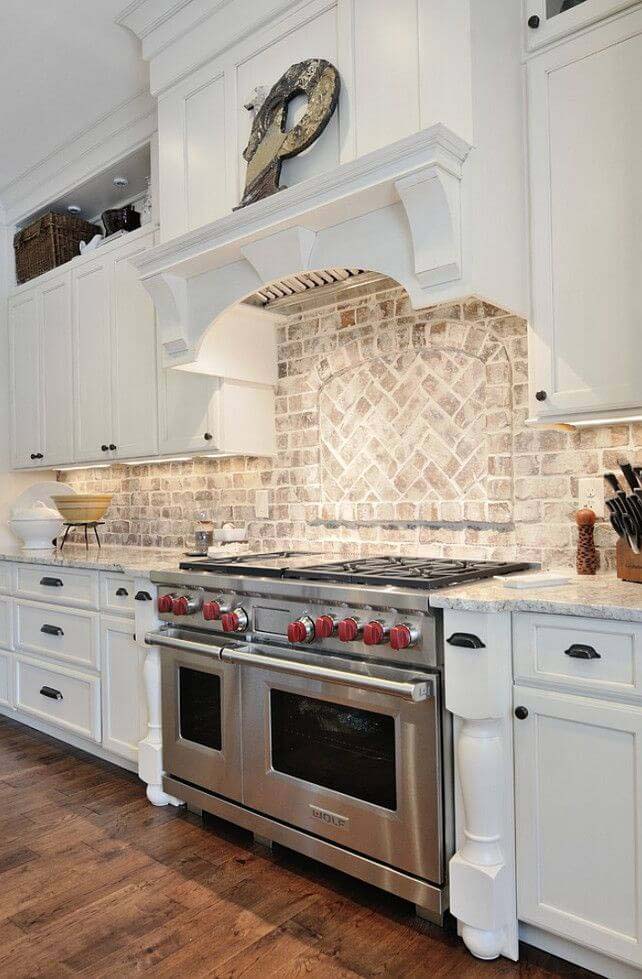 White cabinets with traditional Colonial detailing add depth and interest to this otherwise modern kitchen.
To keep the space from feeling too historic, use a bright, fresh coat of white paint.
We love the beautiful brick backsplash that ties the room together.
19. Show Off Exposed Brick With Open Shelving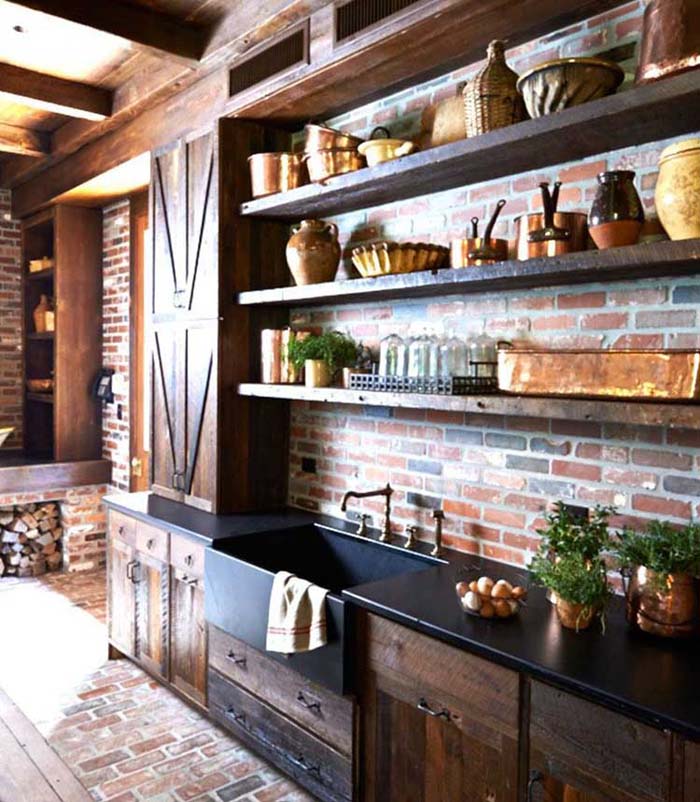 If you don't like the look of big, bulky cabinets, why not replace some or all of them with open shelving?
Thick wood shelves add rustic charm, all while showing off a beautiful collection of dishes, pots, or kitchenware.
Mix in a few closed cabinets to conceal clutter.
20. Highlight Stonework With Colorful Built Ins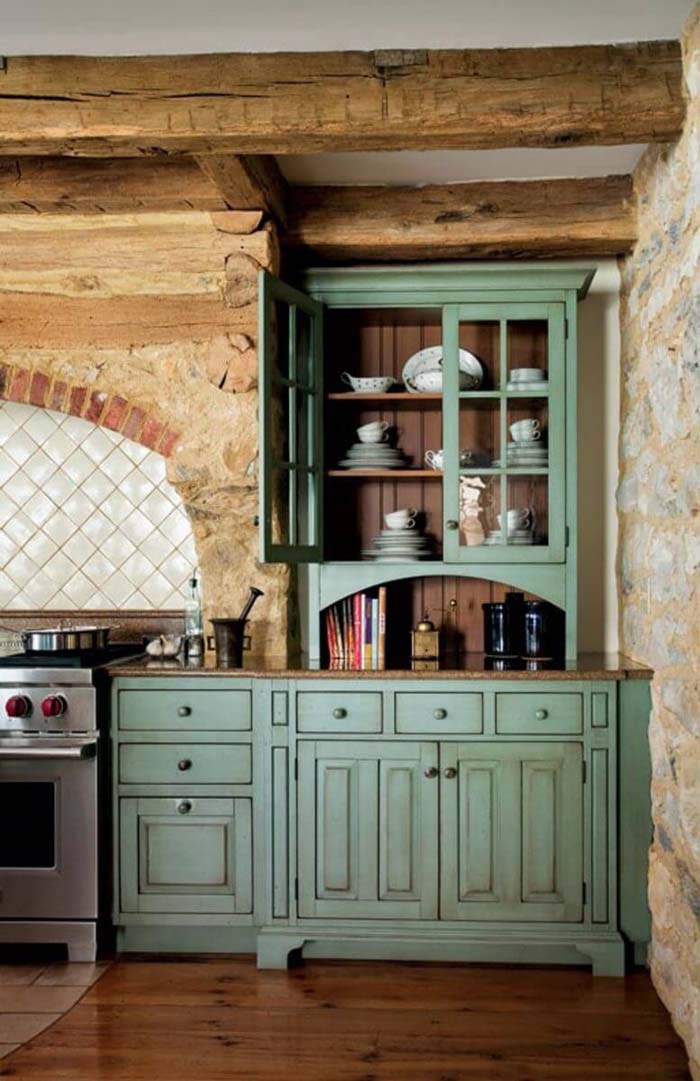 Dreaming of a vacation to France?
Bring classic French style to your home with pastel-colored cabinets.
The door detailing and hardware are simple but sophisticated, so your kitchen looks cute but not kitsch.
The result looks similar to an Old World patisserie on the streets of Paris.
21. Classic Country Style With Cheerful Blue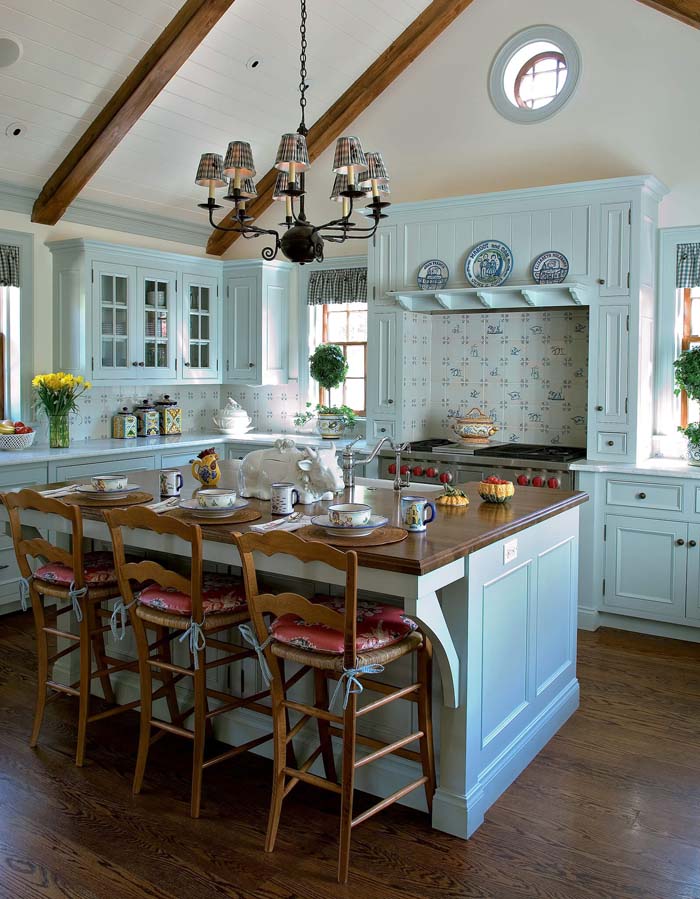 Your guests will gasp out loud when they walk into your robin's-egg blue kitchen.
This bright color is cheerful enough to make you smile but light enough to help your space feel airy.
Here, white walls, wooden accents, and a stunning tile backsplash balance the blue.
22. Garden Fresh Green Cabinets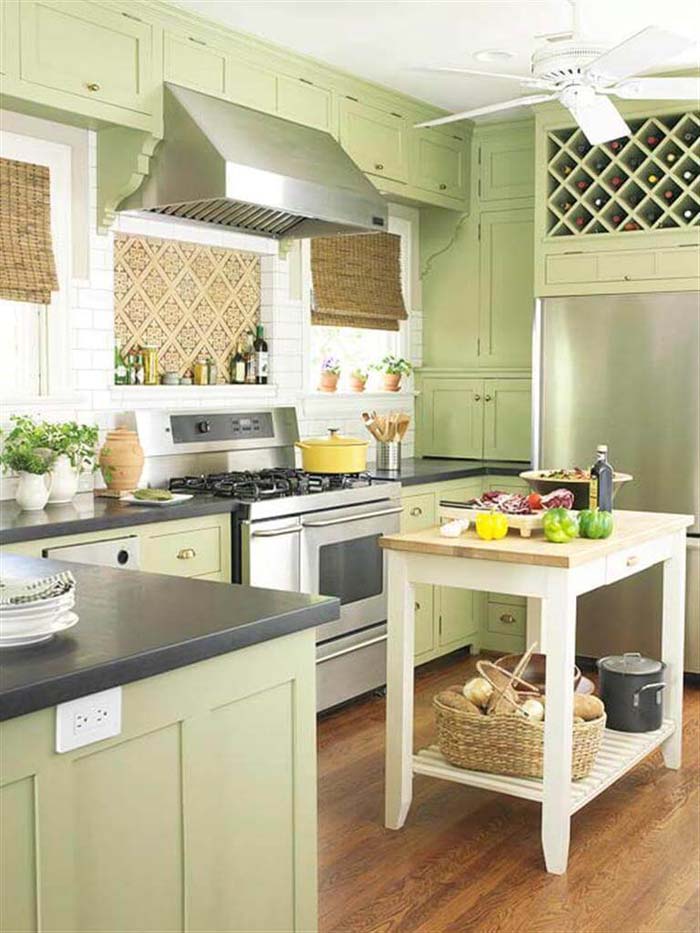 It's impossible not to feel happy when you walk into a kitchen with lime-green cabinets. In this kitchen, the homeowner maintains a rustic feeling with subtle accents, such as a built-in wine rack and vintage carved panels on either side of the vent hood.
23. Stunning Butcher Block Is Farmhouse Chic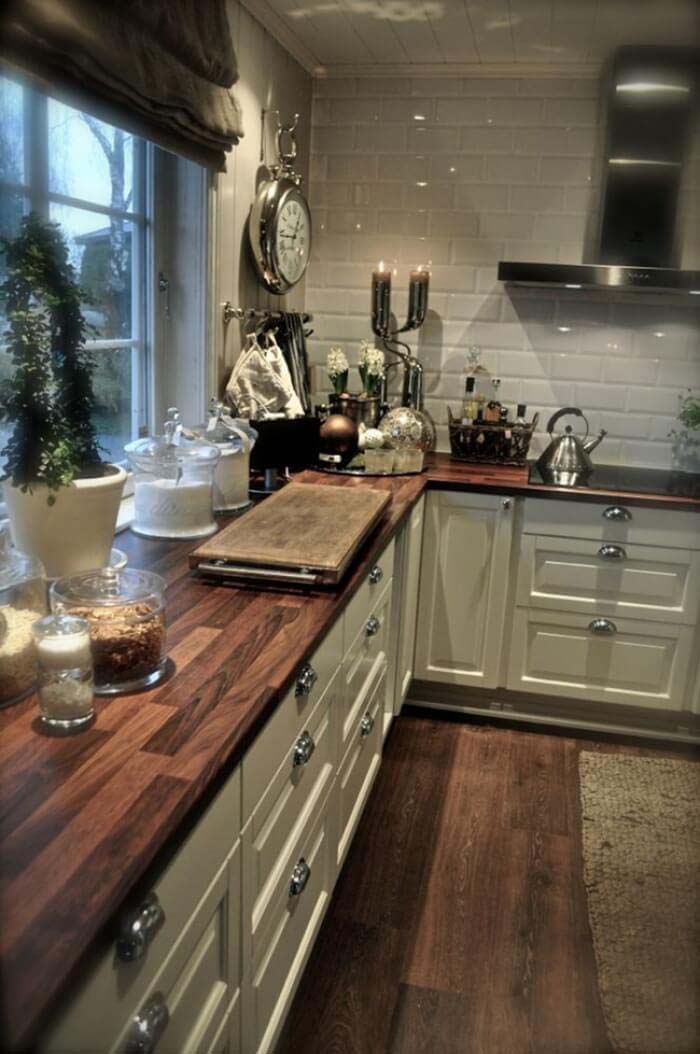 Rustic style and modern farmhouse decor meet in this beautiful bistro kitchen.
Recessed detailing and bold hardware elevate the simple white cabinets.
The real focal point is the paneled wooden countertop, which brings a sweet, rustic twist to the room.
24. Nordic Style Simplicity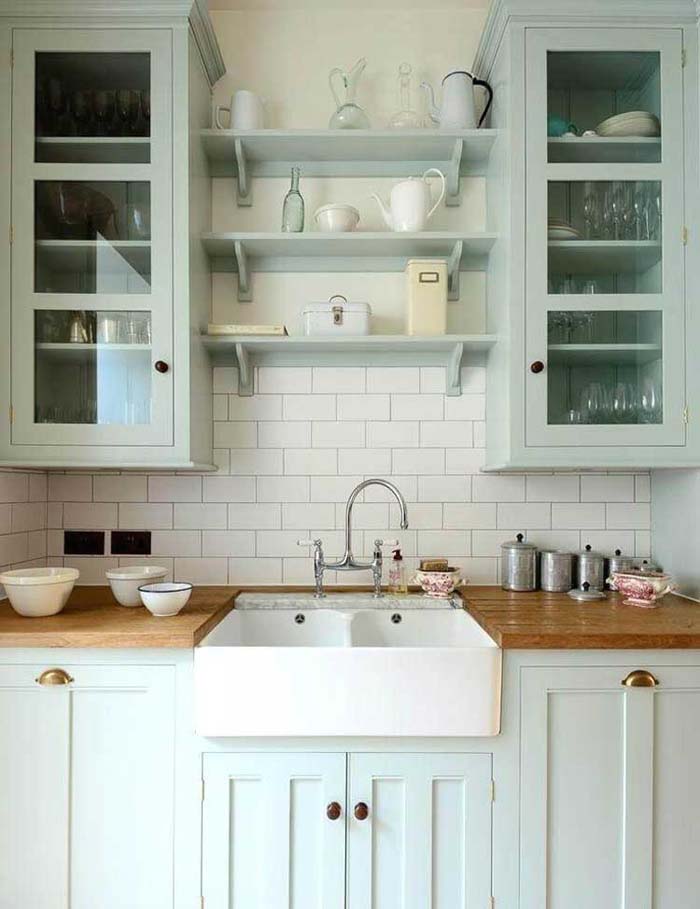 Scandinavian style is known for its enduring beauty — it's always in style, no matter the trend.
This kitchen mixes the clean lines of Nordic design with pale, cottage-inspired paint color for a result that's striking and timeless.
25. Bleached Wood Cottage Kitchen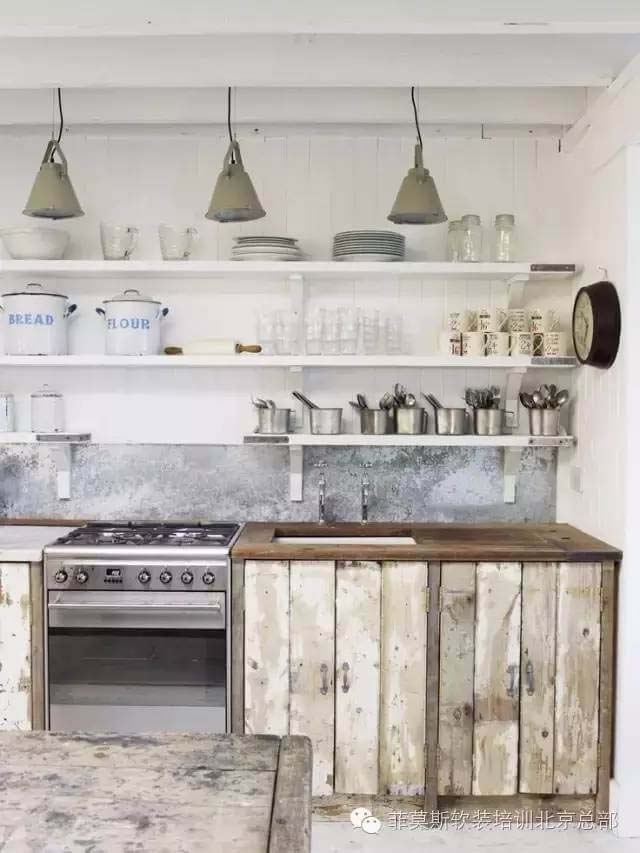 Create the feeling of a cottage on a Norwegian island with cabinets made from rustic wood planks.
Paired with a galvanized metal backsplash and whitewashed walls, they create a look that's simultaneously utilitarian and stylish.
For an extra pop of Scandi-chic design, use open shelves instead of traditional uppers.
26. Traditional Goes Rustic With Distressing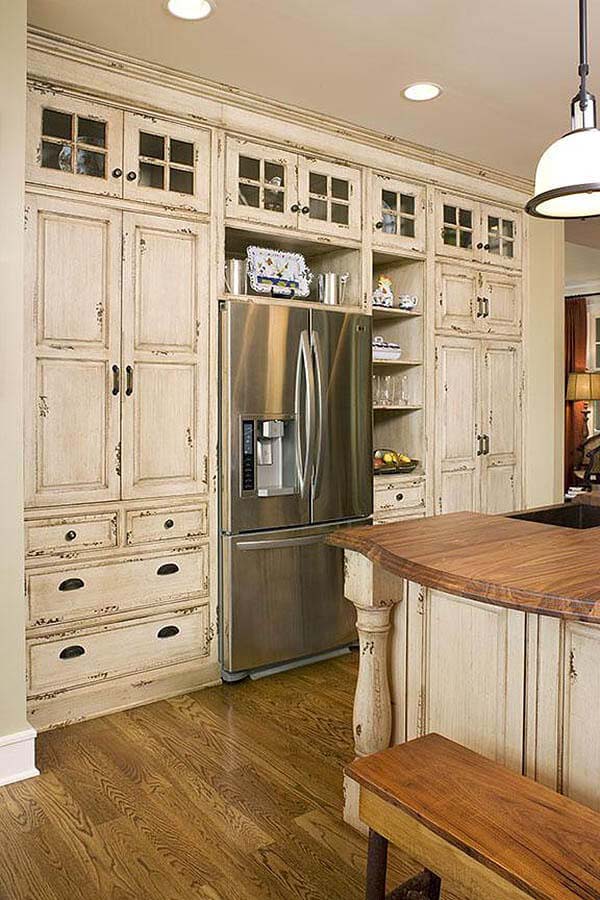 When you love organization, pantry-style cabinets are an excellent choice.
To help your floor-to-ceiling storage look more homey and rustic, consider foregoing a typical smooth paint job in favor of a shabby-chic distressed finish.
Peeling paint and faded areas soften the room, inviting family to sit and stay awhile.
27. Keep It Neutral With Gray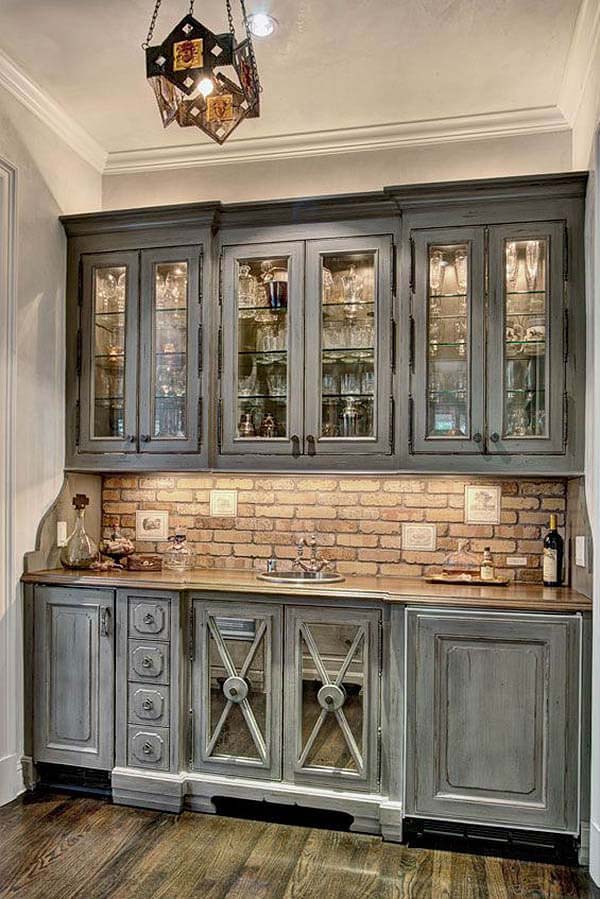 Slate grey is the perfect way to add depth and mystery to your rustic cabinets.
It's dark but not overwhelmingly, so your kitchen looks chic and stunning.
Gentle distressing brings texture and dimension.
28. A Masterful Mix Of Wood Textures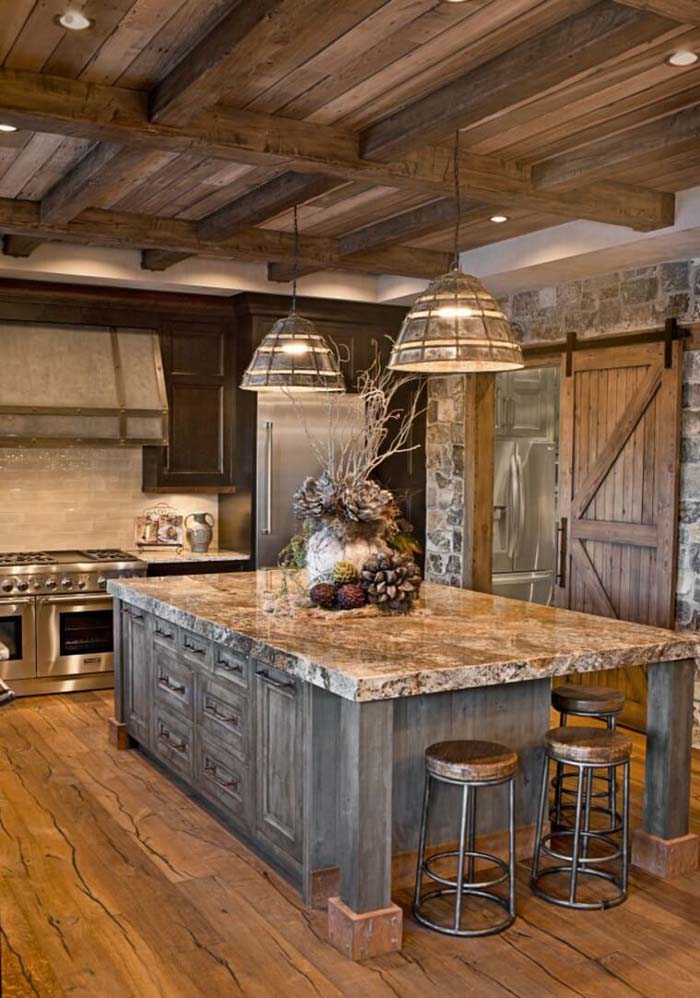 This rustic kitchen is a chef's dream. From a design perspective, it's a masterpiece of mixed materials.
A weathered wooden island, exposed beams, knotty barn doors, planked floors, and dark uppers work together beautifully.
The secret is the earthy color palette, which ties together the various patterns.
via Casa and Diseno
29. Let The Wood Be The Star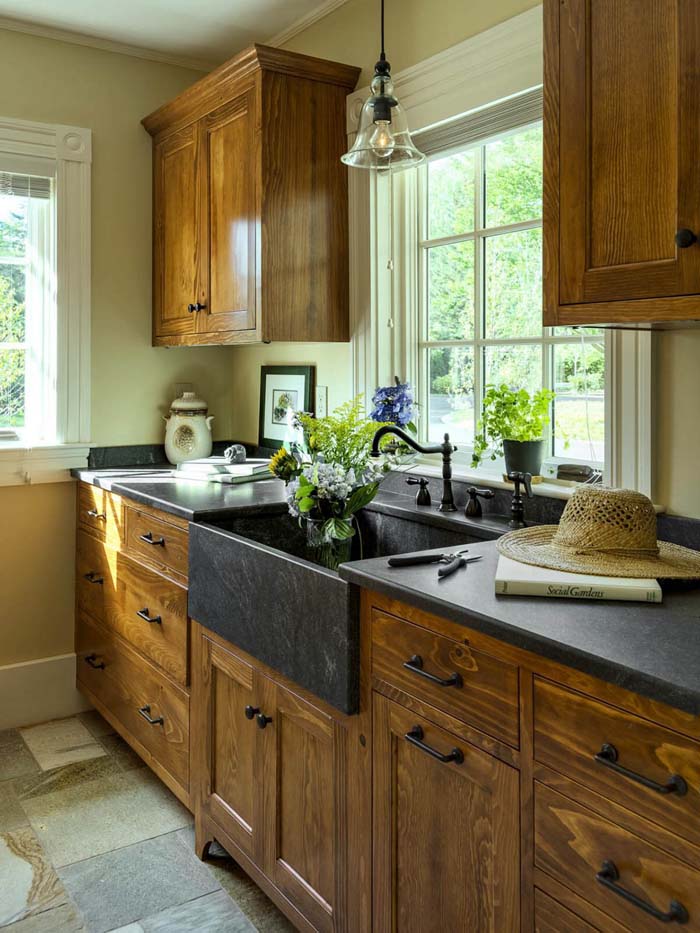 Do you crave simplicity? Integrate rustic style by making wooden cabinets the focal point of the room.
When you keep everything else low-key, the attention stays on the beautiful wood grain.
30. Integrate A Rustic Statement Piece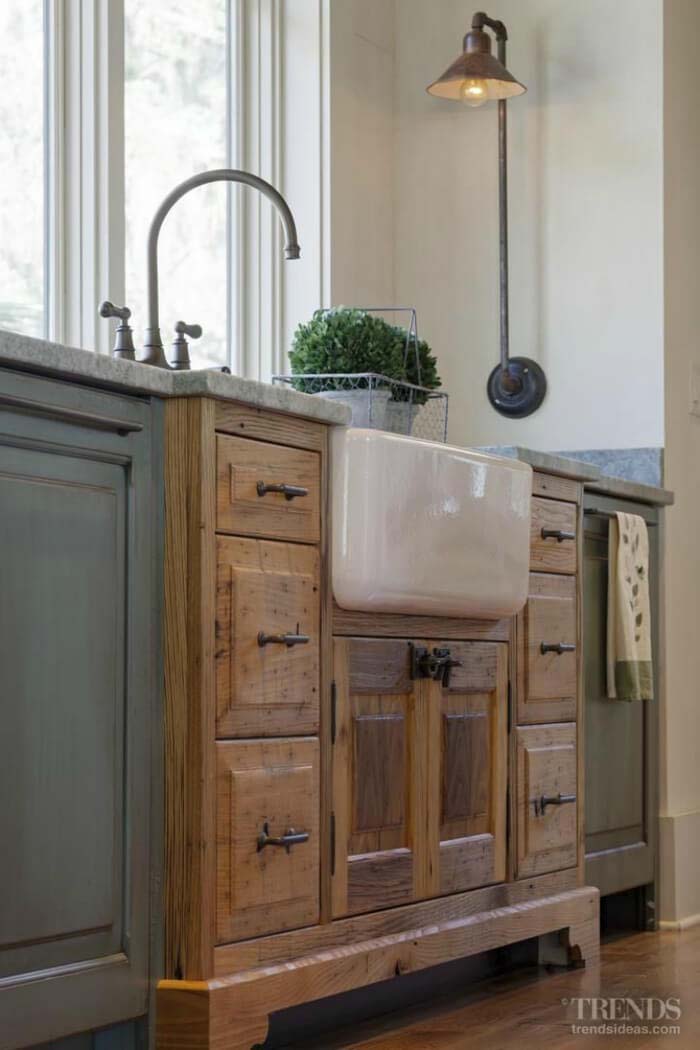 You'll feel like you've stepped into a Victorian butler's pantry when you replicate this gorgeous cabinet design.
Painted wood cabinets set off the rustic, knotty wood sink unit, creating a compelling blend of color and texture.
31. Layered Neutral Elegance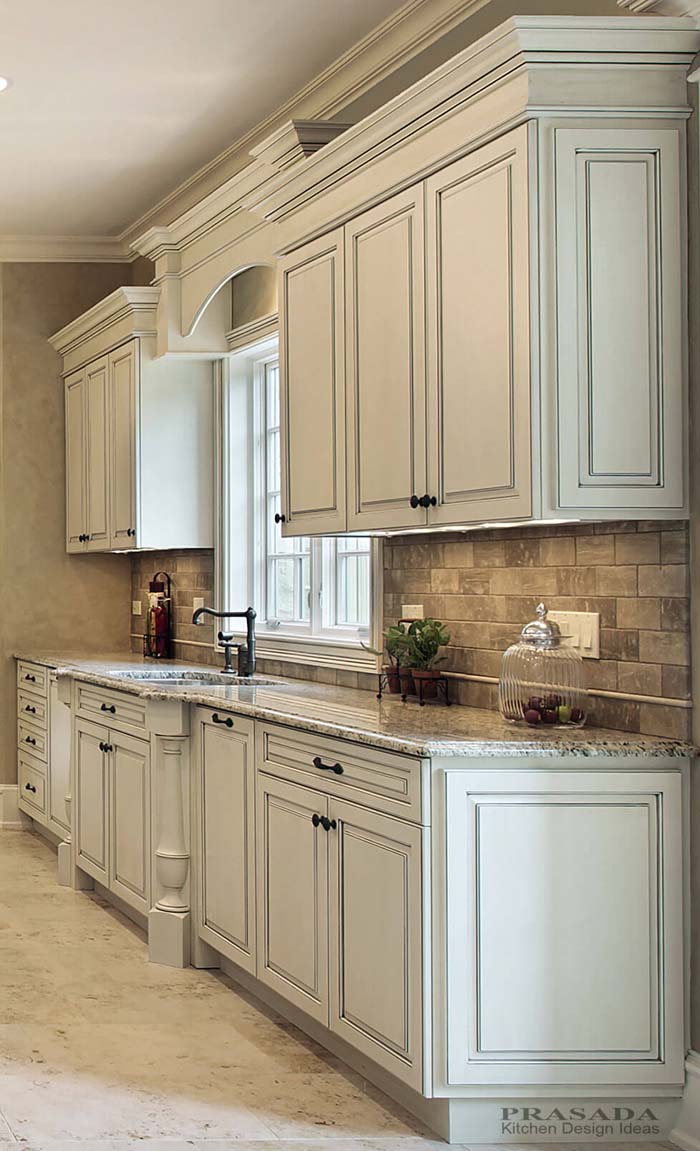 Show off your style with cabinets that are rustic but refined by following this homeowner's design inspiration.
It's all about restraint — the simple trim and soft color palette make unexpected details pop.