A pantry is a lifesaver in a busy kitchen, giving you a handy place to store food and supplies.
Pantry organization is the key to making the most of this valuable storage space; to help, we've collected some of our favorite pantry shelving ideas.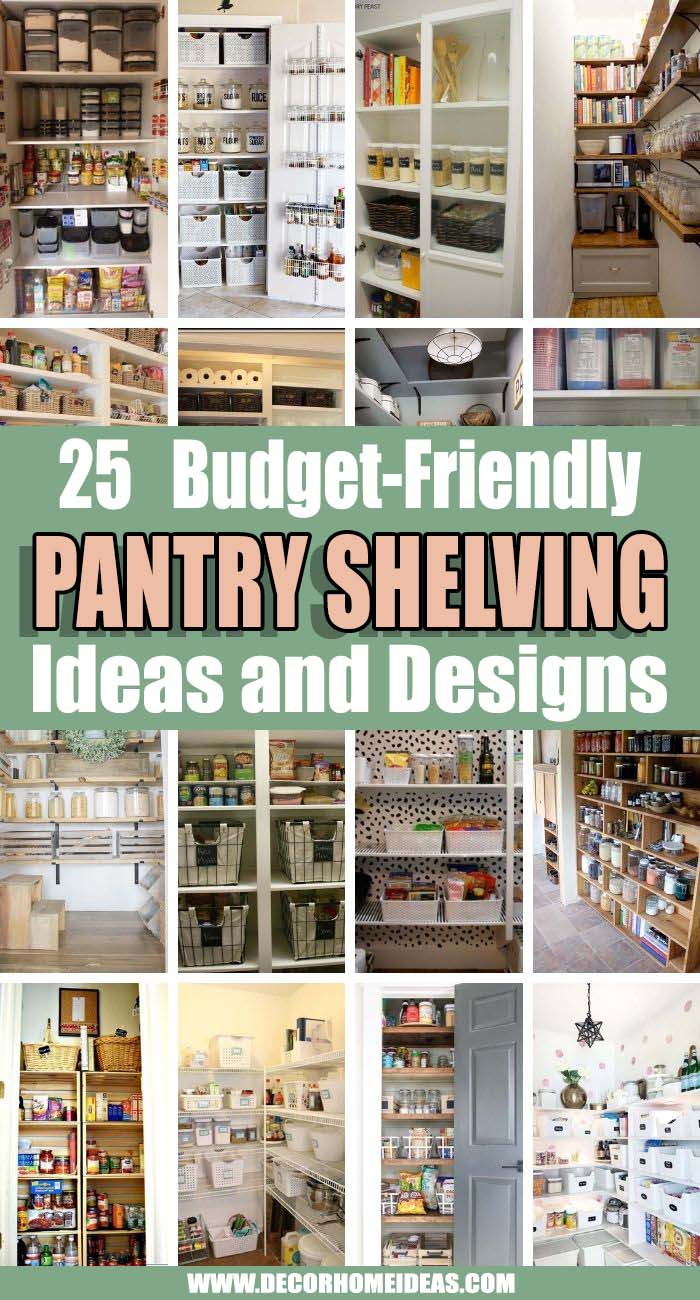 Whether you're bringing order to existing shelves or building a DIY shelving solution, these clever systems can help you turn a crowded pantry into a functional, easy-to-use area.
1. Upgrade Pantry Shelving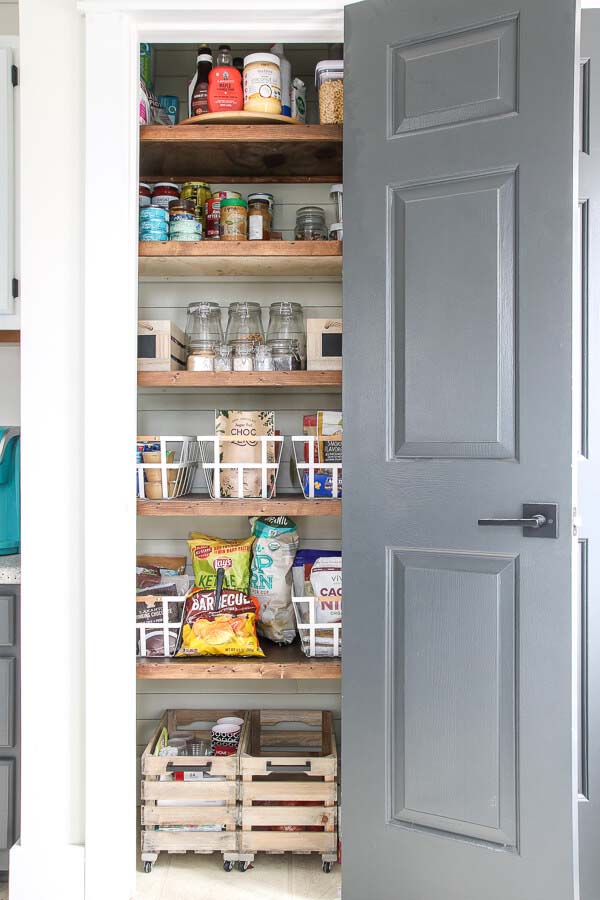 Take a look at the before and after photos of this pantry, and you'll be impressed by the difference.
Beautiful wooden shelves add a touch of style, and elegant metal baskets help maintain order on each shelf.
2. Organize Open Shelves With Baskets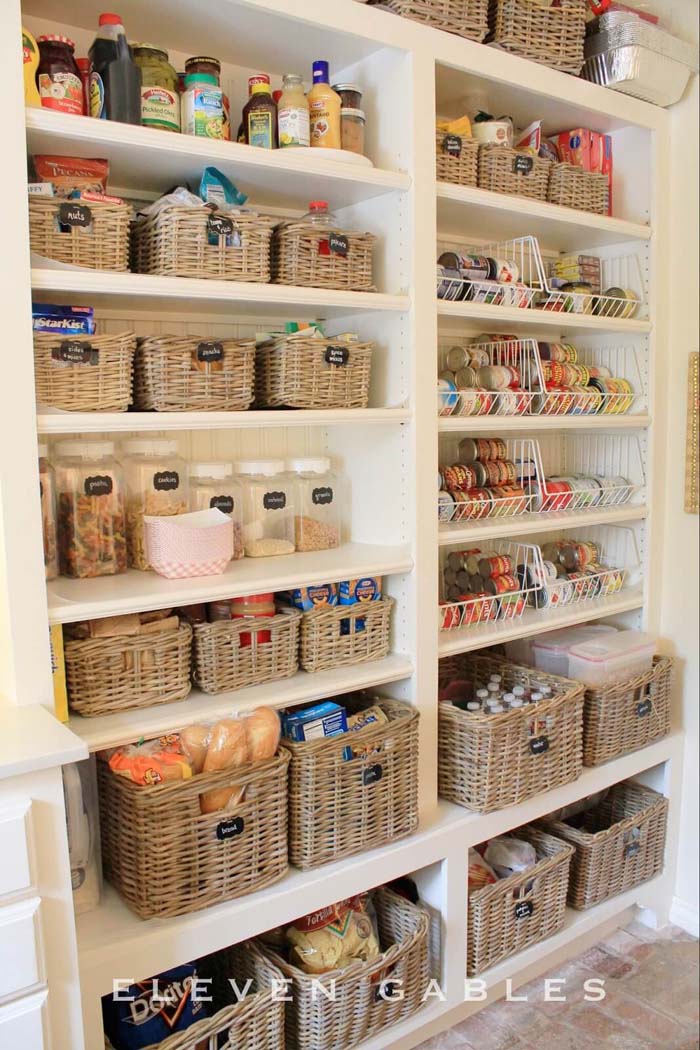 In many pantries, the open shelves are too big for food items, which tend to be small.
This pantry offers the perfect solution: by using bins, can baskets, dry-goods containers, and lazy Susans, you can organize your food and cut the clutter.
via Eleven Gables
3. DIY Pantry With Storage Crates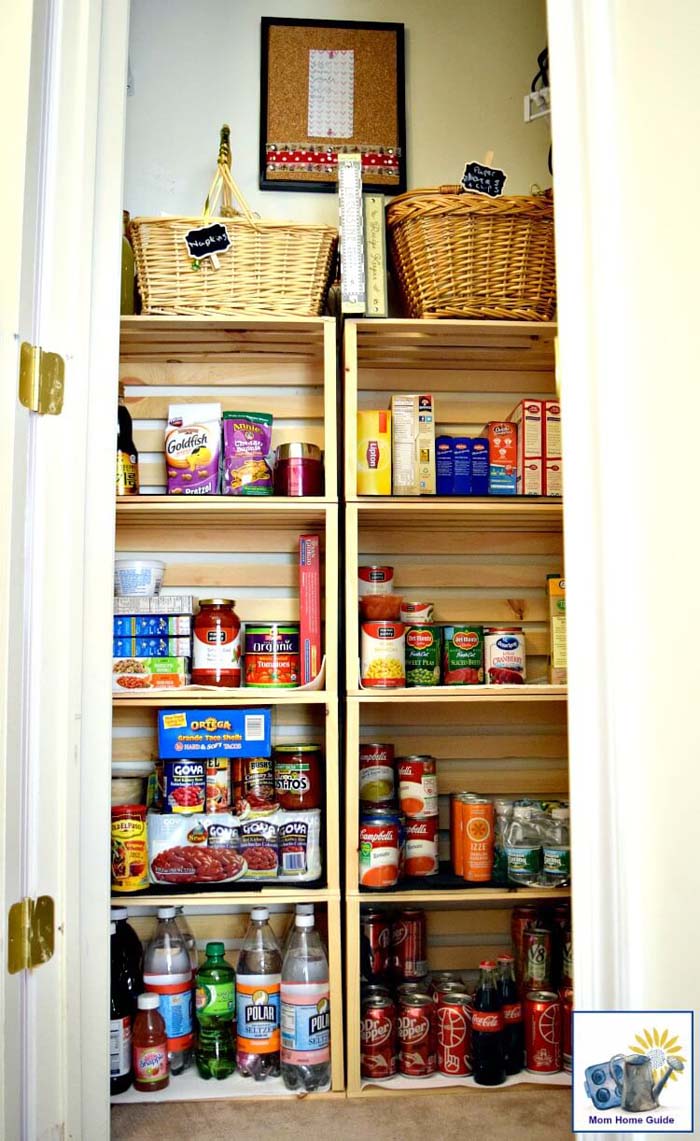 Turn any closet into a pantry with this creative shelving solution, which uses stacked wooden crates.
The natural color looks beautiful — plus, since the crates are freestanding, you don't need to drill holes in a rental or a temporary residence.
via Mom Home Guide
4. Maximize The Space With A Peg Board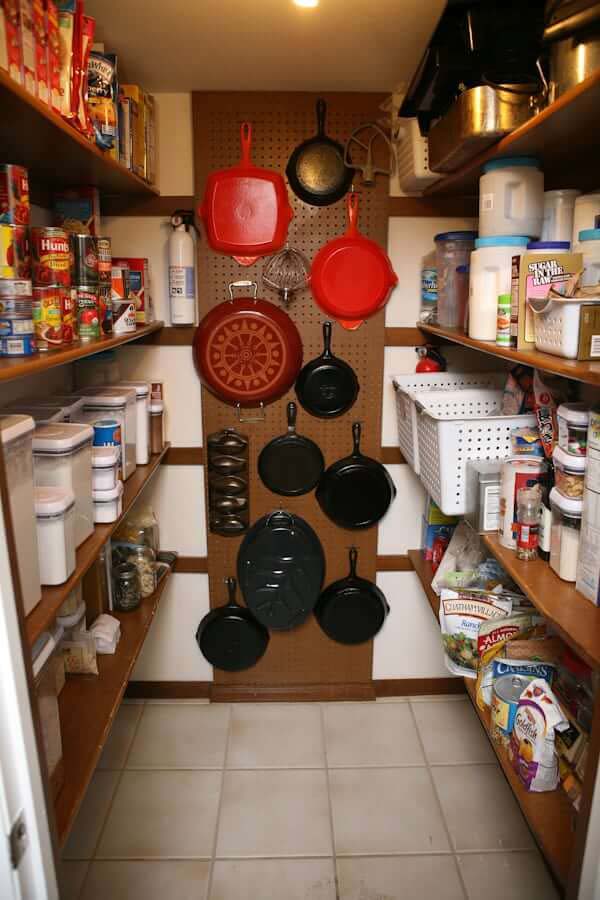 Do you need even more storage space than your pantry affords?
Turn an empty wall into a functional area with a pegboard panel.
Add hooks, and you can hang pots, pans, and other kitchen tools in an easy-to-reach spot.
via Eclectic Recipes
5. Vary Shelf Sizes With Custom Design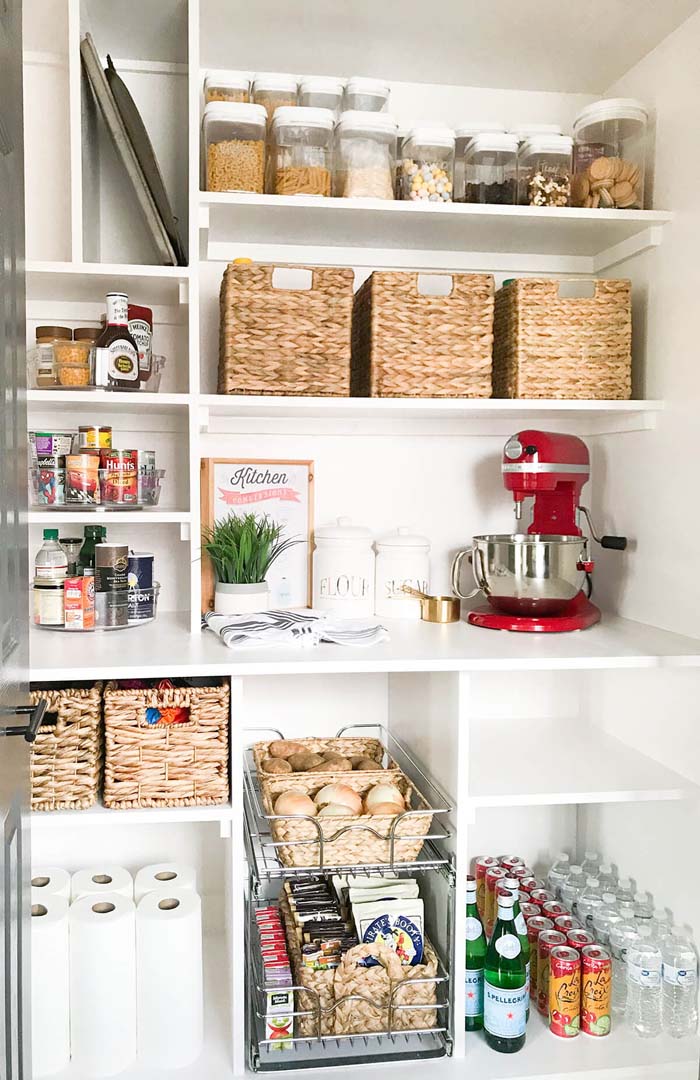 If you have a bit of wiggle room in your budget, custom shelving is a great way to maximize space.
Design a layout that fits your appliances, supplies, and food, and you can ensure that every inch of the pantry goes to good use.
6. Use The Side Walls Of A Deep Pantry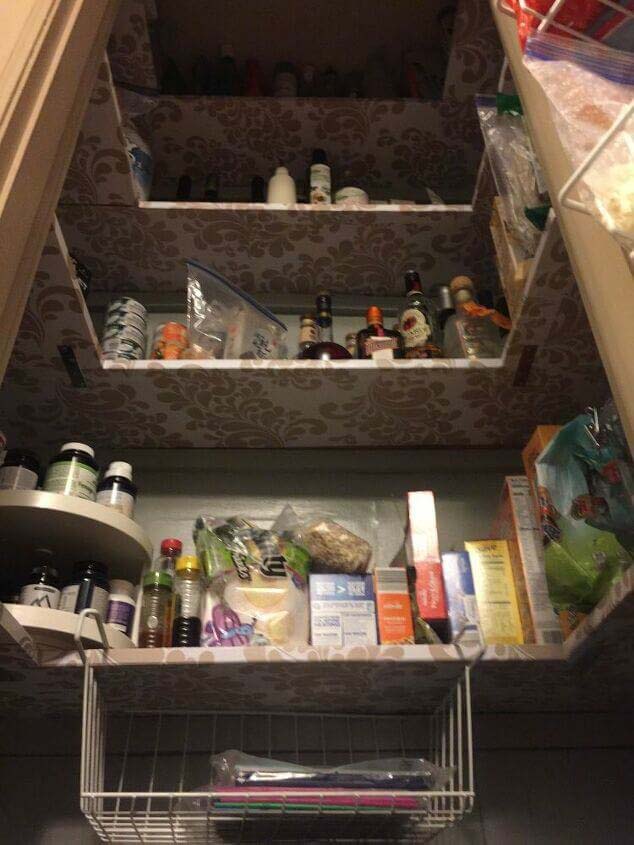 Sometimes, historic homes feature deep pantries with large shelves.
If you struggle to reach items in the back, consider converting the shelves to U-shaped wraparound versions.
It offers plenty of storage and allows you to find the item you need at a glance.
7. Non-Permanent Wire Shelving Offers Ample Storage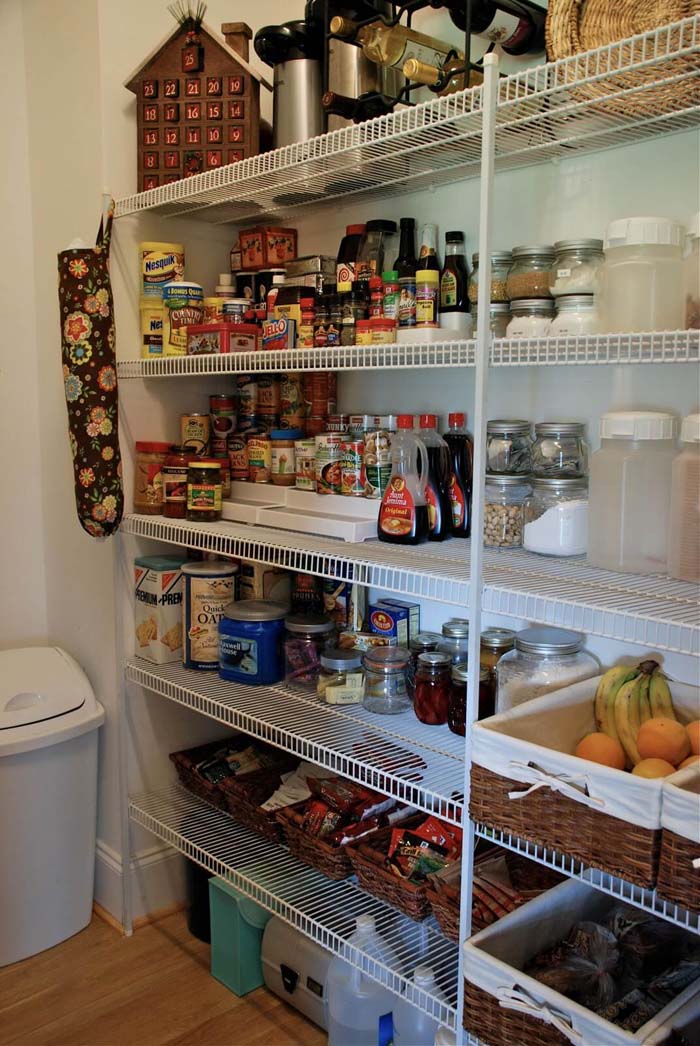 Transform a closet into a pantry with the help of affordable wire shelving.
The shelves are a breeze to install, and you can create a configuration that matches your family's food-storage needs.
via The Vintage Wren
8. Multi-Functional Built Ins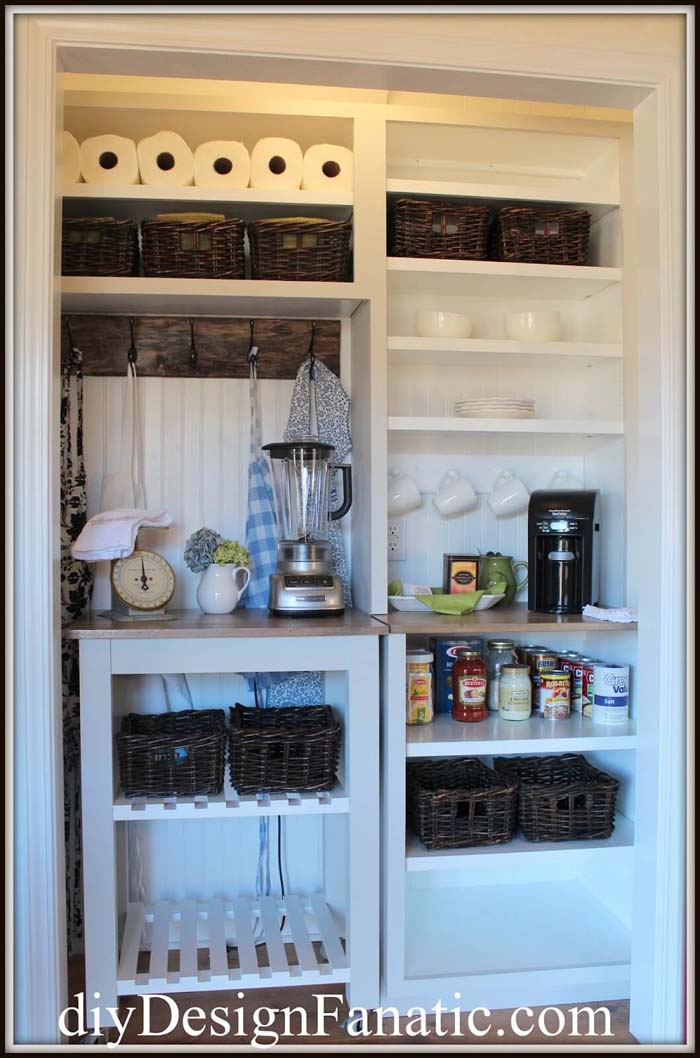 Custom shelving is an easy way to create a functional pantry.
We love this setup, which features a rolling cart that serves as both storage and an extra workspace; just roll it in and out as needed.
9. Add Fun Décor To An Overlooked Space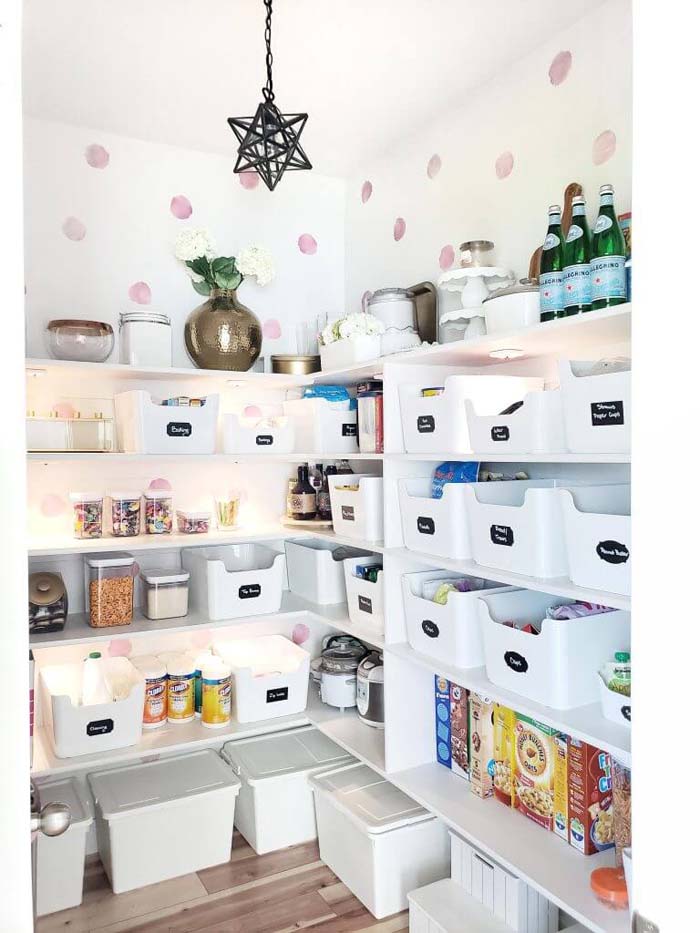 Who says a pantry can't be cute and useful?
This super-organized pantry uses labeled bins and clear containers to cut down on visual clutter.
As a finishing touch, the owner has added polka-dot walls and a sweet chandelier.
via Whitelane Decor
10. Organize Supplies In A Rustic Cabinet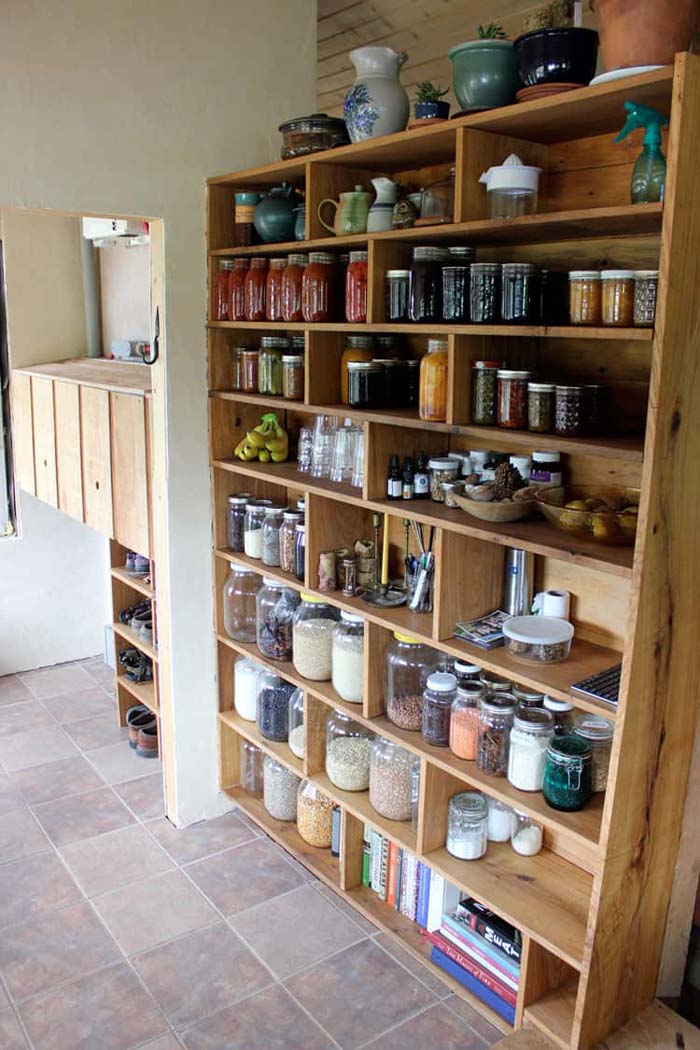 Pantries aren't just for big houses — here, a set of rustic shelves turns an empty wall into the perfect pantry.
To maintain the farmhouse vibe, use clear Mason jars to store preserves and dry goods. The key to an open pantry is order; straight lines and neat rows help the unit double as a work of art.
via Homestead Honey
11. Labeled Baskets Keep It Clean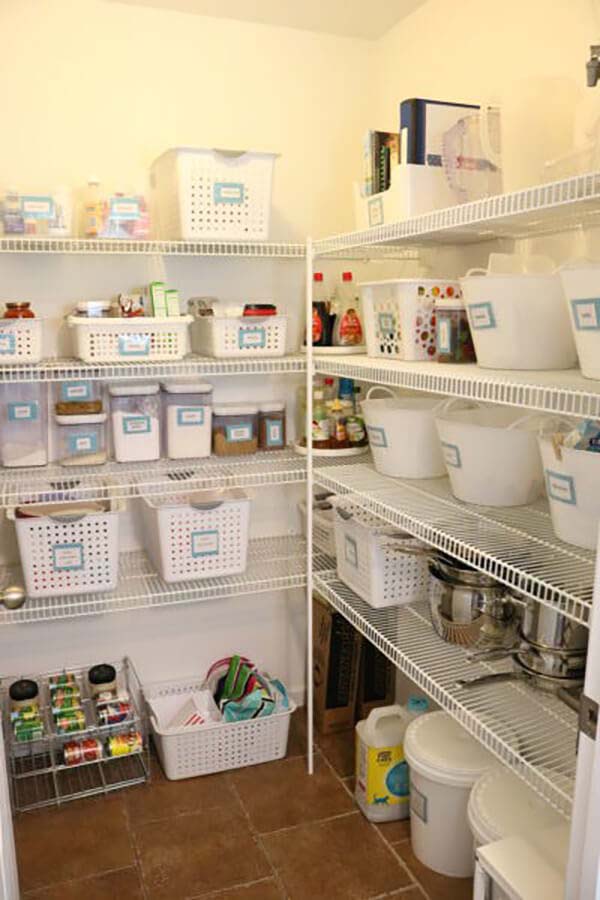 Find the ingredients and supplies you need in seconds by grouping them into categories.
You might put all of your canned goods in one section and all of your baking supplies in another.
Bins and labels keep everything separate and easy to identify, so your kids can find a snack or retrieve an item for you with ease.
via The Gold Project
12. Unboxed Food Items Improve Visibility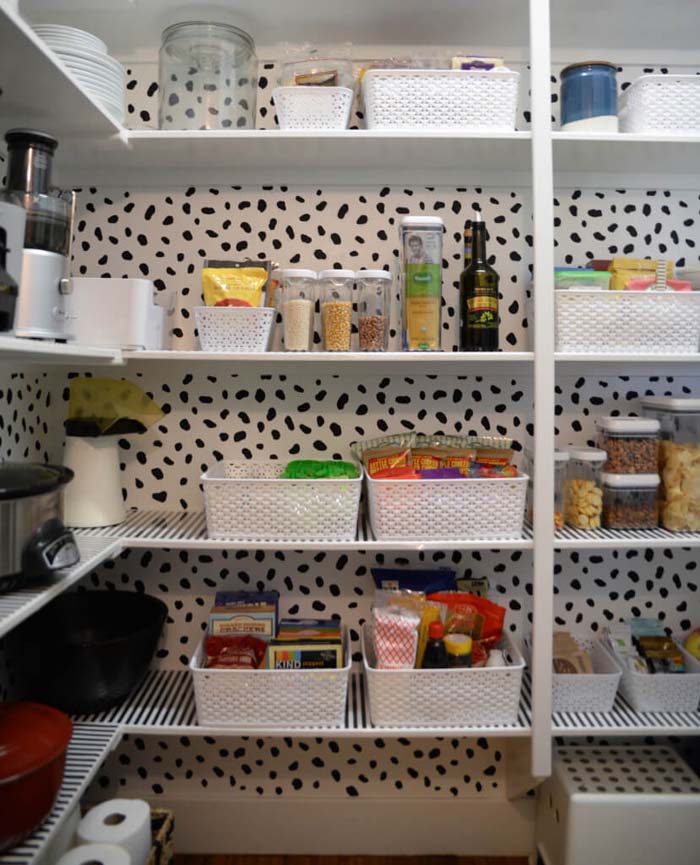 You'll smile every time you walk into this cute pantry; the patterned wallpaper adds a fun, fresh look.
To organize the large space, use floor-to ceiling shelves and plenty of plastic bins.
They look great and help keep foods in order, so you never need to hunt through stacks of bags or boxes.
via Wills Casa
13. Clear Organizers With Labels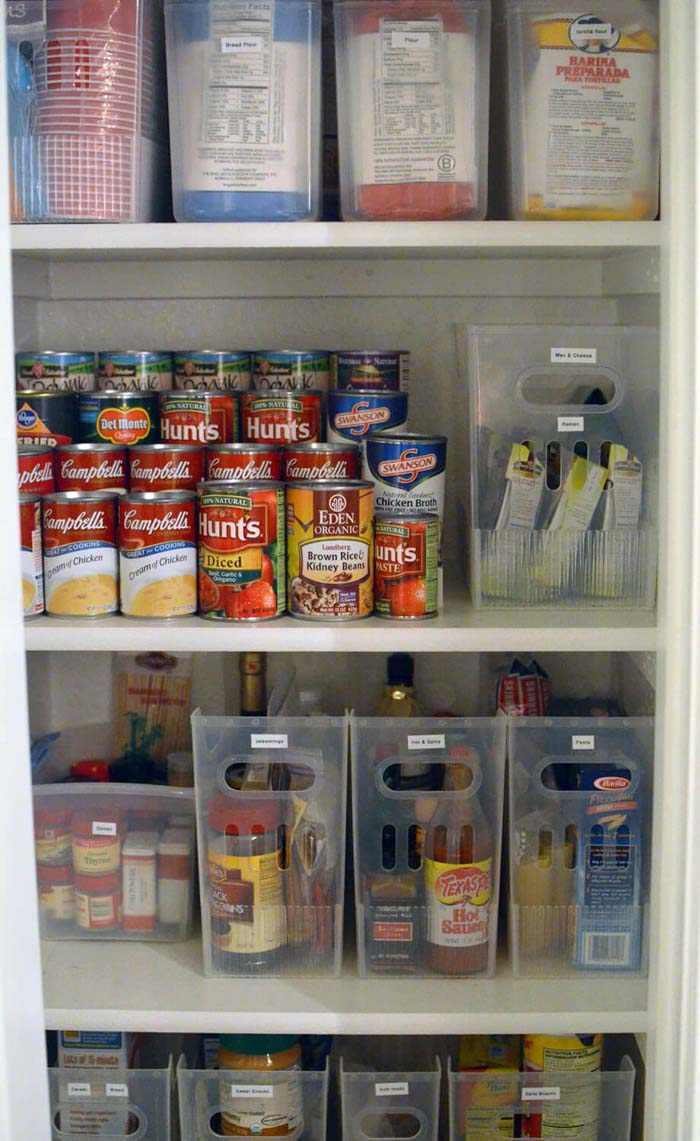 Do you ever dig around your pantry bins to find the right item?
Labels are a simple, cheap solution.
With a label, you know exactly what's inside each bin, so there's no need to search for long.
This system works particularly well with similar products, such as sauces, coffee supplies, pasta, and spices.
14. Country Chic Cabinetry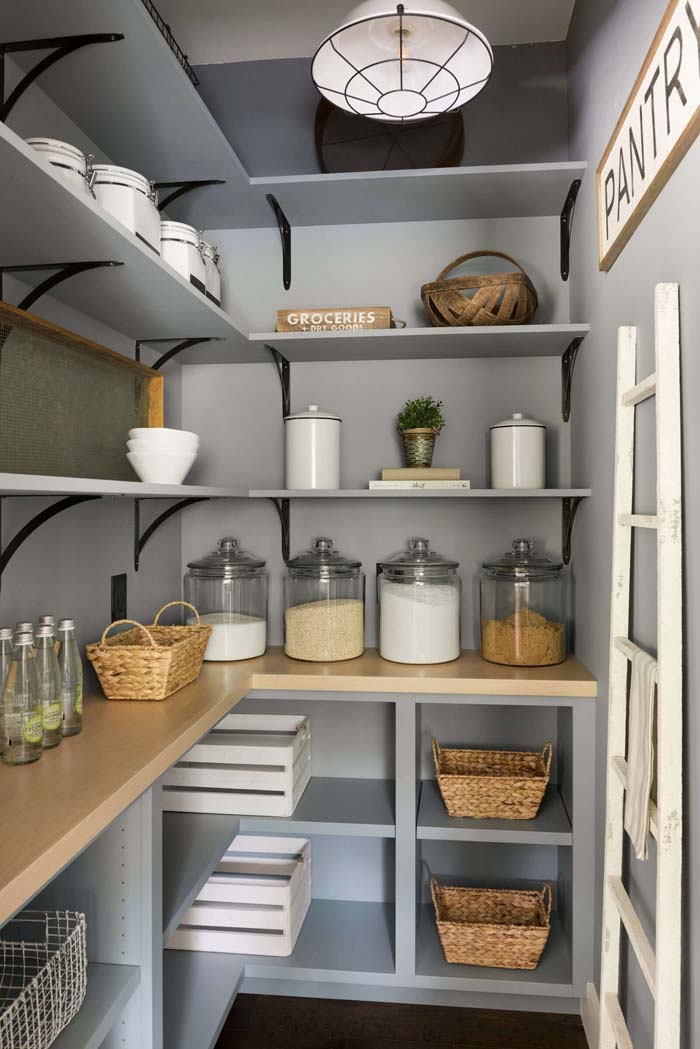 Shelves become a thing of beauty with elegant metal brackets.
Add a soft coat of paint and a natural wood countertop, and you can transform an ordinary pantry into a French country masterpiece.
White ceramic and tin organizers complete the rustic-modern style.
via Etsy
15. Upgrade Existing Shelves With Bins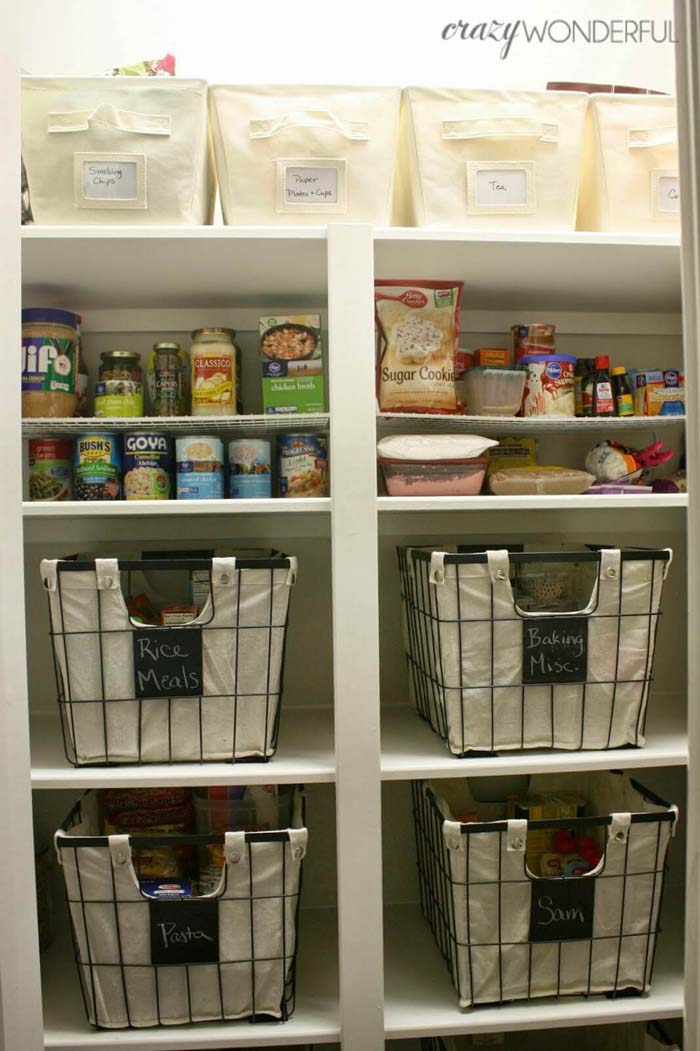 When you have the budget and time for a modest pantry-shelving makeover, pick up a few large bins.
They're easy to install and fill, and you don't need to worry about creating a complicated organization system.
via Crazy Wonderful
16. Wraparound Natural Wood Shelving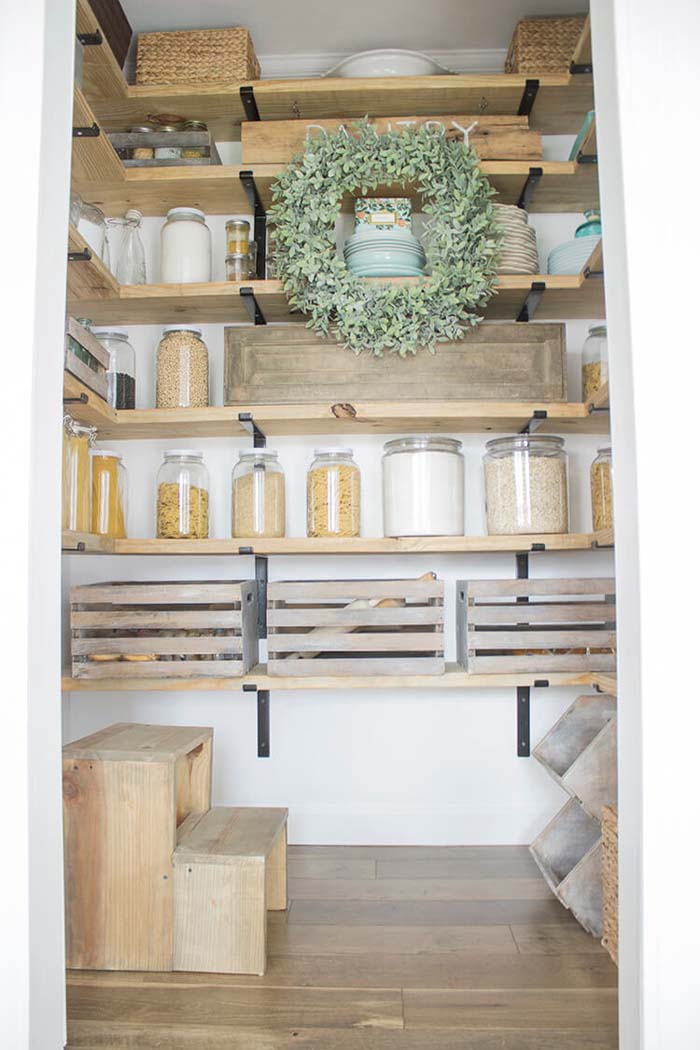 Do you have an odd, unused space in your home?
Reclaim it and use a set of wooden shelves to create a handy pantry.
Don't worry if it doesn't have a door — with beautiful glass jars, wooden crates, and stacks of beautiful crockery, you can set up a storage system you'll be proud to show off.
via We Lived Happily Ever After
17. Glass Jars Stun In Open Shelving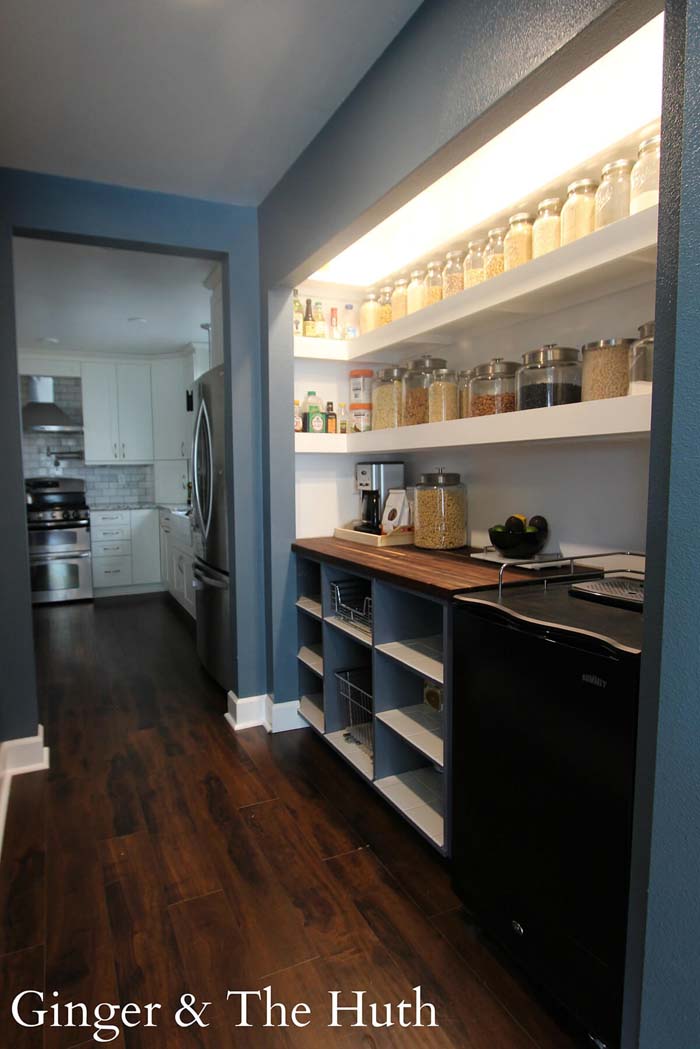 If you've ever wished for a prep kitchen, this clever pantry shelving idea is the perfect fit.
Large, open shelves with lights help you survey your ingredients.
At waist height, a large countertop gives you extra workspace; the integrated fridge extends the counter and gives extra cold storage.
18. Keep Visible Storage In Stylish Containers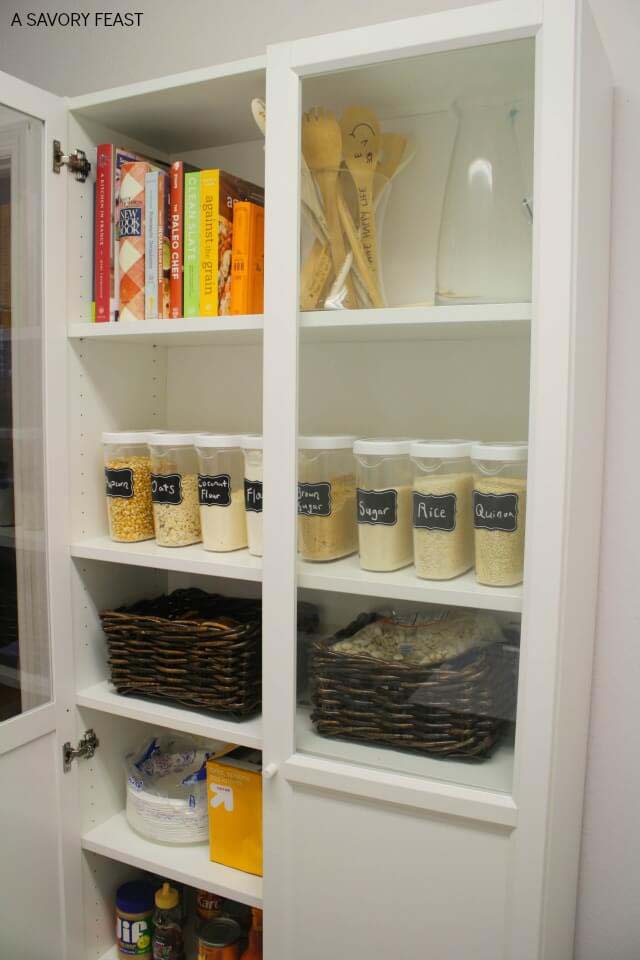 When you don't have a dedicated pantry, create one with a freestanding shelving unit with doors.
Tall vertical units offer plenty of food storage; select a model with glass panels for a bit of farmhouse charm.
Don't be afraid to add in other items, such as cookbooks or decorative pieces.
via A Savory Feast
19. Utilize The Space Behind The Door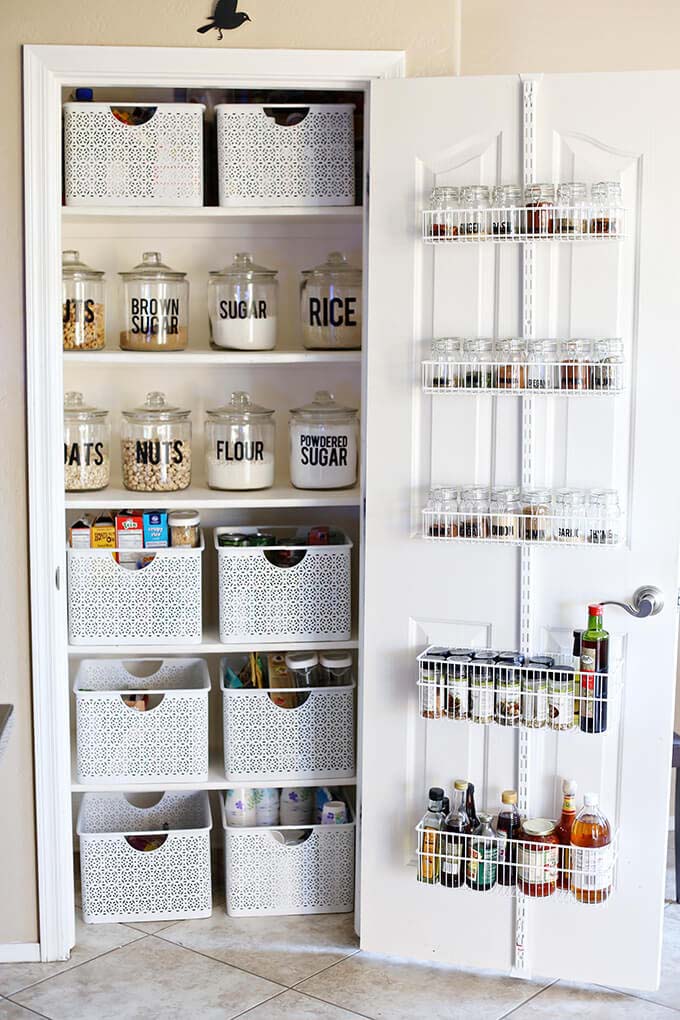 Everything has a place in this tiny pantry.
The key to maximizing your shelves is to choose bins that match the shelf height.
That way, you can create an orderly style and keep taller items in control. For smaller products, such as cans, create stacks to reduce wasted space.
We love the wire baskets, which are mounted on tracks on the inside of the door for easy adjustment. The shallow bins provide just enough room for spices, oils, and other condiments.
via See Vanesa Craft
20. Long Open Shelves In A Walk-In Pantry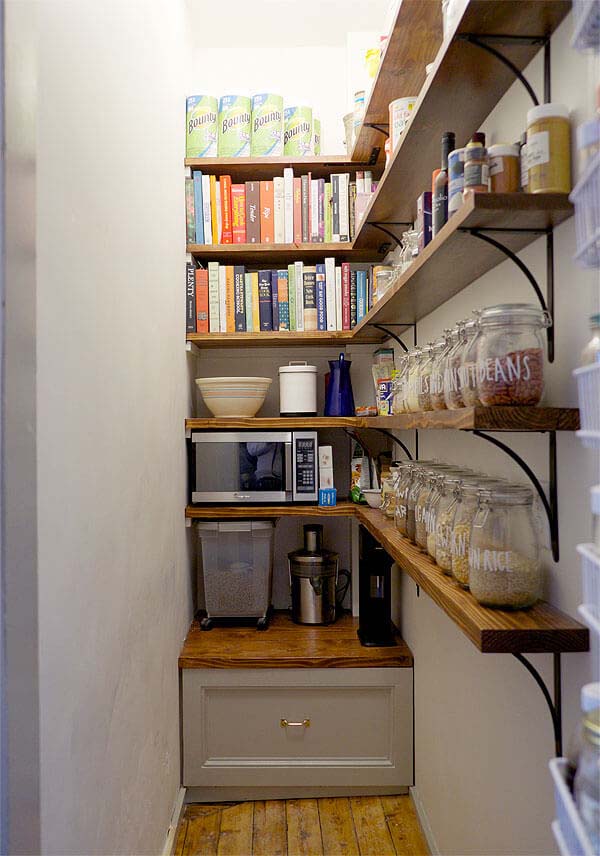 This pantry remodel proves that simple designs can be stylish.
Wrought-iron brackets elevate simple wood-plank shelves, which wrap around the corner to make the most of the long, narrow room.
Since each shelf is shallow, you can see every item clearly.
This layout is also a great way to move infrequently used appliances off of the kitchen counter and into the pantry.
via Manhattan Nest
21. Access Product Easily With Lazy Susans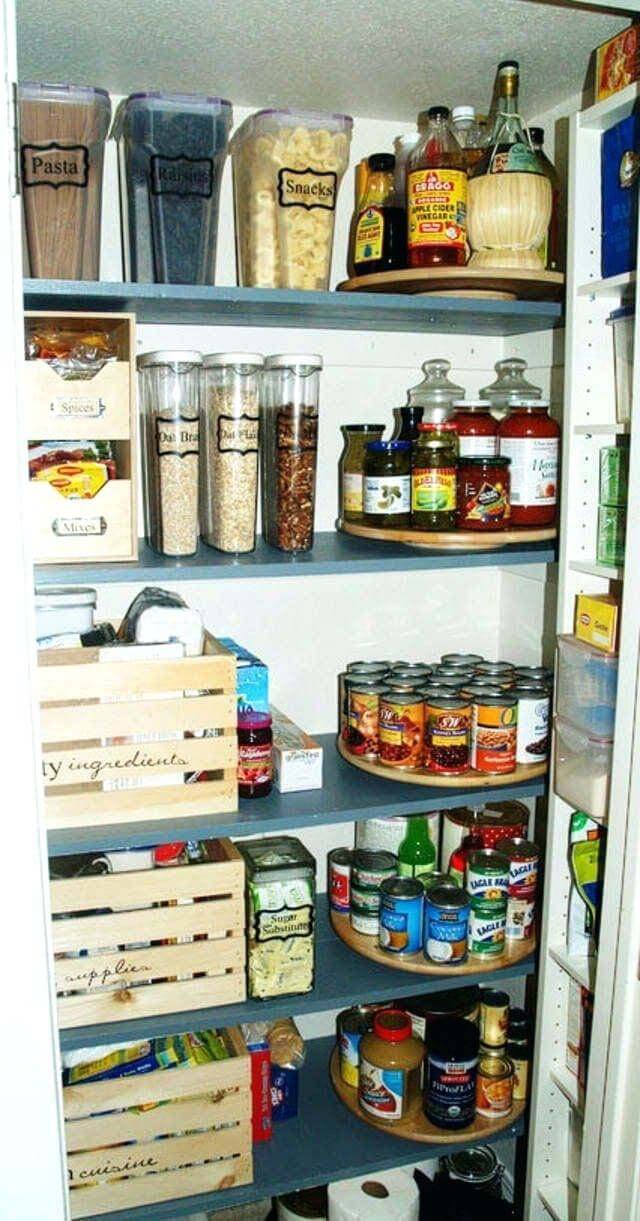 Do you live in an older house with tiny, shallow closets?
You can still have a pantry — just replace the existing hanging bar with shallow shelves.
Here, the owner has added a set of side-mounted shelves for more space and easier organization.
The true genius lies in the lazy Susans; they make it easy to access cans and jars without making a mess.
via Birgit Kerr
22. Mix Black And White For Visual Interest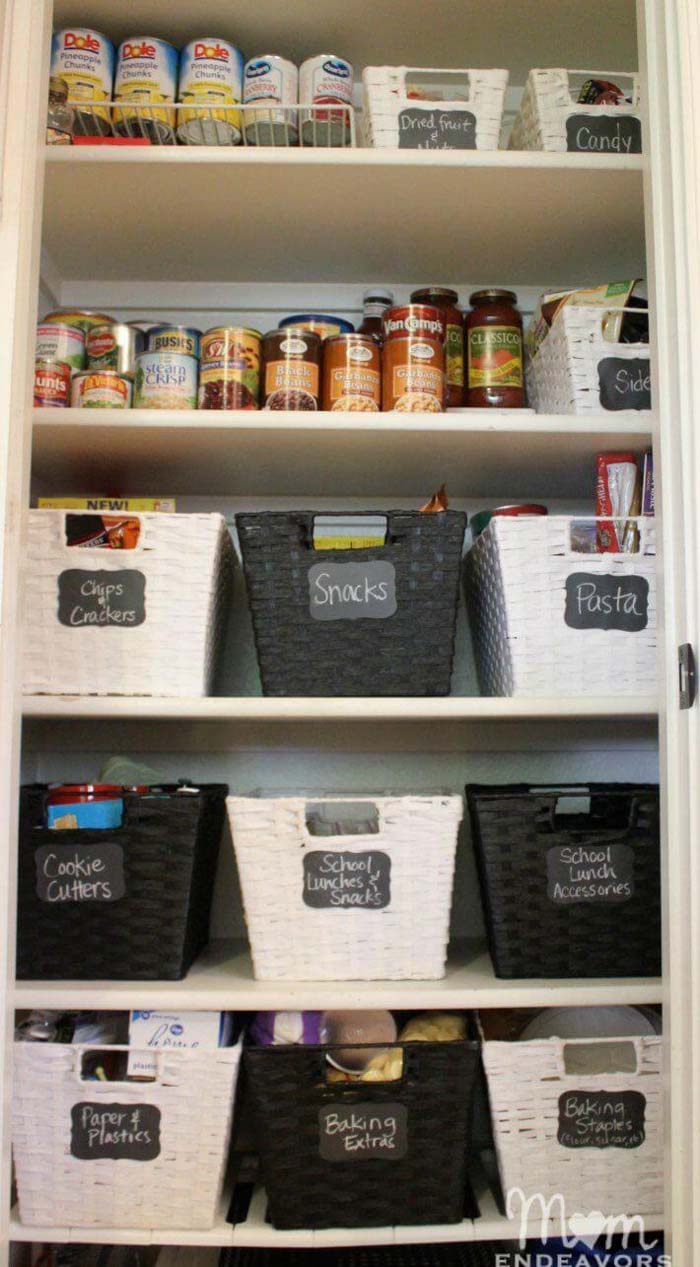 When your pantry opens directly into the kitchen, a little bit of design can go a long way.
This beautiful arrangement uses black and white bins to add a tuxedo-inspired modern flair.
If you have kids, you can also consider using a set of color-coded bins to help little ones find snacks.
via Mom Endeavors
23. An Organized Cupboard Doubles As A Pantry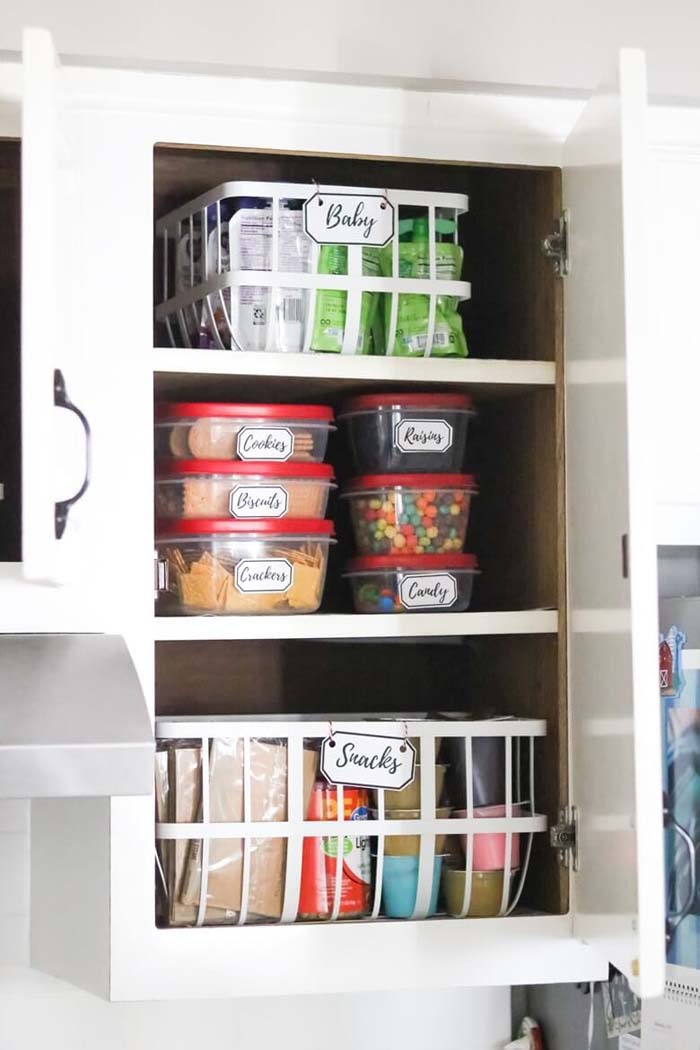 Do you have upper cupboards with shelves that are hard to reach?
Make your life easier by adding pantry-style bins.
Each bin is easy to pull out, so you can find what you need without a step stool or chair.
24. A Storage Solution For Every Item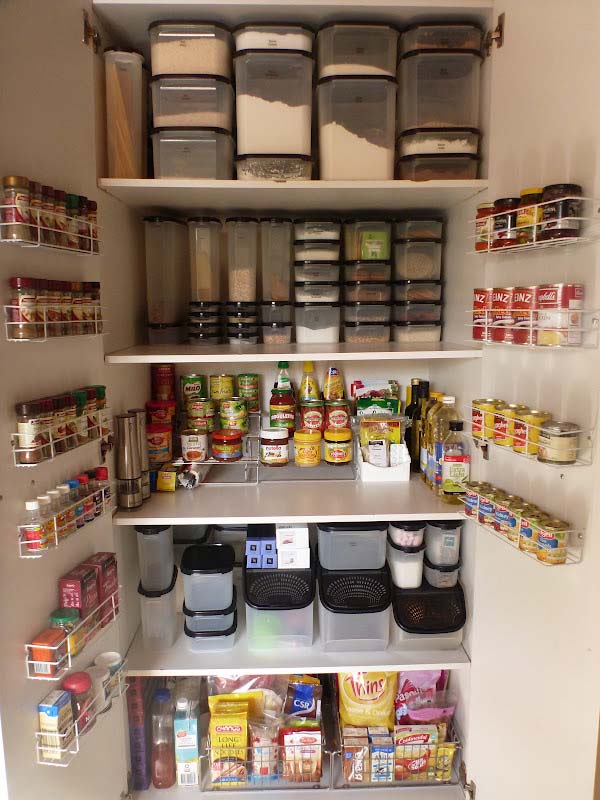 We love the efficiency and order of this pantry — everything has a place, and every bottle and bag is visible.
Wall-mounted wire baskets keep cans and spices in easy reach, and tiered metal shelves ensure that you can see each product clearly.
via Cassadiva