Signs are among the easiest decoration type that will make a porch more inviting for guests. They can reveal a fun statement, welcome a season or bring a holiday-specific charm through letters, designs, colors and textures.
Adding a sign to the porch requires no skills at all and only a few basic tools. At the same time, it spruces up even of the most informal and undecorated space.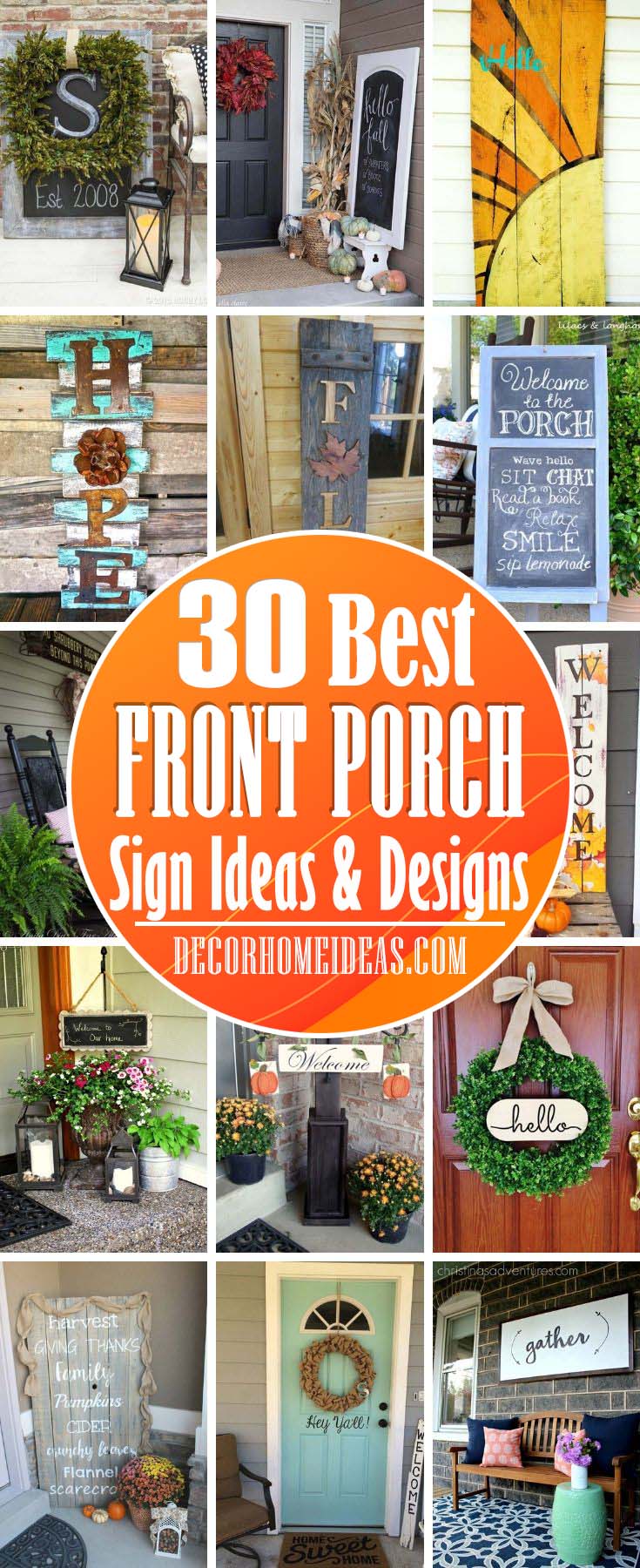 What we have gathered for you is a list of the 30 best sign ideas and designs that will inspire you to either make yourself or get a ready sign for your porch.
1. Antique Front Porch Sign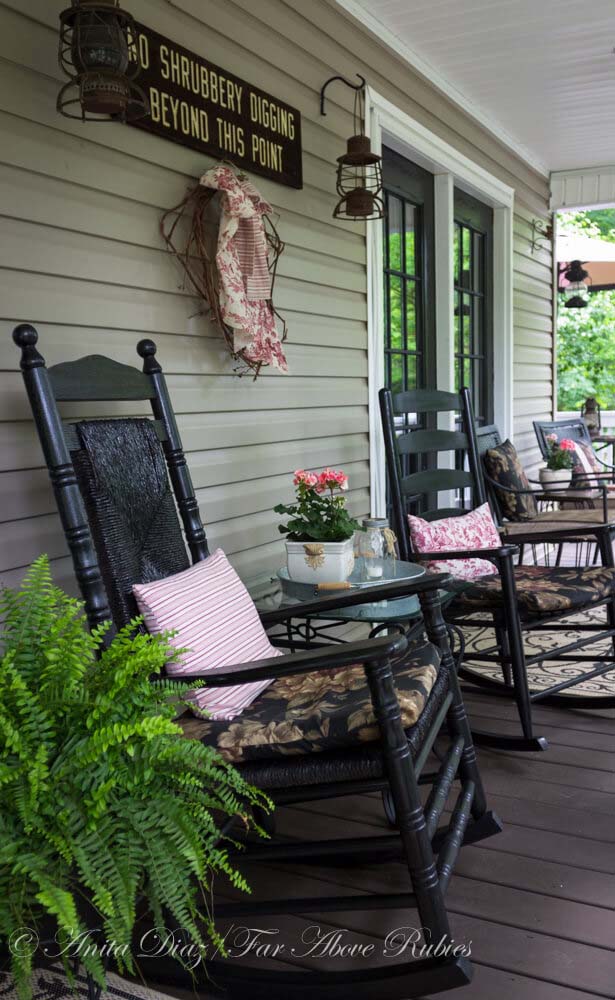 Old vintage signs are a real treasure- they usually mark the name of an important person from the past, the name of a remarkable place or a statement valid for the past times' rules.
2. Autumn Leaf Welcome Sign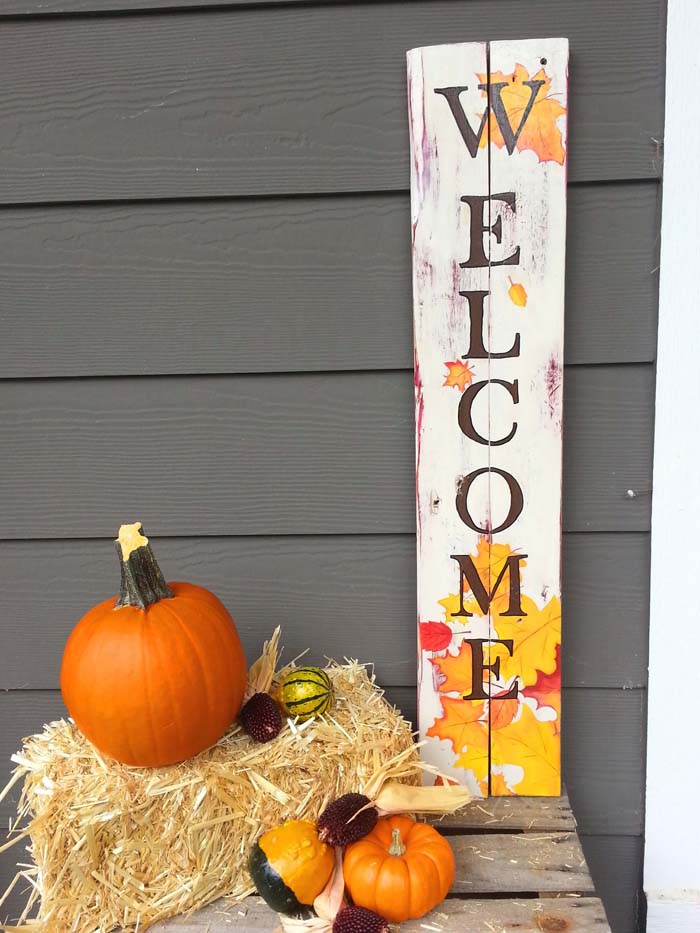 A handmade wooden sign for more rustic autumn charm. It can be easily made from two wood beams painted in white and then additionally stenciled with leaves in autumn colors.
via CJS Recreations
3. Autumn Welcome Sign Display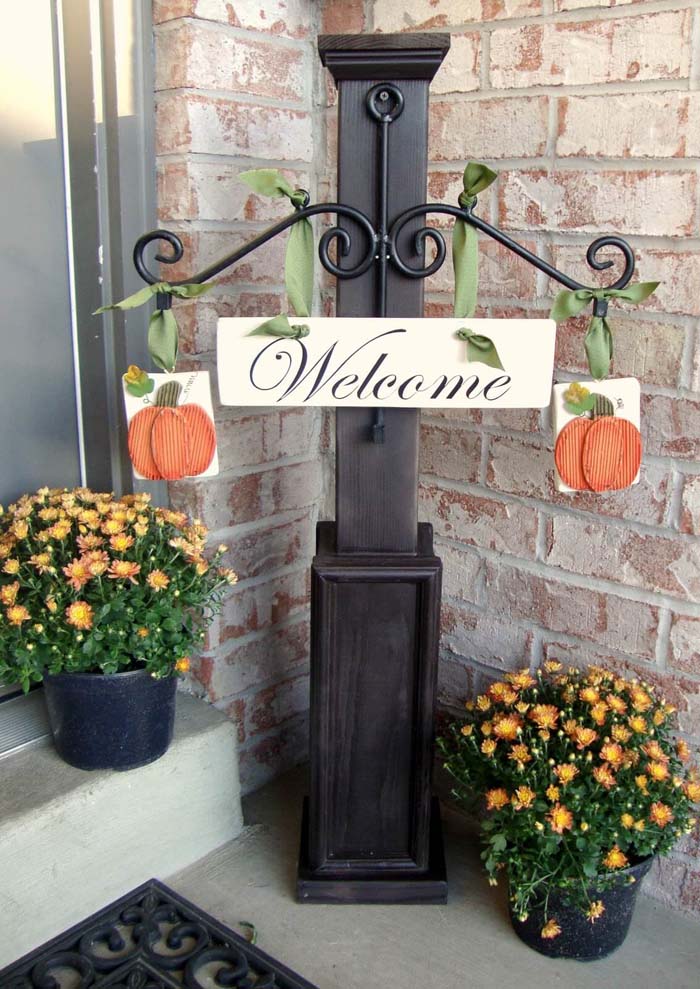 The arrangement of mums, pumpkins and a welcome sign is the perfect way to say hello to autumn at the porch. The 'welcome' sign can be used all along the year.
Replace the mums and put blooming petunias instead for aromatic summer décor.
4. Boxwood Greenery Wreath with Welcome Sign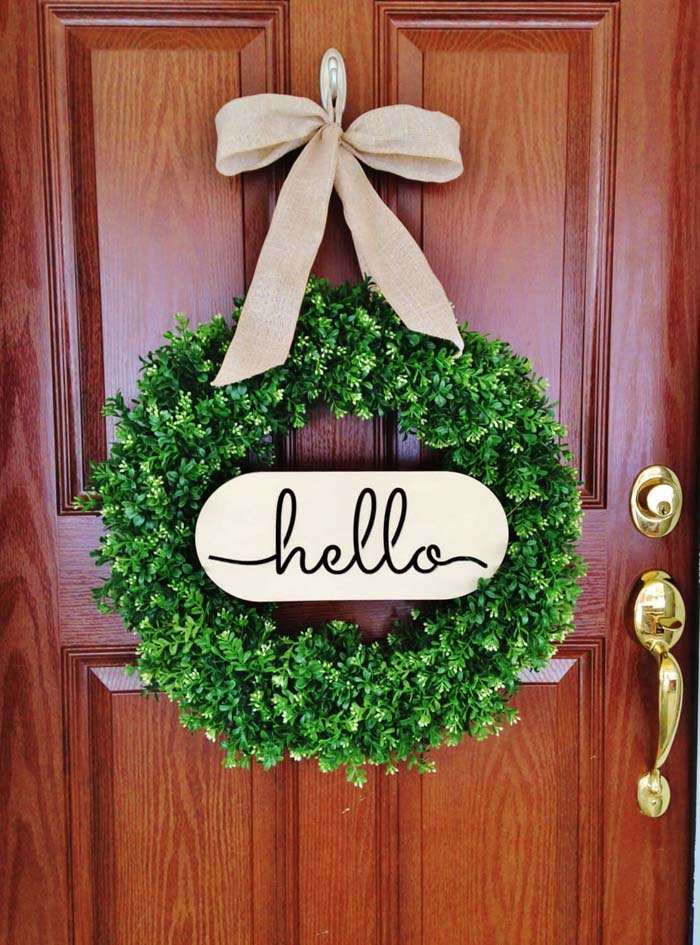 Wreaths are among the most common porch decorations. If you already have one, add a 'hello' sign to it for a more inviting atmosphere.
5. Boxwood Wreath With Monogram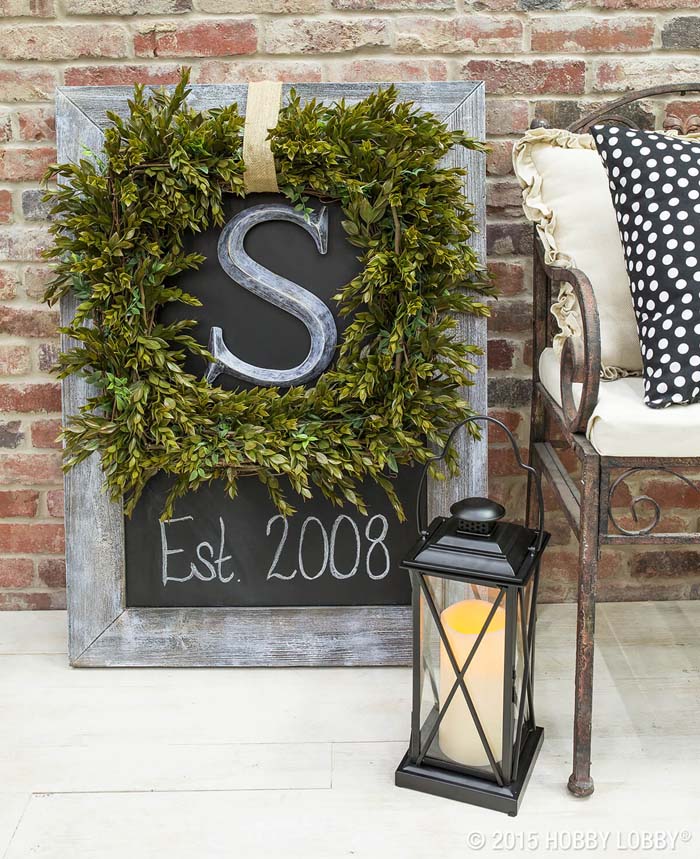 Place a simple boxwood wreath over a framed chalkboard and add a large meaningful monogram hanging from it.
Signs don't have to be shining or colorful to make an impact, do they?
via Hobby Lobby
6. Chalkboard A-Frame Porch Sign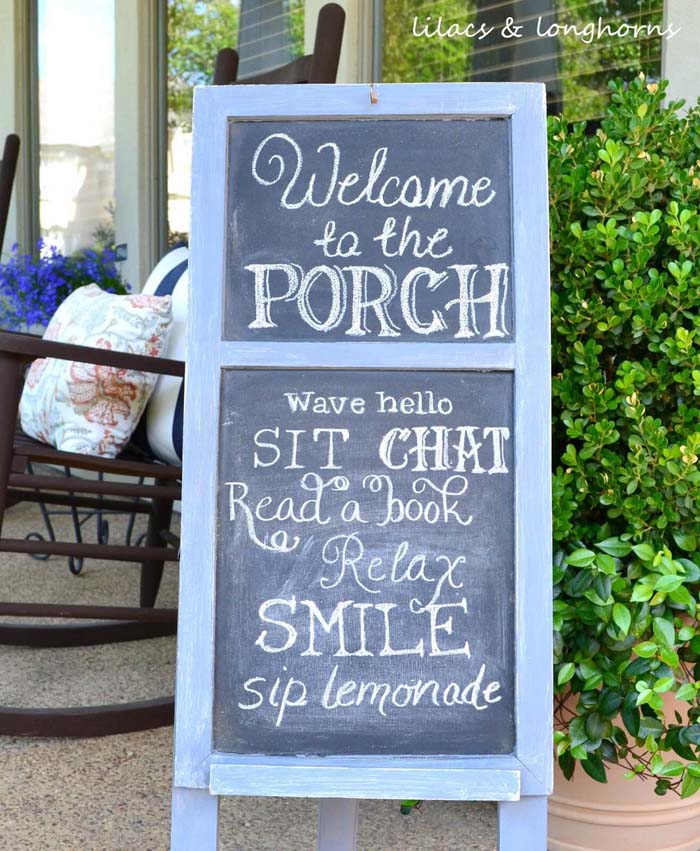 Frame a chalkboard with wood beams and add inspiring statements. Together with the rustic effect, you would get universal porch decor.
Change the frame colors as the seasons change and alter the writings accordingly.
7. Country Barnwood Sign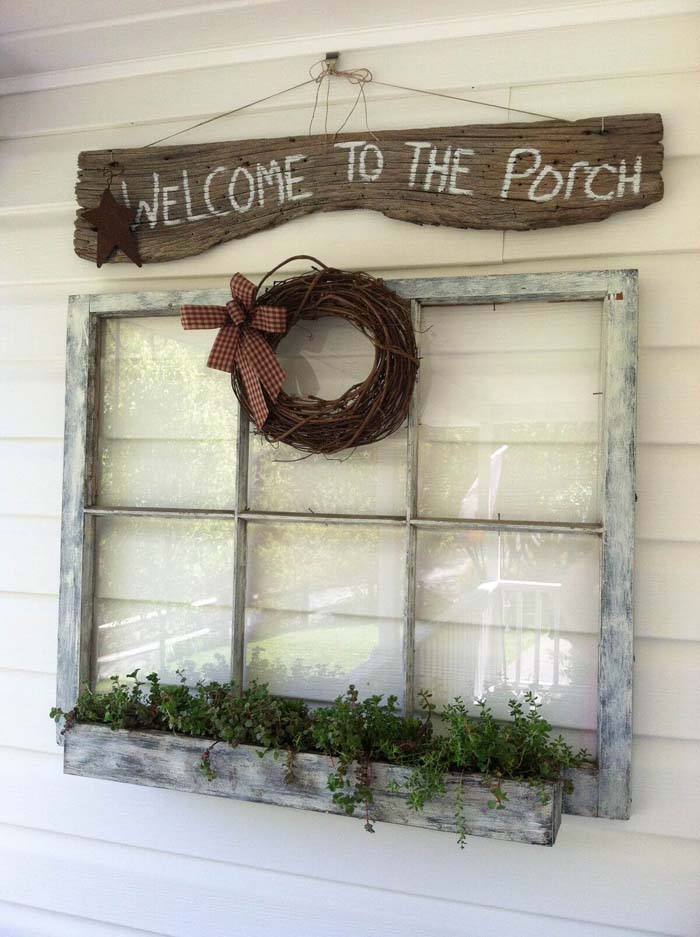 When the porch is the favorite nook for summer gatherings, you definitely need a sign that states that.
Inspired by the farmhouse informality, a weathered piece of wood could be the greatest basis to say hello to your guests.
via Indulgy
8. Distressed Wooden Porch Sign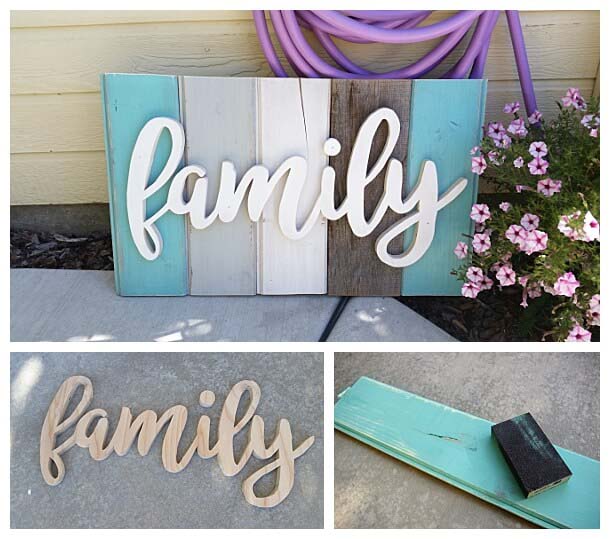 If you have DIY skills and tools, you must try making this gorgeous rustic sign. The supplies you need are some wood slats and a few paint colors.
The letters have been cut by a wood laser. If you don't own such a tool, you can find separate letters in the dollar store.
via Dreaming In DIY
9. DIY Front Porch Sign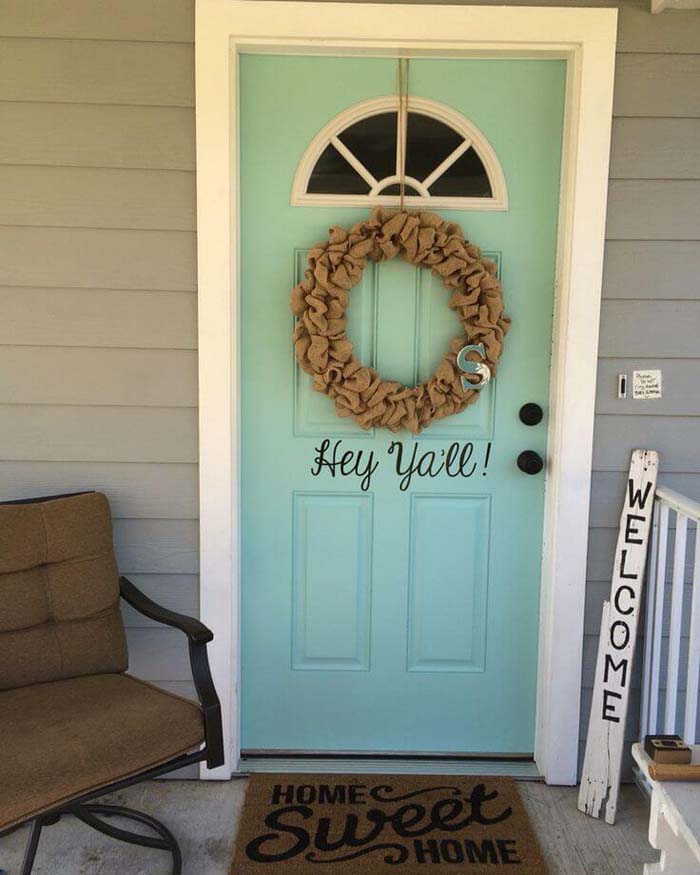 This farmhouse decor arrangement is very fascinating as it has considered the smallest details.
A wreath made of burlap pieces matches a chair and a doormat in the same earthy color. The inscription on the doormat finishes the thought of the rustic welcome sign leaned against the railing.
10. DIY Shabby Chic Sign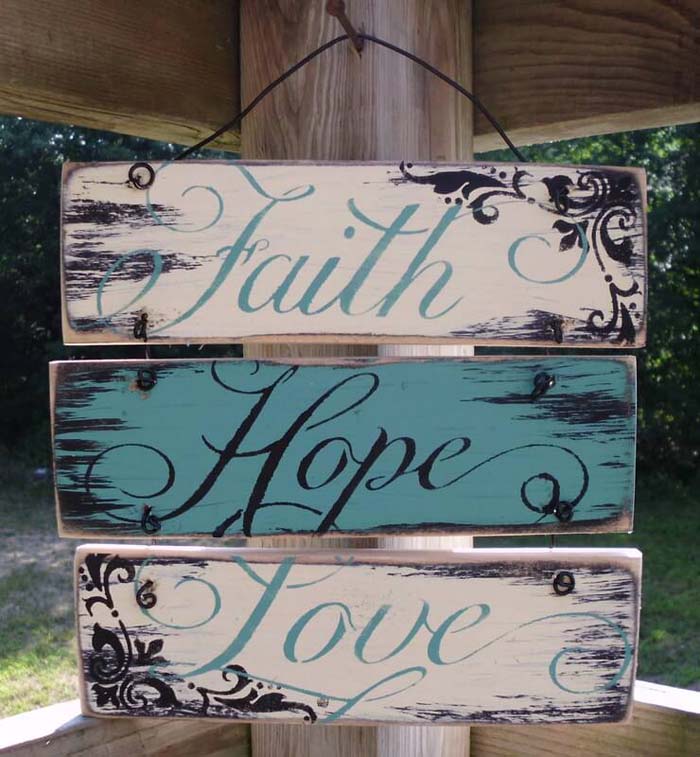 If your family bases its living on certain values, state them clearly on a wooden sign. Each slat has been painted and stenciled separately.
11. DIY Wooden Harvest Time Sign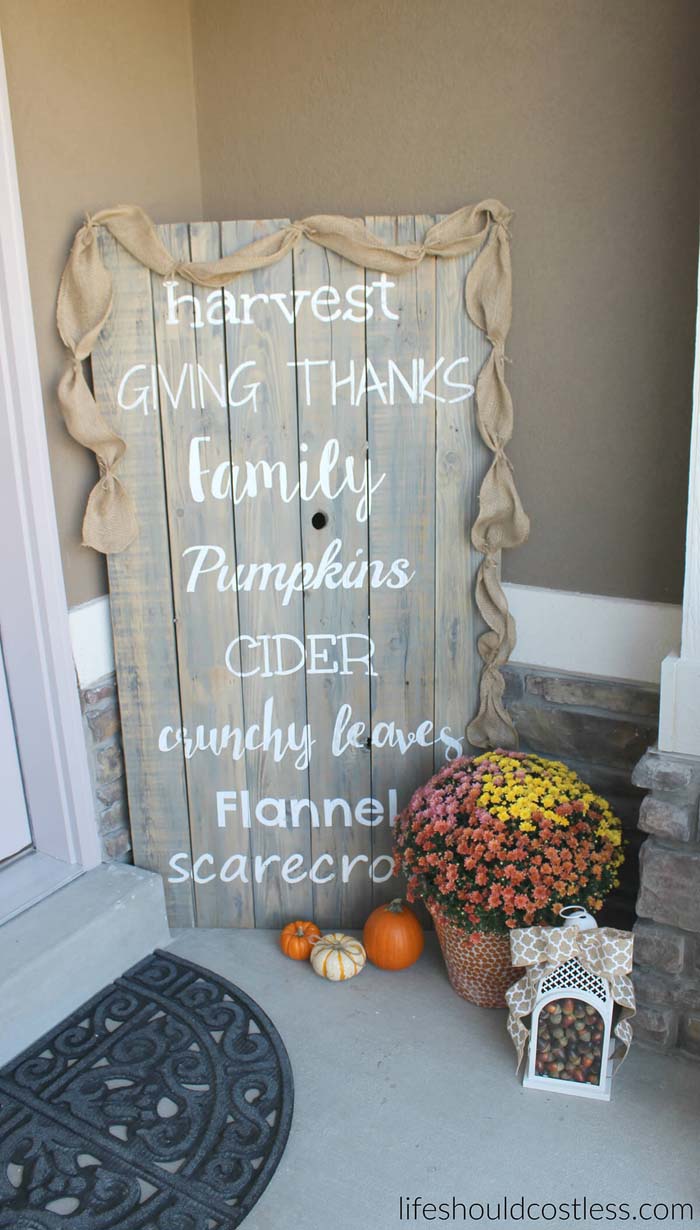 Reclaimed wood is the perfect material for porch signs. Leave it untreated, give it a white-wash or distressed look- all these techniques will give the desired rustic effect that matches perfectly any porch.
12. Fall Entryway Framed Chalkboard Sign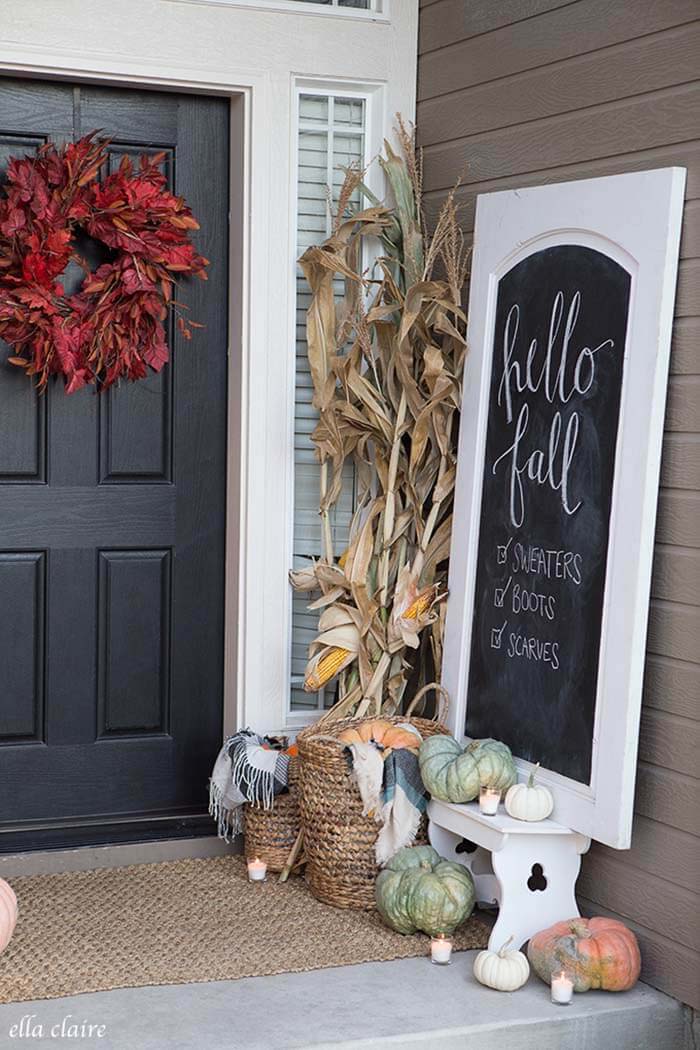 The framed chalkboards are perfect for porch signs. Change up the writings on the blackboard depending on the season and add suitable decoration around.
via Ella Claire
13. Farmhouse Porch Antique Sign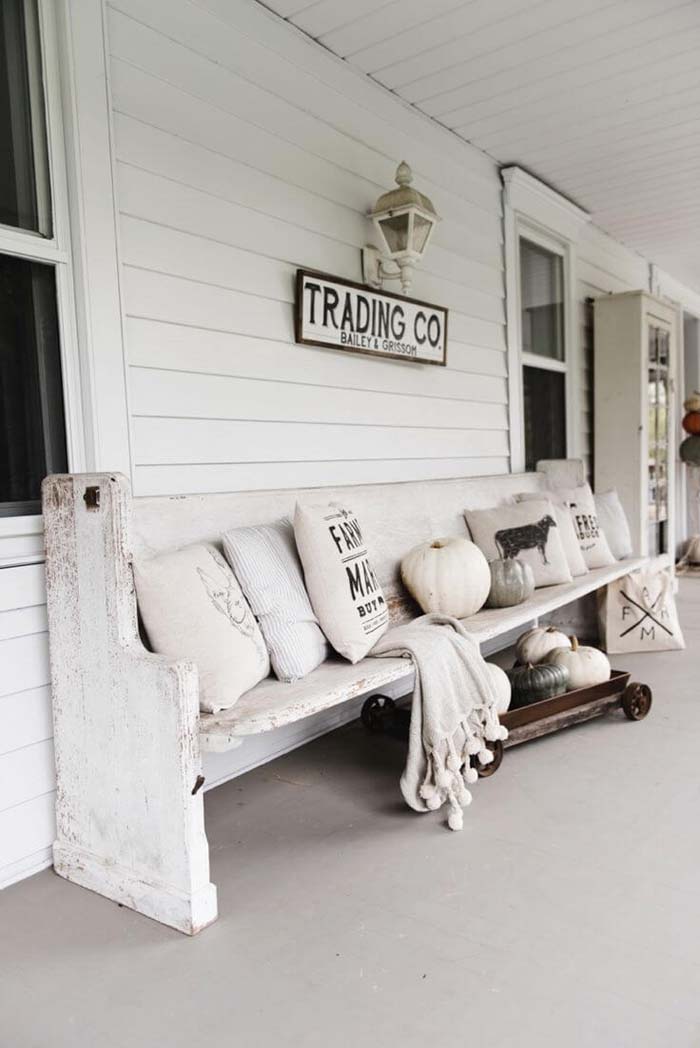 The sign is an essential element from a porch in rustic design. If you don't like any of the items sold on the Internet, you can easily make yourself one.
A painted and distressed wood beam would be the perfect background for an inscription you love.
via Liz Marie
14. Hanging Chalkboard Sign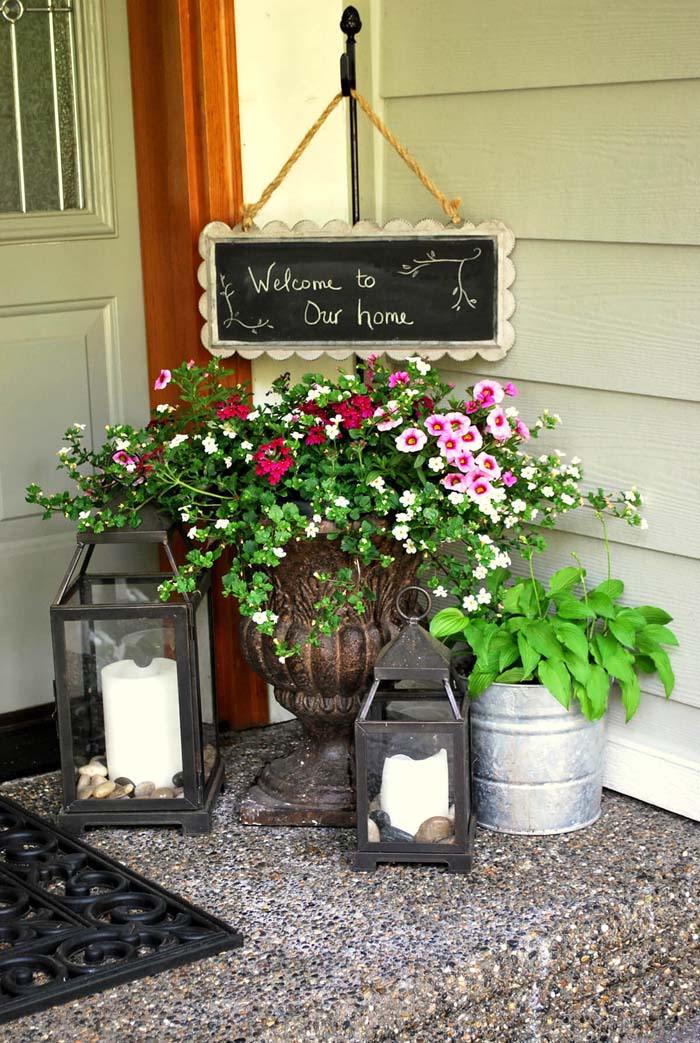 The chalkboard signs vary in framing and size.
If you don't like the big ones as they take up too much space, get a small one which is just enough to write a welcoming invitation on. Hang it on the front door, on the porch wall or on an existing decoration.
via Homedit
15. Hanging Recycled Window Sign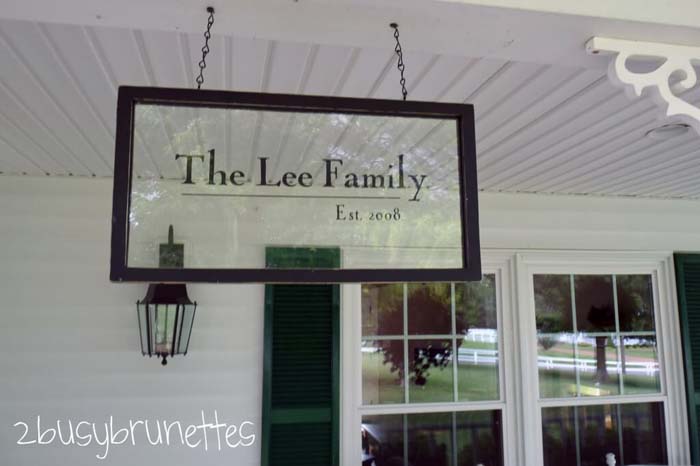 Add a stylish accent to your porch with a hanging glass sign. It looks like a shop window and makes the atmosphere very aesthetic.
Add your family name to it and hang it somewhere visible.
16. Hello Laser Cut Sign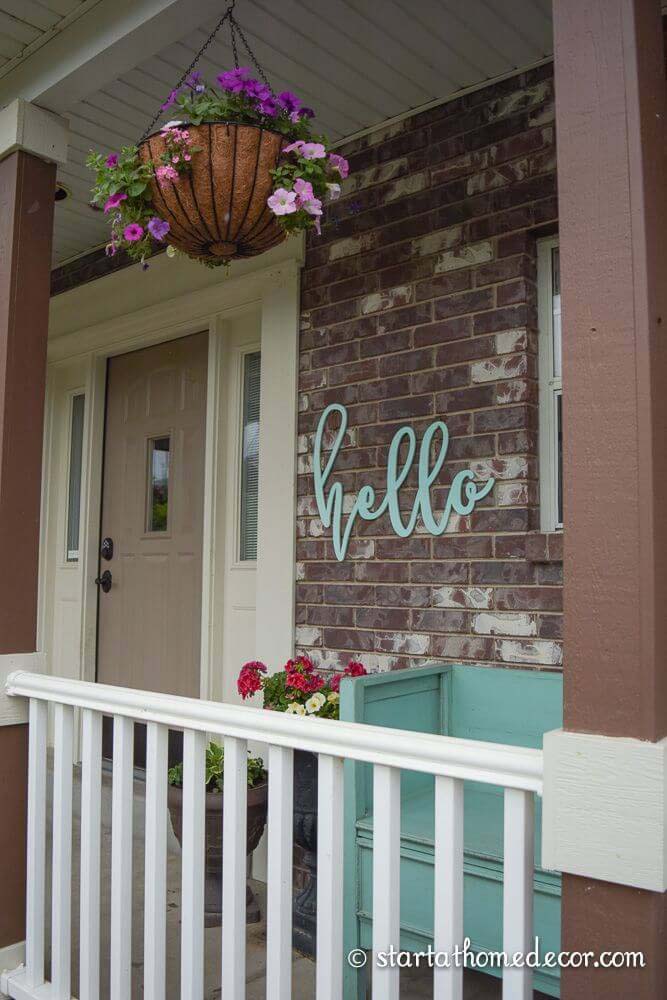 Signs in the shape of letters are simple but give a clear message across.
Since there is no background, the focus goes to the chosen word and thus makes a greater impact.
17. Monogram Wreath Welcome Sign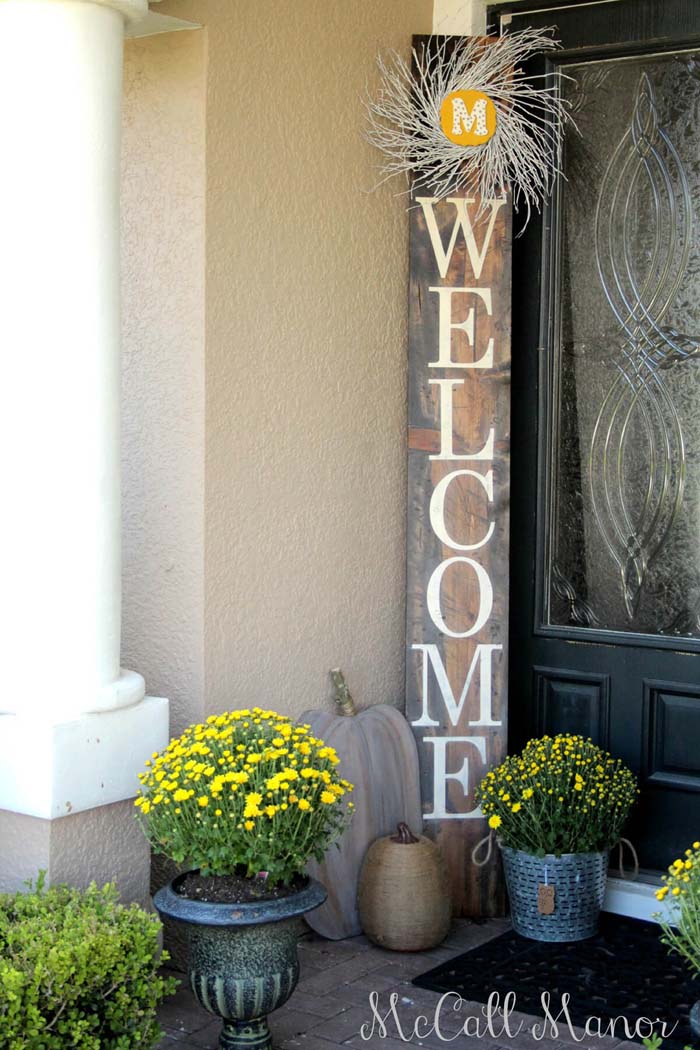 If you don't like the hanging signs, you can go for the leaning type. Usually, they are bigger and provide a wide enough surface to experiment.
Write "Welcome" with big bold letters. To make the sign more personal, add your family's name first letter and surround it with dry flowers to form a wreath.
via McCall Manor
18. Oversized Rustic Wooden Welcome Sign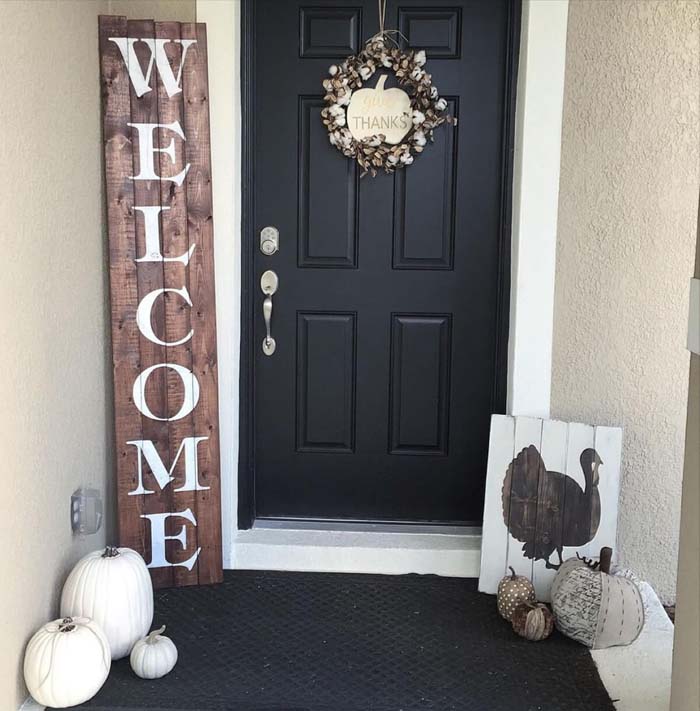 If you like the tilted type of signs, you would fall in love with this oversized example.
It is very impressive and will be the eye-catcher of the porch décor.
19. Porch Seating Area Sign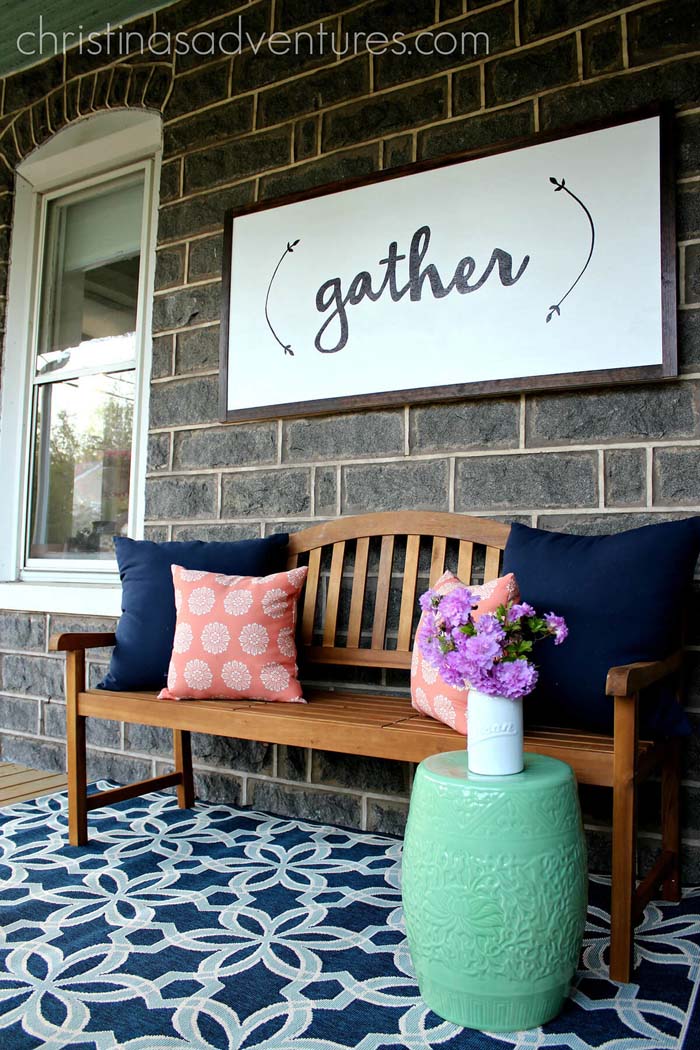 Set the mood fоr the gathering with a simple sign. Place it over the seating area of your porch to state the importance of sharing.
via Christina Maria
20. Porch Sign with Whimsical Lettering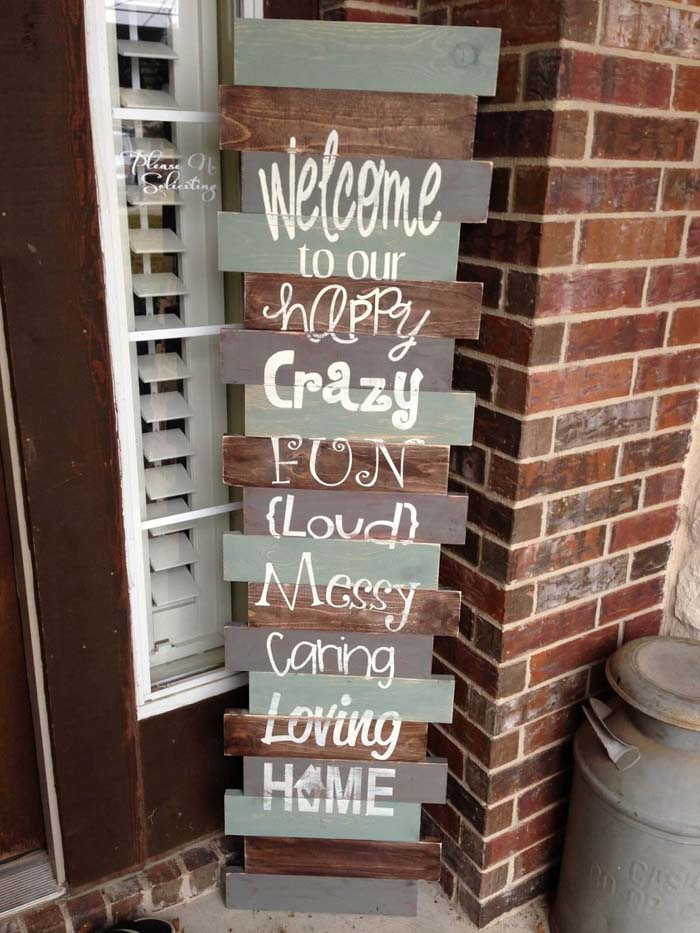 Add personality and character to a handmade sign that describes your family. It is made of scrapped wood pieces painted in different colors.
The best part of it is the play with print size and patterns.
21. Quote on a Repurposed Shutter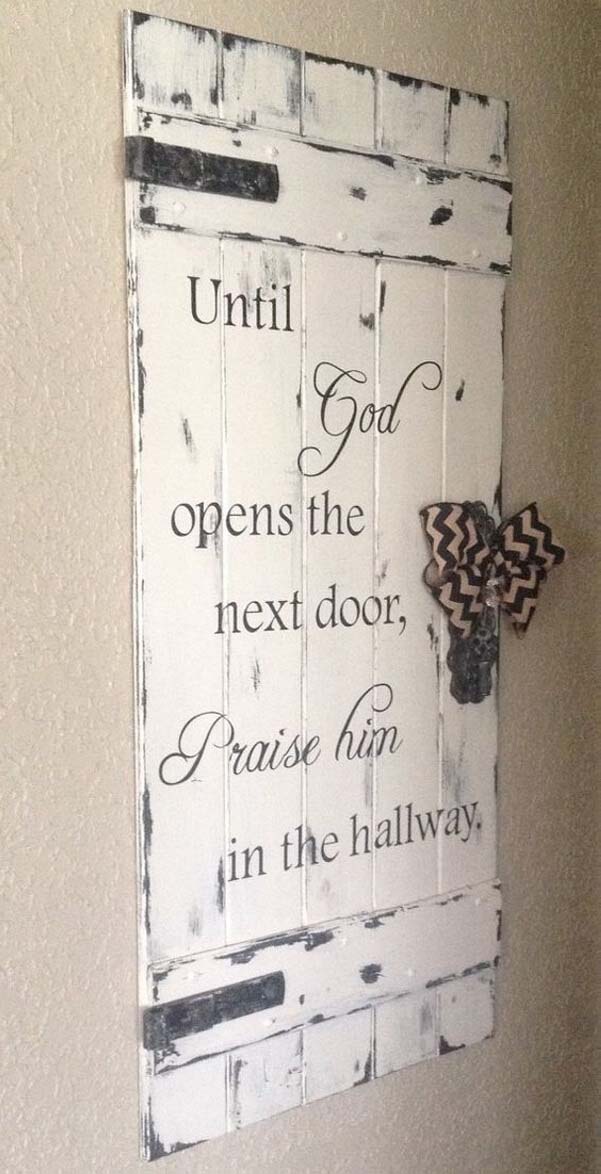 Old shutters can be repurposed and turned into a lovely praising sign. Paint a shutter in white to let the holy statement pop up.
22. Recycled Wooden Shutter Sign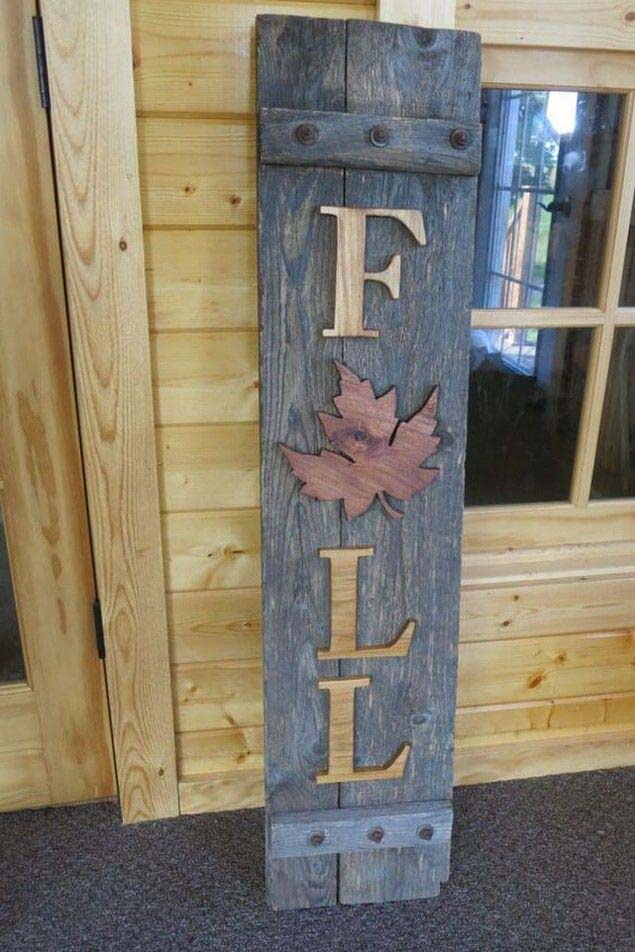 An old piece of pallet can be easily transformed into a fall sign.
To give the sign depth, cut letters from a thin wooden board and glue them on.
23. Rustic Turquoise Sign with Metal Letters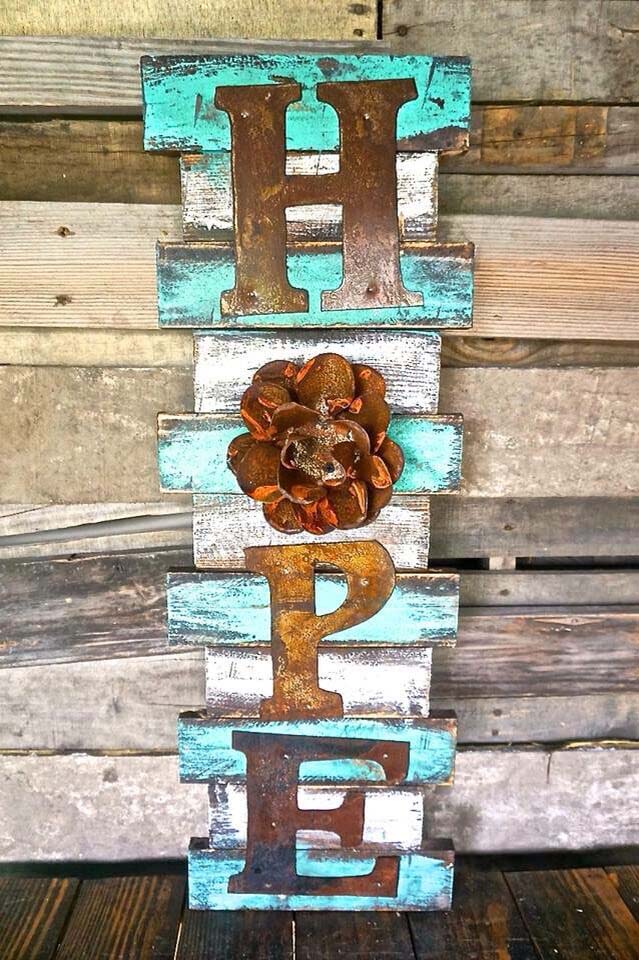 White and turquoise are a great color combo.
Using it on a sign consisting of small asymmetrical short beams will add a summer vibe to it. Nail on metal letters forming an inspiring word.
via Cinderella Ranch
24. Shiplap Farmhouse Porch Sign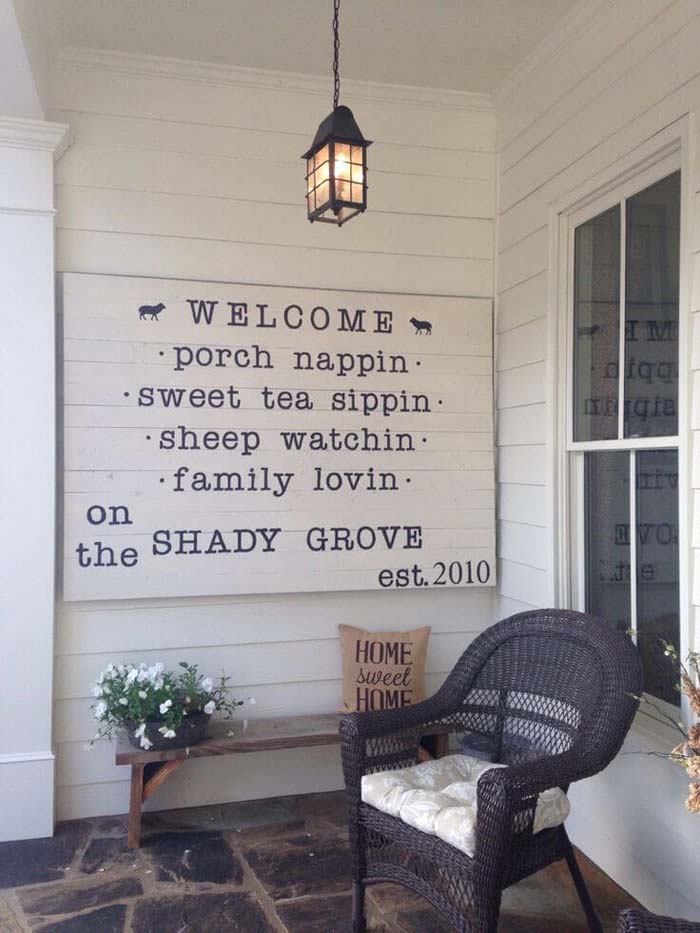 A shiplap sign will add the right amount of farmhouse calmness to your porch.
Since it is made of solid wood, it gives a wide background to write down the porch activities.
25. Simple Hanging Wooden Welcome Sign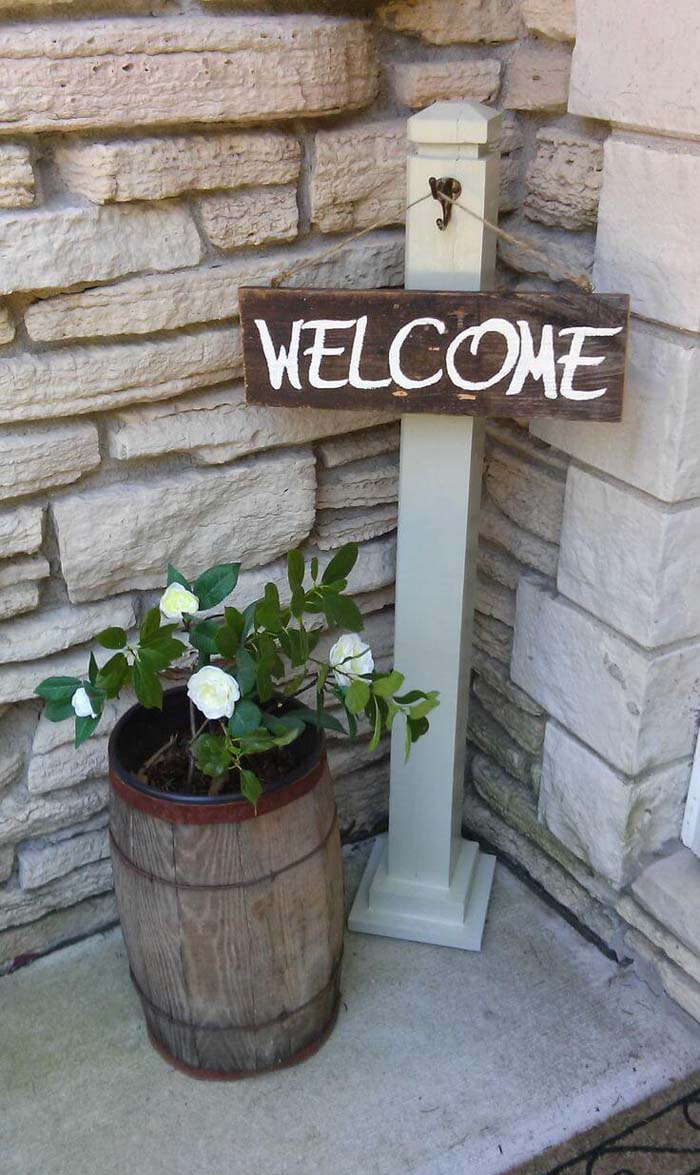 This charming sign is an easy DIY project that is worth making because of the guaranteed smile effect.
Simple as it looks, you only need to screw a hook to a fence post and add the welcome sign.
26. Sunburst Wooden Welcome Sign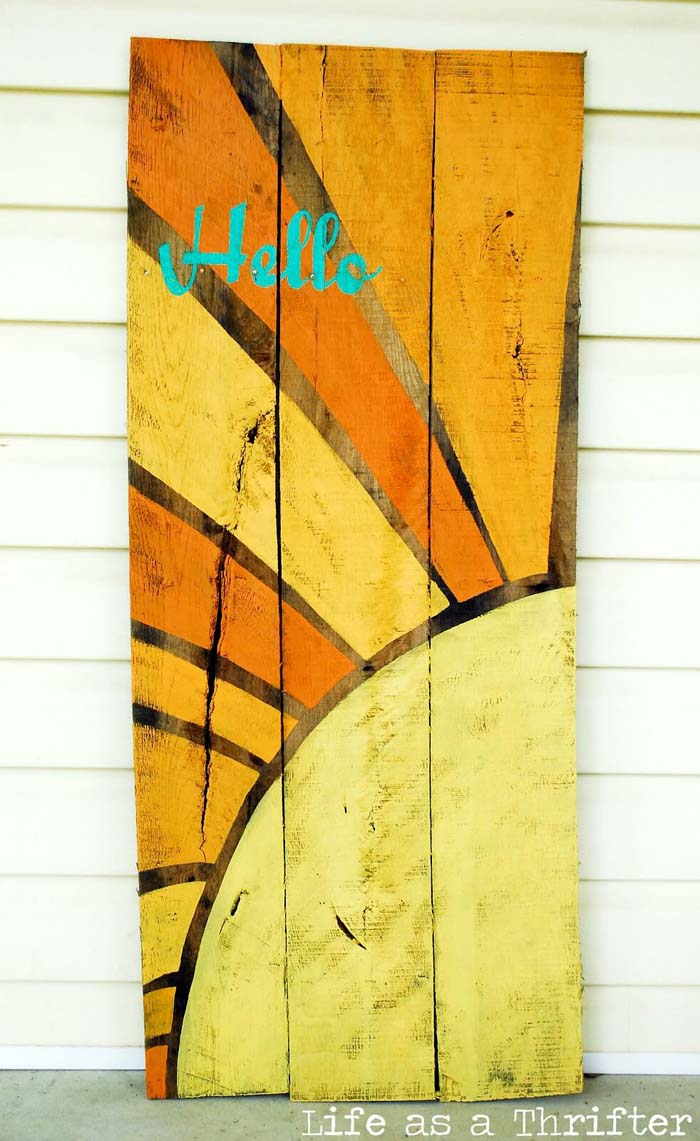 All artists would appreciate the craftsman of this wooden sign. Three plain beams are used as a canvas for a sunburst.
The word 'hello' is gently popping up in blue color to contrast with the fire colors. This sign would become your favorite summer porch decoration.
27. White Picket Fence Porch Sign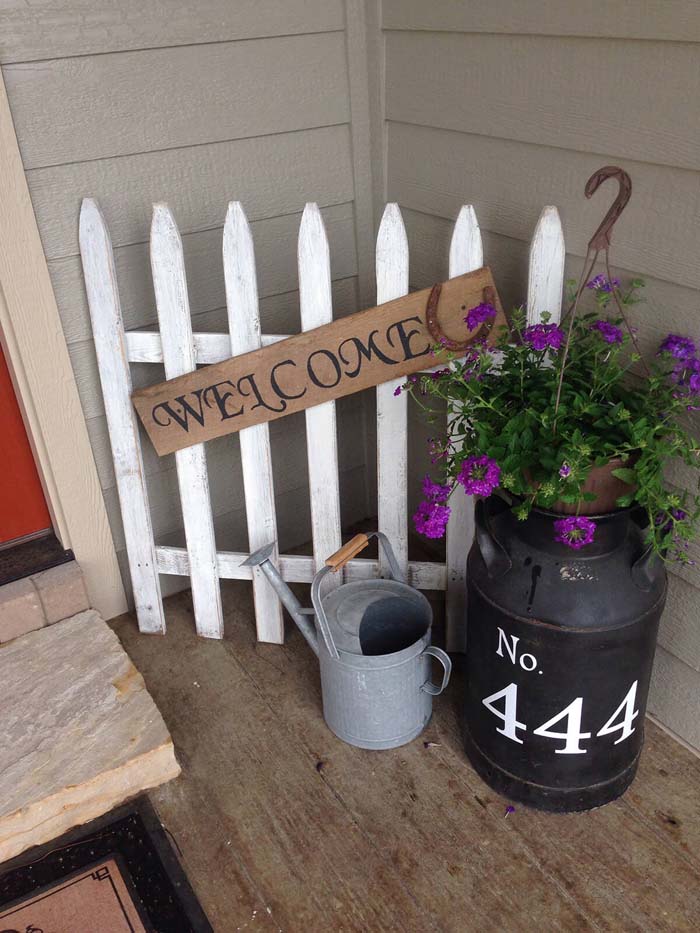 A piece of useless picket fence can be used as a display for a 'welcome' sign.
The combination of farmhouse symbols like the picket fence, the horseshoe image, the galvanized watering can make the porch more welcoming.
28. Wooden Entryway Welcome Sign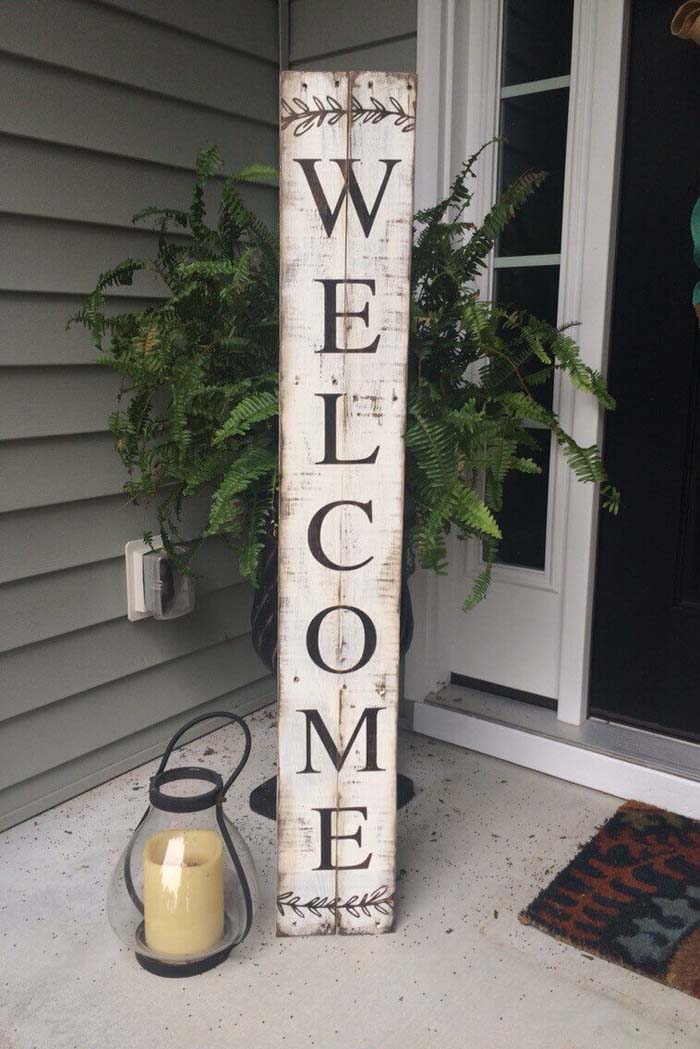 Another example of a leaning wood sign where a vintage presence could be easily spotted.
The wood is painted and then distressed to achieve an aged look. The stenciled twigs at the ends put the "welcome" in an artistic frame.