Ever wondered why our candle decor addiction isn't going anywhere even in this 21st Century where many energy sources are available to lit up our indoors?
Well, to be honest, we do not have an exact answer but we're of the belief that we deserve the cozy ambiance they create and the beautiful scent they leave.
Plus, the dancing flames… such a treat!
1. Advent Wreath Inspiration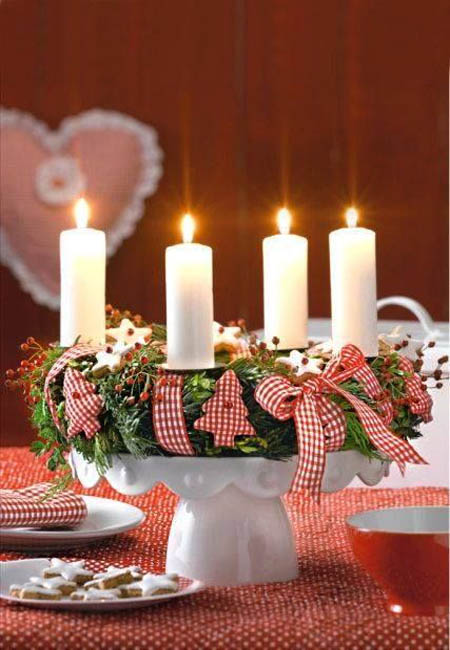 Set your Christmas table in style with this gorgeous advent wreath-inspired candle centerpiece.
This stunning piece is adorned with greenery, berries and finished with plaid ribbons cut like Christmas tree and bowknots.
2. Shabby Pot Brilliance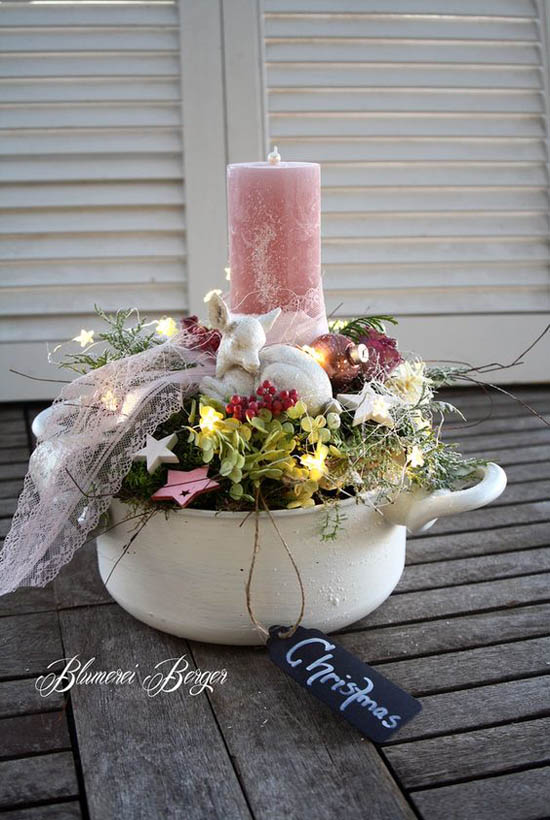 To transform the ordinary pot into an extraordinary candle centerpiece, nestle Christmas ornaments and pop a pillar candle into the inner space.
3. Inspiring Wine Glass Snow Globes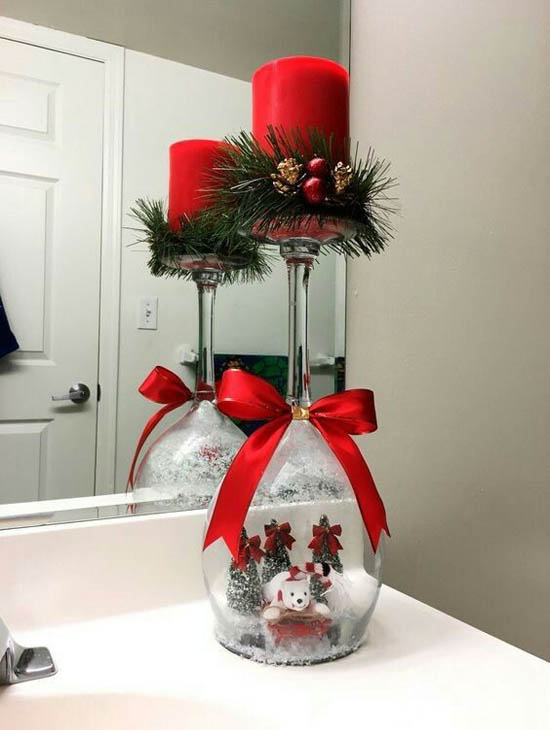 Illuminate your holiday table with an assortment of wine glass snow globes. Embellish the candles with holiday figurines of different shapes and sizes for achieving more elegance to the centerpiece.
4. Signature Magnolia Candle Decor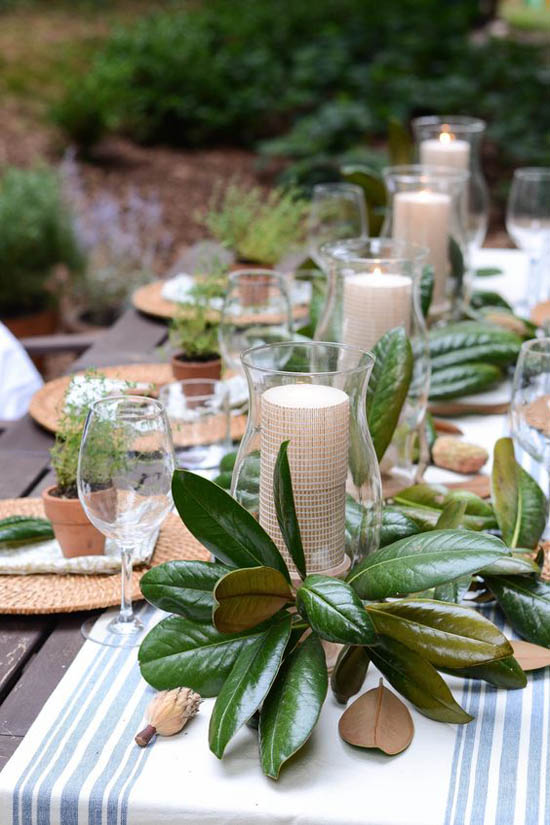 Decorated with magnolia leaves, the candles placed inside an attractive glass container will be the eye-catcher during your Christmas dinner parties. And yes, don't forget to involve your kids in decorating this simple centrepiece.
5. Terra-cotta Candle Décor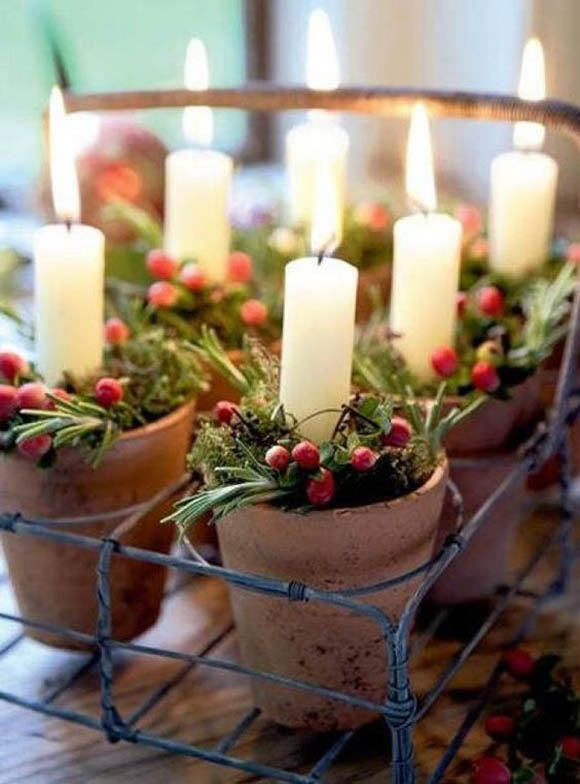 Fill the terracotta pot with greenery, berry twigs, and insert scented candles. There you go!
A beautiful candle décor to add more colors to your garden. Painting the terracotta pot with patio paint is an incredible way to spruce up the ambience.
6. Holiday Wreath with Golden Ornaments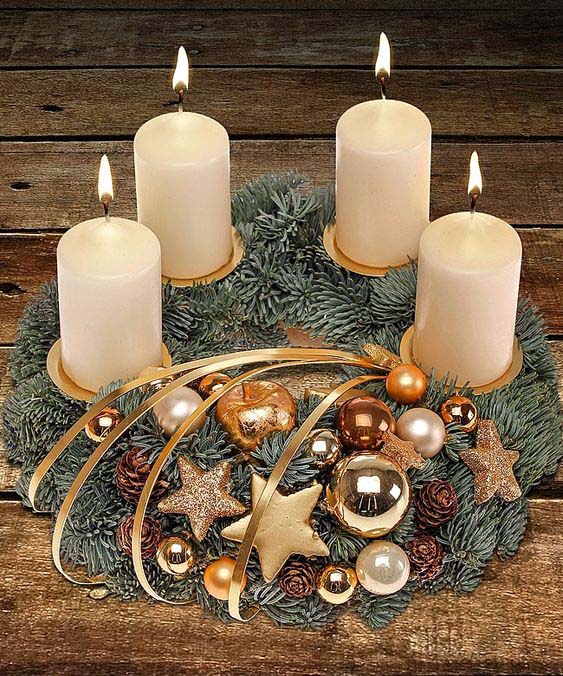 Photo:Credit
This simple handmade Christmas wreath of a coniferous mix with its cream-white candles is the best addition to your holiday decor.
The sparkling baubles and glass-star in an elegant gold frame decorative gold-colored metal strip give this setting a cheerful look.
7. Candle Deco From Pinecones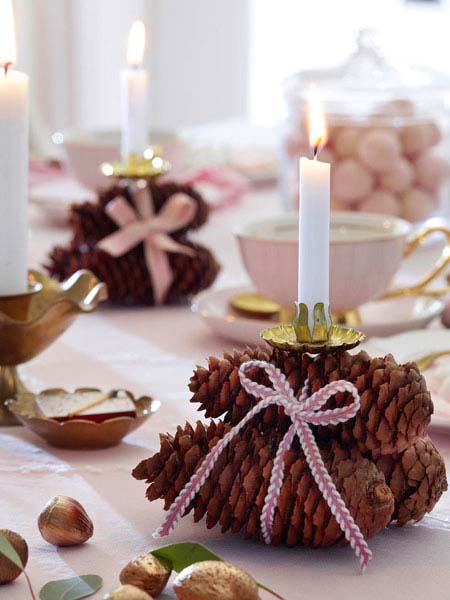 Photo:Credit
The best Christmas candle holder decorations are usually the ones that look simple yet elegant.
This one, for instance, combines the organic element – the pinecones, which symbolize the nature, and the showy Christmas decorations – the tiny golden candleholder and the cute ribbons. I just love it!
8. Moss and Flowers Christmas Table Wreath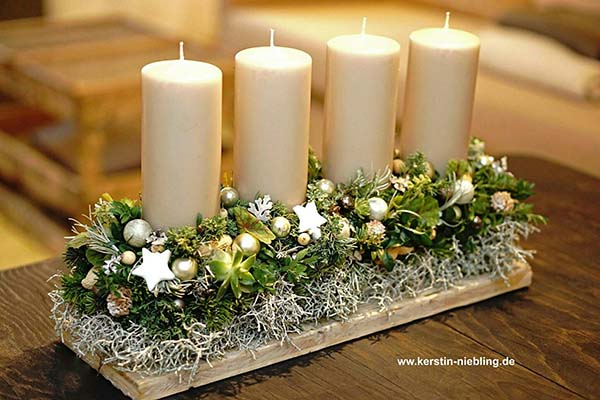 Photo:Credit
If you want to give your Christmas candle holders decorations an earthy look, go for a moss wreath as a base and combine it with a bunch of florals (could be faux flowers).
Then, choose some pillar candles in a neutral color so the accent will stand on the greenery. See – easy and beautiful.  😉
9. Illuminated Advent DIY Christmas Wreath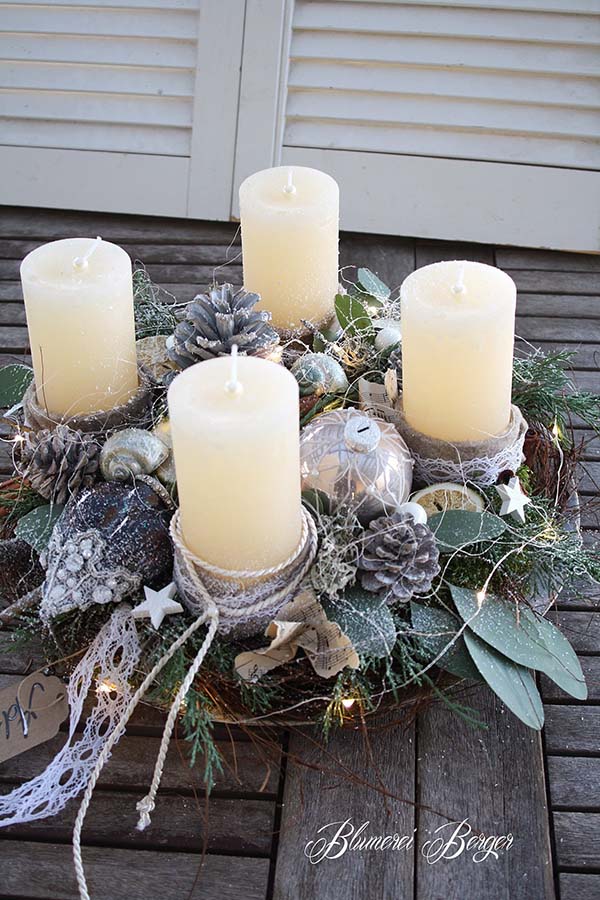 This one is surely one of the easiest Christmas candle decorations ideas to make. In fact, you can use whatever you decide and you can customize the arrangement according to your personal taste.
This stunning DIY advent Christmas wreath (on the picture above) is decorated with wooden snowflakes, silver cones, frosted fir, silver dipped balls and a bunch of lace pieces.
Learn More: Here
10. Whimsical Candle Xmas Tablescape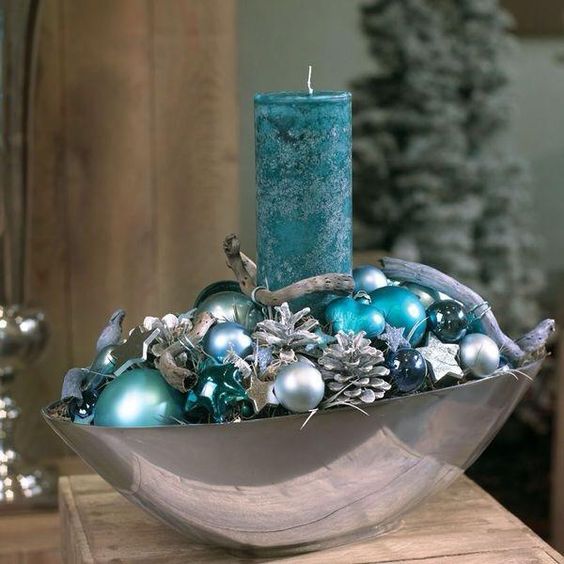 Photo:Credit
Most of the people think that making a great candle centerpiece is an easy task.
It probably is, however, you should consider a bunch of things –  it shouldn't be too heavy and take up too much of the festive dinner table and it needs to be fitting within the theme without going overboard.
Moreover, the candle-powered Christmas decorations should not be too tall because guests need to see each other. Carefully select a color that matches your other decorations – for example turquoise.
This whimsical candle centerpiece has the right amount of everything. Plus, it will catch everyone's eyes!
11. Classic Candle Centerpiece for Christmas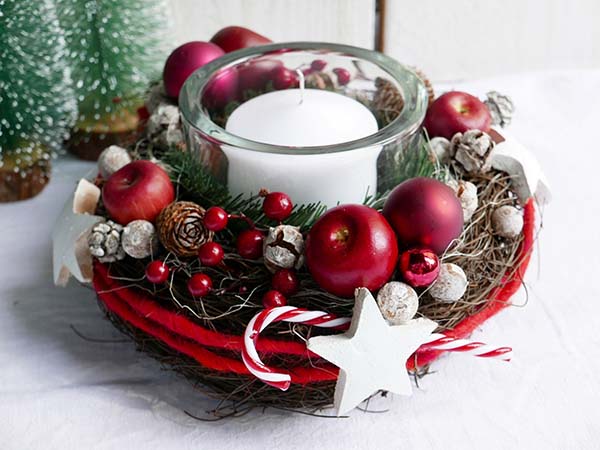 Here is a classic candle centerpiece to display this year.
To start, it has all the elements that symbolize the Christmas holiday – candy canes, cranberries, greenery, stars, and some shimmering ornaments.
Besides, it is very small in size and still makes a strong statement. I like it!
Learn More: Here
12. Easy Christmas Centerpiece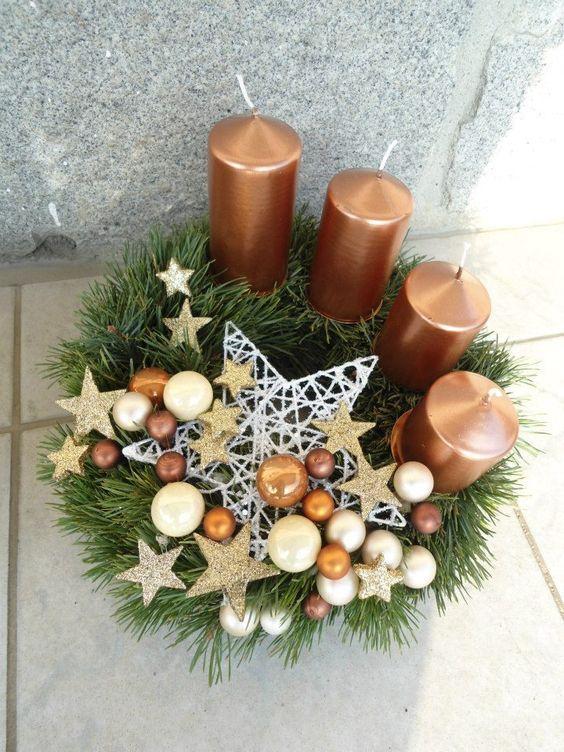 Here is a prompt and simple way to make a stunning centerpiece for your Christmas dinner table.
All you need is a faux wreath of evergreens, a few golden pillar candles, and some sparkly Christmas tree ornaments of your choice.
I love the contrast between the golden shimmering elements and the organic-looking faux greenery.
13. Woodland Christmas Candle Centerpiece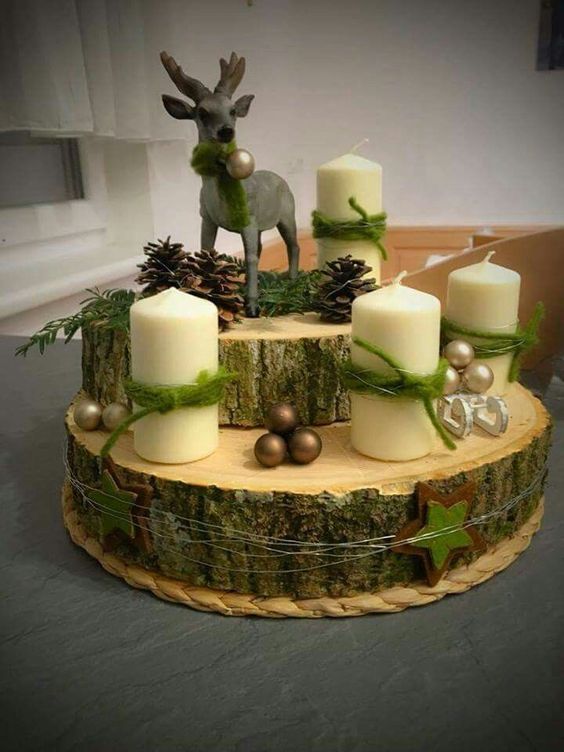 A small deer stands on top of a stump, surrounded by pinecones, evergreens and some Christmas candle decorations. Isn't it adorable?
This festive dinner table centerpiece is surely something every guest of yours will notice.  😉
14. Vintage Candle Centerpiece for Every Season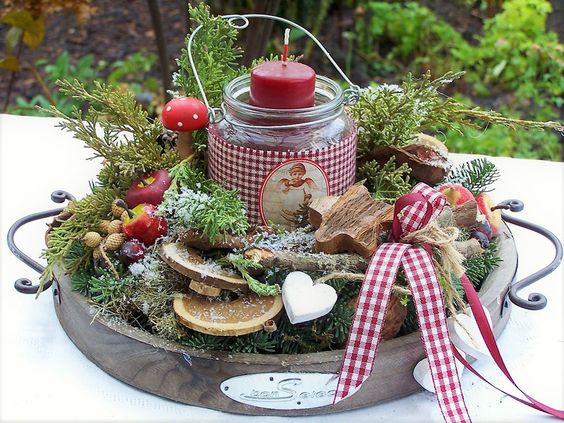 Photo:Credit
This vintage handmade glass candle holder not only creates a focal point in every festive dining table but can also be easily used during the rest of the year as an everyday table decor.
When I showed it to my sister, she said it is too much, however, I love every single thing about it.
15. Dreamlike Metallic Christmas Candle Centerpiece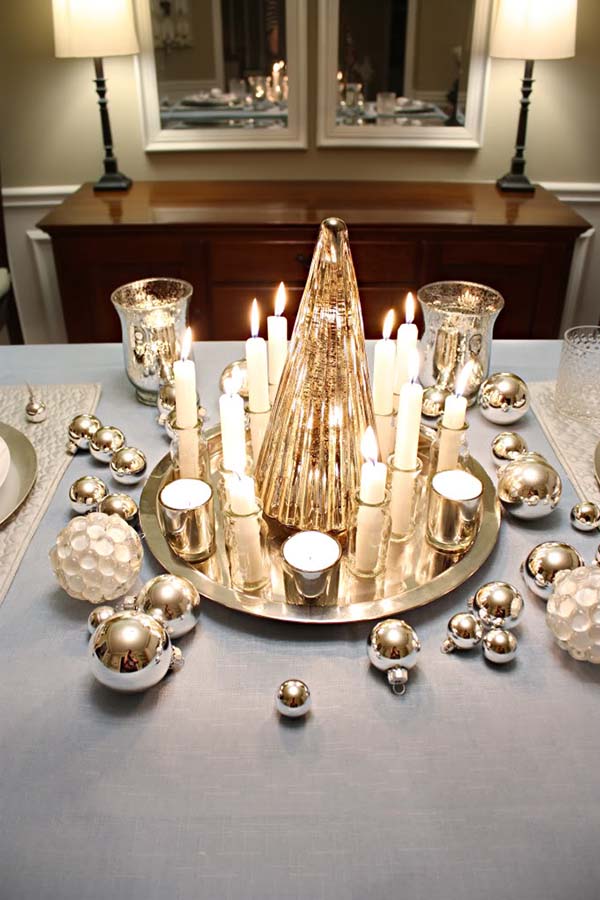 This Christmas table centerpiece is very dreamlike and quite different than the Christmas candle table decorations I've shown you so far.
The metallic elements bring a lot of glamour and texture to the dinner table. Besides, keep in mind it is more suitable for a large table.
16. DIY Birch Wood Christmas Candle Holder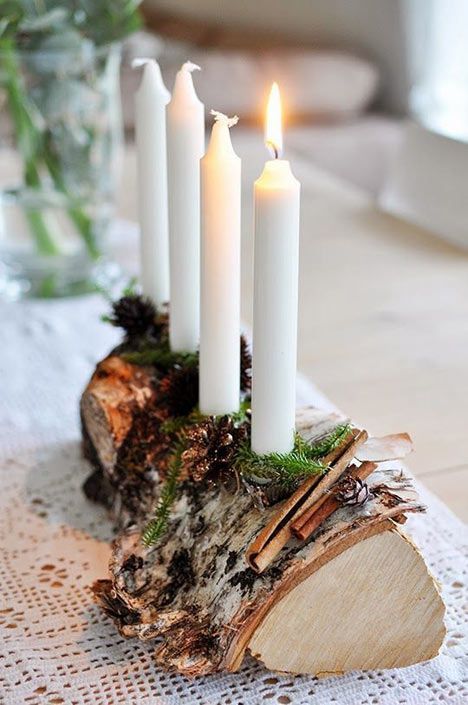 I guess that one of the reasons why people love the Christmas candle decorations is because they are ideal to light up the mood in the festive night.
This beautiful, unpretentious table setting, for instance, gives additional warmth thanks to the organic elements and the simple design.
17. Vintage Christmas Candle Centerpiece in Pink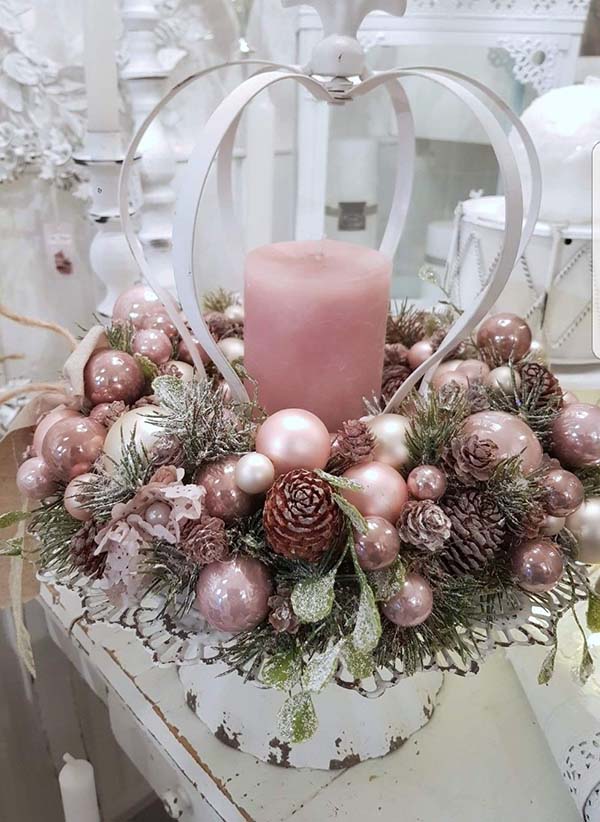 Photo:Credit
Do you like this stunning vintage Christmas candle centerpiece with pink pastel ornaments, a large pink candle, and some faux frosted evergreens.
The whole setting stands on an ivory aged cake stand but you can customize according to the height you want to give this tablescape.
18. Simple Christmas Candle Decor Idea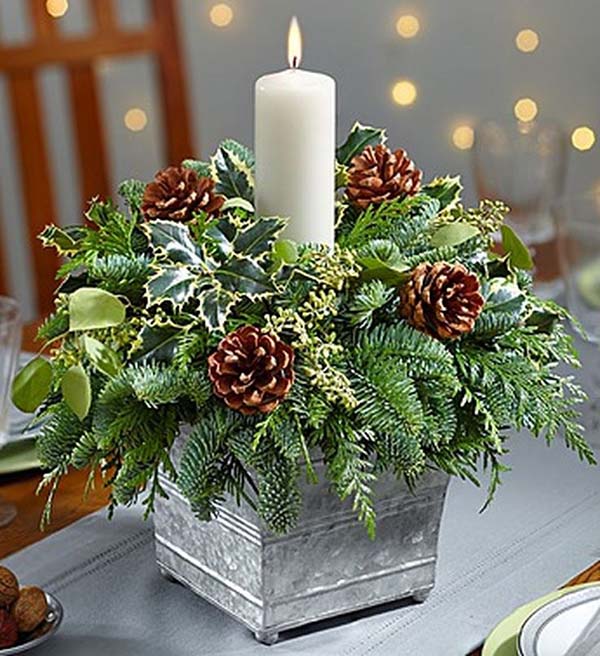 Here is another example of why you shouldn't overdo the Christmas candle decorations!  😉
On the festive dining table, you can just pair loose sprigs of greenery (in sap bucket or decorative metal box, no less) with a bunch of pinecones and holly leaves from the nearest forest.
19. White is the Color of Christmas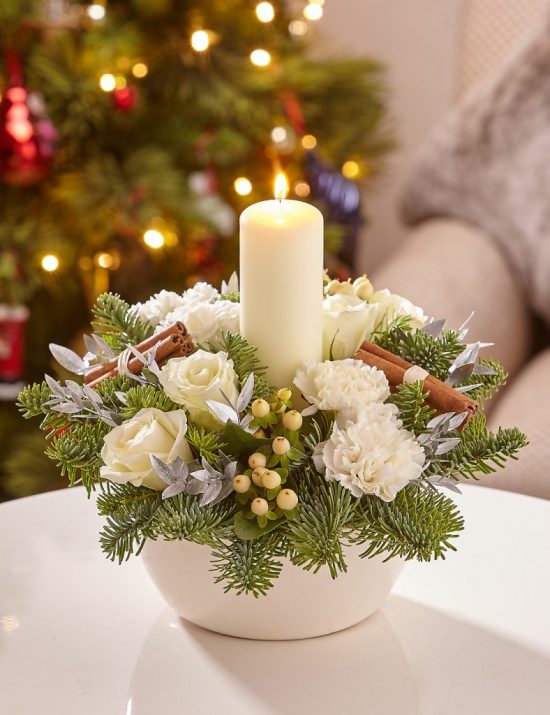 Photo:Credit
Take a look at this original idea for candle holder Christmas decorations – it's something beautiful that you can create in a simple and economical way.
Displaying lots of white elements in the Christmas decor is always a good idea.  😉
20. Fruity Christmas Candle Deco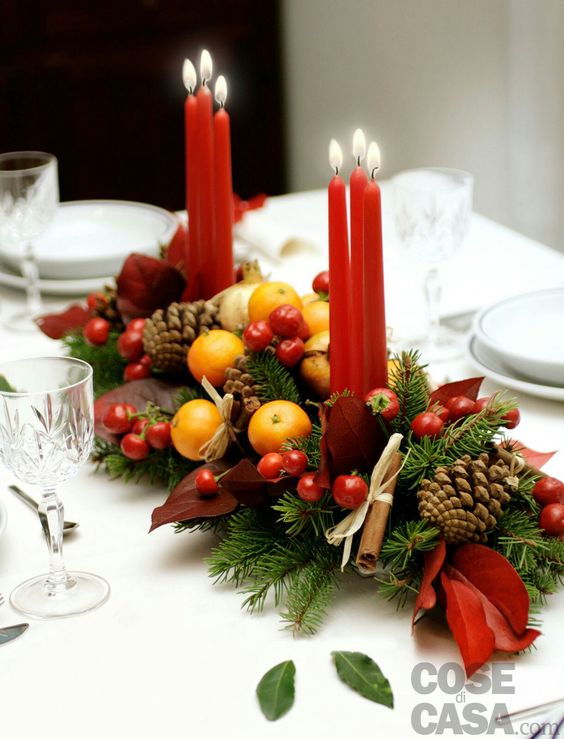 Crafted with detail in mind, this attractive arrangement is stunning as a joyful Christmas centerpiece for a large dining room table.
All you need to do is to place a couple of taper candles in arrangement with some faux pine greenery, cinnamon sticks and seasonal fruits of your choice.
21. DIY Log Tealight candle Centerpiece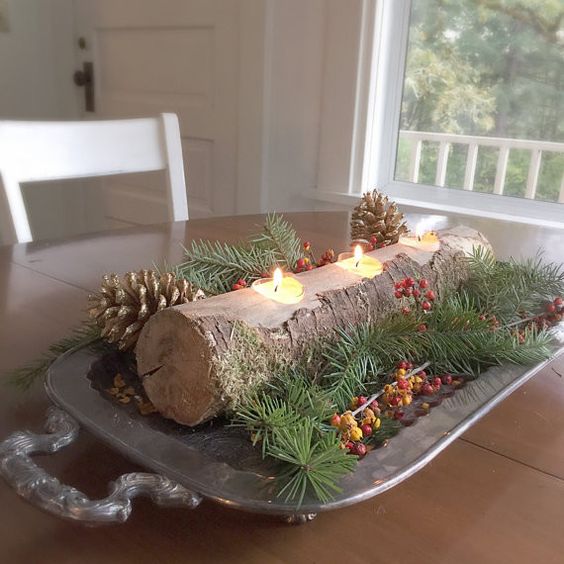 This unique DIY log tealight candle centerpiece is different from the rest of the Christmas candle holders decorations.
It really pops on top of the festive dinner table. Add some fresh pine branches, pinecones, and a pocketful of red berries (faux is an option) for an additional charm.
22. Cute Snowflakes Candles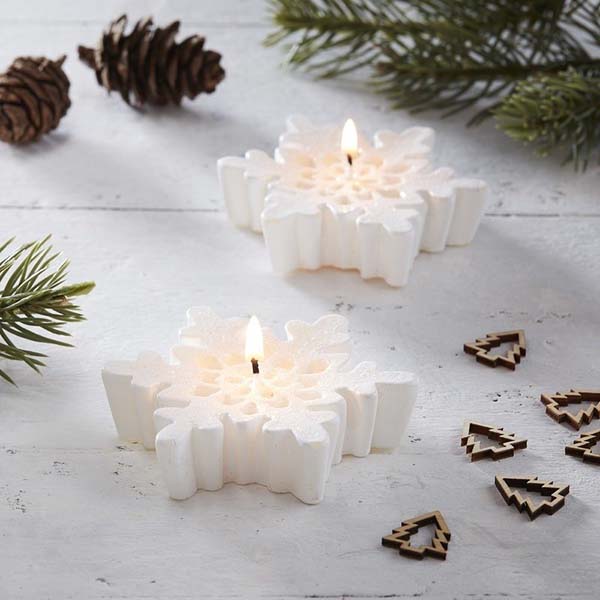 Decorate your holiday dining table in style this Christmas with this superb trio of white gleam snowflake candles in rustic style.
The unique design of these sophisticated candle Christmas table decorations surely makes a strong statement.
Learn More: Here
23. Classic Holiday Candle Tablescape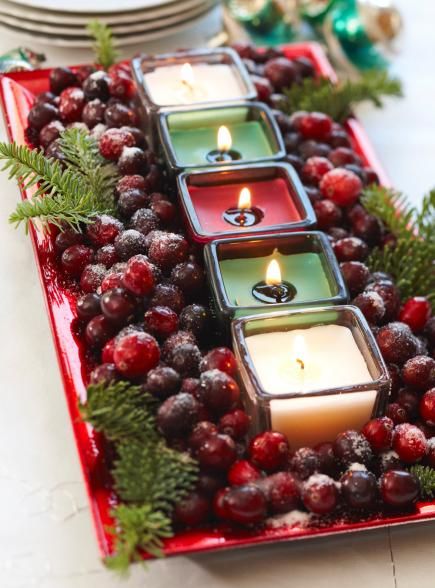 Pick up some red berries during your grocery store voyage before the Christmas dinner party, match it with fresh greeneries, aflame candles in the classic red-green-white Christmas palette, and consider your holiday table decorating done.  😉
24. Five-Minute Christmas Candle Decor Idea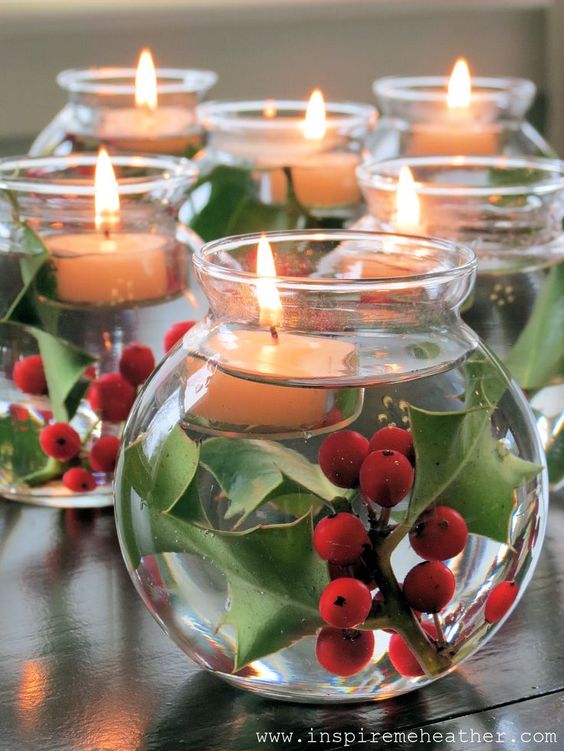 Photo:Credit
Are you a fan of the floating candle Christmas decorations? If so, here is something that might interest you.  😉
In just a few minutes, you can build these charming luminaries using pickle jars (let's say), red berries, cedar holly leaves or something green, and floating candles.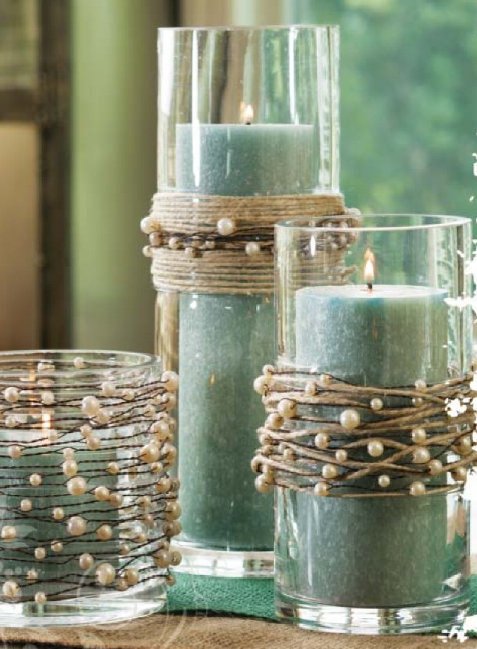 This cute pearl garland adds an understated glamour to the simple tall glass candleholders.
It would be also great wrapped around mason jars and wine glasses with tea tealights.
Definitely one of my most favorite Christmas candle holders decorations!
Learn More: Here
26. Rustic Glass Tea Light Holders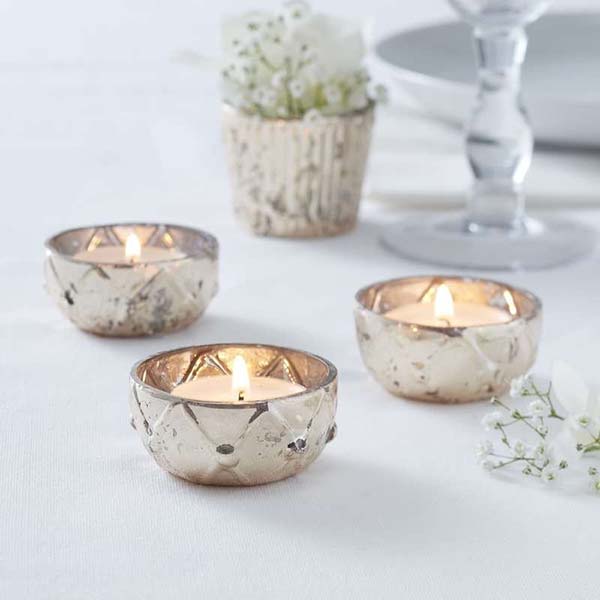 To accomplish the whimsical lighting for your special event, no matter if it's Christmas or a wedding party, display a bunch of these cute tea light holders to get your glow.
I'm in love with the rustic detail featuring a checked trim on the outside.
Learn More: Here
27. Santa Sleigh Christmas Candle Centerpiece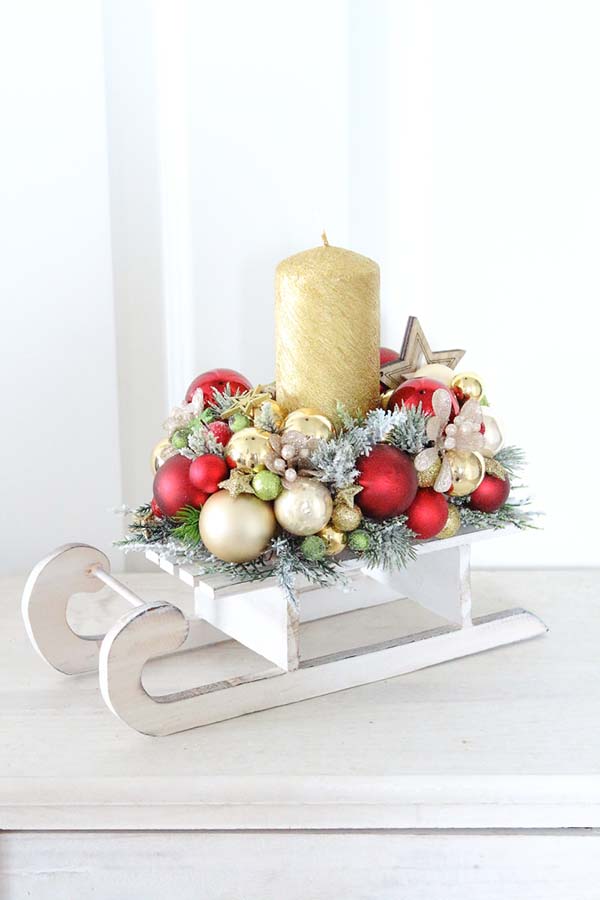 Photo:Credit
This eye-catching decorative Santa's sleigh is filled with frosted evergreens, lots of large & small shimmering ornaments, and a golden pillar candle in the center.
This is a great Christmas gift for a friend or someone from your family.
28. Cozy Knitted Christmas Candle Decor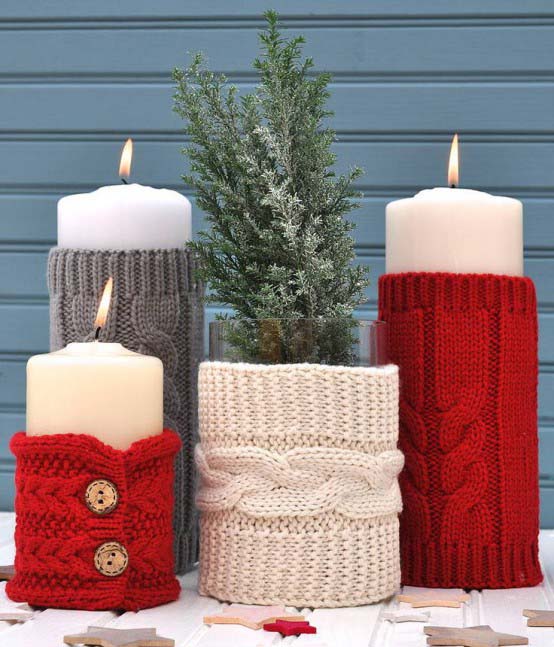 Photo:Credit
These different sized pillar candles dressed in knitted 'clothes' certainly look very chic.
Keep in mind the knitted items always bring coziness and charm to any space, despite the season and the theme of the decoration.
29. Nordic Style Candle Tablescape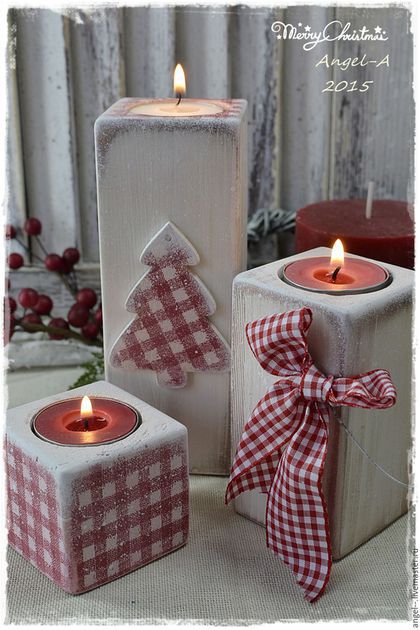 Photo:Credit
I'll finish my collection with these Scandinavian-style Christmas candle decorations that look both very simple and chic.
The candle holder itself can be made from concrete. The ribbons and the other Christmassy elements give this setting a very cheerful and warm vibe.
That's it, my fellow readers! I hope you enjoyed my collection of 24 Christmas candle holders decorations! See ya soon! x