White candles add a touch of elegance to any décor and come into their own at Christmas. Grab your candles out of the closet. Here's a collection of white candles ideas to create beautiful Christmas arrangements.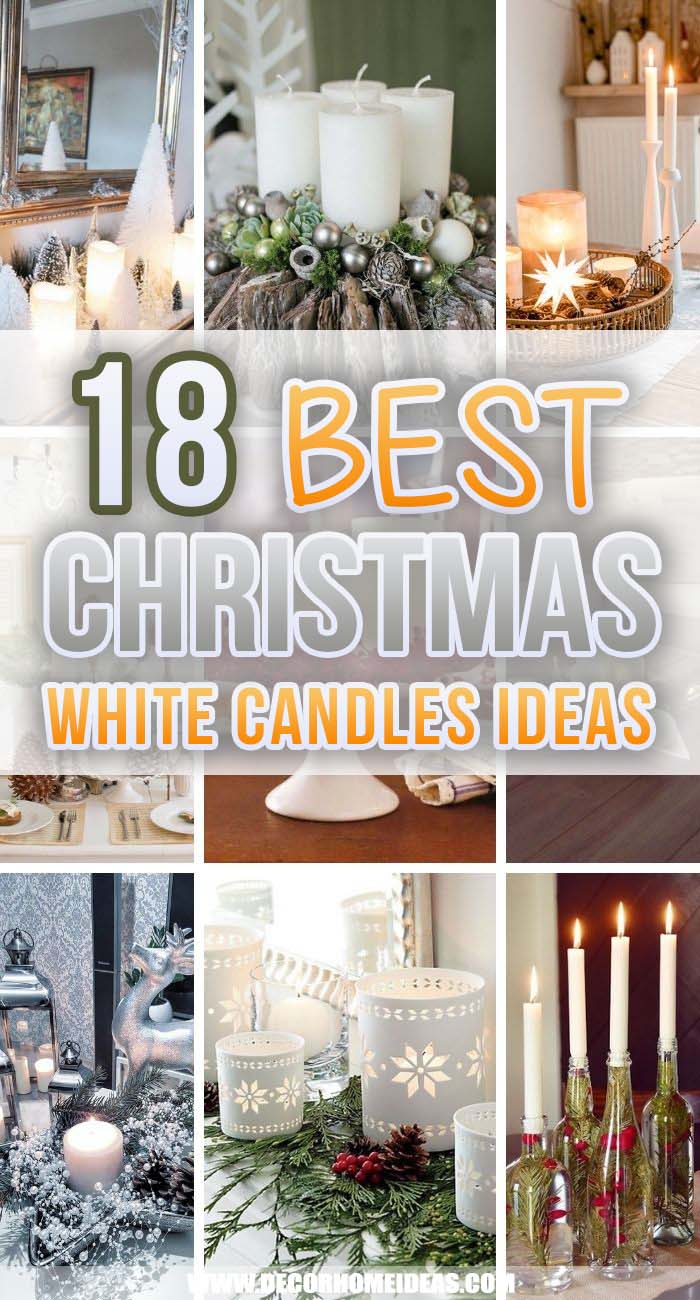 There's something here that'll spark your imagination. You'll find ideas for your table centerpiece, a side table, or your fireplace mantle. Many are inexpensive and easy to make. Most projects will take less than thirty minutes to put together.
Many projects call for branches from trees and shrubs. You'll find these items are much cheaper in discount chain stores. Many eBay vendors sell a lot of these pieces in bulk, so if you have a lot of decorating to do, check there for supplies.
1. Place Your White Candles on Tree Bark for a Rustic Look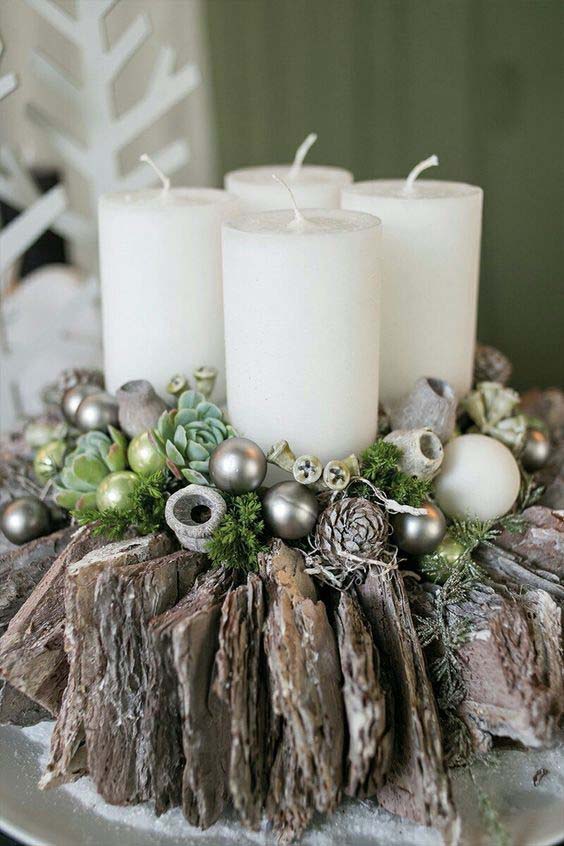 Gluing pieces of tree bark perpendicular to a round base creates visual interest.
Small ornaments and succulents finish the look. Use a plate or platter to make the base.
Granular fake snow covers the pesky wood glue. A second option is to substitute the plate for a level slice of wood.
2. Enhance Table Setting with Silver Cake Stand and Candles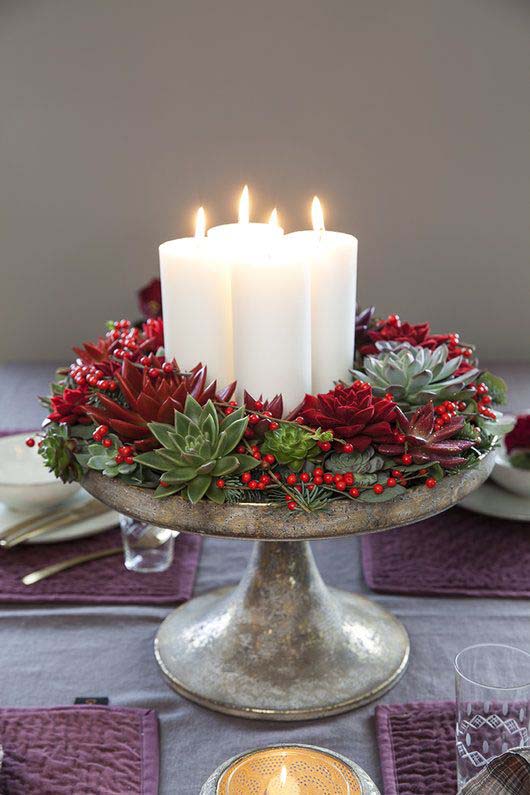 An old, silver-plated cake stand shows how elegant the rustic look can be. Center tall pillar candles in a wreath of pine twigs.
The red and green succulents (echeveria) create visual interest with their pointed leaves. Add strands of Christmas berries to draw the eye around the platter.
This is a great look for an English country table setting.
3. Brighten Your Wooden Tray Centerpiece with Candles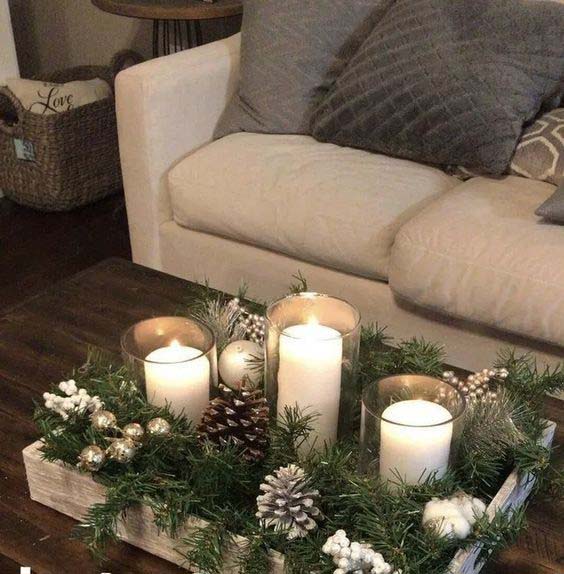 These larger pillar candles in a wood serving tray look great on a coffee table.
Green pine branches fill in the empty spaces. Silver and white berry ornaments provide reflective surfaces for the lights.
Spray the bottom half of the candle holders with Looking Glass silver paint made by Krylon. It will give them the elegant and rustic look of mercury glass.
4. Repurpose Cake Stands into Elegant Candle Holders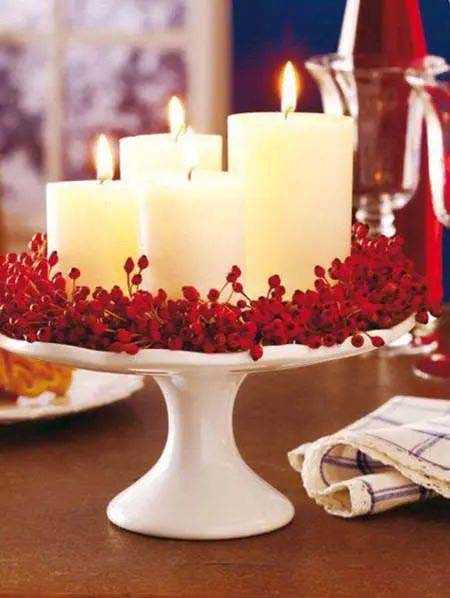 Create memories of peppermint candies at Christmas in about five minutes. Arrange a few pillar candles on a white cake stand. Wrap strings of red berries around the candles.
The candles should be tall and wide enough that they're not upstaged by the visual weight of the cake stand.
You'll need plenty of Christmas berries to ensure the base is well covered. It's a piece of cake.
5. Magical Country Cottage Setting with Cane Candle Tray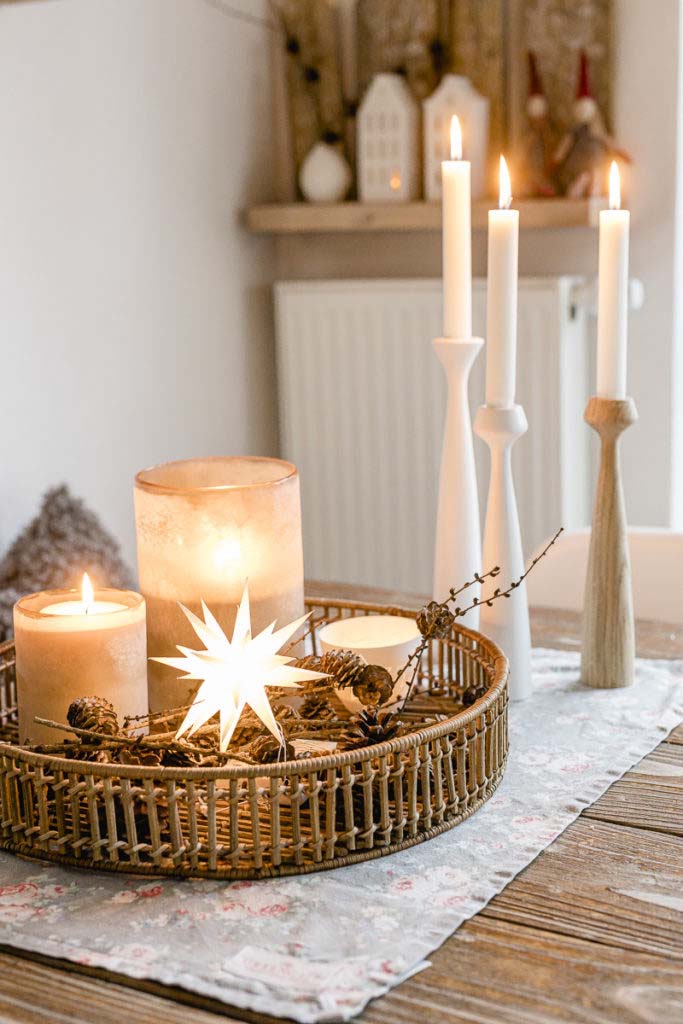 Add a couple of candles to a cane tea tray. The pinecones and twigs give this a true country cottage feel.
The candles are in frosted holders to soften the glow.
The star light (a small, battery-operated tree topper) gives the setting a magical touch.
via Pomponetti
6. Be Charmed with Ceramic Hurricane Candle Holders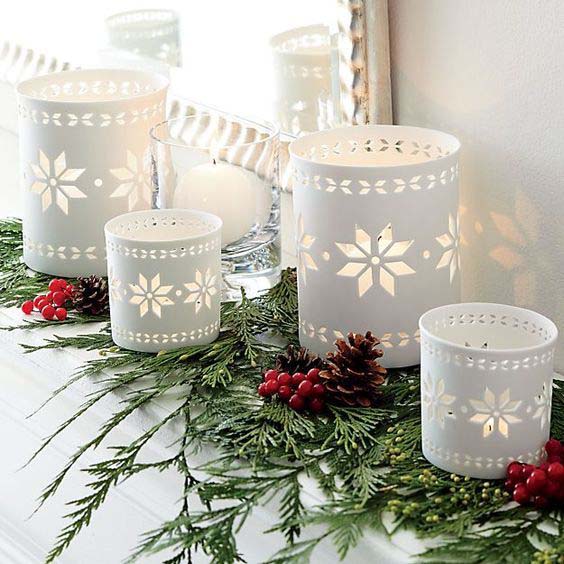 White candles are winners in a collection of white hurricane candle holders.
They look great on a mantle or as a table runner centerpiece. Shop around and you'll find there are plenty of design options available.
These are popular ceramic studio pieces, so be sure and check out any local craft fairs for bargains. You're sure to find a few to match any theme. You can mix snowflake patterns or collect Christmas wishes.
7. Bring Rustic Charm with Vintage Cup Pillar Candle Holder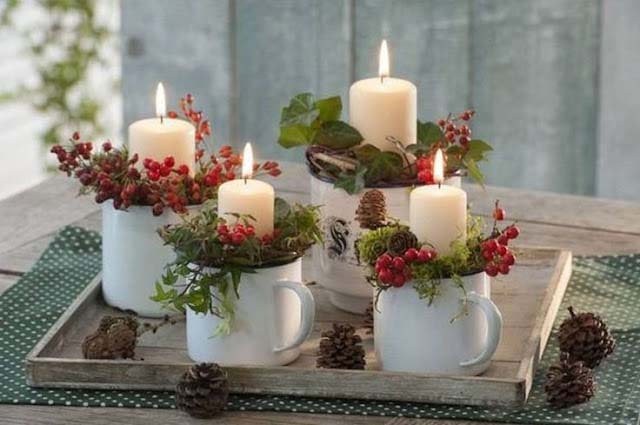 If you have pillar candles in a variety of sizes, put them together in pure white mugs and bowls. Small sprigs of green English ivy and red berries tucked in add the right amount of color. Collect them together in a rustic wood tray. A placemat creates a visual separation between the tray and the table.
What if your trays are being used for more important things? Most discount stores' home décor sections have wall hangings that are quotes printed on wood. They're usually deep enough that you can flip it upside down to use as a tray.
8. Elevate Your Candles for an Elegant Table Setting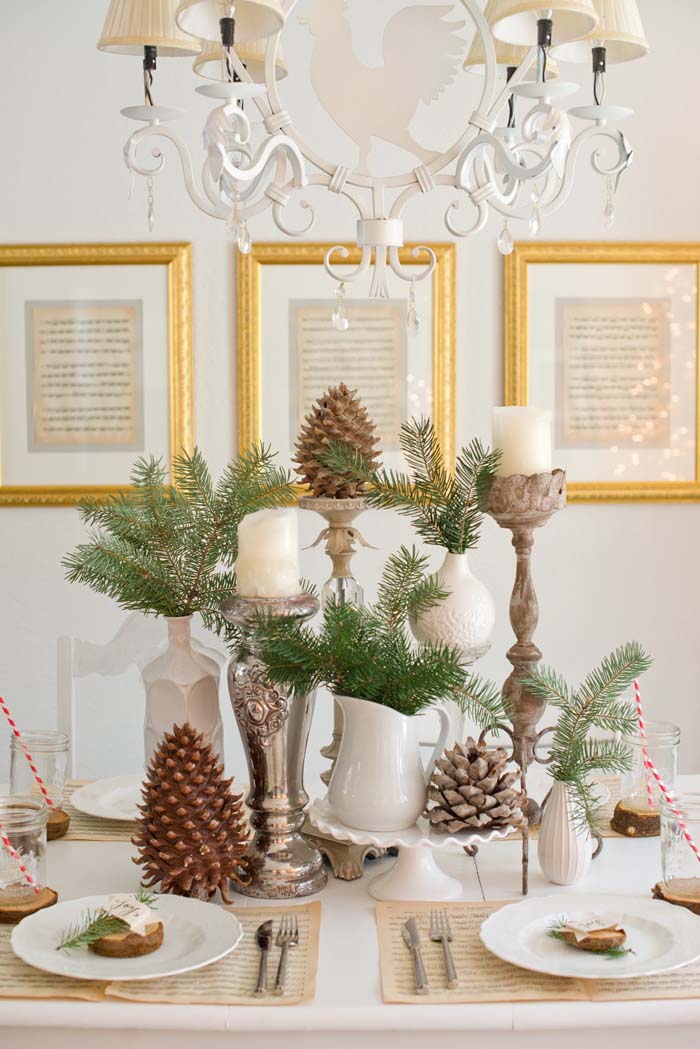 To mimic the look of this table setting, be sure and raise the candles closer to eye level.
Oversized pine cones anchor the centerpiece. The natural accents and colors blend with the white dinnerware.
We love the yellow sheet music used as placemats and the mason jars with candy cane straws.
9. Creative Star-Shaped Candle Holder and Lights Accents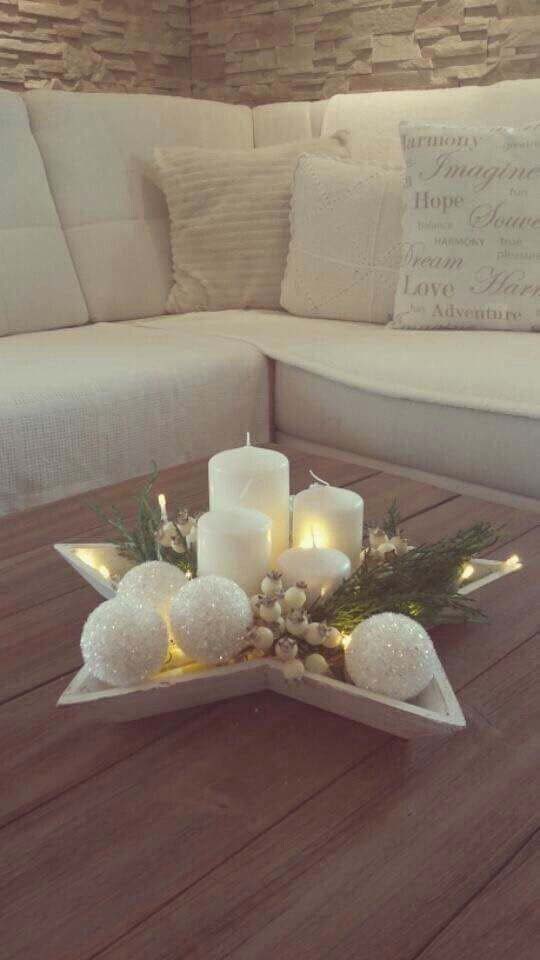 A collection of shorter, wide candles works well in this coffee table centerpiece. Layers of candlelight and a strand of yellow LED lights tucked into the bowl set a warm and inviting mood.
The star-shaped bowl, white ornaments, and berries lay the backdrop. They also hide the battery pack for the lights.
Even though it's a white piece, the various textures add interest to the display. This would work well with LED candles, too.
10. Turn Cake Pedestal with Evergreen and Candle Decor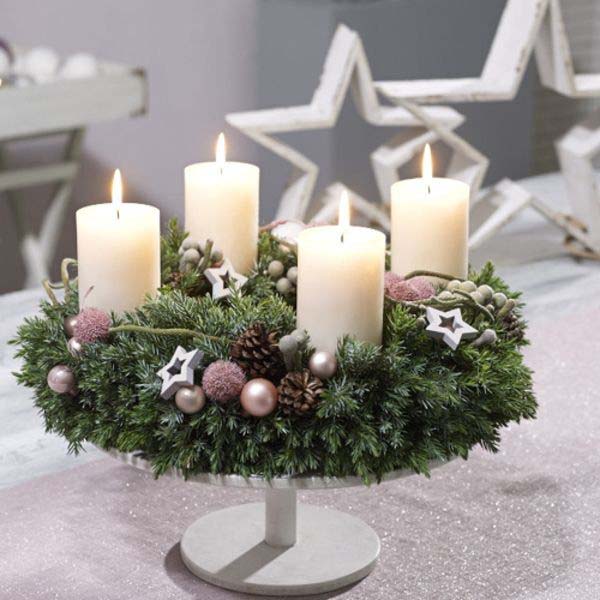 Make room for more goodies on the table by raising the candles up on a cake stand.
The branches here are lush, creating visual volume to the piece. The cake stand, with its clean lines, is minimalistic.
Millennial pink ornaments add a young, modern touch.
11. Light Up Your Home with Pine and Candles in Bottles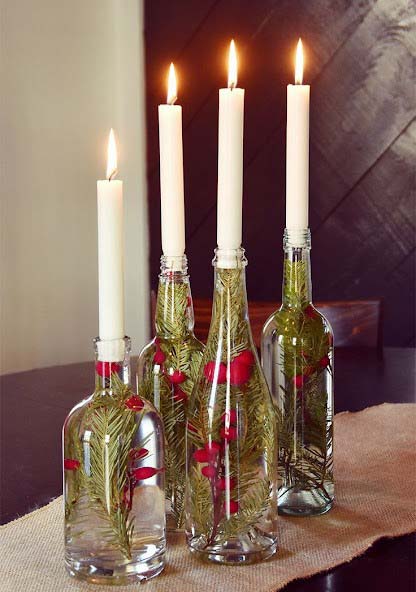 Capture artificial sprays of pine and berries in crystal clear bottles. The bottles should feature the same type of natural materials.
Doing this ensures the look will work with bottles of different shapes and sizes. If you would rather use twigs from outside your home, spray them with a good spray of shellac or hairspray.
Shellac is a little more expensive, but you'll get several uses out of them.
12. Upgrade Your Side Table with a Fir and Candles Wreath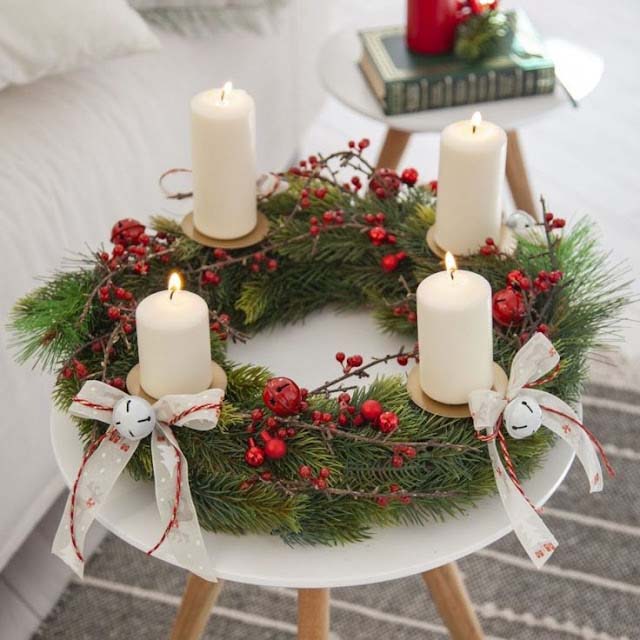 Did you buy too many wreaths at the local charity bazaar?
Put one on a side table and secure the candles using holders with spikes for advent wreaths. Wrap the base of the candles with a wire ribbon. Intertwine the wreath with strands of Christmas berries.
It's a great portable piece.
13. Create a Magical Scene with Candles and White Trees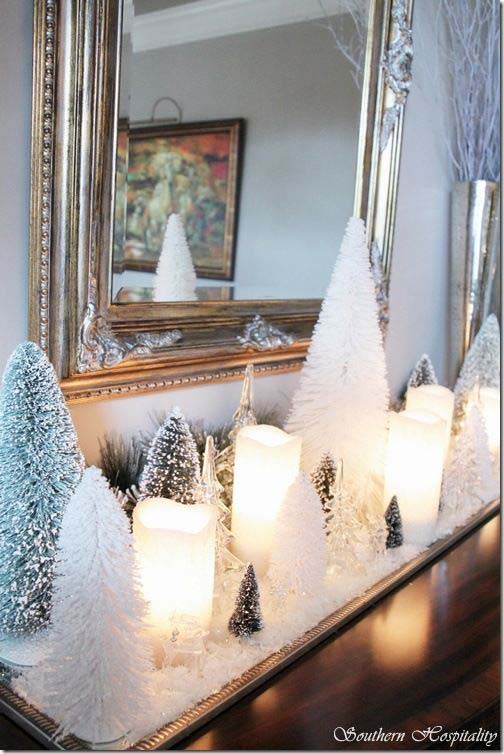 Candles illuminate a winter wonderland using various sized trees.
Use LED candles to prevent the trees from melting. This would look fantastic on a mantel or console table.
14. Illuminate Your Holiday Table with a Starry Candle Decor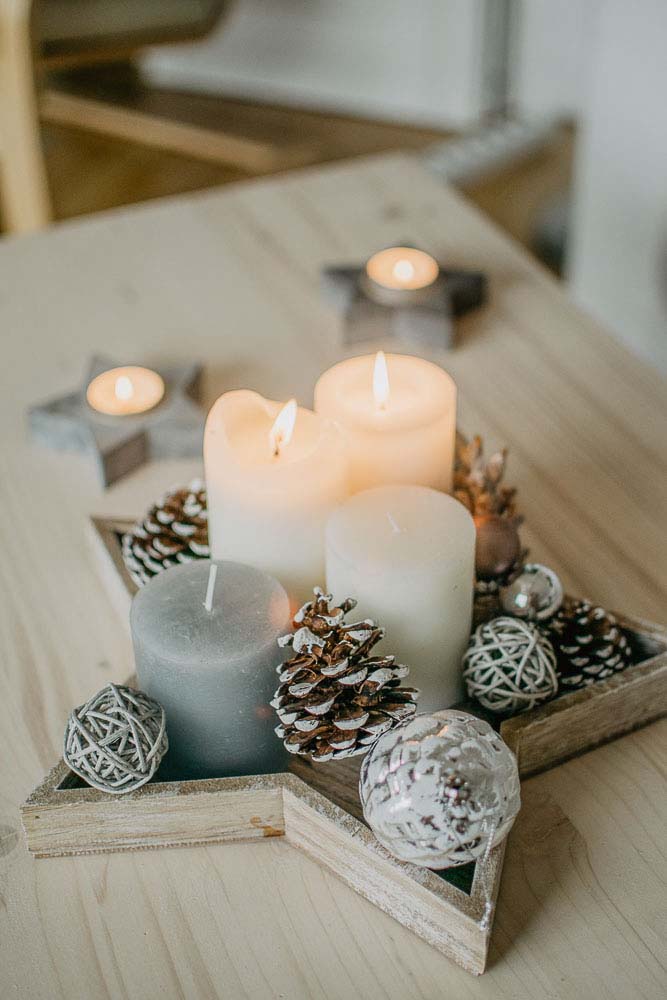 Add candles to a star-shaped tray. Pinecones and small ornaments finish the main setting.
Add white votive candles to star-shaped candle holders. This underscores the idea of a shooting star flying across your table.
via Fitness Fashion Fascination
15. Make Your Home Sparkle with Snowy Star Décor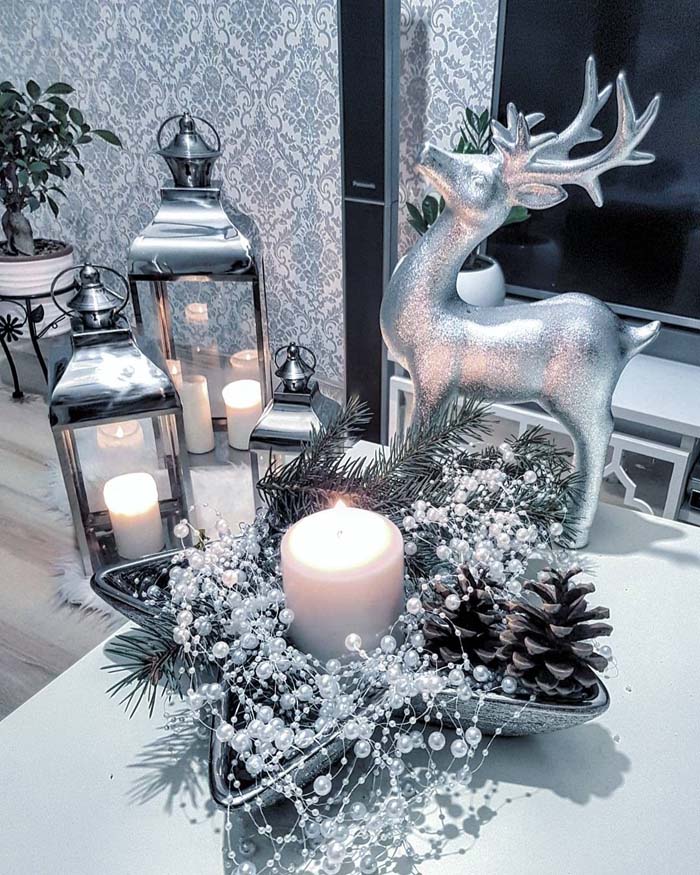 The secret is to get that Goldilocks candle that looks just right.
Create a snow bank scene with fallen branches and pinecones. A garland of small, frosted ornaments looks like glistening snow.
16. Eerie Atmosphere with Evergreen and Candles Wreath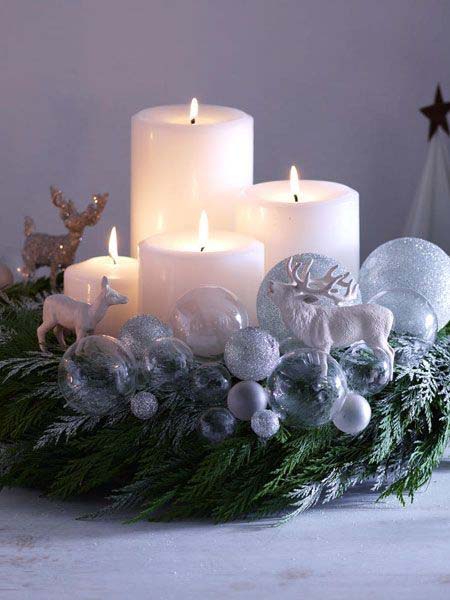 If you have a few elk lying around, this collection of pillar candles in a wreath is a quick and easy project. Arrange some clear ball ornaments and dust one side with snow flock powder.
If you don't happen to have elk around your home, any woodland creatures will work. Pick them up in the toy section of your local discount store or craft stores that sell cake toppers.
Let your imagination go wild with animal babies like squirrels, raccoons, and bunnies.
17. Elegant Wreath with Wooden Stars and Candles Accents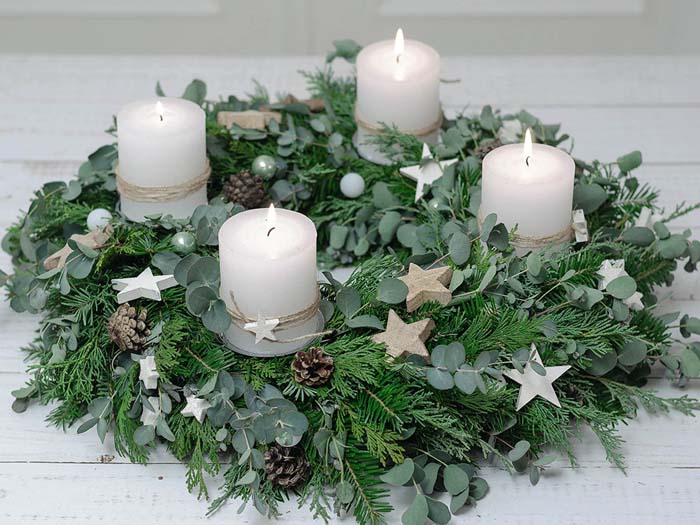 You can put together this wreath in an evening. It uses a wreath form and floral supplies.
Wood stars can be purchased in bulk at craft stores and painted in neutral tones.
String a few together using a Dremel or by adding small hooks in the back.
via Deko Ideen Reich
18. Monumental Beauty with Candlelight and Trinkets Tray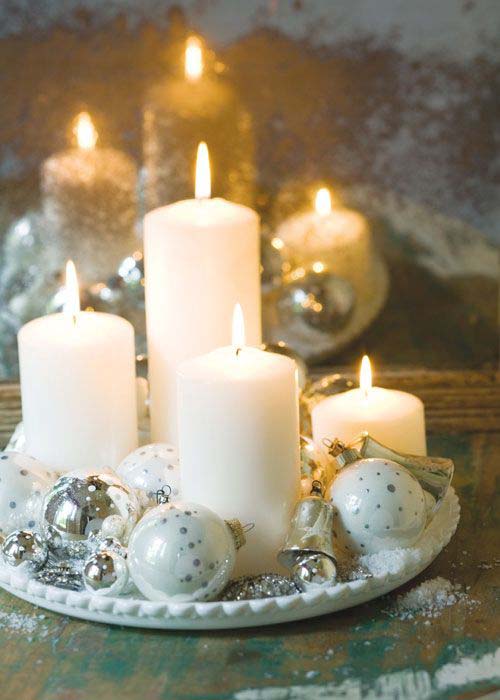 A plain, white tray gets bedazzled with garland, bells, and bulbs. This is an easy tray to put together.
Stick to a silver and white theme and you can't go wrong.