Lights play a big part in setting the mood for the holidays. The secret is using magical fairy lights. If you're looking for ideas for festive string and fairy light DIYs for Christmas decorating, read on.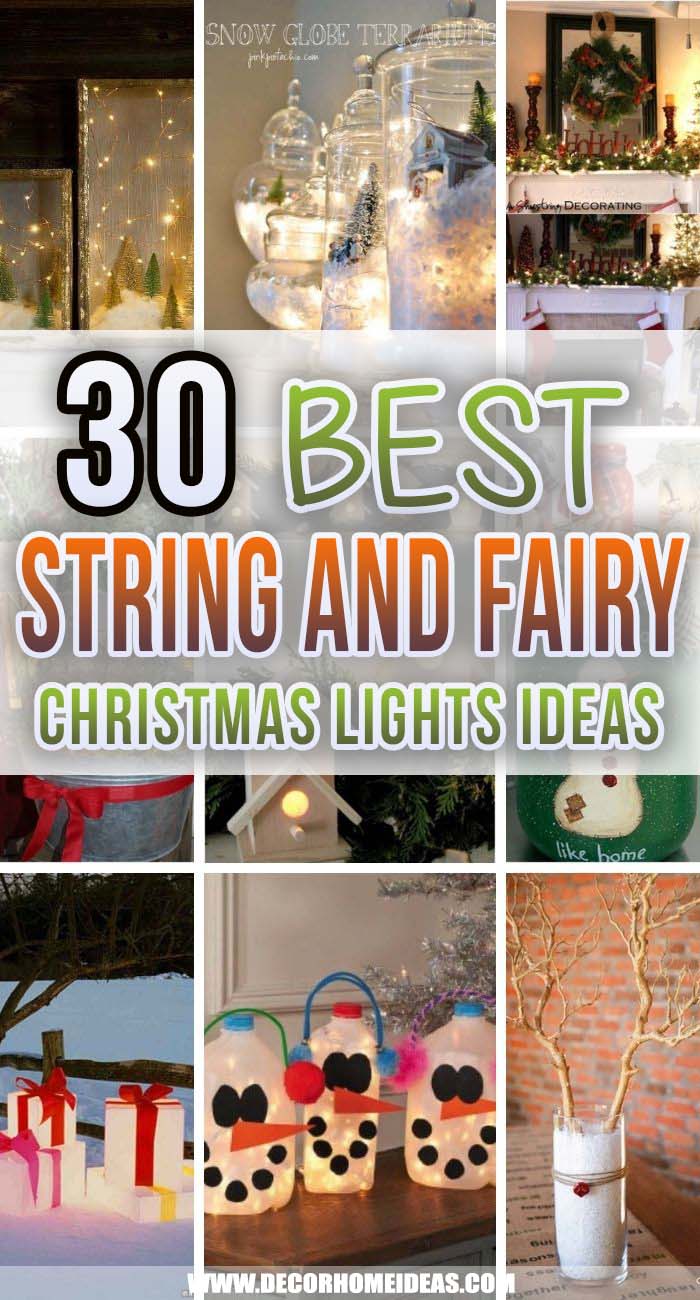 Use these sparkling gems to recreate these easy and affordable projects. Most can be made with things you already have and the rest can be picked up in local craft stores.
1. Make Your Home Sparkle with Lighted Mason Canisters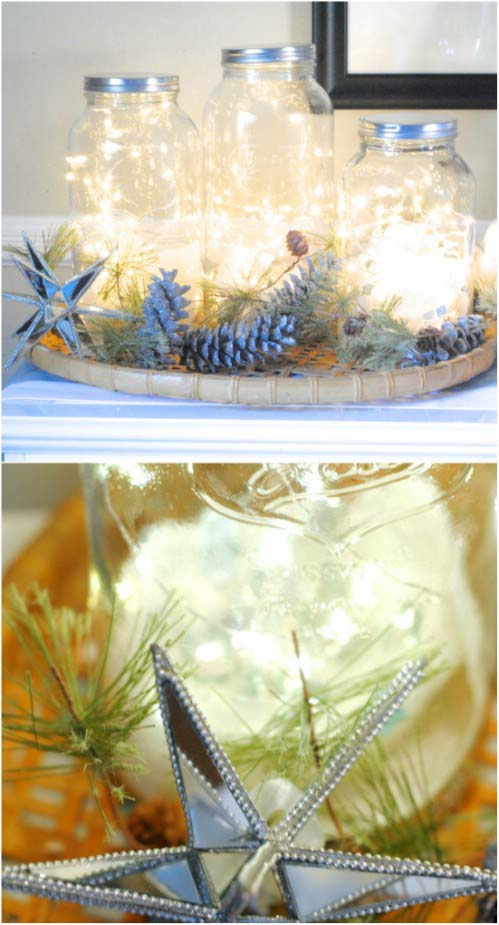 These are very large mason jars. The end of the light string is taped to the top using Washi tape.
The battery pack is at the bottom and burlap is used to hide it, but fake snow will work just as well. This has some extra sparkle thanks to a strand of mini mirrored garland.
via Making Lemonade
2. Farmhouse Charm with Burlap and Fairy Light Tablescape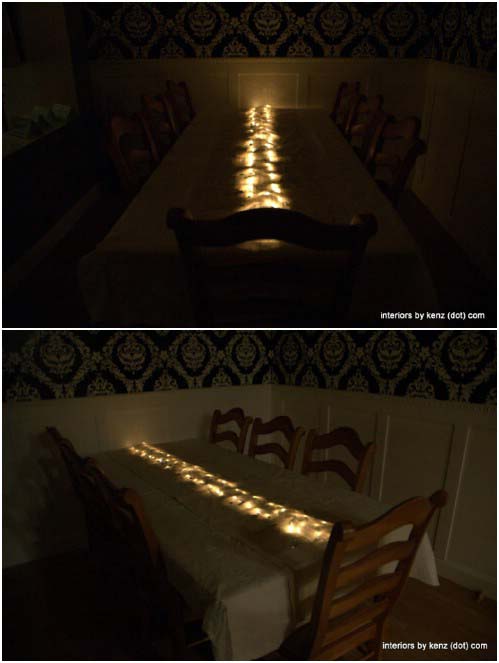 Get this elegant look by trimming a length of burlap and finish the edges.
Run two strings of fairy lights on top of them. Finish by covering with a length of lace runner.
3. Get Creative with a Colorful Candy Lights Garland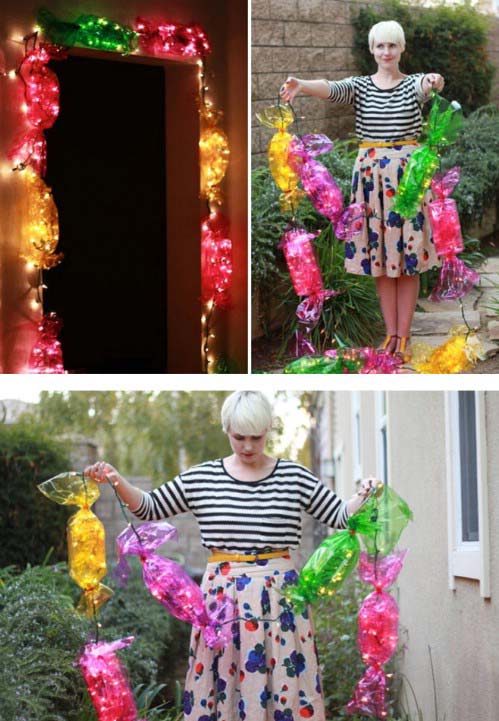 A lighted garland of hard candy creates a sense of wonder.
The secret to keeping the lights secure and uniform is to use corsage boxes.
via Oh Happy Day
4. Make Your Yard Sparkle with Christmas Light Balls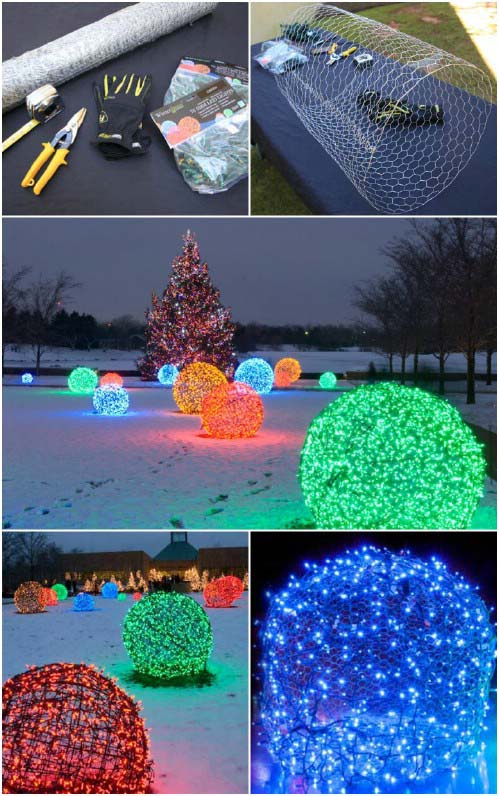 These popular Christmas light balls look like a large strand of lights lying across the yard.
They're made with chicken wire, lights, and a lot of patience. You'll create them quickly as you get the hang of it.
5. Create Festive Lighted Trees with Tomato Plant Cages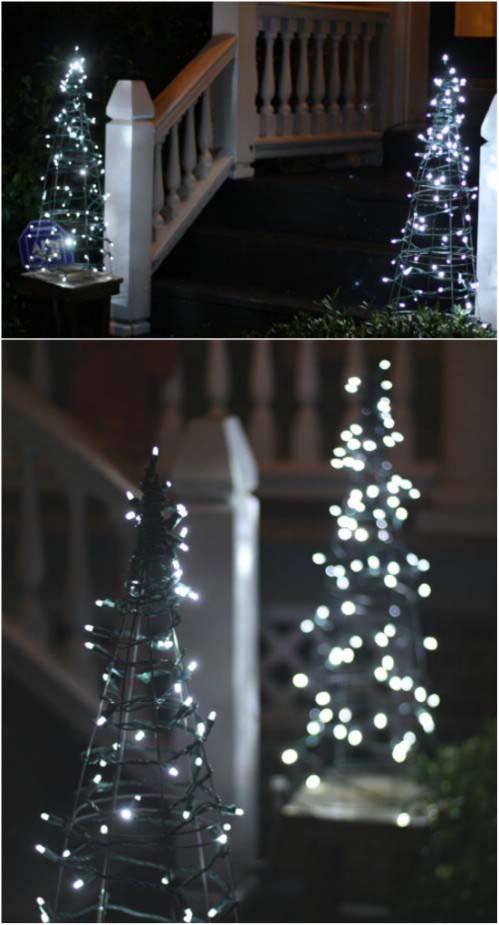 This is a great use for old tomato plant cages. Stack two of the same size together to create a stronger frame.
Zip tie them together and use rubber bands wrapped around the top to form a point.
Bring up the lights in and around the support straps.
via 17Apart
6. Add Splendour to Your Home with Fairy Light Globes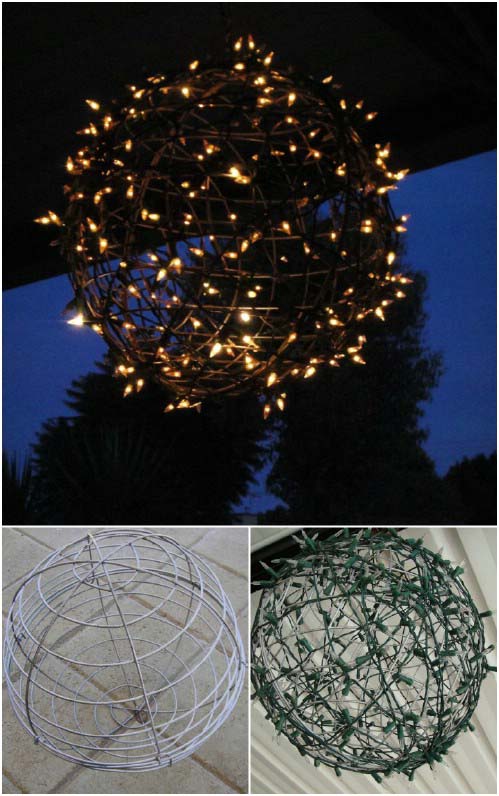 Two wire-hanging baskets create the form for these lights. They're zip-tied together and sprayed with silver paint.
This can be used all year. Make it feel a little more like a Christmas decoration by wrapping a bow made from wire ribbon around the top.
7. Elevate Your Christmas Card Holder with String Lights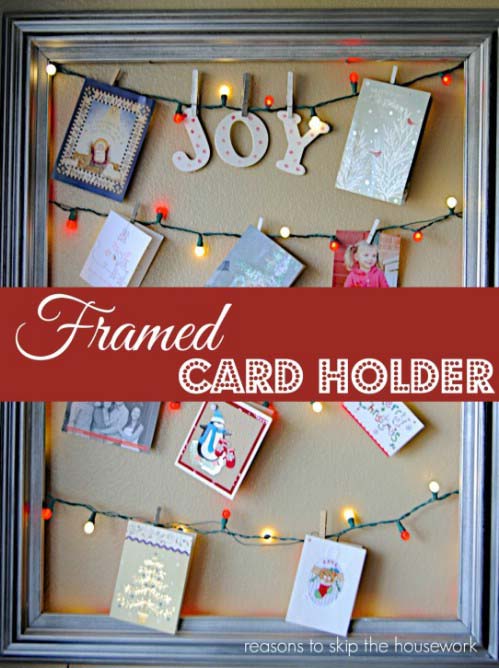 This is great for displaying Christmas cards or birthday cards during the rest of the year. Keep the backing of the frame in place and bring some fairy lights through, fastening them to the edges.
Attach cards using small paper clips or colorful clothespins.
via Reasons To Skip The Housework
8. Turn Your Shadow Box into Magical Christmas Landscape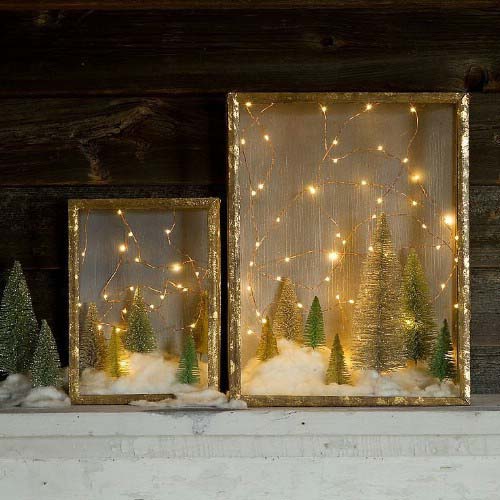 This is an upscale version of a shadow box that you can make yourself.
Use the backside of an art canvas, bottle brush trees from any craft store, and fairy lights instead of copper lighting.
If you don't have fake snow, you can always pull apart some cotton balls. Decorate the frame and background with foil or textured paint.
via Pop Sugar
9. Illuminate Your Decor with a Glass Reindeer Centerpiece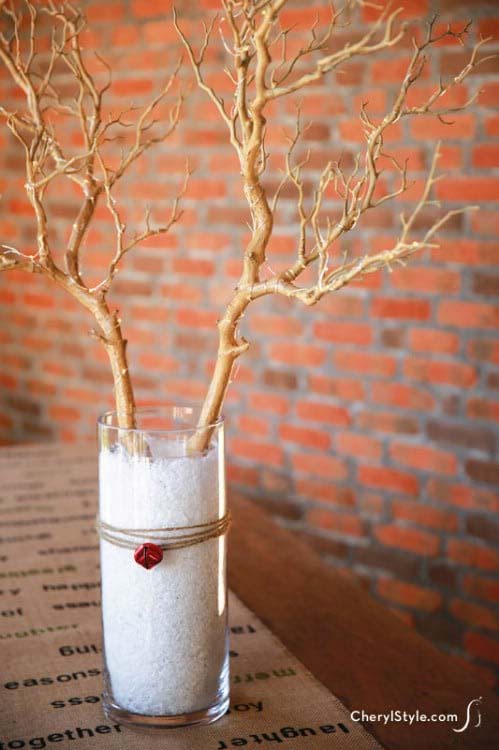 A fresh take on Rudolph's story. Using two vases makes this much easier to make. The inside vase holds floral foam for the manzanita branches. You'll find manzanita branches in pet shops.
Fake snow covers the battery box. It's filled between the two vases. String the delicate lights around his antlers. Jute twine and a red jingle bell make his nose.
via Everyday Dishes
10. Impress Your Guests with Glowing Gift Boxes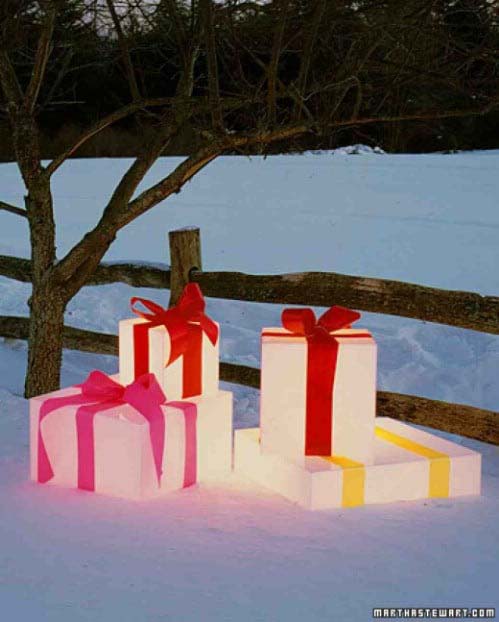 These boxes are made to stand like giant presents in your yard. Plastic boxes are wrapped with waterproof fabric ribbon and a light is placed inside. They added a hole for ventilation.
The idea can be scaled down to any size. Recreate the look in miniature by using small boxes and lights for a unique-looking garland.
via Martha Stewart
11. Transform Your Votives into Rustic House Art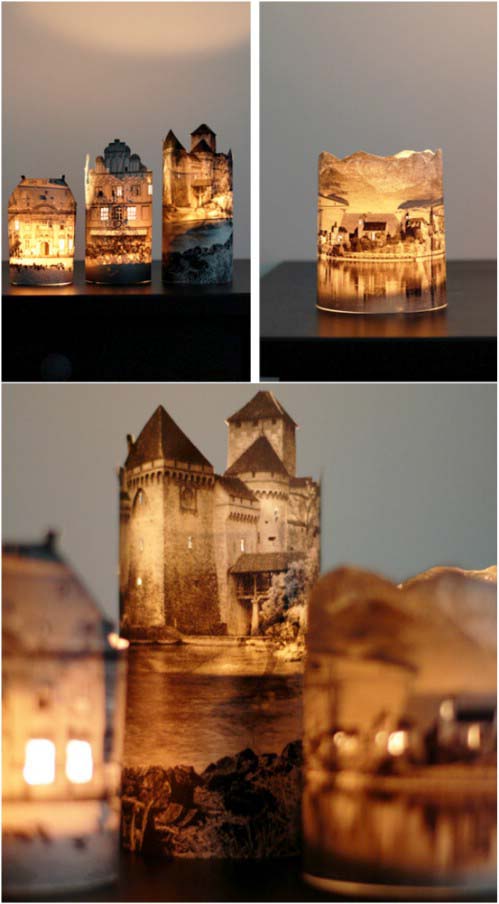 If you're good with X-ACTO knives, this will be a breeze. The trick is finding houses that are shown straight on and carefully cutting out the windows.
Wrap the images around battery-operated LED candles or resize them to fit around any clear bottle. Then, tuck in the fairy lights.
via Fellow Fellow
12. Upgrade Your Joy Marquee Sign with Bright Lights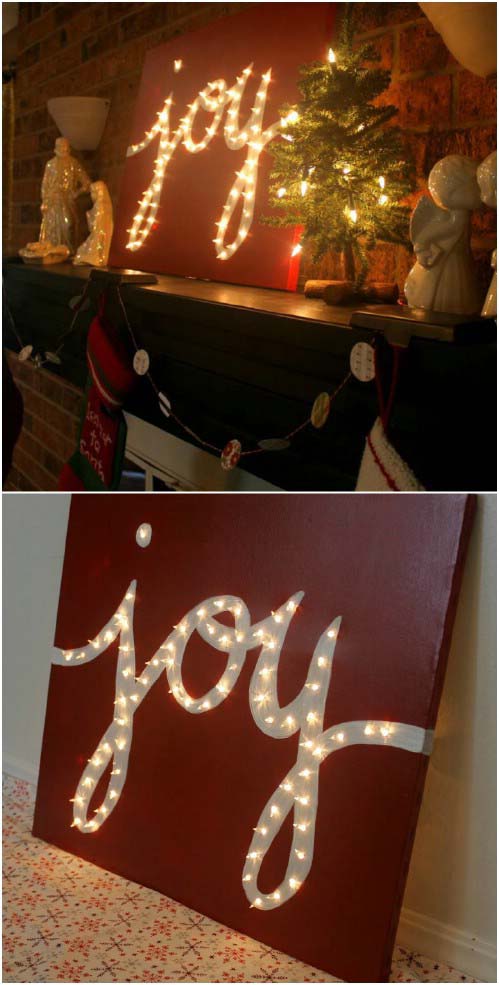 The silver lettering provides a reflective surface for the lights. Use a darker color for the backdrop color.
Other words that would work are "Noel," "Peace," and "Faith." You could also make a pair of these using the words "Naughty" and "Nice."
13. Bring Christmas Cheer with a Chic Lighted Snow Canvas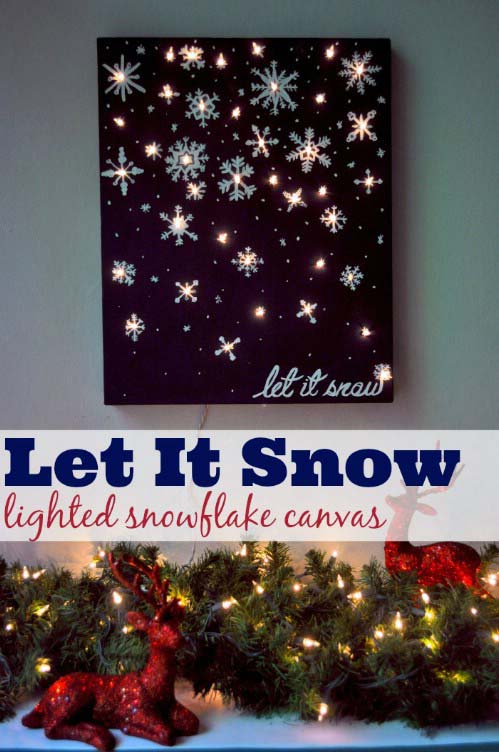 This canvas DIY originally used a strand of 50 lights, but not all the light points were necessary.
The snowflakes were drawn freehand. Paint the canvas black or a navy and black blend. The time spent on this piece is waiting for the paint to dry.
via The Love Nerds
14. Transform Bedroom with Green and Fairy Lights Garland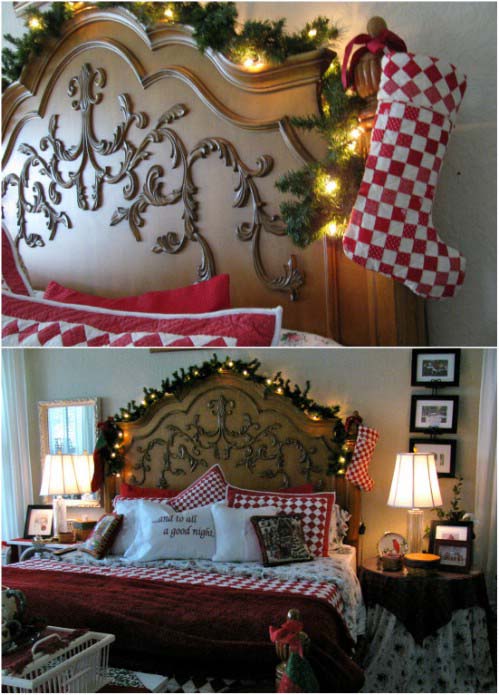 A length of green garland wrapped with fairy lights is an easy way to add real impact to your headboard.
Connect the two pieces using twist ties. Try to get green-colored twist ties if you can. They'll blend in better.
via May Days
15. Showcase Home's Beauty with a Lighted Burlap Garland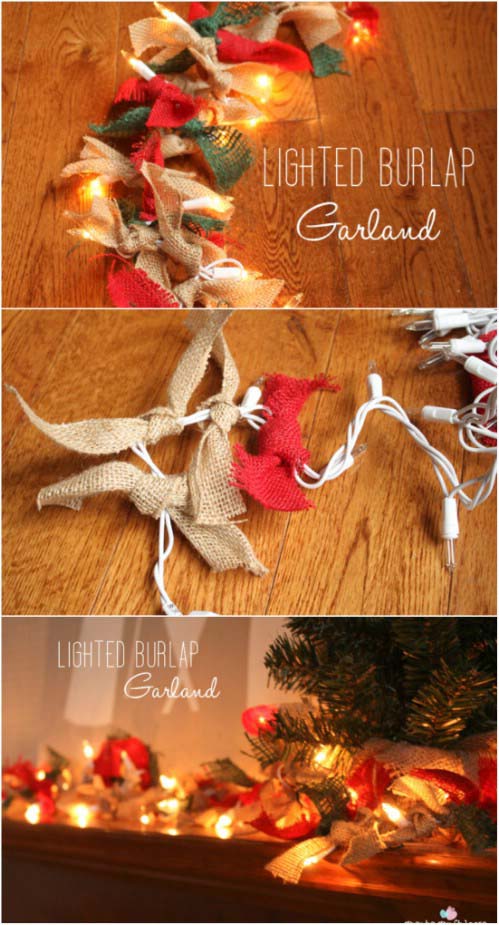 Create a simple train of garland and fairy lights. Tie on simple burlap bows in natural, green, and red colors.
Cutting the pieces takes a little time, but the rustic look is worth it.
16. Illuminate Interior Decor with Fairy Light Village Display

A village scene is created by securing a row of fairy lights in a box between two layers of cutouts.
It's easier to do than it looks. The forms are forgiving enough that you can cut them out by hand if you don't have a laser cutter.
17. Spruce Up Your Holidays with a Pallet Christmas Tree

Everyone loves a pallet project. This is a great rustic piece that's easy to do with lights and ornaments. Split a small log and place it at the bottom to simulate the tree trunk.
Use ornaments that are the right size for the tree.
Be sure your pallet is free of bugs and chemicals. A light coating of chalk paint would work well for any backdrop.
18. Adorn Your Porch with Lighted PVC Candy Canes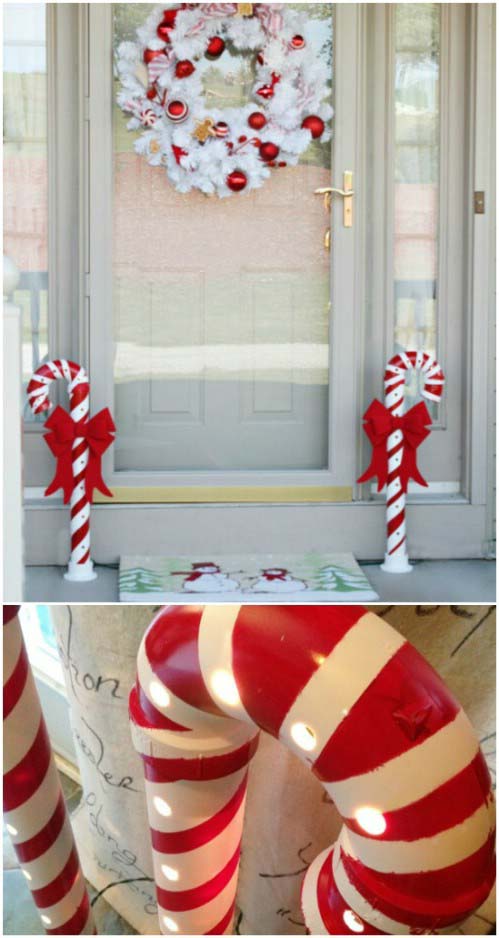 Create terrific-looking candy canes with PVC pipe fittings, frog tape for masking and outdoor spray paint.
PVC is easy to work with and the holes are drilled at random.
Don't forget to weigh it down by adding rocks to the base.
via DIY Showoff
19. Bring Rustic Elegance with a Lighted Wooden Village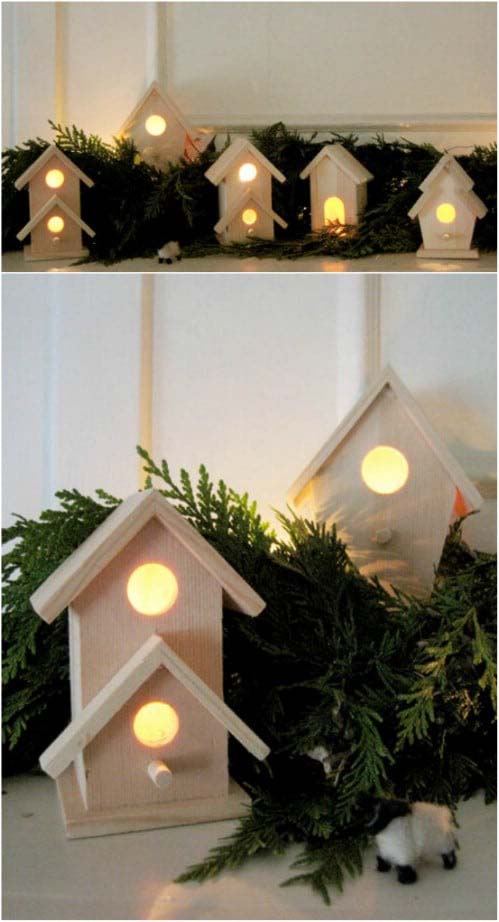 Miniature wooden birdhouses found at a craft store set the scene for these lights. Nestle them in a piece of garland for a side table or windowsill vignette.
You can get creative with decorative painting, or keep the minimalistic look as shown here.
20. Welcome Guests with Enchanting Mason Jar Lights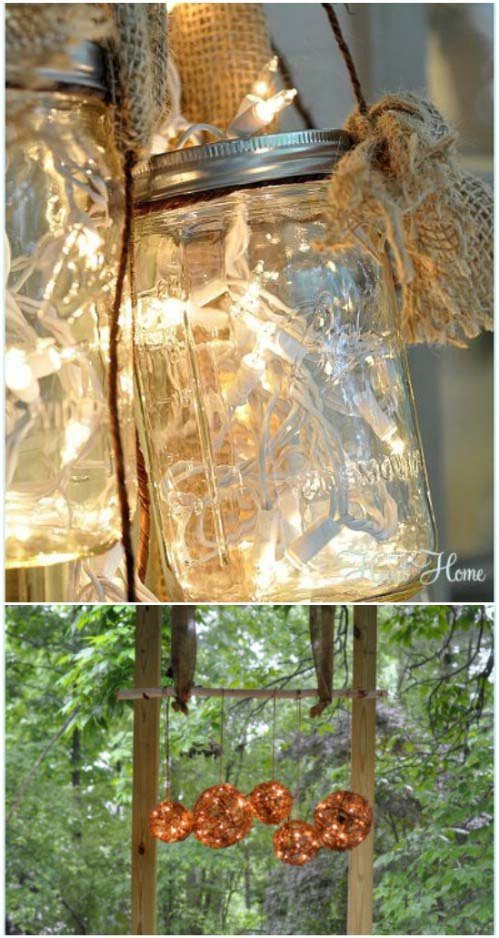 Lights are tucked inside wide-mouth mason jars. They're secured together with grapevine wire and hung like a chandelier on an iron hook.
Get more of a Christmas look by wrapping red ribbons around the lids.
21. Turn Galvanized Bucket into Rustic Lighted Porch Decor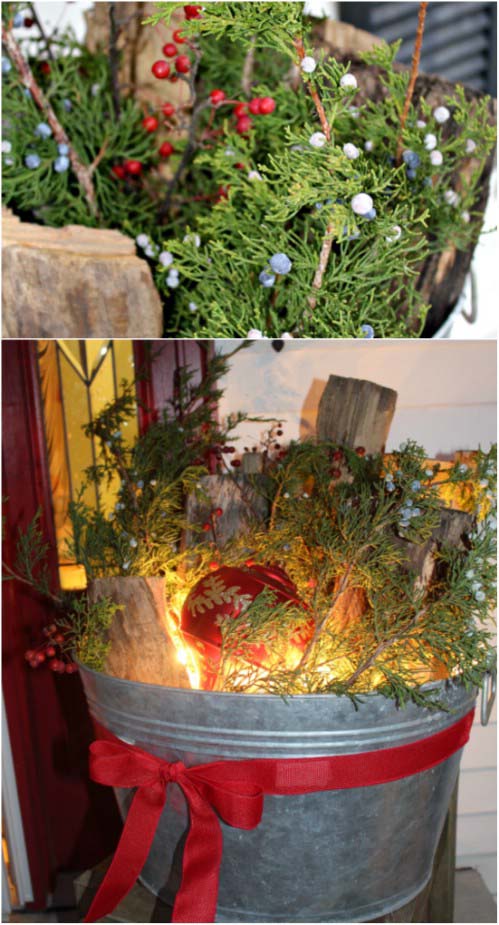 Create a quick and easy decoration for your porch by using a bucket you would use for keeping drinks on ice in the summer.
Build up some height from the bottom using logs or scrap wood. Add some trimmed branches and a string of fairy lights. Wrap a big red bow around the bucket for a finishing touch.
If you want to go all out, try adding in some festive oversized ornaments.
via Laughing Abi
22. Make a Bold Statement with Ping Pong Ball Lights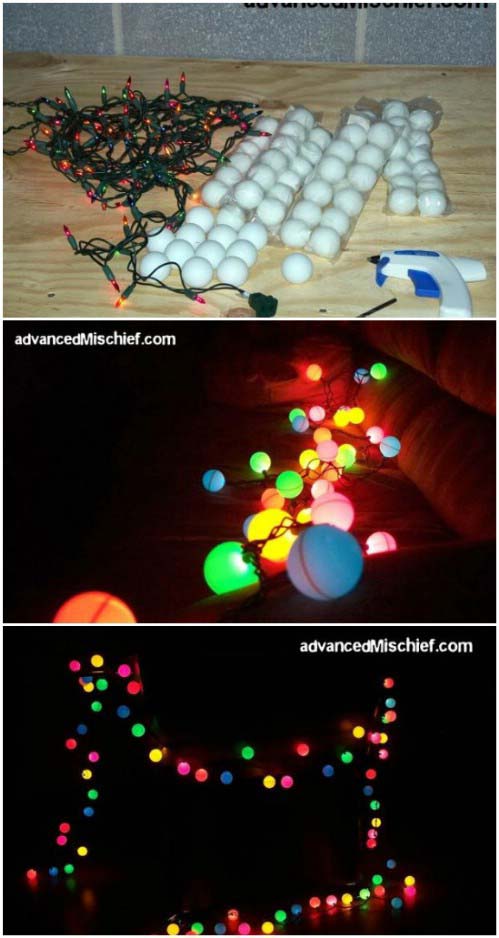 Create a stand of lights using ping pong balls as a light diffuser.
Put a hole in a ping pong ball big enough for the light to go through. Secure the lights with hot glue.
via Instructables
23. Embellish Your Mantel Decor with String Lights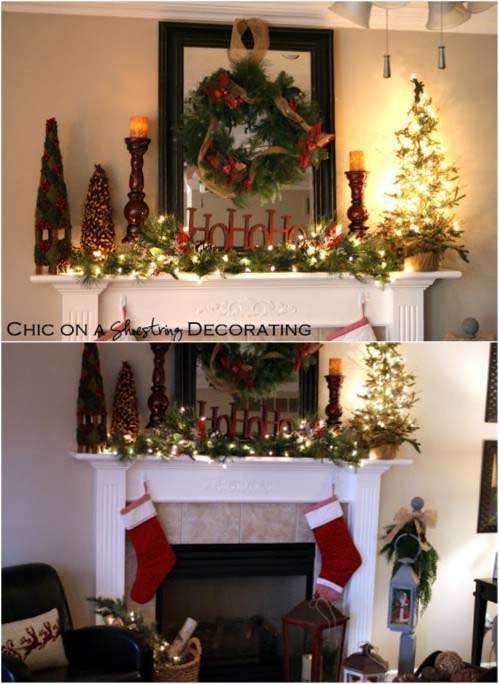 Fairy lights don't need a lot of help in bringing the spirit of Christmas into your home.
Wrap a string of lights through a garland made of evergreen branches. Fastening it to the fireplace mantel creates an inviting focal point.
24. Light Up the Night with a Rustic Porch Basket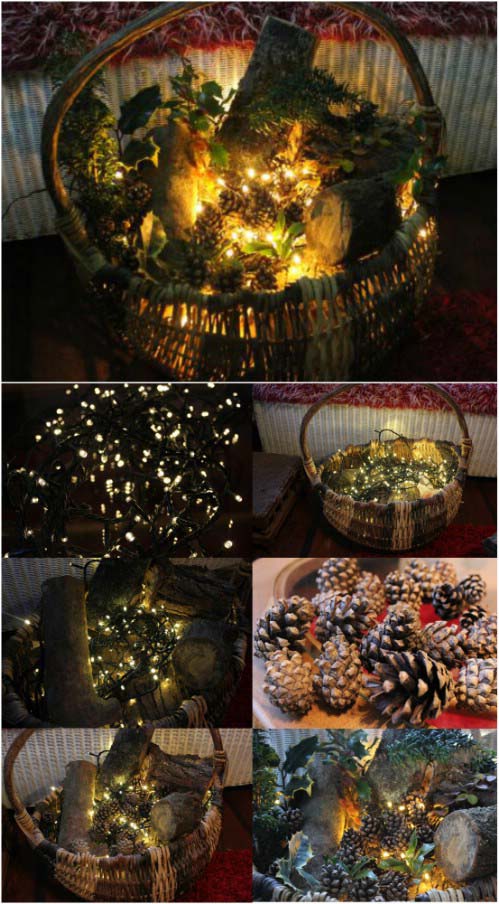 The beauty of this porch basket is its versatility. You can use any basket or box that you have lying around.
Fill it with a few logs to add height, and bring your fairy lights in and around some branches to add a warm glow.
via My Thrifty Life
25. Get Warm Ambiance with Snow Globe Terrariums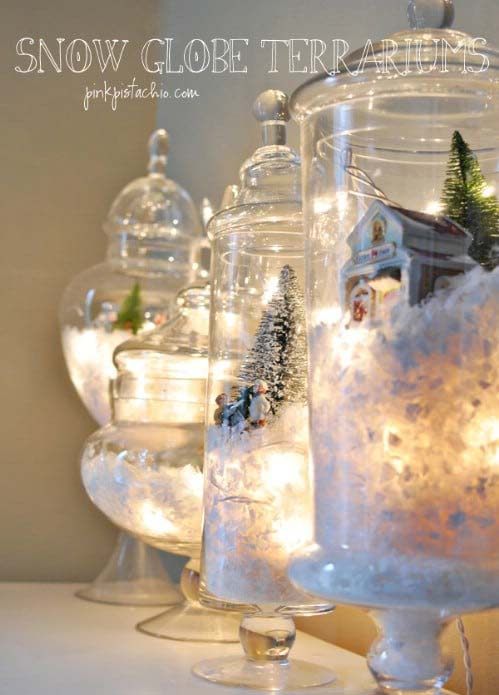 Terrariums look elegant in any décor. These apothecary jars are transformed into miniature, magical worlds.
Bury a string of white fairy lights in fake snow. Add in some figurines to create tiny Christmas scenes.
via Pink Pistachio
26. Add Modern Flair with Snowman Mason Jars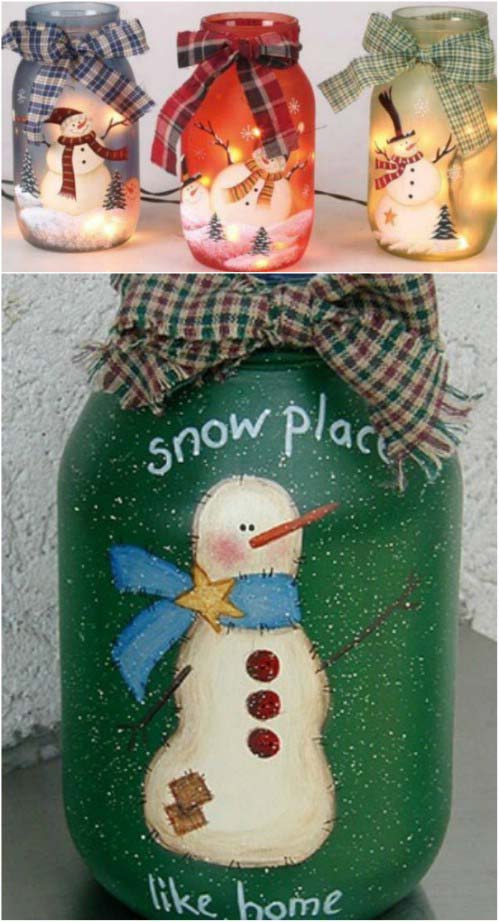 An adorable snowman is painted with acrylics and markers, then sealed with a clear coat of acrylic.
Make the snowman stand out by masking off his silhouette and use frosted glass paint for the body.
To make this project even easier, use solar light mason jar lids.
via Crafts by Amanda
27. Turn Milk Jars into Festive Lighted Snowmen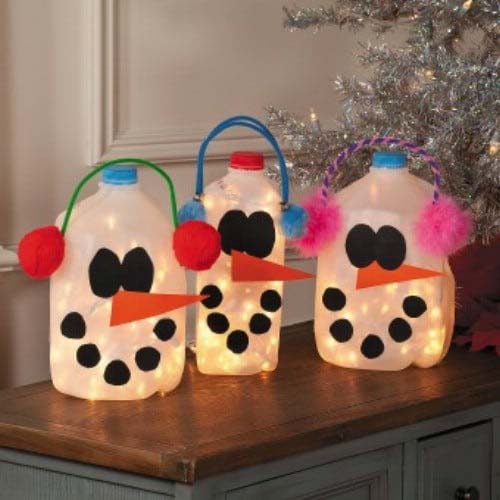 This is an easy project for the kids. There are no holes to drill, just cut out the back for them.
Cut out the facial features from cardstock or felt. Chenille stems and fluffy pom-poms add to the whimsy.
28. Get Monumental Beauty with Twinkling Holiday Canvas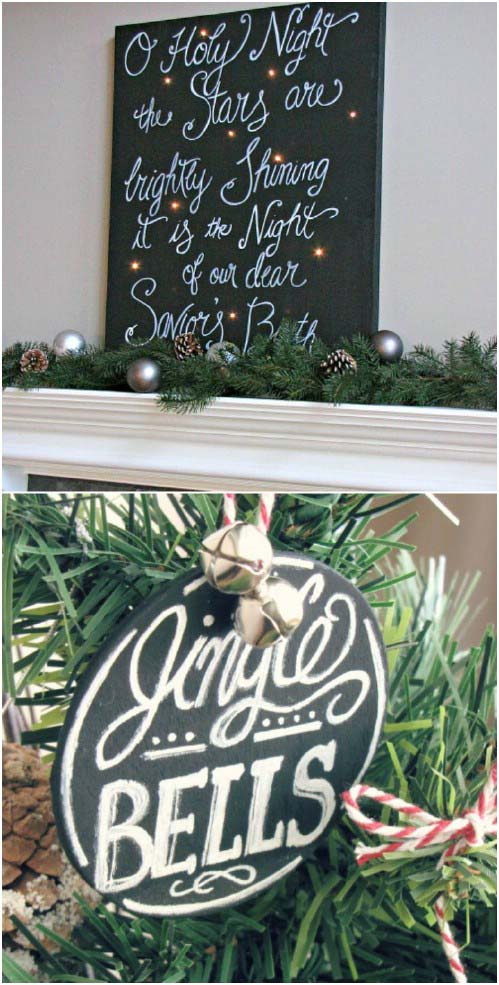 A holiday saying shines from all around lights. Paint the canvas with black chalk paint. Use white chalk paint or a marker for the calligraphy.
One set of LED battery-operated lights should be enough to complete this project quickly.
29. Add Intrigue to Your Holidays with Wine Bottle Lights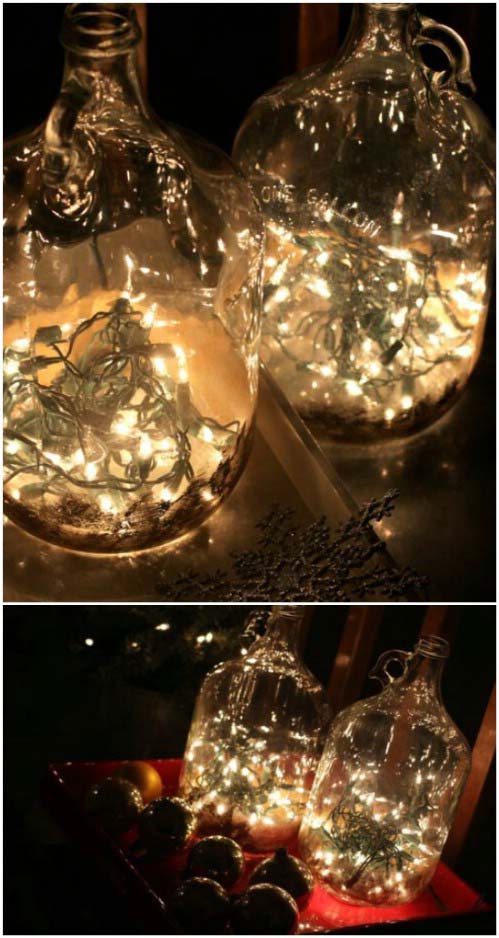 An apple juice jug from Whole Foods is the showcase for the lights, but any clear wine bottle will work.
The bottom is painted with metallic enamel paint. When drilling glass, always wear protective eyewear and a mask
via Design Mom
30. Add Style to Your Wooden Trees with Lights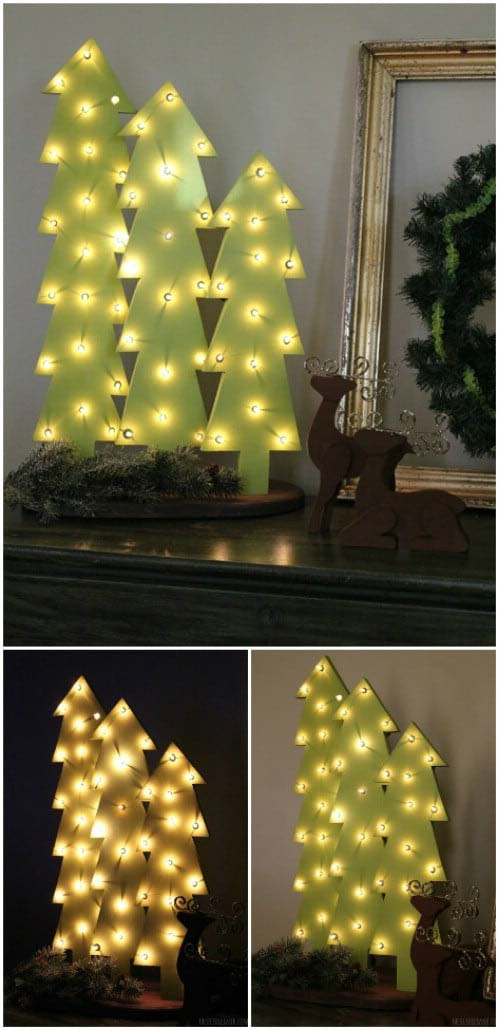 Here's a great idea you can put together with scrap wood, wood filler, paint, and a jigsaw.
The glow around the bulbs is also just painted.
via The DIY Dreamer