150 Amazing DIY Christmas Ornaments Easy And Fun To Do
When Christmas time is in the air, everywhere people are looking for DIY decor from Christmas ornaments to Christmas outfits.
Making your own DIY Christmas ornaments will save you a lot of money, boost your creativity and create a fun activity for your kids.
Sometimes even the weirdest ideas could turn into memorable items that will make you smile each time you take a look at your unique Christmas tree.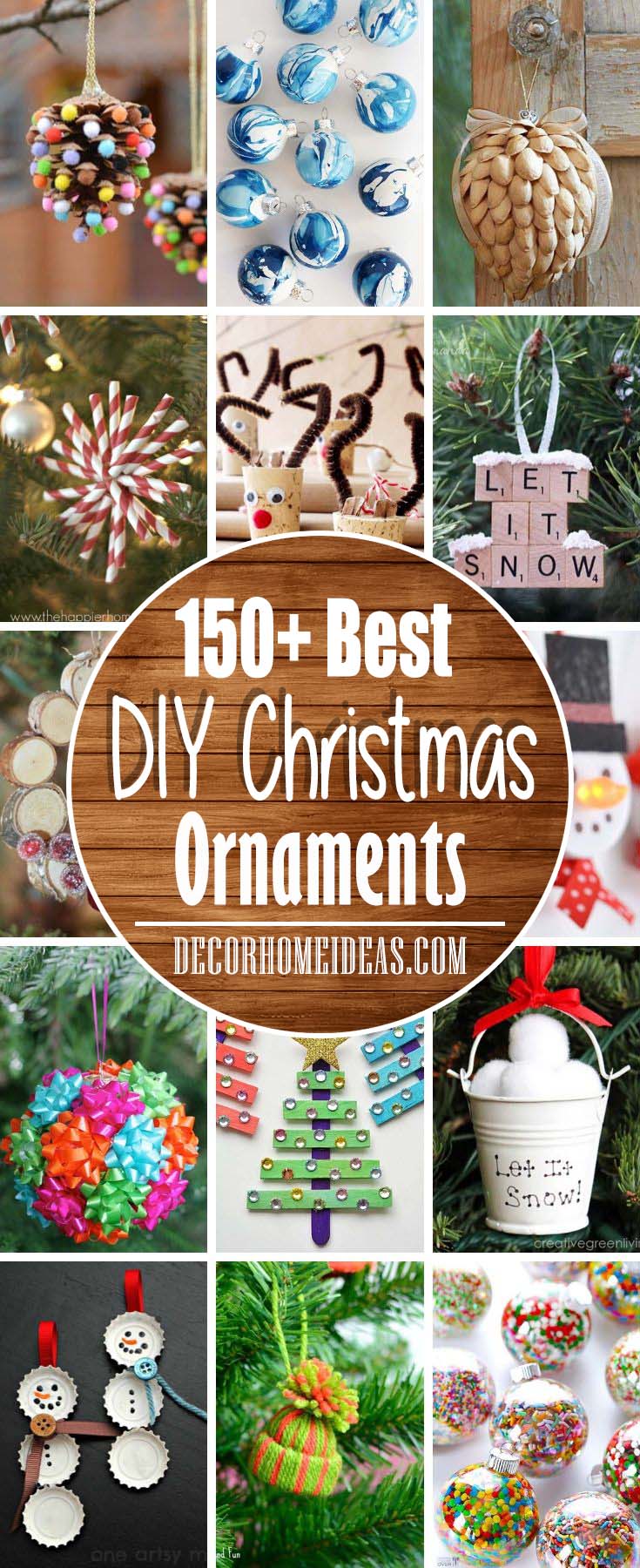 Don't forget to PIN this image for quick access to all these fabulous DIY ideas.
Acorn Cap Ornament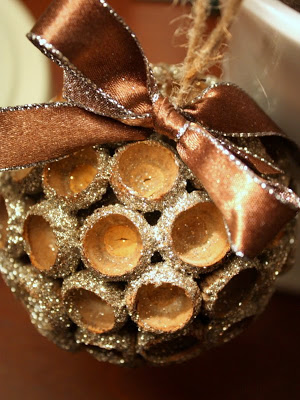 The adorable acorn cap Christmas tree ornament is the perfect addition to any nature-based Christmas tree.
Birch Ornaments DIY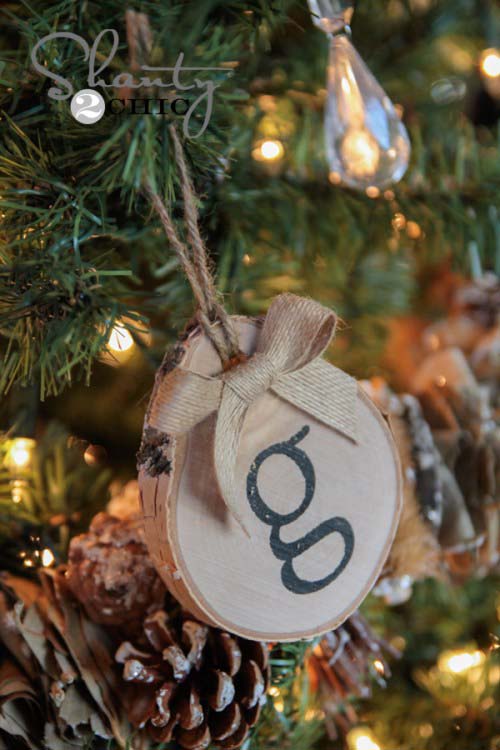 The ability for this ornament to be customized makes it a perfect one of a kind DIY ornament.
via Shanty 2 Chic
Bird Seed Ornaments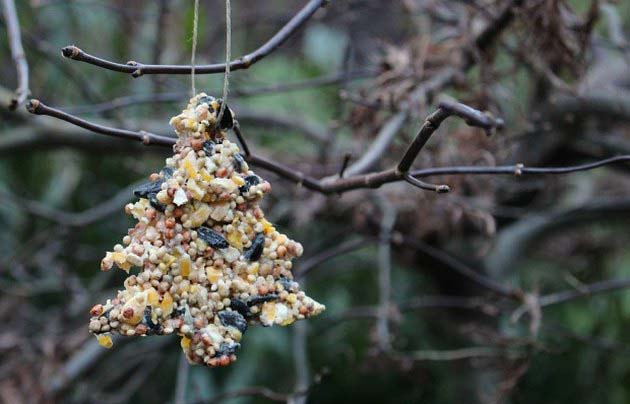 This cute Christmas tree shaped ornament made from natural birdseed makes the perfect addition to your Christmas tree.
via eHow
Black White and Gold Ornaments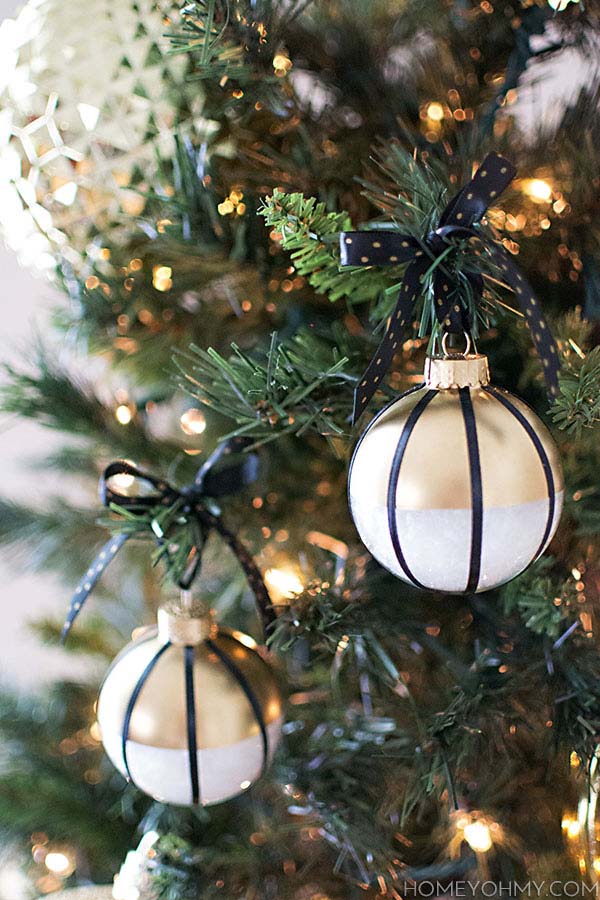 This Black, White and Gold ornament gives nice couture looking touch to your tree.
via Homeyohmy
Bottle Cap Reindeer Ornament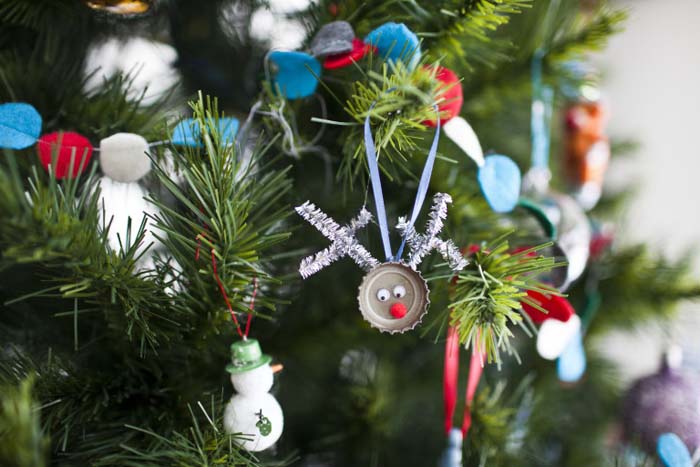 Add a cute touch to your Christmas tree with these reindeers constructed from bottle caps and red pipe cleaners.
via Make Great
Bottle Cap Snowmen Ornaments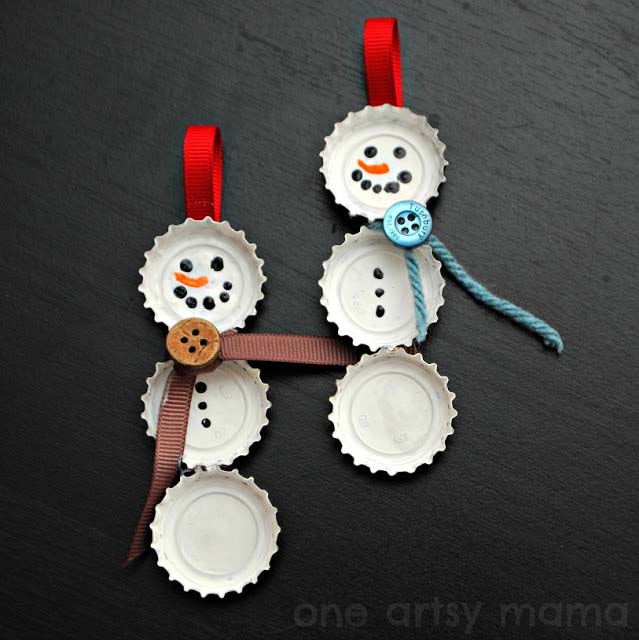 This bottle cap snowman idea is the perfect addition of cute for your holiday tree.
Broken CD Ornament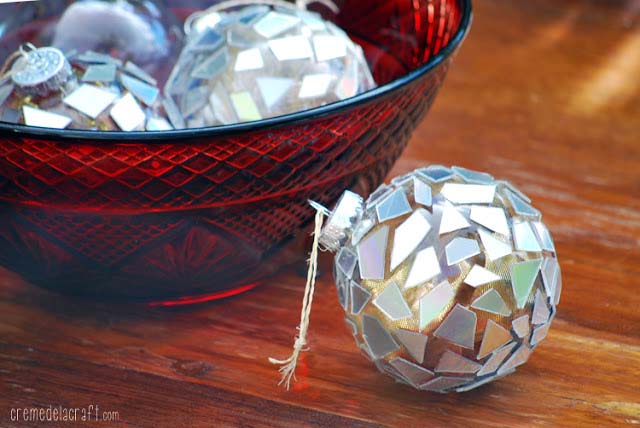 Add a classic, snowy look to your Christmas tree with these ornaments constructed from a broken CD.
Burlap Christmas Ornaments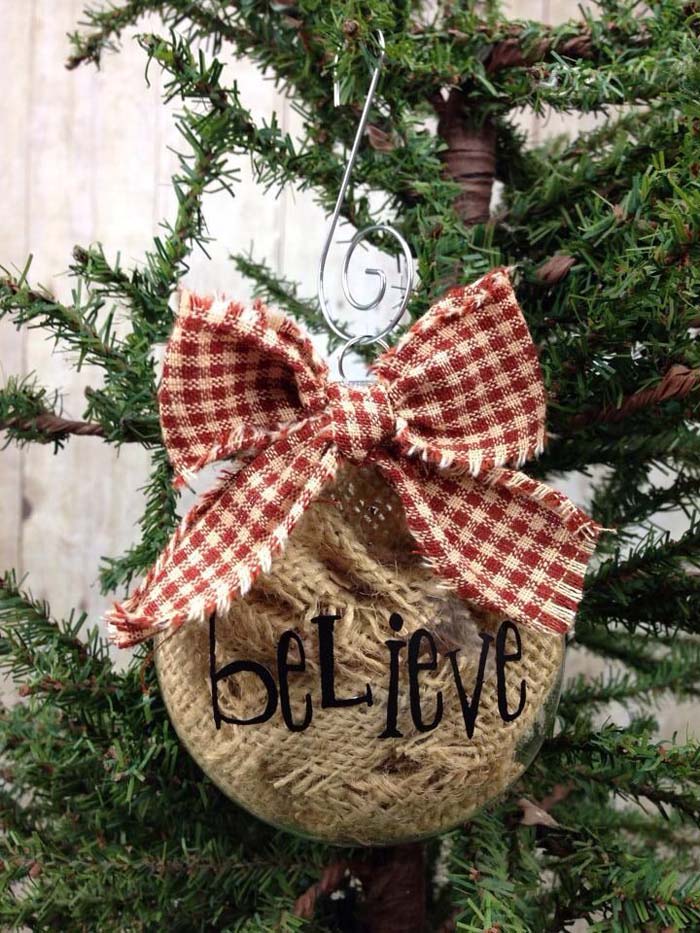 Check out these cute, classic country looking Burlap Ornaments constructed with burlap and red ribbon.
Burlap Reindeer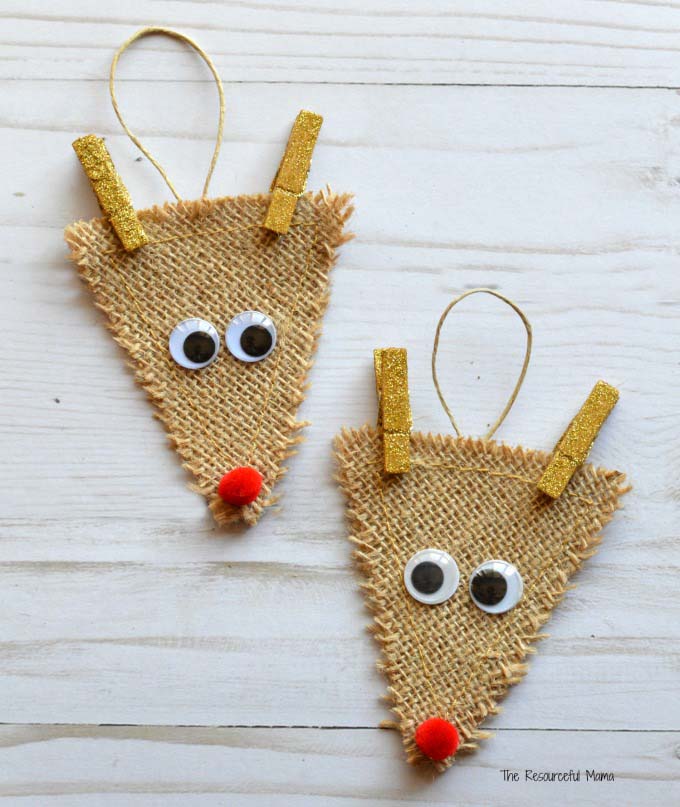 Like that burlap look but want something with a touch of cute. Check out these burlap reindeer shaped ornaments.
Butter Cookie Ornaments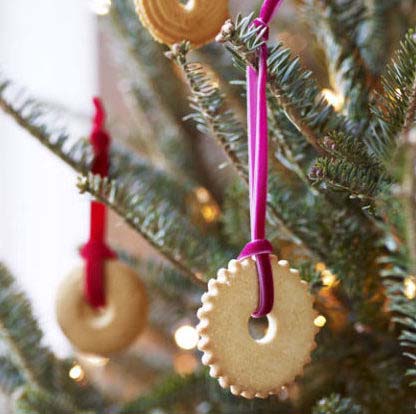 The round butter cookie hung with ribbon is a simple Christmas ornament.
Candy Ornaments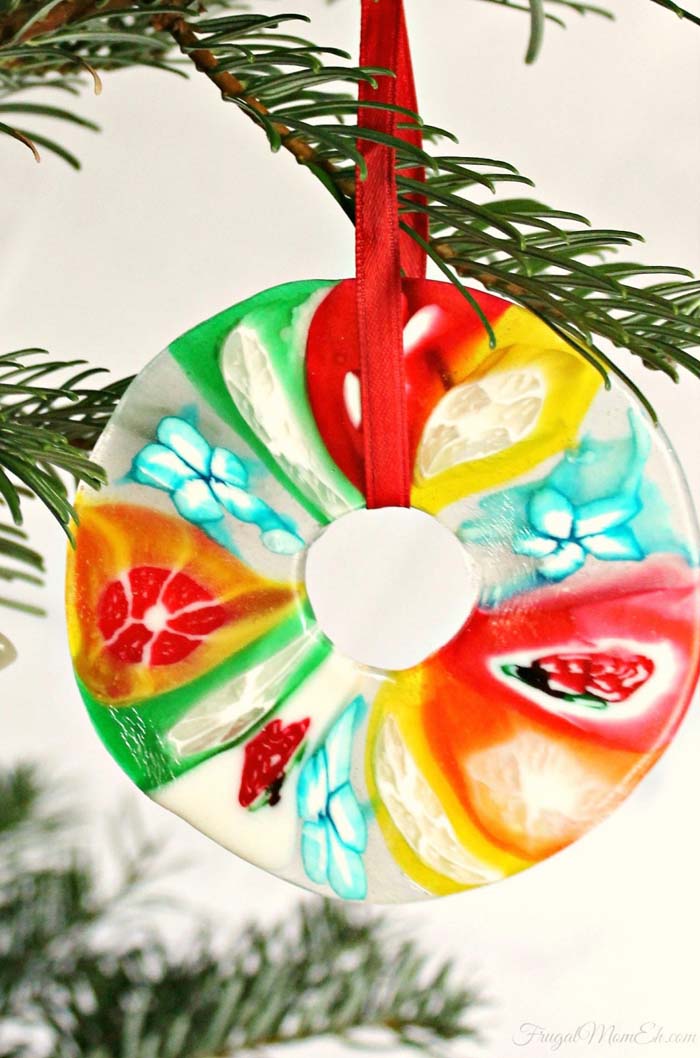 Utilizing glass candy to construct round and Christmas shaped ornaments adds a nice glistening touch.
via Frugal Mom Eh
Cardboard Snowflake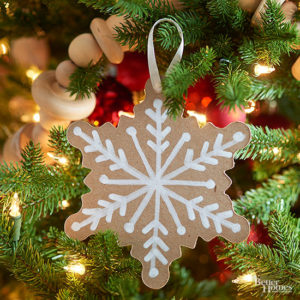 Snowflakes are a classic part of Christmas. These DIY constructed cardboard snowflakes are super simple to create.
Chalkboard Ornaments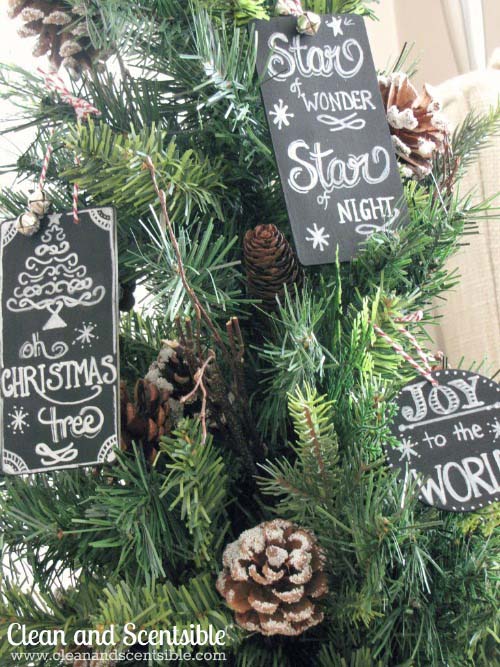 These chalkboard ornaments add a farmhouse touch to the classic Christmas tree.
Chalkboard Ornament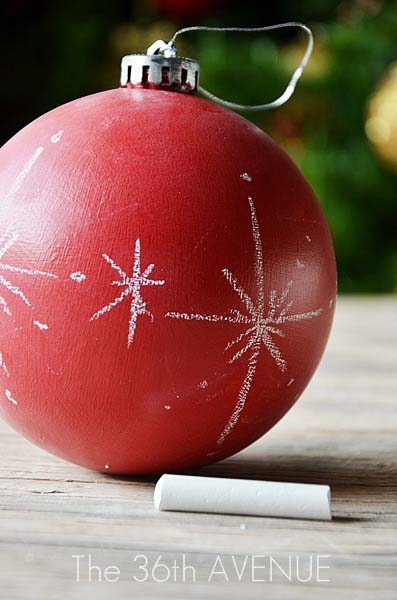 Constructed by painting red chalk board paint on a glass ball ornament, these cute colorful chalkboard ornaments add a cute modern touch.
via 36 Avenue
Christmas Chalkboard Ornament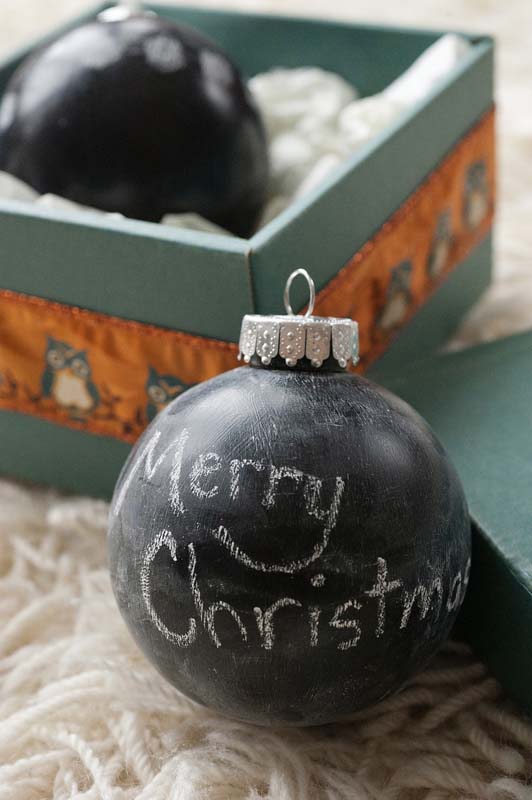 Wish everyone a Merry Christmas with your chalkboard painted round orament that says it all.
Christmas List Ornament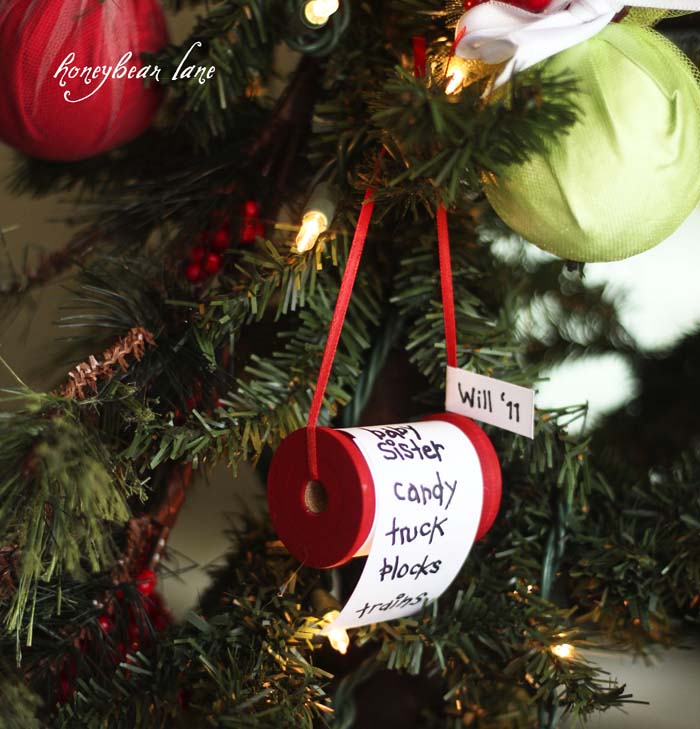 Add a memorable touch to your Christmas tree with this cute ornament that you can put your childs Christmas list on!
via Honey Bearlane
Christmas Ornament Looking Glass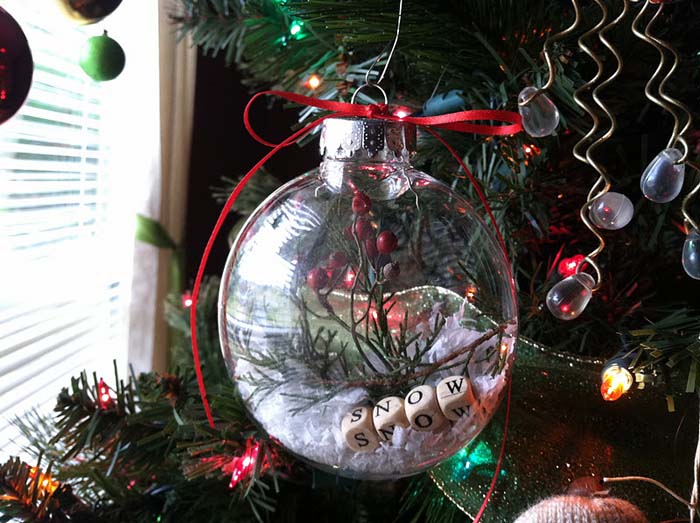 Make a Christmas scene inside of a glass ball ornament with these cute Christmas looking glass DIY ornaments.
via Downtime Upcycle
Christmas Ribbon Ornaments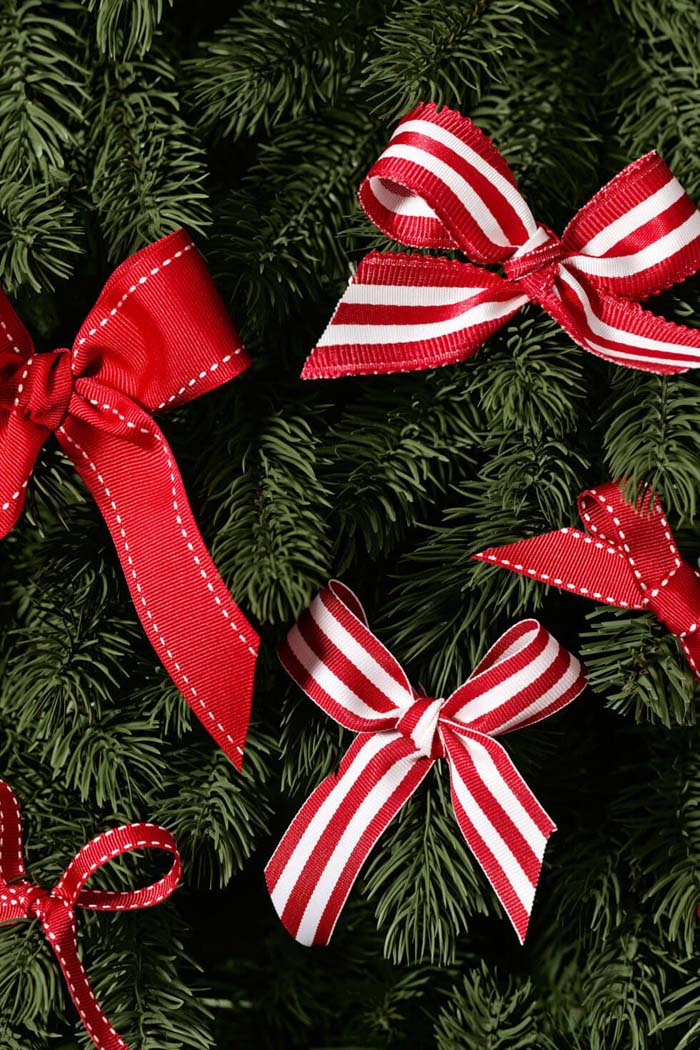 Add a spark of red color to your Christmas tree with these super easy, bow-tied ribbon ornaments.
Christmas Tree Cinnamon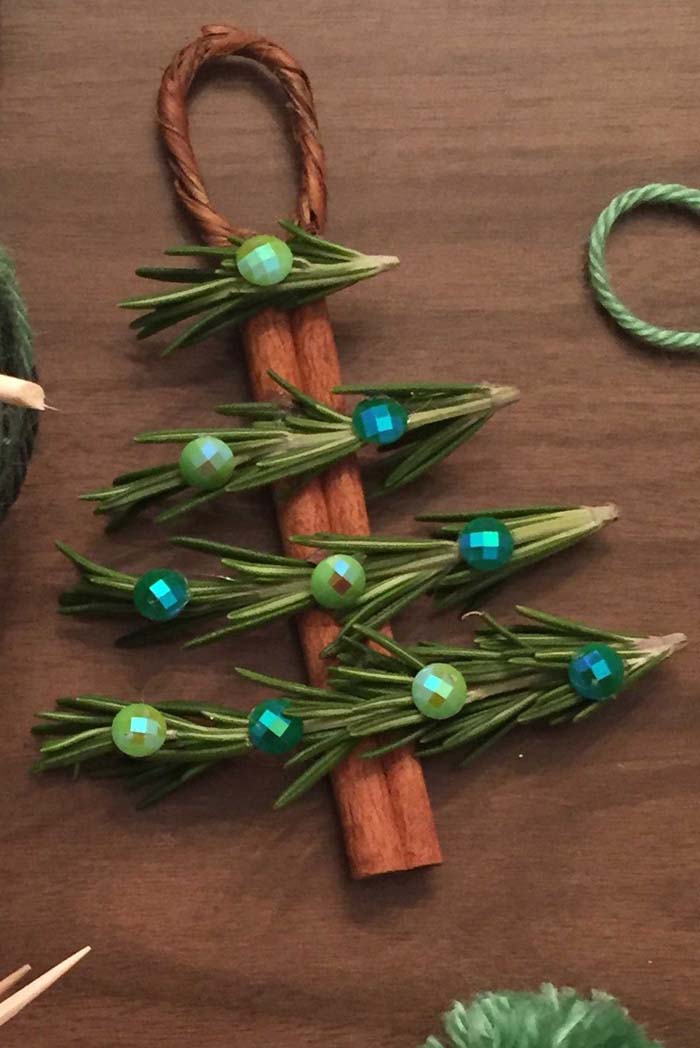 By using cinnamon and fir tree make these super adorable ornaments.
via Woman's Day
Christmas Wreath Ornament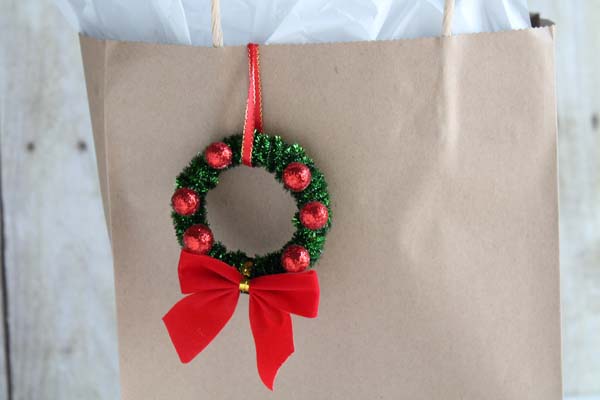 Shrink a festive classic by making these mini Christmas Wreath ornaments.
Cinnamon Salt Dough Ornaments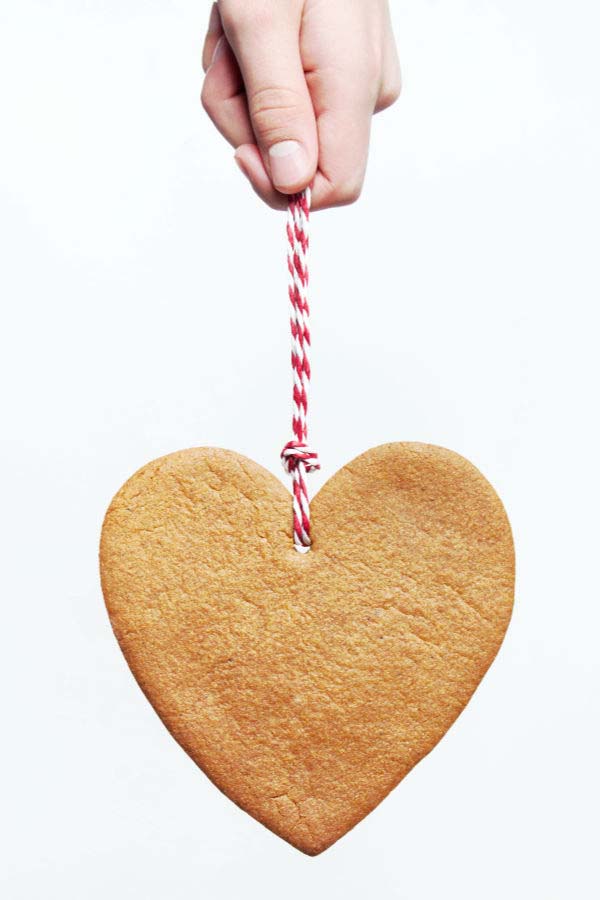 If you enjoy baking and enjoy making cute Christmas tree ornaments check out these shaped salt dough ornaments.
Clothespin Snowflake Ornament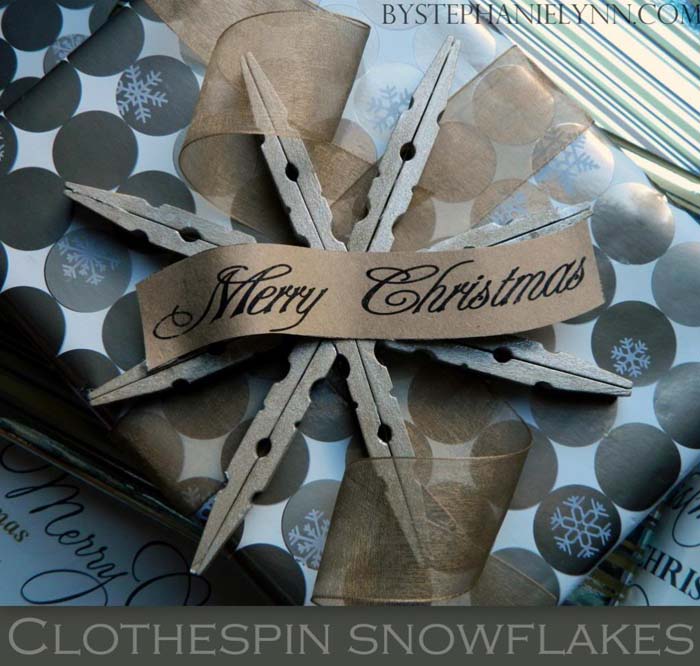 These are super adorable ornaments constructed by using old school style clothespins and white paint.
Cookie Cutter Ornament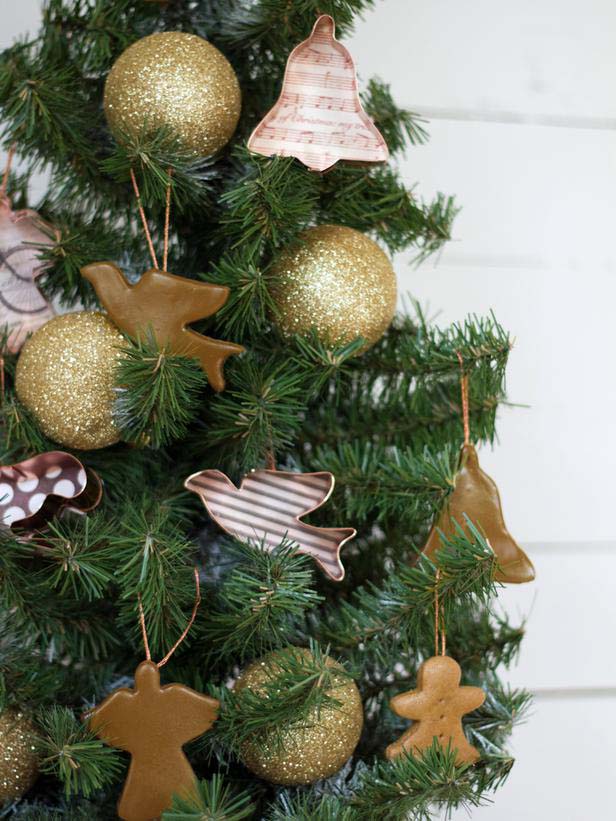 Utilize simple cookie cutters that are easy to find to create this ornament.
Cork Angel Resized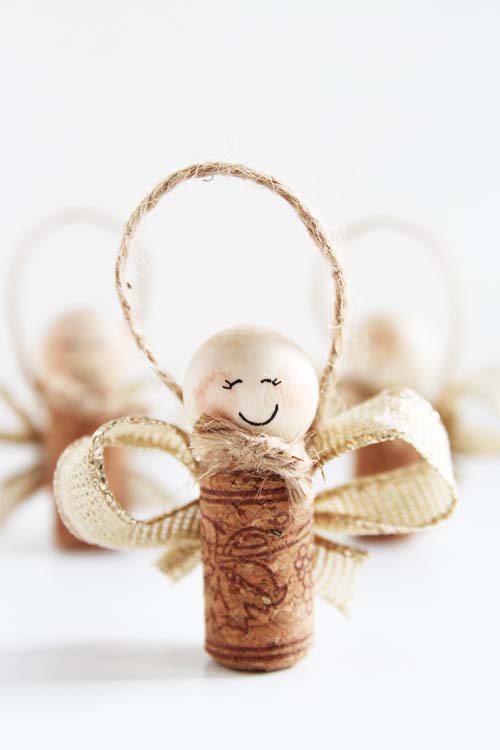 Make some angel look alike Christmas ornaments using ribbon, cork and wooden balls!
Cornucopia Ornament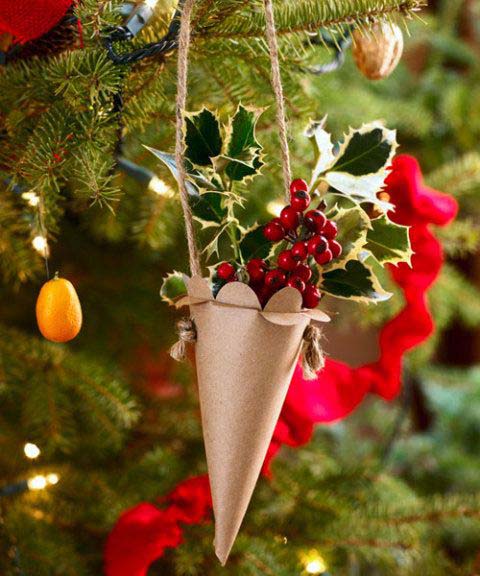 Make these cute cornucopia ornaments from brown paper, burlap ribbon and red christmas mistletoe!
Craft Stick Projects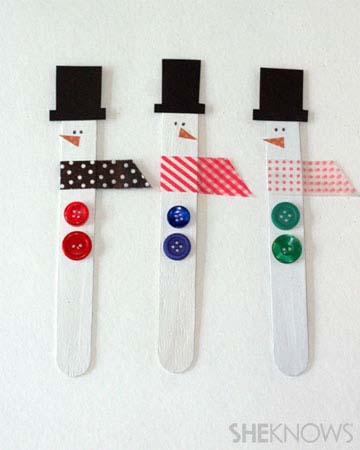 Make these adorable snowmen by painting popsicle sticks white and putting cute paper top hats on them!
via Sheknows
Craft Stick Snowman Ornament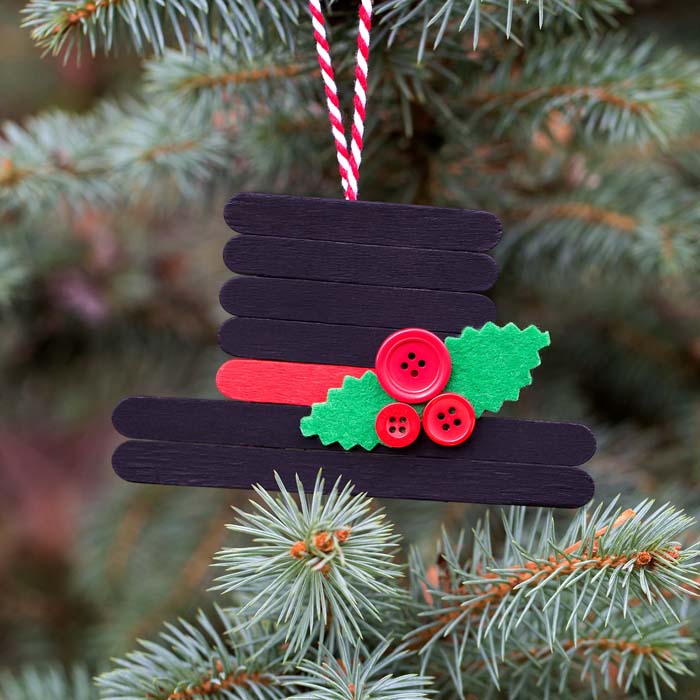 Construct cute little Christmas themed top hats by using popscicle sticks and red buttons.
Craft Styrofoam Ball Ornaments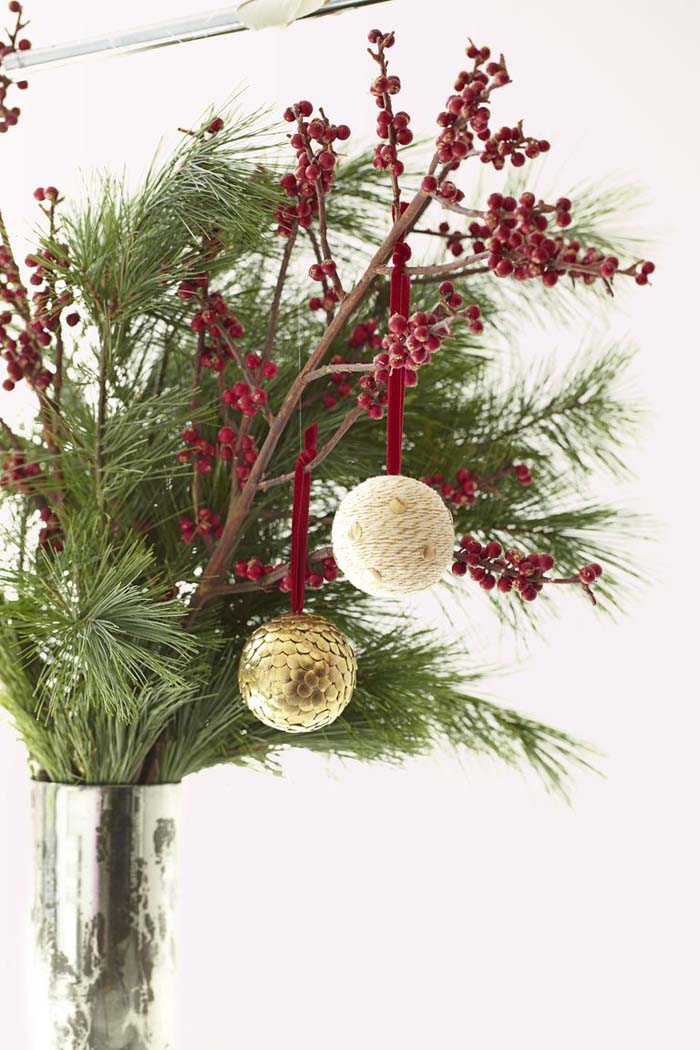 By using red ribbon and painted craft styrofoam, you can DIY some super simple and cute Christmas ball ornaments
Cupcake Ornaments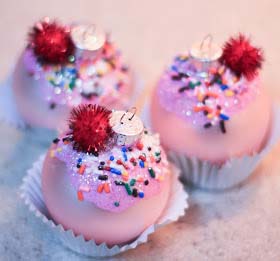 Using craft balls, pink paint and glitter, make these super cute cupcake shaped ornaments! Add a flash of pink to the holiday season!
via Miss Nelsons Got the Camera
Cute Bear Ornament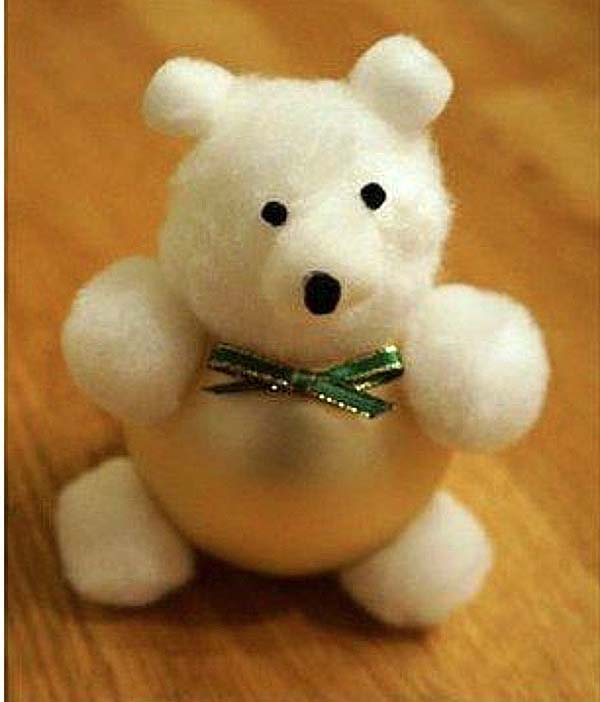 Using Christmas ball ornaments and gluing white cotton balls on you can make bear ornaments.
Dipped Glitter Ornaments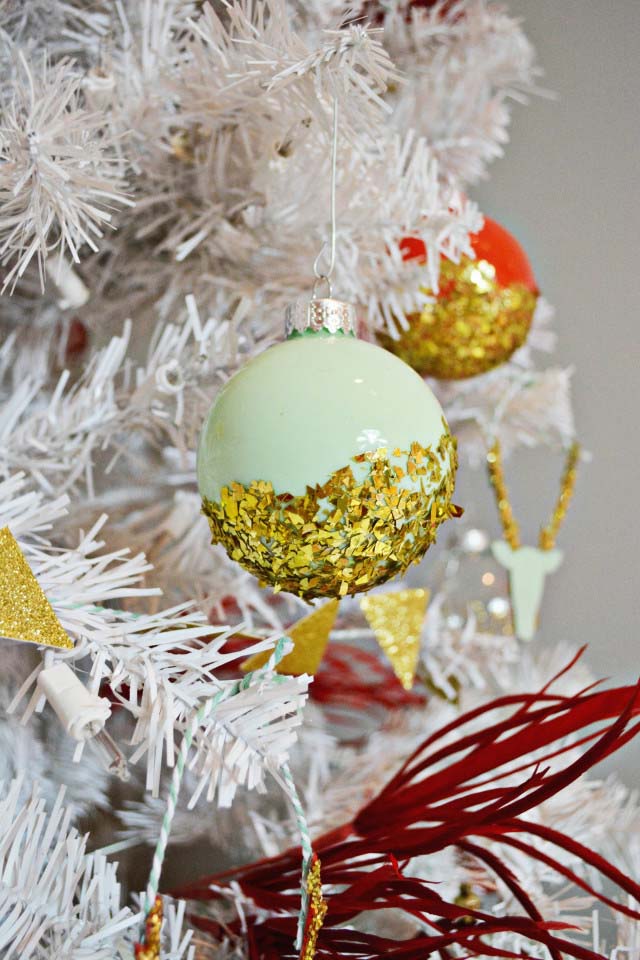 These simply designed, glass Christmas ornaments dipped in glitter add a bit of sparkle and flash!
via A Joyful Riot
DIY Cardboard Star Ornaments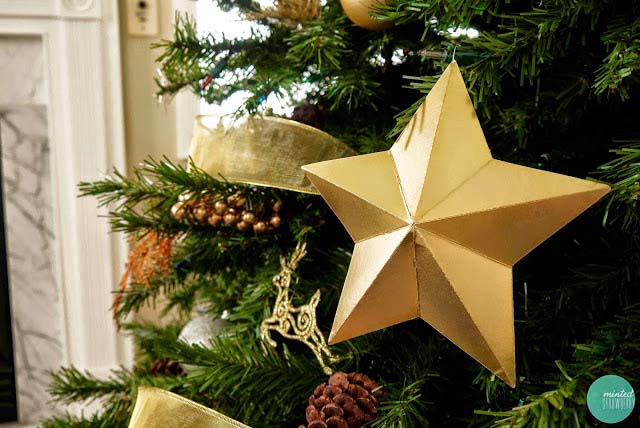 Reuse some of your cardboard from boxes and turn them into these star shaped Christmas ornaments.
DIY Christmas Tree Ornament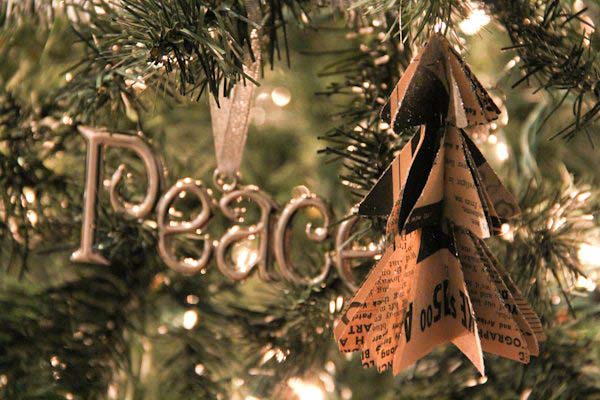 These cute Christmas tree shaped ornaments are constructed using old cardboard and ribbon.
DIY Glitter Christmas Ornaments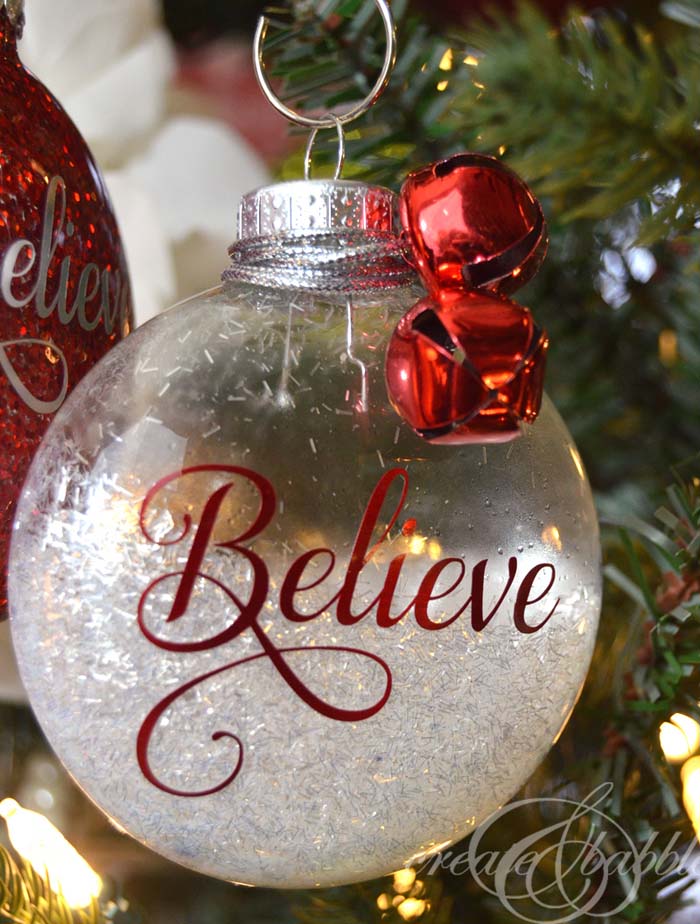 These inspiring ornaments are made by using glass ball ornaments, with printed sayings dipped with glitter.
DIY Gold Leaf Ornaments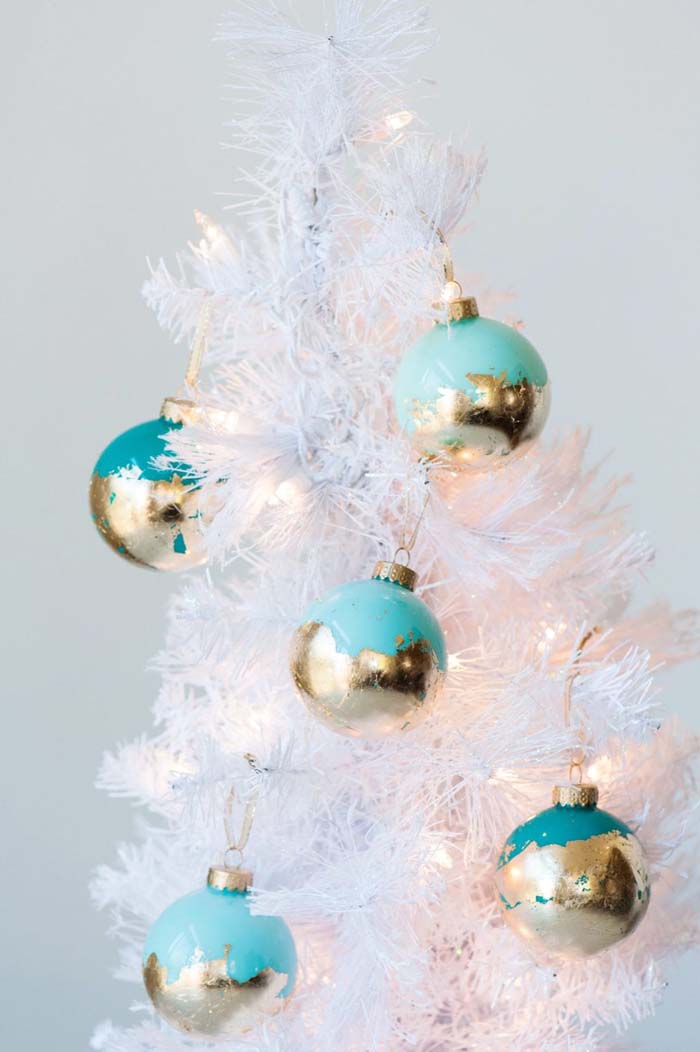 Add a splash of couture to your tree with these round ornaments dipped in gold leaf.
DIY Gold Monogrammed Ornament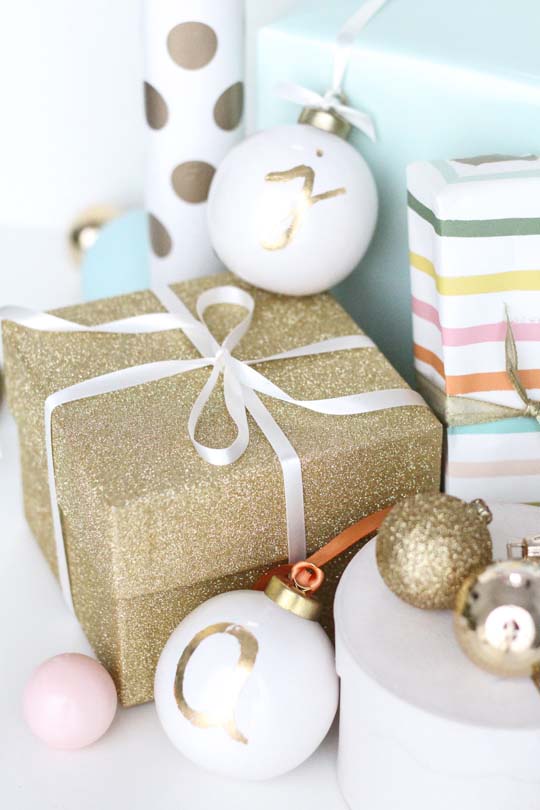 Make personalized ornaments by painting and monogramming your initials on the side.
via Sugar and Cloth
DIY Icicle Ornament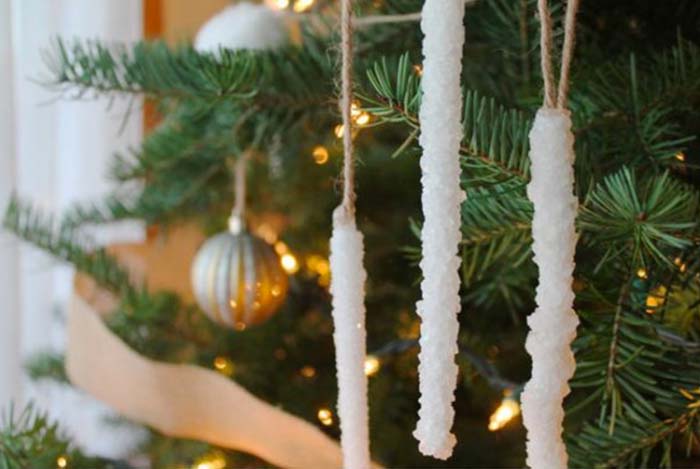 Using sugar and pipe cleaners, make these super cute icicle ornaments to hang from your tree.
via Amanda Katherine
DIY Indigo Marbled Ornaments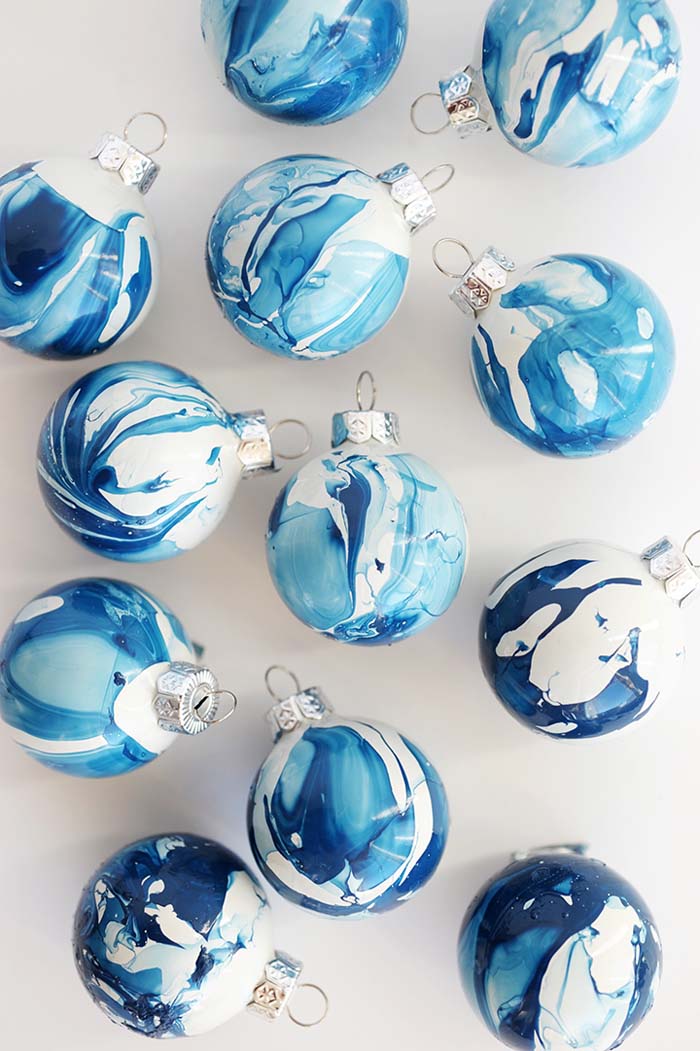 Glass ornaments filled with multi colored paints and rolling them makes these super cute and simple ornaments.
via Alice and Lois
DIY Mason Jar Lid Ornaments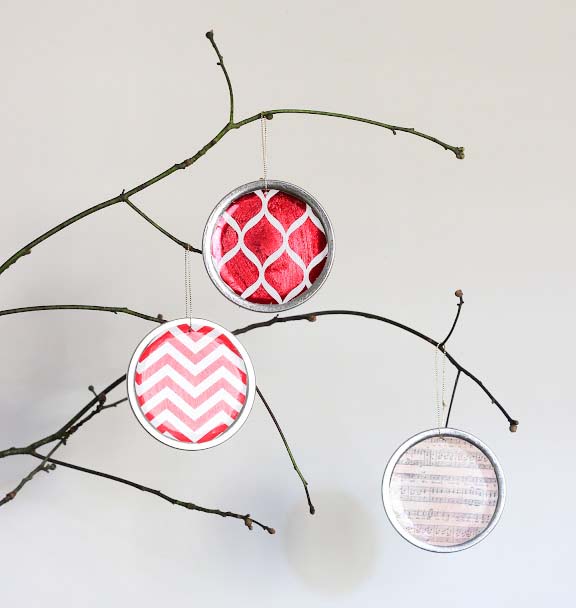 These classic Christmas tree ornaments are constructed using fabric glued to mason jar lids.
via Erin Spain
DIY Mercury Glass Ornaments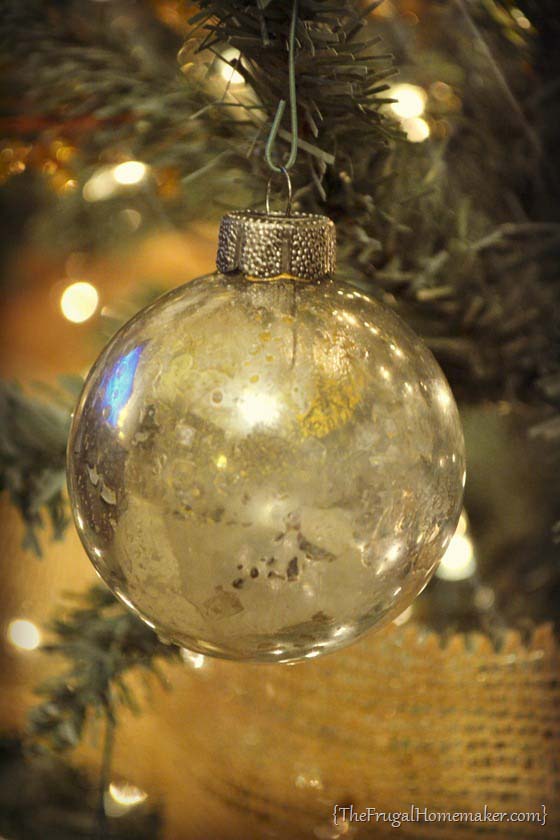 Add a classic touch of gold to your Christmas tree with these mercury marbled glass ornaments.
DIY Paper Towel Roll Stars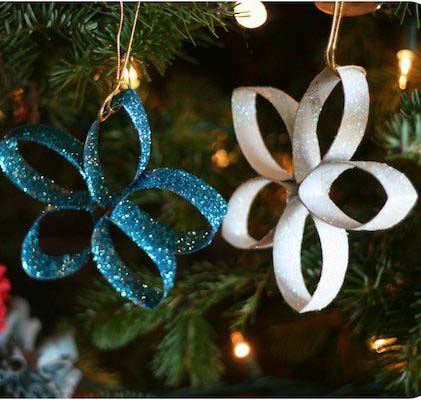 Make super cute flowers from an object that can easily be found around the house! Paper toilet rolls cut into small pieces and glued together!
via Blog a la Cart
DIY Pearl Ornament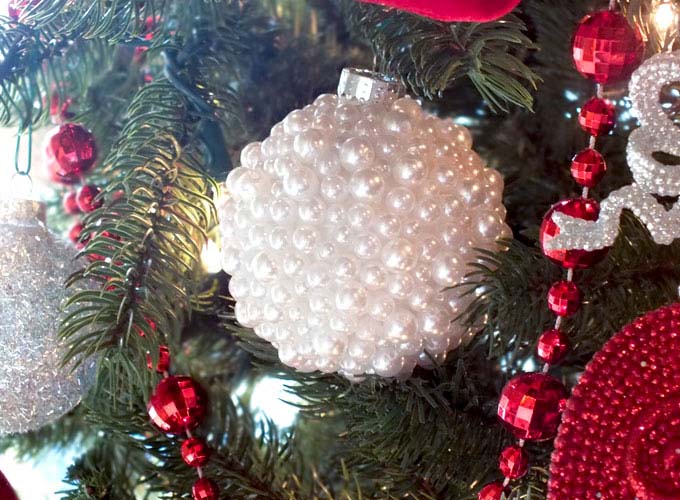 By gluing fake pearls to a round ornament you can get a classic, old looking ornament super cheap and super easy!
DIY Personalized Ornament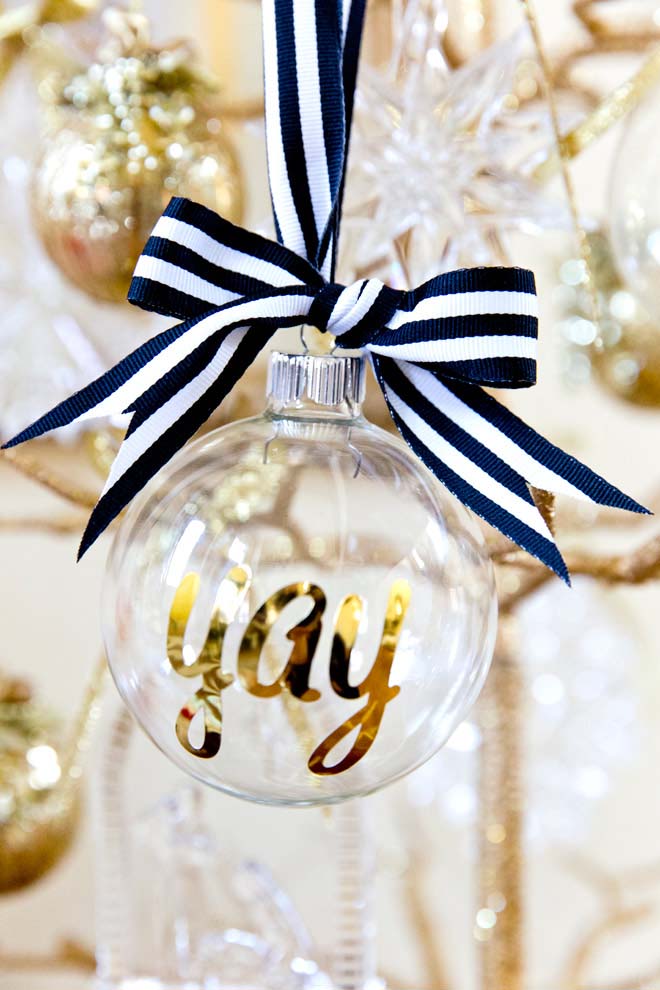 Add a touch of personalization to your tree with these DIY glass ornaments.
via Pizzazzerie
DIY Pom Pom Ornament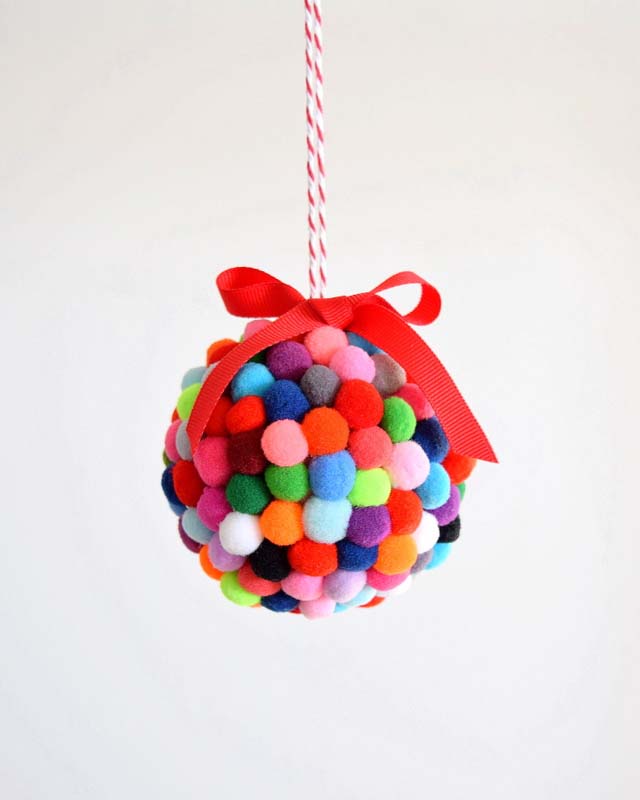 Super simple to make by just gluing multicolored pom poms to a glass ornament these adorable ornaments add a pop of color to any Christmas decoration.
via North Story
DIY Rustic Christmas Ornaments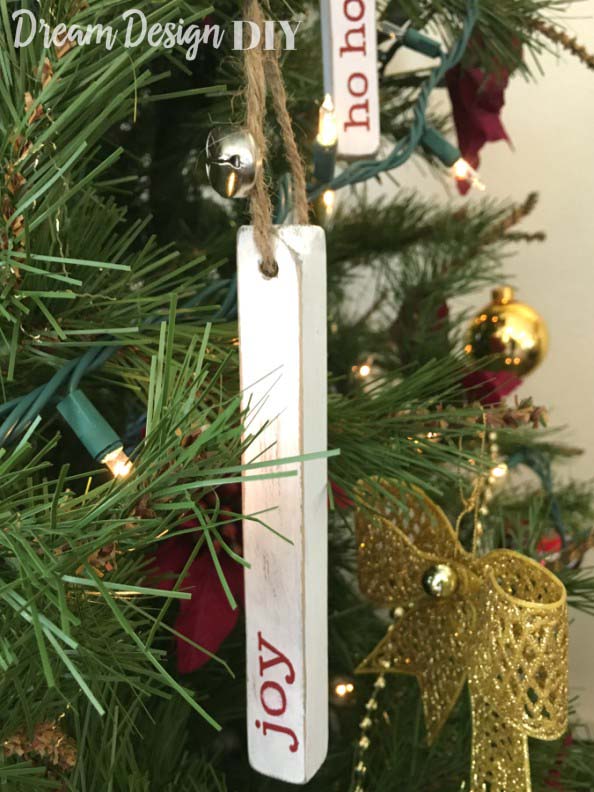 Using simple pieces of wood, painted with distressed looking paint, adds a rustic touch to your tree ornaments.
via Dream Design DIY
DIY Sequin Ornament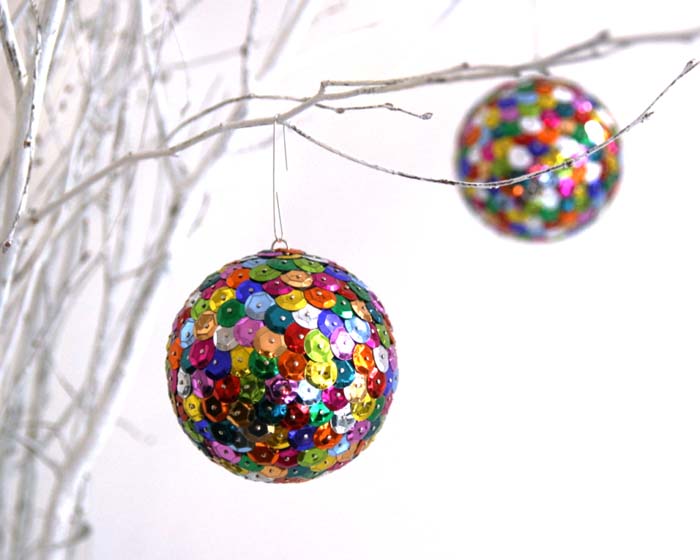 To add a flash of color, glue sequins to a round ornament!
via The 3rs blog
DIY Stable Nativity Ornament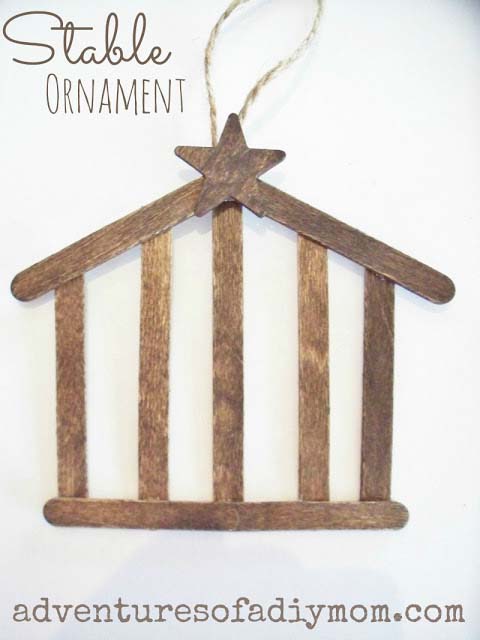 Add the reason for the season to your tree with this ornament made out of popsicle sticks to look like a nativity scene.
DIY Yarn Wrapped Star Ornament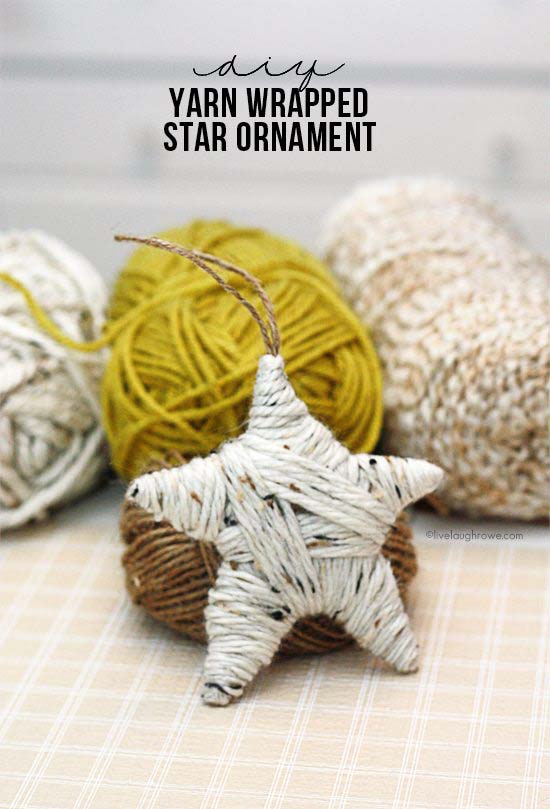 Add the Christmas star to your tree in a rustic way with these yarn wrapped ornaments.
via Live Laugh Rowe
Dollar Store Ornament Makeover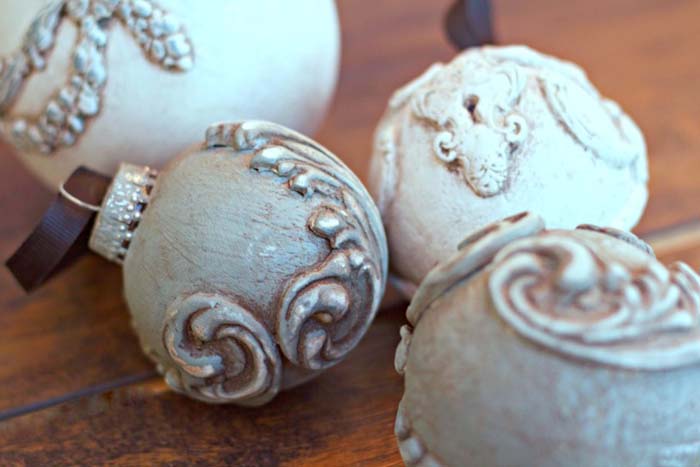 Repainting and redecorating Dollar Store ornaments can add a new, more expensive looking touch to a cheap ornament.
Dollar Store Snowball Christmas Ornament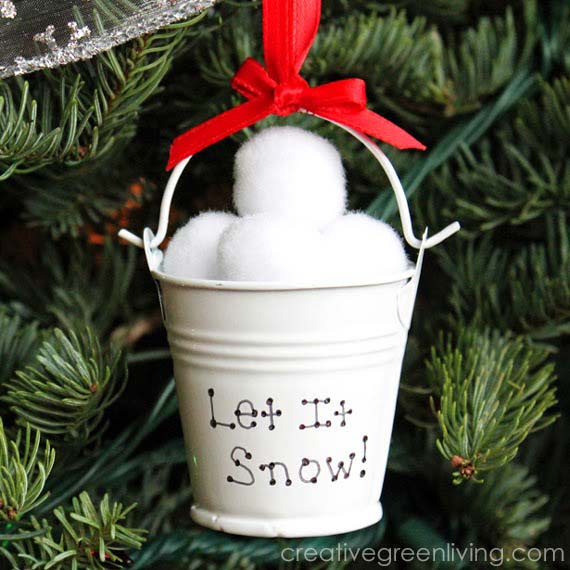 Using cute little buckets you can find at any Dollar Store, make these cute snow filled looking ornaments with cotton balls.
Dollar Store String Ornament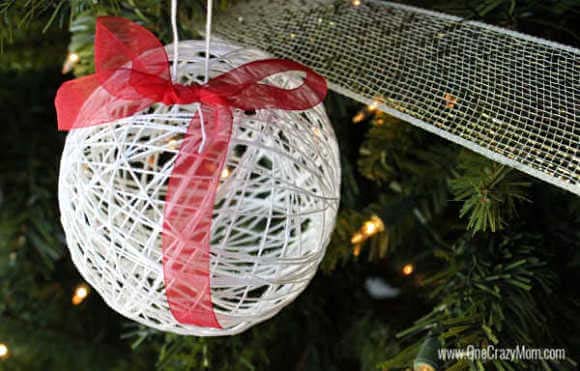 Gluing string to a balloon, then popping the balloon easily makes these super cute round string ornaments.
via One Crazy Mom
Donut Ornament Sprinkles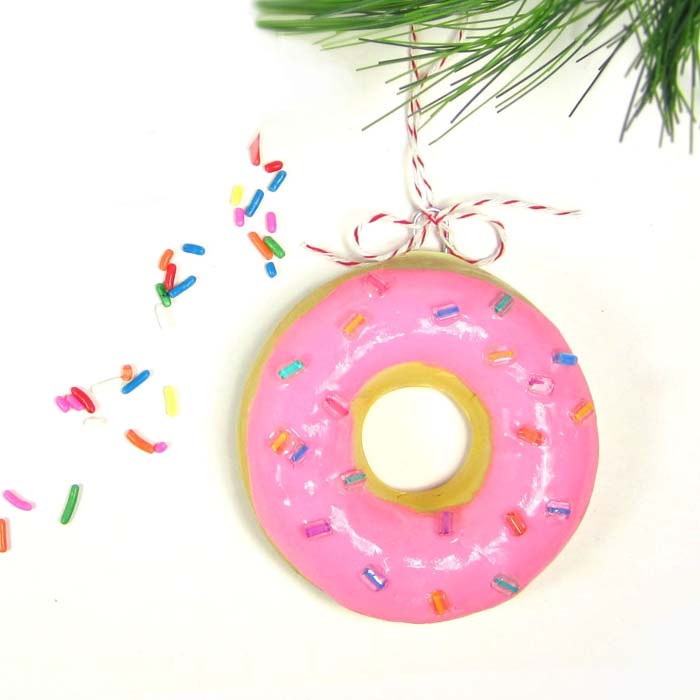 Add a touch for the sweets lovers in your life with these donut shaped, pink DIY ornaments.
via 365 Designs
Easy Decoupage Santa Sleigh Map Ornament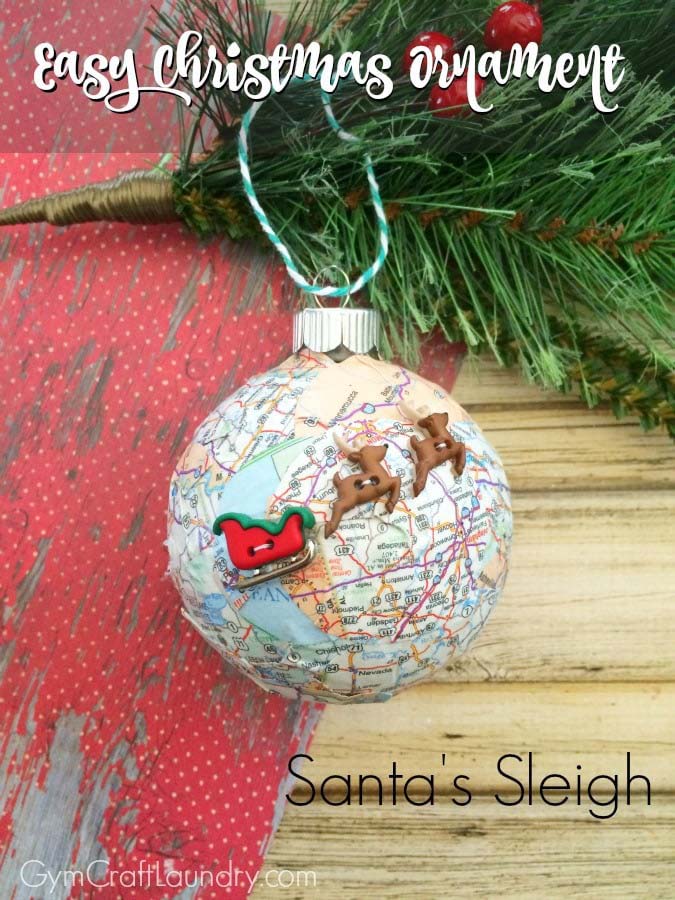 Use old maps and santa stickers to construct the scene of Santa delivering presents on the side of a round Christmas ornament.
Easy DIY Sequin Ribbon Ornament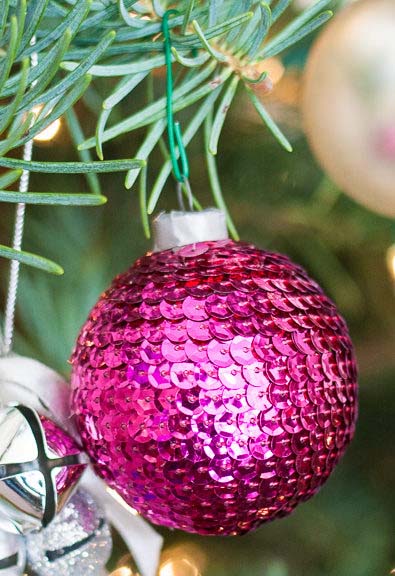 These sequin covered ornaments add a large splash of color to your Christmas tree.
Easy Homemade Christmas Idea Melted Snowman Ornament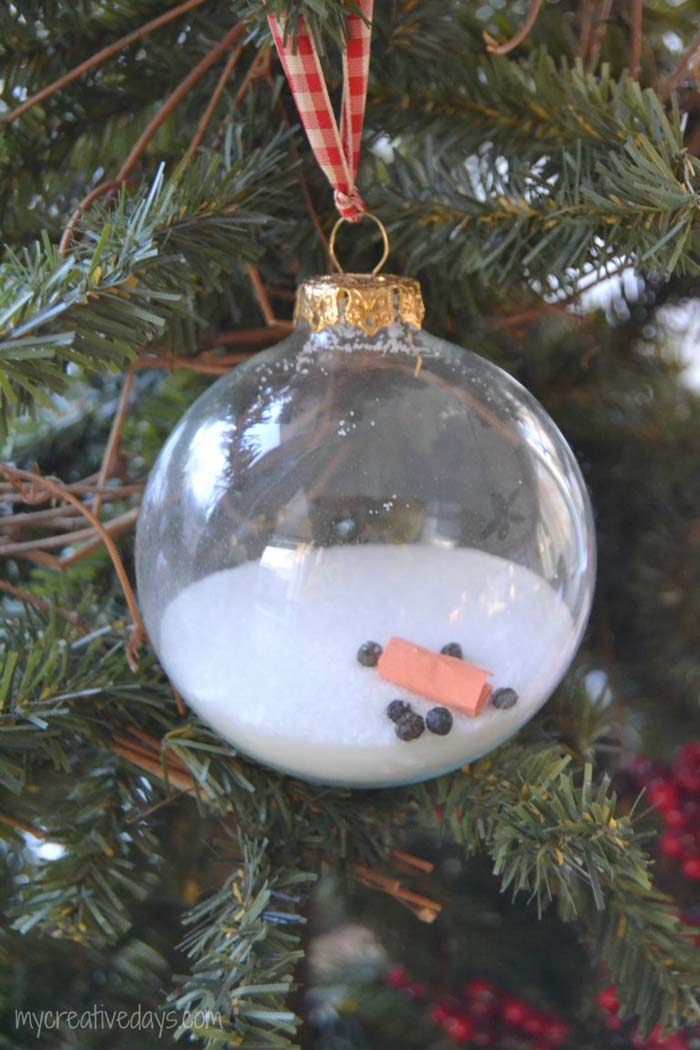 Create a melted snowman using salt and small black beads.
via My Creative Days
Epson Salt Ornament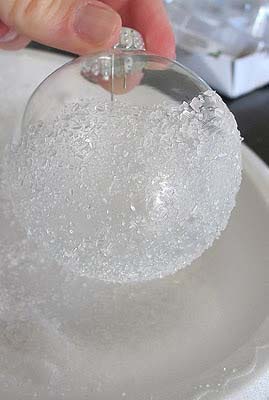 Gluing epson salt to the sides of a glass ornament gives a classic look.
via My Uncommons Lice of Suburbia
Etched Birch Ornaments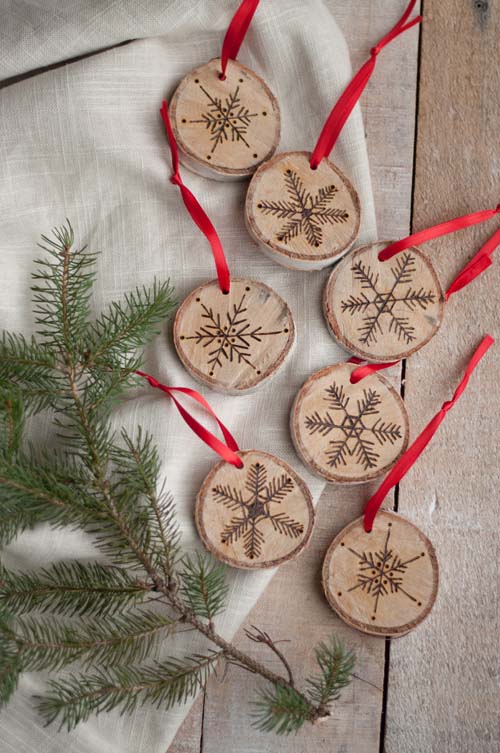 These ornaments are made by etching designs in sayings in slices of birch tree!
via Design Mom
Felt Christmas Tree Ornament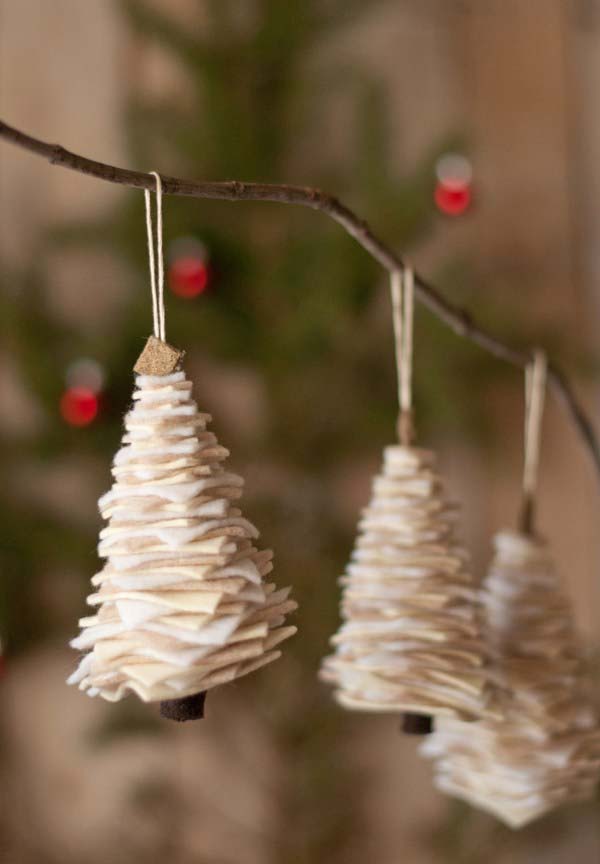 By making square pieces of felt, stacked starting with the larger on the bottom creates a Christmas tree-shaped ornament.
Felt Coffee Cup Ornament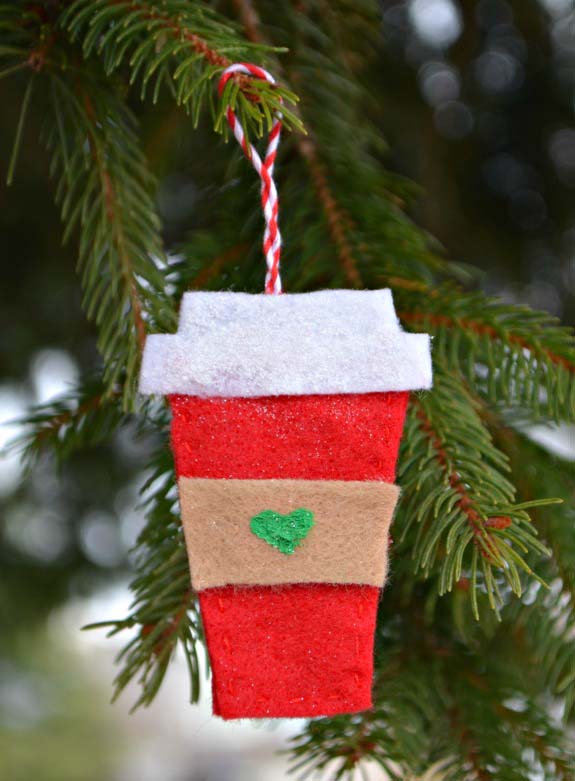 For the coffee lovers in your life, construct these super cute, felt, Starbucks cup-shaped coffee cups.
Felt DIY Christmas Ornaments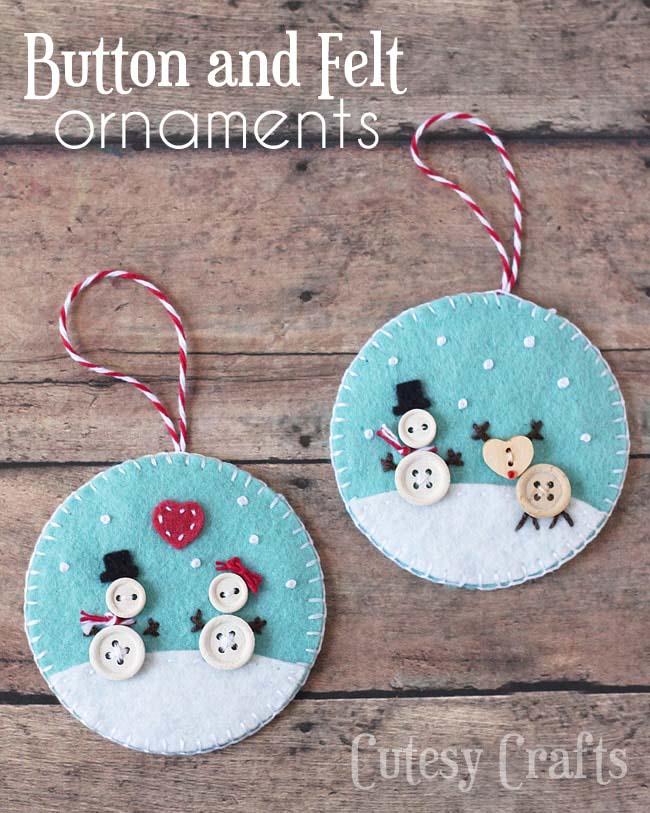 Create the classic ornament shape with these cute felt circles decorated with Christmas scenes.
via Cutesy Crafts
French Macaron Ornaments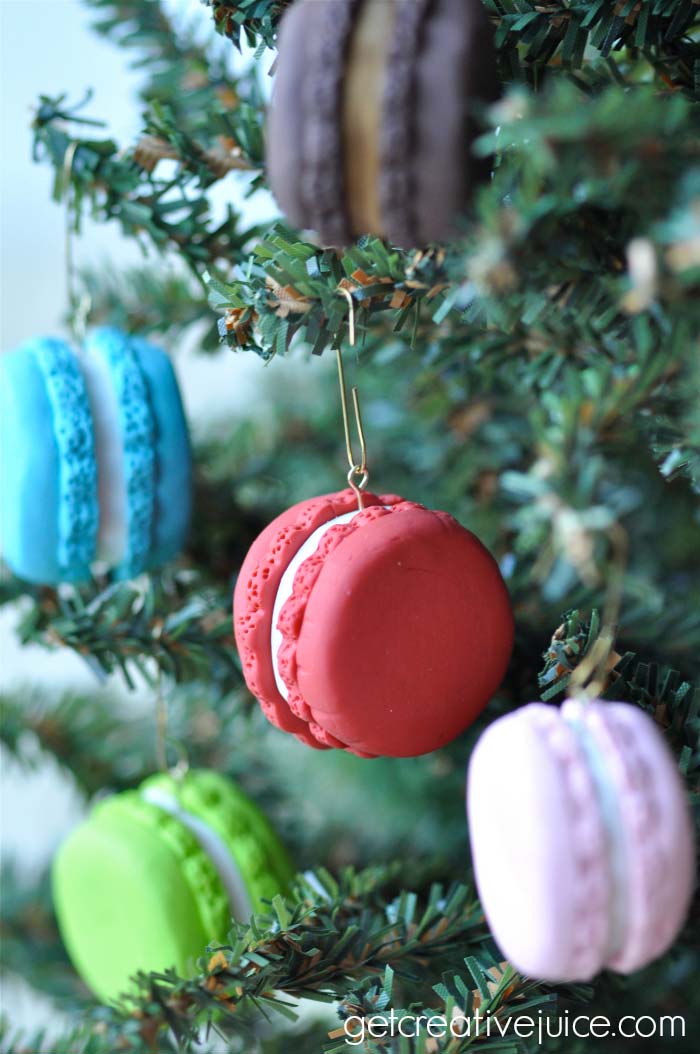 Using salt dough, make these cute macaron shaped ornaments that add a touch of color!
Frosted Pinecone Ornament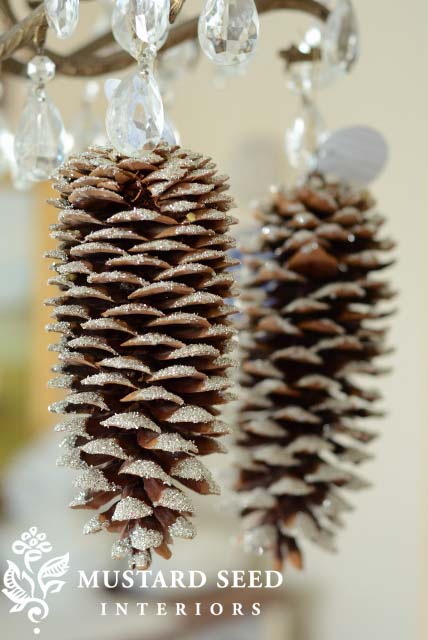 By using glitter and pine cones you can make super cute frosted pine cone ornaments that add a glittery pop to any tree!
Frozen Inspired Snowflakes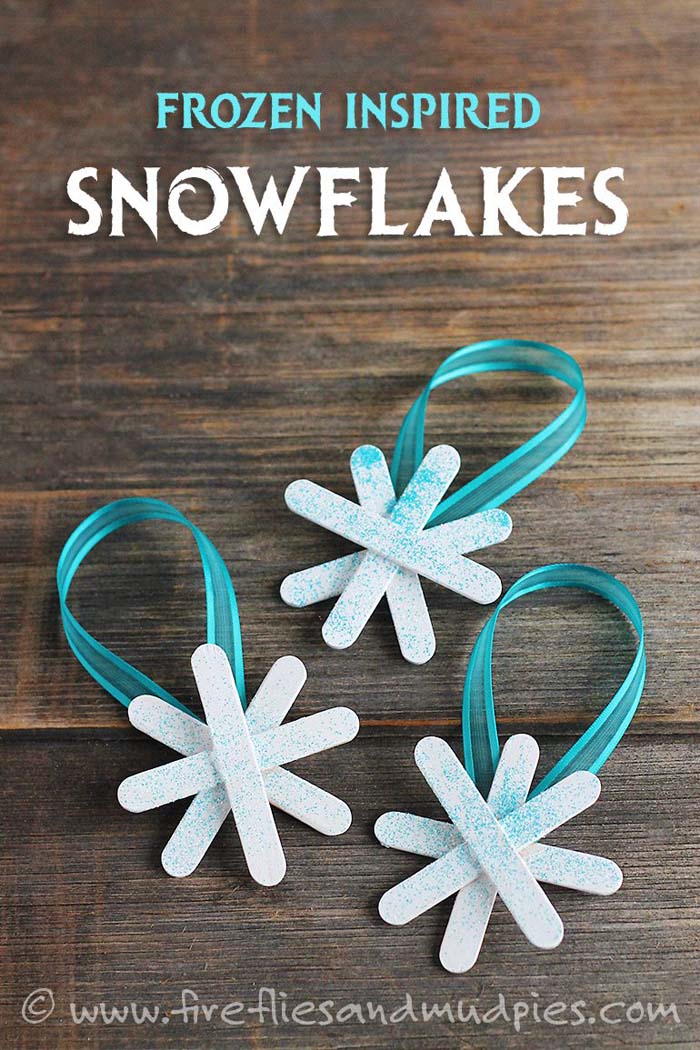 Snowflakes made from popsicle sticks and light blue ribbon are the perfect addition for a Frozen inspired Christmas tree.
Gem Studded Ornaments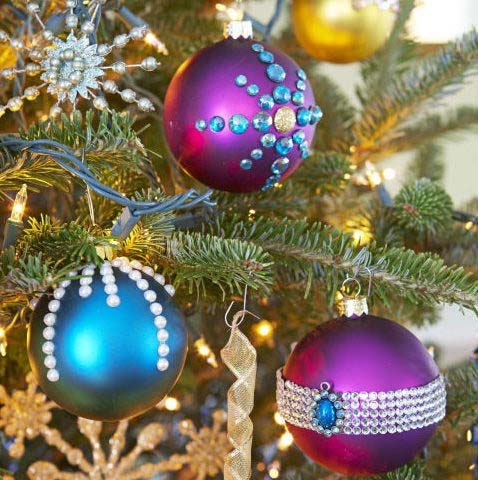 By using gems to stud these classic round ornaments, it creates an expensive flashy ornament from something simple.
German Glass Glitter Pear Ornament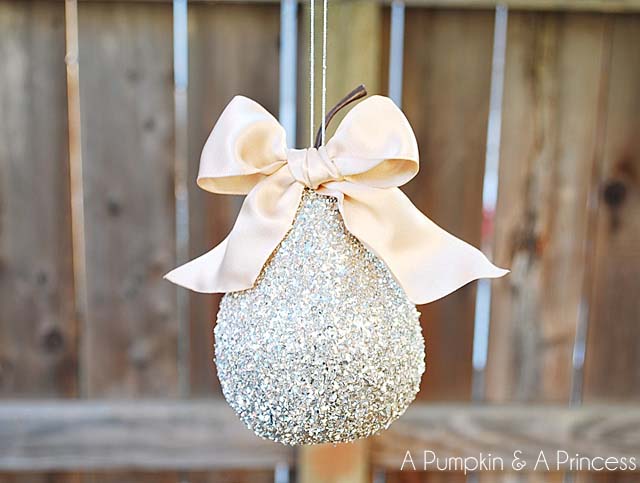 By utilizing german glass, and pear-shaped ornaments, these sparkly ornaments turn out super cute!
Gift Bow Ornament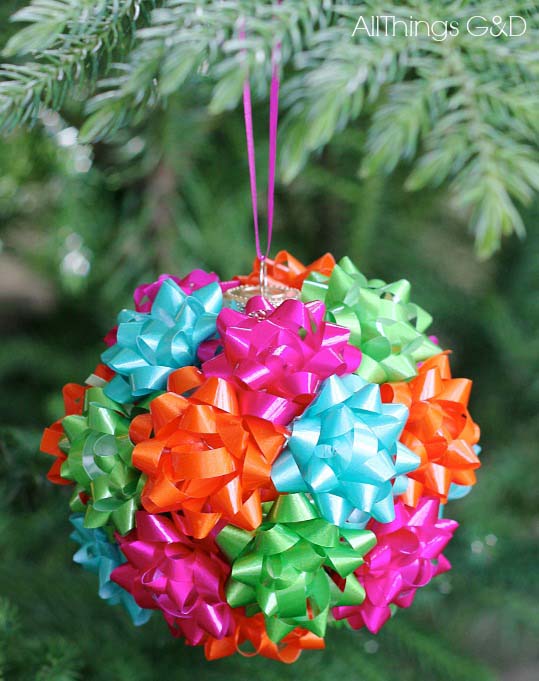 Collect all of your gift bows this year and glue them together to create a perfectly adorable gift bow ornament.
via All Things GD
Gingerbread Men Ornaments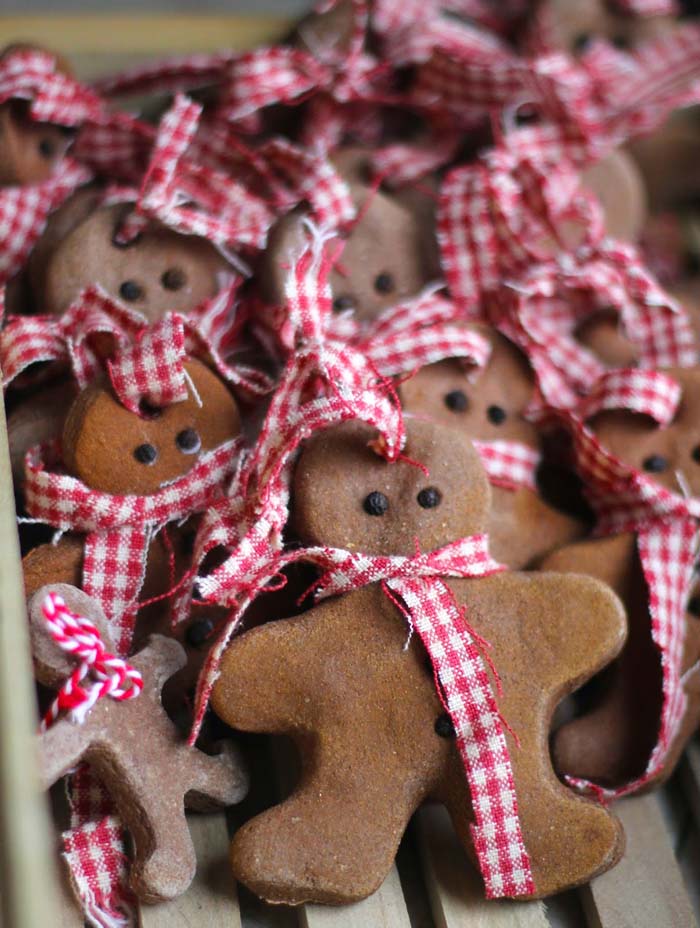 By using dried gingerbread and red ribbon, these cute ornaments add a classic touch to your tree.
via Tre Asureina Near Then Vessel
Glitter Letter Ornaments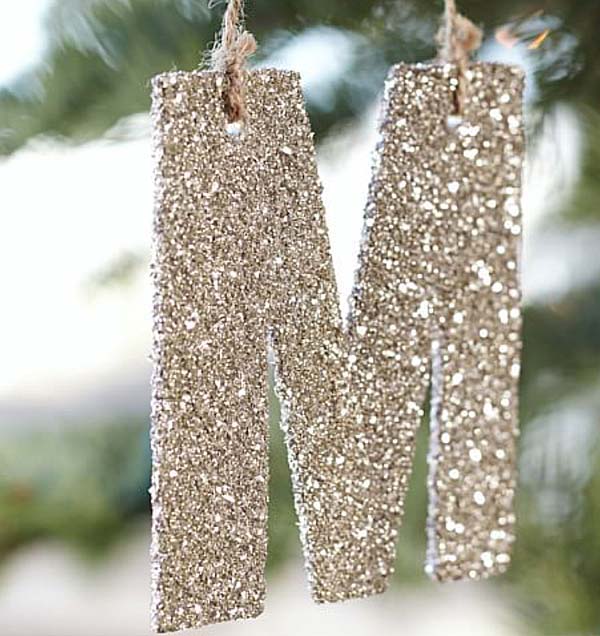 By gluing glitter to cardboard letters and hanging them from red ribbon, you create a super cuter personalized ornament.
Glitter Monogrammed Ornaments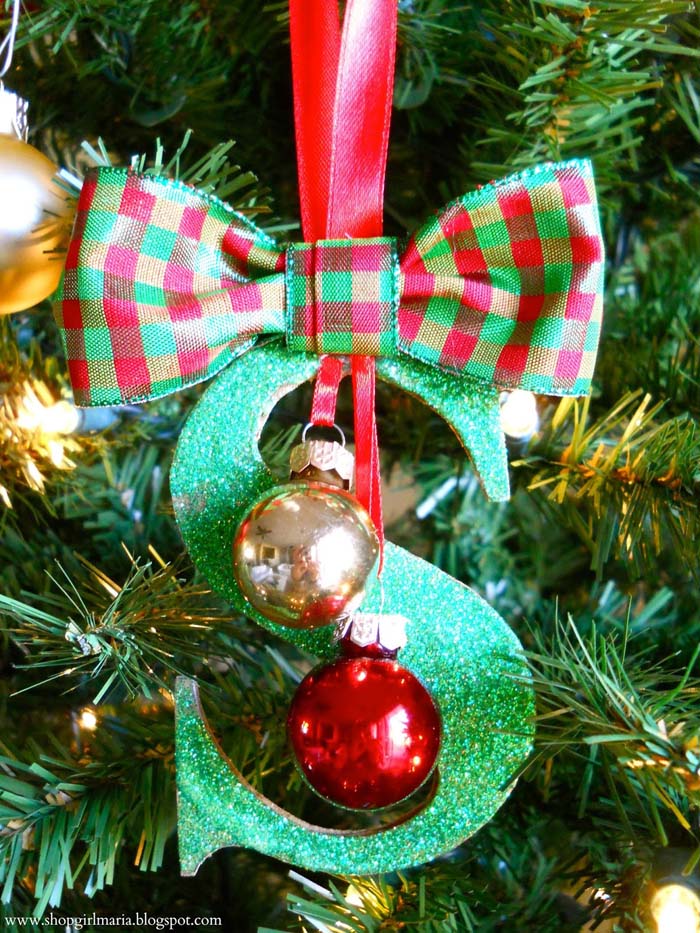 To add a unique touch, try these monogram ornaments that have been coated in glitter to add an extra flash.
Glittering Popsicle Stick Christmas Trees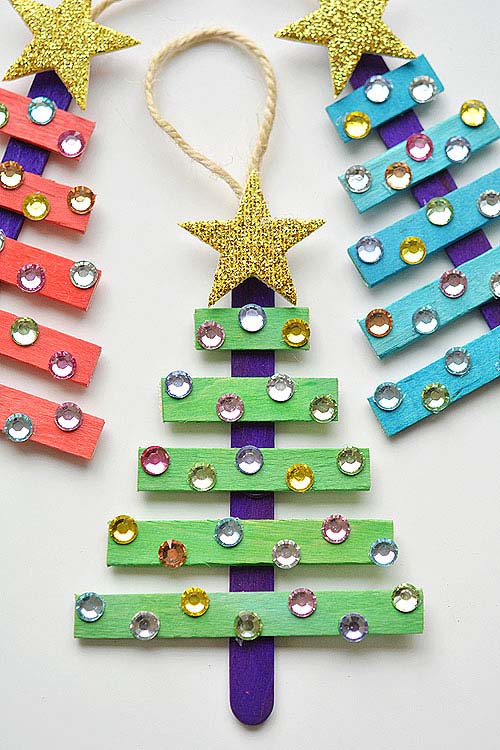 By gluing popsicle sticks to look like a Christmas tree, and sequins to look like ornaments, you can create a super cute Christmas tree look alike.
Gold Glittery Ornaments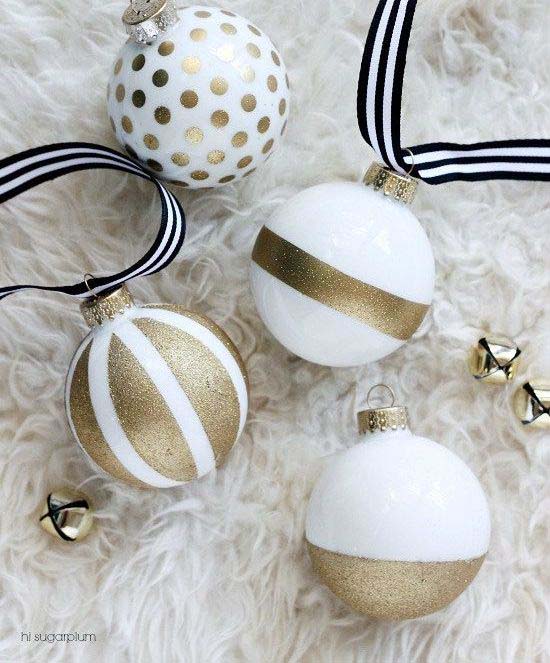 Create a classic couture looking ornament by using gold and white paint to decorate classic round Christmas ornaments.
via Blog Lovin
Gumdrop Ornaments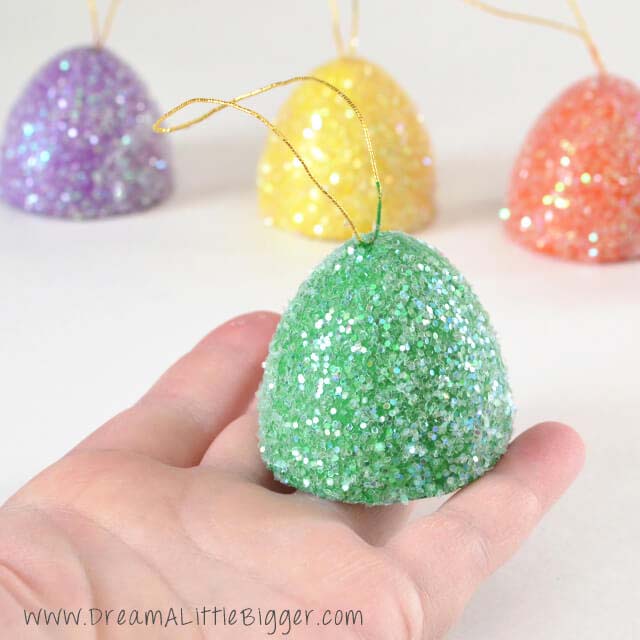 By hanging dried gumdrops from a Christmas tree you can create a colorful, easy DIY ornament.
Gumdrop Pomander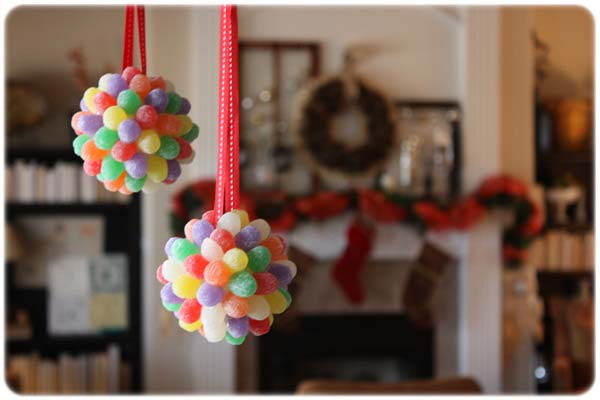 Glue dried gumdrops together to create a flower shape! This creates a super cute and easy DIY ornament.
via My Blessed Life
Heavenly Scented Iced Cinnamon Ornaments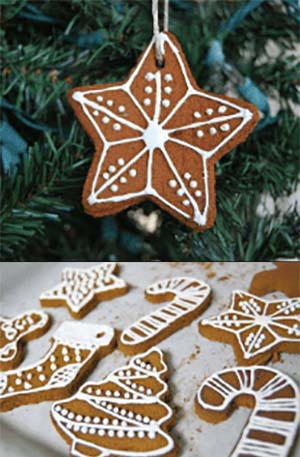 If you love to bake and love cute Christmas ornaments then these cookie constructed and iced cookie ornaments are perfect for you!
Homemade Paper Ball Ornaments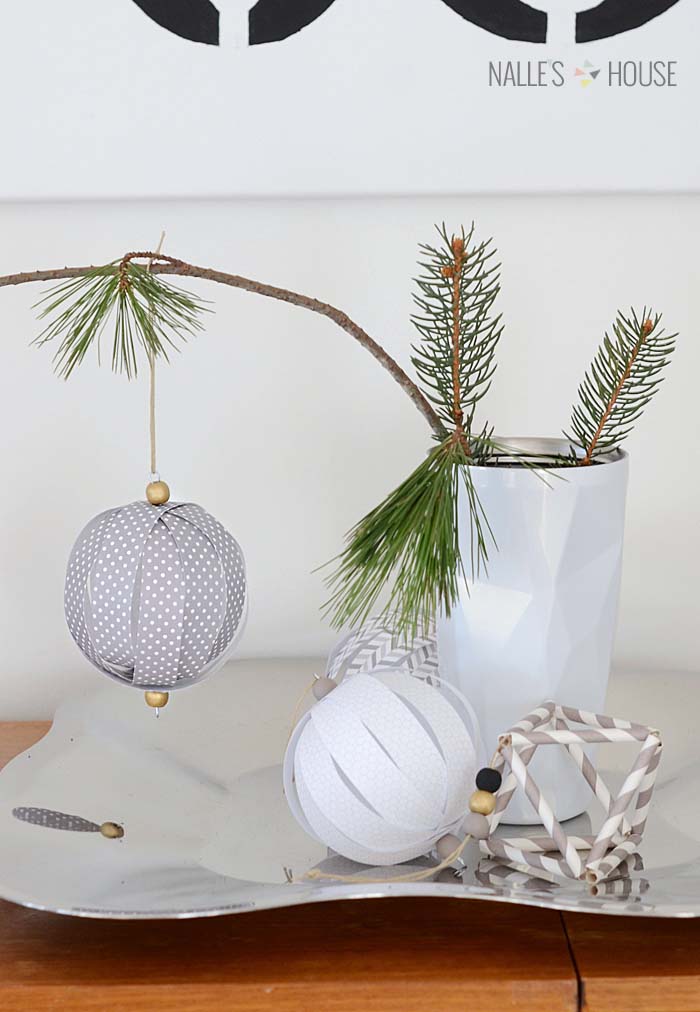 By using paper and gluing the paper in ball form you can DIY a cute ball-shaped ornament.
Hope Ornament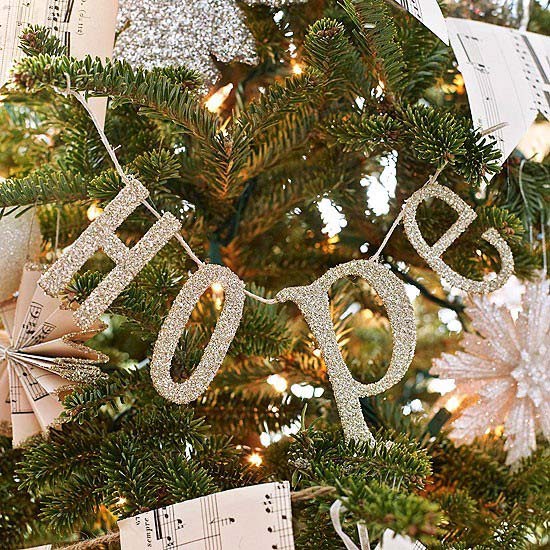 Using Christmas themed ribbon or string, string together glitter dipped letters to create cute Christmas sayings.
Jingle Bell Ornament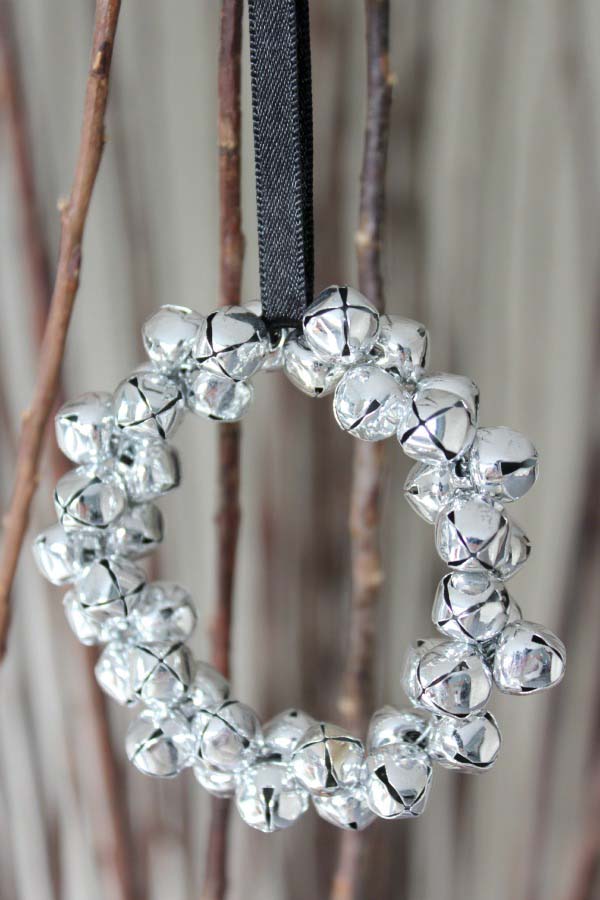 Using mini jingle bells, you can make a cute wreath shaped jingle bell ornament!
Jingle Bells Christmas Ornaments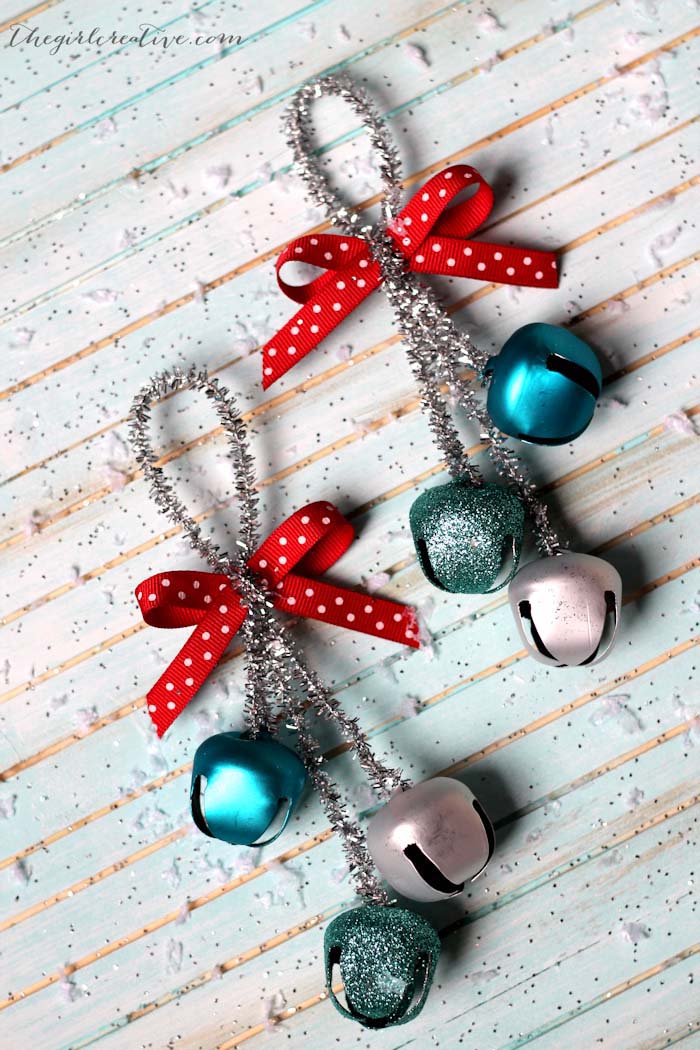 Using gold and silver pipe cleaners glued in a bow shape with a jingle bell on the ends of the pipe cleaners creates an adorable Christmas ornament.
Jute Ball Ornaments Feature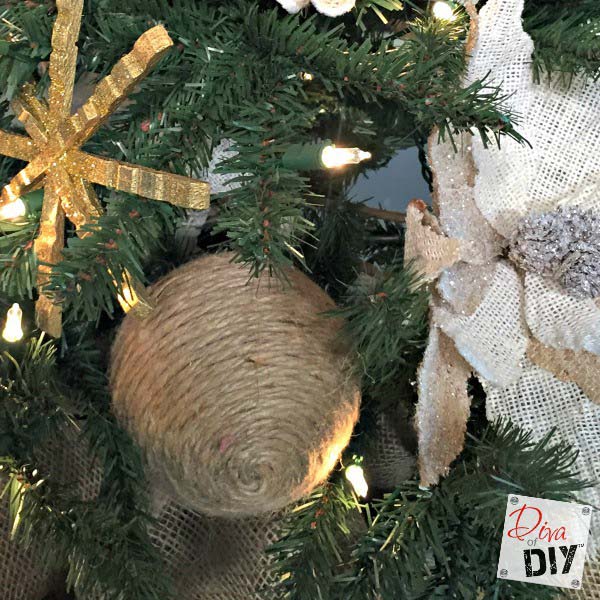 By wrapping burlap fiber string around a glass ball you can make these super rustic looking ornaments.
via Diva of DIY
K Cup Snowmen Hat Ornaments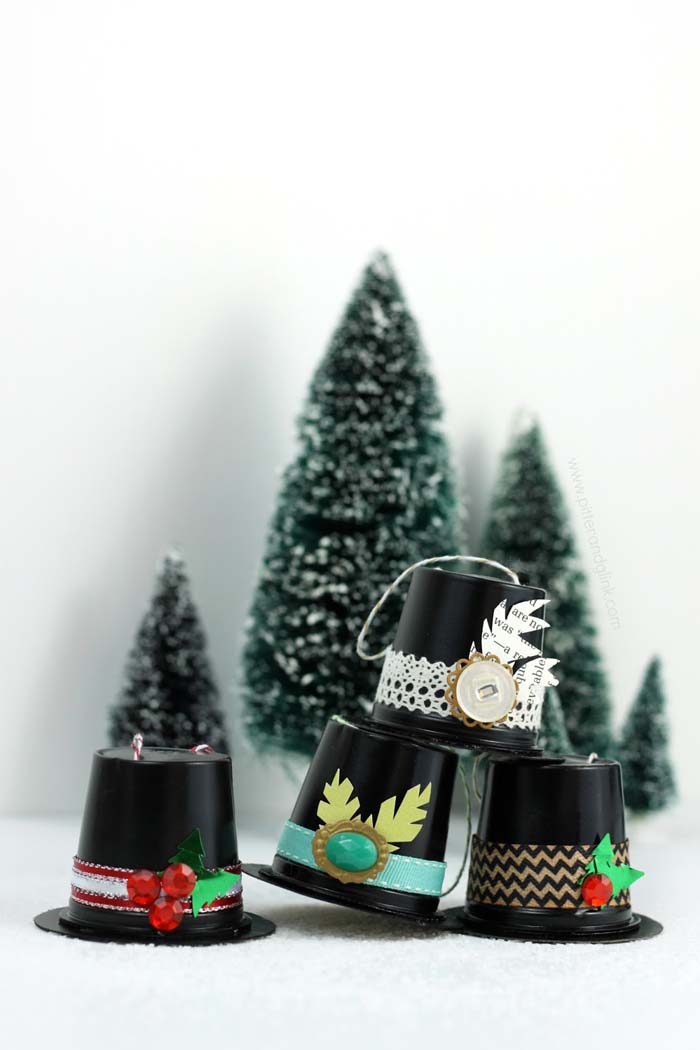 Reuse old washed k cups and wrap them with colored ribbon and buttons if you like. This creates snowmen hat ornaments!
via Pitter and Glink
Kade Spade DIY Ornaments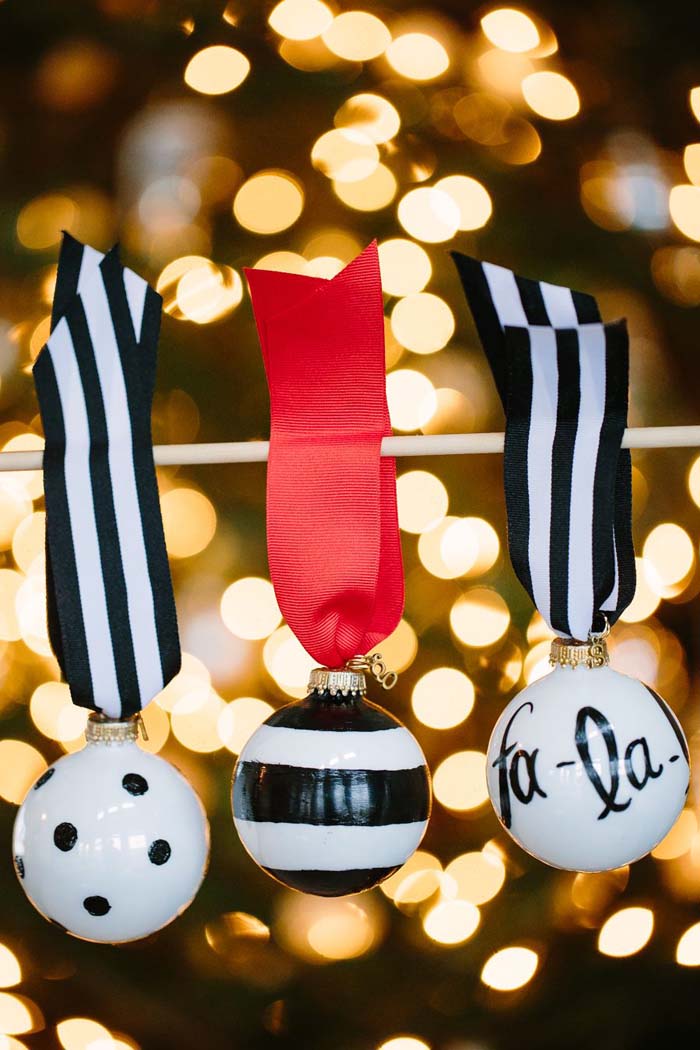 Create modern and adorable ornaments with these small, monogrammed round ornaments with thick ribbon to hang them!
Let it Snow Scrabble Tile Ornament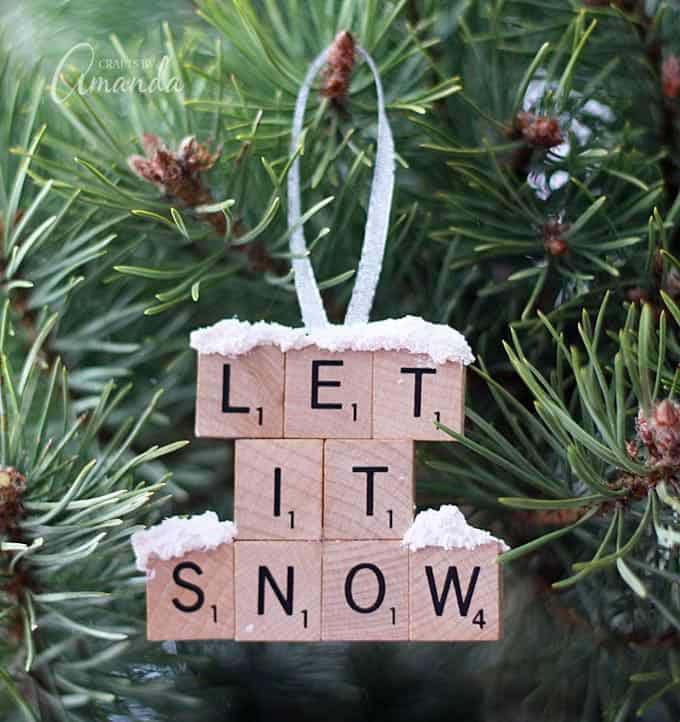 Looking for an intelligent touch to your Christmas. Check out these cute ornaments made from old scrabble tiles!
via Crafts by Amanda
Mason Jar Lid Christmas Wreath Ornaments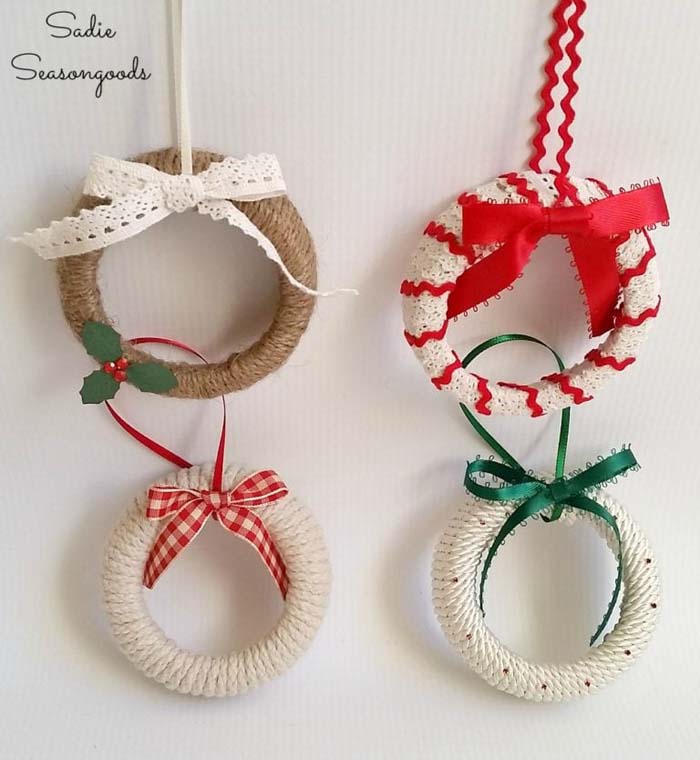 Wrap old mason jar lids with ribbon and hang with burlap fiber string to make a wreath looking Christmas ornament.
via Sadieseasongoods
Mason Jar Lid Ornament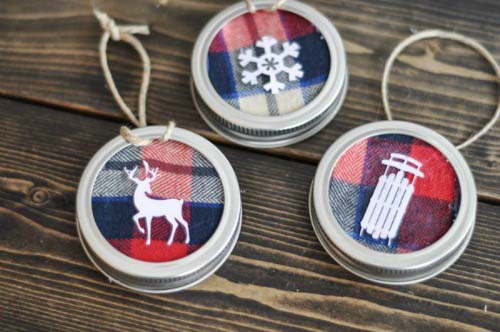 Glue buffalo plaid in the back of mason jar lids then decorate with classic Christmas themed designs to create these cute ornaments.
Melted Bead Ornaments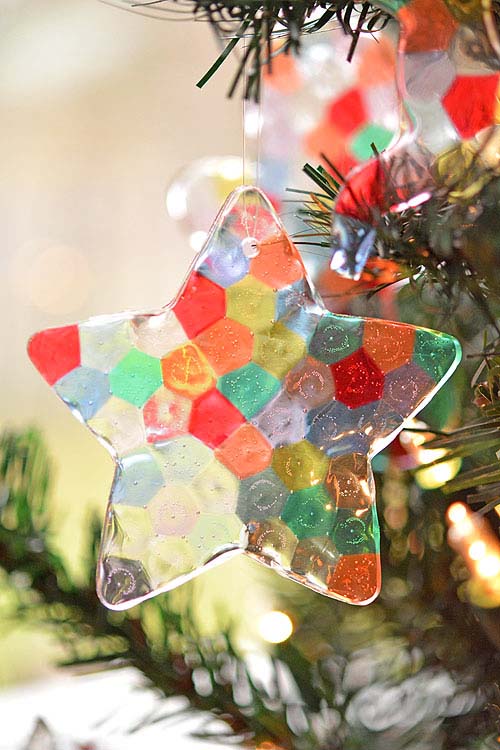 Use cookie cutters and parchment paper, then fill the cookie cutters with beads and bake. This melts the beads together create cute, colorful Christmas ornaments.
Melted Crayon Ornaments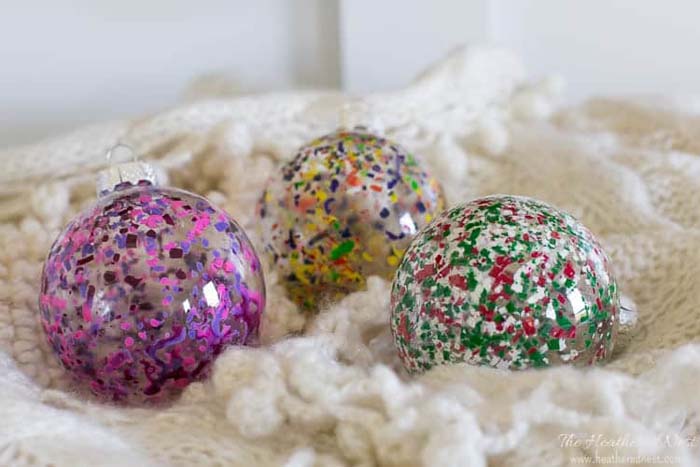 By filling glass Christmas ornaments with melted crayons, you can create colorful easy to do holiday decorations.
via Heather Ednest
Melted Peppermint Ornament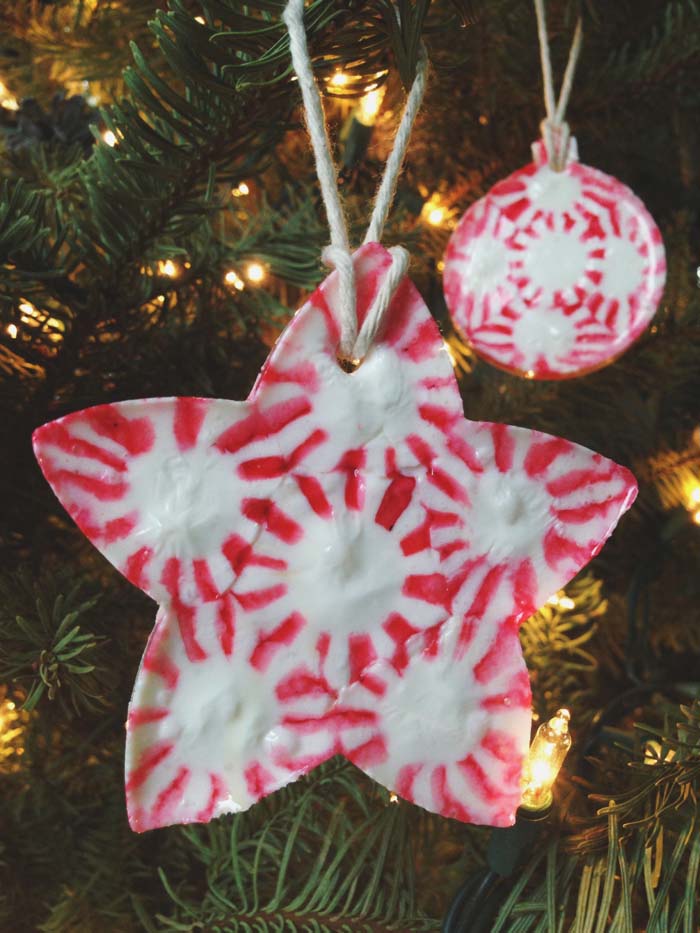 Melt peppermints into shapes to create these super cute Christmas ornaments.
via Hello Homebody
Mini Deer Pallet Ornament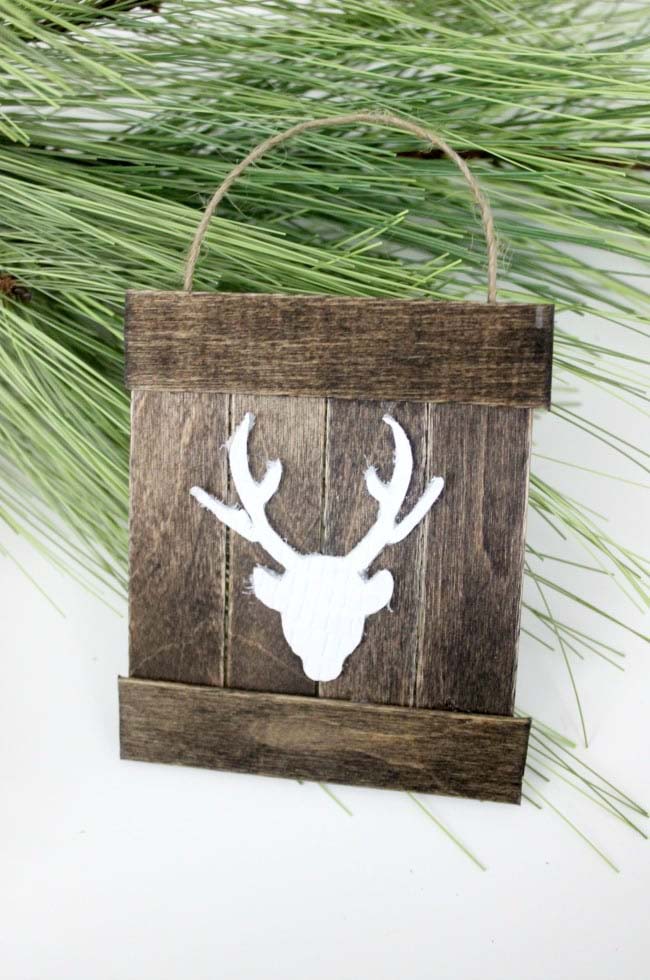 Create these rustic Christmas decorations using reclaimed wood and white paint.
Mini Yarn Hat Ornament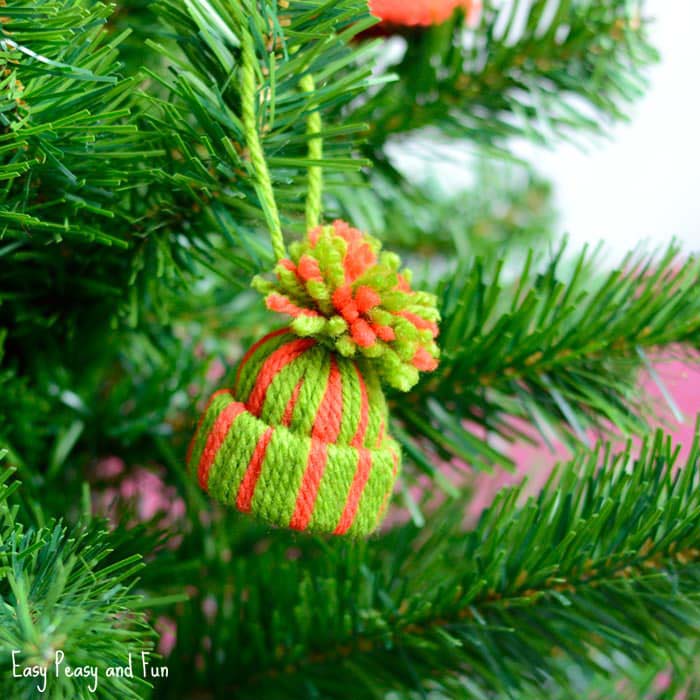 Crochet these mini snowmen winter hats to create these super adorable mini Christmas ornaments.
Monogrammed Ornament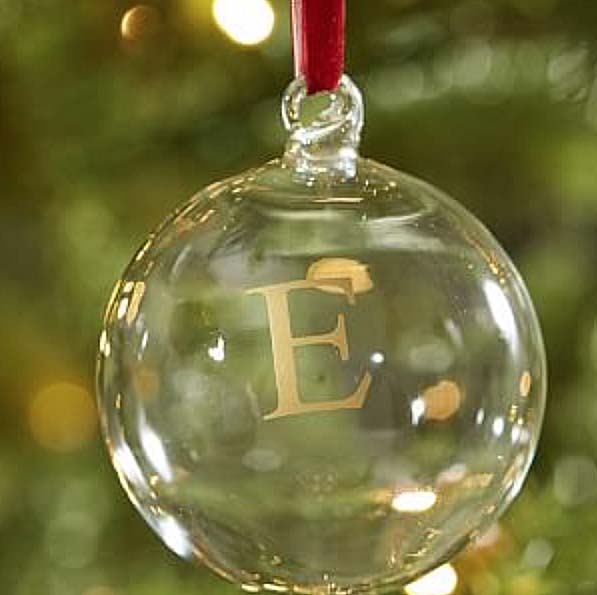 Add a nice modern, personalized touch to a classic Christmas ball. These monogrammed ornaments are perfect for your tree.
Music Sheet Ornament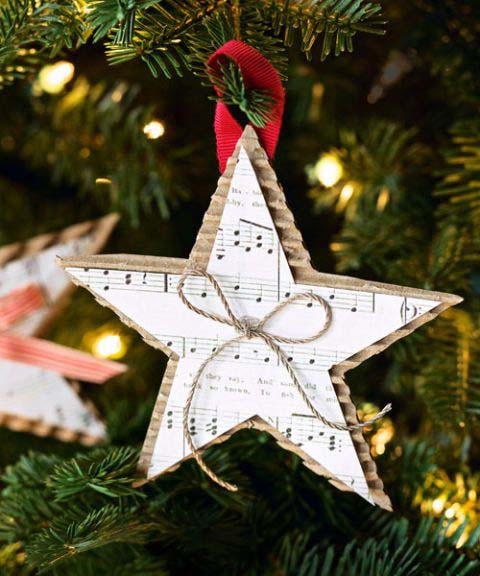 Use old music sheets cut in the shape of stars and glued to cardboard to create these ornaments for the music lovers in your life.
Natural Ornaments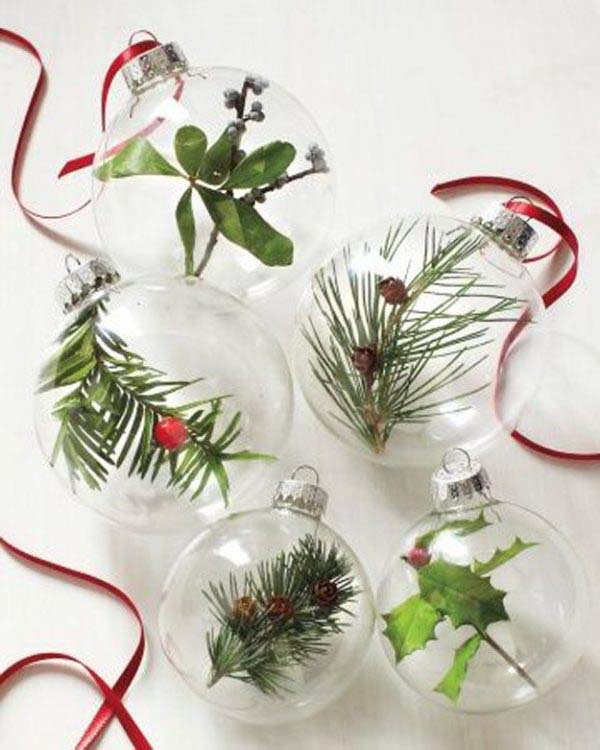 Fill glass Christmas balls with natural elements to create these simple ornaments.
Ninja Turtle Ornament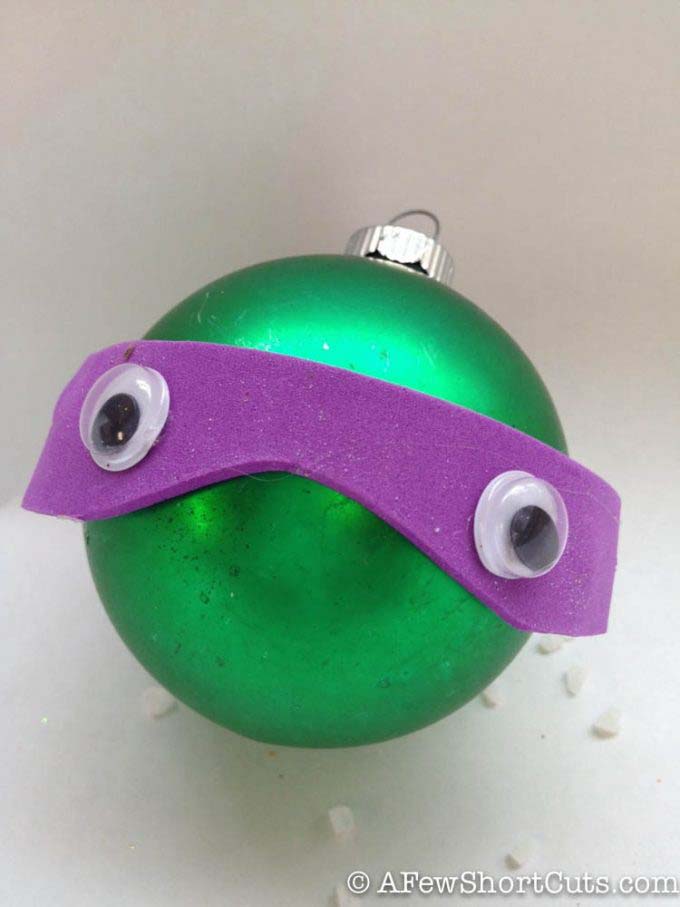 Using felt and green Christmas ornament balls you can make ninja turtle ornaments for the child in your life.
via A Few Shortcuts
Paper Christmas Baubles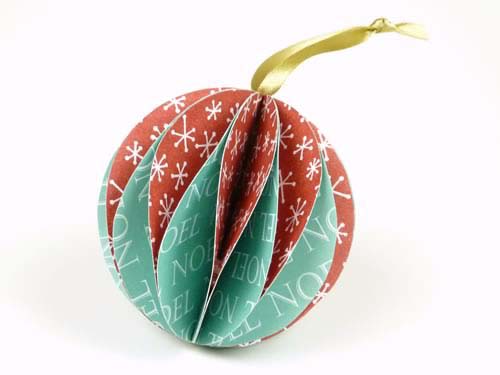 Glue together cardstock and string together to shape a ball to create these colorful Christmas ornaments.
Paper Snowflake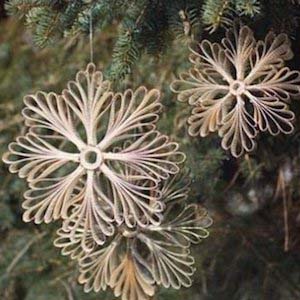 Make paper cardstock snowflakes to hang from your Christmas tree to add a classic touch.
via Stylowi
Paper Straw Ornament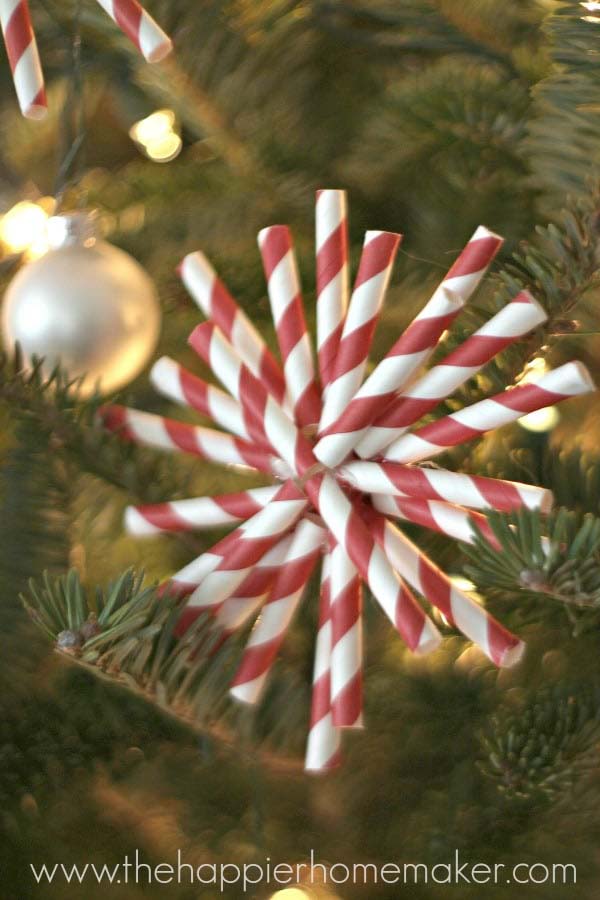 Use colored straws, cut them and glue them in the shape of a snowflake!
Paw Ornament Christmas Ornament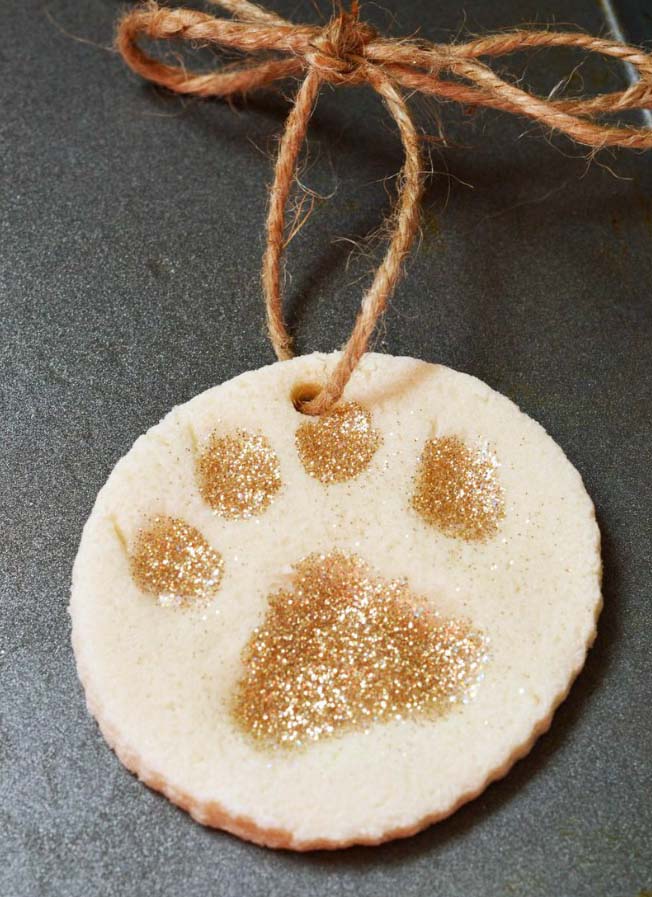 Remember your pets by using salt dough and step your pets paw into it to create a memorable Christmas ornament.
via Dog Vills
Photo Ornament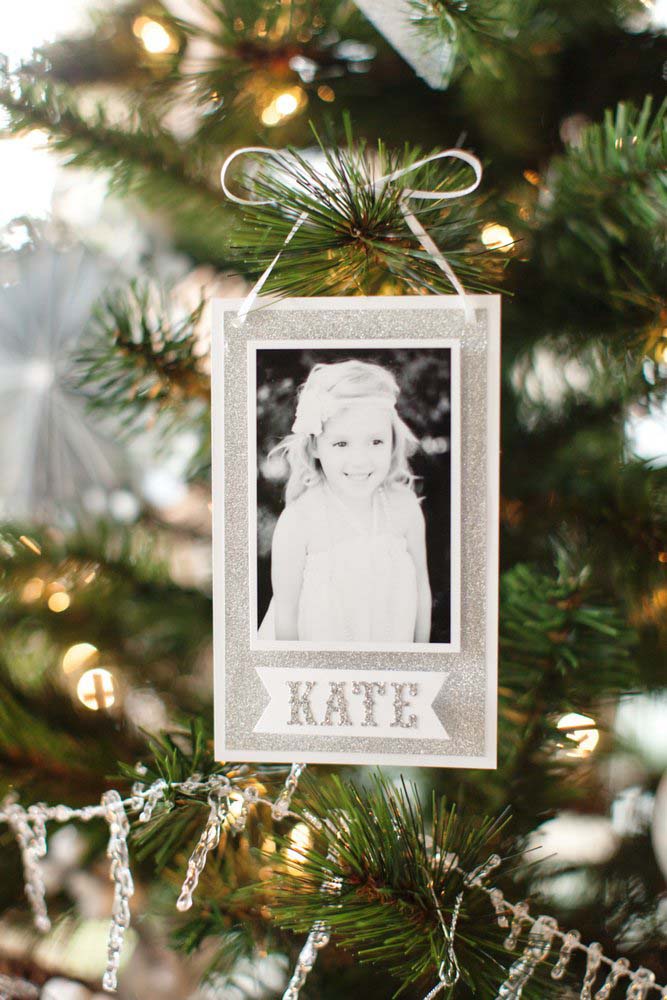 Print cute photos to hang from your tree for a cute personalized Christmas ornament.
Pinecone Ornament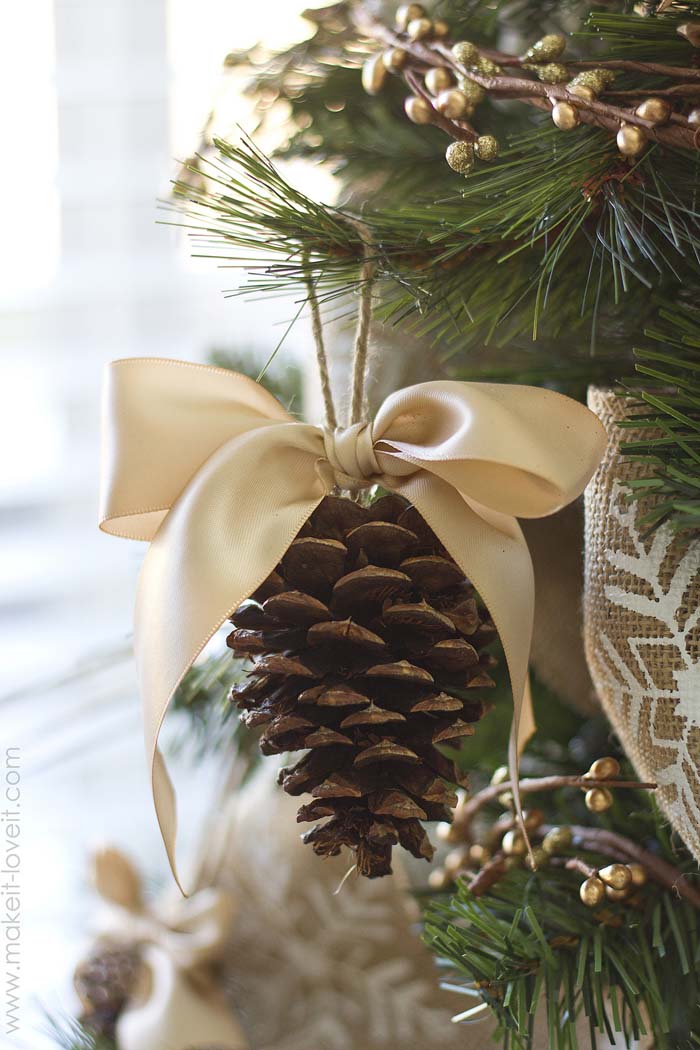 Use natural pinecones with cute ribbon bows to add a natural touch to your Christmas ornaments.
via Make it Love it
Pistachio Ornament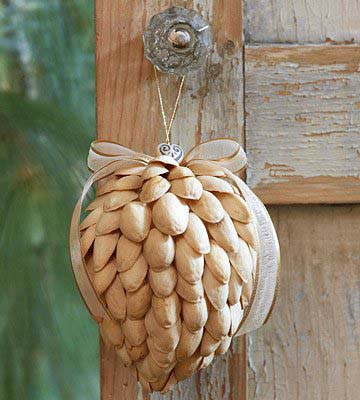 Use old pistachio shells glued or strung together to create this pine cone look-alike Christmas ornament.
Plaid Ornaments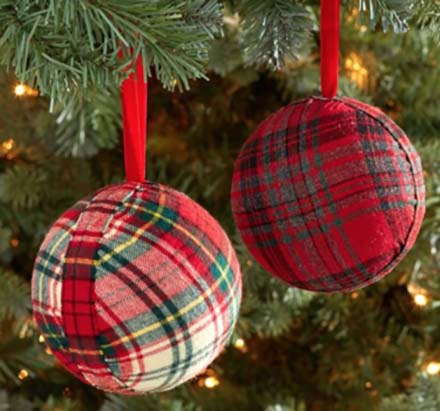 Glue buffalo check fabric to classic round ornaments to create an adorable simple Christmas ornament.
Plaid Wrapped Twig Snowflake Ornament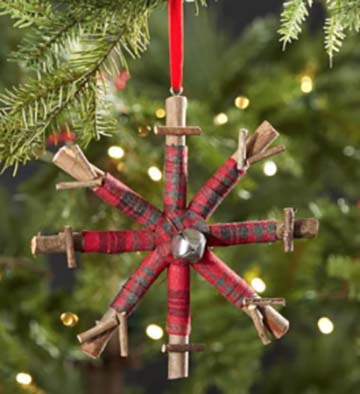 Use twigs to make a snowflake shape. Then decorate with ribbon and glitter!
Pledge Snowman Ornament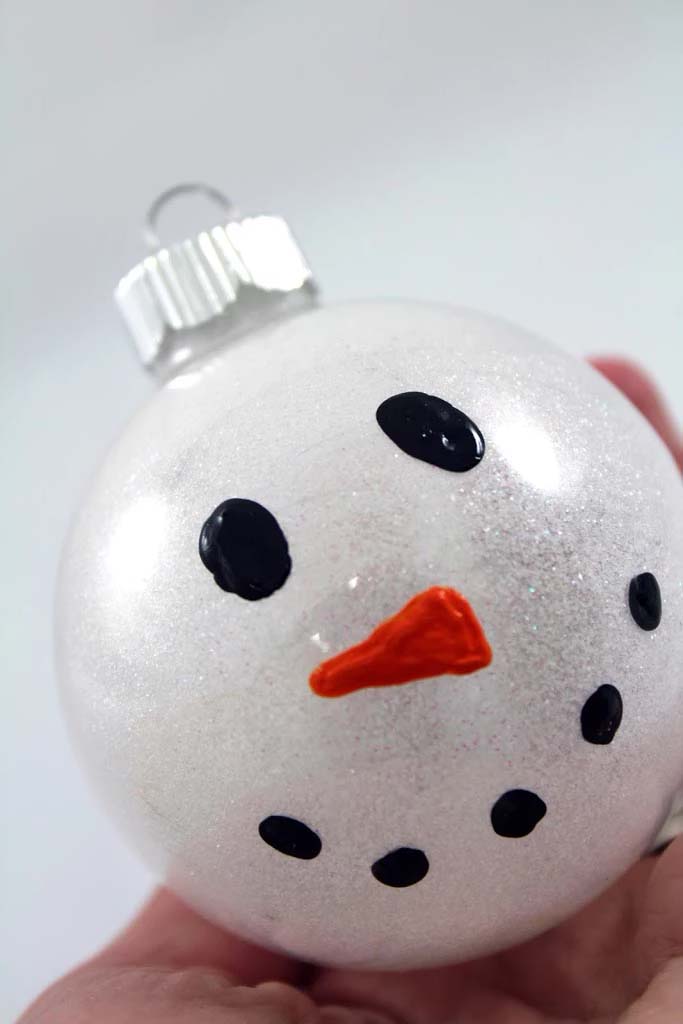 By glittering the inside of a glass ornament and painting a snowman face on the outside, you can DIY a super cute ornament.
via Craft E Corner
Pom Pom Pinecone Ornaments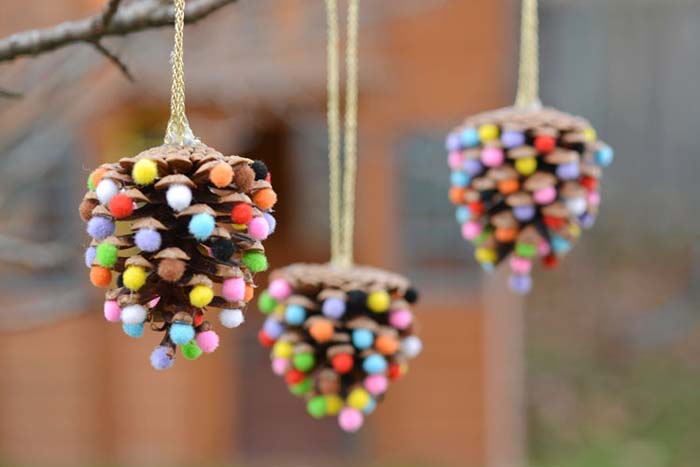 Gluing mini pom-poms to a pine cone, you can make little Christmas tree-shaped natural looking ornaments.
Popcorn Glass Ball Ornament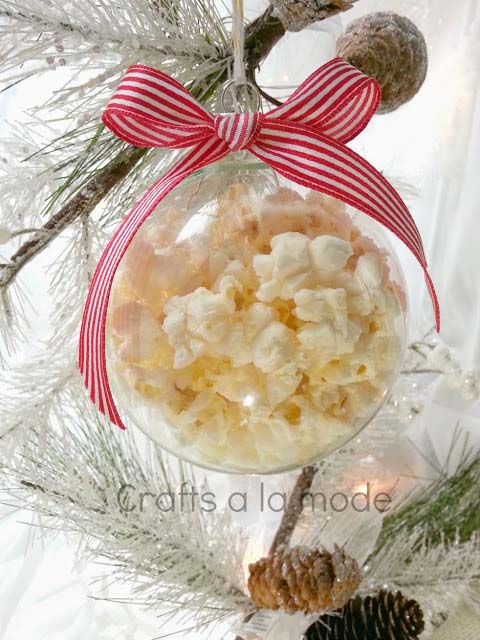 By filling a glass ball ornament with popped popcorn you can create a super simple but super cute ornament.
via Crafts a la Mode
Popsicle Stick Sleds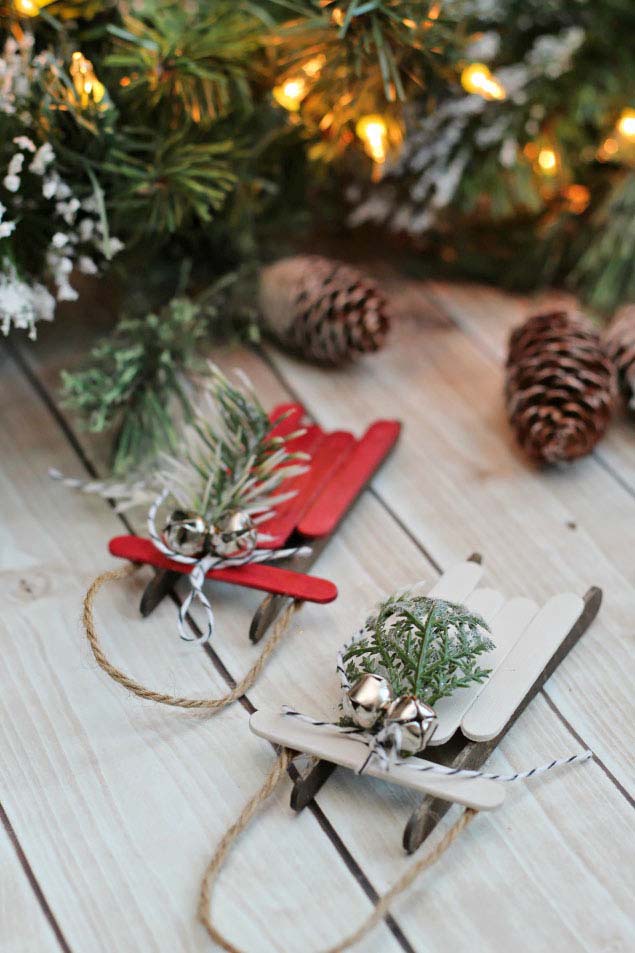 By using popsicle sticks you can make super cute old looking sleds for your Christmas tree.
Reindeer Puzzle Piece Ornament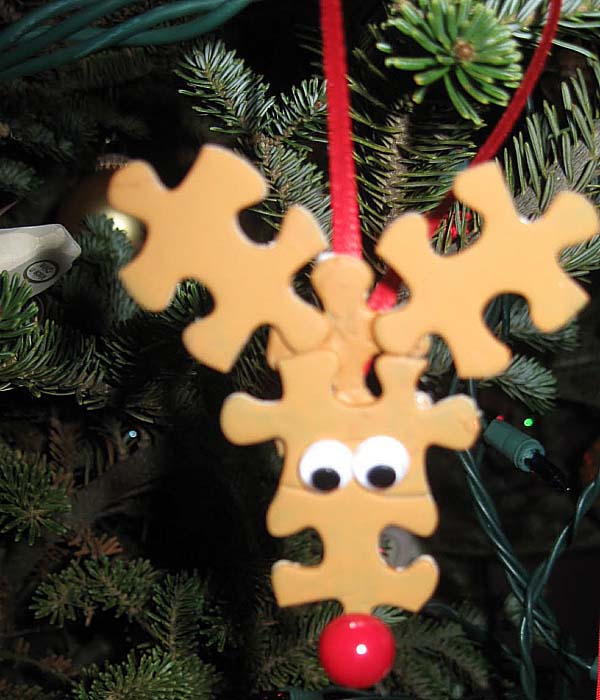 Use cute old puzzle pieces painted brown to create reindeer shaped ornaments!
Ribbon Tree Ornaments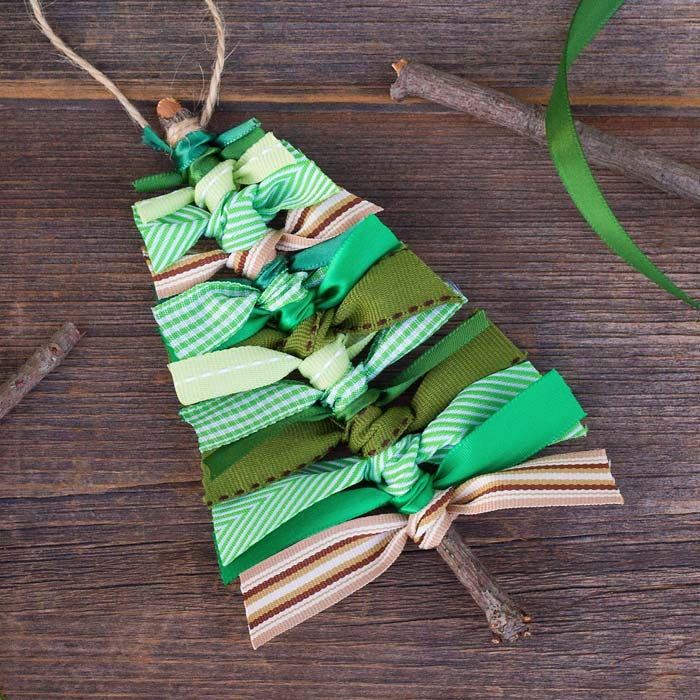 Use ribbon, tied to a stick, shaped like a Christmas tree to construct DIY super cute ornaments.
Rolled Paper Christmas Tree Ornament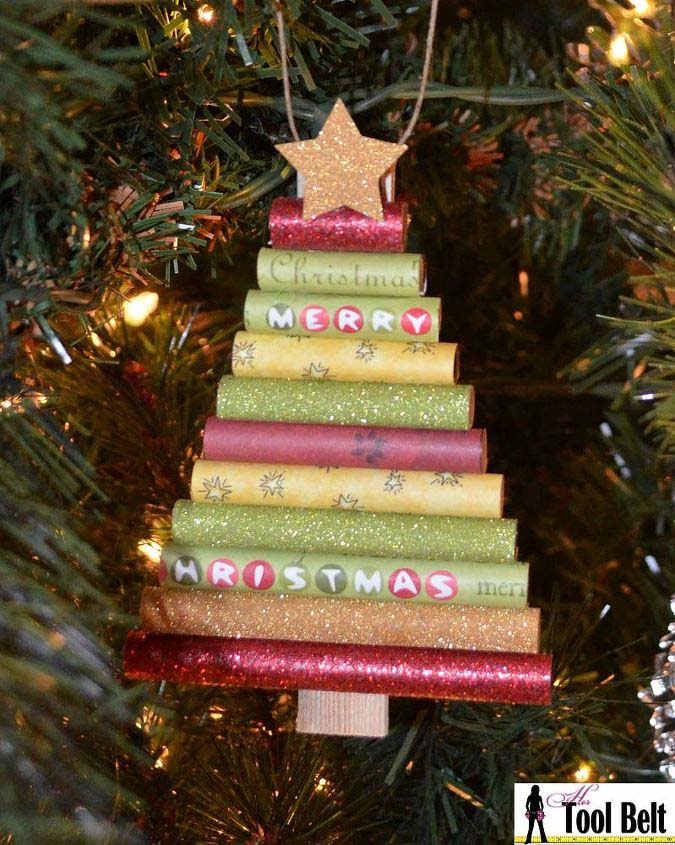 By rolling and gluing together paper beads, you can then use it to make Christmas tree shaped ornaments!
via Home Talk
Rustic Log Bird Nest Ornament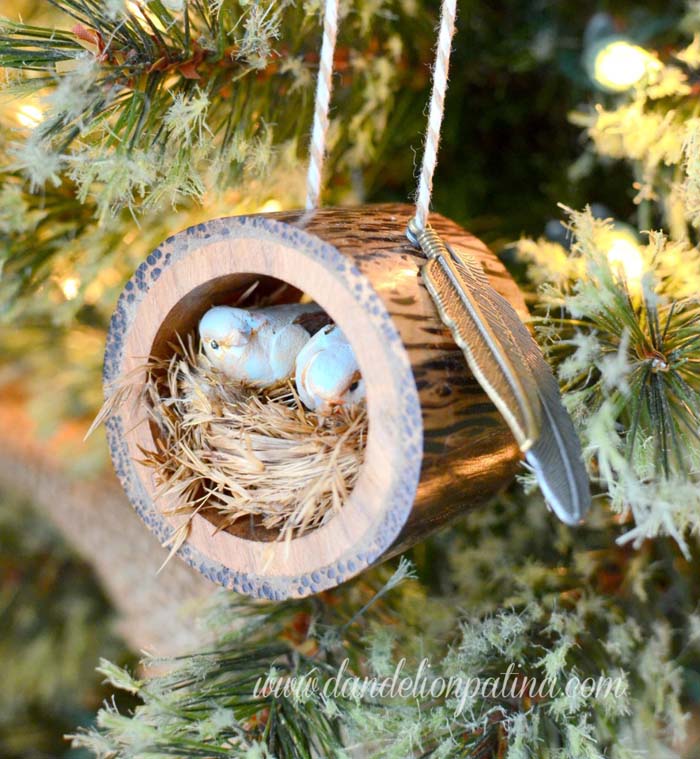 Using a hollowed out rustic log these super cute bird nest shaped ornaments can be DIY easily.
via Dandelion Patina
Rustic Twig Feather Arrow Ornaments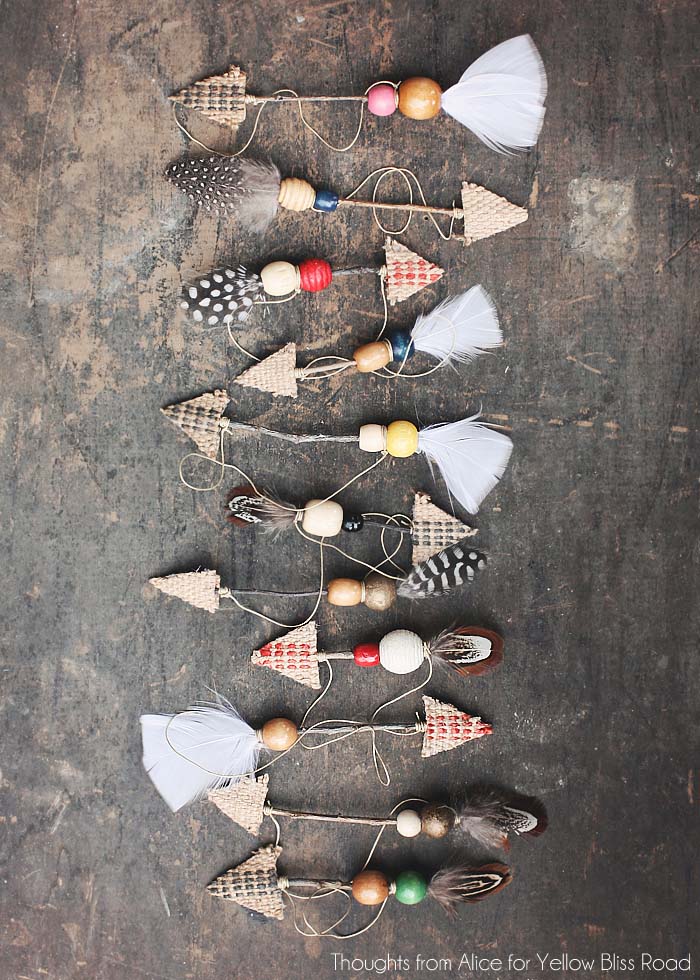 Using twigs, felt and small beads you can construct these simple arrow-shaped ornaments.
Salt Dough Ornaments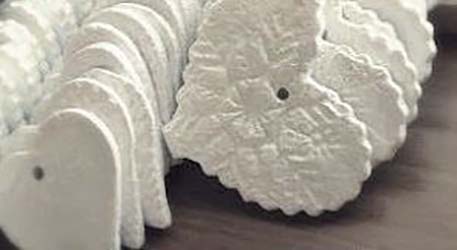 Salt dough ornaments can be shaped into any Christmas theme and are very versatile
via All Recipes
Santa and Snowmen Ornaments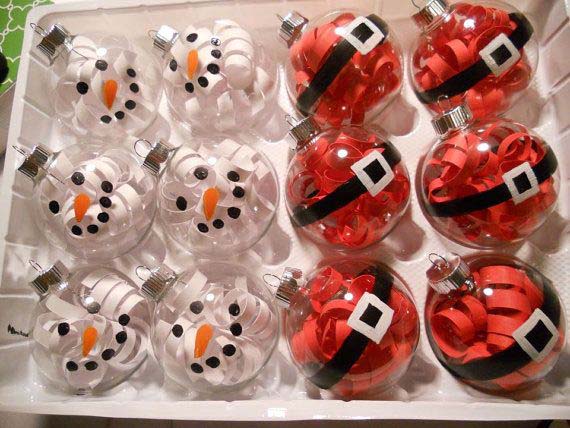 These clear glass ornaments are filled with red or white paper to either create an adorable snowman or a Santa coat.
Sesame Street Ornaments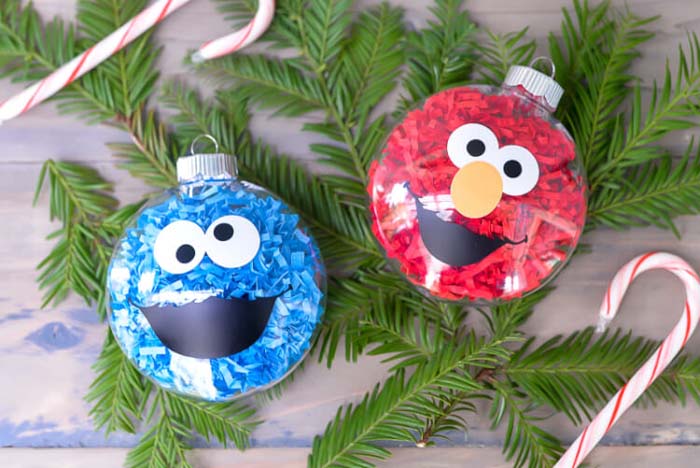 Filling glass ornaments with colored paper, you can attach or paint sesame street themed paper on the outside!
Sheet Music Ornament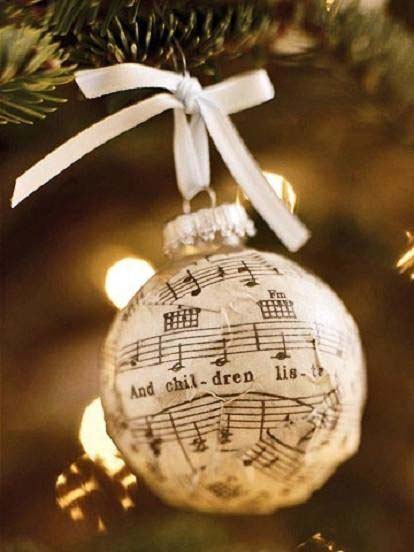 Filling glass ornaments with old sheet music creates a classic and beautiful ornament.
Simple Wood Sled Ornament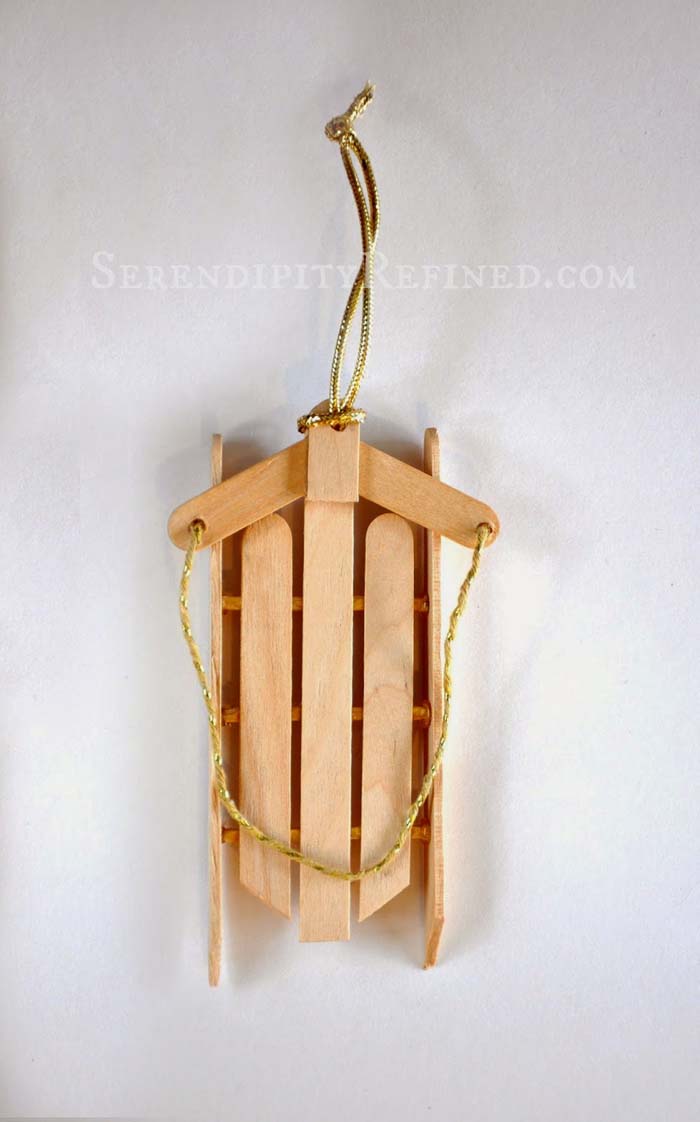 Using classic brown popsicle sticks you can glue them together to create cute sleds.
Snow Globe Kids Ornament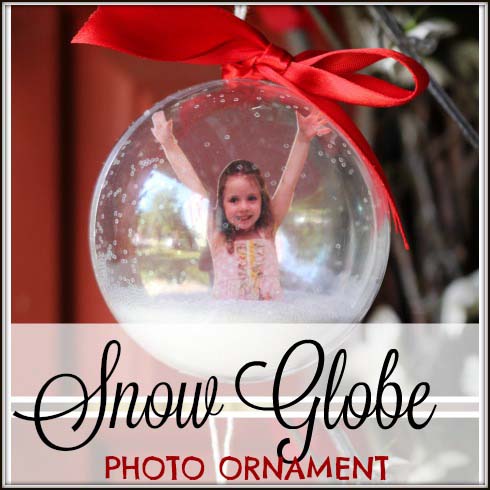 Using photos and clear ornaments you can DIY construct memory ornaments of pictures of your children or fur children!
Snow Globe Ornament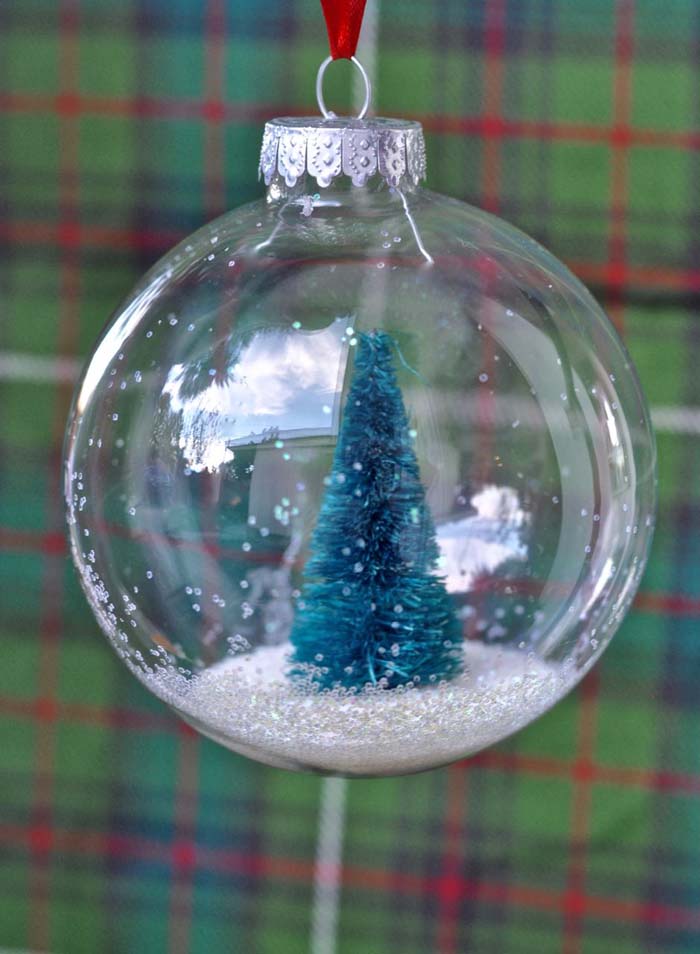 Take a clear ornament and fill with white snow and a mini Christmas tree to create a cute Christmas scene in an ornament.
via Darice Blog
Snow White Ornament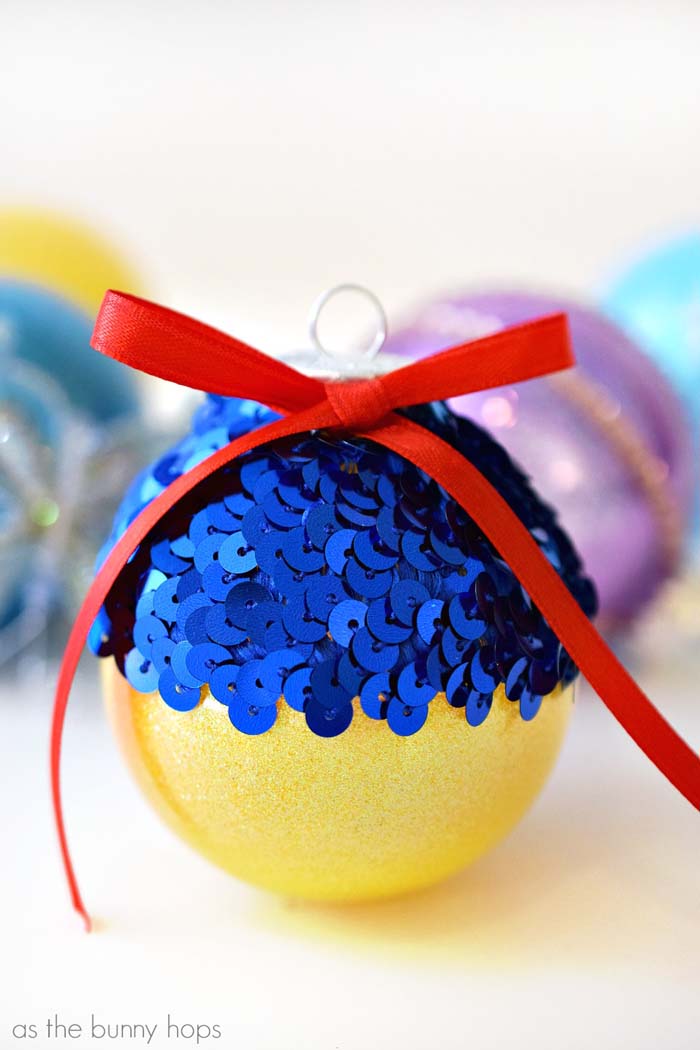 Using a half gold, half blue sequined christmas ornament, you can construct a super simple and super cute snow white ornament.
Snowman Fingerprints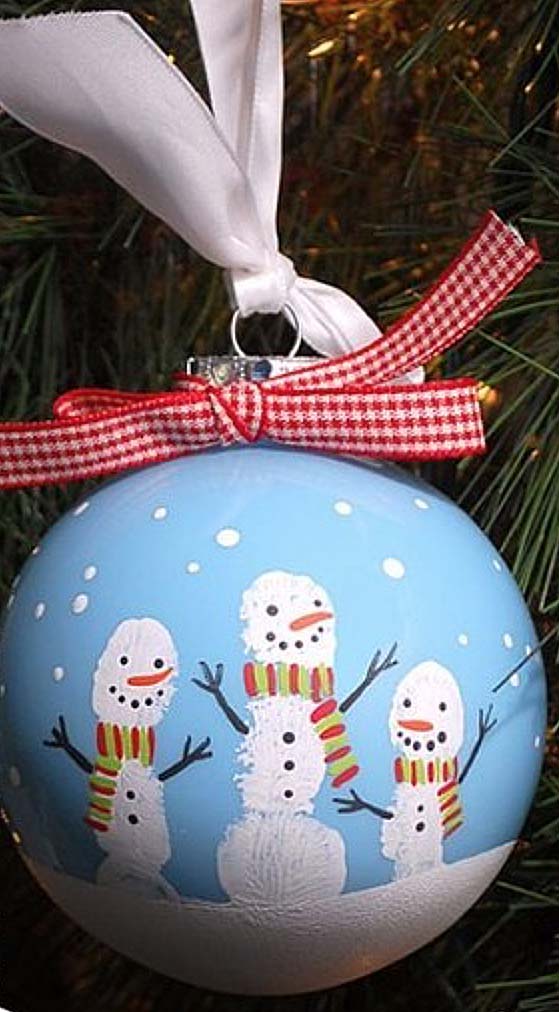 Using your finger you can paint snowmen on the side of a round ornament. Then paint the black buttons and orange carrot nose on your fingerprint to create adorable snowmen!
via Buzzfeed
Snowman Lightbulb Ornament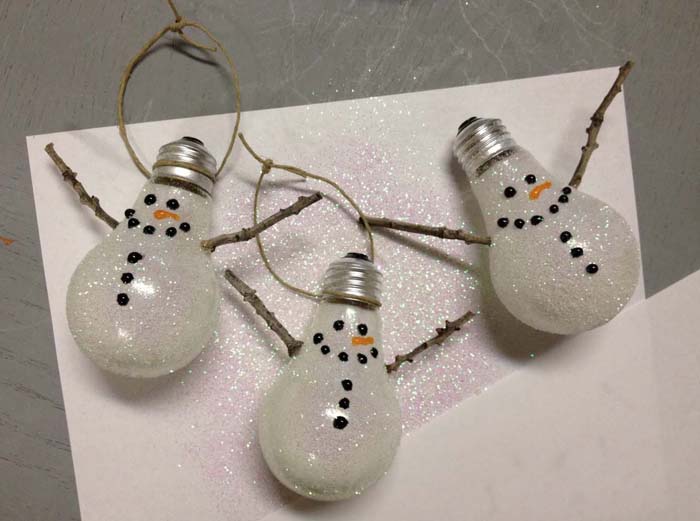 Old lightbulbs make the perfect snowman body. Remove the filament and paint the inside white, then paint a snowman on the outside and glue twigs for arms!
via Kelsey Bang
Snowman Ornaments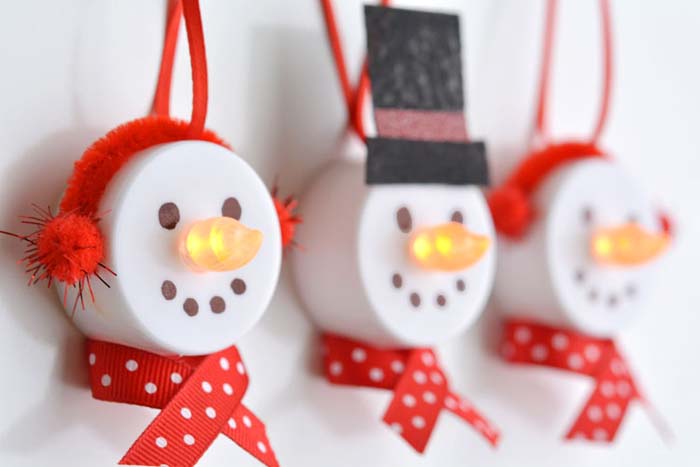 Using battery operate tea lights as snowmen face, you can glue cute little hats and ribbon on to shape the shape of snowmen!
Snowman Wood Slice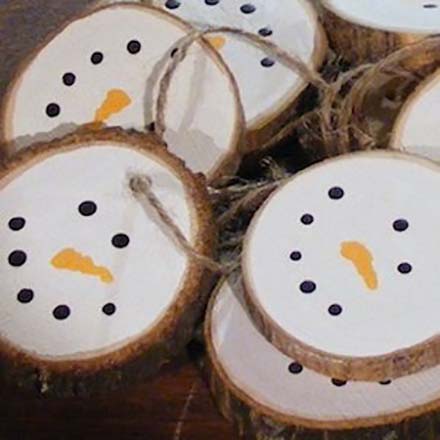 Using slices of wood, painted white with snowmen faces you can create rustic snowmen.
Snowmen Peanut Ornaments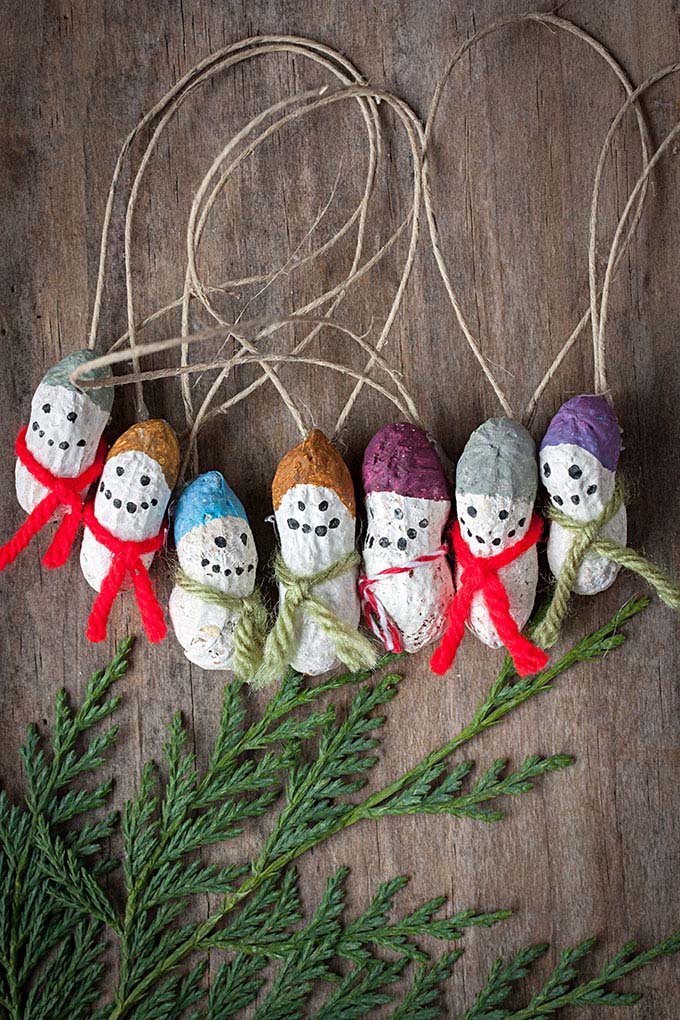 Paint peanuts white with colorful hats to create snowmen shaped ornaments.
via Ever Mine
Sprinkles Ornaments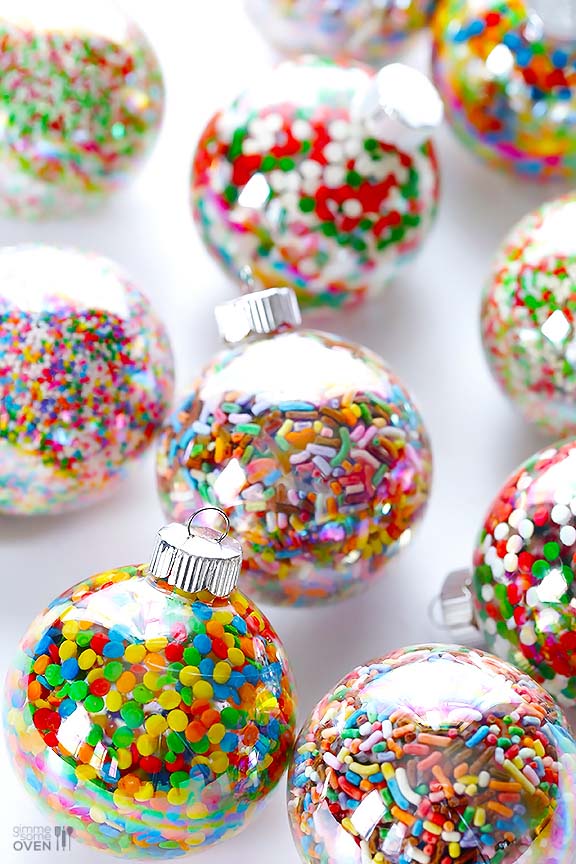 By filling clear Christmas ornaments with sprinkles you can create colorful ornaments.
via Gimme Some Oven
Stamped Burlap Ornaments.jpg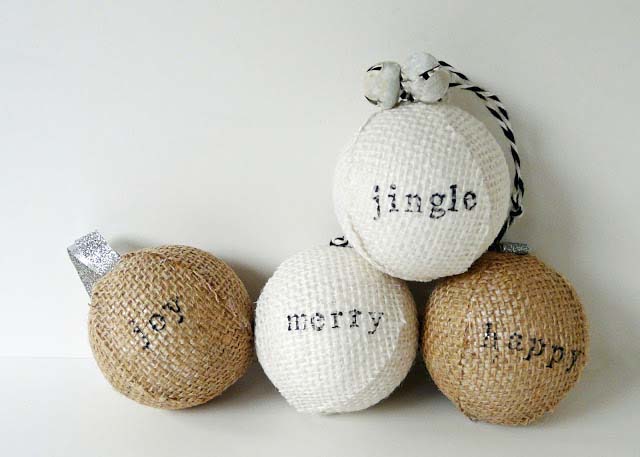 Old burlap can be attached to the side of a round Christmas ornament creating a classic, rustic but simple ornament.
via Bliss Bloom
Star Sweater Ornament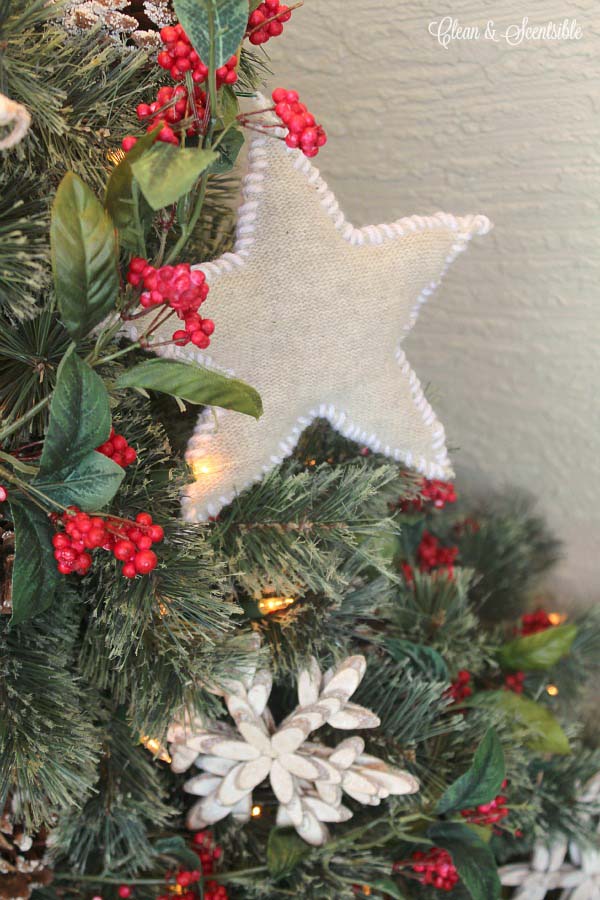 Using old sweater material or burlap cut into star-shaped and sewed on the sides you can DIY very interesting ornaments.
Styrofoam Ball Cupcakes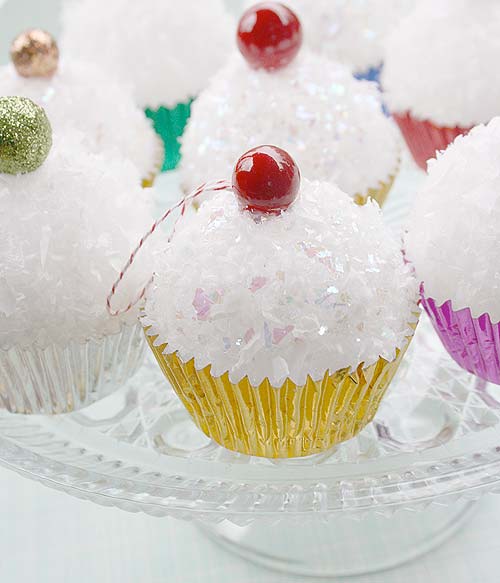 Old styrofoam balls glued to cupcake cups, with a cute fake cherry on top creates super adorable cupcake shaped ornaments.
Tactical Ammo Ornament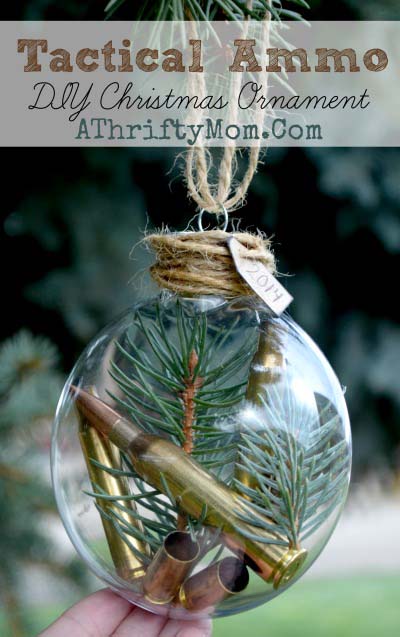 Place a bullet and some natural items in a clear glass ornament for the perfect gift for your gun-loving loved one.
via A Thrifty Mom
The Grinch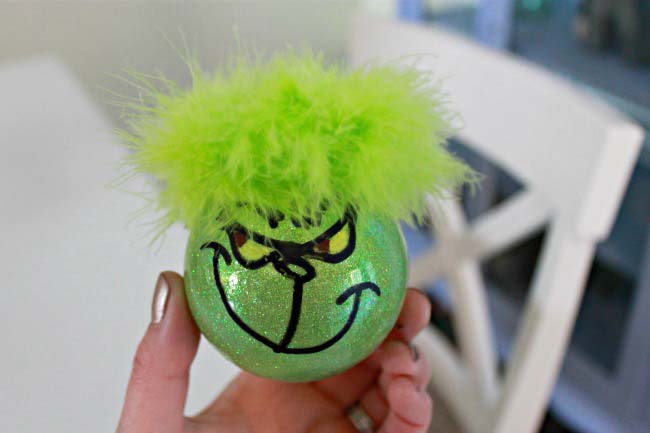 How about a green painted ornament with green feathers on top. A perfect grinch ornament.
via Mom 4 Real
Toilet Paper Roll Ornament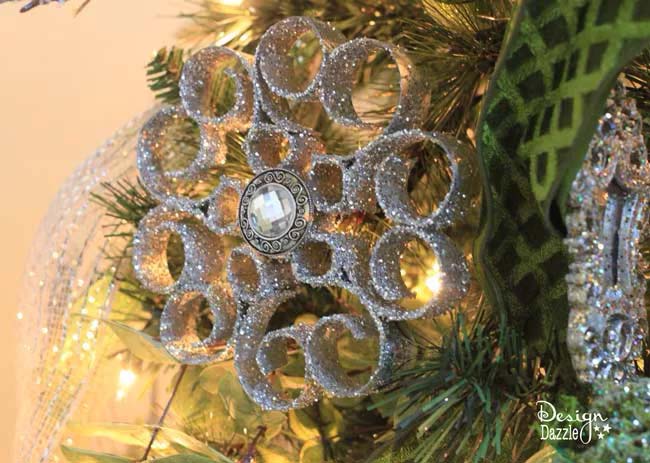 By cutting a toilet paper roll into pieces, you can glue them together in many shapes and create flowers, or anything Christmas themed! Coat with sparkles for an extra shine.
via Design Dazzle
Twig Christmas Tree Ornament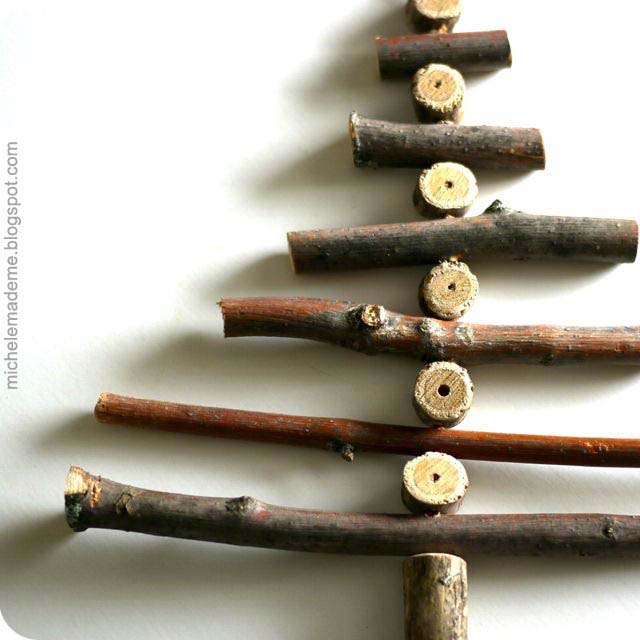 Use old, dried twigs glued together as cute Christmas tree ornaments.
via Michele Made Me
Twig Ornament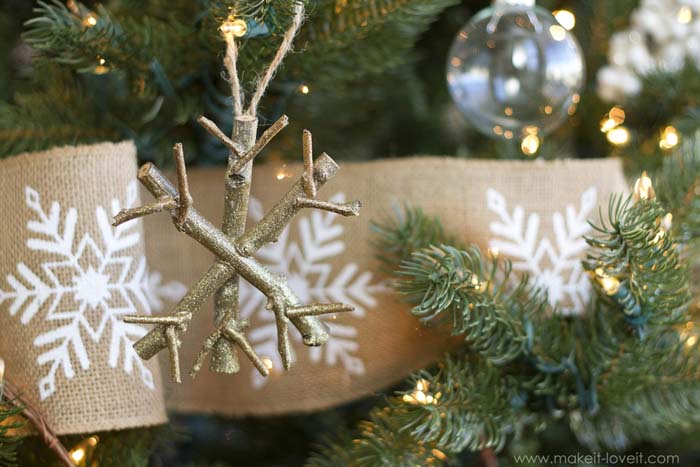 Use twigs glued together in a snow flake shape to create small snowflake ornaments.
via U Create Crafts
Twig Ornaments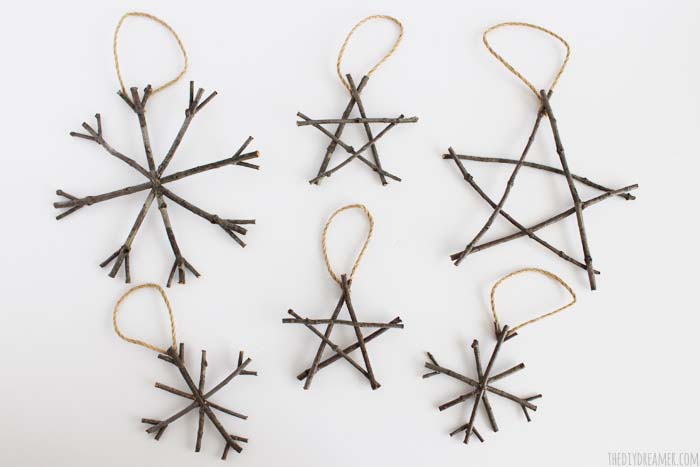 Twig ornaments can also be glued together in many other shapes such as a star or snowflake.
via The DIY Dreamer
Twine Ball Ornament Tree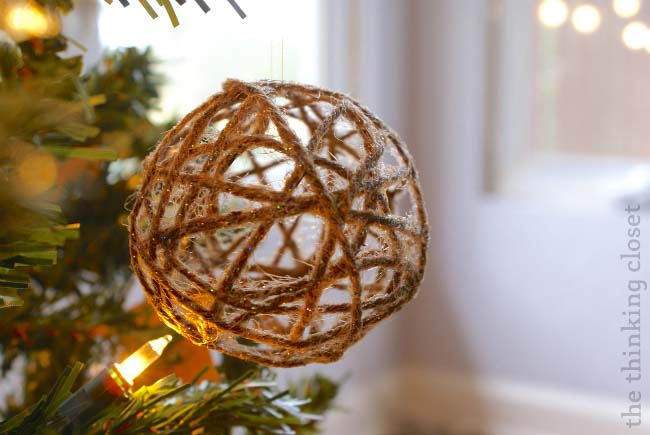 Twine ball ornaments are simple to make and make a cute, old school rustic looking ornament.
via Thinking Closet
Twine Wreath Ornaments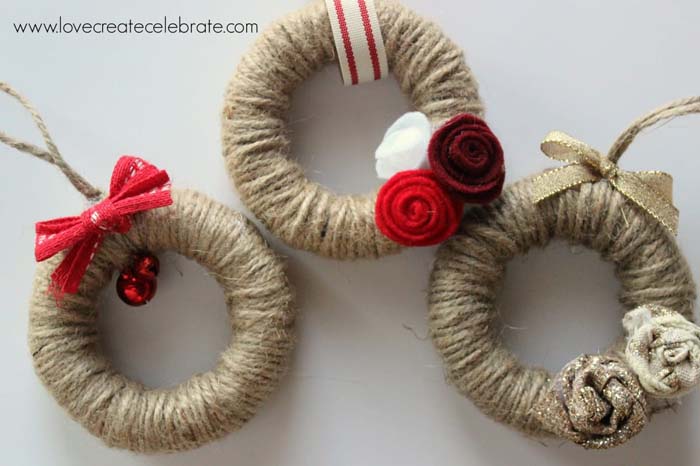 By wrapping twine around a round object you can make a twine wreath ornament.
Vintage Paper Ornaments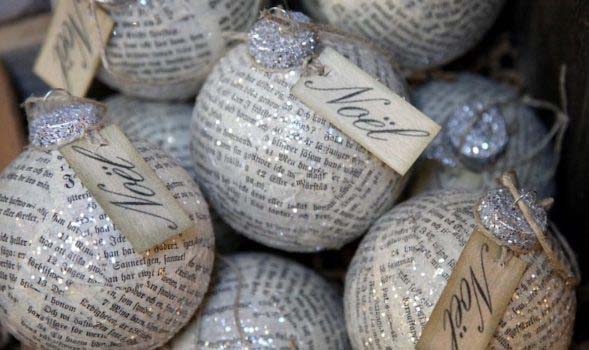 Decoupaging old newspapers to a round ornament creates the perfect, cute ornament. Add a red ribbon on top for an extra touch.
Washi Tape Ornaments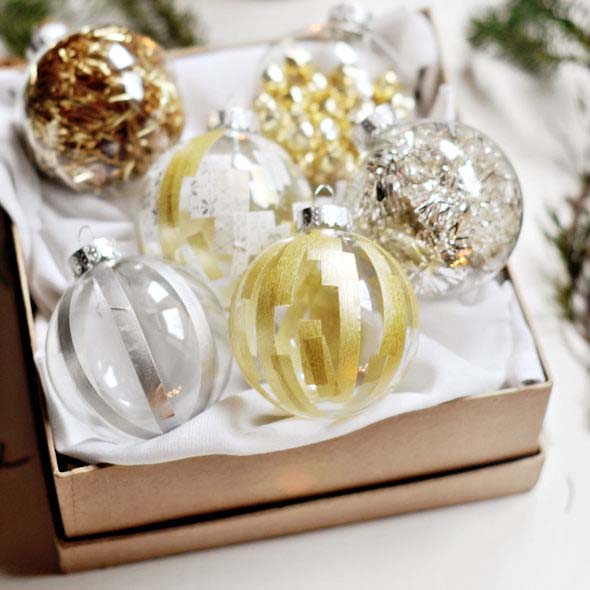 Washi tape on the outside of a round ornament creates the cutest, simple and couture looking ornament.
Wine Cork Ornament II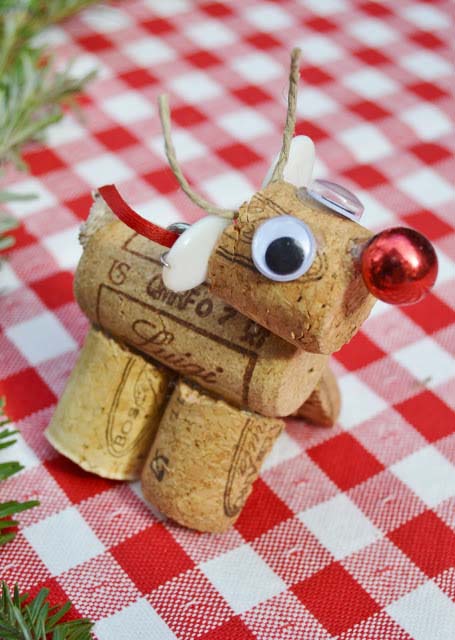 Shape wine corks into the shape of a reindeer then glue a cute red button to his nose to make Rudolph!
Wine Cork Reindeer Ornament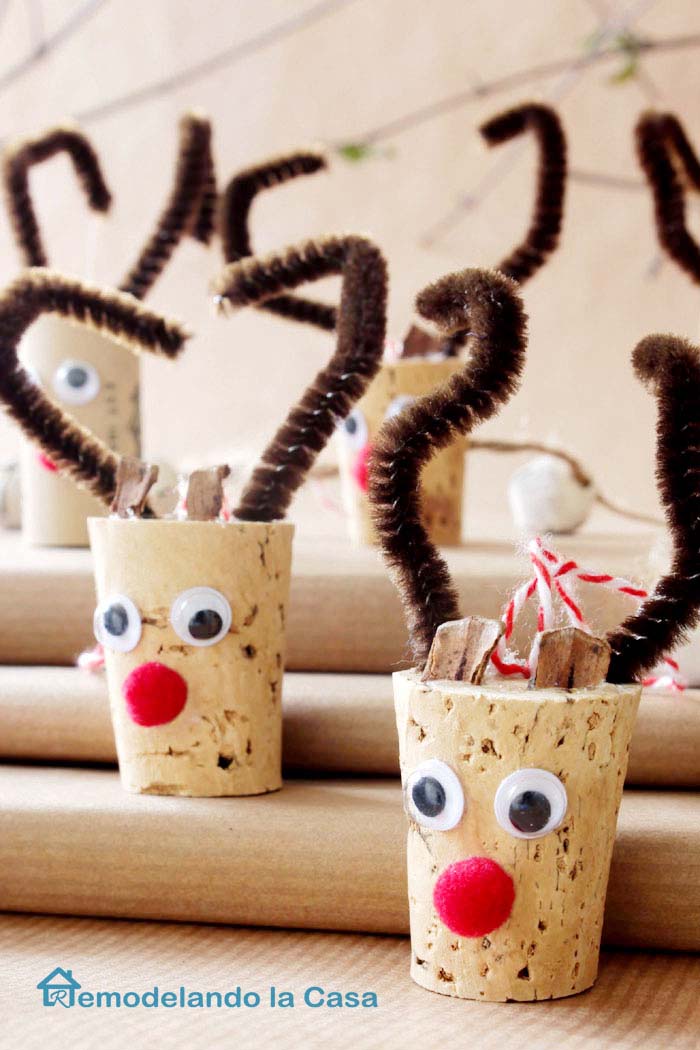 Take a wine cork and glue a reindeer face on it, using pipe cleaners as the horn, it creates a super adorable reindeer ornament.
Wood Slice Ornaments Square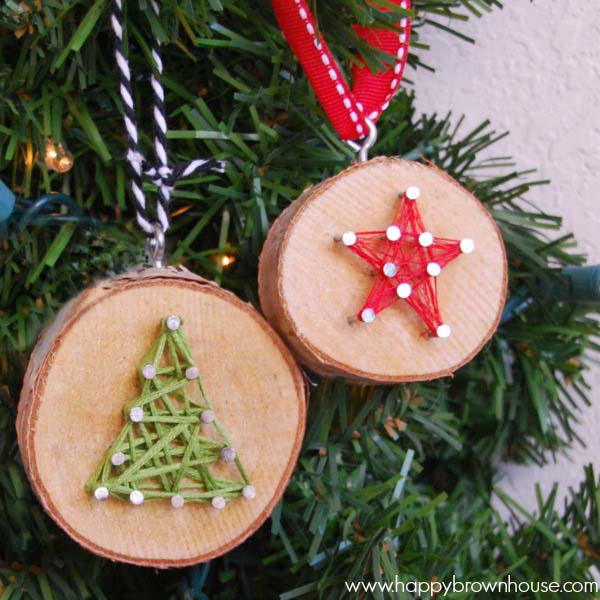 Using small wood slices and small nails with colored yarn wrapped around you can create a super cute Christmas ornament.
Wood Slice Photo Ornaments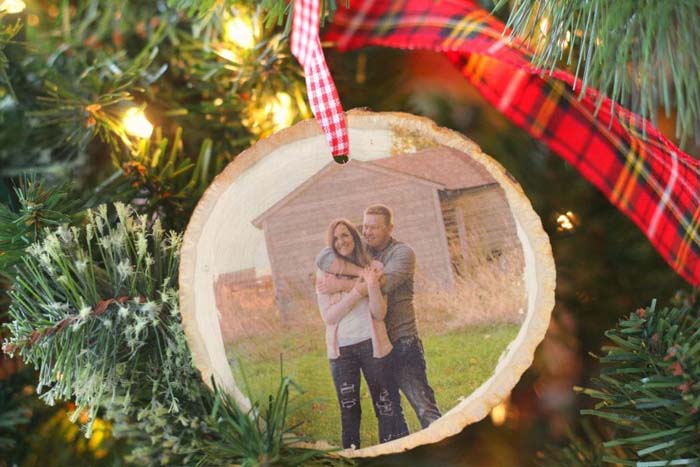 Decoupaging family photos to the side of a slice of wood makes memorable ornaments to keep forever!
Wood Slice Wreath Ornament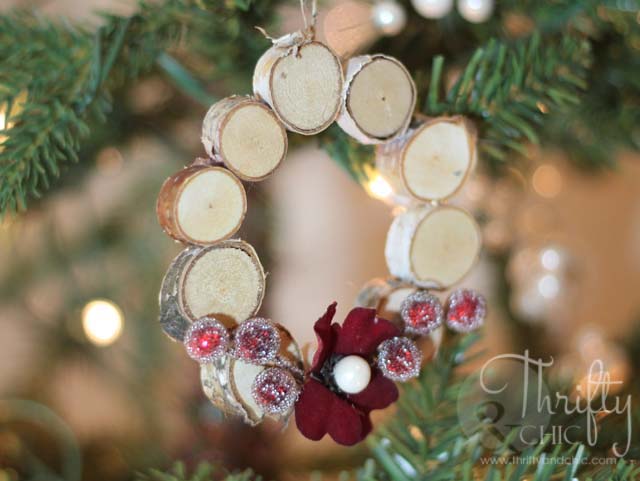 Taking small slices of a twig and gluing them together in a circle creates cute little wood slice wreaths. Spice them up with a red ribbon!
via Thrifty and Chic
Wool Felt Bear Stuffie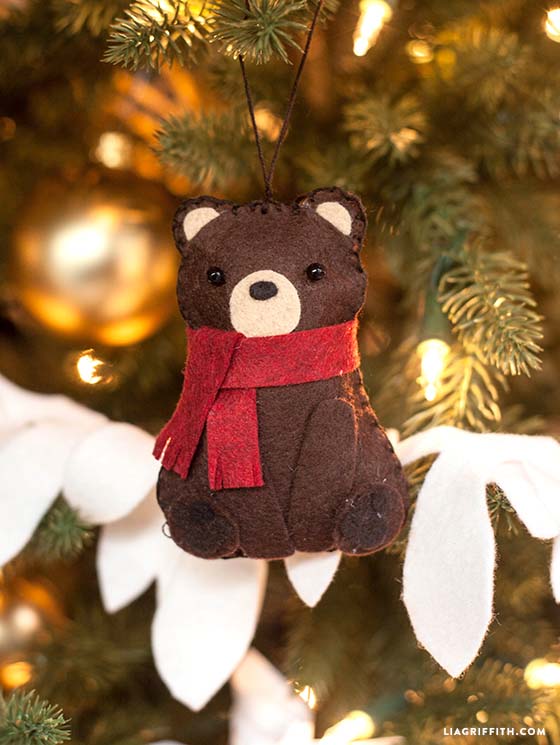 Sew felt in bear shape and stuff creating a super perfect bear ornament. Don't forget the red scarf and button eyes.
via Lia Griffith
Yarn Ornament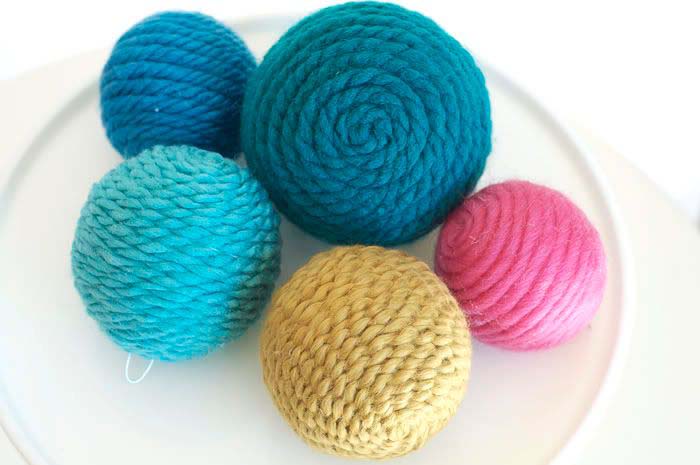 Yarn tightly glued around a round ornament make adorable and simple DIY ornaments.
via My Sparkle