If we're fortunate enough to do some serious celebrating this holiday season, we'll find ourselves with a lot of empty wine bottles. This provides a great opportunity to do some easy holiday decorating.
In this article, you'll find thirty ideas for decorating wine bottles for the holidays. If you don't have any wine bottles, just pick up some bottles from your local dollar store. Your secret is safe here.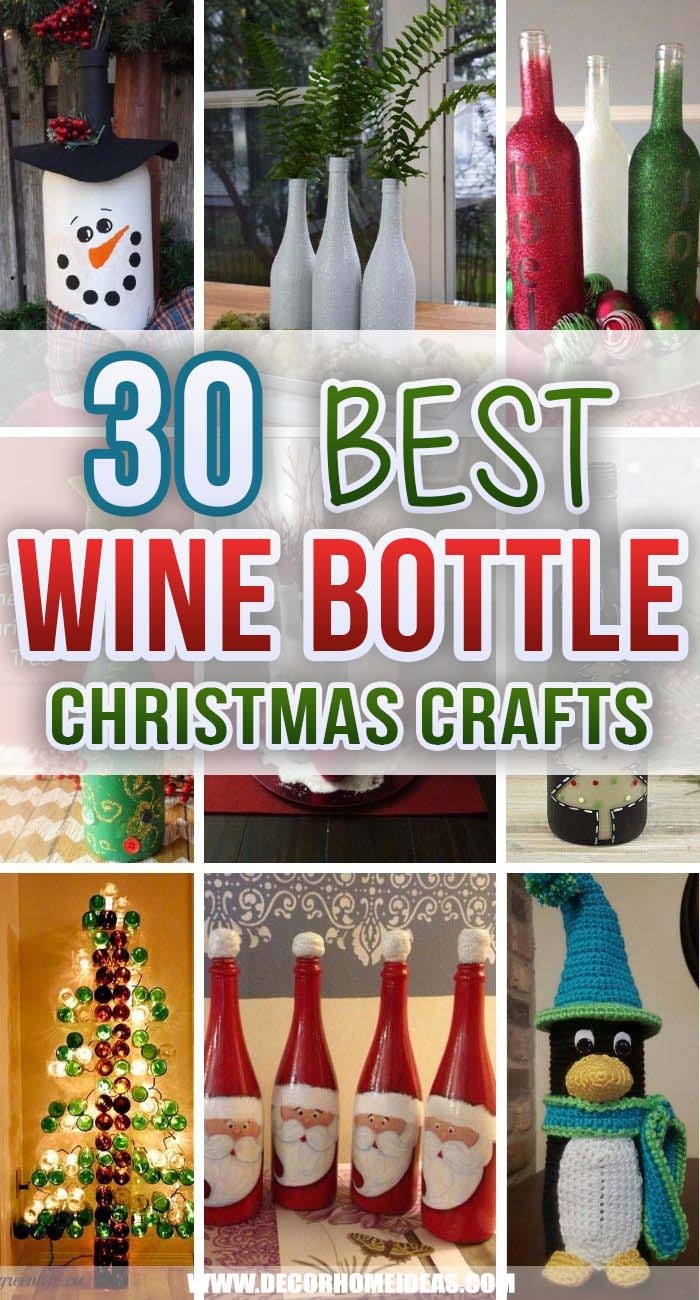 If you want to add strings of LED lights to your bottles, you'll find more than one way to drill a hole in this collection including a way to get around cutting glass altogether.
1. Get Crafty with a Rustic Wine Bottle Snowman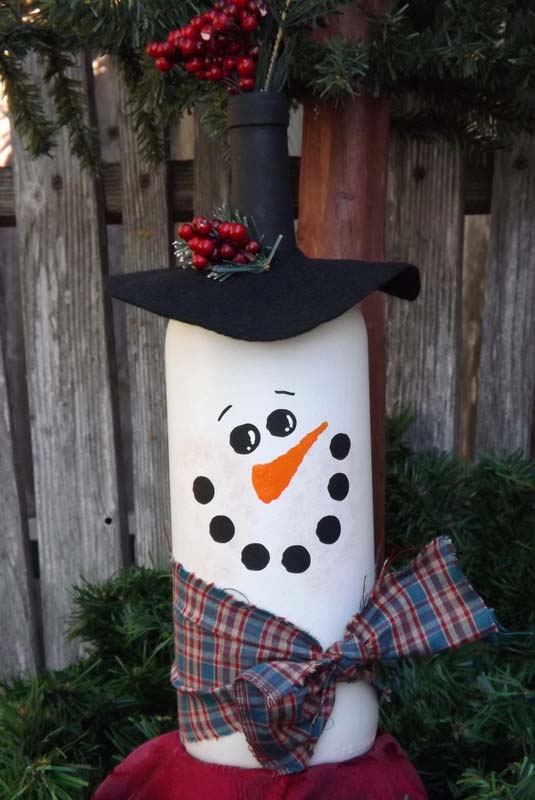 This snowman is an easy way to upcycle our trash into whimsical winter décor. You just need paint, fabric for the scarf, black felt for the hat brim, and some glue. Berries add a decorative touch to the hat.
via Love To Know
2. Add Splendour to Your Home with Candlestick Bottles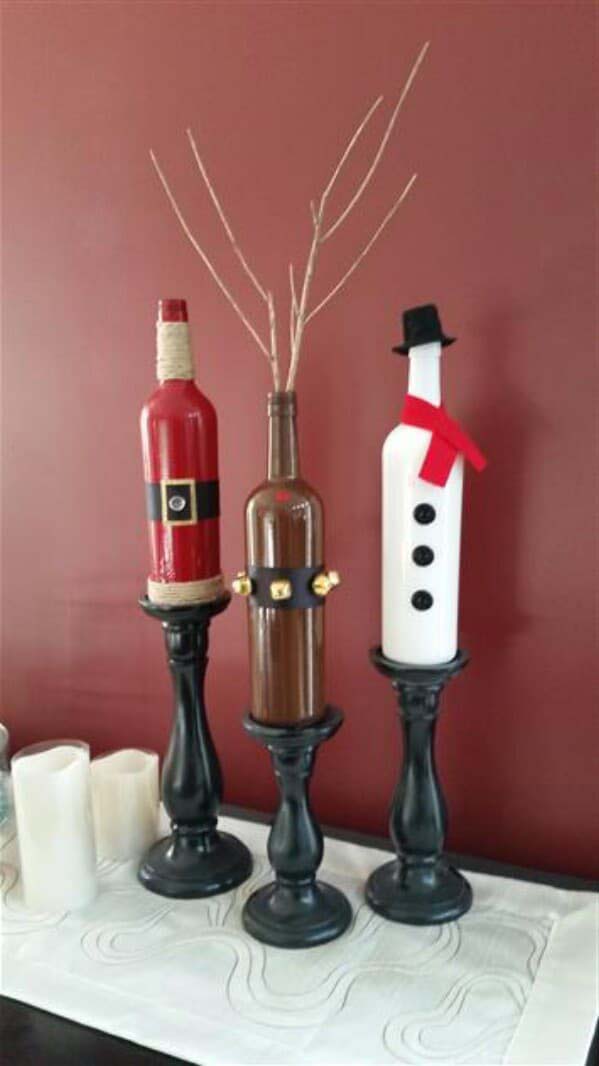 For those living where space is at a premium, here's an idea to add holiday décor without adding clutter. Just switch out candles for your growing collection of decorative bottles.
via Made Urban
3. Bring Holiday Cheer with Candy Cane Bottles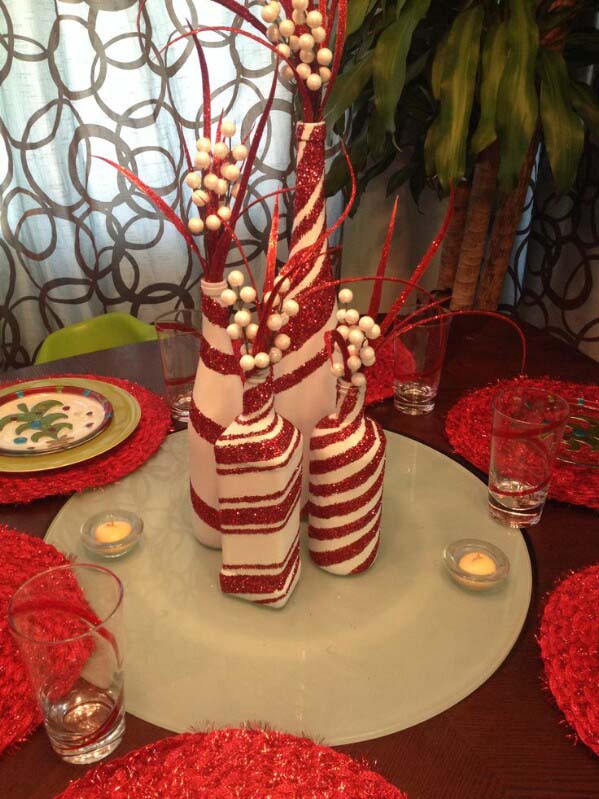 A sweet and delicious-looking centerpiece that can be made from any group of mismatched bottles.
Paint all the bottles white and add peppermint stripes with glitter or glitter paint. Finish off with white berries and glittery red fronds.
4. Adorn Your Outdoors with Candy Cane Candle Holders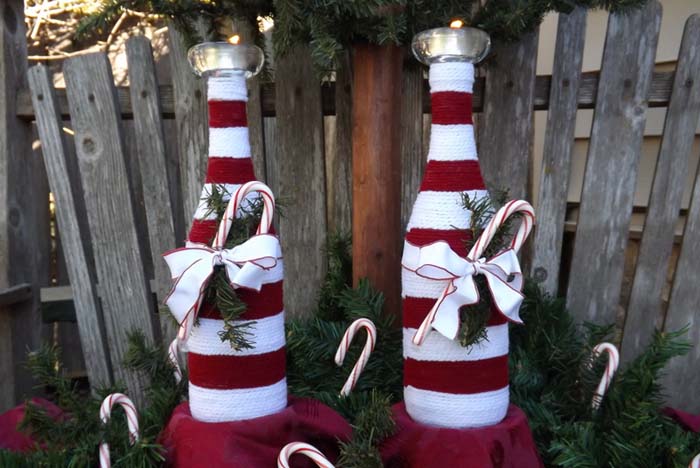 You can quickly make as many of these candy cane bottles as you need to add a sweet glow to any corner of your home.
Using a cup on top instead of candlesticks gives you the option of either real or LED votive lights.
via Love To Know
5. Step Up Your Decor with a Chalkboard Wine Bottle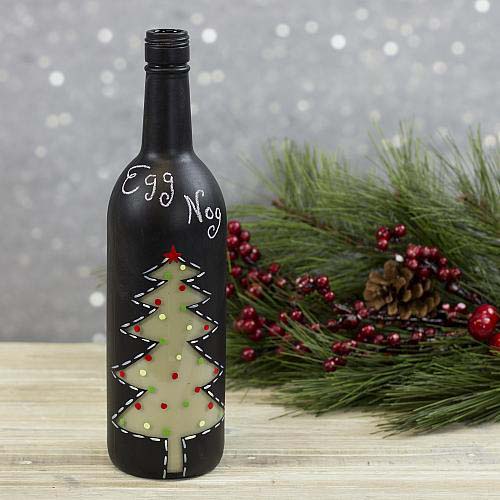 Using chalk paint gives this bottle a rustic flavor. Contact paper cut into triangles and enamel paints make it easy to paint the tree.
Add the finishing touches with a white paint pen or chalk.
via DecoArt
6. Make Your Home Sparkle with Lighted Wine Bottles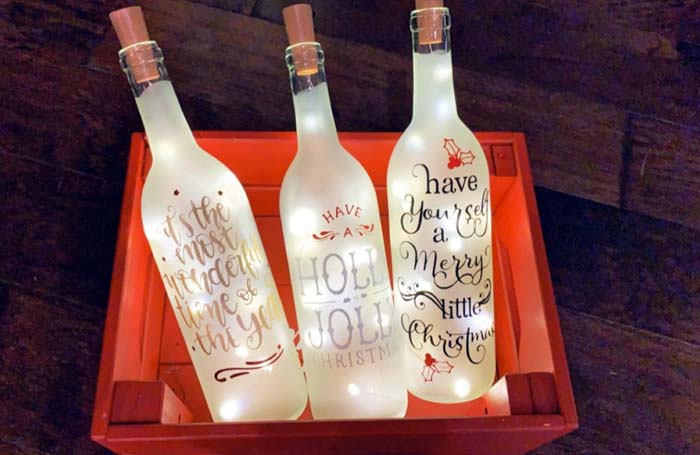 A great way to add an elegant holiday note to your home.
The frosted glass, beautiful vinyl cutouts, and soft LED lights create a warm glow.
via Etsy
7. Illuminate Your Decor with Christmas Wine Bottle Lamps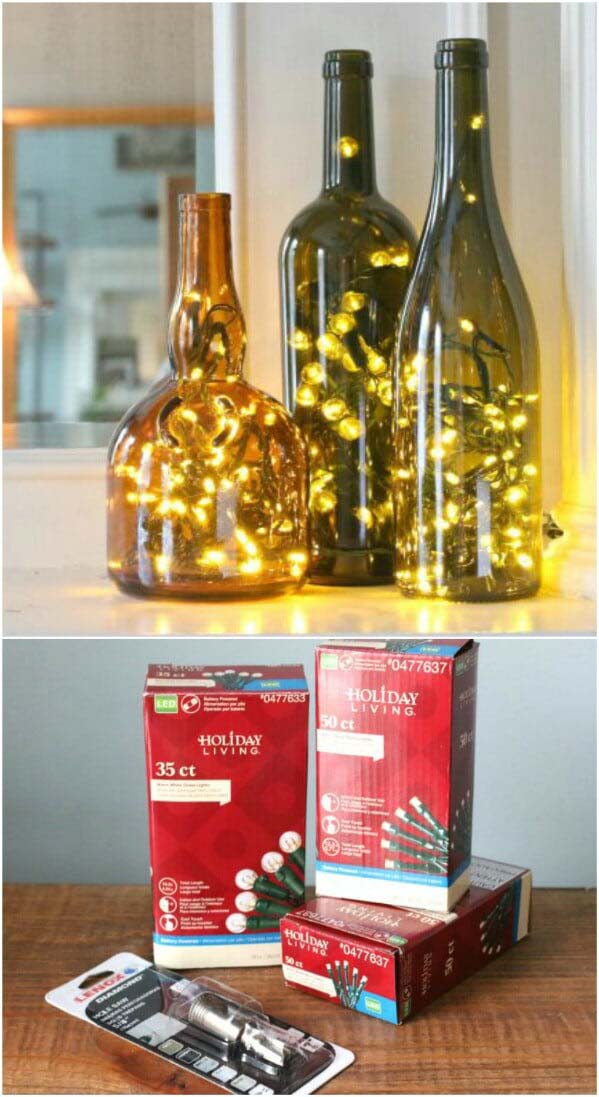 If you'd rather spend your money on presents than frosted paint, these lamps will be right in your wheelhouse.
Be careful while drilling and sanding the bottle.
You can go crazy experimenting with the light string colors and various bottle shapes and sizes.
via eHow
8. Wrap Your Wine Bottles with Festive Scarfs and Hats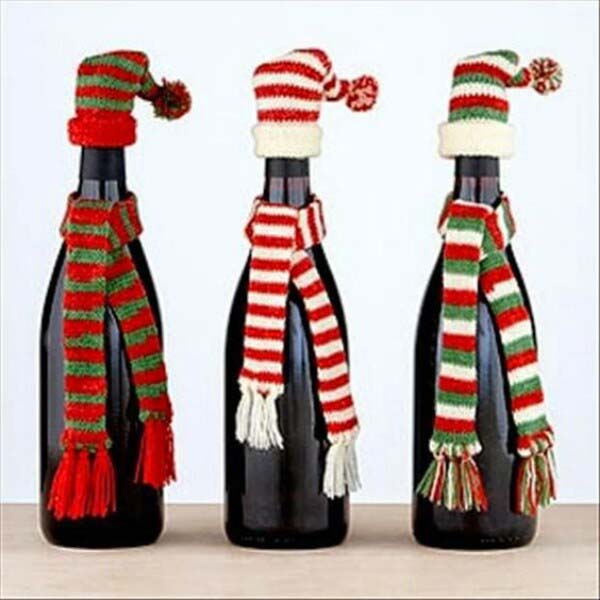 This is a cute and quick idea. Who knew there were scarves and hats made especially for wine bottles?
Wrapping a bottle of wine doesn't get any easier than this. If you have to wrap every bottle in a case of wine individually, this will work great.
9. Make Decorative Christmas Tree from Wine Bottle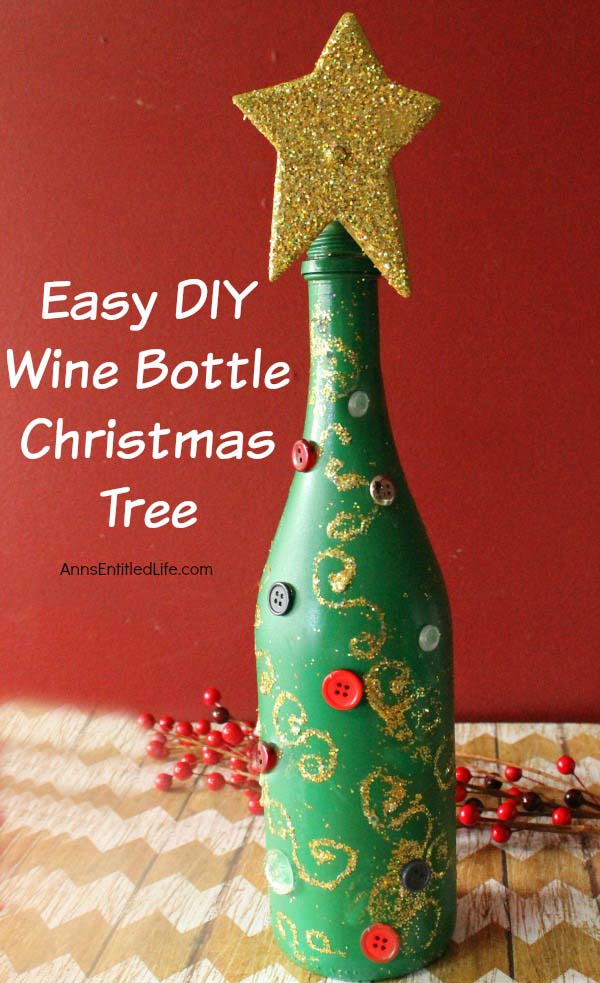 If you hate paying premium prices for a Christmas tree as much as we do, here's your substitute.
This is an easy project and fun to do with the kids. Paint the bottle green, add glitter garland, and hit grandma's sewing box for a few buttons that magically turn into bulbs.
Attaching the star to the top of the tree is easier than you'd think.
10. Add a Hint of Nature with Wine Bottle Planter Decor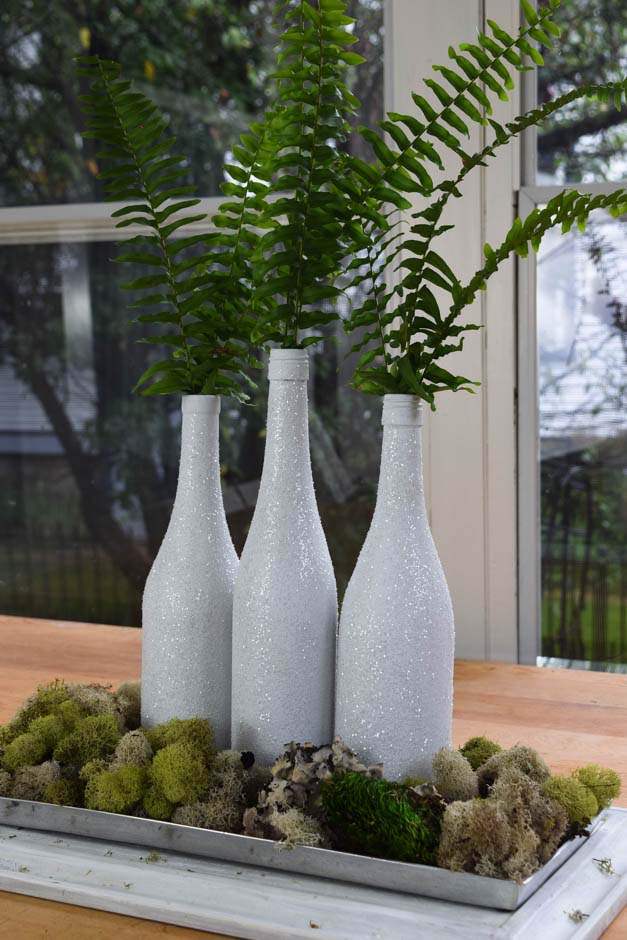 Do you really need a how-to instruction for this one?
Using one color over the entire bottle gives this a minimalistic feel. Painting with textured paint adds interest.
No-textured paint on hand? Use a four to one ratio of chalk paint to baking soda. Feeling really adventurous? Put on some gloves, glue on crushed mirror glass, and seal it well.
This would look good with any monochromatic display.
11. Jazz Up Your Home with Frosted Wine Luminaries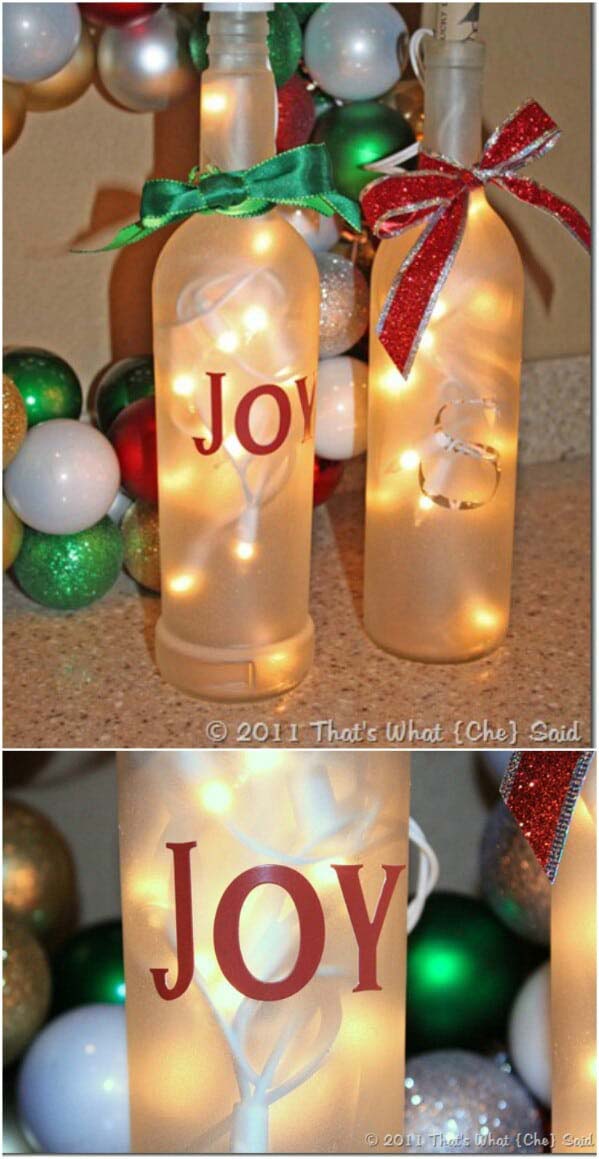 These are frosted lamps on a budget. Using frosted spray paint instead of etching.
Simple vinyl cutouts give you the same vibe. Bonus points to this DIY, which adds lights without drilling the bottle.
12. Customize Wine Bottles into Beautiful Holiday Messages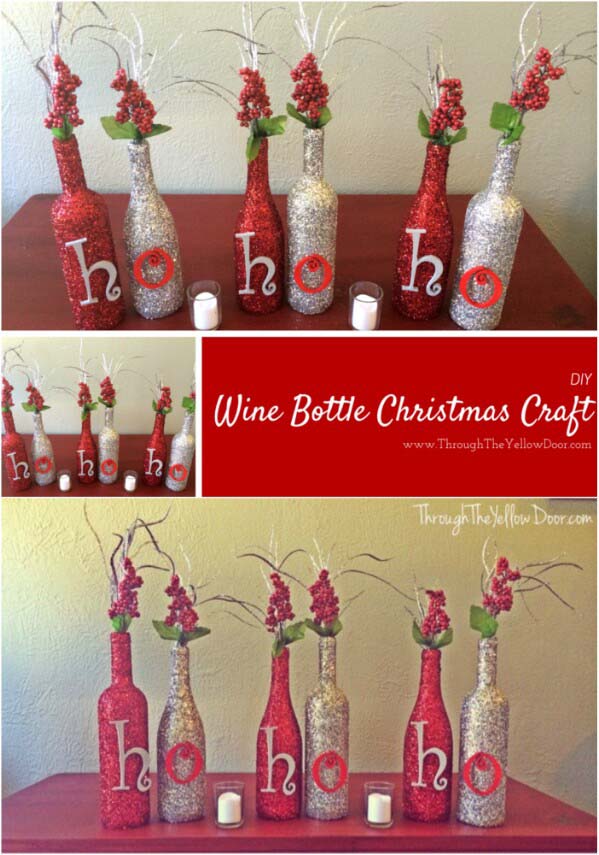 When it comes to the holidays, you can never have too much glitter.
Spray the bottles with one color, add wooden letters in a contrasting color.
Red and silver fronds with red berries and a touch of green leaves complete the look. If you can spell, they'll look great.
13. Get Creative with Embossed and Glitter Wine Bottles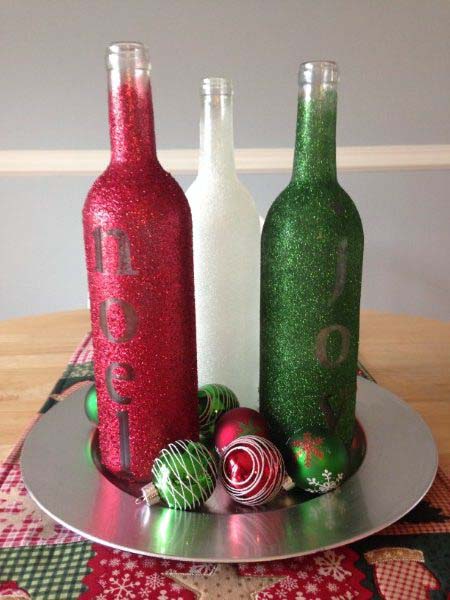 Once you go glitter, you never go back. Mask off simple messages and use Mod Podge and glitter over the rest of the bottle.
Use embossing powder and a heat gun on the letters. They'll melt to a smooth finish.
14. Celebrate the Grinch with Wine Bottle Decor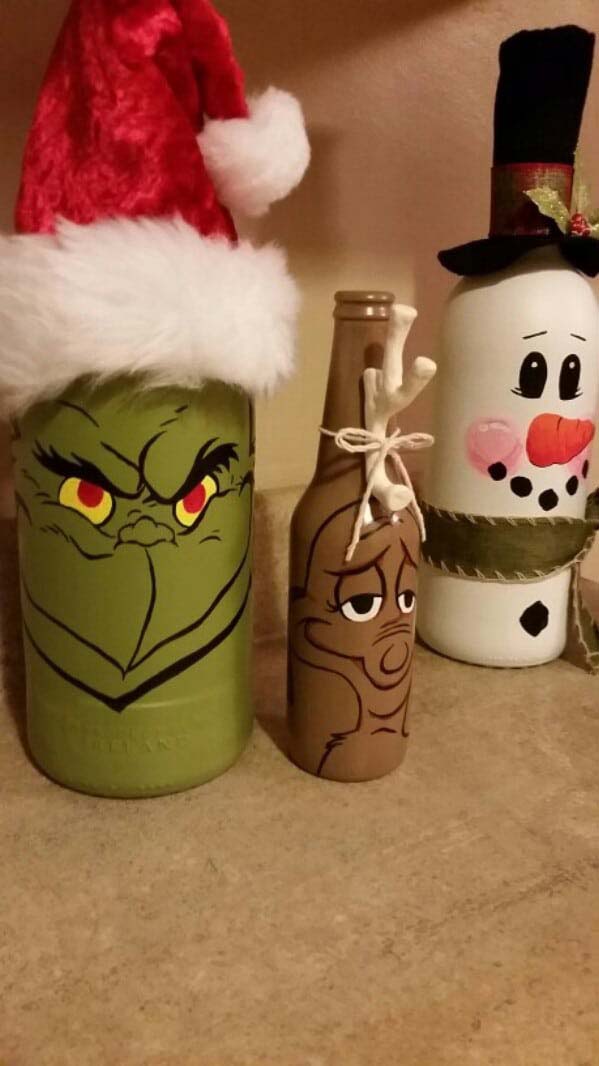 Nothing says "Christmas Cheer" like the Grinch.
Add his faithful dog, Max, and you'll put a smile on everyone that walks into the room.
15. Light Up Your Home with Multi-Colored Bottle Lamps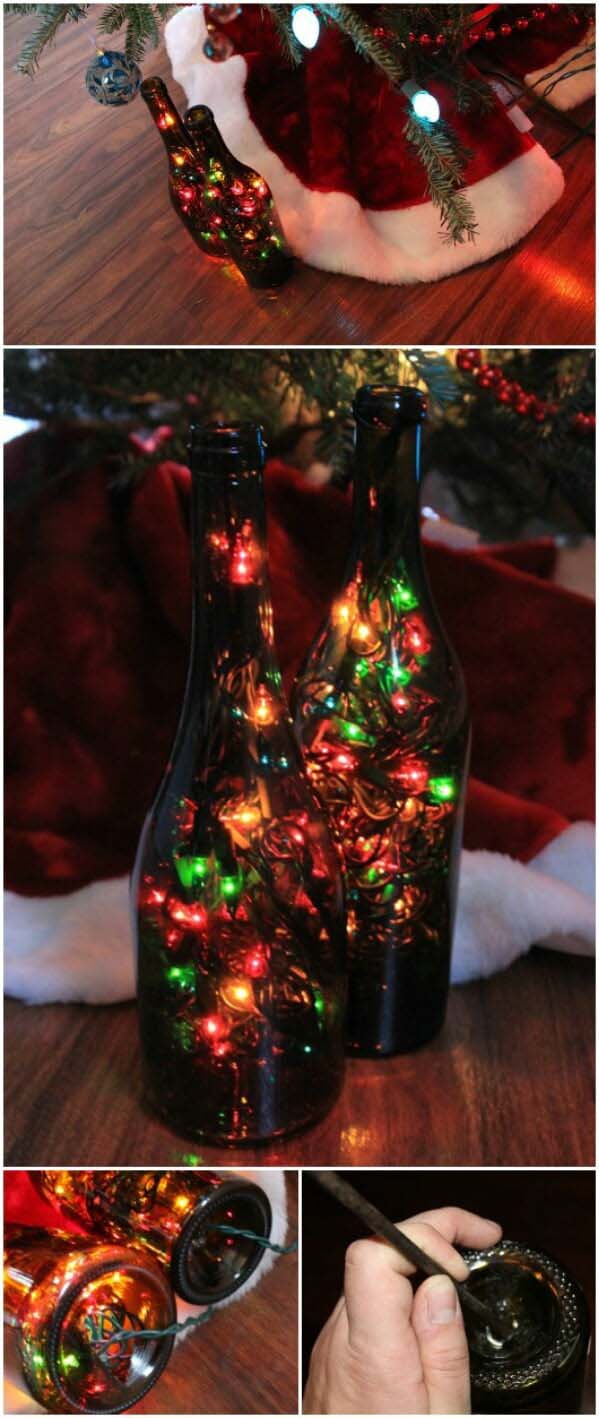 Here's another way to get those lights in the bottle.
Try this method if you're having trouble drilling but aren't afraid of trying another way to open a hole into your bottle.
It also goes to show that colorful lights can work just as well as a strand of yellow LEDs.
via Blog Your Wine
16. Add Lasting Charm with Penguin Wine Bottles
Penguins are a popular motif all winter long. The knit cover is a sweet idea that can be used with either full or empty bottles.
Other ideas are a frosted bottle light with decoupage prints, and a dark bottle decorated with fabric pieces, googly eyes, and the hat and scarf set we saw on the dressed-up bottles.
17. Add Texture with Mod Podge and Blue Dye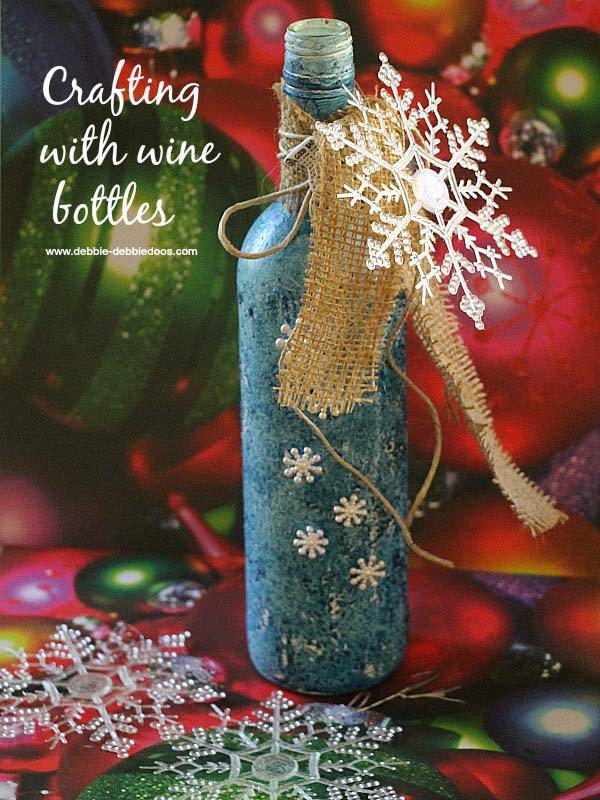 Create a soft country textured look with Mod Podge, chalk paint and blue dye.
Create a chic finish with delicate embellishments. Changing out the burlap for a splash of velvet and ribbon would give it an urban vibe.
18. Experience a Warm Ambiance with Santa Face Bottles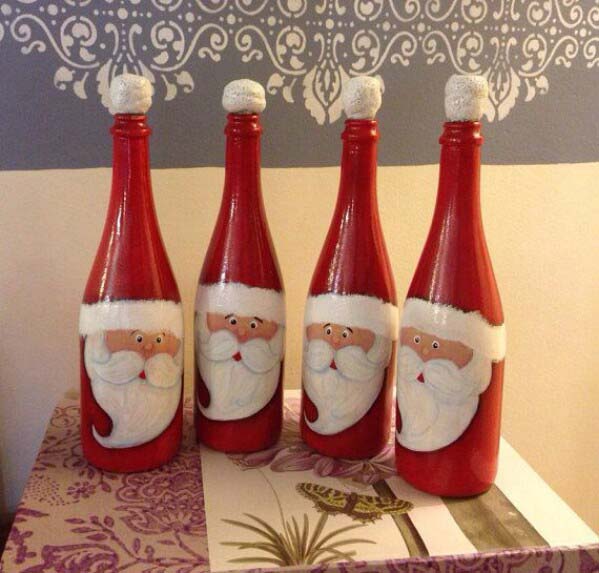 If you have a flair for drawing, you can take this to another level.
If you would rather handle Mod Podge, find some printable illustrations of Santa online and glue these on bottles that are painted red.
The snowball toppers can be made by gluing a little rounded Styrofoam to the cork.
19. Make a Statement with Santa's Coat Wine Bottle Decor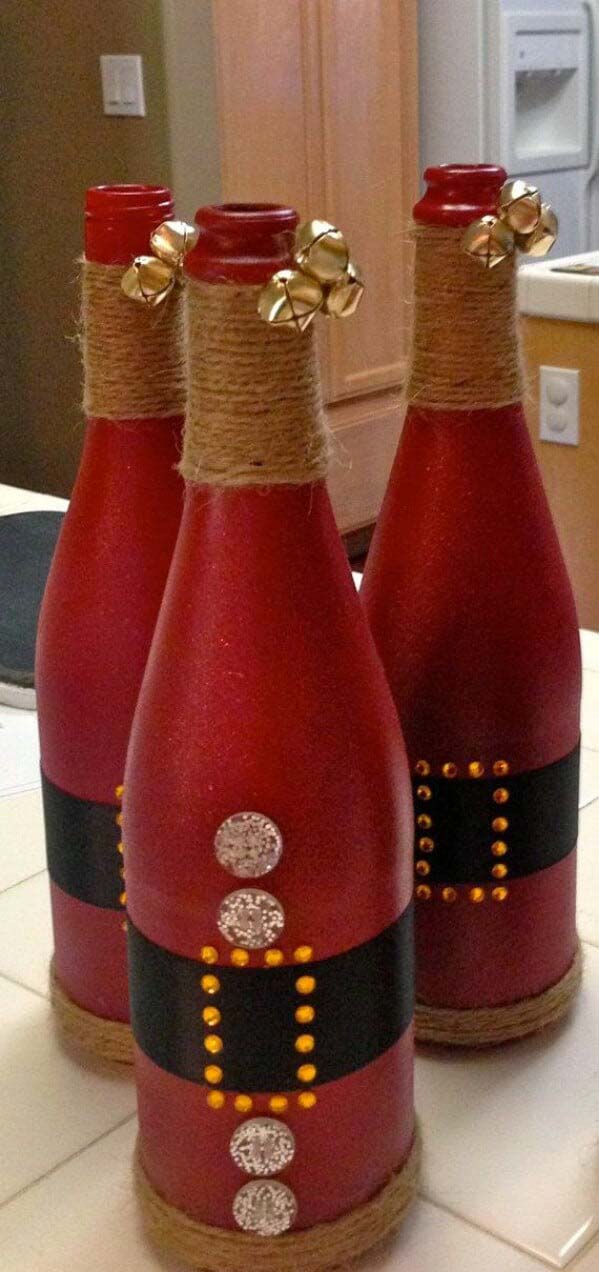 Two coats of red spray glitter paint followed up with a clear coat of acrylic will bring out the shine in your bottles.
Use an extra-wide strip of black ribbon for the belt.
Wrap a twine or white macramé cord at the top and bottom. Rhinestone embellishments will put you on the Good list.
20. Enjoy Christmas Carol with Sheet Music Covered Bottles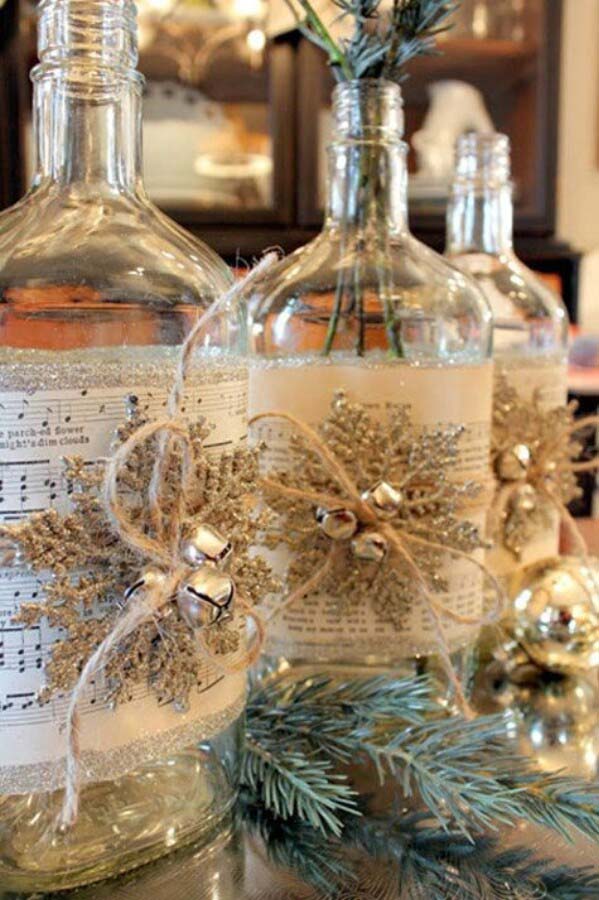 When that old book of Christmas songs starts to fall apart, you can keep the songs going by using them on your bottles.
Use clear bottles to ensure the lights shine through the paper.
Glue on a piece of sheet music and finish the edges with a border of glitter. Larger bottles work well for this project.
21. Enchant Your Home with Snowflake Wine Bottle Lantern

Cobalt blue bottles can be sponge painted with frost paint.
After that coat dries, add a coat of glamour glitter paint. Snowflakes can be picked up at the Dollar Tree and molded by heating gently with a hairdryer.
Add embellishments for even more bling. Enhance the effect by using white LED lights.
22. Add Glamour to a Home with Snowmen Painted Bottles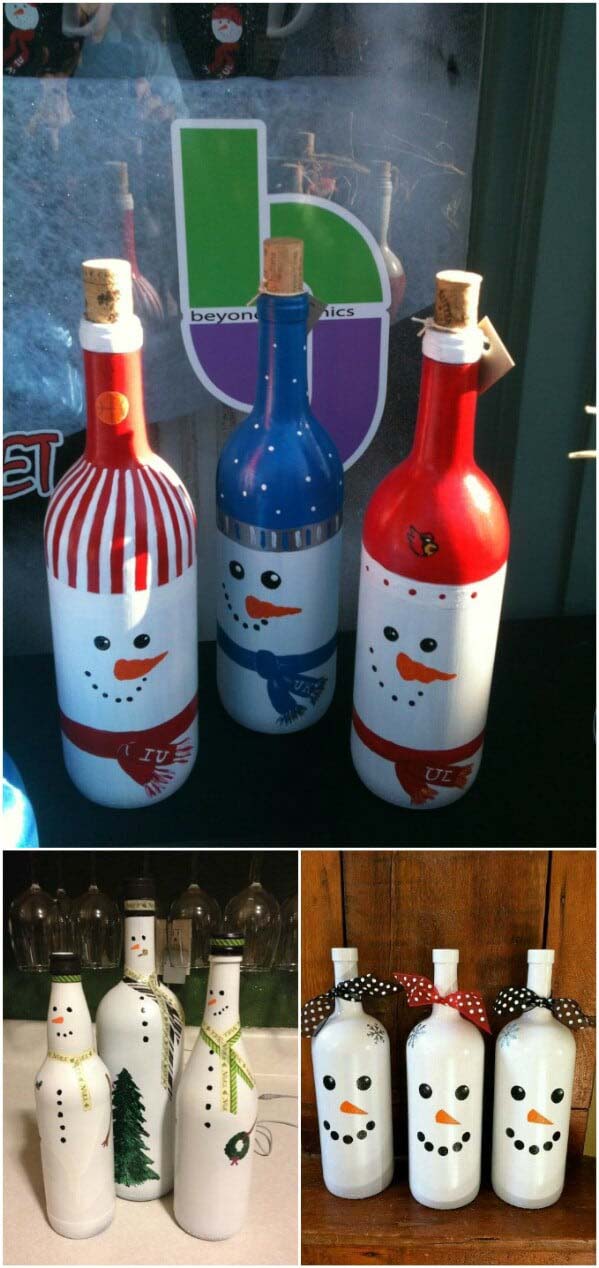 What's better than a wine bottle painted like a snowman?
A trio of them! Stick to one theme and the design rule of threes, fives, and sevens creates a collection.
23. Add a Festive Sparkle with Snowy Wine Bottle Lights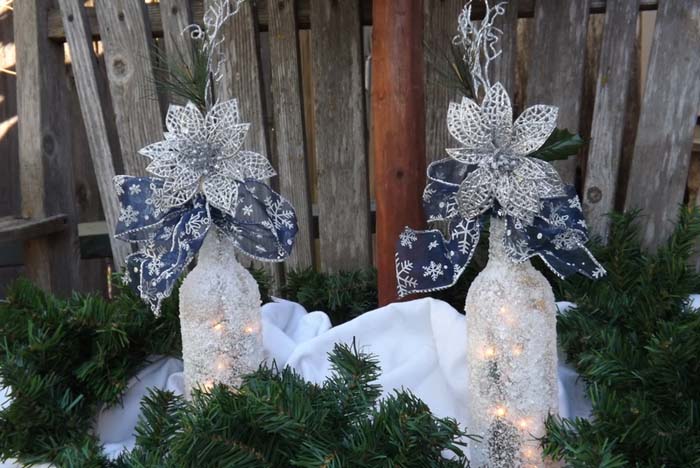 Here's an interesting twist on putting lights in a bottle.
Paint a coat of Mod Podge on a clear bottle and then flock it with a can of fake snow. Add wire ribbon, silver embellishments, and call it wonderful.
via Love To Know
24. Create a Stylish Display with Painted Bottles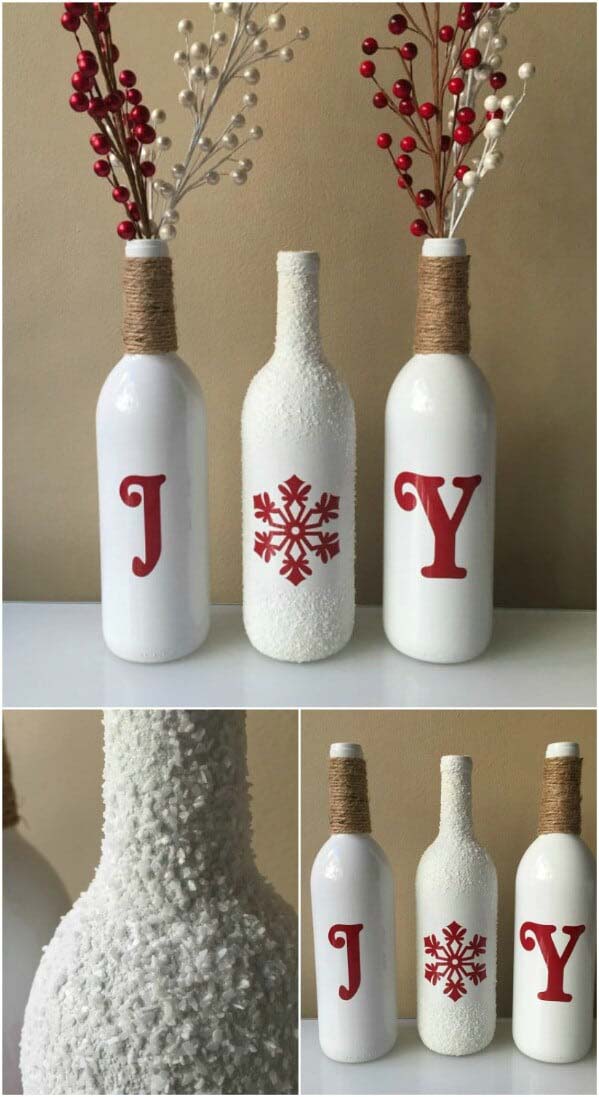 It's the subtle details that take these bottles to another level.
Use two different paint textures, a snowflake window sticker for the letter 'O,' and red and white berries to meld the two decorating ideas into a single display.
25. Rustic Christmas Table Centerpiece with Wine Bottles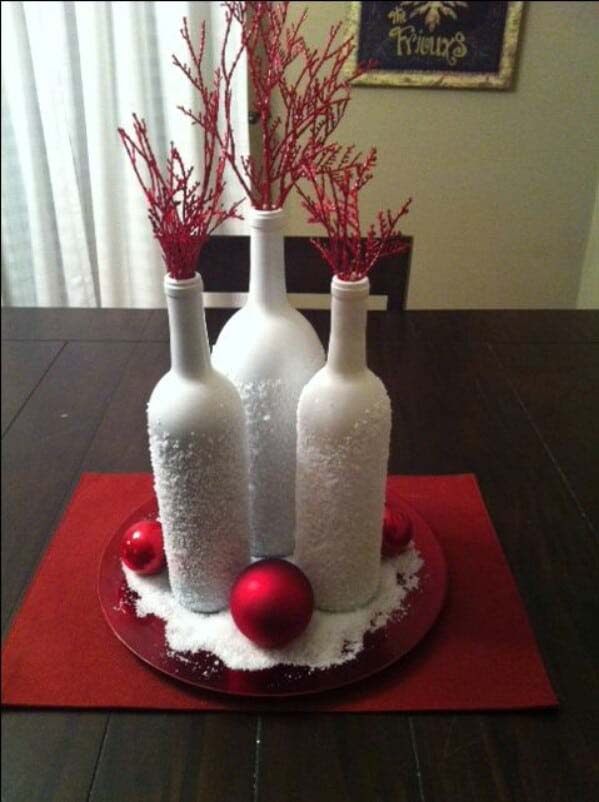 These bottles are painted white and covered with fake snow.
What sells the display are the branches painted red. They're mirrored by the red base, which is also covered with fake snow.
26. Add Intrigue to Decor with Wine Bottle Candlesticks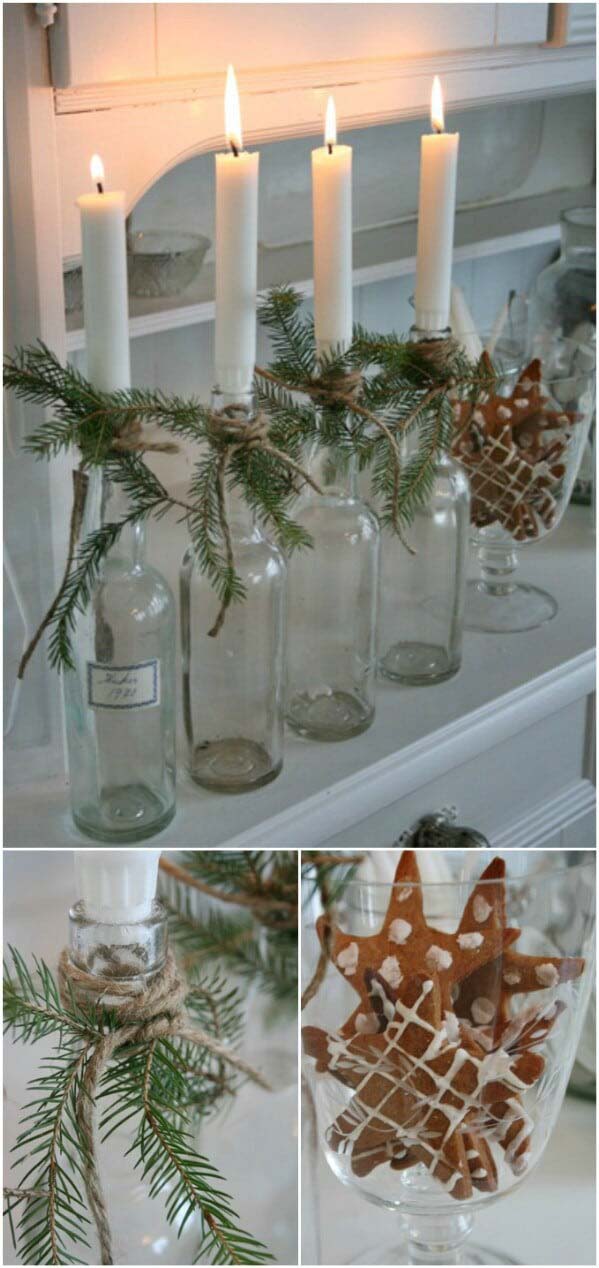 This is an easy and inexpensive way to create a festive mood.
Small pine tree branches are secured to the neck with twine. Simple white candlesticks work well with clear bottles.
Before using real pine branches, spray them with hairspray to extend their life.
via Vibeke Design
27. Achieve Monumental Beauty with Glitter Wine Bottles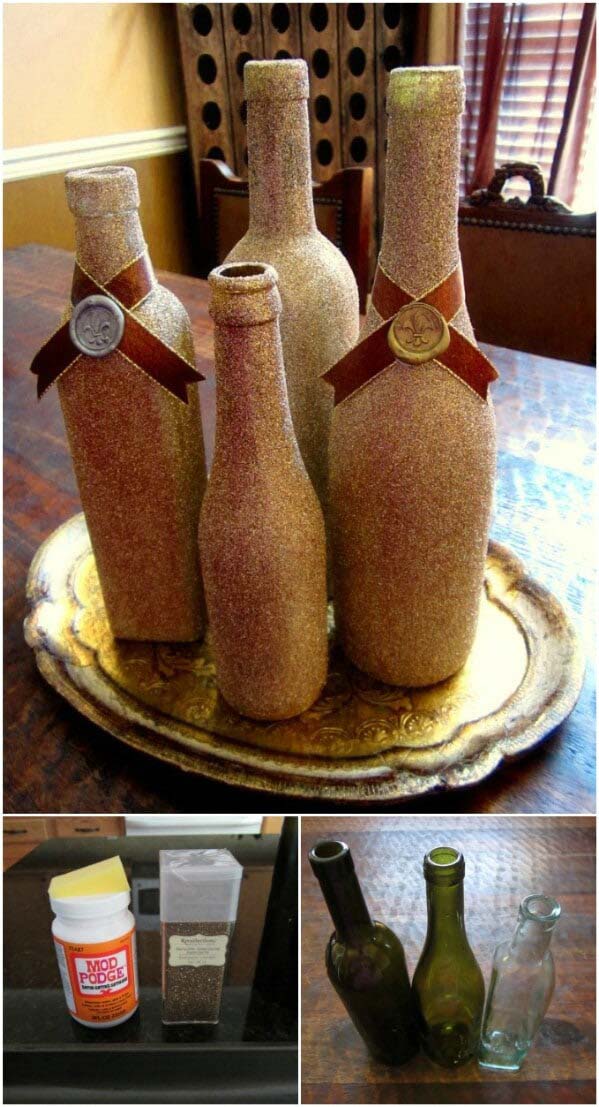 These bottles are all about the glitter.
Spray the base red before adding gold. Gold-trimmed ribbons with fleur-de-lis wax seals are a nice touch. No wax?
Fake it with clay and paint. Arrange them on a charger plate for a sophisticated centerpiece.
28. Wow Guests with Wine Bottle Display and Silver Accents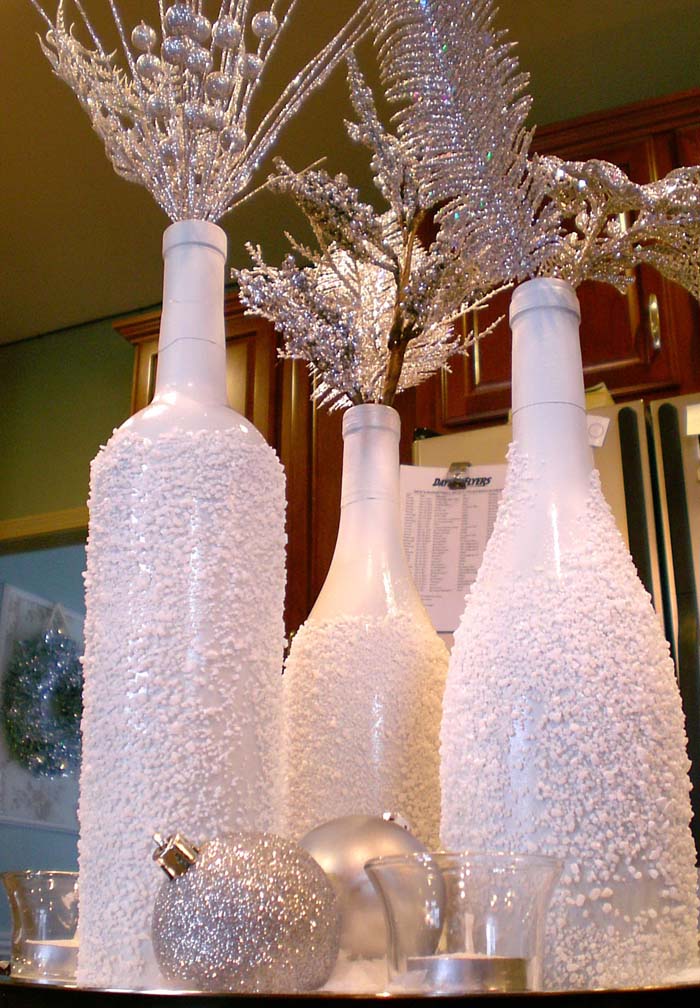 This shows how easy it is to create a different mood with white bottles by changing the accent color.
This display showcases fern leaves, berries, and ribbons all painted in silver.
29. Be Bold with a Lighted Wine Bottle Christmas Tree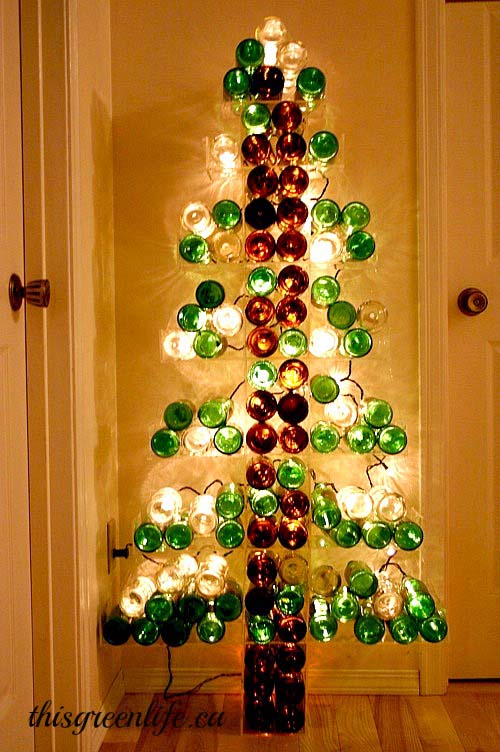 Yes, you do need a lot of bottles for this project!
Start collecting in January, make friends with a sommelier, and put the word out to your neighbors.
The idea is sold by keeping the colors consistent. Use brown bottles for the trunk. Use green and clear bottles for branches and lights.
Sturdy acrylic sheets and boxes are needed to hold this together.
30. Turn Wine Bottle with Christmas Wrapping Paper Decor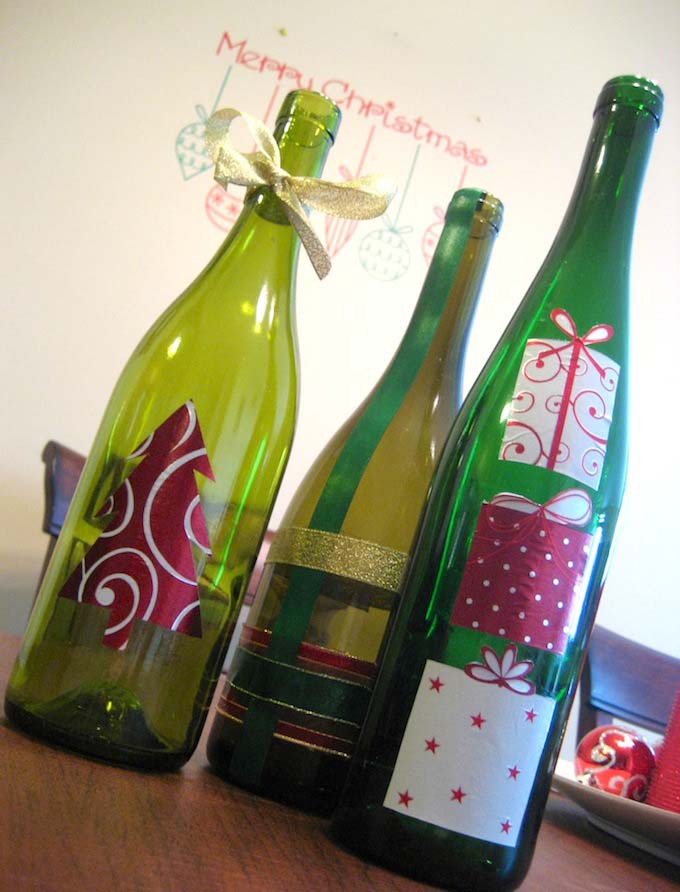 You can do this! Use up small pieces of wrapping paper and strips of ribbon that are too small for presents.
via Mod Podge Rocks