Have you already noticed how trendy the pampas Christmas trees have become?
If you are a fan of the pampas grass, you will fall in love with the fluffy creamy waves of pampas stacked in the shape of a tree.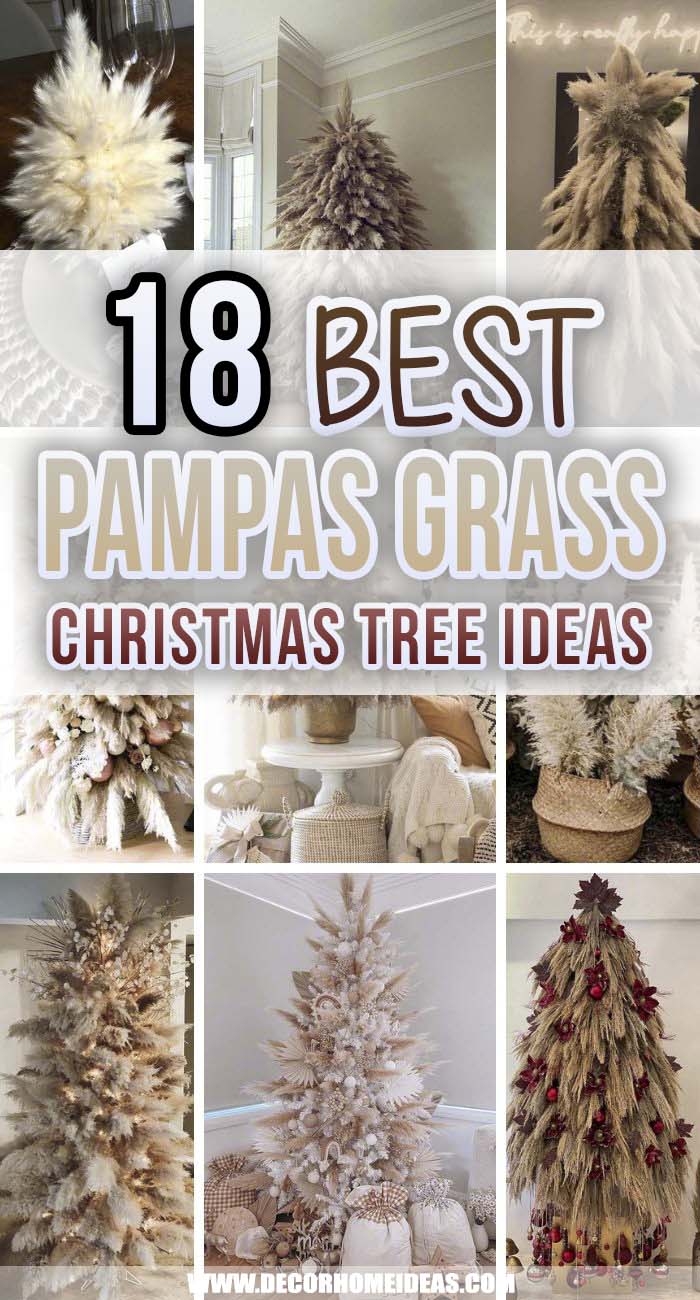 It is time to make your Christmas decor chic and fancy with the inspiring pampas grass Christmas tree ideas collected for you!
1. Pampas Grass Christmas Tree Beige Interior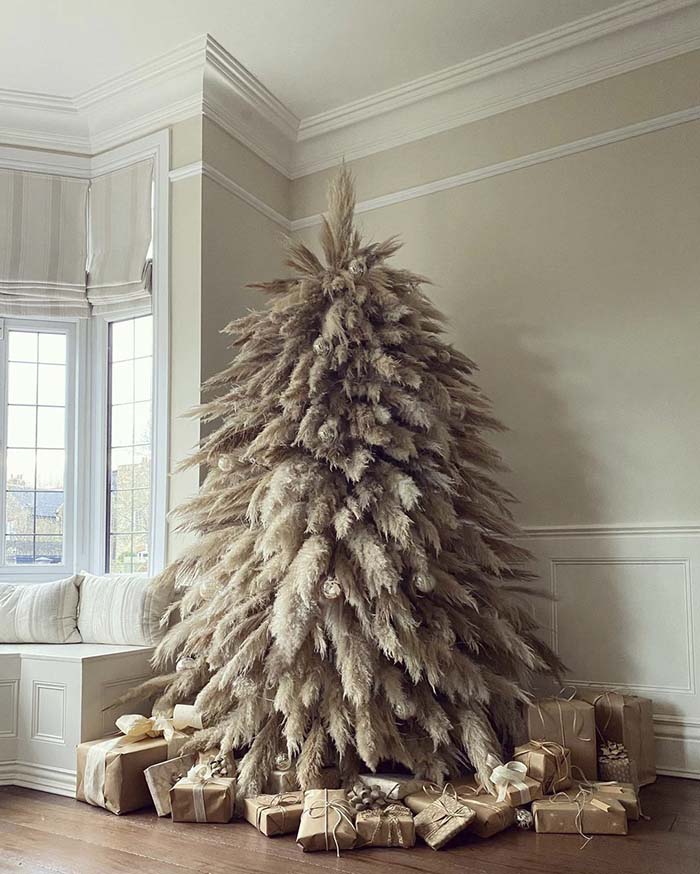 The natural color of the pampas grass has inspired the entire Christmas interior. Going all beige is a new trend with a farmhouse feel.
via Elari Events
2. Rustic Pampas Grass Christmas Tree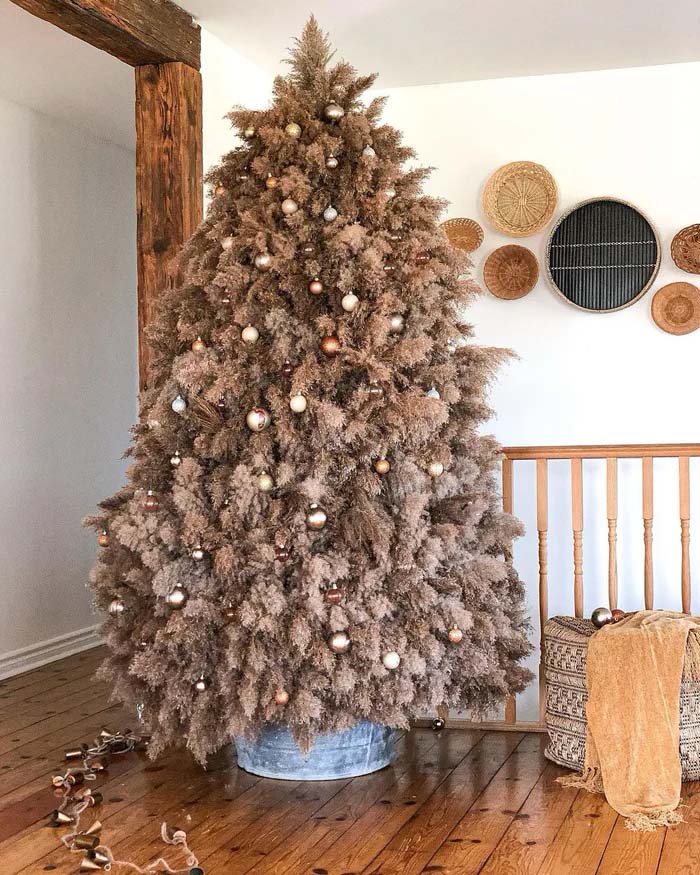 The farmhouse look of the pampas tree can be enhanced simply by placing it in a vintage container.
A galvanized bucket will give the tree more height and stability.
3. Rose Gold Ornaments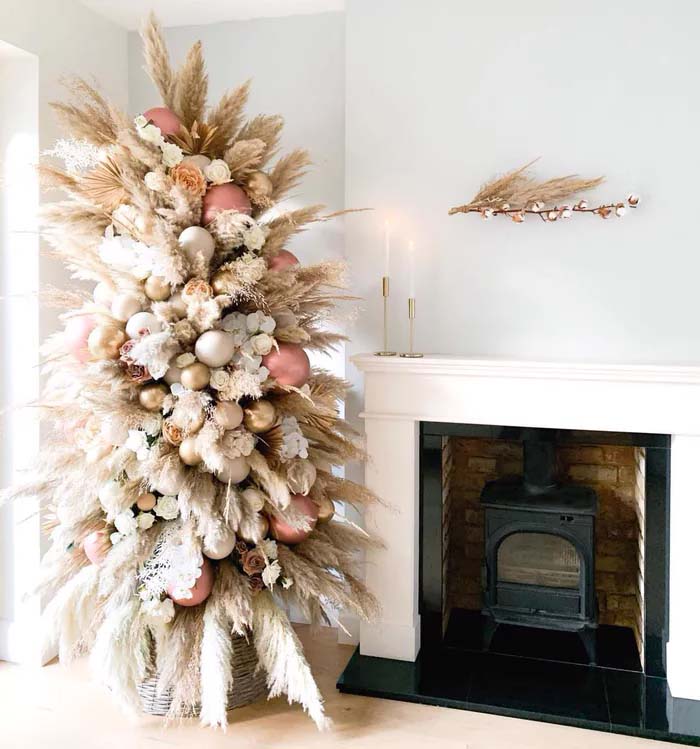 The creamy color of the pampas grass matches fantastically with rose gold, gold and white ornaments.
Decorate the pampas grass tree as if it was a real Christmas tree and you will be surprised by the festiveness it spreads.
via Daydreaming Hues
4. Mini Pampas Tree To Decorate Every Corner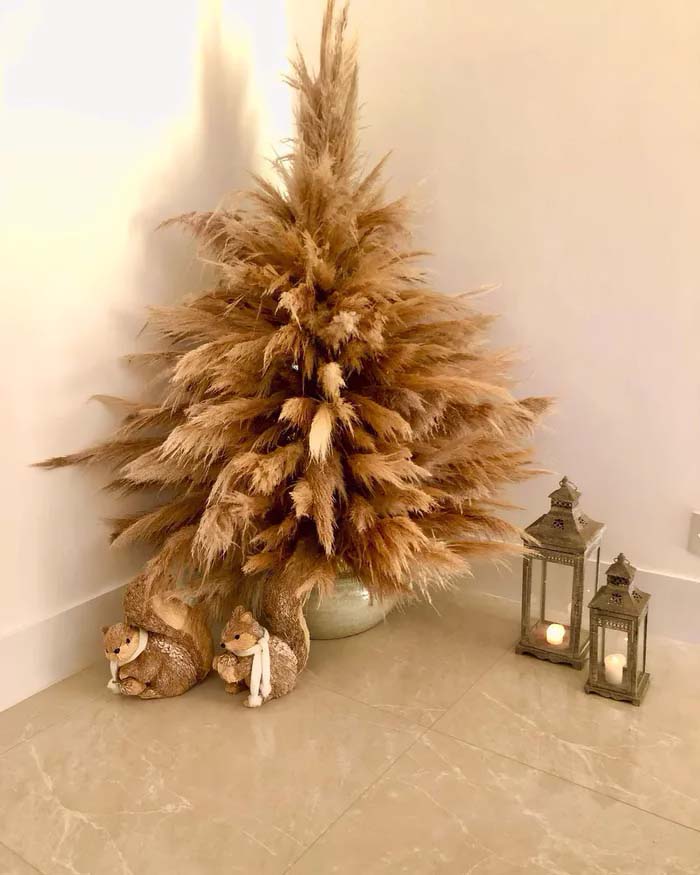 If you would like to decorate every inch of your home in the Christmas spirit, you can do it with mini pampas grass trees. Insert them in vases or pots to keep them safe and rigid.
via Fabiana Iatarola
5. White Christmas Decor and Tall Pampas Grass Tree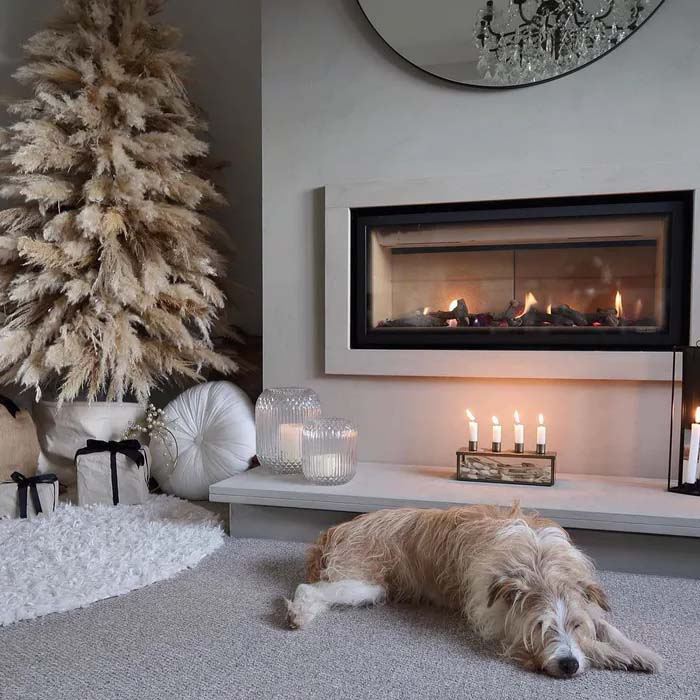 The neutral earthy color of the pampas grass is practically universal! It can match the color theme you have chosen for this Christmas decor.
White ornaments are snow-inspired and they stand out more against the creamy pampas grass tree.
via The Style Attic
6. Pampas Grass Tree Embellished With Nature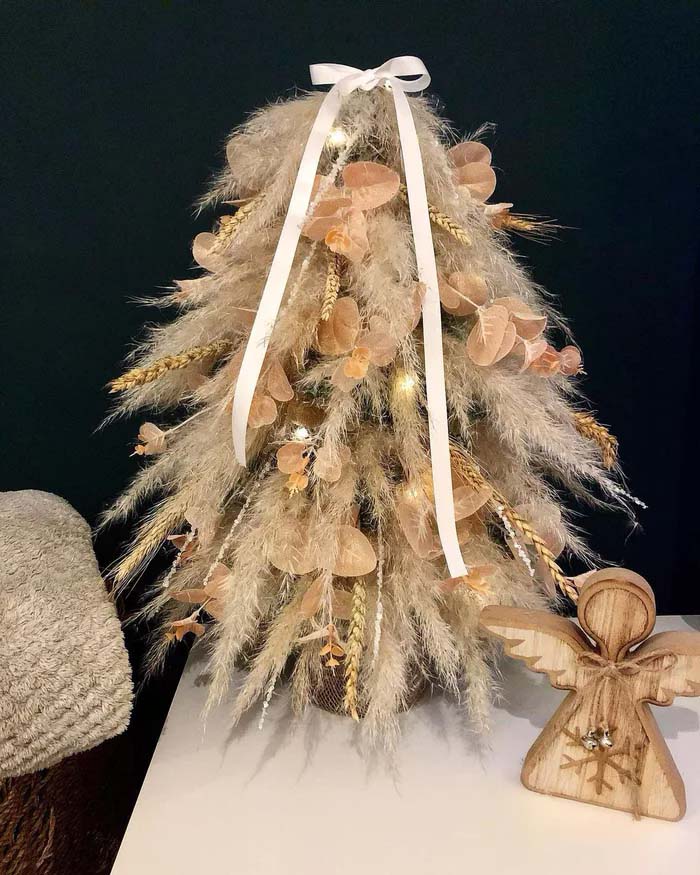 If you are looking for au-naturel Christmas decor, this could be your inspiration- pampas grass Christmas tree, embellished with leafy twigs and grain sprigs.
Tie a bow at the top instead of the typical starry ornament to give the tree a finishing festive touch.
7. Shaped Pampas Grass Tree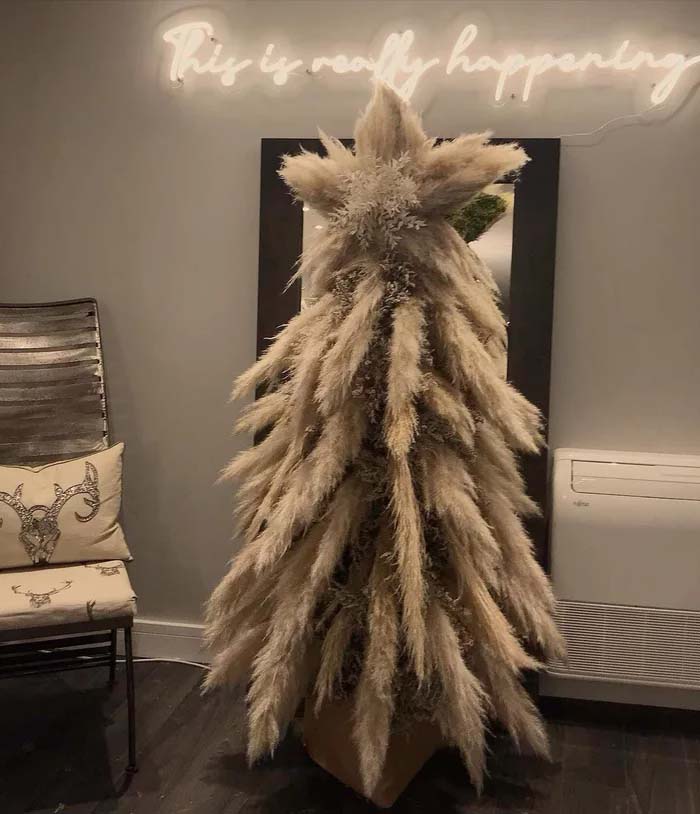 With some spray glue or simple hairspray you can model your pampas grass Christmas tree!
Insert the sprigs stacking them to create the Christmas tree shape and at the top, give the bunch of grass the shape of a star.
8. Neutral Color Scheme Christmas Decor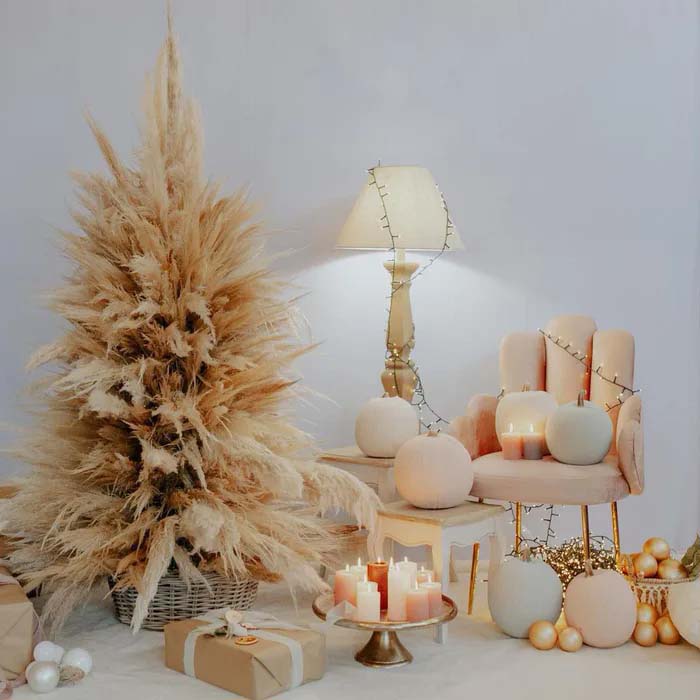 Pale pink, grey, creamy and white create a magical and relaxing atmosphere!
The pampas grass tree is surrounded by candles and ornaments to give it a special glow and charm.
via Flowers Living
9. Pampas Grass Christmas Tree With Lights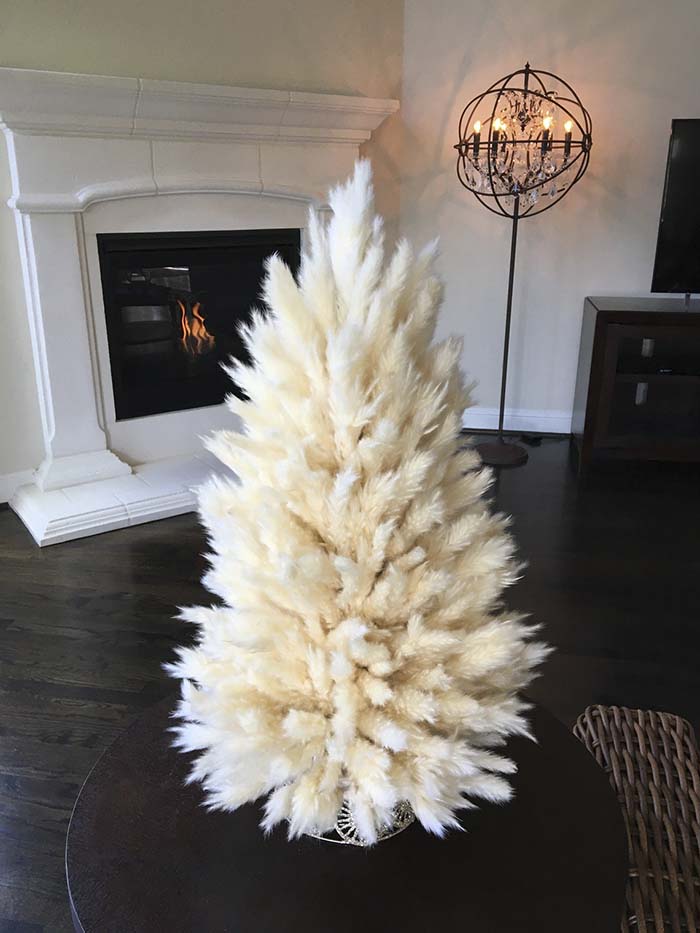 You can decorate the pampas grass tree with the same ornaments that you would use on the standard pine tree.
Choose the baubles according to the size of your alternative Christmas tree. Finish with a string of lights to add the magic.
10. Tiny Pampas Grass Tree As A Dedicated Dining Table Decor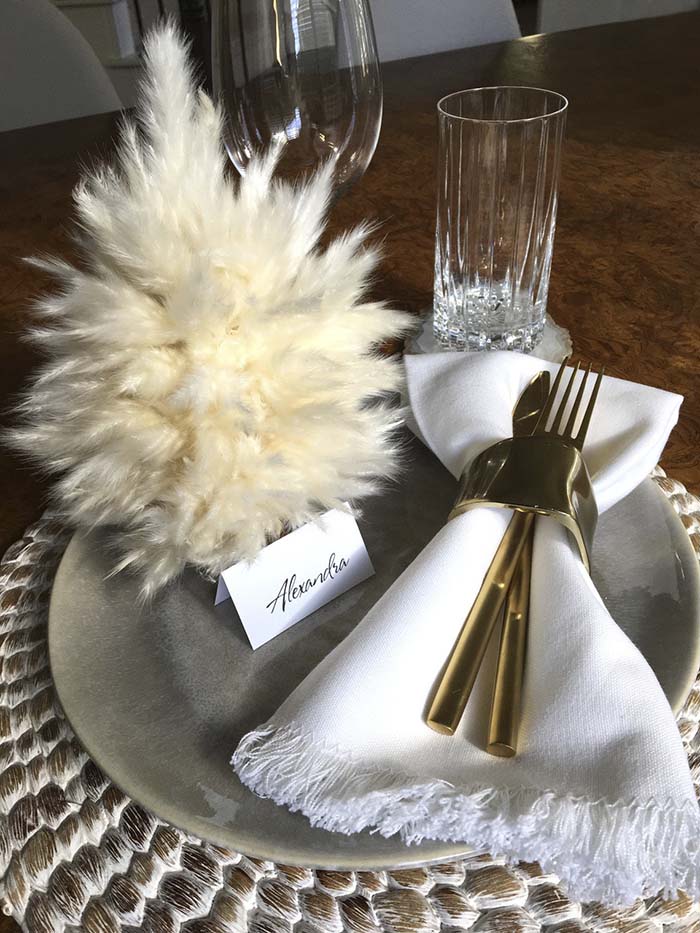 This is a cute idea of how a tiny pampas grass tree could become special decoration for your festive dining table.
Added next to each dining set, it will create a point of interest and will make the individual places very special.
11. Christmas Feathery Pampas Grass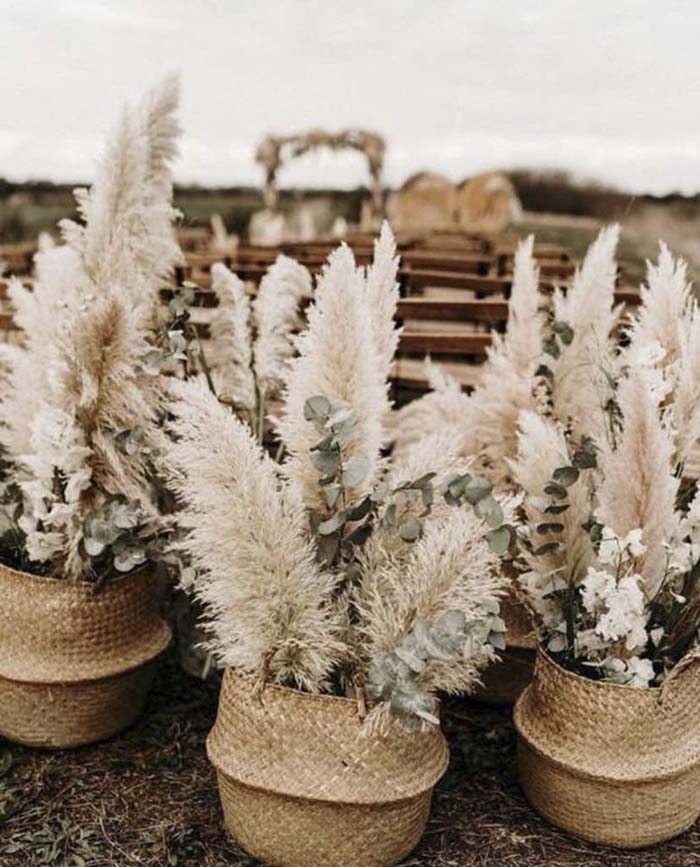 The pampas grass sprigs can be included in floral arrangements.
These wicker baskets hold a bouquet of winter nature aiming to invite nature inside our homes even in the coldest weather.
12. Realistic Christmas Tree From Pampas Grass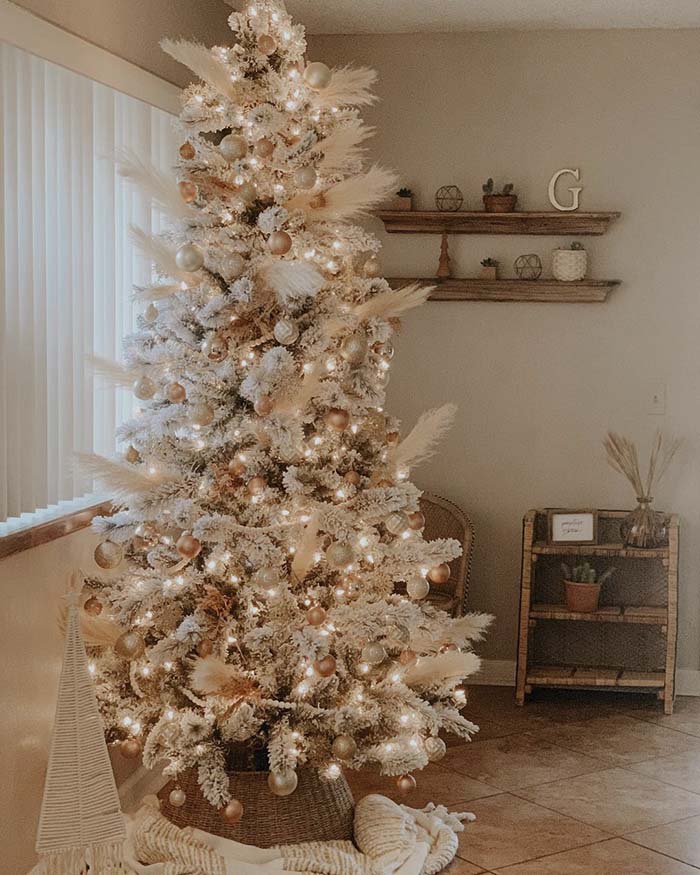 Your faux pine Christmas tree can be totally transformed this year! Simply add sprigs of pampas grass symmetrically all around the tree.
The frosty ends of the pine and the creamy color of the pampas grass will elegantly embrace gold, silver or rose gold baubles and lights.
via Melissa A
13. Bursting Pampas Grass Tree In Creamy And White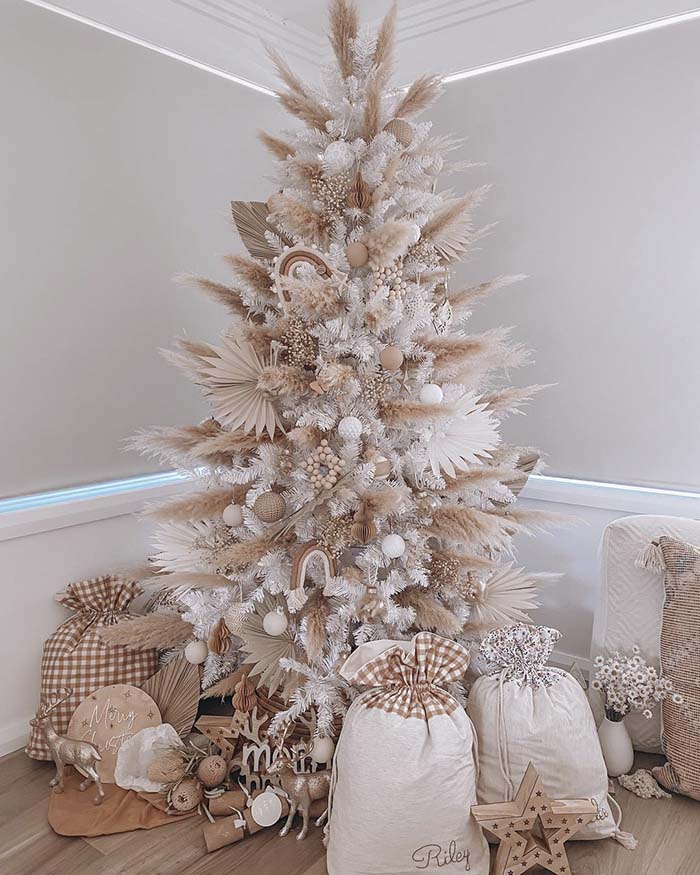 Are you in love with this Christmas tree? Get ready to prepare a number of pampas grass stems, large paper leaves and embellishments in the natural color palette.
The basis is a faux Christmas tree in white. The stems and the embellishments are well-arranged to create a festive tree bursting with texture and calming colors.
via Dried Flowers
14. Glowing Pampas Grass Tree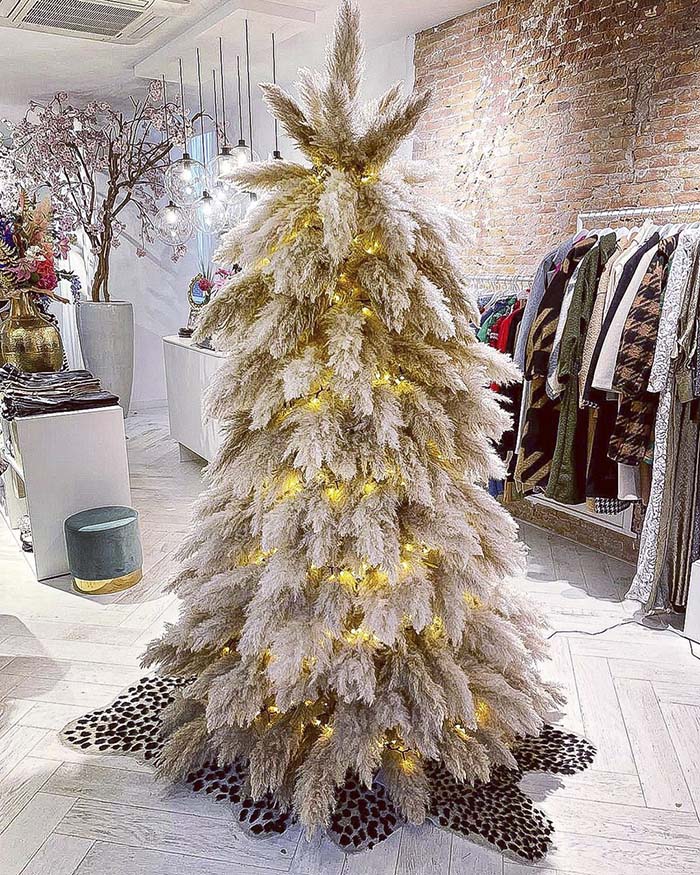 Your pampas grass tree can become more festive by adding fairy lights. You can place the closer to the stems' ends.
This idea features another way to position them to give the tree more dimension and charm.
via Pampas XTree
15. Boho Christmas Tree
Another inspiring au-naturel inspiration features the farmhouse style as a charming means to decorate your home for Christmas.
A small pampas grass tree is placed in a gold pot with a decoration of Christmas lights in warm yellow.
A wicker basket, knitted blanket, paper stars surrounding the tree enhance the welcoming vibe.
16. Red Poinsettia Always Makes Christmas Better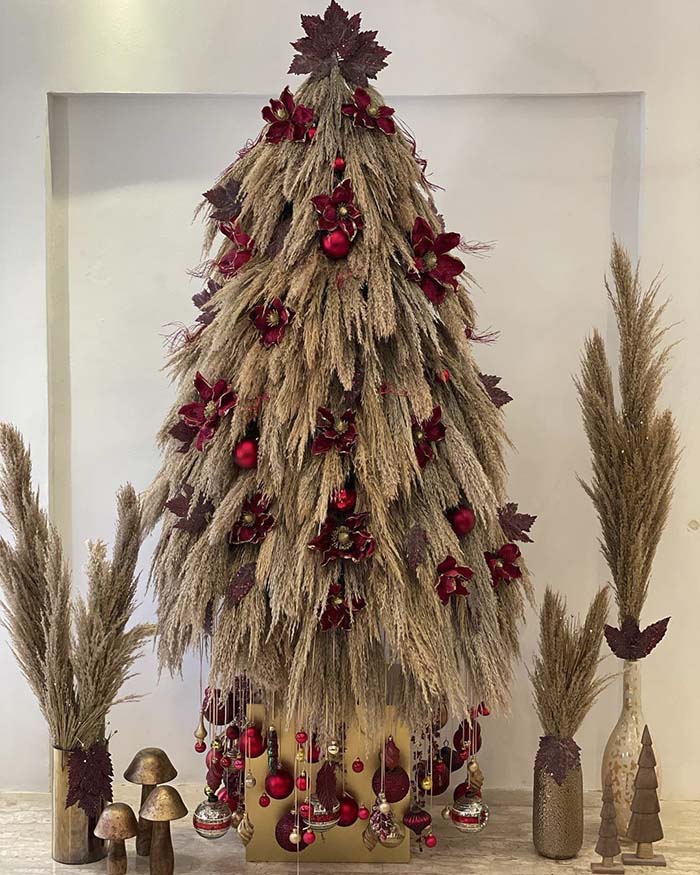 Your pampas grass Christmas tree can become more fabulous with red ornaments.
Poinsettia embellishments from the Dollar store create a festive contrast against the brownish fluffy texture.
17. Gold Is Never Out Of Trend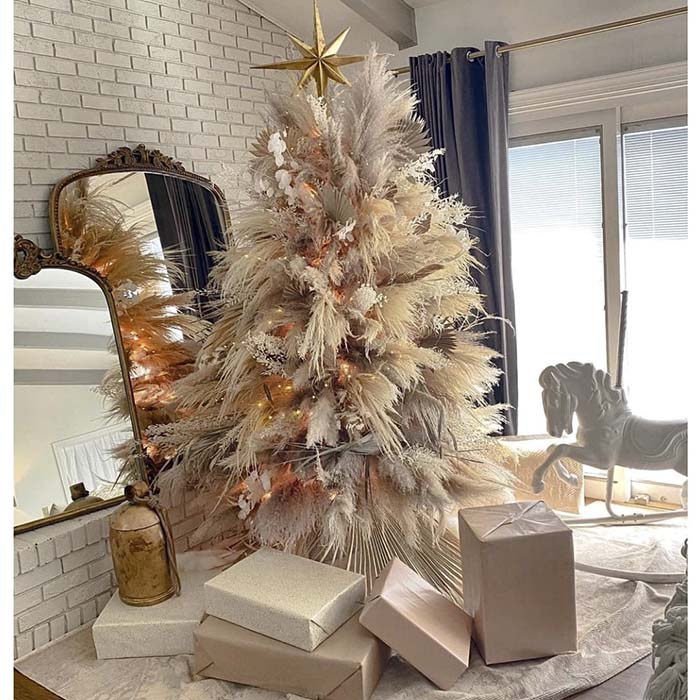 If you like the luxury the golden finish gives to the Christmas decor, you can try it on your trendy pampas grass tree.
Attach the gold baubles symmetrically on the tree and finish with a sparkling star at the top.
18. Elegant Tall Pampas Grass Tree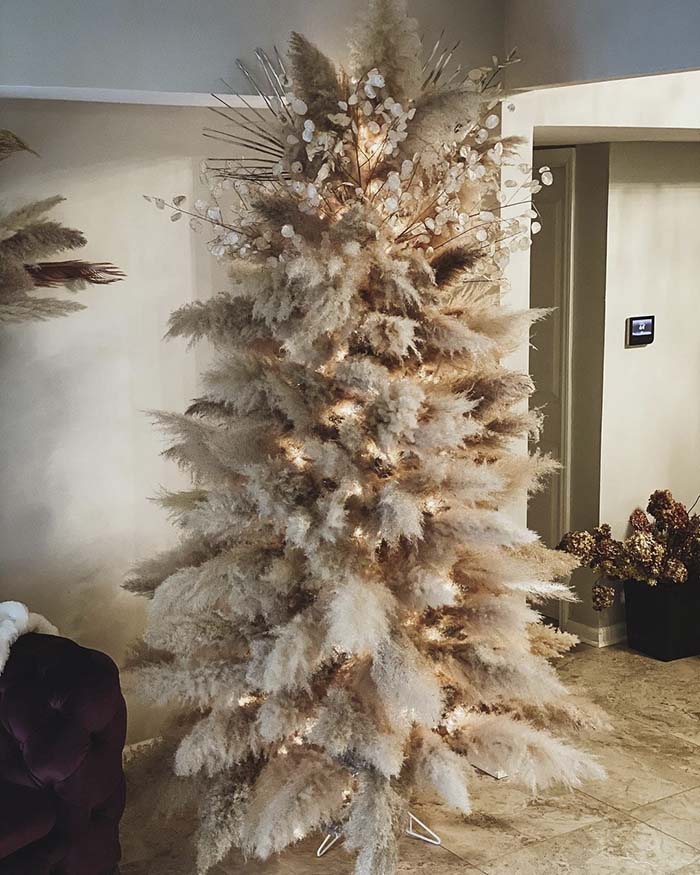 This stylish Christmas tree combines fluffy pampas grass stems arranged on a metal tree pedestal with fairy lights.
The top of the tree is beautifully decorated with white leafy twigs that give it a festive look.