Are you looking for a compact beautiful piece to decorate every room for Christmas?
You would be pleasantly surprised to see how the trendy succulents get a Christmas festive look simply by arranging them in the shape of a tree. How?
Well, that is the easiest part- floral foam cones, chicken wire, wire trees, floral wire give the shape.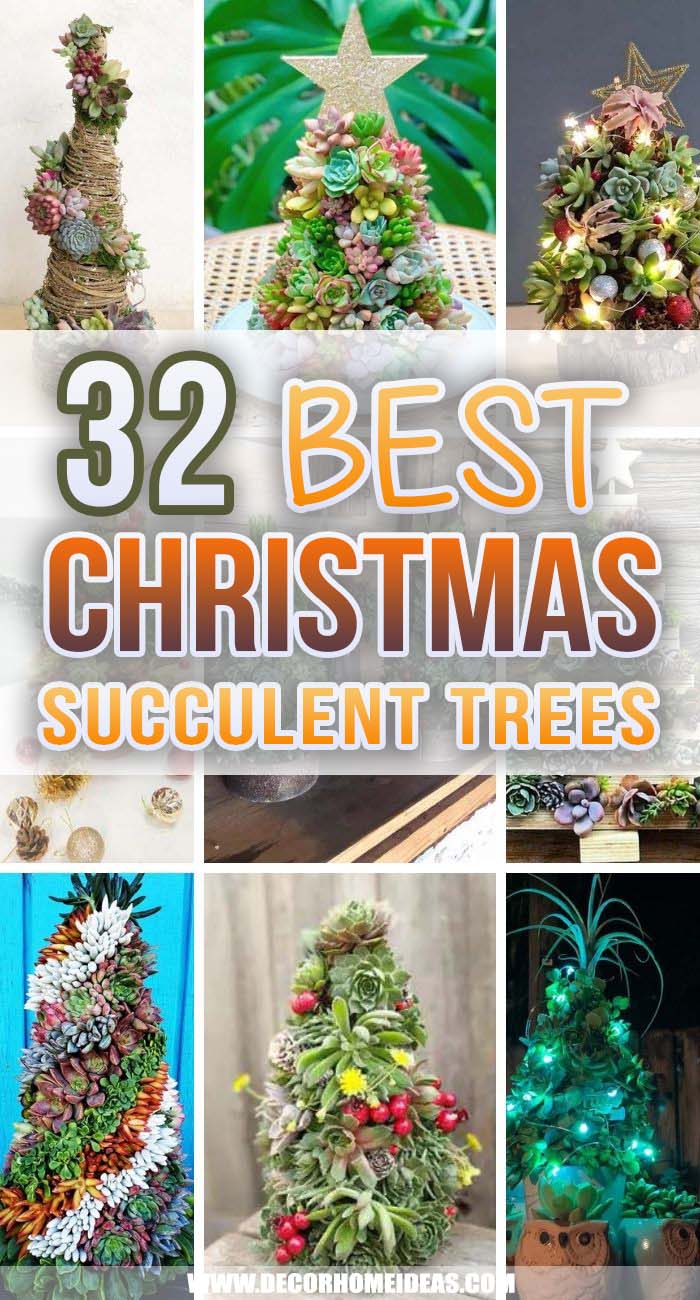 Succulent cuts can be real or faux. Combine Violet Queen, Elegans, Minima, Rock Rose and many more kinds to create layers of texture and colors with their inspiring shapes and waxy hues. For enhanced festiveness, small Christmas embellishments can be added in between the cuts.
Tip: You can create your own succulent Christmas tree by following the details in this DIY project.
Let's go through the best Christmas succulent trees ideas to inspire your next DIY project to add to your Christmas decor or to prepare a special gift for the holiday.
1. Brighten Up Your Home with a Colorful Succulent Tree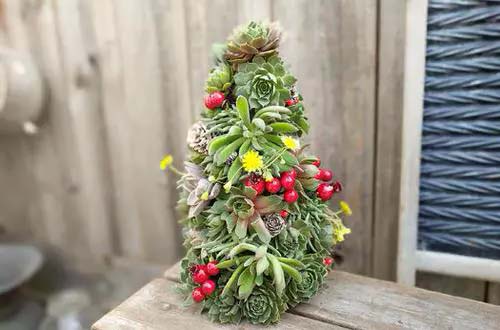 You can add to the succulent kinds of seasonal fruits and flowers.
The tree instantly becomes colorful and charming with berries and field colorful tree has a mix of succulents, berries and marigolds.
2. Craft Rustic Succulent Trees for Mantel with Chicken Wire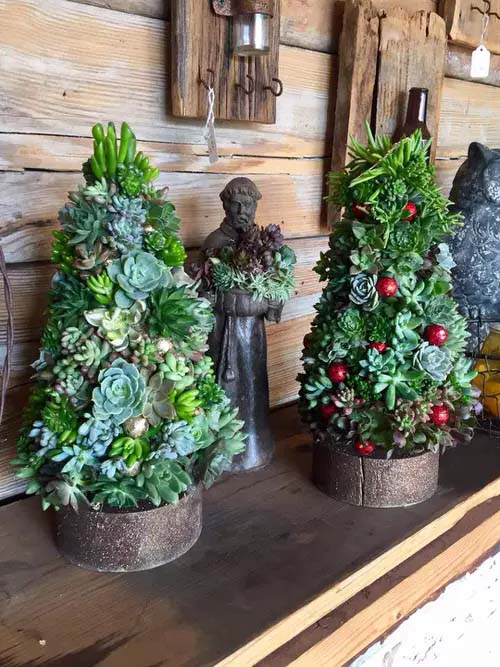 Chicken wire can also be used to give the basis of your succulent tree the desired conical shape.
Two tiny trees are very compact and the perfect mantel Christmas decor.
via First For Women
3. Adorn Your Table with a Succulent Tree Centerpiece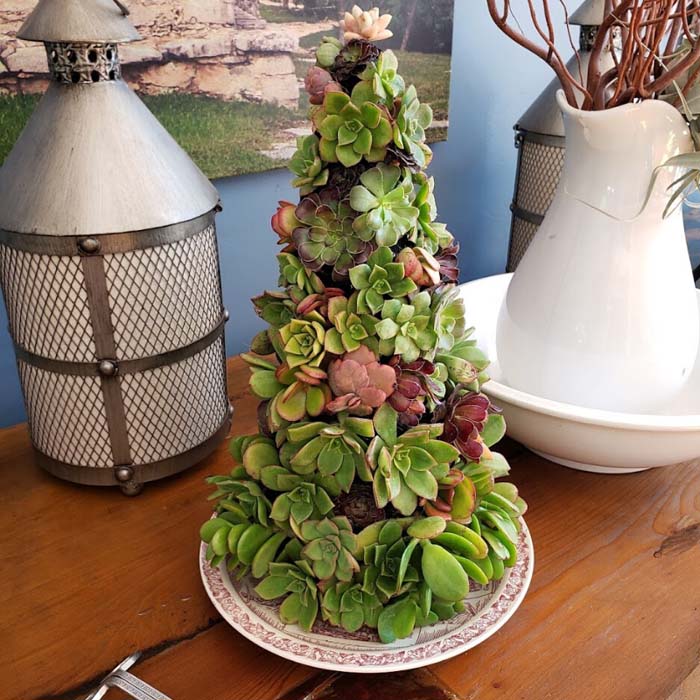 Looking for a unique gift idea for Christmas? There isn't a greater personalized gift than the succulent tree.
For that, you need Christmas tree frames, gardener's groundcover fabric and succulents, of course.
via Bored Mom
4. Spruce Up Christmas Decorations with a Succulent Tree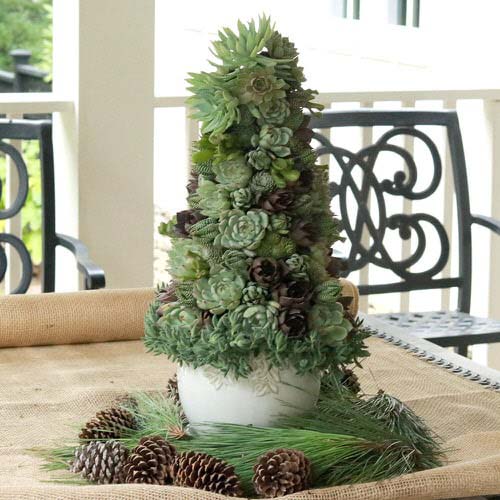 This living succulent tree uses 5 succulent types. The faded purple color of one of the kinds mimics to a great extent the look of the pinecones.
Surrounded by pine trees twigs and real pine cones the tiny tree easily fits the Christmas theme.
via Home Depot
5. Add Warmth to a Home with a Decorative Succulent Tree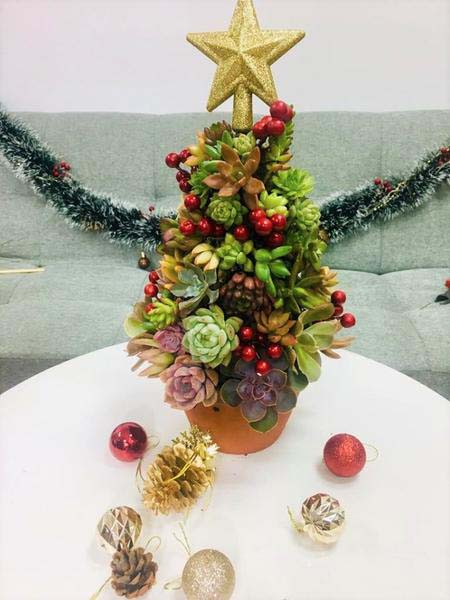 Small ornaments or garlands match the succulent tree.
This is an easy way to give your living tree a festive touch.
via Succulents Box
6. Add a Festive Sparkle to Succulent Tree with Jingle Bells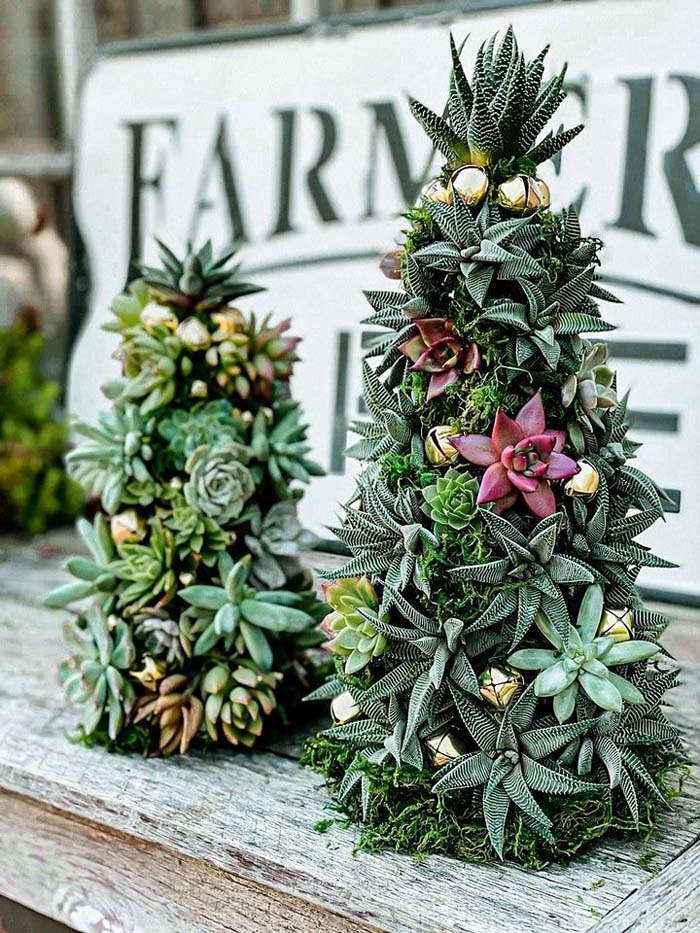 The succulent tree can look embellished by including various kinds and colors of cacti. Small jingle bells can fill the gaps between the cuts to give the tree a sleek festive effect.
via All Events
7. Replicate Festive Pine Tree with Succulents and Cacti Tree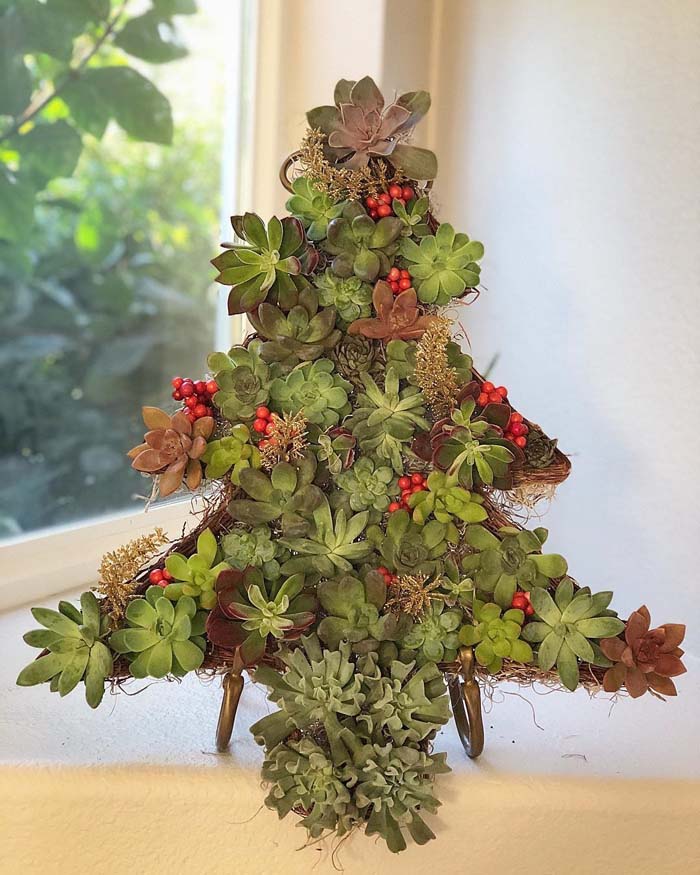 Most of the ideas here showcase cone-shaped succulent trees. Well, this is not the only option.
The living tree of cacti can replicate the typical pine tree shape. Add small red berries, glittery sprayed sprigs to mimic the embellishment of the festive pine tree.
8. Maximize Space with a Compact Succulent Tree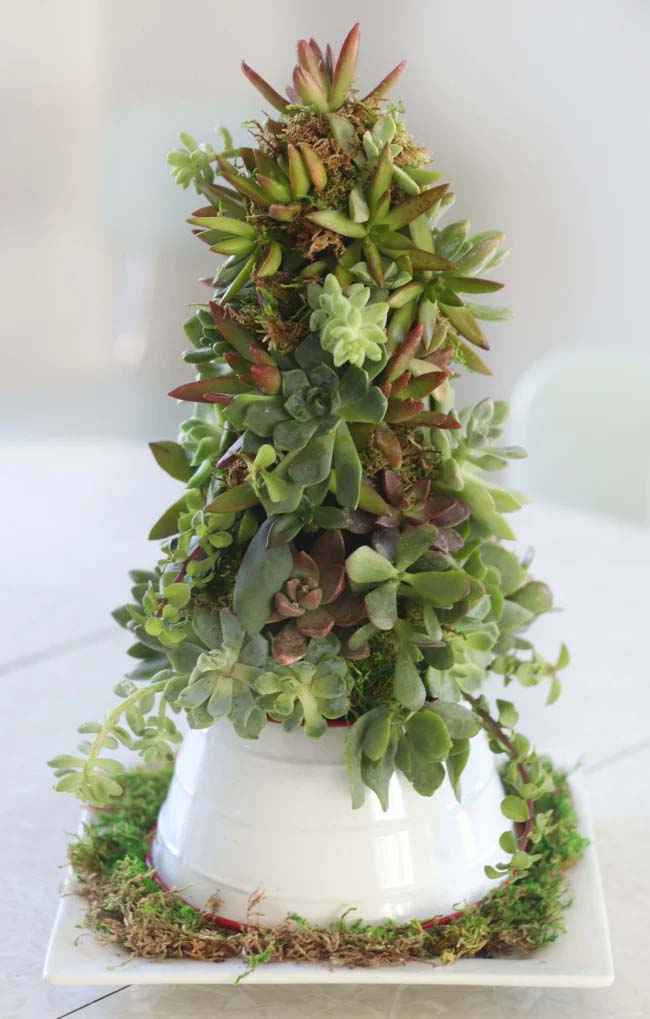 A floral cone, a small galvanized bucket and a dish create the basis for the tiny tree.
After covering the cone well with moss, you can start arranging the succulent kinds. A fun and quick DIY project with a video tutorial!
via Gluesticks
9. Make a Statement with a Haworthia Christmas Tree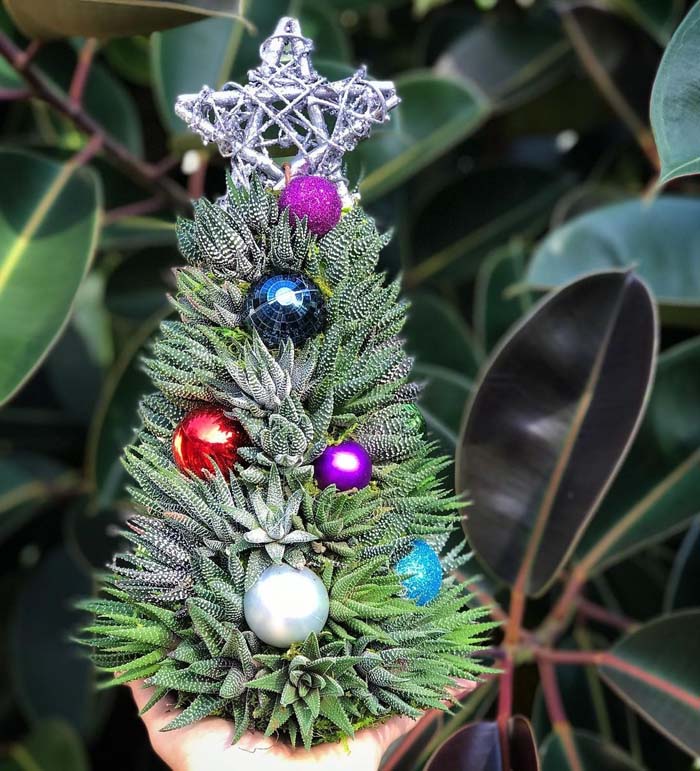 If you have cacti-addict friends, there is no better Christmas gift than the succulent tree.
Choose rare kinds to build it and decorate with small Christmas ornaments.
via Amanda at Terracotta Corner
10. Accent a Mexican Rose Tree with Golden Beads and Star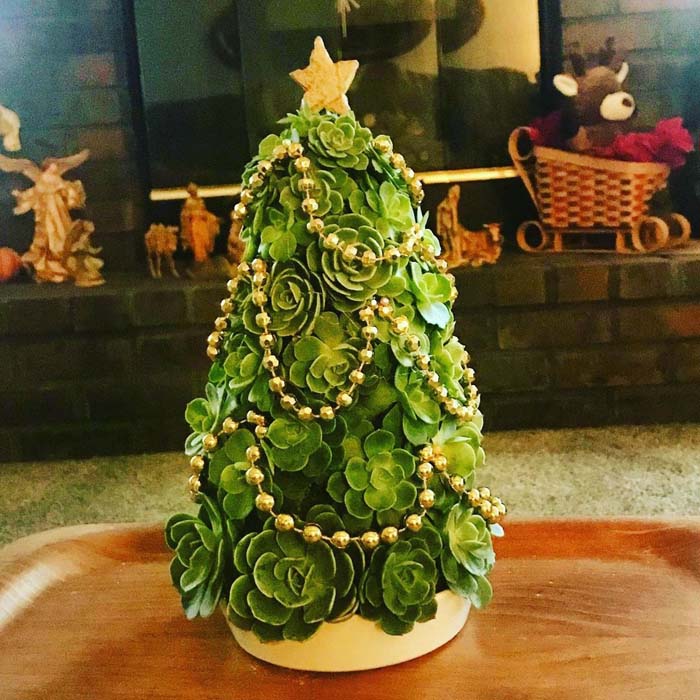 This elegant succulent tree is decorated with a garland of golden beads.
A shimmering golden star finishes the festive centerpiece made of Mexican Rose.
via Cheri Newcomb
11. Bring Joy to a Space with an Enchanting Succulent Tree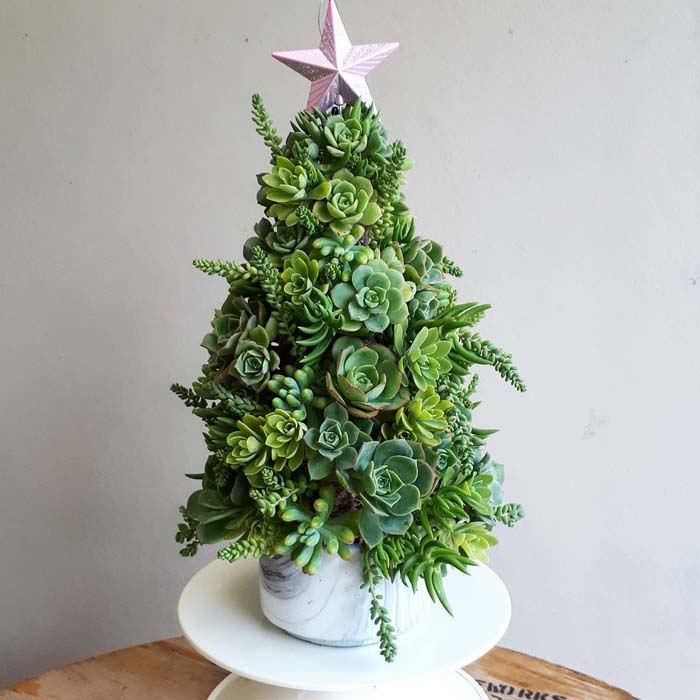 A beautiful pot with a marble effect, a piece of chicken wire, moss and succulent cuts create this bursting green tree.
No additional ornaments are needed as the shapes of the succulent kinds give the arrangement a curious texture.
via Living Bunch
12. Embrace Minimalism with a Small Succulent Tree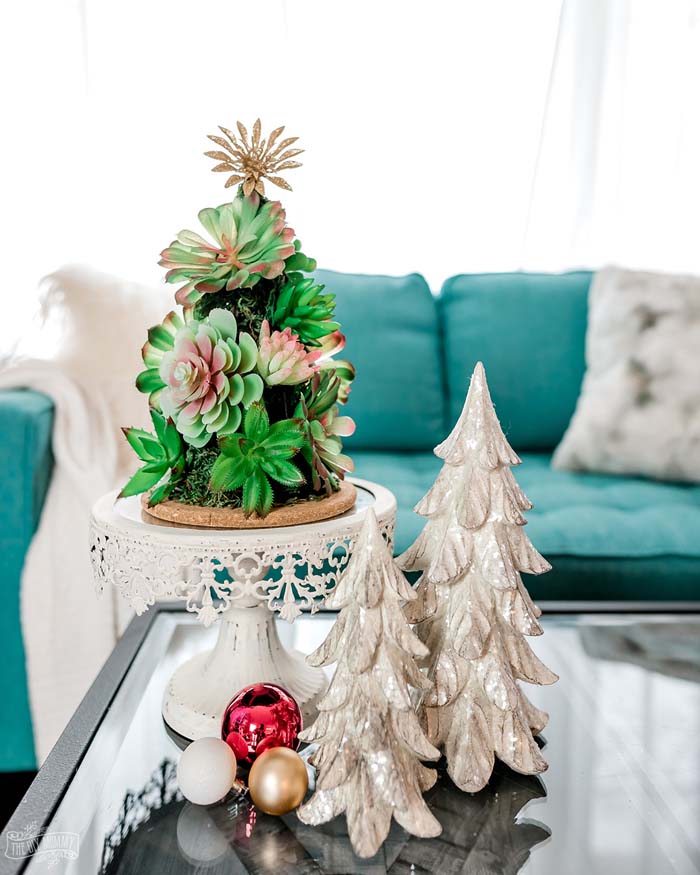 This is one of the tiniest succulent trees. Being placed on a cake stand gives it height and turns it into the focal point.
The neutral white color of the stand and the adjacent statues enhance the interest of the green living tree.
via The DIY Mommy
13. Get into the Festive Spirit with a Magical Succulent Tree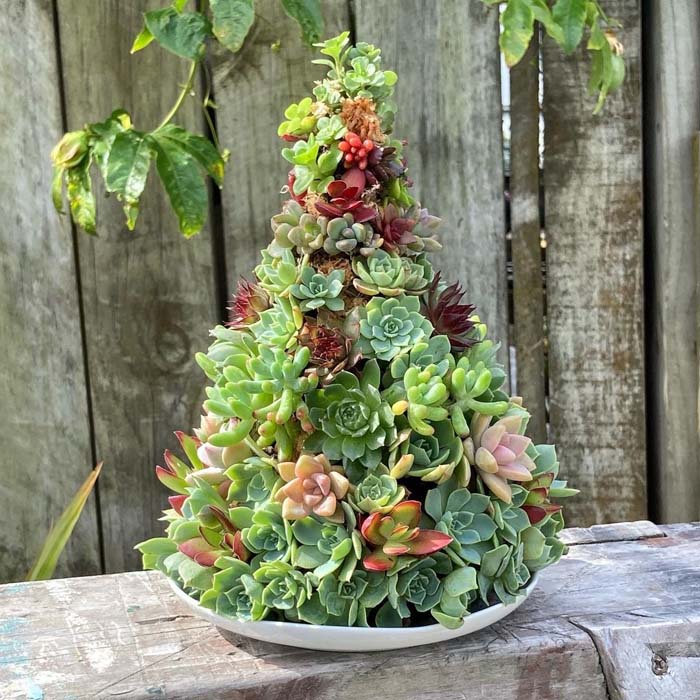 Pink and red succulents can be used as embellishing accents of the living tree.
If you can't find real colorful kinds, you can use faux ones to insert among the green cacti.
via Kirsty Glasgow
14. Be Charmed with Moss and Succulent Tree with Baubles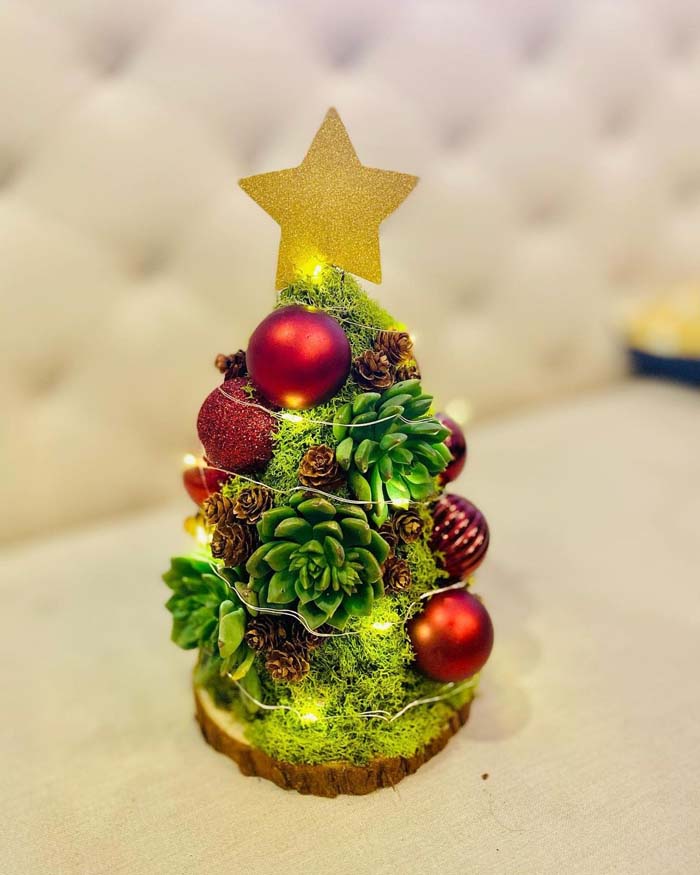 This tiny succulent tree is so cheerful and beautiful! It can be given as a gift to the hosts of the Christmas Eve dinner.
A string of lights surrounds the living arrangement letting all elements stand out.
via Jacky K
15. Transform a Home with an Elegant Holiday Centerpiece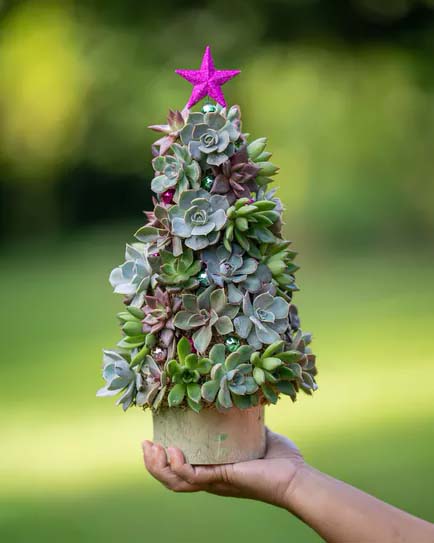 The waxy texture of the succulents and their pastel hues give the tree arrangement an amazing decorative effect.
Added jingle bells and a sparkling purple star at the top of the cone turn the tree into a Christmas jewel.
via Farmgal Flowers
16. Indulge in the Lavish Look of a Rosette Christmas Tree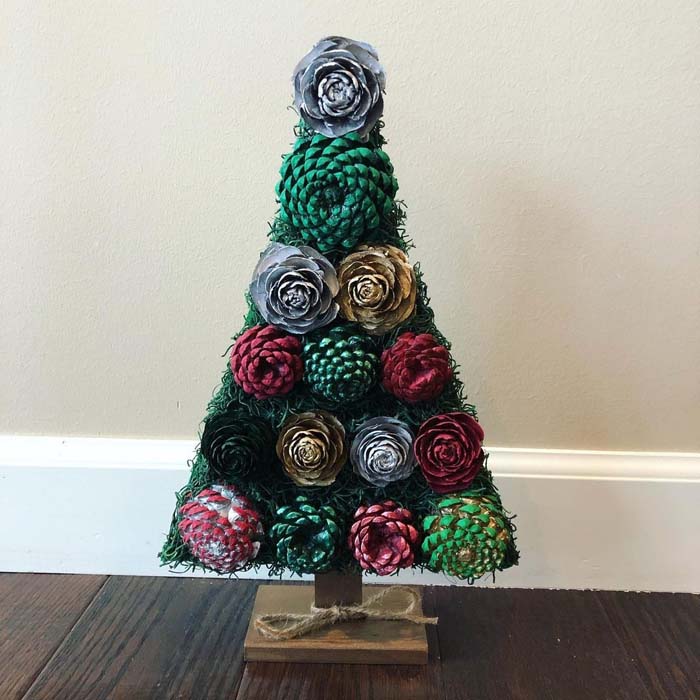 Pinecones are spraypainted in the typical succulent colors to decorate a mini wooden pine tree. A layer of faux moss covers the wood to give the decorative tree a realistic look.
Add a large burlap bow or a twine ribbon at the bottom of the tree to tie up the centerpiece.
17. Add a Pop of Color with Your Succulent Christmas Tree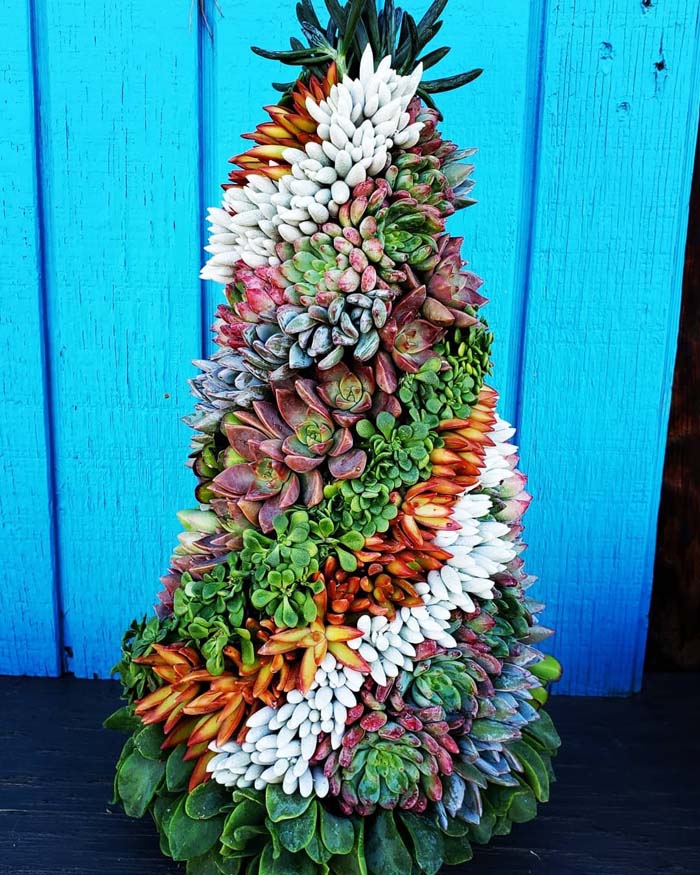 Another way to make the succulent tree interesting is to create layers of colors, altering the kinds.
The texture will also vary as the curve lines change.
via Karli Armet
18. Embellish a Coffee Table with a Stubby Succulent Tree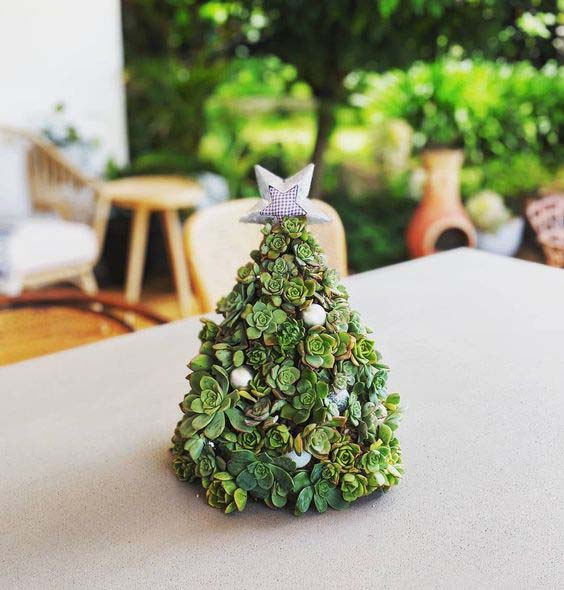 This tiny topiary tree can be made with real or faux succulents.
It can decorate a side table or a coffee table with its green charm and festive handmade star ornament.
via Succulents Box
19. Bring Rustic Elegance with Tin Tub Succulent Tree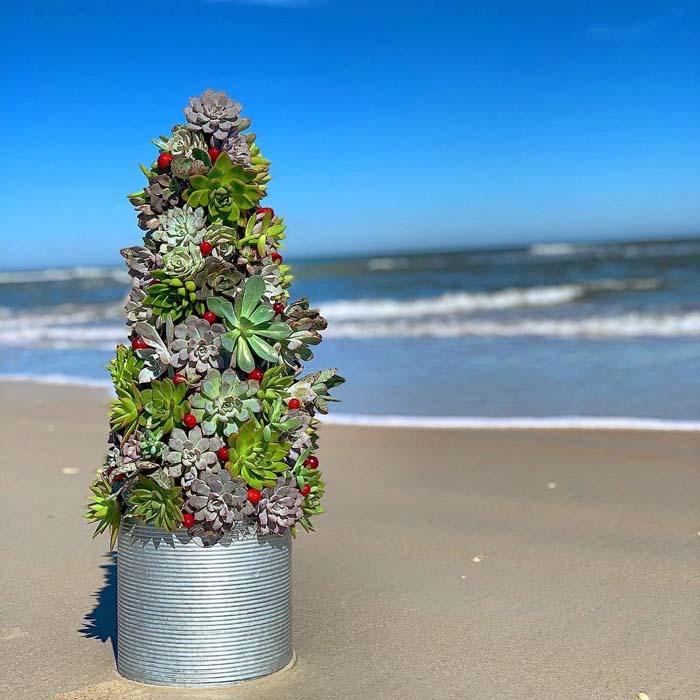 The natural beauty of the succulents can be enhanced with vintage containers. A tin tub, a can, a small galvanized bucket embrace the cone succulent tree to let it shine with its nature-inspired beauty.
If you don't have a big choice among live succulent kinds, you can always mix them with faux cuts.
via Lanipots
20. Light Up Your Succulent Tree with Fairy Lights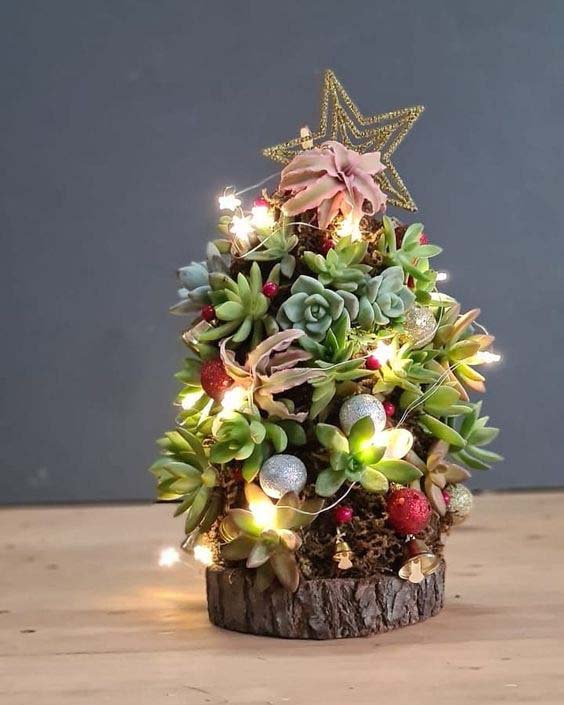 A string of fairy lights, a few tiny red baubles and bells can make your tiny succulent tree whimsy and festive.
The dry moss used to cover the cone base matches the slice of wood used as a pedestal for the tree.
via Art and Soil
21. Get Farmhouse Charm with Cedar Wood Succulent Tree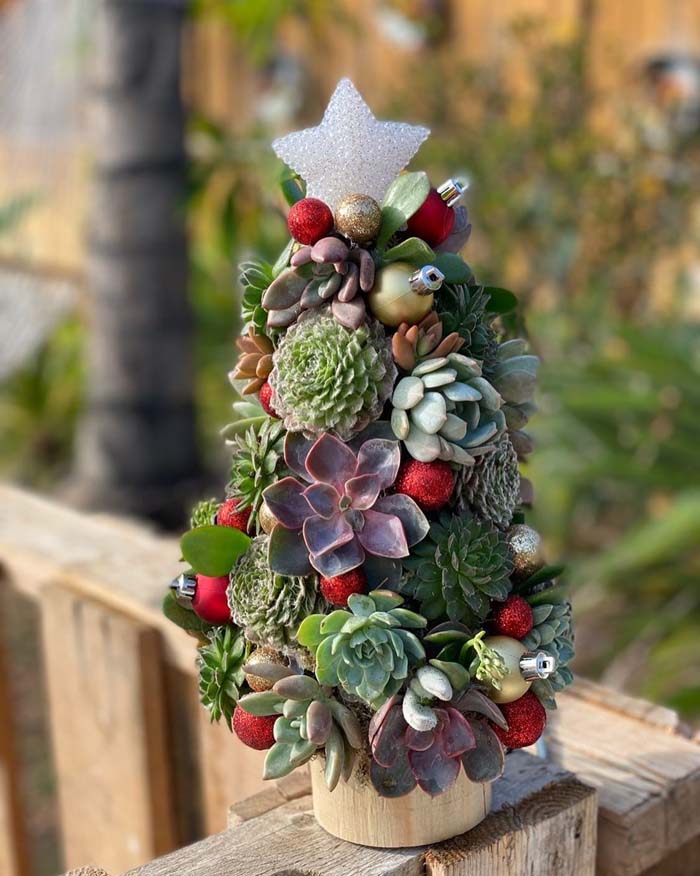 This charming succulent tree has been given a festive Christmas vibe with the shimmering baubles included in the arrangement.
Red and gold alternate to pop out against the lavish cacti greenery.
22. Enhance Your Succulent Tree with Turquoise Ornaments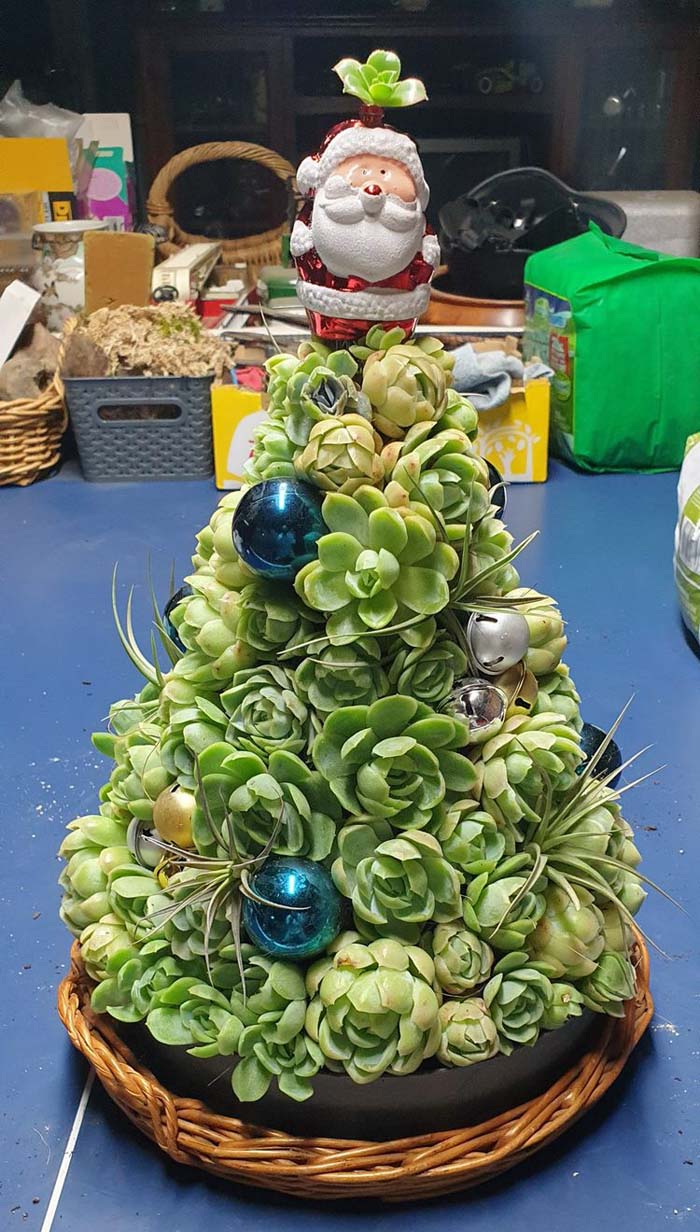 The succulent Christmas tree can easily match your farmhouse holiday decor.
Simply place it in a wicker basket, on a slice of wood, in a wooden tray or any type of container with texture and of a rustic design.
via Sue Collier
23. Jazz Up Your Decor with a Succulent Topiary Tree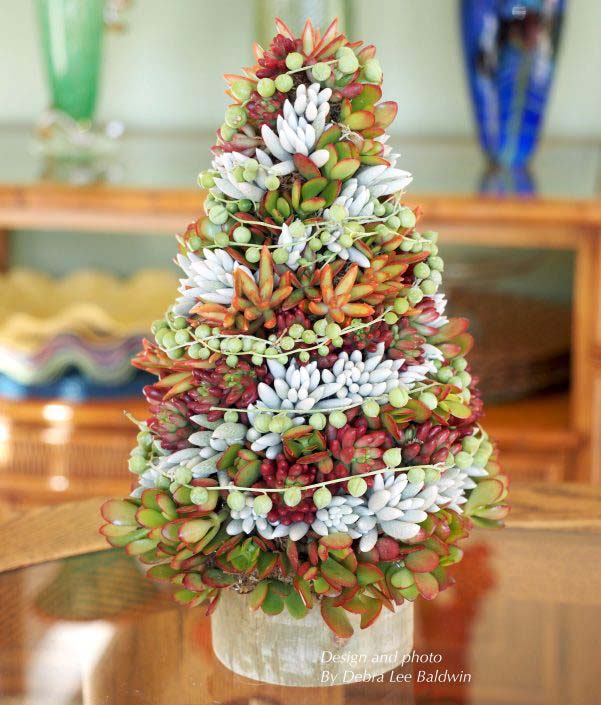 The succulent kinds of this succulent Christmas tree idea make it so unique and give it a festive cheer.
The video tutorial explains the steps for creating your own living centerpiece and advises how to keep it well-looking for several months.
24. Add Modern Flair with a Charming Succulent Tree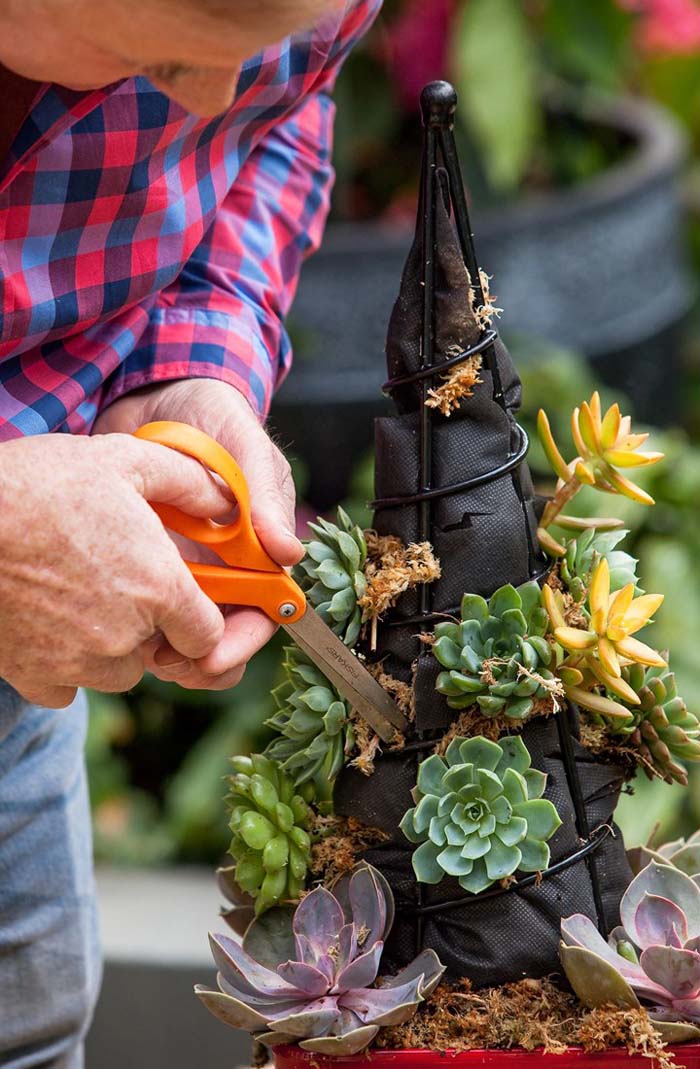 Looking for a compact Christmas tree centerpiece?
The succulent tree is what you need- easy to make, no pine needles scattered on the floor, affordable and charming.
via BHG
25. Repurpose Jars into Chic Succulent Tree Planters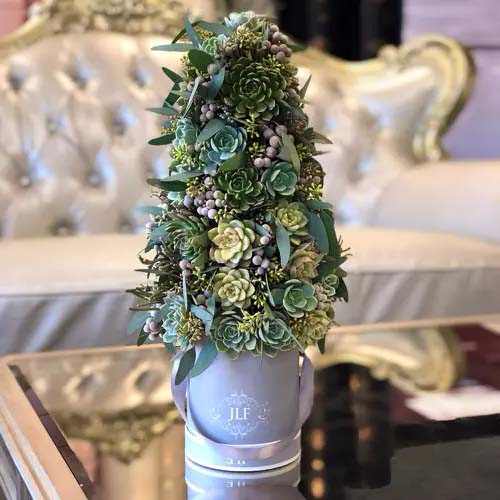 The Mason jar comes in help to make the succulent tree more special and charming.
Its color matches the accentuating succulent kind. Added satin ribbon makes the centerpiece more sophisticated.
26. Farmhouse Feel to a Succulent Tree with Wooden Base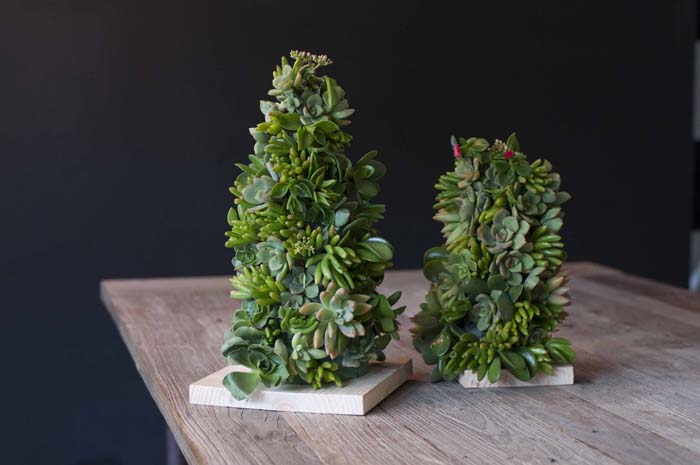 The farmhouse accent of this succulent tree makes it so adorable! Succulent cuts are inserted in a floral foam cone creating a mini green centerpiece with a dedicated wooden platform.
via Rambling Rose
27. Make a Tree-Like Wooden Frame for Your Succulents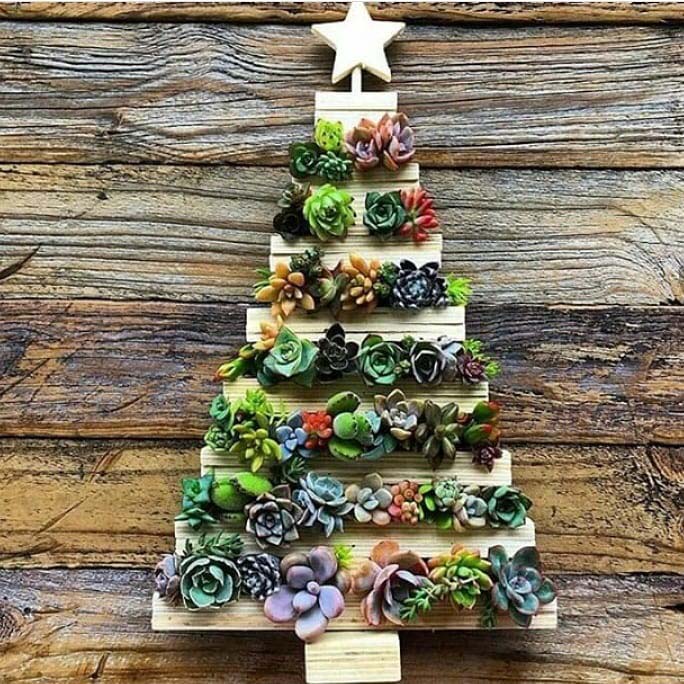 This wooden frame aims to showcase a rich collection of succulents in the shape of a Christmas tree.
Every tree level consists of a wooden box where the cuts are planted.
via Cape Garden
28. Magical Atmosphere with Succulents and Fairy Lights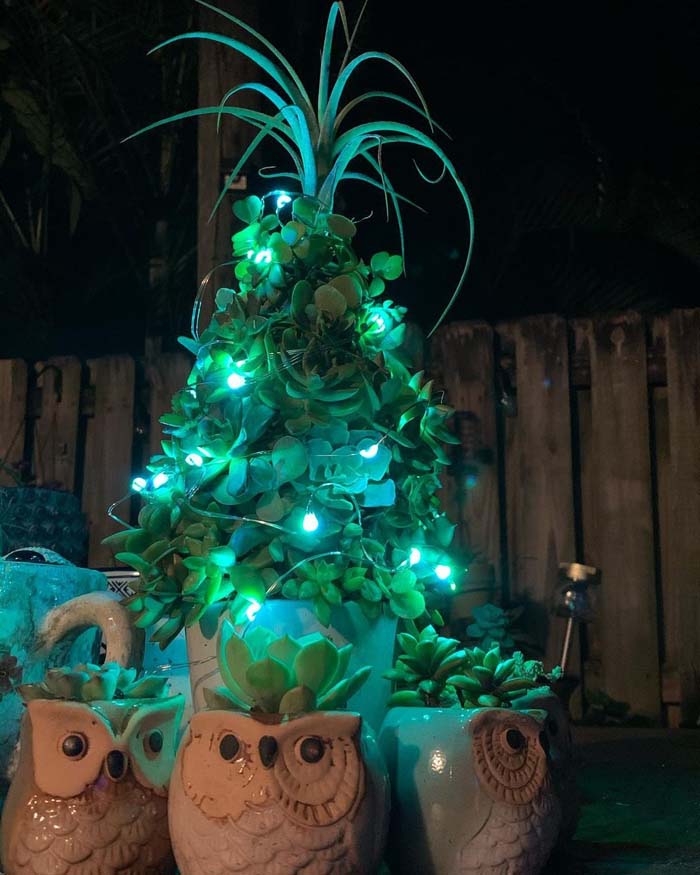 Your succulent tree can be attractive and special at night, too.
Wrap a string of LED lights around it and turn it on when the sun goes down. The twinkling lights give the centerpiece an instant holiday look.
via Jessica Berman
29. Enhance Holiday Dinners with a Tabletop Succulent Tree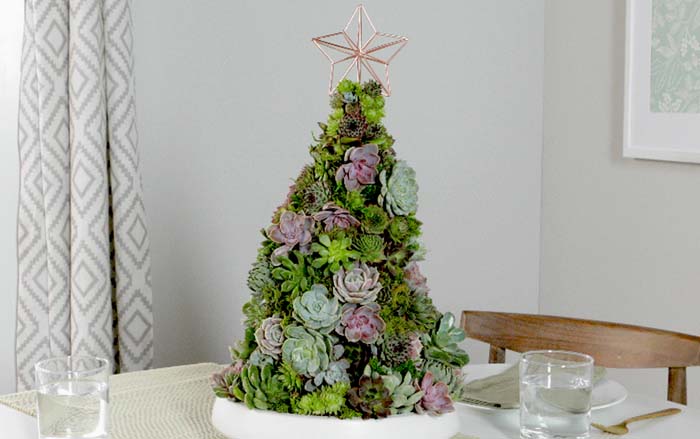 You can create your succulent tree in a large round tray. The rest of the materials are the standard ones- wire or topiary frame, moss and succulents.
To give the tree the festive Christmas look, add a star ornament at the top.
via BHG
30. Be Creative with a Magician's Hat Tree Base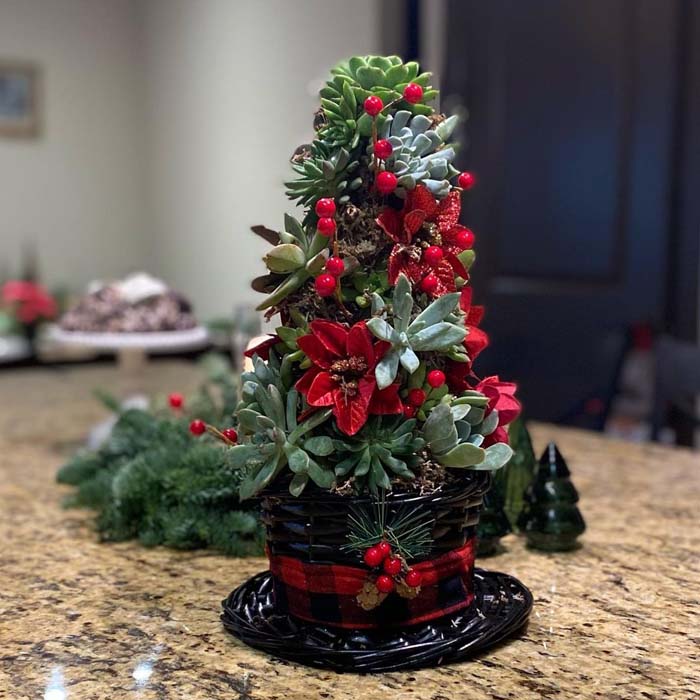 Combine the green succulents with the deep red color of the poinsettia.
Placed in a flower pot in the shape of a magician's hat, the Christmas arrangement is so cute and thematic!
via Sarah Amyx
31. Bring Glamour to Your Table with a Mini Succulent Tree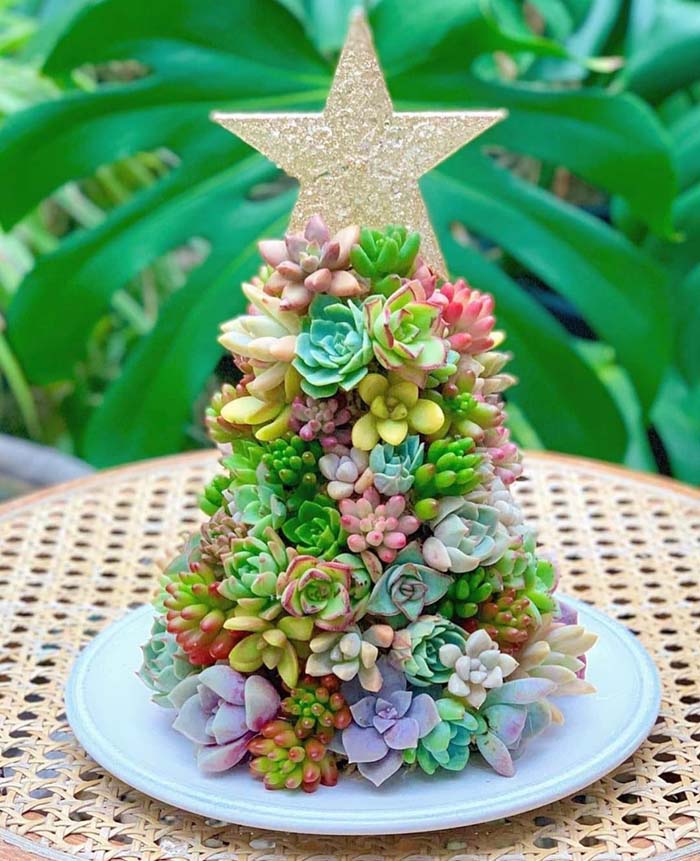 This mini succulent tree has been literally served on the table.
Placed in the center of a large white plate, it bursts natural beauty with the beautiful wax leaves and magical colors.
via Plantenmams
32. Add Rugged Appeal with Moss Vine and Succulents Tree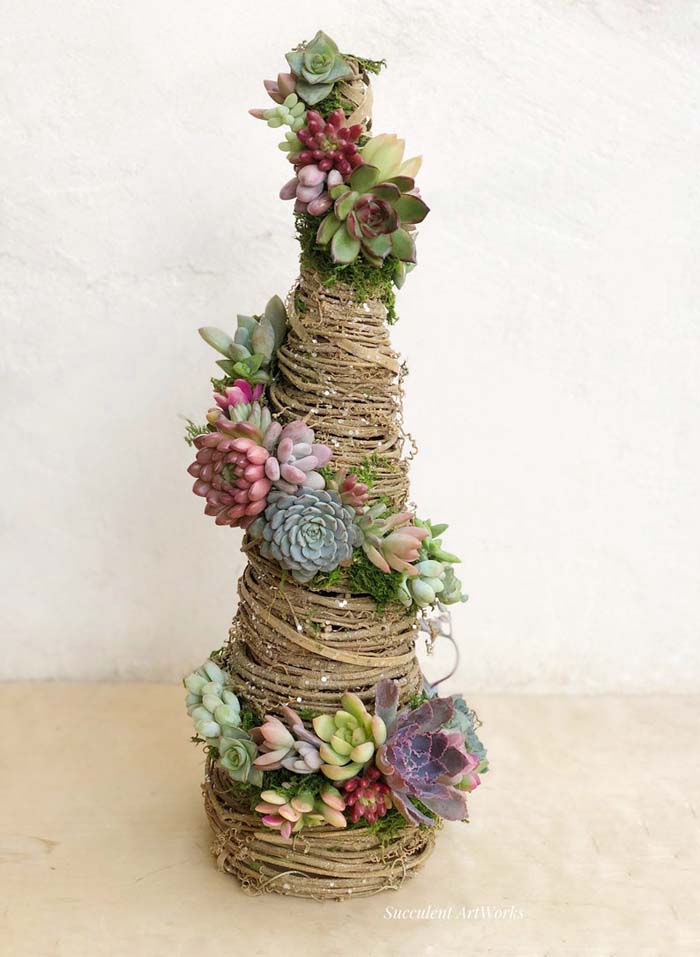 If you prefer having an evergreen succulent tree to beautify your interior, you can make it with faux materials. Grapevine, succulents and moss create a unique rustic combination.