Christmas lights are not to be put on the Christmas tree only. There are many other options and ways to decorate with lights.
You will find each of these decorations truly inspirational, each in its own way.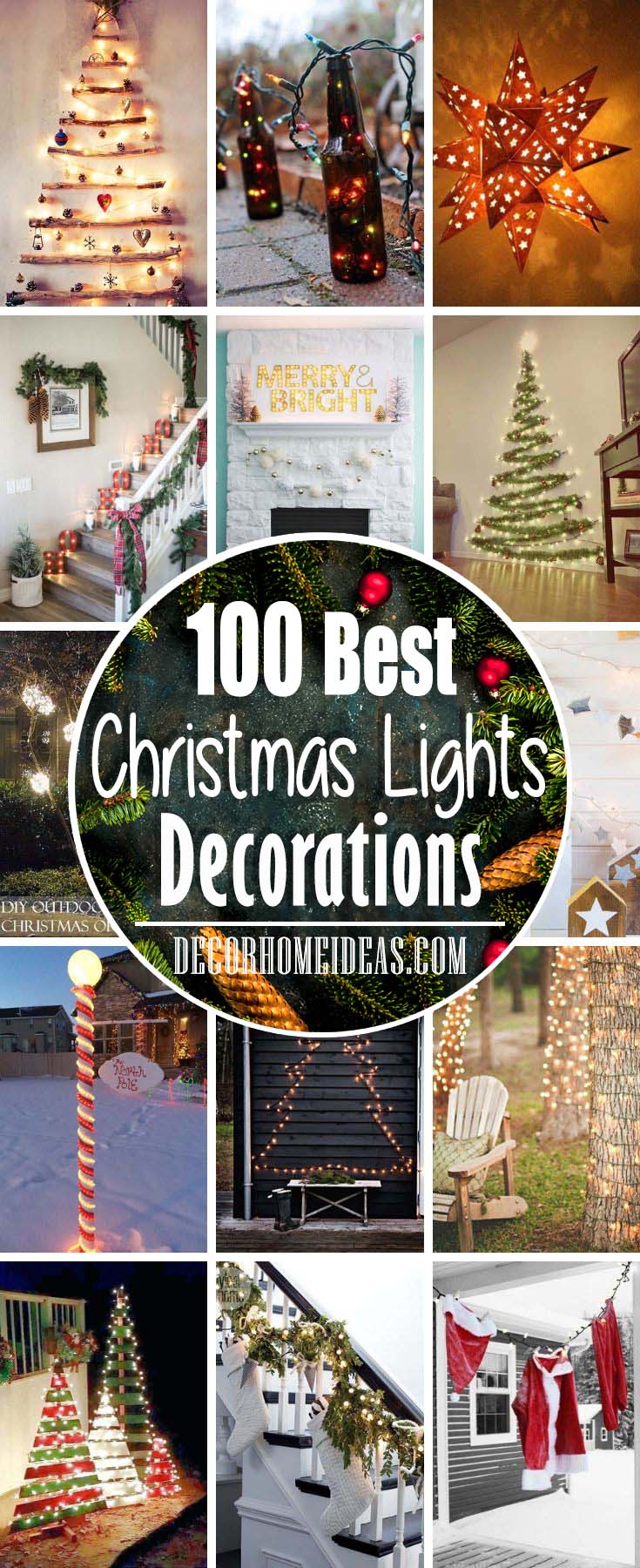 Please enjoy learning some new ideas! Creative Lighting, here we come!
1. Beer Bottle Christmas Lights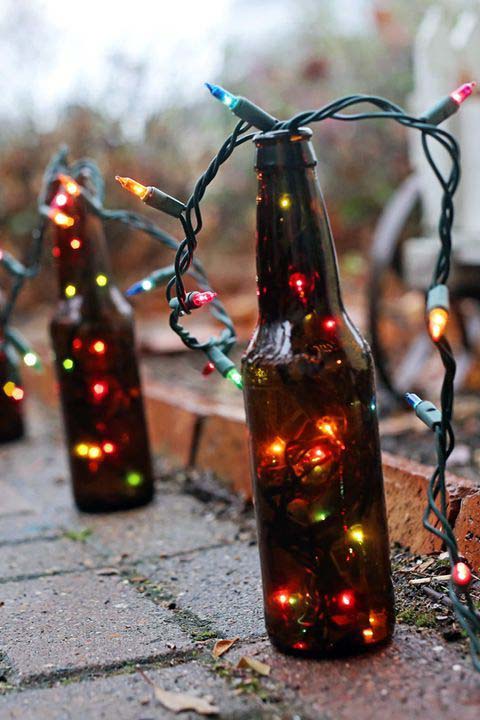 The picture makes these rather self-explanatory. If you drink more beer than you do milk this would definitely be easier than the milk jug lights.
via Paper Angelsvlog
2. Christmas Light Curtain Backdrop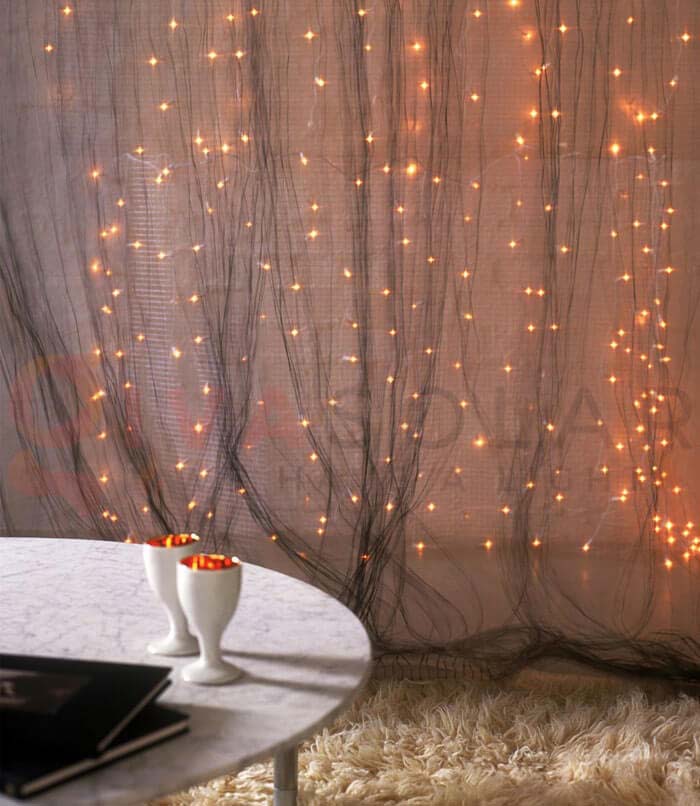 Wouldn't this be a fun backdrop for the stage of your nativity scene that the children act out on Christmas Eve?
3. Christmas Light Draped Tree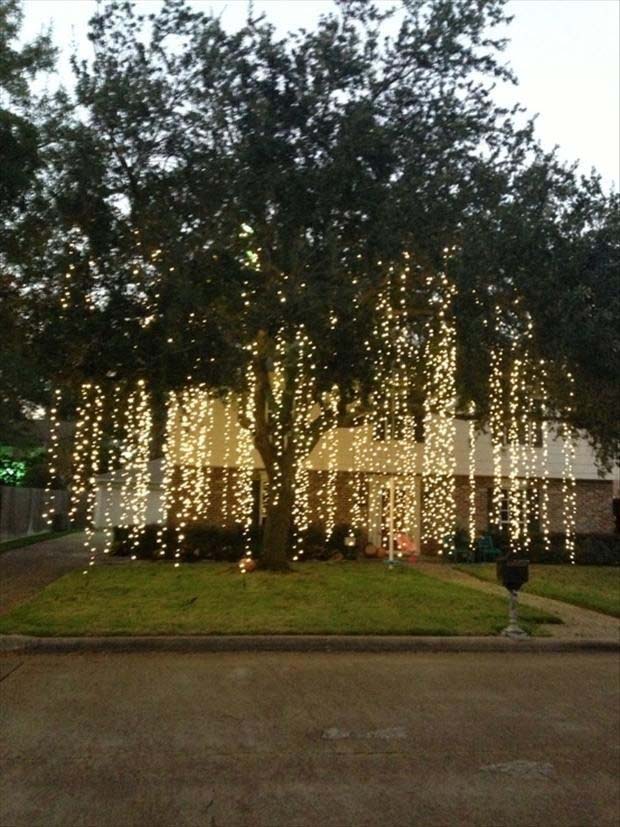 Now, this one looks easy and fun maybe we go with too much effort putting the lights on the tree, just straight them from the branches.
4. Christmas Light Marquee Sign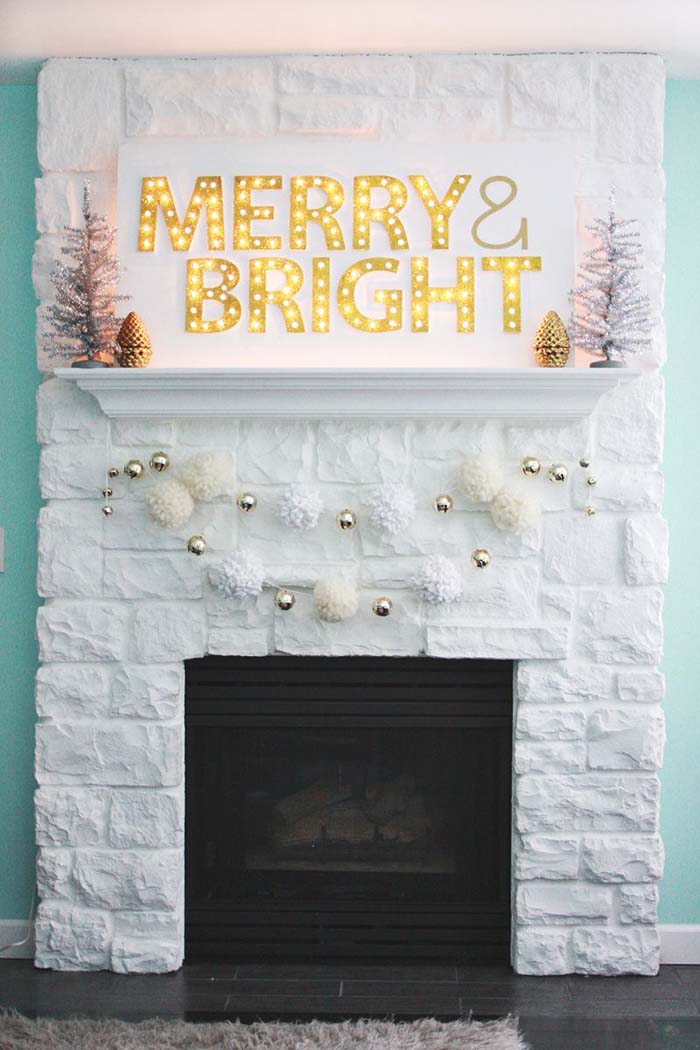 Using lights with the wire letters that you can buy at the craft store, you can personalize your sign to say anything you want and brighten up your holiday and your room.
via A Beautiful Mess
5. Christmas Light Tree Card Holder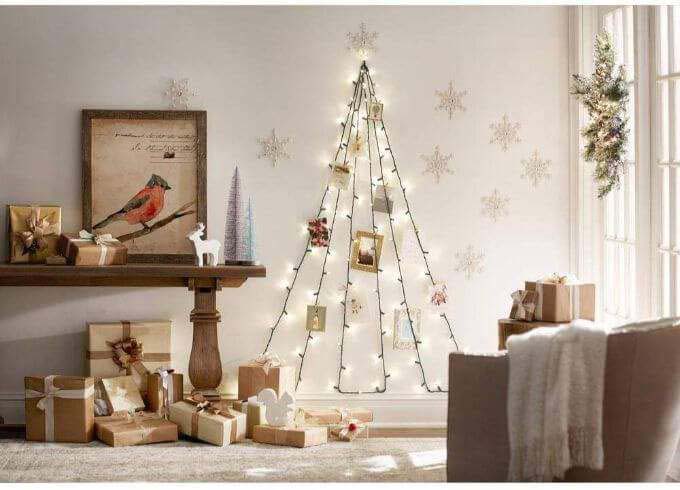 Lighting up your Christmas cards on a tree on the wall is such a fantastic idea. You can display your cards with pride throughout the holiday season.
6. Christmas Light Tree with Lit Up Star Ornaments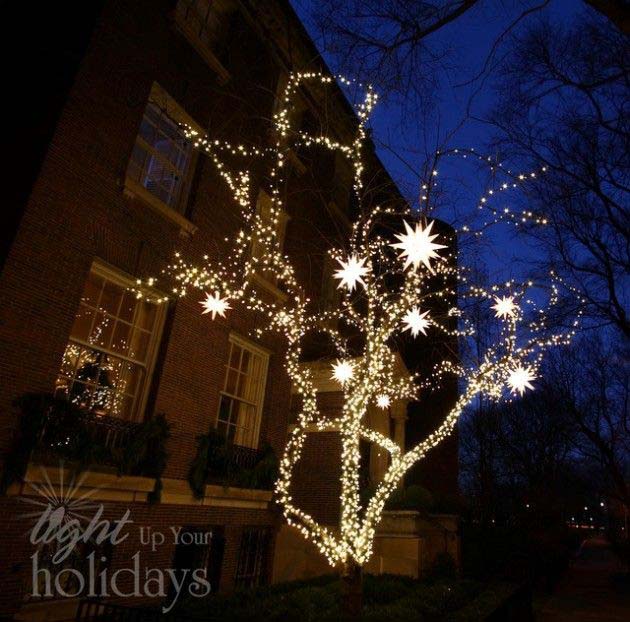 A simple star becomes magnificent once you add the lights, and stars mean something special to each of us.
7. Christmas Light Trees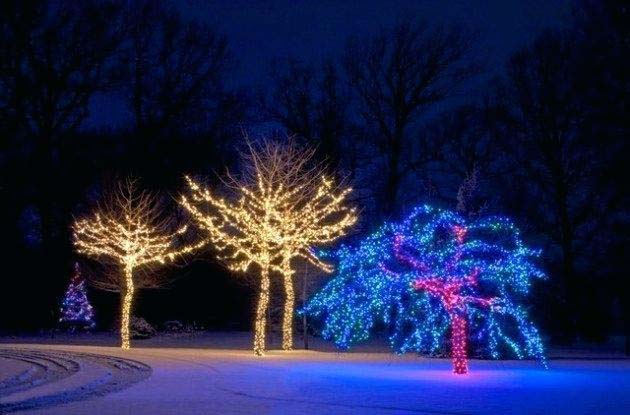 There's nothing more beautiful than the trees that have lights wrapped around every part of the trunk of the tree and the branches. It's so festive and magical.
8. Christmas Light Tunnel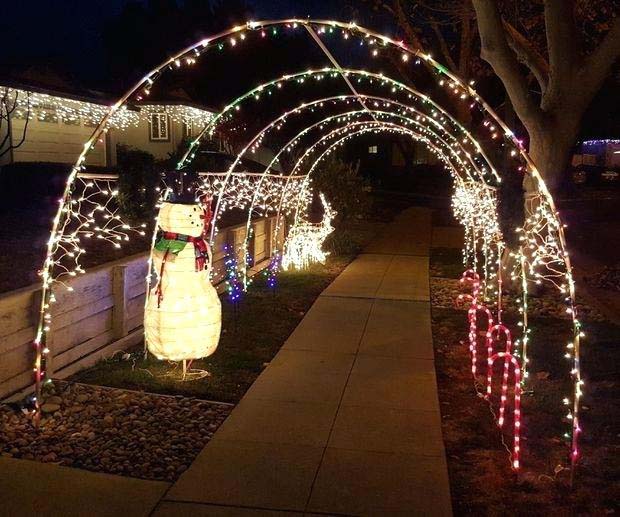 This Christmas tree tunnel going up your driveway or your sidewalk looks rather either easy with a little PVC pipe and putting in some re-bar to drop the pipe down over it and decorate away – how great is that?
via Instructables
9. Christmas Lights for Front Porch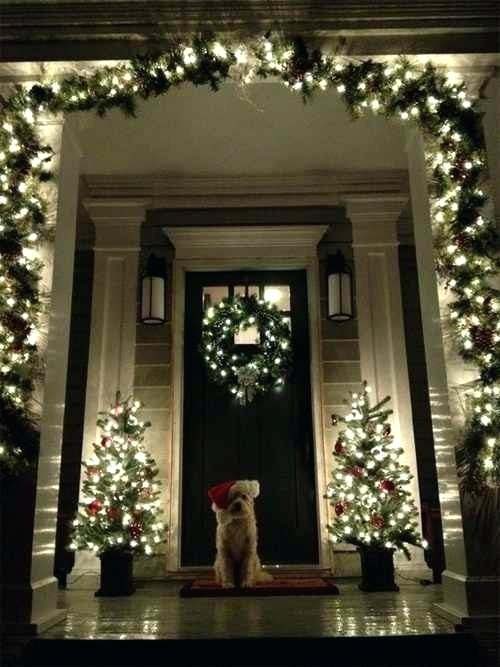 Doesn't this front porch look amazing with the lights on? It openly says Welcome, to our home, and a puppy adds to the scene.
10. Christmas Lights for the Front Porch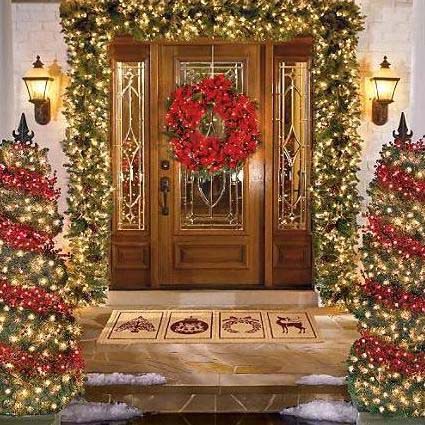 Porch Christmas lights on the trees and decorations are so welcoming to your home and easy to do because you're not out in the yard.
11. Christmas Lights Tree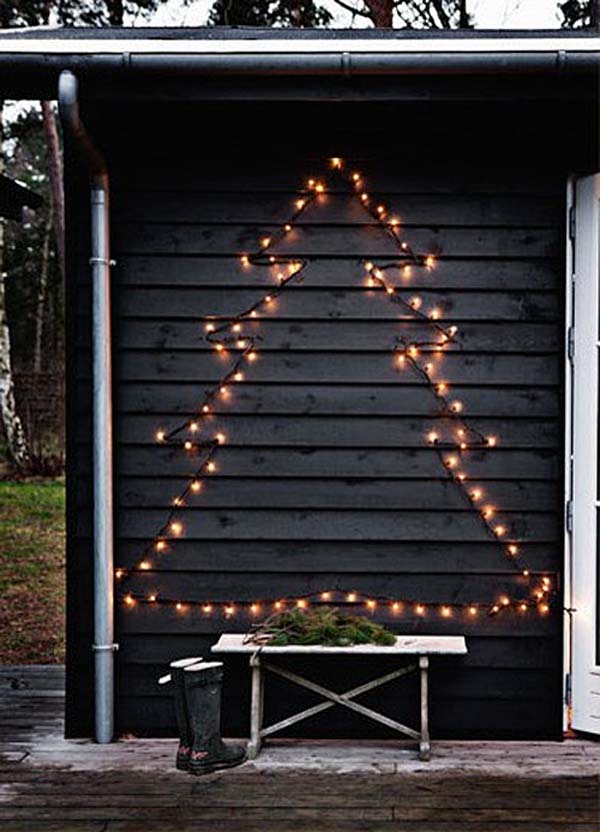 Some homes are not set up to have a tree in the front window, so having them on the front porch is a great option so others can enjoy your tree.
12. Christmas Lights Wrapped Around Trees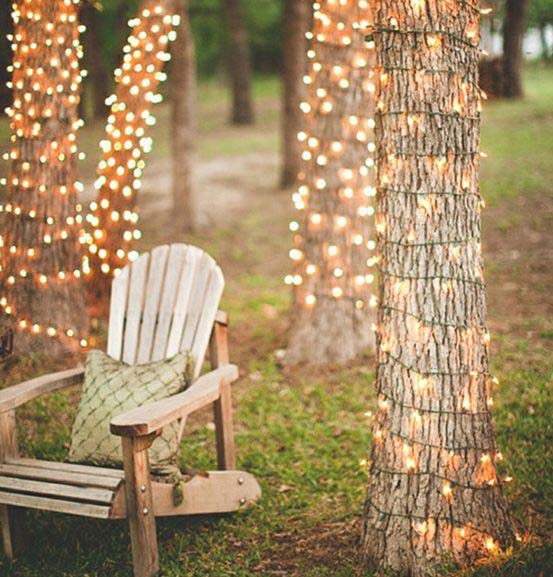 Christmas lights wrapped around the tree is What Christmas Means to all of us – the light, the bright and full of joy.
13. Christmas Sparkleballs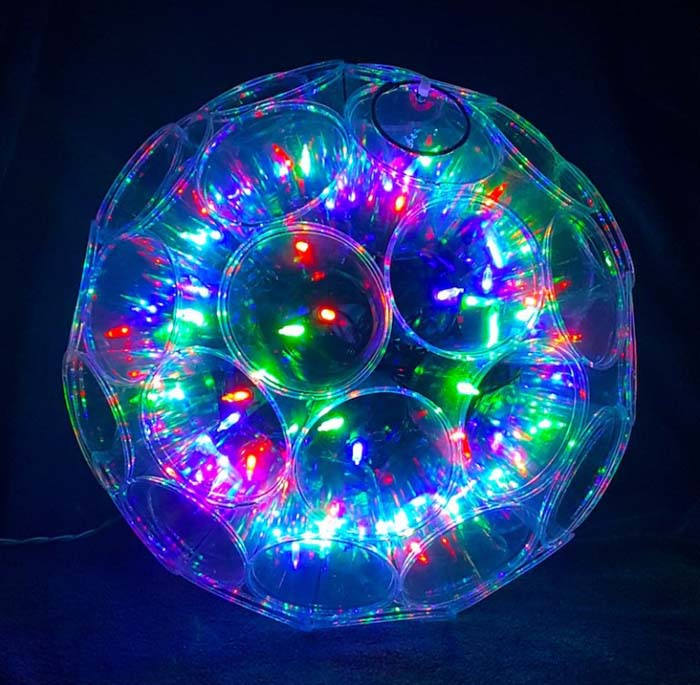 Christmas Sparkle balls are so much fun and easy to do and easy to store. That is always a plus.
via Sparkle Ball
14. Christmas Star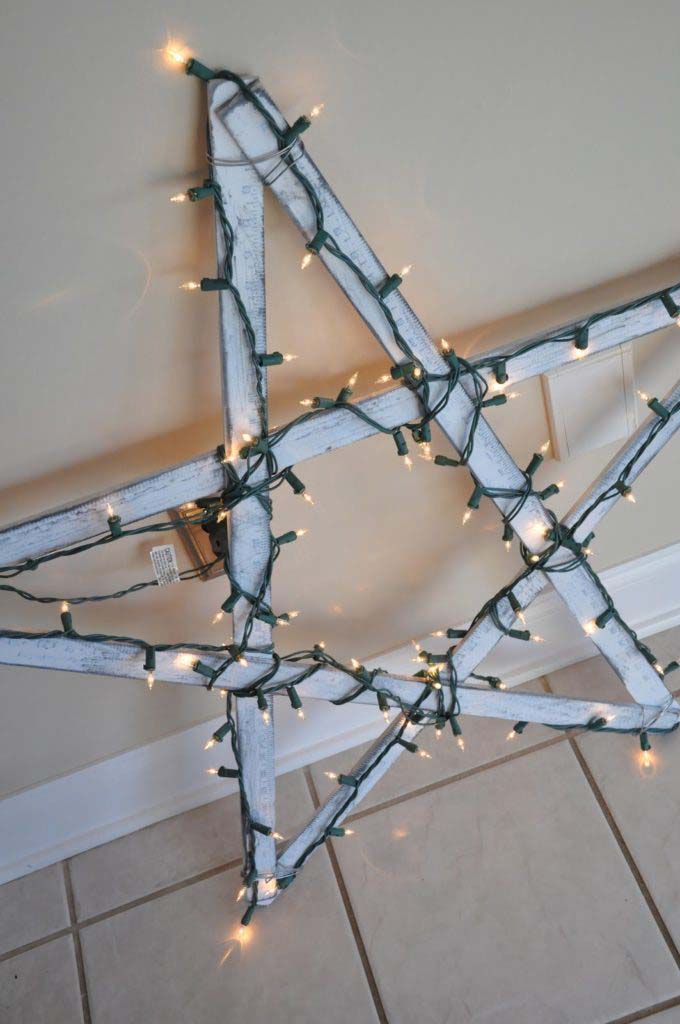 The Christmas star can be high on the house, or high on the tree but it always has a special meaning to both you and your family.
15. Colorful and Festive Christmas Lights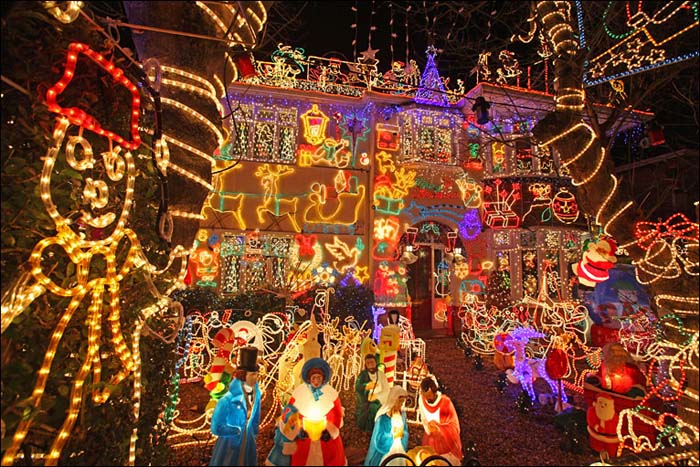 Many times we see Christmas lights that are colorful and bright, there is nothing in the world that says "Feliz Navidad" like bright and colorful lights.
via BBC
16. Dangling Christmas Lights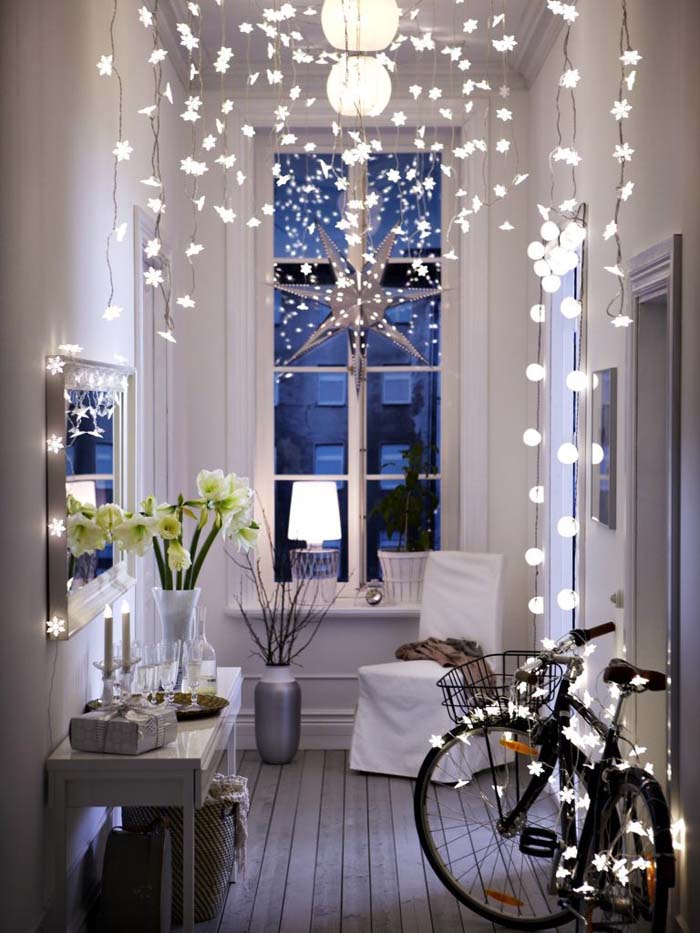 Dangling your Christmas lights is such a great idea. It's easy to hang a lot of bulbs to increase light, bright, and especially cheer.
17. Decorating the Stairs for Christmas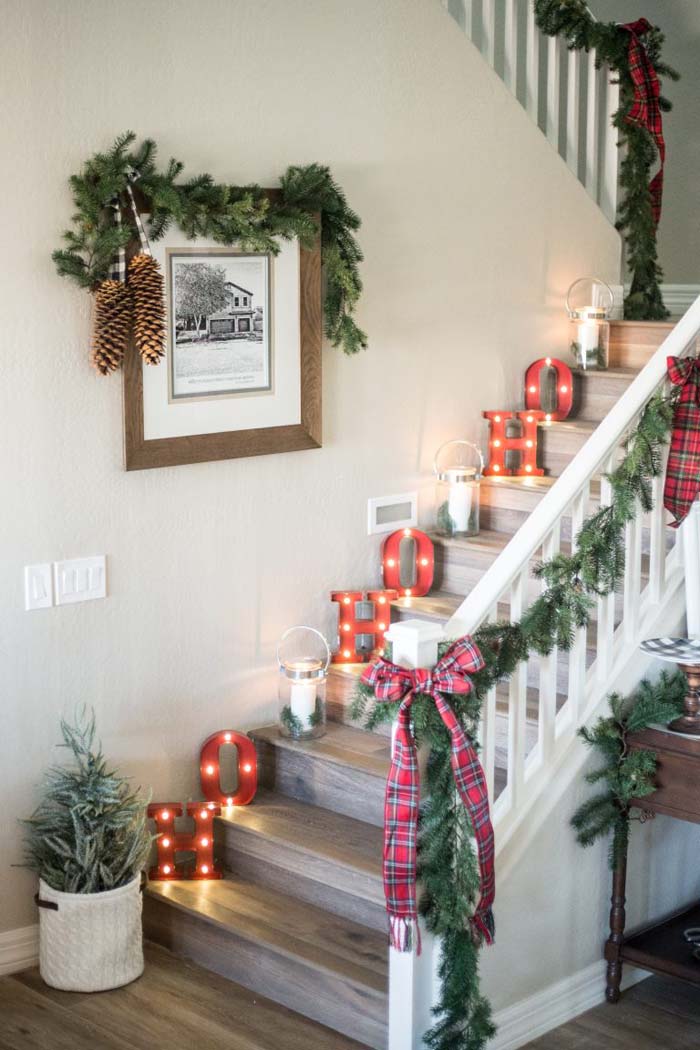 Decorating the stairs for Christmas opens your mind to creativity and sometimes not necessarily just Christmas decorations, but special things we can put on display that remind us a family gonе by.
via Just Destiny Mag
18. DIY Christmas Topiaries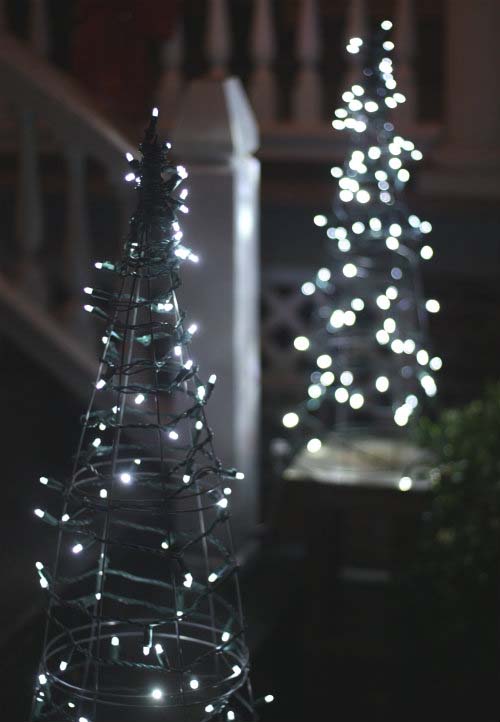 DIY Christmas topiaries are easy and fun to decorate due to the variety and they add such uniqueness to your home.
via 17apart
19. DIY Gold Star Christmas Lights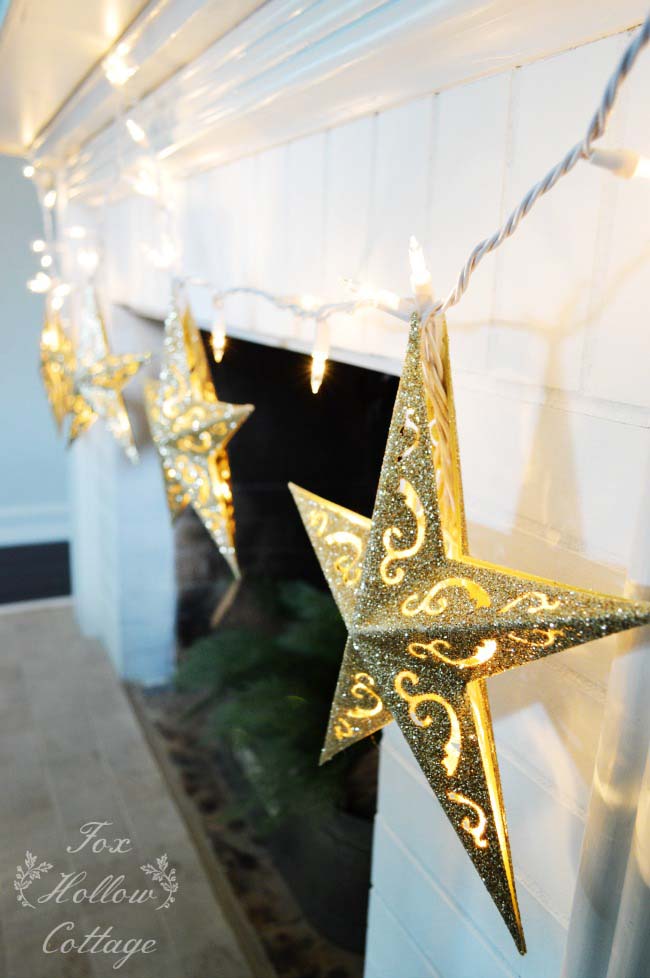 The fancy little trick is that you can pick up these gold stars at almost any Dollar Store. Split apart the top just a little bit, and your lights will fit right inside and through the openings, they will glow brightly and magically.
20. DIY Noel Marquee Sign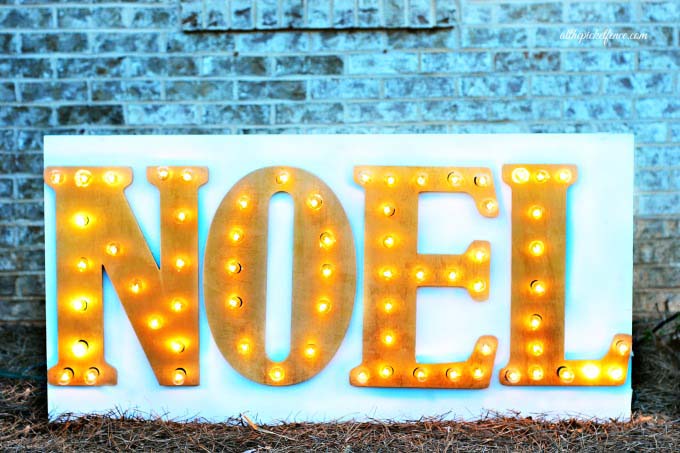 Noel Marquee sign is such a great idea for the yard, for the window and easy to do with a little bit of wood and a little bit of effort, add a few letters from the craft store and your lights.
21. DIY North Pole Sign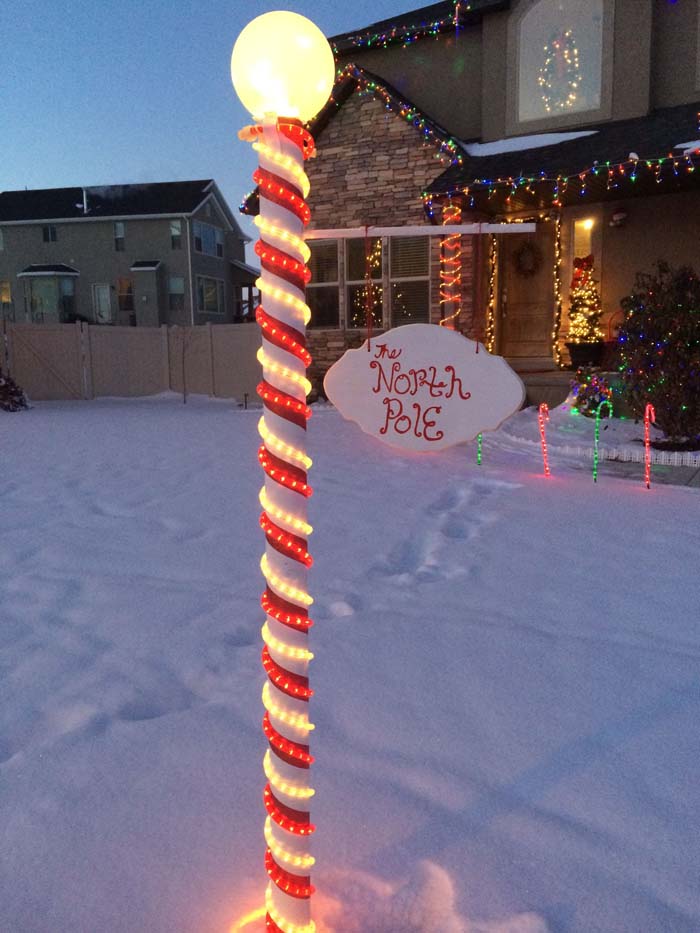 Rope lights give the bold front look when you wrap them around a tree or a pole for the North Pole to remind Santa to come to the North Pole to drop off his gifts.
22. DIY Snowman from Plastic Cups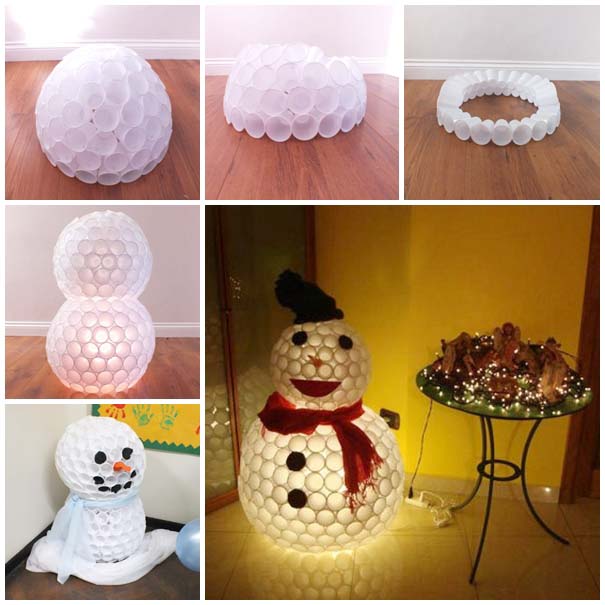 This one looks so fun with the plastic cups, the lights and creating and decorating your own Frosty the Snowman – cup Style.
via Wonderful DIY
23. Elegant Globe Lights Garland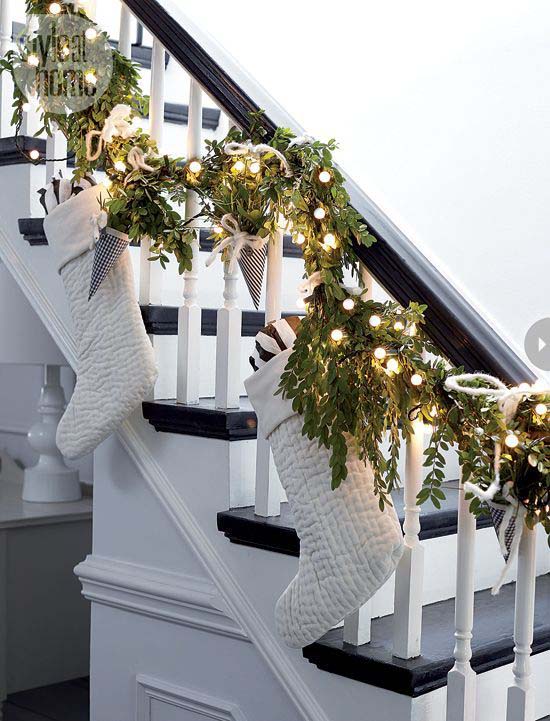 These garlands are easy to do, and they do certainly look elegant.
24. Entryway Lighted Burlap Garland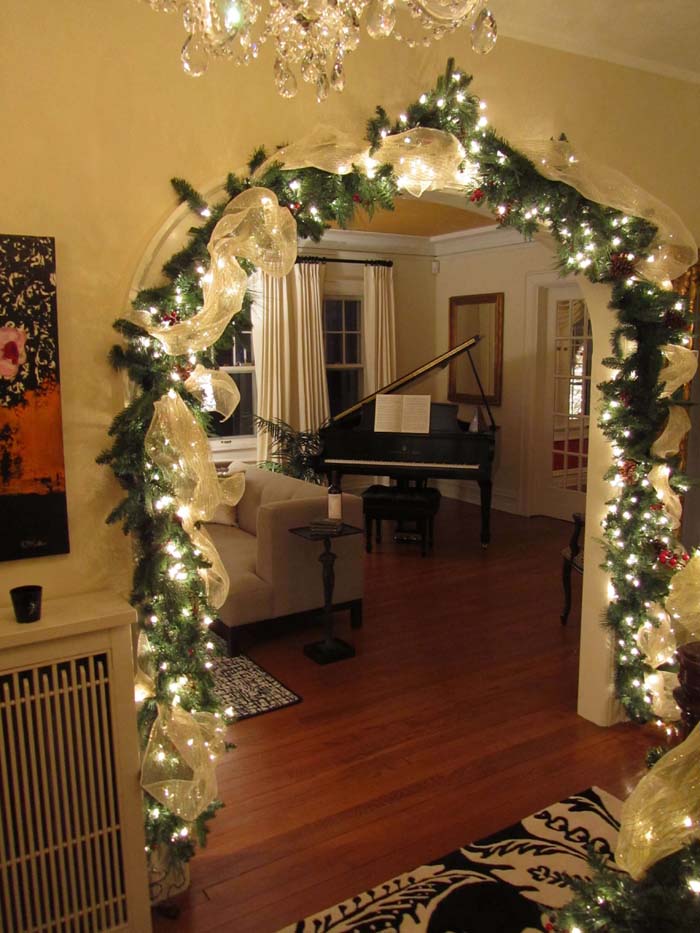 Cutting up fabric and burlap and tying it along your lights. It is as easy as A, B, C and you have your own garland.
25. Fairy Light Globe DIY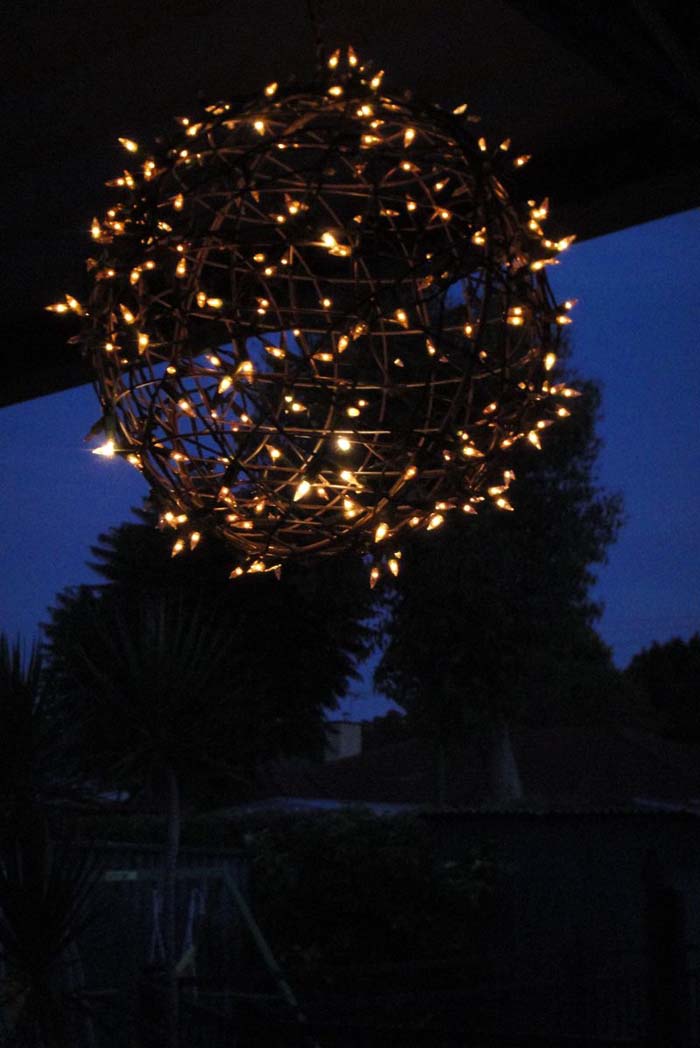 This sure looks like fairies should be approaching to enjoy the celebration of Fairy Christmas.
26. Faux Christmas Tree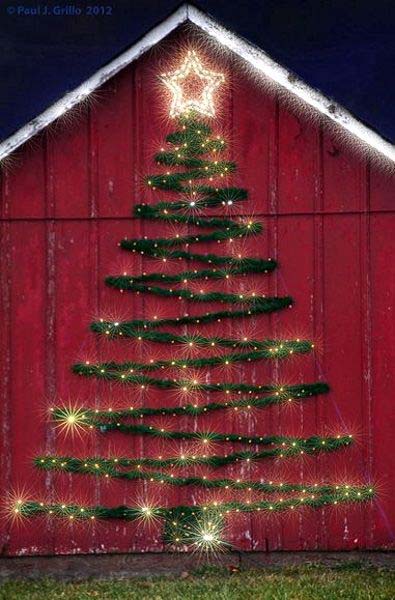 Nothing fake about the great look of this fabulous tree. Faux is just a frame of mind, not a condition,
27. Faux Fire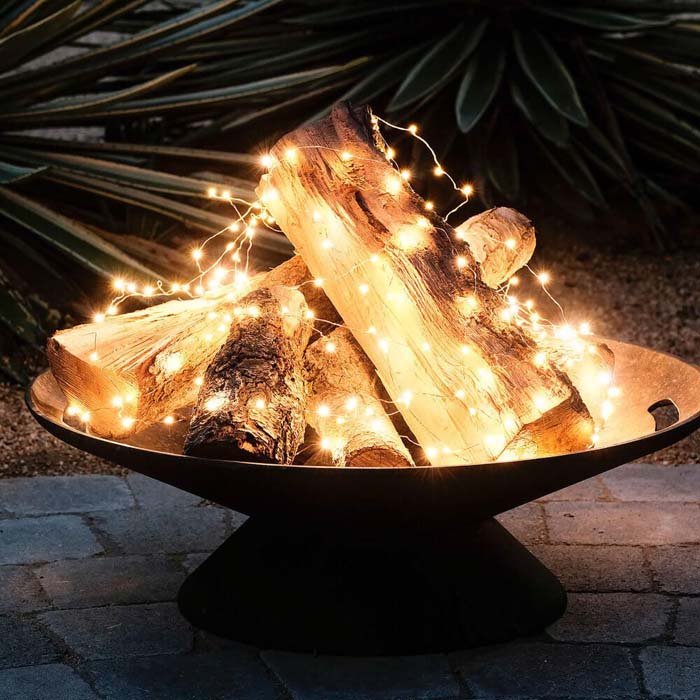 This fire idea looks creative festive, warm and inviting. It looks like something every family should try for the holidays.
28. Feathered Christmas Tree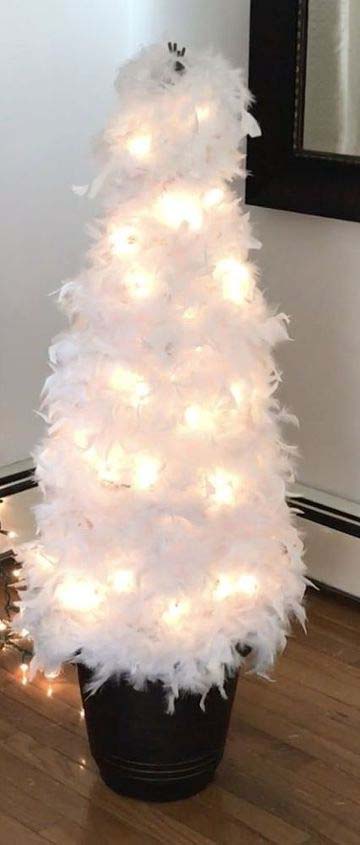 Not sure this one is for everyone but it looks soft and fluffy and I'm sure the girls in your life will love it.
via Home Talk
29. Framed Christmas Card Display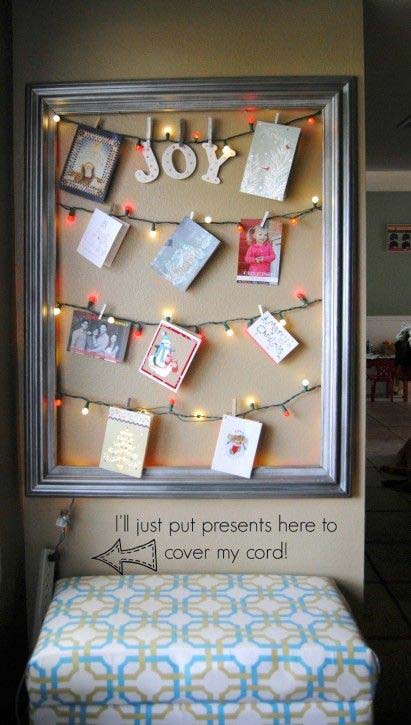 Displaying your Christmas cards with pride is something of the season and something we should not let pass with the digital age.
30. Galvanized Christmas Basket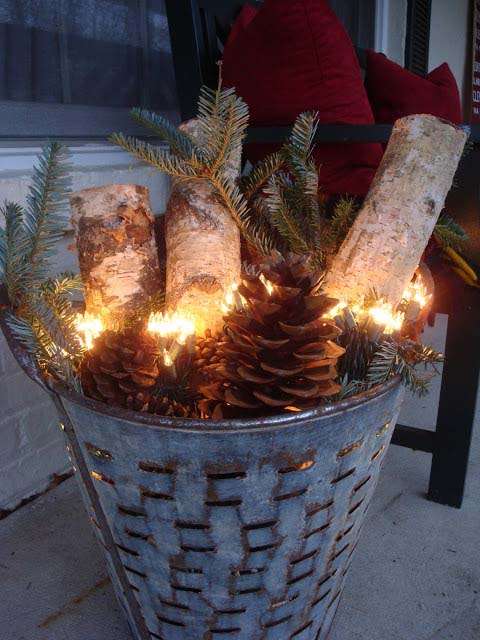 This looks so festive and it's wonderful for a cabin or farmhouse. The lighting gives you the effect of a fireplace even if you don't have one.
via The Polo House
31. Garage Door Christmas Tree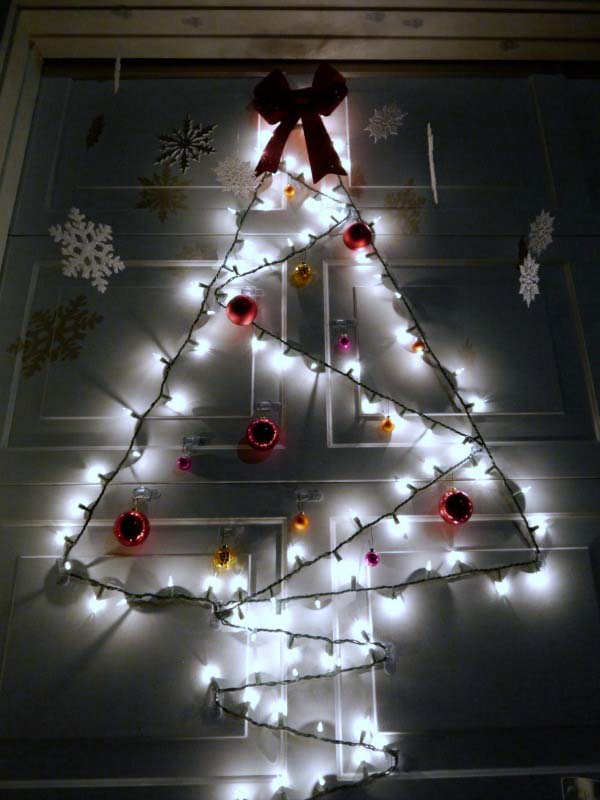 This is a great way to decorate, the garage door. Christmas tree what a great idea.
via Creating Really Awesome Funthings
32. Grinch Stealing Christmas Lights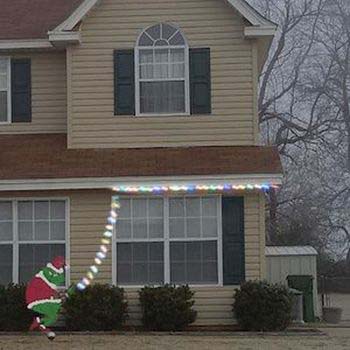 Stop the car! Trust me, this one is a real car stopped and a great prank to set up in your neighbor's yard.
33. Grouped Lanterns Christmas Lights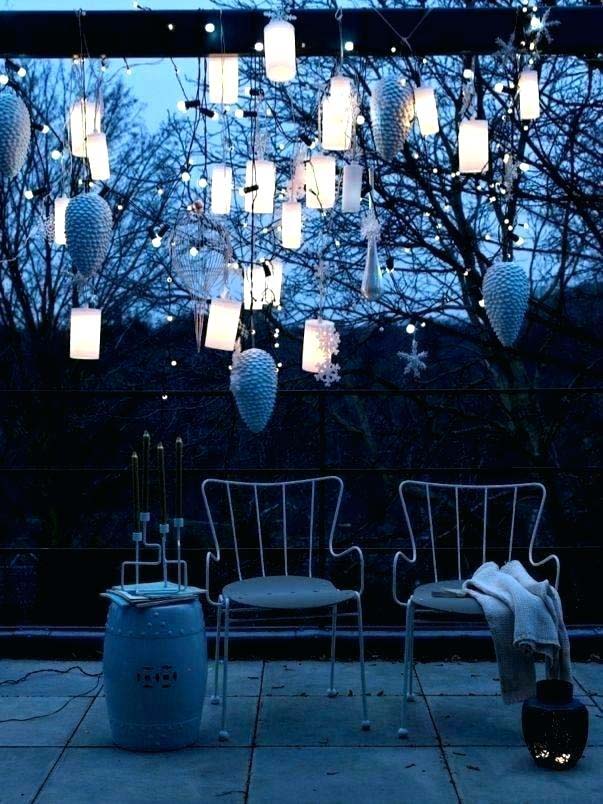 Hang some pendants, faux pinecones and bulbs on your front porch to create the festive atmosphere.
34. Hanging Santa Suit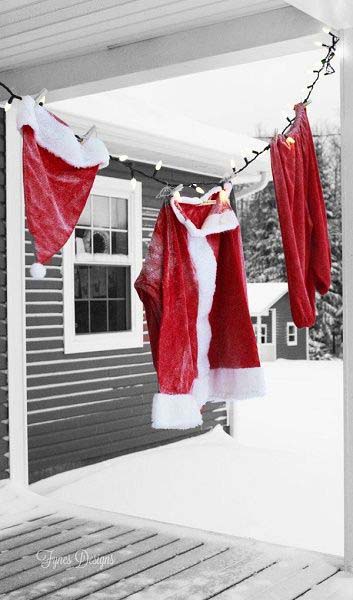 Perfect! As creative as you can get, the lighting and hanging of Santa suit. Seriously, that is adorable and brings all sorts of the images of Mr. Clause for the children and that magical time of the year.
35. Hola Hoop Lights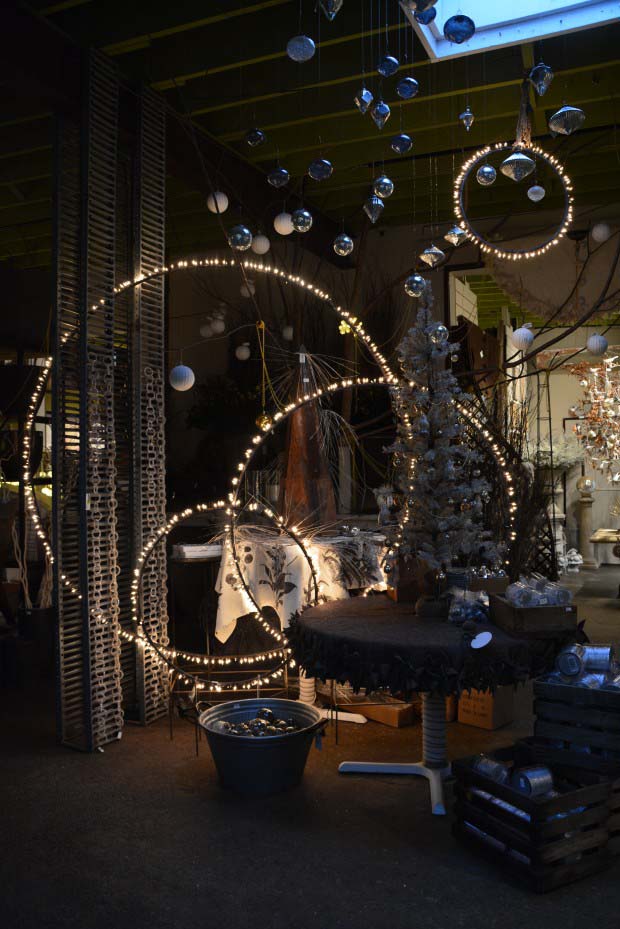 Hula hoop lights are great for special events and dance gatherings. Christmas parties or company parties as they create an ambiance like nothing else.
via Deborah Silver
36. Hula Hoop Chandelier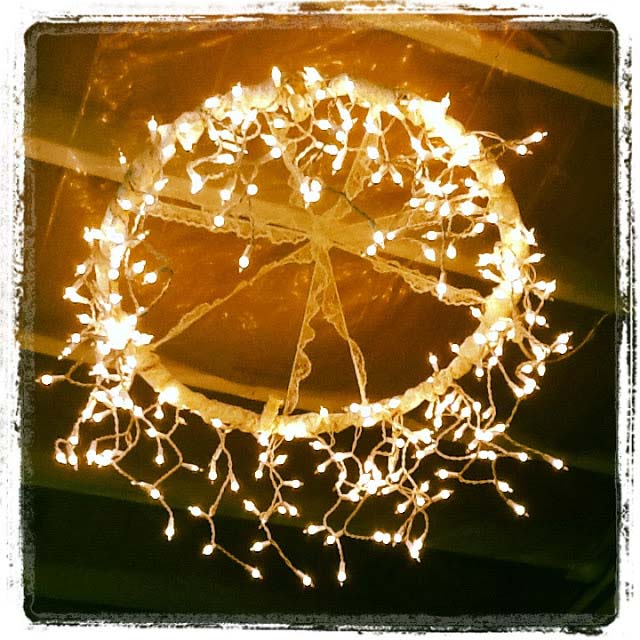 Can't afford a chandelier? Well, I bet you can afford a hula hoop and a few lights and a little bit of creativity. Pretty soon you have your own chandelier, the Envy of all the neighborhood.
37. Large Christmas Light Balls Snow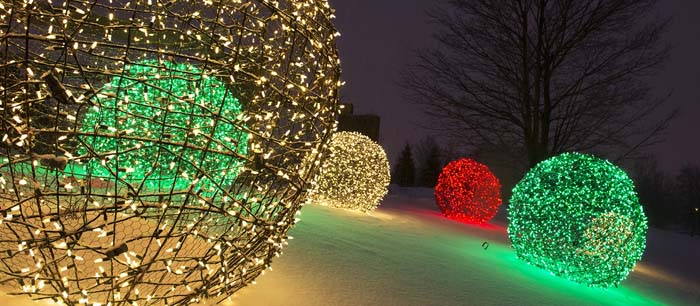 Do you hear the Bells on Christmas Day. These large Christmas light balls will definitely make you wonder.
38. LED Christmas Lights Tree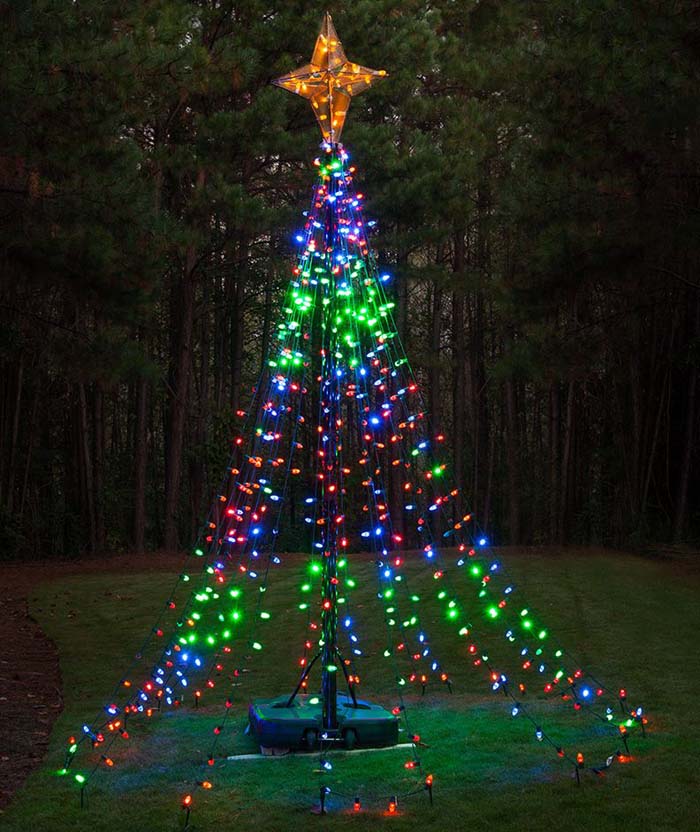 Either you love or hate LED lights but you can't love or hate a Christmas tree that's lit by LED lights that's fun and exciting.
39. Light Balls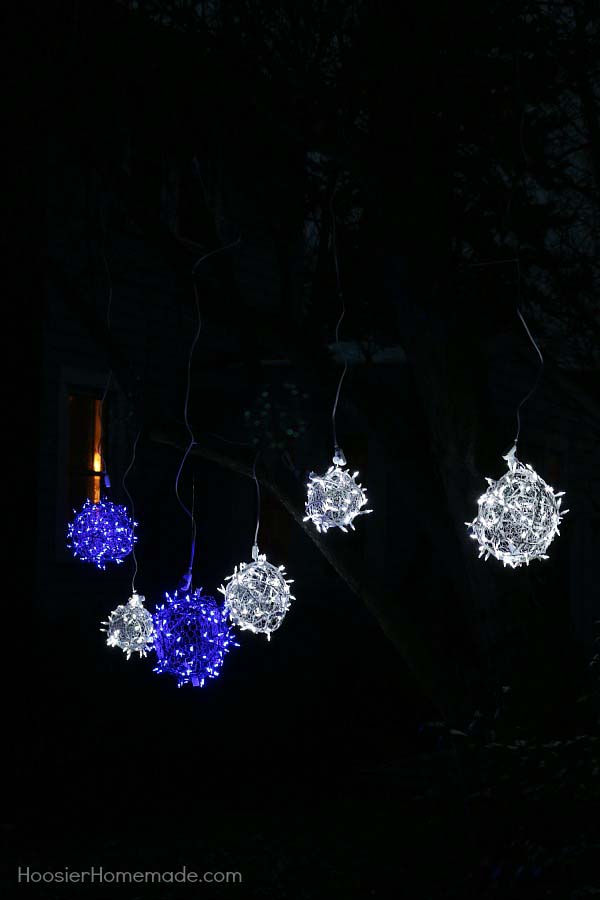 Light balls which are light years ahead of everything else in creativity and making your Christmas fantastic fun and brighter.
40. Lighted Burlap Garland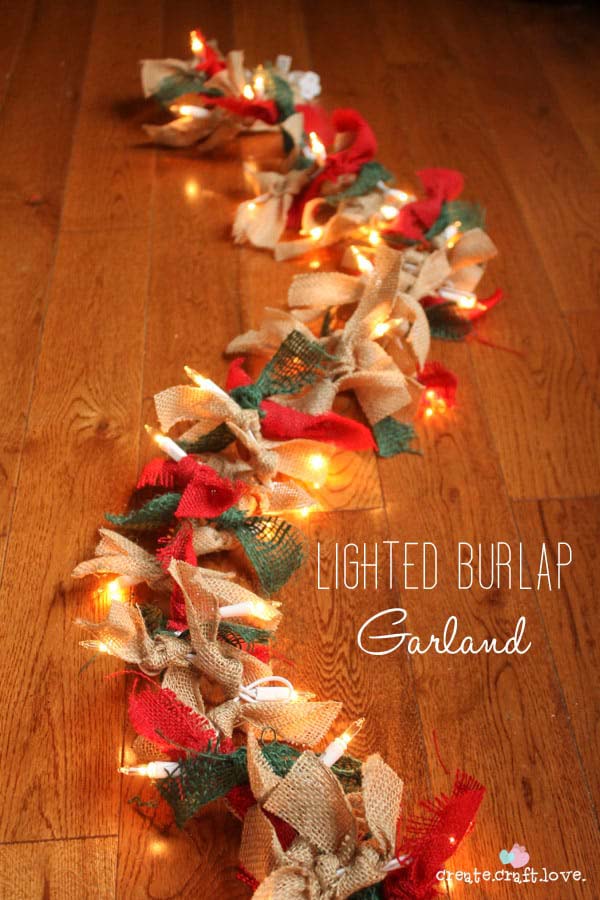 This is almost like cheating creating your own lit burlap garland and everyone will think you spent significant money on it.
41. Lighted Candy Garland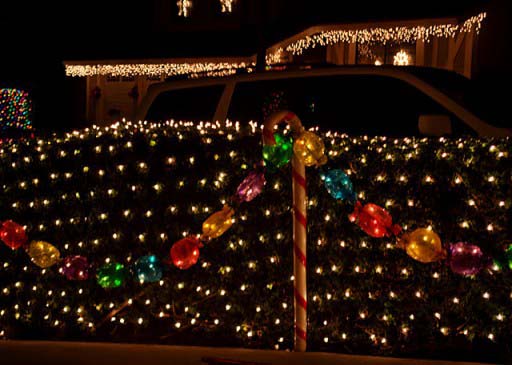 Now, try the lighted candy garland, it's so creative idea and funny. Much prettier, and much sweeter.
42. Lighted Christmas Garland Wreath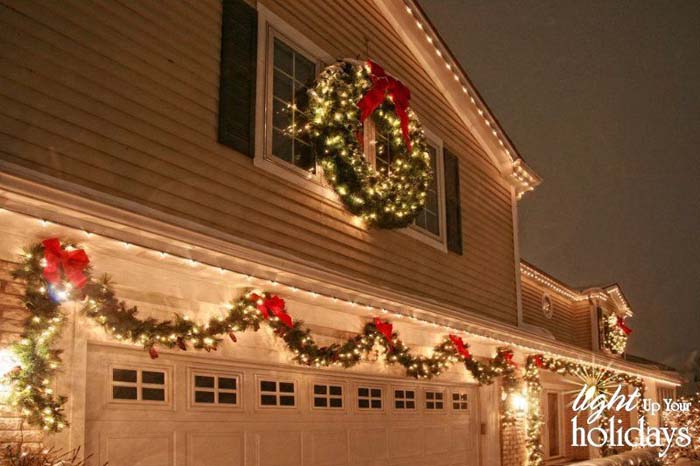 Have you seen the strands of solar little blinking lights? They are fantastic for things like wreaths, banisters garland, or wherever you want to put it. The best part is they don't even need batteries just push the button and the lights start to Blink.
43. Lighted Christmas Sign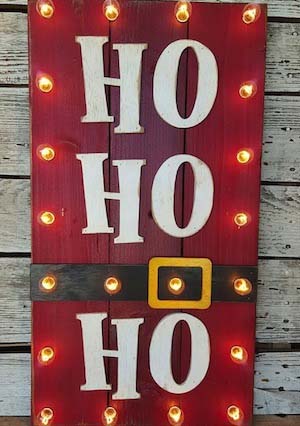 All lit Christmas signs are great ideas for the outdoors with a message to read.
44. Lighted Christmas Wreath and Curtains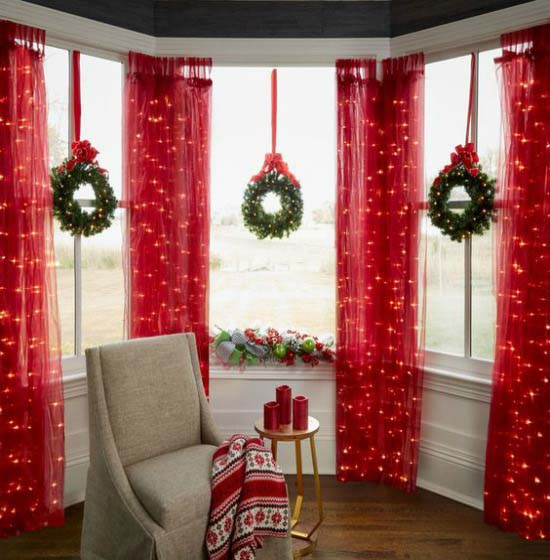 Oh my gosh isn't that gorgeous? The lights in the curtains and in the wreaths are so festive and so beautiful.
45. Lighted Doorway Garland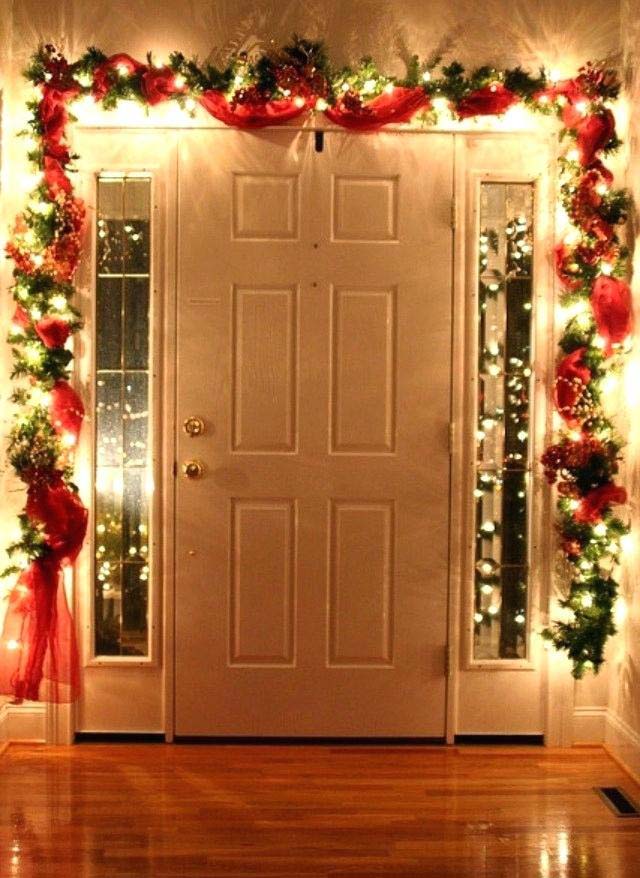 Lighting the doorway garland is such a fun way to welcome your guests to your home during the holidays, and it brings light to such a dark time of year.
46. Lighted Holiday Planter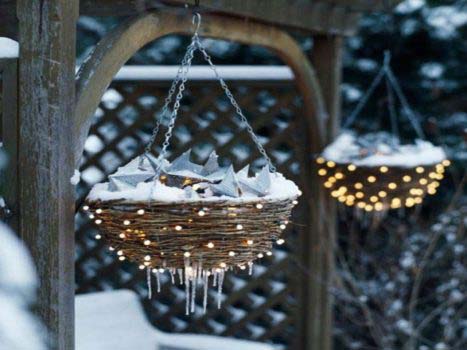 Putting a few twinkling lights in your planter is such a great idea to lighten the way and bring light to your holiday.
47. Lighted Presents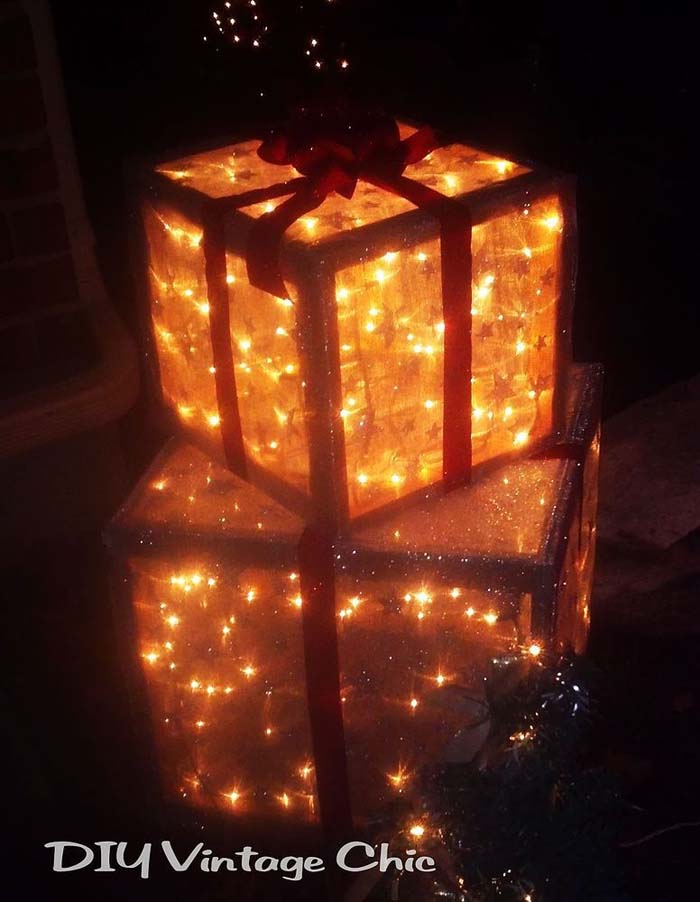 These presents are so glamorous when the lights have been added to the inside – little paper or bows for the daytime, and the lights for the night time and it's the perfect outdoor decor.
via Diy Vintage Chic
48. Lighted PVC Candy Cane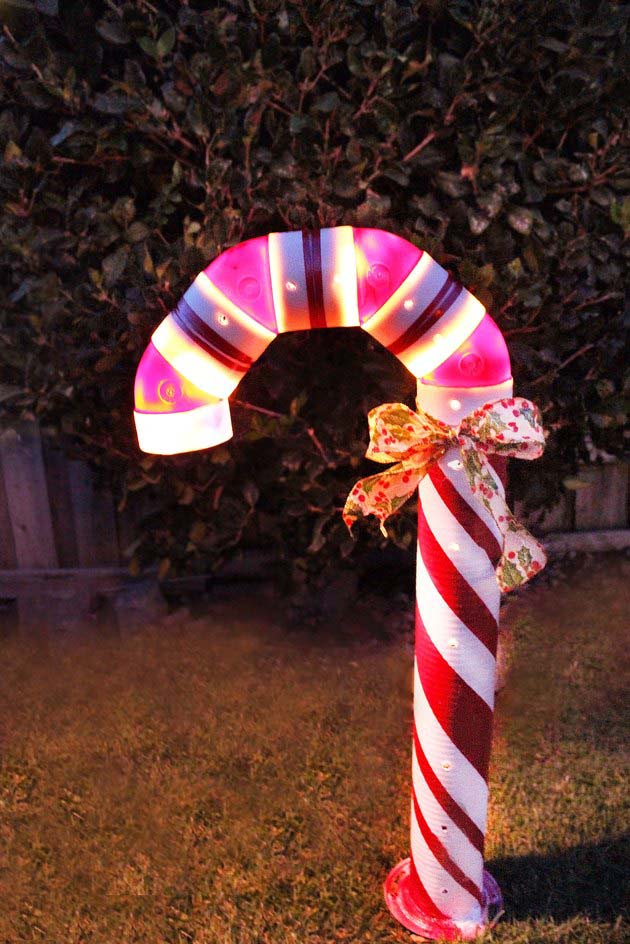 Put a few lights in your PVC candy cane and watch it glow it's a fantastic ambiance for your yard.
via ehow
49. Lighted Spire Ornament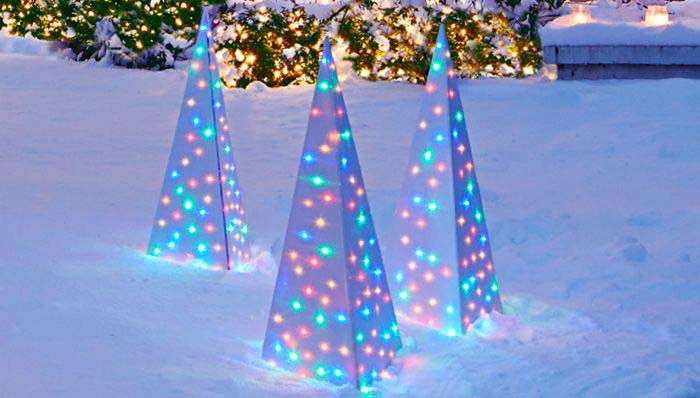 This is something that you should make for your holidays, it adds a little extra that you need for truly decking the halls.
via Lowes
50. Lit Snowman Wreath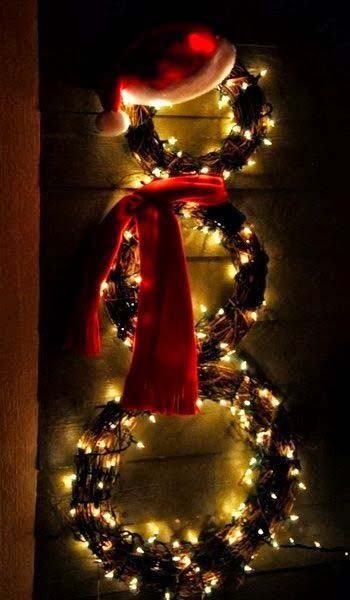 Oh, the weather outside is frightful but the Snowman all lit up is so delightful.
51. Lit Up Front Porch Garland and Trees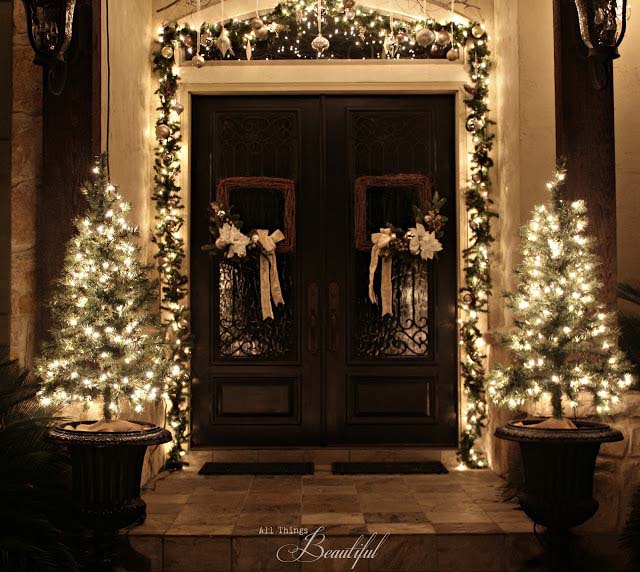 Oh Christmas tree, oh Christmas tree, how beautiful you are on the porch with garland and lights.
52. Mason Jar Chandeliers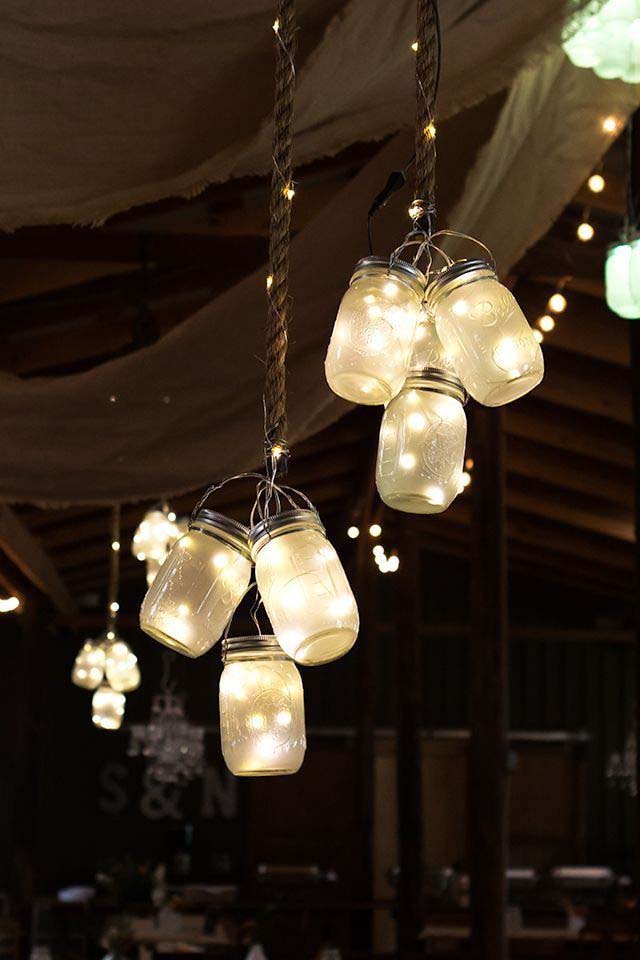 The Mason jar chandelier is definitely something special for this time of year.
They are great in all sorts of colors. Just add in lighting for your special dinner or your special day or even for the holiday.
53. Mason Jar Light DIY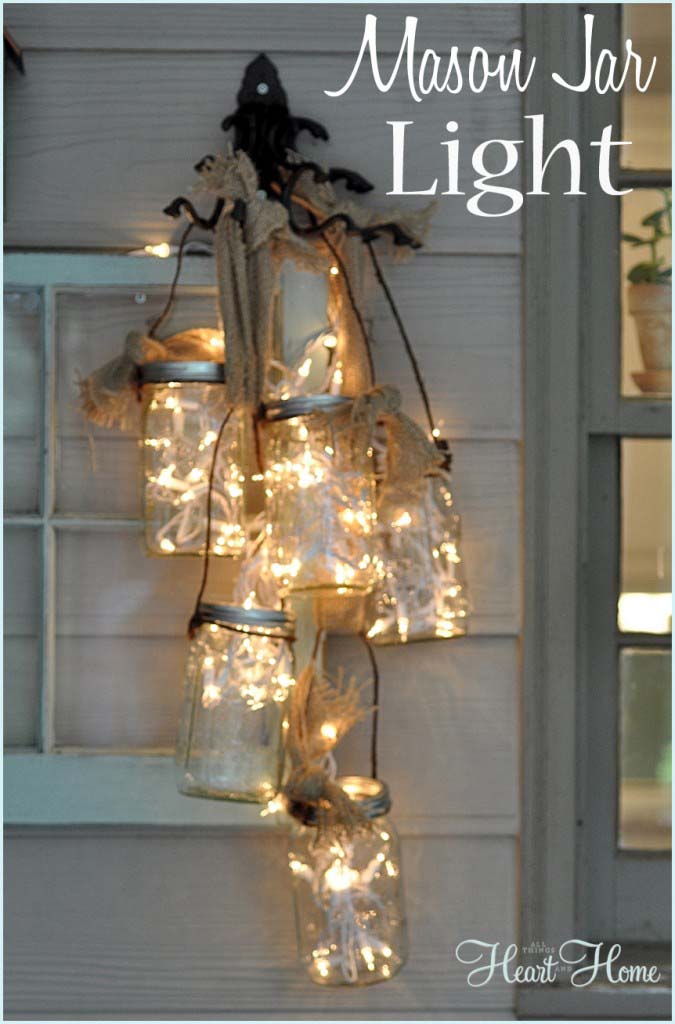 Do-it-yourself lights in mason jars are so easy, and you can use all sorts of creativity. Bunch them or spread them out, put them on the table, hang them, the possibilities are endless and the lighting is fantastic.
54. Outdoor Christmas Lighting Decorations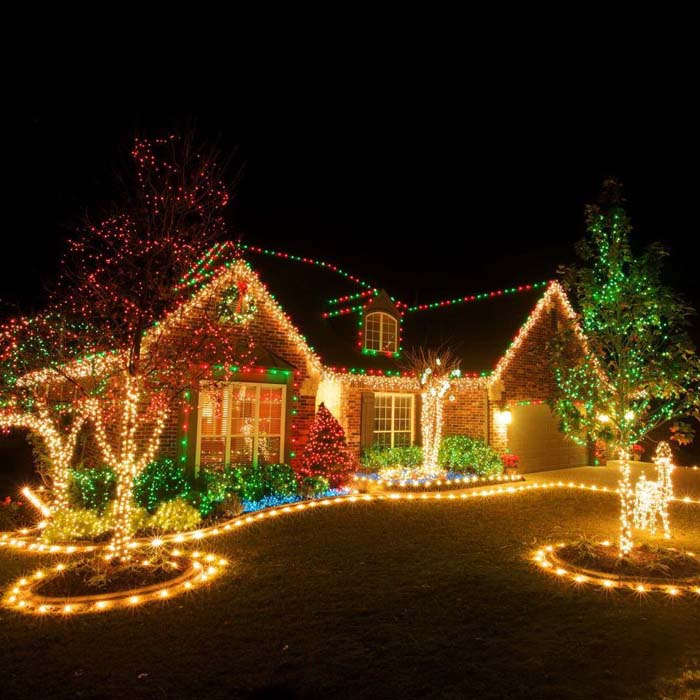 All the old traditions, like driving around and looking at all the beautiful homes decorated with outdoor Christmas lights needs to be something we keep as a tradition. If we do these things with our families and in our homes, the traditions will remind us – it's so beautiful.
via Foodnetwork
55. Pallet Christmas Tree

Did you have any idea it was so easy to make a pallet Christmas tree? Just cut your palette and add your lights? Do you think everyone should have one of these for their yard and the leftovers in your fireplace?
via Jolenes Crafting
56. Pallet Christmas Trees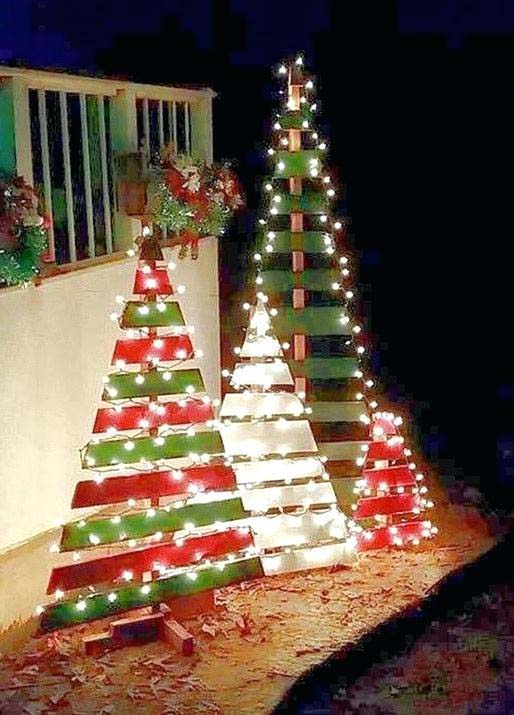 Paint your pallet Christmas trees in red, green and white to make them even more cheerful.
57. Pinecone Vases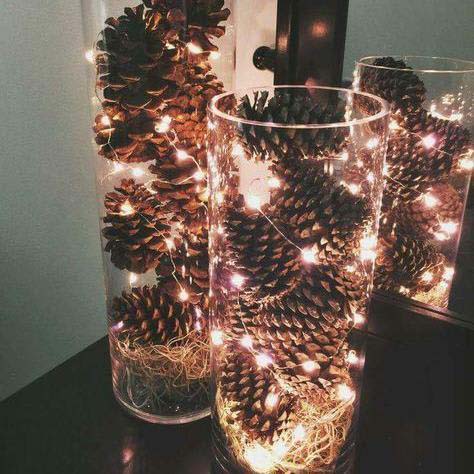 Pinecone decorating is so much fun there so many possibilities. Have you put them inside a glass jar?
It sure adds a whole new element, a whole new depth, to pinecone decorating. What a festive feeling that the pine cones in the lights bring to your home.
58. Rope Light Walkway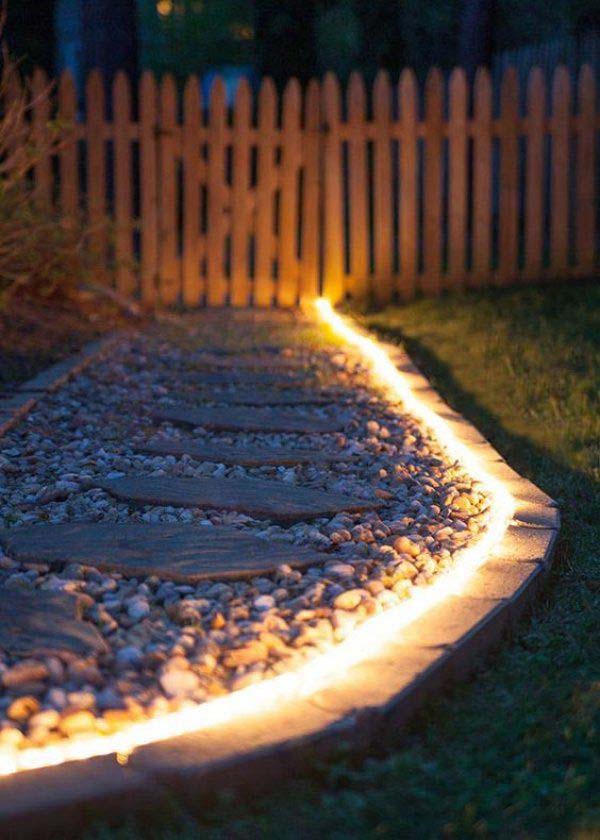 Fun rope lighting your walkway or your driveway seems like such an easy way to light up your yard and bring the good cheer.
59. Rustic DIY Light Up Christmas Sign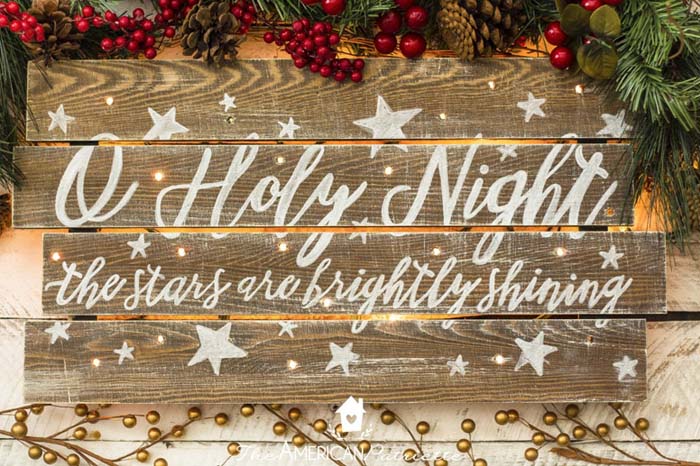 We all love The Rustic signs for putting the lights behind them at nighttime it's such a great idea to share them day and night.
60. Rustic Glam Mantel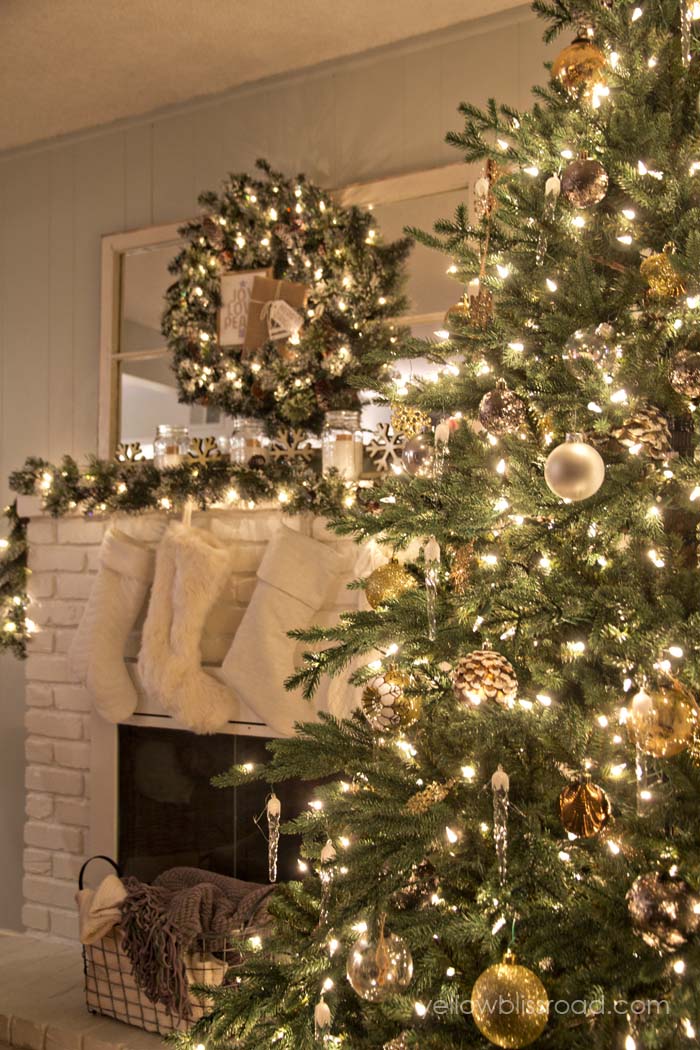 Well how about glamming up your rustic mantle and making it glamorous for the holiday.
61. Rustic Mantel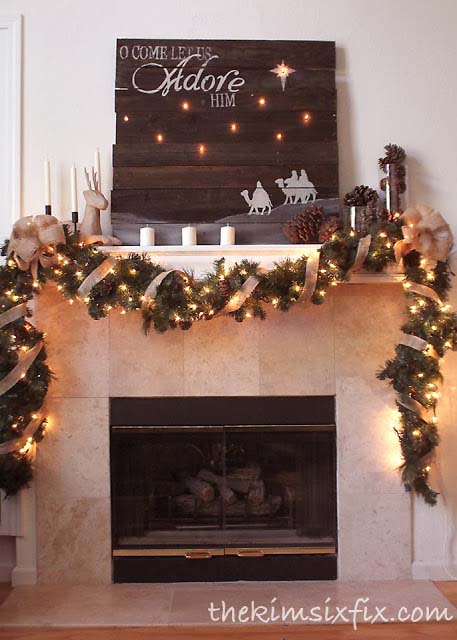 Being rustic is your thing the rustic mantel for Christmas brings memories of days gone by.
via The Kim Six Fix
62. Snowy Woodland Christmas Mantel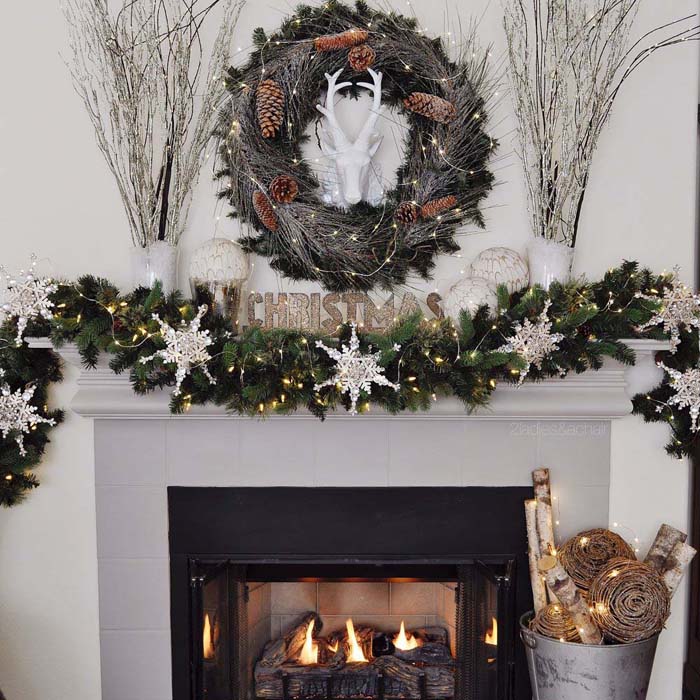 This snowy Woodland Christmas mantel is so gorgeous such a great idea of bringing Winter Wonderland into your living room to enjoy.
63. Star Lantern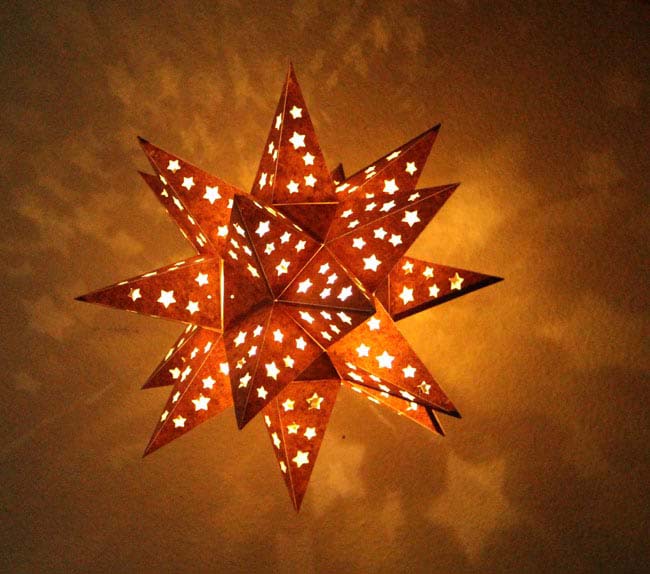 Lighting your star, creating a lantern with your stars, the lights illuminate your mood, illuminate your family, illuminate your holiday.
64. Starry Lights Window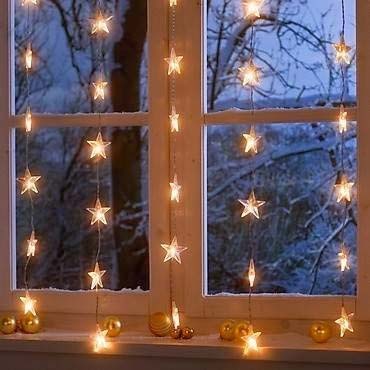 Windows lit by stars that create a mood for celebration and a Happy New Year!
65. Stars and Houses Christmas mantel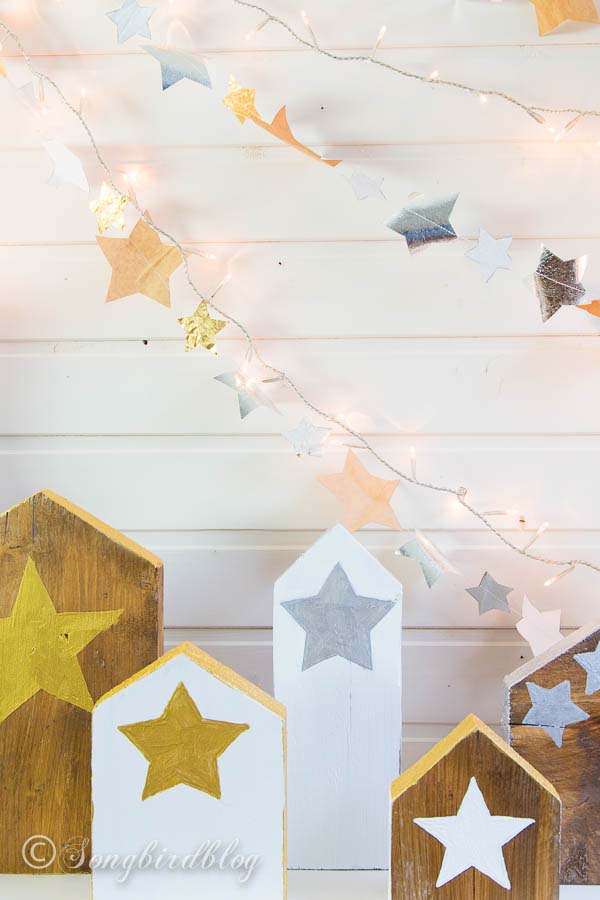 This mantle with stars at Christmastime and houses creates a feeling of home we all want to go home for Christmas.
via Song Bird Blog
66. Tomato Cage Christmas Tree Idea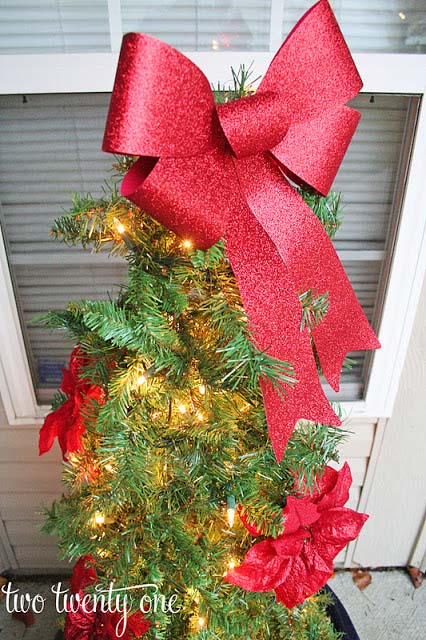 Such a great idea to create your own Christmas tree from a leftover tomato cage, the ambiance it creates is fantastic and it's not expensive either.
via Two Twenty One
67. Traditional Christmas Lights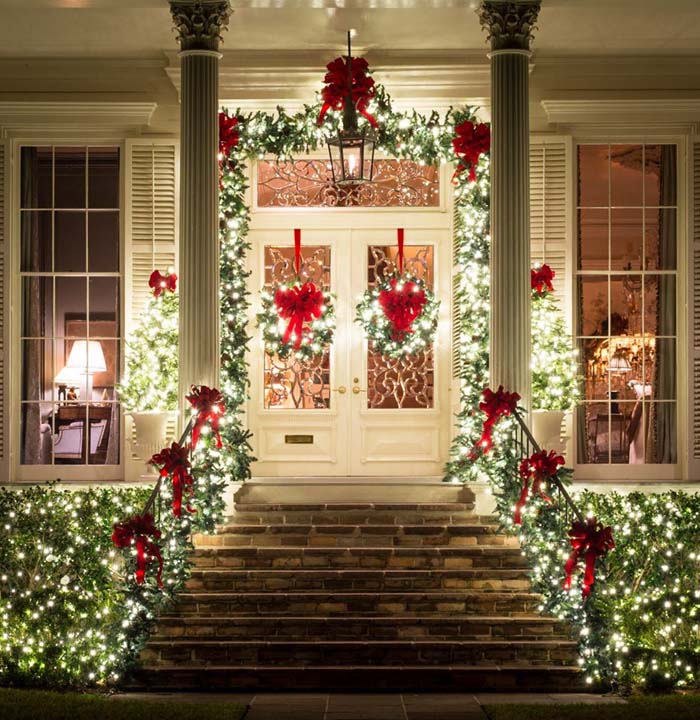 We all love traditional Christmas lights done just the way they were for Grandpa and Grandma, Mom and Dad and now for your children.
68. Tree Ball Ornaments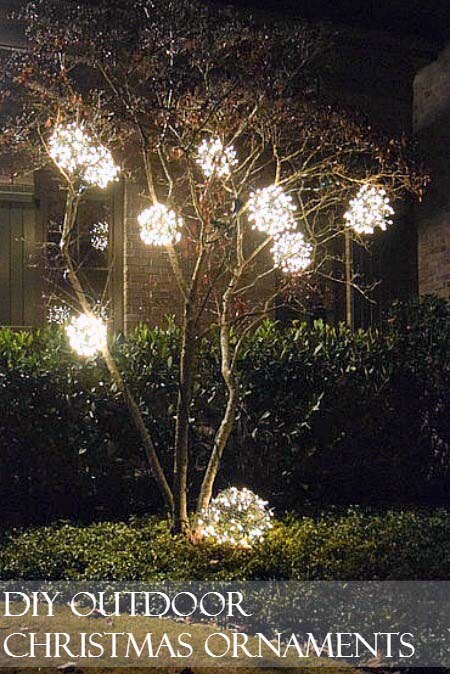 Christmas balls are so full of life, color and ring in the season of joy and fun. Imagination is so much fun when creating and decorating.
69. Wall Christmas Tree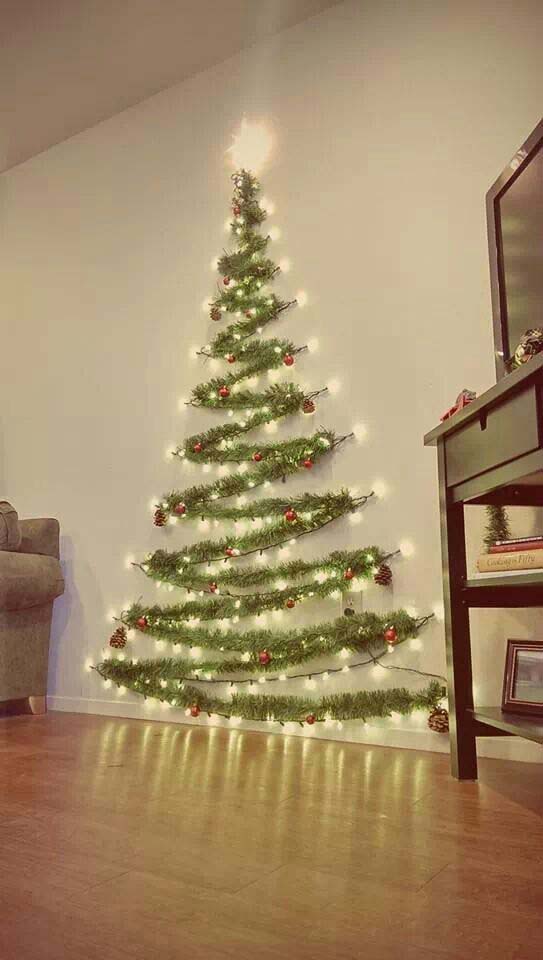 Wall trees come in many sizes, shapes and forms. Each can mean something different to each person that may enjoy the simple decoration.
70. Winter Luminaries on Mantel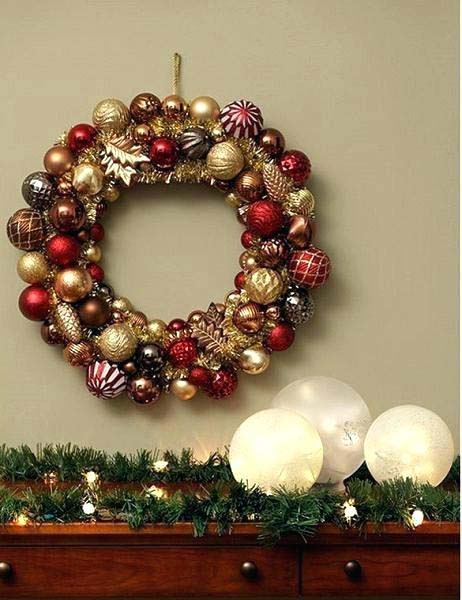 Luminaries on the mantel is truly the most romantic feeling and slows down time for each that has rushed through the day.
71. Wood Christmas Tree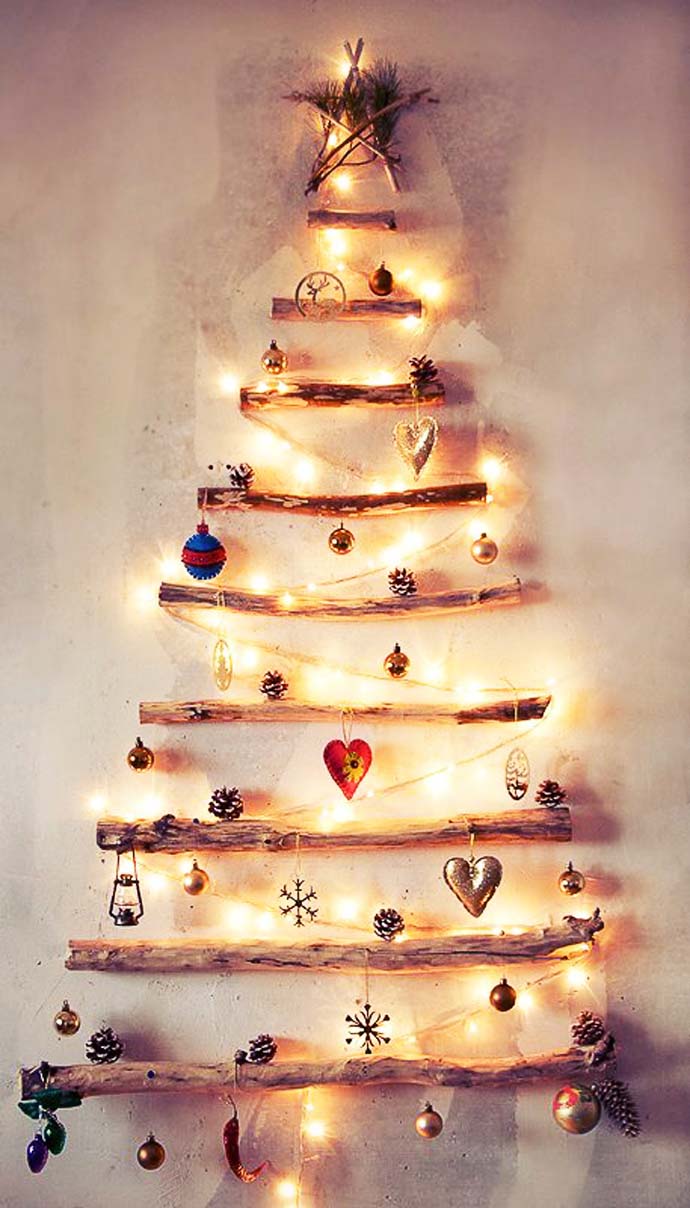 Wood and lights, forest and moon. It is all the best of the season. Created, then meditate.
72. Wood Snowflakes with Lights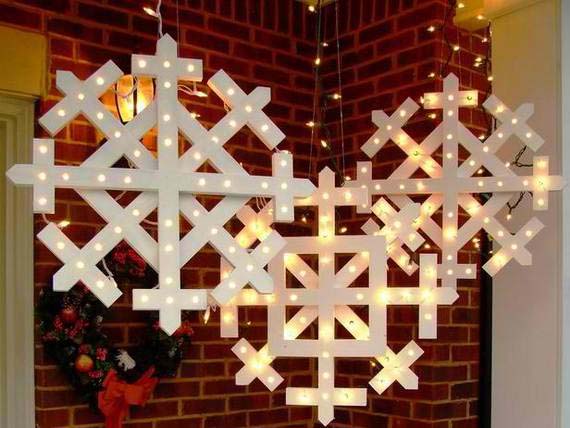 Dreaming of a white Christmas, like everyone used to know. Lights bring joy to life.
via Foodnetwork