Have you ever thought which is the color that associates most with Christmas? It is red- the color of celebrations and the color of Santa Claus!
Red creates an amazing festive feeling against the rich dose of green pine twigs we tend to use in the Christmas decor. And while red could be barely seen in the decor for any other holiday, on Christmas you are allowed to use it generously!
Red is an eye-catching color and matches easily with the interior and exterior in winter. It makes the ambiance brighter and ready for the Christmas holiday. Red must be added to the Christmas tree, but it can be used also to accentuate the table centerpiece, to define the accents of the winter decor in every room. Red is all about winter miracles!
Do you wonder where and how to add the varying hues of red in your home? Read the best 25 Dazzling Red Christmas Decor Ideas to charge your home with Christmas spirit.
1. Berries Galore and Ornament Chandeliers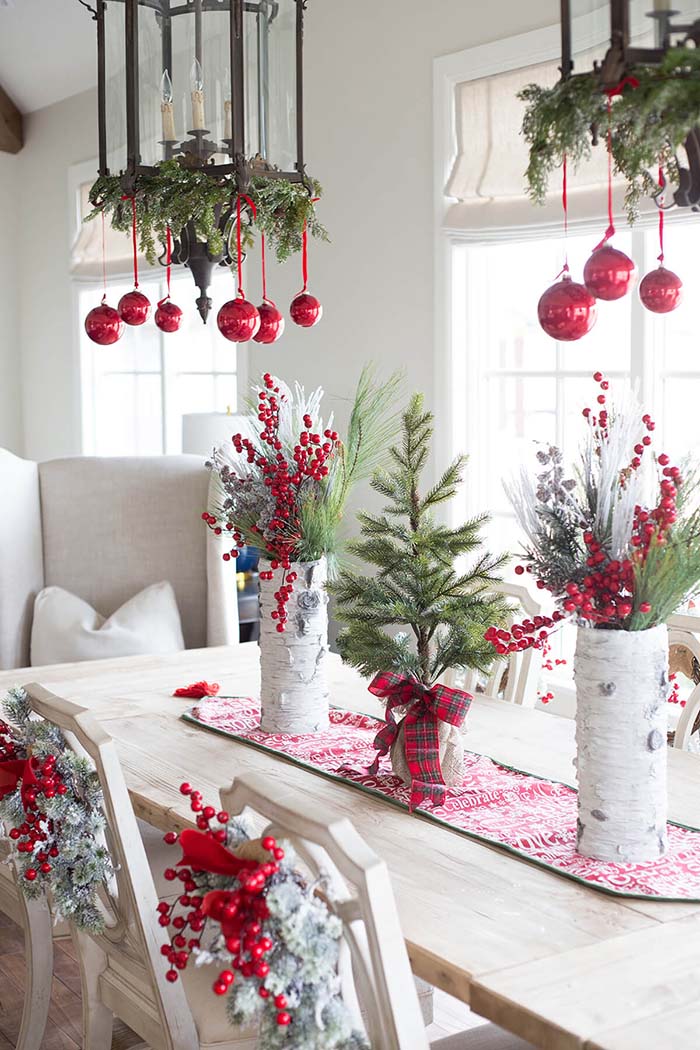 It is considered a lazy trick to decorate the chandeliers with Christmas embellishments. Indeed, making it is quick and fun as you simply wrap the basis with a preliminarily prepared garland.
The pine tree garlands are flexible and vary in look. Attach red baubles on the garlands with ribbons or metal hooks. Continue the red-themed decor on the festive table using berry twigs as embellishments. Combined with pine tree twigs they create a charming accent that enhances the festiveness.
via Rachel Parcell
2. Primitive Caddy Full of Holiday Cheer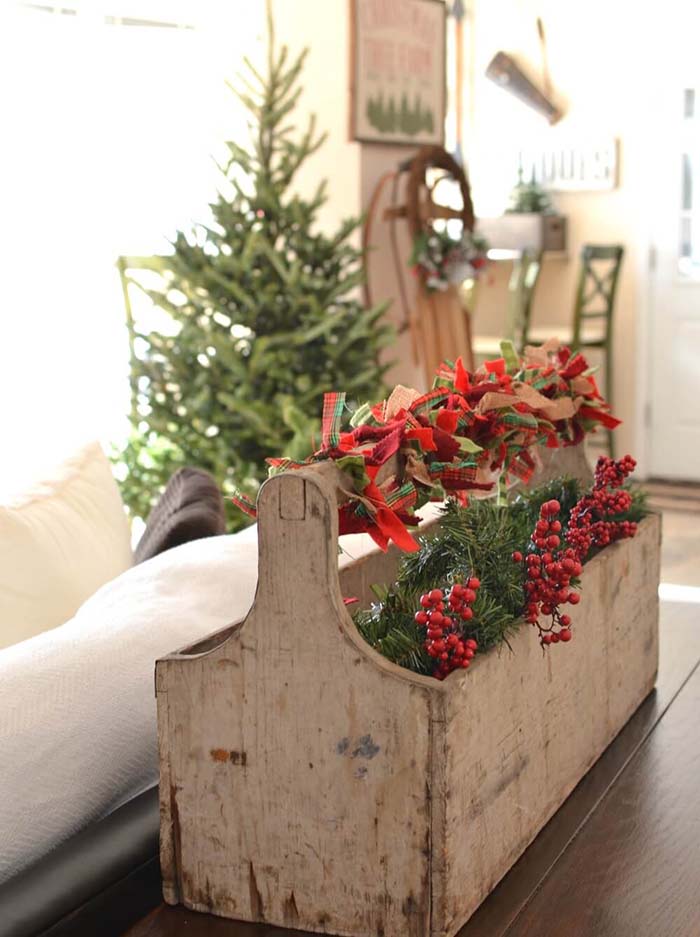 A Christmas celebrated with vintage farmhouse decor promises coziness and a homely atmosphere to warm you up. This caddy acts as a centerpiece of a side table placed behind the sofa.
Its weathered look bears so much history and makes the container very special. Pine tree garlands fill the inside of the box letting red berry fruits peek out to spread red cheer. The decoration on the handle of the caddy adds to the festive atmosphere consisting of green, red and burlap strips tied around it.
via Sarah Joy
3. Plaid and Faux Fur Bedding Suite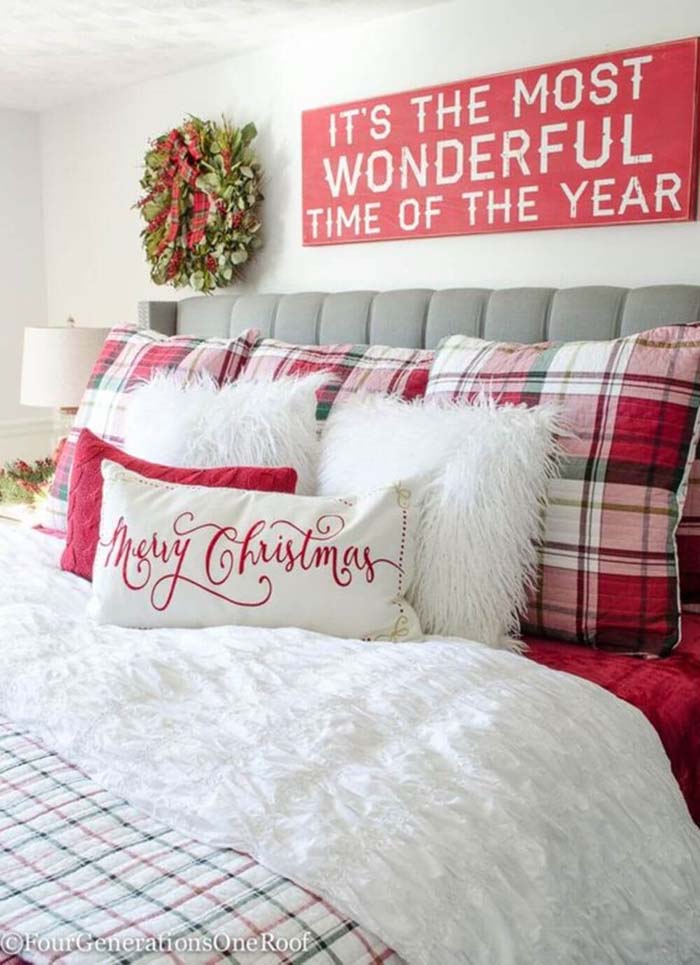 It is amazing to bring the Christmas spirit to all rooms, including the bedroom. The easiest and most universal type of Christmas decor for the bedroom is to lay a festive bedding set.
Red and white plaid sheets and pillowcases are classic and adorable. You can easily find the best set for you around this time of the year and get it on a deal.
If the bedroom walls are empty, you can upgrade the decor with a Christmas wreath and a cheerful handmade sign.
4. Retro Letter Light Stair Decorations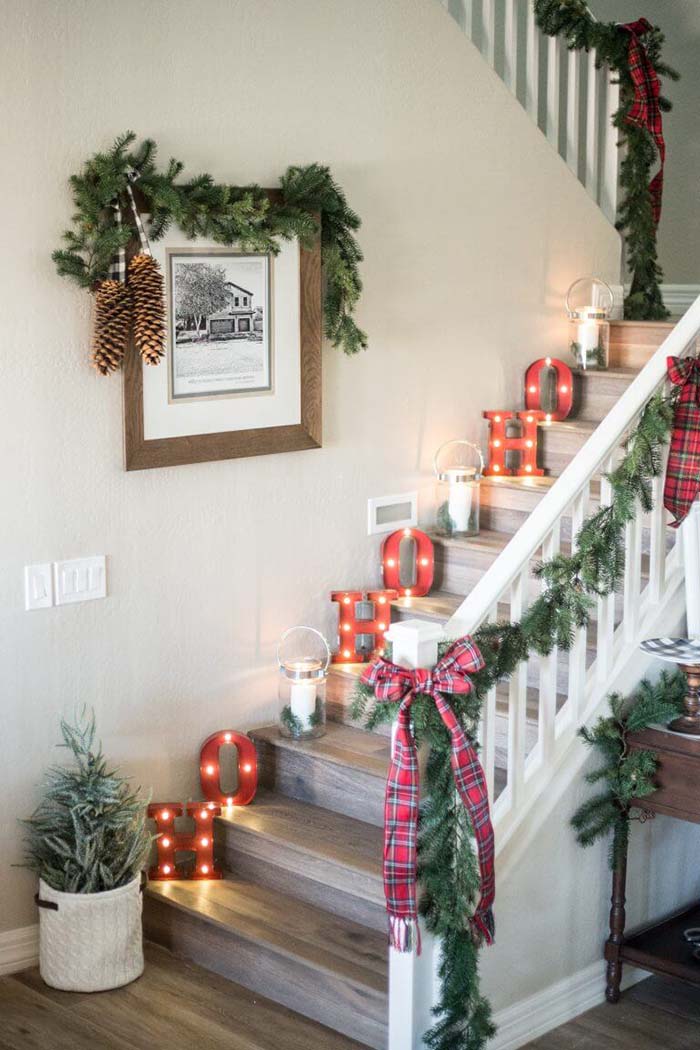 Looking for red Christmas decor for the staircase? The pine tree garland is a typical embellishment for the rails of the staircase. Here we suggest an idea of how to easily upgrade it and make it look eye-catching and cheerful.
Tie beautiful red, white and black plaid bows at the ends of the rails. Enhance the red accent with marquee letters that spell out "Ho Ho Ho". Complement the light bulbs with glass luminaries that can also separate the fun syllables.
5. Festive Patterned Gift Box Candle Pedestals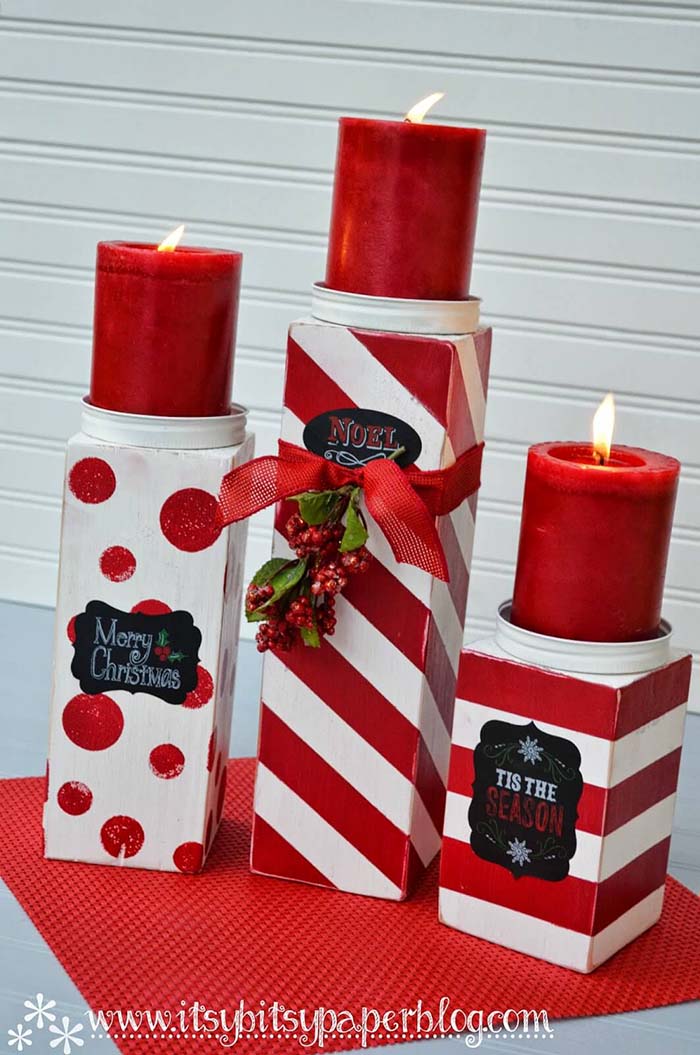 Repurpose leftover lumber into cheerful Christmas pedestals for candles. Use the red and white colors to decorate the 4×4 pieces in attractive patterns.
The shapes can be easily obtained with painter's tape. Once the coats have dried, stick chalkboards labels to the front and write festive and merry messages.
Ribbons, tiny twigs with berries or mini wreaths can give the candle pedestals a finishing touch.
via Pam's Party and Practical Tips
6.
Lighted Holly Berry Leaves Ladder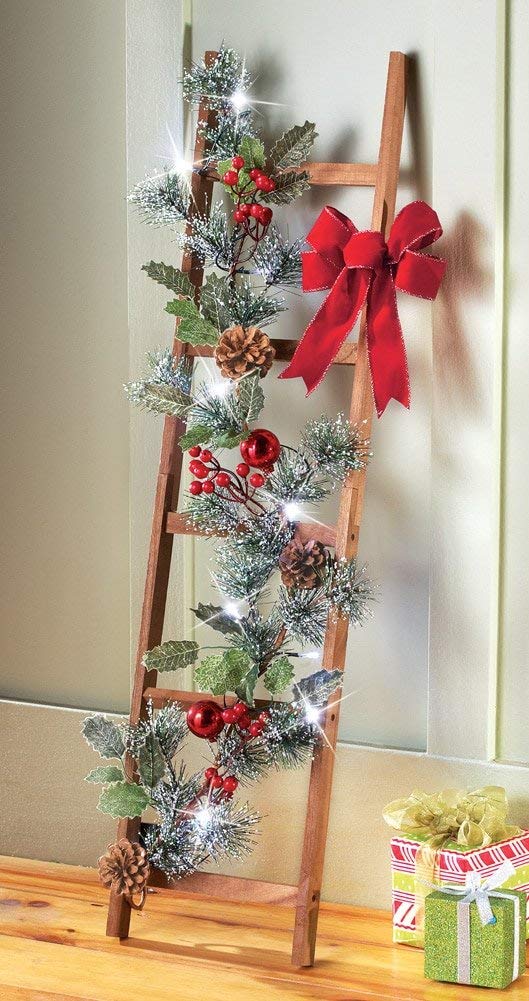 This wooden ladder, decorated with a removable garland made of faux holly berry leaves and Christmas lights, could become the centerpiece in your holiday living room space.
As part of your red Christmas decoration, It looks very traditional, cheery, and it's a real space-saver!
Learn More: Here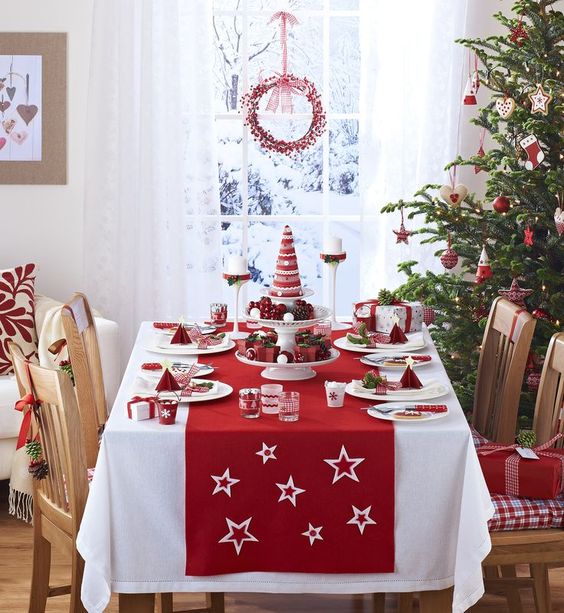 Photo:Credit
This year, instead of using the heavy pretentious tablecloth, why don't you cover the dining table with a couple of identical strips in red and white?
This won't steal the attention from your beautiful festive dining table decoration, but at the same time will create a mood.
8. Christmassy Kitchen Cupboard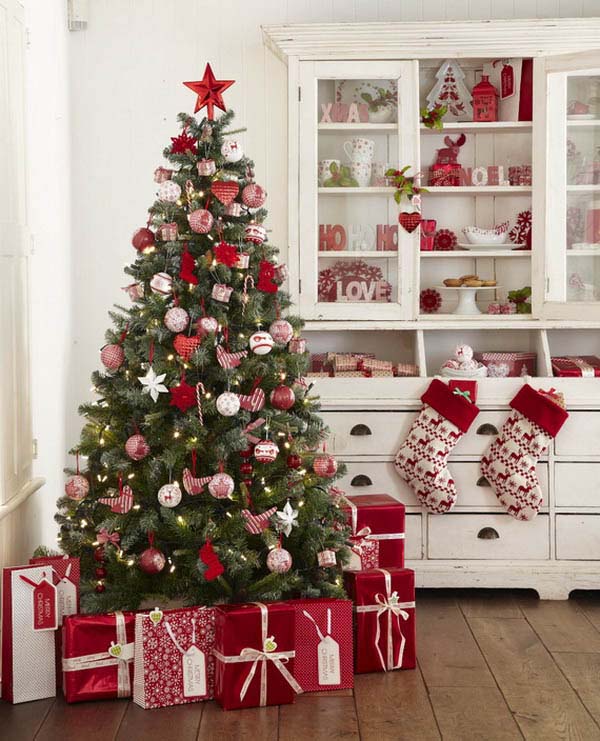 Here is something for the fans of the red and white Christmas decorations ideas!
If you want to create a mood in your Christmas home, take out a whole cupboard on which to create a real Christmas scenery.
Arrange beautiful cards, decorative packed gifts, paper figurines, colorful Christmas tree balls, and other ornaments. All items, including the cupboard itself, should be in white, green and red.
9. Stunning Holiday Table Setting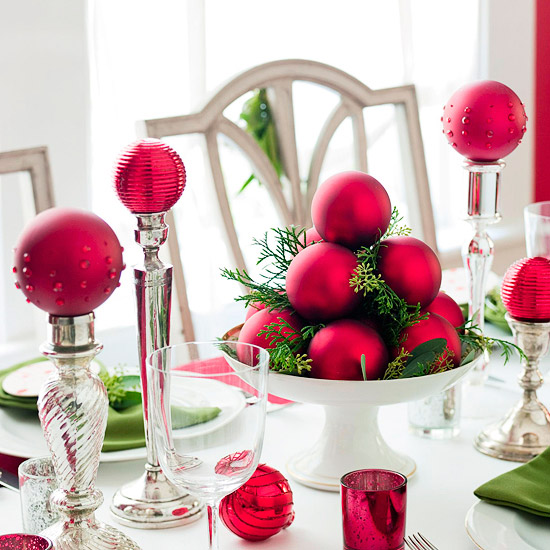 I simply love the contrast between the elegant snowy-white tablecloth, the green tissues, and the cheery red Christmas decorations.
This contemporary festive table setting is very eye-catching and makes a strong statement, however, it does not lose the traditional holiday vibe.
10. White Christmas Tree with Red Decorations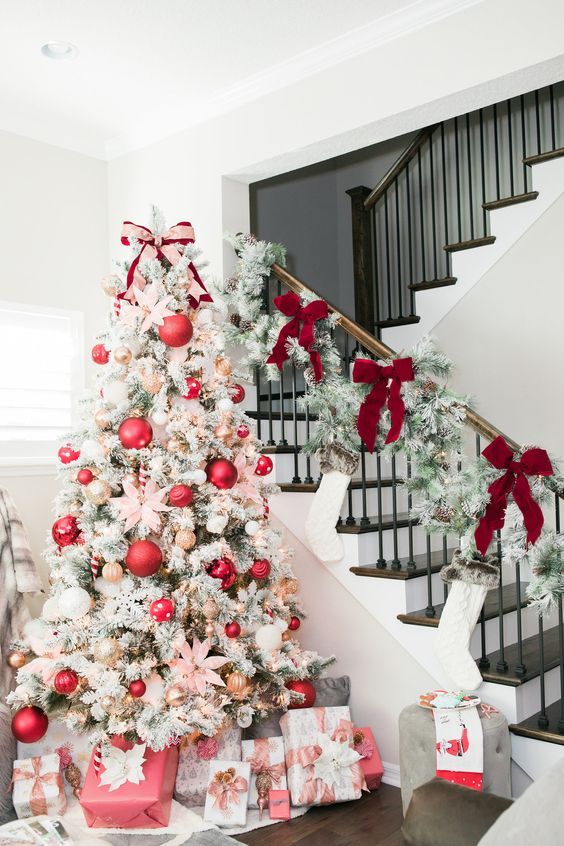 This large sized faux frosted Christmas tree is decorated with beautiful red and gold ornaments in all sizes, and it is something I just cannot keep our eyes off.
The large ribbon as a unique tree topper and the beautifully decorated presents go well with the overall decoration.
11. Personalized Christmas Stockings in Red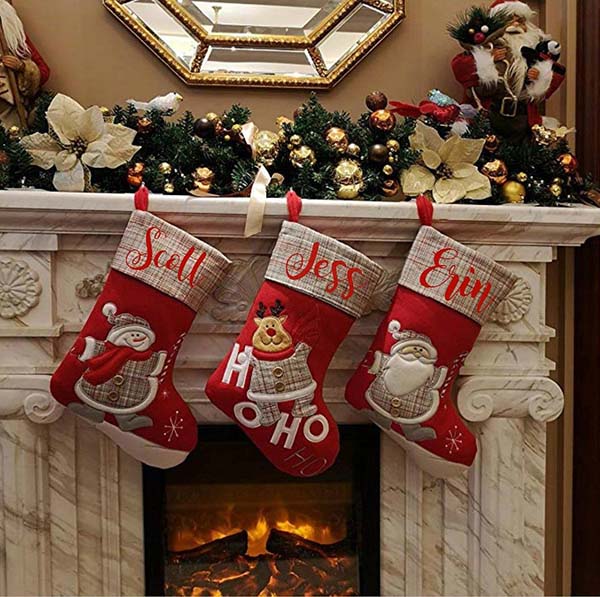 If you're looking for some red and white Christmas decorations that you little kids would like, consider displaying a set of three (or more) personalized stockings on the Christmas fireplace mantel.
They are a timeless element of every traditional Christmas decoration. Plus, they bring a lively fun vibe to space.
Learn More: Here
12. Rustic Christmas Table Centerpiece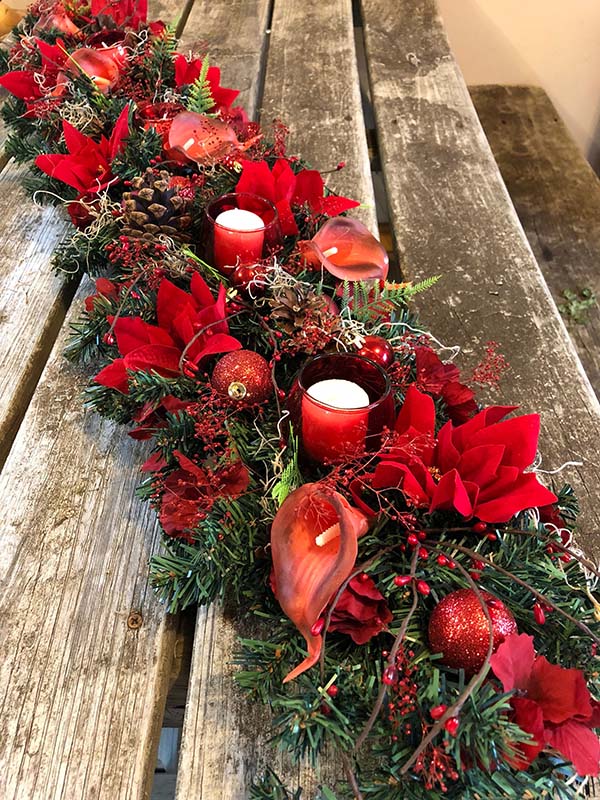 Here is how you can easily create a stunning rustic holiday table centerpiece from a simple garland decorated with faux flowers and greenery (that actually look very natural).
See, no need to spend a fortune on red Christmas decorations, just use your imagination!  🙂
Learn More: Here
13. Red and White Christmas Sign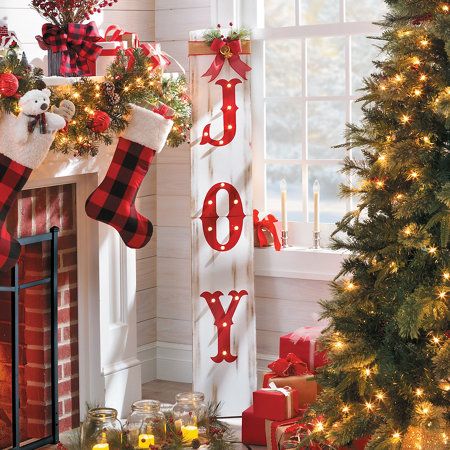 If you love the red and white Christmas decorations ideas, you can try to re-create this beautiful natural Scandinavian style sign and display it around the Christmas tree.
In this way, every time you look at the festive tree's lights, the sign will remind you Christmas is the most joyful time of the year!  😉
14. Gorgeous Red Christmas Tree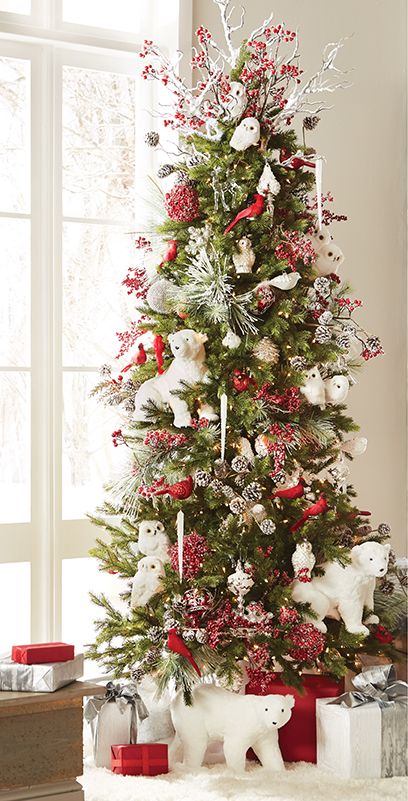 Photo:Credit
Perhaps, this is one of my favorite red Christmas tree decorations. If you are an animal lover such as me, you would be happy watching cute polar bears climbing your holiday tree and a bunch of curious owls watching you.  😉
When we decorate the tree, we should not necessarily use only Christmas balls.
15. DIY Candy Cane Window Decoration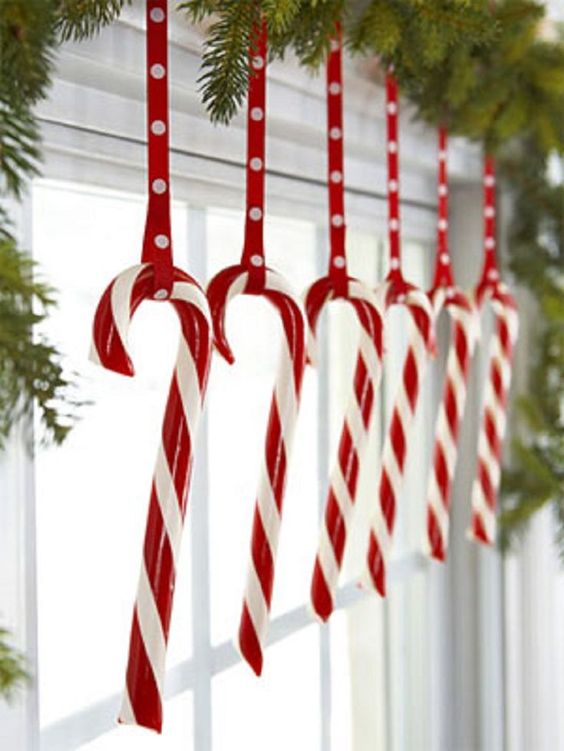 Hanging candy canes on the windows combined with evergreens, really emphasize the Christmas look.
Just an idea – you can even do without the ribbons and just hang candy canes with some pinecones picked up from the nearest park.  😉
16. Traditional Large Festive Wreath on the Front Door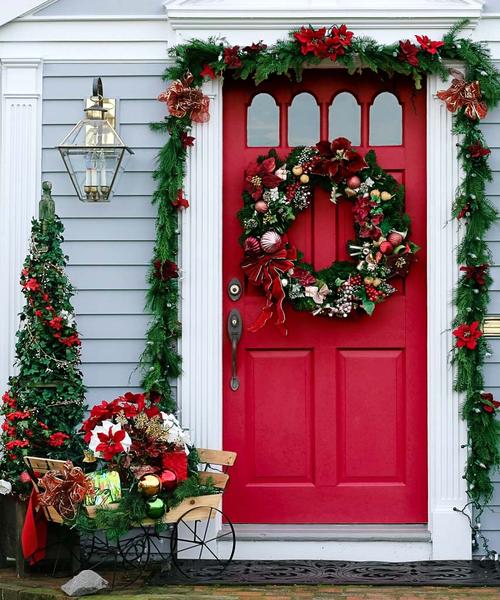 Photo:Credit
The combination of red and green Christmas decorations surely brings a strong festive vibe to every home.
Displaying a large wreath on the Christmas front door, made of artificial greenery and red balls and ribbons make your house more welcoming and cheerful.
17. DIY Festive Mason Jar Centerpiece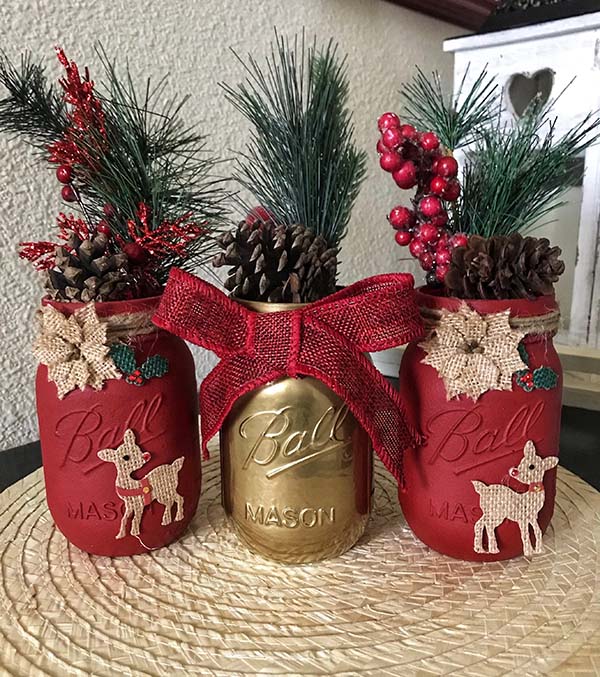 This set of 3 elegant Christmas Mason jars, hand-painted with premium chalk paint and a gold metallic spray paint, can be a perfect addition to every mantel's red and gold Christmas decorations.
Love the accent with burlap ribbon, reindeer, burlap bows, and twine.
Learn More: Here
18. Red Glass Christmas Tree Ball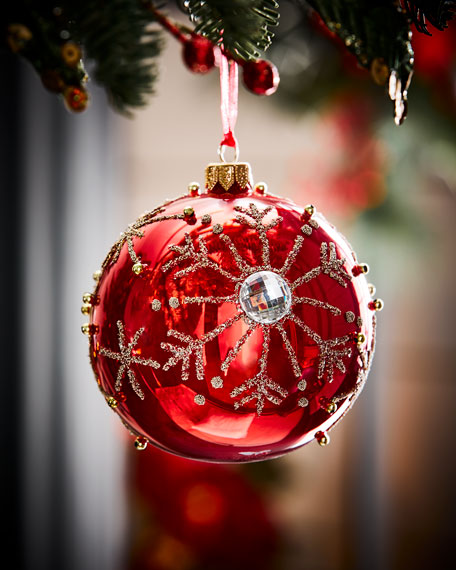 This red opal glass ball decorated with silver snowflakes is a great red Christmas decoration for a home with a more contemporary and luxurious design.
It gives glamour and showiness to the festive tree and at the same time brings a traditional vibe.
Learn More: Here
19. DIY Candy Cane Wreath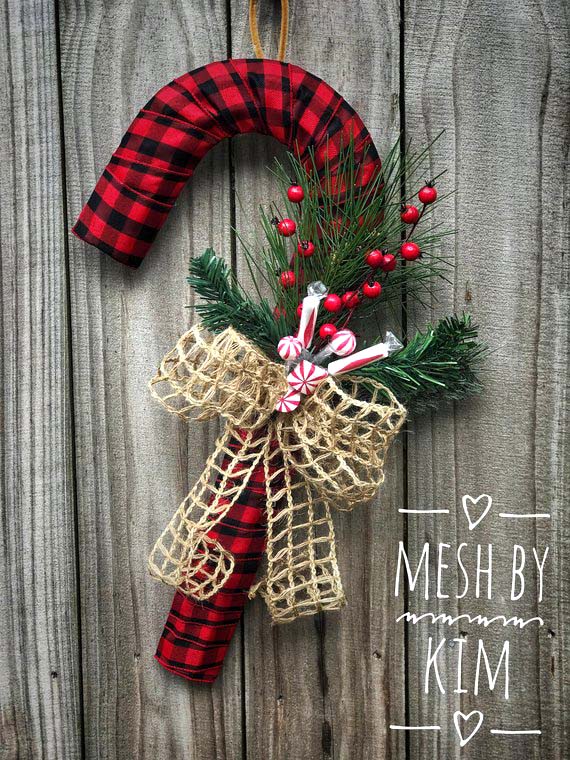 This holiday door hanger shaped like a large Buffalo plaid candy cane is a real must-have for both indoor and outdoor usage!  😉
Take a look at the details – the faux peppermint candies, the faux cranberries, and the window pane bow.
Learn More: Here
20. Showy Red and Gold Pine Wreath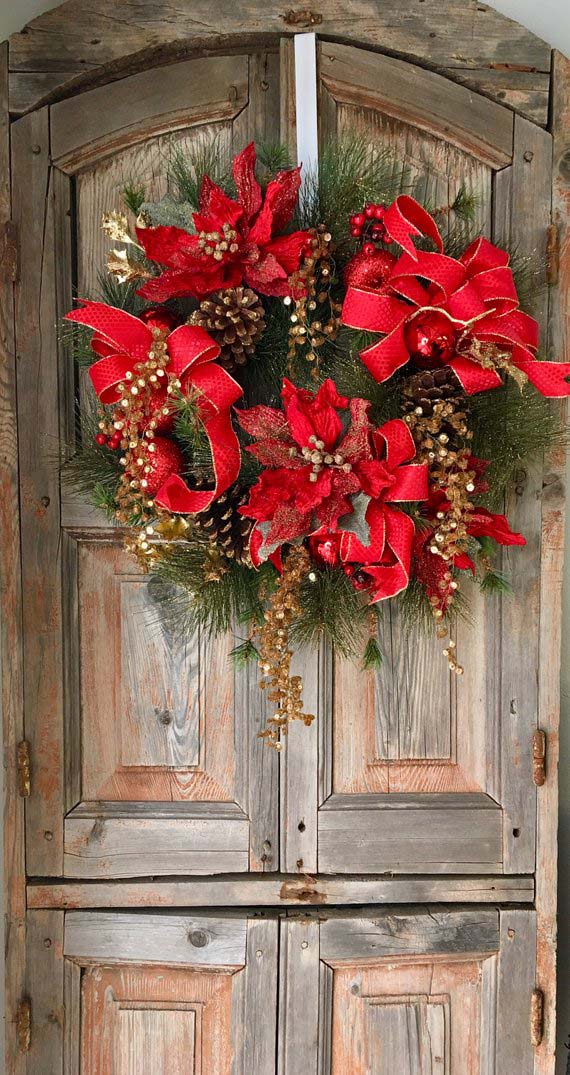 Looking for a rustic glam while creating your red Christmas decoration? I've got something for you then!
This stunning DIY red and gold wreath is catching the eye with dusted pine branches, shimmering pine cones, artificial cranberries, and red glitter apples.
Learn More: Here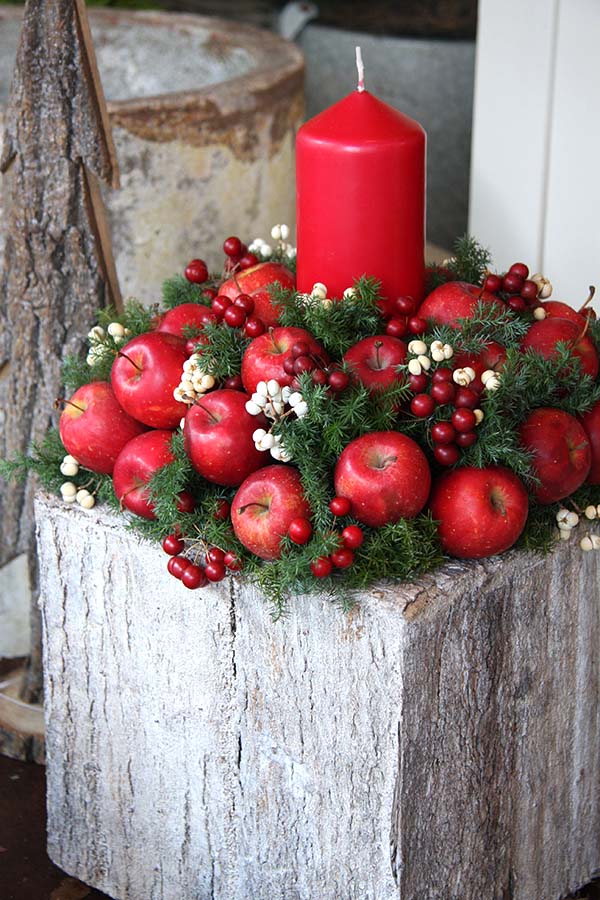 If you prefer the simple, unpretentious red Christmas decoration, this beautiful setting could be the right answer for you!
All you need to re-create it is a red candle, a kilo or red apples, cranberries (you can use faux ones) and some evergreens. Use your imagination and try to personalize this project according to your own taste.  😉
22. Christmas Fireplace Decor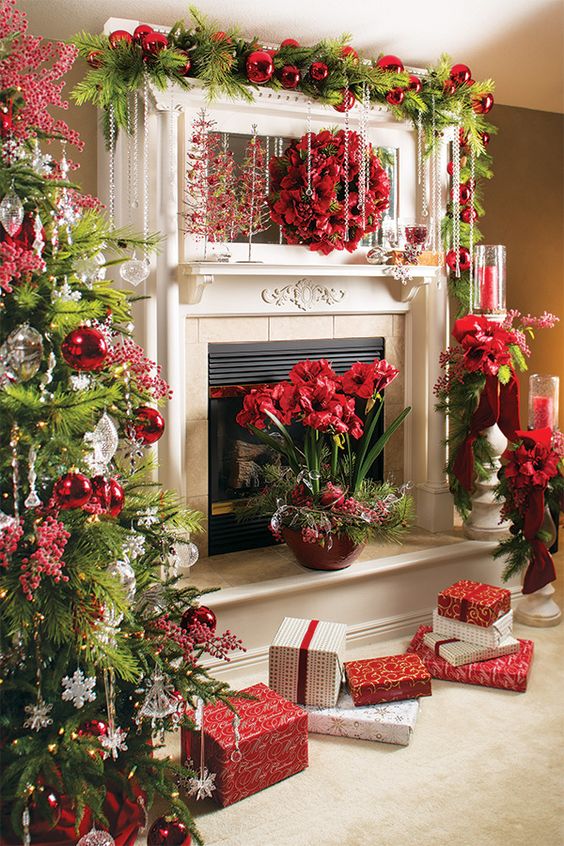 In case you're not using the fireplace this winter, try to use it as a spot to display your beautiful red and green Christmas decorations.
Use the space above the mantel and in front of the fireplace to give the living room space additional texture and height.
23. Dazzling Christmas Tree Topper in Red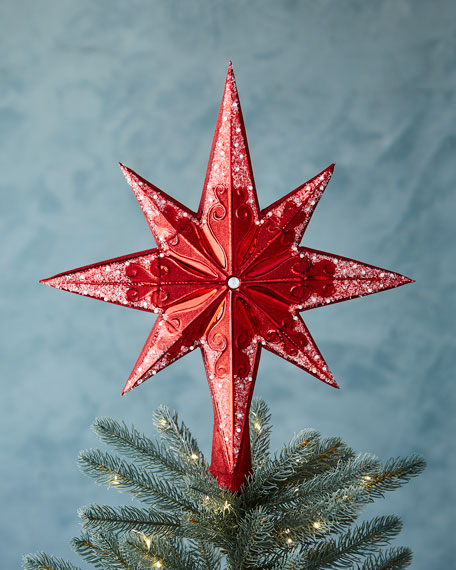 This appealing red star, decorated with sparkling glitter, adds the perfect finishing touch to any Christmas tree.
Hint: Before buying one of these, make sure it has a double-sided design so your tree will catch the eyes from every angle.
24. Red Christmas Chairback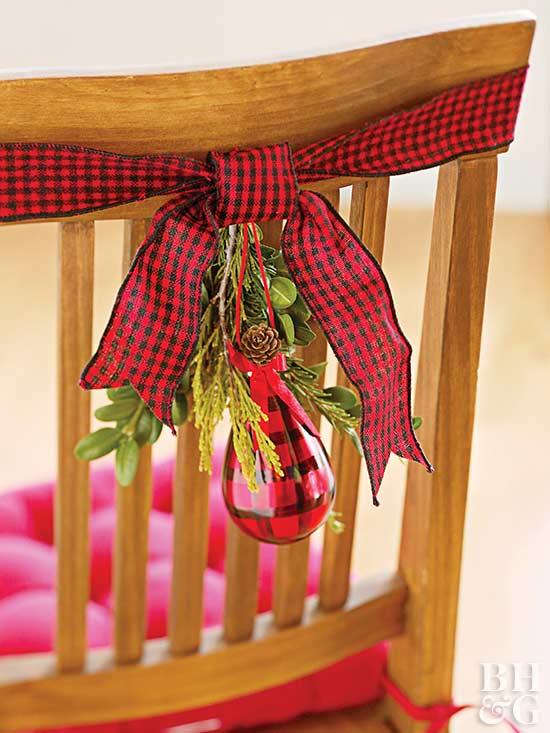 Photo:Credit
If you'll host a festive dinner this year, do not focus on decorating only the dinner table but also the chairs.
No need of an expensive pretentious red Christmas decoration. It could be something cute, cheery that compliments the table decor (such as the one on the picture).
I hope you enjoyed my collection of red and white Christmas decorations! As you see, you don't need to spend a fortune on decoration, just try to pair some of the elements you already have in your home, such as cake plates, candles, garlands, bowls of candy canes, faux greenery from past holidays… the ideas are endless!  🙂