This time of the year is magical! It recharges us with positive emotions, urges us to make good, fills us with love. This is Christmas for all of us! And what is Christmas without a unique Christmas decoration?
We are not going to speak about decorations that you have already seen or used. We are going to reveal ideas for indoor decorations that will turn your home into a magical space.
All of the ideas are colorful, trendy, glamorous and one of a kind!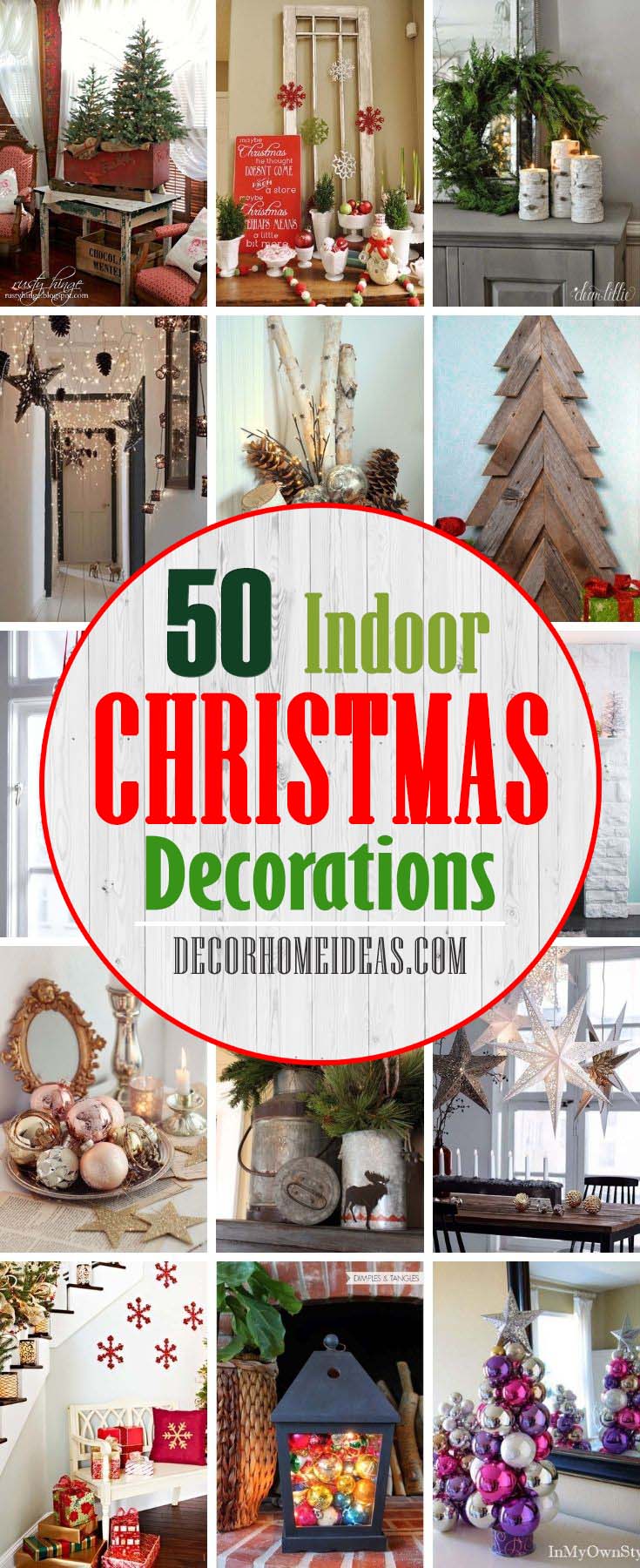 This collection will set your mood for the upcoming Christmas holiday and will ignite your imagination for how to decorate the inside of your home!
1. Chandelier Wreath Holiday Hanging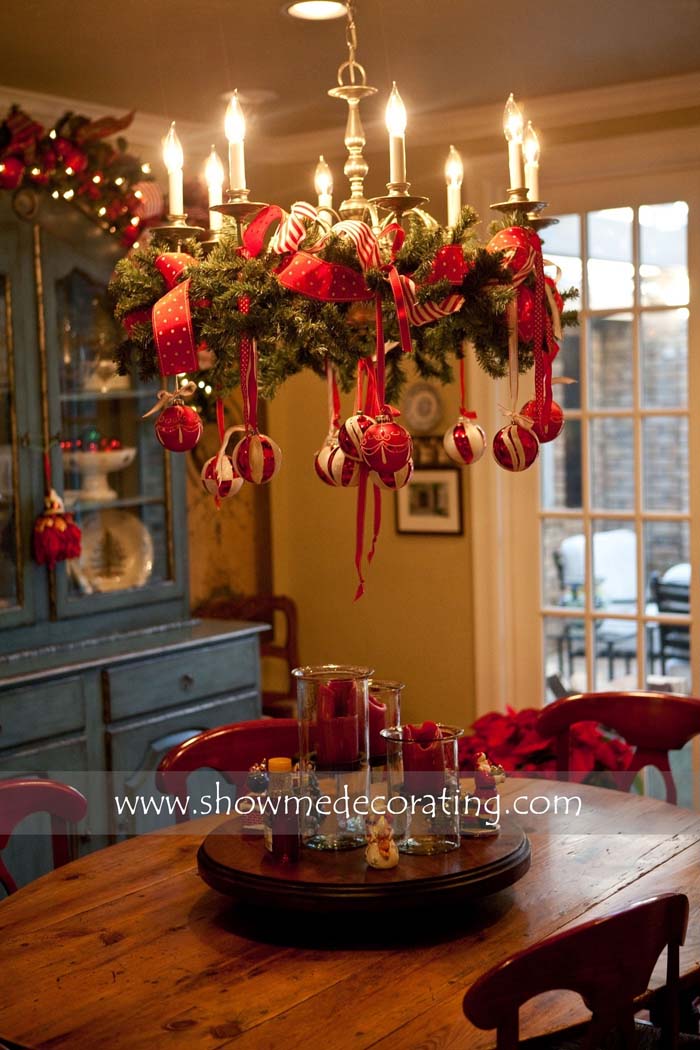 Add a Christmas vibe to every room of your home. For the dining area you can decorate the chandelier with typical Christmas accents.
Weave evergreen trimmings or garland around the basis of the light fixture. Then, tread through the twigs wide red ribbons. Finish the wreath with Christmas balls hanging from the wreath.
2. Stunning Silver And Music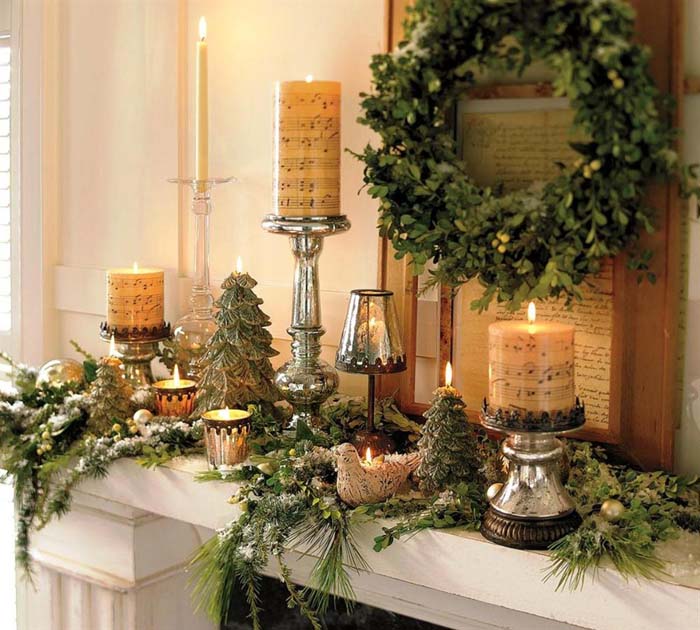 If you are lucky to have a fireplace, then it must be part of your Christmas decoration. The mantle is the perfect place to display Christmas features like evergreen twigs and ornaments.
For a more personalized decor, add candles with a musical score printed on their outside.
3. Brighten A Lantern With Lights And Ornaments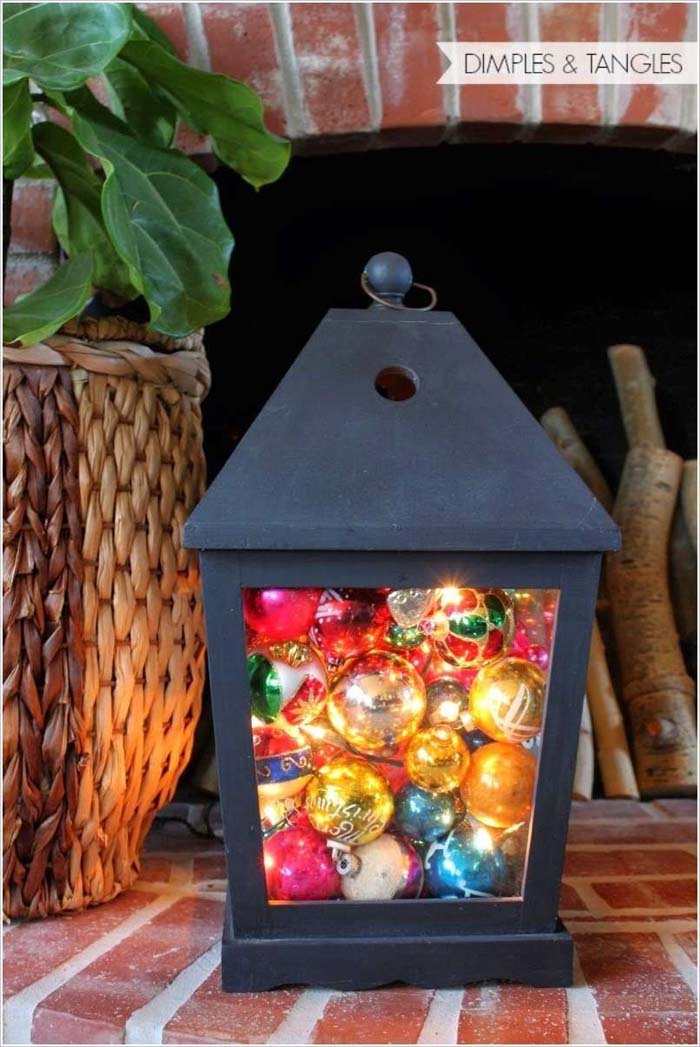 Repurpose the outdoor lantern into a beautiful Christmas ball holder that will add a lot of warmth and festive spirit to the interior.
Just fill the inside of the lantern with a collection of balls of various colors and sizes.
via Roomed
4. Create A Wall Tree From Cards

Another alternative of the traditional Christmas tree features a design that doesn't take up any space and is made with simple materials.
This washi-tape wall tree is very personalized as it displays favorite family photos on strands of garland.
via Thyme Is Honey
5. Advent Bucket Wooden Tree Calendar

Do you want to make Christmas more exciting for your kids? Do it with a large advent calendar.
The photos reveal each of the project's steps. In the end, fill in each bucket with a surprise to let your kids enjoy every day until Christmas.
via Sugar and Charm
6. Traditional Style Mantel Greenery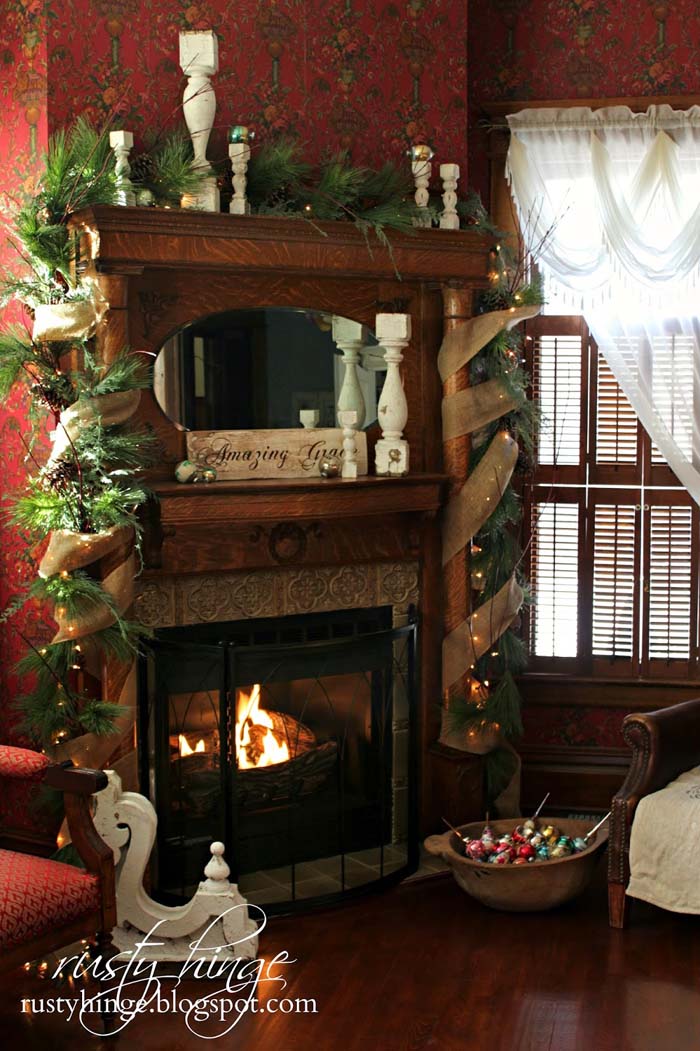 Do you have a fireplace? If so, you are very lucky as it will surely make the winter atmosphere inside your home cozier and more welcoming.
It is also a great place for Christmas decor. Create a festive framing using pine twigs, gold ribbon and fairy lights.
Using the ribbon, fix the greenery and lights to the fireplace frame. Decorate the mantle in the same spirit- candle holders with Christmas balls will enhance the holiday atmosphere.
via Rusty Hinge
7. Combine Primitive Elements In A Festive Kitchen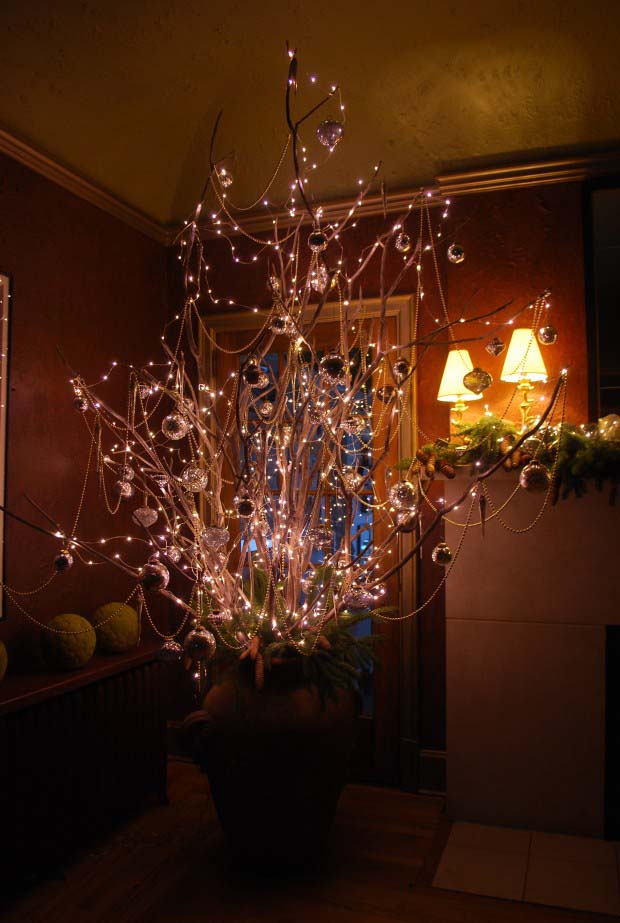 If you would like to include something that is not that standard in your Christmas indoor decor and yet enhance the holiday spirit, you can do it with a plain branch. It doesn't have to be an evergreen branch, on the contrary- it should be bare.
It will let you decorate it with all kinds of Christmas ornaments and motifs. Insert it into a planter or a vase. This branch is decorated with a beaded garland, silver balls and white twinkle lights.
via Deborah Silver
8. Combine Primitive Elements In A Festive Kitchen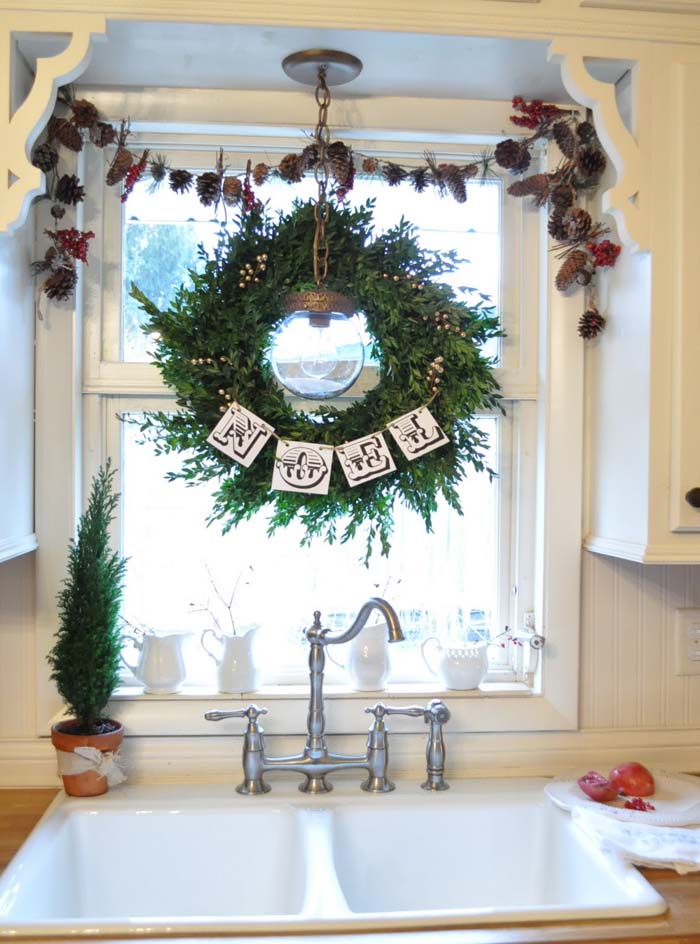 If you don't have any free space in the kitchen where you can place a Christmas arrangement, we have an idea for you- decorate the window above the sink.
WHang a wreath from the light fixture if you have such or stick it with tape to the glass. String the strand of handmade pinecone garland across the window.
You can place a small pot with an evergreen tree in the corner of your sink to complement the Christmas atmosphere.
via Jennifer Rizzo
9. Bold Bow Chair Back Décor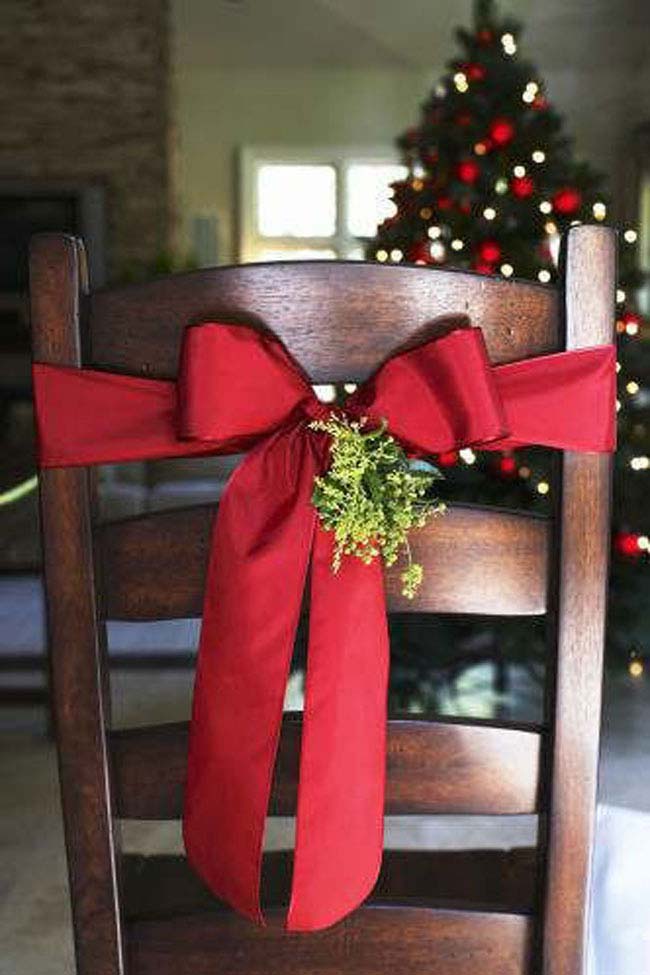 Christmas can be sensed even in small accents like ribbons on the chairs. This idea is easy and won't cost you much effort or time.
Just tie a wide long ribbon around the back of the kitchen or dining room chairs. The color of the ribbon can be green, white, red, gold- the typical Christmas palette.
10. Burlap And Merriment Tablescape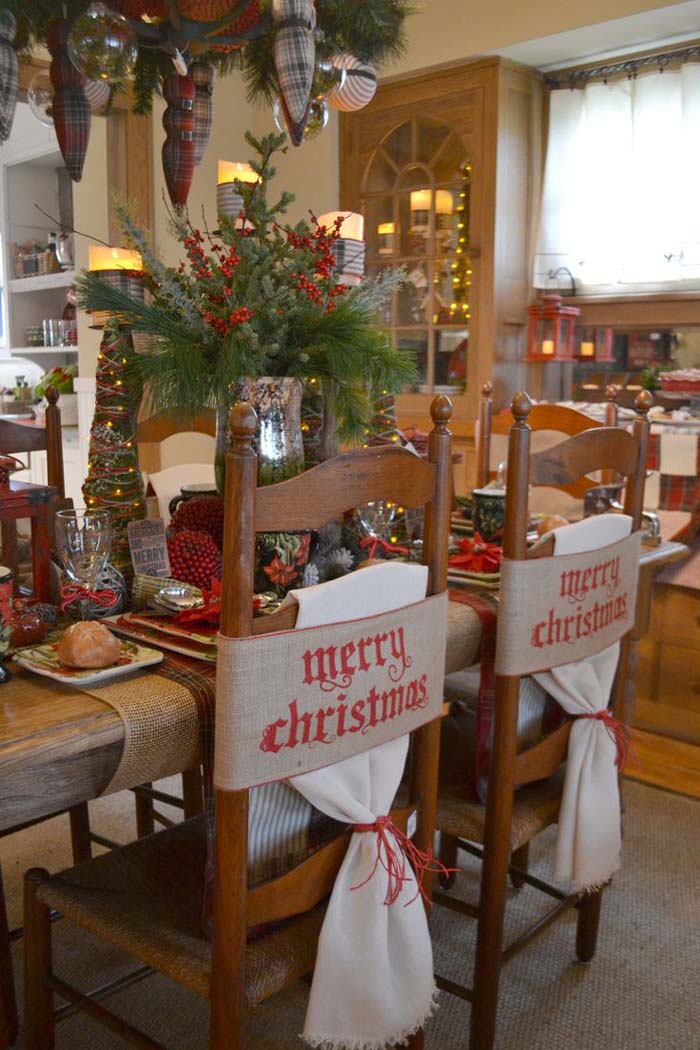 Finding Christmas indoor decoration that can suit a rustic or vintage interior is very difficult. In these cases, you should rather think of DIY ideas or customized products.
Burlap is one of the materials that suit best such an interior. This indoor Christmas decor idea features a burlap table cloth layered with a red plaid cover. Chairs are also dressed with burlap wraps with a festive statement embroidered or imprinted.
via Wild Ruffle
11. Repurposed Wine Glass Candle Holders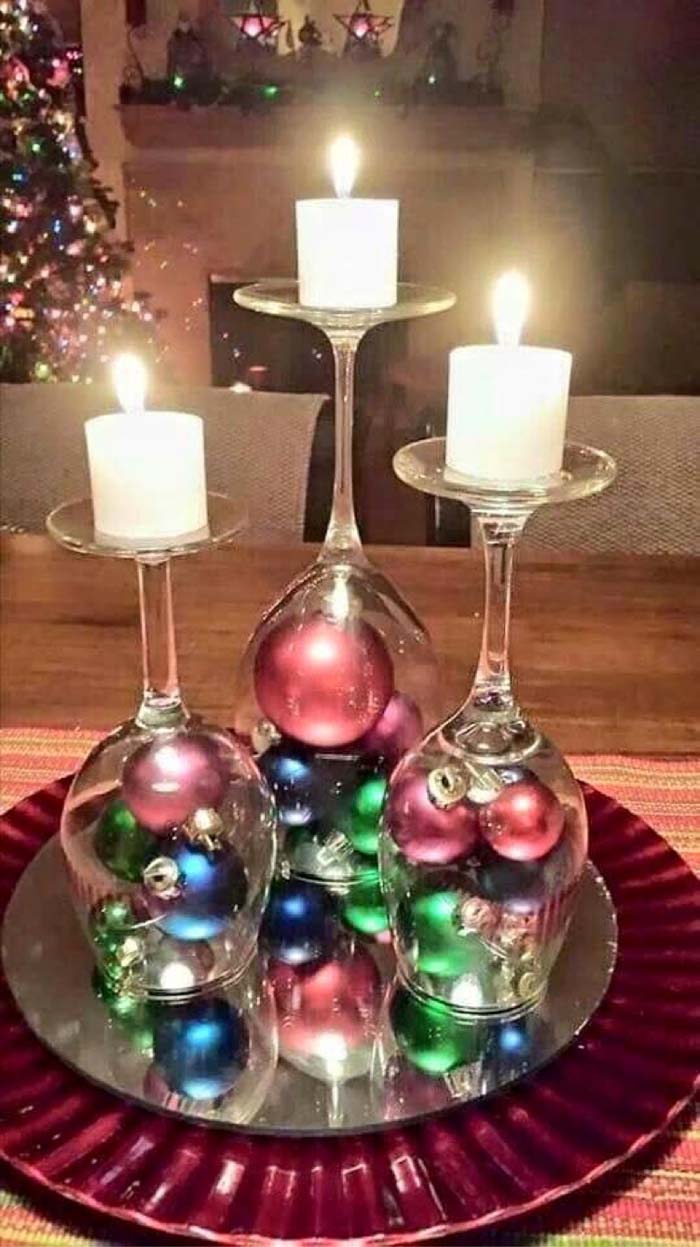 Another great DIY Christmas decor leads you straight to the local Dollar store. Get a clear wine glass, candles and Christmas balls.
If you don't have a stylish plate, get a metal cake plate or any flat basis that will be suitable for this project.
via Ljubica
12. Natural Burlap Candy Cane Cluster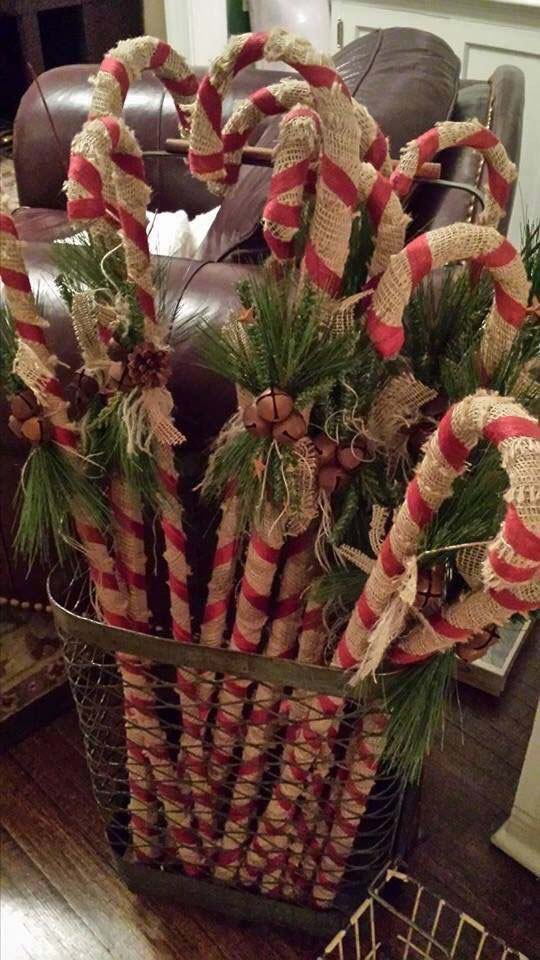 This is another great idea that turns a Dollar Store item into a unique ornament.
Get some plastic canes, burlap and red ribbon. Wrap the canes with burlap and then weave the ribbon around to both secure the burlap and imitate the traditional candy cane pattern.
You can further decorate with evergreen twigs, jingle bells, pinecones.
13. Simple Glam Holiday Pillows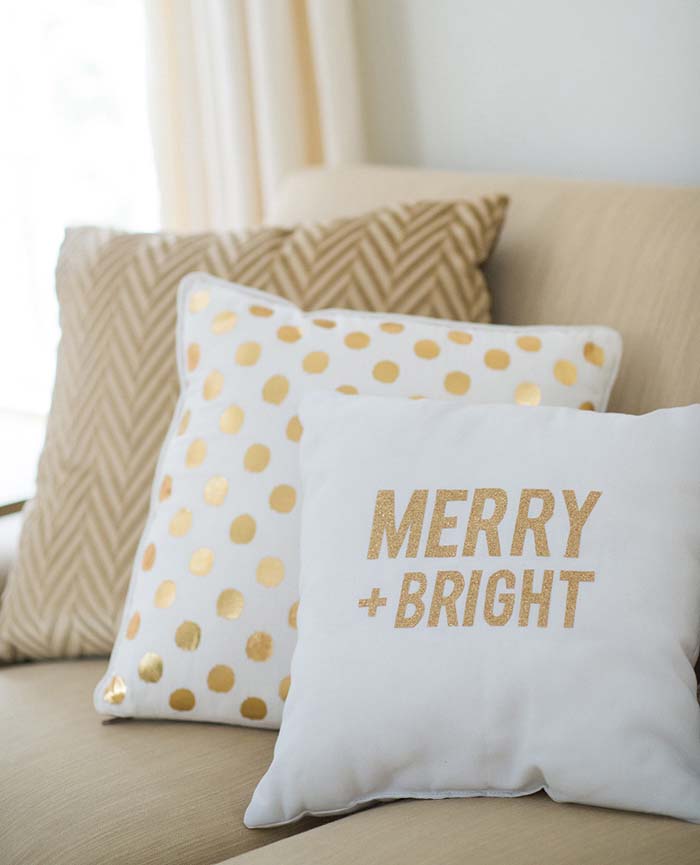 This idea explains how to make your own festive pillows. The project is very easy as no sewing is required.
However, you need to prepare iron transfer paper, Christmas templates and white pillow covers.
via Stlye Me Pretty
14. Birdcage Sparkling Mini Tree Terrarium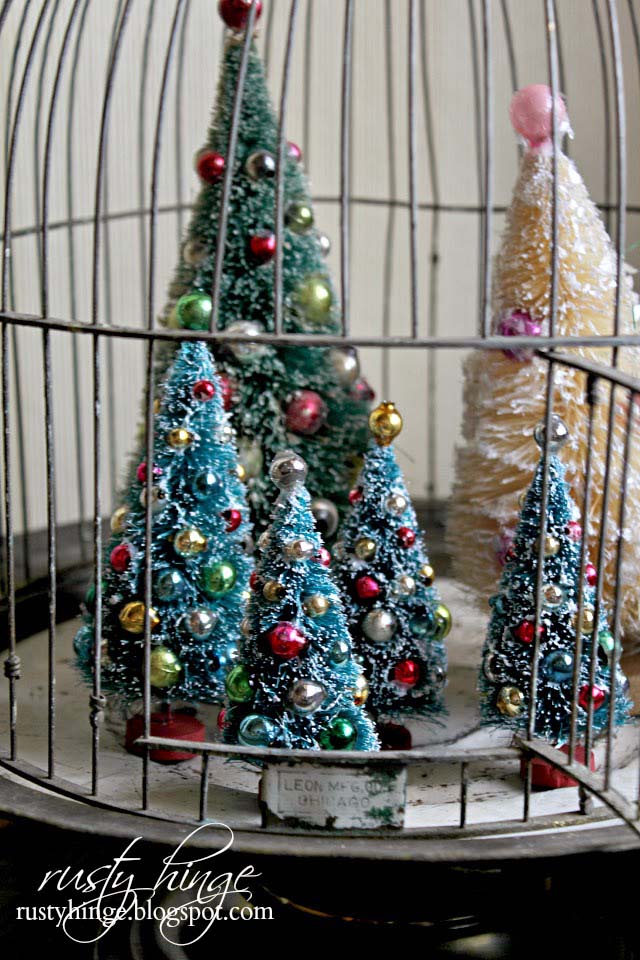 You can include the existing decoration into your Christmas decor. If you have a birdcage, you can turn it into a winter scene holding small Christmas trees.
Such trees can be found at craft stores, even in the Dollar store. If you have other small ornaments, you can add them to the forest and make the scene even more attractive.
via Rusty Hinge
15. Add A Holiday Home With A Chalkboard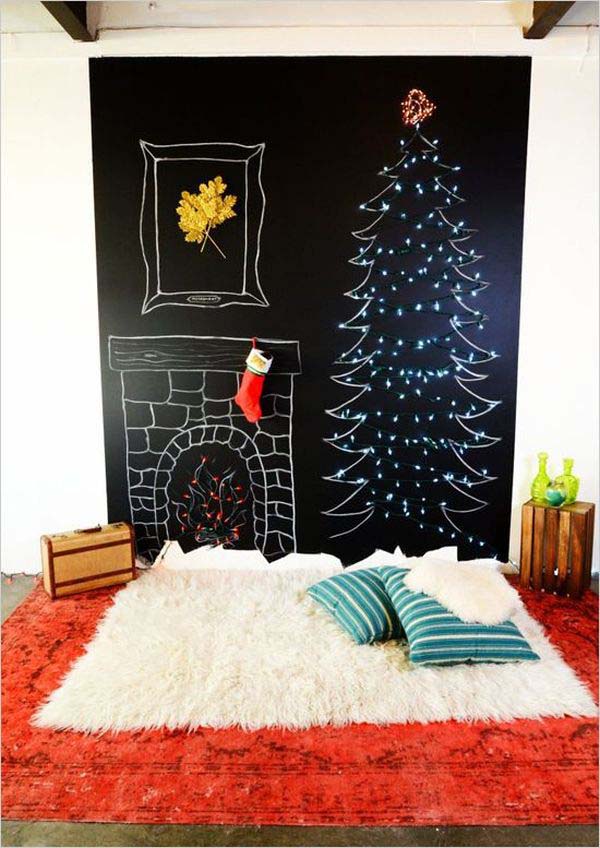 This idea can encourage the owners of small apartments and convince them that even the tiny spaces can be as cozy and appealing for Christmas as the large houses.
Use a wall for your Christmas scene- paint part of it with chalkboard paint or stick chalkboard foil onto it. Draw a fireplace and a Christmas tree on it. Decorate the front with layered carpets and pillows.
16. Dangle Ornaments From A Chandelier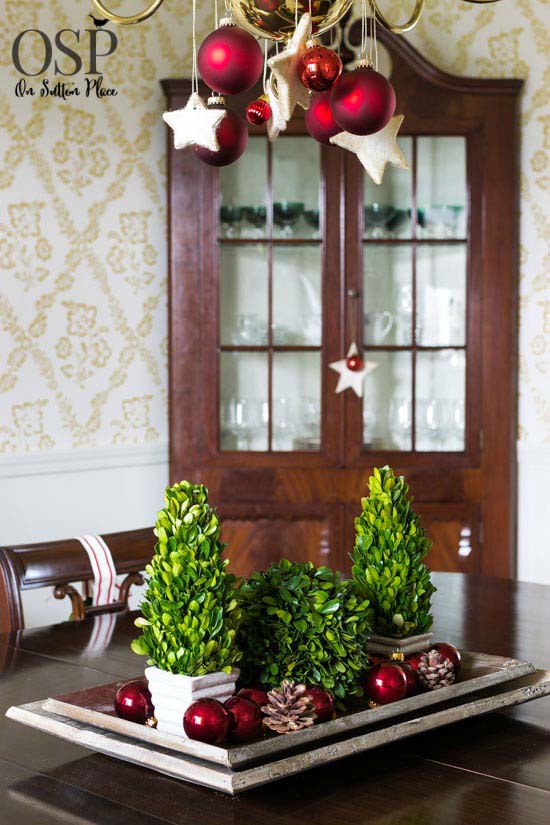 Fill your centerpiece plate for the table of the dining room with Christmas ornaments. Place small faux plants like evergreen shrubs or succulents in the middle.
Surround them with pinecones, Christmas balls and other ornaments. Use the same ornaments for decoration on the chandelier right above the centerpiece to enhance the festive atmosphere.
via On Sutton Place
17. Felt Ball Garland And Snowflakes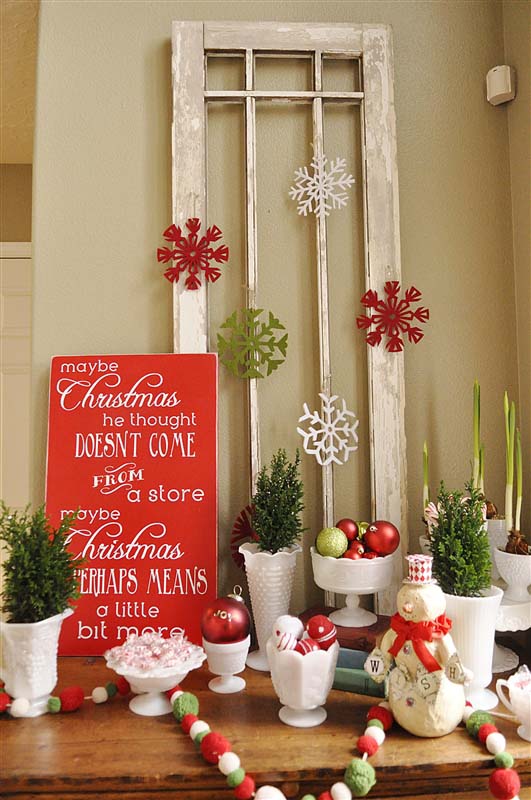 The DIY Christmas decor projects are many. This particular image reveals a number of ideas incorporated into a Christmas nook.
A handmade garland with pom-poms, salt dough snowman, a rustic sign and a repurposed window. The small evergreen plants enhance the festive look of the nook and add a natural nuance to the arrangement.
18. Mason Jar Mini Tree Snow Globes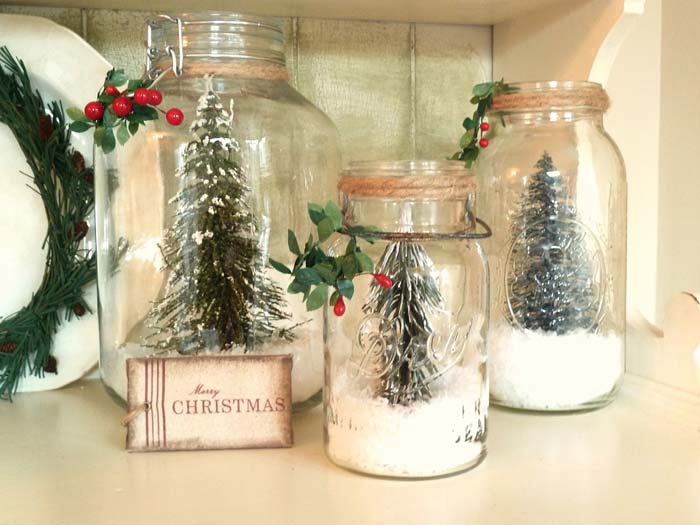 Do you like snow globes? They are surely one of the Christmas decor symbols.
You can easily and very affordably make your own globes using Mason or other jars from the Dollar store.
Fill 1/3 of the jar with salt, coconut flakes or tiny styrofoam balls. Insert a small pine tree branch or such ornament and sprinkle coconut flakes or spray with artificial snow.
Finish the customized snow globe with a berry branch woven around the neck of the jar.
19. Birch Branch Illuminated Fireplace Décor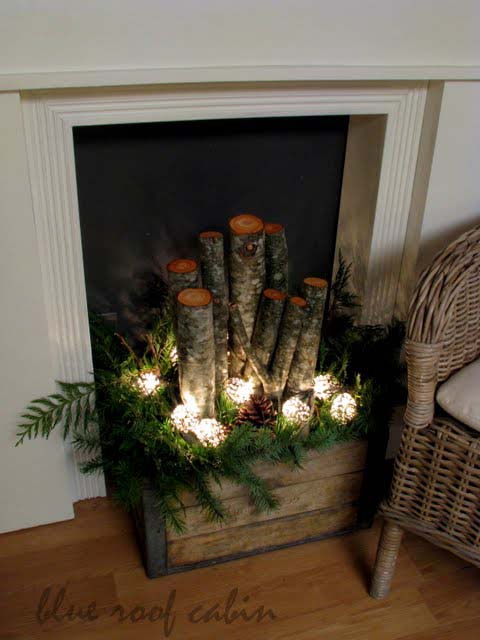 This Christmas decor idea is inspired by nature and adds a lot of farmhouse charm to the interior.
Making it is very easy and affordable. If you are lucky to have a crate in the garage- it will cost you no money at all.
Insert pieces of logs into the crate and fill the gaps with pine tree twigs. Add pinecones, fairy lights and other Christmas ornaments if you wish.
via Blue Roof Cabin
20. Cozy Tartan Flannel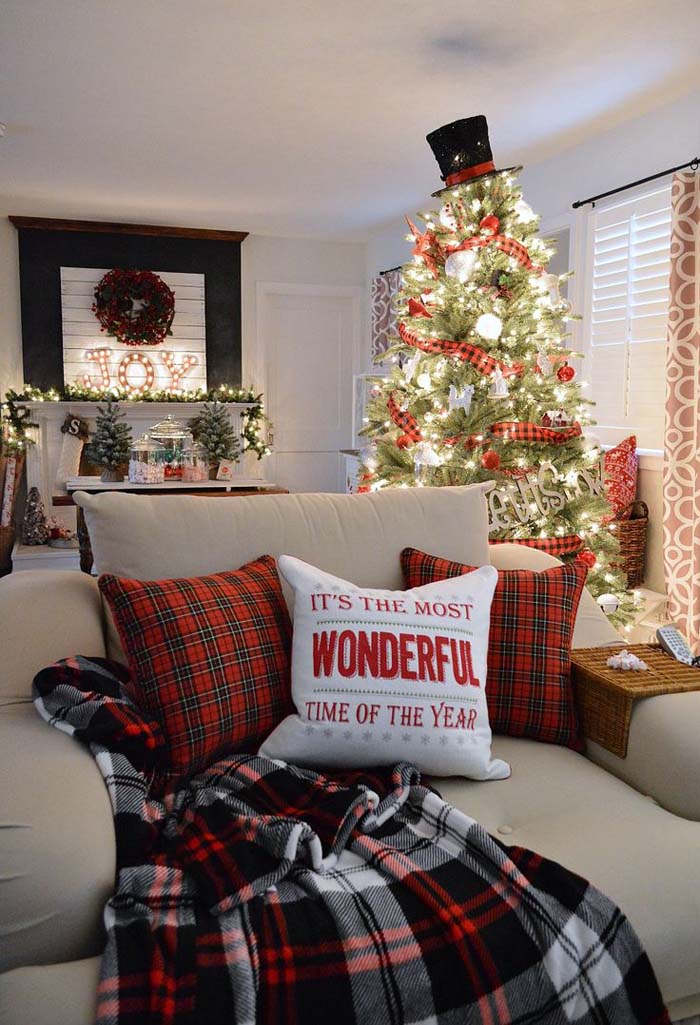 The atmosphere of this room is great, isn't it? It inspires with its festive bright Christmas spirit.
Instead of a star, the top of the Christmas tree is decorated with a top hat reminding of a snowman. The garlands are replaced with a wide plaid ribbon and the entire tree is shining thanks to white lights.
21. Evergreen Accent Centerpiece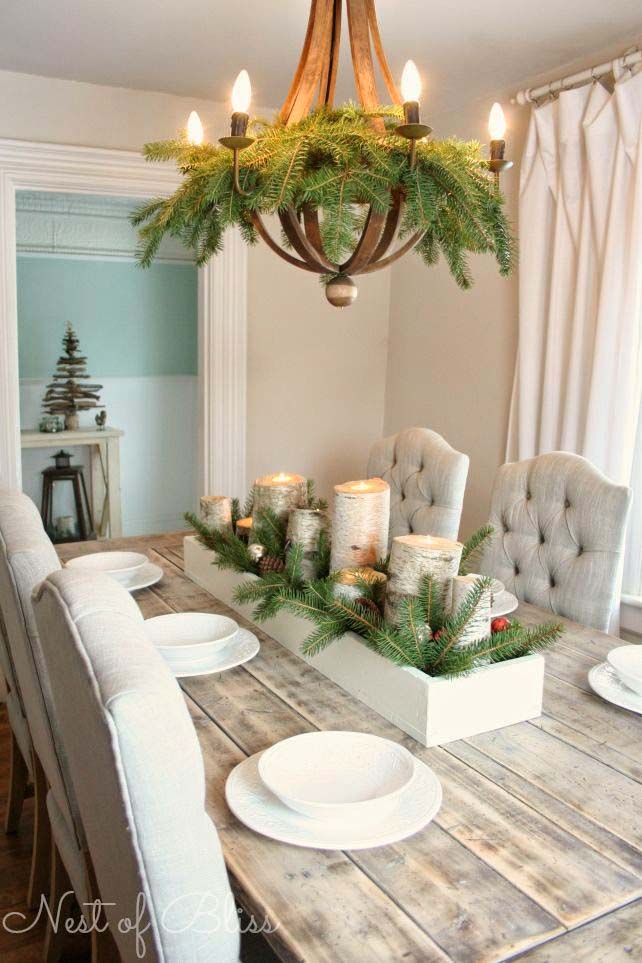 If you have a chandelier in the dining room, then it can easily be decorated in the Christmas spirit.
If you don't like the rich and colorful decoration, go for a simpler one, inspired by nature. Gather some evergreen twigs and insert them into the light fixture.
There isn't a better way to decorate such an aged chandelier.
via Margaret Of York
22. Burlap Rag Tie Lighted Garland

If you are not happy with the garlands sold, you can easily make yours.
Start by getting a plain strand of Christmas lights from the Dollar store. Cut strips of burlap and tie them to the strand.
Use the thematic colors of Christmas for your customized garland- green, red and the traditional burlap color.
You can alternate the colors as in the photo or you can go for another pattern, either way, the customized design of the strand of lights will add a lot of rustic beauty to your Christmas indoor decor.
23. Santa's Workshop Elf Display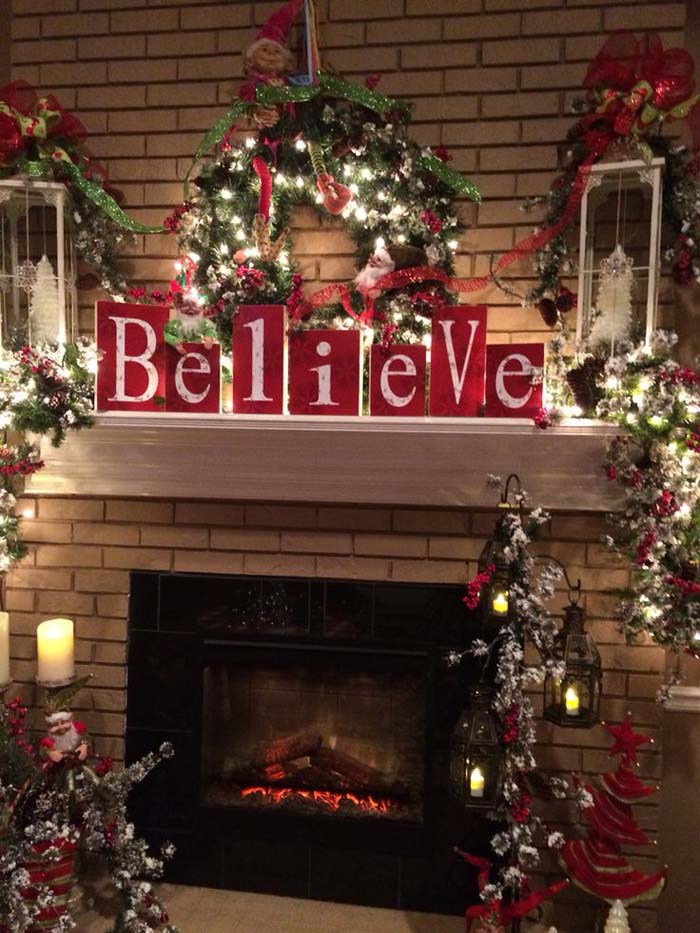 Another idea of how to decorate the mantle and the fireplace features a lot of garlands, wreaths and ribbons that anchor the place from which Santa gets into the place.
The festive arrangements are enhanced by a handmade sectional sign, forming the word "believe'.
24. Pinecone And Bells Matching Florals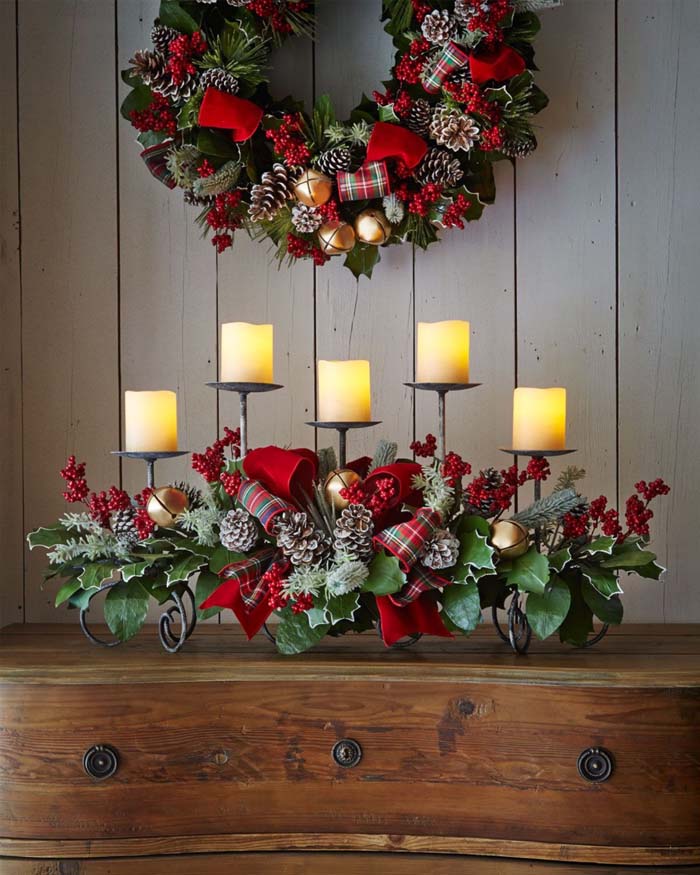 Evergreen wreaths and Holly are traditional symbols of the Christmas decor.
You can make them more personalized by decorating them additionally with red ribbons, plaid pieces, jingle bells, berries, pinecones.
25. String Light Tree Door Décor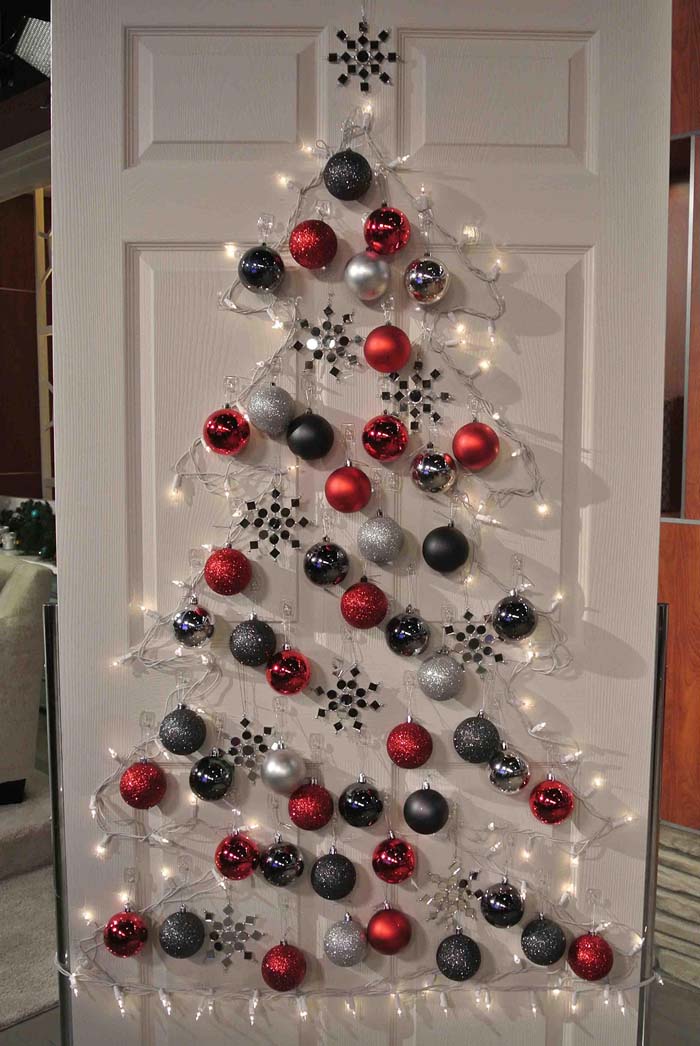 You can easily have a Christmas tree in every room if you follow the idea from the image above. Trace the shape of a pine tree won the door with fairy lights.
Use the strand to hang Christmas balls and other ornaments.
26. Candles And Berries Mason Jar Vases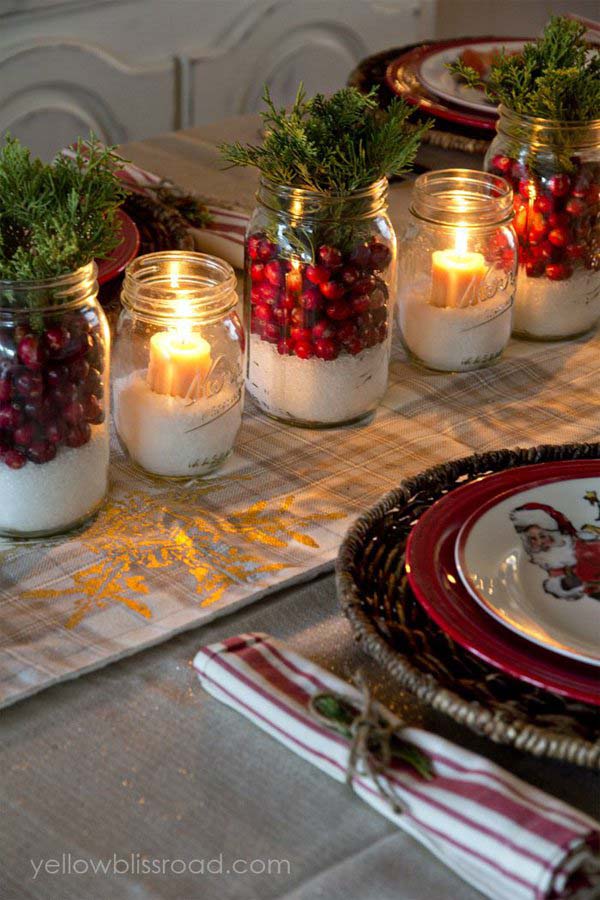 Another idea for a table centerpiece for the Christmas holidays is this DIY project.
To create this welcoming arrangement, get Mason jars in two sizes. Fill 1/3 of all of them with sugar. Fill the larger ones with berries. Insert candles into the smaller ones.
Lay a thematic cover onto the table and then place your jar accents onto it. Alternate the jars along with the fabric cover.
via Cuded
27. Vibrant Ornament Mini Trees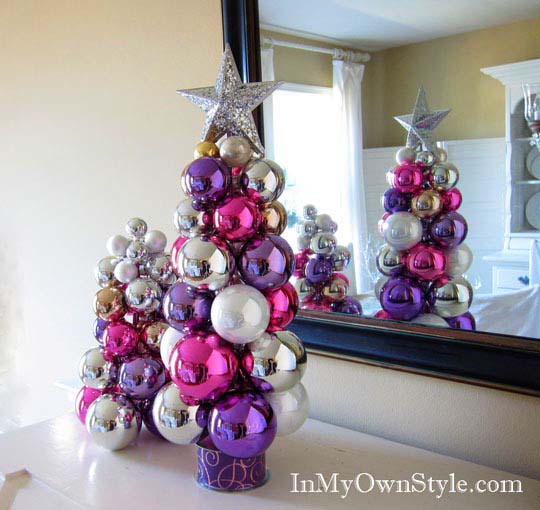 The ideas for alternative Christmas trees are many. This one uses silver, pink, purple and gold Christmas balls of different sizes. They are stacked onto a knitting needle. Start stringing the large ornaments first, then continue with the smaller ones.
The basis of the tree is a ribbon spool, decorated with wrapping paper. Finish the chic tree with a star ornament.
via In My Own Style
28. Rustic Milk Container Evergreen Display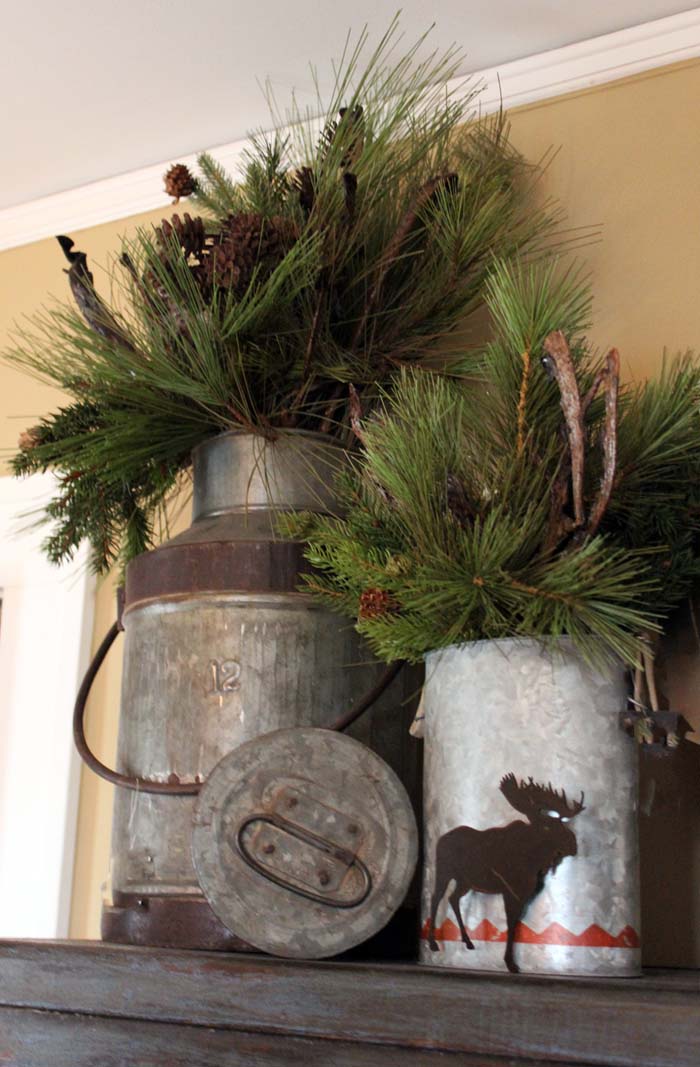 You can turn your vintage decor into a Christmas-themed one simply by including evergreen twigs and pinecones.
This idea shows how old milk cans can hold short pine tree twigs and beautify an open shelf.
29. Paint Dipped Pinecone String

You can make your own garland which will bring nature and the Christmas tree motifs straight into your home.
Dip the pinecones into white paint to give them a snow-covered look. Then tie a long length or red yarn around the basis of each pinecone.
This garland can be included in the decoration of each part of your home interior- on the mantle, around the fireplace, on shelves, etc.
30. Farmhouse Buffalo Check And Silver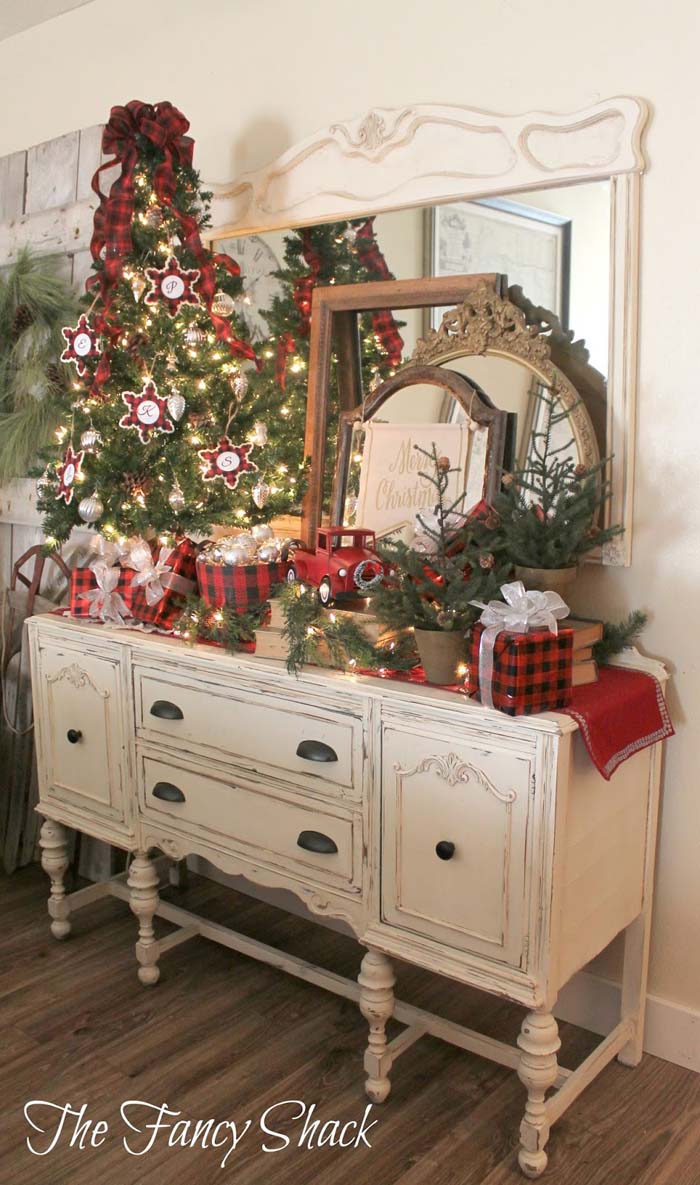 If you would like to suit your indoor Christmas decoration with the design of the place, then you can choose alternative fabrics and ornaments than the traditional ones.
For example, this vintage drawer is decorated with red plaid ornaments which enhance its aged beauty. You can wrap gifts with it, make your own Christmas tree ornaments and make a large ribbon to place on the top of the tree.
31. Poinsettias And Santa Stockings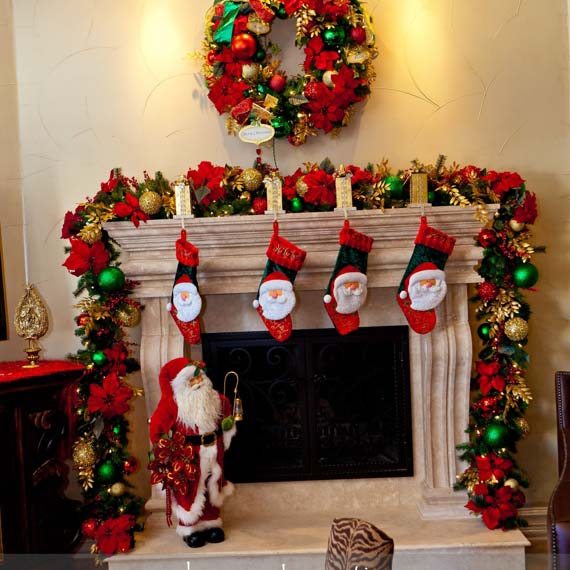 The poinsettia is another Christmas motif and you can use it in your indoor decoration.
You can include faux poinsettia flowers to any arrangements- in the fireplace garland, on the Christmas tree, in a centerpiece.
32. Retro Glittering Pink Christmas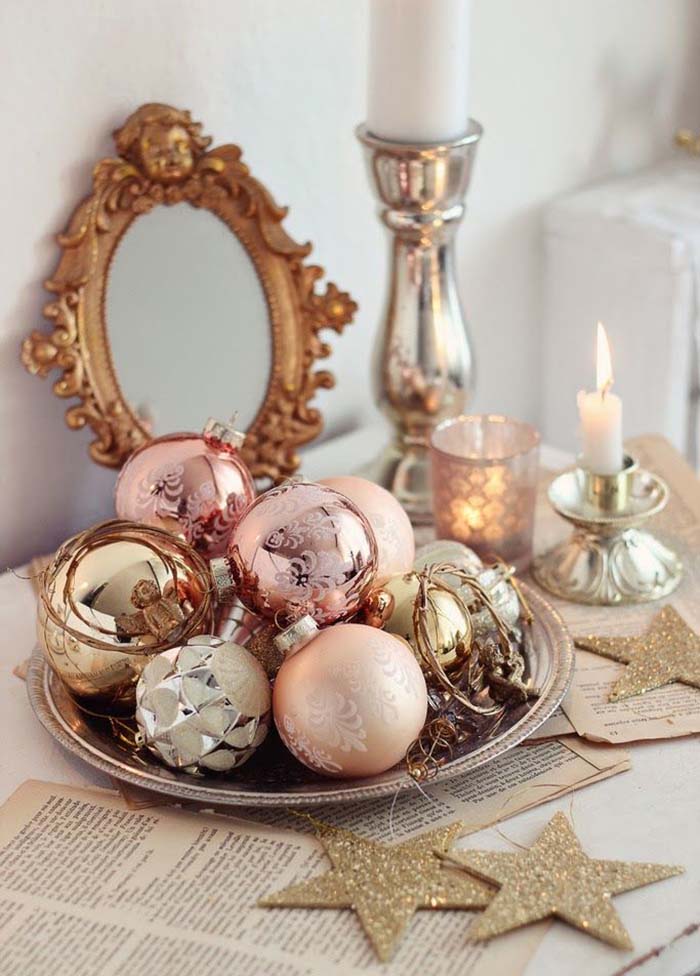 The color of your Christmas decor shouldn't be limited just to red, green and white. In fact, in recent years gold, rose gold and silver have become more preferred because of the elegance and chic they add.
A combination of these metallic colors has been used for this centerpiece plate. The textures of the balls vary so is their size. To let the arrangement fit easily into the interior, combine them with a vintage gold frame placed behind the plate.
via Blogmara
33. Tiered Holiday Reindeer Trays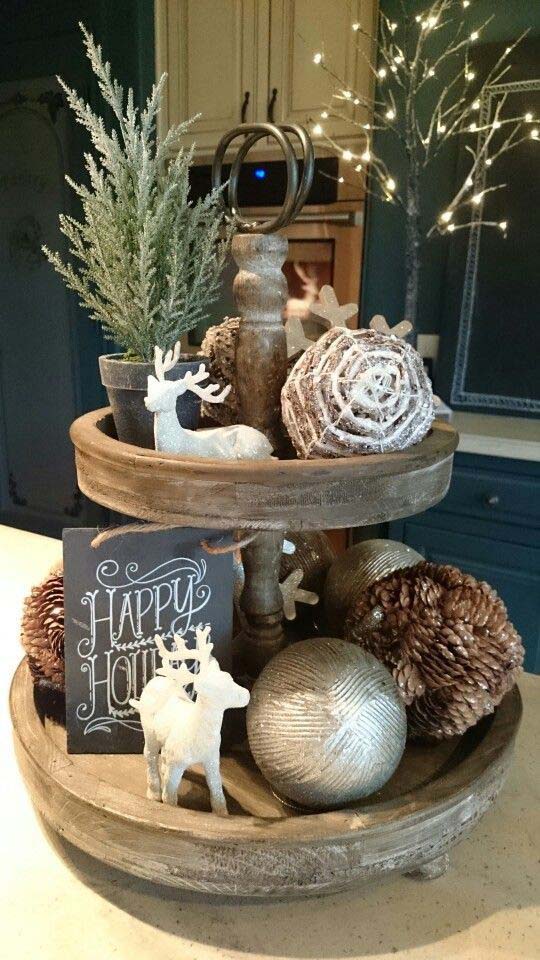 Tiered trays are certainly great kitchen or dining room organizers. They are also a great basis for Christmas decor!
Fill each tray with Christmas ornaments and nature gifts like pinecones, evergreen twigs.
For a personalized touch, add a chalkboard sign and write a festive statement.
via Eat Laugh Craft
34. Gift Wrap Your Cabinets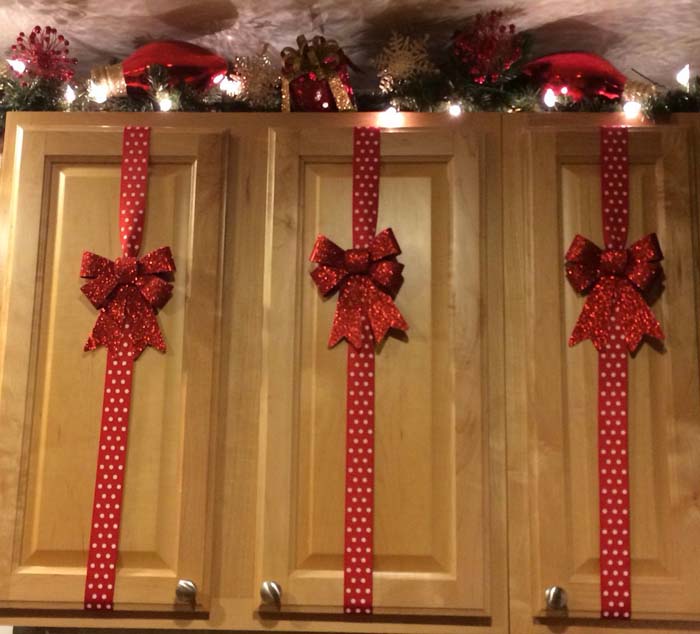 The kitchen of your home can also be decorated to spread the festive and joyful vibes of Christmas.
Wrap a red ribbon vertically around the door of each cabinet. Then glue a ribbon to its center.
35. Recycle A Rustic Wood Pallet Tree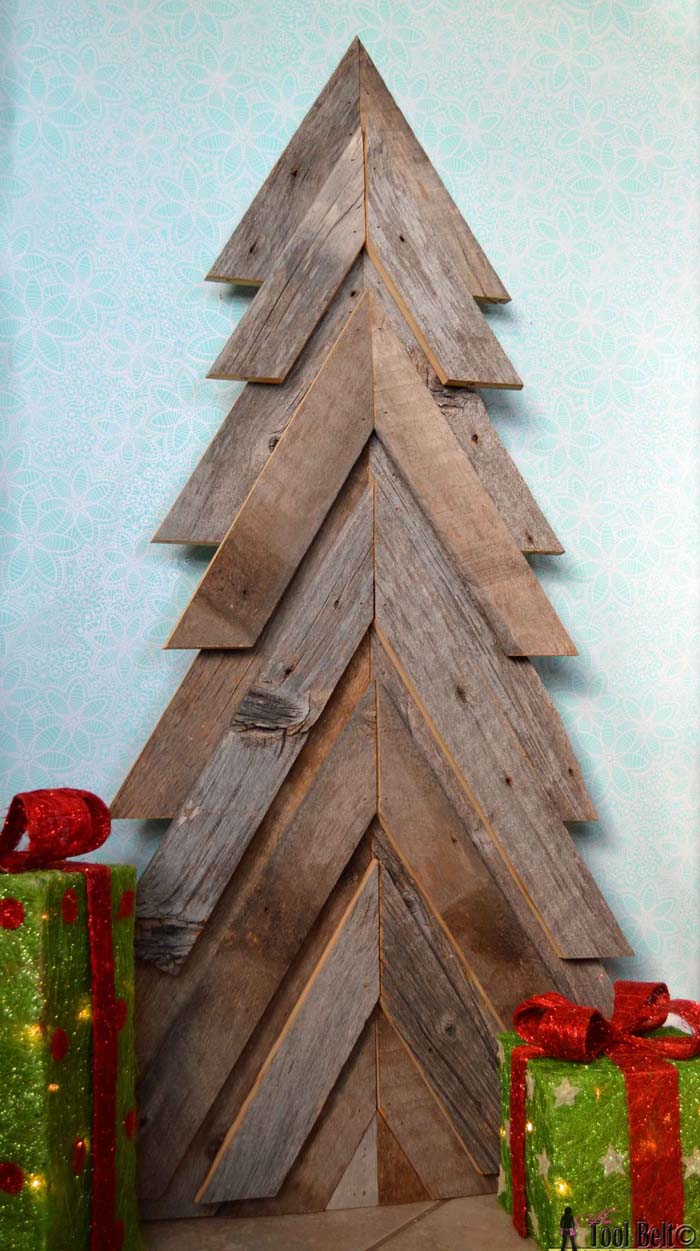 This barn wood Christmas tree is an alternative to the typical real or faux pine tree that will add a lot of rustic charm even to the tiniest space.
It can be made out of pallet slats, barn wood, any scrap slats left from old projects. The instructions of how and at what angle to cut each slat can be found below.
via Her Tool Belt
36. Mini Tree Sleigh Stand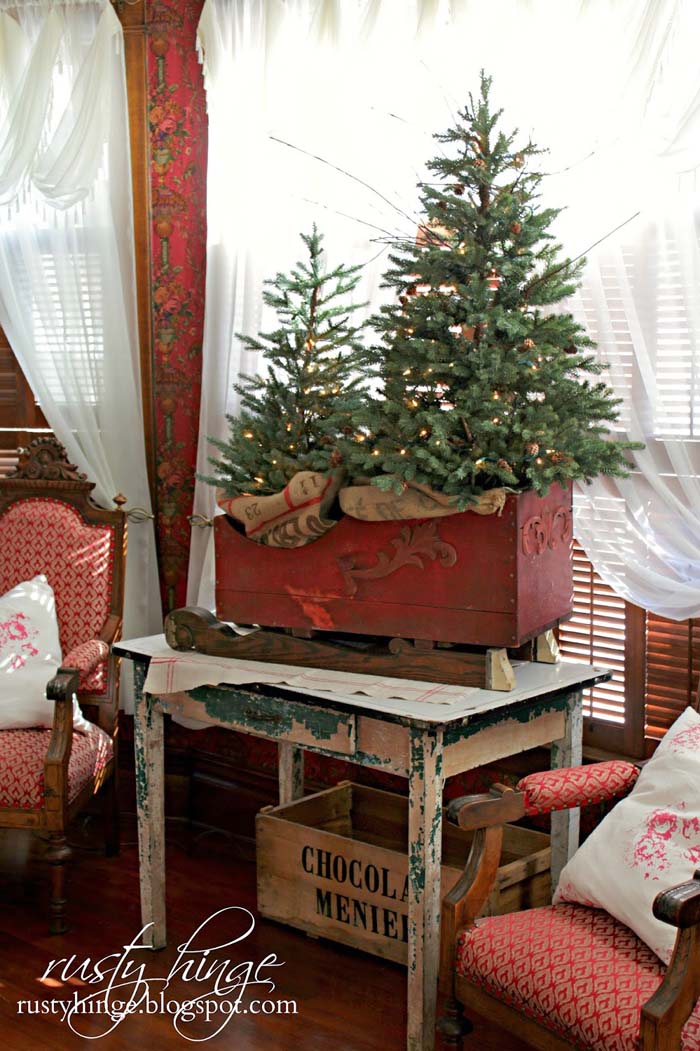 This is an old child's sleigh repurposed into a vintage decor that ignites Christmas expectations.
If you are lucky to have such an aged sleigh, you must include it in your indoor Christmas decor. You can fill the inside of it with Christmas ornaments, small pine trees or twigs.
via Rusty Hinge
37. Joyful Holiday Ceramicware Shelf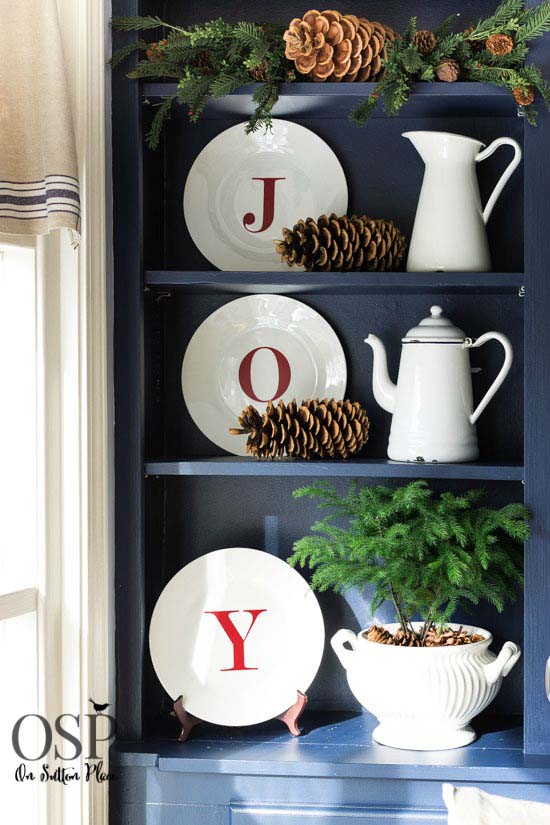 This is another idea of how to decorate the kitchen for Christmas. Decorate the shelves of a cabinet with twigs, pinecones and other Christmas ornaments.
Three plain white plates will add a lot of charm and holiday mood simply by gluing the letters forming the word "joy".
via On Sutton Place
38. Natural Birch And Evergreens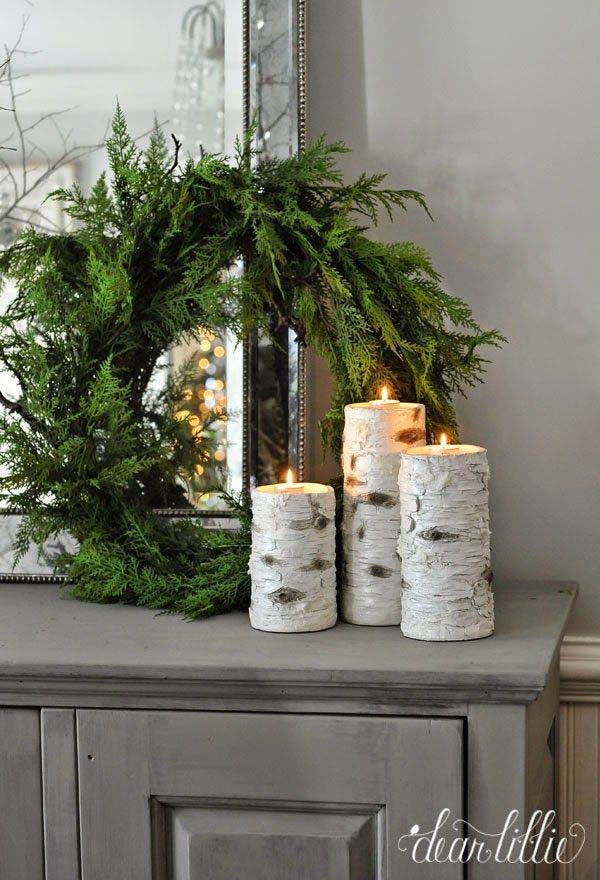 If you are missing small accents to add to your Christmas indoor decor, here is a simple idea for you. Make your own birchwood candles.
Cut short lengths of a birchwood branch and hollow a hole out 1/3 inside each piece. Then place a tea candle into each hole.
Make sure to display all candle holders in a group for a greater holiday impact.
39. Holiday Glitz Marquee Sign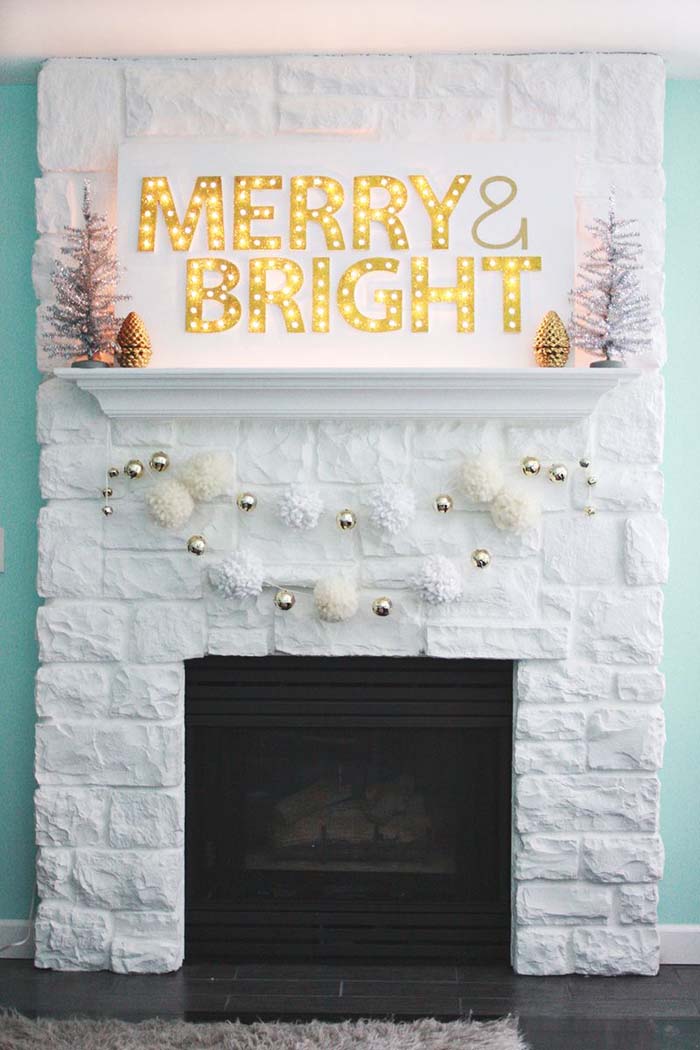 If you have a mantle or a shelf over the fireplace, you can make a simple but yet very impacting Christmas decoration for it.
Start with placing two identical small pine trees on each side. Next to them, pinecones painted in gold are placed.
Inbetween them a festive sign has found its place, spreading tons of merry light.
This arrangement can be complemented by a stylish garland hung on the surface between the mantle and the fireplace. To continue the simplistic design concept, make it altering gold and wool balls.
via A Beautiful Mess
40. Festive Greens And Climbing Luminaries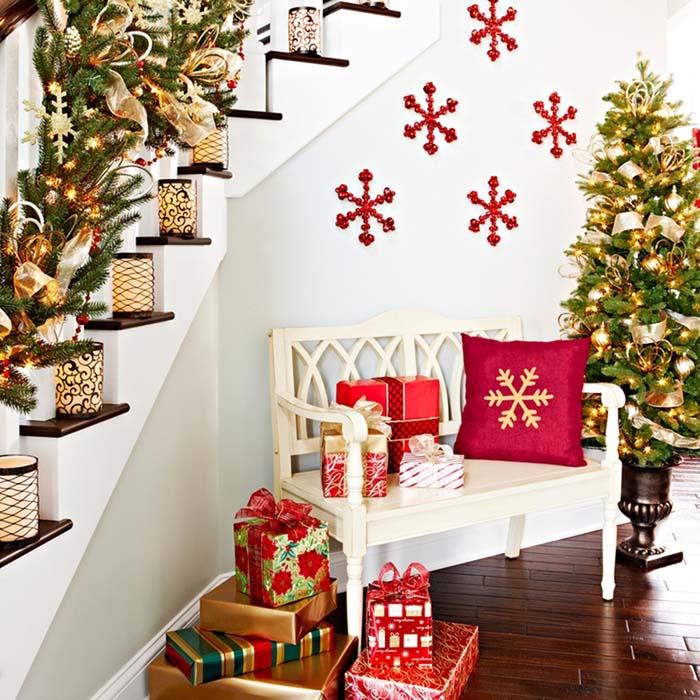 If you have a staircase, it must also be decorated in the Christmas spirit. Weave garland around the banister, place candles on the edge of the steps.
Decorate the garland with ribbons, ornaments, fairy lights. An empty corner next to the staircase could additionally enhance the festive mood by turning it a place where Santa can have a rest and leave the presents.
41. Holidays Are For Family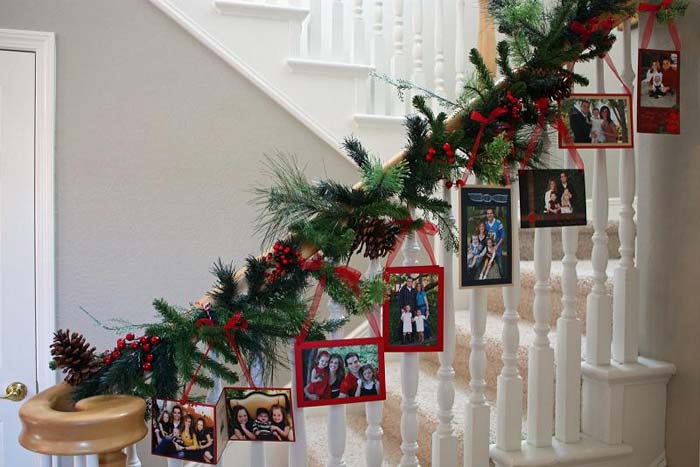 Make your stairway a display of your family Christmas memories. All you need to do is to weave pine tree garland on the rail. Decorate the top of it with pinecones, berries, Christmas ornaments.
The bottom part should be free for the photo gallery. Just dangle the photos with ribbon and then tie its ends to the garland.
42. Dining By Starlight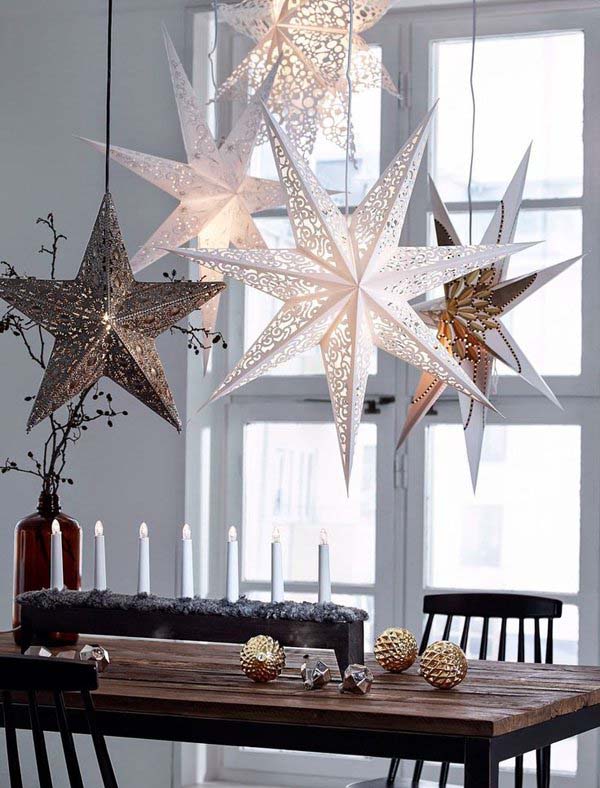 Use the star motif as a decoration for the light fixtures. The design of these ones features holes to let the light go through and illuminate the room.
These stars are made from paper and can be easily made at home. If you don't want to experiment, you may find them at the craft store.
via Cuded
43. Whimsical Fairy Light Garden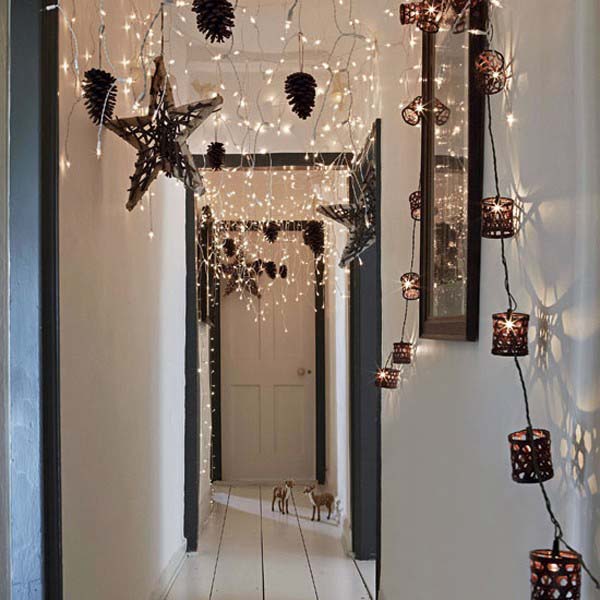 Decorate the hallway with Christmas lights.
Instead of draping them across the walls, dangle them from the ceiling and create a magical atmosphere.
You can include a garland of pinecones, starry motifs and candle jars and make the decor more festive.
via Studio 404
44. Repurposed Pallet Wood Stocking Holder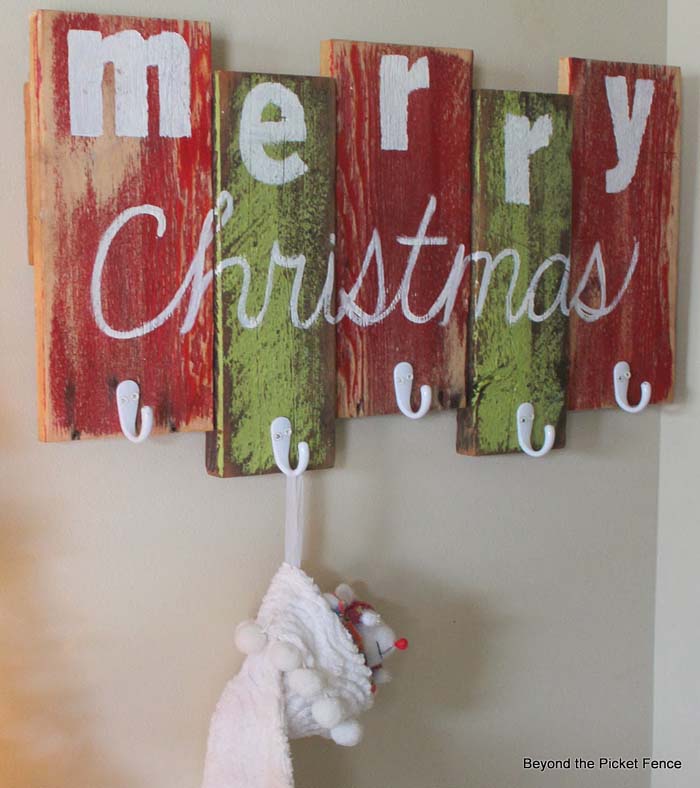 Mark the Christmas spirit from the entryway! This is a great DIY idea that utilizes scrap wood pieces or pallet slats to create a hanger for the gift socks. Paint the five wide slats following the color pattern of the image above and then sand random spots to create a distressed look.
Paint Merry Christmas across the assembled slats and then screw hooks on the bottom to hang the Christmas stockings.
45. Create A Snowman Faced Door Display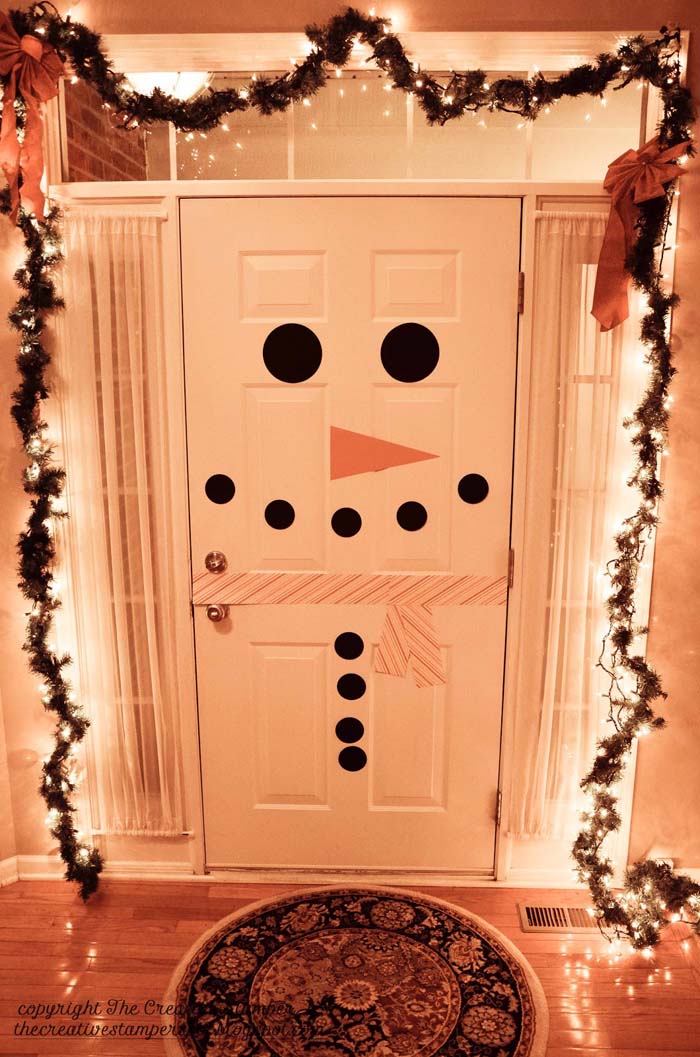 This is an easy Christmas decor idea that will be adored by your kids! Using only paper, the inside of the front door becomes a smiling snowman!
Cut circles from black paper to make the buttons, the eyes and the smile. Cut a carrot-like piece for the nose and use wrapping paper to make the scarf.
46. String Lit Corner Wood Tree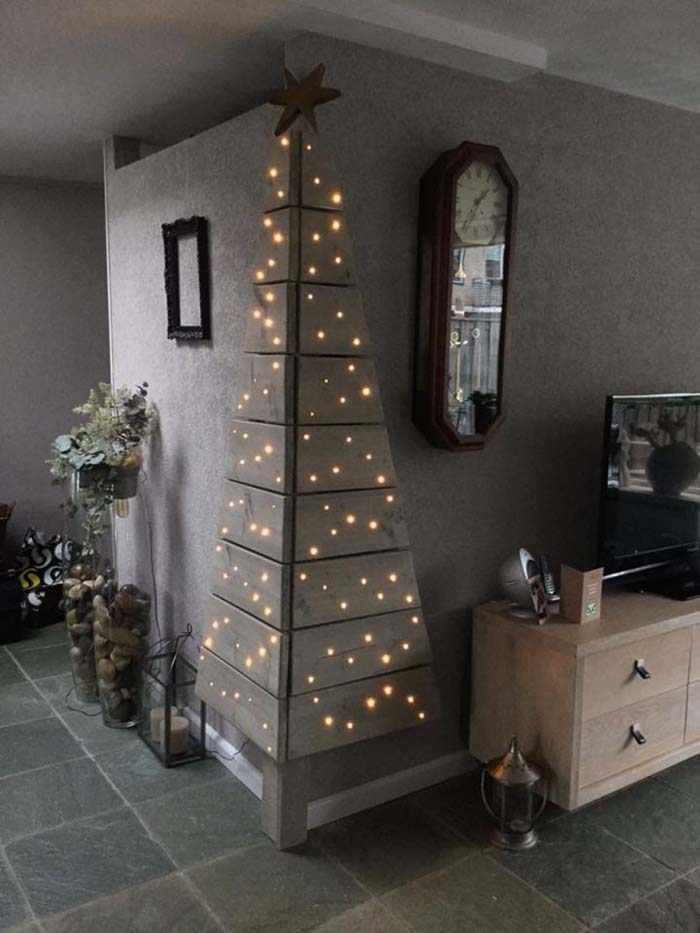 This three-dimensional wooden Christmas tree is the perfect way to make your space more welcoming and cozier for the upcoming holiday.
It features a modern design with a rustic charm and a great amount of warm light. If you like the idea, make sure to read the tutorial below which will give you exhaustive instructions and hints for how to make your unique Christmas tree.
via Decor Home Ideas
47. Craft Paper Holly Wall Art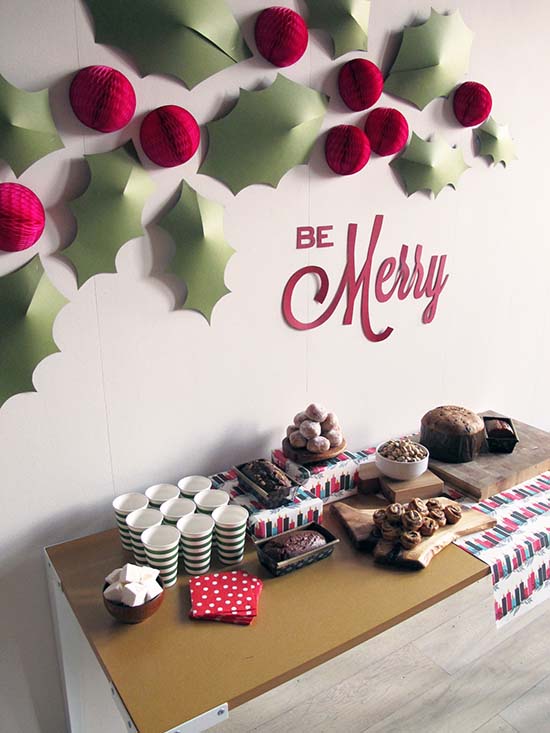 Use the Holy symbol to decorate a wall of your home and make it look more festive.
This project involves paper for both the berries and the leaves. If you think that the berries could be a difficult thing to make, you can get them ready from a craft store.
via Snow and Graham
48. Birch And Pinecone Winter Arrangement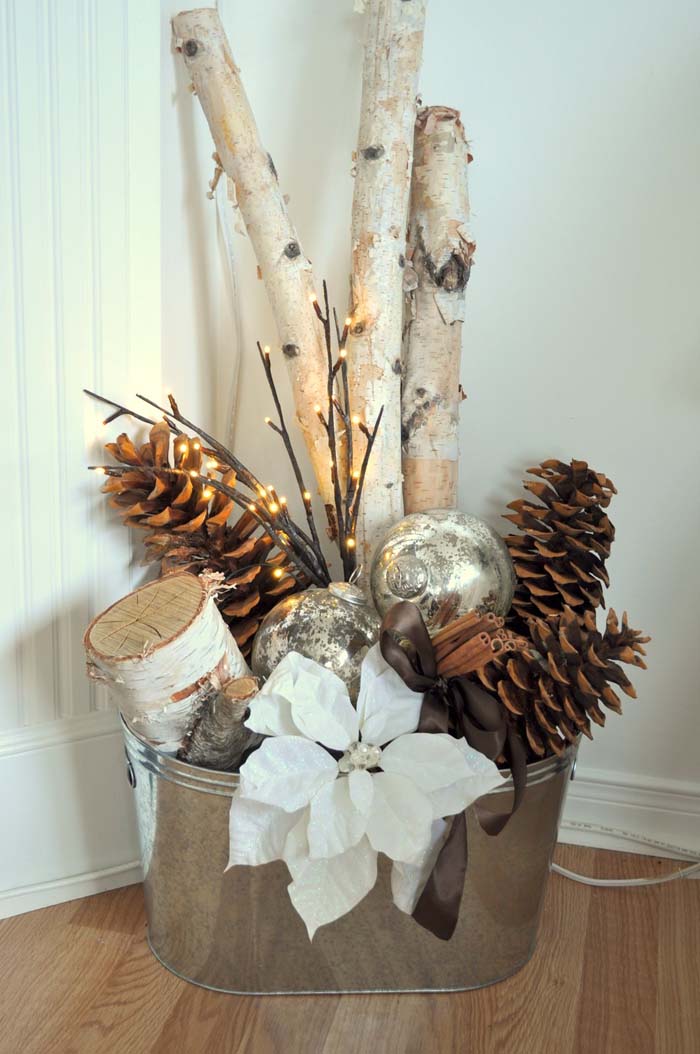 Such a Christmas arrangement can find its place in every part of your home, even the bathroom and the entryway.
Begin with finding a small galvanized bucket. Then fill it in with items that remind of winter and Christmas- evergreen twigs, logs, silver ornaments, faux poinsettia.
49. Festive Window Ornament Cluster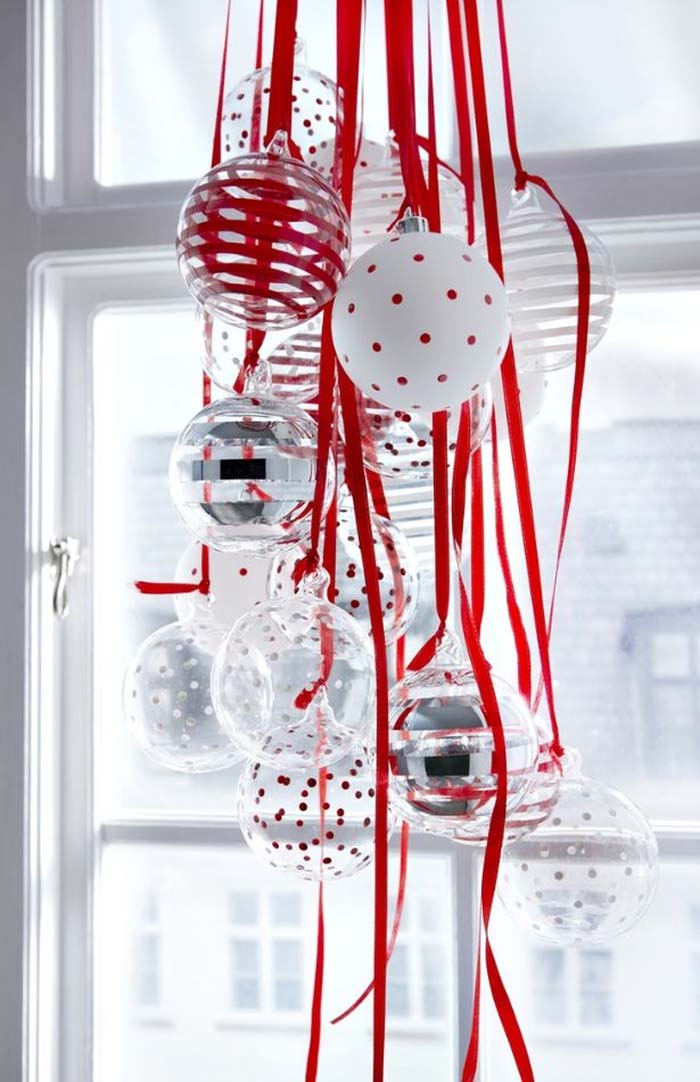 This is another great and easy idea that will help you decorate the inside of your windows. First, pick up Christmas ball ornaments and then cut lengths of ribbons.
Dangle the balls onto them and hang the bundle onto the top of the window frame or tie it to the curtain rod.