We have all admired the beauty of a window decorated with rich blooming flowers. Besides impressive, the window box planters are very practical and suitable even for the smallest window spaces.
Even the simplest window planter is capable of adding curb appeal to the exterior and will surely give hints about the good taste of the homeowners and the aesthetic value of the property.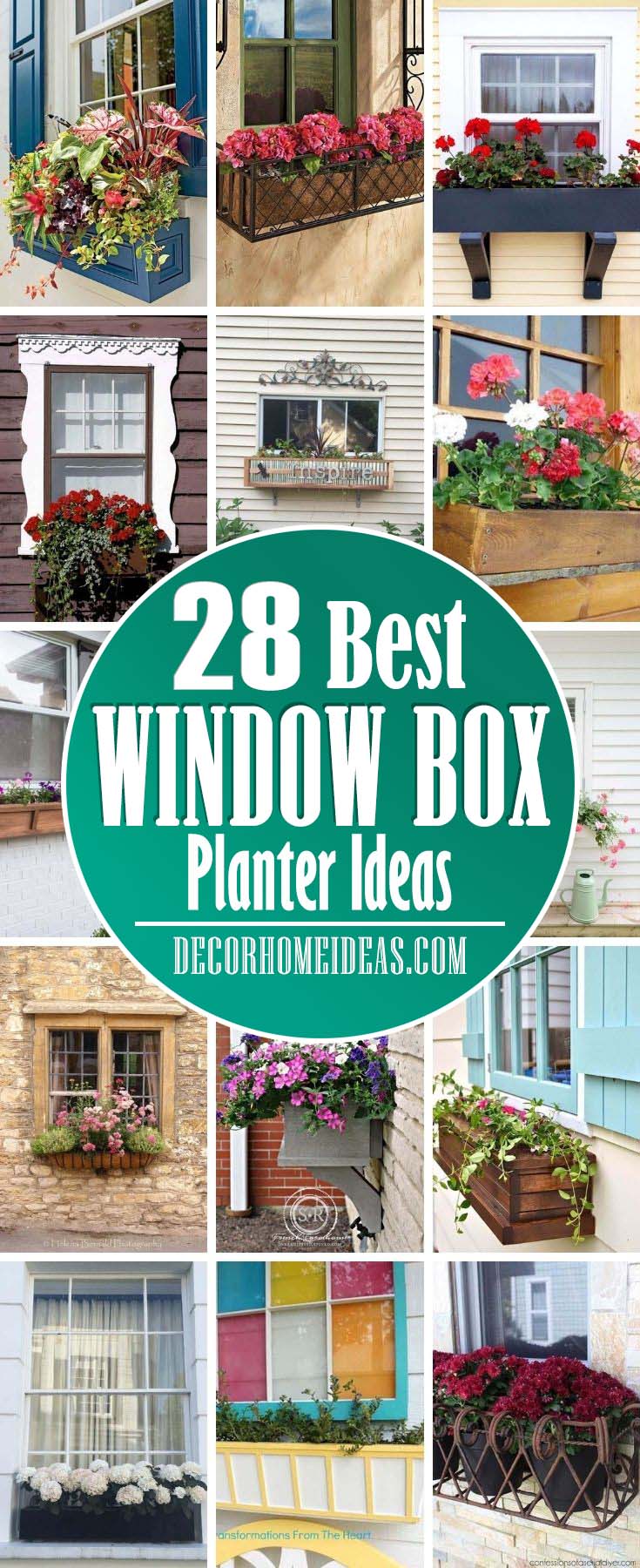 The collection that follows will reveal the best window box planter ideas that can be purchased or DIY.
Whether you live in an apartment or you just can't get enough from your yard and want more landscaping beauty, the window box planters come to help.
1. Enhance Your Home's Exterior with a Cedar Window Box Planter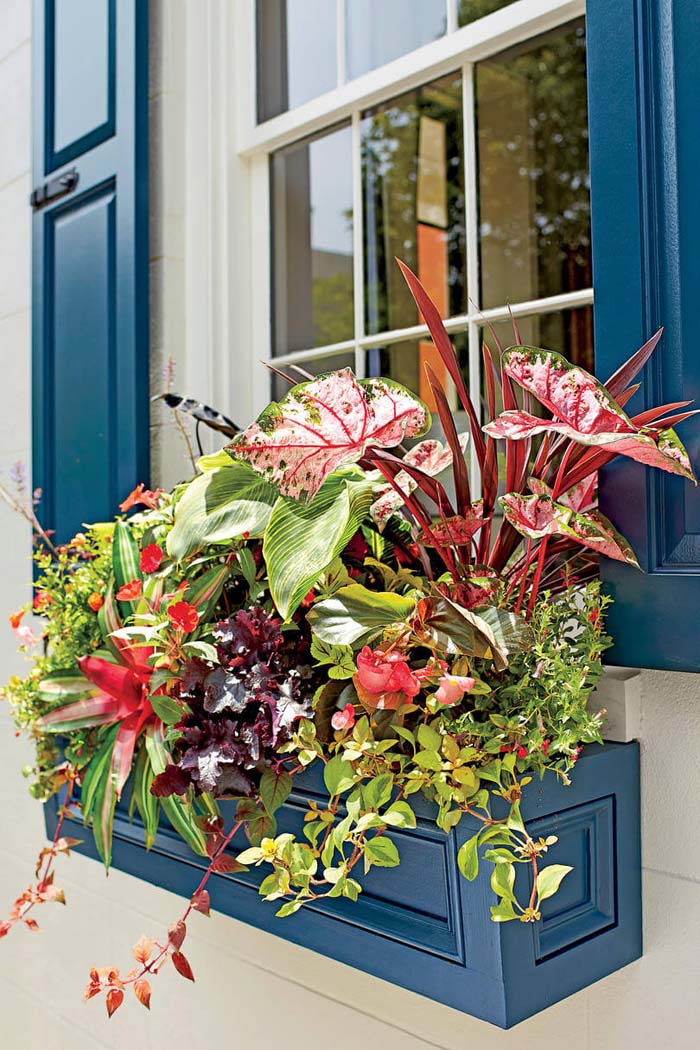 For guaranteed curb appeal, hang a cedar window box planter in the same pattern and color as the window shutters.
via Southern Living
2. Add Contrast and Depth with Black Window Planters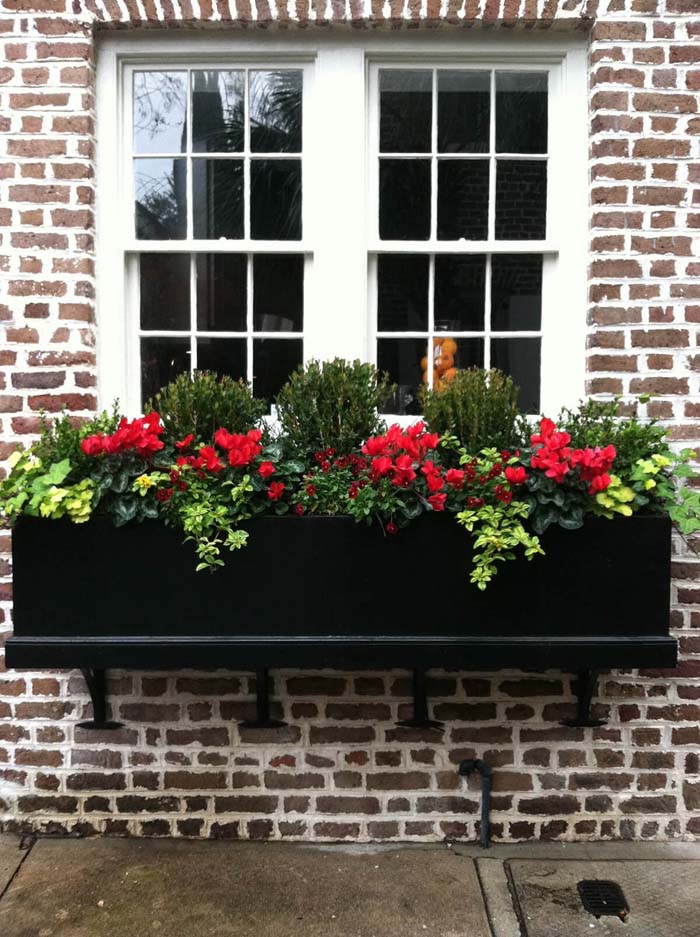 Black planters provide the best contrast of colors. Furthermore, they match any wall or window color and add depth to the picture.
3. Add Height and Style to Your Window with a Flower Box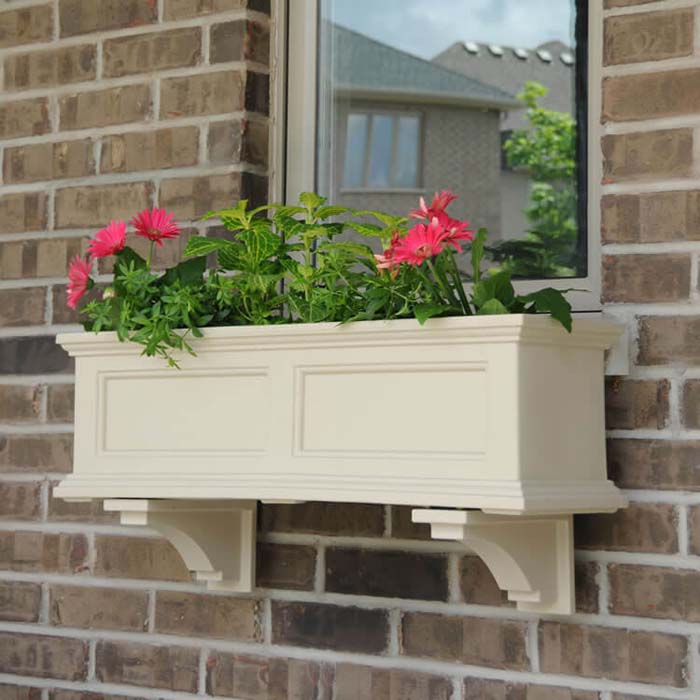 A flower box with molding will visually add height to the window space. It also looks very stylish, especially if it matches the exterior color palette.
via Go Mayne
4. Make an Exquisite Cedar Window Box Planter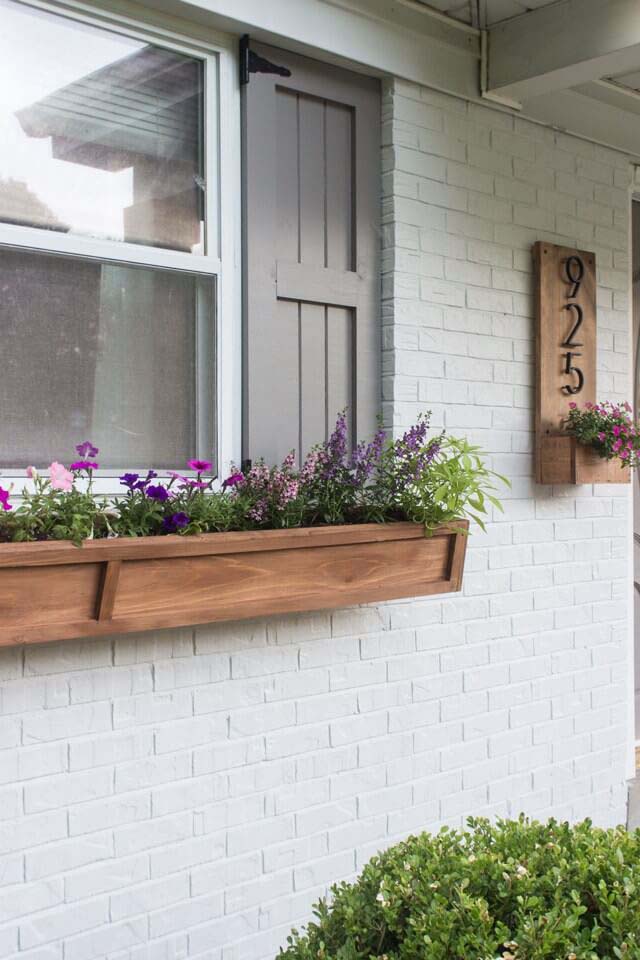 Add character to your windows with a handmade cedar box planter. Making it doesn't require any special skills or tools and is an inexpensive way to add colors to your plain house exterior.
5. Transform a Windowsill with a Large Window Box Planter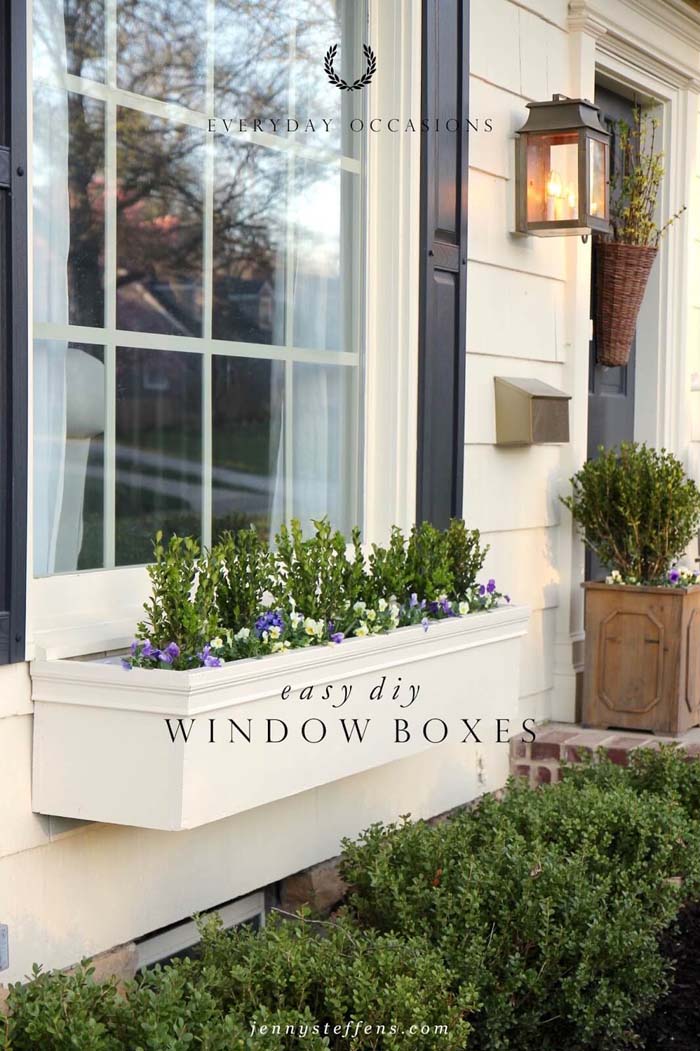 This large window box planter will provide enough space to let you practice your gardening skills. You will be impressed by how easy it is to make and how big its impact is when attached to the windowsill.
via Jenny Steffens
6. Vibrant Wooden Window Box Planter Ideas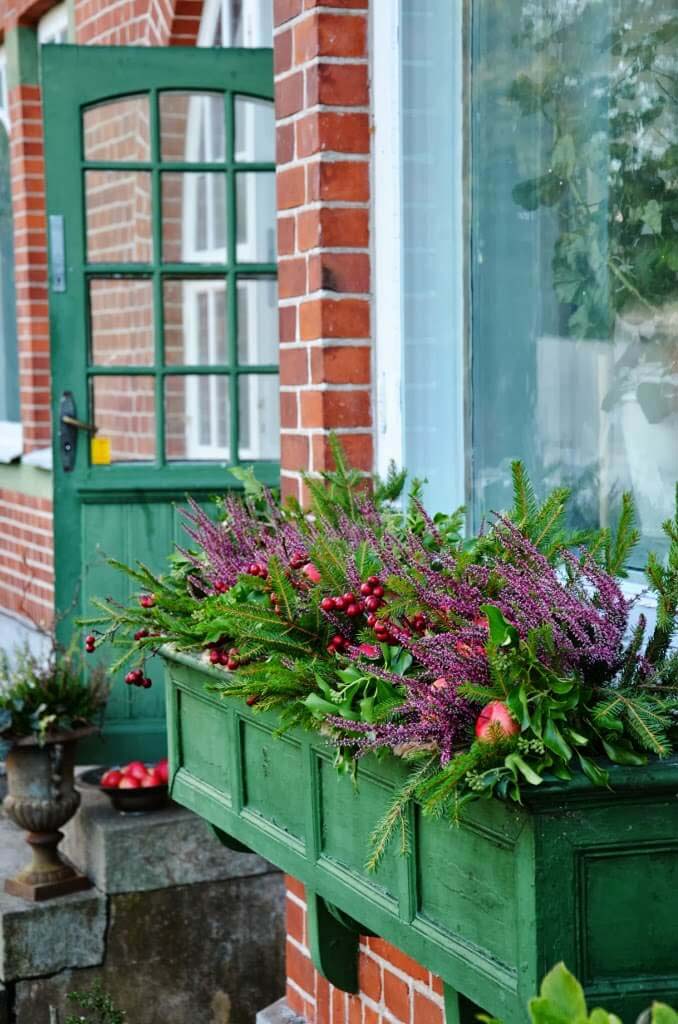 The color of this wooden window box planter is what makes it so appealing. Besides that it matches the front door color, it makes a vivid contrast with the standard English brick wall exterior.
You will notice that the flower arrangement is Christmas themed so go beyond the standards and use the window planters all year long.
7. Construct a Farmhouse Window Box Planter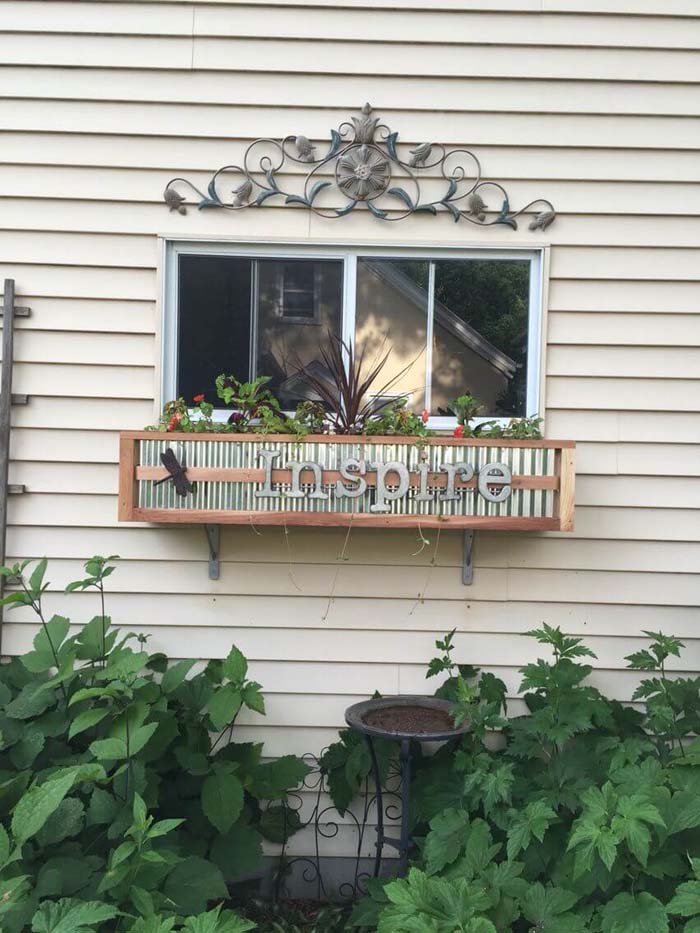 For a farmhouse look, use wood and galvanized tin to fabricate your window box planter. They match very well together and ensure long-lasting use.
via Action Quarterly
8. Complement Farmhouse Decor with a Window Box Planter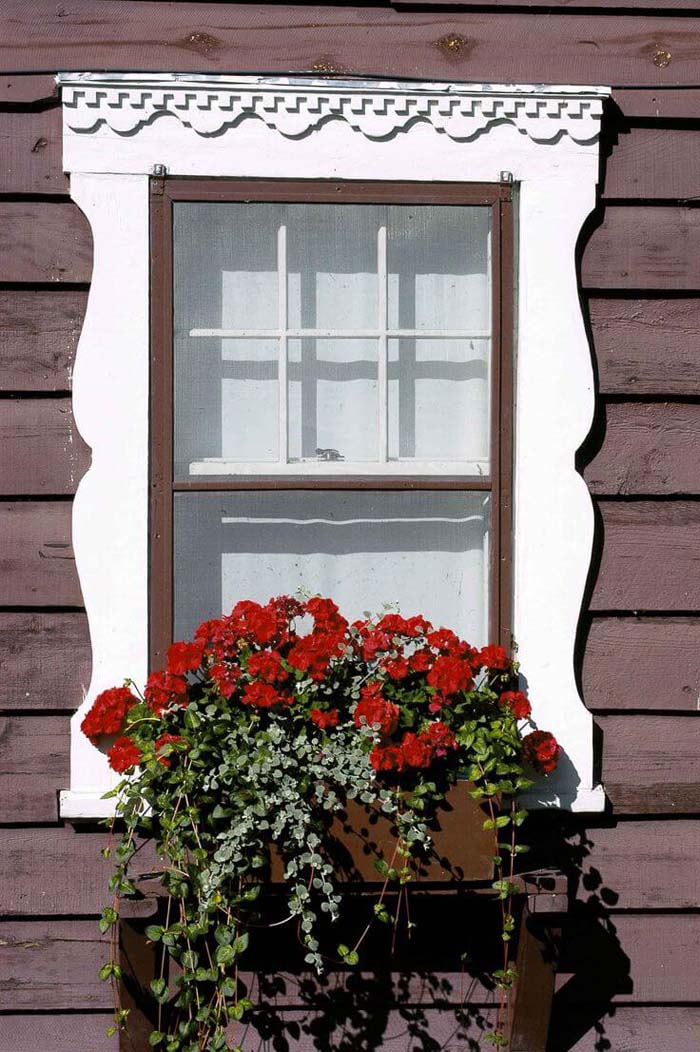 What better way to complement a farmhouse patterned window frame than adding a matching box planter?
The flower container has an antique look and makes it look like it has been there for ages.
9. Upgrade Your Window Garden with a Wrought Iron Window Box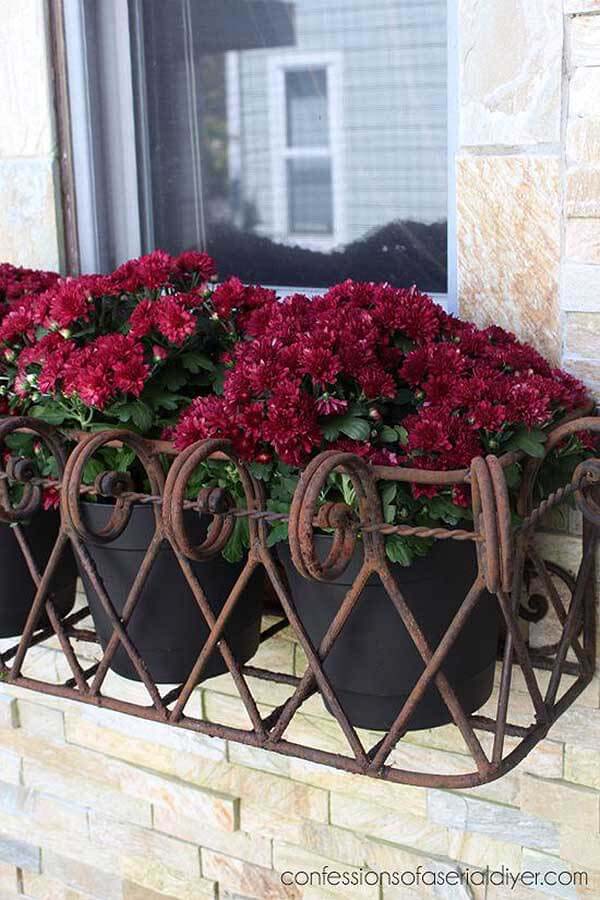 "Underline" your window with a wrought iron window box. It will give an elegant and sophisticated look to your window garden even when plain flower pots are placed in it.
via Confessions of a Serial DIY-er
10. Bring European Charm with a Metal Window Box Planter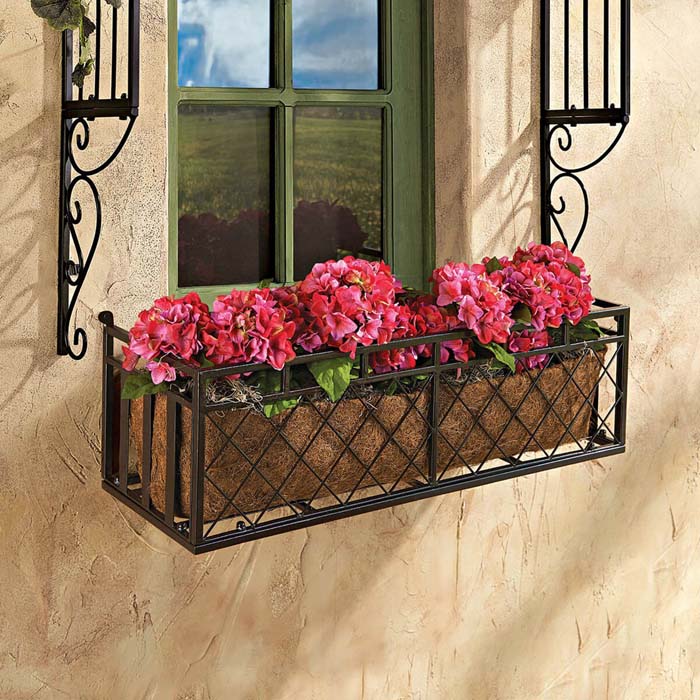 Inspired by the European exterior, such a window box planter will add charm to the exterior.
The advantage of metal window boxes is that they are hollow and you can insert pots or flowers you already have.
11. Sophisticated Contemporary Black Wooden Box Planter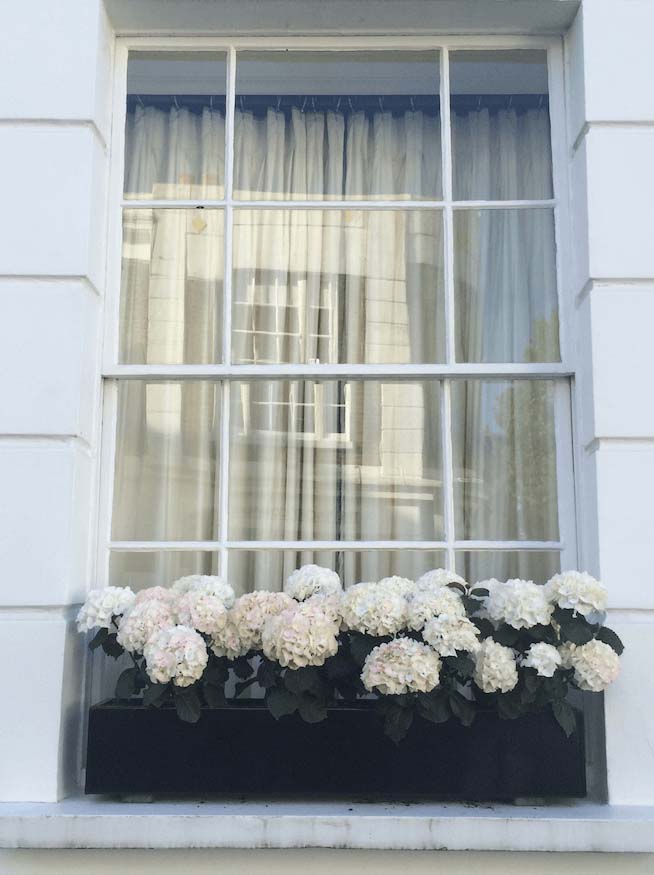 The simple and minimalist look of a black wooden box planter has its numerous advantages.
The black color provides a contrast with the exterior and makes the planted flowers pop up.
12. Enhance a Countryside Look with Rigid Metal Window Boxes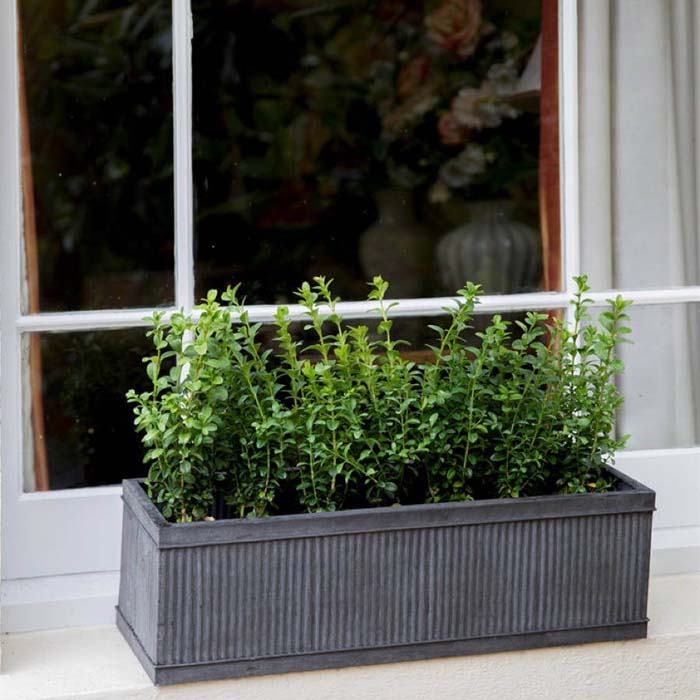 Consider ridged metal window boxes for a more countryside look. They look beautiful with all types of plants, even herbs.
13. Narrow Windows? Hang Box Planters with Brackets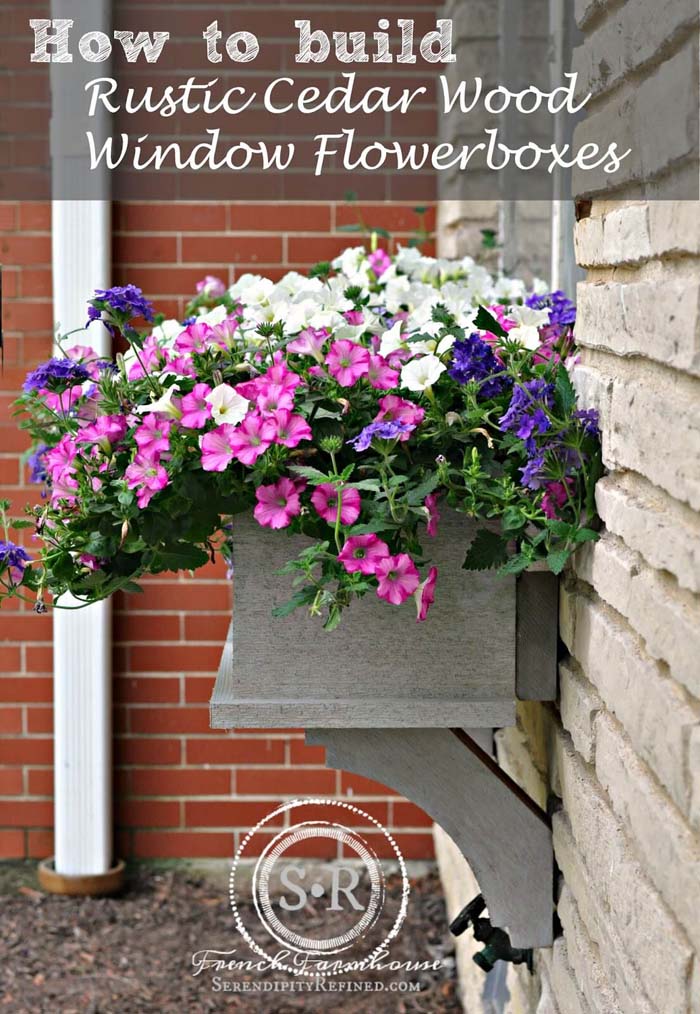 Box planters with brackets are suitable for windows where the sill is too narrow and can't be used to accommodate a planter.
If you like the rustic charm, use curved brackets that will increase the planter's beauty.
14. Bring Farmhouse Charm with a Rustic Window Box Planter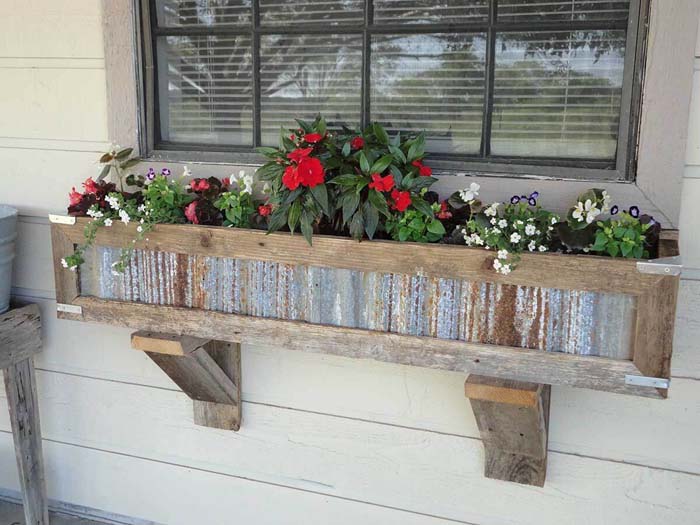 A window box planter on brackets can be affected by the farmhouse living if made from barn wood and rusty metal sheet.
Its worn look will give a great vintage effect and will require no maintenance.
15. Plastic Window Box Planter with a Distressed Wood Look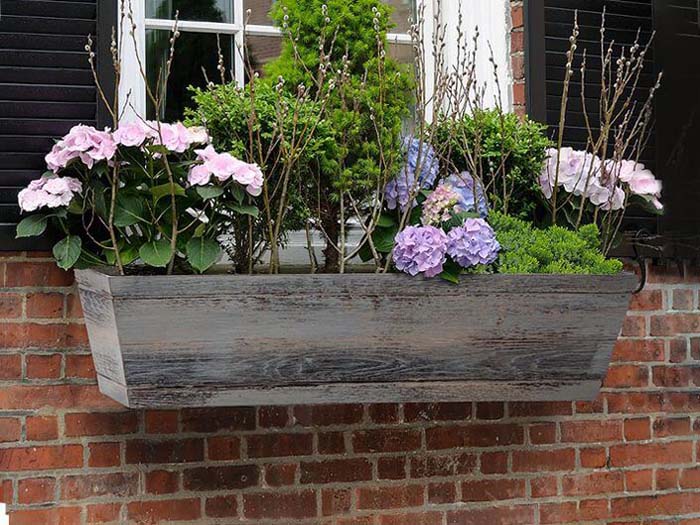 You would be surprised to understand that this window box planter is made of plastic that successfully imitates worn-out wood.
It is suitable for mounting on walls and under windows thanks to the brackets included in the set.
via Window Box
16. Durable Wood Window Box Planter DIY Project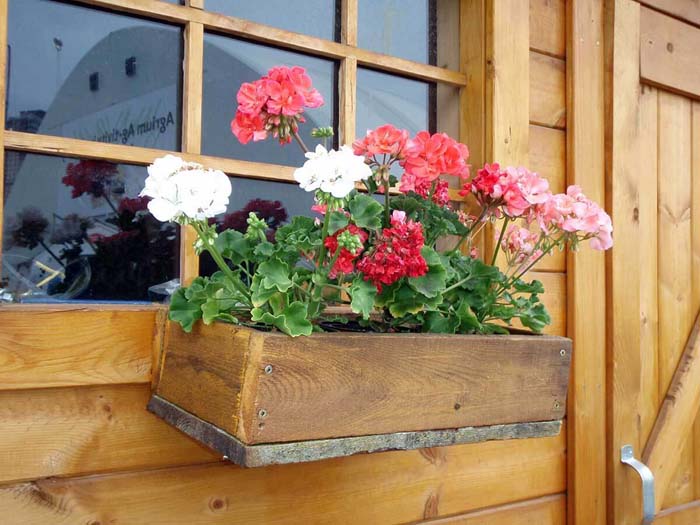 This is a window box planter that will stay for many years as it is made of durable wood.
It can be DIY even by a beginner as long as you have a saw, screws and metal strip for support and suspending. If you admire the rustic chic, leave the wood as it is or only gives it a light layer of stain.
via Fine Woodworking
17. Make a Natural Window Planter Using Scrap Materials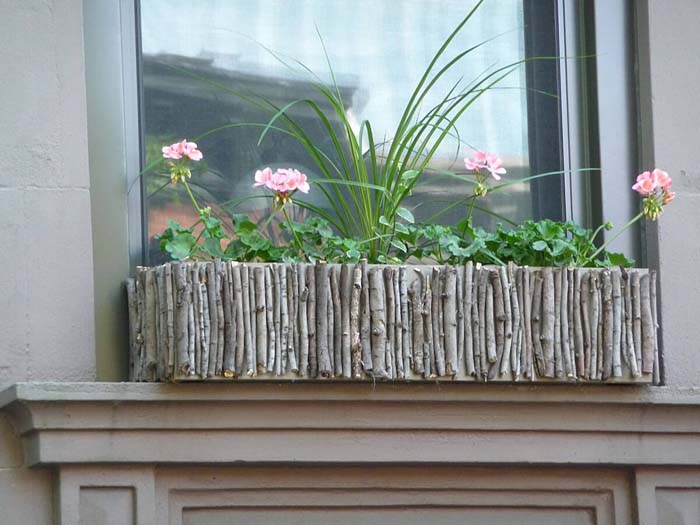 This is an outstanding example of how to make yourself a beautiful window planter out of scraps.
The plywood structure is covered with twigs that welcome nature closer to civilization.
via Improvised Life
18. White Exterior and Floral Adornment for Chic Window Display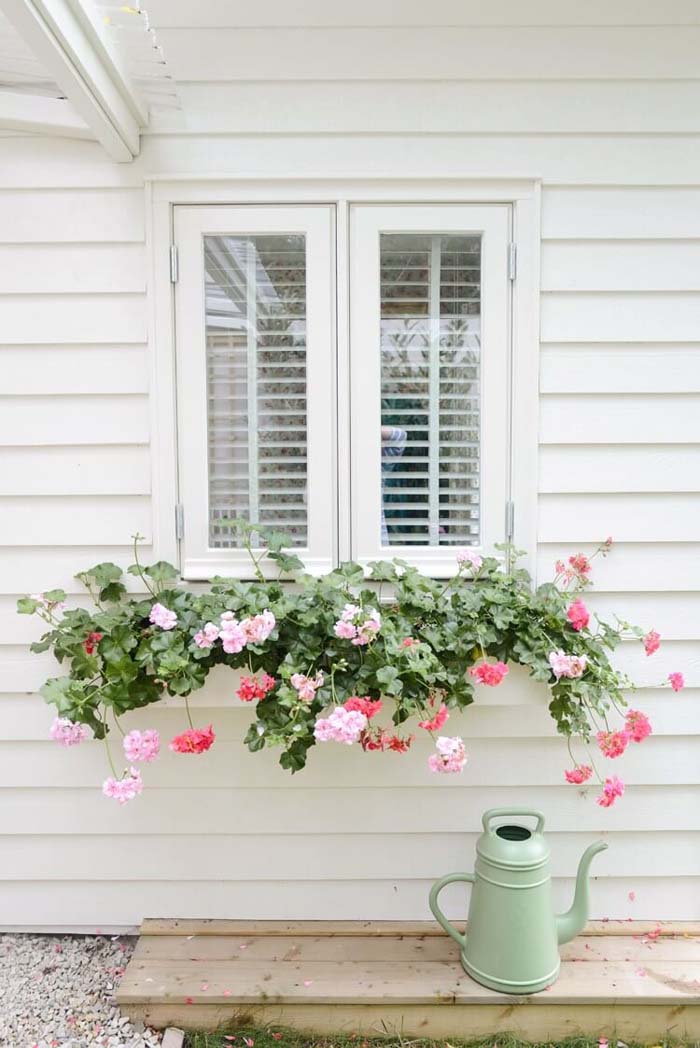 A plain white box will look chic and charming at the window.
The cascading flowers are chosen on purpose to make blooming contrast with the bright white exterior.
via Yvestown Blog
19. Plant Flowers in a Wrought Iron Basket with Coco Liner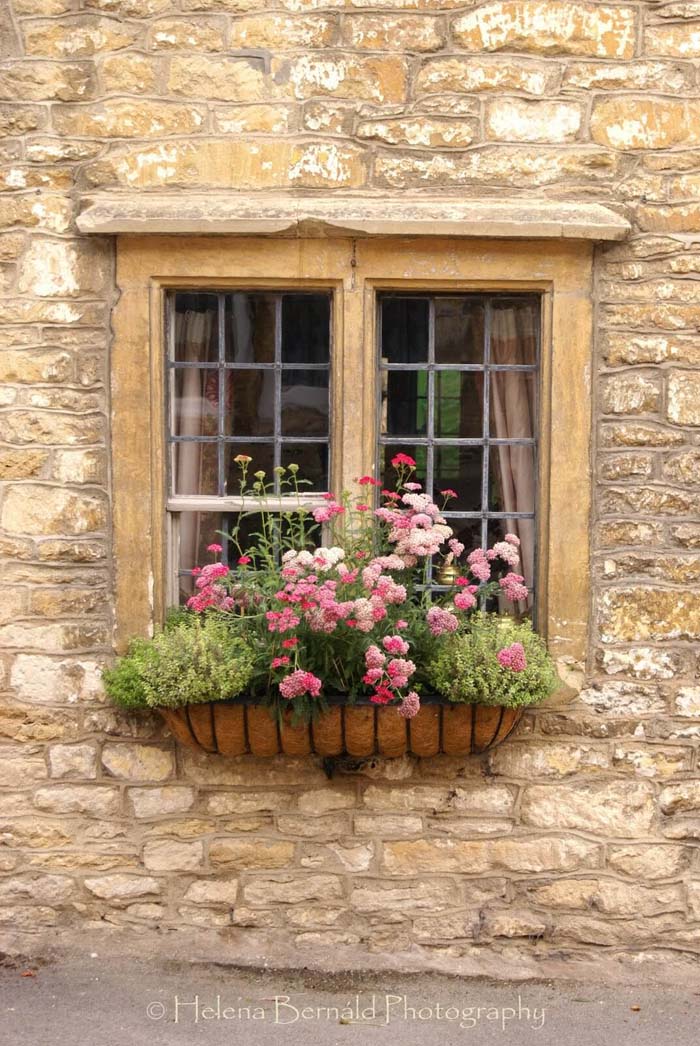 Coco liners are known to provide optimum conditions for the growth of flowers.
If you prefer that type of environment for your plants, hang a wrought iron basket at your window to hold your flowers planted in coco liner.
20. Add Visual Appeal with Semi Gloss Window Box Planters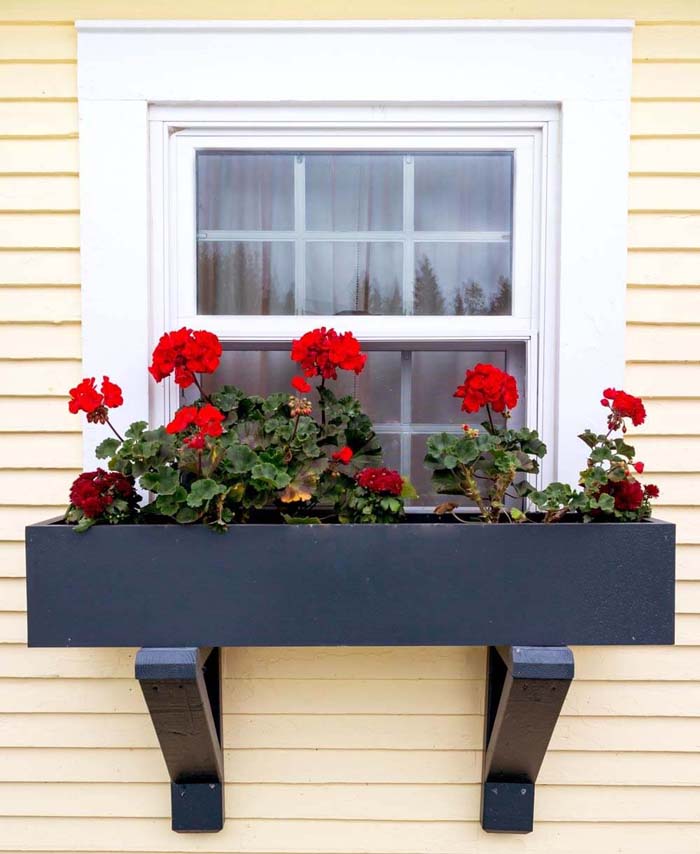 The brackets below the window box planters not only add an elaborated touch to their look but also keep the planter secured.
The chosen semigloss finish makes the planter pop up against the pale exterior.
via Window Box
21. Adone Your Window with a Lattice Planter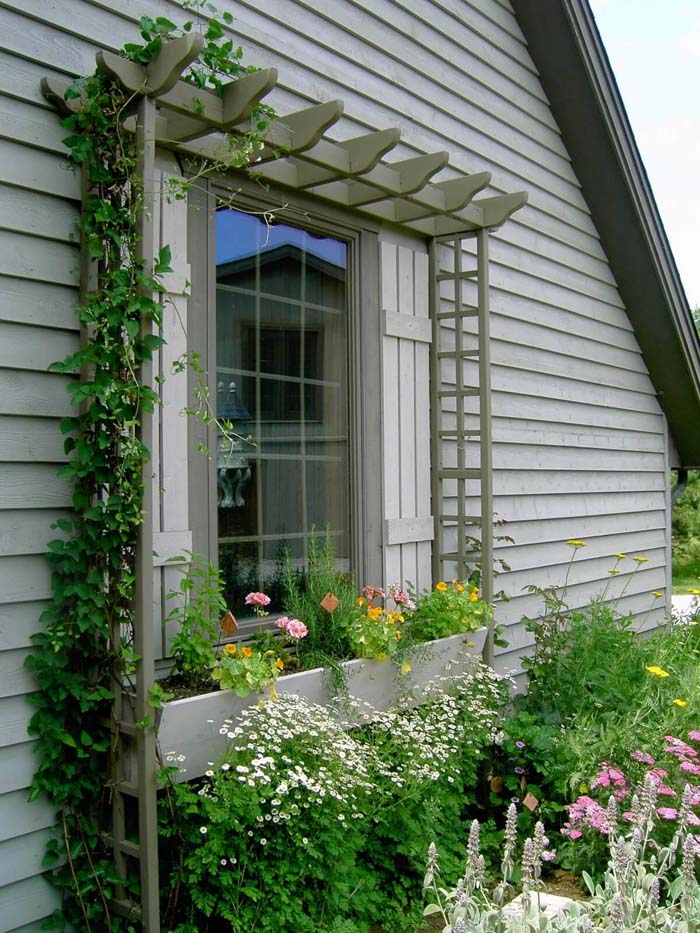 Window box planters can be part of a larger garden that includes horizontal and vertical means to grow plants.
via Tales From The Coop Keeper
22. Create a Window Box Planter with Scraped Wood and X Detail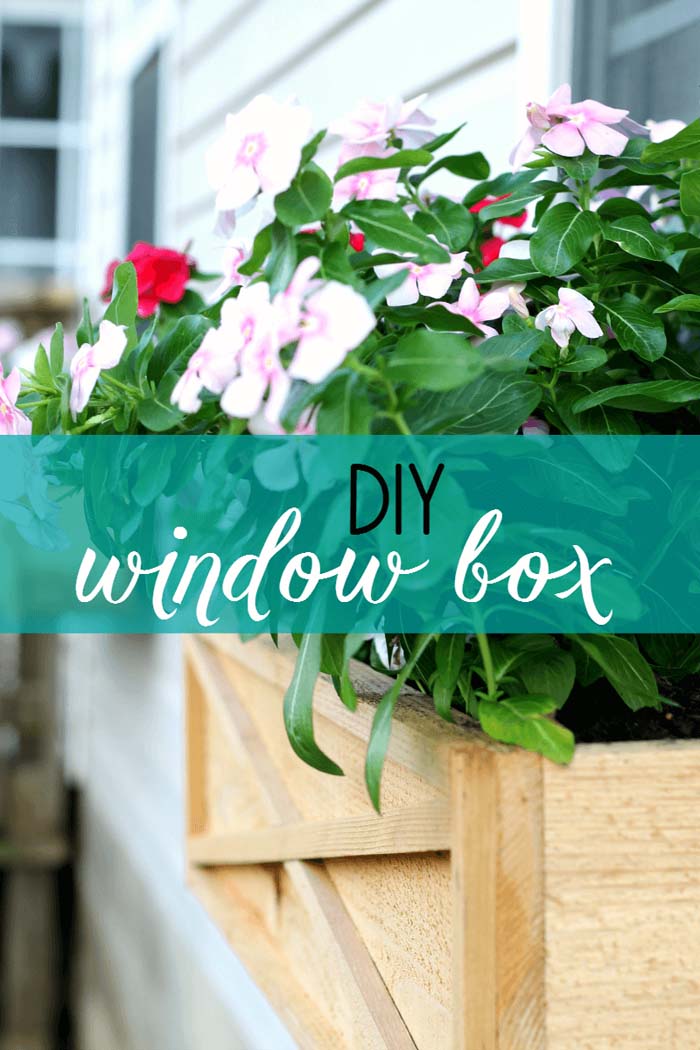 Made of scrapped wood, this window box planter looks like a sold item because of the X detail in front.
If you don't like the rustic look of untreated wood, you can give the planter a coat or two of glossy paint and enjoy a more universal design.
via Life Storage
23. Build a Window Box Planter with Unique Shim Arrangement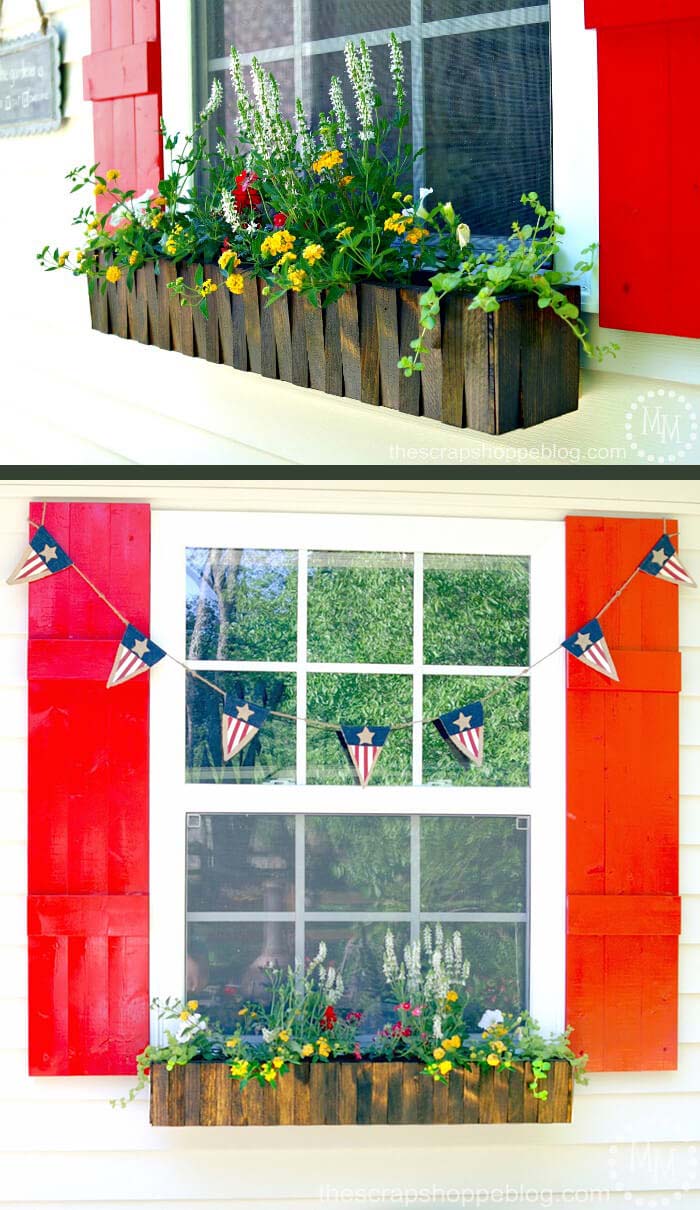 If you are looking for a window box planter that incorporates affordable materials, durability, interesting design and individual look, check the tutorial below.
The shim arrangement is what makes the planter unique.
24. Walnut-Stained Window Box Planter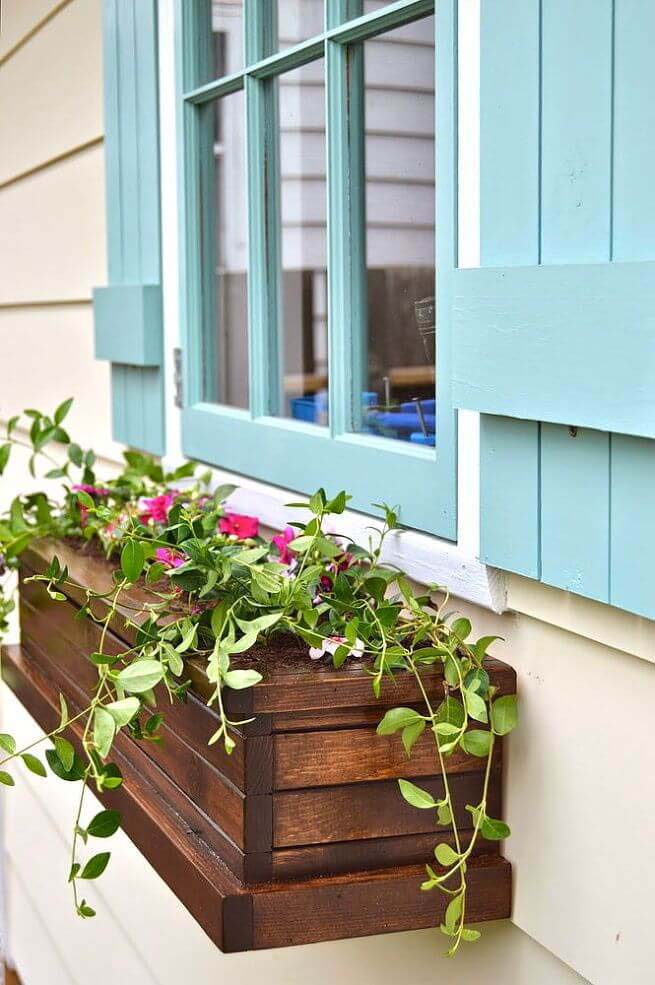 Thanks to the rich walnut stain and the striped pattern, this window box planter looks like a designer's landscaping piece.
Wood stain contributes to adding more character to the appearance and prevents wood from rotting.
via Kruses Workshop
25. Build a DIY Window Box Planter with Simple Wooden Strips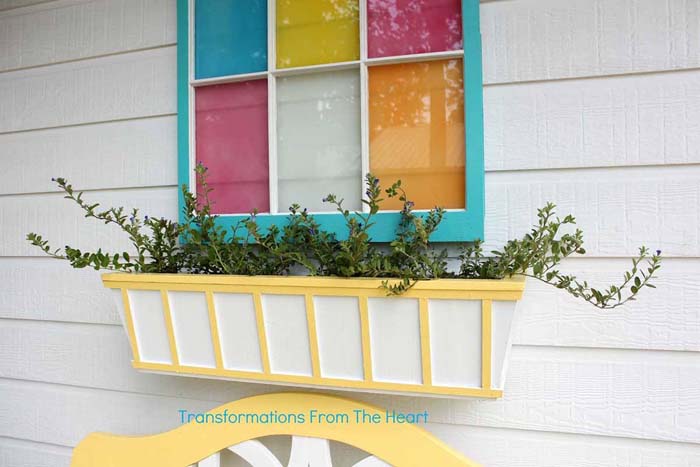 If you are looking for a bright and colorful window box planter, why don't you make yourself one that will answer your expectations?
Give it the look of a complicated item with a simple pattern formed by adding strips onto the base plywood structure.
Paint the base in one color and the strips in another to let the strips pop out and differentiate the pattern.