45 Super Easy Toilet Paper Roll Crafts You and Your Kid Would Love To Make
A well-known fact is that kids love to play with paper, glue and scissors.
Another well-known fact is that we consume at least one toilet paper roll a week. Combining these two, you can create crafts that will encourage the creativity, imagination and the development of the fine motor skills of your kids.
You will be surprised how interesting and unique crafts you can do with these useless at first glance rolls.
So if you are looking for some craft ideas or just for a way to spend fun time with your kids, start collecting the toilet paper roll tubes to try one of these super easy toilet paper roll crafts.
4th of July Party Favors Shaped Like Rockets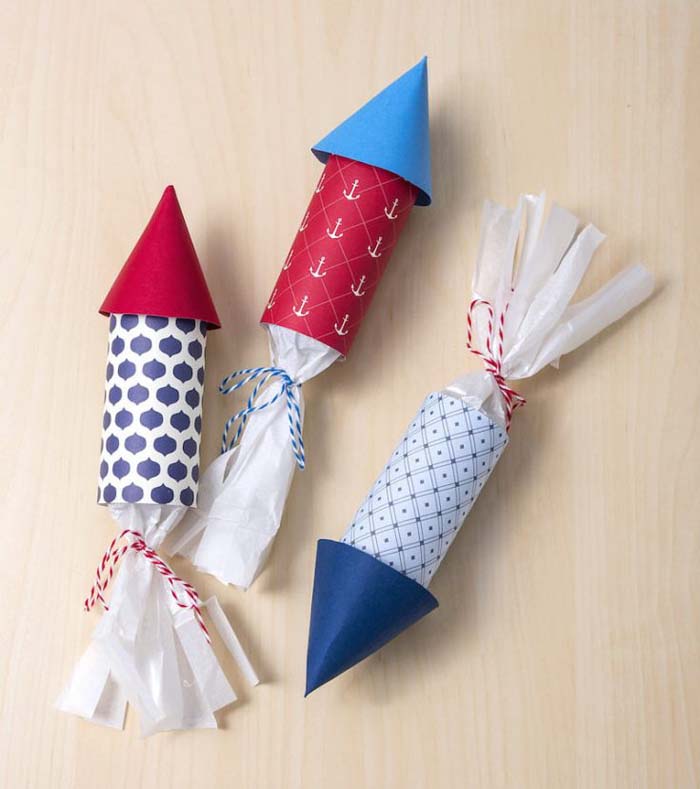 Use this rocket template to create a fun container for party favors. They can be used to treat kids at a birthday party, at Easter and even on the Independence Day.
Choose scrapbook paper designs to cover the cardboard rolls and turn them into a themed decor. The tissue paper attached to the bottom mimicks the flames from launching a rocket and keeps the candies in the tube.
via DIY Candy
Cardboard Tube Binoculars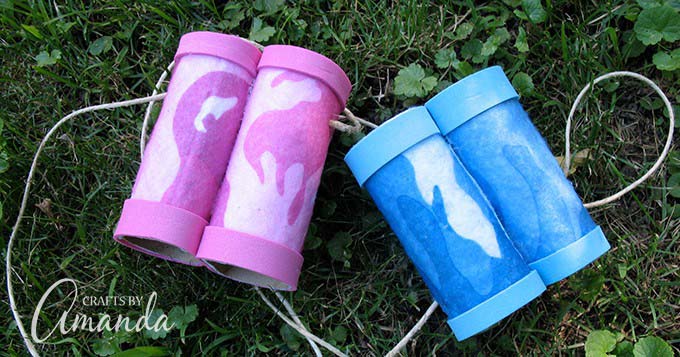 These tube binoculars are a childhood classic! This is the perfect craft for kids keen on adventures. Create them out of two toilet paper rolls, camouflage felt, glue, bands and yarn.
After masking each roll with felt, apply a generous amount of glue to connect them together and make the toilet paper tubes look like a real gadget for your young explorers.
via Crafts By Amanda
Cardboard Tube Tiger Craft For Kids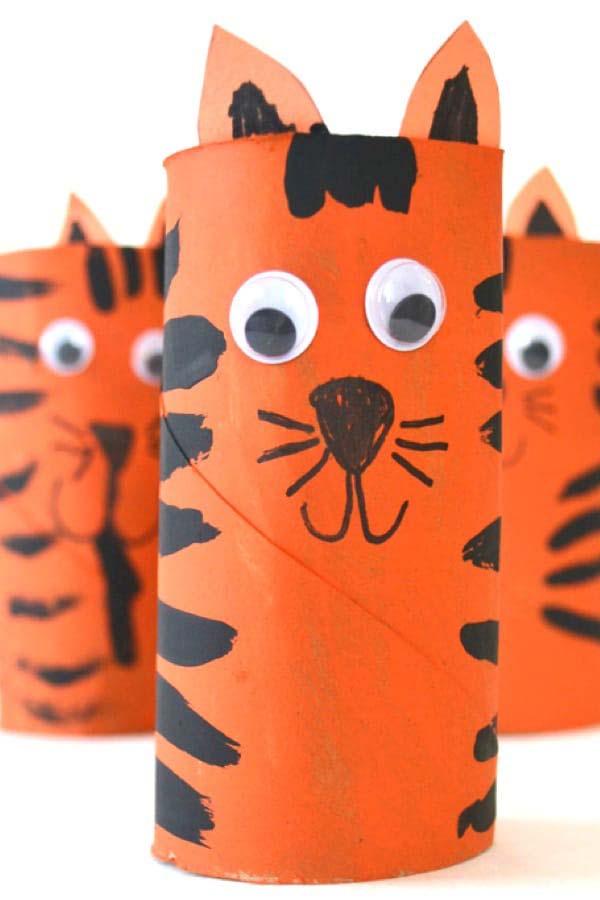 Do your kids love animals? Then let them create their own zoo with toilet paper rolls! These tigers are very cute and unique because it depends on the kids how they will draw their faces and stripes.
This tp roll craft is so easy that you can leave your kids make them on their own. After painting the tiger, use googly eyes to make its face more attractive.
Cardboard Tube Unicorn Craft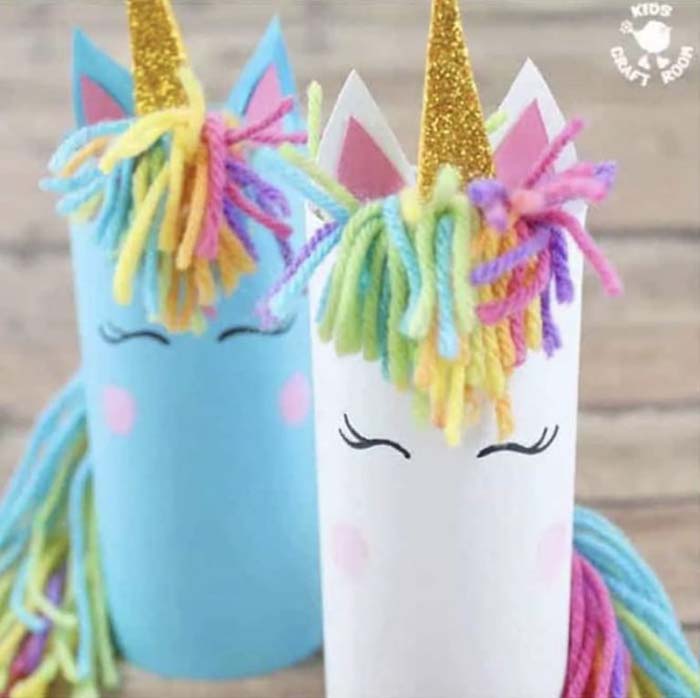 Does your girl love unicorns? In her eyes they are graceful, magical and beautiful.
These paper roll unicorns are just as wonderful as those in your girl's imagination because they have all the typical features- rainbow hair made from rainbow yarn, a golden horn made of glitter foam sheet, charming eyes done with a sharpie and sweet small ears cut from colored paper.
via Kids Craft Room
Cardboard Tube Zebra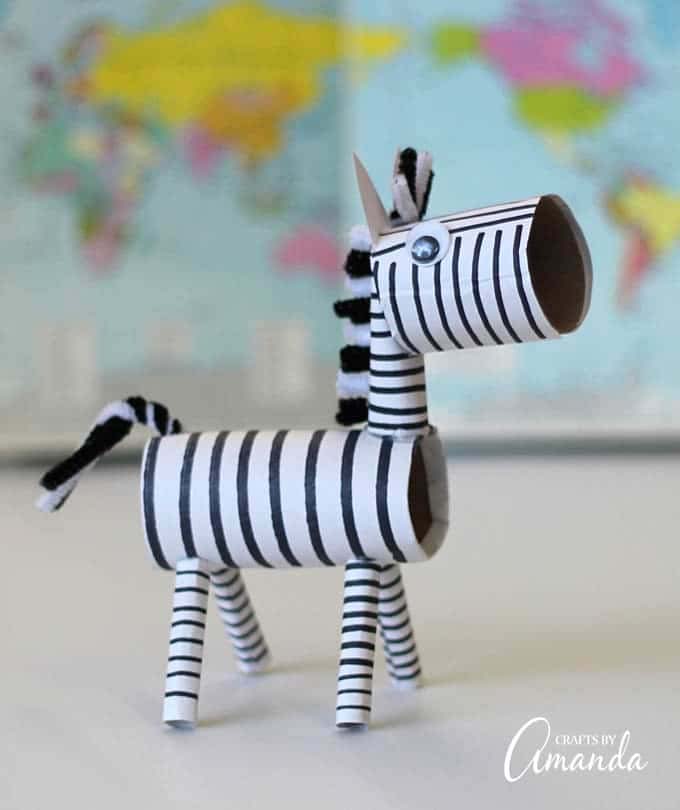 Another wild animal that can be added to the tp roll zoo is the zebra.
To recreate this craft, prepare two toilet paper rolls, some cardboard to form smaller tubes for its legs, googly eyes and pipe cleaners in black and white to use as a flowing mane.
via Crafts By Amanda
Changing Faces – Toilet Roll Dolls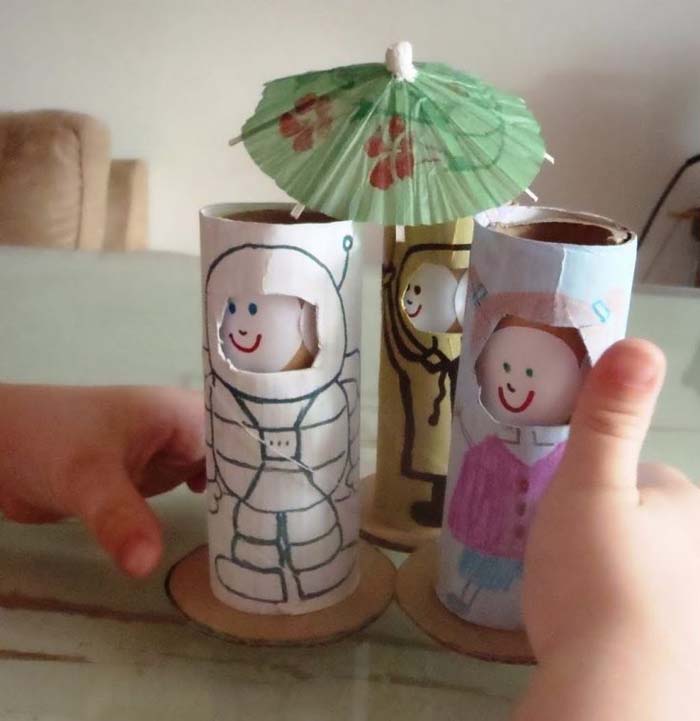 Using a paper towel roll and a tp roll you and your kid can make a character whose faces change. Because of the different diameters of the rolls the tp roll can go inside the paper towel one and move freely inside it.
This craft idea is also perfect to teach a toddler know and recognize the emotions.
Cool Race Cars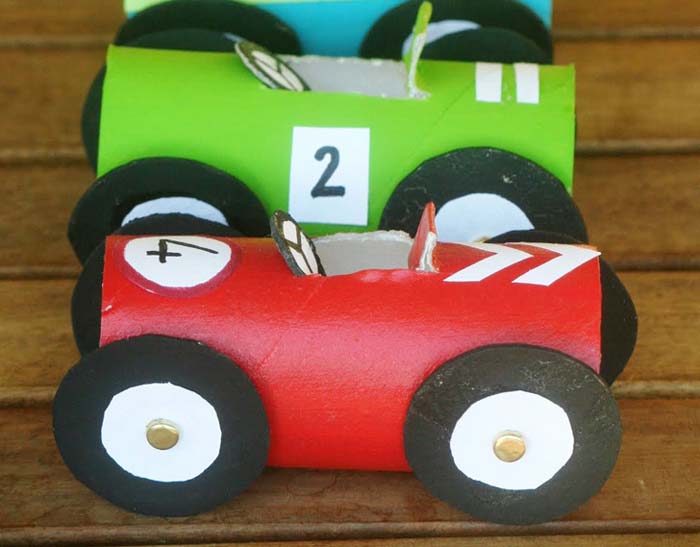 Use this TP roll craft to teach your toddler the numbers and the colors. Each roll is painted in a different color and is given its own number.
By creating more of these, your kid will have a collection of race cars to enjoy and use for his lego characters.
via Handimania
DIY Birdhouse Craft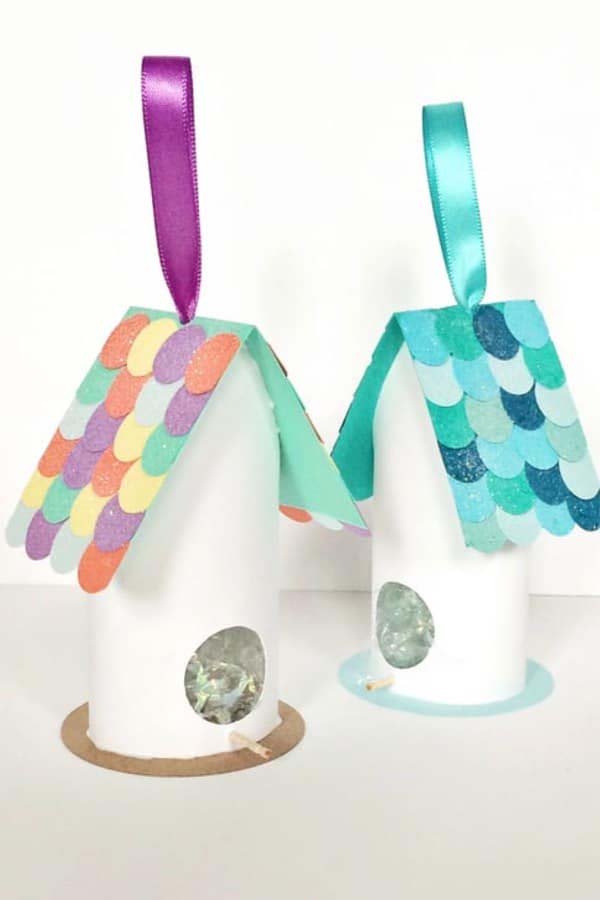 Later on, we will show you an idea for a bird feeder that can be actually functional. Here is a craft with a paper towel or toilet paper rolls that lets you make cute birdhouses to use as spring decor.
The rolls are used to make the base of the house. Their roofs are made by gluing punched circles in various colors to a colored cardstock folded in two.
via Hello Wonderful
DIY Captain Underpants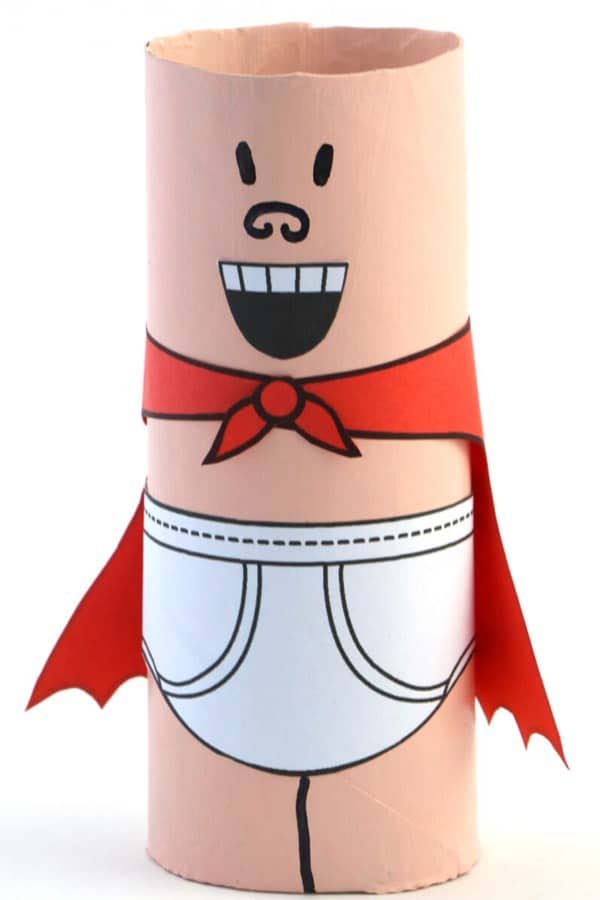 Paper tube crafts are the most affordable and funniest kids-friendly crafts. Using your imagination and some help, you can make various characters and shapes that can replace the toys from the stores.
Here a printable template has helped to dress a plain tp roll in the costume of Captain Underpants.
via The Craft Train
DIY Phone Stand From Recycled Toilet Paper Rolls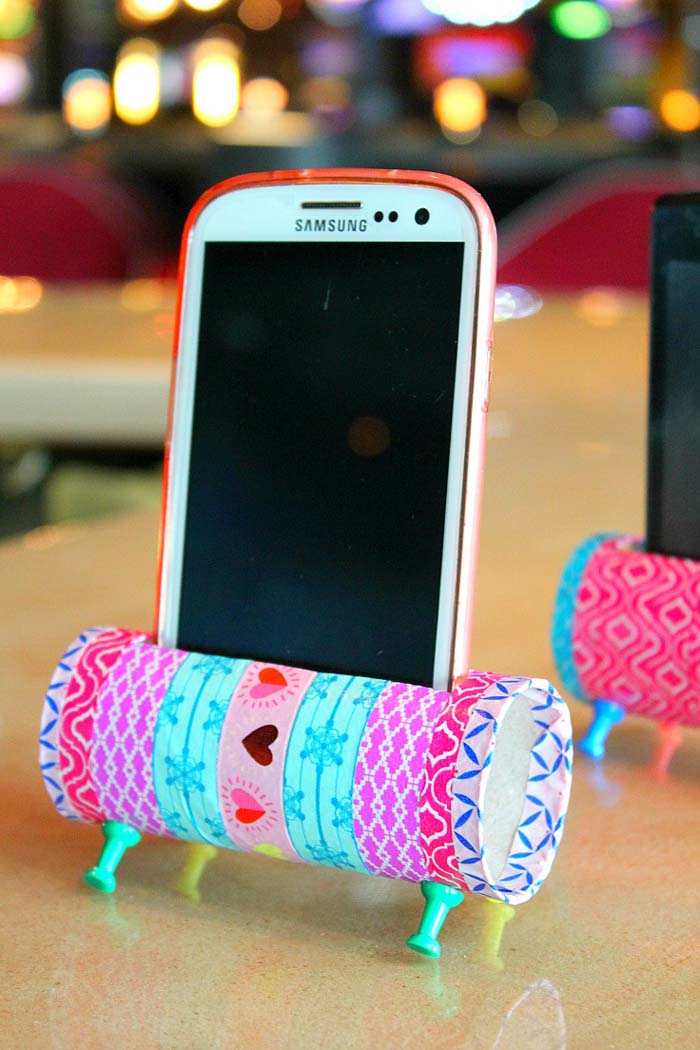 Do your kids already have phones? Let them make themselves a personalized DIY phone stand. Easy, customizable and totally free tech accessory!
DIY Recycled Toilet Paper Roll Building Blocks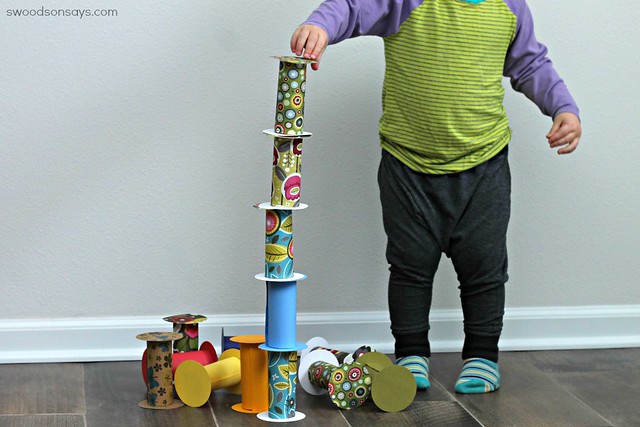 And if you ever thought about why you should dedicate time to create a toy out of toilet paper rather than buy it ready, you should know that making something together with your toddlers will unite you more.
Secondly, you will give them the opportunity to teach from you and experiment under your control. Upcycling is a great way to personally help nature and a way to let your kids understand and do it.
These building blocks are made entirely of safe materials- scrapbook or craft paper, toilet paper rolls, cardstock and glue.
via Swoodson Says
DIY Toilet Paper Tube Puppets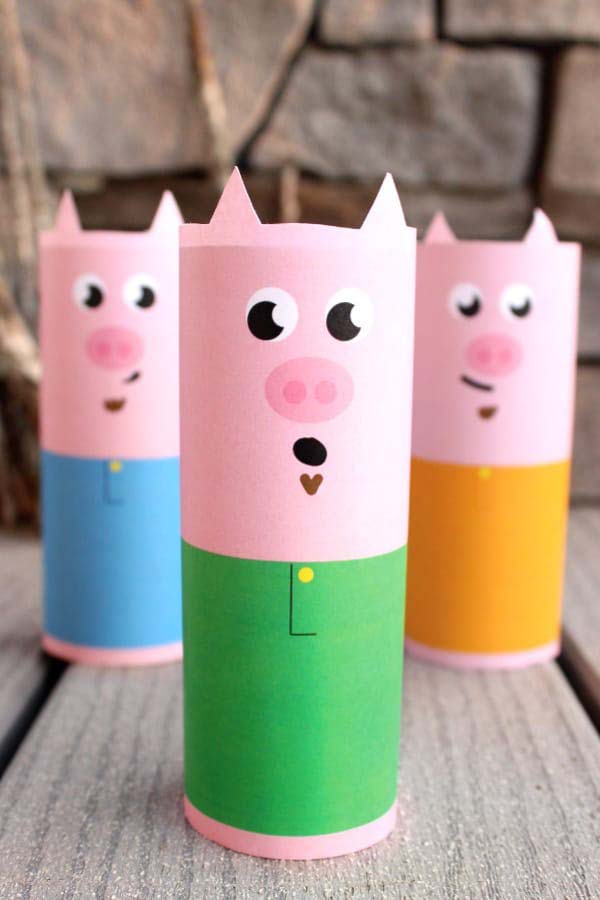 Does your kid love the tale about the three little pigs and the big bad wolf? Make it more interesting by telling it with puppets! They are made from toilet or paper towel rolls wrapped with free printable images of all characters.
via Skip To My Lou
Dragon Pencil Pot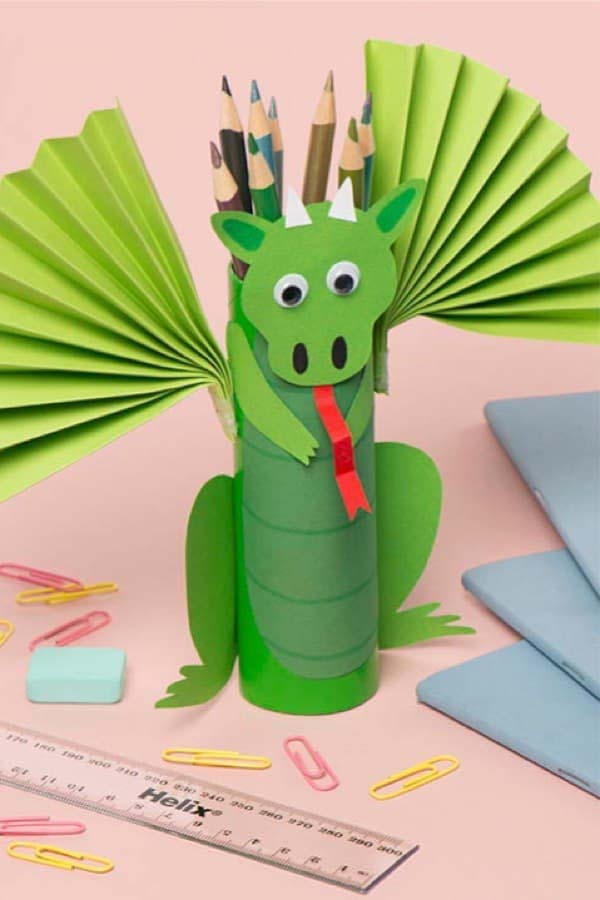 Encourage your kids to store their art materials neatly and in the right place by making together cute containers. In addition to the paper towel roll, prepare green paint, black pen, googly eyes, and green and red thin stock paper.
If you love the cute face of the dragon, you can cut it from the free printable template together with its legs, arms and ears.
via Baker Ross
Dr. Seuss Lorax Toilet Paper Roll Craft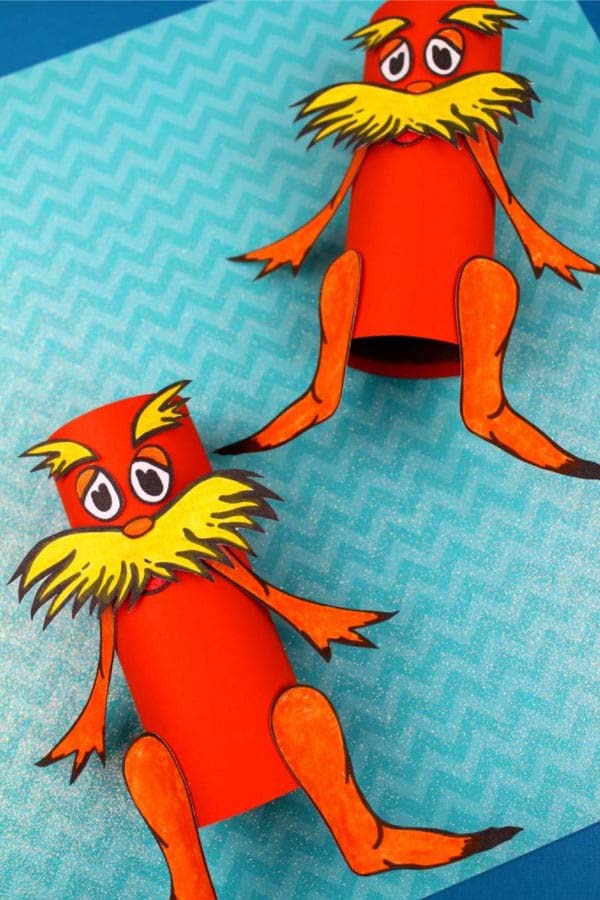 If your kids love Dr. Seuss and you haven't found a toy of the character, you can make it together with your kids. It looks very good thanks to the free printable template of his parts.
Glue them onto a tp roll preliminary painted red or wrapped with red stock paper.
Four Seasons Tree Craft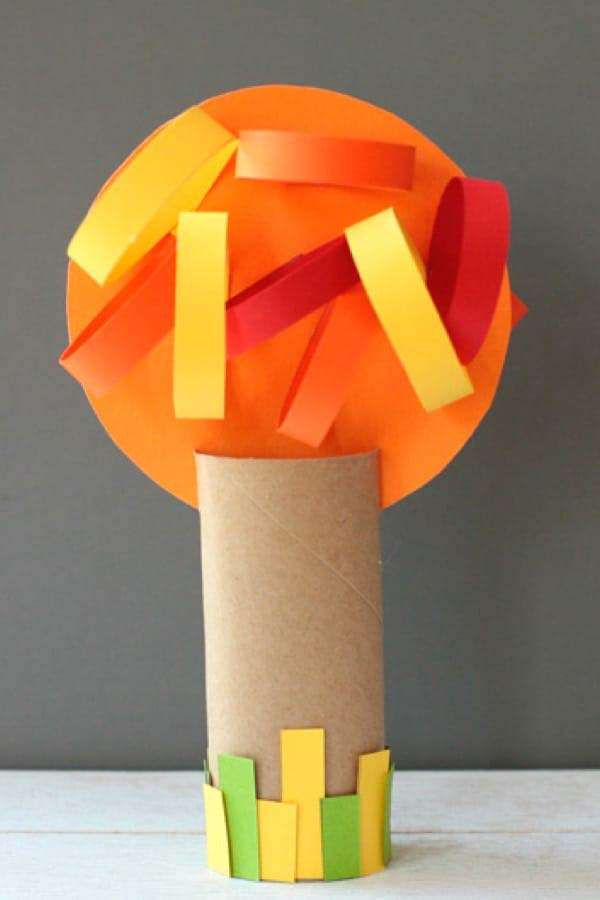 This TP roll craft is the perfect way to let your kids practice their scissors cutting skills. The purpose of this idea is to create the look of a tree during each of the seasons and celebrate the changing seasons.
A paper roll creates the trunk of the tree. The crown is made by gluing stripes of colored paper to a cardstock circle.
via Non Toy Gifts
Glowing Tealight Olympic Torch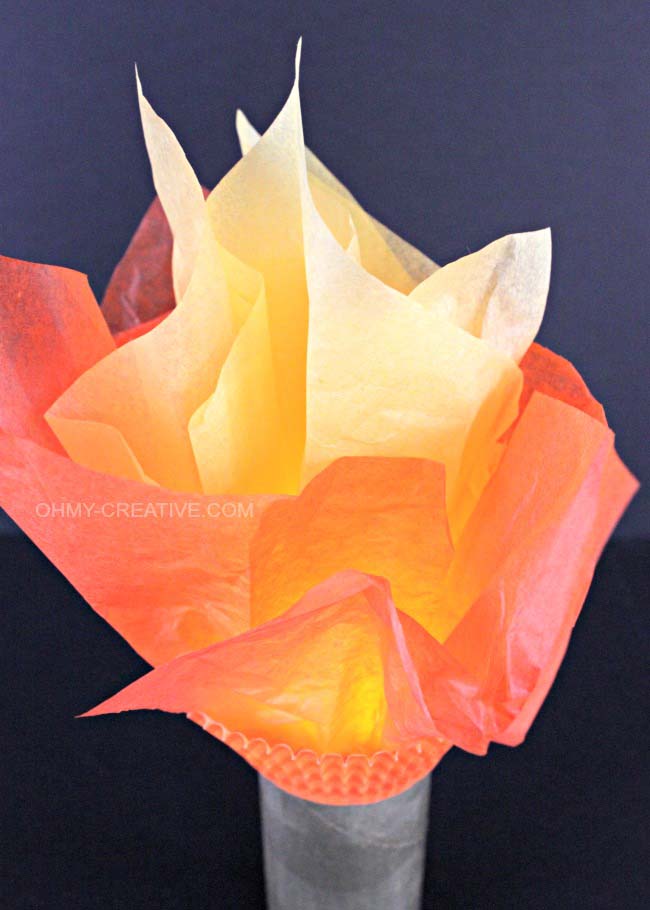 Is your family a fan of the Olympic games? Make these amazing torches to celebrate the Olympics.
Start by painting the toilet paper tube gold. Cut pieces of yellow and orange tissue paper to imitate the flames. Layer the pieces of paper around a LED tea light and place the light into a cupcake liner.
via Oh My Creative
Hanging Bat Craft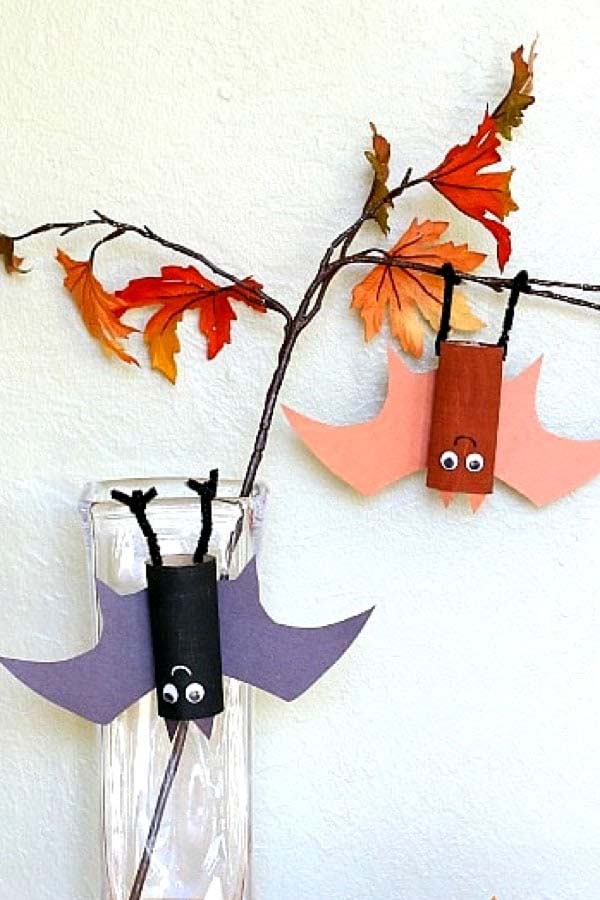 Real bats are scary but the cartoon ones are so adorable. If your kids like them, make toilet paper ones create a seasonal decor or a cute accent for their room's Halloween decor.
The pipe cleaners used as legs will let you hang them to various places.
via Buggy and Buddy
Hello Kitty Craft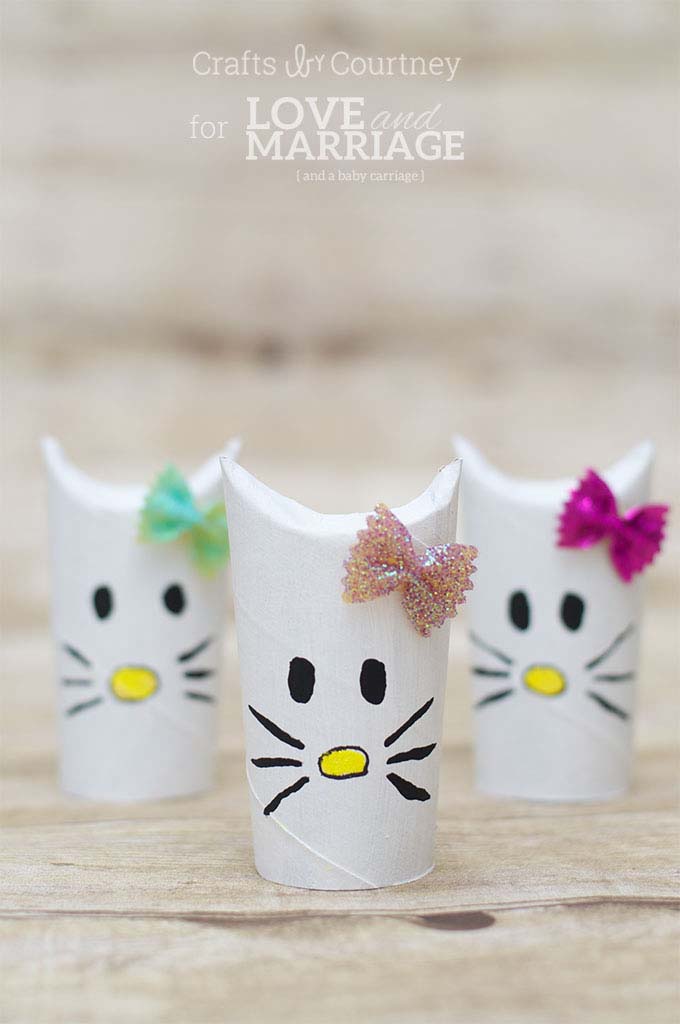 The cute Hello Kitty face is done by folding the top of a toilet paper over. Draw the eyes, the whiskers and nose with sharpie or acrylic paints and glue a small bow below one of the ears.
This is a great and totaly safe for your kids tp roll craft.
Paper Roll Airplane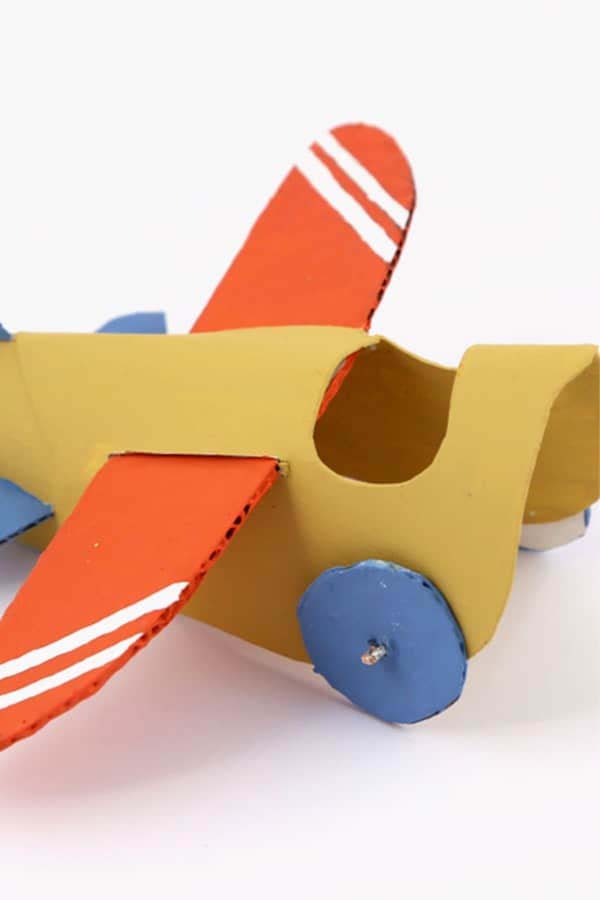 This adorable craft idea is materialized by attaching pieces cut from a toilet paper roll. They are so cute and small that you can hang on your Christmas tree or use to embellish a baby mobile!
via Molly Moo Crafts
Paper Roll Angel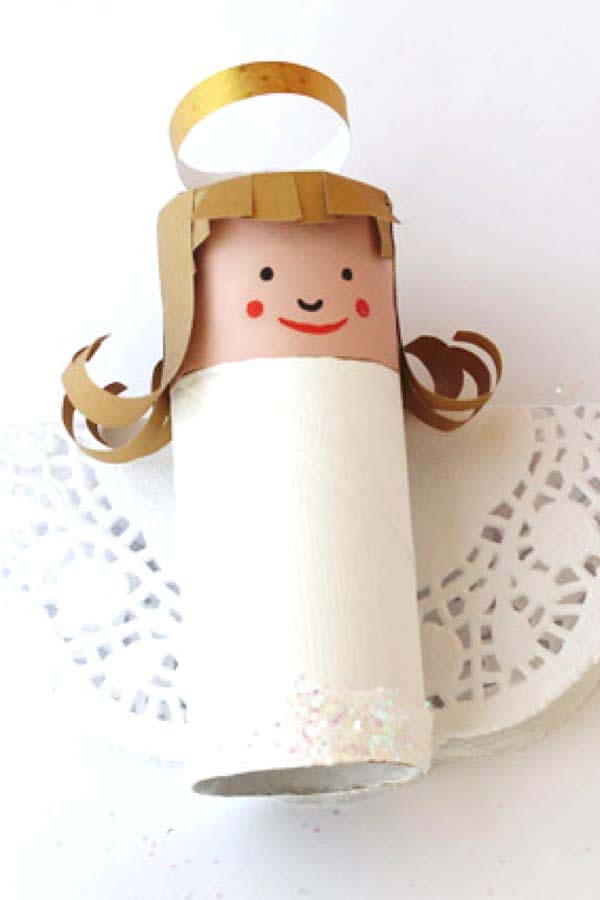 Looking for a fun Christmas-themed project to do with your kids? This paper tube angel is super easy to make in three steps. Prepare a doily, gold paper, glue, glitter and of course, a tp roll.
via The Craft Train
Paper Roll Animals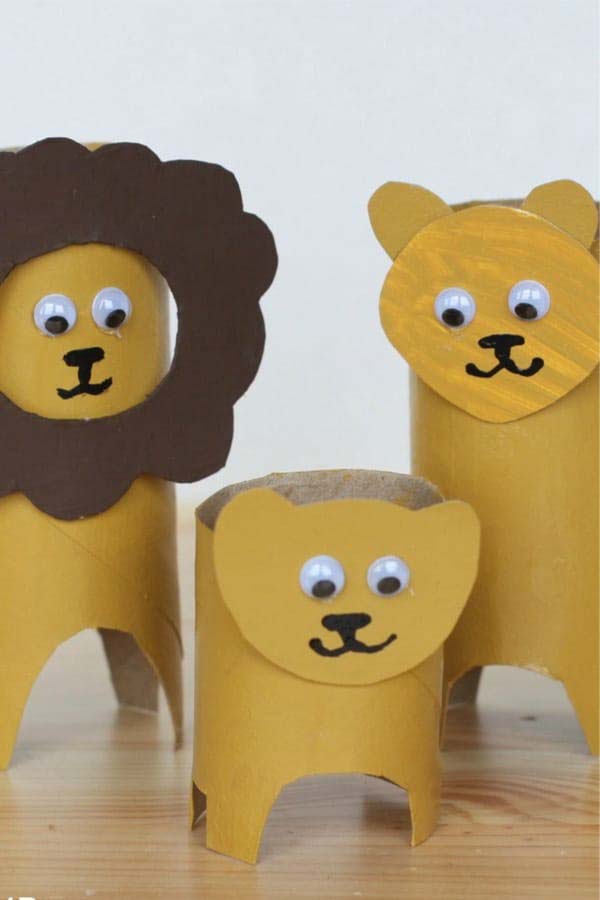 Represent your family like a lion family with this adorable craft idea. Cut as shown the bottom of a cardboard tube to form the legs. The mane and the faces of the lion cub and the mother lion are cut out of a cereal box.
Stick a pair of googly eyes to every face and enjoy the wild family of yours.
Paper Roll Batman And Robin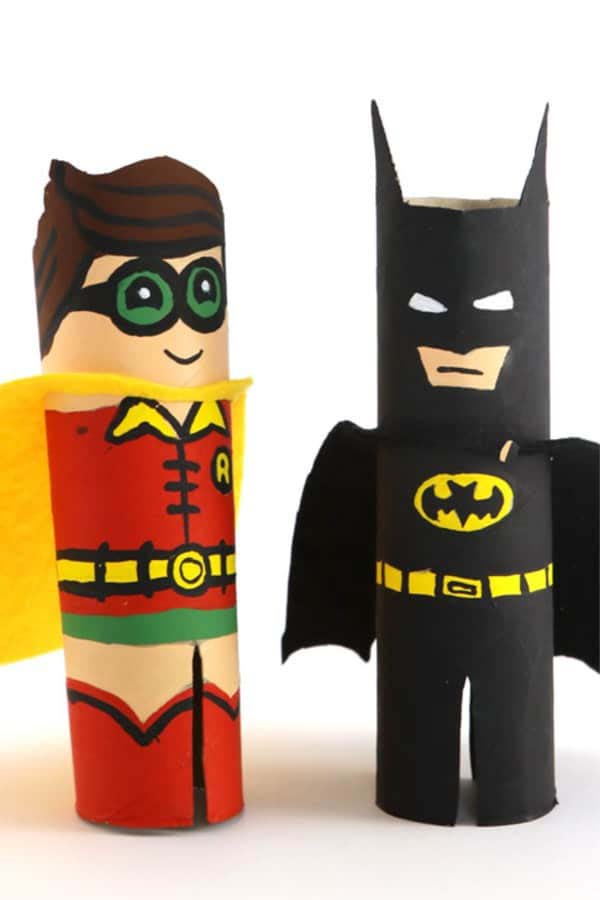 These cardboard tube Batman and Robin are based on the Lego Batman Movie images. Their bodies are paper rolls colored in the typical for the character colors and patterns.
The capes are cut out of felt sheets using a paper template with sizes taken from the roll to ensure snug fit.
via The Craft Train
Paper Roll Fire Breathing Dragon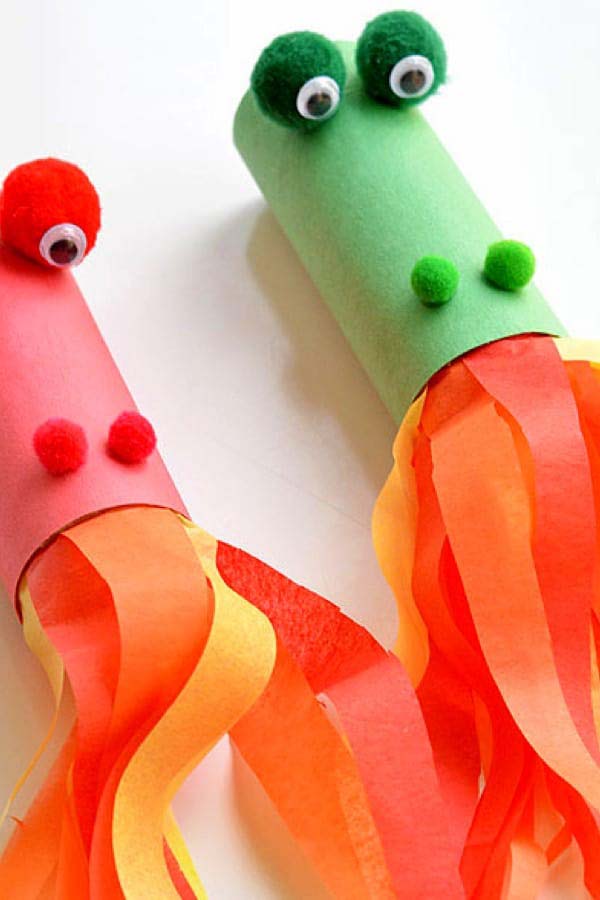 If you are wondering what this dragon will be used for, you should know that it is a super fun craft not only for making but also for playing with.
After your kids glue the stripes of tissue paper to the bottom of the tp roll, they can blow air on the top of the roll to make them move and thus look like blowing fire!
Paper Roll Spring Flowers Craft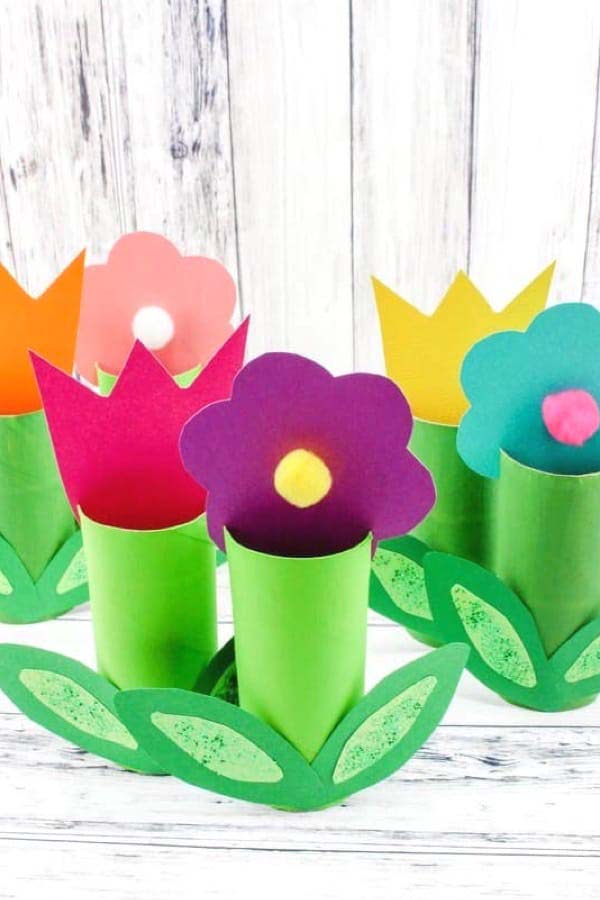 This toilet roll craft is a unique way to let your kids create seasonal decor for spring and Easter.
The supplies they will need are: tp rolls, green paint, colored paper, felt pom poms, glitter and glue. This paper flower garden can be arranged on the mantle or set on the holiday table.
Perfect Parakeets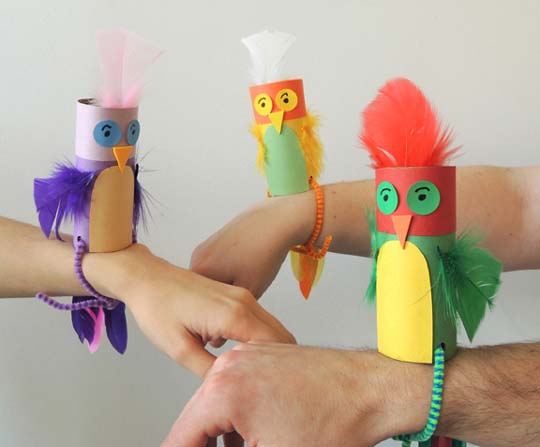 This recycled craft idea will give you fun moments while making it and when using it.
The paper parakeets are easy to make and then can be used as a party wrist embellishment or as puppets for your home theatre.
Pixar Inside Out Toilet Paper Roll Craft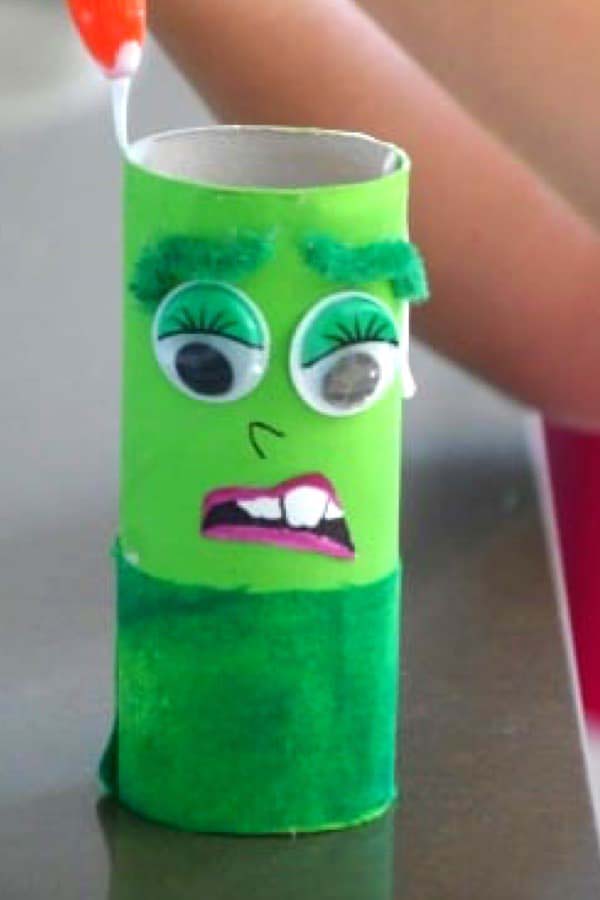 Have you watched the Pixar movie "Inside out"? Then you know how cute each of the emotional characters is. With the tutorial below you can create all of them out of toilet paper tubes.
This paper roll craft is good to create puppets for play, for fun or for a visible means to picture emotions.
via Meaningful Mama
Puppy Puppet Craft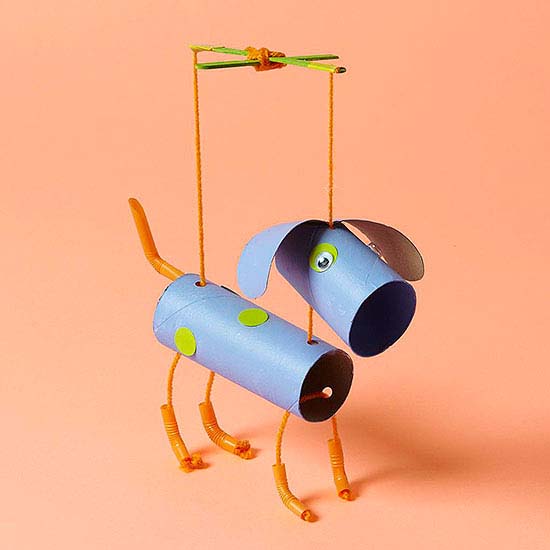 This dog marionette is made out of three toilet paper tubes- one for the body, one for the head and one to cut the ears from. All these are painted in one color. After it has dried, punch holes where the yarn will go through.
The legs are made of yarn and pieces of bendy plastic straws. The eyes are googly eyes stuck to two green circles from paper.
via Parents
Shark Toilet Paper Roll Craft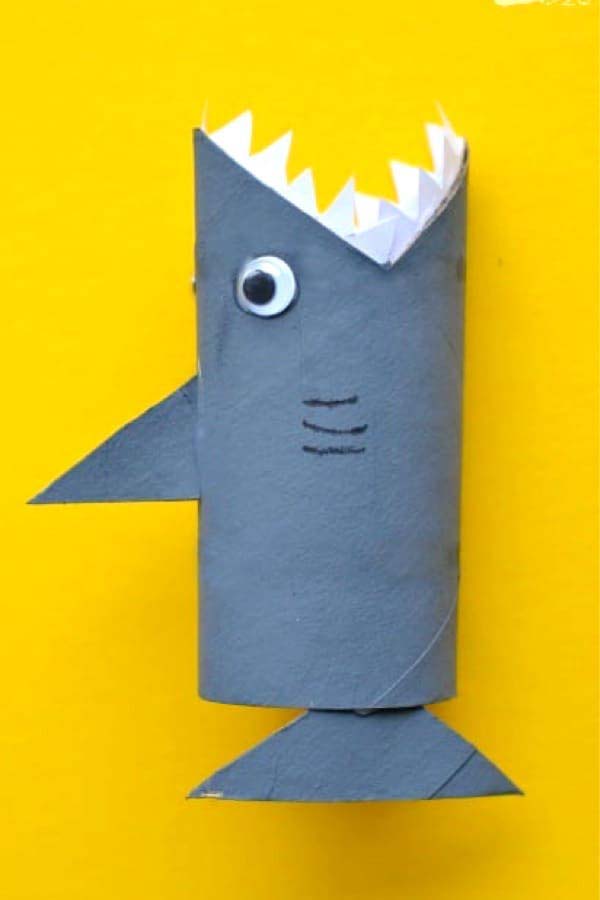 To make this shark, your kid needs to cut a triangle onto one of the toilet paper roll ends. This is the way to create the typical mouth of this fish.
The color of the shark can be achieved either by painting it grey with craft paint or by gluing craft paper around the roll. Use googly eyes to make the face of the fish scarier and glue sections of paper teeth to either side of the triangle section.
Snow Owl Ornaments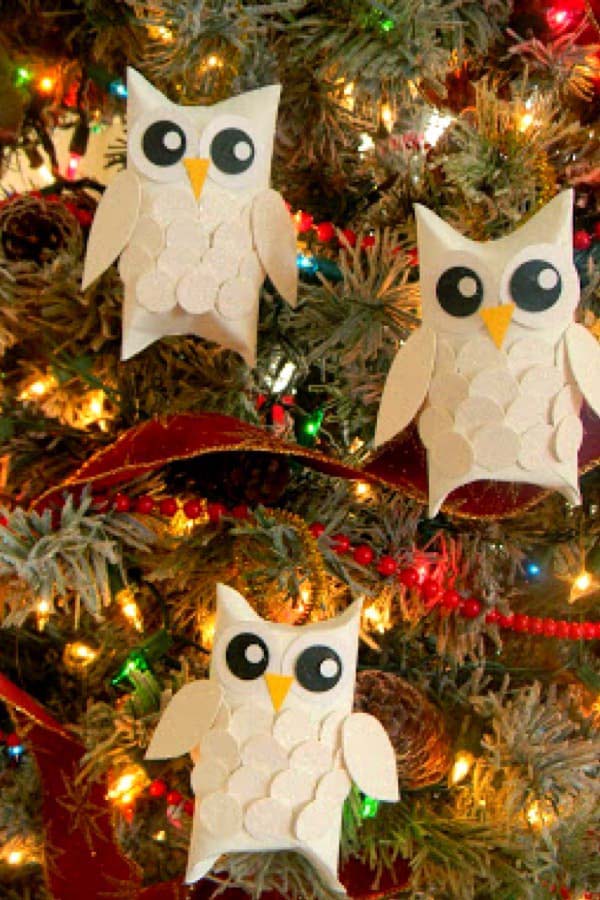 The realistic and dimensional look of these owl Christmas ornaments is achieved by bending both ends of toilet paper rolls over. All parts of the owl are cut from paper and then glued to the tube body.
At its back a pipe cleaner piece is glued to let the ornament be hung to the Christmas tree.
via Pams Party and Practical Tips
Star Wars Toilet Paper Roll Figures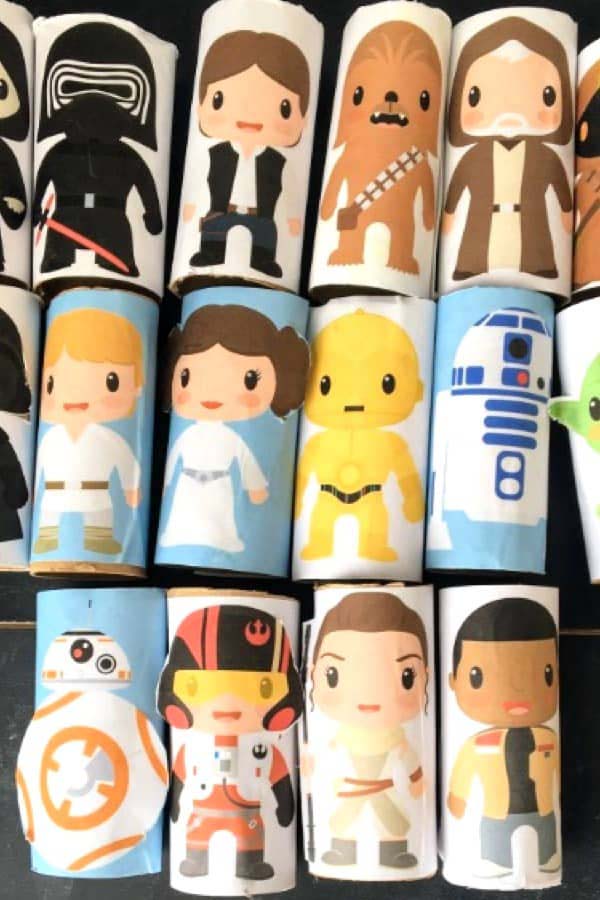 Are you a fan of Star Wars? Then this craft idea will be fun not only for your kids! Before starting it, make sure that you have enough cardboard rolls because the free printable images of the characters are 18!
Toilet Paper Roll Bee Craft For Kids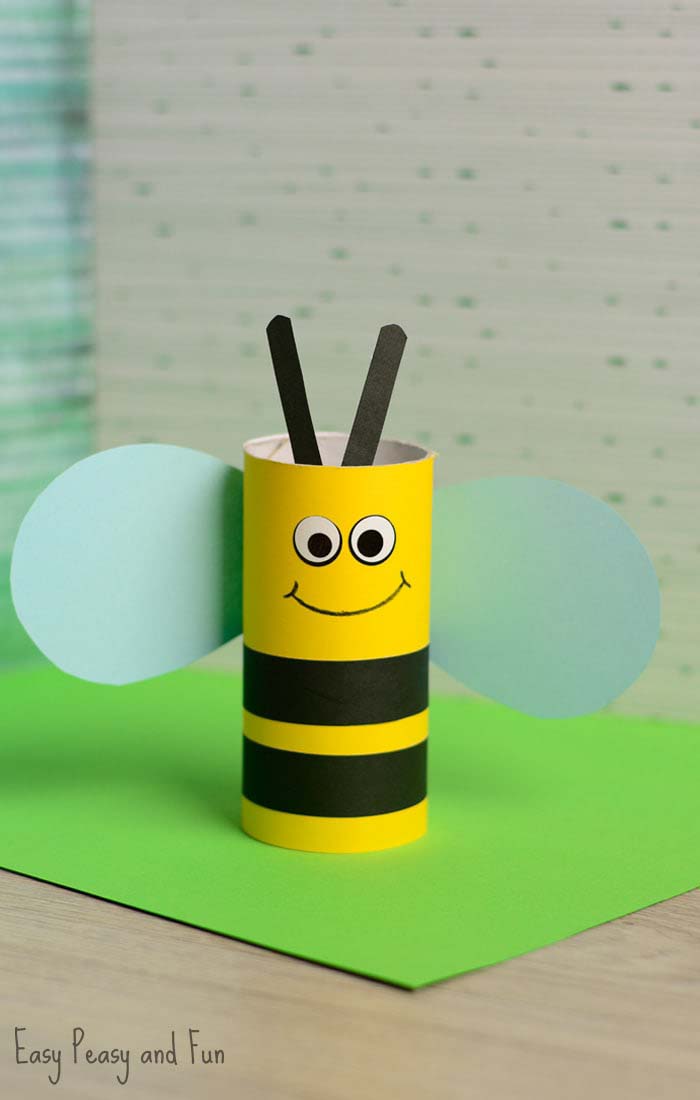 This cute-looking bee can be added to your spring decor or be a fun spring-themed project for your kids. It is very easy and a great way to practice the glue and scissor cutting skills.
Toilet Paper Roll Bird Feeder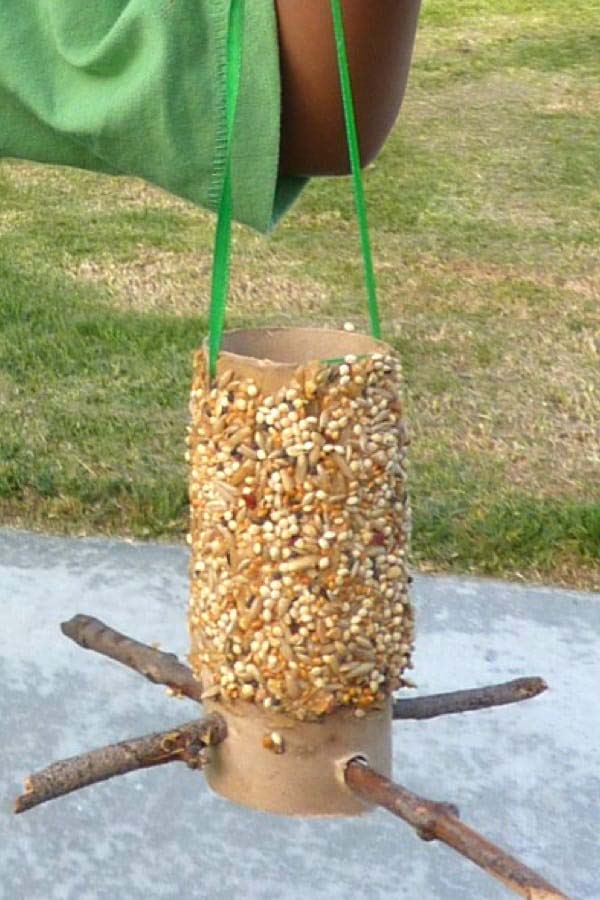 Want to teach your kids care of nature and animals? This bird feeder will do so. They will enjoy making something entirely by themselves which will be very helpful for the wild birds.
And by placing it to the ceiling of the front porch you will enjoy seeing new feathered visitiors!
via Honey and Lime
Toilet Paper Roll Birthday Crowns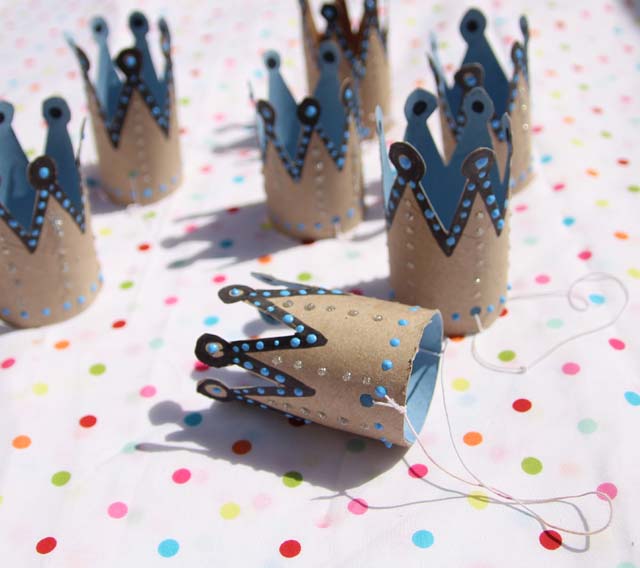 Toilet paper crowns will make the next birthday party so fun! They can be actually placed on the head in case it is a kid's party or be used as a festive decoration for a grown-up's party.
They can be placed on the plates or used as napkin rings- a special and dedicated gift for every guest.
Toilet Paper Roll Christmas Elf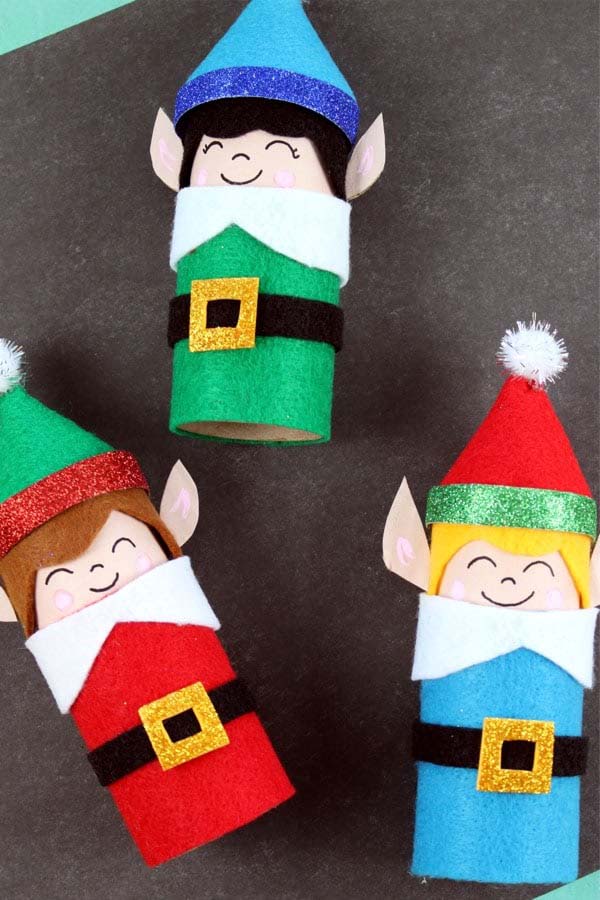 The craft supplies for this Christmas-themed idea are toilet paper tubes, felt, glitter foam sheets and tape, pom-poms and paint pens.
The pieces of the elves' faces and their costumes are cut from the felt sheets. When the tp roll is dressed, draw the smiley faces.
Toilet Paper Roll Christmas Tree Craft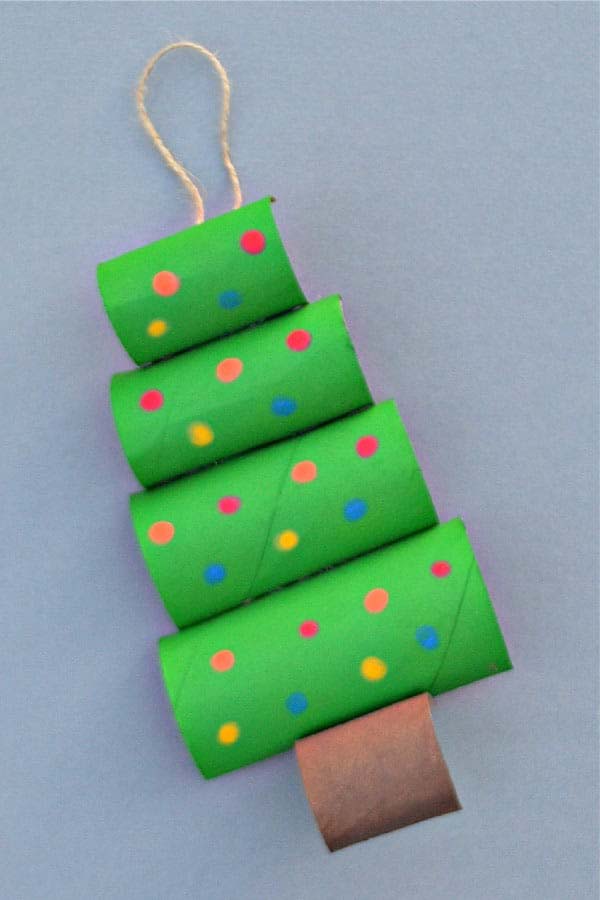 If you are looking for an alternative to the Christmas tree, take a look at this recycled craft. The shape of a Christmas tree is achieved by cutting a little off three of all four tp rolls.
When you and your toddler are happy with the result, start painting the rolls green. Embellishment can be various- dots made with paints or cut from paper, pom poms, jingle bells, pipe cleaner pieces, glitter and so on.
Toilet Paper Roll Easter Bunny Craft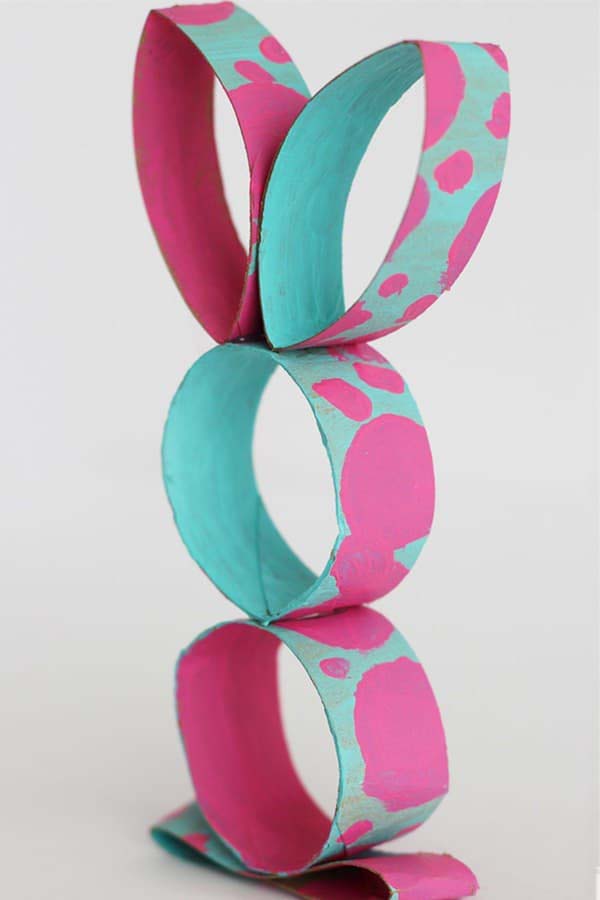 Stack two slices of a paper roll to form the body of an Easter bunny. The other three slices will be bent to shape the ears and to form the basis mimicking its legs.
via The DIY Dreamer
Toilet Paper Roll Gingerbread Man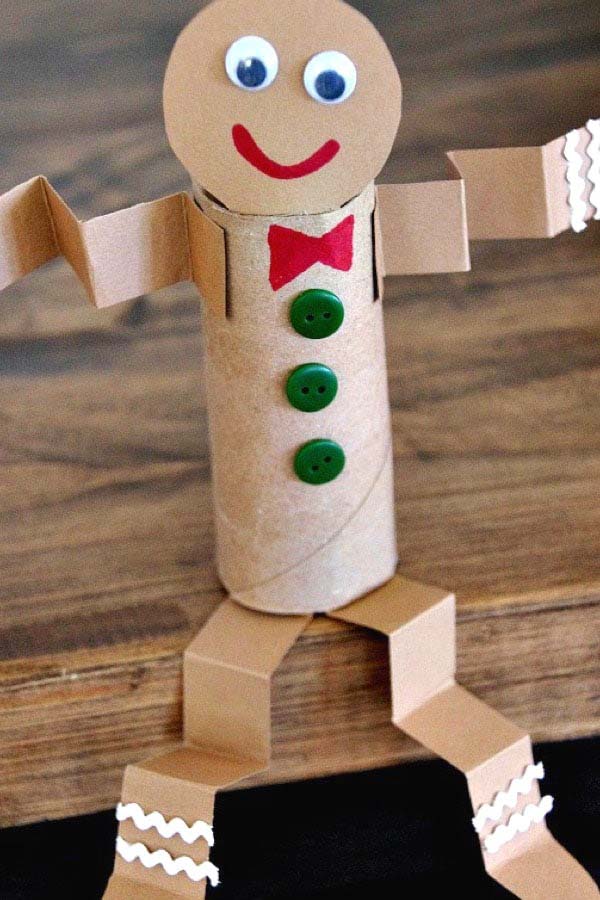 This is a great and easy Christmas decor craft. And since it is also kids-friendly, leave your children make it entirely on their own to enjoy the final results and have a fun memory from the last holiday preparation.
via Meaningful Mama
Toilet Paper Roll Grinch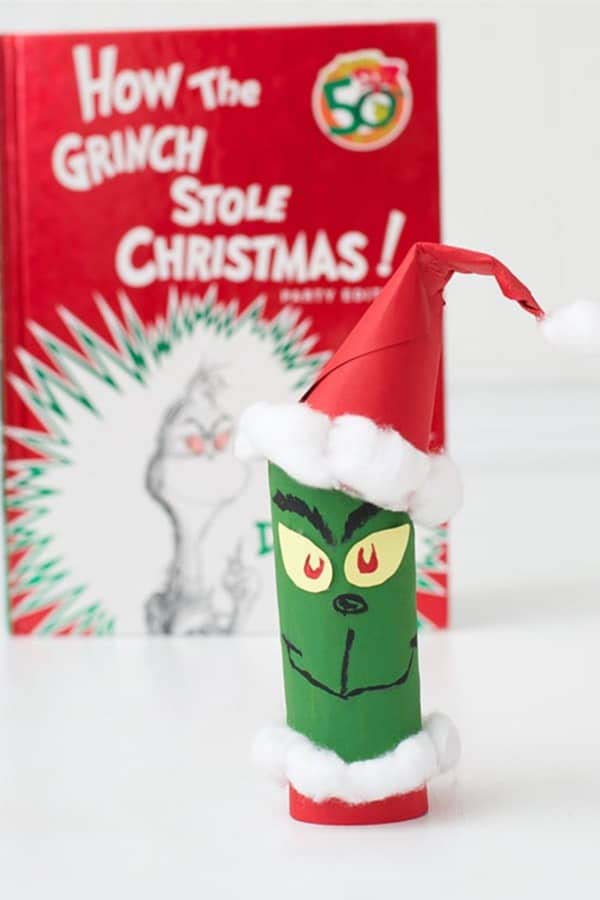 Looking for an idea of how to make toilet paper monsters? This one will take you back to your childhood when your parents used to read to you "How The Grinch Stole Christmas"?
Relive these moments again but this time with your kids by making an exact copy of the Grinch's face on a toilet paper roll.
Toilet Paper Roll Leprechaun Hat Craft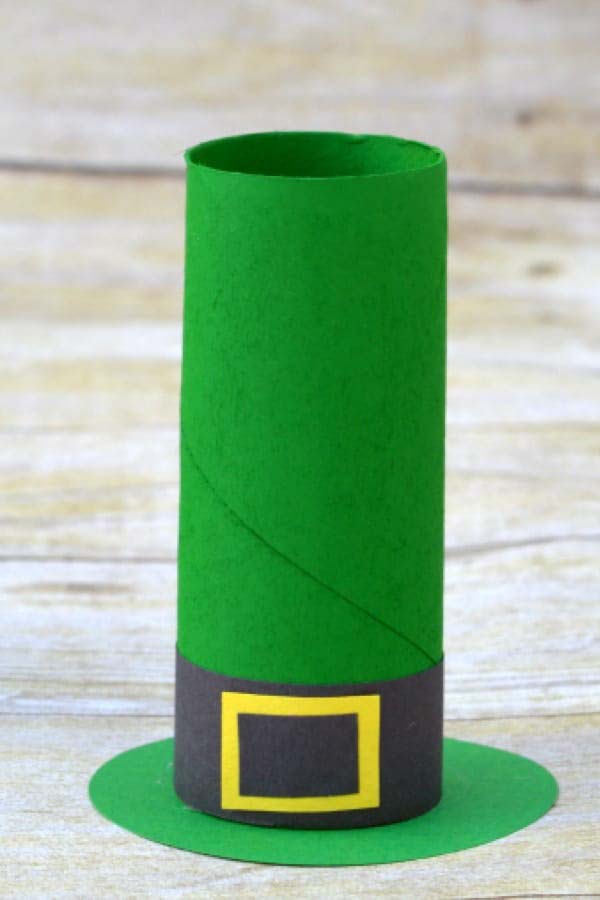 There are toilet paper roll crafts for almost every holiday- toilet paper roll turkey for Thanksgiving, toilet paper roll butterfly for spring and Easter, owls and elves made of cardboard rolls to use as Christmas ornaments.
But what could be the paper roll idea to celebrate St. Patrick's day? A Leprechaun Hat! The cylinders look amazingly well and they deserve their special spot on the mantle.
Toilet Paper Roll Mummy Craft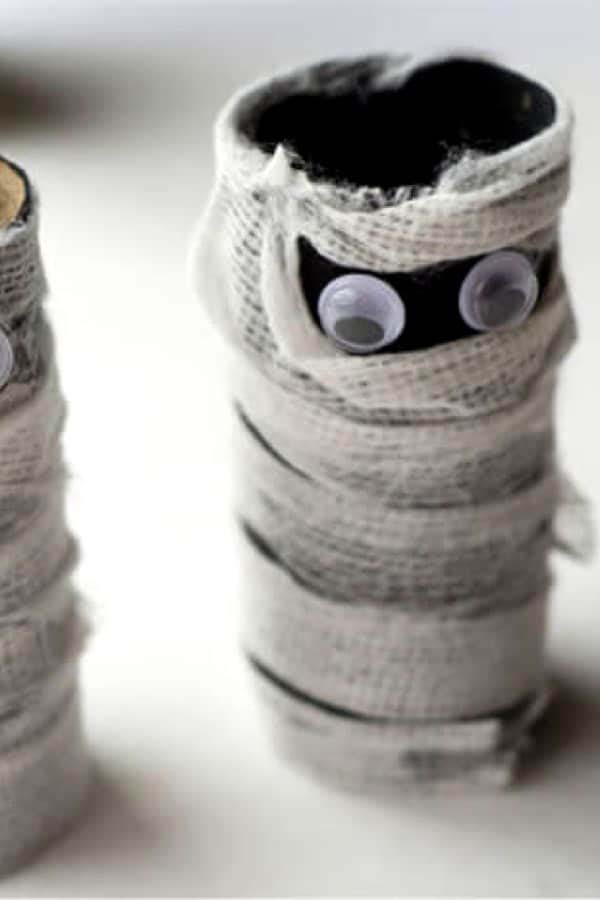 An easy and fun Halloween craft idea lets your kids create a mummy from paper tubes and gauze! To let the gauze stand out, paint the rolls black. Weave the fabric around and glue it on occasional spots to let it stay on the paper.
Don't forget to stic a pair of googly eyes peeking from the gauzed mumy face.
Toilet Paper Tube Mermaids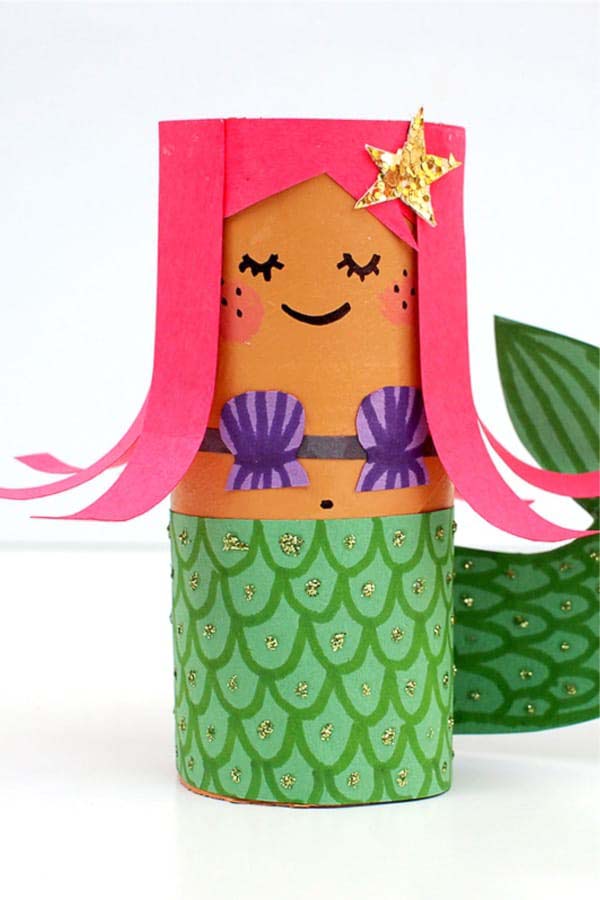 Are you looking forward to the sunny weather? Make these cute toilet paper roll mermaid together with your kids to celebrate the coming of summer!
The tutorial below gives instructions of how to make Hula girl and her best mermaid friend.
via Molly Moo Crafts
Toilet Paper Tube Owls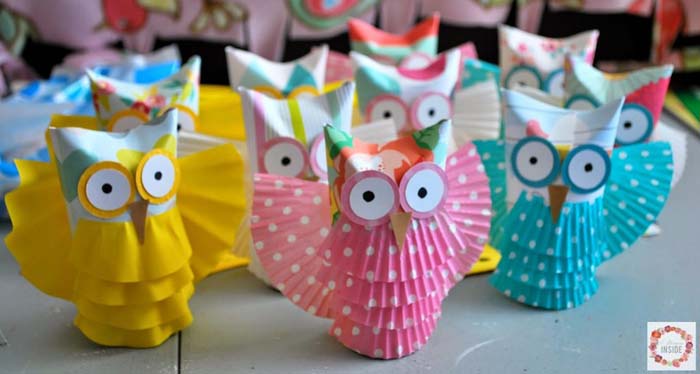 Upcycling cardboard rolls to turn them into all kinds of creatures is a great way to spend mommy-and-kid time. Taking this to another level, you can make the decoration of a themed birthday party together! These owls will look great in the decor of a party dedicated to the woods, to the wild animals, to the birds!
via A Glimpse Inside
Toilet Roll Love Bugs For Valentine'S Day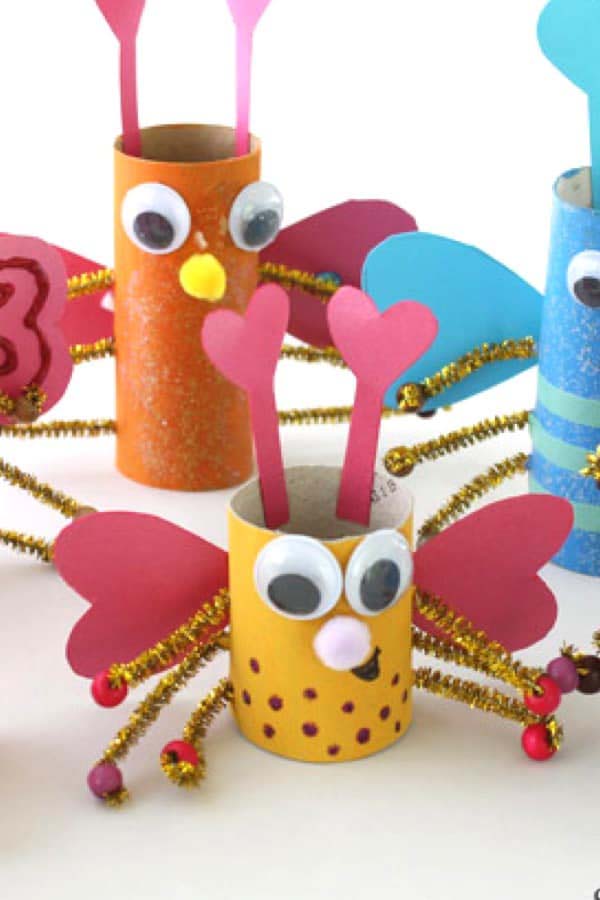 One of the cutest toilet paper roll crafts leads us to St. Valentine's day and the charming love bugs spreading hearts around. In addition to the paper rolls, prepare other craft supplies like paints, pipe cleaners, googly eyes, glue, multi-colored cardboard sheets.
via Red Ted Art
Toilet Roll Ninjas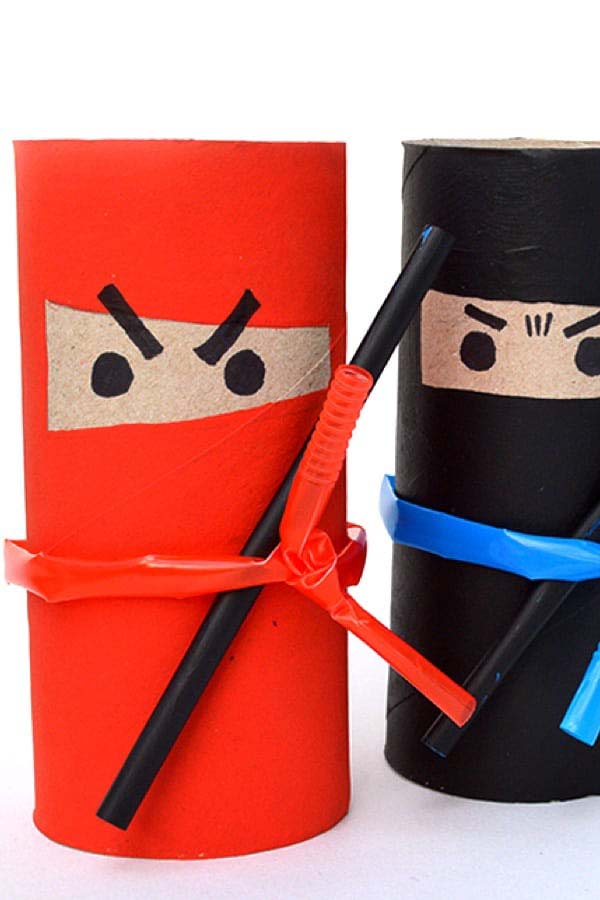 This ninja craft idea is super fun for the kids because of the sullen faces they have to draw in a small empty section and the clever idea for using straws for a belt and a special weapon.
via Kids Activities
Toilet Tube Crafts: Hula Girl And Her Mermaid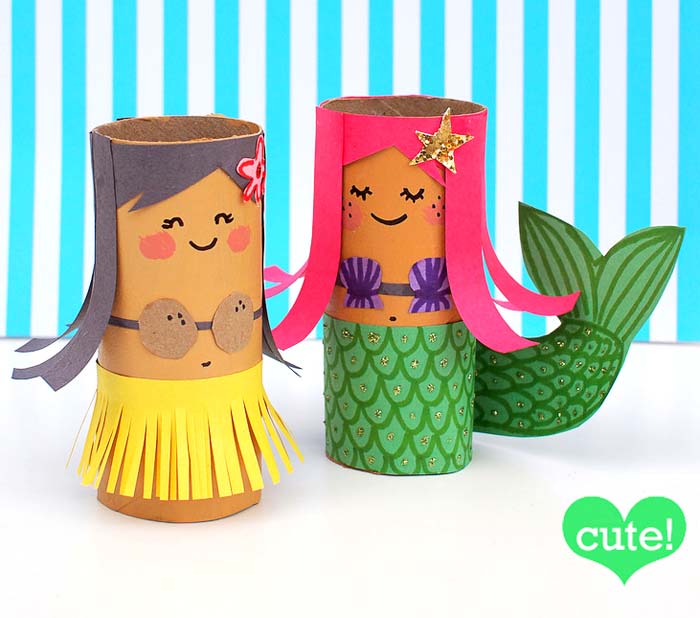 This smiley Hula girl is a version of the Hula girl doll but made of paper. It has the coconut top and ukulele skirt glued to a body made of a tp roll.
via Molly Moo Crafts
Valentine'S Day Treat Poppers Craft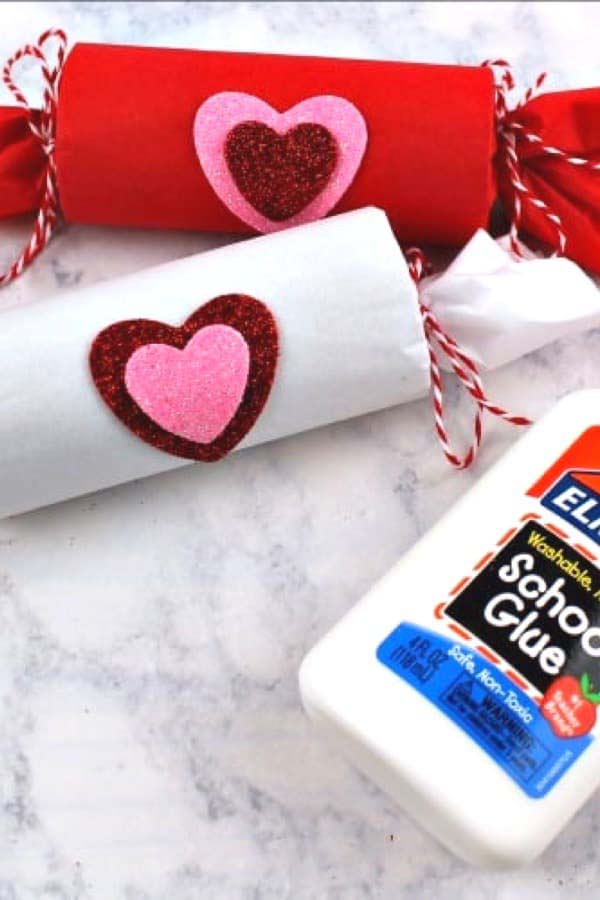 Looking for an affordable and cute container for treats? Use the empty toilet paper rolls to create a themed candy holder! Use themed tissue paper to wrap the paper around. Before tying each end with twine or ribbon fill the roll with treats.
via Happy Mothering
Winter Toilet Paper Roll Animals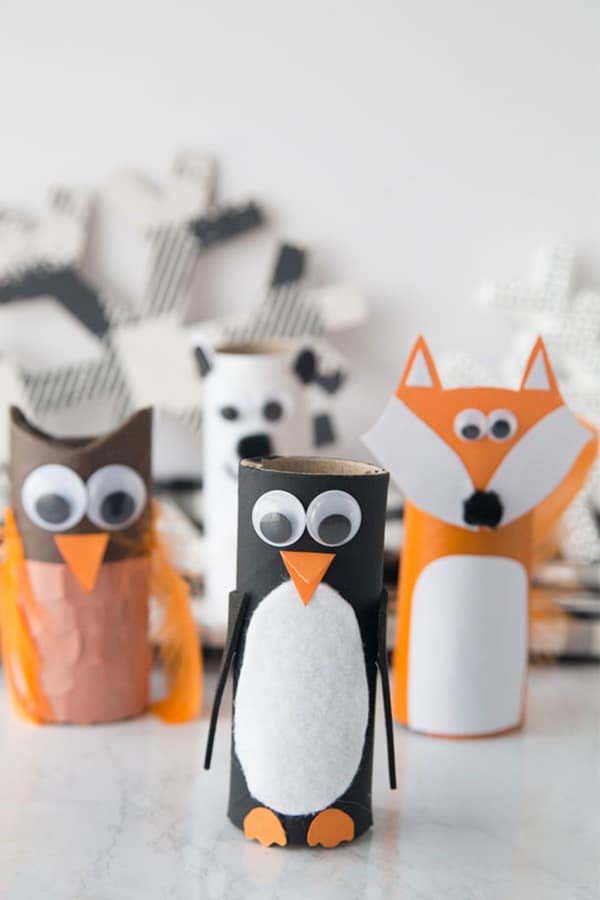 Another seasonal craft idea features how to make winter animals out of cardboard rolls. The cute gang consists of a penguin, an owl, a fox and a polar bear.
Yarn Bracelets Kids Crafts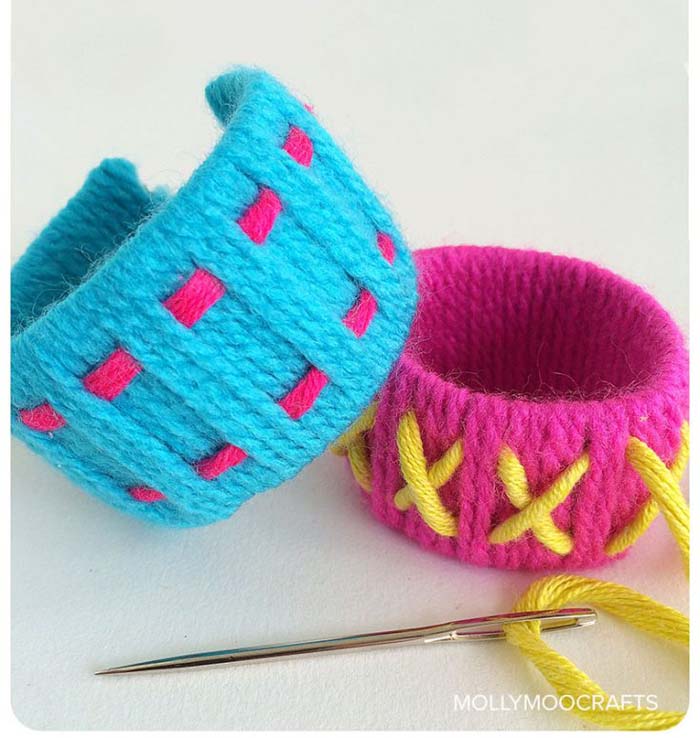 This great DIY craft will teach your kids to weave yarn neatly around a bracelet mold cut from a toilet paper roll to create colorful friendship bracelets. As the author says: "The simple things work best!"
via Molly Moo Crafts
📌PIN TO SAVE FOR LATER!