Love is in the air! So why not take a moment to express it! Sometimes the smallest items around the home can make some of the most sentimental Valentine's Day home decorations.
The simple use of old books, vases, even colorful tissue paper can fill the room with a delicate and charming allure of romance! Make the best of the holiday of endearment by creating spectacular designs or love wreaths symbolizing the fondness of the one you love!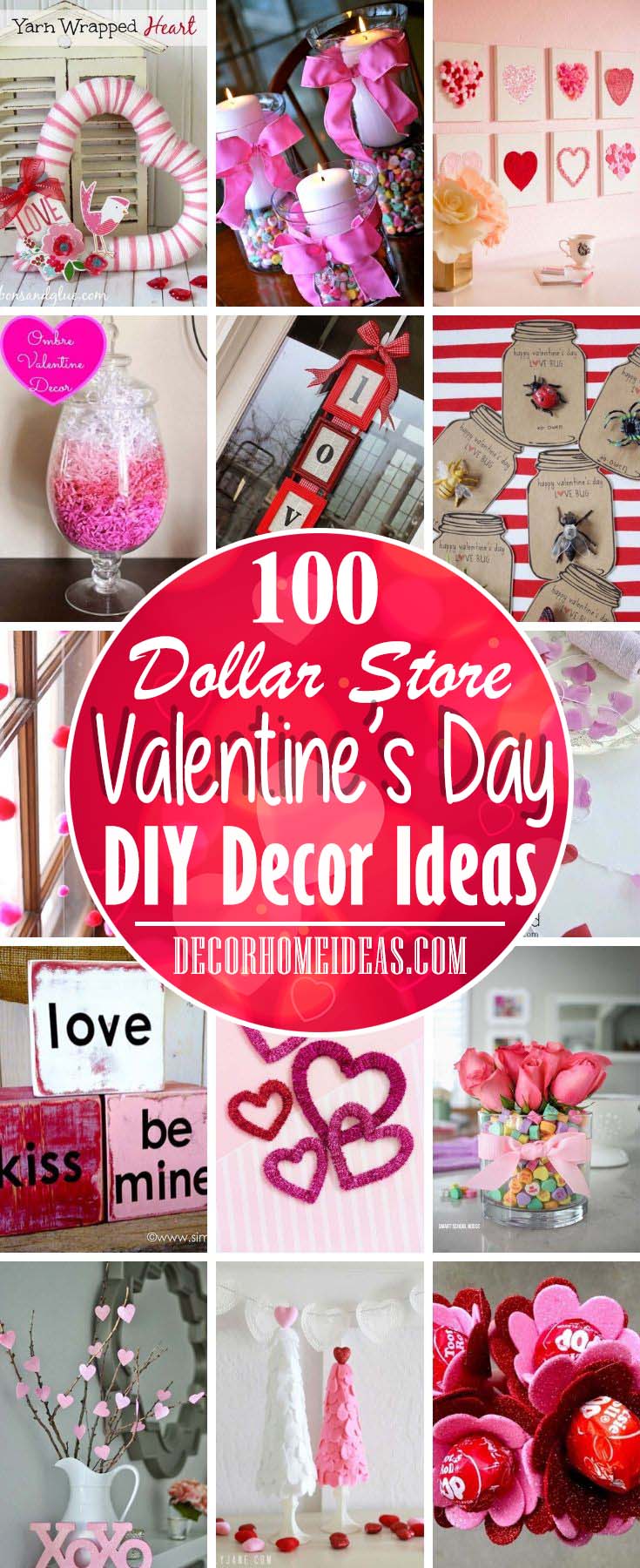 Most people will be surprised at how much a clear vase stuffed with a rainbow of flowers with a splash of glitter can change the atmosphere in a room!
But let's go further than that, how about filling the bottom of the vase with gumdrops and adding a huge Valentine's Day card to the bouquet?
With a few materials, a hint of skill and a moment of your time, something extremely lovely can be created!
1. Create a Floral Monogram with Paper Mache Letters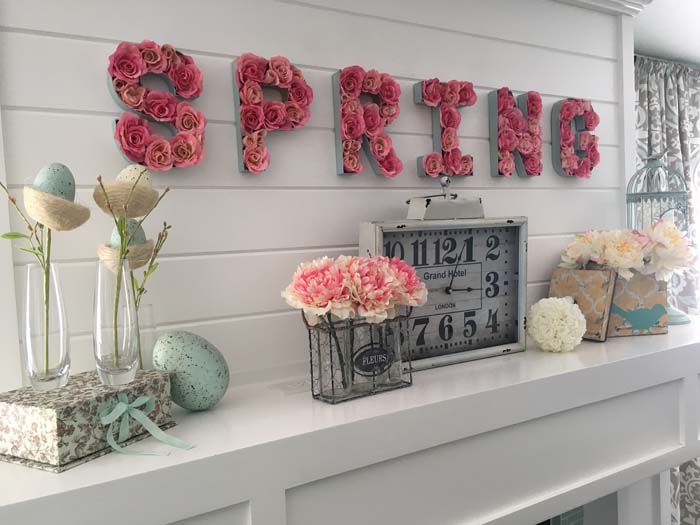 Make your own paper monograms stuffed with flowers. You only need paper mache letters, flowers, command strips and some more simple items.
via Aqualane Design
2. Make a Heart-Filled Doosie Quilt Flag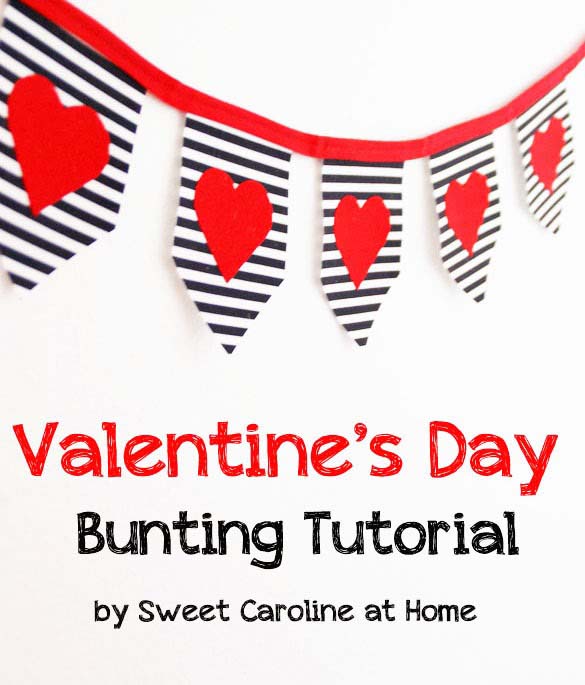 Simple to make and so much fun! When creating this eye-catching doosie, be ready to follow Heat and Bond directions. Those large beautiful hearts will need to be fused onto the flags!
via The Speckled Dog
3. Make a Rustic Heart-Shaped Wreath with Book Pages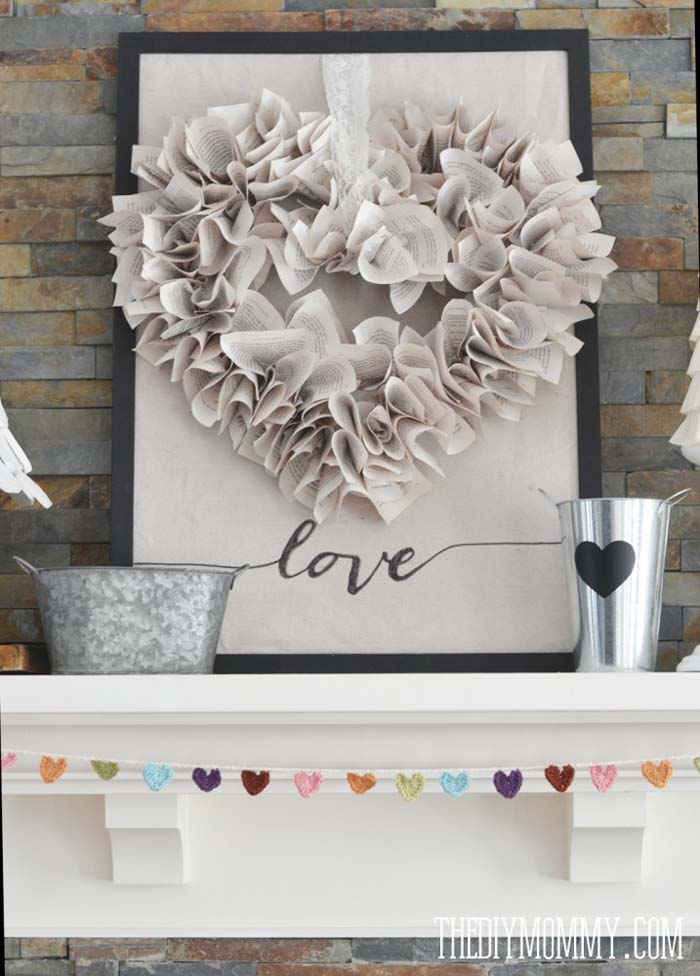 This quaint, neutral beauty will display perfectly anywhere in the home, but especially in the home.
via The DIY Mommy
4. Rustic Charm with a Hint of Artistry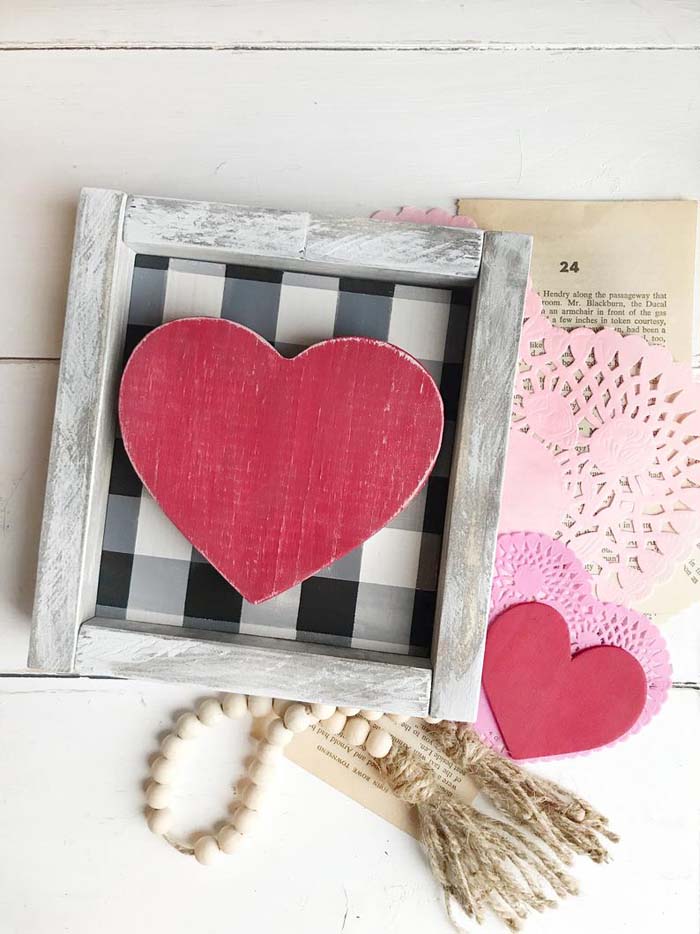 Rustic charm is written all over this work of art!
via Etsy
5. Create a Valentine's Day Garland with Burlap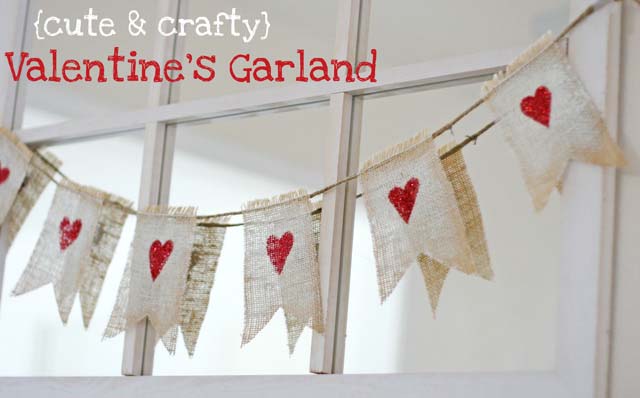 To make this decorative design make sure you have plenty of burlap and a glue gun!
via Glorious Treats
6. Top Sweet Candy with Fresh Flowers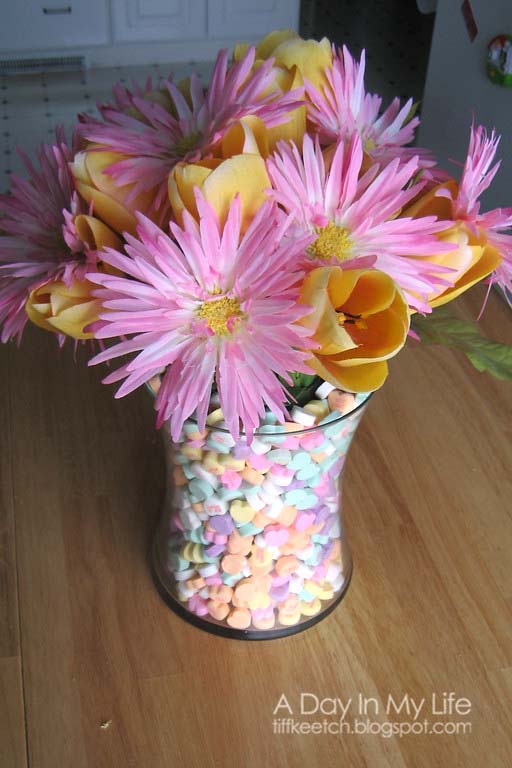 Flowers on the top, loads of candy on the bottom!
via Tiff Keetch
7. Craft a Valentine's Hanging Decor with Candy Hearts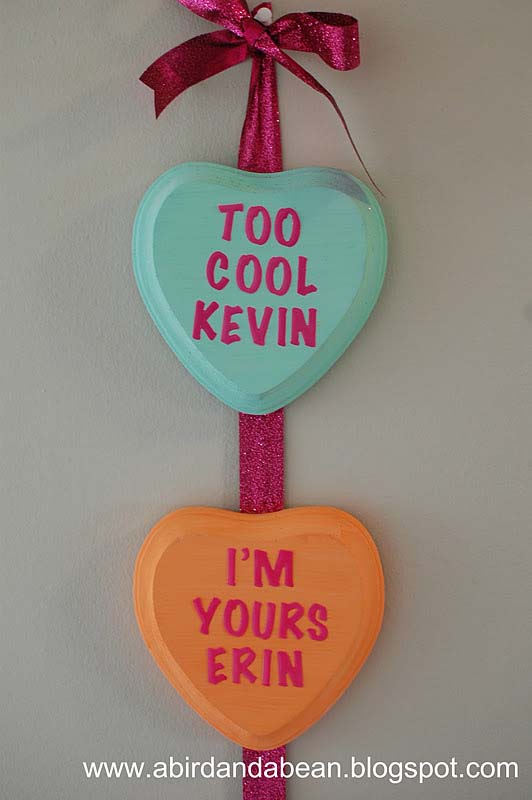 Not just one, but one, two, three, four candy hearts, displaying their denying love!
8. Celebrate Valentine's with a Candy Bouquet of Pink Jar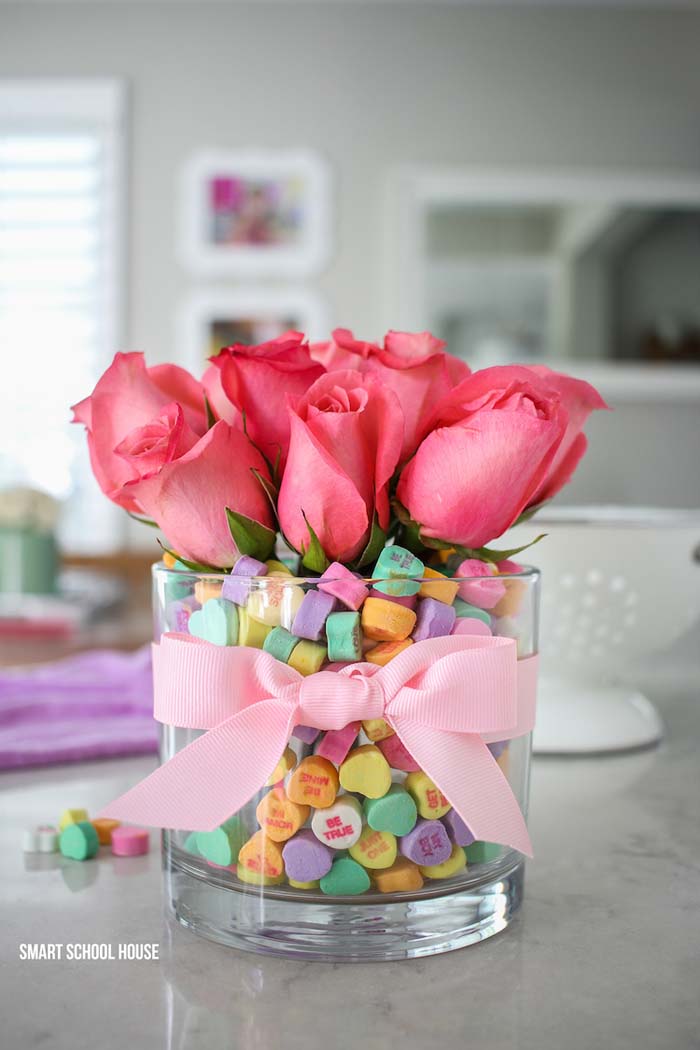 Bringing in Valentine's Day with a huge bouquet of pink flowers, candy, and a gigantic flirty bow!
9. Unleash Creativity with Heart-Shaped Canvases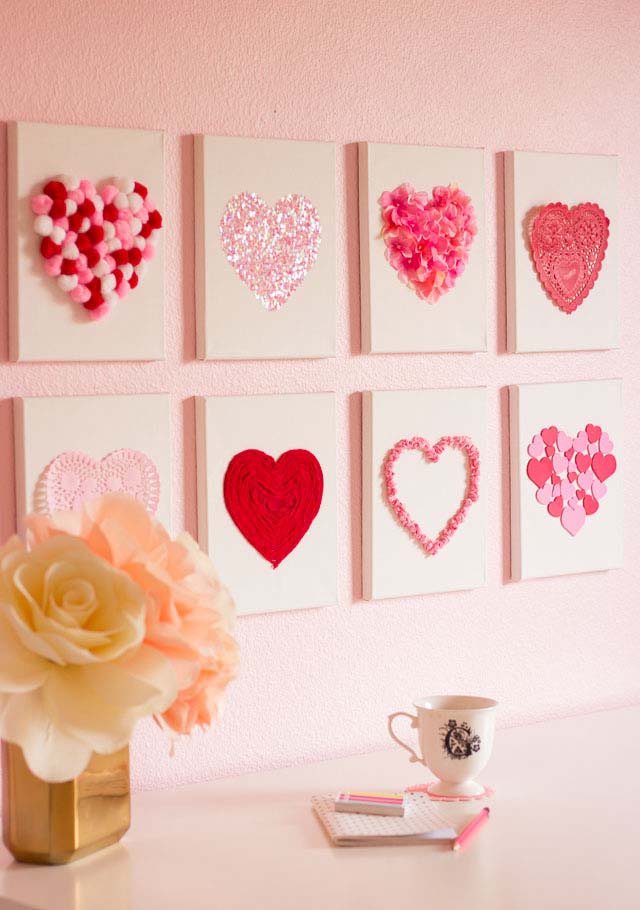 Do you have a box of canvases lying around? Bring out your creative side with pom poms, felt, glitter and more! Each canvas will have a picture of a heart with its very own distinctive design!
10. Make a Heart-Shaped Wreath using Coffee Filters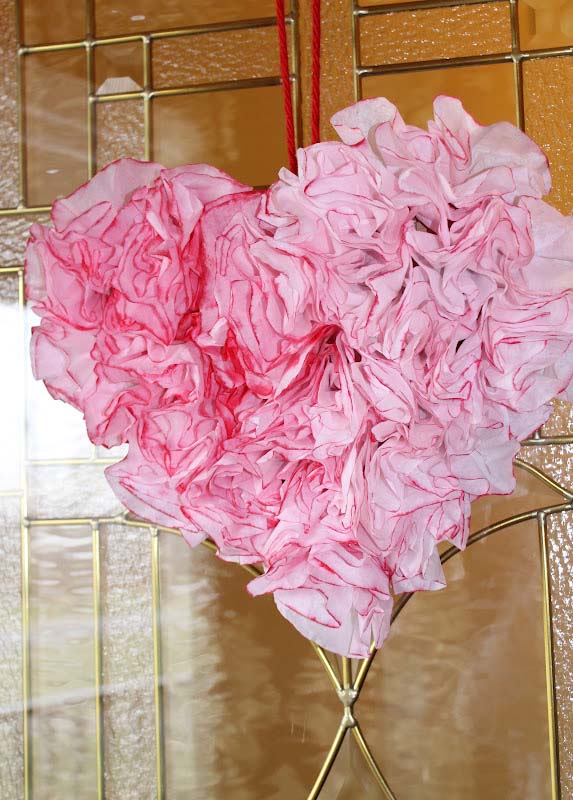 Lovely gathering of coffee filters, dipped in coloring or dye sparks the imagination!
11. Bring Natural Beauty with Conversation Blocks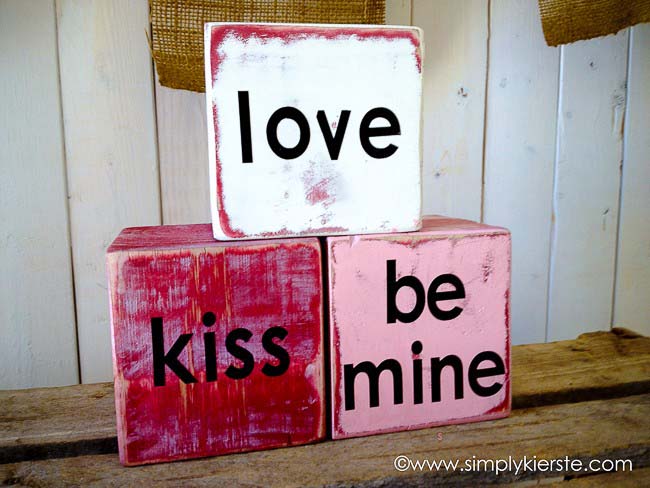 Conversation blocks! Wow how cute! This farmhouse rustic look will forever be in your memory with love and fondness!
via Old Salt Farm
12. Craft Your Perfect Valentine's Day Gift with Glass Stones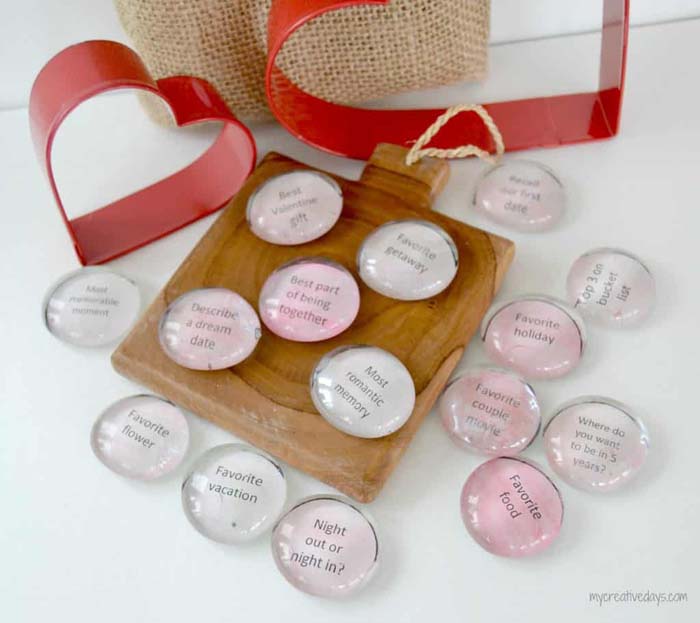 A bag of Clear glass stones and paper and scissors can certainly come in handy during the holiday of love!
via My Creative Days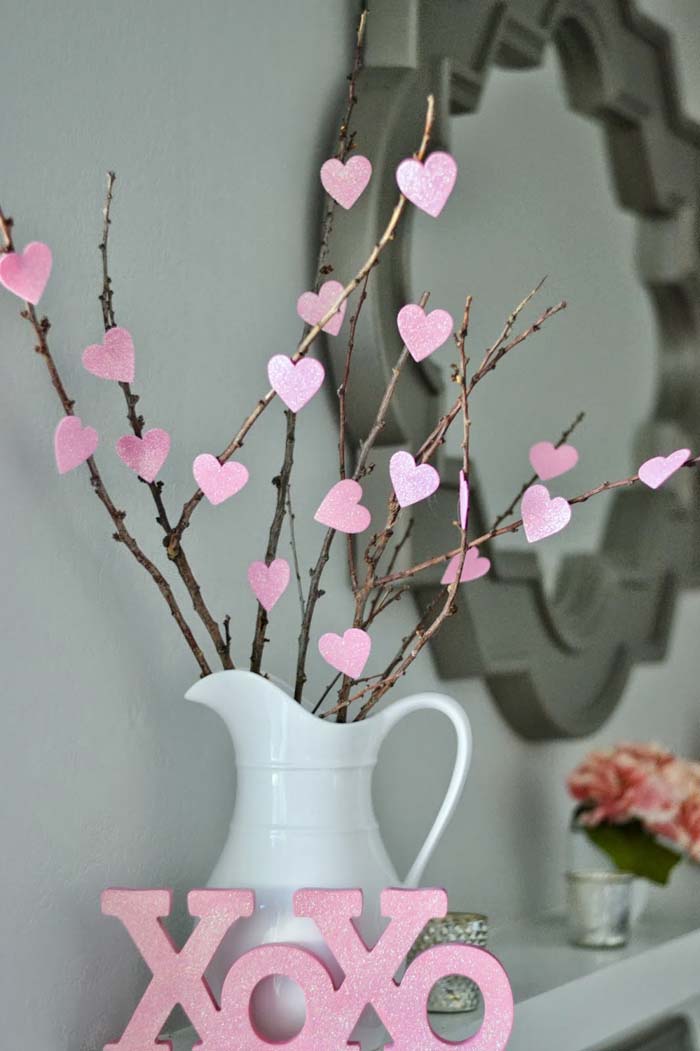 Got a tree nearby? Grab some branches, a glue gun, little hearts, and let's make magic!
via Money Hip Mamas
14. Make a Wreath Full of Hearts with Mesh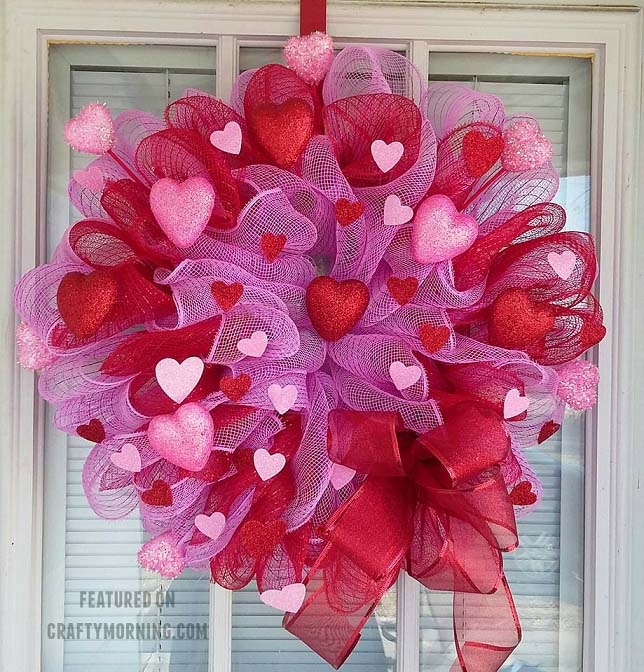 The decorations surrounding this circular art are both festive and vivacious.
via Crafty Morning
15. Create a Modish Floral Heart for Valentine's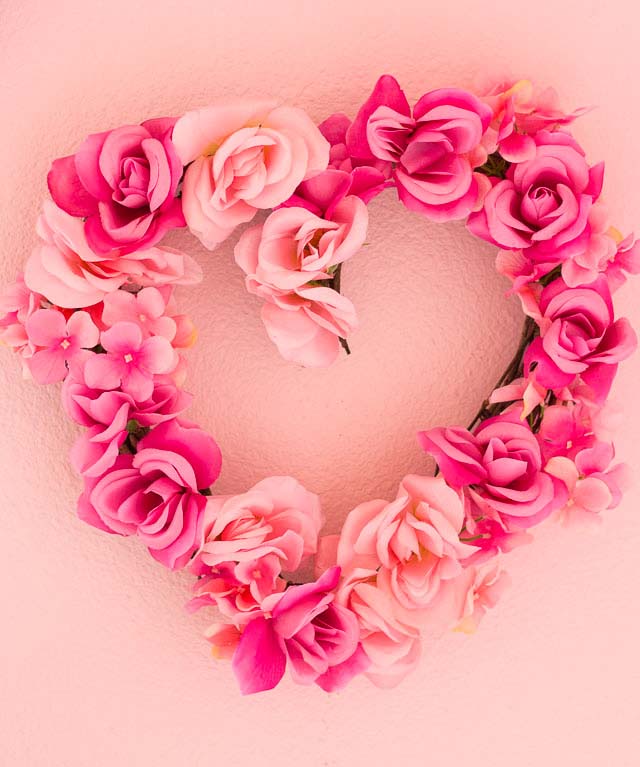 Resembling a circle of life and heartfelt thoughts, this piece of art, is remarkably delightful!
16. Show Your Love with Glitter Candles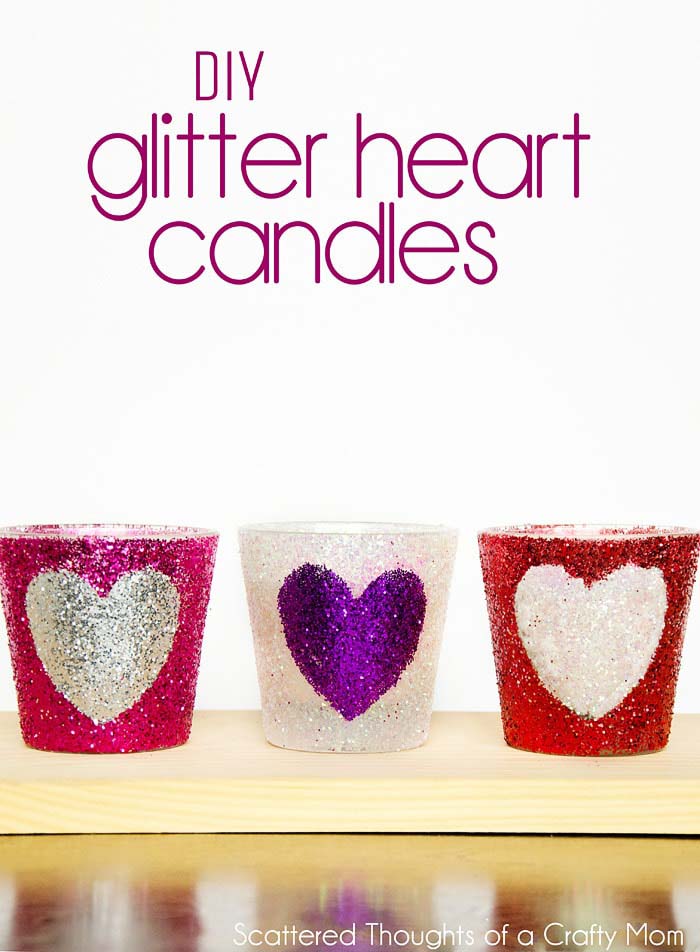 Glitter, glitter, and more glitter! Spark up these candles with hearts of glitter and express your affection!
via Crafty Mom
17. Express Unconditional Love with a White Frame of Kisses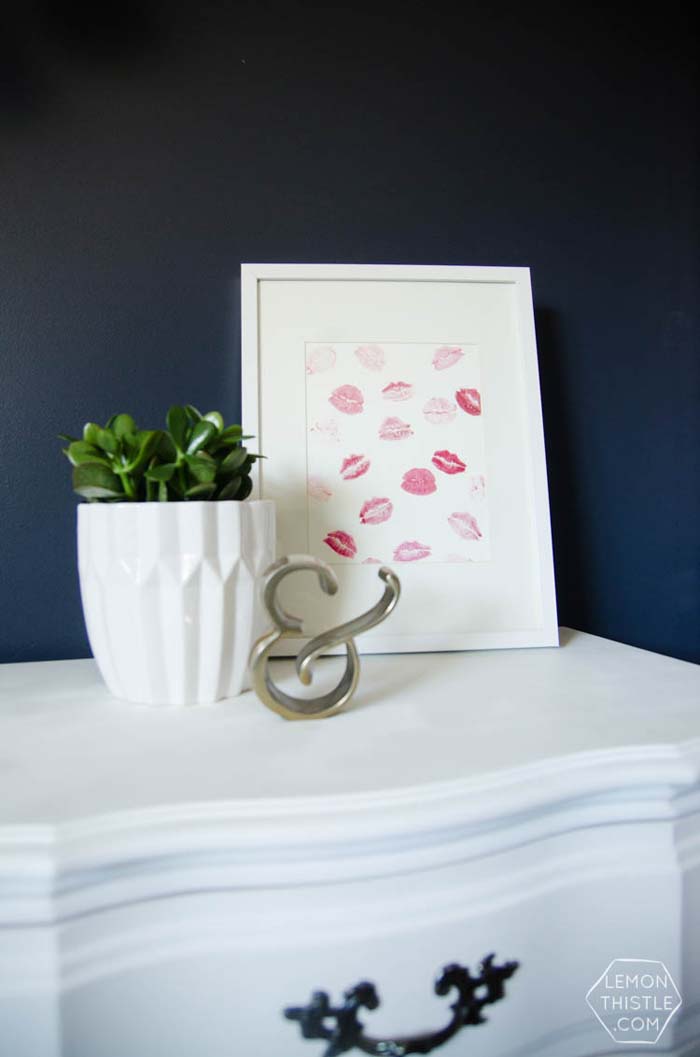 A white frame full of kisses to show off your undying devotion!
via Lemon Thistle
18. Declare Your Love with Red Kiss Balloons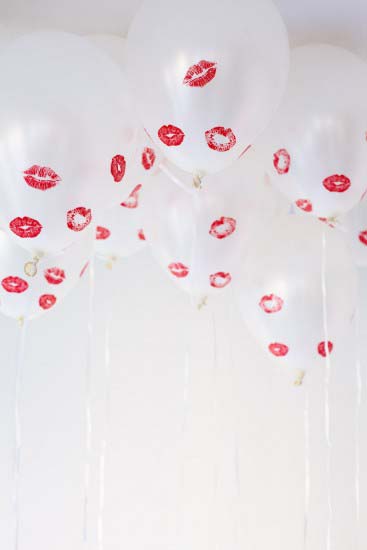 Boast your love with a room full with white balloons with red kisses!
via Balloon Time
19. Create a Lace Heart Bunting Banner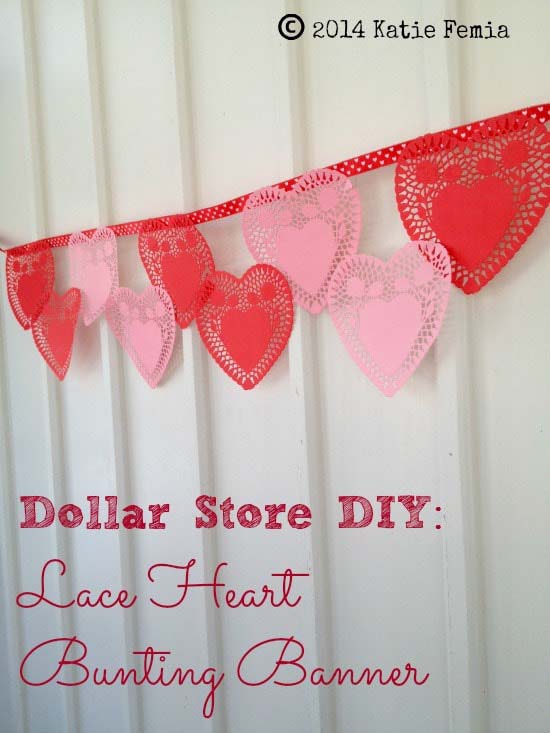 Hearts of lace a banner to remember!
20. Use Your Lipstick to Make an Ombre Heart Decor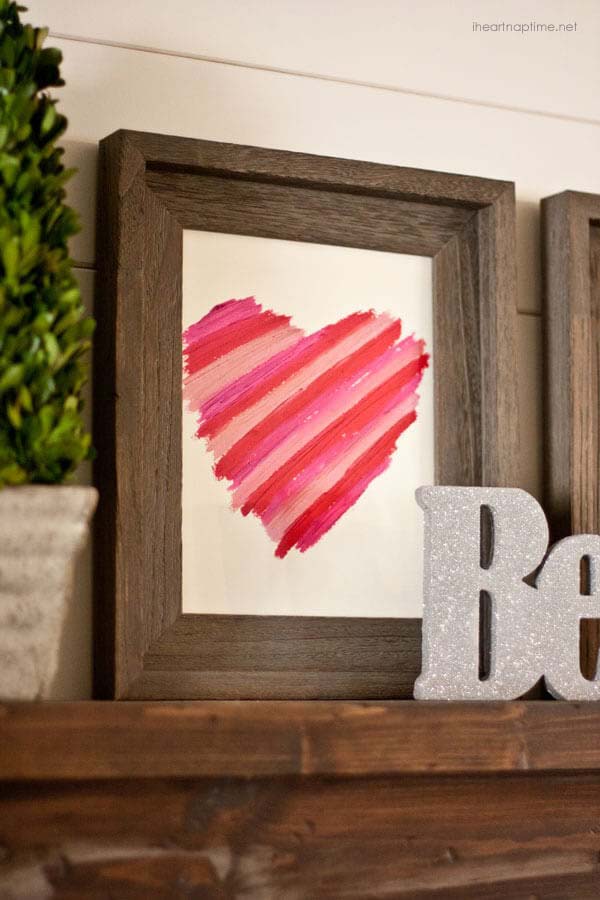 A frame with a lipstick covered Valentine's Day heart!
via I Heart Naptime
21. Dazzle Your Love with a Basket of Glittery Lollipops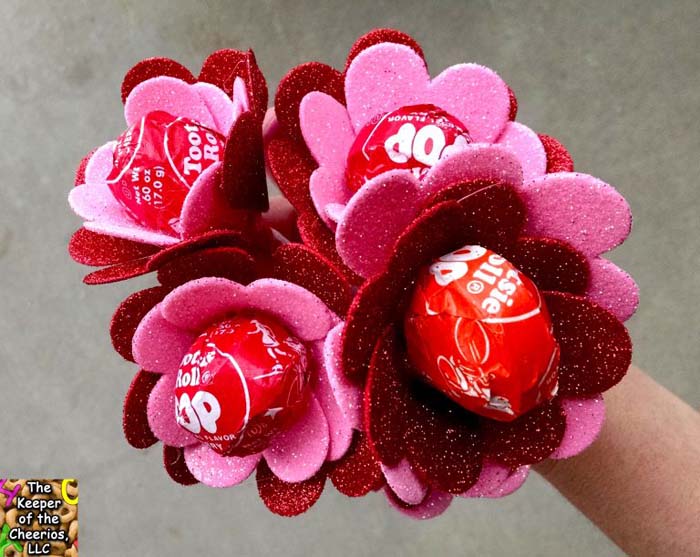 Not just a glitter heart, but a glitter with a lollipop, dazzle your love with a basket full of these little charmers!
via The Keeper of the Cheerios
22. Build a DIY Love Letter Station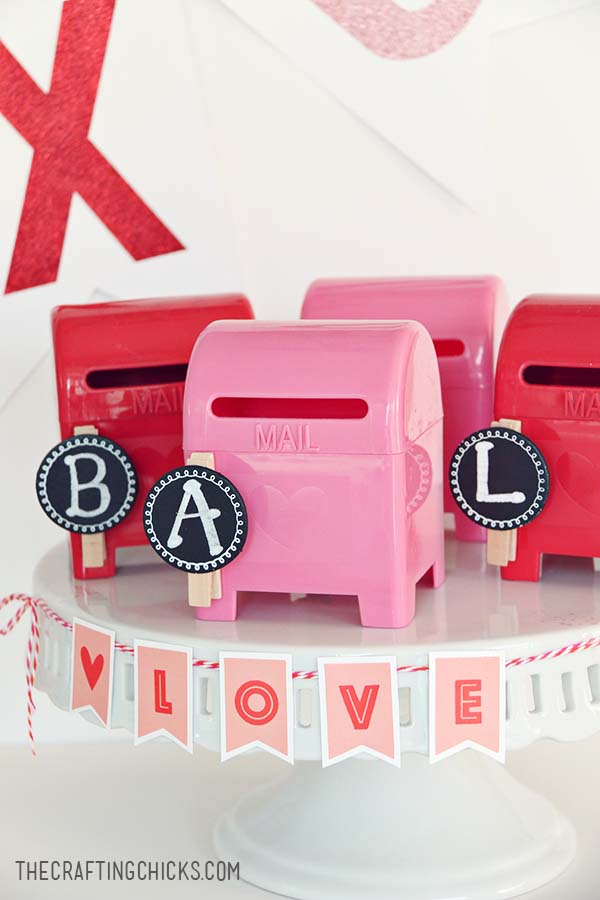 Oh, this is so cute! A little love letter station, ready to send off little letters of love!
via Crafting Chicks
23. Make a DIY Paper Heart Garland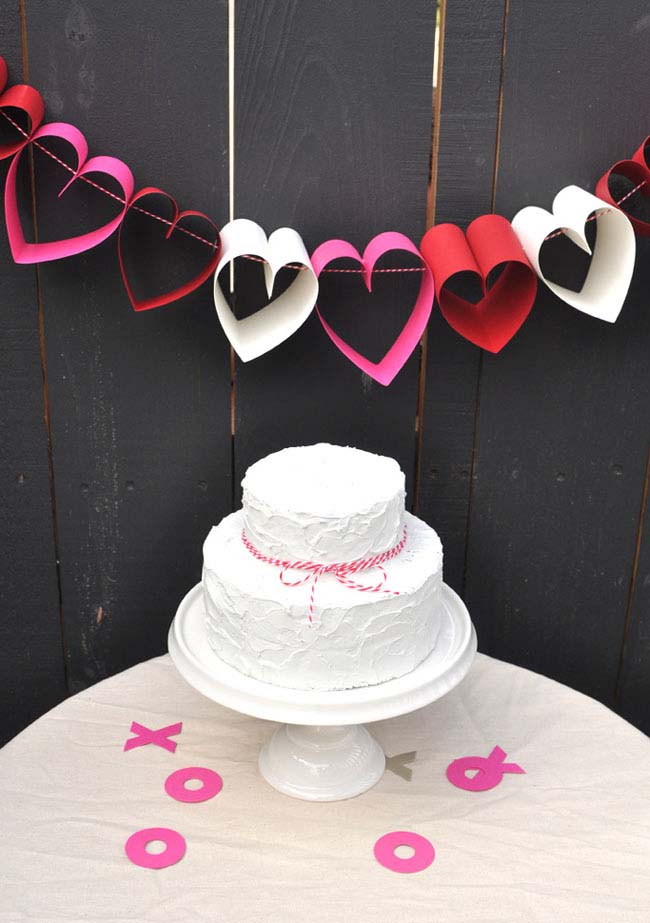 A Valentine's Day garland made from colored paper and twine. You will need a hole puncher to punch holes into the paper. Then slip the twine in the holes, the double sided tape is for the heart designs.
24. Create a Showstopping Love Arrow Display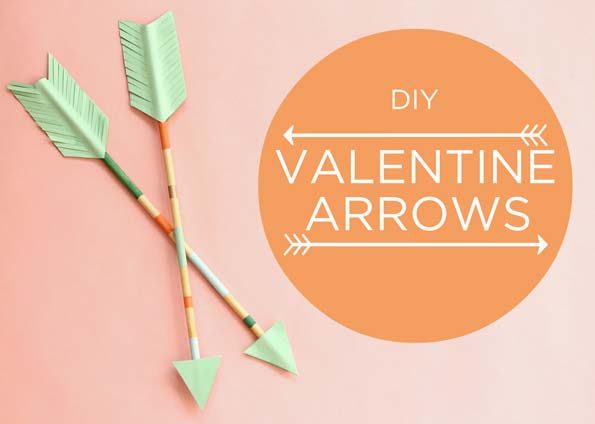 12″ dowels will be needed to make this thrilling display, along with colored paper, foam brushes, a bit of paint and tape! Allow your creativity to soar, when putting together these adorable love arrows!
via Evite
25. Use Vibrant Picture Frames to Spread a Love Message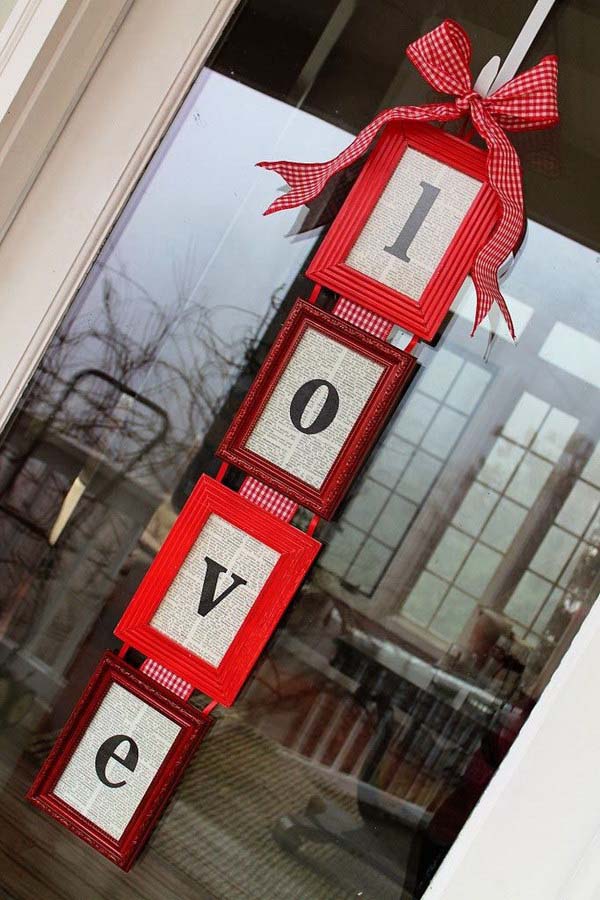 Four vibrant picture frames hanging from a beautiful strip of fabric, topped with a bow. The neighbors will love the letters L O V E which stands for love of course!
via Confessions Of a New Old Homeowner
26. Make an Adorable White Pom-Pom XO Wreath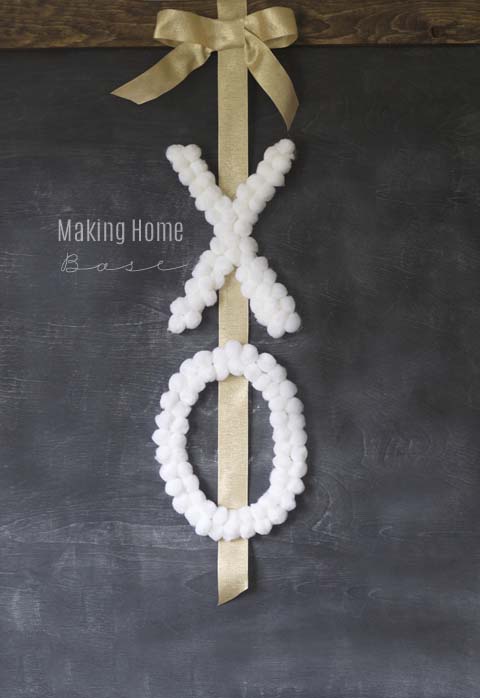 A beautiful X O wreath made of baby white pom poms, how lovely!
via Making Home Base
27. Heart-Adorned Mason Jars with Lace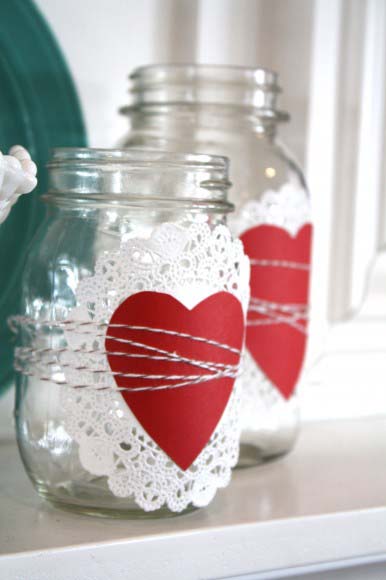 Large mason jars with adorned with red hearts, on top of dainty white lace, awesome!
via The Plated Poppy
28. Craft a Valentine's Day Display with Doilies and Twine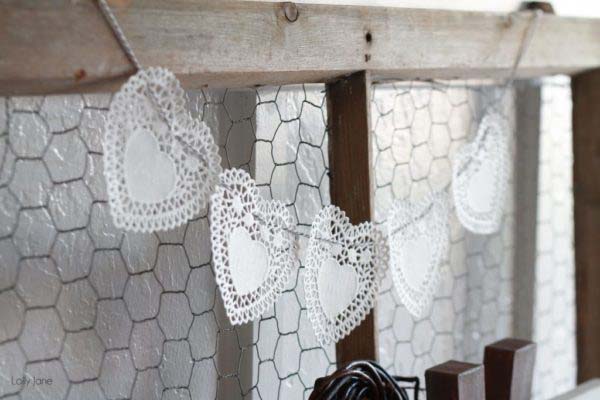 If you thread twine through the holes of these lily white doilies than you have created an excellent Valentine's Day display!
via Lolly Jane
29. Celebrate Valentine's Day with a Vase of Hearts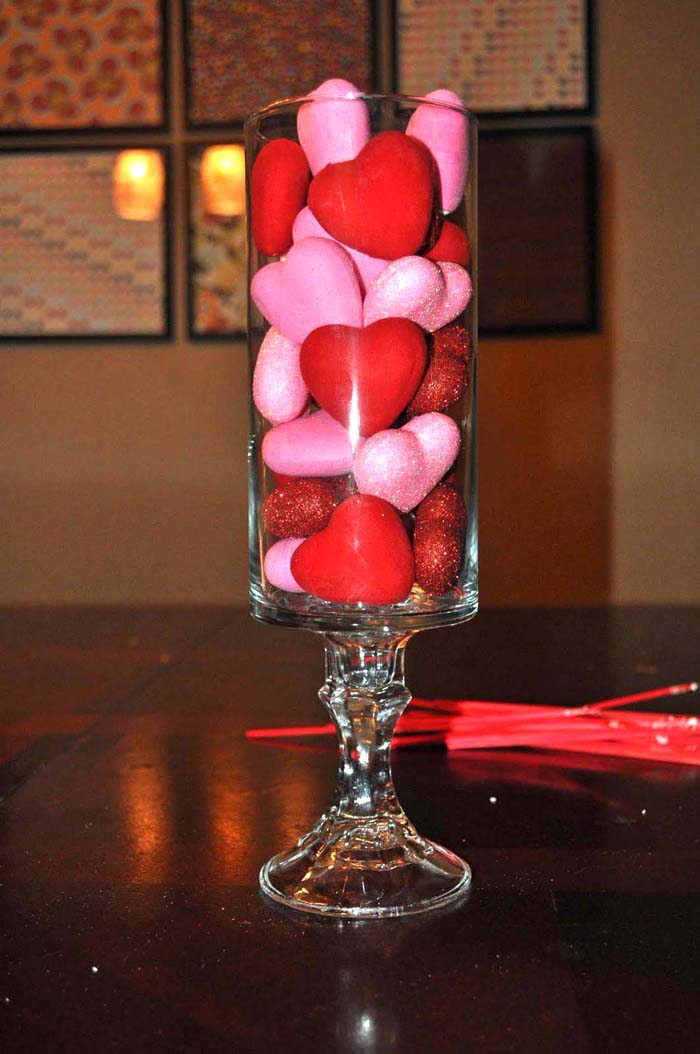 There's no better way to celebrate the holiday of love than a vase full of hearts!
via Darning Diva
30. Decorate Your Mantel with Valentine's Day Pieces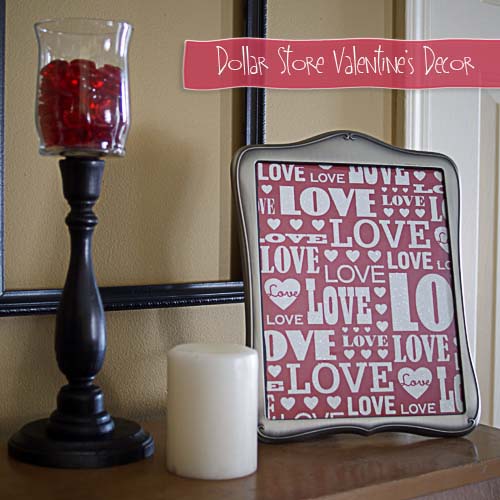 Take your pick of picture frames, candles, and colored glass stones to decorate your mantel during the holiday of romance!
31. Add Flowers and Cupid's Arrow to a Burlap Wreath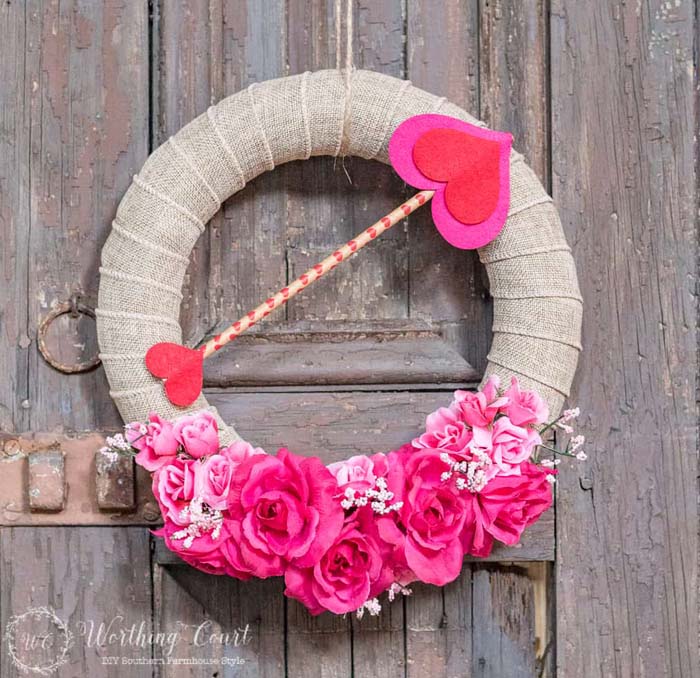 A circular frame covered with burlap, with a nice bouquet of flowers arranged at the very bottom. Cupid's love arrow is gently placed in the middle.
via Worthing Court
32. Elevate Your Porch Seats with Heart Pillows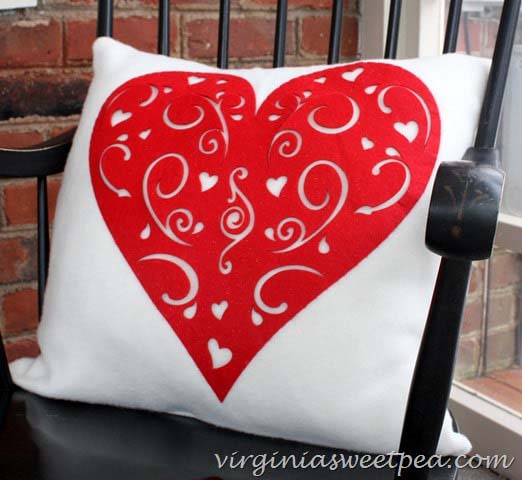 Decorative pillows with a splendid red heart in the center! Display this item on any chair, mantel or couch!
33. Celebrate Valentine's Day with a Festive Table Runner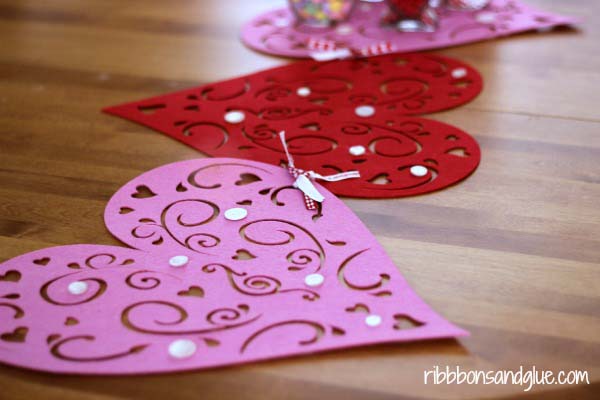 Table runners come in all forms and colors. Checkout this Valentine's Day table runner and get into the holiday spirit of romance!
via Ribbons and Glue
34. Craft Beautiful Paper Roses for Valentine's Day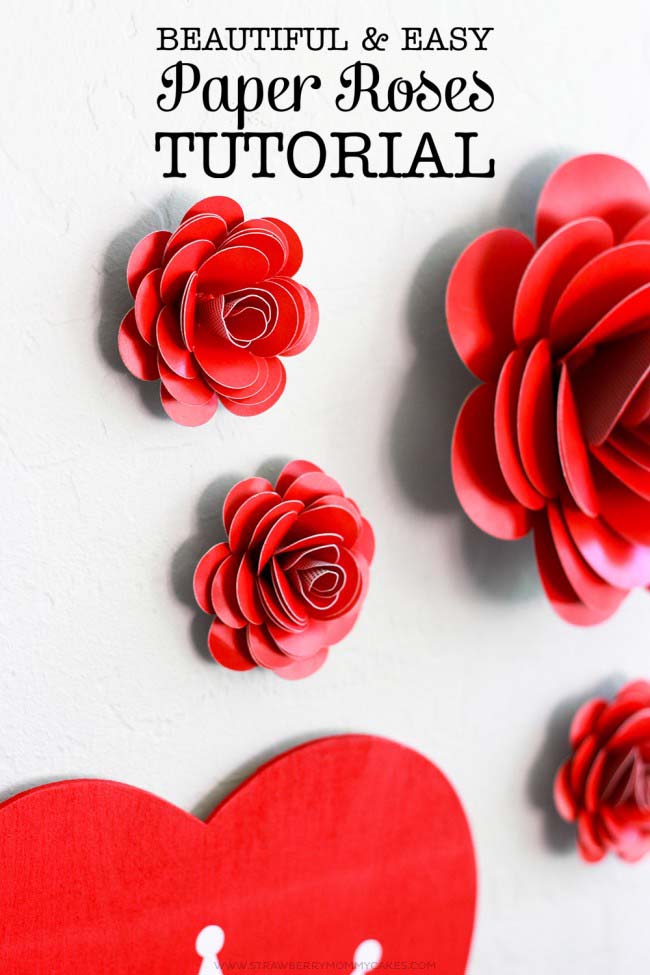 Paper roses, paper roses and more paper roses! With card stock and a little skill, some of the loveliest roses can be created and proudly displayed!
via Printable Crush
35. Make a Romantic Heart-Shaped Tinsel Ring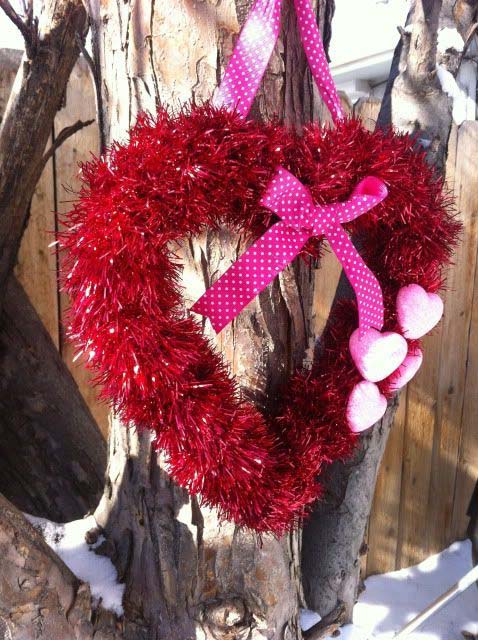 Pleasantly reflecting the very secret of art and romance, this ring of class is thoroughly enticing. Tinsels, tinsels and more tinsels, shaped like a heart, make an awesome Valentine's Day frame.
via Kathe with an E
36. Nature-Inspired Valentine's Wreath with Heart Accents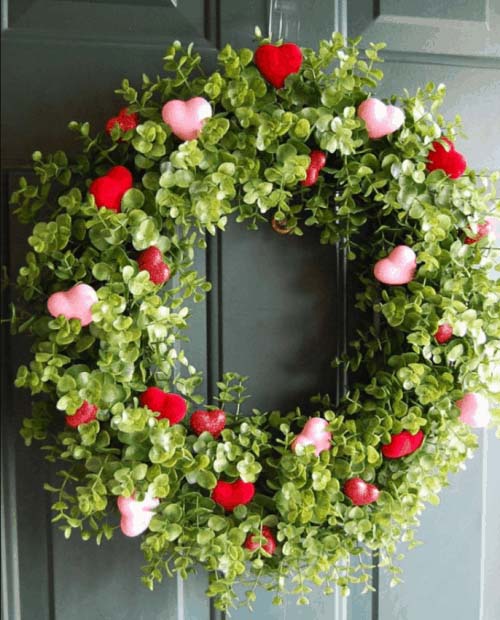 Greenery, greenery and more greenery with a touch of colorful valentine's here and there!
37. Craft Cupid's Arrows with Wood Skewers and Feathers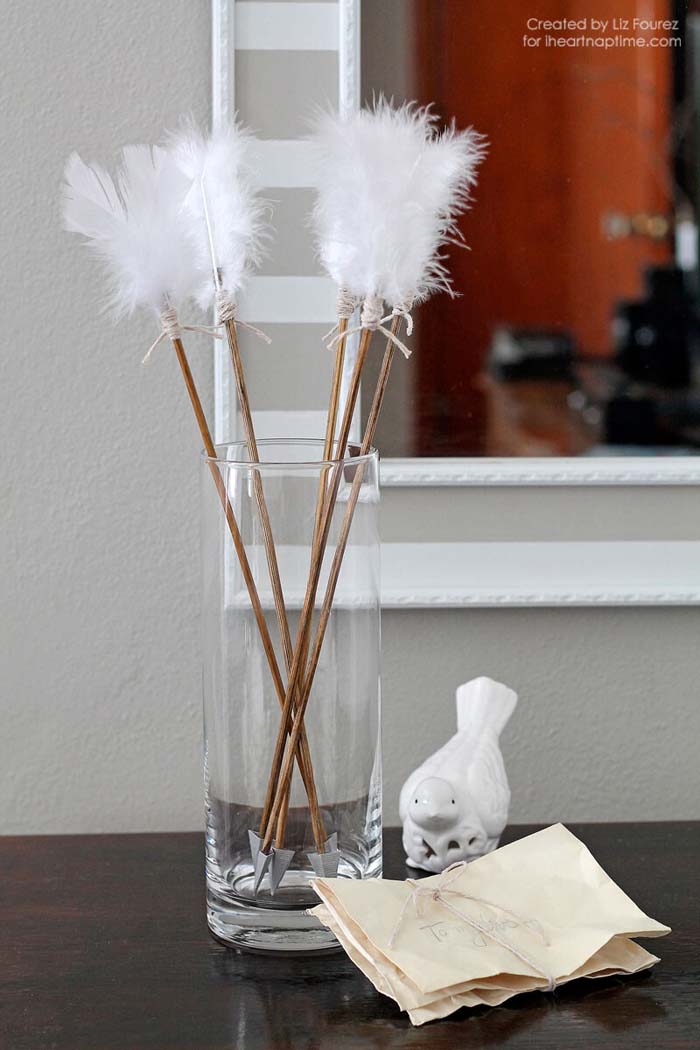 A jar filled with cupid's arrows. Wood skewers and feathers are the main items that will be required to make this touch of class!
via I Heart Naptime
38. Valentine's Day Tree with Styrofoam Cones and Felt Hearts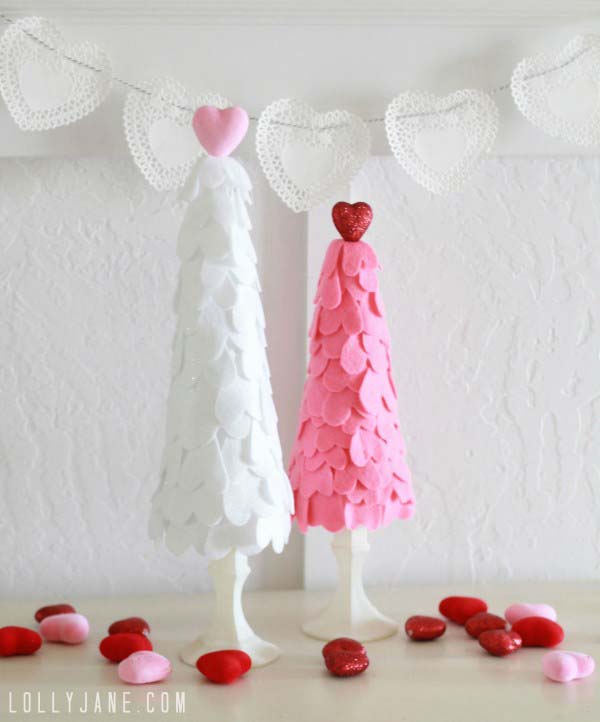 Styrofoam cones can go a long way, when you're ready to create something fabulous! Cover the foams with lots of cu-out felt hearts and there you have it Valentine's Day tree!
via Lolly Jane
39. Adorn Your Wall with Framed Glitter Foam Hearts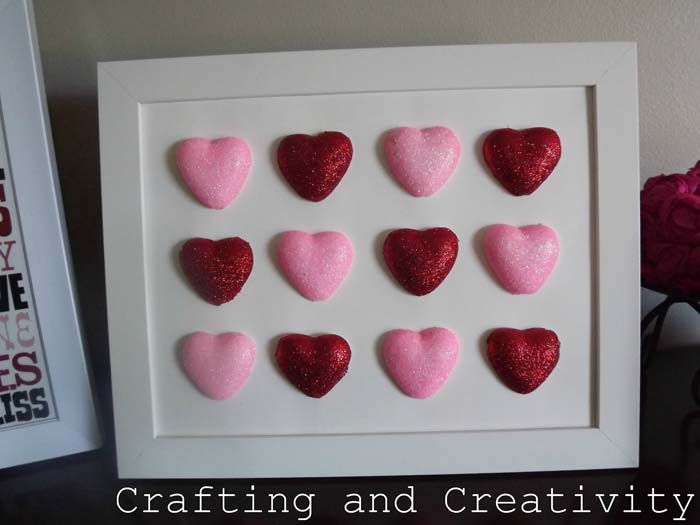 Covered with lots of glitter these foam hearts are on their way to romance fame! Just place the lavish hearts on a large picture frame side by side then hang it on the wall!
40. Make a Rustic Heart Decor with Buttons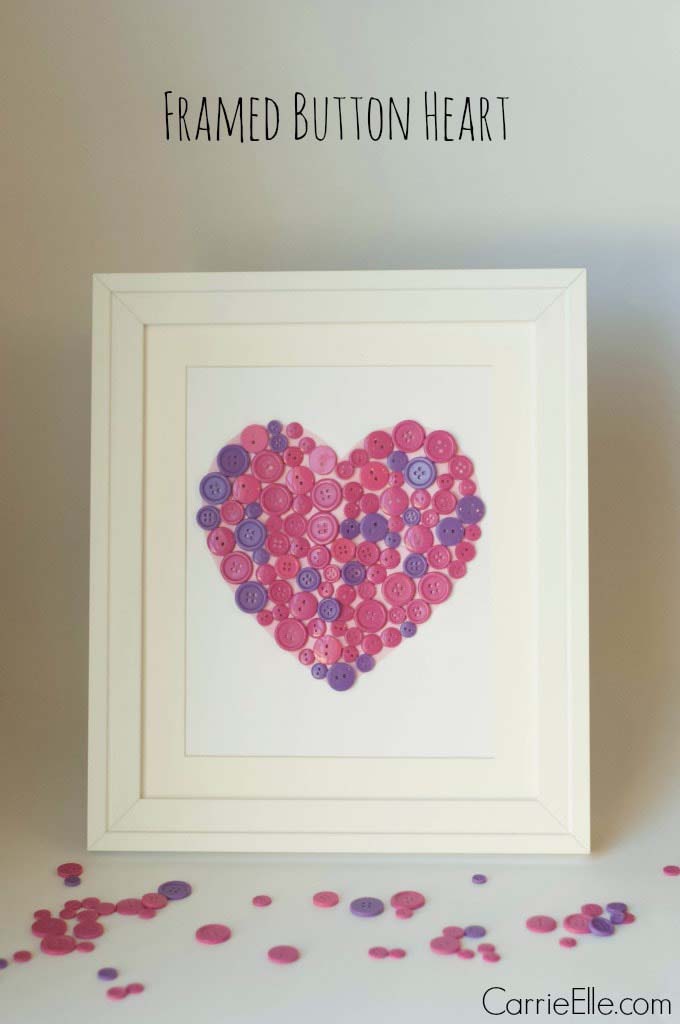 Tons, tons and tons of pink and lavender buttons in the shape of heart! Place it on a frame and Tada! Happy Valentine's Day!
via Carrie Elle
41. Place Shimmering Gold Hearts on Balloons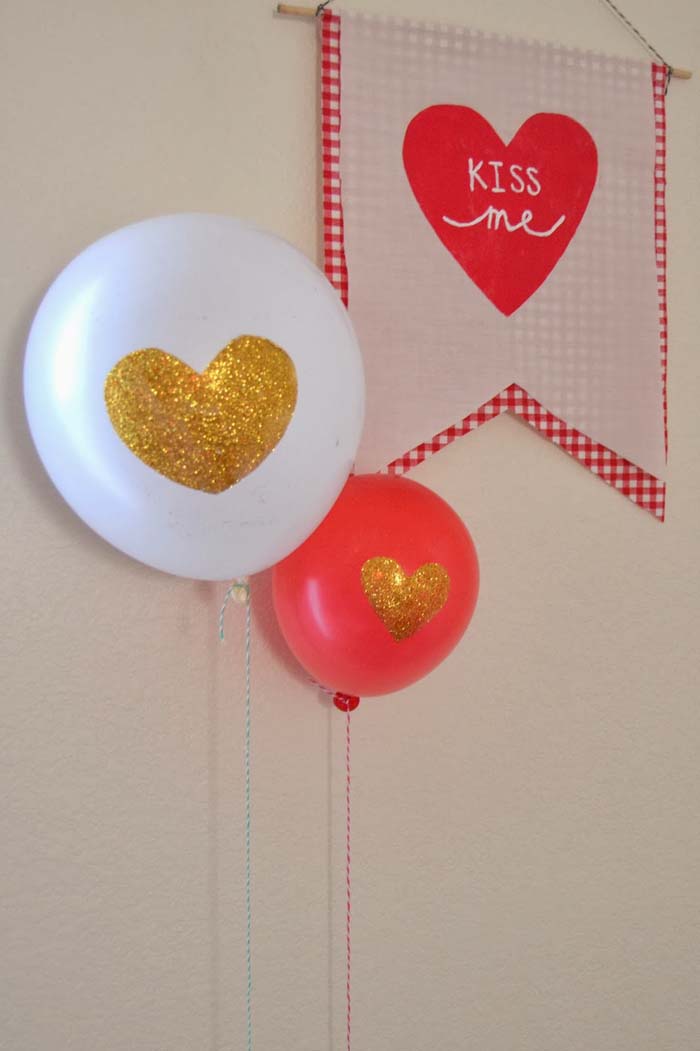 There's nothing like a large heart of glitter on bunch of bouncing balloons!
via Tied Ribbon
42. Decorate a Valentine Bowl with Glitter and Glue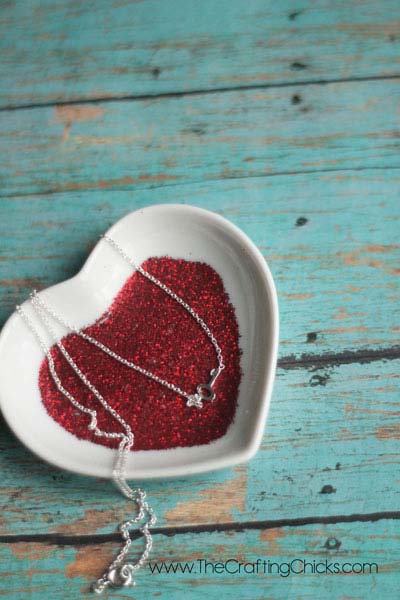 With a little craft bond glue, and some sparkling glitter, decorate your favorite Valentine bowl. Let it dry then, then sit it on an open table for all to see!
via Crafting Chicks
43. Make Handmade Gumball Flowers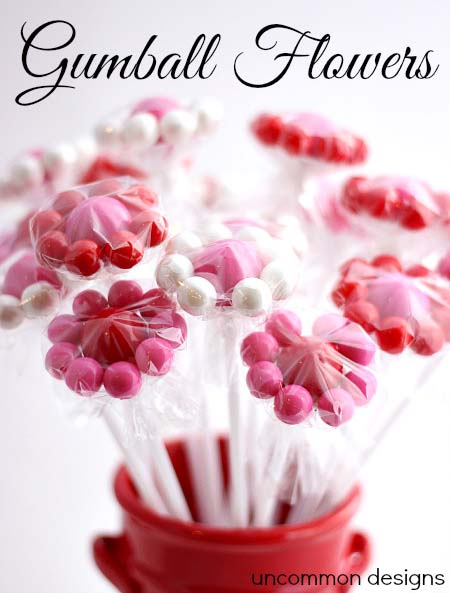 To make this yummy treat, all that's required is balloon sticks, gumballs of different sizes, cellophane wrap, ribbons, rubber bands and glue sticks.
via Uncommon Design
44. Create an Artistic Heart with Lovely Words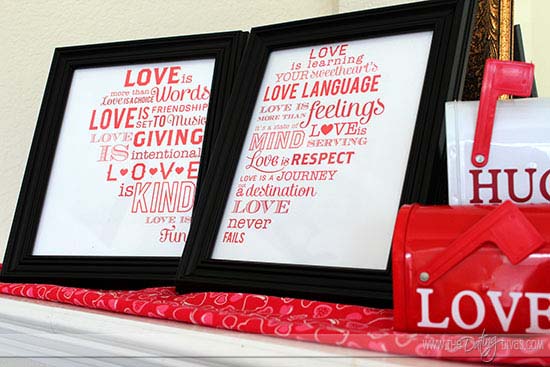 Frames with words of love!
via The Dating Divas
45. Bring a Romantic Atmosphere with Hearts and Twine Banner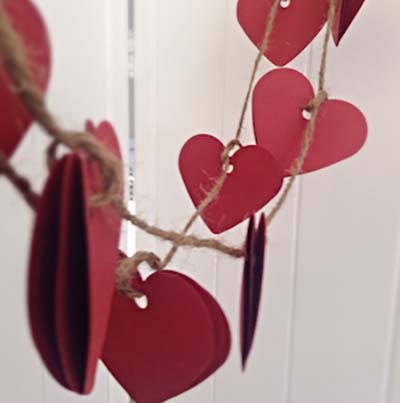 Banners of red hearts and twine fills the air with romance!
via Design By Kerry
46. Spread Love with a Wall Heart Garland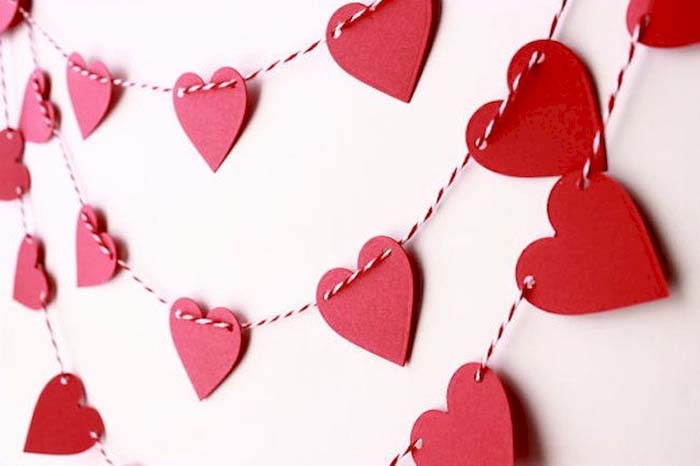 Nothing like a garland to cover the walls to display the love that's floating through the air!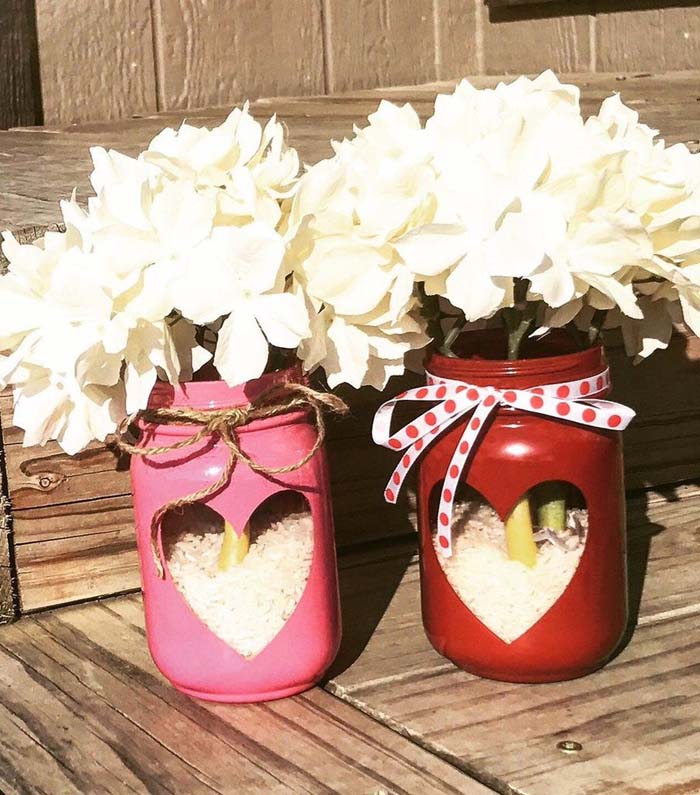 Large colorful mason jars filled with white bouquets of flowers, an old-fashioned appeal! Rare beauty!
48. Use Upcycled Vintage Pieces for Valentine's Decor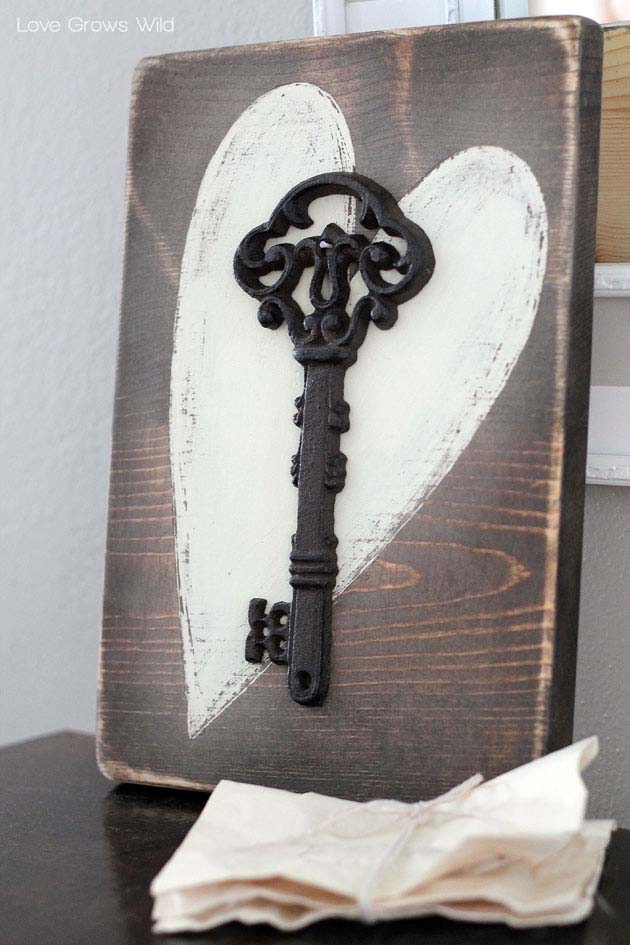 Do you have a wooden sign? How about a large old rustic key? Well, there you are, a key to my heart Valentine's Day work of art!
via Love Grows Wild
49. Adorn Your Door with a Hanging Heart Garland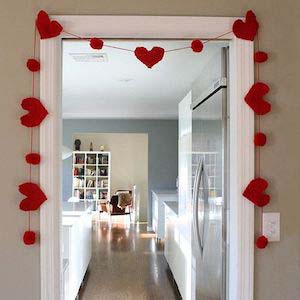 Decorate your door, with strings of hearts!
50. Adorable Toy Bug Decorations for Your Special Someone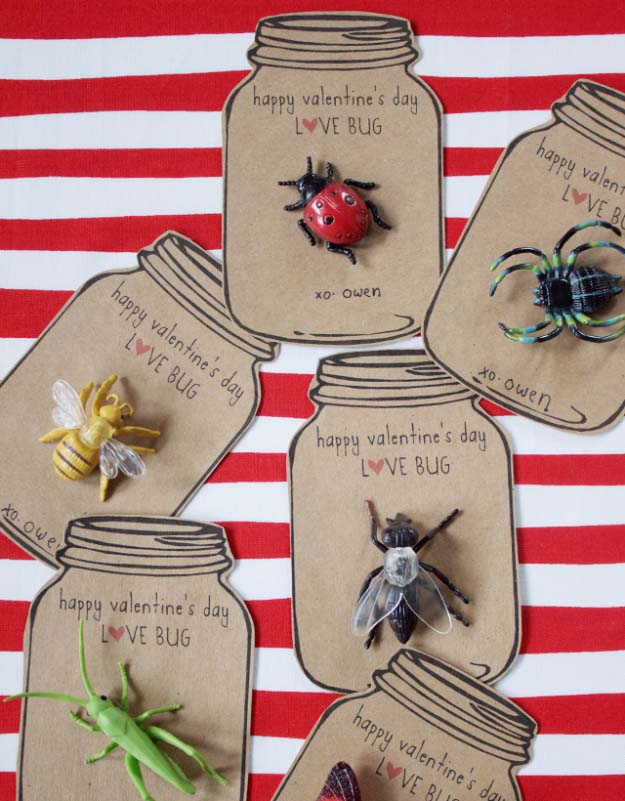 How adorable! Toy bugs attached to paper mason jars! If that doesn't catch the attention of the love of your life, I don't know what will!
51. Make a Unique Valentine's Garland with Love Photos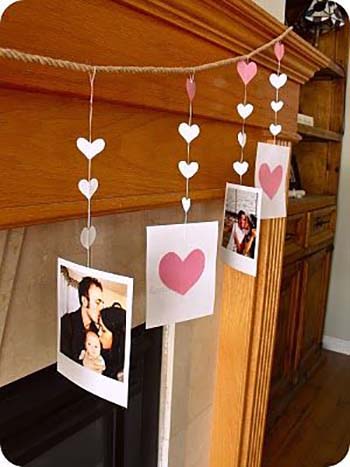 Ever seen a garland, made of you and the love in your life, well it is!
52. Personalize a Valentine's Day Tree with Pictures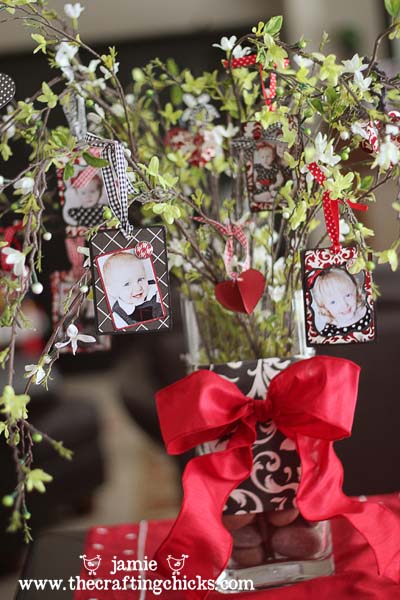 A tree with picture ornaments, how charming!
via Crafting Chicks
53. Utilize a String and Paper Hearts for a Valentine's Garland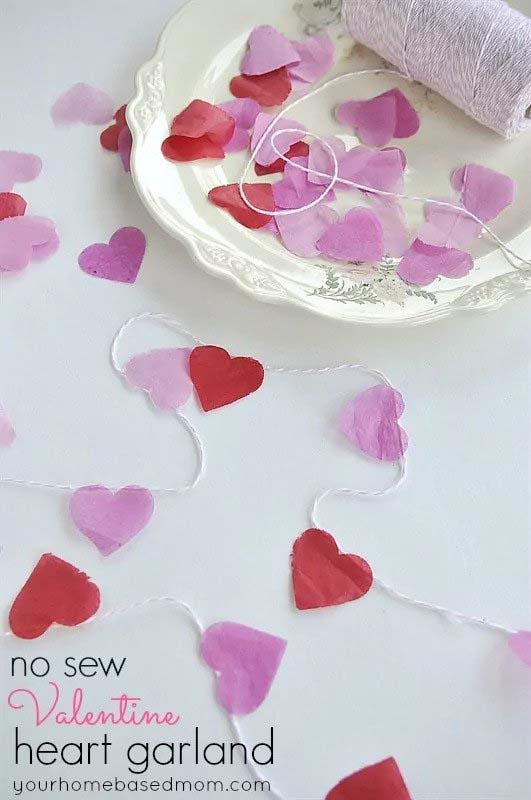 The most dainty garland ever! Filled with tiny alluring pink and red hearts! How delightful! It can be hung on a dresser or mirror!
54. Decorate with a Jar of Pink Shredded Papers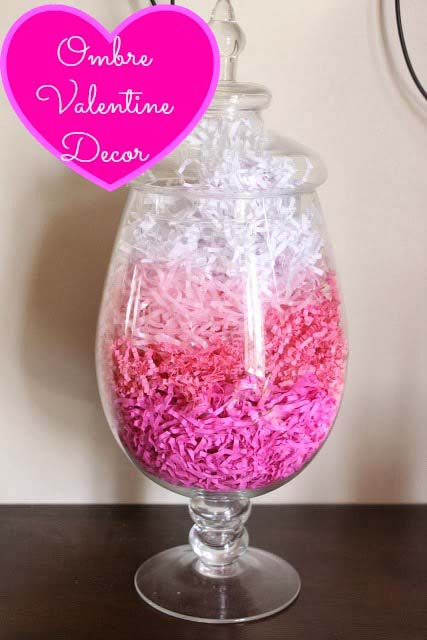 A jar filled with pink shredded paper. How lovely.
55. String Together Paper Hearts for a Romantic Mantel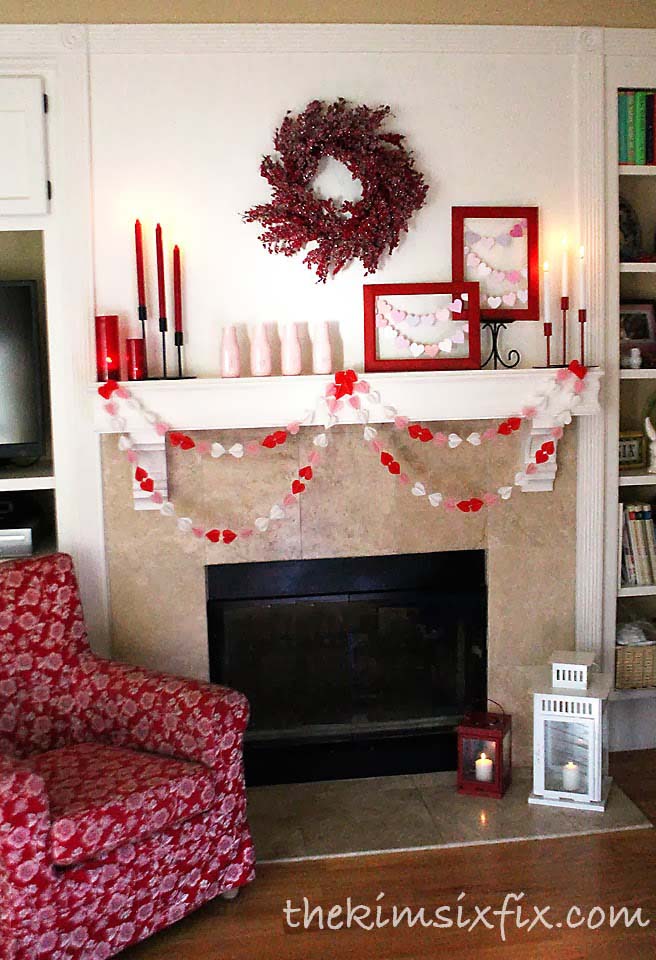 This dreamy, endearing garland will look nice adorning any fireplace!
via The Kim Six Fix
56. Bright Multi Colored Wreath for Valentine's Day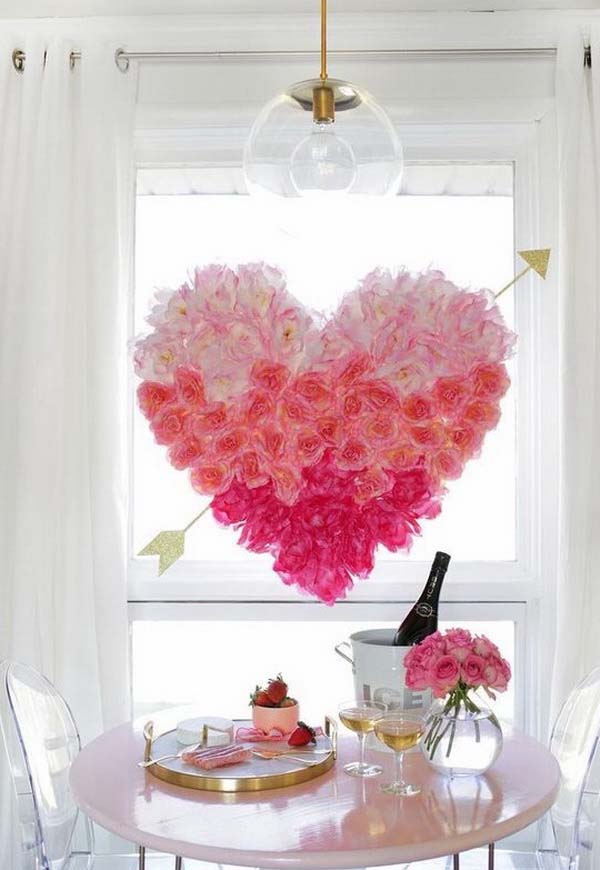 Perfect love wreath for Valentine's day.
57. Create Rustic Valentine's Heart Decor with Pipe Cleaners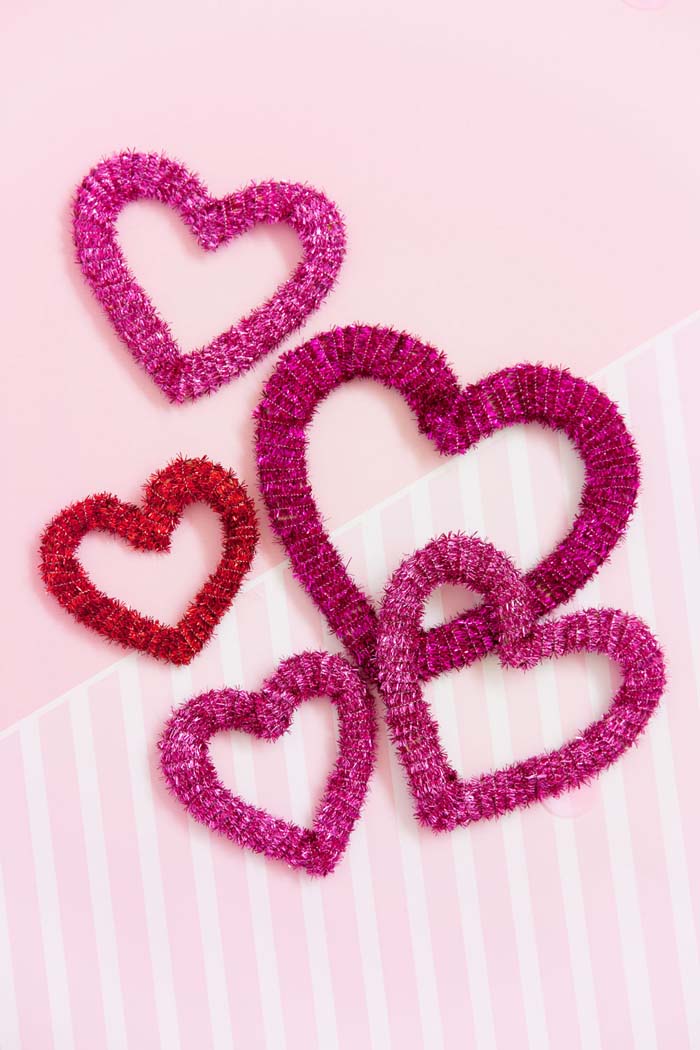 A heart a day keeps the gloominess away!
58. Upgrade Your Door with a Red Burlap Wreath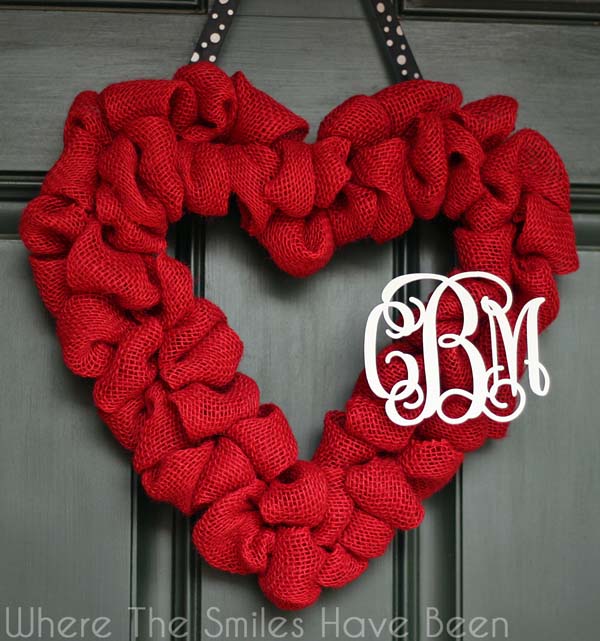 A display full of red-colored burlap makes your heart pound with the spirit of Valentine's Day!
via Where The Smiles Have Been
59. Sophisticated Heart Art using Rolled Book Pages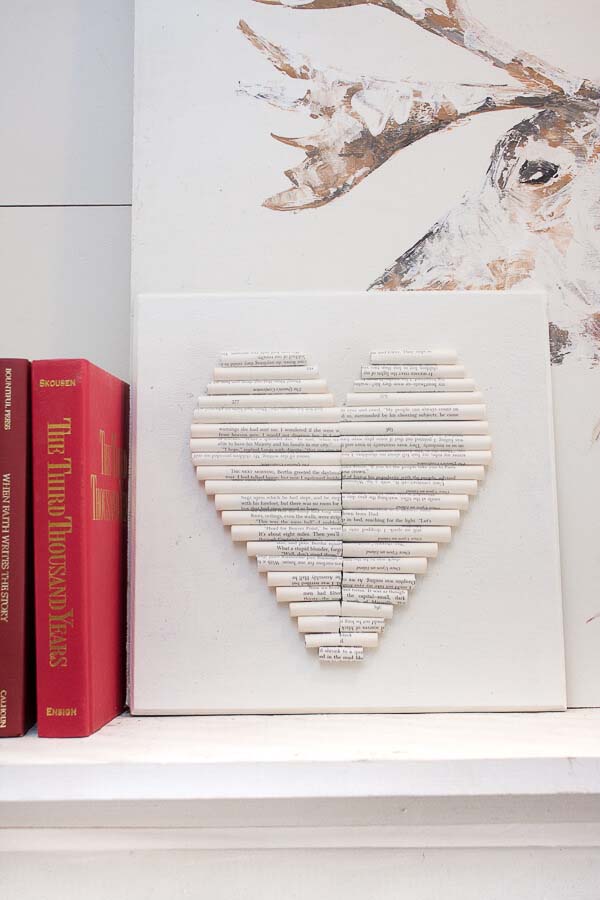 Roll up a few book pages, around a pencil then slide it back out! Make as many of these as needed then shape it into a heart! Place it on a canvas and there you have it!
via Twelve on Main
60. Create an Enchanting Display with Wine Glasses and Candles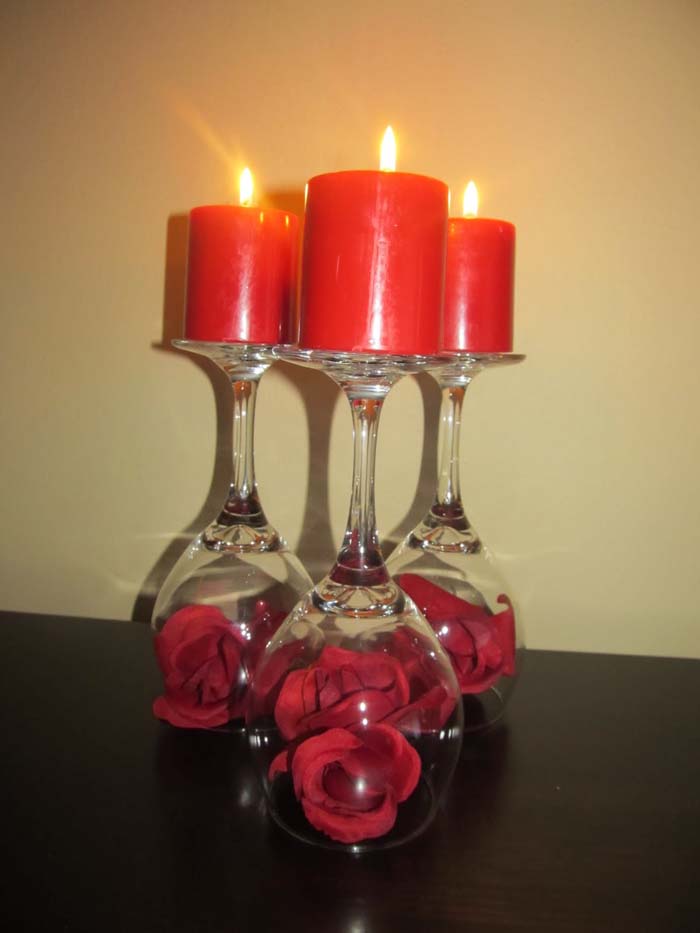 Wine glasses turned upside down, don't forget to put flowers into the glass prior. Then set candles on the other end! How captivating!
61. Upcycled Book Jar Candle with Twine Accent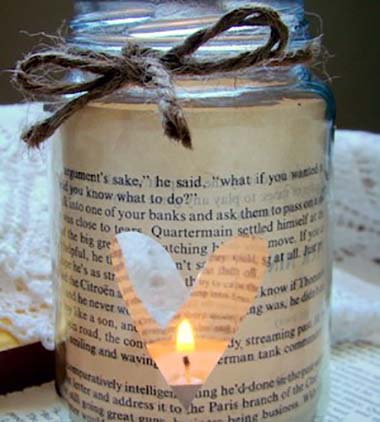 A jar with the inside covered with the pages from an old book! Then the top of the jar is covered with old twine! Exquisite!
62. Wrap a Mason Jar with Doily and Tie with Twine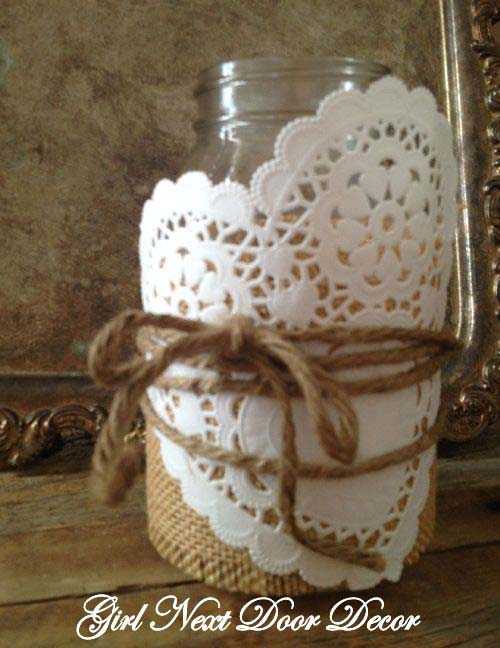 Large mason jar wrapped with a white doily then tied with brown twine.
63. Show Affection with Rustic Wood Letters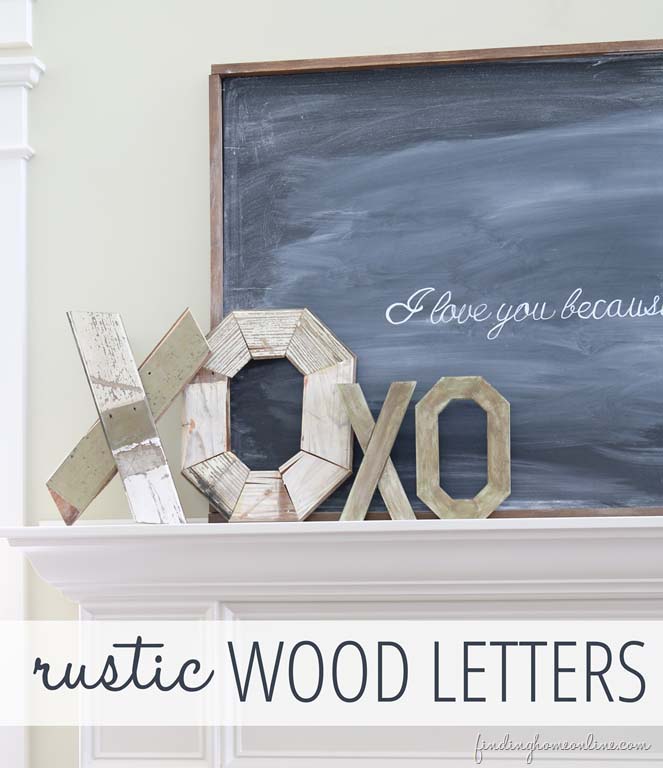 Old pieces of wood shaped in the letters X and O. Then another X and O in a smaller size. Delightful!
64. Create a Contemporary Striped Love Sign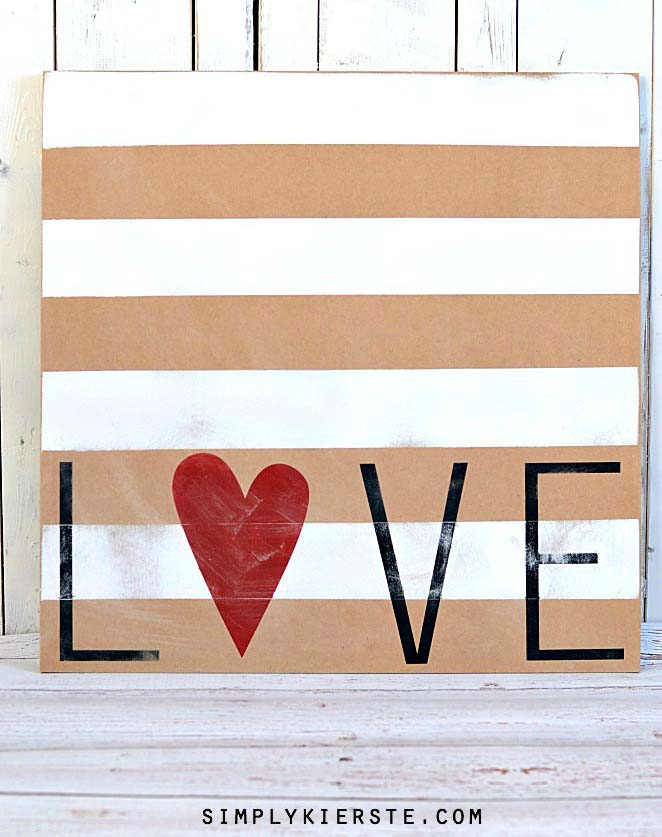 An excellent work of art, just in time for Valentine's Day!
via Old Salt Farm
65. Create a Valentine's Day Garland with Tissue Paper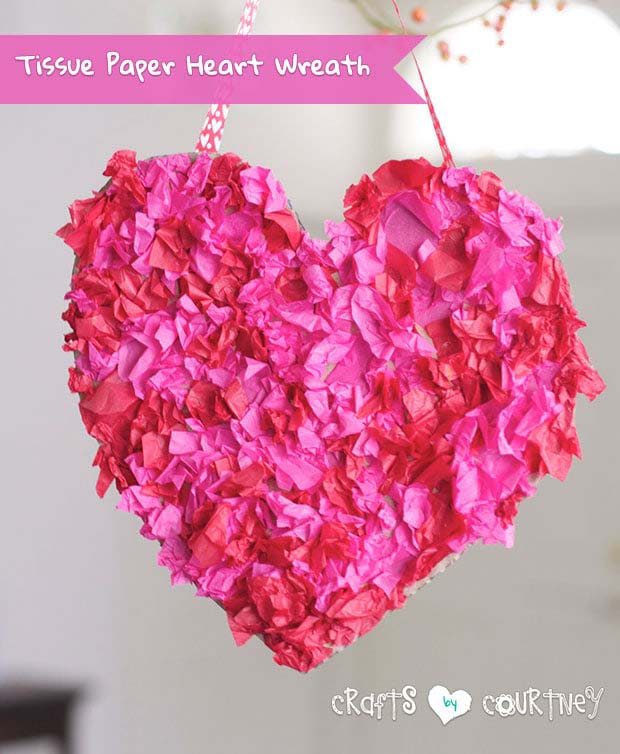 Who said garland decorations can't be made from tissue paper? The perfect display for the holiday of love!
66. Make a Unique Tissue Paper Rose Wreath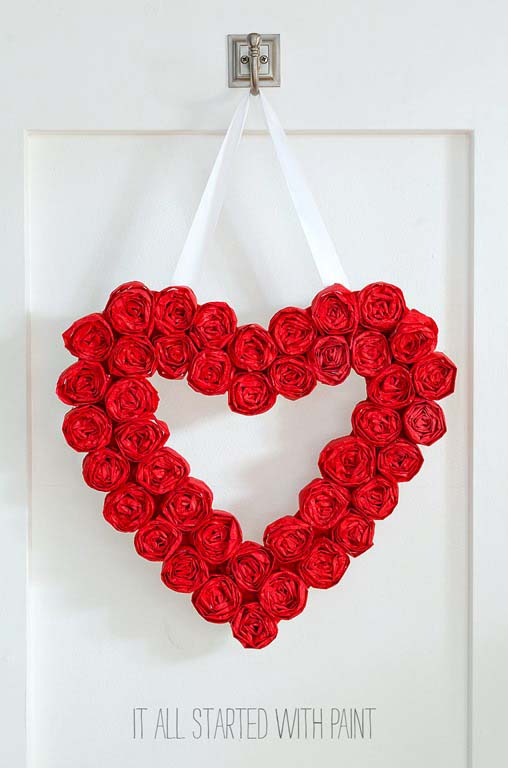 With a little tissue paper and time, create a nice subtle holiday thrill.
67. Craft a Colorful Garland for Valentines with Tissue Paper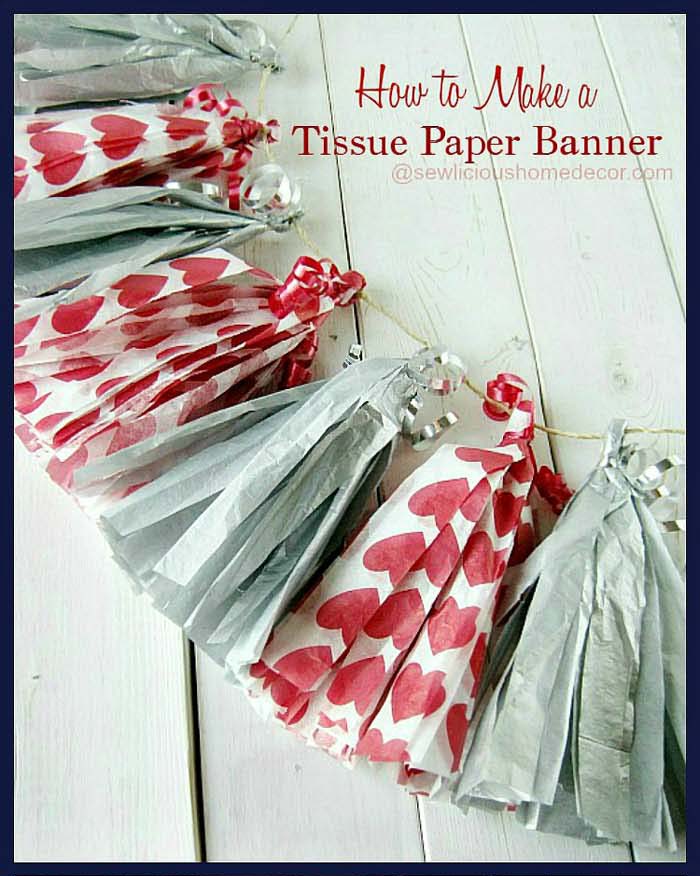 Want to know how to make a tissue paper garland?
68. Get a Rustic Look with Twine and Heart-Accented Candles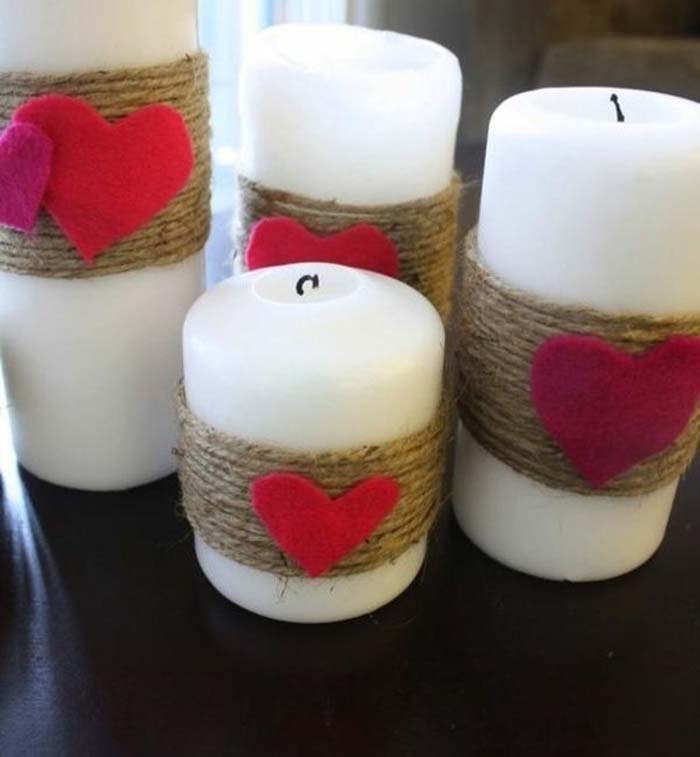 Candles wrapped in twine, with felt hearts attached! Talk about being breathtaking!
69. Utilize Clothespins for a Modern Valentine's Heart Decor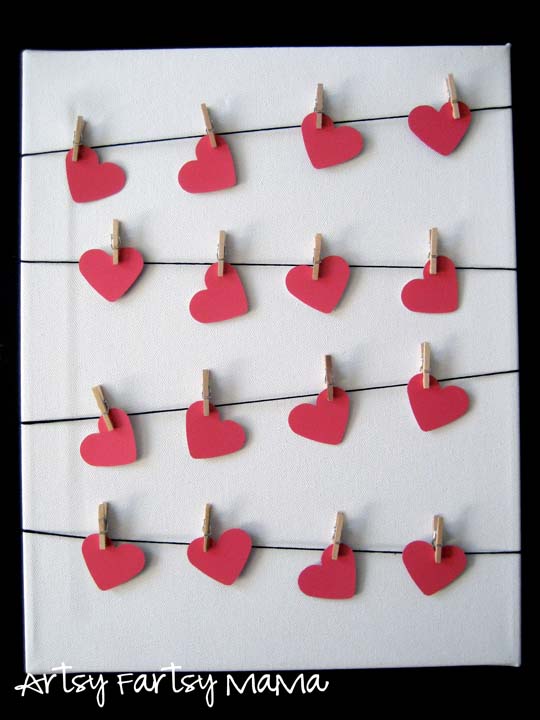 Yes, you will need clothespins for this piece of art. The clothespins will attach the red hearts to the line of string. Appealing and fun are the words that come to mind.
70. Make a Valentine Day Floral Bouquet with Artificial Flowers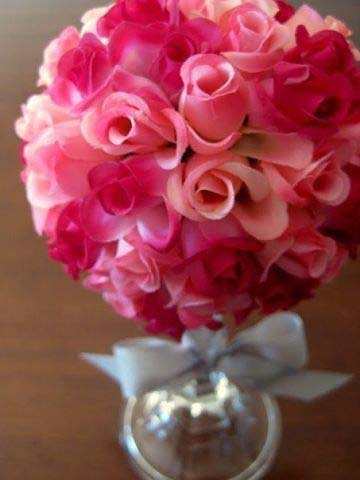 Artificial flowers, a vase and a styrofoam ball are 3 main items needed for this holiday thrill!
71. Customize Valentine's Cone Heart Trees with Accents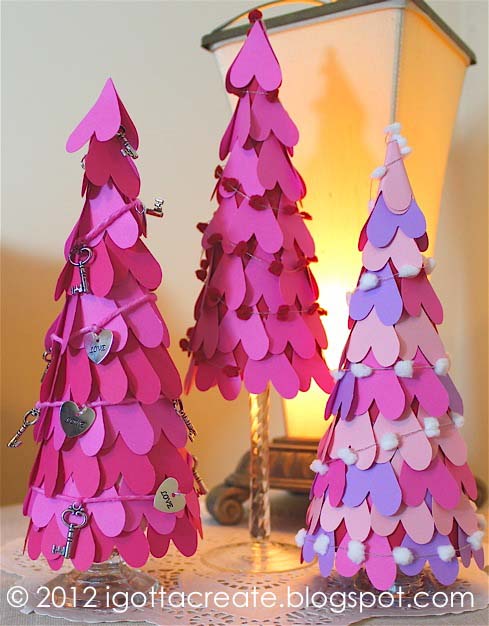 Drink glasses, card stock paper and yarn will do the trick for this holiday display!
via I Gotta Create
72. Paint Mason Jar Flower Planters with Light Colors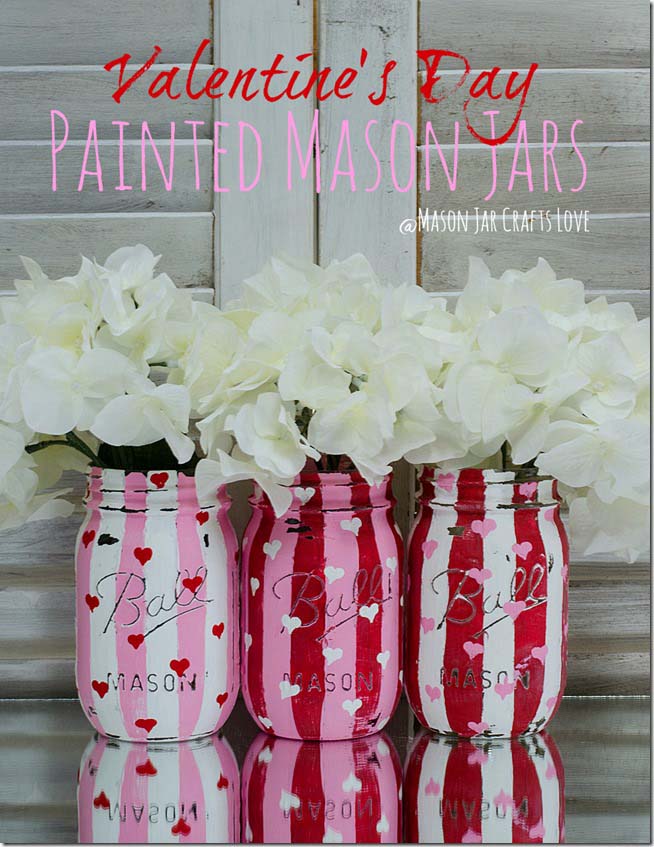 Large mason jars covered with light pleasant colors! Afterward, fill the jars with white flowers!
73. Make a Unique Valentine's Tree with Twigs and Cut-Outs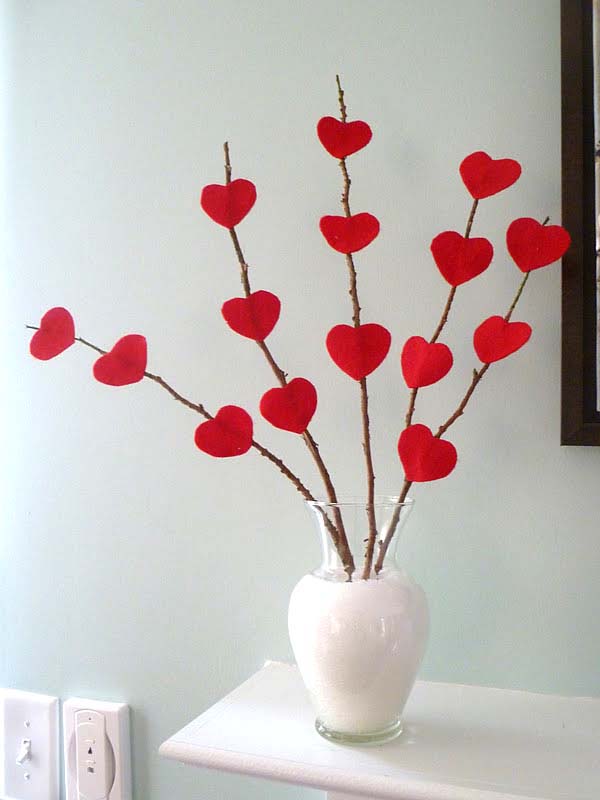 A few tree twigs and cut-out hearts will do! Afterward, grab your favorite vase, fill with salt, then there we have it! Ready for Valentine's Day!
74. Be Creative with a Valentine Rose Square Wreath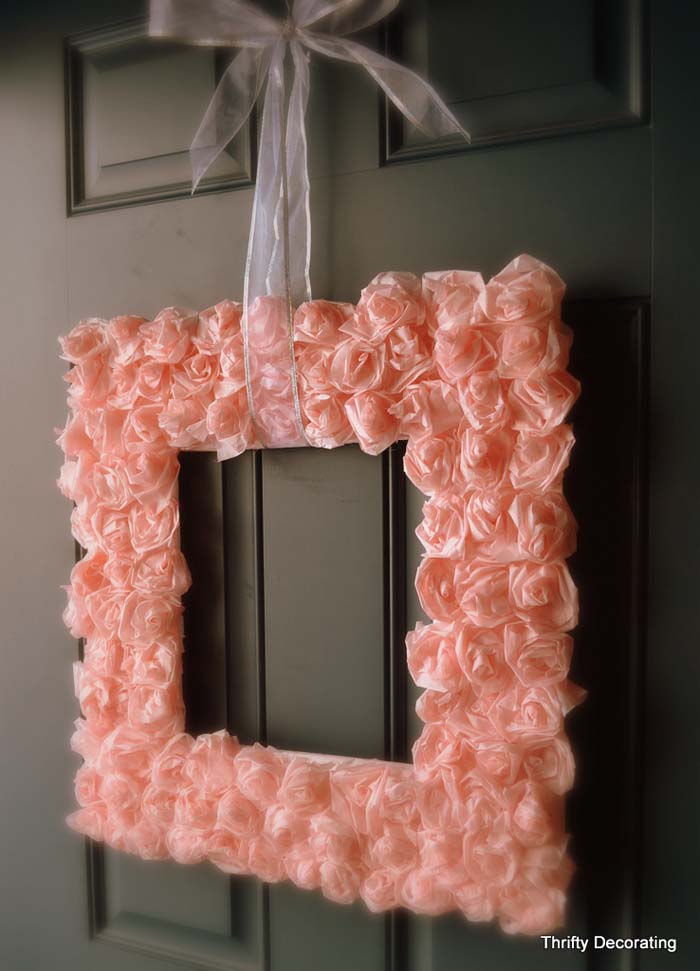 Like a breathtaking portrait, demanding attention.
75. Combine Tulips and Candies for a Modish Look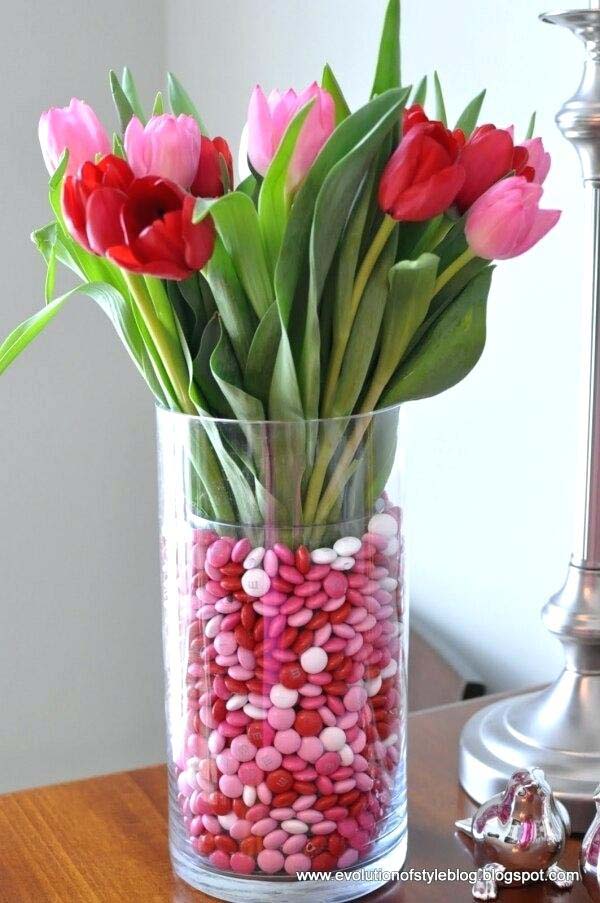 Who says tulips and candy don't go well together? The colors of these candies are the same colors as the tulips! How alluring!
76. Remember Valentine's Day with a Glitter Date Sign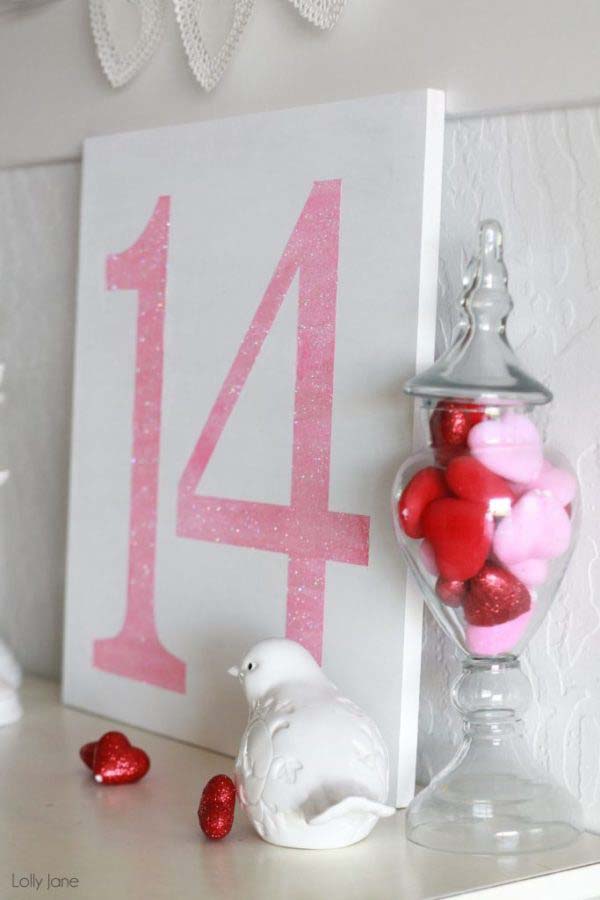 If you're not sure what day Valentine's Day falls on, just look at this canvas. A huge 14 covered with glitter, will do the trick!
via Lolly Jane
77. Bring an Alluring Atmosphere with Votive Candles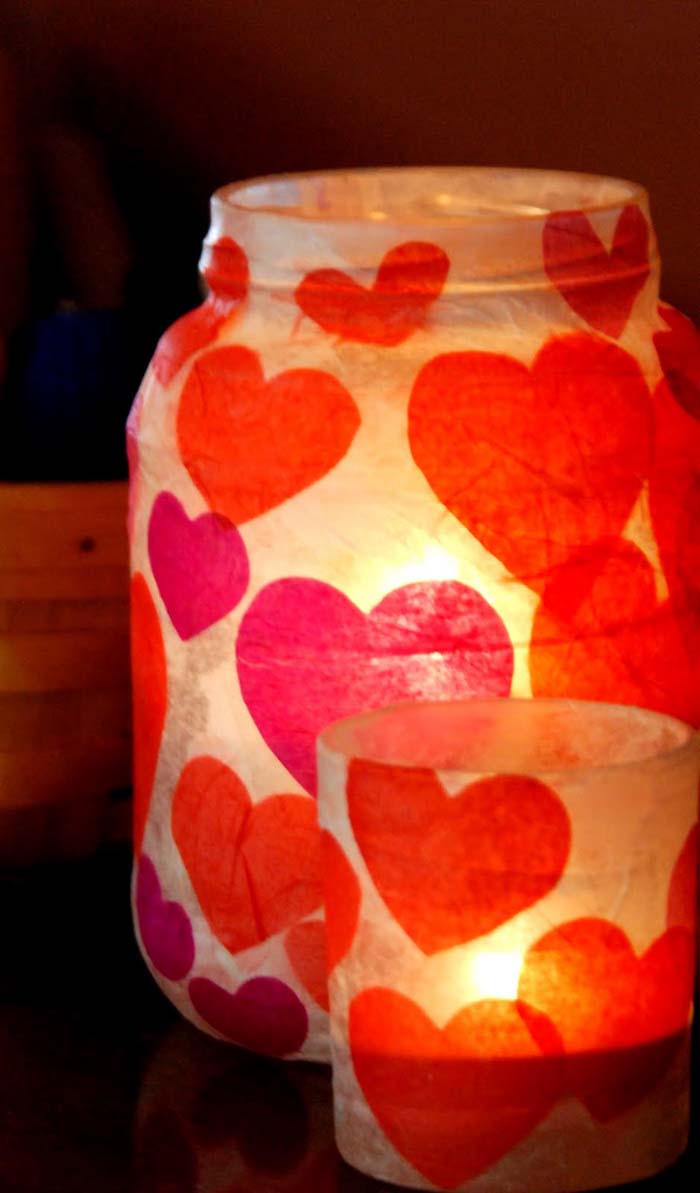 Votive candles delight, a most appealing allure!
78. Create a Captivating Wreath with Cranberries and Twigs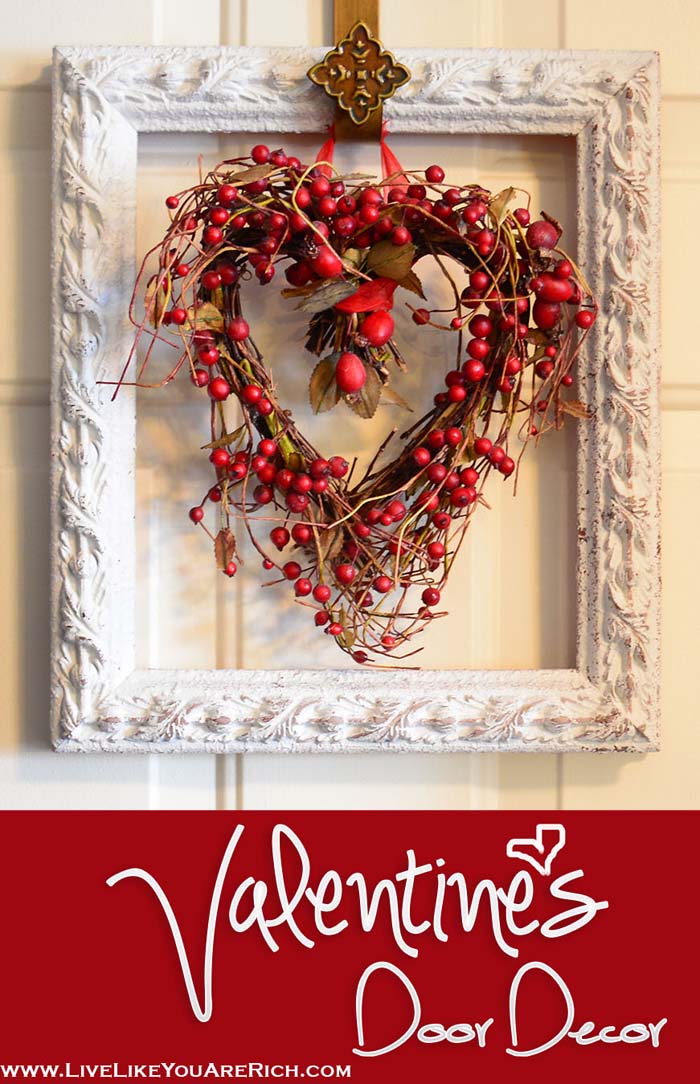 Cranberries and twigs can make a captivating wreath! Just in for the holiday of endearment!
79. Make Sweet Valentine's Day Trees with Candies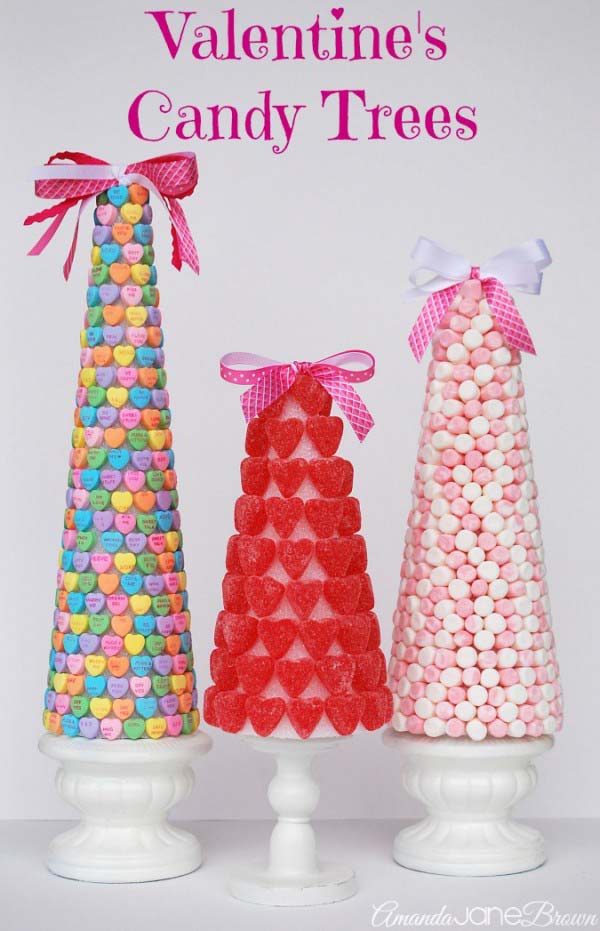 Styrofoam cones, covered with candy! Display this work of art anywhere in the home!
80. Decorate Books with Hearts for Valentine's Day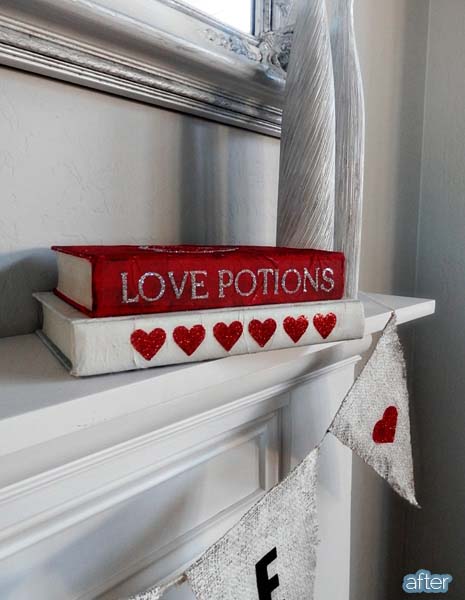 Book covers, book covers, book covers, dressed all up for Valentine's Day!
via Better After
81. Make a Stylish Valentine's Day Glass Candy Holder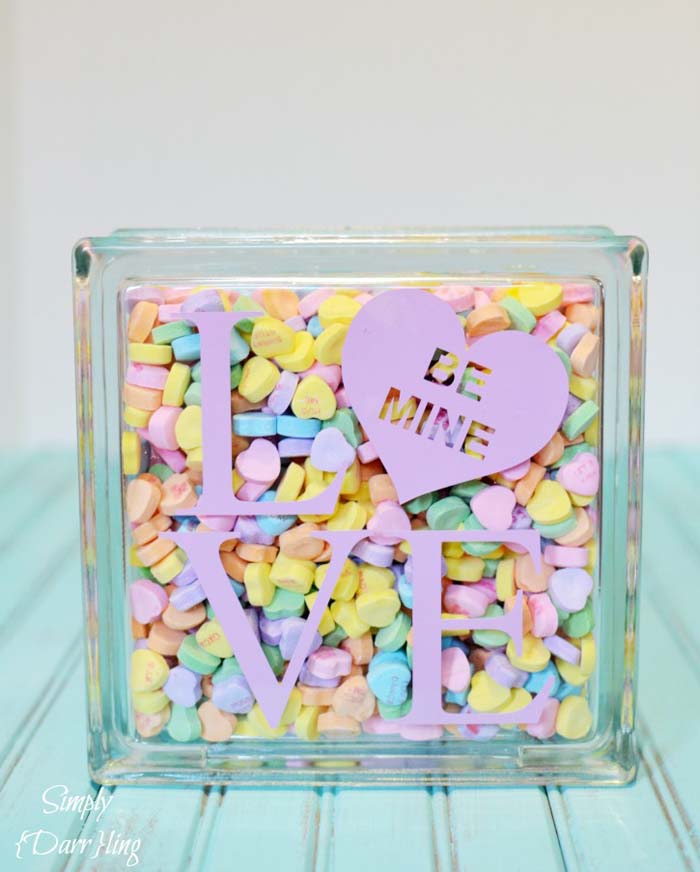 Pick out your largest and thickest fillable glass block, then fill it with conversation hearts!
via Simply Darrling
82. Enjoy Dinner with a Classy Tablescape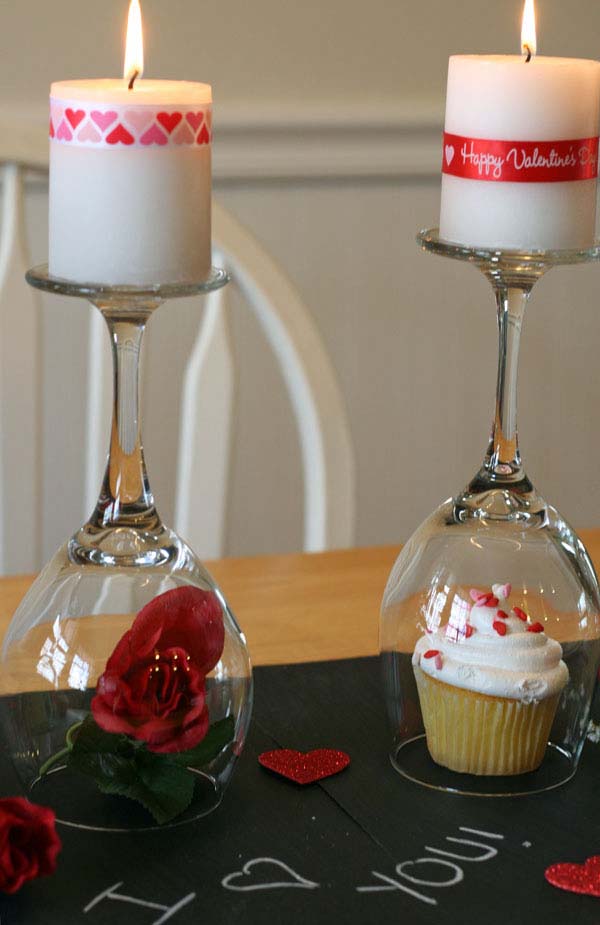 This work of art starts with chalkboard scrapbook paper. Fill it with words of love, cupcakes, red roses and wine glasses to decorate the table!
83. Impress Guests with Painted Wooden Hearts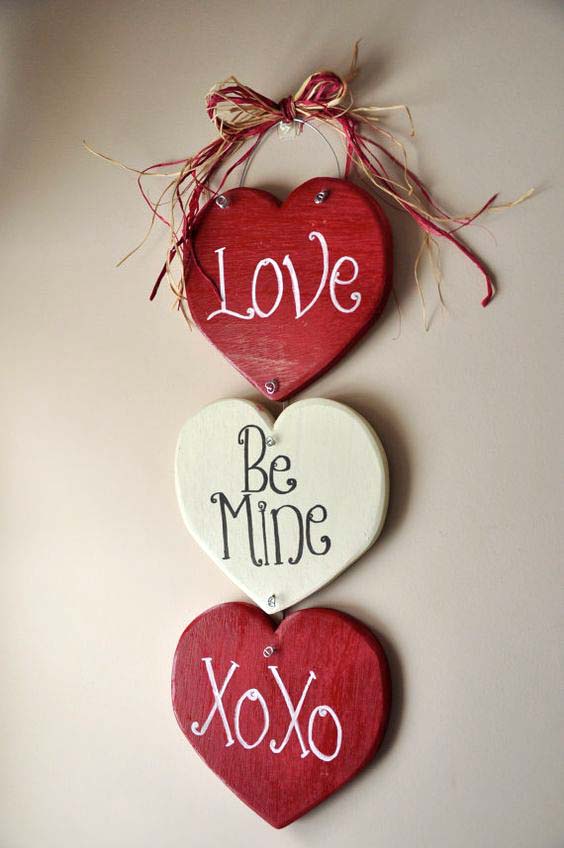 3 large painted wooden hearts with words of love! Love, Be Mine and Xo Xo, that should catch the attention of all of your visitors on Valentine's Day!
84. Give Your Votives a Makeover with Glitter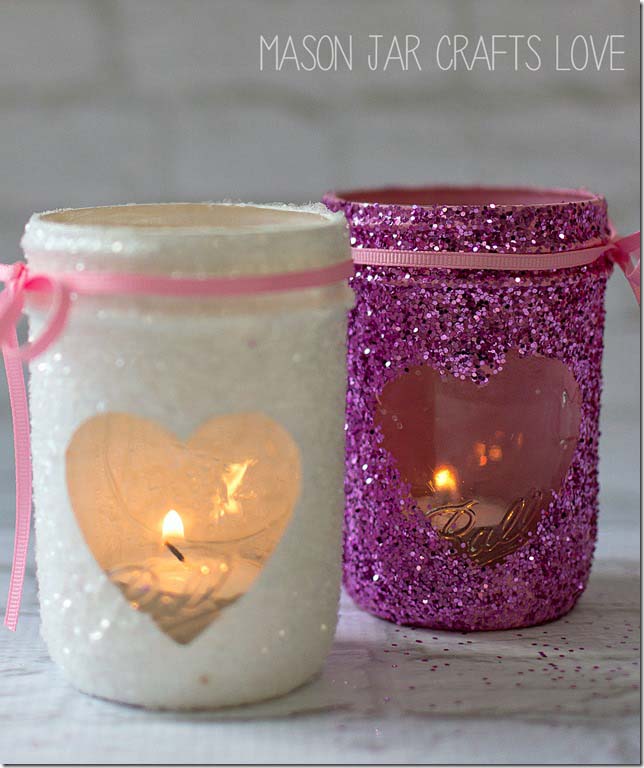 Cover these votive candles with lots and lots of glitter, then add an adorable tiny ribbon at the top of it!
85. Utilize Candy-Filled Hurricane Vases as Candle Holders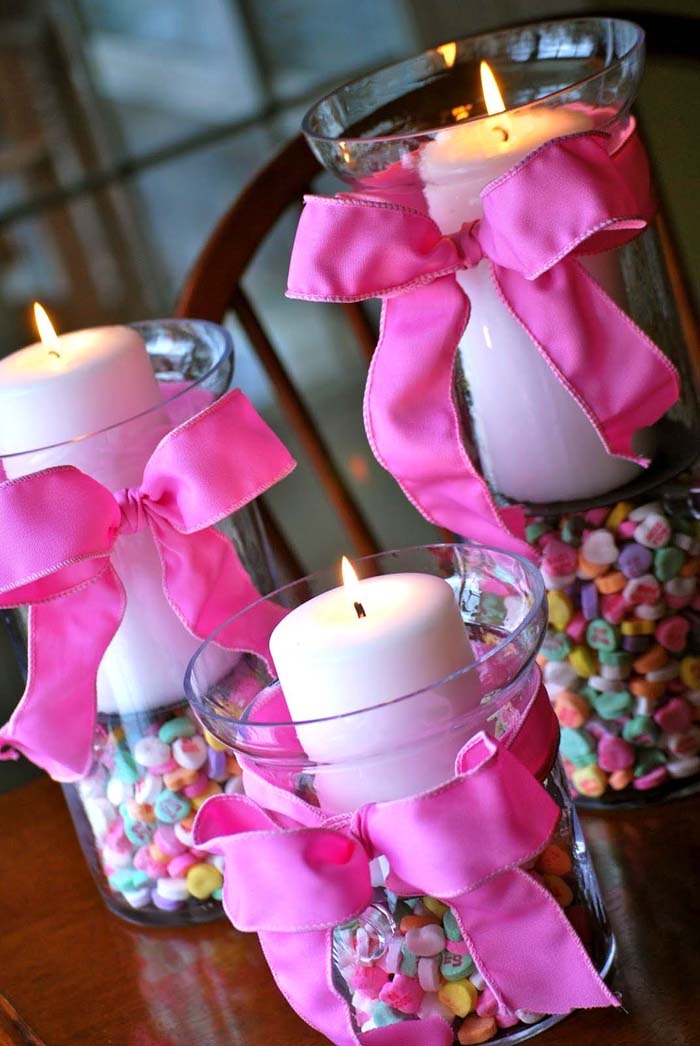 A clear vase, filled with conversation hearts, white candles and a large pink bow on each one!
86. Create a Stylish Valentine's Day Ribbon Wreath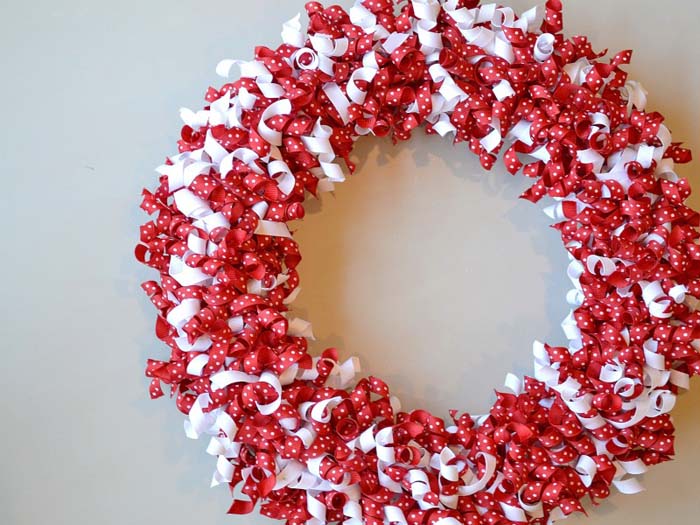 What a bouncing, colorful, dazzling effect! Screaming happy holidays is what some wreaths are made to do!
87. Enhance Your Candle Holders with Red Flower Petals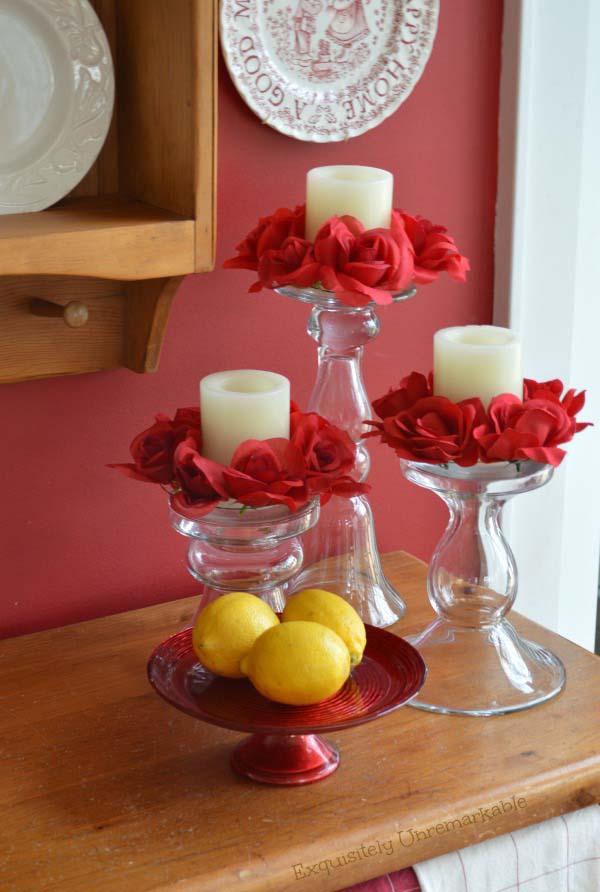 Candleholders, red flower petals and white candles, captivating will be your first thought!
88. Decorate Your Candle Holders with Sprinkles for Valentine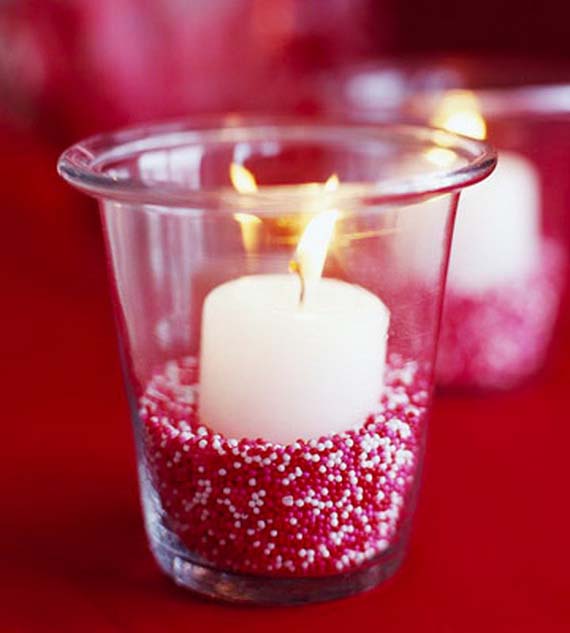 Fill these tiny candle holders with sprinkles, then add little white candles! What a charming attraction!
89. Add Colorful Flair to Your Window with Stringed Pom Poms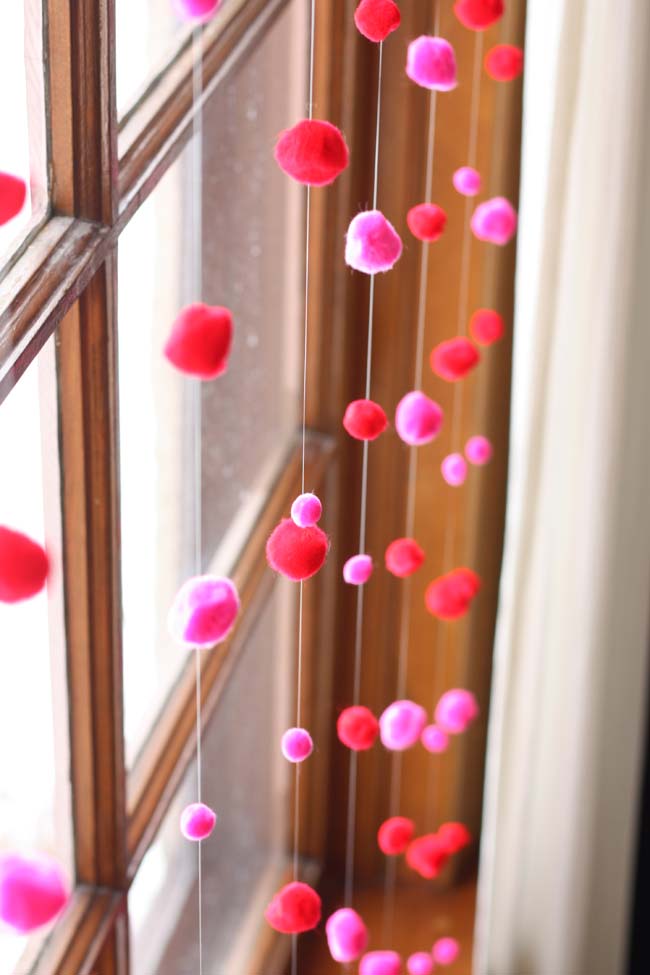 Pom poms on a string, a simple design for a soft, but eye-catching display!
via Pixer
90. Utilize Duct Tape to Make Valentine's Bracelets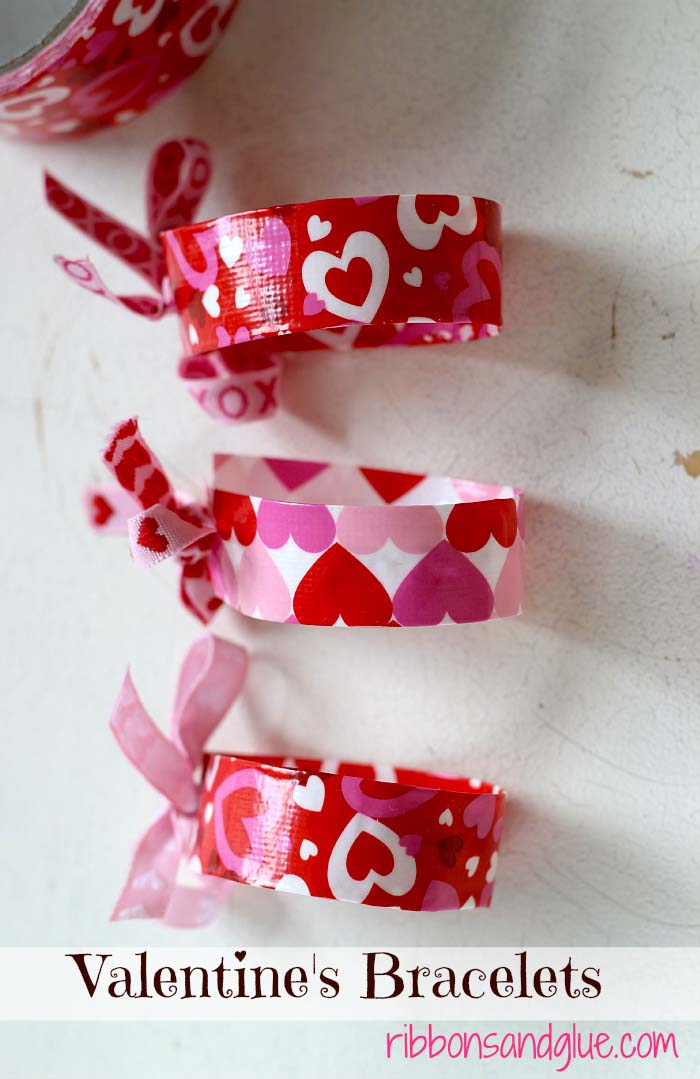 Decorative Valentine's Day tape, with a little pink ribbon added, display anywhere!
via Ribbons and Glue
91. Make a Unique Framed Art with Washi Tape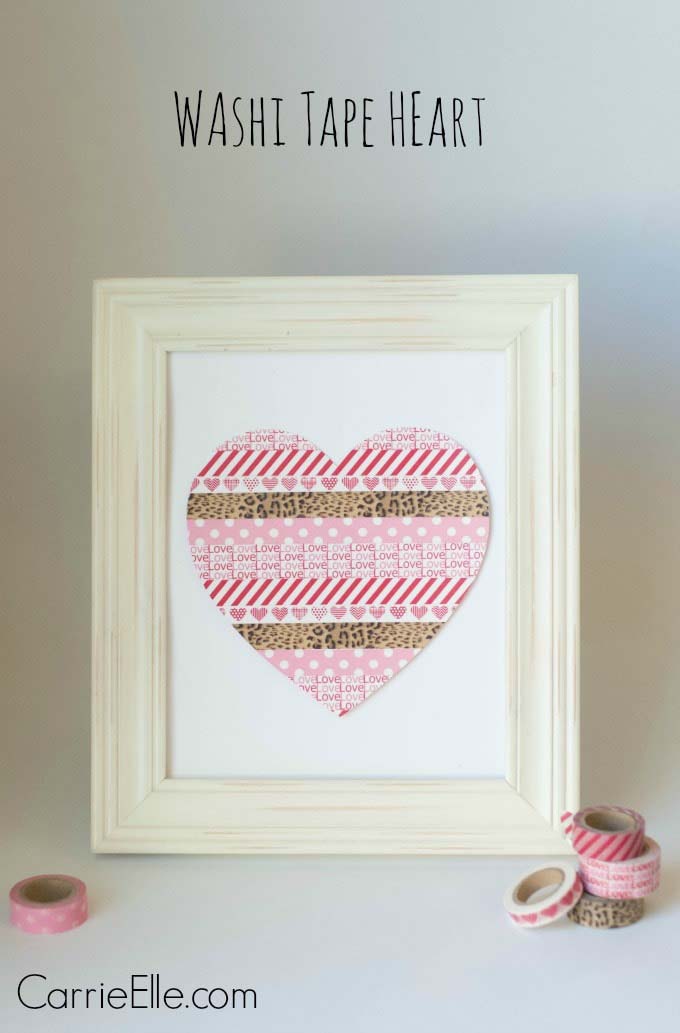 A frame of love and romantic holiday cheer!
via Carrie Elle
92. Adorn Your Office Planters with Wire Hearts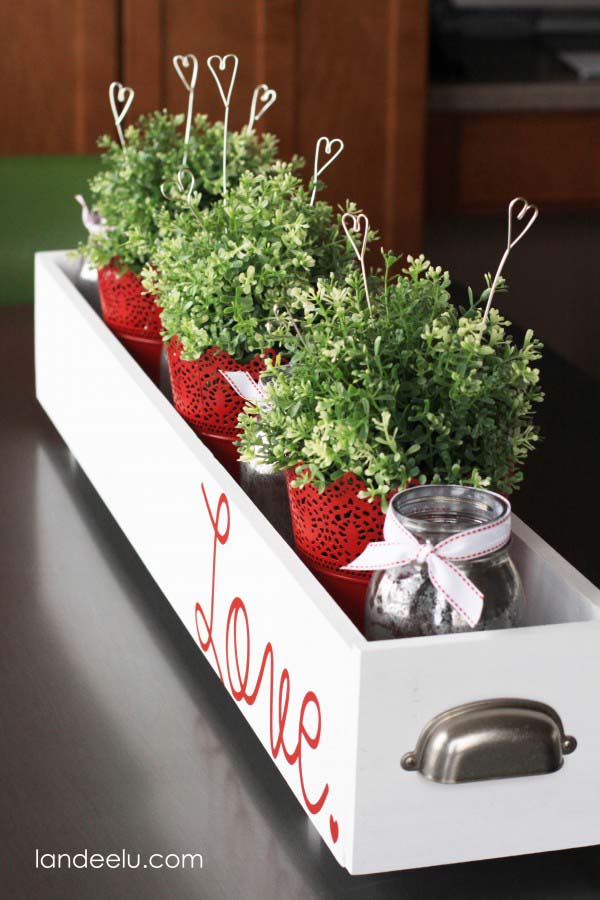 An attraction that won't be missed. A white office supply box, filled with greenery!
via Landeelu
93. Create an XO Art with a Pair of Candles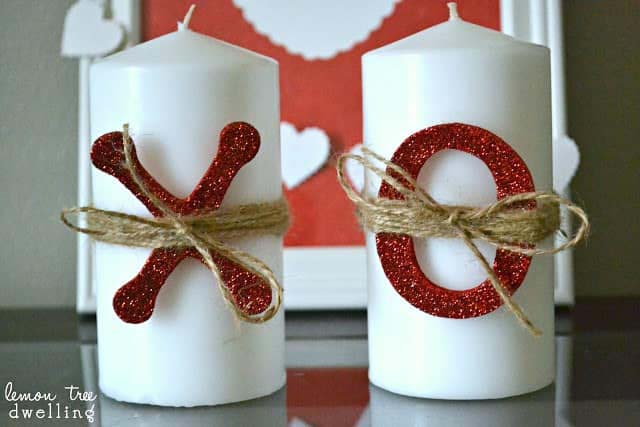 2 Large white candles with sparking X and O on each, tied with twine!
via Tree Dwelling
94. Craft a Creative Valentine's Yarn Wrapped Heart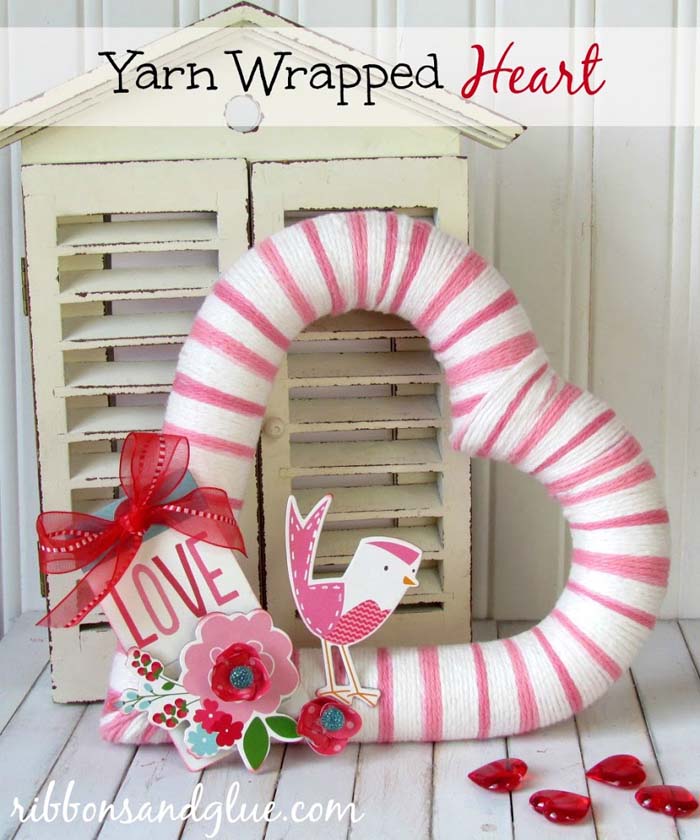 Lots and lots and lots of pink and white yarn can come in handy when wrapping a Styrofoam heart! Add a large Valentine's Day card, a bow and other fun things!
via Ribbons and Glue