Are you looking for some super fun and easy Valentine's Day crafts for kids?
Well, we have more than 100 ideas that will make you want Valentine's day to happen more than once a year.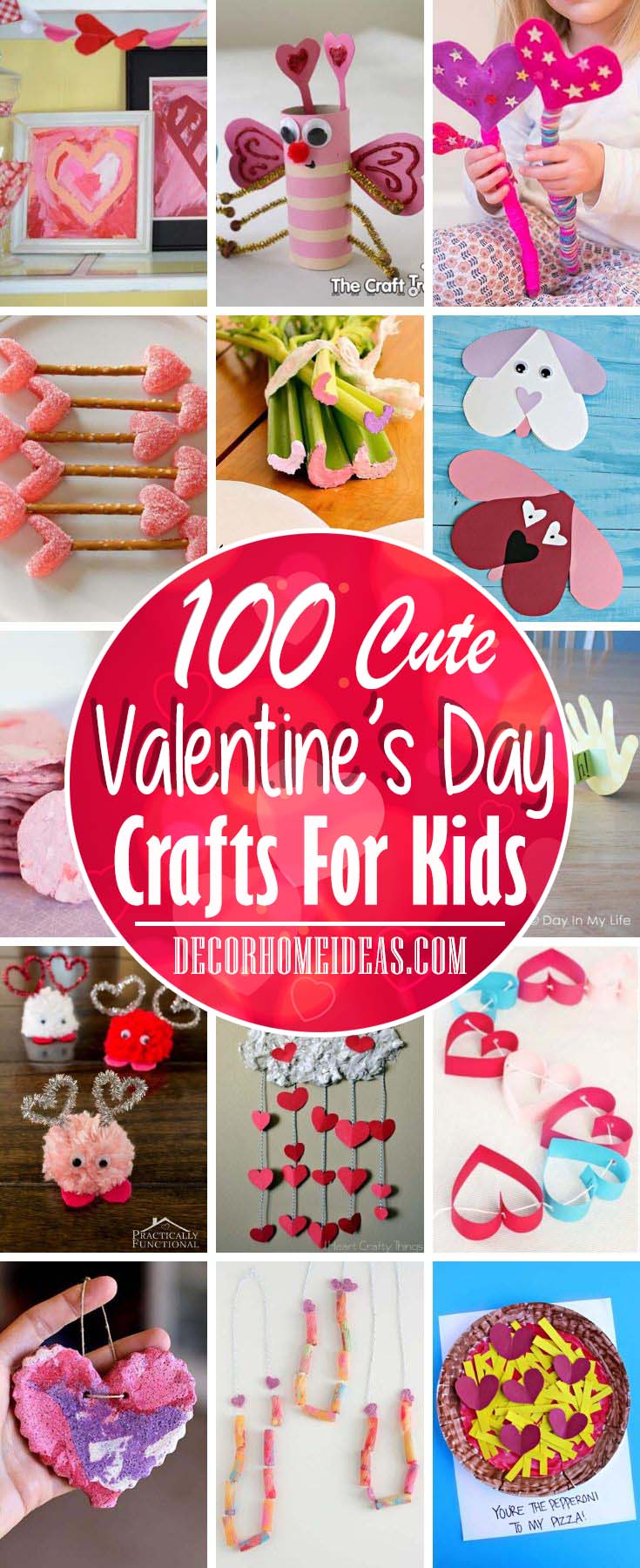 Everyone is looking for a nice craft or snack to make for their loved ones. If you are in need of a do-it-yourself card, wreath or Valentine's day decorations, check out these adorable crafted Valentines.
The best part is they are fun and easy to do so you can join forces with your kids and boost their creativity into creating something beautiful.
1. Craft a Heartfelt Valentine's Card for Loved Ones Far Away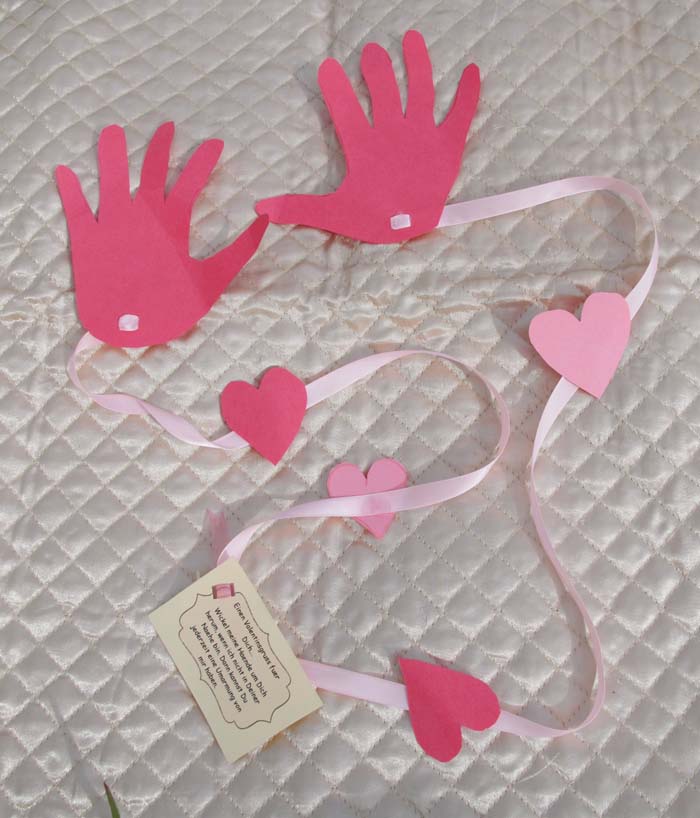 For Valentine's card perfect for family far away, try this craft card that acts like a hug in a card. By tracing your child's hand and gluing it to a string or ribbon you can make this meaningful hug card.
via The Party Event
2. Create a Cute Bee Mailbox for Valentines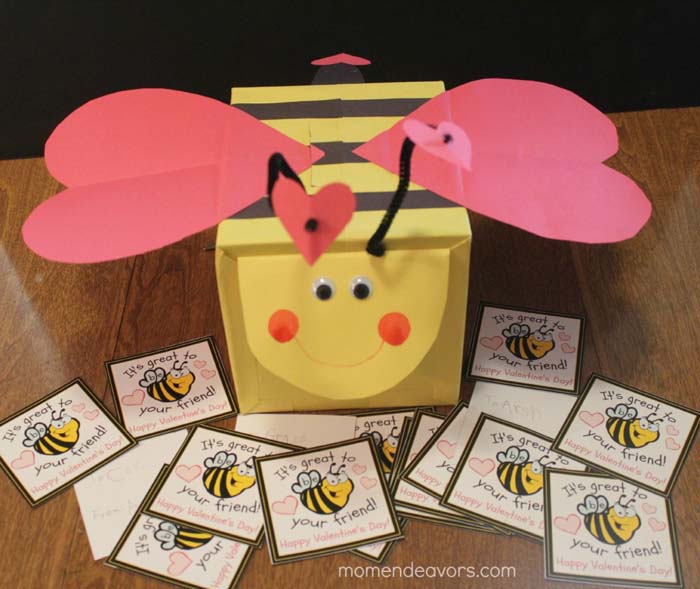 For a cute mailbox for all of your child's Valentines make this cute bee box. It is simple to make, just glue yellow paper with black highlights on the box. Add adorable wings for the final touch.
via Mom Endeavors
3. Make a Decorative Heart with Tissue Paper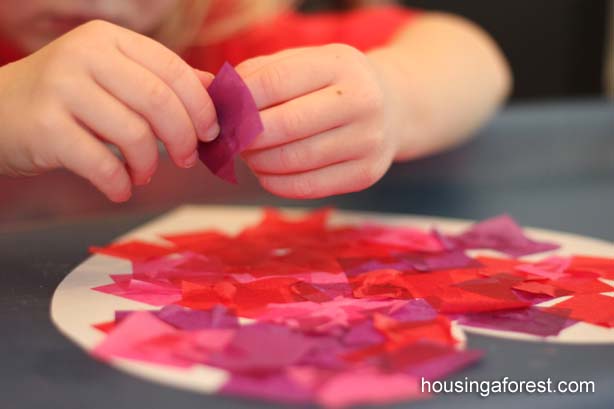 Make this oversized Valentine by cutting a piece of cardstock to be heart-shaped. Then glue small pieces of tissue paper all over the heart to make it red and pink.
via Housing A Forest
4. Create Butterfly Valentines with Pencils and Pipe Cleaners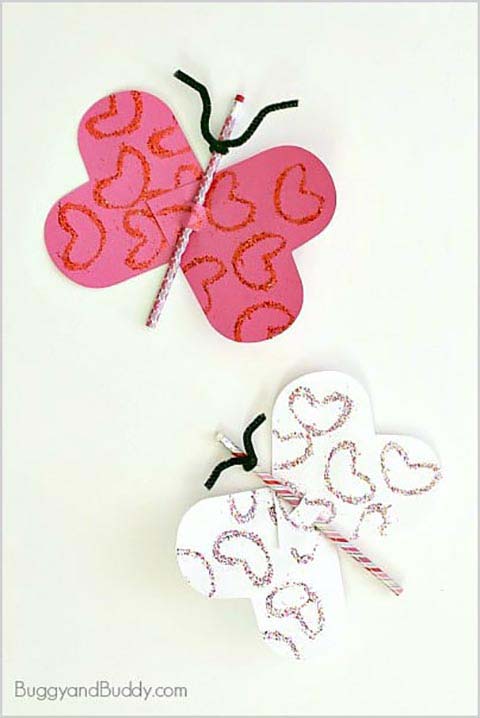 Make these super endearing butterfly valentines by cutting cardstock in the shape of a butterfly. Then cut two holes to thread the pencil through. Use pipe cleaners to add the antennas of the butterfly.
via Buggy and Buddy
5. Create Airplane-Themed Valentines with Gum and Smarties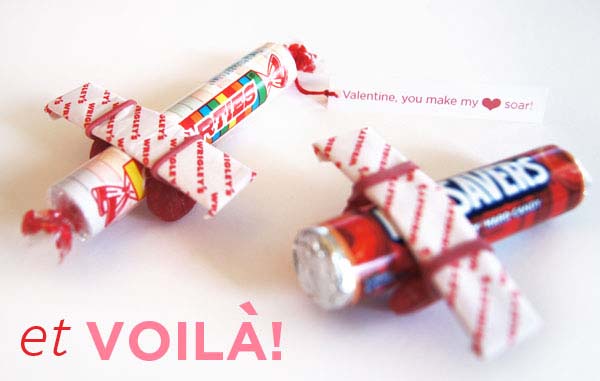 For delightful airplane-themed Valentines, use rubber bands to attach a piece of gum to the top of smarties. The smarties are the plane fuselage and the gum is the wings.
6. Make Heart-Shaped Valentine's Decor from a Cardboard Tube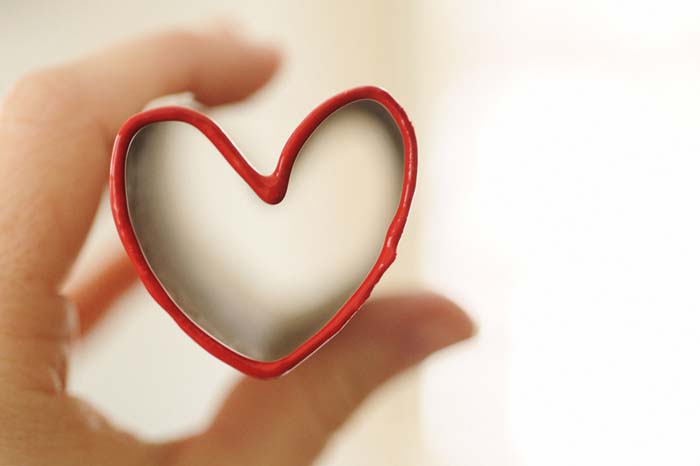 Take a toilet paper or paper towel cardboard tube and bend it to the shape of a heart. This is simply done by pushing the middle of the tube downwards towards the middle of the tube. Then paint it red for a darling Valentine.
7. Craft an Edible Valentine with Pink and Purple Celery Hearts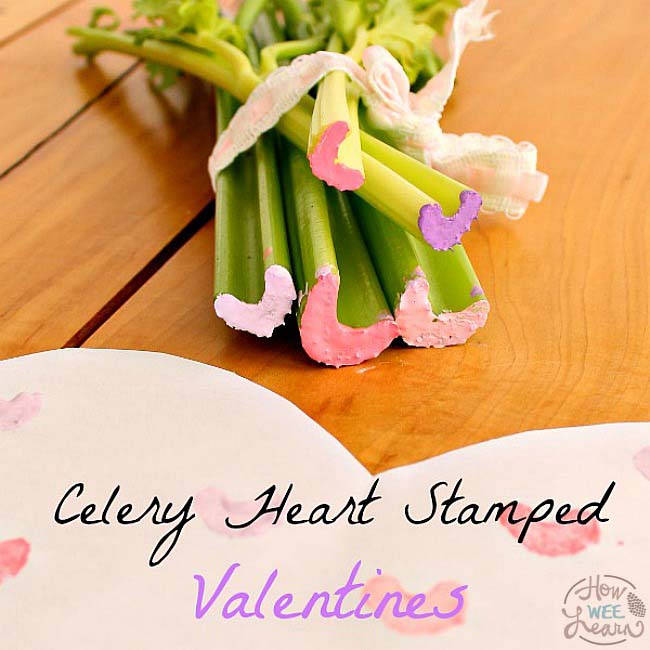 The end of a piece of celery looks like a heart. Paint the celery ends pink and purple for an engaging and edible Valentine.
via How Wee Learn
8. Make a Rustic Valentine's Card with Stencil and Chalk Hearts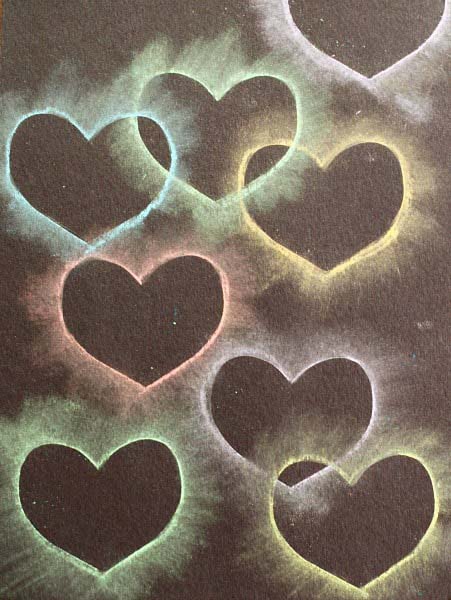 To make this loveable Valentine card, use a black piece of cardstock. Use a heart stencil and chalk to make the card Valentine theme.
via Buggy and Buddy
9. Create a Cheerio Heart Valentine Decoration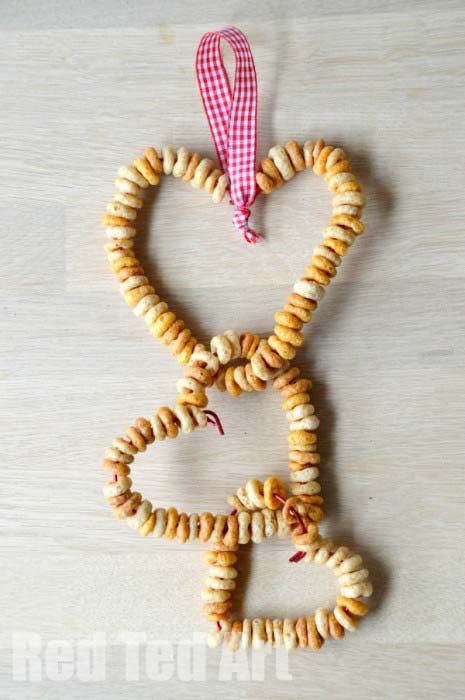 Using wire and ribbon, you can make this cheerio Valentine decoration. Use wire to shape a heart and thread cheerios on it. Then thread the ribbon to hang the heart.
via Red Ted Art
10. Make a Valentine's Day Love Bug Craft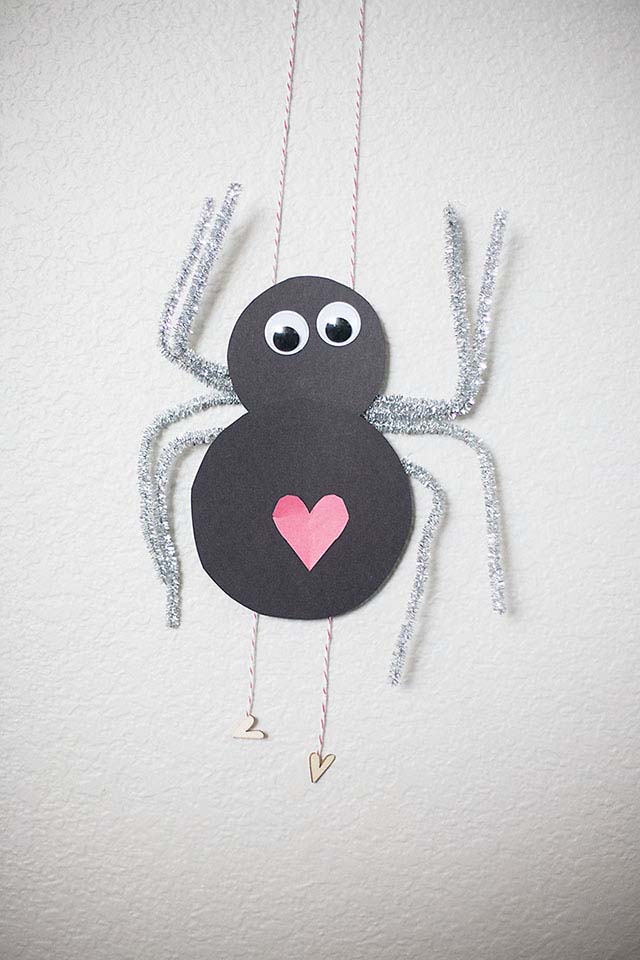 Everyone loves Valentine's love bug. Make a black bug shape, use pipe cleaners to make the legs and antennas. Add a pink heart to add the finishing touch.
via All For The Boys
11. Create Colorful Candy Kabobs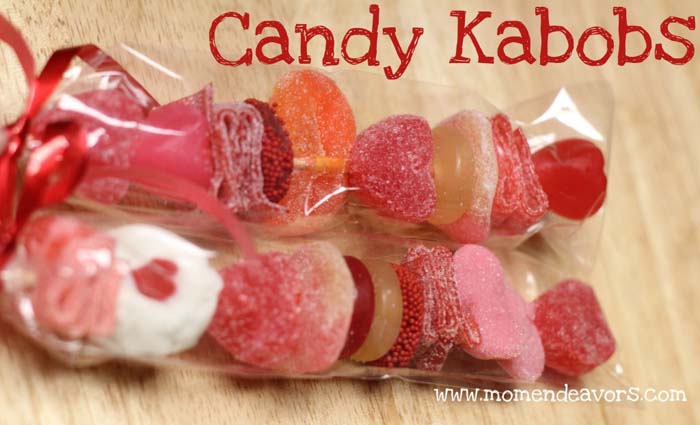 Try making these charming candy kabobs by using a kabob stick to skewer all different colored dots and other jelly candies.
via Mom Endeavors
12. Craft Cute Wine Cork Love Bugs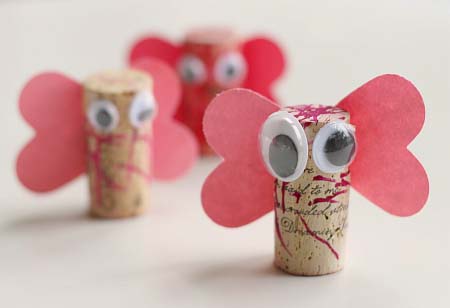 Do you enjoy wine? Try these wine corks love bugs. They are simple to make by adding antennas and wiggly eyes to a wine cork.
13. Make a Cupid Arrow Valentine with Pencils and Paper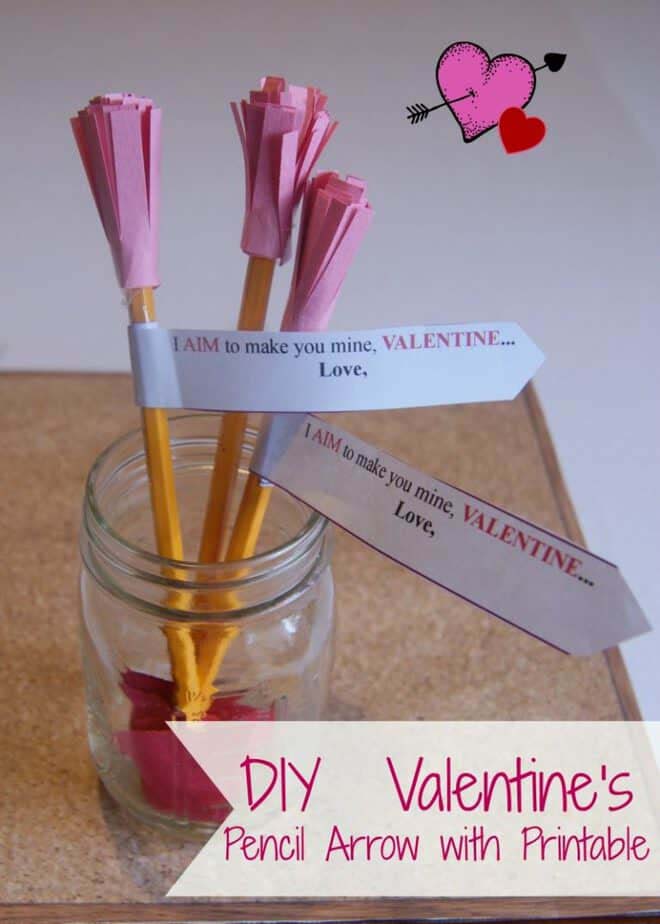 Use pencils as the main shaft and add frilled paper and red arrows to make a Cupid arrow Valentine. Add cute sayings and loveable words to finish the Valentine's look.
via This Mama Loves
14. Pretzel Arrows Topped with Red Jelly Hearts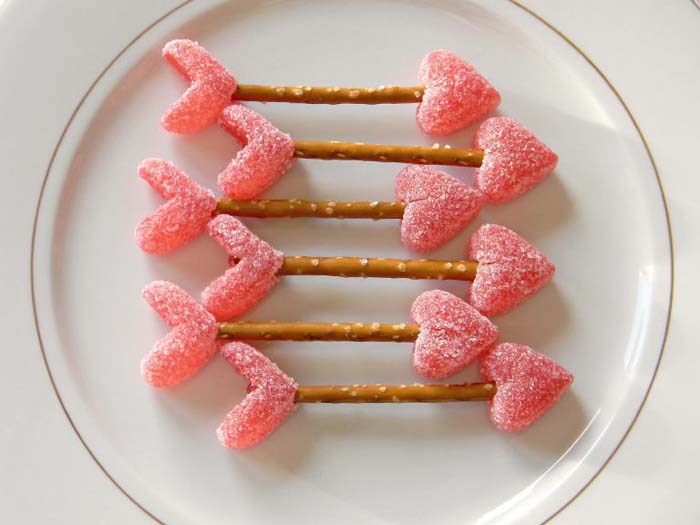 Red jelly hearts make perfect arrow tips for a pretzel arrow. This is a cute Valentine snack for any gathering.
via Organize & Decorate Everything
15. Valentine's Day Strawberry Floats with Red Straws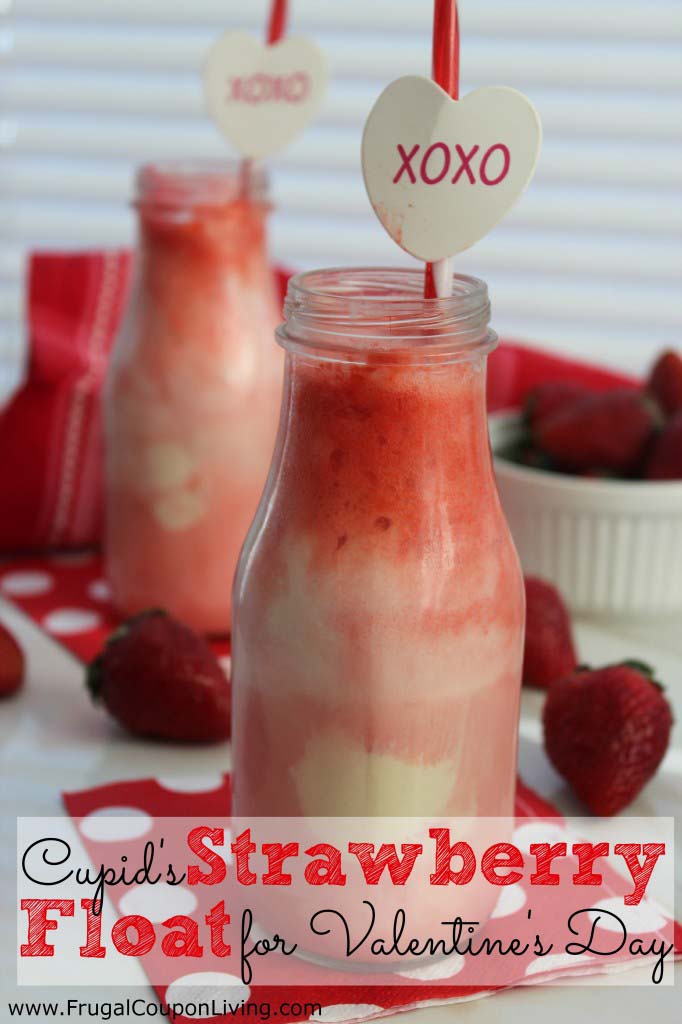 Make delicious strawberry floats with red straws. These are perfect for a Valentine's party or to make for you and your lover.
16. Make Valentine's Day Pretzel Treats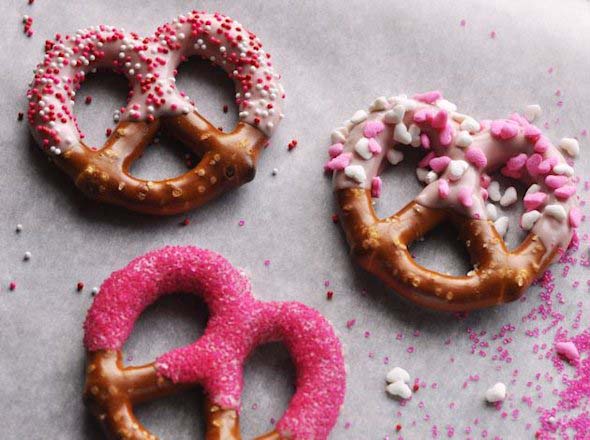 Adding white chocolate to pretzels and colored sprinkles makes a basic pretzel look Valentine related. This is a great snack to add a Valentine's touch to your life.
17. Create Festive Valentine Window Clings with Kids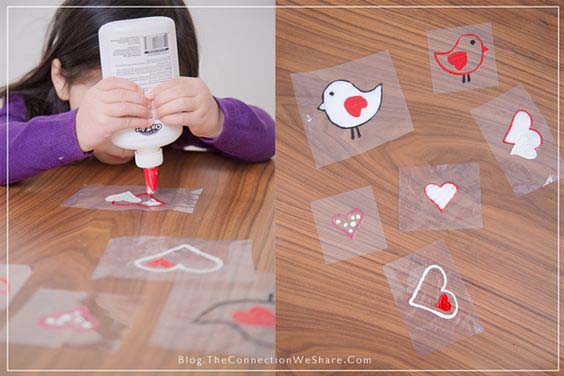 To make homemade Valentine window clings, use plastic wrap as the cling. Paint the plastic wrap with Valentine-themed pictures. Once dry, stick to the window for all to enjoy.
18. Personalize Your Valentine's Cards with a Red Ribbon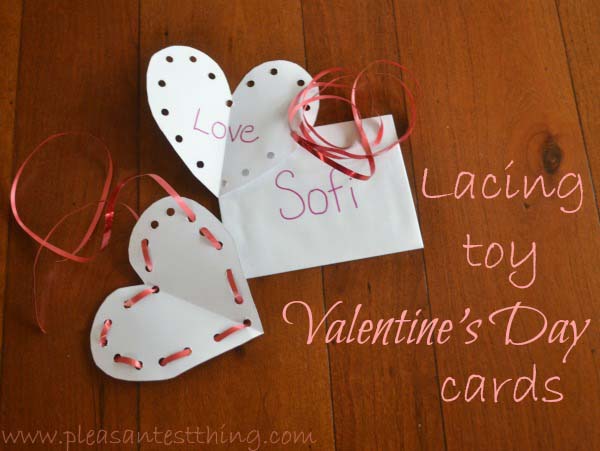 White cardstock is perfect for cutting heart shapes. Then you can cut holes around the edge and thread red ribbon through. Add a Valentine-themed saying to the center of the heart. Or just write a nice personal note. Then give it to your love.
19. Craft a Heart-Shaped Valentine Sun Catcher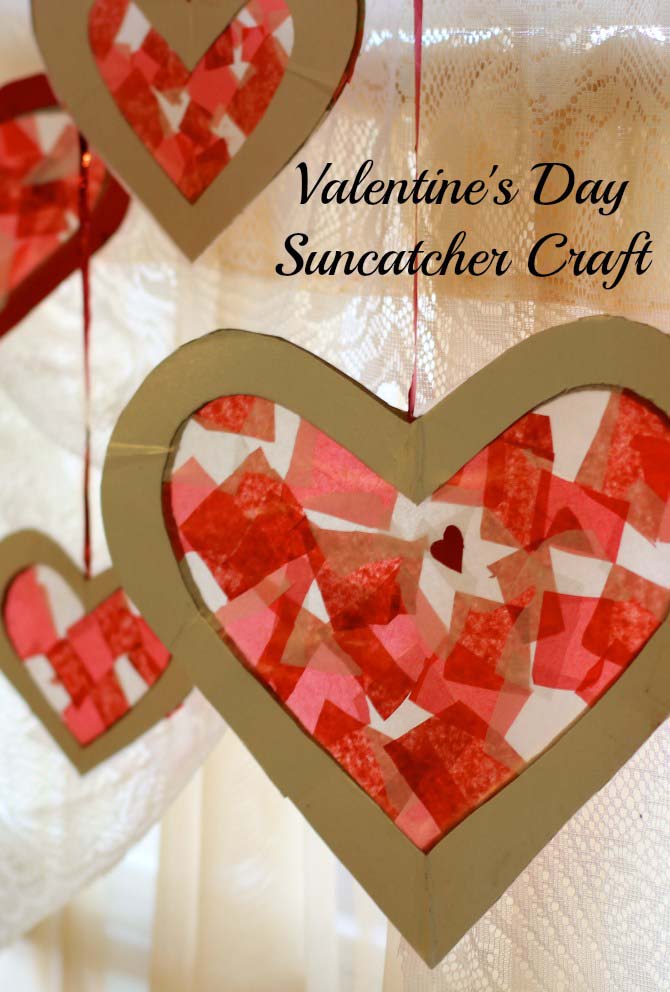 Use white heart-shaped paper with red and pink paper glued on it, then frame it with cardboard. Hang it with a string to make this perfect heart-shaped Valentine sun catcher.
via Makobi Scribe
20. Create Magical Fairy Wands with Felt for Valentine's Day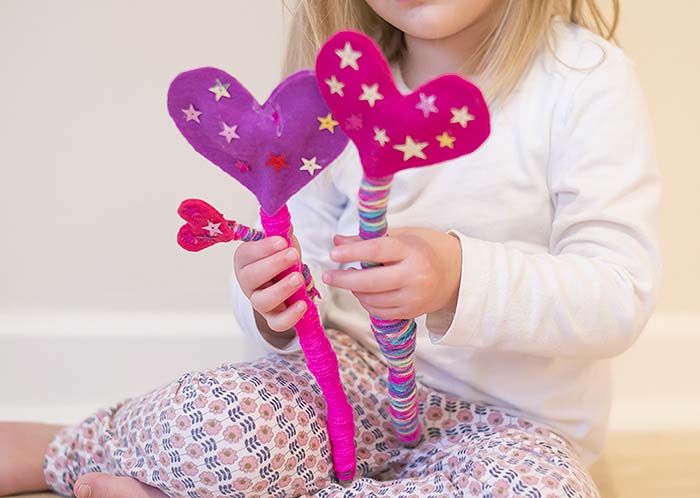 Every little girl loves fairies and in turn loves Valentine's day. Make these pretty fairy wands. Cut felt in heart shapes and cover sticks in felt. These make the perfect wands.
21. Make Heart Ornaments with Salt Dough and Fingerprints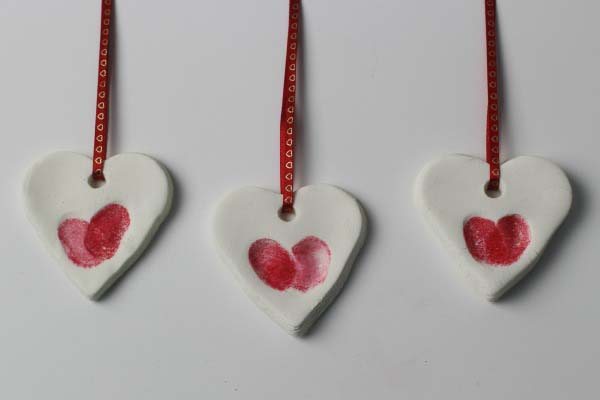 Use salt dough to push your child's fingerprints into heart-shaped Valentines' ornaments. Fill the fingerprints with red paint to finish the look.
22. Build a Beautiful Valentine's Tree with Construction Paper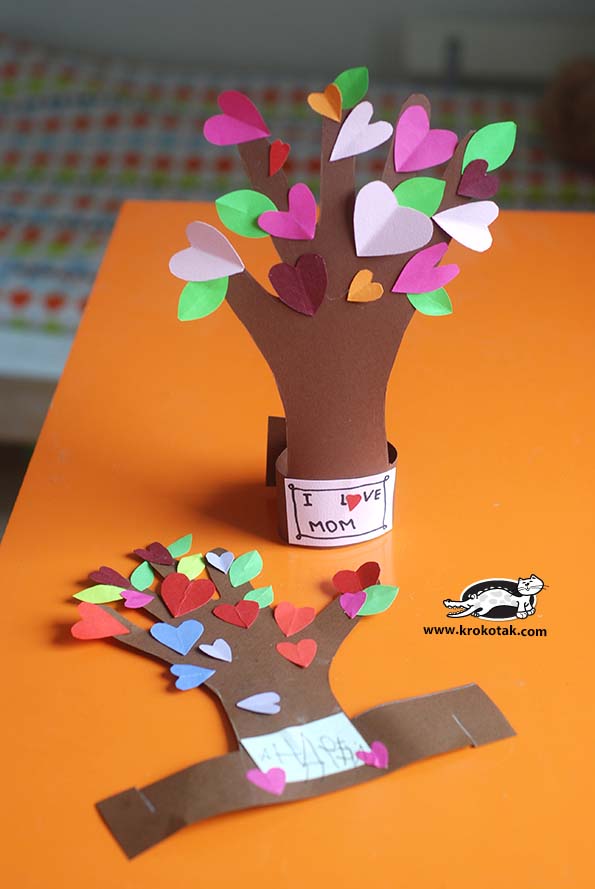 To make a Valentine tree use brown construction paper to make a tree shape. Make it stand up by rolling it in a circle. Then glue heart shapes on it. On the heart shapes add a Valentine quote or cute note.
via Krokotak
23. Create a Heart-Shaped Button Art for Valentine's Day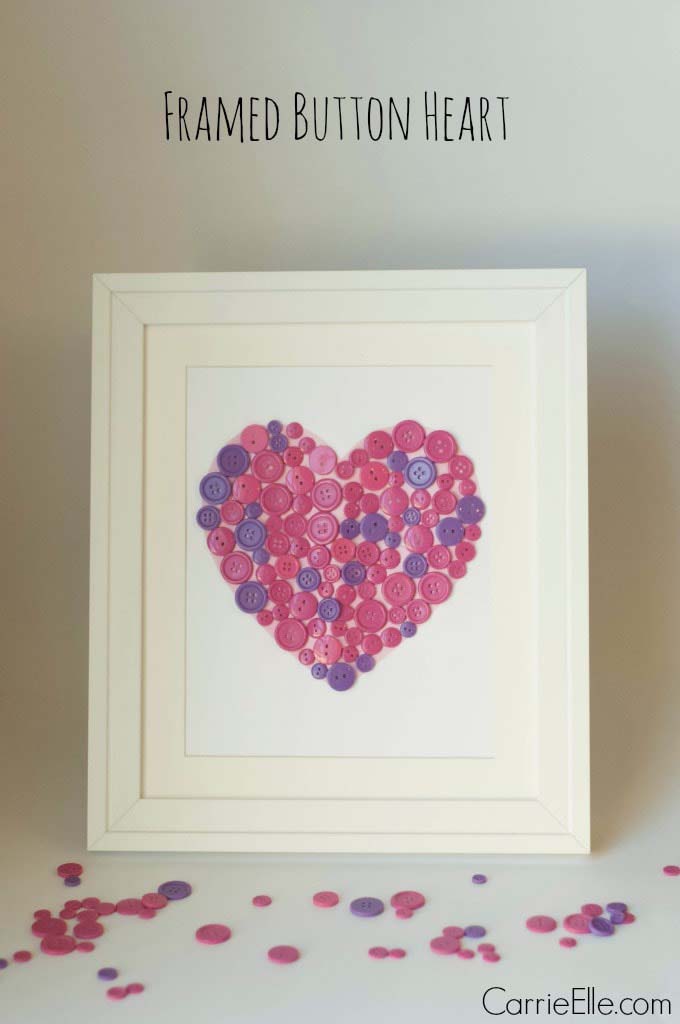 If you have any buttons sitting around try this delightful heart shaped button art. By gluing buttons in a heart shape and then framing it you can make an adorable Valentine decorations.
via Carrie Elle
24. Make Adorable Valentine Fortune Cookies with Fruit Roll-Ups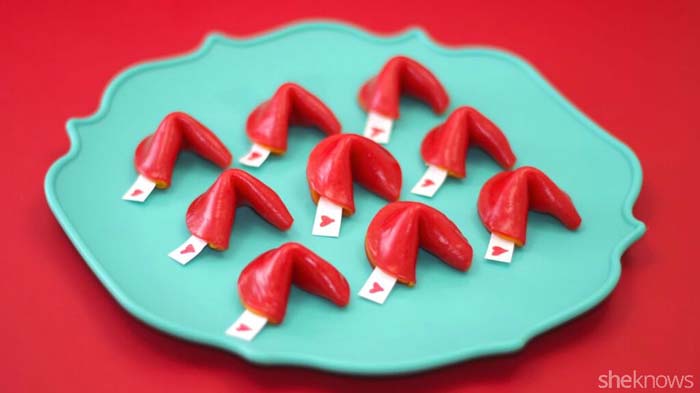 By using fruit roll ups you can make these adorable chinese fortune cookies. Put Valentine sayings in the middle for a cute red snack.
via She Knows
25. Make a Valentine's Love Bug with Your Child's Handprint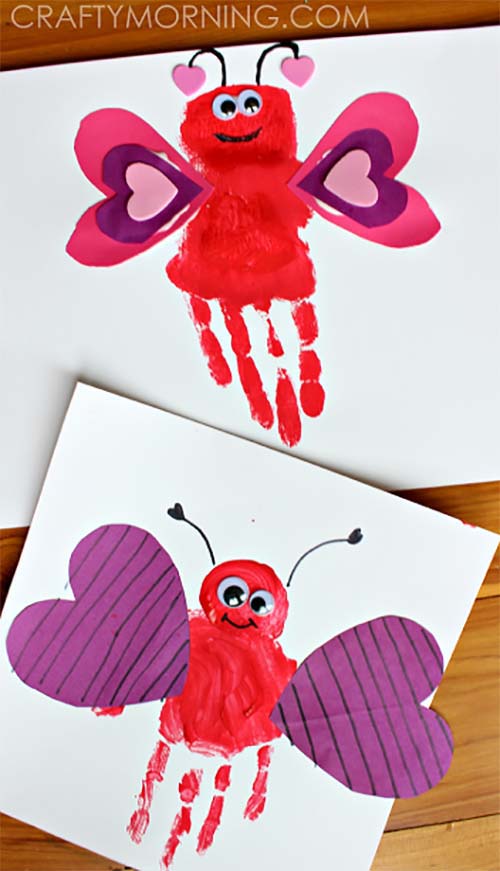 Using your child's handprint, you can paint wings around it and eyes. This makes a darling love bug with the touch of your child's love. Make the wings heart shaped for an extra Valentines day touch.
via Crafty Morning
26. Create a Heart-Shaped Valentine Holder with Paper Plates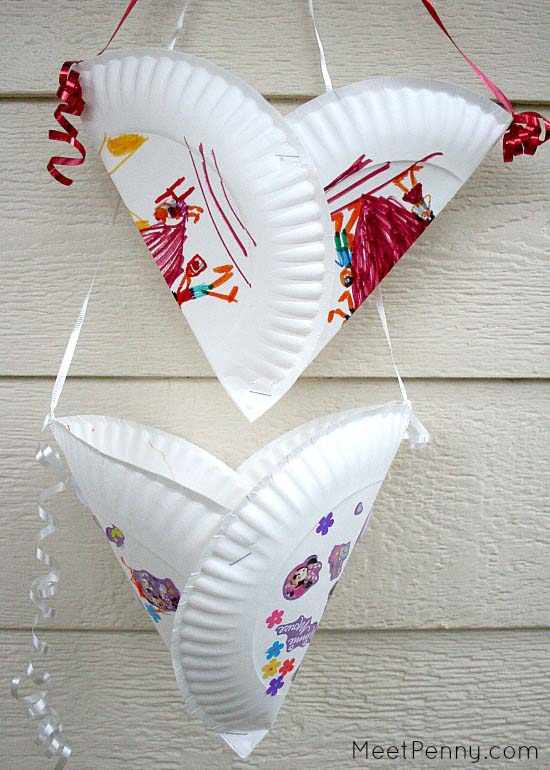 For a heart shaped valentine holder, use two paper plates. Fold them in half and staple or glue them together in a funnel shape. Then add ribbon as a handle. This makes a perfect bag for your child to carry around Valentines.
via Meet Penny
27. Make Delicious Heart-Shaped Rice Krispie Treats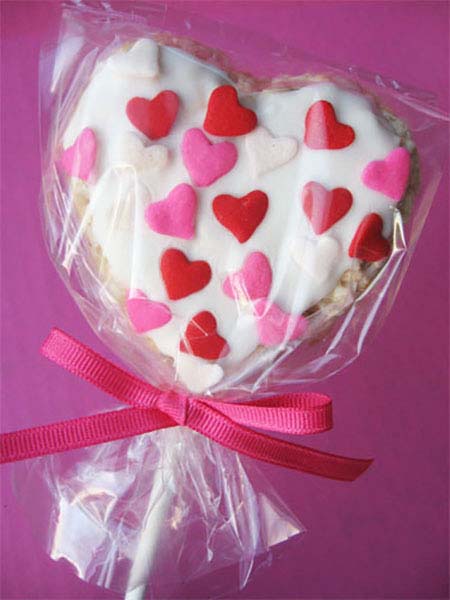 For a Valentine treat, try these heart shaped rice krispies. Then coat the rice krispies in white chocolate and top with red heart shaped sprinkles.
via Skip to my Lou
28. Creative Heart-Shaped Crafts for Valentine's Day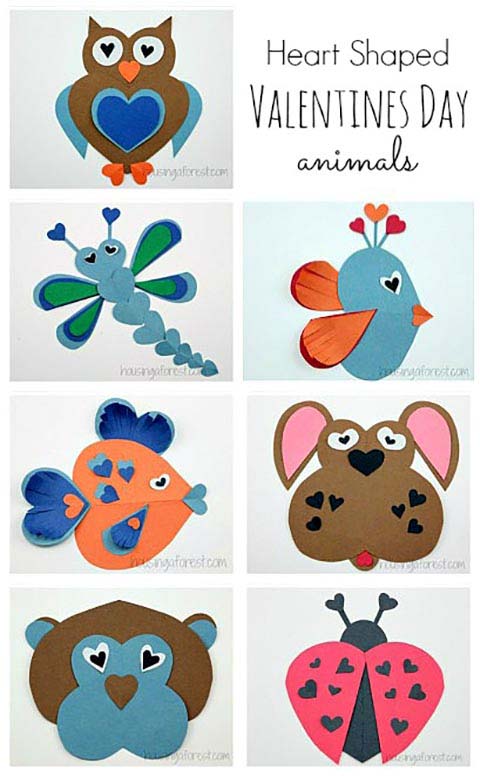 Try all these different animals that you can use a basic heart shape for the body. You can make a fish, ladybug and even a dog out of heart shaped paints and papers. Add a personal note to the one you love.
via Housing A Forest
29. Make Heart-Shaped Binoculars with Toilet Paper Rolls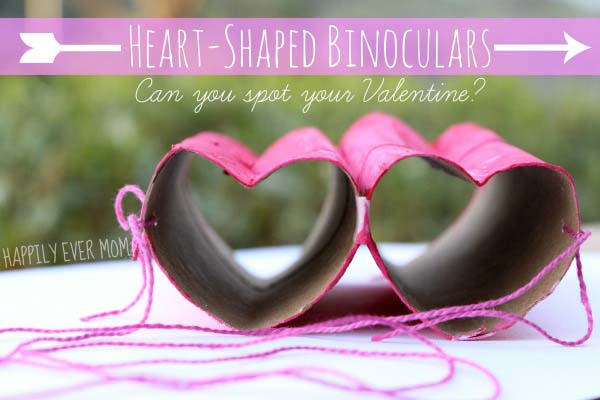 Using two toilet paper rolls pushed into a heart shape, you can paint them pink and add string to make them look like heart shaped goggles. It's the perfect intro into asking your love to be your valentine.
via Happily Ever Mom
30. Heart-Shaped Pancakes for a Sweet Valentine's Day Breakfast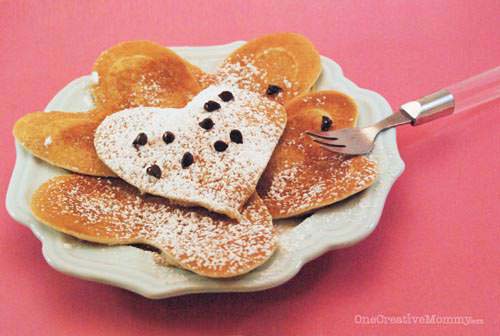 For a delightful Valentines breakfast, make your family heart shaped pancakes. Top with chocolate chips for a sweet touch. Or for a pink touch top with strawberries or raspberries.
31. Create a Raining Hearts Valentine Decor with Paper Mache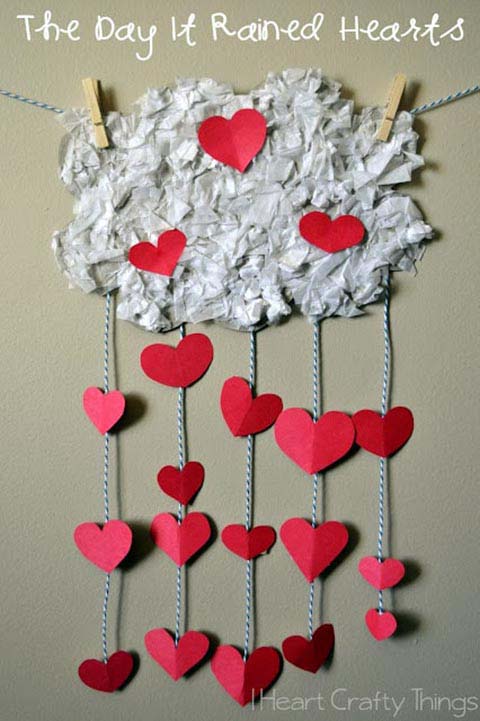 Use white paper to glue together a paper mache' cloud. Then hang hearts from it and glue hearts on it for a classic raining hearts Valentine.
via I heart crafty things' instructions
32. Make a Romantic Engagement Ring with Hershey's Kisses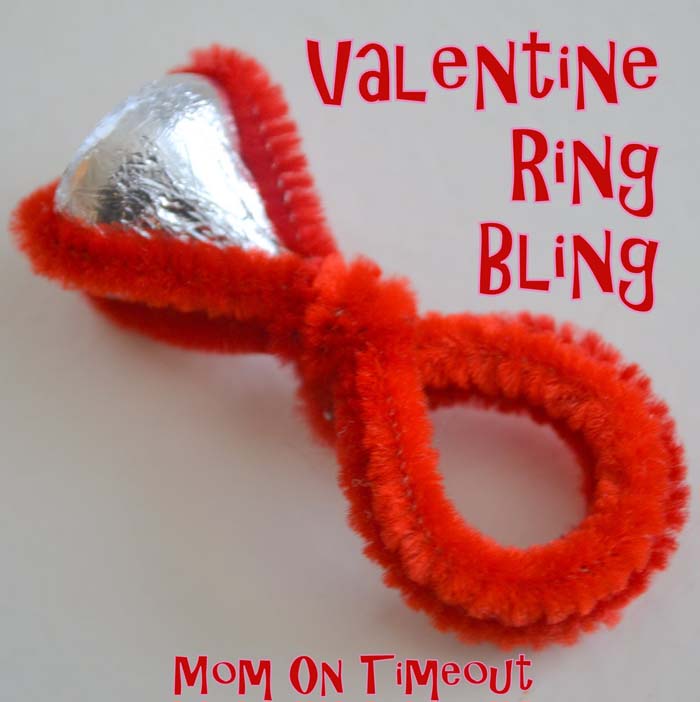 Red pipe cleaners and an upside down Hershey's kiss is the perfect ring theme. If you are looking to get engaged on Valentine's day, try this ring hack.
via Mom On Timeout
33. Create a Personalized Valentine's Day Gift with Fingerprints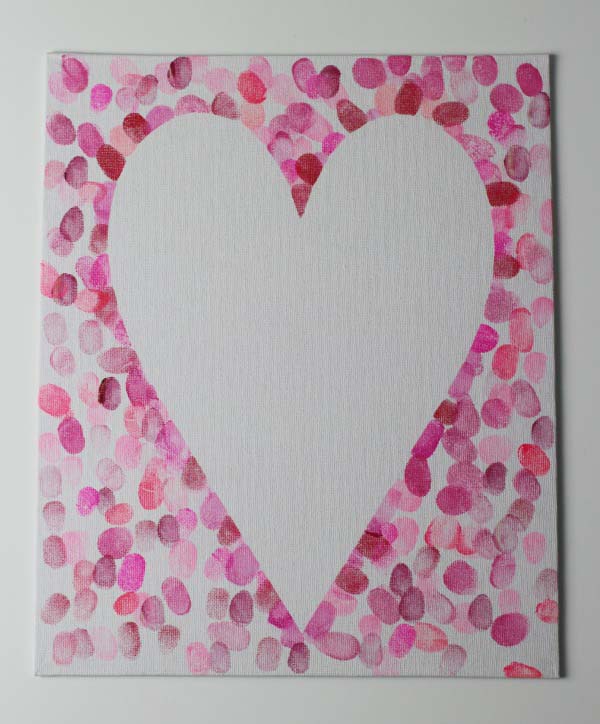 For a Valentines gift with a touch of home try this simple craft. Tape a heart shape on a canvas. Then using your families finger prints, fingerprints all around the heart. Then when you remove the tape, it is a heart shape. Easy and adorable.
34. Craft Cute Valentines Monsters with Pom Poms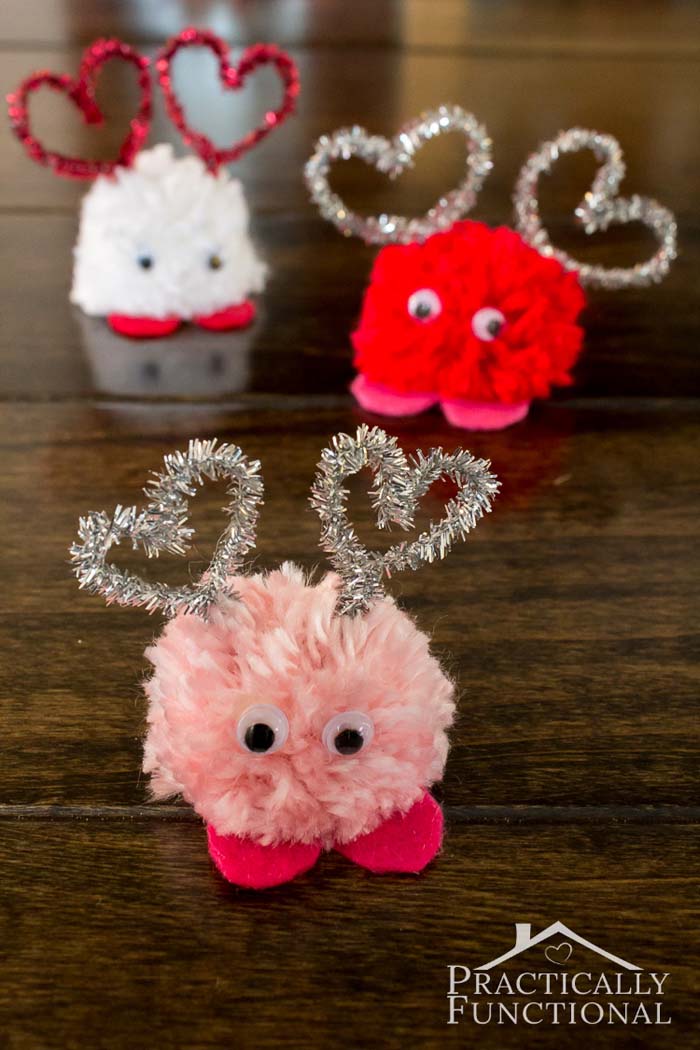 Make Valentines monsters with pom poms. Then use pipe cleaners to make little heart ears. Top it off with heart shaped felt feet and googly eyes.
35. Craft Inchworms with Paperback and Googly Eyes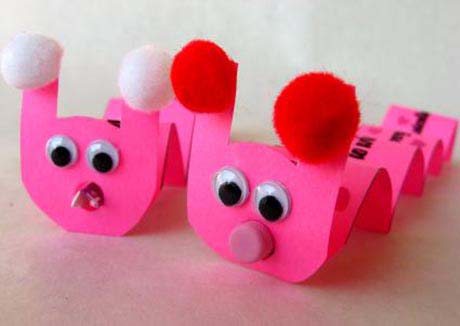 Make an inchworm by bending paperback and forth. Add googly eyes on the front and pipe cleaner antennas.
via Alpha Mom
36. Create Adorable Love Bugs with Toilet Paper Rolls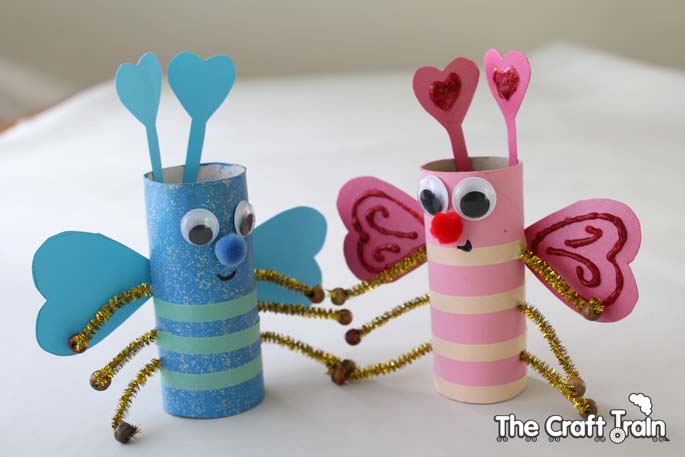 Use toilet paper rolls and pipe cleaner antennae and legs to make love bugs. Add colored paper stripes and googly eyes to really complete the love bug look.
via Red Ted Art
37. Make a Unique Valentine's Day Card with Fingerprint Art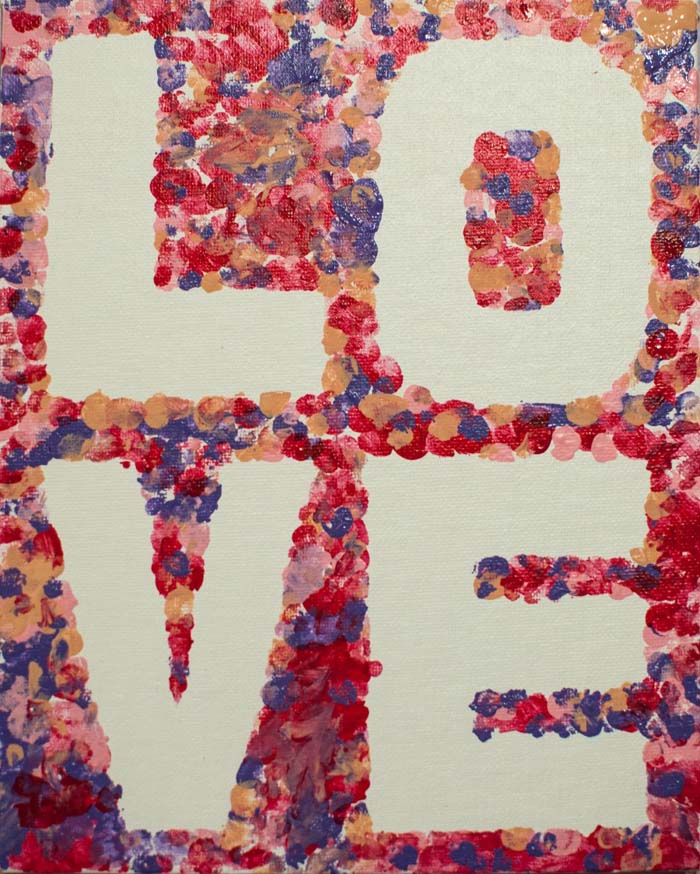 Using the fingerprint art idea, make a fingerprint art that says LOVE. Or use it to make any Valentine themed saying.
38. Inflate Balloons with a DIY Valentine Trick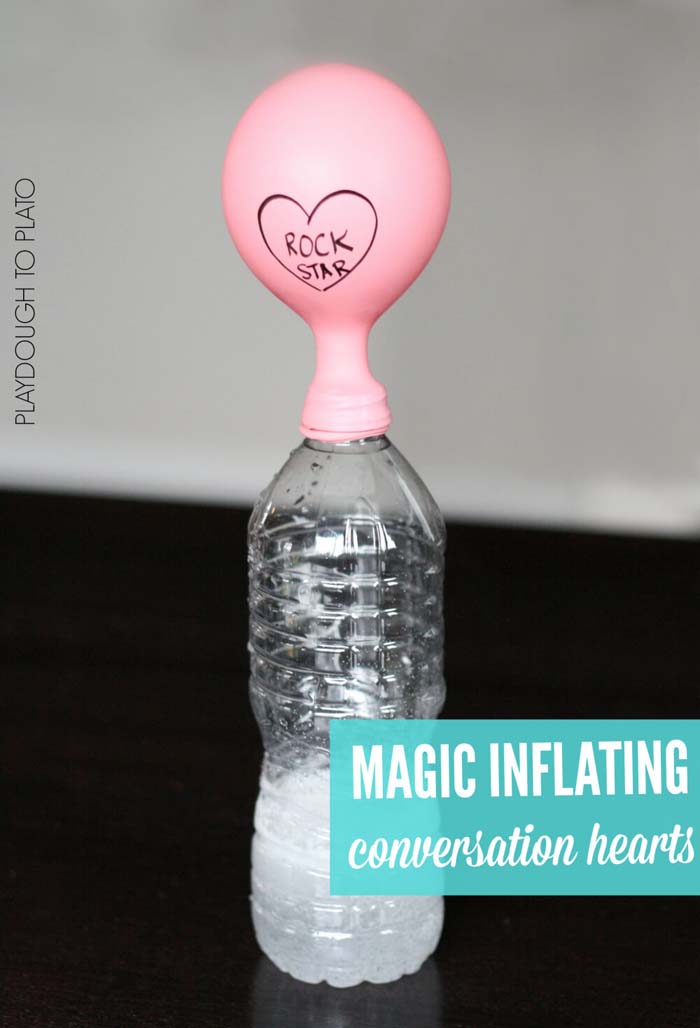 Take balloons and draw Valentine themed hearts and sayings on it. Then using soda and tums you can make this inflating water bottle trick to inflate the balloon.
39. Create a Sparkling Heart-Shaped Valentine Borax Ornament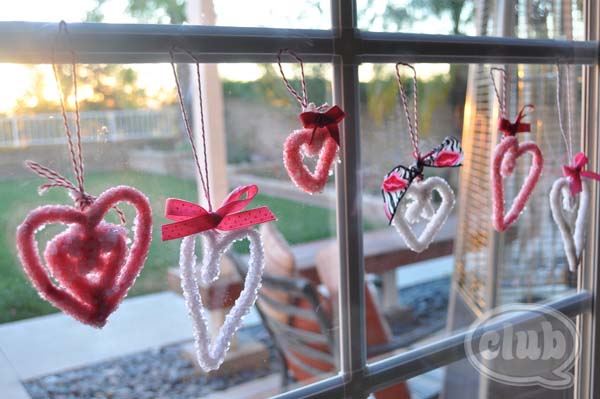 This makes for a great heart-shaped Valentine ornament. Especially if you use red and pink pipe cleaners. Did you know if you hang pipe cleaners in a water and borax solution, the borax will crystalize on the pipe cleaners?
40. Make Cute Valentine's Cards with Melted Crayons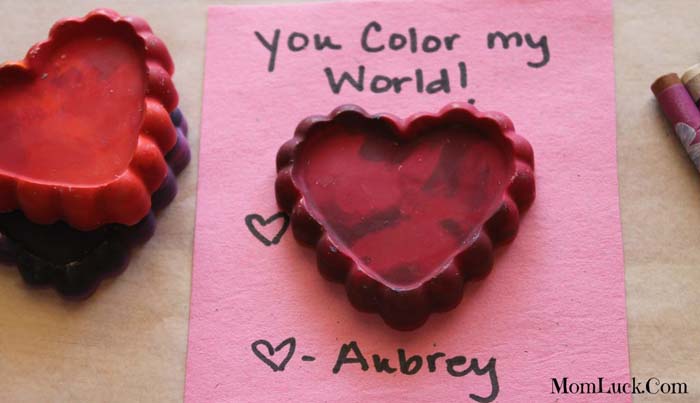 Melt crayons into heart shapes and glue them on a card. Add a cute saying or personal note for the perfect Valentine.
via Mom Luck
41. Craft a Monster Valentine Box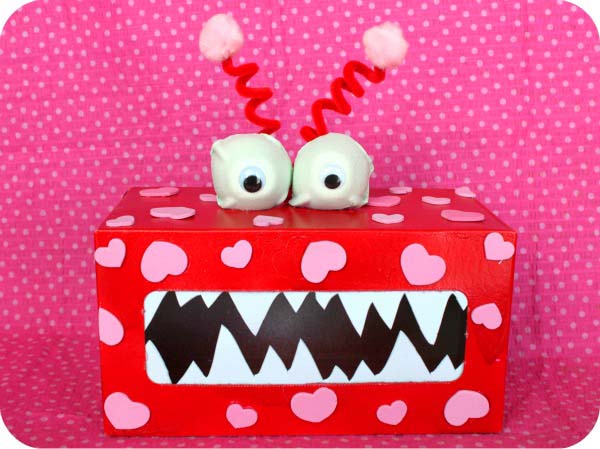 To collect all of your Valentines in, make a monster box. By cutting a hole in the top of the box and covering in red paper, you make a great base for teeth and pipe cleaner antennas. The finished product looks like a monster!
42. Create a Cupcake Tin Floral Bouquet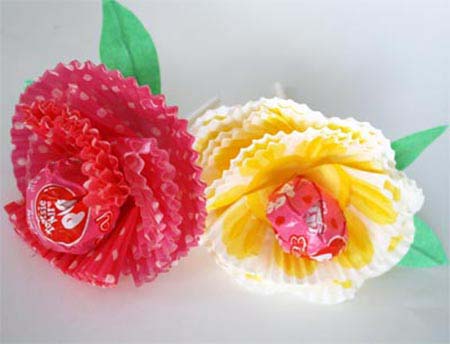 Cupcake tins make perfect flowers if you line them up and tie them together. Then frill out the sides for a great flower. Use a dum dum or small sucker for the center.
via Skip to my Lou
43. Delight Your Loved One with Decorated Matchbox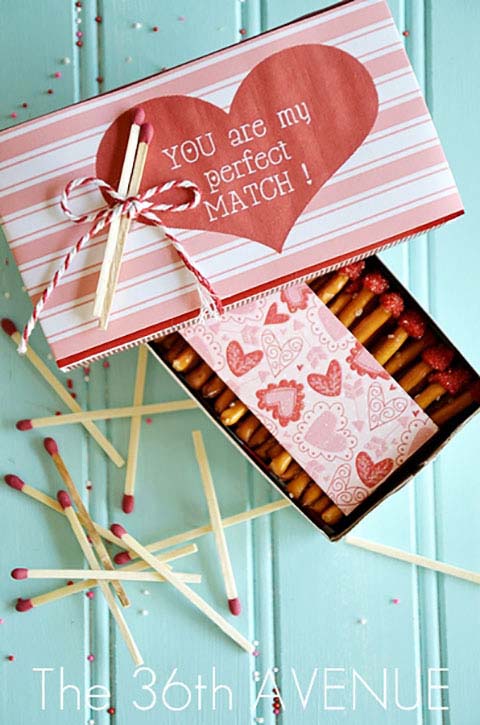 Matches that are decorated in their box are super cute. Then add the saying 'your are my perfect match' on top for an absolutely adorable Valentine.
via The 36th Avenue
44. Festive Valentine's Day Necklace with Decorated Noodles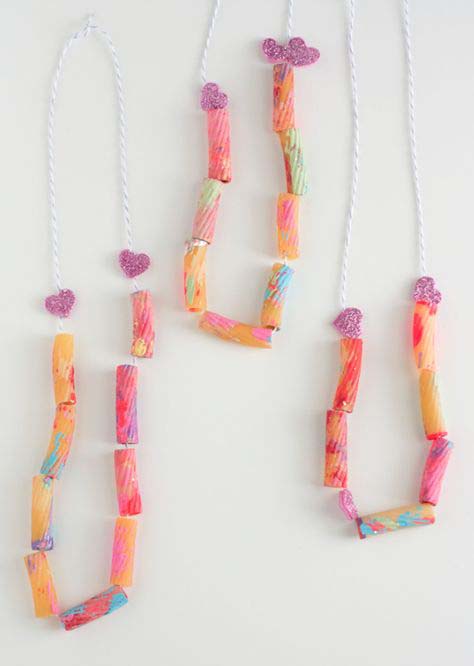 Dried noodles are perfect for stringing on a string. Then paint the noodles all sorts of Valentines colors to finish the look. In the end you have a perfect Valentine necklace.
via The Alison Show
45. Create a Valentine Gift with Hand-Painted Hearts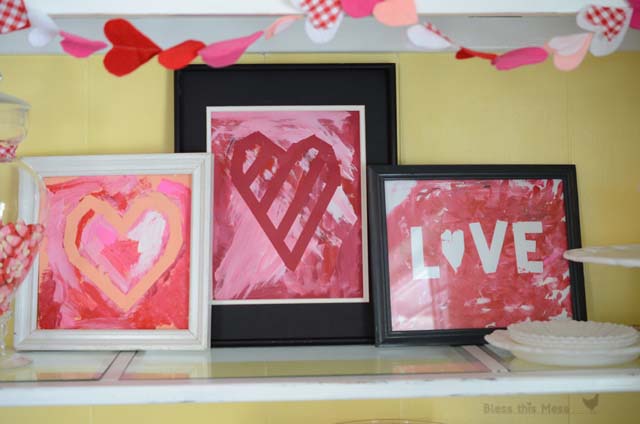 Have your child paint red and pink hearts. Frame the finished product for an adorable Valentine gift.
via Bless This Mess
46. Make a Festive Valentine Pizza with Paper Plates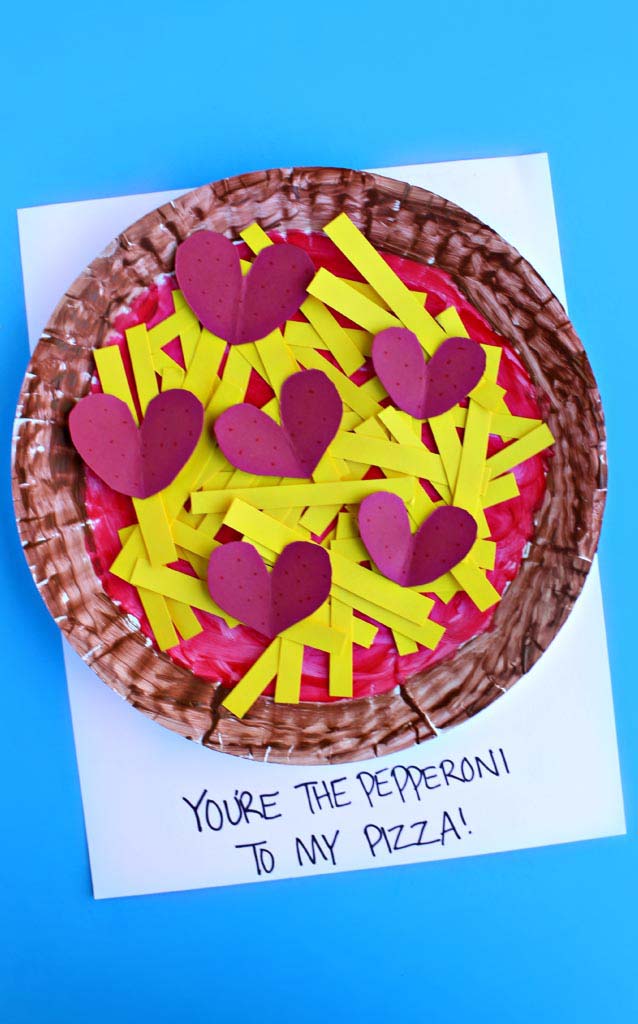 Paper plates painted in red is the perfect base. Then add strips of yellow paper to look like 'cheese.' To complete the Valentine pizza, add red heart shapes to look like pepperoni.
via Crafty Morning
47. Create Adorable Love Goggles with Pipe Cleaners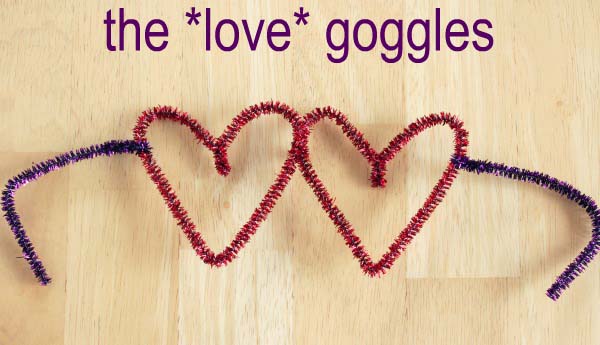 Make love goggles out of pipe cleaners. Make the eye part heart shaped and the pipe cleaners on the side look like glasses rims. I promise your love will think they are adorable.
via Make and Takes
48. Make a Tic Tac Toe Board with Potato Stamps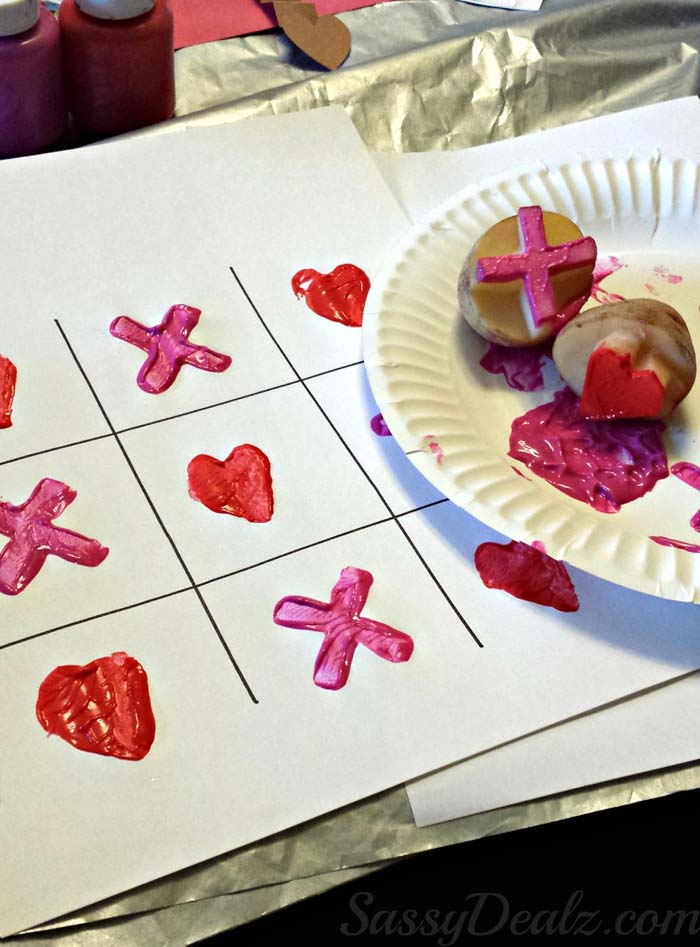 Cut heart shaped and X shaped potato stamps. Then using paint, make a simple tic tac toe board. Paint the heart and X potato stamps to go on the paper.
via Crafty Morning
49. Create Plantable Valentines Seeds with Macrame Paper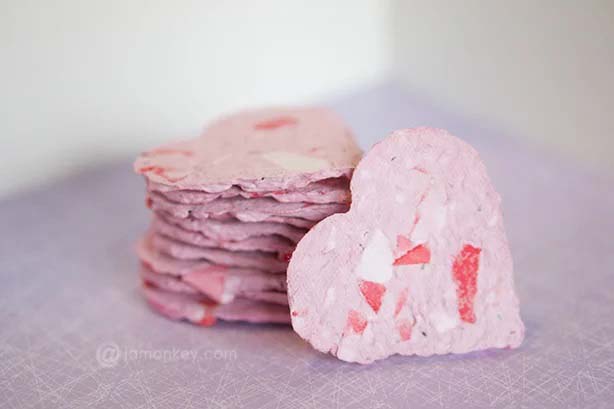 You can make plantable Valentines by mixing seeds in with macrame paper. Then you can tell your Valentine that if she plants the card, she can grow a flower.
via JaMonkey
50. Creative Valentine Art with Salt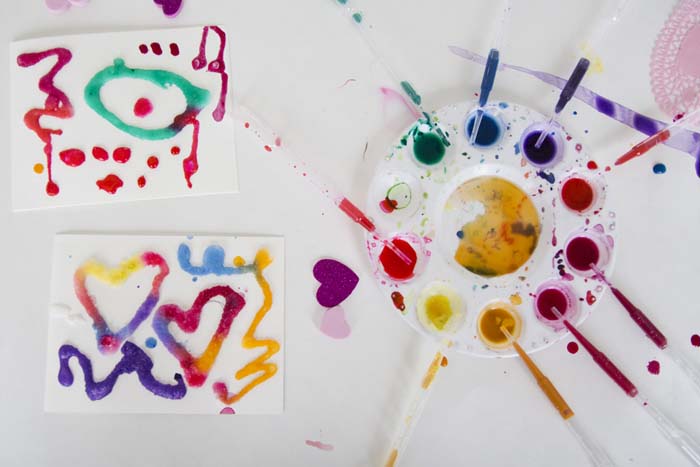 Salt art is a fun and new way to paint pretty Valentine pictures. Or paint paper to make a darling Valentine.
via Love Taza
51. Create Adorable Valentines with Paint and Shaving Cream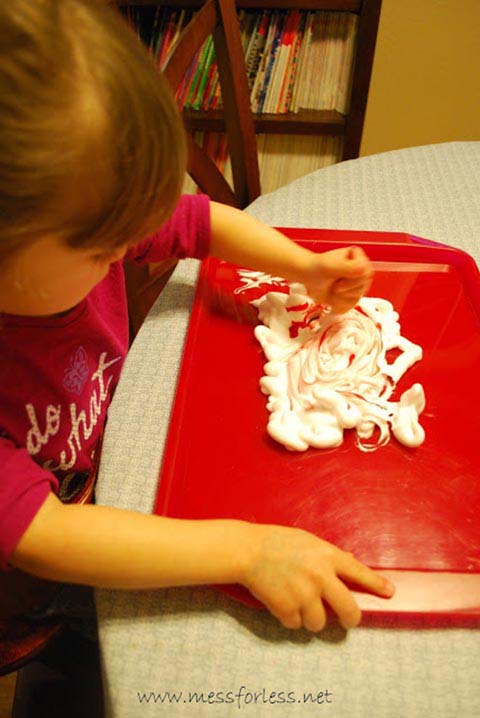 Using paint and shaving cream you can make adorable red and pink Valentines. It is the perfect craft for a child to make because it is simple and fun.
via Mess for Less
52. Homemade Valentine Snow Globe Craft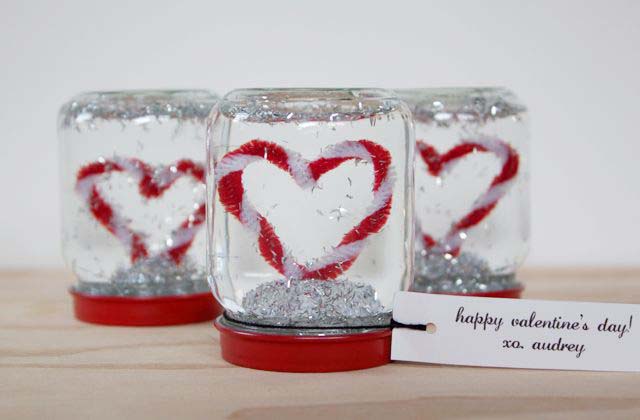 Jars with heart shaped wire or pipe cleaners on the inside create a lovely Valentine scene. Add sugar or sparkles and water to make it a Valentine snow globe.
via Unknown
53. Craft a Heart-Shaped Stained Glass Card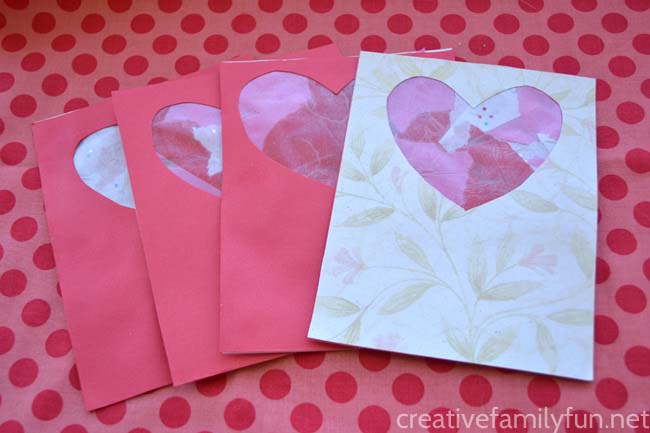 Cut a heart shaped hole in a card then using tape, sparkles and red paper, tape over the hole. Then it gives the appearance of a heart shaped stain glass card.
54. Create a Valentine's Day Garland with Heart Shapes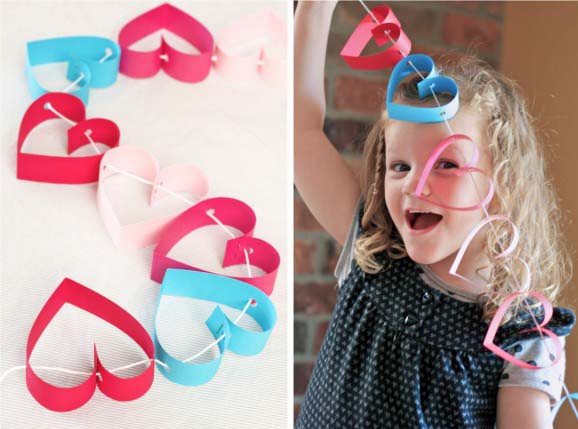 Glue or tape strips of paper into heart shapes. Then cut holes in them. Then you can string them together for a Valentine's day garland.
via Paging Supermom
55. Make a Valentine Snake with Popsicle Sticks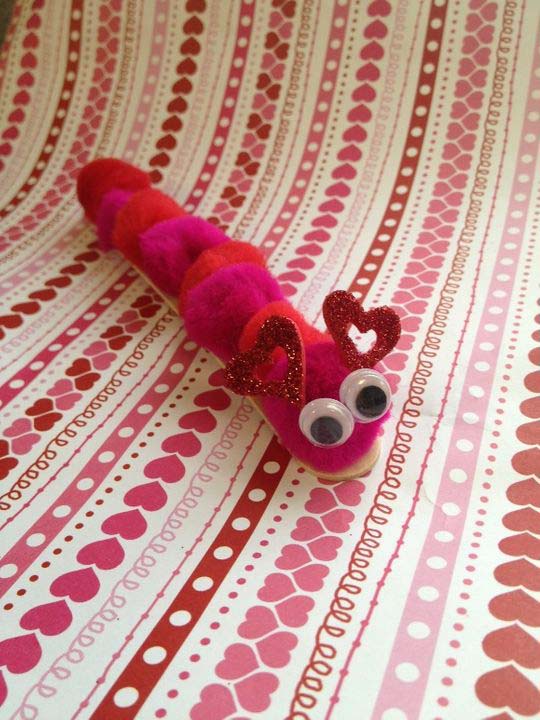 A popsicle stick is the perfect base for a row of pom poms. Then after adding pipe cleaner antennas and googly eyes you have the perfect Valentine snake.
via My Teen Guide
56. Heart-Shaped Paintable Art Projects for Valentine's Day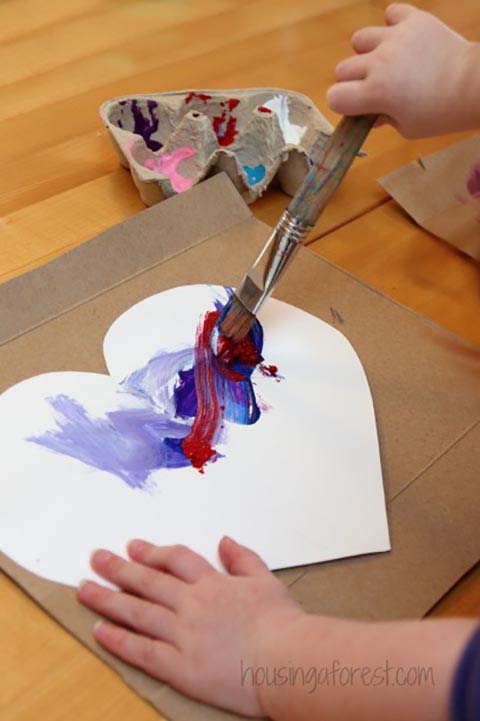 For the perfect Valentine for a smaller child to make, try these heart shaped paintable art projects. They are super simple. You just cut cardstock into a large heart shape. Then paint it! Mom or other adults can help write cute sayings on the inside of the folded heart.
via Housing A Forest
57. Show Someone You Care with a Unique Handmade Card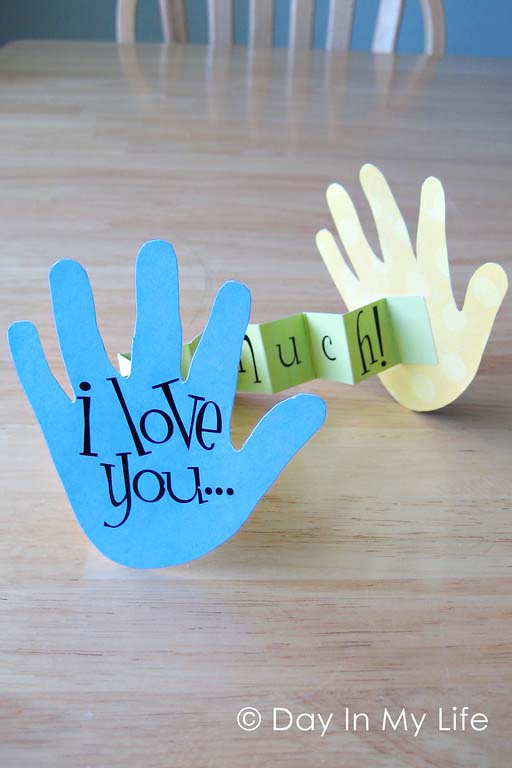 You know the adorable saying 'I love you this much' and the sayers holds their hands apart. Make this saying a card by making two hands and adding folded paper in the middle. Then add the saying to one of the hands.
58. Hand-Traced Valentine Tree with Heart Leaves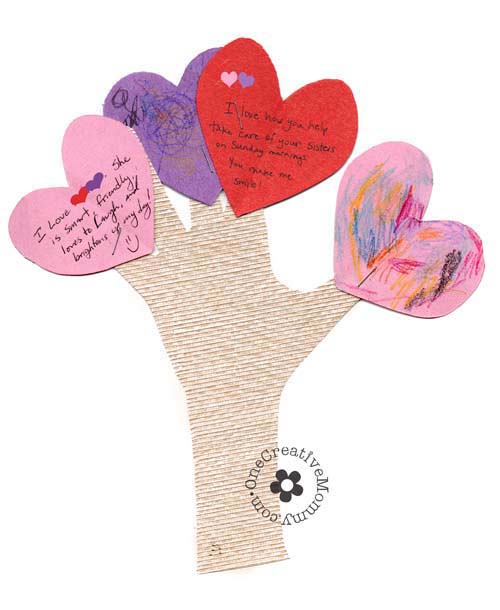 Make another tree themed Valentine by using a traced hand as the tree. Then add hearts on all of the fingers to look like leaves on a tree.
59. Create a Heart-Shaped Birdseed Valentine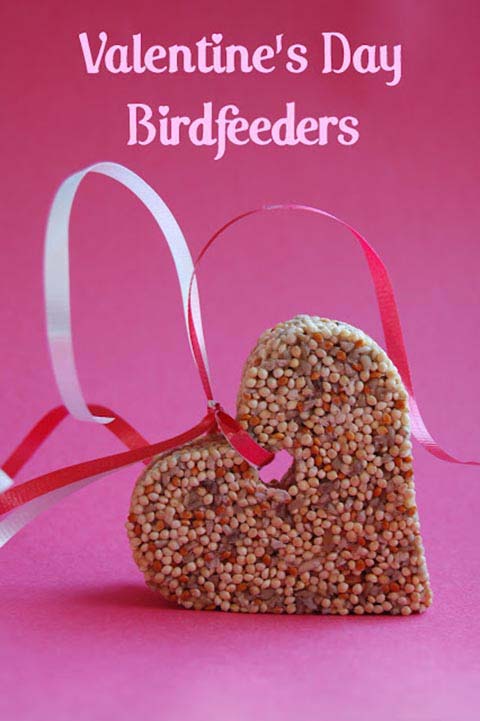 By using birdseed and glue, you can glue together large heart shaped blocks of bird seed. Add a ribbon to make a cute bird seed Valentine for a bird lover in your life.
via Wine and Glue
60. Decorate Your Pencils for Valentine's Day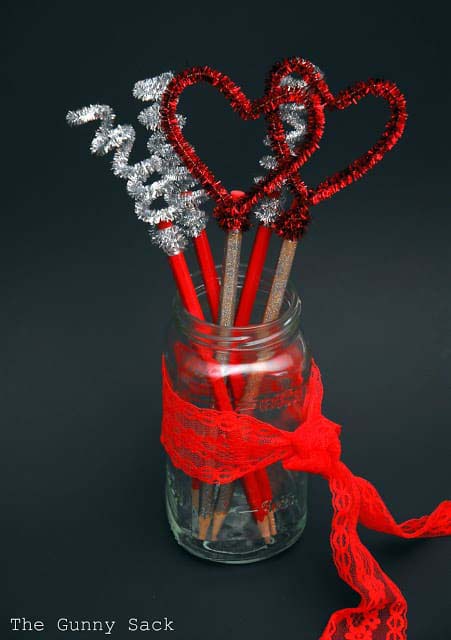 To add a Valentines day kick to your pencils, add heart shaped pipe cleaners on top. Make sure to use red pencils to add an extra Valentine kick.
via The Gunny Sack
61. Craft a Valentine's Day Card Dog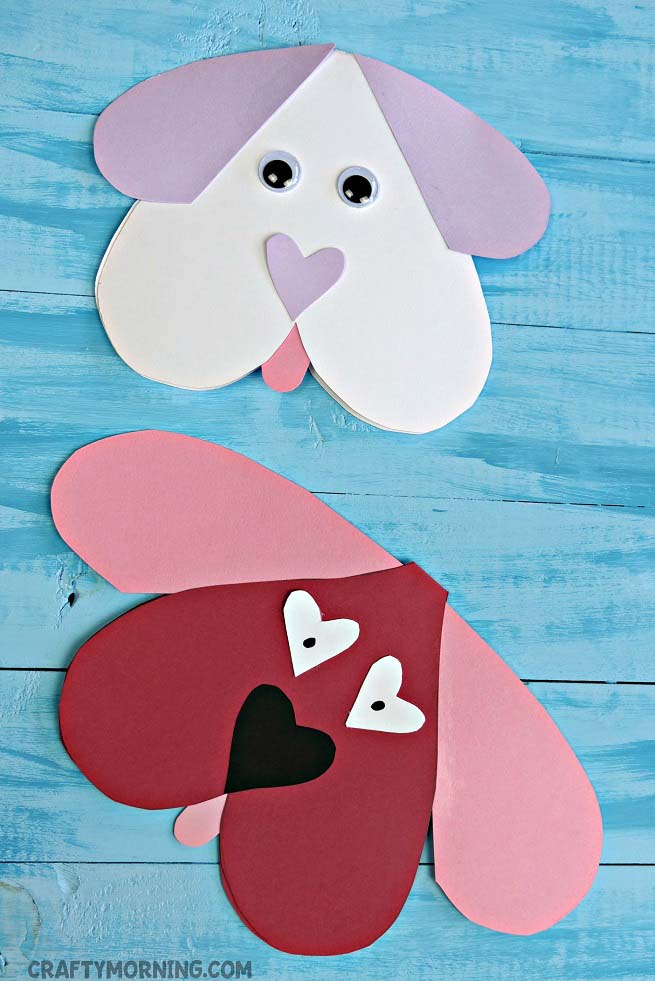 Upside down hearts with ears make a lovely dog. Add googly eyes and a tongue Then you can use your dog like a card. Write a love note or just Happy Valentines day inside.
via Crafty Morning's instructions
62. Create a Unique Valentine's Day Gift with Grandma in Mind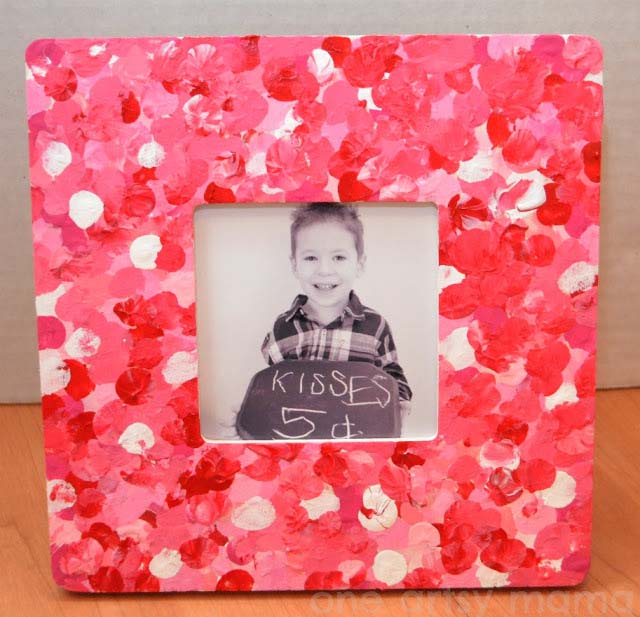 For a grandmother themed Valentine's Day gift, try this photo frame. Put an adorable photo of your child inside. Then using your families finger prints, make an adorable frame.
via One Artsy Mama
63. Construct a Cute Heart-Shaped Necklace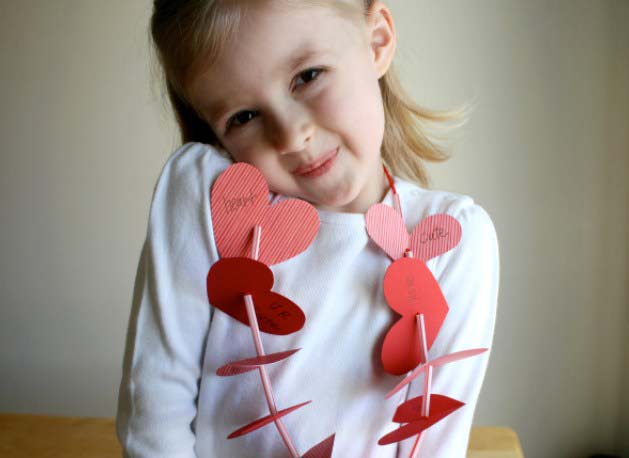 To make an endearing necklace, cut hearts out of pink and red paper. Then lace together on a string. Use plastic beads in between each heart. That way they separate like a classic necklace.
via Makezine
64. Make a Valentines Day Ornament with Salt Dough Marbling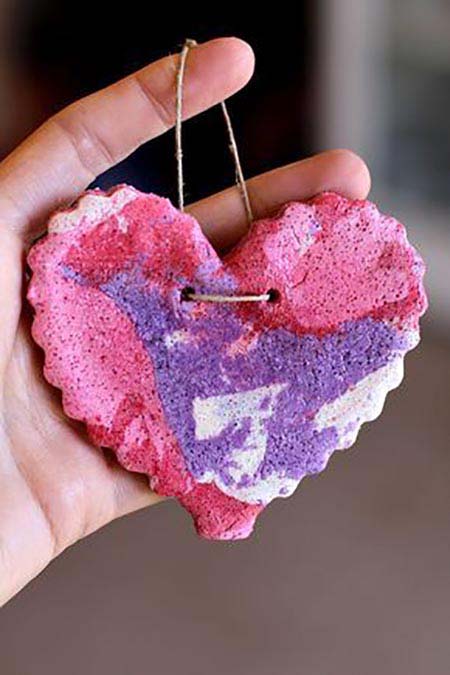 Salt dough is easy to marble with red, pink and purple paint. Then let it dry and string it so that it can be an easy Valentines day ornament.
via Twodaloo
65. Decadent Valentine's Day Marshmallow Treats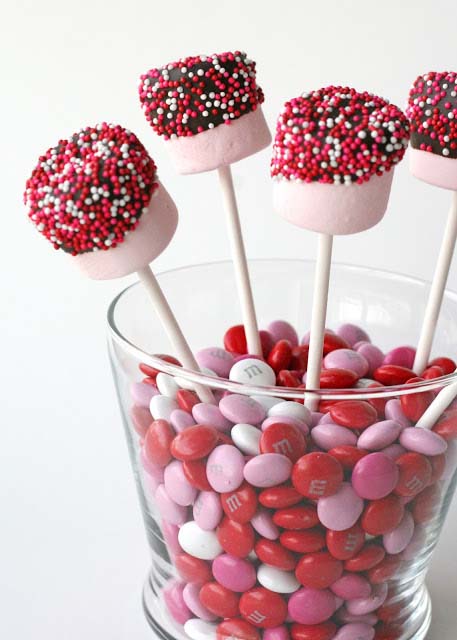 To make an easy treat, skewer marshmallows then coat in white chocolate and sprinkles. Or if you want it to be a classic treat, just use regular chocolate and Valentines sprinkles.
via Glorious Treats
66. Create a Personalized Valentine Card for your Loved One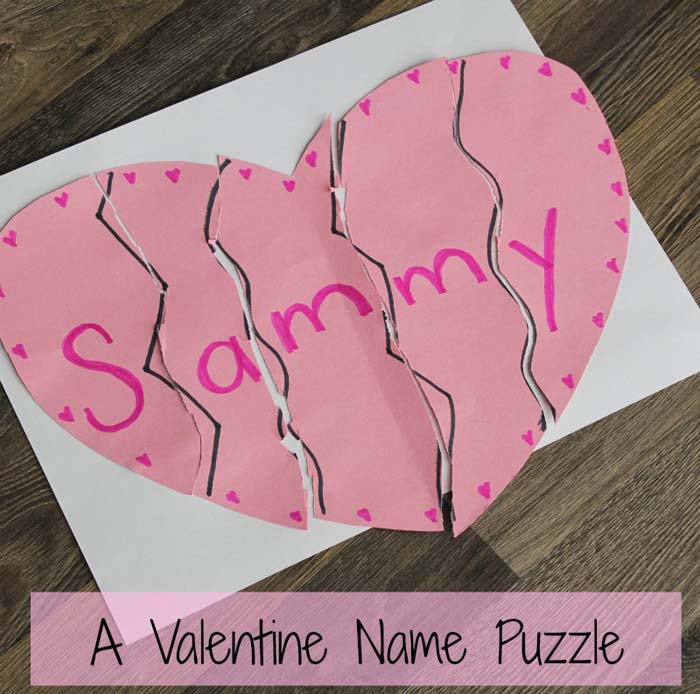 Personalized Valentines are always the best. Make this one by writing your loves name on a heart shaped paper. Then glue it on the front of a white folded card.
via How Wee Learn
67. Make Valentine Robot Snacks for Kids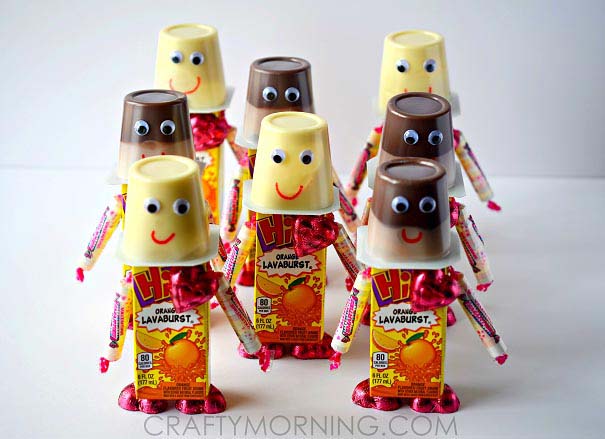 Using pudding cups, hi – cup juices and smarties, you can make these awesome Valentines. The pudding cup is the robot head, the juice box is the robot body and the smarties are the robot arms.
via Crafty Morning
68. Valentine's Day Slime with Red Food Coloring and Sparkles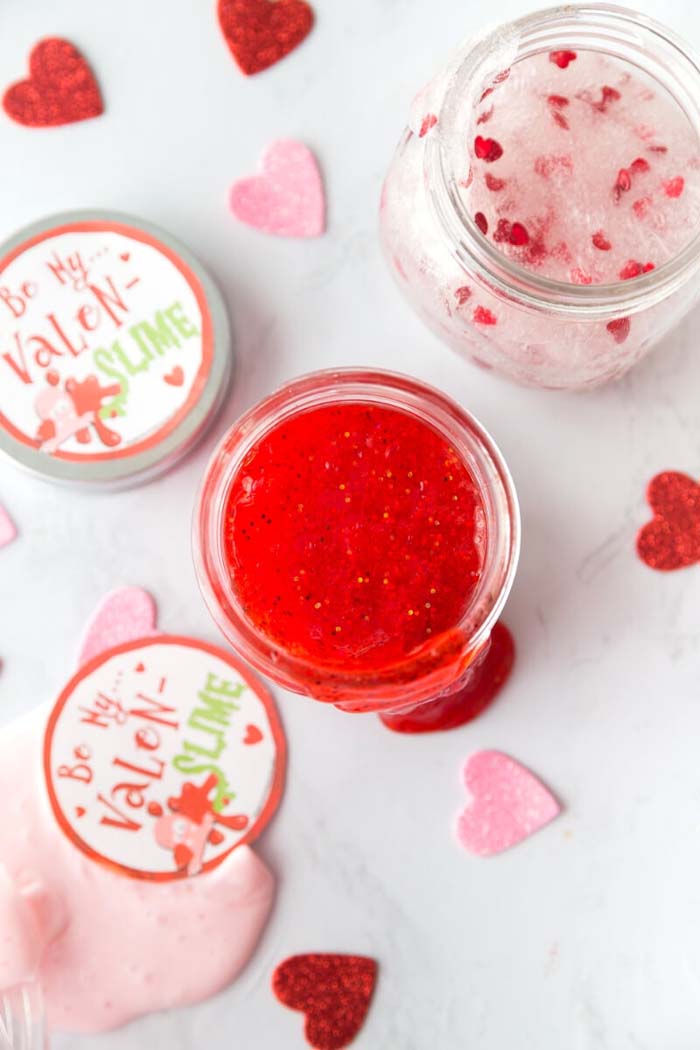 Make slime, but this time add red food coloring and red sparkles. It makes a classic fun toy Valentine themed.
via Little Bins for Little Hands
69. Craft a Valentine Man with a Red Solo Cup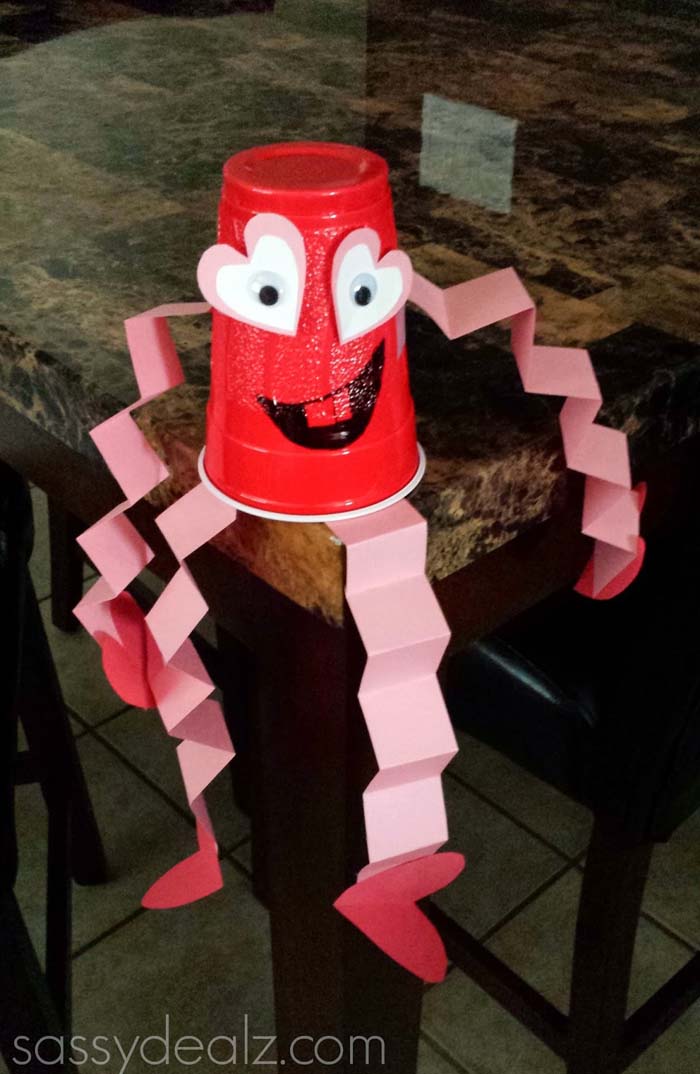 A red solo cup makes the perfect body for a Valentine man. Add paper for arms and legs and googly eyes for eyes.
via Crafty Morning
70. Store Your Chocolate with a Paper Heart Basket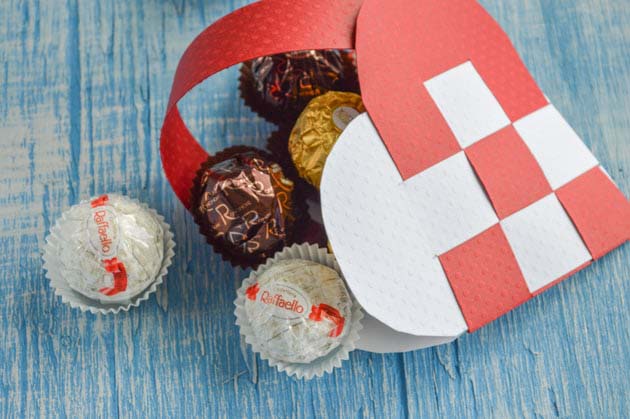 Using woven red and white paper, make a basket for your Valentines. Then use a long strip of paper for the handle.
via The Artisan Life
71. DIY Valentine Ornament with Strong Wire and Red String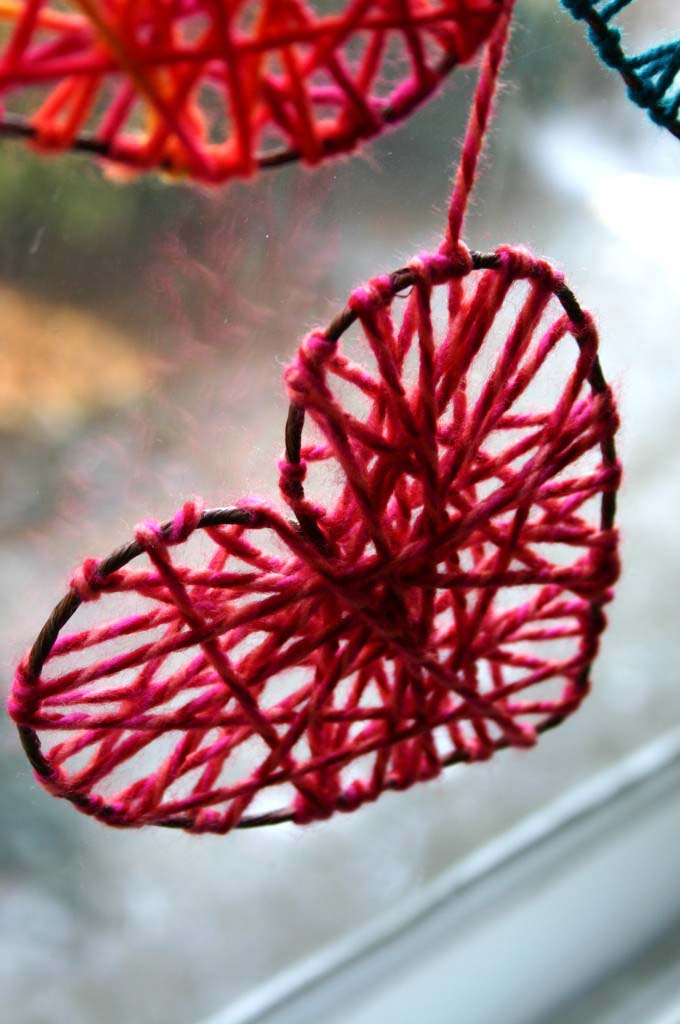 Strong wire can be wrapped in a heart shape. Then red string can be laced around the heart shape. This creates a perfect Valentine ornament.
via Family Chic
72. Make Beautiful Heart-Shaped String Art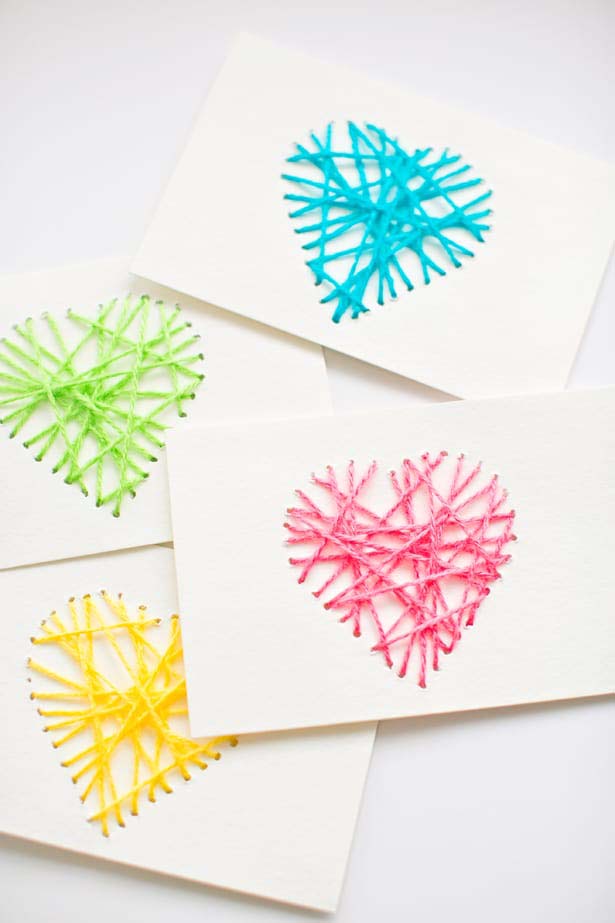 Canvas is the perfect base. Then cut holes in a heart shape and string of many colors. The ending point will be a heart-shaped string art.
via Hello Wonderful
73. Express Love in a Special Way with Minions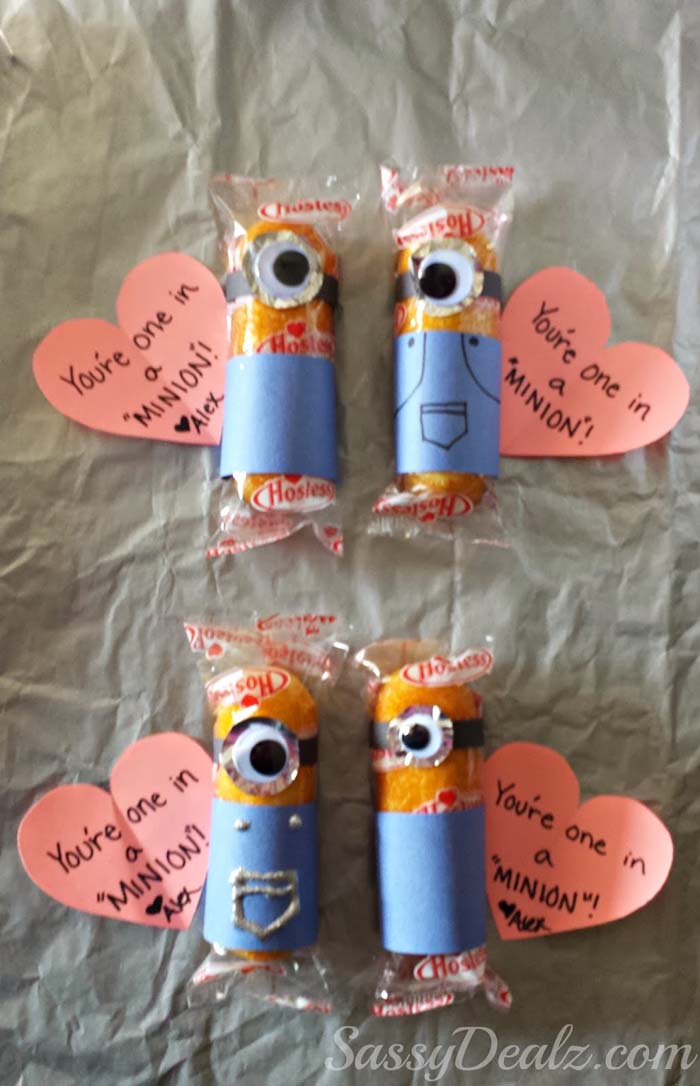 Everyone loves minions. They are made easily by using twinkies as the minion base, then add googly eyes and blue paper overalls. Then add the cute saying 'you are one in a minion!'
via Crafty Morning