Valentine's Day trees look like the latest decor trend as more and more people start to repurpose their Christmas tree into one decorated for Valentine's Day.
It's true that, when you think holiday-themed tree, you think of Christmas.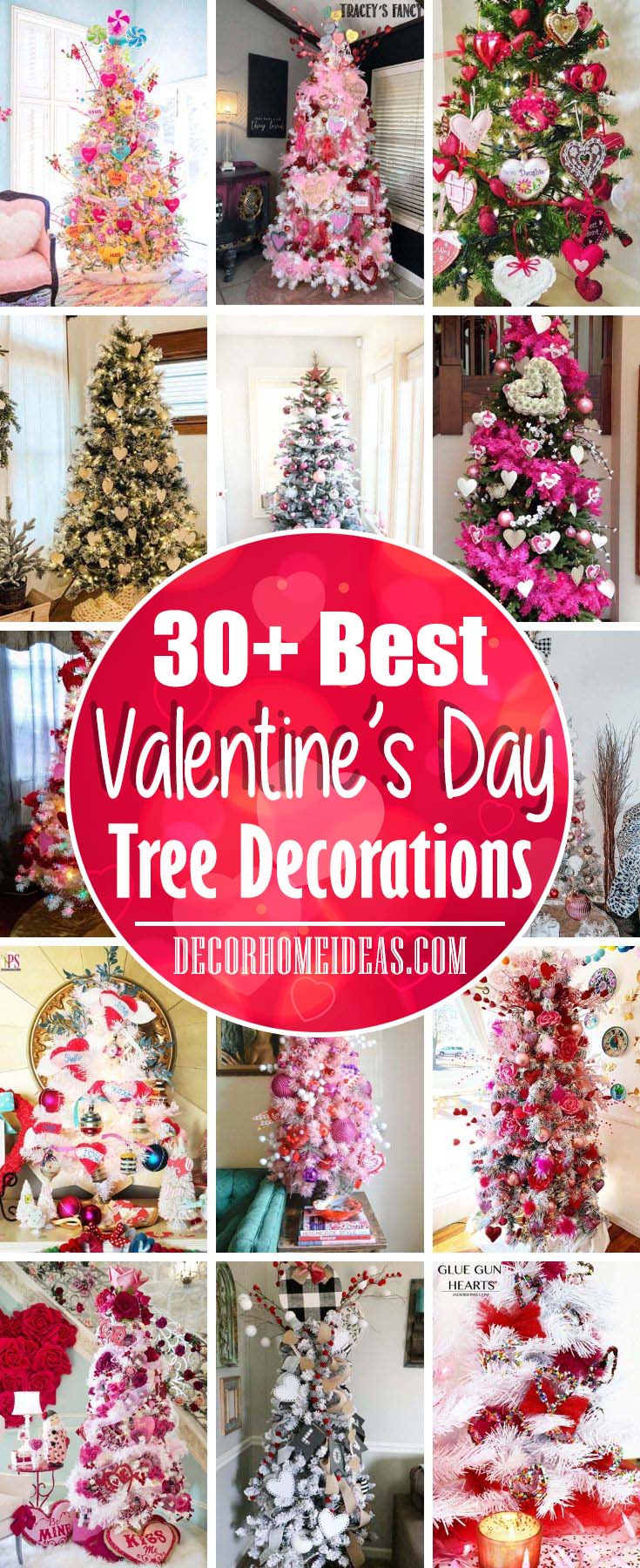 However, it is becoming more and more a fad to leave a tree up year-round and decorate it for each holiday.
Adding red lights and red garland can totally transform a Christmas tree.
These trees range anywhere from simple to difficult. But no matter what, they are great ideas for DIY Valentines Day decor.
It doesn't take much effort to color coordinate it with your holiday decor as the main classic colors are red, pink, rose and lavender.
It's up to you to stick with these colors or choose your own – for example, black plaid or burlap could make it look more rustic.
1. Light Up Your Room with a Pink Valentine Tree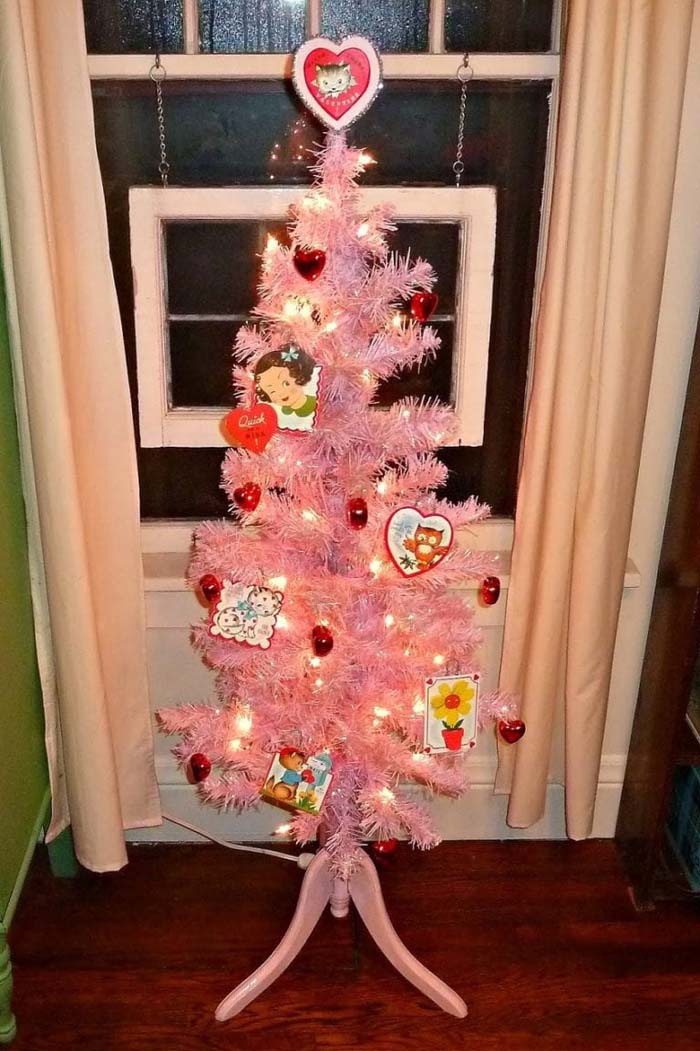 Betty Boop completely encases the theme of Valentine's Day. This pink tree with Betty Boop themed ornaments is the perfect addition to any decor.
2. Decorate a Christmas Tree with Valentine's Day Ornaments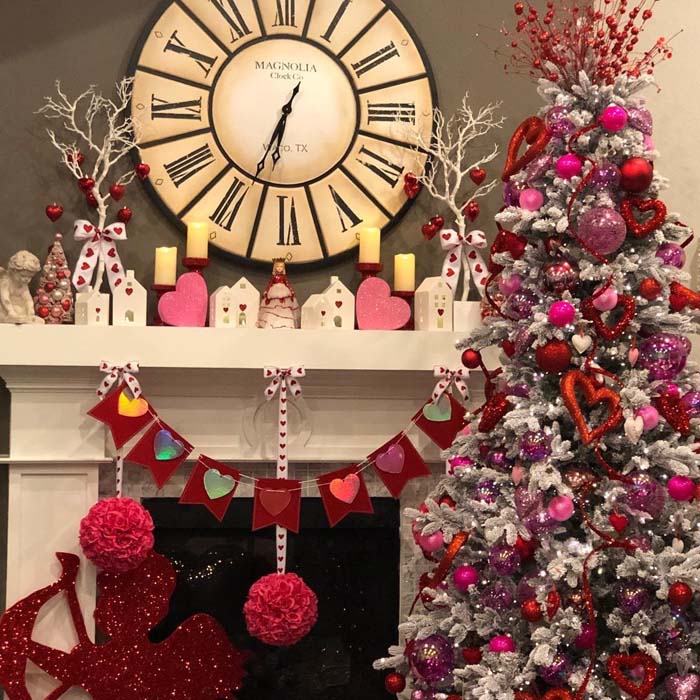 Completely cover a classic Christmas tree with red, white and silver heart-shaped and other Valentine's Day ornaments. Add a cupid in the background and other heart-shaped decor for the perfect Valentine's day mantle.
3. Brighten a White Christmas Tree with Valentine's Candy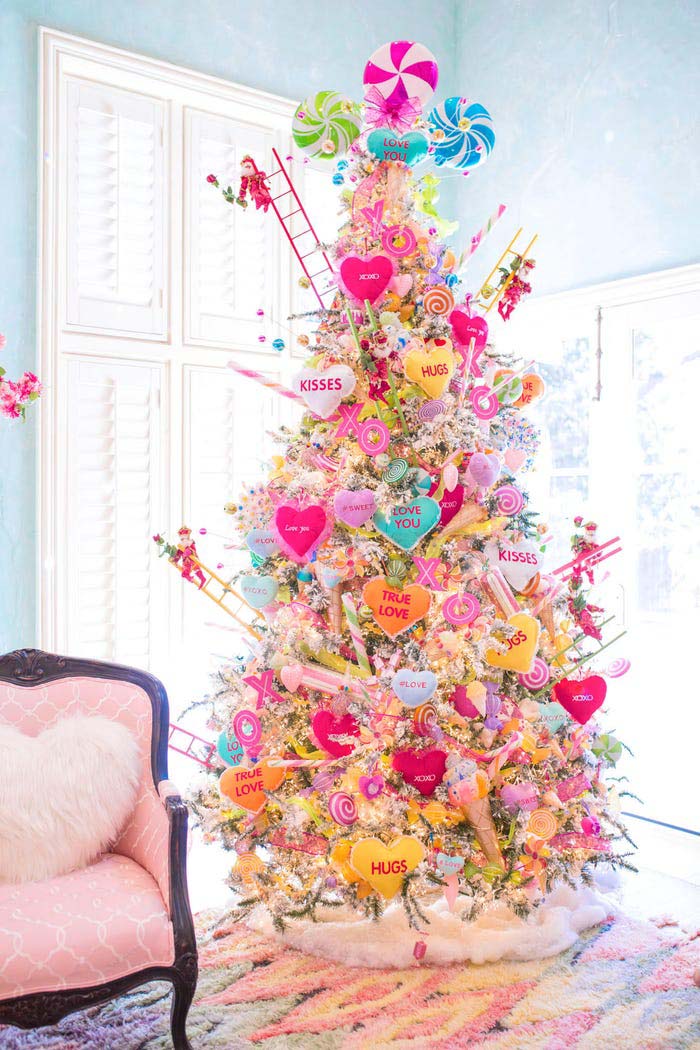 Candy is a big part of Valentine's. Cover your white Christmas tree with all sorts of pink candy shaped decorations.
4. Pink and White Christmas Tree for a Valentine's Day Twist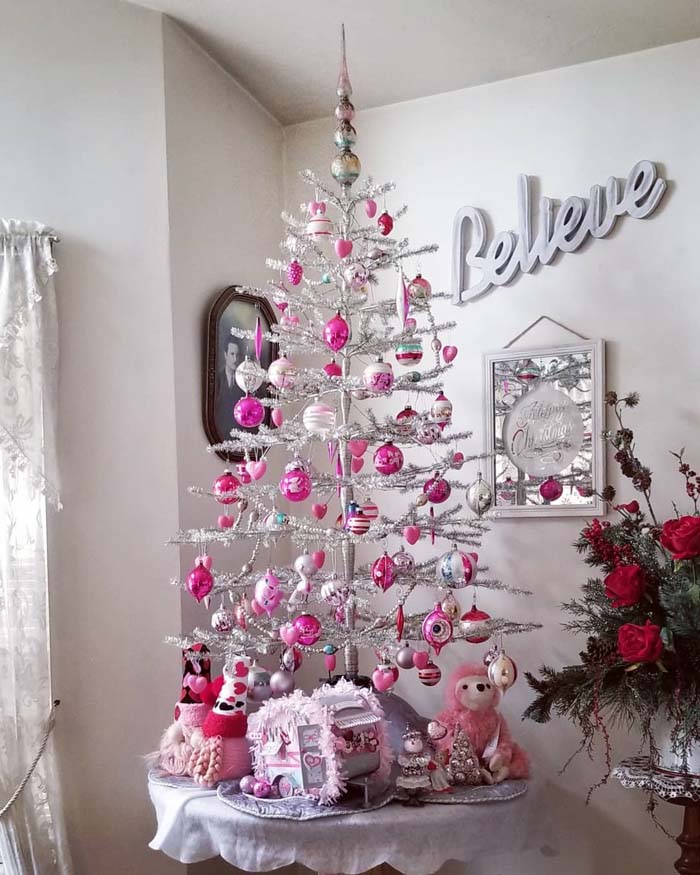 If you have a white, thin Christmas tree, it is adorable to cover with pink and white ball ornaments. It adds Valentine's day touch to a classic Christmas tree.
via Anita Wood
5. Decorate a Pink Fluffy Valentine's Tree with Pink Balls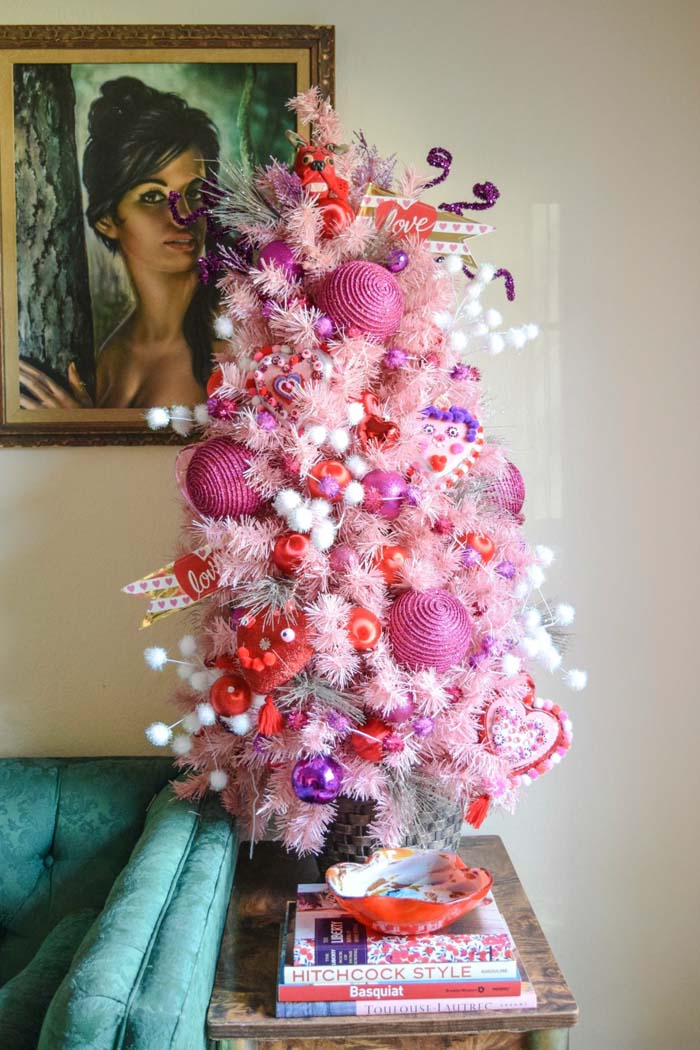 White fluffy trees are the perfect base for a Valentine's Tree. Then to make it similar to this one, decorate it with a pink ball and heart-shaped ornaments.
via Jenifer Perkins
6. Make a DIY Burlap Valentine Tree with White Fabric Hearts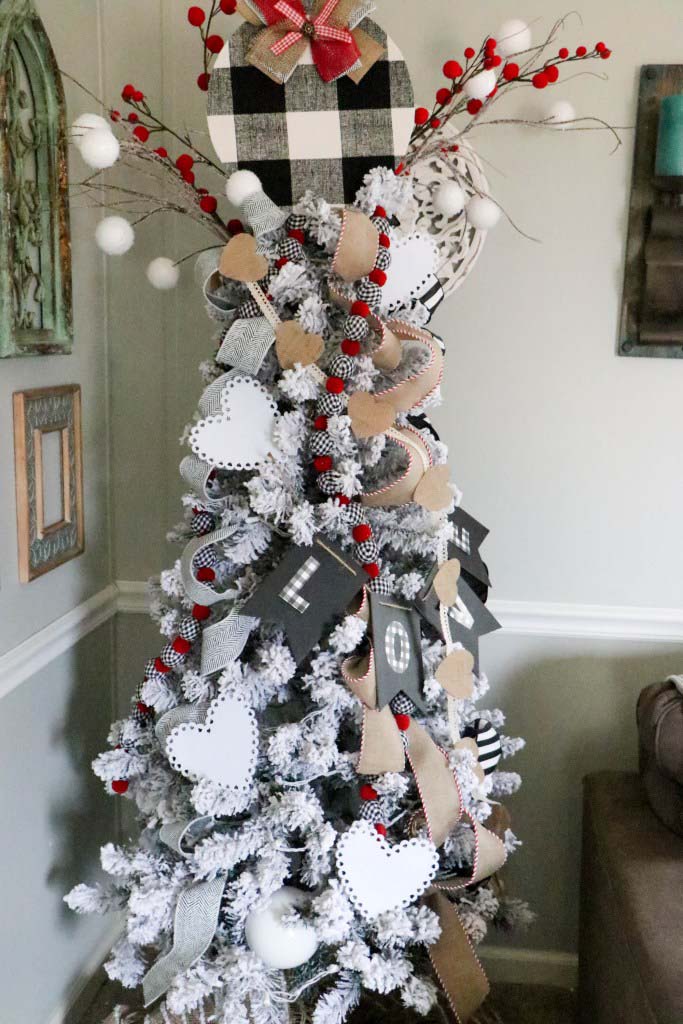 For a DIY and rustic Valentine tree, try making this white tree with burlap, white fabric hearts and 'Love' string sign.
via Re-Fabbed
7. Celebrate Valentine's Day with a Colorful Pink Tree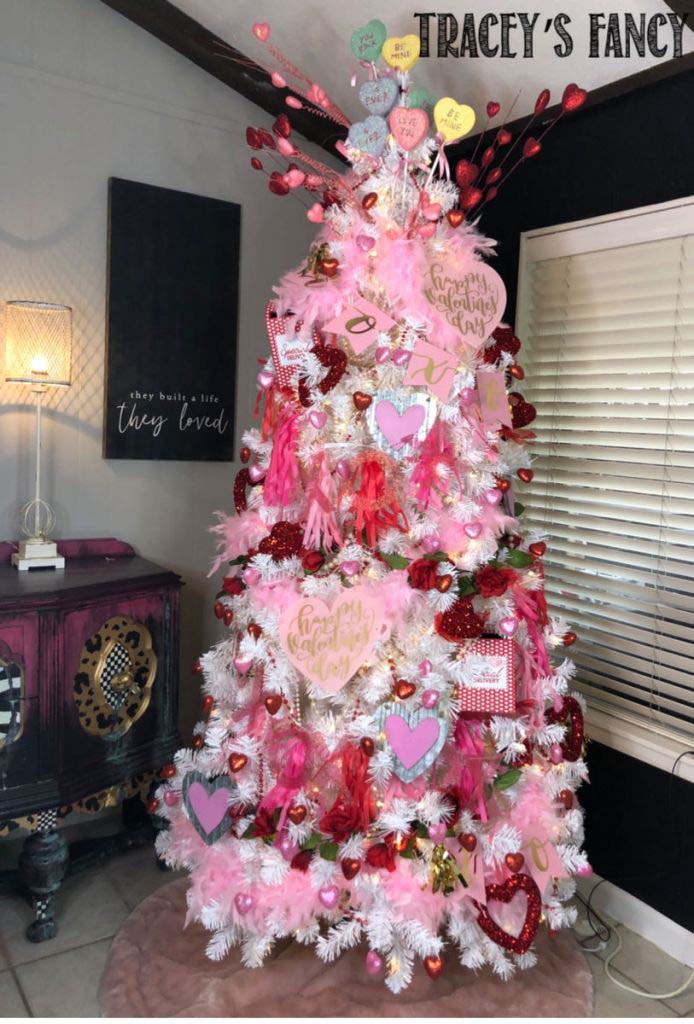 For an over the top Valentine's tree, check out this white tree that is completely covered in pink ornaments and white and pink heart-shaped cards.
via Tracey's Fancy
8. Create Glitter Heart Decor for Your Valentine's Tree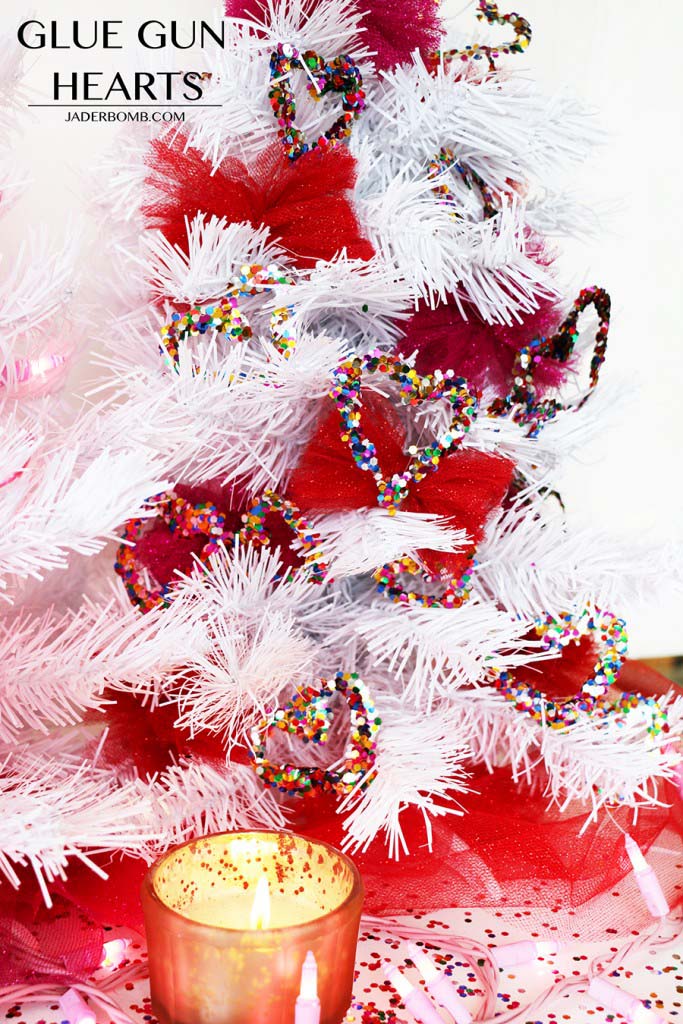 Using a glue gun, you can make heart-shaped designs that are filled with glitter and confetti of all colors. These are perfect to string together and put on a Valentine's day tree.
via Jader Bomb
9. Decorate a Rustic Valentine's Day Tree with Heart Doilies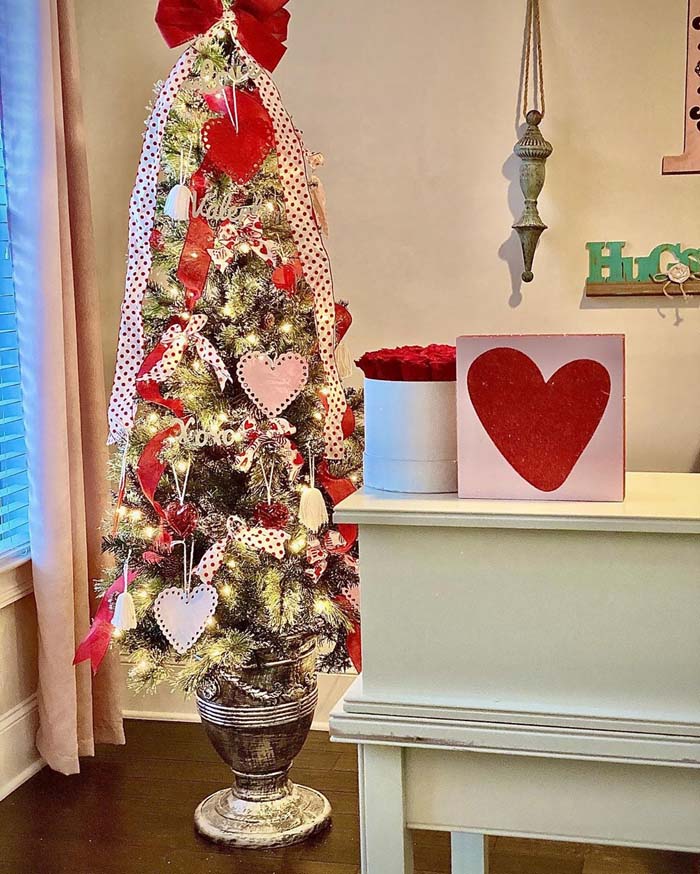 Heart doilies are the perfect addition to a Valentine's Day tree. Add burlap and light pink to give it a rustic, country touch.
via Life With London
10. Sew Heart-Shaped Mini Pillows for a Valentine's Day Tree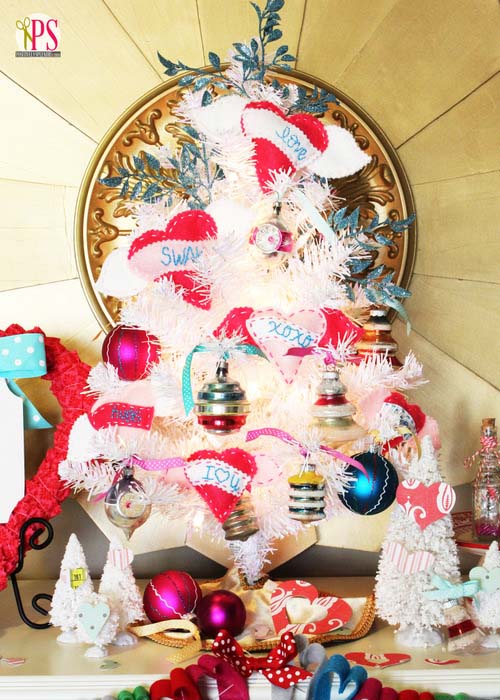 Using felt, you can sew heart-shaped mini pillows. Stuffing the mini pillows and stringing them together add a great touch to a white, Valentine's Day tree.
11. Add Valentine's Day Flair to Your Tree with Gingham Decor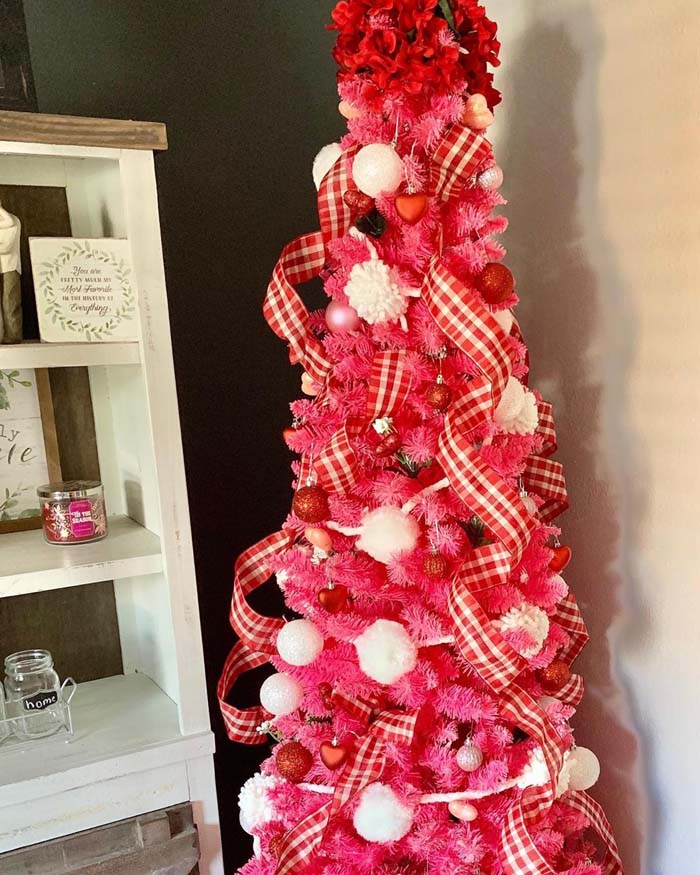 Gingham is typically a Christmas theme, but it can also be a great addition to a Valentine's Day tree in pink. Stringing it off of your white tree, then covering the tree with all sorts of ornaments, is a great Valentine's day addition.
12. Liven Your Living Room with a Big Valentine's Tree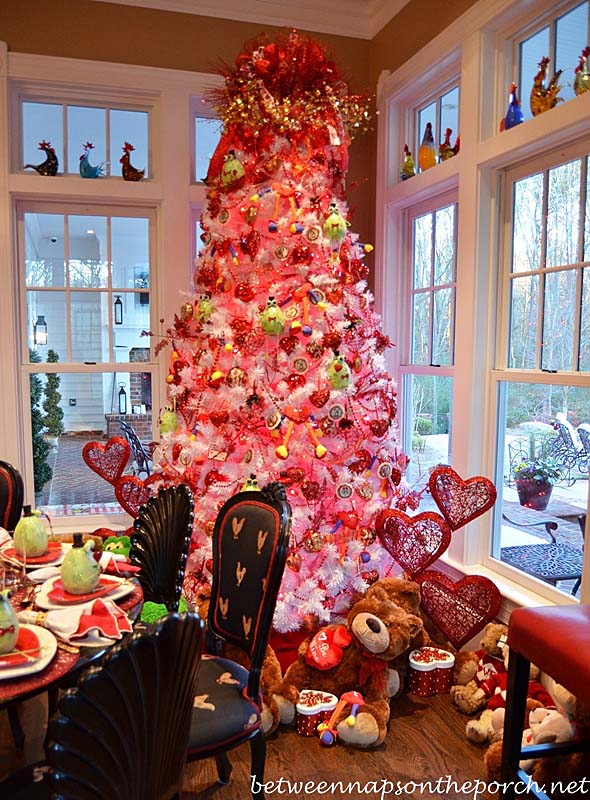 Using a large white Christmas tree, you can create an over the top Valentine's tree. Then cover it with pink ornaments.
13. Add Gifts for a Classic Valentine's Day Tree Decor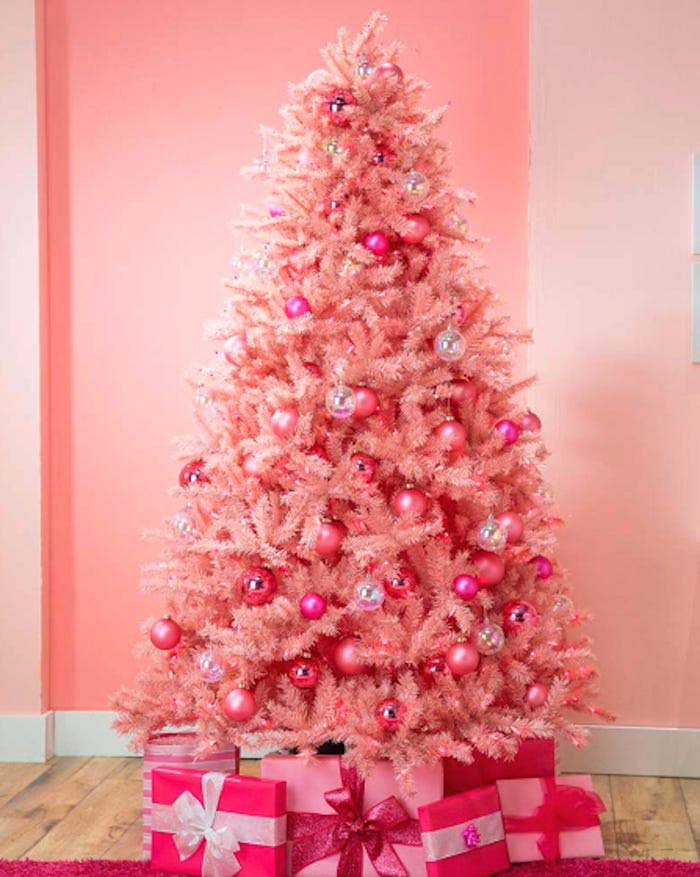 For a more simple Valentine's Day tree, just use a fluffy white tree with silver and pink ornaments.
via Treetopia
14. Ornament a Dark Pink Tree with White Beads and Messages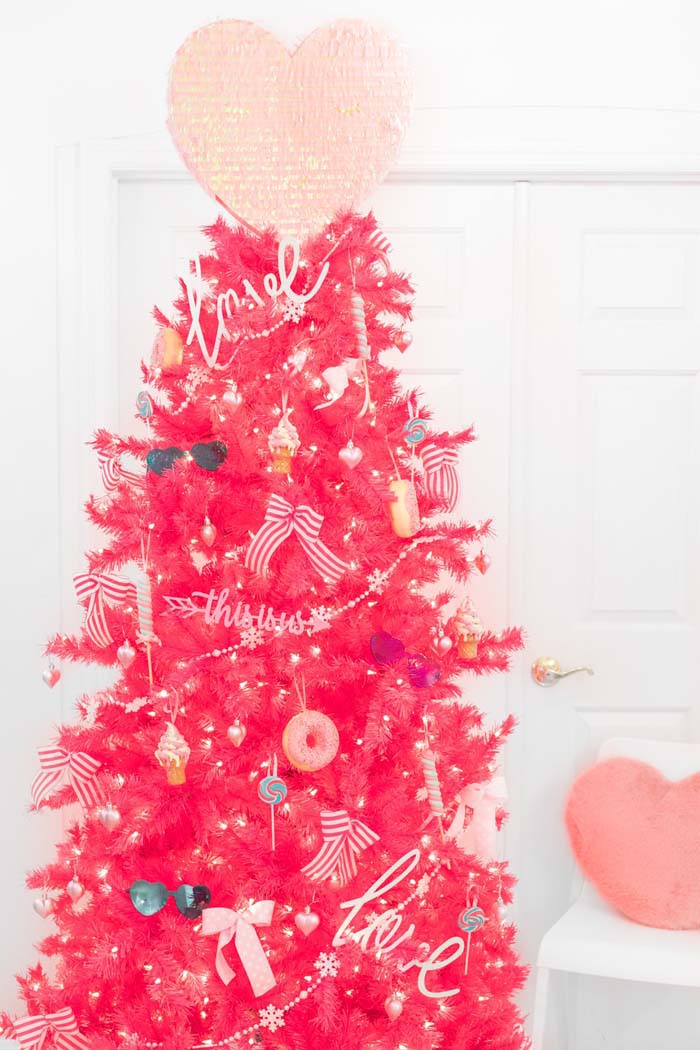 A dark pink tree is a perfect base for white tinsel, white beads and cute sayings. This is the ultimate Valentine's Day themed Christmas tree.
via Cutefetti
15. Spruce Up a Green Tree with White and Pink for Valentine's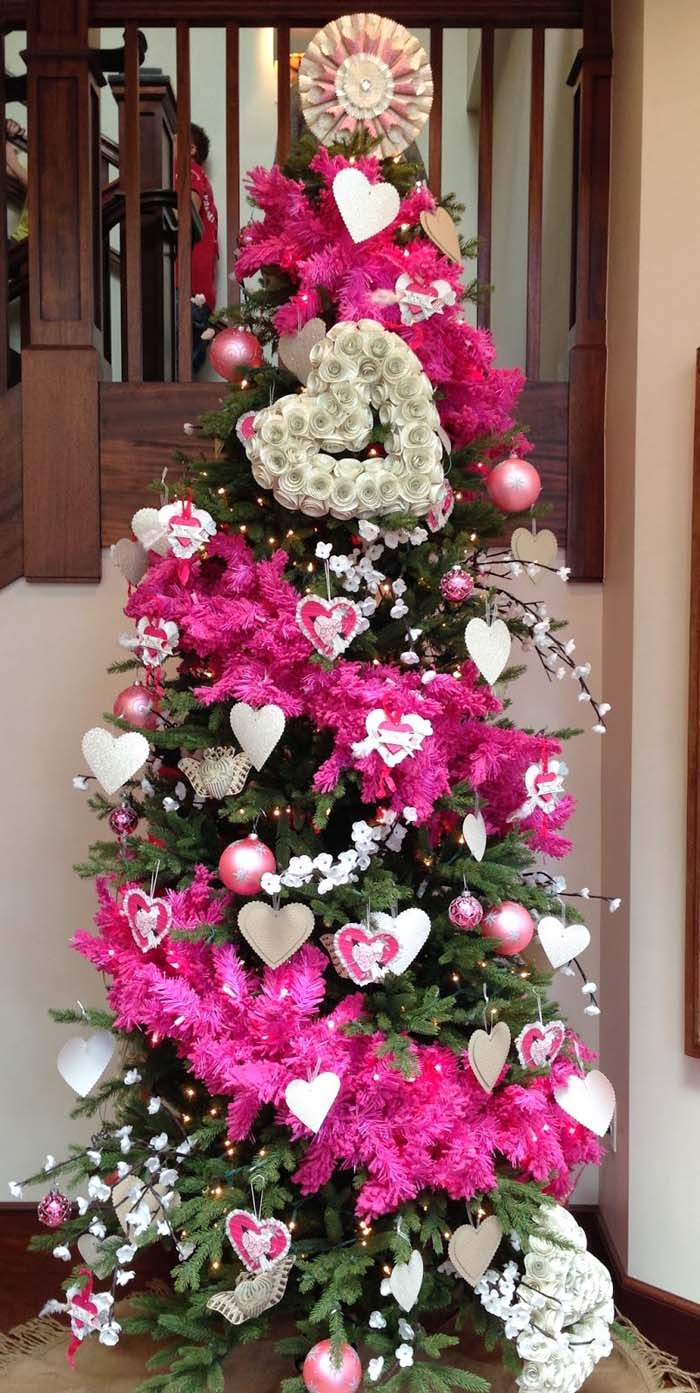 A classic green tree can be spruced into Valentine's style by adding white and pink hearts as well as pink decorations.
16. Make a Statement with a Red and Pink Garland on Your Tree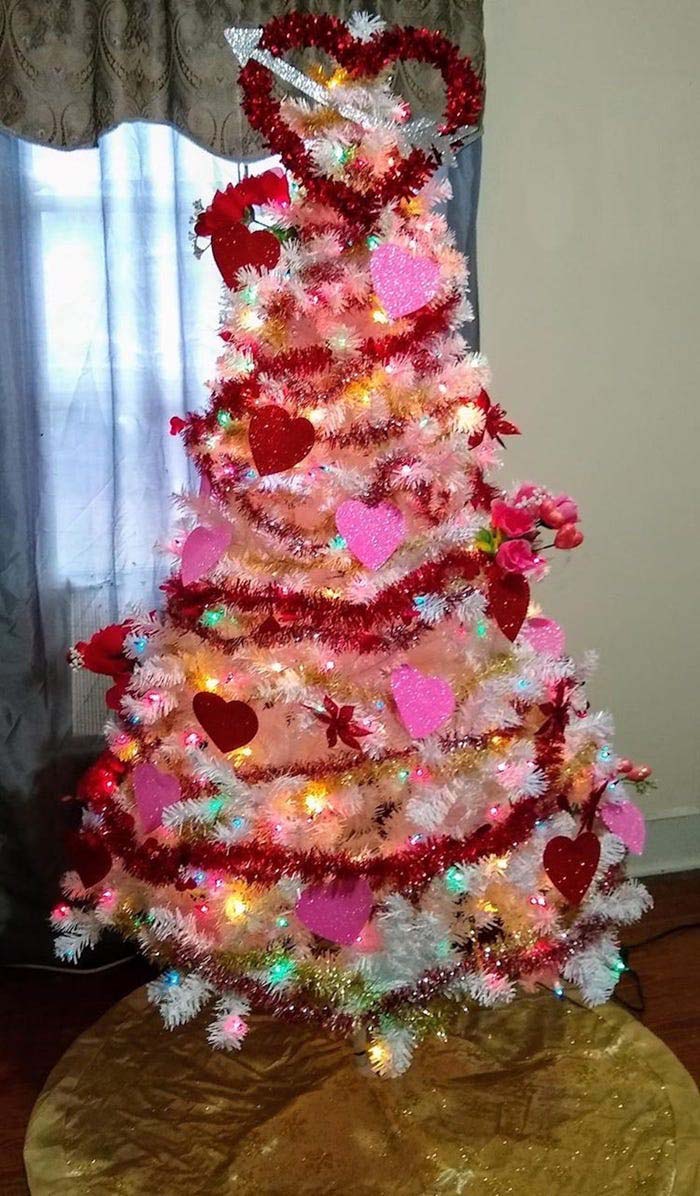 Red and pink garland on a white Christmas tree makes it undeniably Valentine's day.
via Vanessa
17. Red Roses and Tinsel Tree for a Romantic Valentine's Day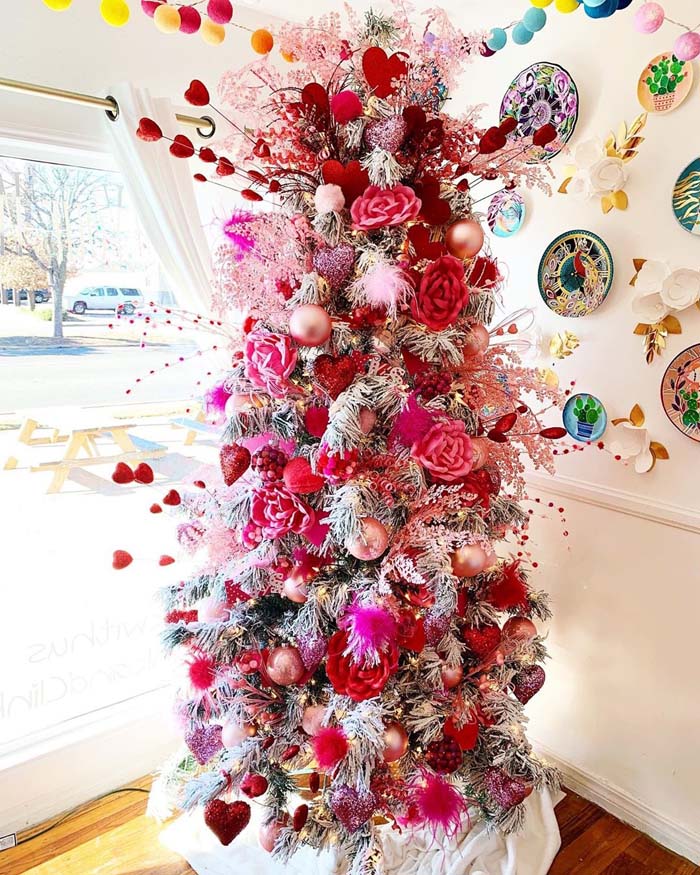 It wouldn't be Valentine's day without roses. This great Valentine's Day tree adds red roses to white and silver tinsel and garland. It screams love.
via Drink and Clink
18. Rustic Valentine's Day Tree with White Hearts and Burlap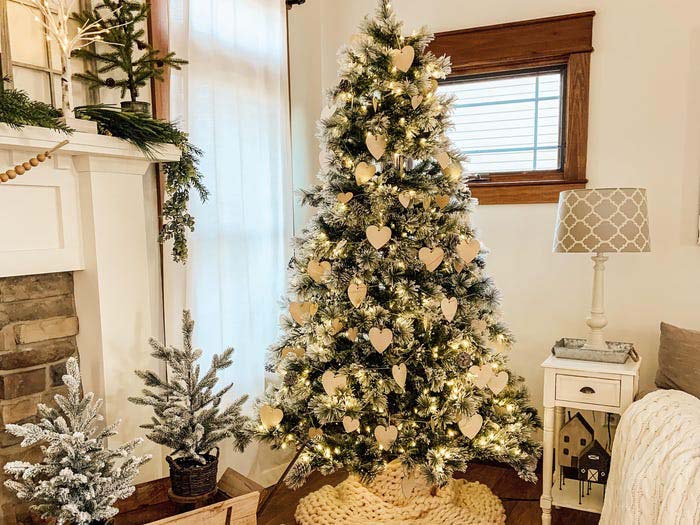 For a more rustic looking Valentine's Day tree, try this green tree with white hearts and burlap. String together a few heart-shaped white papers and add some lights and it will be a great addition to your Valentine's day party. This tree has white tips and is completed with surrounding white-tipped, Valentine trees.
via Katina Miller
19. Decorate Your Tree with Heart Topper and Burlap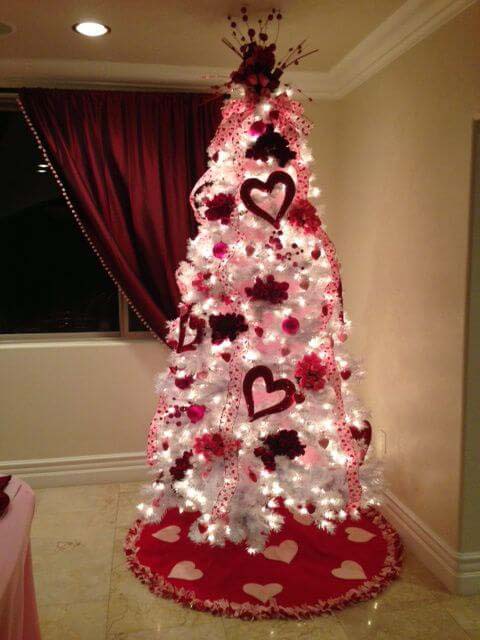 A white tree would just be a Christmas tree. But by adding a large red heart on top and red burlap lying downwards from the top and you have a classic Valentine's Day tree. This red garland has heart-shaped designs in the middle.
20. Valentine's Day White Tree with Turquoise Ornaments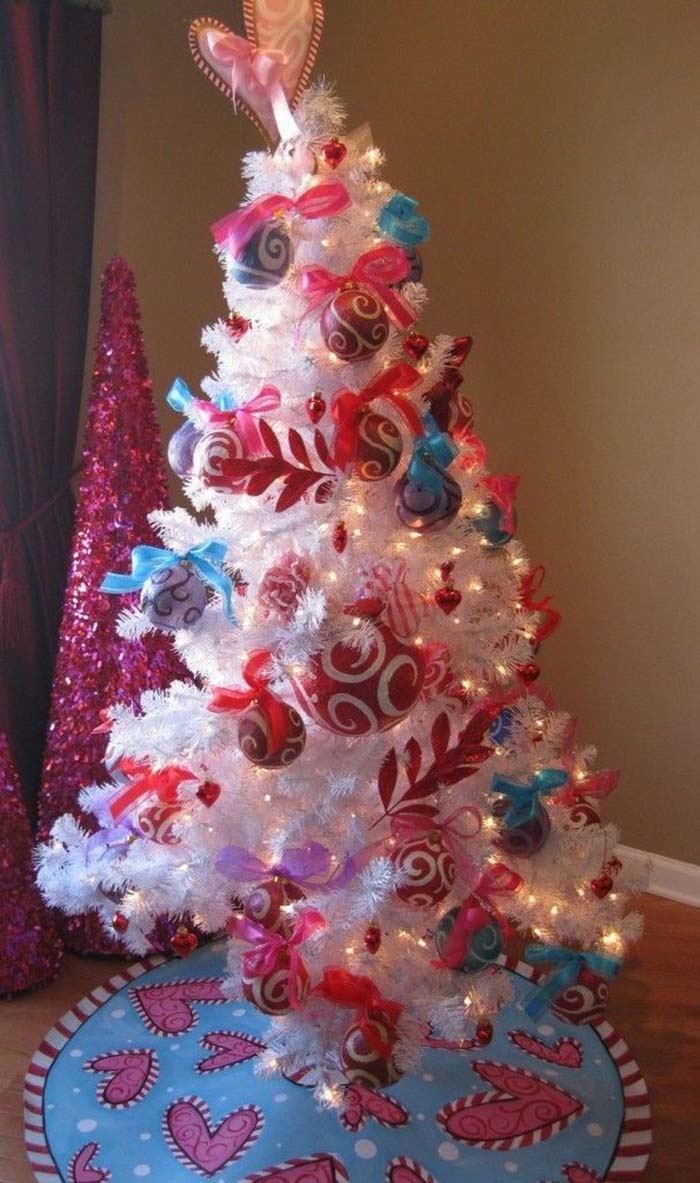 This white tree with red ornaments has an extra flair with the addition of turquoise-colored ornaments. It gives it a nice extra Valentine's Day touch. The off-center, white heart at the top adds another Valentine touch.
21. Upgrade Your Living Room with a Festive Valentine Tree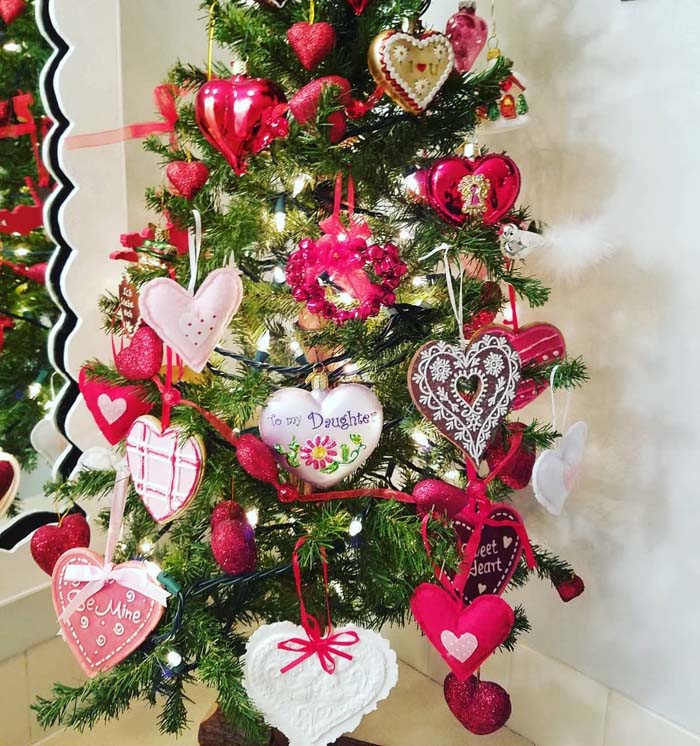 For a great Valentine tree for your living room try a green tree with felt valentine ornaments. It has an extra special touch of red garland and heart-shaped cookie ornaments. The heart-shaped cookie ornaments are gingerbread with white frosting.
via Ann Marie Jordan
22. Brighten Your Outdoors with a White Tree with Red Accents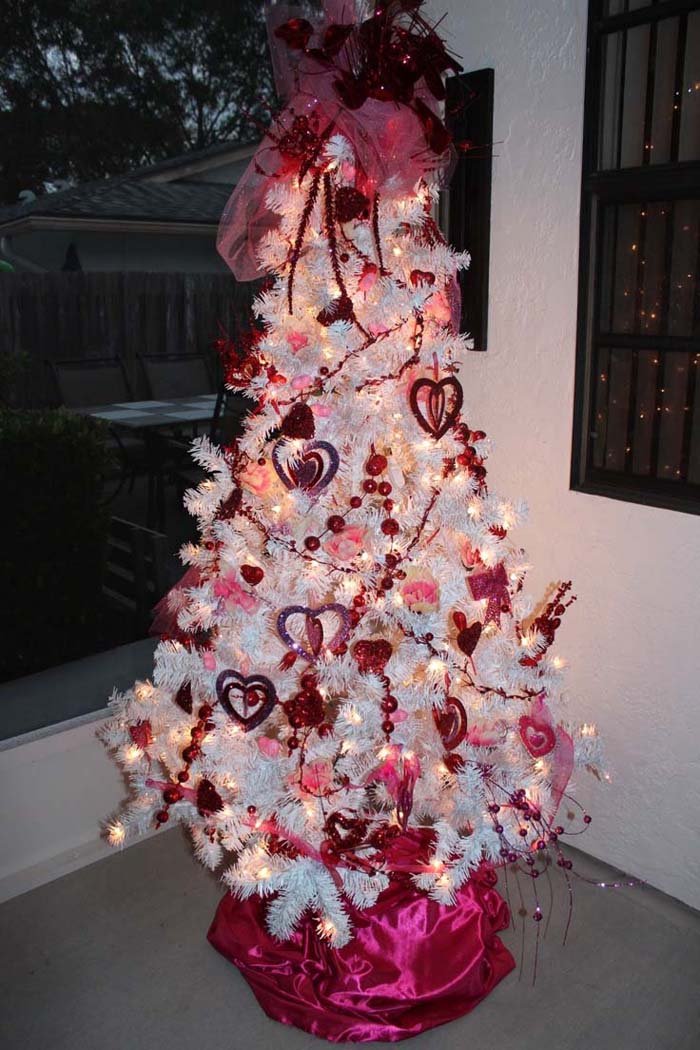 This tree is white, topped with a red heart. Along with that it has red garland, beads and ornaments to give it a very heart-shaped look. The heart in heart paper ornaments add a moving touch to this tree.
23. Valentine's Day Tree with Pink and Red Ornaments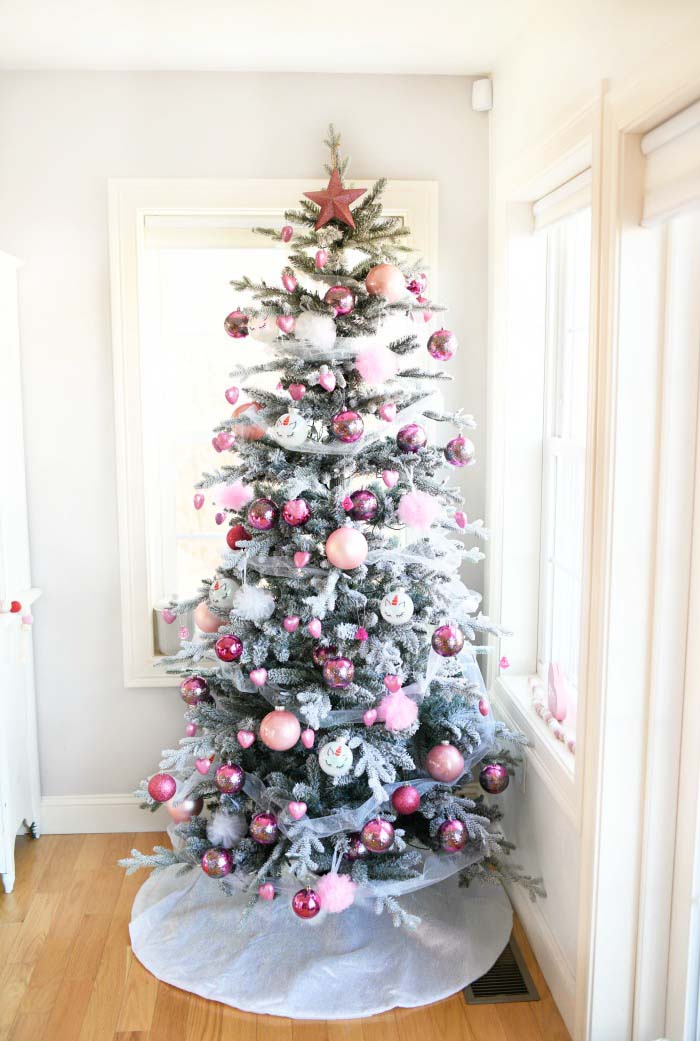 A green tree with a star on top is a great base for the pink and red ornaments and red garland that this Valentine's Day tree offers. The white dusted look of this tree is appealing as well as the dark pink ornaments.
24. Enhance Your Valentine's Tree with a Buffalo Plaid Top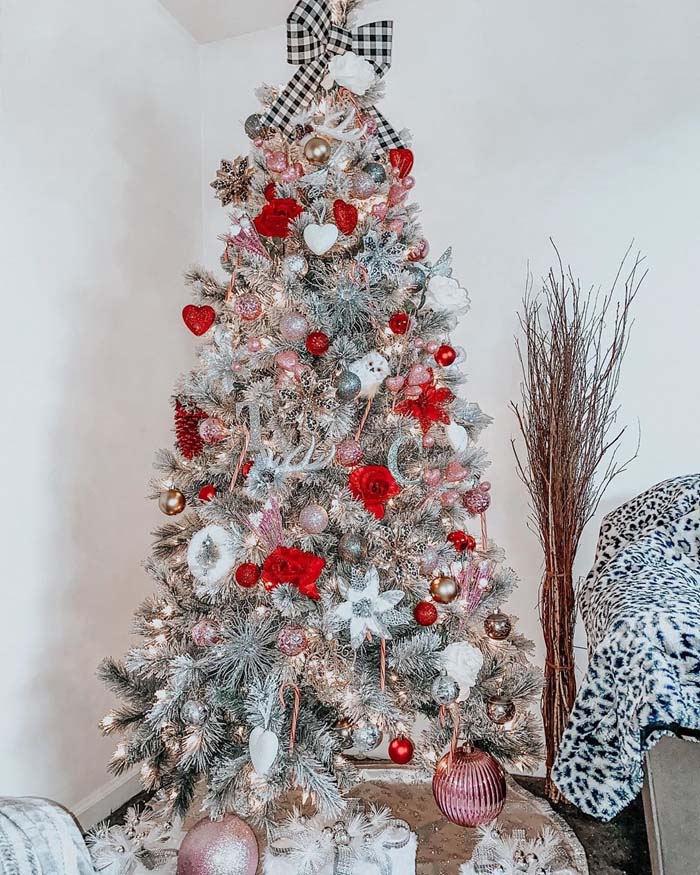 This adorable white tree with pink ornaments is made extra adorable with the black plaid bow on top. To change this tree look from Christmas to valentines, add red heartstring ornaments.
via Carla Mae
25. Create an Impressive Valentine's Tree Display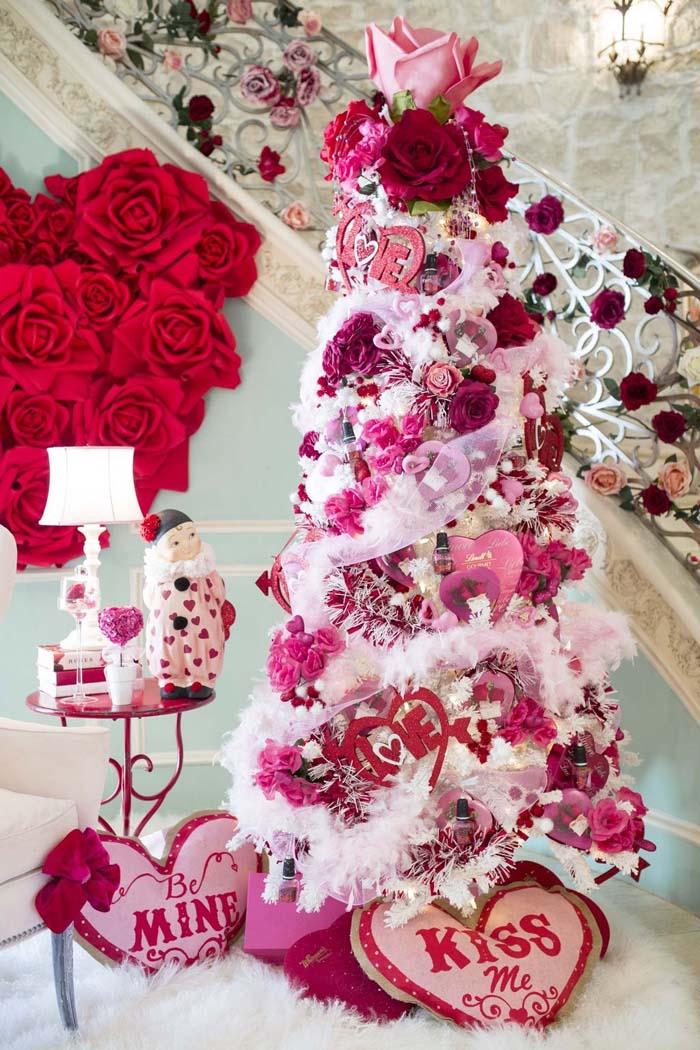 Add red roses and cute Valentine's Day ornaments to a white tree to make the perfect valentine addition to your entryway. Along with lights and red beads, this tree is a classic Valentine's Day tree. Add a heart-shaped box of Valentine chocolates for a sweet surprise for your love.
26. Decorate a White Tree with Gold Boots and Valentines Decor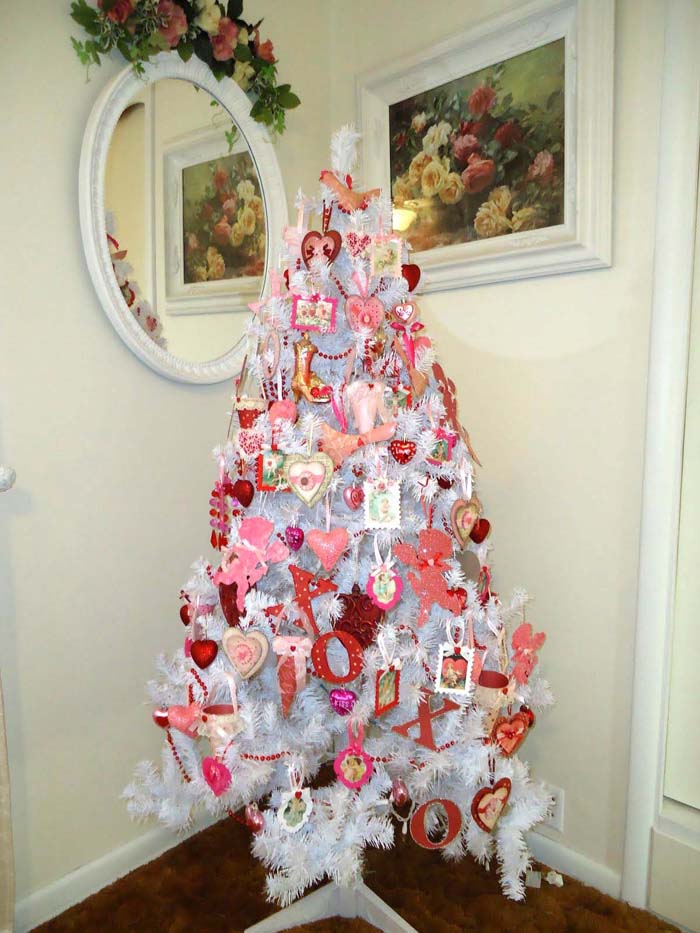 This white tree is covered with gold boots and many different types of pink hearts and valentines ornaments. The XOXO paper ornament is the ultimate finish along with those red beads.
via Tammy's Heart