Wreaths have been around for a long time. They bring a sense of class to a home and are a must-have for your Valentine's Day decor.
The first thing that a visitor sees is a wreath on the door. And the last thing that they see when they leave, so it's important to choose a design that is absolutely excellent!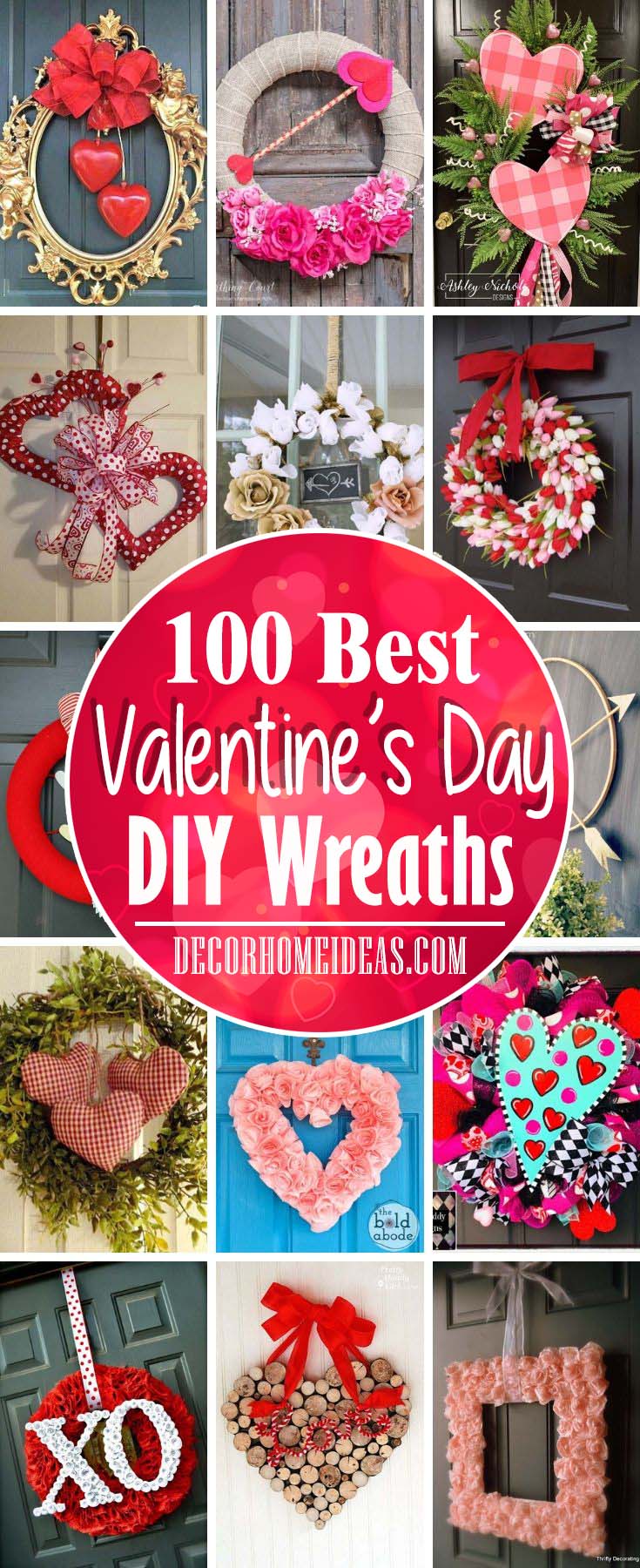 Some wreaths are bold and out there, while others are warm and fuzzy.
Wreaths come in all sizes and colors and can be used for all occasions. A wreath shows off the personality of the homeowner, also.
There are wreaths for all occasions! There isn't a holiday out there that may not have a wreath to portray its meaning.
A wreath is also a great icebreaker. A good conversation can easily be started with an interesting wreath hanging on the door! A nice wreath sends the message of I am home.
1. $5 Valentine's Day Wreath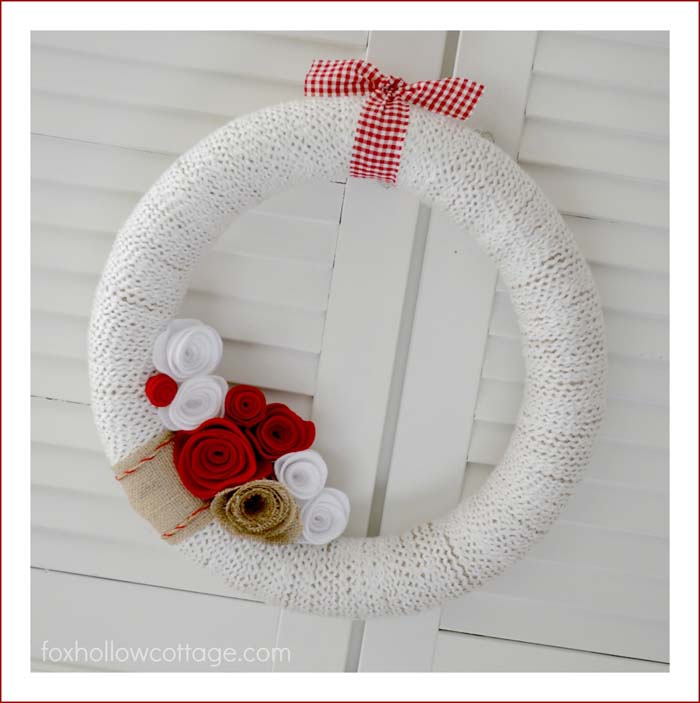 If you think making a burlap wreath is fun, you're right, it is. It's also inexpensive.
All you need is a burlap, felt, yarn, a pool noodle and a few more tidbits to make it happen!
2. Argyle Heart Wreath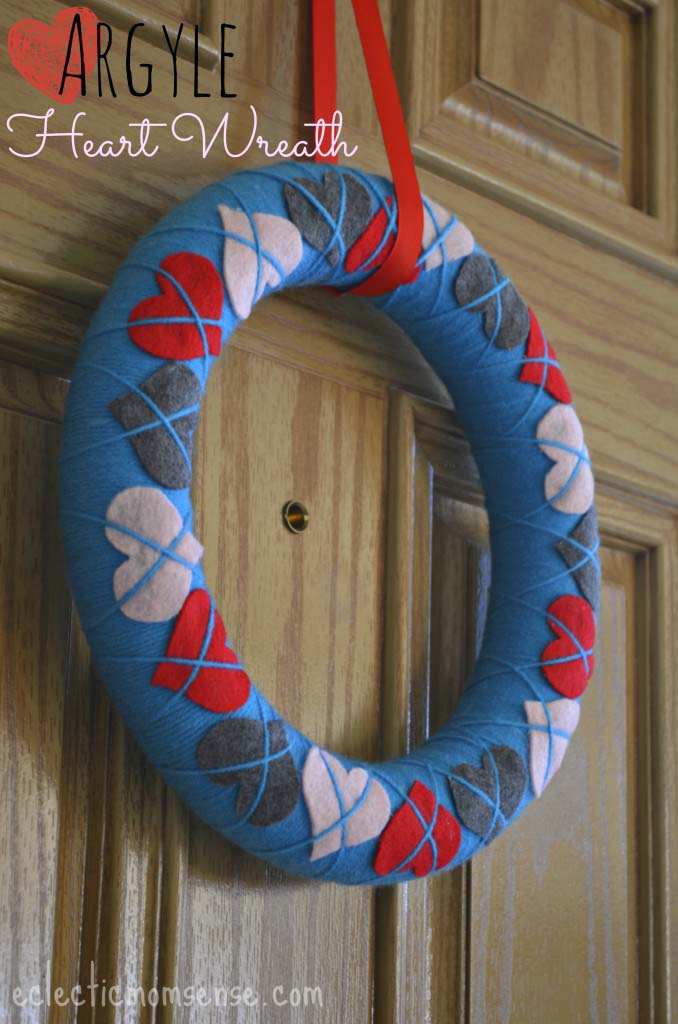 This wreath is special because it's made from typical Valentine colors, red and pink.
However, the beautiful aqua material used for the background is what makes it all come together.
3. Arrow Wreath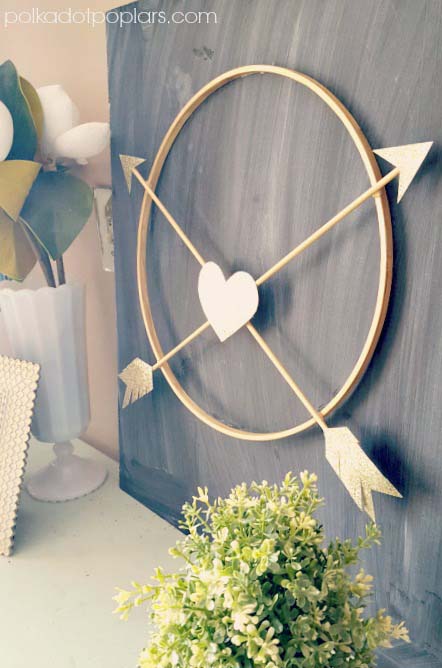 The main item needed for this unique wreath is an embroidery hoop, preferably 14″.
To make the arrow dowel pieces, metallic paint and glitter cardstock will also be needed.
4. Boxwood Wreath With Checked Hearts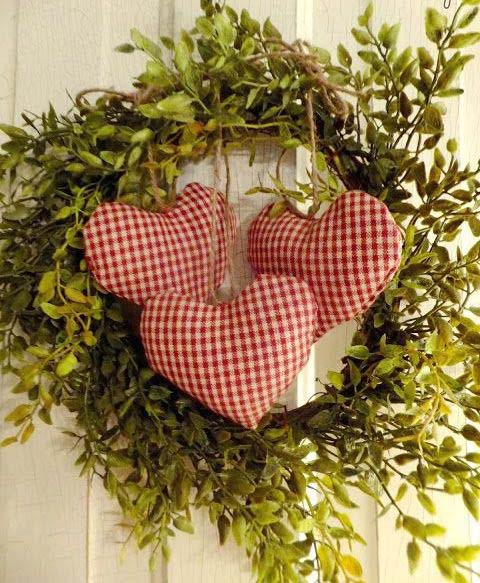 The perfect display of hanging checked hearts and greenery!
5. Burlap Heart Wreath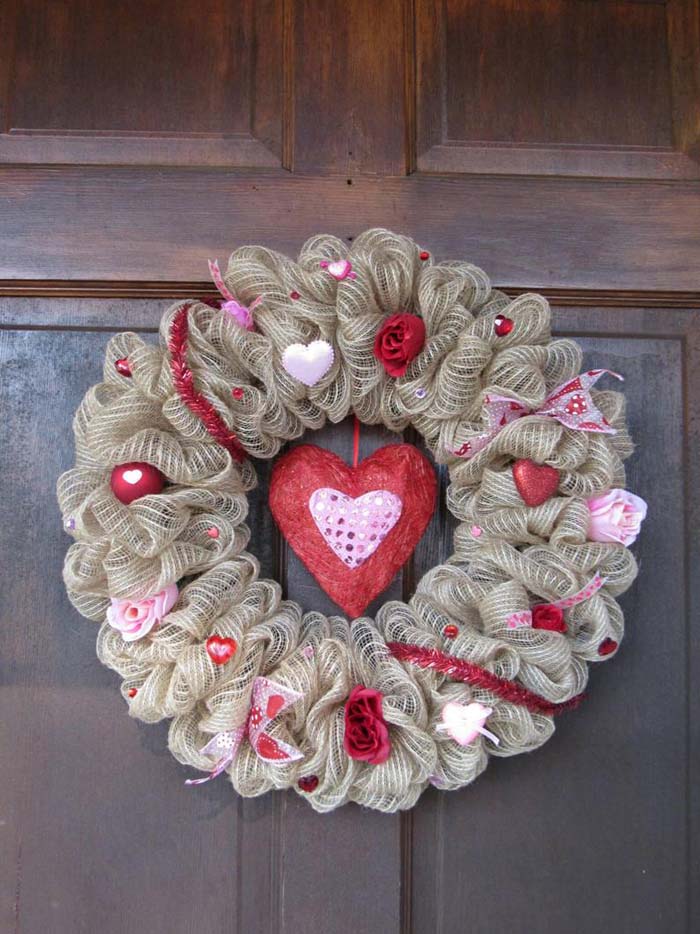 Burlap, burlap and more burlap with a beautiful heart in the middle!
via JL Craftski
6. Burlap Valentine Wreath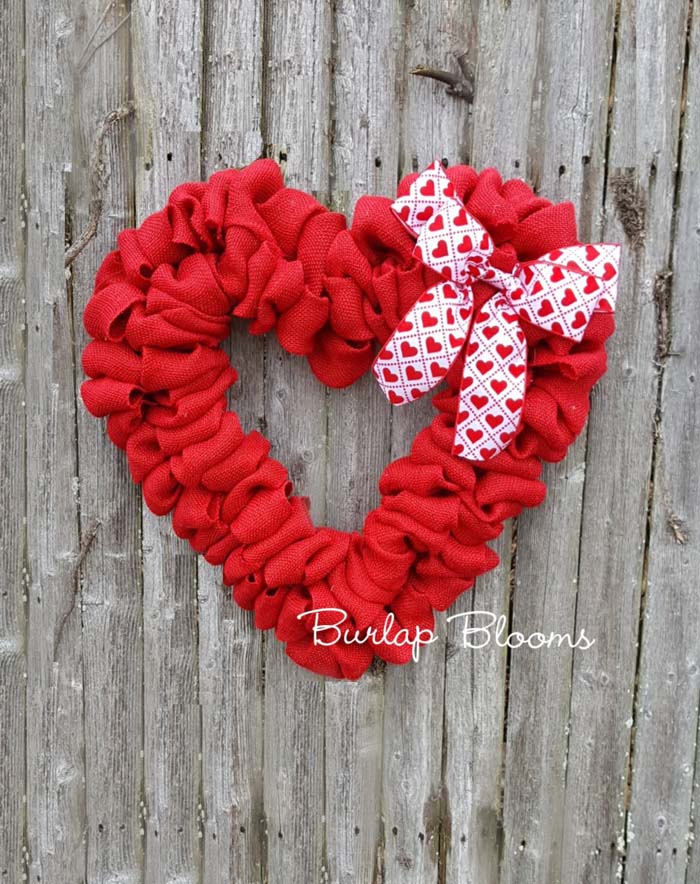 A display full of red-colored burlap makes your heart pound with the spirit of Valentine's Day!
via Burlap Blooms
7. Burlap Valentine's Day Wreath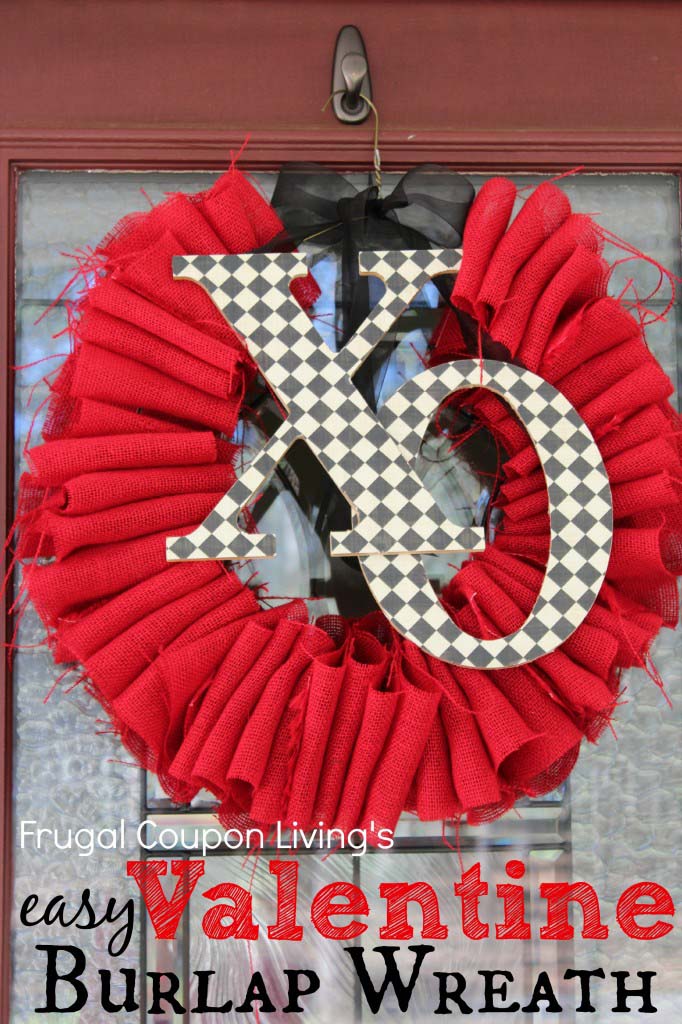 An easy burlap wreath idea with XO letters is what you need for your door.
8. Chevron and Sparkles Wreath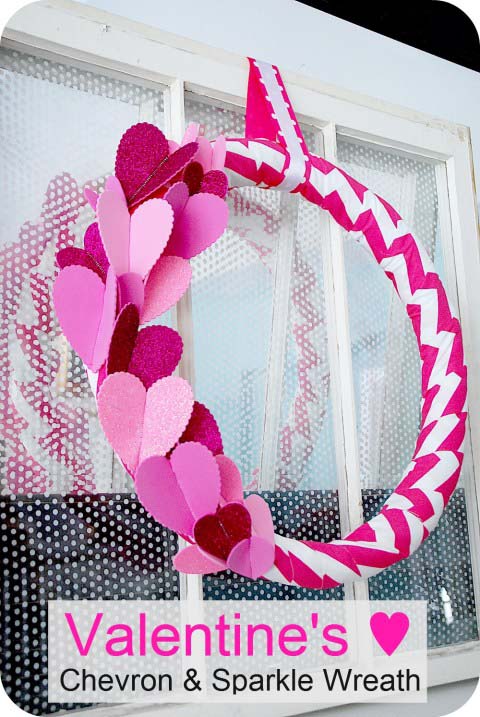 A tribute to fun and romantic holidays. Filled with color and bubbling designs.
9. Chevron Burlap Wreath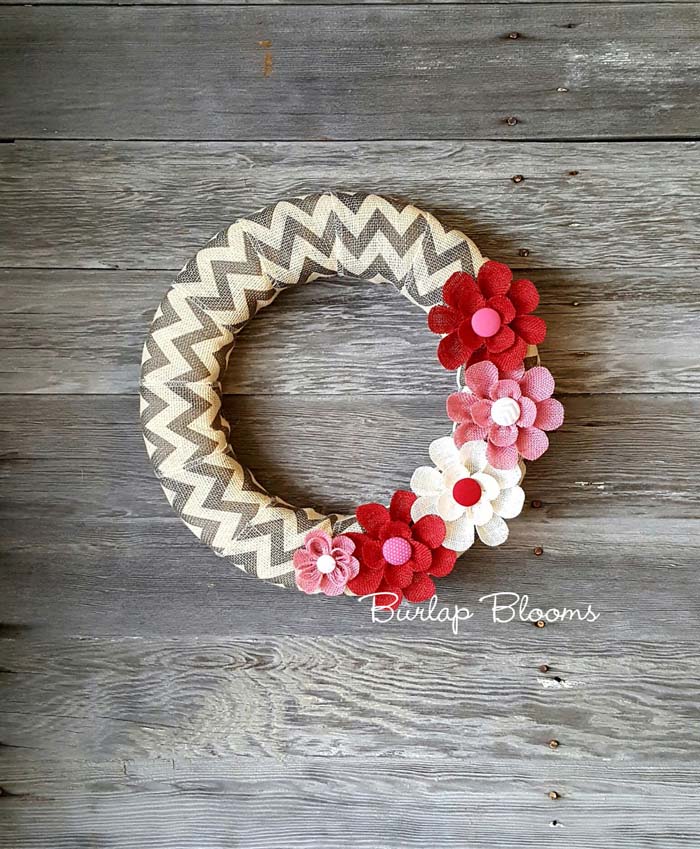 Like a delicate subtle breeze this artistic touch won't slip quickly from your memory.
via Burlap Blooms
10. Chocolates Box Valentine's Day Wreath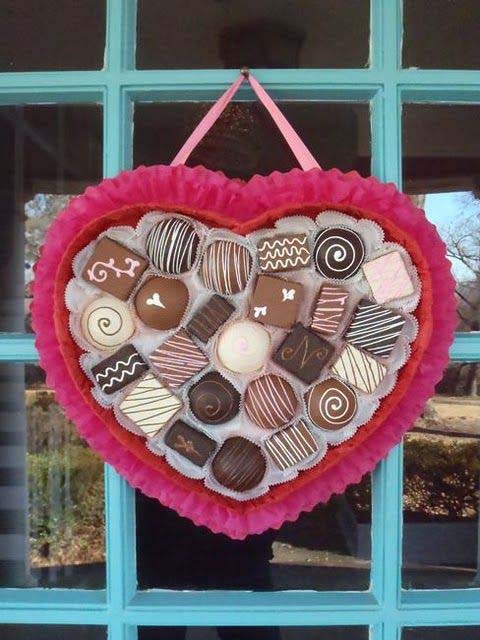 A box filled with chocolates should set the mood for love!
11. Coffee Filter Heart Shaped Wreath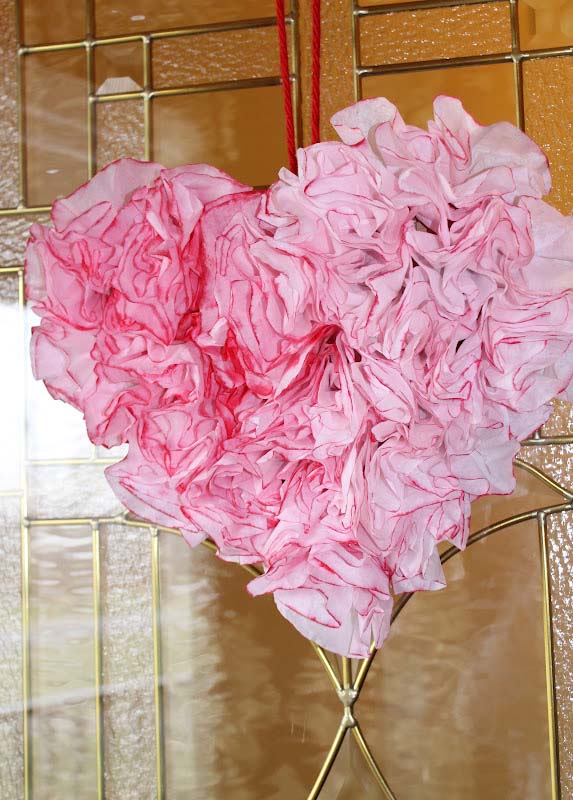 Lovely gathering of coffee filters, dipped in coloring or dye sparks the imagination!
12. Coffee Filter Heart Wreath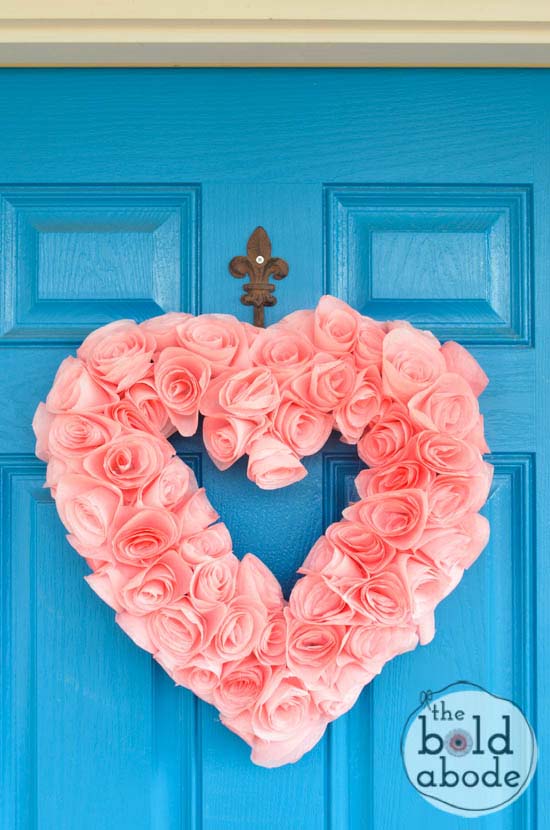 Dressed all in peach to bring in the holiday of romance!
via The Bold Abode
13. Conversation Heart Wreath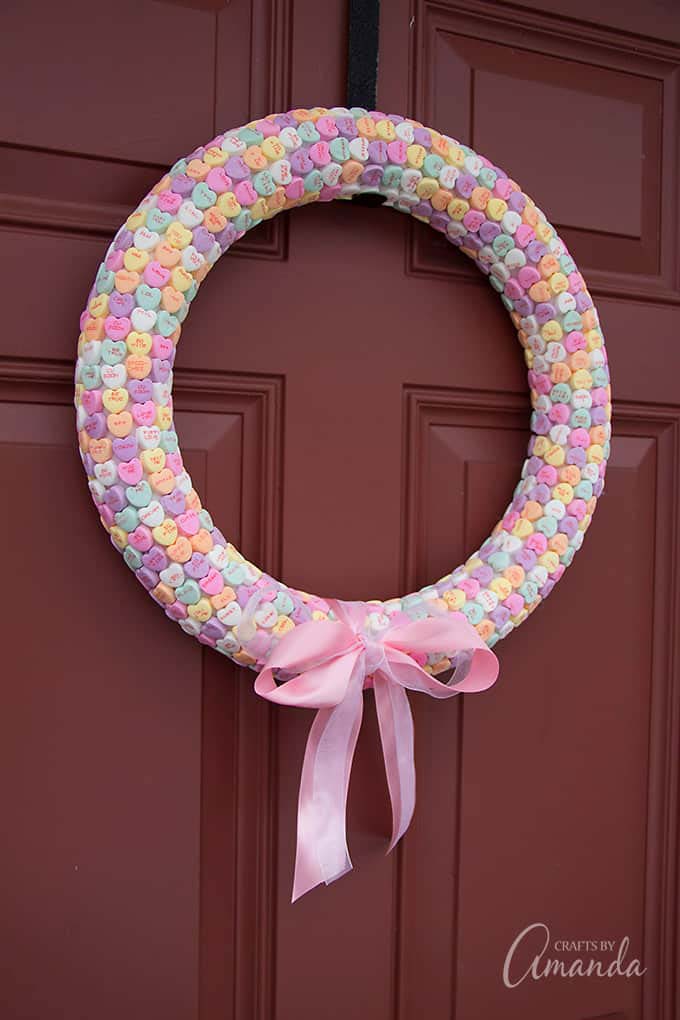 Adorned with all the delicate colors these conversation hearts fill this display with enthusiasm and excitement!
via Crafts by Amanda
14. Cupcake Liner Valentine's Day Wreath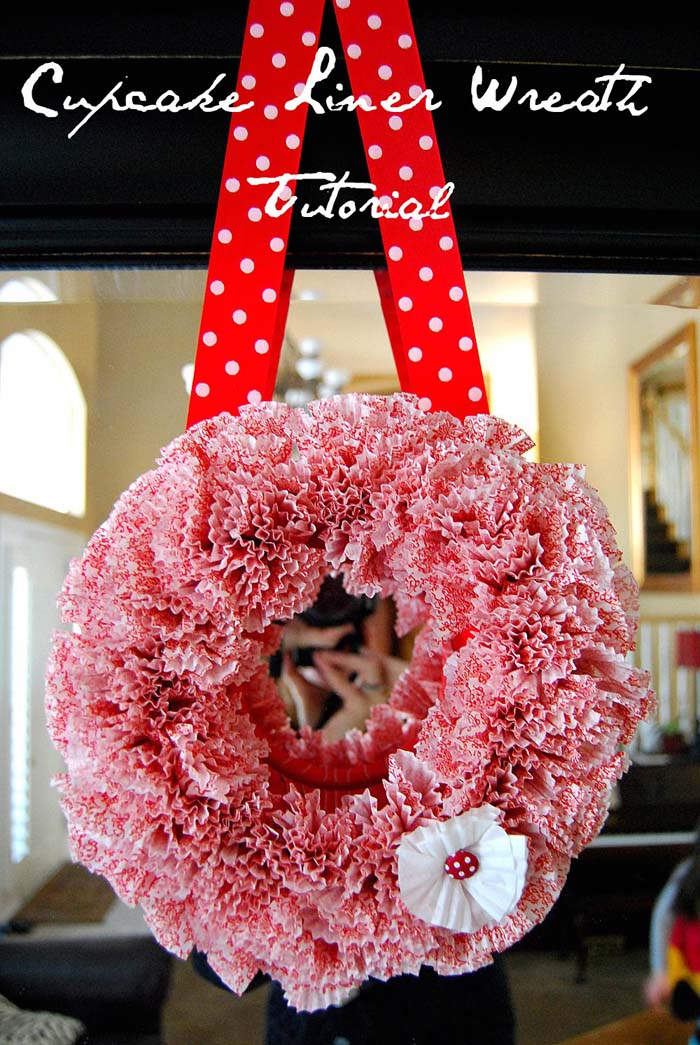 Can the most extravagant wreath be created from cupcake liners and dye, apparently so!
15. Cupid's Arrow Valentine's Day Wreath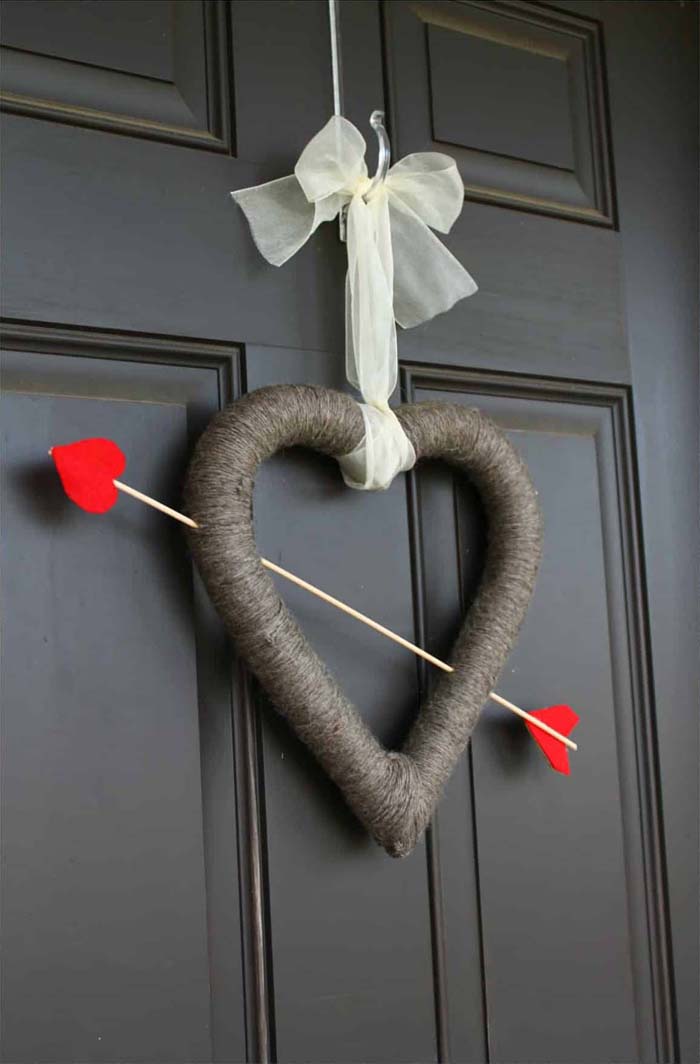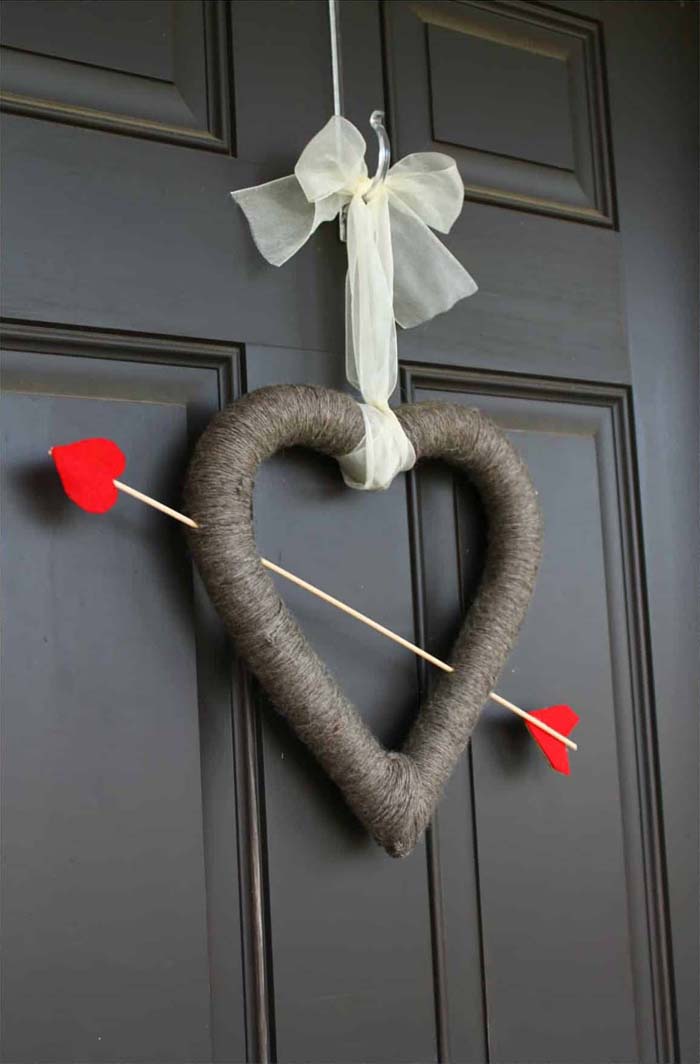 Elegant and poised and ready for Valentine's Day. Hanging from the door by an appealing vanilla ribbon this piece loveliest feature is the red love arrow lying in the middle.
16. Deco Mesh Heart Wreath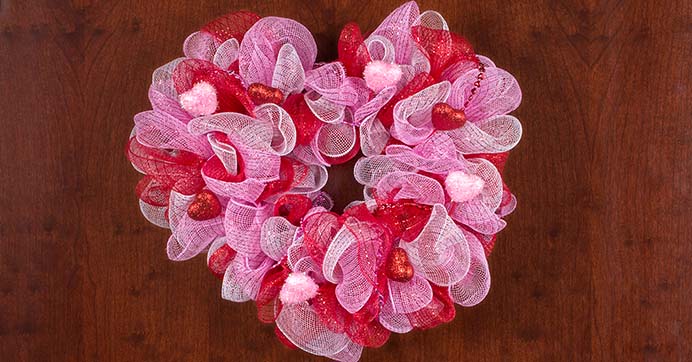 A splendidly cute wreath can easily be created with pennies and this display proves just that!
via Dollar Tree
17. Deco Mesh Love Valentine Wreath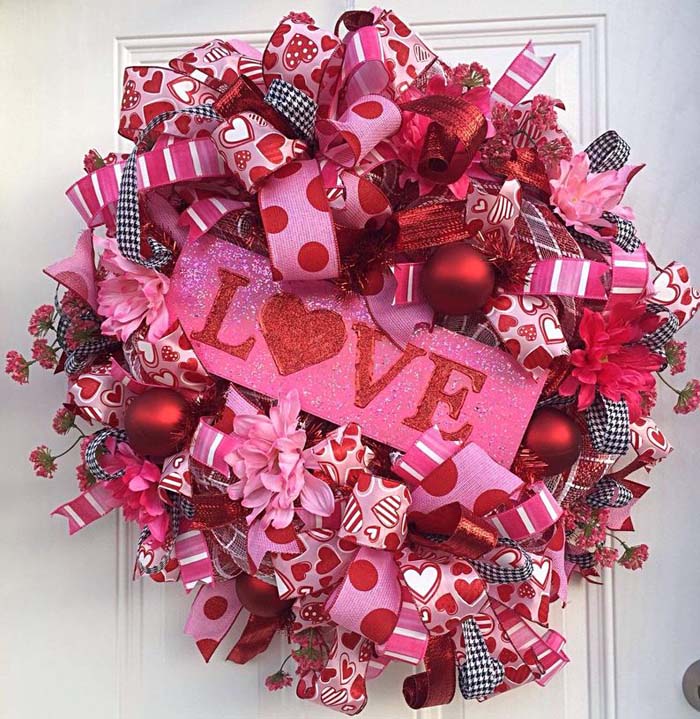 Finessed with loads of bright colors and tons of distinct style!
18. Deco Mesh Valentine Wreath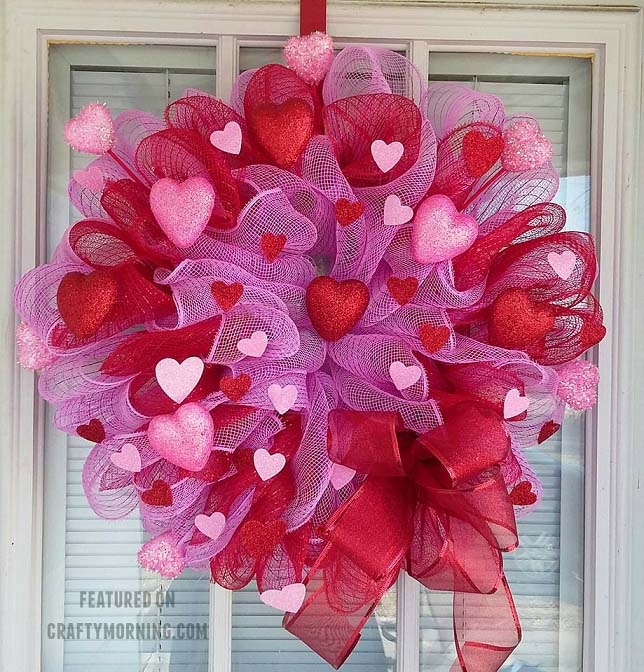 The decorations surrounding this circular art are both festive and vivacious.
via Crafty Morning
19. DIY Easy Valentine Wreath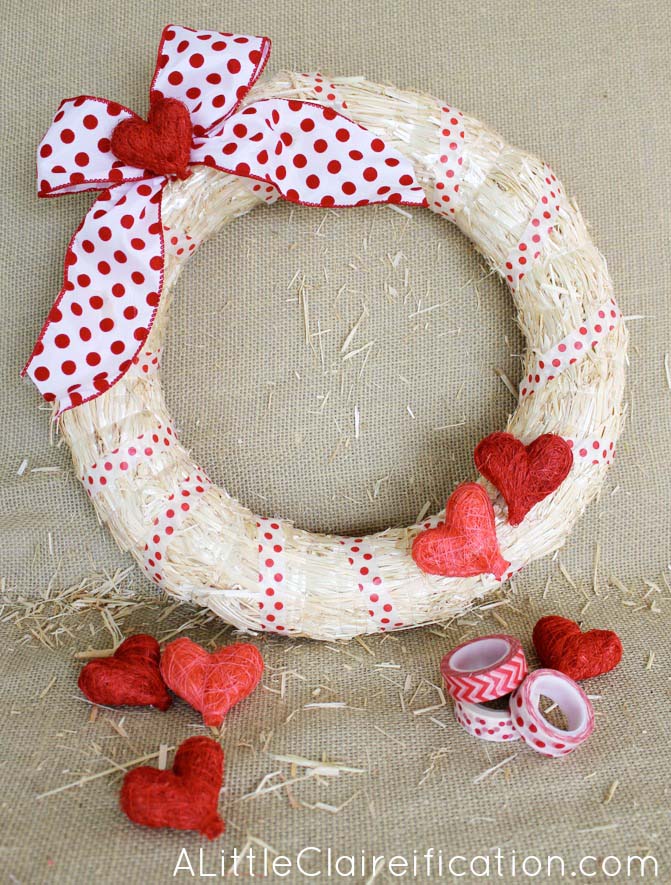 Nothing too fancy, just enough to catch the attention of passerby's. A kind and polite display of affection.
20. DIY Floral Hearts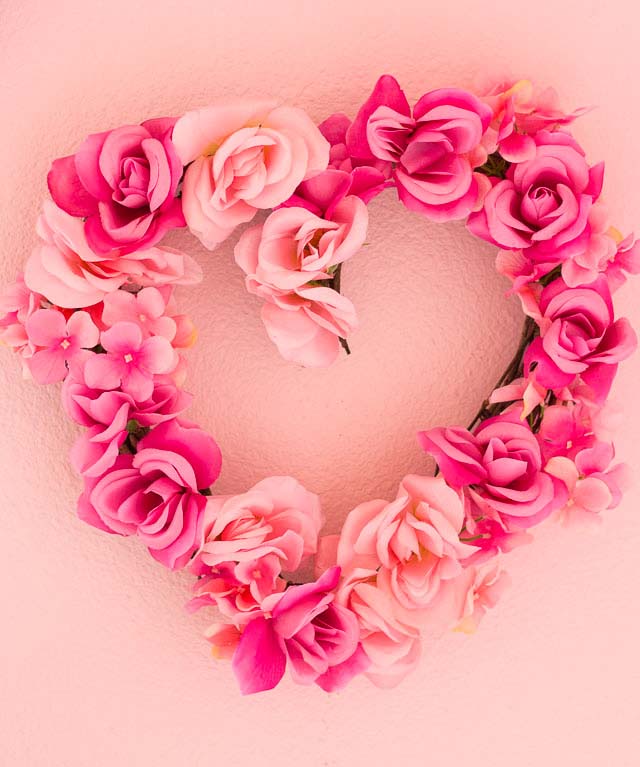 Resembling a circle of life and heartfelt thoughts, this piece of art, is remarkably delightful!
21. DIY Reversible Clothespin Valentine's Wreath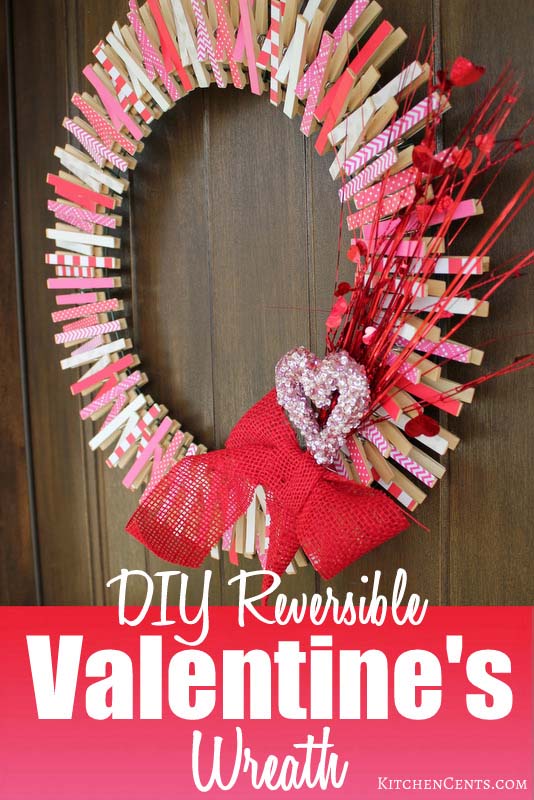 Yes, how creative! No one will walk by your door, without taking a second look at this clothespin wreath! What a magnificent display!
via Kitchen Cents
22. DIY Valentine Wreath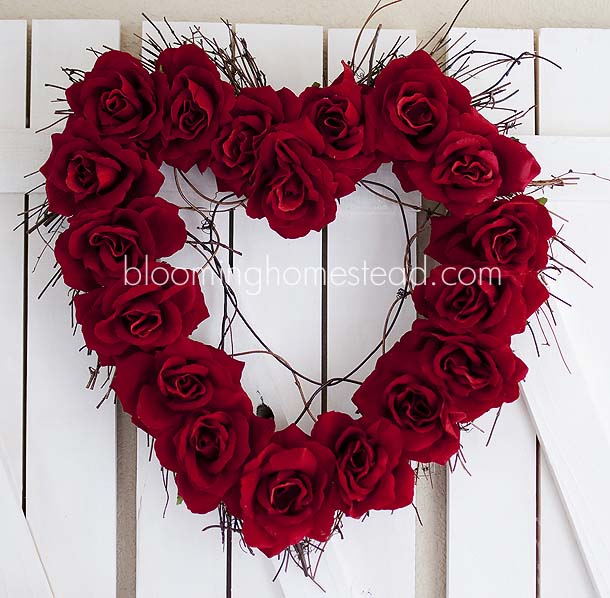 A spectacular arrangement that will spark the fire of passion on any occasion not just Valentine's Day.
23. DIY Valentine Wreath With 2 Hearts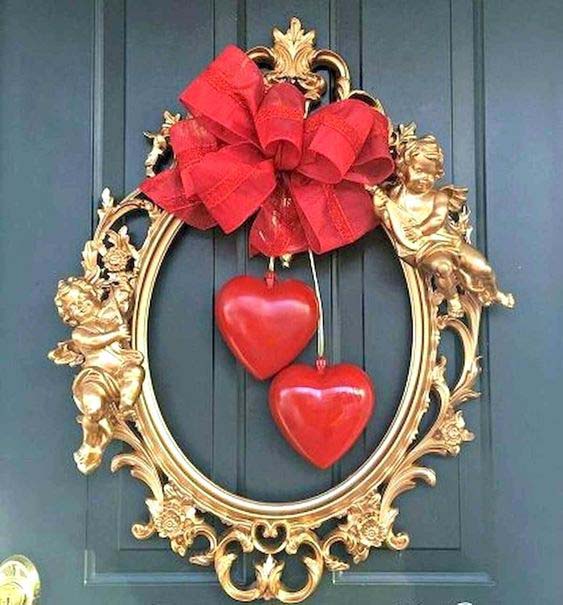 Sweet harmony of love and kisses, surrounds this arrangement, easily made with a little just and few materials! Pick out a frame of your choice, two luscious red hearts and a big bow!
24. DIY Valentine's Day Hoop Wreath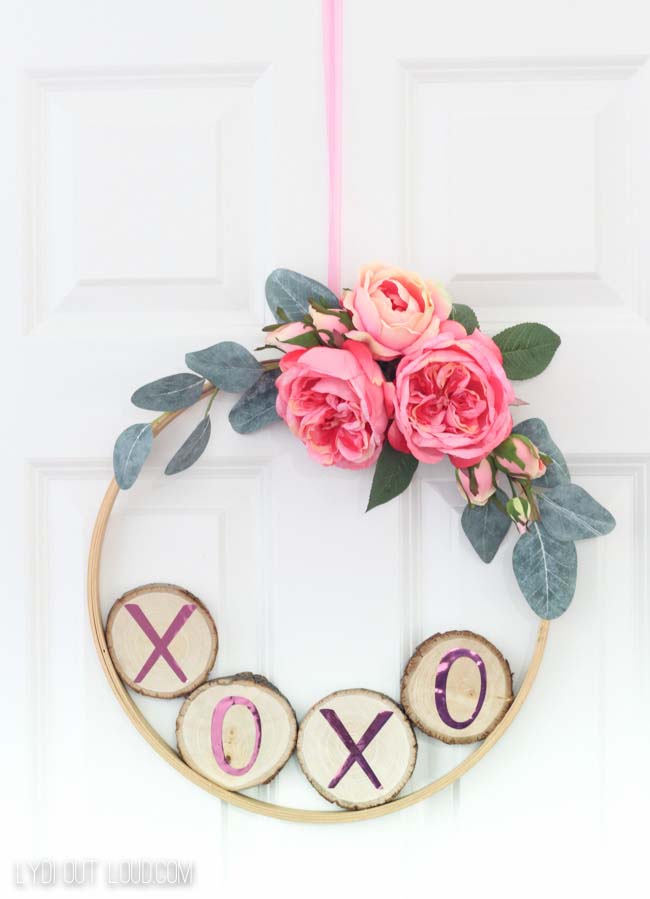 Lightly hanging on the door, this design doesn't ask for much attention, but when it is noticed, it will take your breath away!
via Lydi Out Loud
25. DIY Valentine's Day Wreath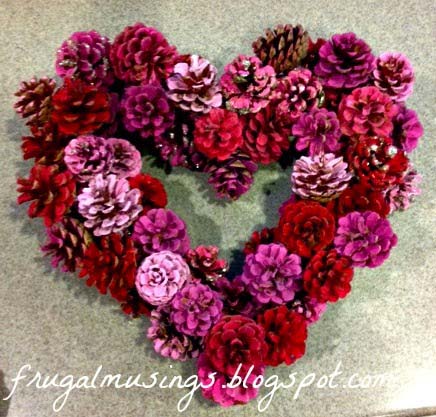 Pine cones, pine cones and more pine cones! Can colored cones make an absolutely exquisite display? The answer is definitely yes! Shaped like a heart this design is superbly balanced with the diverse colors of the cones being dark red, light red, dark pink, light pink and more!
via Frugal Musings
26. Dollar Store Valentine's Day Wreath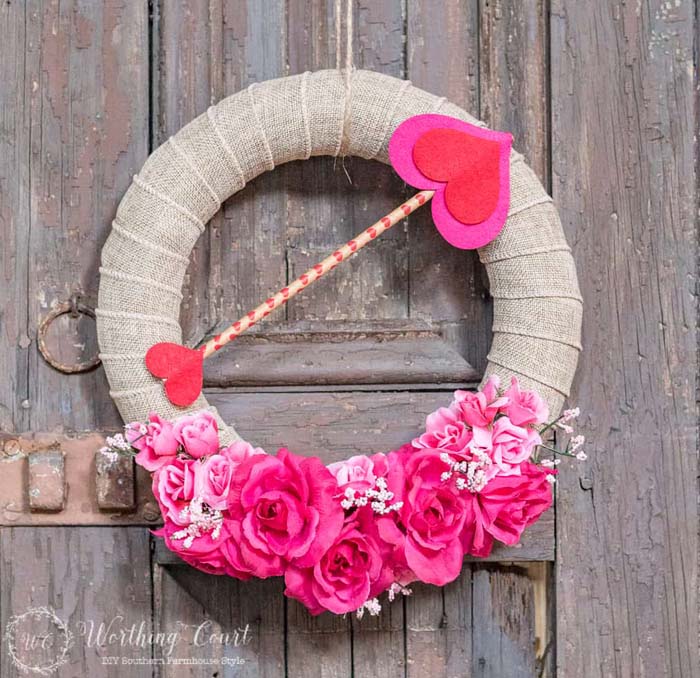 A symbol of light conversation and tender kisses, this wreath can be crafted perfectly with a little detail and skill. A circular frame covered with burlap, with a nice bouquet of flowers arranged at the very bottom. Cupid's love arrow is gently placed in the middle.
via Worthing Court
27. Double Pink Heart Swag Wreath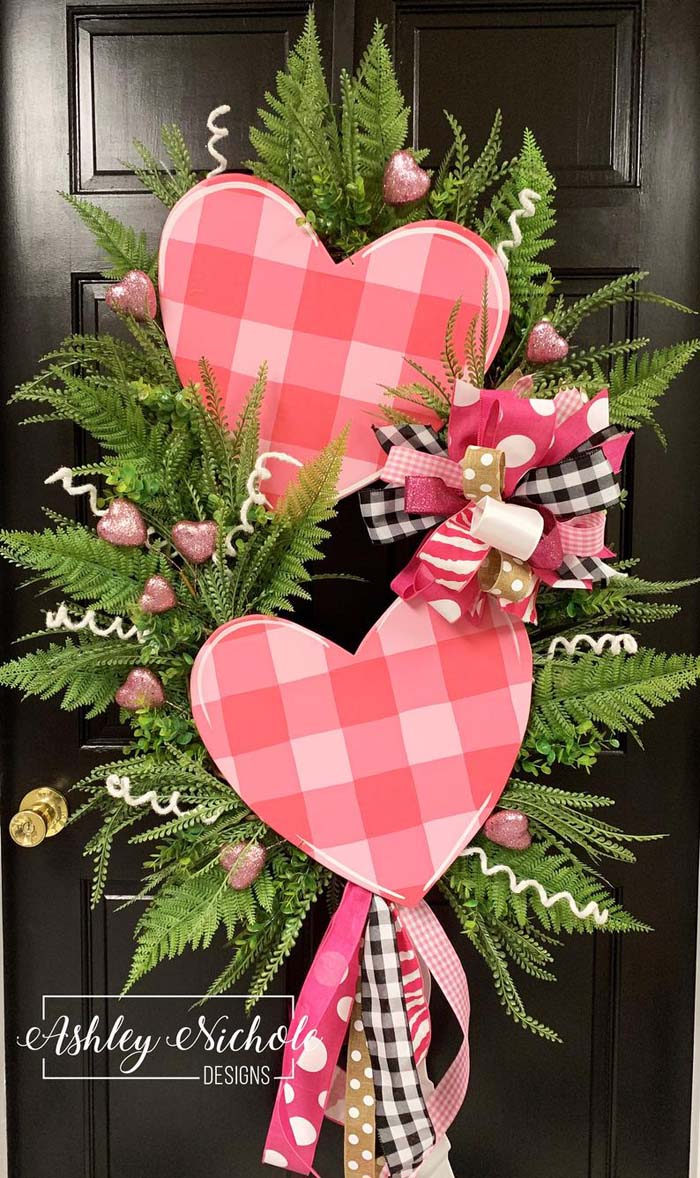 Class, class, and more class, nothing too fancy, but superb in its own likeness!
28. Easy Tinsel Heart Wreath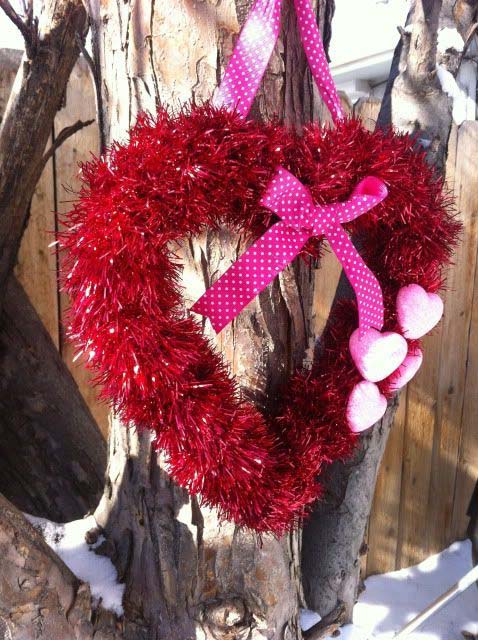 Pleasantly reflecting the very secret of art and romance, this ring of class is thoroughly enticing. Tinsels, tinsels and more tinsels, shaped like a heart, makes an awesome Valentine's Day frame.
via Kathe with an E
29. Embroidery Hoop Valentine's Wreath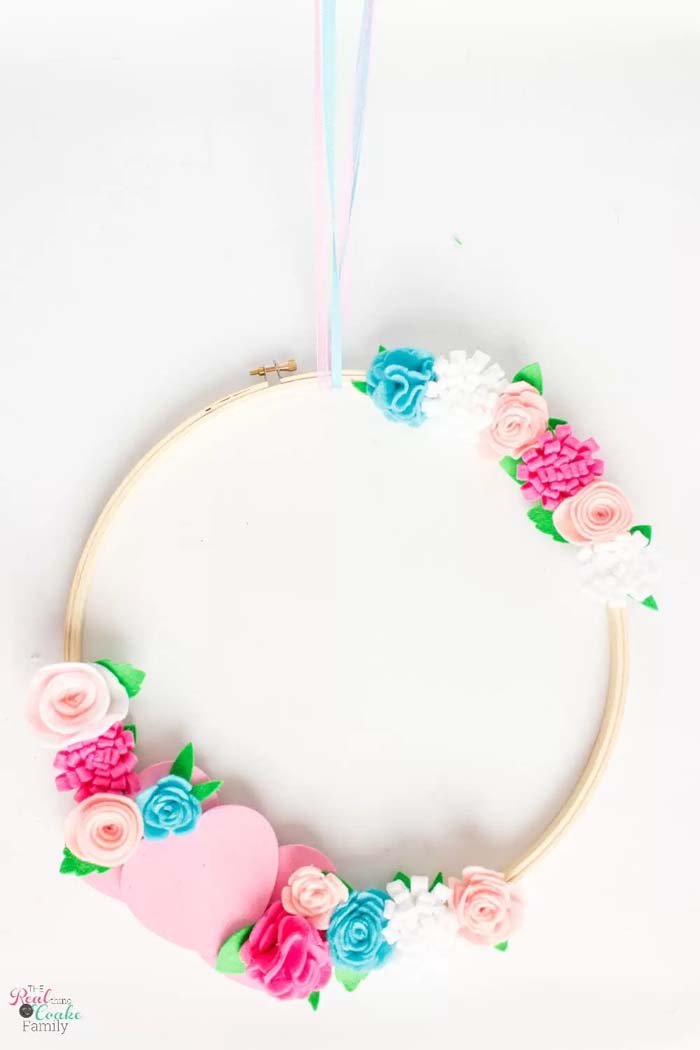 So simple, but yet so very pretty. A timid splash of Valentine's Day cheer!
via Real Coake
30. Fabric Flower Valentine Wreath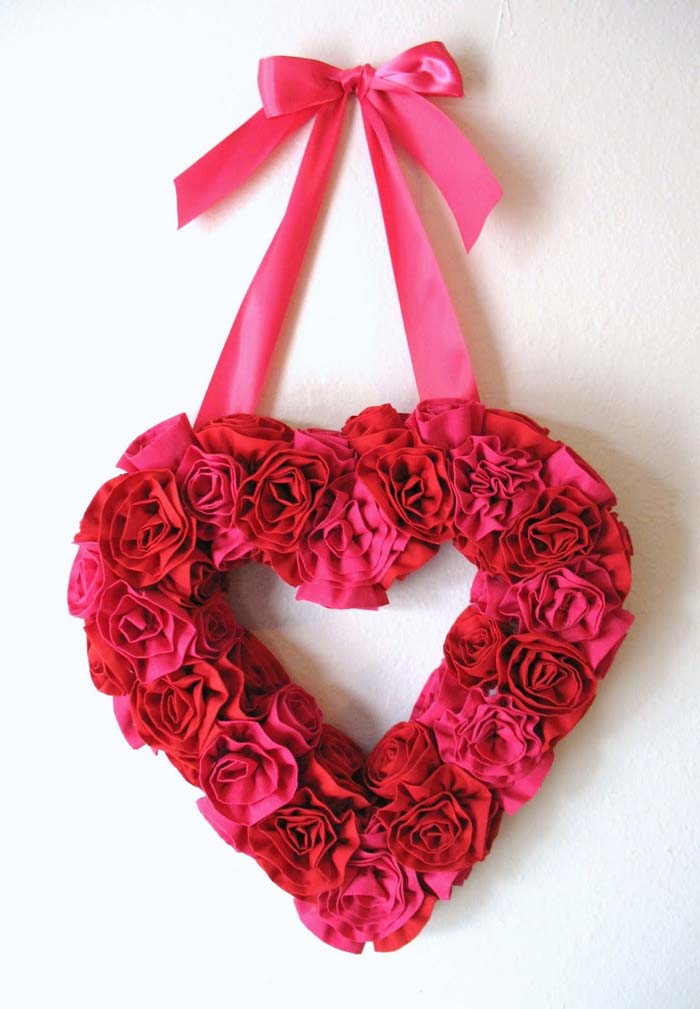 Light touches of beauty and excellent craftsmanship combined all in one. Lots of red fabric will be needed to pull off the creation of this fabulous design!
via Sew Much ADO
31. Fabric Punch Ruffle Wreath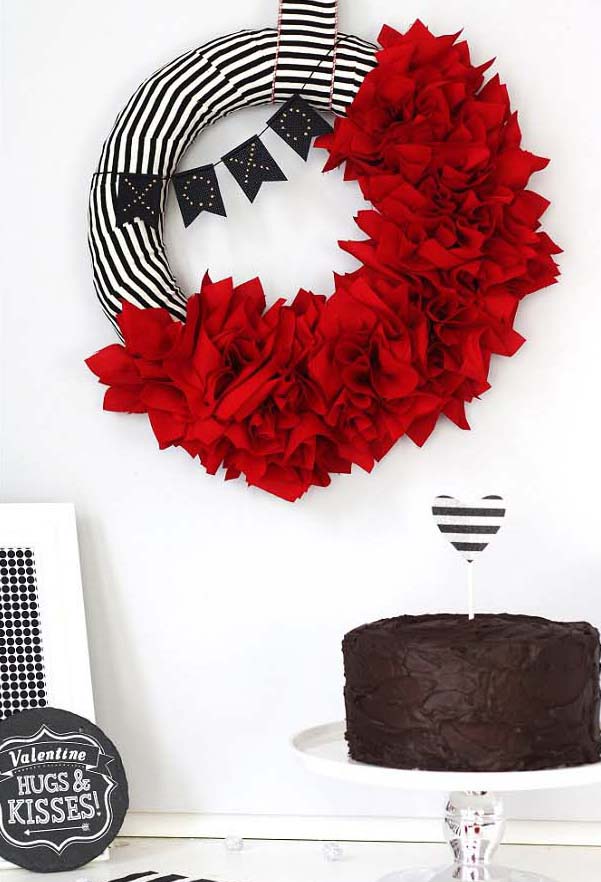 A fearless wreath that's ready to take the world by surprise!
32. Farmhouse Valentine's Day Wreath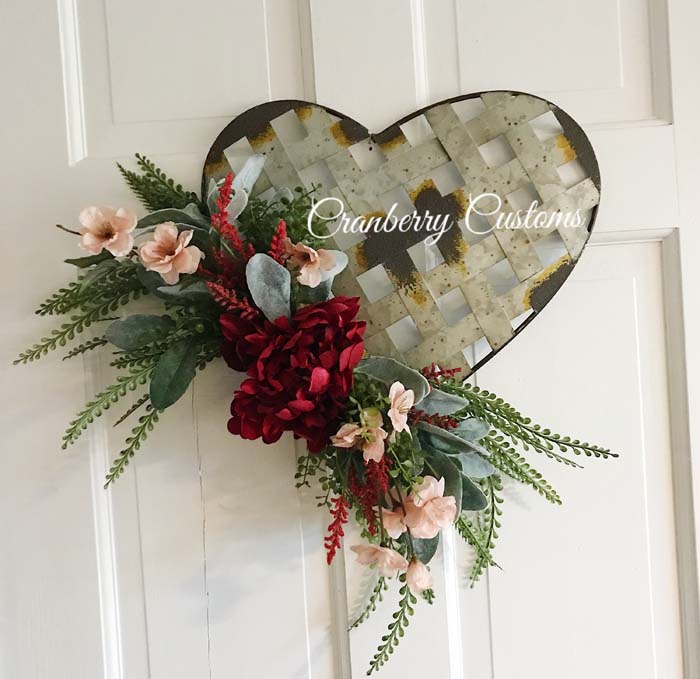 Exquisite loveliness in all spectacular form, this ring of art will cling tightly to the memory of all passersby.
33. Farmhouse Valentine's Wreath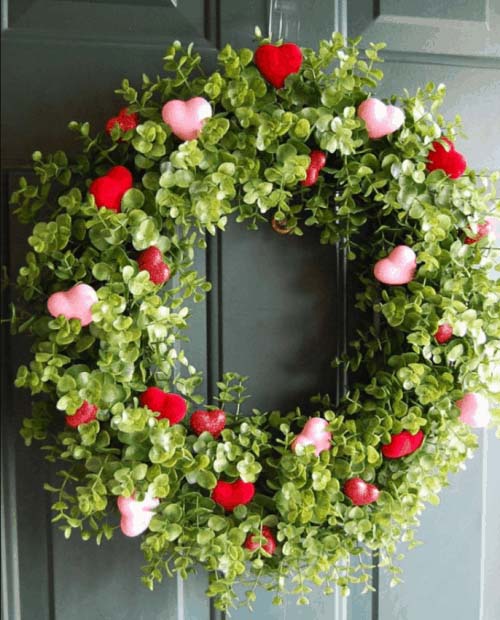 Greenery, greenery and more greenery with a touch of colorful valentine's here and there!
34. Faux Floral and Greenery Wreath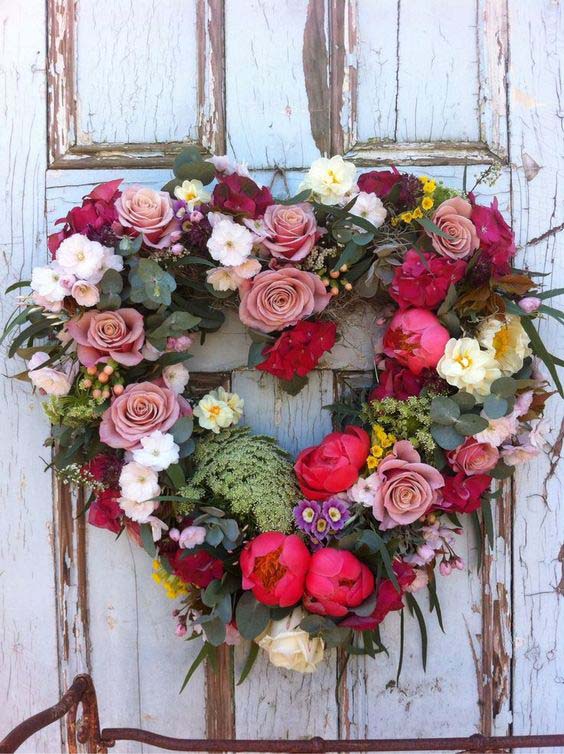 One may think that Zeus himself laid this piece on the front door, put together with skill and tact.
35. Felt Heart Garland Wreath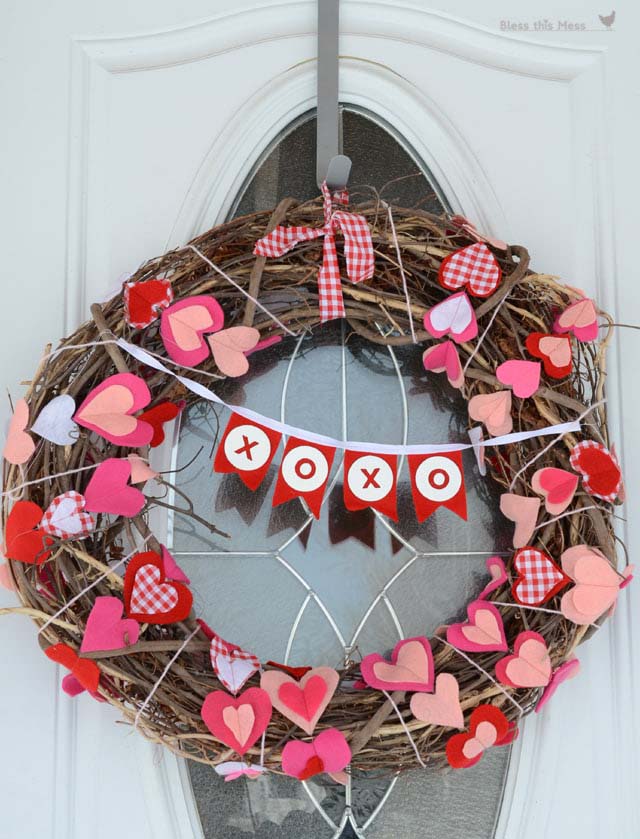 Just grab your best grapevine, cut-out felt hearts and have a ball! The most economical wreath you've ever made!
via Bless This Mess
36. Felt Heart Wreath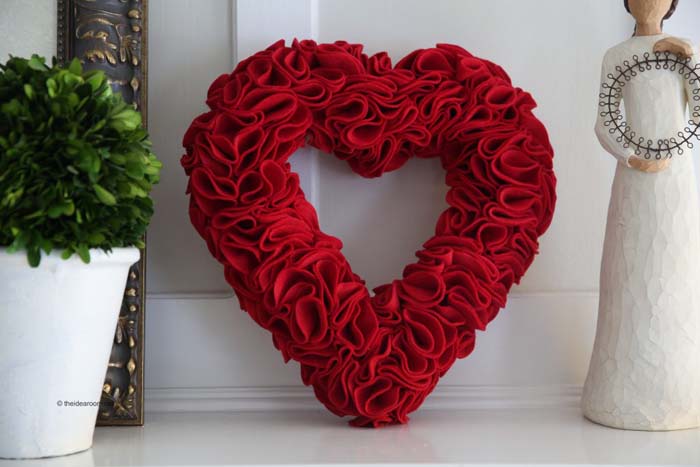 As if it has fallen from the very throne of a Roman god, the regalness of this wreath will enthrall all who sees it. No one ever knew that red felt could create one of the most beautiful things in the neighborhood!
via The Idea Room
37. Floral Grapevine Heart Wreath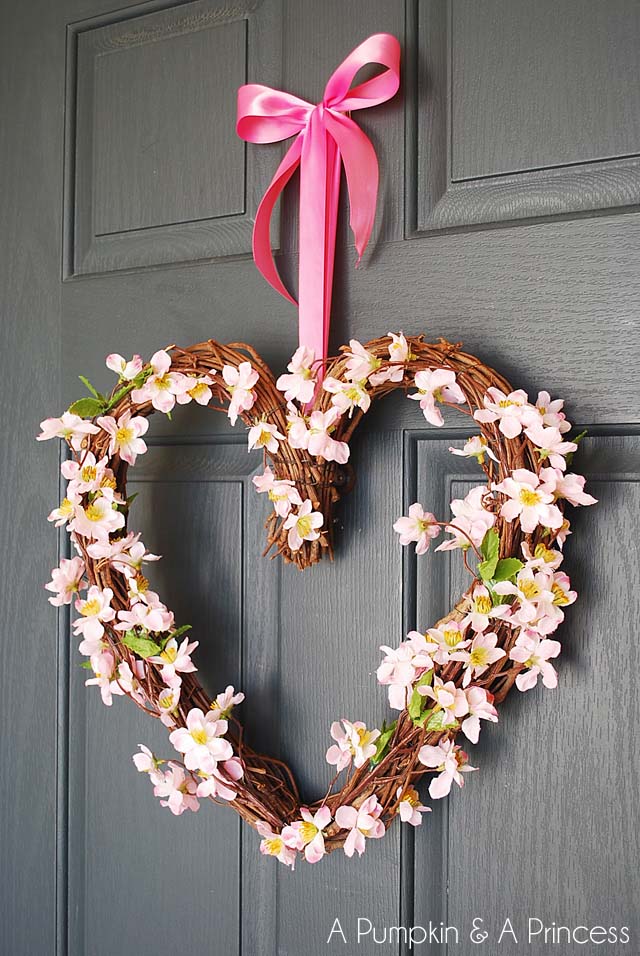 Mirthful and joyous are the tones displayed, yet gracious and calming!
38. Grapevine Wreath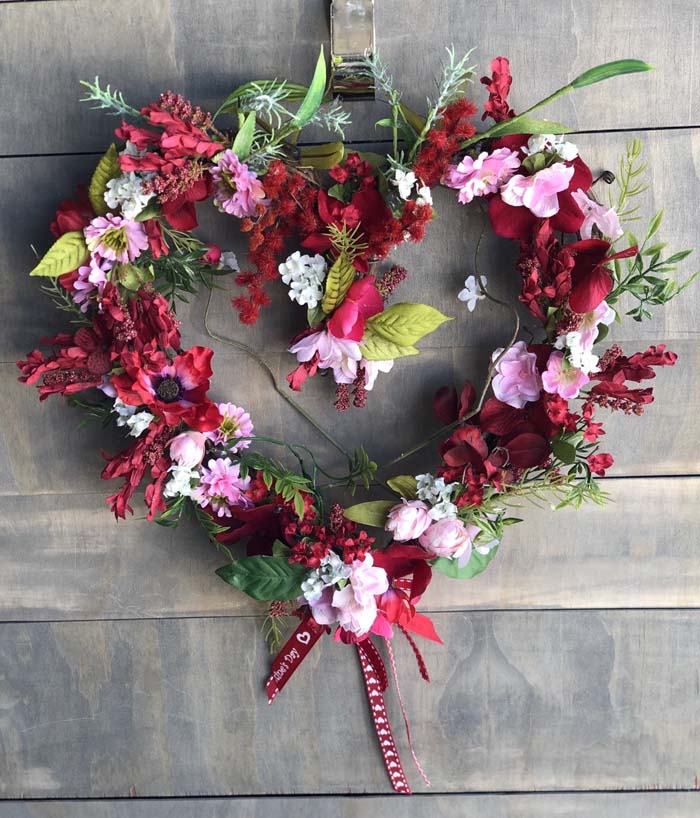 A flowery hypnotizing wheel of artwork. Put together with splashes of paper, string and yarn, all in diverse colors.
39. Grapevine Wreath With Pearls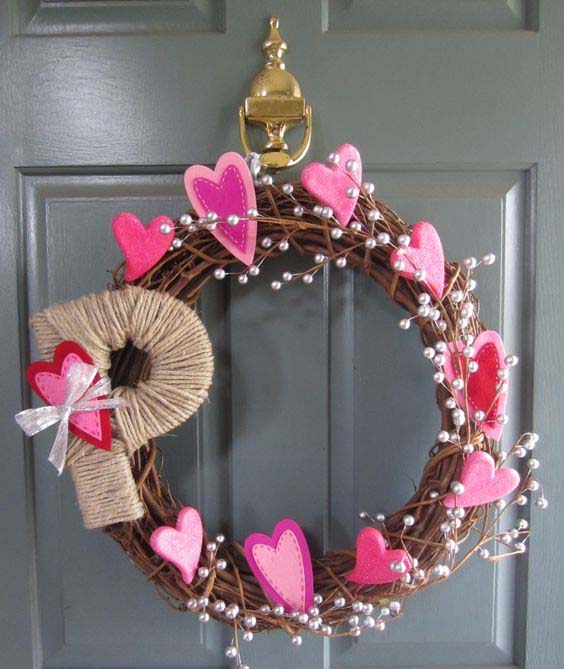 A little class can never hurt, which is why this elegant work is so very appealing. The best feature about this dazzling piece is the dangling pearls!
40. Heart Argyle Ribbon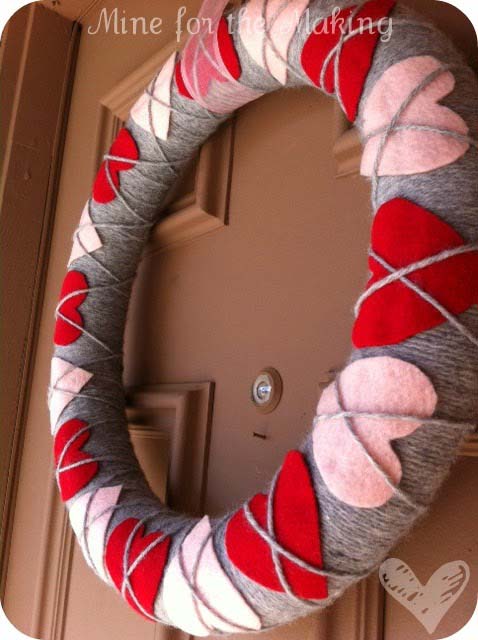 Plaid, plaid and more plaid! The perfect frame for a perfect holiday! Large pink and red felt hearts cover this frame, making a memorable presentation!
41. Heart on a String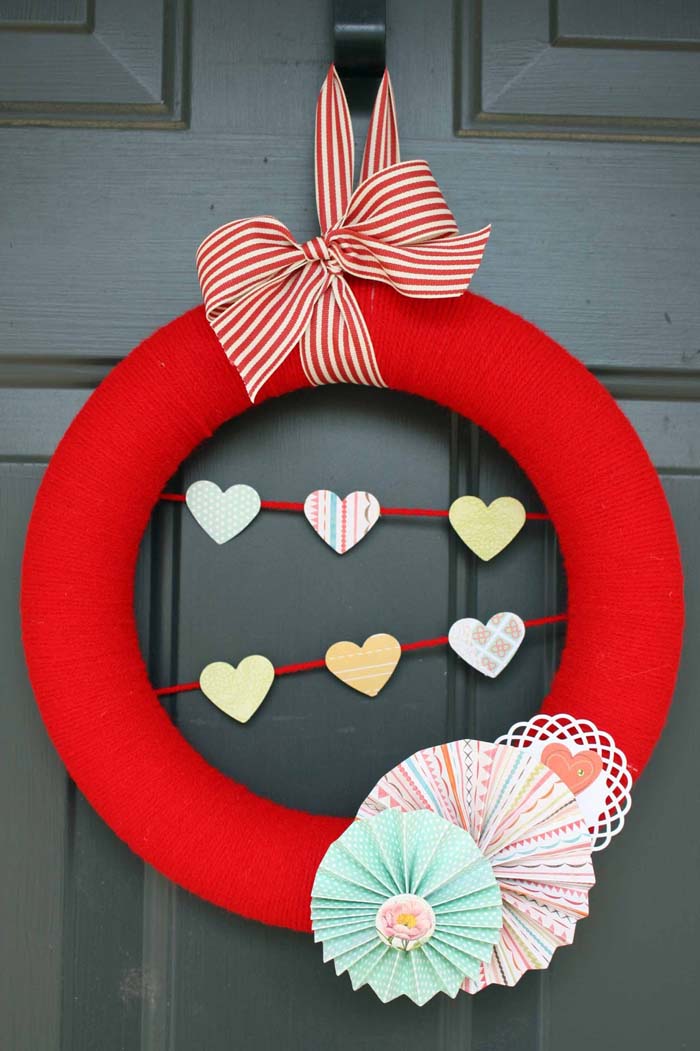 Playfulness is never a bad thing. It brings out the child in us, with cheerfulness and happiness!
via Me and My Scraps
42. Heart-Shaped Faux Boxwood Wreath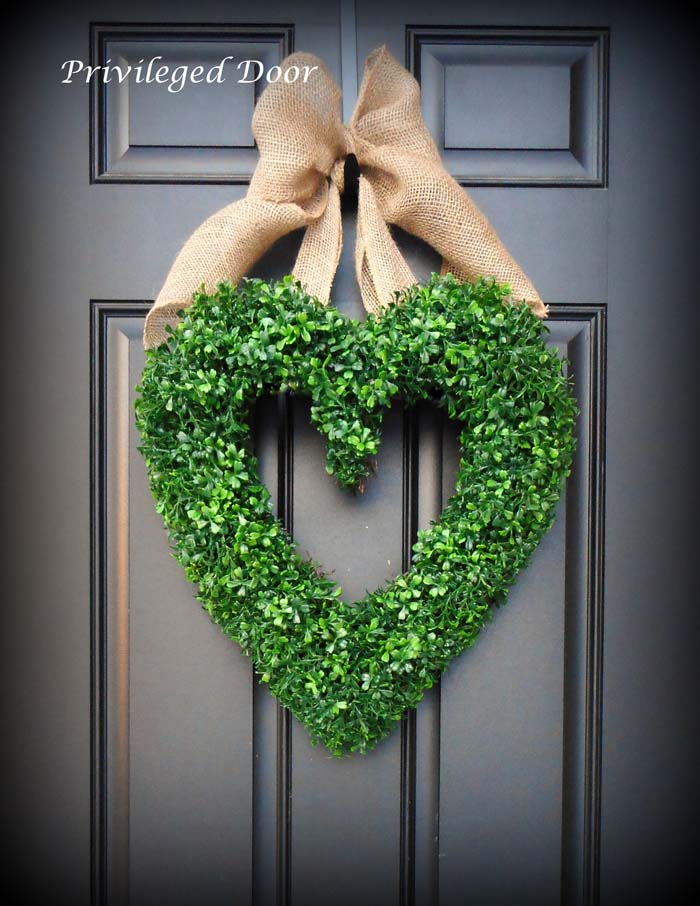 Lots of green shaped in the form of a grand heart! And to top it off a super large burlap bow!
via Privileged Door
43. Heart-Shaped Pom Pom Wreath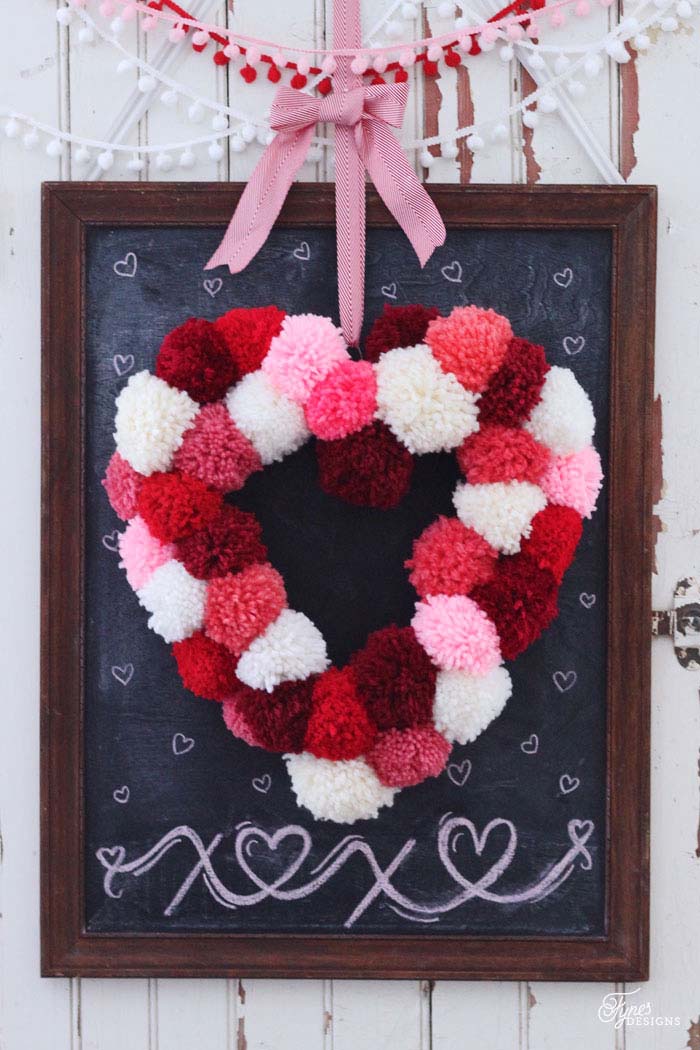 Bright-eyed and fluffy-tailed this ring embraces all that is extraordinarily beautiful! Pom poms galore!
via Fynes Designs
44. Pom Pom Wreath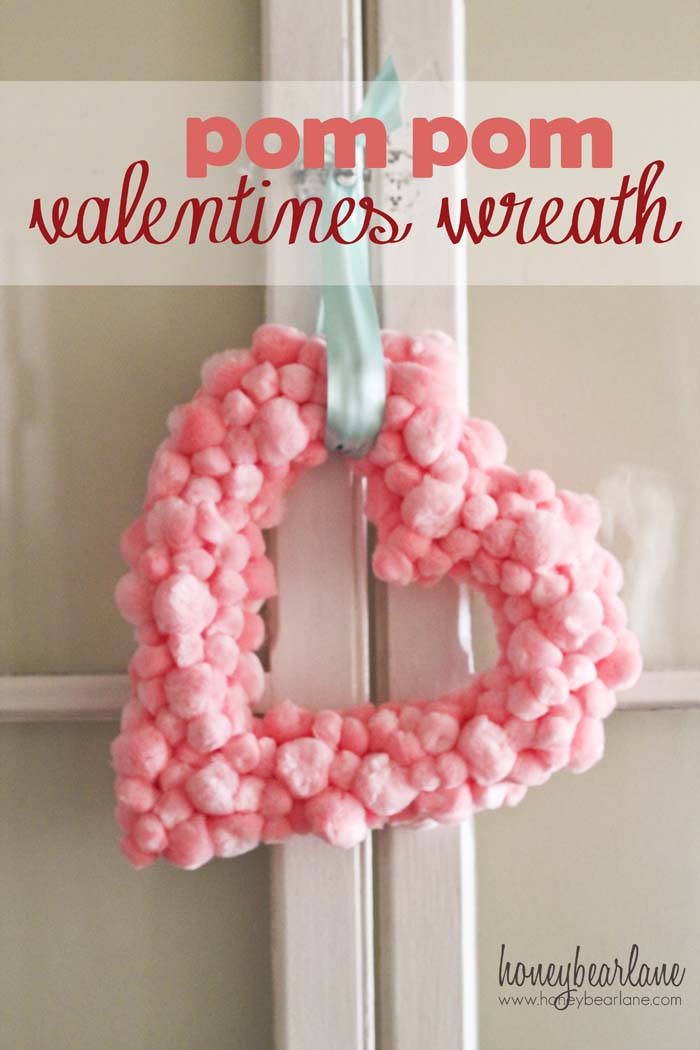 Spring is in the air, along with love and togetherness, another year of tenderness and beauty portrayed nicely with this ring. Pom Poms everywhere, perfect to make a great Valentine's Day display!
via Honeybear Lane
45. Heart Willow Wreath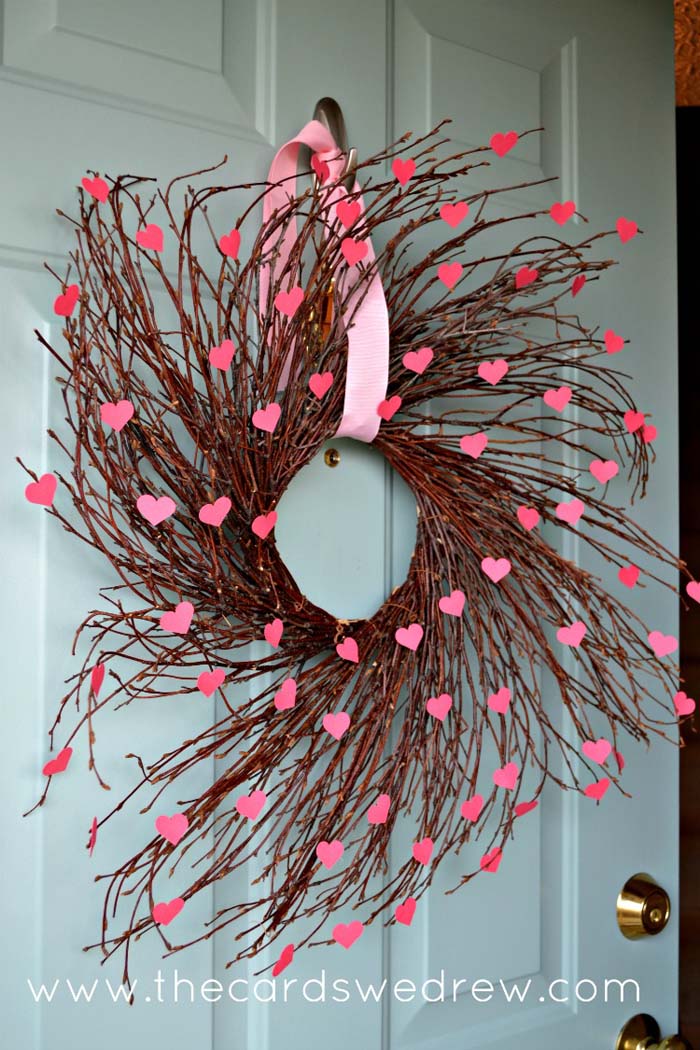 What a fantastic mysterious display! Heads will turn!
46. Heart Yarn Wreath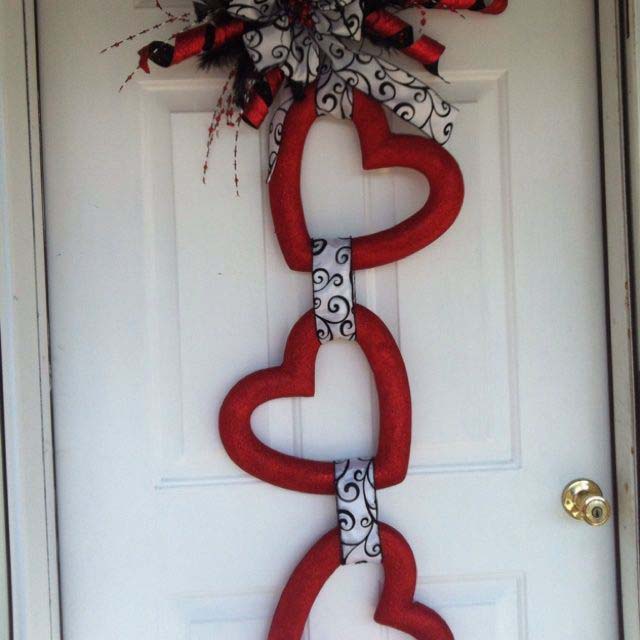 One, two, three large hearts will do! What a way to flatter a door on Valentine's Day!
47. Hugs and Kisses Berry Wreath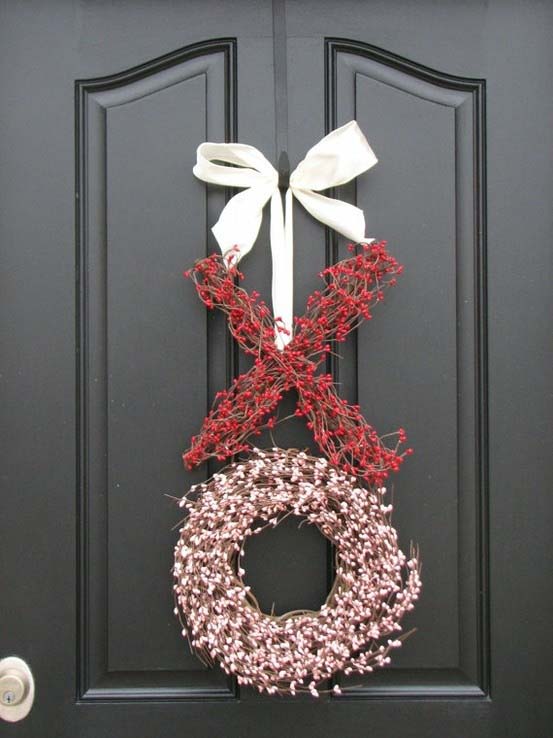 This berry wreath insists on being flattered, especially on Valentine's Day! The large red berry vine, in the shape of an X, is on the top and the pink berry vine in the shape of an O is on the bottom.
via The Preppy Mag
48. Love Birds Wreath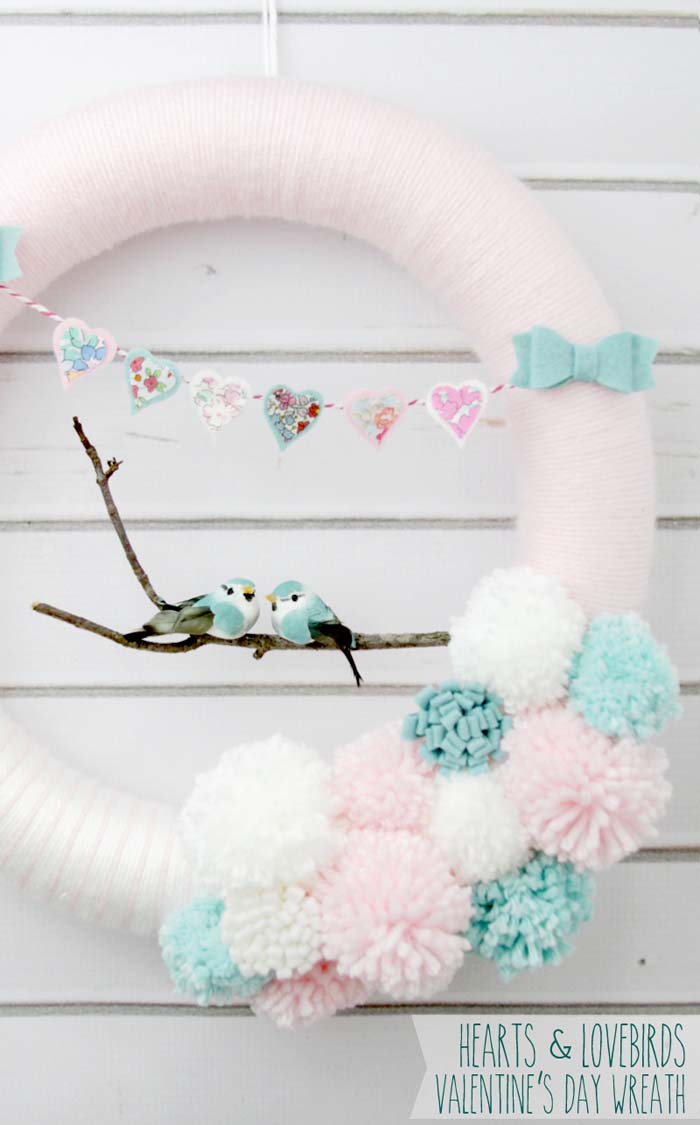 The most soft and delicate display of love and gentleness. This display has two small birds sitting on a tiny branch coming out of the center of the frame.
via Flamingo Toes
49. Love Grapevine Wreath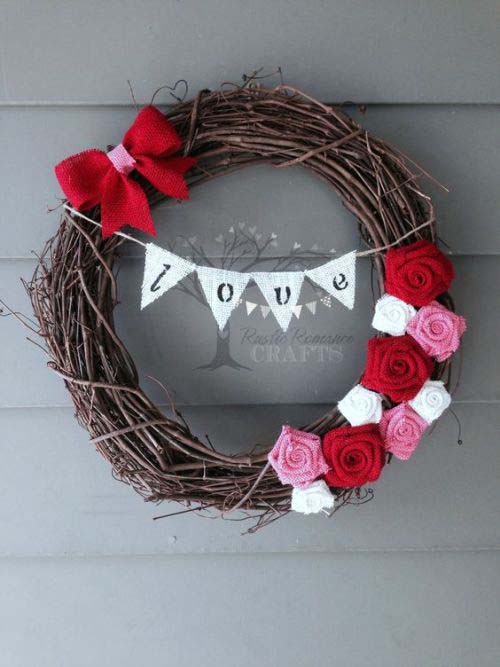 Who knew grapevine, and felt material could create such beauty!
via The Deco Shopper
50. Love Notes DIY Valentine's Wreath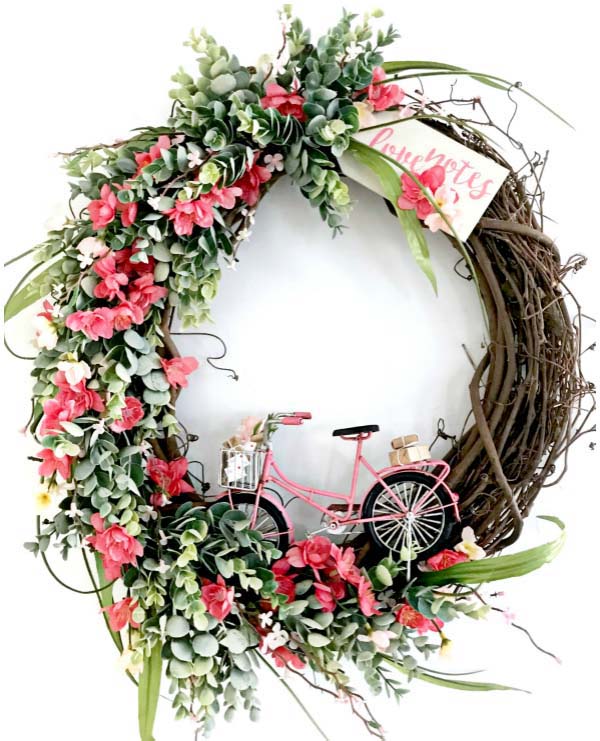 Check out the tiny pink bicycle in the center bottom of the display!
via Tauni Everett
51. Monogram Wreath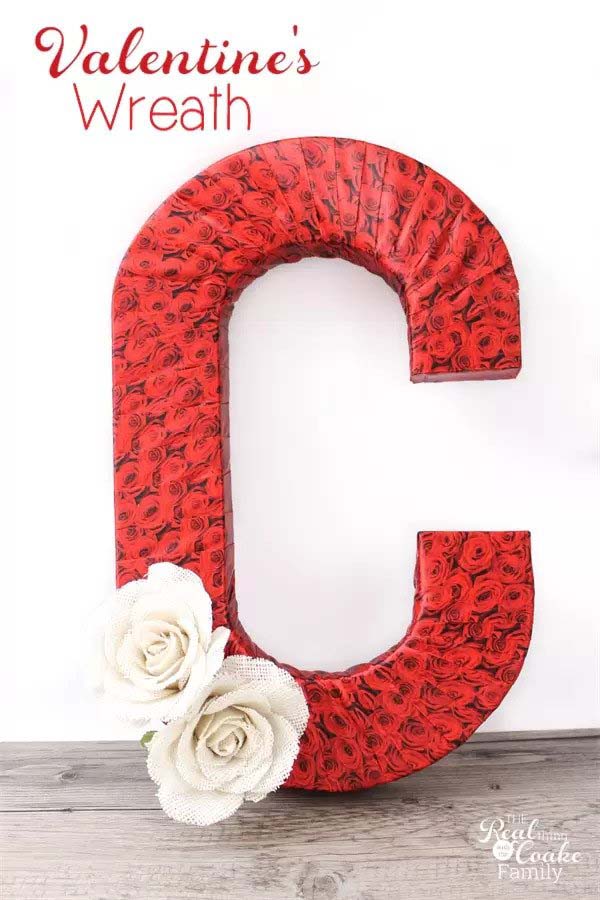 Some works of art cascade in museums, while others hang nicely on our doors!
via Real Coake
52. Paper Heart Wreath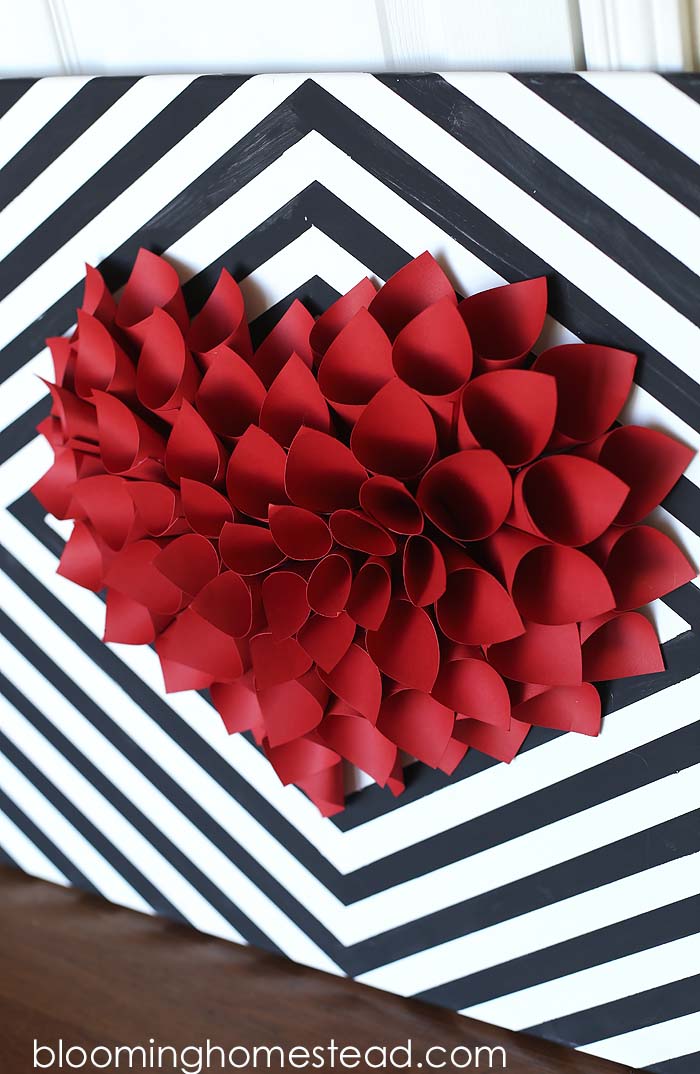 A wreath that screams hello! Designed with simple and economical materials to make the most tasteful display!
53. Paper Straw Valentine's Day Wreath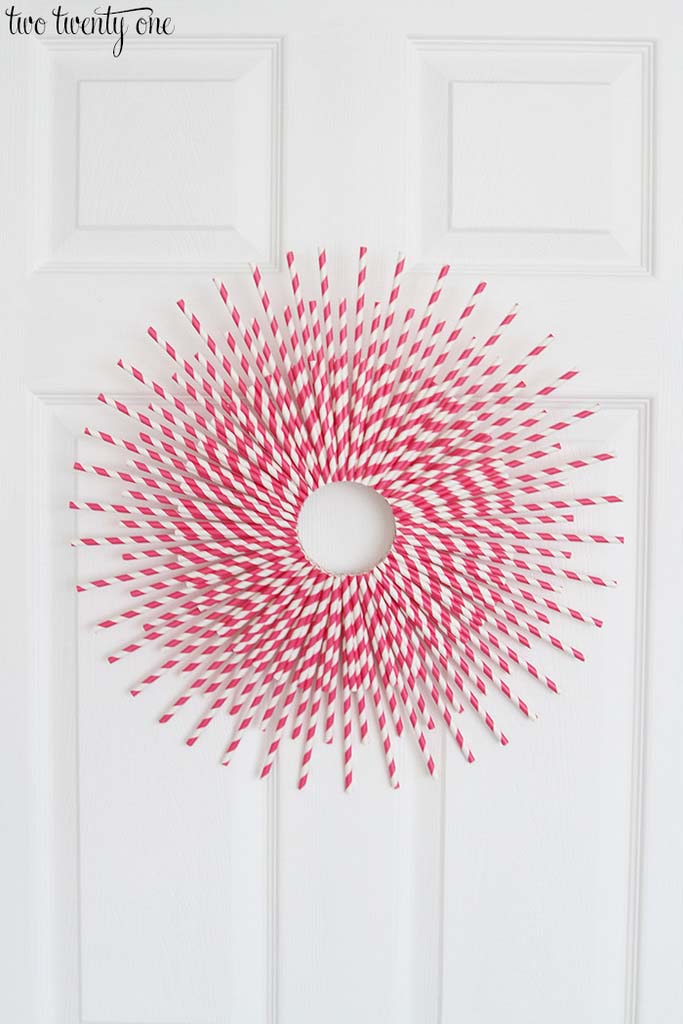 Made out of paper straws, no need to worry about going over your budget with this dazzling display!
via Two Twenty One
54. Picture Frame Valentine's Day Wreath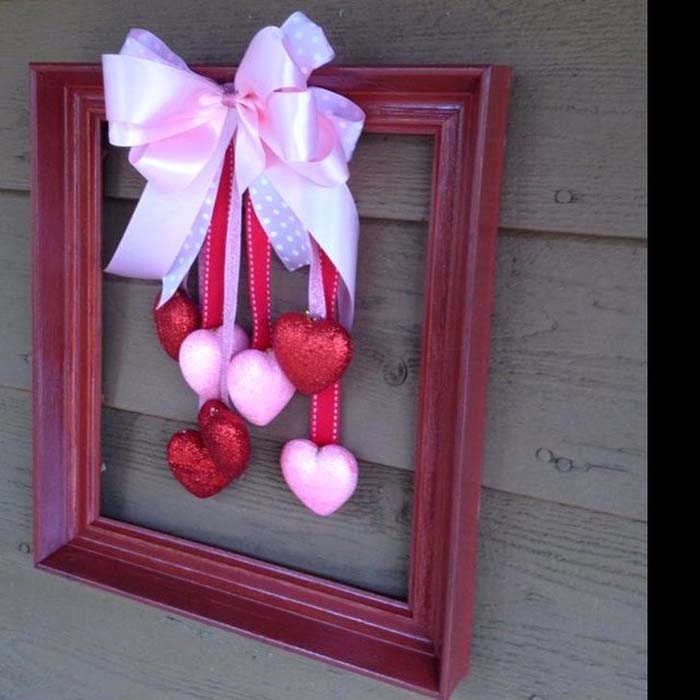 Welcome in your guests with a picture frame and a bow!
55. Pink Roses Eucalyptus Wreath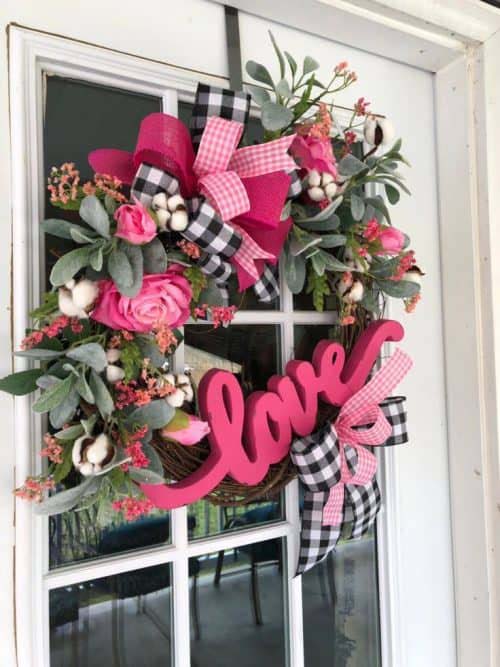 Beautiful decorative flowers whistling in the wind, while hanging on the door. Welcoming the Valentine's Day holiday.
56. Pipe Cleaner Rosettes Valentine's Day Wreath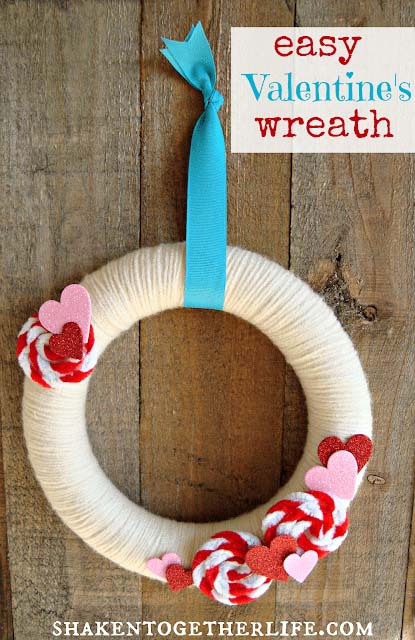 Quietly displaying the holiday spirit of kindness.
via Shaken Together
57. Playing Cards Love Wreath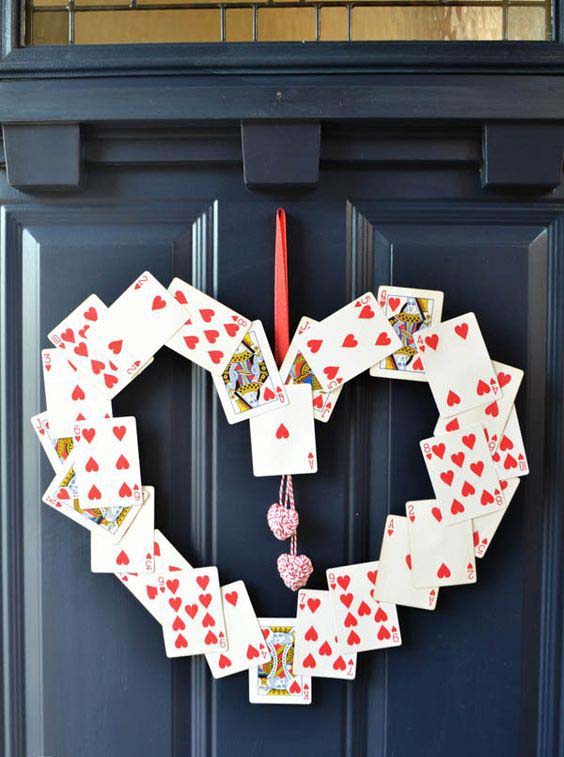 If you like playing cards you'll adore this piece! Especially the two tiny hearts hanging from the ace of spades!
58. Puffy Yarn Wreath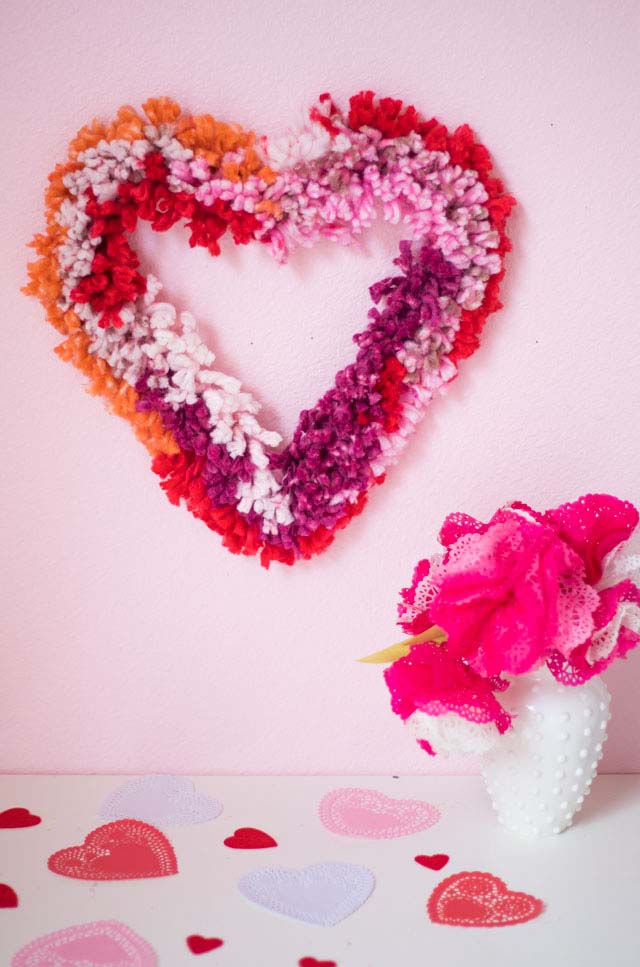 Nothing too fancy, just a show of colorful holiday spirit.
59. Recycled Chocolate Box Wreath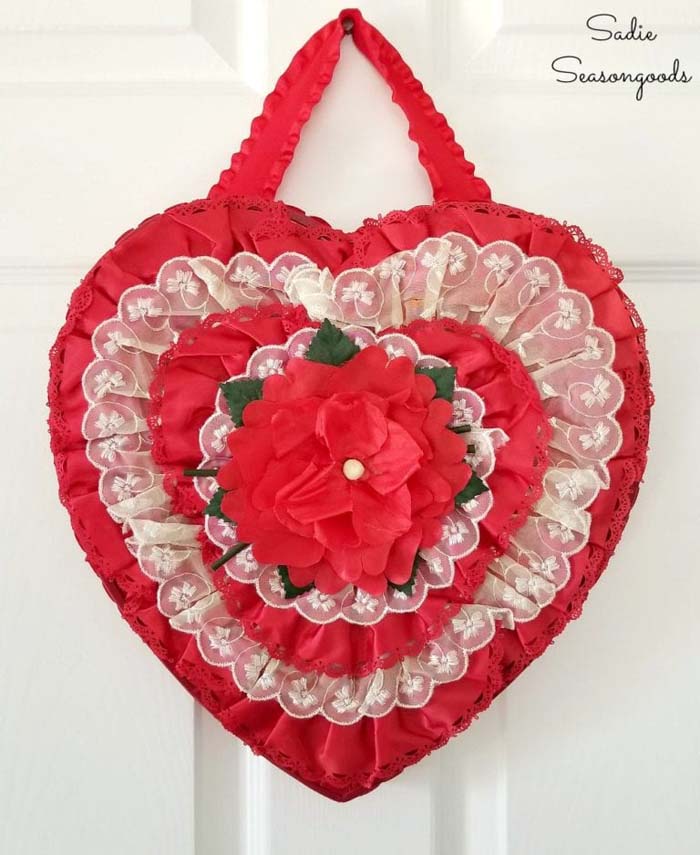 Do you have an old chocolate box that you're not using? It may be the perfect item to create a superb wreath for Valentine's Day!
60. Red Buffalo Plaid Valentine's Day Wreath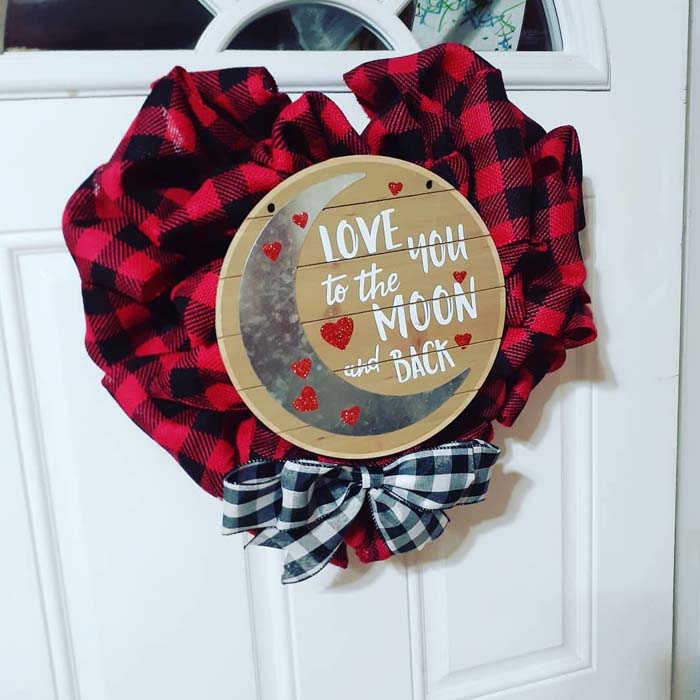 Plaid, plaid and more plaid! The perfect frame for a perfect holiday!
via Rural FairyTale
61. Red Felt Ruffle Wreath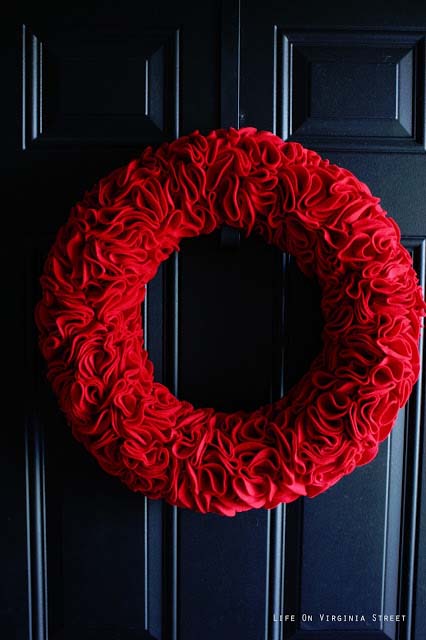 If you have loads and loads of red felt material, a little skill and time, you may be able to create the world's most magnificent wreath!
62. Rose Wreath Tutorial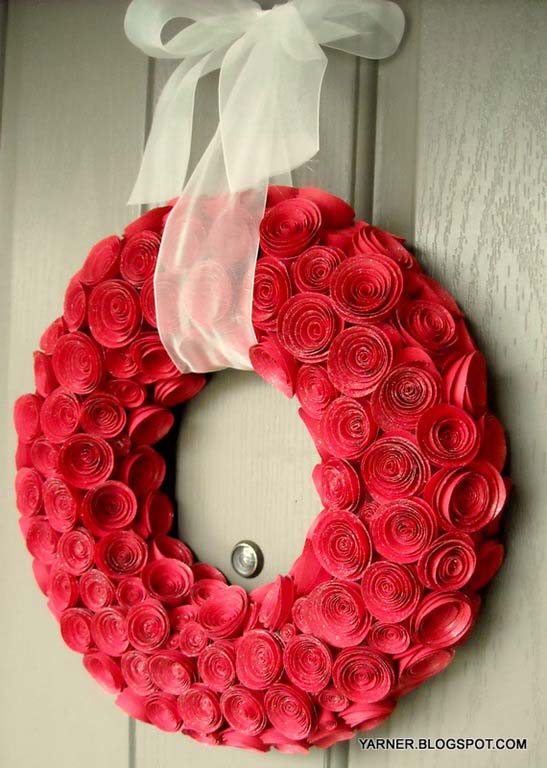 A delightful frame that will undoubtedly be a conversation starter for weeks to come!
via I'm a Yarner
63. Rustic Country Burlap Wreath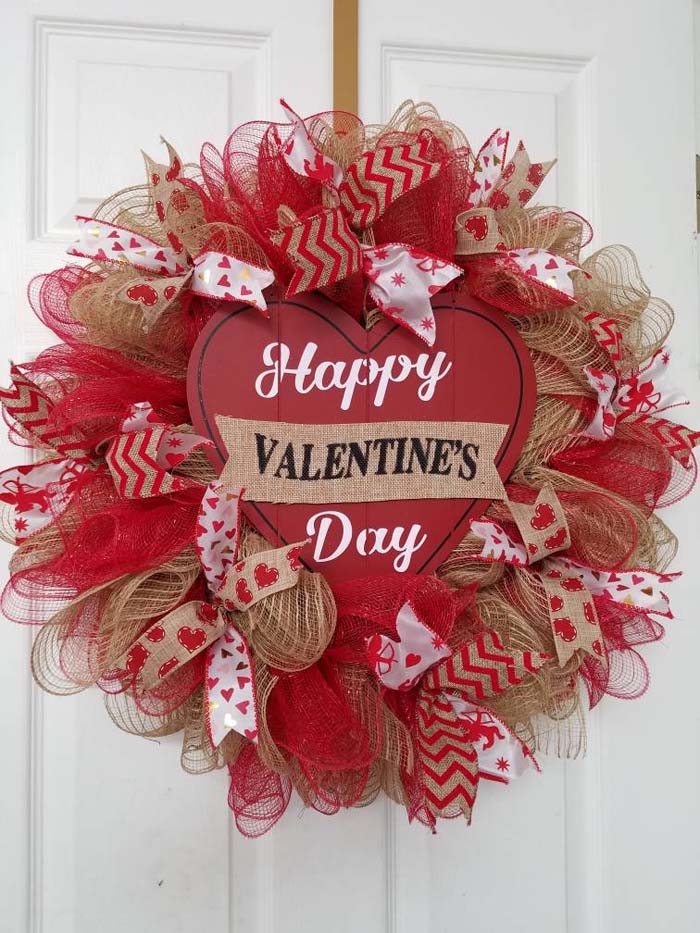 Fantastic on so many levels!
via My Crafty Living
64. Rustic Frame Wreath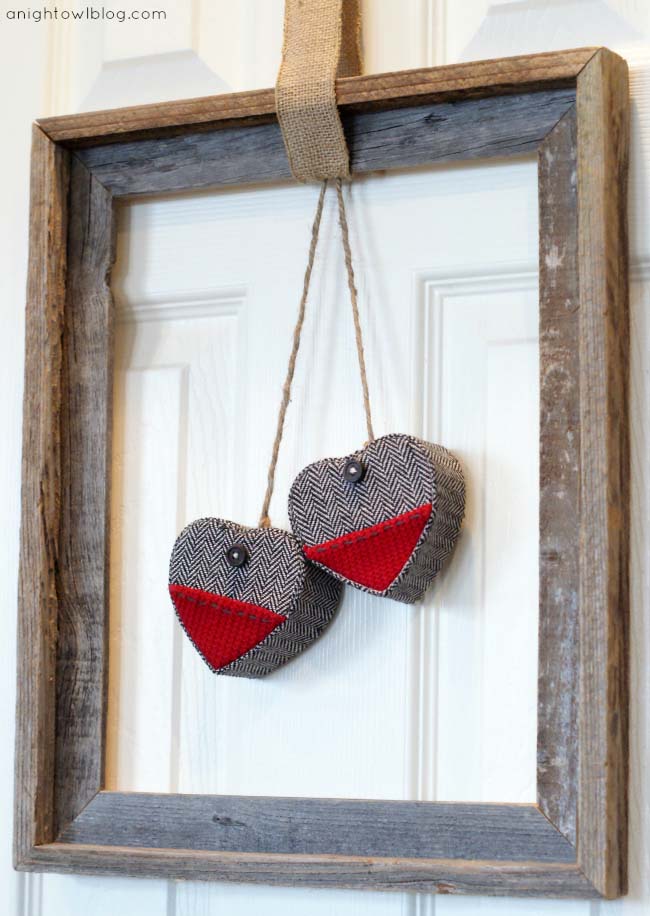 Got a picture frame lying around? Well, lets put it to use with a couple of well-designed hearts and burlap yarn!
via A Night Owl Blog
65. Scrap Fabric Heart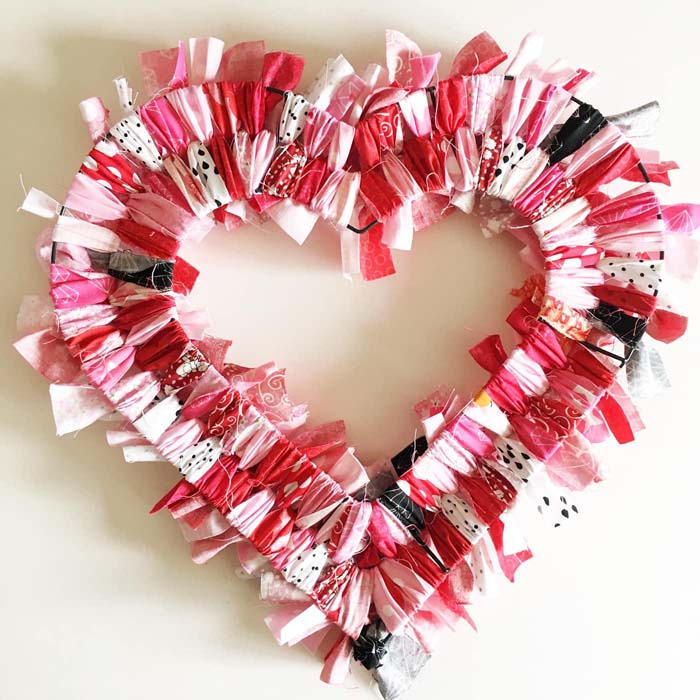 You've be surprised what bunches of scrap can create on the holiday of romance!
via Polka Dot Chair
66. Scrapbook Paper Heart Wreath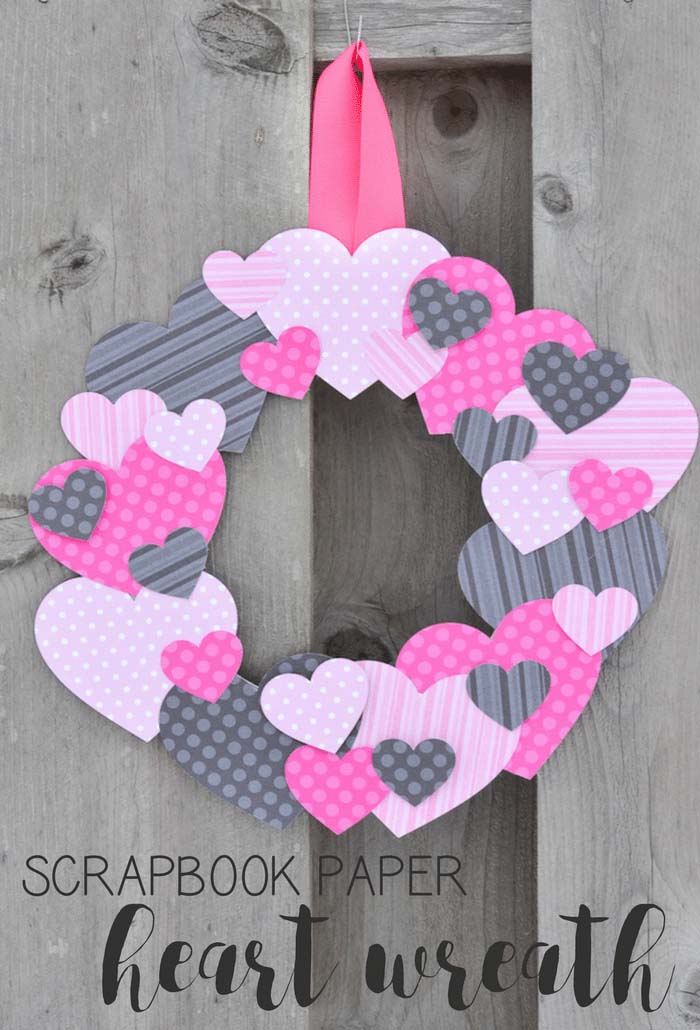 Paper, scissors and a little skill can do lots for a door!
via Typically Simple
67. Small Preserved Boxwood Heart Wreath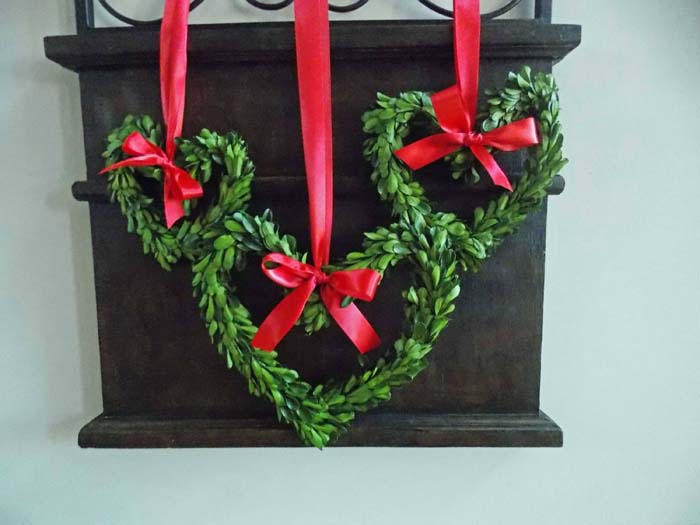 Talent can be seen in many forms, especially in wreaths!
via Wreath and Vine
68. Spring Valentine Wreath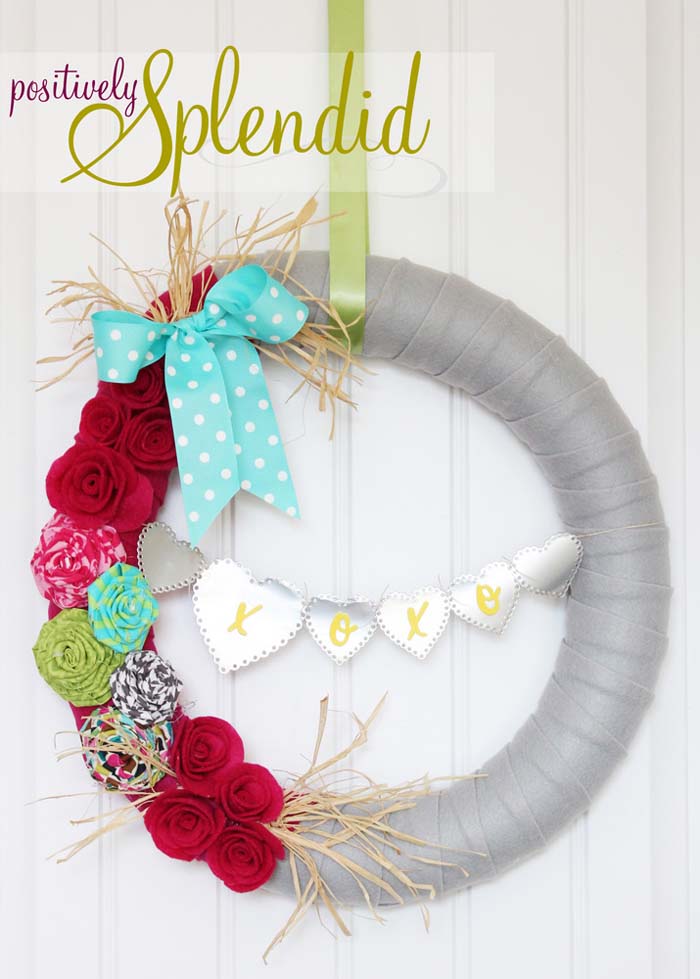 Spring is here and so is love, so let's decorate our doors with a fabulous piece!
69. Sweet Heart Valentine Wreath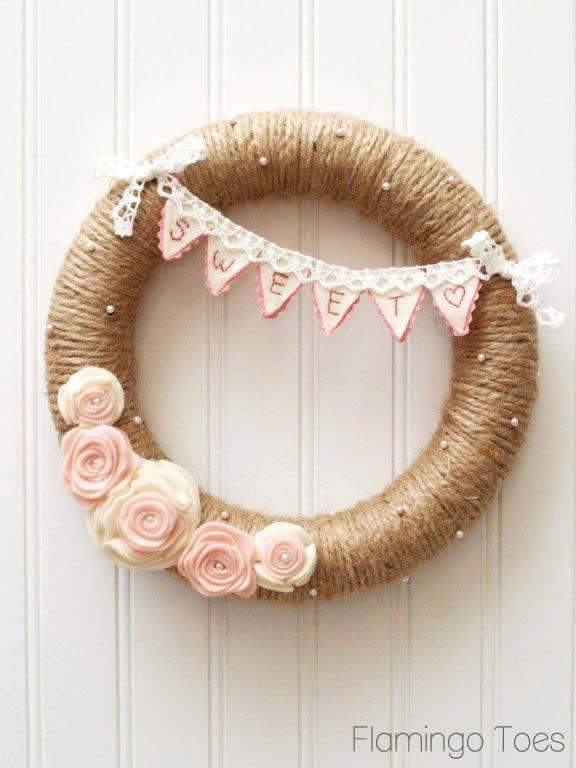 Not too fancy, just a simple hello and Happy Valentine's Day!
via Flamingo Toes
70. Tiffany Blue Heart Wreath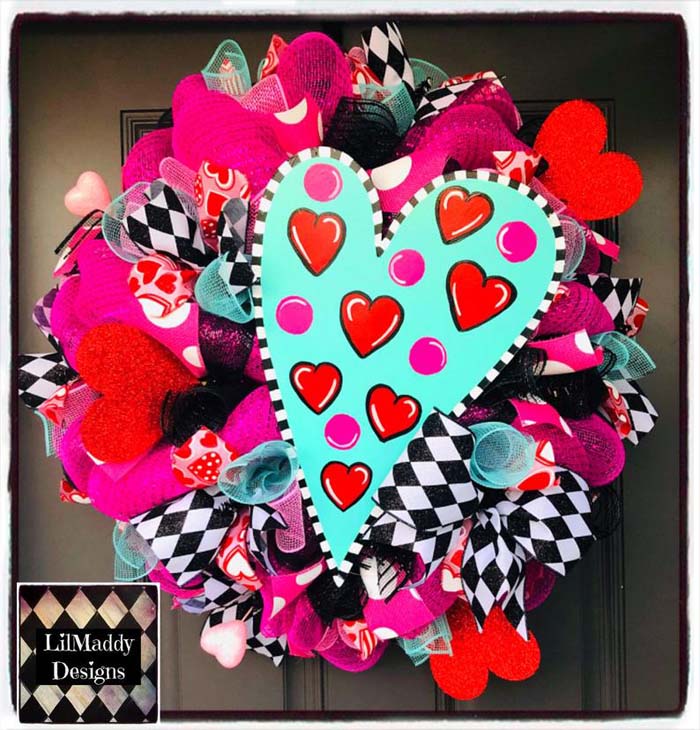 Flamboyant colors, flamboyant colors, flamboyant colors! A display that calls out for attention to each person that passes the door!
71. Tissue Paper Heart Wreath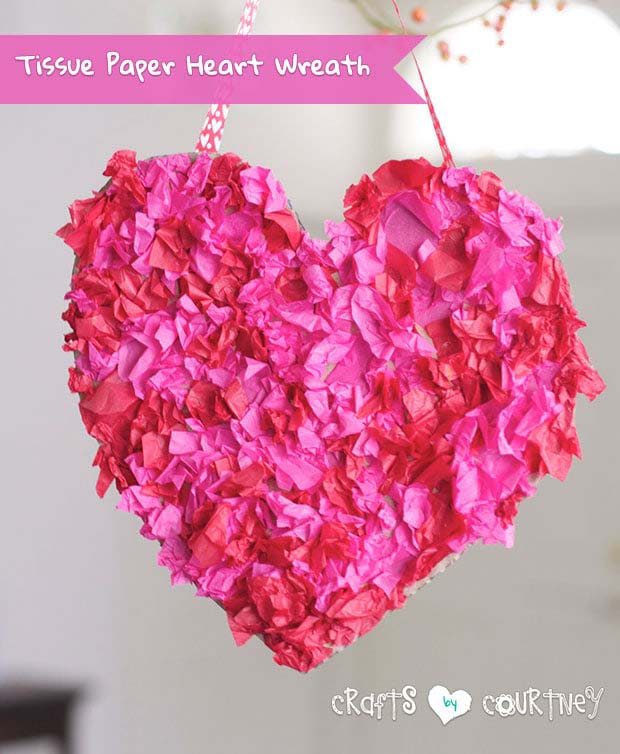 From looking at this design from afar, you would think it was made from the most expensive fabric, but no it's made from tissue paper. How very lovely!
72. Tissue Paper Rose Wreath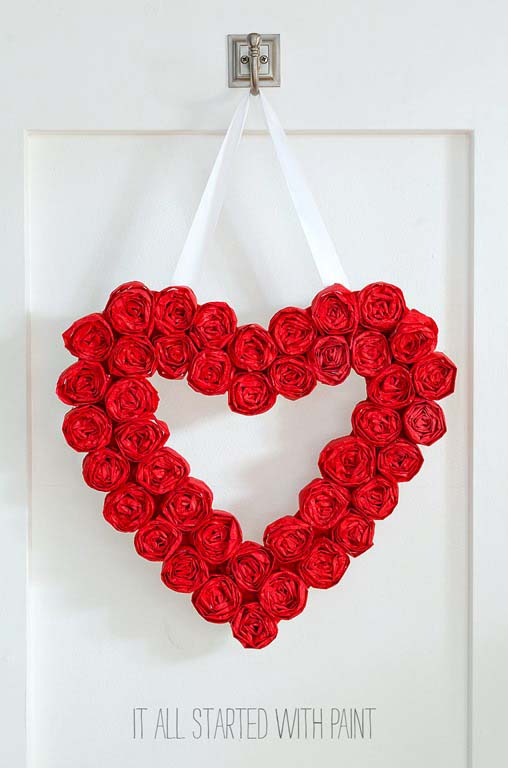 With a little tissue paper and time, create a nice subtle holiday thrill.
73. Tulip Heart Wreath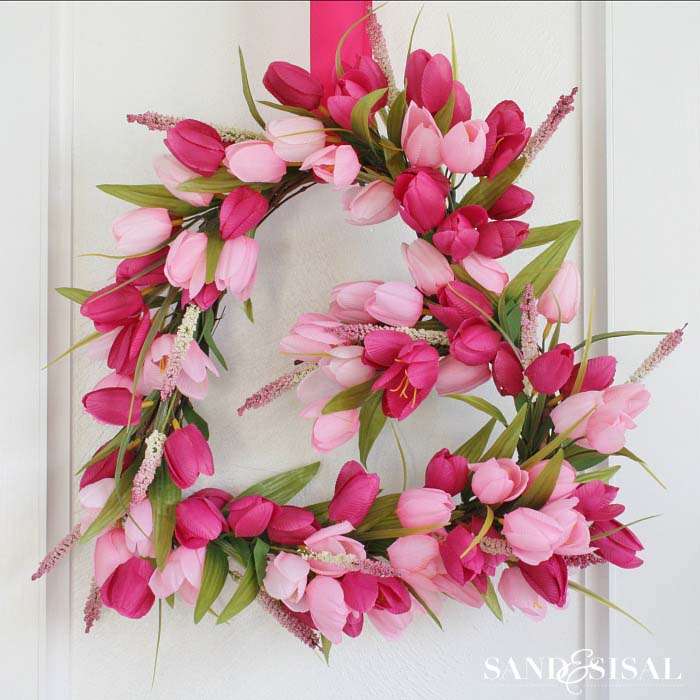 What a bouncing vibrant bouquet of holiday romance!
via Sand and Sisal
74. Two Heart Wreath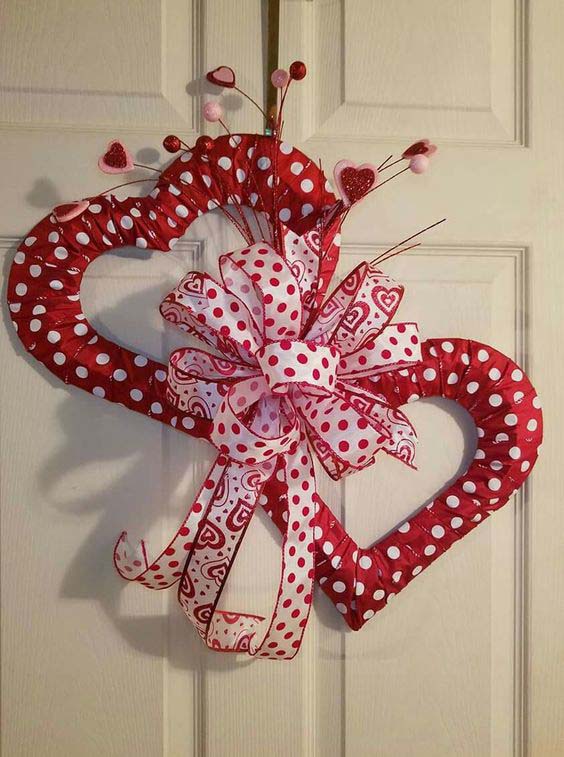 Standing out from among the rest!
75. Valentine Ribbon Wreath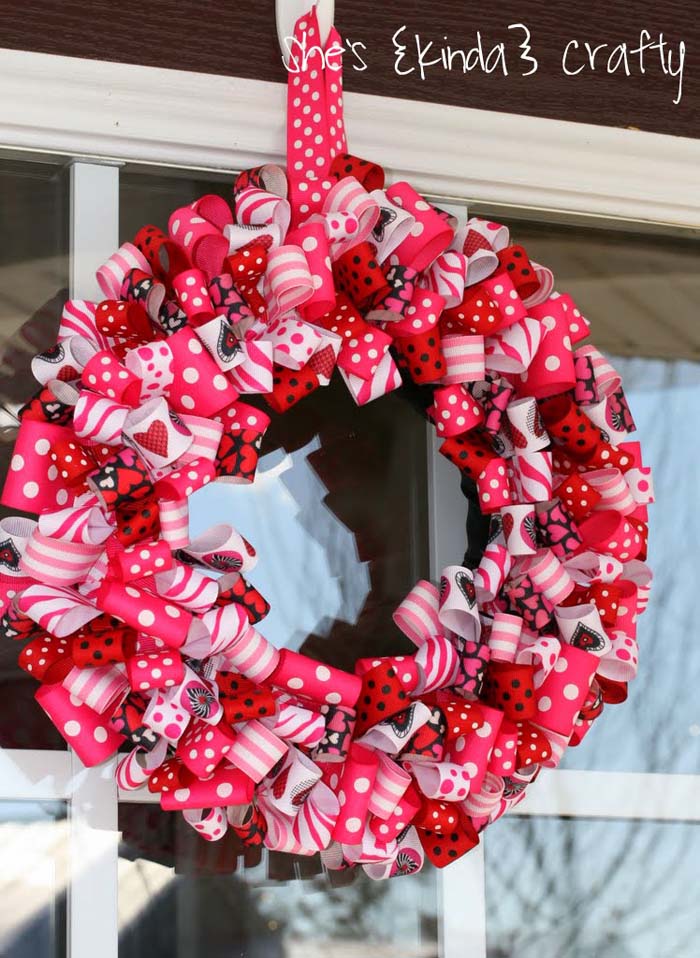 Get some ribbon in light pink, rose and red and start crafting this masterpiece.
76. Valentine Rose Square Wreath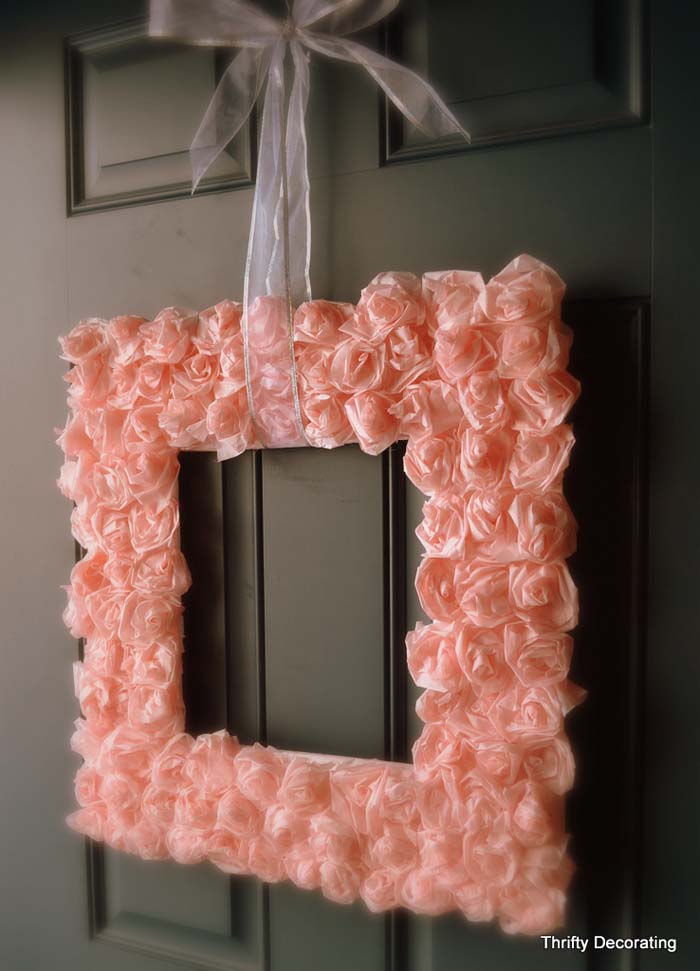 Like a breathtaking portrait, demanding attention.
77. Valentine Rosette Wreath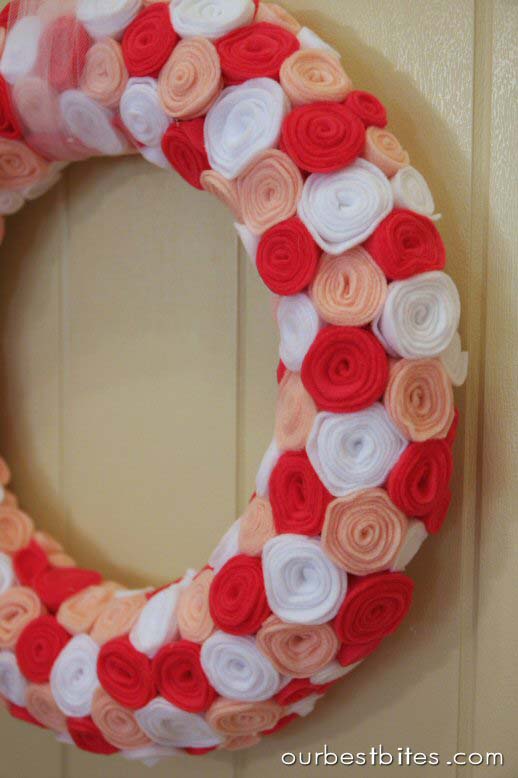 The wonderful things a little felt can create.
via Our Best Bites
78. Valentine's Day Bulb Wreath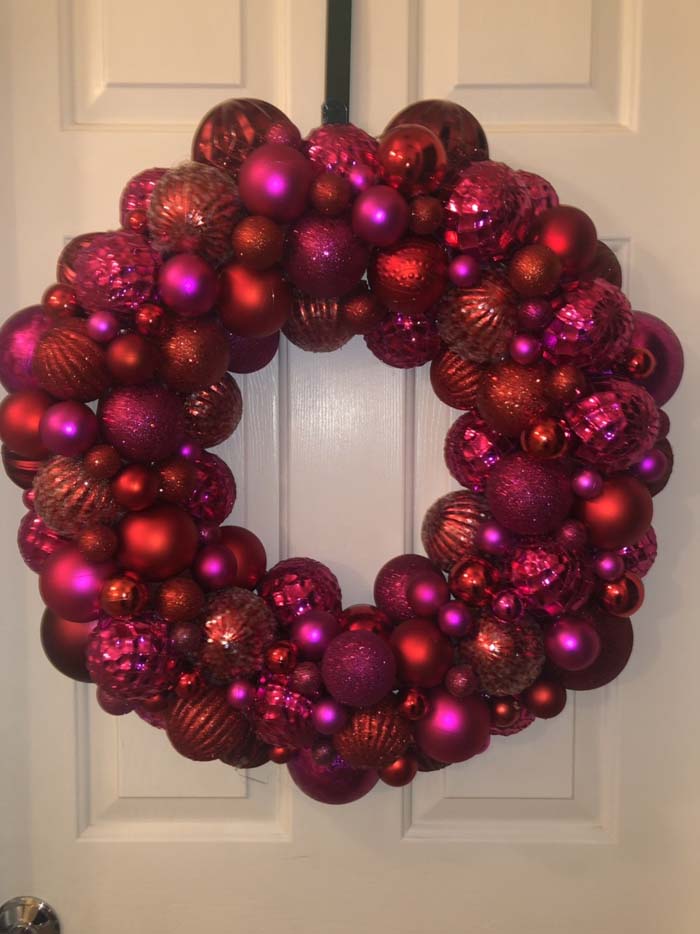 Have a box of bulbs, well let's put them to use by putting together something special!
79. Valentine's Day Tulip Wreath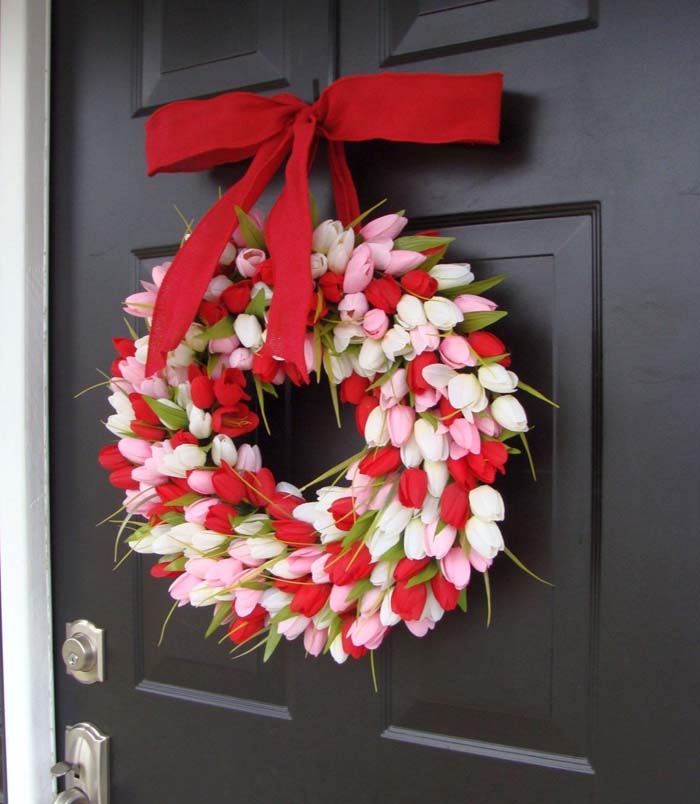 Tulips everywhere, and what's wrong with that? Absolutely nothing! Such a superb appearance!
via Elegant Wreath
80. Valentine's Day Candy Wreath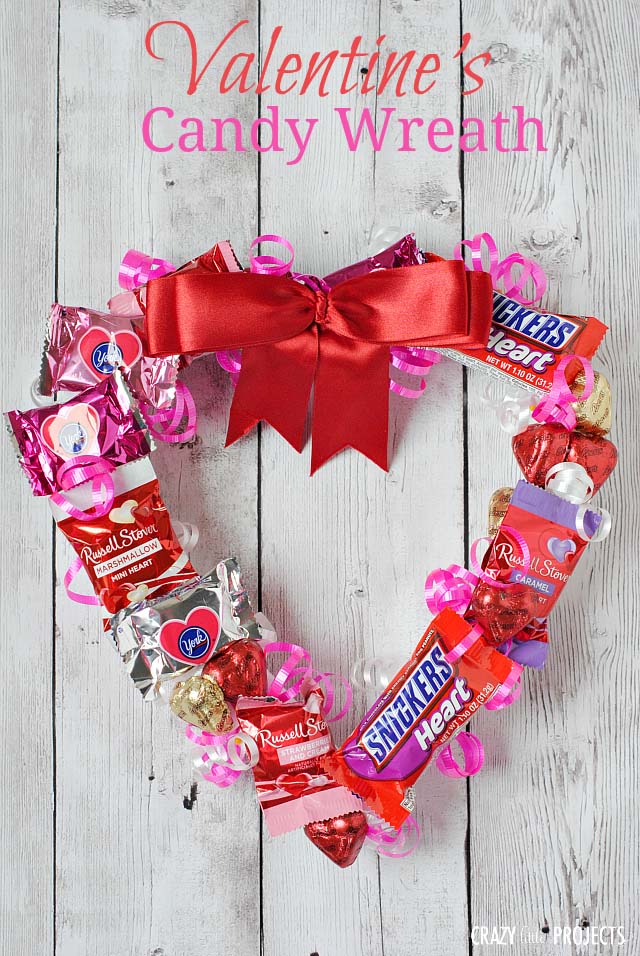 It may be difficult to keep your visitors from eating this tasty wreath, but it's worth a try!
81. Valentine's Day Deco Mesh Wreath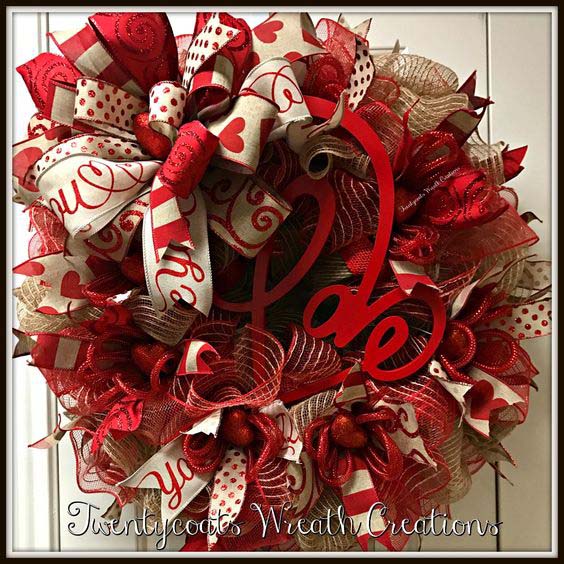 A spectacular arrangement, full, robust and filled with life!
via Twentycoats Wreath Creations
82. Valentine's Day Ribbon Wreath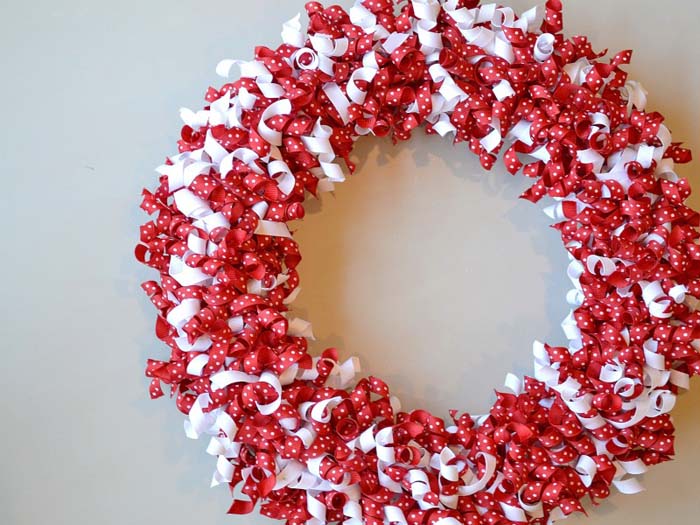 What a bouncing, colorful, dazzling effect! Screaming happy holidays is what some wreaths are made to do!
83. Ribbon Wreath With Heart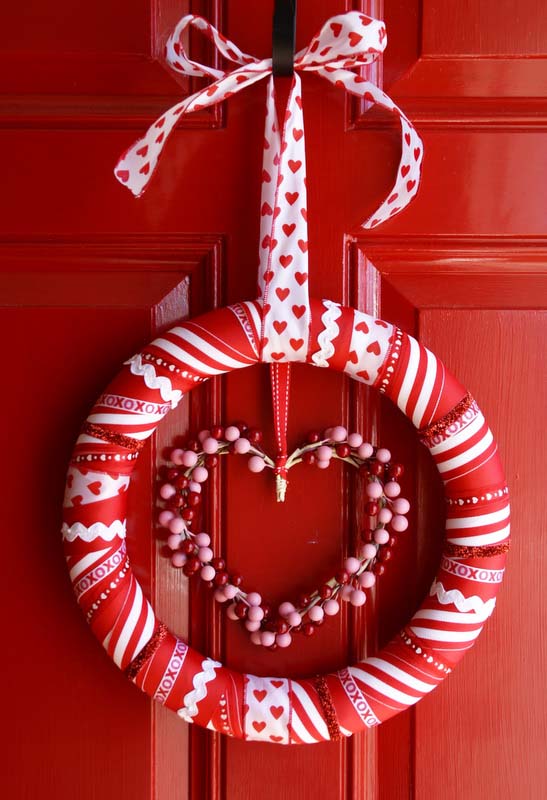 Placing a small valentine-shaped ornament in the middle of this wreath has really claimed victory!
via The Speckled Dog
84. Valentine's Day Tulle Wreath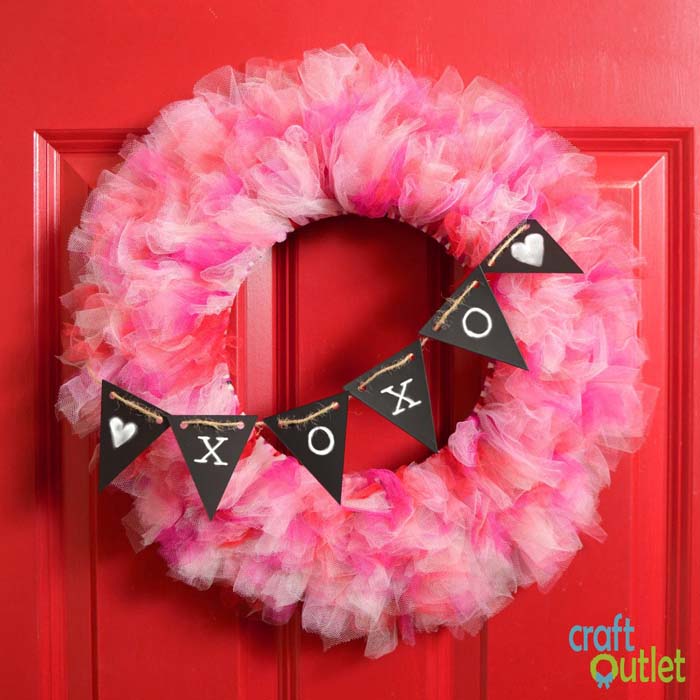 Romance is in the air, with lots and lots of pink tulle!
via Craft Outlet
85. Valentine's Day Wrapped Ribbon Wreath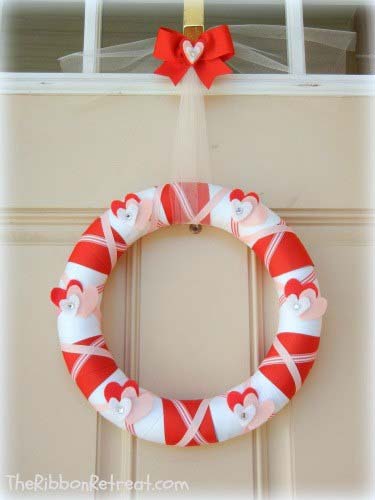 Red and white with a touch of pink, cute is the word.
86. Valentine's Day Wreath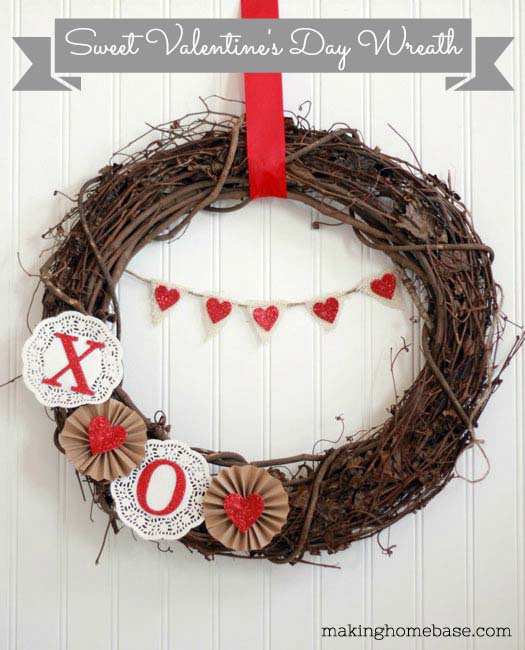 Rustic wreaths with a natural appeal has never ceased to amaze the onlooker.
via Making Home Base
87. Valentine's Day Wreath with Felt Roses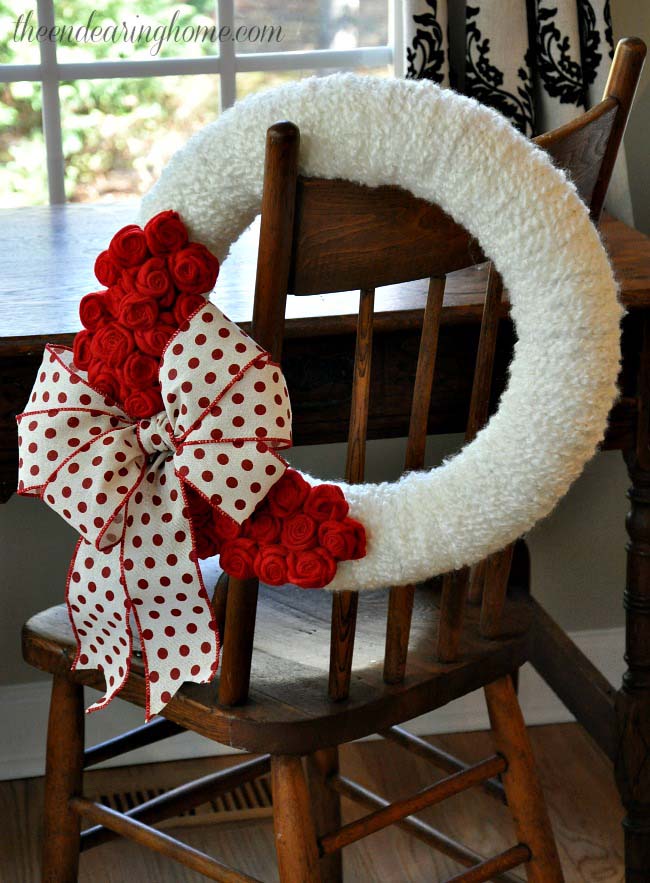 Talk about turning heads, this piece of artwork will have your neighbors hypnotized!
88. Valentine's Day Yarn Heart Wreath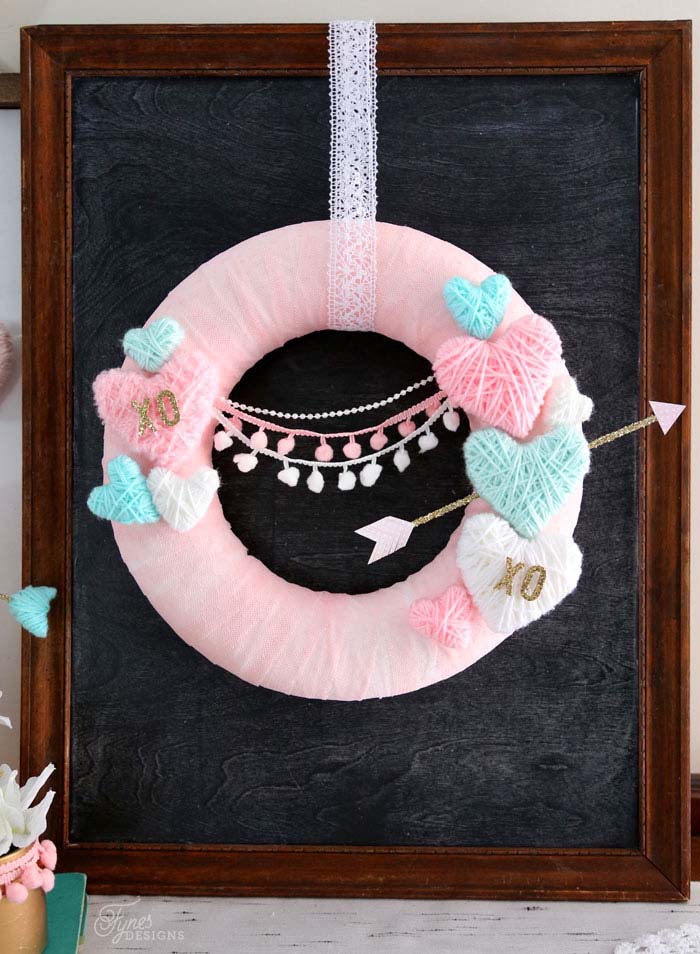 Delicate, neat and dainty are the words that will come to mind while gazing at this piece of art!
via Fynes Designs
89. Valentine's Hearts and Flowers Felt Wreath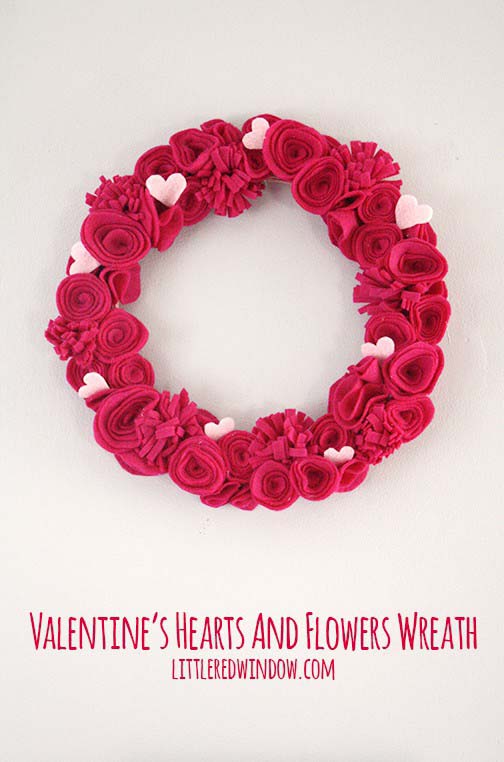 If you think you're in felt heaven, you just may be! Pink felt can go a long way on Valentine's Day!
90. Valentine's Love Wreath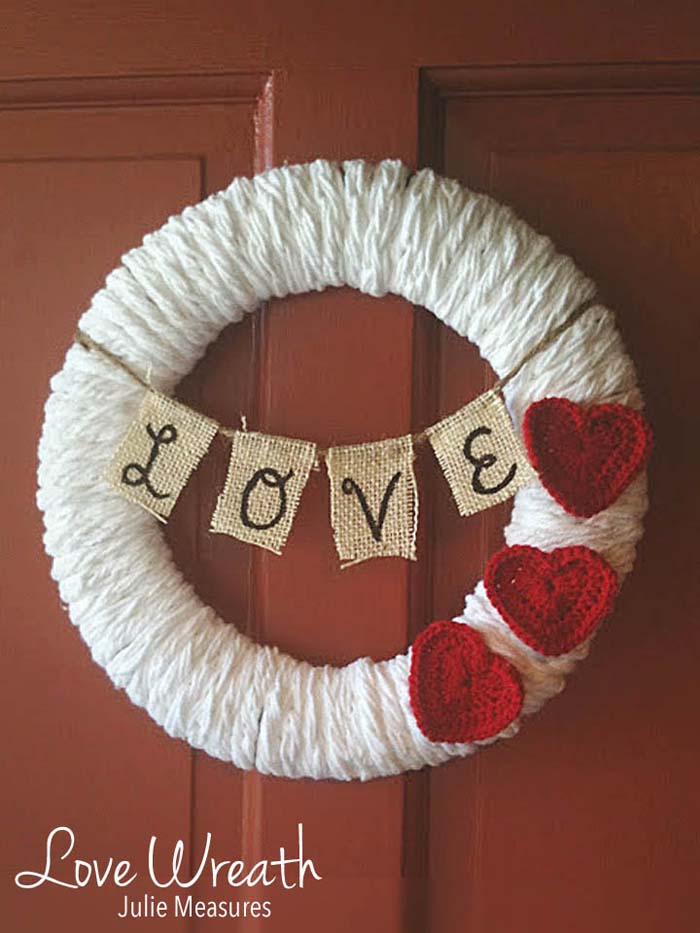 A little yarn can add a nice touch! 3 red harts on the side with the words LOVE cascading across the middle.
via Julie Measures
91. Valentine's Wreath with Spiral Rose Letters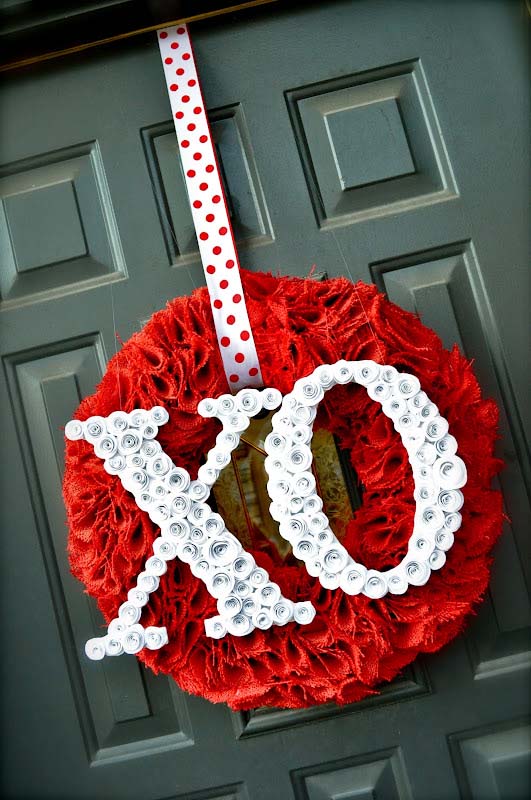 You may find yourself dropping by, just to glimpse at this adoring thrill.
92. Vintage Valentine's Day Cards Wreath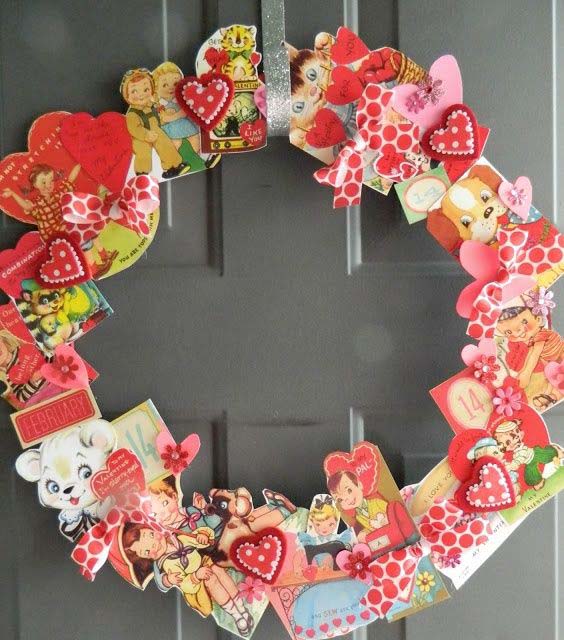 Do you have loads of old cards in your attic! Why not make a holiday wreath? Dainty and excellent!
93. White, Pink and Gold Rose Wreath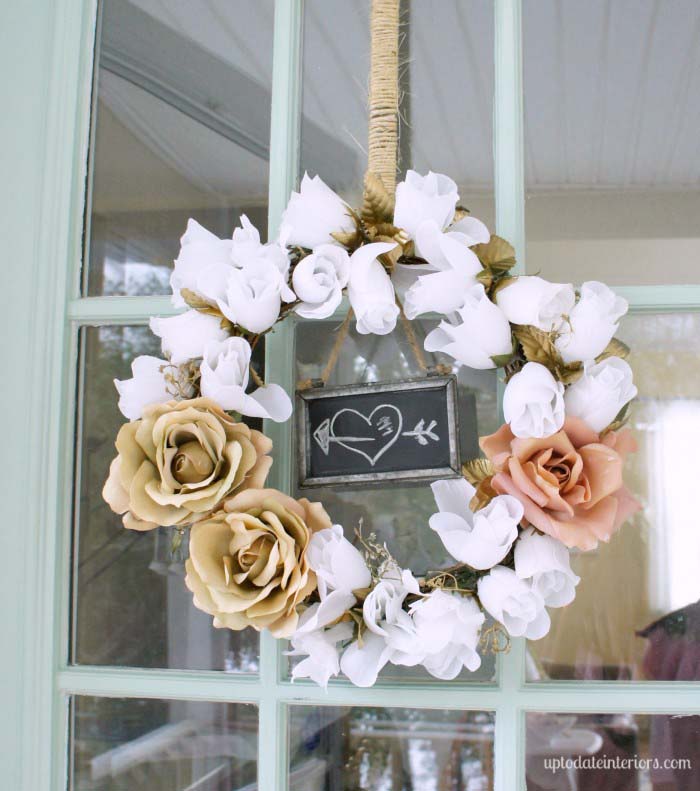 Beyond dazzling! Words can not describe this exquisite day of love day thrill!
94. Wicker Valentine's Day Wreath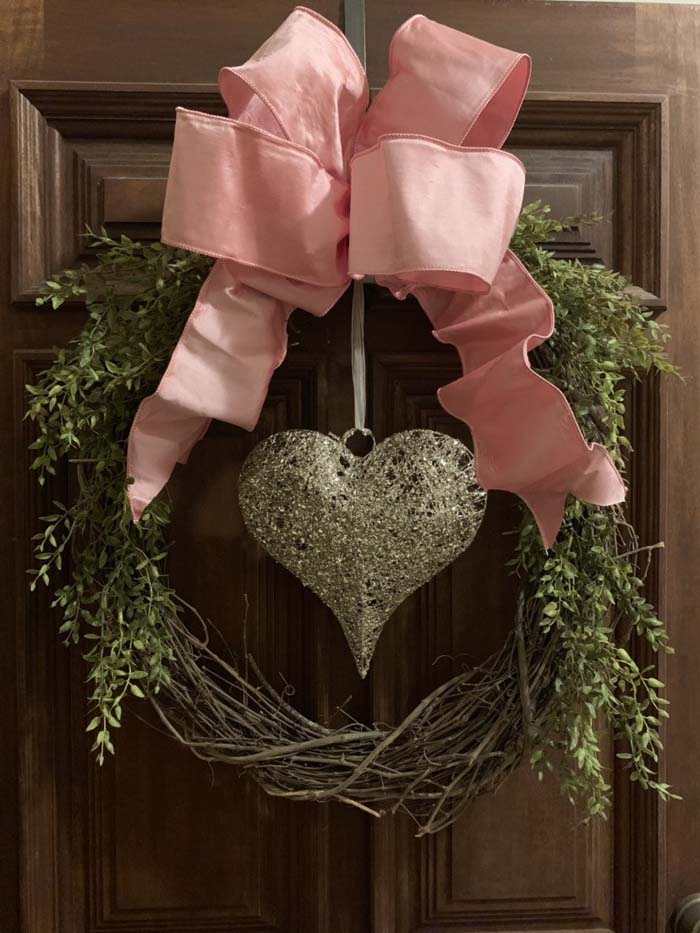 With a little bit of wicker, anything can happen!
via Moore Decors
95. Wired Ribbon Wreath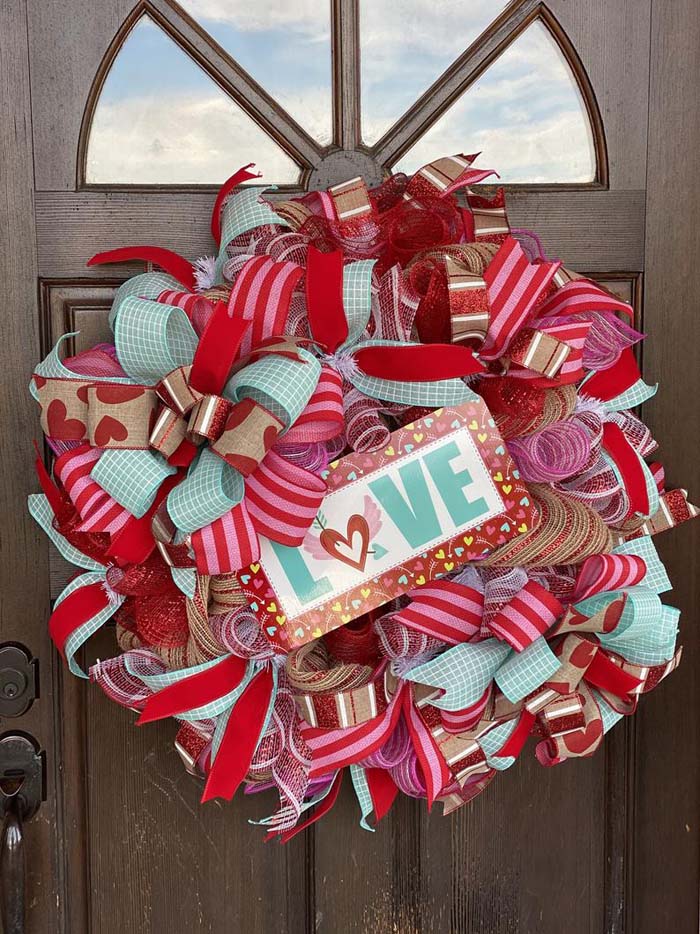 Designed with style and allure just for the holidays!
via Fore Decor
96. Wood Heart Wreath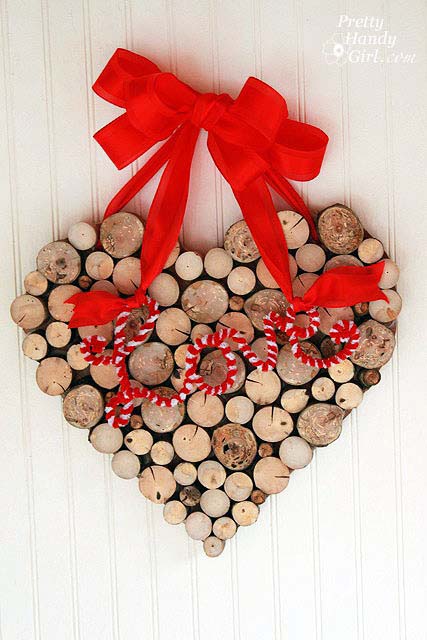 Piles of small wood logs can be used to create a wreath?! Absolutely! And it has a bright red bow and it's breathtaking!