The time flies and, suddenly, it's time to start planning Valentine's day decorations for our home.
Let's face – 14th of February is a celebration of love! We all dream of spending this holiday with our beloved one and that's why is so important to make the atmosphere romantic and unforgettable.

To help you spread the love at home, we have prepared a list of 18 cute Valentine's day decorations, each of them – unique, gorgeous and affordable. Hearts, glitz, and glam…and much more!
We hope that you will fall in love with one (or more) of them and re-create it at home. Get inspired, use your imagination, build something a stunning Valentine's day decor!
1. Declare Your Love with a Candy Heart Bouquet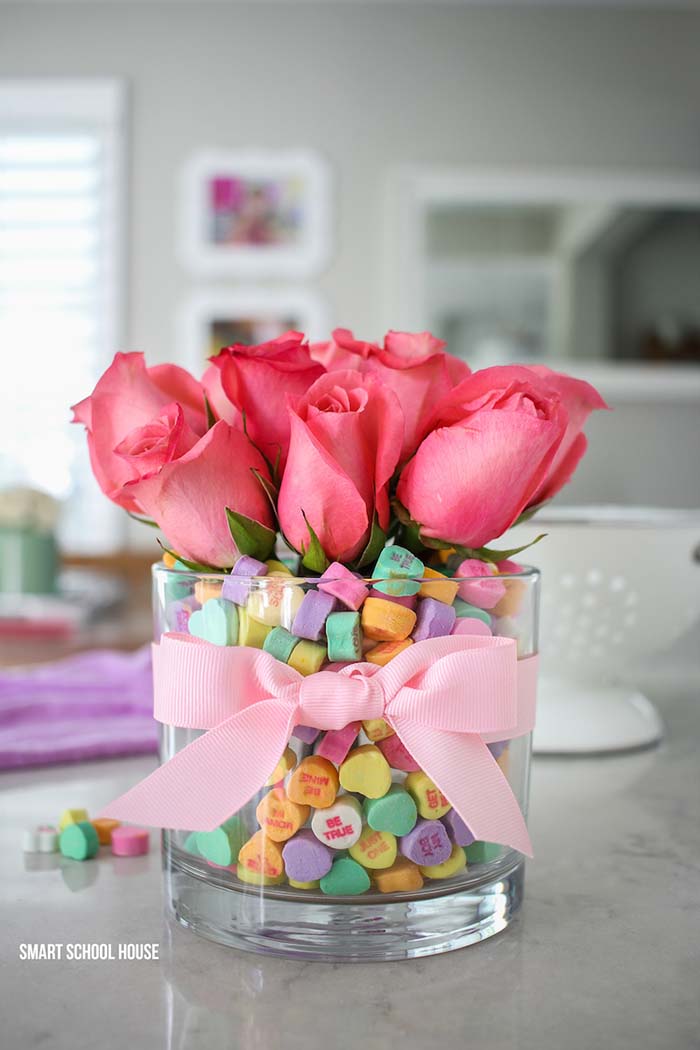 Photo: Credit
To start, take a look at this cute and cheery table centerpiece for Valentine's day!
As a matter of fact, there is a vase of water sneaked underneath the pile of decorative, colorful hearts to keep the roses fresh and spirited.
2. Get Crafty on Valentine's with a Heart Wall Decor Piece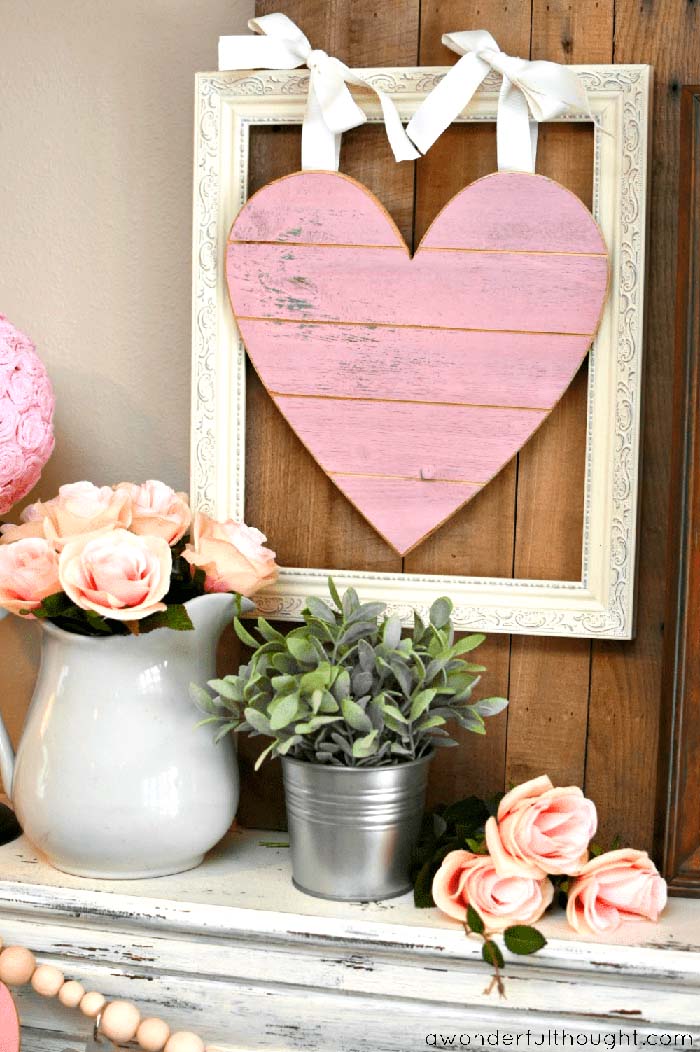 Photo: Credit
The hearts in pink, no matter if they are knitted, plastic, wooden or plush, are for sure one of the most typical Valentine's decorations.
This one on the picture, for instance, gives the living room space a strong rustically chic vibe. It is also an appealing symbol of love. A great way to repurpose old picture frames.
3. Add a Rustic Flair to Your Kitchen with Valentine Decorations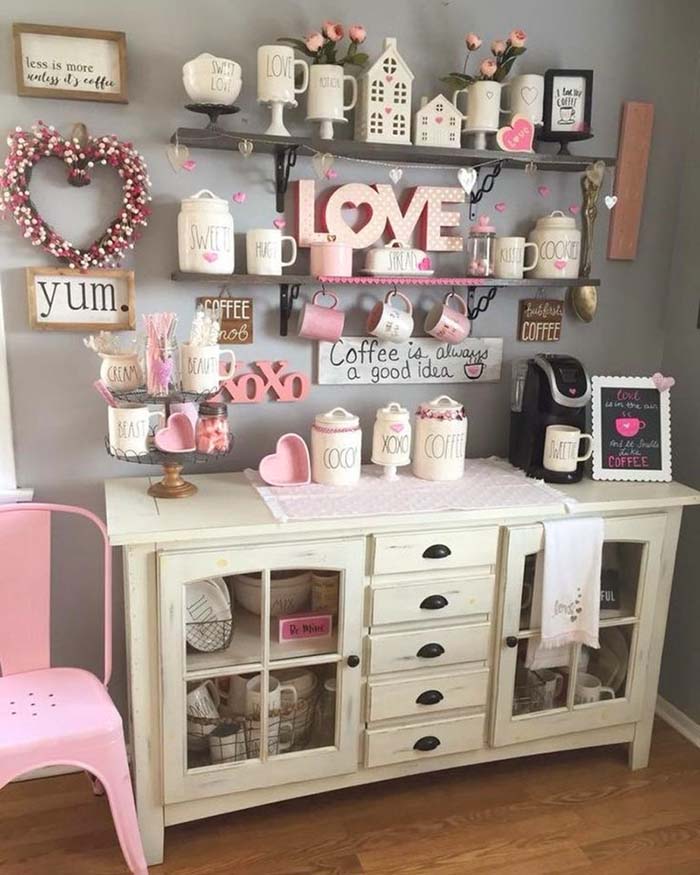 Photo: Credit
The best thing about these Valentine's day decorations is that they could be displayed in the kitchen all year round.
They are not too literal and too showy and perfect if you like farmhouse decor.
Moreover, the wooden wall sign "LOVE" would remind you to express how much you love your partner every day, not just on Valentine's day.
4. Make Valentine's Day Extra Special with a Love Pillow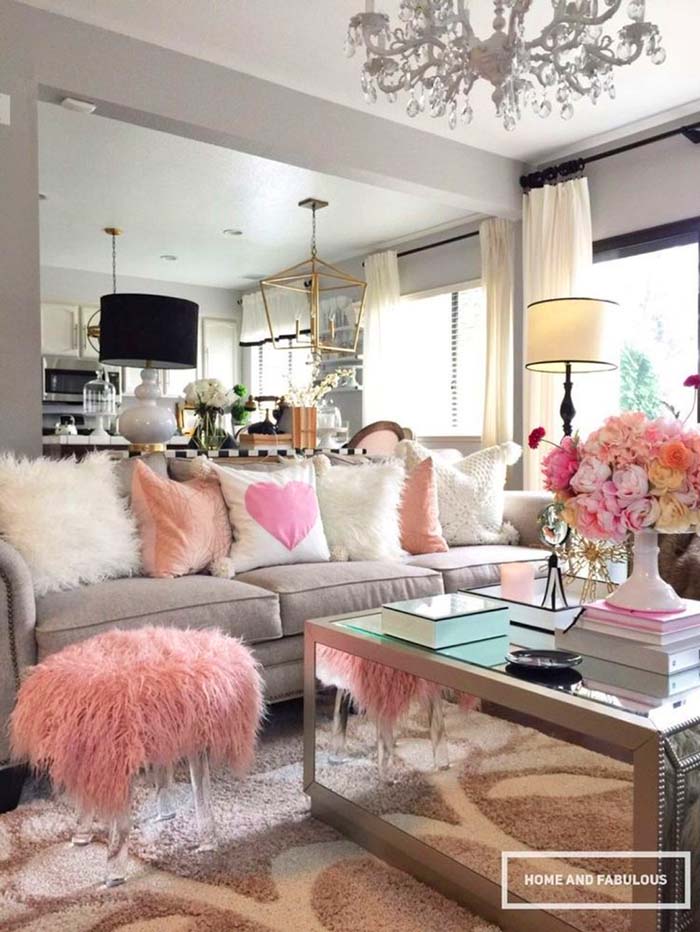 Photo: Credit
Here is something for those of you who are thirsty for more Valentine's day heart decorations – pair this cute DIY love pillow with the rest of the decor for a festive Valentine's sofa. 
5. Decorate Your Porch with an Adorable Candy Wreath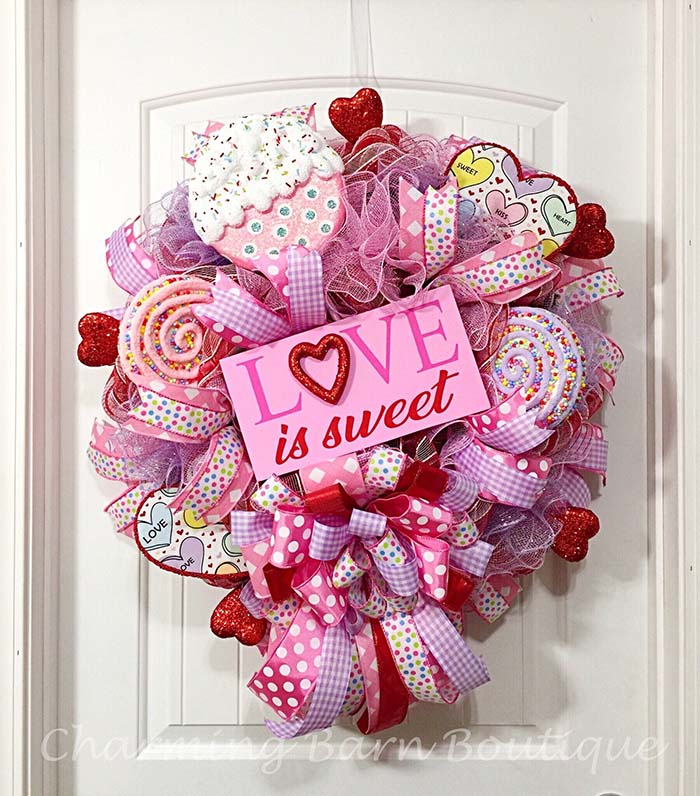 I found this beautiful DIY home decor while I was helping my sister to find some Valentine's wreath ideas.
Love is sweet so does this adorable wreath made of candies and lollipops. 🙂
Check availability: Here
6. Let Love Flow on Valentine's with DIY Raining Hearts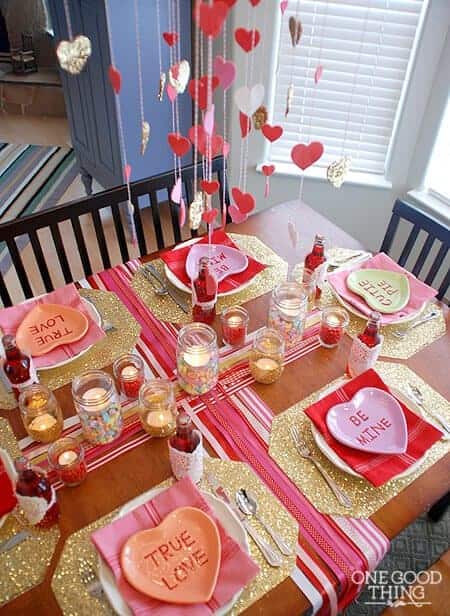 Photo: Credit
You won't need much time and money to re-create this appealing rain of hearts.
It's surely a nice touch to the Valentine's day table decorations.
I would recommend to use more glitz to make the decor more shimmering and fun.
7. Create a Romantic Yarn Wrapped Ombre Sign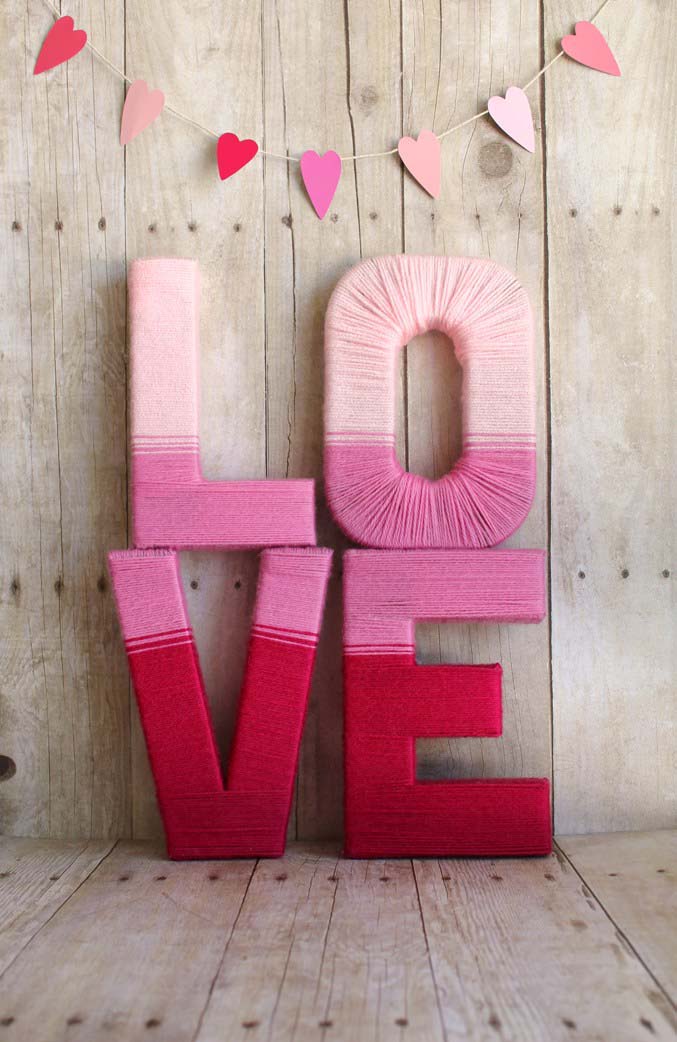 Photo: Credit
Here is an idea that every crazy DIYer would love!
Use cardboard letters from the nearest craft shop to make this cute ombre Valentine's wall decor. It's quite rustic and romantic, isn't it?
8. Show Your Love with a Charming Pink Heart Ornament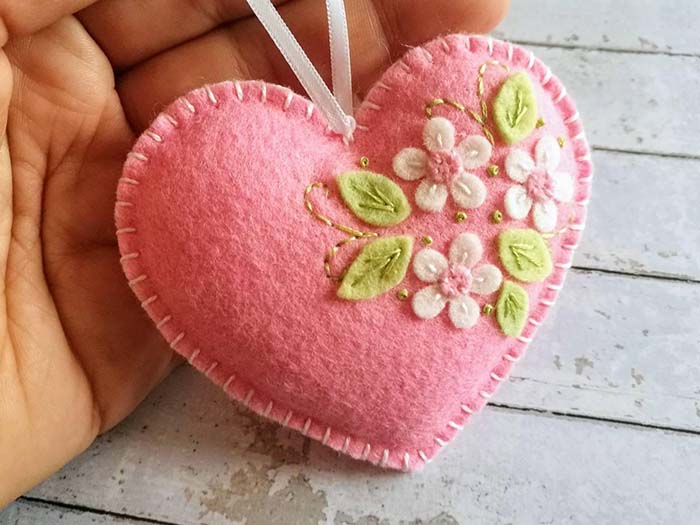 This adorable DIY wool felt heart ornament is the perfect addition to every Valentine's day party decorations as well as wedding decor.
It is very sweet and cheery.
Check availability: Here
9. Give Your Porch a Makeover with Valentine's Decorations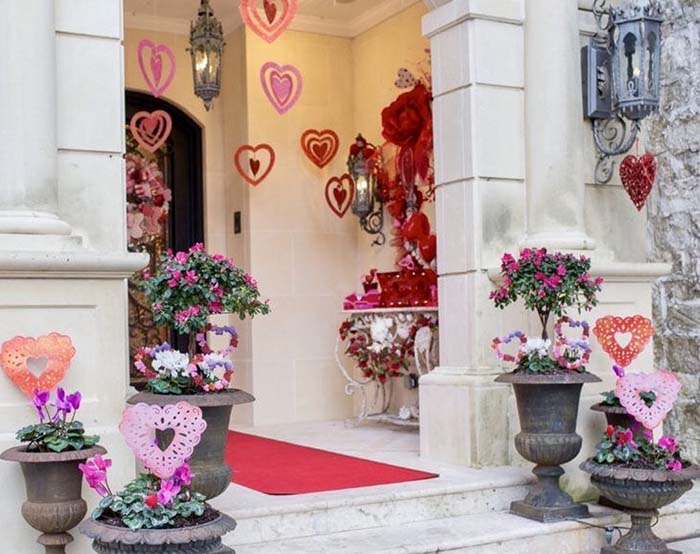 Photo: Credit
These adorable and cheap Valentine's day decorations for the porch will make your house look very warm and inviting.
Also, you don't need to spend a fortune – simply make some paper hearts in different colors to grab everyone's attention.
10. Add a Touch of Love with a Unique Heart Cards Garland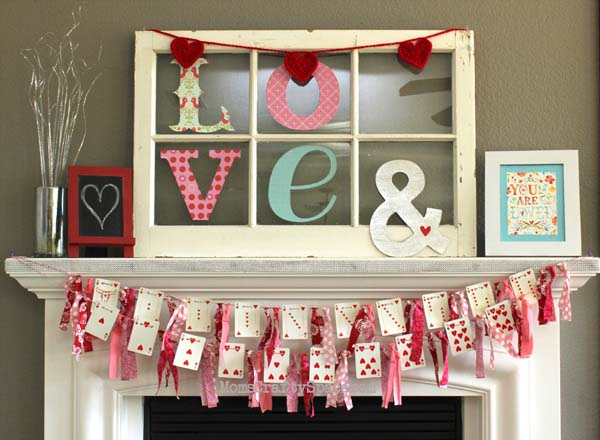 Photo: Credit
This handmade garland of cards will definitely become a charming decoration for the mantel.
Moreover, it differs quite a lot from the popular decorations for Valentine's day that are usually made with pink or reddish hearts.
11. Bring Rustic Warmth with a Reclaimed Wood Love Sign

This fun LOVE decor made of reclaimed wood could be either an adorable mantel, porch, or entrance hall decor.
It will surely give every space an unpretentious, rustic vibe.
Check availability: Here
12. Make a Statement with a Red and White Valentine's Tree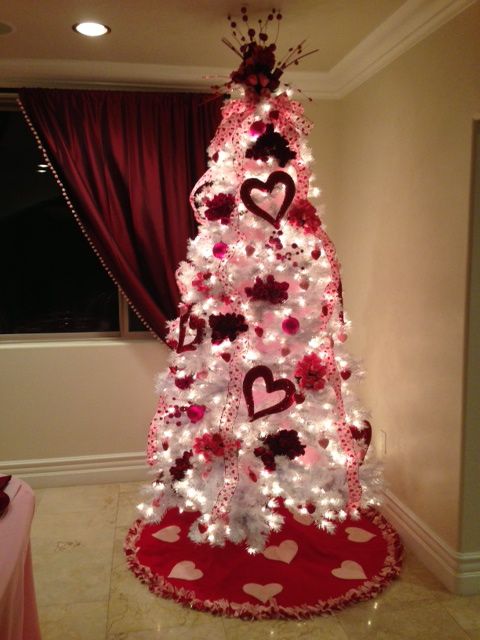 The Valentine's day tree decorations are suitable for those of you who like bold, showy home decor ideas.
That's basically a faux, all-white Christmas tree decorated with red hearts and some ribbons. Very unusual, eh?
13. Create a Romantic Ambiance with Mason Jars Candle Holders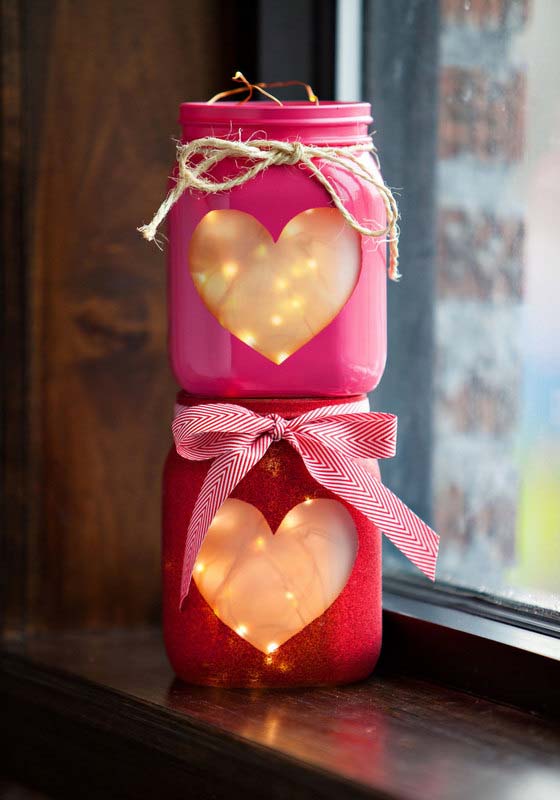 Deck out a bunch of Mason jars you don't use with glass paint to create the cutest Valentine lights decorations.
Add some ribbons as a final touch to these adorable DIY candle jars.
14. Express Your Love with a Lovely String Heart Art Gift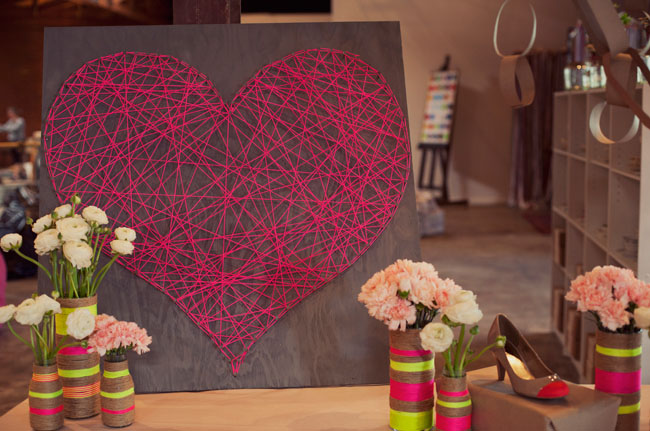 Photo: Credit
Surprise your partner with this pretty piece of string art made by you.
Directly latch pink string around nails arranged in a Valentine's day themed heart shape.
15. Craft a Special Heart Garland for Valentines Day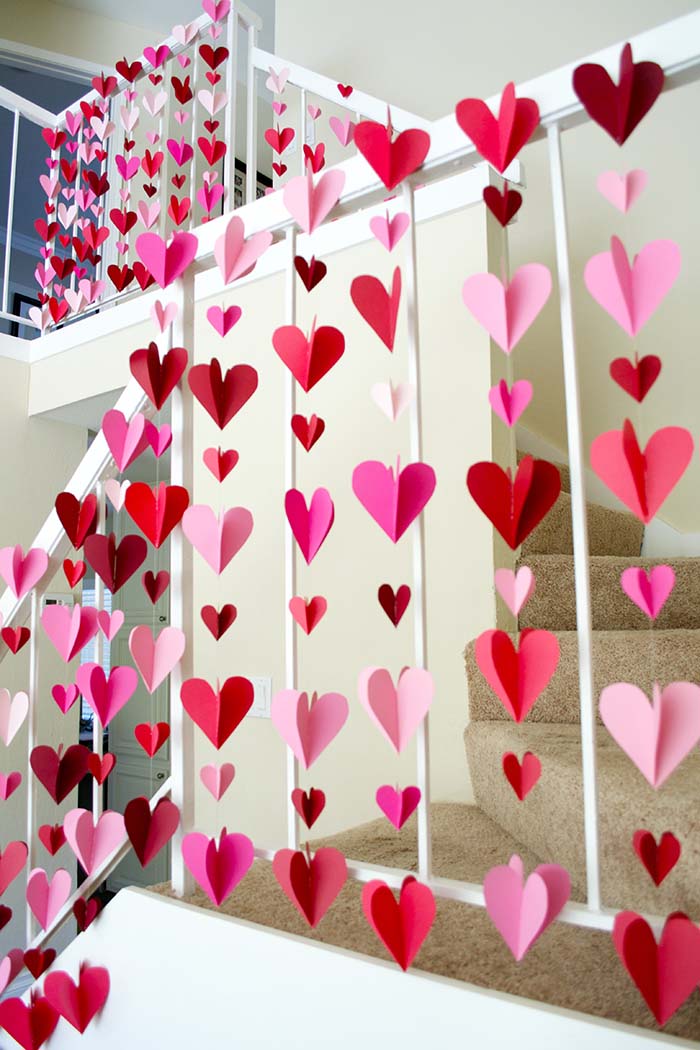 Photo: Credit
Even though it would take a bit more time, this brilliant DIY heart garland is surely something that would make your guests talk from the moment they enter the house.
I'm sure this project would become one of your favourite DIY Valentine's day decorations (am I right?) 🙂
16. Upcycle Sweaters into a Chic Heart Garland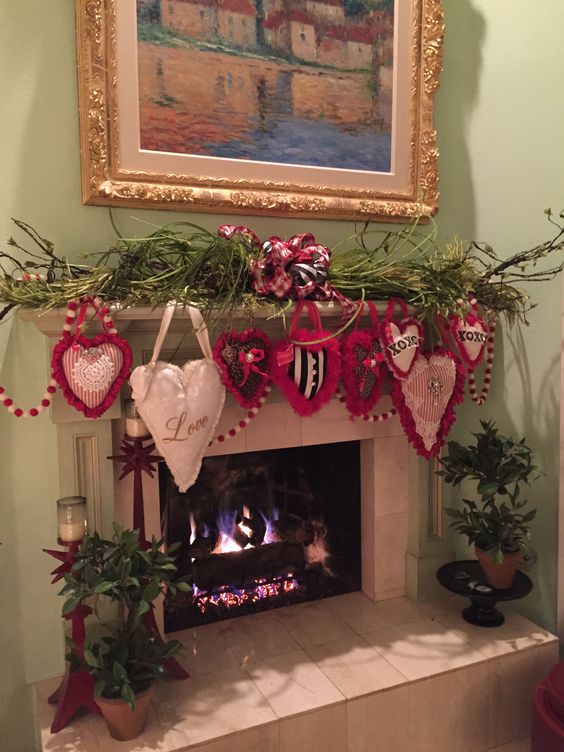 What are you doing with your old sweaters! Please don't toss them out!
Instead, put them to good use and make these charming and fluffy sweater hearts in various sizes and display them on the mantel.
17. Make Your Home Feel Like a Rustic Wonderland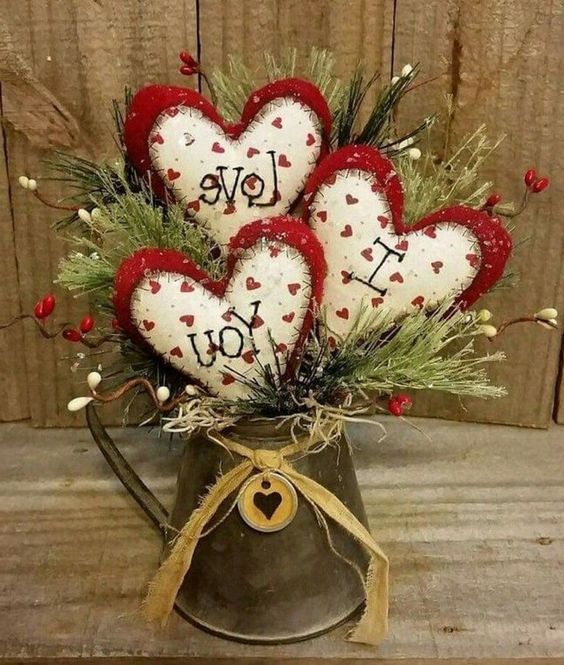 If you plan to say "I LOVE YOU" for the first time to your partner at Valentine's day, why don't you try to re-create a similar to this rustically chic DIY decor?
It's very lively and, also, could be displayed on the dining room table or close to the window.
18. Redefine Valentine's Day with an Apothecary Jar Decor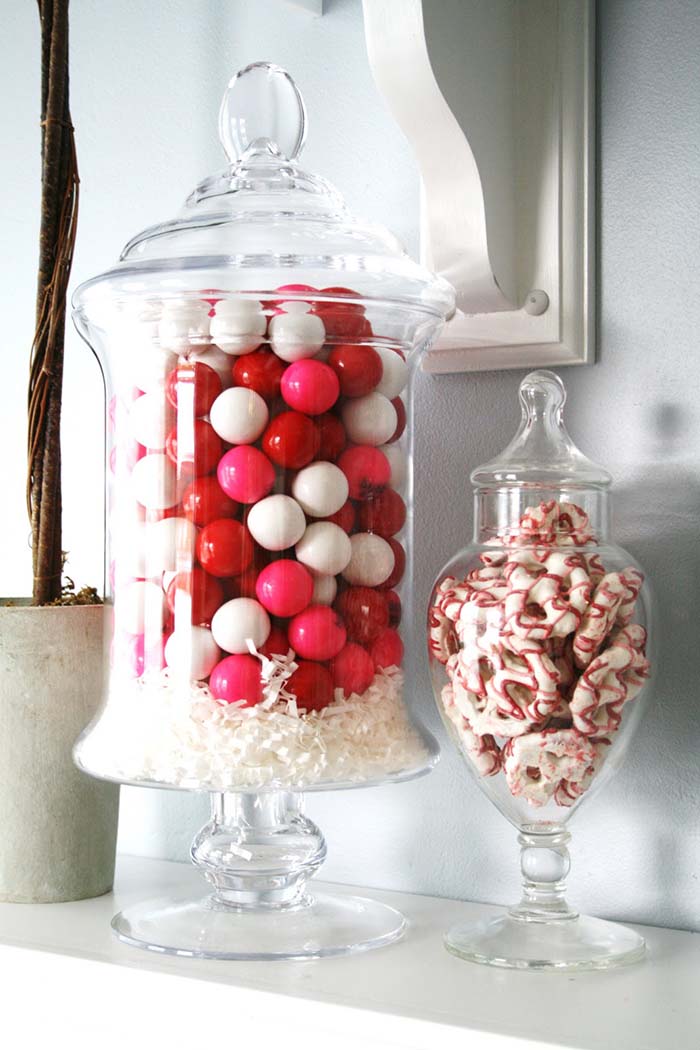 Photo: Credit
Let's finish the collection of Valentine's day decorations with another idea that says "Love is sweet".
just fill up a bunch of apothecary jars with some fun pink, white, and red candies from the shop.
19. Make an impression with Mason Jar LED Lanterns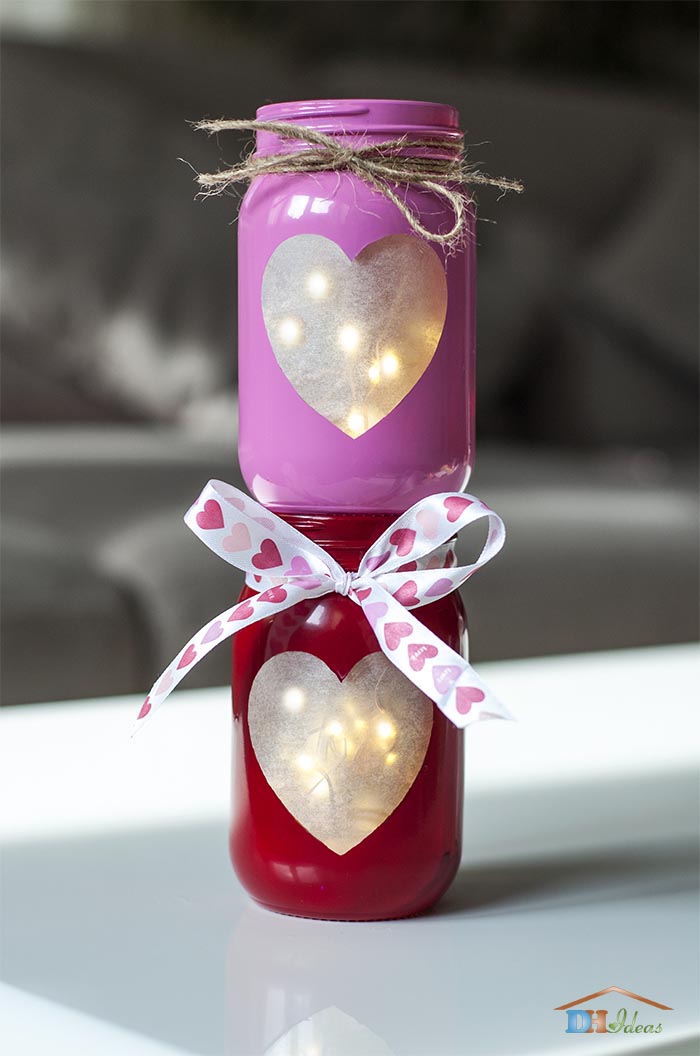 One easy and super cool Valentine's day DIY project is painting two mason jars in pink and red with hearts.
Check out our step by step tutorial on how to create these: Here
Hopefully, you found what you were looking for in this pleasant selection of simple Valentine's day decorations and sophisticated details. If I was you, I would customize them to reflect my personal style and taste by playing with colors. shapes and additional elements. Good luck! 🙂