Cute, cheerful snowmen are a surefire sign that the holidays are approaching.
This Christmas, brighten your festive decor with a fun snowman craft.
Whether you're expecting a white Christmas or a balmy holiday, these adorable ideas are the perfect way to bring a sweet snowman into your home.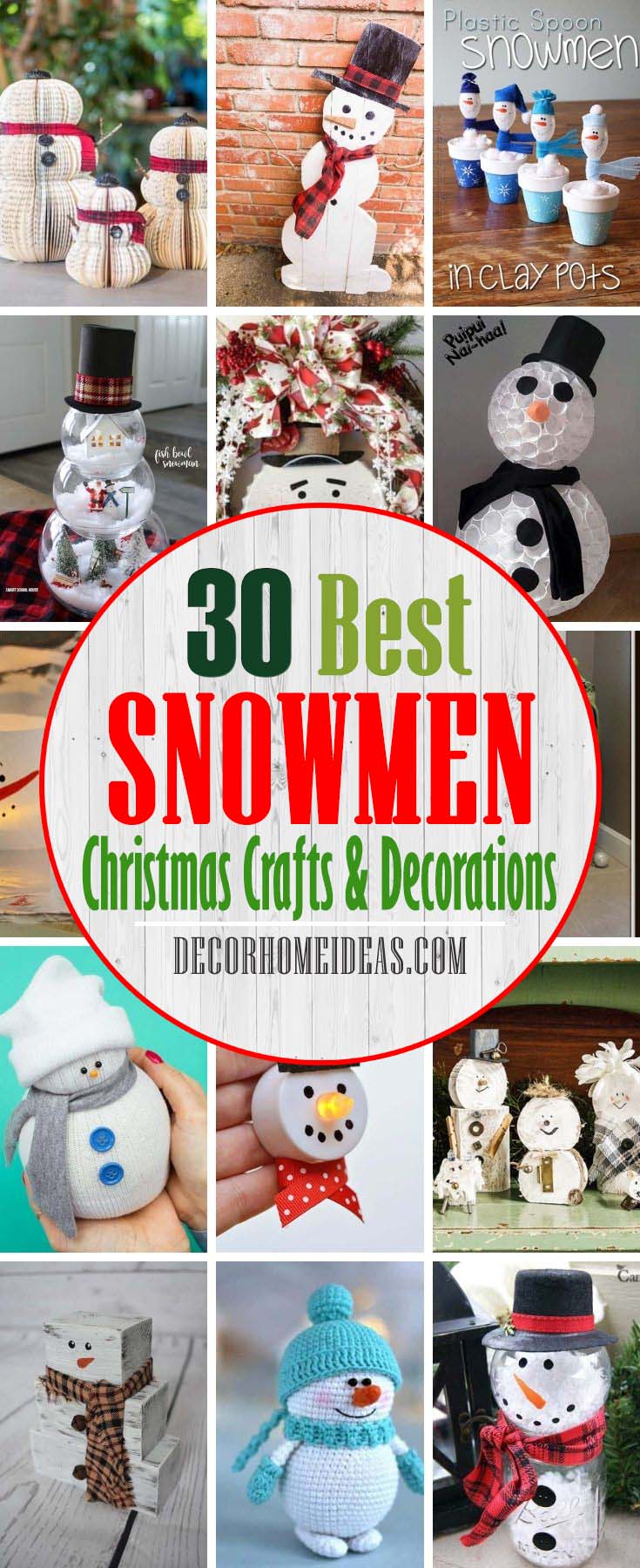 1. Fun Craft Project Luminary Covers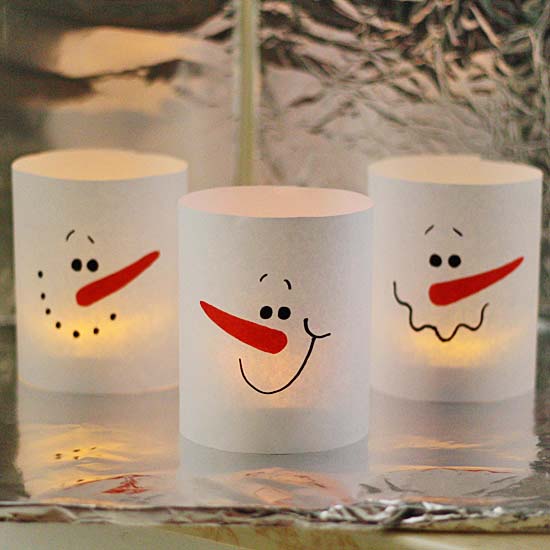 When you only have time for a quick craft, these three-minute luminaries fit the bill.
Drop them around a battery-operated candle for a sweet addition to your holiday decorations.
via Crafts By Amanda
2. Christmas Themed Terrarium Snowmen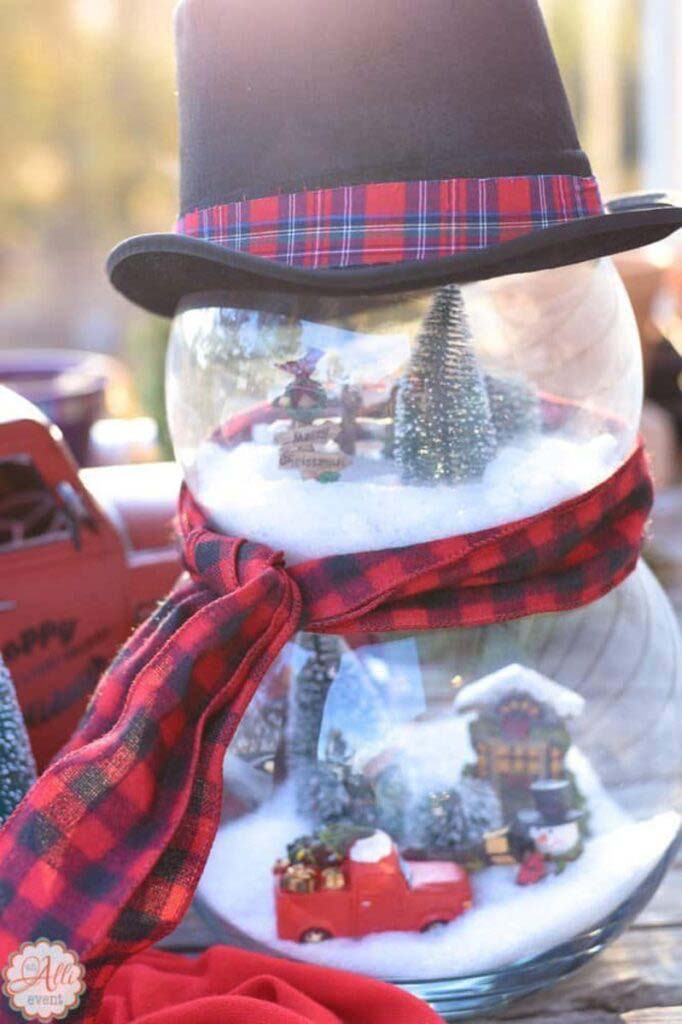 Don't let the impressive design of this Frosty the Snowman piece fool you — it looks complicated, but you can complete it in a matter of hours.
The clear, accessory-laden fish bowls create a magical peek at the adorable winter scenes inside each bowl.
via An Alli Event
3. Cute Crocheted Snowman Décor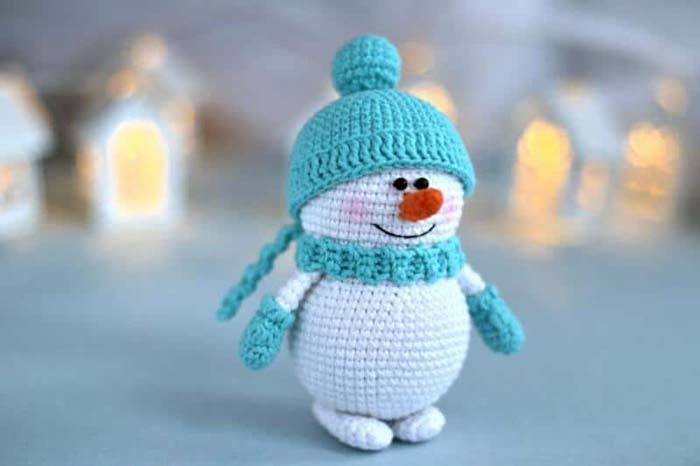 If you're handy with a crochet hook, turn some of your yarn scraps into this super-cute Amigurumi snowman.
He's adorable enough to add to your decor — you can even give him as a gift that's sure to delight the little one in your life.

4. Make A Snowman Garland With Balloons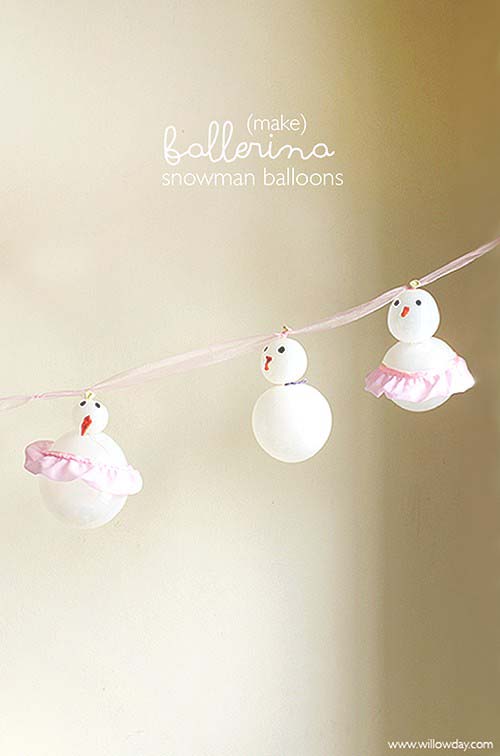 Do you have a little ballet dancer in the house?
This ballerina snowman craft is the perfect way to spend a winter afternoon.
Ruffled trim takes the place of a tutu, and the ballet-pink hanging ribbon adds to the feminine vibe.
via Willow Day
5. Winter Ready Log Snowmen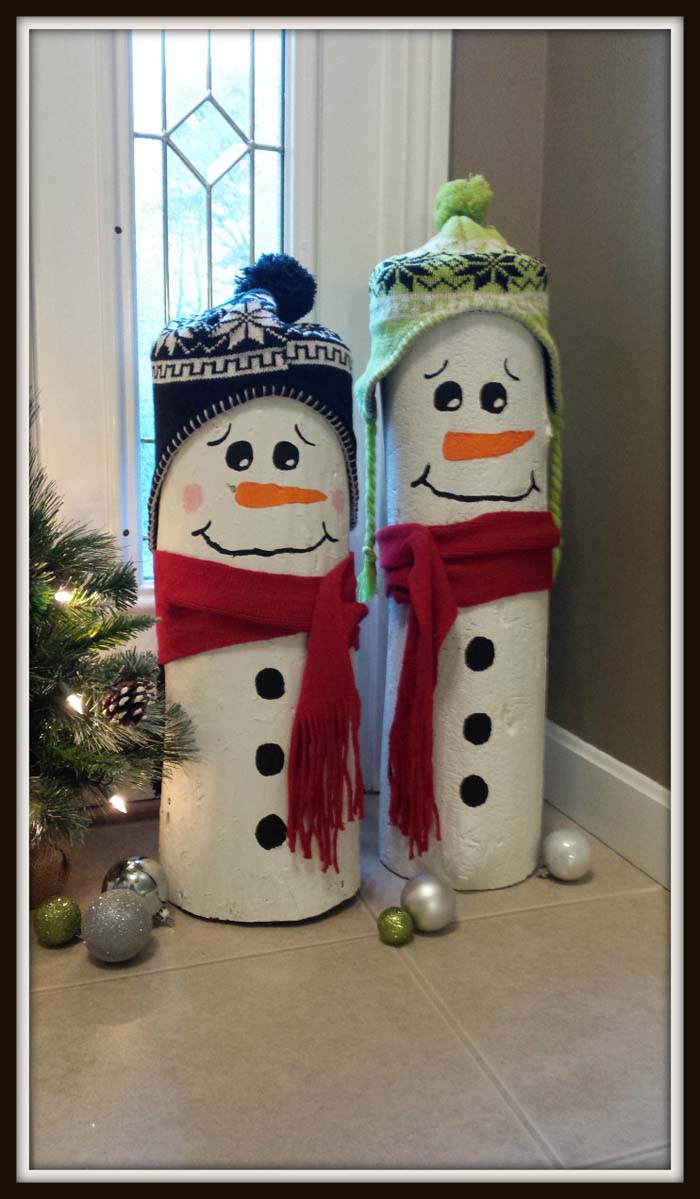 Turn a fallen tree into a pair of cute snowmen with this easy project.
With some paint and a few accessories, you can make a sturdy decoration that's tough enough to display inside or out in the cold.
via Hip 2 Save
6. Easy Snowman Sock Toy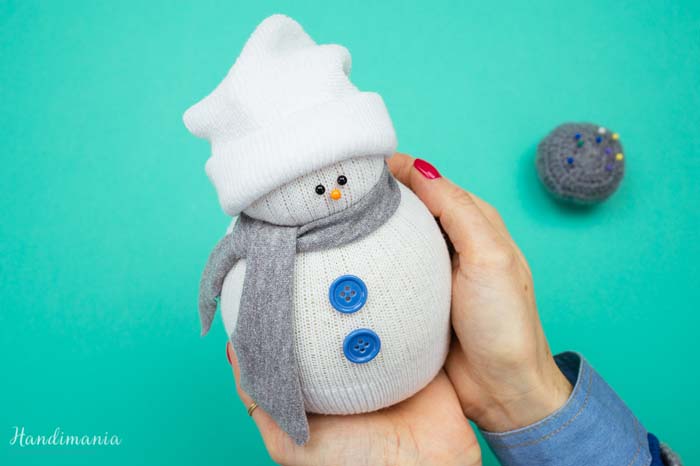 With his round body and impossibly adorable face, this tiny sock snowman is easy to love.
The knit pattern of the sock creates a subtle texture. Make one or a whole family; it's a great way to upcycle socks without a partner.
via Woman Freebies
7. Jolly Wood Snowman Standee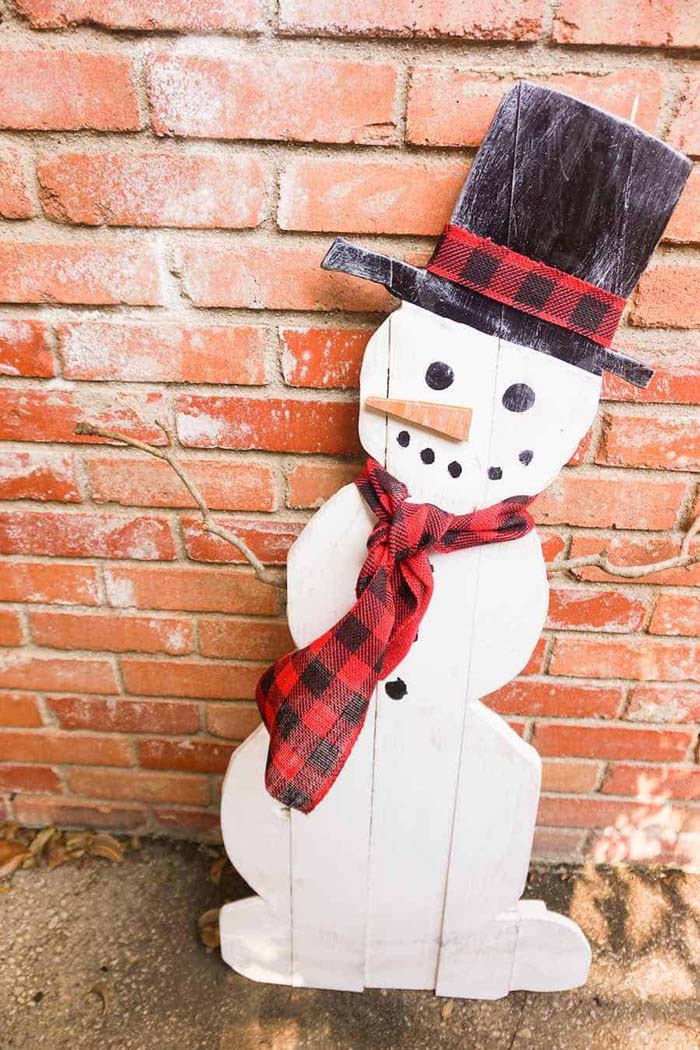 Grab a saw and a wooden pallet or planked panel to create this rustic snowman.
The durable wood stands up to anything Mother Nature can throw your way; you might even decide to keep your snowman outside all winter long.
via Happiest Camper
8. Festive Use For Dryer Hoses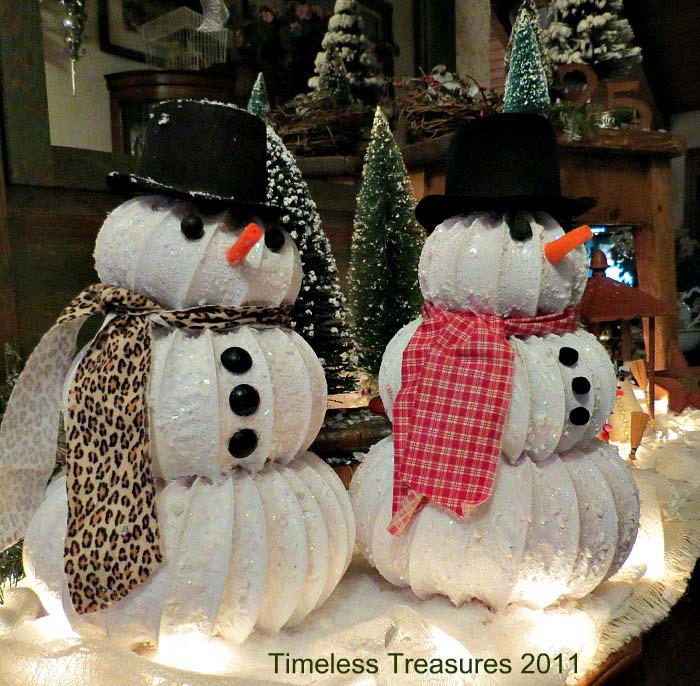 Can you believe that these snowmen are made from old dryer vent hoses?
The head and body segments come together in minutes, leaving plenty of time to add scarves, hats, and faces.
Chunky glitter adds a sparkling touch that's reminiscent of freshly fallen snow.
via Audrey Zumwalt
9. Kid Friendly Felt Wall Snowman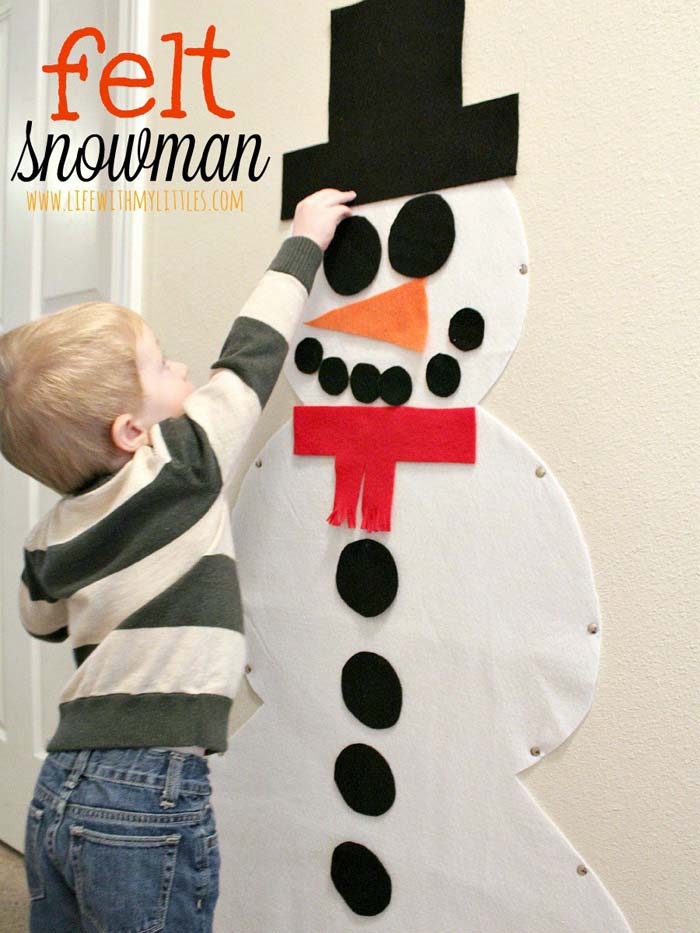 Make use of your extra felt with a fun wall-mounted snowman craft.
Your little ones can help place the eyes and accessories — just mount the snowman to the wall using tacks.
For extra fun, place hook-and-loop stickers on the back of each piece so your kids can rearrange the face when the mood strikes.
10. Holiday Scene Snowman From Fish Bowls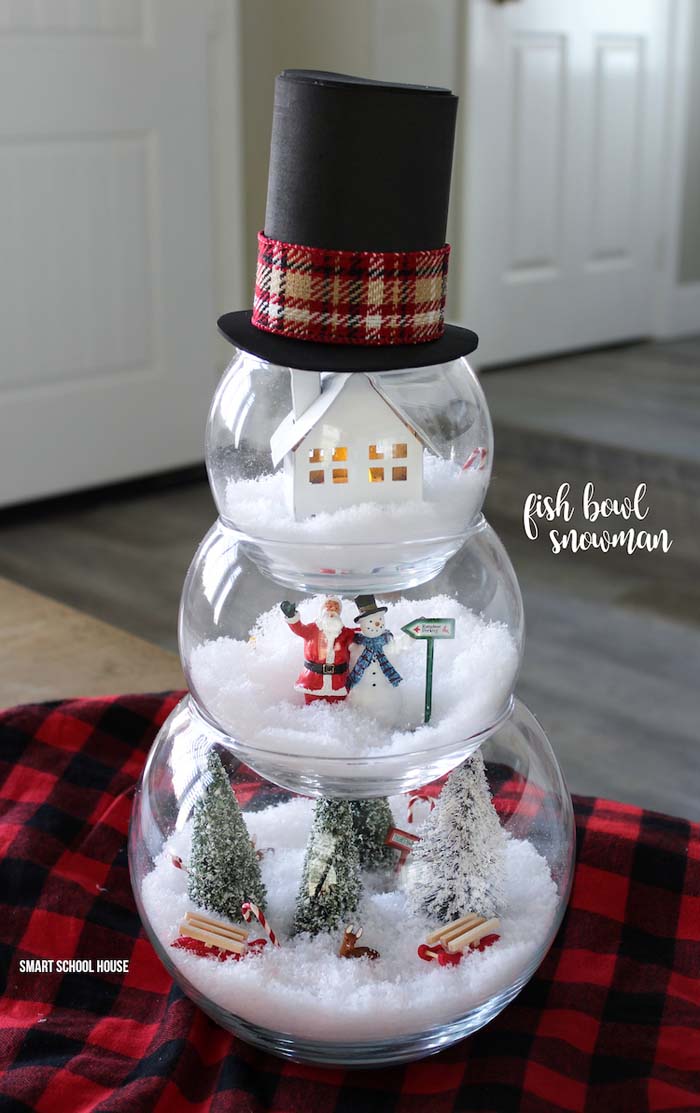 Turn cheap dollar-store fish bowls into this spectacular snowman decoration.
Each bowl nests inside the next, creating a tier that's shaped exactly like a snowman.
Add fake snow and cheery winter scenes for a professional-quality piece.
11. Fun Appliance Snowmen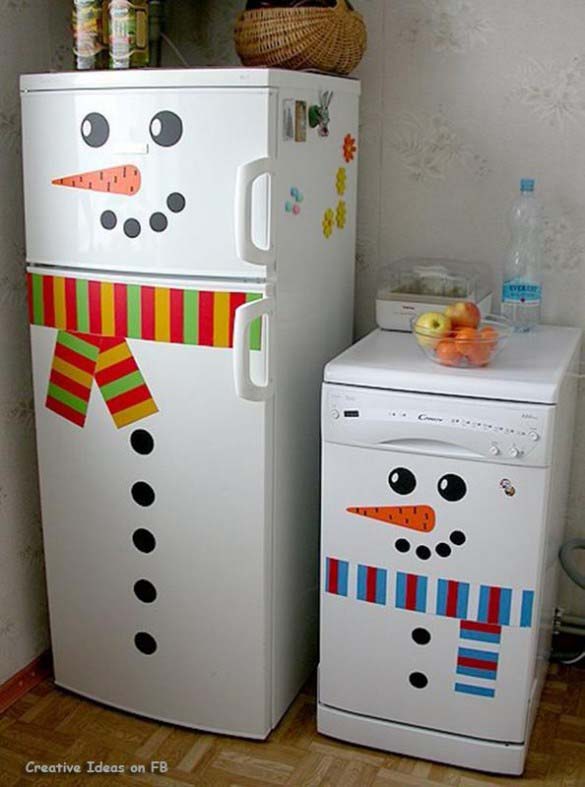 One evening when your little ones are sleeping, turn your refrigerator into a giant snowman.
Buy decals or make your own — your kids will be thrilled to see their new frosty friend.
If you have a dishwasher, turn it into a miniature companion for Frosty.
via Mommy Edwards
12. Add A Snowman Face To A Wreath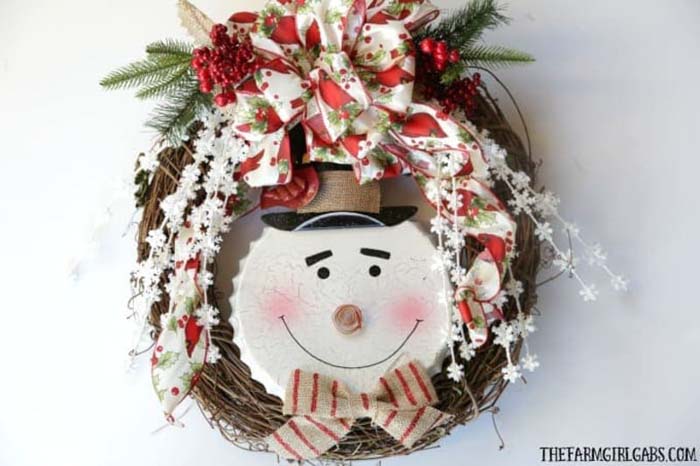 Make a beautiful wreath even more welcoming by adding a sweet snowman face to the center.
This clever craft works with any wreath you have on hand, from traditional green versions to rustic twine models.
Top it off with a cascade of ribbons and bows.
13. Jar Lid And Felt Ornament Project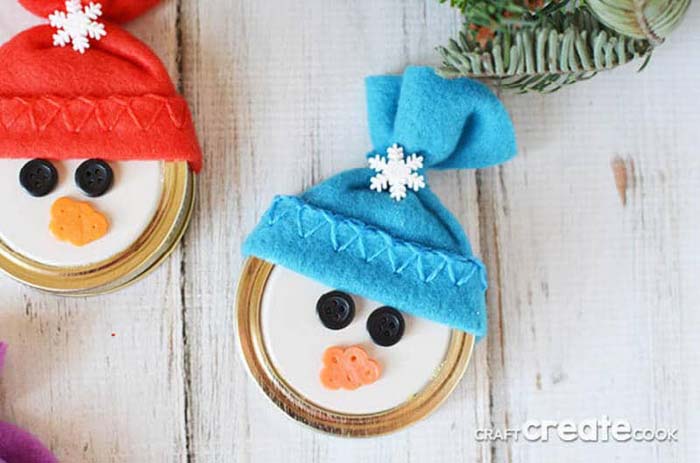 Bring a crew of sweet snowmen to your Christmas tree with this adorable DIY project.
It uses the lids from Mason jars as the faces of the snowmen.
Add easy felt or fleece hats for a festive touch.
14. Dollar Store Globe Snowman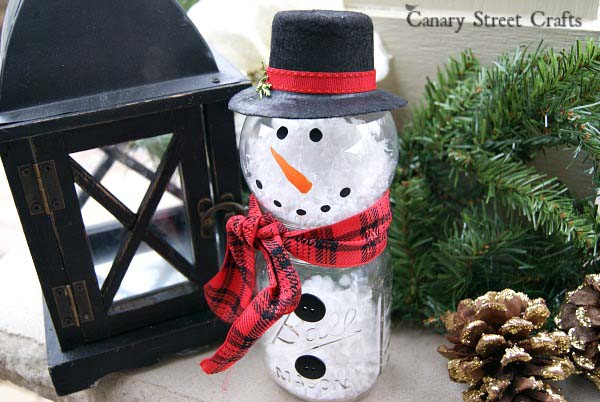 The next time you're shopping at the dollar store, pick up a clear globe ornament.
When you place it on top of a Mason jar and add a hat and scarf, this simple arrangement becomes a friendly snowman.
Fill your new friend with artificial snow to turn him into a true Frosty.
15. Tulle Snowman Face Wreath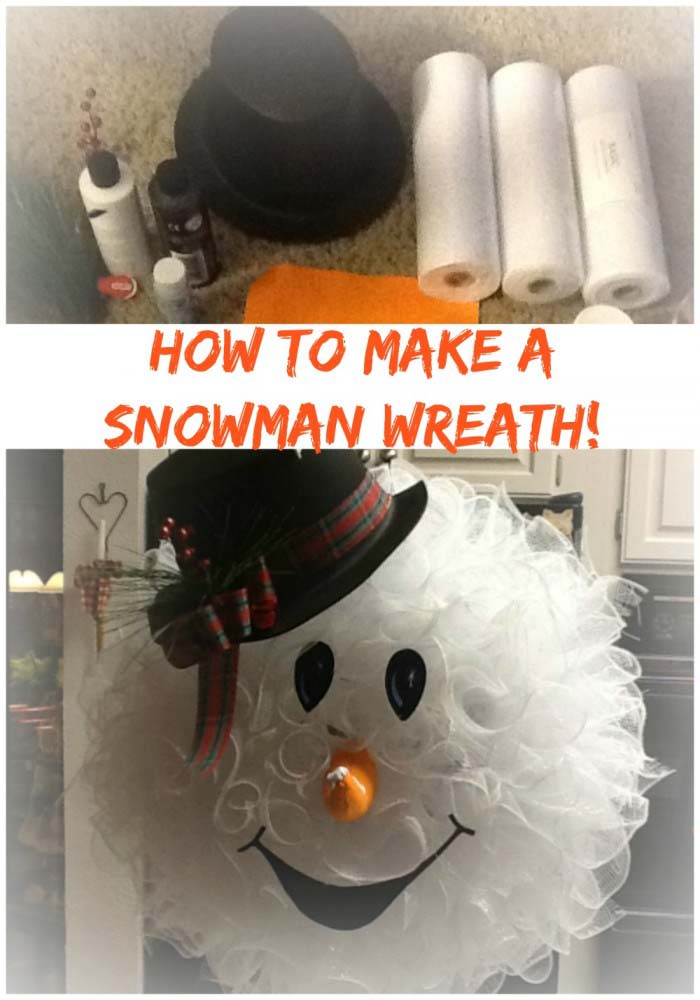 Bring new life to your front-door decor with this creative snowman wreath.
The face is formed by rolls of white tulle, creating a thick, textured surface that moves softly in the breeze.
We love how the snowman's hat sits at a rakish, charming angle.
via Grillo Designs
16. Repurpose White Cups As A Snowman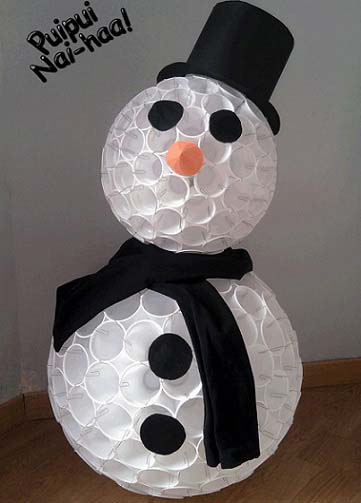 Do you have leftover paper or plastic cups from a party?
Turn them into a three-dimensional snowman craft. When you face the cups with the open ends out, they form perfectly round balls.
Create two or three and stack them to create the size of your choice.
17. Plant A Snowman Spoon Garden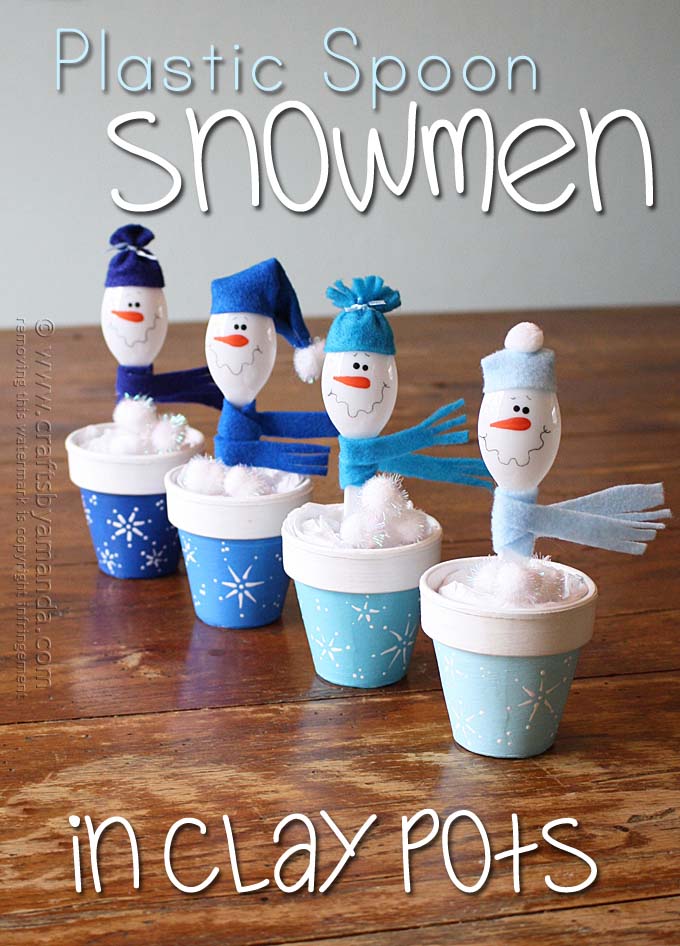 Spend a fun afternoon as a family making these cute spoon snowmen.
They stand in tiny pots filled with sparkling pom-pom snow, so you can rest them on bookshelves, mantels, window sills, or even bedside tables for an extra touch of holiday cheer.
via Crafts By Amanda
18. Fun Snowman Stick Craft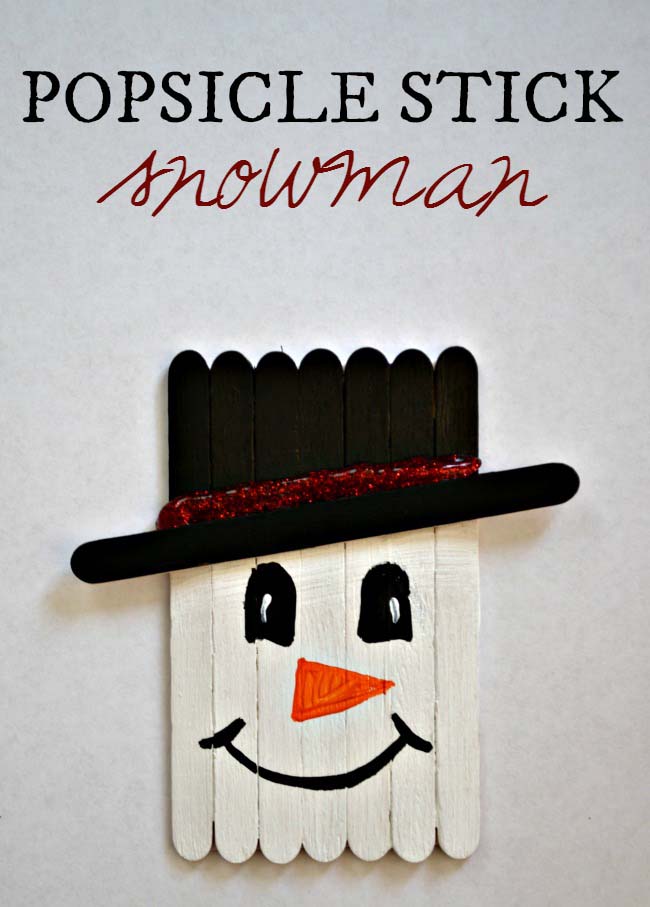 Use up some of the craft sticks in your collection by transforming them into a snowman decoration.
Black, white, and orange paint take a simple rectangle of plain wood and turn it into a fabulous Frosty.
Puffy glitter paint makes a fun 3-D hat band.
19. Wood Block Decorative Snowmen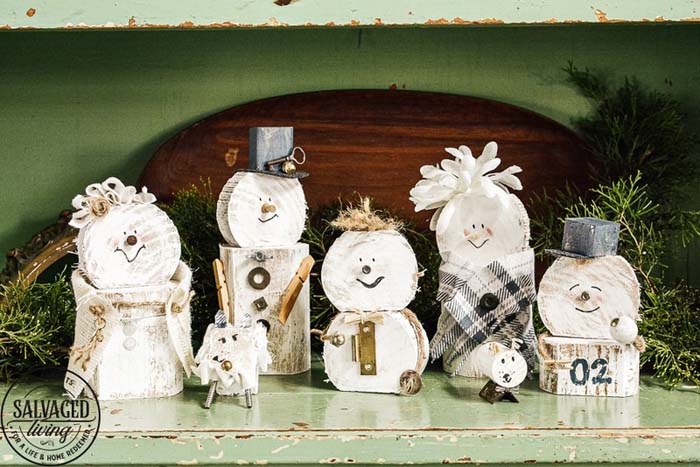 Head down to your woodshop to grab a few pieces of scrap wood for this project — it's the perfect way to use up small pieces.
Don't worry if the pieces are imperfect; that only adds to the charm of your snowman family.
via Salvaged Living
20. Stacked Basket Snowman Project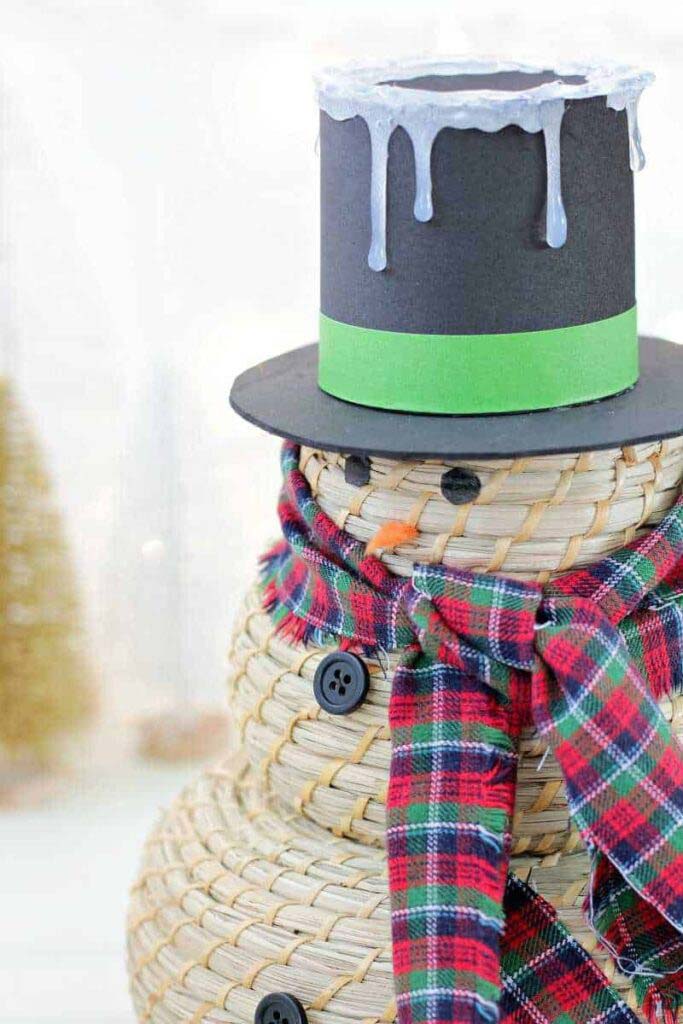 Have you ever seen the gorgeous round baskets at IKEA?
Stack three of them in descending sizes to create a natural-colored snowman.
A real scarf and a DIY snow-covered top hat add a pop of Christmassy color.
21. Ribbon Wrapped Tomato Cage Snowmen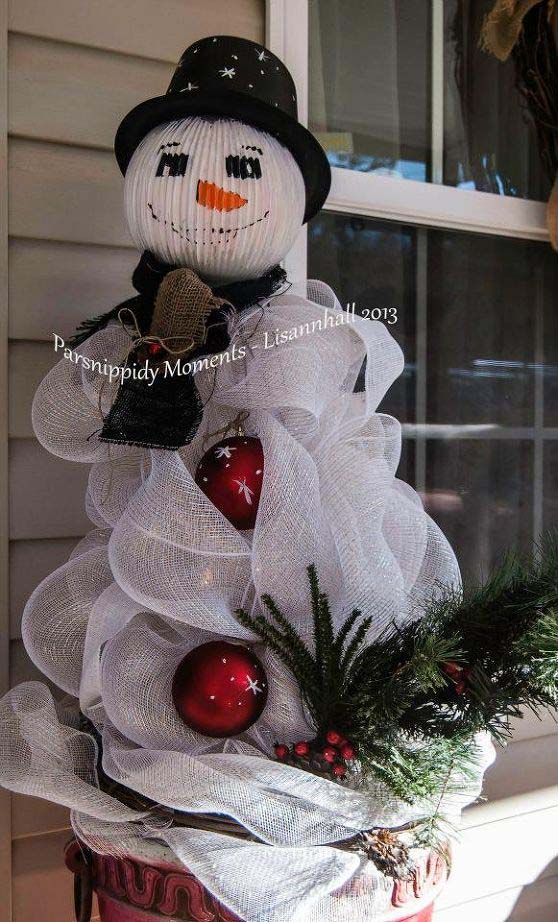 After the growing season, what happens to your tomato cages?
Pull them out of the shed to serve as the base for this fun outdoor snowman decoration.
We love the clever use of materials for the body and head of the snowman.
via Hometalk
22. Terra Cotta Painted Gift Pot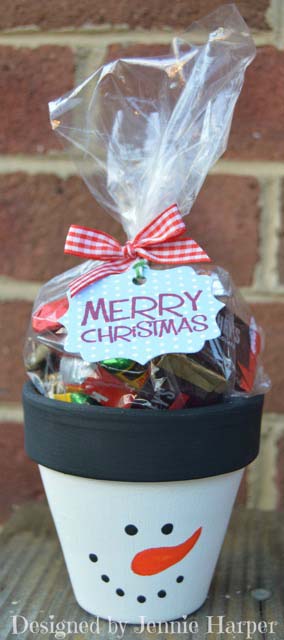 Make your neighbors smile this holiday season by putting together a snowman gift pot.
A simple clay planter sports a snowman face, and a clear plastic bag holds a bunch of sweet treats.
Add candy, or fill your snowman with home-baked cookies.
via Country Sampler
23. Glowing Snowman Mason Jar Ornament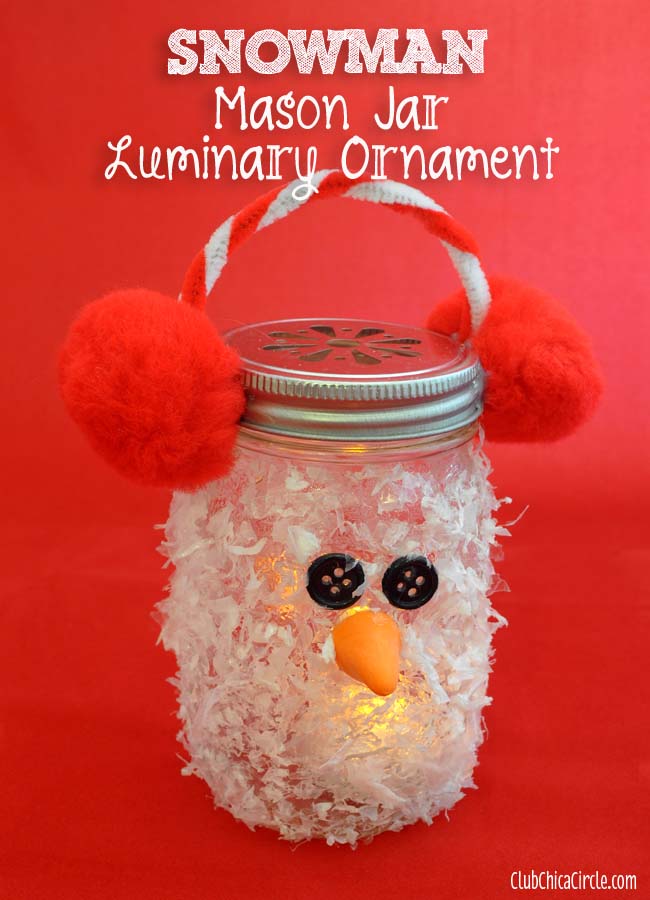 Add to the glow of the Christmas tree lights with this cheeky snowman luminary.
The secret is to coat the Mason jar in feathers or faux snow; it adds texture and diffuses the glow from the candle hidden inside.
via Chica Circle
24. Scrap Wood Block Snowman DIY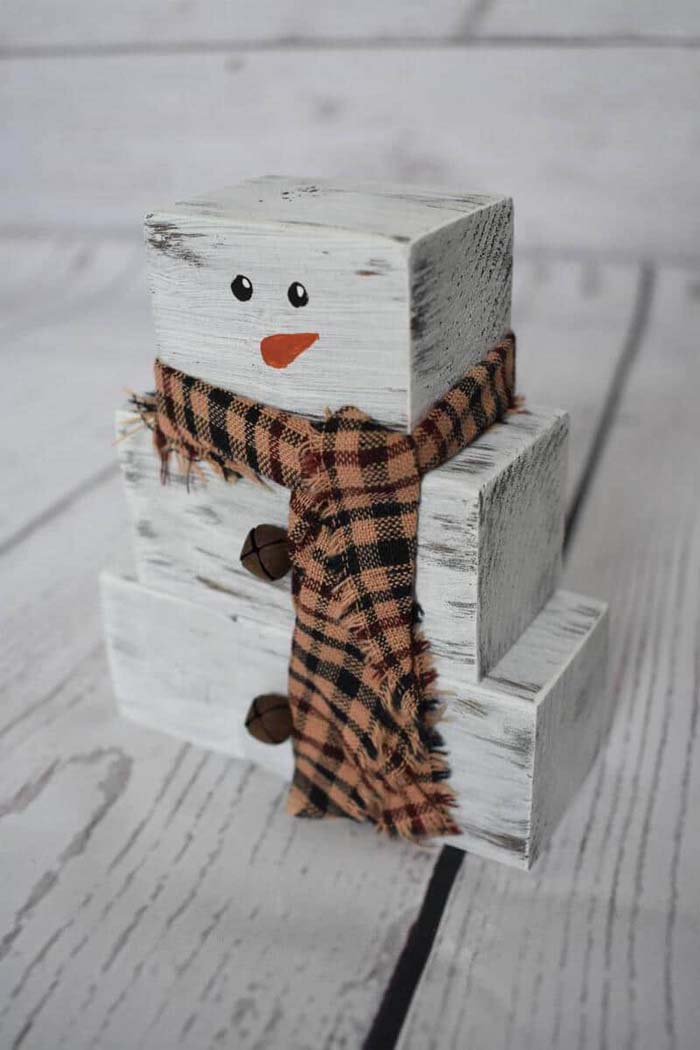 Do you need a fast craft project that looks impressive?
You need less than an hour to create this snowman — he's made from three blocks of wood and a bit of paint.
The visible brush strokes create a sense of rustic charm.

25. Battery Operated Tea Light Project

Pick up a bag of battery-operated tea lights and some festive trim, and you're all set to make these ornaments.
Flip the switch, and the candle flame turns into Frosty's glowing nose.
Glue on a ribbon loop to hang your snowmen from the tree or hooks around the house.
26. Upcycled Painted Tin Cans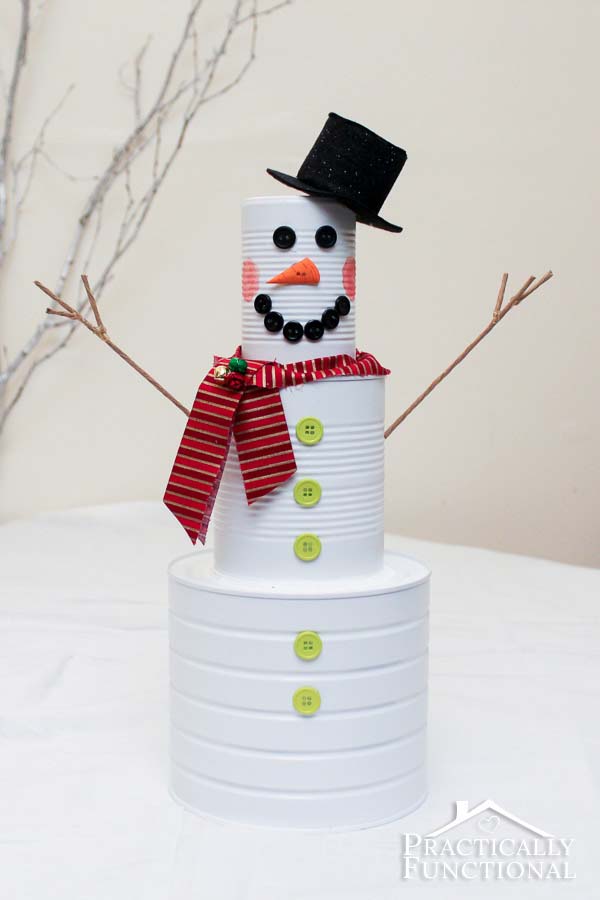 Hold a few cans back from the recycling bin — you'll need them for this environmentally friendly craft project.
A coat of white paint transforms your metal cans into a chic yet playful snowman buddy.
27. Snowman Family From Old Books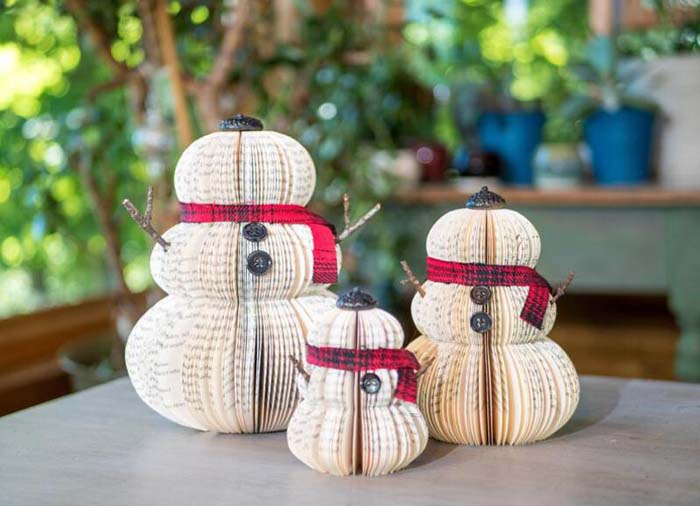 If you have a book that's missing its cover and more than a few pages, keep it aside until Christmas.
With a bit of creative cutting, your old book becomes a stunning three-dimensional snowman.
The glimpses of text add a vintage vibe to this sophisticated piece.

28. Starched Yarn Balloon Porch Snowman

Looking for an affordable Christmas craft?
Look no further — this yarn snowman costs next to nothing.
When it's complete, you have a light, airy piece to adorn the front porch or an interior shelf.
via Muy Ingenioso
29. Upcycled Plastic Bag Yarn Snowman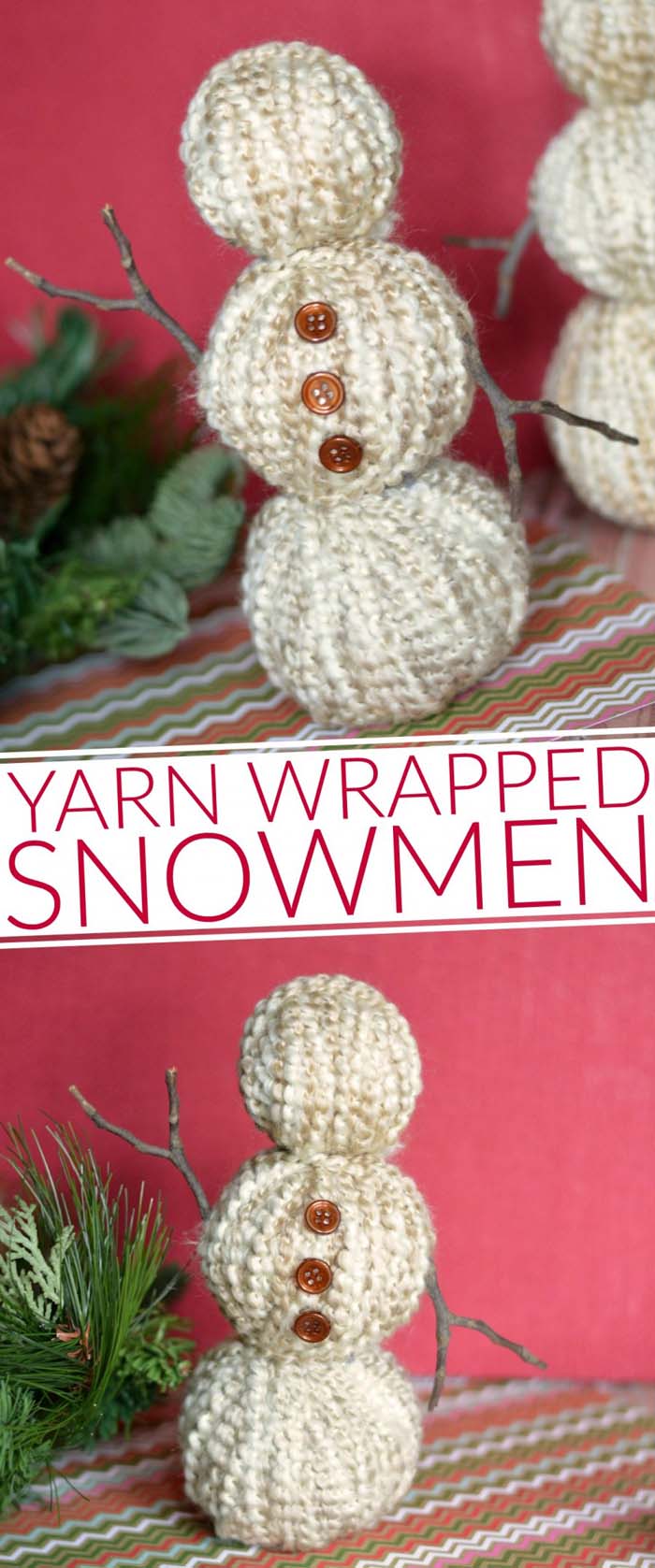 Warm and cozy, this snowman celebrates the soft texture and rich colors of your favorite yarn.
It's extremely easy to make, and requires no knitting or sewing skills. Add a face or go for a minimalist look.
via Frugal Mom Eh