45 Easy Dollar Store DIY Christmas Ornaments You Can Do With Your Kids
The most favorite time of the year is coming! Christmas is surely the most expected holiday not only because of the time spent at home, but also because of the magic it spreads everywhere.
That magic can be felt even in the interior of our homes- the blinking lights, the peeking snowmen and dwarf figures, the glitter snowflakes.
We have gathered for you a collection of DIY Christmas ornaments that will make the holidays even more joyful and colorful.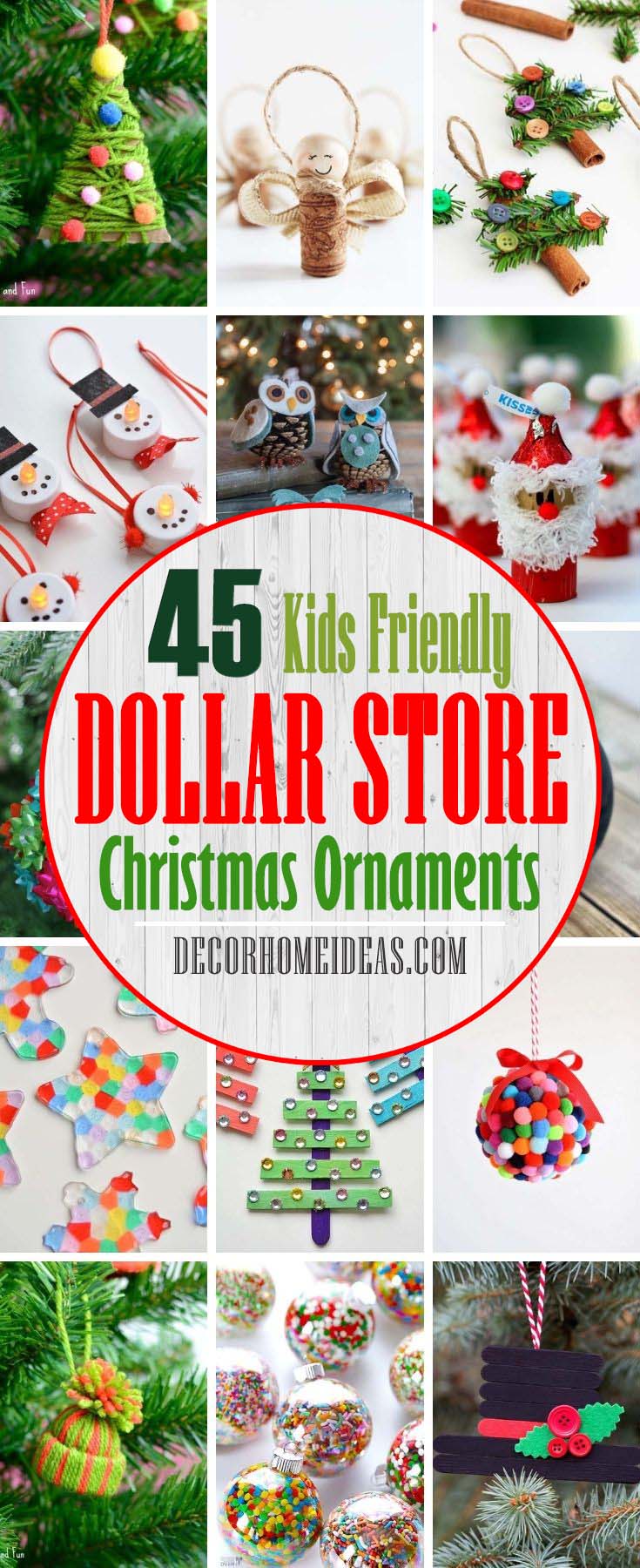 Don't forget to PIN this image for quick access to all these ideas!
All craft ideas are very easy and safe so that even the youngest members of your family can personally create a unique ornament.
They are all very inexpensive because the majority of the supplies can be found at the Dollar Store. Want to make the Christmas holiday prep more exciting for you and your kids? Get started!
Angel Doily Craft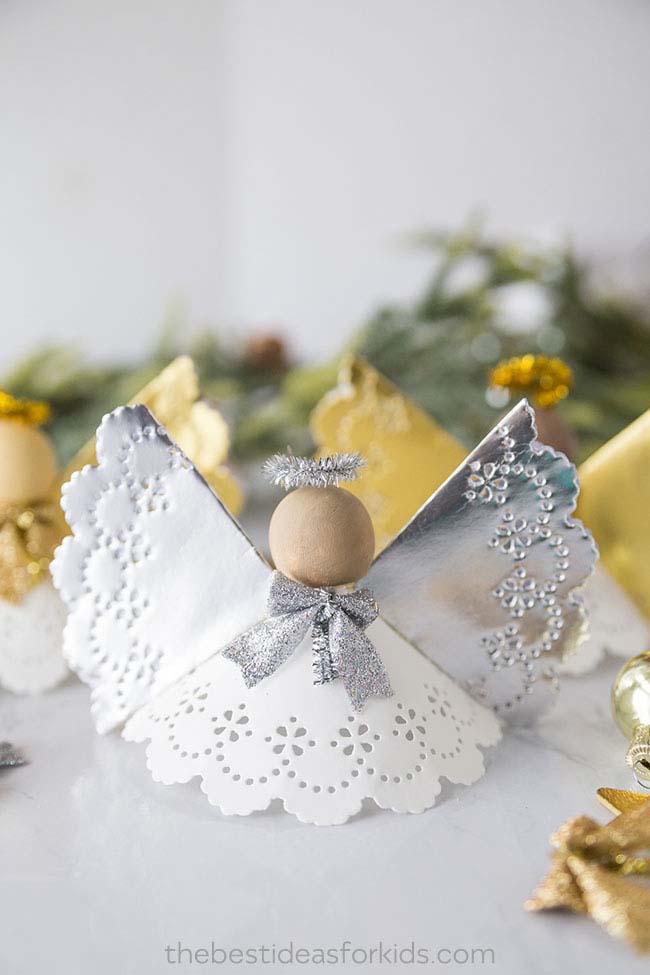 This cute angel is a gentle ornament that can beautify the home or can be used as a gift. Made of a doily and a wooden ball, get creative and paint the parts in colors you like.
Bottle Cap Reindeer Ornament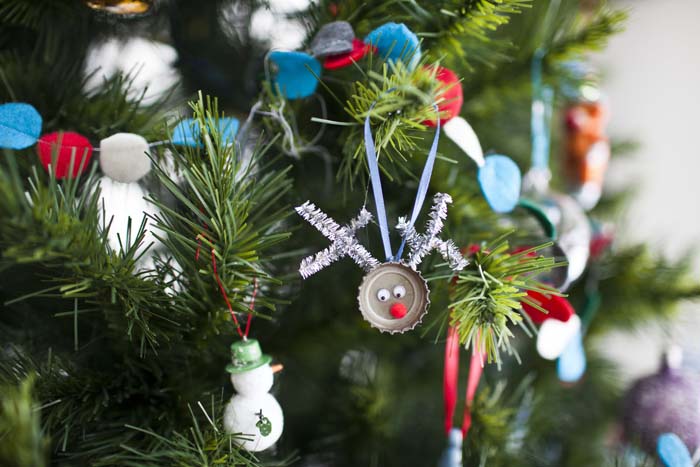 This cute reindeer ornament will teach your kids the essence of recycling, patience and how fun it is to make something with their own hands.
via Make Great
Bottle Cap Snowman Ornaments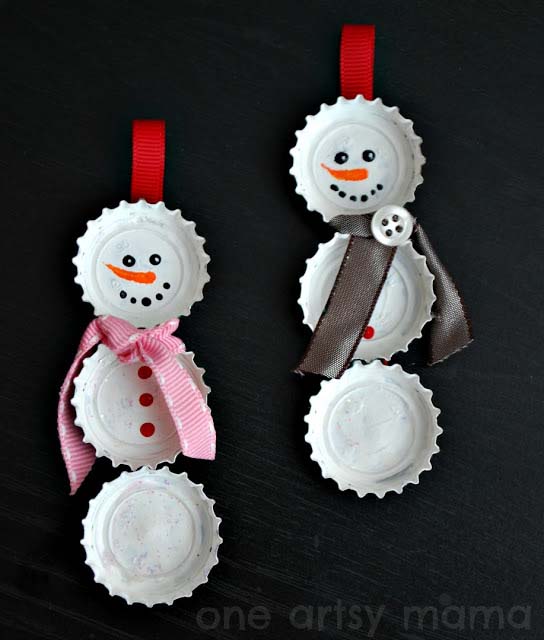 If you have collected more caps, you can also make snowmen ornaments. Glue three caps with the hot glue gun to form the body of the snowmen.
Leave the paint part to your kids as it is safe and fun.
Finally glue scarves and hooks to hang the ornaments to the Christmas tree.
Burlap Reindeer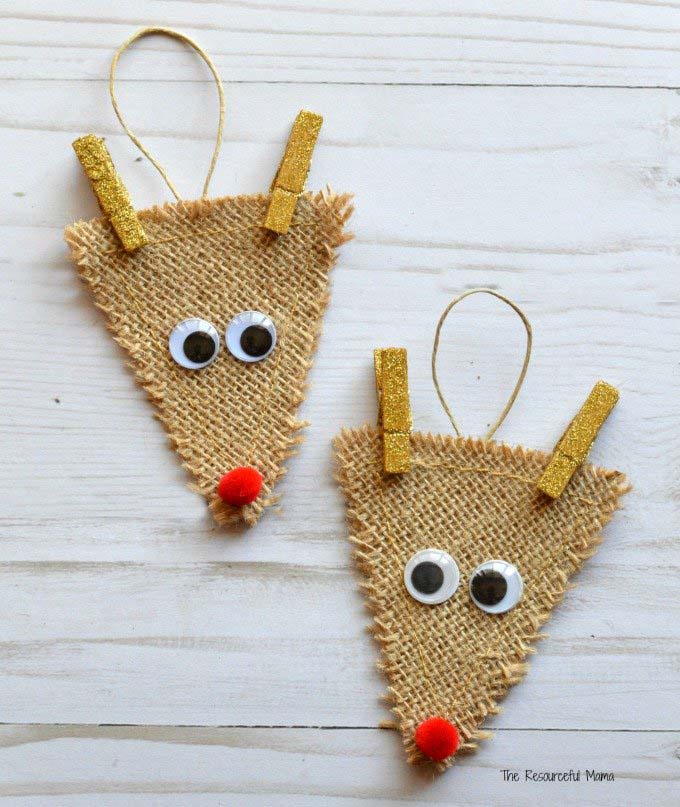 Get a burlap piece and cut it in small triangles. Then give your kids white glue or a hot glue gun (if they are bigger) to fix the googly eyes, the felt nose on the pieces. Use small clothespins as horns.
via Resourceful Mama
Candy Cane Ornaments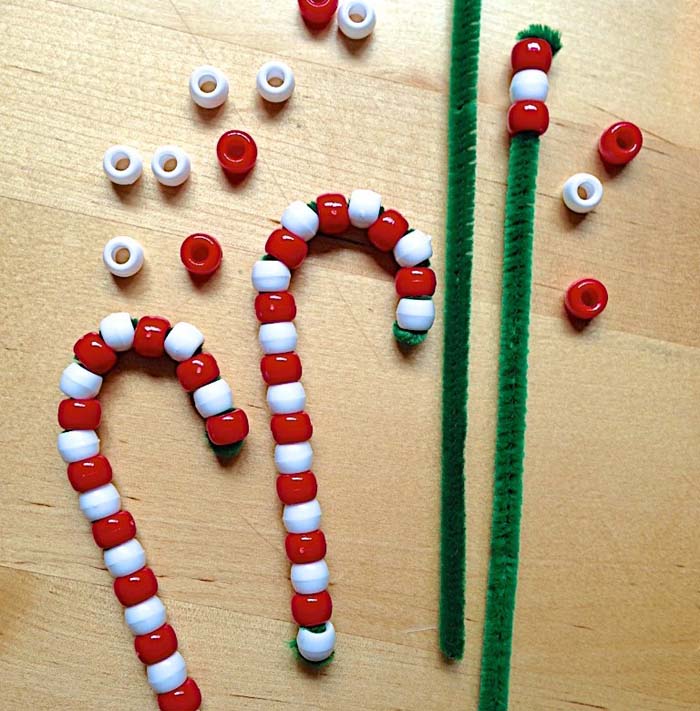 These candy cane ornaments will surely be an attractive craft even for the smallest ones.
The threading of the pony beads on the pipe cleaners will develop their fine motor skills and will be accepted as a game because of the alternation of colors.
Christmas Kiss Crafts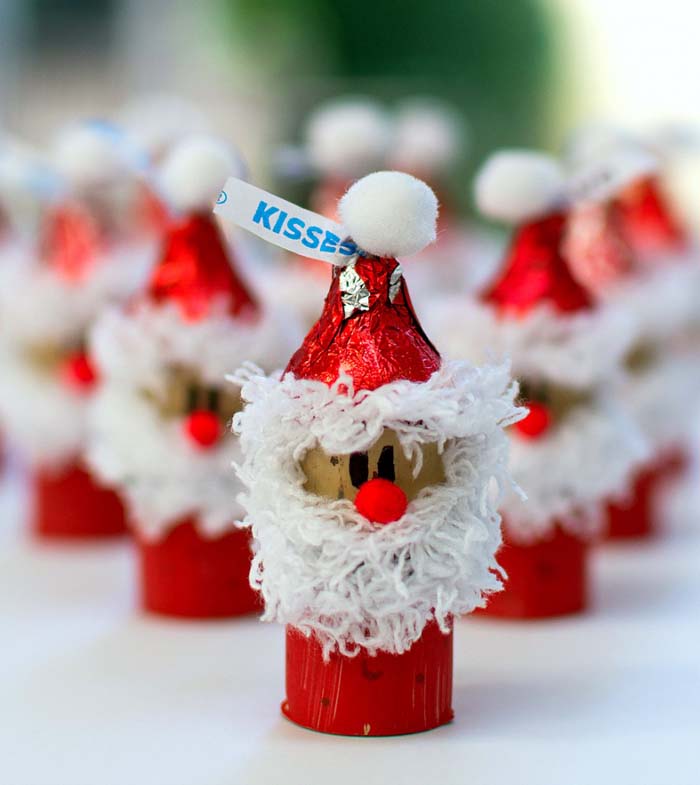 Get some corks, yarn, paints and Hershey's kisses candies to make this adorable santa.
The ornaments very cute abd sweet but you should warn your kids that they'd rather not eat them.
Cinnamon Stick Christmas Trees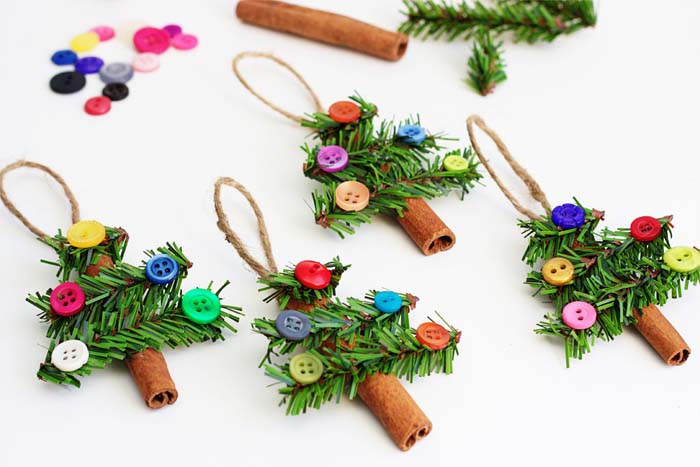 These small tree ornaments can be entirely assembled by your kids as long as you prepare the components in advance.
Prepare cinnamon sticks, some colorful buttons and cut a pine garland into short lengths and twine threads for hanging them on the tree.
via Crafts Unleashed
Clothespin Snowflake Ornaments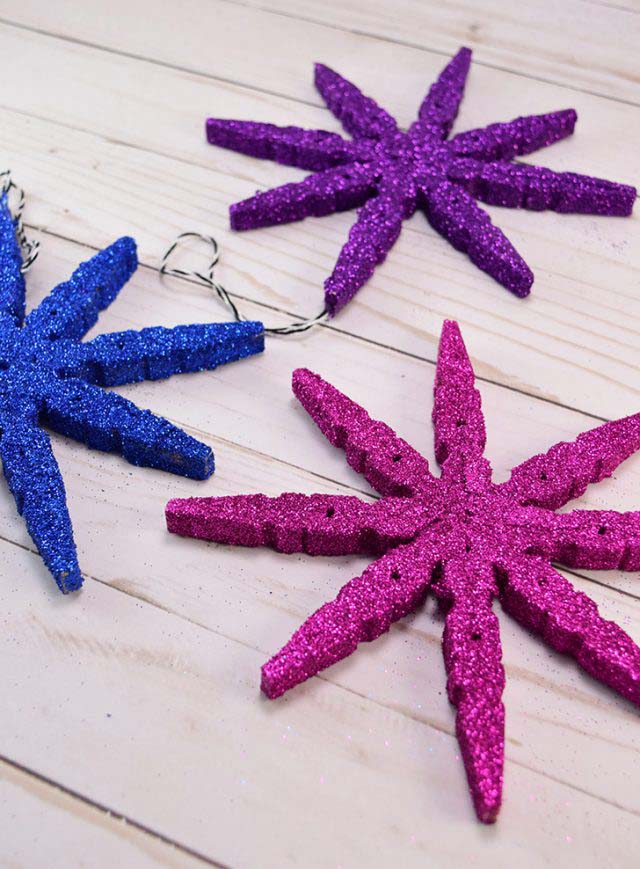 These snowflakes may look like ready ornaments but they have actually been made out of wooden clothespins.
They are glued to each other to form the shape of a snowflake and then coated with glitter.
via Mom Spark
Colored Sand Christmas Ornaments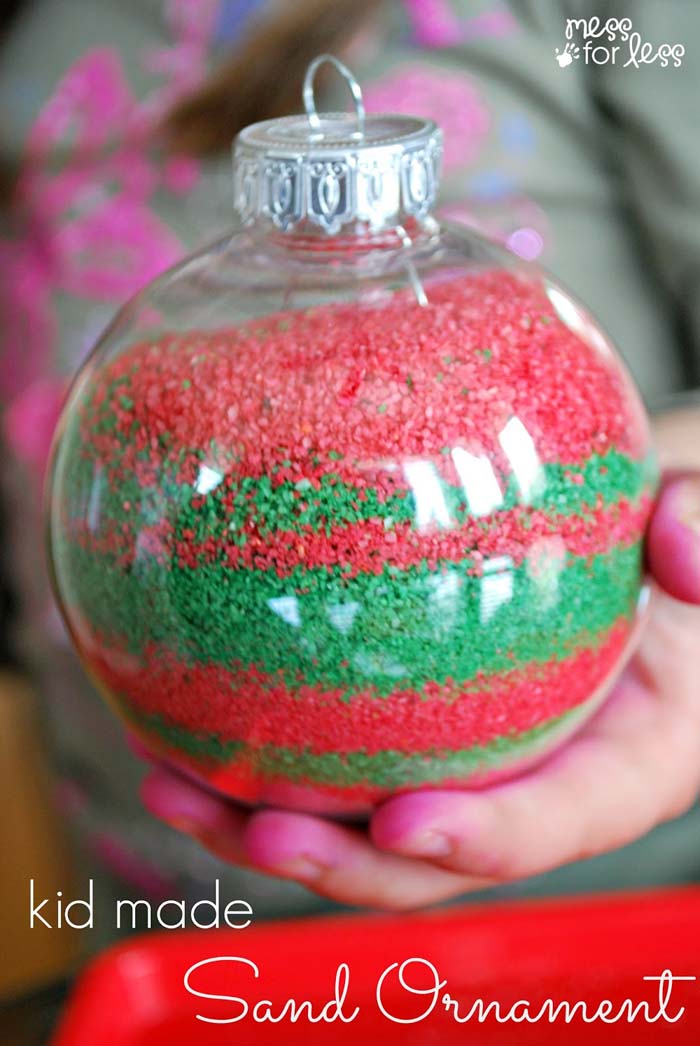 This craft is super easy and fun for kids. Separate the metal hook of a transparent bauble and let the kids fill it in with colored sand.
They can experiment with the colors and sequence and enjoy the layers of colors into the sphere.
via Mess For Less
Confetti Ornament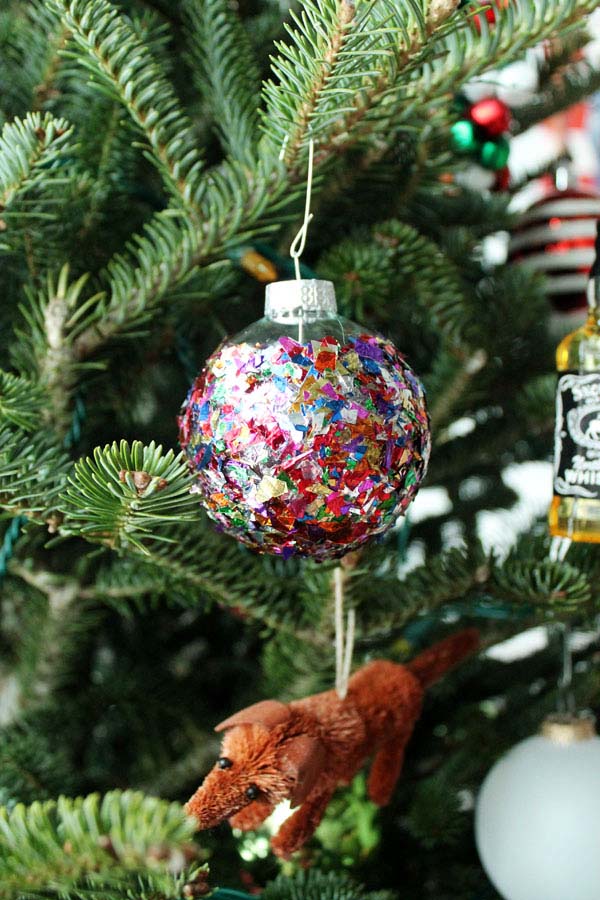 This disco bauble is a very attractive and easy DIY craft. Prepare a dish with confetti and a transparent bauble.
Coat the external surface of the glass with Mod podge and roll the glass into the confetti. When it dries, do it once again to make sure that the surface is well coated.
via Unusually Lovely
Cute Bear Ornament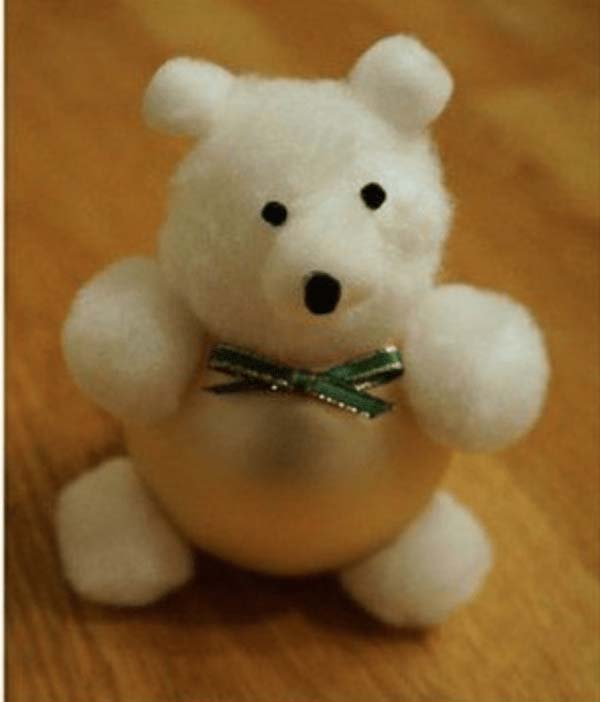 This cute ornament is entirely made of felt balls. Start by gluing them to each other.
When the figure is ready, it is time to make the eyes and the nose. They can be cut from paper or small black beads can be used instead.
DIY Truck Popsicle Stick Ornament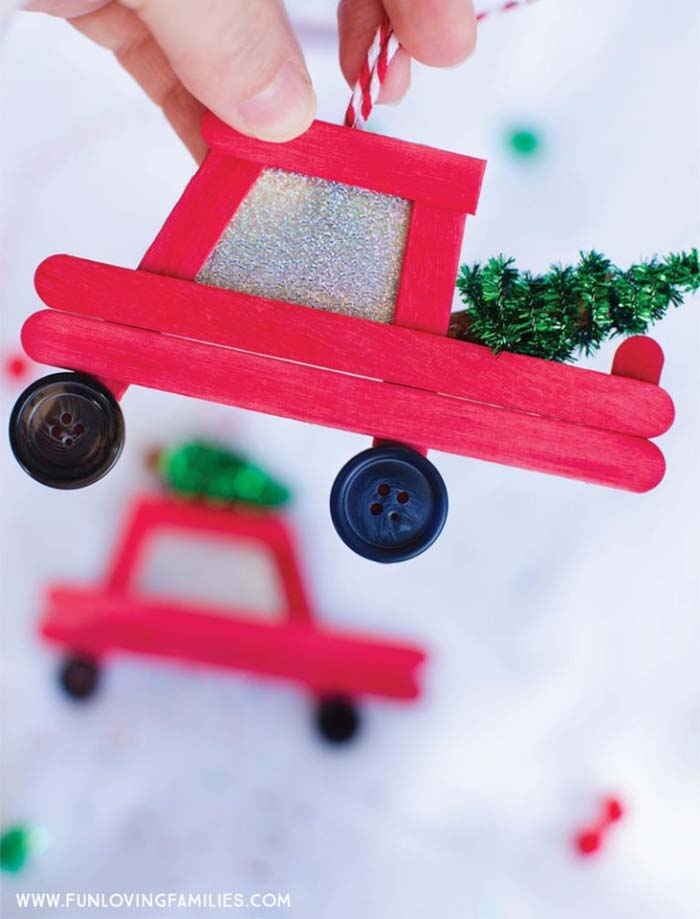 Some boys consider crafts as girls' thing but this car-shaped DIY ornaments will surely change their mind.
The materials needed are popsicle sticks, paints, buttons, pine garland.
Fingerprint Snowman

Kids love activities that are messy and who blames them, it is a big fun!
This Christmas ornament idea will surely leave their fingerprints on the correct place.
Fingerprint Snowman Salt Dough Ornament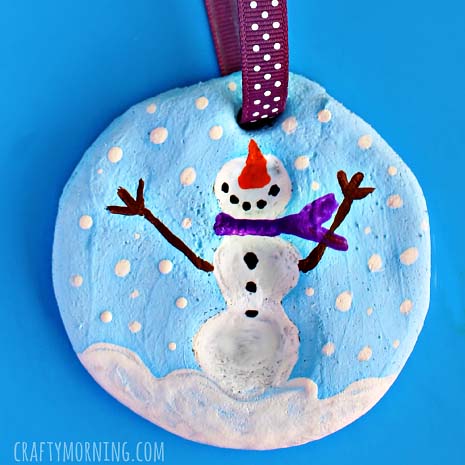 You have surely tried to make figures from salt dough. This time we suggest thhat you make your Christmas ornaments with it.
Include your kids in all processes- from making the dough to painting the snowmen on the ornament as they are all safe and fun.
via Crafty Morning
Gift Bow Ornament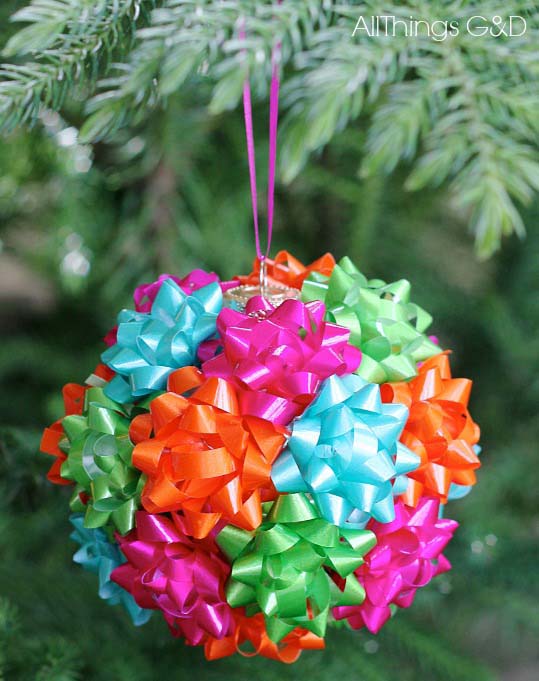 You can quickly add a pop of color to your Christmas tree simply by gluing gift bows onto a clear bauble.
Glittering Popsicle Stick Christmas Trees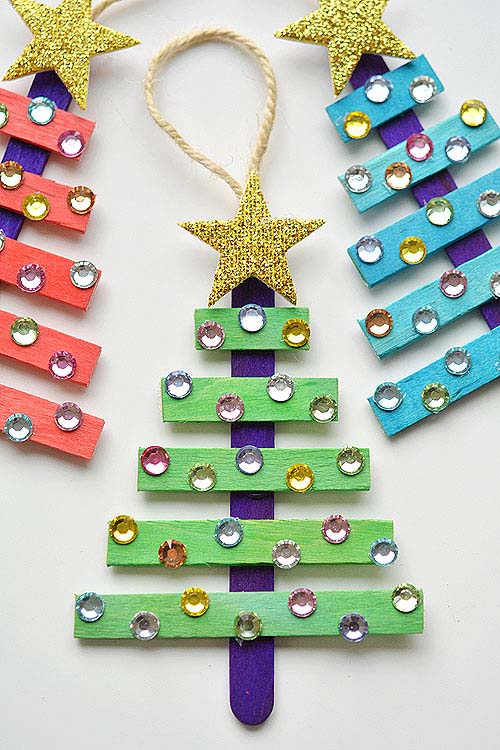 These cute tree ornaments are very easy to do and will become one of the most beautiful Christmas tree decoration because of the glittering effect.
All but the gluing og the popsicle pieces can be safely done by very small kids. After small tree ornaments are assembled, the kids can take part again by sticking rhinestones on them.
Gum Drop Ornaments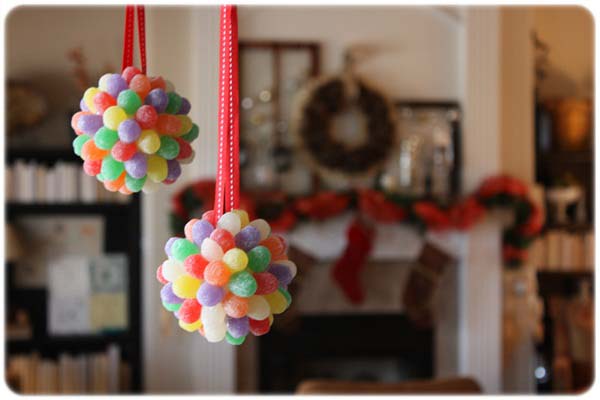 Believe it or not gum drops could make a beautiful and artistic accent.
This ornament idea is very easy and affordable. All you need is a styrofoam ball, ribbon and gum drops.
via My Blessed Life
Melted Bead Ornaments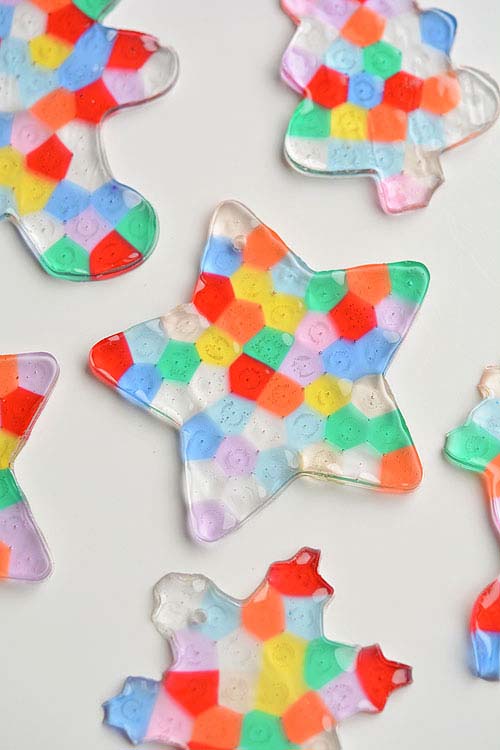 Before starting the project, make sure to take your toaster oven outside because the plastic smells a lot when melted.
This smell and the freezing outside is totally worth because the ornaments are very unique and artistic.
The kids can be included in the preparation stage where beads are poured into metal cookie cutters.
Melted Crayon Ornaments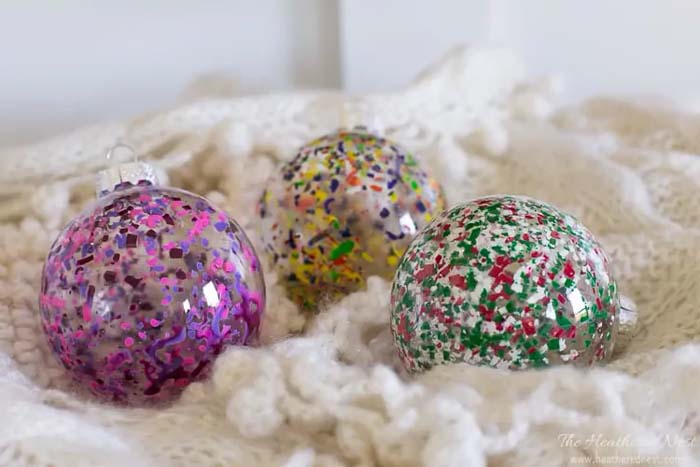 These interesting baubles can be made in 4 easy steps. All you need are clear baubles and crayons.
Each ornament can be of a color scheme you like or can include the entire crayon palette. Surely, they will turn out gorgeous.
via Heathered Nest
Melted Peppermint Ornament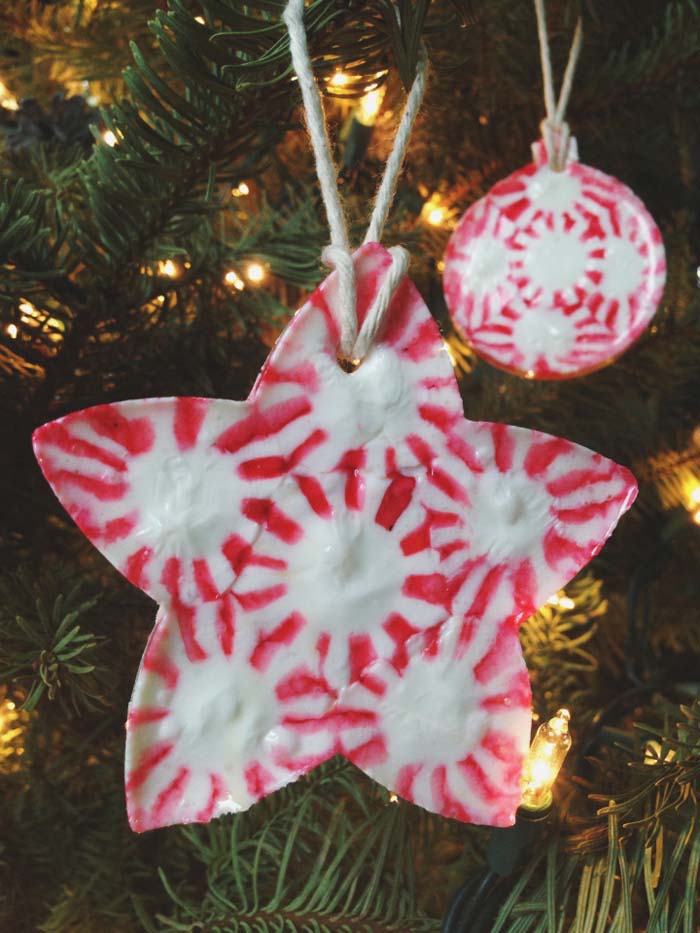 Peppermint candies remind of the holidays, don't they? If you want to spread their aroma all around your home, make these easy and fun ornaments.
All but the baking is super easy and safe so make sure to let your kids do that part. Choose cookie cutters in Christmas-themed shape and peppermint candies.
via Hello Homebody
Melted Snowman Ornament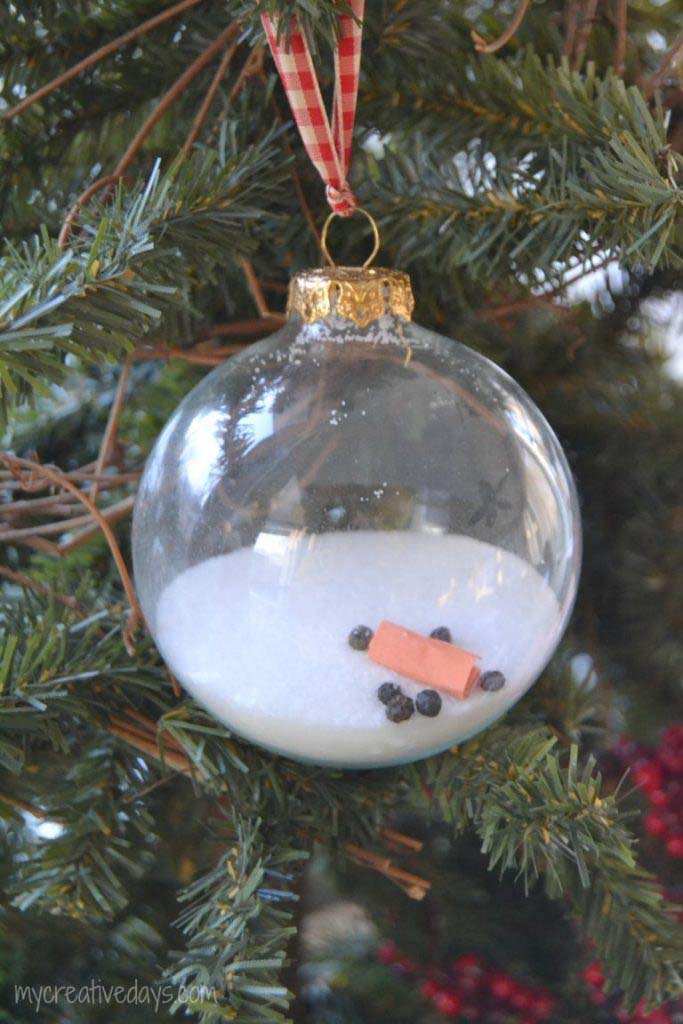 This fun ornament will leave great memories from the Christmas holidays and is perfect as a gift for family and friends.
The melted snowman idea is made with clear baubles, black pepper, salt and orange paper.
via Me Creative Days
Mini Yarn Hats Ornaments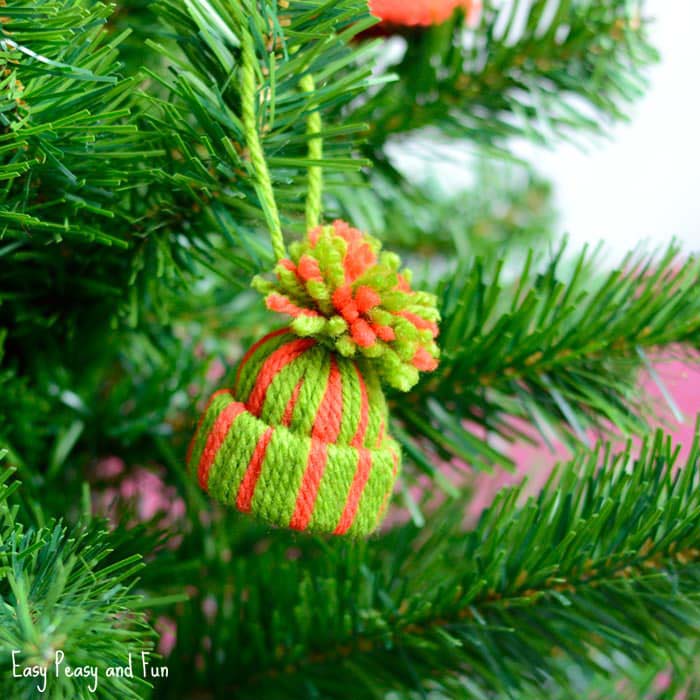 These hats look very cute as Christmas tree ornament. Made of yarn and a toilet paper roll, they can be of a color combination your kids like.
Ninja Turtle Ornament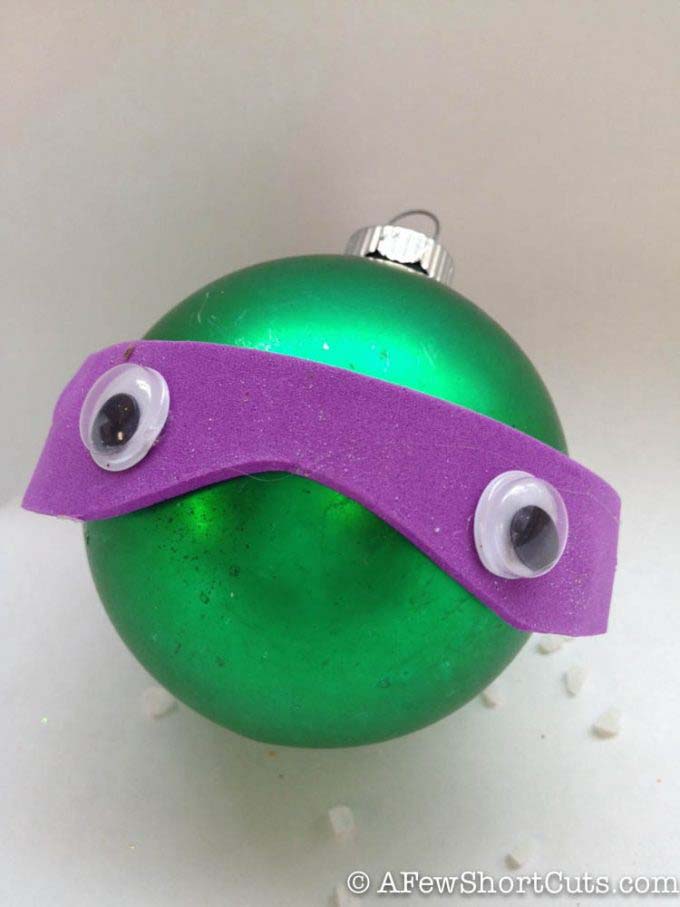 The easiest way to attract your kids for a DIY ornament project is to include their favorite characters.
Is your son a TMNT fan? Then he will surely love making this ornament.
via A Few Shortcuts
Paper Towel Star Ornaments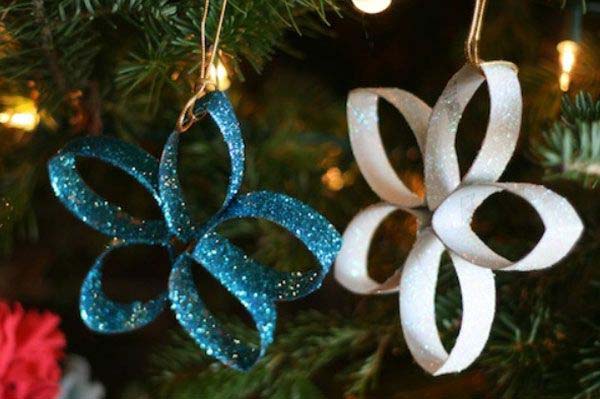 To make these ornaments, you need to save one or two paper towel or toilet paper rolls. Just cut them in slices and cover them with glitter.
Upcycling is fun, isn't it?
via Blog a la Cart
Peanut Ornaments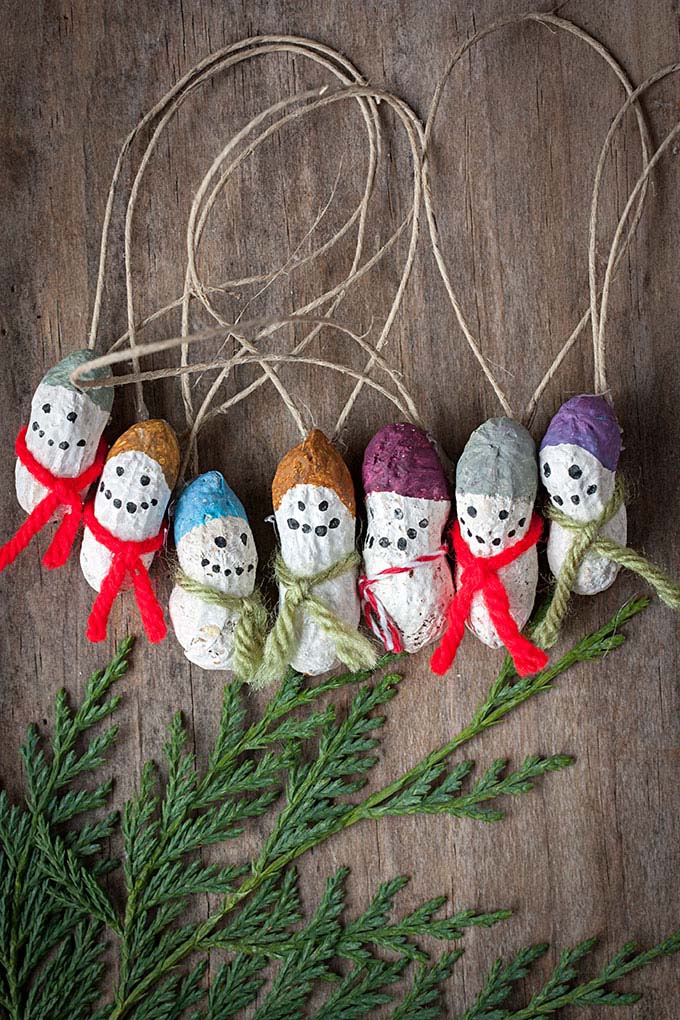 Make a whole family of snowmen by coloring peanut shells. The link below contains other interesting ornament ideas made of natural materials which are totally safe for children.
via Evermine
Pine Cone Owl Ornaments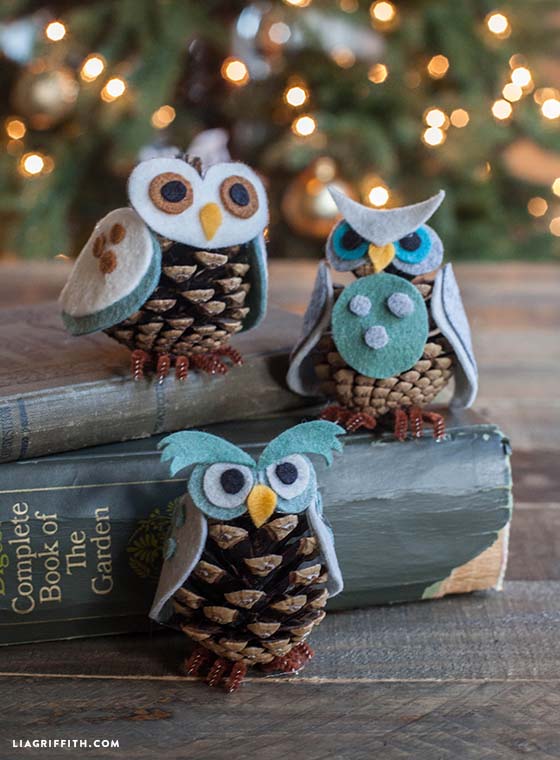 These grumpy owls are actually very cute. To make them, get felt sheets in blue, green, black and orange.
Pinecones are used for the body and pipe cleaners for the feet. Assemble the pieces together using a hot glue gun.
via Lia Griffith
Pinecone Elfs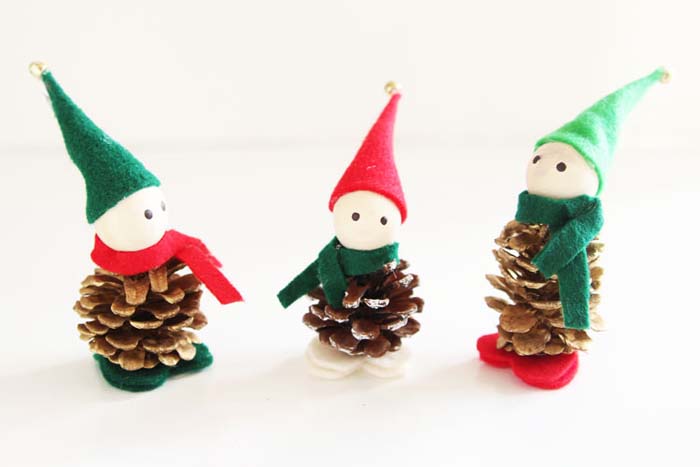 Pinecones are a typical holiday symbol and using them in a Christmas craft will surely enhance the festive atmosphere.
The bodies of these cute elves are small pinecones that are given a snowy edge effect with paint. Small wooden balls are used for the heads and felt pieces for the clothing.
Pom Pom Christmas Photo Ornaments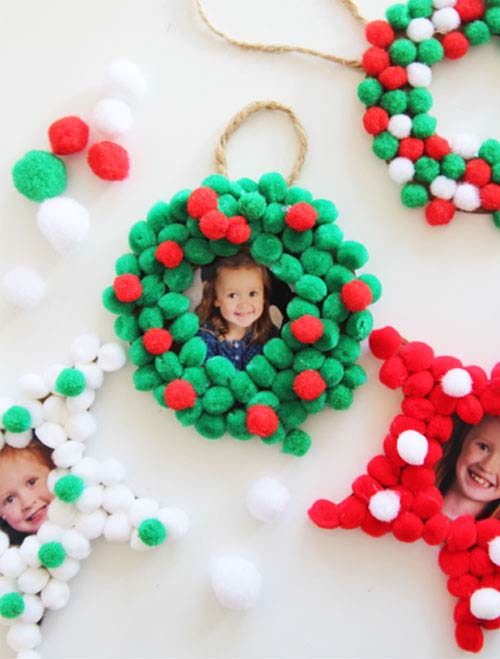 Are you looking for a personalized Christmas ornament idea your kids can make?
These photo ornaments are all of these- interesting, personalized, easy and making them- a big fun!
Pom Pom Ornament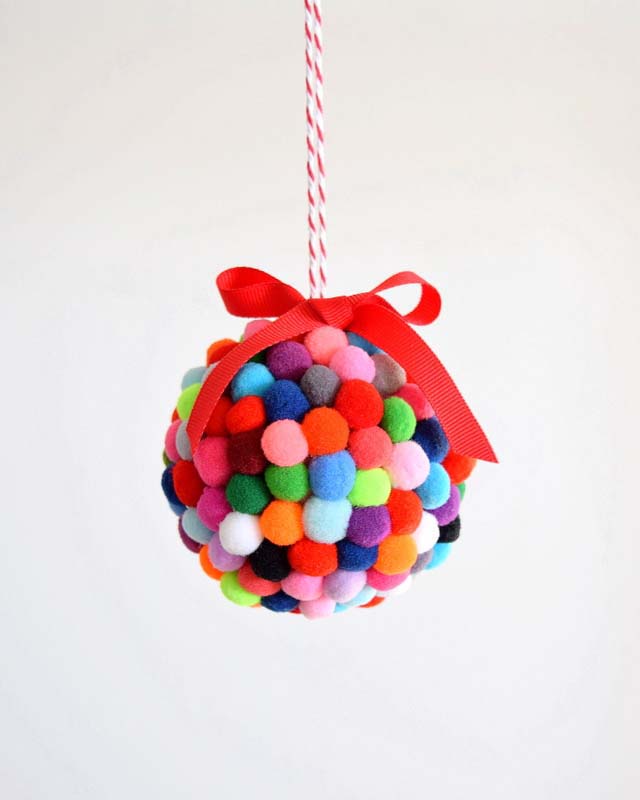 This pom-pom bauble is an easy Christmas craft idea. First, get a package of felt pom poms from the Dollar store and clear baubles.
Then glue the balls onto the glass with white glue or a hot glue gun. Finish the colorful bomb with a red ribbon.
Popsicle Stick Reindeer Kid Christmas Ornament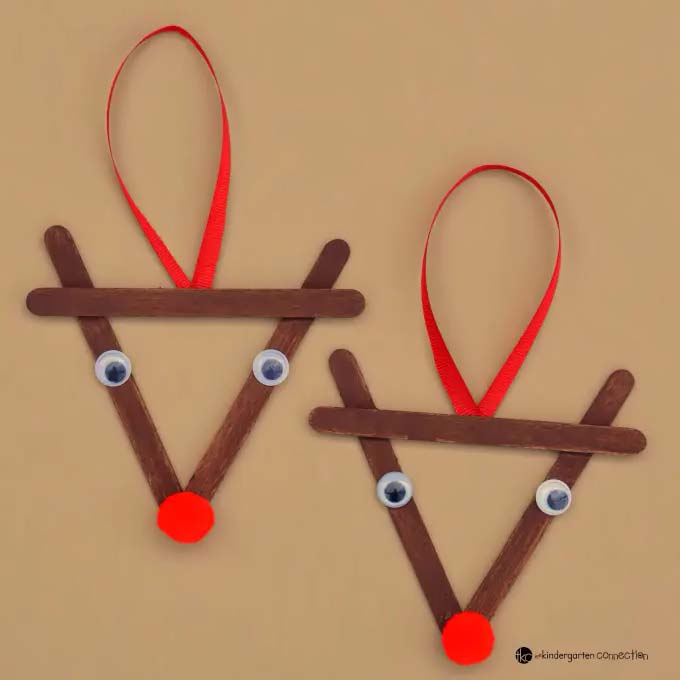 These curious reindeer ornaments are very easy to do. Three popsicles painted in brown must be glued in a triangle pattern.
Then a small felt ball is glued on the bottom corner as a nose and a googly eye on each of the remaining sticks.
If you want to hang the ornament to the Christmas tree, glue a red ribbon hook at the back.
via The Kindergarten Connection
Popsicle Stick Snowflake Ornaments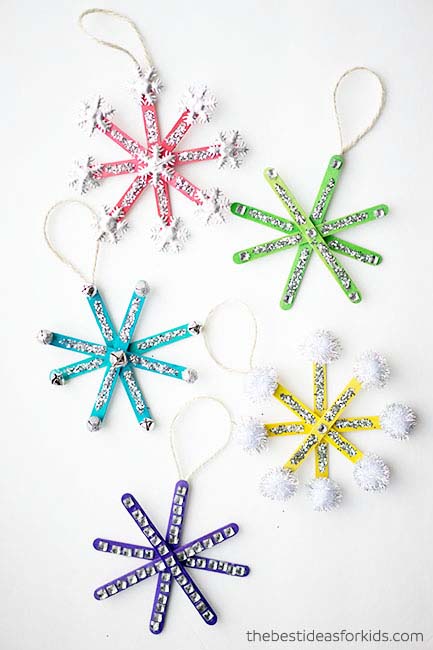 To make these unique snowflake ornaments get rhinestones, glitter, pom poms and stickers.
Let your kid play with its imagination and try dufferent patterns for colors and decoration.
Reindeer Ornament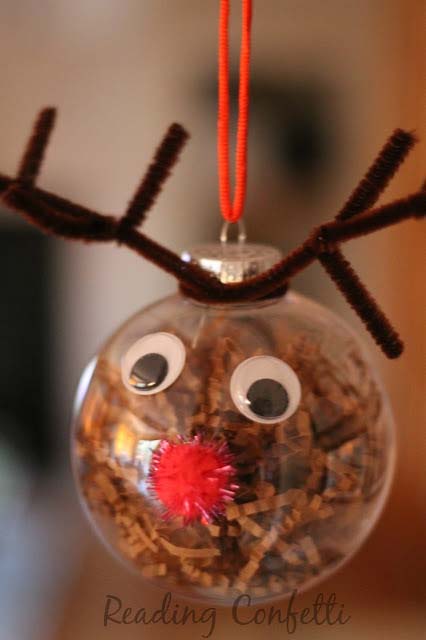 This is an easy and cute ornament idea every kid can do. The supplies you need are clear globes, large googly eyes, pom poms and shredded brown paper.
via Reading Confetti
Ribbon Christmas Trees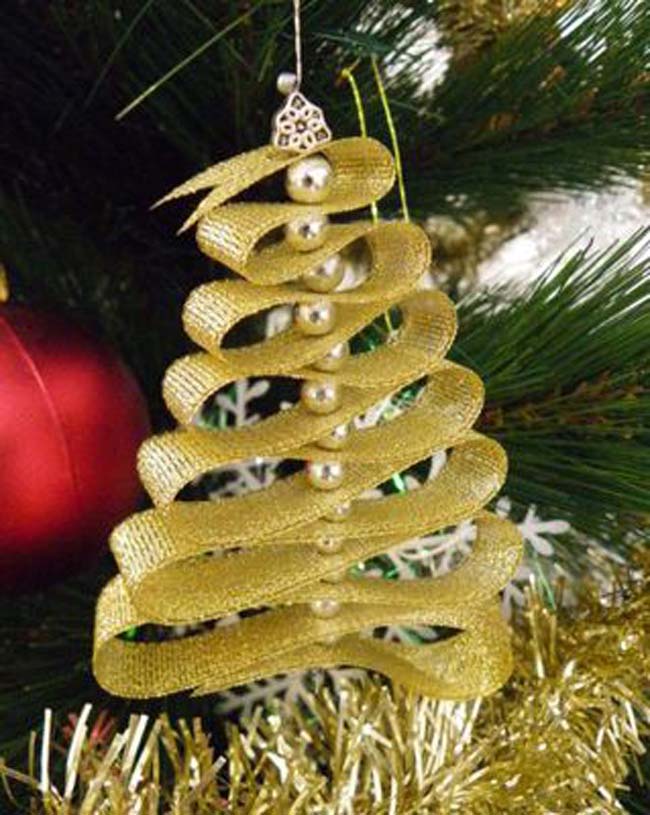 This elegant ornament is a suitable craft project for older kids as it requires fine skills and carefulness.
via The Whoot
Salt Dough Christmas Ornaments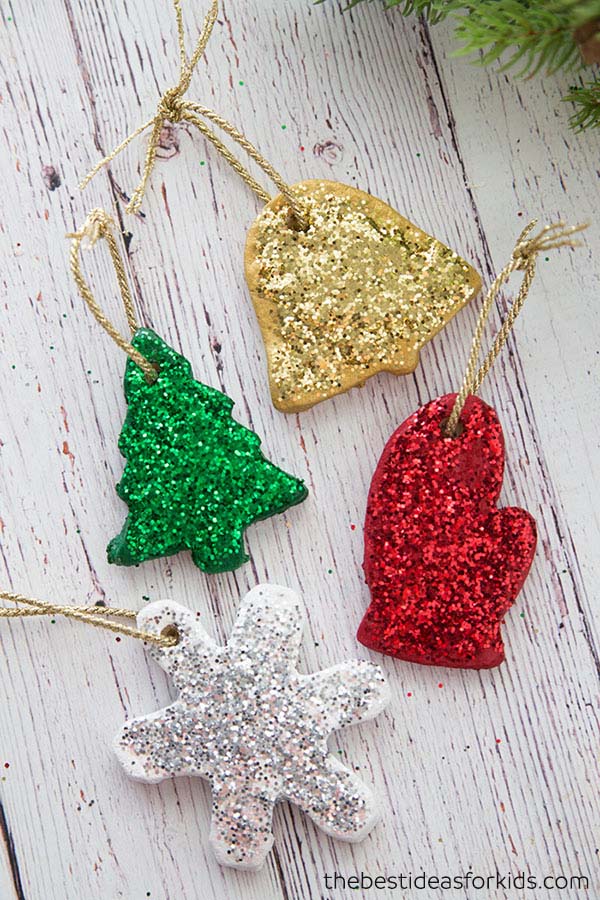 These fun ornaments are made of salt dough. If you are looking for the recipe, check the link below.
The shapes are made with metal cookie cutters. Each one can be painted and decorated as per the child's idea after it has been properly baked.
Santa Belt Buckle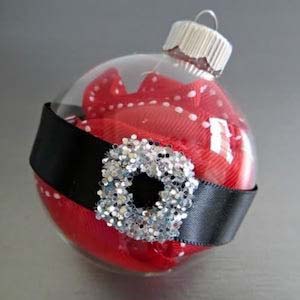 Do your kids believe in Santa? Well, then bringing him closer to them will surely be an exciting idea!
Santa's Camera Christmas Ornament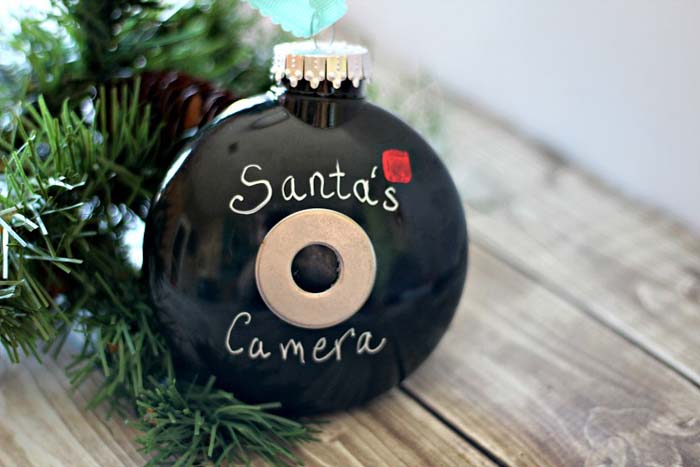 To make this fun ornaments, check for a flat clear ball at the Dollar store.
Then paint the external glass in black. When the paint has dried, continue with the accents.
via Happy Mothering
Simple Snowman Ornament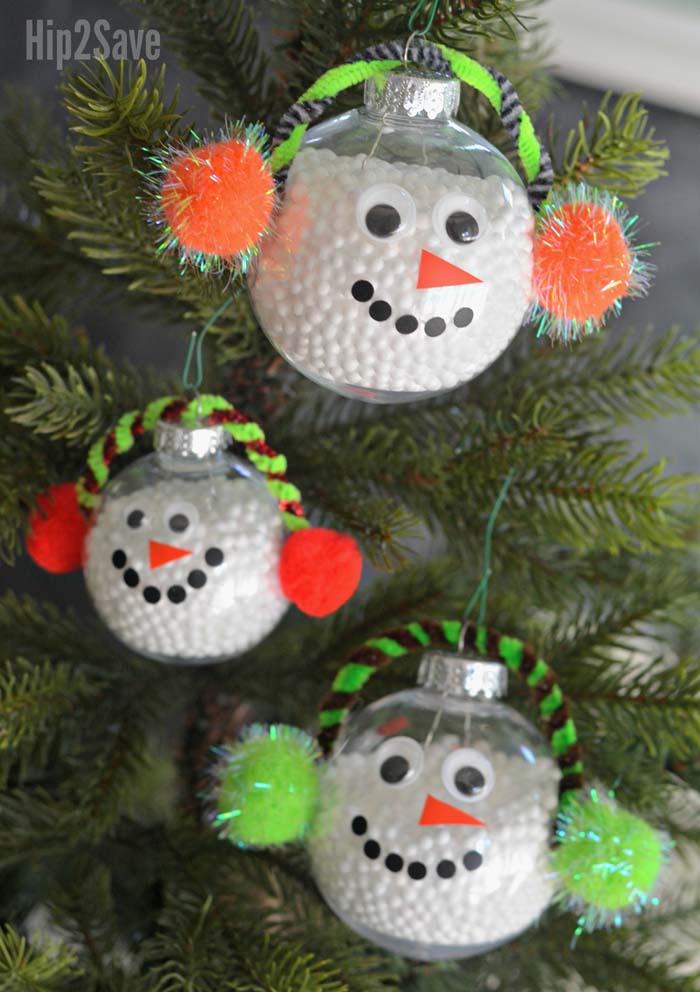 This cute and fun ornament will make your children smile, specially if they have been part from making it.
Get a few clear ornaments, faux snow, googly eyes, pom poms and pipe cleaners.
via Hip 2 Save
Snowman Hat Ornament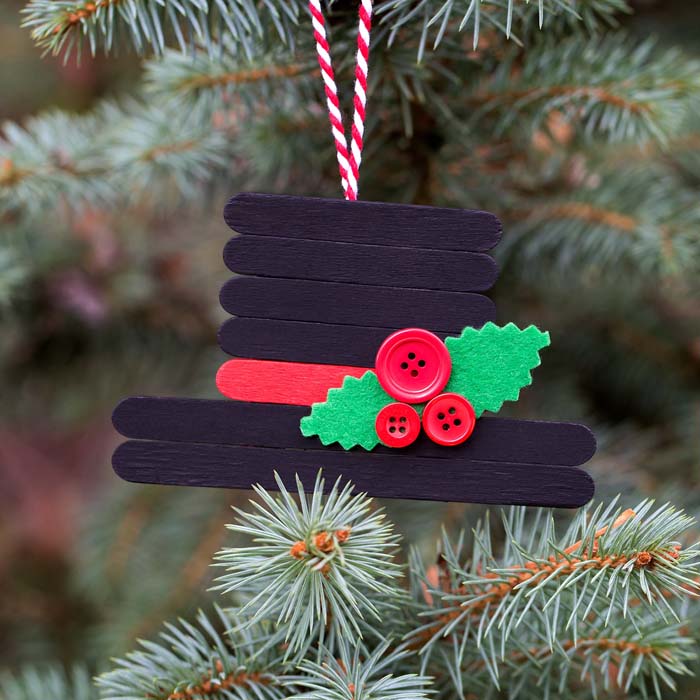 This is another idea of how to recycle the popsicle sticks by transforming them into an interesting Christmas ornament.
Before gluing the sticks together, ask your children to paint the sticks.
Snowman Lightbulb Ornament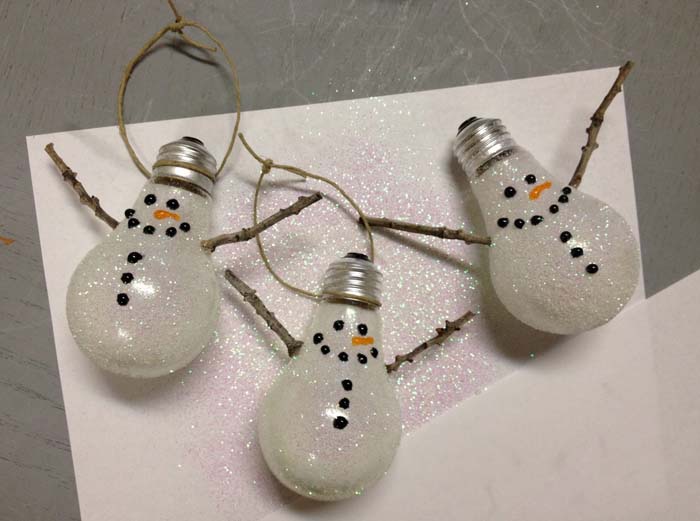 The clear ball ornaments can be replaced with light bulbs, of course with an extra amount of care.
A glitter coat with a spray quickly changes their plain look into a festive ornament.
via Kelsey Bang
Sprinkles Ornaments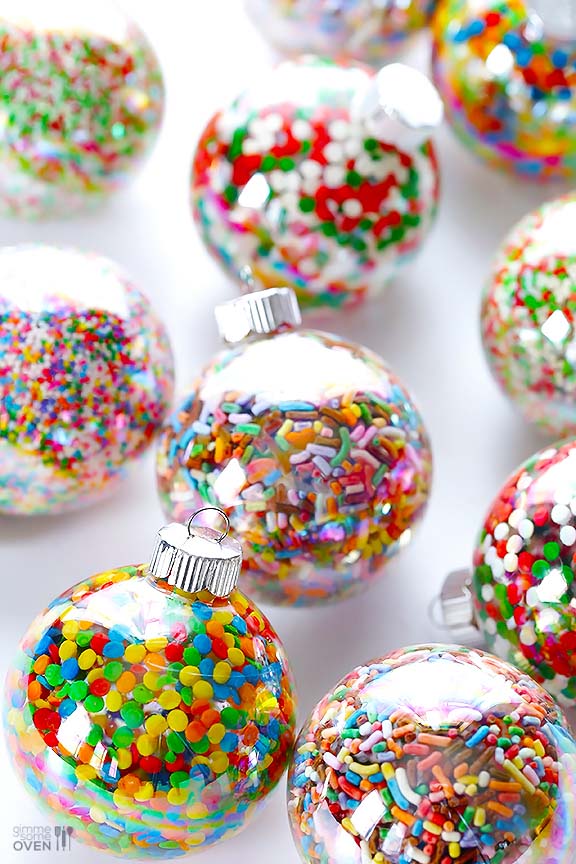 Even food supplies can be used for decoration of clear ornaments. Sprinkles are tasty, colorful and numerous so your kids will surely have a lot of fun, filling the balls.
via Gimme Some Oven
Tea Light Snowman Ornaments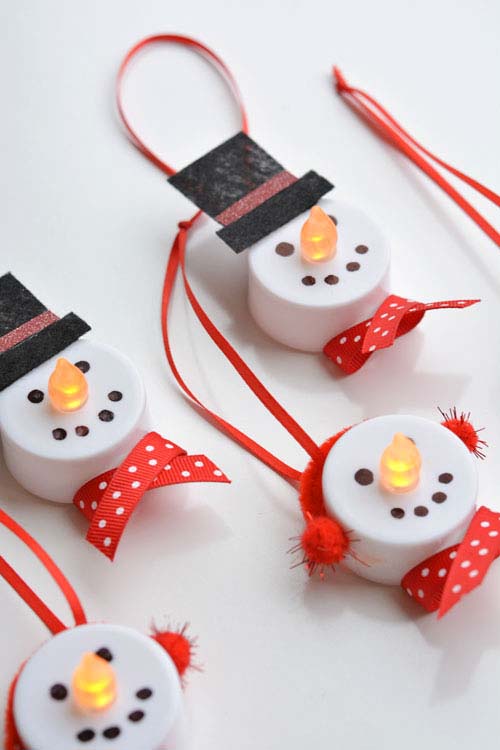 Tea lights are turned into cute small snowmen only by making dots with a sharpie.
The cute earmuffs are made out of red pipe cleaner and small pom poms.
Wine Cork Angel Ornaments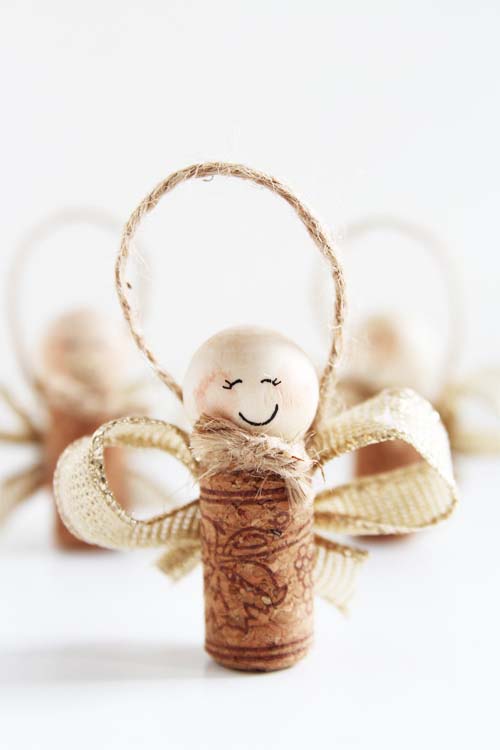 This smily angel is very cute and easy DIY ornament. Start by gluing a wooden ball on top of a cork. Weave a twine around the bottom of the ball to make a hook for hanging.
Make the cute face with a sharpie and glue a gold ribbon bow at the back of the cork.
Yarn Ornaments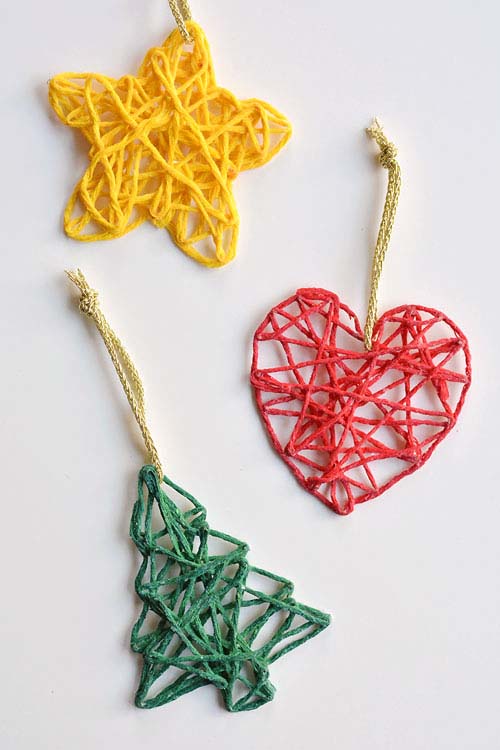 Making of these unique ornaments includes the white glue and yarn technique. If you have already tried it making a chandelier or Easter Egg decoration, you know what to do.
The molds for the shapes are cookie cutters.
Yarn Wrapped Christmas Tree Ornaments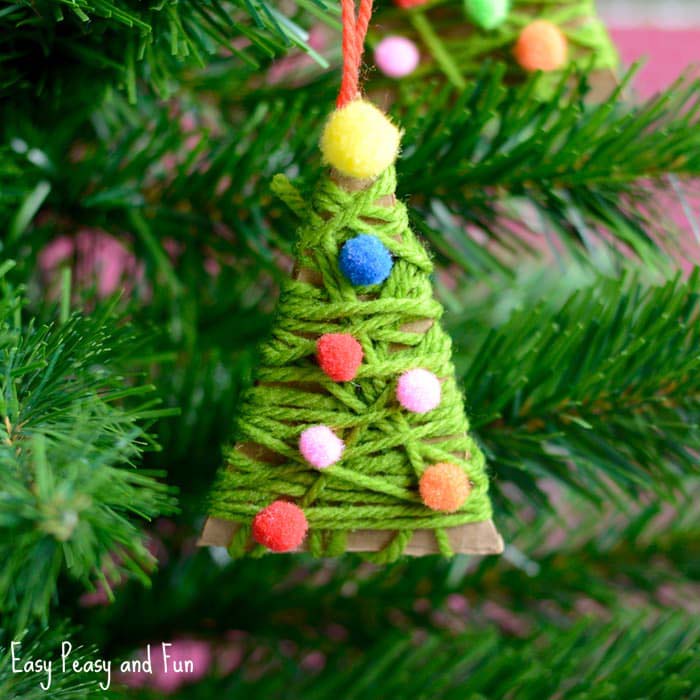 Before giving your kids the supplies for these charming Christmas tree ornaments, cut a cardboard into triangle shapes.
Cover both sides with white glue and let them play with the green yarn. They have to weave it around the cardboard triangle tightly in order to cover the majority of the brown background.
After the yarn has sticked to the cardboard, decorate with small felt pom poms.