With their graceful curves and traditional styling, urns make a surprisingly beautiful addition to your Christmas decorations.
In fact, you might even have a few waiting in the garage for the spring planting season.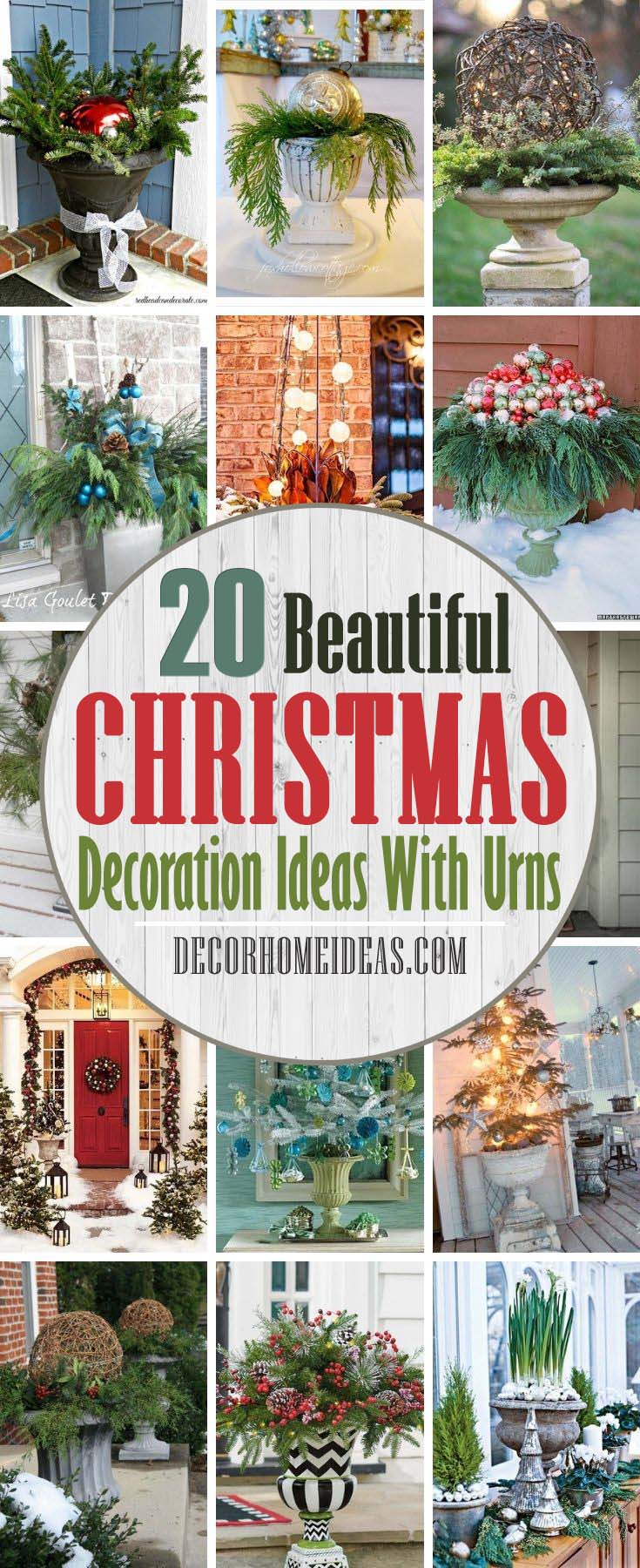 Whether you're working with tiny decorative urns or full-sized Christmas porch planters, these ideas can help you integrate them into this year's holiday decor.
1. Bouquet of Christmas Greenery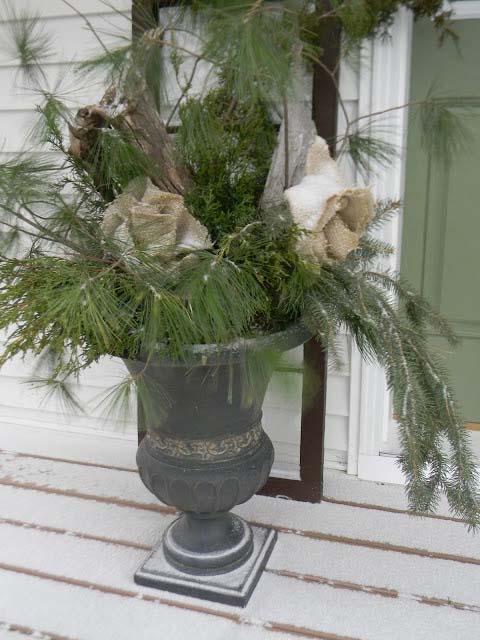 Here's another charming take on a natural Christmas bouquet — a combination of branches creates a wild beauty that celebrates the local area.
In the back, a fallen log adds structure to the piece. Love rustic style?
Add in a few burlap roses to complete the picture.
via Renew My Home
2. Cage Lantern in a Pine-Stuffed Urn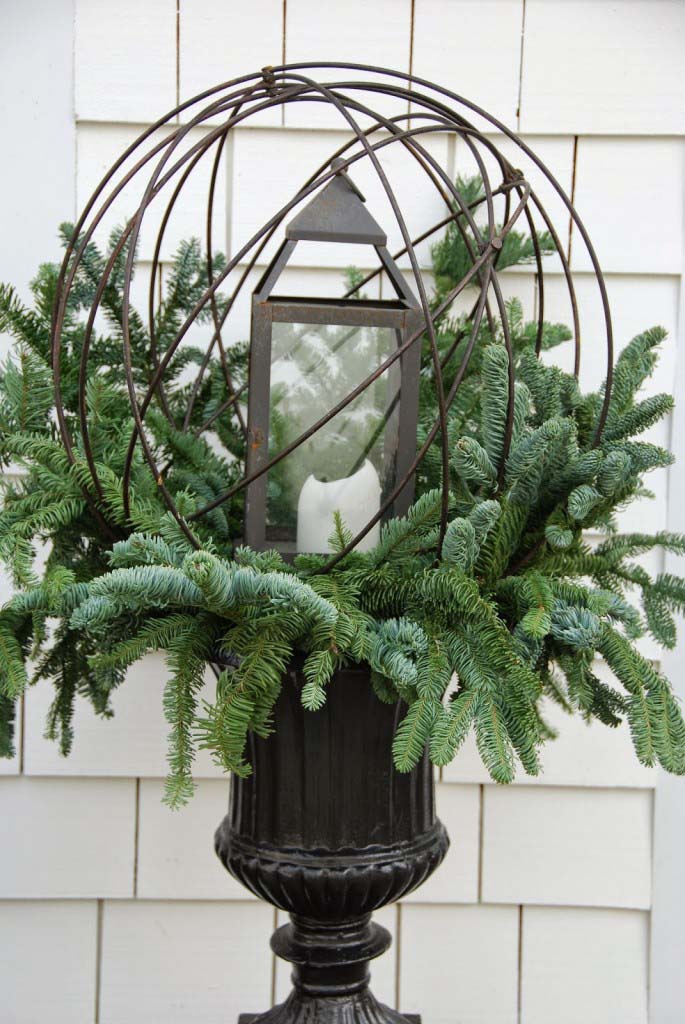 A little modern and a little Old-World, this urn planter arrangement makes a spectacular Christmas decoration.
The trick is to find a planter and a cage lantern in the same finish; when you insert the pine branches, the piece will look like a high-end designer fixture.
3. Festive Front Door Planter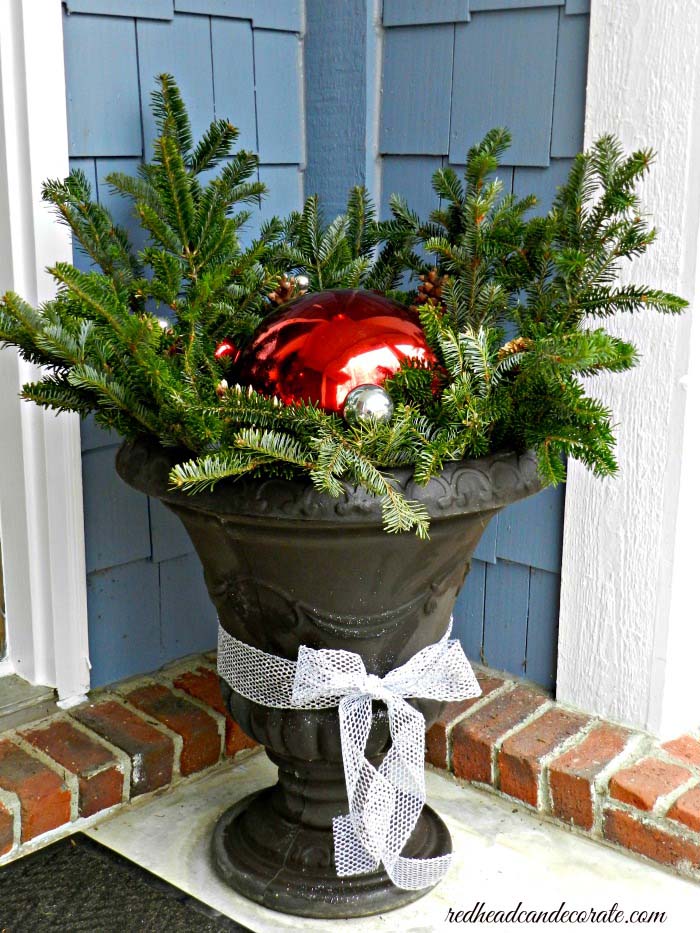 Working with a small amount of space on your front porch?
This adorable planter is an efficient and colorful option.
The fun lies in the enormous red Christmas ball nestled in the pine branches.
4. Festive Urn with Bright Blue Christmas Ornaments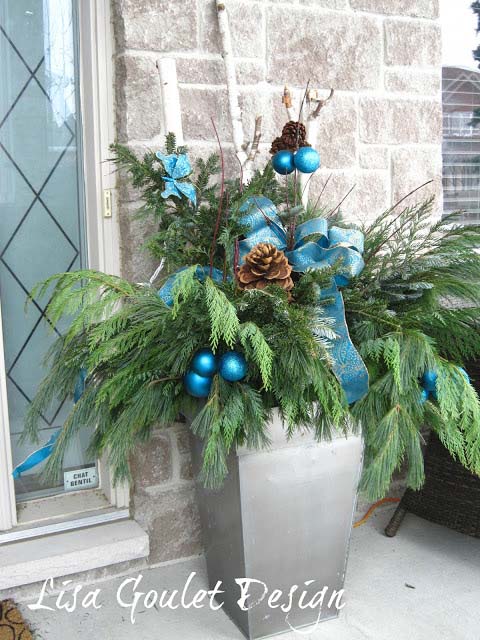 There's something magical about the combination of natural greenery and vibrant blue ornaments.
Bring this vibrant design to your front porch by filling an urn with a wealth of green boughs.
The thick branches create the perfect spot to hang blue ornaments and a ribbon bow.
5. Front Porch Urn Christmas Tree Planters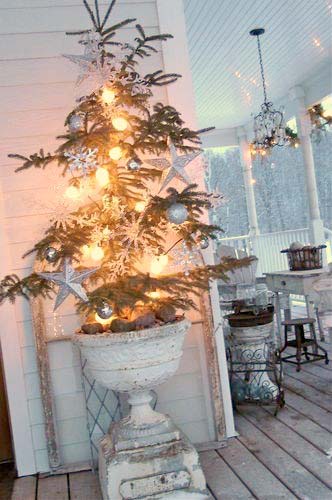 Dress up your porch by "planting" a small natural tree in a large pedestal urn. Instead of soil, fill the area around the base with rocks, pebbles, or even sandbags.
A selection of decorations creates a gorgeous design that makes your neighbors smile.
6. Geometric Black and White Urn with Pine Boughs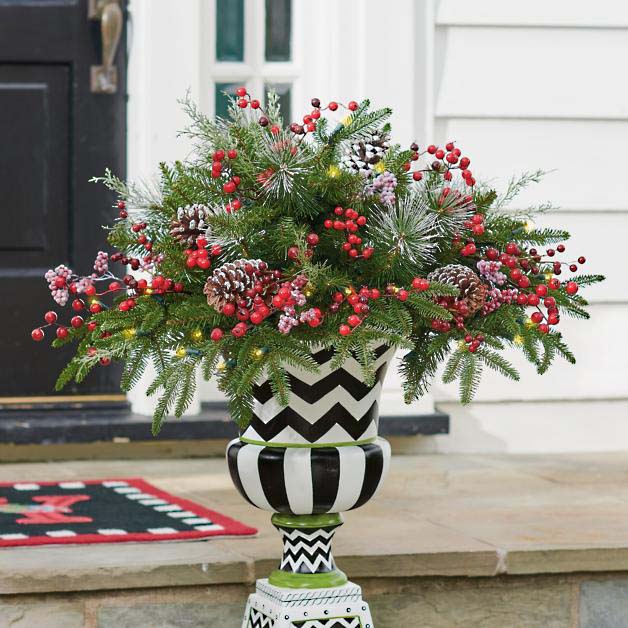 Mix modern and traditional styles by pairing a geometric-print urn with a classic Christmas arrangement.
If you're short on time, simply buy a pine centerpiece from the store or a florist; you can also make your own using real or artificial branches.
The unexpected contrast is bold and contemporary.
via Grandin Road
7. Greenery-Filled Christmas Urns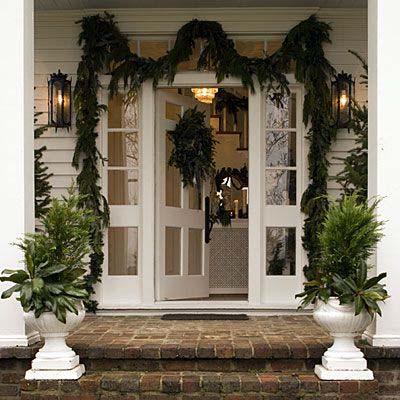 When you live in a warm climate, your outdoor urns are in use year-round.
Don't let that deter you — just tuck a bouquet of cedar or pine boughs between the leaves of your existing plants.
They'll add height and give your space a festive feeling.
via Southern Living
8. Lighted Outdoor Plant Cage Christmas Tree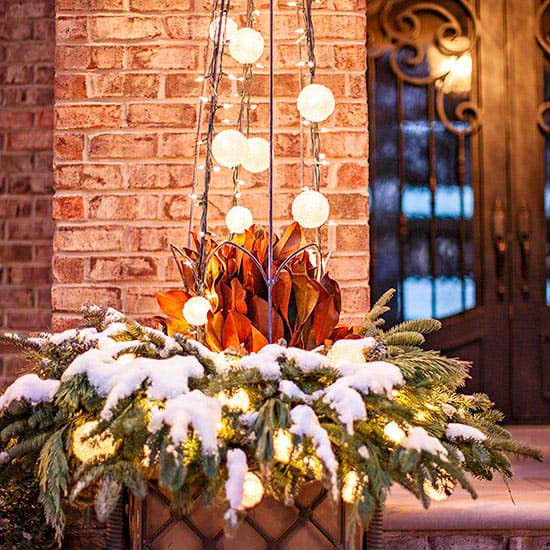 If you already have urns on your front porch, use them as a base for a fun Christmas tree.
Make your own using a plant cage; just flip it so the narrow end faces up. Wrap it in strand lights to illuminate the entry.
Here, a strand of globe lights takes the place of ornaments.
via BHG
9. Lush Birch and Pine Outdoor Urn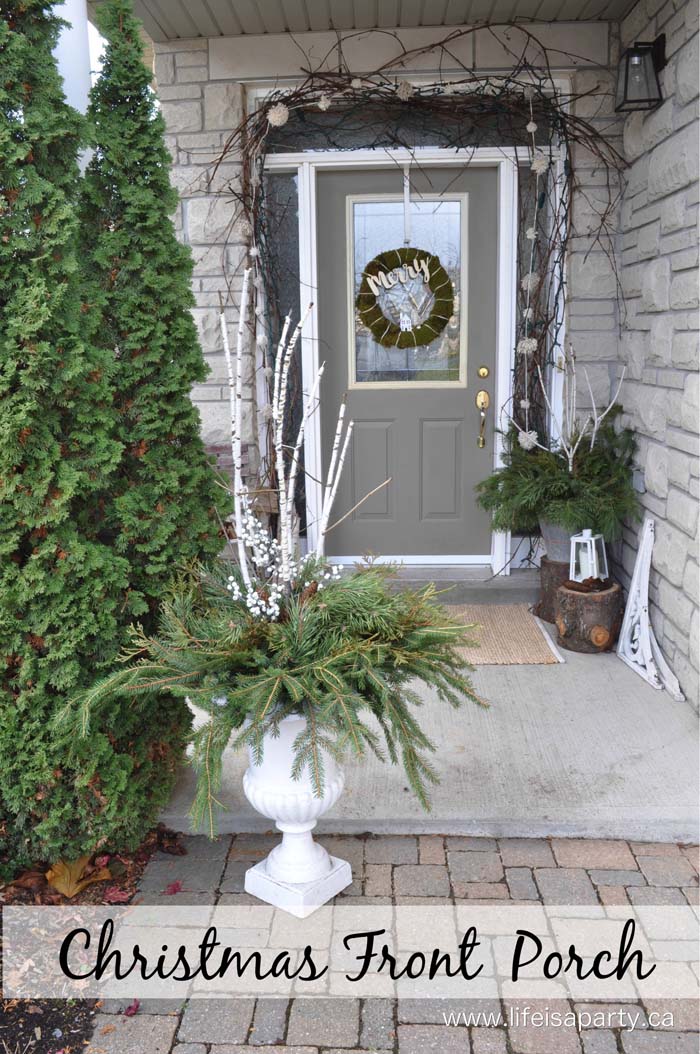 Do you love natural textures?
This Christmas urn decoration is the perfect way to showcase your favorites.
It's filled with a thick bunch of pine boughs and a few stems of white berries; the birch sticks add height and a stunning color variation.
via Life Is a Party
10. Outdoor Urn Planter with Mini Christmas Tree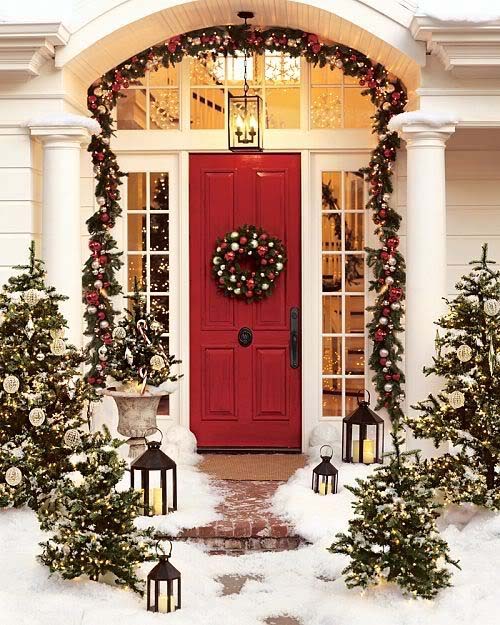 Get started on this spectacular entryway with a single large urn planter.
It elevates a tiny tree, creating gorgeous levels on your front step.
Load it up with decorations, using full-sized ornaments for a fun-size contrast.
via Pottery Barn
11. Oversized Christmas Ball in a Nest of Greenery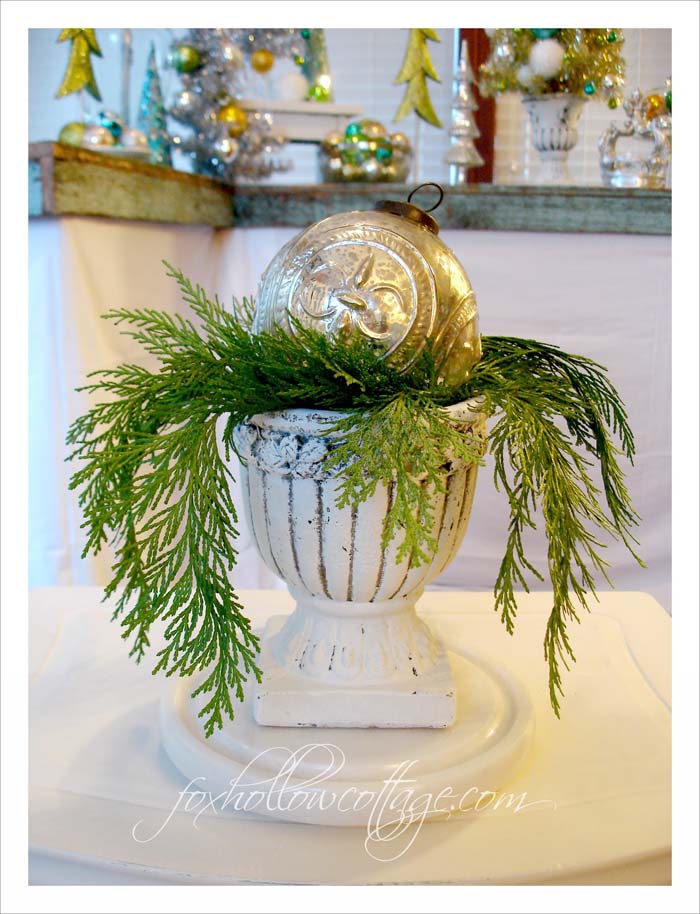 Have you ever wondered how to use the beautiful oversized ornaments?
If you don't have the space for a 15-foot Christmas tree, this is the perfect solution.
A simple bunch of greenery makes the perfect nest for a gorgeous ball ornament.
12. Pine Cones and Golden Berries in a Vintage Planter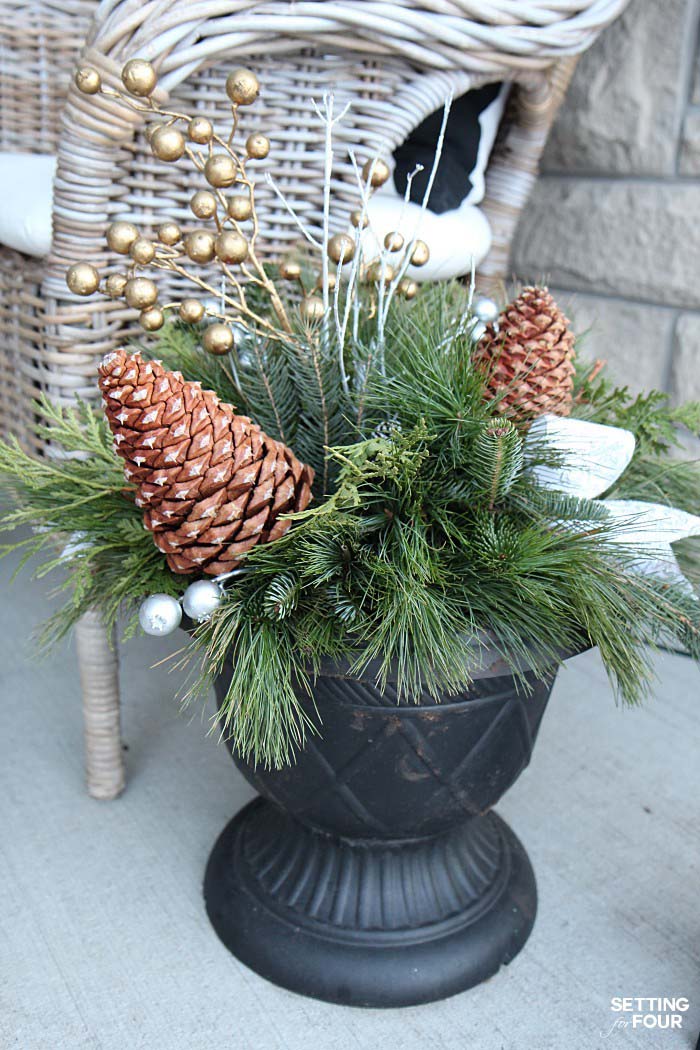 When you take down your urn planters for the winter, leave out the smallest one.
It's a gorgeous base for a festive bunch of winter greenery.
Here, golden berries and perfectly-formed pine cones add a cheerful yet natural look that's ideal for your front porch.
via Setting For Four
13. Red and Green Christmas Tree Topiaries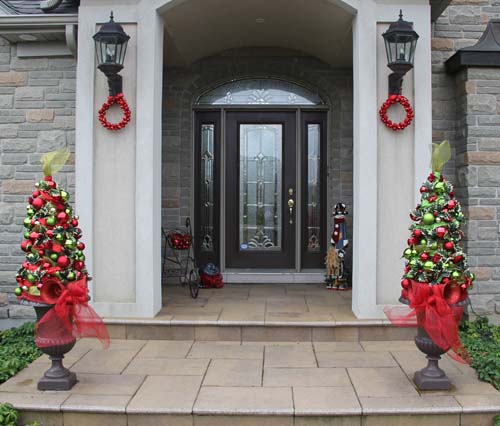 Flank your front door with these clever tree-shaped topiaries, which are laden with glistening red and green Christmas balls.
Sparkling green tinsel garland takes the place of pine needles, creating a tree that's beautiful and weather resistant.
14. Red, Green, and Gold Baubles in a Bed of Greens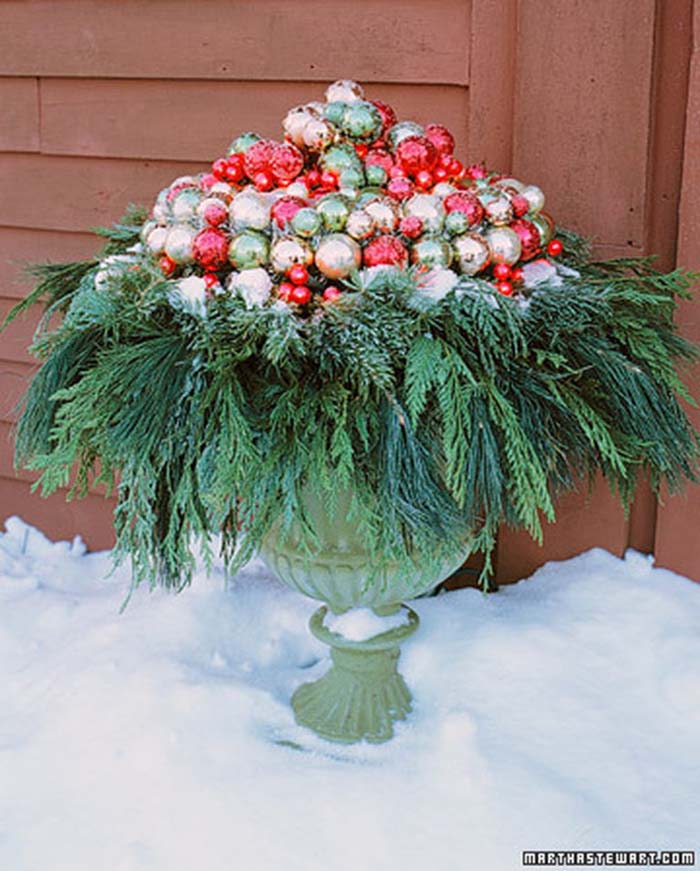 Dress up your empty outdoor planter using this creative design.
Loose boughs create a nest shape, giving you the perfect spot to add a mountain of Christmas balls.
The rich red, green, and gold colors welcome your guests with a beguiling twinkle.
via Martha Stewart
15. Retro Christmas Tree in an Urn Planter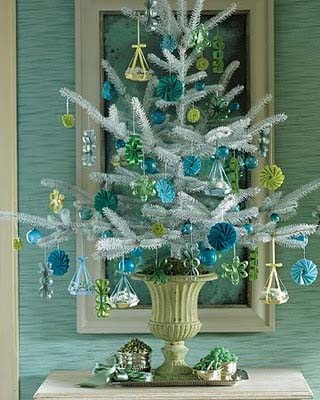 A miniature tree is a perfect way to show off a small collection of themed ornaments.
This adorable artificial pine fits perfectly in a small urn, so you can set it on a hall table or a desk.
Load up the branches for a fun, festive look.
via Martha Stewart
16. Trees Made of Christmas Presents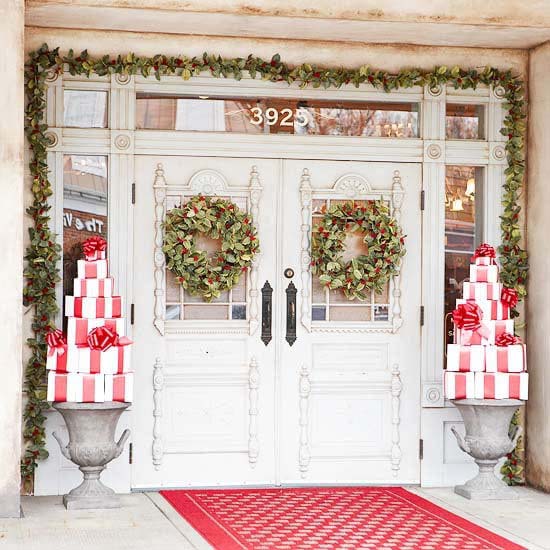 Looking for a clever way to decorate your front door?
As long as you have two urn planters, you can recreate this stunning design.
Empty boxes wrapped in paper and bows are stacked into tree shapes for a look that's striking and super affordable.
17. Twin Twine Globes With Branches and Red Berries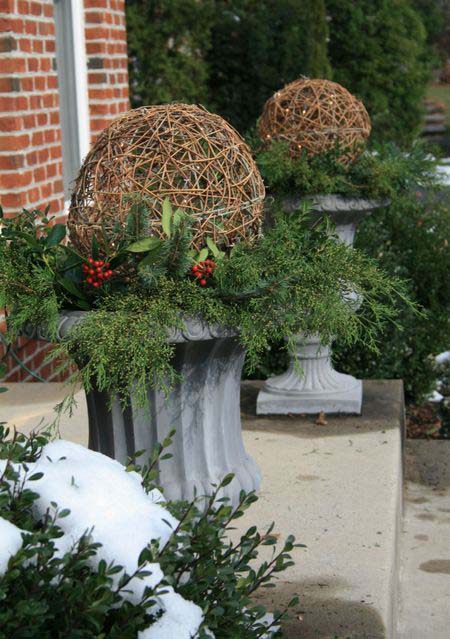 Frame your front door with these cheerful urns — they're so beautiful, you might just want to leave them in place after December 25th.
This display is all about height; it uses tall urns and large globes for an impressive effect.
18. Twine Sphere Christmas Garden Urn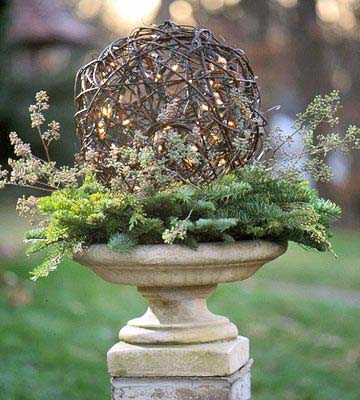 If you have a garden urn or a birdbath sitting empty this winter, grab a pine wreath that's slightly larger than the opening.
The green needles support an enormous twine sphere, creating a fascinating decoration.
Fill the interior with lights for an extra festive touch.
via BHG
19. Twisted Christmas Urn Topiary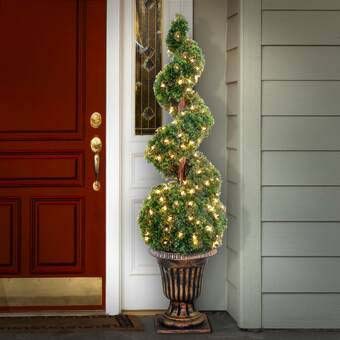 How beautiful is this twisted topiary?
The generous curves attract attention, and the green leaves look lovely when lined with simple white lights.
After the holidays, simply leave your topiary in its urn planter for a fresh pop of color.
20. Zen Plants and Christmas Ornaments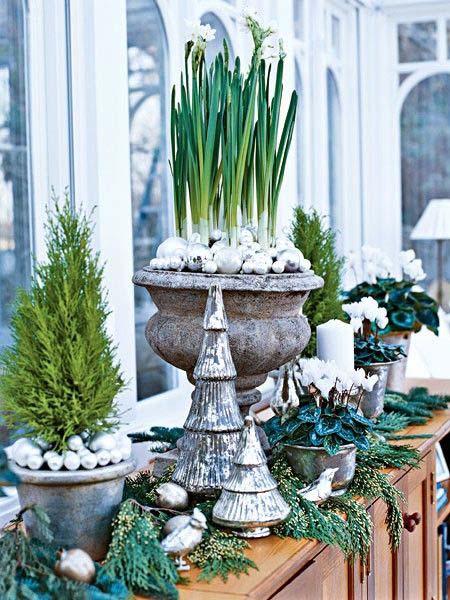 Bring a zen vibe to your holidays with a modern take on Christmas greens.
Here a group of simple plants appears to grow out of a bed of silver Christmas balls.
The contrast between sparkling silver and brilliant green is unexpected and decidedly beautiful.