What makes Christmas better? Getting ready for it! The whole preparation is a fun and joyful time for all family members.
Regardless of the interior style, there are numerous holiday decoration ideas that can enhance the festive atmosphere.
But have you ever thought what is the absolute proof of the festive Christmas spirit? Decorating the front porch of your home in an appealing and cozy way as the inside of it is.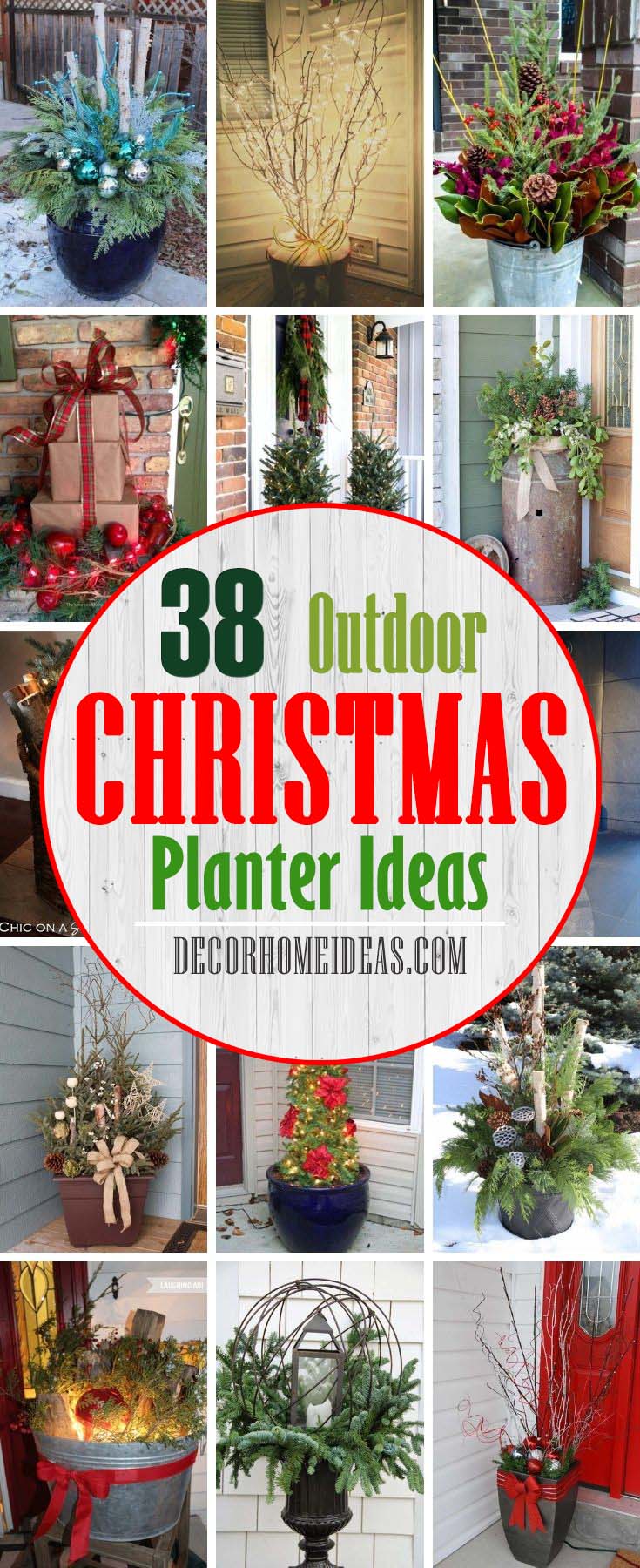 We have created a list of outdoor holiday planter ideas that promise to make the front of your home more festive and charming whether you have a small urban balcony or a huge veranda.
The greatest about this list of inspirations is that all of them are very easy to make, they are customizable and mostly, each of them will make your home welcoming for the guests and will turn it into a source of warmth and Christmas spirit to all passers-by.
1. Transform a Washtub Into a Festive Holiday Porch Planter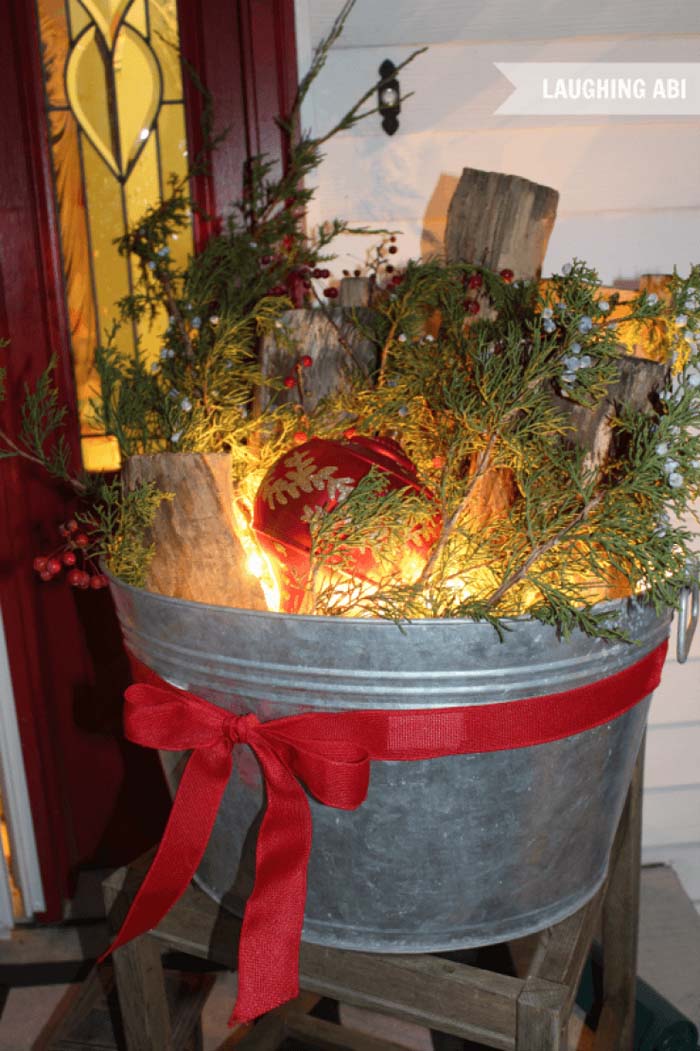 Do you love rustic accents? They can look particularly attractive outside not only in the summertime.
Repurpose the washtub into a porch planter by adding chopped firewood, evergreen twigs and clear lights.
Put traditional baubles into the arrangement and wrap the container with a red ribbon to make the arrangement more festive.
2. Deck Your Porch this Christmas with Natural Décor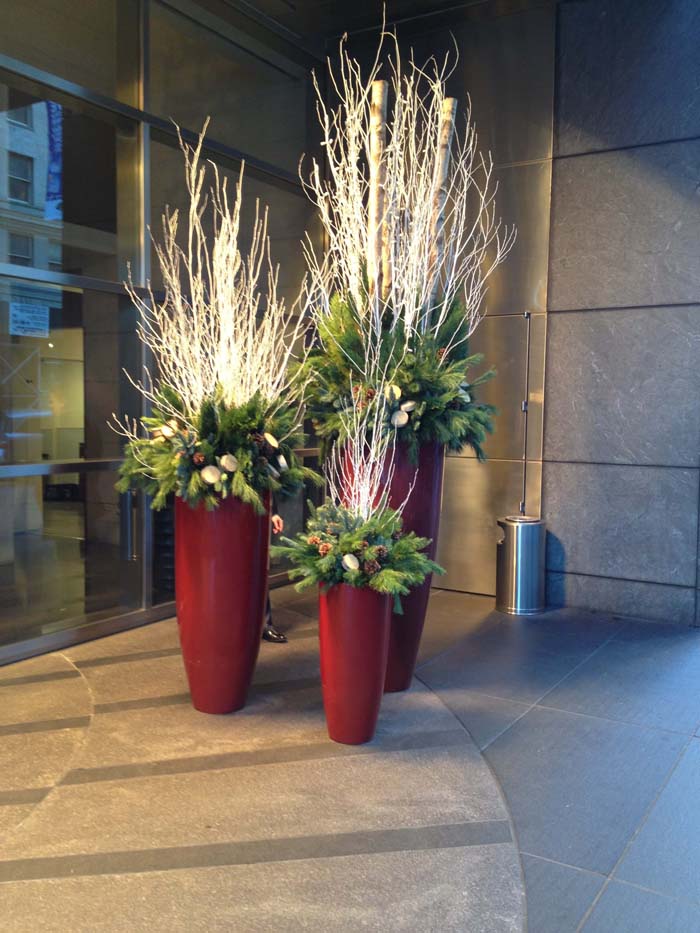 Both tiny and large porches can enjoy this natural Christmas decor. Simple seasonal accents like evergreen twigs and birch branches are placed into tall ceramic vases.
The color combination of red and green gives the planter a merry impression.
3. Create a Festive Mini Christmas Tree in a Ceramic Planter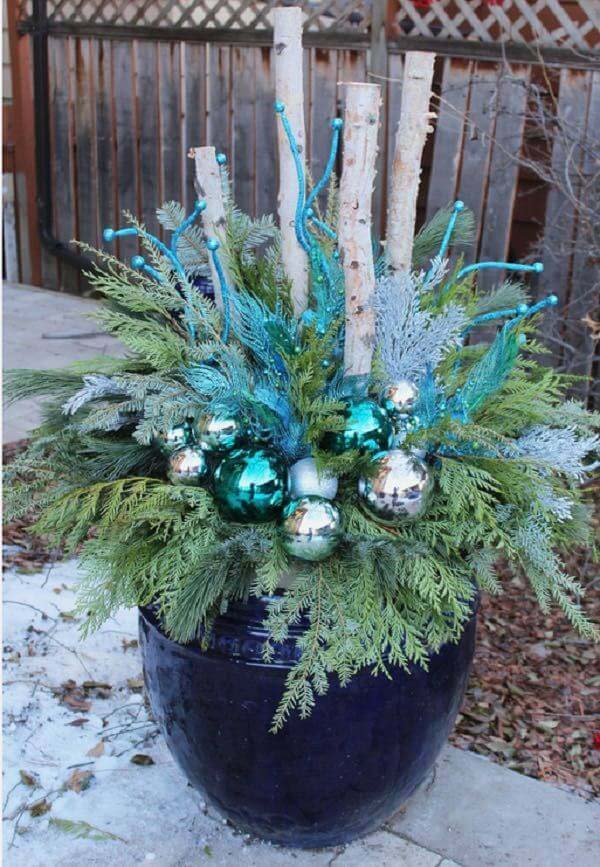 Make a small version of the Christmas tree in a ceramic planter. Use twigs and branches to form a layered bouquet.
Decorate the greenery around with ornaments of different sizes and add some faux twigs in the same color to add a glitter touch to the planter.
via Calling It Home
4. Decorate Your Front Porch Planter with Christmas Cheer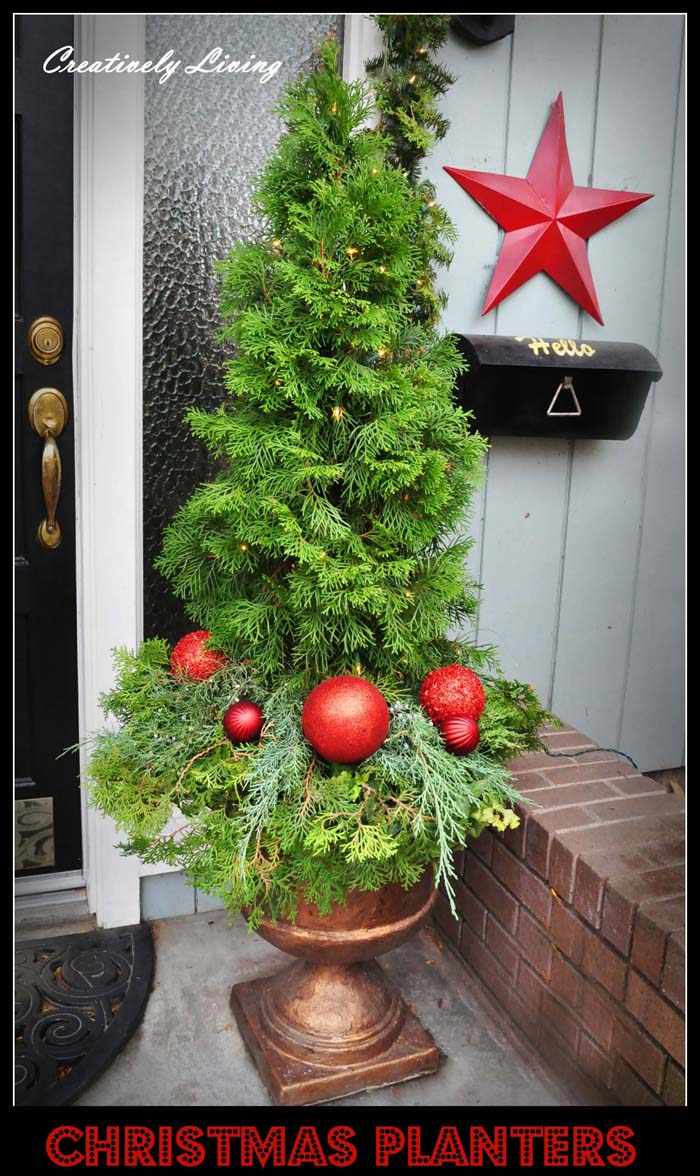 If you already have a front porch planter with an evergreen tree, then the Christmas decor will be an easy task.
Decorate it with ornaments and turn the planter into an outdoor representation of the Christmas spirit inside.
5. Create a Winter-Themed Porch Planter with a Stunning Bouquet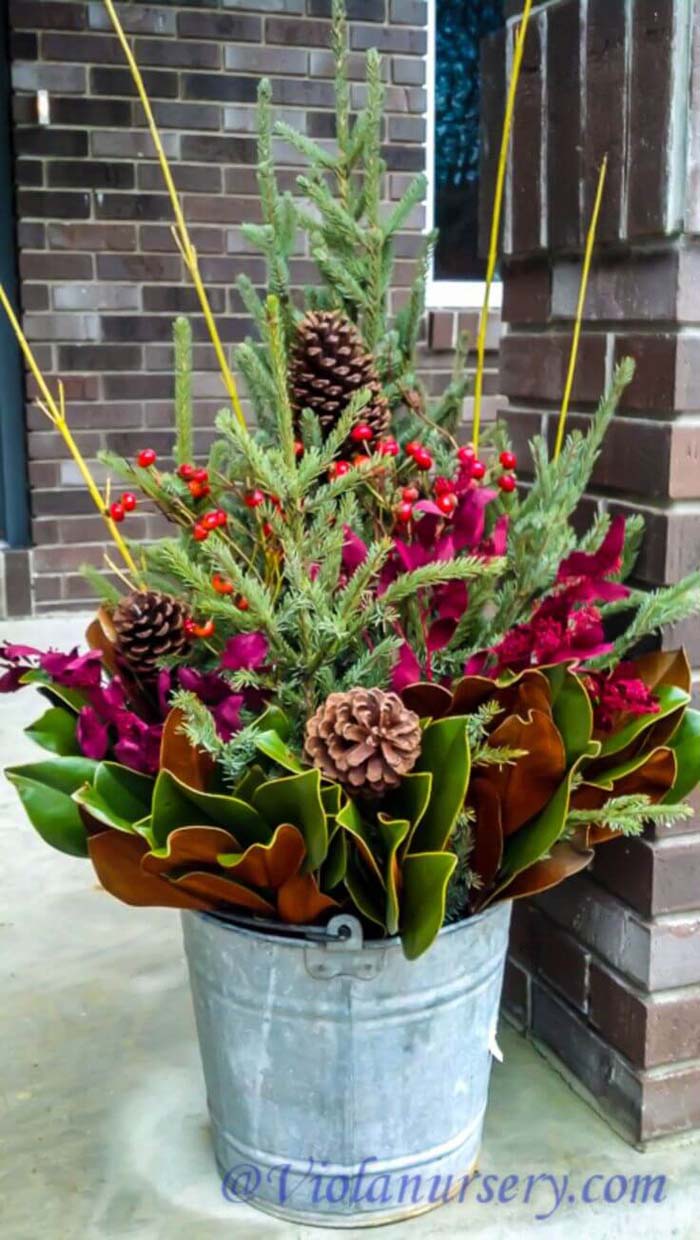 The winter bouquet that can beautify the porch planter must include colors and plants that are typical for the season and the holiday.
Start by arranging wide leaves on the bottom. Then fill the inside with evergreen twigs, twigs with berries and pinecones.
This natural bouquet can be placed in a galvanized bucket or wicker basket if you love the farmhouse style.
via Viola Nursery
6. Personalize Your Porch Planter with Your Family Initials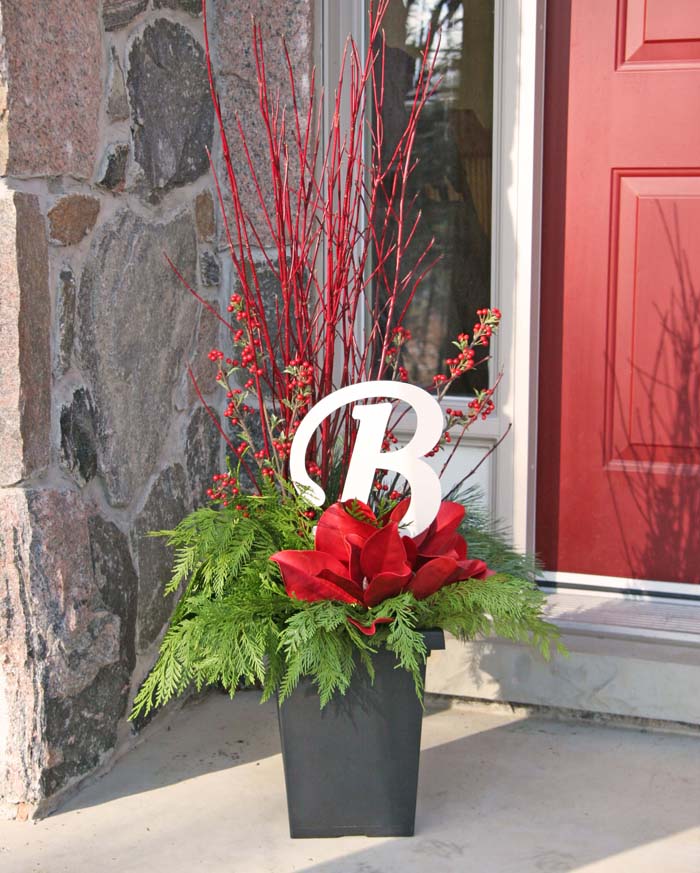 Make the porch Christmas planter more personalized by adding your family initial in the greenery arrangement.
Use a color that will easily pop out against the rest. For example, if you use twigs of greenery and red accents like berry twigs, the initials should be in white.
7. Secure Your Christmas Bouquet with Floral Foam

One way to make your Christmas bouquet stay firmly in the container you have chosen is to use floral foam.
It will also give you the opportunity to try different arrangement versions without spoiling the part you are happy with.
8. Festive Front Porch Planter with Evergreens and Birch Branches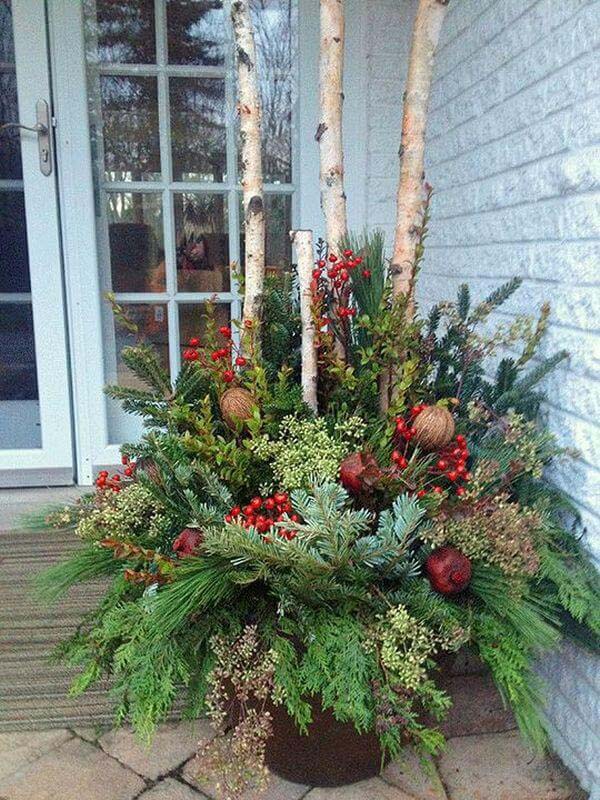 If you are looking for the best winter combination for your front porch planter, you should know that the best choice is to use evergreen twigs as they will last for many months.
They combine well with birch branches as they add contrast to the green. For a pop of color, add berries, pinecones, rose hips.
9. Classic Rustic Décor with Lantern and Evergreen Sprigs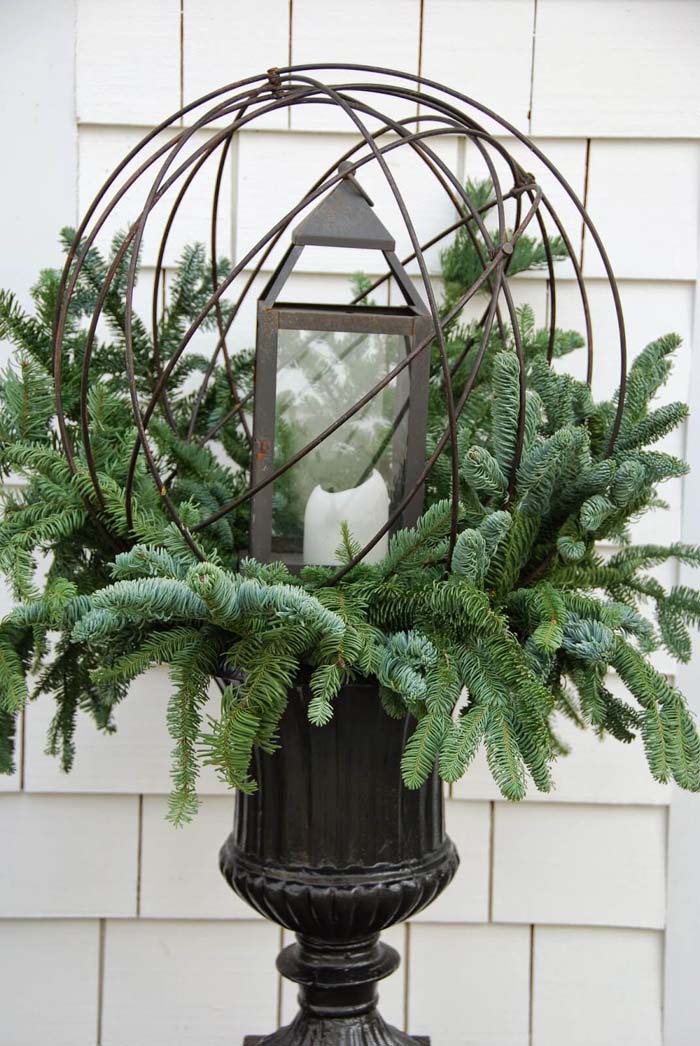 Use the existing front door planters as a basis for the Christmas outdoor decor.
If you are keen on the classic look and design, make a simple arrangement like this idea. Get a lantern from the Dollar store and place it in the planter. Surround it with evergreen sprigs to form a natural and beautiful Christmas rustic decor.
10. Utilize Your Olive Buckets as Christmas Trees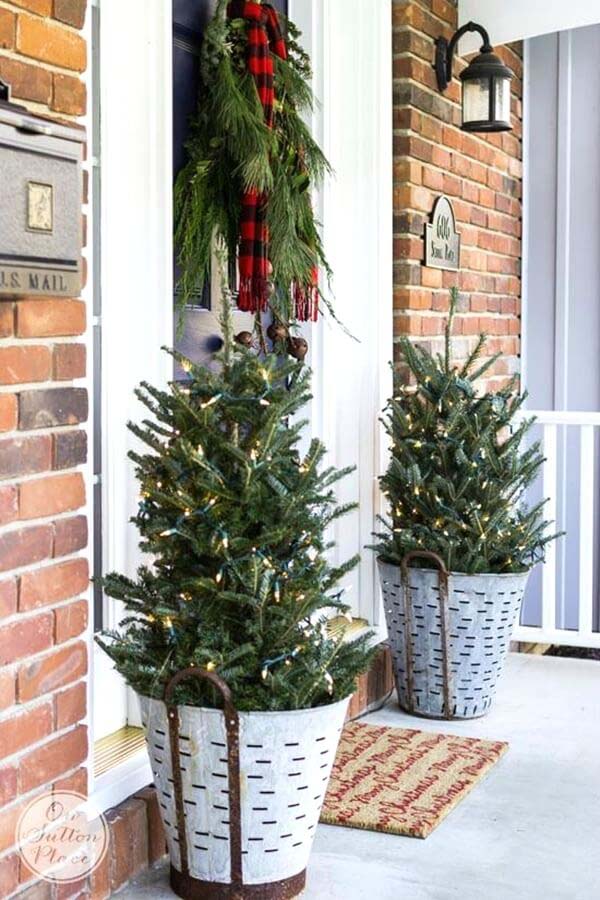 We have already seen these front door olive buckets holding mums in the autumn. Instead of leaving them empty for the winter, you can turn them into a Christmas-themed front porch decor by planting identical plant trees inside.
Make them more festive and yet simple by weaving fairy lights around them.
via On Sutton Place
11. Decorate Your Vintage Milk Can for the Holidays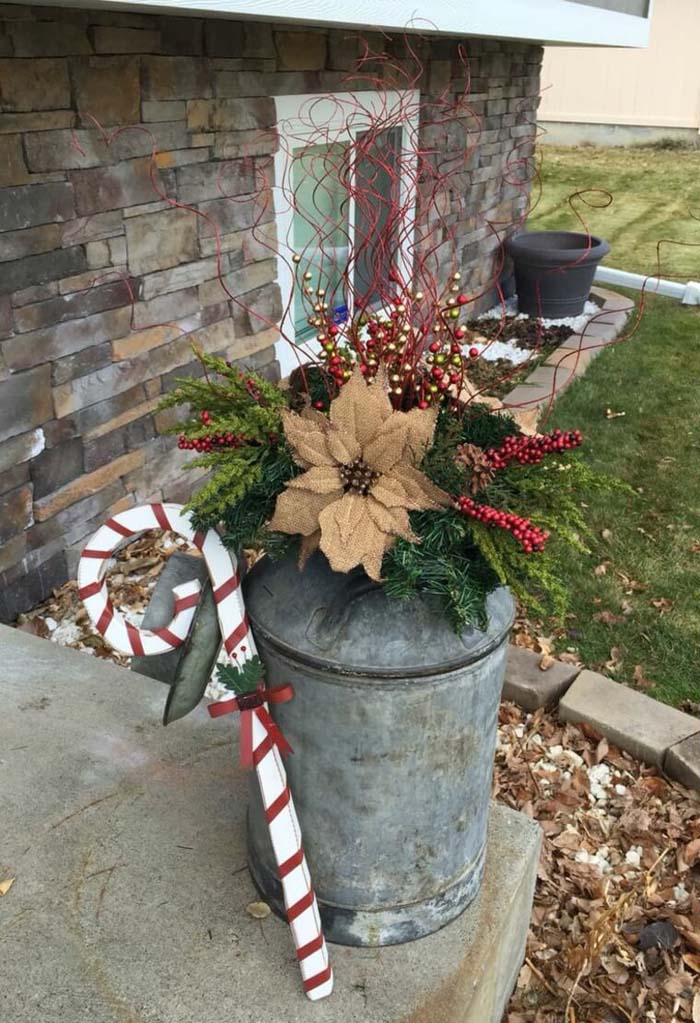 If you have a vintage milk can, you can easily include it into the holiday decoration.
Fill the top with evergreen twigs, faux poinsettias and berries. To give it a festive finish, add a wide red ribbon around it or a large candy cane.
12. Classic Christmas Planter with Unique Topper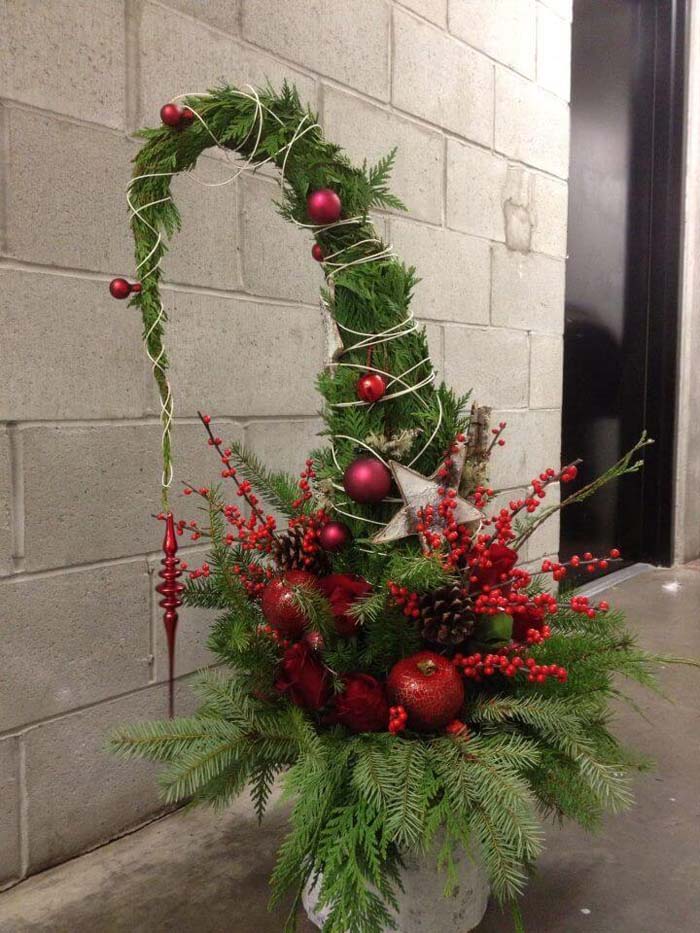 The arrangement in this planter uses greenery and accents in the typical Christmas colors.
What makes a greater impression is the top of the bouquet woven with a cord. Doesn't it remind you of a dwarf's hat?
13. Convert Old Galvanized Buckets into Christmas Planters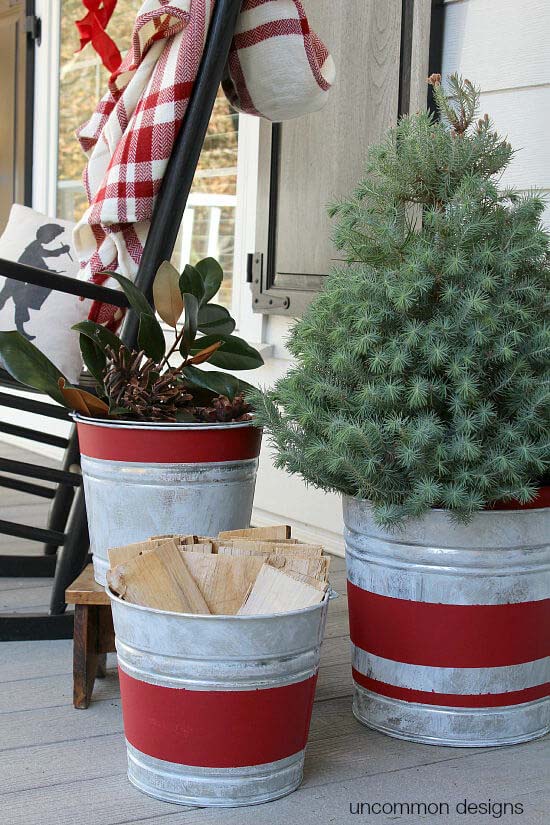 Turn the old galvanized buckets into front porch Christmas planters that will spread festive spirit and beauty around.
The project is very easy as long as you have some red paint. Make stripes onto the buckets in different patterns.
Then decorate with pine trees or evergreen twigs. Enhance the rustic look by filling one of the buckets with wood.
via Uncommon Designs
14. Festive Christmas Planter with Lantern and Oversized Bauble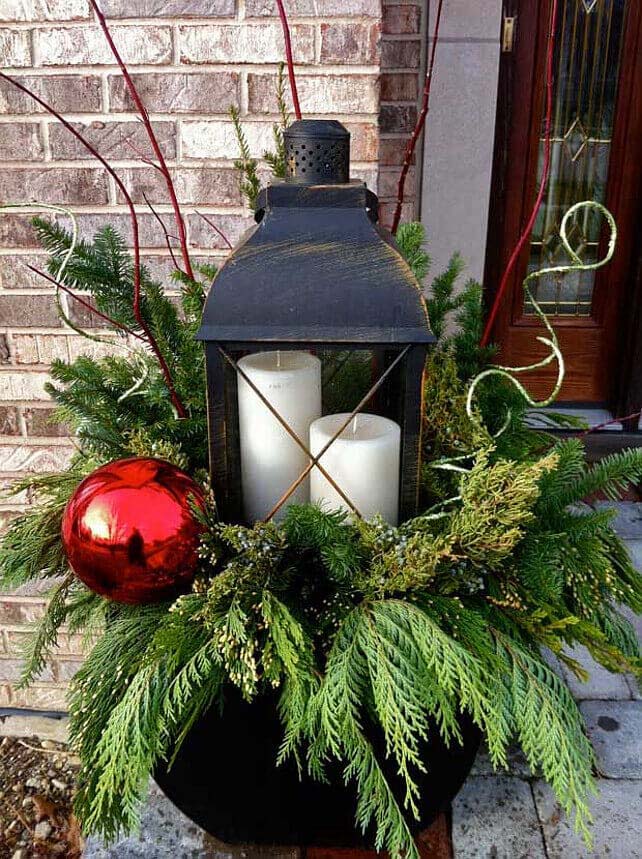 This planter uses a lantern as a central accent. It is surrounded by evergreen twigs and one of its sides is decorated with an oversized bauble.
The Christmas vibe is enhanced by a few glitter twigs that match the bauble color.
15. Spruce Up Your Front Porch with an Oversized Bauble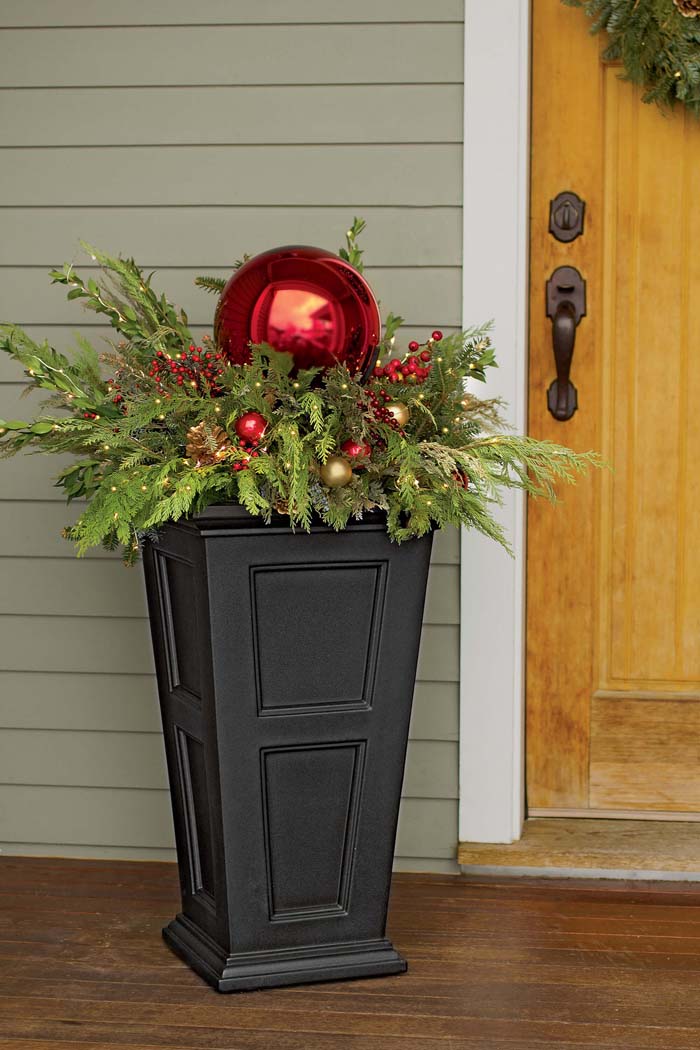 Give your front porch a large amount of Christmas spirit by decorating it with an oversized bauble.
Place it in the center of the planter and surround it with evergreen twigs. They can be decorated with fairy lights and smaller baubles so that the accent remains the attraction.
via Gardeners
16. Create a Festive Entryway with a Ribbon-Wrapped Planter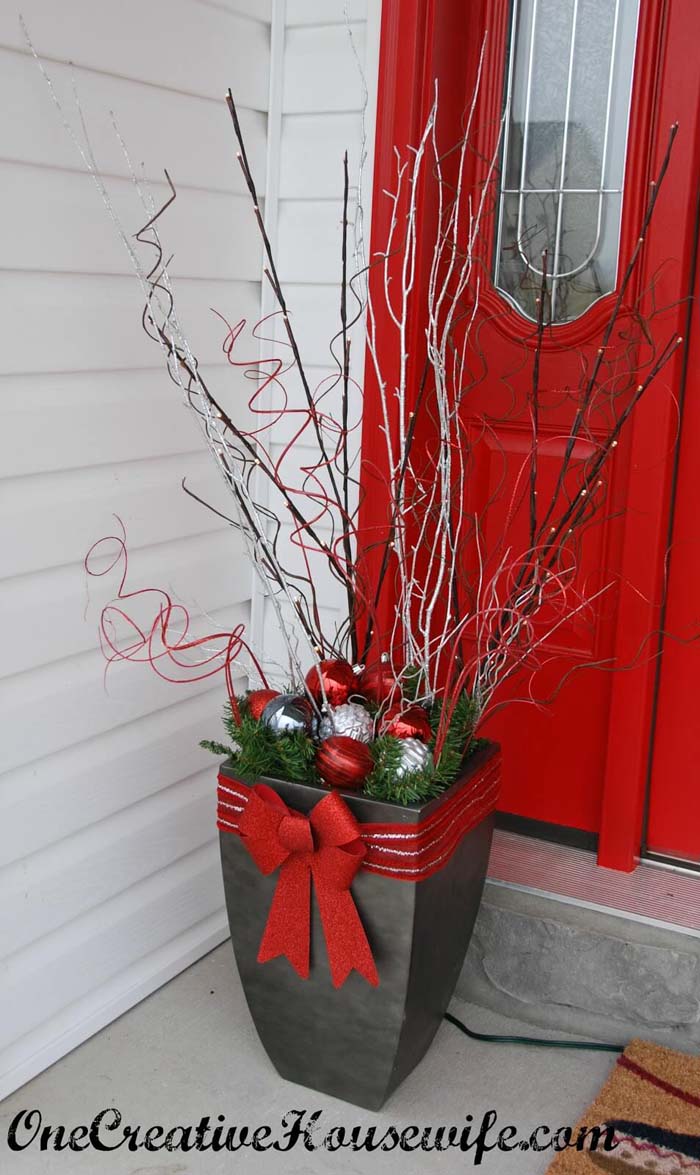 Wrap the planter in front of your door with a wide red ribbon and tie a bow to make it look like a gift.
Then start making the arrangement inside. First, fill it with evergreen twigs. They will be the basis for the ornaments. To give the arrangement height, add light and glitter twigs.
17. Welcome Winter with a Festive Firewood Basket Display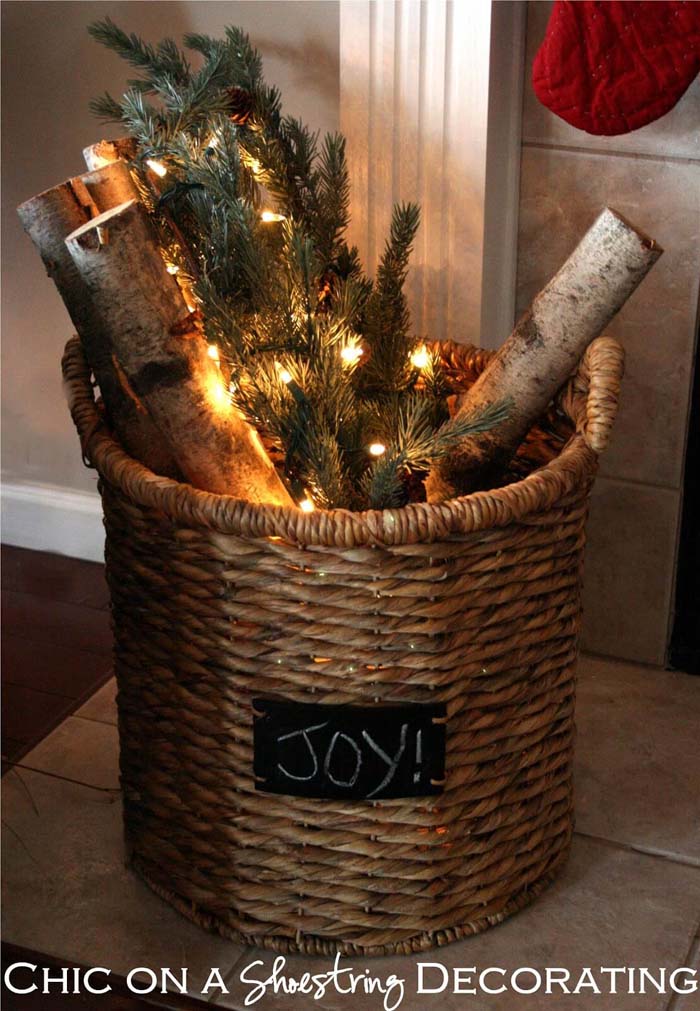 Stuck some firewood and birch branches into a wicker basket. Then, insert evergreen twigs to give the arrangement the typical aroma and color and decorate with lights.
Add a small chalkboard sign in front of the planter to send a merry message to all people seeing it.
18. A Marvelous Bouquet of Christmas Symbols for Your Home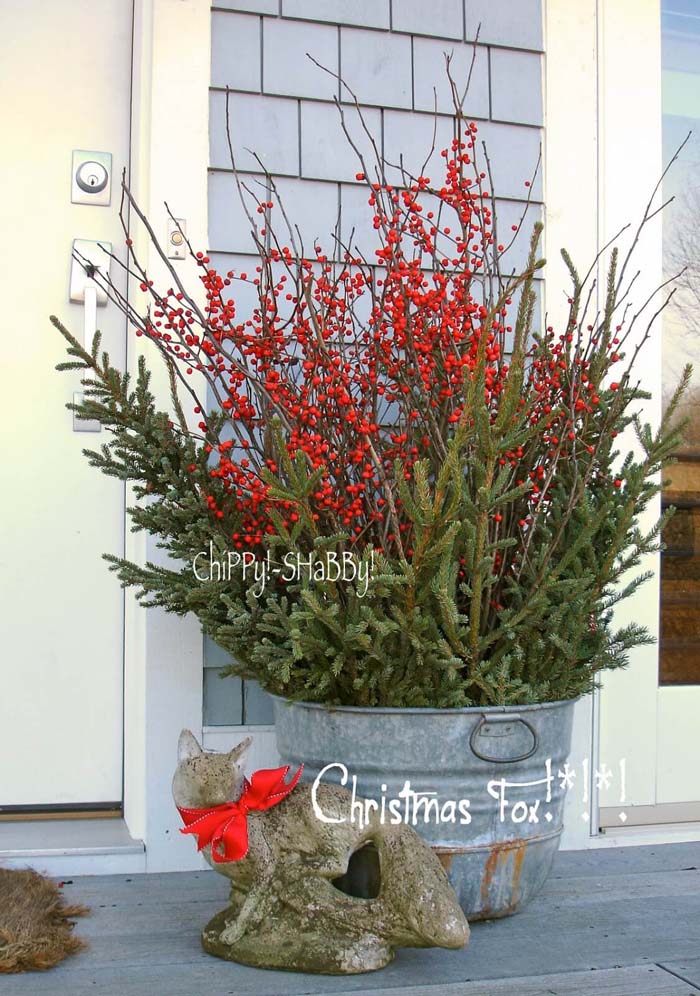 Isn't this bucket all you need to feel that Christmas is coming?
The symbols of winter are well arranged in a rich bouquet that will welcome the guests from the front porch.
via Chippy Shabby
19. Transform Old Baskets into Winter Décor for Your Front Porch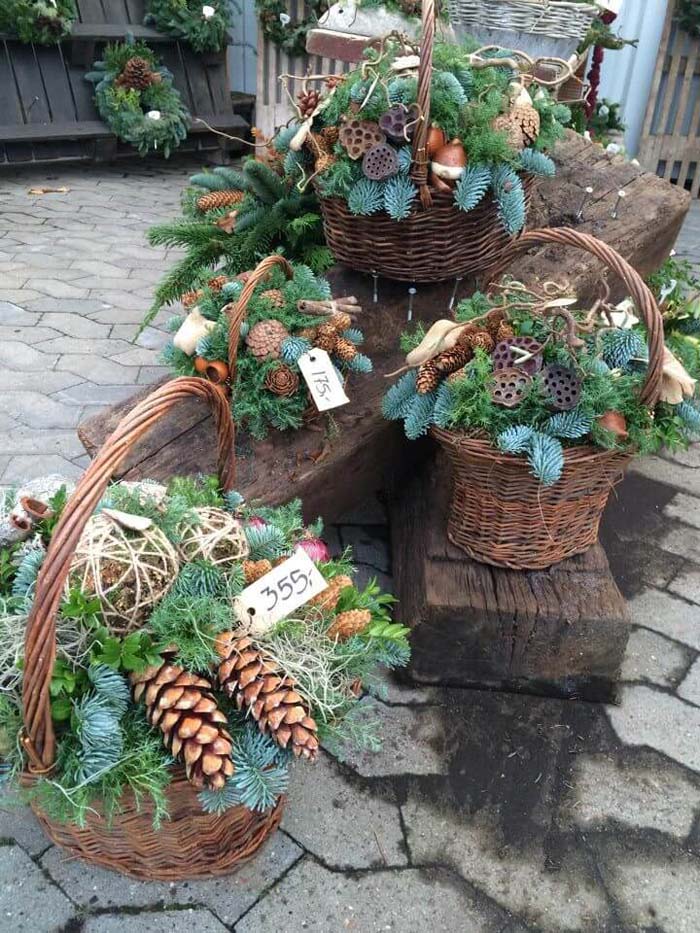 If you have some old baskets, it is time to turn them into a useful part of your front porch Christmas decoration.
Fill them with twigs and large pinecones. If you are missing some color, add ribbons, baubles, even lights.
20. Decorate Your Front Porch with Evergreen Planters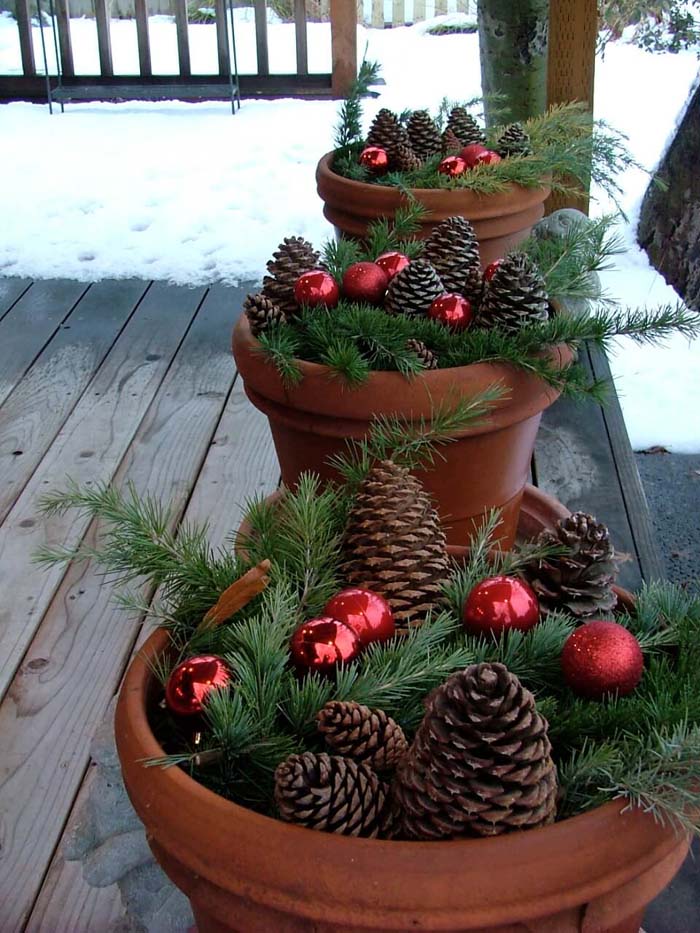 To add some Christmas vibe to the front porch can be an easy task. Just use the pots you already have in place to make a festive arrangement.
Don't throw the soil inside. It will be needed to insert the evergreen twigs into it and shape the arrangement per your taste. Adding pinecones and ornaments will give the planters the thematic look.
21. Black Milk Can Arrangement with Pine and Pearl Accents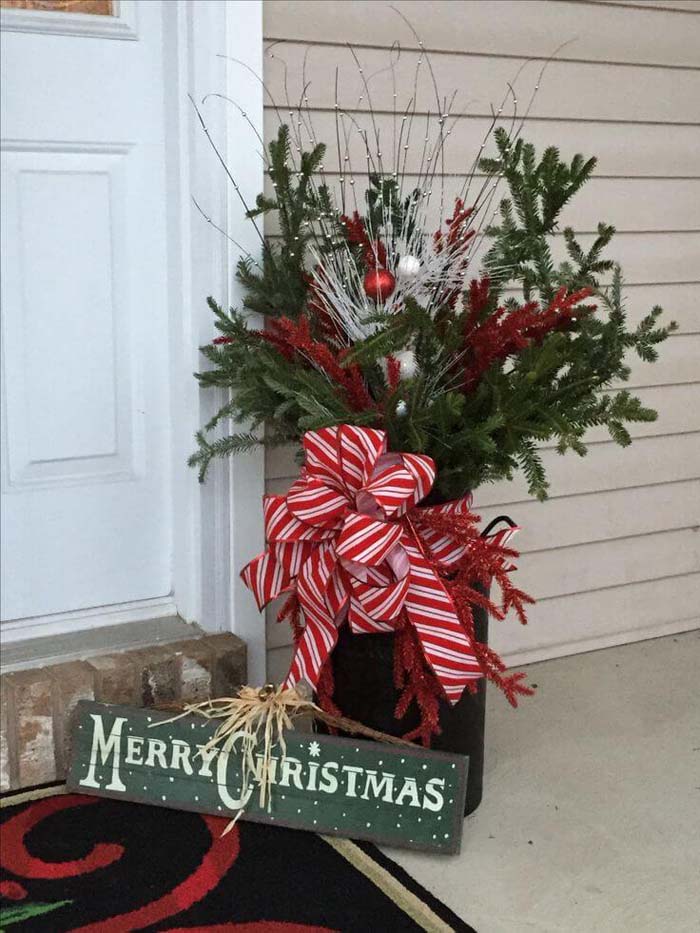 The planter of this Christmas decor is milk can painted in black. It is tied with a wide rich red and white ribbon to give it a gift look.
The inside is filled with pine tree twigs and Christmas twigs with pearls. Top the arrangement off with a rustic sign made of a pallet slat.
22. Stacked Gift Tower for a Christmas Porch Planter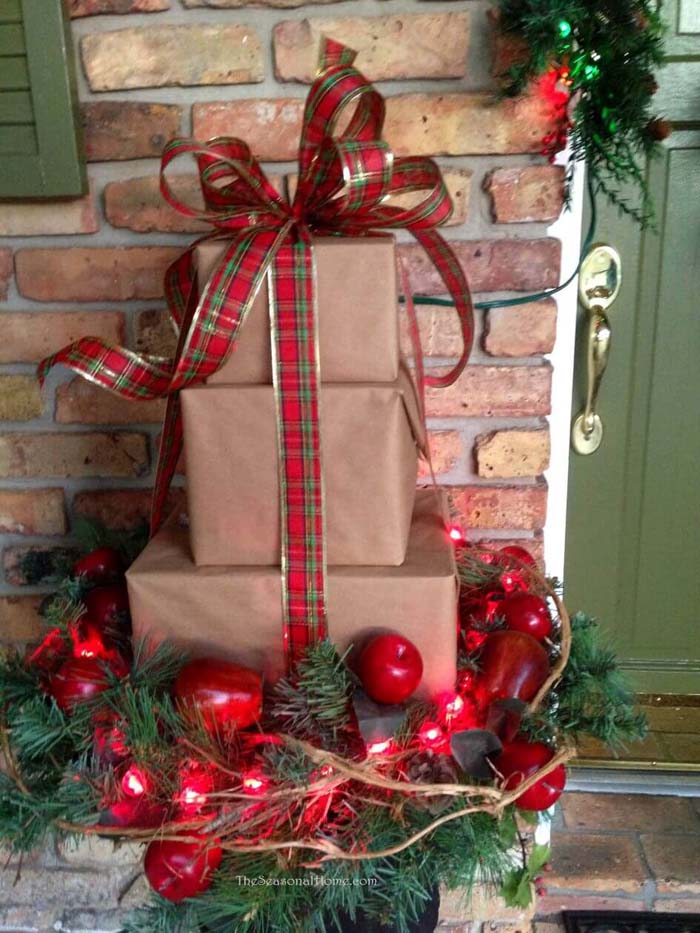 Receiving gifts is surely the most expected part of Christmas. Use this symbol to create a stacked gift tower that can be placed onto the planter on your porch.
Surround the tower with an evergreen wreath decorated with ornaments and lights.
23. Magical Christmas Tree Decorations for Your Front Porch

This stunning Christmas decor will make the front porch a magical place. To shape the Christmas tree, you need a metal dowel, a green garland and fishing cord to hold it at the desired shape.
When you are happy with the outcome, start decorating with ornaments and lights.
24. Incorporate Some Easy Holiday Décor for Instant Curb Appeal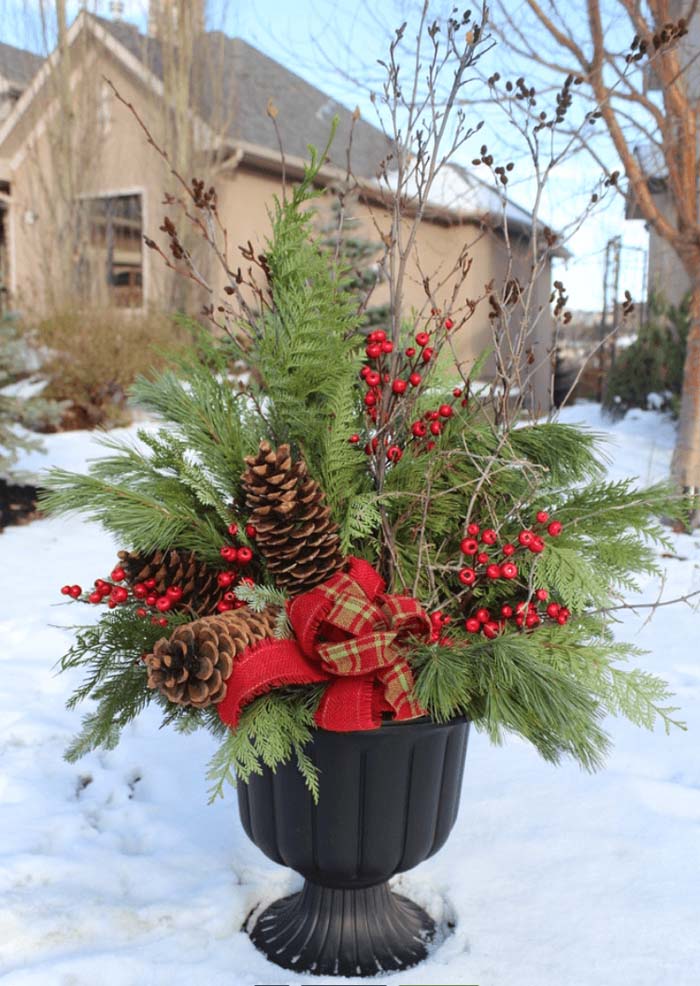 You don't have to invest much in the front porch Christmas planter. You can use any planter you already have.
To make it look like a thematic outdoor accent, fill it with a bouquet of evergreen branches and berry twigs. Add a red ribbon to give the arrangement a pop of color.
via Teresina
25. Add Winter Charm to Your Home with a Birch Branches Planter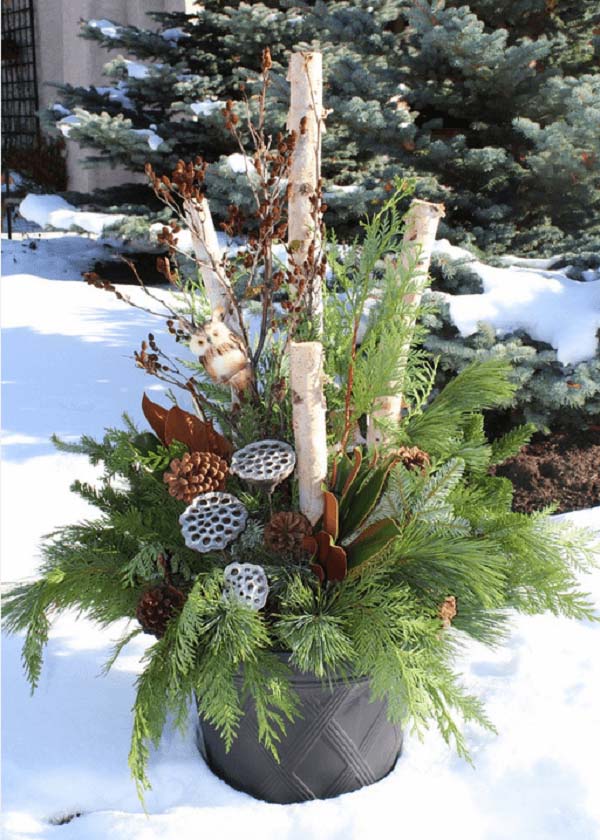 Birch branches are very popular when it comes to outdoor winter decoration. They make a great center accent in the arrangement and give it a height.
Surrounded by evergreen twigs and some accents like pinecones and pizzaz gives the planter a rustic look.
26. Modify Your Porch with a Rustic Christmas Planter DIY Project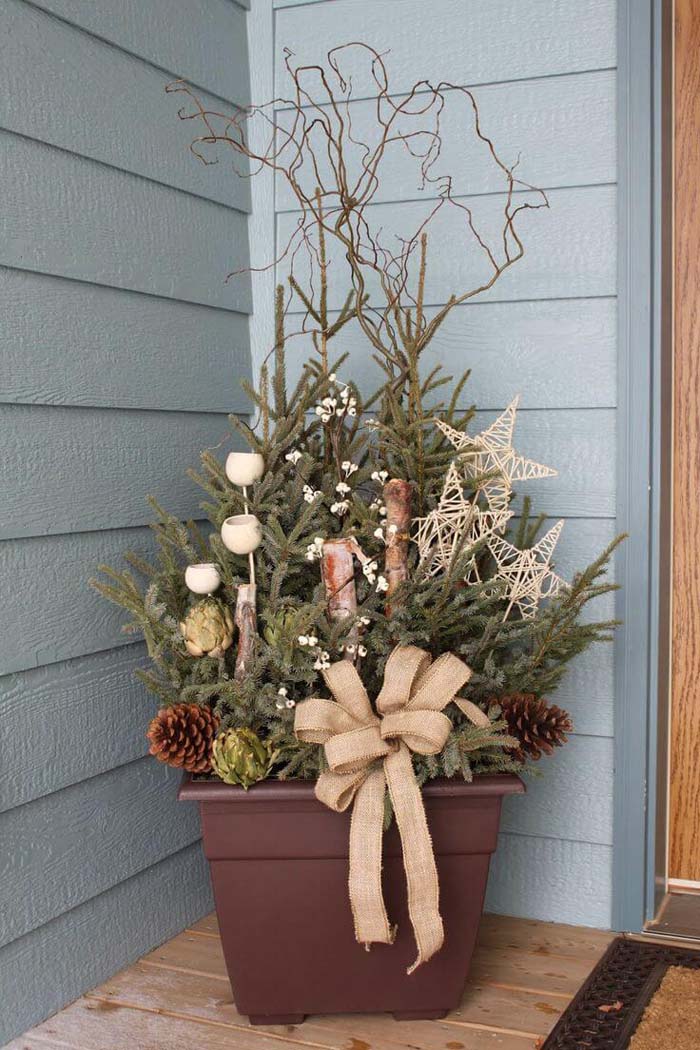 Make your porch impressive with a rustic Christmas planter. This DIY project will take you not more than 5 hours but its impact on the exterior and on your holiday mood will be great.
The full tutorial and supply list can be found on the link below.
via Explore Love Eat
27. Rustic Winter Décor with Vintage Milk Can Planter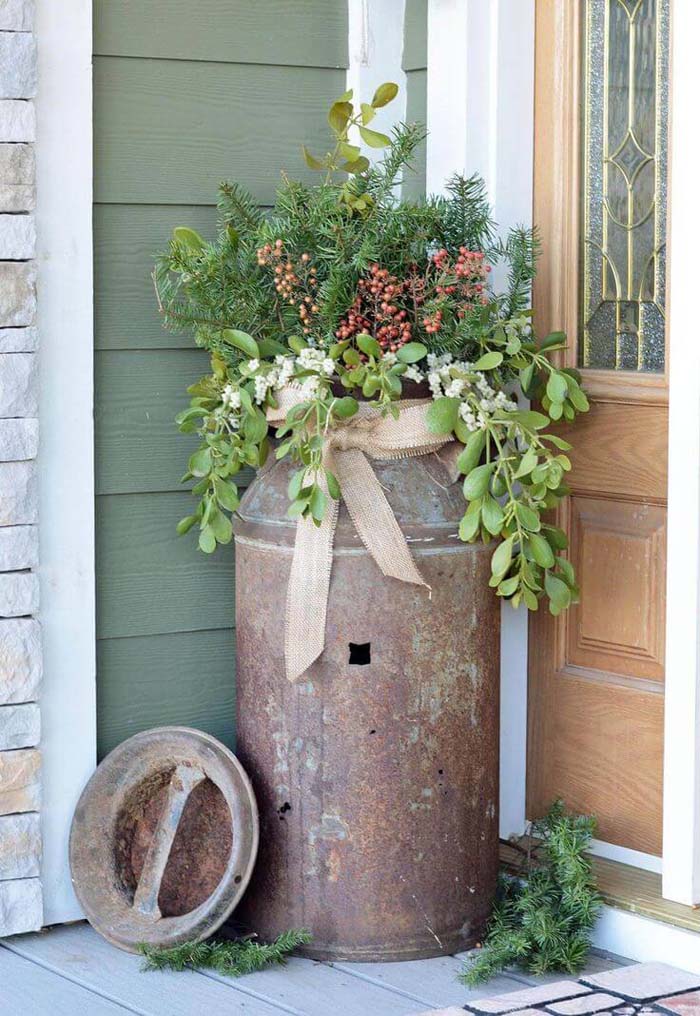 This winter decor proves that milk cans can be incorporated into any season decor.
This one is filled with cuttings from pine trees, redwood branches, holly berries, mistletoe. A burlap bow enhances the rustic look of the planter.
28. Decorate Plain Branches with Lights and Ribbons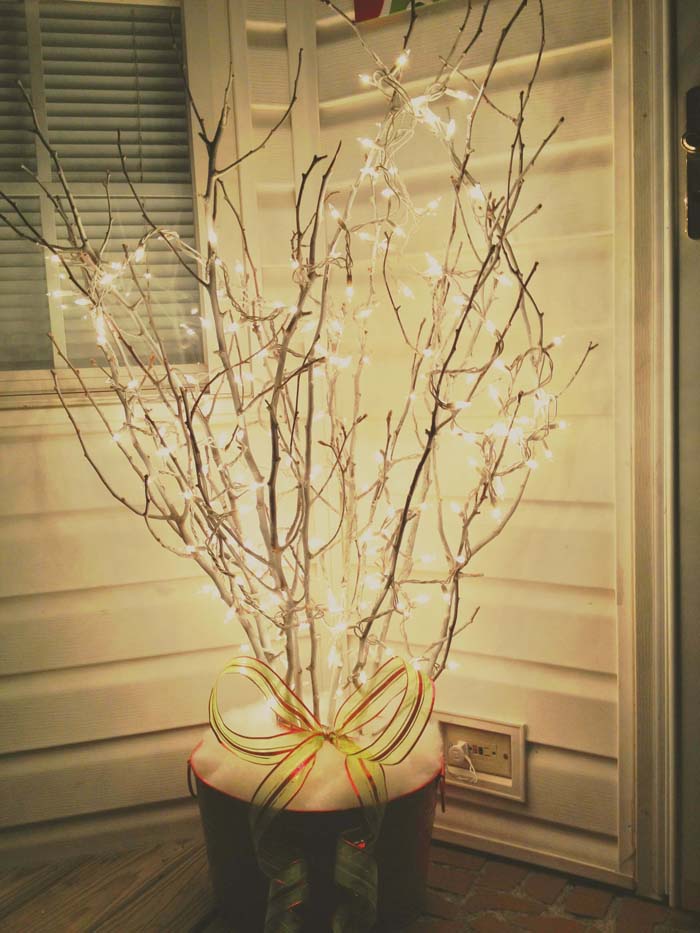 Plain branches can also be given a festive look when decorated with lights.
To let them stay firmly into the planter you have chosen, fill it with potting mix. Cover the top with cotton to imitate snow. Finish the planter decoration with a ribbon.
29. Stylish Planter Arrangement with Evergreen Twigs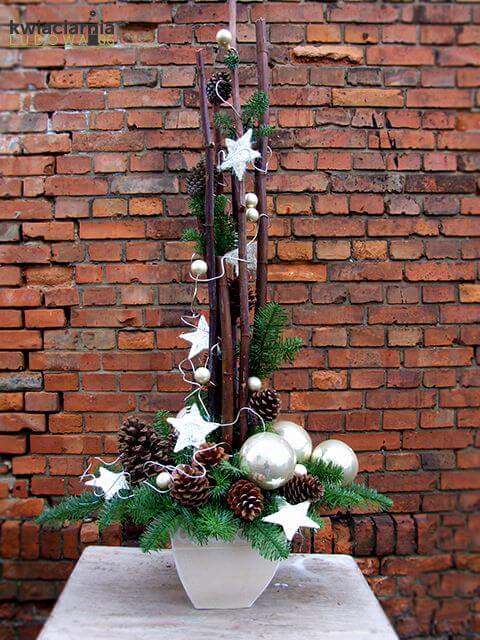 This stylish arrangement requires a small ceramic pot filled with soil. Start by inserting the tall branches in the center of the arrangement. Then surround them with evergreen twigs with pinecones.
To give the planter a Christmas look, decorate the twigs with large silver baubles and weave a starry garland around the bouquet.
30. No Experience Needed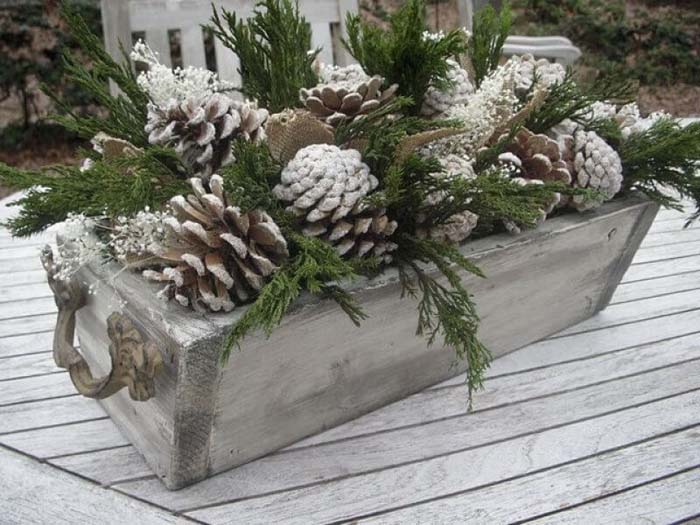 You need 1 hour from your time to make this gorgeous rustic planter.
Get an old wooden box, a few evergreen twigs and pinecones. Spray the top of the pinecones with spray snow. Then arrange all pieces into the box.
31. Spiff Up Your Front Porch with DIY Lantern Decorations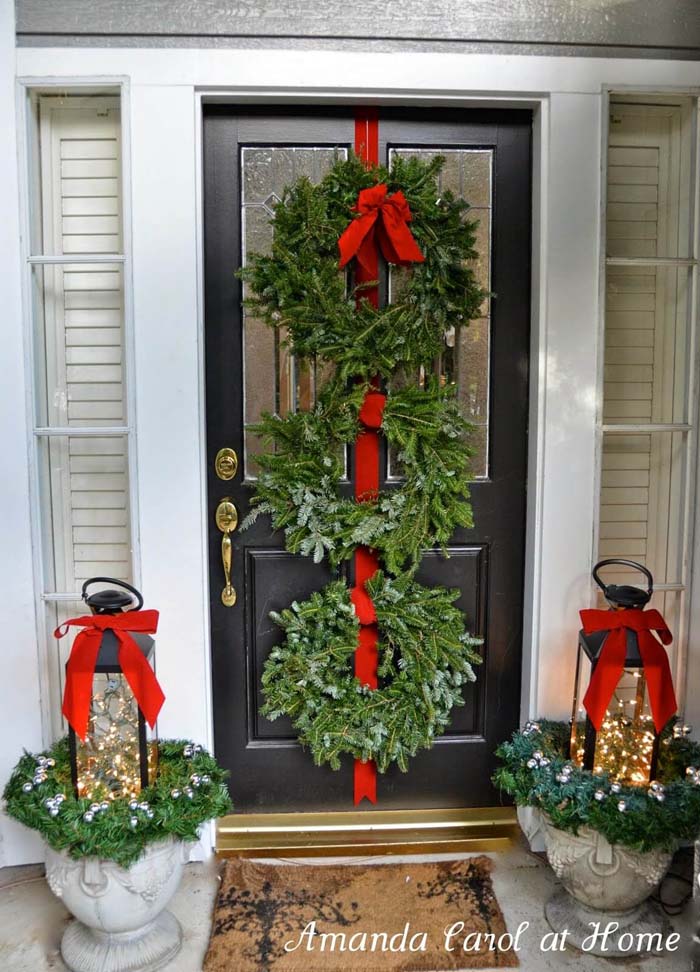 To make this front porch decor, you need to visit the Dollar store first. Get two identical lanterns and two light strings with batteries.
Fill the lanterns with the lights and place them on top of the planters. To hide the soil in them, you can place a wreath from evergreen twigs or insert twigs and branches.
32. Create a Christmas Tree Planter with a Tomato Cage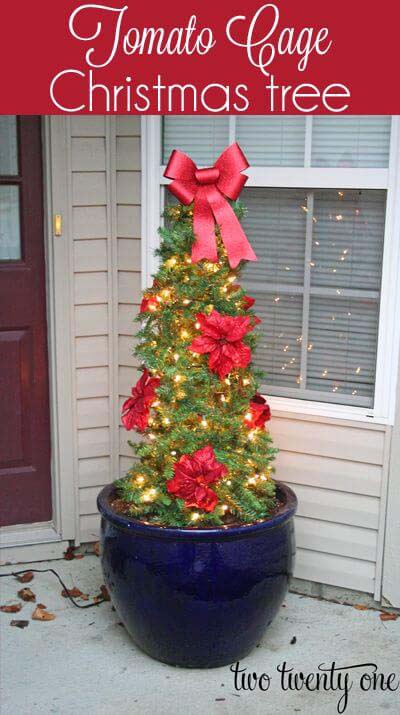 To make this interesting Christmas tree-shaped planter, you need a tomato cage.
Fix it into the soil of the planter and then weave around a few strands of garlands.
Decorate the tree with ornaments, lights, bows- any accent that is related with the holiday.
via Two Twenty One
33. Create a Snow-White Accent with Painted Branches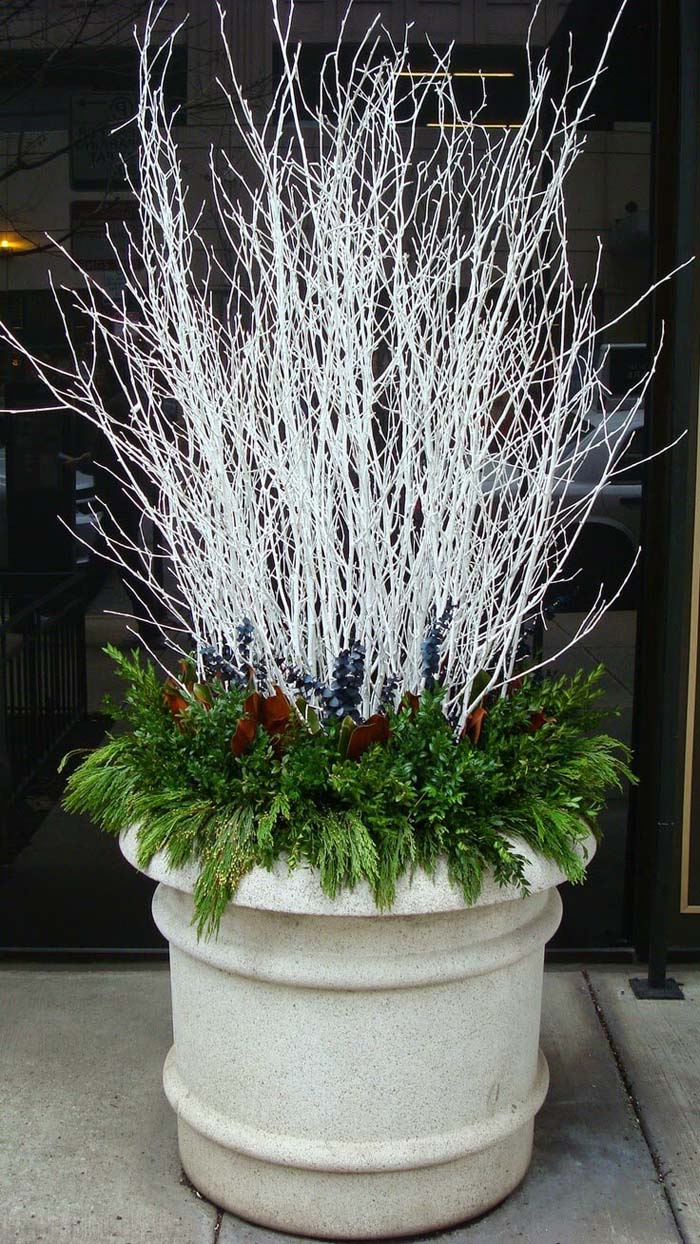 To achieve the snow-white accent in the middle of the arrangement, collect some branches from the wood and spray them with paint.
Let them dry and insert them into the soil of the planter. Continue with inserting the greenery and sprigs you have chosen for your Christmas planter. Make sure to follow the same zoning pattern to let the planter look so attractive.