What can get your kids excited about Halloween is not only the treats, the costumes and the carved pumpkins. Dreaming about this holiday and the interior prep is another way to keep them cheered up and excited.
Encourage your kids to get involved in the preparation of the festive home decor by giving them fun creative crafts.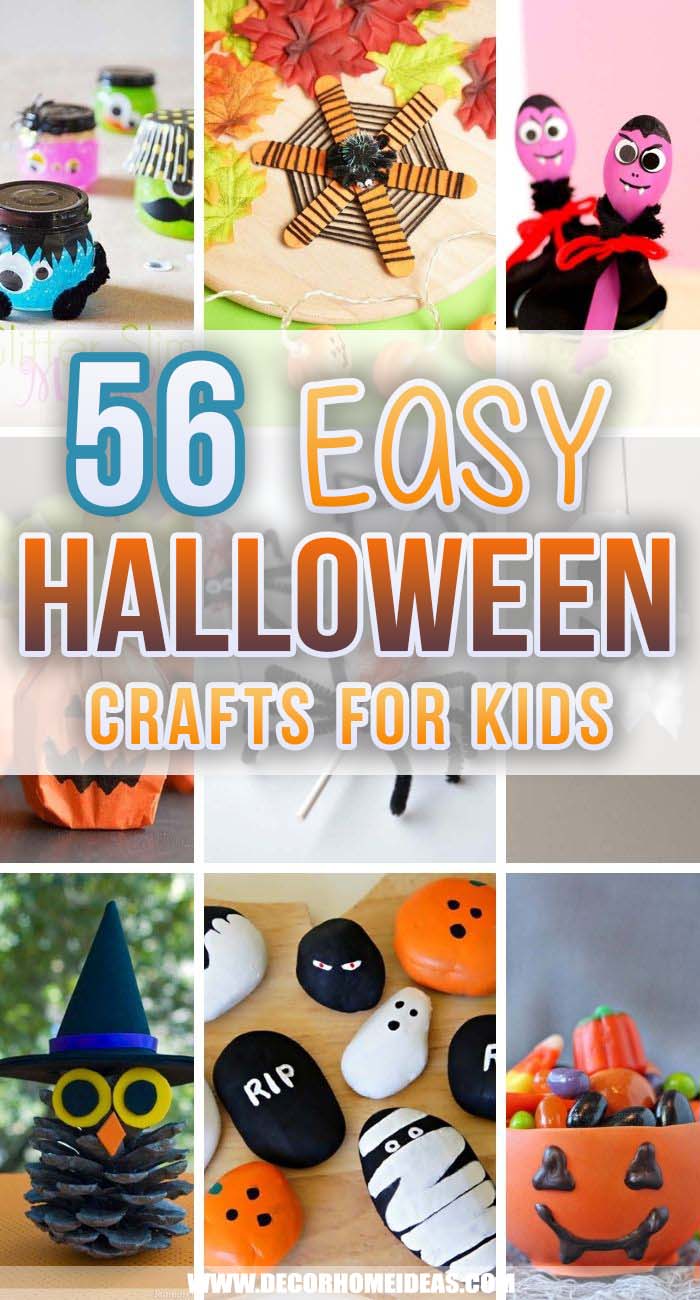 Whether focused on a scary concept or enhancing the charm of fall, these easy Halloween crafts for kids will keep them busy and will create fun childhood memories related to this holiday.
1. Get Crafty with a Black Paper Cat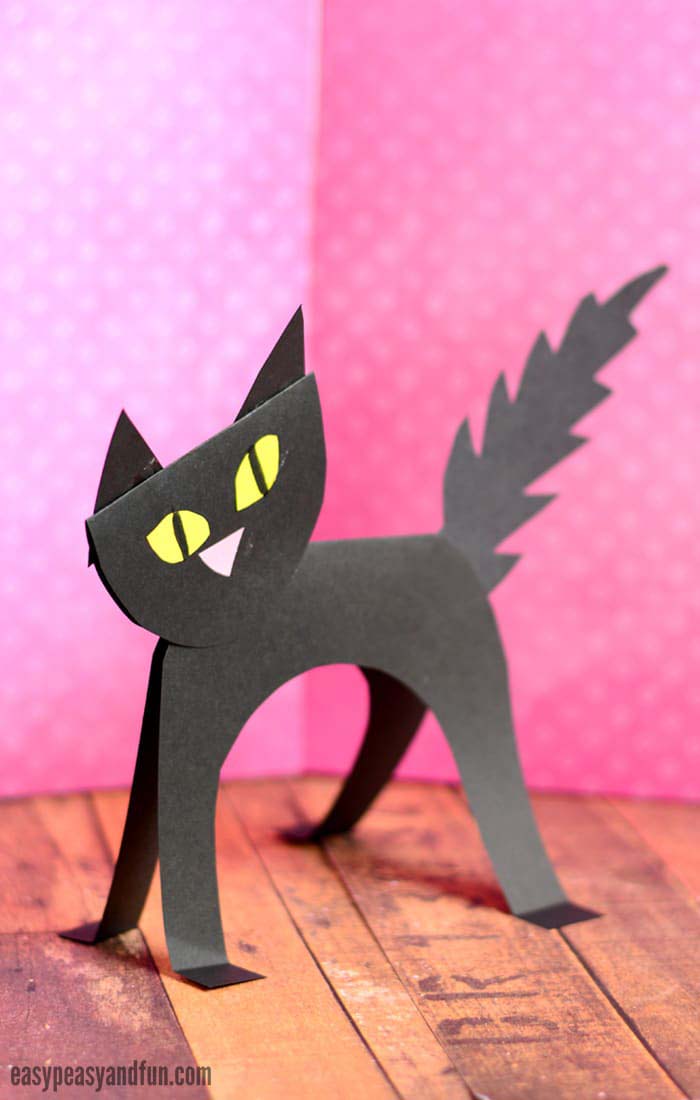 This paper craft is the perfect kids' project before Halloween. It is safe, easy and lots of fun.
By folding black cardstock, the paper gets the look of a scared car. The black color and the creepy yellow eyes perfectly fit into the Halloween concept for dark and haunted items.
Make more of these cats to add to each dining set on the table or to place in random places to enhance the spooky vibe.
2. Elevate Your Decor with a Halloween Black Sock Cat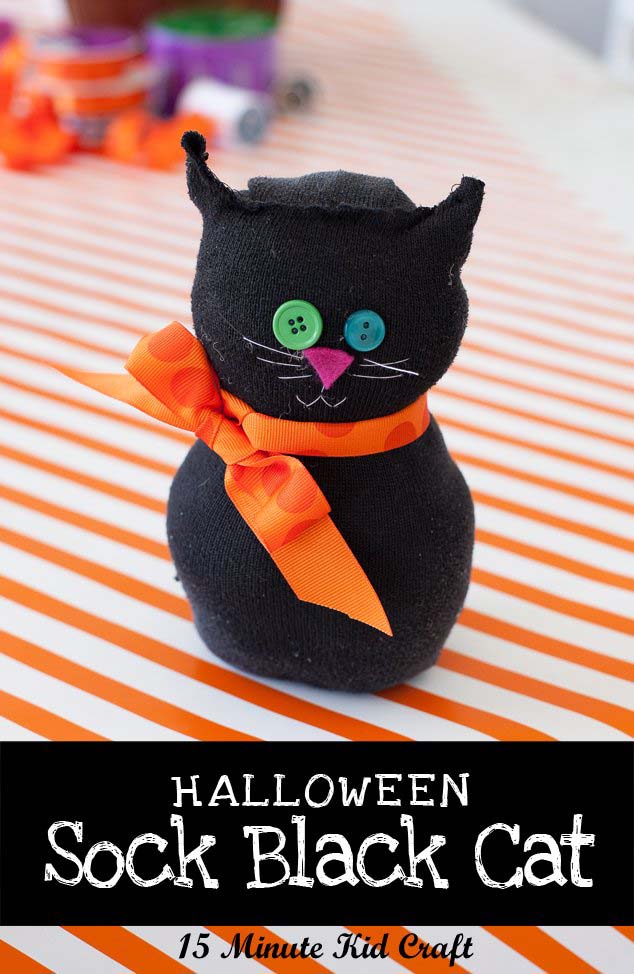 Need an idea for a quick and easy craft for kids' Halloween party? This black cat is super cute and a project every kid can do.
Prepare identical black socks, polyfil, buttons, some felt and a short ribbon to let the kids assemble the pieces.
3. Get Creative with Paper Chinese Jack-O Lanterns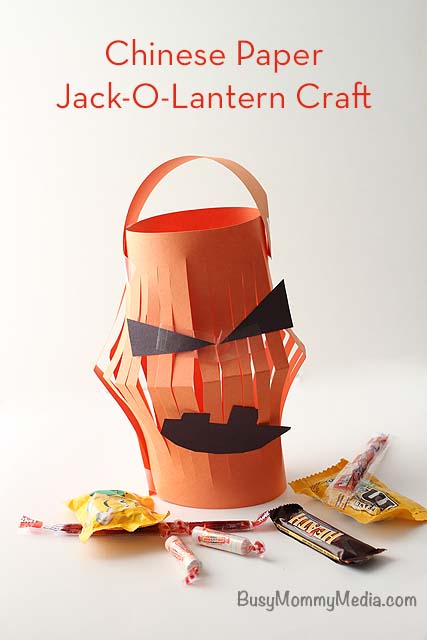 Hollowing a pumpkin is difficult and unsafe. If you want to give your kids a project of a traditional Halloween symbol, then try this one. This alternative to the Jack-O lantern is made of paper and glue.

Although it looks like a simple craft, the kids need to get focused on the cutting and folding of the pieces so that they are happy with the final result. Be sure that they will be quiet for at least 30 minutes.
via Busy Mommy Media
4. Turn Coffee Filters into Rustic Pumpkin Suncatchers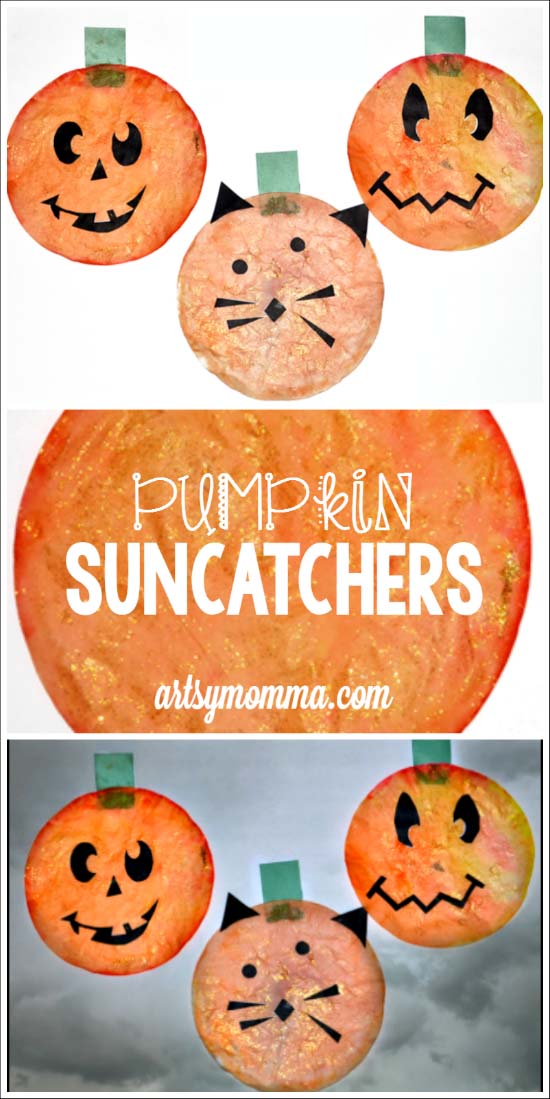 Pumpkins made of coffee filters become smiley sun catchers that add festiveness and cheer to the interior.
Some paints and glitter give the filters the typical color of the pumpkin.
The faces of the Jack-O lanterns are drawn with a permanent marker. Once they are ready, your kids can assemble a garland or add tape to each filter to stick to the window.
via Artsy Momma
5. Keep Your Kids Occupied with a Cute Halloween Garland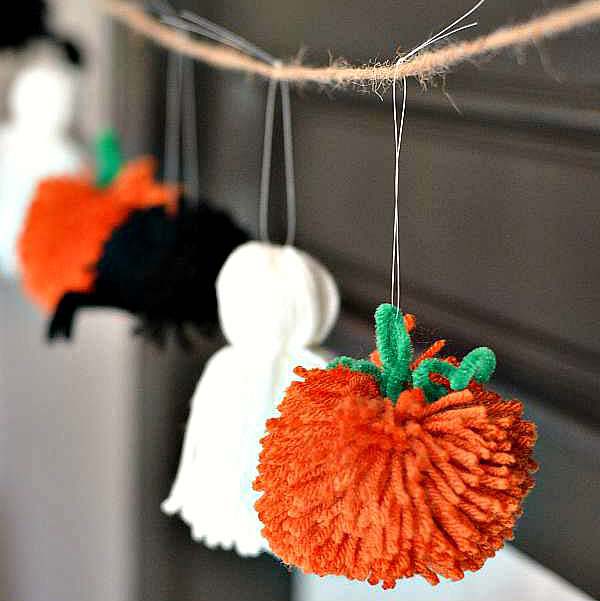 Garlands make decor very festive! And they could be part of any holiday decor, including Halloween. Of course, the pieces included should include scary motifs and pumpkins.
This cute garland craft suggests making a garland from pom-poms in the shape and the colors of a pumpkin and a ghost. Prepare orange, green and white yarn to start with. Make samples of these to show your kids how to make them.
via Growing Up Gabel
6. Make Tasty Chocolate Pumpkin Bowls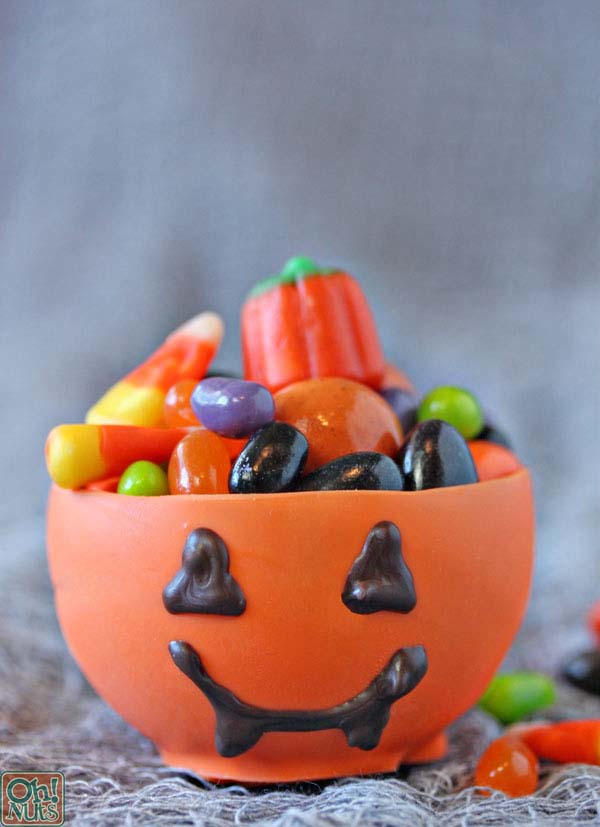 This Halloween craft is so adorable and also too delicious! Pumpkin bowls are made from melted chocolate wafers. A package of these is melted, then poured into a regular bowl.
The pumpkin bowls take their shape with the help of inflated water balloons.
The tutorial below will give you many hints on making these properly and easily.
via OH Nuts
7. Transform Tissue Boxes into Ferocious Monsters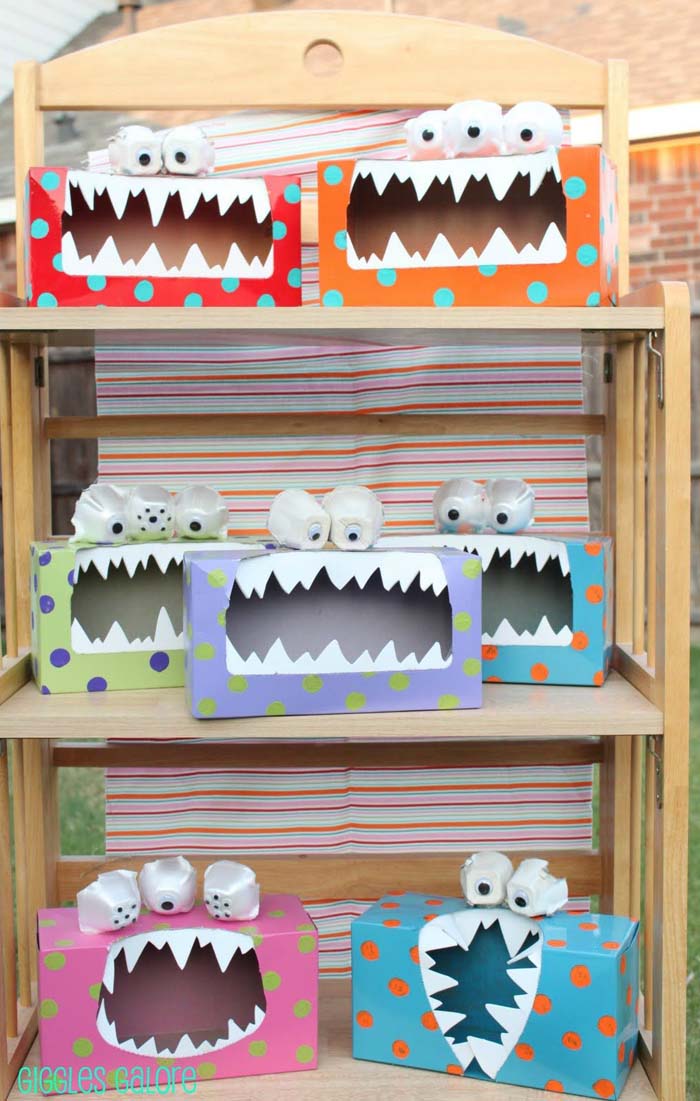 Monsters are part of Halloween and they can be part of your Halloween decor this year. These funny monster faces will be an exciting DIY Halloween craft for you and your kids.
If you want to make different faces and designs of monsters, start collecting empty tissue boxes from today!
via Giggles Galore
8. Add Art to Your Walls with Plate Bats Decor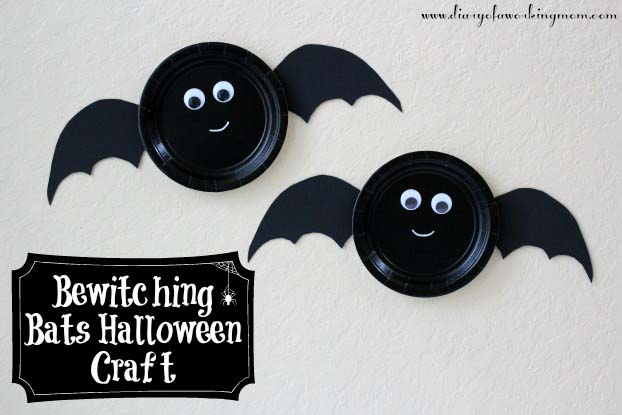 Lids, googly eyes, paint and cardstock in black are all you need for this cute bat art.
They can be sealed with tape to the wall or placed flat on a surface.
9. Showcase Your Creativity with Flower Pot Spiders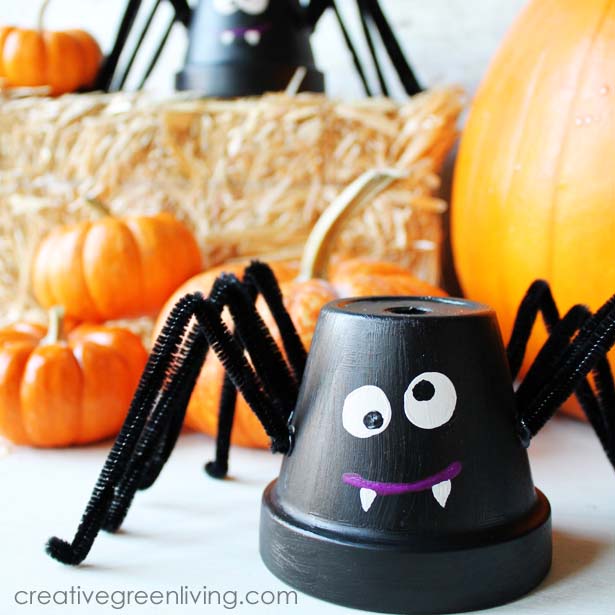 These spiders are all but scary! Their puzzled eyes give them a cute look and the purple smile with vampire's teeth creates smiles.
To prepare the supplies for this Halloween kid's craft, visit the Dollar Store.
10. Unleash Your Child's Creative Potential with Fingerprint Art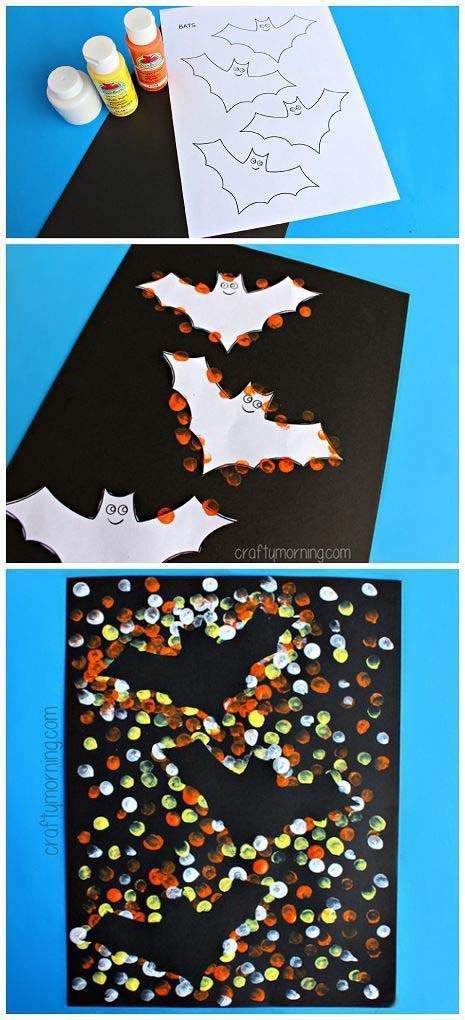 This is an interesting idea for a craft that will create fun memories from Halloween but will also develop motoric and logical skills.
Prepare a sheet of black cardstock and acrylic paints. Outline three bat silhouettes and let your kids fill the rest of the paper with their fingerprints dipped in paint.
via Crafty Morning
11. Craft Cute Halloween Cotton Balls Ghosts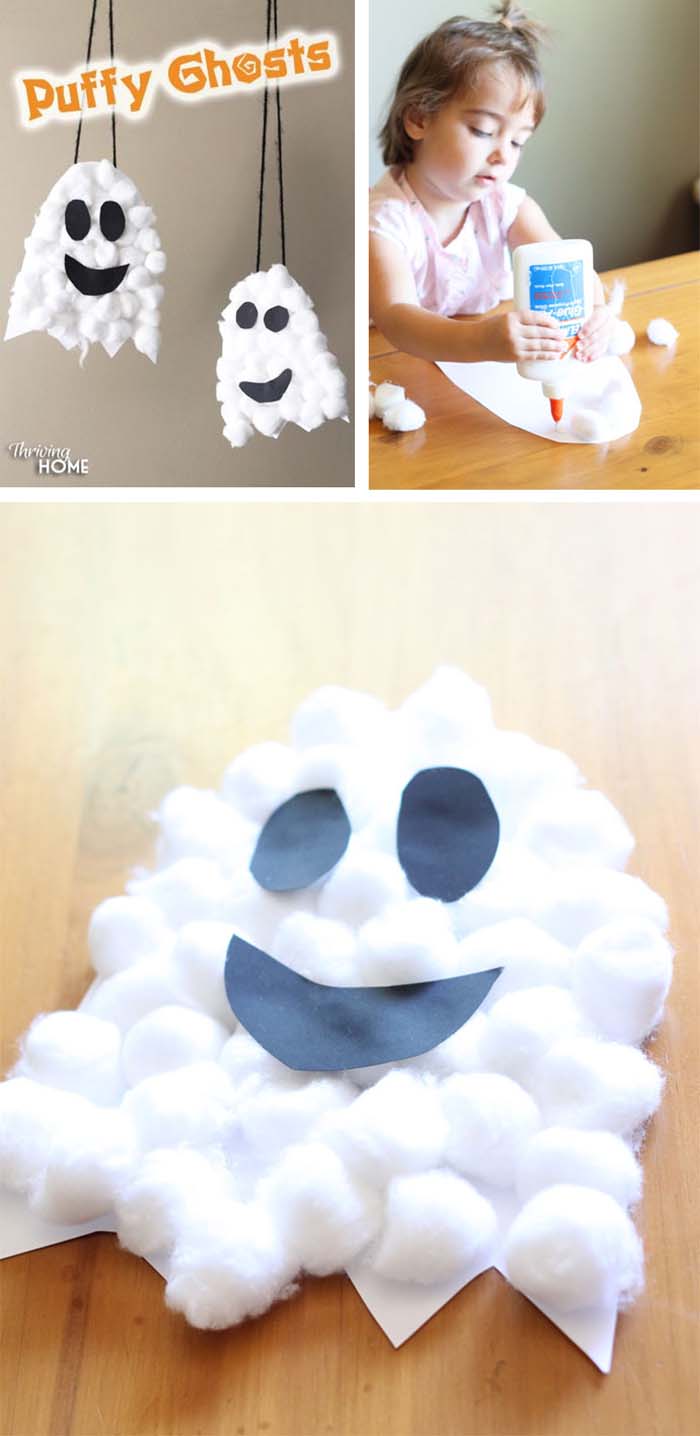 School glue, cotton balls, white and black paper- these are the supplies for this easy and kids' friendly craft.
The goal is to make ghosts with smiling faces that can be suspended on yarn and dangle from the chandelier.
via Thriving Home
12. Create a Lavish Look with a Halloween Ghost Garland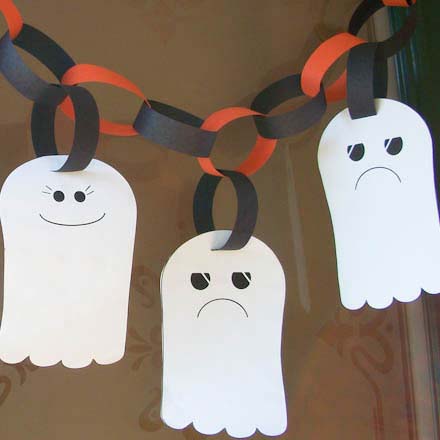 This ghost craft is very interesting. Depending on the age of your kids you can upgrade it to a more difficult level or make sure that a small toddler is capable of doing it.
If your kids are under 5, you can print the ghost images out on paper and let them cut them. If your kids are older, ask them to draw the ghosts.
via Aunt Annie
13. Get into the Halloween Spirit with Paper Ghost Lollipops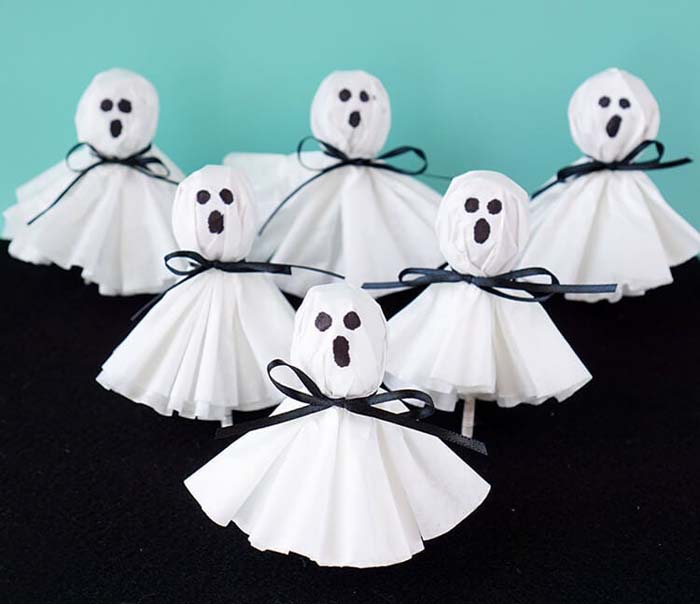 This ghost Halloween craft could be an interesting way to represent the treats for Halloween.
Prepare lollipops, coffee filters, black narrow ribbon and a black pen.
14. Create an Eerie Atmosphere with Giant Pom Pom Spiders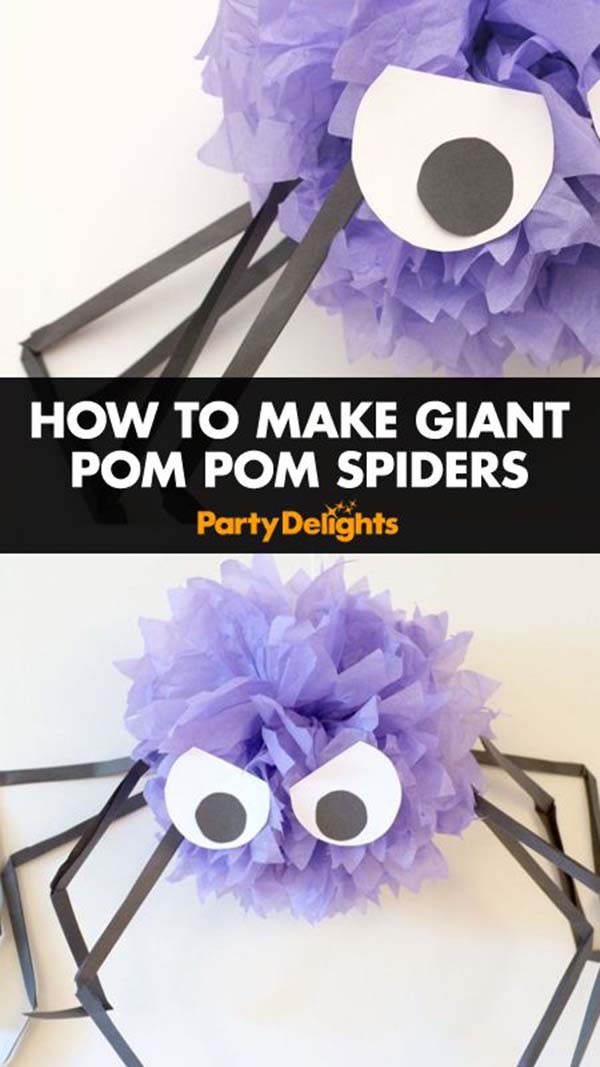 Making a spider craft from tissue paper is a very interesting craft. Making the paper pom-pom could take some time.
However, once it is finished and the paper legs are attached to it, the craft starts to look like a spider.
Depending on the impact idea your kids have, the spider can have large haunted eyes or cute eyes and a smile.
via Party Delights
15. Add Sparkle to Your Home with Glitter Slime Monsters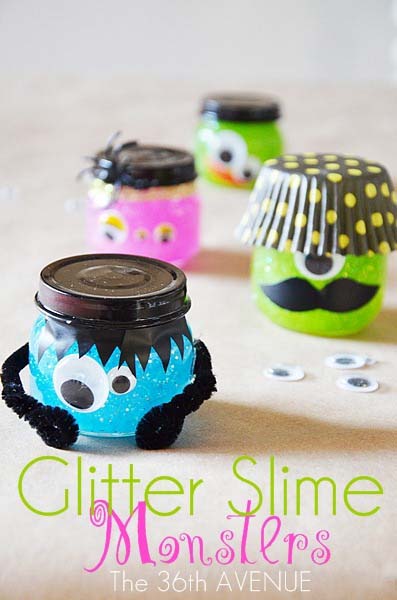 This craft is awesome! The best of it is that the kiddos do most of the work in the project process. The idea is good for a weekend family activity or as a Halloween party surprise.
Slime, glitter paint, tiny jars, pipe cleaners and cupcake liners are the basic materials needed.
Decorations could be left to the imagination of the kids- ribbons, googly eyes, lace, pearls, gems, etc.
via The 36th Avenue
16. Get Spooky on Halloween with Glow-in-the-Dark Slime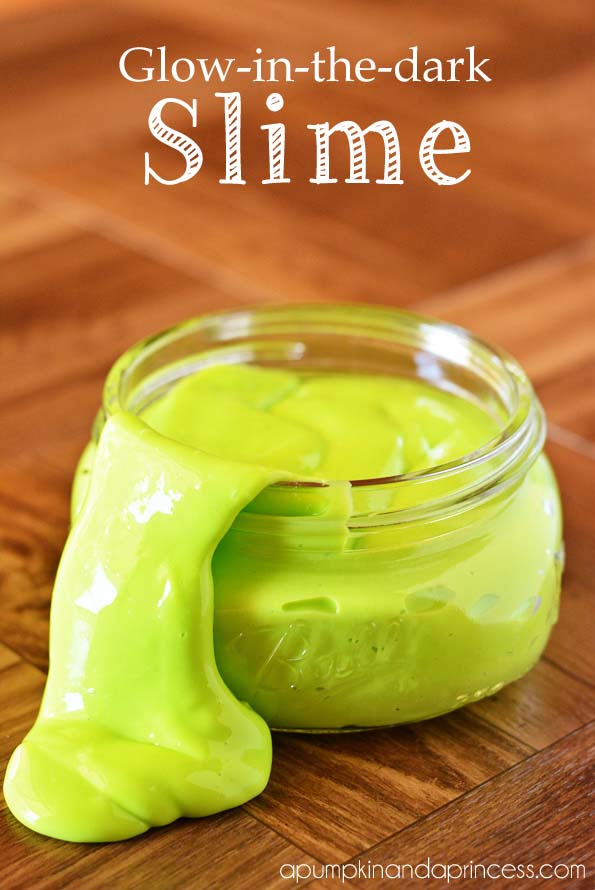 This glow-in-the-dark slime recipe is the perfect fill of a Mason jar Halloween craft. The homemade recipe makes sure that all ingredients are safe and preparation doable by a kid.
17. Let Kids Have Fun with Toilet Paper Roll Monsters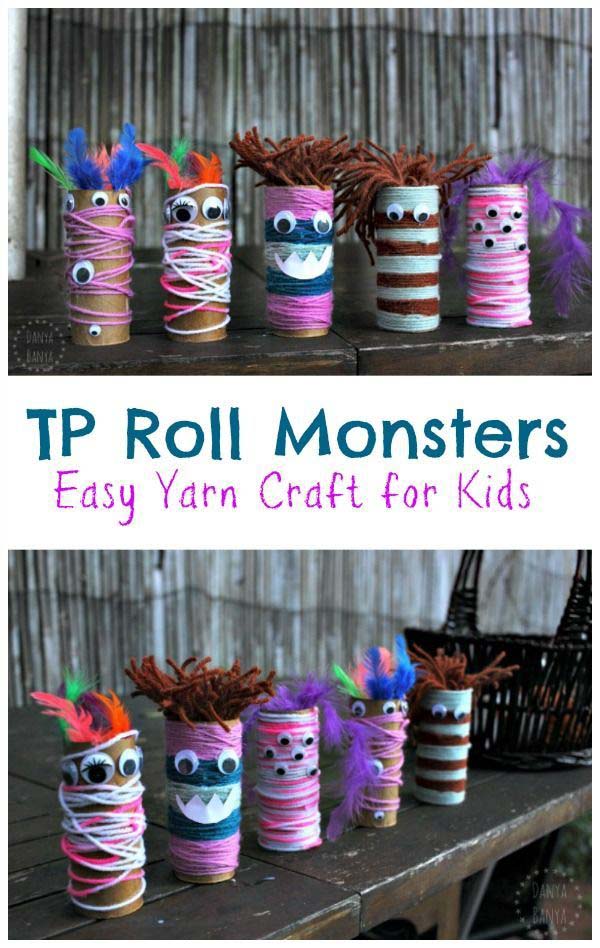 When it comes to kids' crafts, toilet paper rolls are a must!
Prepare the supplies for your kids and let them experiment with the look and faces of the monsters they create.
via Danya Banya
18. Add a Rugged Appeal with Halloween Decorative Rocks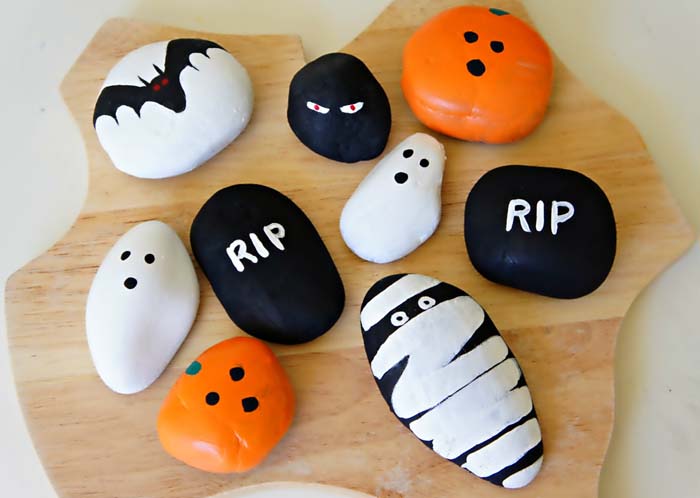 Do you have a garden bed? Take flat stones from there to include in this amazing Halloween kids' craft idea. With paints, the stones transform into scary pieces recreating famous Halloween motifs.
You can organize a game with these stones or turn them into a Halloween party activity.
via Bebe and Bear
19. Create Lasting Memories with Hand and Footprint Canvases

This is an interesting idea for a kids' easy Halloween craft that can be saved as a memory from your children's young years. Get paint canvases from the Dollar Tree, some star and letter stickers and a pack of googly eyes.
The next step includes mess but it is bearable if it happens under the parent's supervision.
Dip the palms and the feet of your kids in trays with acrylic paint and let them step onto the canvases. The prints will form the images of spiders and ghosts.
20. Showcase Your Style with Handprint Halloween Banner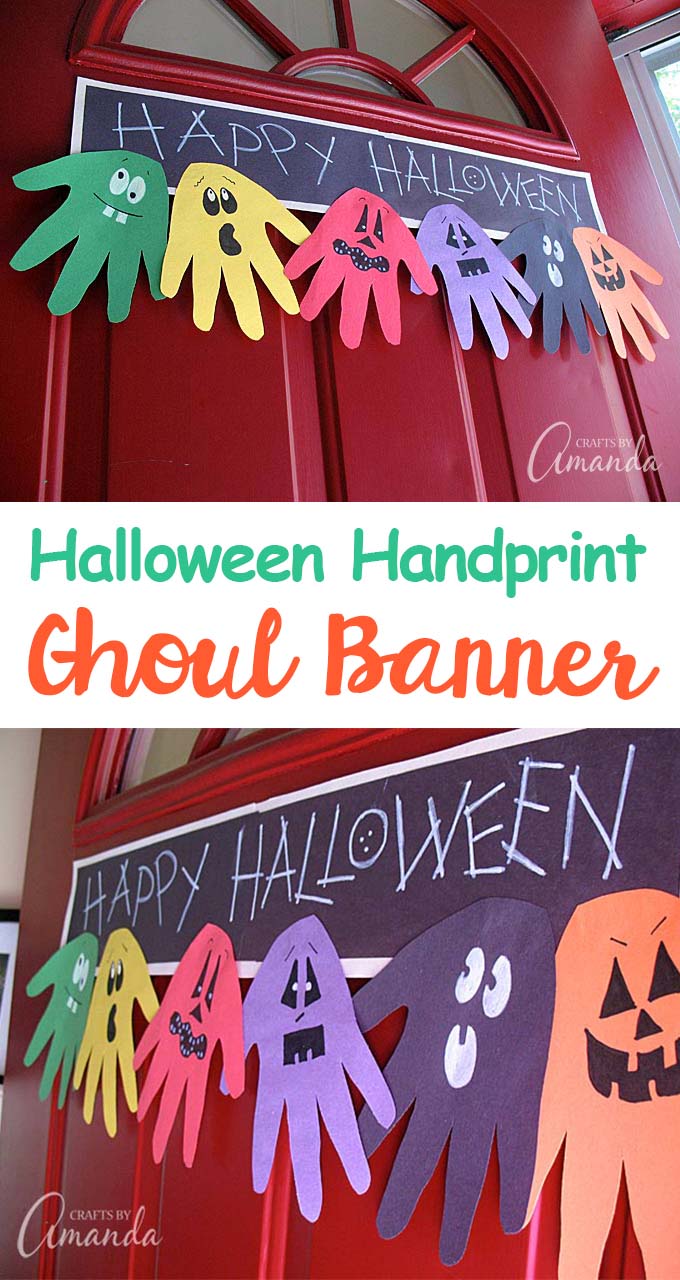 This easy Halloween craft idea focuses on a cute way to make your front door festive and cheerful for Halloween. The shape of a palm is used to outline the silhouette of monsters.
By drawing their faces and depending on the color of the paper they have been cut from, the monsters can remind a Jack-O lantern, a ghost or Frankenstein.
via Crafts By Amanda
21. Keep Kids Entertained with Paper Plate Witch

Witches could be called the most non-scary creatures related to Halloween. Therefore, young kids seem to like them more than the creepier creatures.
If that is the case with your kids, you can involve them in this easy witchcraft from paper supplies.
via Crafty Morning
22. Spook Up Your Decor with Popsicle Stick Haunted House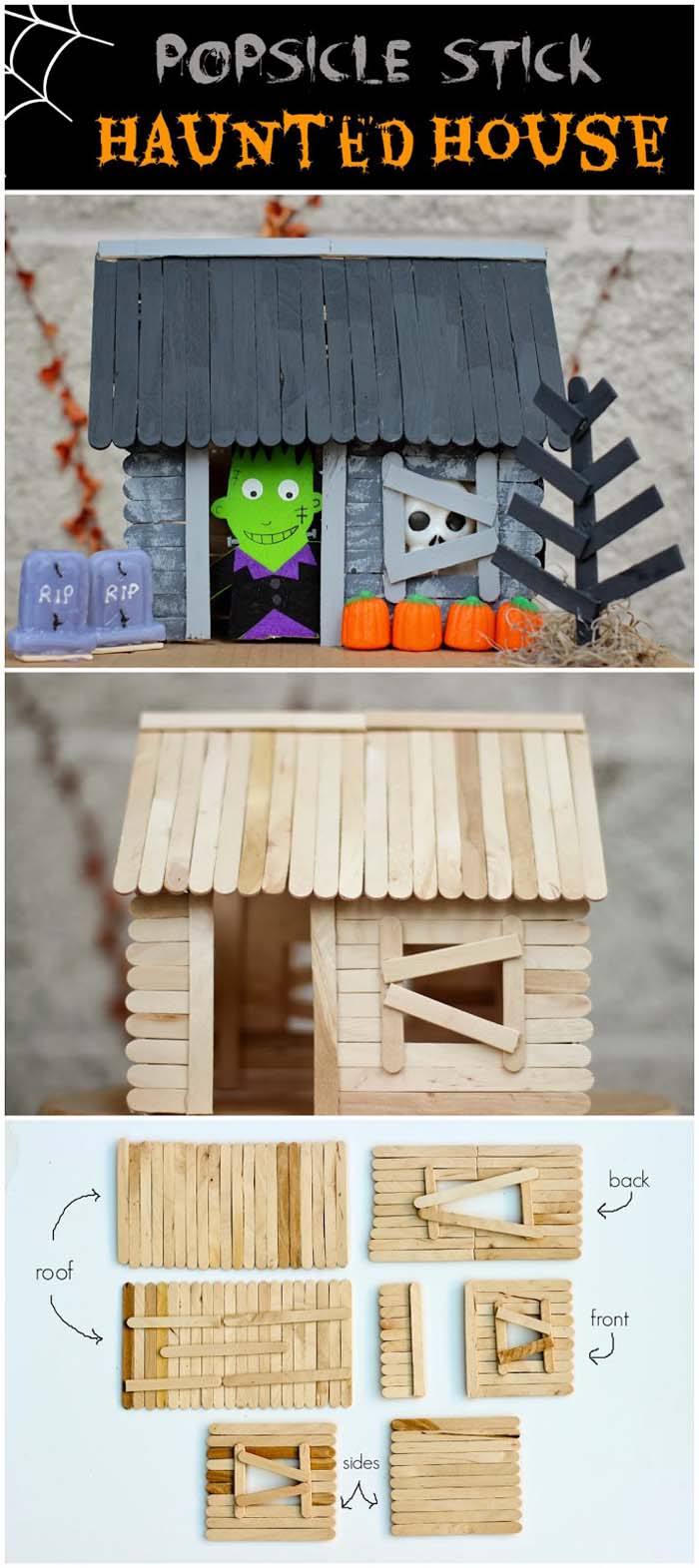 Do you think that monsters have homes? Well, they do and they look so aged and haunted. Ask your kids how they imagine a haunted house looks like and let them materialize it with popsicle sticks.
Some paints, printed off images of monsters, tiny pumpkins figures and voila your home hosts a haunted house!
23. Transform Lollipops into Rustic Black Spiders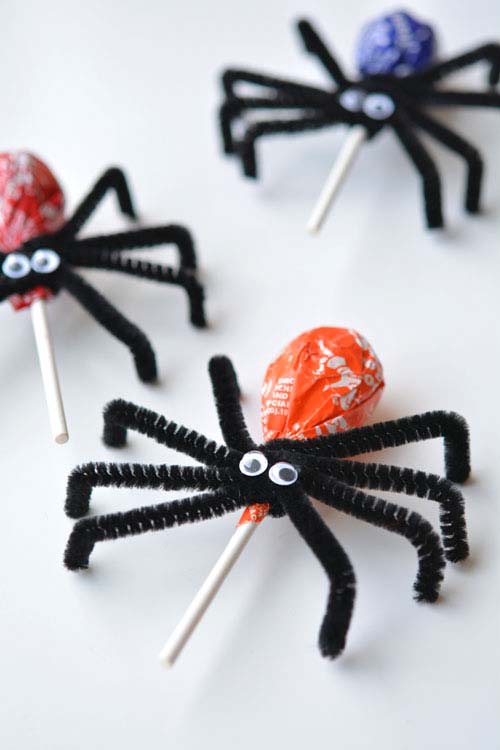 This is another interesting idea of how to visually represent the treats for Halloween. Get a pack of lollipops, a pack of black pipe cleaners and a pack of small googly eyes.
Weave three pipe cleaners around the stick of the lollipop and then bend the ends down to mimic the legs of a spider. Add a pair of googly eyes. Easily you get a dozen of crawling lollipops ready to treat the youngest guests.
24. Amaze Friends and Family with Spider Soaps on Halloween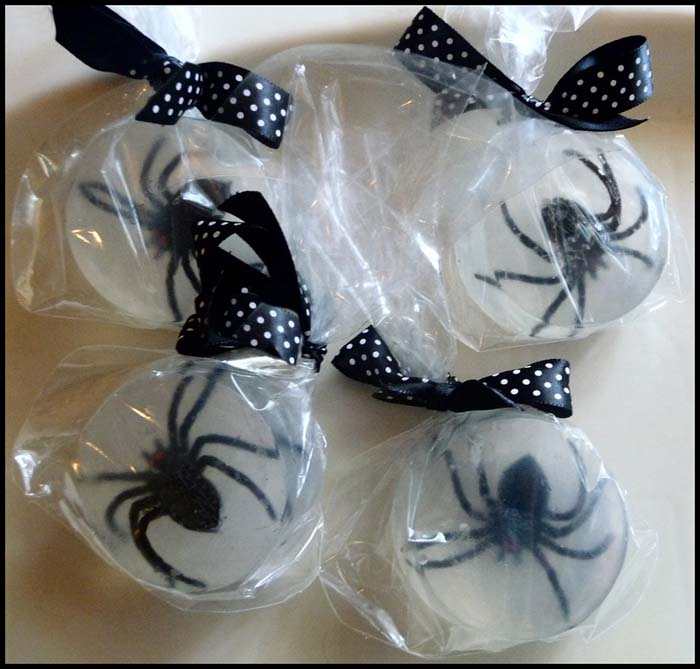 These spider soaps are simply spooktacular. They are perfect as a family Halloween activity that will end up having the perfect gifts for the holiday.
Get blocks of glycerin or glycerin soaps. They are transparent and will reveal the plastic spiders held inside.
via Everyday Best
25. Uplift Your Home with Tissue Paper Pom Pom Monsters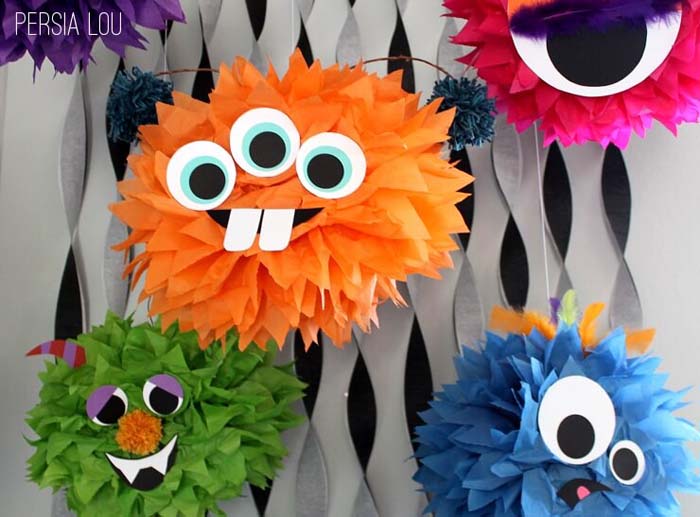 Tissue paper pom-poms are big fun to make. However, if you don't have the supplies or if your kids are too small to let them cut, get them as ready pieces.
Prepare the pieces that will form the monster faces- cut eyes from the paper, noses could be from felt or yarn pom-poms and let your kids assemble the fluffy creatures.
via Persia Lou
26. Adorn Your Door with Paper Plate Skeleton

This skeleton craft can be quite educational. You may be surprised but the skeleton pieces are cut from paper dishes. So this is a 100% kids' safe craft. The pieces are assembled in the skeleton shape with white twine.
This skeleton should be used vertically as a door decoration.
via Mom Endeavors
27. Get Rustic Elegance with Handprint Dracula Decor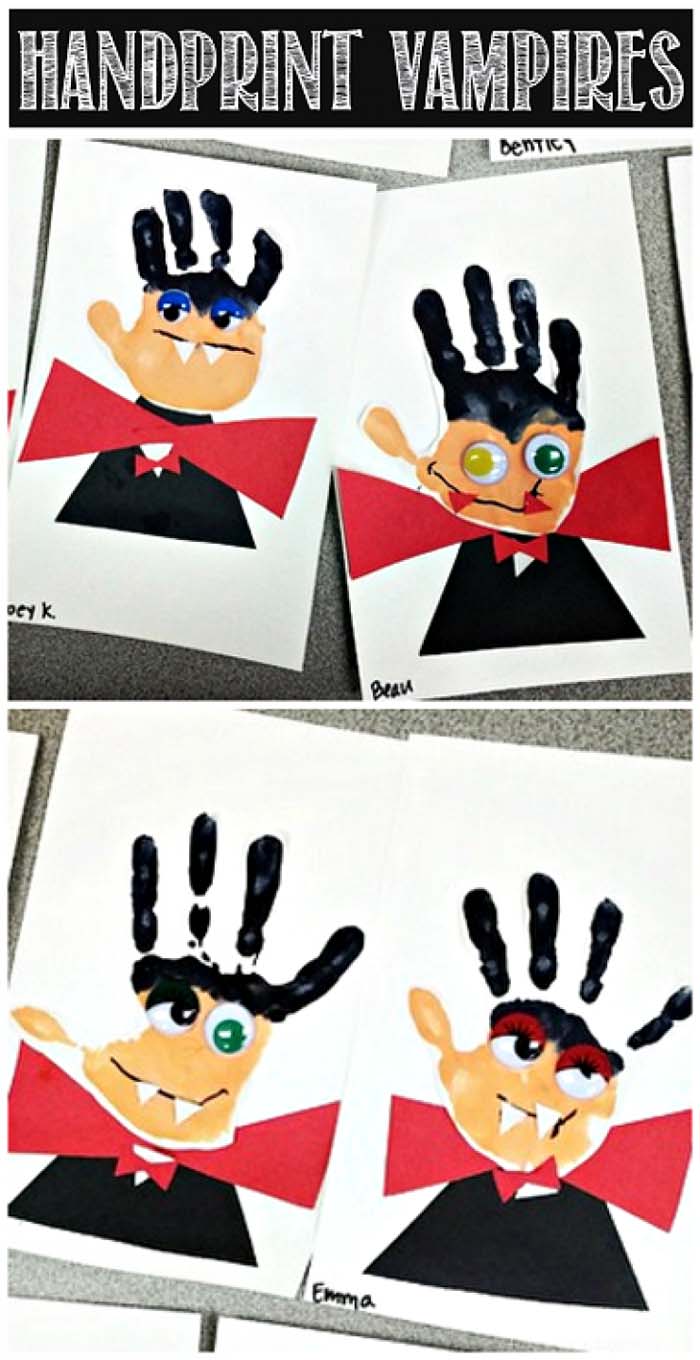 Your kids' palms are the basis of this Halloween craft idea. The prints create the head of Dracula which could show different emotions.
Dracula can be scary or smiling, he can be puzzled or bored. All these depend on the way your kids will position the googly eyes and how they will draw his mouth.
via Crafty Morning
28. Add Splendour to Your Home with Paper Plate Ghost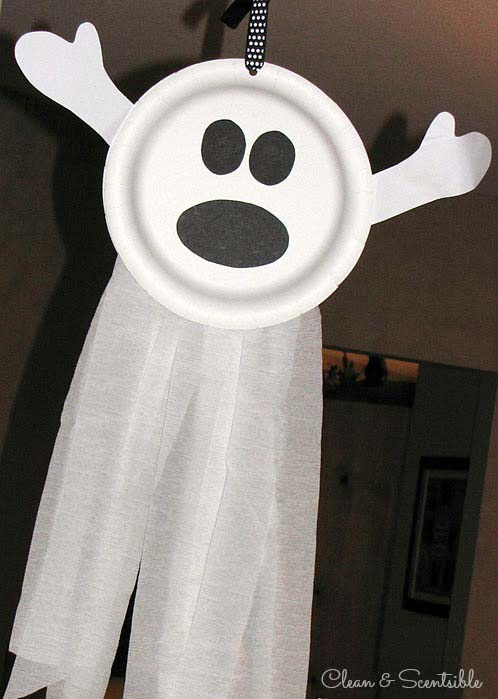 If you are looking for an activity to keep the kids settled and quiet for some time during their Halloween party, here is a great idea.
Let each of them make their own ghost craft out of paper plates, streamers and arms. If the kids are younger, you can prepare the face pieces in advance and let them glue them. Others can draw the faces directly on the paper.
29. Let Your Imagination Run Wild with Paper Plate Crafts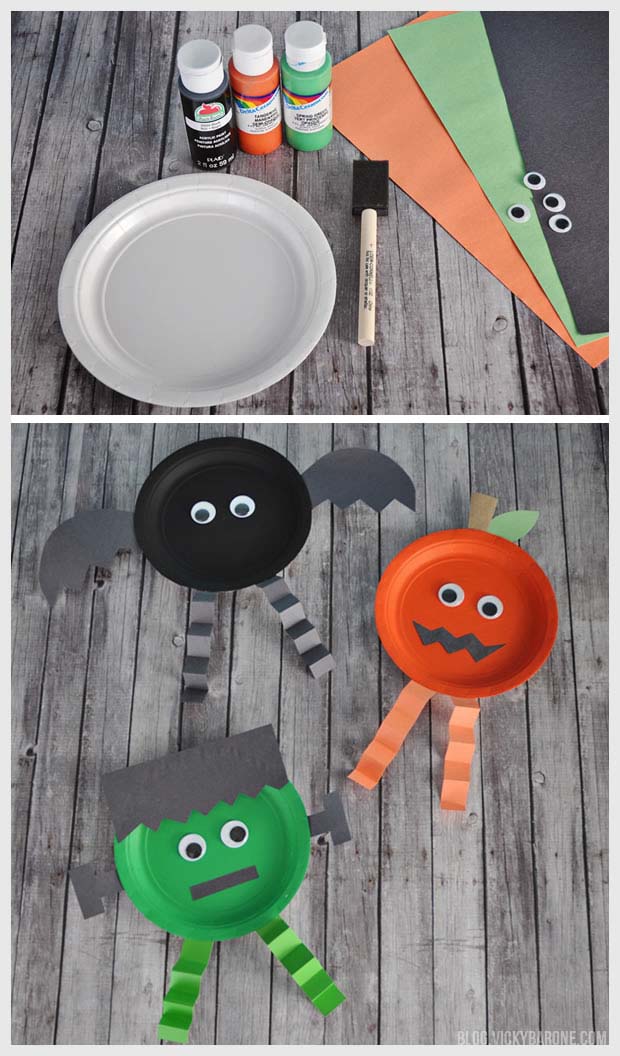 Paper plates, paints, construction paper, googly eyes and glue.
These are the supplies needed for your kids to materialize these cute monsters.
via Vicky Barone
30. Transform Paper Plates into Spider Web Decor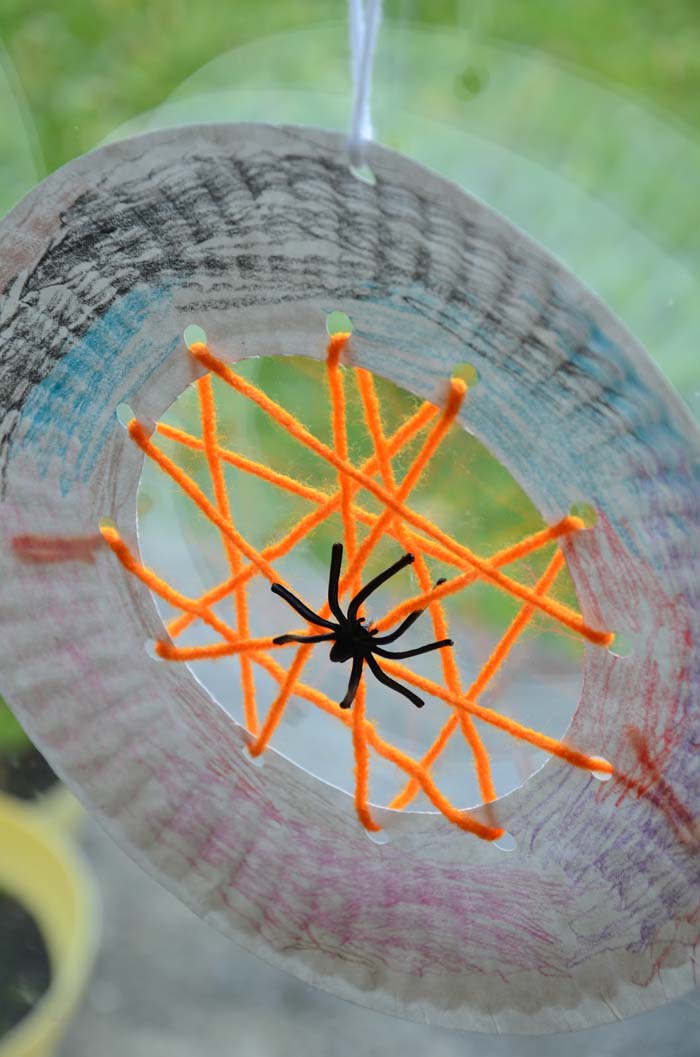 This is a simple but cute project that kids from ages 2 to 9 will enjoy. Paper dishes become the support of the yarn spider web!
Glue plastic spiders in the center of every web to give them a spooky vibe.
If you make more of these plate webs, you can decorate the porch or a tree in the yard.
via No Wooden Spoons
31. Add a Pop of Color with Paper Pumpkins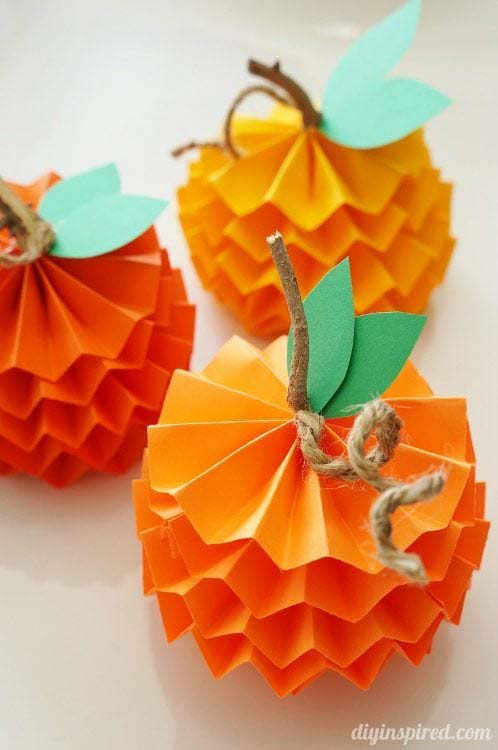 These pumpkins are very cute and could be part not only of the Halloween decor but be the center of the fall theme interior.
If your kids are older, they can surely make the origami folds. In case they are young, they can get involved in the sticks pick-up.
via DIY Inspired
32. Make Monsters with Plastic Party Cups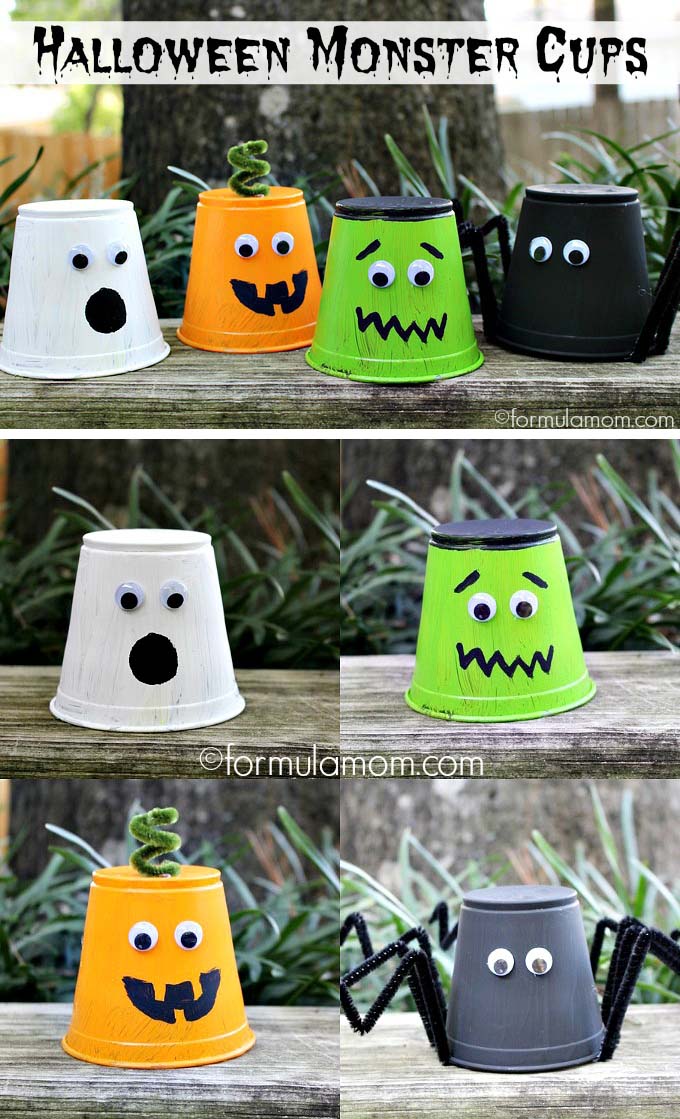 This is a great idea for plastic cup upcycling. Kids will learn how to make things with their bare hands out of a simple supply and also to re-use materials thinking about the future of the environment.
This idea could be done also with paper cups. With pipe cleaners, paints and googly eyes, the cup creatures mimic the so-loved Halloween images of pumpkins, spiders, ghosts and Frankenstein.
33. Add Character to Halloween Decor with Cute Monster Rocks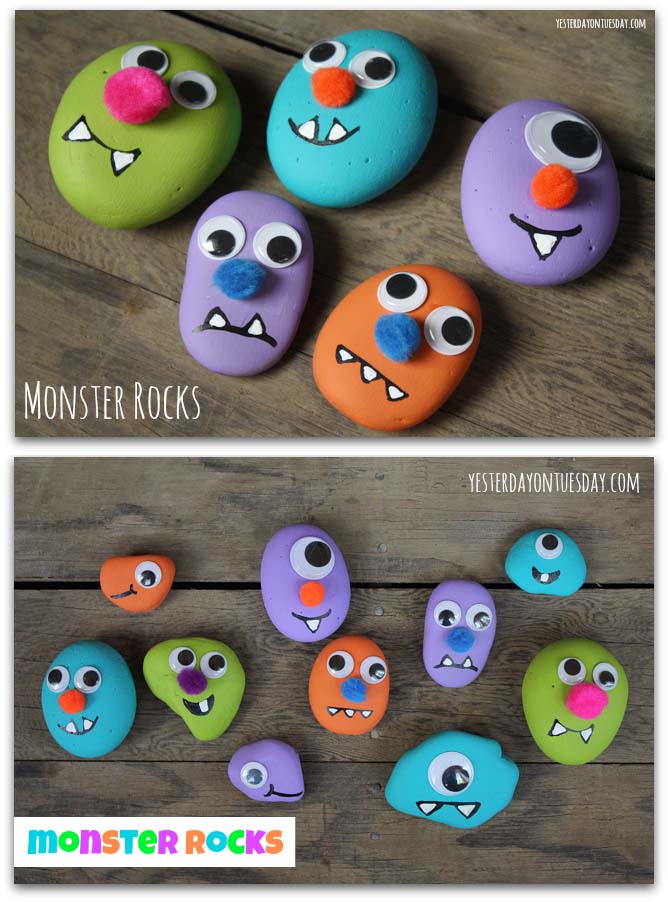 Looking for another Halloween craft idea for kids with rocks? This one features an inspiration of how to make a big monster family.
Paints, sharpies, googly eyes and tiny felt pom-poms add emotions to the stone surfaces, turning them into charming Halloween decor.
34. Bring Farmhouse Charm with a Pinecone Bat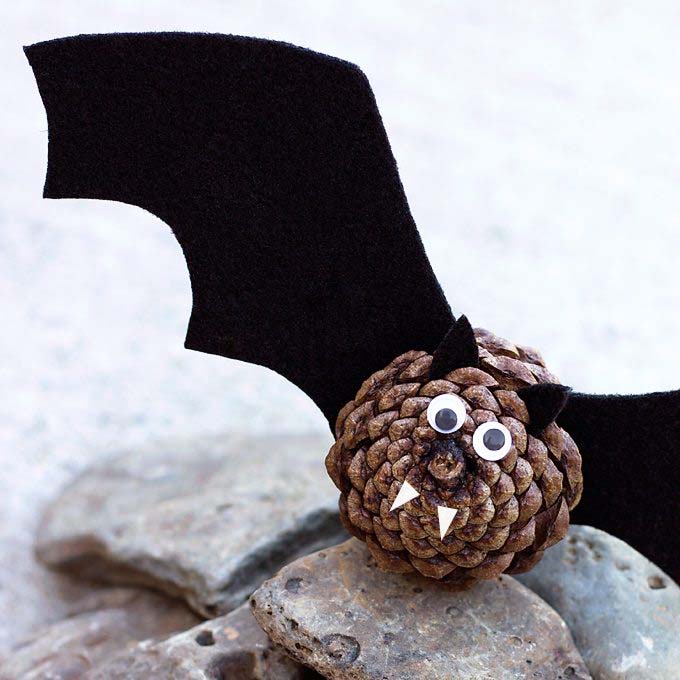 When you next visit the park, collect fallen pinecones. Usually, they are part of the winter decor. This idea shows an inspiring kids' bat craft for Halloween.
The pinecone lying horizontally mimics the body of a bat. Since felt is flexible and thick enough, it has been chosen for the material of the wings and the ears of the dark creature.
A pair of googly eyes and two vampire teeth finish the nature-inspired Halloween figure.
35. Set the Right Tone with a Popsicle Sticks Frankenstein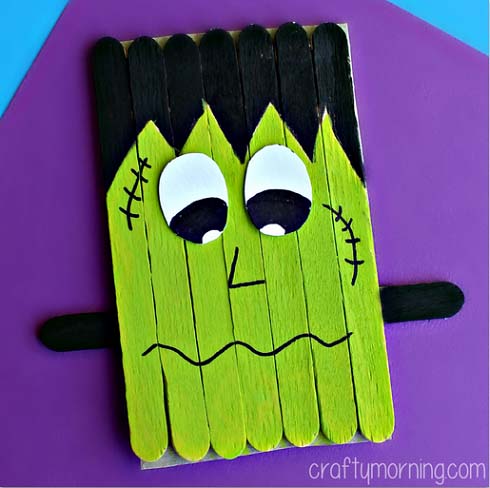 The rectangle shape of Frankenstein's face can be easily created with popsicle sticks. Once the figure is ready, give your kids instructions on how to maint the top surface.
If they don't know who Frankenstein is, show them an image of this character to help them transfer it on the wooden surface.
via Crafty Morning
36. Showcase Your Style with Popsicle Stick Haunted House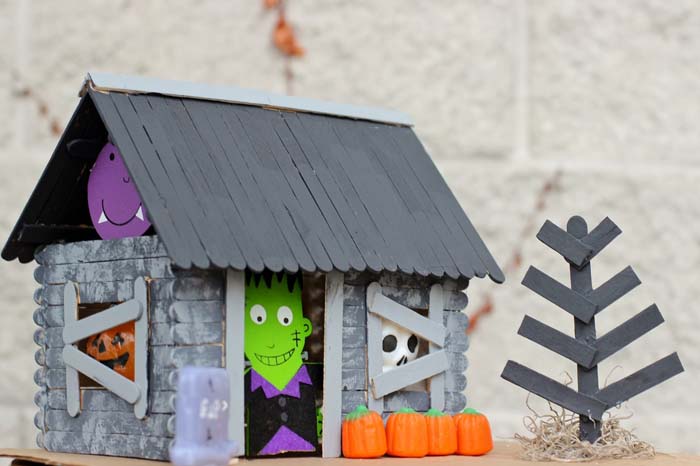 This is how a dimensional haunted house can be made. Popsicle sticks and paint create a special place for the most favorite Halloween creatures.
The house is painted grey to enhance the spooky aged acceptance of a haunted place. The added tree, characters and pumpkins give this craft a finished look and interest.
37. Turn Popsicle Sticks into Halloween Web Decor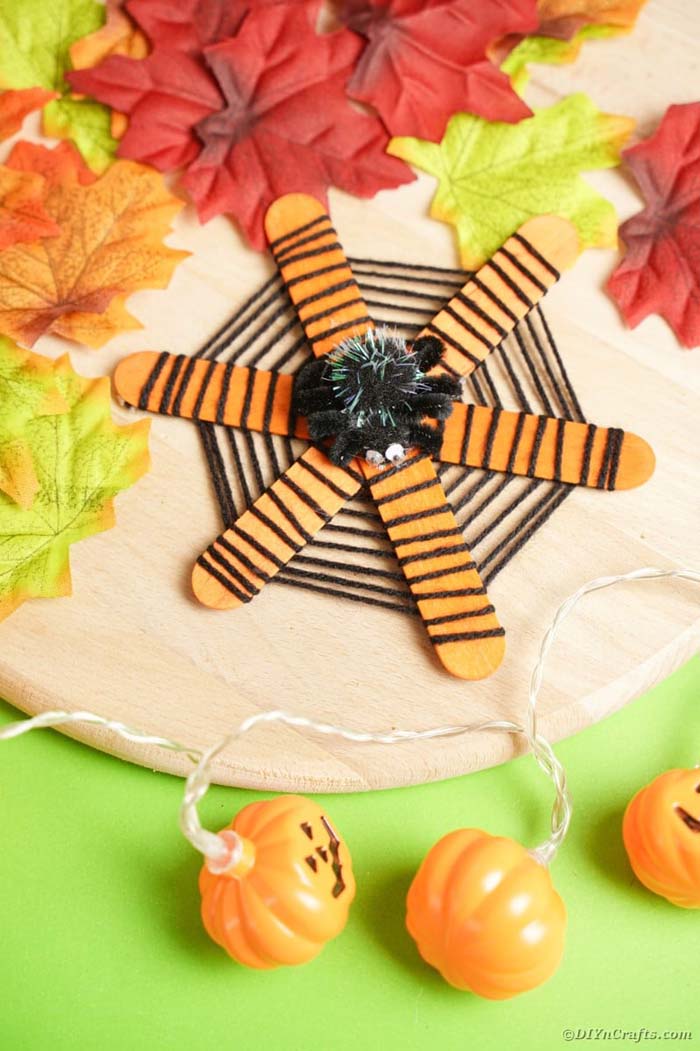 Do you like the inexpensive decor ideas? This one is just that and also an easy craft idea that can be done by your kids. The spooky spider visualization is totally changed into a cute fluffy creature, standing on a yarn web.
Six popsicle sticks outline the typical shape of a web and also keep the yarn well stretched.
via DIY'n'Crafts
38. Upgrade Your Decor with Puffy Ghosts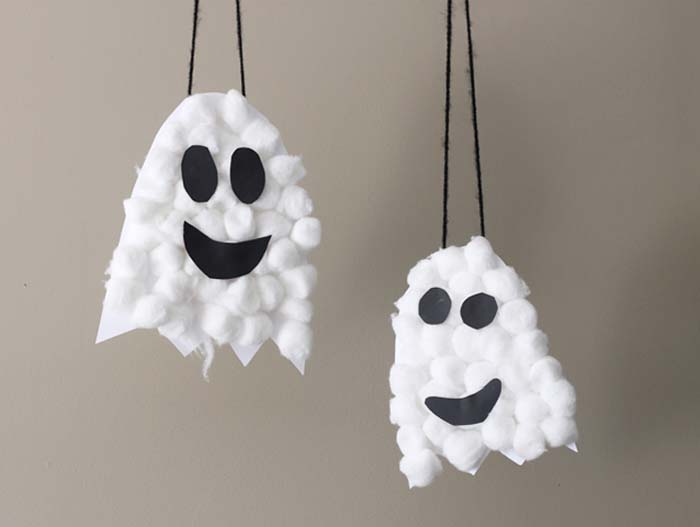 These ghosts are so soft! Instead of running away from them, you would like to touch them! They are created with the idea of a vertical Halloween decoration.
However, if you don't add the yarn that lets suspending them, you can stick them to a flat surface, the front door for example.
via Thriving Home
39. Add Magic to Halloween with Pumpkin Apple Stamps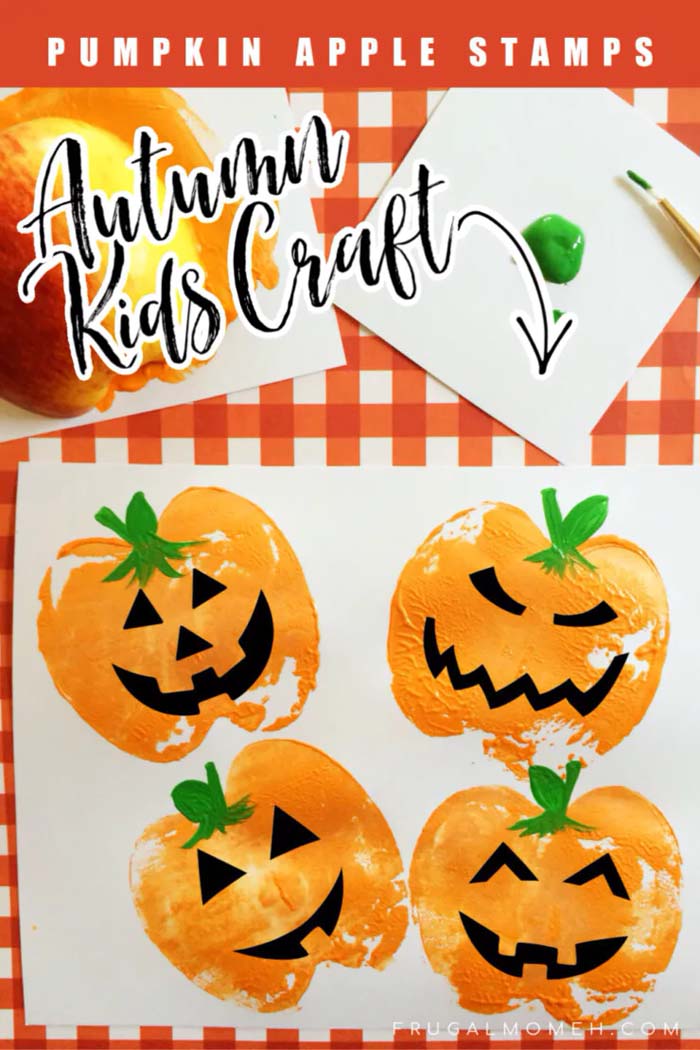 When you cut a large apple into perfect halves you will quickly realize that it reminds a lot of a pumpkin. This effect has been used as a mold for this Halloween stamp art.
Once the orange paint dries, the faces of the pumpkins are created. Your kids can use a pen or pieces of paper to make the emotional looks.
via Frugal Mom Eh
40. Discover Timeless Beauty with Pumpkin Lollipops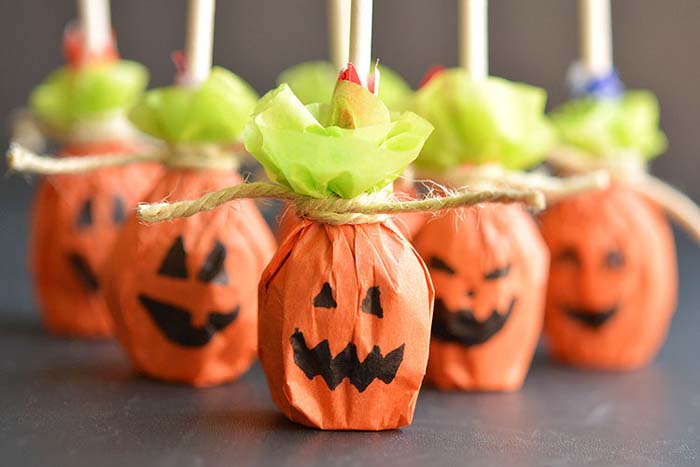 Have you chosen a way to display the Halloween treats? Wrap the candy part of the lollipops with orange tissue paper. Cut narrow strips of green tissue paper to add over the orange layer. Hide the point these two papers meet with twine.
The final touch is to draw the faces of the pumpkins with a black pen.
41. Unlock Your Kids Potential with Pumpkin Magnets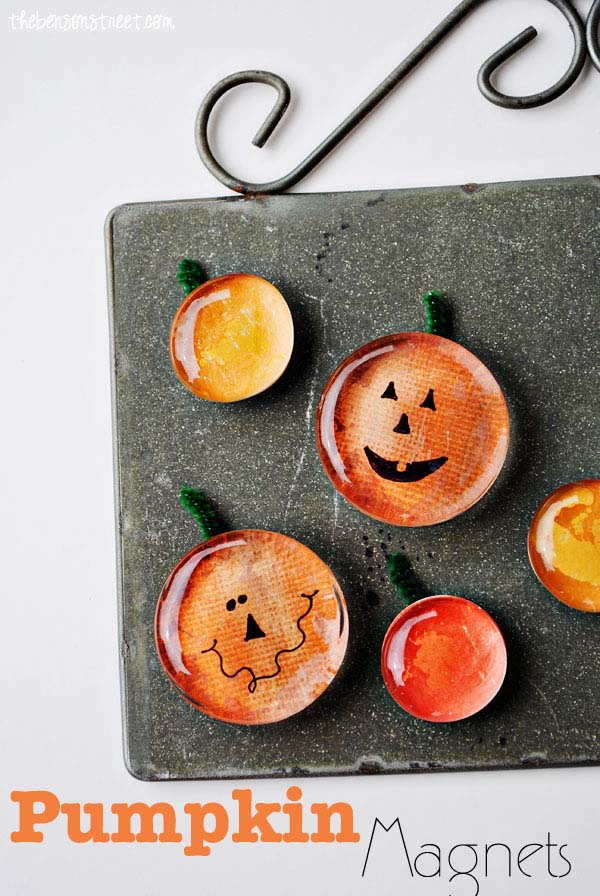 Surely you have already fallen in love with this gorgeous craft idea! Your kids will also be excited to make the cute pumpkin magnets- perfect for Halloween gifts.
The most difficult part of it is to find the key supply to this craft and that is glass rocks!
42. Store Your Treats in Rustic Scarecrow Bags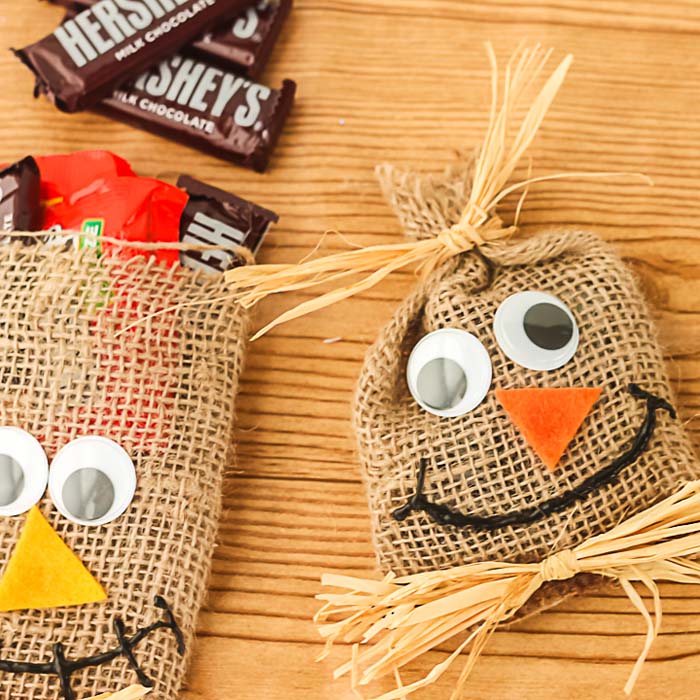 These bags are very cute and a practical means to store various types of treats in one place. The bags mimic the faces of scarecrows thanks to the rough burlap fabric and the raffia ribbons.
Put the treats inside to be ready for the kids visiting your home on the festive night.
via Angie Holden
43. Experience Unrivaled Style with a Spider Web Art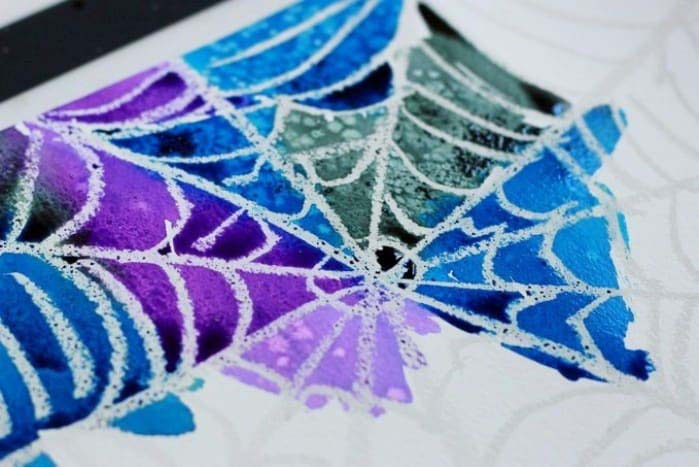 Are your kids creative and artistic? This Halloween art will suit their skills and will keep them busy for a long time. Using crayons and water coloring paints in a particular order reveals an interesting paint technique.
Of course, since it is Halloween the image they should draw, should be related to Halloween. Start with a spider web and experiment with other motifs like Frankenstein, spiders, ghosts, etc.
via Lasso The Moon
44. Turn Spoons into Rustic Dracula Decor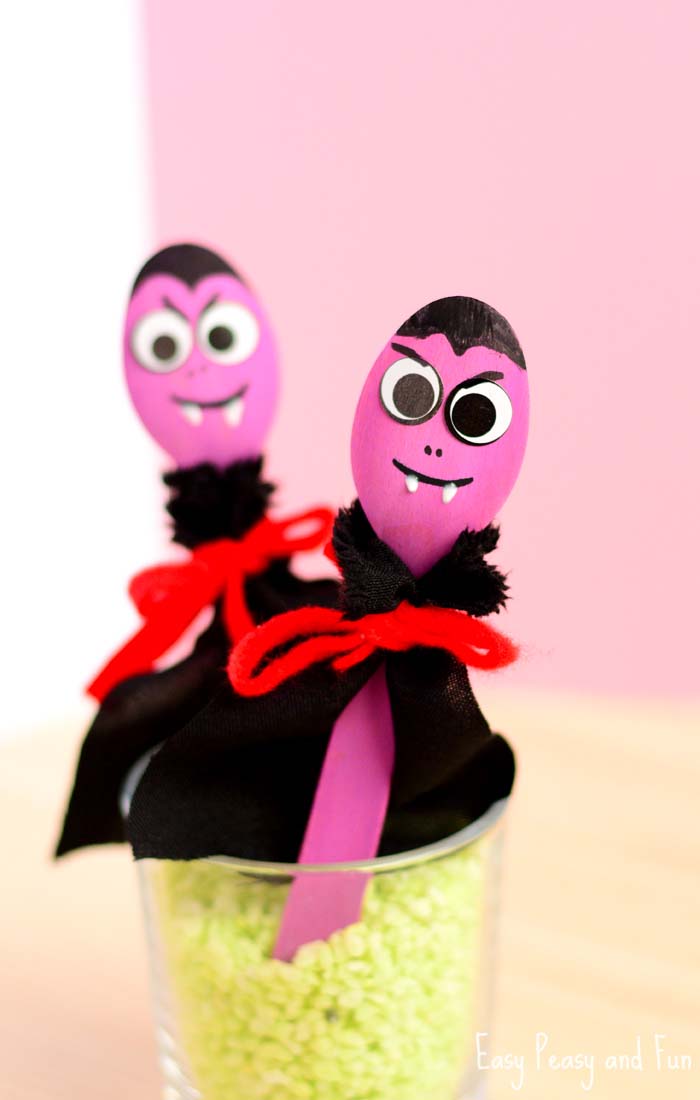 Age doesn't matter when it comes to a puppet show. Kids of all ages like to put up shows so this is an idea that will keep your kids interested regardless of their age.
Prepare spoons, purple paint, black and red fabric, eye stickers or googly eyes. The goal is to create Dracula spoons. Cute, right?
45. Create a Timeless Keepsake with Paper Dish Spider Webs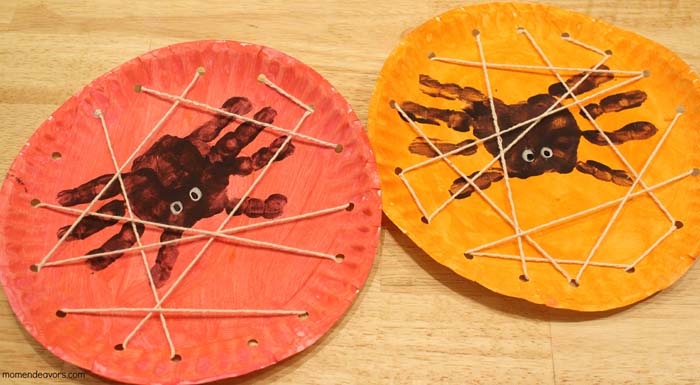 The handprint spider idea is combined with another interesting craft- the paper dish spider web. Punch holes with the machine around the periphery of the dish.
Then let your kids create a web with twine. Once Halloween is over, keep these plates as a memory from the childhood of your kiddos.
via Mom Endeavors
46. Put Together a Hauntingly Beautiful Popsicle Web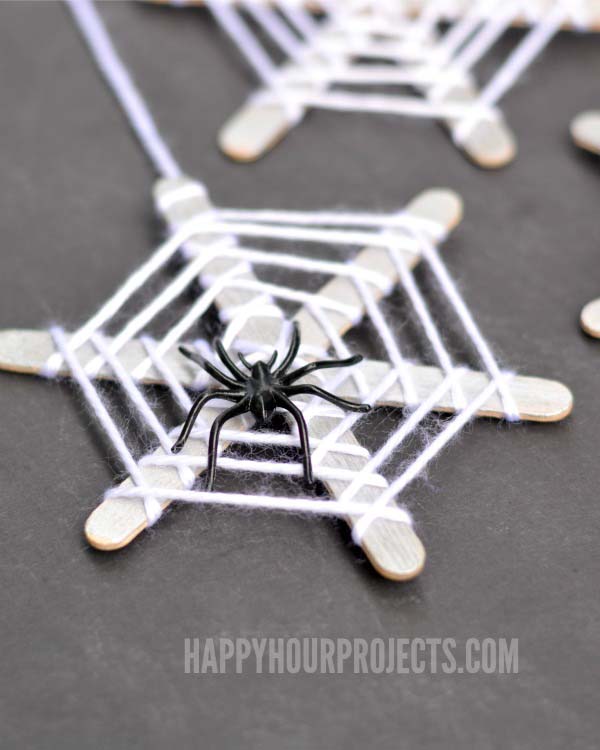 If you prefer crafts that end up looking more realistic, this popsicle web is just for you and your kids. Instead of colorful yarn to make the web and a cute fluffy web, we see white yarn forming the spider web and plastic spider.
Placed off the center, the spider creates the impression of crawling on the web…So spooky.
47. Light Up Your Halloween with Tea Light Pumpkins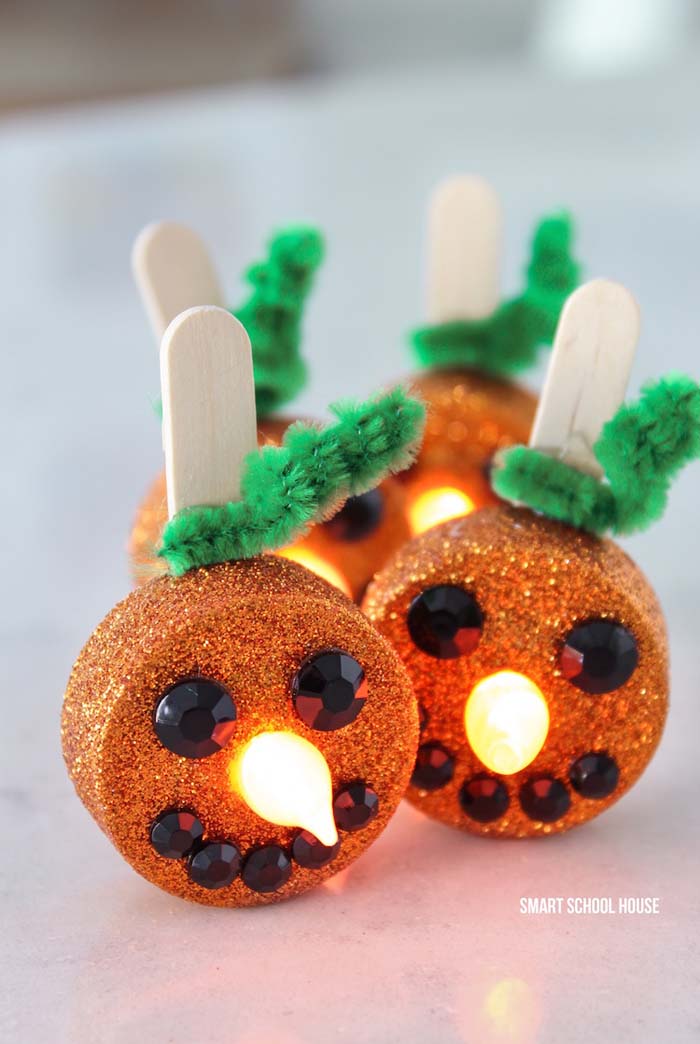 Tea light pumpkins? Dear, they look so cute! The tea lights are bought in this appealing orange glittery surface. Gemstones decorate the top surface forming the face of the pumpkin.
Add a half of a popsicle to the back of the tea light to weave a green pipe cleaner around it. Turn the light on and there you are- the perfect Halloween gift.
48. Add a Touch of Festive Cheer with Toilet Paper Roll Mummies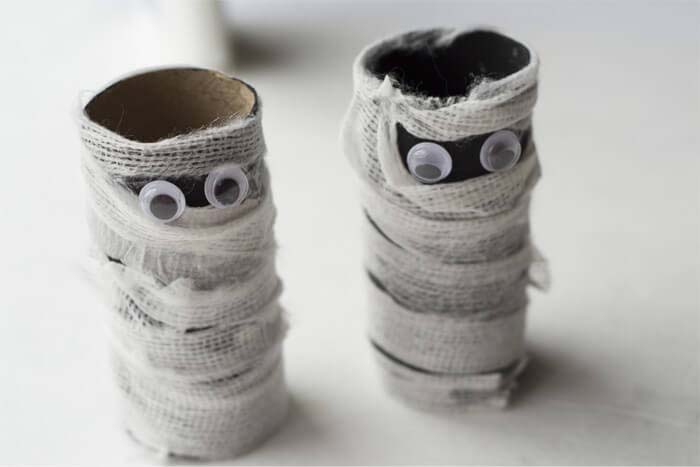 This is another project that utilizes toilet paper rolls. The outer surface is first painted black. The gauze is rolled around it leaving a small section uncovered. This is the place where a pair of googly eyes get involved.
These mummies are easy and adorable – the perfect Halloween craft for toddlers and preschoolers.
49. Add a Playful Vibe with Hanging Toilet Paper Roll Bats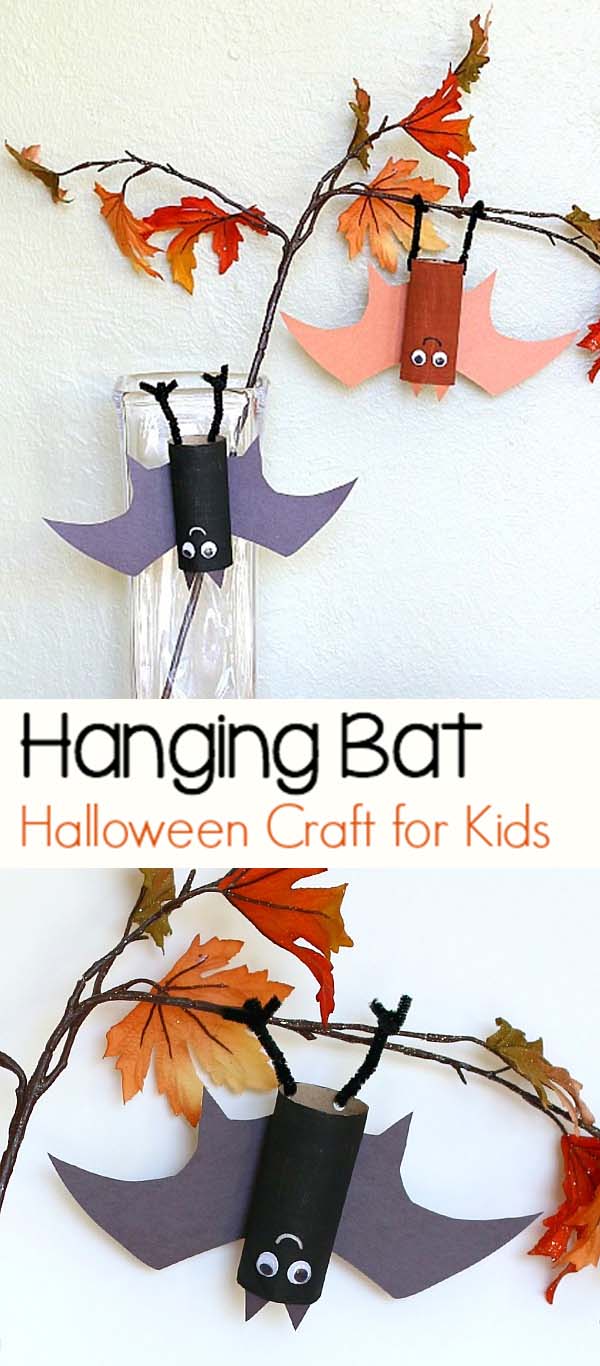 If you like recycling, follow the instructions for these toilet paper roll bats. The pipe cleaners glued to one of the bottoms act as legs that facilitate suspending the creatures.
You can add them to a tree decoration, to the entryway coat rack or anywhere else where there is support.
via Buggy and Buddy
50. Create Spooky Mummies with Toilet Paper Rolls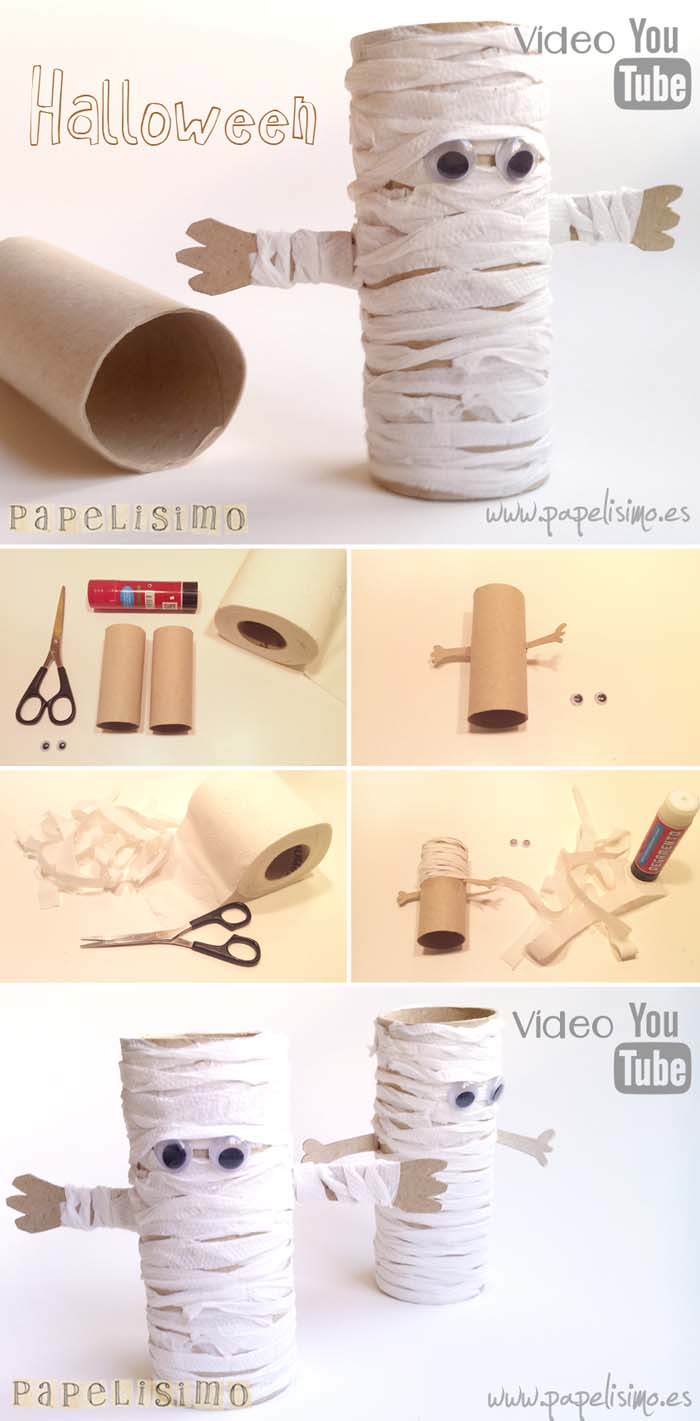 Looking for an inexpensive Halloween craft idea for your kids to make? Just take a toilet paper roll and get started!
The paper pieces shall be cut into narrow strips. School glue works perfectly with paper and is kid-friendly. Glue the strips on the roll imitating the mummy bandage.
These mummies could be equipped with two hands peeking out the roll if your kids like them to be scarier.
via Papelisimo
51. Transform Straws into Rustic Witch Brooms Decor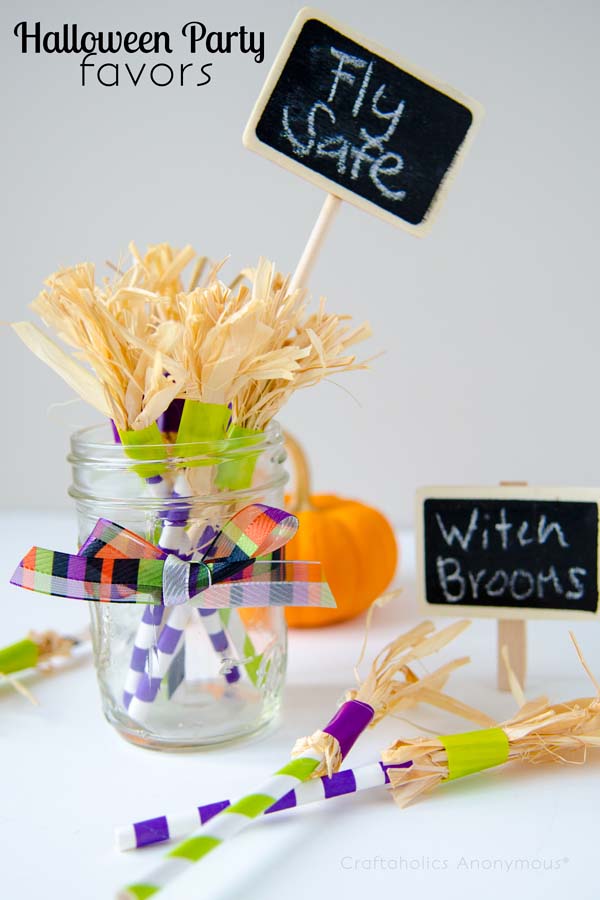 Turn the straws at the Halloween party into another magical piece spreading the festive vibe. Get a pack of striped straws, raffia and tape.
The brooms look fantastic when finished, especially when grouped together in a transparent Mason jar.
52. Make a Statement with a Witch Hat Button Craft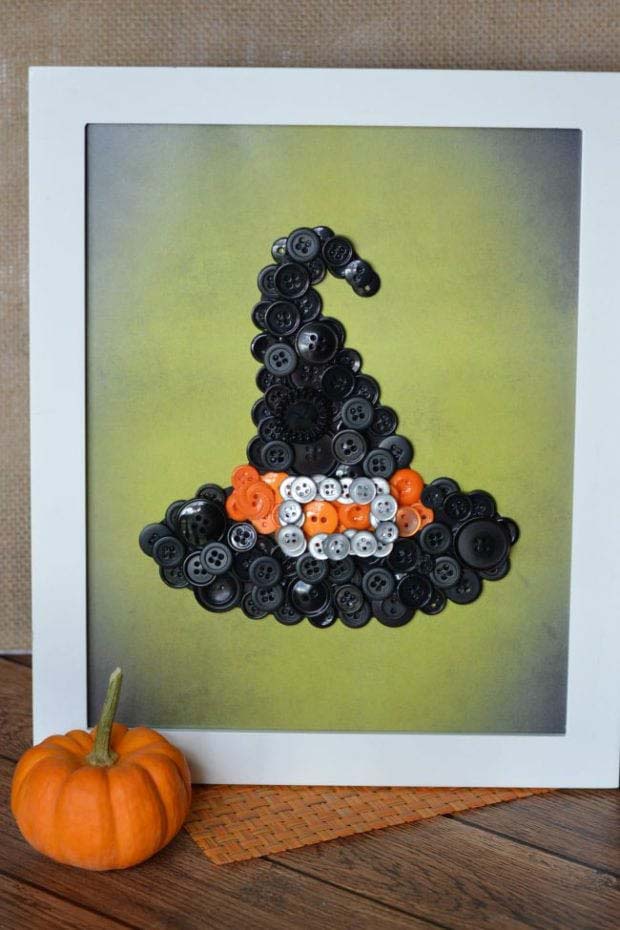 This witch hat craft is not difficult as there is no drawing or painting included. Kids only need to glue buttons over a printed image of a hat under a parent's supervision.
Hot glue could be used but to be on the safer side, use regular glue.
via Spaceships and Laser Beams
53. Create a Whimsical Black Cat Paper Craft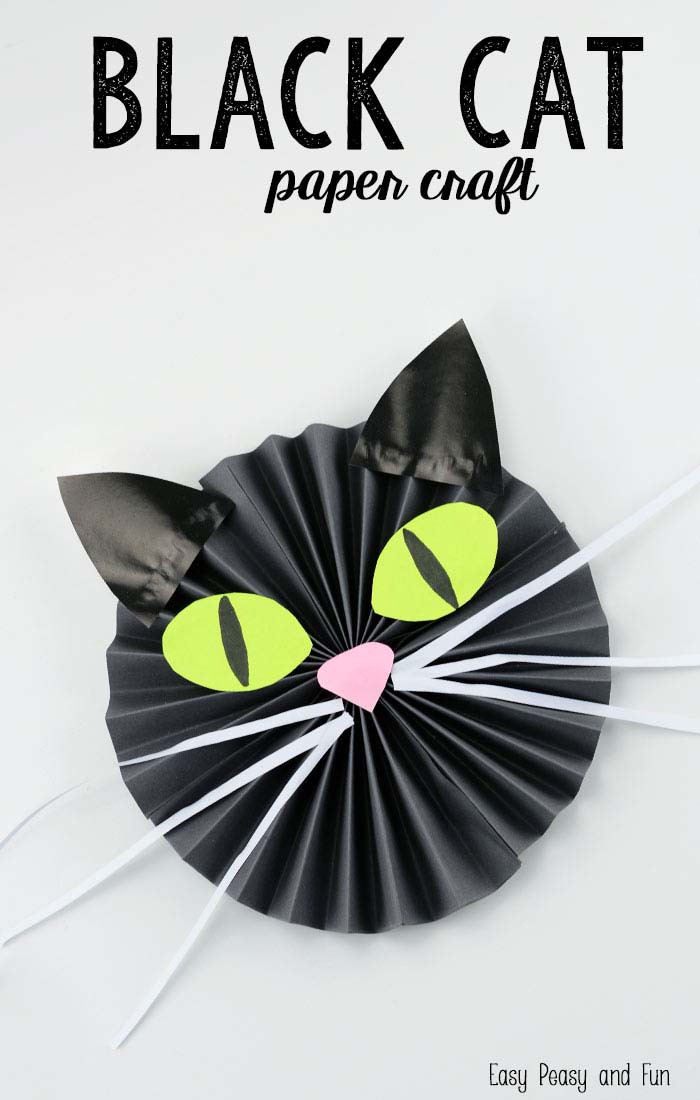 The basics of this origami black cat craft lead to pinwheel making. If you don't know how to make it, you can find clear instructions below.
Once the head of the cat is ready, the kids can get involved with adding the other pieces that actually help the wheel transform into a cute black cat.
54. Indulge in the Lavish Look of Witchy Pinecone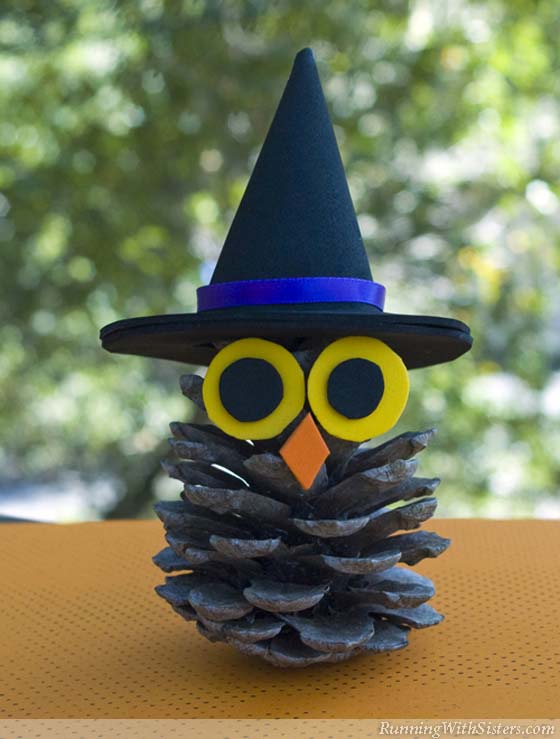 This cute owl is enchanted by the vibe of the forthcoming Halloween. That is easily seen by its eyes and the cute witch hat.
The pinecone is a good choice for this art as its leaves remind a lot of the body of an owl.
55. Surprise Your Trick or Treaters with a DIY Spider Web Craft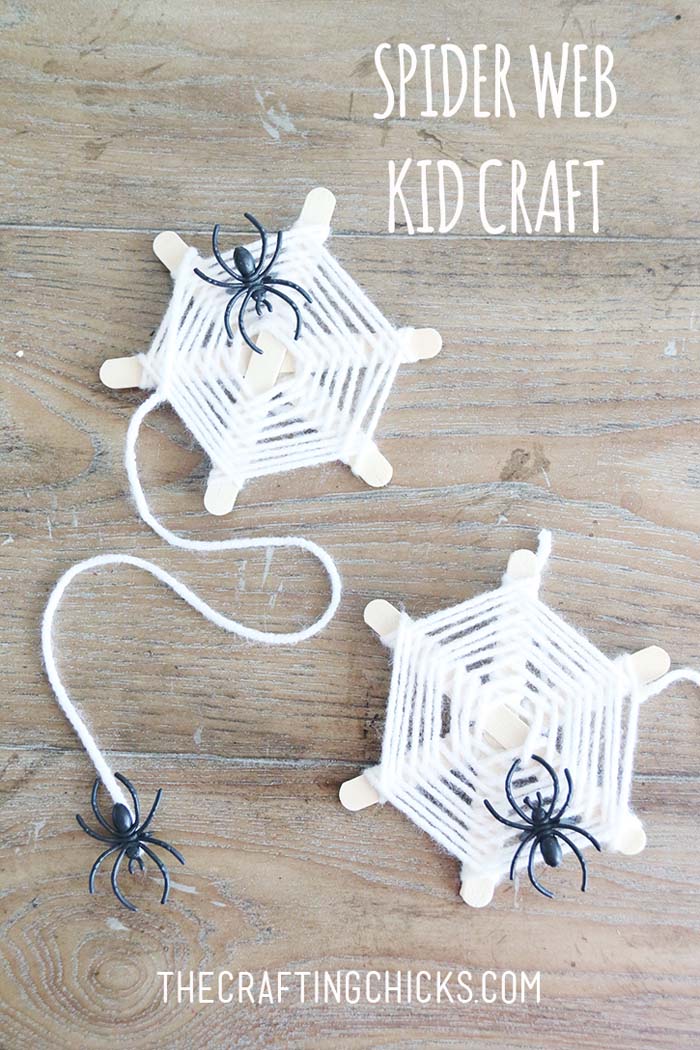 Keep the little hands busy with this spider web Halloween craft idea.
The process requires not only good motoric skills but also thought how to weave the yarn to mimic the web so that could be a theme game of a Halloween party of pre-or schoolers.