Is it already time for Halloween crafts? Well, the most exciting holiday for kids (and adults) is soon to come! Are you ready with the spooky decor?
Get your home ready for Halloween with spooktacular Mason jar decorations that will spruce up your fall decor in a unique way. The upcycling of these jars is an endless source of ideas recreating the most famous creepy creatures.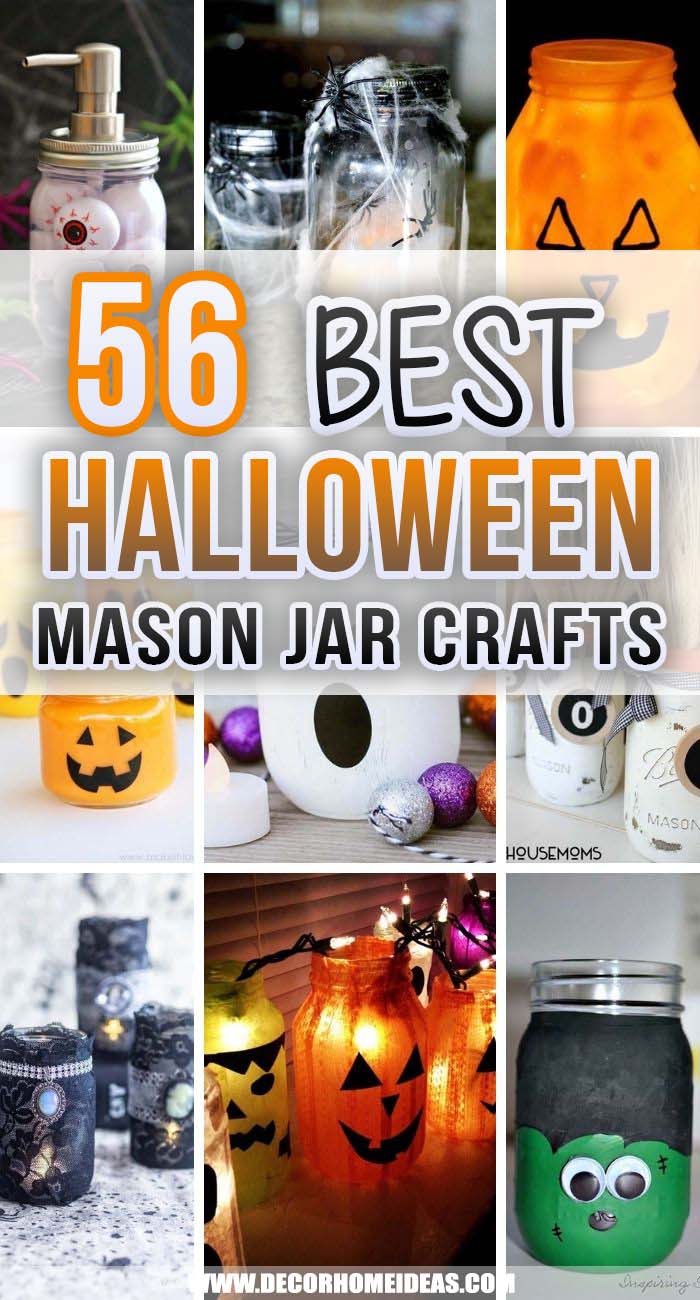 Jack-O-lanterns, luminaries with haunted scenes, candy jars with mummy faces, jars wrapped in spider webs, trapped ghosts…
You can find a number of fun crafts with Mason jars that will let the whole family involve in the process and enjoy the spell of Halloween!
1. 10-Minute Hot Glue Spiderweb Mason Jar

Get a clear jar and let your hot glue gun warm up well. Once it is ready, start drawing a spider web with the melted silicon on the front of the glass.
To give the Mason jar craft a spooky vibe, glue a black plastic spider in the middle of the web.
via Mom Dot
2. Awesome Glow-In-The-Dark Mason Jars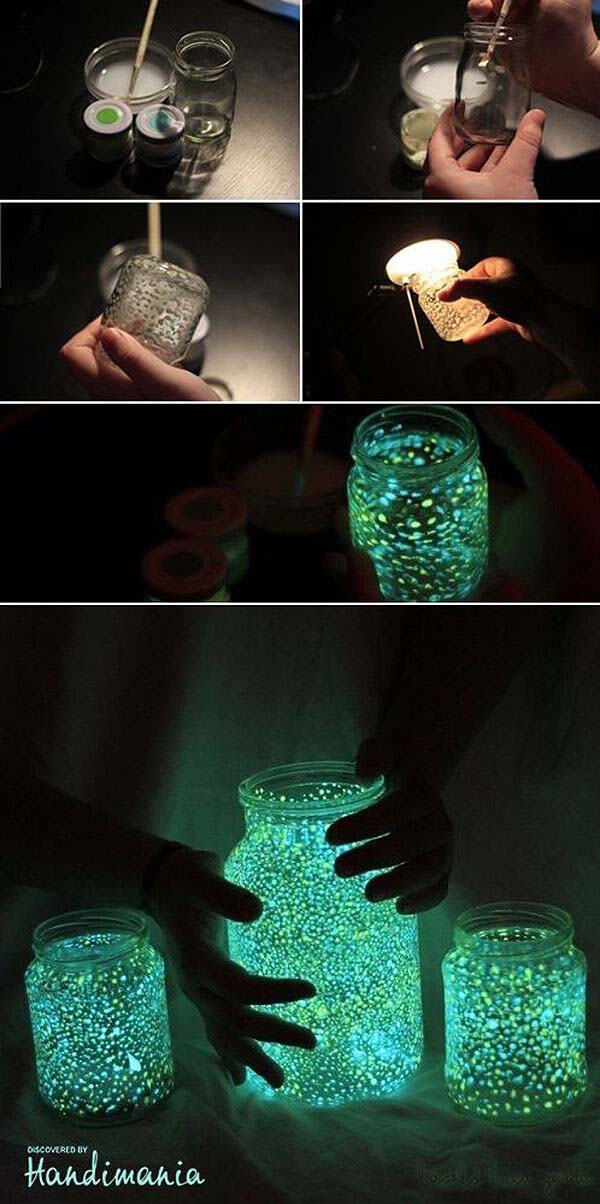 This is one of the most magical Halloween Mason jar crafts. And you may want to keep it as part of your interior all year long to enjoy the slowing splashes in the darkest part of the day.
The secret of this craft idea is the glowing paint. You can apply it with a paintbrush in a pattern you like. Do it on the internal side of the jar so that it is protected from wiping away.
Once you are ready with your glass embellishing, make sure to keep the jar at a spot where sunlight is generous or charge them with a lamp.
3. Black Lace Chic Candle Holder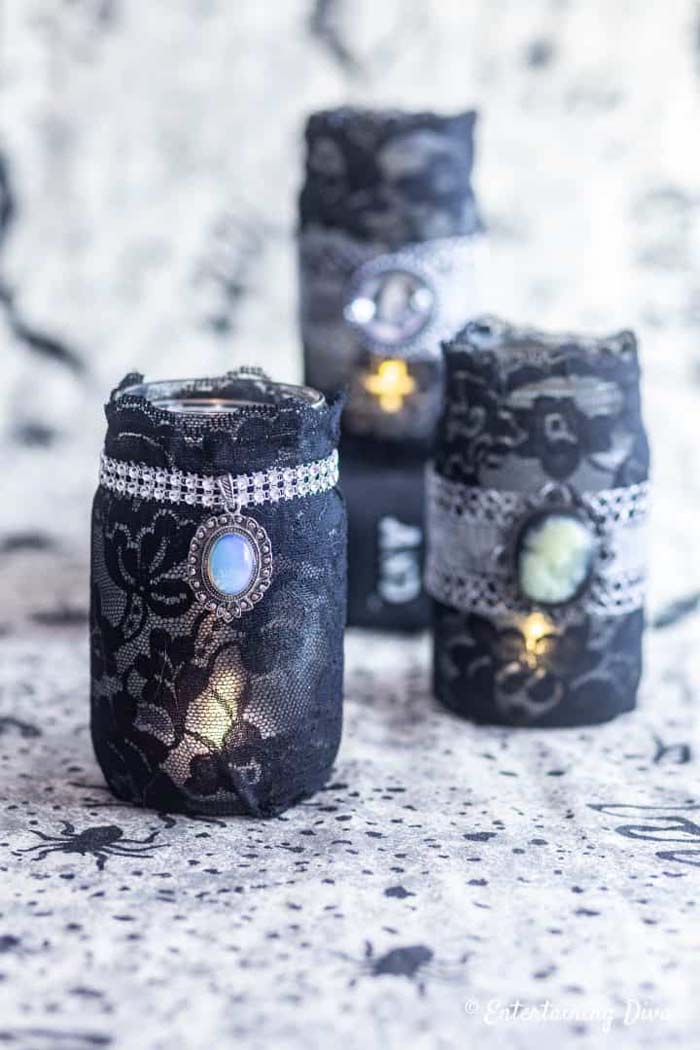 Give your Halloween decor a pinch of creepy elegance with this awesome idea. Three Mason jars are wrapped with black lace and then decorated with gems.
The gem of one of them reminds a necklace while the other ones have a stripe of white lace holding antique-looking brooches.
4. Candy Corn Candle Holders Made with Balloons

The candy corn color pattern is a trendy fall decor embellishment. You can make it with paints, with real candy corns or with balloons.
Once the jar is covered with the three-colored balloon skin, put a votive inside and watch the colorful light. This craft is a perfect and affordable way to add a cheerful pop of color to your Halloween decor.
via Brit Co
5. Catch-A-Ghost Halloween Craft Idea

These ghosts are all but scary. Closed in jars they greet with their creepy white garments.
You would be amazed how easy this idea is to be made so you may want to include your kids in the process.
via Landeelu
6. Crafty Halloween Light Up Pumpkin Mason Jar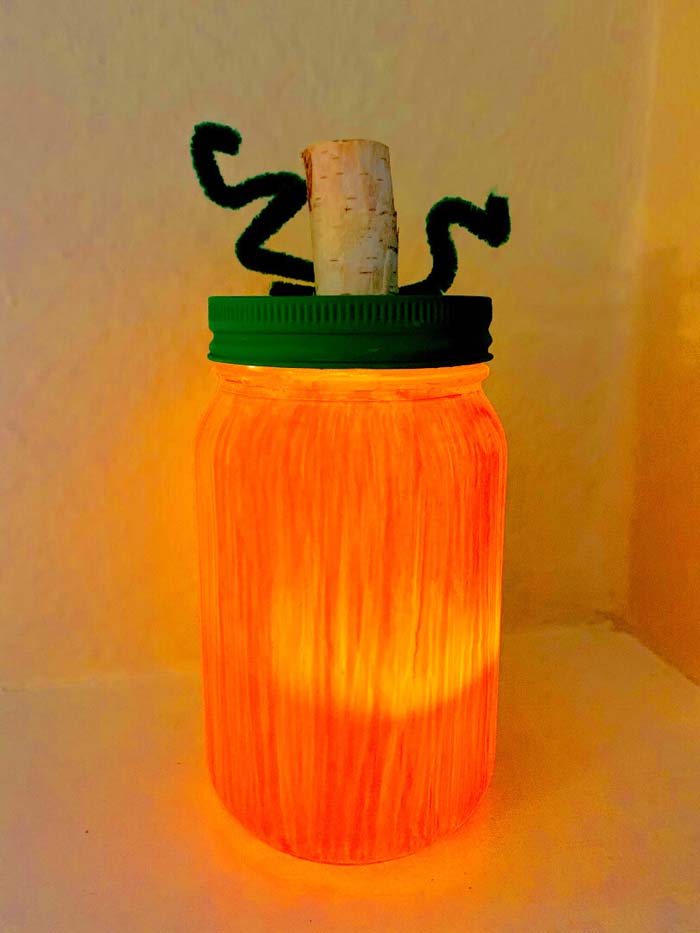 Add rustic and cheerful vibes to your Halloween decor with this Mason jar pumpkin-like craft.
Making it is fun and affordable. All you need is a Mason jar, orange and green paint, green pipe cleaners and a wine cork.
You can leave the jar as it is or add a votive inside to spread orange light in the dark. Add to the creepy Halloween nook for a pop of color.
7. Creepy Mason Jar Halloween Crafts Party Decor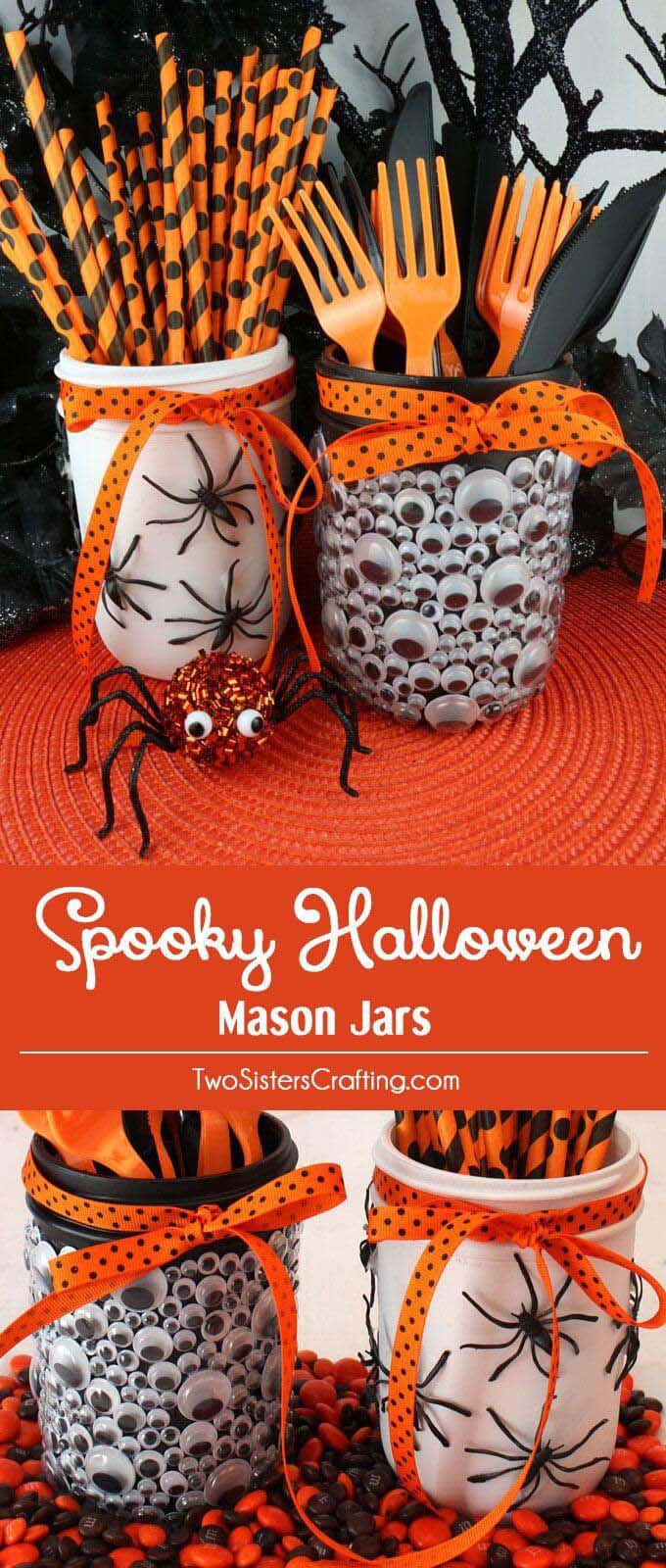 Adding creepy embellishments to neutrally colored jars could make them the center point of your Halloween decor. Two or three packs of googly eyes could thickly cover the surface of a black-painted Mason jar.
The white one lets a dozen of plastic black spiders creep easily on the glass surface.
These jars are not only perfect for the Halloween decor but also quite helpful, holding straws and plastic tableware for the party.
8. Creepy Skeleton-In-A-Jar Halloween Craft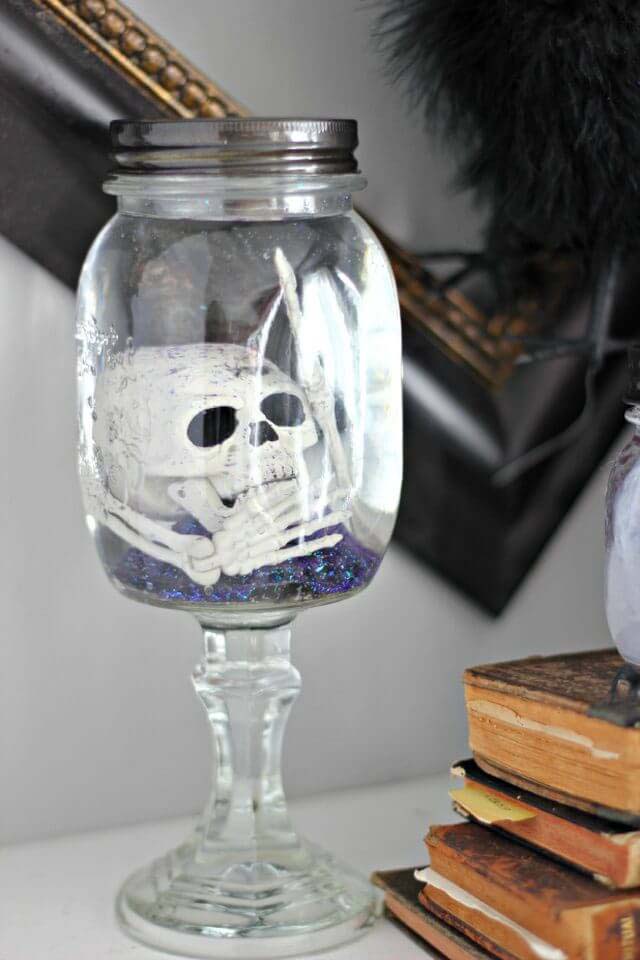 A skeleton displayed on a stand reminds of the way a trophy would be shown.
Well, this Halloween craft only mimics this idea by placing a small skeleton inside a jar full of water.
The necklace on the bottom adds another mystery to the arrangement. Has the skeleton once been a pirate?
via eHow
9. Cute Halloween Craft Dots and Stripes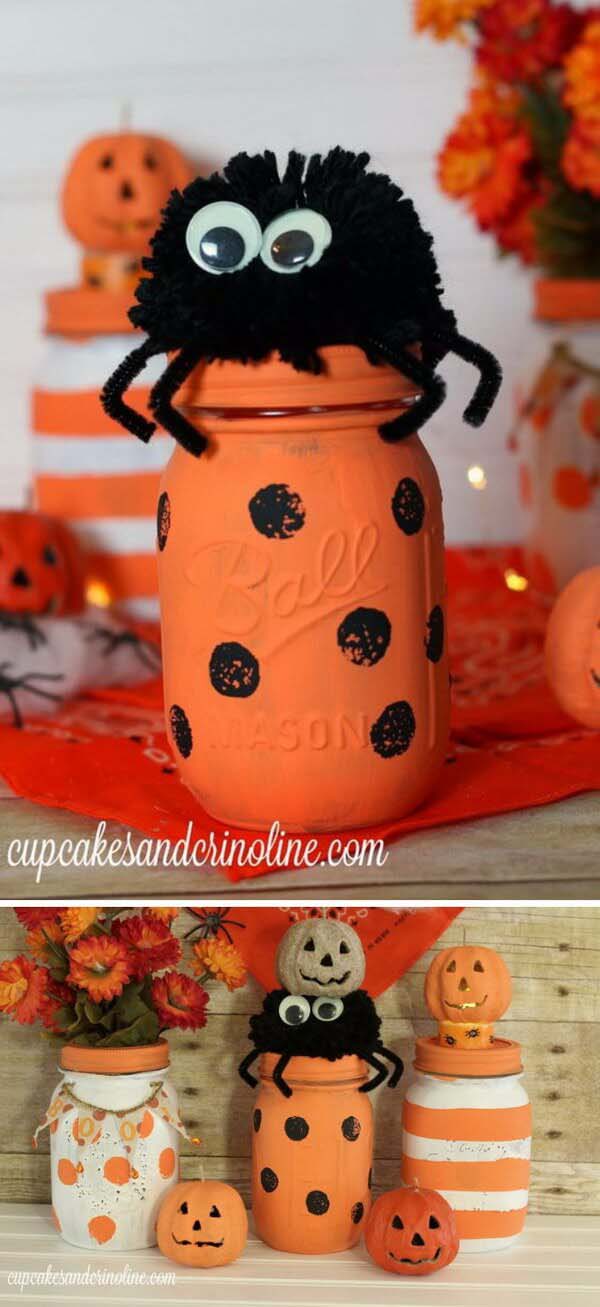 If your kids are small and don't want to scare them with realistic figures and images related to Halloween, you can always make them sweeter and appealing.
Use smiling emojis for the pumpkin Halloween lanterns for example. Or combine the creepy creatures with fun elements.
An inspiring example for this combo is a spider sitting on a Mason jar decorated with polka dots. The orange background of the jar also aims to let the black spider stand out.
via The How To Home
10. Cute Mason Jar Lid Pumpkin

Looking for a way to get out of the standard pumpkin decor? Do it with this lid pumpkin. Many Mason jar lids are painted orange and then assembled together with orange yarn in a circle alignment.
Once the basis of the Mason jar lids pumpkin has been finished, it is time to think of a way to imitate the stem. This idea suggests making it from cinnamon sticks that will also spread delicious fragrance in the room.
via The Country Cook
11. Cute Painted Mason Jar Jack-O-Lanterns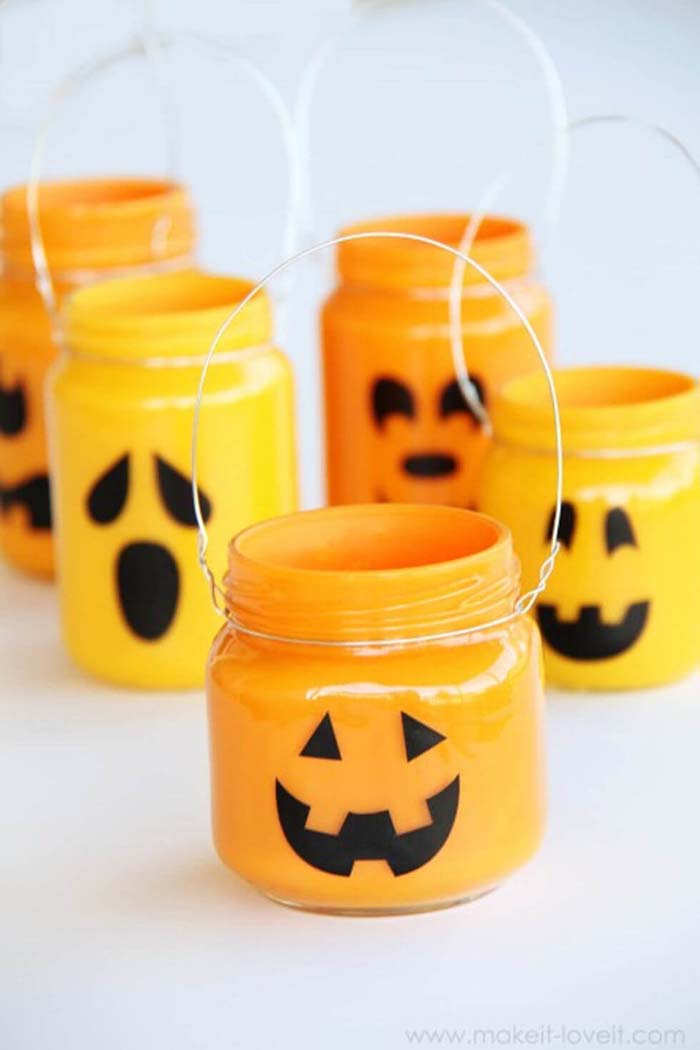 These Mason jar pumpkins are so cute and so multifunctional! You can use them to arrange the treats for Halloween or to create a fun candle set on the festive table.
The easiest way to make the various emojis is to cut them from vinyl that will adhere to the glass surface easily.
via Make It Love It
12. DIY Flying Bat Mason Jar Halloween Scene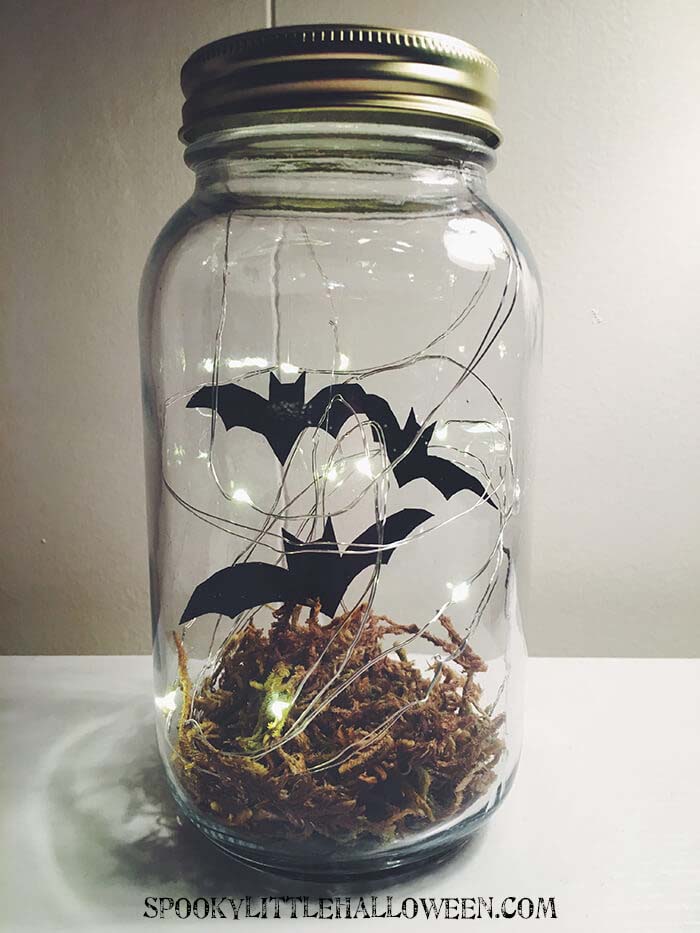 Looking for a simple, affordable and adorable Mason jar craft for Halloween? This one combines all these and features a unique light feature you would love to expose every autumn.
The cardstock bats look as if flying in the closed sphere being glued to a clear fish cord. The moss on the bottom enhances the creepy vibe and when all that is illuminated with the smooth light of the string of fairy lights you get a piece of the demonic world closed securely in a jar.
13. DIY Wicked Witch Storage Jars

Give the treatments for Halloween a spooky vision. The idea suggests using three jars exactly as later on each will hold a letter to turn the candy holders also in word art.
Candle sets help to elevate the jars on height for further visual interest. The dark stain gives them an antique look that matches the Halloween theme so much.
via See Jane Blog
14. Easy "Boo" Halloween Mason Jar Crafts

The idea for the word art on Mason jars is incorporated in a luminary DIY project. Vinyl letters are applied on the clear glass surface first and then the entire outside of the jars is sprayed with frosted spray.
Once the makeover is finished you can place votives inside or use the cute glass jars as holders of treats.
via Classy Clutter
15. Fancy Witch Hat Mason Jar Halloween Craft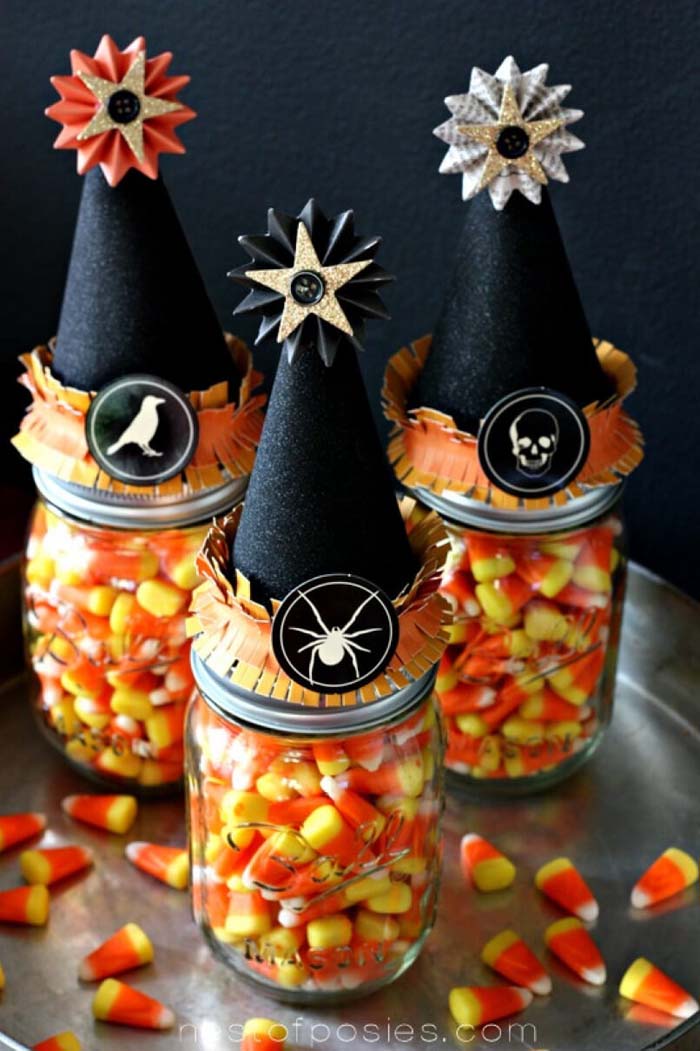 Use a cute Halloween motif to add to your clear Mason jars and turn them into part of your festive decor. This idea features the witch pointing hat as a lid embellishment of jars used as treat holders.
The candy corns filled inside are so colorful that a makeover of the glass surface hasn't been needed. For that idea, you can use cardstock and craft paper.
via Nest of Posies
16. Fluffy Jack-0-Lantern Slime in a Jar

Remember the orange glass Jack-O Halloween lanterns? Well, this idea features the same look but instead of painting the inside orange, a fluffy slime fills it in thoroughly to create an interesting look.
This DIY Halloween Mason jar decor will be a fun experience for your smaller kids to make.
17. Frightening Frankenstein DIY Mason Jar Drink Cups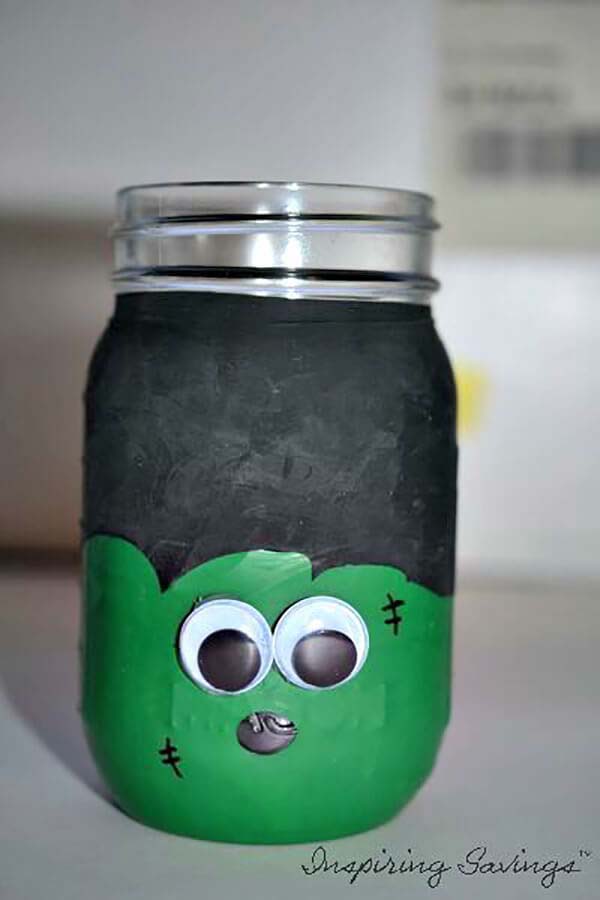 This is a cute Mason jar Halloween project that will satisfy your kids' expectations for spooky and yet cute decor. The materials you need are simple and almost for free- a jar, one black and one green balloon, and googly eyes.
Once ready this jar could be used as a beverage glass or a holder of treats.
18. Fun and Fancy Mason Jar Halloween Craft

These Mason jar luminaries could make an appealing table decoration or a festive addition to the porch.
Choose cute Halloween stickers to leave as silhouettes on the glass. The rest spray with glitter paint.  
19. Ghostly Red Eye Soap Dispenser Mason Jar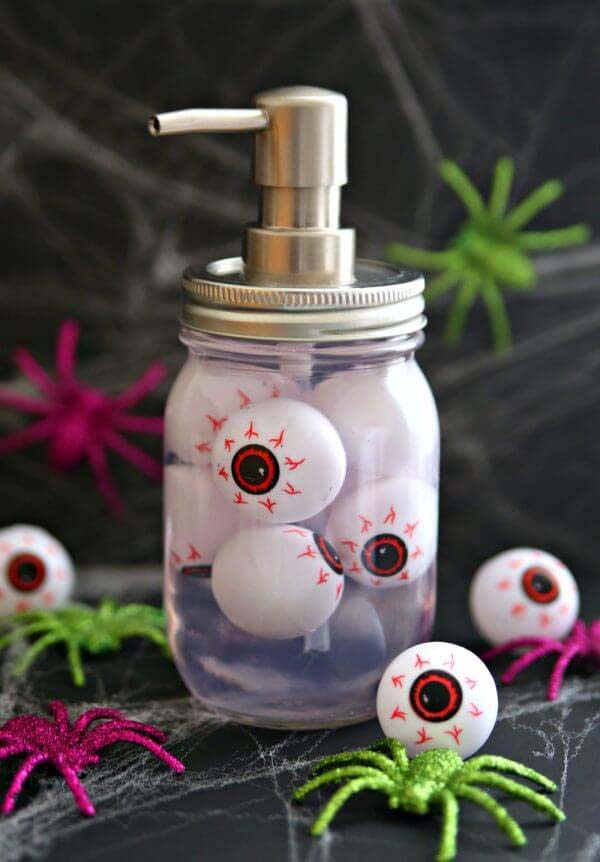 This craft idea takes less than 2 minutes and is such fun! For that, you need a Mason jar, eyeball ping pong balls, soap pump insert and liquid hand soap.
Add the soap jar to the bathroom to add a bit of festiveness to this space and make your kids enjoy the morning activities during fall.
via Kara Creates
20. Googly-Eyed Mummy Mason Jar Luminaries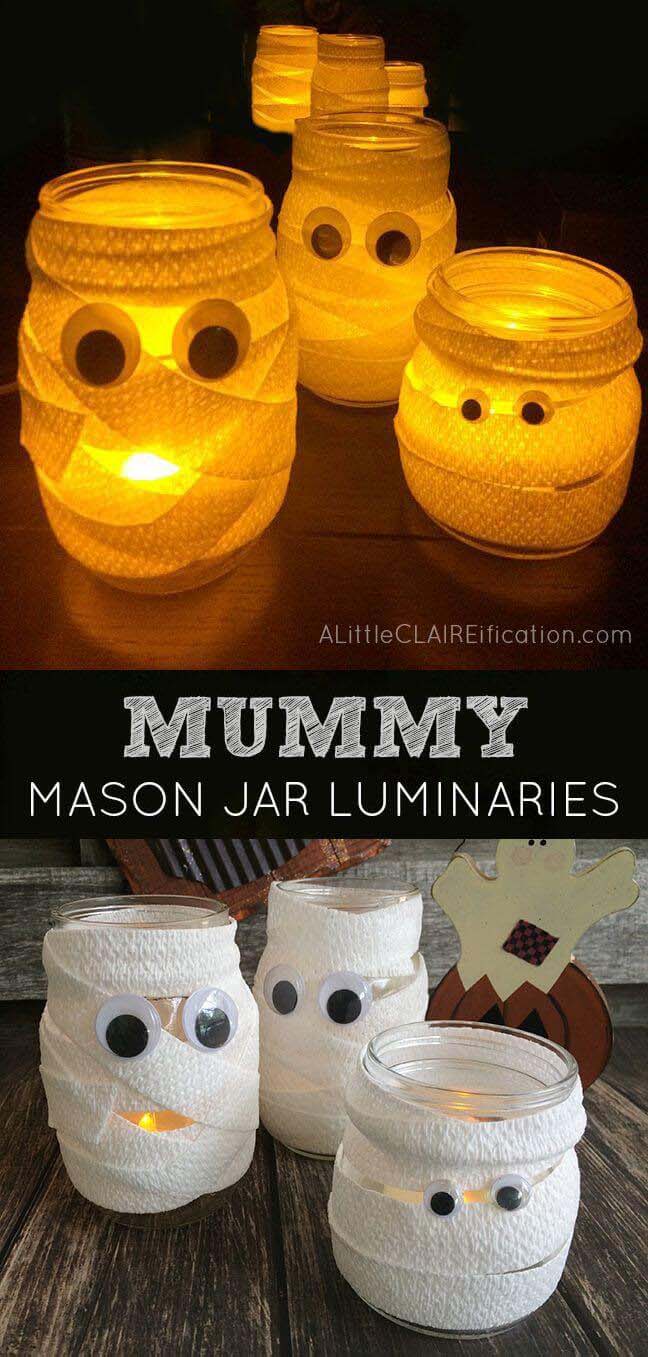 Make your mummy Mason jar family function as luminaries! They are very cute and so fun to make!
Your kids would enjoy wrapping the glass with gauze bandage tape in a random pattern until the glass is no longer seen.
21. Halloween Horror Glow-in-the-Dark Jar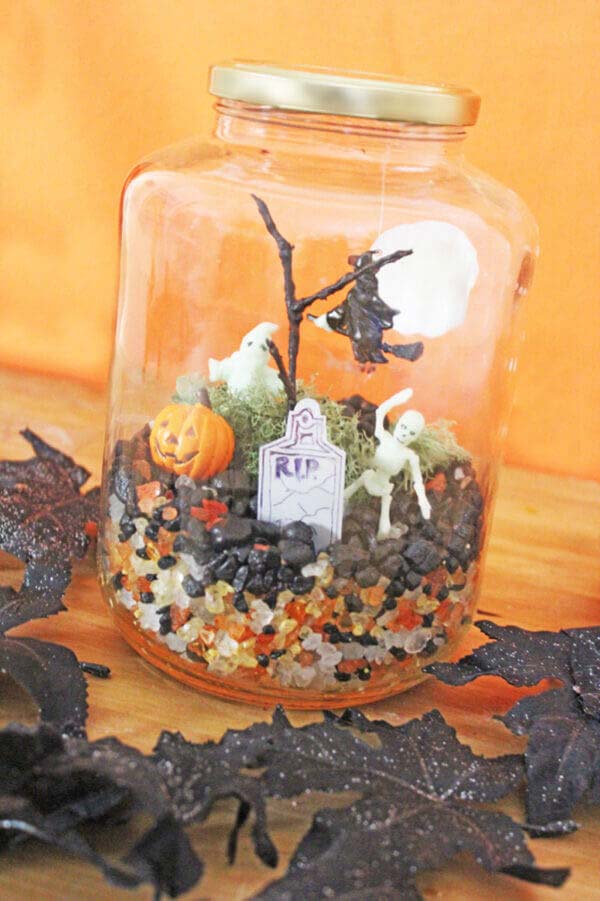 To make a terrarium with a horror scene, you need the largest Mason jar available. The arrangement showcases the most popular Halloween items that create a perfect spooky set.
A curious component of this decor is the glow-in-the-dark rock salts that will enhance the mystery and creepy vibe at night.
via Babble Dabble Do
22. Halloween Mason Jars Wrapped in Knitted Decor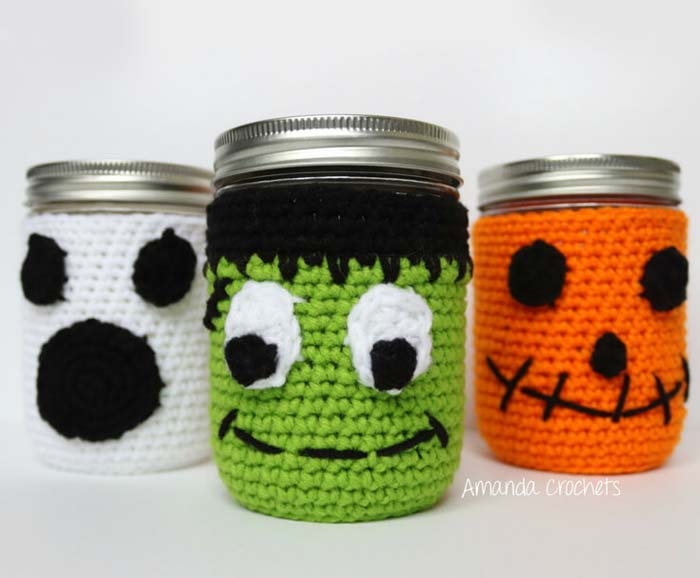 Have crochet skills?
This project is a cute and meaningful way to practice them and improve the excitement of your kids for Halloween.
via Amanda Crochets
23. Haunted Light-Up Mason Jar Monsters

If you have tried the decoupage technique, then you already have the right supplies to make this spooky family of haunted monsters.
Apply a layer of Mod Podge on the glass and then place strips of tissue paper carefully and neatly on. Once the glue has cured, you can finish the luminary project by adding vinyl stickers forming cute monster faces.
24. Head in a Jar Eerie Mason Jar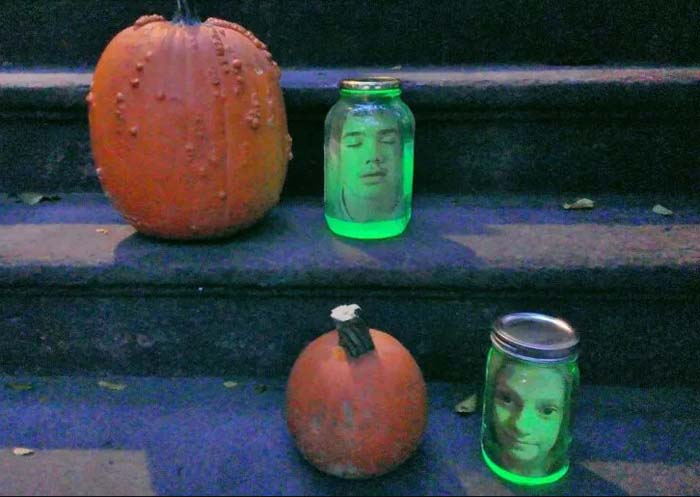 This project is for those of you looking to create reactions not only festive decor. Images that have been processed by an app give the scary and realistic effect of a head dipped in preserving solution.
You can add this decoration to a windowsill, to the front porch or why not in the refrigerator!  
via Amy Ever After
25. Illuminated Halloween Pumpkin Mason Jar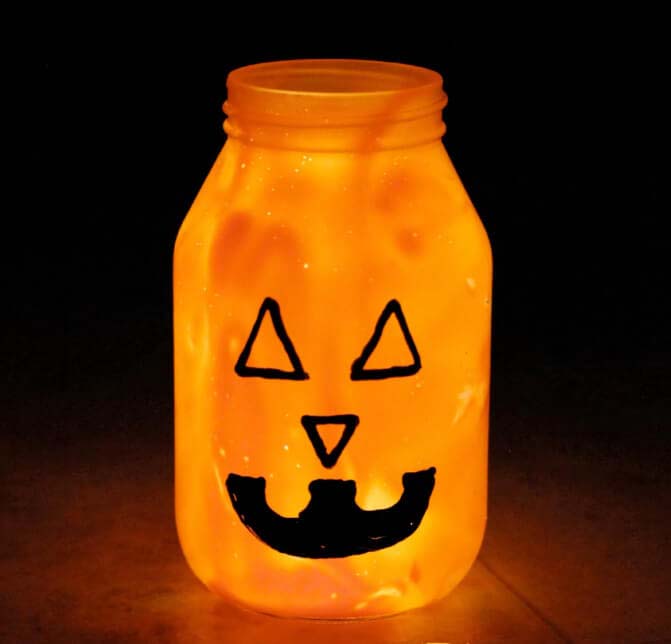 This luminary will spread gentle light inside your home and loads of festive Halloween spirit!
You need a Mason jar, orange paint, a glass writer and a flameless candle. These luminaries are great as an addition to the porch decor or for a repetitive accent of a Halloween party.
via Pinkwhen
26. Itsy Bitsy Spider Mason Jar Lights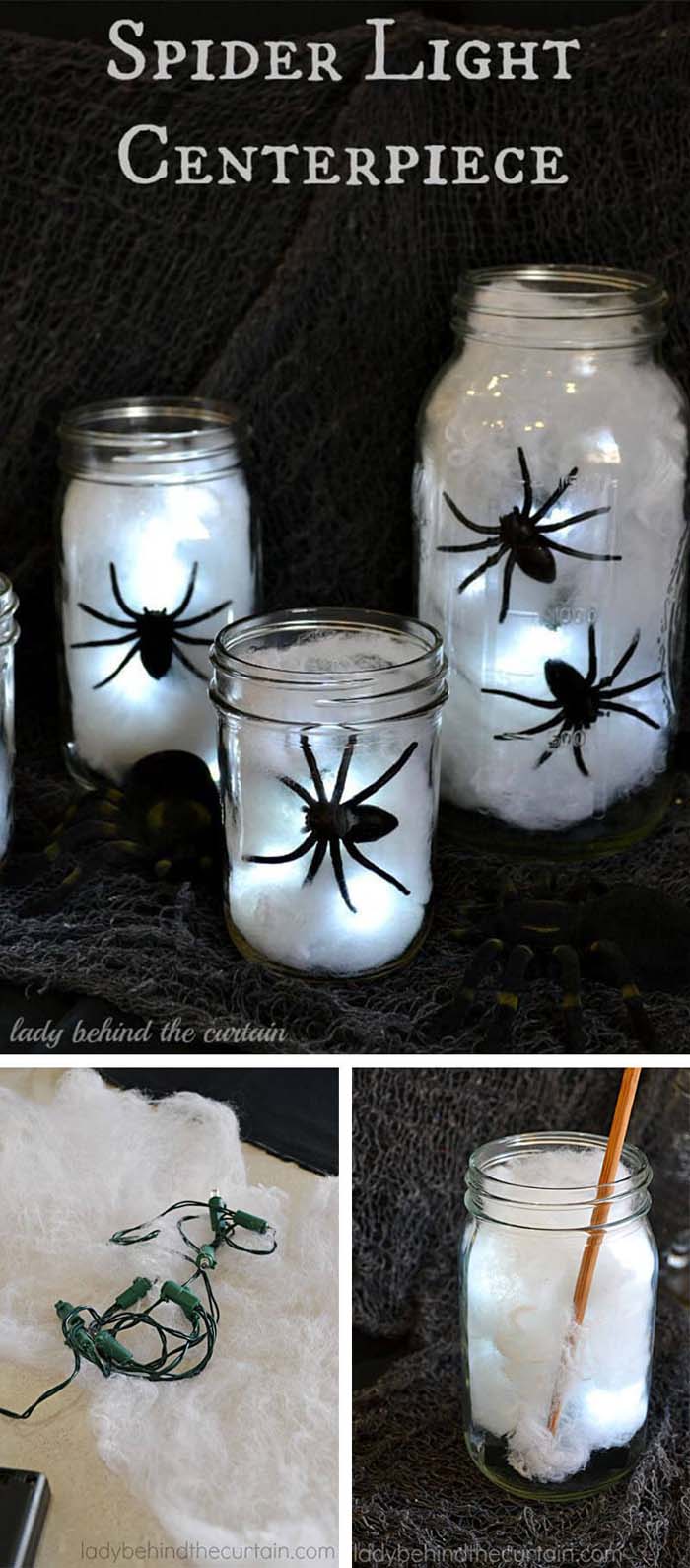 4 items are needed to make this centerpiece. The spider web jars can be added to spread smooth light on the porch or to add a point of interest to the table.
You can use any size of jars as long as the mouth is wide enough to insert the spider web. The string of fairy lights will enhance the realistic look of the web and the large spiders and will add the spooky flavor needed for Halloween.
27. Light Up Creepy Crawly Spider Mason Jar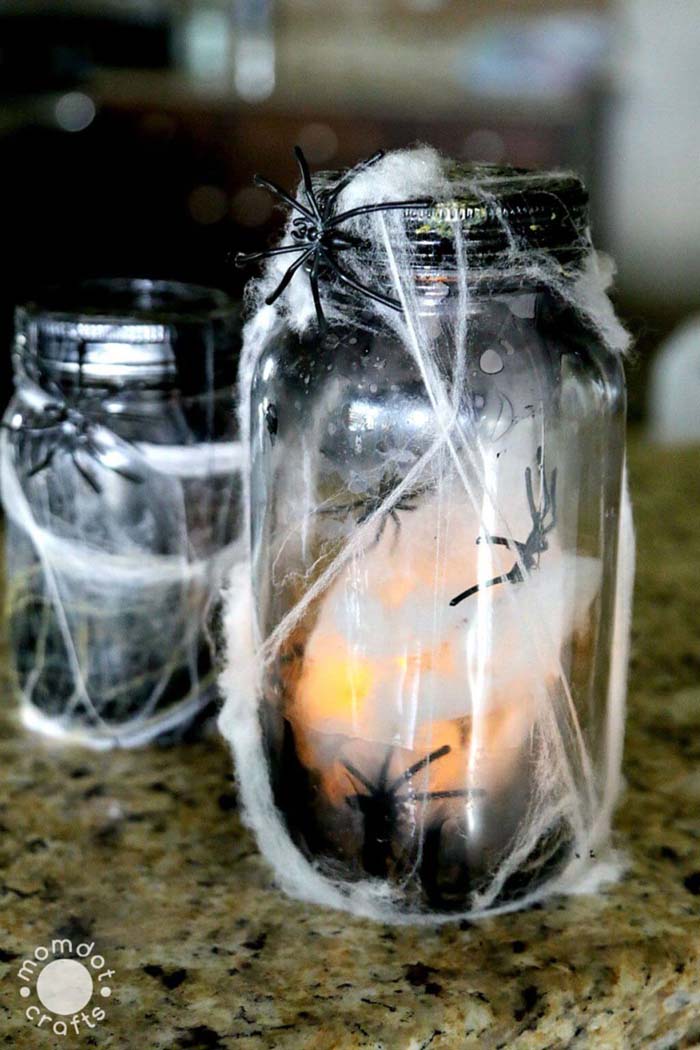 This Mason jar craft will surely give you creepy chills! The spiders in the jars do look like alive creatures crawling to spread their web around.
This effect has been achieved by dipping the jars into nail lacquers and the well-woven spider web around the outside of the jar.
Be careful where you would place these as they may scare your guests a lot.
via Mom Dot
28. Mason Jar Mummies with Googly Eyes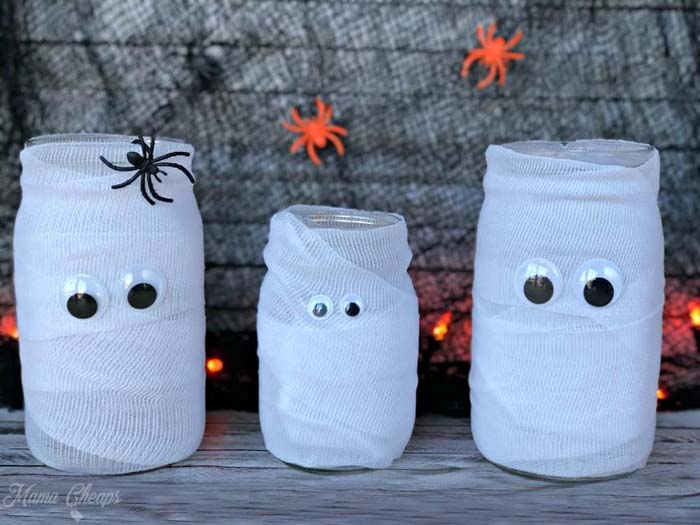 This mummy Mason jars are cute and if you are looking for a scary piece of decor, this is nothing to do with it.
The googly eyes of theirs look very curious, even puzzled. The wrapped rolled gauze creates the typical outer look of the mummies but the googly eyes create curious, even puzzled faces.
Add flameless votives to use as luminaries or treats if you prefer turning them into storage containers.
via Mama Cheaps
29. Mason Jar Vases with Halloween Spirit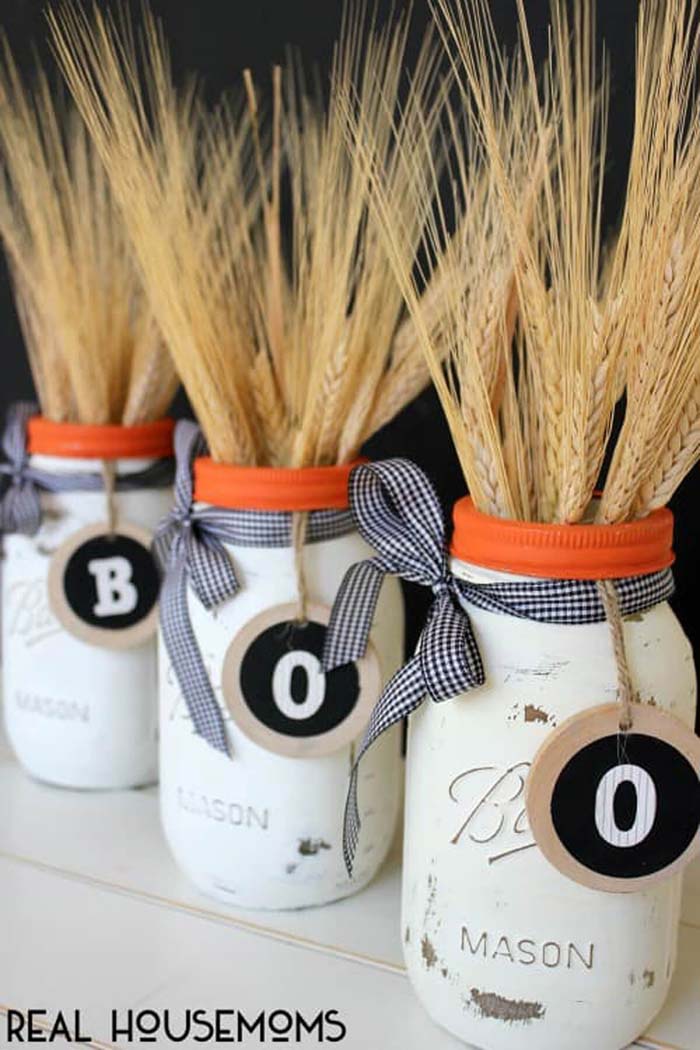 One Mason jar repurposed into a piece of the decor is great but imagine how it would be grouping three of them? Amazing, especially if they follow the same design and create a word puzzle.
This craft is not that spooky but will add rustic charm in the Halloween spirit.
via Real Housemoms
30. Mercury Glass Frankenstein Lantern

The Krylon glass mirror spray paint does a great surface transformation in this DIY Mason jar Halloween craft. The hint of achieving the mercury glass effect is to spray the glass surface with water after applying one coat of paint.
When the paint has cured, stick the vinyl pieces of the face and add a string of fairy lights inside. Place the luminary on moss if you are looking for a centerpiece or make a few of these to line up your porch with.
31. Mummy Wrapped Mason Jar Candle Holders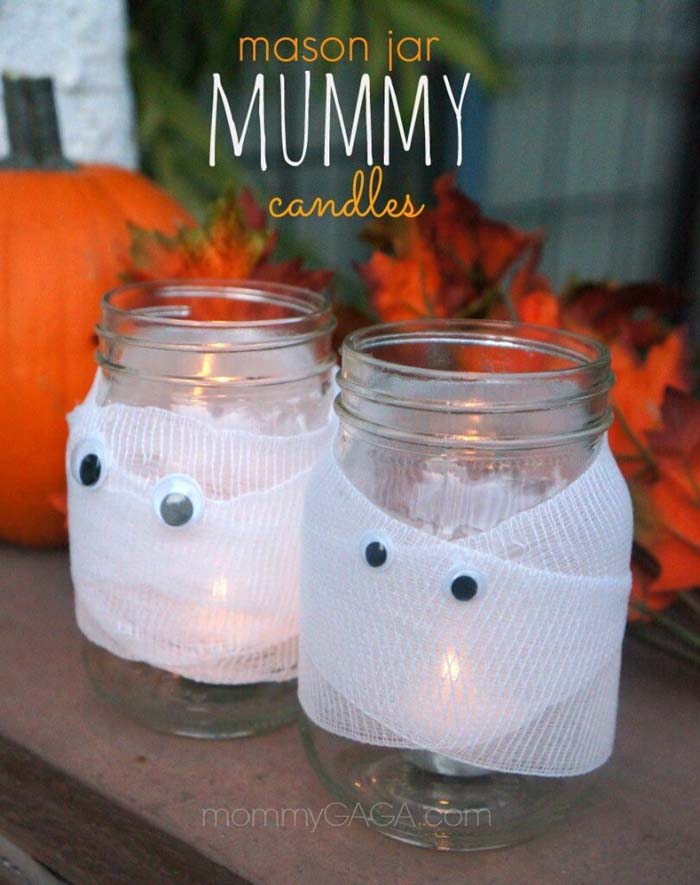 You can make the Mason jar mummies only with two gauze loops around the jar. Glued googly eyes give the spooky luminaries a finished look.
If you want to be on the safer side, place a flameless candle inside. These cute mummies could be prepared as gifts for kids at a Halloween party.
via Honey and Lime
32. Not-So-Scary Halloween Mason Jar Lanterns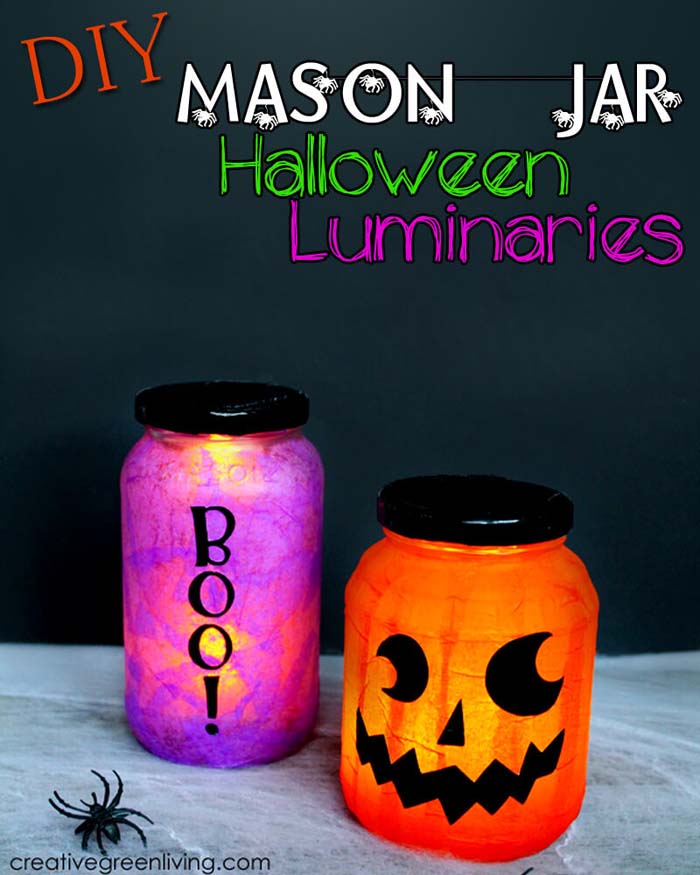 If you prefer a cleaner process of making a luminary out of a Mason jar, you can use tissue paper to cover the outside. Two jars of different sizes are chosen for this project. The shorter one mimics a Jack-o Halloween lantern while the other one complements the theme with a word inscription.
The standard decoupage glue will help you in this project. You can cut small pieces of paper and stick them on the glass for a textured finish or cut striped for an evener look.
via Easy Idea
33. Paper Mache Light Up Halloween Mason Jar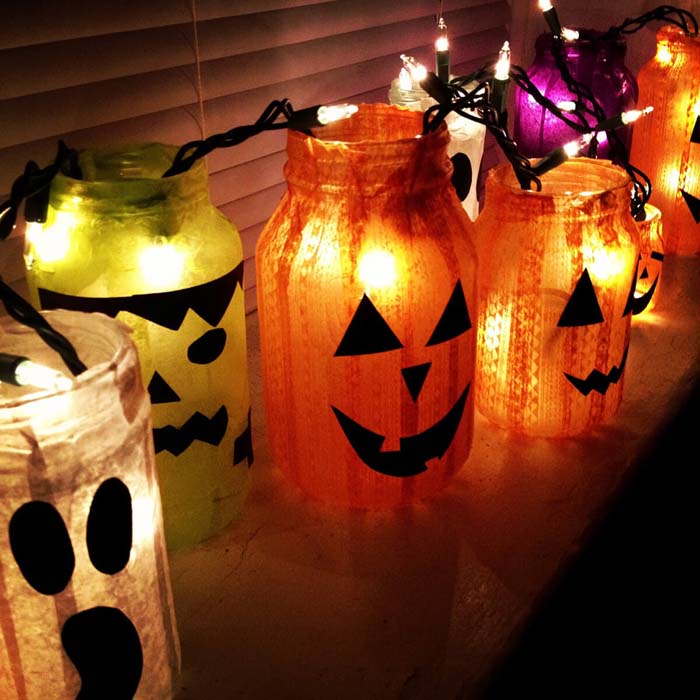 This is how your Mason jars will look like after you cover them with tissue paper strips. Placing the pieces tight to each other will create an even look. The texture is also very interesting when the pieces are overlapping, it gives the Halloween lanterns dimension.
Use a sharpie or a pen to draw faces of Jack-o-lanterns or why not cut pieces from black tissue paper and stick to the embellishment method till the end?
34. Perfect Mason Jar for Toxic Treats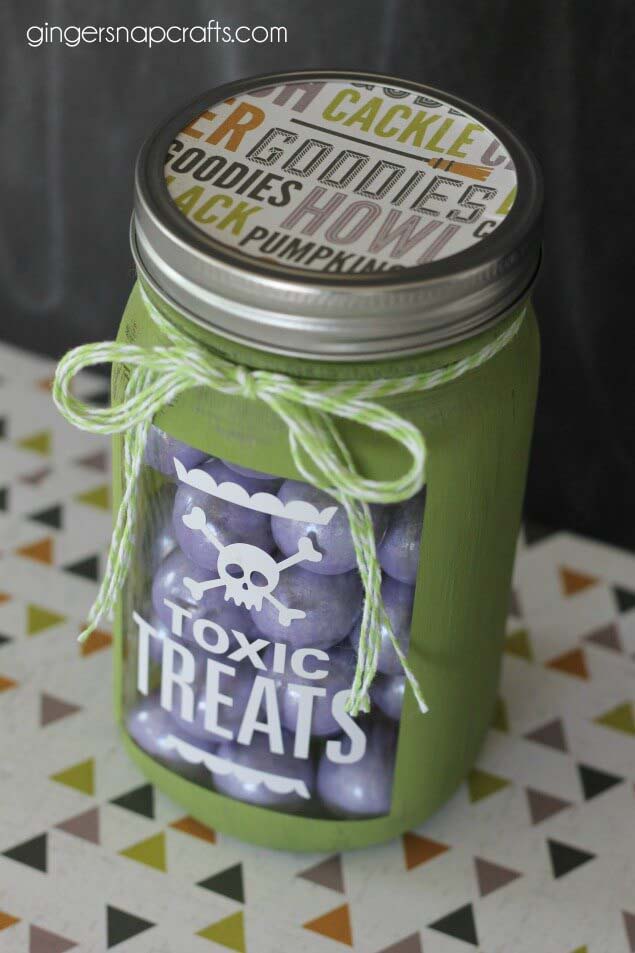 Do you want to make gifts for Halloween? That could cost you a lot but not if you use affordable, even costless items like jars.
Some paint, twine or yarn and printed labels would make an interesting jar that could be used many ways- as a lantern, as a cookie holder, as a container for treats.
35. Pumpkin Themed Sweet Candy Delight Mason Jar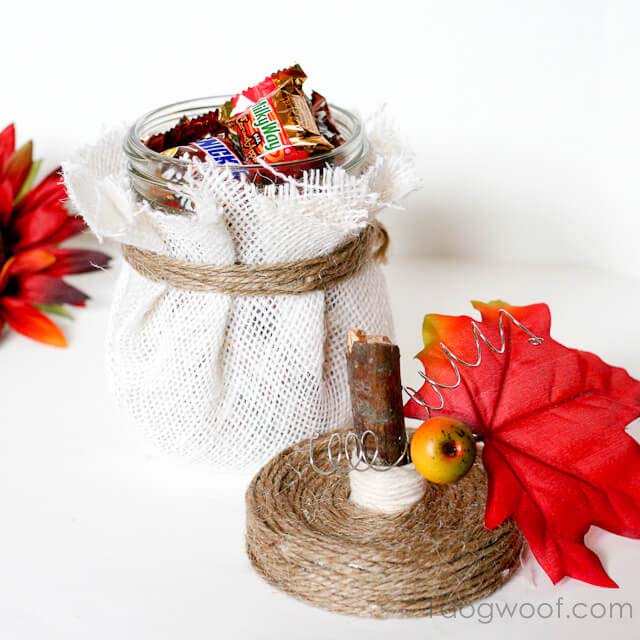 This idea is perfect to create an alternative to the standard pumpkin without getting too far from the Halloween theme. The pumpkin is mimicked by a stick and a thick roll of twine woven around it.
The amazing faux leaf with a berry celebrates the fall harvest and adds farmhouse charm to the decor piece.
via One Dog Woof
36. Pure White Ghost Mason Jar Lantern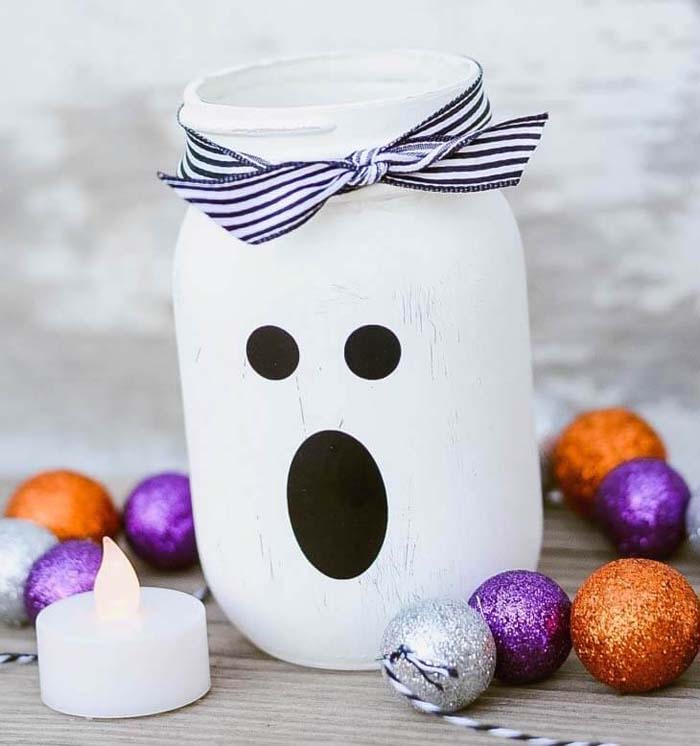 The pure white color of this Mason jar craft is what makes it so appealing! The thick coat of white paint aims to represent the color of a ghost.
Vinyl pieces have been used to form the face of the spooky creature. In case you are missing a Cricut machine, you can draw them with paint.
Added Halloween ribbon on the jar neck gives the object personality. You can add the jar as it is to your Halloween nook or place a LED candle inside to give it a function at night.
via Old Salt Farm
37. Silly Spider Pipe Cleaner Mason Jar Craft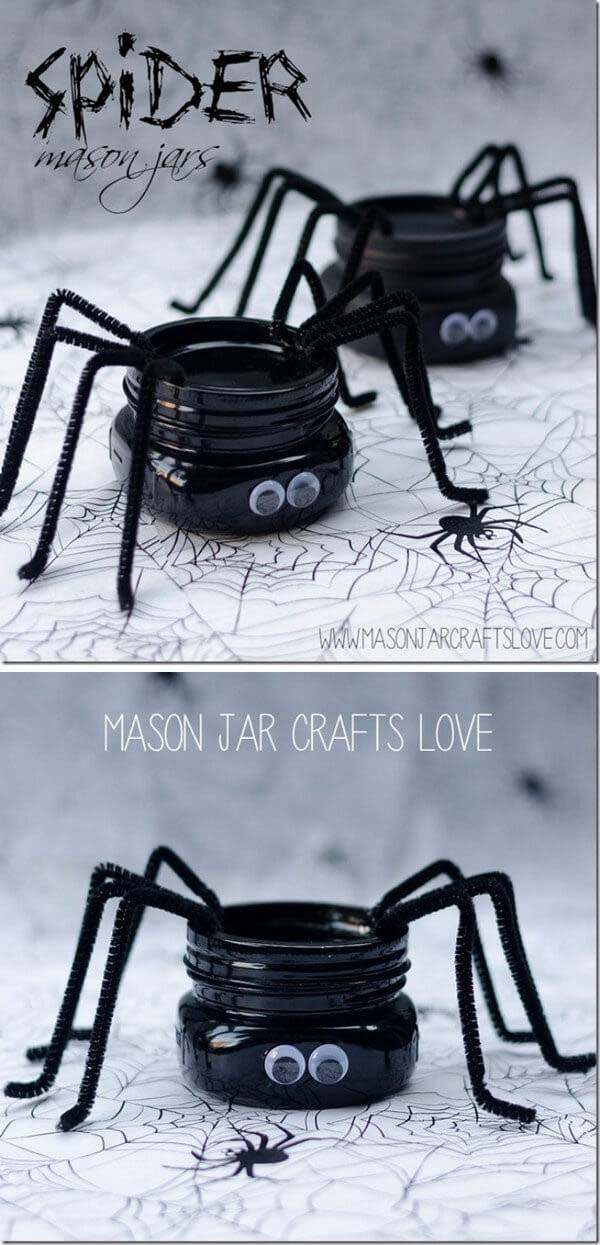 Only one visit to the Dollar Store keeps you away from this amazing spider craft project. Get the tiniest Mason jars available, pipe cleaners in black and googly eyes.
Prior to assembling the spider, paint the glass black with a spray can. That would give the spider a more realistic look and will let the eyes stand out. Make sure to create a few of these and spread them around your festive table.
38. Sparkly Halloween Mason Jar Candle Holders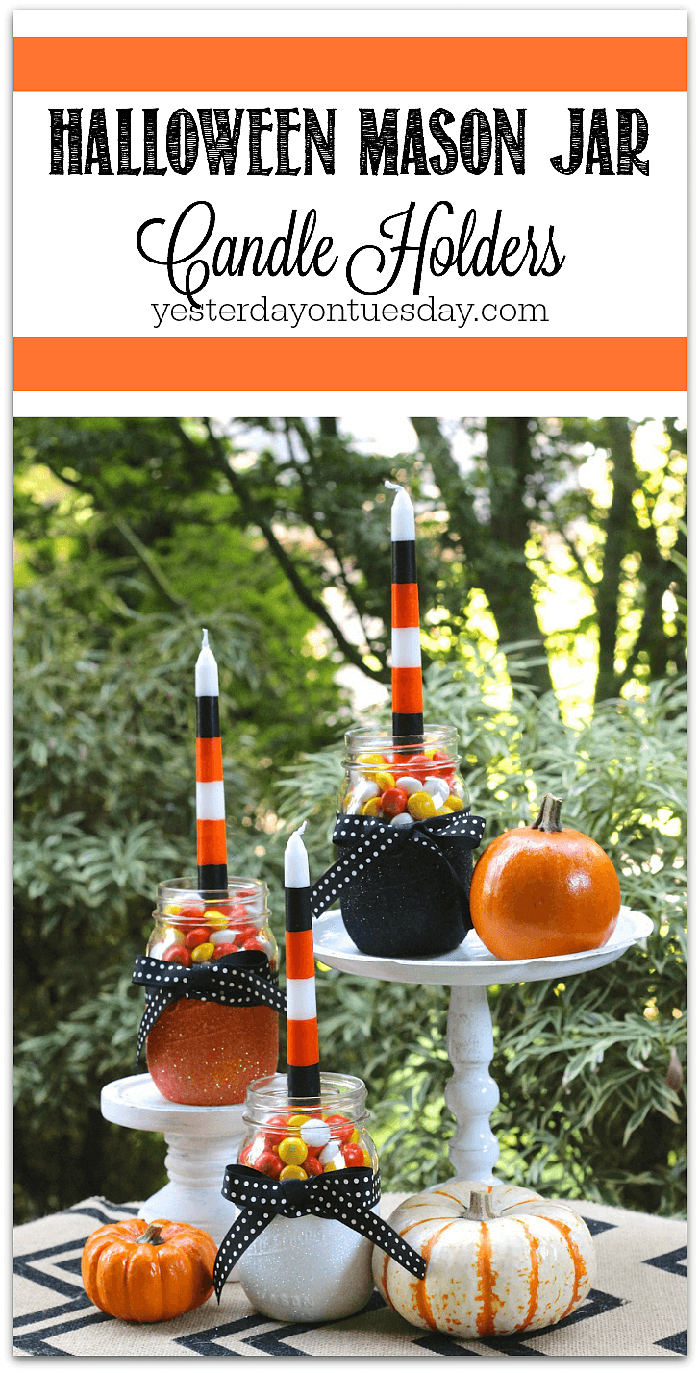 Pint-size Mason jars create an outdoor Halloween decor in three colors that coordinate with fall. Orange, white and black paint cover half of the jars so that there is yet a part left transparent to reveal the stored treats.
The transition between the two textures of the jar is well handled with a cute polka dot ribbon in the black and white combo.
These jars are very elegant with their simple glittery look and could be used all year long.
39. Spellbinding Halloween Silhouette Lanterns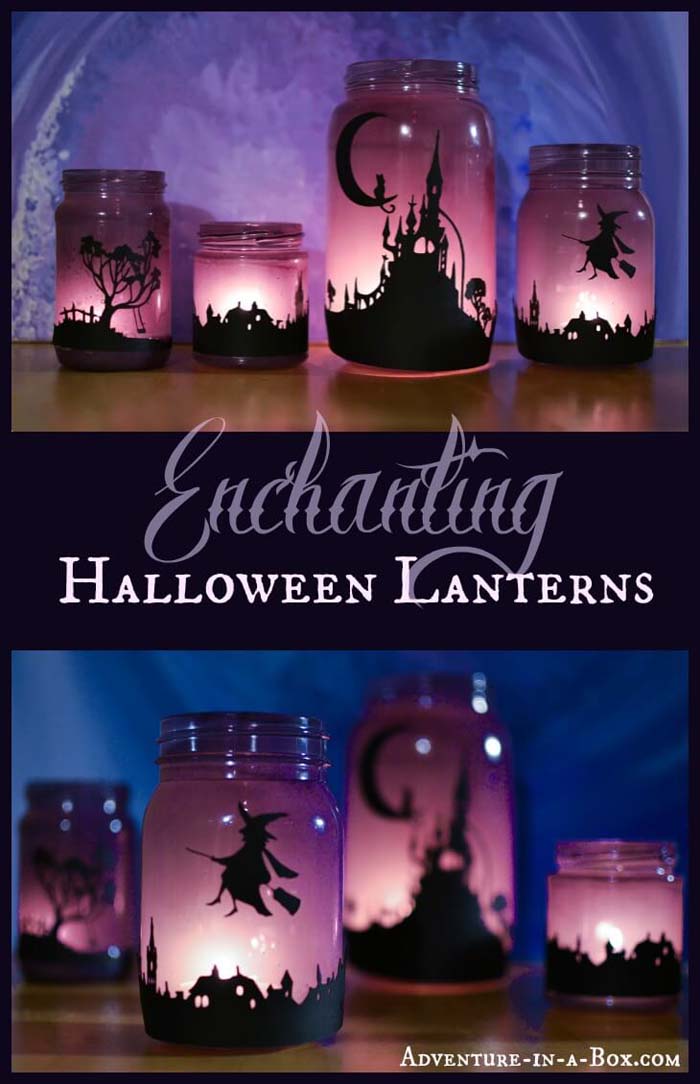 The haunted scenes displayed in these Mason jars make them so unique and appealing. Depending on the technique you practice and the materials you have got available, you can do the patterns in different ways.
One possibility is to outline the images with a sharpie using a stencil placed inside the jar to help you with the drawing.
Another possibility is to cut these on a vinyl sheet with a Cricut machine and then stick it on the glass. Once the sun goes down, you can insert a candle inside and enjoy the haunted world these jars reveal.
40. Spine-Chilling Spiderweb Luminaries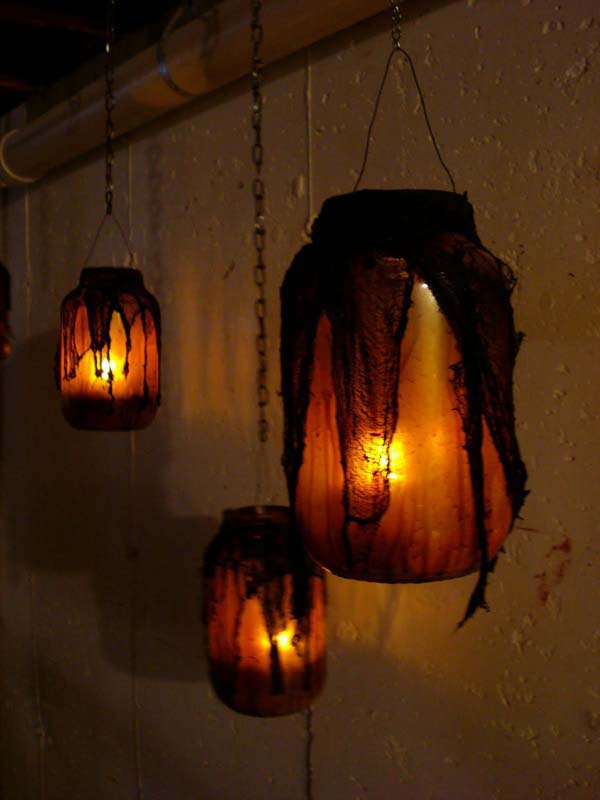 Orange spray paint applied to the inside of a jar gives it a wonderful glaze that works also as a basis for the cheesecloth to stand out.
The worn look of the cloth aims to mimic spider webs that have stayed there for ages. It is also an inspiring idea of how you can display these lanterns to prepare your porch for Halloween.
41. Spooky Ghost-Themed Halloween Mason Jar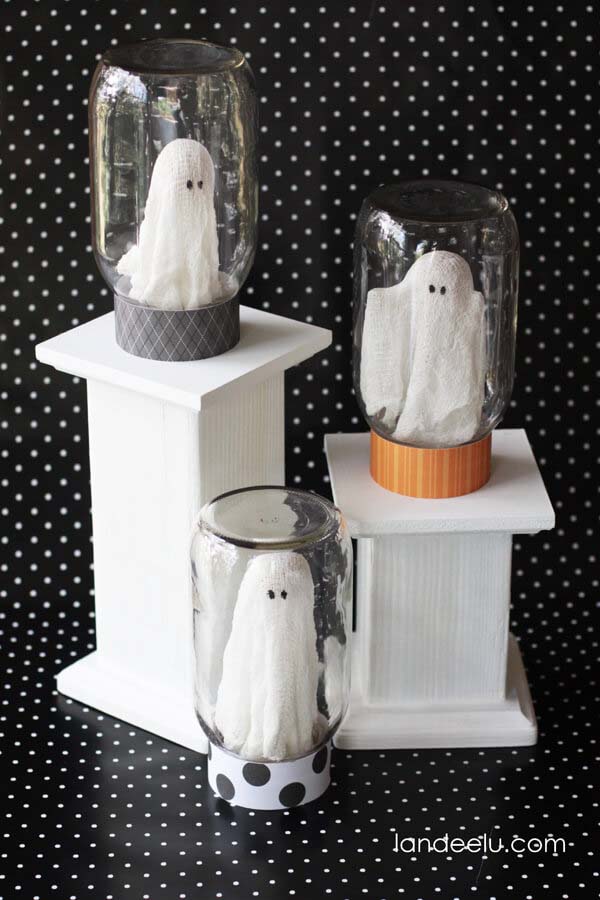 This set of spooky ghost jars can be added everywhere in the house.
You can place them on the shelf in the entryway to have special hosts for Halloween or place them in the center of your table to add a point of interest in the Halloween spirit.
via Landeelu
42. Spray Painted Mason Jar Ghosts

This is one of the easiest Mason jar Halloween ideas. Get the number of jars you want to decorate and a masking tape. You can find these at the Dollar Store on a deal.
The tape is needed to shape out the pieces of Jack-o-lantern faces and then stick them on the clear glass surface. When you are happy with the alignment, you can start spraying them.
The color is your choice but if you want a real Halloween craft, make sure that you choose among orange, white or black.
When the paint cures, peel off the tape, place candles inside and enjoy the group of spooky luminaries.
via Creating Laura
43. Spunky Halloween Mason Jar Desk Utensil Holder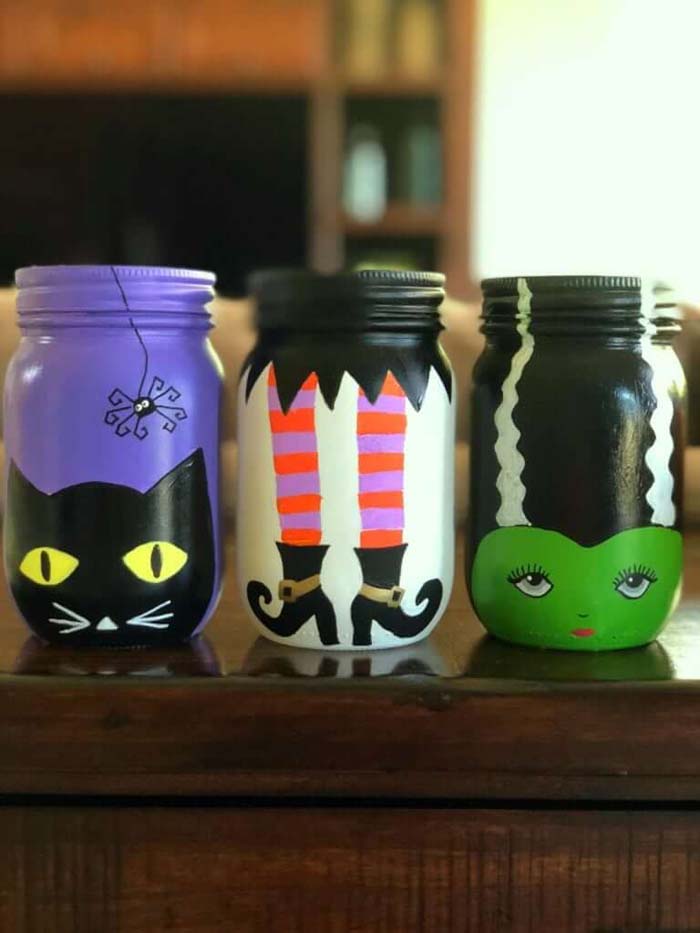 This Mason jar craft is very spunky and would be a charming Halloween decor suitable for your home, why not the office?
First, think about the characters you relate to Halloween and are able to draw on the glass. Then choose the colors and start painting.
via Color Made Happy
44. Super Scary Spider Web Luminaries

These luminaries look so scary! Thanks to paints and the good positioning of the plastic spiders, the jars become a Halloween jar masterpiece.
These jars could be part of your outdoor decor or mantel decoration.
via Mom Dot
45. Super Simple Mason Jar Witches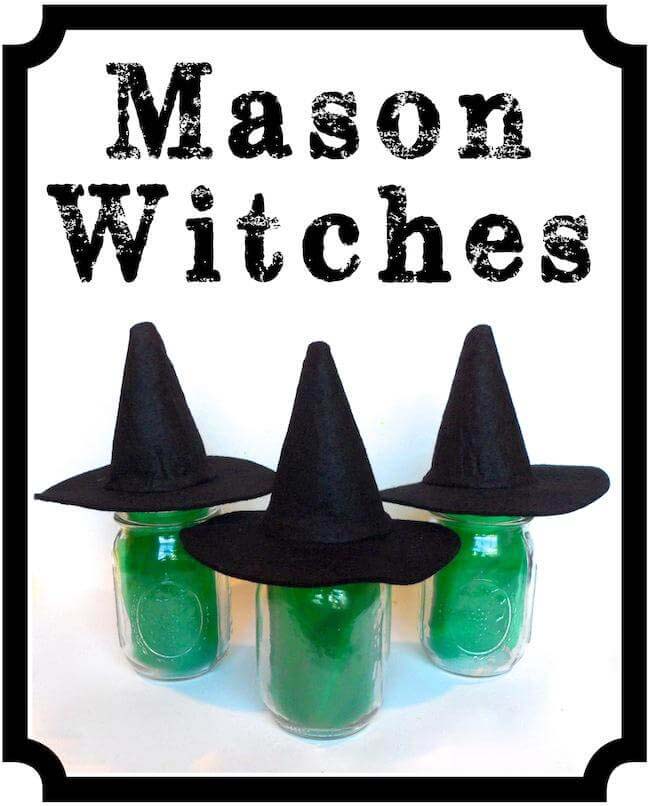 Is the witch your favorite Halloween character? Then use it as a focus of the Halloween decor this year. Get three or more Mason jars, cellophane paper in green felt hats and flameless candles.
The pointed witch hats give these luminaries a charming touch you would like to display in your home.
46. Sweet Painted Halloween Mason Jar Storage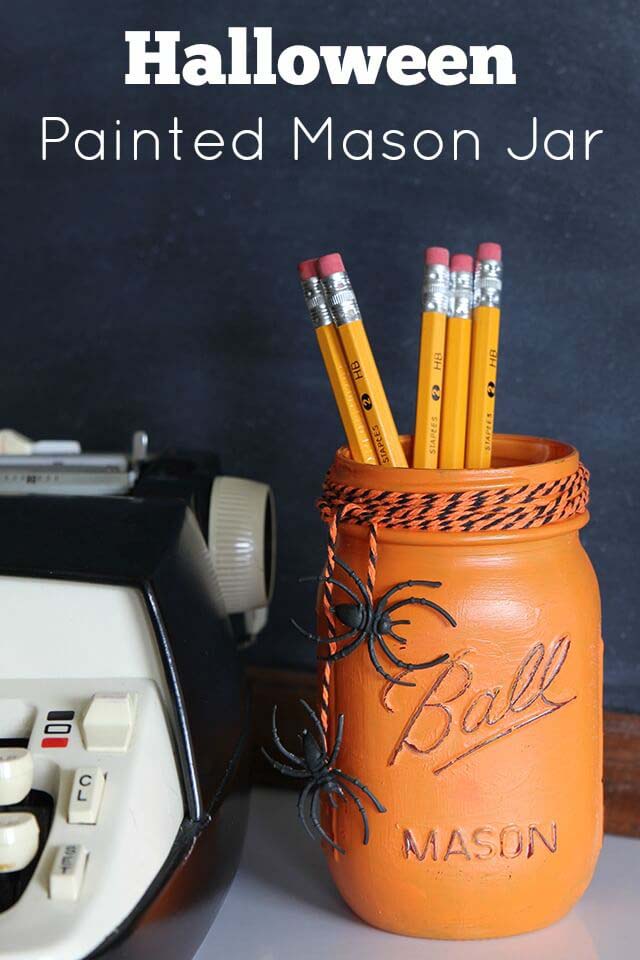 If you don't want to overwhelm your decor with scary decoration, you can add this vibe in a very gentle way. This Mason jar craft is made with this purpose- to welcome the holiday in a balanced way.
The outer surface of the Mason jar is painted with orange chalk paint. We can see signs of distressing which give the jar a charming rustic effect.
Then a long piece of orange and black yarn is woven around the neck leaving its ends dangling. There two plastic spiders find their place to hang down as if they have created this colorful web.
47. Terrifying Apothecary Mason Jar Halloween Decor

This idea is one of the most creative ones. Melted wax gives the Mason jar a look of a dirty, aged and toxic object that has hidden scary things inside.
Placing it on a wooden candlestick enhances the antique feel and lets the jar craft stand out.
48. Trick-Or-Treat Candy Corn Mason Jar Vases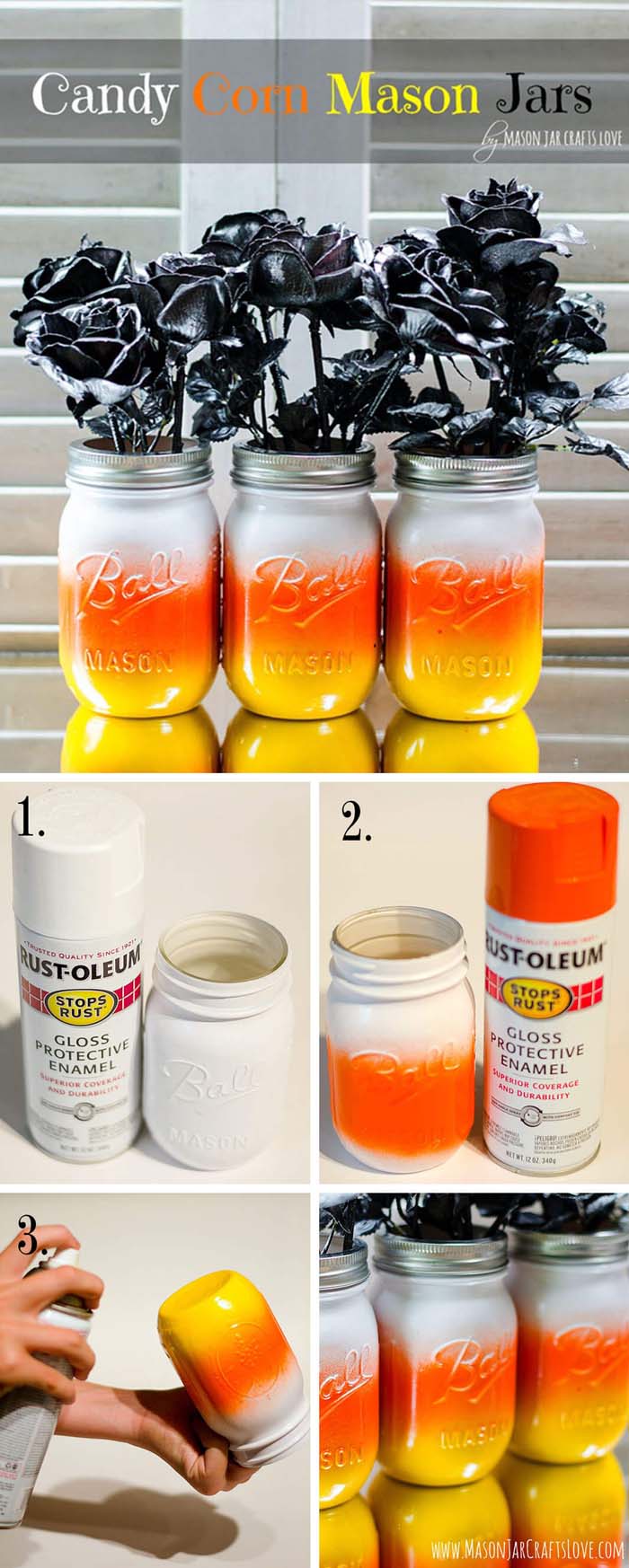 Three spray cans and three Mason jars of identical size create this elegant candy corn vase set. The ombre effect of the alternating colors is achieved by spraying the colors in a particular order and direction.
To make sure that these jars are related to Halloween, place black fake roses inside.
49. Unique Ghost Trap Halloween Mason Jar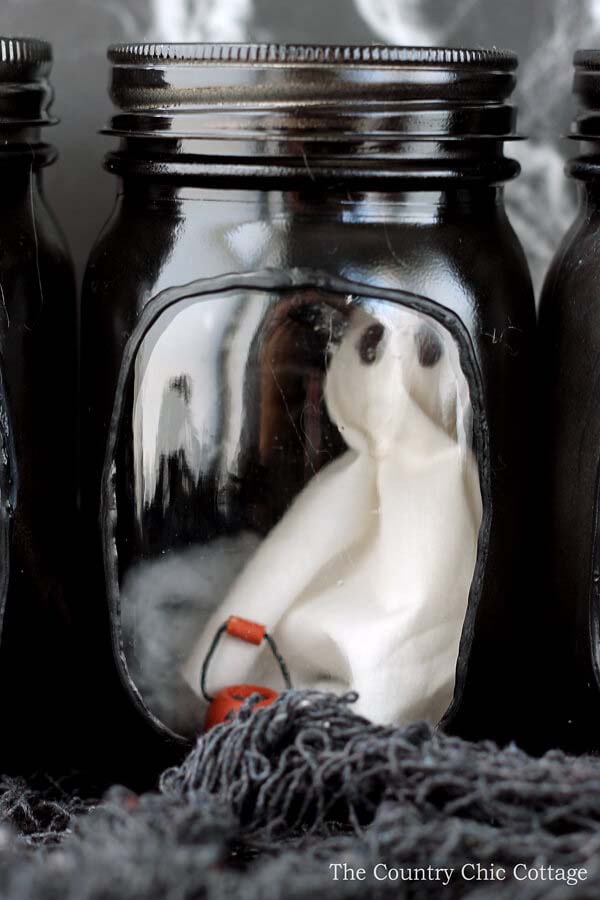 This creative Mason jar design lets you create a finished ghost scene. The ghost looks as if trapped in a haunted house where there is no exit.
If you like the design, you can use it to trap other creatures- spiders, skeletons, mummies.
via Angie Holden