Halloween is one of the most exciting holidays of the year — it's the perfect time to celebrate the changing seasons.
Decorating is a fun way to get in the spooky spirit, but costs can add up quickly.
With these budget-friendly Halloween decorations, you can deck the halls without breaking the bank.
1. Surprise Trick-or-Treaters with Candy Bowl Witch Feet
Are you going to be away from home on Halloween?
Leave candy for trick-or-treaters in this adorable bowl. The top is shaped like a cauldron, so it has lots of space for treats. It rests on two witch feet for an extra-spooky twist.
We love the striped legs, which add a fun pop of color to your front porch.
2. Get into the Halloween Spirit with a Rustic Chic Sign
Delight your family this Halloween with this funny sign. It references a witch, a devil, and little monsters, so it's a great choice for a home with kids.
Put up the sign on the front door instead of a wreath, or display it in the front hall to bring a smile to guests' faces.
3. Add Art to Your Walls with Bat Decals
Give your front entry a spooky vibe with these bat wall decals. They're three-dimensional; the wings extend off of the wall, creating eerie shadows in low light.
Maximize the effect by placing a candlelit pumpkin underneath the bats — the flickering light will create the illusion that the bats are on the move.
4. Make a Statement with a Black and White Skeleton Wreath
Wreaths aren't just for Christmas — this fantastic black and white version is a charming way to celebrate Halloween. Made with a riot of ribbons and silver accents, this wreath sparkles in the light.
We love the rhinestones in the skull's eyes and the creepy skeleton hands that wrap around the center.
5. Get Ready for Fall with a Burlap Spider Wreath Decor
Are you planning to decorate for fall with a rustic theme? This cute Halloween wreath fits in perfectly.
It's made from burlap, which adds a charming natural texture to your front door; it pairs nicely with cornstalks, scarecrows and other country-style decorations.
A couple of adorable spiders and a geometric web add to the Halloween vibe.
6. Add Modern Flair with a Halloween Framed Wreath
Art is an easy way to change up your decor on a budget. This "BOO!" design arrives as a digital file, so you can print it out at home or at a local print shop.
Display the print in one of your existing picture frames for an affordable, easy Halloween decoration.
7. Bring Rustic Charm with a Burlap Jack-o-Lantern Wreath
Your trick-or-treaters will love this colorful jack-o-lantern wreath. With its large size and vibrant orange and green tones, it makes a splash on your front door.
The adorable pumpkin face adds a look that's sweet rather than spooky. This wreath is made from lightweight burlap, so it hangs easily on a standard wreath hook.
8. Welcome Guests with a Rustic Candy Corn Sign
Are you hosting a Halloween party or another fall gathering? Welcome your guests with this sweet sign. A red, orange, and white candy corn takes the place of the "o", creating a subtle seasonal twist.
Hang the sign on the wall or rest it on the mantel for a quick and easy decoration.
9. Be Bold and Creative with a Coffin Display Chest
Is there anything spookier than a coffin? At Halloween, use this clear coffin display case to display all of your favorite things.
Fill it with candy for visitors, or add a creepy Dracula doll for an extra-scary effect.
10. Embellish Wine Glasses with Spooky Skull Decor
Cute and colorful, these Day of the Dead glasses are a fun way to enjoy a Halloween cocktail.
Each glass features an intricate sugar skull in traditional Mexican style. They're so fun, you might find yourself reaching for them all year long.
11. Customize Halloween with Decorative Date Sign
Remind your guests that Halloween is coming with this "October 31" sign. The large, stylized numerals take center stage, giving the sign a vintage look.
A dangling spider and his web add just the right touch of festive fun. This sign is made from wood; the rustic grain is visible through the paint.
12. Liven Your Halloween Party with an Elegant Display
Get ready for an epic Halloween party with this adorable display set. It's a printable file that includes everything you need for a themed buffet: labels, signs, and decorative cards.
When it comes to budget-friendly Halloween decorations, this is the perfect choice — you can buy it once and print it out year after year.
13. Light Up Home with String Lights Ornaments Garland
Bring a festive glow to the interior or exterior of your home with these sweet string lights.
Each globe light has been transformed into a different character or scene: bats, witches, pumpkins, and ghosts.
Turn on the lights to fill your space with a soft, eerie light.
14. Bring Farmhouse Charm with Halloween Wooden Pumpkins
Rustic and chic, these wooden pumpkins are an elegant way to decorate for Halloween.
They fit beautifully into a modern farmhouse or a charming cottage — each one is made from a wooden post and topped with twine.
The unexpected rectangular shapes subvert expectations for an artistic look.
15. Cozy Up Your Decor with Mini Ghost Candles
Decorate a coffee table, mantel, or side table with these miniature ghost candles.
Each one features a minimalist design, so it complements virtually any type of decor.
The candles look adorable whether or not they're lit; you can even add them to a themed centerpiece for a special Halloween twist.
16. Unwind in Luxury with  Monster Mash Throw Pillows
Throw pillows transform your sofa or bench into a festive, Halloween-appropriate seating area.
This is an easy way to get the most of your budget — the pillows are large and colorful, so they make a big splash in the living room or on the front porch.
Choose from a variety of cute creatures, including zombies and black cats.
17. Enchant Your Home with a Rustic Framed Wooden Print
Dress up any part of your house in an instant with this Halloween art. The saying, "Not every witch lives in Salem" is sure to make your guests smile.
This piece of art comes in a frame, so it's a breeze to display; hang it on the wall or lean it on a shelf.
18. Showcase Your Style with Plush Ghost Ornaments
Add a pop of Halloween style to any part of your house with these tiny ghost ornaments.
Each one is made with a hanging loop, so you can suspend it from a hook, nail, or door handle.
Do you have stocking hangers on your fireplace? Hang the ornaments in a row; they'll swing in the breeze for a ghostly effect.
19. Upgrade Your Halloween Decor with Skull Planters
Get your plants in on the Halloween fun with these skull plant holders.
Simply drop in a small potted plant — it will look like the greenery is growing directly out of the skull.
The planter looks great with practically any plant, from flowers to cacti.
20. Bring Industrial Charm with Spider Pumpkin Holder
A pumpkin is beautiful on its own, but this spider holder takes it to the next level.
The sturdy metal legs lift the pumpkin off the ground, so it's safe from water and insects. Use this stand indoors or outdoors.
21. Light Up the Night with a Spooky Halloween Candleholder
You'll want to keep the lights low after you see this candleholder.
When you add candles and turn, the subtle back plates cast pumpkin-shaped shadows on the wall.
The effect is spooky and completely unexpected — it's a surefire conversation starter.
22. Elevate Your Space with Table Top Witch Hat Stand
Witch hats are an iconic symbol of Halloween. This stunning hat features oversized bows, feather accents, and fun, diamond-print fabric.
Set it on a stand to create a show-stopping decoration for a table or mantel.
23. Deck the Halls with Trick-or-Treat Garland Sign
Bring a sense of festive fun to a door or a mantel with this trick-or-treat garland.
Each panel features a different letter in a vintage font, giving the sign a rustic aesthetic.
Delicate orange scrolls add a sophisticated touch of Halloween color.
24. Wow Guests with a Toppled Pumpkin Witch Decor
When you have a limited amount of time to decorate for Halloween, you need decorations that are easy to display.
This pumpkin is the perfect example — just set it on a table, shelf, or chair, and you're done.
The upright witch legs make it look like a witch has crashed into the pumpkin on her broom; it's sure to make your trick-or-treaters smile.
25. Add a Pop of Color with a Witch Burst Wreath
If gloomy fall days are getting you down, this colorful witch wreath adds a burst of brightness.
It's packed with bright colors and exuberant accents, including tiny spiders, ribbon bows, and a tulle broom.
Hidden among the ribbons is a witch hat and two dangling witch legs.
26. Get Creative with Zombie Hand Cupcake Decorations
These creepy little zombie hands are a fun way to decorate cupcakes for a Halloween get-together.
Just push the stick into the center of the cupcake so the hand extends up — it will look like a zombie is trying to escape from the frosting.
27. Concrete Pumpkins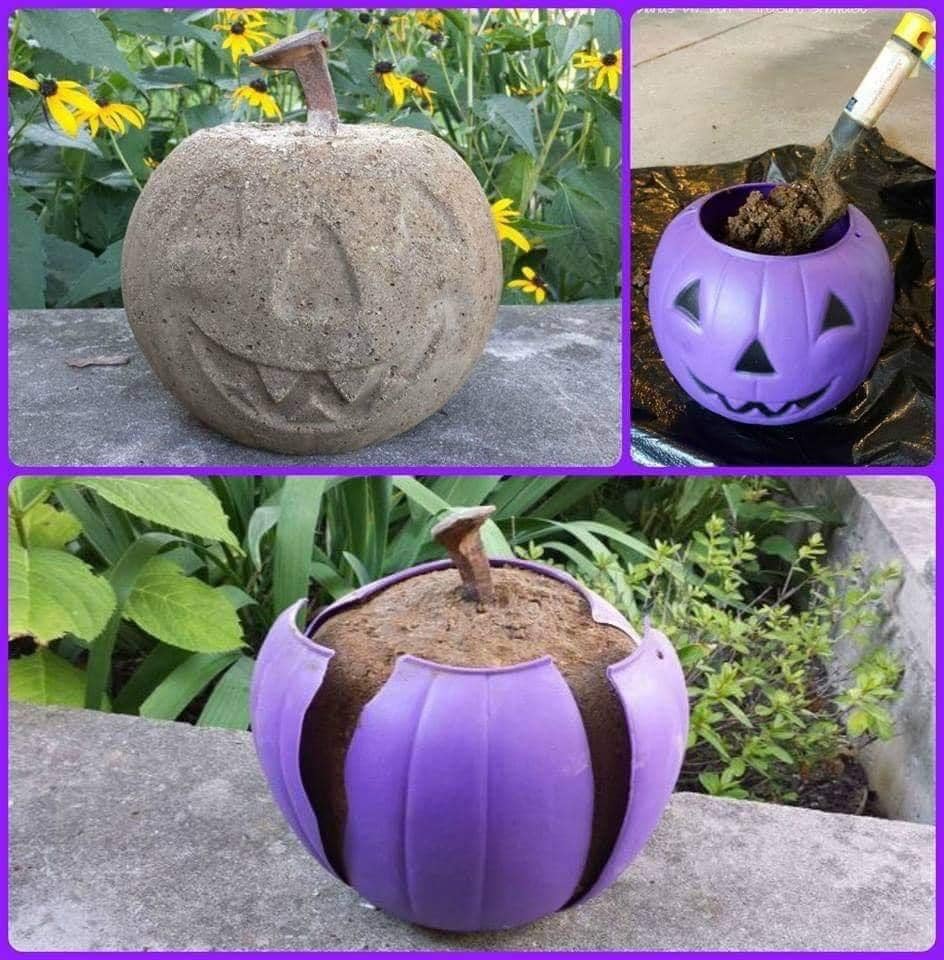 credit: South Market Baldwyn
Elevate your autumn decor creatively by crafting concrete pumpkins using affordable plastic pumpkins from the Dollar Store.
This ingenious idea promises simplicity and impact, resulting in eye-catching decorations that stand out, especially when painted in a captivating shade of purple.
28. Light Up Ghosts
This amazing project was created by Janan Kissler ( follow her: @athomewithjanan ).
"It was so easy to put together! It comes with the string lights, with two different light options, the fabric, stand & felt stickers! You can use them indoors as well as outdoors… So fun for Halloween"
Find the ghosts: HERE