This Halloween, welcome trick-or-treaters to your home with an adorable topiary.
These fun, festive decorations are the perfect addition to any front porch — the bases are small, so they slip easily into a corner.
Whether you want to use traditional pumpkins or colorful candy, these creative Halloween topiary ideas can provide the inspiration you need.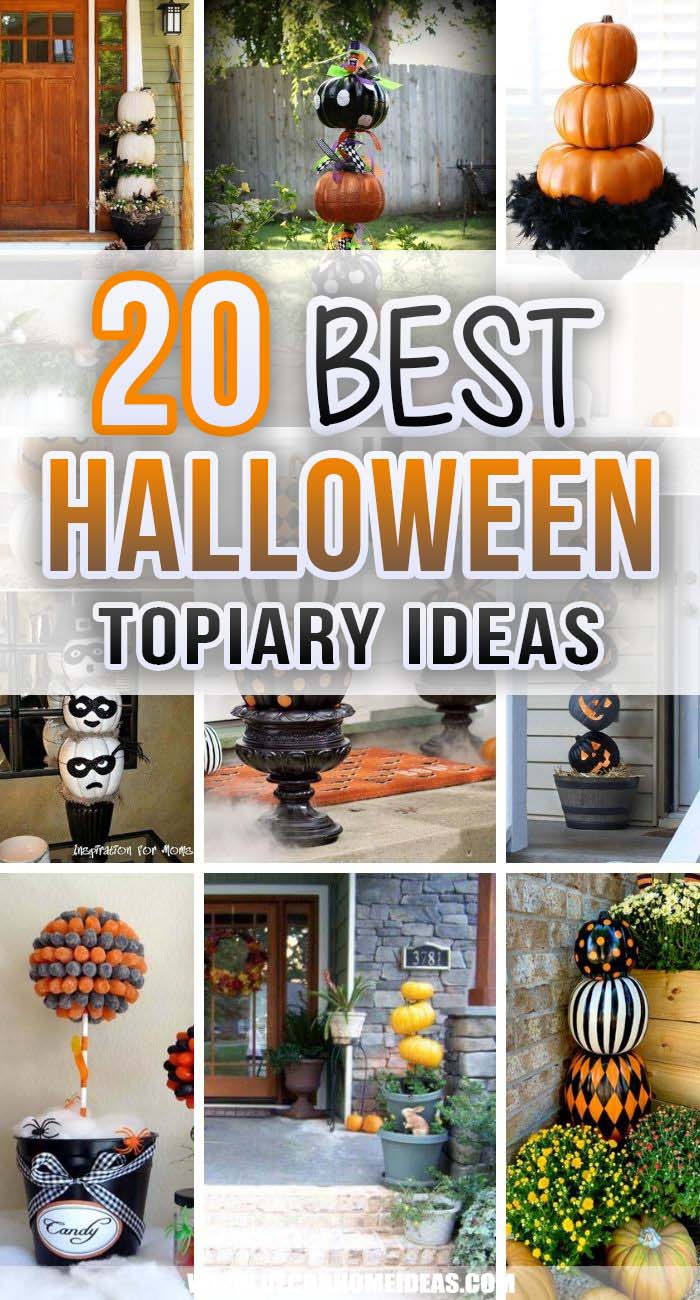 1. Spook Up Your Porch with Black and White Topiary

Bring a fun, spooky twist to your front porch decor with a black and white pumpkin topiary.
You can use real or plastic pumpkins — just paint them, add faces, and mount them on a dowel. Push the end of the dowel into the soil of a planter for an easy DIY base.
2. Get Ready for Halloween with Cute Pumpkin Topiary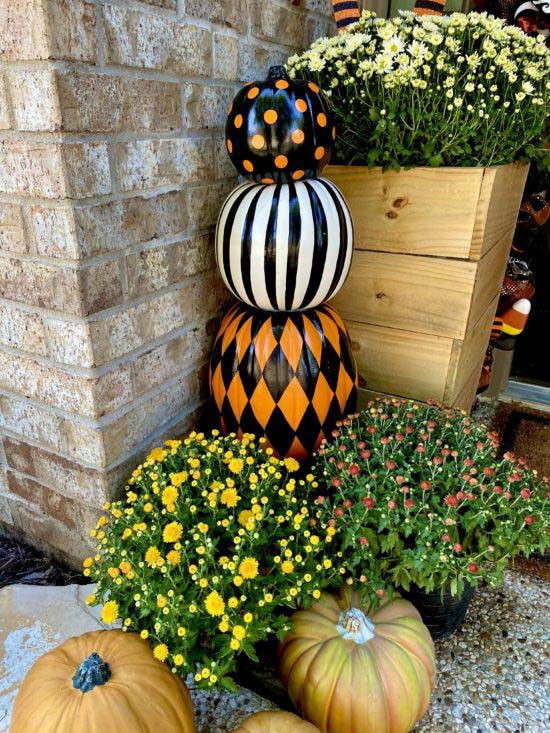 This circus-inspired pumpkin topiary brings a bit of fun to your Halloween decorations.
It's all about the geometric pattern; use a different one on each pumpkin for maximum drama.
Use large pumpkins for a generously-sized porch, or choose miniature pumpkins for a smaller home.
via The DIY Junkie
3. Unleash Your Creativity with White Pumpkin Topiaries

Make all of your fall visitors smile with this adorable Halloween topiary.
Each pumpkin has a different face, creating a decoration with lots of personality.
Draw on the faces using paint or permanent markers, or experiment with decorative trim to bring texture and depth.
4. Make a Statement with a DIY Halloween Topiary

Are you working with a limited amount of space on your front porch?
No problem — this tiny topiary fits neatly into a compact corner. You can buy everything from the dollar store, including the plastic cauldron and the hollow plastic pumpkins.
For extra pizzazz, jazz up your topiary with black and orange balls, glitter, or sequins.
5. Add a Hint of Nature with a Porch Pumpkin Topiary

Put a sophisticated spin on Halloween decor with a natural pumpkin topiary. Instead of classic orange and black, decorate your topiary with cream-colored paint and a variety of faux greenery.
The effect is beautiful at Halloween, and it looks great all the way through Thanksgiving. Mount your topiary in a large, sturdy planter so it can sit next to the front door.
via DIY Network
6. Welcome Guests with a Rustic Plate Pumpkins

Are you looking for a topiary craft to do with your kids?
Make pumpkins out of burner covers; you can also use lids, plates, or any other round item you have on hand.
Personalize the project with small DIY signs, and create stems with curly green ribbon. Since all of your materials are lightweight, they attach easily to a slim wooden dowel.
via This Ole Mom
7. Boost Your Curb Appeal with Large Pumpkin Topiaries

Don't put away your giant planters this fall — use them as bases for giant pumpkin topiaries.
This project is a breeze to make; all you need are two artificial pumpkins that are slightly larger than the tops of the planters. Dress up each one with a ring of black and orange garland, or leave them plain.
Flank your front door with the topiaries to delight trick-or-treaters and visitors alike.
8. Impress Guests with an Affordable Pumpkin Topiary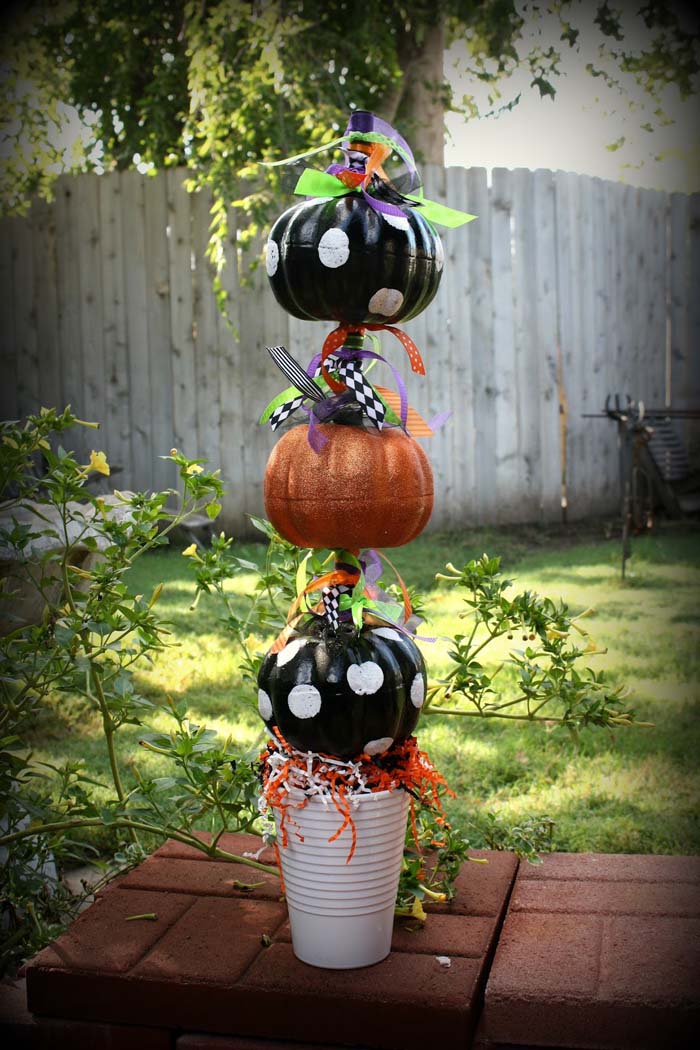 Decorate for Halloween on a budget with this affordable pumpkin topiary.
All of the supplies are easy to find at your local dollar store: ribbons, pumpkin, a pail, and paper box filler.
Paint your pumpkins in cute patterns, add decals or stickers, or coat them in a layer of glitter for an extra-special touch.
9. Make a Rustic Pumpkin Topiary with Dollar Store Finds

Are you looking to save money on your Halloween topiary?
Make a miniature version using dollar-store supplies: three tiny pumpkins and a small clay planter. Give the topiary your own personal flair with fake spiders, dried grass, ribbon, or colorful fabric.
Since it's so tiny, this topiary fits easily on a porch railing or a table next to your front door.
10. Bring Farmhouse Charm with an Easy Halloween Topiary

You don't need to be an experienced crafter to make a stunning topiary for Halloween — this clever version is all about the natural beauty of the materials.
A weathered bucket makes a gorgeous, rustic base; for a festive flair, write "trick or treat" on one pumpkin. Top it off with a colorful faux pumpkin for just the right touch of texture.
via Lolly Jane
11. Liven Your Halloween Party with a Lighted Fruit Topiary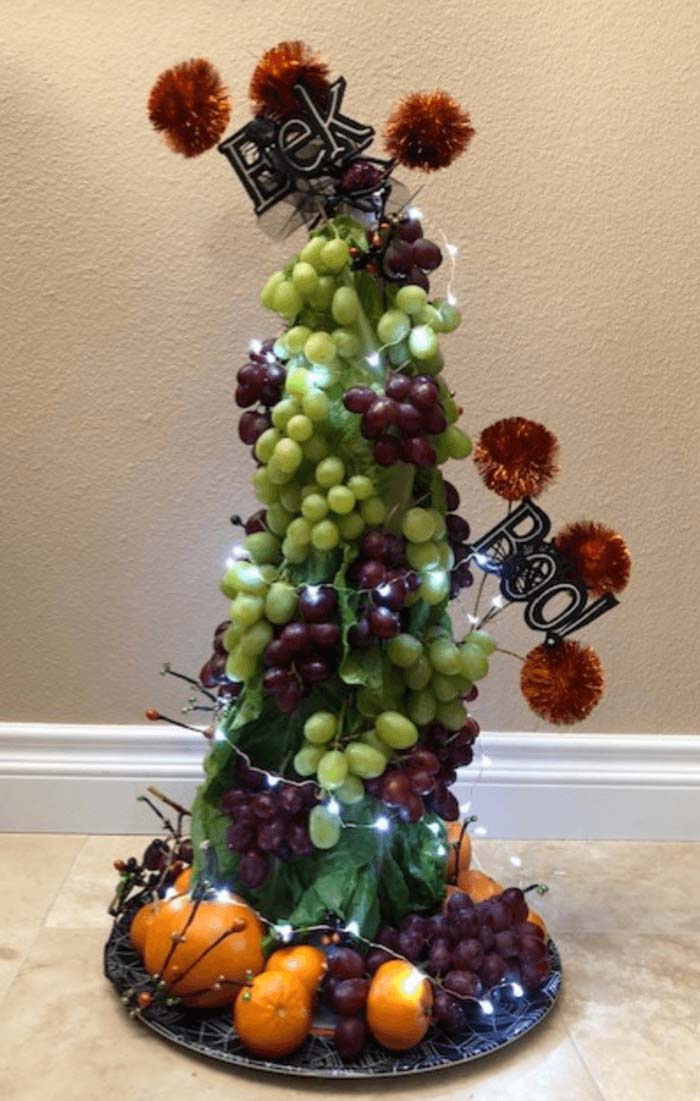 Create a topiary that tastes as good as it looks by using a clever material: grapes.
Purple and green grapes fit neatly into a classic Halloween color scheme — wrap your topiary in twinkle lights, add a few glittering pom-poms, and you have the perfect decoration for a costume party.
For an extra pop of color, add a few oranges or miniature pumpkins around the base.
12. Make Your Home Sparkle with Glitter Pumpkin Topiary

Dress up your front door with this pretty pumpkin topiary.
This design is all about the glitter: it covers every inch of the pumpkins. Add letters that spell "boo" for an adorable decoration that you'll use year after year.
Plastic pumpkins are the best material for this project; they're easy to coat in spray glitter.
13. Bring Halloween Cheer with Candy Topiaries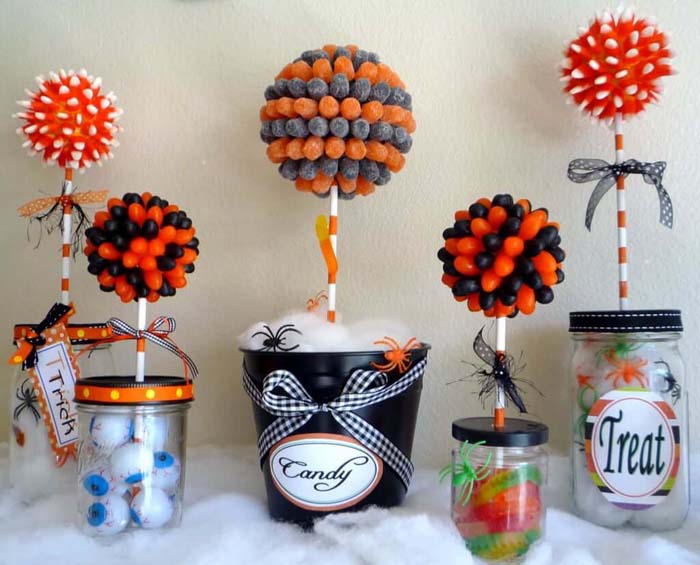 Are you hosting a Halloween party this year?
Stock up on colorful candy, and use it to make a variety of tabletop topiaries. Gumdrops, jelly beans, and candy corn work well; you can attach them securely to foam balls with toothpicks.
Keep costs in check by making bases out of an empty jam and pickle jars — fill them with tiny treats or creepy candies.
14. Transform Your Entryway with Geometric Pumpkin Design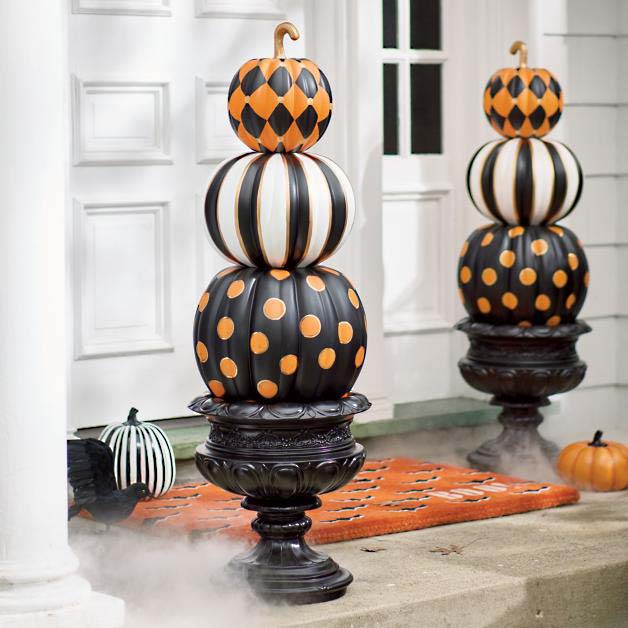 If you have a grand entryway, you need proportional pumpkin topiaries.
Stack a few large pumpkins on top of an oversized planter to make a big, bold statement. Geometric designs add a sophisticated twist to your seasonal decor.
via Grandinroad
15. Light Up Your Home with Stacked Pumpkin Topiary

When your local stores start putting out Halloween decorations, pick up four or five plastic pumpkins — they're the perfect material for this stacked topiary. The secret?
Drill holes through each pumpkin so it sits at an angle on the central dowel. For an extra-special touch, add battery-operated lights inside each pumpkin to light up your porch after dark.
16. Get Crafty with Hand Painted Halloween Topiary

Set your porch apart with a gorgeous hand-painted pumpkin topiary.
Classic colors, such as black, white, and gold, elevate the orange pumpkins. Paint on polka dots, or simply follow the natural lines of the squash to create vertical stripes.
Tie your topiary into your other fall decor by tucking golden leaves between each piece. Simple yet stunning, this decoration looks lovely throughout the autumn season.
17. Create a Lavish Look with Glitter Pumpkin Decor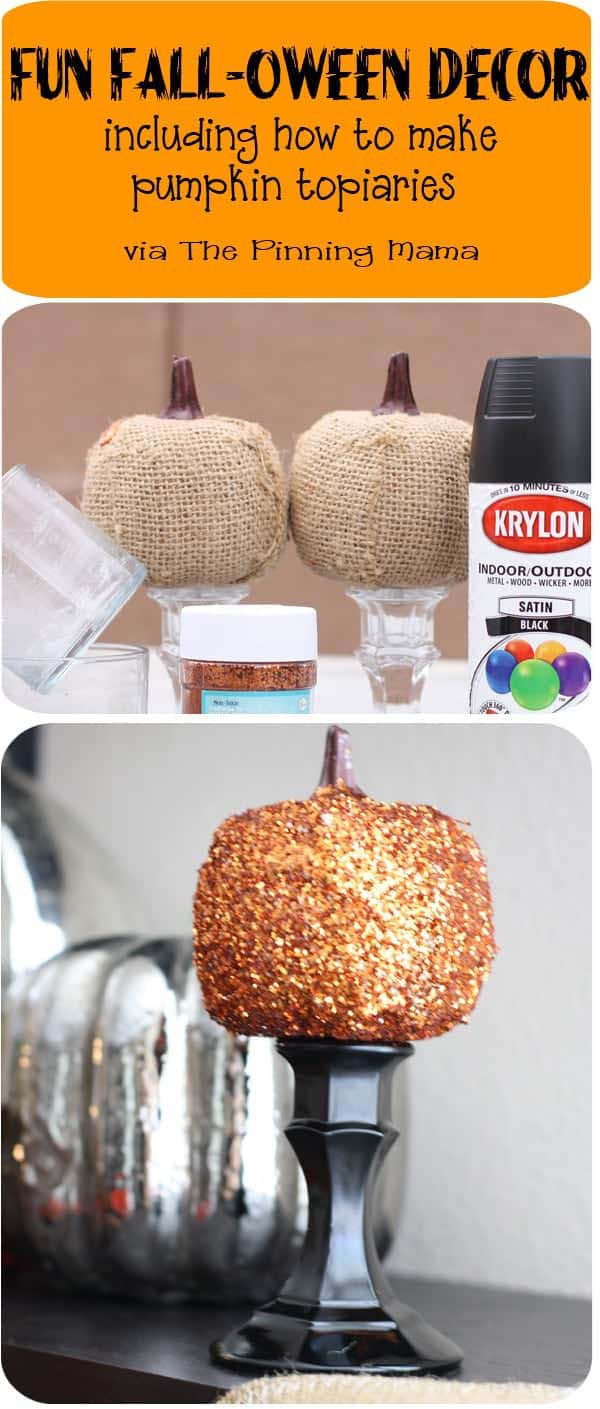 Do you need help making a miniature pumpkin topiary?
This handy guide can help. In fact, you may already have most of the supplies on hand — the project uses a candlestick base for a sophisticated twist.
Use your glittering topiaries outdoors, or place them on the dining table for a fun fall centerpiece.
via The Pinning Mama
18. Enchant Your Space with Lighted Halloween Topiary

What's better than a pumpkin topiary?
A glowing pumpkin topiary! This spooky design features a selection of tilted pumpkins, each with a different menacing expression.
Tuck in a small strand of battery-operated Christmas lights into each pumpkin, and the faces will come to life each evening. Paint your topiary black for a creepy effect, or stick to orange for a traditional vibe.
via DIY Candy
19. Stand Out with a Pumpkin Topiary Display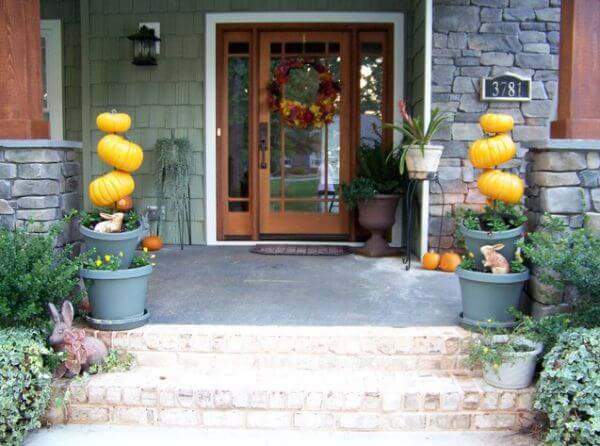 These gorgeous topiaries are festive works of art. The secret is in the angles — the top planters and pumpkins tilt in different directions, bringing life and interest to each piece.
We love the live plants and the adorable artificial bunnies, which enhance the natural colors and textures of the squash. Set up these topiaries a few weeks before Halloween, and you can leave them up until Thanksgiving.
20. Be Bold and Creative with Stacked Pumpkin Topiary

Sleek and chic, this pumpkin topiary is stunning in its simplicity. It's all about the color; the bright orange pumpkins create a striking contrast with the black feather boa.
Mount your topiary in a tabletop planter, a bucket, or any other container you have on hand — it'll look lovely indoors or on your front steps.