Halloween is packed with exciting decorating opportunities — whether you're going for cute and kitsch or blood and gore, the possibilities are endless.
Are you looking for easy ways to spruce up the house for the holidays without breaking the bank?
The dollar store is a fantastic place to shop.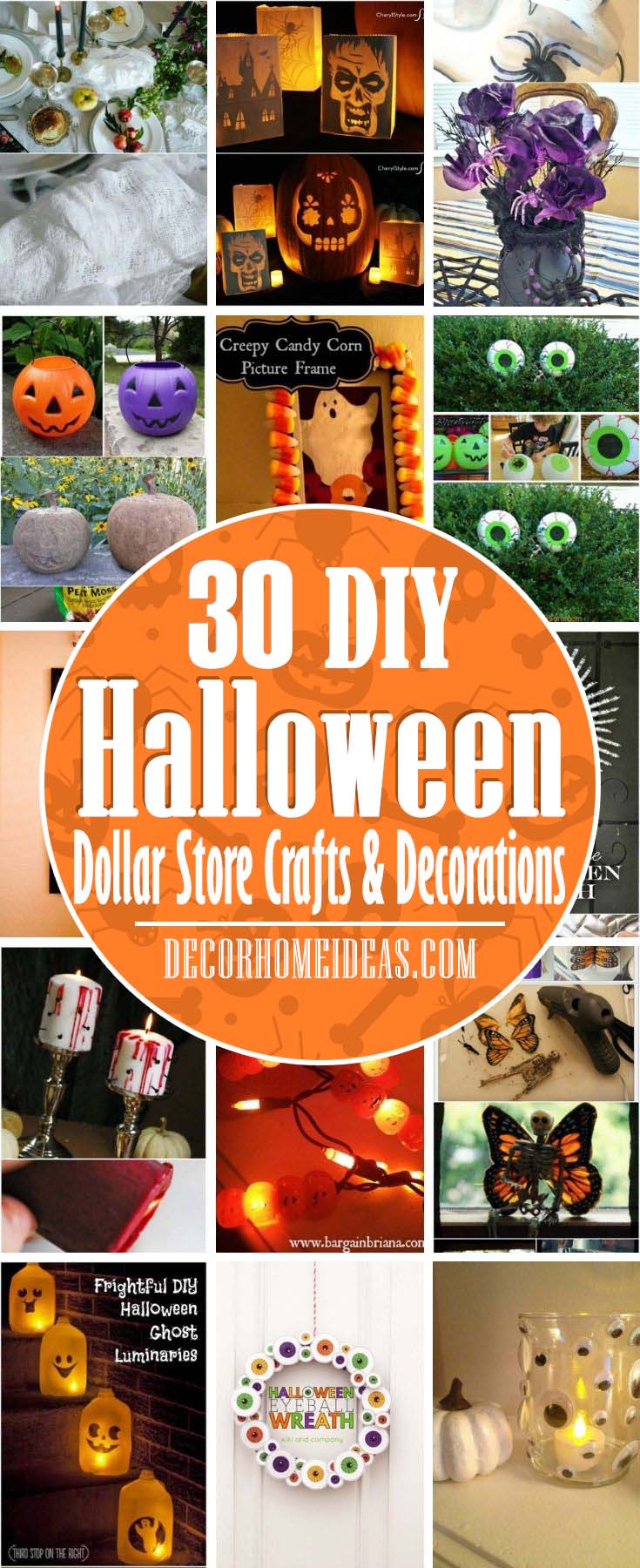 These 30+ clever crafts are the perfect way to celebrate the spooky season.
1. Create Creepy, Bleeding Candles for a Spooky Halloween Décor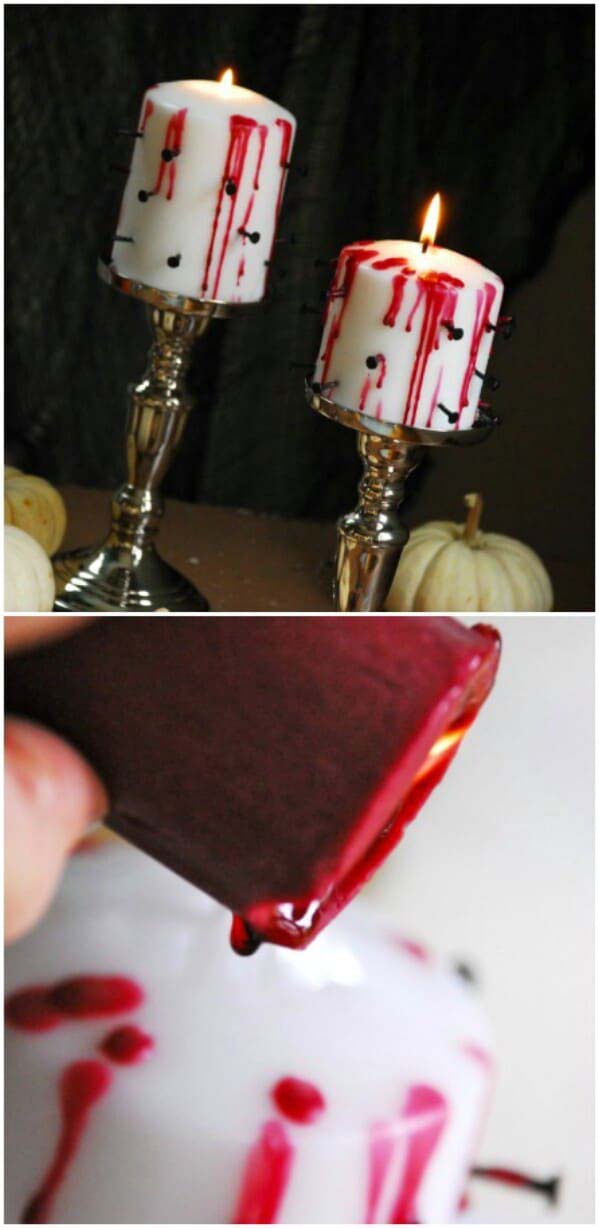 Creepy bleeding candles are a fun and unexpected way to decorate for Halloween.
Stick a few nails into cheap dollar store candles, add some red wax, and you have a creative accent for a haunted house or an evening meal.
via Family Chic
2. Transform Your Glass Candle Holders with Fun DIY Decorations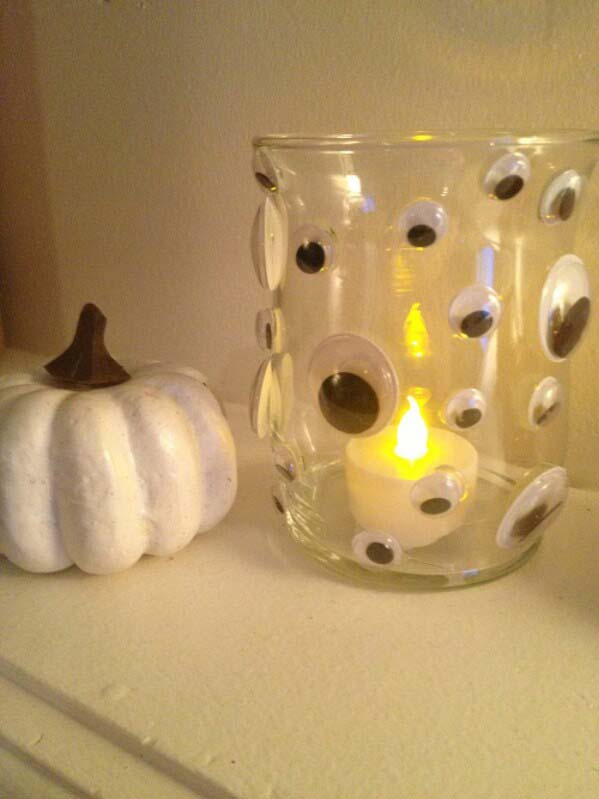 Want to dress up your glass candle holders?
Buy some self-stick plastic eyes and apply them to the outside of the glass.
After Halloween, just pull off the eyes for easy cleanup.
One tip: use battery-operated tea lights to prevent the heat from releasing the adhesive.
via Bargain Brianna
3. Create a Halloween Frame with Candy Corn and a Fun Photo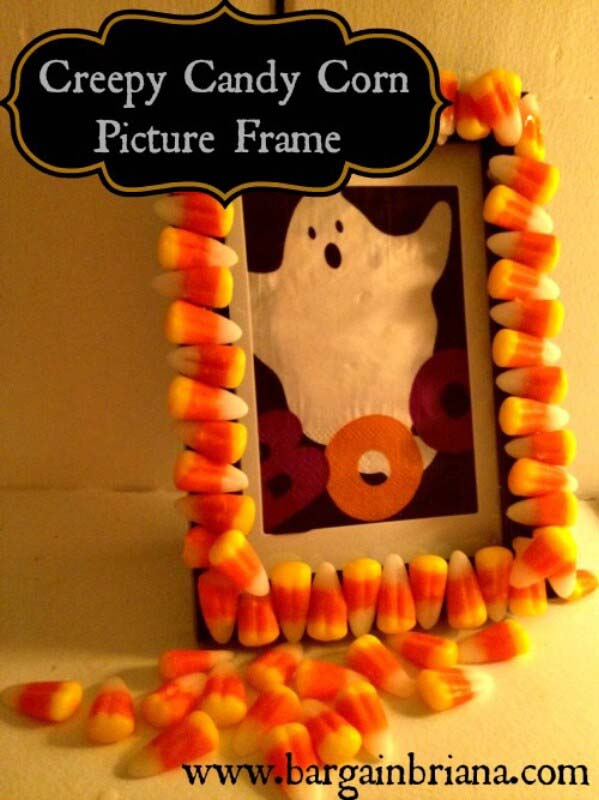 Get your kids in the mood for Halloween with a fun and festive frame.
All you need to do is glue candy corn to the outside of a cheap frame.
Insert a photo of the little ones in a favorite costume, or use a fun graphic from a magazine.
via Bargain Brianna
4. Create Creative Concrete Pumpkins to Spruce up Your Porch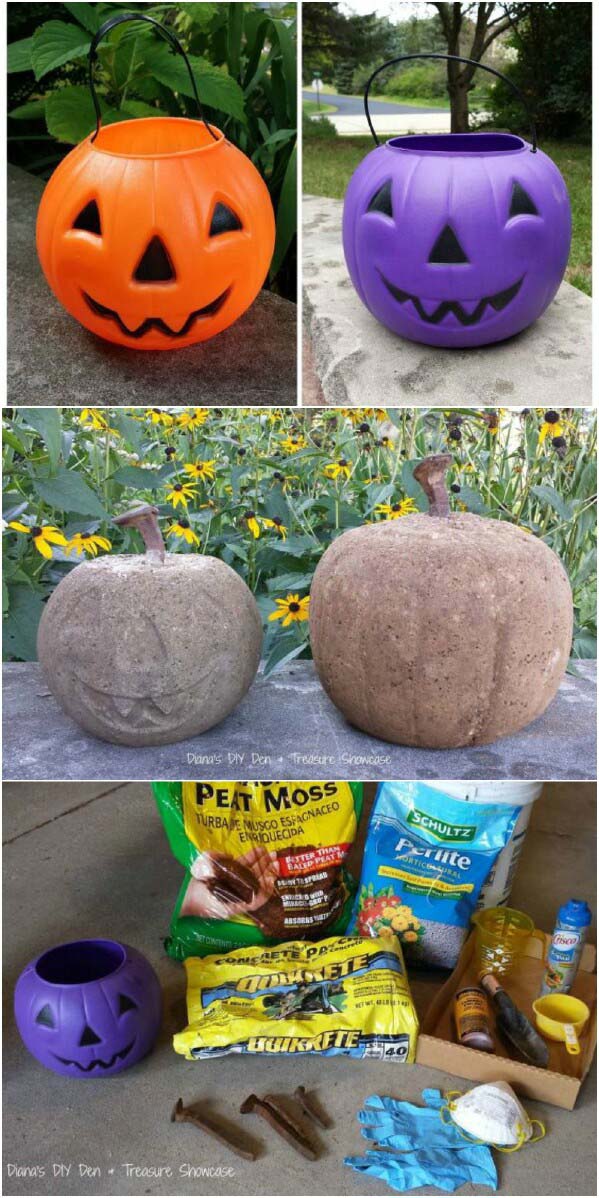 Do your front porch pumpkins start to look tired before Halloween?
These creative concrete pumpkins are the ideal solution.
You can make them using inexpensive supplies and break them out year after year. It's a craft that keeps on giving.
via Hometalk
5. Create a Spooky Ambience with DIY Fall Votive Candles

Delight your fall visitors with these super-creepy votive candles.
They look old and ghostly, but they're remarkably easy to make.
The trick is to cut the eyes out neatly to create a truly otherworldly effect. Make one or a whole collection.
via Cheltenham Road
6. Make a Spooky Halloween Wreath with Dollar Store Decorations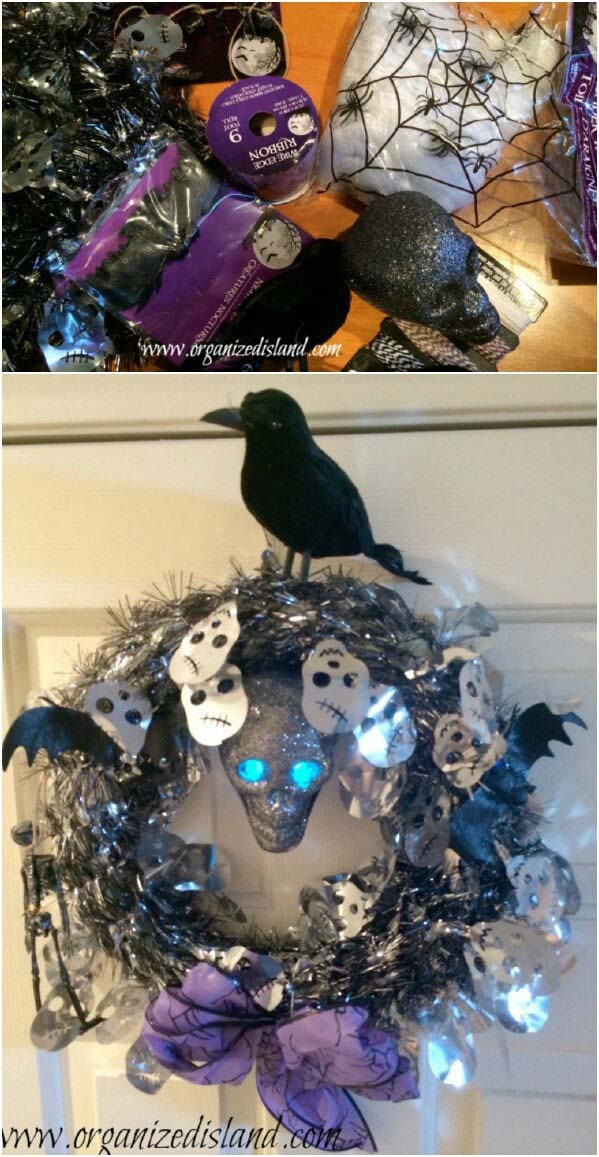 There's nothing like a wreath to dress your home for Halloween.
This fun project uses any garland and small decorations you can find at the dollar store. It comes together quickly, and requires no special skills.
We love the crow topper.
via Organized Island
7. Elevate Your Home with a Stylish Foam Pumpkin Tray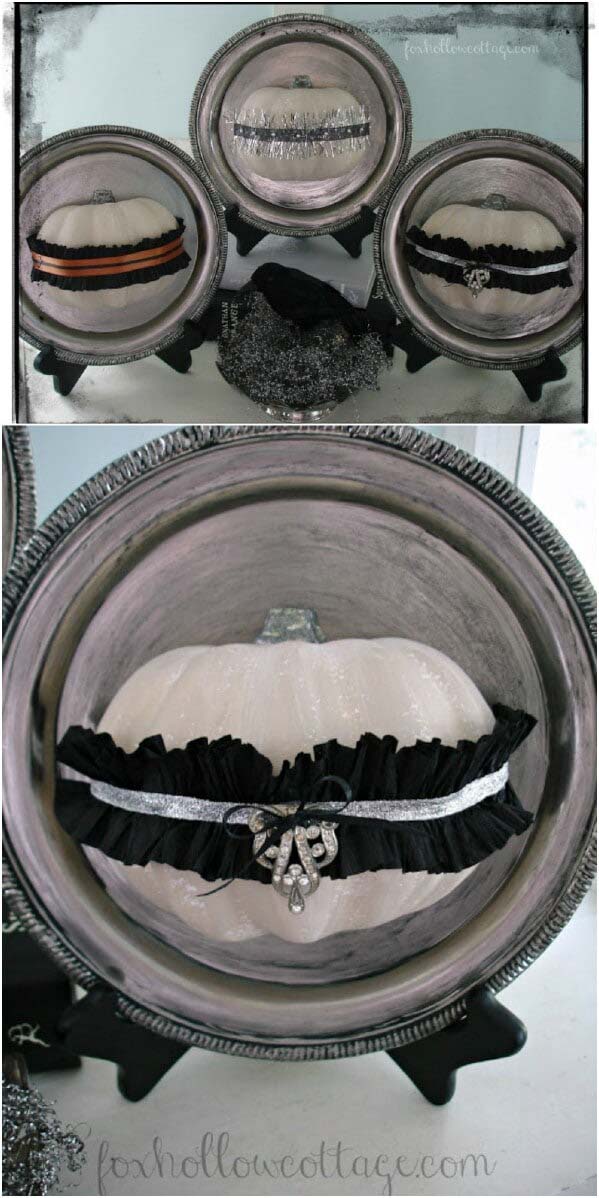 If you're going for chic Halloween decorations, try this lovely pumpkin project.
You'd never guess from looking at it, but it uses foam pumpkins and an inexpensive serving tray from the dollar store.
A few embellishments and you have a gorgeous decoration that elevates your home.
8. Spook Up Your Home Décor with Ghost-Faced Candles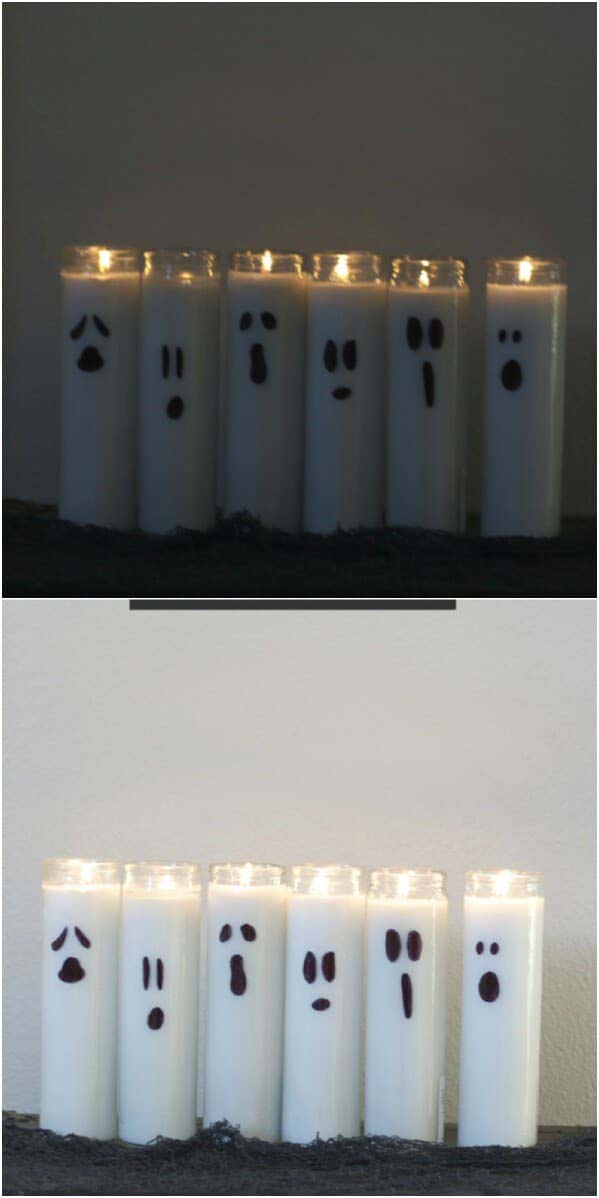 These adorable ghost candles are the perfect way to update your lighting scheme for the holidays.
The best part? Any white candle will do — just add a spooky face to complete the look.
Mix and match sizes for an eclectic effect, or go with identical candles to highlight the different faces.
9. Decorate with Affordable Dollar Store Halloween Candles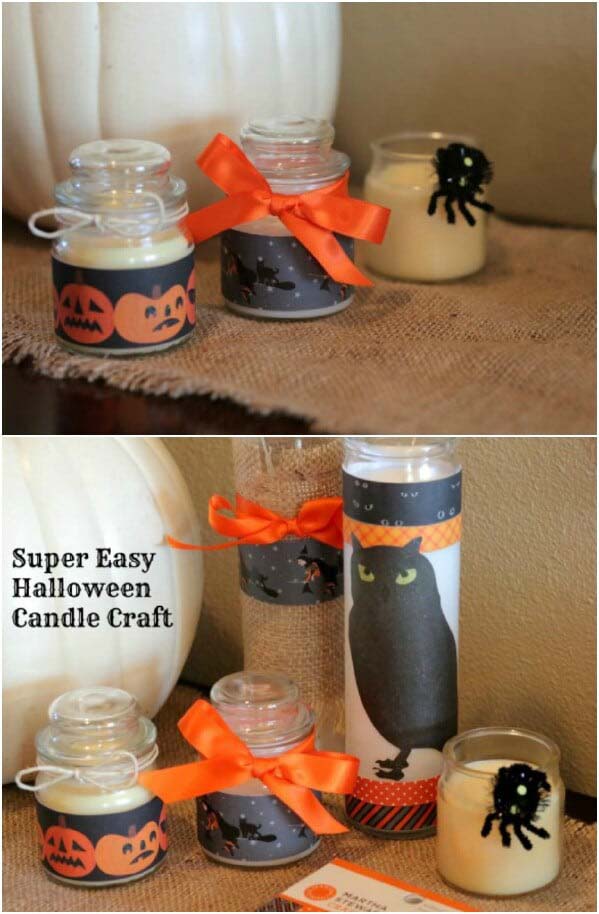 Here's another fun Halloween candle craft to jazz up your space.
To start, pick up a few cheap candles at the dollar store. Then, wrap them in ribbon, Halloween paper, or even plastic spiders.
Scatter them around the house and watch the compliments roll in.
10. DIY Eyeball Wreath for Your Doorstep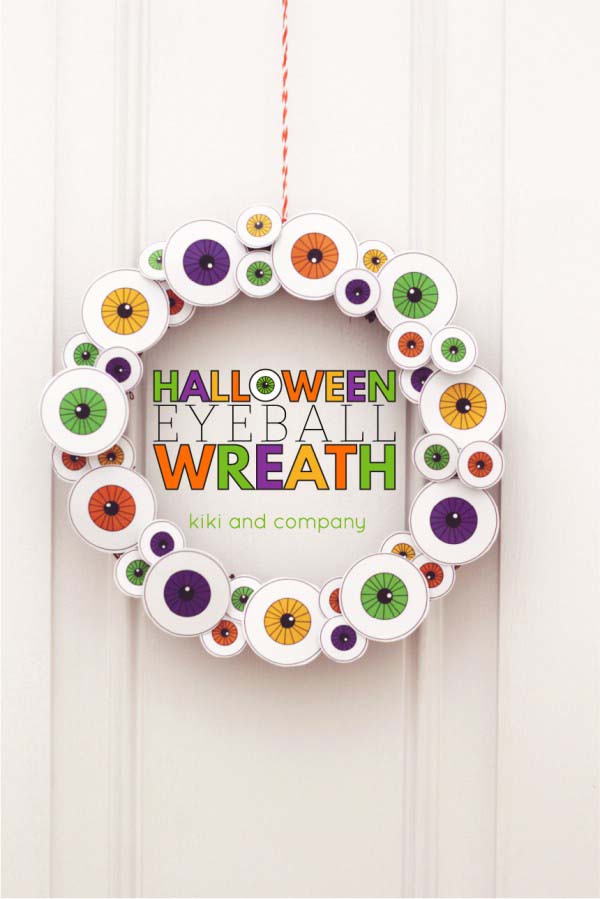 A little bit fun and a little bit creepy, this eyeball wreath is a completely surprising way to decorate.
The eyeballs are printed, so there's no artistic skill required. Just hot-glue them onto a cheap wreath form and hang it on your door.
11. Create a Spooky, Antiqued Ghost Mirror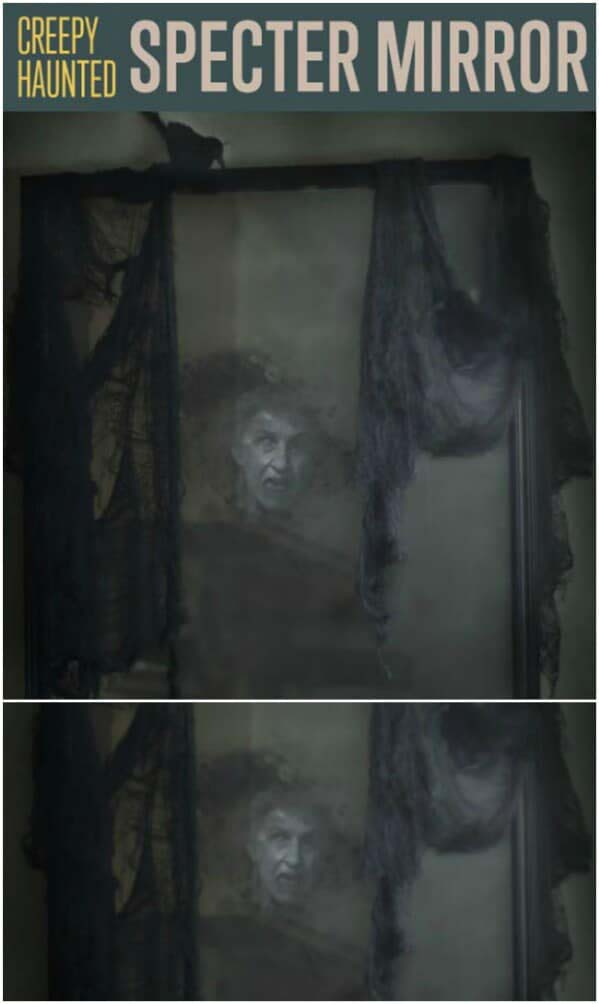 Your guests will definitely look twice at this funky ghost mirror.
It looks complicated and antique, but you can make it with a thrift-store picture frame and a few cheap Dollar Tree supplies.
Leave a bit of time for this project, but don't worry about perfection — it looks even better with a few rough edges.
via DIY Projects
12. Make a Spooky Table Setting with a Ghostly Tablecloth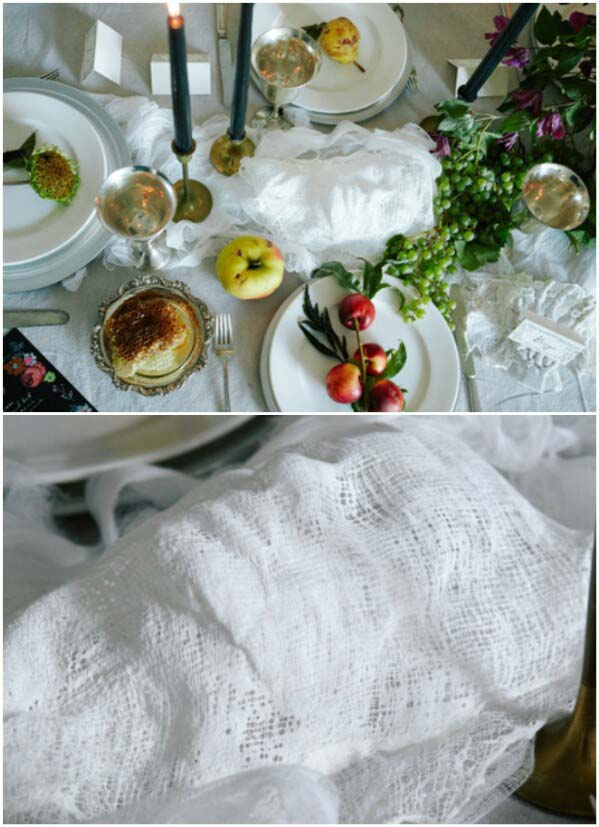 Turn a table setting into a decoration with a tablecloth with a ghostly face.
Watch as your dinner guests realize that the lovely cloth is actually hiding a "ghost".
This project uses a face form, which you can find at most craft stores. You can also use an old doll for an extra dose of creepy fun.
13. Craft Spooky Halloween Frames with a Thrifty Twist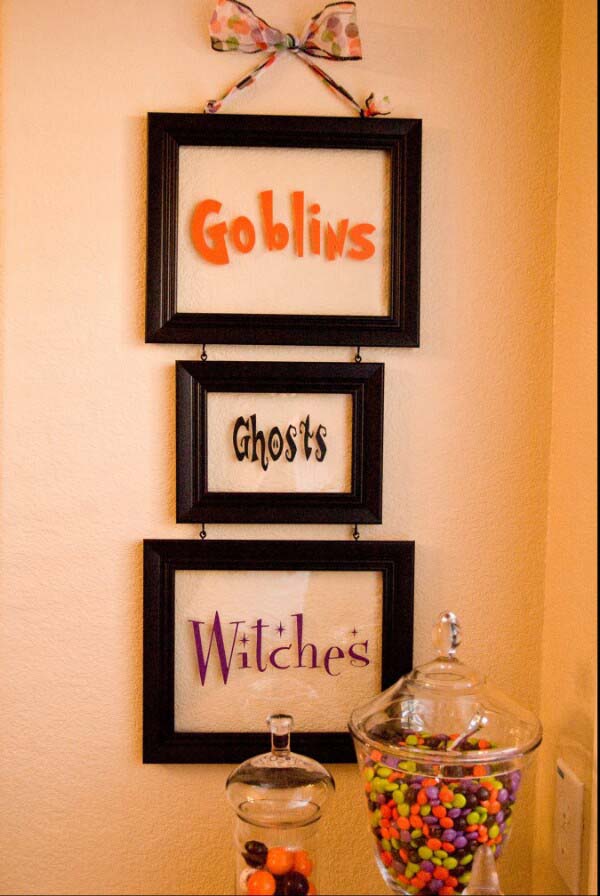 Cute and crafty, these Halloween frames are a charming way to get in the mood for the holiday.
Start with thrift store or Dollar Tree frames, and add your own words. There's plenty of freedom to try out different options.
14. Spooky Owl Silhouette Platter for Halloween Décor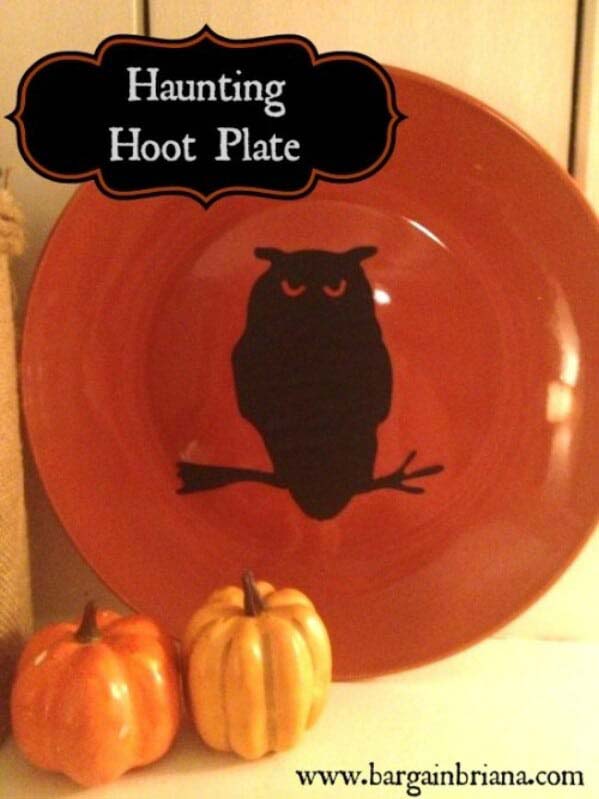 What's spookier than a dark owl silhouette?
Here, you can create one on a large serving platter. Just grab a cheap plastic or glass version from Dollar Tree.
Use it as a server or simply set it on a shelf to bring a bit of color to the season.
via Bargain Brianna
15. Build a Halloween Village with Dollar Tree Figurines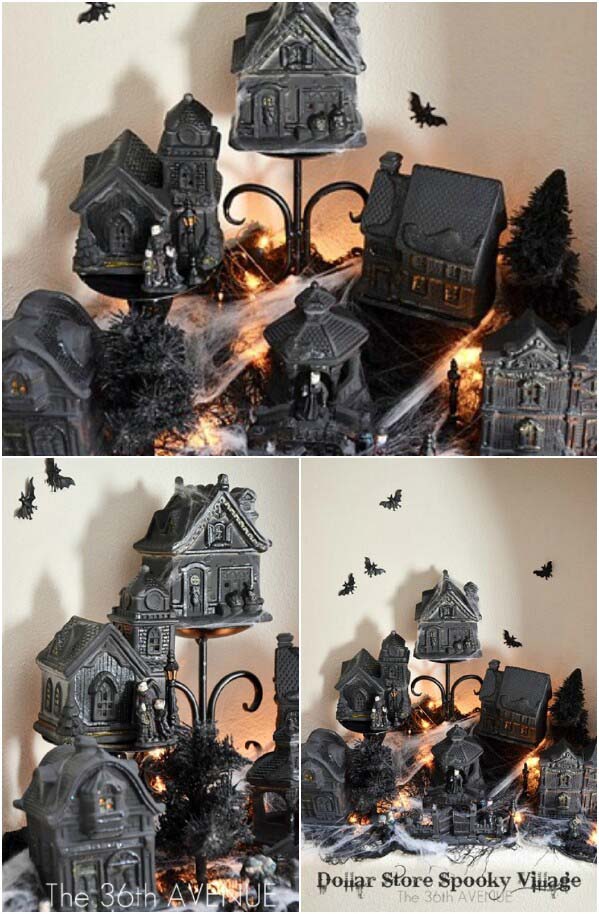 You've seen Christmas villages — but have you ever thought of creating a Halloween version?
A coat of paint turns Dollar Tree Christmas figurines into a spooky, charming village that your family will look forward to every year.
via The 36th Avenue
16. Create a Halloween Wreath with Dollar Tree Faux Crows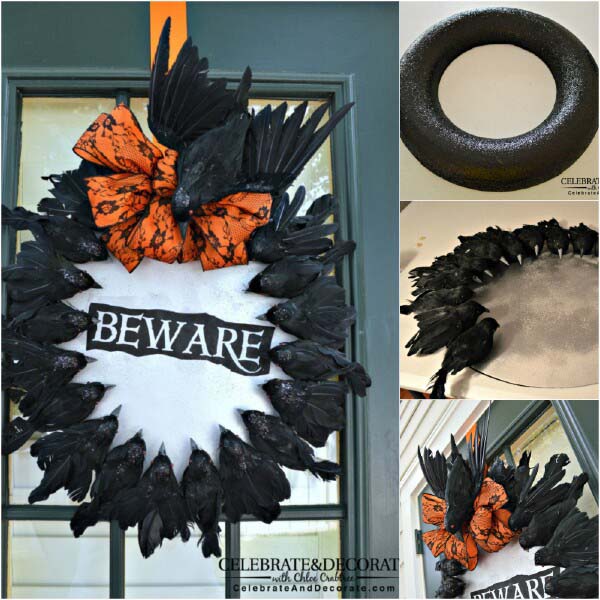 Have you ever seen the faux crows at the Dollar Tree?
This hilarious DIY wreath puts them to good use.
Stock up on a whole collection of pitch-black birds to create a horror-inspired door decoration.
17. Transform Your Front Porch with a Witch Prop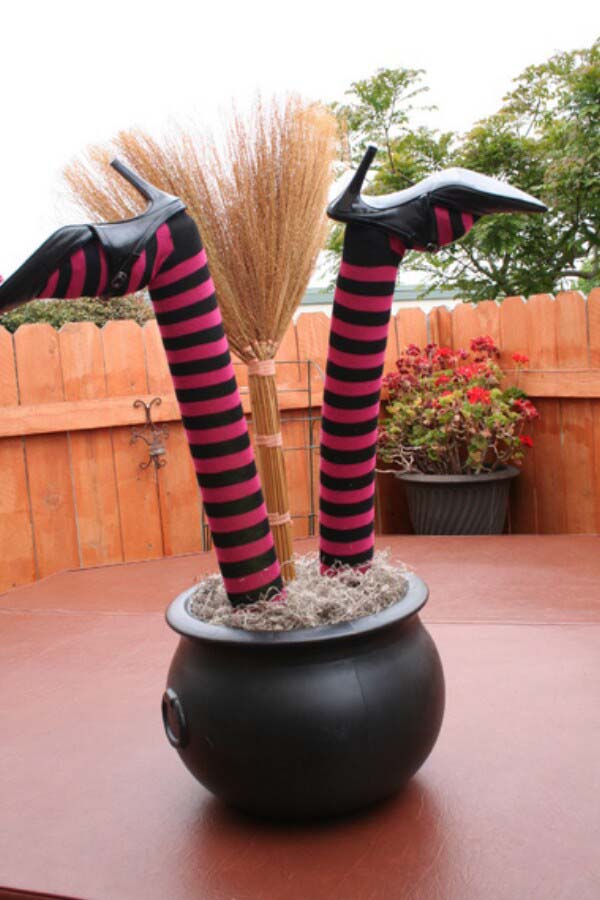 Turn your front porch into a fun and festive area with this fun DIY witch prop.
The "legs" sticking out of a pot make it look like a witch has crashed into the cauldron on her broom.
Get creative with striped stockings, and add thrift-store heels to complete the look.
via Halloween Forum
18. Welcome Trick-or-Treaters with a Metal Skull Knocker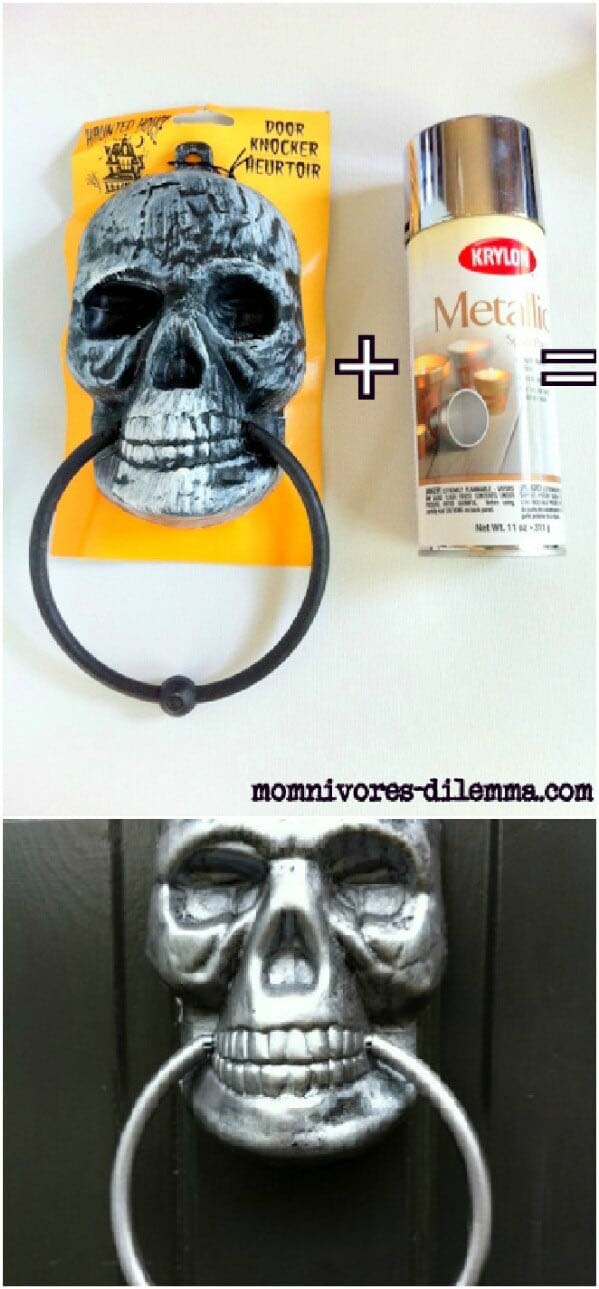 Are you getting ready for trick-or-treaters?
Welcome them with a metallic skull knocker.
This project is fast, inexpensive, and effective — you might find that kids return again and again just to try it out.
19. Make Adorable Ghosts From Milk Jug Luminaries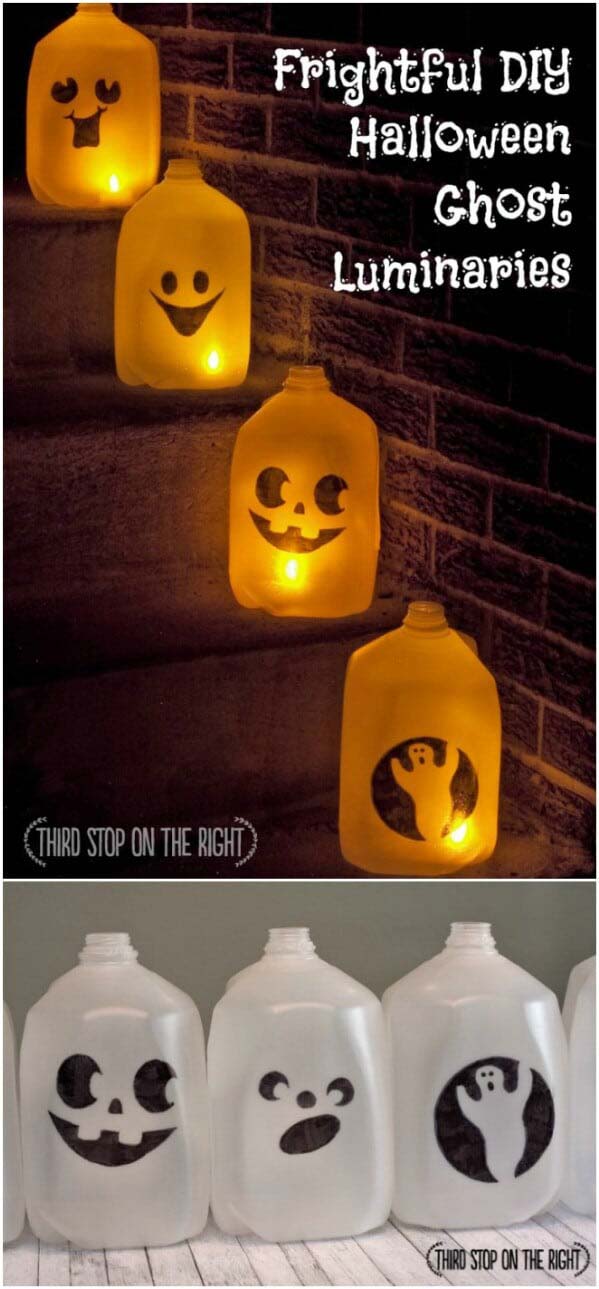 Help Halloween visitors see your home with a row of glowing luminaries.
These sweet ghosts are so adorable, no one will imagine that they're made from milk jugs.
Start saving your milk containers now, and you'll be ready for a cheap, easy craft at Halloween.
20. Create DIY Luminaries with Dollar Store Supplies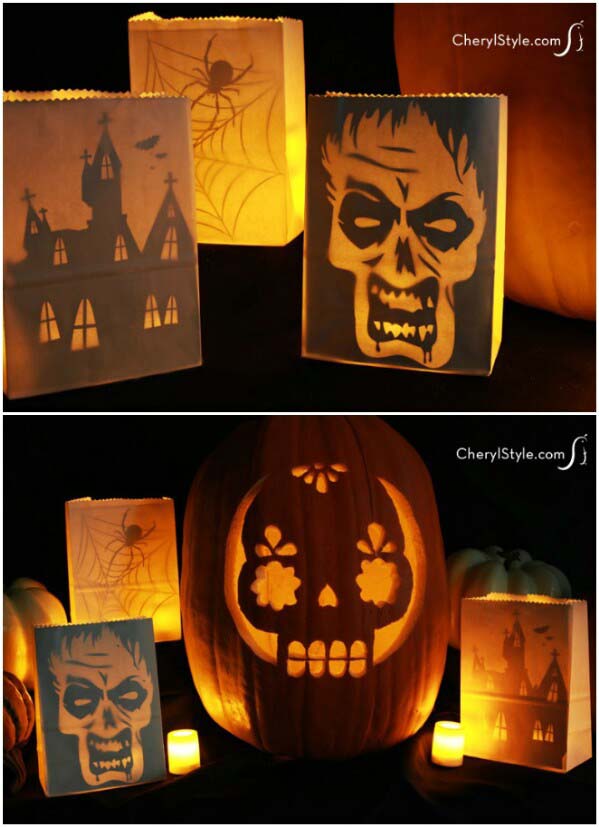 Achieve professional-looking luminarias in no time with these super-cute printables.
Just pick up a pack of lunch bags and battery-operated candles from the dollar store, and you have everything you need.
via Everyday Dishes
21. Transform Old Lights Into a Spooky Pumpkin Glow Decoration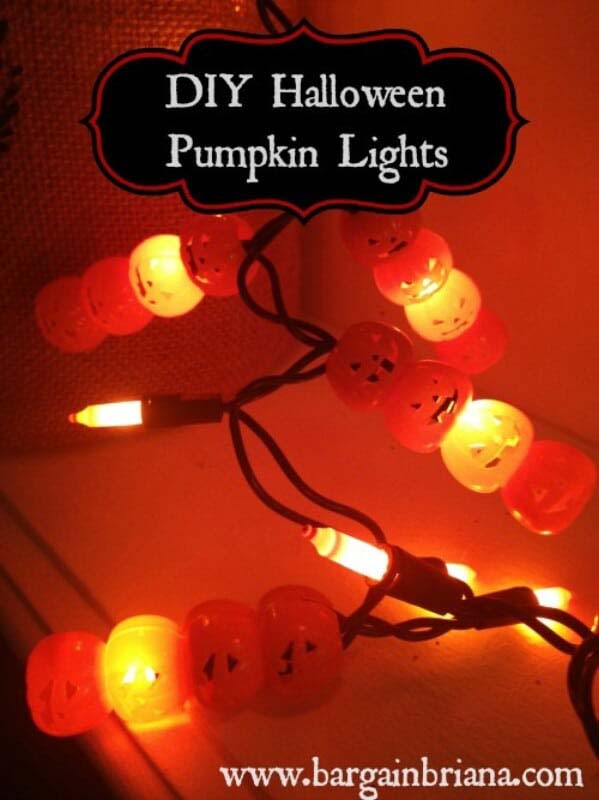 Do you have some old Christmas lights in a bin or drawer?
With the tiny pumpkins off of a pack of Halloween straws, you can turn them into a beautiful, glowing decoration.
Best of all, there's no need for gluing or sewing.
via Bargain Brianna
22. Create Enchanting Skeleton Fairies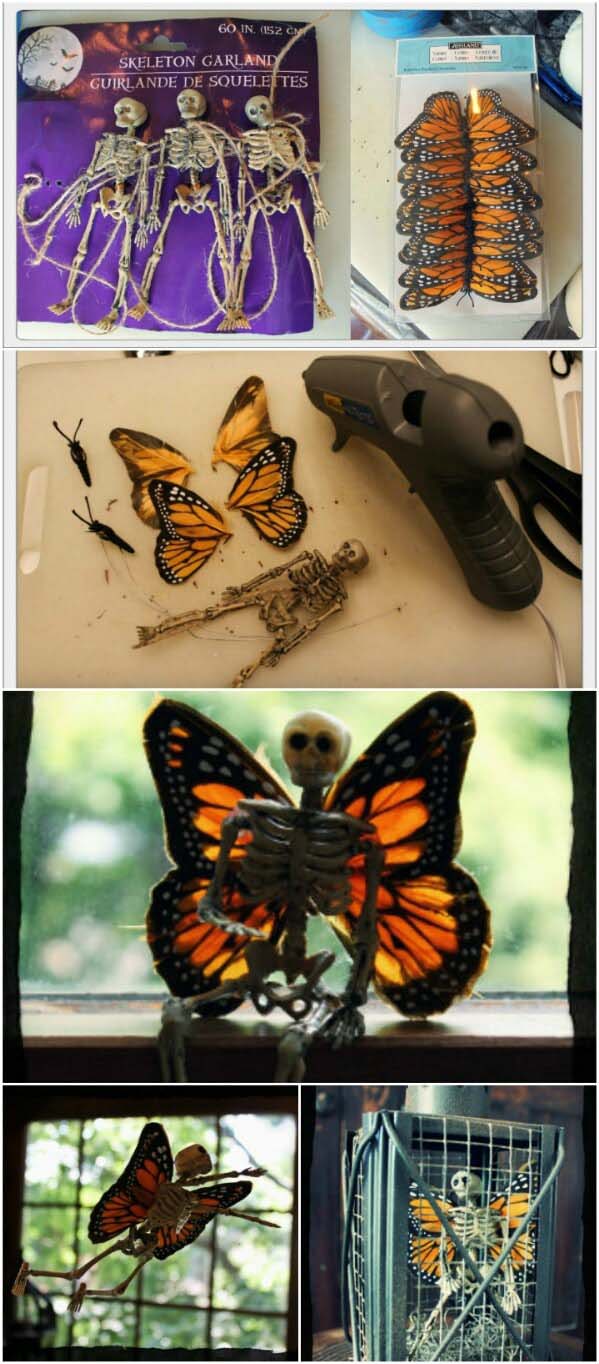 You'll smile every time you walk past these skeleton fairies, which appear to float on butterfly wings.
This is a super-fast craft project that's fun to do as an adult or with kids.
After the glue dries, stick the fairies to the window or hang them as a garland.
via Halloween Forum
23. Stand Out at the Party with a Skeleton-Hand Necklace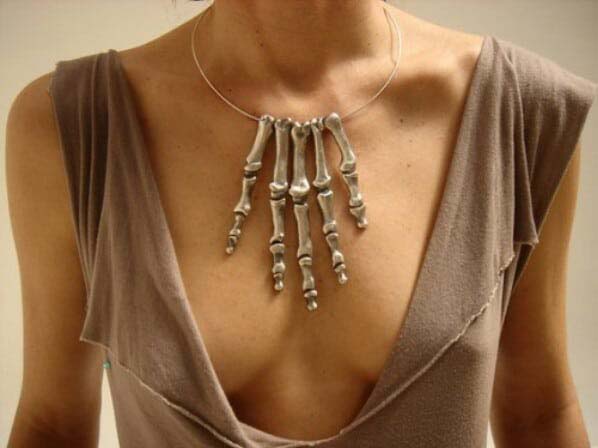 Planning to attend a Halloween party?
This skeleton-hand necklace ensures that you're the star of the show.
It looks gorgeous with a variety of necklines, so you can wear it with a typical shirt or a Halloween costume.
24. Stunning Skeleton Hand Wreath for Eerie Décor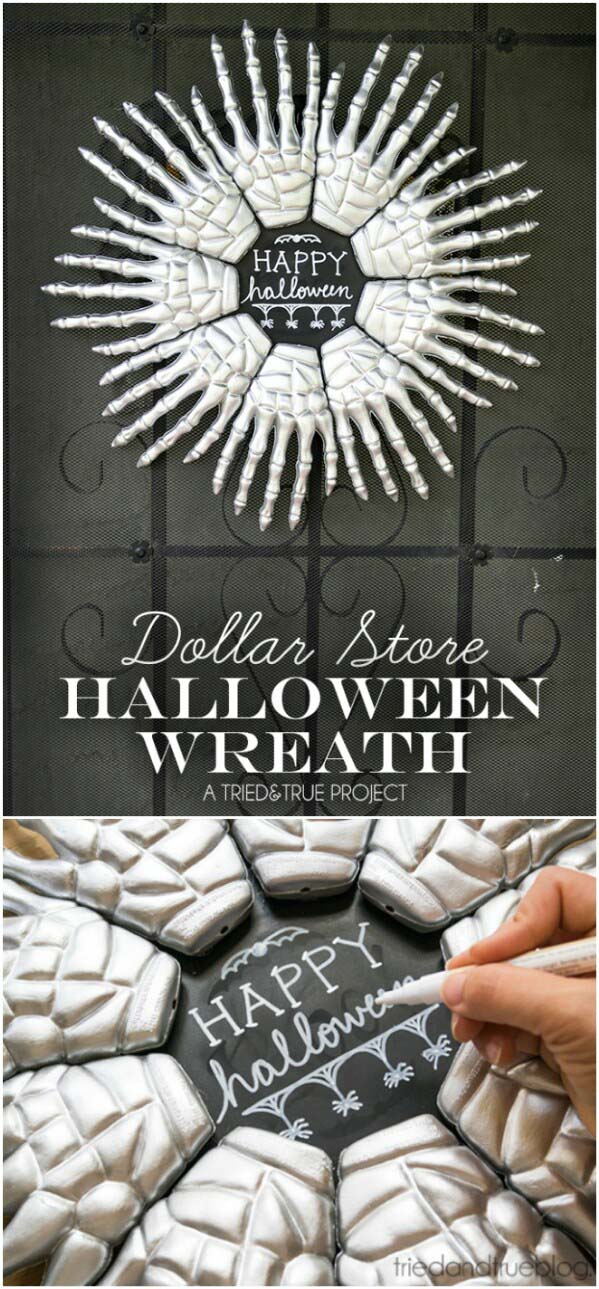 How beautiful is this skeleton hands wreath?
The bony fingers face out, creating a stunning starburst effect.
It's only when your visitors look closely that they'll realize that each ray is a creepy finger.
25. Illuminate Your Home with Glittering Skull Candle Holders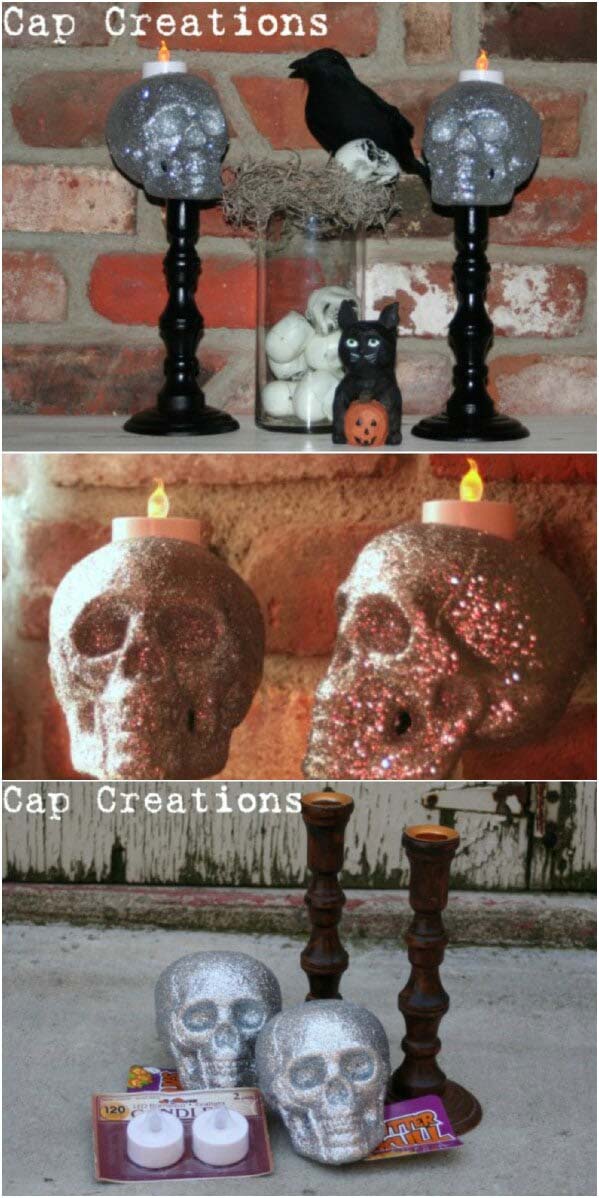 Bring a bit of sparkle to your Halloween with these skull candle holders.
Each one shimmers beautifully in the light, adding a glamorous touch to a mantle or table.
via Cap Creations
26. DIY Spooky Spider Vase for a Halloween Buffet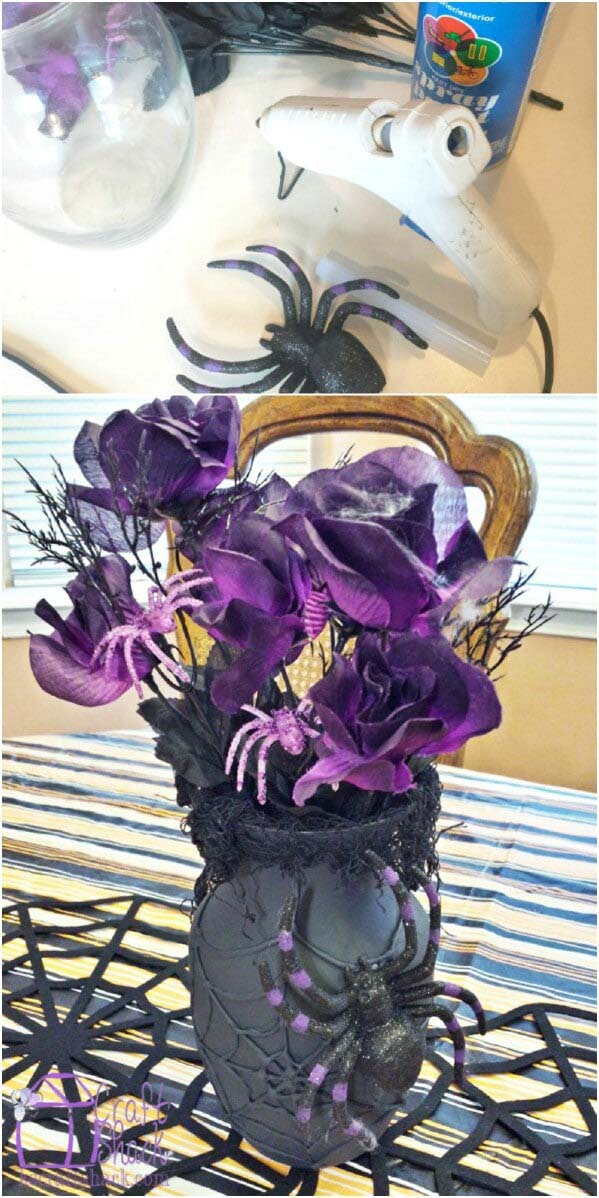 Host a Halloween buffet with the help of this DIY spider vase.
At first glance, it looks like a lovely, spooky vase of purple flowers — and when you get closer, you'll see the spiders hanging out among the blooms.
27. Transform Pumpkins into Spooky Eyesores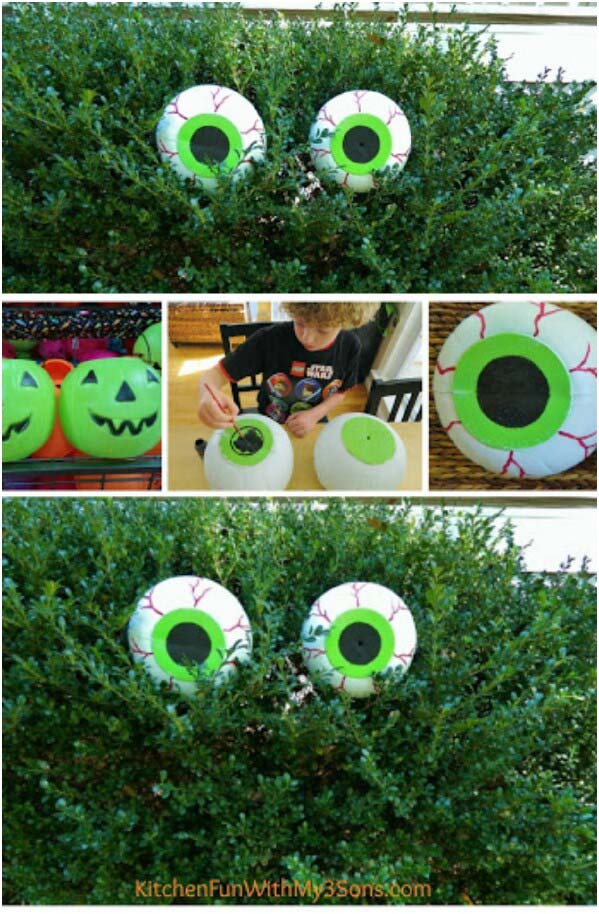 Do you ever feel like someone's watching you?
This adorable craft will delight your neighbors at Halloween.
It's made with affordable Dollar Tree pumpkins; the bloodshot vein lines complete the effect.
via Kitchen Fun With My 3 Sons
28. Exhibit Your Floral Arrangement with a Skeleton Vase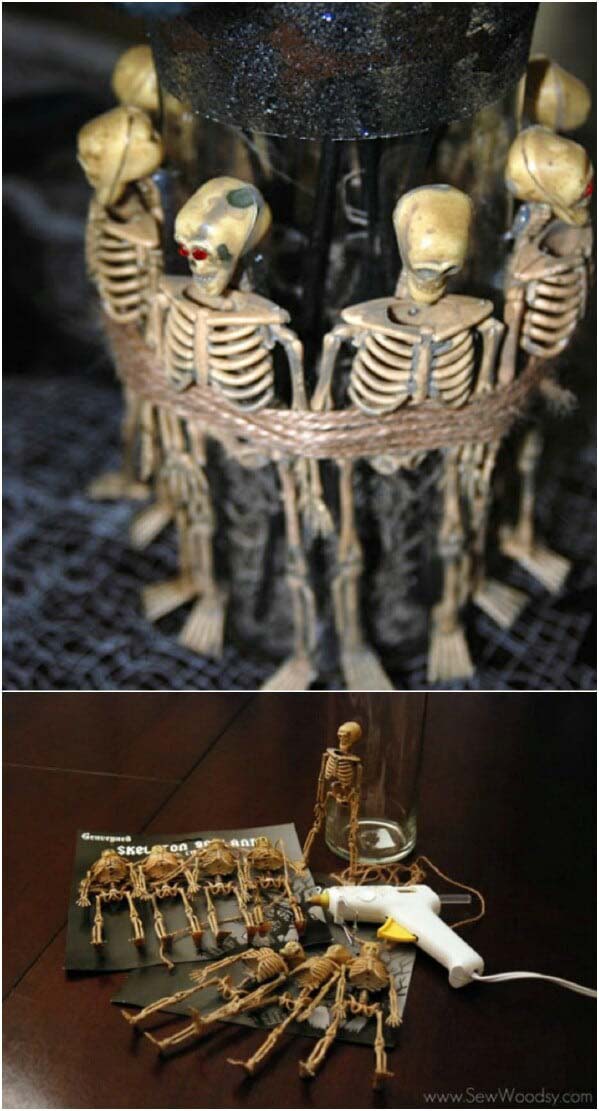 Display a bouquet of flowers in style with this skeleton vase.
A string of tiny skeletons march around the exterior, peering out at your guests.
Leave the skeletons as is, or spray paint them for extra impact.
29. Transform Foam Pumpkins into Chic Stacked Porch Accents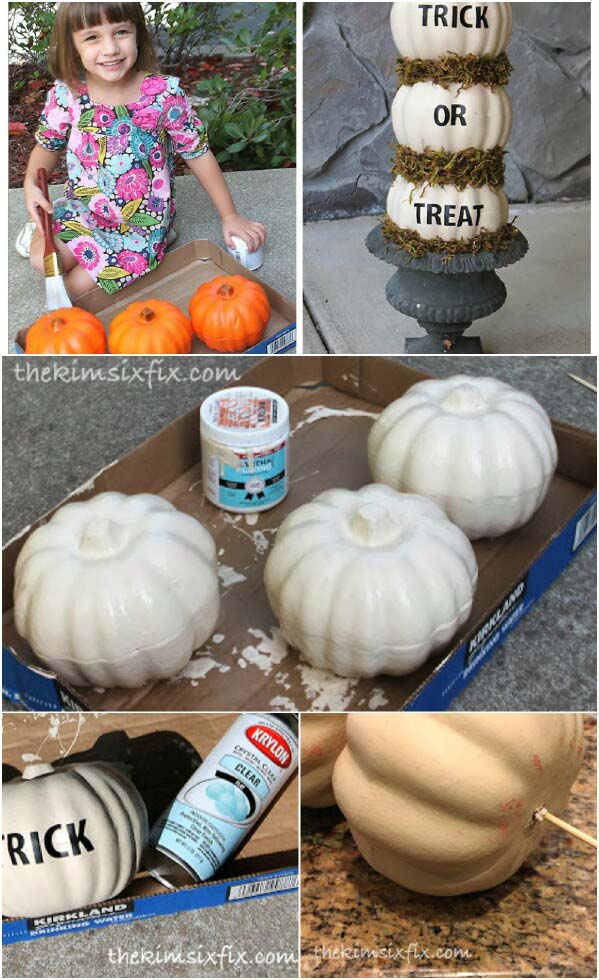 This pumpkin stack is so chic, you'd never know it started with inexpensive Dollar Tree foam pumpkins.
A bit of paint, moss, and stenciling turns three pumpkins into a cute porch accent.
via The Kim Six Fix