Halloween is just around the corner! Is your holiday decoration ready?
If you haven't decided how you are going to dress your home for the spooky holiday, we have gathered a collection of a few ideas for kids' room decor that will make the celebration remarkable.
Some of the ideas are DIY and can be easily made for almost no money. The rest are ready decorations that can be found at the local dollar stores or the craft shops.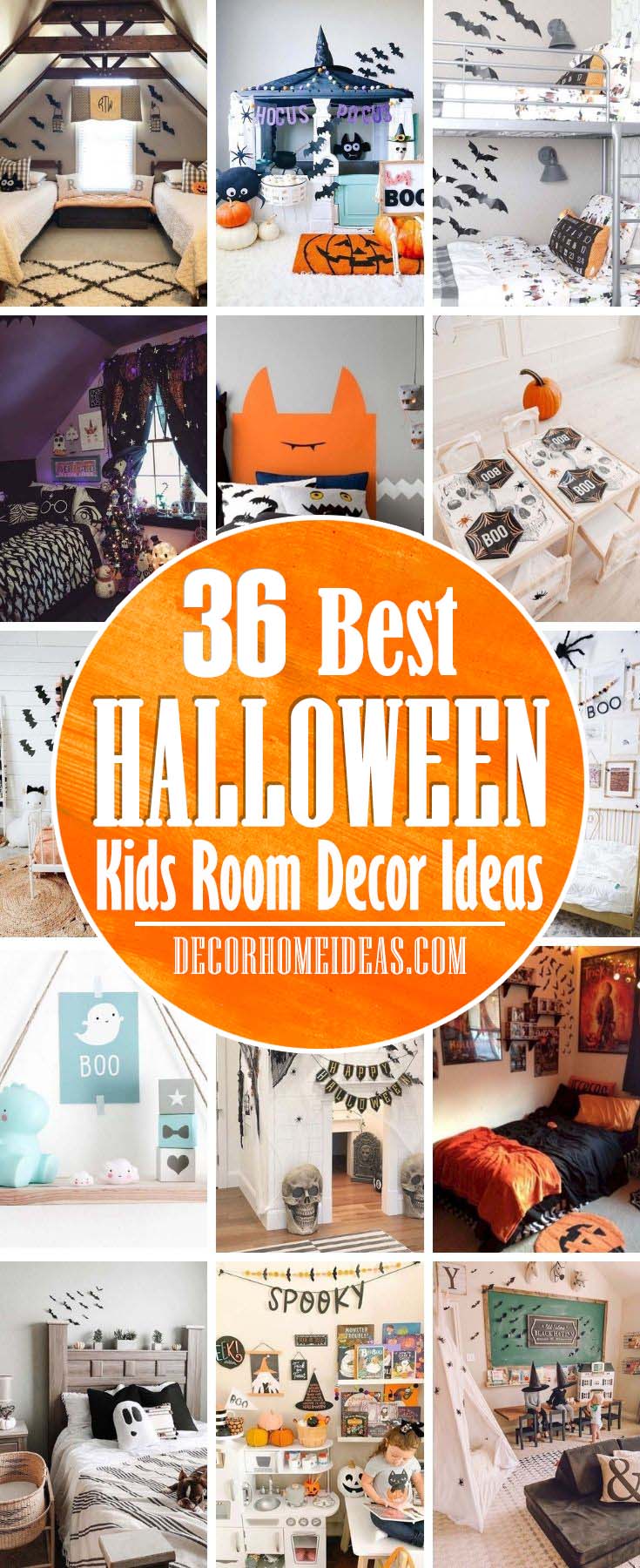 We promise that each of them will enhance the ghostly atmosphere and will ensure fun, joyful and irreplaceable memories not only of your kids but for the entire family.
1. Awesome Halloween Kids Playroom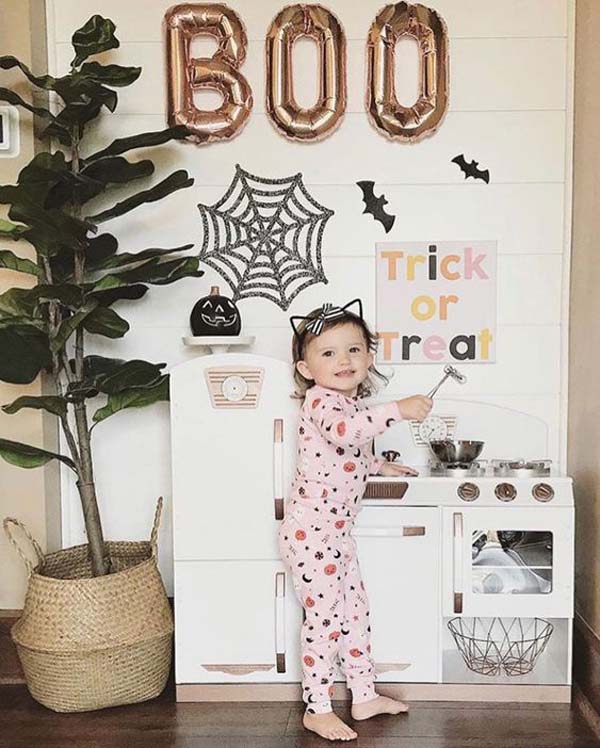 The digital prints on vinyl are very affordable. You can even find free downloads to cut on your Circut.
Add the traditional pumpkin and a balloon sign to complete the spooky set.
via Opal Plus Olive
2. Cactus Wall Art Halloween Decor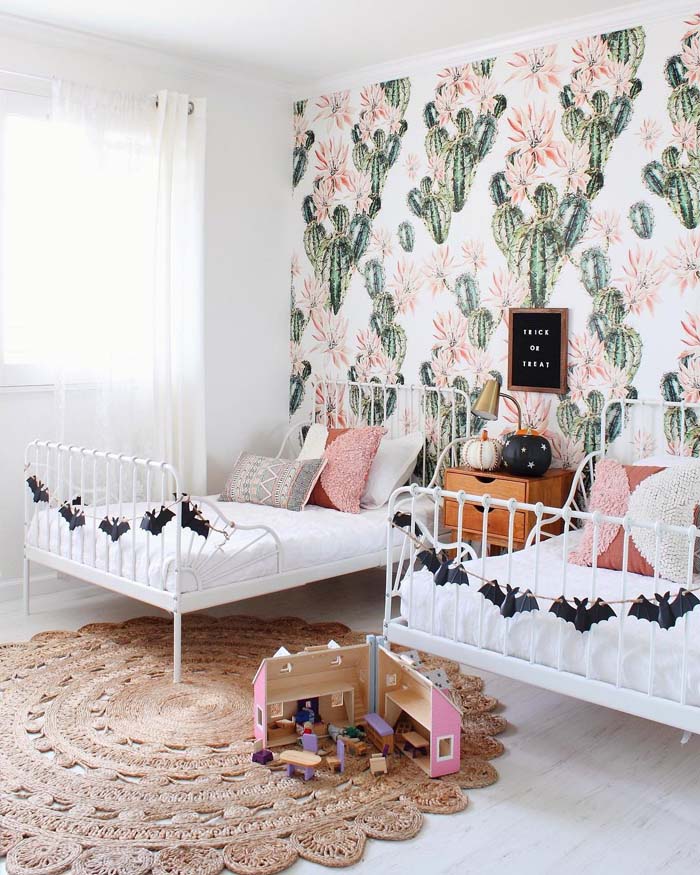 A garland with small bats is cute and easy to fic decoration. Place it around the metal bed frame or hang it from the chandelier.
If you want to increase the Halloween mood, arrange a couple of small pumpkins at the nightstand.
3. Cool Halloween Decor For Boys Bedroom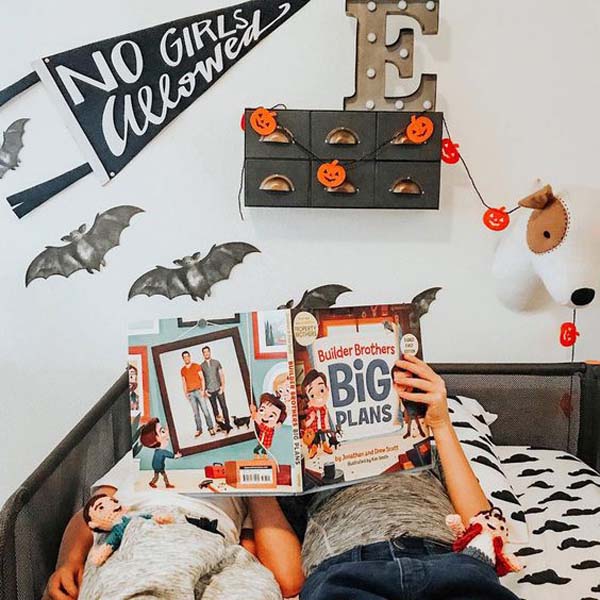 These smiling Halloween pumpkins will add a fun spooky mood to the bedroom. Making the garland is very easy and will take you less than an hour.
Prepare a pumpkin stencil (you can draw or print it) and use it to outline as many pumpkins as needed for the chosen length of the cord. They can be cut from craft paper, felt or cardboard.
via Sarah Erickson
4. Corner Halloween Playroom Decor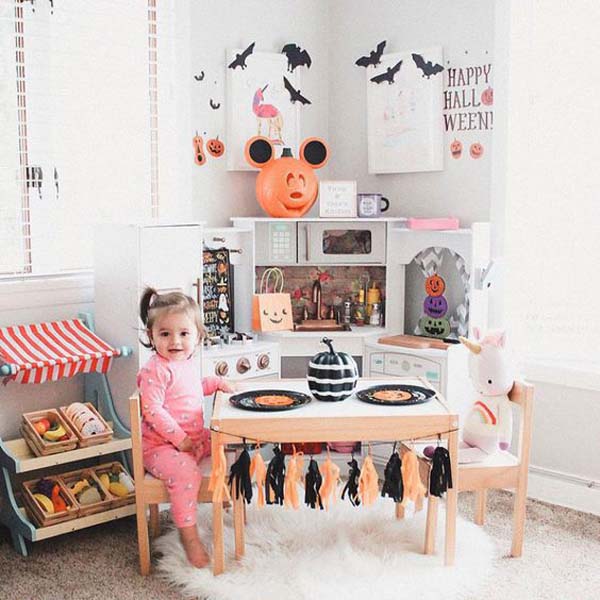 The traditional symbols of Halloween are used for this small girl's room decor.
The pumpkin smiles from a cardboard figure, from the dishes and from the wall. The bats are cut from black craft paper.
They are not entirely sealed onto the wall art to ensure a more realistic look.
via Teenzy
5. Cozy and Simple Halloween Room Decor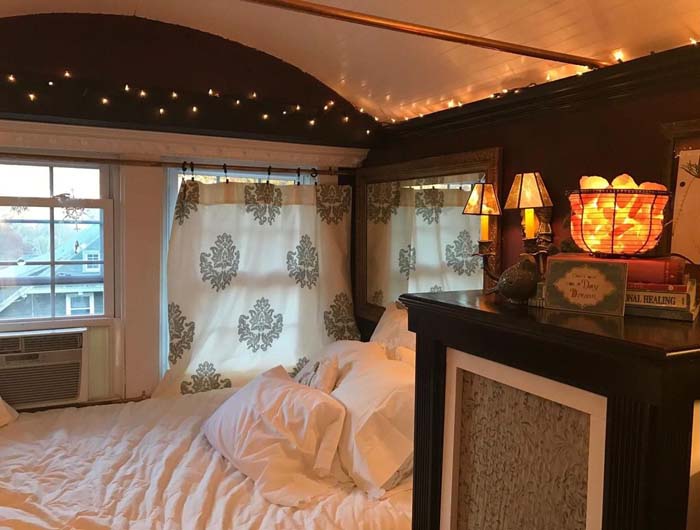 If you don't like the pumpkin and bat images, you can use the traditional Halloween color as a motif in the kids' room decor.
The useful and trendy Himalayan Salt Lamps will add warm orange nuances when lit.
6. Cute Halloween Bedroom Ideas For Little Girl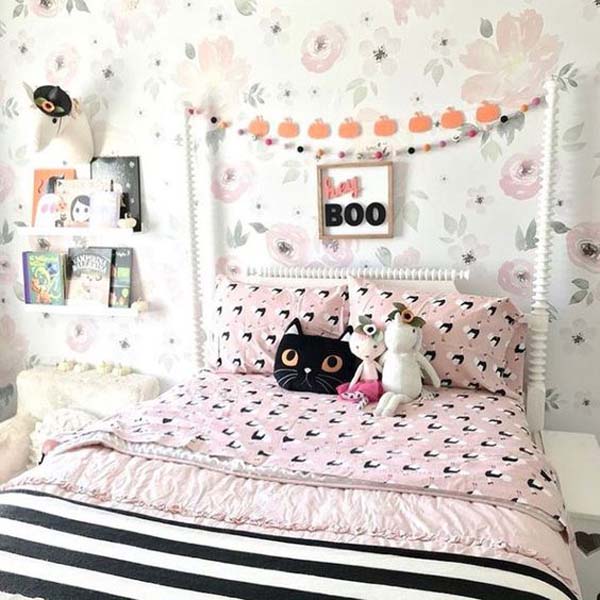 The kid's room doesn't need too much decoration to make it festive for the forthcoming Halloween.
A pumpkin garland and a small frame with volumetric letters placed right above the bed will be quickly noticed by your girl and will provoke a big smile.
via Opal Plus Olive
7. Cute Halloween Decor For The Little Ones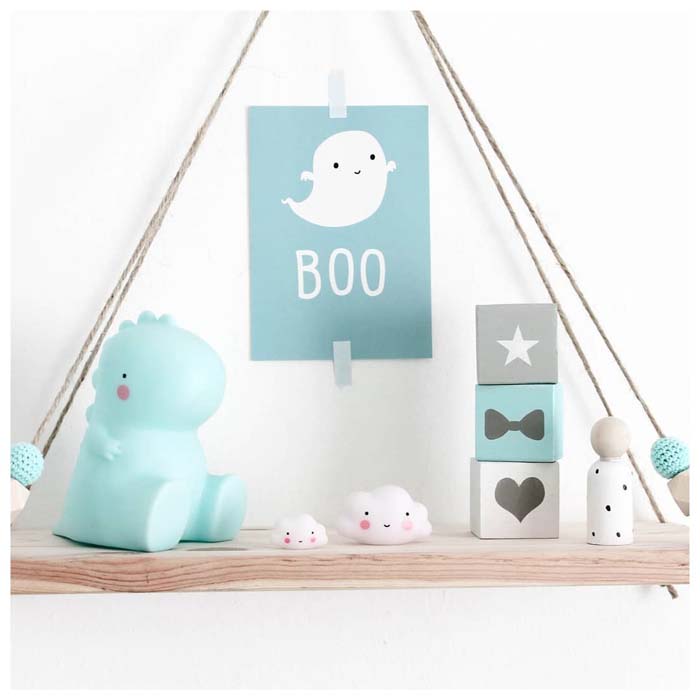 There is a way to decorate even the nursery of the baby. A cute print with a baby ghost will mark the importance of Halloween.
Use a blue backdrop for your son's room or pink- for your girl's.
via Hello Little One
8. Cute Halloween Wall Art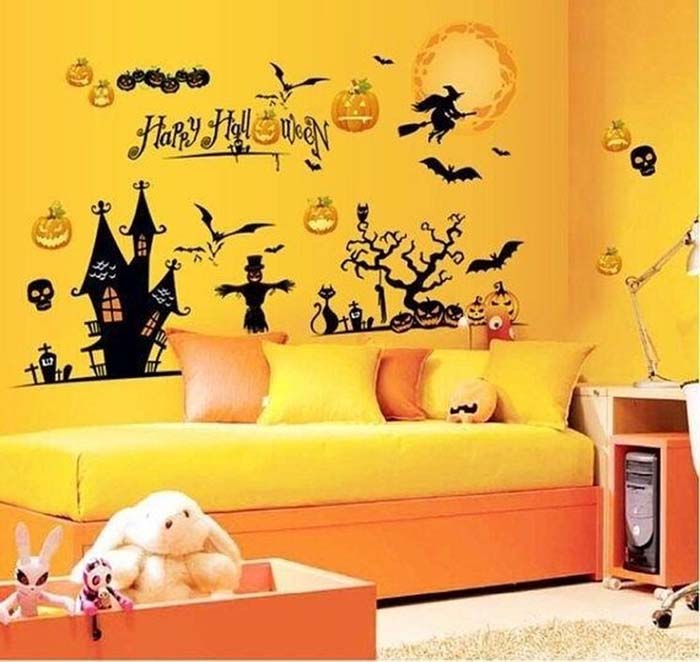 This is a set of spooky Halloween decals that can be put on walls or glass without any risk of damaging the surfaces.
If you decide to use them all on one wall, you will instantly set a spooky and fun scene for photographs.
via Amazon
9. Cute Pink Halloween Reading Nook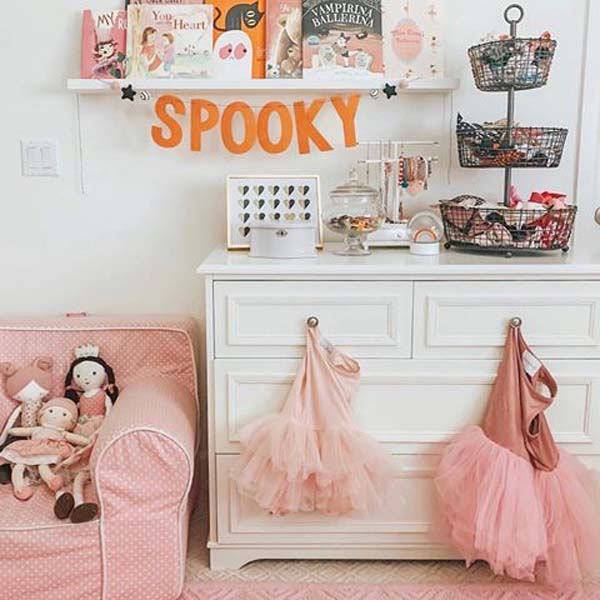 Make Halloween special with a reading nook with kids' stories about vampires and ghosts.
Mark the dedicated shelf with a handmade garland in the Halloween spirit.
via Pearl and Jane
10. Easy DIY Halloween Playroom Design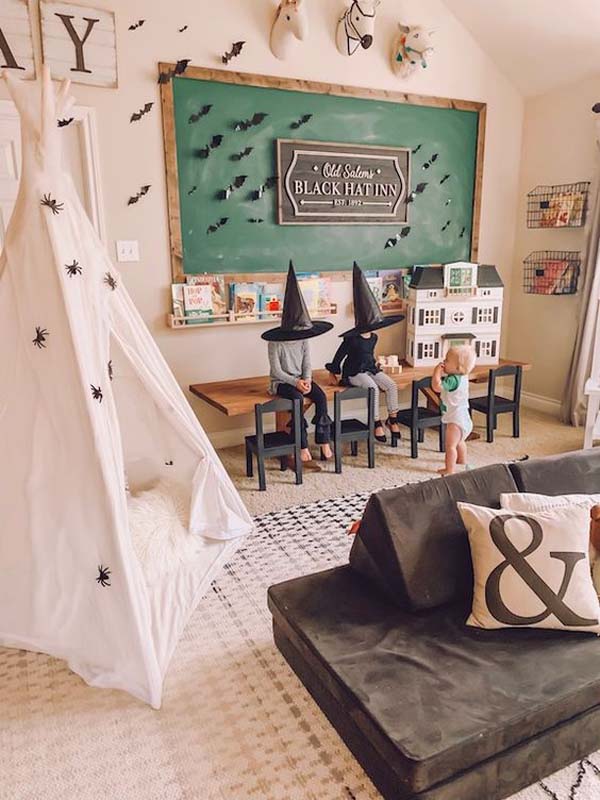 If you want inspiration for Halloween decor, make sure to read the post below.
With the help of cheap spider decals and bat stencils spread all over the space, you can add a spooky touch to every room.
via Life By Leanna
11. Farmhouse Halloween Bedroom Ideas For Children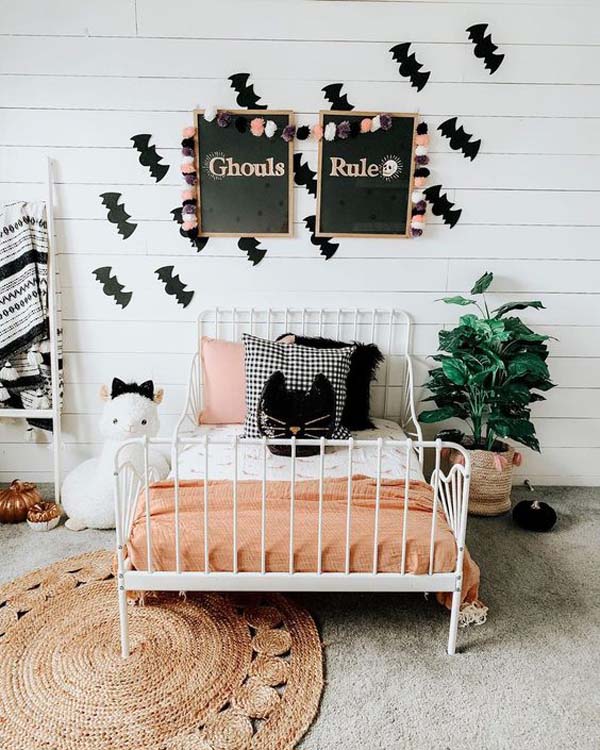 Halloween becomes a more exciting holiday when you have kids. Set the background of a fun chalkboard wall art with bat decals.
Placed right above the bed, they will become a focal point of the room.
Don't forget to put pumpkins from various materials here and there to complete the Haloween set.
via Madison McClain
12. Fun Halloween Play Kitchen Ideas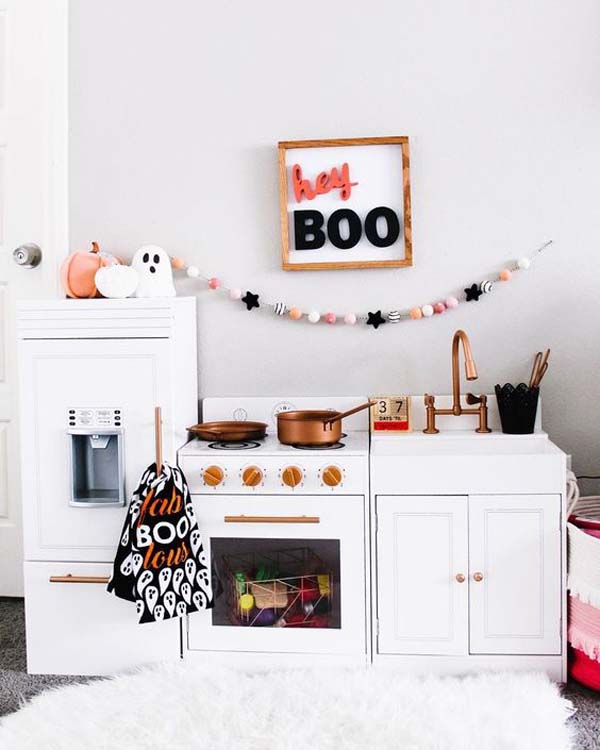 Use a toy in the kid's room to surround it with the Halloween decor. The kitchen set is perfect for that- a ghostly towel replaces the ordinary one.
Two pumpkins and a ghost figure peek from the water dispenser. Finish the setting with cute wall art in orange and black.
13. Halloween-Kids-Room-Decor-With-Ghost-Poster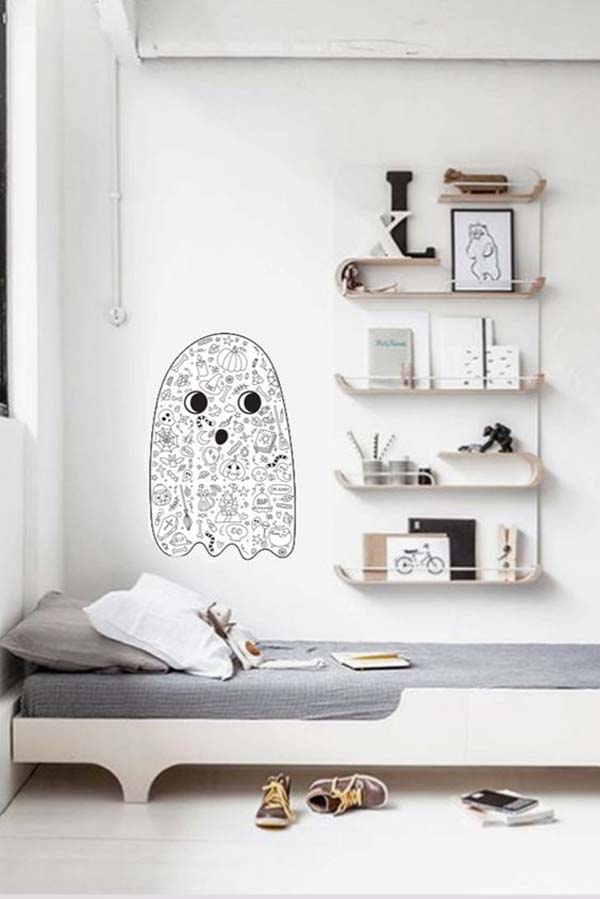 This cute little ghost on the wall is the perfect decoration when you need a simple and monochromatic decor for your kid's room.
via Rafa Kids
14. Halloween Bed Linens Idea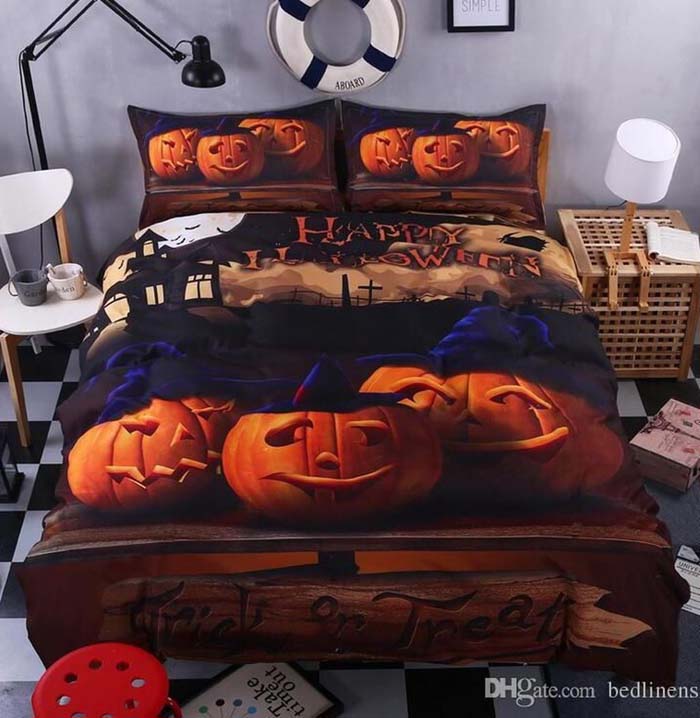 If your kids are older, then they must be fans of Harry Potter.
Surprise them with a bed linens set inspired by the story of the magician but with the vivid impact of Halloween.
via Amazon
15. Halloween Kids Bedroom Decor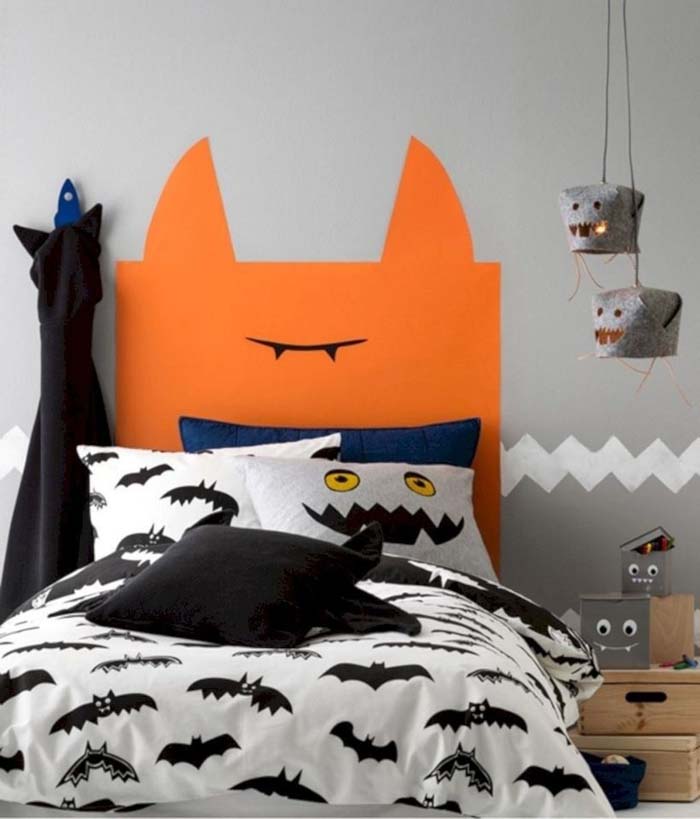 There are linen sets for the smaller fans of Halloween. The fabric patterns are usually on bats, spiders or creepy pumpkins.
Enhance the spooky atmosphere with a wall decal in the typical orange color and hanging vampire figures.
16. Halloween Kids Reading Nook Ideas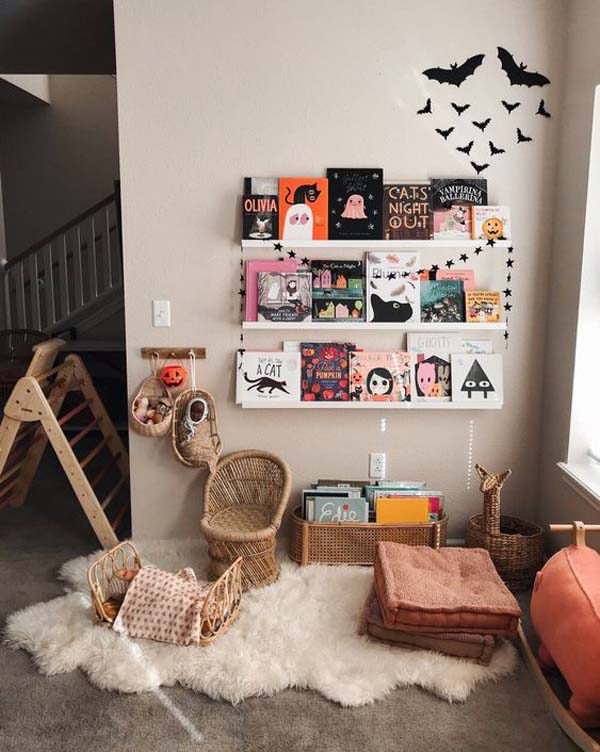 This Halloween nook will turn the reading into a fun activity. The collection of Halloween books is very funny and the illustrations attractive.
Decorate the library with garlands and bat decals that seem to be flying out from it.
via The Ever Co
17. Halloween Nursery Room Decor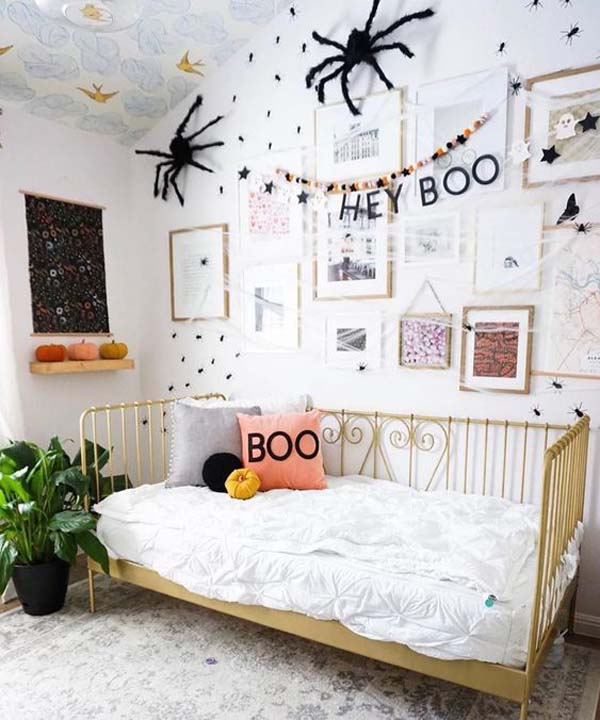 Imitate a spider net with cheesecloth or a leftover from a thin and transparent curtain.
Use spider decals, wire spiders and a pompom garland to make the net more realistic.
18. Halloween Themed Kids Room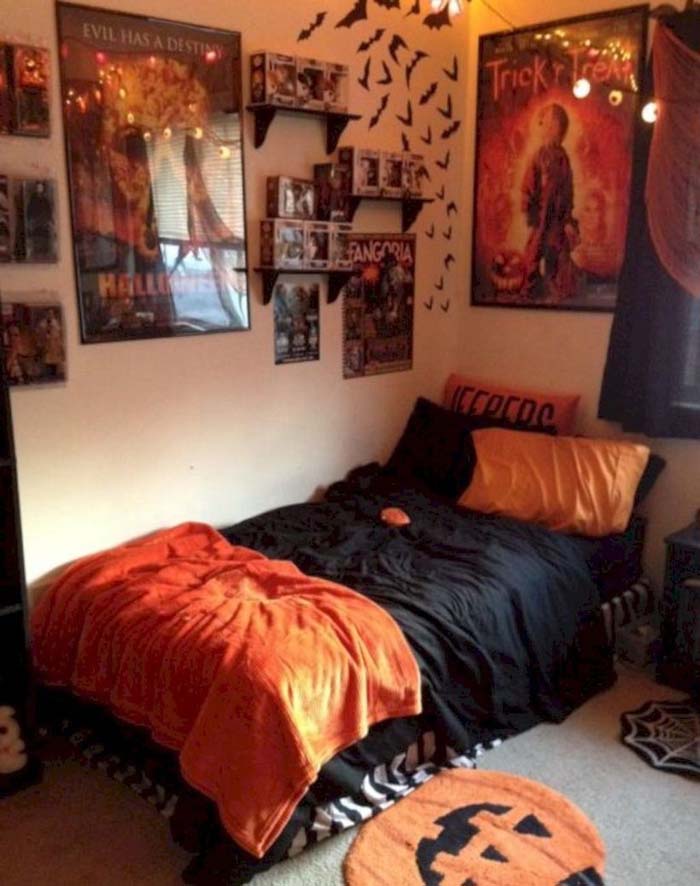 The Halloween decor of a teenage boy's room will be on the next creepy level.
A few posters, simple linen set in black and orange and interesting doormats will look mature and yet will set a festive mood.
19. Halloween Vintage Play Kitchen Ideas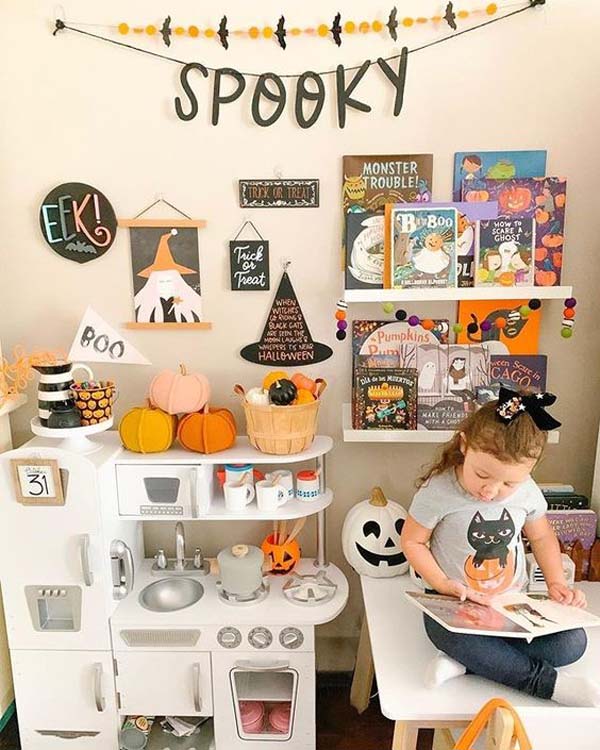 Decorate the play nook in the kid's room using the Haloween motifs and colors.
Variations of pumpkins, Halloween titles, witch's hats and a garland in black and orange turn the play corner into a fun spooky corner.
via KidKraft
20. Halloween Wall Decor For Kids Room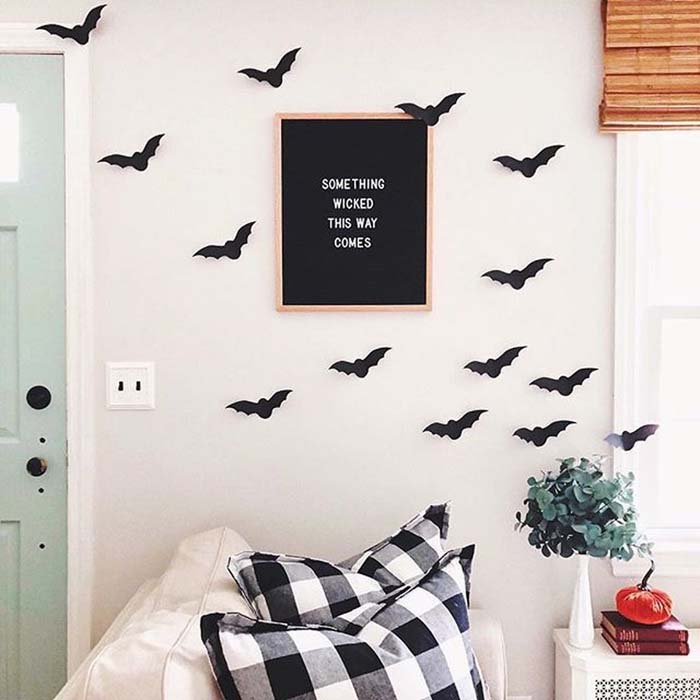 A framed chalkboard art with a mystique inscription could be intriguing. The holday it honors will become more recognizable if bats are spread around it.
If you don't like the decals, cut yourself bat figures from black paper and use plain tape to fix them.
via Letterfolk
21. Halloween Wallpaper Kids Bedroom Design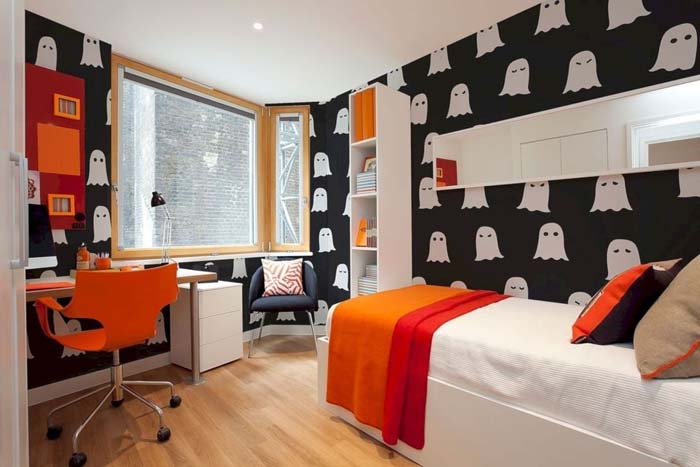 Those of you who want to make a drastic change for Halloween can change the wallpaper of the kids' room with a design on ghosts.
Use orange for the interior accents.
22. Halloween Warm Tones Kids Room Decor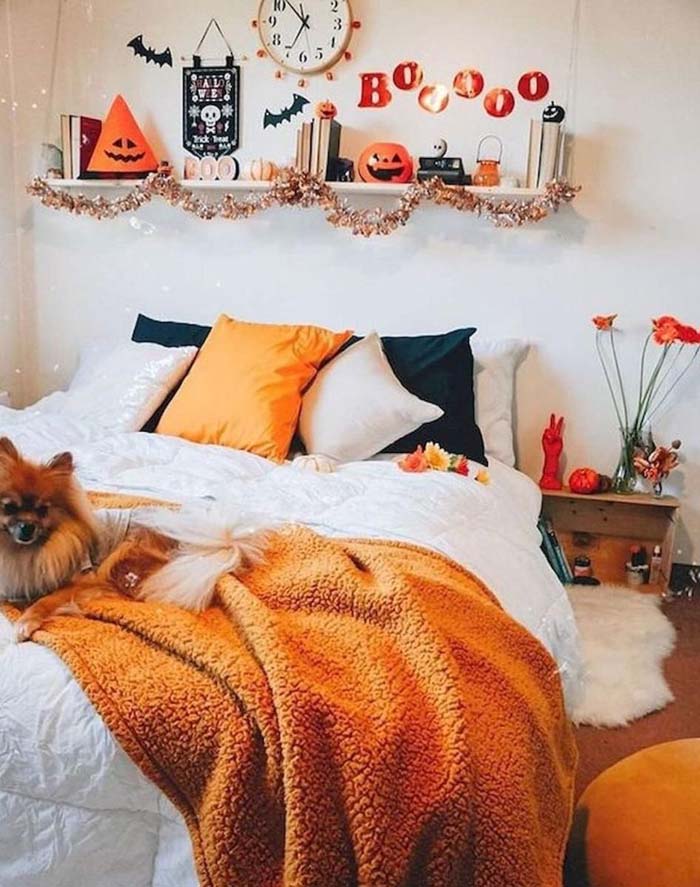 This is a Halloween-themed decoration that is more moderate in colors and motifs.
It will be liked by a teenage girl who still loves the holiday but doesn't want to admit it.
23. Hocus Pocus Playhouse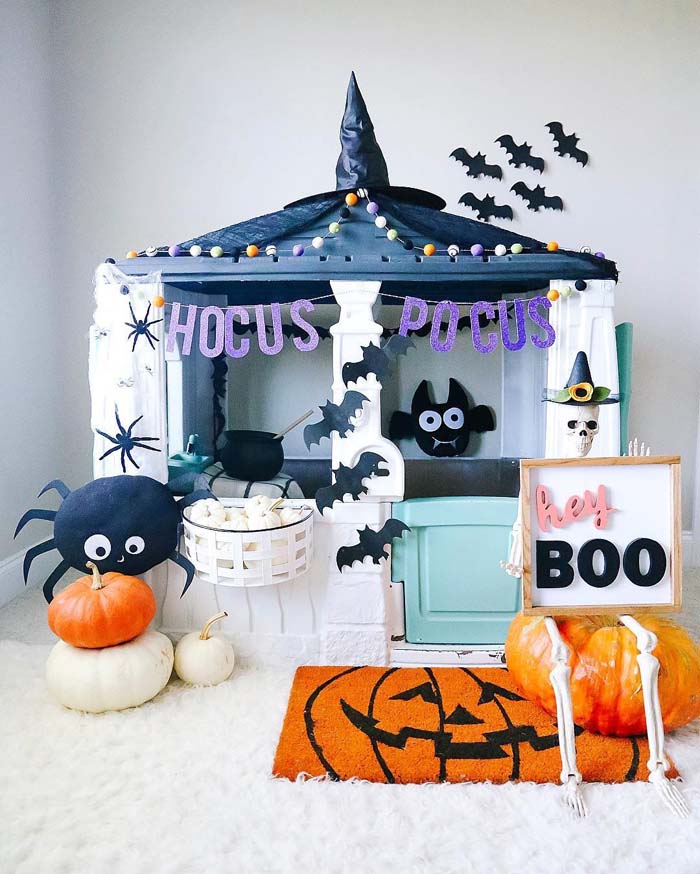 Decorate the playhouse with Halloween motifs and symbols and turn it into a "hocus-pocus" workshop.
The witch's hat stands at the top with pompom garlands going down to the roof. Use paper and stuffed bats and spiders to decorate outside and inside the playhouse.
24. Indoor Halloween Playhouse Ideas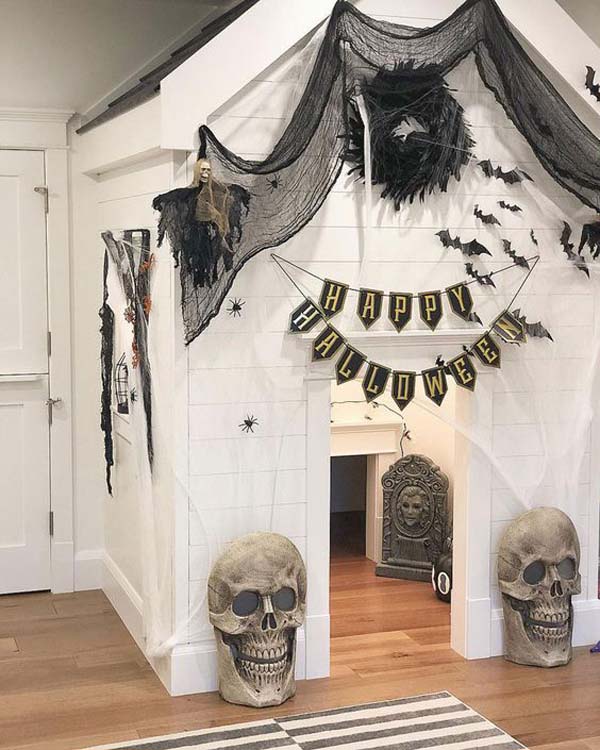 The playhouse can be a little bit spookier if you use skulls and skeletons as major decorations.
Place two to guard the door and smaller ones to hang from the roof. Imitate spider nets with black tulle.
Stress on the holiday with a black and gold garland. A few bats and spider decals will never be too much.
25. Kids Halloween Bookcase Collection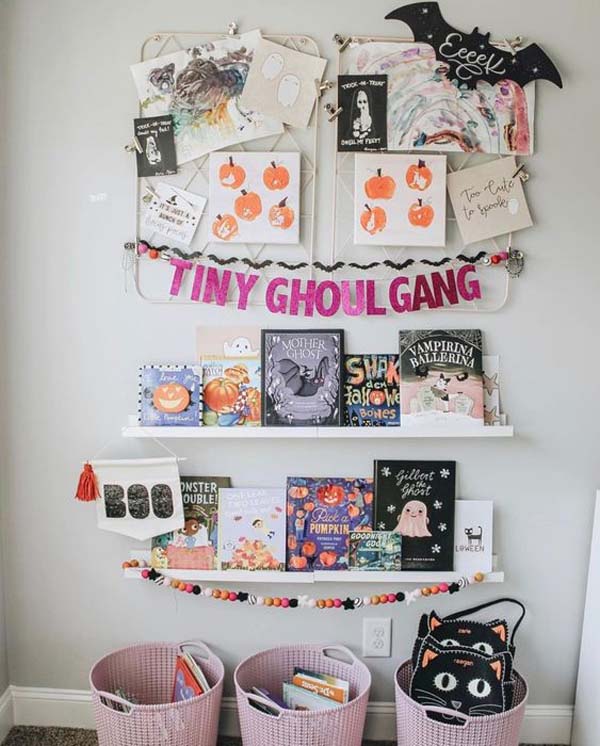 This is another way to arrange the Halloween books in one place and turn them into the festive decor.
Add a few ghost cards, a "boo" banner, a pumpkin painting and a few bats.
via Olive and Eve Co
26. Kids Halloween Bunk Bed Design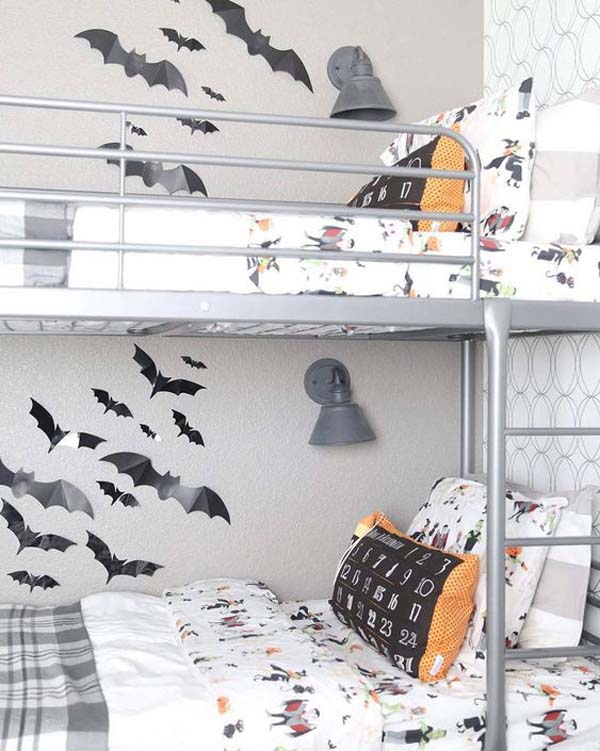 These bat decals come in different sizes. Their design is so realistic that they can be the only decor for Halloween.
Spread them on the wall close to each other to create a flock pattern.
27. Kids Halloween Table In Playroom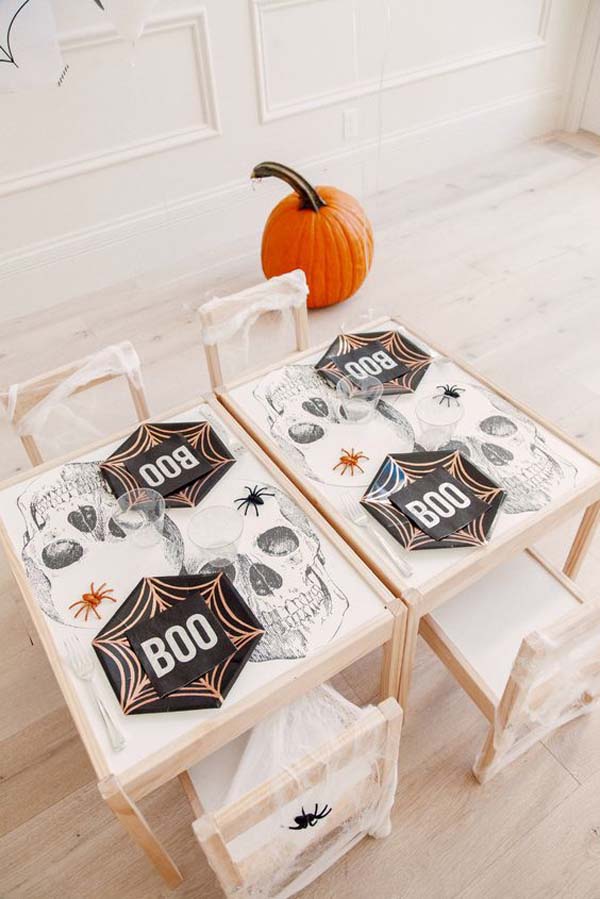 Make a special Haloween dinner set for your kids with themed plates and napkins.
Use tulle or cheesecloth to wrap the back of their chairs and attach spiders to the fabric.
via Rachel Parcell
28. Purple Themed Halloween Kids Room Decor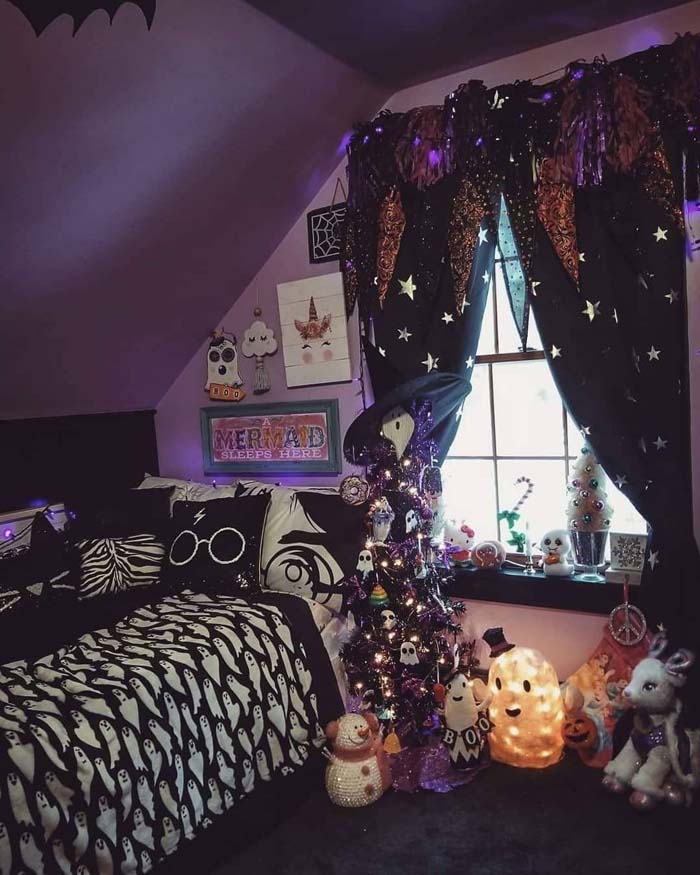 Use the Christmas tree for Halloween decoration. Instead of Christmas balls, hang felt ghosts and pumpkins that will mark the holiday.
You can increase the spooky atmosphere with starry curtains and linen set with ghost motifs.
29. Simple Halloween Bookshelves Ideas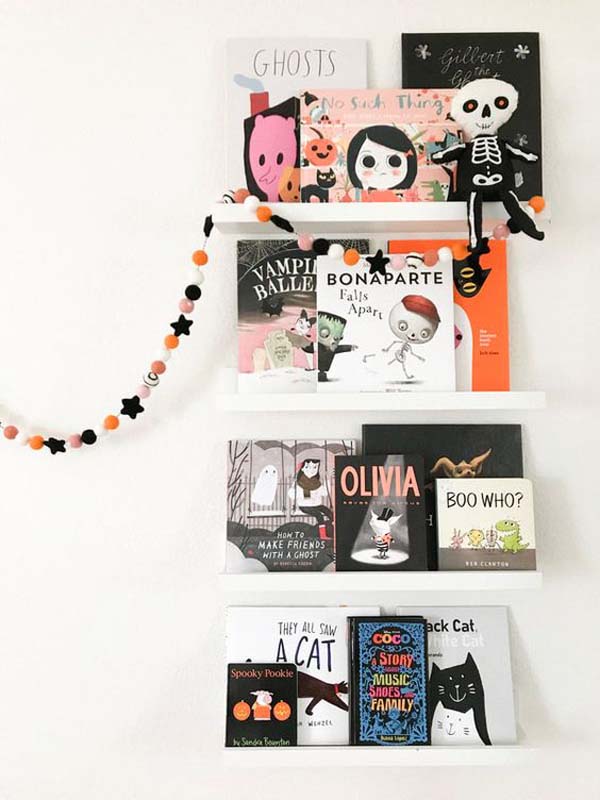 A stuffed skeleton sits on the Halloween-themed bookcase.
If you make it yourself, use fabric permanent markers to outline the bones and the skull.
30. Simple Halloween Kids Room Decor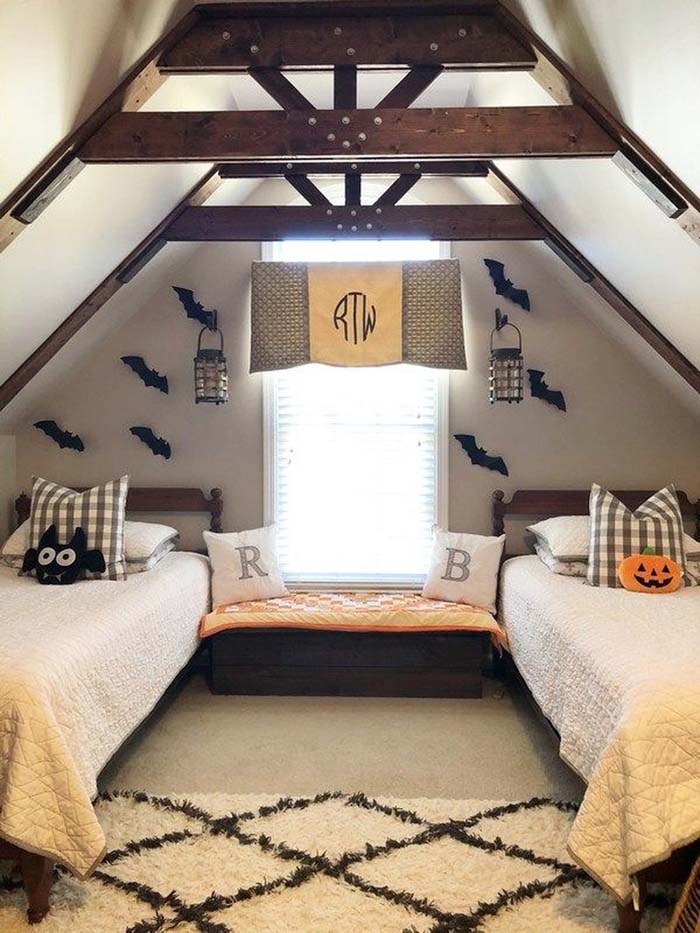 Place cute Halloween-themed pillows on the beds of your kids.
Fabric pieces in black, white, orange and green will help you define the pieces of the bat and the pumpkin.
Stuff with cotton wool. For the eyes and smiles of the creatures, use felt.
31. Spooky Play Kitchen Ideas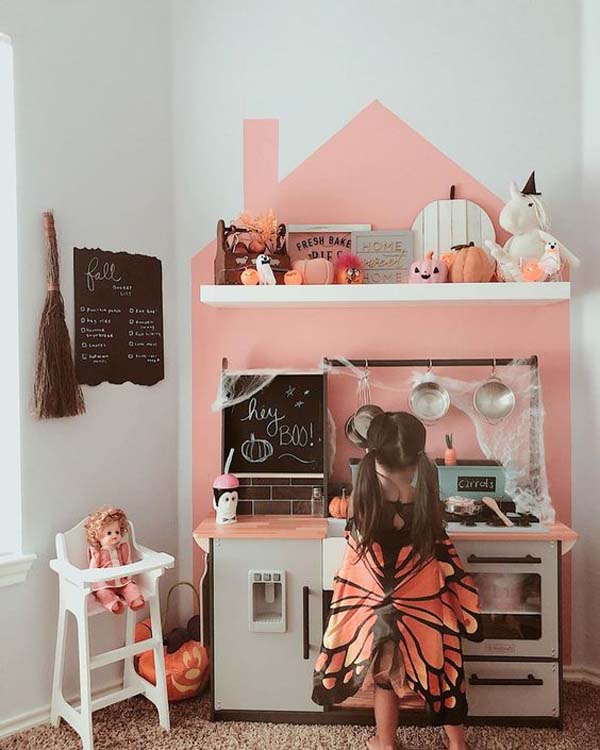 Place small pumpkins on the shelves of the play kitchen shelves. Hang a small broom on the wall next to it to remind of the witch's night.
If the set is equipped with a chalkboard, write a Halloween inscription. Wrap around a rod or a shelf tulle or cheesecloth to make a faux spider net.
via KidKraft
32. Vintage Halloween Kids Bedroom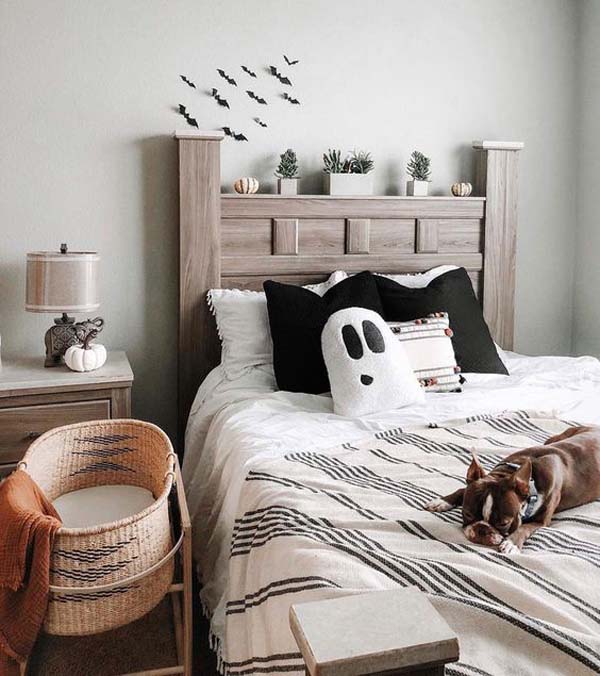 A pillow in the shape of a ghost face will look very cute and will give that festive vibe of Halloween.
Making it yourself doesn't require any special skills or materials, so it is worth trying. Add a few small pumpkins on the nightstand and on the headboard.
via Megan Hearts
33. Vintage Halloween Play Kitchen Decor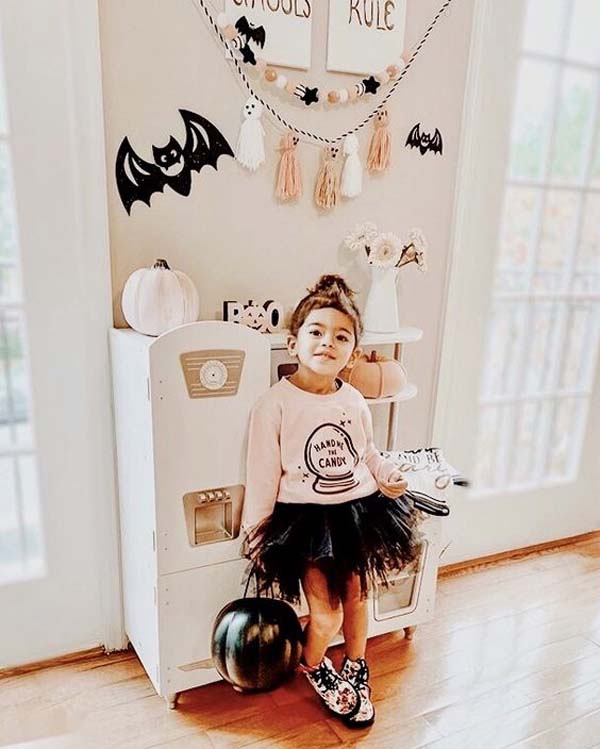 The pompom or bat garland can be replaced with a ghost garland. If you like it, you can easily make it yourself. Use black, white and orange thread. Weave the thread at least 10 times around your palm.
Tie it at one end to form the ghost head and cut through the loops at the other end to define the body. Glue eyes and mouth cut from paper or felt.
via KidKraft