We are waiting for this time of the year to start making spooky Halloween decorations and try to scare everyone who is invited or not in our house! The more frightening the Halloween decor is the more we like it.
This season we have prepared for you the best DIY Outdoor Halloween Decorations so that you can get inspired and go wild with your creativity.
Outdoor Halloween decor could be fun and won't break the bank with these cheap and inexpensive outdoor decorations. Whether it's faux pumpkins, scary bats or simple string lights we have them all!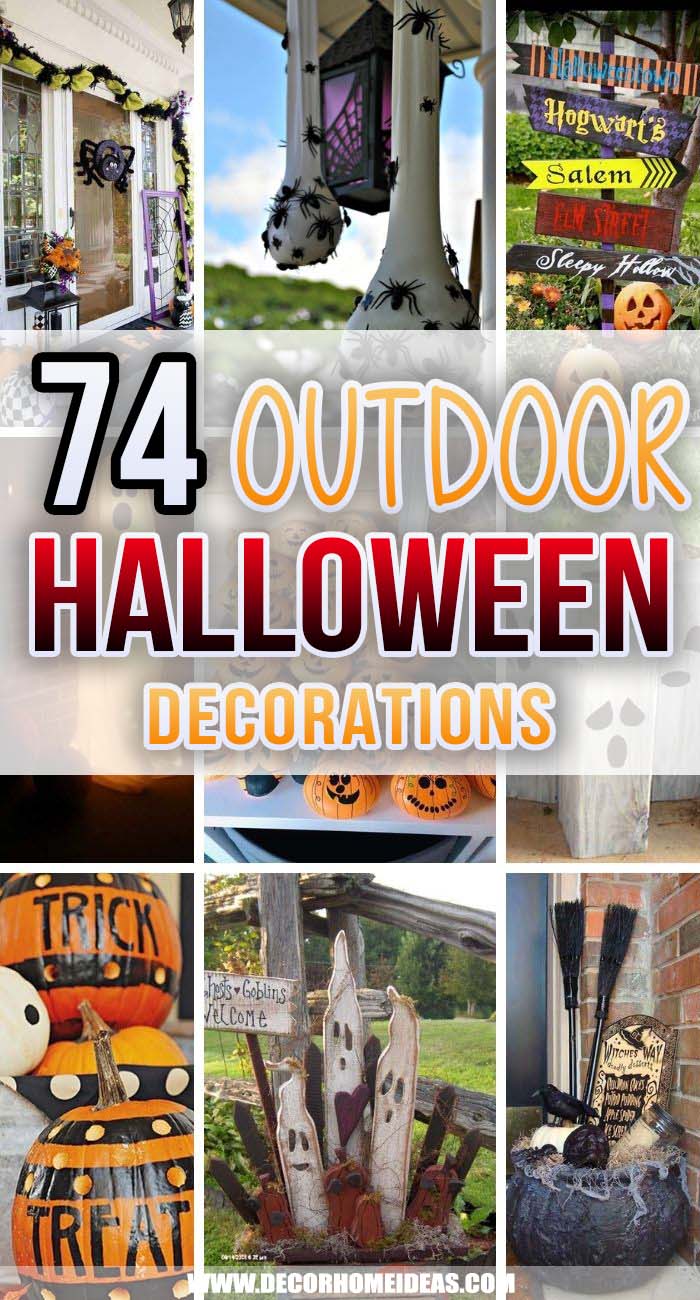 Of course, the Halloween season is a lot more than a spooky Halloween decoration, but right now we just need ideas and inspiration!
So let's celebrate Halloween for what it is – overcoming the fear of being afraid. Let us scare you off with some of the best décor ideas.
1. Decorate Your Pumpkins With Paint
 
Let your children participate in decorating for Halloween. Try together this easy, budget-friendly yet awesome project!
All you need is some black paint, pumpkins, and a vintage container to arrange the pumpkins.
Create polka dots on your pumpkins by drilling holes. It's easier to make a black-and-white dotted pumpkin by sticking black paper circles to a white pumpkin. Your kids will definitely be proud of the result!
2. Scary Zombie Arm Plant Pots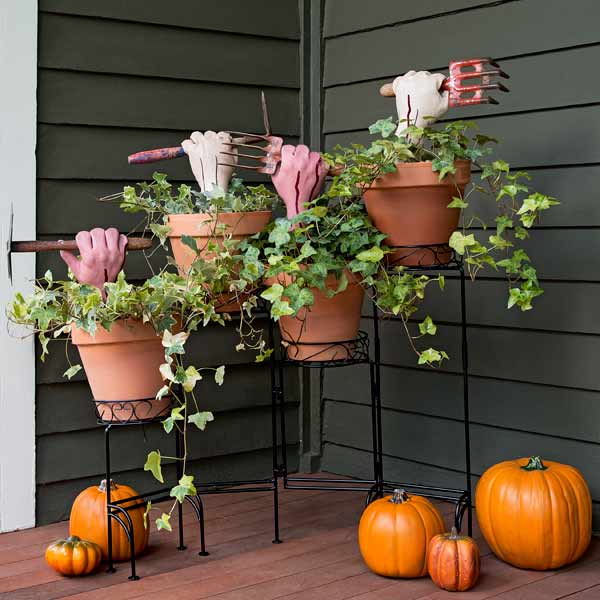 Take a look at this showstopper. It's not a coincidence that it has been placed right outside the front porch.
Fears normally are right there hidden, sometimes appearing on the surface like zombies, scary characters and creepy hands coming out of these perfectly beautiful flower pots.
Relax!  These vintage garden tools are amazing! Just beware of walking around them at night, for they may appear quite realistic. One of the best fall craft ideas.
Before goblins, spirits and ghosts, try to be a perfect host with some creepy hands outside!
Position fake hands holding vintage gardening tools in pots with ivy, arrange the pots on a plant stand, and voilà – you will have a zombie planter, which definitely steals the show.
Add pumpkins for completed Halloween porch decorations!
DIY Project Details: Here
3. Bad Omen Birds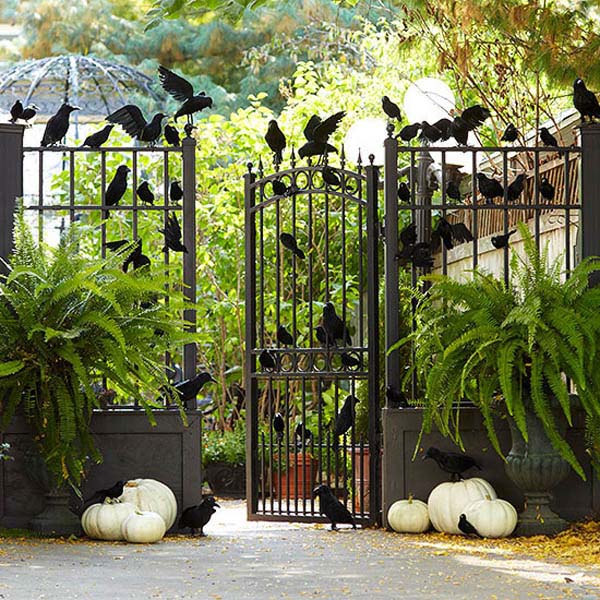 Black birds have been a bad omen for centuries, right?
They are not the perfect welcoming sign for everyday life, but seem to be appropriate as a Halloween decoration.
This is a great personal take on what feels right for the holiday of the season.
We need something more than pumpkins, right?
Create an arrangement of faux ravens in different poses on your fence, porch banister, or deck railing.
Add pumpkins to complete the look. Such a bird-theme display can definitely add visual interest and tons of personality to your outdoor space.
4. Whimsical Jack-O-Lantern Stack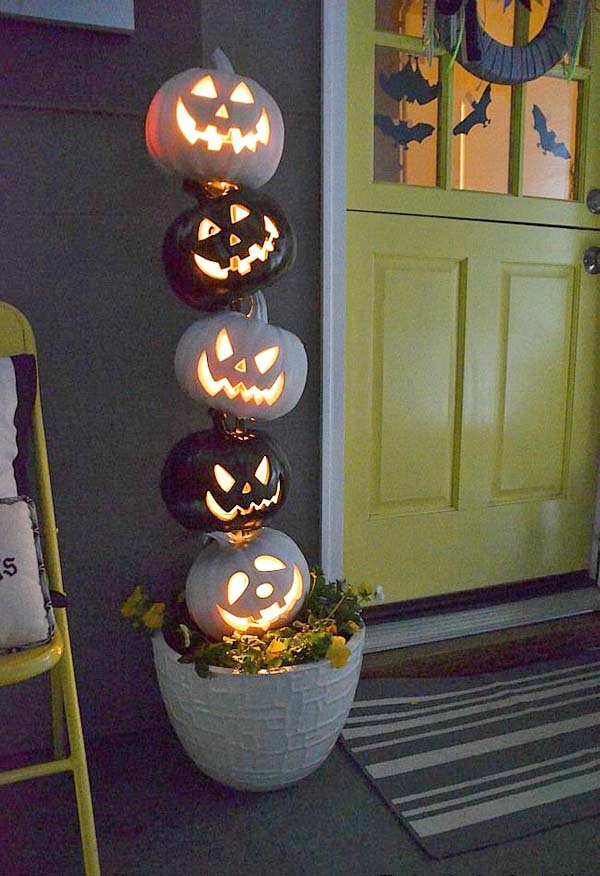 Well, I find these to be pretty amusing! They are the perfect balanced decoration for the holiday.
Not too scary and not too innocent. After all, there should be some effect on children, youngsters and older ones. Your fall front door decoration could be spooky?
This classic item won't give you nightmares but you will remember it well. Dramatic, isn't it?
DIY Project Details: tatertotsandjello.com
5. Opt For Traditional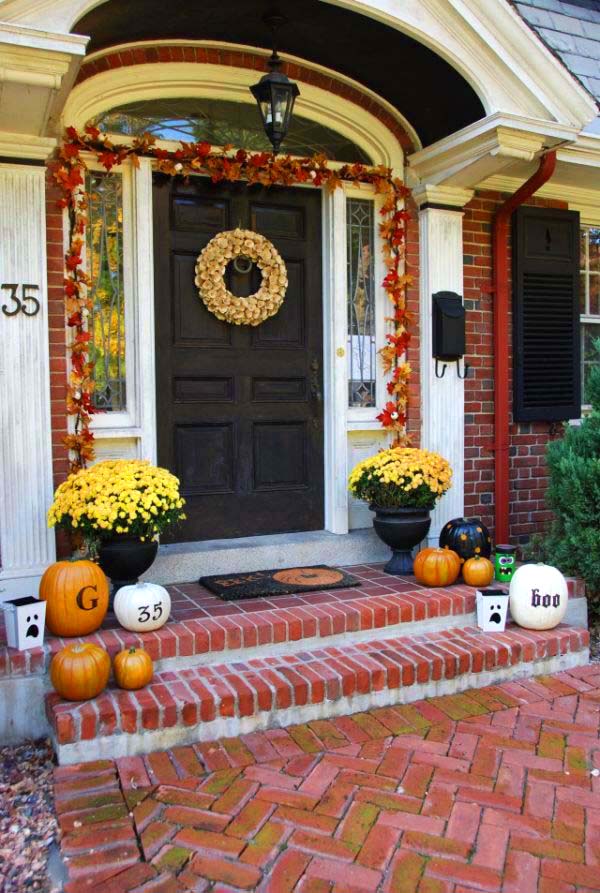 Photo:Credit
Do you want to go lighter on the decoration and your psyche?
Then simply add a bunch of flower buckets, a beautiful wreath and let's call it a Halloween.
Some people will deeply appreciate your beautiful front door when most of the neighborhood has gone overboard with creepy items.
Beautiful fall décor with a Halloween touch!
6. Go Batty With Bats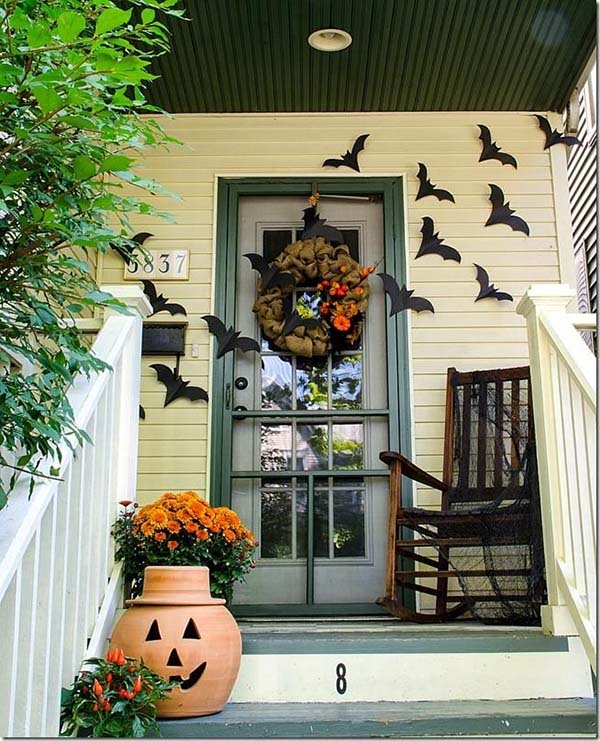 Photo:Credit
Fly like an eagle or fly like a seagull or like a black creepy flock of birds! Up to you but I bet that this decoration is pre-destined for success.
No compassion just put the whole flock outside and let passersby be as scared as they can. Halloween birds are a great decoration!
Definitely creative Halloween décor!
7. Watchful Raven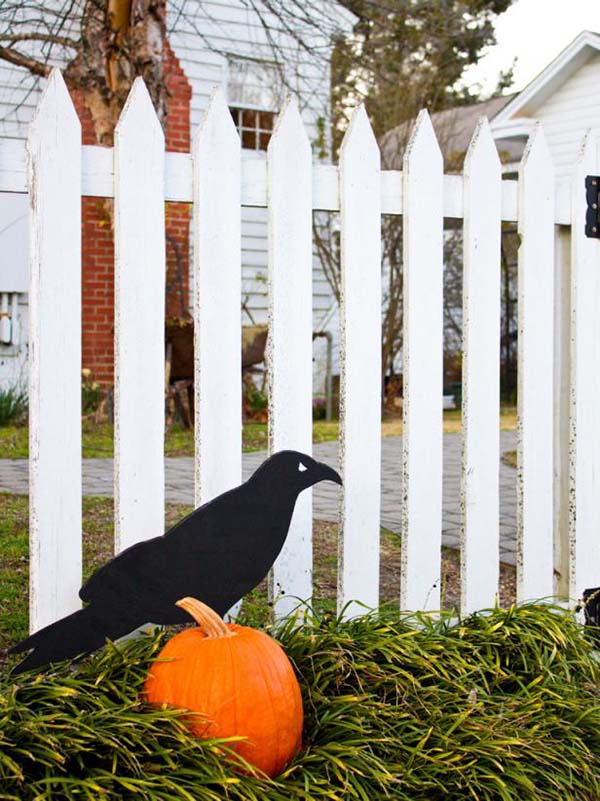 This raven definitely reminds me of the shadowy side of poetry that some authors express.
If you have any inclination towards poetic art, then this might be the perfect holiday solution for your place.
This white fence won't fool anyone…and you are about to send a warning signal.
Spooky, isn't it?
8. A Witchy Welcome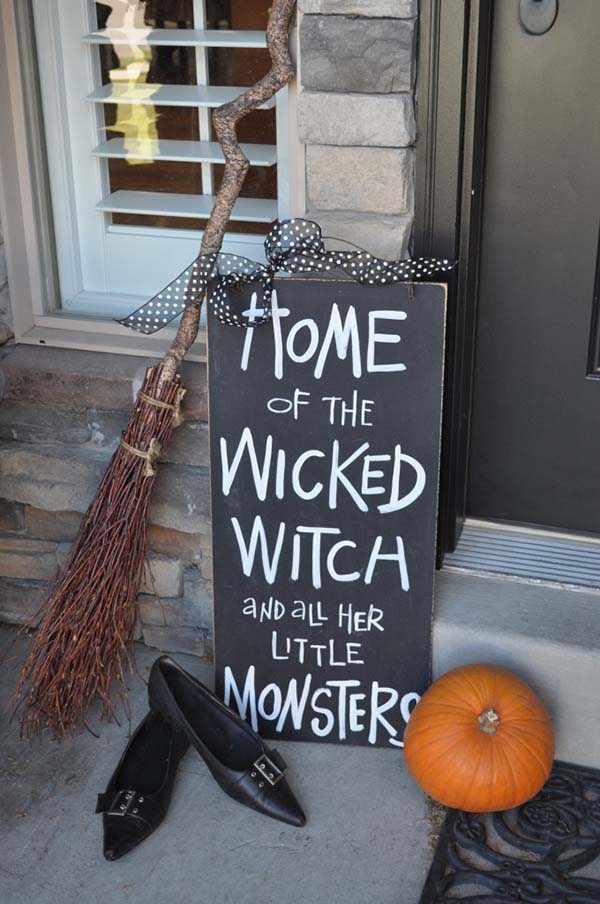 Photo:Credit
Grab your dark tall hat, a broom or whatever you have at your side.
This is the time when we will battle witchcraft and satisfy our hunger for adventures with a pretty black sign.
Let's see if it's enough to scare the neighbors off. So cute!
9. Pumpkins With Spice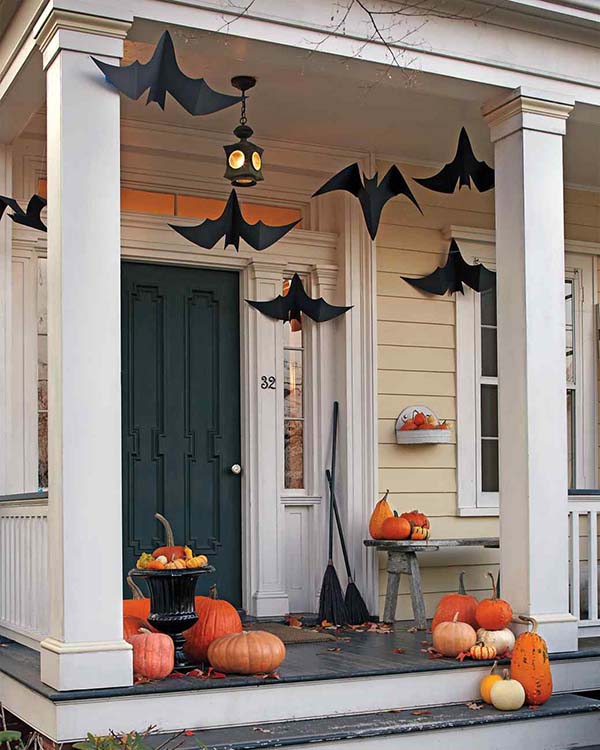 We have another theme for Halloween that embarks on a creepy front porch journey.
Bats, pumpkins, creepy feelings – all that is required has been settled for a pretty astounding show.
What more can we hope for except for a performing Bart and a number of specialists on the creepy science of Halloween?
Timeless appeal!
DIY Project Details: Here
10. Sneaky Skeletons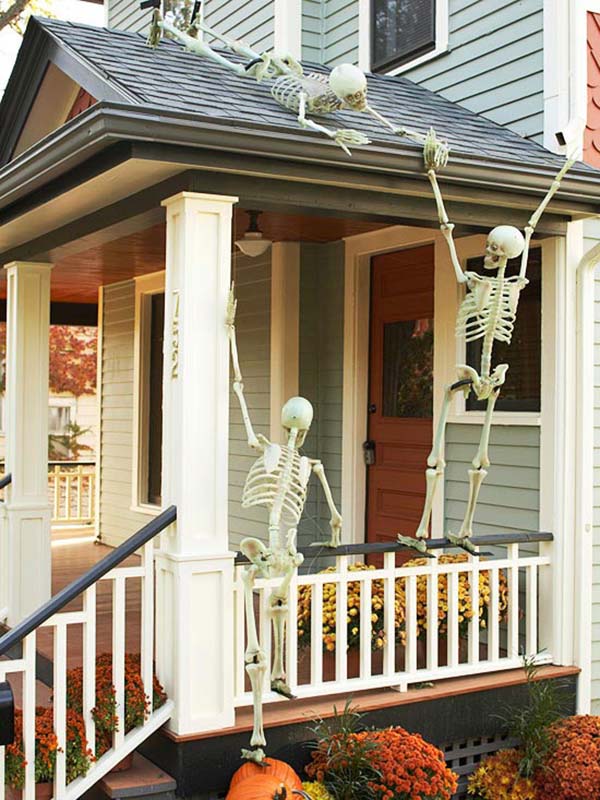 Photo:Credit
Beware, because the skeletons come out of your closet and hunt you like never before.
This Halloween they may just come up the stairs, the fence, climb through the window, sneak behind your back.
Santa may be sweet, but the skeletons this Halloween won't follow in his footsteps. What a way to welcome your guests!
11. Broom Parking Porch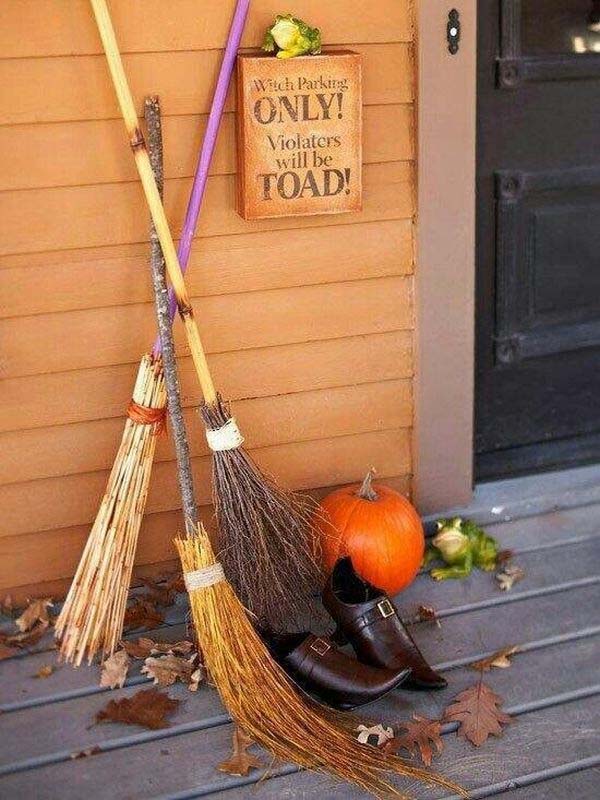 Well, nothing speaks of the holiday of the season like a good batch of a professional set of
brooms parked in front of the house.
We can only guess what's behind the door. This is impressive without the impulse to impress.
Hence, we find the decoration pretty tasteful and successful.
DIY Project Details: Here
12. A Magical Menagerie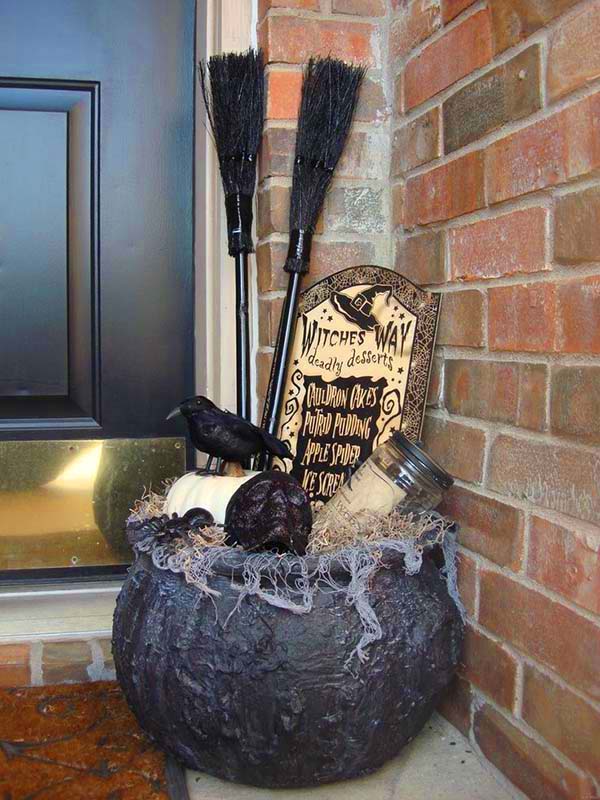 Photo:Credit
You can create a collection of decorative elements easily. Just place them in the scariest, darkest, and creepiest of pots.
If you can't find any, there are probably a couple of those around a dumpster. Ask the neighbors and go hunt in their basements if you can't solve the equation by yourself.
13. Pick A Pretty Palette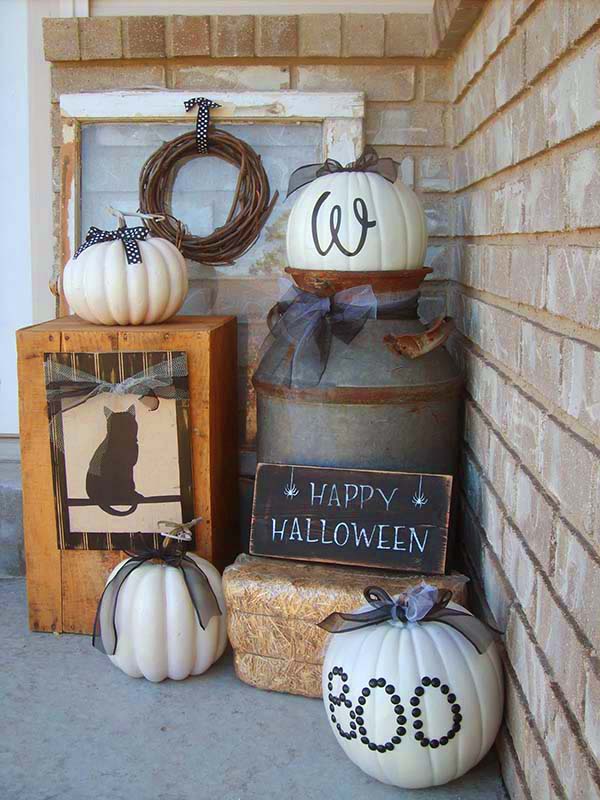 Photo:Credit
If you can't convince them of something…then you can surely spook them out till they forget what they arrived for.
Who loves guests coming over when there's been a week of hard work and you are craving silence, relaxation and a pot of cappuccino?
Say a prayer, the guests may reconsider their intent to visit.
14. Witchy Windows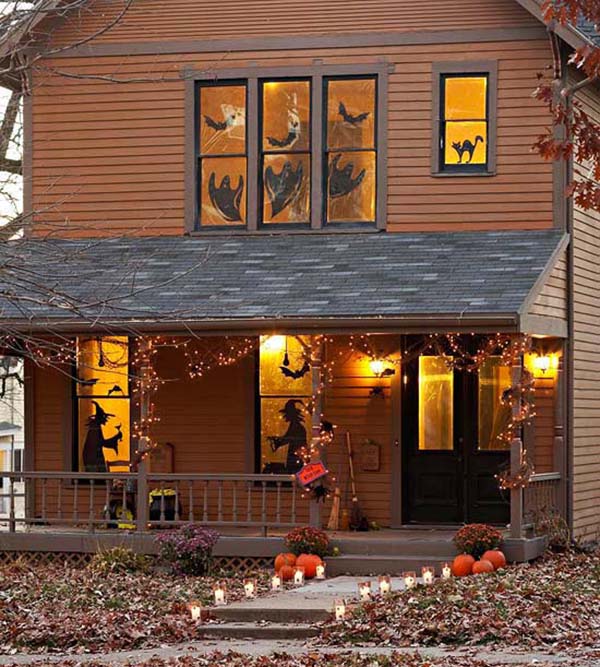 Photo:Credit
What kid hasn't heard in his childhood about the house of the neighbor, the house of a ghost, a wicked doom placed…?
I have my own fair share of stories, so why don't we try and replicate those by turning the glass windows into mirrors of the ghosts that live inside.
Stunning Halloween décor!
15. Painted Halloween Luminaries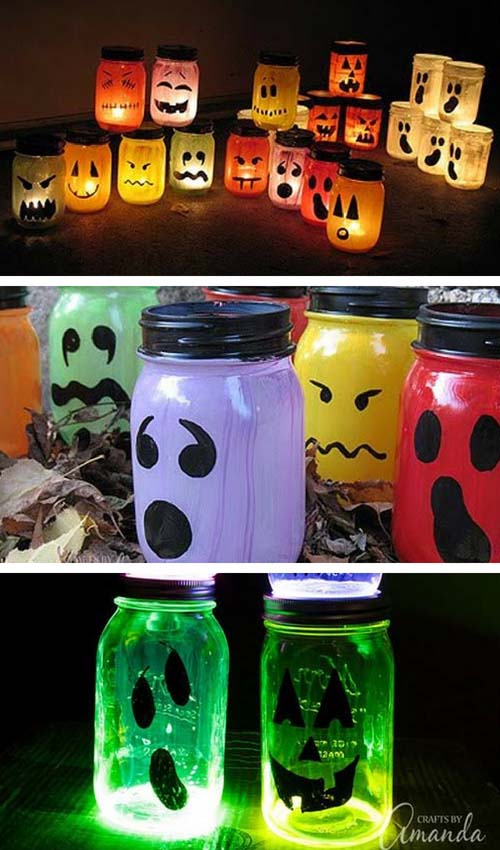 You should definitely add these Mason jars transformed into original luminaries into your list of simple homemade outdoor Halloween decorations. Use some candles to lit them.
The good thing is that you can display them indoors and outdoors.
DIY Project Details: craftsbyamanda.com
16. A Harvest Halloween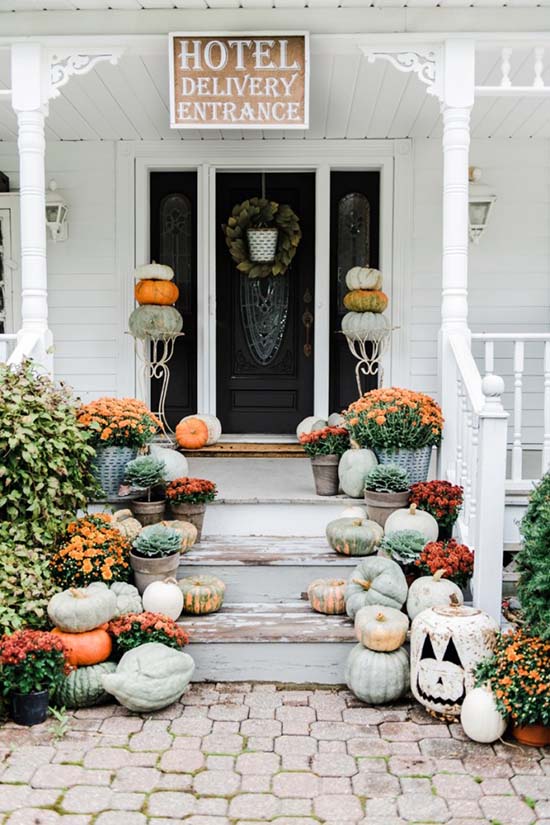 There are tons of outdoor Halloween decorations on the internet.
For instance, this one is a nice combination of orange pumpkins from the nearest farm, some autumnal flowers, and a DIY lantern from a propane tank.
This outdoor decor gives the front door of this farmhouse a fall-ready vibe.
DIY Project Details: lizmarieblog.com
17. Purrfect Pumpkin Cats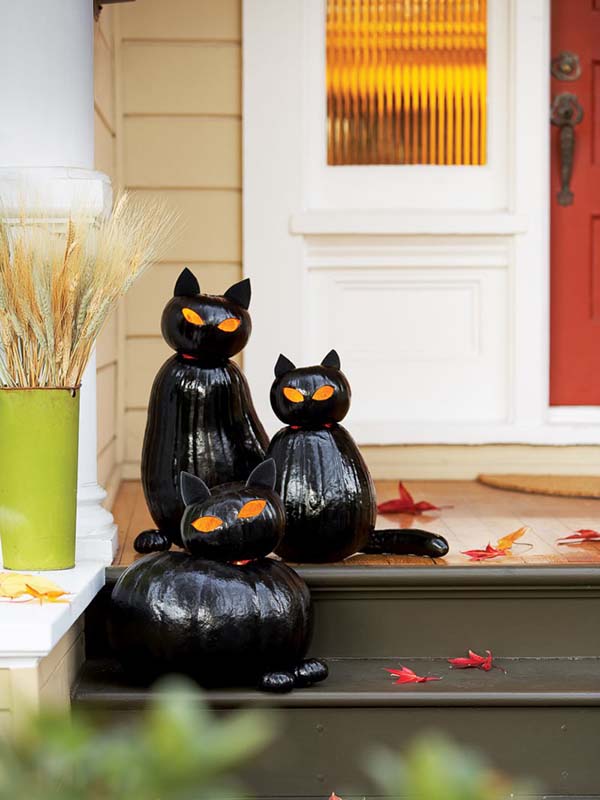 Are you a fan of the scary outdoor Halloween decorations?
Here is a cute twist of the traditional jack-o'-lantern for a perfectly creepy look of your front door space.  😉
DIY Project Details: sunset.com
18. Easy DIY Door Monster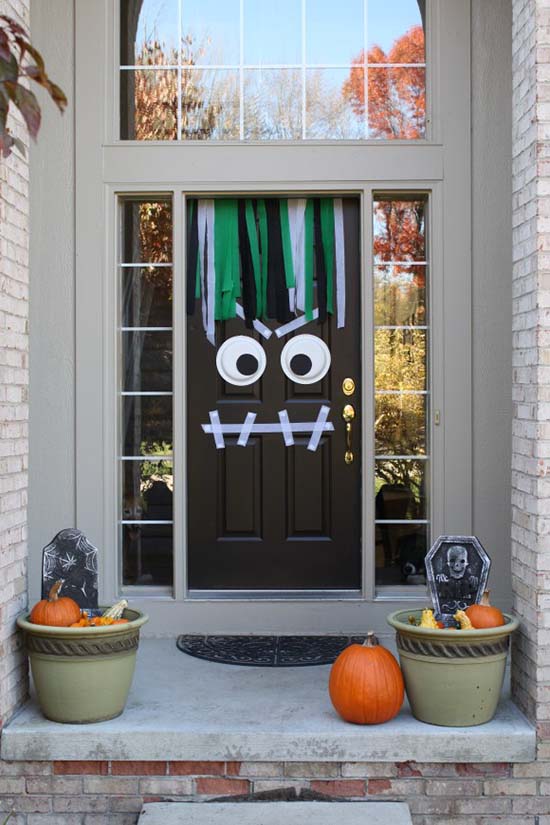 I know that many of you want to find out how to make outdoor Halloween decorations for cheap.
This is another easy (and very cheap) front door decor idea so your house will be ready for the night of trick-or-treating.
DIY Project Details: moderndaymoms.com
19. Bags of Boos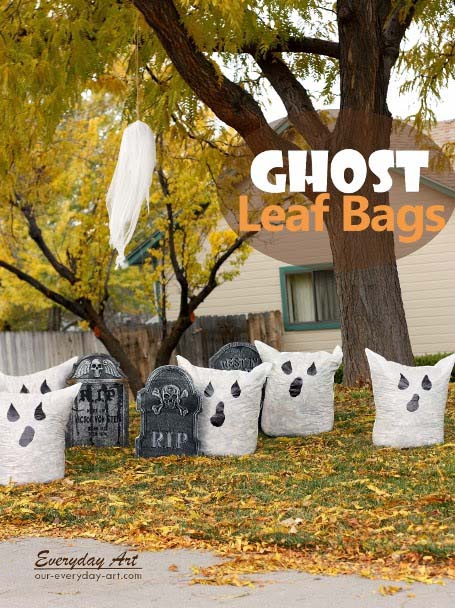 The outdoor Halloween decorations do not need to be complicated to be cool.
These ghosts, for instance, are actually bin bags full of leaves.
DIY Project Details: our-everyday-art.com
20. Say It With Signs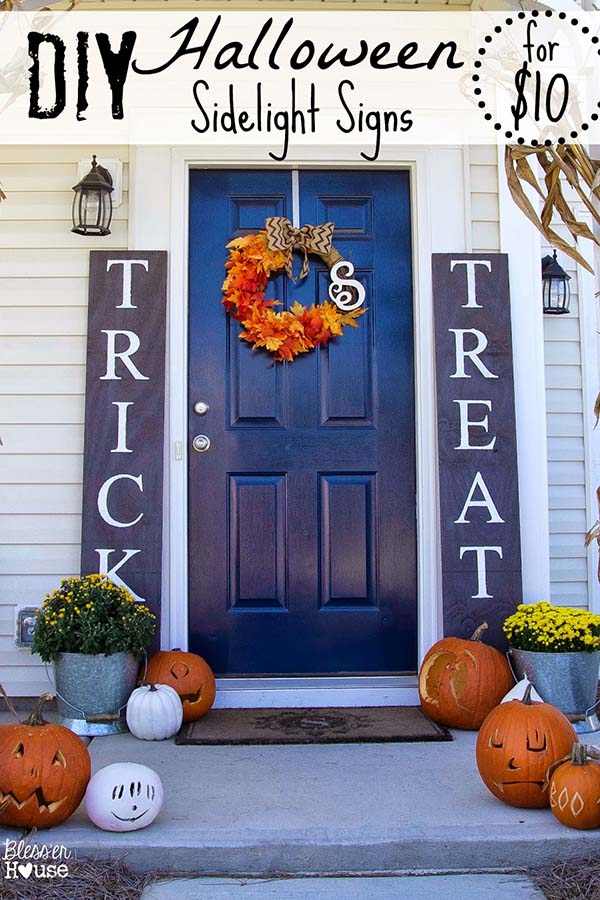 Spell it out with cute welcoming outdoor "trick or treat" signs.
You can also add some easy outdoor Halloween decorations around the front door.
DIY Project Details: blesserhouse.com
21. Make Your Own Apothecary Jars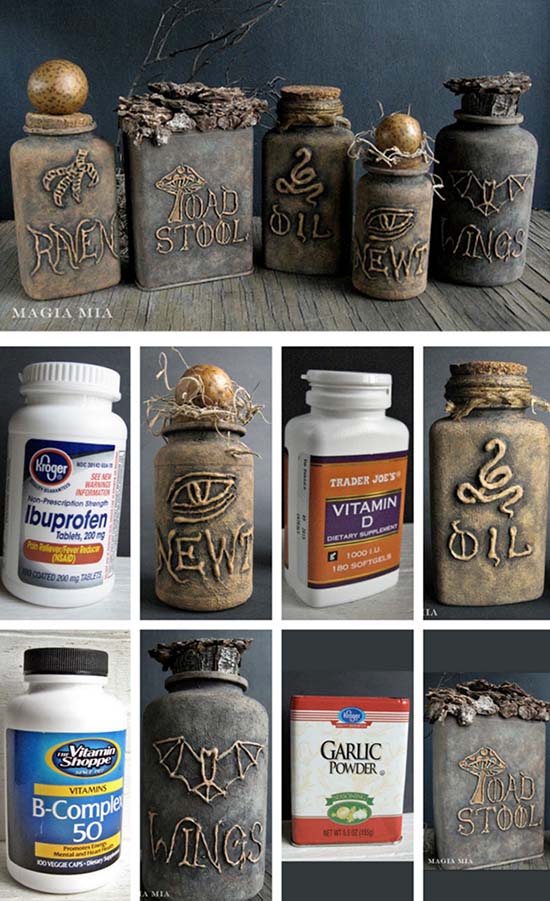 Transform your house into a witch den for a night with these realistic DIY potion jars.
DIY Project Details: magiamia.com
22. Trick Or Treat Tracker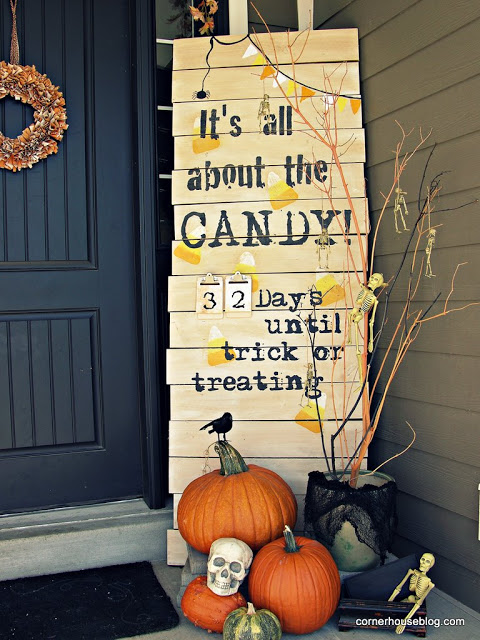 If you are a fan of the homemade outdoor Halloween decorations, let's count down the days until the 31st of October with this smart clever DIY idea!
DIY Project Details: iheartnaptime.com
23. Spooky Spider Nests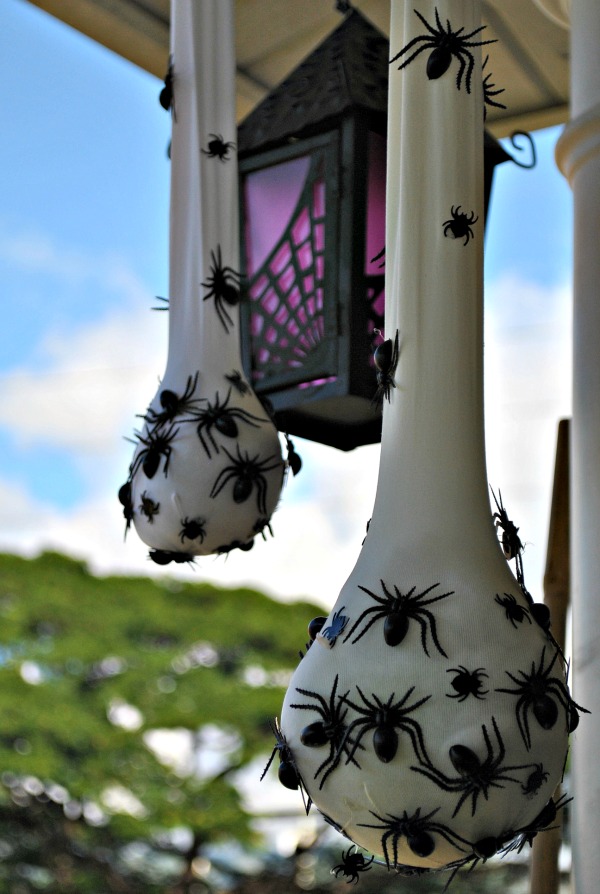 These spooky DIY sacks of spiders give me goosebumps every time I look at this picture!
DIY Project Details: Unknown
24. Seasonal Simplicity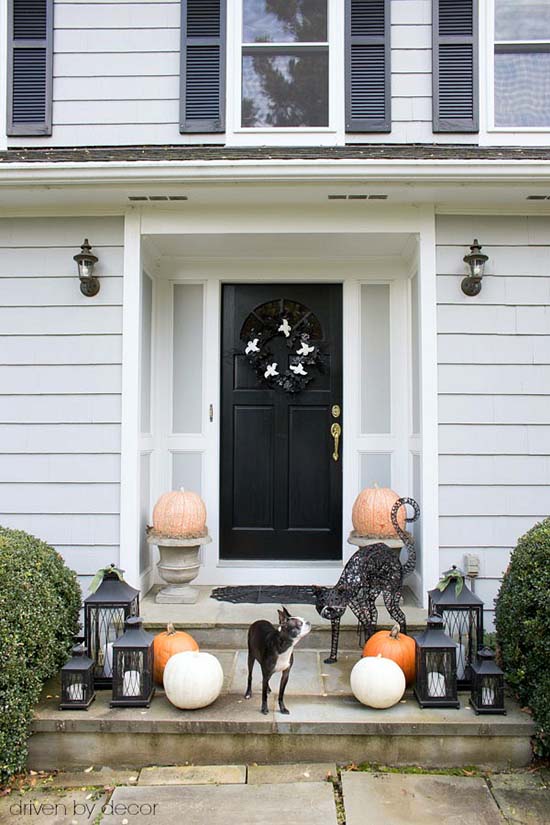 When you're looking for ideas to decorate for Halloween outdoors, keep in mind that the simpler – the better.
Display some lanterns and a couple of pumpkins… see, you already have a great decoration for the front porch!
DIY Project Details: drivenbydecor.com
25. Eerie LED Light Apparition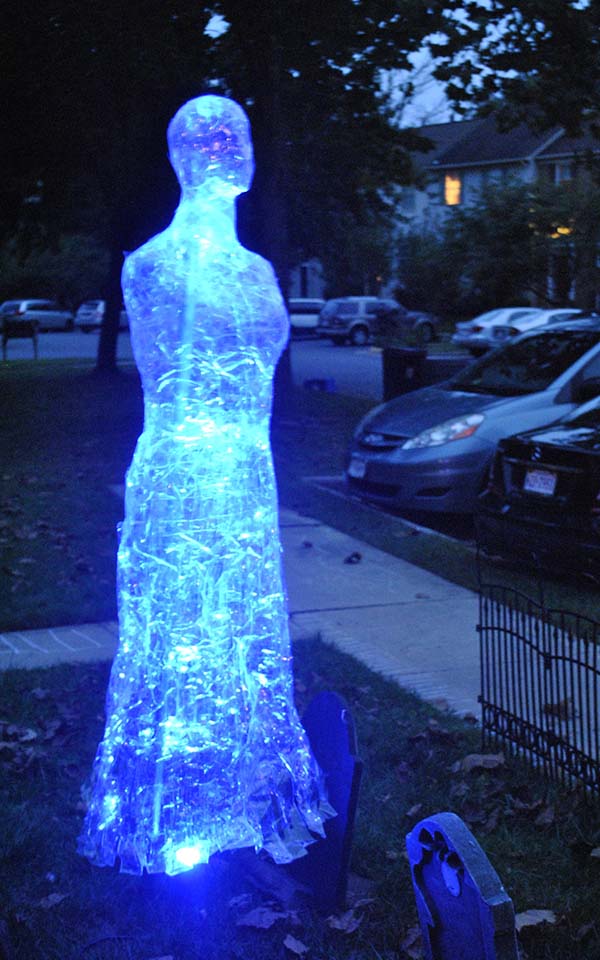 Here is some glow-in-the-dark outdoor Halloween decoration.
Do you find this handless ghost, made of plastic and LED lights, scary? I do.
26. DIY Wrapped Door Mummy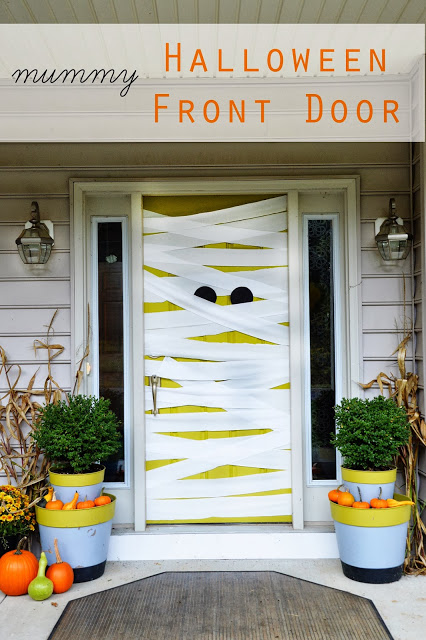 Trust me, you are going to the mummy of the year with this creative DIY front door Halloween decoration.
DIY Project Details: eastcoastcreativeblog.com
27. Extra Eerie Painted Black Pumpkins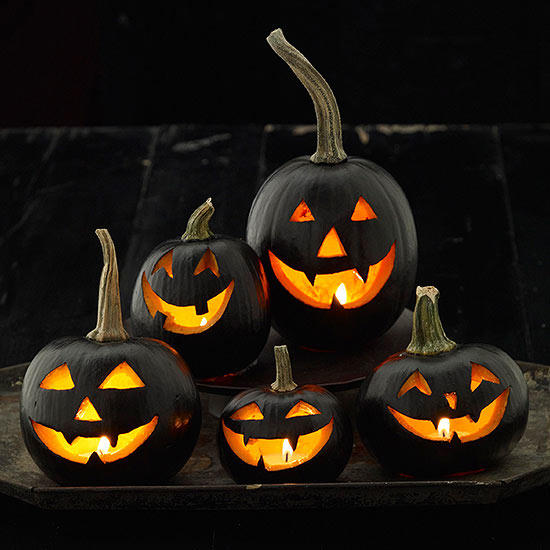 The pumpkin decoration has always been one of the best outdoor Halloween decorations ever.
Add a little twist and paint the pumpkins in black colors so they are even scarier.
DIY Project Details: bhg.com
28. Cute Halloween Porch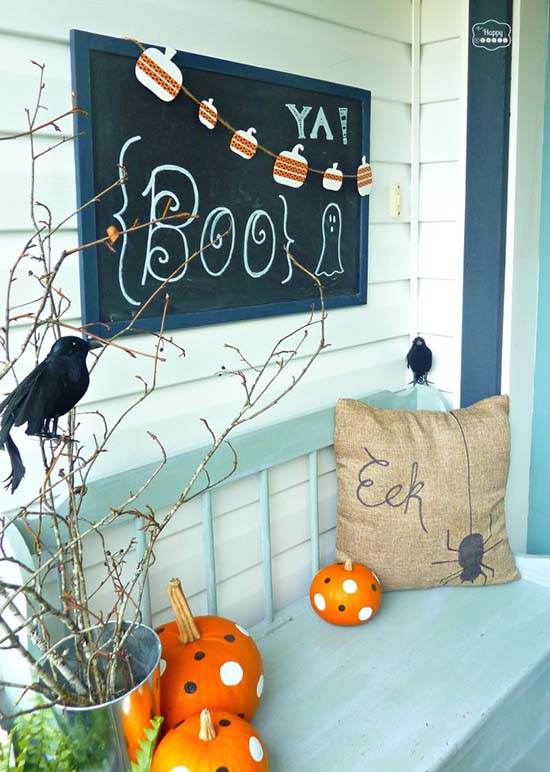 Thanks to the bright color palette and cheerful DIY accents, this Halloween porch is lively, not spooky.
DIY Project Details: thehappyhousie.com
29. A Grave Porch Display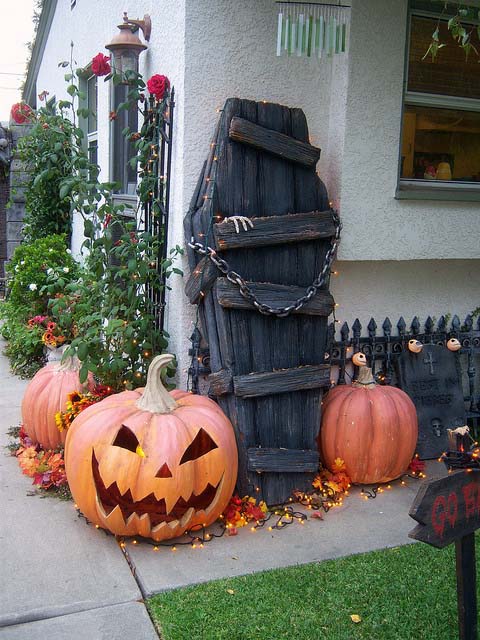 Photo:Credit
If you want to make some smashing outdoor Halloween decoration ideas that would make your neighbor envy you, think about re-creating this coffin front porch decoration.
30. DIY Witch Hat Lanterns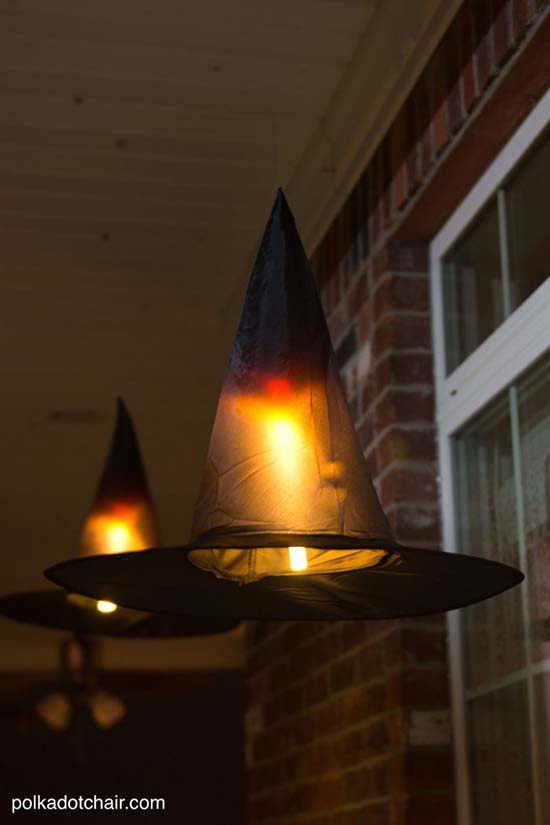 These DIY light up hats are the perfect addition to some long and narrow spaces such as the front porch or the indoors corridors.
DIY Project Details: polkadotchair.com
31. Creepy Raven Porch Décor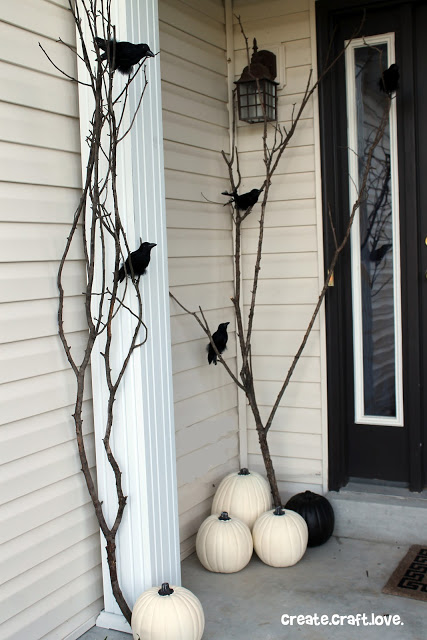 Create this very eerie setup with long branches and perched ravens.
Though fake, they are almost like real to scare the neighbors!
DIY Project Details: createcraftlove.com
32. DIY Paper Pumpkins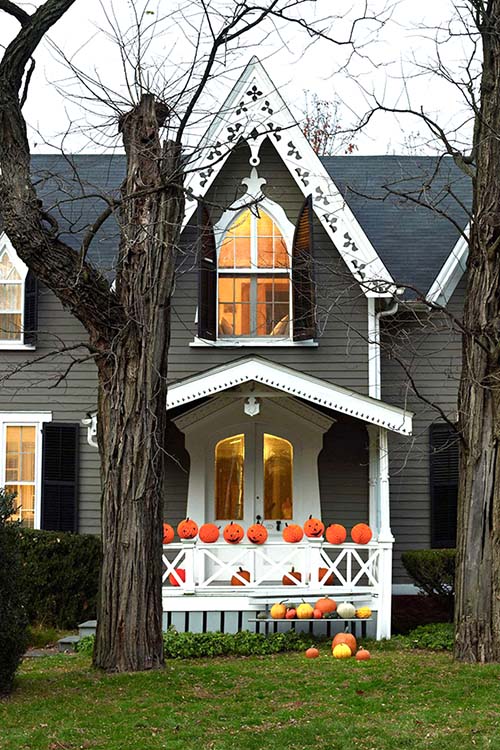 Photo:Credit
Have you thought that simple orange tissue-paper balls could be easily turned into Halloween pumpkins that can line your front porch?
Just cut the facial traits and stems from construction paper and apply to the paper balls with strong glue.
This definitely should go to your list of DIY  outdoor Halloween decorations!  🙂
33. Bewitching Yard Display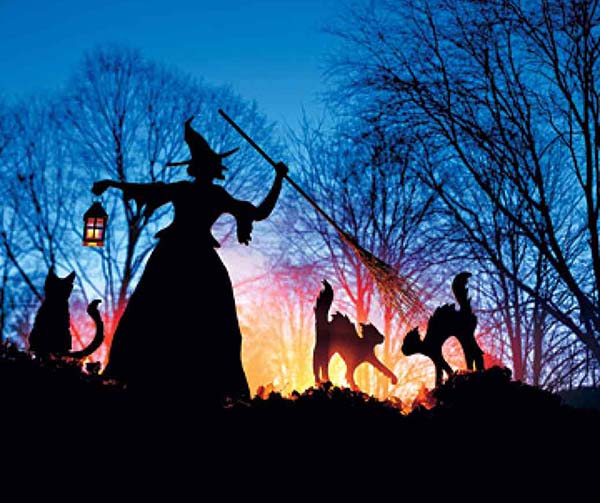 Oh, Halloween yard decoration is what you need, right? Here is one just for you – outdoor witch decorations! That one, for instance, is a great arrangement for the lawn.
DIY Project Details: marthastewart.com
34. Spell It Out With Pumpkins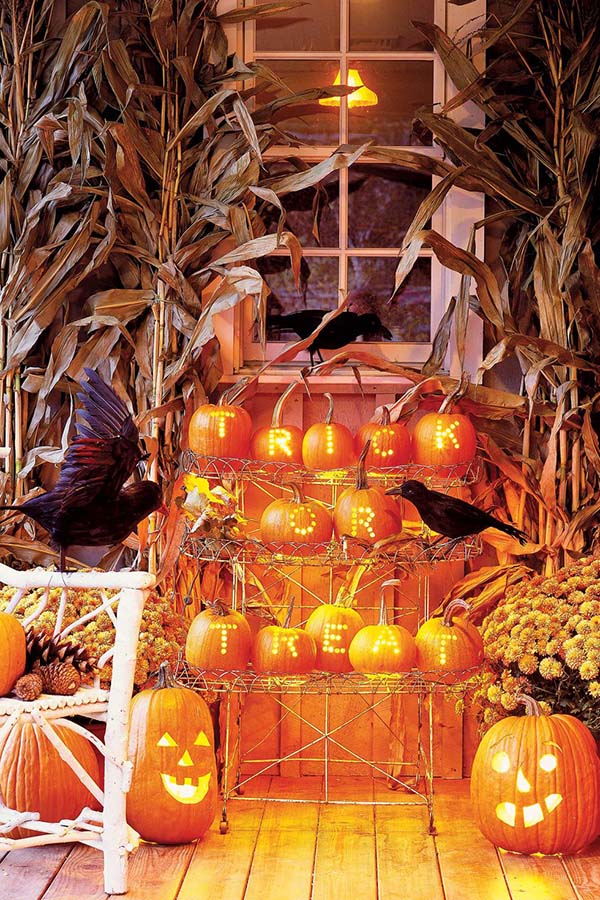 Photo:Credit
Fresh pumpkin outdoor Halloween decorations idea! Spell out your welcoming note in mini pumpkins gathered on the porch door.
35. A Ghostly Gathering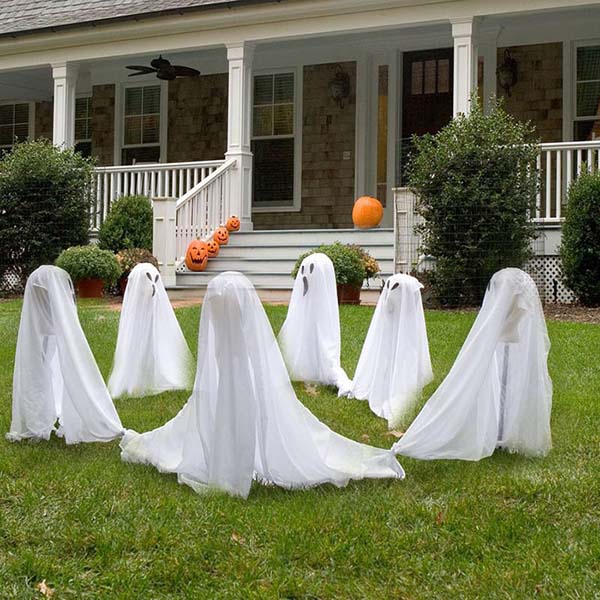 If you have some high bar stools at home – take them out, cover them with white sheets, and transform them into scary dancing ghosts! Spooky…
36. Cute And Crafty Porch Display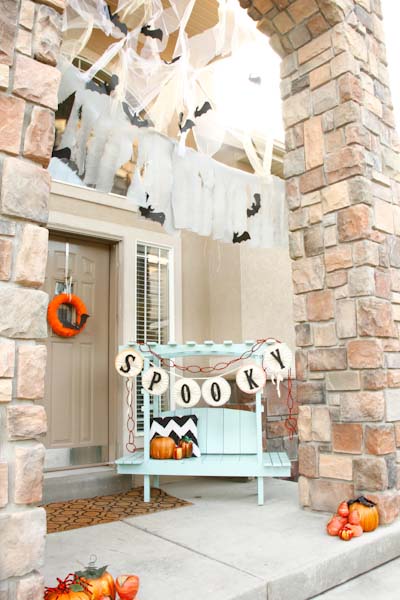 This lovely porch makes use of its high archway with a DIY web of bats that will please any trick-or-treater.
DIY Project Details: thecraftingchicks.com
37. Ghoulish Zombie Dolls For Your Yard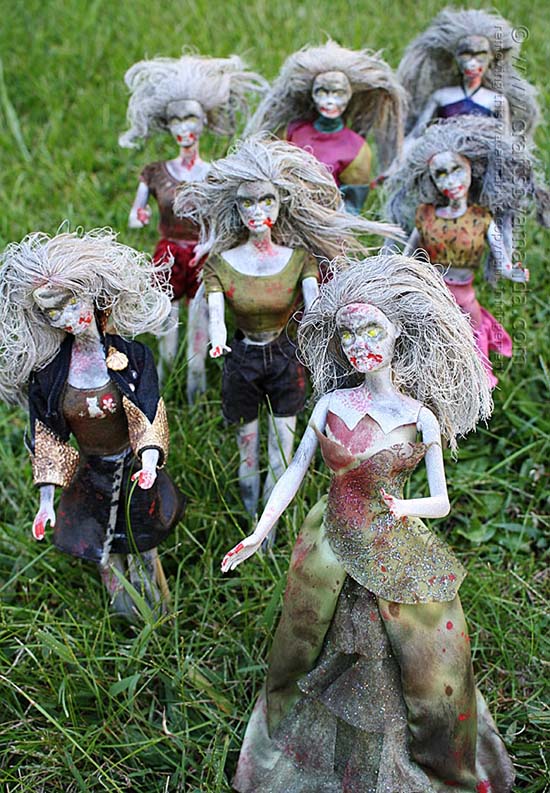 If you and your family are big fans of the creepy outdoor Halloween decorations, these extremely terrifying Barbie zombies may be the right fit for your front yard.
DIY Project Details: craftsbyamanda.com
38. A Rustic Halloween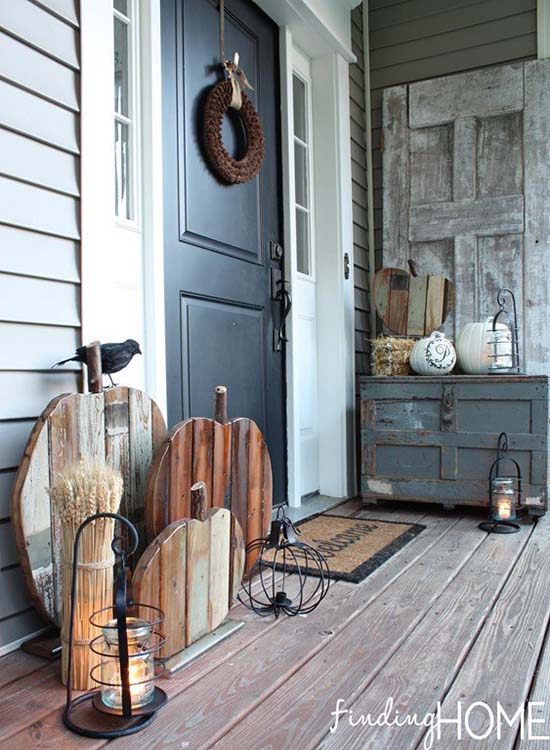 Why don't you frame your door with remodeled wood pumpkins for a unique welcome?
DIY Project Details: infarrantlycreative.net
39. Chilling Jack-O-Lantern Entryway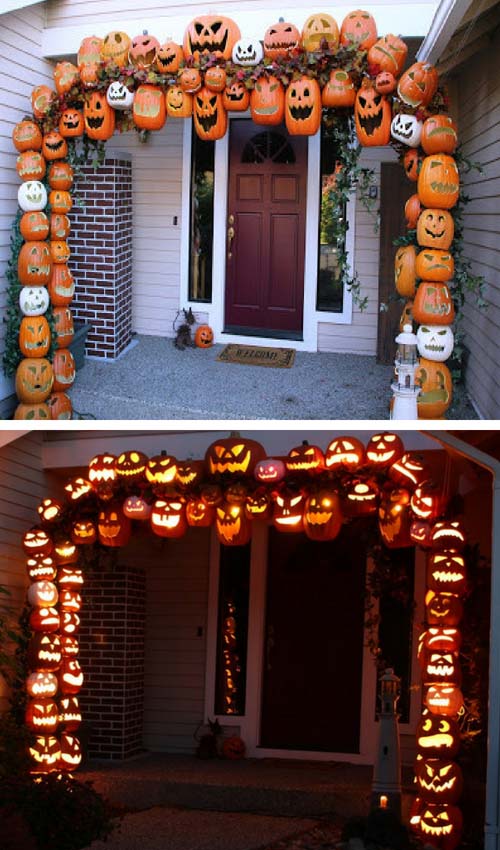 This is the perfect idea for those who are looking for some lighted outdoor Halloween decorations (…and aren't satisfied with carving just one pumpkin 😉 ).
Framing the front door with a broad variety of jack o' lanterns (made of foam as the real ones are too heavy) will make your friends envy you!
DIY Project Details: crazicarlos.com
40.  Cute And Colorful Spidery Porch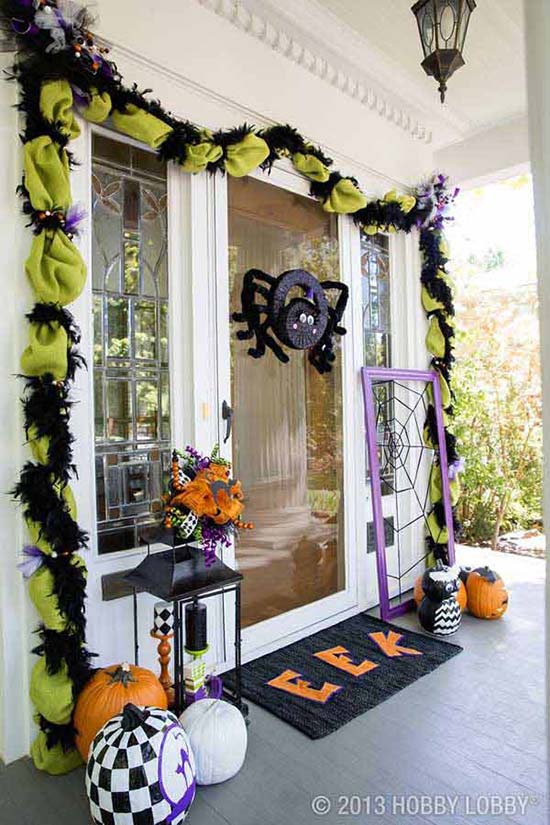 Photo:Credit
Guard your front door with this spooky DIY black spider. This idea definitely goes into my list of cute outdoor Halloween decorations!
41. Grim Gravestone Decoration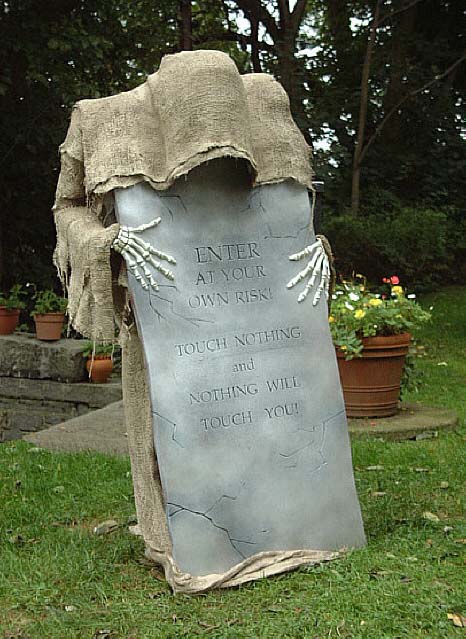 Photo:Credit
Display this demonic warning close to the entry to your home to head off the visitors.
You can easily create this spooky figure with some chicken wire, burlap, skeleton hands, and an authentic styrofoam "stone" warning.
Creative painting and crafty shading are the key accents of this scary outdoor Halloween decoration.
42. DIY Picket Fence Halloween Countdown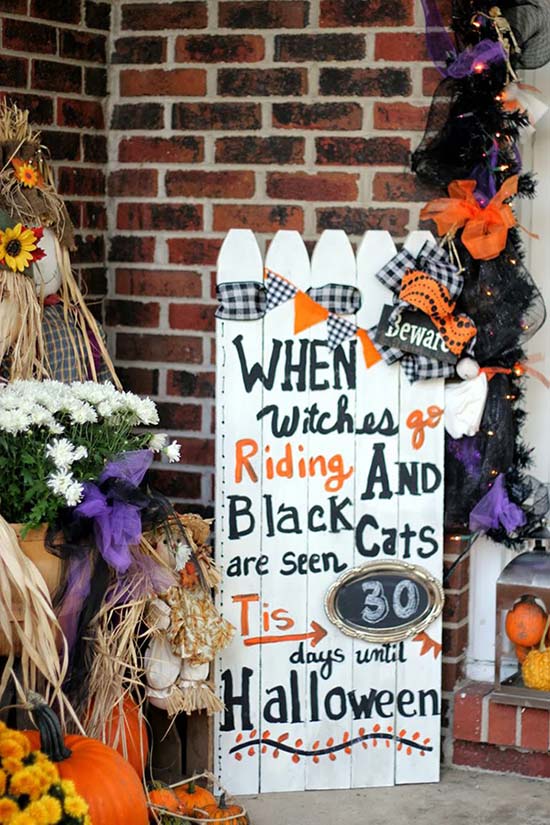 Just another cool DIY Countdown-to-Halloween outdoor decor idea!  💡
DIY Project Details: priscillas2000.blogspot.com
43. Creative Glow In The Dark Pumpkin Project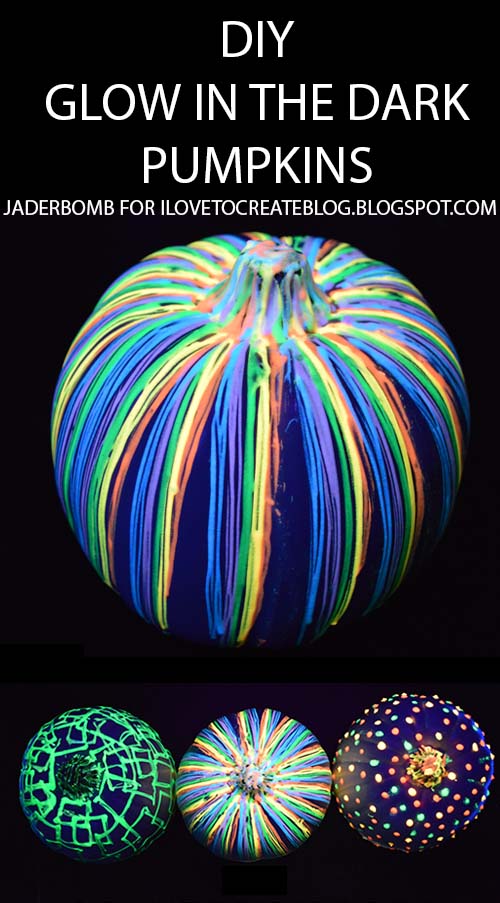 Show off your artistic side with these glowing pumpkins that can be easily created with some imagination and 3 or 4 colors of glow-in-the-dark paints.
A great addition to your Halloween outdoor home decor!
DIY Project Details: ilovetocreateblog.blogspot.com
44. Easy Caution Tape Porch Décor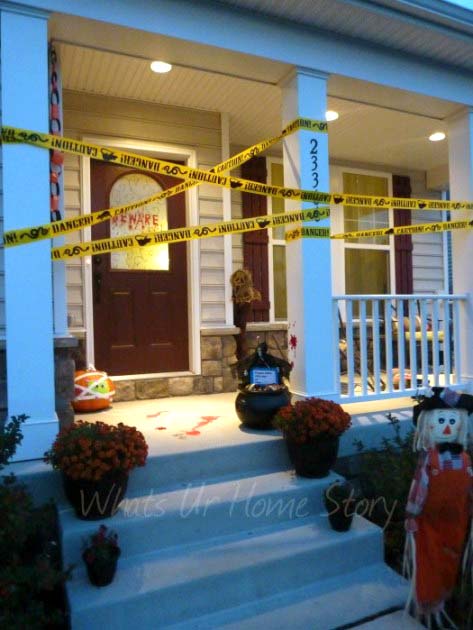 I guess most of you are looking for some showy but cheap outdoor Halloween decorations.
If so, re-creating a crime scene on the front porch could be the right answer for you!
DIY Project Details: whatsurhomestory.com
45. Illuminate Your Pumpkins To Glow In The Dark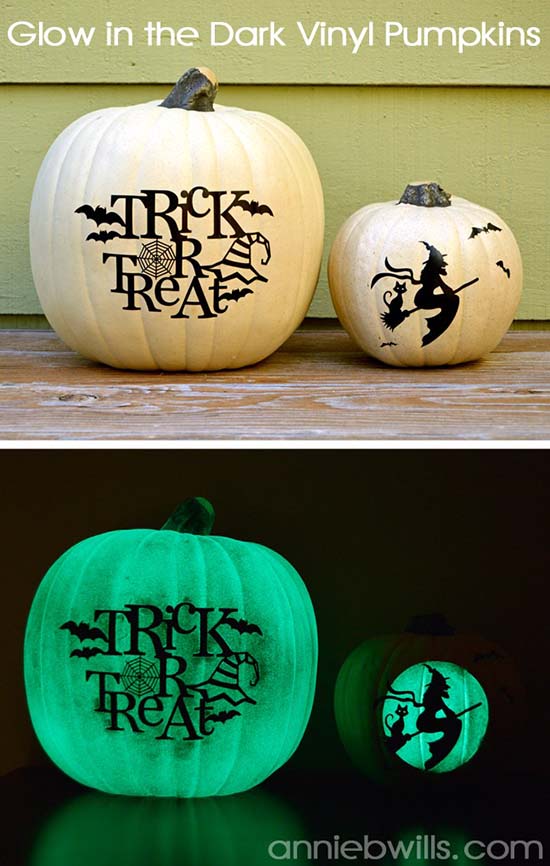 Here is some cool decor idea for the night of Halloween.
The materials used for this project are white foam pumpkins, glow-in-the-dark paint, and your choice of vinyl stick-on appliqués.
DIY Project Details: anniebwills.com
46. DIY Porch Ghost From A Tomato Cage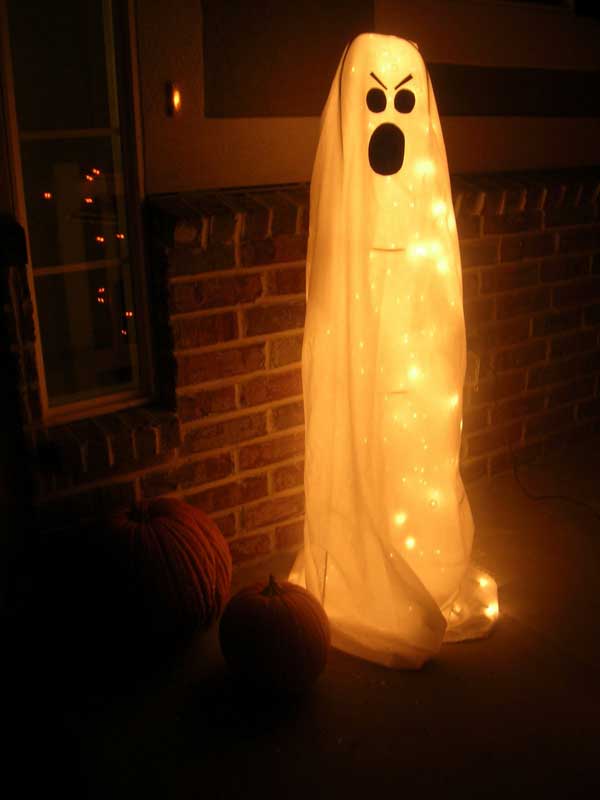 For a spooky front porch, make this angry ghost of a tomato cage and an old white sheet.
DIY Project Details: mycottoncreations.blogspot.com
47. Easy Pumpkin Balloon Project For Kids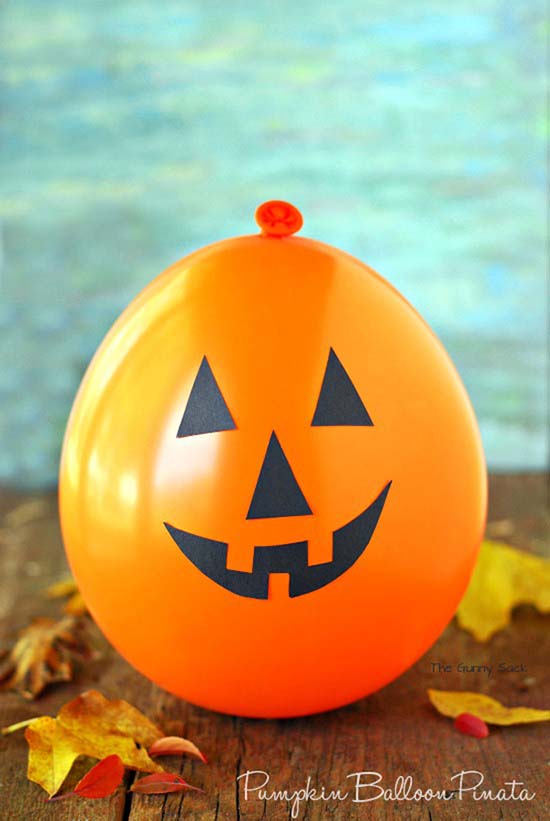 This Halloween outdoor home decor is great for themed kid's parties on a limited budget. All you need is a bunch of orange pear-shaped balloons and a magic marker.
DIY Project Details: thegunnysack.com
48. Creepy Window Warning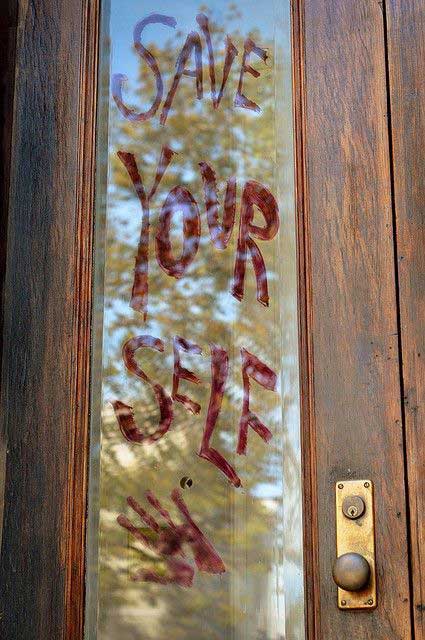 This creepy scary inscription, written with a simple red lipstick, could scare the hell out of every visitor.
49. Quirky Fun Halloween Porch Display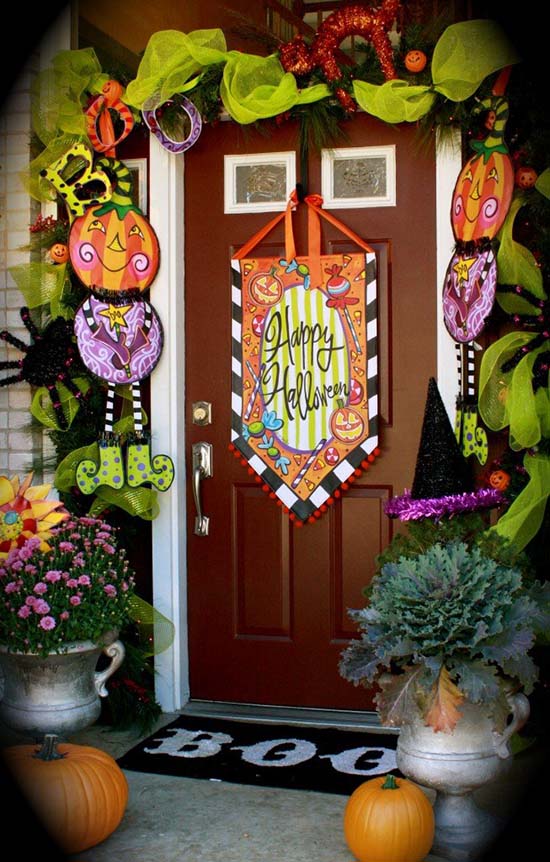 This outdoor Halloween decoration is far away from being terrifying and spooky. In fact, it is very welcoming and fun!
DIY Project Details: lisafrost.com
50. Easy DIY Mummy Lanterns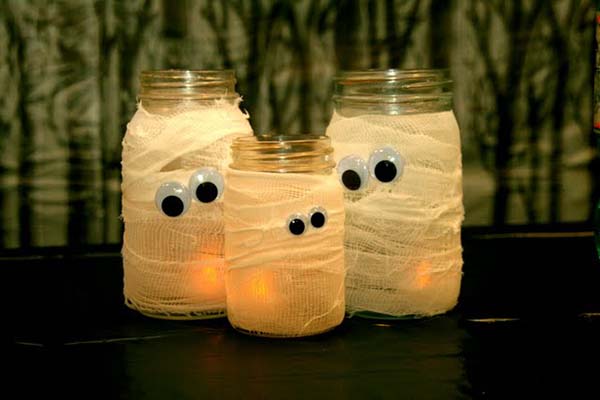 I think that some of the best DIY spooky outdoor Halloween decorations are those ones that are the easiest to make with just a few materials.
Check out these vivid ghost luminaries and you'll get my point!  😉
DIY Project Details: craftsredesigned.blogspot.com
51. Creative Door Décor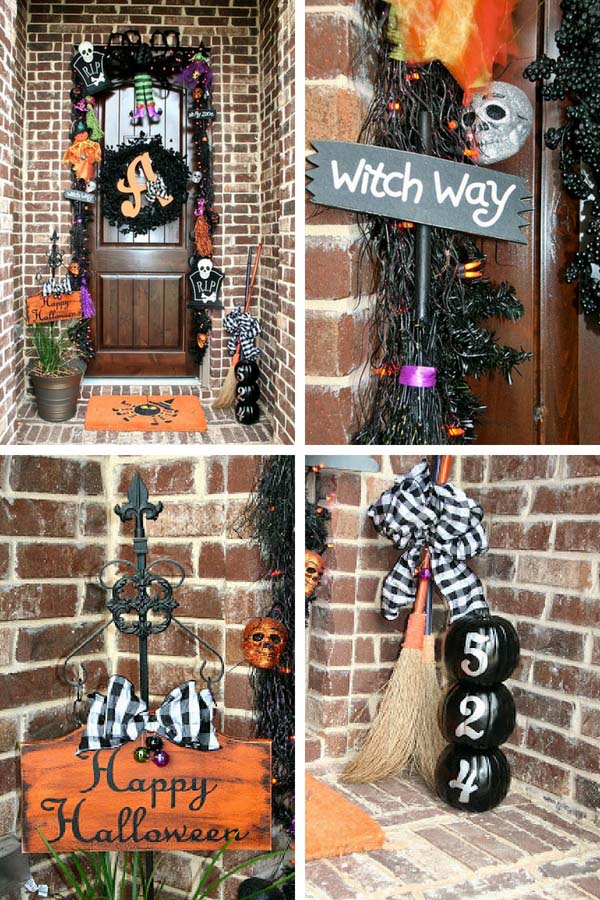 The front porch is the right spot to show off your artistic abilities! Creativity mode ➡ ON
DIY Project Details: lookiewhatidid.blogspot.com
52. Magical Halloween Shop Sign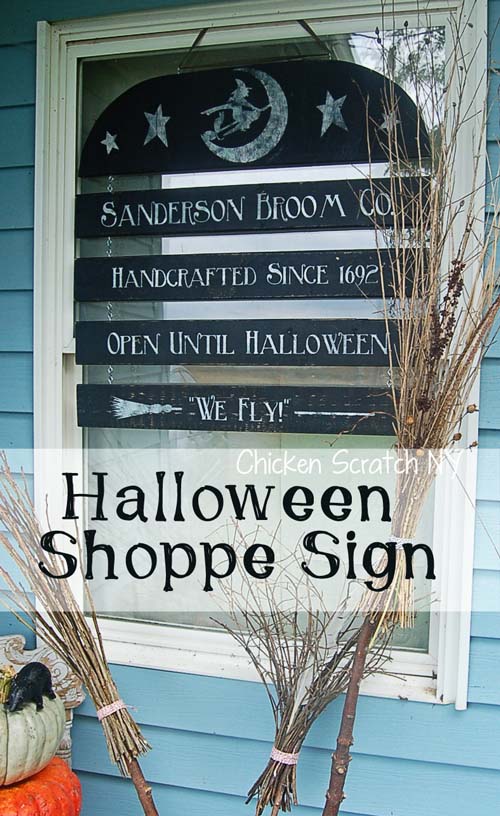 Demonstrate your skills in DIY outdoor Halloween decorations with this hanging sign for the upcoming Halloween.
You can easily create it sign with some lengths of wood, black spray paint, a pattern for the stencils, some lettering paint, and a few hardware pieces.
DIY Project Details: chickenscratchny.com
53. DIY Floating Phantom Heads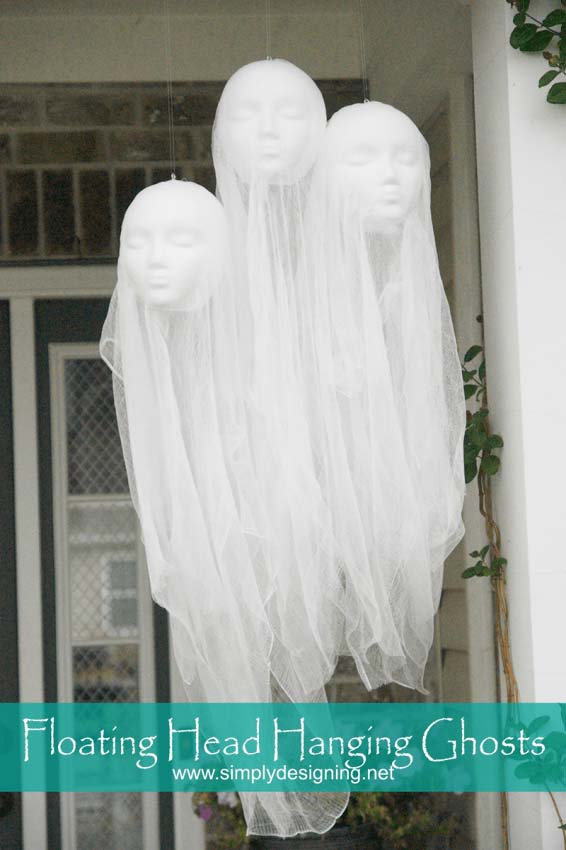 These eerie floating (foam) head-hanging ghosts are perfect for decorating the garden for Halloween! I'm scared of even looking at them!
DIY Project Details: simplydesigning.porch.com
54. Haunted Ghoul's House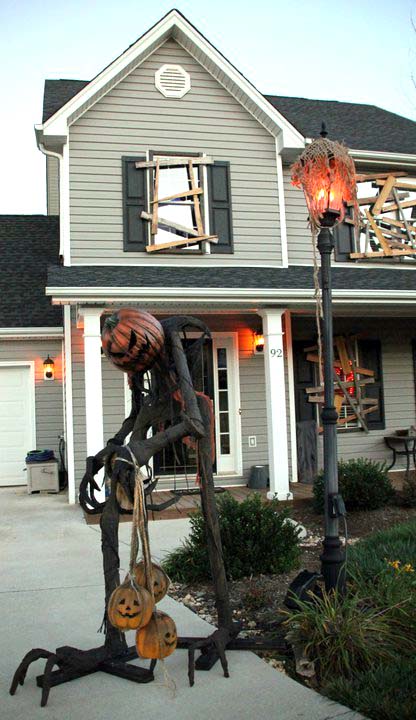 Photo:Credit
This addition to your scary outdoor Halloween decorations will make all the trick-or-treaters to be watchful. Use some rope, an old wooden frame, and some orange foam pumpkins.
55. Collected Halloween Objects For An Easy Porch Décor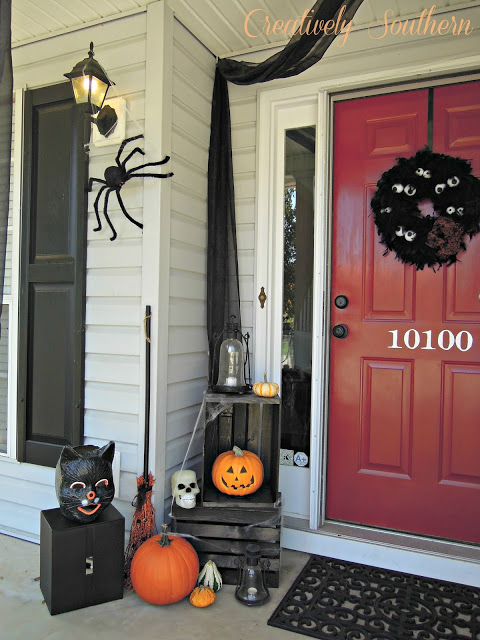 Here is a spooky Halloween installation that would make every visitor feel shaken.
DIY Project Details: creativelysouthern.com
56. Ghostly Gourd Display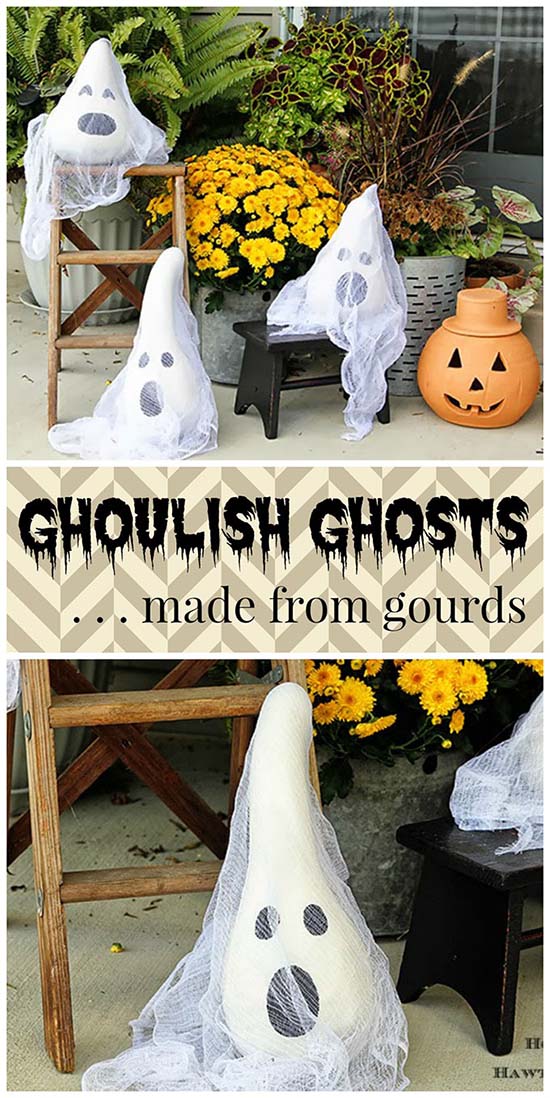 Another way to make Halloween ghosts is by using simple gourds. Super quick and easy DIY idea for a terrifying fall front porch!
DIY Project Details: houseofhawthornes.com
57. Spooky DIY Luminary Bag Lanterns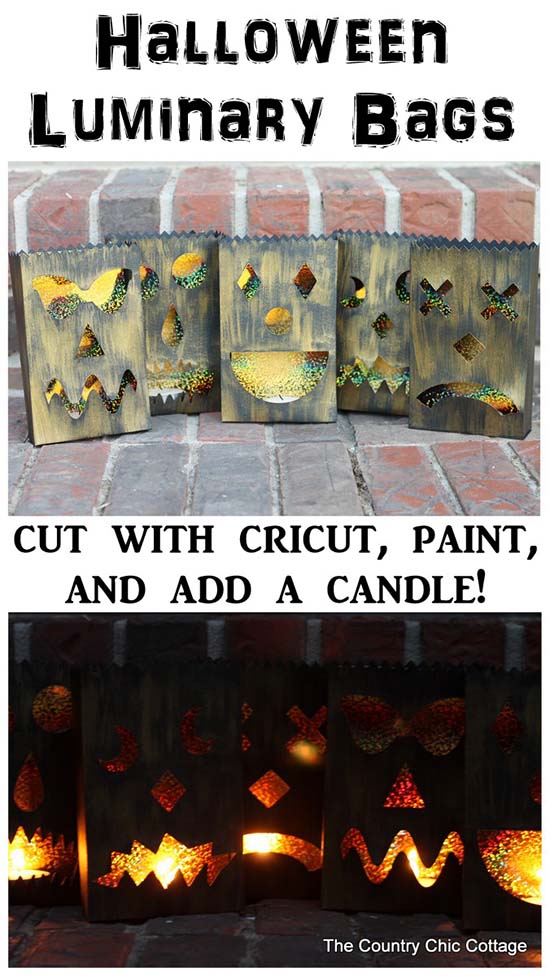 Try to escape the ordinary and create these cool original works of DIY scary outdoor Halloween decorations for only a few dollars.
The materials used are black cardstock, gold paint, gold iridescent poster board, pumpkin faces, and battery-operated tea lights.
DIY Project Details: thecountrychiccottage.ne
58. Mysterious Tree Dweller Decoration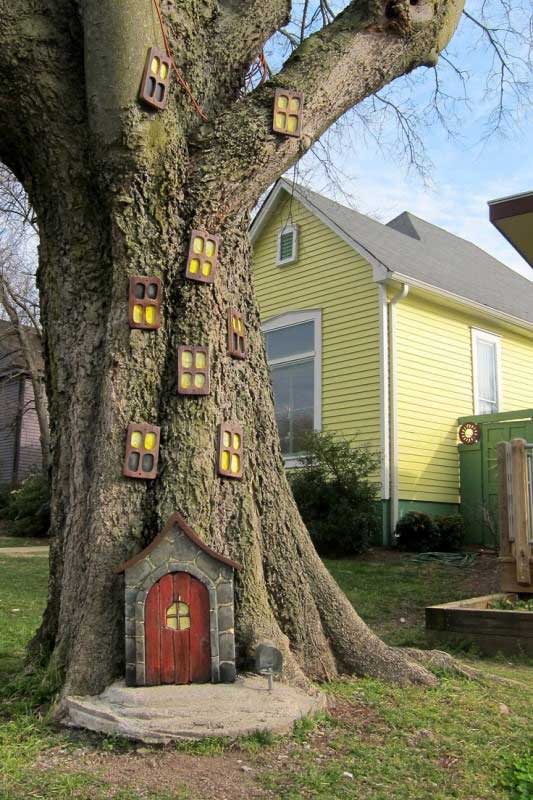 Dressing up a Halloween tree in your yard is one of the always-up-to-date outside Halloween decorations.
59. Easy Cheesecloth Ghost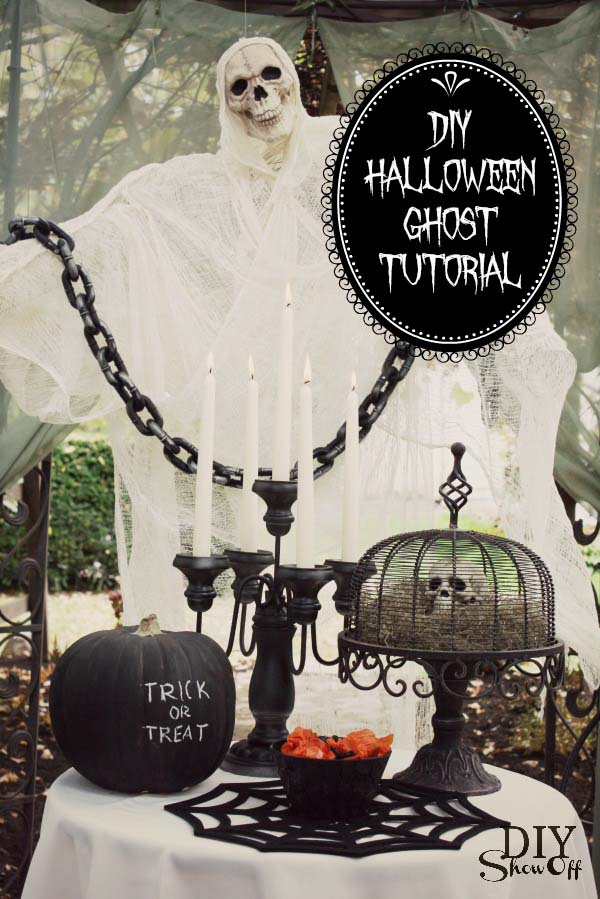 31st October is knocking on the door and you haven't decorated the house yet? Are you looking for easy Halloween outdoor decorating ideas?
Then, welcome your visitors with this spooky cheesecloth ghost.
DIY Project Details: diyshowoff.com
60. Ghoulish Yard Greeters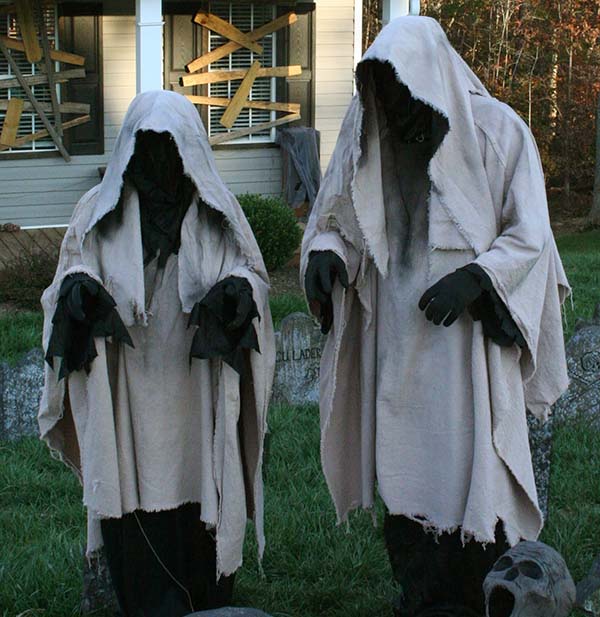 Add these ominous-looking ghouls to your yard. This image will give horror to every trick-or-treater who sees your DIY outdoor Halloween decorations.
You can re-create these gruesome ghouls with some black material for the body, a foam head, led lights for eyes, and old cheesecloth draped over the body.
DIY Project Details: grimhollowhaunt.blogspot.com
61. Bubbling Cauldron Witchy Display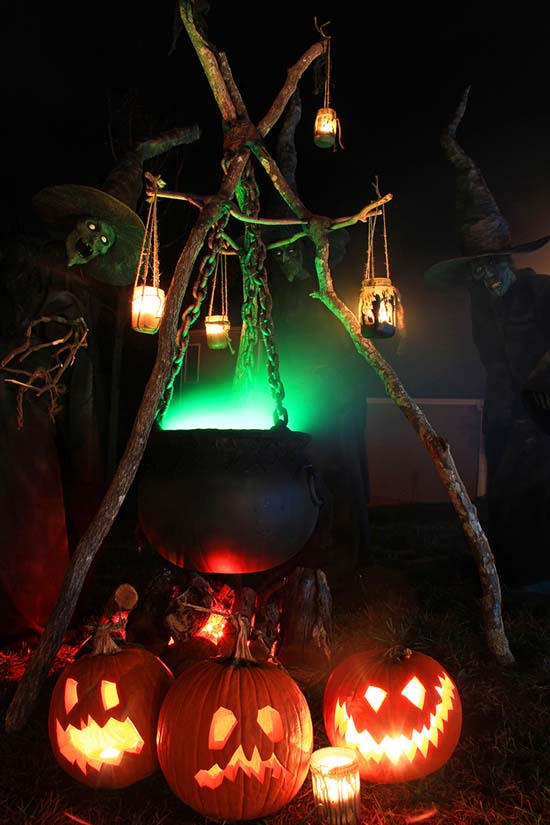 Photo:Credit
If you like the Halloween pumpkin yard decorations, why don't you re-create this witch dan in your backyard? Use some LED lights to make it more impressive during the night.
62. Wheelbarrow of Bones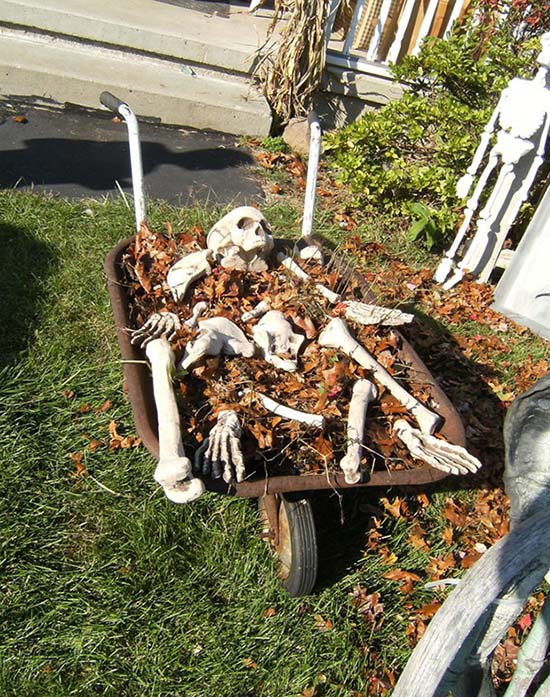 What a Halloween outdoor yard would be without a wheelbarrow full of bones!? Spooky!  😐
Materials needed: An old rusty wheelbarrow, some dirt or mulch, a few old skeleton bones, and a few fake carnivorous birds.
DIY Project Details: countryfair-joanne.blogspot.com
63. DIY Milk Jug Jack-O-Lanterns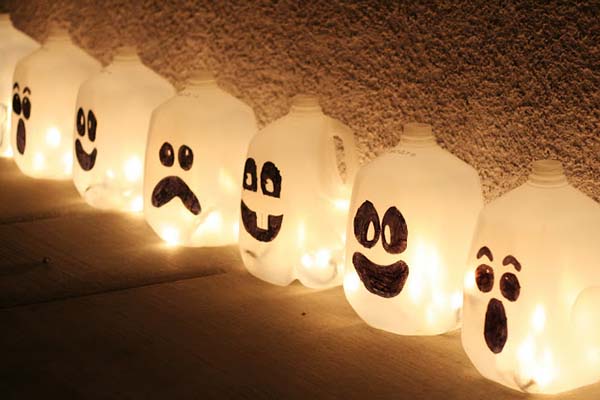 Clean gallon milk jugs come alive as spooky Halloween ghost. Easy and vibrant!
DIY Project Details: eighteen25.com
64. Spooky Destinations Yard Sign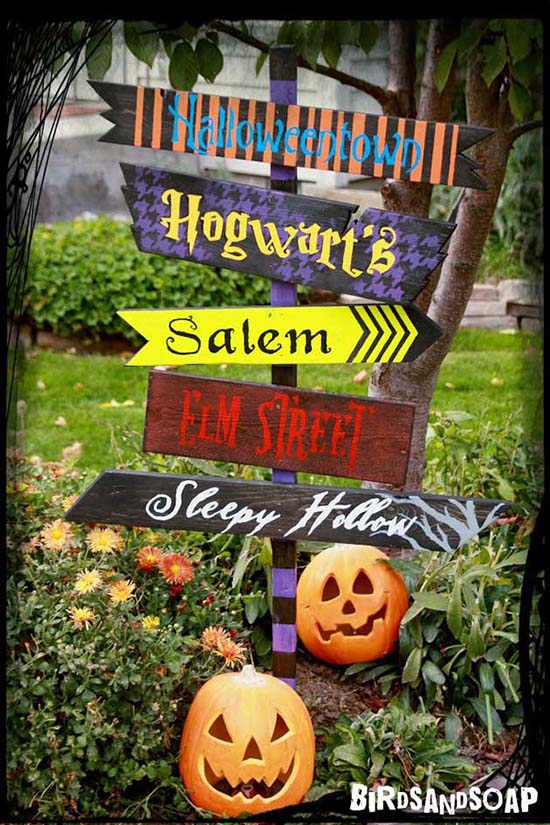 Add these vivid yard signs to your list of easy homemade outdoor Halloween decorations ideas! 🙂
DIY Project Details: birdsandsoap.com
65. Ethereal Lighted Pumpkin Path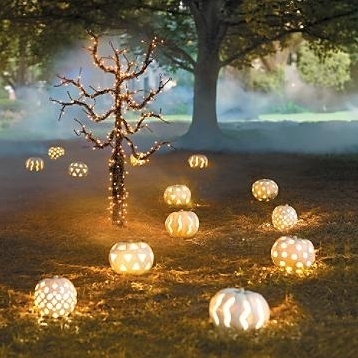 This lighted pumpkin path creates a magical (but also spooky) effect. Great Halloween lawn ornaments, don't you think?
DIY Project Details: peachpizzazz.blogspot.com
66. DIY Witch Brooms From Corn Husks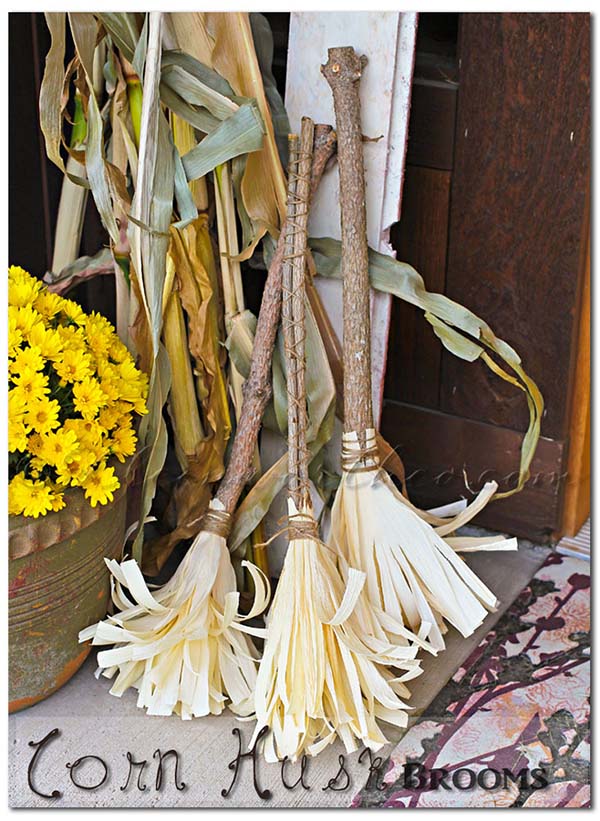 The outdoor witch decorations have always been my favorite!
DIY Project Details: kleinworthco.com
67. Halloween Pumpkin Dinner Plates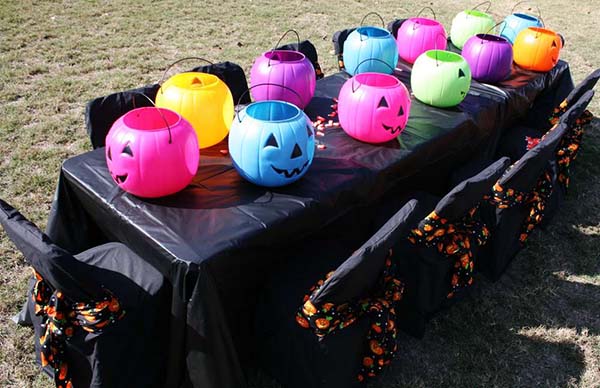 Photo:Credit
In case you will host a Halloween dinner this year, it could be fun to serve it inside these colorful pumpkin buckets.
68. Easy To Make Pumpkin Archway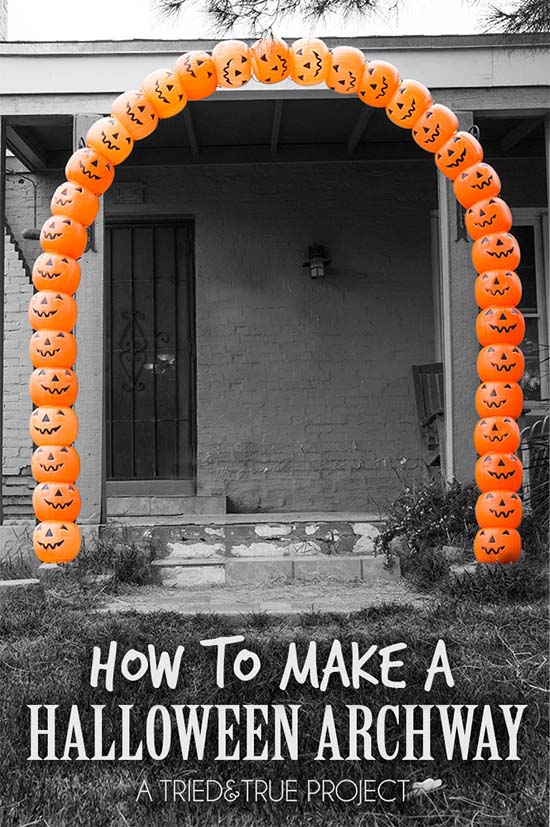 Looking for outdoor Halloween party decorating ideas?
Are you tired of buying dumb spider webs and last-minute skeletons the weekend before Halloween?
This eye-catching archway is a project for every enthusiastic DIYer!
DIY Project Details: triedandtrueblog.com
69. Arachnophobia Yard Decoration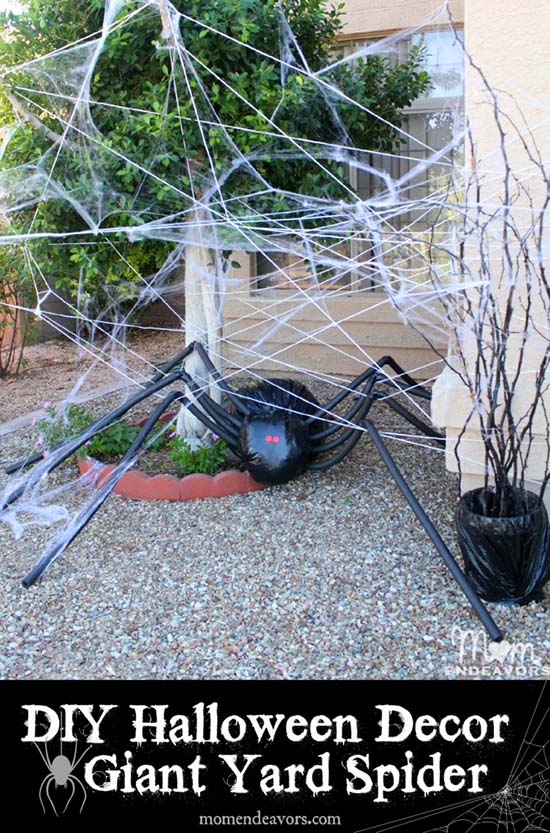 This scary DIY giant black spider could be the guard of your Halloween outdoor yard.
DIY Project Details: momendeavors.com
70. Ghostly String Lights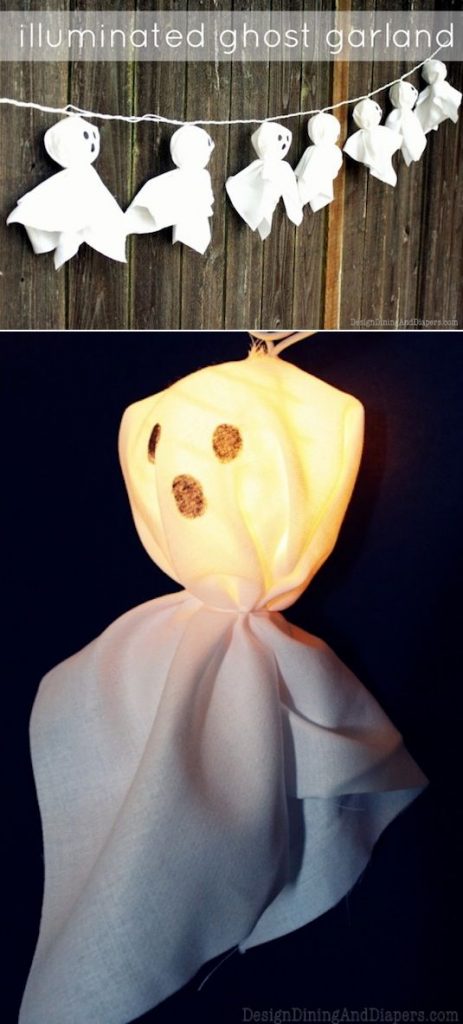 Looking for lighted outdoor Halloween decorations? Try to find some spare time and re-create this cute lighted ghost garland for the backyard.
The materials needed:
White lantern lights
2 yards-white cotton fabric
Some white string
Scissors
Black marker
DIY Project Details: tarynwhiteaker.com
71. Farmhouse Frights Halloween Sign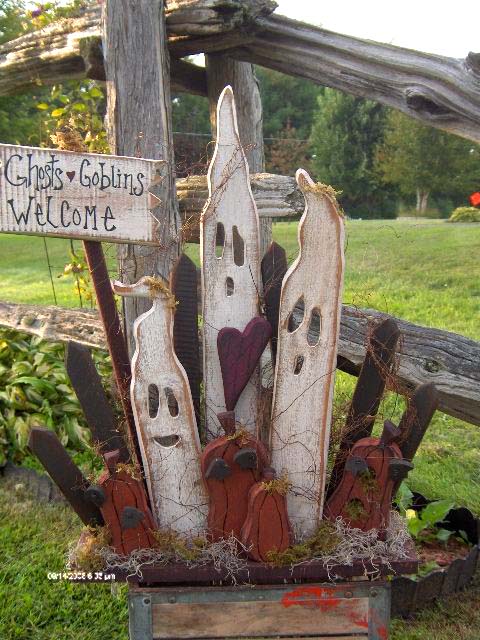 Photo:Credit
Here is a cool-themed welcoming sign every DIYer can do at the weekend.
72. DIY Wood Block Ghost Project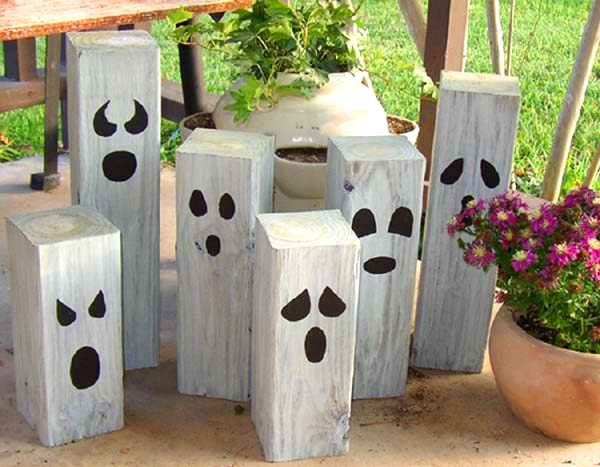 Photo:Credit
These ghosts, made of wood blocks, are a cheap way to bring the October 31st vibe to your home. This is one of the best decorating ideas for an outdoor Halloween party.
73. Ghostly Skull Phantom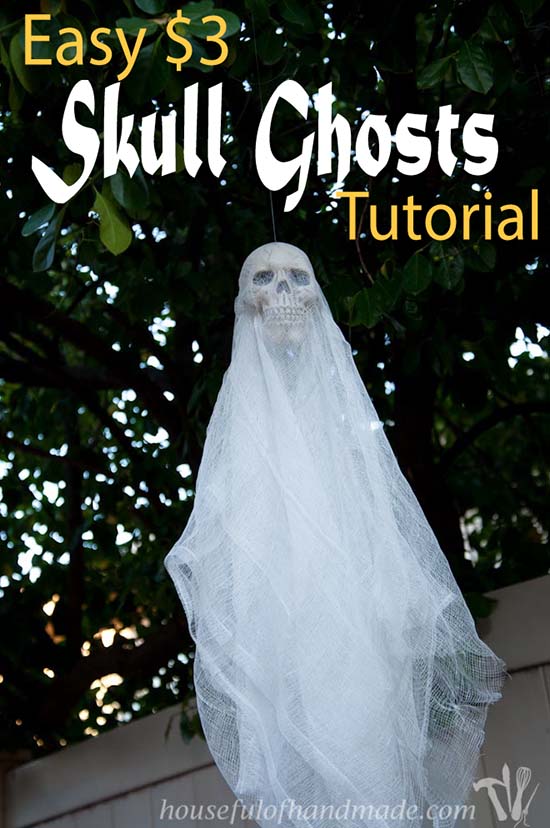 If someone makes a list of creepy outdoor Halloween decorations, this eerie skull ghost would go there for sure!
It depends on what kind of decoration fit your style and personal taste.
DIY Project Details: housefulofhandmade.com
74. Adorable DIY Plant Monsters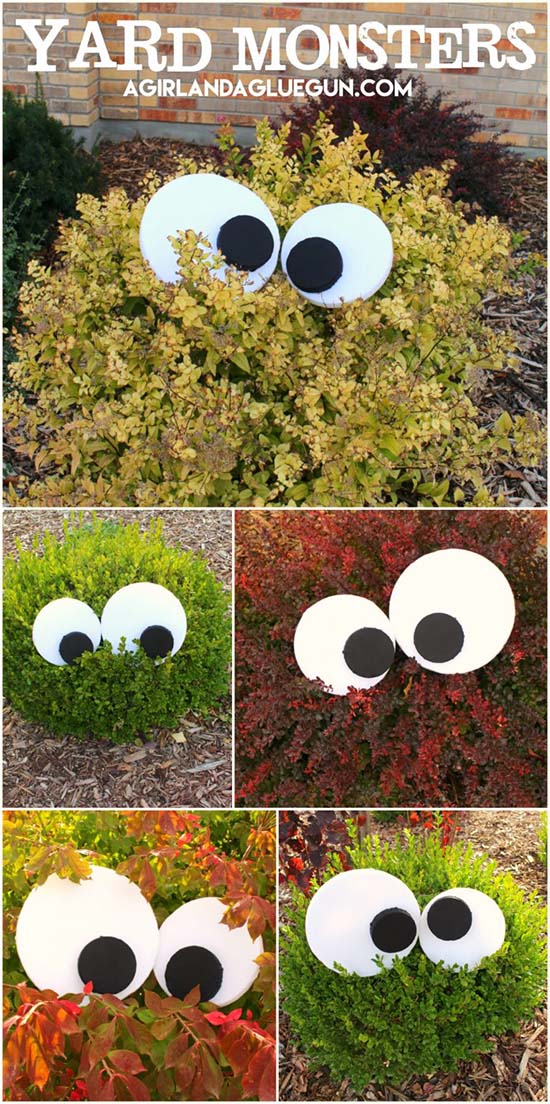 These yard monsters are probably not the scariest thing for Halloween, however, they will really make you smile!
DIY Project Details: agirlandagluegun.com
75. Illuminated Glass Light Cover Ghosts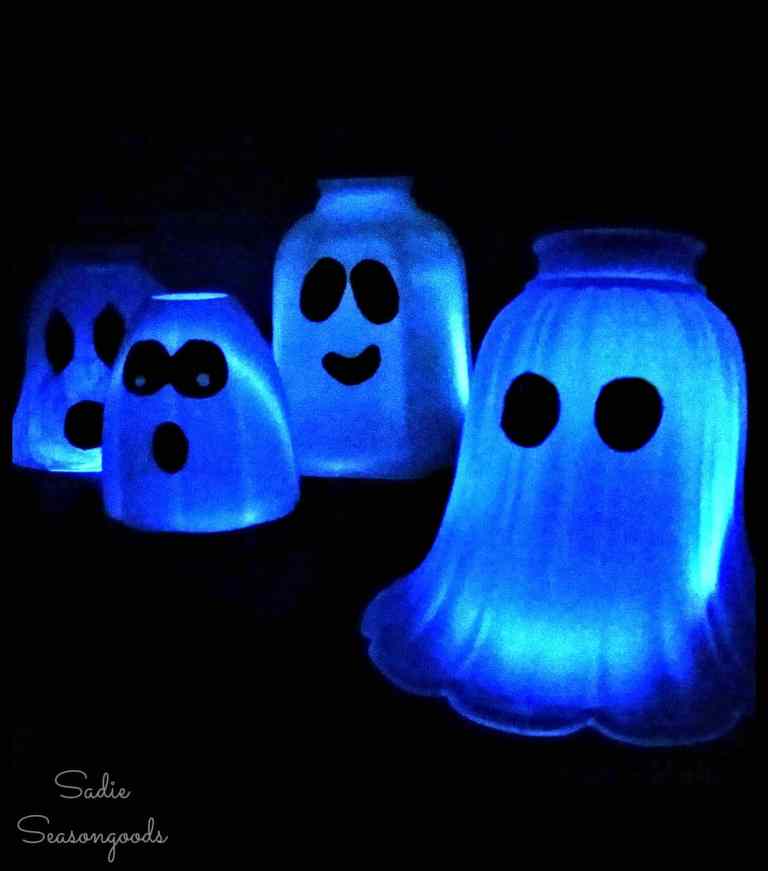 Do you like the DIY scary outdoor Halloween decorations? If yes, these glass light covers (that you can find in every thrift store) remodeled into ghosts could be the right answer for you!
DIY Project Details: sadieseasongoods.com
76. Painted Pumpkin Rock Décor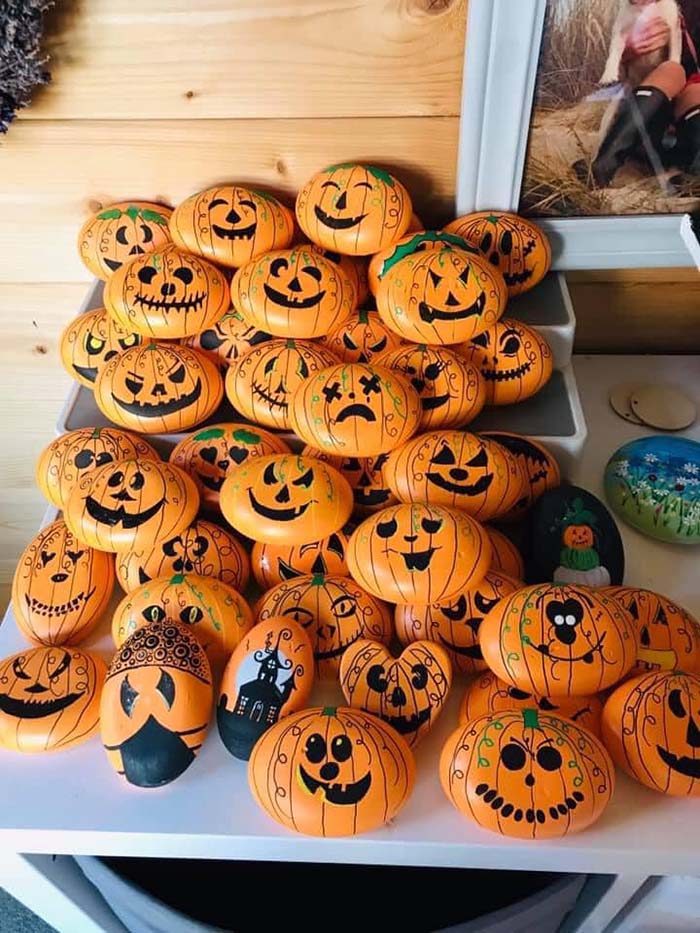 If you feel crafty you can paint some rocks for Halloween. These mini pumpkins are painted rocks that you can hide around a park or your house and ask your kids to go find them. Painting rocks is a really easy and fun activity so you can check more ideas here: 100+ Best Painted Rocks (Photos, Tips & Tricks )
Hope you've managed to find your dream Halloween decor idea thanks to my collection!  😉
Don't forget to PIN IT for later, so you can always get quickly to this complete list of DIY Outdoor Halloween Decorations!